Morning all – welcome to Tuesday, I hope today is kind to you.  We have two super, super beautiful weddings to share with you today.  Karine, a Graphic Designer and Art Director, married Graham, a Business Development Manager, on 1st June this year at Pembroke Lodge in Richmond Park, London.   The couple were assisted with styling their day by Smith & Porter and these photographs were taken by the very talented London based wedding photographer, Kat Hill who's work I so enjoy sharing on Love My Dress®.
"I wanted to emphasise the historical aspect of the Pembroke Lodge, and combine it with the natural wild beauty of Richmond Park. There isn't a particular era in focus, just wanted the venue to feel like has a story, that it's been lived in and, and of course be romantic and elegant. The idea of renting vintage objects seemed like an obvious choice, and really brought the venue to life."
Photography Copyright (c) 2014, Kat Hill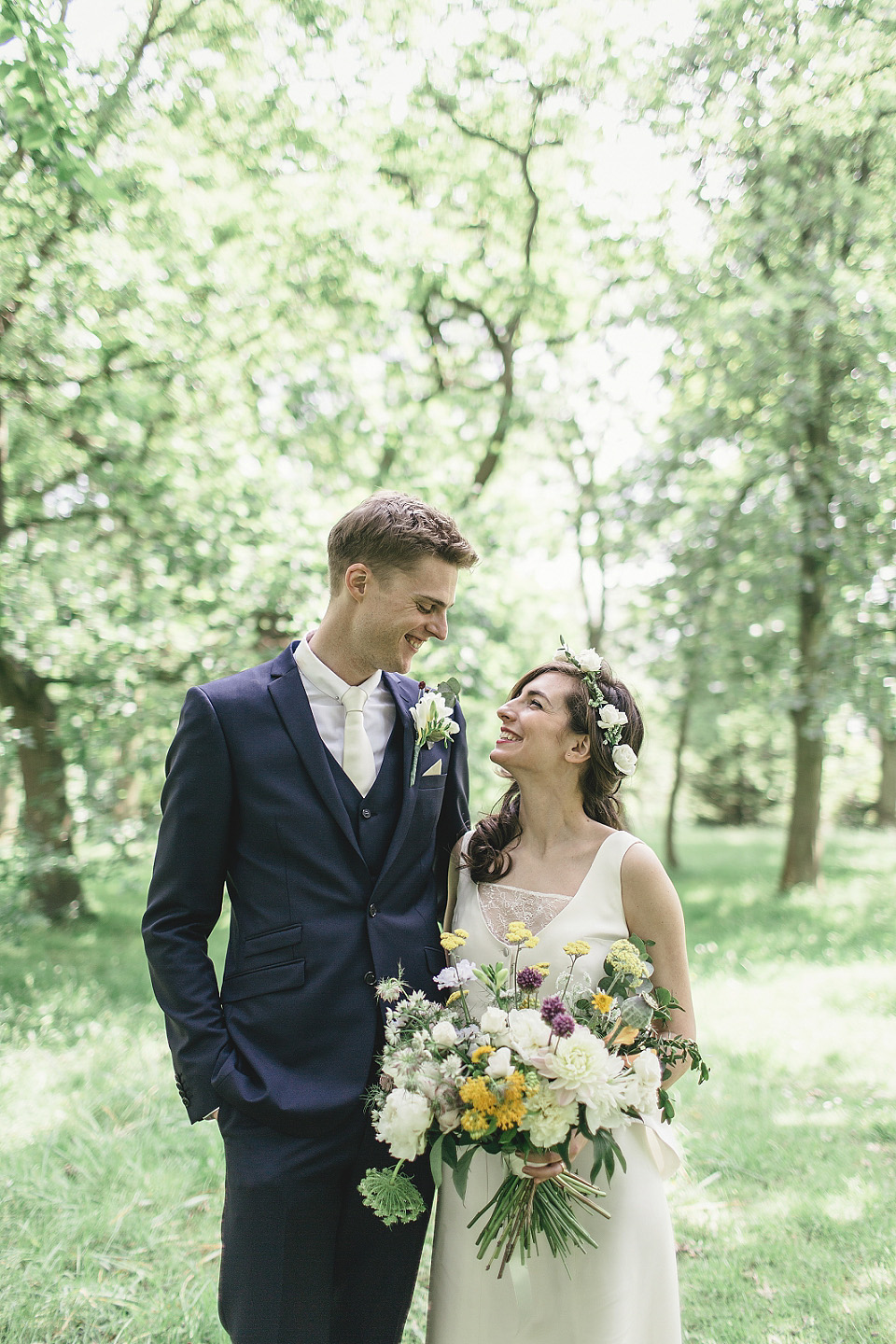 "Graeme and I met while I was in London doing my Post-Graduate diploma at the London College of Communication. I met him through my uni colleague (now good friend) Kate as he is best mates with her brother.  We began dating just a few months before I moved to Paris. Carried on the relationship when I moved, and saw each other every two weeks alternating between London and Paris. Everything just seemed really easy, and we became really close even though living far apart."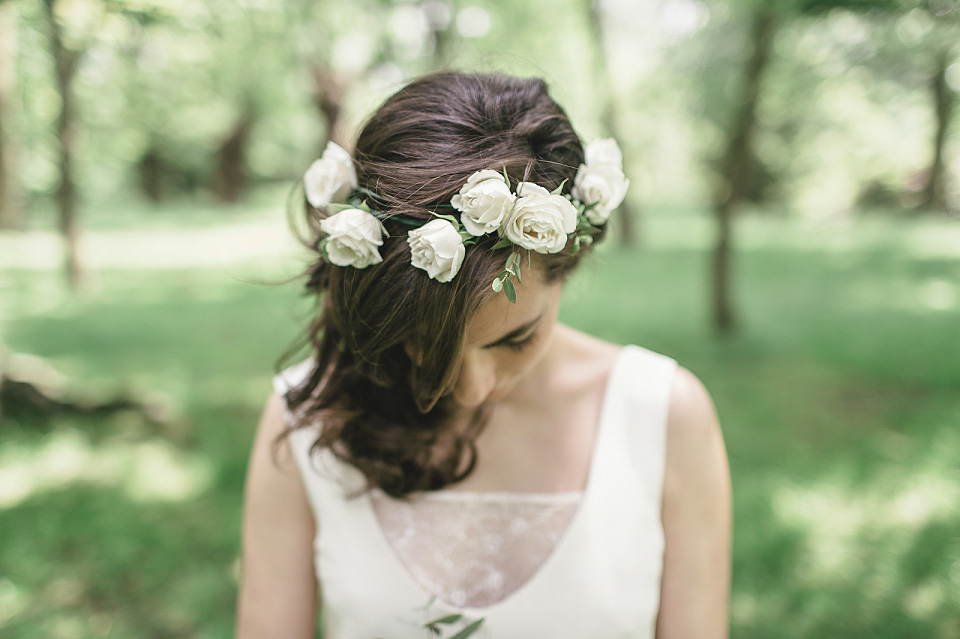 "Technology has changed the way people carry their lives.  Skype, Facetime, the Couple app, Whatsapp – all these ways of communicating online made our relationship possible."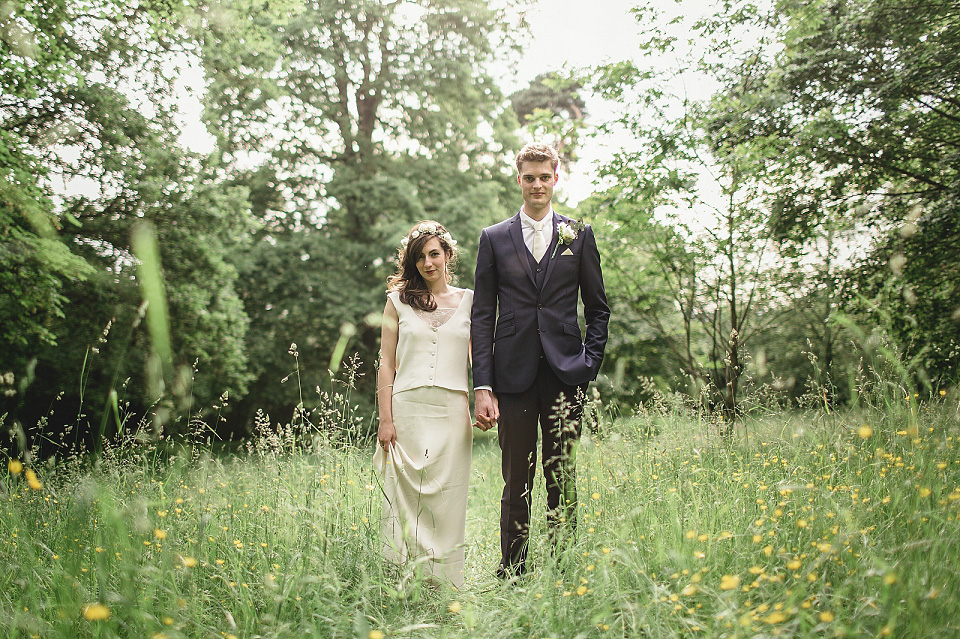 "We got engaged six months before our wedding, in December 2013. I was back in Paris on a work contract, and we had planned to spend Christmas with his dad in Abu Dhabi. On the last Friday before Christmas holidays, I arrived at St-Pancreas station where Graeme was stood right at the front of Arrivals instead of the usual back.
First thing I did after kissing him hello was complaining about work and the drama of missing my train. He then stopped in front of a huge Christmas tree, pulled a ring out of his jacket and popped the question. Took me a few moments to register what was happening, until I of course, said yes."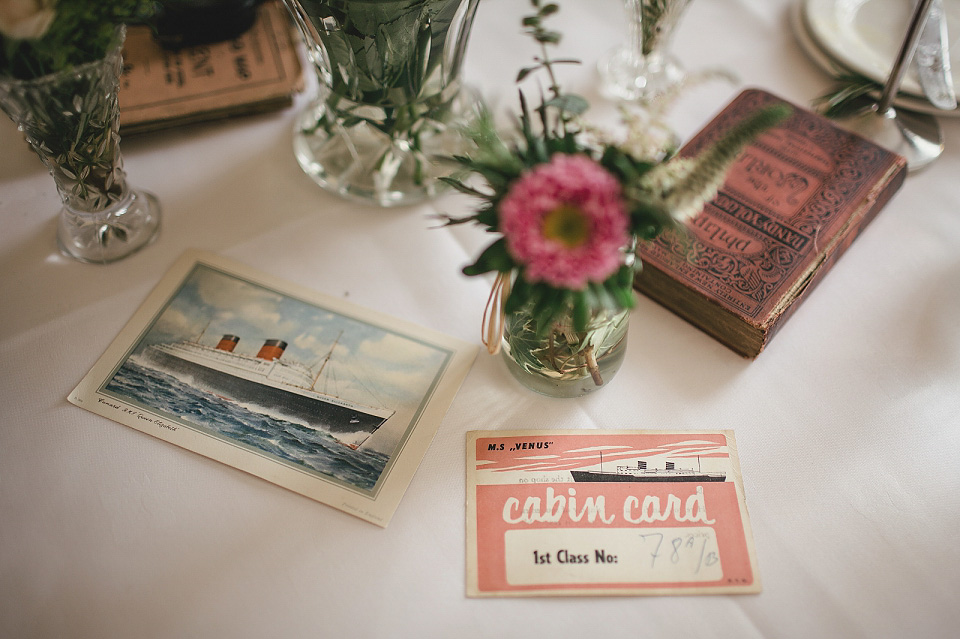 "While I was based in Paris, I saw Élise Hameau dresses in Vogue and was told they were more or less affordable. I managed to get an appointment and tried a few dresses, and fell in love with the 'Gabrielle' design. It was simple, chic, comfortable, and minimalist. I felt really elegant and confidant, and I decided that was exactly how I wanted to feel on the big day. However price-wise… it was a lot more than what I had in mind. That eve, whilst at the pub with my friend, I thought I'd check Le Bon Coin (this is the French equivalent of Gumtree) for fun."
"We laughed and said 'What if I found the dress on Le Bon Coin?' Low and behold- the exact dress, THE Dress, had just been posted three days prior for a third of the price I had been quoted by Élise Hameau herself. I met with the seller a couple of days later, and next thing I knew the dress was mine."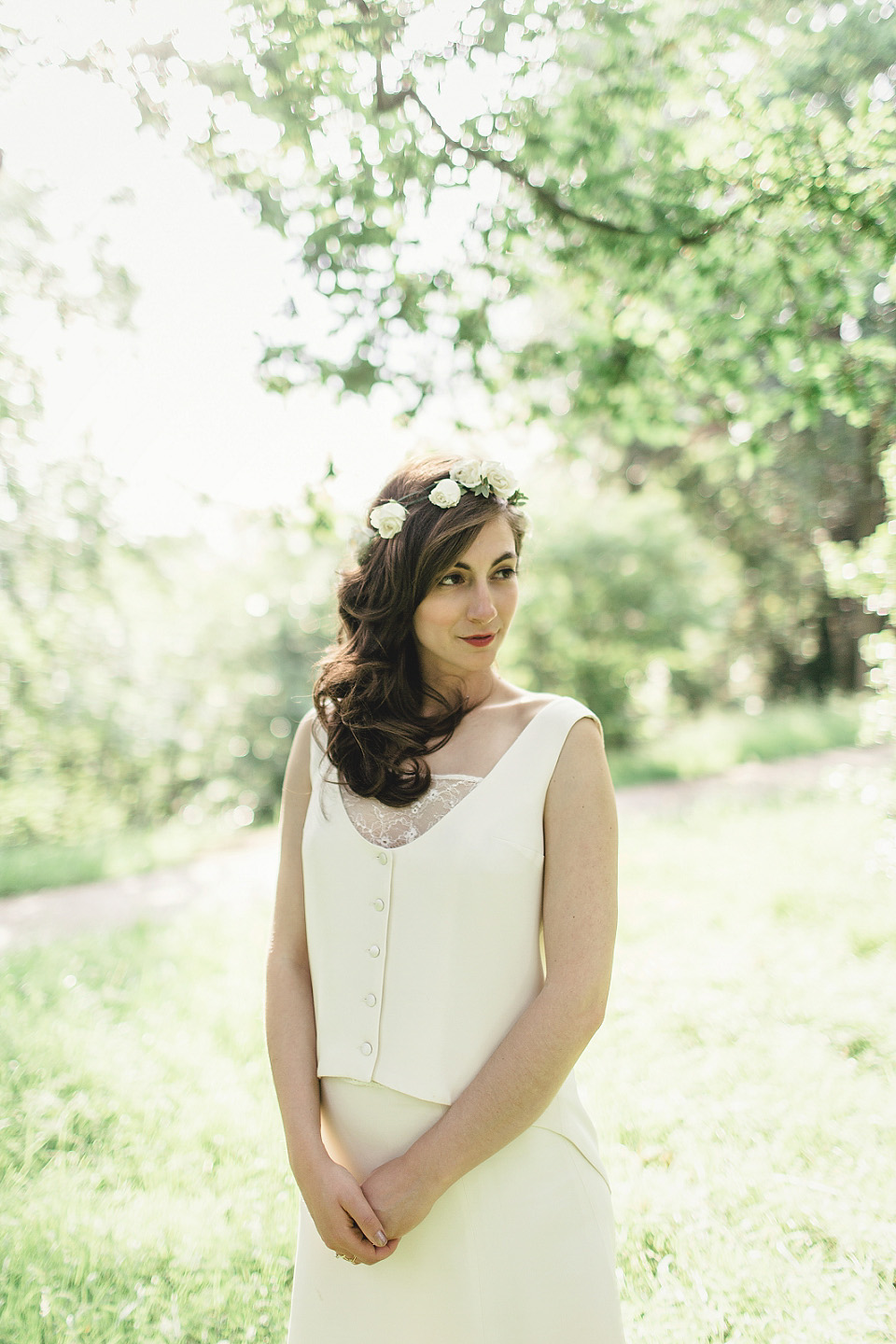 "When the seller sold me the dress, she got a bit emotional when handing it over to me, told me she hoped it brought as much joy to my wedding day as it did to hers.
I own a lot of vintage/second-hand clothes, but this was definitely one of my most favourite purchases. Thinking upon it, I myself am considering passing it on someday. I quite like the idea of passing on a dress, and the inevitable exchange of mutual experiences amongst people. A sort of a 'Sisterhood of The Travelling Wedding Dress' perhaps?"
"Graeme and I absolutely loved the entire Kat Hill experience. Firstly, she's chilled out. Which is The Most Important Thing on one of the possibly most stressful day of one's life. Secondly, she is really easy to work with and we totally felt at ease. Graeme and I didn't quite know how to carry ourselves in front of the camera, and thought maybe our height difference (I'm 5"4, he's 6"3) would make us look weird. But all those thoughts evaporated after our engagement shoot. When it was time for our couple shots, it was just like the engagement shoot but better, as we felt like we had time to practice and felt totally comfortable and normal.
Thirdly, and most importantly, she is extremely talented. Her photos tell a story, they are natural and truly capture the moment whatever the moment may be. Lastly, she is extremely professional. I really appreciated the finishing touches on our high-resolution wedding photo pack.
Kat mailed our wedding photos in a lovely wooden USB stick, along with a few prints, candy, all beautifully wrapped up in a box."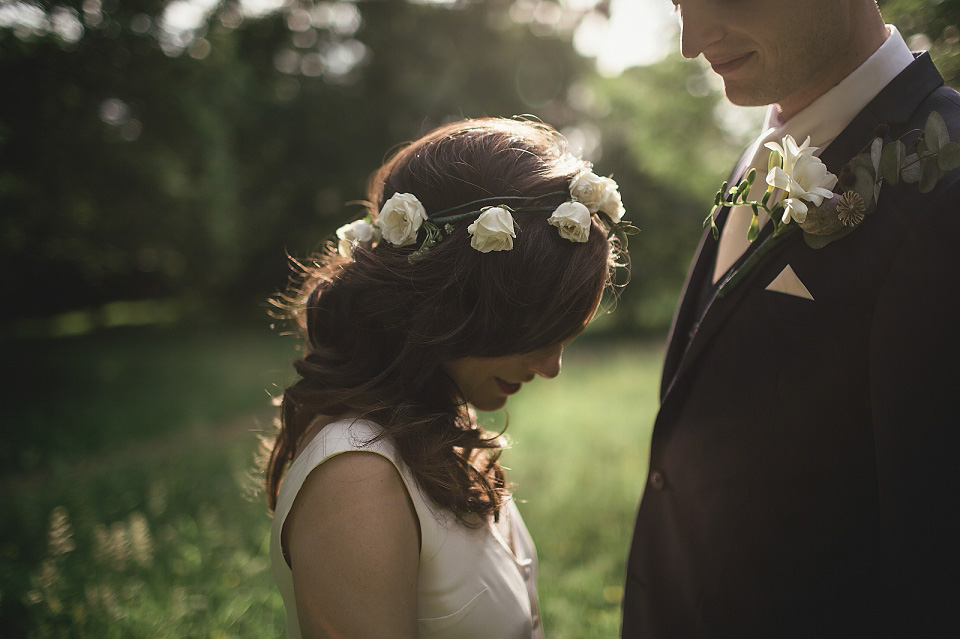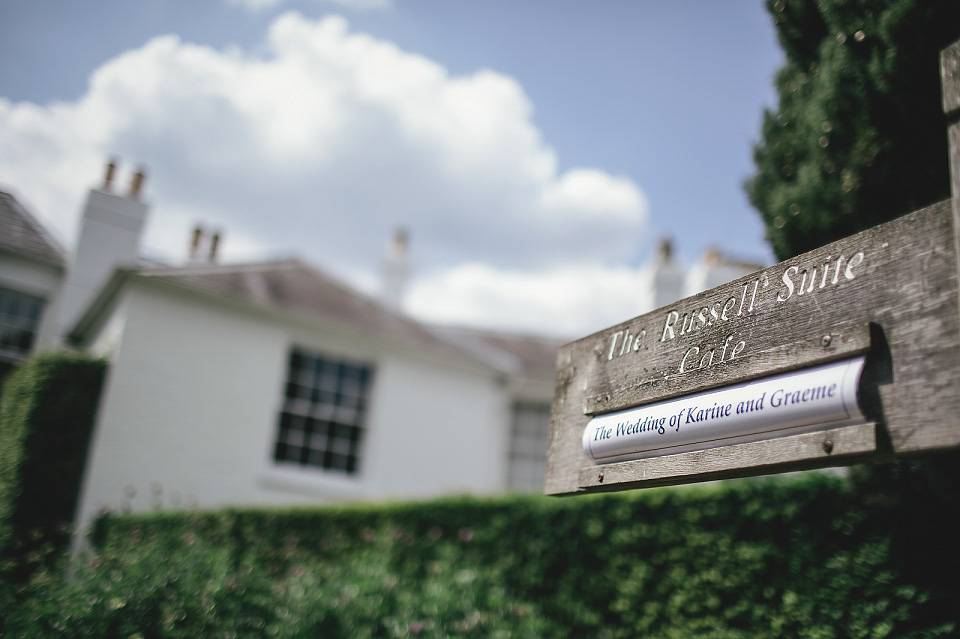 "One of the things that was particularly important to both Graeme and I was that our wedding feel cosy, not too formal, and intimate. I had family coming in from Canada, and both our families were meeting each other for the very first time. We wanted to avoid travelling between ceremony and reception, and so the Pembroke Lodge seemed perfect.
Richmond park doesn't need much of an introduction, other than being one of the most beautiful parks. The venue itself is quite homely, stunning Georgian Architecture, and is absolutely gorgeous and elegant. The Russell suite, which is the top floor part of the venue, has amazing views of the park. They took care of food catering, and already have a schedule sorted. Everything seemed pre-organized. This was appealing considering we had less than six months to plan a wedding."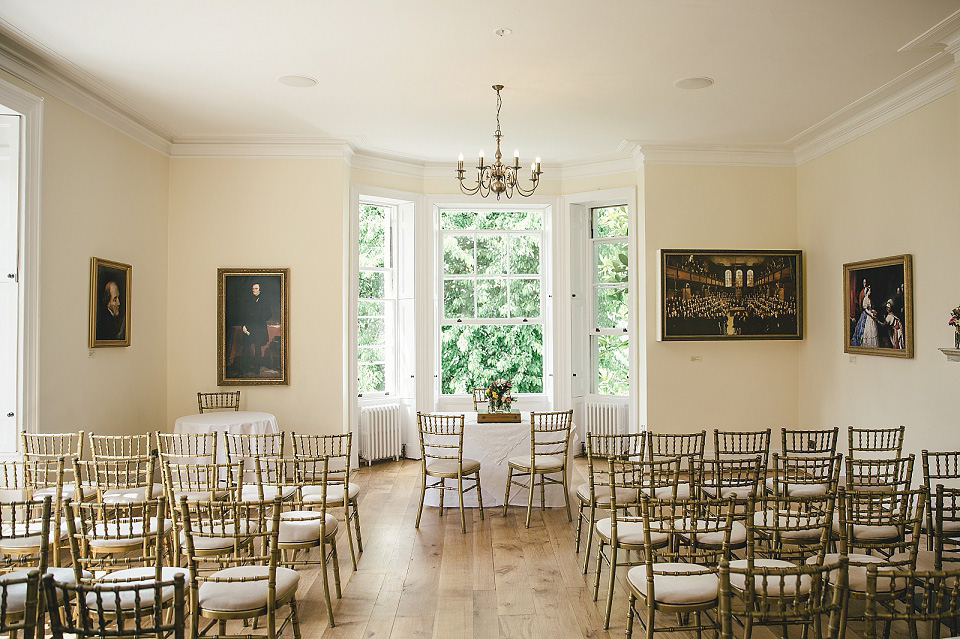 "I had a blow-dry at the Blue Tit in Clapton the night before the wedding.  Make-up was done by myself, however most of it was purchased from Laura Mercier. Thankfully had a make-up tutorial/test at their Liberty's shop."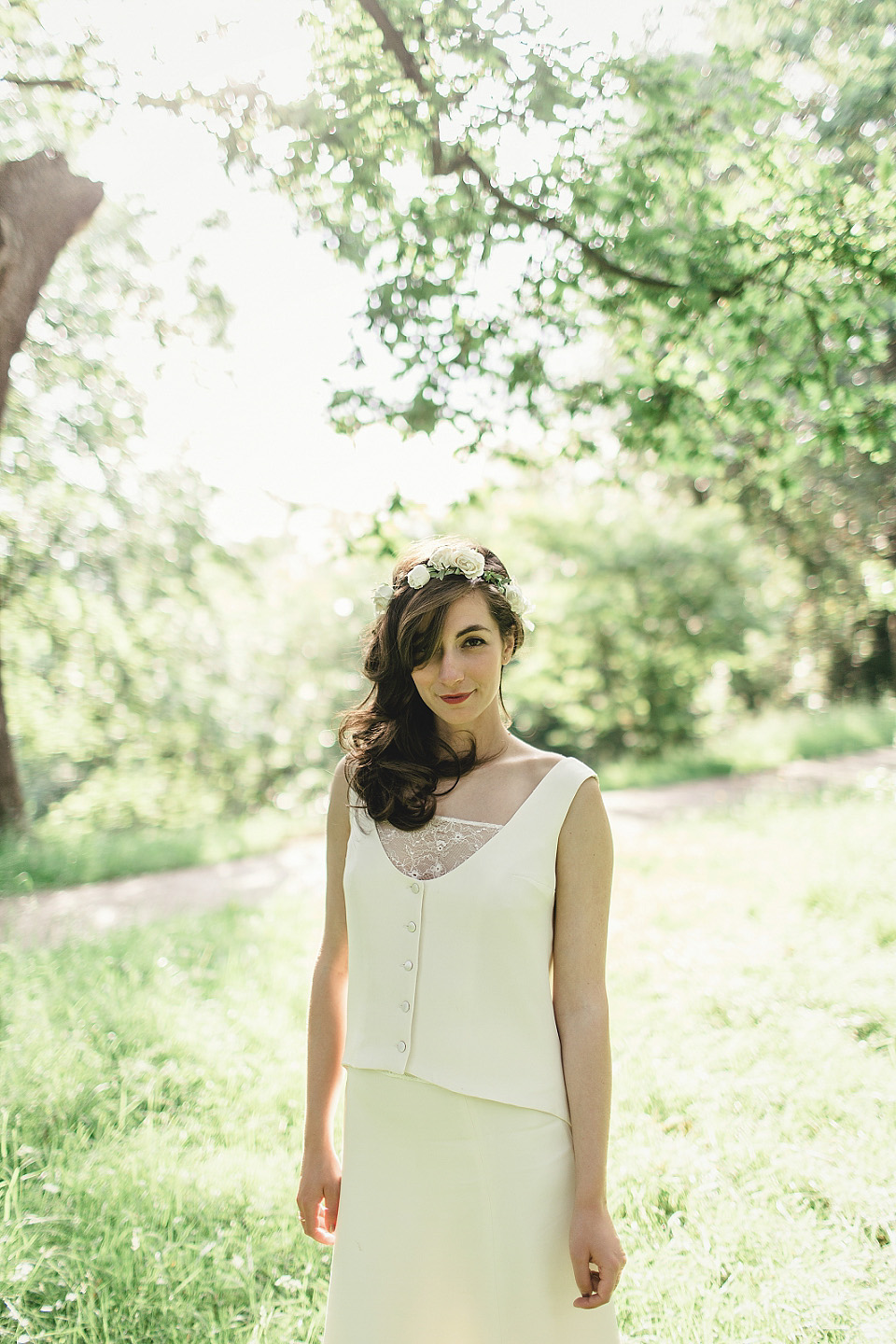 "My dad walked me down the aisle to the sound of White Winter Hymnal by The Fleet Foxes."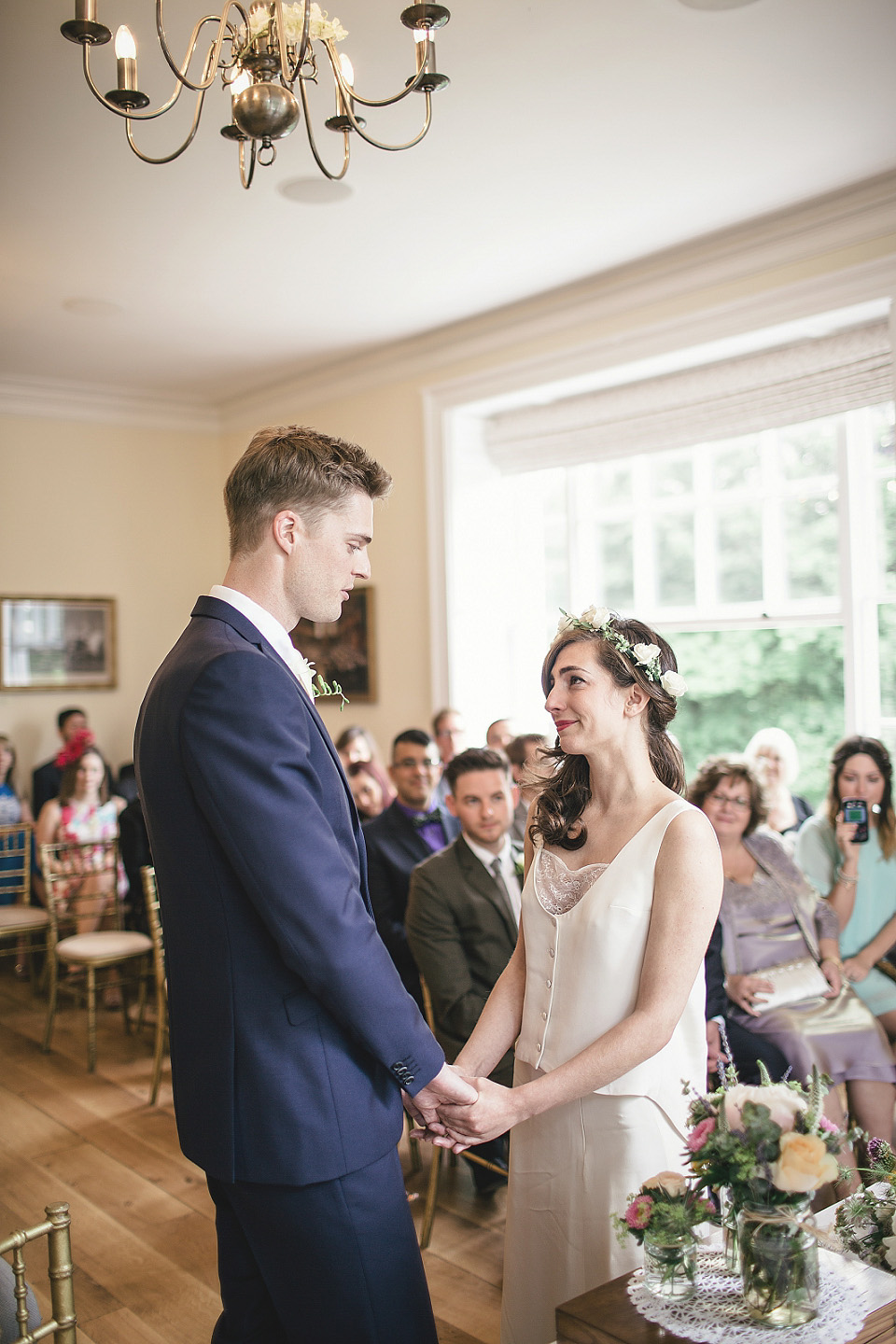 "I was quite emotional during our vows. My taxi never showed up, and so we were an hour late. By the time the taxi got to Richmond park, it dropped us off at the other side of the venue, so we had to run across the park to get to the entrance, then run up the stairs to speak to the Registrar, grab my dad, and walk down the aisle. It was such an intense journey, and so to suddenly be walking down the aisle in a room full of family and friends and my future husband… I was emotional to say the least. Whatever special vows, or words I wanted to say- those all flew out the window as I was much too chocked up to even speak. I could barely even go through the basic 'I, (sob) Karine (sob) Day, take… (sob)'.
We thankfully kept our vows short, and Graeme was cool as a cucumber the whole way through.
There were no readings – just tears (of joy of course)!"
"Both our rings are from Liberty. We chose a simple 18K yellow gold band for myself, and a white 18K gold band for Graeme. We were quite last minute getting the rings sorted (2 weeks before the wedding to be precise!), and so rings were done a bit on a whim. I was at Liberty's for my make-up tutorial, and their jewellery clerk ensured us they could get the rings sorted on time. Made sense to get things done on the spot!"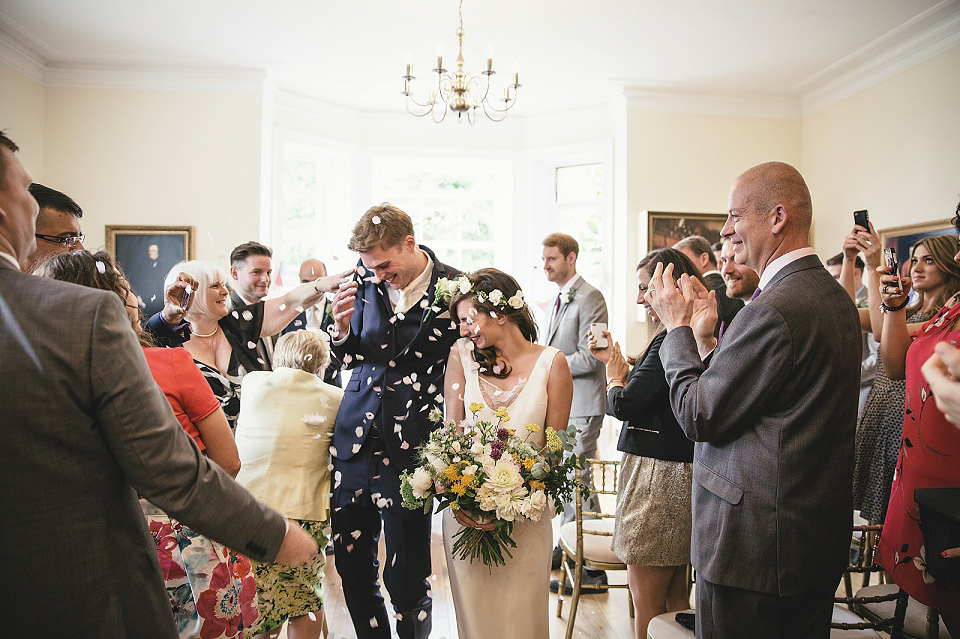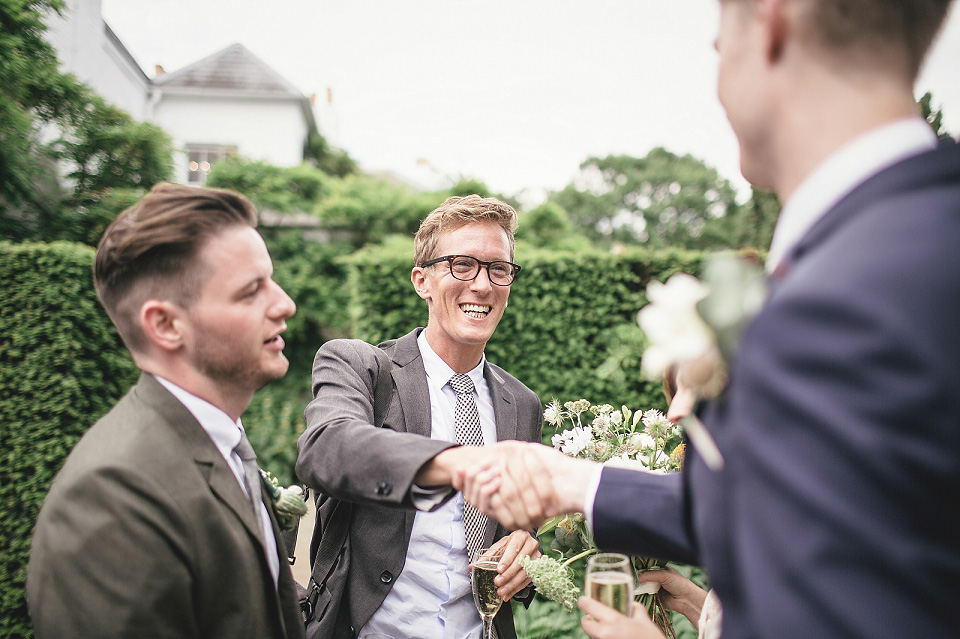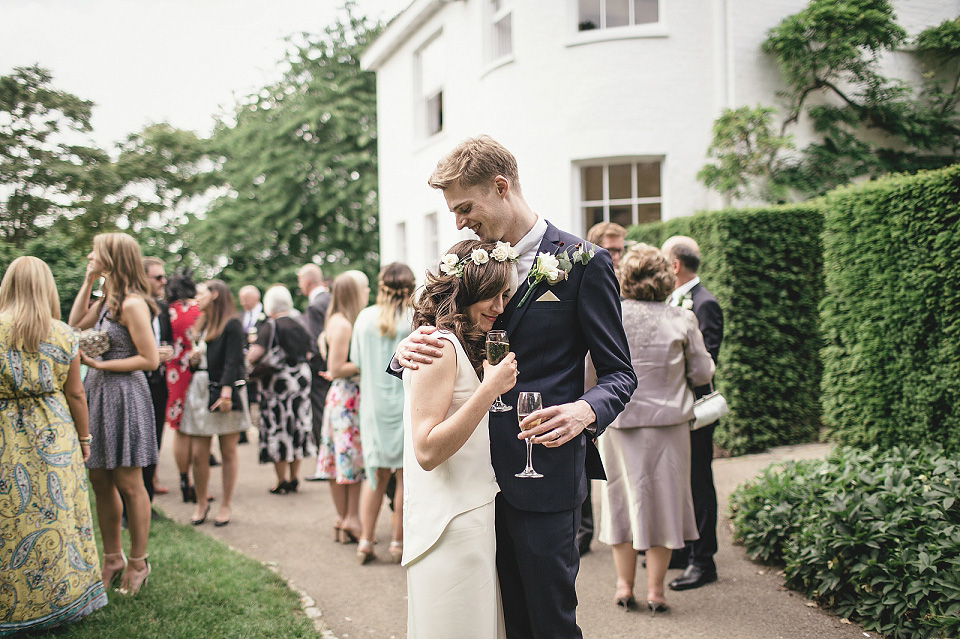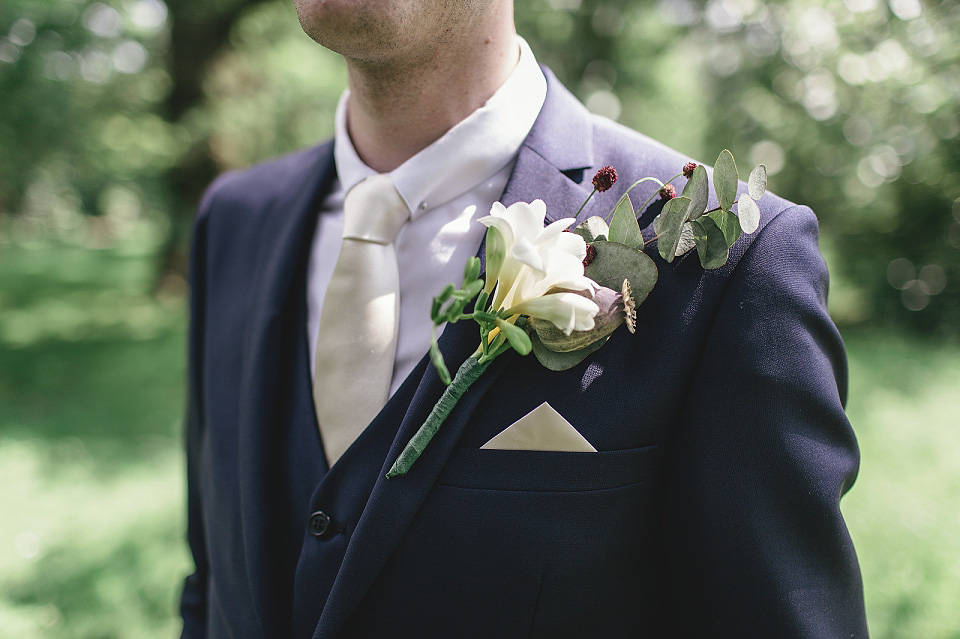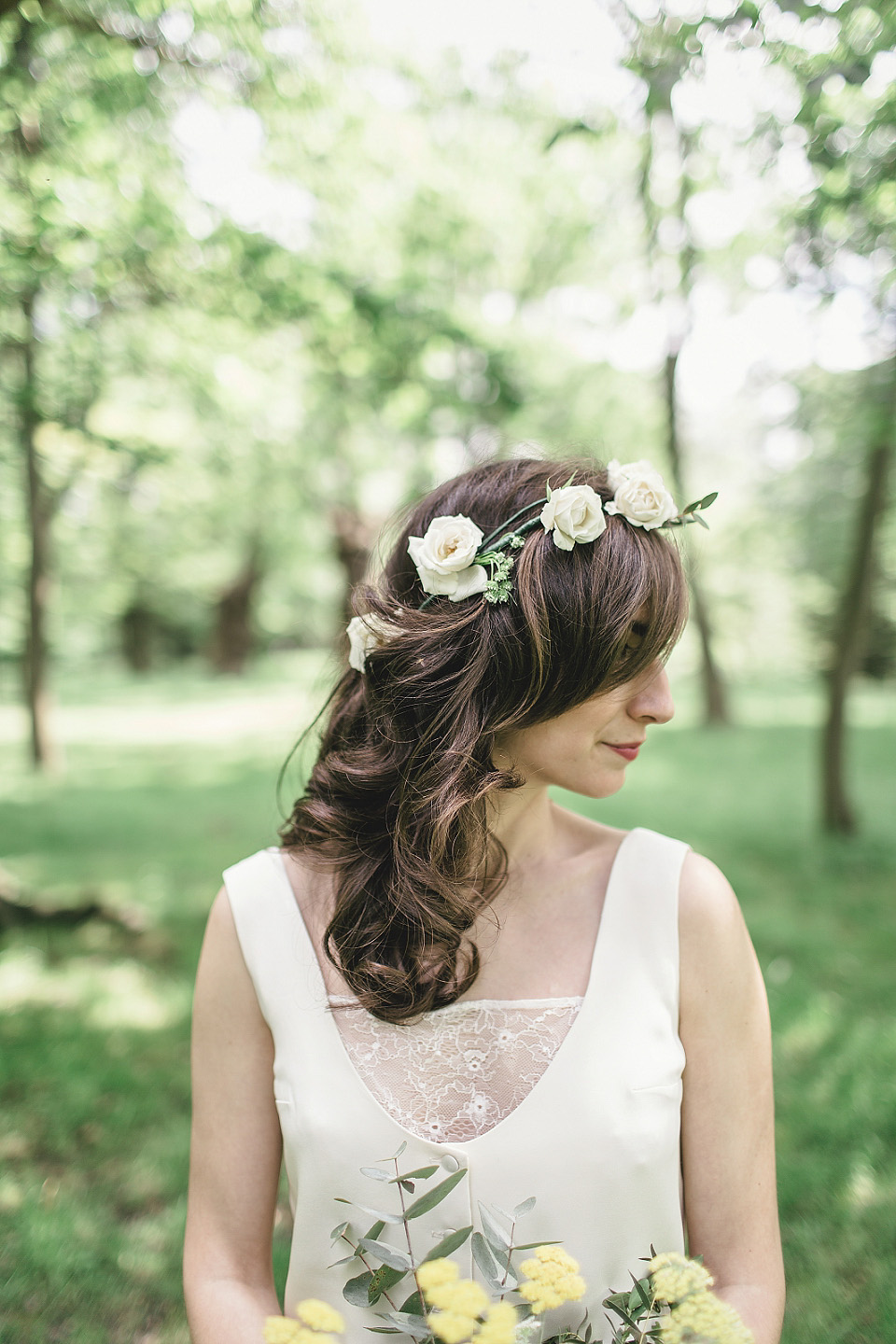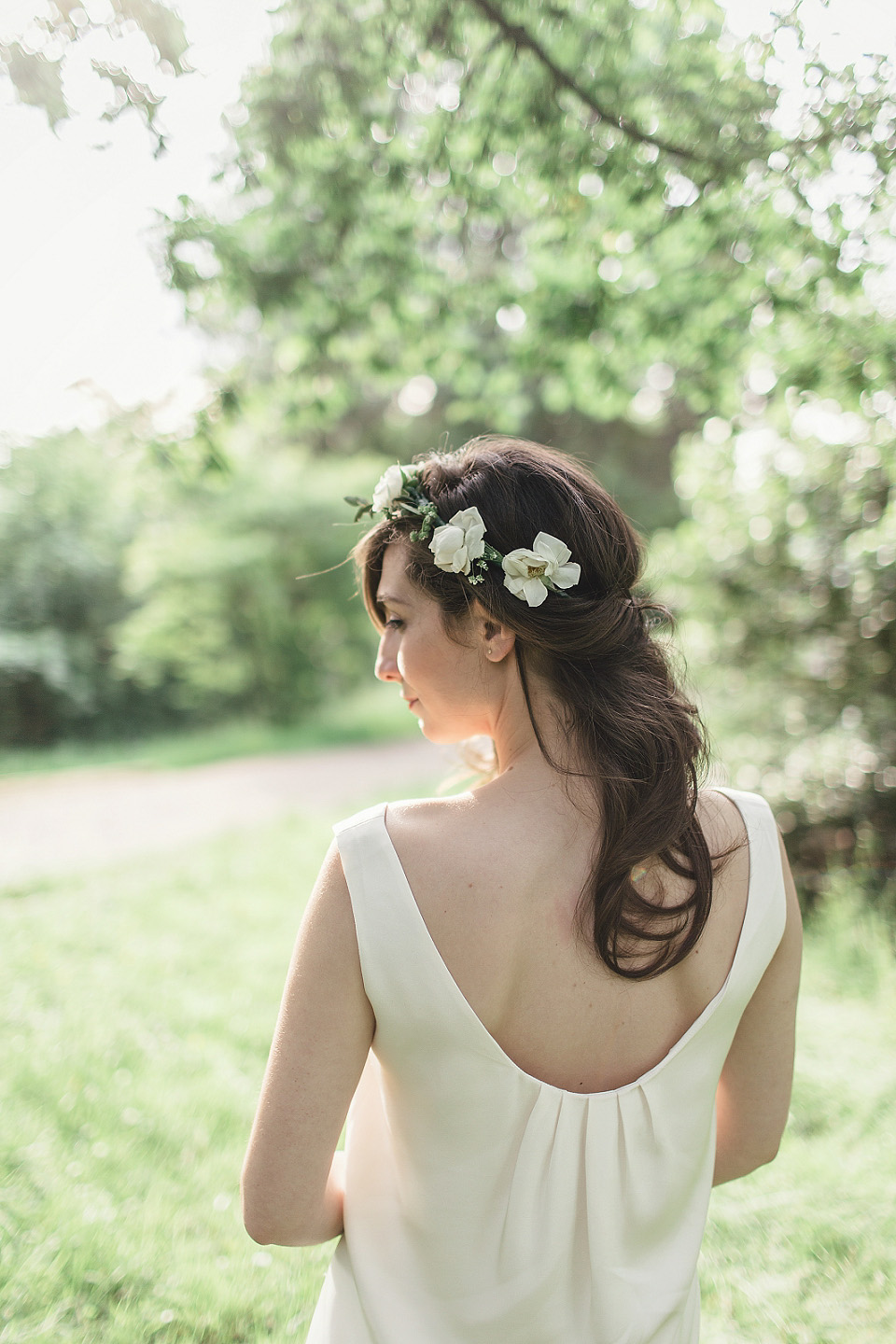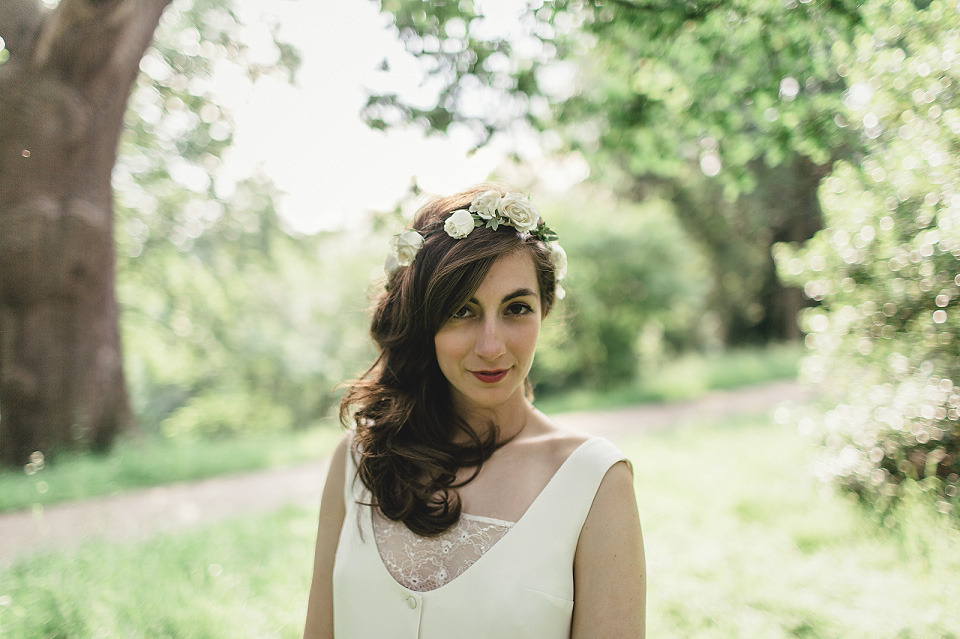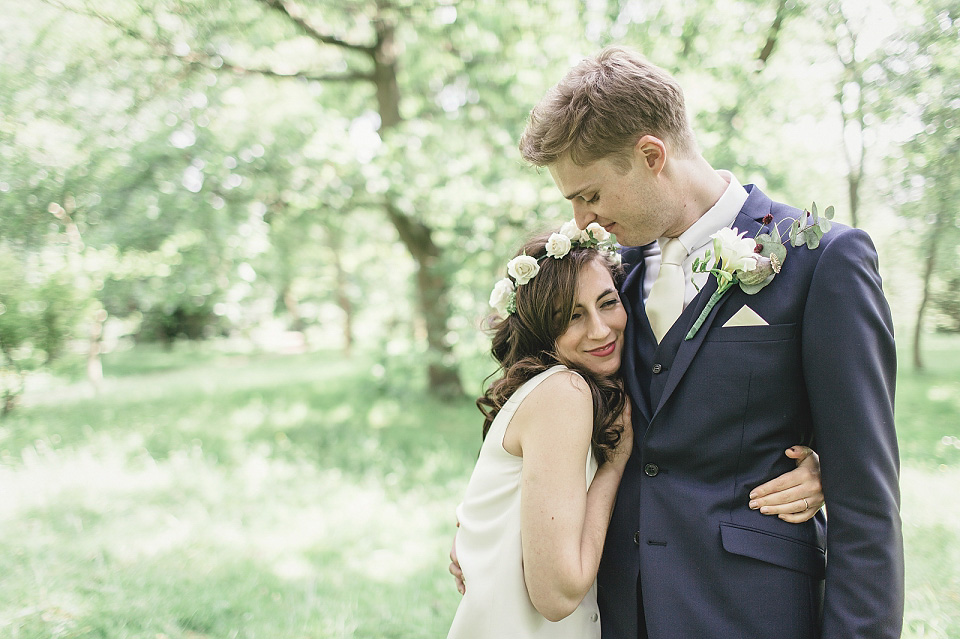 "I wanted to keep flowers wild and natural – a bit as if they've been picked from the park. We worked with wedding stylist duo Smith & Porter  (Tina Porter & Laura Smith) for the flowers, cake, decorations and prop-hire. Tina and Laura supplied flowers for the venue from their lovely florist, Rob. We had loads of jam jars and vintage glass vases filled with peonies (we were lucky they were in season), eucalyptus, lavender, Rosemary, roses and other types of gorgeous wild flowers I have never heard of before.
The venue smelled absolutely divine! For my flower crown, my bouquet and the flowers pins, those were done by the very talented Angela from Botany, based on Chatsworth road in Homerton, just around the corner from where we live. Working with Angela was great, she is very hands-on and knows her stuff."
"Smith & Porter took care of prop rentals, flower decorations and wedding cake. Working with Laura and Tina was absolutely wonderful. I sent them mood-boards of some objects/look and feel I thought might be good, and they just took it from there. I didn't want the place to look cluttered with things, but it had to feel 'lived-in'. Old telephones, globes, suitcases, glasses, old frames… they have an extensive collection of objects to choose from. They're obviously really good at what they do, and just knew what worked best or what wouldn't. Working with them really took weight off our shoulders, and I absolutely loved how I didn't need to worry about anything the eve before the wedding.
I've always been a hands-on, DIY kind of person, but with planning a wedding from Paris and not being able to do my own handpicking of objects, Smith & Porter's wedding styling expertise was highly appreciated."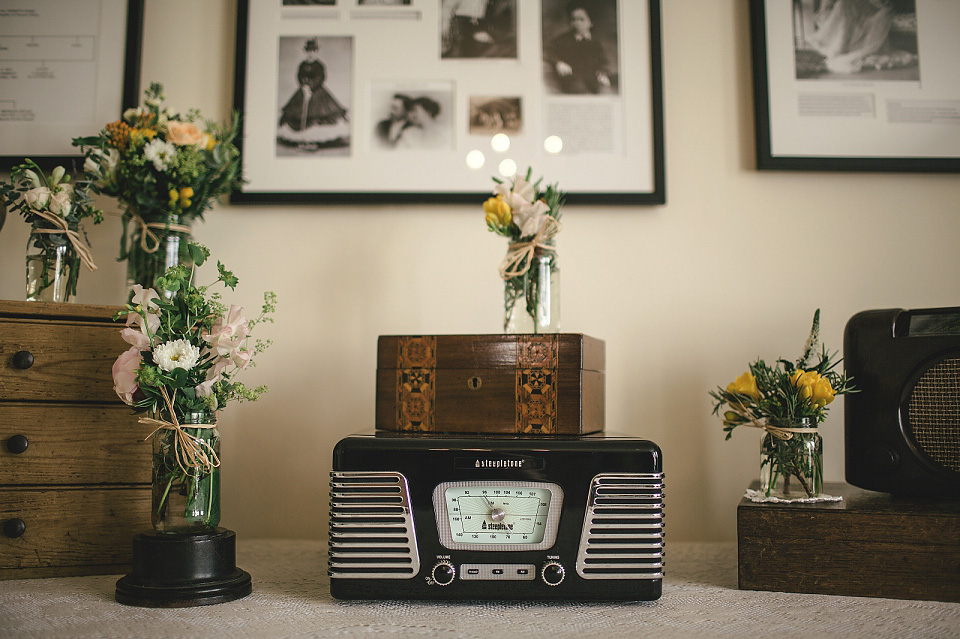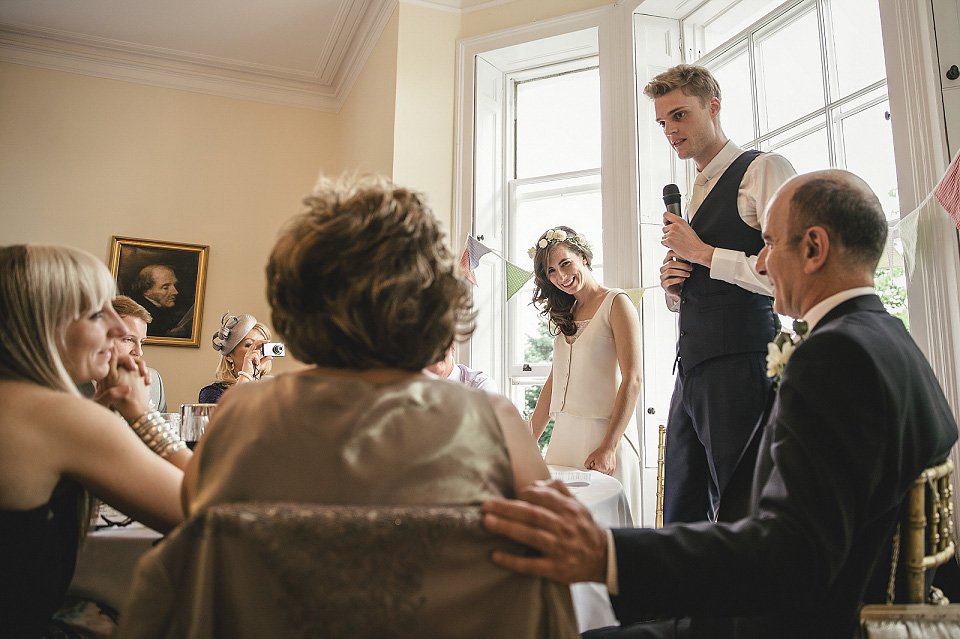 "Our Victoria Sponge Wedding cake was organised by Smith & Porter. We wanted to avoid cakes with loads of icing, so we opted for a cake that was festive and meshed with the vintage theme. To this day, our friends and family are still talking at how good that cake was."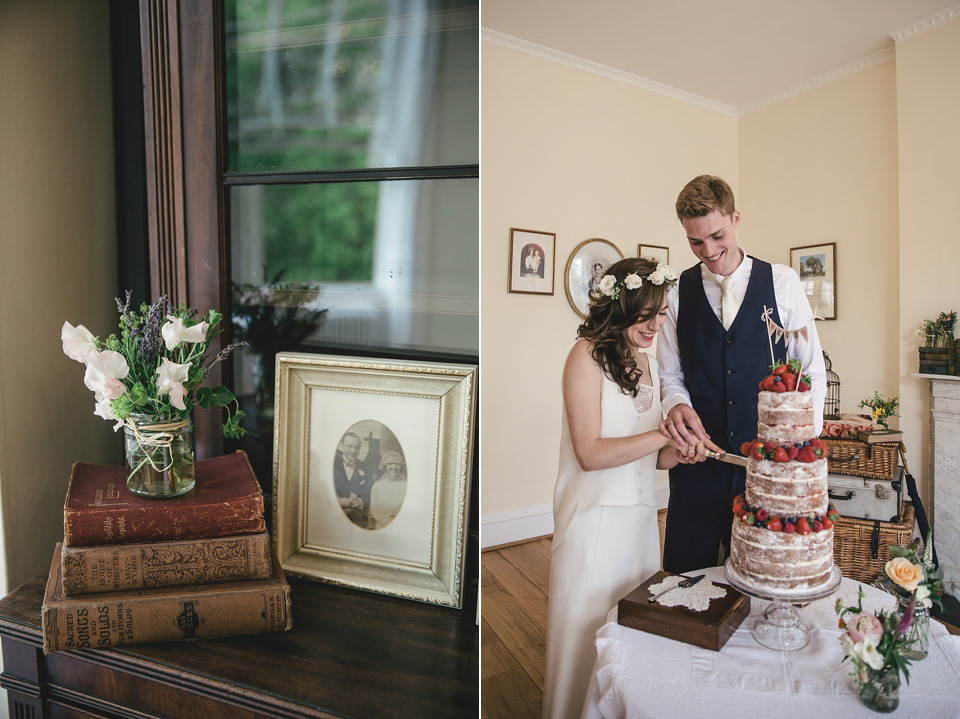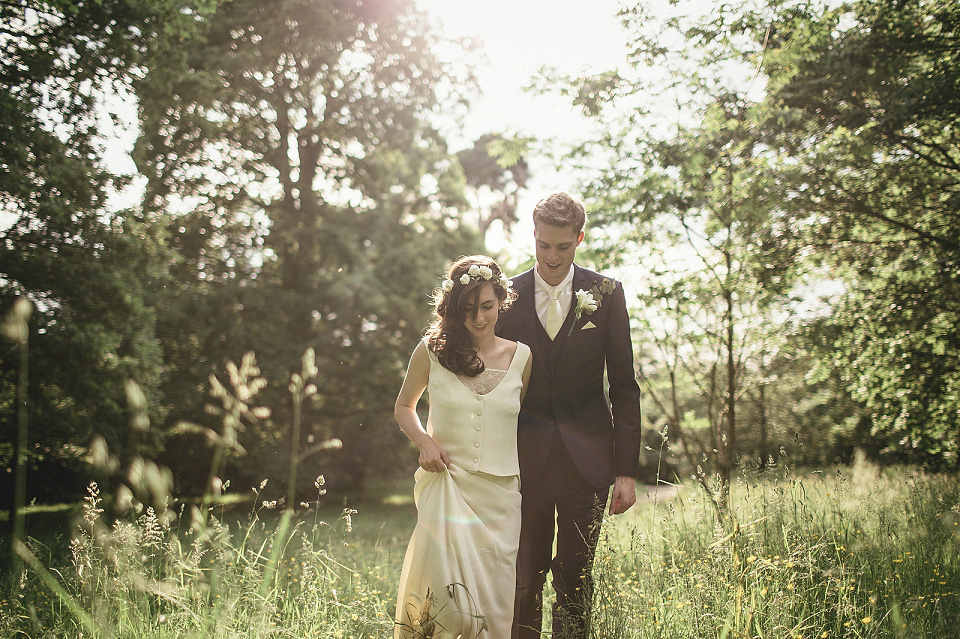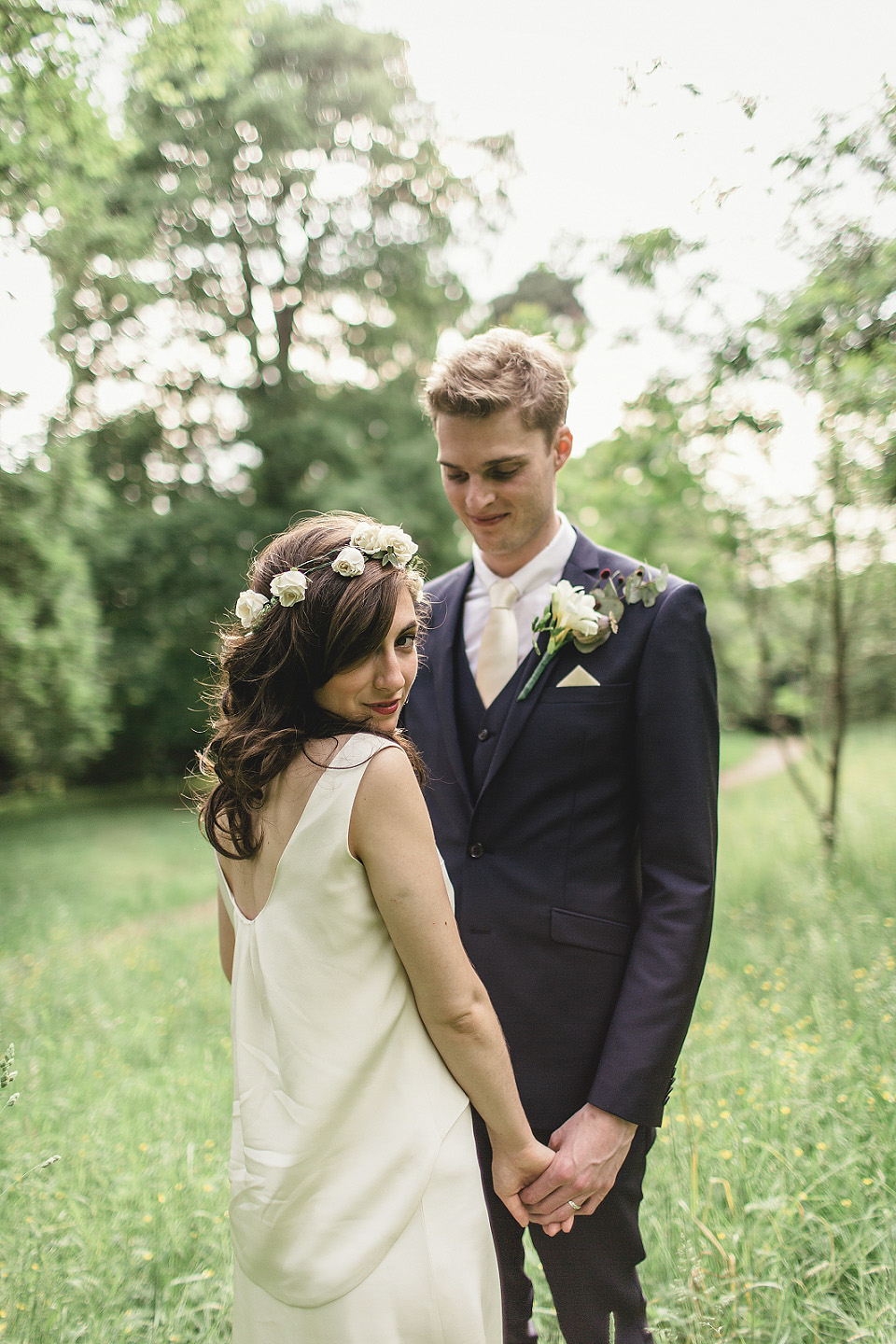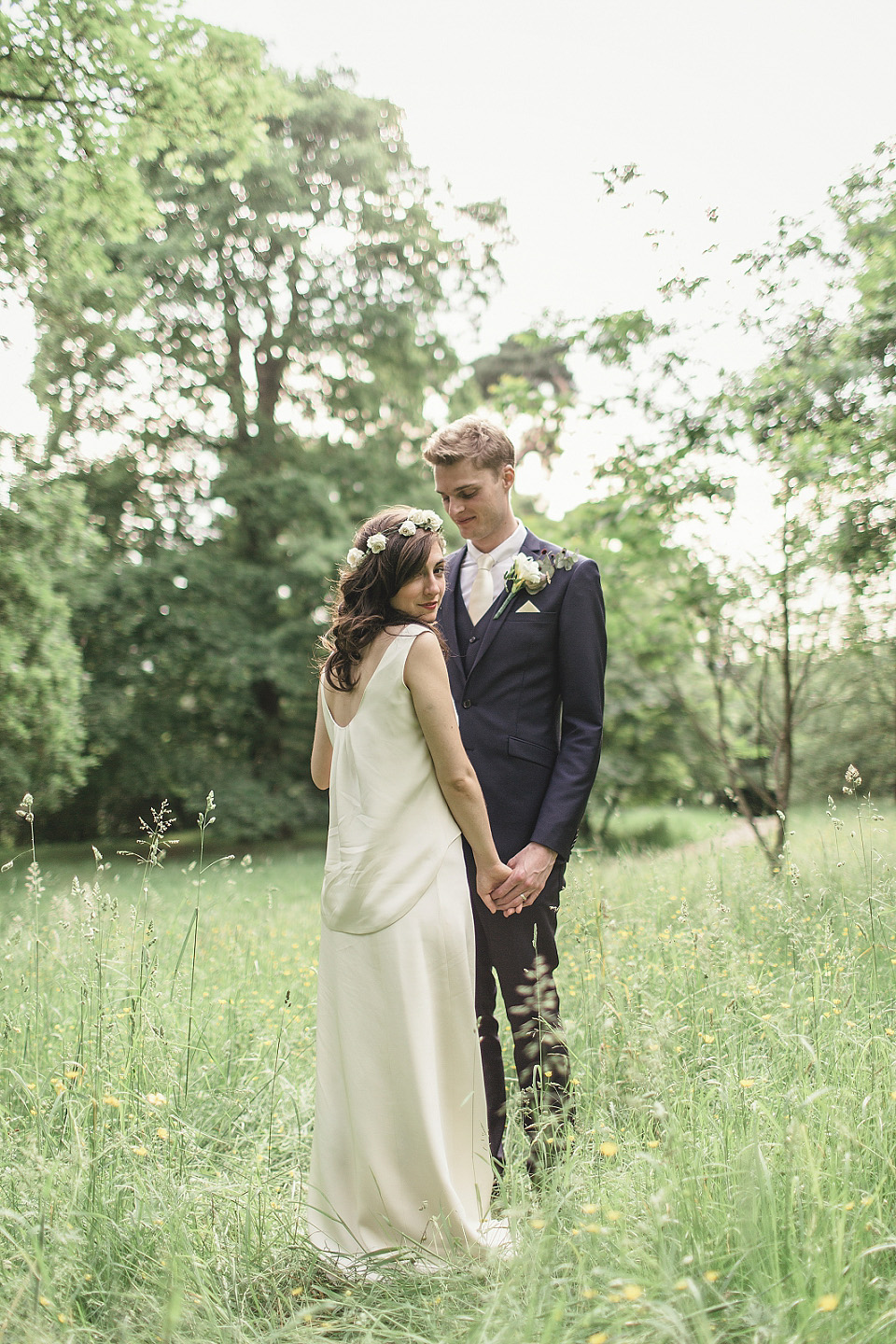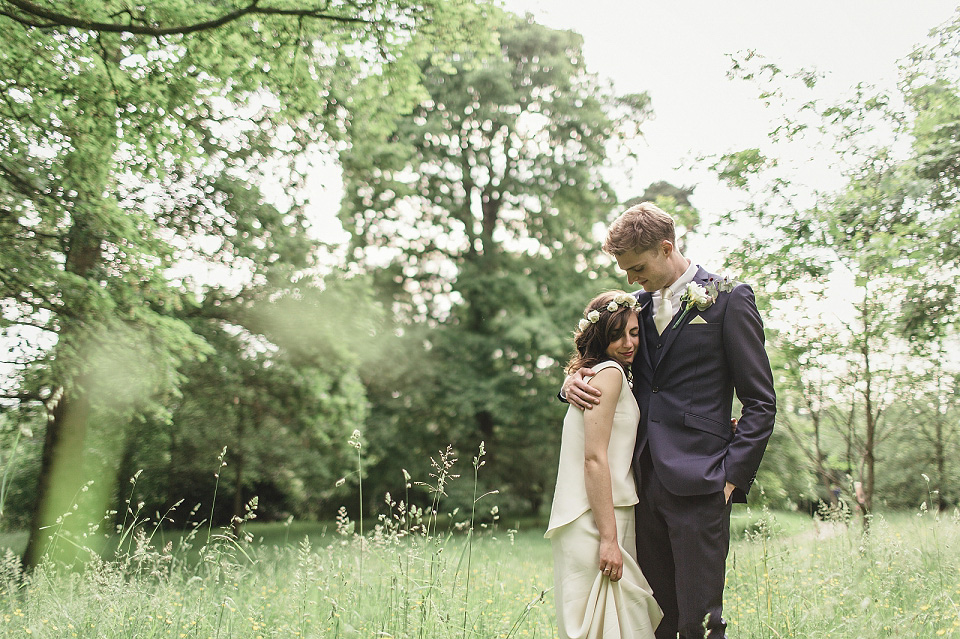 "Our first dance was Here, There, And Everywhere by the Beatles. We really struggled on this front. The whole first dance thing was quite daunting for us, as it's all very traditional and we've somehow never slow danced together. The Beatles seemed like an appropriate choice as Graeme is from Liverpool and… well… you can't really go wrong with the Beatles. We practiced dancing a few times in our kitchen the day before.
I'd recommend typing 'First Dance Wedding' on YouTube… we were desperate and checked out some video tutorials hoping it would help … which of course, it didn't. Actually, we did incorporate a little twirl in our dance routine. Otherwise, we just focused on not stepping on each other's feet, smiled, and tried to look as graceful as possible."
"My favourite part was the party and dancing. Our DJ Rob is a friend of ours and so it felt a lot like a house party. Everyone was at ease and really let their hair down. My dad totally bust the moves. It was amazing. Everyone danced and had an absolute blast."
Words of Wedded Wisdom…
"While planning, everyone kept telling me: don't be stressed, just enjoy every moment of it. I'd cringe at this advice, but now that it's all over and done, all I could say is: enjoy every moment of it, but do know when to step back for perspective and ask for help. Local independent wedding styling companies like Smith & Porter are a godsend. Weddings are terribly expensive, and hiring a wedding stylist can seem like a splurge, but in retrospect, it's a sound investment. I wanted to avoid having to ask people for help, as many of my friends run busy hectic lives and didn't want to burden them with wedding details while I was living abroad. Wedding styling is surprisingly affordable and worth every penny. 
If I had to change anything, and it would literally be just one, it would be the taxi!"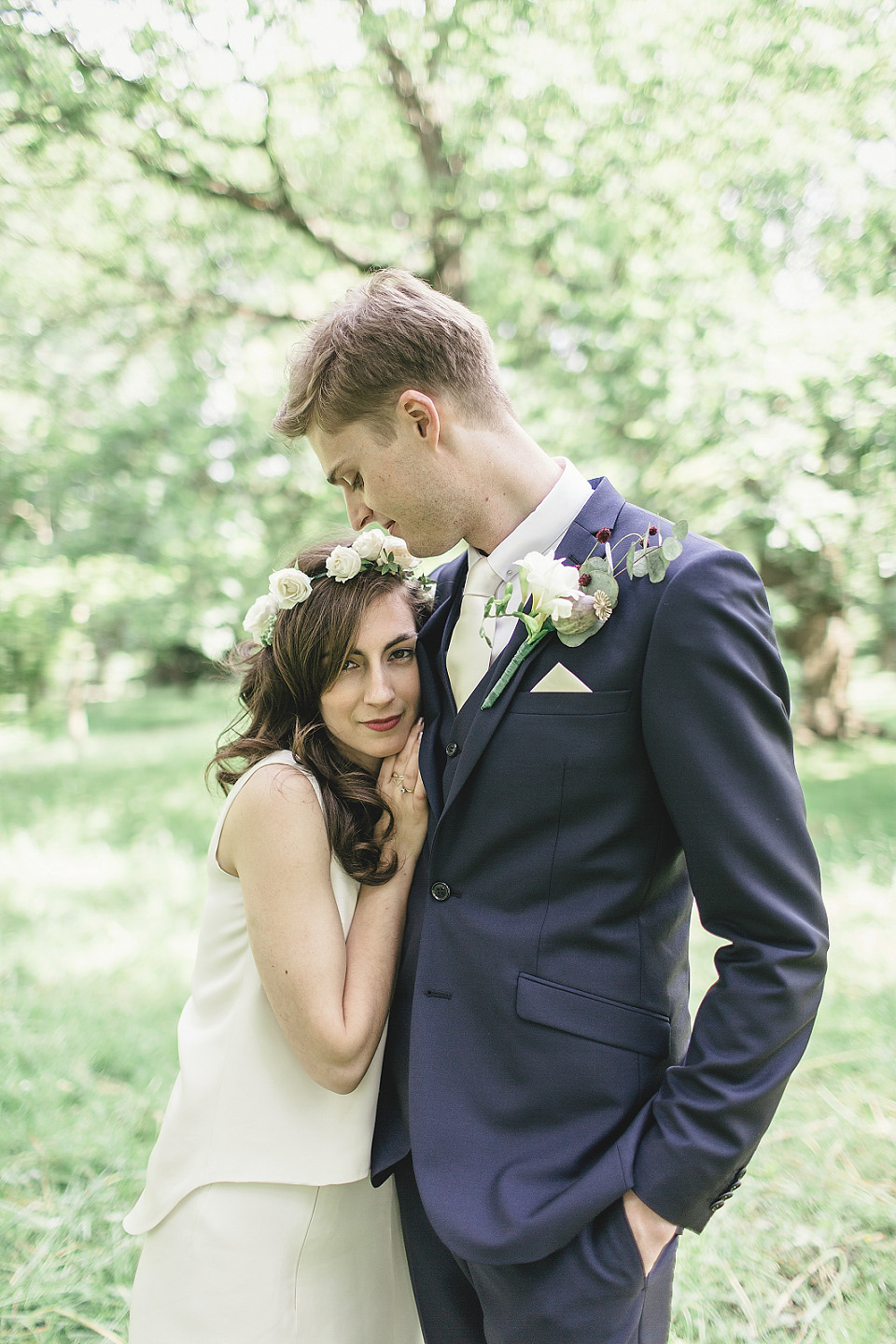 What an elegant and beautiful day – thank you as always Kat Hill  for sharing your beautiful photographer.  Readers, if you are drawn to this photography today, please take a moment to check out Kat's website here – Kat has also had several other weddings featured on Love My Dress®.
The designer Élise Hameau is a new designer on my radar and I don't suspect it will be too long before we share another wedding with a bride wearing one of her designs. Might that be you?
Have a good morning all,
Love Annabel xx
Photographer – Kat Hill
Wedding stylist/prop-hire – Smith & Porter (venue decor, cake, flowers etc)
Venue + Catering – Pembroke Lodge in Richmond Park, London
Dress – Élise Hameau
Bride's Hair Accessories – Flower crown by Botany
Bride's Shoes – Dune
Perfume/Scent worn on the day – Jo Malone's Peony & Blush Suede
Grooms Suit – 3 piece suit + shirt by Tiger of Sweden + black patent shoes by Hugo Boss
Rings – Liberty