Whilst home is most certainly where the heart is for me, and always will be, it would appear that I've been bitten by the wanderlust bug.  My appreciation for our beautiful world and all it's rich, cultural offerings has been pulling on my heart strings of late – luring me with the promise of exploration and adventure.  Having visited France, Italy and Morocco in the past 18 months, Iceland in the past few days, and with visits to New York and Copenhagen coming up in the next four weeks, I'm doing pretty OK so far to satisfy my inner yearning to travel and discover, and very lucky I am to have this opportunity too.
One of the loveliest places we've spent time as a family this year was France.  Beautiful, rural France, with all it's picturesque rolling countryside and evening sunsets that cast magical light across scenes of bucolic bliss.  It's an easy place to fall in love with and going on these photographs alone, easy to see what drew this couple to this particular elegant spot nestled away in pretty Provence.  Sam and Kevin, both Chartered Surveyors, got married at Bastide Saint Mathieu in June this year.
"Bastide Saint Mathieu is a beautiful house and gardens that offers a relaxed and informal setting for a wedding within an intimate setting.  We wanted to have our wedding outside, plus we could personalise with our own suppliers.  I have an obsession with France and we met, got engaged and have spent a lot of time in France together, so it felt right to have it in France.  The south of France and Provence is also known for it's weather and beautiful scenery (although the weather part didn't exactly go to plan on the day!).  We basically wanted it to be the best party we would ever throw with all our favourite people!"
Photography Copyright (c) 2014, M&J Photography
"Kevin and I met on a work ski trip in La Plagne, France. We were just friends at first but arranged to meet up 6 months later and it went from there. Kevin proposed at Chenonceau in the Loire Valley, France whilst we were on holiday at my parents which was such an amazing day – and very unexpected! This was in August 2012 so we were engaged for 22 months before we got married.
I am obsessed with France and things French, so a French wedding was definitely on the cards. We wanted a more relaxed and informal wedding and didn't want to be restricted by things we were supposed to do. We wanted a day that reflected our personalities and things we love so high on the list was good food, wine and music. The venue is typical Provencale style and we didn't want to overpower the natural beauty of the venue, so the colours and flowers were chosen to compliment this."
Sam wore a gown by couture designer Stewart Parvin that she purchased from The Bespoke Wardrobe.
"I wasn't expecting to love this dress. It was strapless which I didn't want but I was encouraged to try it on and because it was made to measure and would be in proportion with my tall frame (I don't usually wear strapless dresses because I look too 'shouldery'!).  When I tried it on it felt wonderful and with the addition of a lace jacket and ribbon belt for the ceremony it was perfect!
I was also able to change my look for the evening by removing the lace jacket and adding a sparkly belt."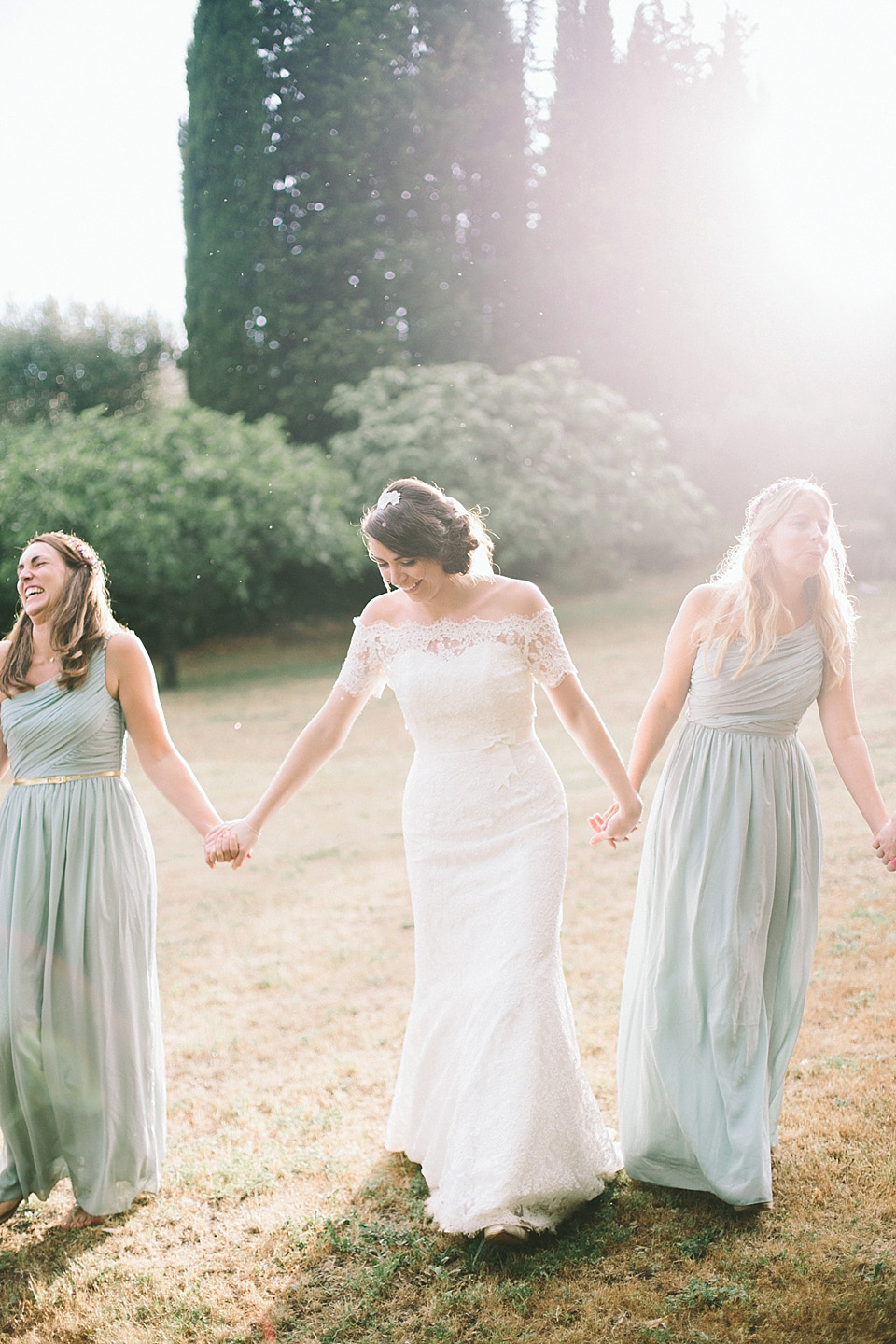 "The corset style gave me confidence not to be worrying about wobbly bits during the day! I just felt so wonderful and confident in my dress and loved wearing it. The lace is beautiful and the design is simple but elegant. I was able to change the original design slightly by altering the neckline to a sweetheart style and dropping the back to fall lower – the jacket was altered to follow the same line.
I also got to meet Stewart Parvin himself, to talk through my changes and he did me a drawing! This was a fantastic extra experience which was unexpected."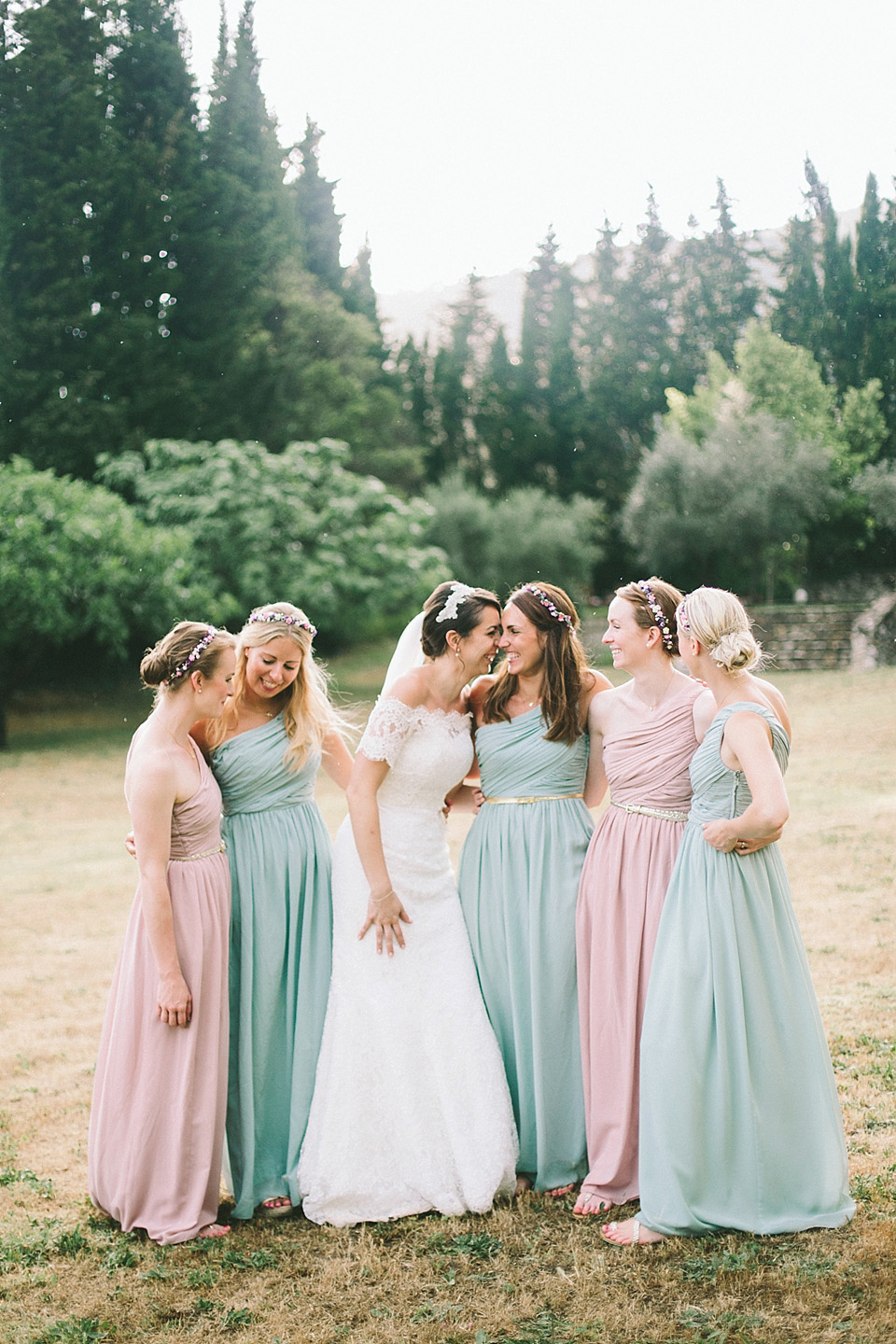 "Our photographers were M&J Photography.  Morgane and Jonny are such talented photographers and we are so happy we had them photographing our wedding. Their style of photography is exceptional and perfectly captured our day. They are also really lovely and fantastic to work with – they 'got' us and we feel like we made two new friends! They are relaxed and we didn't feel like we were being forced into false poses – they let us be ourselves and captured those moments so well.
So many of our family and friends commented on how great they were on the day and how impressed they are with the photos. We struck gold with M&J!"
"Alex of Cool Baby Ned was a lovely supplier who provided the bow tie for our little page boy.  She provided a bespoke order for us – having asked the theme/colours of our wedding and went out to find some material. I have since bought a dress from her for a friend's baby.
My bridesmaids wore gowns from H&M.   I gave each of the bridesmaids a dainty gold necklace to wear as a thank you for an amazing hen weekend. They each had a different design from a variety of vendors on Etsy. I also bought them each a light cotton robe in different floral material from a vendor on Etsy. These went down a storm and were great for the morning of the wedding – they all said how much they loved them and have been using them at home!"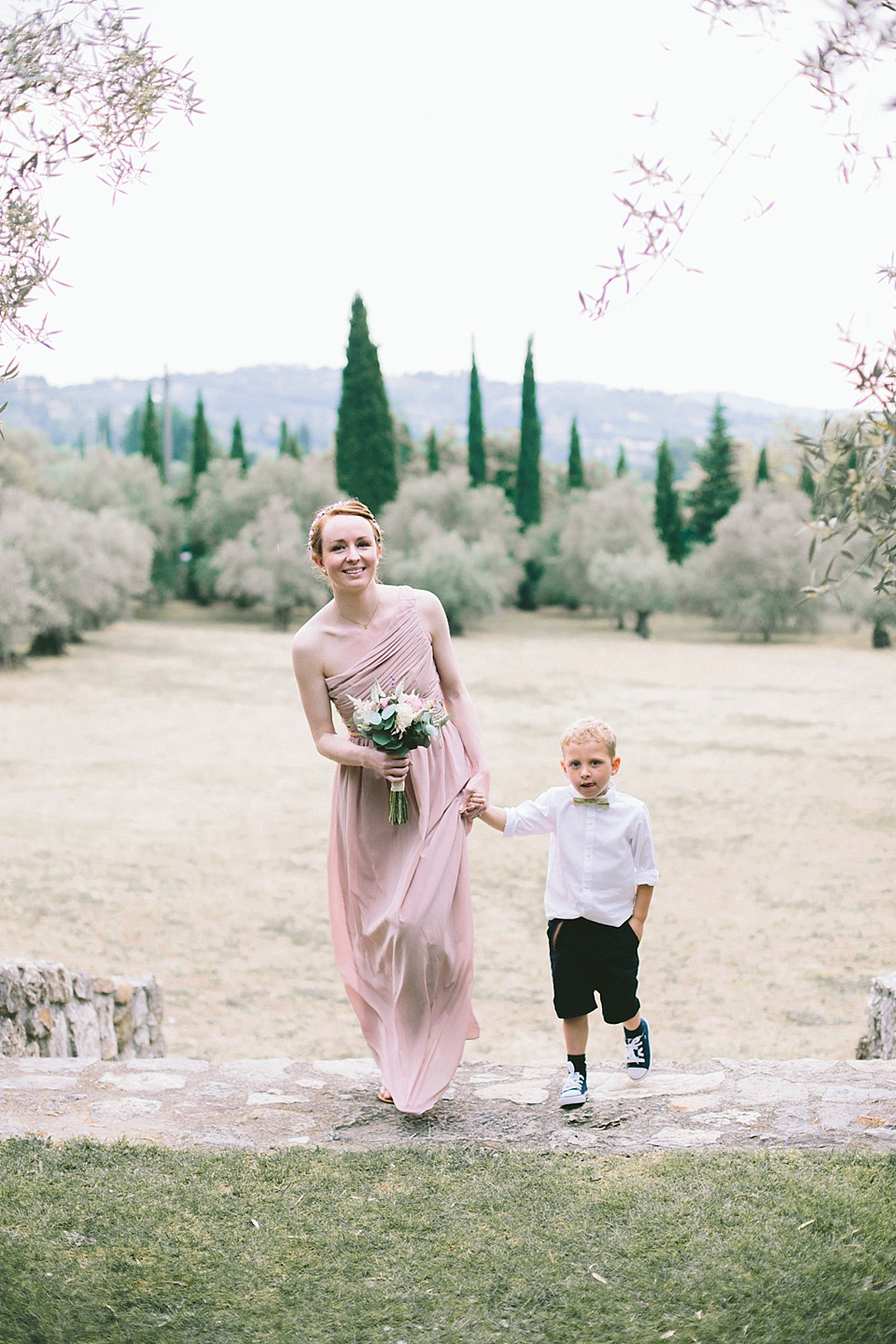 "We used Laurence Demon from Inflorescences in Biot. We went into her shop on a trip the summer before and had a good chat with her. She was lovely and showed us her previous work. She understood what we were looking for and didn't try to push lots of displays and extras. She only does a few weddings a year and puts so much effort into each one. We wanted seasonal and local flowers in informal arrangements which would compliment our venue. We collected tons of jars and glassware which Laurence used for the tables.
We weren't set on particular flowers but just asked for pastel and pale colours with seasonal and local flowers used where possible. I also wanted my bouquet to be quite informal with some fragrant herbs too."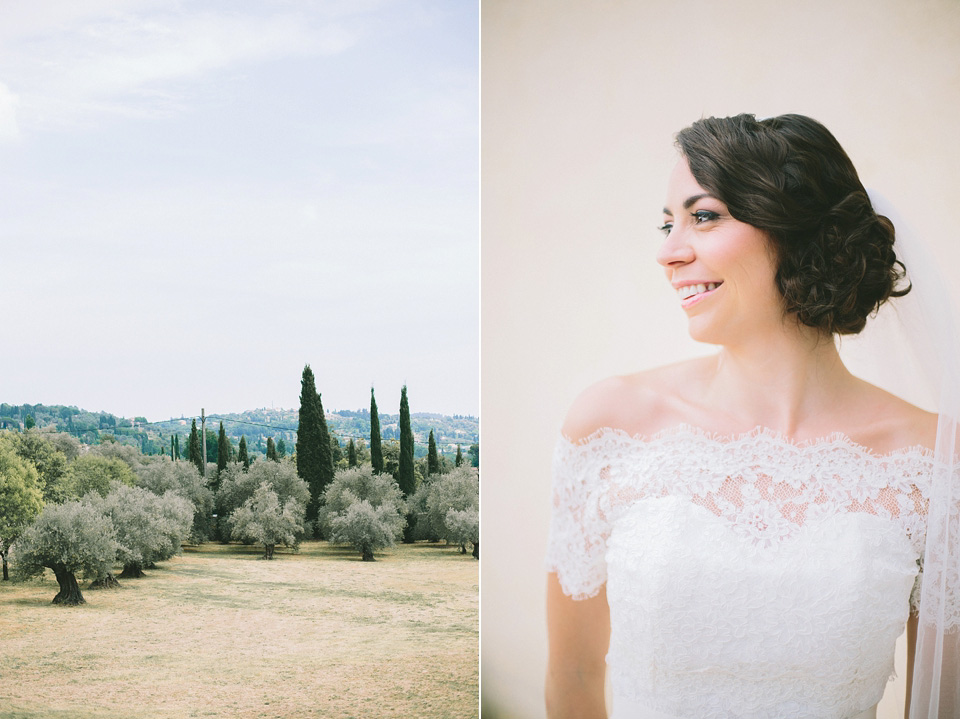 "We also requested buttonholes which were longer lasting that the traditional rose buttonholes. Laurence exceeded our expectations and we couldn't have wished for more beautiful flowers! Everyone commented on how lovely they were. We also managed to use the table flowers them for our pool party the following day which was great. She was able to deliver all this within our budget which wasn't huge! The flowers we had in the bouquets were were "Avalanche", "brut" and "Armando" roses, astilbe, astrancia, eucalyptus leaves.
On the tables we had these flowers plus lisianthus, thistle, lavender, camomile flowers, campanula, hydrangea, blackberry."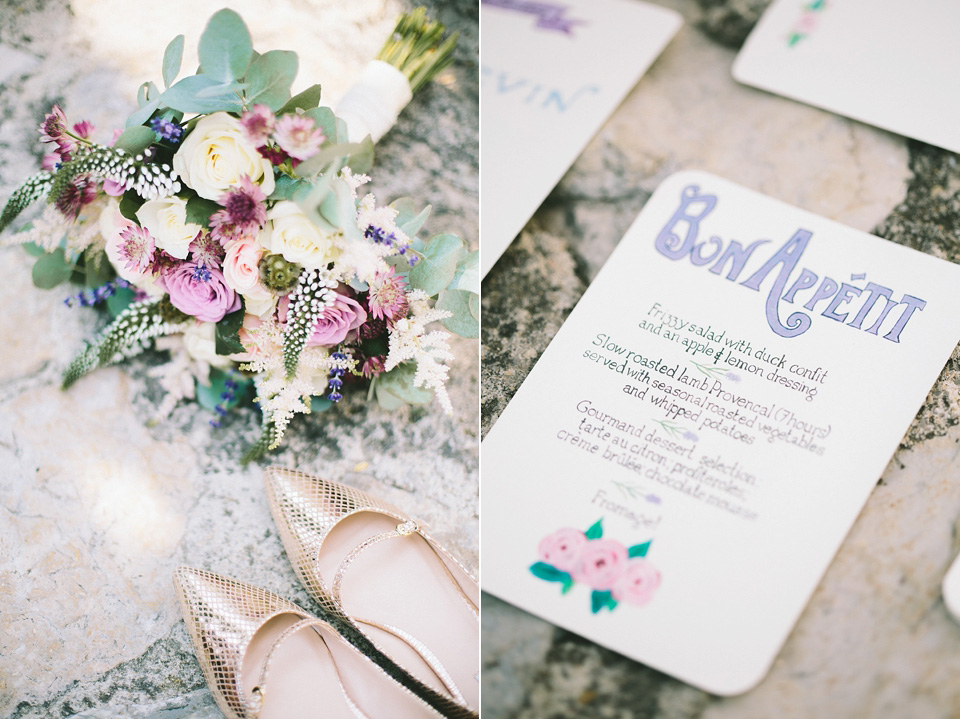 "Sam designed, painted and decorated all of the stationery, with help from the bridesmaids with sticking! I don't get much chance to be creative and loved the opportunity to personalise our wedding through the stationary. It took a lot of time but it was worth it."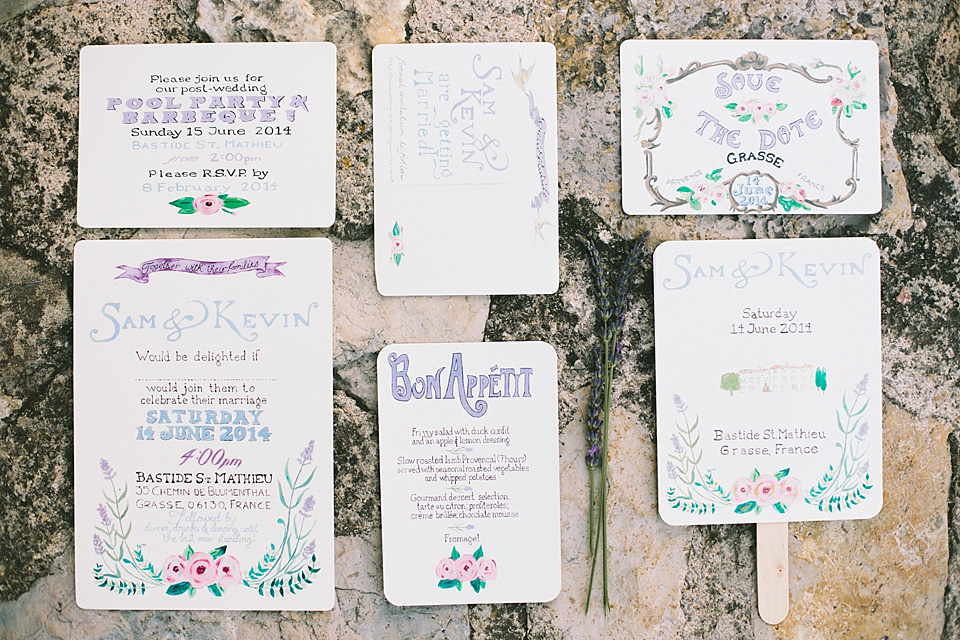 "I wore Jo Malone's 'Silk Blossom' on the day – I went to a Jo Malone event with one of my bridesmaids and chose it because it is light and also a limited edition. I often associate perfumes with people so wanted something no one else would have.
My pearl earrings were a 30th birthday present from my parents to wear on my wedding day. I also wore a Tiffany bracelet from some friends – another 30th birthday present. It had a small blue stone which was my something blue. I also wore a diamond necklace in the evening which Kevin had bought me for my 30th."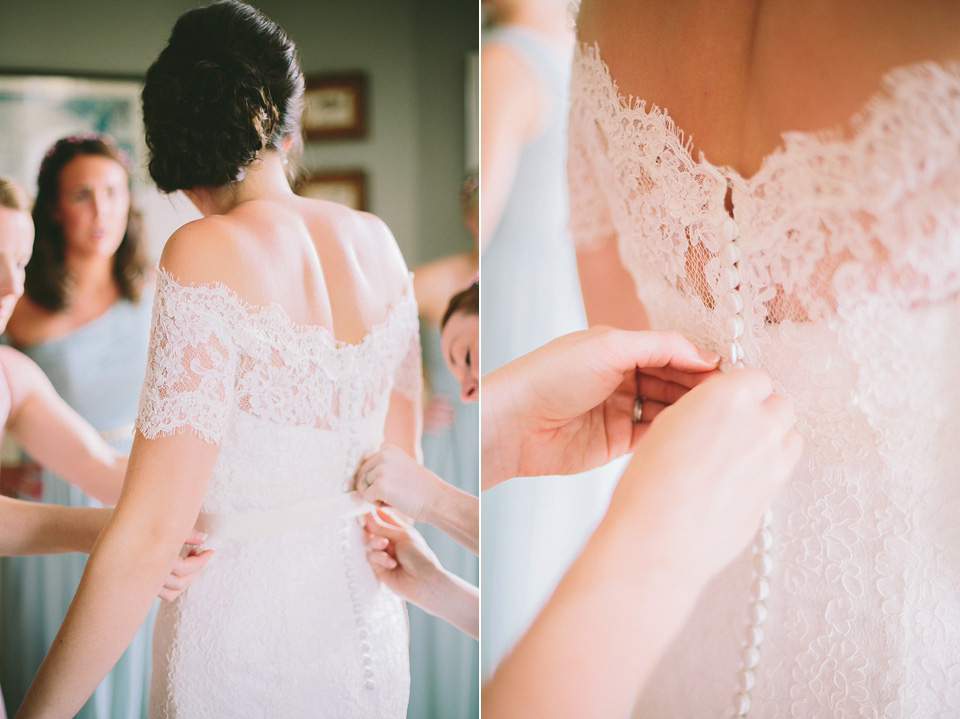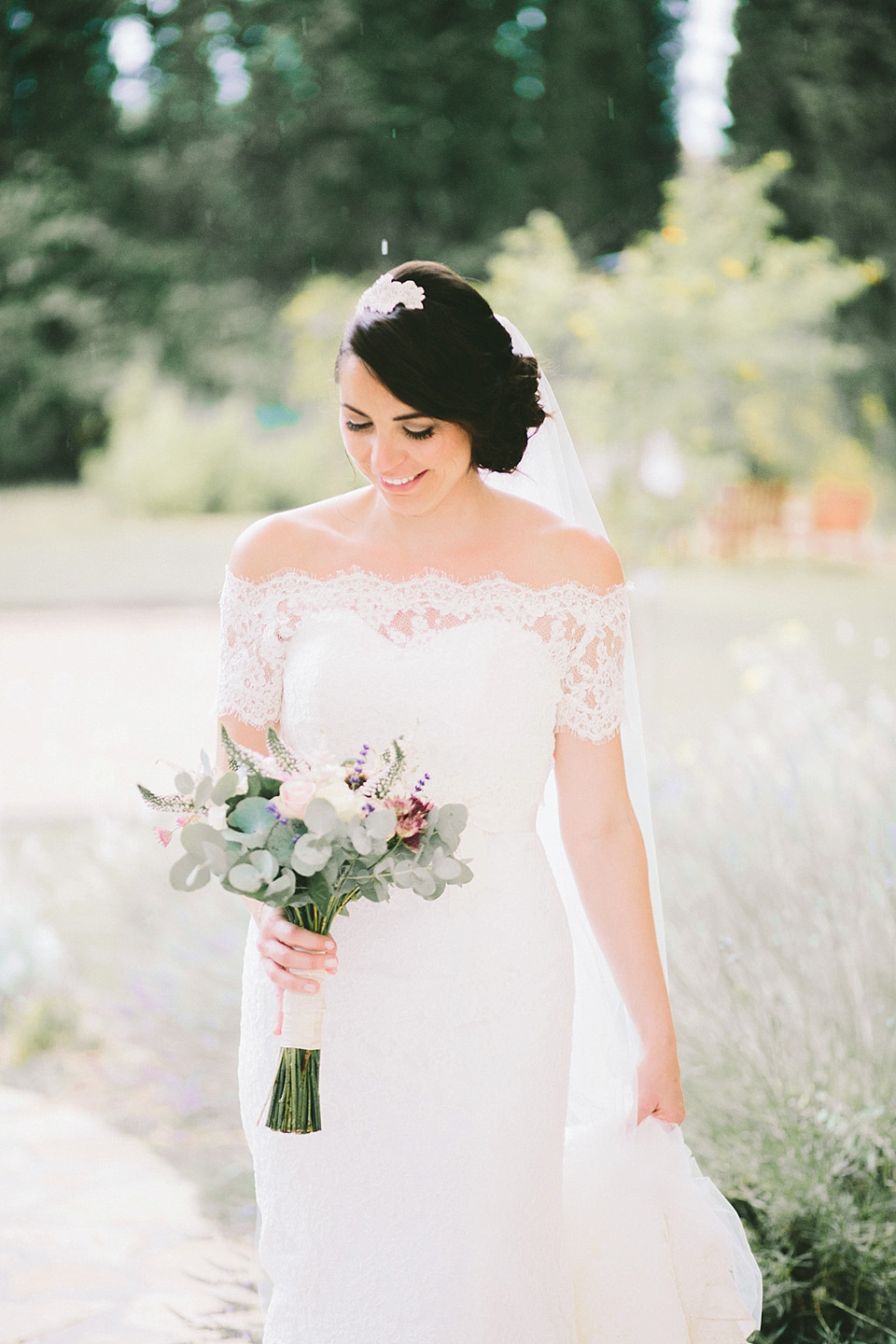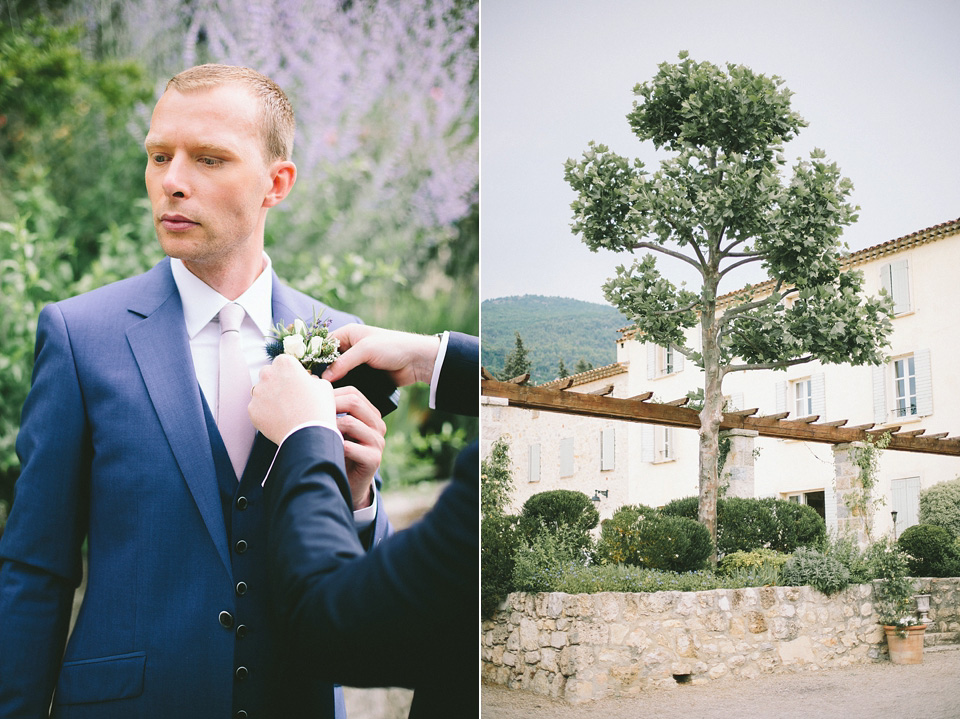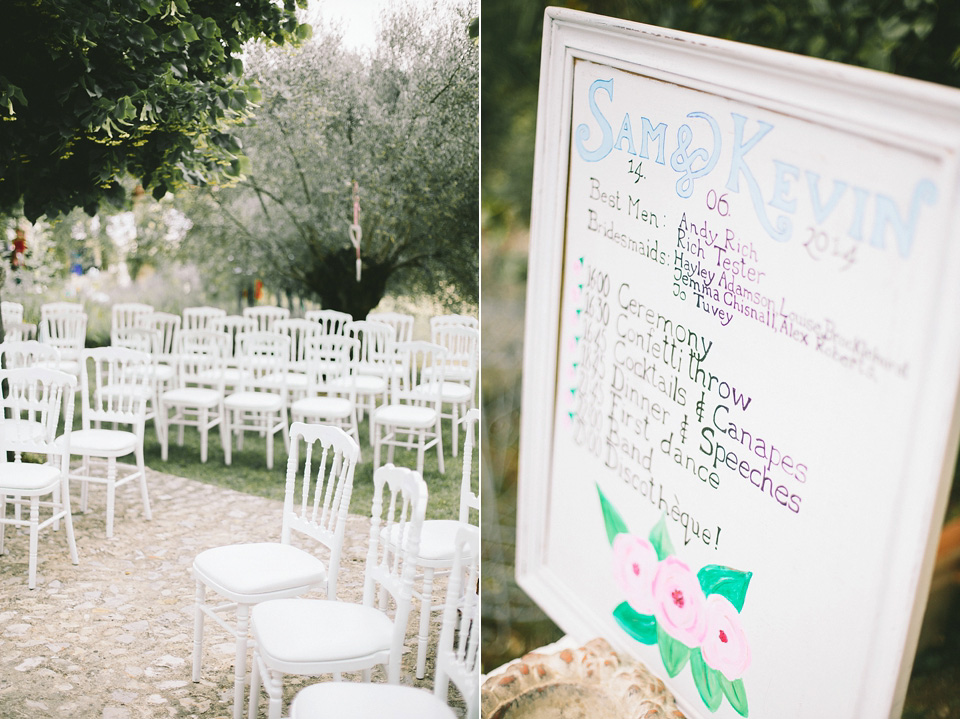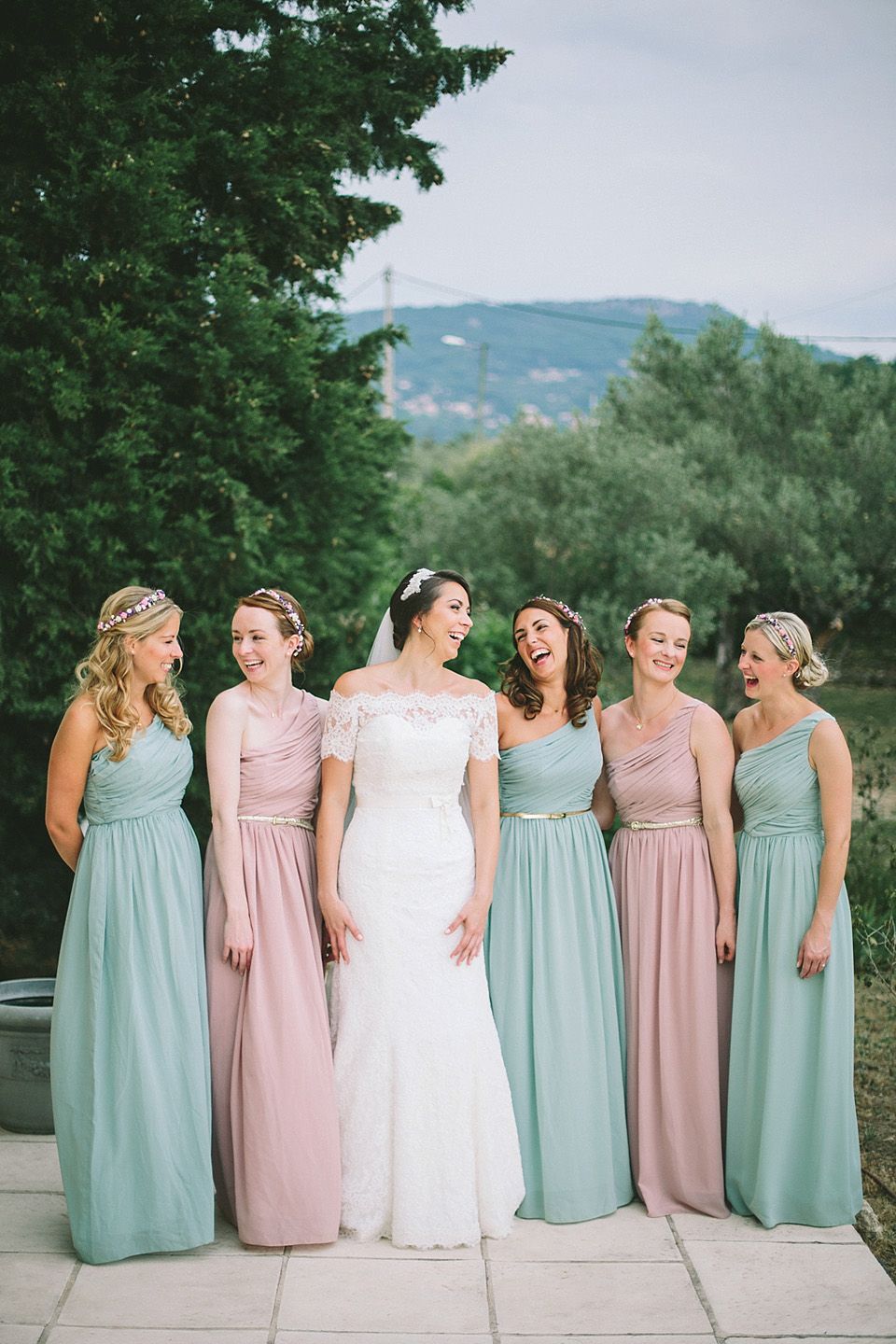 "My Dad walked me 'down the aisle' – he was fantastic and helped keep my unexpected nerves at bay. He told me afterwards that I was shaking before we were waiting to walk out of the house, but I hadn't realised at the time as he was chatting to me to distract me. I'm very close to my parents and we wanted to keep the tradition of my Dad giving me away. He made me soak it all up by making me walk slowly rather than race up the aisle!  
The song that accompanied us was Des'ree's 'Kissing You'. I love this song and was surprised that I didn't blub all the was down the aisle like I had done every time I had previously listened to it. It's from one of my favourite films (so girly!) and just sung so beautifully by her."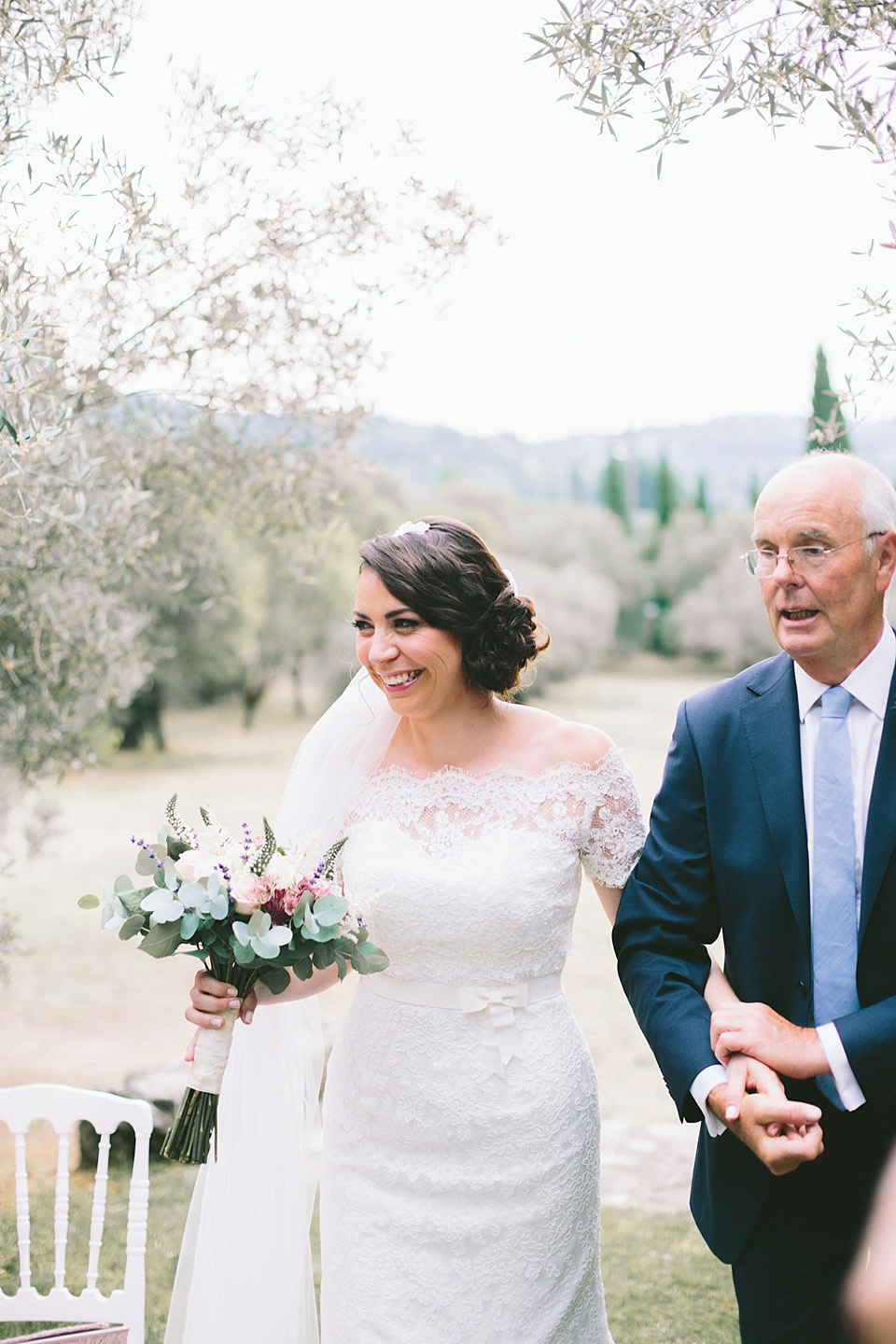 Kevin says "For me my favourite part of the day was when I saw Sam for the first time in her dress. She looked stunning and brought a tear close to my eye. I also really enjoyed the moment when I saw guests starting to arrive and went out to start greeting them.  It didn't feel real until I saw the guests arriving and they all made such a huge effort to come to France and be part of our day."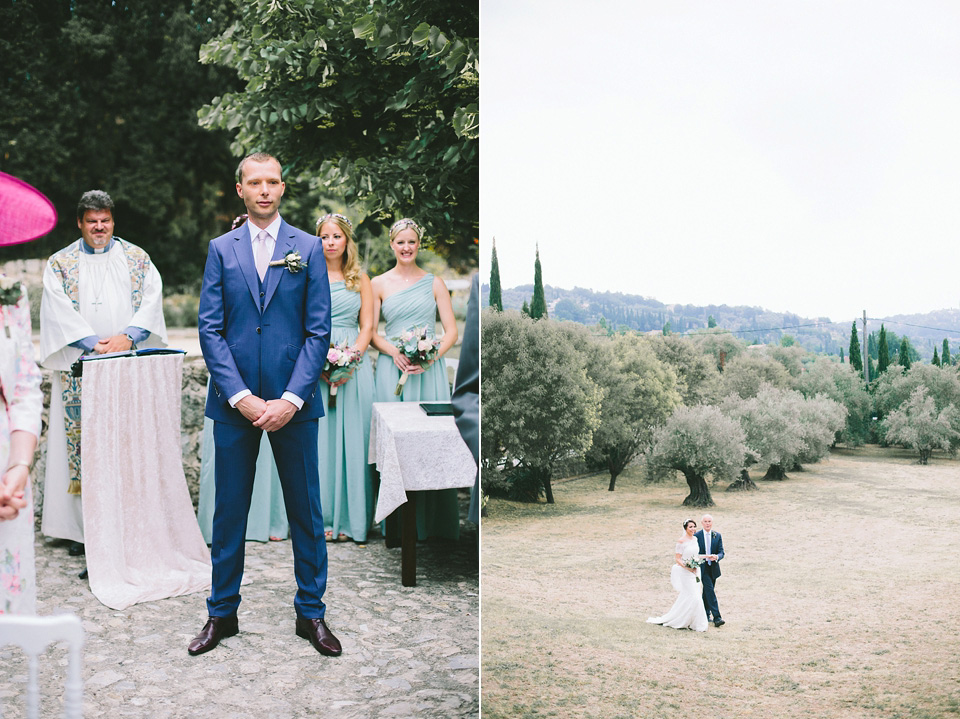 "We didn't change the vows as we felt the words provided by our Celebrant, Peter Madan, we perfect. He was fantastic and had a great presence. He conducted a lovely, warm ceremony and our guests commented on how great he was.  My mum did a reading of her own words about us as a couple and her wishes for our happy marriage. We wanted our Mums to be involved and were so delighted when my Mum asked if she could say a few of her own words. It made it so special. She finished with an abridged quote from Edmund O'Neill:
'Marriage is a commitment to life and the best that two people can find and bring out in each other. A wife and husband are each other's best friend, confidant, lover, teacher and critic. Marriage deepens and enriches life. Happiness is fuller. Even anger is felt more strongly and passes away more quickly. Marriage understands and forgives the mistakes life is unable to avoid and it encourages and nurtures new life and new experiences. When two people pledge their love and care for each other in marriage, they create a spirit unique unto themselves which binds them closer than any spoken or written words. Marriage is a promise made in the hearts of two people who love each other.'
We had never heard this before and it was a lovely surprise."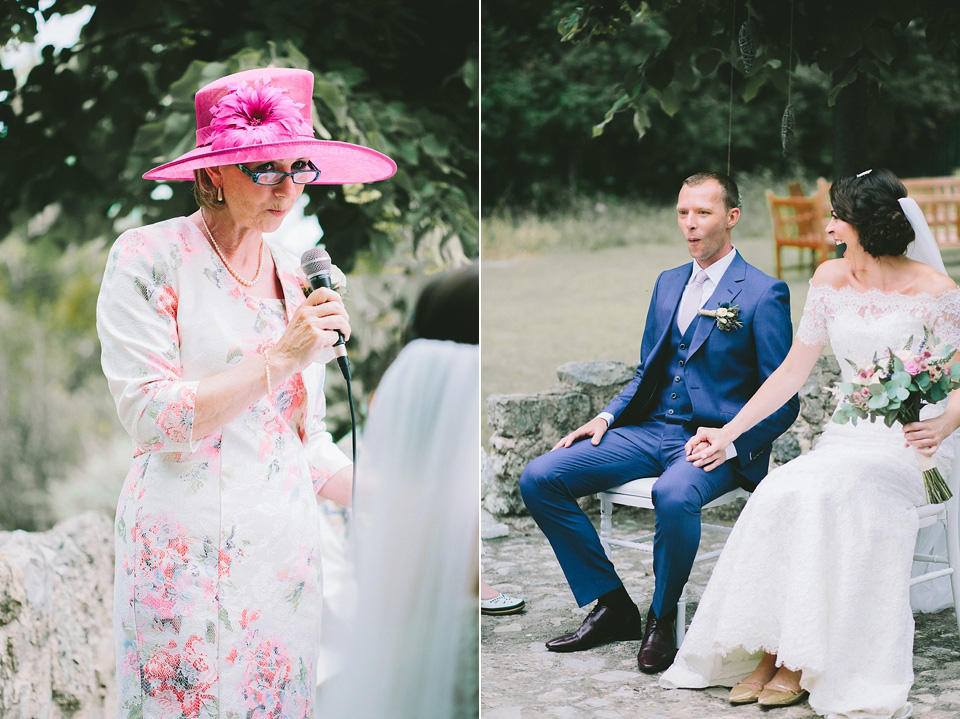 Kevin's Mum read an Apache Wedding blessing, which we picked as it isn't too cheesy but is just really lovely."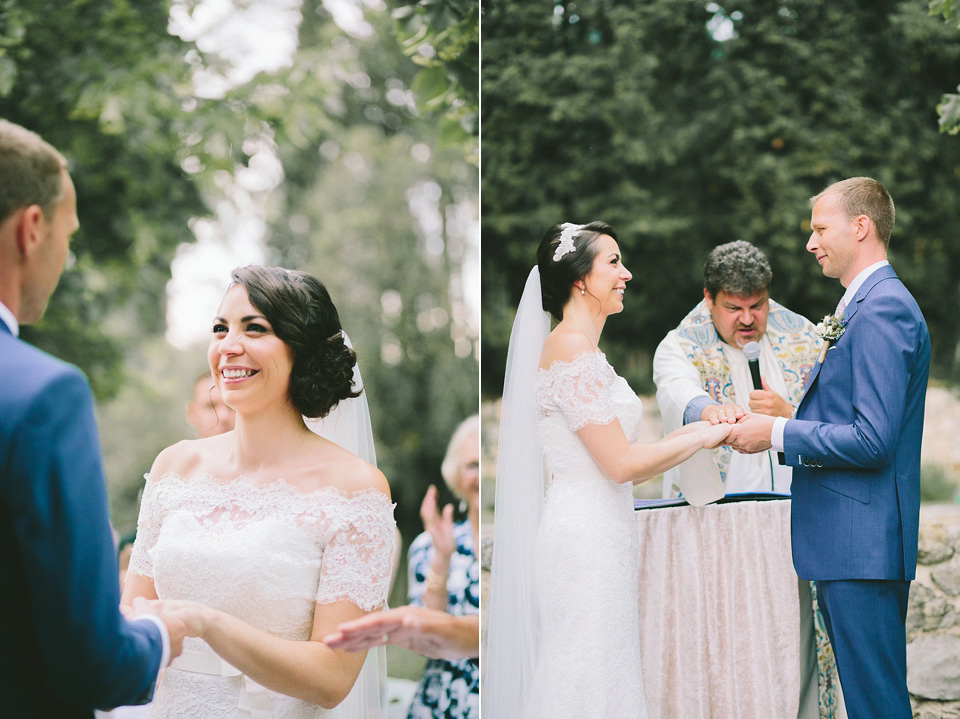 "Kevin's friend Jon put together a band of some friends who he has played with individually but not all together. They flew out from England to play for us, but unfortunately Jon couldn't make it as his girlfriend was due to give birth any day! They spent to so much time and effort to rehearse together and we were very lucky to have such talented people playing for us at our wedding. They put on a great show and were a big part of our day. They were fab!"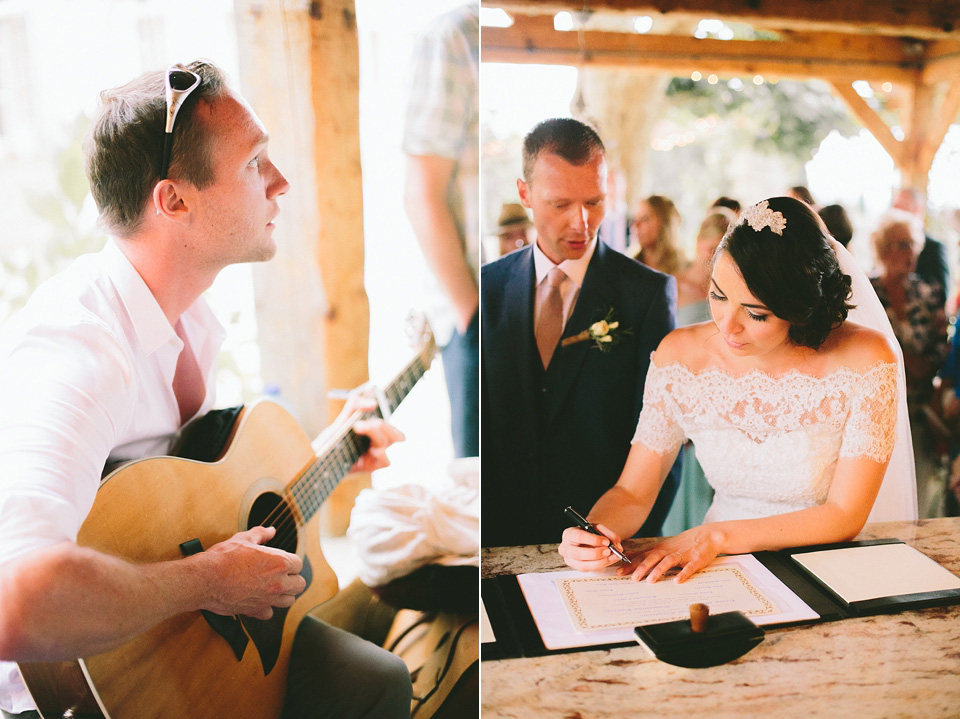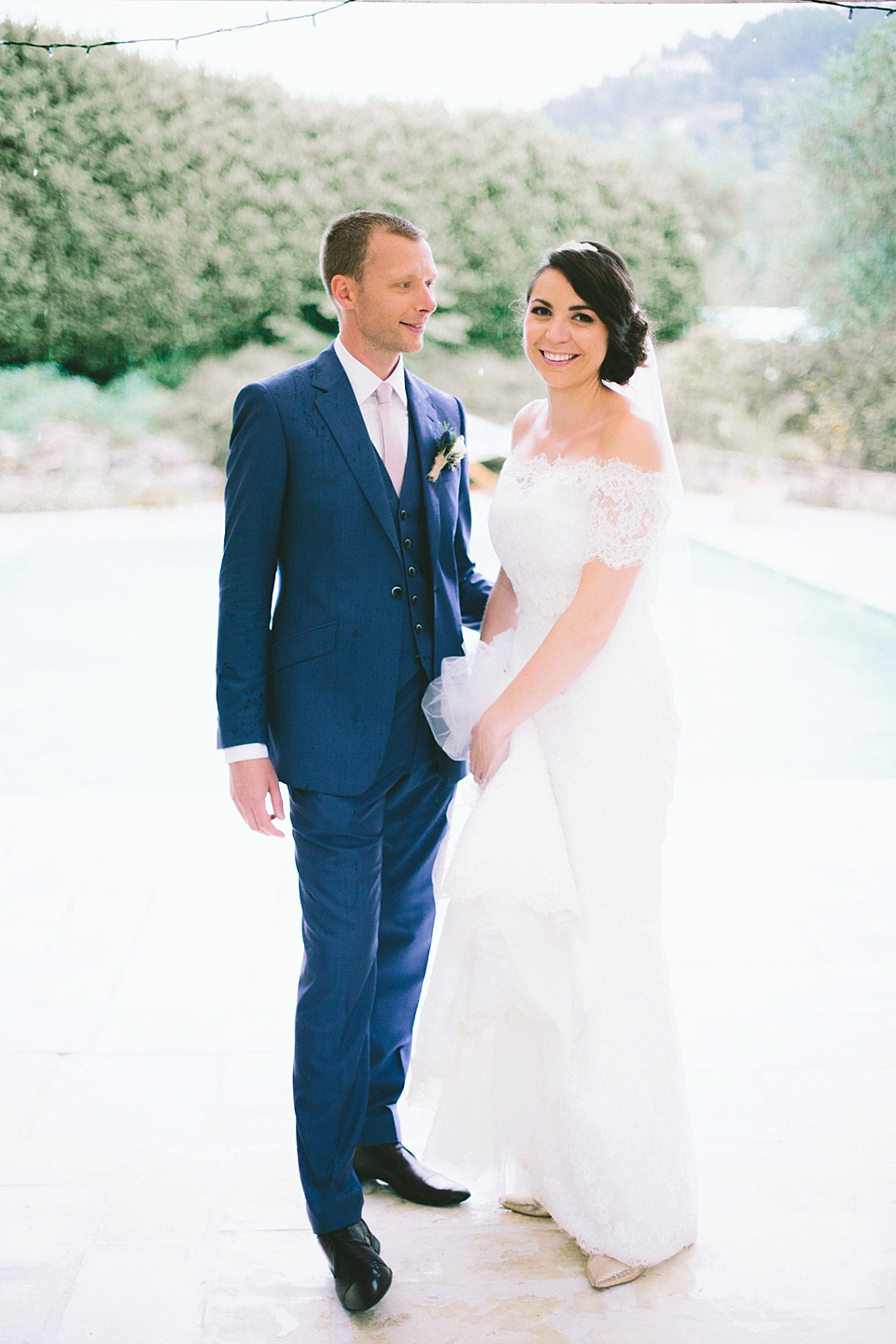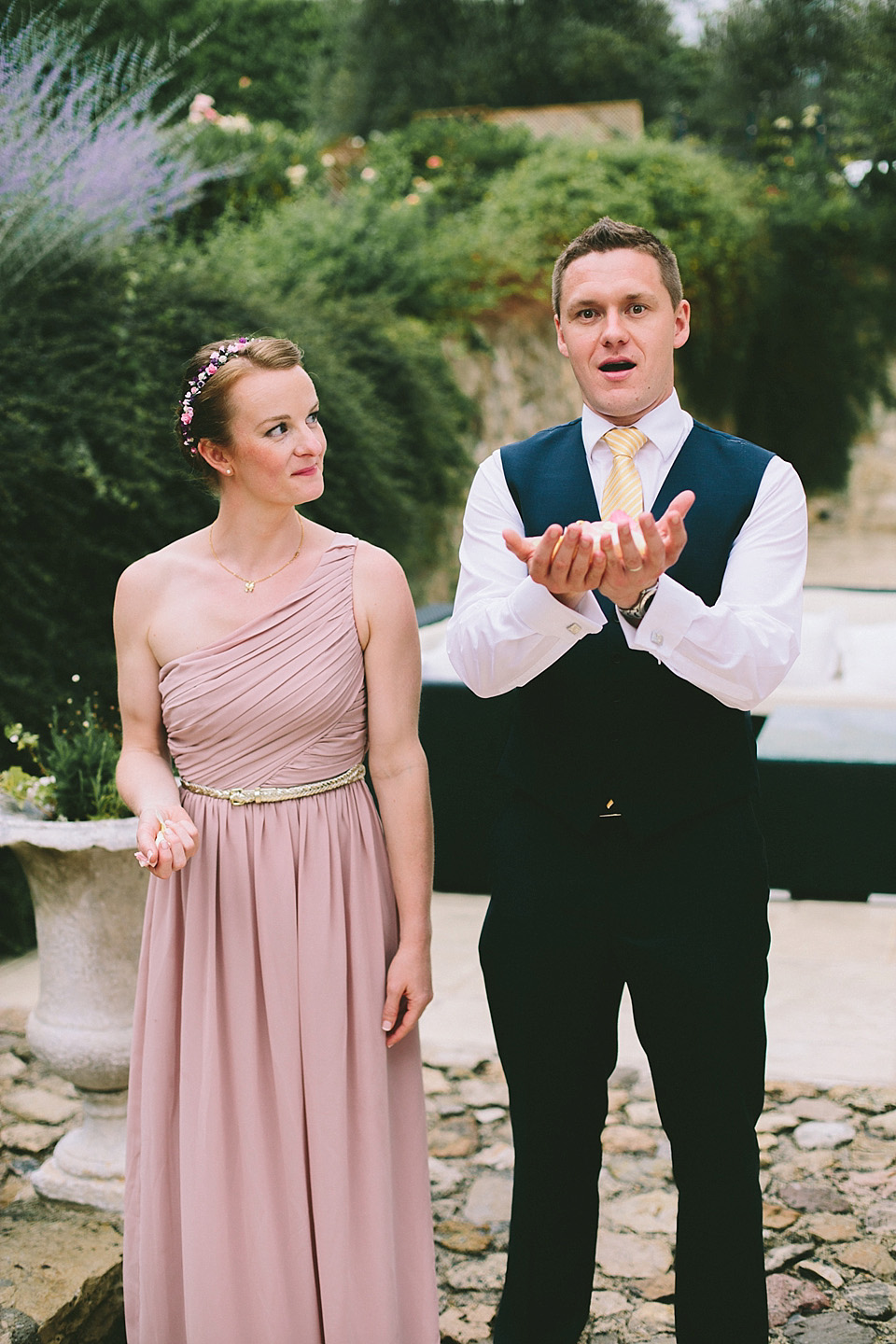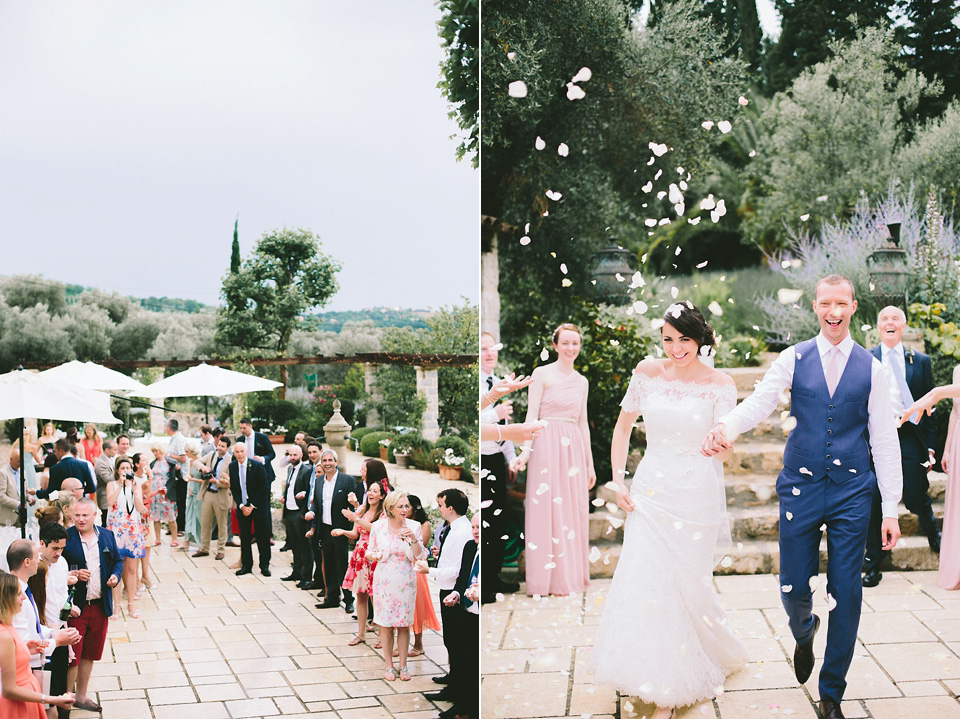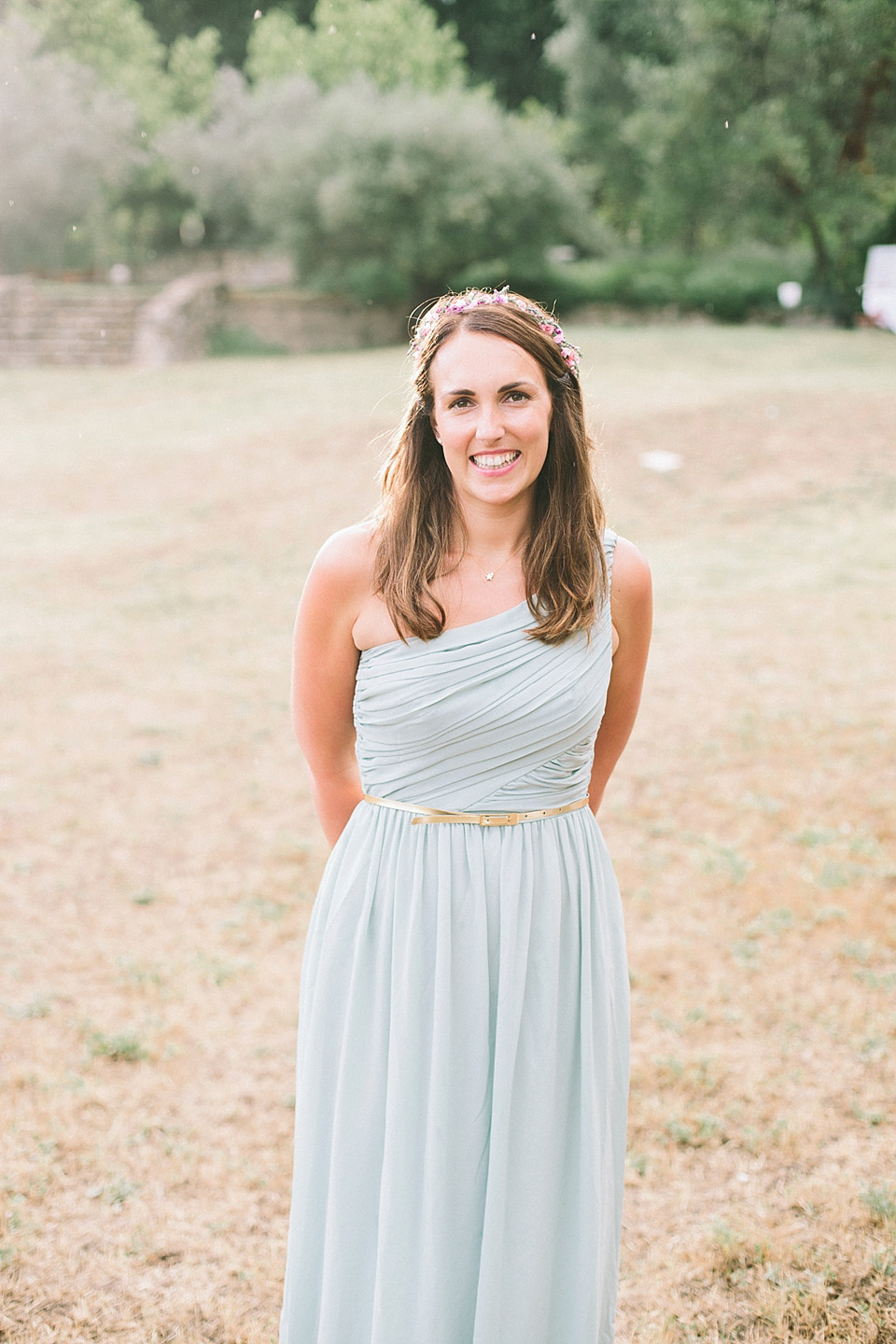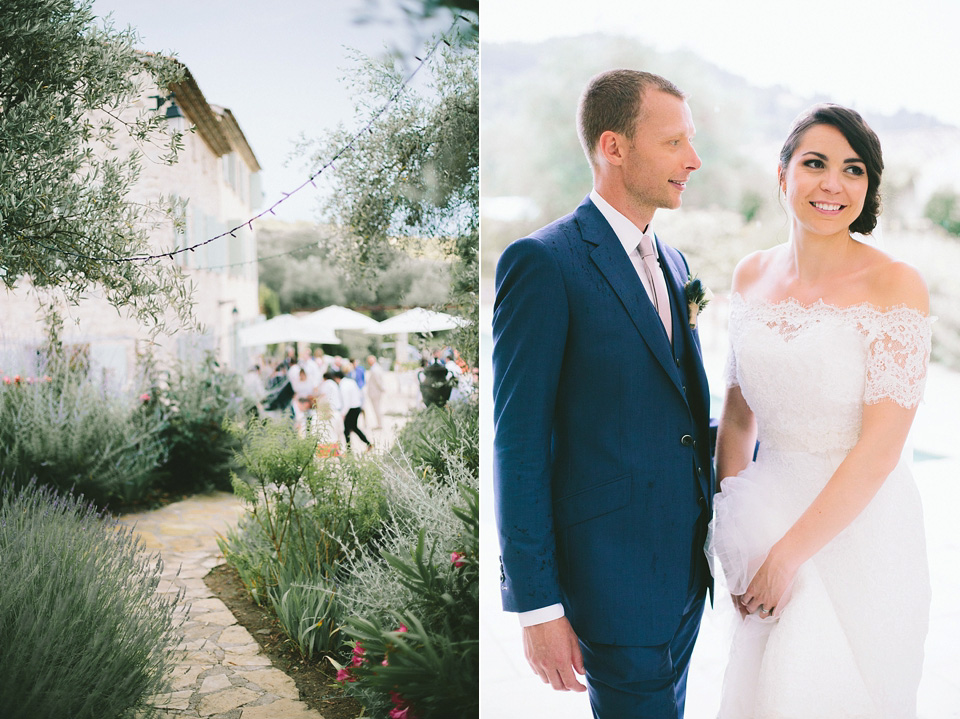 "We didn't want to over-style the venue as it is already so pretty and natural. We hung some wicker hearts in the trees in the ceremony area as a simple touch. I wanted the table plan to be part of the décor (although this got soaked in the rain and wasn't used in the end!). We handmade the signs and had lots and lots of candles in lanterns, glassware and paper lanterns. We also used fairy lights in the disco room with electric candles.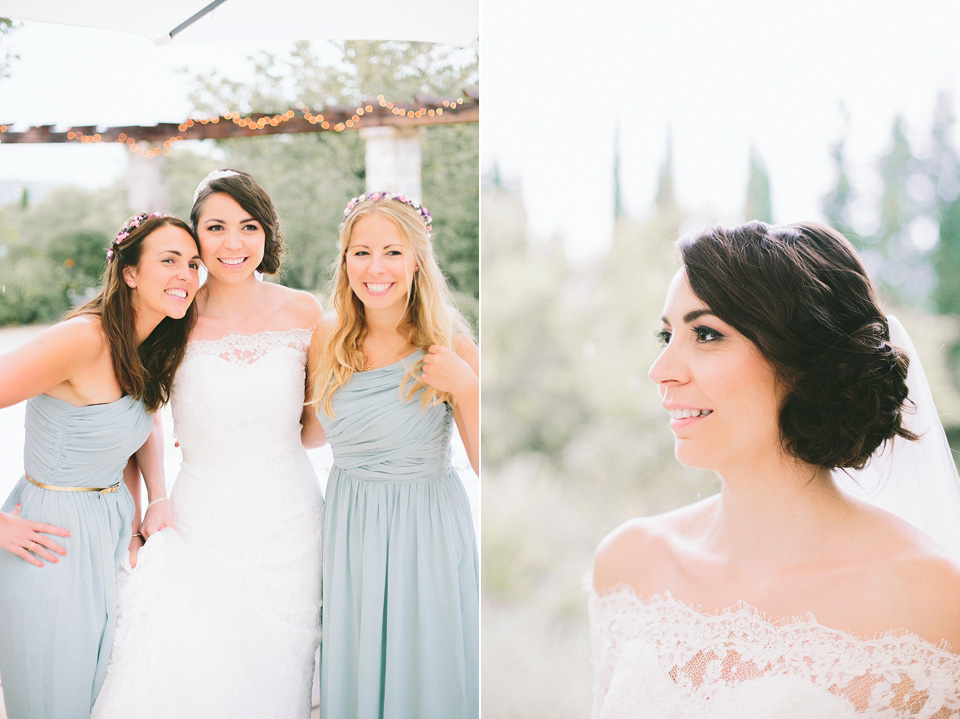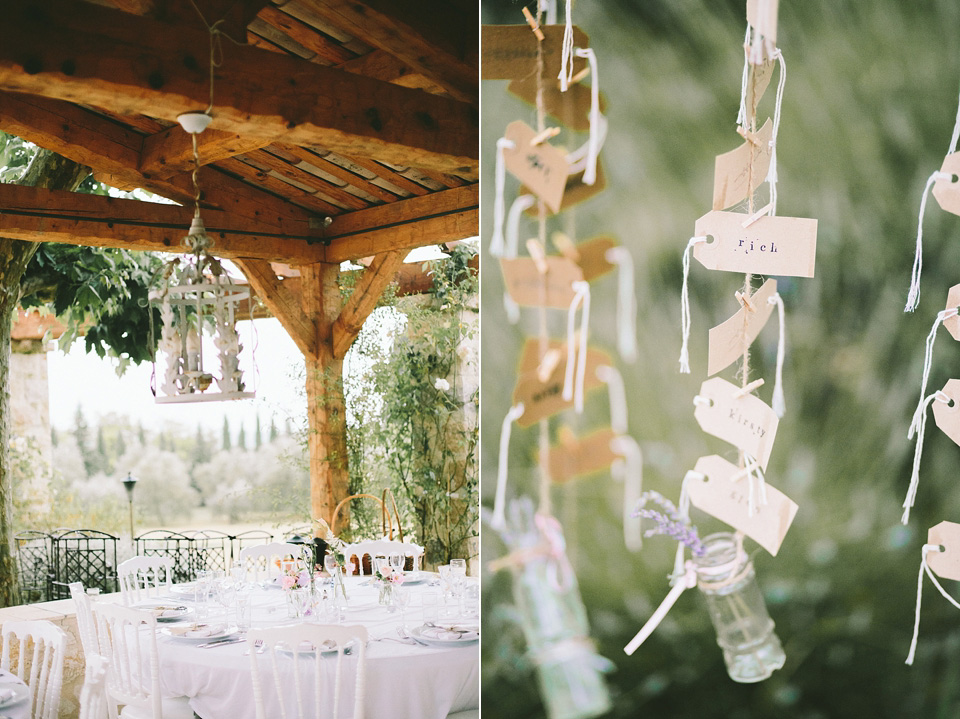 "I hand-decorated shot glasses bulk bought from Ikea using gold relief pen paint to outline the word 'sante!' as favours.  The shot glasses were also used for the limoncello made by my mum."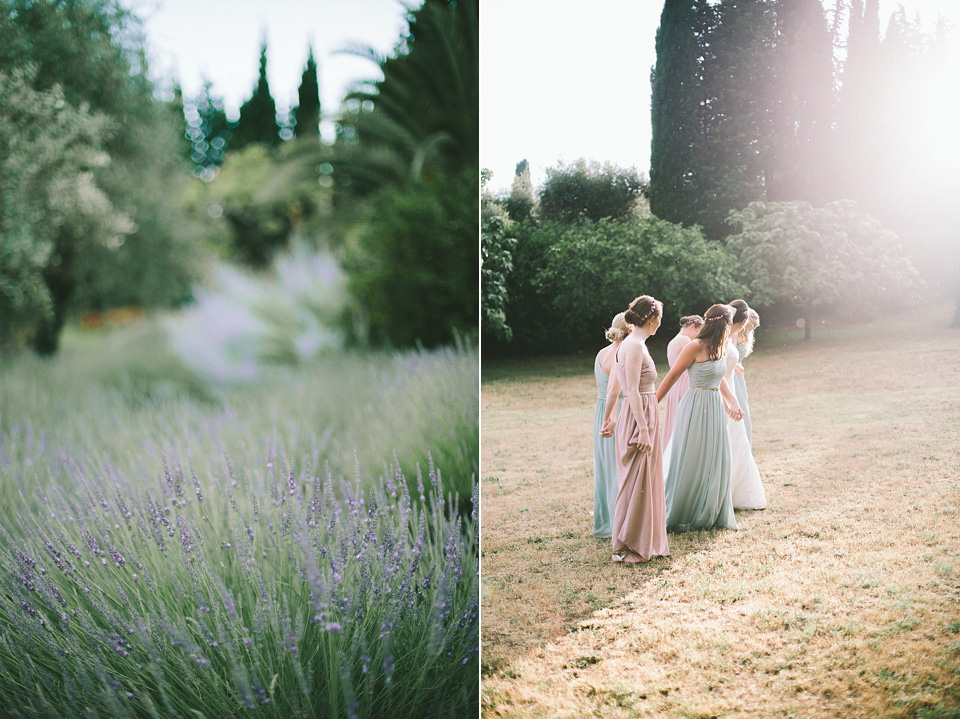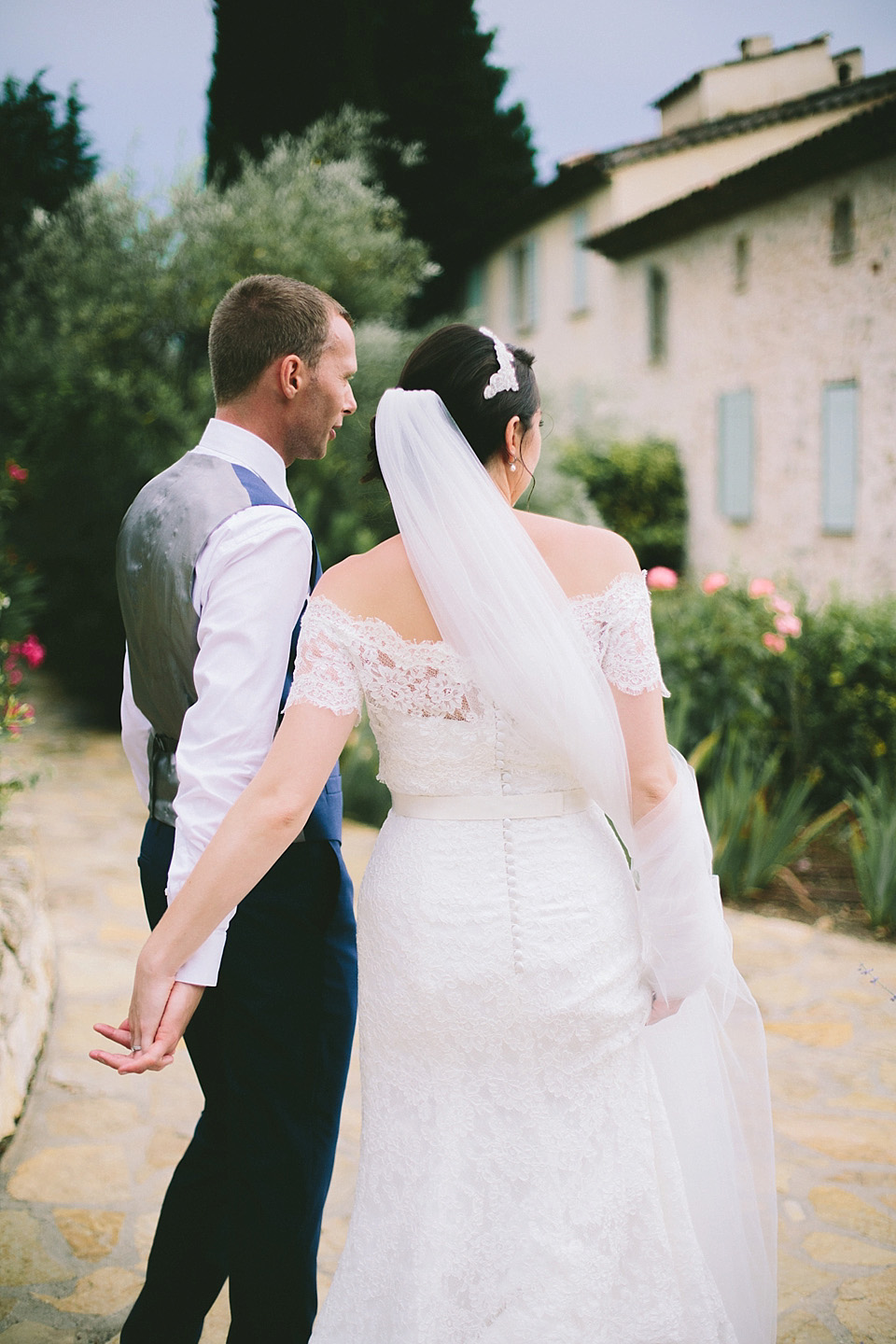 "Our catering was provided by Chef a Domicile – Lori, Charles and the team were absolutely fantastic and the day wouldn't have gone as well as it did without them. They are true professionals who worked with us to provide us with exactly what we wanted. But they are also wonderful people and we feel like we have made new friends. From the first time we met Lori, we knew we would be in safe hands and after a tasting with them at their home, we decided straight away that we wanted them to cater for our wedding.
We had planned to have everything outside, from the ceremony, to drinks by the pool and dinner on the terrace. Unfortunately the weather decided differently and the black clouds rolled in about half an hour before the ceremony after what had been a gloriously sunny morning! We managed to make it through most of the ceremony to dramatic thunder rolls but had to dash under cover for the signing of the register. This meant that without a Plan B, Lori and the team had to change everything around whilst serving drinks and canapés to our guests."
"They worked so hard to make it work for us and after several changes of plan, eventually managed to squeeze us into the salon on three long tables, which meant the table plan of eight round tables went to pot! But the team worked tirelessly to make it work for us and even had to resort to serving through the window! They did all this with a smile on their faces. We owe so much to them for making our day as wonderful as it was, as without their professionalism, hard work and their genuine caring attitude, it could have all gone so wrong! We cannot recommend them highly enough and we are so glad to have had them be part of our day."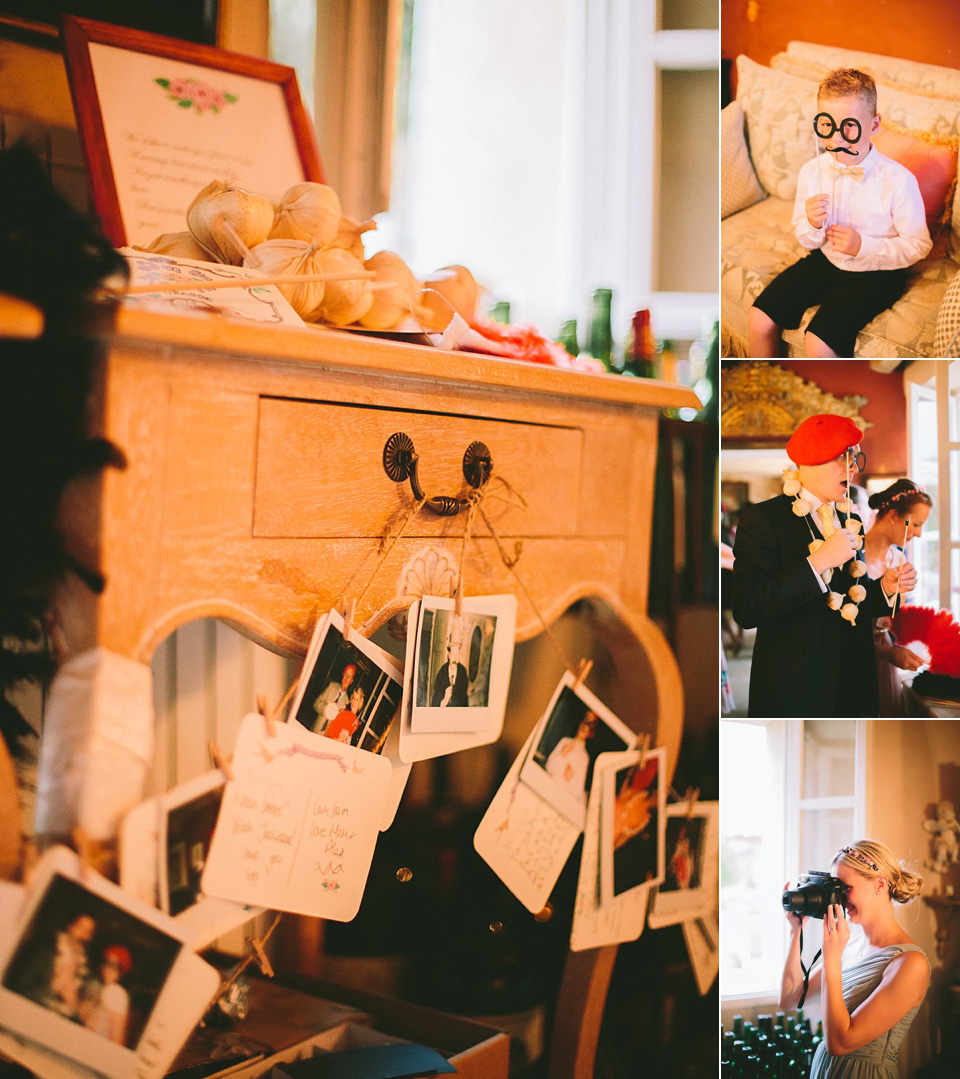 "It's hard to choose our favourite part of the day, but a moment which I will always remember is how I felt when I saw Kevin for the first time as I came up the steps to the ceremony with my Dad. He just looked so handsome and I couldn't wait to get to him! He looked a bit nervous/emotional and I just wanted to be with him. I also loved spending the morning with my Mum, sisters and bridesmaids – it was very relaxed, almost like the calm before the storm! I think it was the opposite for Kevin though who was running around and being pulled from every direction! Also, the cheer when we came into dinner was so incredible!
Throughout the day I looked around at everyone at the wonderful friends and family we have – the rain didn't dampen people's spirits and everyone just got on with having a great time. The love and support we felt on our wedding day and throughout the whole wedding process has been overwhelming and we feel so lucky to have these people in our lives. It makes us realise that you can plan down to the last detail, but you can't plan for the weather! But in the end, it didn't matter as it was our fantastic family and friends who matter the most to us."
Words of Wedded Wisdom…
"Make sure your day reflects what you as a couple want, even if it means making some tough decisions along the way. So many people will offer their opinions and advise, a lot of which will be helpful, but you should make your own decisions. We wanted to have a day to reflect our personalities and not be tied to all the traditional elements of a wedding. Also, accept help from others – they want to help and be part of the day. I loved spending time with family and friends in the run up to the wedding for various gatherings, usually involving wine!
Also, have a Plan B! We wanted an outdoor wedding and thought we wouldn't' need an inside option being in the South of France! But the weather didn't have the same plan as us and meant we had to make last minute decisions to change everything around. Well, I said 'we' but it was Kevin who worked so hard on the day so that I didn't have to worry about it. He was an absolute star and just made me realise even more what a wonderful man I was marrying. He took charge and sorted everything out – he was shattered by the end of the day! So yes, a plan B is a must, especially because we didn't have a wedding planner/coordinator at our venue."
What an exceptionally beautiful day – so many thanks to you Sam and Kevin for allowing us the privilege of sharing your very charming and elegant French wedding with you and as always, thanks to the super talented photographers M&J Photography.  You can see more work form Morgane and Jonny here on Love My Dress which includes this wedding – one of my faves of all time.
Has this wedding given any of you brides the desire to get married overseas?  You can explore other destination weddings on Love My Dress® here.  And are any of your wearing a Stewart Parvin on your wedding day? I'd love to hear from you if so (you'll be sharing a fashion couturier with the HRH The Queen if so!)
All my love,  Annabel xx
Photographer – M&J Photography
Venue – Bastide Saint Mathieu, Provence, France
Dress – Stewart Parvin via The Bespoke Wardrobe
Veil/Headpiece – The Bespoke Wardrobe
Bride's Veil – The Bespoke Wardrobe
Bride's Shoes –  Dune
Perfume/Scent worn on the day – Jo Malone's 'Silk Blossom'
Grooms Suit – Reiss (bespoke service)
Bridesmaids – H&M
Young male/pageboy – Zara + Bow ties by 'Cool Baby Ned' on Etsy
Florist – Inflorescences in Biot
Rings – Premier Jewellers, Hatton Garden
Catering – Chef a Domicile
Stationery – DIY
Hair Stylist – Marie Mallozzi
Makeup Artist – Sophie Kilian