Hello readers, it really has been a while since I last blogged, four months to be exact, but hopefully you all caught Sam's post about life as a groom back in June. We have been very busy bees since then, with both wedding and non-wedding business; I graduated in July, and then went to Paris with friends, Portugal with Sam and Florida with my new employers.
Starting a full time job at the beginning of September has given me a new admiration for working brides-to-be. How on earth do you manage it?! While I was at University, I could stroll into mid-week dress appointments, spend hours scrolling through pins and watch back-to-back episodes of Four Weddings. Now that 5 days a week are essentially write-offs I find myself forgetting that the wedding is quietly creeping up behind us.
Fortunately, we became wedding planning machines over the summer knowing that the luxury of free time was reaching its expiry date, so we have managed to get a lot done. The most exciting development for me has been finally saying yes to a dress! I honestly didn't think the moment would come, and had at least two bad dreams about still trying to find a dress while guests were arriving on the day of our wedding.
In total I tried on more than thirty dresses in seven different boutiques, the one I eventually chose was about the 25th one I tried on.  My search took me to some amazing places, including a gorgeous boutique in Paris called Metal Flaque; being buttoned into a Monique Lhuillier gown by a French assistant was a very surreal feeling, but it is definitely an experience to tick off the bucket list and was helped by the fact that Alexandra was one of the loveliest assistants ever.
Throughout the search I often found that I would fall in love with a dress online, but when I tried it on, I just looked ridiculous. On the other hand, there were dresses that suited me well, but I just didn't feel anything towards them when I put them on. After trying on so many, you start to think that feeling okay about a dress will be enough to seal the deal; I was starting to get to that point when I stumbled across the dress I finally went for.
A friend and I had actually picked the dress out as a wild card, and if I had gone by the pictures online I wouldn't have bothered to give it a chance. But when I tried it on, it was the first time that I had felt excited by a dress and it suited my shape perfectly. Anyone who is a serial wedding TV show watcher (like me) will have seen brides in floods of tears when they find the dress of their dreams. When I found my dress, I wasn't suddenly overcome with emotion and it wasn't until I had tried on a few more dresses that it hit me that I had already found the one.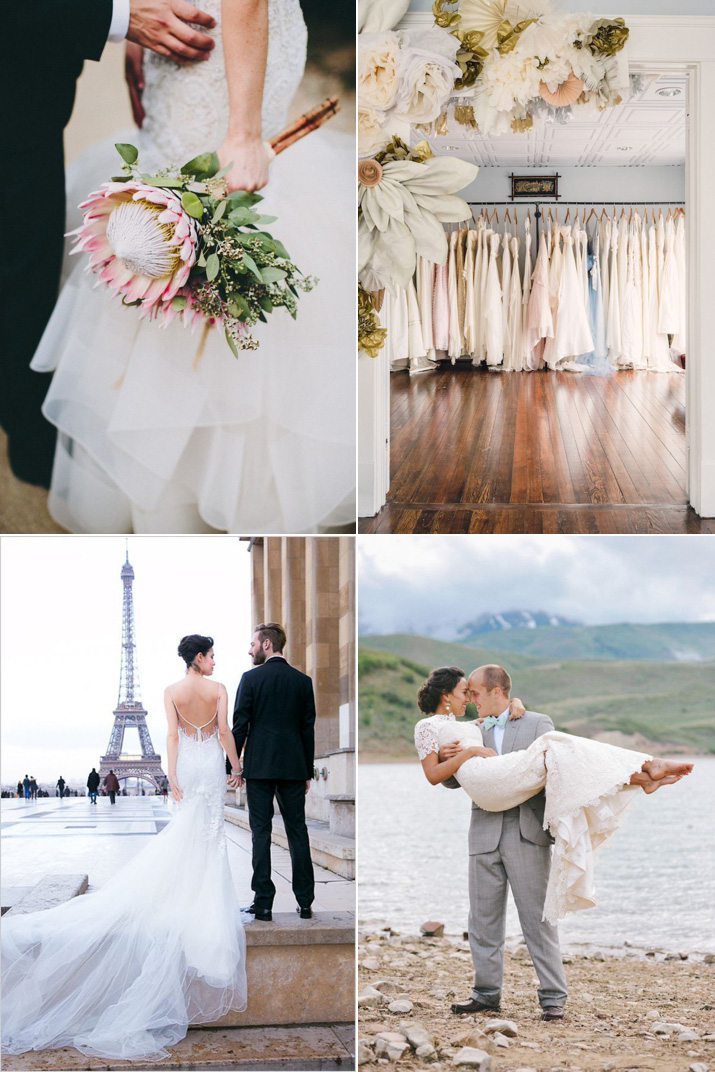 With hindsight, I've realised that part of the reason that I took a while to commit to a dress is because I was holding out for that dramatic and overwhelming feeling of 'knowing' that I'd seen on TV. I also think wedding dress shopping had almost become an addiction, to the point where I wouldn't have been satisfied until I had been to every boutique in the northern hemisphere at least twice.
Thankfully, Valerie at All That Glitters in Wimbledon helped me to take the step I needed. So now I have a beautiful wedding dress, and I am ready to let go of the Pinterest board full of maybe-dresses that I will never need to try on.
Another decision that Sam and I made recently was to hire an on-the-day coordinator. It was an idea that we had toyed with for a little while, but we decided that being able to wake up on the day knowing that everything is being taken care of and just enjoy spending time with our friends and family was a priority. When we spoke to Sama of Utterly Wow and saw the awesome weddings in her portfolio, we immediately felt like our wedding would be in safe hands if she was involved, so it didn't take us long to book her up for the day.  She's already made us consider important things that hadn't even crossed our minds! We are both genuinely looking forward to having her as part of our wedding.
That's all from me for now, are there any other self-confessed dress search addicts out there? I'd love to hear from you.
Love to you all,
Kay x