Good morning, I hope today is a good one for you and that this lovely wedding feature will bring the best start. This is such a lovely day – the dress, the veil, the venue – all of it combined to create a wonderfully relaxed and effortlessly elegant kind of day.  Trainee Yoga teacher and nutritionist Laura married finance worker Byron in the Spring at Cripps Barn in the Cotswolds.  Laura chose to wear one of my very favourite wedding gowns, the simply divine 'Azalea', by Jenny Packham – a dress that has already graced our pages a number of times.  It was the absolute perfect choice for her delightful 1920's and 1930's inspired Cotswold barn wedding.
"We didn't want a 'theme' as such – as there were many sources of inspiration.  Instead, we took elements from various areas, such classic art deco crockery and jewellery, 11920's and 1930's inspired wedding outfits, classic wedding flowers, and wild/rustic 'midsummer night dream'. I originally thought it was too ambitious to pull off – but I was most certainly proved wrong. It all tied in together seamlessly and was exactly what we wanted."
Photography Copyright (c) 2014, Craig and Kate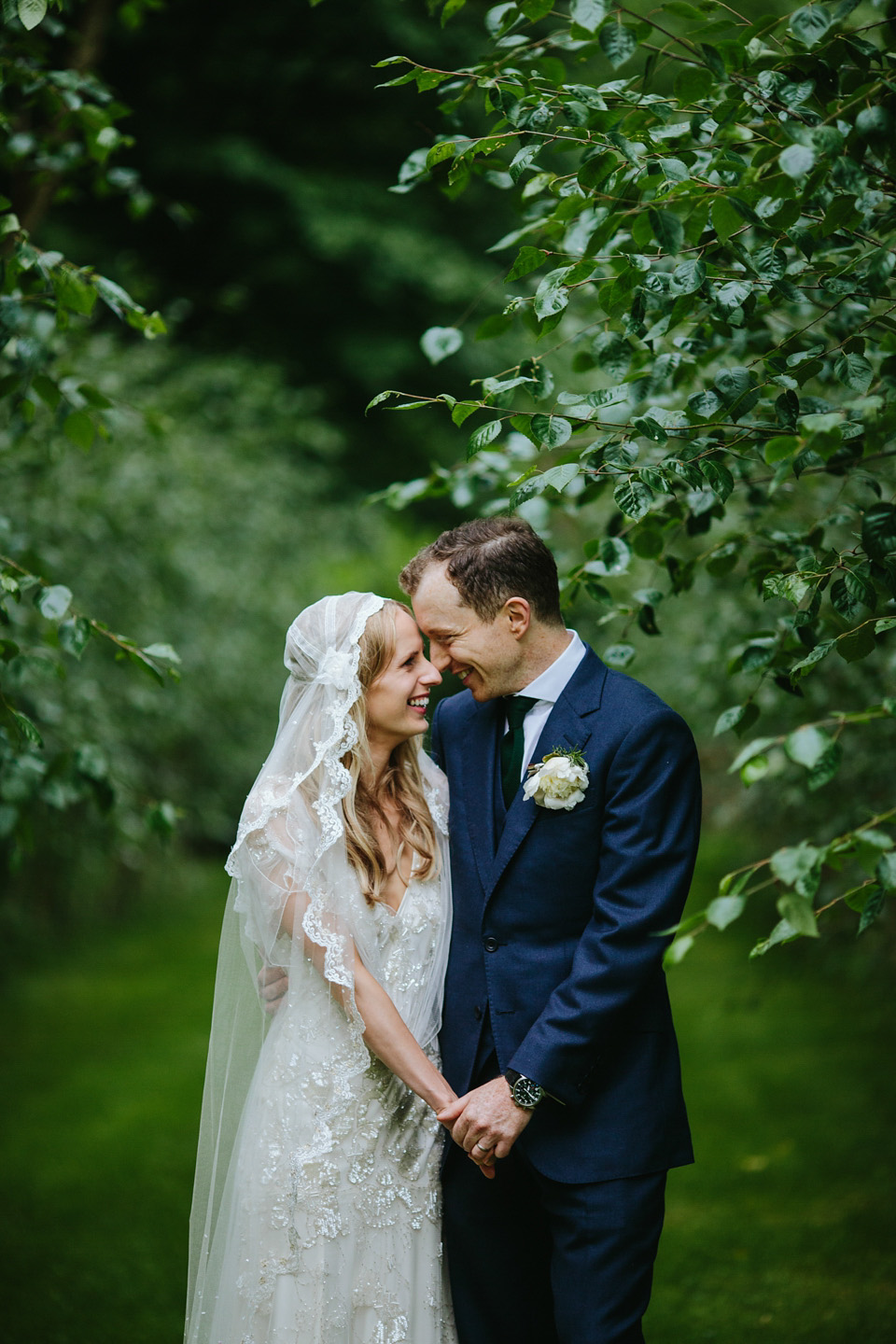 "Byron and I met through mutual friends six years ago after both coming out of long-term relationships. An interesting conversation was sparked due to my mum's maiden name being the same as Byron's (Luckily no relation – my family is from Dublin and Byron's is from Galway).  A year passed without any communication, when we bumped into each other at our mutual friend's house, the attraction was instant and we spent all evening talking. We exchanged numbers and a sneaky kiss and it all went from there.
After four exciting and happy years, going on many adventures together, Byron proposed to me on holiday in Bali last July. He did it at the top of an active volcano after a three hour hike to the top in the dark to watch sun rise!  It was an amazing, magical moment that we will never forget. He was acting weird and uptight for the entire holiday; turns out he was trying to get hold of my parents who were on holiday in Canada to ask my Dad's permission. To add to his nervousness, I changed the day we were due to go on the hike, from the first week to the second. Anyway, after he proposed we both literally ran back down that volcano, called our family and friends and spent the rest of the day sitting by the pool celebrating."
"I have always loved the 1920's and 1930's eras, but didn't want a dress that was too 'Great Gatsby' , but more timeless and classic. I wanted something that looked more ethereal, romantic, and soft, but also stylish and fitted and classic.
I had secretly had my eye on the Azalea dress for a while (after a friend suggested a Jenny Packham dress would suit me if Byron was ever going to propose!). I knew once I tried it on it was the one, I absolutely love my dress, the detail was amazing and it was extremely comfortable and easy to move around in. But its fun trying on lots of different designers and styles (and drinking Champagne and taking pictures), it's a once in a lifetime thing – so enjoy it!"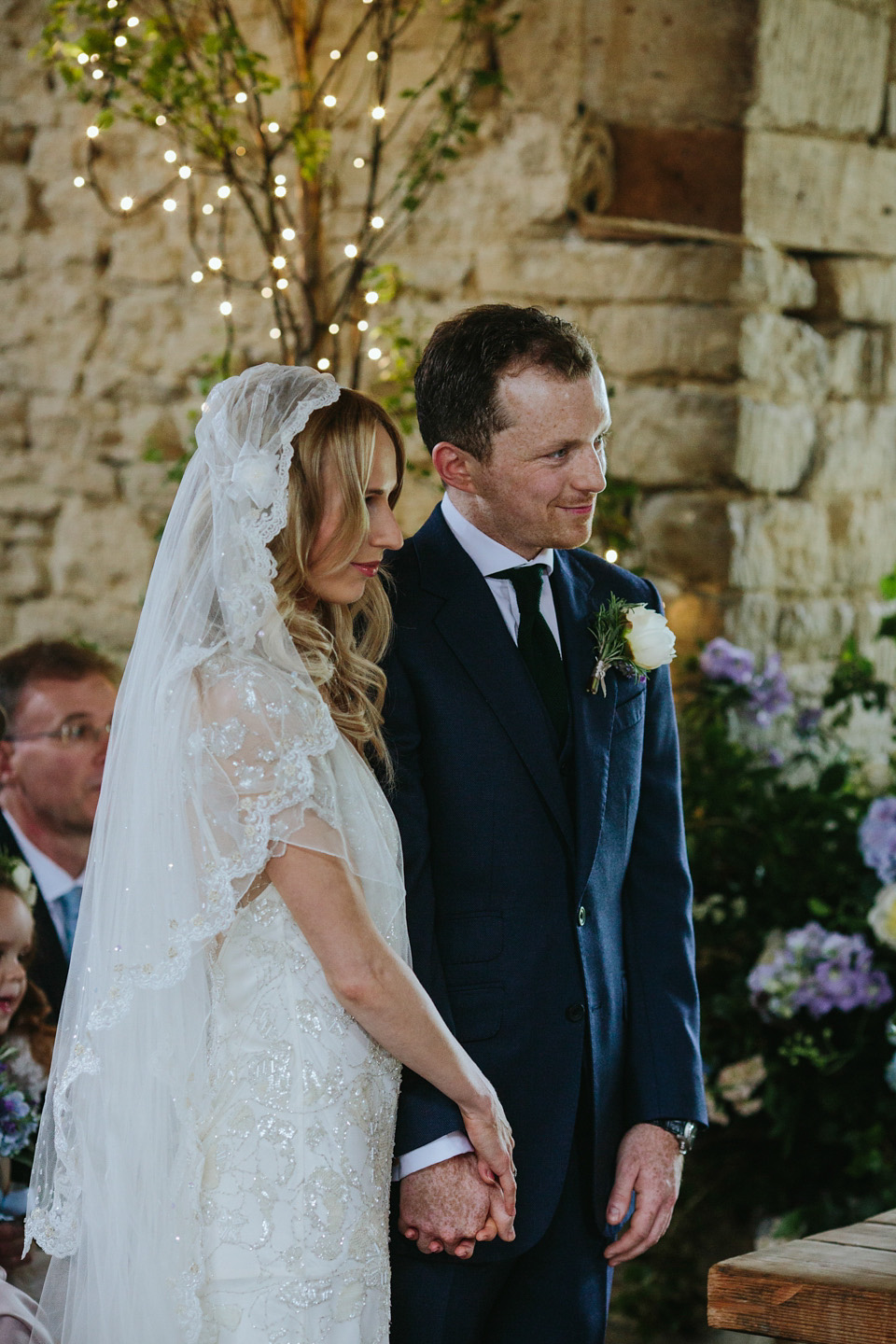 "My veil was by Kelly Spence – I really can't give enough praise for Kelly. I spent months searching for my dream veil; I had my heart set on a Juliet cap style veil which I thought would go perfectly with my dress. I went looking through various antiques markets and searching online but realised the only way I would get what I wanted was to get it made bespoke. I was recommended to Kelly only 8 weeks before our wedding, but, as always I was up for the challenge, and luckily so was she.
Kelly took details of my dress and listened carefully to what I envisioned and offered advice on how we could achieve the look I was after. She created the most incredibly stunning veil; I think I loved it more than my dress. It really is one of a kind! She matched the sequins and embroidery to in my dress and the detail in it is unbelievable."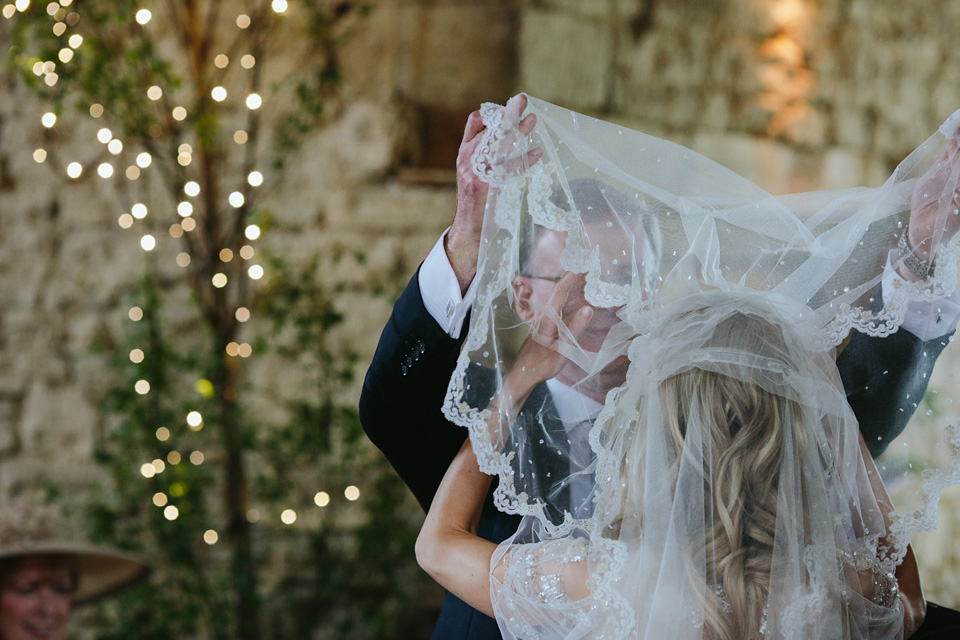 "For the wedding breakfast, we hired some amazing eclectic vintage crockery from Daniella at Classic Crockery. She had a beautiful selection of antique white crockery and cutlery and we hired a selection of 18 carat gold trim antique white three-course dinner service long with beautiful cutlery and cups and saucers for each guest.We also hired antique cut glass champagne glasses and wine glasses to match our vases to complete the look."
"We worked in close collaboration with Haus of Roeni on our wedding stationery.  James took our love for antiques, all things old, inspiration from our favourite childhood books and created the most stunning unique invites. They were simple rose gold embossed foil and the RSVP was in the style of an old stamped library card.  The envelopes were lined with copies of our favourite stories and poems including Roald Dahl, Lewis Carrol. They were beautifully unique and personal. We asked our guests to include a poem/story of their choice they felt relevant to us, these were to be shared on the day.
James also created the most beautiful table plan using old books as the backdrop, combined with individual couples printed on card with their story title and our guest's names below. On each table there was a photo and pressed flowers in a lovely rose gold frame with the respective couple's story on the other side. James made it look like an extract from a book."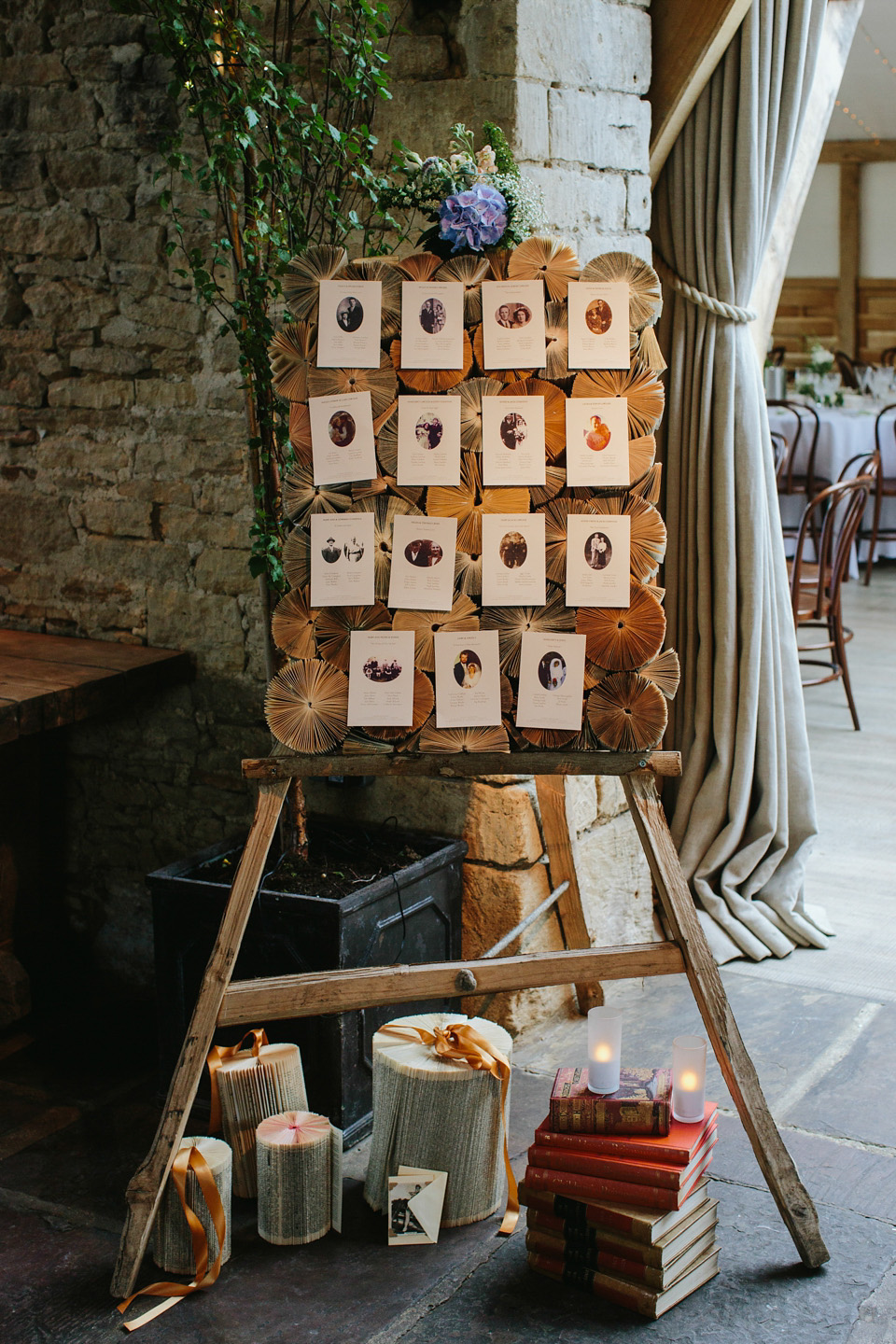 "Our photographers were Craig and Kate.  We went specifically to find a photographer and we had a really specific idea of what we wanted.  Given the theme and setting of the wedding, we didn't want classic wedding pictures. We wanted timeless, yet tonal and a little 'different'. When we saw their portfolio at the wedding show we knew straight away they were perfect.  They were incredibly helpful in the lead up to the wedding and made sure they understood exactly what we were after, and that all the important pictures were thought out and planned.
On the day of the wedding they were amazing. It was if they weren't there yet, were snapping away at every opportunity. They captured everything we wanted and more. The great thing about Craig and Kate is that they are both super relaxed and the nicest people possible – a real pleasure to have them with us on our special day! We are over the moon with our pictures and can't recommend these guys enough."
"We love the Cotswolds and wanted a big barn for our big families to gather and celebrate.  We had family coming from Ireland and staying for the weekend so we wanted somewhere where people could have a little mini break. Cripps Barn has amazing staff and is an amazing setting, and the food was incredible."
"I wanted to wear a pair of art deco style drop earrings and after weeks of scouring expensive antique markets I scoured google instead and found a great pair of costume jewellery earrings from an Australian designer called Stephanie Browne, who you can find at Liberty in Love, which is a great website for all things bridal and also stocks jewellery at a cheaper price than some other sites I found. They took a long time to find but were so worth it and saved me a lot of money.
I also wore a bracelet Byron bought me in the Latin quarter in Paris, totally inexpensive but it looks quite similar to my engagement ring."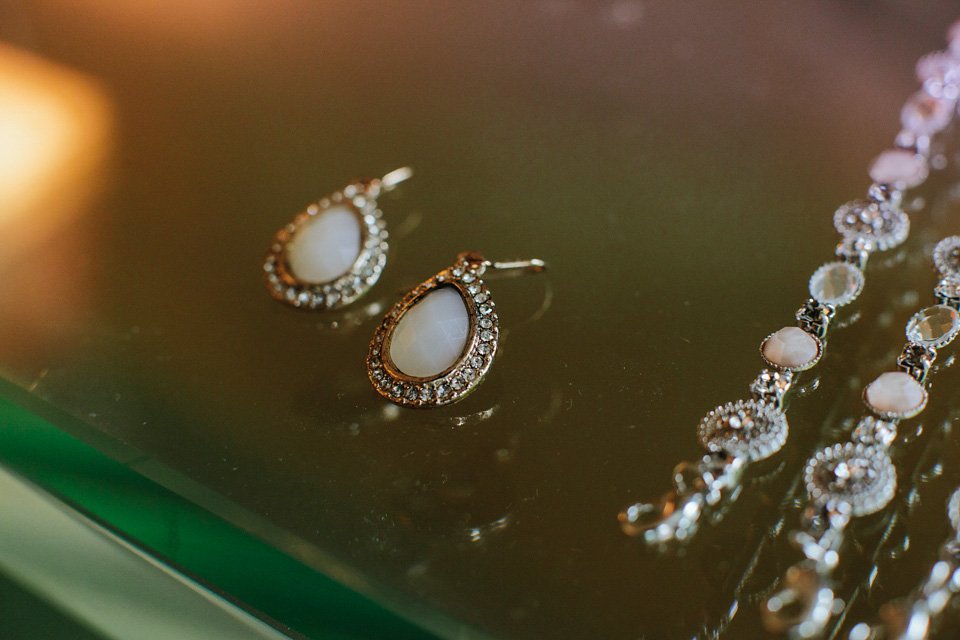 "Our florist was the amazing Christiane Simmons of Honeysuckle Bee. I initially gave Christiane a story board of images and settings to describe what I envisaged; a rustic wild midsummer's night setting for the ceremony and barn, then a classic timeless setting for the dining area.
Christiane was able to create the most amazing setting on the day, everything was in keeping with the suits, dresses and venue. She was the first person at the venue in the morning ensuring everything was in place. My bouquet was a perfect combination of rustic and classic. Christiane used beautiful David Austin roses, peonies , flowering mint, lavender, white gypsophila, wax flower, sweet-scented stocks and palest peach ranunculus to accent. It was perfect. The bridesmaid/ flower girl flowers were simple peach garden roses to complement their dresses and Annie had a Blue Lilac Hydrangea for a mixture of colour. The Grooms men had simple lavender corsages to complement their suits."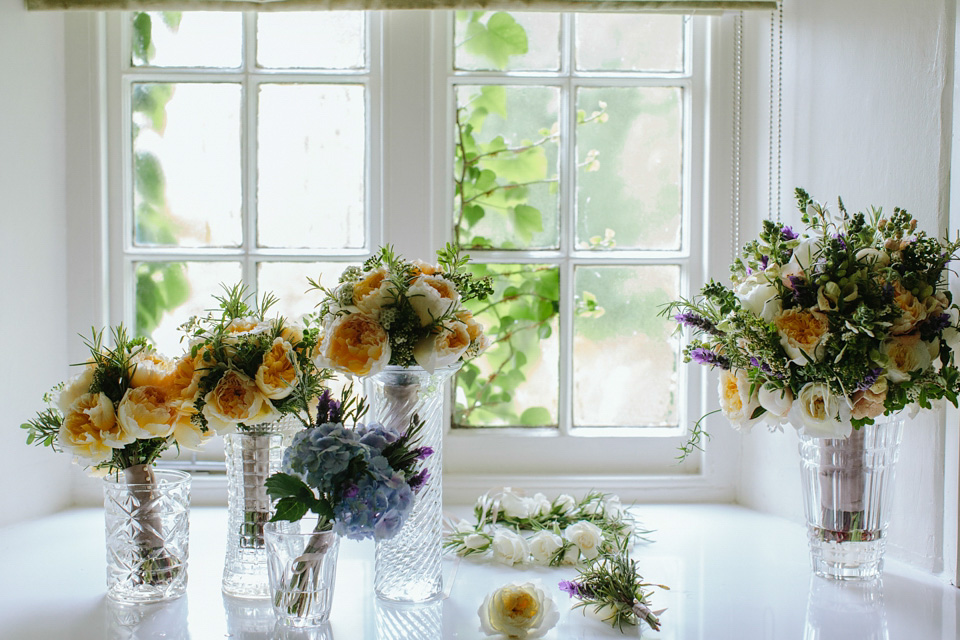 "I wore Annick Goutal Amour – my favourite perfume that Byron bought for me years ago in Paris. We went on a little pre-wedding break to Paris in March and he bought me another bottle as a present for our wedding day."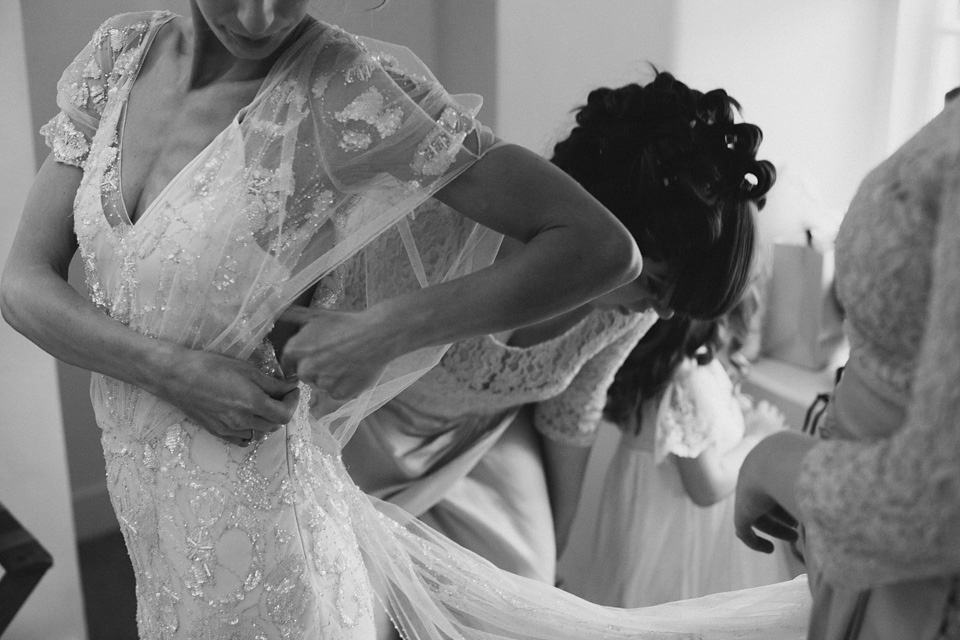 "My fabulous makeup artist was Emily Tarrant who is based in Cirencester.  I did lots of research online and Emily had the best price and the most relevant experience. She was fantastic on the day, the makeup was perfect. She's really cool and laid back, and was able to achieve the exact look I was looking for."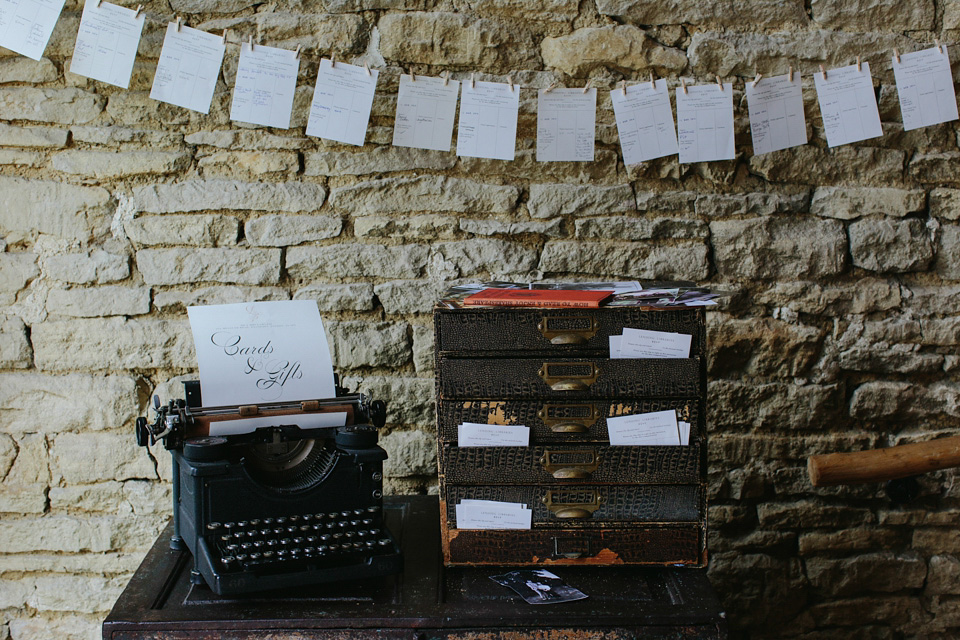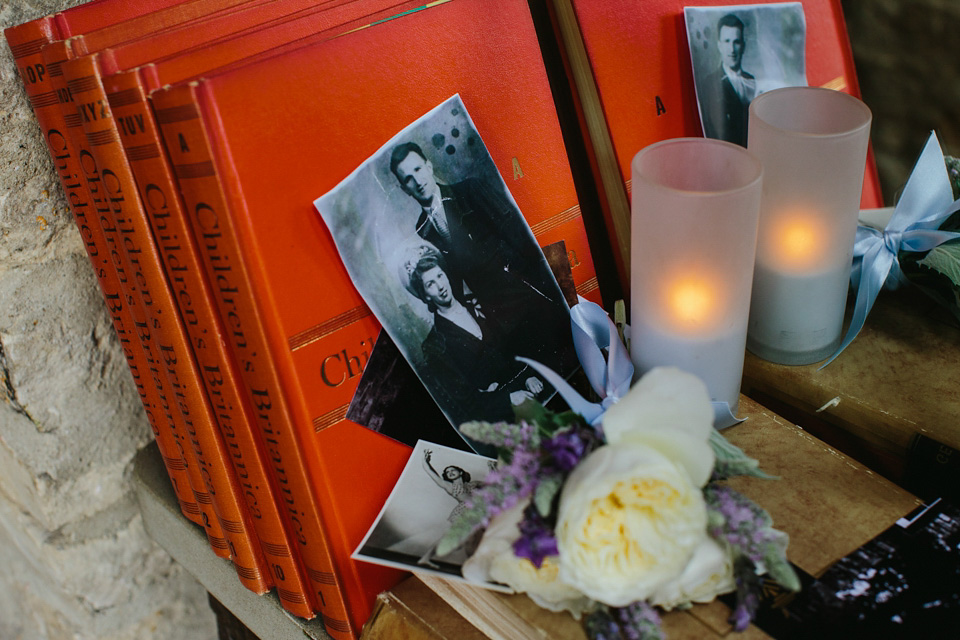 "My amazing hairdresser Pont Smith (Bluetit Dalston) kindly agreed to come and do my hair for the day. He is one of the best stylists in London and I was very lucky that he kindly agreed to take time out his busy schedule. He has been my hairdresser for years and the only person I truly trust! On the day he was fantastic and not only managed to do an amazing job on my hair, but also my five ladies and a little lady in a very short space of time!"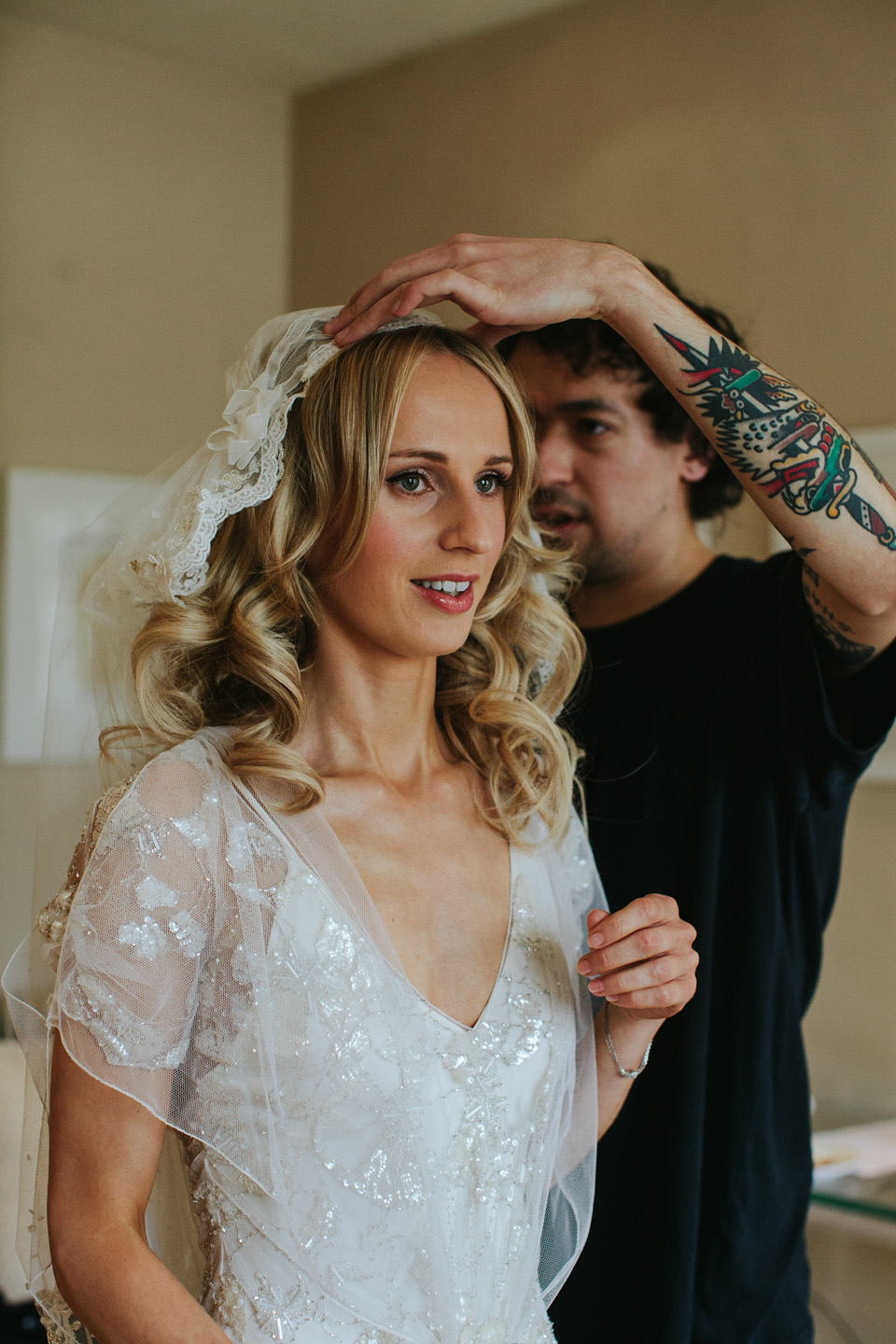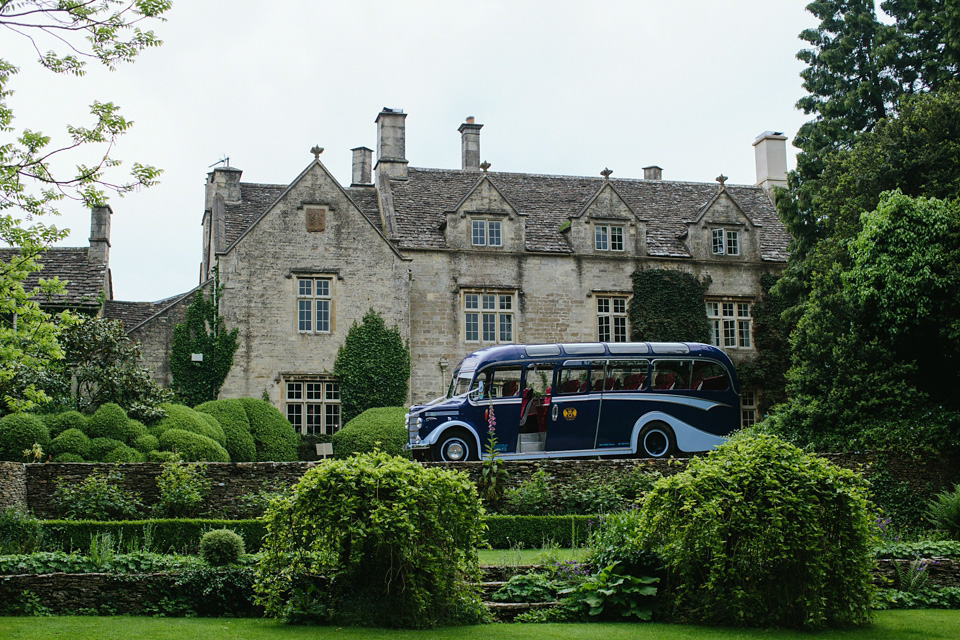 "We hired a vintage coach (called Babs!) to take our nearest and dearest from the hotel to the venue.  We also hired a vintage chauffeur driven car from Nostalgia Cars. They were brilliant – great value and well worth a call."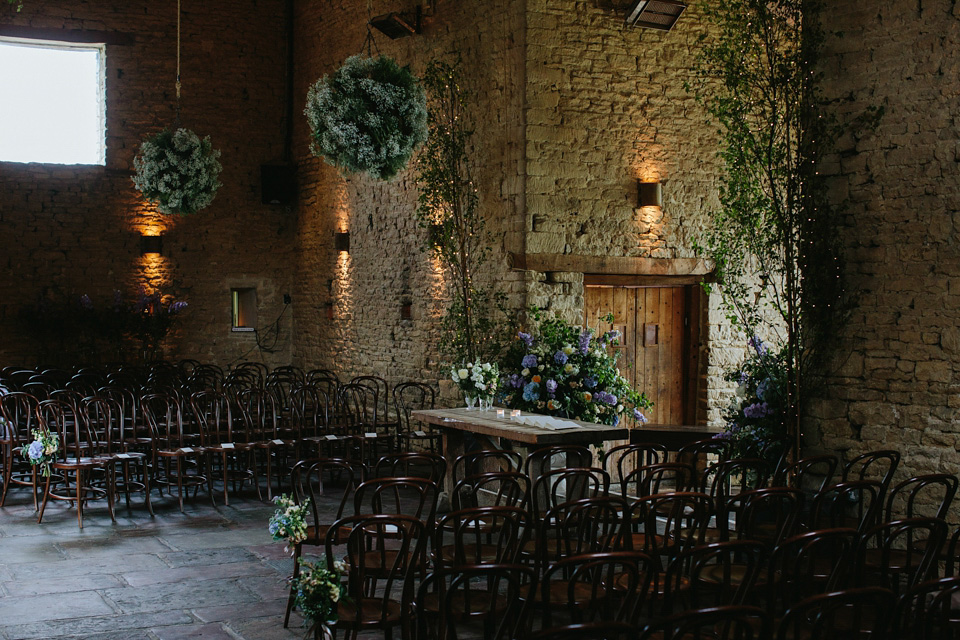 "I was adamant that my bridesmaids would not be dressed in actual bridesmaid's dresses; I wanted them to look like old fashioned Hollywood starlets instead. I had my eye on some stunning simple nude/ blush evening gowns from Ghost from day one, but they were unsure!  After a lot of trying on, we finally found the ones we wanted, but unfortunately, it turned out that they had been discontinued.
I then turned my attention to Ghost's outlet store in in Hatfield. Every bride must go, it's amazing, a total mecca for evening dresses in all sorts of colours. Luckily they had the gowns we were after and together we chose three 1930's style gowns in nude satin.  Emily and Laura had long sleeved lace and my sister (chief bridesmaid) wore a backless gown. They all looked stunning and complimented my dress completely.
I gave my bridesmaids a brief on shoes and let them choose their own, they didn't have to match. They all chose a stunning simple pair of vintage style, champagne coloured T- bar sandals from House of Fraser, very 1930's and very in keeping with their gowns.  Their hair was styled like old fashioned Hollywood stars to go with their gowns."
"As our theme was very eclectic, rustic, set in woodland, vintage and classic, I wanted our flowergirl (my niece Annie Bo) to look like a little woodland fairy. As the Bridesmaid's looked very classic. I chose her dress from I Love Gorgeous, which has the most stunning simple flowergirl dresses.  She loved it as it was super comfy and easy to move around in.
Our florist, Christiane Simmons of Honeysuckle Bee, created a simple flower halo to sit on her head, and her hair was styled in curls, she looked perfect.  Originally we had stunning clips from Accessorize, however we ran out of time to put them in! But the girls didn't need them – their hair was perfect without."
"My amazing Dad, the one and only John Compton, gave me away. We walked down the aisle to the beautiful piece of music from the film Amelie called 'Comptine d'un Autre été' – it is one of my favourite pieces of music from one of our favourite films. It seemed perfect to walk down the aisle too.  
Prior to this we had a playlist of songs we love and thought would create a beautiful romantic and relaxing atmosphere before the ceremony.  These were 'El Conda Pasa' by Simon Garfunkel, 'I want you' by Bob Dylan, 'Crystal' by Fleetwood Mac, 'Wild Horses' by Rolling Stones, 'Where did you go my lovely' by Peter Sarstedt, 'Cinema Paradso' by Ennio Morricone, 'La Vasle d Ameilie' by Yann Teirnan."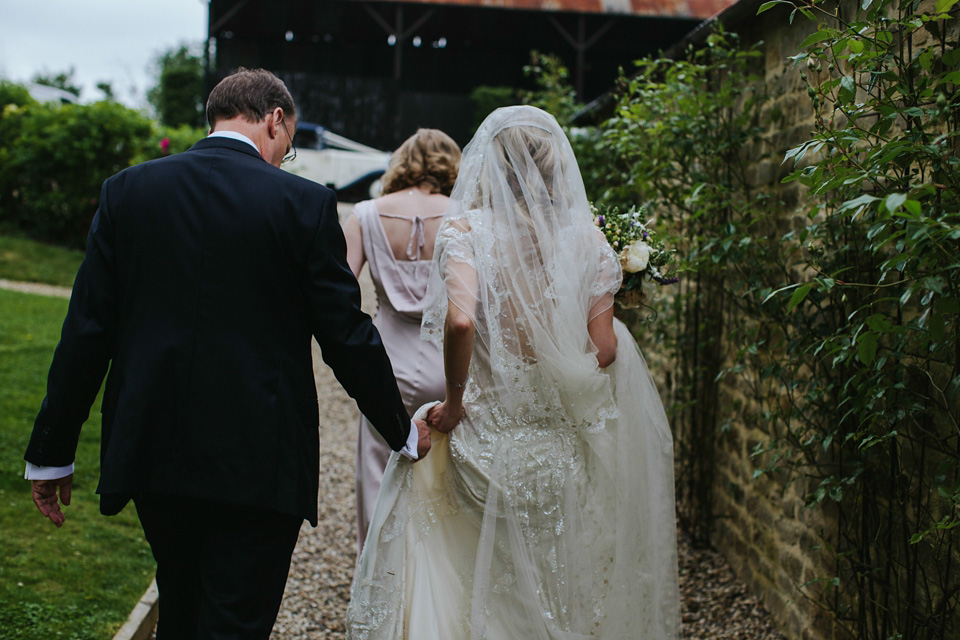 "We wanted a non-religious ceremony, which obviously ruled out the traditional church wedding, and we really wanted a wedding that reflected our personalities. In terms of styling we both have eclectic tastes and love anything classic, antique, old and delicate. So we used that as a basis to style our day.
We were originally going to have the ceremony outside in the glade so the plan was to decorate with lots of purple and green foliage to make it look wild, rustic and very Midsummers night dream. However, given the weather we were required to have the ceremony inside. Our florist Christiane of Honeysuckle Bee was amazing and managed to redesign everything inside the barn for the ceremony at the very last minute (she quite literally bought the outside in). Christiane was able to create the most beautiful rustic and wild feel inside, just as we wanted. It looked incredible and there were literally flowers everywhere, she included things like hanging herbs and pots, the smell was incredible."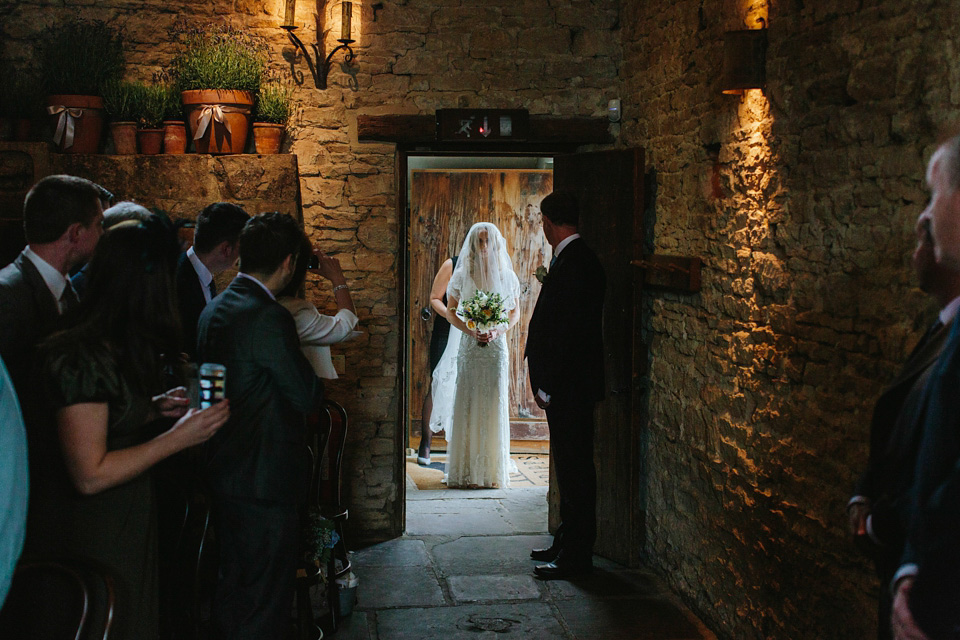 "Writing the vows took some time and given the size of the wedding and the detail involved we were struggling to find the time to write them!
We just wanted simple vows that sounded traditional, eloquent, romantic and non-religious.  Some of our married friends suggest researching vows and make them our own- we found this way much easier. We found some cool stuff online and re- worded it to make it more personal to us. We had to legally stick to a script for the most part, but we took words that inspired us and added pieces here and there.
Ultimately you just need to say exactly how you feel try not cry the entire way through.  On the day we actually said our vows together spontaneously which was great, it took away a lot of our nerves and made it far more enjoyable."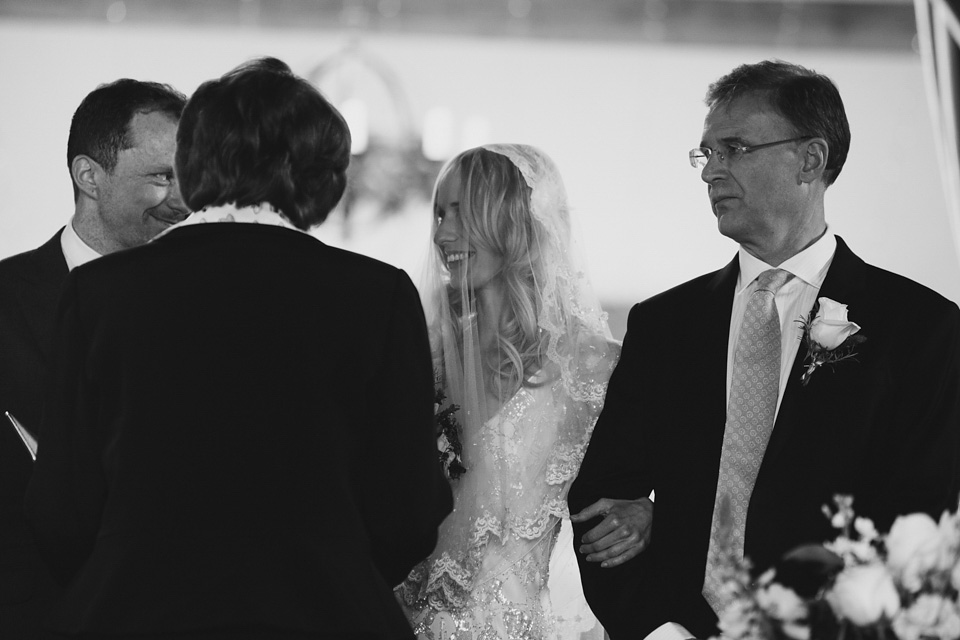 "We asked my brother Paul and Byron sister Heather to read a couple of poems.  Heather read a beautiful poem by Seamus Heany called 'Twice Shy' about a young couple going for a walk along the river on their first date, knowing that they were going to fall in love. She picked this poem herself, not actually knowing that was exactly what we did for our first official date – a walk along Islington canal, very young and nervous, but knowing that something amazing was going to happen between us."
My brother Paul read a poem too – I have always loved and reminds me so much of Byron called 'The Good Morrow', by John Donne. It describes when you meet the right person, all of the past and anyone else is long forgotten as you have each other now and nothing else matters."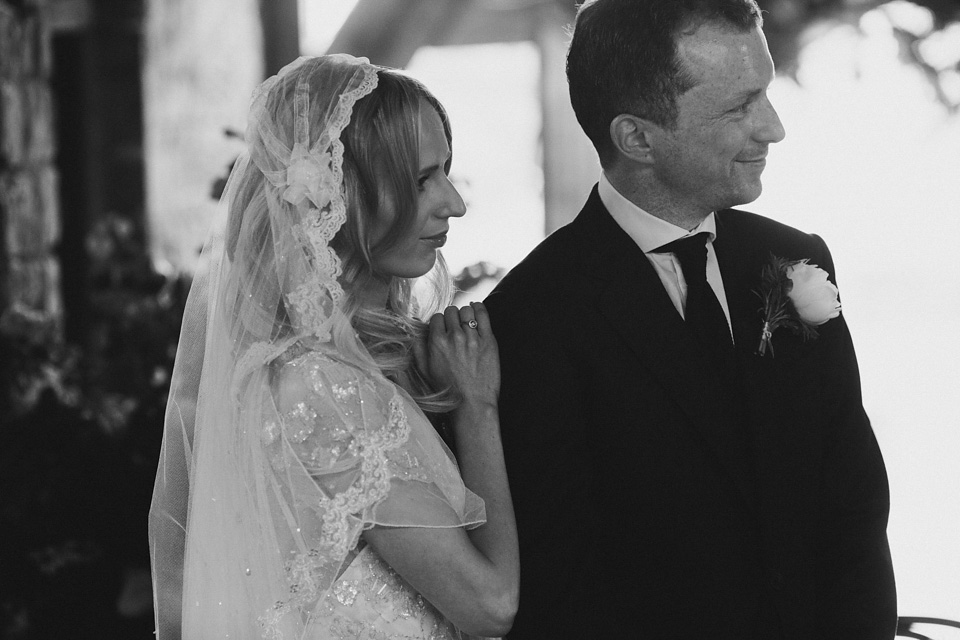 "Byron bought my engagement ring from Cartier, it's a little treasure and I adore it. Its Art Deco style and very unusual looking. He honestly chose it all by himself and I was literally gobsmacked when I opened the box in Bali. It's exactly what I secretly I had in mind. He had only asked me once before what sort of ring I would like and I gave him a brief description but said he would never be able to find it!
We choose our wedding rings from Laura Lee in Covent Garden. We've always admired their jewellery and Byron's mum has known her for years so it lovely to have a connection the person who made our rings.  She has the most beautiful simple selection of wedding rings and I wanted something that complimented my engagement ring but didn't match it. I chose a simple rose gold with diamonds studs & Byron chose a brushed platinum band- it's really cool and looks slightly aged. We wanted our rings to be more 'us' rather than traditional bands."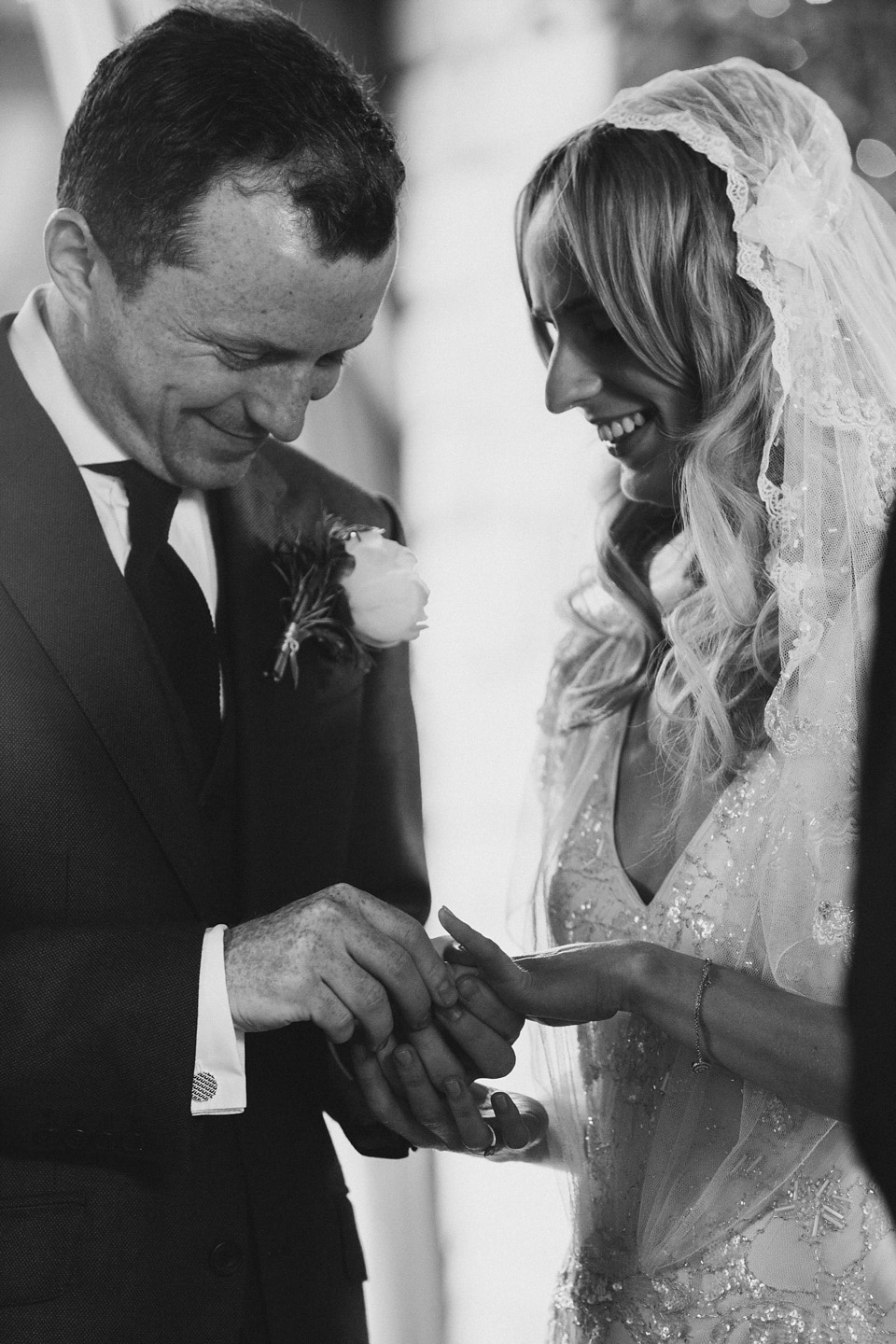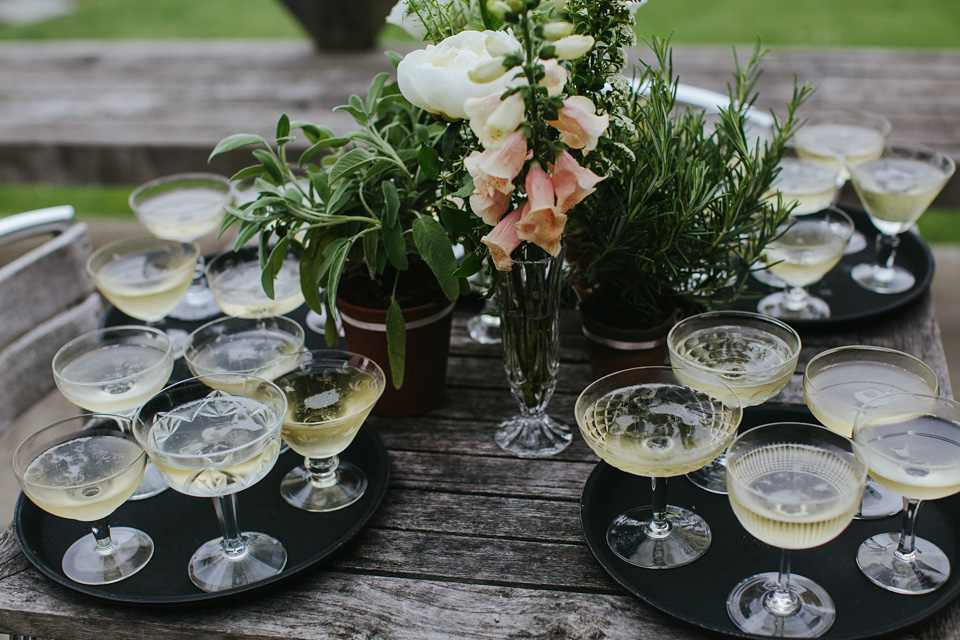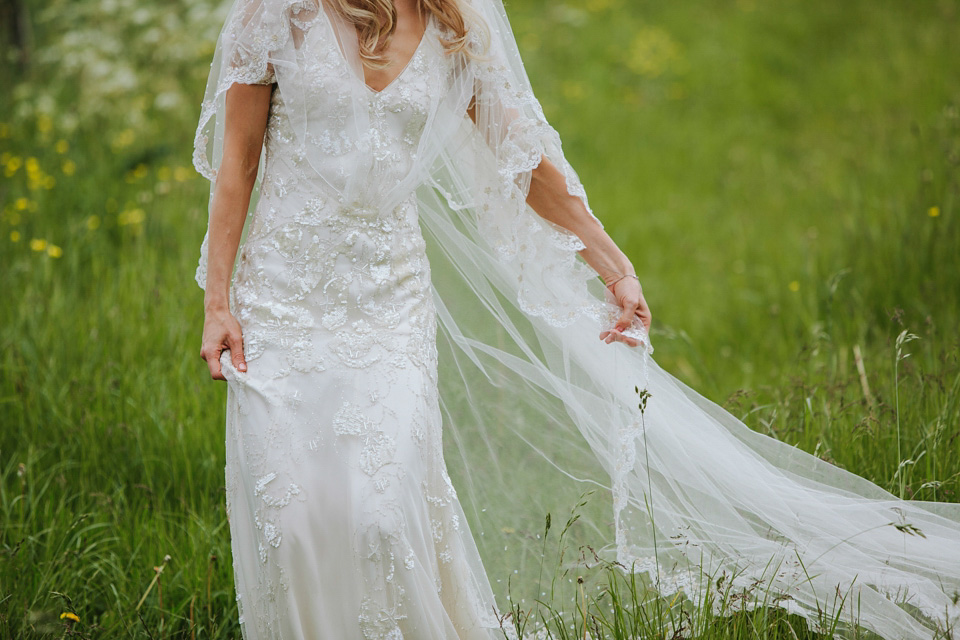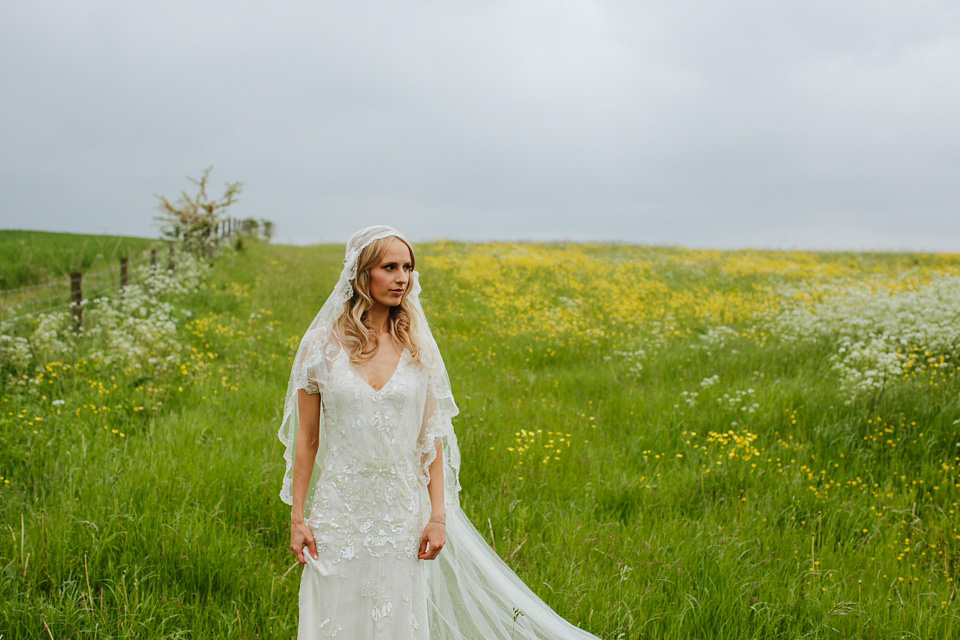 "Byron wasn't after the traditional wedding suit, such as tails or a cravat, he wanted something simpler and in keeping with the general theme of the wedding.  After much searching, he came across The Cad and the Dandy on Saville Row.  He went for a bespoke classic single breasted 3 piece blue suit, with a blue/white polka dot lining. I had a number of fittings to make sure the fit was just right. The guys at the Cad & the Dandy were fantastic and catered for every little request.
Byron purchased his shirt from Thomas Pink on Jermyn Street – he went for a classic white with a cut away collar. He also had the cuff monogrammed in a dark blue thread.  His shoes were from Crockett & Jones on Jermyn Street – he went for a suede pair called the Lowndes in Espresso.  He also wore a Gieves and Hawkes tie and a pair of classic rose gold cufflinks by Lanvin (a beautiful gift from me)."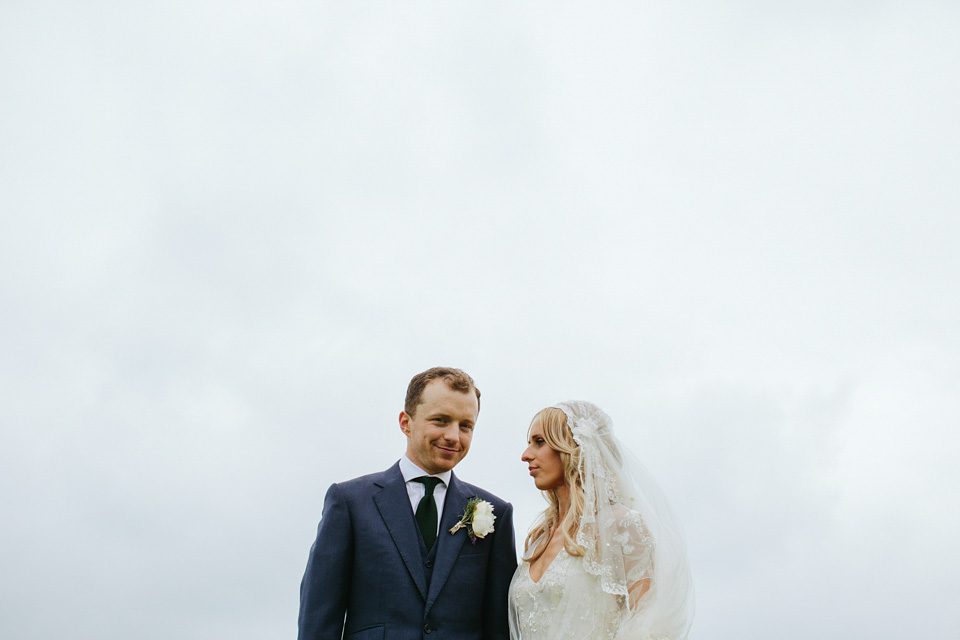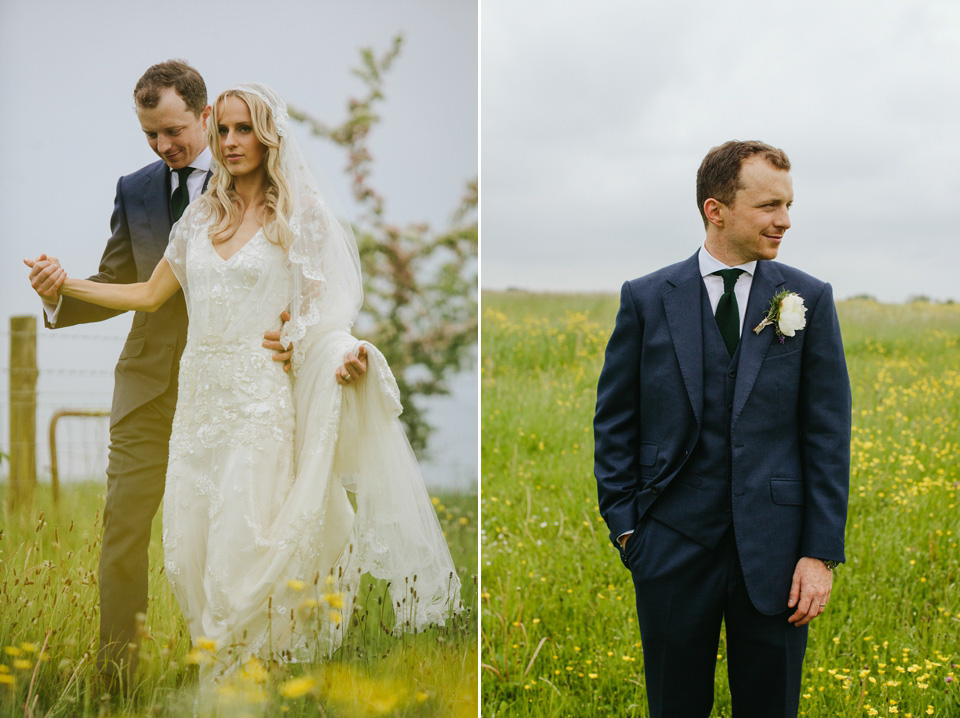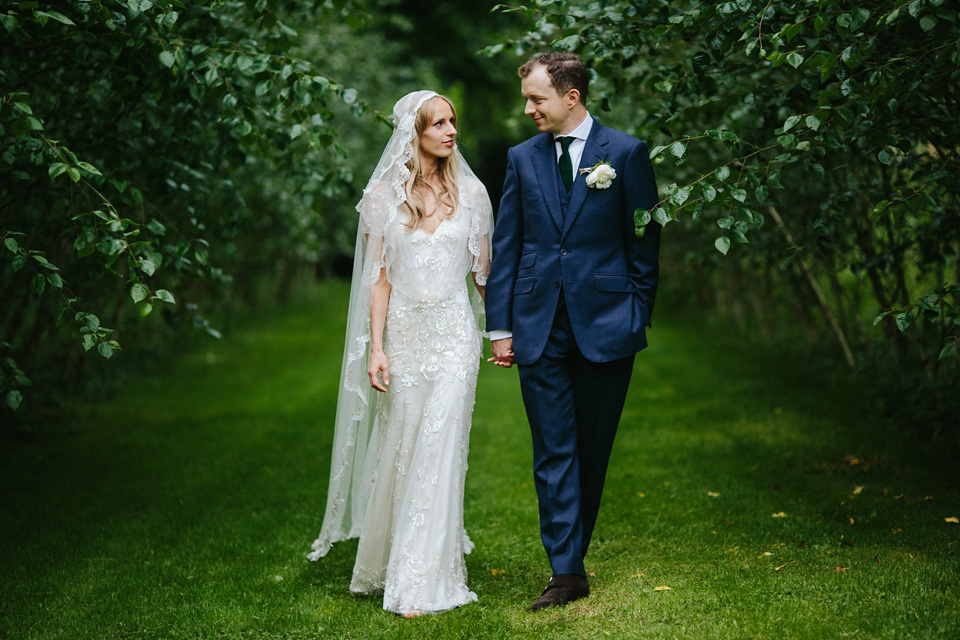 "Byron and I put together some old family photos in antique looking photo frames and scattered those around the venue. I also created a vintage dressing table (for the girls to retouch their make-up). Byron created a card/gift box from a 1940's filing cabinet, and decorated it with our library RSVP's to continue the book theme. We also hired a vintage a typewriter to complete the look."
"All the food was supplied by Cripps Barn. We had a selection on canapes for our champagne reception, and then for our meal we had smoked salmon or goats cheese starter. Roast leg of lamb from the BBQ for the mains and potato Dauphinoise, and lemon tart for dessert. They also created a beautiful Moroccan 'Turla Turla" for the veggies and catered for the dairy and gluten free guests too."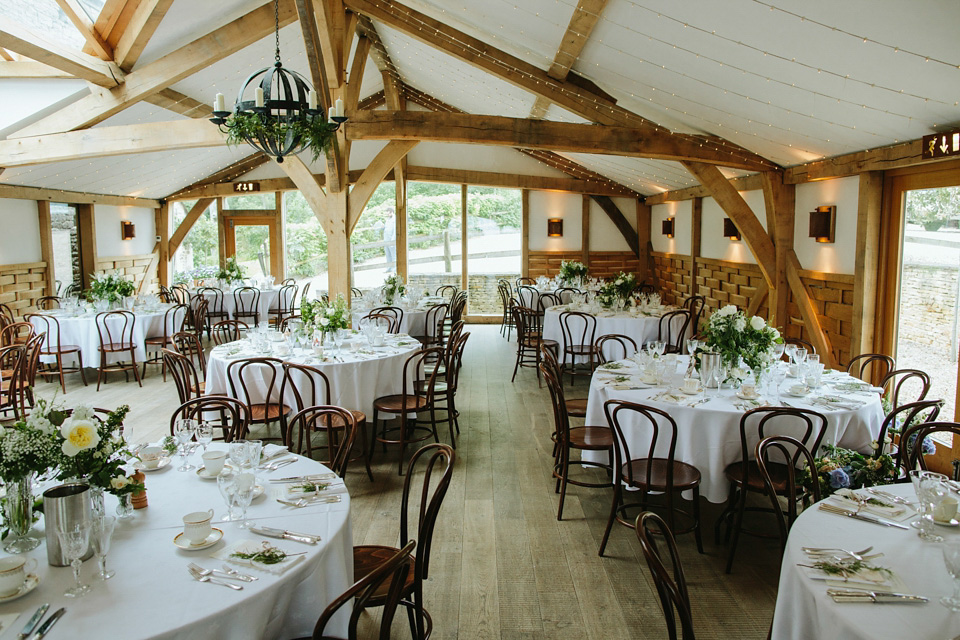 I'm in love with this idea of wedding favour gifts…
"Wedding favours was an aspect that was really important to us and that we wanted to get just right. Over the years I have collected a lot of vintage jewellery and I also regularly pass through Camden passage market (in Angel, Islington), where stalls are filled with vintage brooches and jewellery.  This inspired me to start collecting them for the women as gifts. It took some months to collect around 75, a lot of haggling and searching for the best ones, but we managed it and ended up with a great collection and everyone received a unique brooch (mostly art deco style, but some with beautiful jewels).
For the men, Byron wanted something a little different, but also wanted to create something himself. We thought vintage playing cards would be cool, something you can pop in your wallet as a keepsake. These were really hard to source and very expensive, so we came across these amazing vintage cigarette cards from the 1930s at an antique fair. They were perfect. They were really cheap and in great condition. Byron then mounted them on nice card and put them in an envelope with an authentic wax seal.
For the children, we made vintage toy goody bags that we filled with goodies from After Noah in Islington -they have a great selection from paper planes and yoyos, colouring books and everything's pretty reasonable."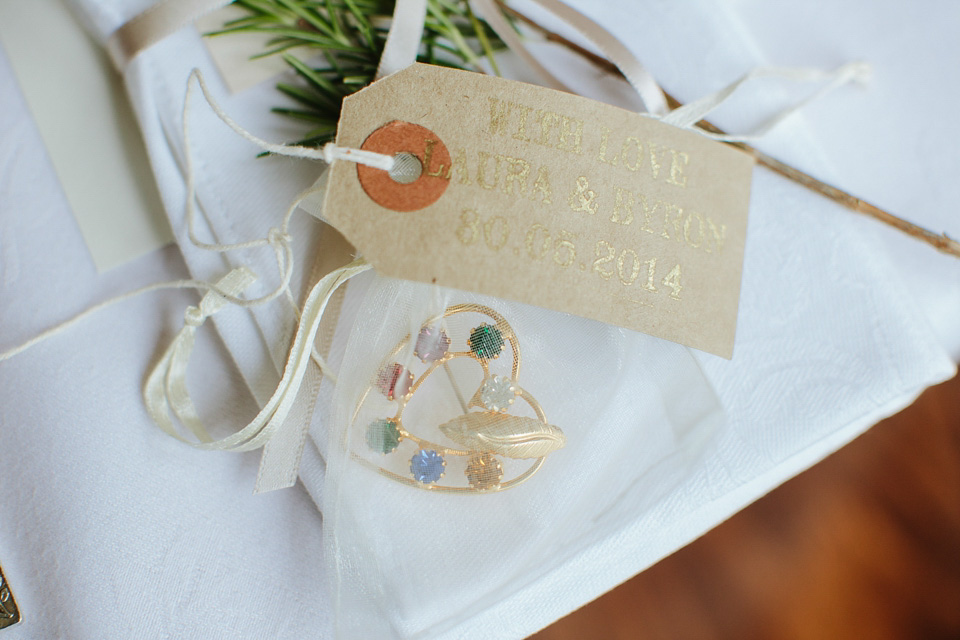 "With the 'classic' and 'vintage' feel we were going for, we had a good idea of how we wanted the venue to look, but we were also mindful not to overdo it.  We wanted the beautiful flowers and the venue (i.e. the old stone walls) to be the centre of peoples focus.  With that in mind, our stationer Haus of Roeni created some amazing lanterns made from old books. He also created stunning paper garlands, made from Roald Dahl stories that Byron and I grew up reading."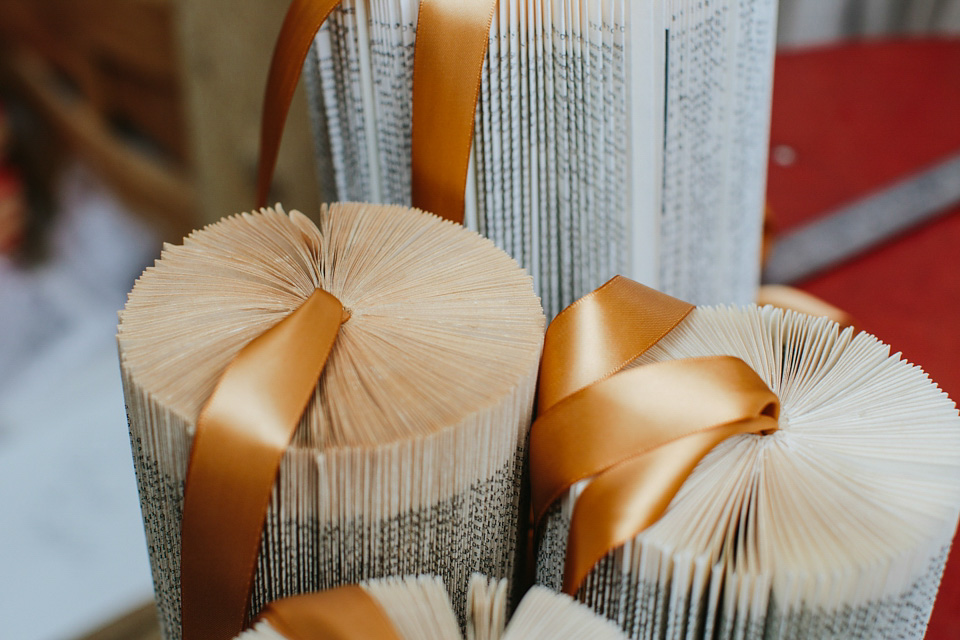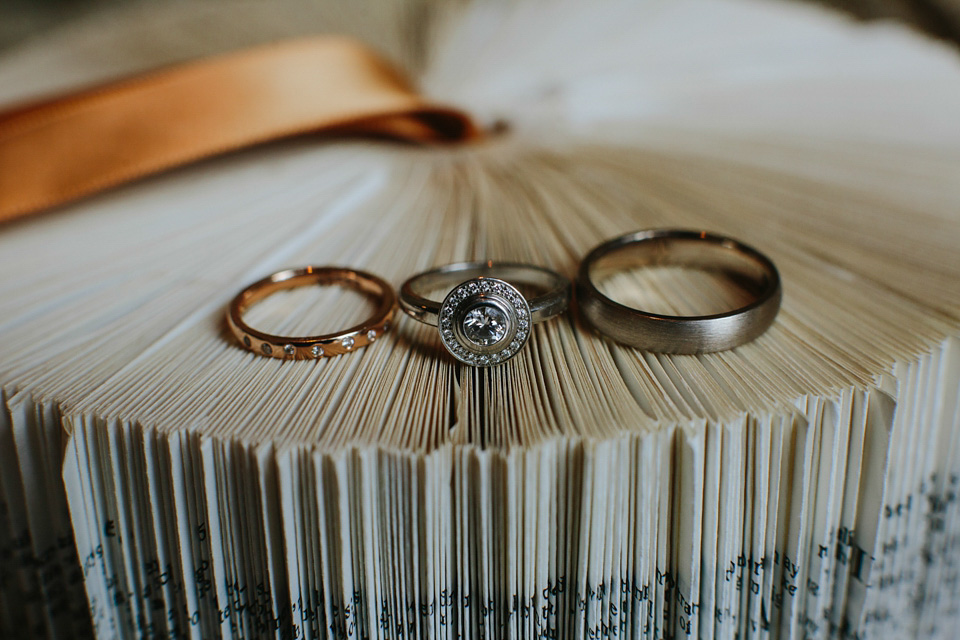 "It's very hard to pick specific moments of the day that we can call our favourite – it is definitely a day you do not want to end!  Our musicians were amazing, just seeing everyone we love having a great time on the dance floor was great. We spent a lot of time on details, but truly what made our day were all of the people there, it was the best atmosphere, so much fun and everyone relaxed and happy and showing us so much love and support.
Some of my personal favourite moments included seeing the girls getting ready in the morning, my Mum looking so happy and so beautiful, my Dad seeing me for the first time in my dress. Having that moment with my Dad in the car on the way to the barn. It was really calm and lovely moment which made it very special. Also holding hands with Dad in the car. We were both very nervous but staying calm for each other.
I also loved seeing Byron at the altar for the first time was amazing, I immediately burst into tears. Then each part of the ceremony was just amazing. We said our vows together, at the same time, which we had not planned – but it worked and made it incredibly special.
Having my little Nana – Agnes, who is 96 being there and enjoying the day was wonderful.  She is amazing and really inspirational, and it was an honour to have her there. The speeches were the so great, our best man did the most lovely genuine heartfelt and funny speech, it was a whole rollercoaster of emotion from everyone!  It was also amazing to see our parents enjoying themselves and all dressed up."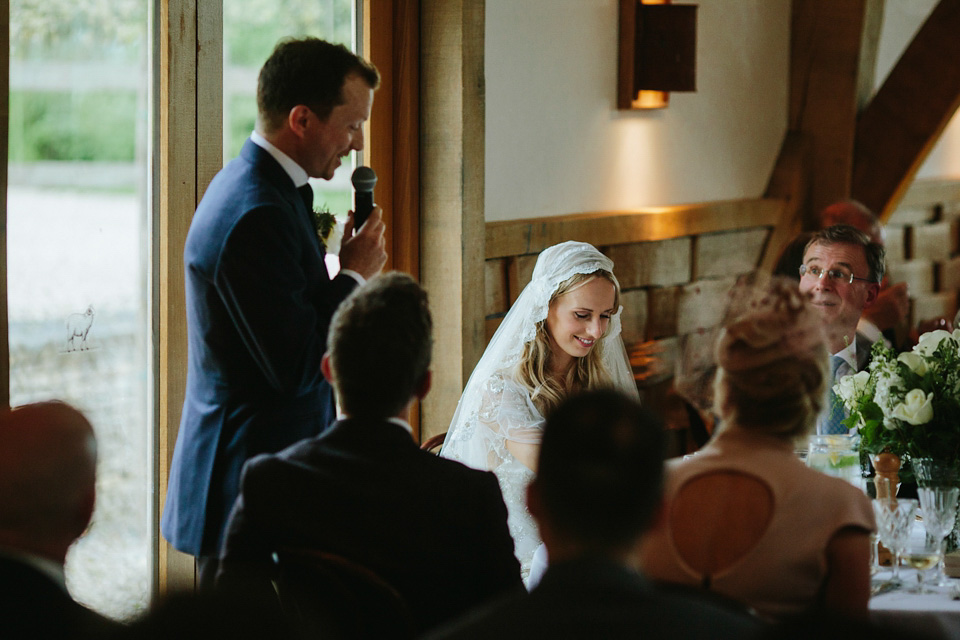 Byron said his hightlight of the day was "…seeing Laura for the first time. I was so nervous and trying very hard not to burst into tears! I also enjoyed the pint I had with my dad, brother-in-laws and best men/groomsmen prior to heading over to the venue. I have to admit I was very nervous about the speeches, but when the time came, I actually really enjoyed it! The rest of the day was just amazing, from the first dance, right through to the last song."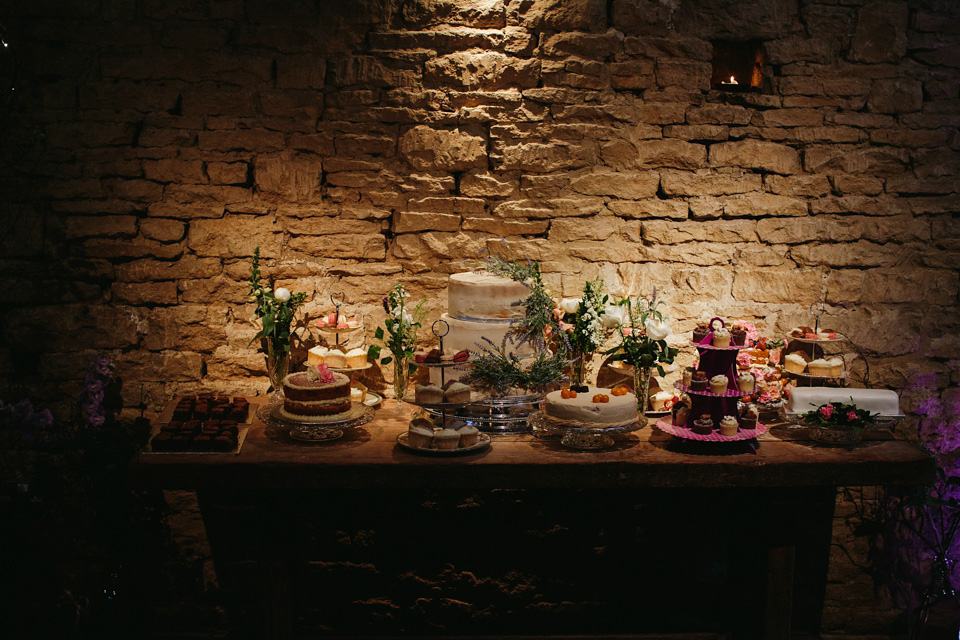 "We didn't want a traditional wedding cake and we had a lot of people with intolerances (e.g. gluten) in our family so we wanted a cake to cater for everyone. The wonderful Guiti at Peace of Cake London made us the most amazing gluten free vanilla sponge with a dairy free cashew coconut icing and refined sugar free too.
We had a cake table, with a smaller 'raw cake' for our vegan best man, a beautiful gluten free cream and fruit tiered cake from my cousin and our family and friends very generously made lots of brownies and cupcakes along with macaroons, and marsh mellows for the bonfire outside."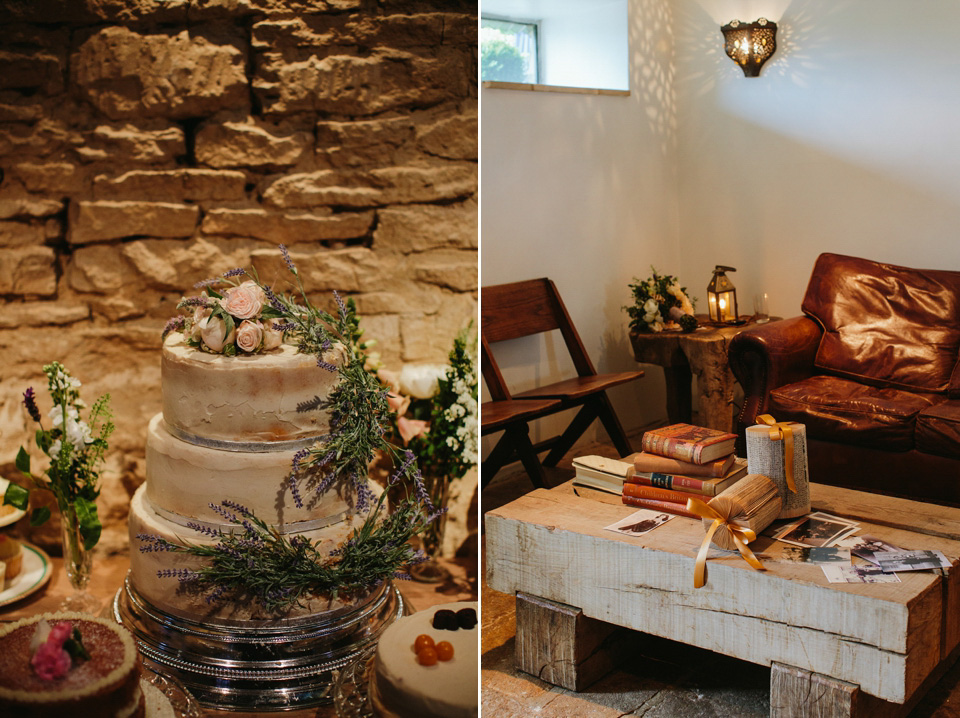 "We both love Neil Young and chose ' Harvest moon' for our first dance.  The song is so lovely and the lyrics so apt, and a total feel good song, it was perfect.
We had a friend of ours, the wonderfully talented and beautiful Kate Mullins of the Puppini Sisters, with a band she performs with a swing band called 'King Candy & the Sugar Push'. During the champagne reception, Kate performed a selection of songs accompanied by a keyboard. She performed a very late special request, 'I know you' from Disney 'Sleeping Beauty,' which my mum used to sing to me all the time when I was little – it was amazing and very special!
The band then performed an incredible classic swing set in the evening and our guests loved it, the atmosphere was electric and everyone was dancing. We also had Victoria Lily's vintage photo booth. She was fantastic as we found very last minute and travelled a long way! She brought the most hilarious props an dour guests absolutely loved it (highly recommend this as it's nice to have the pictures to look back on).
After the band we had the disco, a selection of songs we'd picked together and with our families. Just dance floor fillers, music for everyone to enjoy and keep everyone on the dance floor."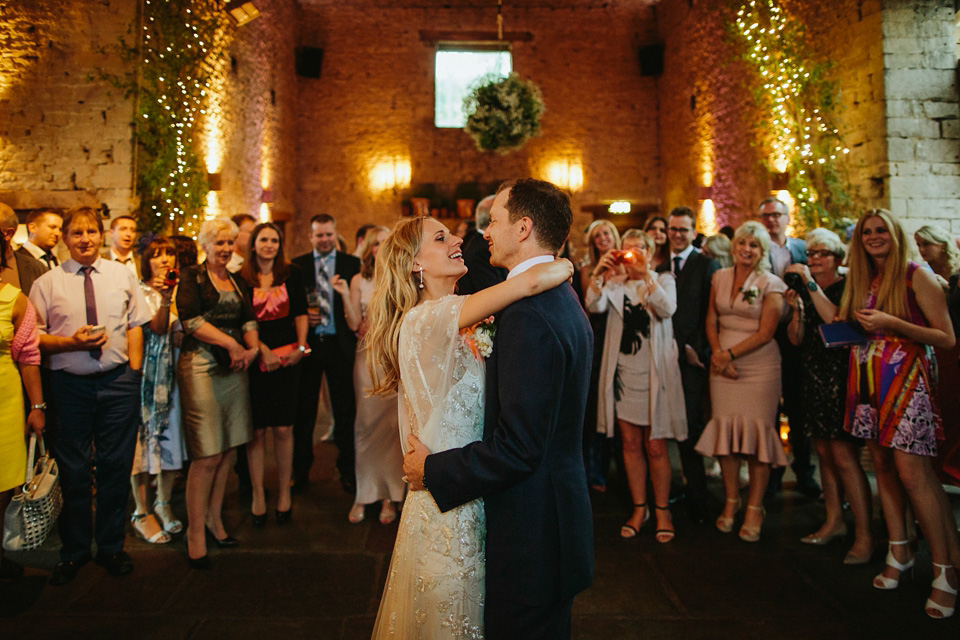 Words of Wedded Wisdom…
"The biggest piece of advice we can offer is – no matter how big a problem seems on the run up to the wedding, it will be not be an issue on the day – so don't spend too much time worrying about it.
This might sound silly but, the day goes very quickly, so make sure you are in the moment and try not to worry about the plan of the day ahead. People will look after that for you.
Try not to drink too much. This might sound like a no-brainer, but you'd be surprised how many people will offer to buy you a drink. The last thing you want is to look back and not be able to remember!
We decided to do the speeches before the meal – its personal choice, but we found the meal was more relaxing (especially for those making the speeches).
In the lead up to the wedding follow your instinct. Try not to get too bogged down in what other people have done, what is in magazines, what people suggest etc. It's a chance to put your own stamp on something. Follow your heart and own style, lots of our stuff was an extension of things we have around our home, and things we really love, you'll be amazed at what things you'll find as sources of inspiration!"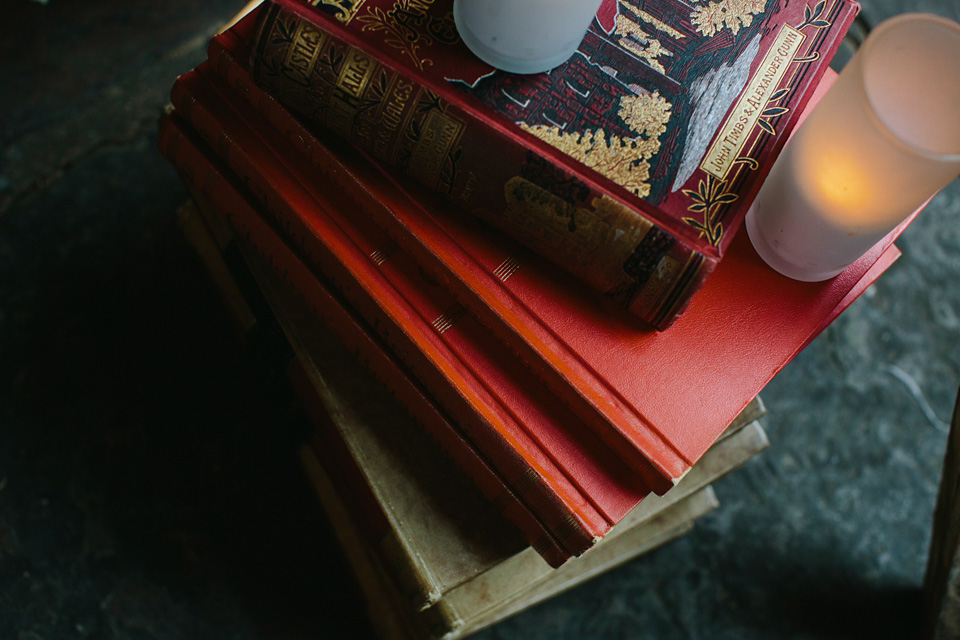 "When making decisions on various things – we kept asking ourselves, "will this look tacky in pictures in 5 years?"' "Is this a reflection of us?' With that in mind we tried to avoid 'fashionable' or 'trendy' things i.e. things that we know will be out of fashion and look dated in a few years. This was purely a personal choice but you should truly follow your gut on this one.  Try not to compare your wedding to anyone else's before or after. Everyone's is so unique and different and it's all about the couple and the people there on the day.  Make it fun for you, and for your guests. Remember, everyone is there to have a good time. We think some form of games before the evening entertainment can be a great idea.
There will always be problems around the guest list (always!!). Remember it's your day and don't succumb to pressure. Listen to your family's suggestions, but weddings are expensive and you literally can't invite the whole world. If you don't like what they have to say, politely shrug it off and say you see their points and will consider it.
And finally, don't be afraid to ask people (you trust) for help. You will find people will go out of their way to help!"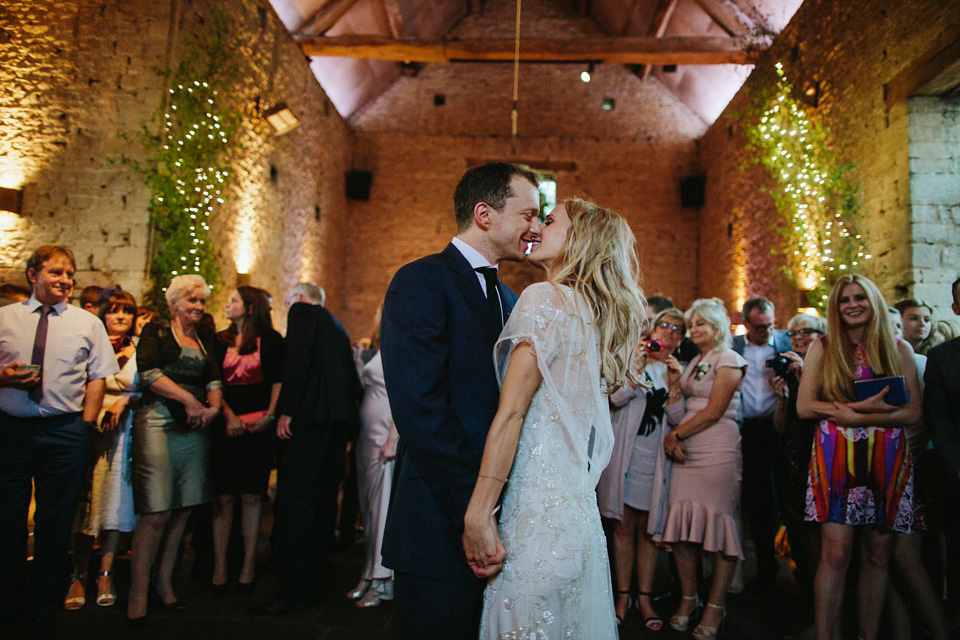 What a gorgeous wedding, I so love how Laura has so passionately shared so much helpful and useful information! Those words of wedded wisdom are fabulous.  Laura, huge congratulations to you and Byron on your most beautiful wedding – you couldn't have worn a more perfect dress, I'm such a huge fan of Azalea.
So much love and thanks to the wonderful photographers Craig and Kate for sharing this beautiful wedding.
I really hope you have enjoyed this feature and felt inspired by it too.
Love Annabel xx
Photographer – Craig and Kate
Venue + Catering – Cripps Barn
Dress – Azelea by Jenny Packham
Brides Headpiece – Kelly Spence
Shoes – Jimmy Choo
Accessories – Stephanie Browne earrings via Liberty in Love
Perfume – Annick Goutal Amour
Groom – Cad & the Dandy suit + Thomas Pink shit + Gieves and Hawkes tie + Crockett & Jones shoes
Bridesmaids – Ghost
Flowergirls – I Love Gorgeous
Florist – Honeysuckle Bee
Gluten Free wedding cake – Peace of Cake London
Transport – Vintage Coach via Alex Cars + Nostalgia Cars
Entertainment – King Candy & the Sugar Push
Rings – Laura Lee in Covent Garden
Stationery – Haus of Roeni
Hair Stylist – Pont Smith of Blue Tit in Dalston
Makeup Artist – Emily Tarrant
Photobooth Hire – Victoria Lily's Vintage Photobooth
Vintage Crockery Hire – Classic Crockery