Well they always say that 'it's not what you know, it's who you know,' and this gorgeous bride and groom are most certainly well connected. When your chosen vintage style gown needs to be replaced just three days before the big day, it certainly helps to be a bridal sales consultant with a seamstress friend! And when you're looking for a photographer able to capture all the fine details plus the love, fun and emotions of your wedding, then how wonderful to be able to call on your little sis, who also just happens to be the fabulous photographer, Emmie Scott.
Beatrice, who works for Morgan Davies Bridal, married Business Development Executive, Lee on 25th July 2014 in a touching ceremony at Camden Town Hall and followed it with a wonderful, vintage inspired celebration at The Amadeus in Little Venice.
"We are both fans of everything vintage and we love the Art Deco era. We initially wanted more of a 1950s tea party but as we started booking caterers, entertainment and designing the stationery, our 1930s theme started to form naturally through the style of everything we had picked. When I bought my dress, which was very 1930s, the theme was finalised! Yet we still wanted it to feel modern and very relaxed."
Photography Copyright (c) 2014, Emmie Scott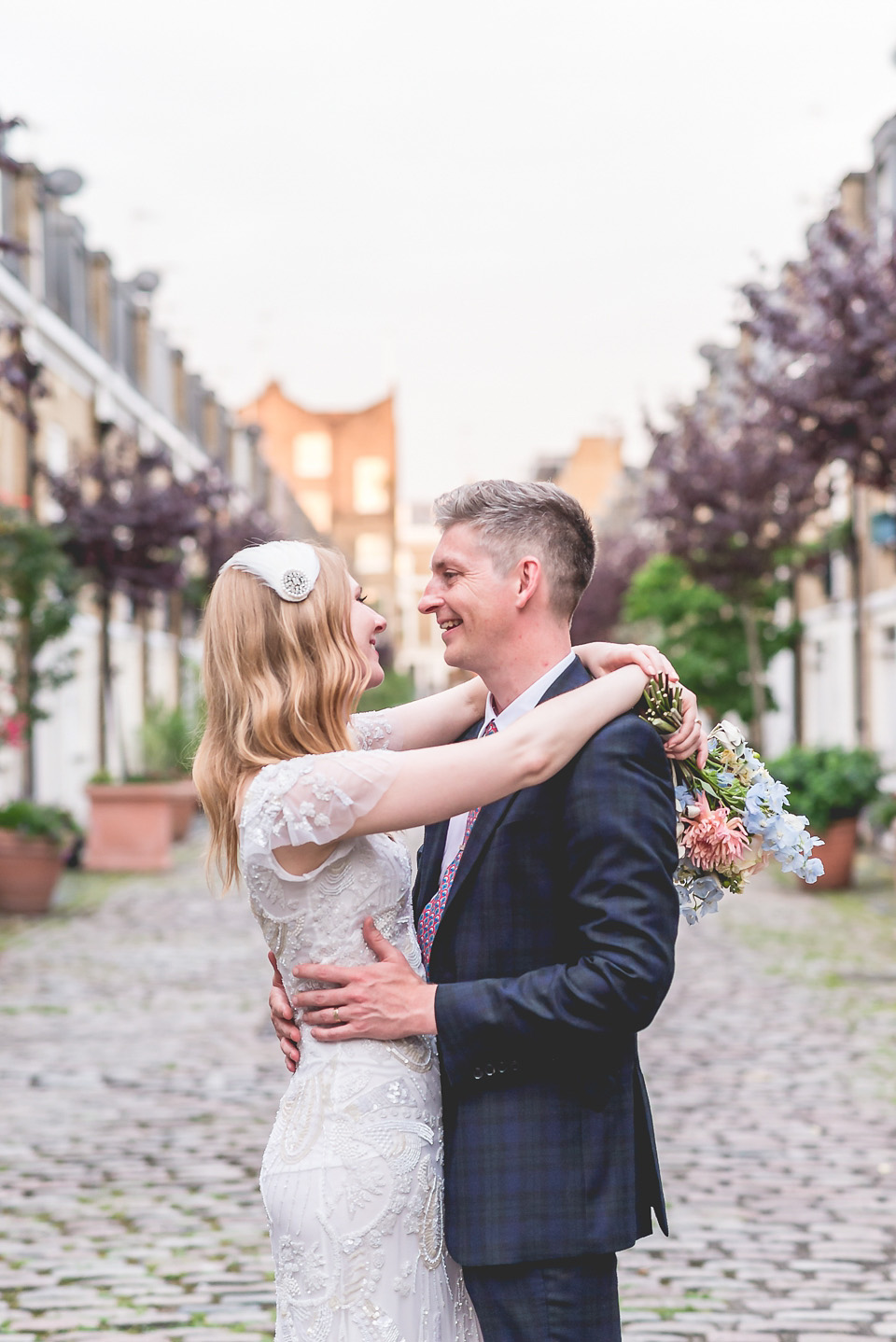 "Lee and I met in 2008 through our mutual friends Alison and Adrian who worked at Cancer Research with Lee. Alison thought Lee was the 'perfect match' for me and so she and her husband Adrian, tried to set us up. Though it didn't work straight away… four years of just being friends later, we eventually got together in February 2012.
In June 2013 Lee proposed on Brighton Pier, which was always our favourite place to visit together. He was very nervous and dropped so many hints that I knew it was going to happen, but I did my best to look surprised! We went straight to Brighton Lanes and bought an engagement ring.  We were both so excited it took all of about 15 minutes to choose my 1880s Victorian Marquise diamond and sapphire ring!"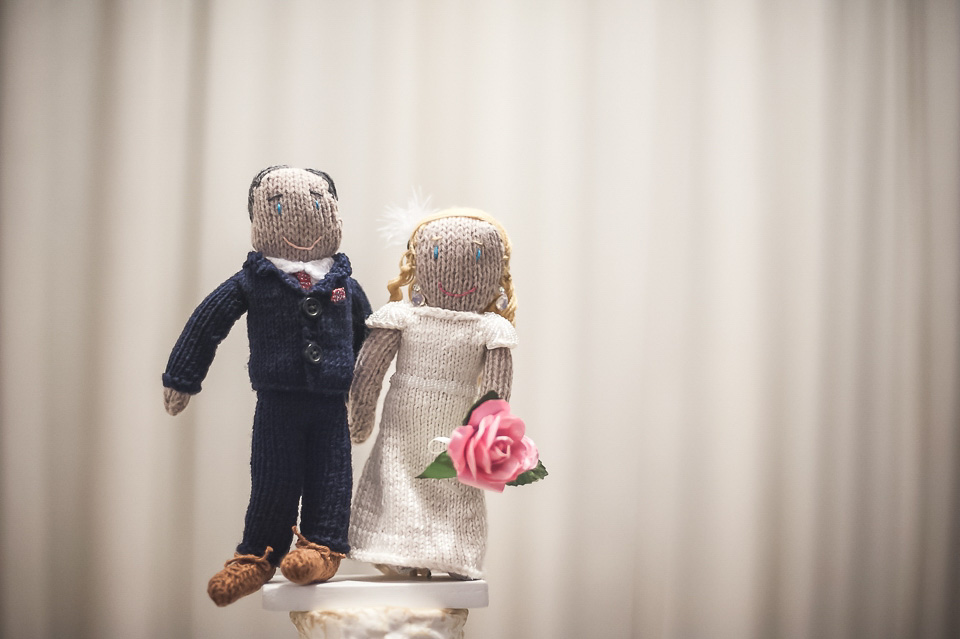 "I had originally bought a different dress a year before our wedding from a different shop; before I worked at Morgan Davies Bridal. However, as the wedding approached, I realised that the alterations on the dress were not looking good, and a week before the wedding I realised that the beautiful dress was no longer wearable. Thankfully I worked in exactly the right place and my Morgan Davies colleagues worked their magic! With just three days to go before the wedding I ordered the stunning 'Jayne' dress by Eliza Jane Howell, which arrived 24 hours later.
The day before the wedding I had it altered by my amazing friend and seamstress Katie Fitzgerald.  I had previously styled a few brides in the 'Jayne' dress and it was my favourite gown in the shop at the time, so when I had to choose a dress last minute I knew I would go for it. It had a similar 1930s feel to my original dress so thankfully my shoes, jewellery and hair accessories matched it perfectly.
I love the intricate beadwork and the pearly antique colour of it, it was so easy to wear and didn't feel too formal."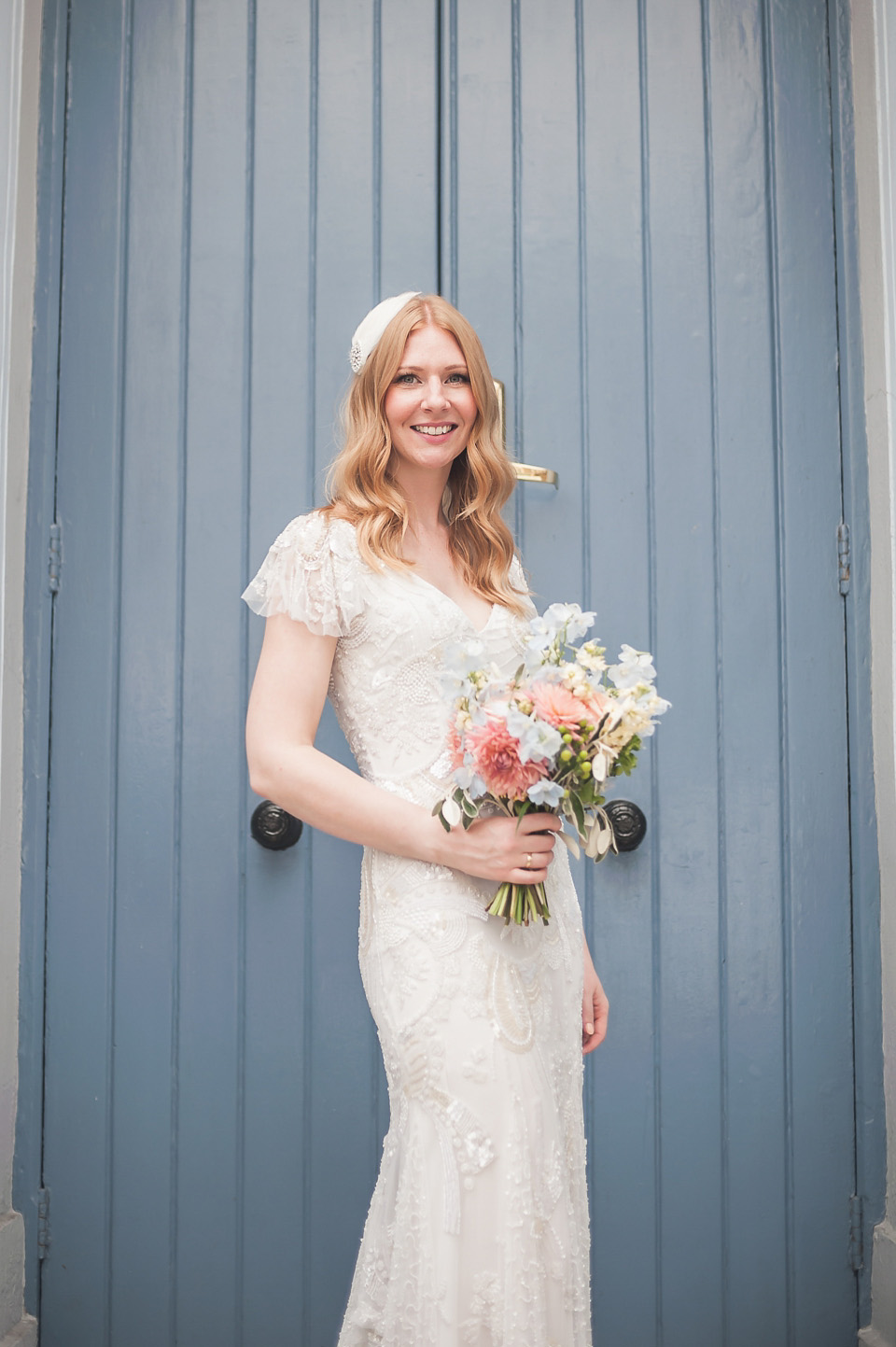 Each of the bridesmaids wore a variation on a blue dress, from 20th Century Foxy, Fever, Beyond Retro and Asos.  They teamed these up with red shoes from Clarks. The whole ensemble fitted the vintage theme perfectly.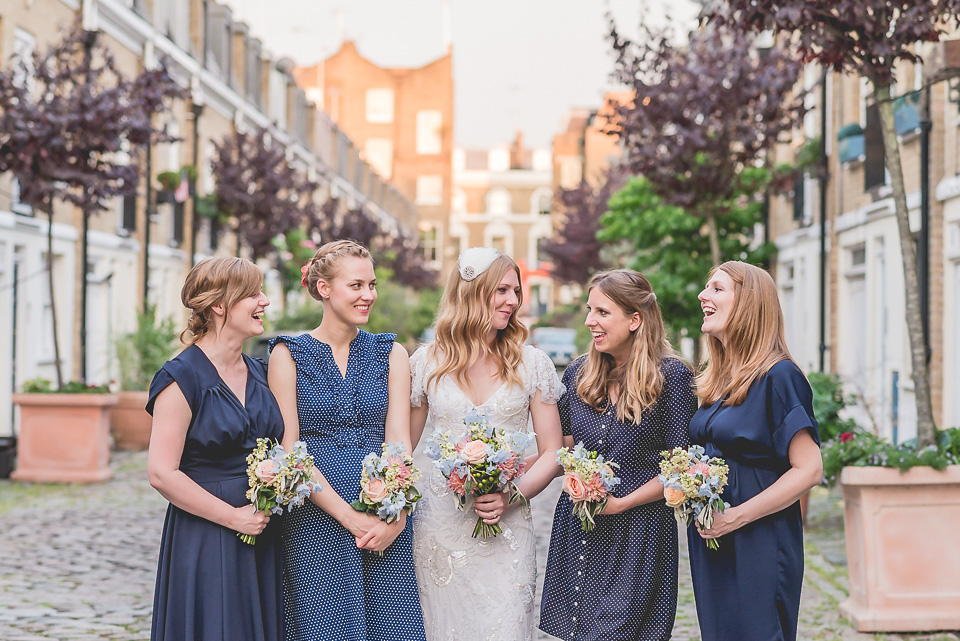 "Emmie Scott is Lee's sister so of course we wanted her to do our wedding photography. We are so lucky that we had her for our wedding photos, the results were better than we could have ever hoped for and she was so calm and professional on the day. We would recommend her to everyone."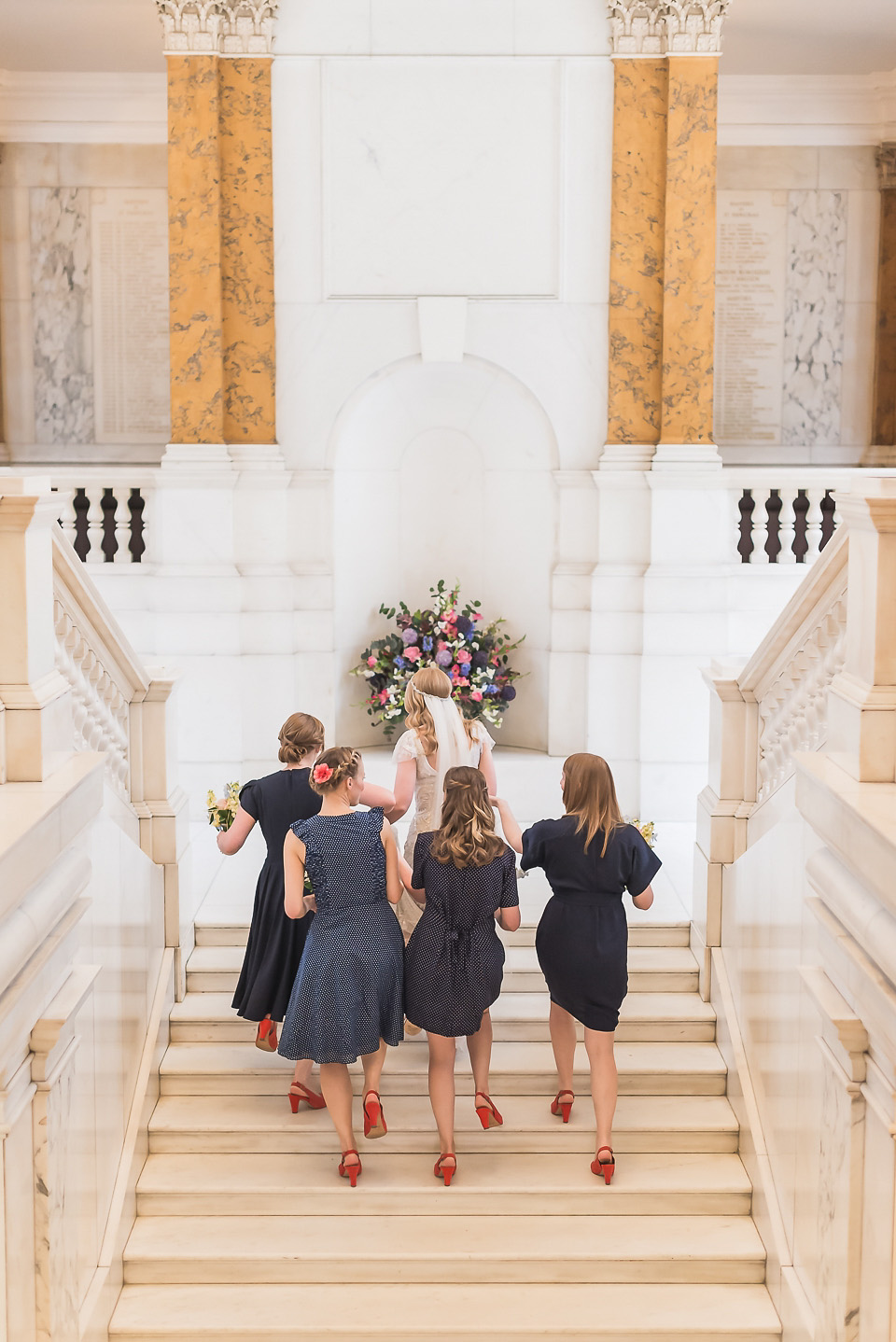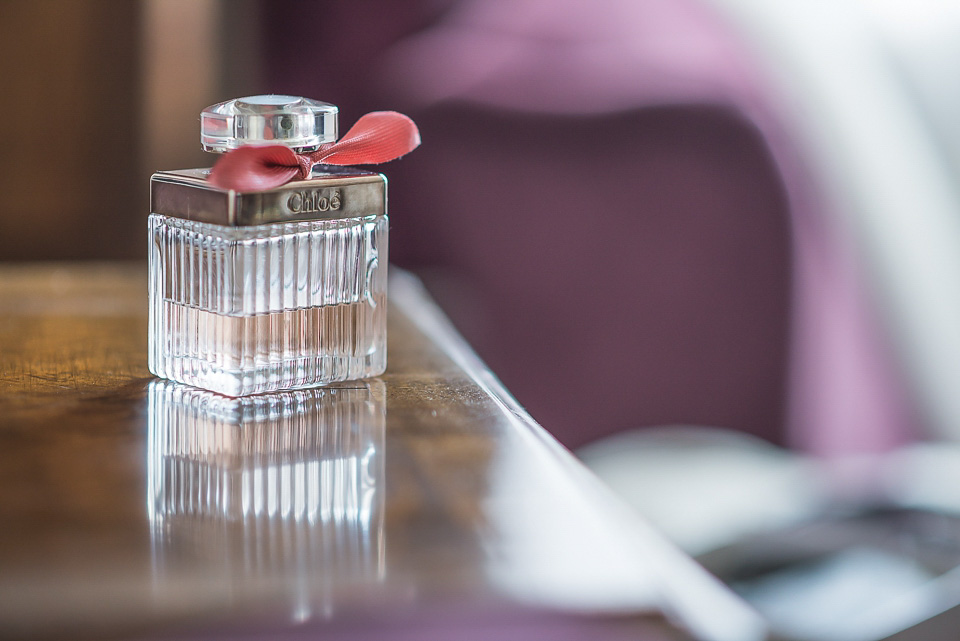 "Unfortunately, our original florist let us down two weeks before the wedding, so my colleagues recommended Ricky Paul to us and I'm so glad that he did our flowers instead! He came to our rescue last minute and interpreted our ideas so beautifully. I couldn't imagine anyone else doing such a wonderful job!"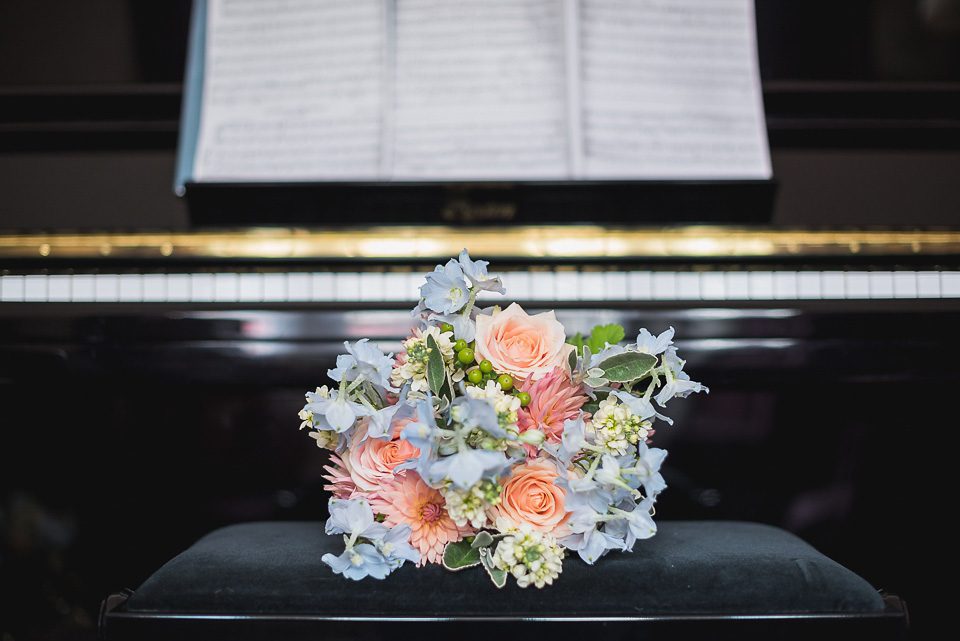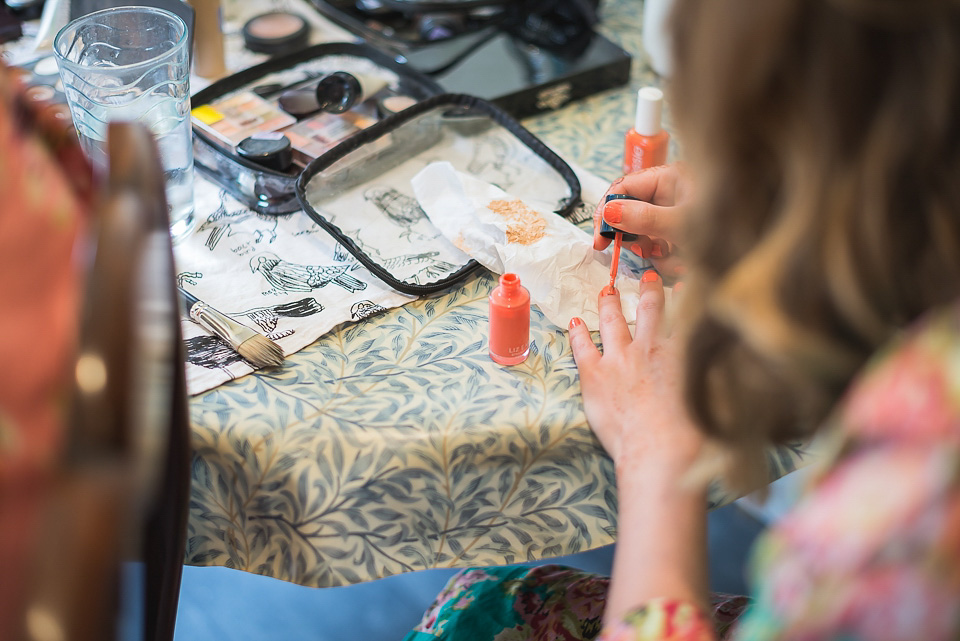 'I did my own hair and make up on the day as when I had a hair and make up trial I didn't recognise myself, so I decided to put the money towards the Ben Amun earrings instead. The bridesmaids had Laura Marsh do their hair and make up."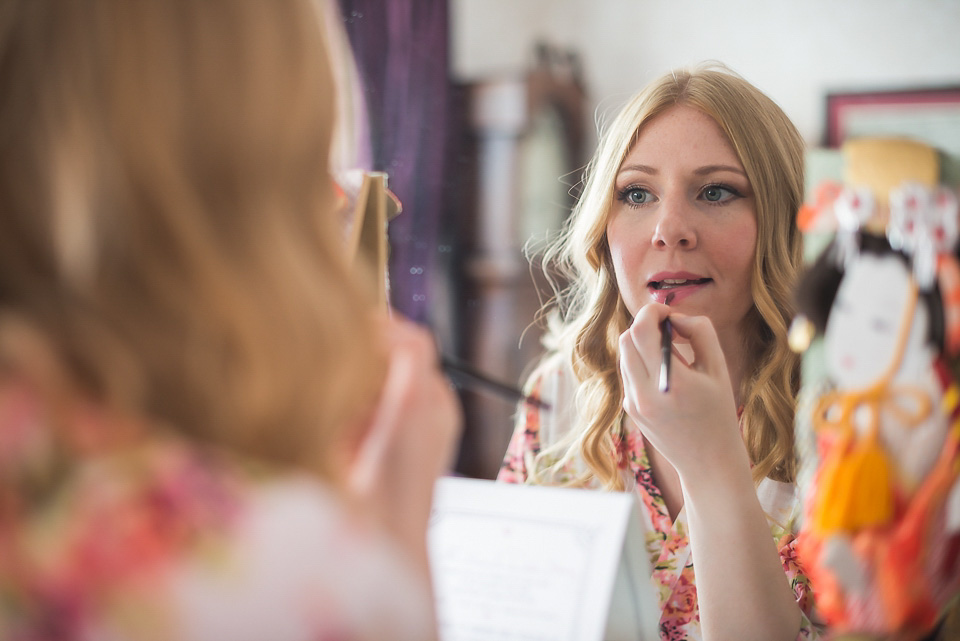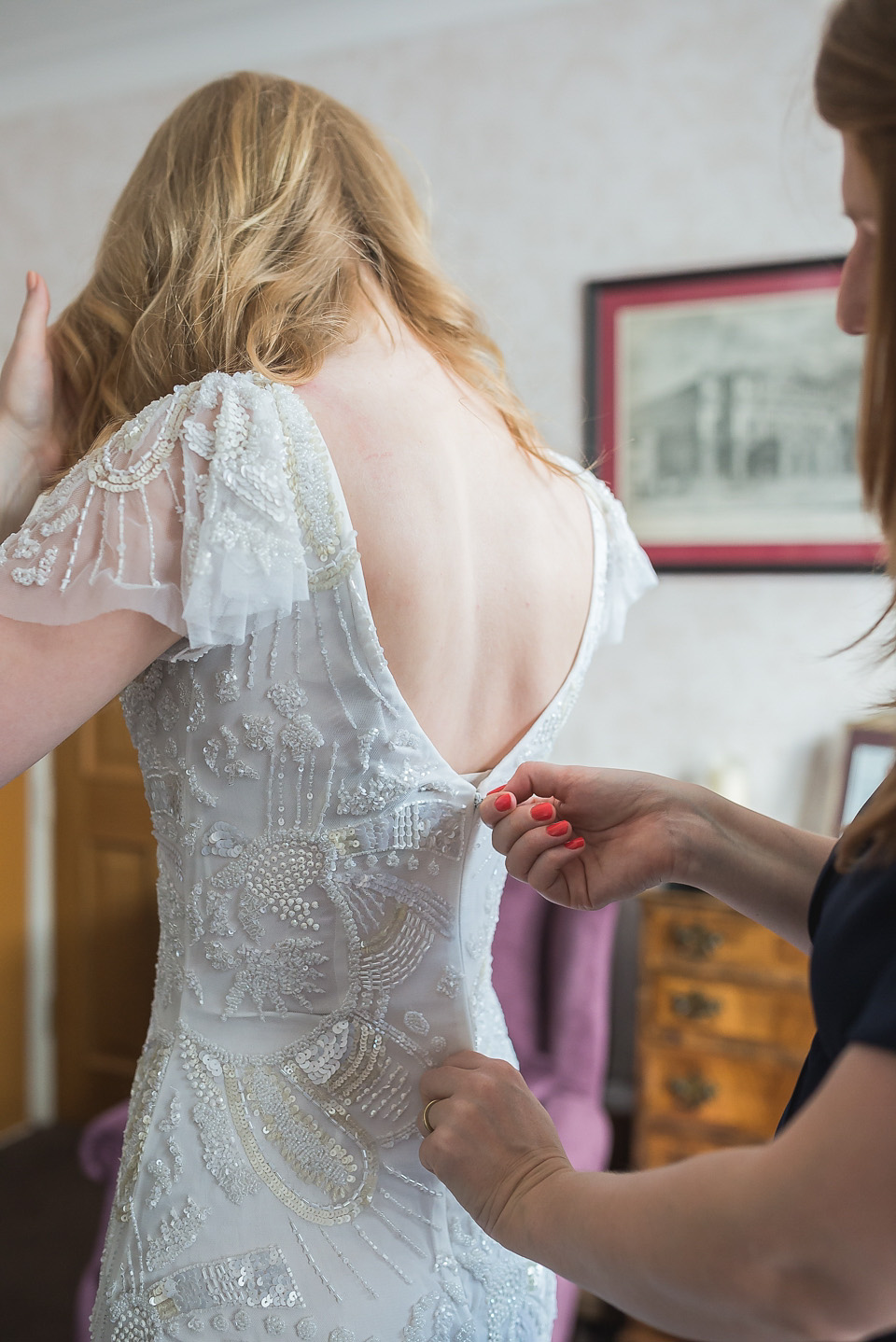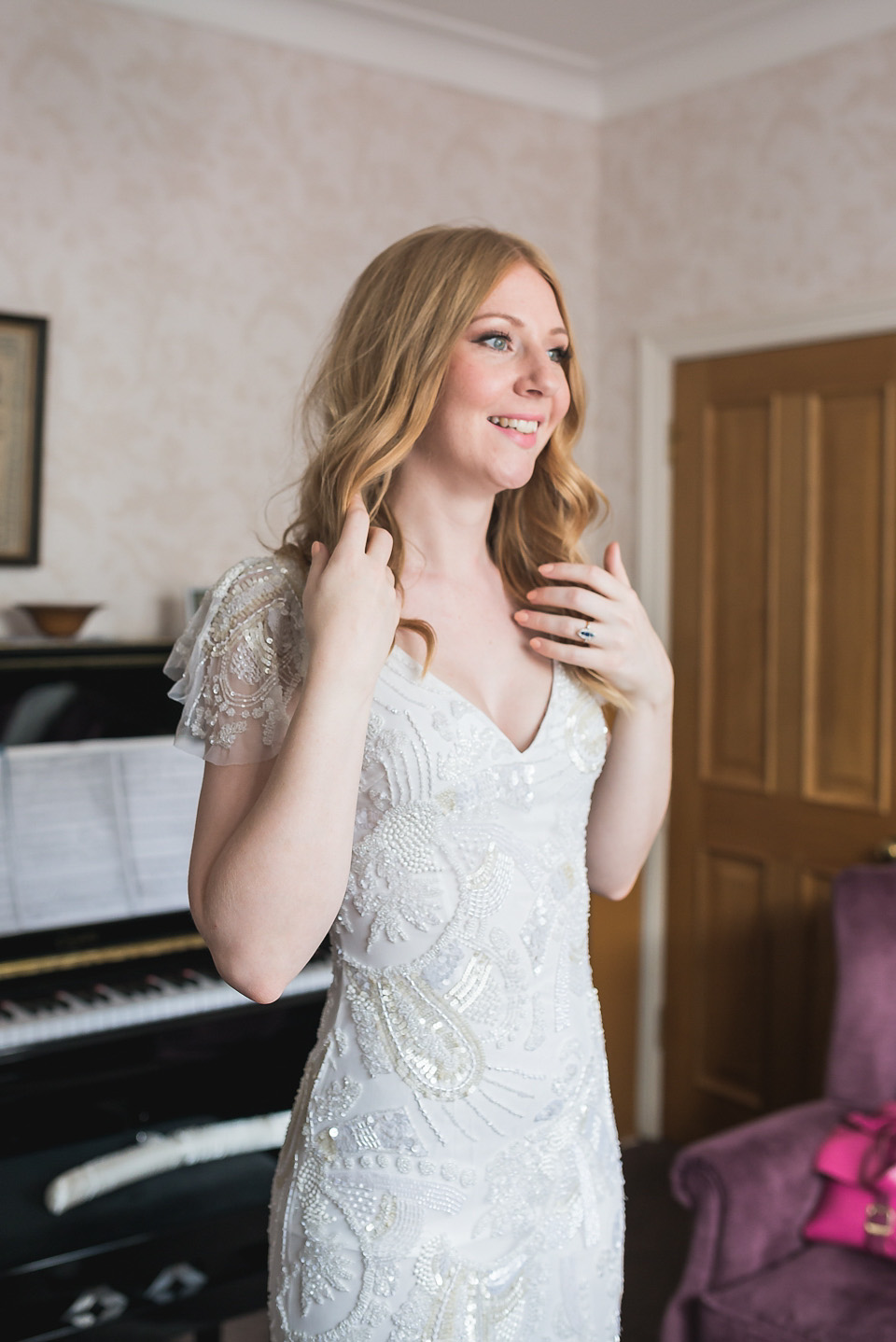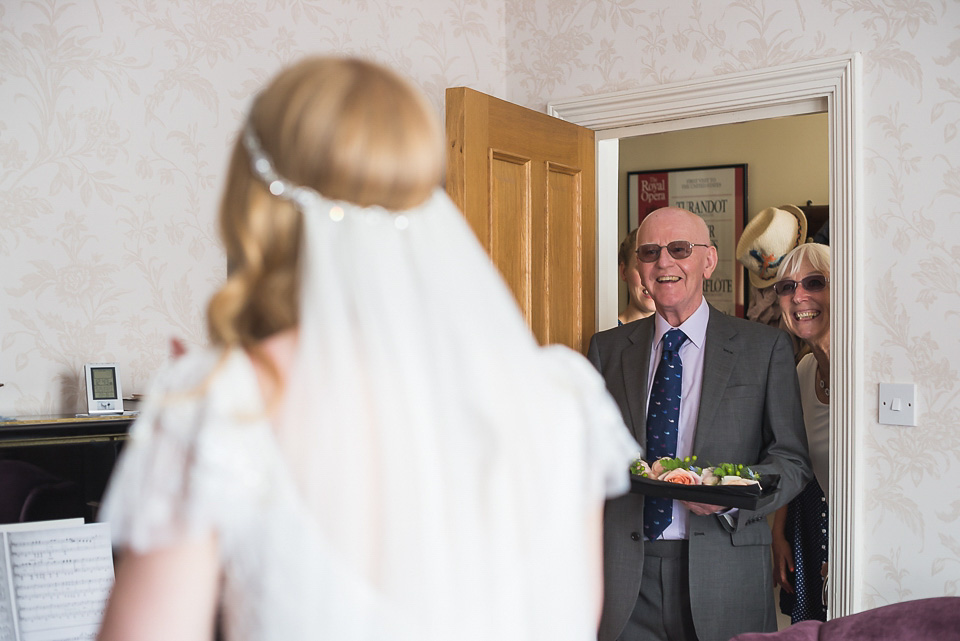 Beatrice chose a Malis-Henderson veil and these stunning, silver Dune shoes to complement her 30s styling along with a second, feather and diamanté headpiece from HT Headwear which was worn later in the day. The finishing touches were provided by a pair of chandelier, pearl earrings by Ben Amun at Thomas Laine and a spritz of Roses de Chloë perfume.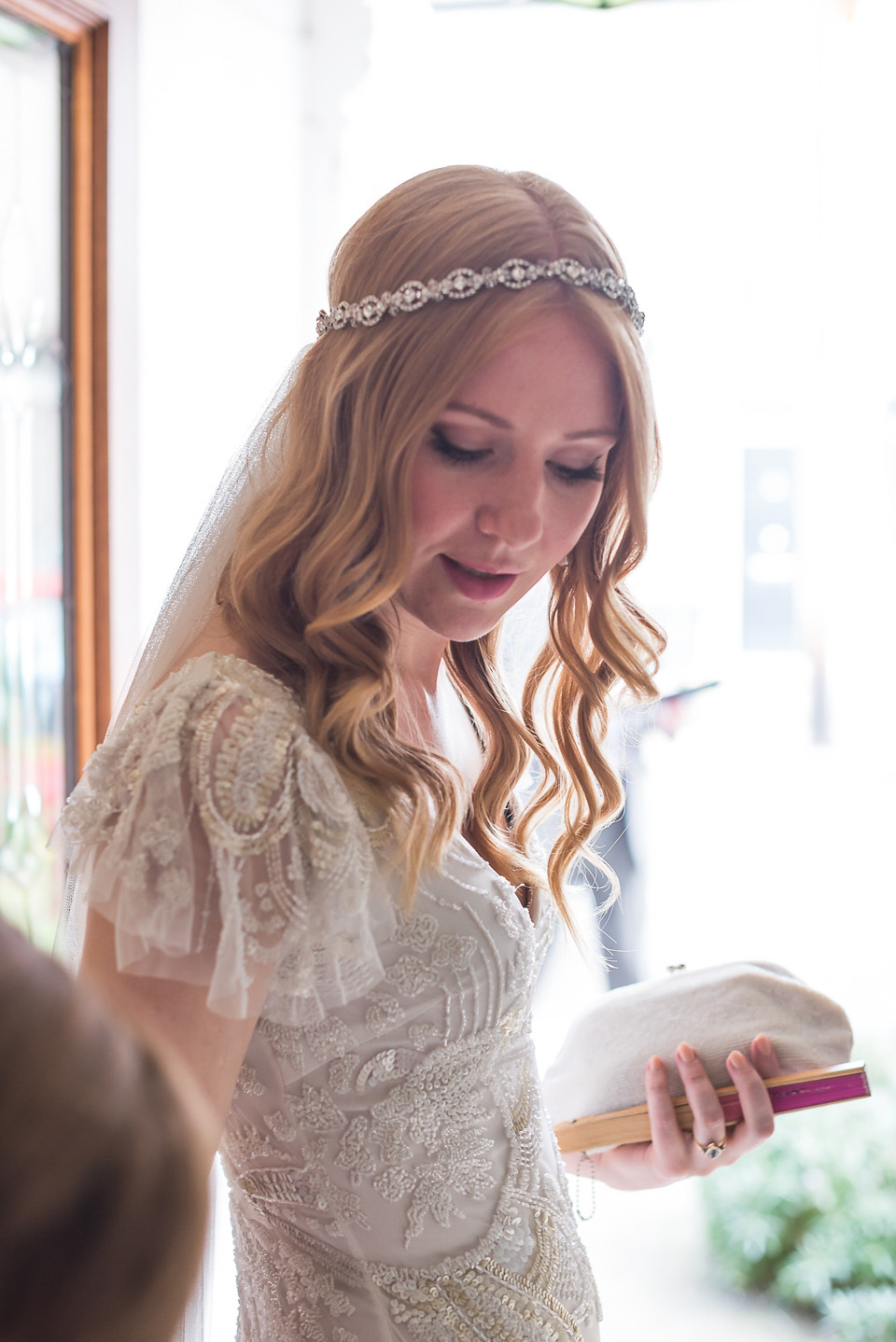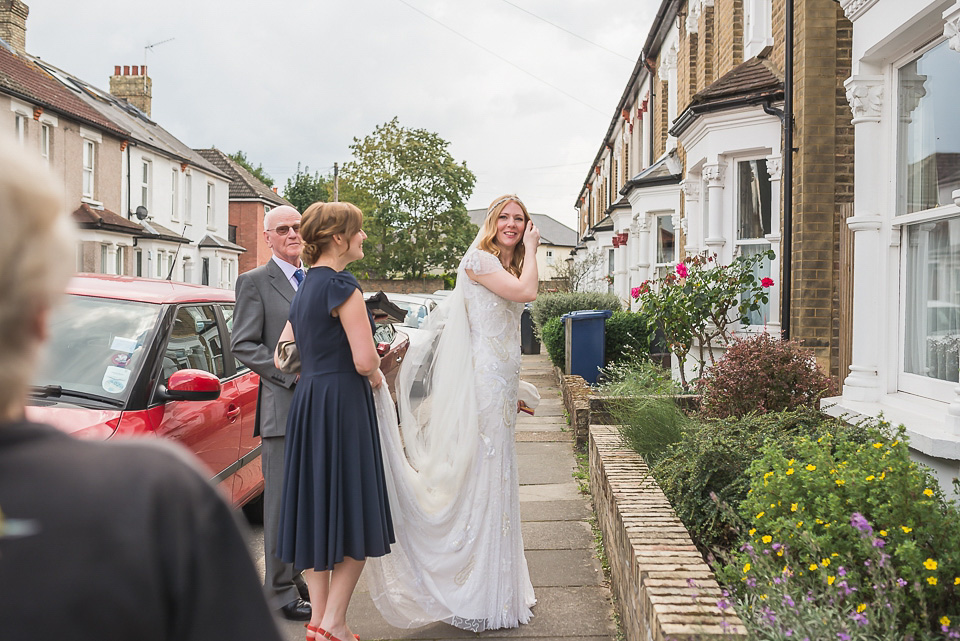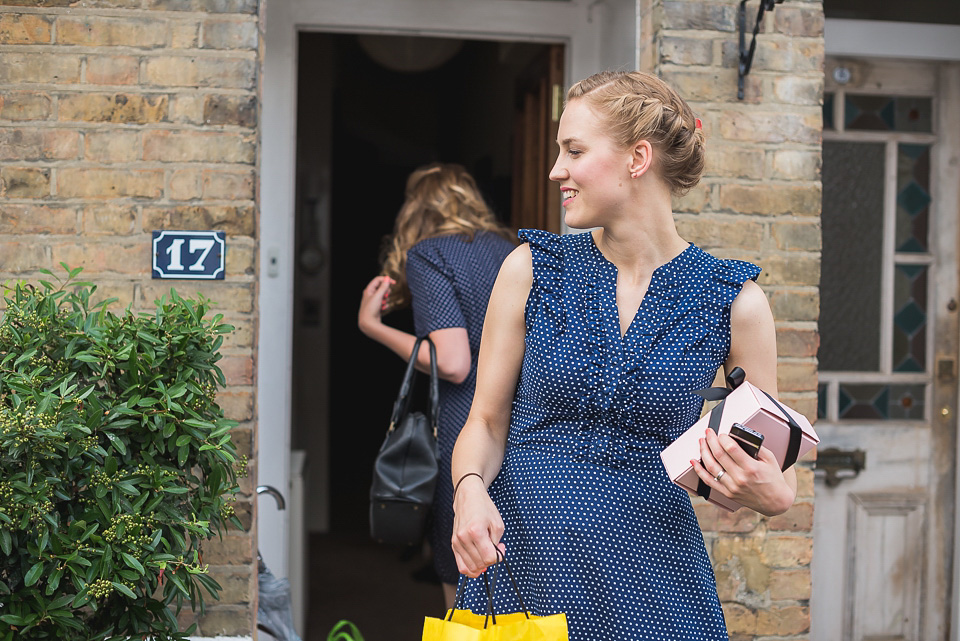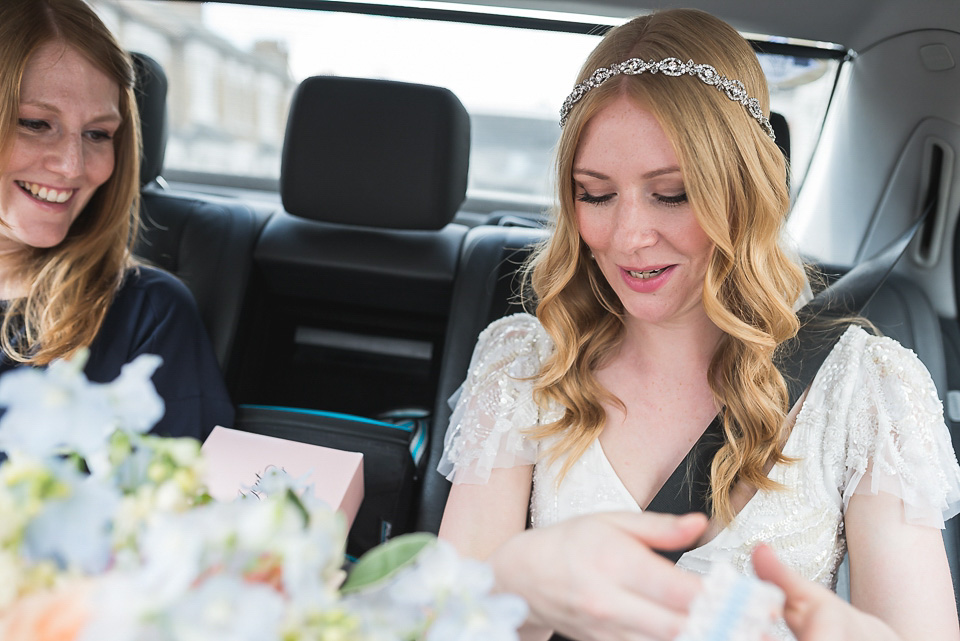 Lee looked every inch the handsome groom in his Duchamp suit, Liberty tie and Russell & Bromley brown shoes.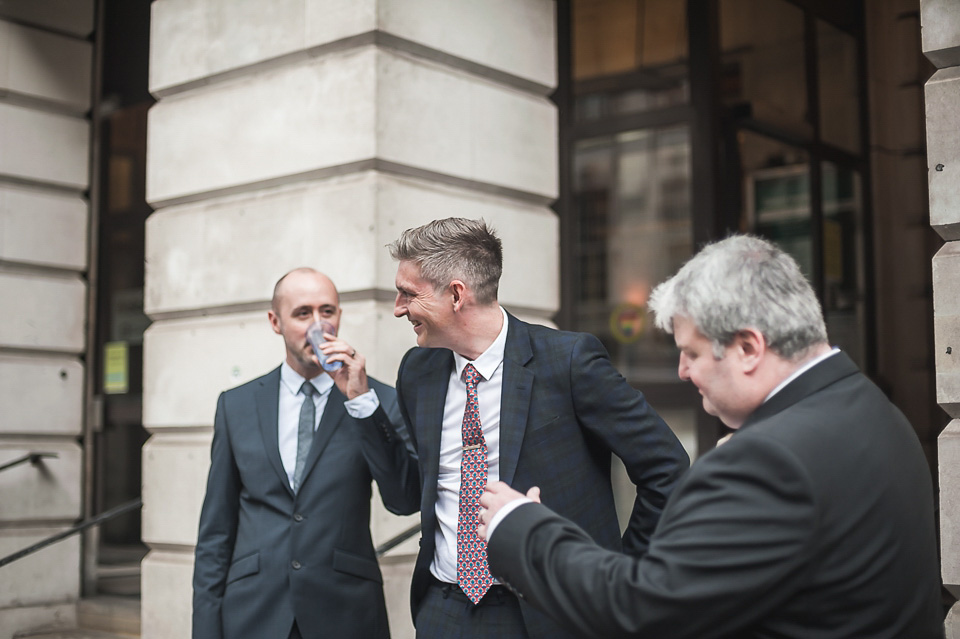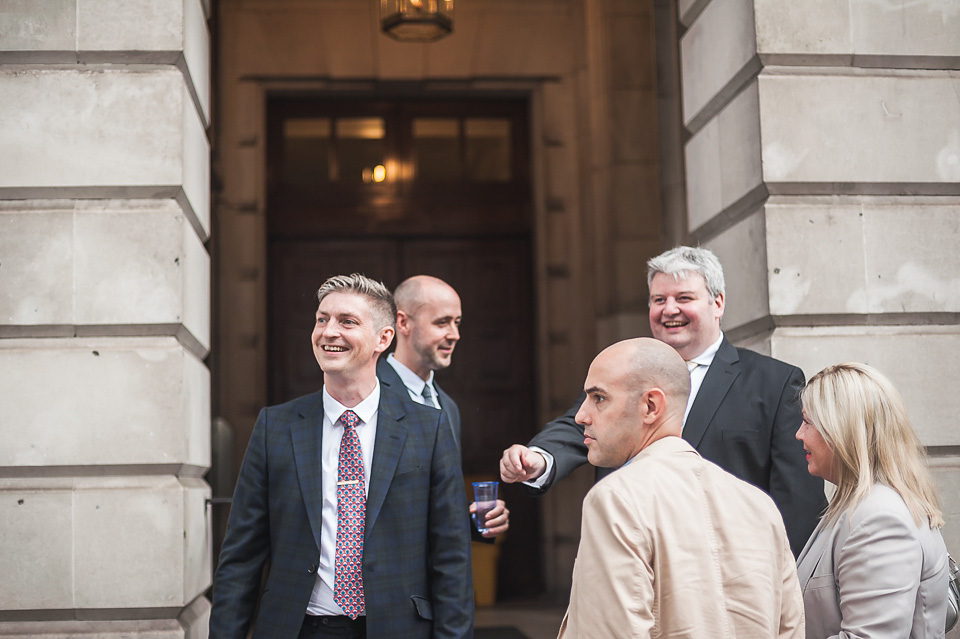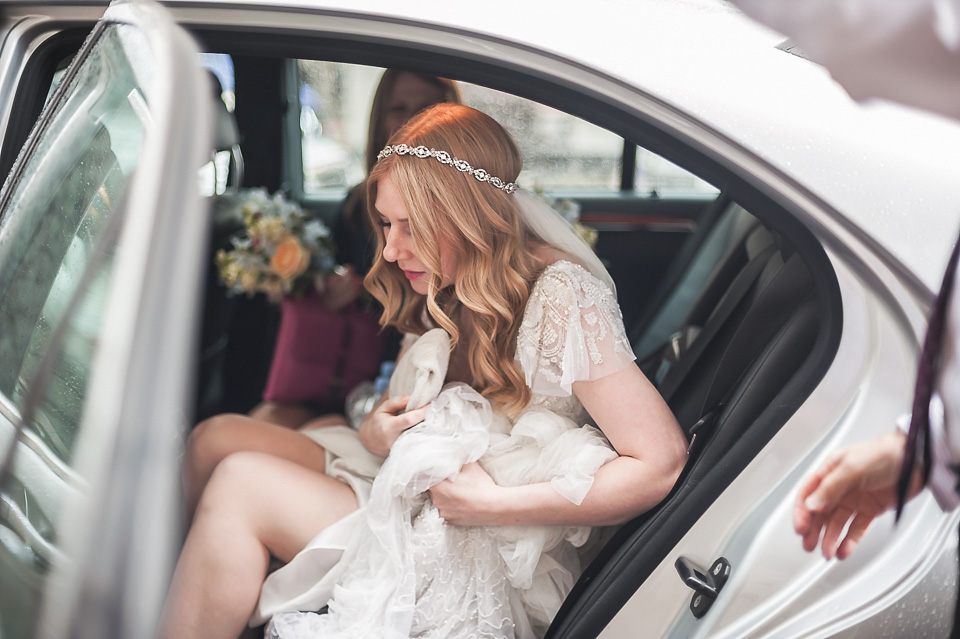 "I chose to walk down the aisle with my dad to The Swan by Saint-Saens. Not only is it a beautiful piece of music, but my Dad was a professional cellist and he used to play this piece a lot when I was growing up so it has lots of lovely family memories associated with it."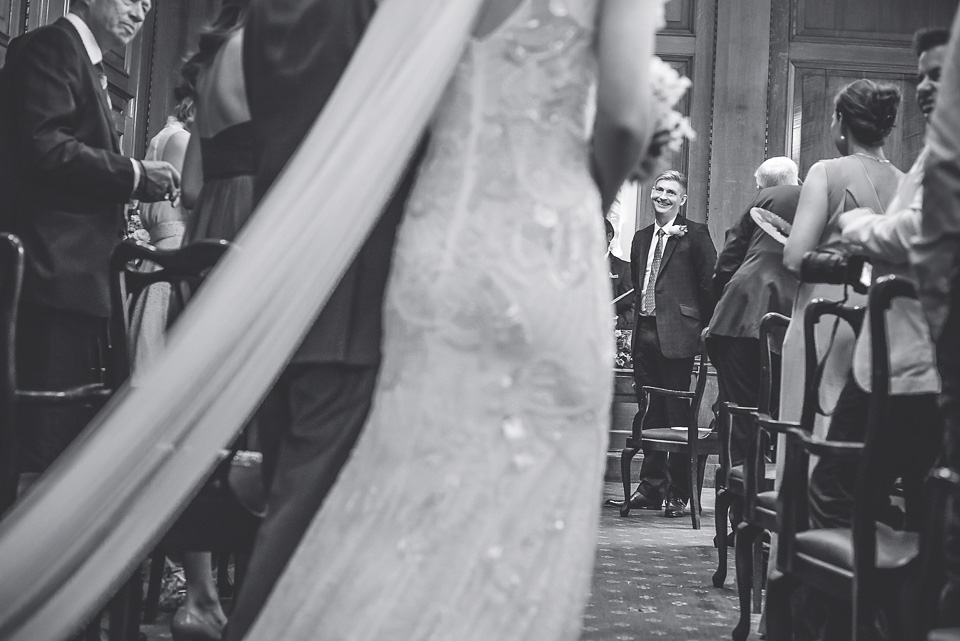 "My favourite part of the day was the wedding ceremony itself. Walking down the aisle with your husband-to-be and all your friends and family beaming at you is such a lovely feeling, and saying the vows is so exciting and emotional. Our ceremony was so relaxed, informal and good fun, I like to think it was enjoyable for the guests too, rather than being the most 'boring part of the day'. Our bus tour of London was also really worth it and gave Lee and I a bit of time together whilst catching up with guests and having a few glasses of Prosecco!
The wedding ceremony goes past so quickly, and then it is onto all the evening celebrations before you know it. It is such a magical time that if we had had a bigger budget we would have loved to hire a videographer to capture the mood and excitement of the earlier part of the day."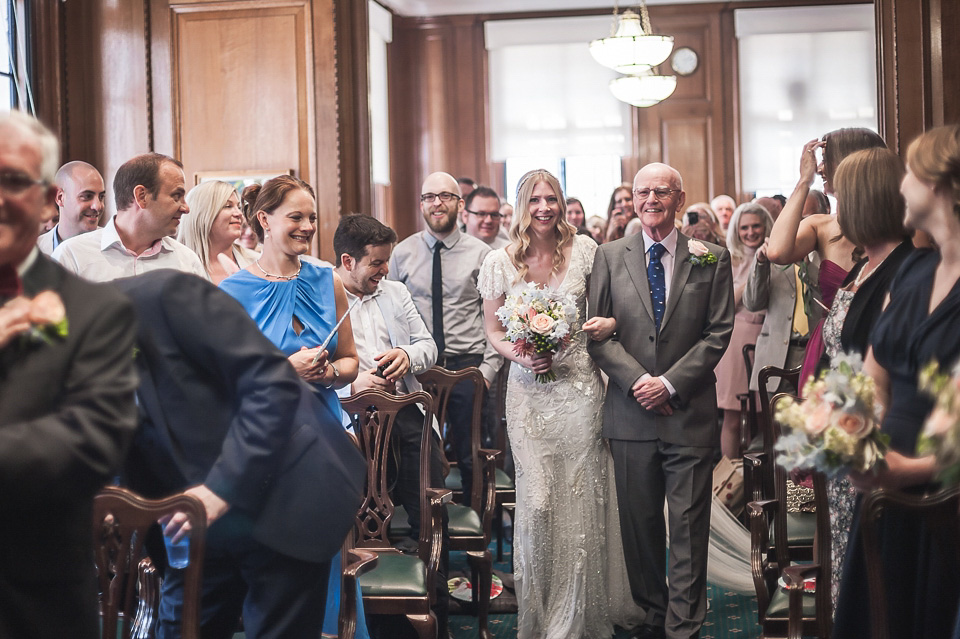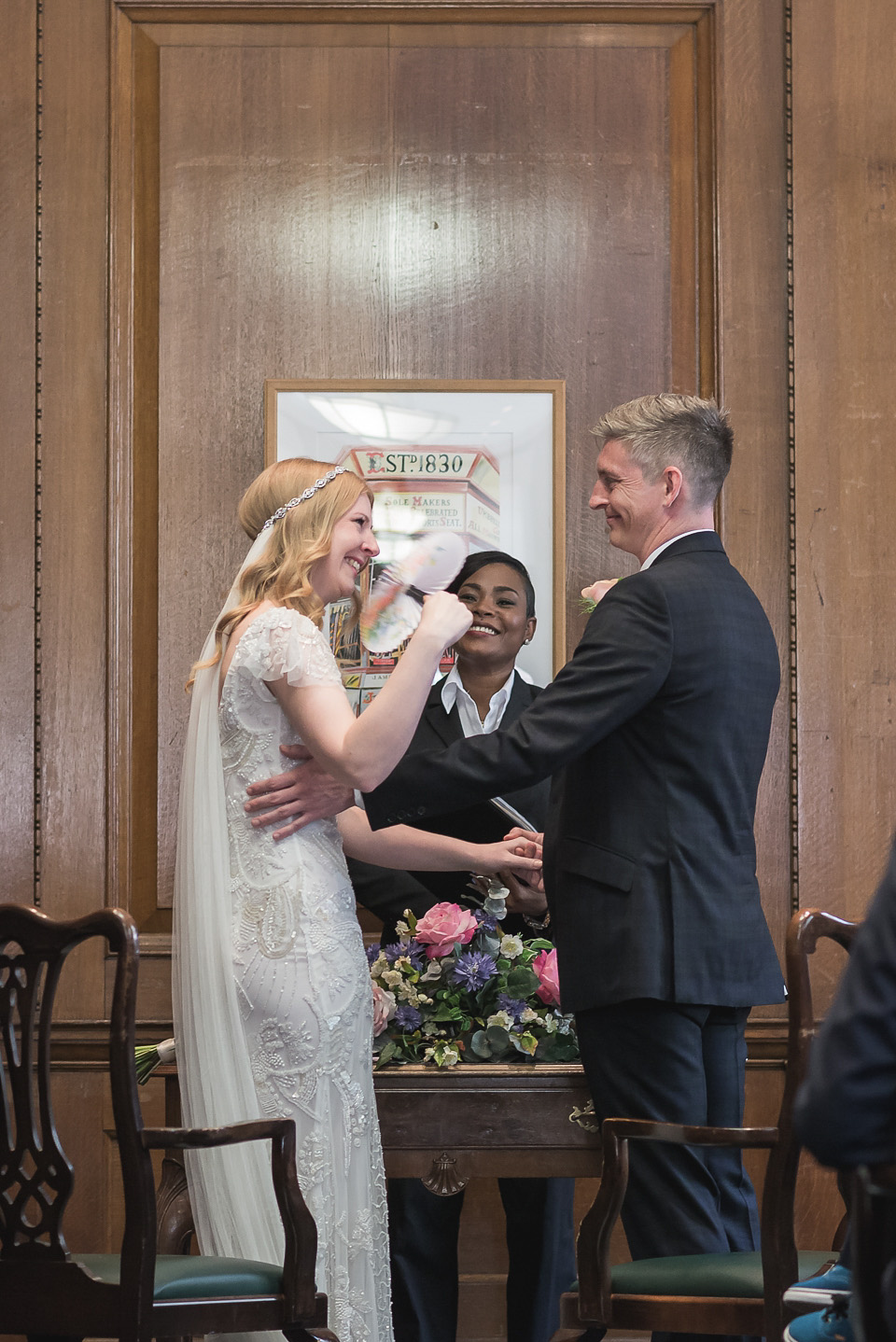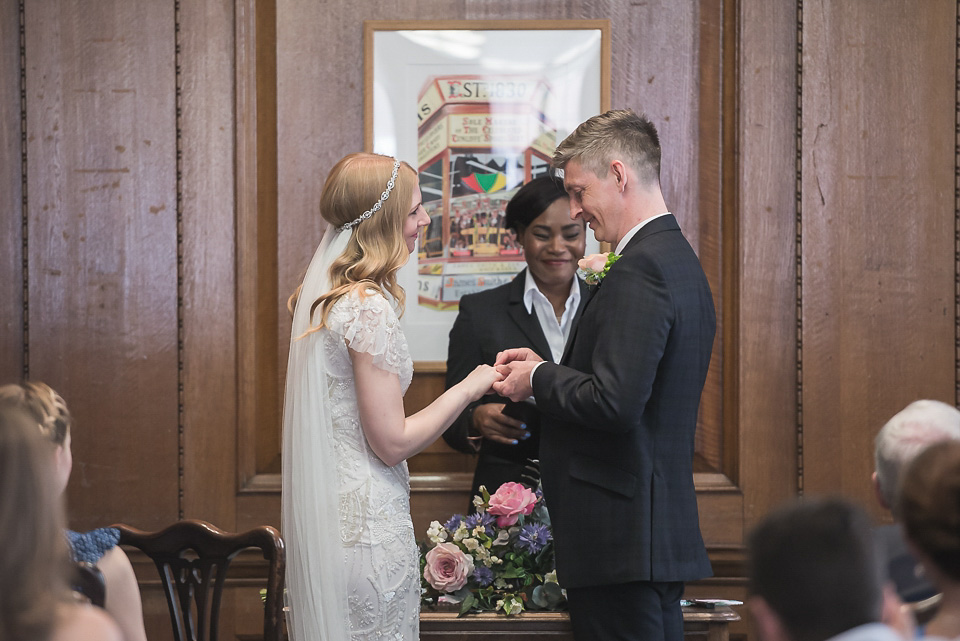 "We walked out of the registry office to 'Why do Fools Fall in Love' by Frankie Lymon and the Teenagers which was a fun song to get everyone into the vintage spirit of the day. We then boarded a 60s Routemaster bus to transport our guests from the Town Hall to the Amadeus Centre. My cousin Paul did a mini sightseeing tour of London which, along with the champagne flowing, got the party started!"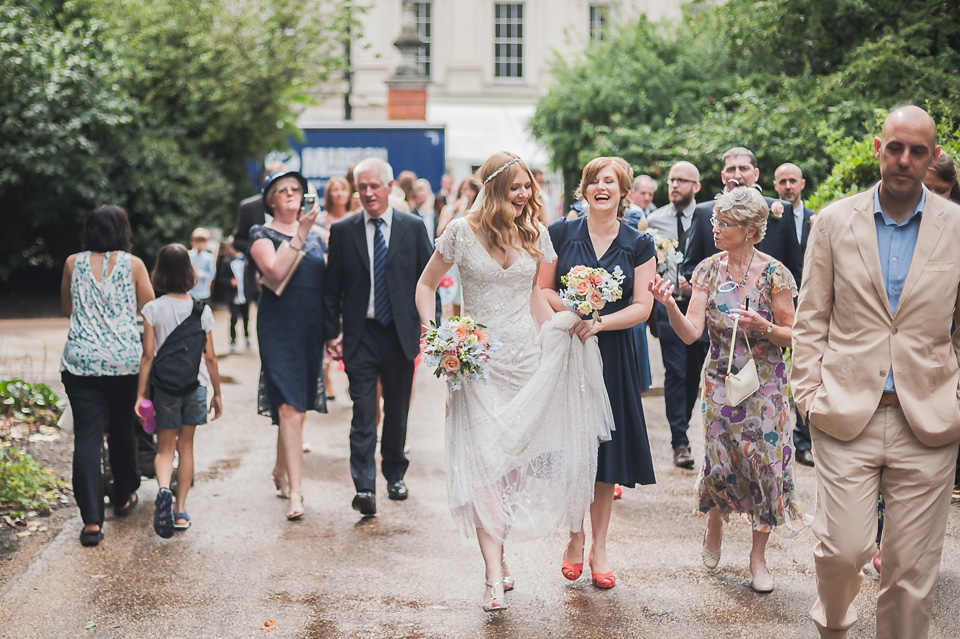 "Lee's brother and best man, Eamonn, very sadly died a month after our wedding day. We were so glad that he was able to attend and I know that it meant so much to Lee to have had his brother by his side as he said his vows. We will always be so grateful for that."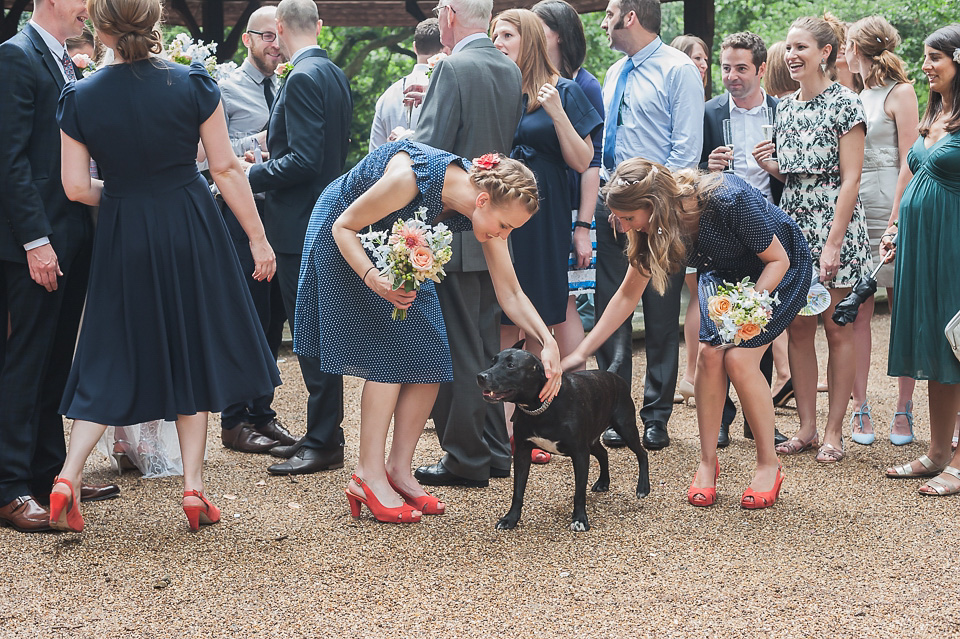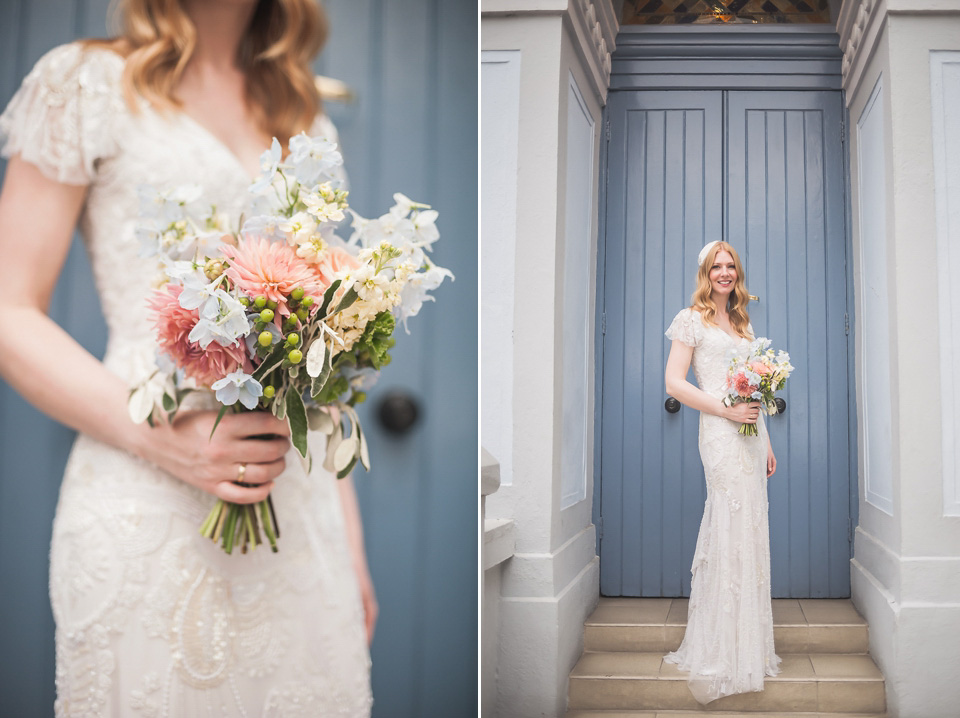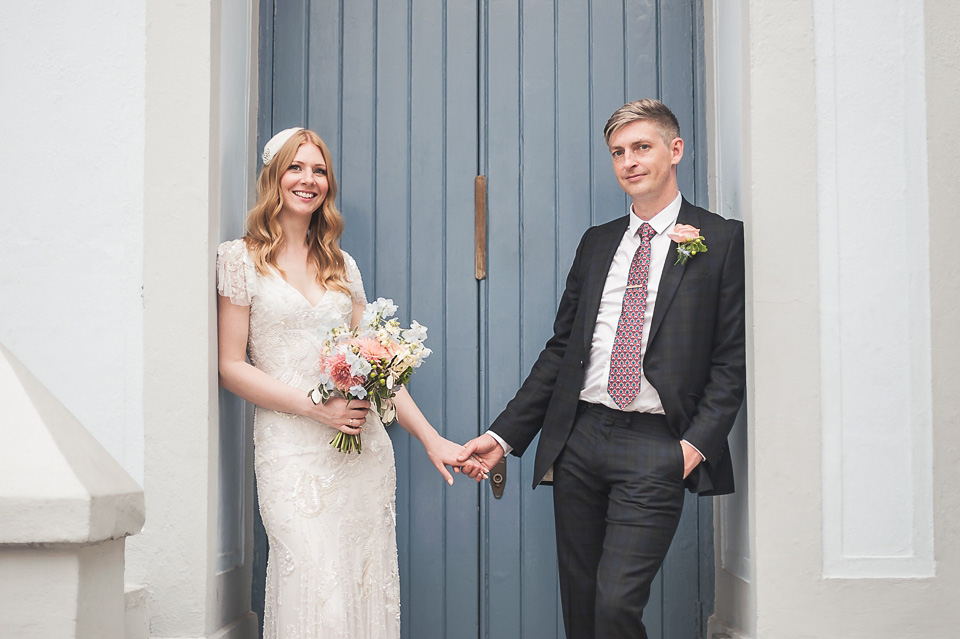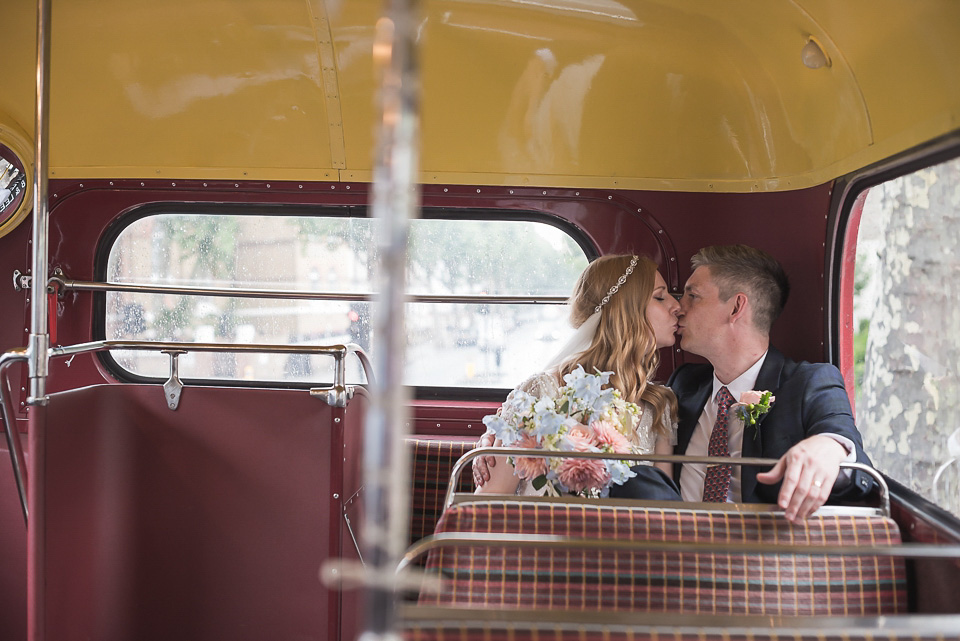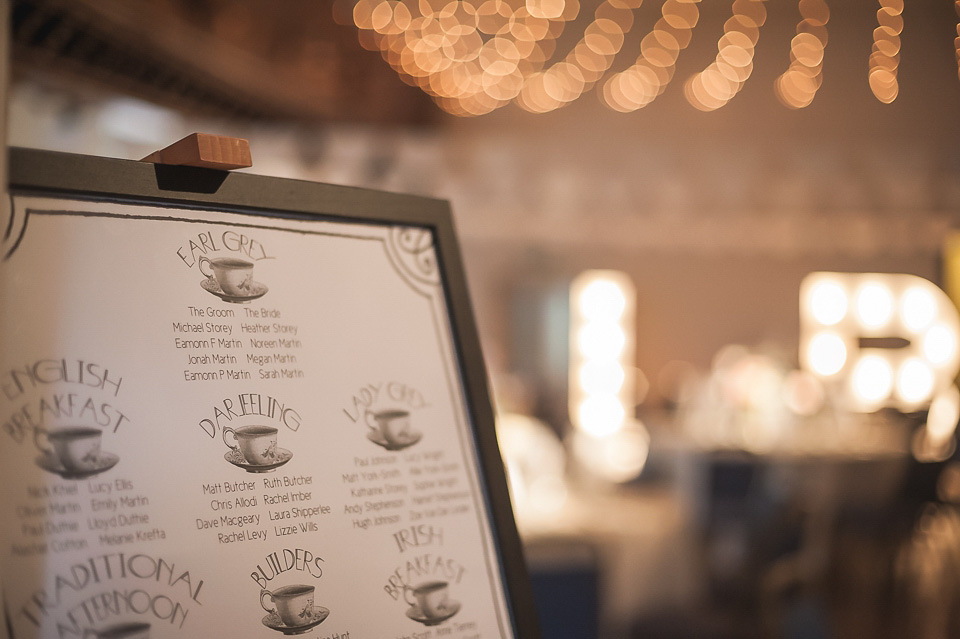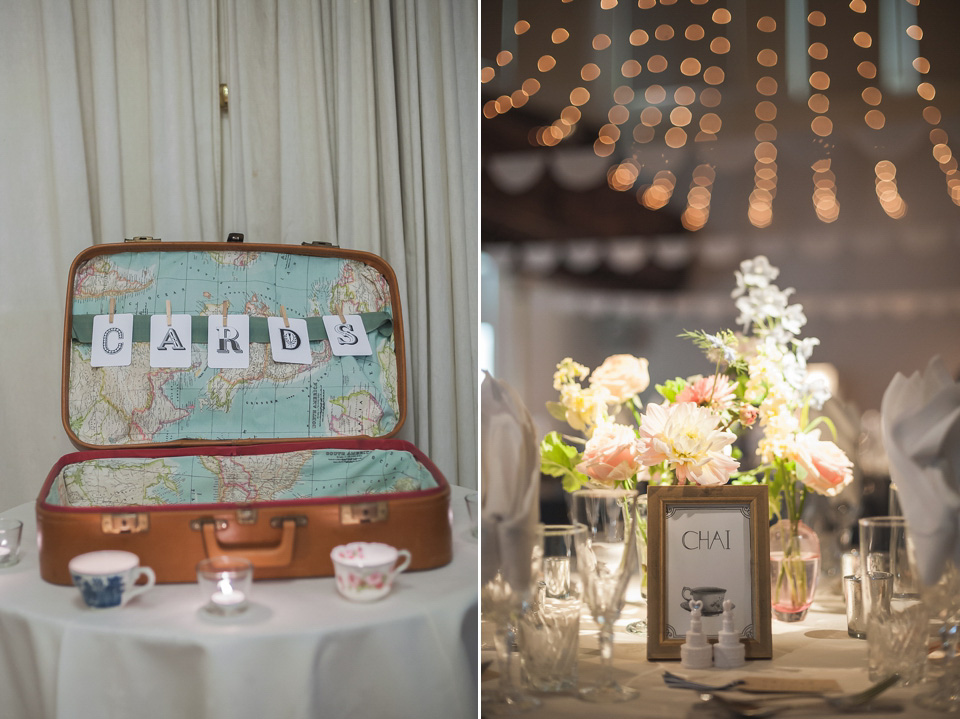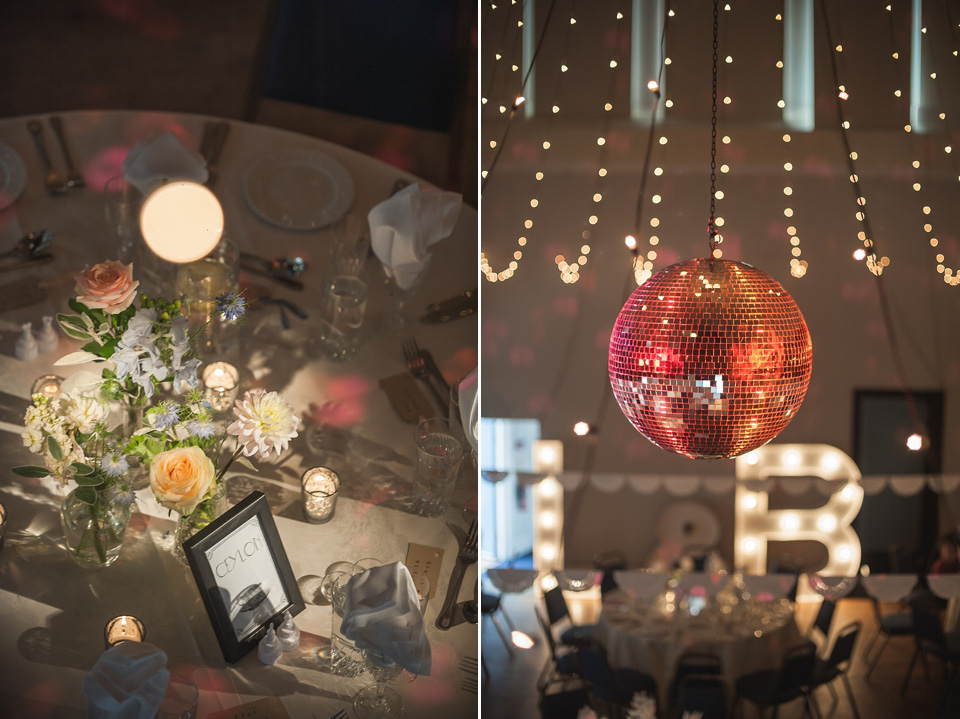 "Our caterers, Food Events, were fab as not only did they do a special vintage themed menu, which included cheese and pineapple hedgehogs and 1920s-30s style cocktails, but they also helped decorate our venue so we didn't have the stress of having to go to the Amadeus Centre the day before or on the morning to put up bunting etc! They also made our wedding cake of tiers of cheese.
As a surprise, our good friend Hannah Brown made knitted versions of us to put on top of the cake. Hannah had made my outfit as the original wedding dress I was supposed to wear. I felt bad as she had gone into such detail doing all the hand beading that looked exactly as the dress I didn't end up wearing! They were amazing, she had replicated my shoes exactly, done an identical hair feather and given us little matching gold wedding bands on the hands!"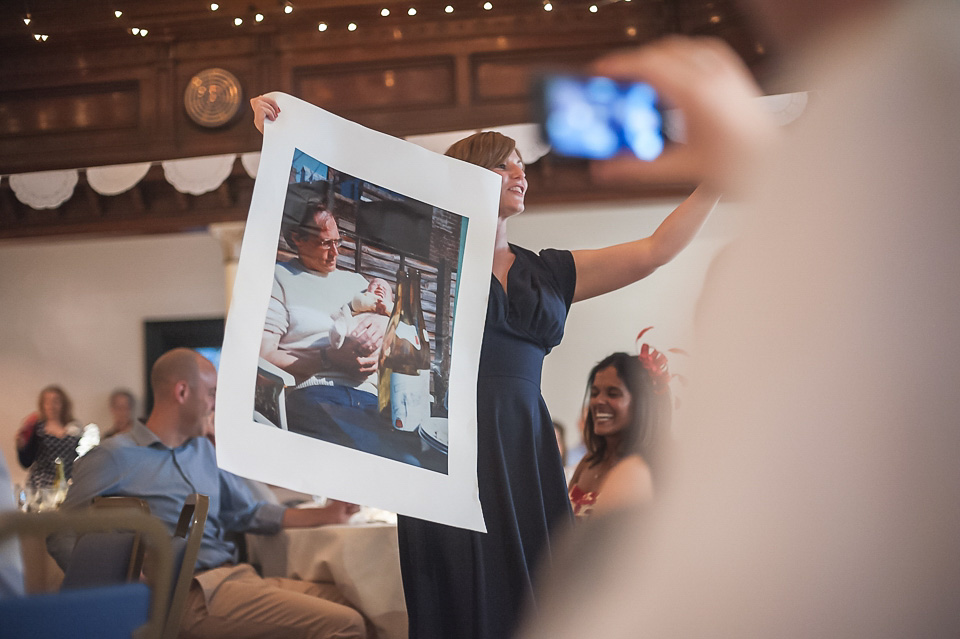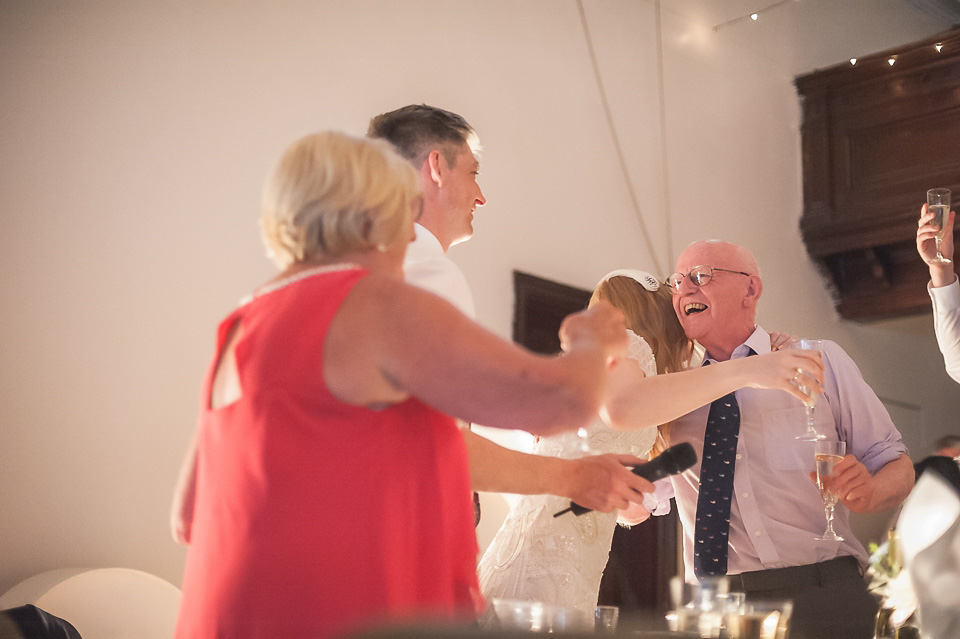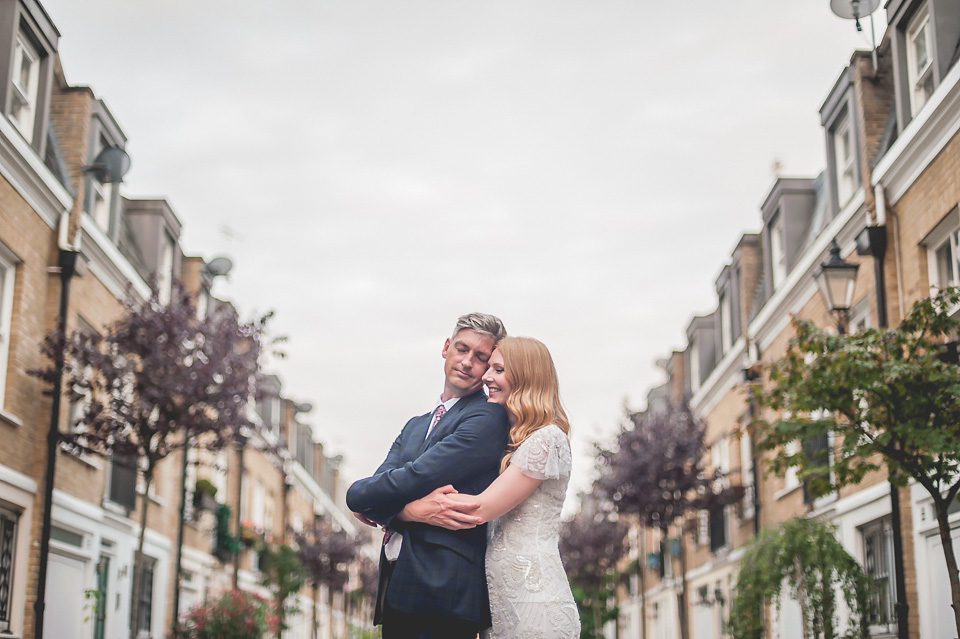 "Our first dance was to 'Be Mine' by Etta James. It was a song that we both love and thought it was a good, fun, swing song to dance to. We wanted something that would get the party started and get people bopping along too. To get everyone up and dancing early we had Swing Patrol do a swing class to get the evening going, which everyone seemed to really enjoy. It was such a hot and humid day it was a very sweaty dance floor!"
"We had a swing dance lesson in the evening of the wedding so I also had a short Hobbs dress to change into, for which I received many compliments!"
"For decoration we hired giant letters from Vowed and Amazed which was well worth it as they added such a focal point to the room. Before the day, I had all my bridesmaids over for a 'Craftenoon' to make bunting out of paper doilies, and the place names which were all lovingly hand stamped – with a few spelling mistakes here and there! I collected vintage vases for the table flowers instead of hiring vases, and this meant I could give away most of the flowers at the end of the evening as gifts to the guests which saved all the beautiful arrangements going to waste. I collected old photo frames for the table numbers and decorated the venue with old blue and white teacups.
Each table was named after a type of tea as I'm a very big tea drinker, and having tea and cake is a favourite pastime of mine and Lee's. I designed all the invitations, place cards, seating plan etc. It saved us a few pennies and I am such a control freak. I really enjoyed doing it!"
Readers – did you see this feature that Annabel blogged at the weekend about the new Vowed and Amazed light up letters and stars for the home?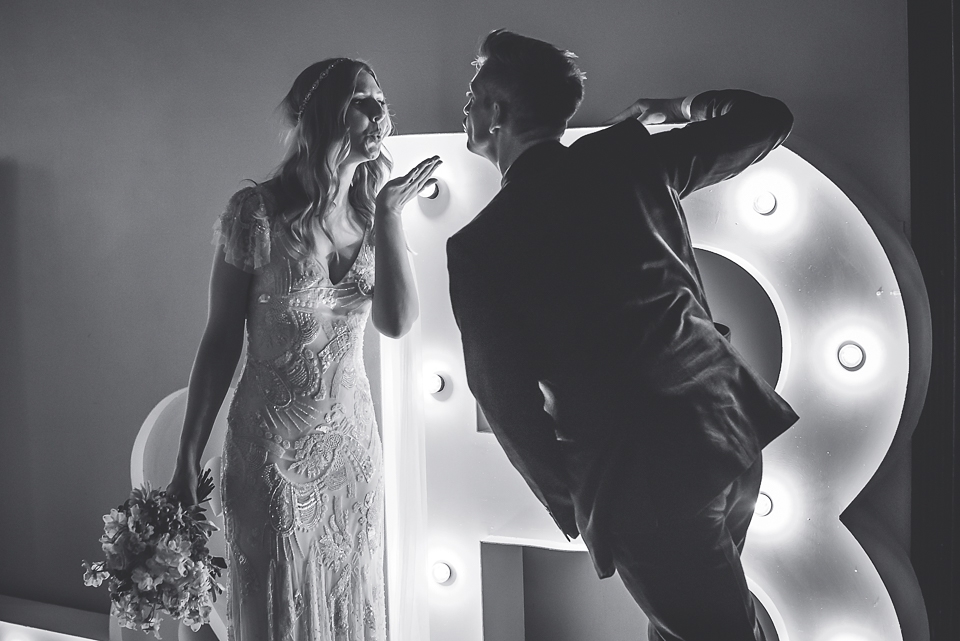 Words of wedded wisdom
"I know so many brides say this but try not to worry about what others think or what is 'expected of you' as a bride to be. Don't feel you need to get everyone involved in decision making such as buying a dress or choosing how to spend your budget. (This also comes from experience from being a Bridal Sales Consultant) The more people you involve then the more complicated things become! It is up to you and your fiancé how to plan your special day and if you don't want to do things traditionally then don't.
Also, don't feel crazy if you start doing DIY more than 6 months before the wedding day! I wanted to start crafting many times but put it off as I thought I was being a Bridezilla by being so organised. However, when I left it to 3 months before the wedding I think I did end up getting a little more stressed out then if I had started earlier!"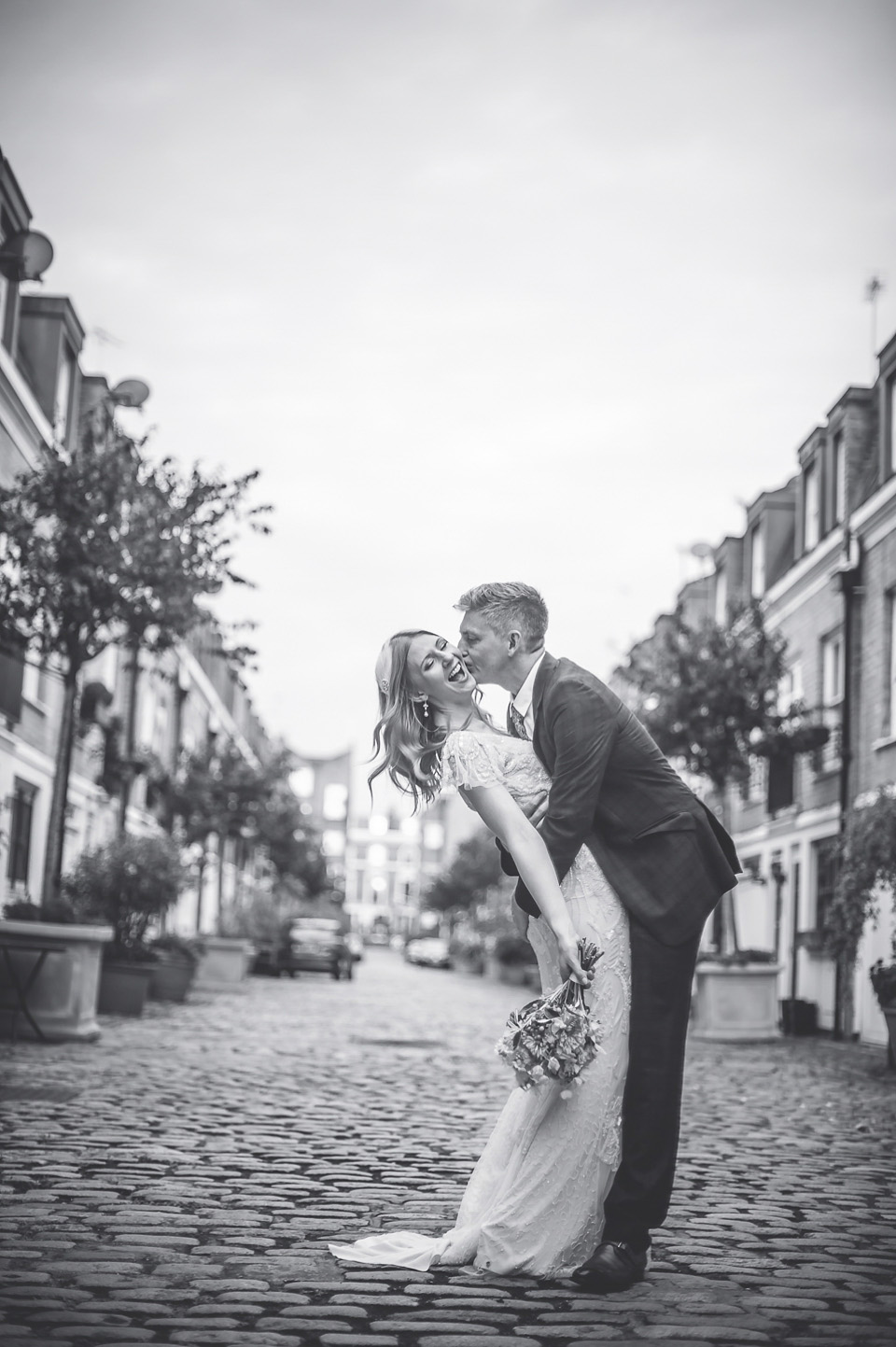 Well I simply adore the bought-three-days-before-the-wedding-emergency dress, Beatrice. Not only was it divine, it fitted you like a glove. The replacement florist did a tremendous job too. Thank you to you and Lee for sharing your beautiful story with us. Many thanks also to your new sister-in-law, Emmie, for capturing the warmth and energy of the day, along with all the gorgeous, vintage styling.
Much love to you all
Katie xx
Photographer – Emmie Scott
Venue – Camden Town Hall & The Amadeus
Dress – Eliza Jane Howell from – Morgan Davies Bridal
Evening dress – Hobbs
Veil – Malis-Henderson from – Morgan Davies Bridal
Shoes – Dune
Headpiece – HT Headwear
Earrings – Thomas Laine
Groom – suit – Duchamp tie – Liberty shoes – Russell & Bromley
Bridesmaids – 20th Century Foxy, Fever, Beyond Retro, Asos
Shoes – Clarks
Florist – Ricky Paul
Catering – Food Events
Hair & Make up – Laura Marsh
Entertainment – singer Rose Lancaster – swing party – Swing Patrol
Routemaster bus – This Bus
Illuminated letters – Vowed and Amazed