Good morning  you!  Thank you so much for popping by Love My Dress today, I really hope that our aim to add a touch of happiness, love and joy and inspiration to your day works a treat on this dark, rainy November morning. Also ladies, in case you haven't had chance to read the blog over the weekend – we're looking for blogging interns to join us for a six month period, so if you fancy adding to your CV by working for a hugely successful, multi-award winning wedding blog with international influence and appeal and extensive social media reach, then you might want to find out more here – I look forward to hearing from you!
This wedding has been such a delight to work on – I love so much about it, not least the stunning Cornish Coast backdrop and that utterly beautiful backless dress by designer Charlotte Wilden of Wilden Bride.  Professional dancer Jessamin married her beau Joe, who owns film production company Fatsand on 17th May 2014 at Porth-en-alls at Prussia Cove in Cornwall.
"We didn't have any specific themes, but knew we wanted to keep everything natural and relaxed.  We've spent a lot of time together exploring and adventuring in Cornwall and fell in love with Prussia Cove when we stayed there for my birthday shortly after we were engaged – as a surfer, it was important for him to be near the sea and able to surf on the morning of the wedding!
Also, we hired the self catering venue and surrounding cliff top cottages for a whole week, which gave us time to set up, settle in and enjoy a beautiful holiday with our closest friends and family for the week after the wedding.  It was so beautiful to see new groups of friends off exploring the coast line and swimming in the mornings."
Film Production Copyright (c) 2014, JJ Weddings
"Joe and I met for the first time nine years ago at a party, but it took us six years to 'officially' get together. We met again on Bonfire night in Lewes in 2011 and one week later we were a couple!
Joe proposed in January 2013 overlooking a waterfall in Kerala, India – apparently he'd tried several times in the previous week but I managed to miss all the hints and run off to take pictures and apply insect repellent!"
Photography Copyright (c) 2014, Marc Le Galle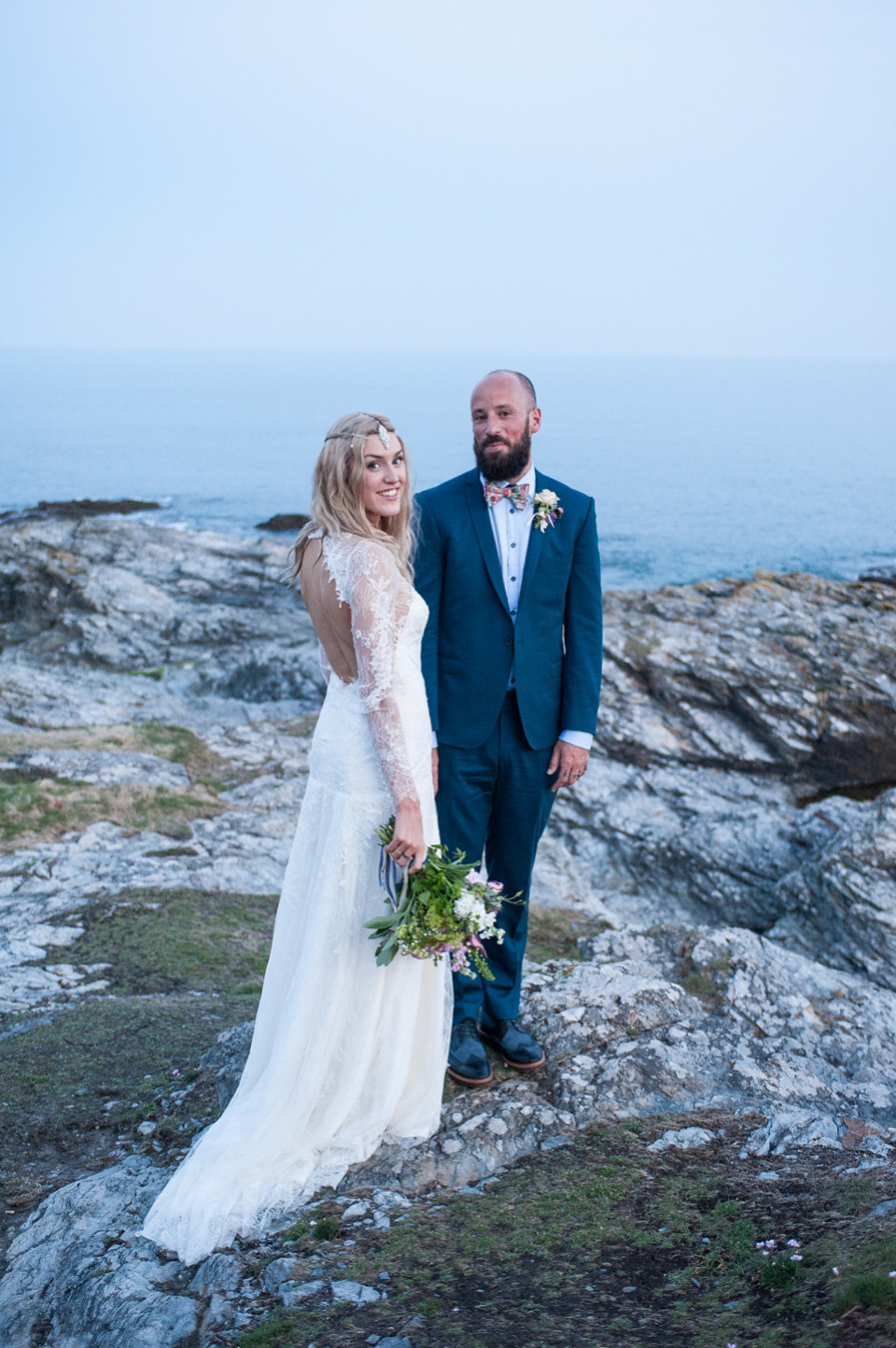 "The talented and totally adorable Charlotte from Wilden Bride created a bespoke dress for me.  I think I must have tried on around 100 wedding dresses, trawling all over the country with my wonderful Mum looking for the 'one' in all kinds of boutiques, vintage shops and designer sample sales, but we just couldn't find it!  I didn't want anything too big and formal, and came across Wilden Design on a blog somewhere and fell in love with Charlotte's work."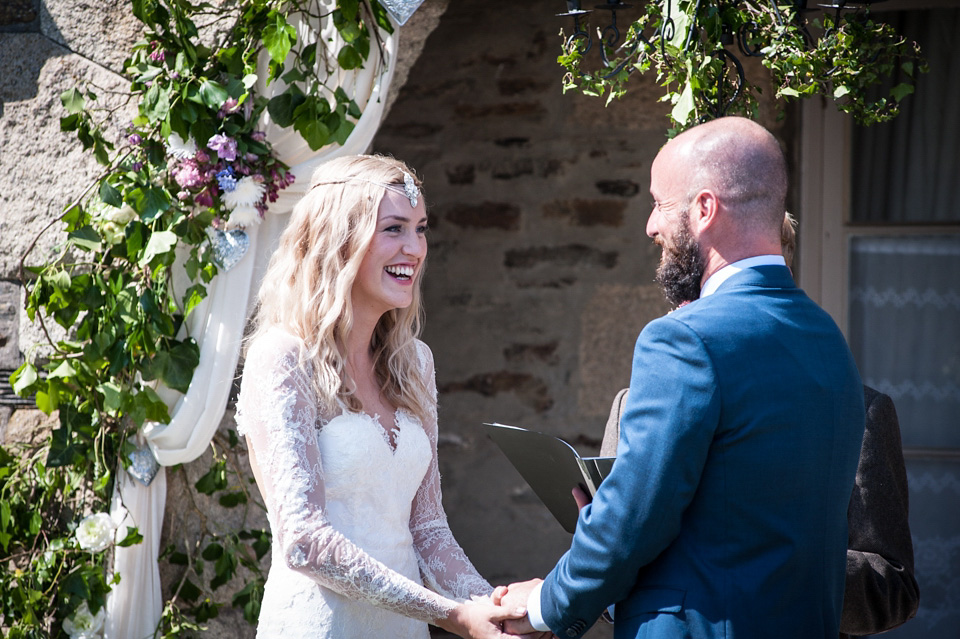 "It was amazing to have something created especially for me, based on my favourite bits from the many dress I'd tried. It was still a nerve-wracking experience making decisions but Charlotte was incredibly sweet and dealt with my indecisive wobbles like a pro!
I knew I wanted something slim line, and slightly ethereal and vintage looking, with an open back and made of lace – and Charlotte pulled all my ideas together and nailed it. I have always loved lace, and I love the way Charlotte layers it to create bespoke and flattering finishes. She sewed in a secret detail as a tribute to my beautiful Mother and late step-father which I will cherish forever.  It wasn't really until the day of the wedding, when everything came together and I realised that she had created the most perfect dress for me."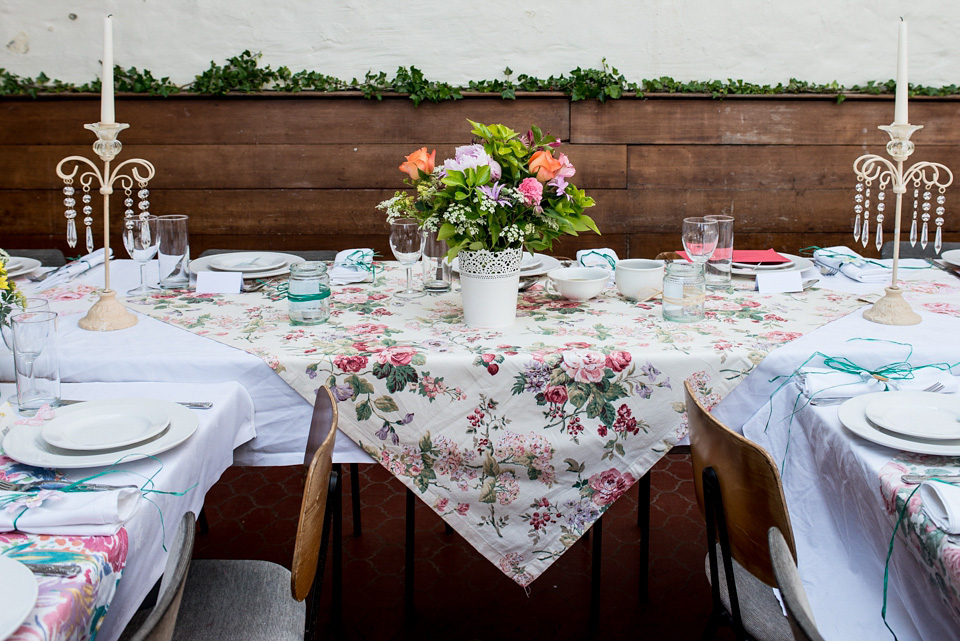 "To decorate our venue, we used hundreds of white paper stars we'd picked up in India just after we were engaged.  We also used white laser-cut dove bunting, floral arches made out of tent poles covered in fabric, ivy and tiny bottles of flowers, pastel hay bale coverings, candelabras, vintage floral table cloths, a LOT of bunting borrowed from our already wedded friends, polaroid pictures of us pegged onto bunting, a tiny tipi for the little ones (and big ones), fairy/festoon lights and a giant glitter ball!"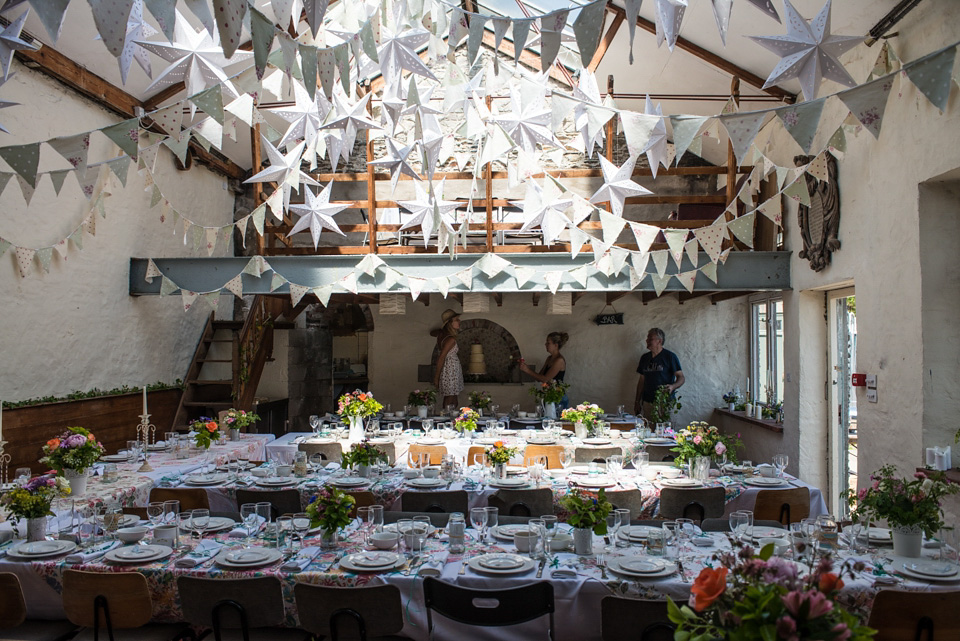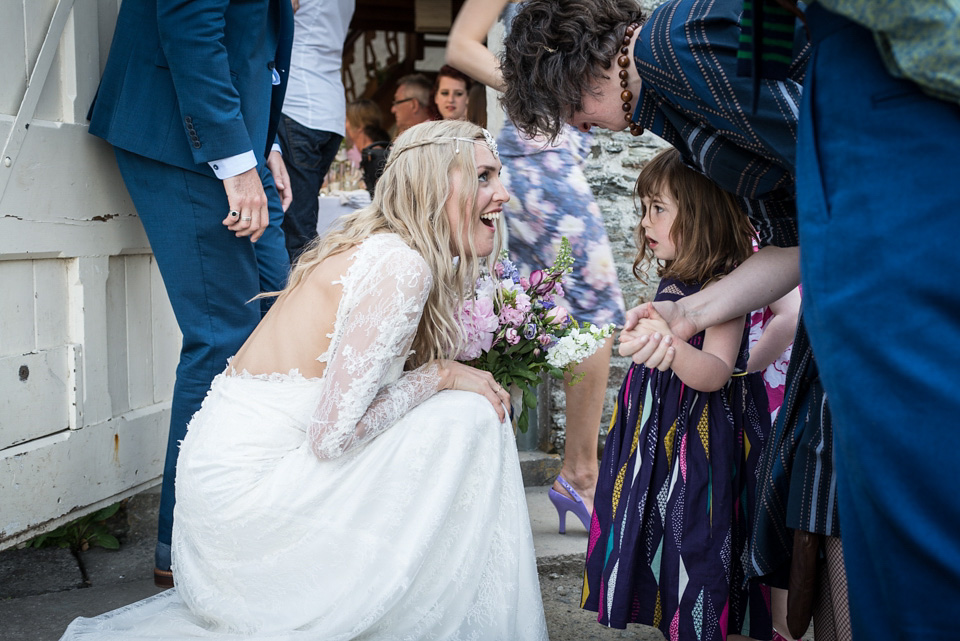 "Our photographer was Marc Le Galle.  We love Marc!  He is a total gentleman and it really felt like he was one of the guests – the shoot felt completely natural and the photos managed to capture the beautiful, relaxed vibe of the day perfectly.
Our friends Sim and Mia made this as a wedding gift. Joe and Sim worked together at Joe's film company FatSand."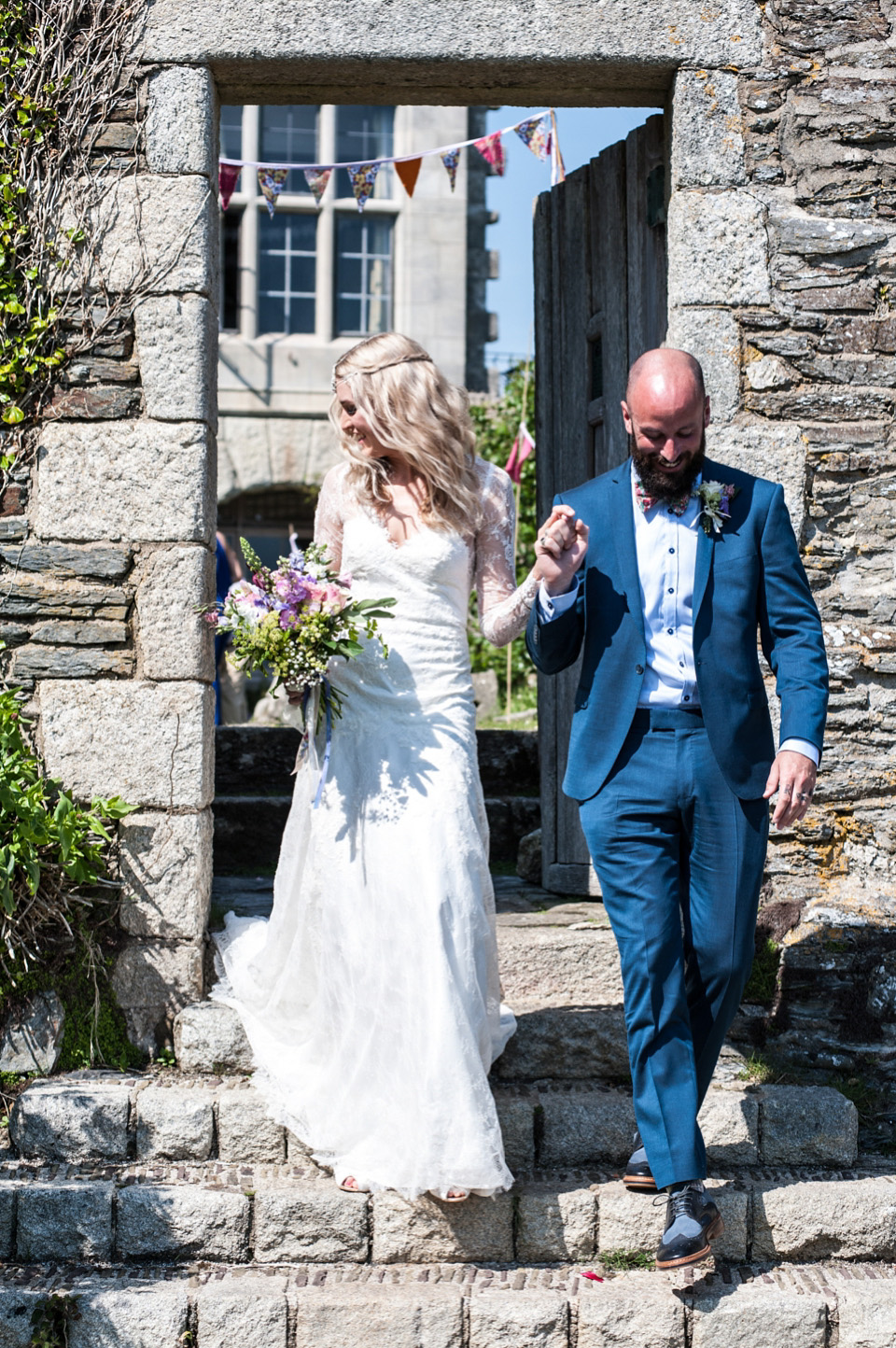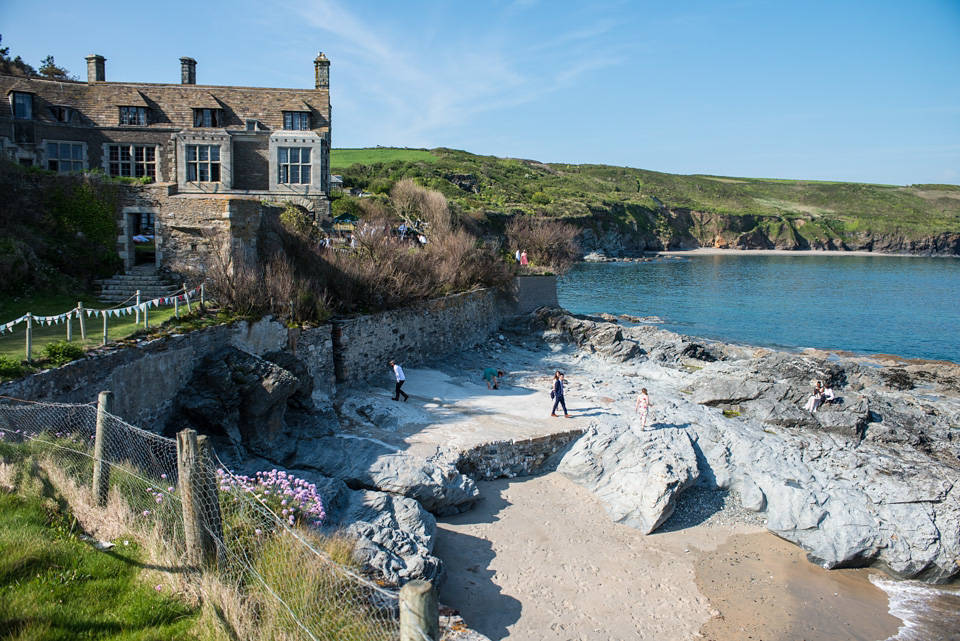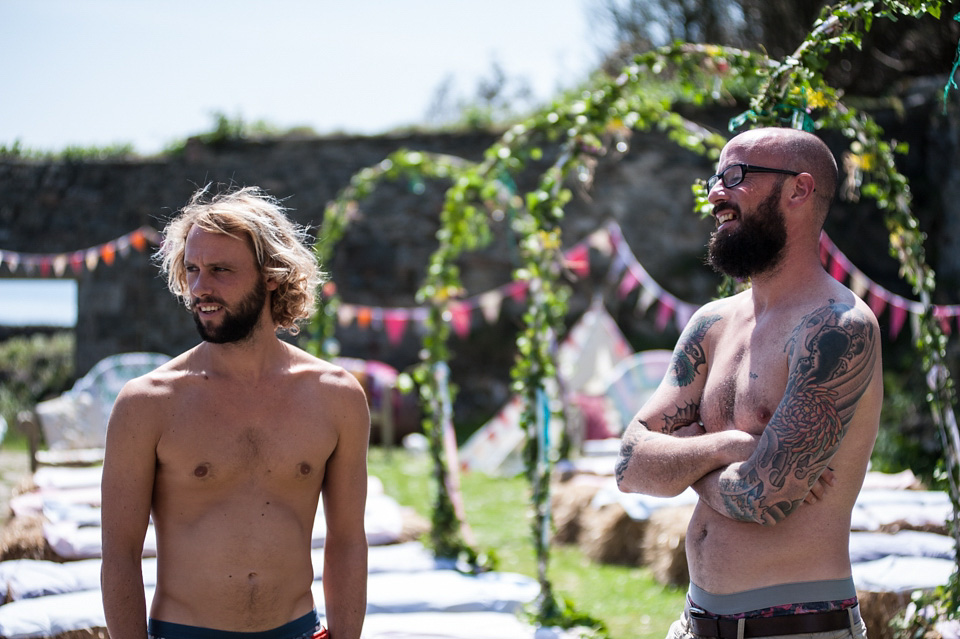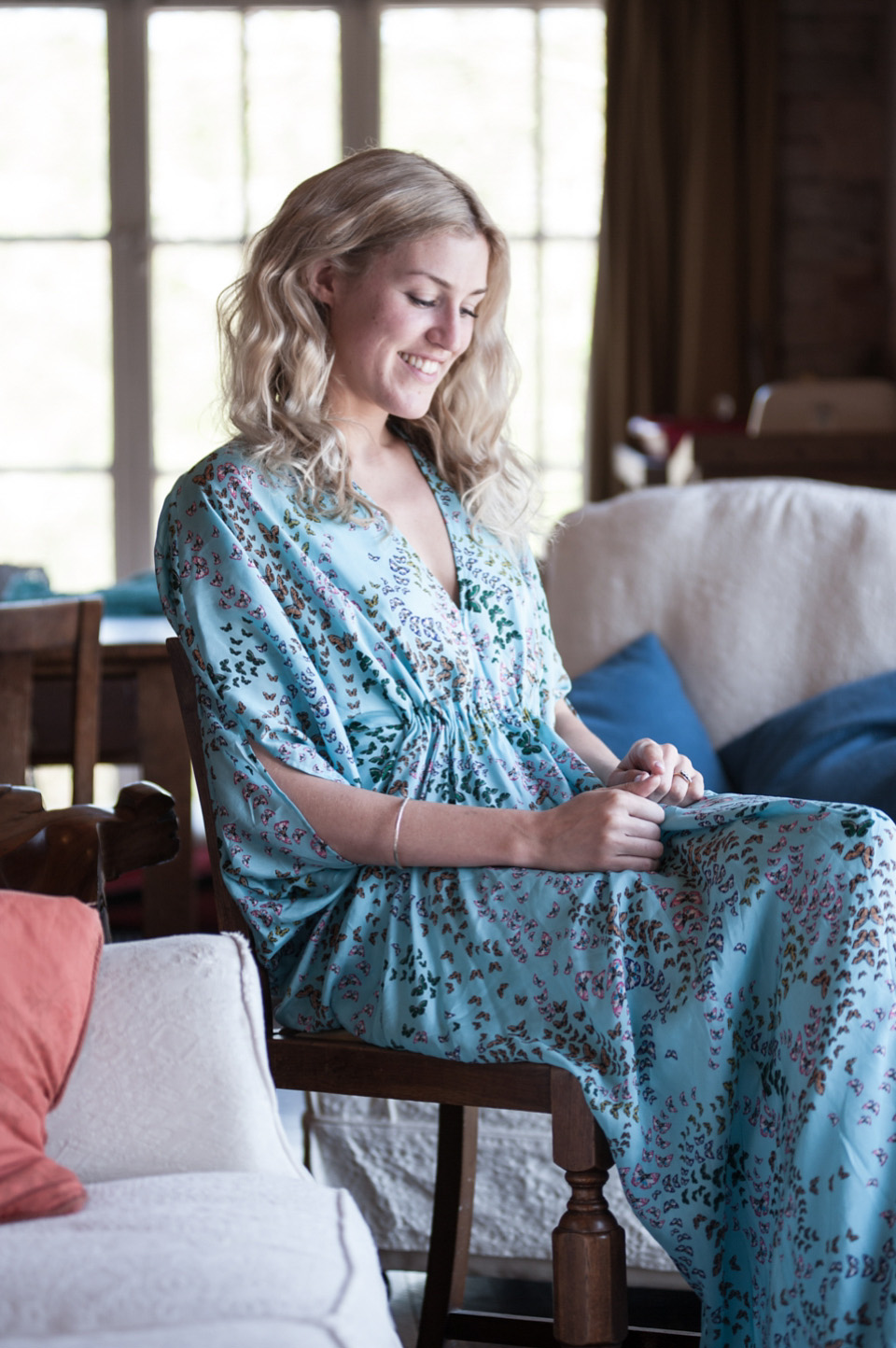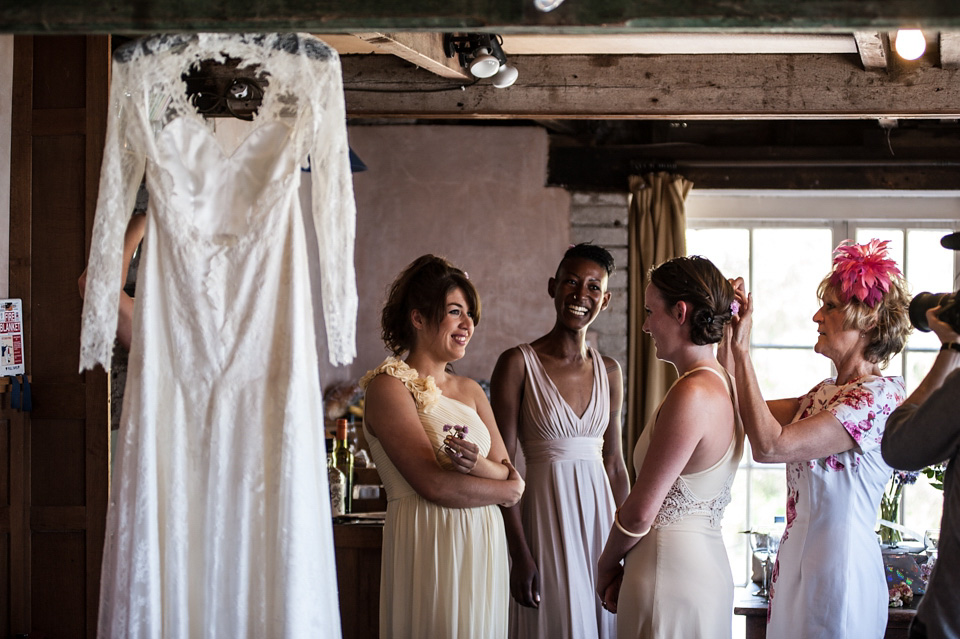 "I was always going to wear a floral crown, but when I stumbled across 'Gin Fizz' by designer Kelly Spence a few weeks before the wedding, I fell in love!  Kelly was amazing and rushed an order through to me in super quick speed (and fielded a barrage of calls from stockists I'd mass emailed in search of one!)."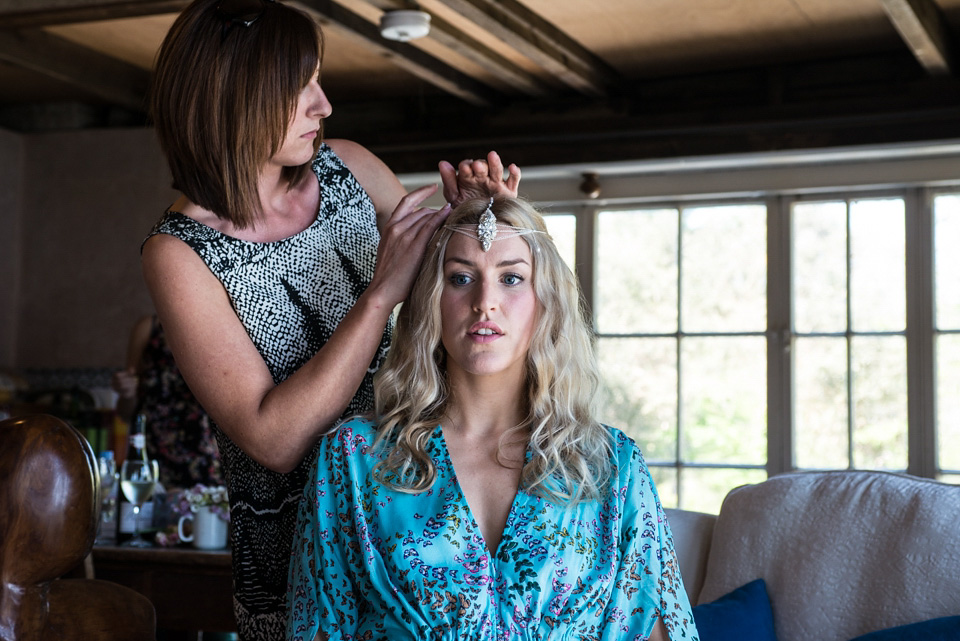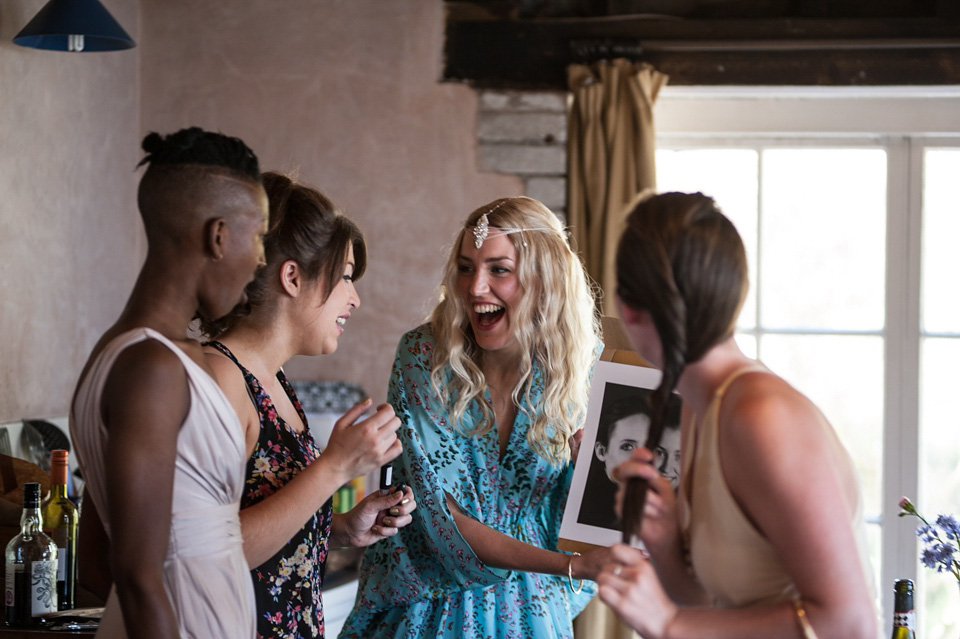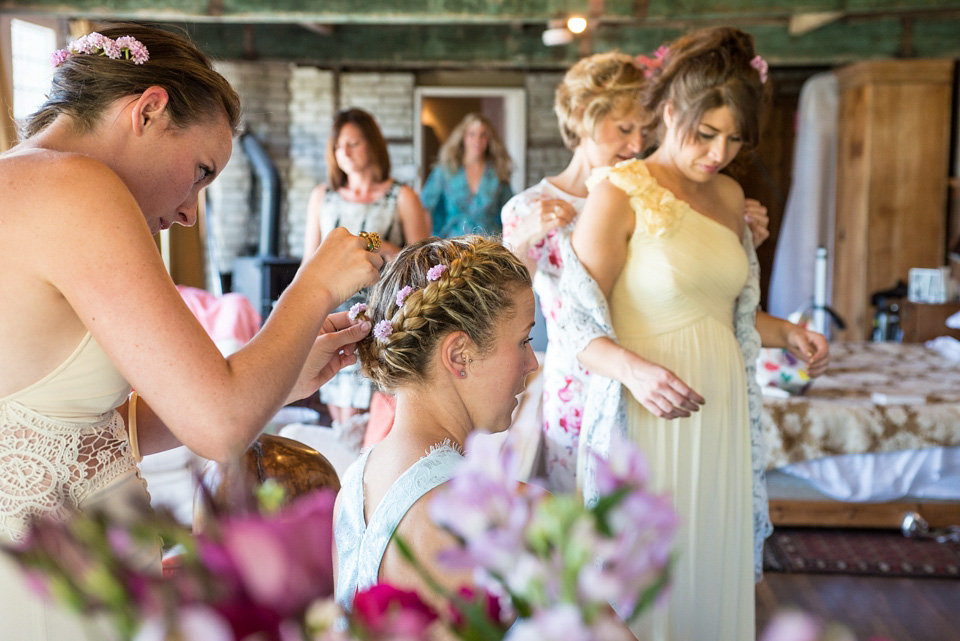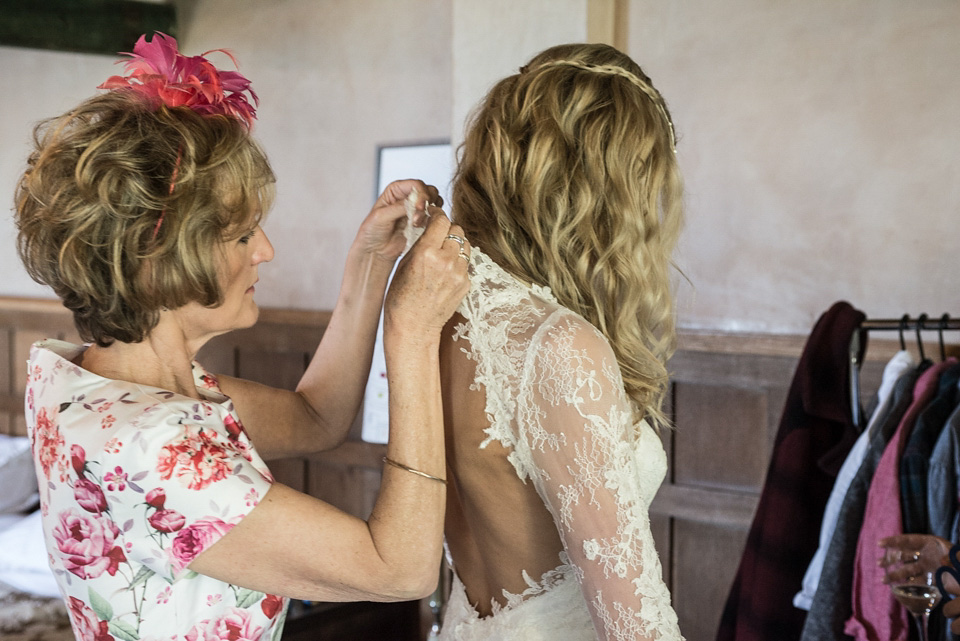 "Accessory wise, I also wore a Gold bangle- by jeweller and our ring maker, Jonathan Swan alongside my mother's engagement ring, my Grandmother's amethyst ring (my birthstone), a pair of Jenny Packham earrings and my Grandmother Lily's antique butterfly embroidered handkerchief."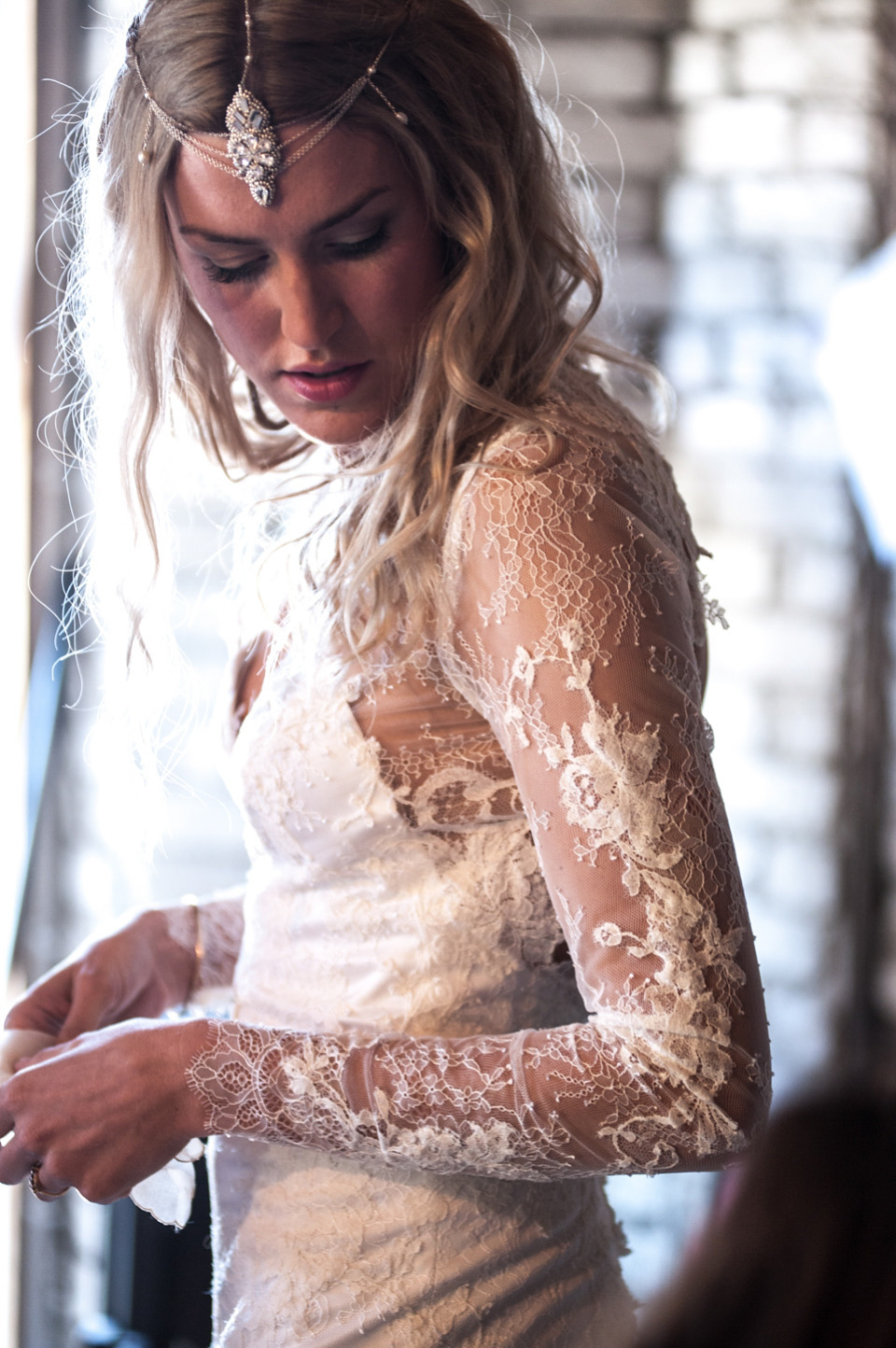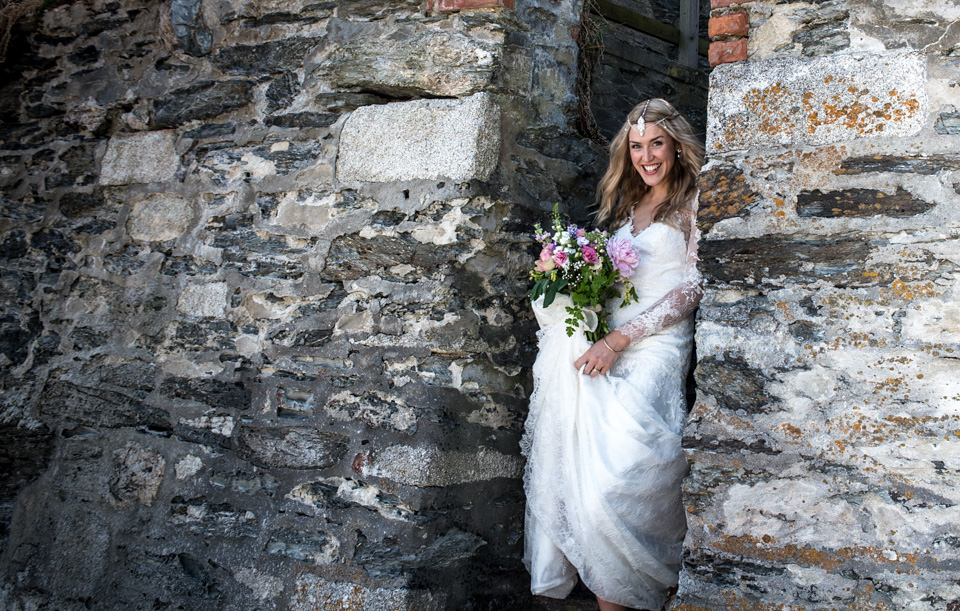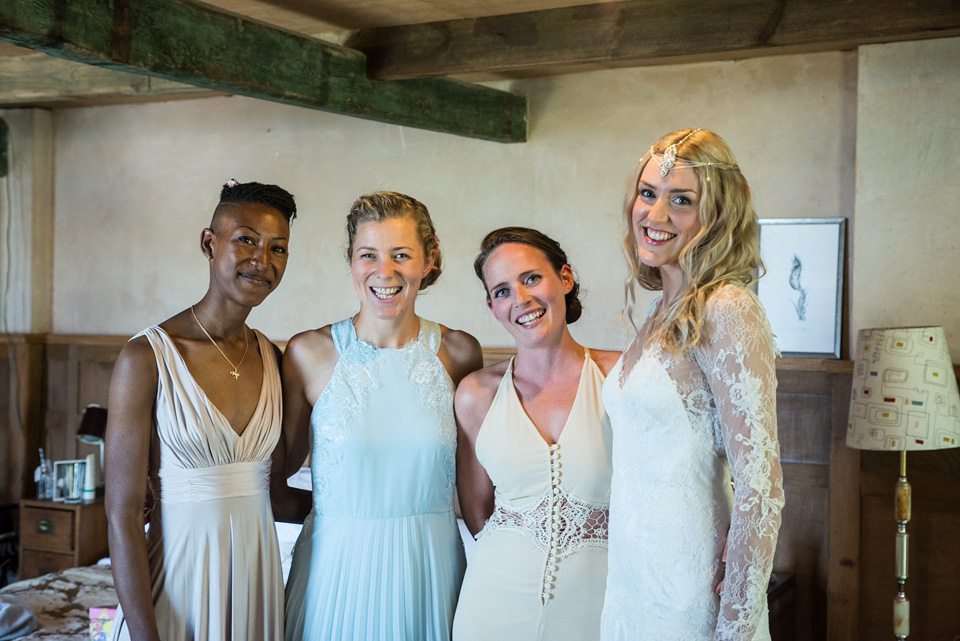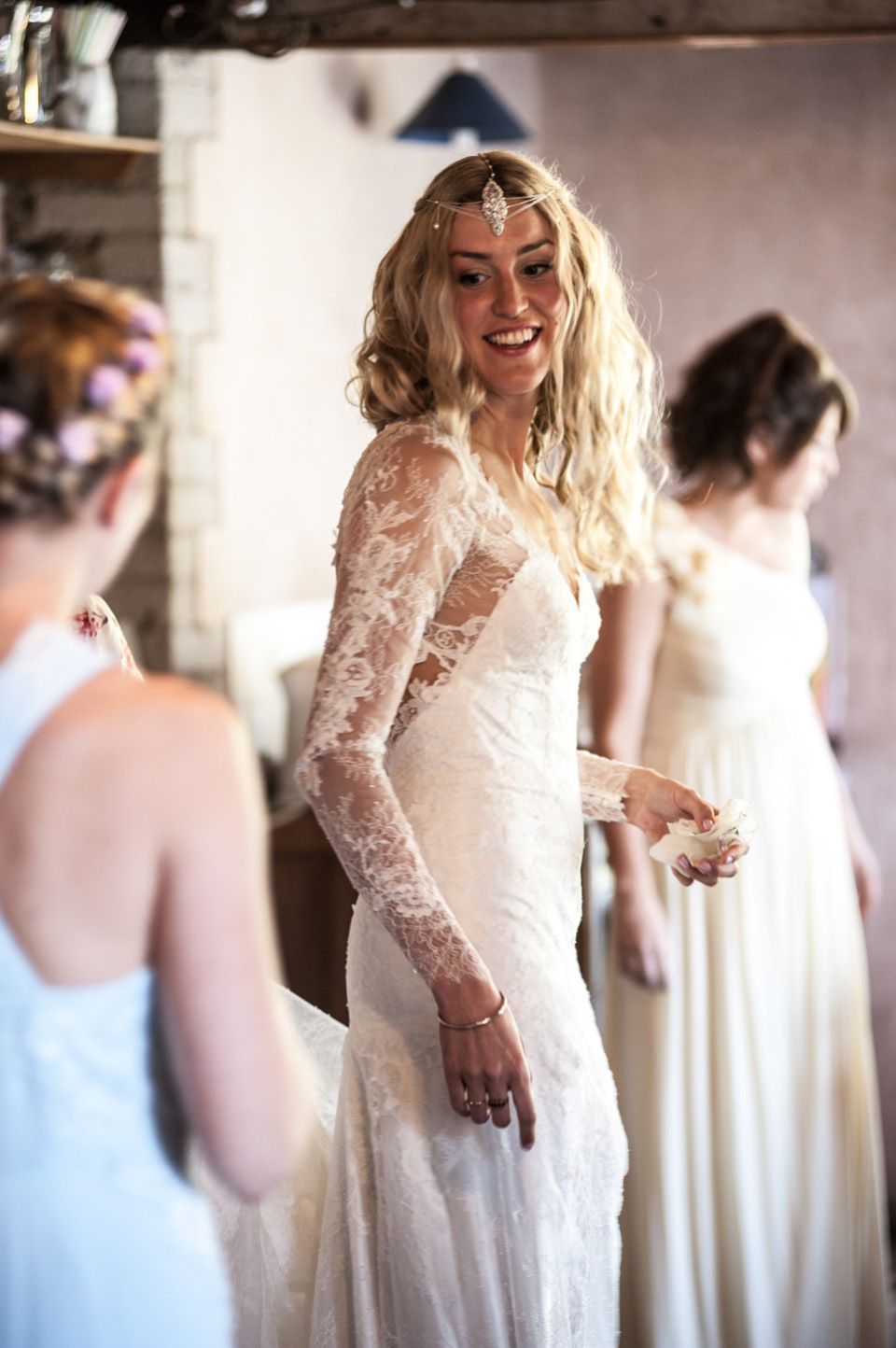 "Our florist was Cathy Marjoram – we'd planned to use a mixture of wildflowers and to hand cut my bouquet and main wedding flowers from a local cutting garden – however when we arrived at the garden it was bare and we only managed to get a few stems! So myself and Cathy commenced a mad supermarket sweep and bought all the stocks, freesias, lisianthus and roses we could get our hands on! We then set to work with friends sympathetically sourcing wild flowers and greenery that was overflowing on the country lanes we passed.
Cathy was also head of decoration and drove down from Somerset with a car jam-packed with homemade bits of magic, from flower button napkin holders, to sweetie name tags, tent poles for floral arches and all the components to making it just perfect for us – she didn't stop for three days and thoroughly earned her Gin."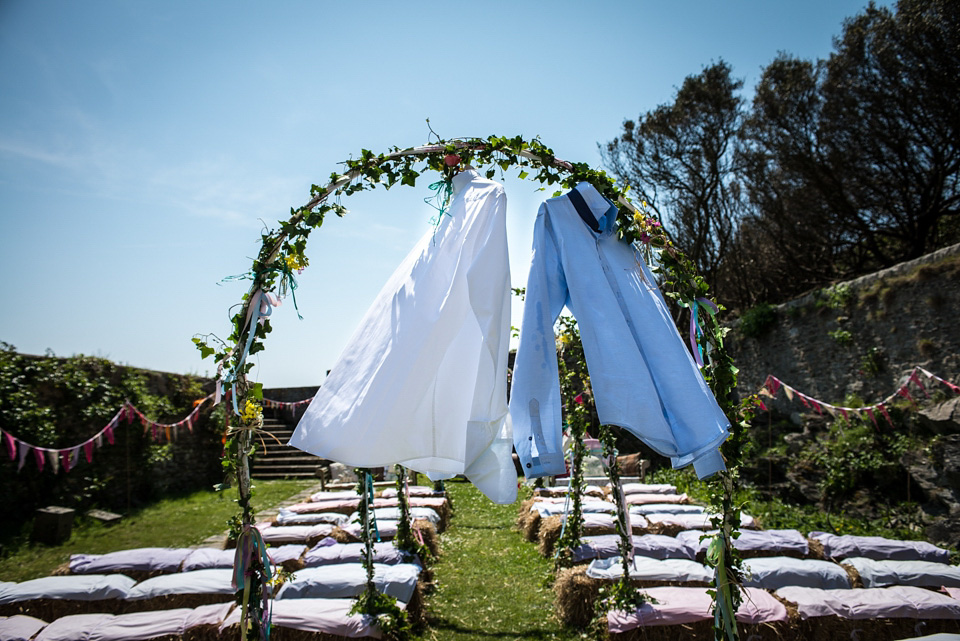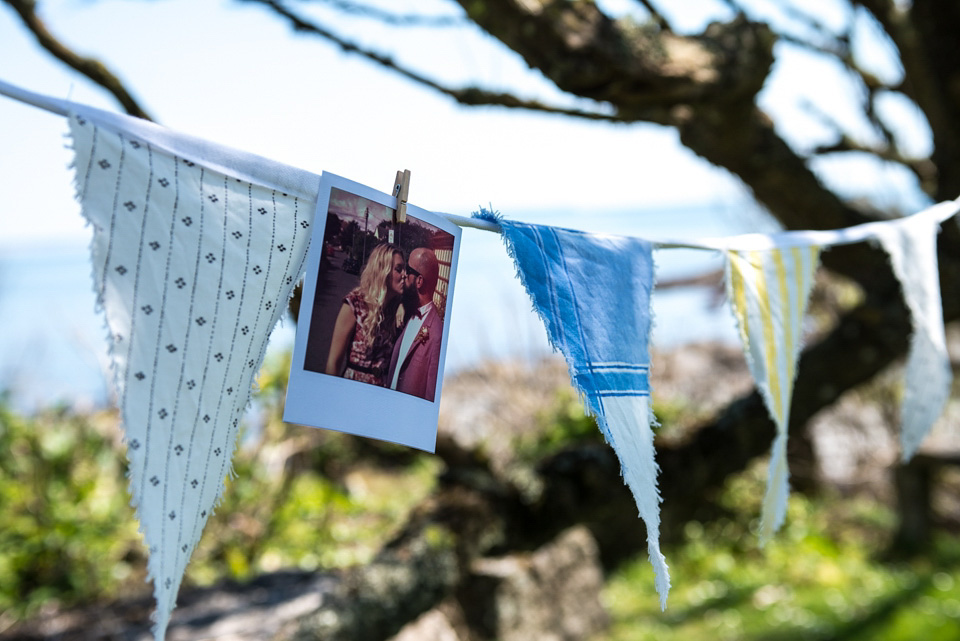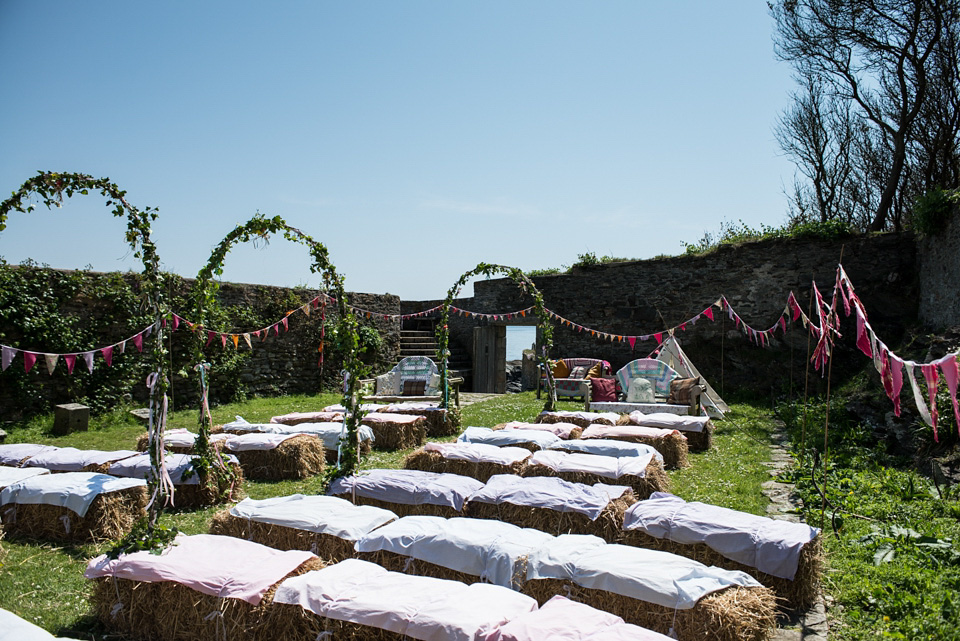 "My Dad, Frank, walked me down the aisle to Love Song #1 by The White Buffalo.  Joe came across this song a few days after we 're-found' each other and we've been singing along to it in our campervan ever since! We even wrote the lyrics on one of Joe's surfboards the year before."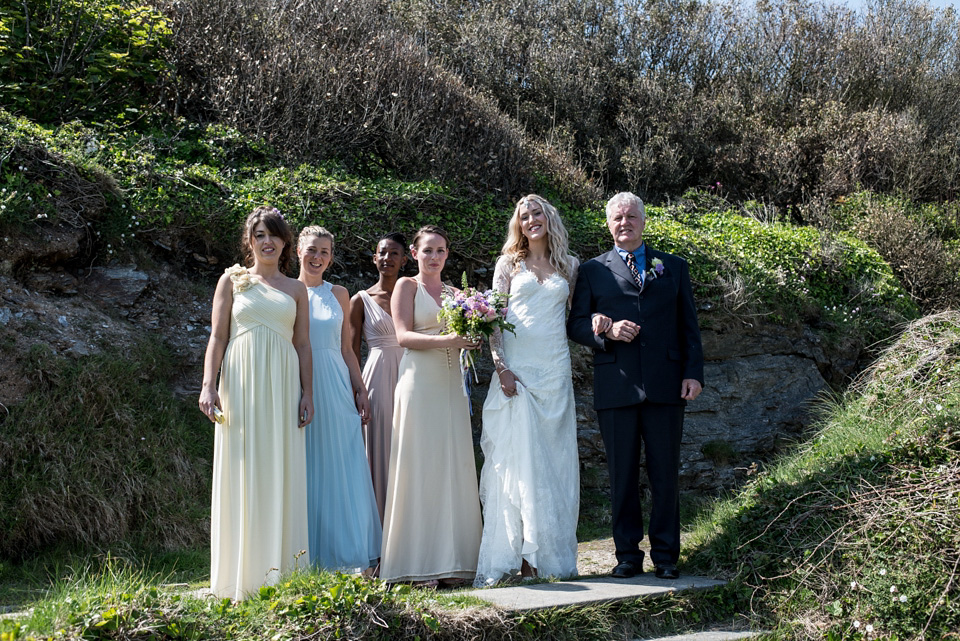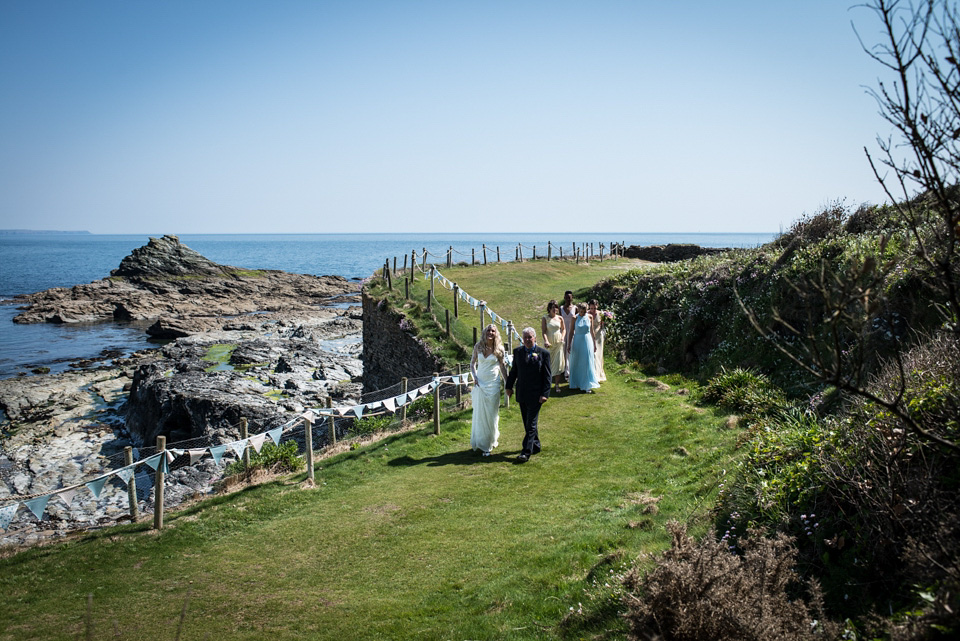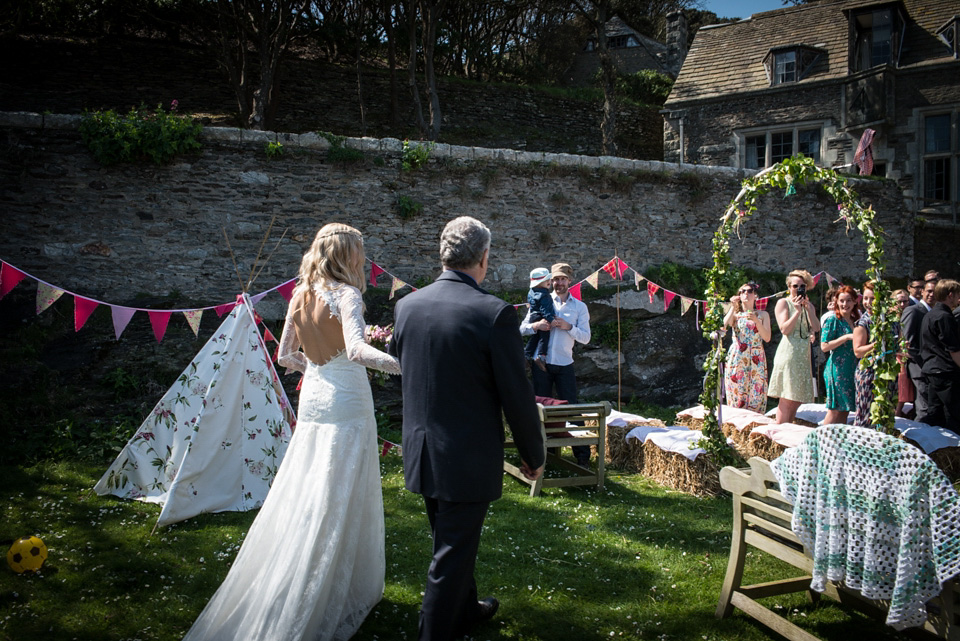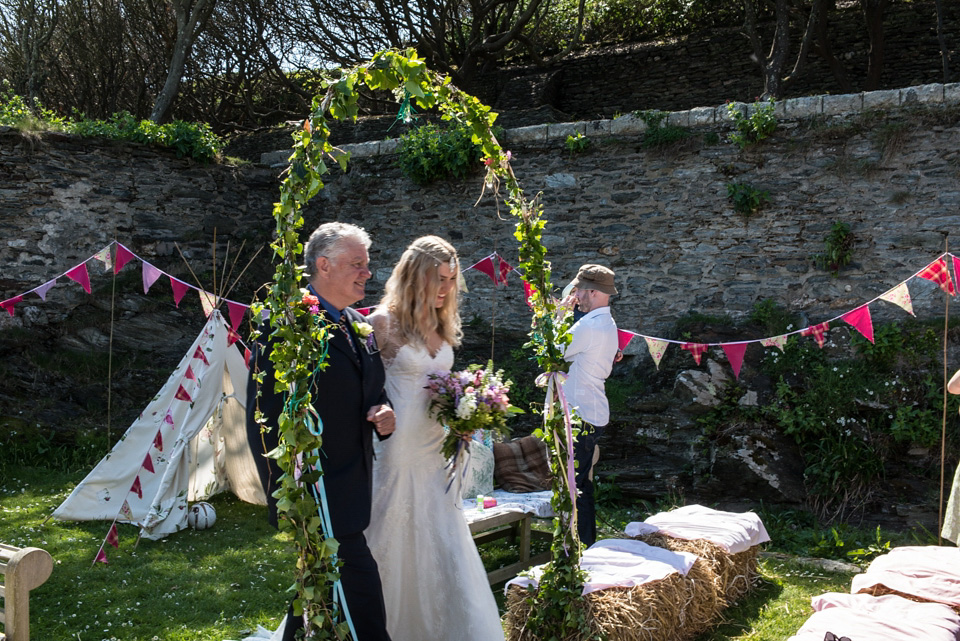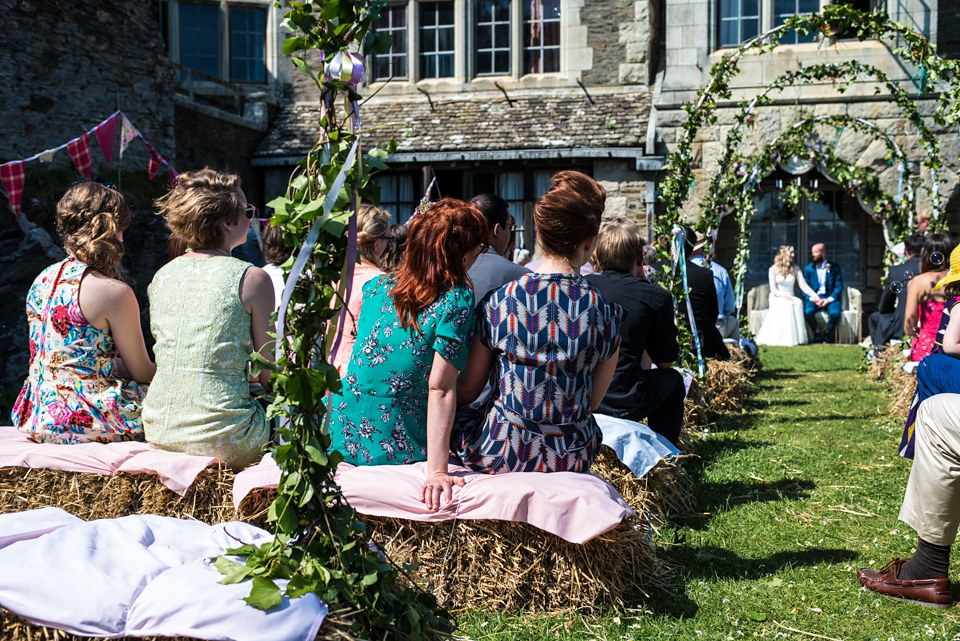 "We had a humanist ceremony, conducted by Kevin Metcalfe, who was just perfect and really made the ceremony so special, working with us to develop vows and helping to shape the whole thing with our readings.
We worked with Kevin to create a ceremony and vows that was very personal to what we value and us as individuals.  We each read a vow to each other, then read this together…
'Today, surrounded by people who love us, I choose you Joe to be my husband, and feel fortunate that you have chosen to share your love with me.
I will laugh with you in times of joy and comfort you in times of sorrow. I will support you, push you, inspire you, and above all love you. I will respect you as a person, a partner, and an equal, as time and life change us both.
May we have many adventures together and thrive along the road, knowing that home is wherever we are. Together, let us build a home filled with learning, laughter and light, shared freely with all who may live there.
I vow not just to grow old together, but to grow together and join my life with yours. From this day forward, You shall not walk alone, My heart will be your shelter,
And my arms will be your home.'"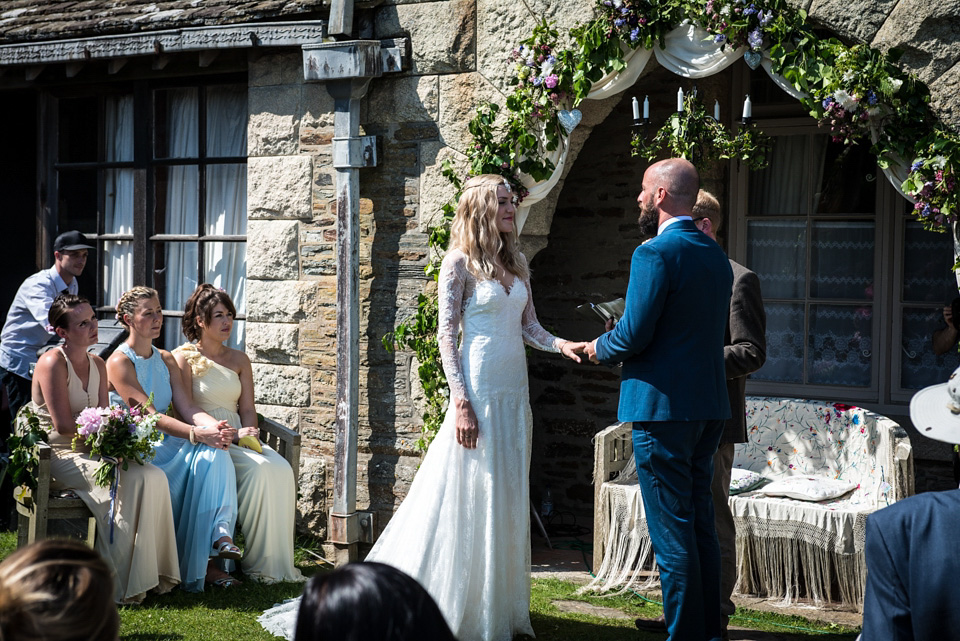 "Our reading was a poem called 'For You Both', written by my mum Carolyn;
Scattered from hands of love like bread for wild birds
Flung like rainbows of confetti from hands of joy
Released like drops of warm and living rain
We shower you with blessings.
May compassion sustain you
Love be your walking guide.
Joy the bricks that build your house.
Laughter the cement that makes you both strong.
Compassion the roof that shelters you
In its strong and caring arms.
May the path you walk together be the quiet path of harmony
Respecting each other's differences
May your friends and children gather at your table.
May life be long and, at its human end
May the gaze that falls each upon the other
Be still alive with love,
And twinkle yet with laughter.
Health, gladness and love always
Dear Jessamin, dear Joe
With hearts filled with joy we celebrate
Your wedding day.'"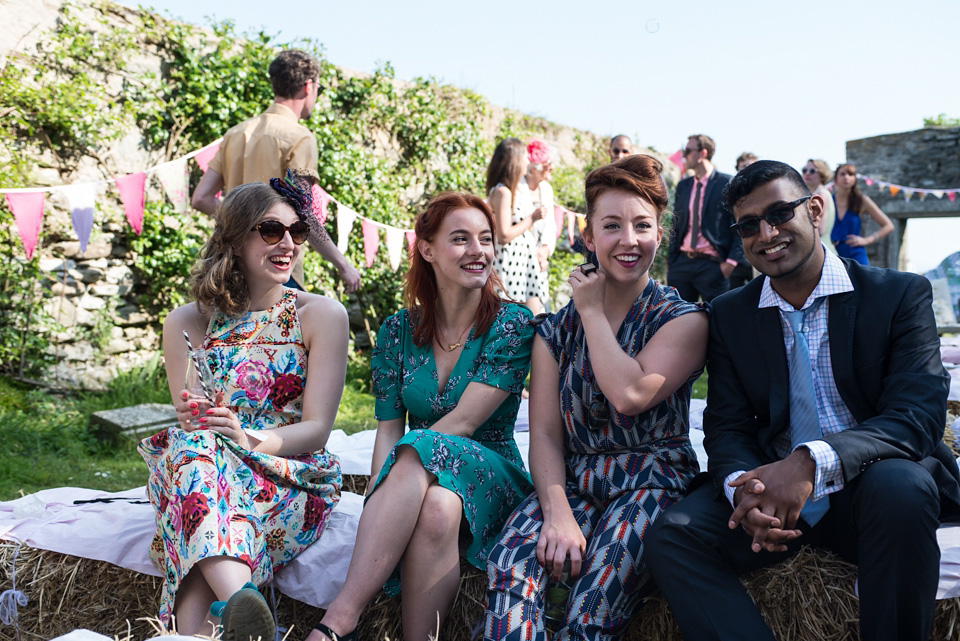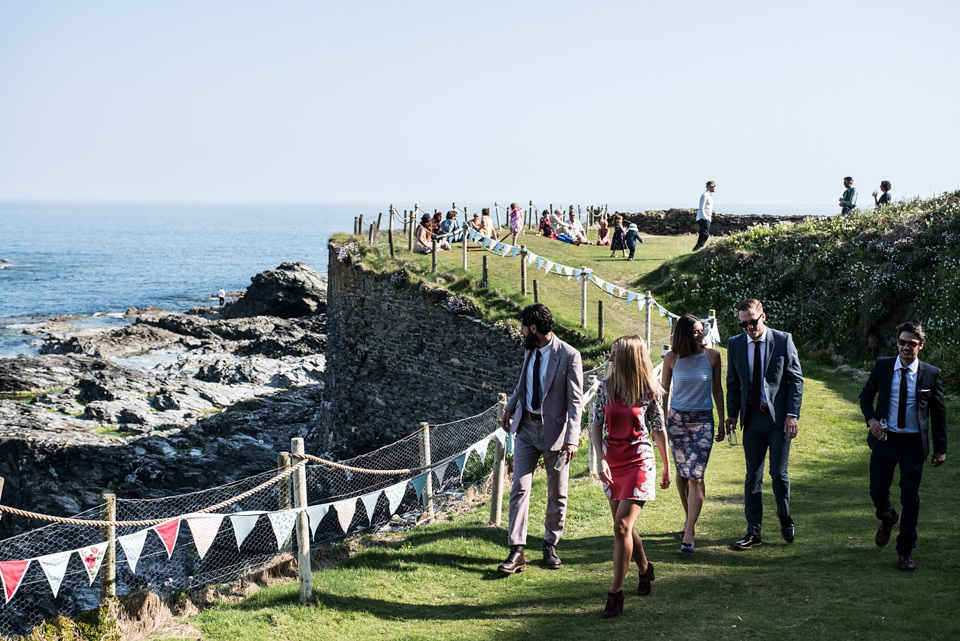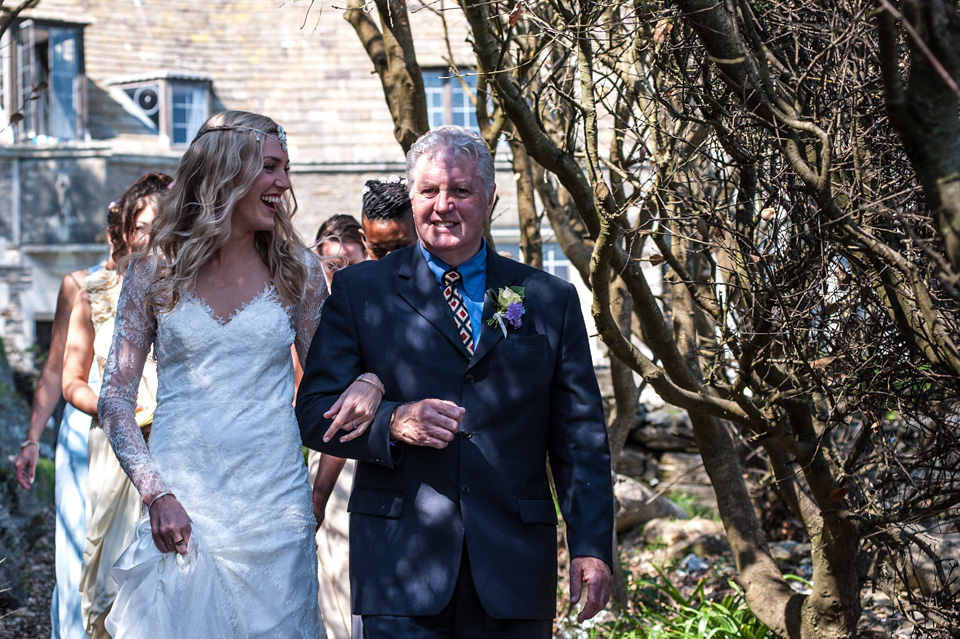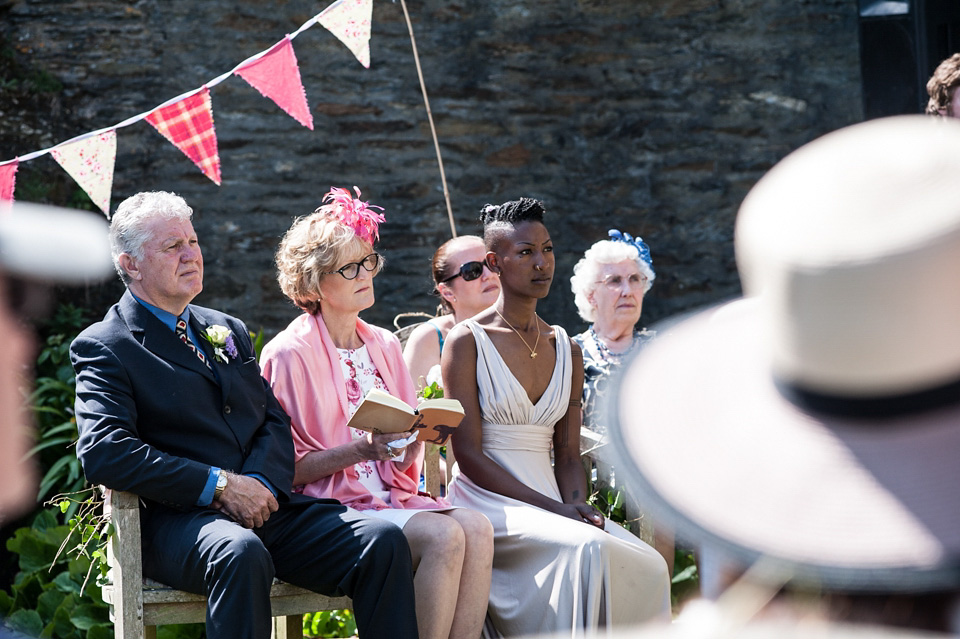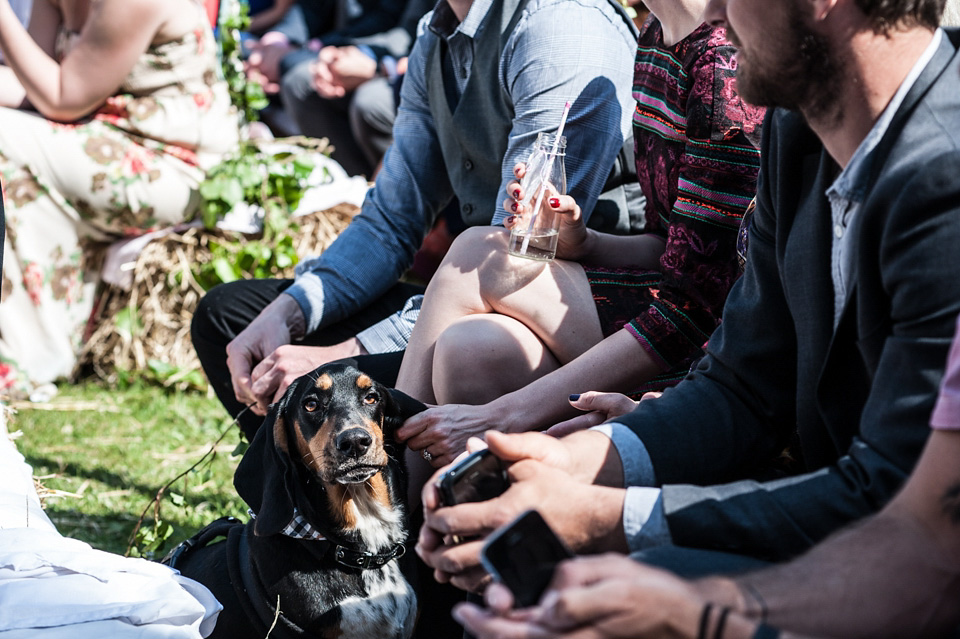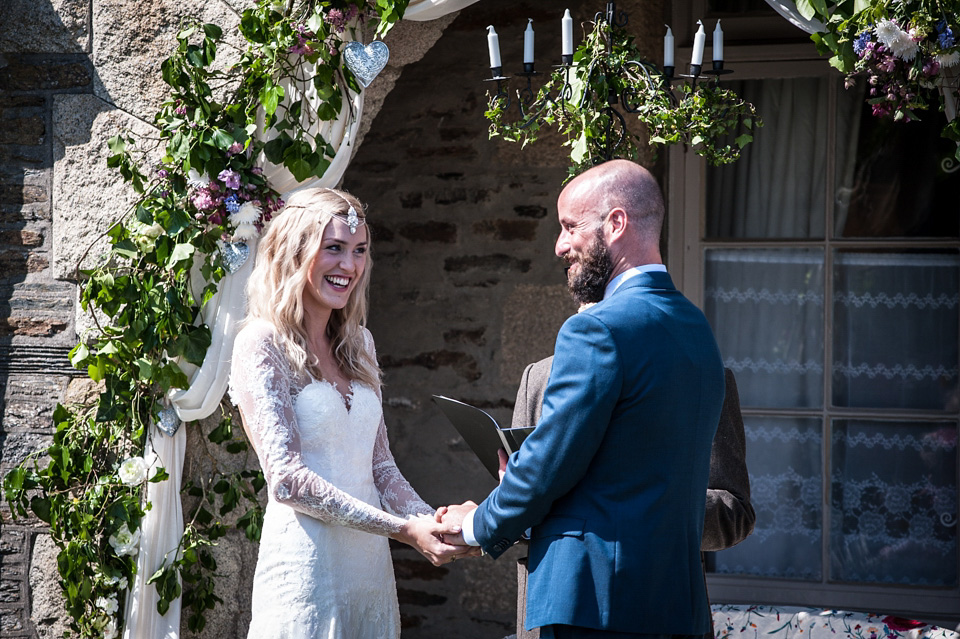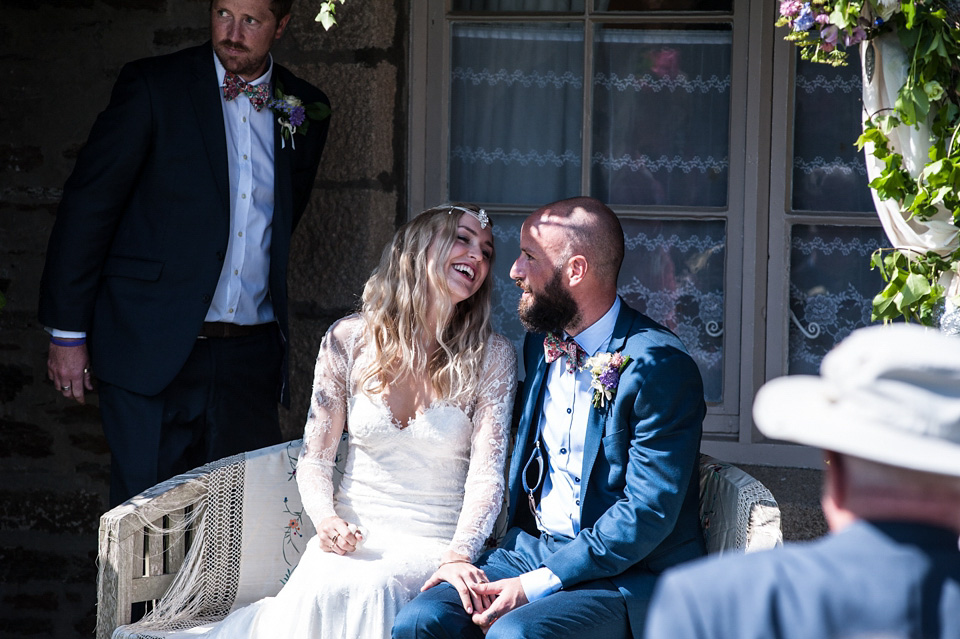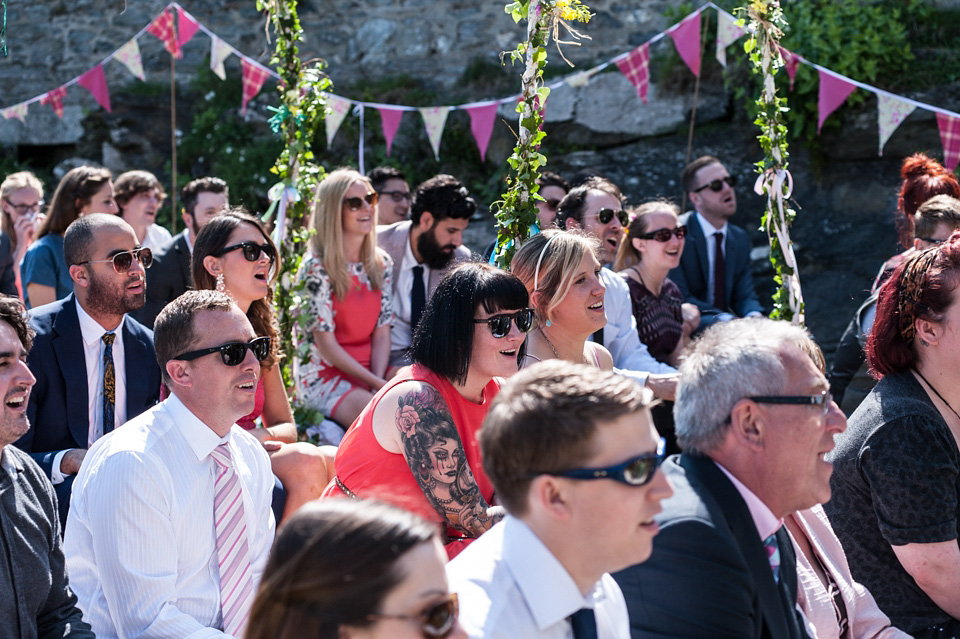 "Our rings were from a jeweller based in Lewes where we met and the father of an old school friend.  From the moment we walked in to Jonathan's amazing workshop, we knew that he was the dude who should make our rings!
We both had inherited wedding rings from our grandparents – Joe had his Grandfather's rose gold band, and I had my Grandmother's 22 carot gold band – Jonathan took two pieces from the rose gold and sandwiched the 22 carot in between to create my ring.  For me, this totally made sense – fusing our two family histories together, to create something new. Jonathan then took a rusty hammer to Joes ring so give it a wonderfully textured, natural finish, that suits Joe completely."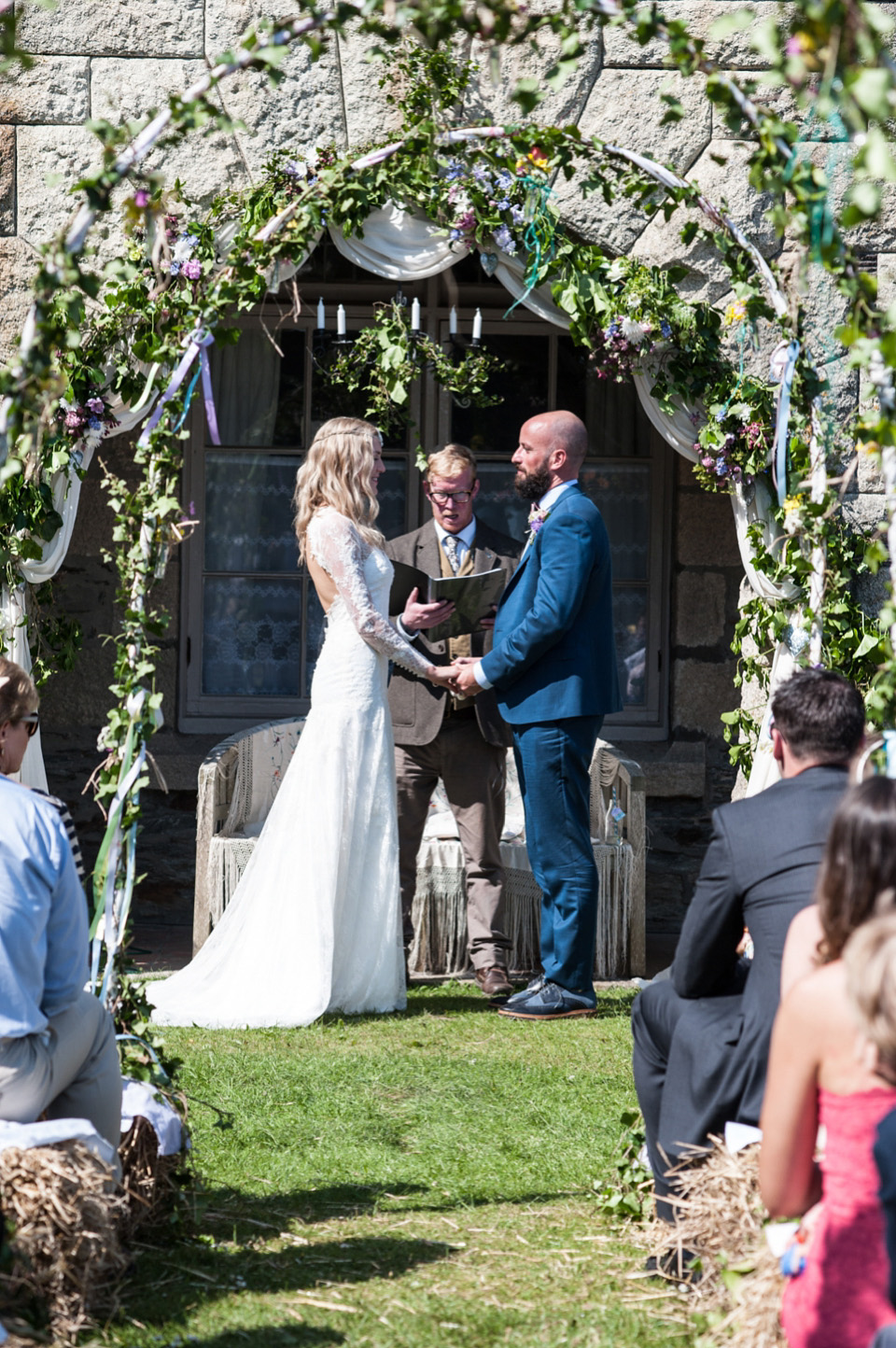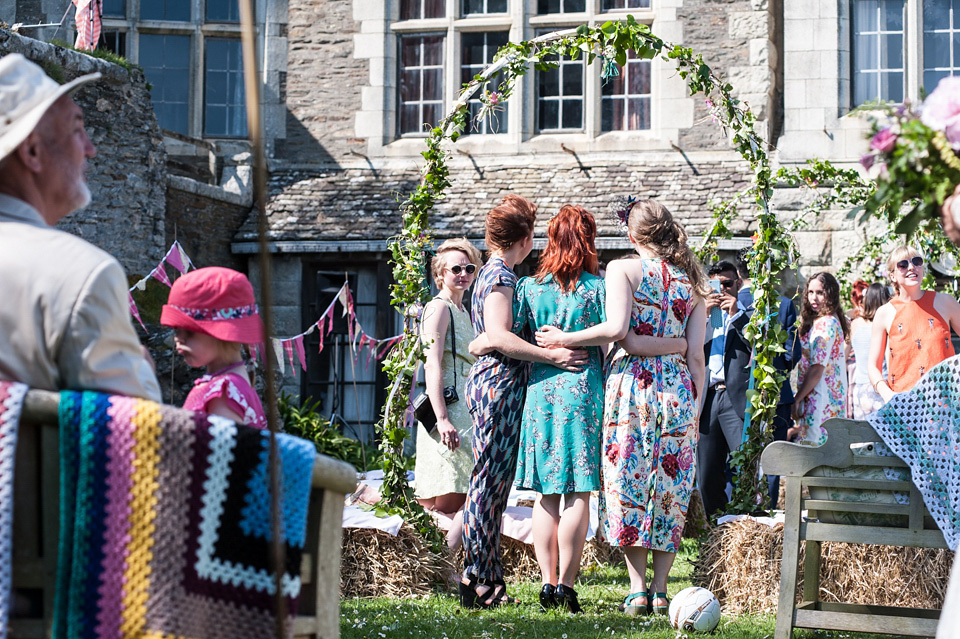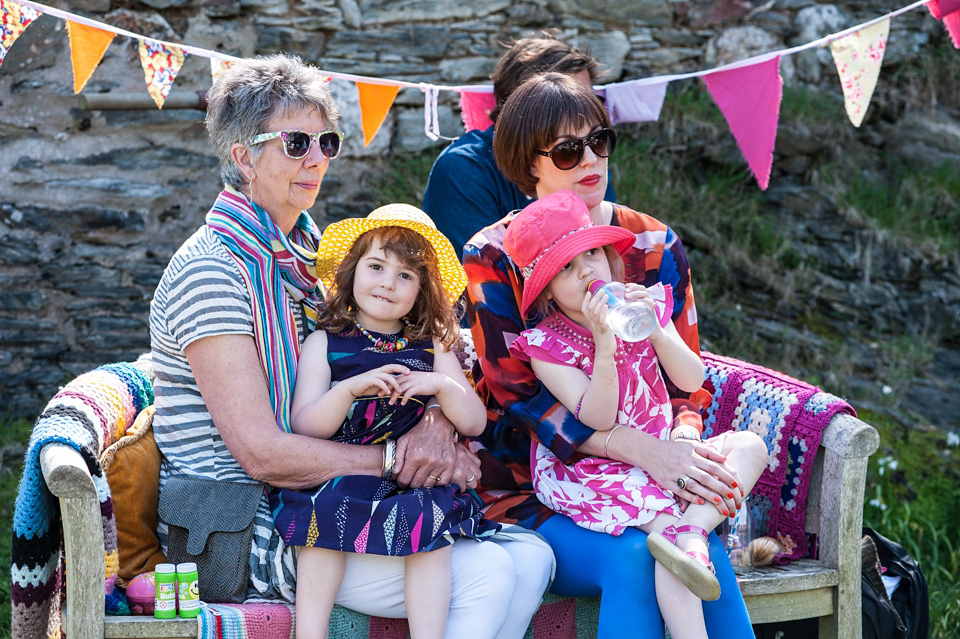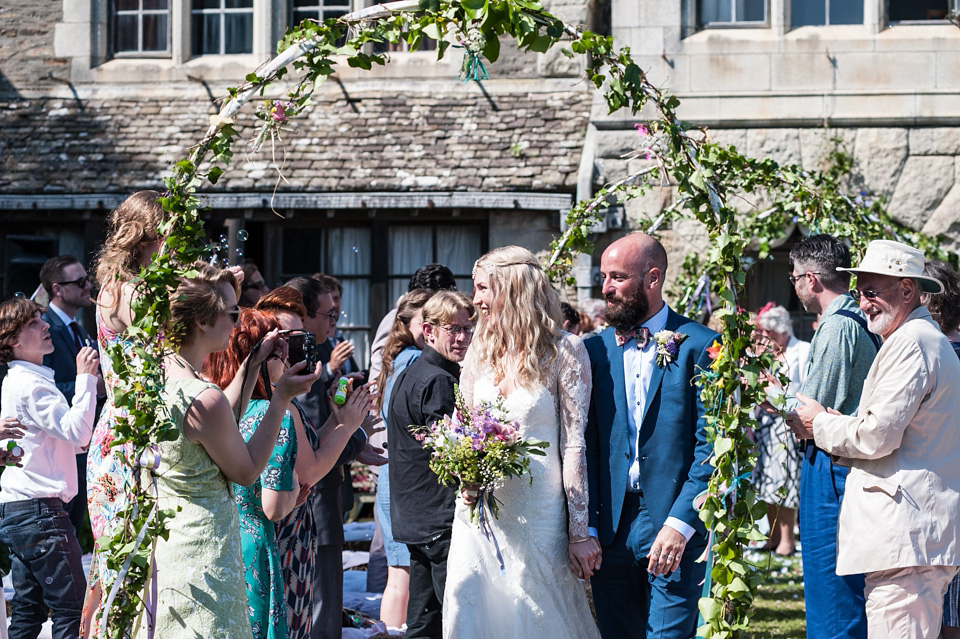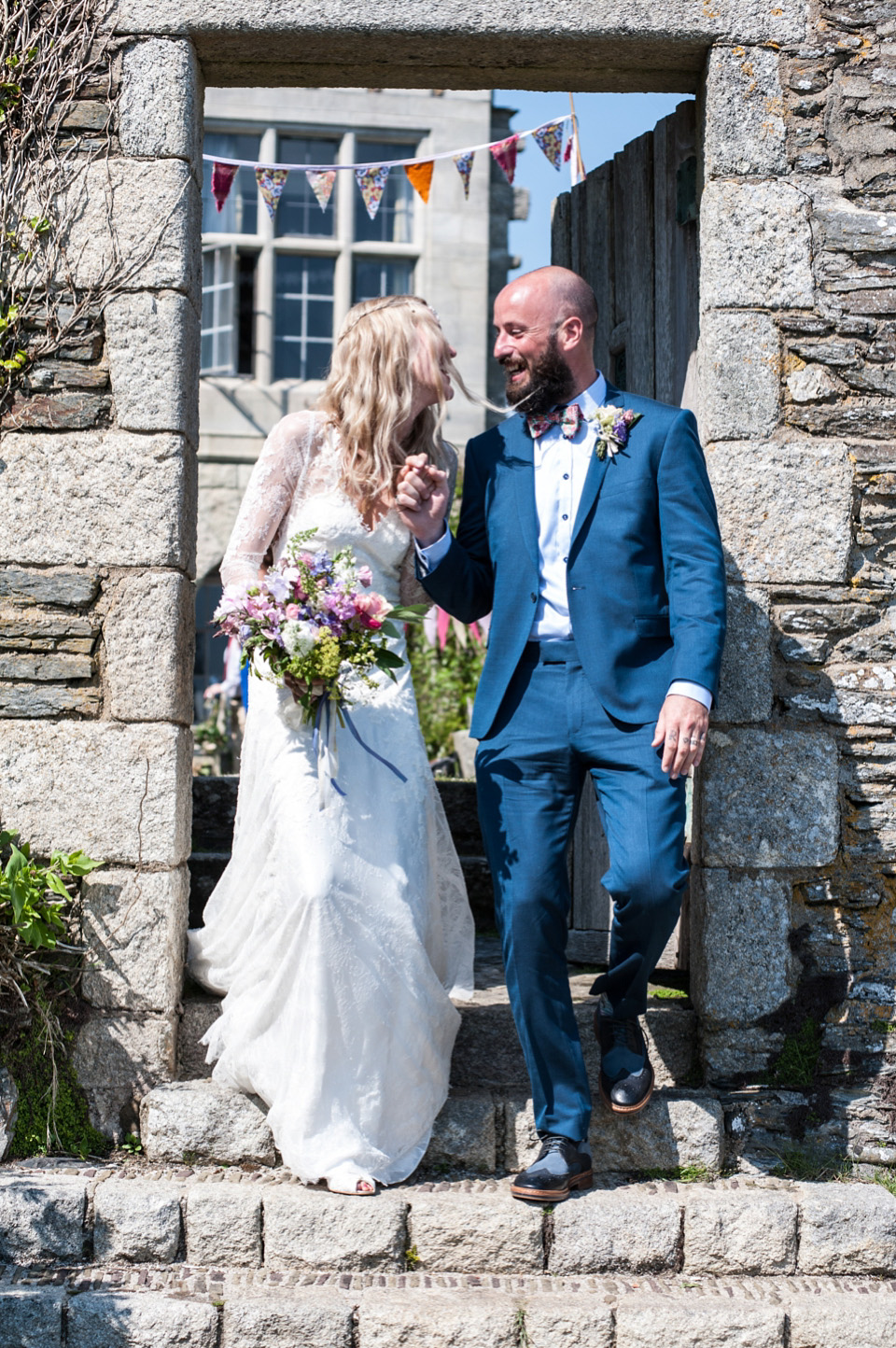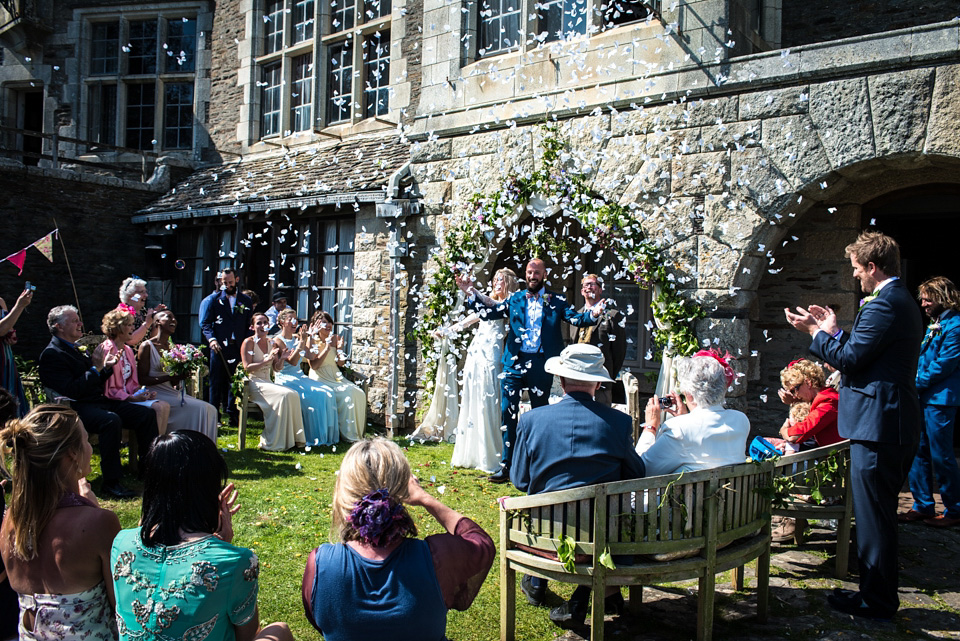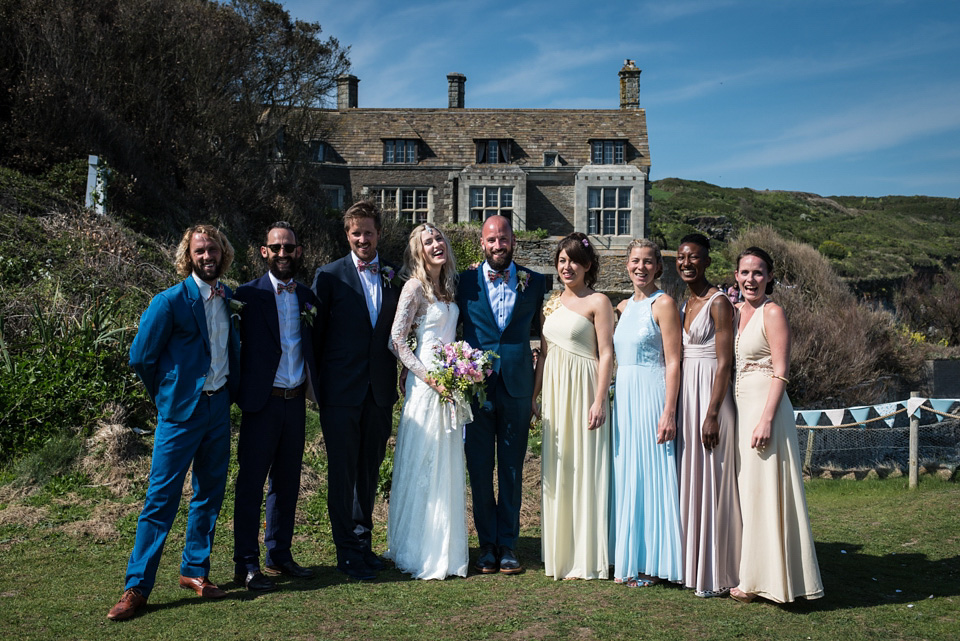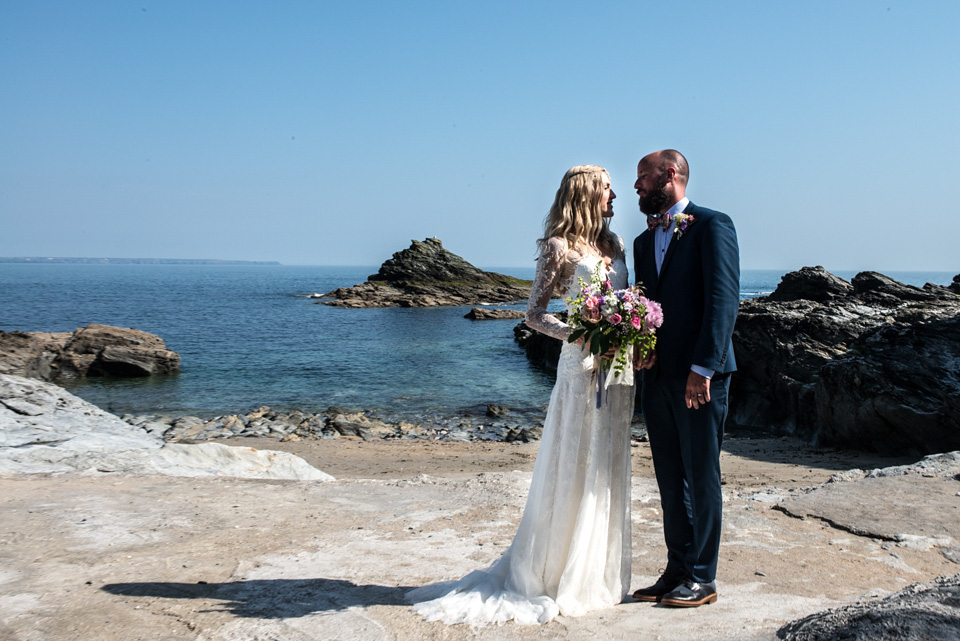 "My bridesmaids wore dresses from Coast, Biba and Jarlo, along with gold necklaces that featured a small lion pendant (a gift from Joe) and wild flowers picked from a nearby rock a few minutes before the wedding!"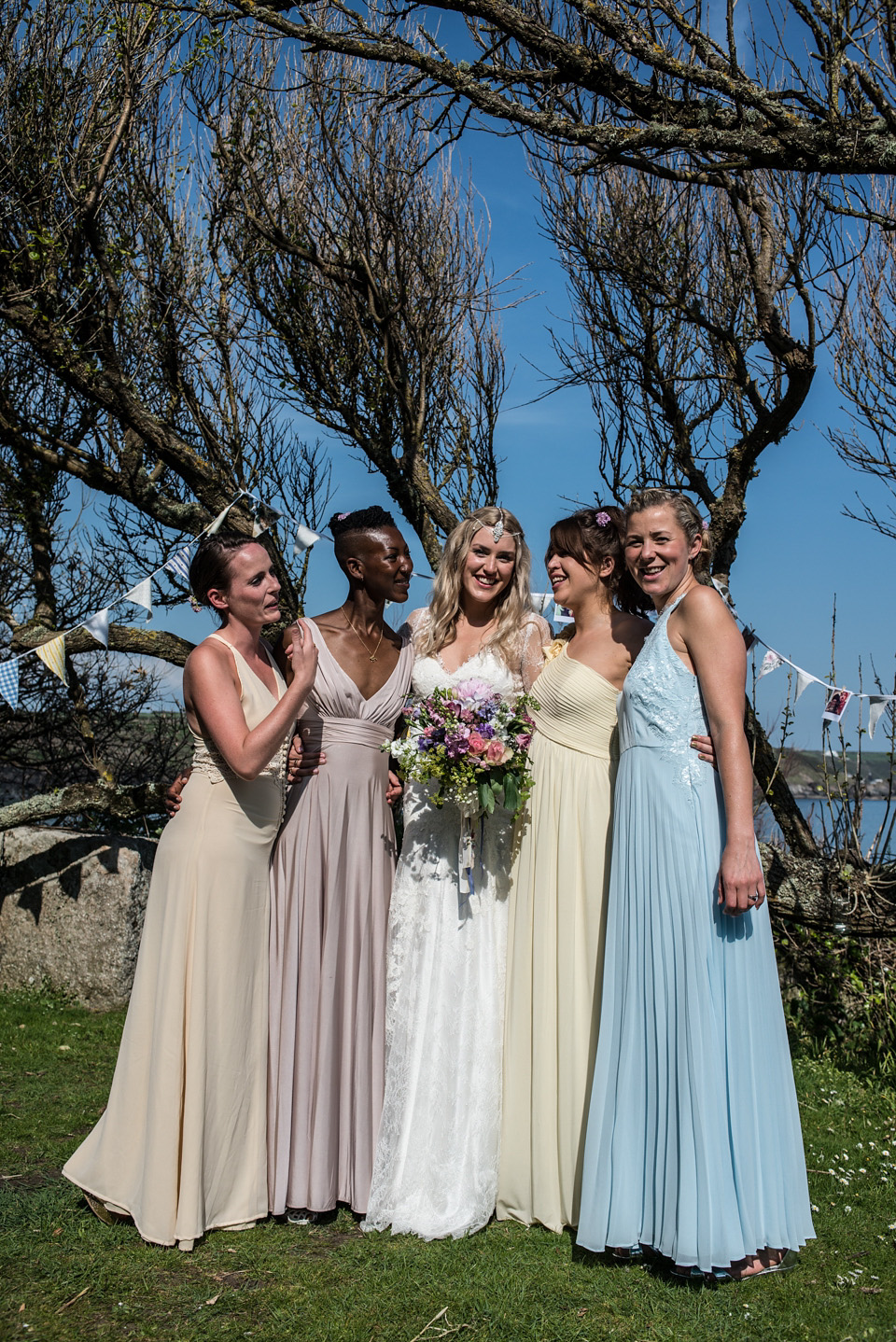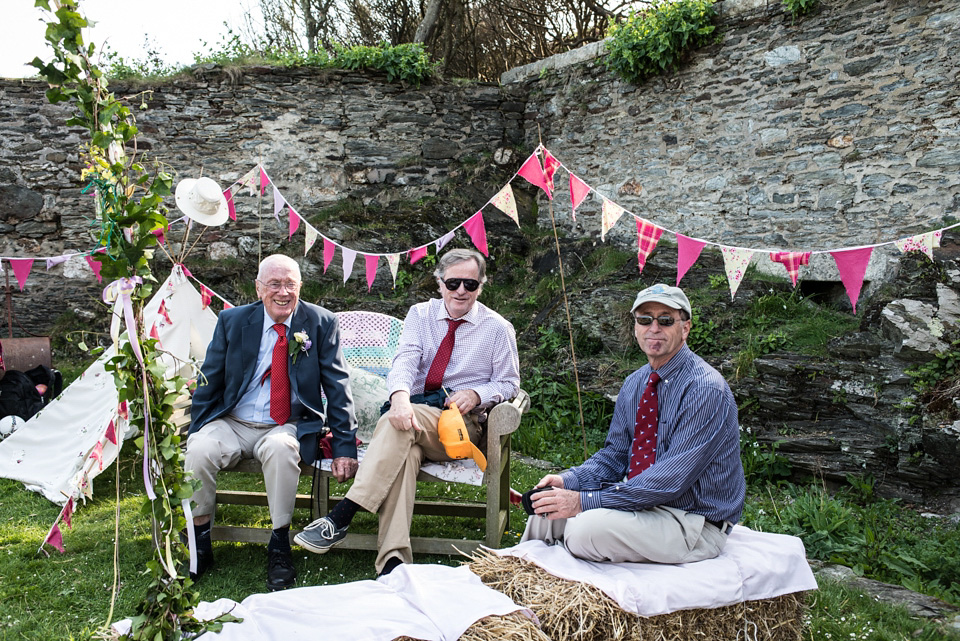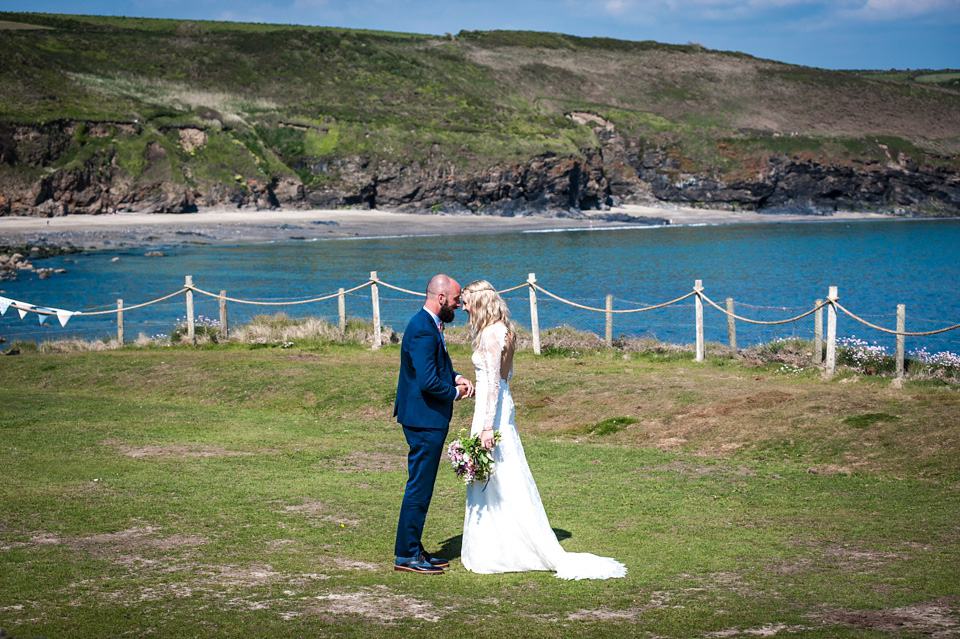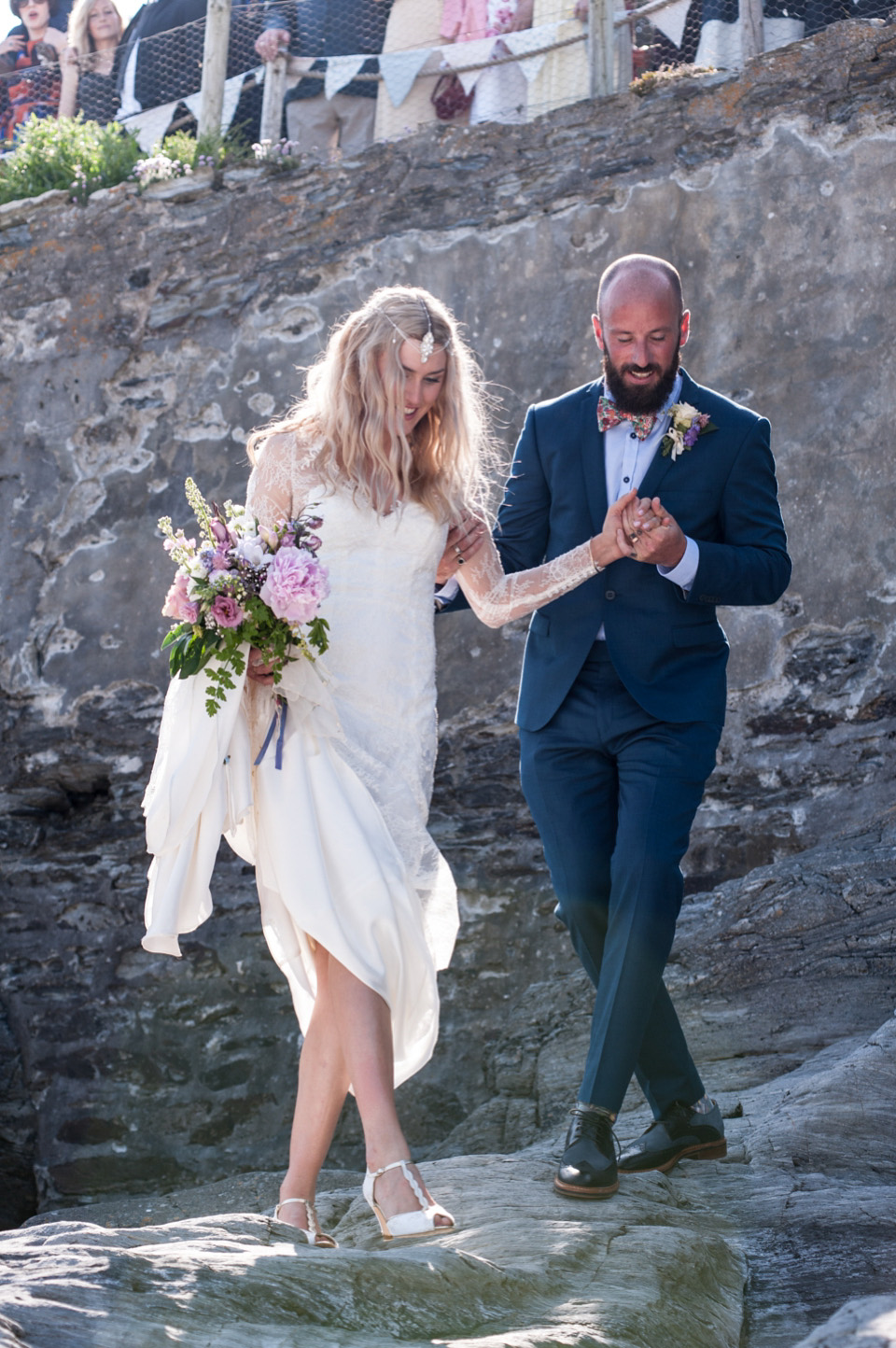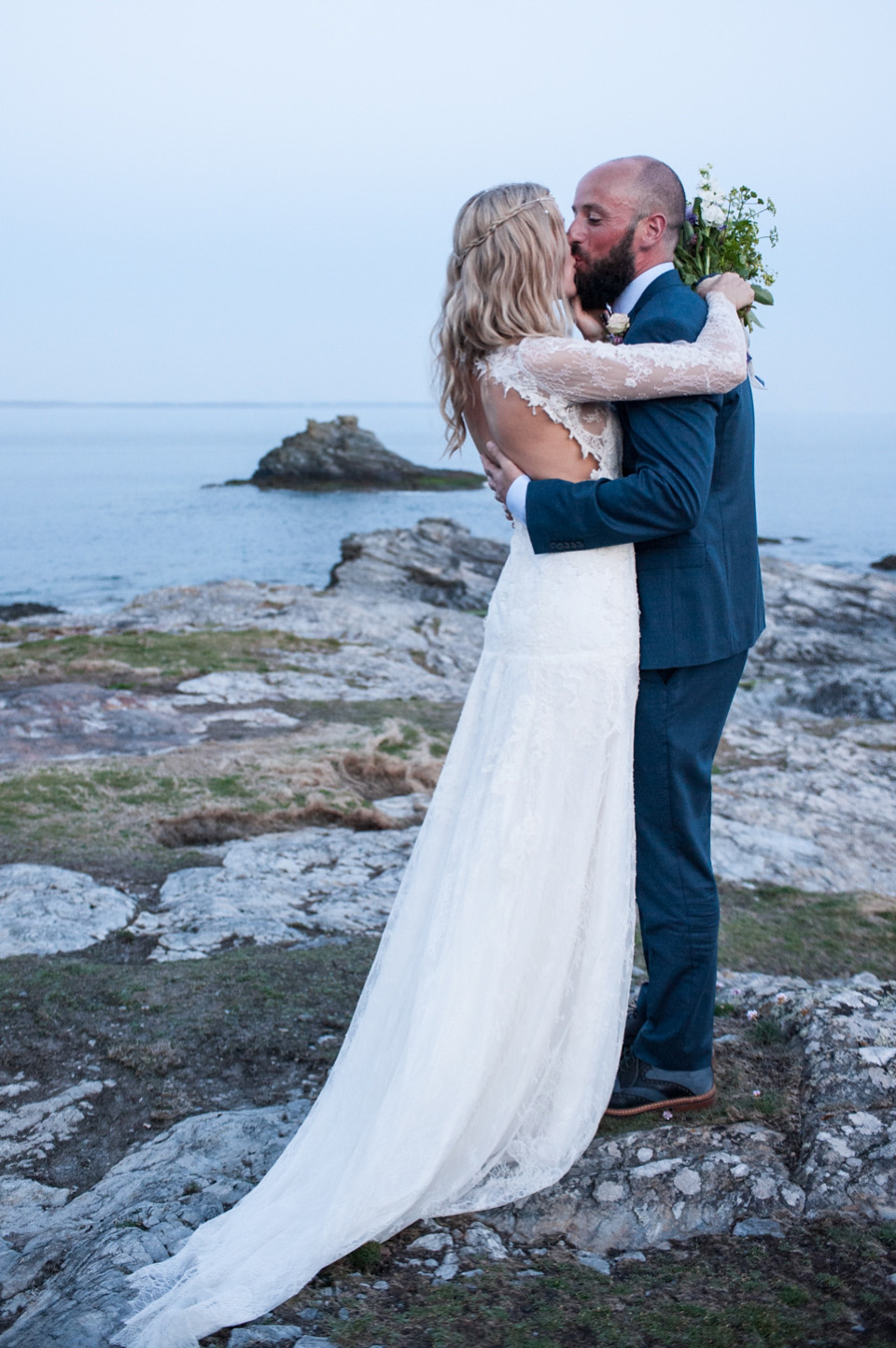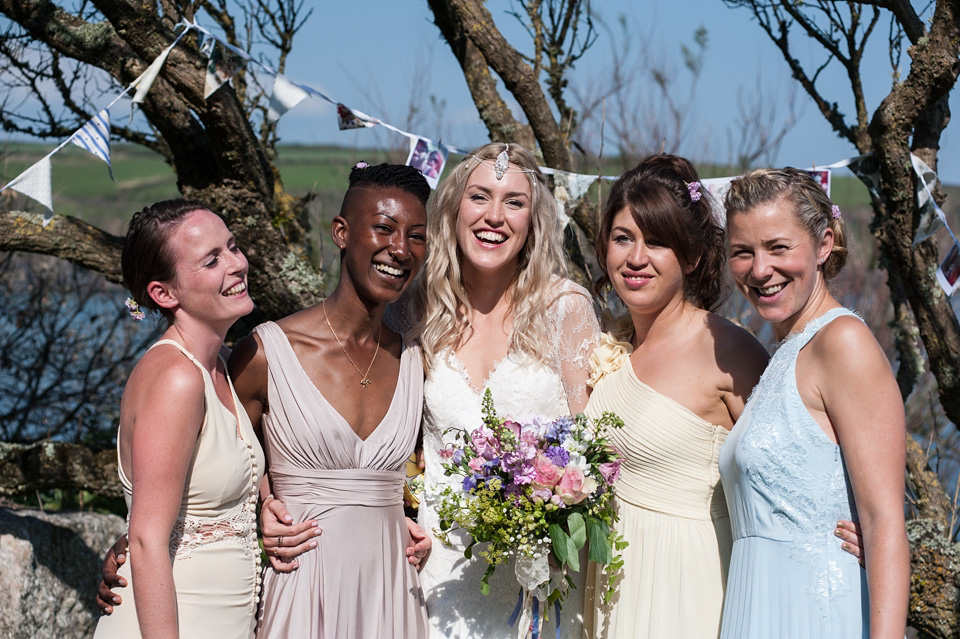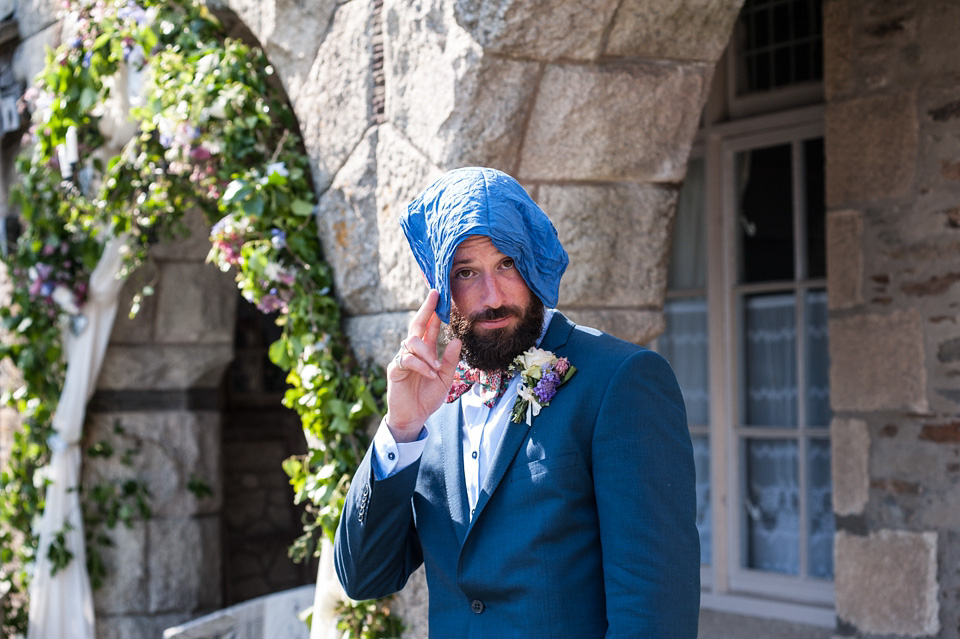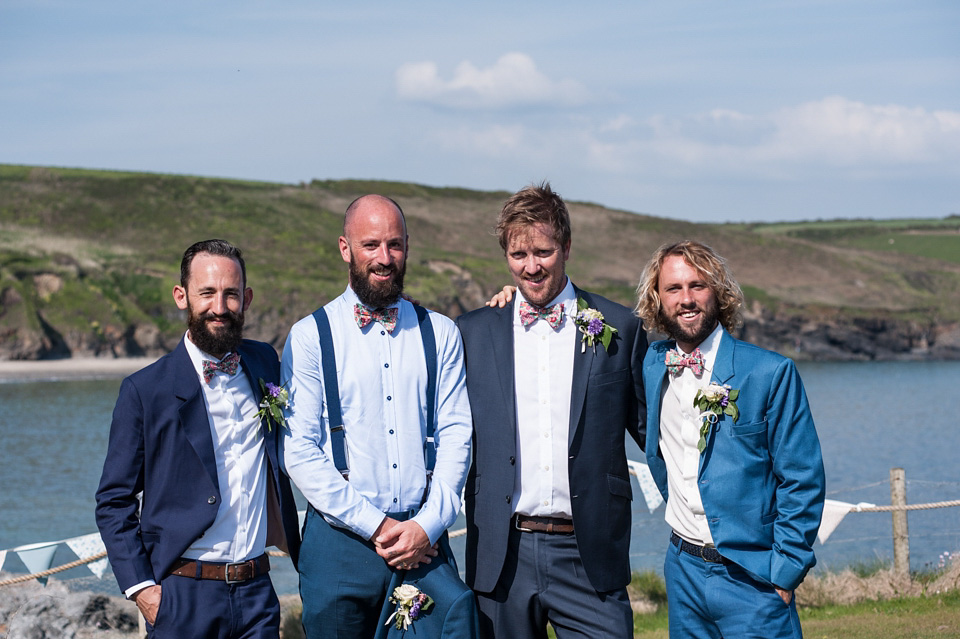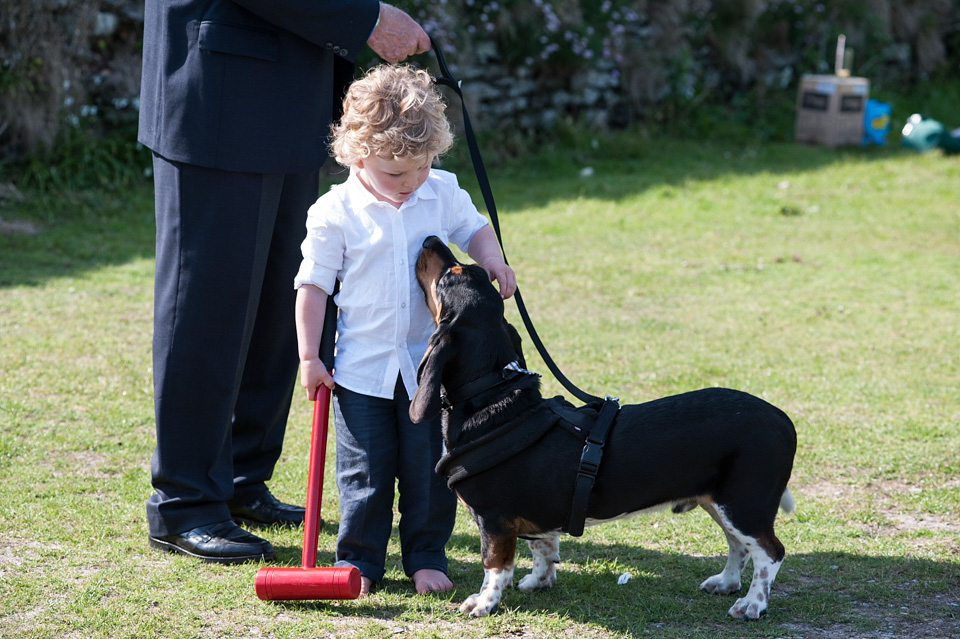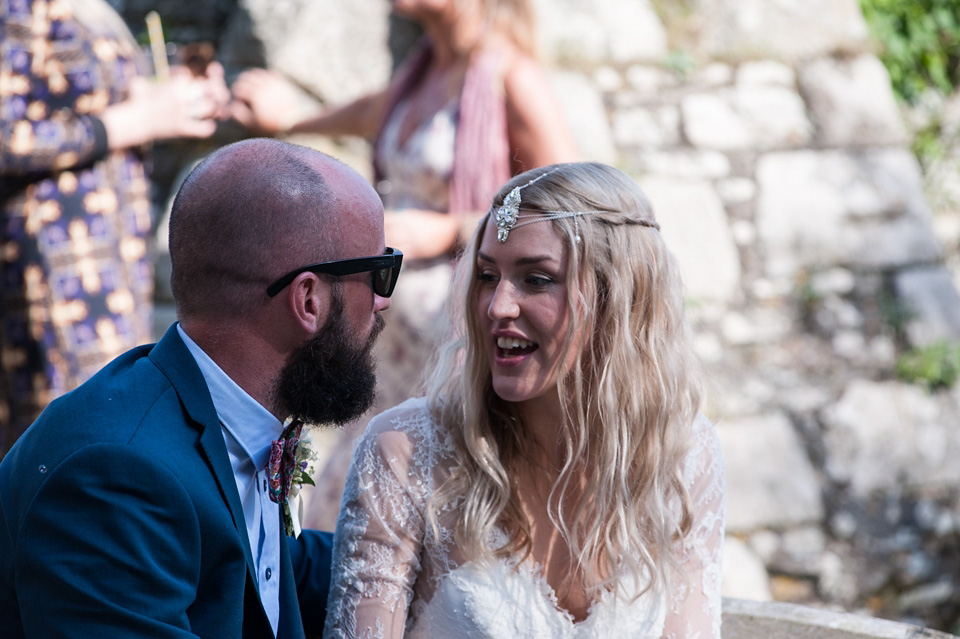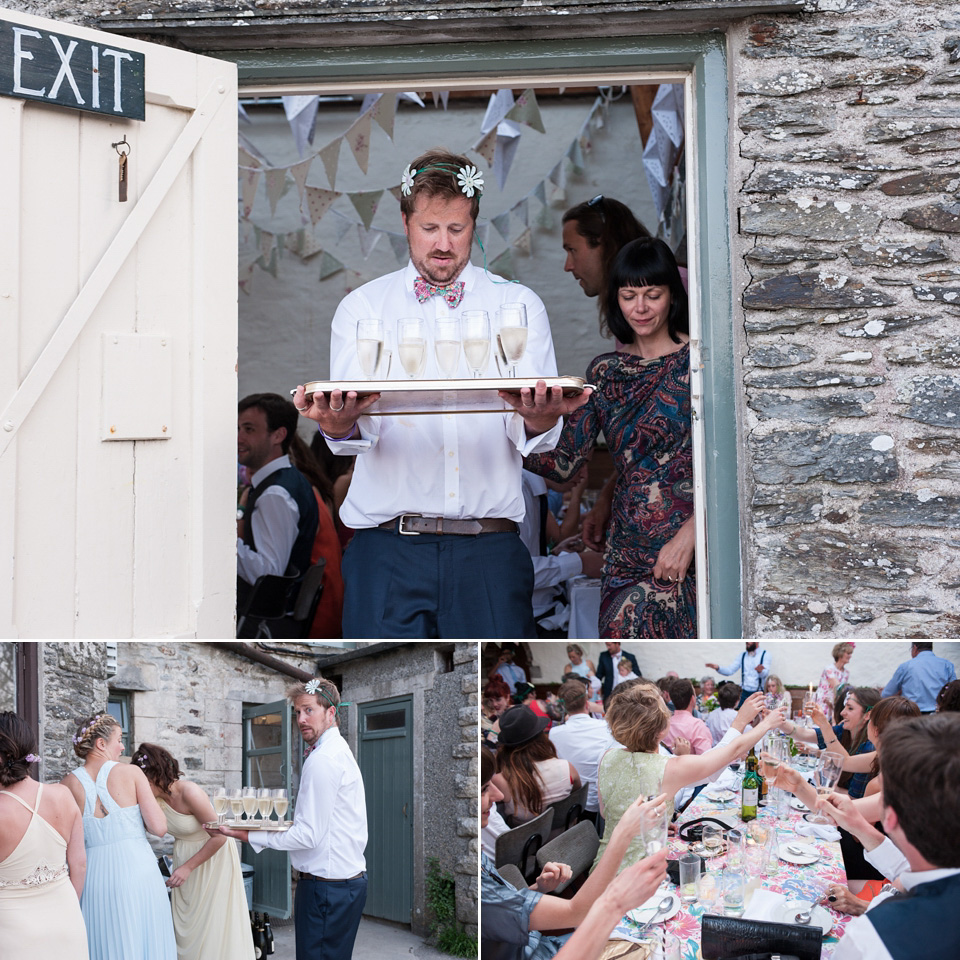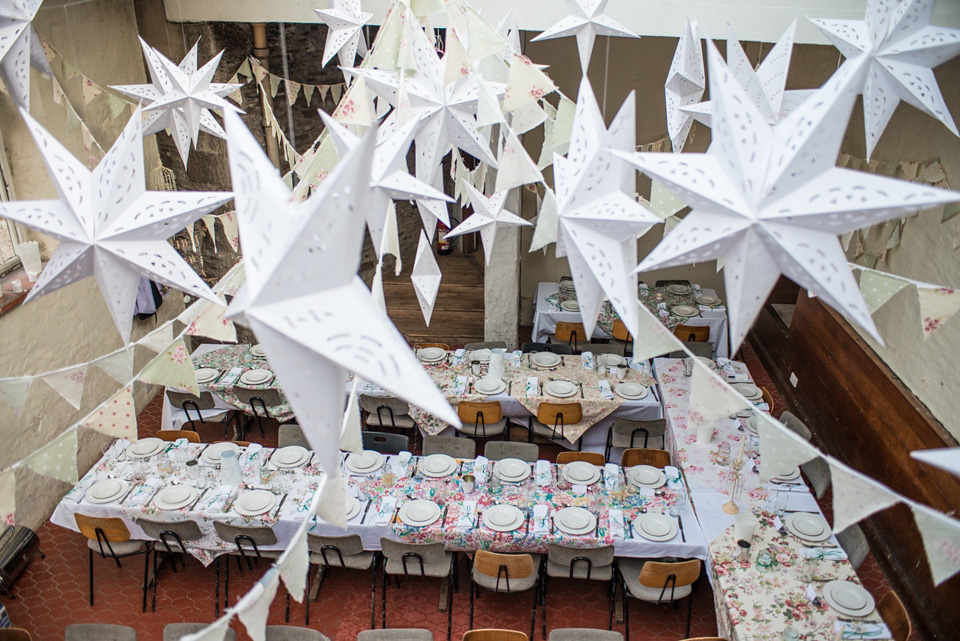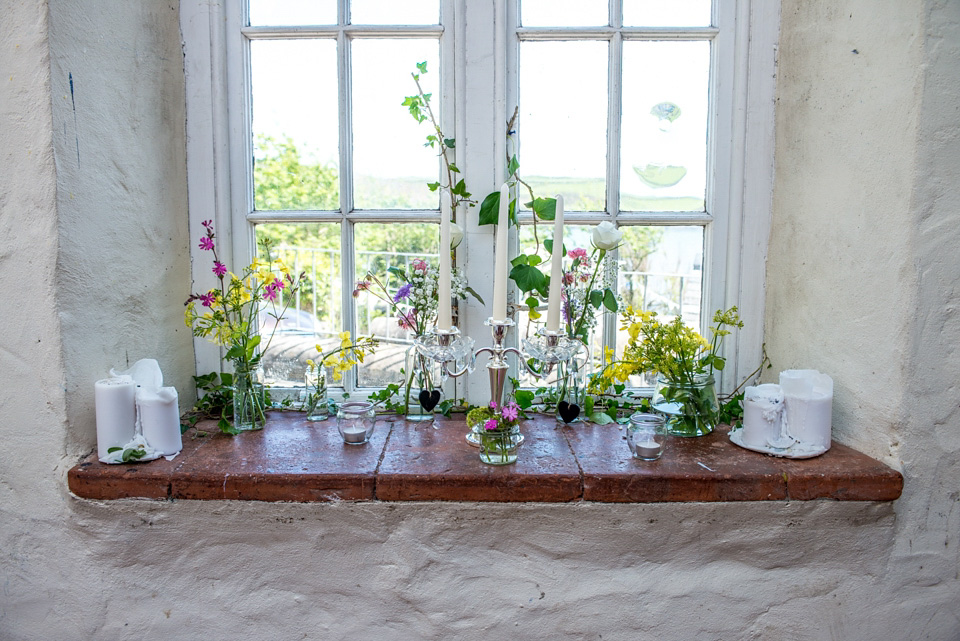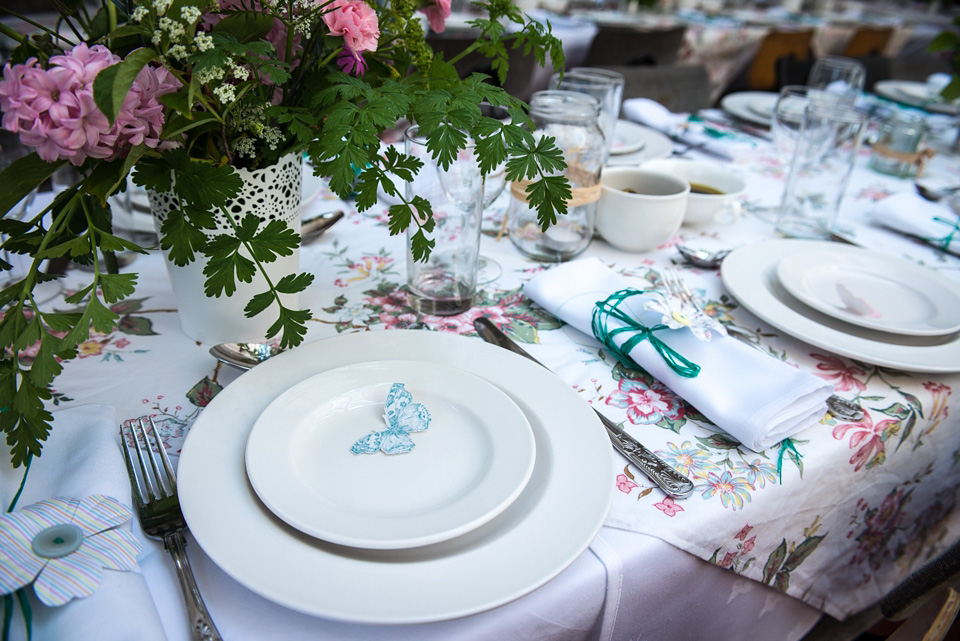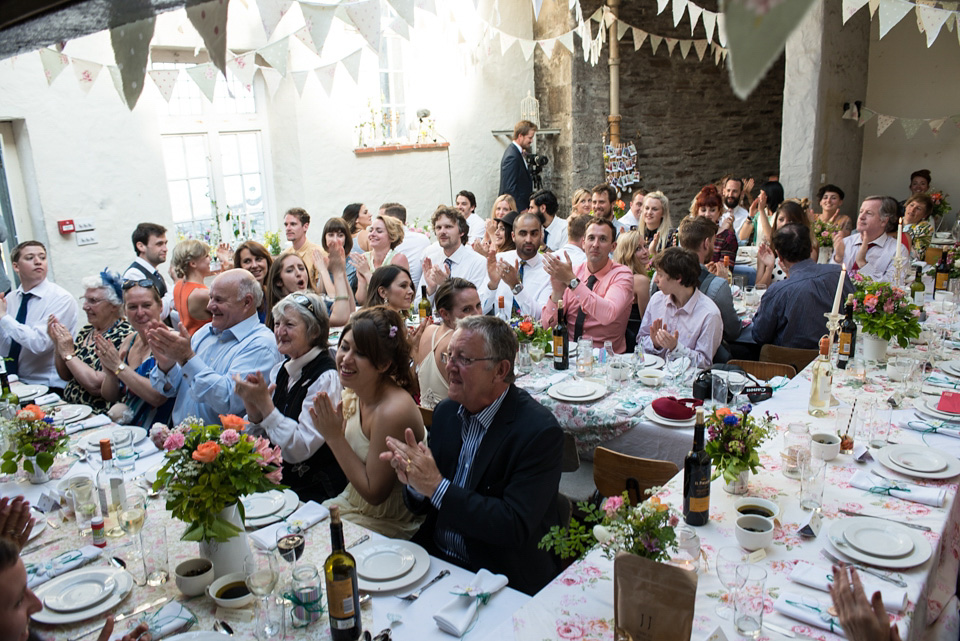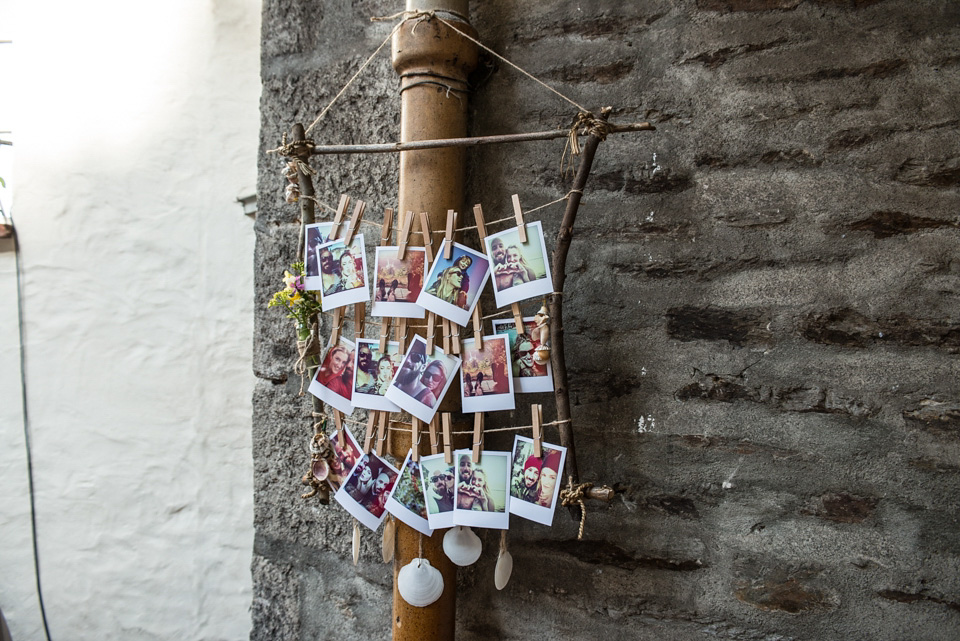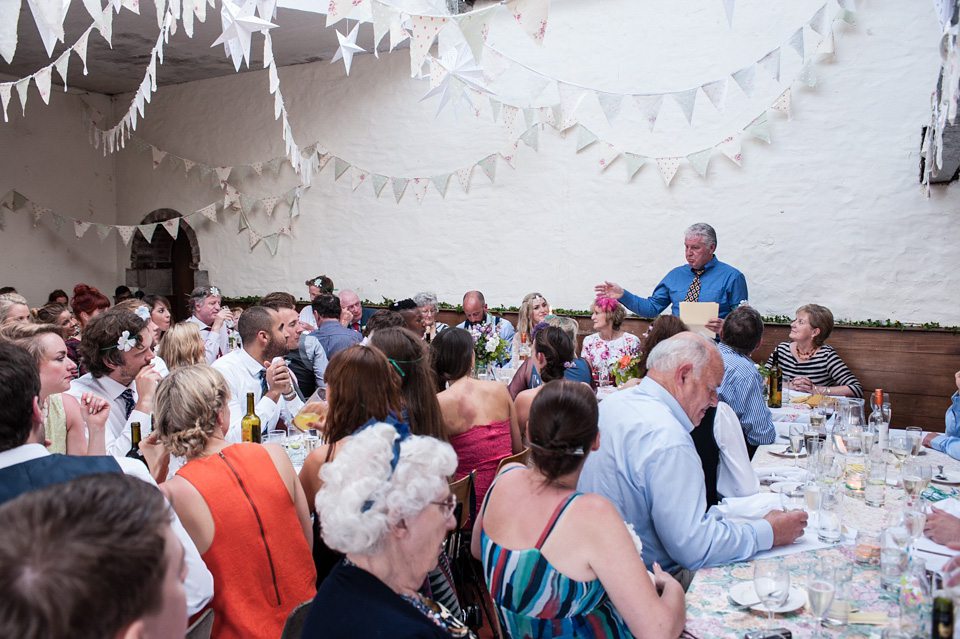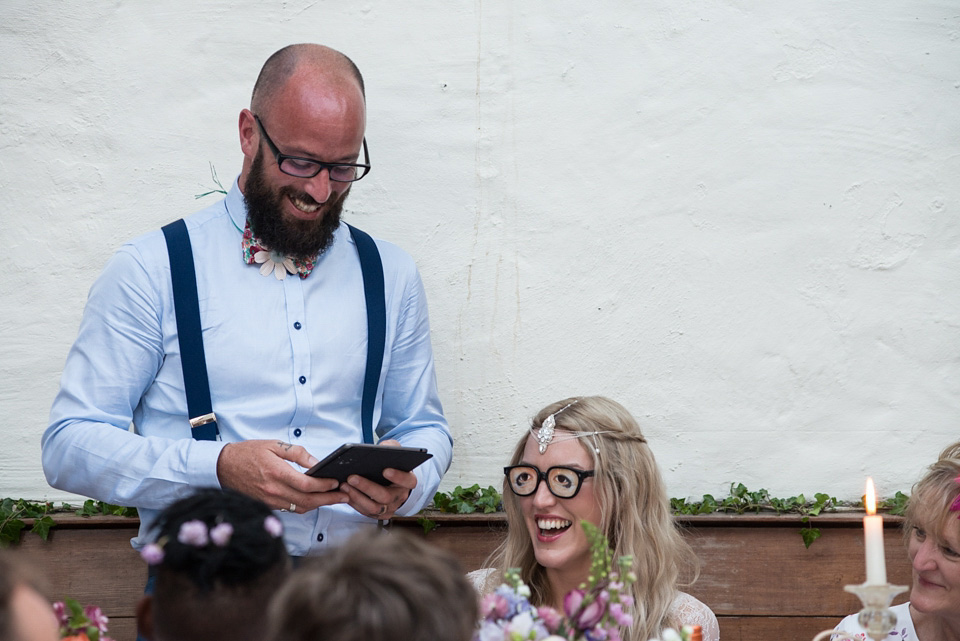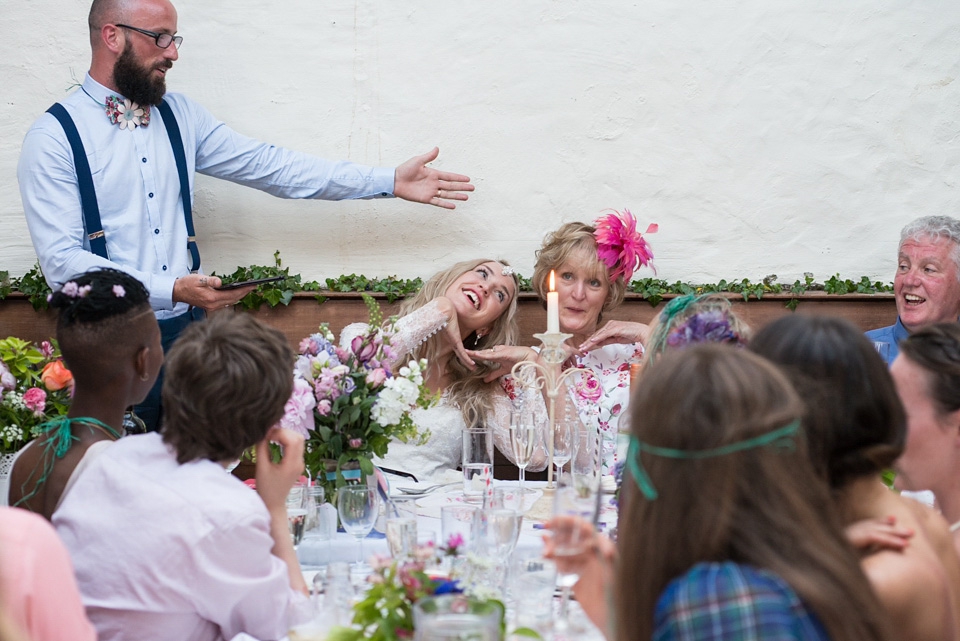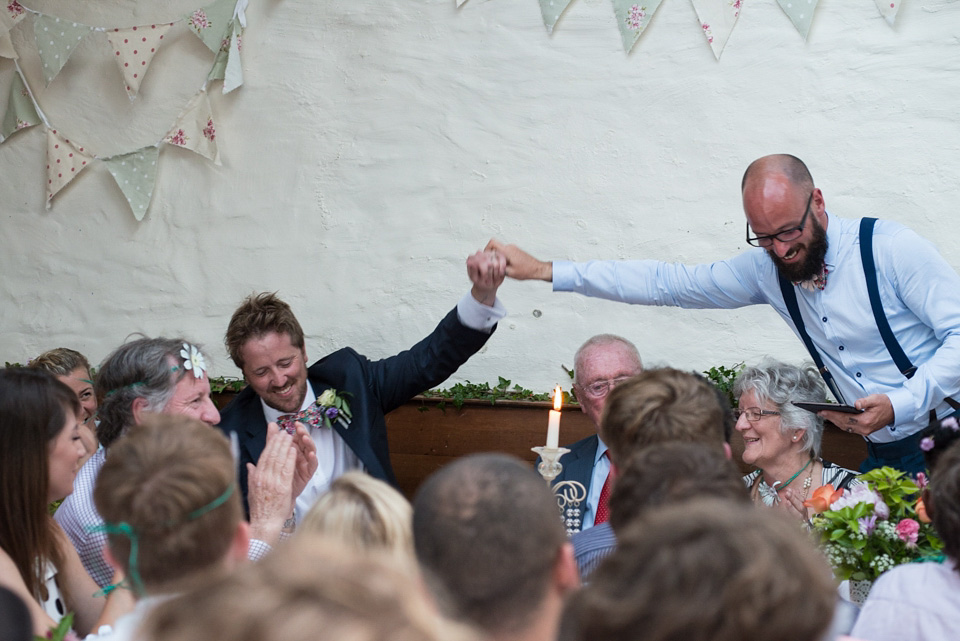 "Our first dance was to 'Spring Wind' by Greg Brown.  In the third verse I went to dance with my Dad and Joe with his Mum, and it felt very beautiful to have them involved."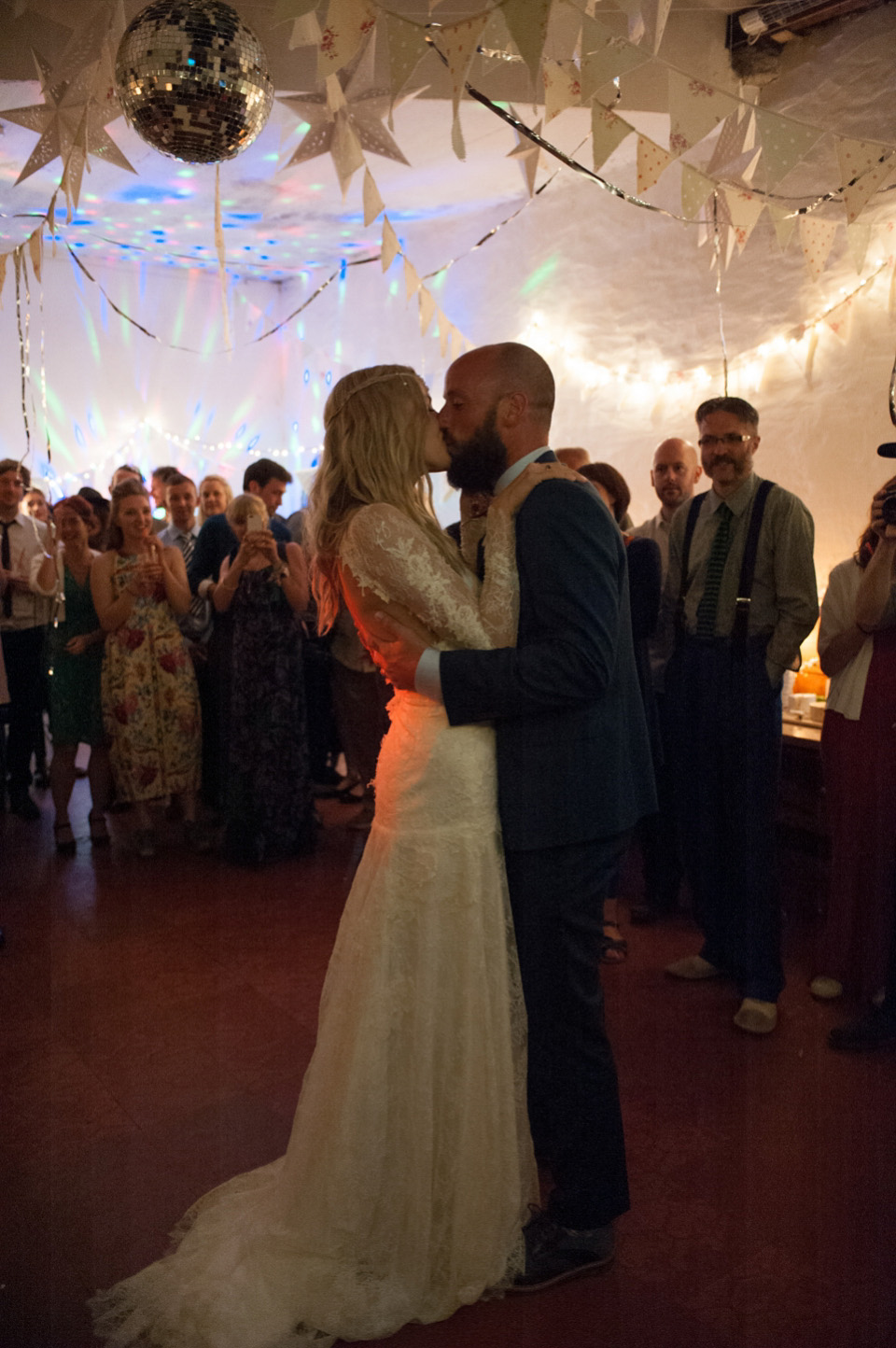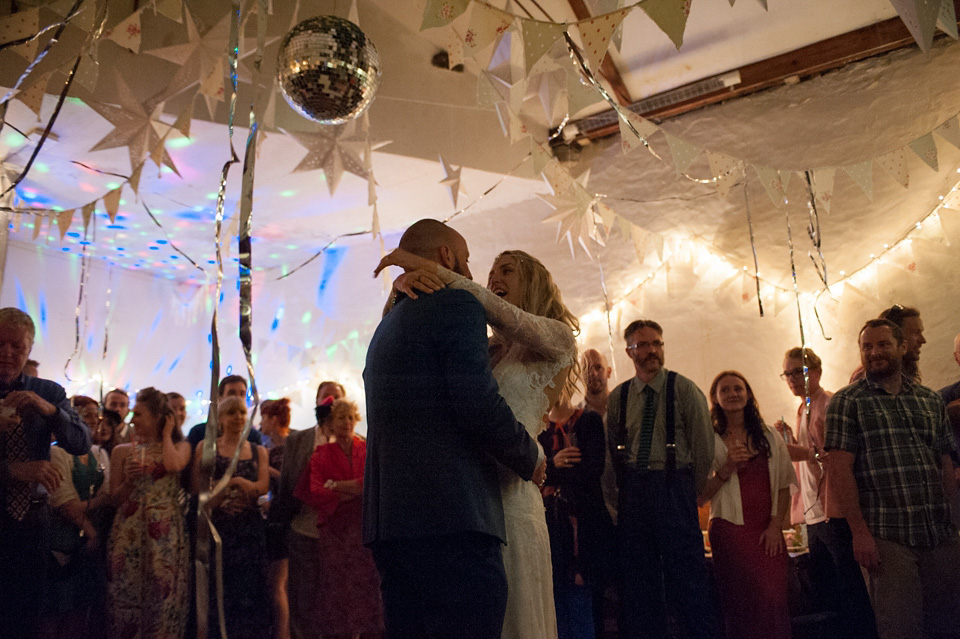 "Joe's favourite part of the day was seeing me appear at the end of the aisle. As for me, I loved it all – from looking through the window in the morning and watching everyone swimming in the sea as I was getting ready, to being the last ones dancing at 4am covered in cake and UV paint!"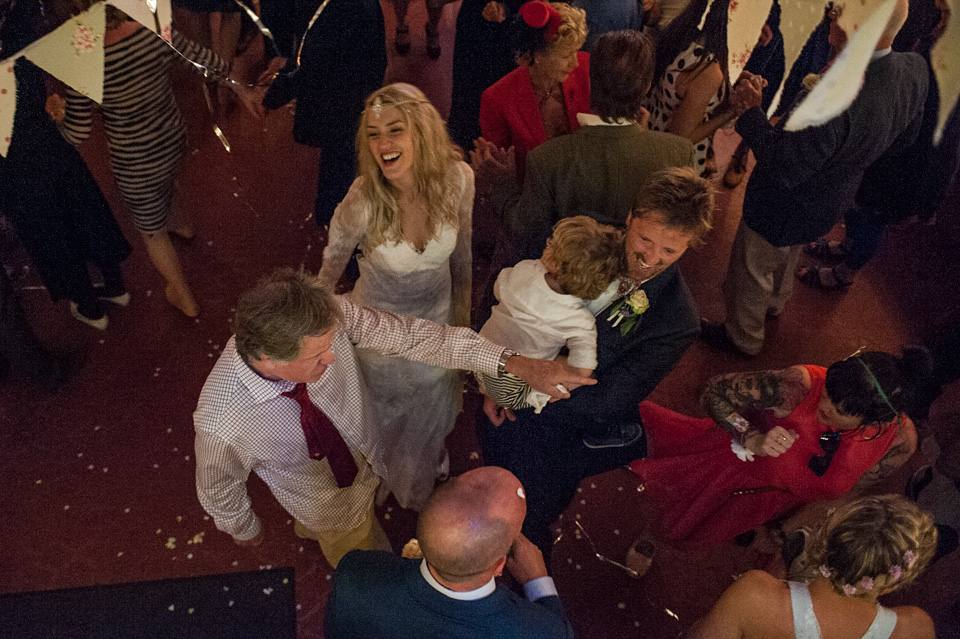 Words of Wedded Wisdom…
"We decided to 'get the legal bit out of the way' the day before, so we could tailor our humanist wedding ceremony exactly how we wanted it. However, we'd been so blasé about the registry part that I hadn't really prepared myself for how emotional reading those words would be – and completely broke down into a sobbing mess! So… if you plan to do the registry first…. Practice those vows too!
If you can, spread it the celebrations over a few days – or in our case – a week! Even just having a relaxed breakfast with everyone the day after the wedding was incredible, and gave everyone a chance to talk about the goings on the night before!"
What an absolutely beautiful day and an absolutely beautiful bride! Huge congratulations to you both Jessamin and Joe and may you have the most lovely of 6 month anniversaries together very soon 🙂
All our thanks too, to photographer Marc Le Galle
Love Annabel xx
Photographer – Marc Le Galle
Film Production – JJ Weddings
Celebrant – Kevin Metcalfe
Venue – Porth-en-alls, Prussia Cove in Cornwal
Dress – Wilden Bride
Bride's Hair Accessories – Gin Fizz by Kelly Spence
Bride's Shoes – Rachel by Rachel Simpson
Accessories – gold bangle by ring maker/jeweller Jonathan Swan
Grooms Suit – Ben Sherman + Clarks shoes + Zara shirt + Hunt and Holditch bow tie
Bridesmaids – Coast, Biba + Jarlo
Florist – Cathy Marjoram (no website)
Cake – The groom's Mum + The Cheese Shed
Entertainment – Nathan Ball (post-wedding garden music) + DJ Mike and Parker
Rings – Jonathan Swan
Catering – Peppercorn Kitchen
Stationery – Illustration by Jack Wells + print by Benedict Stenning
Hair and make-up Artist Jennifer at Cornwall Hair Stylist