Good Afternoon ladies and gents! You may have seen that Annabel is looking for new interns, as sad as I am that our time is coming to an end, I am excited to see who will come next. If you are thinking of applying, make sure you do!
On to today and once again I was blown away by these images by Rob Ward. Museum Curator Gina and Commercial Services Manager Jon tied the knot on the 21st of June, the longest day of 2014, in a stunningly beautiful rural barn. Their day has a fun, laid-back happy feel with garden games for guests and a tractor ride for the bride and groom, captured perfectly by Rob Ward.
"We opted for a rustic, country look for the décor as the barn and surroundings had such a presence it was a case of picking finishing touches and decorations which worked with the rural feel of the venue. We put candles in the alcoves and strings of fairy lights across the barn. We knew we wanted a wedding which felt classic but decided to do away with some of the more traditional elements like a cake and first dance for a much more relaxed and informal feel."
Photography Copyright (C) 2014, Rob Ward
"Jon lived in Norfolk in his teens so we decided to look for a venue in the area. Godwick is a deserted medieval village with the remains of a church and a large barn with nothing else for miles around. The location was so beautiful and unusual that we fell in love straight away and didn't bother looking at any other venues! The Summer Solstice, the longest day of the year, fell on a Saturday so we picked the 21st of June and hoped for a beautiful midsummer afternoon, which thankfully we got!
We got together in September 2008 but were friends for about four years before becoming a couple, having met through other mutual friends. We then got engaged in September 2012."
"I'm tall and always have trouble with off the peg wedding dress designs, so I knew quite early on that for once in my life I wanted a tailor-made dress which actually fit properly for my wedding day! I found Wilden Bride Bride through some enquiries and she seemed really friendly and adaptable. I particularly liked the way she used a lot of vintage-style lace – a lot of people on the day itself actually thought it was a genuine vintage dress.
I had thought about a forties style dress with sleeves but also liked the more ethereal folky dresses that were popular in the seventies. We ended up with a cross between the two designed to flatter my figure.
I had sent Charlotte lots of vague descriptions and only a few pictures of other dresses with elements of which I liked, so I was very impressed that she completely nailed something I hadn't articulated very well! Charlotte added lots of small finishing touches which I hadn't even thought about, such as extra beading, lace and buttons and it all felt perfectly 'right'. I couldn't have been happier with the dress."
"We wanted a photographer who was happy to snap away candidly and really capture the spirit of the day in a natural way. We really liked the feel of Rob's photographs and felt his style would be well suited to Godwick. We're really thrilled with how the photographs turned out.
Lots of things that we didn't even know were happening have been captured and we were reminded of things we'd forgotten in the whirlwind of the day!"
"Sharon at Flower 30 did a great job, we had flowers in the alcoves of the barn, in enamel milk jugs on the tables and some larger arrangements in milk churns. Everything looked stunning!"
"I had my hair cut shortly before the wedding and got a local hairdresser to blow dry it on the day, adding a crystal leaf headband. I did my own make up, treating myself to some new products. I opted for a classic vintage look with flicky eyeliner and red lips, which is often what I wear anyway."
"I walked down the aisle with my dad to 'Hole in the Wall' by Dave Swarbrick, a short instrumental folk piece which suited the feel of the day."
"I helped Jon to select the 'York' suit in blue as it had a retro feel which complimented my dress."
"Our friend Howard wrote and performed a brilliant original poem written especially for us. We also chose a short paragraph from 'Gift from the Sea' by Anne Morrow Lindbergh. We wanted readings which reflected the true nature of relationships and how they are all about compromise and mutual understanding throughout good and bad, rather than anything too clichéd or soppy."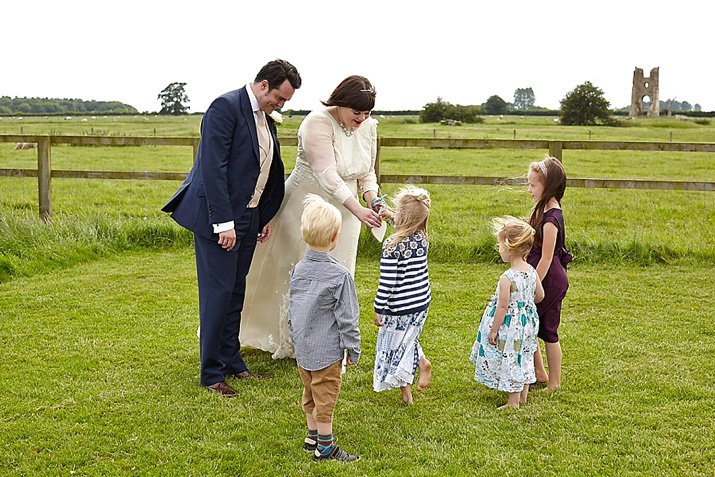 "I wished the day was longer because of course it flew by! Godwick provide a ride in a (decorated) tractor up to the ruined church opposite the barn, where we had some photos taken. Even though it was only for fifteen minutes or so it was nice to have a few moments away from the crowd. Above all though, it was just really nice to have all of our family and friends together in the same place."
Words of Wedded Wisdom…
"Remember that it's you and your partner's day and don't feel under pressure to bow to anyone else's expectations about what you should and shouldn't do. Try not to worry too much – even if there are any minor hitches on the day, someone will sort them out!
I'd also recommend getting a photographer who can capture all of the little moments in the day that can help you remember it in the years to come, rather than concentrating on too many posed group shots. And try to get as much sleep as you can (if you can!) in the run up to the day."
Gina's smile is infectious, I love when a bride and groom look so genuinely happy as they bound back down the aisle! I would love to hear if any of you are considering a bespoke gown, I just love the distinctiveness of Gina's lace dress and it suits her perfectly.
Love Caoimhe xx
Photographer – Rob Ward Photography
Venue – Godwick Great Barn
Dress – Bespoke by Charlotte + Shoes + Headband
Suit – Jack Bunneys, Barking
Florist – Flower 30
Catering – Adrian Clarke Catering
Rings – Fraser Hart
Stationery – Red Plate Press + Lucy Says I Do