Good morning you 🙂 I've been looking forward to sharing this particular wedding with you –  I adore sharing weddings where the bride is wearing a David Fielden gown.  Have you seen David's website?  Those dancers were from the show he directed to launch his latest collection earlier this year.  As a former professional dancer, I really adore the way this talented designer brings elements of his artistry in to his wedding dress collections – it fascinates me.  I know many talented dress designers but David Fielden is in a class all of his own.   I'll be sharing more about David's current wedding dress collection very soon,  but in the meantime, let's enjoy these photographs of one of his bride's looking every bit sublime and elegant in one of his designs.
Researcher Liz married Eoghan on 9th May at Trudder Lodge in Newcastle, Co. Wicklow, Dublin, Ireland…
"I love Art Deco style décor and styling but I knew neither myself or Eoghan had the diligence or time to 100% commit to a particular style. We knew what we didn't want on our wedding day, which helped us a lot in organising everything to be honest – so we kind of worked back from there. We knew we wanted something laid back and outside, in a private place, with great food, great music and fun – and so we took it from there."
Photography Copyright (c) 2014, The Lous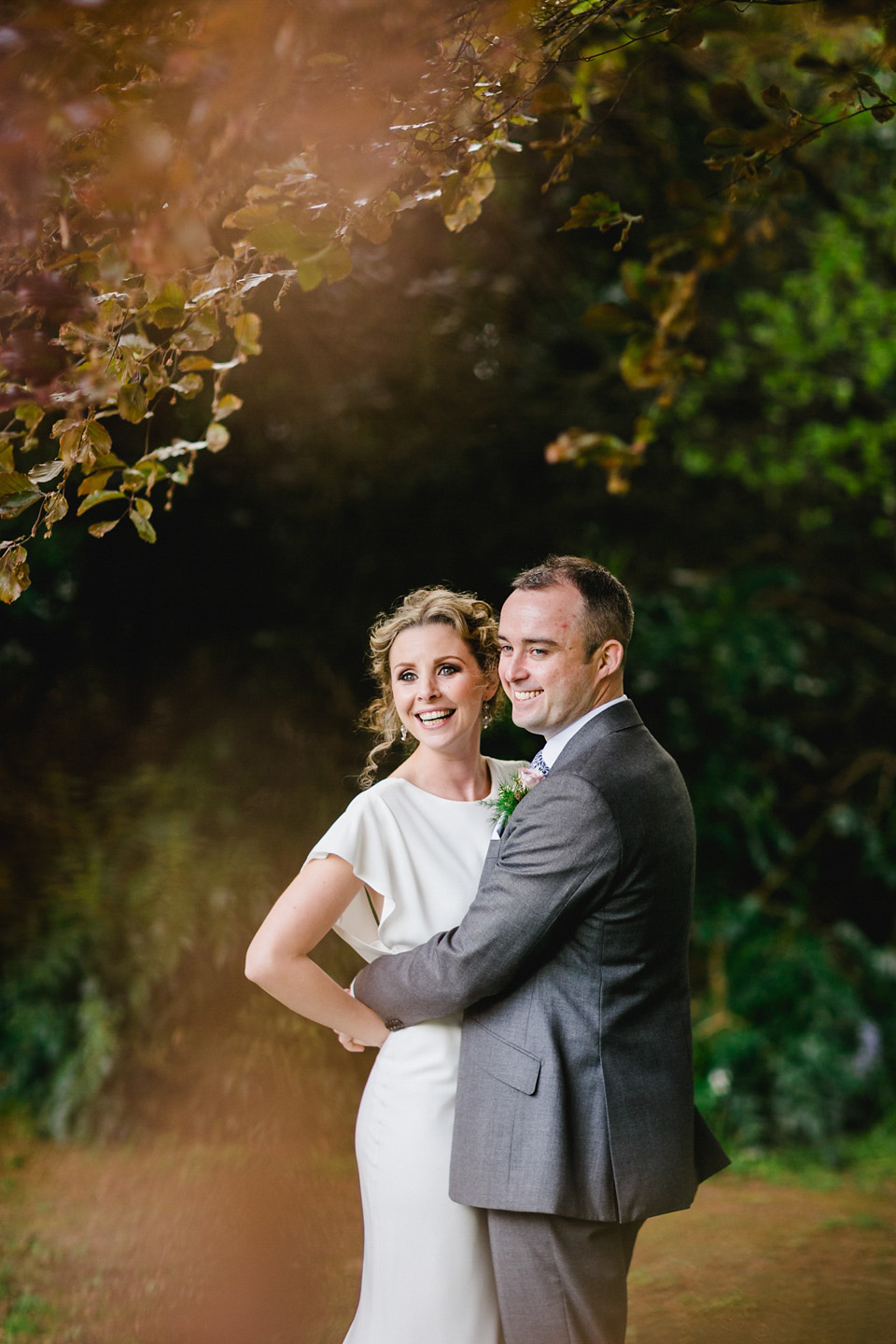 "My dress was by designer David Fielden and I bought it through a store in Dublin City Centre called Myrtle Ivory.  I loved quite a few dresses which I was very surprised about. I wanted something quite simple and easy to wear that suited my personality. I'm a bit of a tomboy so wanted something un-fussy I suppose.
I loved the material, how it fitted so nicely and the fact that the front was so plain but all the detail was in the back."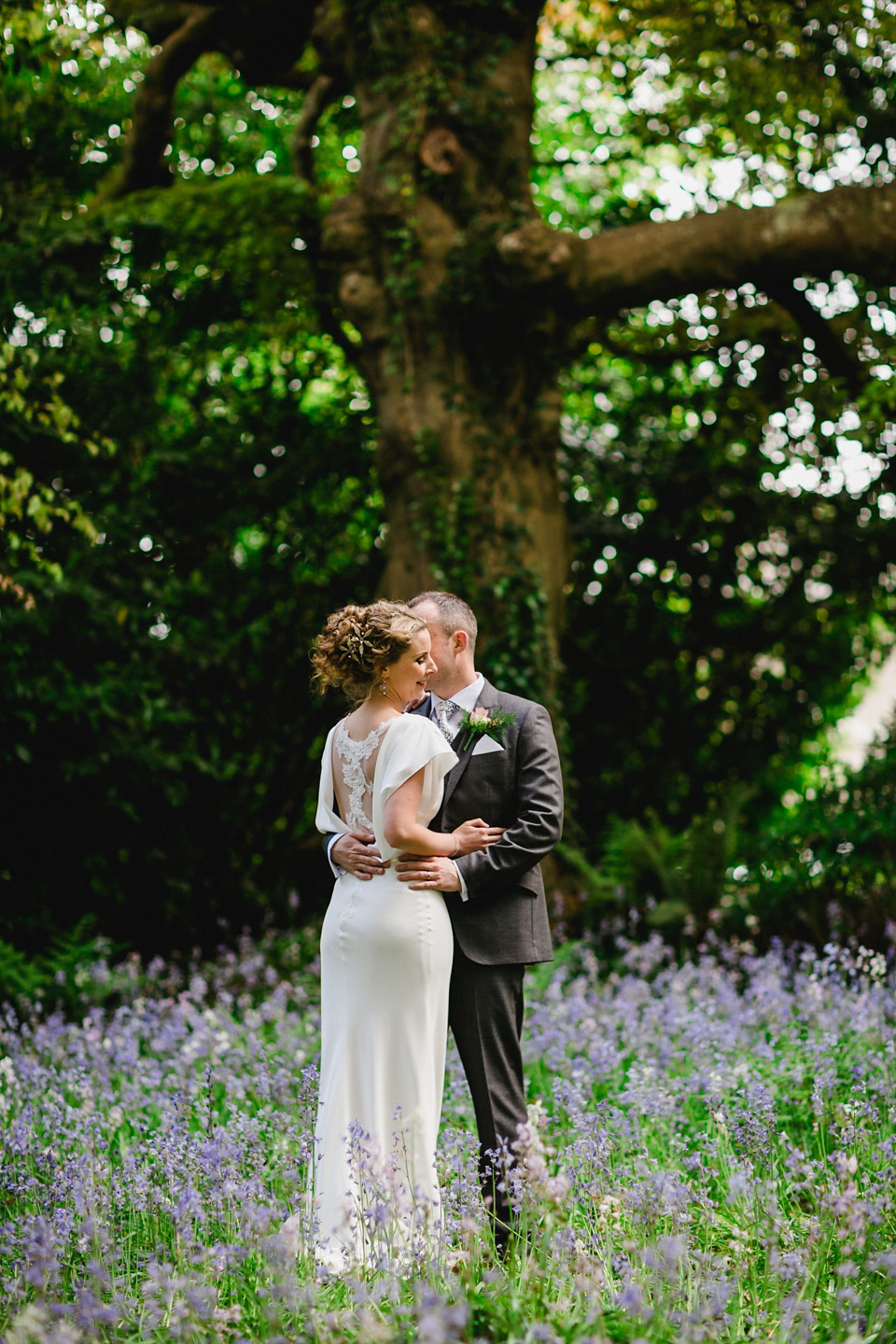 Eoghan's suit was from Louis Copeland – he teamed his threads with a Duchamp tie and pair of Paul Smith cufflinks.  His Groomsmen wore suits from River Island with Bagzetoile bow ties and braces sourced from Amazon.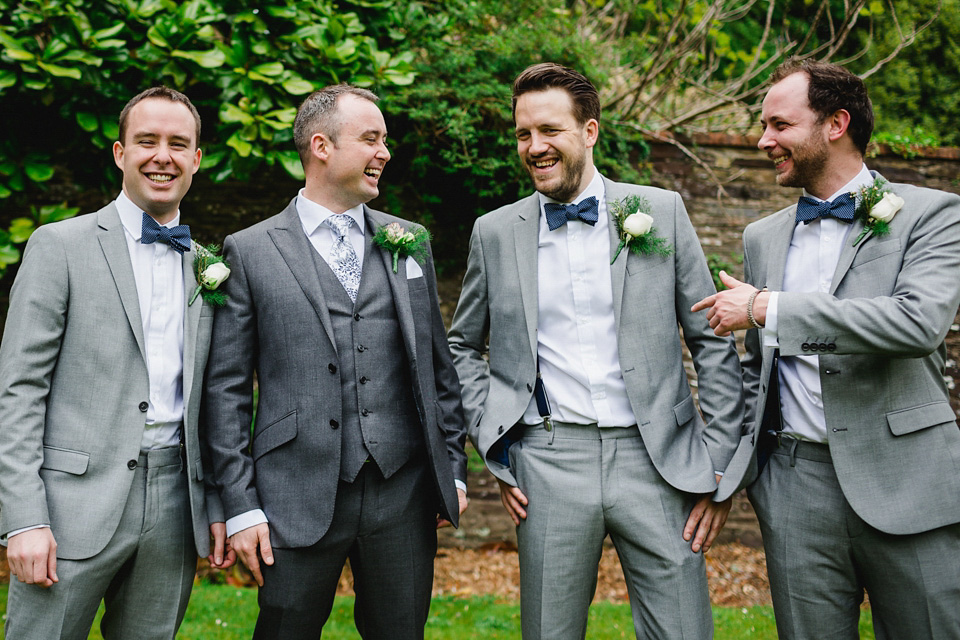 I love how this beautiful old window frame has been used to create a stylish table plan and focal point for the reception.
Thos stunning Art Deco inspired gowns worn by Liz's bridesmaids were from Virgos Lounge…
I think this has to be my #ShareTheHonestLove shot for this wedding…
"Our photographers were The Lous – we took some time over looking for a photographer and are so glad we did.  Obviously, everyone wants to capture the best of their day, but we wanted to limit the posed shots as much as we could. We wanted photographers who just told a story throughout the day and captured our friends and families in the moment. We could honestly not be happier with what the guys produced.
Louie made me feel really relaxed and just blended into the background for the whole day. They were friendly but professional from the start and really made us feel like they cared, which is what every couple wants I think for your wedding day.  The shots Louie got of later on in the night are just brilliant. We have had so many compliments from friends and queries asking as to who were our photographers on the day. We couldn't have asked for better."
"Our venue was Trudder Lodge – We had actually booked another venue which we really loved but Eoghan had a small niggling doubt in his head. He continued to look over the web and found Trudder's website. We had actually come across the name before but discounted it (I can't even remember why). Eoghan just liked the look and persuaded me to go down and see the place. We called down one Sunday and it was such a beautiful sunny spring day.
I don't often make decisions easily but within 5 minutes at Trudder we were convinced. When we walked into the walled garden we knew we wanted to get married there."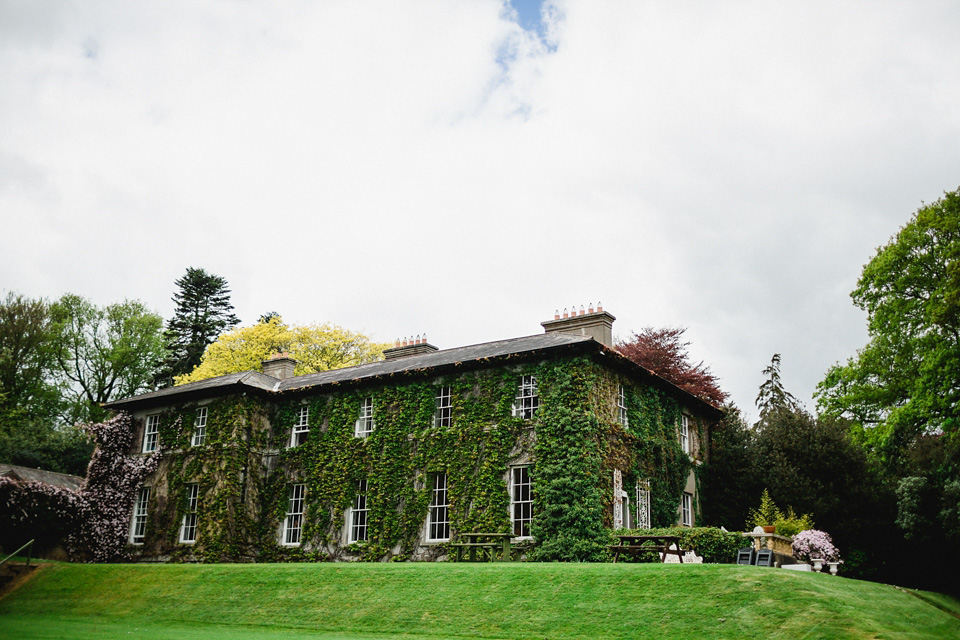 "We actually got married just shortly before our 14 year anniversary, so we have been together for quite a while. We met in school in our late teens and became great friends, but it was three or four years later before we got together as a couple. It happened on a night out, a few drinks later and we have been together even since!"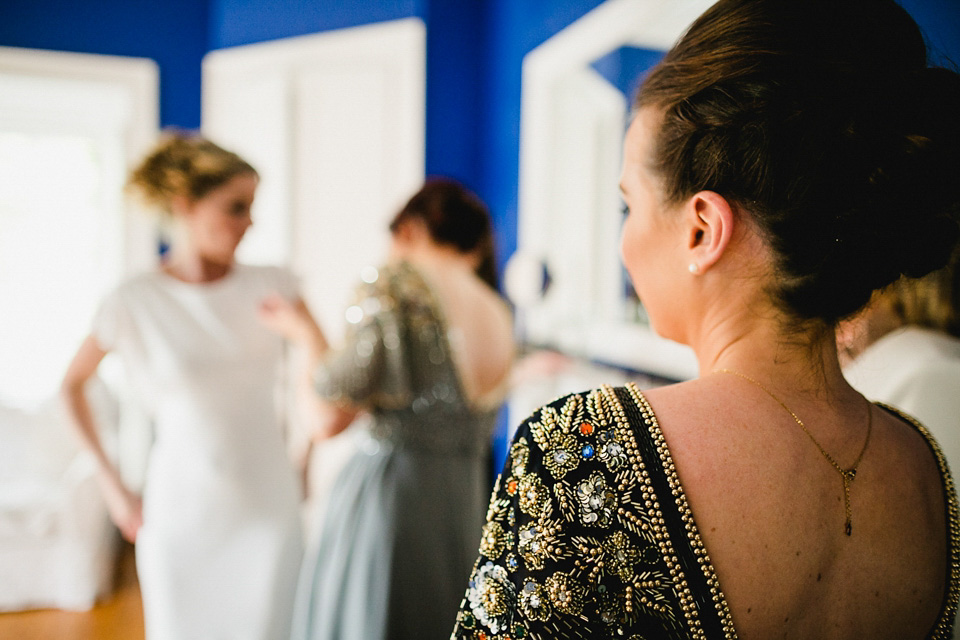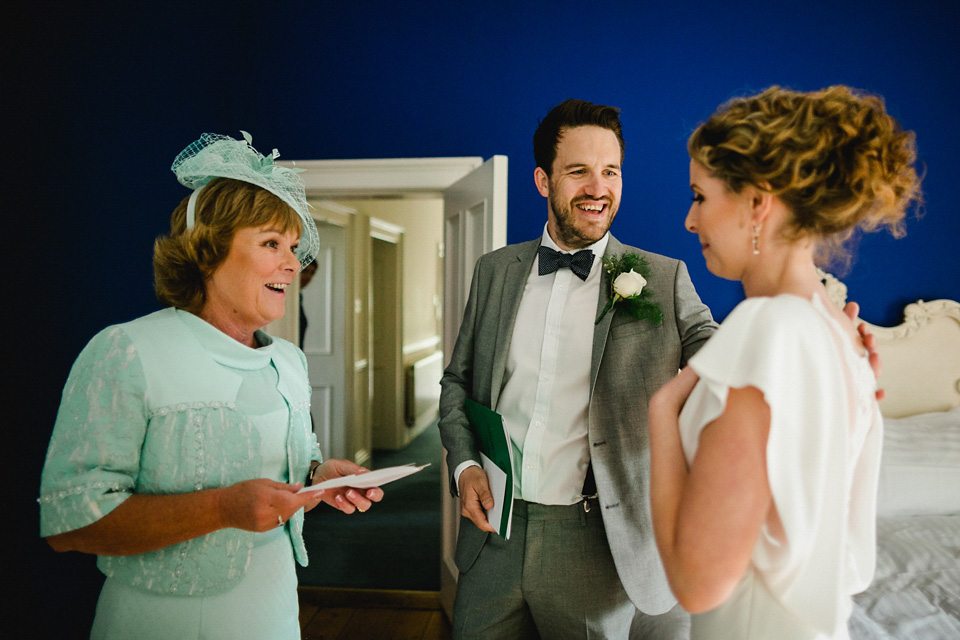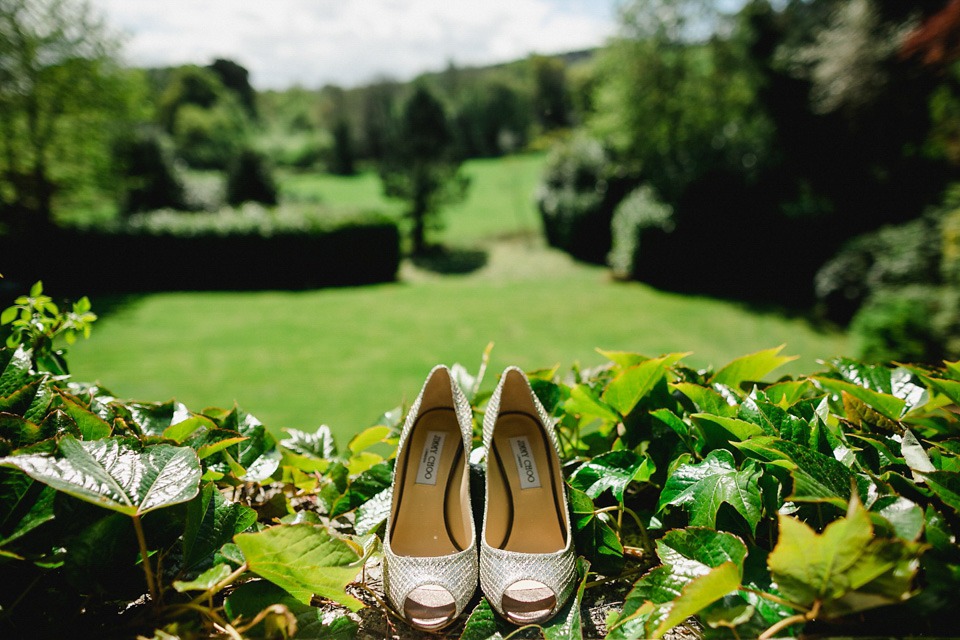 "Our bouquets and the guys pinholes were supplied by Crafty Fox of Dublin.  Our reception flowers were from Smithfield Flower Market, Dublin City. Myself and Eoghan went there at 7am the morning before our wedding. We just picked some wild looking and natural flowers and Eoghans Mum Trish made up the tables on the day.
The rest of the floral decorations, the ceremony arch and around Trudder were form Trudders own garden."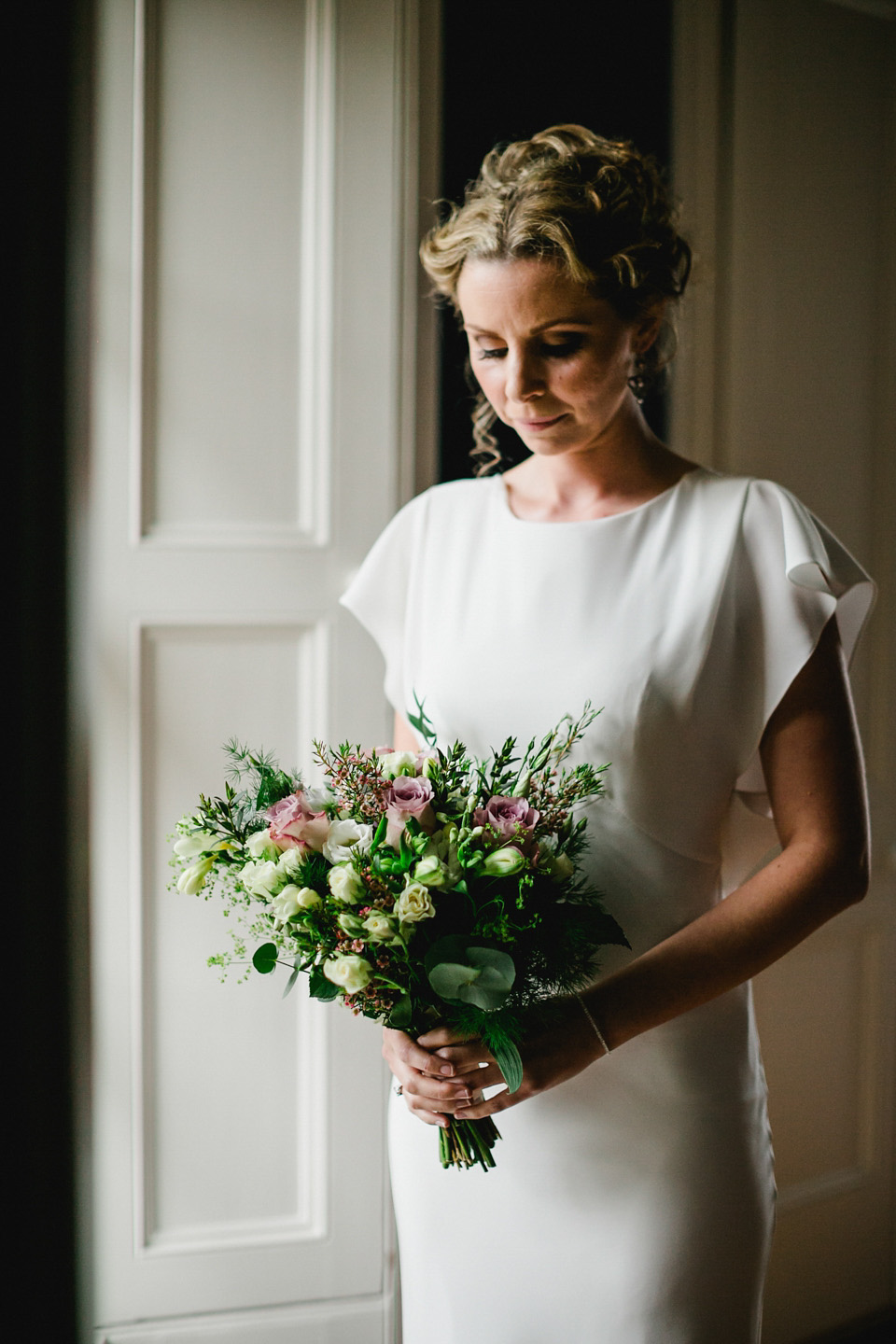 "Our engagement was quite funny actually. We had discussed getting married but both neither of us were sold on the idea and honestly didn't entertain it too much. We always thought perhaps one day we might take the plunge, but it was something we typically just pushed to the background in favour of other things in our lives, so when Eoghan proposed I was absolutely floored. I was never expecting it in a million years and just couldn't believe it!  
We had taken my mum away on a weekend with our little dog Elmo. We were in Inchadoney Lodge in Clonakilty in Cork, which is just on the beach and a really great spot. We arrived to the hotel and shortly before dinner,  Eoghan and I went for a walk on the beach to take Elmo for his evening business!"
"As we walked and picked up after our dog (as you do), we came upon a beached dolphin. I am an animal lover so ran over to chat to a couple who were also looking over the dolphin, who had unfortunately already met his fate. Eoghan became funnily impatient and insisted we keep walking. I started to complain about the cold and wanting to go back to the hotel. Eoghan suddenly said to me 'what's that on the ground?', and proceeded to pick up a ring box.  My first thought was oh god someone has lost their jewellery! He went on to open the box and when I saw the ring my thought then was someone was going to propose and has lost the ring. Honestly these were my initial thoughts. That's how shocked I was that it was for me. So he said some lovely things and popped the question.
I couldn't speak for what felt like and age but obviously said yes. Not the most romantic proposal in the world but it was private and very us and I love the memory of the beach, the poor dolphin, the cold and our little dog sitting there looking up at me!"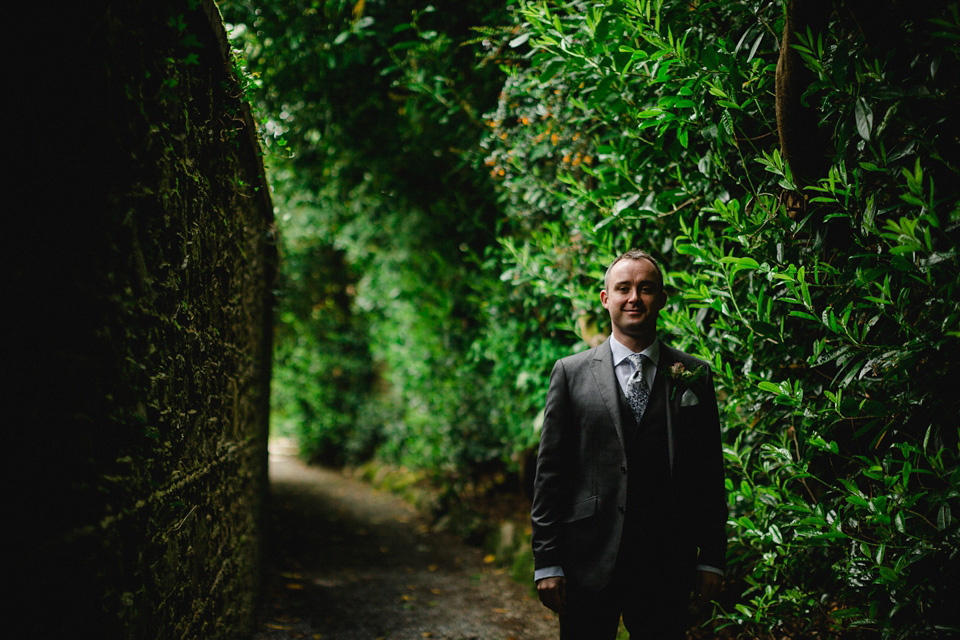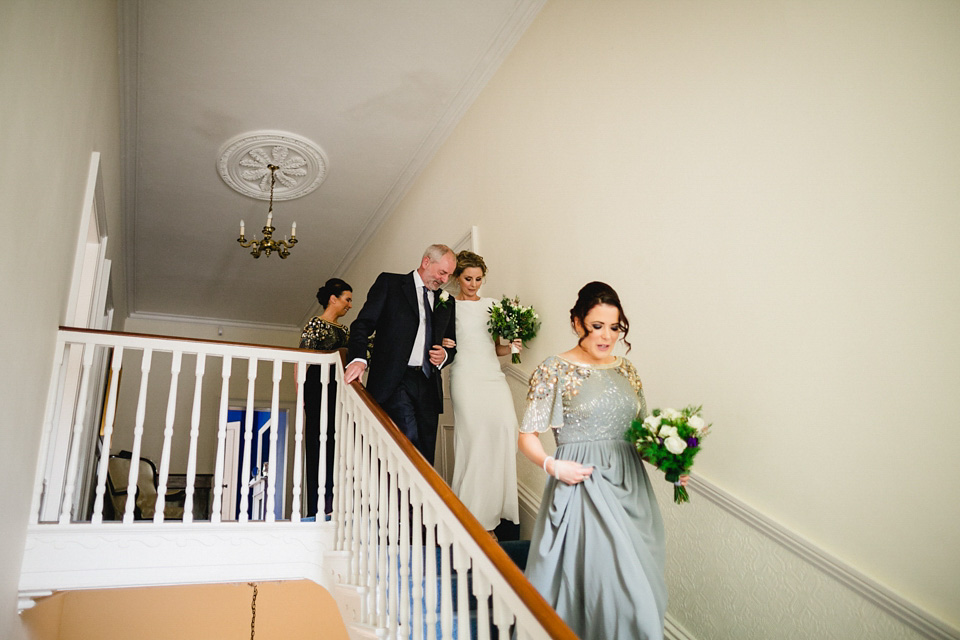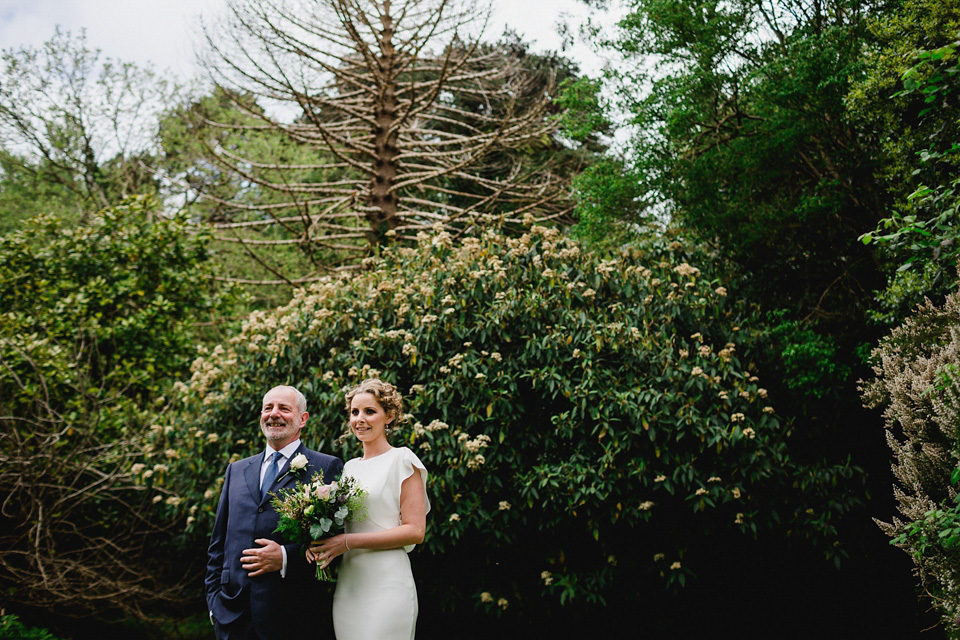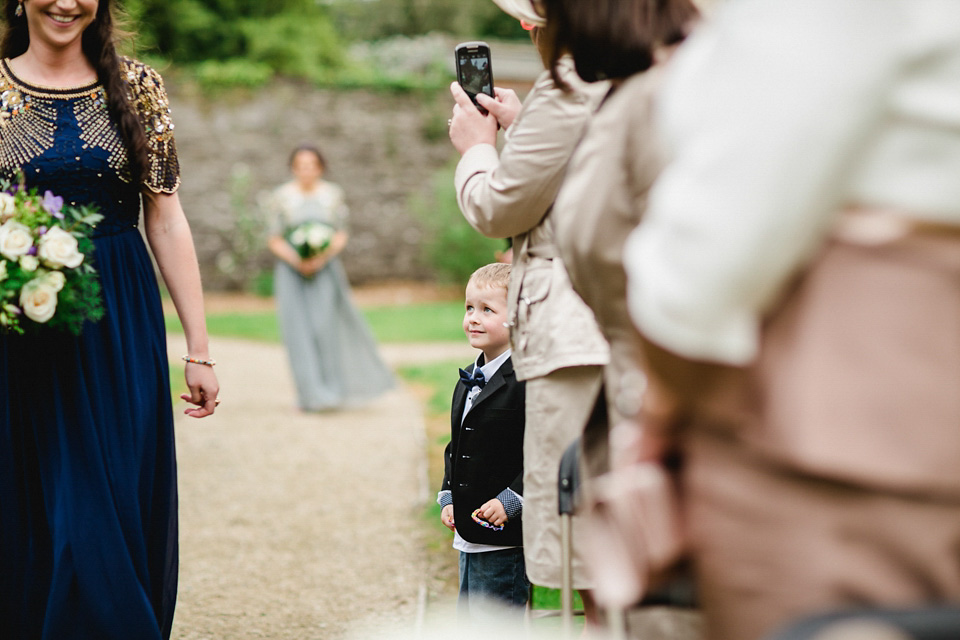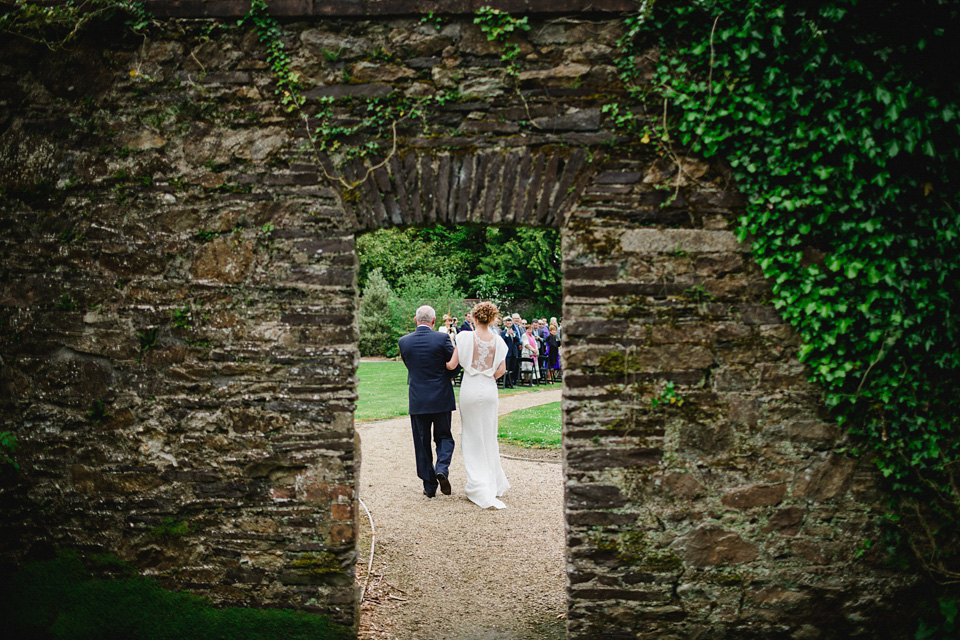 "My Dad walked me down the aisle to the song 'Into my Arms', by Nick Cave.
We kept our vows short and sweet – we both made a few promises and I vowed to not do something that drives Eoghan mad (give him traffic updates whilst in my car!).  We also had four readings – we both have one brother each of whom delivered one of the readings, as did both of our Mums."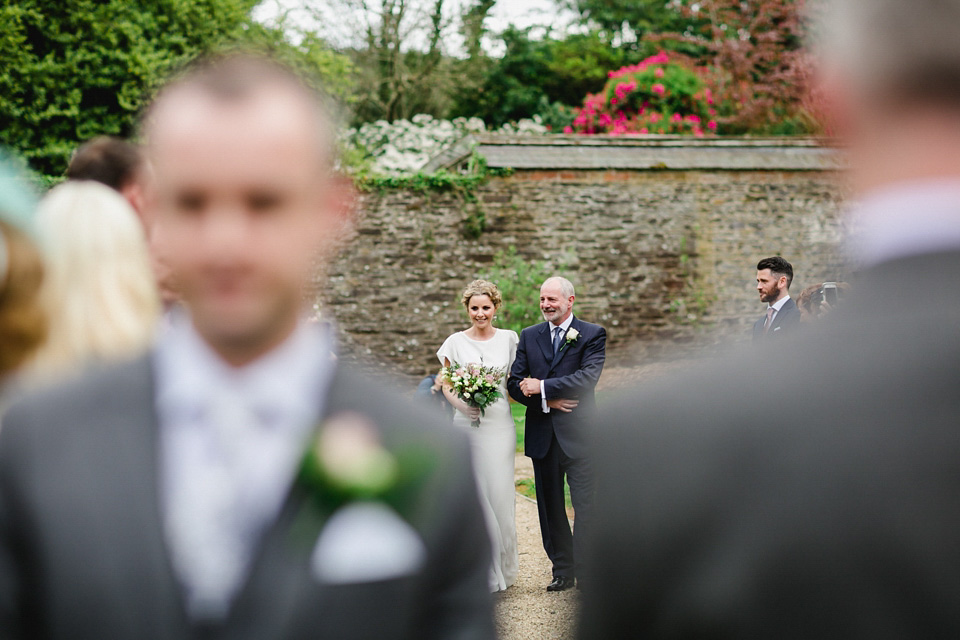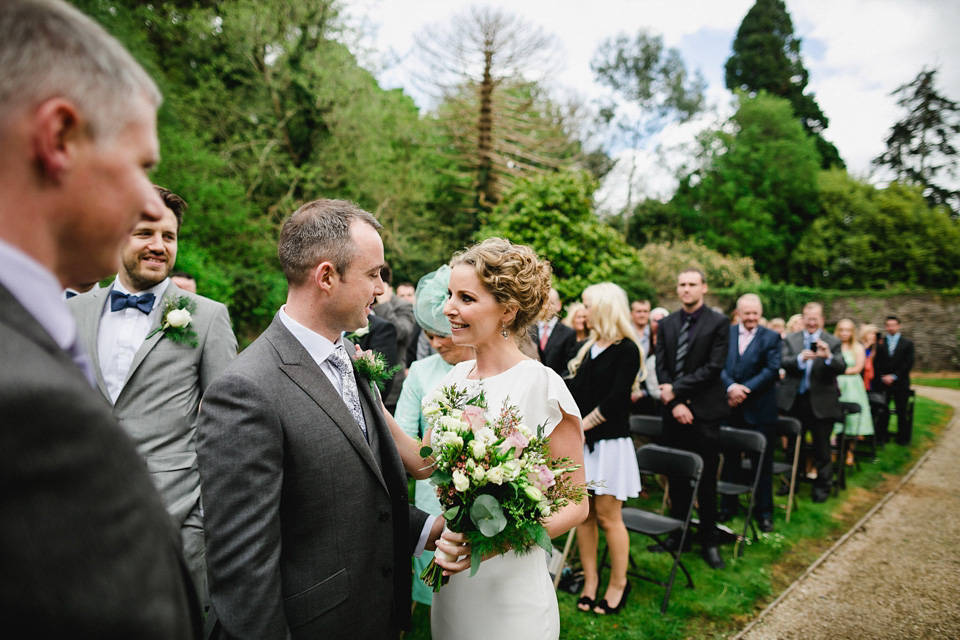 "The readings included 'Love Is The Greatest Gif't', by Sir Hugh Walpole, 'The Meaning', by Kellie Spehn, 'Sonnet 116′. by William Shakespeare and one of the readings delivered by my mum was very personal and written by an unknown author, about a daughter getting married."
"We got our rings from jewellery designer Pearl Perfect. Suzanne helped Eoghan with my engagement ring design and we had our wedding bands made with them too. Eoghan made the contact with her and he said she was the one person he spoke to at the start who was really helpful and listened to what he wanted."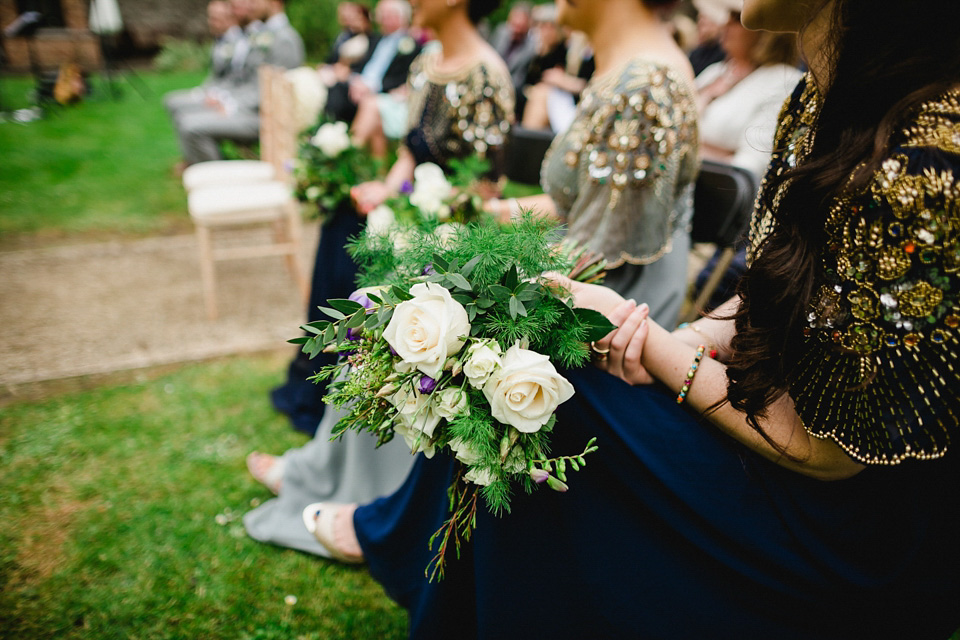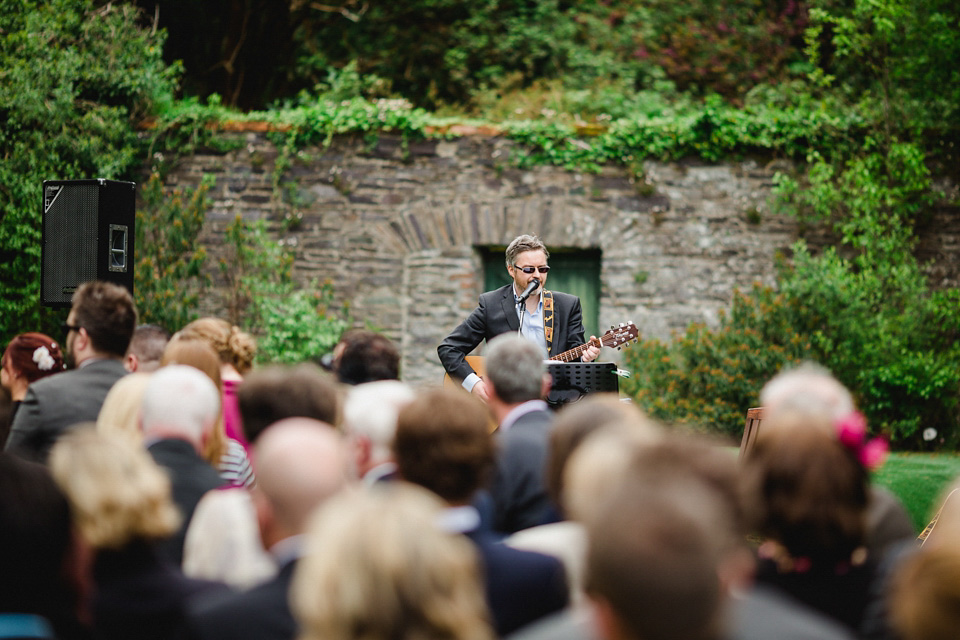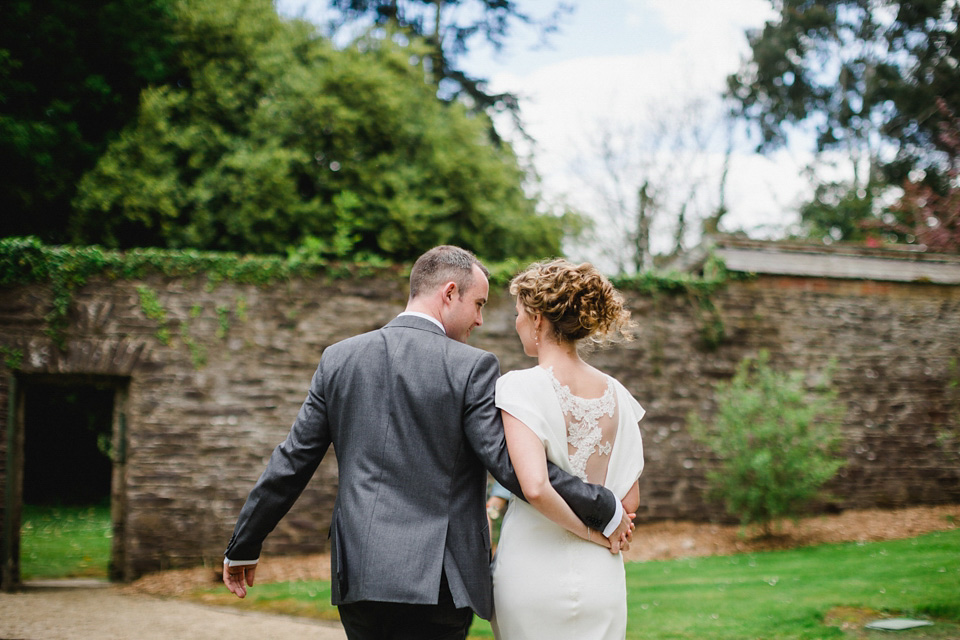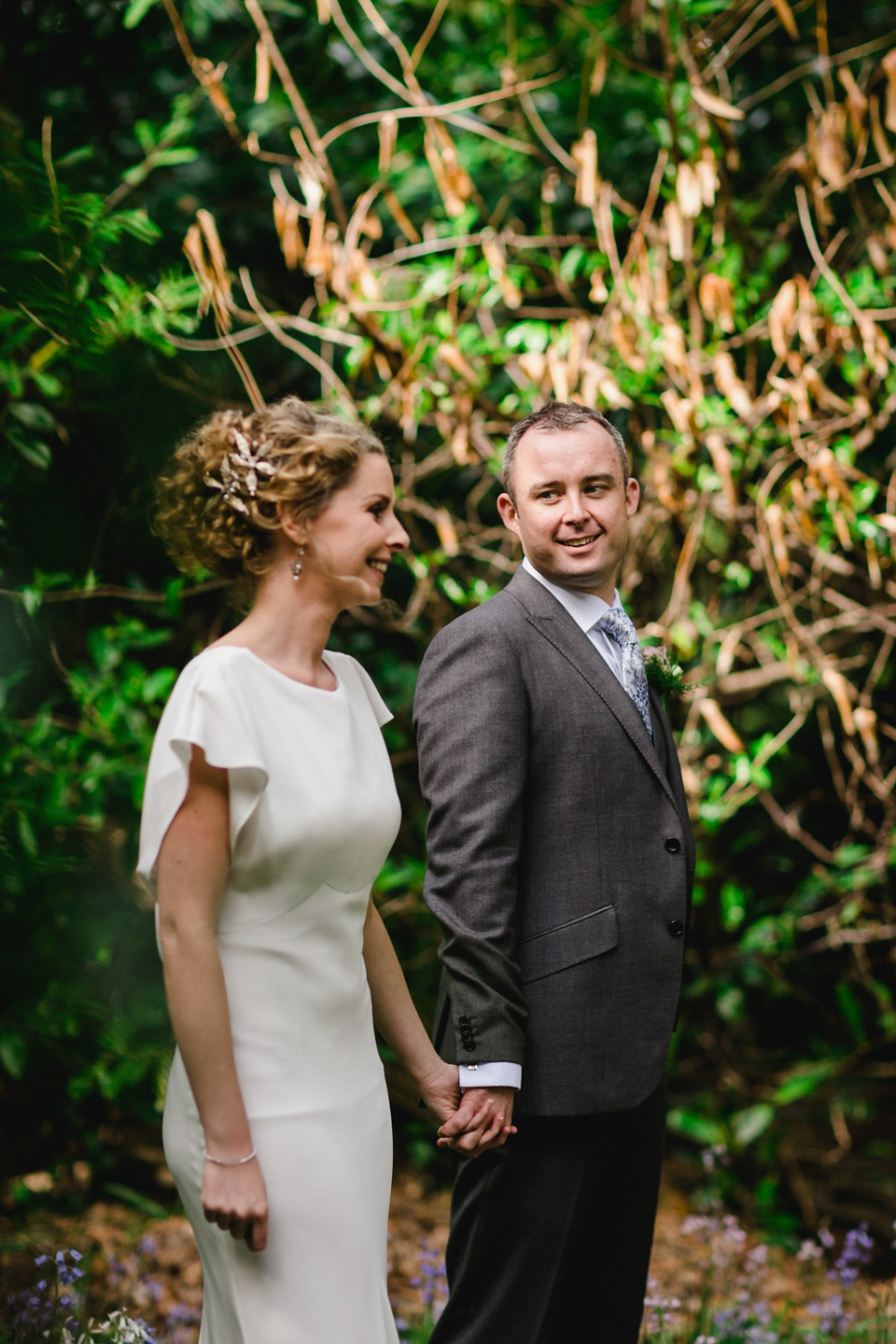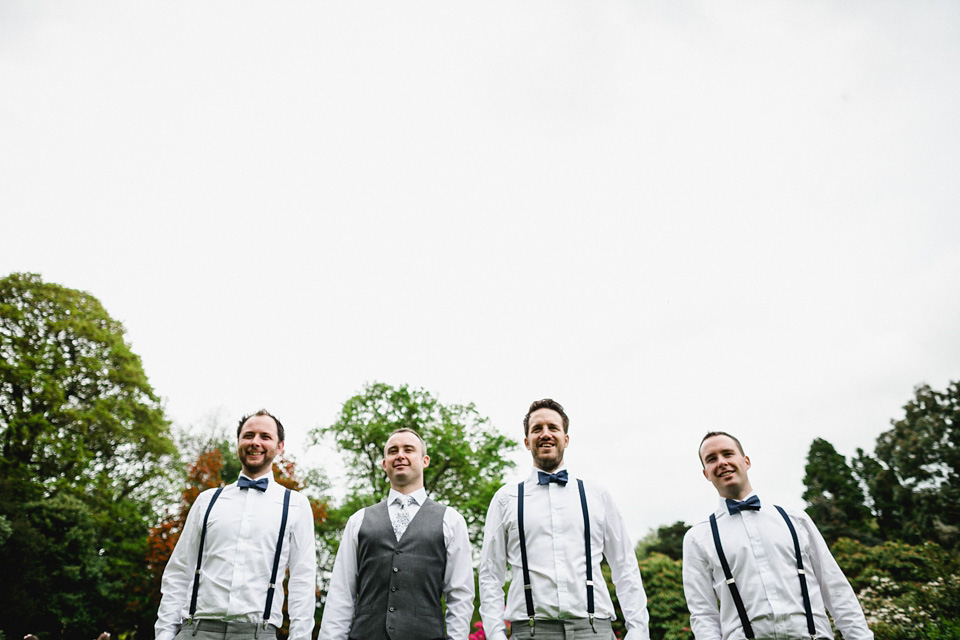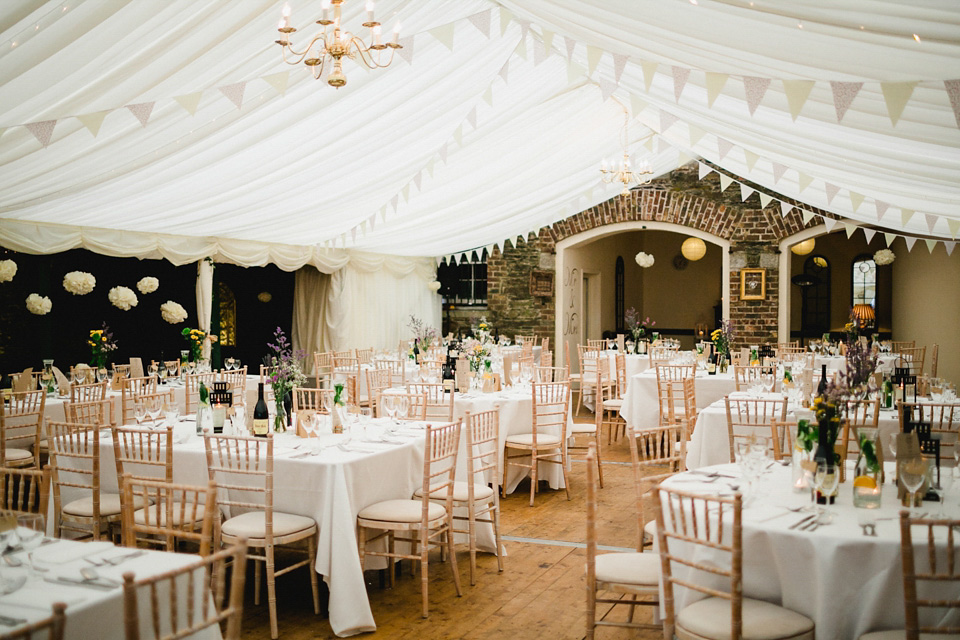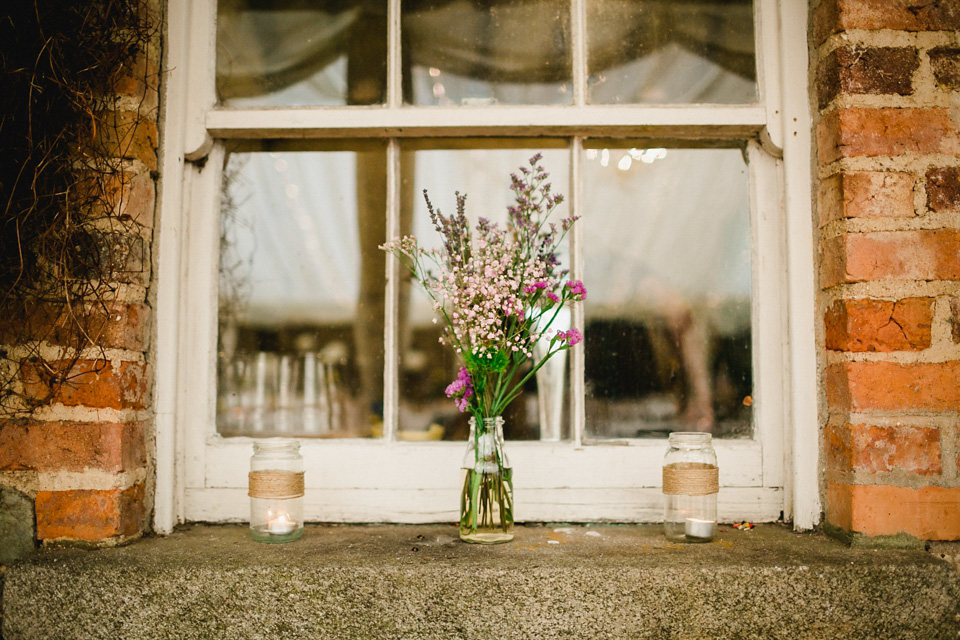 The couple's lovely wedding stationery was created by 'Weddings by Legato'.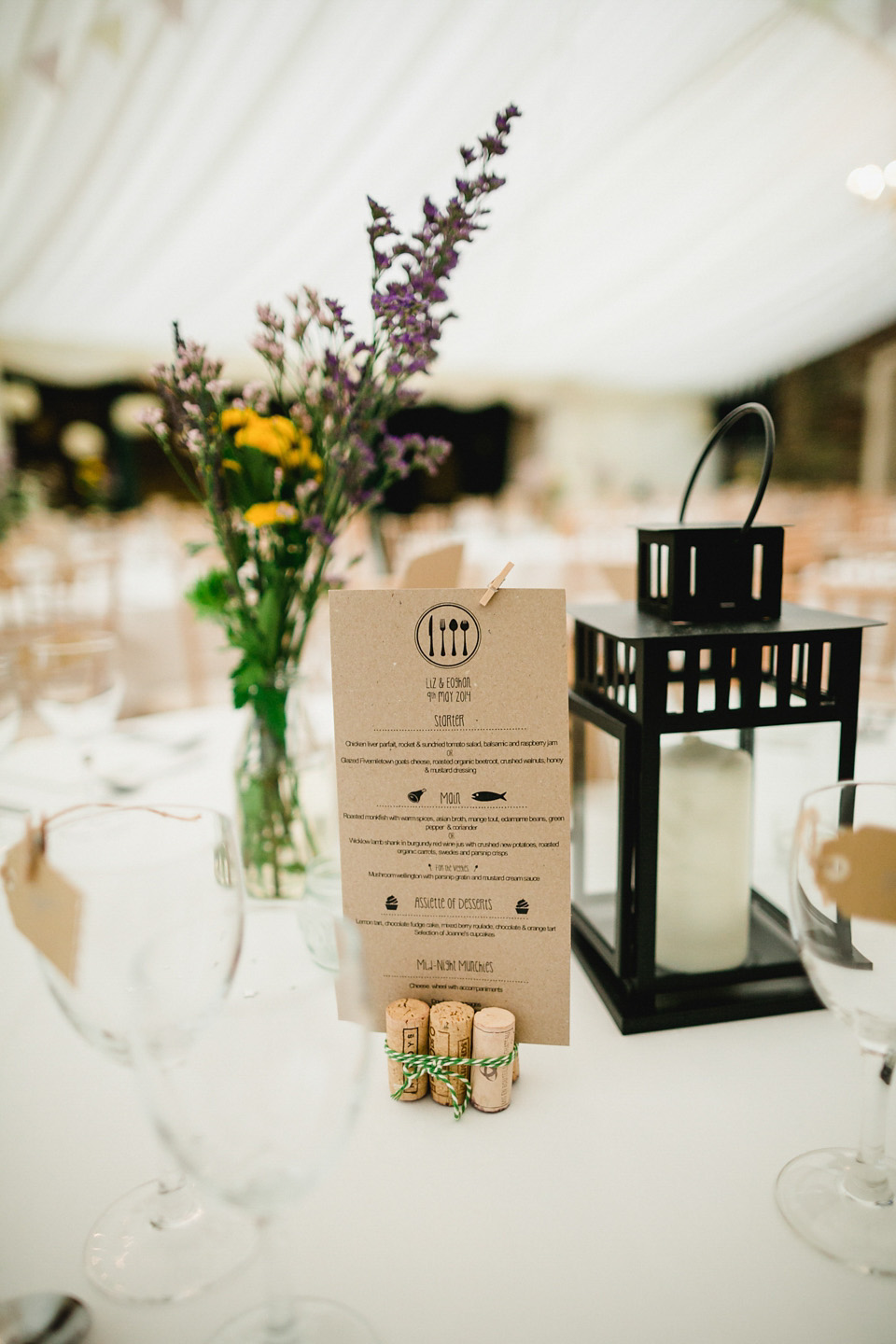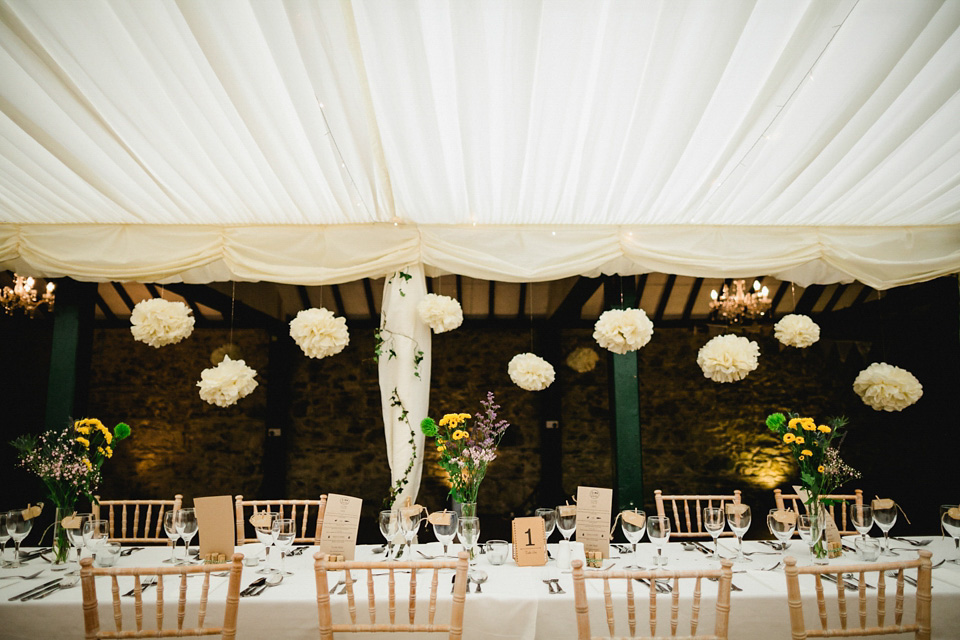 "We decided to not have a traditional wedding cake, but my brothers girlfriend Joanne Morgan dabbles in cake making as a hobby and made and made amazing cupcake display for us as a gift. She made 3 flavours, decorated with little personalised flags and even made a little icing Elmo. They were fab and a lovely surprise when we saw them on the day.
Andrew Holmes of The Hogfather provided our catering.  This was another decision we didn't make easily. Andrew produced the most fab food and again listened to what we wanted, was so friendly, professional and accommodating. He also produced our 'Cheese Cake' with chutneys and crackers!"
"We ordered quite a bit from various suppliers on Amazon and a great Irish website called The Favour Shop. They have lots of quirky party supplies and I'd highly recommend any couples go online and see what's on offer. Its cost effective and you can order exactly what you like and want.
'Weddings by Legato' made our invites.  The table menus were designed by my lovely friend Niamh and we had them printed ourselves on recycled brown card. The place cards were little brown tags that we wrote our guests names on in silver pen and pegged to their glasses."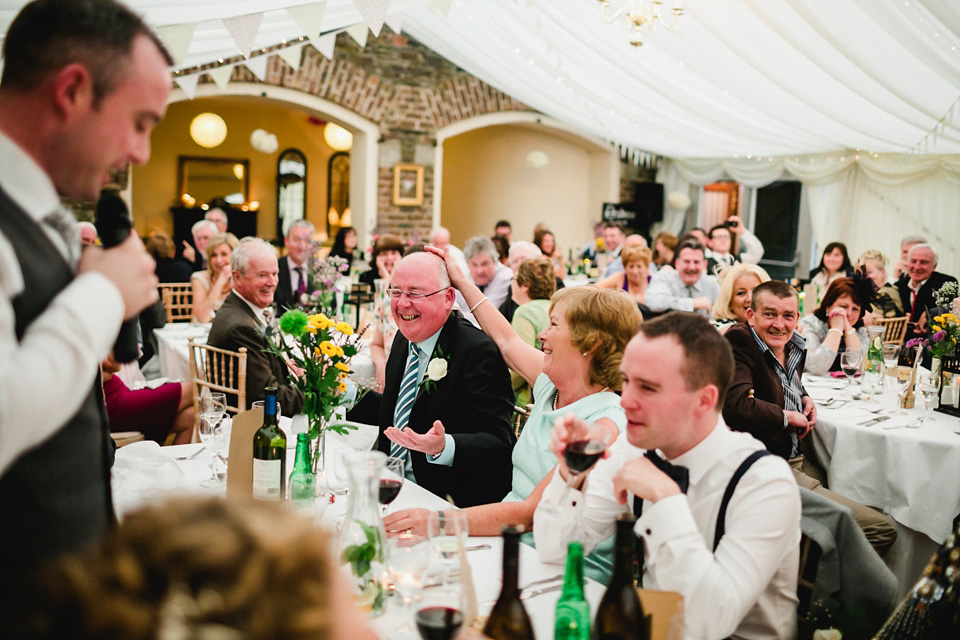 "Our first dance was to 'Come Back To What You Know', by 'Embrace'. We just had a verse and a chorus. It was a song that reminded us of when we first met and it felt really appropriate."
"The Mixtape were our live music and also produced a brilliant DJ Set."
"It's so hard to choose our favourite moments of the day, but I loved getting ready. It was so much fun and I felt really relaxed. I loved walking back up the aisle just after our service and sitting outside Trudder in the sun enjoying drinks with friends and family afterwards. But I think most of all for both myself and Eoghan the evening with all the dancing was our highlight. Everyone was very relaxed and had mingled together.
There was also lots of fun, chatting and most of all dancing. Our dance floor was full the entire night and there was so much positive energy in the room, it was such an amazing feeling."
Words of Wedded Wisdom…
"I'm sure other people have said it before and some friends said it to us. I think the most important thing is to be yourselves and reflect that in your day. These are the weddings I myself enjoy going to the most myself. It doesn't matter how you decide to arrange your day or what type of wedding you decide to have, I think it needs to feel like both of your personalities come through and that the spirit of the day and the vibe fits with how you are together. Make small efforts to do that and I think it pays off. Relax, have fun yourselves, soak up the positivity and your guests will feel that too.
The role of our bridesmaids and groomsmen I think was far bigger than we both thought. It was very emotional to share the run up and the day with them and something really special I think we will both remember for a long time. The 6 we had are really special people in our lives and it was lovely to have them so close on the day. They really helped to make it what it was for uLove
In hindsight there are always small things here and there but nothing that stands out. We took a risk on an outdoor ceremony and it paid off. We were lucky!"
What an absolutely beautiful, natural, relaxed day with the most elegant of dresses – it's such a pleasure to be able to share this wedding with you today.
I'd love to hear from other readers who have chosen or are considering wearing a  David Fielden gown.
Thank you so much Liz and Eoghan for sharing your lovely wedding day, and as always, thanks to The Lous for sharing their beautiful wedding photography.
Have a lovely morning all,
Love Annabel xx
Photographer – The Lous
Venue – Trudder Lodge in, Dublin, Ireland
Wedding Dress – David Fielden via Myrtle Ivory boutique
Brides Shoes – Jimmy Choo
Accessories – Stacey Hannon hair accessories + Earrings via Rhinestones + small ilver bracelet via Coc
Grooms Suit – Louis Copeland + Duchamp tie + Paul Smith cufflinks
Groomsmen's suits – River Island + Bagzetoile bow ties + braces via Amazon
Bridesmaids Dresses – Virgos Lounge
Florist – Crafty Fox
Entertainment – The Mixtape + ceremony/reception music by Dave McGuinness
Rings – Pearl Perfect
Catering – The Hogfather
Stationery – Weddings by Legato
Hair – Lorraine Brown
Makeup Artist – Dawn McGann