Good afternoon everyone, who's up for a late afternoon wedding full of a whole host of Love My Dress® favourites? A divine Jenny Peckham gown, vintage styling, gorgeous smiles and lashings and lashings of pink and peach prettiness, all caught in some beautiful photography by Thomas Beecham.
Primary school teacher, Amy married her PE teaching fiancé Mike on 19 April 2014 in the picturesque setting of the Lake District. They fully embraced the Spring wedding celebrations, opting for a full weekend spent at Silverholme Manor House with family and friends.
"We both love the style of clothes from The Great Gatsby, 1920s and 30s era and the glamorous extravagance described in the book. We also love deserts and have a real sweet tooth so the idea of afternoon tea at the Ritz inspired our style of menu and reception celebrations."
Photography Copyright (c) 2014, Thomas Beecham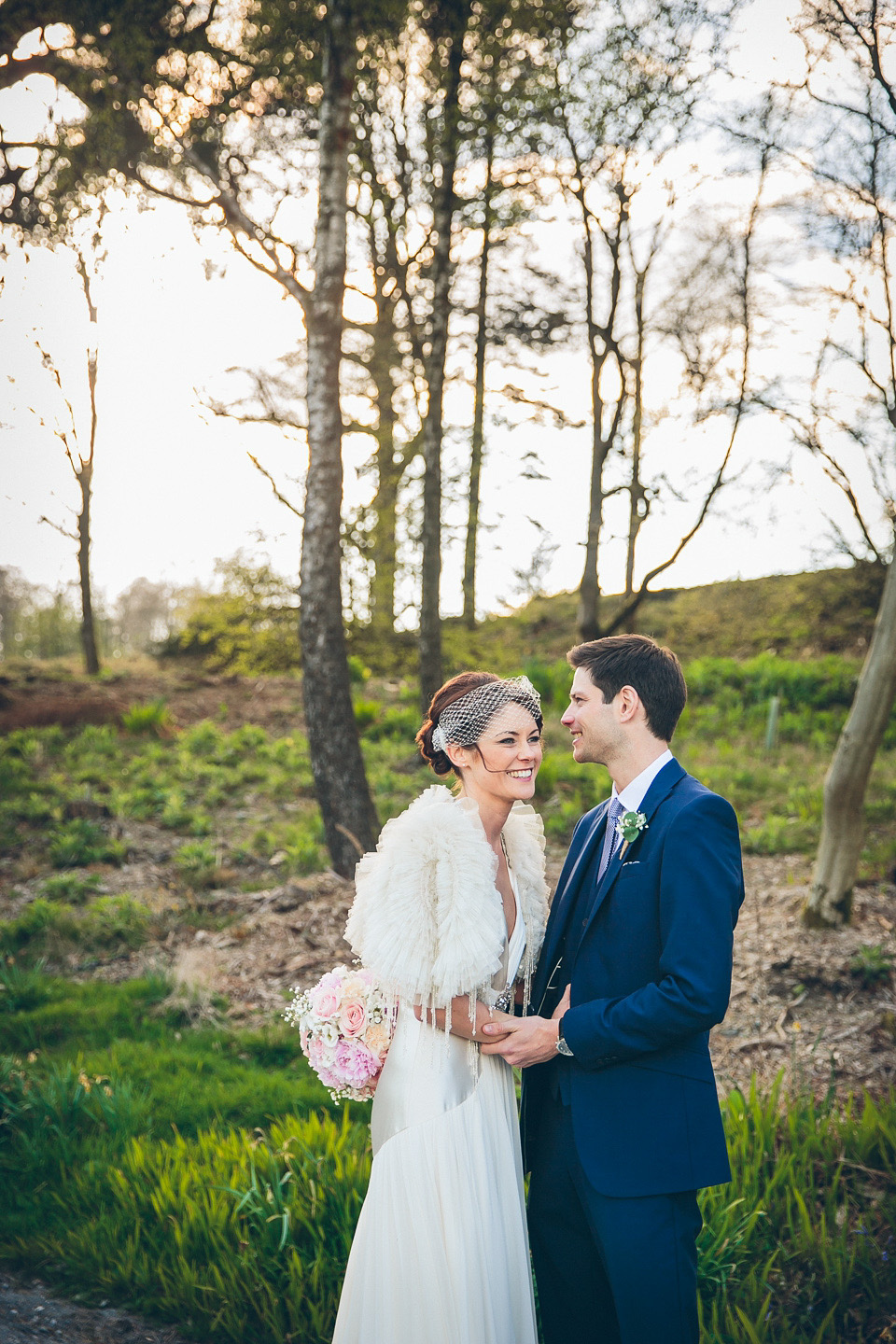 "We live in Cumbria; Mike is from the area but I'm from Sunderland. My dad joked that if we were to marry in the Lake District then he wanted to see either a mountain or a lake – Silverholme covered both these criteria! We chose the reception venue once we'd decided that we wanted a small, intimate wedding where our family and friends could stay and celebrate the wedding for a full 'wedding weekend'.
We opted for St Paul's Church in Rusland as it is a very simple and small country church in a beautiful location and is only a short drive from the reception venue."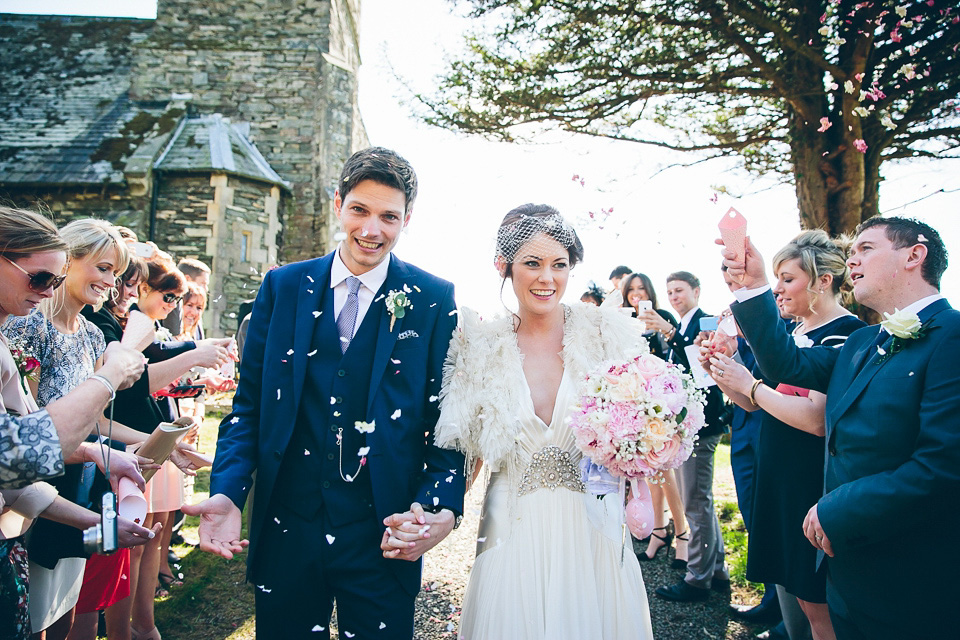 Amy chose the gorgeous 'Ruby' gown by Jenny Packham purchased from Mia Bridal in Carlisle.
"I love the styling of Jenny Packham's wedding dresses. I love that they are not your typical wedding dress and feel more like an evening gown / red carpet dress. 'Ruby' made me feel a million dollars. I loved the 1920s style drop waist and embellishments and the mixture of a silk satin top with a silk chiffon skirt. The top of the dress was very fitted and figure hugging while the skirt was so floaty and moved beautifully as I walked or danced. It was just a dream to wear!"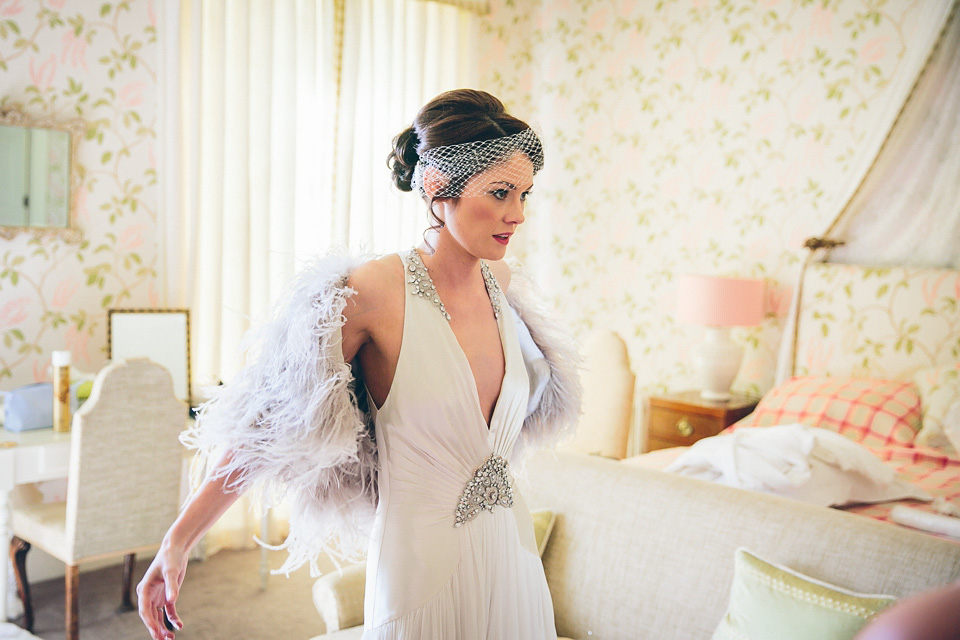 "Due to the styling of the dress, I didn't want a typical veil. So the lovely Sarah from Mia Bridal helped me design a simple net birdcage with a 1920s style sparkly slide on one side. I wanted shoes that I felt secure and comfortable in, so I was looking for something with a buckle around the ankle. The ones I chose were from the Début collection in Debenhams and were a simple sling back platform stiletto in a vintage champagne colour."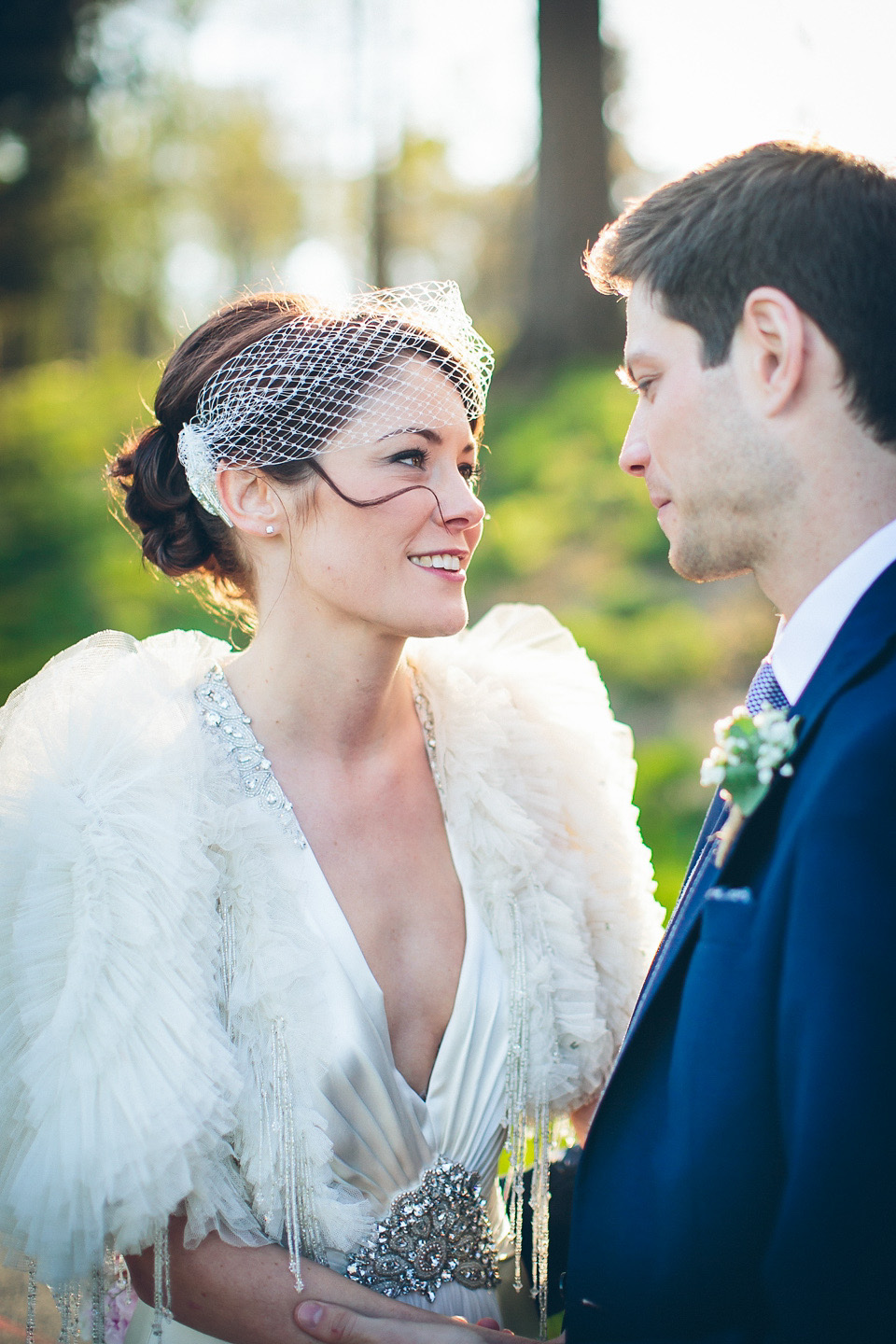 "We used Karen Rhodes for the rest of the catering. They were fantastic and let us personalise our menus to include some of our favourite foods. We had bride's and groom's cocktails as welcome drinks and champagne afternoon tea for our wedding breakfast served on vintage crockery. In the evening we had beef bourguignon and mushroom stroganoff with new potatoes, salad and crusty bread.
Everything tasted delicious and the family run company worked so hard to keep the whole day running smoothly."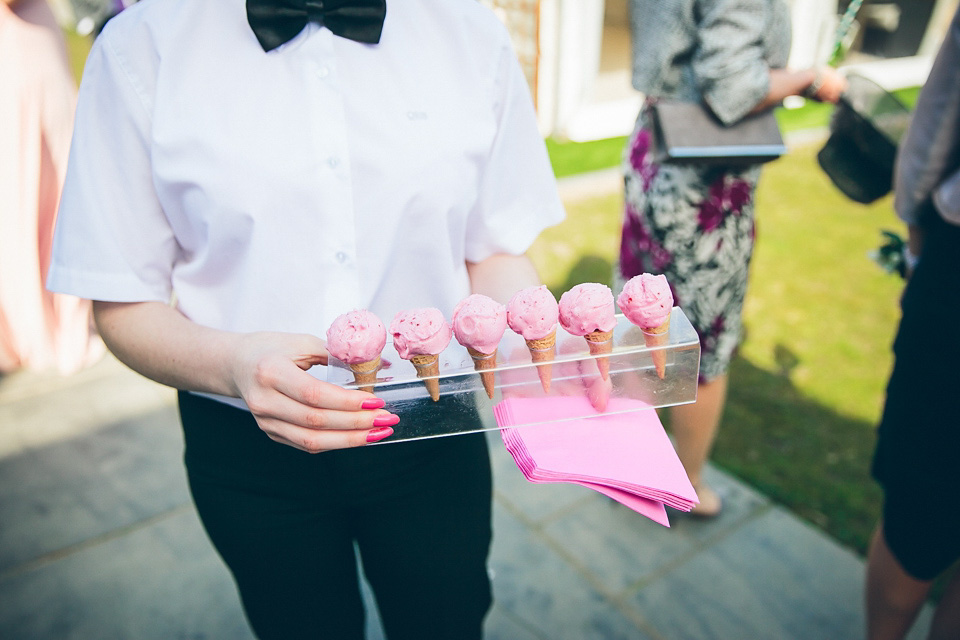 "The wonderful Thomas Beecham became the photographer of choice for the couple. "I taught Thomas' son at school and he approached me when we got engaged. We both loved his photography style and the natural shots he captures. We love how his images give a real feel of what the wedding day was like."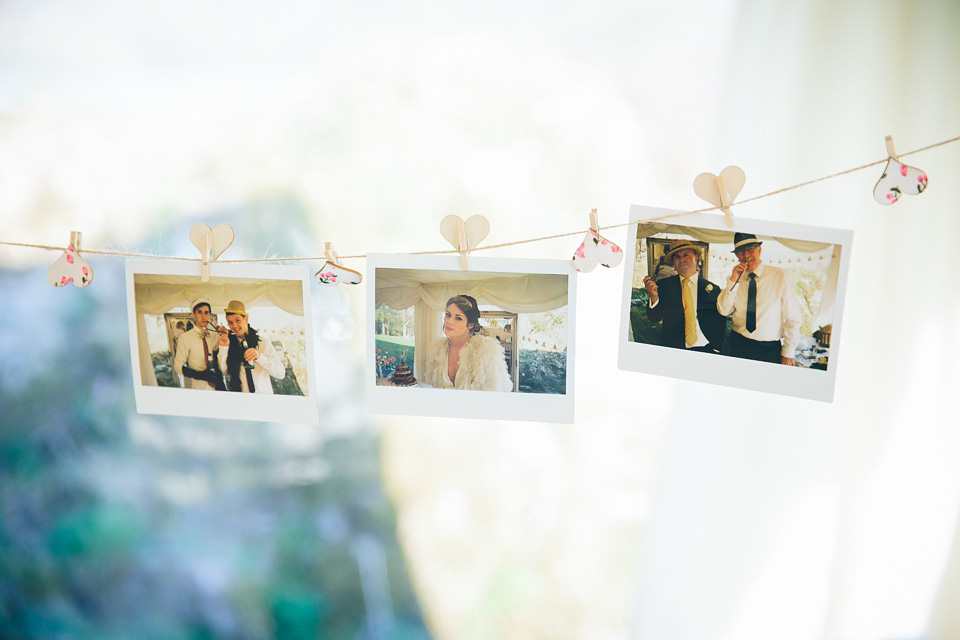 "Thomas didn't miss a moment and didn't just concentrate on what the bride and groom were doing but what the wedding guests were getting up to as well! I think it is really important to feel confident in your wedding photographer because after the day is over the photos are your memories."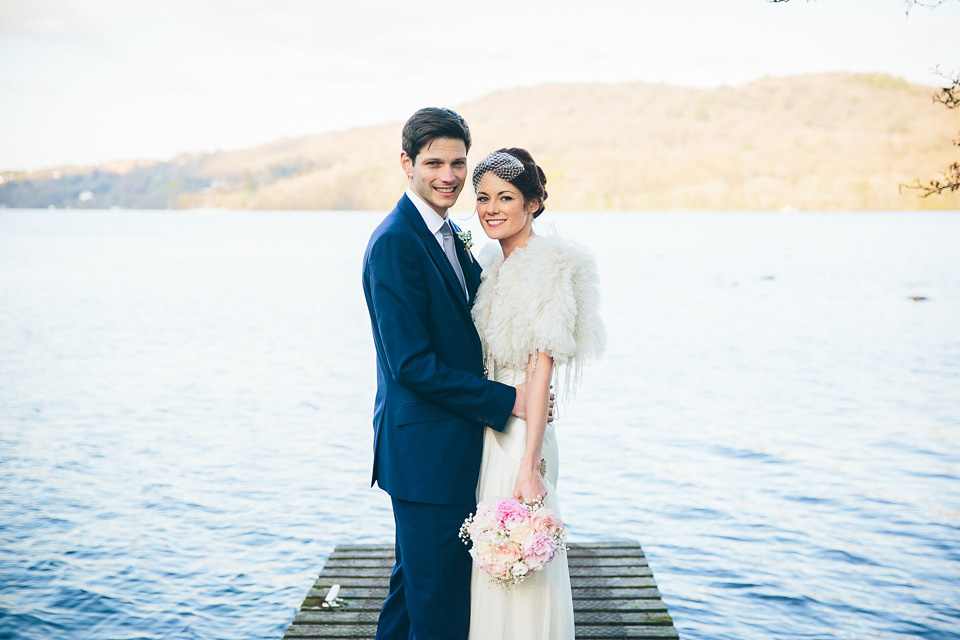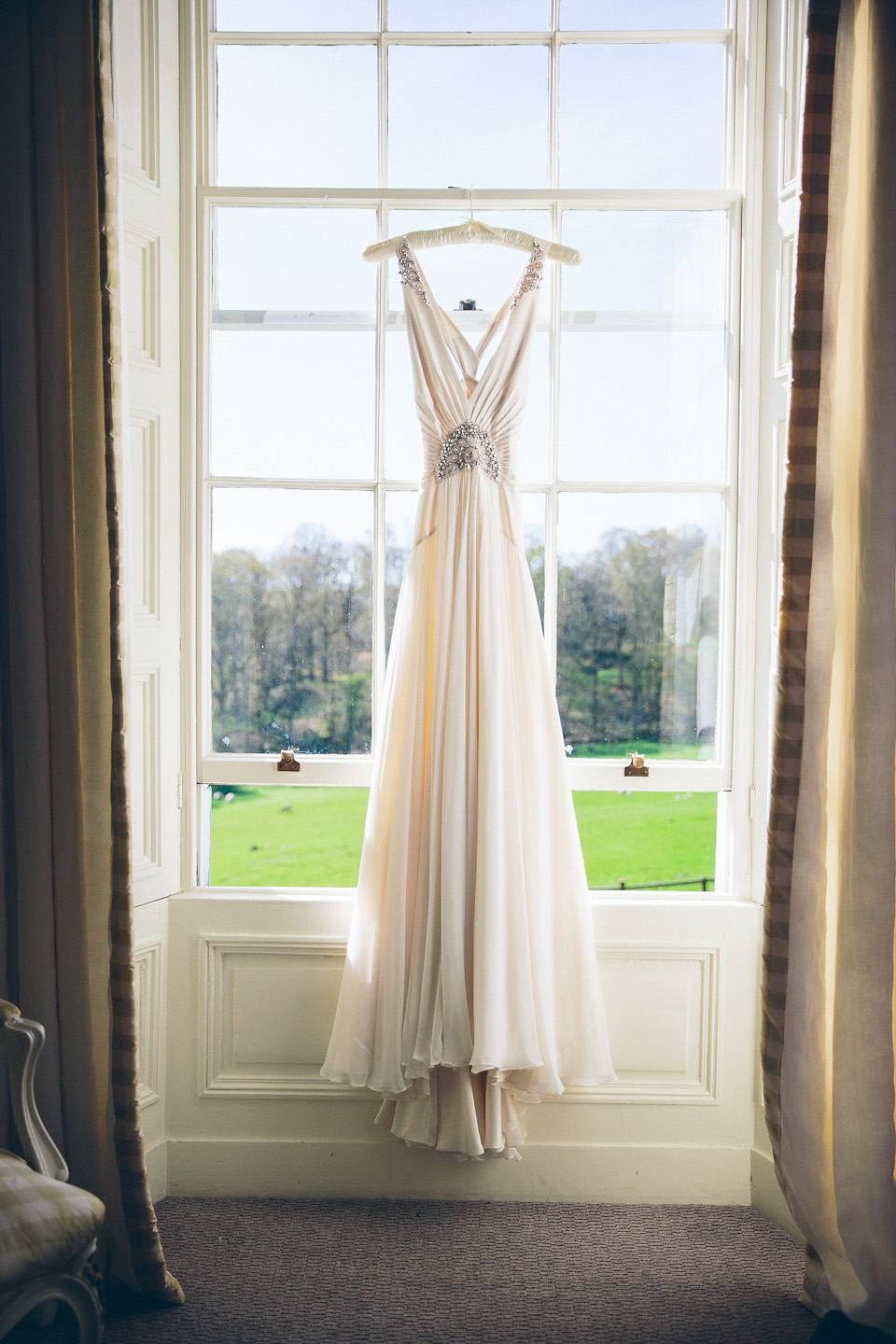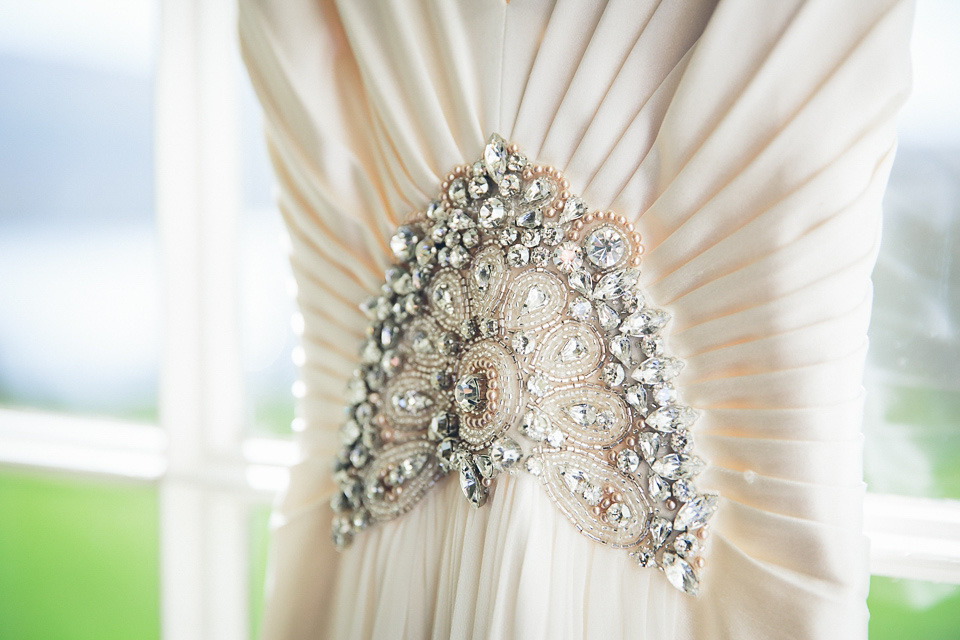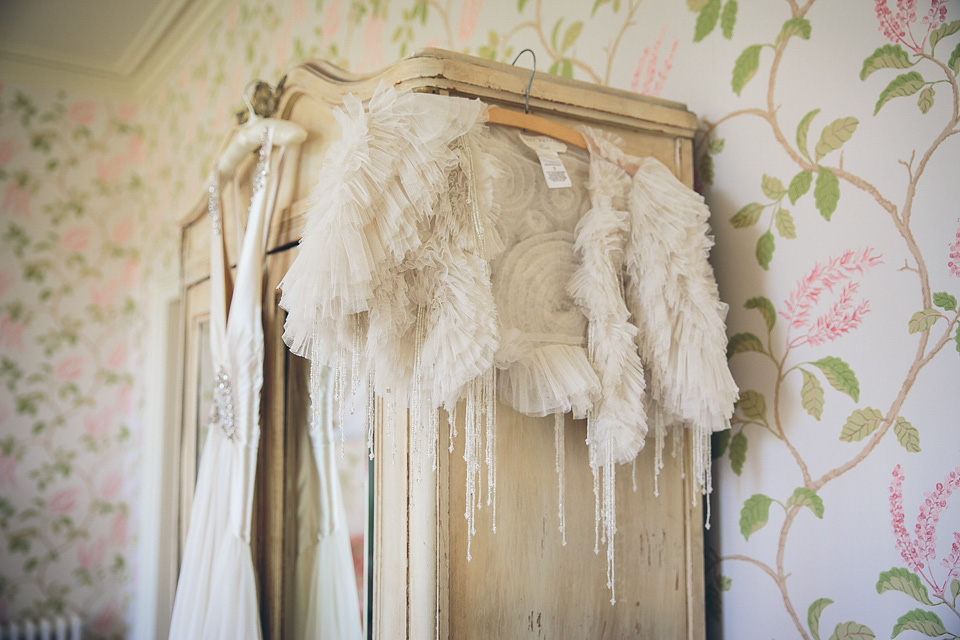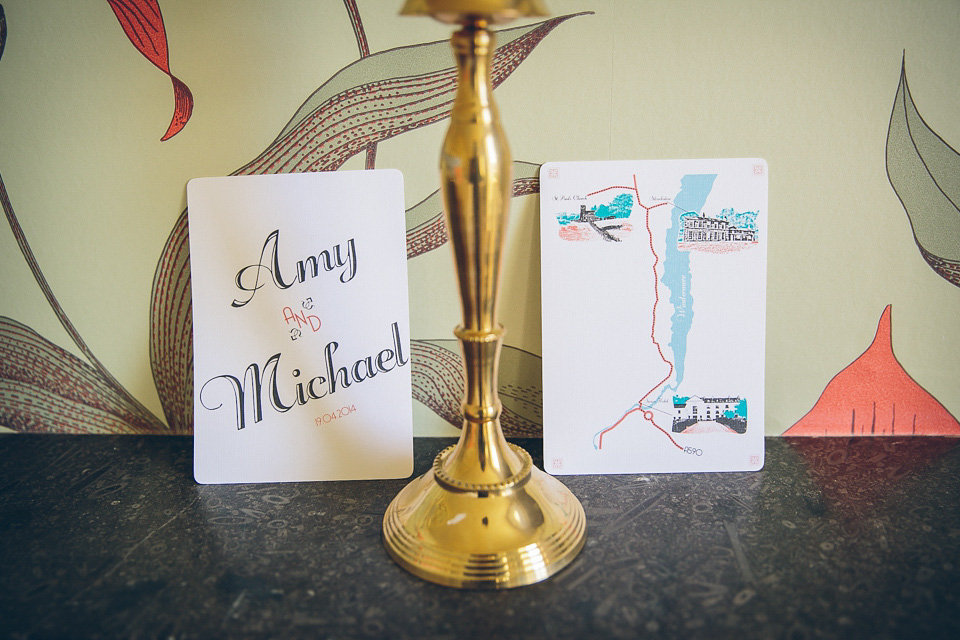 "As with most groups of bridesmaids, the girls were all different shapes and sizes and finding one dress to suit all of them would have been a real challenge. I really loved the idea of the girls all looking a little bit different while still being easily recognisable as the bridesmaids. I therefore wanted the girls to wear the same colour dress but in different styles. After some research we found a designer on Etsy called Coralie Beatrix who is based in America and creates floor length wrap dresses that can be worn in lots of different style combinations.
The girls were then given the freedom to choose their own shoes, hairstyles and accessories so that they all felt comfortable on the day."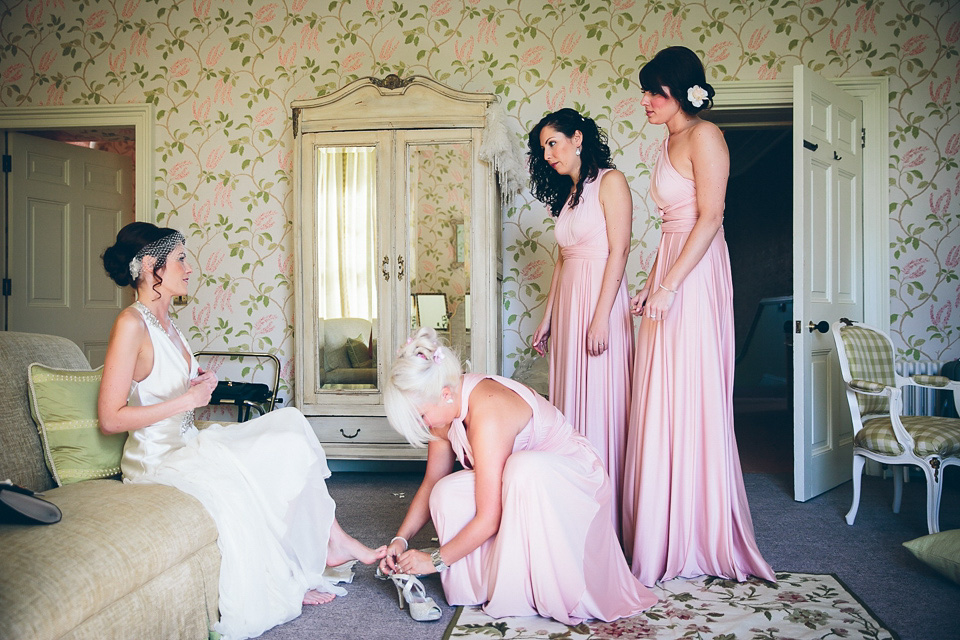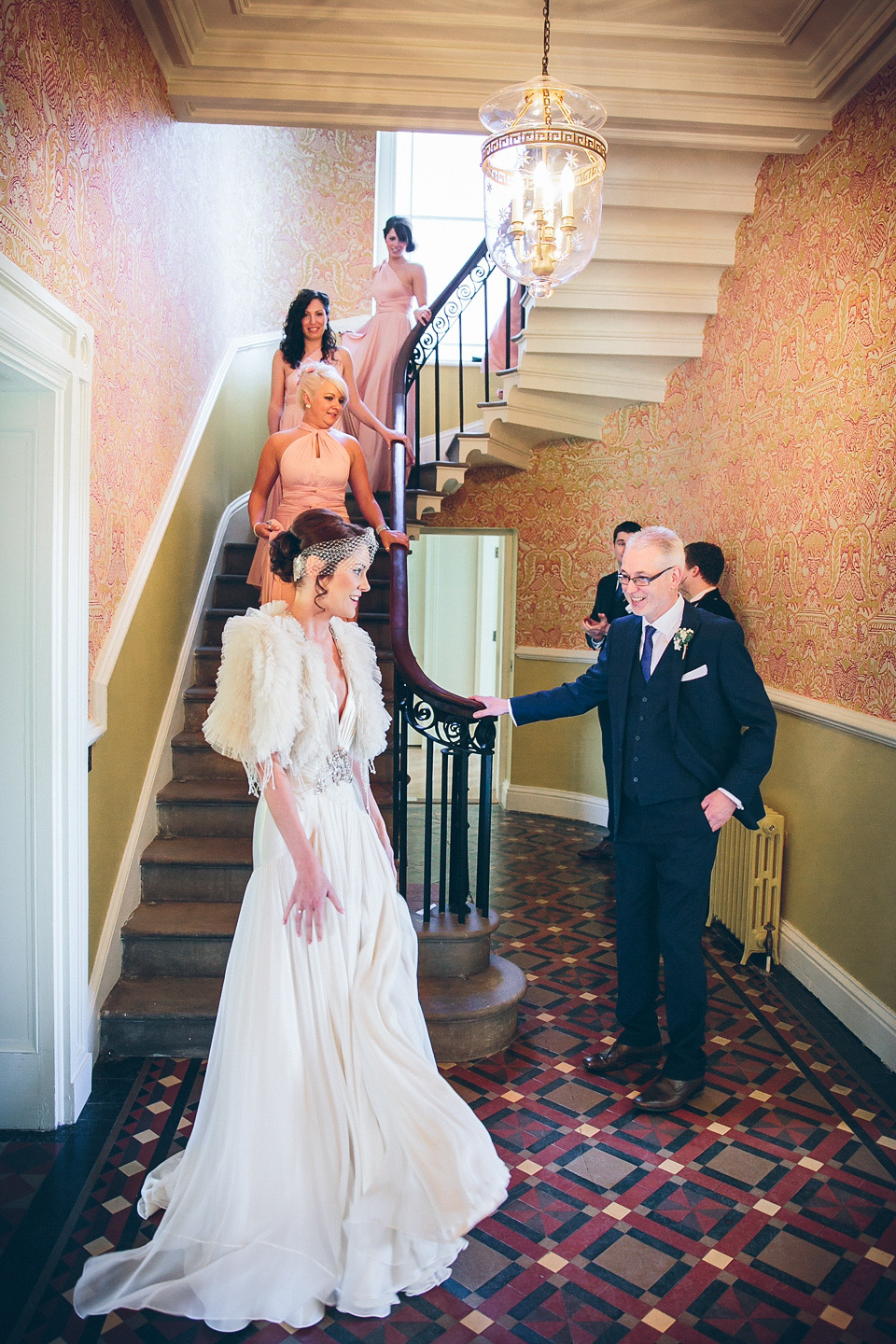 "I didn't want to wear any bracelets or necklaces as the dress had three, large impact embellishments. However I did wear a simple pair of diamond stud earrings which were my 'something borrowed' from Mike's sister.
Gemma Louise Smith did both my hair and my make-up on the day. Gemma was fantastic! She was so calm throughout the morning and really listened to what I wanted and created a gorgeous 1920's pin curl style up do."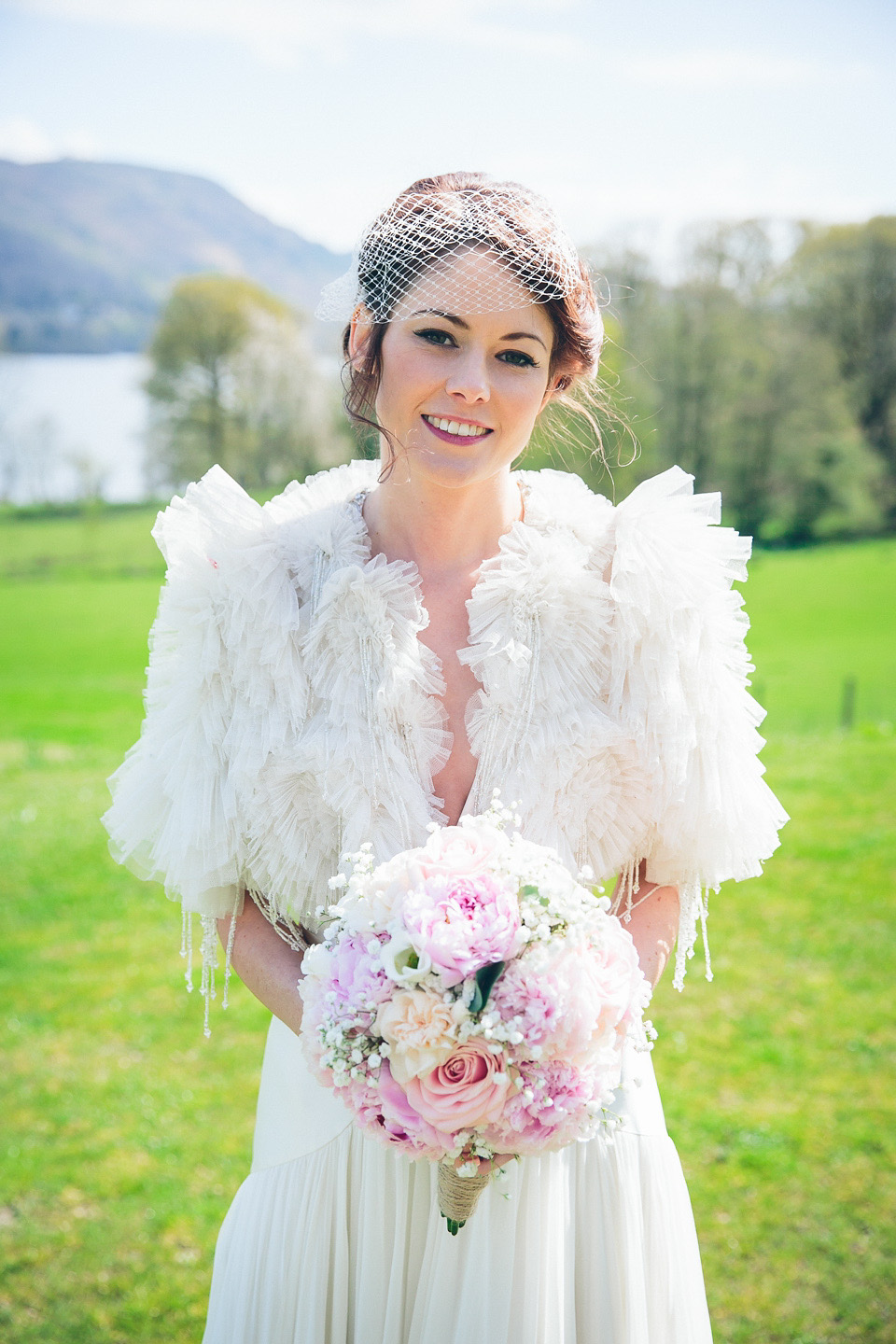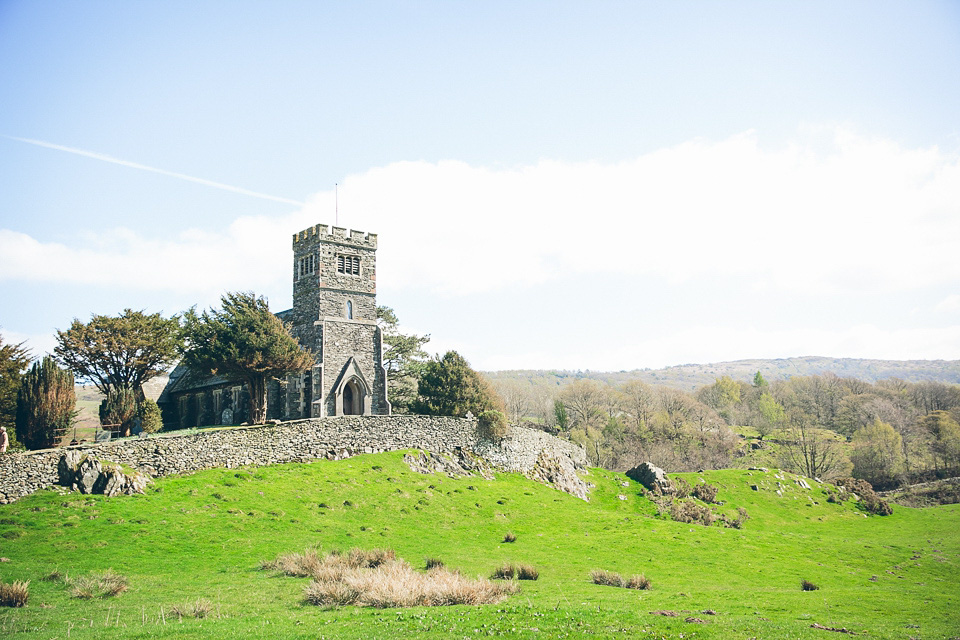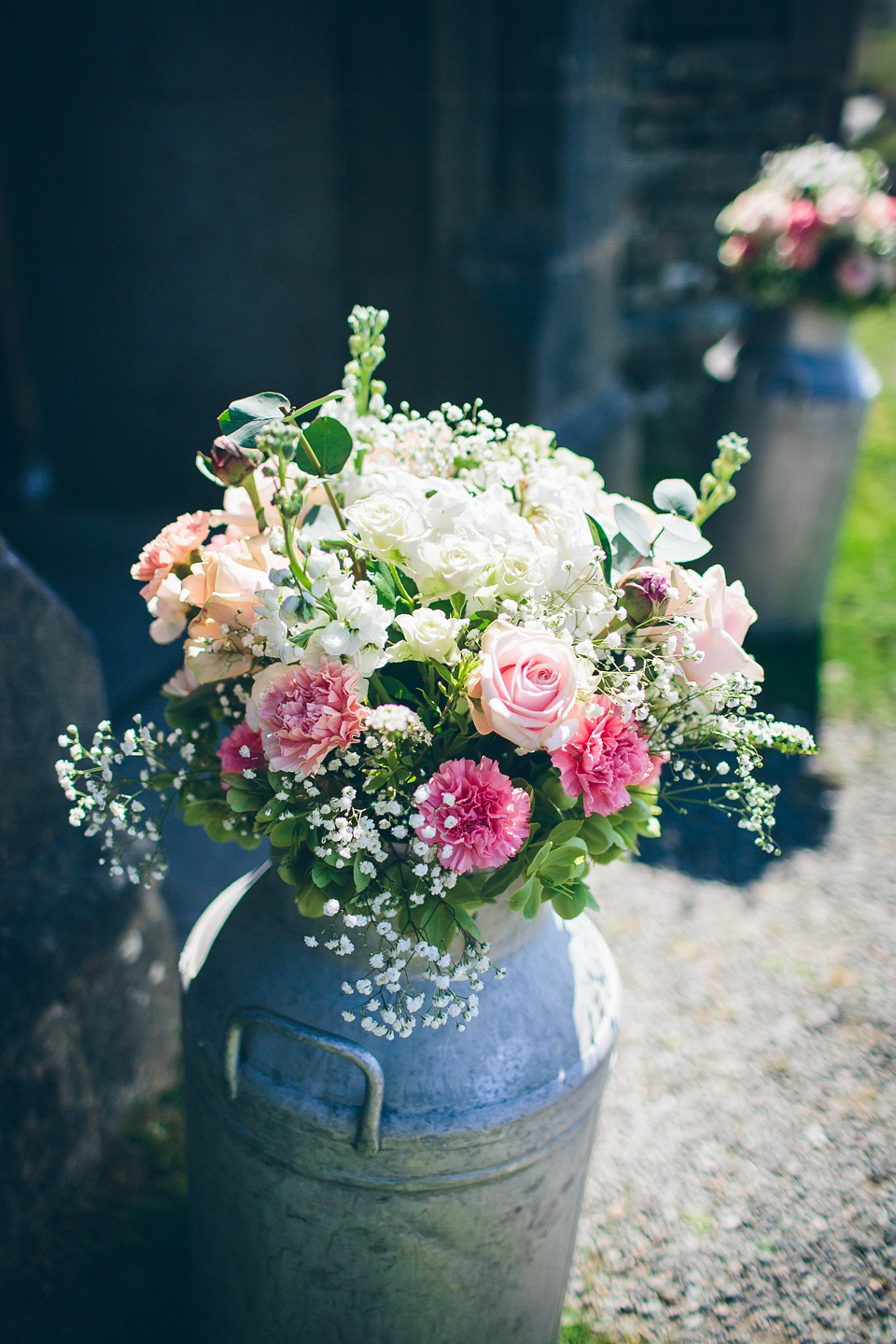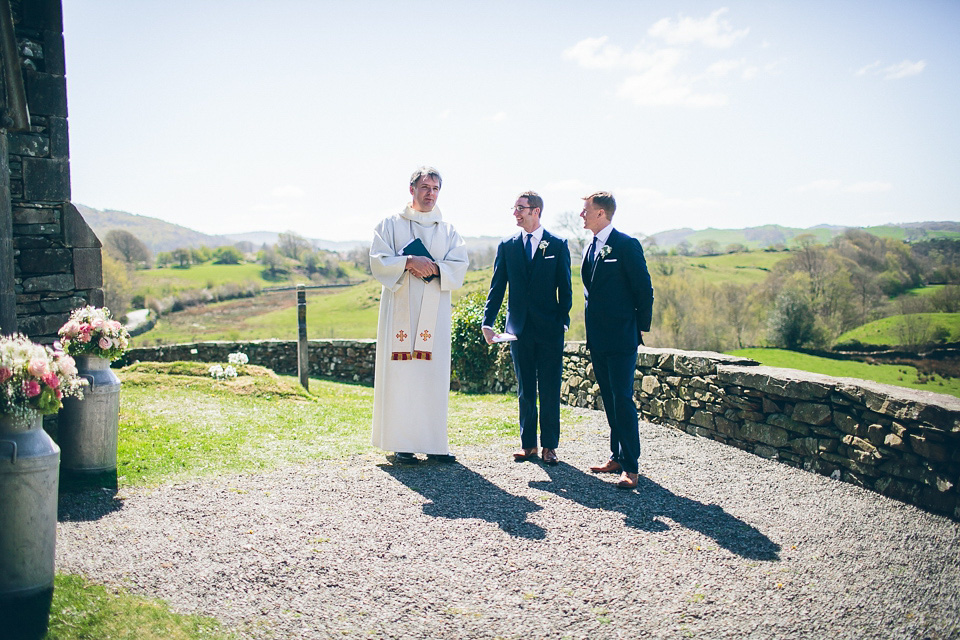 The men in this wedding are just as stylish as the women in their Jeff Banks blue suits and Reiss tan brogues. Mike differentiated himself from the rest of the gang with a silver and blue patterned tie and pocket square along with pink socks to match the pastel scheme. Amy presented him on the morning with a Victorian silver pocket watch as a surprise wedding day gift. She had it inscribed on the inside with both of their initials, wedding date and the words 'I surrender up my heart and swap it for yours' which is a line from their favourite song and first dance 'Lego House' by Ed Sheeran.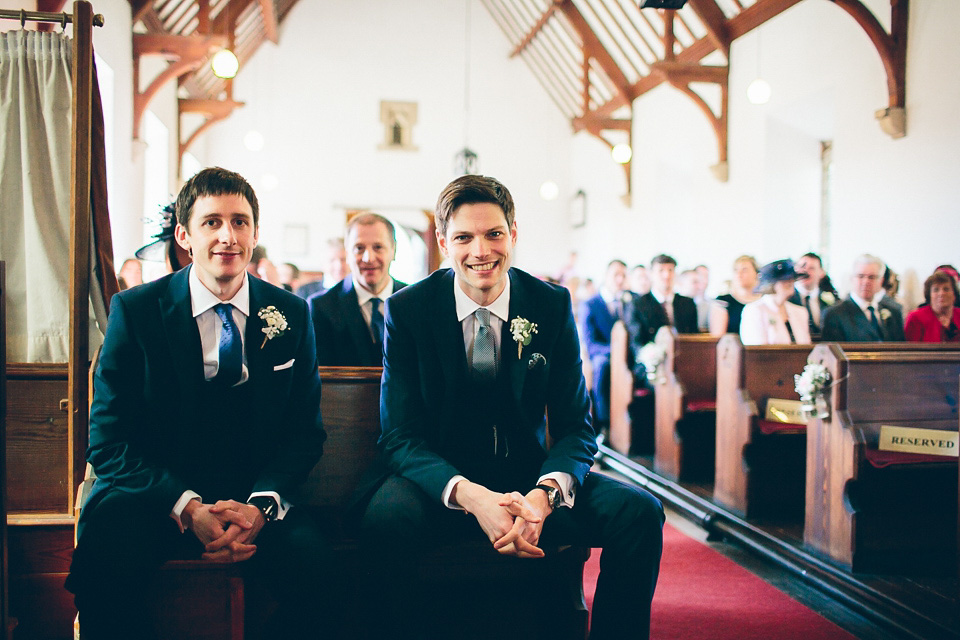 "My dad walked me down the aisle. I decided I wanted the bridesmaids to enter the church one at a time and then I would follow with my Dad. I wanted to build up to the moment we went in and have a couple of minutes with my dad to prepare ourselves. The song we chose was 'Canon in D Major' by Pachelbel. We loved this classical style of music and the way the music builds up to the bride's entrance."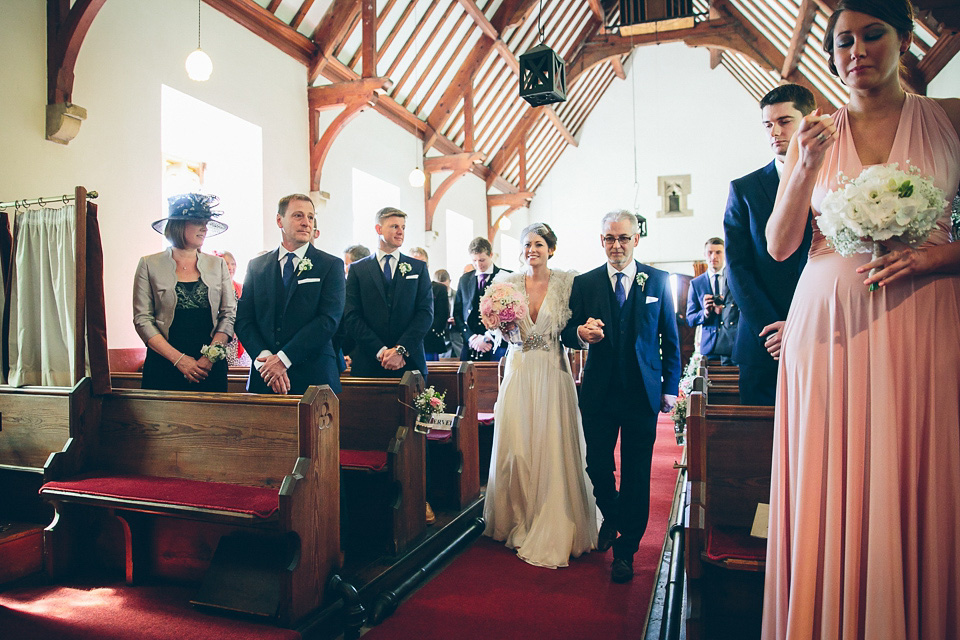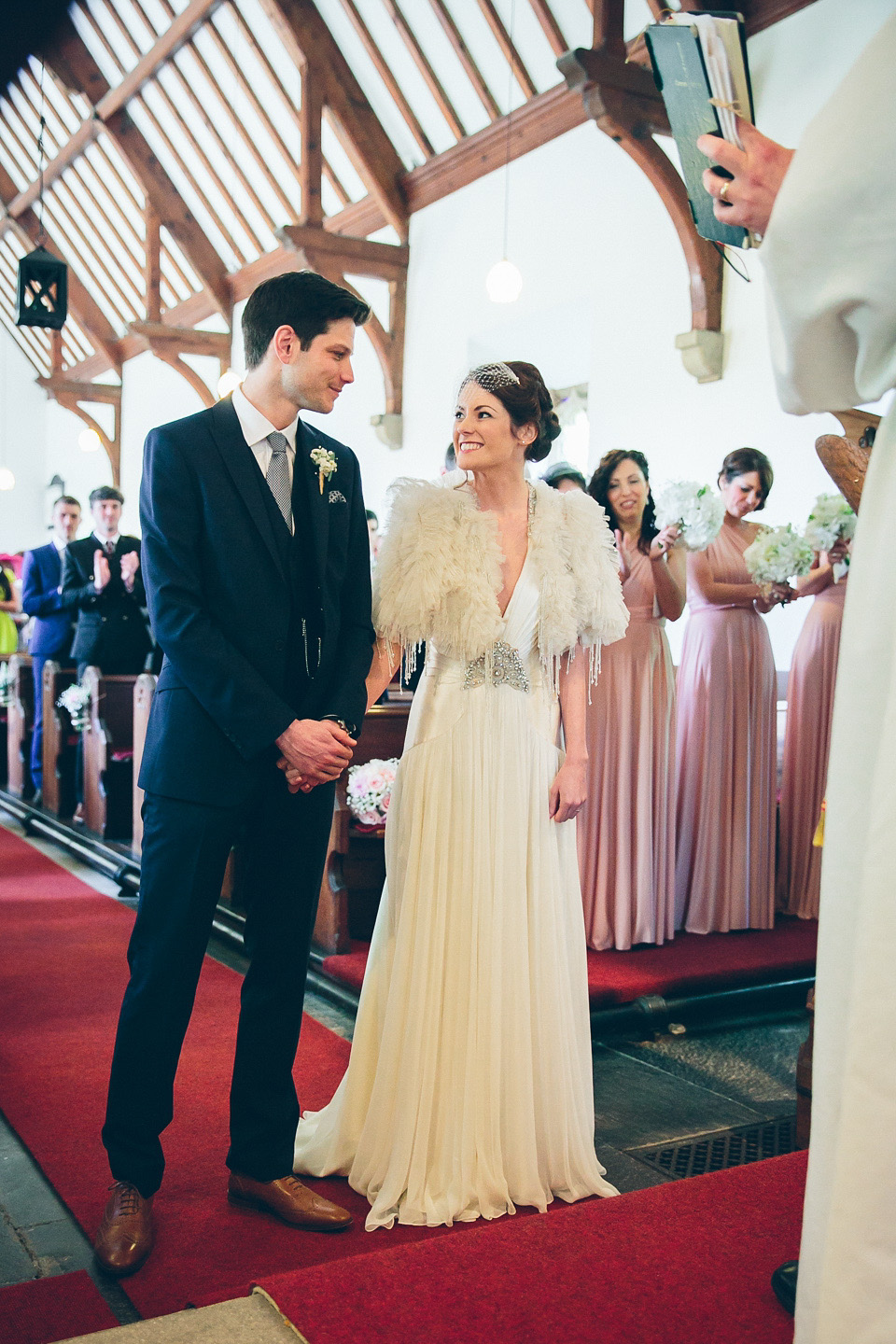 "During the ceremony there were two readings; one religious and one non-religious which was a song by Bruce Springsteen, who is a bit of a family favourite and which was also played at Amy's Grandad's funeral:
 If I Should Fall Behind, Bruce Springsteen
We said we'd walk together come what may
That come the twilight should we lose our way
If as we're walking a hand should slip free
I'll wait for you
And should I fall behind
Wait for me
We swore we'd travel side by side
We'd help each other stay in stride
But each lover's steps fall so differently
But I'll wait for you
And if I should fall behind
Wait for me
Now everyone dreams of a love lasting and true
But you and I know what this world can do
So let's make our steps clear that the other may see
And I'll wait for you If I should fall behind
Wait for me
Now there's a beautiful river in the valley ahead
There 'neath the oak's bough soon we will be wed
Should we lose each other in the shadow of the evening trees
I'll wait for you
And should I fall behind
Wait for me
I'll always wait for you
Should I fall behind
Wait for me.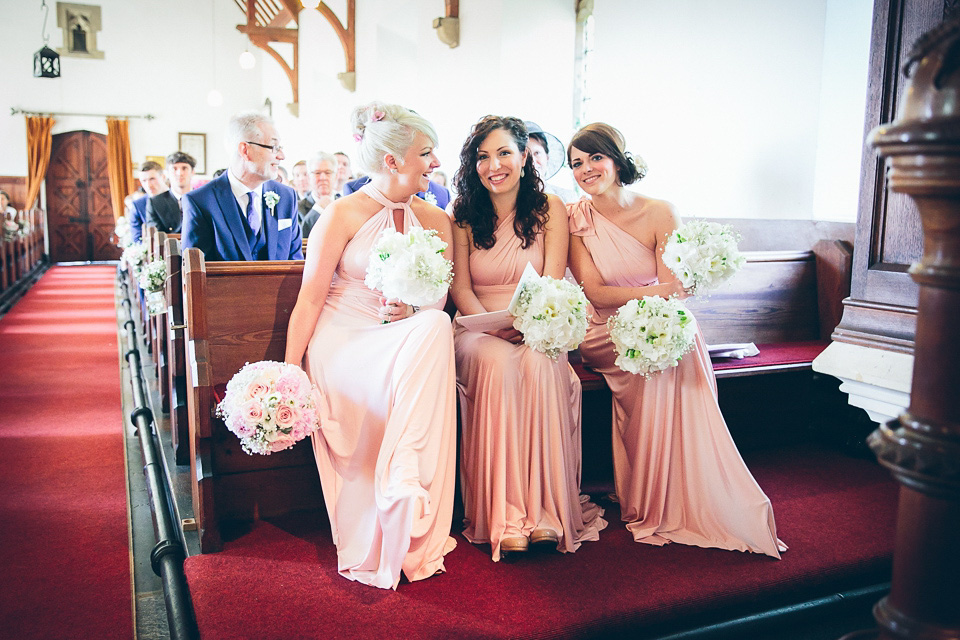 "Although being at church is the most significant part of the day, we didn't realise beforehand how much we would enjoy the wedding service. It was beautiful and filled with emotion."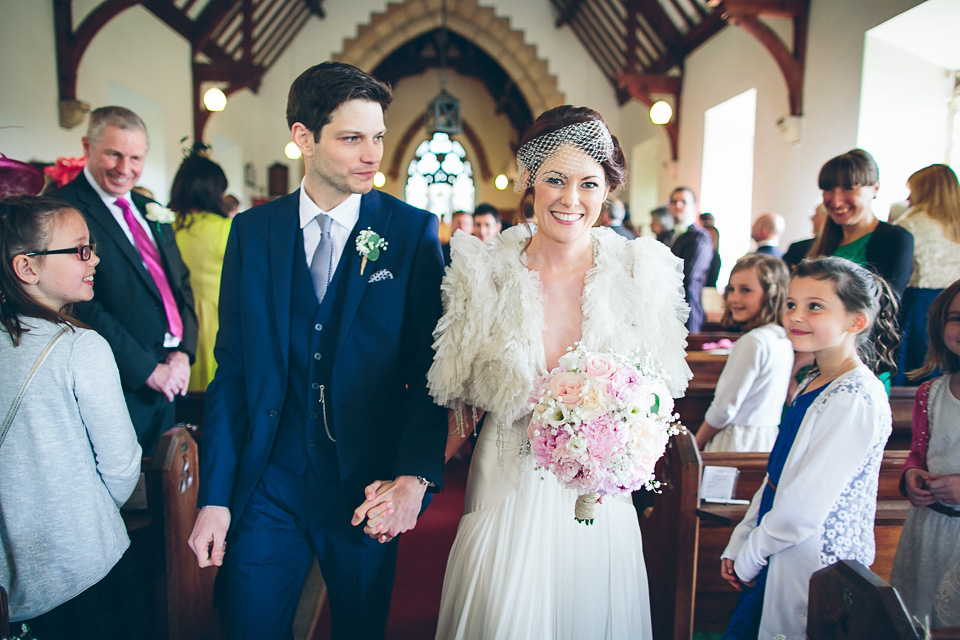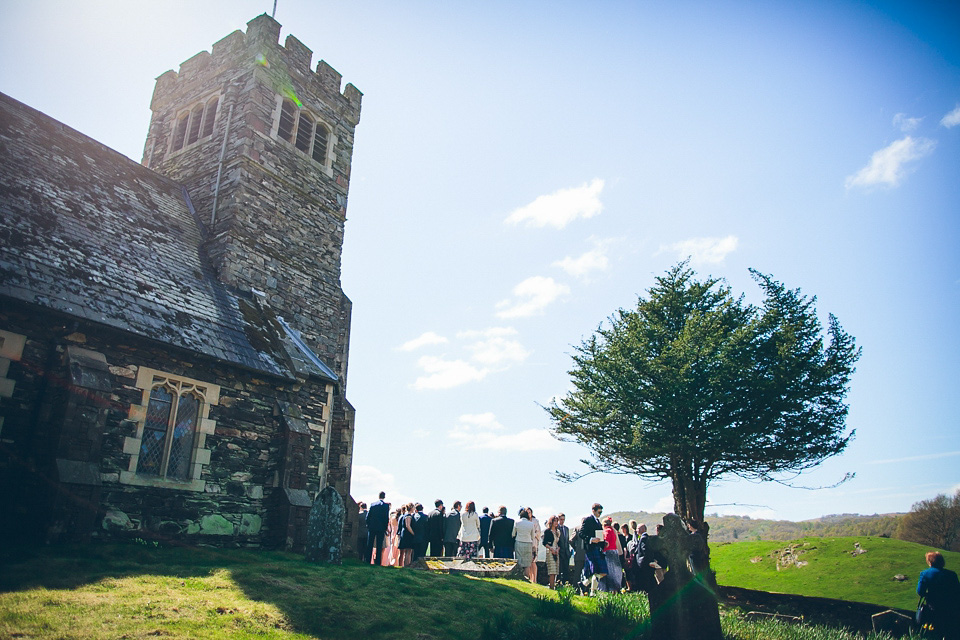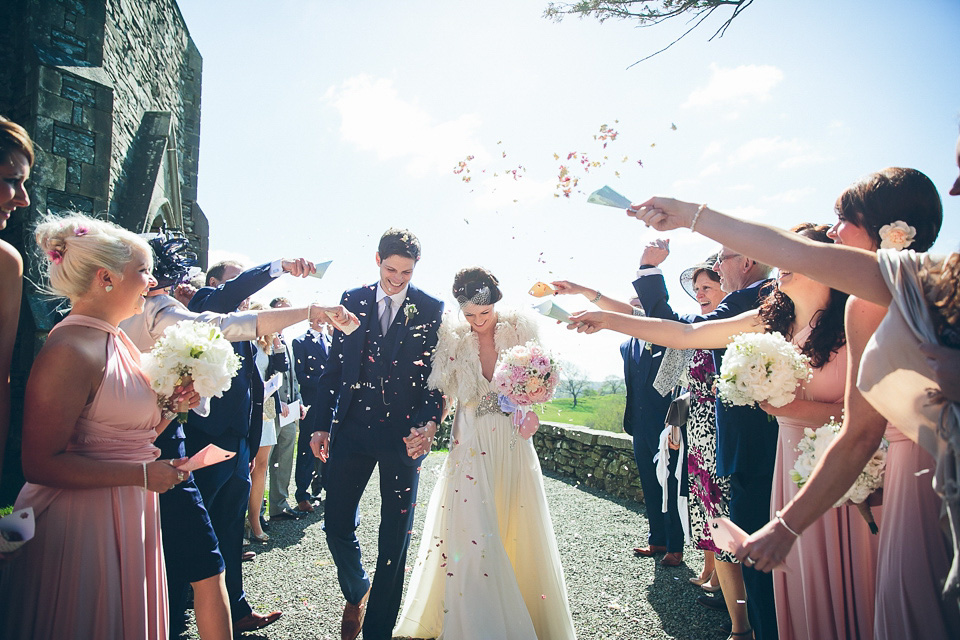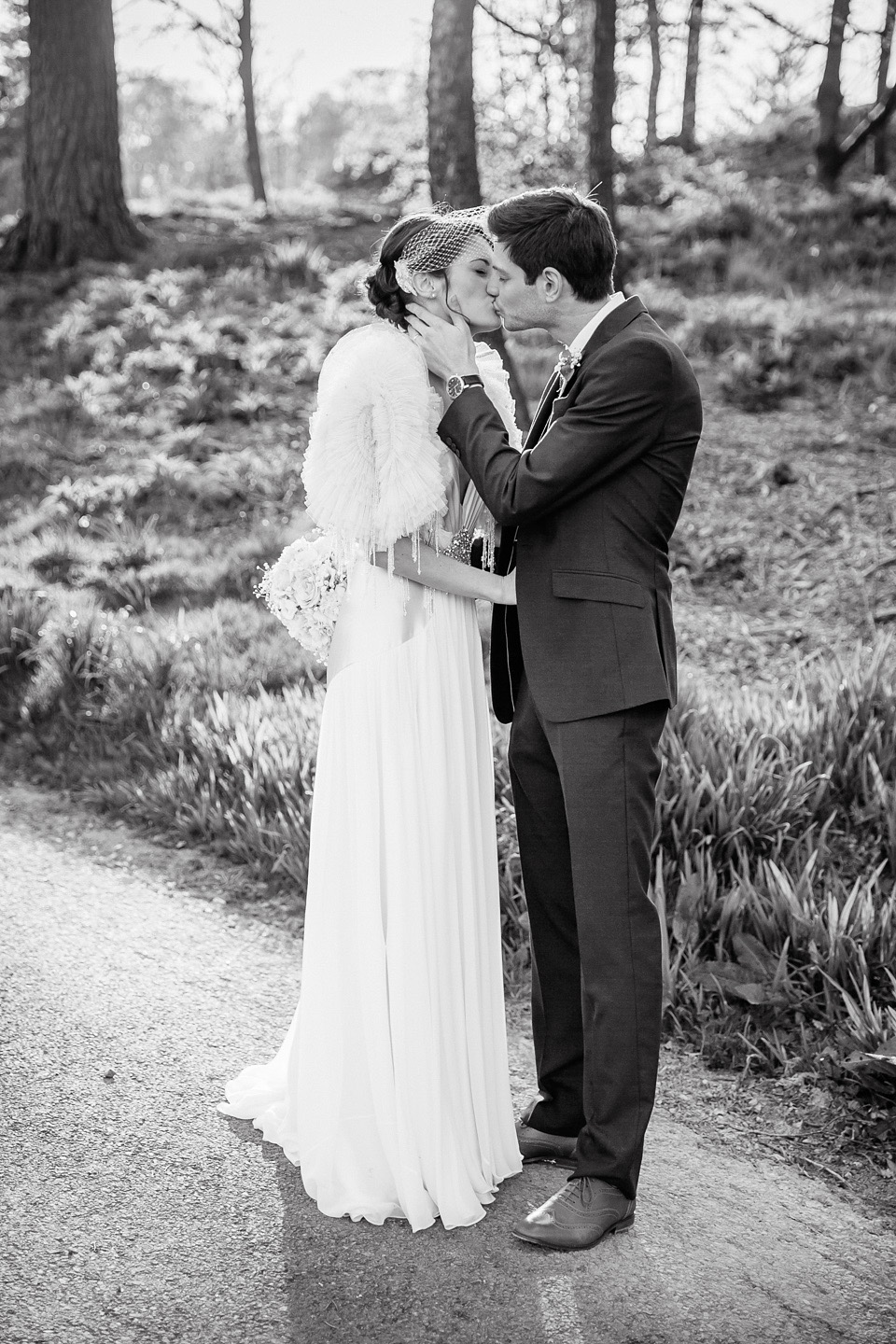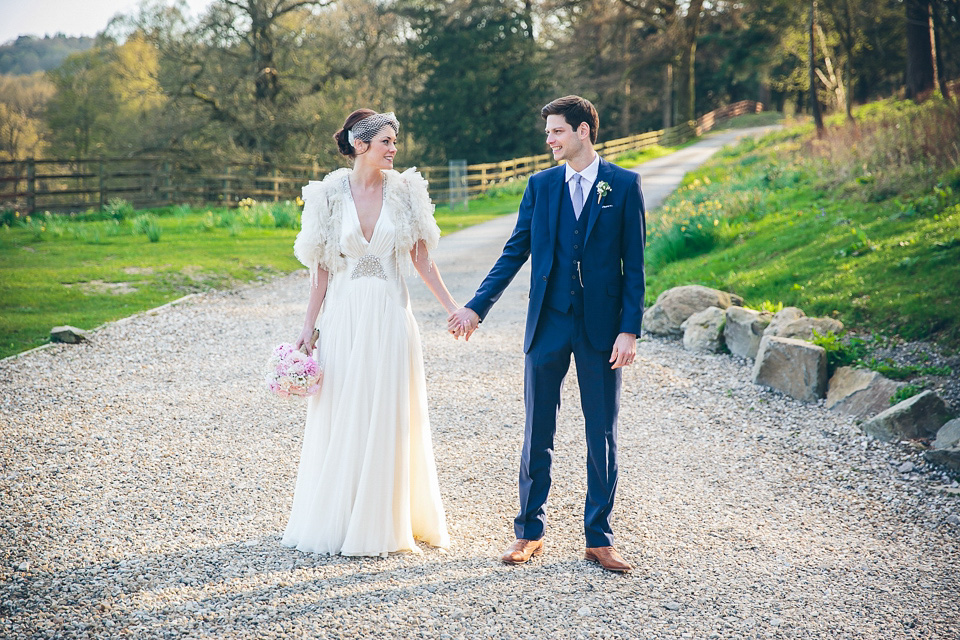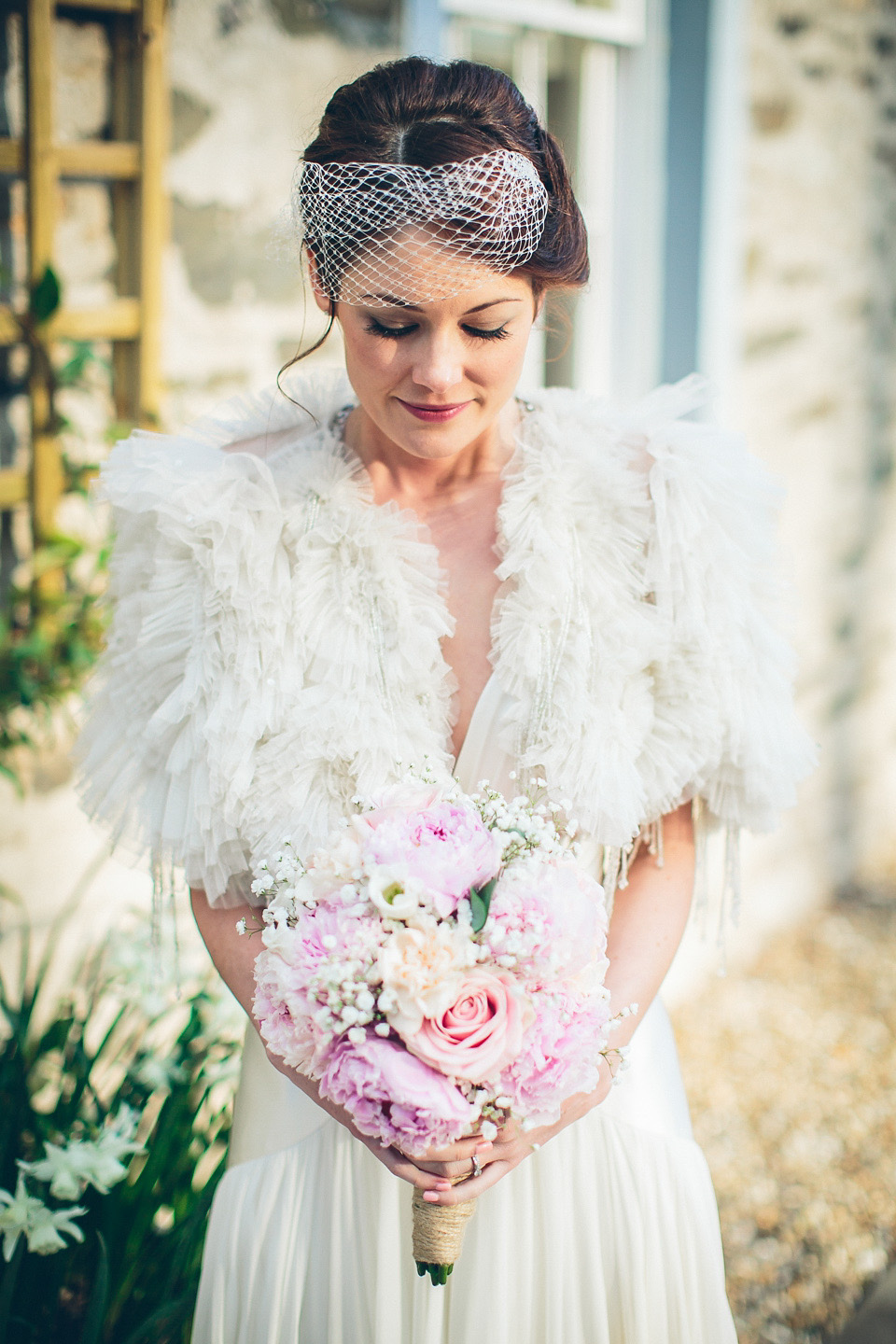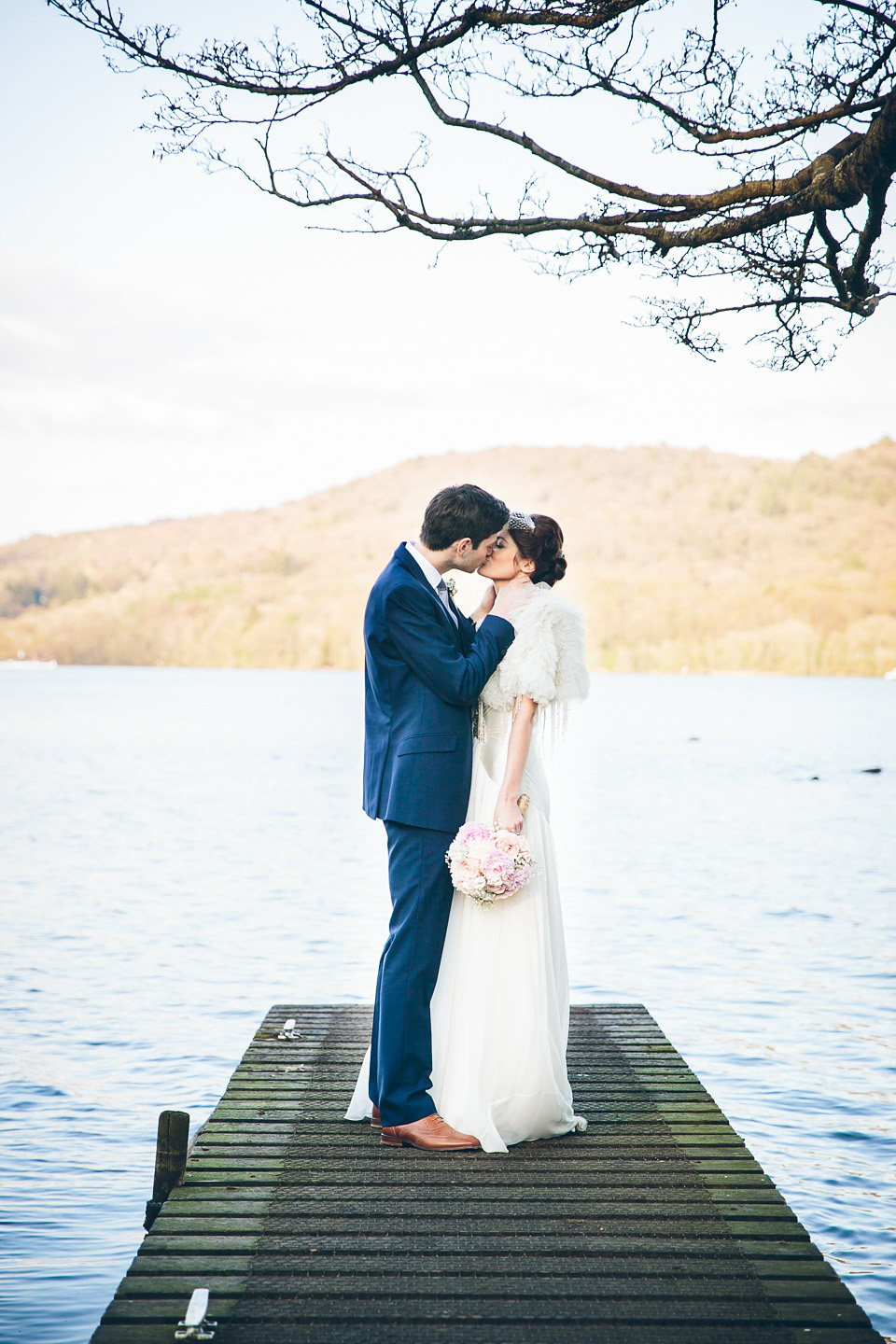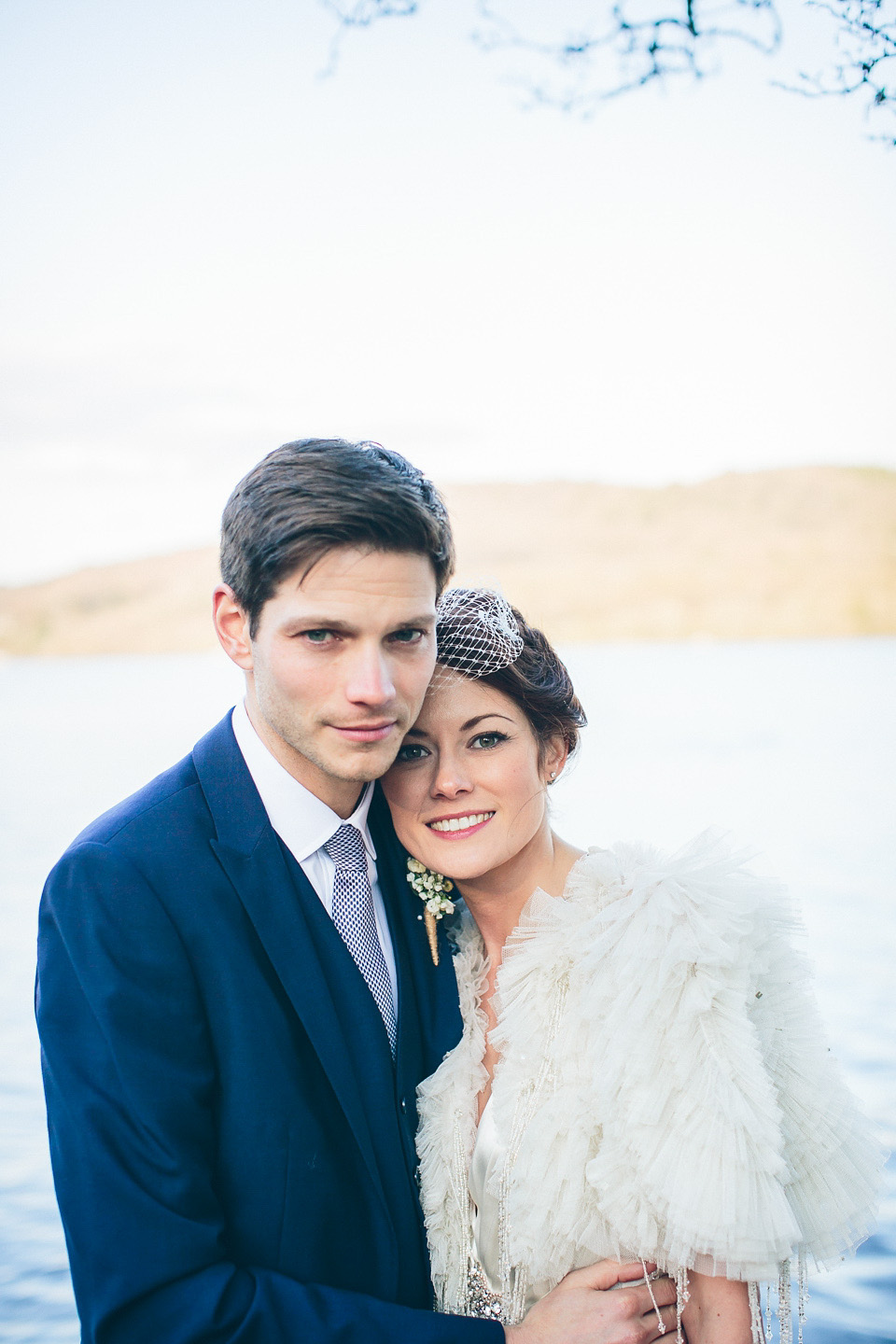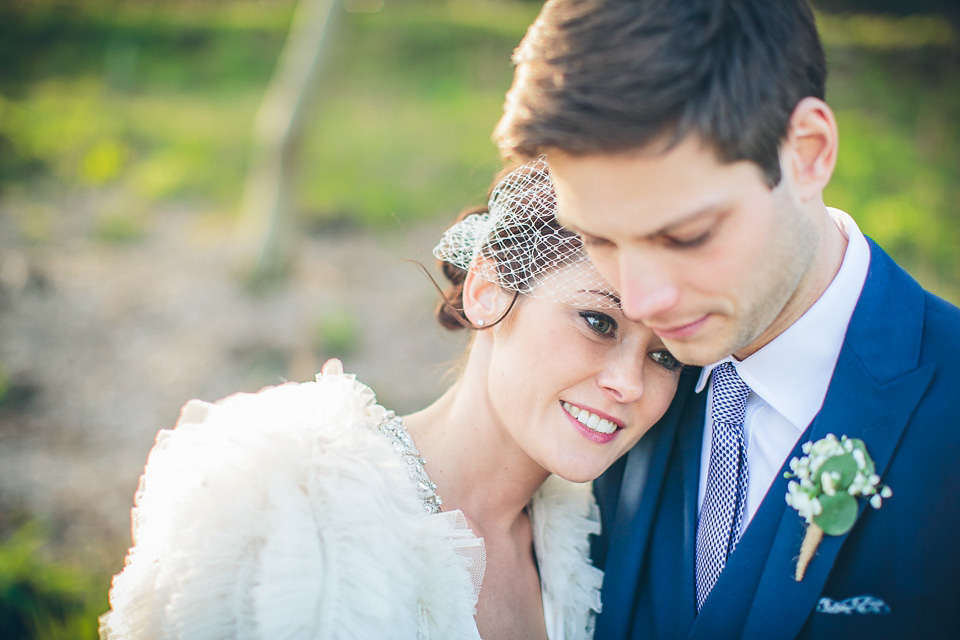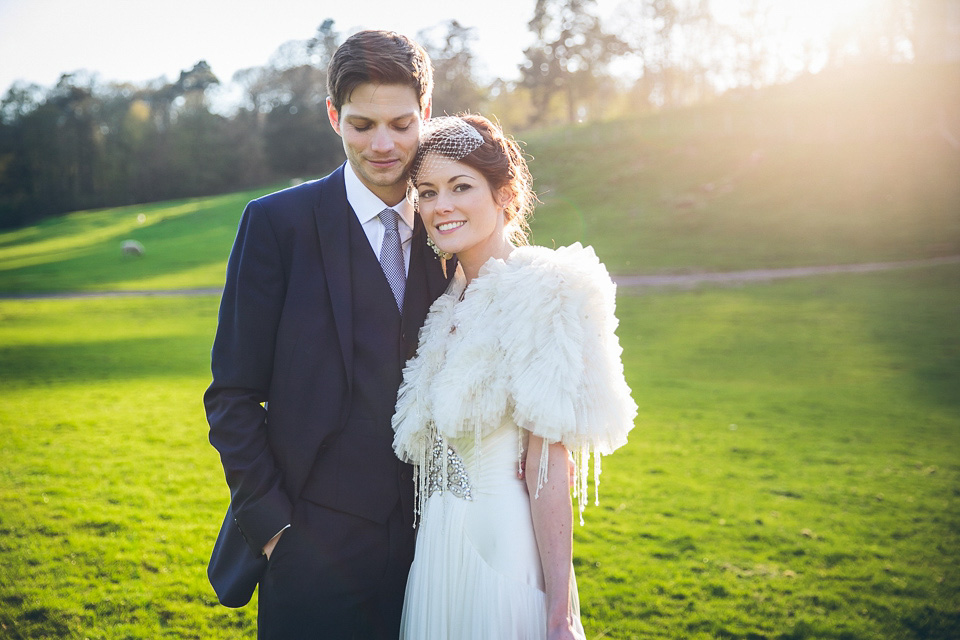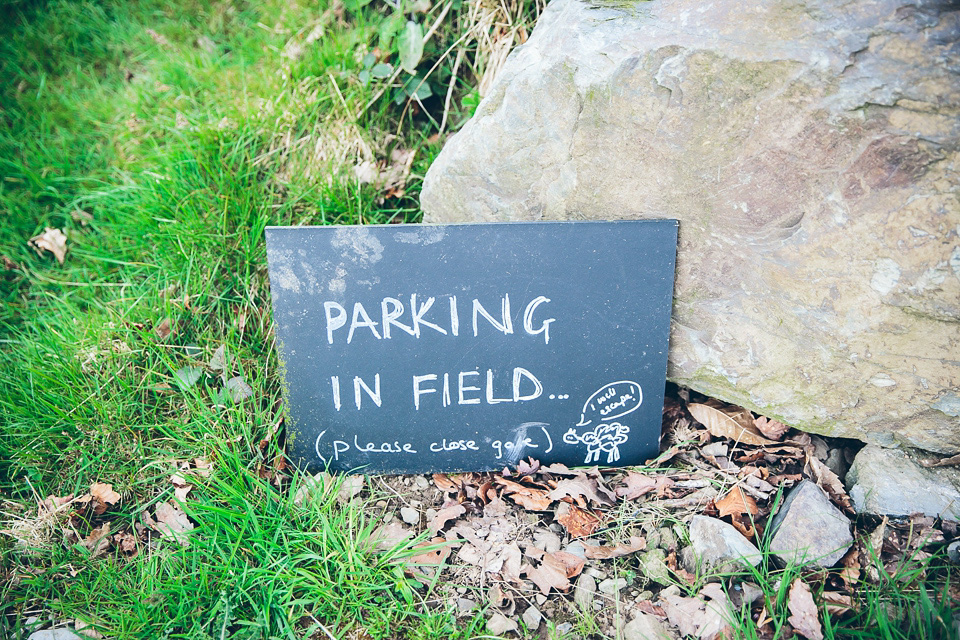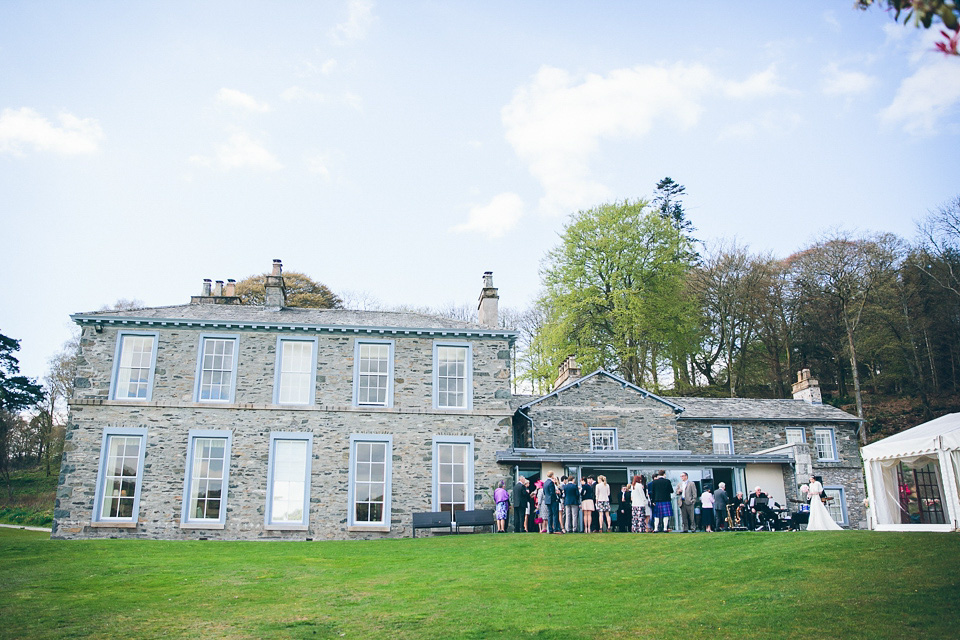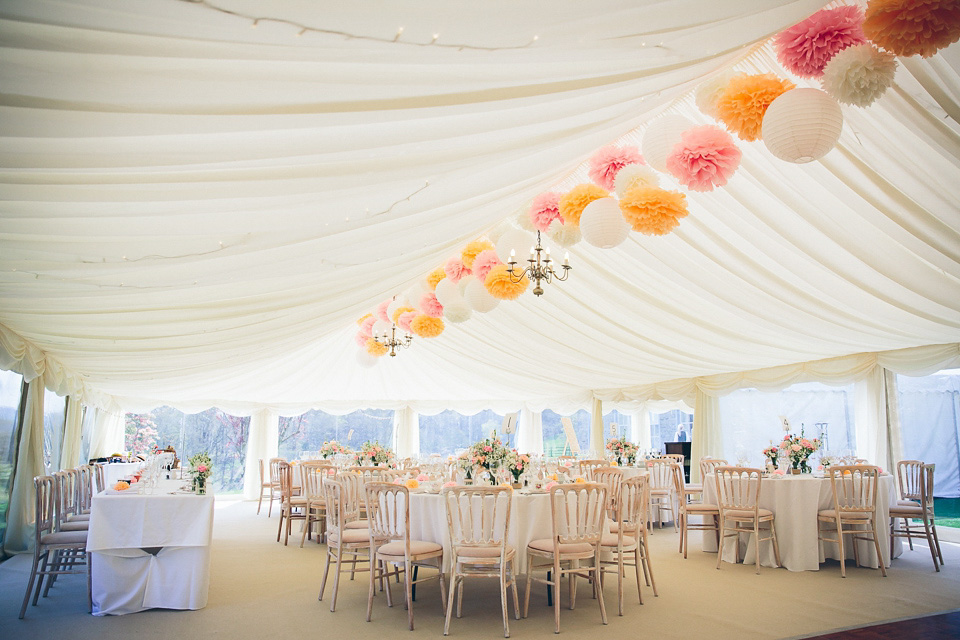 "As we were having afternoon tea as a wedding breakfast we wanted to set the scene by using vintage crockery. We soon realised it would be less expensive to buy vintage crockery trios (cup, saucer and side plate) than hire them. We found them at charity shops, car boot sales and many were donated by friends and family. This meant we could give them away as a wedding favour.
As we were having an Easter wedding, a small organza bag filled with mini eggs was placed inside each of the teacups."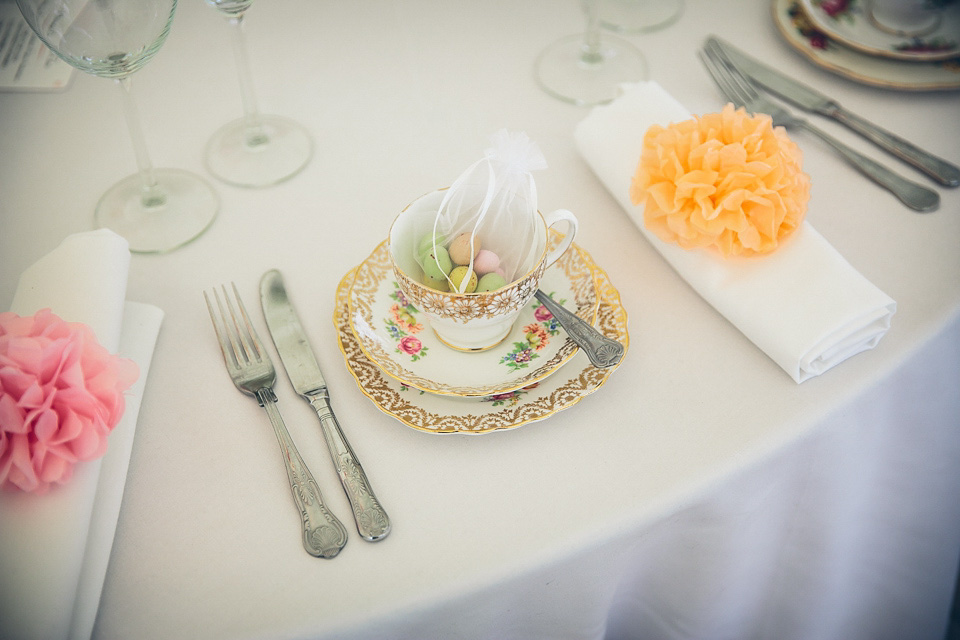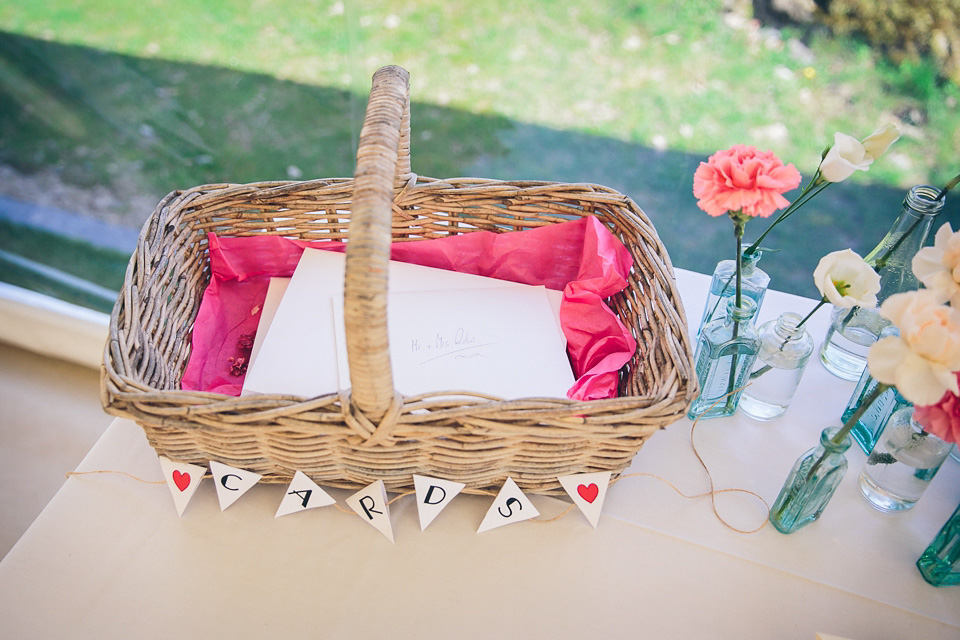 "We didn't want a traditional iced wedding cake but wanted to continue our afternoon tea theme. We went for a naked cake made up of strawberry and lemon Victoria sponge cake layers covered with lots of fresh fruit. The cake was made by Karen Akers, who is a former parent from my school. She was a little daunted by the idea of creating her first ever wedding cake but she did a wonderful job."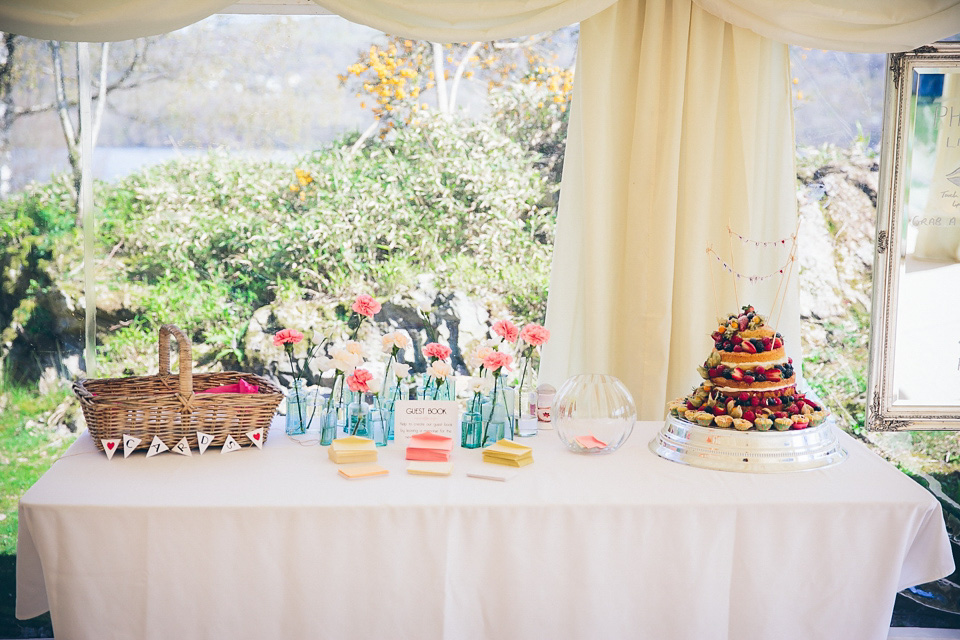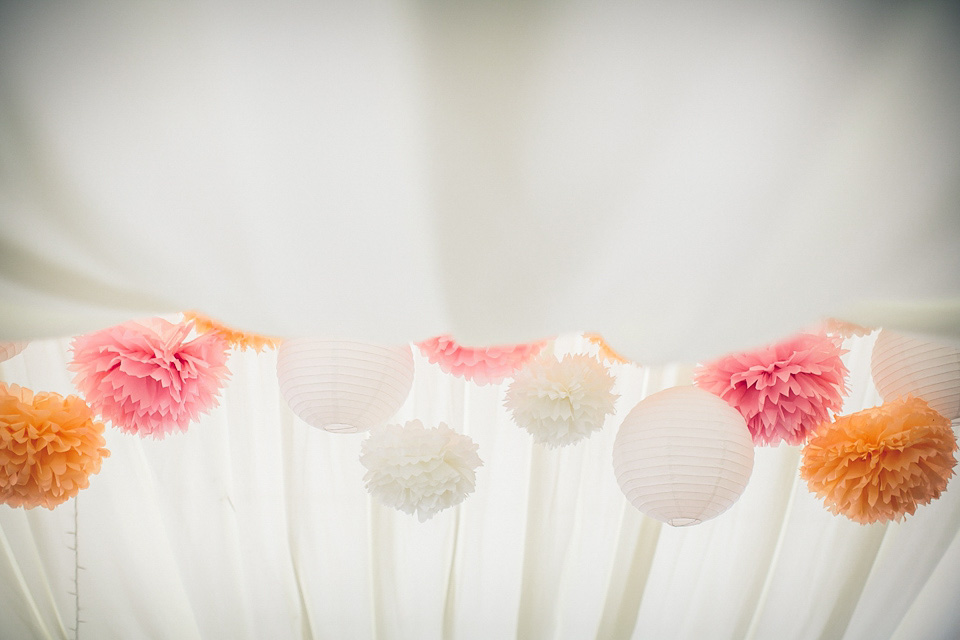 "The vintage crockery also really helped decorate the plain marquee. As the cake stands and crockery took up quite a lot of room on the tables, we decided to use small, simple flower arrangements that we arranged ourselves, with the advice from a retired florist and family friend. On each table, jam jars of various sizes were filled with spring flowers in shades of pink, peach and white. The jars were decorated with twine and lace.
We also created pew ends for church using square jam jars decorated in the same way. To tie in the colour of the flowers with the stationery and bridesmaid dresses, we also added lanterns and created large tissue paper pompoms to hang from the ceiling of the marquee and small tissue paper pompoms to use as napkin rings. I ended up having some cups and saucers spare so I added some glue and glitter to the insides to create sparkly tea light holders for the evening reception."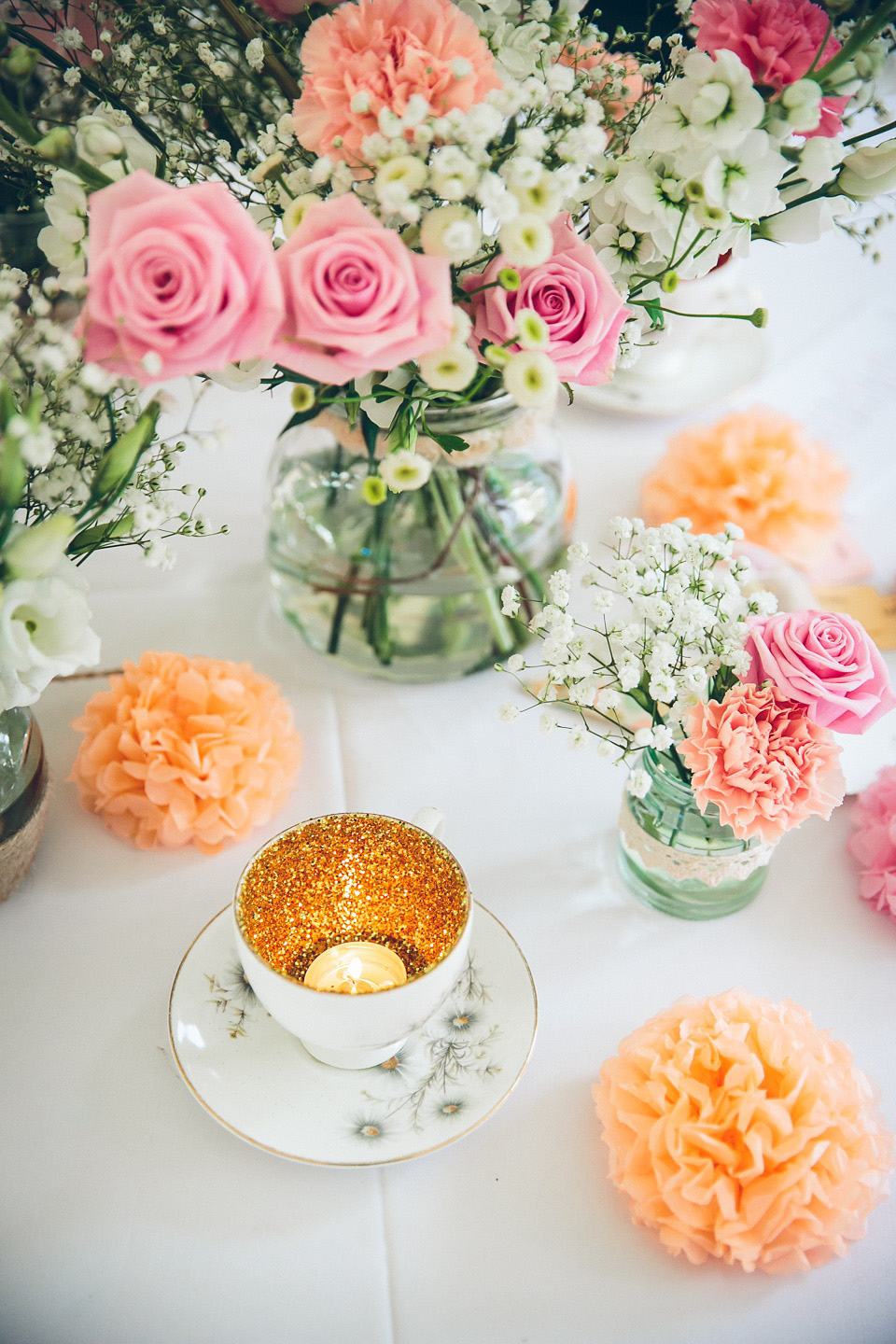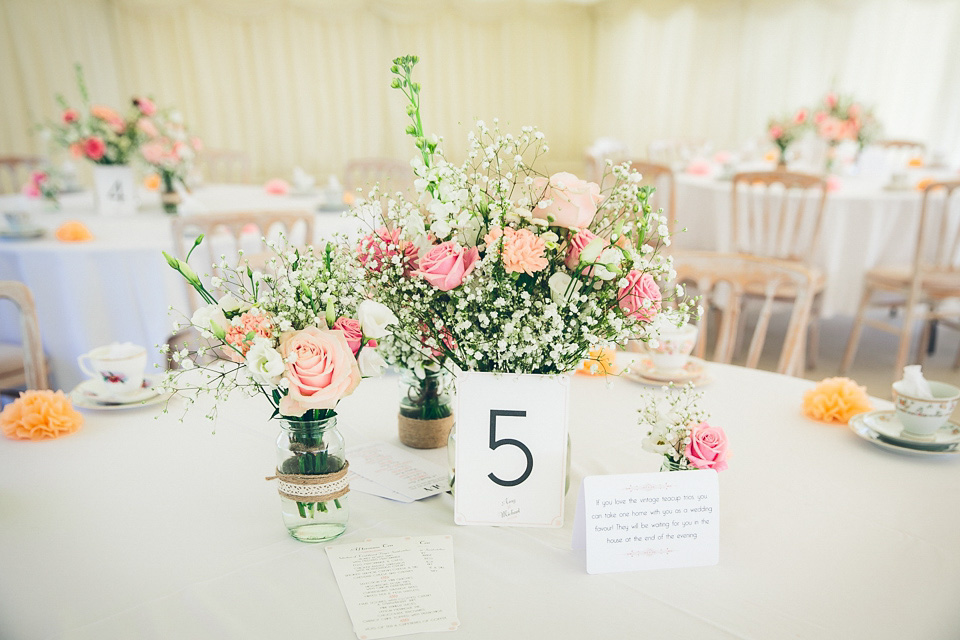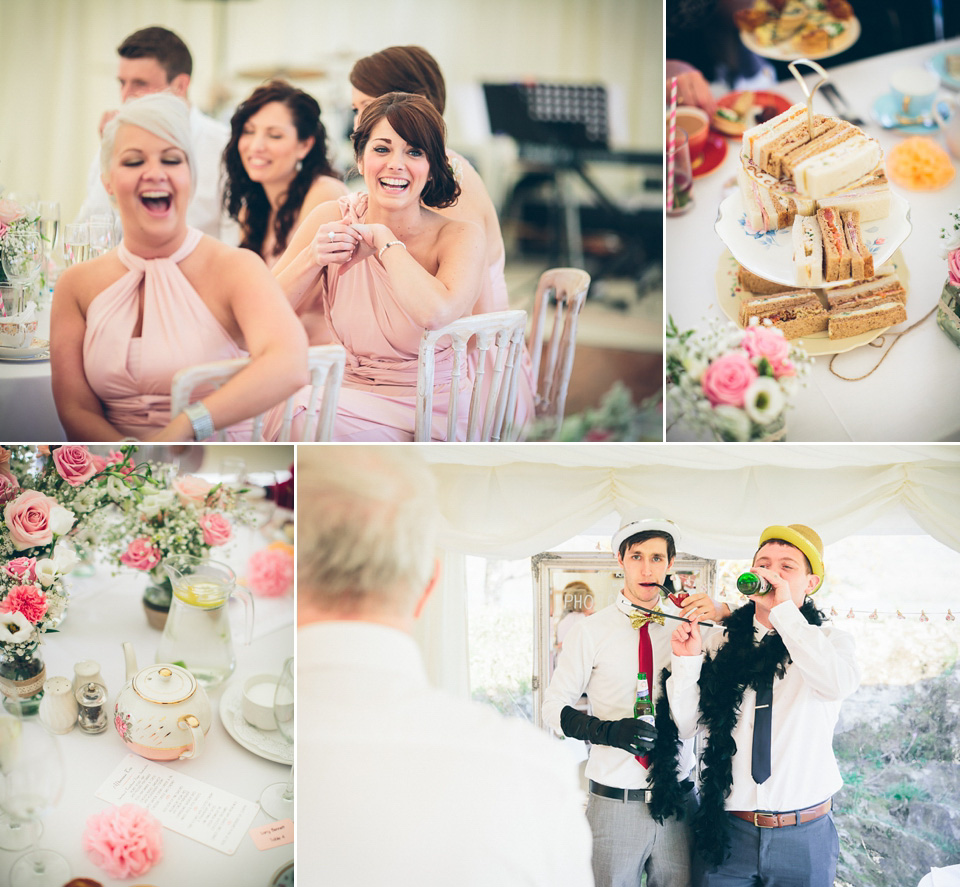 The three men did a fantastic job with their speeches, which we did before the food so they could relax and eat! Also, as we were staying in the reception venue, an after party began back in the house, after the music in the marquee ended, which was brilliant."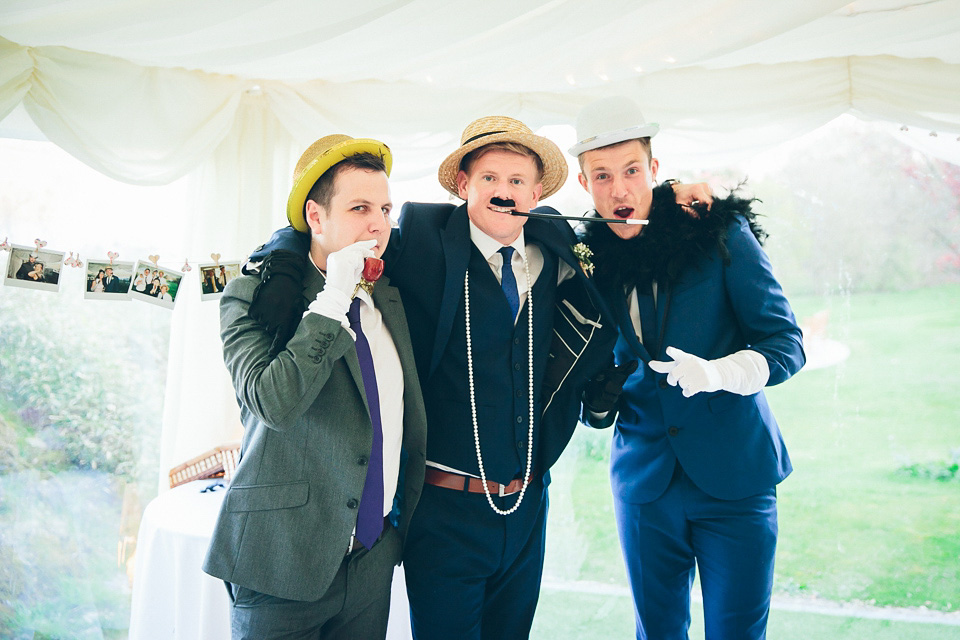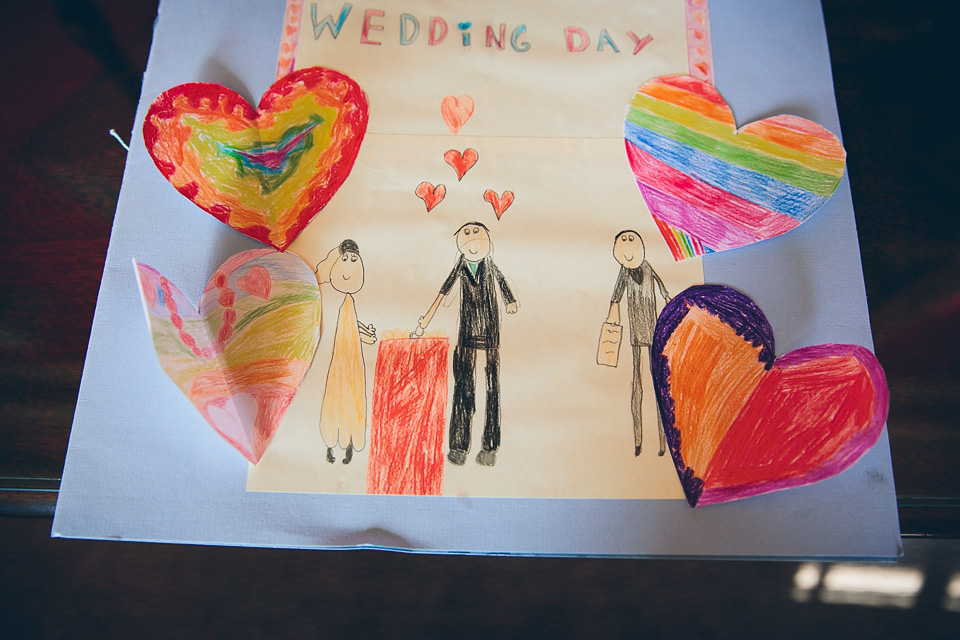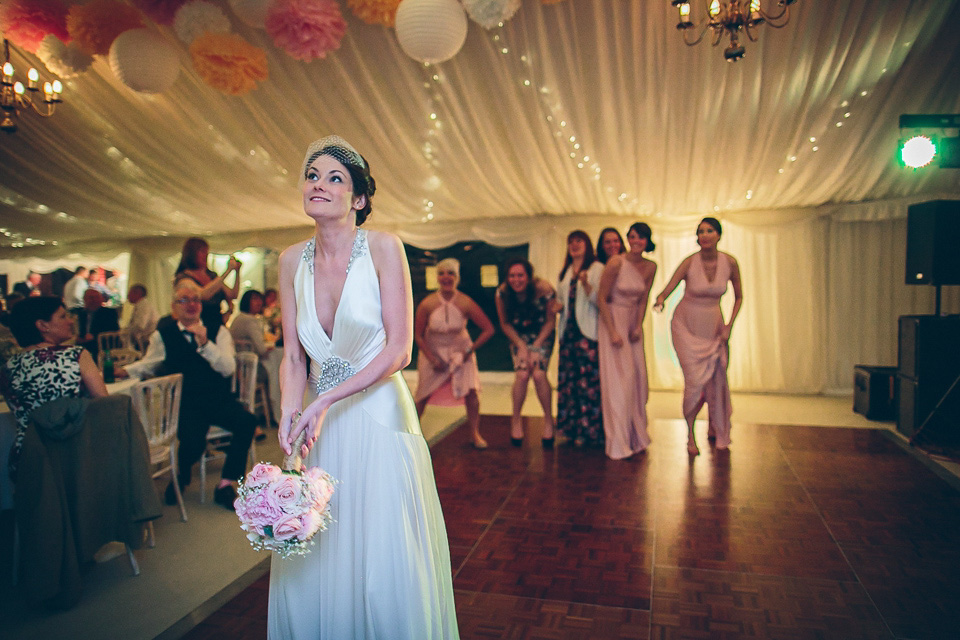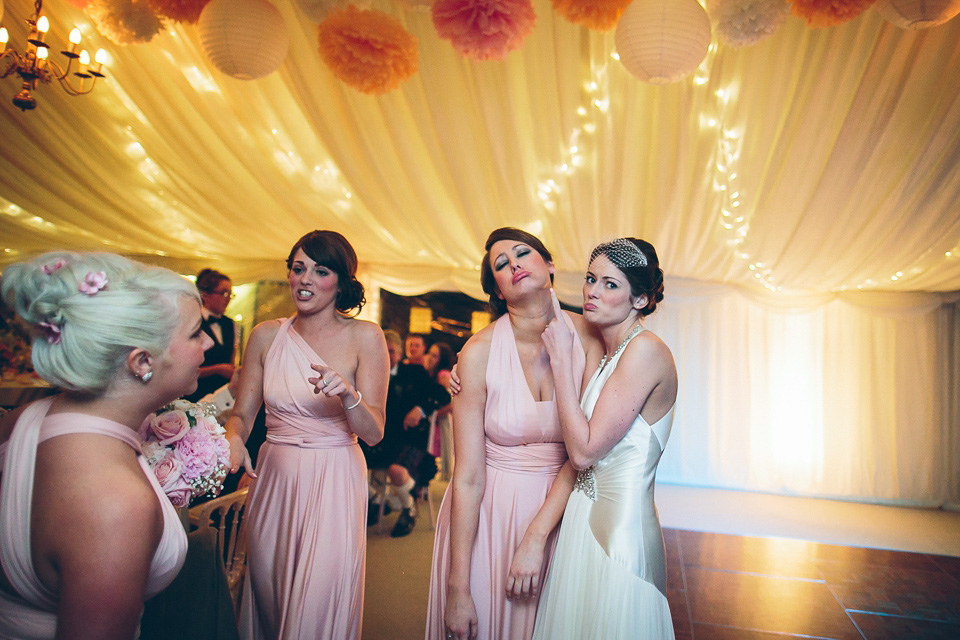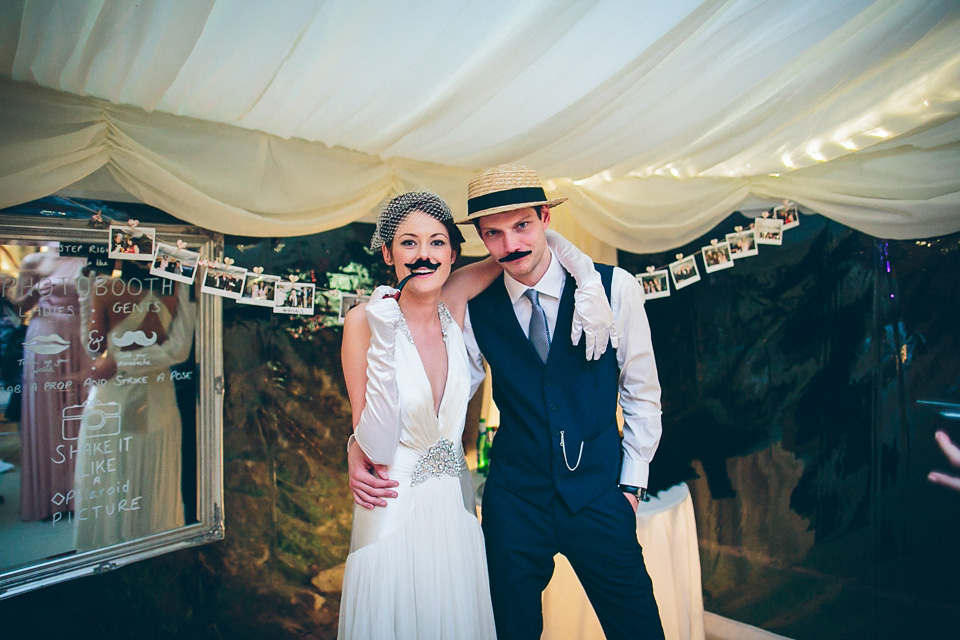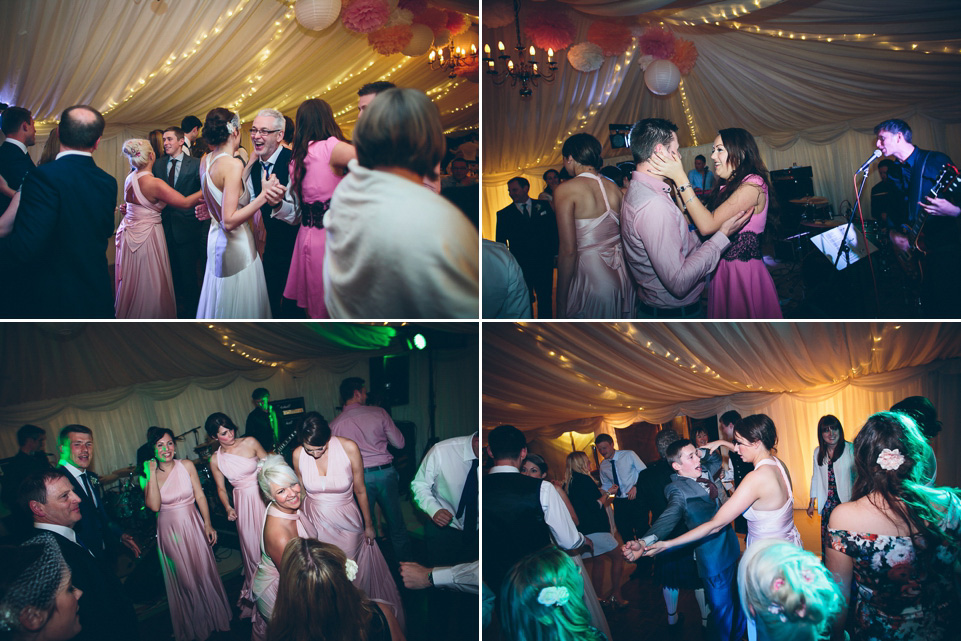 Words of wedded wisdom
"If you can book your venue, friends and family for a whole weekend of celebrations then definitely have a wedding weekend. The day before the wedding was lovely; we had lots of hands to help with the preparation of the marquee and we all shared a meal together at the house. The day after the wedding many of the guests returned to Silverholme, and Mike surprised me with an Easter Fête complete with food, drink and garden games. As a wedding day goes so fast, and we have friends and family from all over the UK, we loved the fact everyone could come together and really relax and enjoy the weekend.
Also, enjoy the planning and preparation process. It was something Mike and I did together and it was all the personalised touches that we think made our wedding extra special. There is a fantastic app called 'WedPics' which your guests can download and use to share their photos from the day. It is free and so easy to use and we ended up being sent over 700 photos from our friends and family which was brilliant.
The only thing I would have done differently would be to have more sleep the night before the wedding. However, the mixture of nerves and excitement made it too difficult!"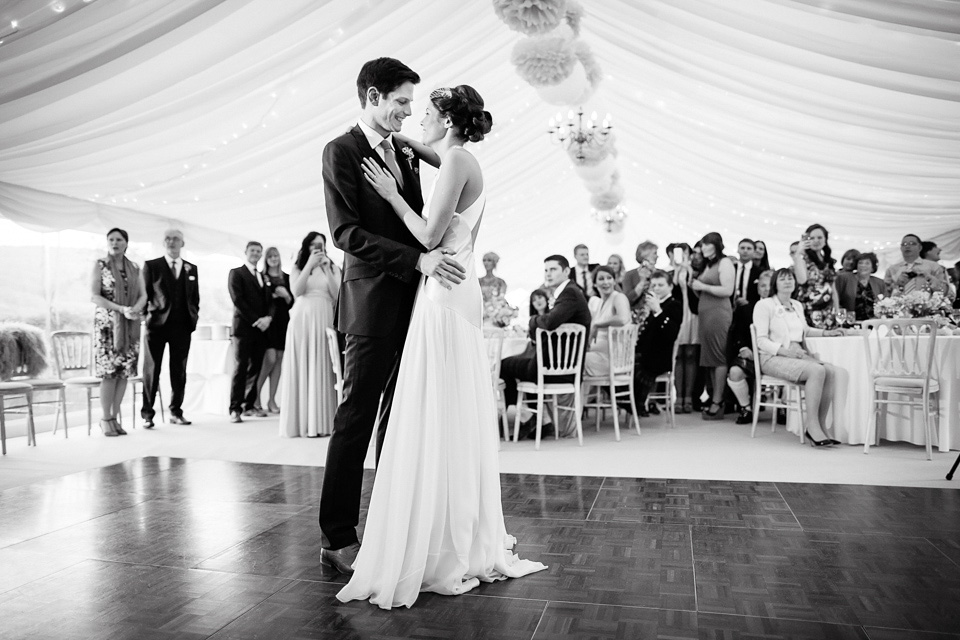 After hearing about this, I certainly give a thumbs up to a wedding weekend instead of a wedding day. It flies by so fast, why have one day when you can have three?! Congratulations to Amy & Mike on creating a wonderful celebration of your marriage and a big high five to Thomas Beecham for telling the story of their day so well in these glorious images.
Much love, Katie xx
Photographer – Thomas Beecham
Venue – Silverholme Manor House
Dress – Jenny Packham from – Mia Bridal
Shoes – Début
Bridesmaids – Coralie Beatrix on Etsy
Groom – suit Jeff Banks – tie Reiss – shirt – TM Lewin shoes – Reiss
Hair & Make up – Gemma Louise Smith
Catering – Karen Rhodes
Entertainment – Ulpha 590