One of the first things I was drawn to when I saw these images, apart from the beautiful 60's inspired Charlie Brear dress of course, were the flowers.  And so you can imagine my delight when I found out that bride Helen discovered her florist, Thoughtful Flowers, through this feature on Love My Dress – and it is so easy to see why she fell for the flowers in this wedding!
Solicitors Helen and Andrew tied the knot on 30th August with a ceremony at Lancaster Cathedral, followed by a festival inspired wedding reception at Park House Farm in Milnthorpe, Cumbria – complete with an entire bell tent village for their guests. How amazing! I adore the relaxed and laid back vibe of this day…
"We wanted to do something a totally different for our wedding. We both love the outdoors and loved the idea of having the reception in a big field in a beautiful setting with tipis and glamping for our guests to crash. We wanted our wedding to be a relaxed and sociable occasion where everyone was in one place and able to get to know each other properly over a weekend. We went for a floral and festival theme with some vintage touches too to make our very own 'WedFest'!"
Photography Copyright (c) 2014,  El Hitched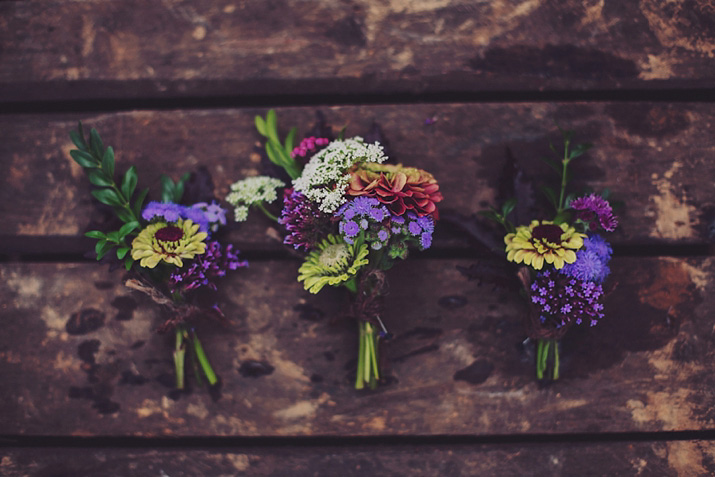 "We used Special Event Tipis for the tipis. Kate and her team were wonderful, so helpful and professional. The tipis were amazing – and withstood some pretty strong winds and rain the few days before the wedding, much to everyone's relief! We used Cariad Canvas for our bell tent village. The team were great and worked tirelessly creating the HUGE village of bell tents ready for our guests to crash in throughout the weekend!"
"My wedding dress was by Charlie Brear.  It was a 1960s style lace design, and I teamed it with a long silk sash. I loved it as it fitted like a glove and was elegant and so comfortable.  Also, because my friends, Steph and Lucy, got very giddy when I first tried it on!"
"I always fancied having flowers in my hair and I had seen some gorgeous pictures of flower crowns on this very blog which led me to get in touch with the same florist, Juliet from Thoughtful Flowers.  I decided to go for flower crowns for me and the bridesmaids and so pleased I did! I loved what Juliet created – they were truly amazing."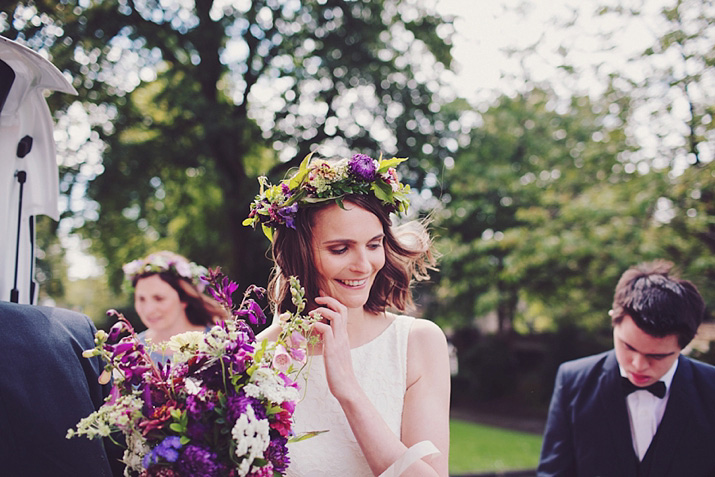 "Our photographers were Elly and Cat of El Hitched.  Andrew's brother, Michael, recommended Elly as she had done photos and artwork for his band previously. We absolutely LOVE the photos, they are incredible and really capture the spirit of the event! Elly and Cat were totally fab, so relaxed and friendly, they dotted between the WedFest site, the Cathedral and my sister Lucy's house where we got ready. They just fitted in with everything perfectly. I would recommend them to anyone!"
"I have freakishly small feet and when I tried on the dress the shop lent me their smallest pair of shoes to try with the dress. They were so comfortable, vintage style and looked perfect with the dress so I asked if I could buy them but they just threw them in with the dress and veil – bonus!"
"The lovely Nicola Jewsbury did our hair and makeup, she was brilliant and worked so hard all morning getting us all sorted! I opted for a natural look and everything stayed magically in place all day and evening. When it got a bit manic just before setting off to the cathedral Nicola was amazing, calmly fitting flower crowns on heads before we walked out the door!"
"Our florist was the wonderful Juliet from Thoughtful Flowers. I discovered Juliet on Love My Dress when I saw pictures of her beautiful flowers at another wedding in the north west. I loved the colours and wild flowers she had used. I went to meet Juliet at her amazing flower farm in Shropshire with my flower experts, my mum and sister, to discuss ideas and I just knew she would do a fabulous job. The flowers were just stunning – one of my favourite things of the wedding.
As well as the crowns, bouquets and buttonholes Thoughtful Flowers brought cut flowers and arranged them in jam jars on the tables in the tipis. It was amazing seeing what they had done when we first walked in to the tipis."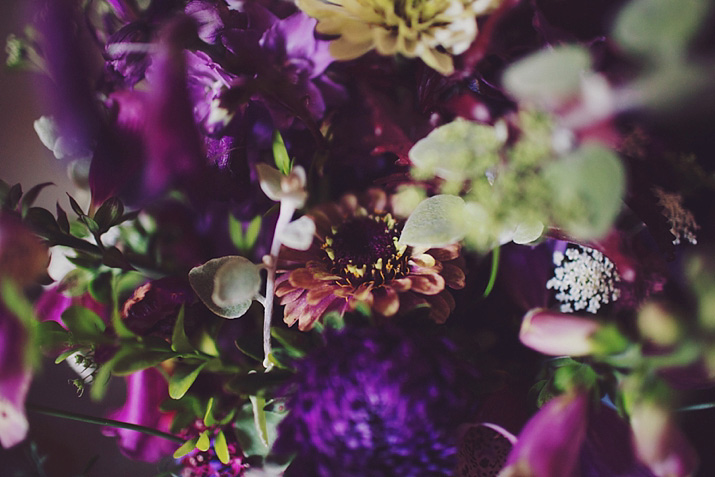 "Andrew and I met in a student flat at law school in Nottingham nine years ago – he proposed during a trip to Canada on the shores of Vancouver island whilst we were camping by the beach on a kayaking trip in search of whales! We were engaged for about 11 months before getting married.
We chose our venue, Park House Farm in Milnthorpe, Cumbria, as it was near to family and in such a beautiful spot, overlooking the Kent Estuary. The farm, run by a local family, has a huge field ideal for tipis and bell tents, with a view to die for!"
"Andrew wore his Dad's Hugo Boss suit and looked extremely dapper! His Dad would have been very proud. 
Andrew and his groomsmen all wore bow ties in berry colours which tied in with the bridesmaid dresses and flowers."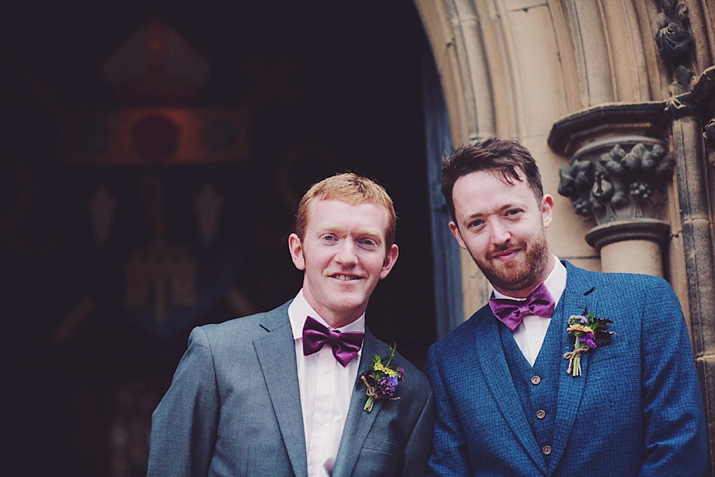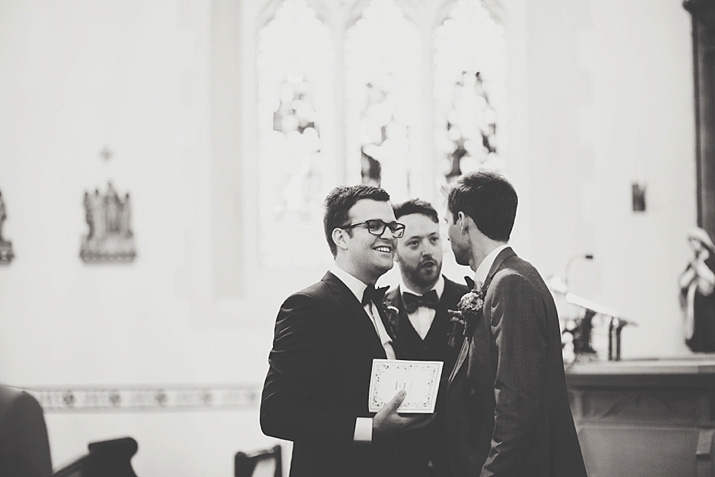 "My Dad walked me down the aisle, it was a lovely moment and really quite emotional.  We walked down the aisle to 'Toccata in G' (Theodore Dupoire) booming out on the organ!"
"The bridesmaids wore Hobbs dresses in blue and pink. I didn't want everything to be too coordinated so mixed and matched colours and different shoes.  The bridesmaids all wore different Rachel Simpson shoes, all with some silver in them! I had a bit of a thing for Rachel Simpson shoes from when I first saw them online, I just loved the designs and vintage look.
The bridesmaids all wore flower crowns and looked very festival-chic and total stunners! Little Holly had a flower crown too but it didn't stay on for long! And finally, they also wore pearl necklaces on silver chains with other little gems to match in with the dresses and flowers."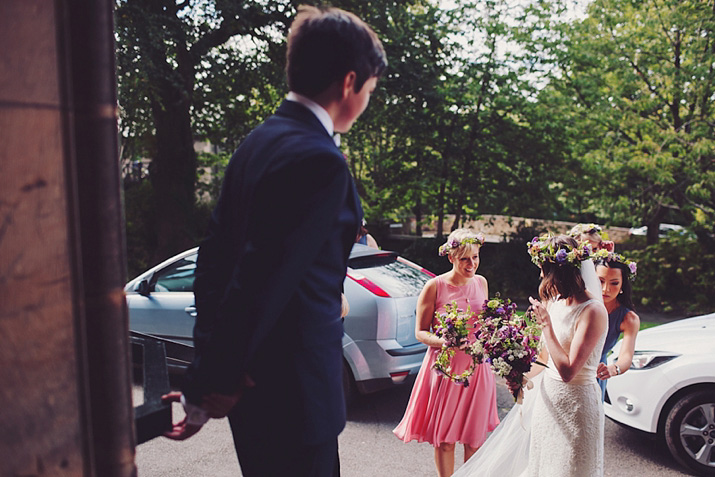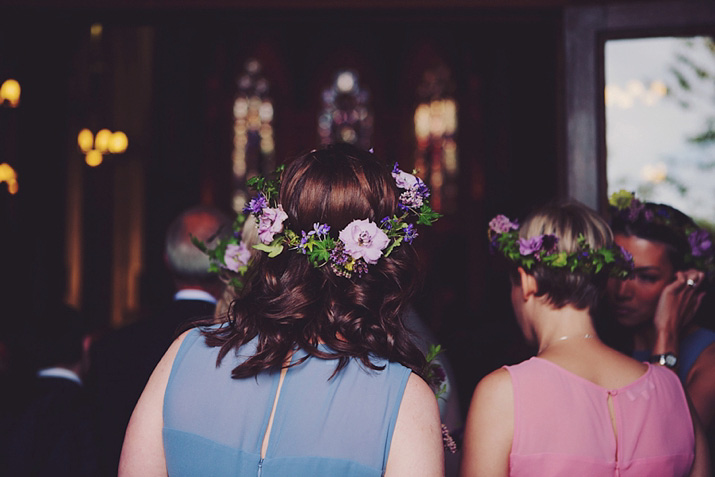 "One of my most favourite moments of the day was walking down the aisle with my Dad and seeing Andrew with a huge smile on his face and all of our favourite people looking so happy. Suddenly the occasion and the moment really hit me, so special!"
"We had a religious reading and we also chose a short non-religious reading which we thought sounded like us….
'This day I married my best friend
the one I laugh with as we share life's wondrous zest,
as we find new enjoyments and experience all that's best.
the one I live for because the world seems brighter
as our happy times are better and our burdens feel much lighter.
the one I love with every fibre of my soul.
We used to feel vaguely incomplete, now together we are whole.'"
"We got our rings from Cara Jewellers in Dubai after a recommendation from friends who live over there. Both of our wedding rings have a leaf pattern which matched my engagement ring that Andrew had designed."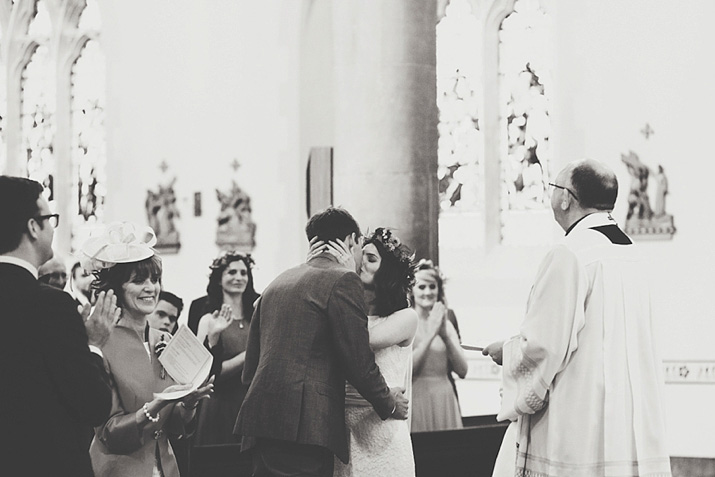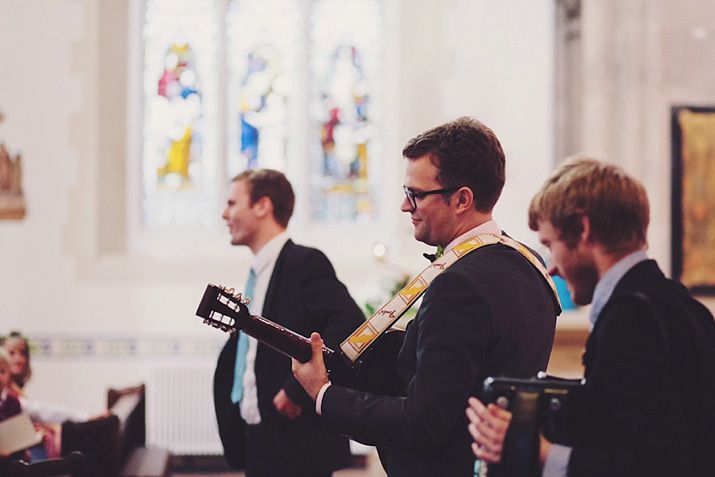 "Andrew's brother, Michael, was our musical director! He is part of the marvellous folk band 'The Young'uns', and they played our favourite of their songs, 'Love in a northern town' whilst we were signing the register.
They were the first act in the brilliant line up of music which Michael had sorted! After the speeches Michael's pals and BBC young folk award winners Greg Russell and Ciaran Algar got us all warmed up with a few of their numbers who were then followed by the Monster Ceilidh Band who rocked the tipis in to the evening. After a short break the very talented David Eagle, one of Michael's band members, gave us an insane DJ set – it was one hell of a party!"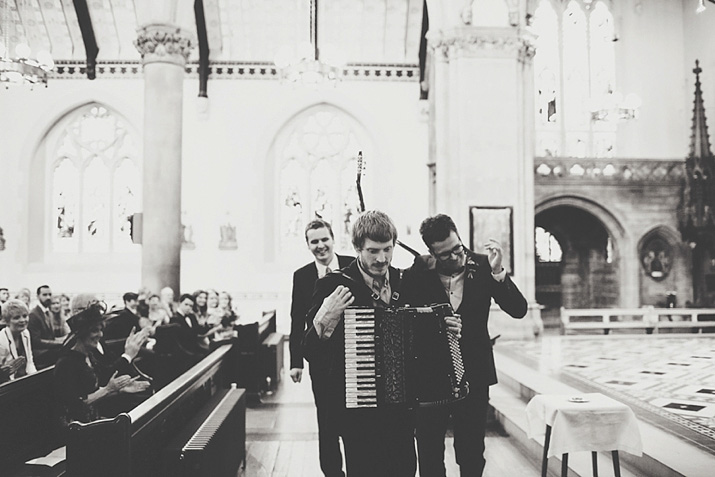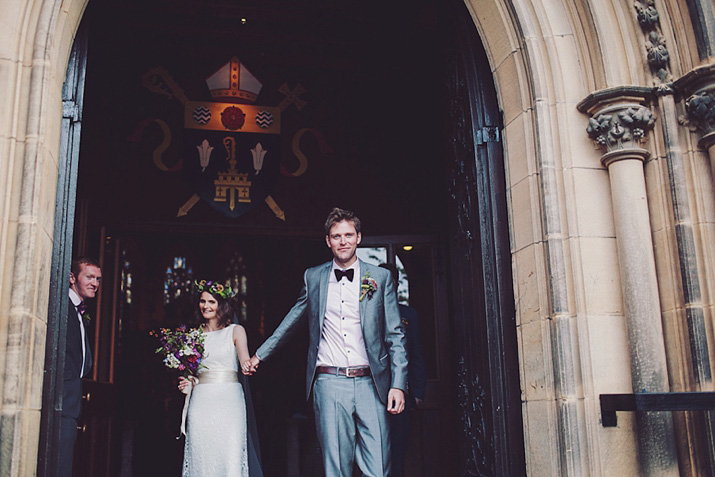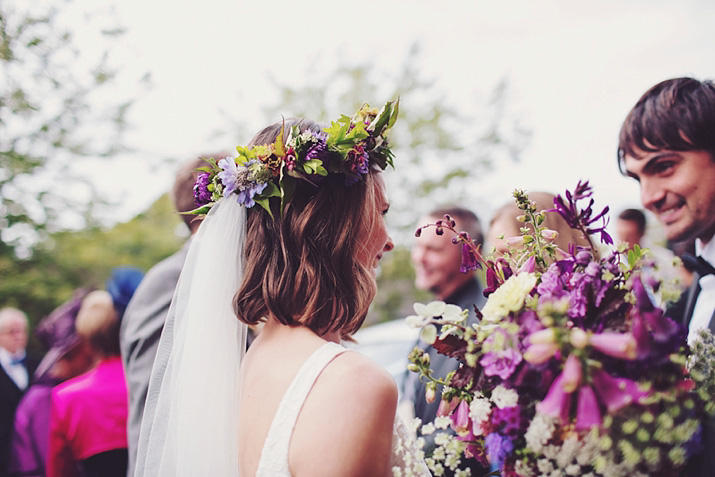 "My sister-in-law's mum said that she would make a dress for my little niece Holly, so I chose some liberty print fabric which went with both bridesmaid dress colours and she made the dress from that, it was beautiful!
My sister in law's mum also made a waistcoat for my nephew, Oscar, and a tie to go with Holly's dress in the same liberty print fabric, so cute! My brother Sam also had a matching tie too!"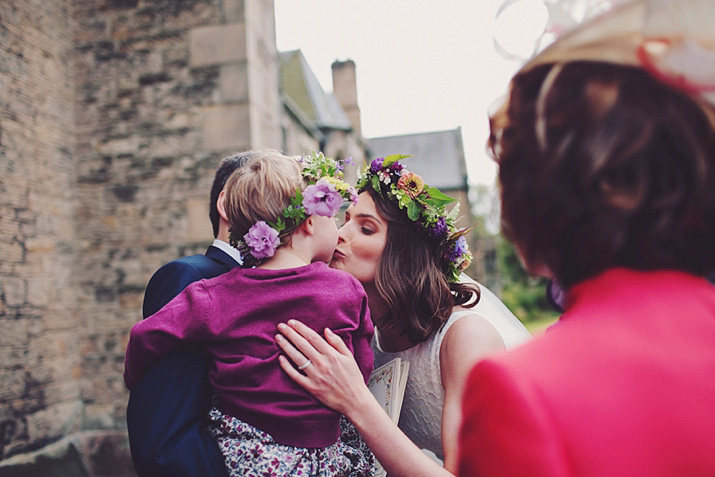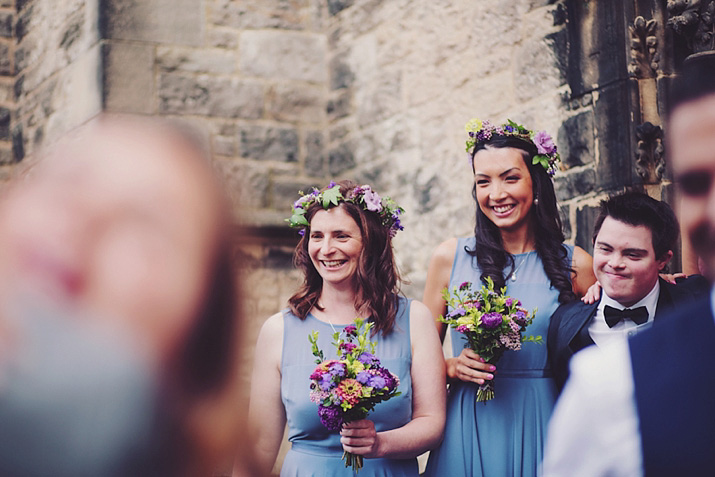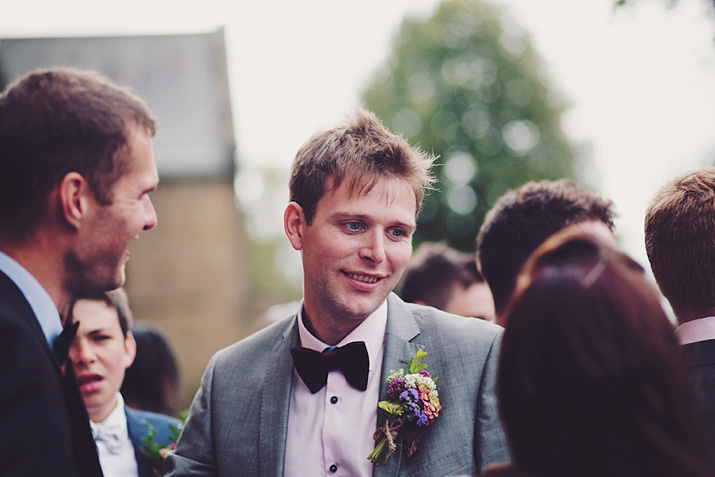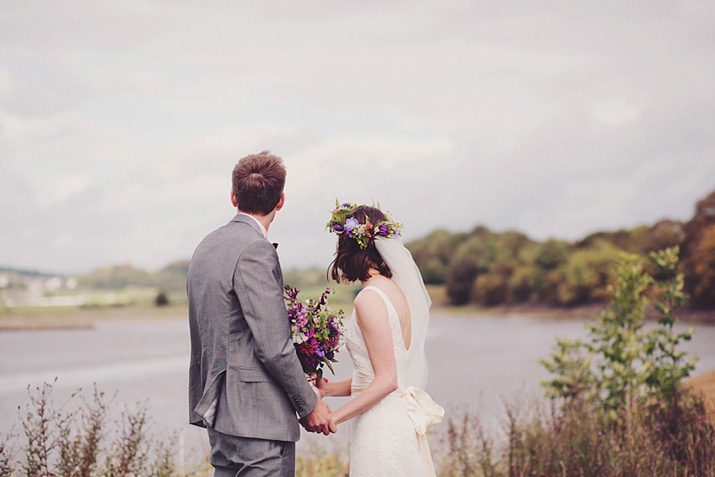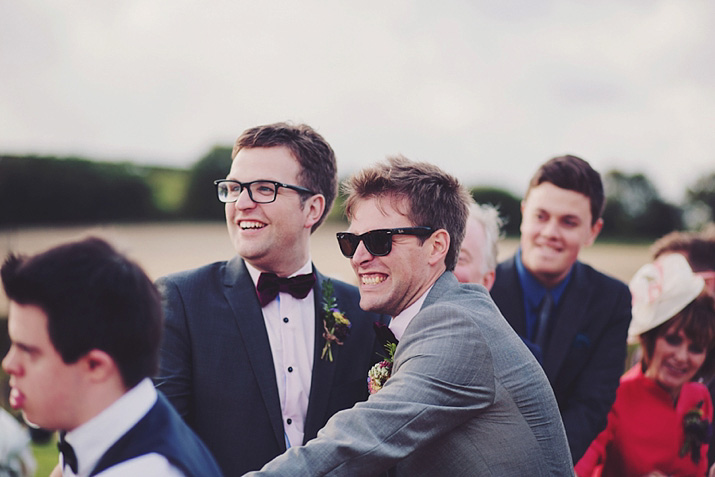 "Before we sat down to eat we had a bride versus groom tug of war which was so much fun… and team bride totally won!"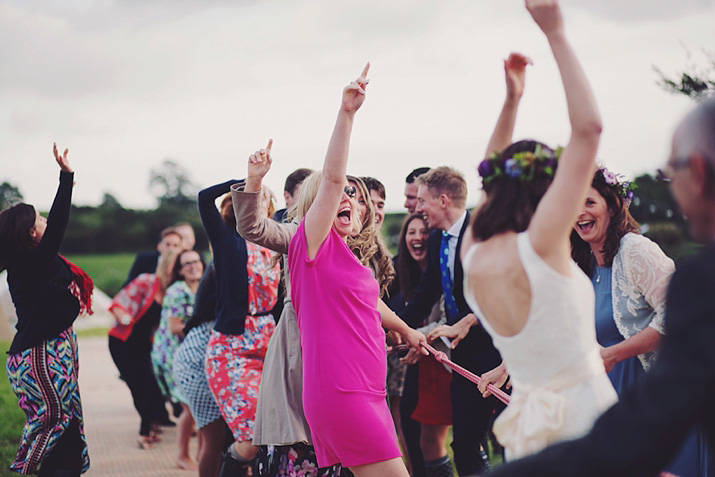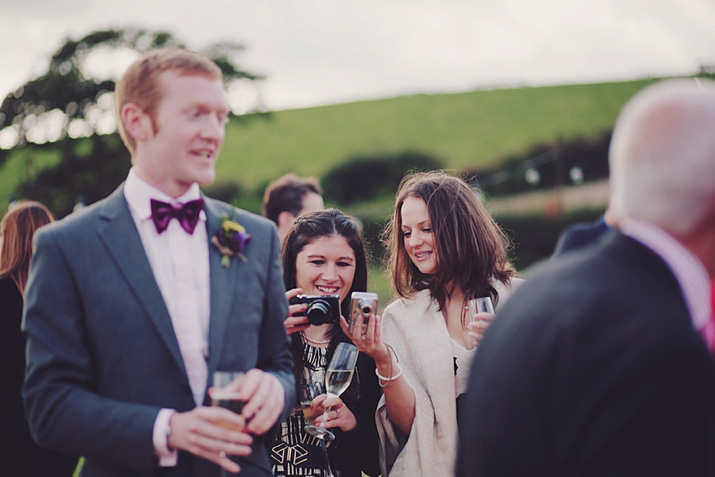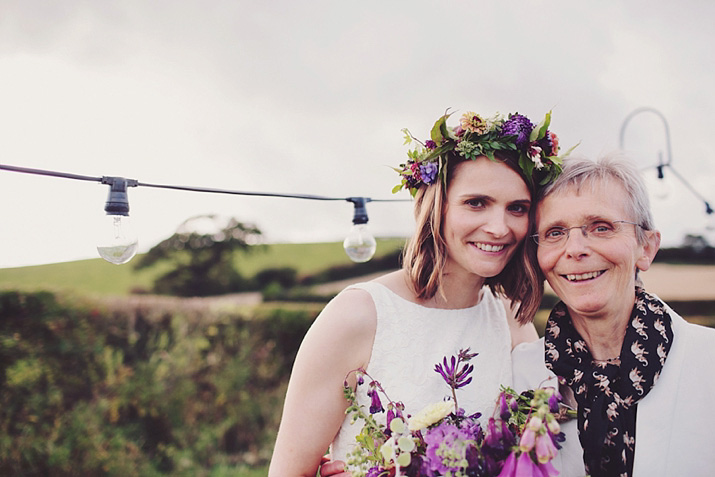 "We had some fabulous festoons lighting up the WedFest site which were provided by Typical Type. We had a hay circle and camp fire where people could chill out and get together throughout the weekend. Andrew's mum made some amazing signs directing people around the site. We had various toys and games available for the children (or adults!), including space hoppers which were a total hit!"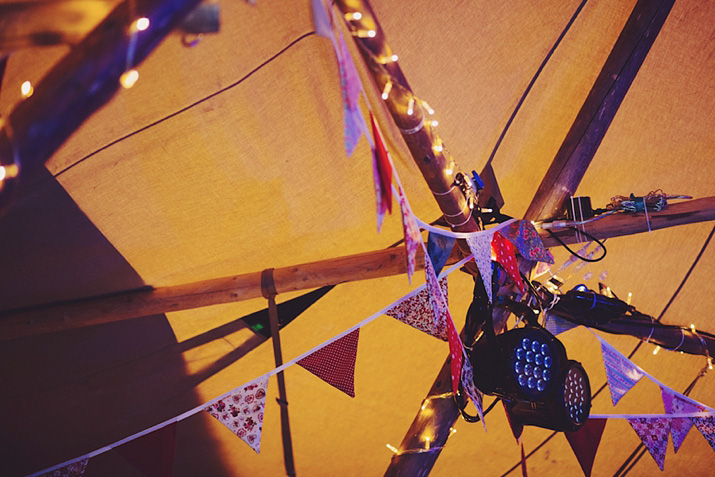 "Karen Rhodes Weddings and Events were our caterers. Food was a really important part of the day for us. We wanted something rustic and relaxed using good quality produce. Karen Rhodes did canapés then bread and dips to start and a fantastic barbeque with delicious salads and sides. We wanted something for dessert where everyone could get involved so Karen Rhodes suggested "make your own eton mess" which was perfect! We then got our own local cheeses, fruit and biscuits which were set up for us later on.
The Karen Rhodes team were very slick, the service was excellent, and lots of our guests commented on how great the food was."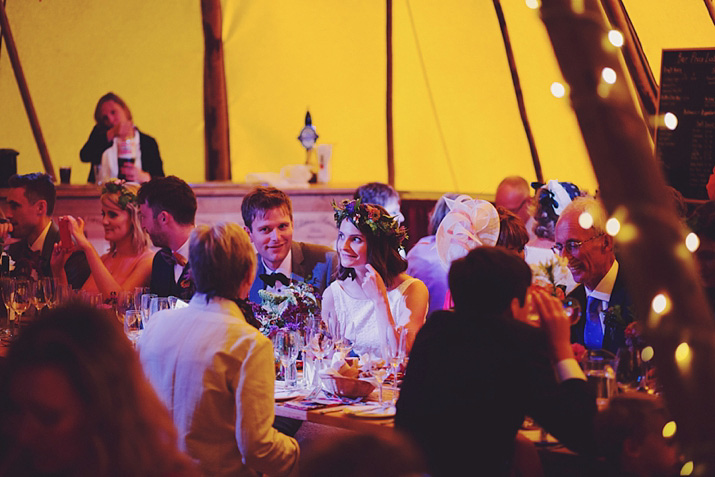 "My mum made some gorgeous napkins, all with seconds liberty print material, with Helen and Andrew name tags sewn on. My sister, Lucy, kindly made name labels which we tied round the napkins in different colour ribbons. My mum also made little bags with toys in for the children which were very well received!"
"The tipis supplied by Special Event Tipis were a blank canvas to decorate ourselves. This was fun but pretty time consuming on the day before the wedding! My mum and dad did a team effort in making a huge amount of bunting which we hung all around the tipis and which looked brilliant (thanks mum and dad!). A family friend lent us some lace which we attached as table runners to the long wooden tables. We used all different sized jam jars for the flowers on the tables and collected jars from gu desserts which we used as candle holders to put tea lights in.
We also used big vases to put big chunky candles in. We brought some potted plants which we dotted around the tipis on old wooden crates."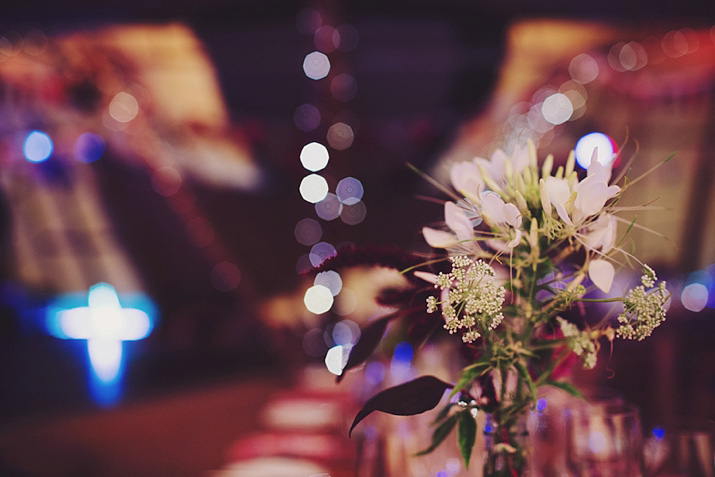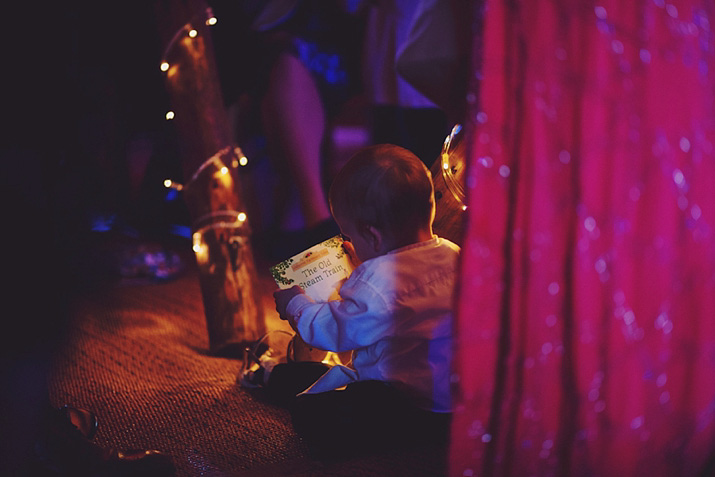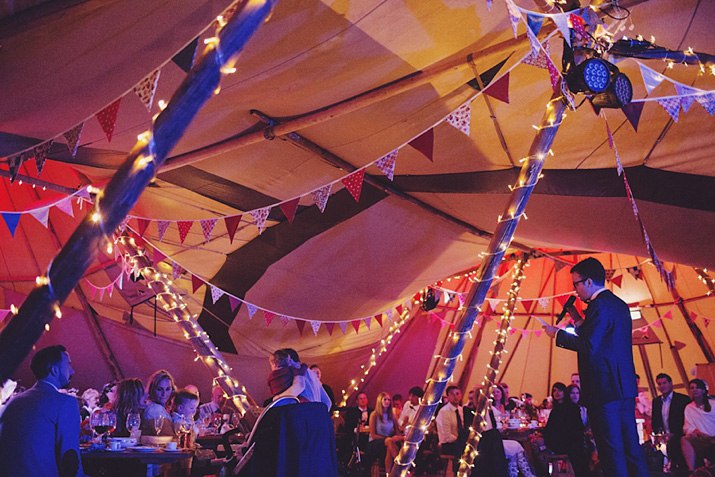 "Our first dance was 'Hey ho' by the Lumineers – we both love the song and we thought it fitted well with the music line up and theme of the whole event."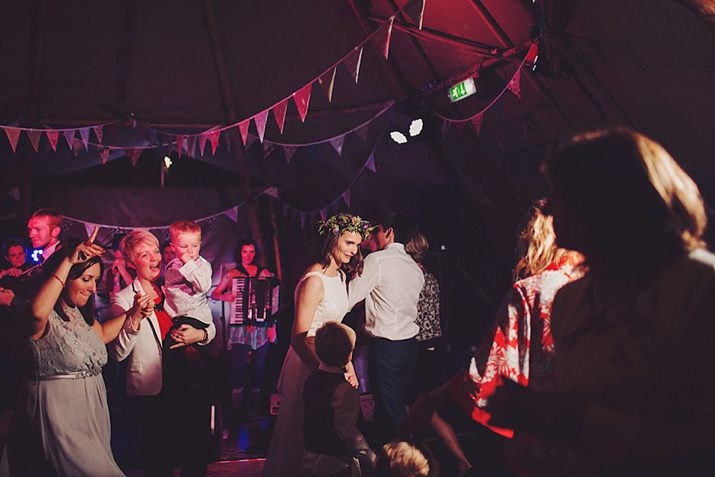 Words of Wedded Wisdom…
"Try not to get too bogged down with tiny details, you can only do so much and don't get too hung up about the weather!! What will be will be! We became a little obsessed with checking every weather forecast out there and although the forecast looked terrible at some points everything was fine (if a little nippy for August!) – and by some miracle the sun actually shone when we were having drinks and photos in front of the tipis. Things usually work out one way or another!
We probably would have taken more time off before the wedding to get everything ready, the couple of days before the wedding ended up being totally manic which meant that we were pretty wacked by the main event!! Setting up the entire WedFest site in 3 days was a such mammoth task but we got there in the end, just in time, and I really can't thank enough all of our family and friends who helped make it possible – it was totally worth it!"
What an absolute delight of a day! I love the idea of a whole host of wedding guests glamping it out in a bell-tent village, what an absolutely fabulous idea.
Congratulations to you Helena and Andrew – I'm so delighted that you were so inspired by Love My Dress, and this feature in particular.  I hope you have the most wonderful first year of married life together and than you both so much for sharing your story today.
So tell me, what do you love most about this beautiful day?
Love Annabel  xx
Photographer – Elly Lucas and Cat Lane
Venue – Park House Farm in Milnthorpe, Cumbria
Tipi Hire – Special Event Tipis
Bell Tent Village – Cariad Canvas
Dress + Veil – Charlie Brear
Headpiece – floral crown by Thoughtful Flowers
Groom – Hugo Boss suit
Bridesmaids – Hobbs dresses + Rachel Simpson shoes
Flowergirls + Page Boy – DIY using Liberty print fabric
Florist –  Thoughtful Flowers
Cake – DIY, family
Entertainment – The Young'uns
Rings – Cara Jewellers
Catering – Karen Rhodes Weddings and Events
Hair + Makeup – Nicola Jewsbury
Festoon Lighting – Typical Type