We've such a gorgeous seaside wedding aboard a ship today for you to enjoy. Nautically inspired weddings are one of my favourite things and this delightful summer affair comes complete with sailboats, driftwood, pure white sand, crystal blue sky and sea, a wooden pontoon, hand picked florals and the most divine Gema Nicolas wedding dress! A day brimming with love, joy, laughter, dancing, family, friends, (a cheeky cat!) and a good measure of nautical details along the way ( I adore the dune grass table centres!). All thanks to the couples shared loved of each other and the seaside where they grew up.
Trevor and Amy were married aboard the HMS Warrior 1860, in Portsmouth, Hampshire on Friday 20th June 2014, followed by a bunting adorned fishing boat ride with champagne to their beautifully relaxed reception at Hayling Island Sailing Club. Trevor runs his own electrician company and Amy works for the London Cycling Campaign as their Activism Coordinator (their love of cycling features a little in the day too!).
"I knew I wanted something laid back, fun and fairly informal, to make the day suit us and to make sure it was a day that all our guests could enjoy as well. I wanted everyone to have as much fun as we were going to. I didn't see the point in trying to create anything that was far removed from the type of people we are either. Fancy food, posh napkins and formality is certainly not the kind of day we'd have felt comfortable with. Yet Trev wanted to keep to tradition in some areas; so we had a nice balance I think."
Photography Copyright (c) 2014, Camilla Arnhold Photography
"We live by the sea and I love the beach, so doing something with a nautical theme seemed to work nicely. My friend Lou always jokes about how any decorating I do at home, or items I buy for the house has a 'beachy'theme, so it's very 'me'! But most things just fell into place. For instance, my Mum found some blue rock online which we thought we would use for favours. She then found some red luggage tags which we used for the place settings (tying them round the rock). The blue and red theme just sort of happened from there!"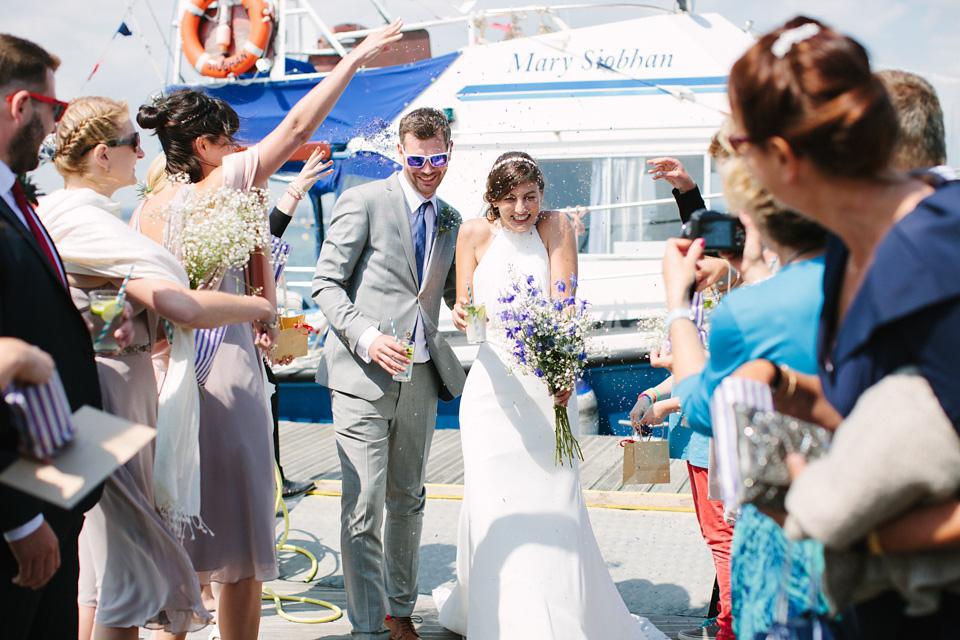 "I used to work on the HMS Warrior 1860, organising weddings and events so the ship had a special connection for me. Trevor just liked the ship and thought it was cool. We knew we didn't want to get married in a church as we're not in the slightest bit religious, so the Warrior seemed a perfect solution!"
"For the reception, we wanted somewhere local and by the sea which we could reach by boat from the Warrior and Hayling Island Sailing Club provided the perfect setting – with a pretty beach, and a pontoon for us to arrive on. Hayling is also where Trevor grew up and I spent much of my childhood with my family on Hayling Island so again, it was the perfect venue for us! It's just down the road from our home in Emsworth so was nice and local."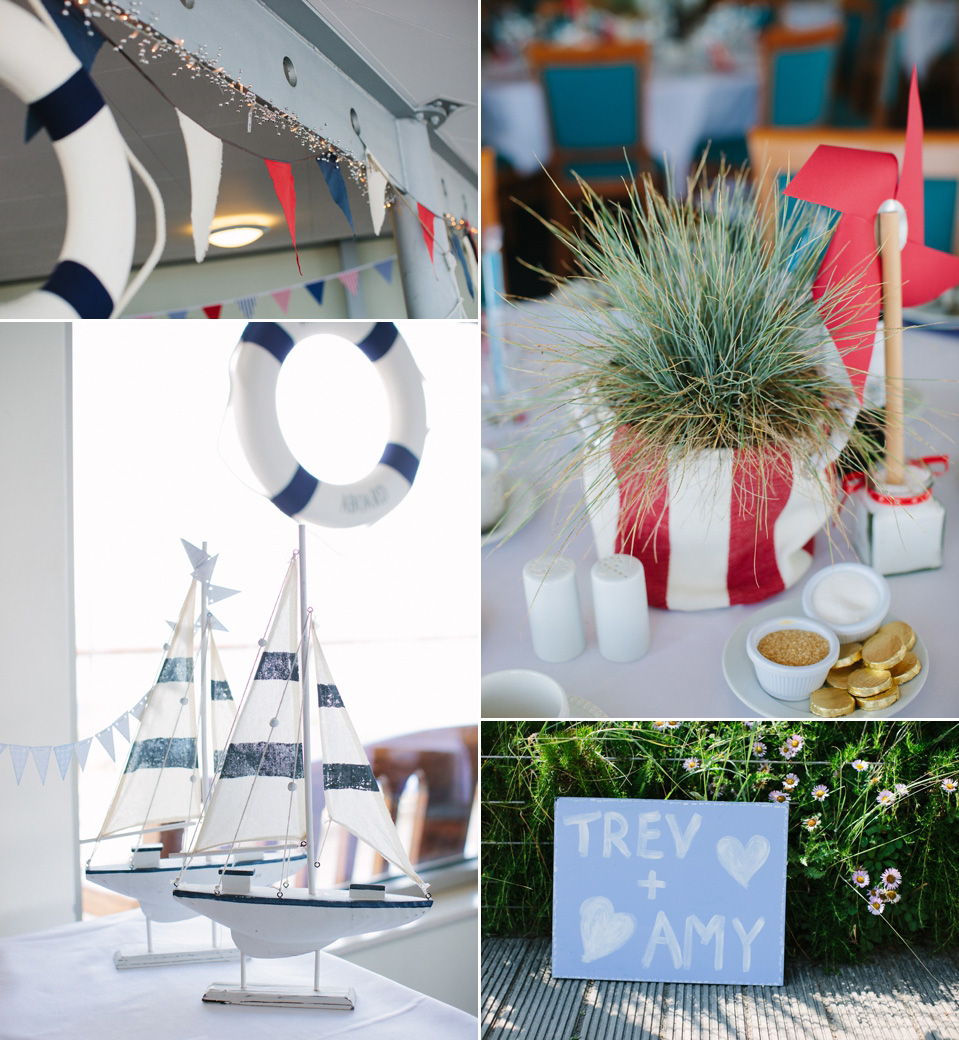 "We bought bunting and ribbon to match the red and blue and nautical theme, and anything else we came across that we thought might work for the reception. My Mum did an amazing job on the table decorations and other aspects of the day. She was in her element searching eBay, craft shops and various websites for inspiration and ideas. We didn't go for flowers on the tables; we wanted something a bit different and I didn't see the need to spend hundreds of pounds on flowers that would go to waste. So Mum bought some potted grasses from a local nursery a few months before the wedding and nurtured them in the garden in the weeks before the big day.
These formed our centre pieces, sat in canvas red and white striped baskets along with homemade windmills and cardboard numbers covered in world map wrapping paper!"
When it came to choosing her dress, Amy selected a divine, willowy, delicately lace trimmed, cowl backed dress. 'Cabotine Novia' by Gema Nicolas, purchased from Truly Gorgeous in Chichester, West Sussex.  You must read the full feature below to find out the fantastic story behind this dress!
The bridesmaids wore shoes of their own choice and their beautiful pale taupe knee length gowns were Jenny Packham, from Debenhams.
"The girls did their own hair, but had some beautiful flowers made up at the florist that morning to match the buttonholes and my bouquet. When they picked up the bouquets on the way over to get ready, they'd asked our florist if she could put together something for their hair and she kindly made up 4 pieces for the girls, all at short notice!"
Amy and Trevor chose the wonderful Camilla Arnhold Photography to capture their day;
"Camilla is an old school friend of my little sister and we were thrilled to have her be our photographer. It was great having someone we know be so closely involved in our big day. She was absolutely fantastic and so super organised. She knew exactly where to be, what to do and covered everything we wanted. She captured so many lovely beautiful moments from the day, and looking over the photos was truly like re-living it all over again. Everyone has said how amazing they are. We love them!"

"Beckie Lou flowers in Bosham is a lovely little shop, and they did such a good job with my sisters flowers the previous September that it was an easy decision to use them again. They made me a bouquet, with daisies, gyp, delphiniums and something else that I can't remember the name of! I told them a wanted a 'just picked'wild look, which they did perfectly. The daisies were to match the daisies on the neckline and waist of my dress, along with my sandals and headband. The girls had large bouquets of white gyp, again, with a just picked look."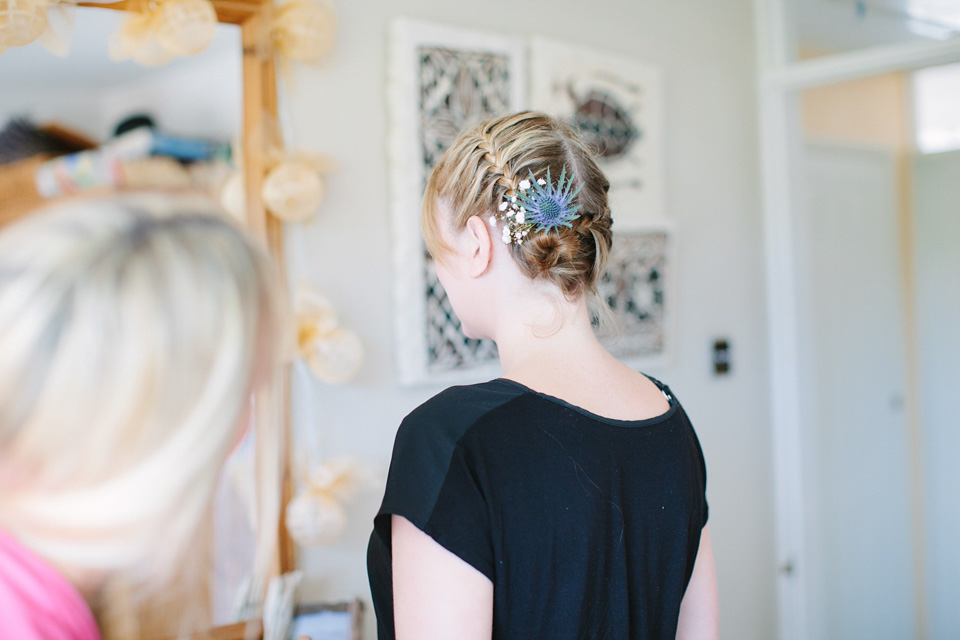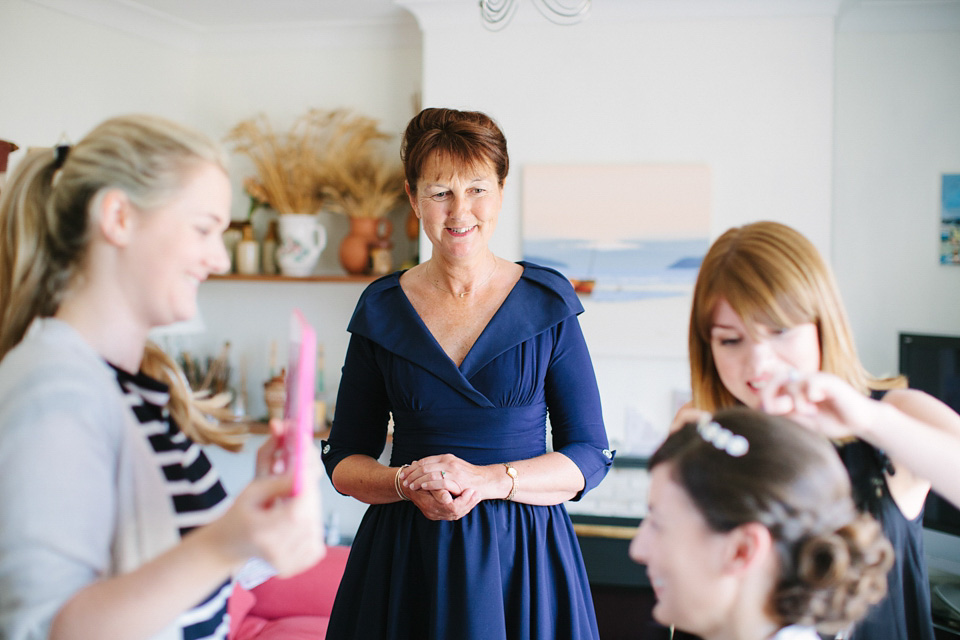 Amy's beautiful It is such a beautiful Gema Nicolas dress has quite a fantastic story behind it…
"My sister actually picked it out a few days before Mum and I went to have a look in the shop. She said that there was an "amazing dress"I had to go and try on. Heidi knew I wanted something unusual, that would suit my shape and she thought the dress was lovely. Mum and I went to try it on, and we knew instantly that it was 'the one'. We tried on about 5 or 6 others after, but they didn't compare.
I hadn't intended to spend too much money on a dress, I had grand visions of finding something in Oxfam Bridal and not wasting money on something I'd spend a day wearing. But after trying on a heap of dresses in an Oxfam Bridal shop and being totally uninspired, my priorities changed. I wanted a beautiful new dress!"
"I felt incredible in what was to become my dress when I tried it on. Mum and I knew we had to get it. It felt very unique, and suited me so well. I have small boobs and my dad's broad shoulders so anything without shoulder straps just fell off me and looked terrible. But I loved this dress, it was what I had wanted to find, but was struggling to actually find any designs I liked that weren't the traditional strapless style when I was looking online. I loved the lacy back and buttons, and the cowslip.
Even the woman in the shop loved me in it; she said not many people were able to pull that dress off. Which made it even more special as I knew it wouldn't be something most people wore."
"The funny thing was, Heidi, my sister didn't know we bought it. When she got married, her and Mum kept her dress secret till the big day. Mum did the same with me and swore me to secrecy when we were in the shop "You mustn't tell anyone, it has to be a surprise". We had to tell Heidi that the dress she'd told us to try wasn't quite right after all. We told her we went for something shorter ("for the beach"we said) and in a 50's style. I think she was quite worried about it in all honestly.
She's the one with more fashion sense than me and she hated not knowing what we'd bought, worried we'd picked something hideous. She thought I had a short dress until she walked into the room just after I put it on, the morning of the wedding. She burst into tears when she saw me! She was thrilled when we reminded her it was the one she'd picked out."
Amy wore delicate gold sandals with little daisy flowers, to match the flowers on her dress which were from Dune, a pretty daisy headband, bought from River Island and a pair of pearl earrings.
"I wore a diamond and topaz necklace (a flower shape design on a silver chain) underneath my dress. It was a present from Trevor on the morning of the wedding."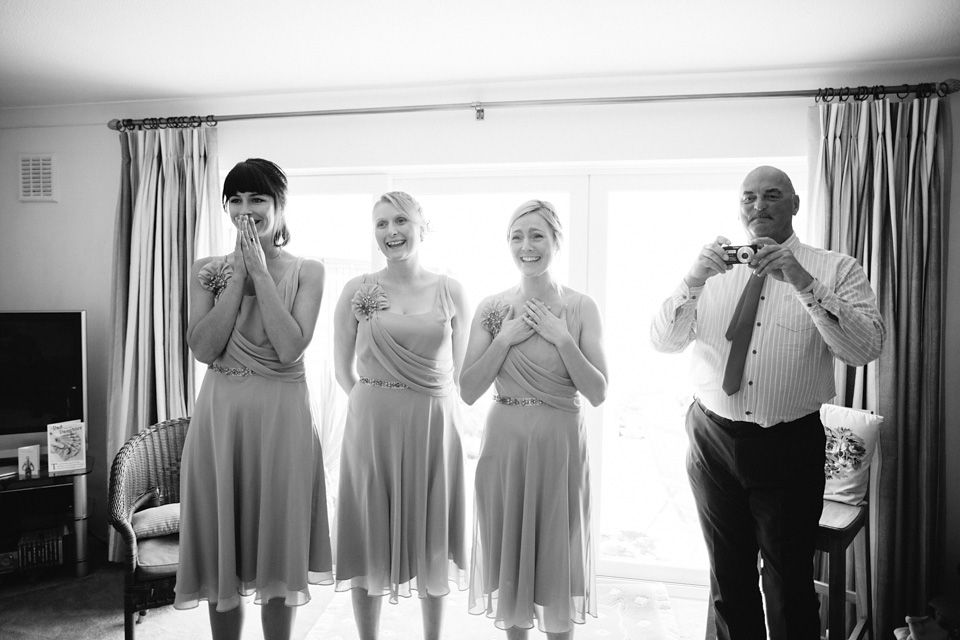 "Trevor and I met in our local pub, the Coal Exchange in Emsworth. I used to work behind the bar while I was studying for my masters and Trev used to pop in for his after work pint (or two!). Trevor asked me out for a drink in May 2009 and the rest is history! I think I knew deep down before we even had our first date that I would marry him. My friend Sarah and I even joked about it in the days beforehand, whilst talking about our relative dates, avoiding exam revision.
Trevor asked me to marry him on top of Kingley Vale, West Sussex in January 2013 (after making me walk up the hill late one Monday afternoon in the snow!). We planned the wedding for the following summer as my little sister was getting married in September 2013."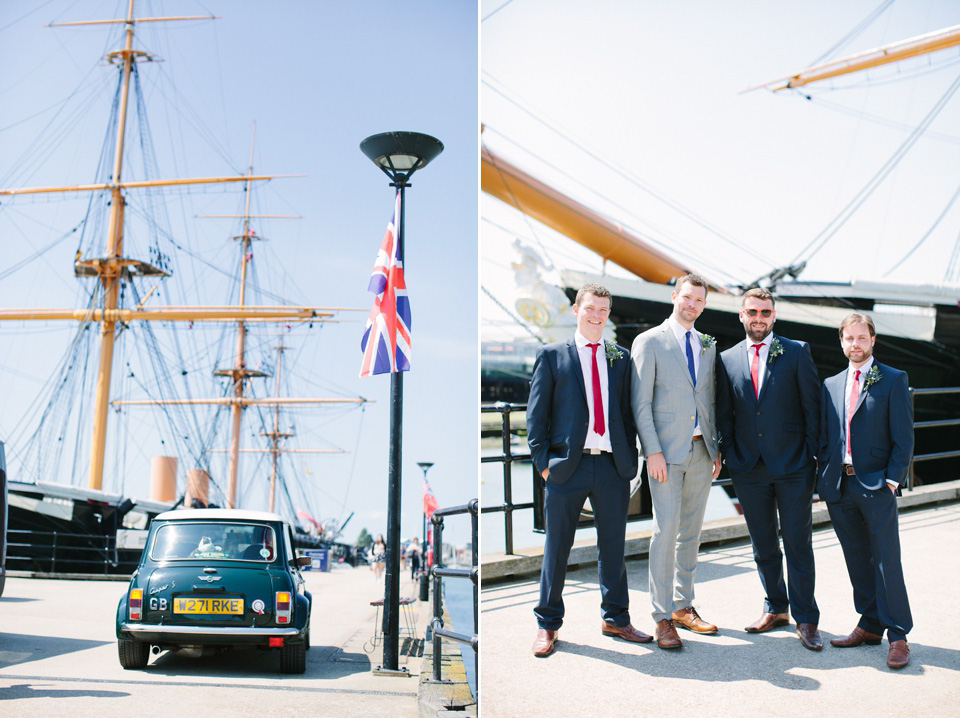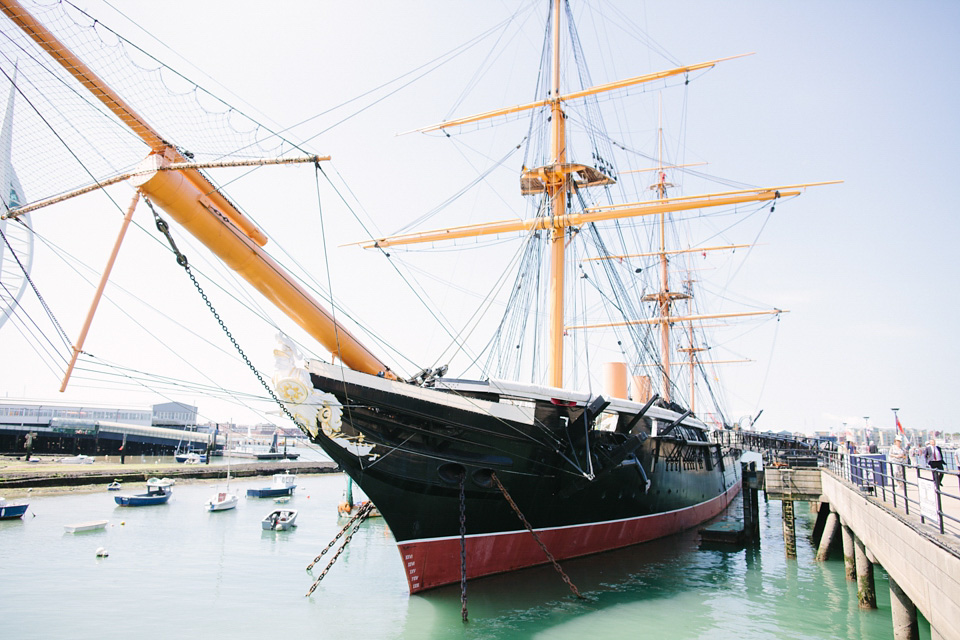 "Trevor wore a fitted 'Sand'grey suit bought from Stephen Lawrence in Chichester with brown shoes and belt from Next. A white Hugo Boss shirt and some horseshoe cufflinks bought by his parents. On the morning of the wedding, I'd given Trev a limited edition blue Breitling watch (he has wanted one for so long) so he was thrilled to wear that too.
The best man and groomsmen wore navy blue Racing Green suits from Debenhams which we had bought the boys instead of hiring (it wasn't much more money than hiring and meant they could keep the suits afterwards)."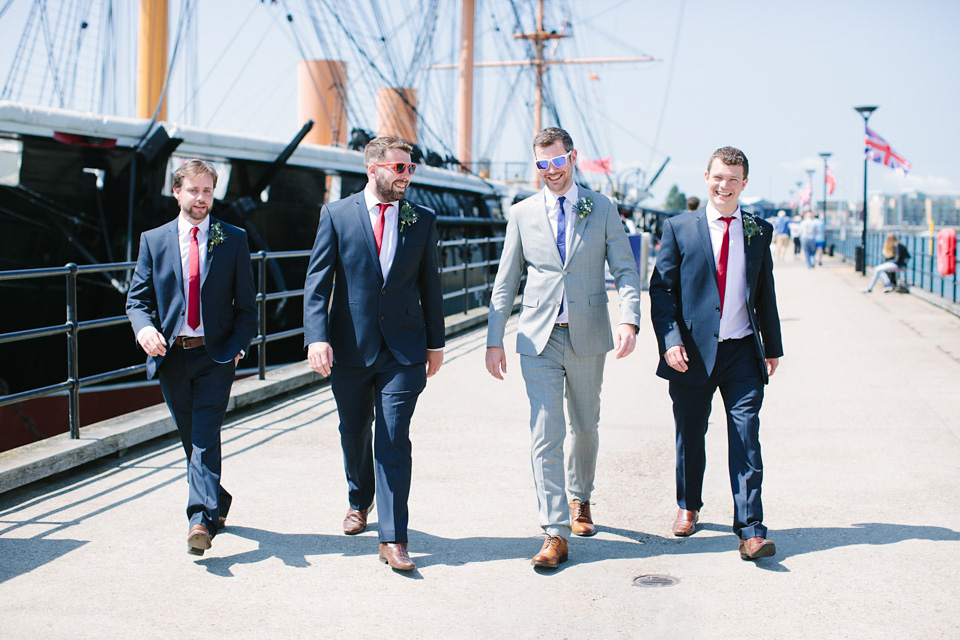 "Me and Dad drove in his classic convertible Mercedes to the ceremony, the bridesmaids were in a silver retro Campervan, driven by a friend who's just setting up hiring out his camper for such events. Trevor and Best Man drove Trevs mum's old mini and the groomsmen went in mine and Trevor's BMW 3 series"
"My Dad walked me down the aisle to Pachelbel's Canon in D played by some special friends, who performed it on guitars and ukuleles, it started slow and traditional, then busted into a more upbeat version; which I loved. I fell in love with this song when I heard it as an 11 year old learning to play the violin. I knew then I wanted it as my wedding song, even though it's often used at weddings! After the ceremony while we were signing the register, they played 'over the rainbow'."
"We used the vows as set out in the registrar's options; we selected some of the less formal versions to suit us better. I'm afraid we weren't'tempted to write our own!"
"We had two readings, an excerpt from Captain Corelli's Mandolin read by Trevor's brother, Martin. It's about how love is about making roots together and being best friends when the initial 'lust'passes. It's very 'us'. Plus my sister Heidi did a reading (which was a surprise) which was perfect for Trevor and I (as bike riders!). It was very special."
A Marriage Made for Two
A successful marriage can learn a lot from bicycle riding.
You should promise each other that you will not be fair weather riders, but venture out together in the wind and the rain. Only by braving the storms as a team will you reap the rewards when the sunshine arrives.
Look after each other. A well oiled bike will run smoothly and change gear easily.
Marriage is like a tandem…keep pedalling or the one at the front shouts at you!
You should promise each other to not only enjoy new adventures and explorations, but appreciate the same old routes you know and love.
Marriage is a promise to each other to endure the climbs so that you may chase the swoops and swerves of a perfect descent.
The journey may be long and may have hills ahead, but if you climb together with love and passion, you will be able to achieve everything you both desire!
Wishing you all the best from the start line of the greatest endurance event of your lives.
Amy and Trevor chose rings from Smith and Ralier of Chichester;
"Trevor bought my white gold engagement ring here; he'd had it made especially. He's also bought me jewellery from here in the past and the owner is a really nice man. We had to get my platinum wedding ring made to fit my engagement ring (it's a curved shape), so it made sense to get him to do it. We also got a bit of a discount, having bought so much! So got Trevs ring here too. Trev got a simple Palladium rounded band."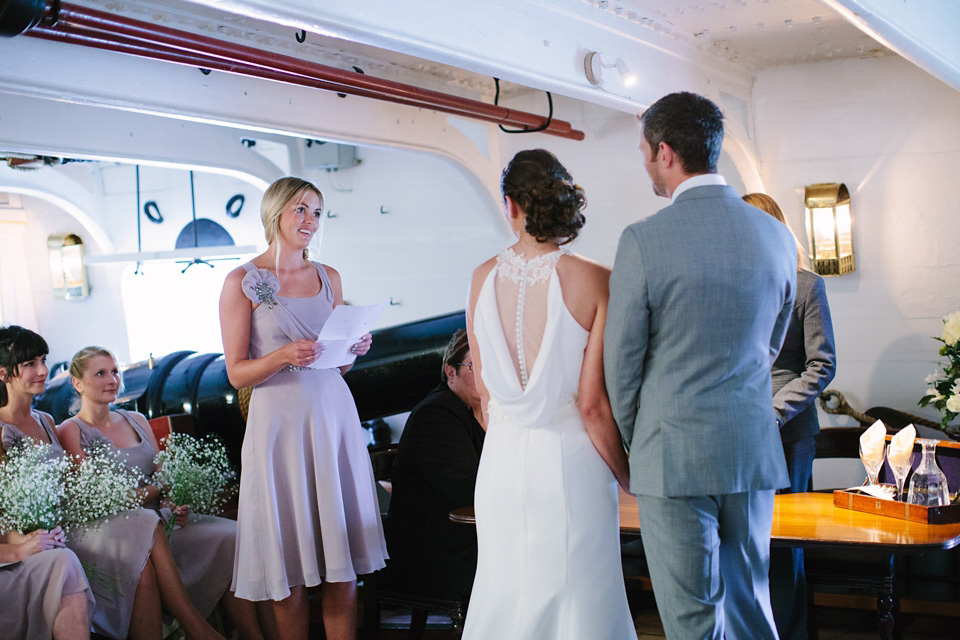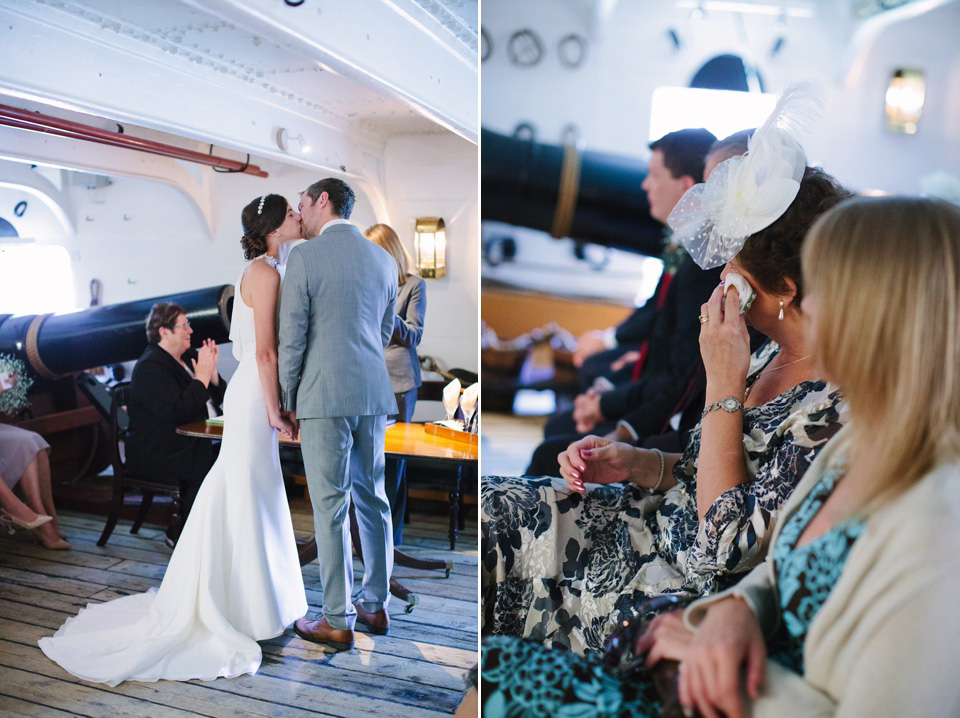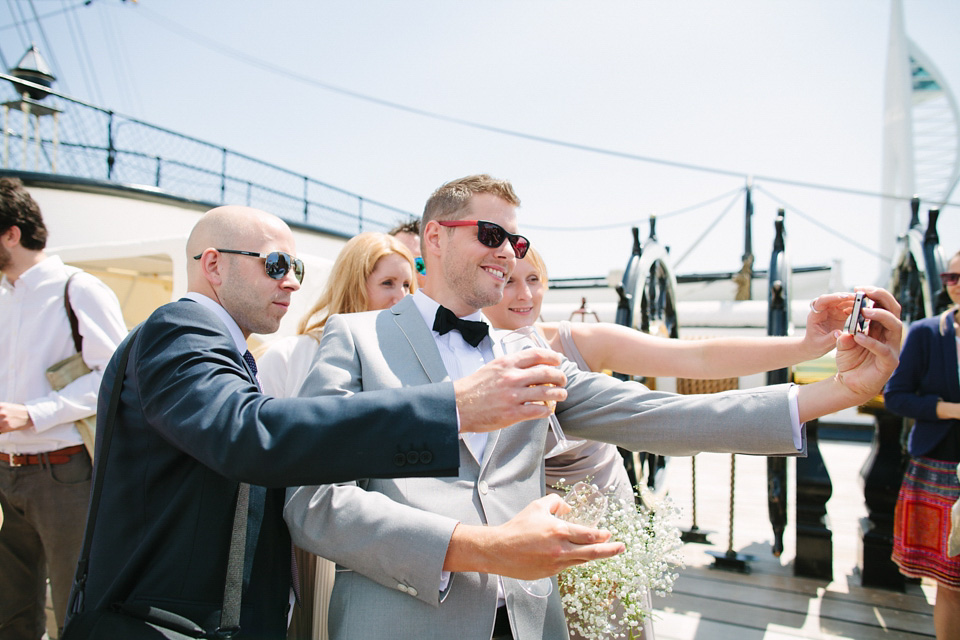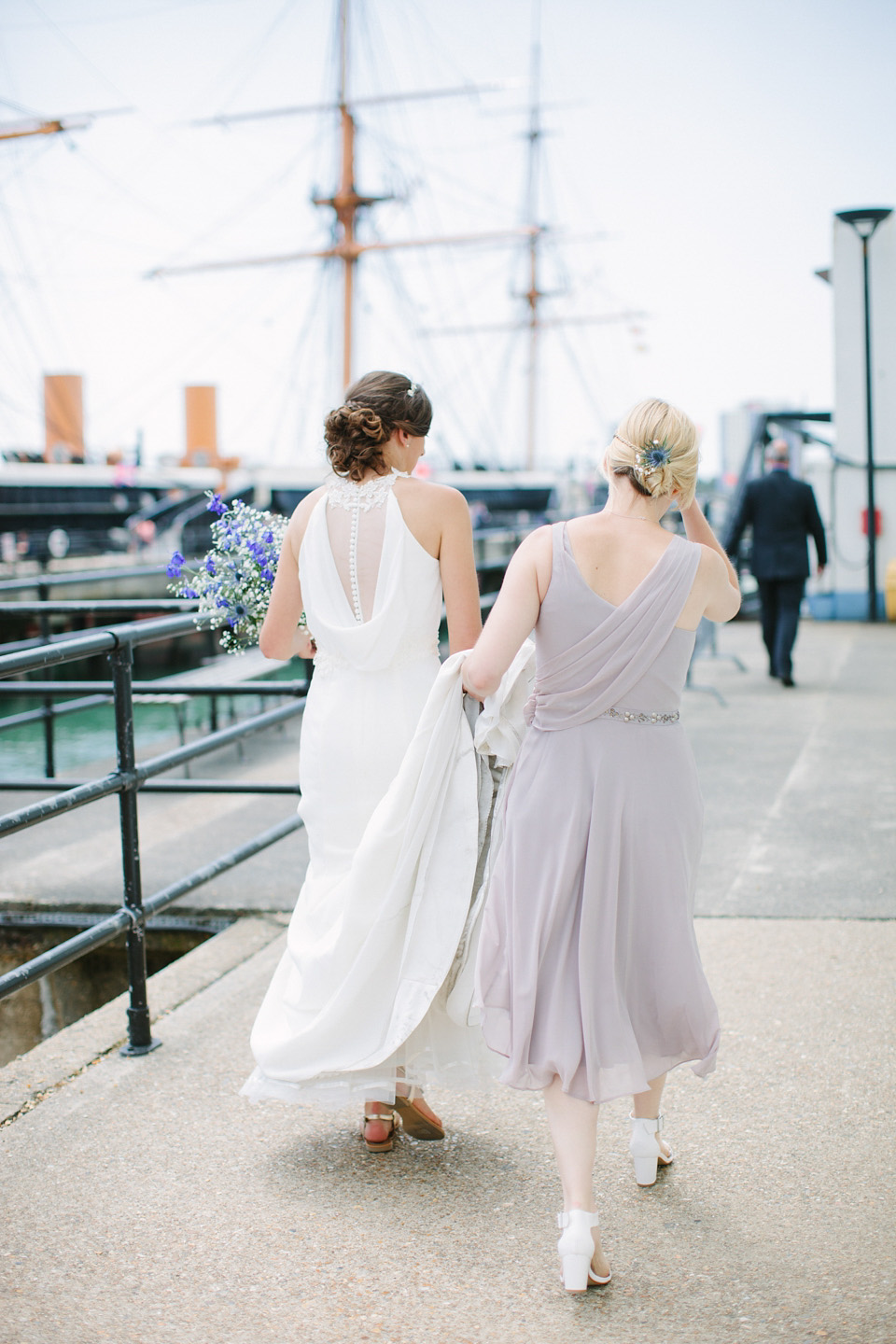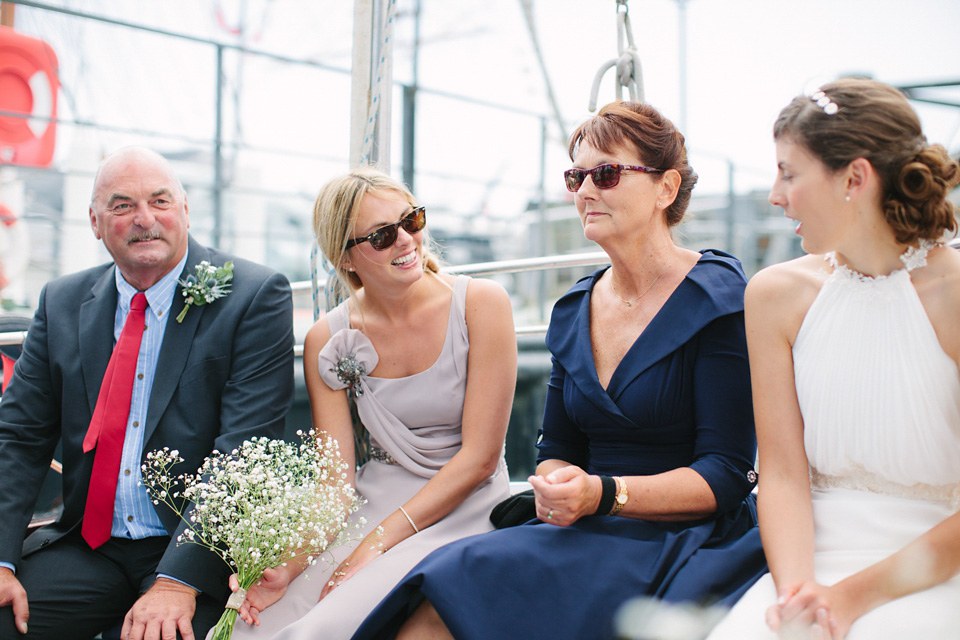 Amy and Trevor had some truly brilliant transport on the day, not least the fishing boat!
"From the ceremony the bridal party travelled by fishing boat, the Mary Siobhan from HMS Warrior to Hayling Island Sailing Club. We were waved off by all our guests and Warrior staff and then met the other end to a tunnel of people on the pontoon throwing petals and dried lavender at us like confetti. The journey by boat took about an hour and we had a chance to drink some bubbles and eat something, whilst basking in the beautiful views and glorious sunshine. We had 12 other friends on their boat who sailed near us and waved to us along the way. Mum and Heidi had decorated the boat with bunting for the occasion, which looked brilliant."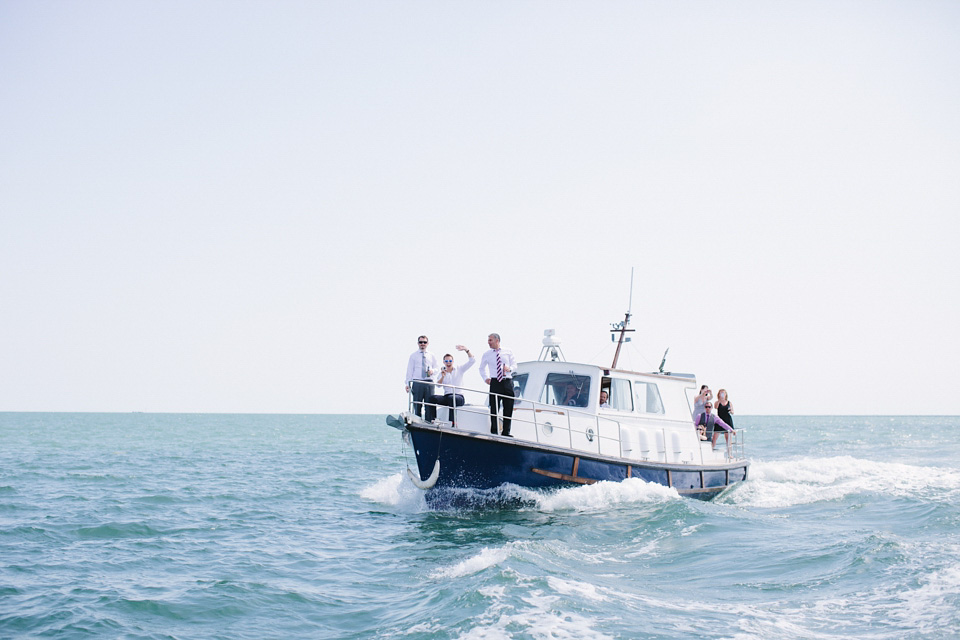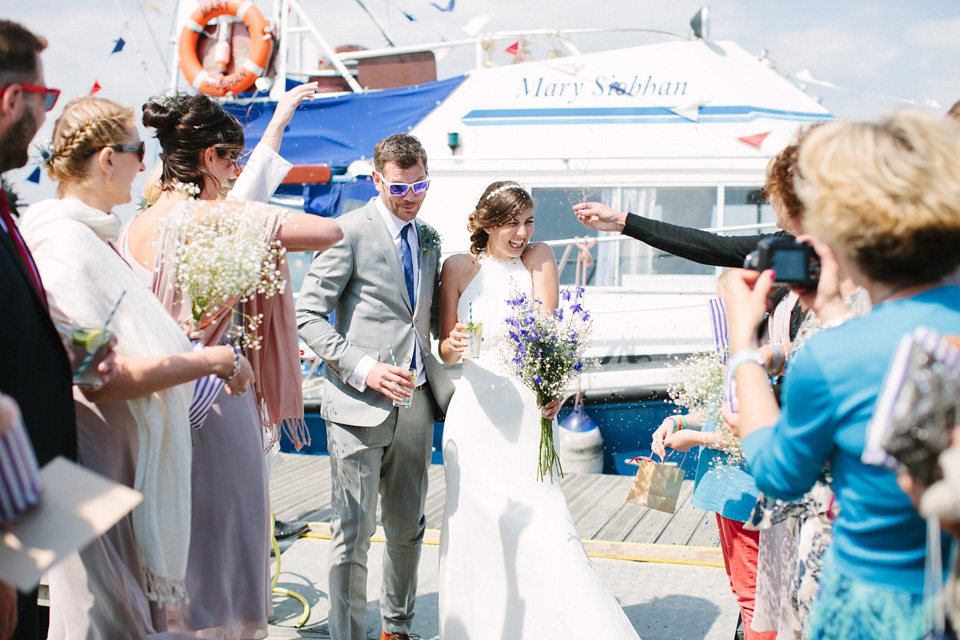 We know we shouldn't like this photograph, but we do!!!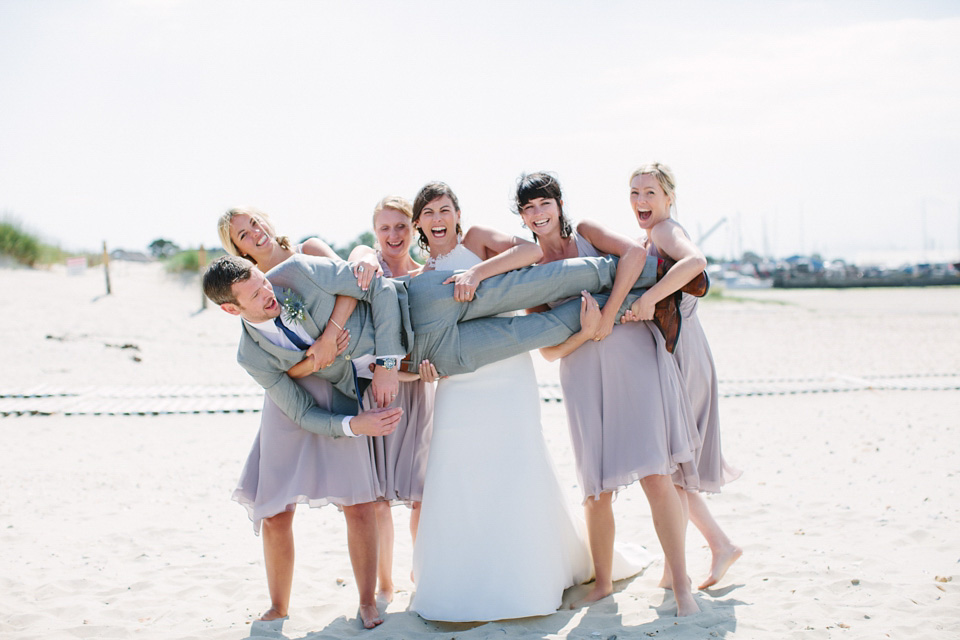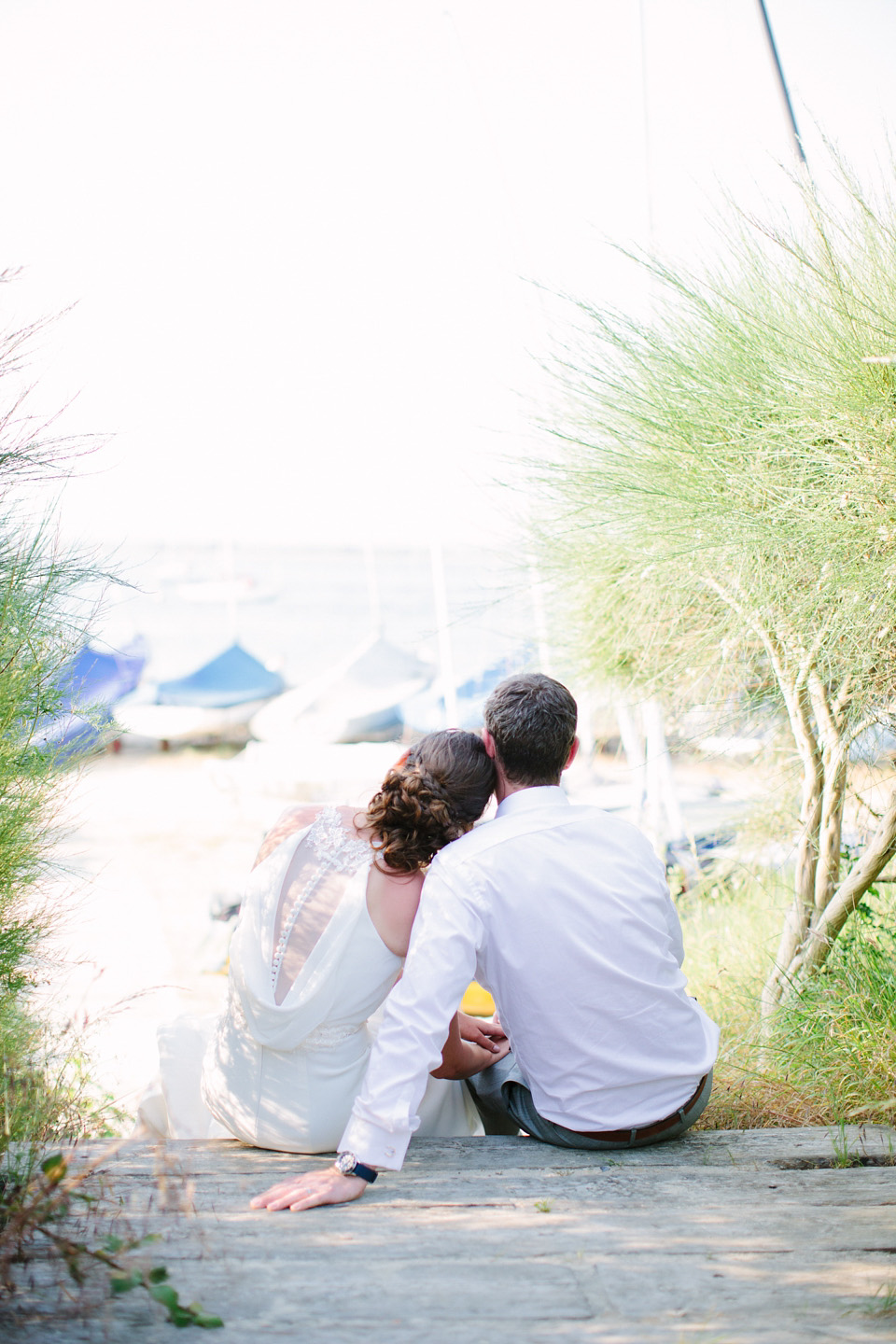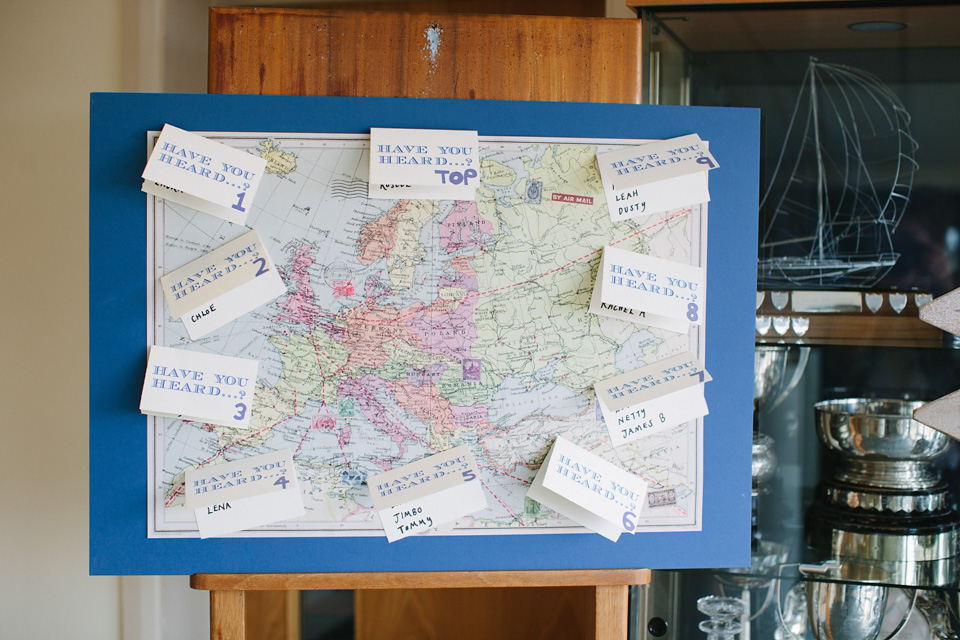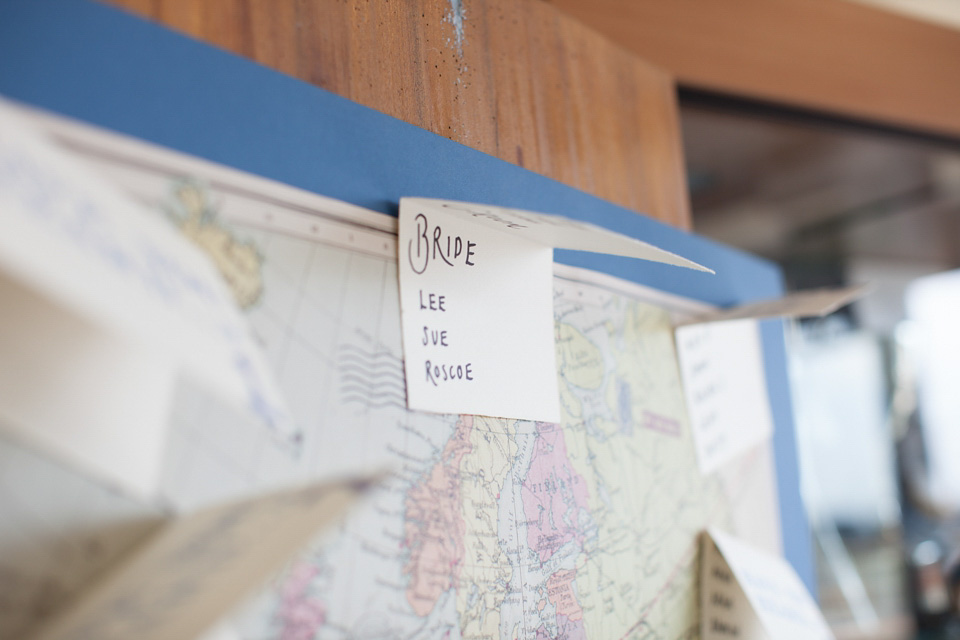 "I made our invitations, table plan and place cards, with my Mum, sister and bridesmaid, Amy. and for favours we had blue Blackpool sticks of rock, just bought online."
"We had an array of bunting bought from Ebay and borrowed from friends, as well as other nautical items like wooden starfish, lighthouses and glass balls borrowed from another friend. We had homemade bits like photo frames that me and the girls had decorated on my hen do, 'Trev and Amy'bunting; also made on the hen, and other homemade painted signs, baskets and jars decorated with jute rope. We had a sweetie table put out in the evening, plus a basket of flip flops for the girls to wear when their shoes were hurting, and a basket of blankets if it got cold on the balcony. Thankfully, it didn't!"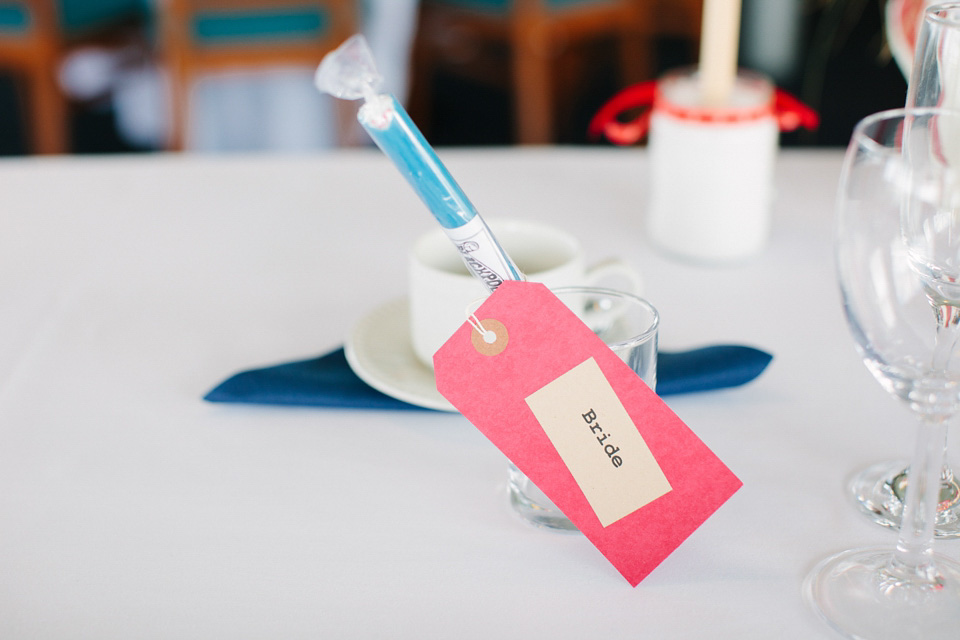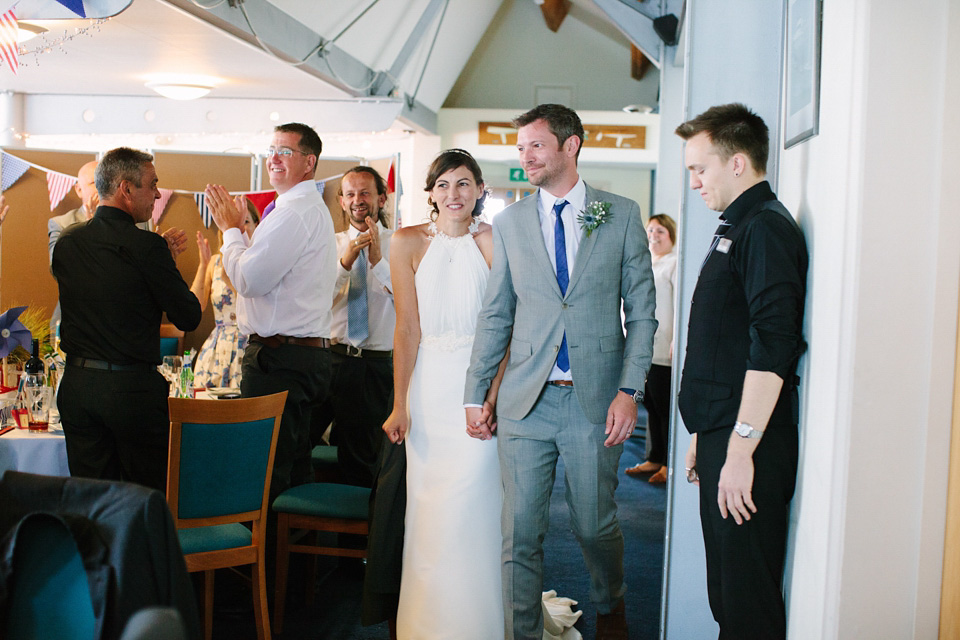 "Our food was provided by the Sailing Club chef. We had a gourmet BBQ.
My sister Heidi made the cake; she baked three large carrot cakes the week before the wedding and decorated them herself. We used it along with homemade biscuits made by friends for our dessert. The main cake had two bicycle cake toppers on; which Heidi and Mum had added as a surprise. Trevor and I love to cycle and it's one of the things we most enjoy doing together. Instead of a gift list, we asked for money for our 'Mountain Bike Fund'so Trevor and I can buy a couple of new bikes!"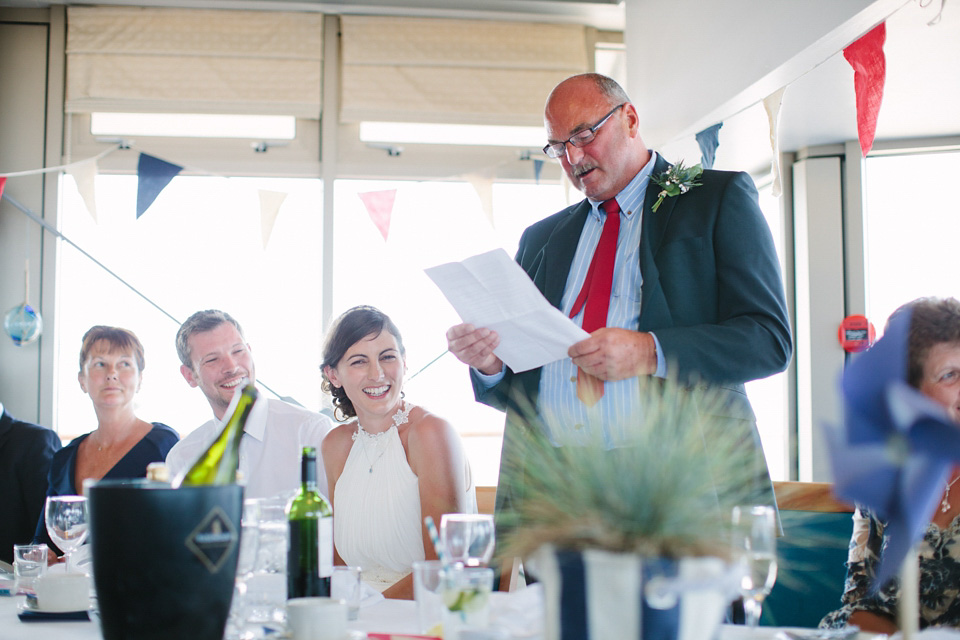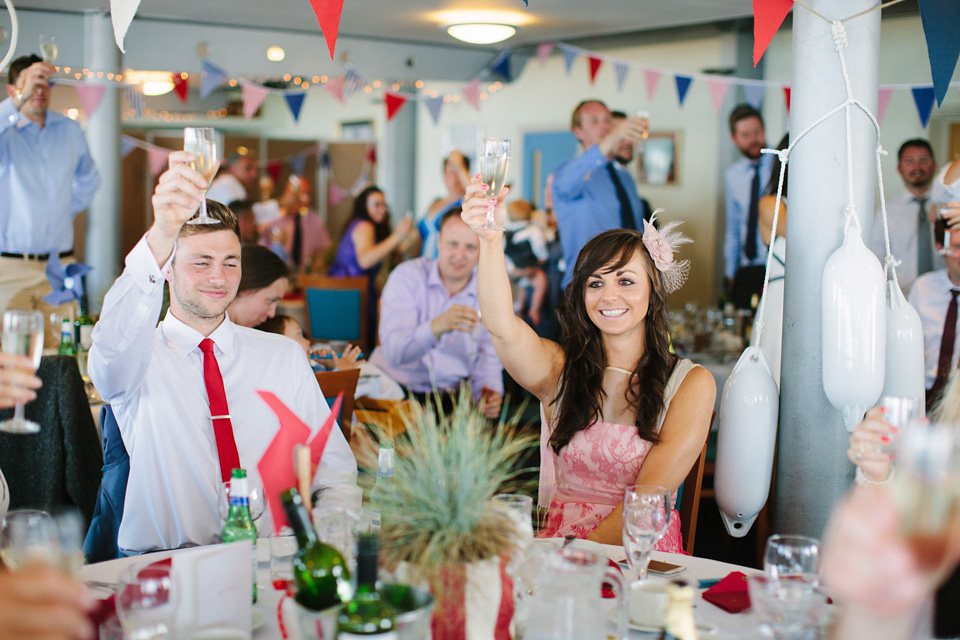 "Some talented friends got together to play a beautiful acoustic set after dinner. Tom on guitar and vocals, Paddy on a box drum and Biffa on the trombone. They played some classic songs like 'Sitting on the dock of the bay', 'One Love'and 'Sweet Home Alabama'. They were the same friends who played me down the aisle (along with James, another friend)."
The couple chose 'The Banjolin Song' by Mumford and Sons as their first dance;
"It was hard to find something we both liked, as most of 'our'songs weren't suitable for a first dance. I suggested so many to which Trev vetoed. And vice versa! After much deliberation, Trevor found this song by a band that we really like, and it just worked. So that was that."
"The whole day was all absolutely perfect; everything went smoothly and we were both smiling the whole time, as were all our friends and family. We were so lucky with the weather, which was one of my big worries for the day. I'm happiest when the sun's out, so the glorious weather just topped everything off perfectly. It felt like we were abroad."
"It was such an overwhelming and happy day overall, with all the people we loved most in the world with us celebrating. But I think one of the moments that sticks out for me, was after dinner, when the band was playing between 7-8pm. We were in the bar area, which had glass doors all around, the sunset sun beaming in, in the most beautiful way creating this stunning light and feeling within the room. I was dancing with my best friends and bridesmaids, with all my family around us and listening to my lovely friends play so incredibly; and just felt on top of the world. It was the first point in the day I really cried, just with sheer happiness (up until then I'd been surprisingly calm and just excited for the day –to the point that people were asking when I was going to get nervous and stressed!)."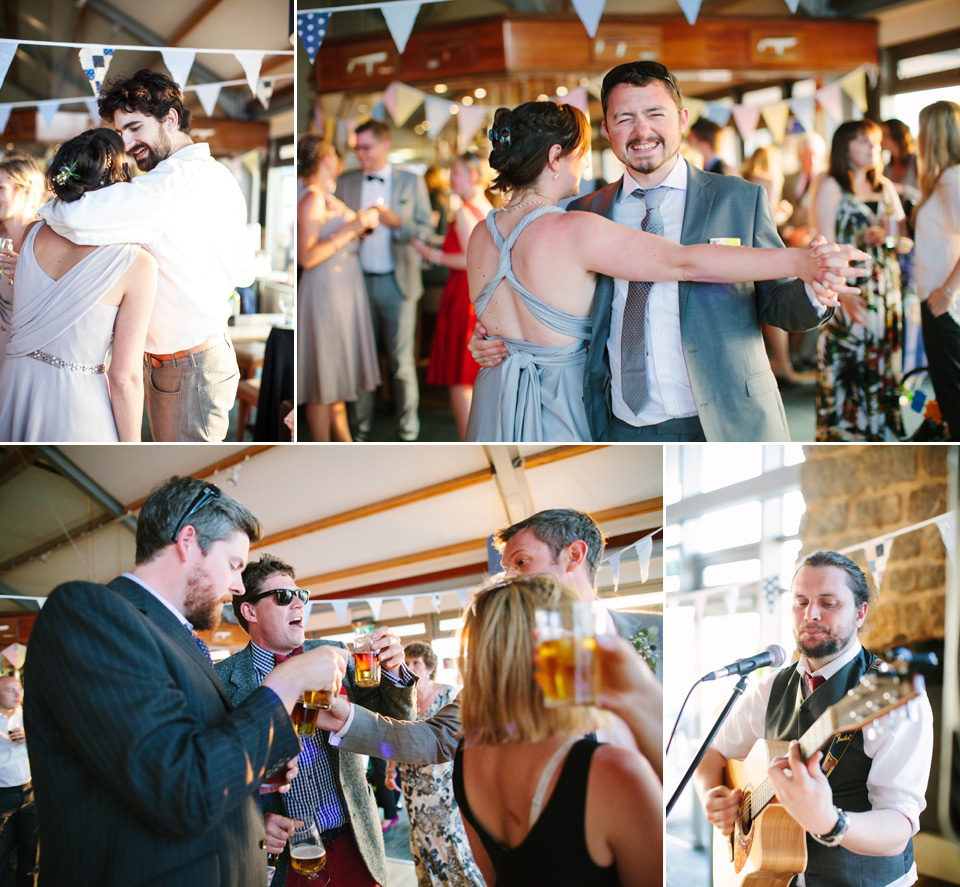 "I've never done that before. I remember feeling so wonderful, thankful and very lucky, and thinking that life doesn't get any better. I'll remember that moment forever, as probably one of the best single moments of my life. It sounds cheesy, but I really don't think I'll ever get a feeling like that again. I was just so overwhelmed with happiness and love; for Trev, for my family and for all my friends, and the incredible day that we had.
I was so touched that people were celebrating with us and showering us with such warm wishes, kindness and general love!
After the band, we had a local DJ –DJ Richie Rich Tea Biscuit (!) –he was recommended by a friend play the tunes that we danced the night away to!" 
Words of Wedded Wisdom
"Enjoy the preparation. Don't get too stressed about it as things will always work out ok. And you'll look back fondly on that build-up period, you'll never get that again so remember that when you're stressing about the small decisions. Also, it really doesn't matter what colour the napkins are, or what ribbon to have tied round your bouquet, or where you should have the salmon or the sea-bass. So don't get bogged down in the little stuff. But prepare well; make lists, spreadsheets and timelines for the day.
There's a lot of coordination involved and the more you can do to prep everyone, including the staff at the venues and other people involved in the day, the smoother the day will go! But, the day will be perfect no matter where you are or what you do; having all your loved ones in one place celebrating with you is the best bit.
The only thing I might do differently, if we had money to, would been to have possibly got a videographer to capture the day too. We had some friends film bits of the day on a Gro Pro and an old video camera, which we have loved watching back. I think it would have been extra special to have someone professional film the day too. It goes by in such a hurry, it's nice to watch back. Photos are great too, but you can't beat video footage."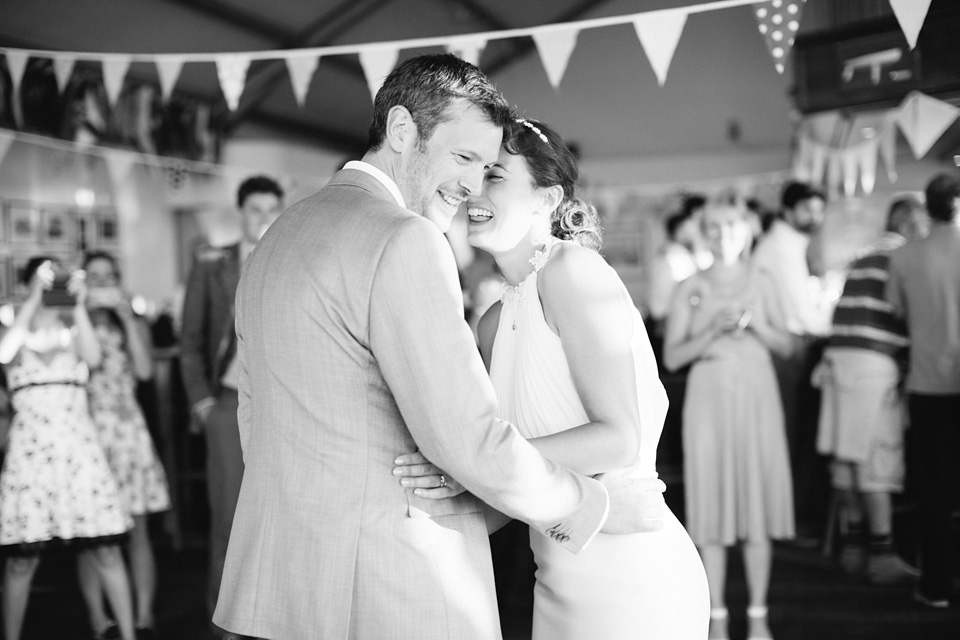 Such a joyful day, a total pleasure to see and THAT dress too, right? Just divine! Amy you look so happy and beautiful, Trevor you and the lads look pretty cool too with your shades and the jacket pocket drinks holder! Ingenious, keeping hands free for throwing confetti of course.
Thank you to Amy and Trevor for letting us share their fabulous, sun bathed day. Wishing you both much love and happiness for the future. Thanks too go to Camilla Arnhold Photographyfor sharing the images with us today on Love My Dress®.
Have you chosen your dress yet? Are you going to keep it a secret till the big day like Amy? We'd love to know.
Love and seashells,
Rebecca xxx
Photographer – Camilla Arnhold Photography
Wedding Ceremony + Reception – HMS Warrior 1860 + Hayling Island Sailing Club
Fishing Boat – Mary Siobhan
Brides's Dress – Gema Nicolas from Truly Gorgeous
Bride's Shoes – Dune
Bride's Hair Accessories – River Island
Bridesmaids Dresses – Jenny Packham, from Debenhams
Florist – Beckie Lou
Scent – Gucci Rush
Hair – Polka Dot Hair
Grooms Suit – Stephen Lawrence in Chichester
Grooms Extras/Accessories Next + Hugo Boss + Breitling
Best Man/Groomsmen Suits Racing Green suits from Debenhams
Rings – Smith and Ralier