If I wasn't a little bit in love with Joanne Truby after swooning over all of the beautiful and colourful images that arrived in my inbox, that quote has absolutely sealed the deal. Oh my goodness, has there ever been a truer word spoken? Joanne Truby, you're a little bit wonderful.
Flowers come armed with a super power which never fails to spread happiness — Joanne Truby
Anyway, enough of my fan-girling and let's find out a little bit more about this floral superstar.
"I've always been a creative person – when I worked in retail, I'd always draw on my knack for colour and design but I still had a yearning to do something more hands on instead of just sitting in an office all day. I decided to take the plunge and enrolled on a course in floral design & event management. I loved that so continued on and gained a first class Honours degree from Greenwich University who partnered with the Covent Garden Academy of Flowers."
Photography Copyright (c) 2014, Rebecca Douglas Photography
Joanne then launched Joanne Truby Floral Design, which, she says, gives her the opportunity to live out her passion. Specialising in flowers for weddings and events, every floral scheme is unique and will be packed full of special and creative touches. Joanne happily admits to collecting sea shells from beaches, trailing antique shops hunting for vintage brooches and hunting out wonderful containers and props to make every wedding beyond brilliant.
"My style is natural but voluptuous. I like to mix pretty colour combinations with an assortment of flowers and foliage to create interesting textures in every design. I'm partial to sweet peas (they're my favourite flower!) and I am a total sucker for foliage and ferns."
The first step to floral heaven with Joanne Truby is an initial consultation where you can talk through your likes, loves and interests as well and discussing in great and glorious detail all of your plans and hopes for your wedding day. Joanne will also visit your venue to get a real feel for the surrounding and then go on to create your personal design brief and your private Pinterest moodboard to capture the feel and style of your wedding.
"I'm always on the look out for new ideas and I get inspiration from everywhere," says Joanne. "I love history and learning about times gone by and certain periods. The changing seasons also set my creative brain buzzing and just going for a walk in the Kent countryside can fill me with ideas for designs."
Joanne certainly fills every wedding that she works on with personality and individual touches. Her approach, passion and absolute commitment to giving her clients something fresh certainly sets her apart. Bespoke floral design services and a love of the unique combined with skill and heartfelt artistry truly sets Joanne Truby Floral Design apart.
Nestled in Kent, on the borders of South East London, Joanne Truby Floral Design covers Kent, Surrey, Sussex and Central London with ease and can travel further afield if your wedding is in need of Joanne's special brand of magic. Each and every floral scheme is bespoke and is quoted for individually but, as a guide, a bridal bouquet made up of seasonal flowers will start at £75 and buttonholes range from £8 upwards.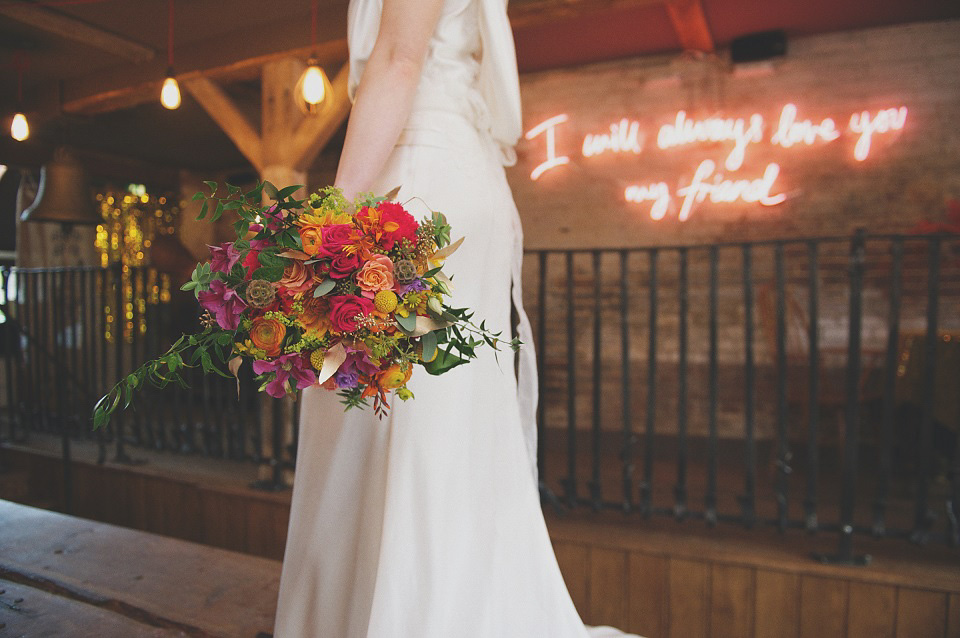 To find out more about Joanne Truby Floral Design, simply visit the website or e-mail Joanne if you'd like to talk more – [email protected]. You can also get in touch via Facebook, Twitter, Instagram, Pinterest and Google+.
Love Tamryn xx
This is a sponsored post