We do love a Winter wedding here at Pocketful of Dreams and although the summer months are without doubt our busiest of the year, we're now seeing the trend for winter weddings increasing. What could be more perfect than having your own country-house bolt-hole for a weekend of feasting, merriment and laughter? Think crisp winter walks, hot mulled cider and roaring open fires. It's certainly my idea of heaven, so today we're basing our monthly inspirational wedding concept on a weekend wedding retreat at a Country Manor: Country Elegance.
Image Credits:  Iscoyd Park and Jade Osborne
THE VENUE
Our venue of choice for this concept is Iscoyd Park – a stunning country house venue in Whitchurch, Shropshire, surrounded by 18th century parkland and beautiful gardens with views overlooking the borders of North Wales, Shropshire and Cheshire and available to hire exclusively on a 1, 2 or 3 day basis for your wedding.
I recently met with Philip Godsal, the owner of Iscoyd Park, and was blown away by his passion for the house and for giving his couples the very best day of their lives. What makes this venue so special, is that Iscoyd is a private home and works hard to maintain the character and history of a country estate whilst providing the welcoming warmth of a family home.  The passionate owners want you to feel that Iscoyd truly is your home for the weekend, and refreshingly, they don't have a huge book of rules that you have to follow! Instead, they offer you an understated, elegant and romantic setting which is equally relaxed and welcoming; little touches such as beautiful NEOM scented candles and fresh flowers throughout the space make you feel instantly and effortlessly at home.
The venue can accommodate ceremonies for up to 130 guests in the Garden Room with dining in the onsite Marquee and is also well suited to more intimate affairs, with the Drawing Room providing a beautiful setting for a ceremony for up to 60 guests. The Garden Room also transforms into the most decadent lounge bar come nightfall. There is onsite accommodation for 18 people, with 3 rooms in the main house and B&B accommodation in the Stable Rooms and Laundry Room.  A further 8 people can be accommodated in Wolvesacre Cottage which is on the edge of the estate, a mere 5 minutes drive away.  Again, exquisite attention to detail is evident throughout with luxury NEOM bath products, White Company bedding and an effortless fusion of classical furnishings and contemporary detailing.
Iscoyd is a beautiful example of elegance without formality.  Light cascades into every room and the mix of roaring fires, an abundance of candles, ornate chandeliers and wooden floors create a warmth and romance that perfectly suits an elegant winter wedding.
For similar venues try Northbrook Park in Surrey and Pennard House in Somerset.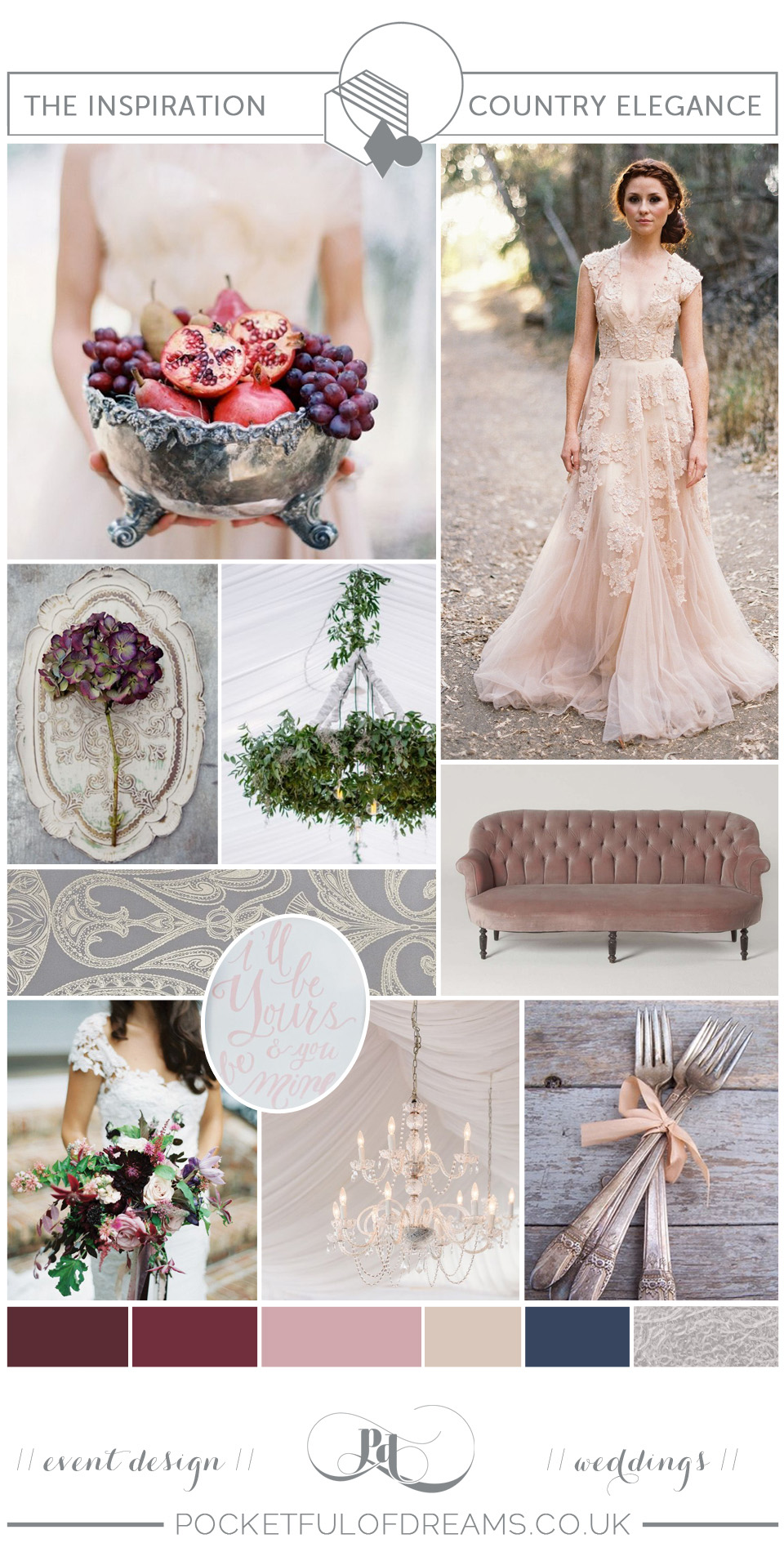 Image Credits: 1 & 2. Style Me Pretty 3. Coquita 4. Elizabeth Anne Designs 5. Fabrics & Paper 6. Granger Hertzog 7. Grey Likes Weddings 8. Southern Weddings 9. Iscoyd Park 10. flickriver
THE INSPIRATIONWhilst of course inspired by the beautiful Iscoyd Park, the changing of the season is an equal part of the inspiration for today's styling guide; this is however a somewhat awkward time of year where Autumn is past but Winter isn't yet fully here.  But actually, we think this time of year gives some fabulous options for creating a winter wedding with a twist – forget sparkly gold and Christmas foliage, today's winter wedding is refined, elegant and all about enjoying the very best in life. And it works equally as well in the latter stages of Winter too.
This look is stylish and graceful but without any formal stuffiness.  We're talking romantic elegance and country-living at its very best with a soft, yet warm, colour palette of delicate mink, blush and mauve mixed with antique silver; the latter being a metal we adore and one that is hotly tipped to make a huge comeback in 2015. Mixed in with warm, rich berry and grape tones and just a hint of deep blue to add a masculine refinement.  The design equivalent, if you will, of reclining on a velvet chaise longue in front of a roaring fire…it's decadent but understated.
Think rich, warm woods, antique silver platters, soft velvets and the very best fruits and florals the season has to offer in wow-factor displays to bring this design to life.  Don't be fooled into thinking this time of year doesn't offer a rich pageant of natural beauty – catch the end of the blackberry season and use figs and pomegranates in your feasting, drinks and floral displays to embrace the Winter season and the countryside setting.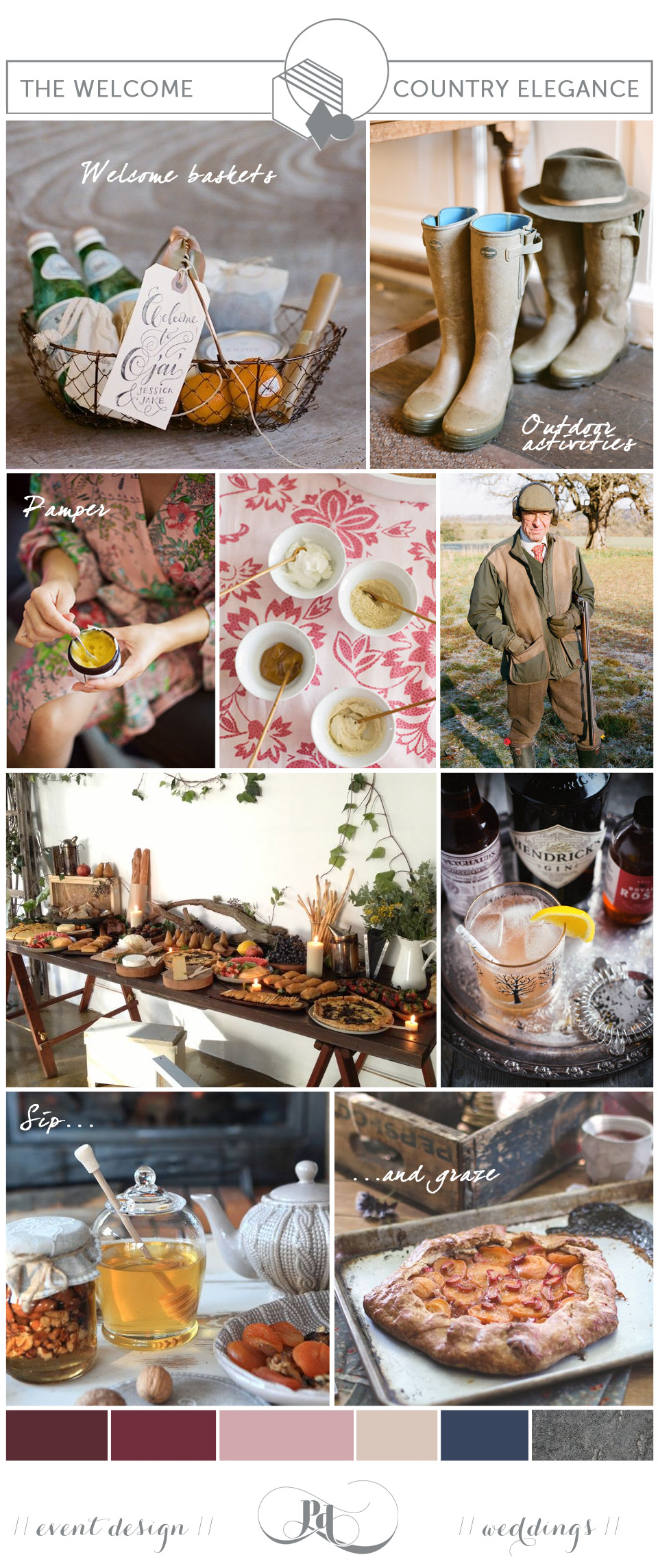 Image Credits: 1. Elizabeth Anne Designs 2. David Pressman 3, 4. Linen, Lace & Love 5. Style Me Pretty 6. Bumble 7. The Baking Bird 8. Green Canoe 9. Adventures in Cooking
THE WELCOME
Set the tone right from the off with an indulgent welcome, ensuring that your guests feel instantly at home.  Albeit a very refined, beautiful home!  A small floral arrangement in each guest room will ensure a sweet-smelling arrival and instantly make guests feel well taken care of, especially when they spot a luxe welcome pack full of decadent, winter appropriate treats.  Think luxury snacks and treats such as gourmet nuts and handmade truffles, a bottle of Iscoyd Parks very own champagne, a NEOM travel candle and a collection of local walking maps.
A range of activities would be planned for guests to enjoy in the afternoon they arrive at the house – walking in the countryside with a specially designed route around the estate to see the best the grounds have to offer at this time of year, clay-pigeon shooting in the garden – have spare wellie boots on hand for guests to traipse around the grounds and serve spiced chai lattes to warm them upon their return – and full on pampering treatments in a specially created onsite Spa suite.  As evening draws in, guests will meet for an informal gathering with grazing stations set up to serve comforting winter food that uses the best seasonal ingredients.  Warming pies, hot mulled cider and to get people into the celebratory mood, try serving gin and cardamon rose cocktails.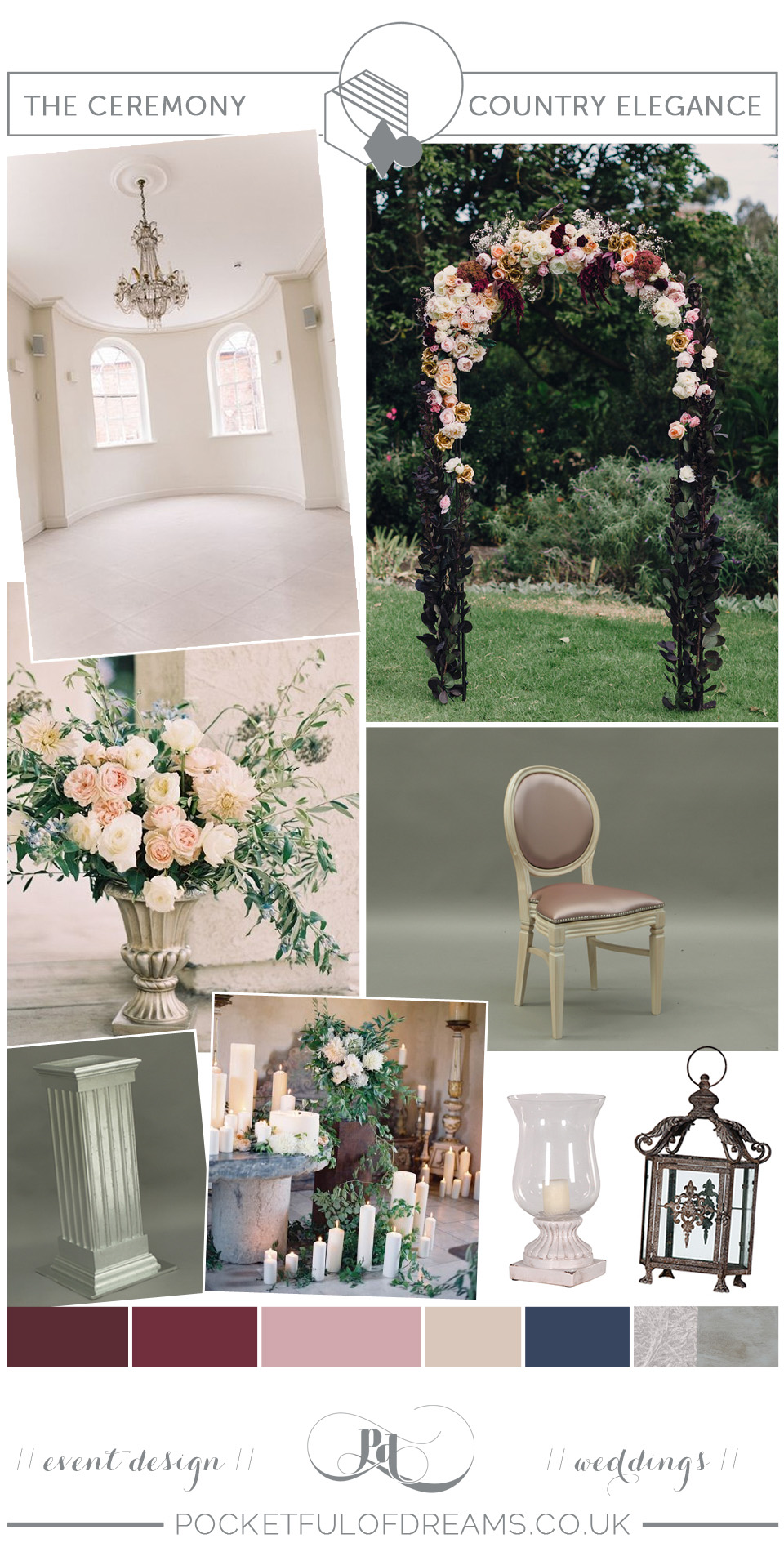 Image Credits: 1. Jade Osborne 2. Eric Ronald 3. Elizabeth Anne Designs 4, 5. Great Hire 6. Style Me Pretty 7. 8. Lanterns available to hire from Pocketful of Dreams 
THE CEREMONY
Our ceremony takes place in the delightfully serene Garden Room at Iscoyd Park and is a luxe, elegant affair with styling that provides: 'romance with a sense of gravitas' appropriate for the occasion by focusing on a few key elements.
Our bride and groom will marry in front of a floral archway, designed to mimic the shape of the windows at the front of the room, set amongst an abundance of flickering candlelight, using antique lanterns from our own prop stocks,  to bring warmth and romance to this winter day. Think about how you can bring your look to life through the essential elements.  Don't just stick with the standard chairs your venue provides, for this design, we'd bring in beautiful mink and ivory chairs to reinforce the colour palette and add a level of luxe to the ceremony suite. Finally, large urn arrangements with overflowing, seasonal florals will sit upon silver plinths at the start of the aisle.
Image Credits: 1. The Hop Shop 2. Pocketful of Dreams 3. Elizabeth Anne Designs 4. Style Me Pretty 5. Hey Wedding Lady 6. Elizabeth Anne Designs 7. Exquisite
THE RECEPTION
The reception would be held in the fixed marquee on site, giving us the space to set out long, banqueting tables to serve a feast prepared by the venue's recommended caterers.  The marquee provides a pristine blank canvas, but at this time of year especially, it is important to bring elements into the space that will provide warmth and texture to avoid it feeling too stark.
To provide an instant injection of rustic warmth, we'd work with a florist to design a foliage waterfall runner to sit along the perimeter of the space and provide a full and textural background to the tables.  Foliage chandeliers would then be placed between the chandeliers already in the marquee for immediate impact as guests enter the space.  For the tables, opt for richer, punchy florals mixed with soft minks, blush and cream for contrast and impact in a variety of antique silver vessels.
Again, use an abundance of candlelight to provide warm light, especially important in these months when you lose daylight at about 3pm.  Mink coloured candles provide a twinkling, romantic effect whilst adding a more designed feel than traditional church candles. Set tables with luxury, heavy linens, antique silverware, cutlery and candlesticks for a refined and elegant feel.  Place cards and menus will be handwritten in a simple but beautiful calligraphy on a heavy, velvety and infinitely tactile stock that just begs to be touched. And serving the wedding breakfast on patterned crockery in soft blue and pink tones will be the final touch needed to elevate the wedding breakfast to true banquet status.
Image Credits: 1. Martha Stewart 2. Events Style 3. Martha Stewart 4. Buzzfeed 5. Mallorie Owens
THE GOODBYES 
Guests staying at Iscoyd would typically enjoy breakfast in The Morning Room, a warm and comforting room which is flooded with light in the morning.  Spoil your guests with a lazy Jazz brunch, serving delicious treats such as pear pancakes, French toast with winter berries and cinnamon buns, using locally sourced and seasonal ingredients wherever possible.  Which guests can enjoy whilst listening to the soothing tones of a Jazz group.  Make sure there are plenty of lifestyle magazines and Sunday newspapers available so that guests can kick back, take their time and indulge in a leisurely Sunday Brunch.
And why not wind up the celebrations with a tree planting ceremony, something the owners encourage all of their couples to do, enabling you to leave a lasting reminder of your nuptials in the estate grounds?
Whether you're taken with the idea of your own garden or marquee wedding or are considering something entirely different, we offer a design service to couples to create a wedding design concept that's entirely unique to them.   We can work with you to help you refine your ideas, adding our extensive knowledge of what we know works (and doesn't) and providing you with a set of comprehensive mood boards that you can use to brief your own team of suppliers or we can work with you to make it all happen. Contact us at [email protected] for more information.
Michelle & Vicki xx
___________________
Michelle and Vicki are Creative Event Designers at Pocketful of Dreams – they are passionate about designing, styling and delivering unique weddings, tailored to your own personal story.   You can read more about Michelle and Vicki on our About Page.
Follow Love My Dress on Google+