Well hello Friday!  Have you had a chance yet to be introduced to floral artist and designer Joanna Truby yet?  And did you visit our yesterday morning feature absolutely bursting with inspiration for those of you planning a country wedding?
This morning's wedding feature is that of Economist Kelly and finance worker Ed, who tied the knot in August this year in Oxford.  The couple turned to Kelly's Chinese heritage to add some fun decorative touches to their day, which had a wonderfully laid, back and relaxed feel.  And Kelly looks so —cool in her delicate beaded Jenny Packham gown and black leather jacket ensemble.  I have a bit of a soft spot for a bride in a leather jacket…
"We wanted something that was pretty, but relaxed and fun – using a palate of greens and blues.  I was also keen to inject little Chinese elements to the wedding to reflect my heritage – we gave little baijiu (Chinese spirits) glasses as wedding favours for instance, which we used for Chinese style toasts and threw colourful rice as confetti for example!"
Photography Copyright (c) 2014, Charlotte Hu Photography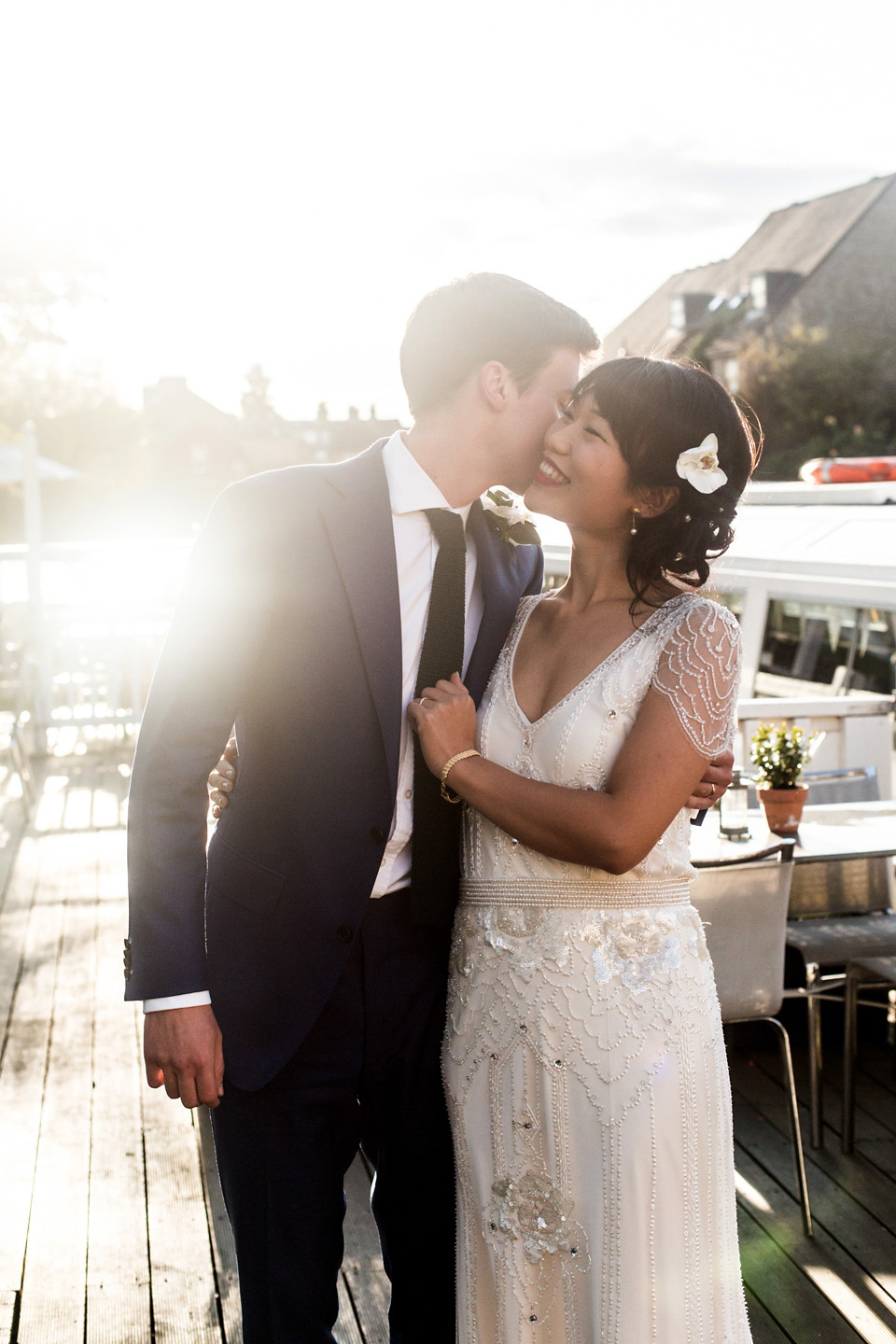 "We were in the same year on a graduate scheme in London after university and met on our first day there. There were three girls and 27 guys and I was the only single girl. We got together pretty quickly but I flat out denied we were together for the whole year, as I didn't want to be known as the girl who dated a colleague. Everyone knew though.
Ed proposed to me on safari in South Africa in November 2013. We booked the trip from a travel agent who assumed that it was our honeymoon (I'd told her we were going for a friend's wedding) and told the lodge, whom, on one evening after safari had unexpectedly run a candle lit rose petal bath for us as a surprise for our 'honeymoon'. Ed capitalised on this moment and proposed to me when I was in the bath!"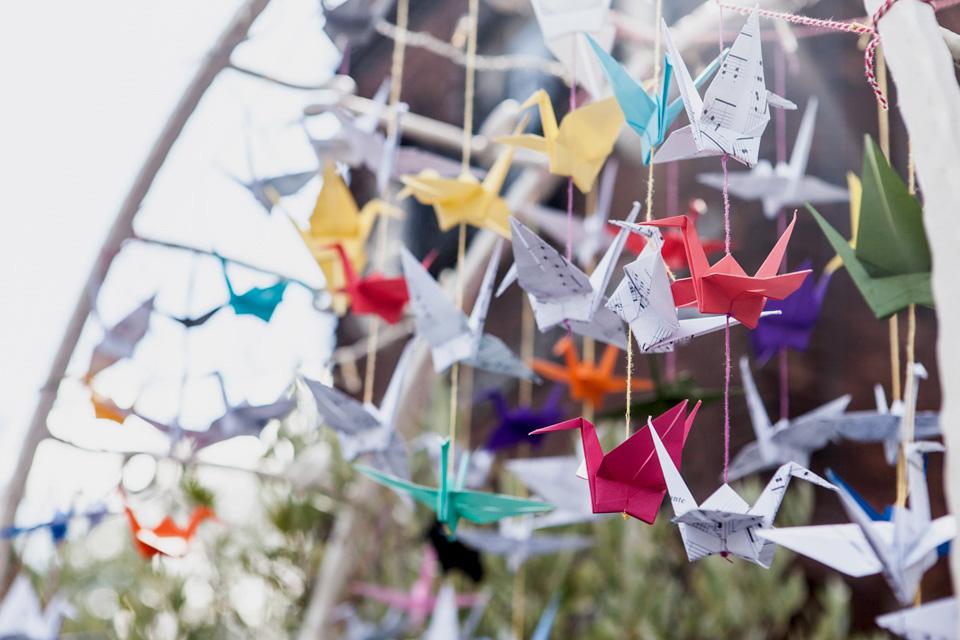 "My dress was 'Eden' by Jenny Packham, that I purchased from Morgan Davies Bridal in Farringdon.  This was the first dress that caught my eye after getting engaged. I saw it in a shop window in Oxford before I had any ideas of what I wanted and had to bring my friends back past the shop to get another look. I called up the shop, found out the price and being an economist, I decided to investigate the market.
I was quite keen on red or floral full length designer gowns, but they're actually quite hard to find and possibly even more expensive than wedding dresses. So I went to a number of bridal specialists instead. I think the shop assistants thought I was a bit odd as, when asked about what I wanted, my overriding requirements were for (1) something I could go to the toilet by myself in and (2) something I could wear again. I tried on lots that I liked, including some dresses from David's Bridal in Stratford that were far better value, but when I tried on the Eden it felt special to me, and it definitely met my criteria.
I'm now on the look out for balls or 20s style parties – I will be wearing the Eden again but with a different colour slip inside."
"My bridesmaid's dresses were from Komodo.  I definitely wanted a flowery dress. I loved the watercolour print and it suited all the bridesmaids really well. I bought one for myself as well!"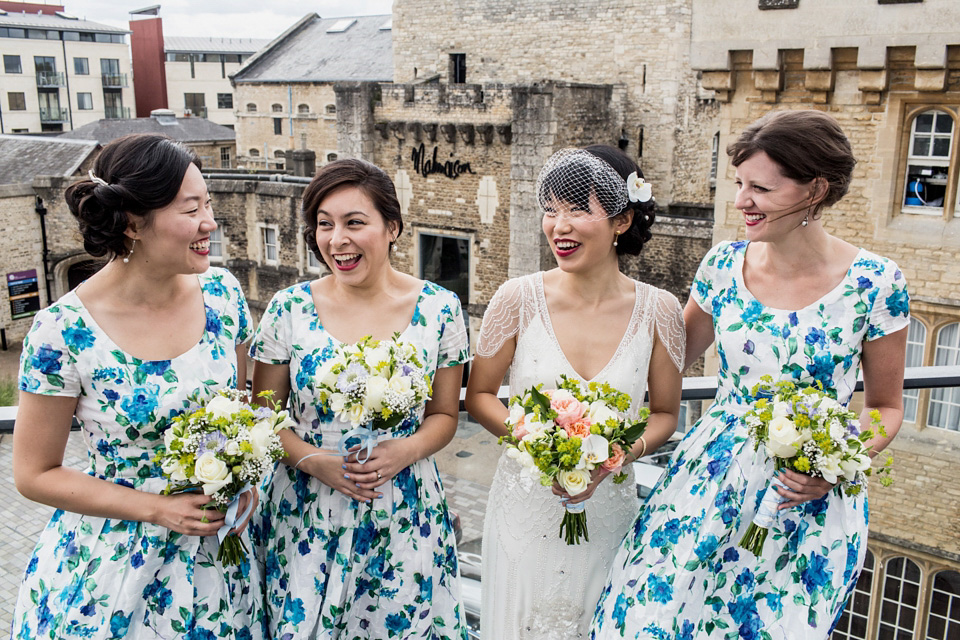 "My shoes were 'Miss Ronde' by Louboutin.  Chinese brides wear red. I didn't get a red dress but I definitely wanted red shoes (who on earth wears white satin shoes again??). I was shopping for dresses with my mum when we saw these in Selfridges. I expected my mum to say they're ridiculous, but instead she looked at them and said "they're not shoes, they're a work of art". I completely agreed.
I absolutely love these shoes and am really surprised by how comfortable they are. I did my first dance in 4 inch stilettos!"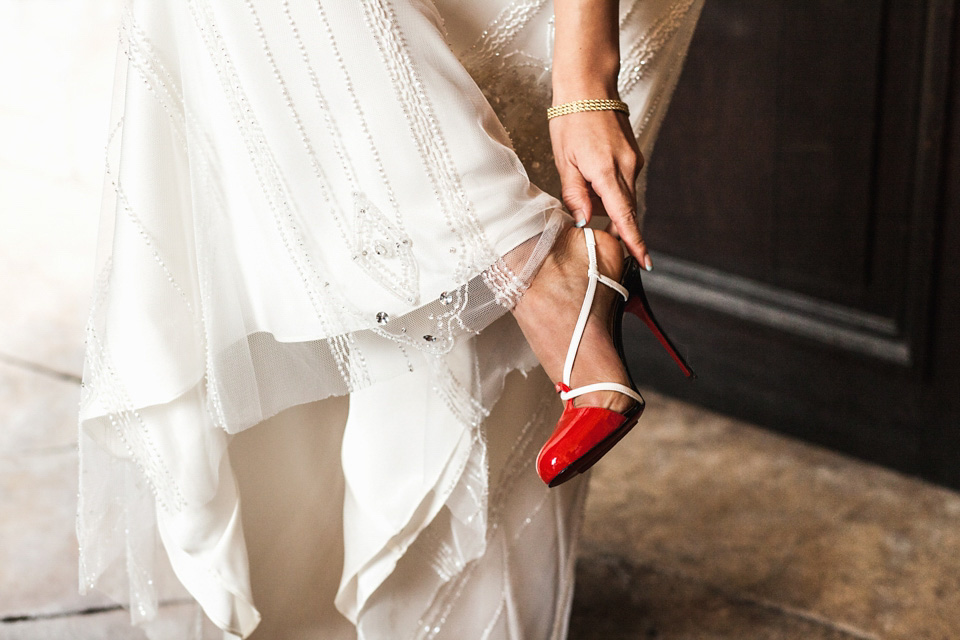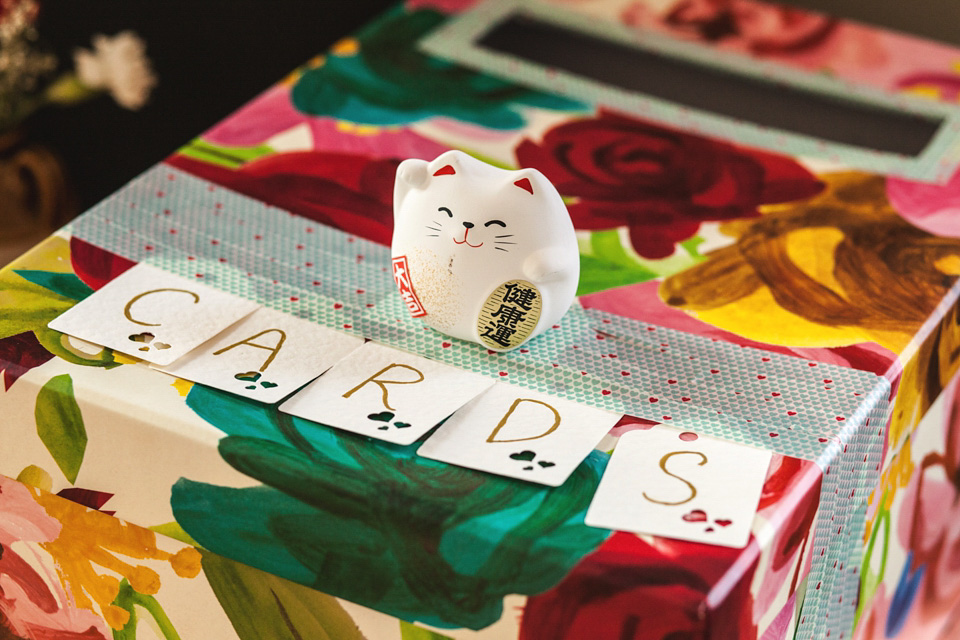 "Charlotte Hu is one of my oldest friends and was a bridesmaid on the day as well. I hadn't really thought much about getting married before getting engaged, but there were only two things I had decided on – that I would walk down the aisle to my friend Remi playing the piano and that Charlotte would be the photographer. I'm delighted that both of these things happened!
I've known Charlotte for a long time and recommended her to many of my friends – so I knew it would work. She was enthusiastic, unobtrusive and I think her photos have a very pretty, natural yet romantic quality about them that I absolutely love."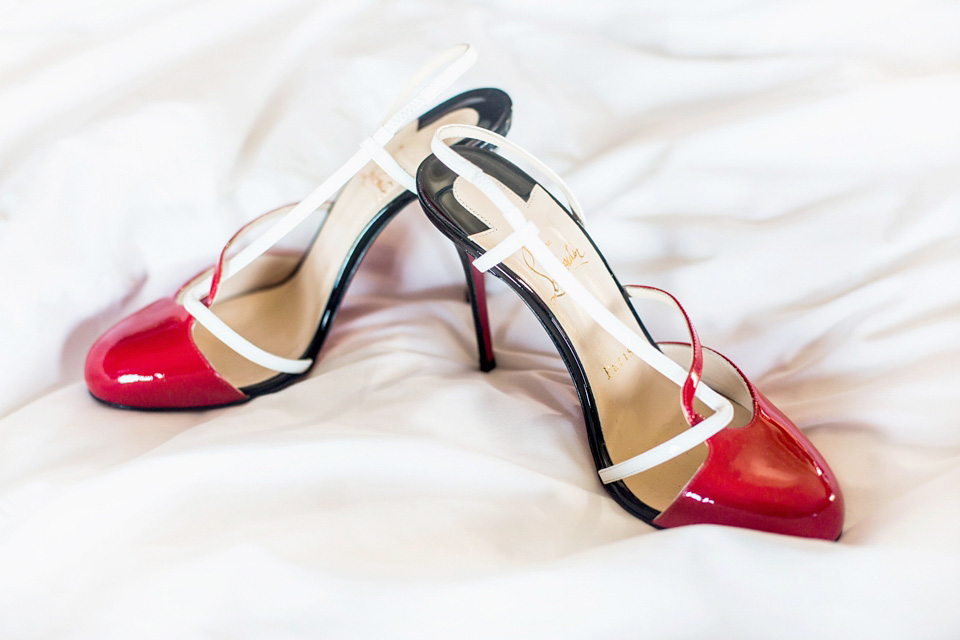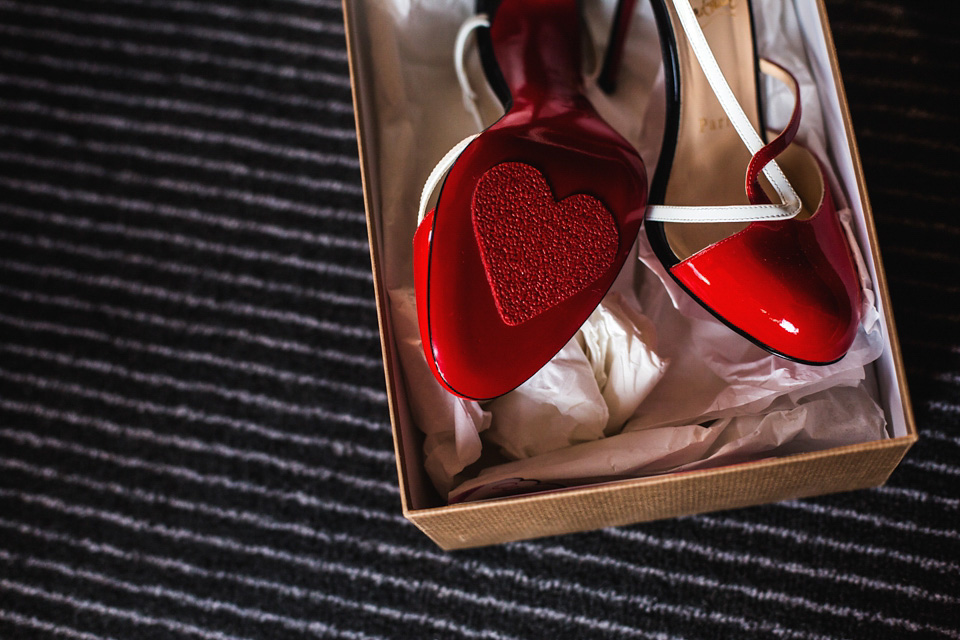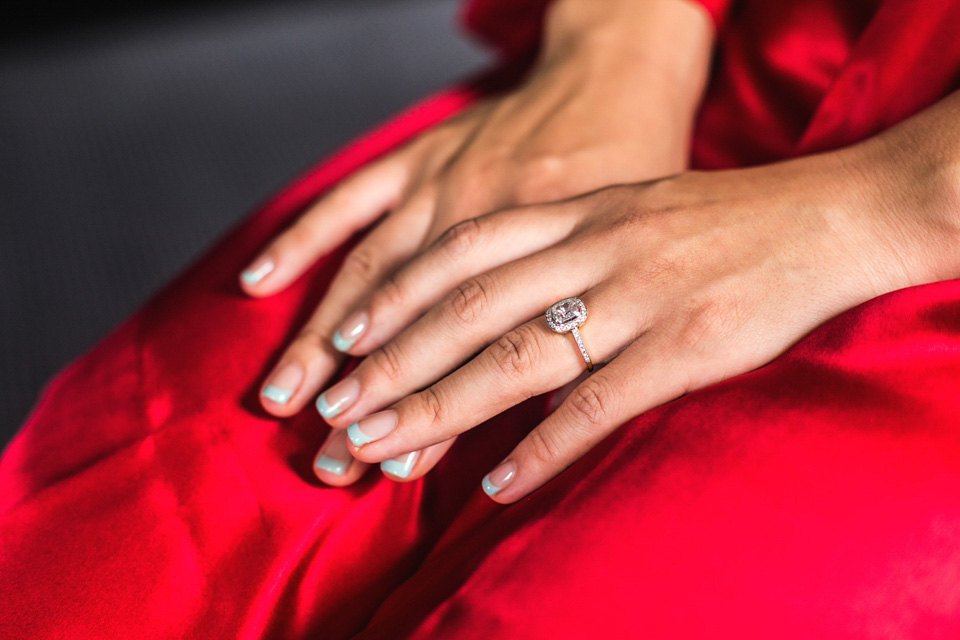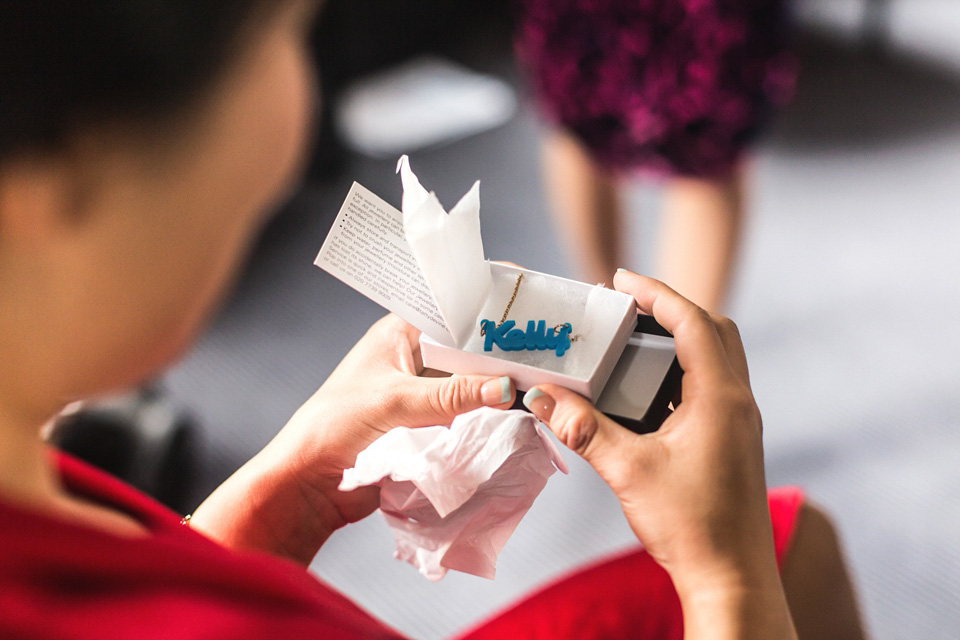 "Our flowers were supplied by Daisies Flower Shop in Oxford.  My mother in law found Daisies for us, and I'm so glad she did. Sheila was incredibly knowledgeable and helpful and prices were really reasonable, which I'm delighted about as I didn't want to be spending loads on decoration.
Sheila was incredibly patient and had lots of ideas – I knew nothing about flowers and what I did know wasn't very helpful (I wanted peonies, but they weren't in season and I didn't want any 'hard greens'). Sheila completely got it about the hard greens, completely got the colour scheme (no clear scheme but quite 'pastely'!) and I'm not sure if the flowers I had in my bouquet on the day were peonies, but they definitely looked like them!"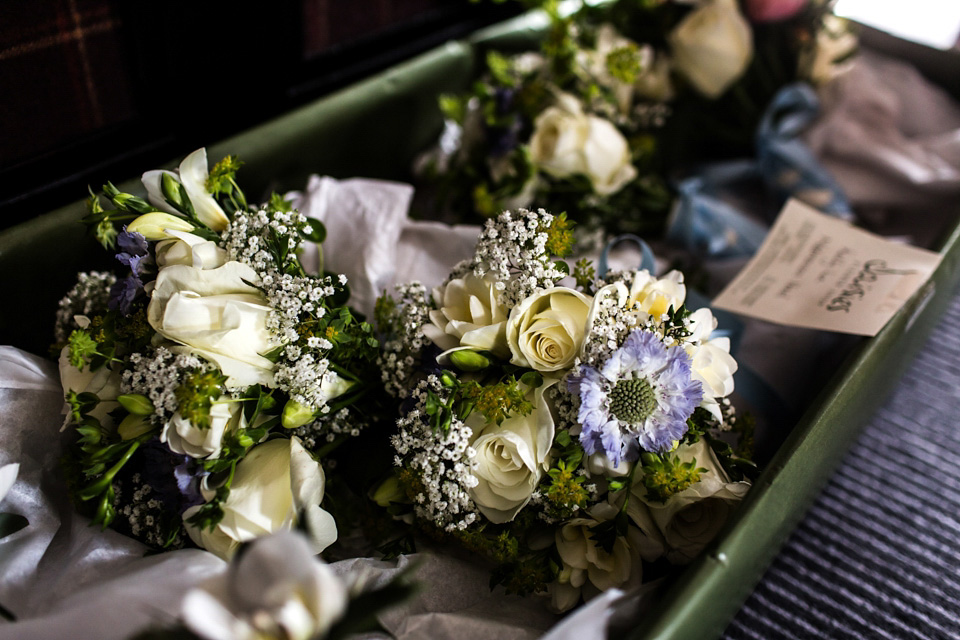 "My earrings are my 'something old' and 'something borrowed' – I borrowed them from one of my friends and I think they belonged to her mum.  Morgan Davies made me a pearl belt to go with my dress as I felt it better emphasised the waist."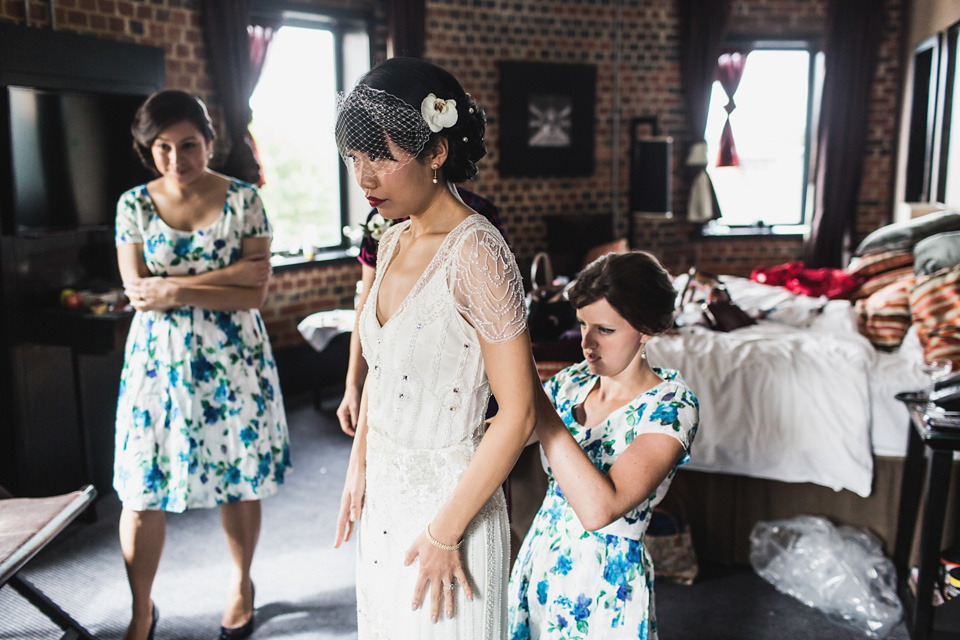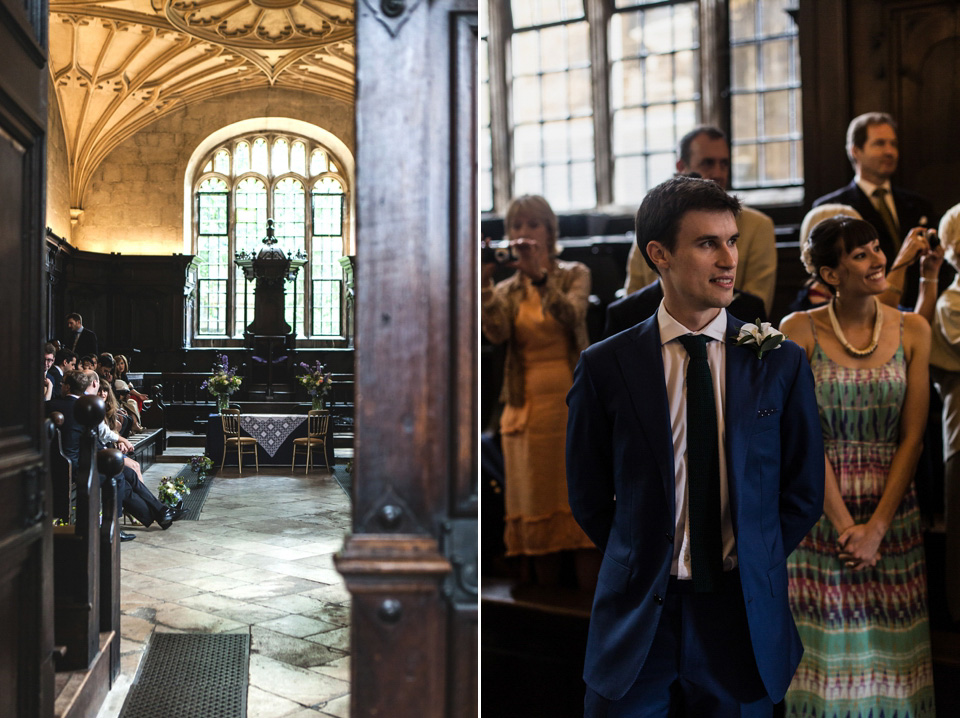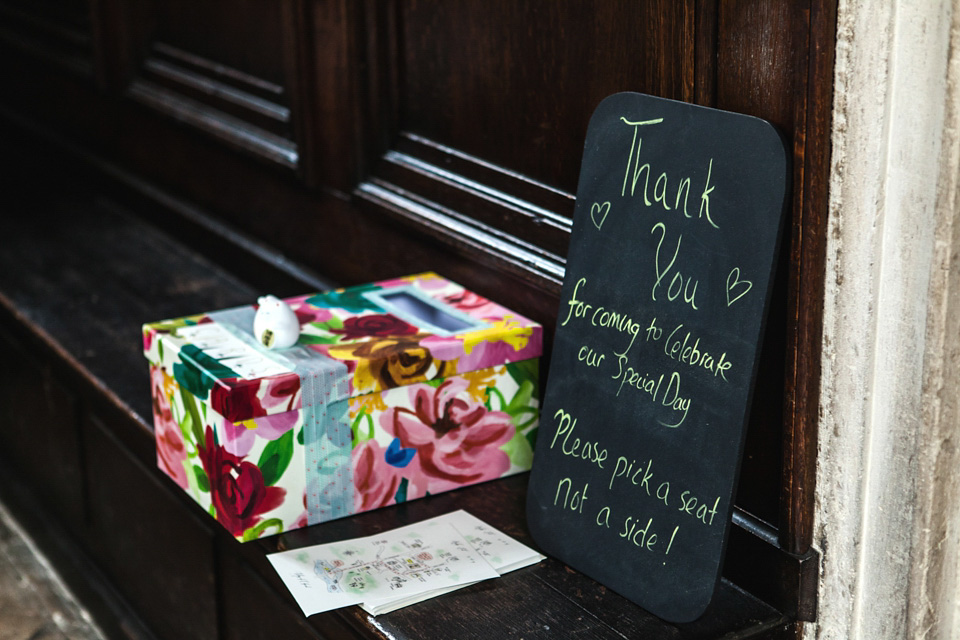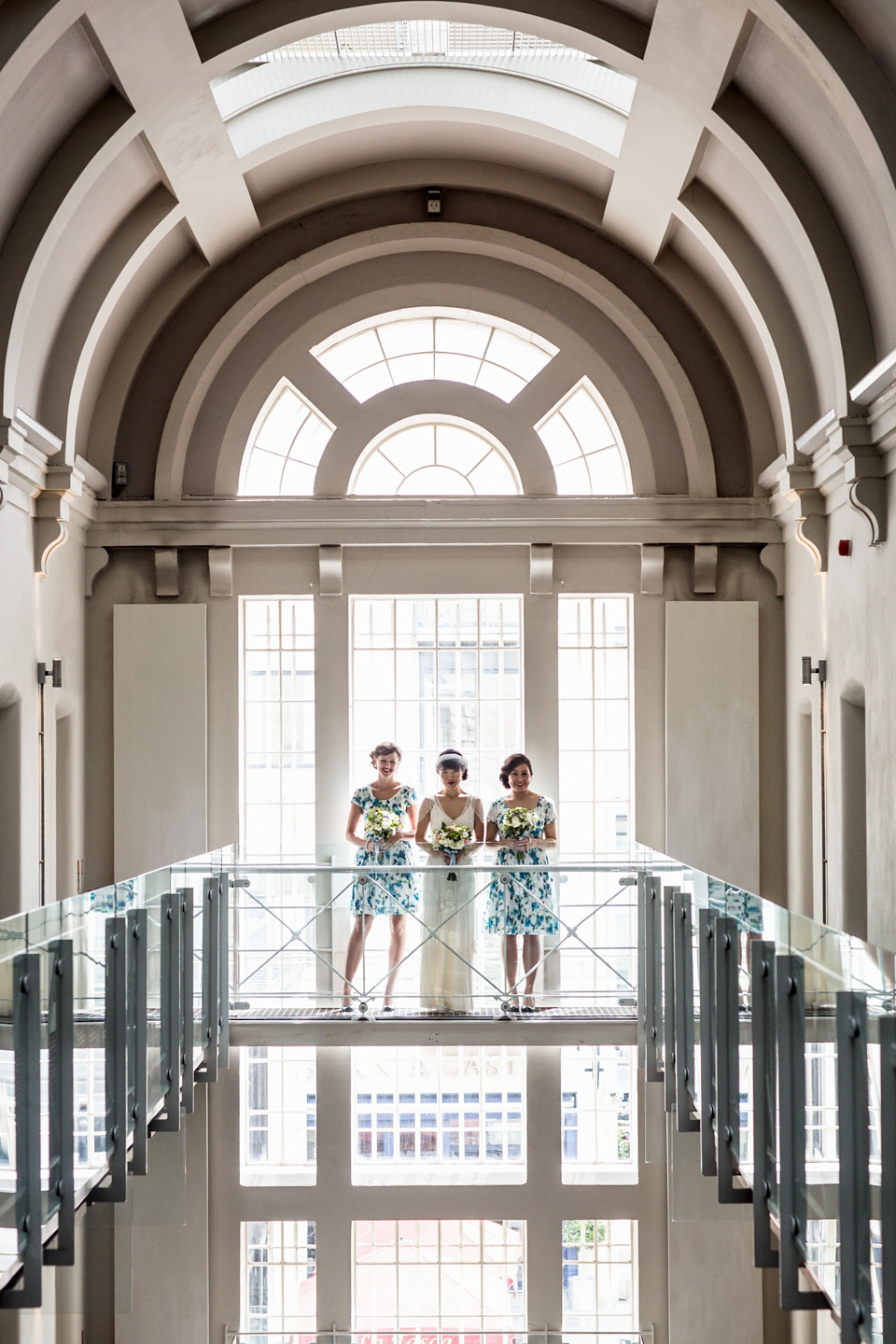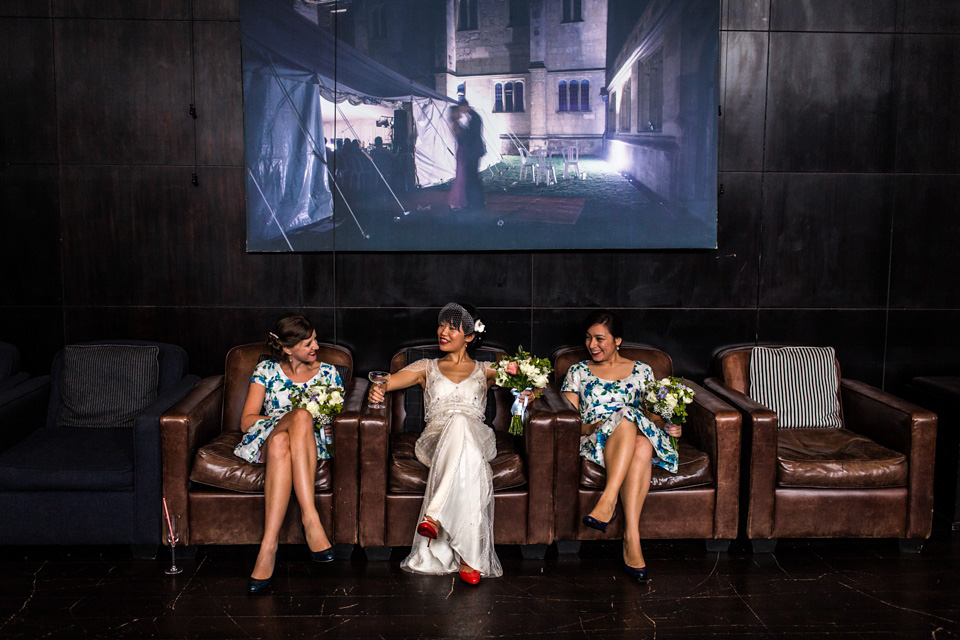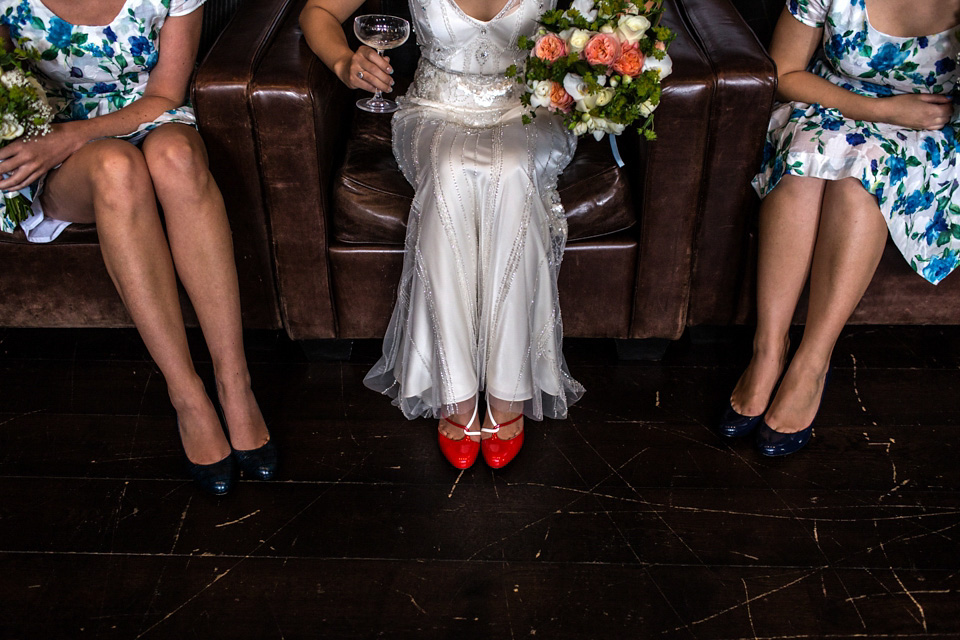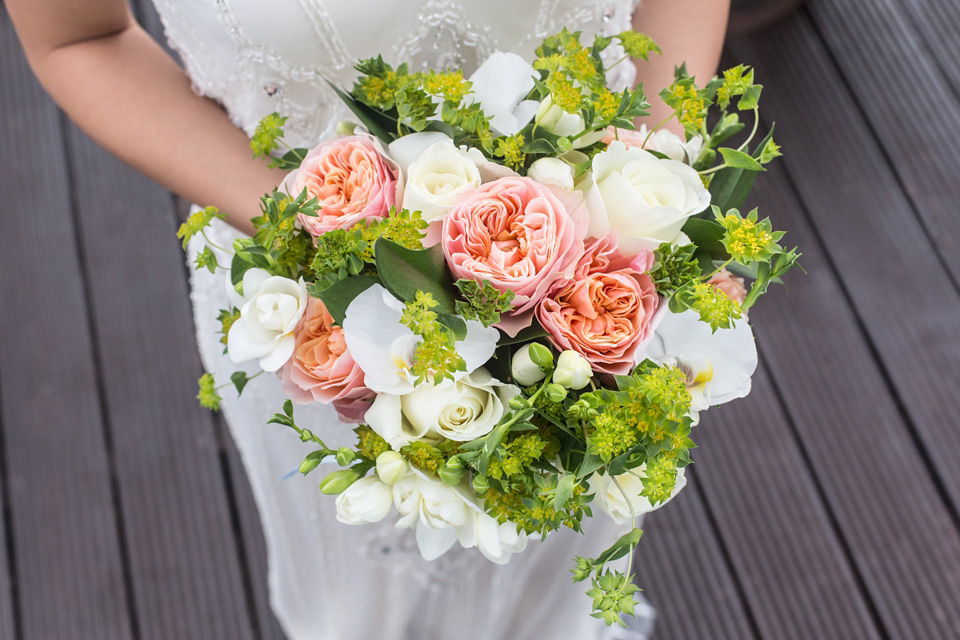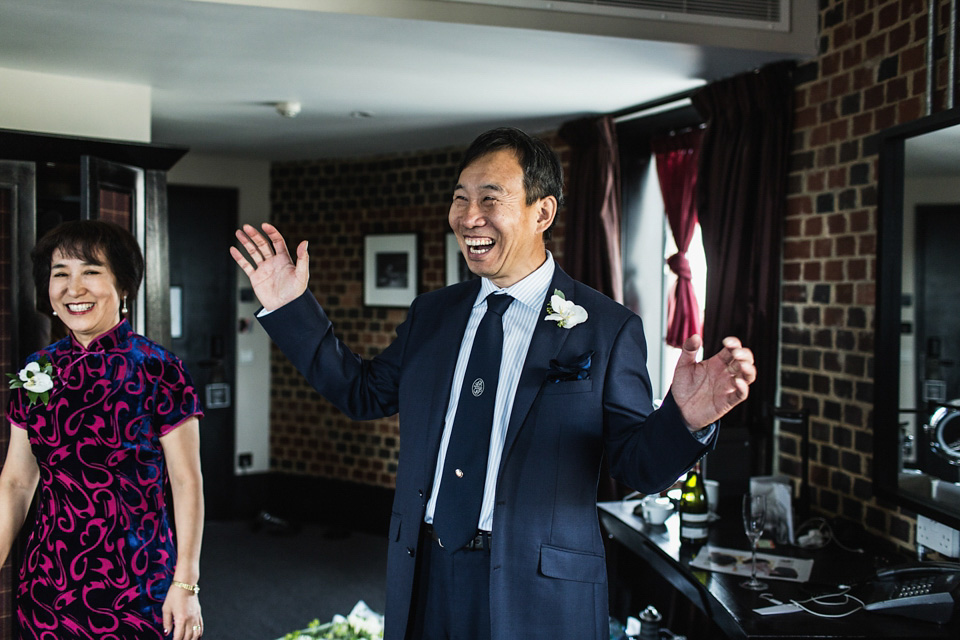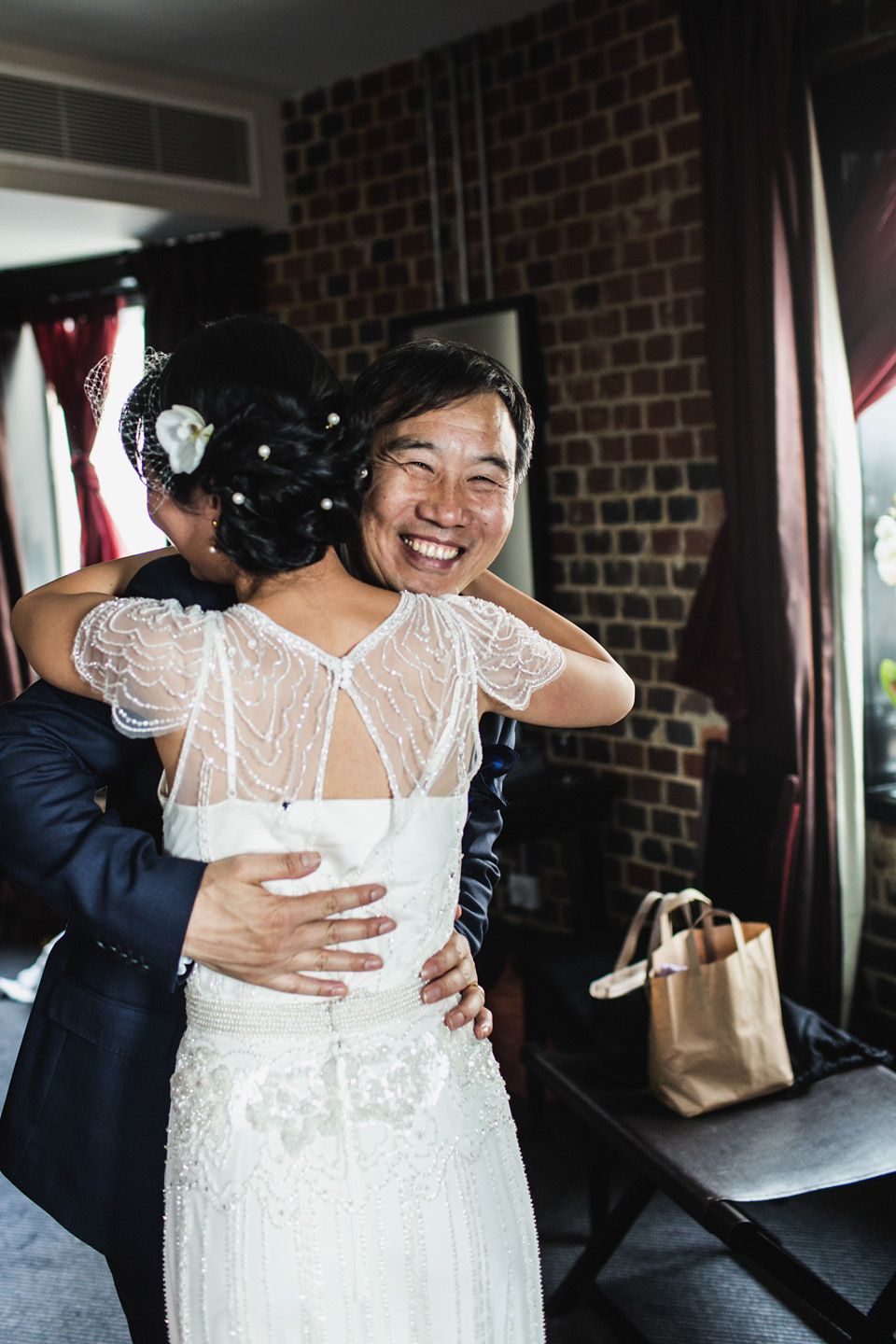 Kelly and Ed tied the knot with a ceremony in The Bodleian Library, followed by a boat trip and reception on The Folly.
"I went to university in Oxford and Ed grew up close by. We wanted somewhere that meant something to us and that was within easy access for our friends and family so Oxford was perfect. I'm a city girl at heart and as beautiful as countryside weddings are, it wasn't really something we'd ever considered. The big benefit of this was that people could get to our venue without a car and finding accommodation was easy.
We wanted to have the ceremony somewhere grand and historic (but non-religious) yet we also wanted the wedding to be relaxed and not too formal. The two don't exactly mesh so we had two venues. Thus followed a lot of stress about how to get people from the first to the second, given there was a one and a half hour gap in between, but they were only ten minutes walk apart – we simply handed our guests a hand drawn map of the sights for them to see in between walking from venue to venue! Though as expected, most people visited the pub instead!"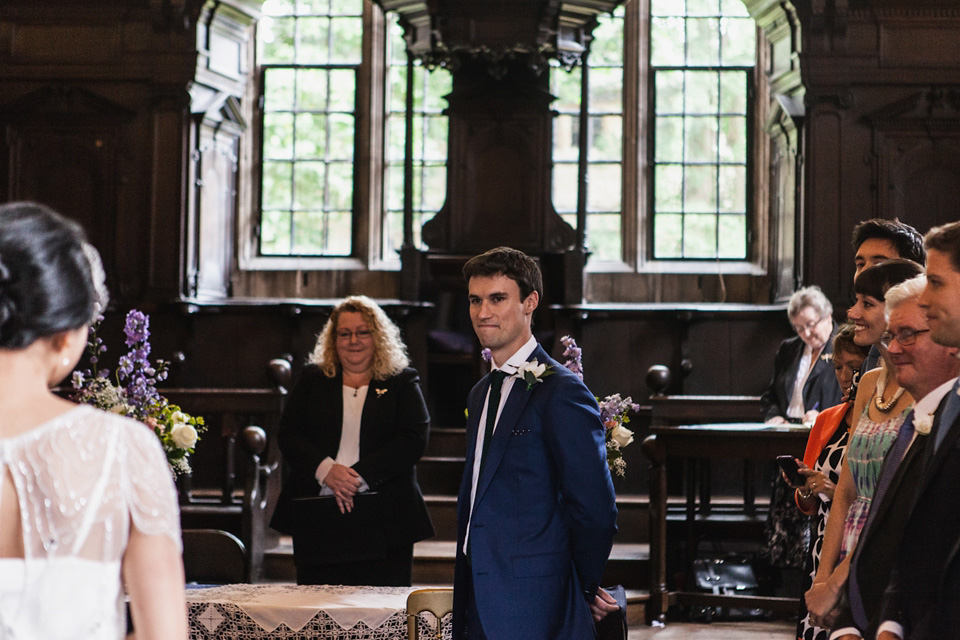 "One of my best friends from university is an amazing pianist. I walked down the aisle, accompanied by my dad, to him playing 'The heart asks', by Michael Nyman. He also played Total Eclipse Of the Heart on the piano (Glee version apparently, according to his sheet music!) as we signed the registrar. It took people about five seconds to get it and I think some of the guests were signing along. I'm not sure what everyone else thought but I loved it!"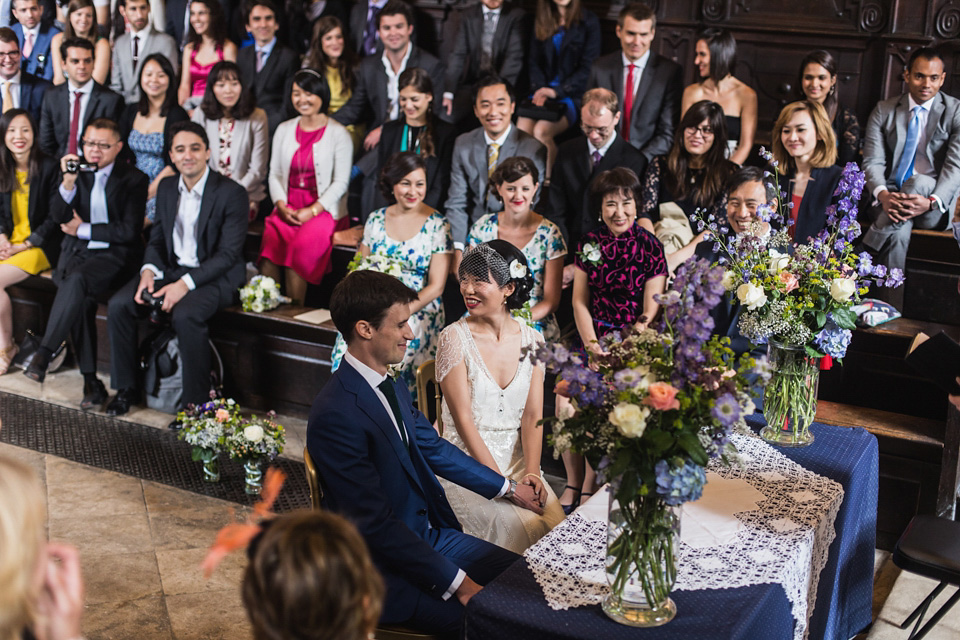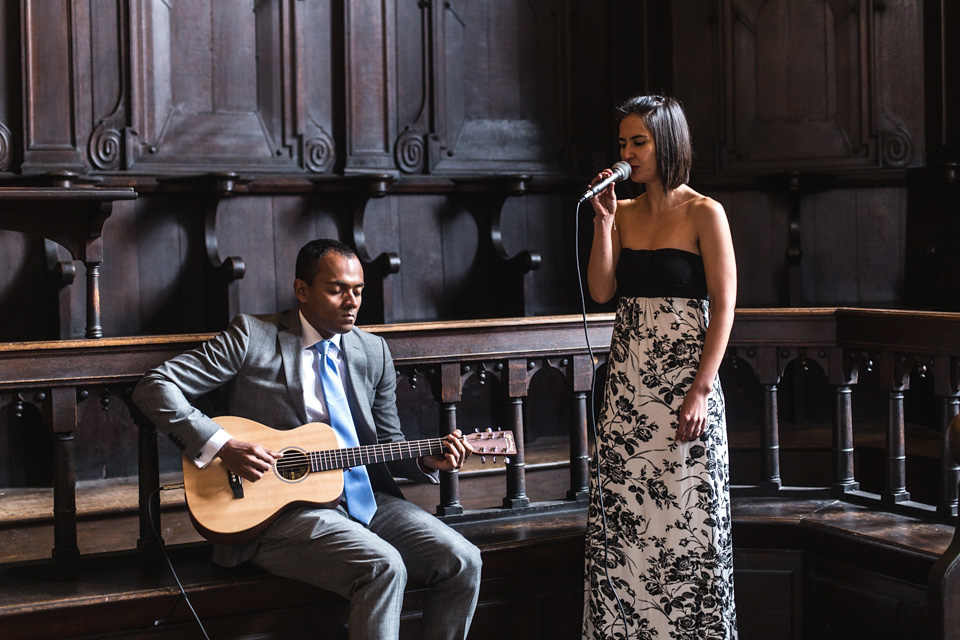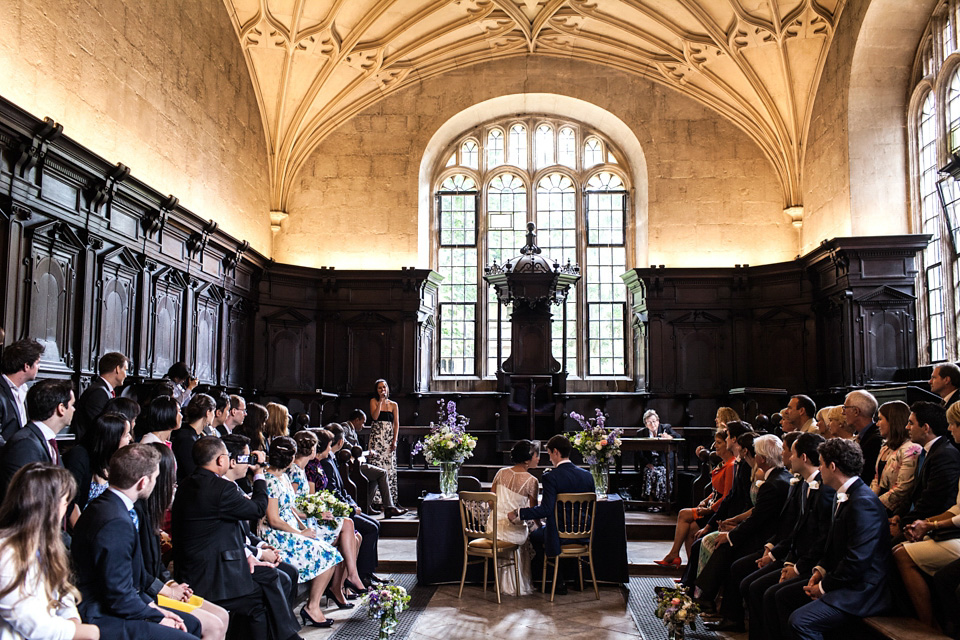 "We found it really hard to choose readings – we wanted something that actually reflected us rather than something that just sounded nice. We even went to a love poetry event at the Southbank but failed to find anything we really liked. However, it worked out very well in the end.
Our first 'reading' was my favourite moment of the whole day – one of my very talented friends sang whilst the other played the guitar and performed 'Love song' by The Cure, my favourite band. I could see so many people tearing up during the performance. The second reading was 'The Eskimo Love Song' – a very simple short poem, but read in Chinese translation by my mum then English translation by Ed's mum."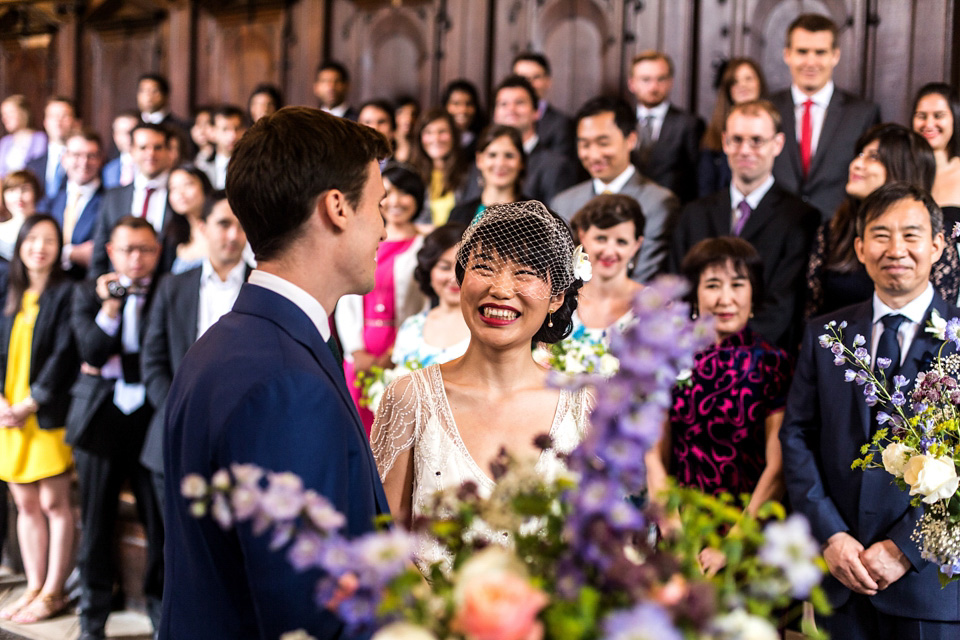 "Ed proposed to me with a stand-in ring. I'm relieved he didn't try and buy an engagement ring for me. It's the second most expensive thing we own so why shouldn't it be a joint decision?
I wanted a gold ring with diamonds and something that sat low on my finger. I saw a beautiful antique ring but it wasn't quite perfect so we worked with Michael from The Diamond Ring Company to make a bespoke ring. We spent quite a few nice hours sitting around at his desk trying to decide between different diamonds! The engagement ring is gold, but with platinum setting around the diamonds, sits low on my finger and doesn't get caught on jumpers – it's perfect. I was shocked when I found out what the price of something similar at Tiffany might be.
I hadn't initially wanted a wedding ring (the engagement ring wouldn't work with any other ring around it), but a month before the wedding when we were looking for a ring for Ed, I saw a diamond eternity band and thought it was beautiful. We naturally went back to The Diamond Ring Company to get Ed's plain gold wedding band and my eternity band."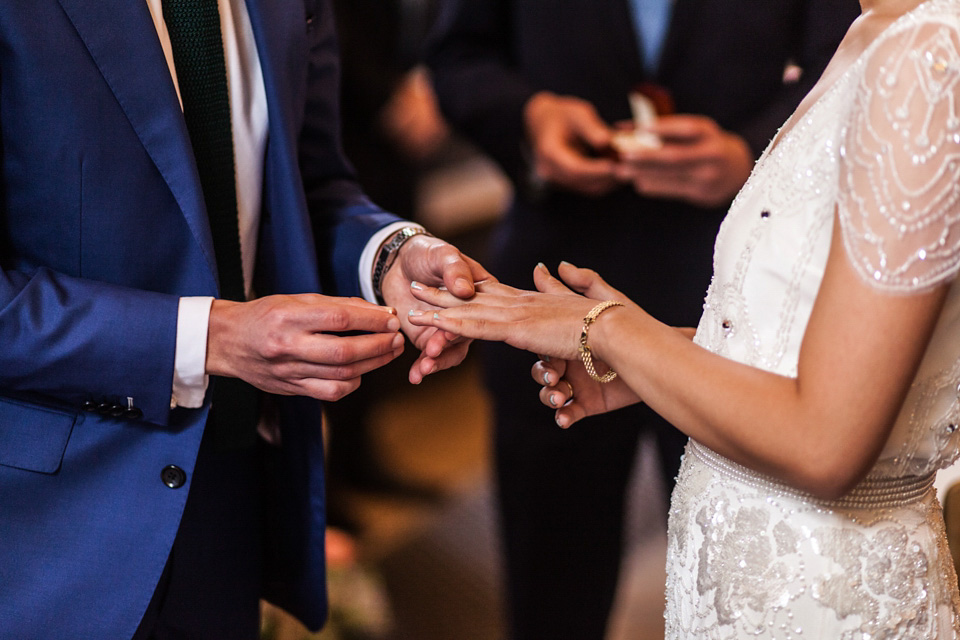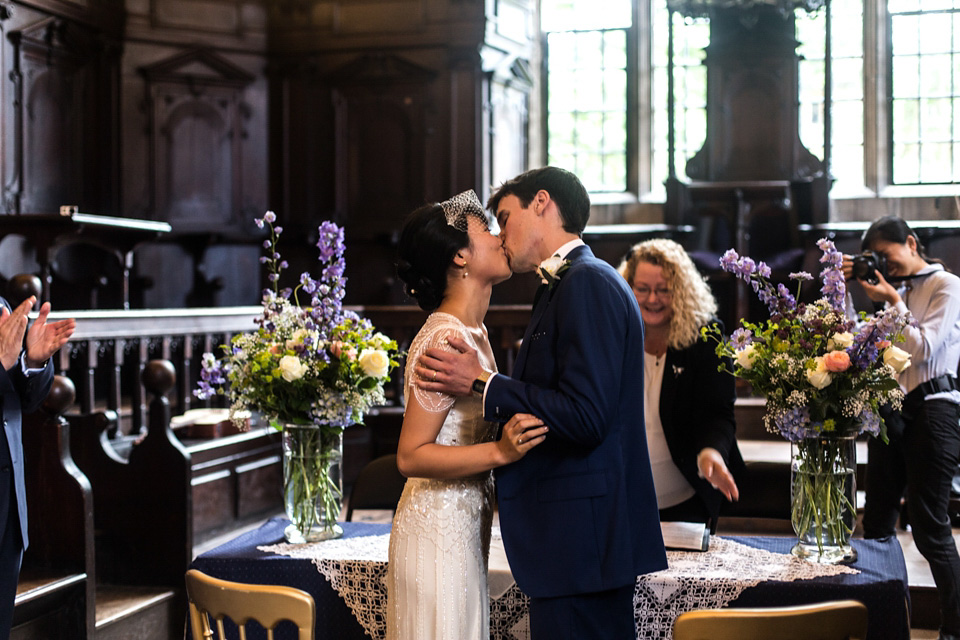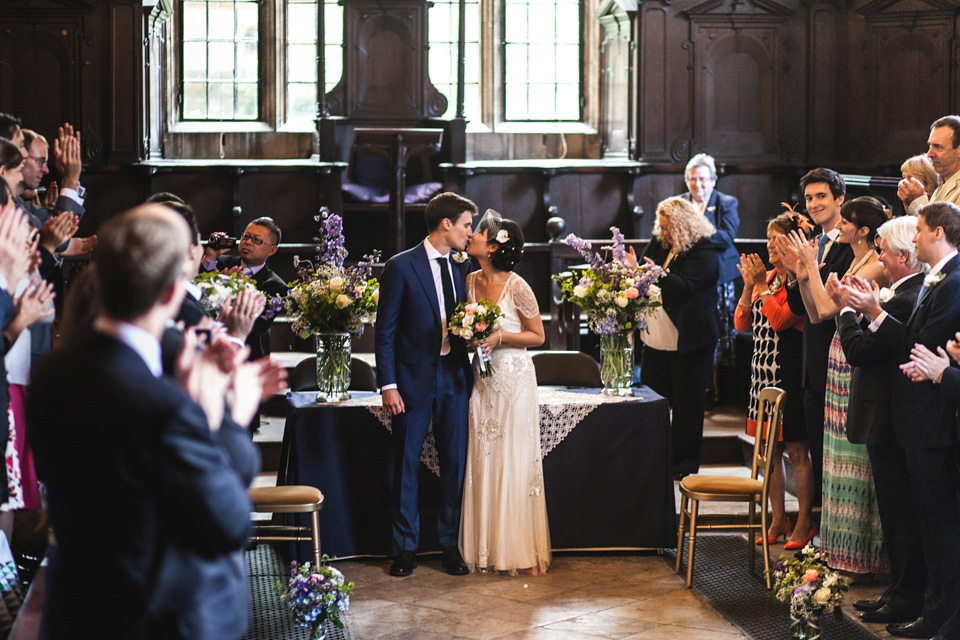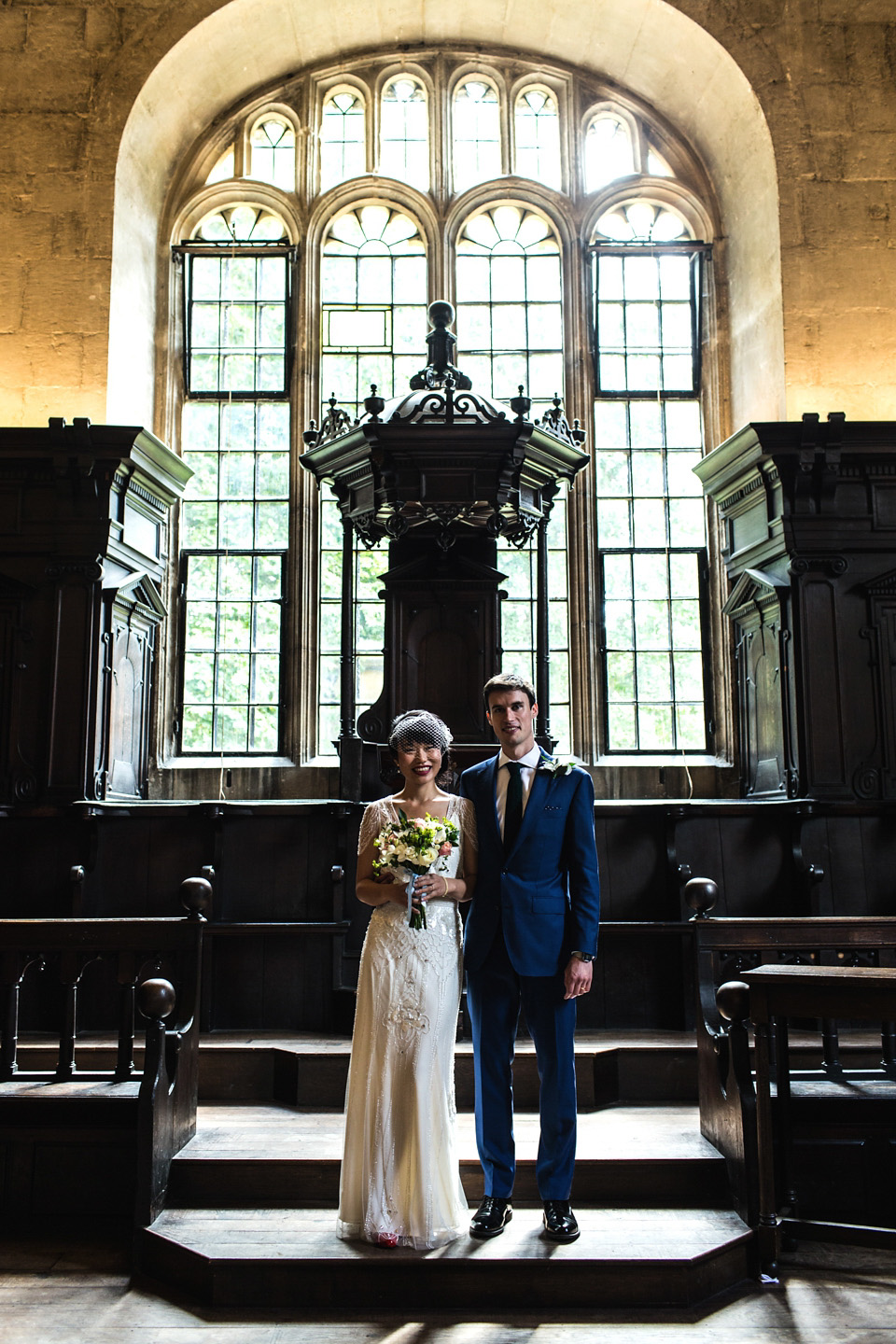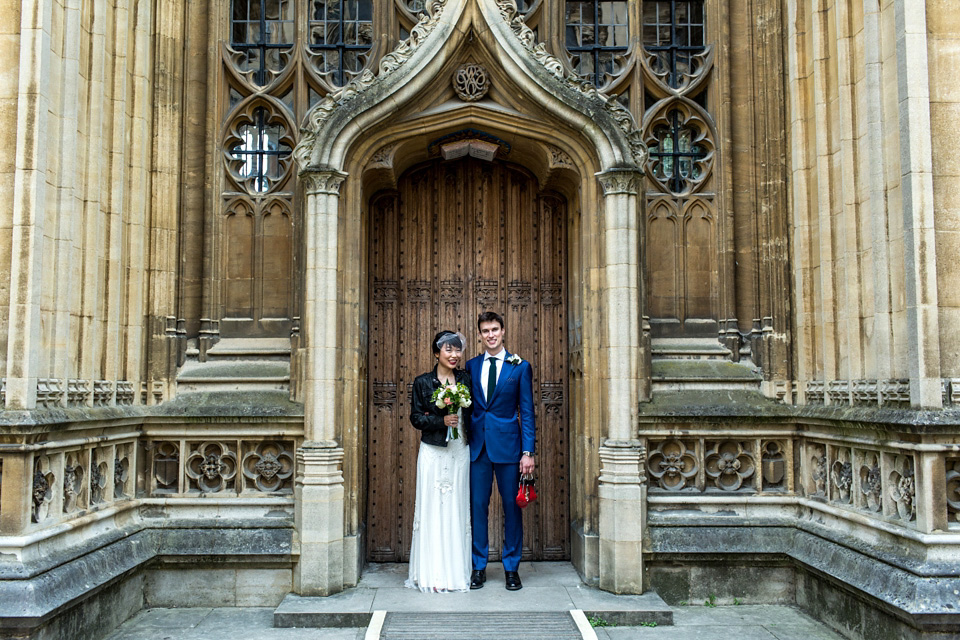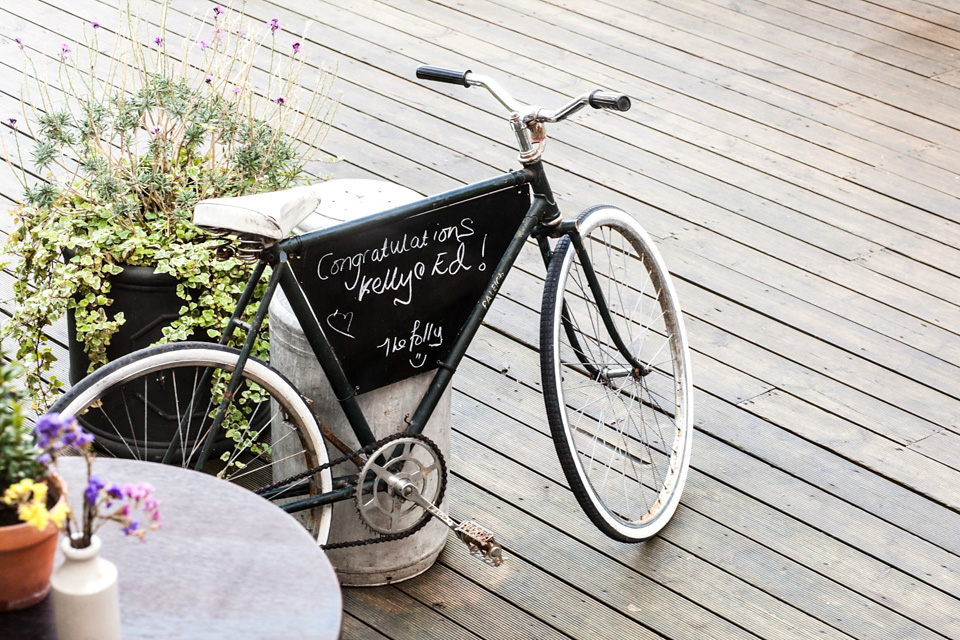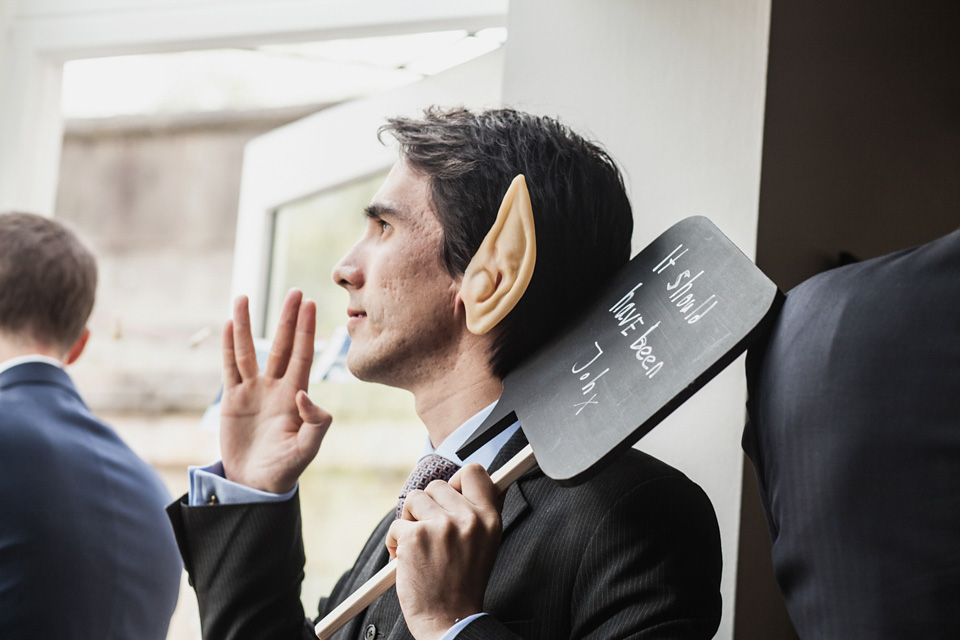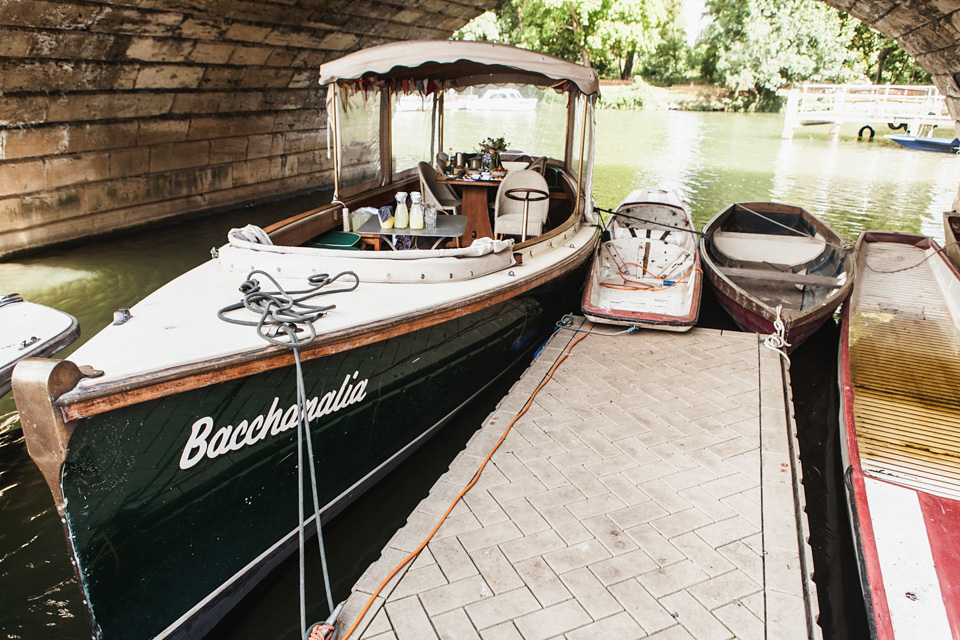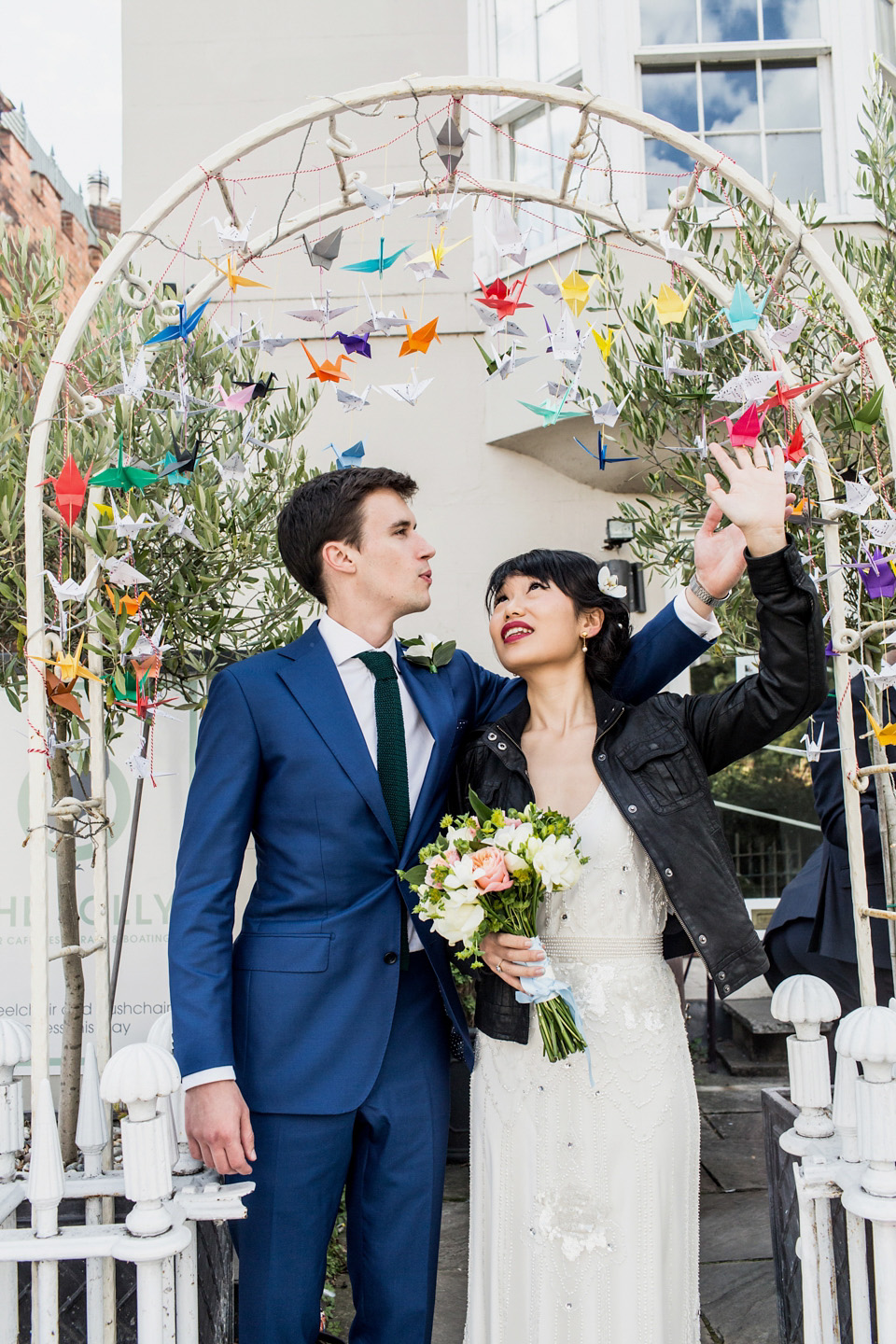 "The Folly was really pretty anyway and we didn't want to overdo it. However, I did want to add some personal touches. We strung up baby photos on some twine and pegs and hung 99 paper cranes on the entrance archway of The Folly. Apparently it's a Japanese tradition for a wife to fold 1000 paper cranes before her wedding as a lesson in patience. If that's the type of patience I needed to be with Ed, I wouldn't have agreed to marry him – I bought 100 folded paper cranes from eBay instead!"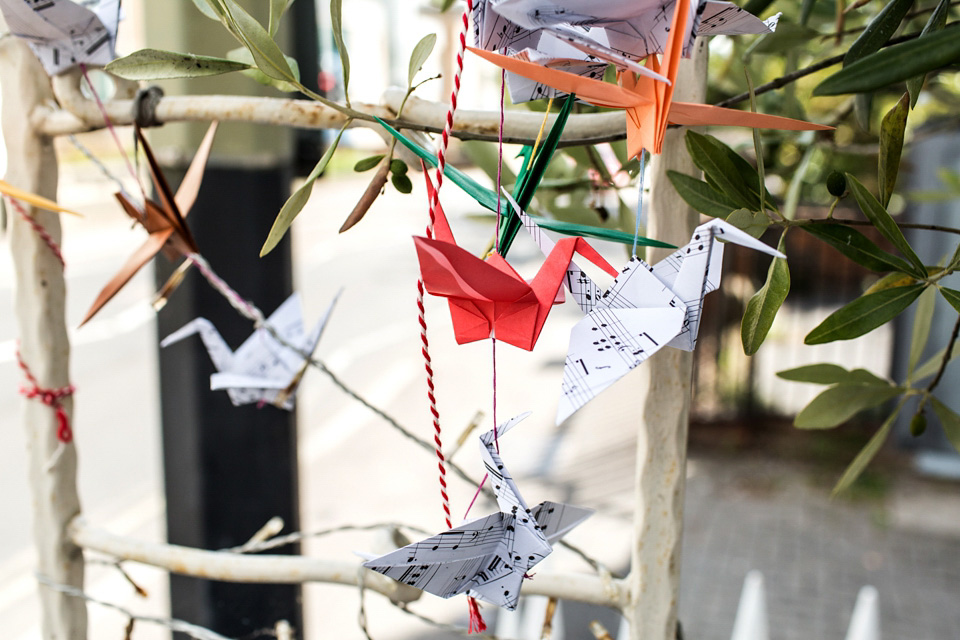 "Despite being a student living directly opposite The Bodleian Library for two years, I'd actually never been inside. The first time I went inside to see it was after we'd booked it as a venue. It was the right choice though – grand, not too big and had bench seats so everyone could see what was happening.
The Folly is a restaurant on the river that works with a river cruise company. We had cocktails on the boat before eating and having a party in the restaurant. They'd never done a wedding of our size before but Thia and the team managed it beautifully and I would highly recommend them. It looked so pretty, had exactly the sort of relaxed feel I'd been looking for but the service was efficient with such good attention to detail. They really made our day special."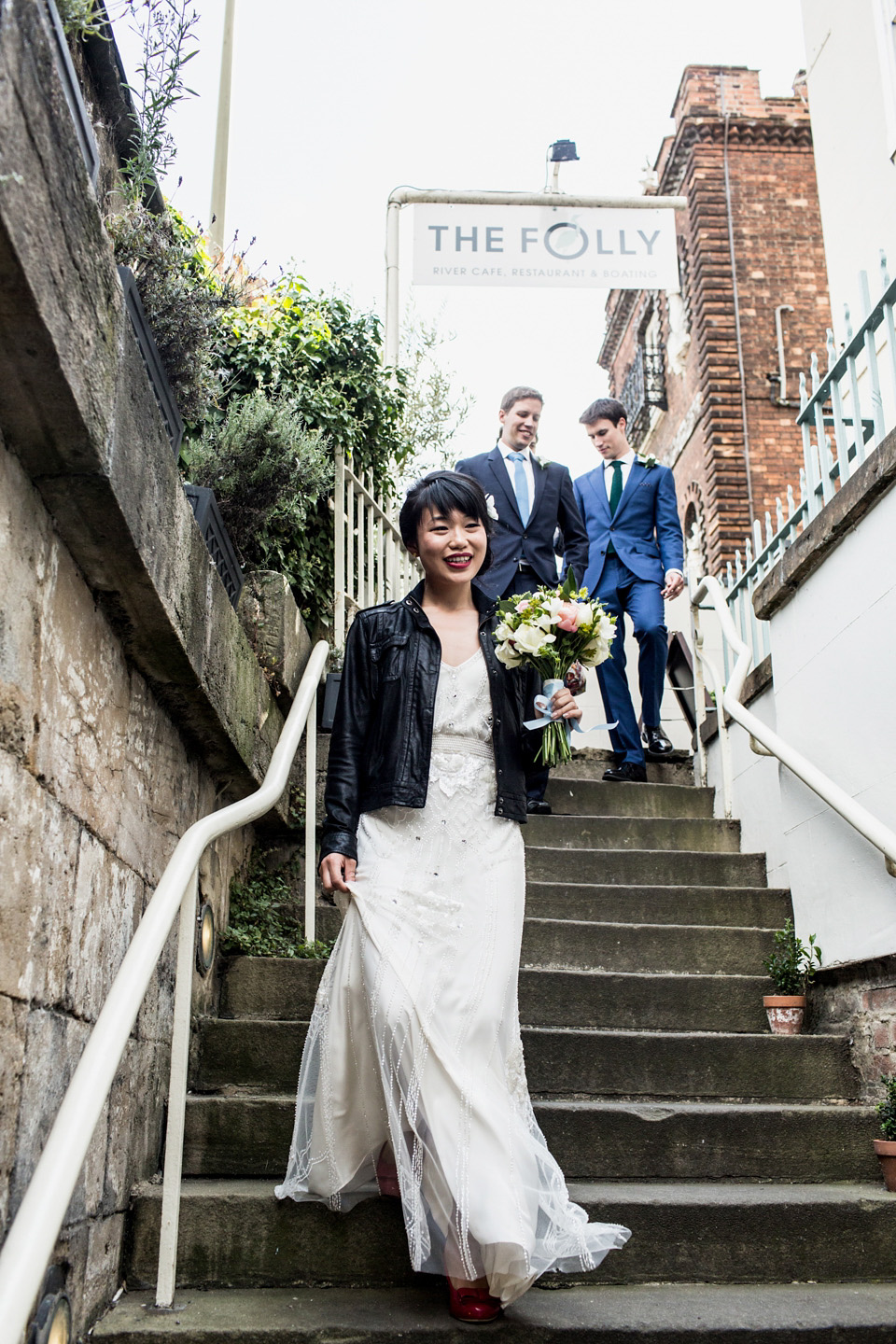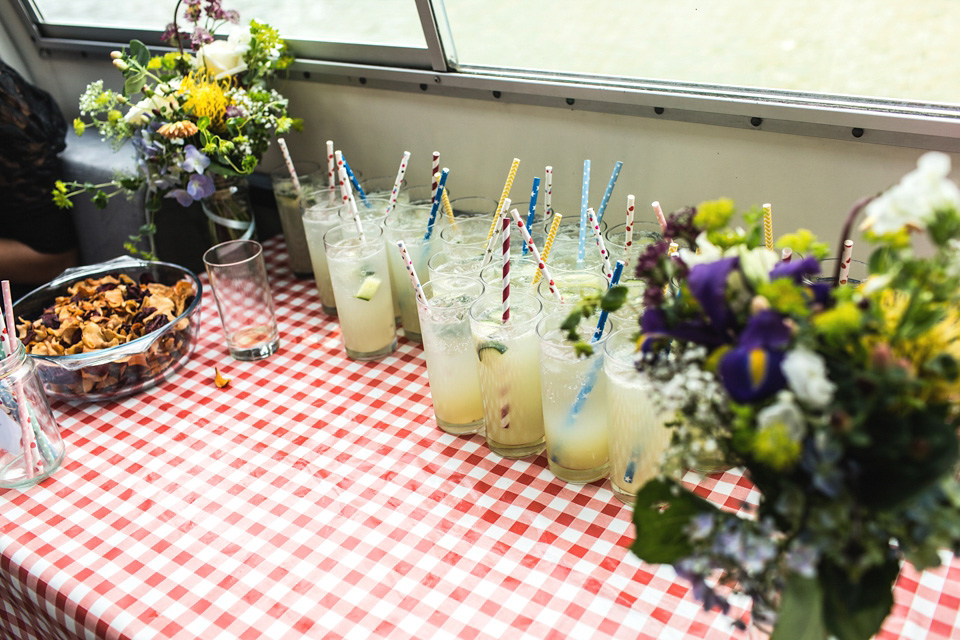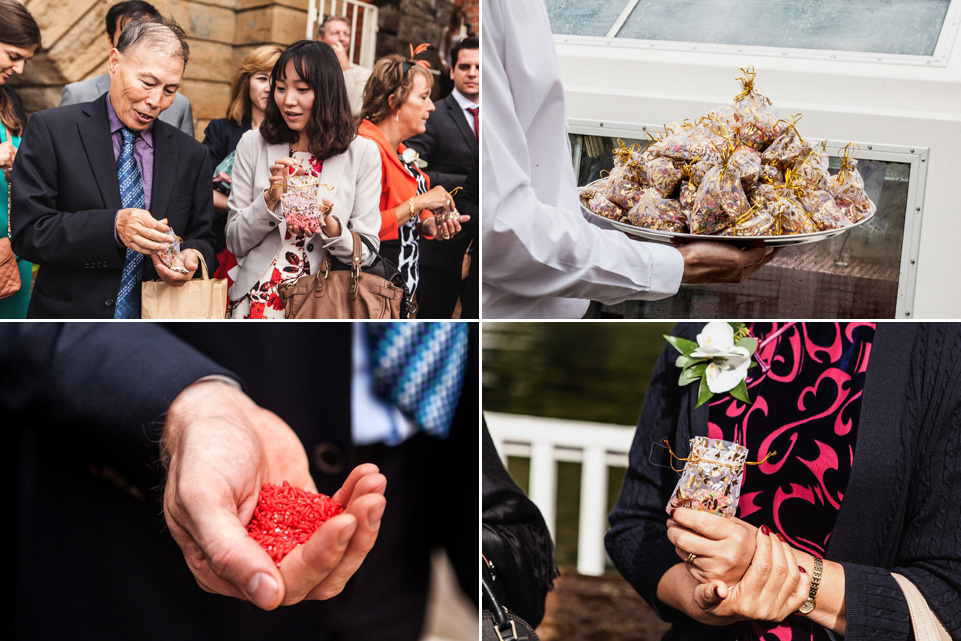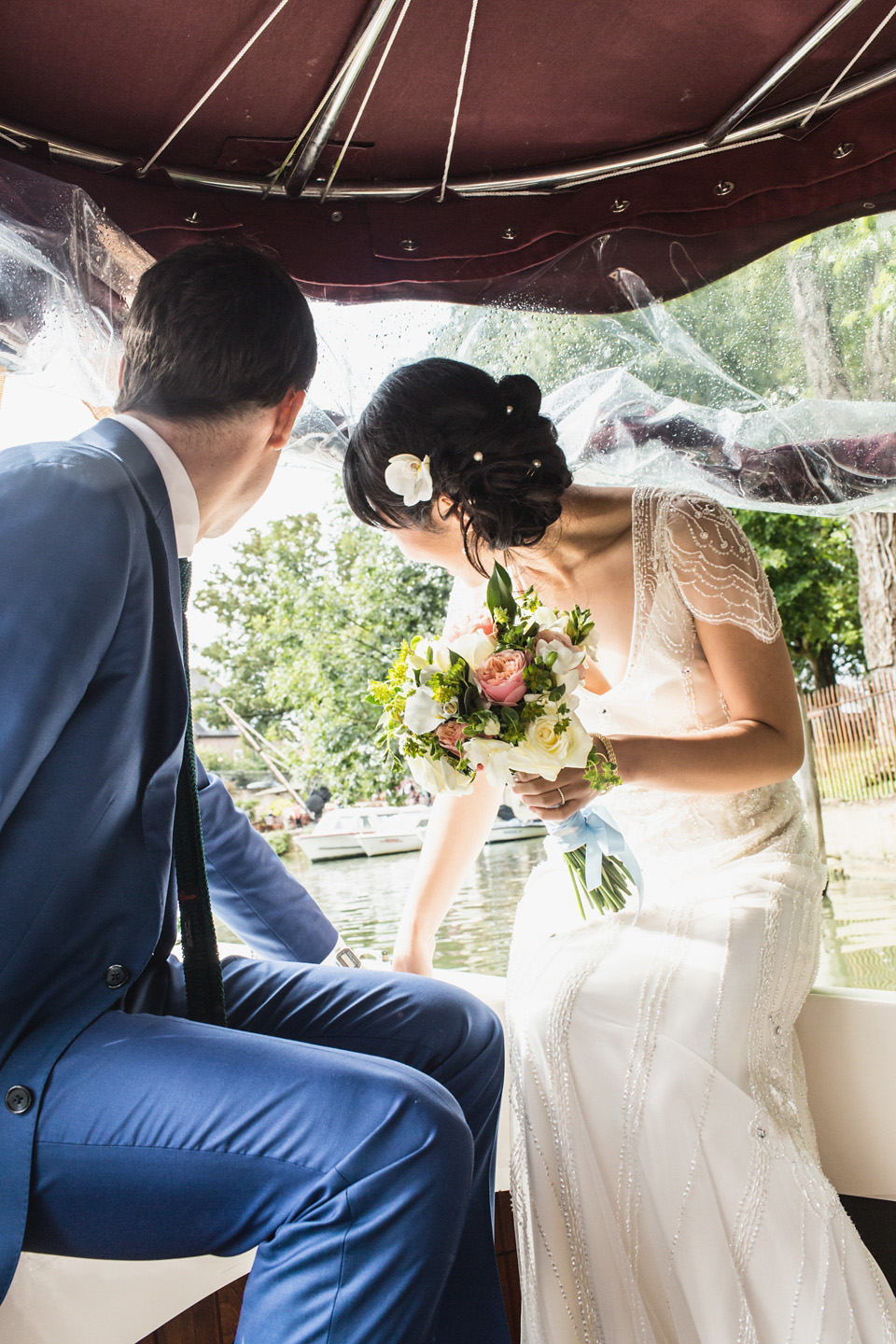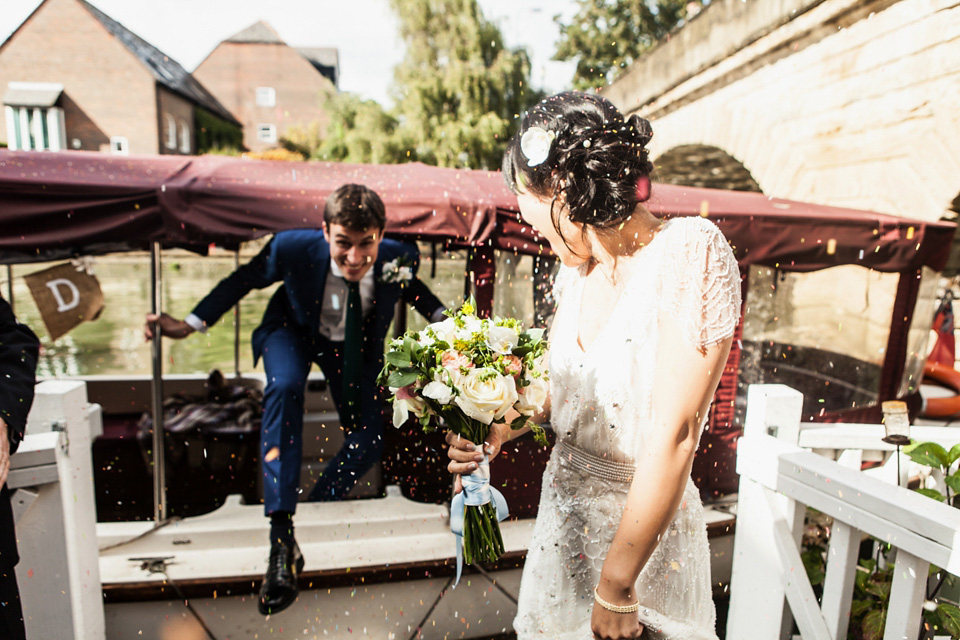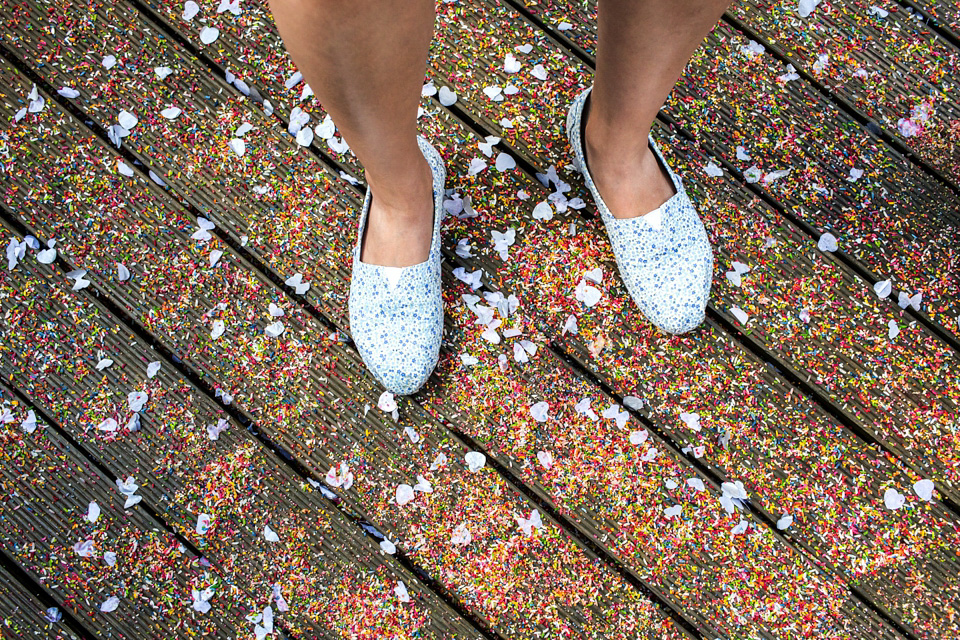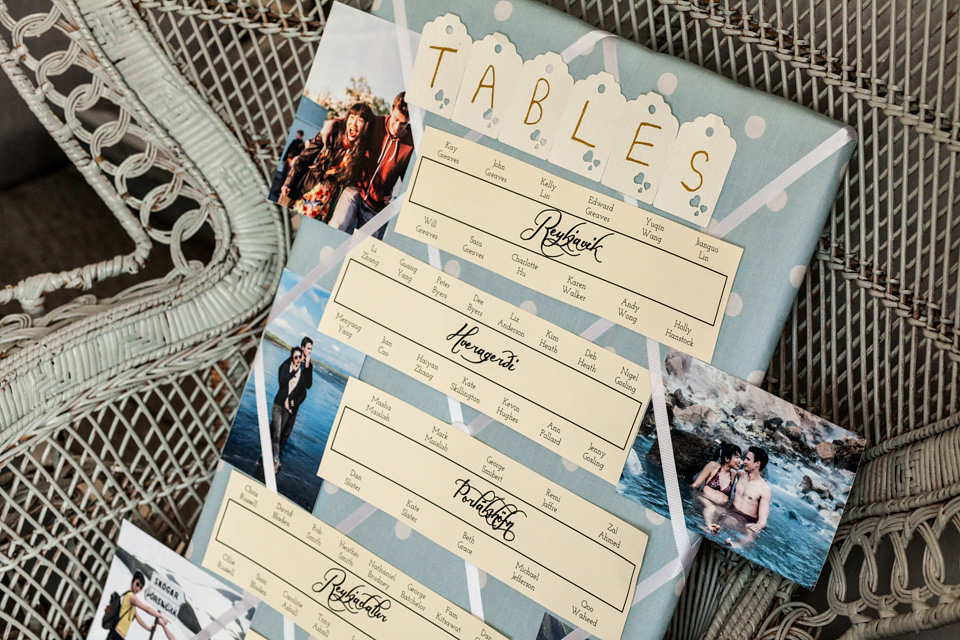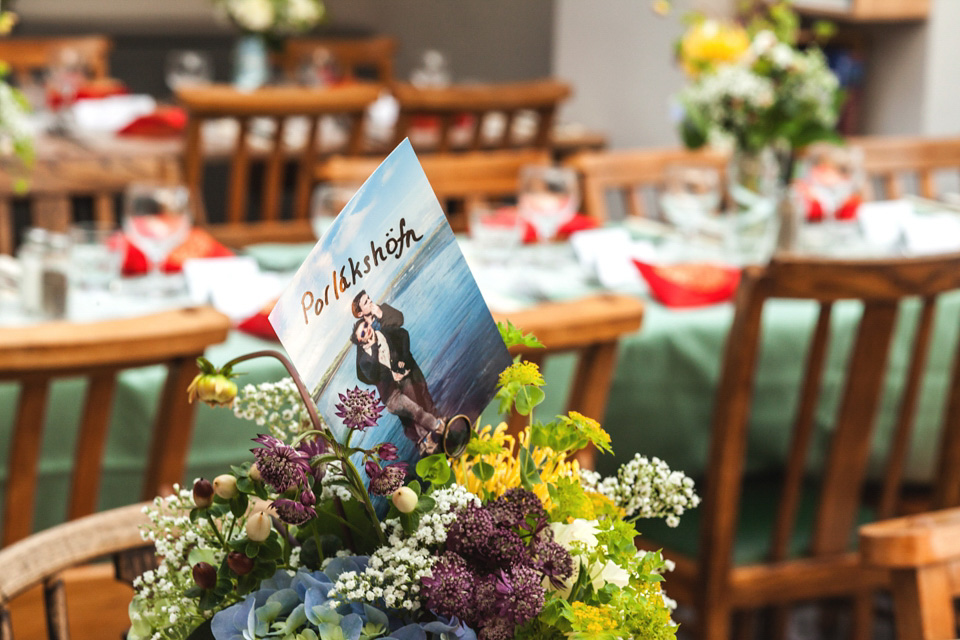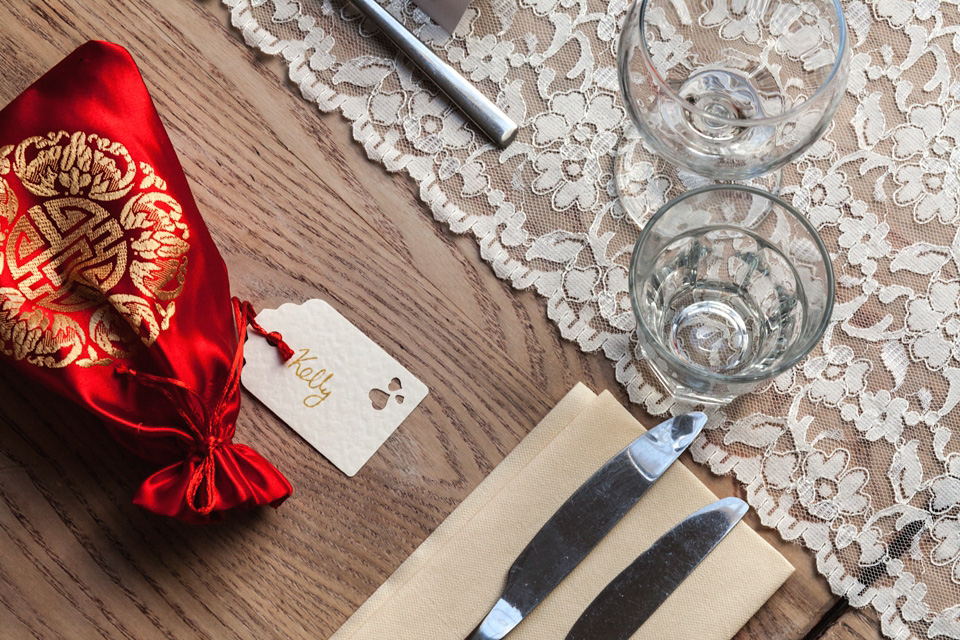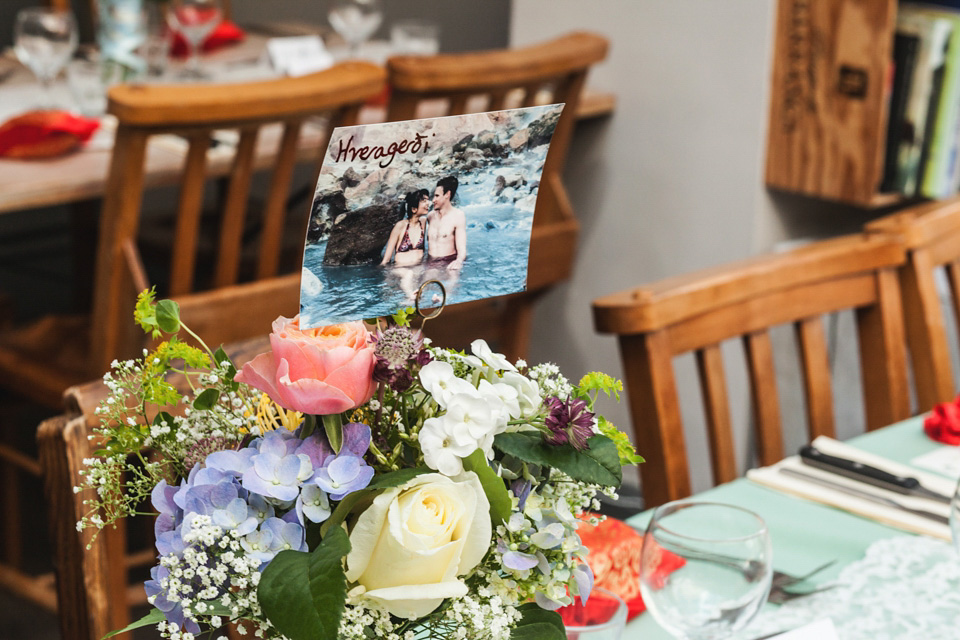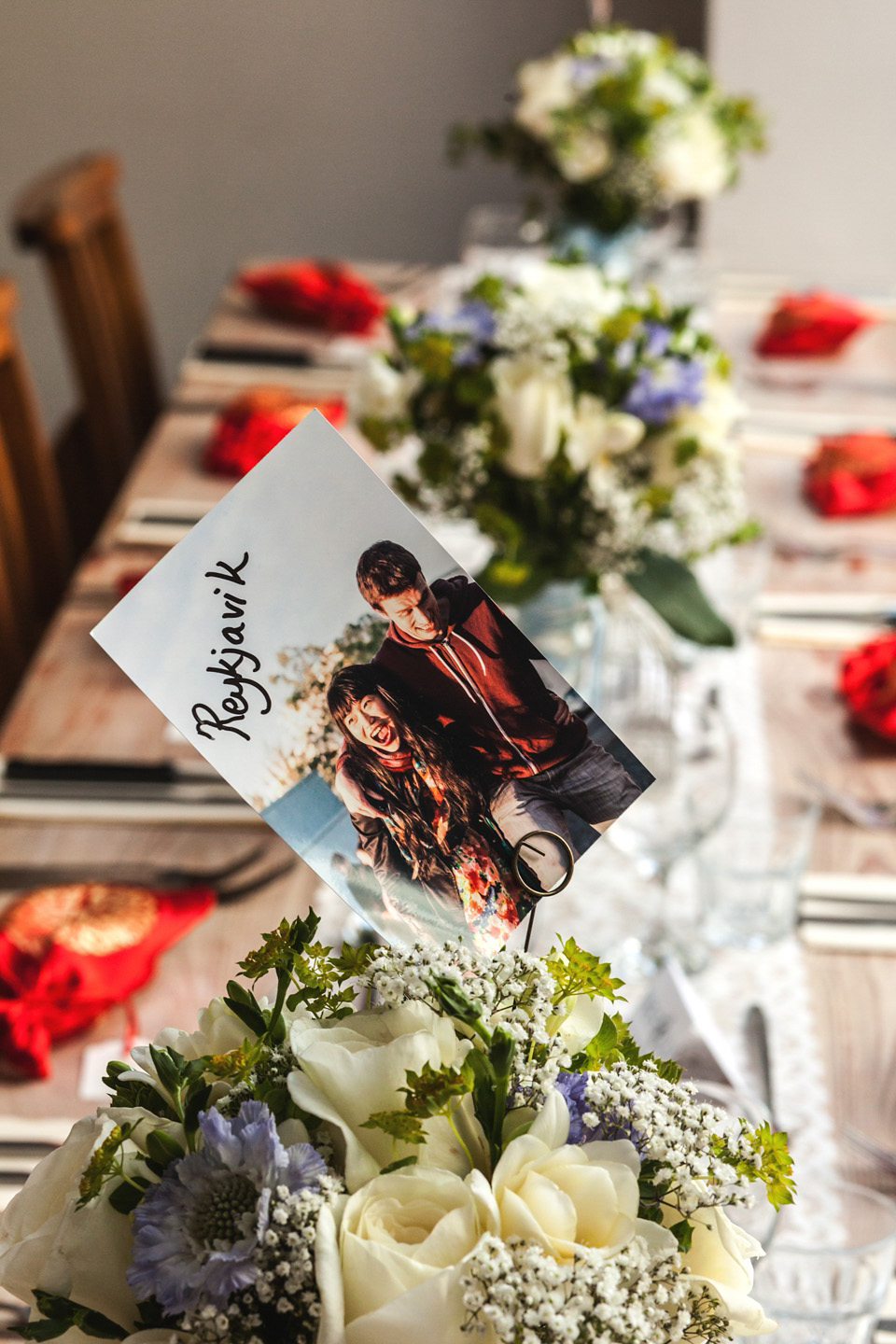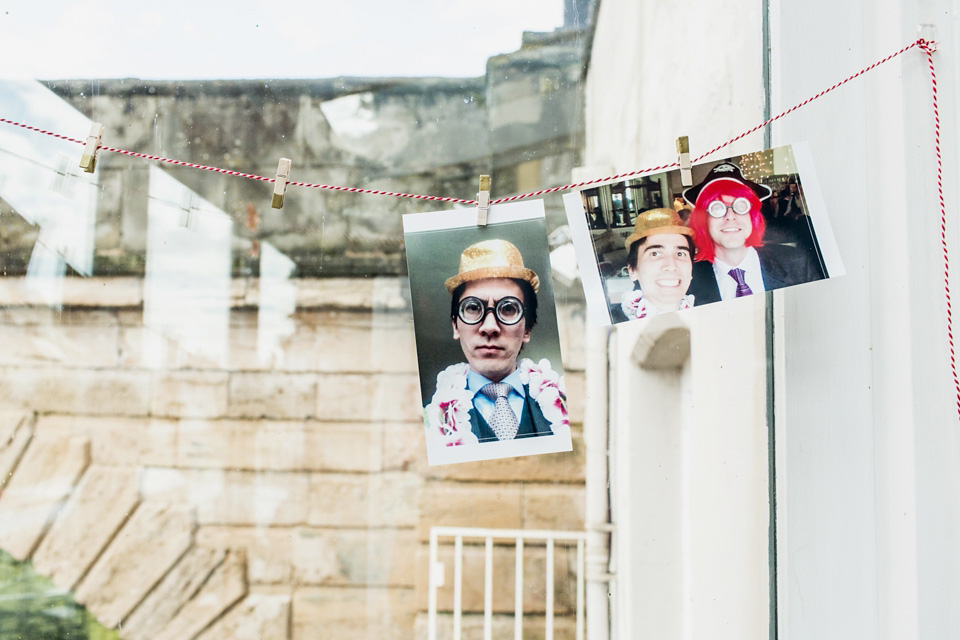 "The Folly are a restaurant so they did the catering. Good food was very important to us on the day and when we tasted the food at The Folly we knew it was right!"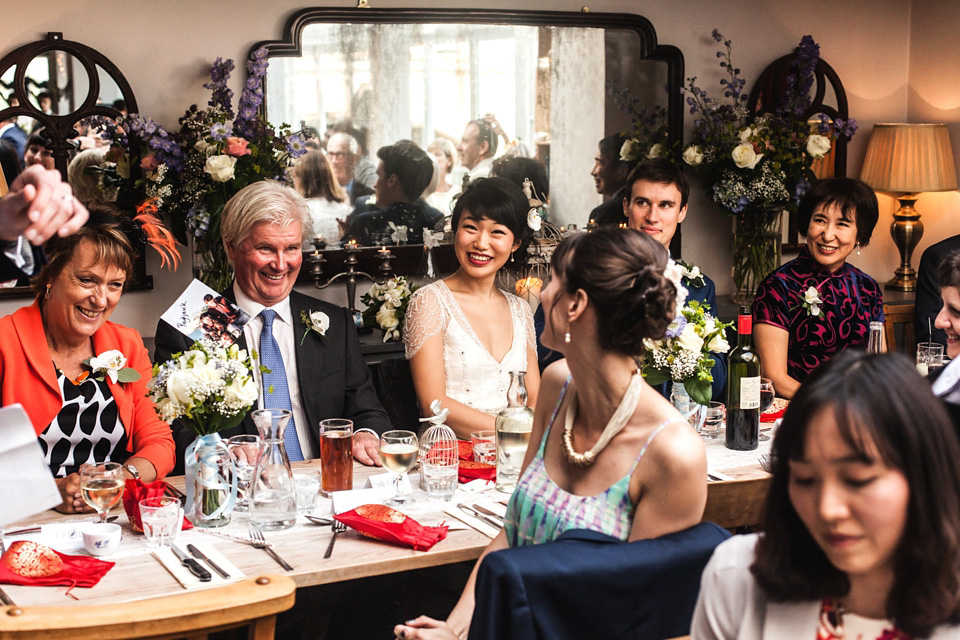 "We got hand-painted Chinese spirit glasses with 'Kelly + Ed' written on them. It took a lot of effort, but I think people really liked them."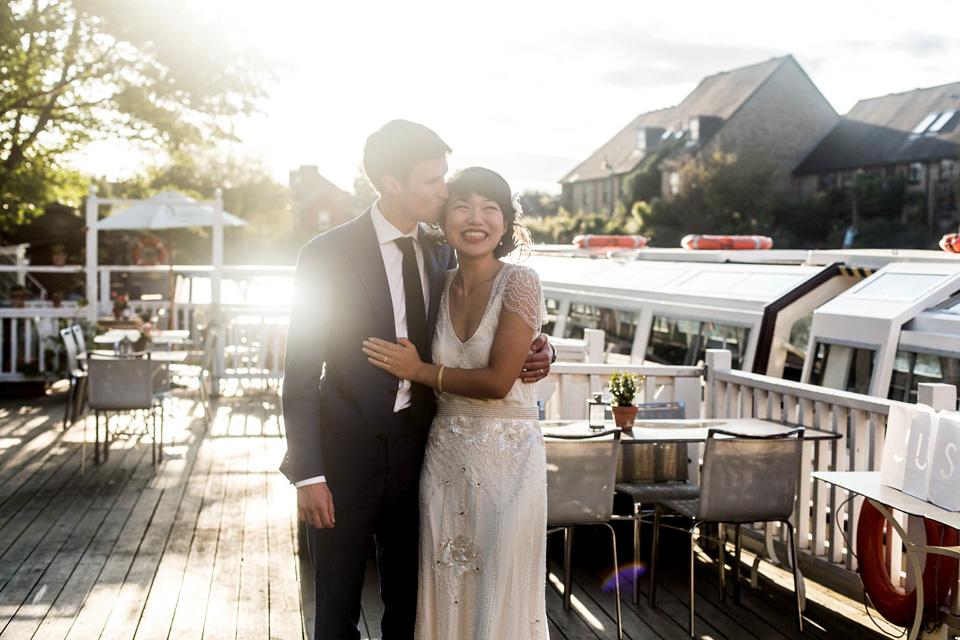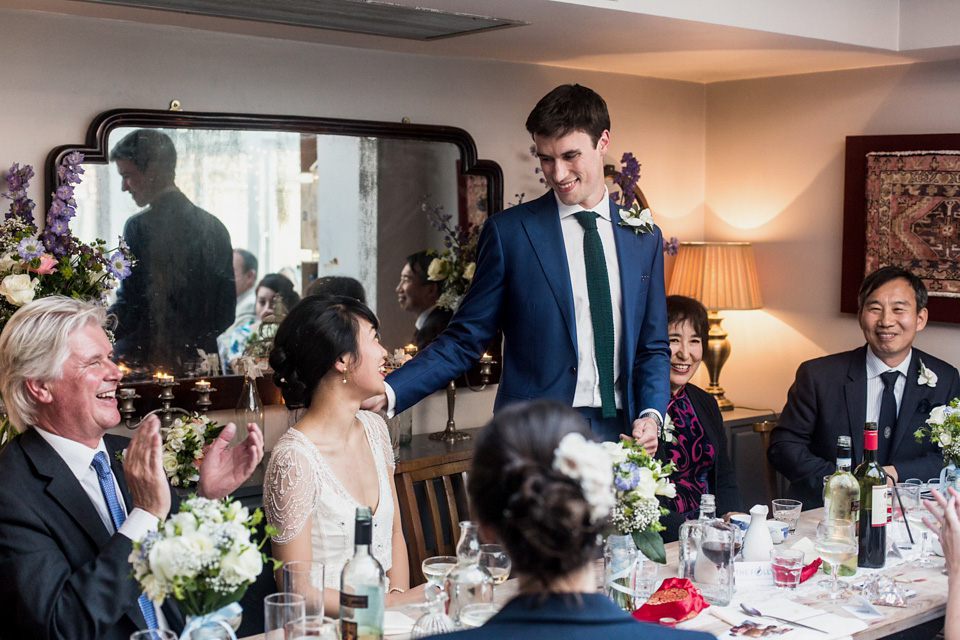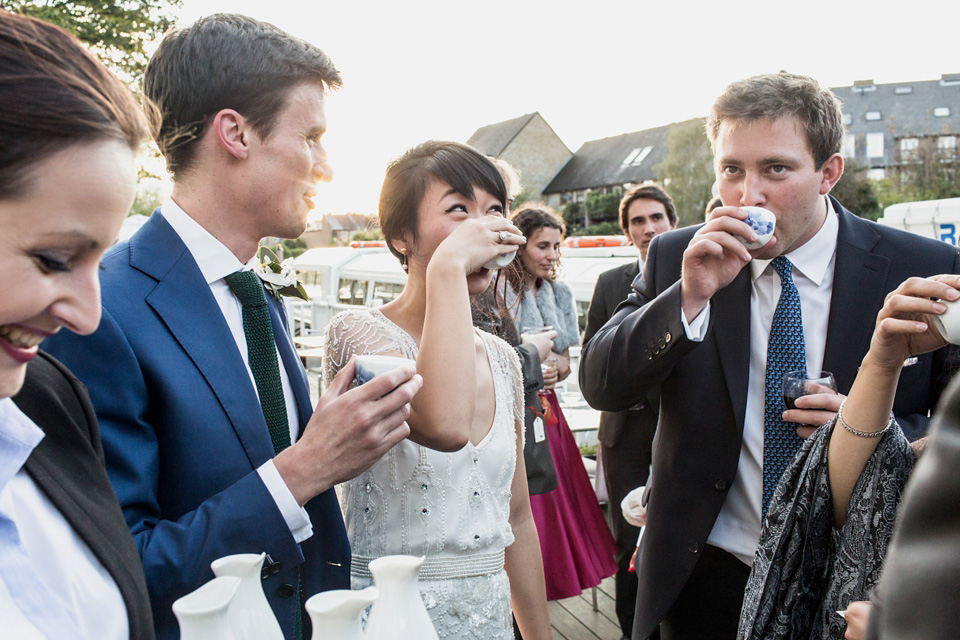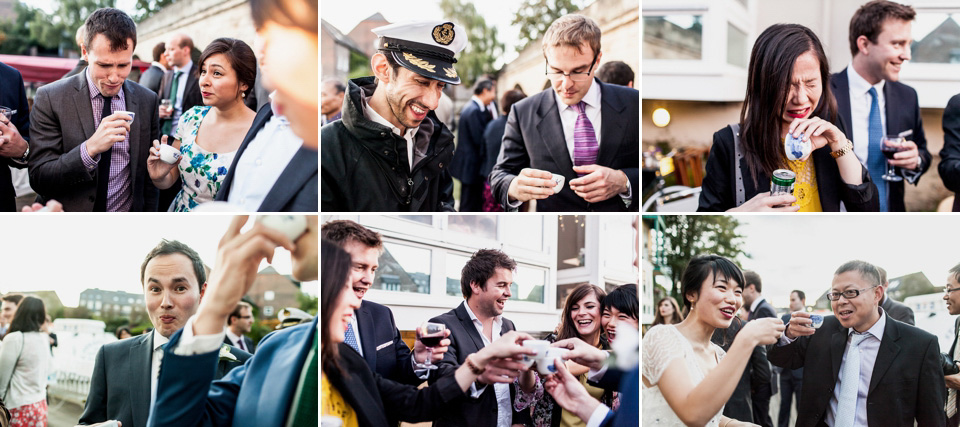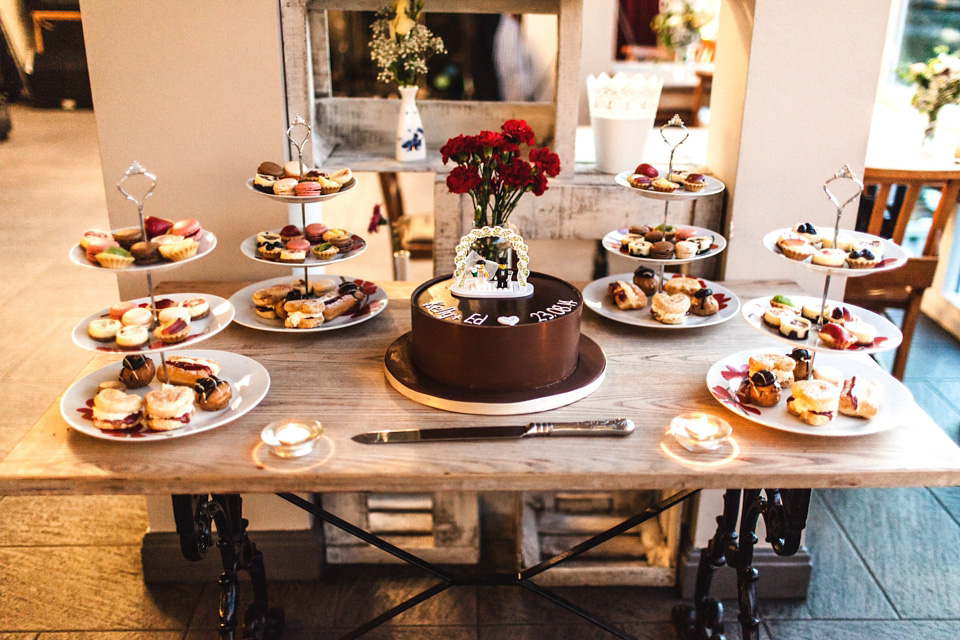 "I've been to a lot of weddings but can't remember eating wedding cake at any of them. So we got a chocolate cake and lots of little bites from M&S. Ed and I had just seen The Lego Movie and spent a few months singing 'Everything is Awesome', so we got a Lego cake topper. I didn't end up eating any cake at my ownwedding either, but people generally had nice things to say about it!"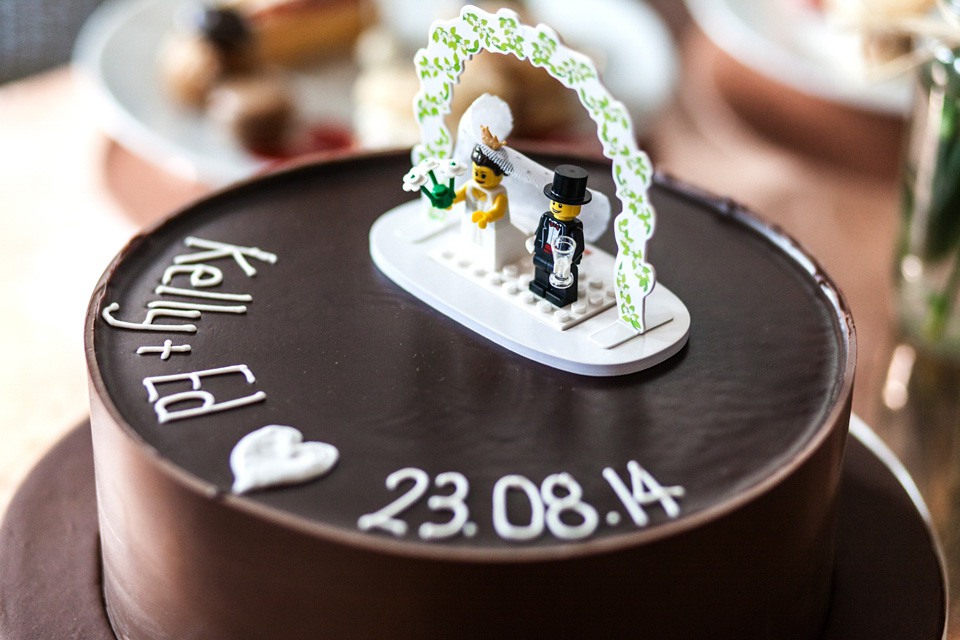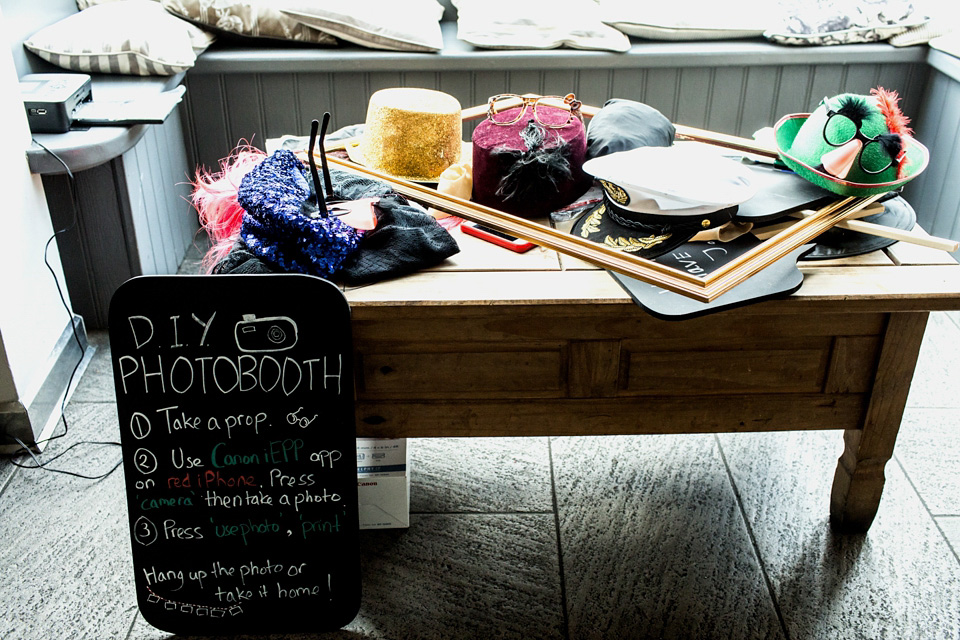 "We booked our band Dexter through Alive Network. They were absolutely amazing. They learnt an odd first dance song for us, they got everyone dancing like crazy and throwing each other in the air and I think all my male friends were a bit in love with Kat, the singer!
"Our photographer Charlotte made our invites for us, including doing the absolutely amazing hand drawn map that we gave to guests to lead from the Bodleian to The Folly."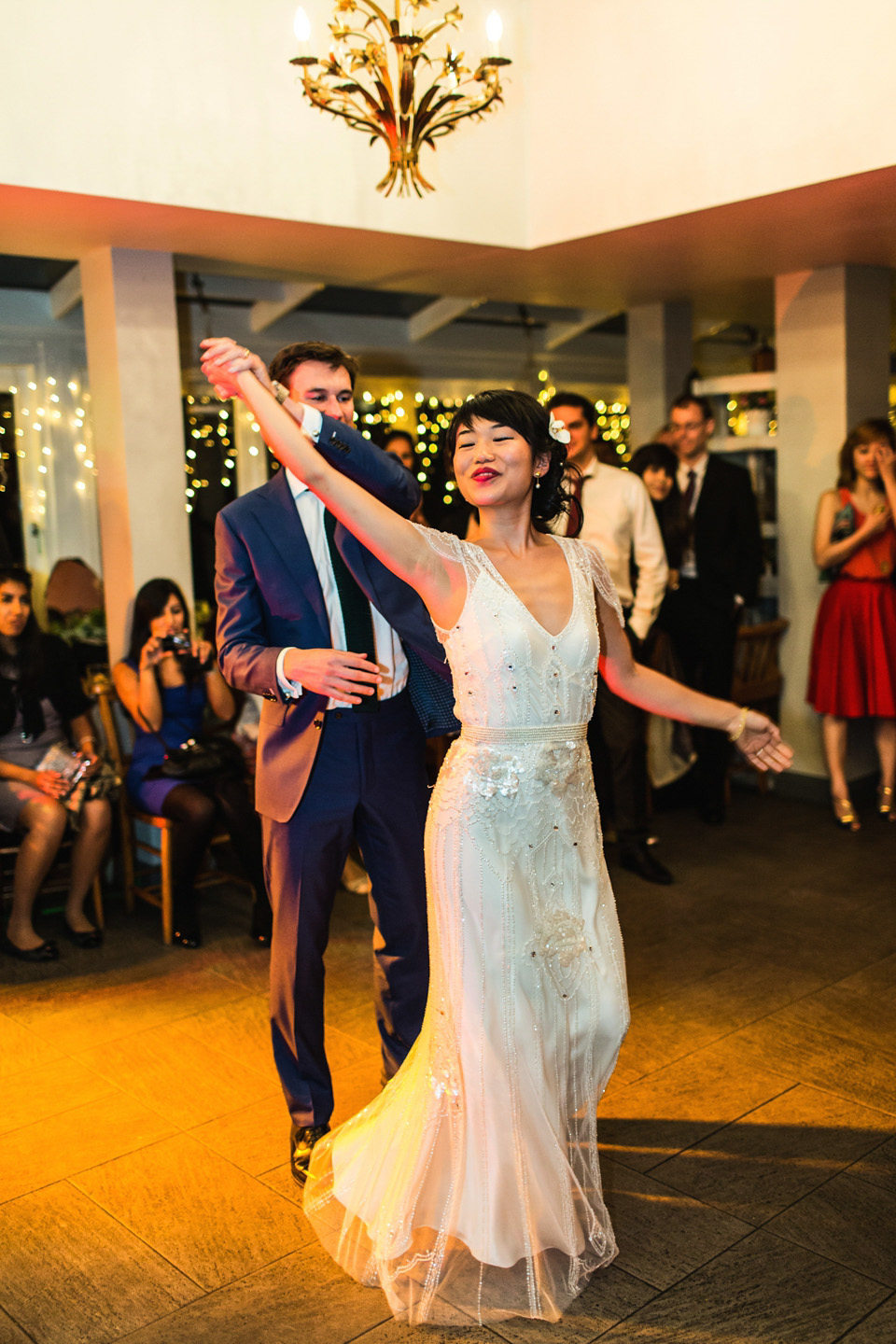 "Our first dance was to 'The Lovecats', by The Cure. I really wanted to dance to 'Crazy in Love' by Beyonce but the dance is actually really hard!  Our band learnt The Lovecats and did it amazingly.  We practiced a short dance two or three times beforehand and managed to remember it on the day, which was good. I think the song is actually about cats, or failing that, sex or alcoholism (most Cure songs are about alcoholism it seems) but it was fun and we liked it!
I just know that I didn't want to be standing there swaying to a nice ballad for two minutes!"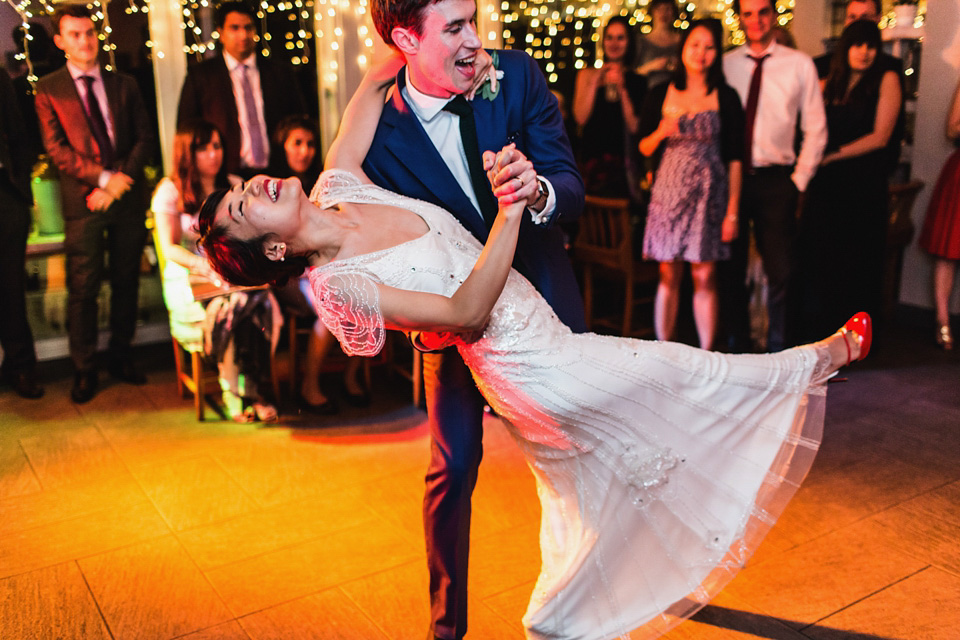 "Another highlight of the day was when the singer started to tell everyone to join in and the dance floor was full before she'd finished the sentence. I think feeding people Chinese spirits before then definitely helped!"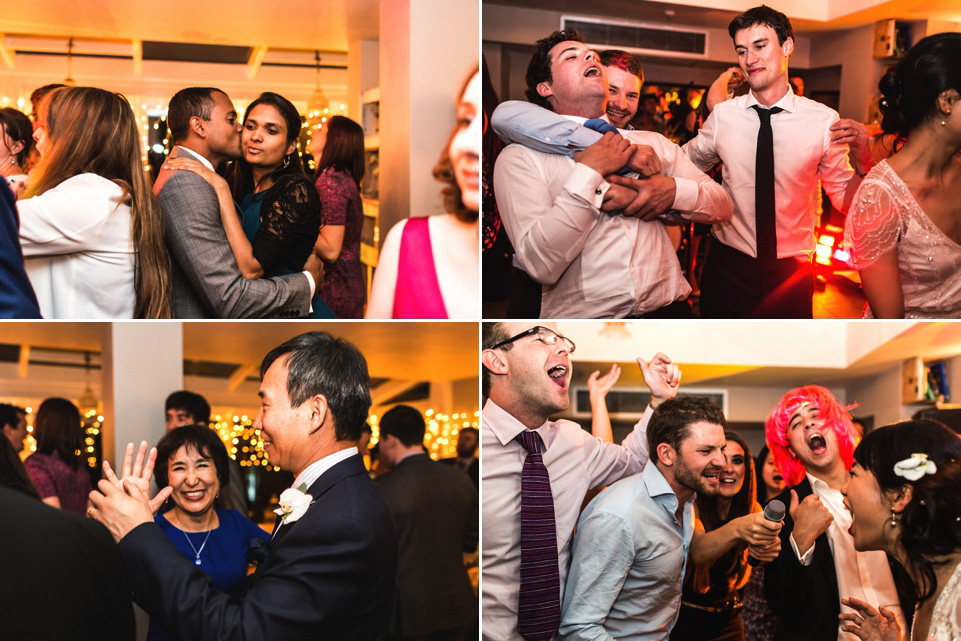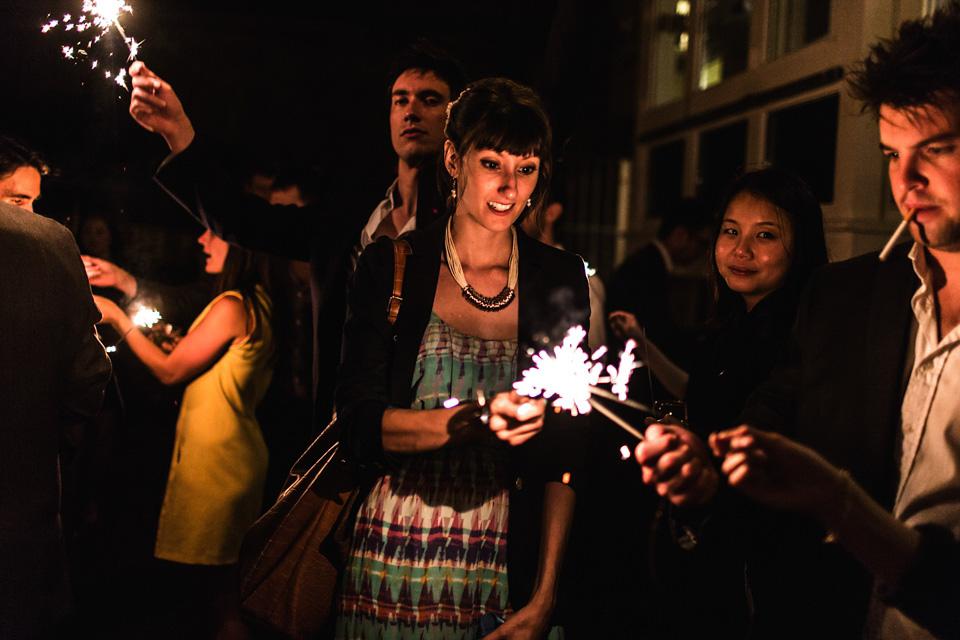 Words of Wedded Wisdom…
"Relax and just enjoy it. Everyone says this, but the day really does pass very quickly. Try and savour it.
Don't get a venue that's too big. I've been to too many venues that look sparse with empty dance floors at the end of the night. That's no fun. I was stressed about The Folly being too small but actually it was perfect – dance floor was full until the end of the night!
Don't make people wait around without alcohol. If you're in a city, feel free to let people wander off on their own. It gave Ed and I the opportunity to get some photos in and the guests the chance to go to the pub.
Don't bankrupt yourself – it's not worth it.
Finally, and most importantly, pose for a "thank you" photo on the day, holding a thank you sign or something! We forgot to do this.
There's probably a lot of little things we would have done differently, but at the end of the day we had an amazing time and I'm pretty sure our guests did too. We've had quite a few people tell us that it was really fun and that it was very "us" – full of exactly the sort of things we liked and this was really important to us.
I do wish we'd asked for the Elderflower Collins cocktails to be made a bit weaker though!"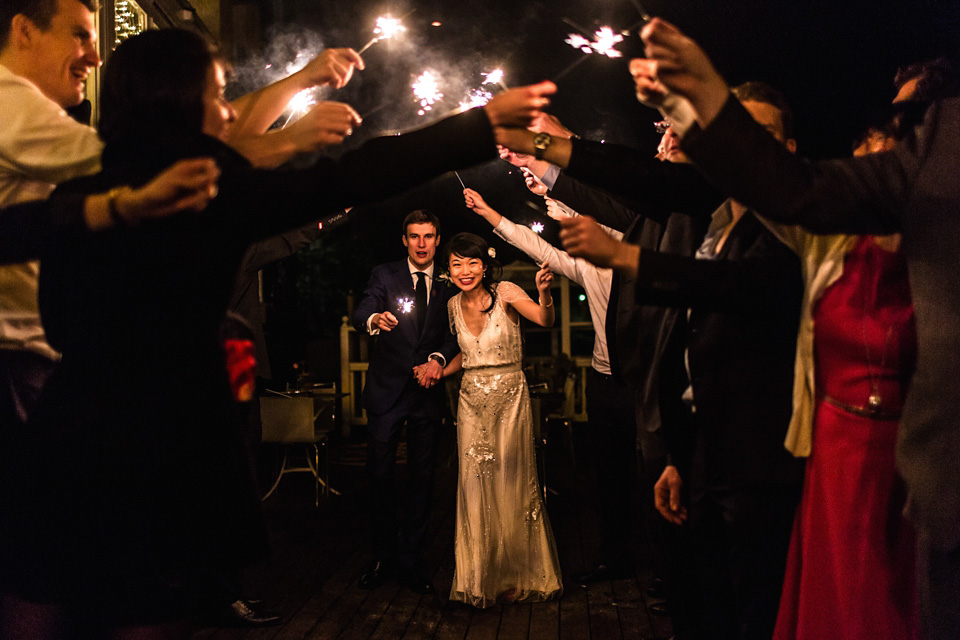 "We had three main highlights throughout the day – two of them I've mentioned above – during the performance of our first reading and when everyone jumped on the dance floor with only the tiniest bit of prompting. The last one is the boat trip – we had reception drinks on a boat, with a short stop to take some photos.
On the way back we got on a small boat with our bridesmaids and ushers only. We'd had a lot of cocktails, the sun was starting to come out and we pretended to be T-Pain bopping and singing along to 'I'm on a boat' by the Lonely Island twice in a row."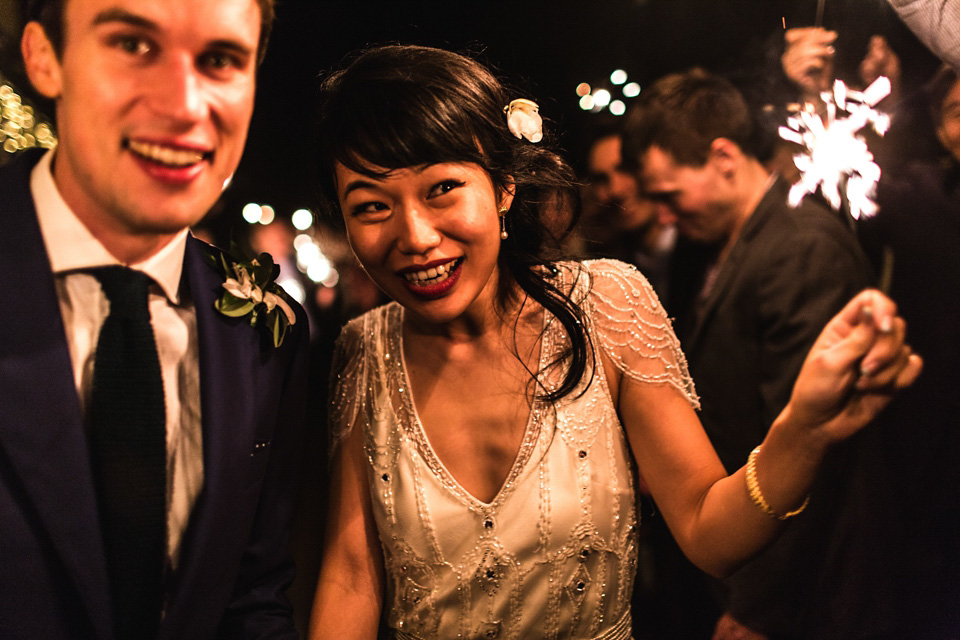 What a fabulously fun day, a wedding I'd have loved to have been a guest at – and wear that Jenny Packham dress so well!
Huge thanks to Charlotte Hu for sharing these lovely photographs today.  Brides, you can explore more weddings with brides wearing a Jenny Packham dress here.
Love Annabel xx
Photographer – Charlotte Hu Photography
Venue –  The Bodleian Library + The Folly
Wedding Dress –
Veil – Morgan Davies
Shoes – 'Miss Ronde' by Louboutin
Perfume/Scent – Black Saffron by Byredo
Grooms Suit – Tailor Made London
Bridesmaids – Komodo
Florist – Daisies Flower Shop in Oxford
Cake – M&S
Entertainment – Dexter (band) via The Alive Network
Rings – Antique with adjustments via The Diamond Ring Company
Catering – The Folly
Hair and make-up Artist – Katrina Bridal Beauty