The holiday season is well underway with the aroma of hot mulled wine filling the air, Christmas trees draped in twinkling lights and those beautiful Nat King Cole songs that instantly get you in the festive mood. With just over a week to go before the big day and all the final preparations keeping us all busy, I thought I would whisk you away to gorgeous wedding heaven for a moment…
Accountant Matt and Graphic Designer Vicki tied the knot on May 23rd 2014 on a lovely spring day in Twickenham at Orleans House Gallery. Get ready for some beautiful vintage glamour – thanks to the always brilliant Lipstick & Curls bridal beauty team (who Annabel highly recommends!).
"We wanted to have a relaxed, fun day with our friends and family and actually get to spend time with them, so this always guided our plans. For the style we wanted a mix of vintage, but not looking country fair, and more 1920's glamour."
Photography Copyright (c) 2014, Ollie Porter & Christopher Parsons*
The day after Matt and Vicki got engaged, Vicki's best friend blew her away by offering to make her wedding dress for her. Vicki was inspired by designers Ellie Saab and Temperley.
"The top guipure lace was originally on a 60's wedding dress which we cut up and added opal Swarovski crystals to it, the beaded body and silk came from Berwick Street, Soho. My favourite part of my dress was seeing Matt's face when I walked down the aisle, he was completely in shock. He said all day he hadn't expected the detail and he loved the pleated fabric at the front."
For some ladies its the dress for others its the photographer or the food and drink but for Vicki it was her wedding shoes – I think you'll agree they are stunning Vicki's Manolo Blahnik shoes.
"I had always said the one thing I would blow the budget on my wedding was going to be for my shoes. My friend Sarah and I took a day off work and spent it in London shopping. The moment we walked into the Manolo Blaknil area in Harrods I knew these were the shoes. They were worth every penny. I felt so special wearing them all day and got as many compliments for them at the dress."
"We decided against a cake in favour for a table full of local treats including treats from bakers Maids of Honour, The Meringue Girls and cakes my mum baked for us."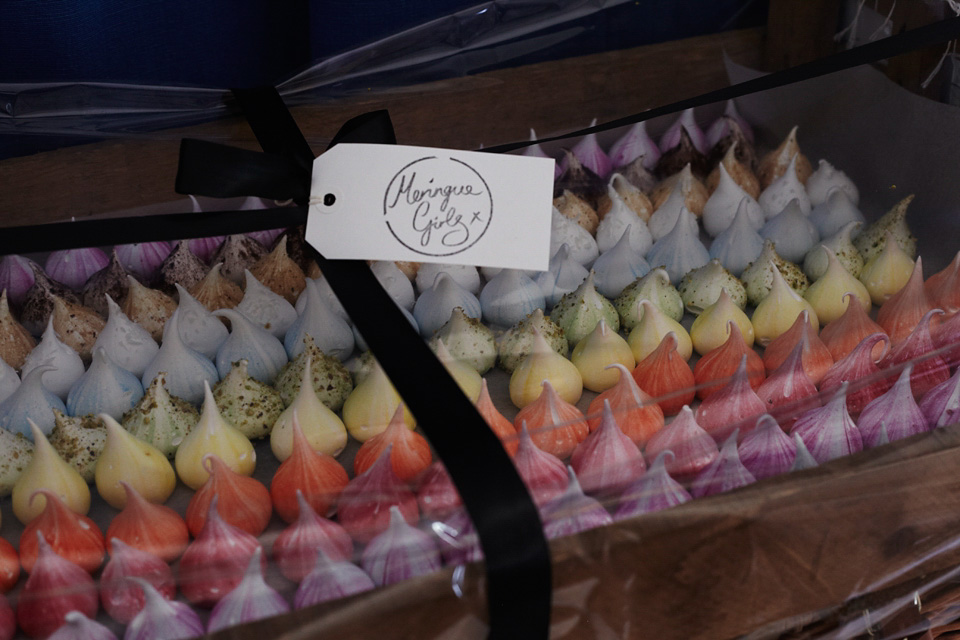 I'm a huge Pinterest fan myself so when I read that Vicki used Pinterest to collect ideas for her wedding day I could instantly relate.
"The bridesmaid dresses were actually the very first pin I added to Pinterest when looking for inspiration. They are by Adrianna Papell and I got them from House of Fraser after a friend bought the dress for a ball and I couldn't believe it was the dress I had wanted for the girls. I loved how they complimented my dress with so much detail in the beaded pattern, and the girls said they felt so glamorous all day."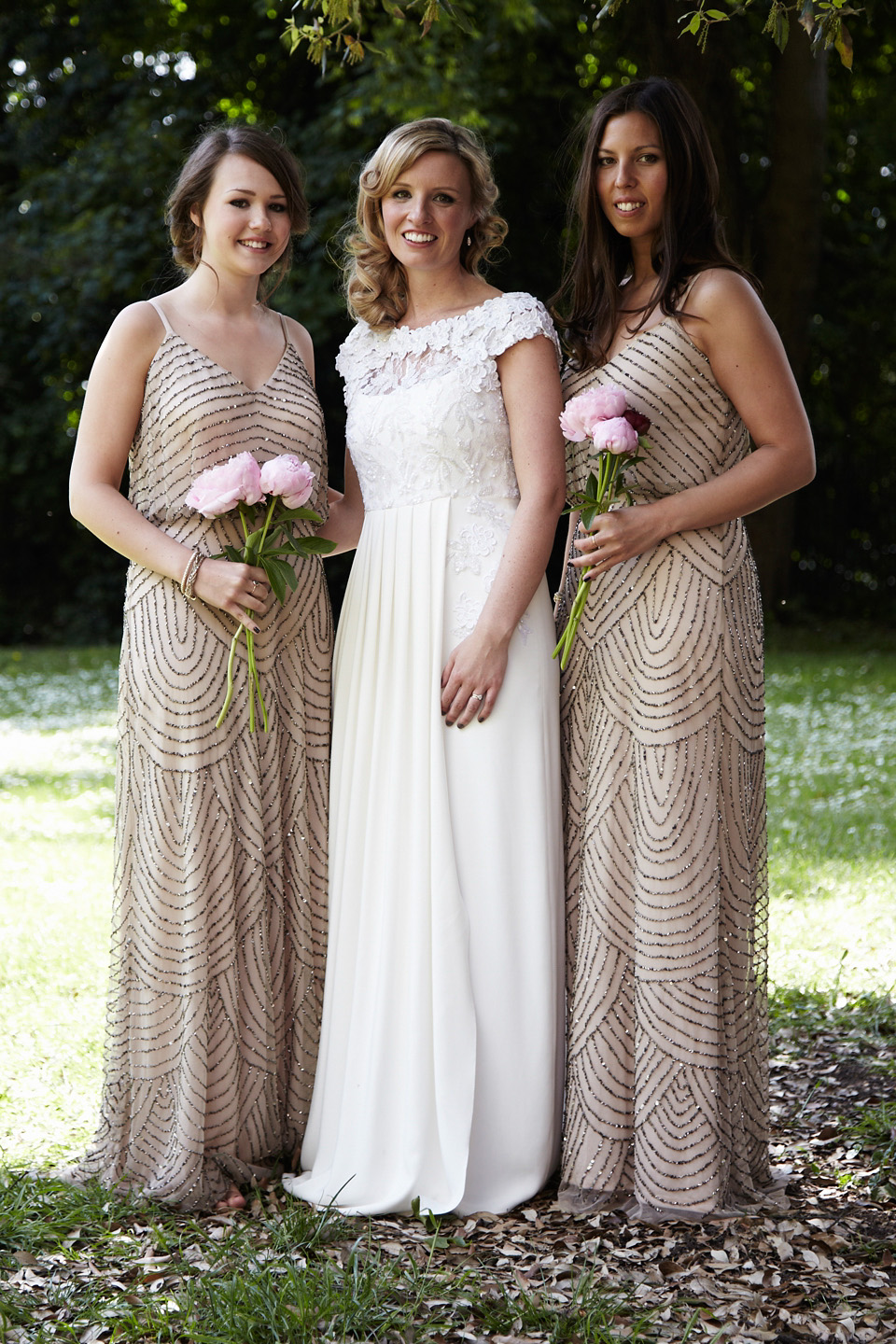 "Matt and I met whilst travelling in Thailand in 2005. We decided 2 years ago to take some time off and go around the world again, but this time together. When we finally got back to Thailand we went to a beautiful island called Koh Lipe, which I had wanted to go to from the first time I was away and Matt proposed to me on the last night we were on the island. We were engaged for a year and half.
The first four months I was sat on beautiful beaches with my iPad whilst my Mum and I sent each other links to 'love my dress' of weddings we liked."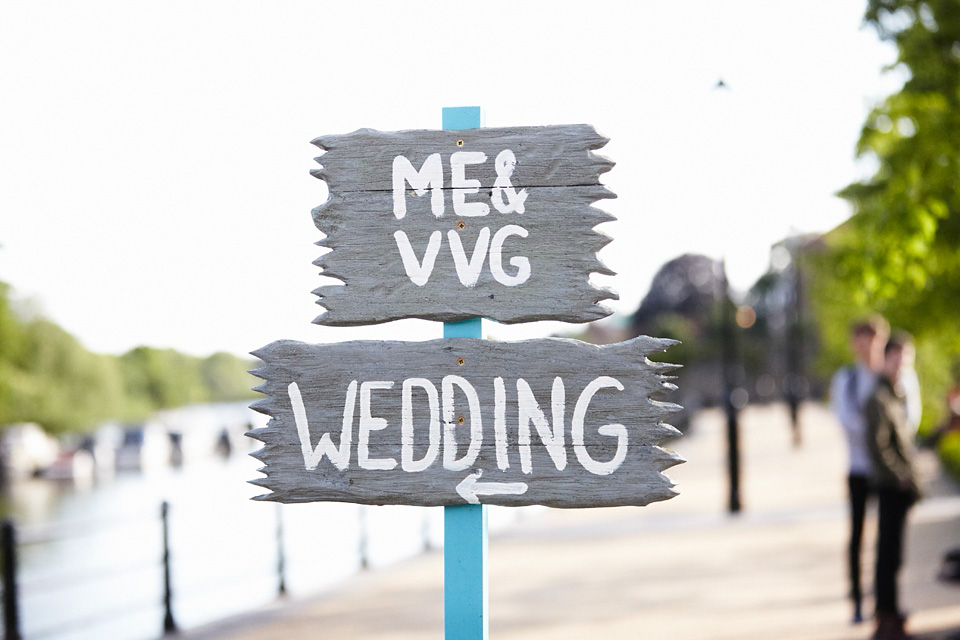 "The flowers we did ourselves. We did a couple of trial runs going to Covent Garden Flower Market and then felt brave enough to do it. My Mum was very nervous about it and kept offering to pay for flowers but we both felt strongly that it was something we wanted to do, so decided to go for it.
I made my bouquet out of vintage broches I had collected. I had the old, new, borrowed and blue all in one piece and so many were special as my Mum bought me one, my Auntie lent me her's and I was given one piece my granddad had given to my grandma."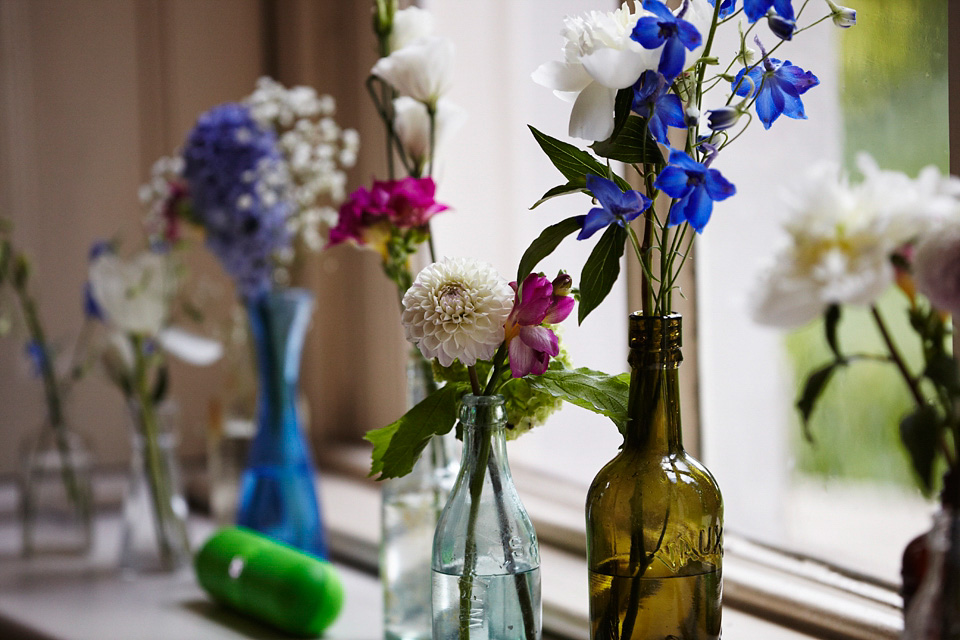 Matt wore a navy Hugo Boss suit which they chose together in Selfridges.
"I bought him a vintage tie pin as a wedding gift for the day. I found it in a local jewellers. I knew it would be the perfect wedding gift for him, and it complimented his suit so well on the day."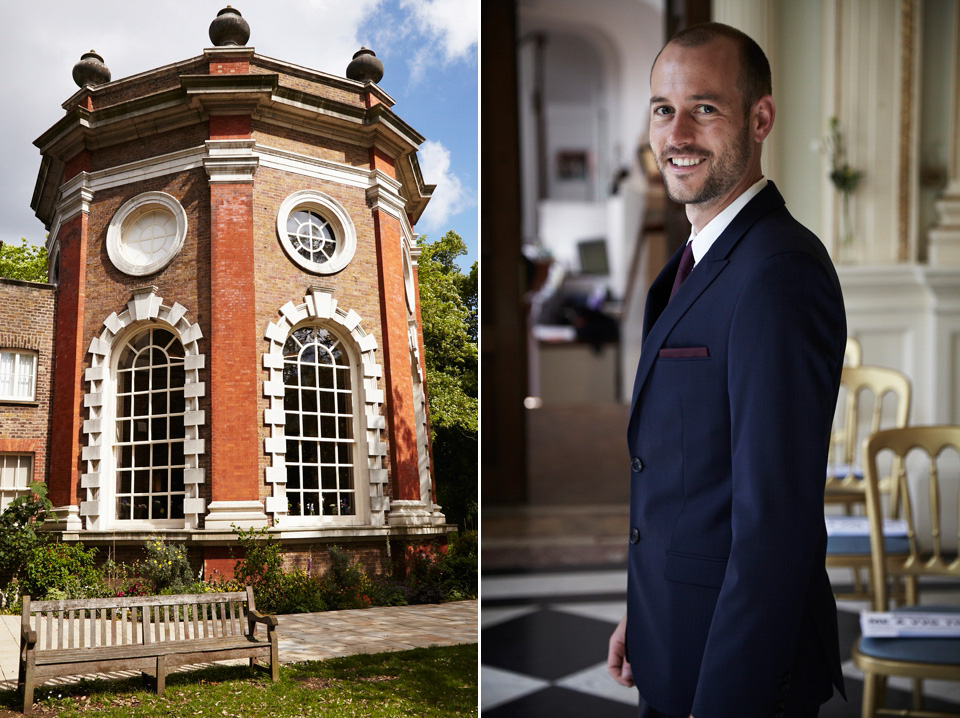 Vicki came up with a clever and unique idea to look after her ladies on the day…
"As there was a bit of walking between venues, for each of the girls I made canvas bags with each persons name on and included a pair of flip flops. By the end of the night everyone had a pair on, on the dance floor."
One of Vicki's favourite moments of the day was having her Dad walk her down the aisle to the instrumental of Bitter Sweet Symphony by The Verve.
"There we so many wonderful parts to the day but the ceremony really was so wonderful,. Seeing Matt when I walked through the doors and saying our vows in such a beautiful venue, infront of our family and friends, half of which were facing us, felt so special and terrifying at the same time. We both laugh now that we hadn't thought that seating everyone in a circle facing us through properly until we were stood there and it was so daunting."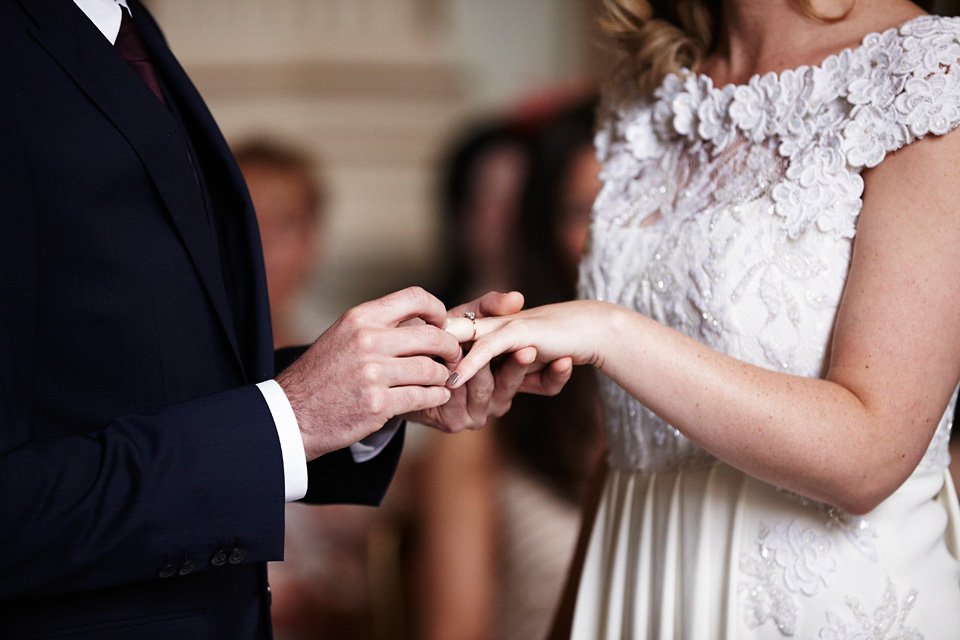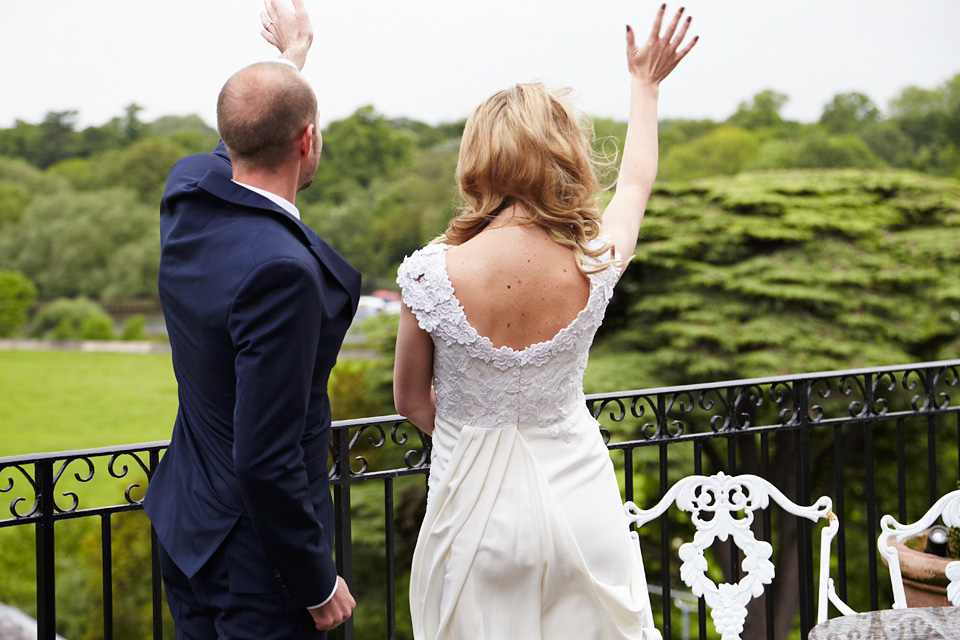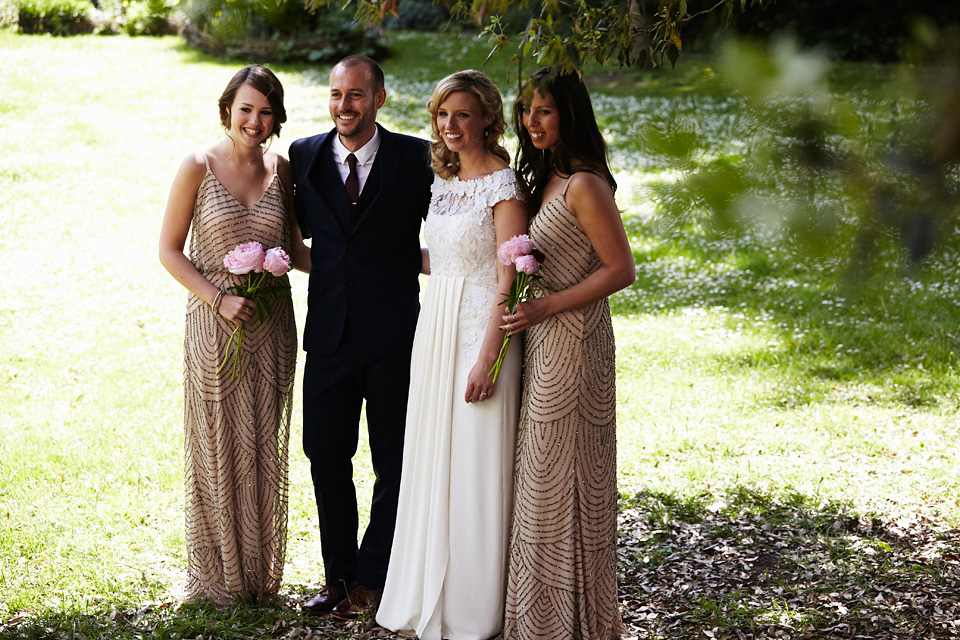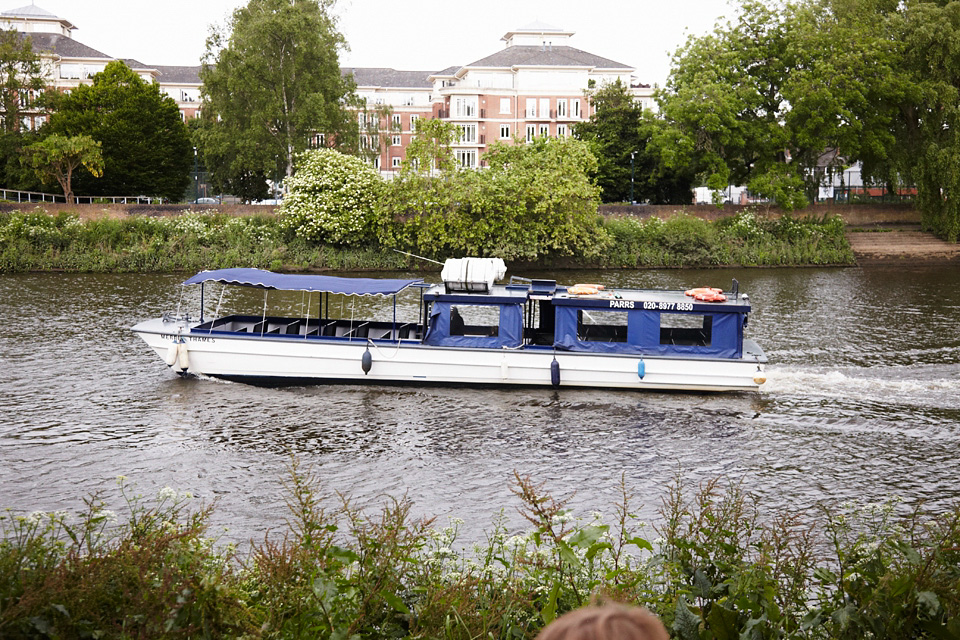 "I visited as many carboot sales and charity shops as I could before the wedding collecting vintage glasses, so outside the ceremony I had a mix of all different glasses for the guests. I wanted to make sure people were never stood around bored so from leaving the eeremony and at each venue, there were a variety of welcome drinks on hand.
I decorated The Rowing Club with old lampshades and lights which I had also picked up from carboot sales, along with vintage white  table cloths, side plates, glass cake stands, suitcases and so many other bits. Our flat is now full with all of them."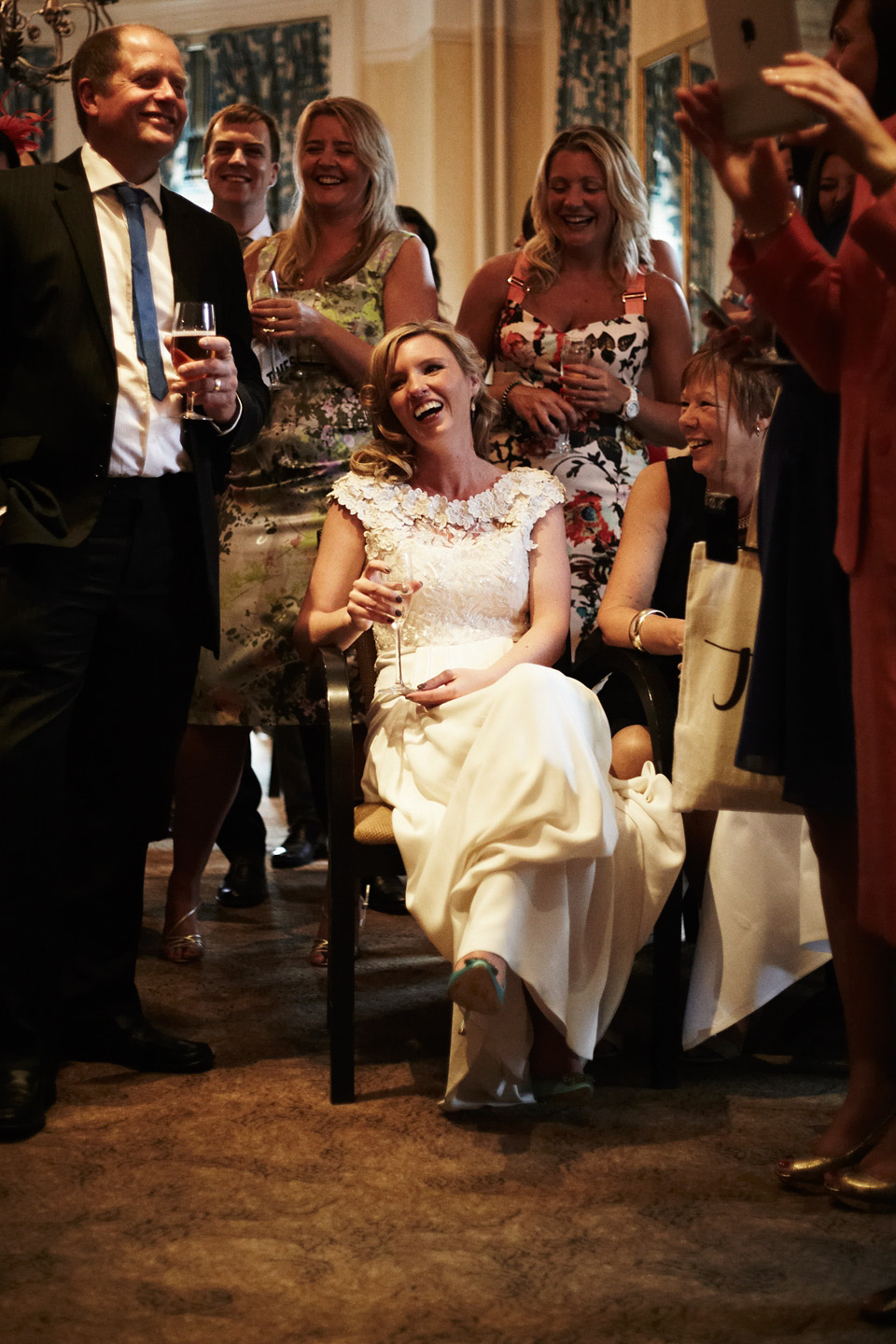 "I had seen newspapers on wedding blogs and loved the idea. I designed a newspaper which we gave out to the all guests as they arrived and it kept them entertained while they waited for me. Inside was the run through of the day, a who's who, the readings, stories about us from the day we got engaged to before the wedding. One of our friends who is a journalist also wrote hilarious stories about the hen and stag do's. They were a huge hit on the day and well worth the effort."
I think it is safe to say that Matt and Vicki have some wonderful and talented friends!
"We were very lucky to have two very talented friends who are photographers. They had worked together on a friends wedding before and we just loved their pictures. We pleaded with them to do us the honour and join forces again and we were delighted they said yes.
They caught so many different elements of the day and to have our best friends around us, while getting ready and throughout the day was such a special experience. I will never be able to express how grateful we both are for the beautiful pictures they took for us."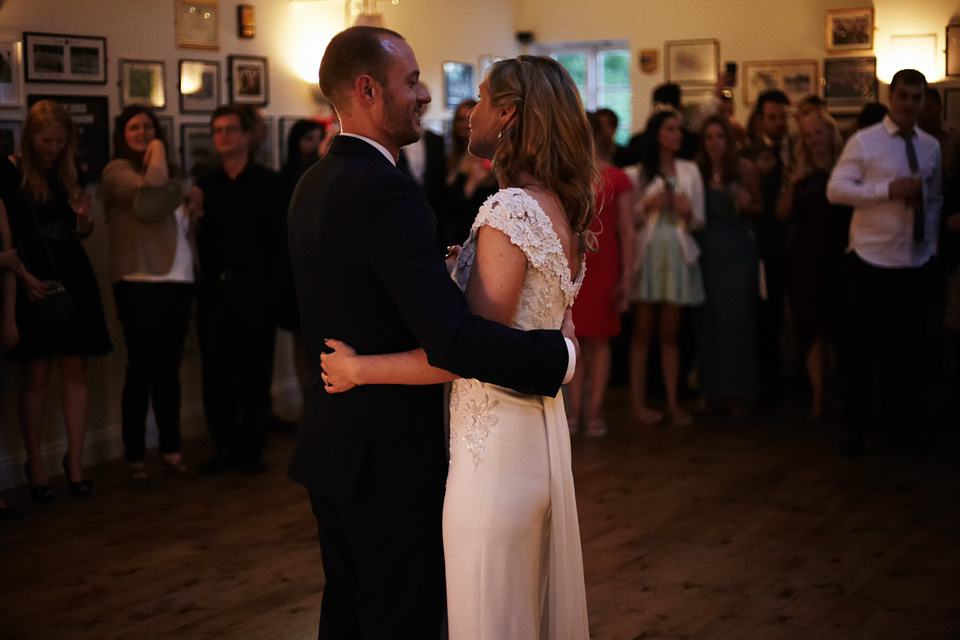 Words of Wedded Wisdom…
"My advice to any bride would be to really think about what would make the day more special for you. There are all sorts of rules and traditions you will be told you have to do, but you don't, it's your day and if you have a way to make it more special for you and your guests then do it.
If you want to be more involved be more involved. Don't just let people tell you that you must pay over the odds because it's for a wedding, if you want to do it yourself do. Just make sure to give yourself plenty of time and you can achieve anything.
The best advice given to me was from my Mums friend Carol. 6 weeks before she said, "Enjoy every minute of the planning, it'll soon be over and you need to take time to appreciate every bit". No matter how stressful the last week gets I think it's a great thing to keep in mind."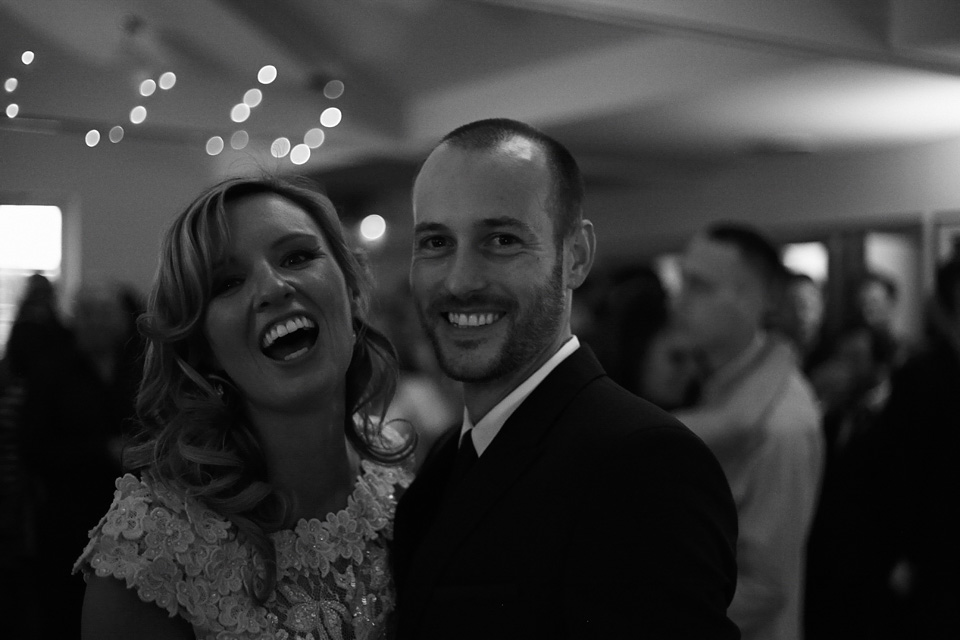 What a beautiful wedding day, full of creative and unique ideas. Congratulations Matt and Vicki, we wish you a life time of happiness together and we thank you for sharing your 1920's vintage inspired wedding with our readers.
Many thanks to Ollie Porter and Christopher Parsons for sharing their wonderful photography, and all the fine details, with us.
Are you planning on a vintage feel for your wedding day like Matt and Vicki?
With love,
Christina
Photographer – Ollie Porter & Christopher Parsons*
Ceremony – Orleans House Gallery
Wedding Breakfast – The Petersham Hotel
Brides Dress – Custom Made By Bride's Best Friend
Bridal Hair – Nina From Lipstick & Curls
Bridal Make-Up – By Nadine
Grooms Suit – Hugo Boss
Bridesmaid Dresses – by Adrianna Papell From House Of Fraser
Flowers – Covent Garden Flower Market
Cake – Maids of Honour, The Meringue Girls
Entertainment – Sonic Blue Entertainment
Brides Ring – MS Jewelers
Grooms Ring – www.graysantiques.com
Stationary – VVG Stationary
* Professional photographers but not currently accepting wedding photography enquiries