Please join me in saying hello to another new member of our team who is sharing her first real wedding feature this morning – you can read more about Rachel Plant on our About Page, but for now, let's join Rachel as she talks us through this colourful Summer wedding…
Happy Tuesday to you lovely folks! It is my pleasure to share with you my first 'real wedding' blog for Love My Dress – the story of Hayley and Brett, who married on 17th July this year.
The couple chose South-Farm in Cambridgeshire as the backdrop to their special day, and what a gorgeous venue it is indeed –  I love the quaint yellow farm house in the countryside, covered with ivy and roses – the perfect backdrop for a relaxed and casual wedding like this one. Hayley and Brett married outside the venue's Summer House, surrounded by their loved ones.
"We wanted an intimate ceremony with only close family present, followed by other guests arriving for drinks, dinner and dancing! It wasn't a traditional day, and South-Farm were extremely helpful with the planning. It had such a relaxed feel to the place and the fact that we could get married outside meant we could have our dream wedding."
Photography Copyright (c) 2014, Sharon Cooper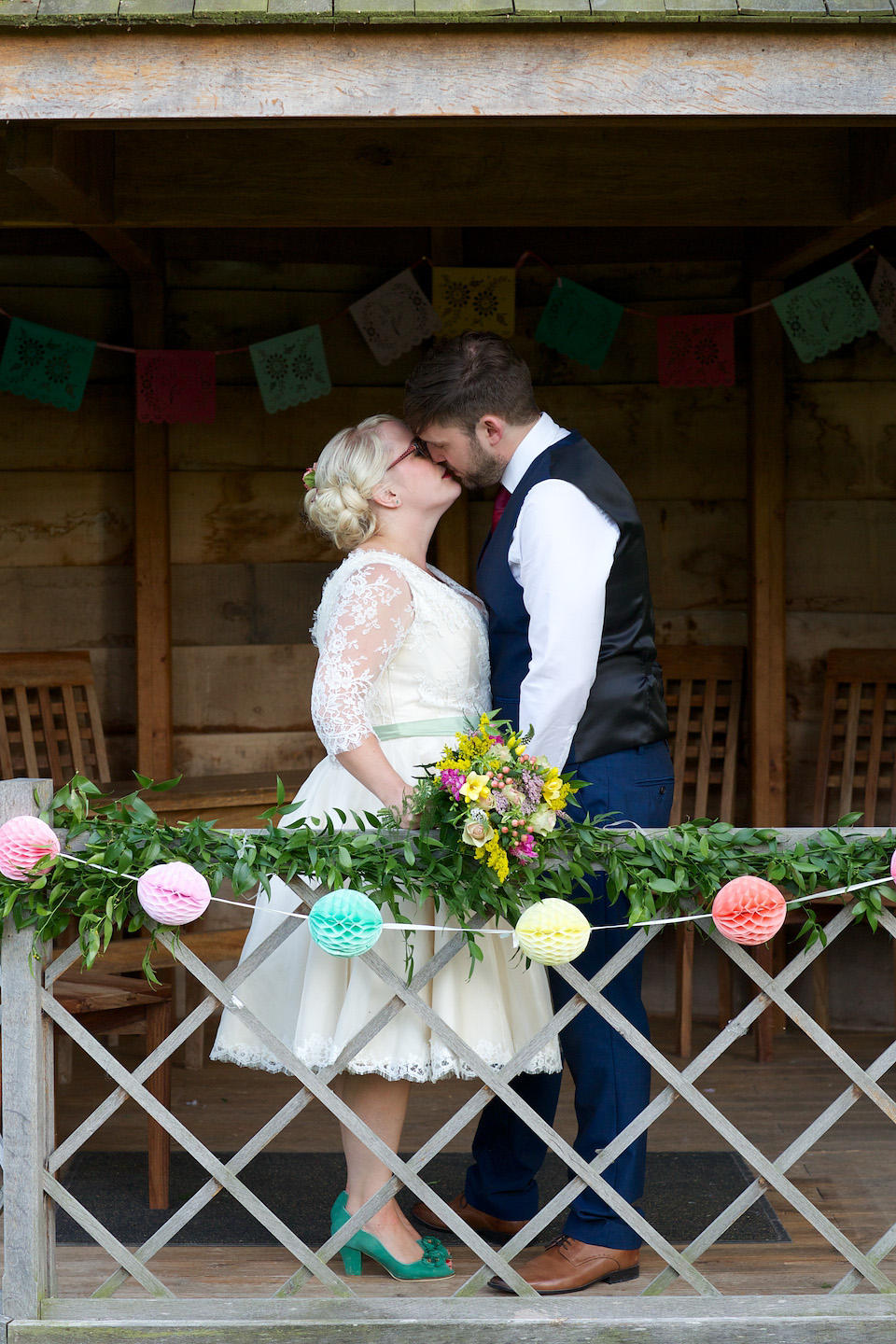 Hayley, a veterinary nurse, met Brett, a home care manager, on Match.com in 2009 – a true love story for the digital age!
"Brett proposed to me on one knee at Whipsnade Zoo, outside the Oryx with a beautiful view of Dunstable Downs! This was a special place to us because it was where we spent our third date. Being an animal lover, the zoo was perfect, and it's where Brett tells me he knew he was in love with me. Straight after I'd said 'yes', it chucked it down with rain and we squeezed under one umbrella, grinning like Cheshire cats!
We were engaged for two years before the big day. The plan was to take our time, but in true Hayley and Brett style, apart from the venue, we left it all until about six months before!"
I adore that image below – it's so good to see a bride proudly wearing her glasses on her wedding day…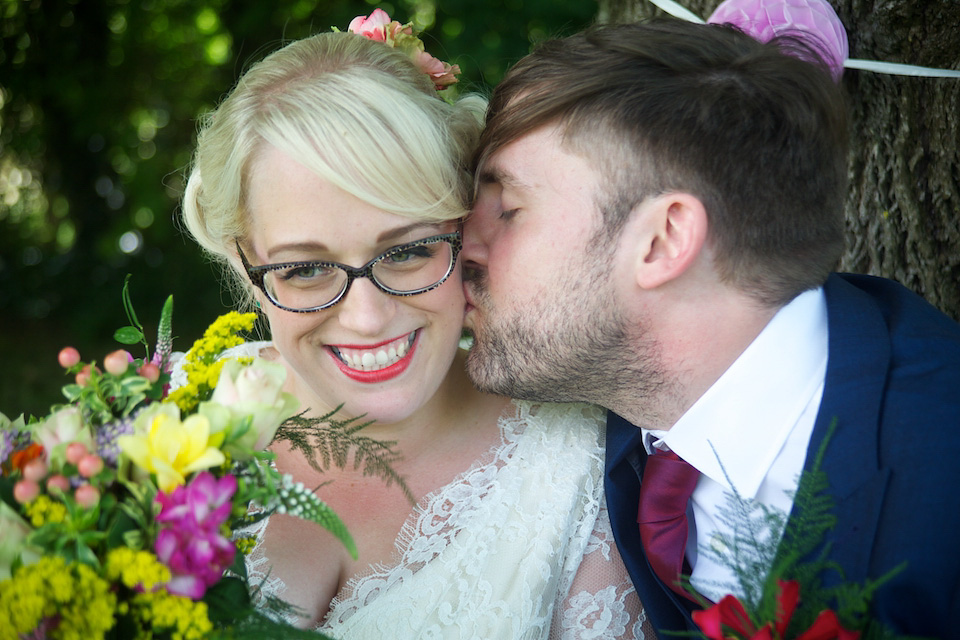 "As we wanted a relaxed feel to the day we decided we most definitely didn't want a seating plan. We wanted to float between tables during the hog roast so we could chat to everyone. My friend Sarah kindly made the sign for us."
As someone who is currently battling with a table plan, I think this idea is absolutely fantastic – top marks to Hayley for bucking trend and tradition and going for what suits her and Brett.
"After having seen so many DIY weddings on Love My Dress, I'd always wanted to create my own table decorations. For months leading up to the wedding we bought and drank over 100 French beers. Brett then cleaned the labels off and I then stuck different patterned, crocheted laced around them. The result was pretty effective! I also sprinkled the tables with dried rose and jasmine buds."
Hayley chose the incredibly pretty 1950's inspired 'Annie' dress from Joanne Fleming Design, which she had custom made with touches of her favourite colour, green.  The dress came complete with a fabulously frilly petticoat which added a real twirly wow factor.
"I had always known I wanted a tea-length wedding dress. Being 5" 1', I just felt if I'd worn a full length, traditional gown I would feel like I was in fancy dress and just wouldn't have felt comfortable. The experience of having a dress made for me by Joanne Fleming was amazing and one I will never forget."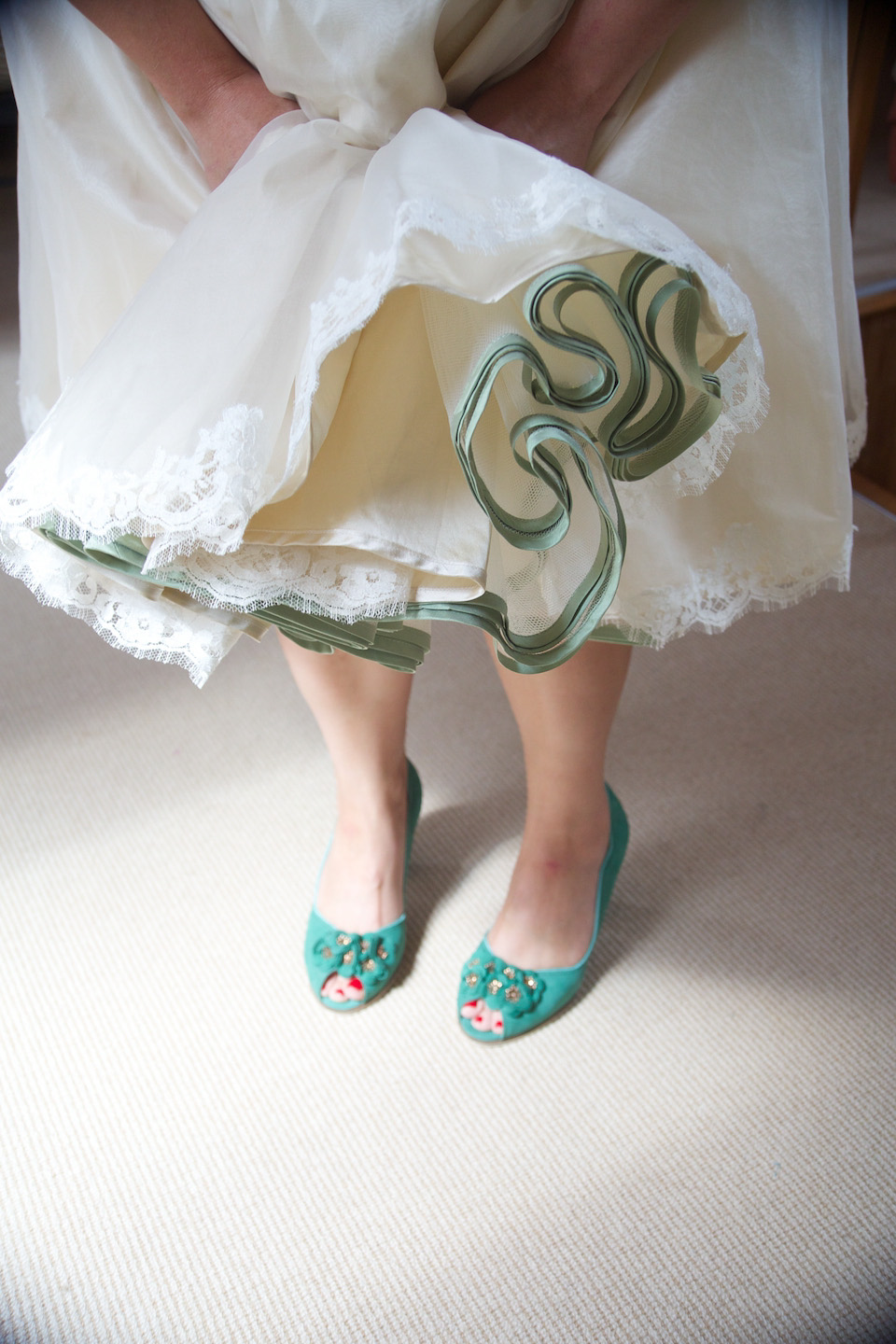 The wedding was photographed by the wonderful Sharon Cooper, who really captured the eclectic, colourful and laid back feel of the day.
"Sharon's work is amazing. We met her at a local wedding fair and just loved how friendly she was. The three of us got on really well and what we liked the most was that Sharon insisted our photos would be unique to us on the day and she wouldn't try to recreate any photos she'd taken before."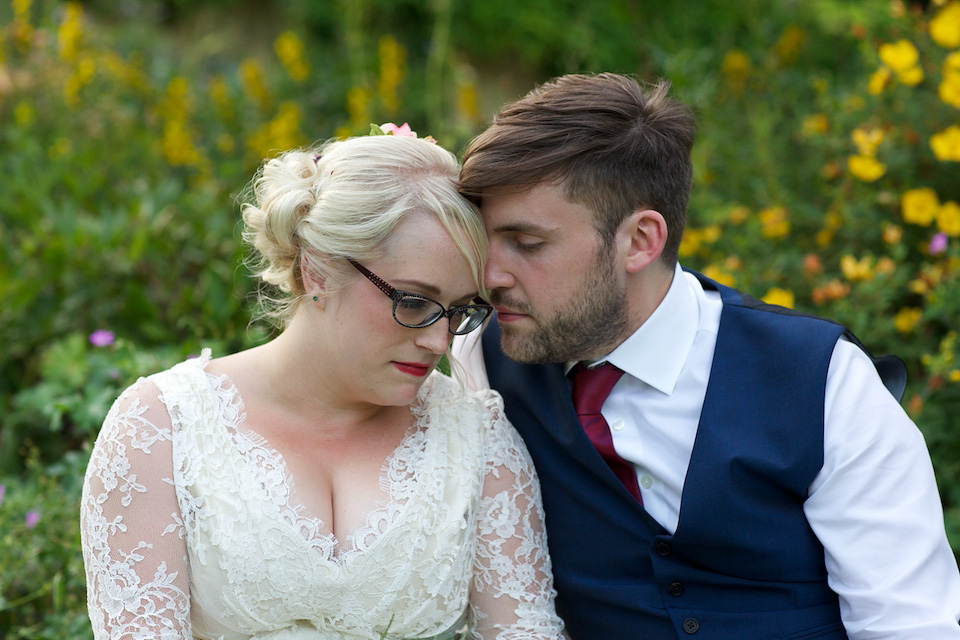 South-Farm also has its own small holding, supplying fresh vegetables, herbs, fruit, eggs and pork.
"We had always talked about having a hog roast instead of the traditional wedding breakfast, so to know where the food we were eating had come from was a great addition to the amazing venue."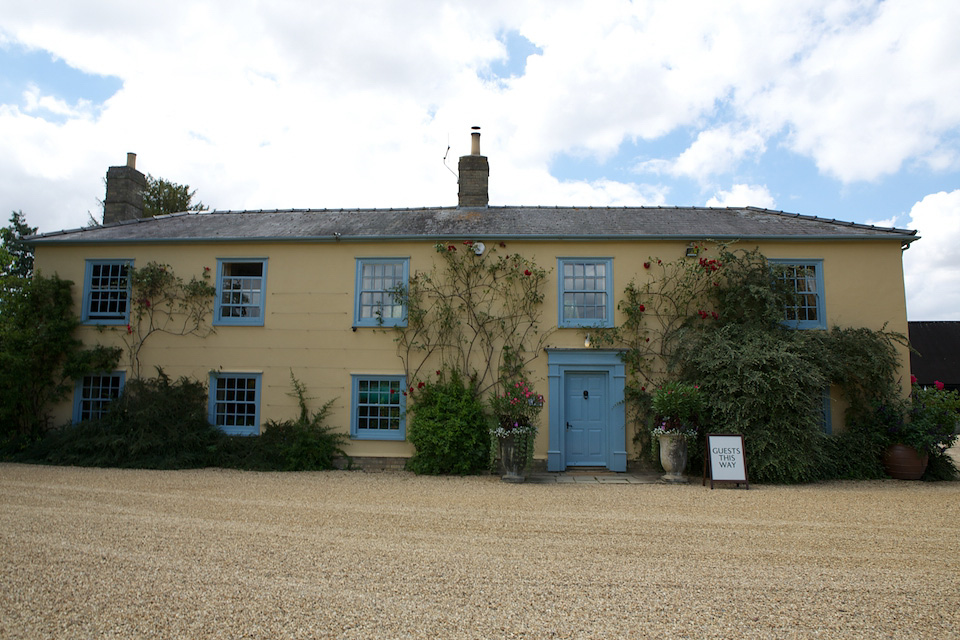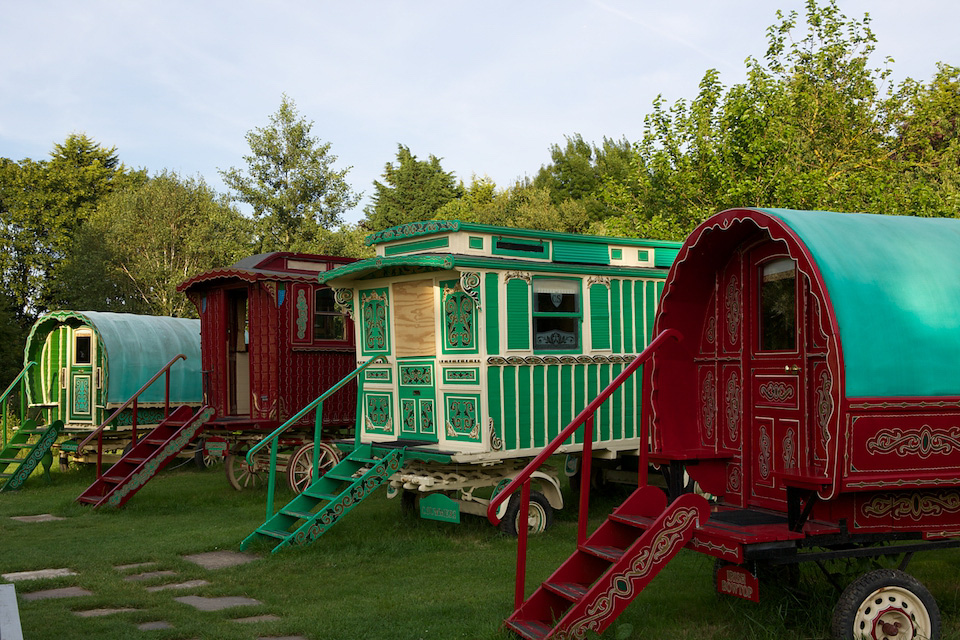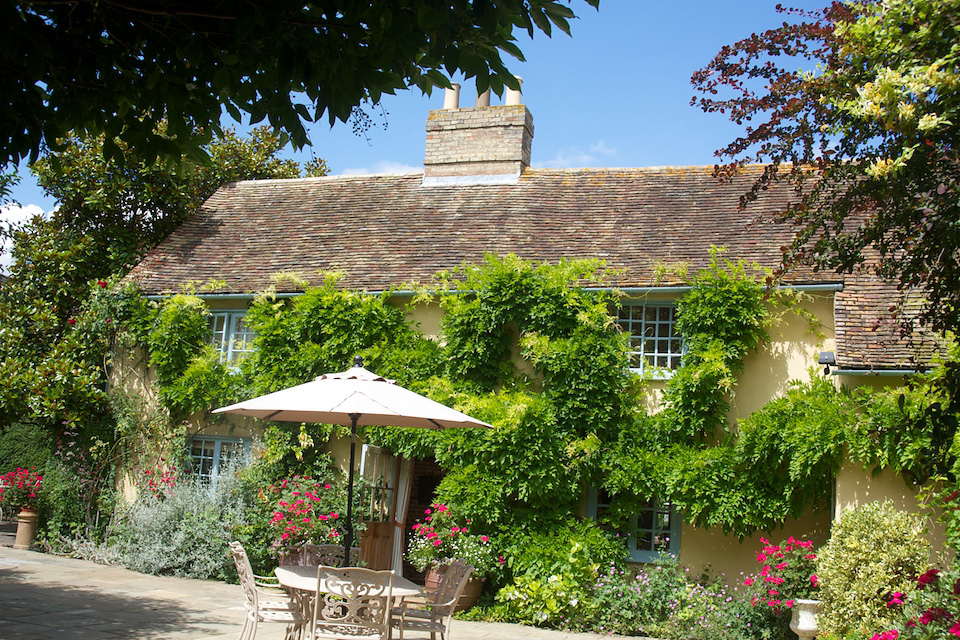 "My friend, Gayle, did all of our flowers for us. As a fellow Vet Nurse, I was unaware of her previous career as a florist! I didn't really have any specific flowers in mind – I just knew that I wanted lots of bright colours and wanted a 'messy' look to my bouquet."
Gayle also made a beautiful range of buttonholes, so the groomsmen could choose their own individual piece to wear.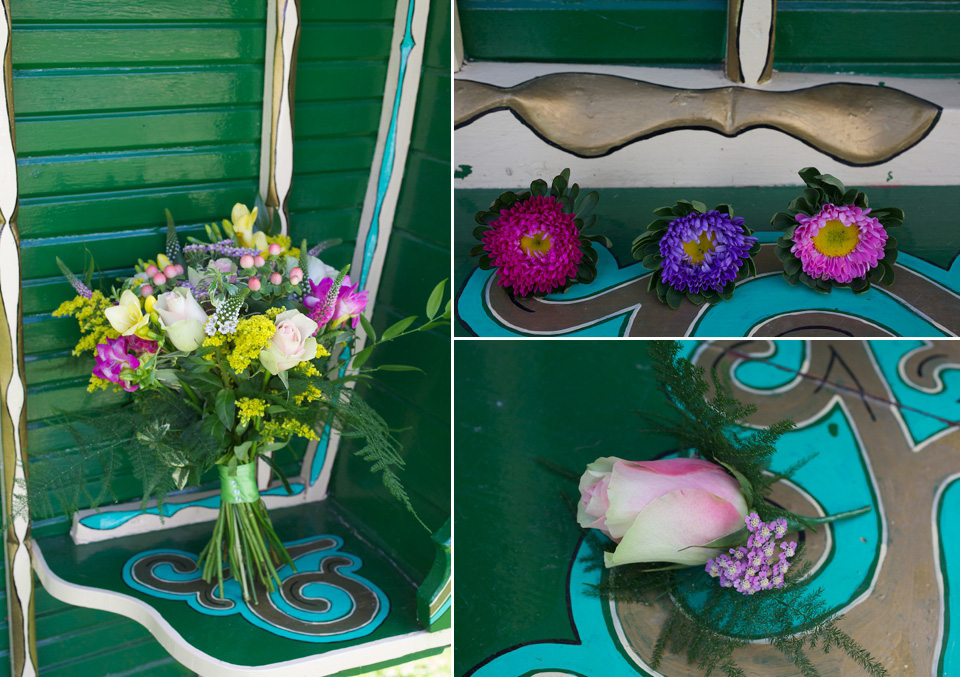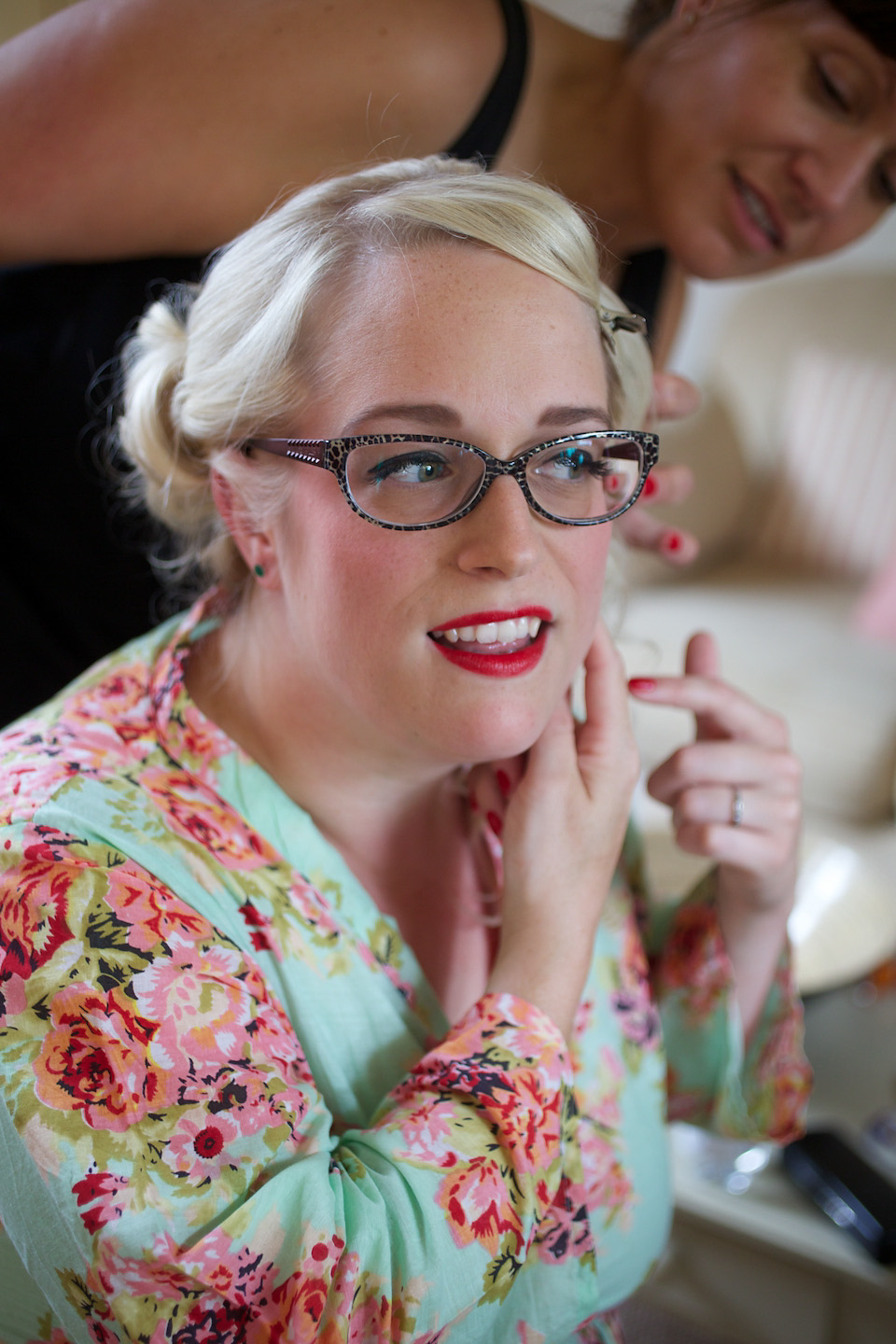 The bride's green peep toes were a fab addition that really brought out the lovely sage accents of her dress.
"Green was an obvious colour choice for me. Whilst trawling online for months and months I came across the retro inspired brand 'Miss L Fire'. They were extremely comfortable to wear all day and the heel wasn't too high but still made me feel girly."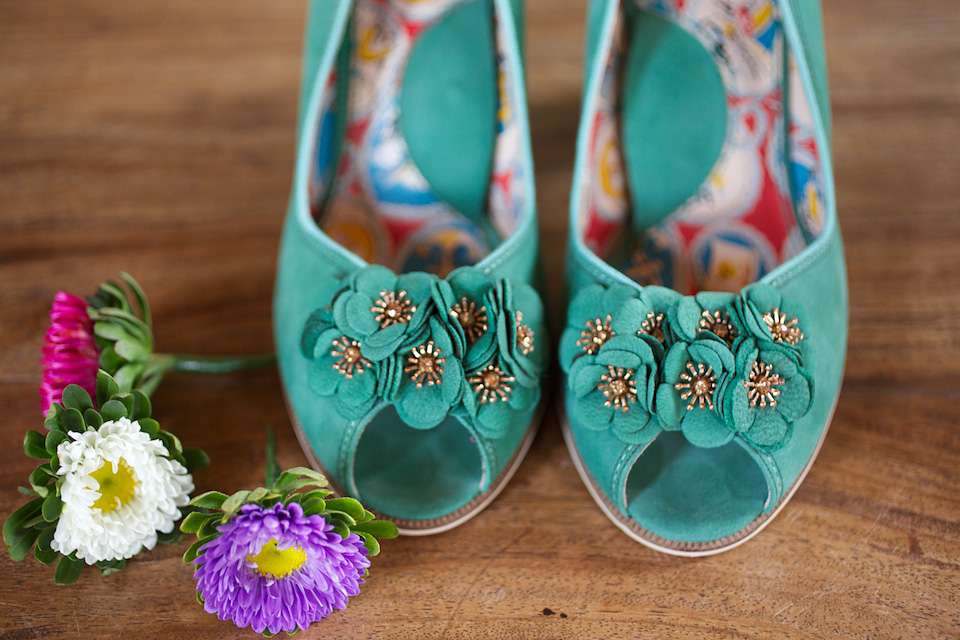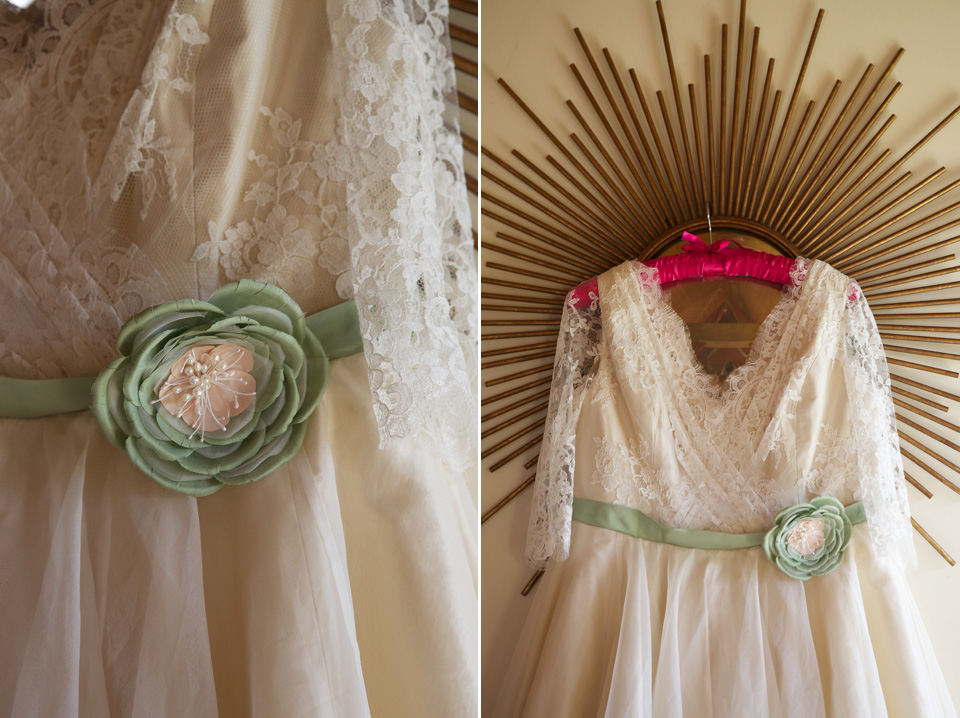 The fabulous 50's inspired bridesmaids dress was from Oh My Honey on the Folksy website.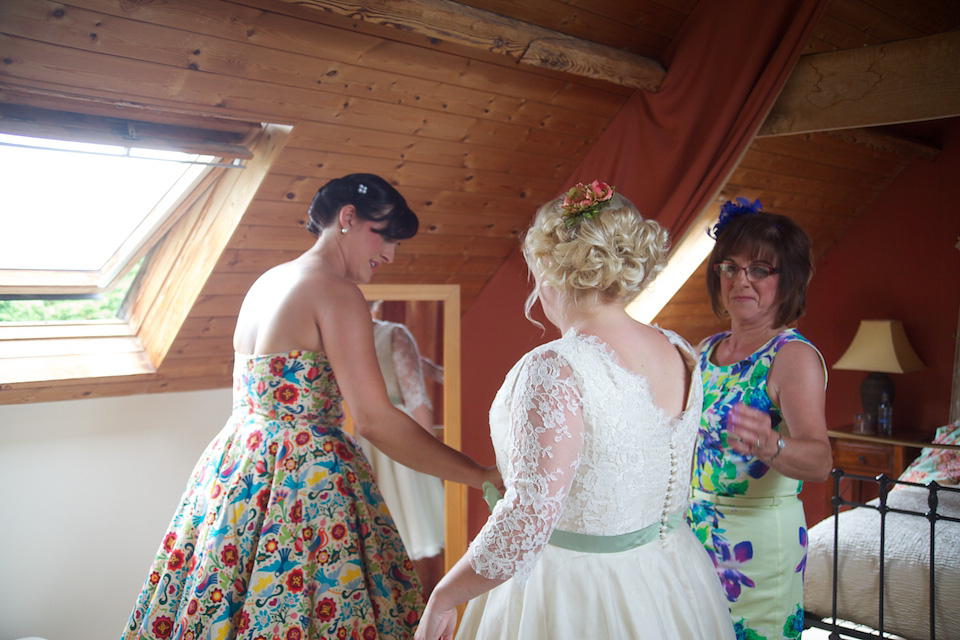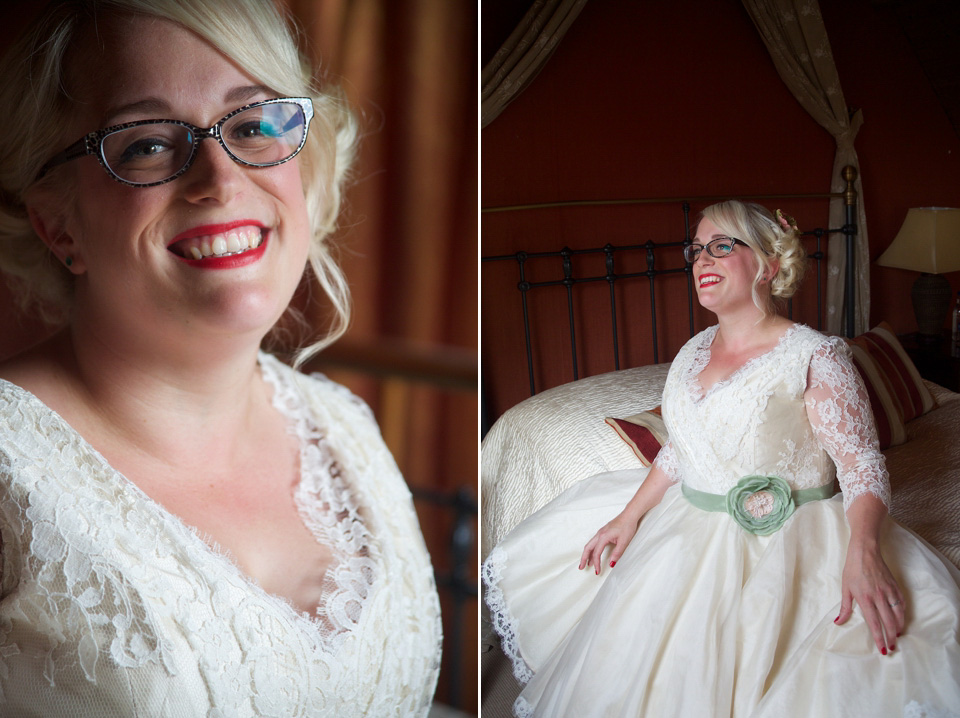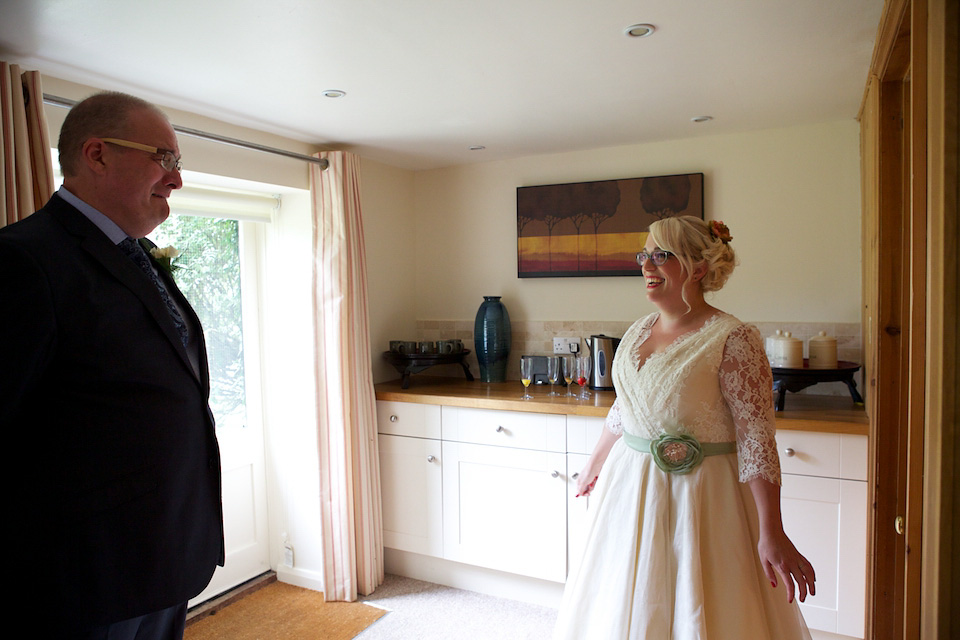 Hayley's hair accessory came from Etsy shop Violette and Iris and is the perfect option for brides who want a floral hair accessory without the worry of fresh flowers wilting during the day. Her earrings were also from Etsy, and she spritzed on Hugo Boss 'Deep Red', the scent she wore the first time she met Brett.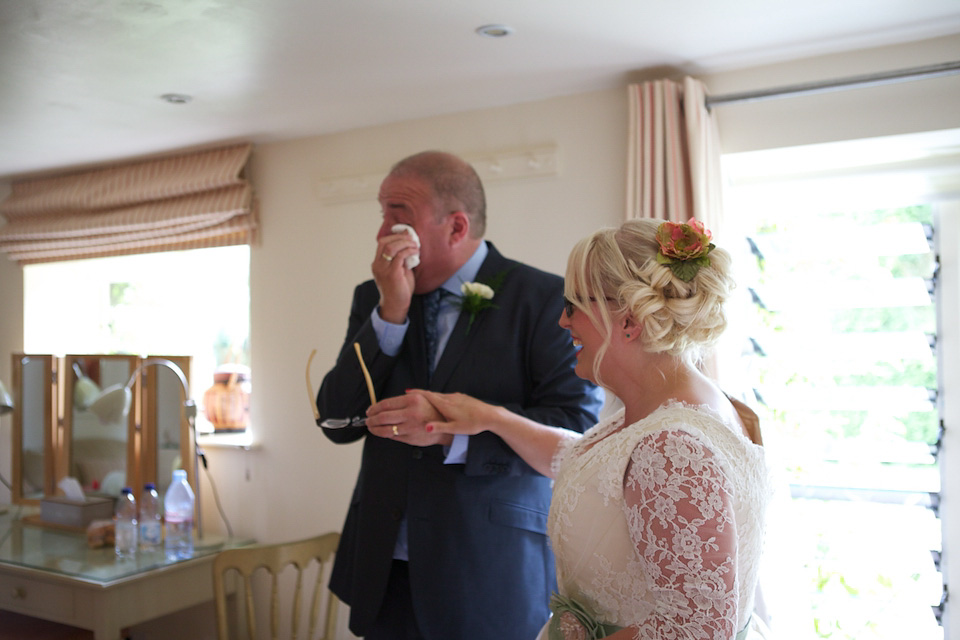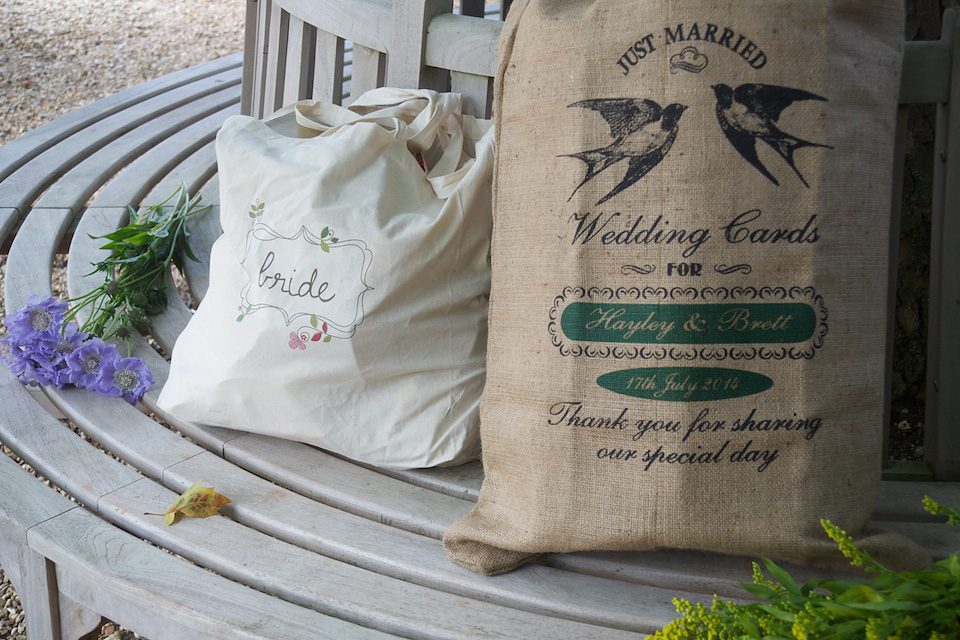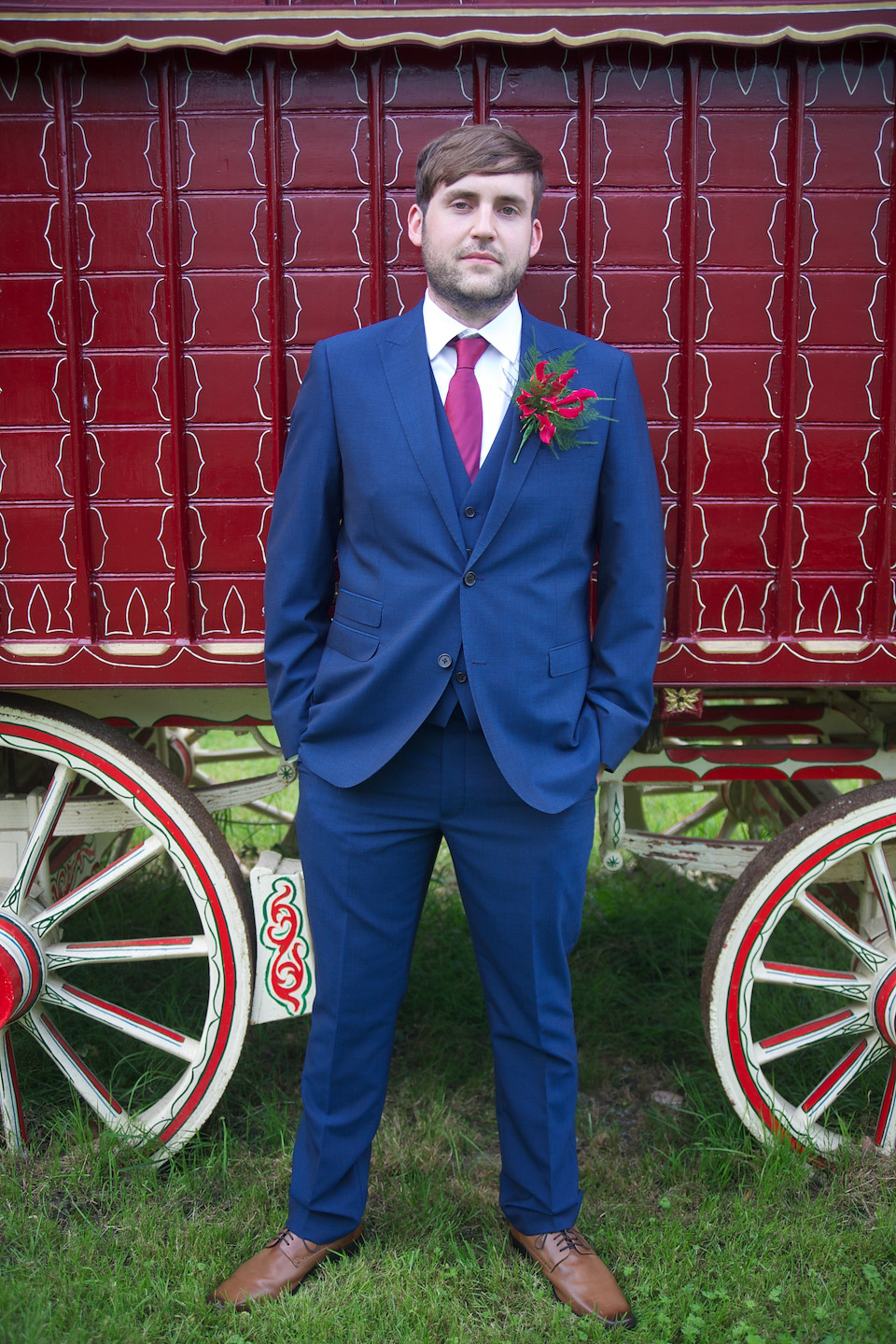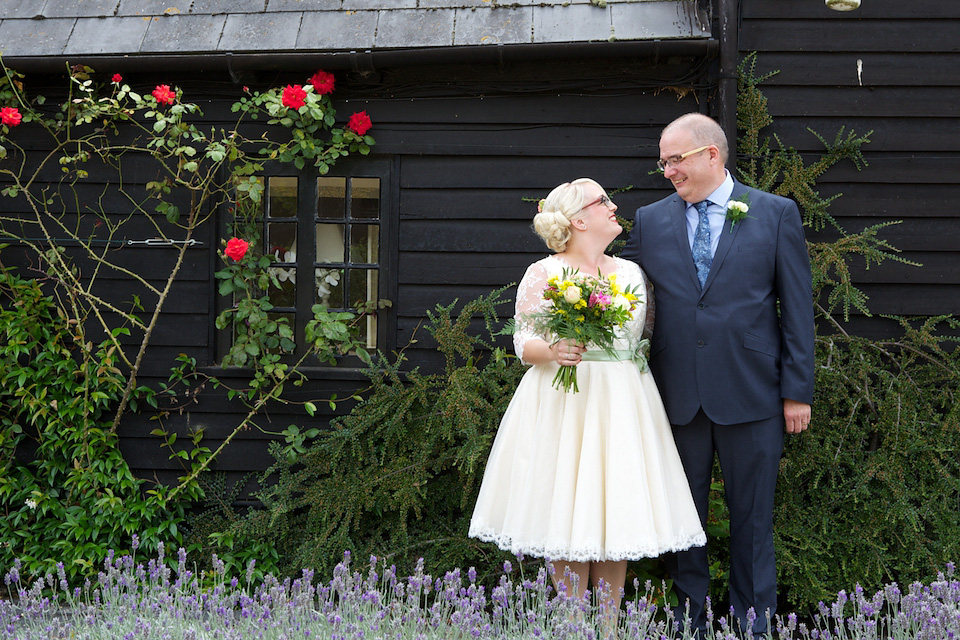 "My Dad gave me away and walked me down the aisle, to Razorlight's 'I Can't Stop This feeling I've Got'. We also walked back out to this song once we were married – the lyrics are brilliant and we felt they really applied to us."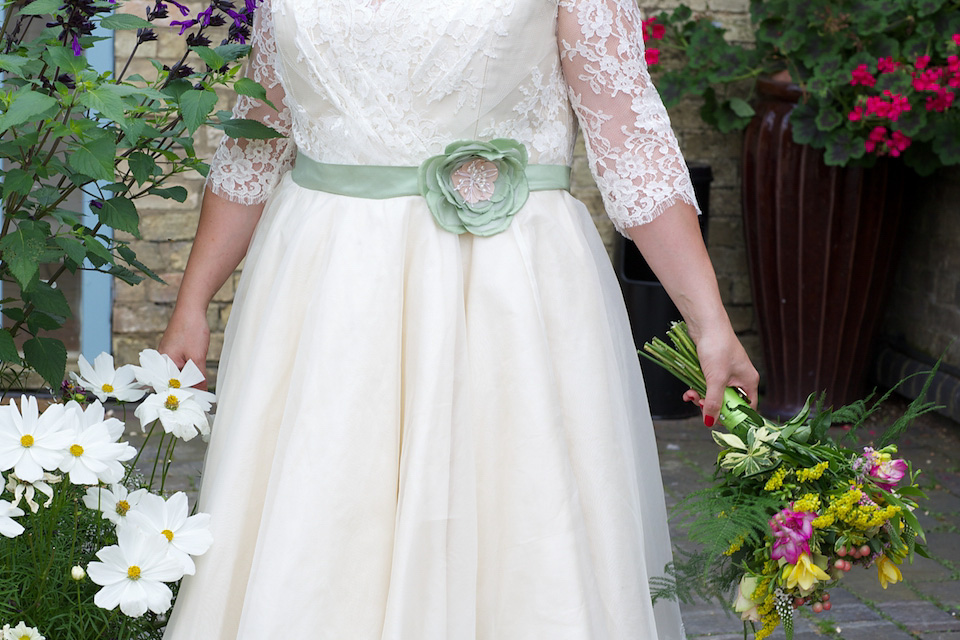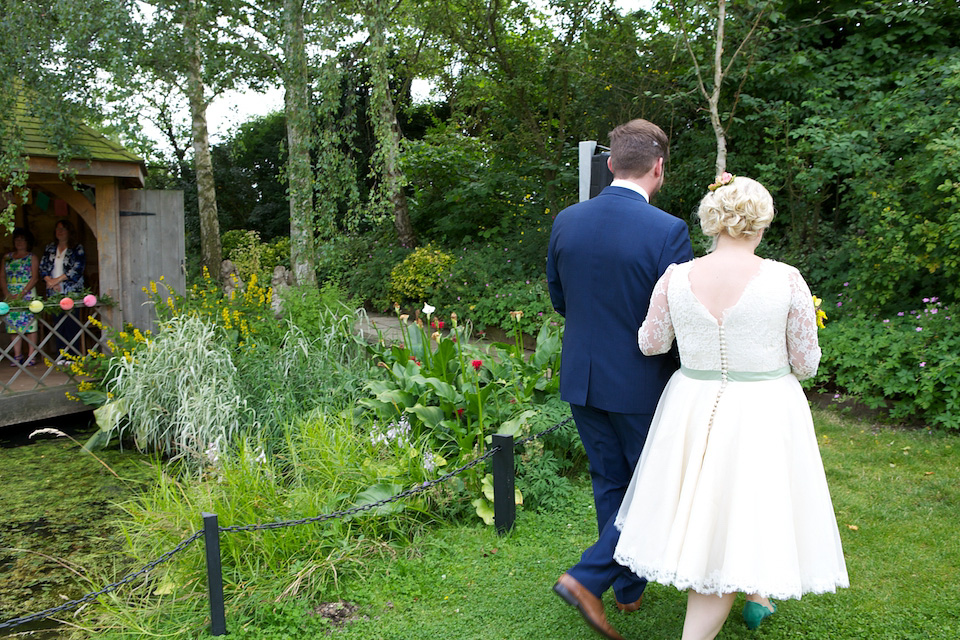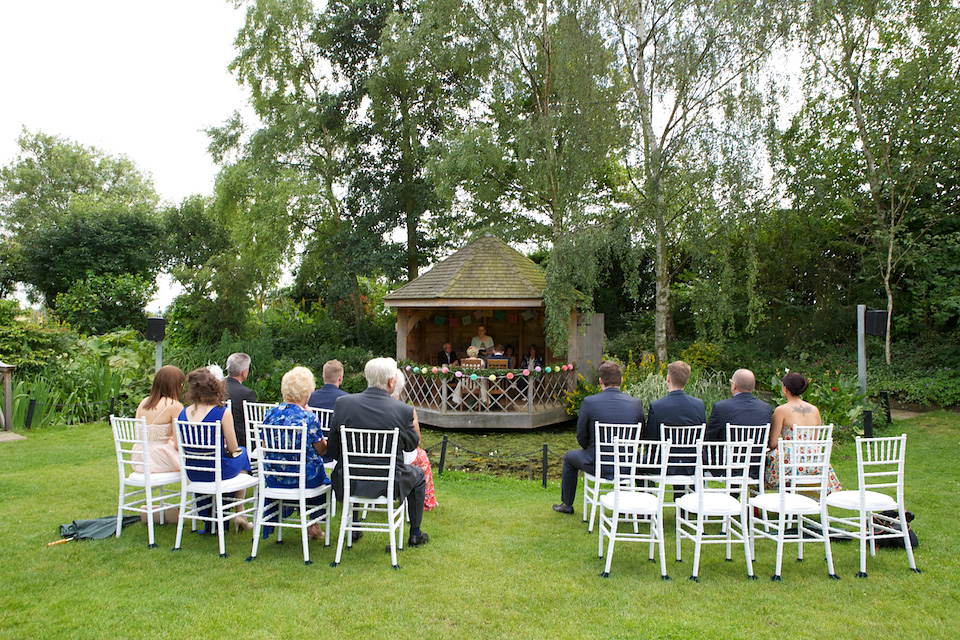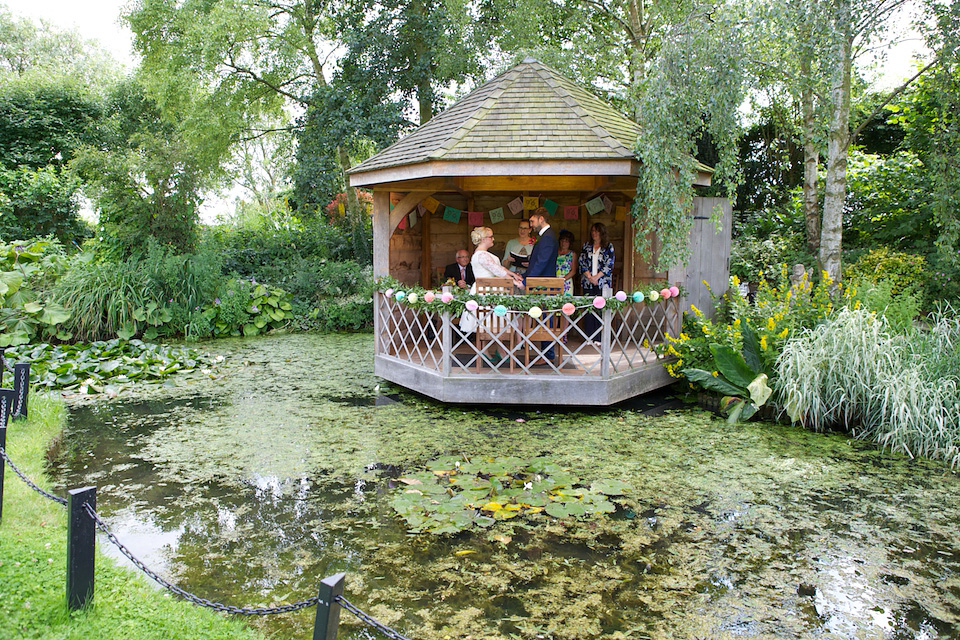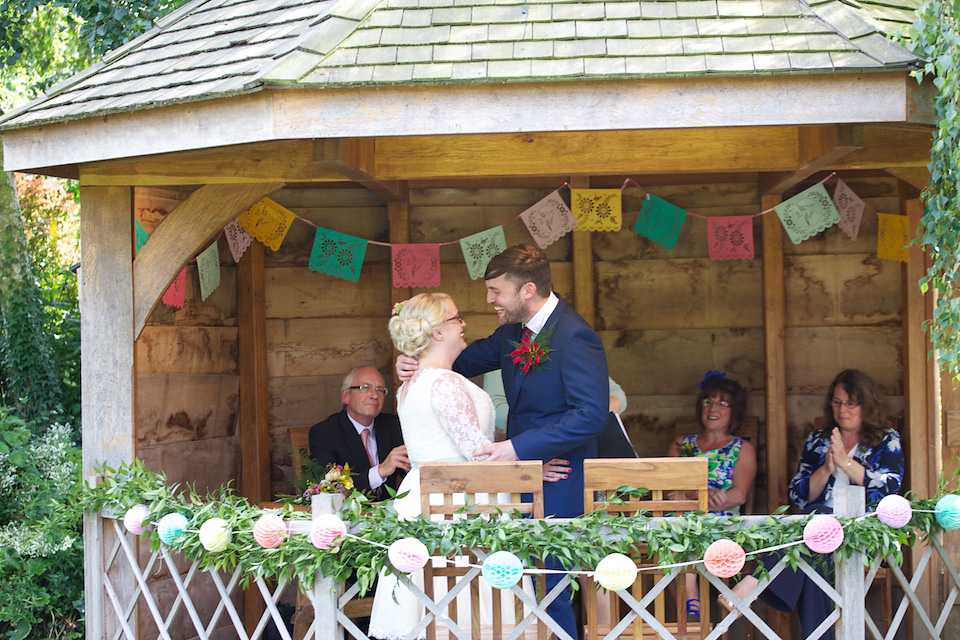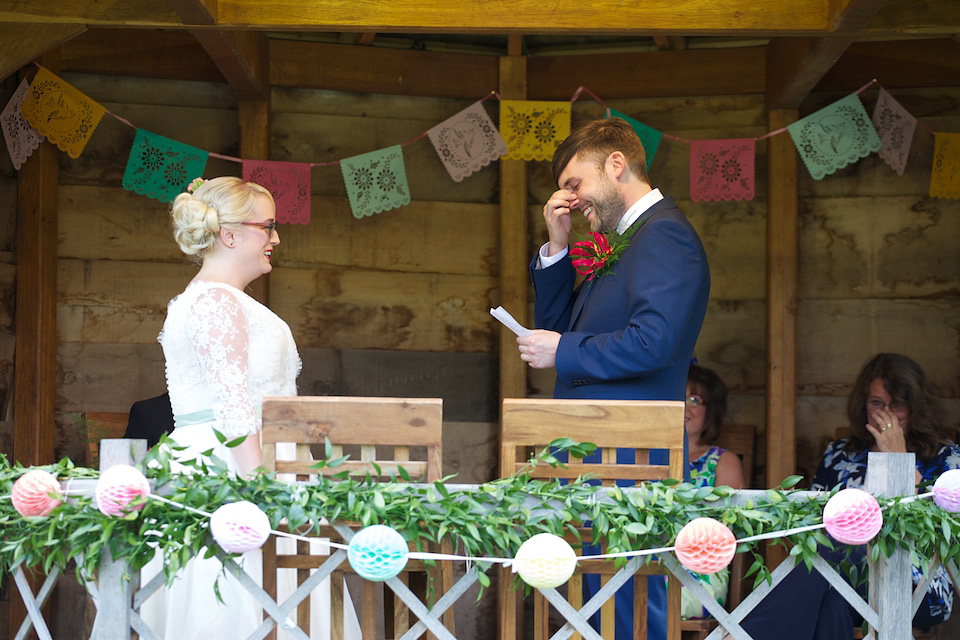 The groom designed Hayley's engagement ring (lucky lady!), and so the couple chose to buy their wedding bands from the same place, 'Ring' in Brighton.
"The service in Ring is outstanding. We couldn't recommend them enough and they were most definitely worth getting stuck on the M25 for!"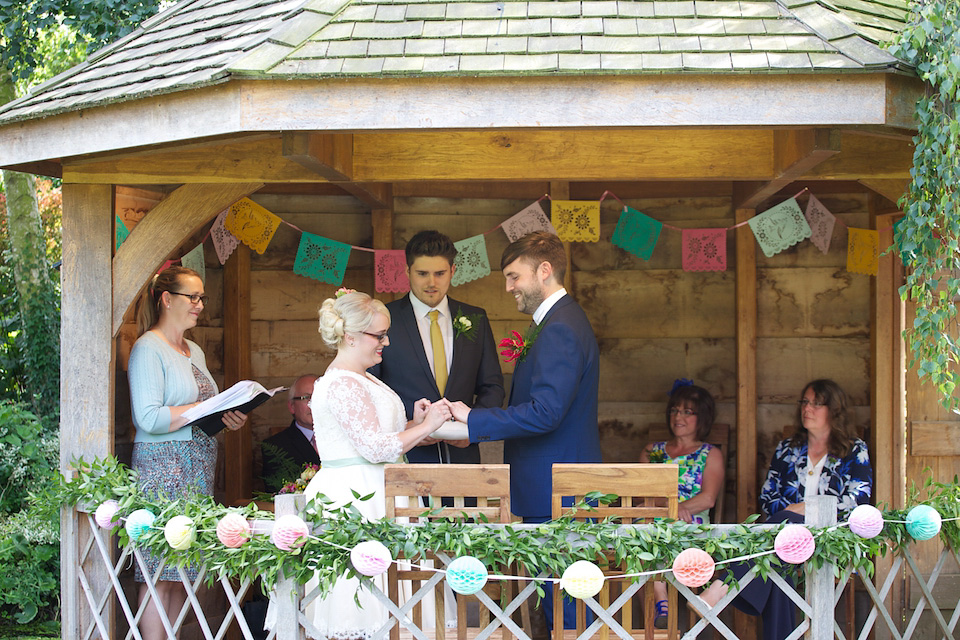 "If I had to pick my very favourite part of the day, (the whole day was amazing!), I'd say it would have to be the ceremony itself. It was such an emotional moment, especially as we had written our own secret vows so we hadn't heard them until the actual day. We both shed a tear or two! In that moment nothing else mattered -it will stay with me forever. I wouldn't have done anything differently – not a thing."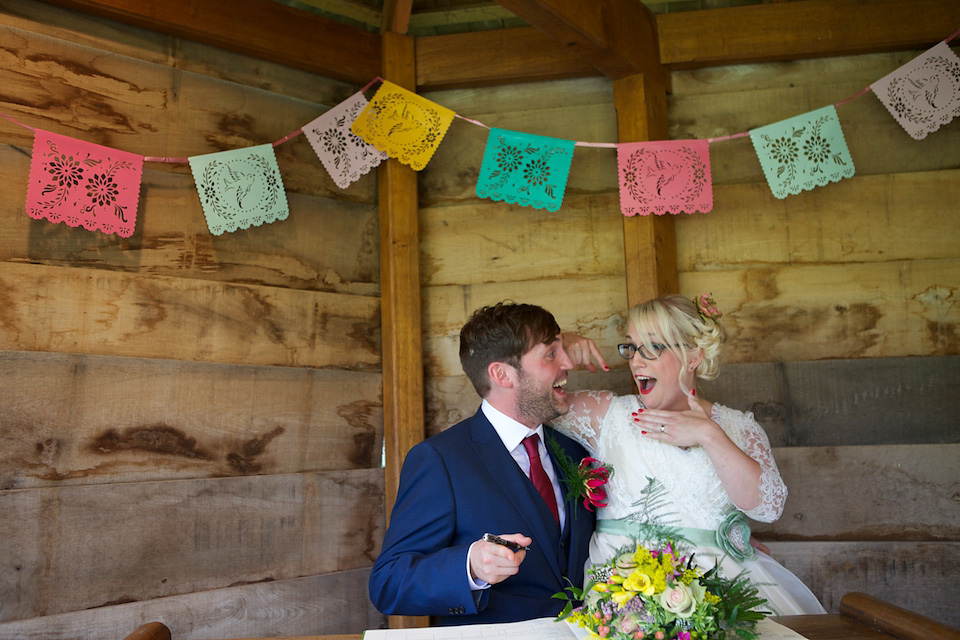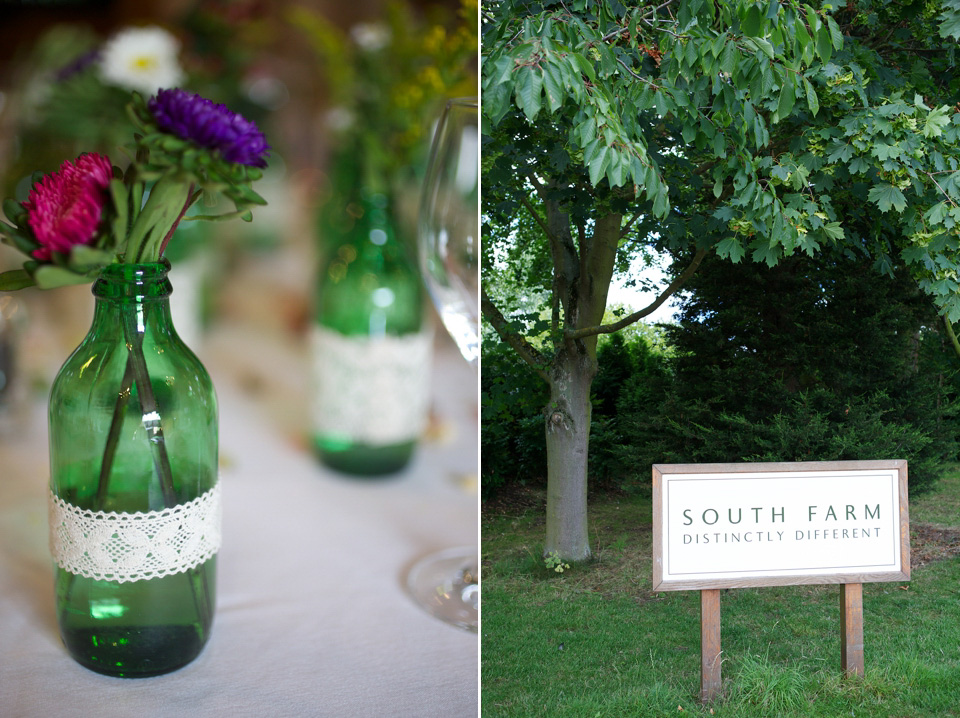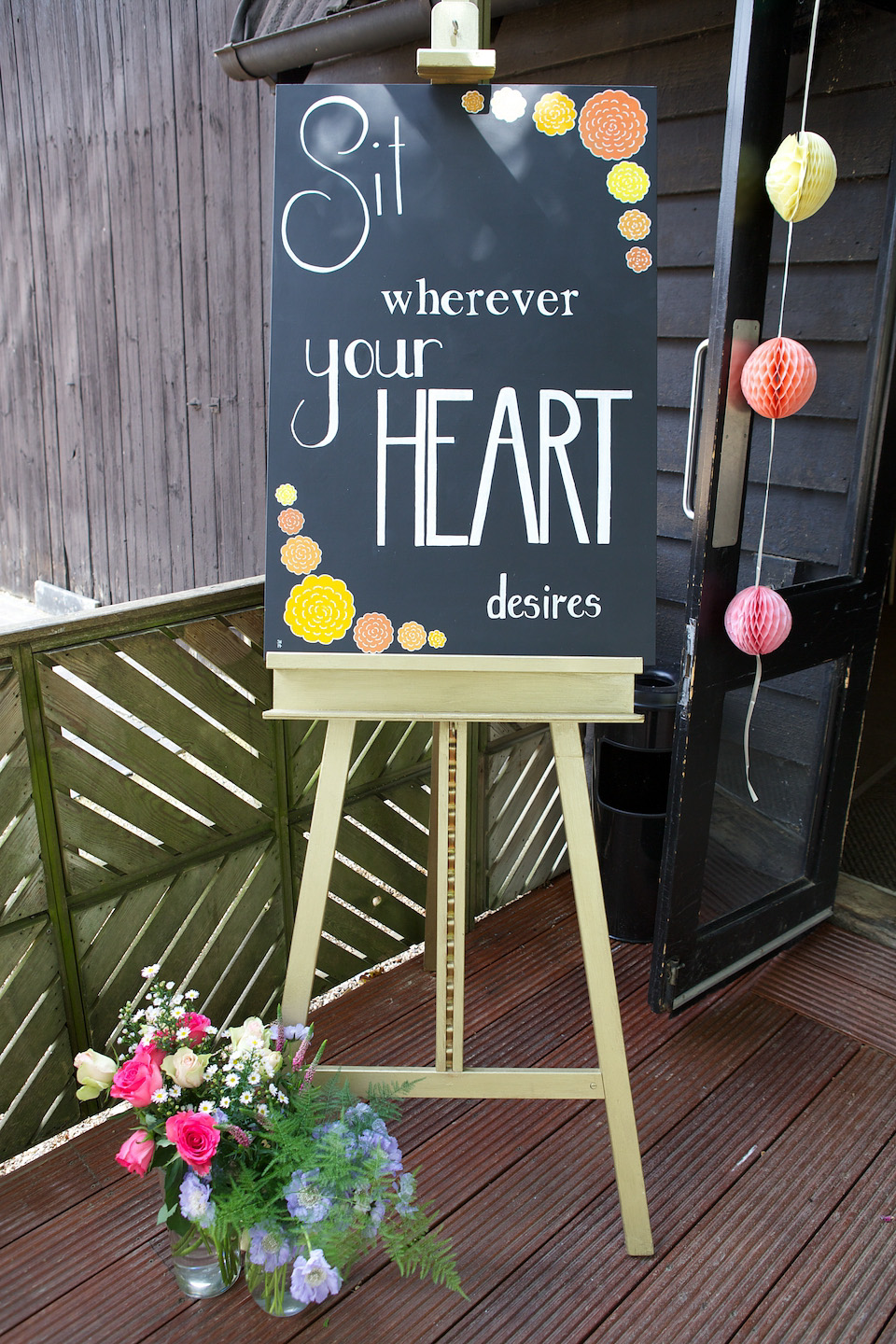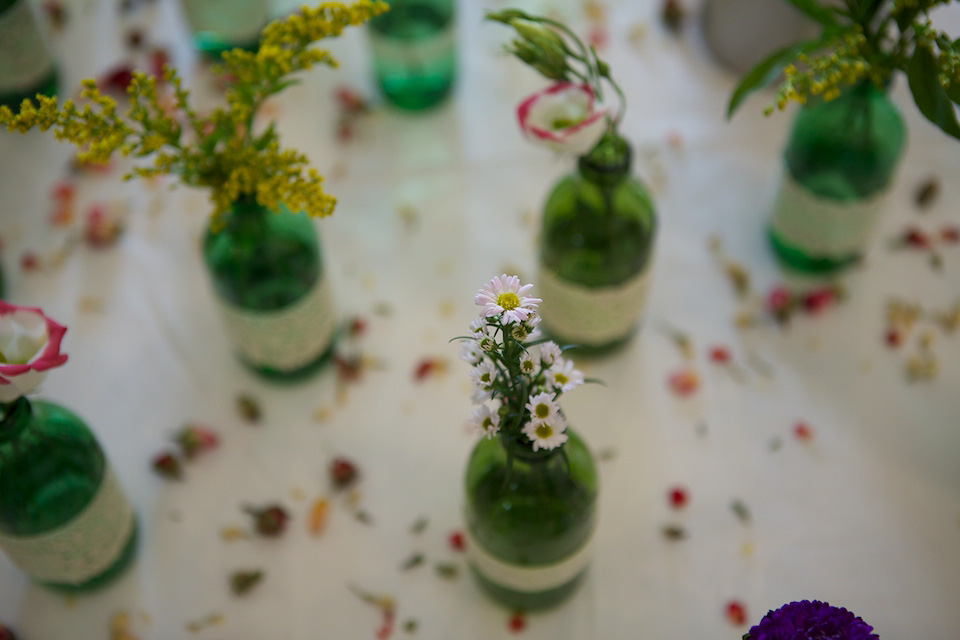 "We almost didn't have any favours, as we felt they were an extra cost, but I then discovered the rock sweets! I had bought the colourful, striped paper bags months before (from Amazon) as a bit of an impulse, but was unsure of what to do with them. Once I'd seen the sweets, I decided we had to have them. Myself and Brett absolutely love Brighton and visit at every opportunity, so they were the perfect favours for us."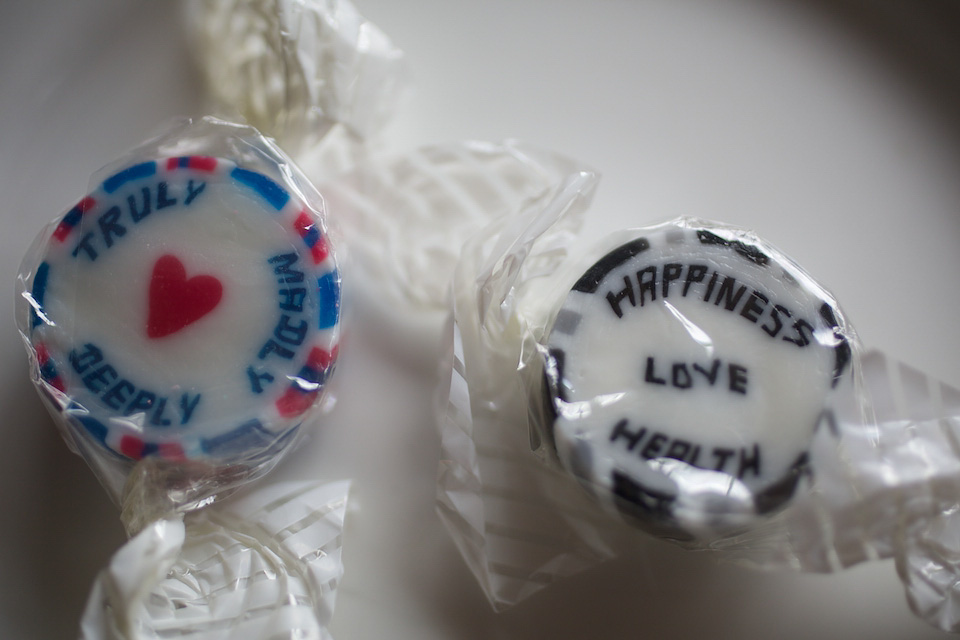 The couple's cake was from Little Cake Kitchen.
"Kerry at Little Cake Kitchen was one of the only cake makers who didn't shudder at the thought of a rich chocolate ganache cake on a hot summer's day! She had cake samples ready on our arrival and after one bite, we knew we had to have her make our cake."
The couple chose Roots Acoustic Trio as their wedding band.
"The guests couldn't have complimented the band enough. We were adamant we didn't want a DJ and felt live music was a must. The dance floor was full all night long.
Our first dance was 'Stigmatized' by The Calling. We both loved the band when we first met so it just seemed fitting that we had one of their songs. The lyrics are special to us."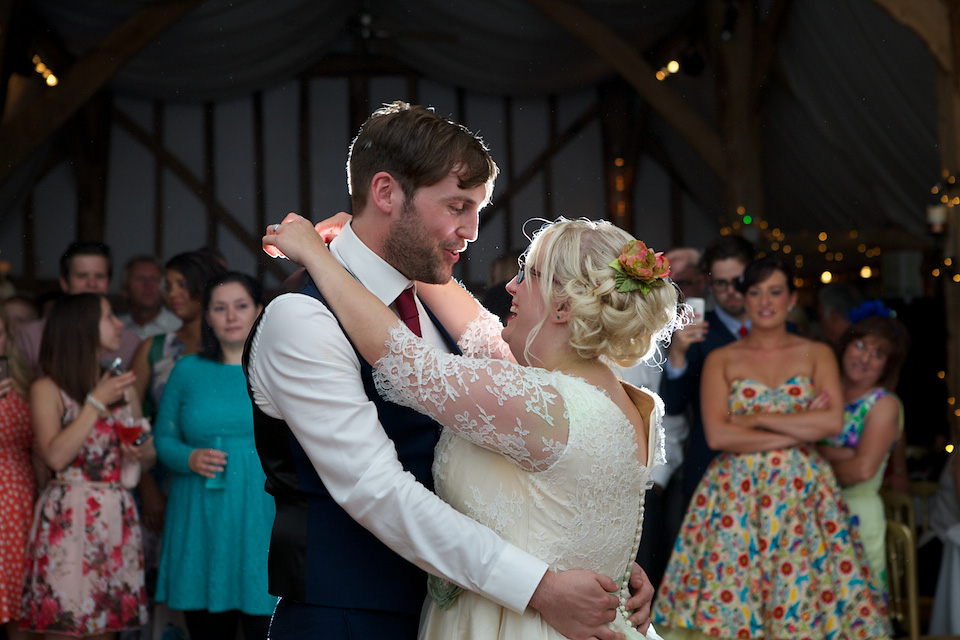 Words of wedded wisdom
"We had a child-free day and as result of this some family members took great offence and didn't come, but we have no regrets and the day couldn't have gone better! Throughout the whole planning people told us we 'should have a separate evening buffet', or 'aren't you going to hire the grooms and best men's suits so they match?' We stuck to our guns and it paid off in the result of a very relaxed, fun day.
To be honest when the day actually arrives, all those worries just go out the window! On the morning of the wedding I listened to a bit of Doris Day for some words of wisdom. She was one of my Gramp's favourite singers, (he passed away two weeks before the wedding). Just listen to Doris, 'Que sera, sera' and make sure you enjoy every moment as it's over in a flash!"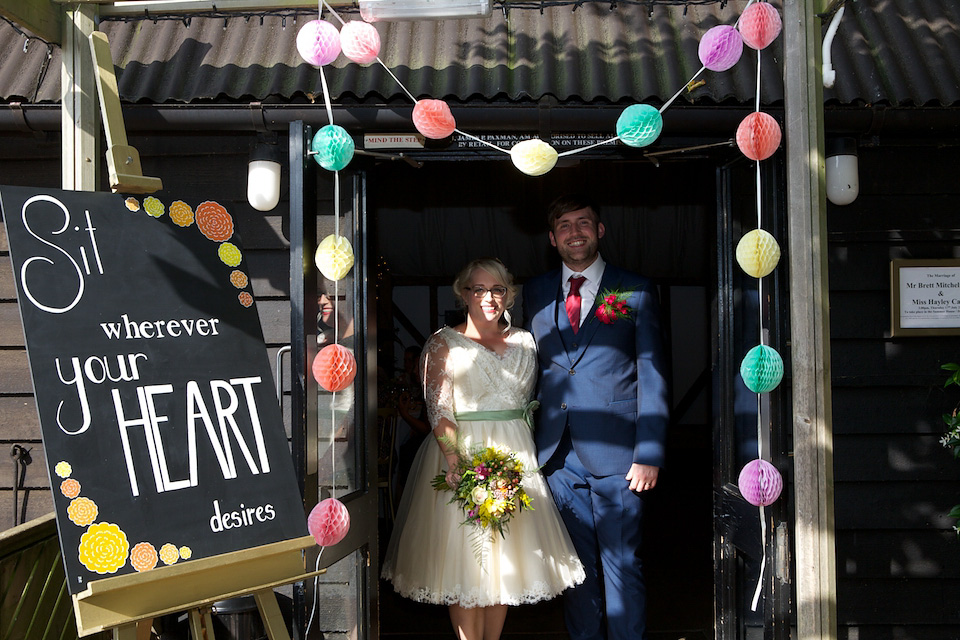 What touching sentiment, and top-notch wedded wisdom from Hayley (and Doris!). Hayley and Brett stuck to their guns and did away with tradition for their day – and it worked. The pictures really show the natural and relaxed beauty of their dream wedding. Wonderful!
Love Rachel
xxx
Photographer – Sharon Cooper Photography
Venue – South-Farm, Cambridgeshire
Bride's dress – Joanne Fleming Design
Bride's hair piece – Violette and Iris
Bride's earrings – Silver Jewellery HS (Etsy)
Bride's shoes – Miss L Fire
Bridesmaid's shoes – Irregular choice
Bridesmaid's dress: Oh My Honey via Folksy
Bridesmaid's petticoat – Rosita Lollipop
Pearl pins – Claire's Accessories
Make-up: Coffee and Pink, Stotfold
Hair: Sinead Ryan, hair artist & family friend
Groom's suit, shirt and shoes – Next
Cake – Little Cake Kitchen
Wedding rings – Ring
Entertainment – Roots Acoustic Trio