Welcome to a new week, we're going to try really hard to add a touch of joy and inspiration to it for you, through seven whole days of beautiful blog posts. Firstly however, I'd like to thank all of you who have liked this Instagram image so far, and in so doing, participated in our little giveaway to celebrate Love My Dress's 5th birthday! Like this picture today to enter to win, if you haven't already.
When bride Katie submitted her wedding photographs recently, I was reminded how very privileged I am doing this job. Some six years or so ago in the UK, wedding blogs just didn't exist, and we simply didn't have the kind of incredible access we do now to all kinds of weddings through features like this. It thrills me that I've been a part of this change and never more so when images like this land in my inbox.
London based software and market research company worker Katie married Investment banker Andrew on 21st June 2014, at Borgo Stomennano in Tuscany.
"As Andrew is from Texas and I am Canadian, we met and live together in London so we knew that deciding on a location for our wedding was going to be difficult from the start. We decided to choose with our hearts and get married in a place that we loved in Italy, and in Tuscany. We feel so lucky that we were able to bring together such an amazing group of friends and family in such an incredible place and the three days over the course of the wedding resulted in a lot of smiles, laughter, love and dancing."
Film Production Copyright (c) 2014, Les Amis Photo
"Our theme for the day was fairly loose – we knew we wanted it to be rustic, seasonal and quite natural as it was to take place in the Italian country side, we wanted some hints of vintage and we also wanted to incorporate little bit of a 'wow factor' into the day.
We love food, wine and seeing live music (really who doesn't love these things?) so we also wanted to be sure they were all on the top of the list.  The 'wow factor' really came from our beautiful venue itself, our big and bright incredible flowers, the traditional long rustic outdoor table for the meal and of course my fabulous Temperley dress."
Photography Copyright (c) 2014, Lisa Poggi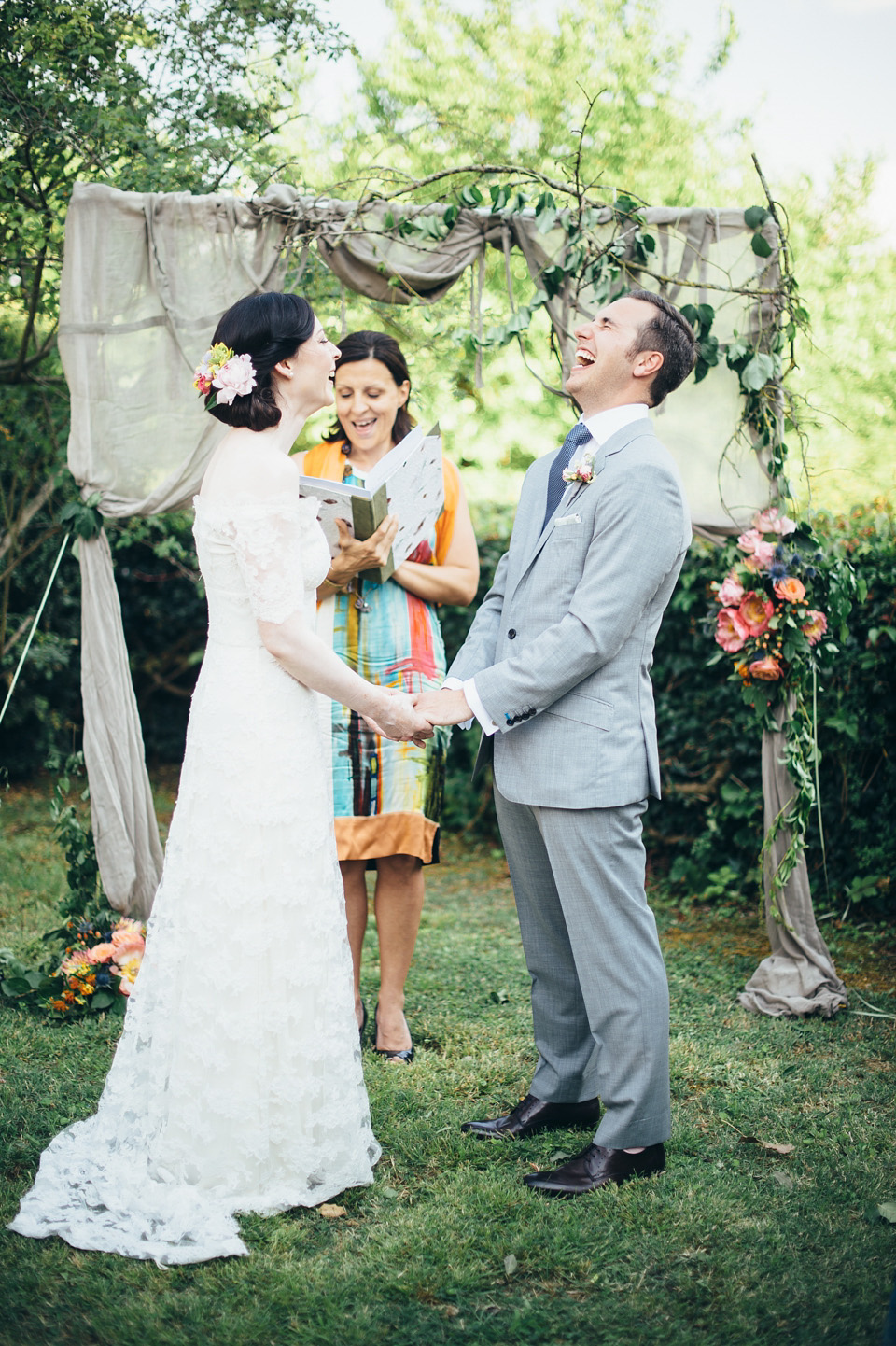 Katie and Andrew's wedding was expertly organised and beautifully styled by Italian wedding planners Chic Weddings in Italy.
"We worked with Sara Pietrelli at Chic Weddings in Italy, who was absolutely incredible. We couldn't have done it without Sara and the team, Sara was insanely organised, incredibly helpful, knowledgeable and of course creative! She really understood and knew what we were looking for right from the start."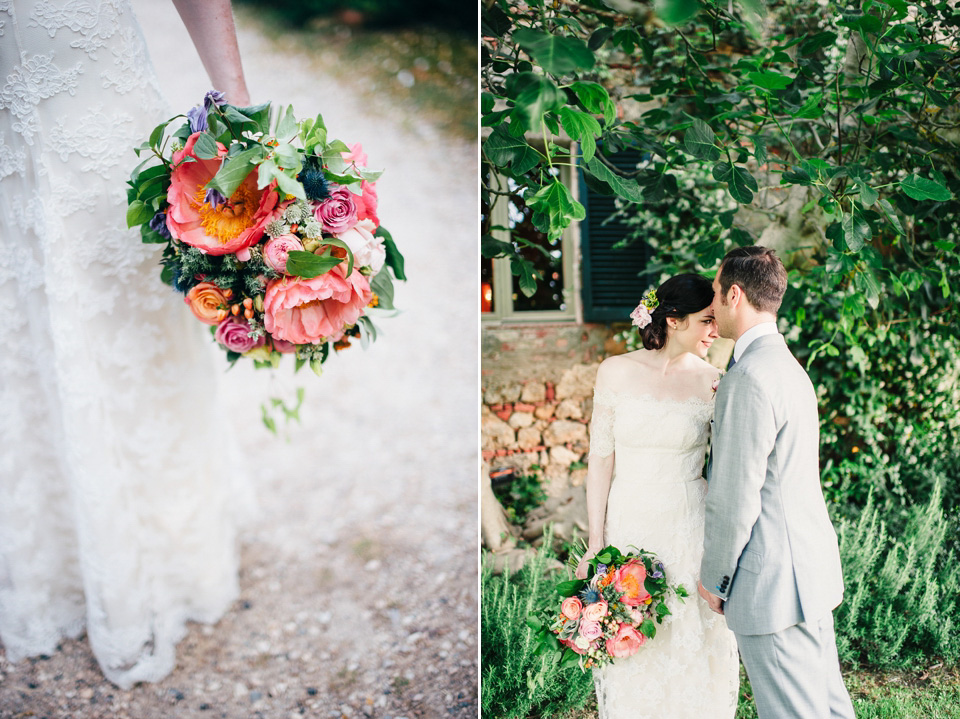 "My dress was the 'Sienna' gown from the Temperley bridal boutique in Notting Hill.  I was the first bride to try it on and also wear it. The dress was not yet available from the collection when I went to the shop so they arranged for the model copy it to be brought back from New York from a photo shoot for me to try on.
The ladies at Temperley were absolutely amazing, I really wish I could wear tailored clothes every day, as my dress fit like a glove (even after eating a ton of pasta and drinking quite a few glasses of wine with our families the week before in Italy!)."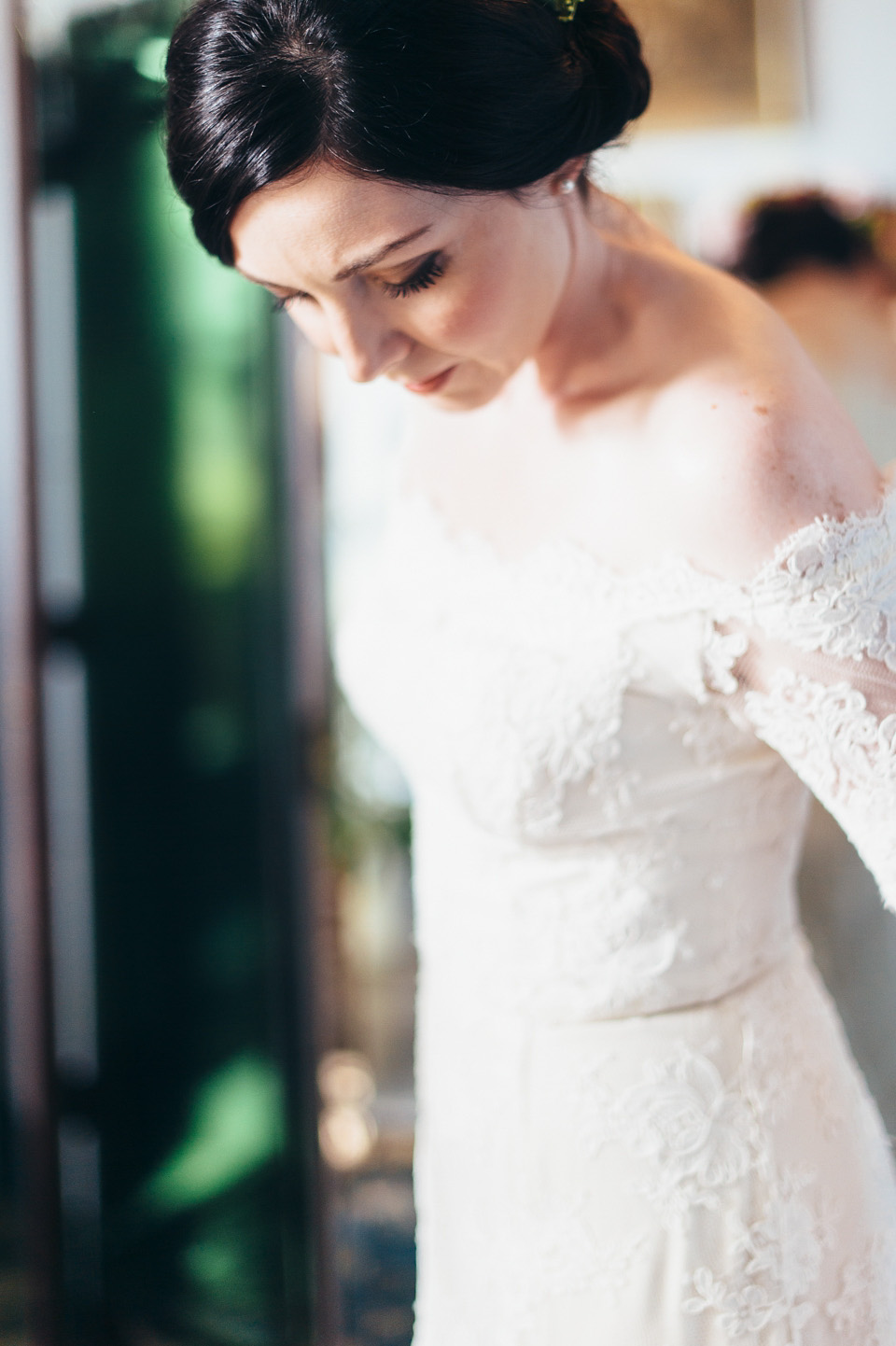 "The bridesmaid dresses also travelled the world in the period leading up to the wedding. My sister, who was my maid of honour, and my two bridesmaids, live in three different countries (Canada, the UK and The Netherlands) which was challenging, but we managed to get a dress that they all loved in the right size for everyone to the right country!  I carted the dresses back to the US twice and to Amsterdam once! The girls wore the strapless Nadia dress from J Crew. The dresses were silk chiffon in a dusty shale green colour, we were all really impressed with the quality and fit and they were so light which was great on the day as it was quite hot.
The girls all wore their own jewellery and shoes as I really wanted them to feel like themselves on the day and allow them their own choices. They all opted for silver and gold tones in their shoes and each of them had the most beautiful fresh flower crowns that made to be unique. The girls and the crowns looked absolutely stunning, I think they look even more incredible in the pictures."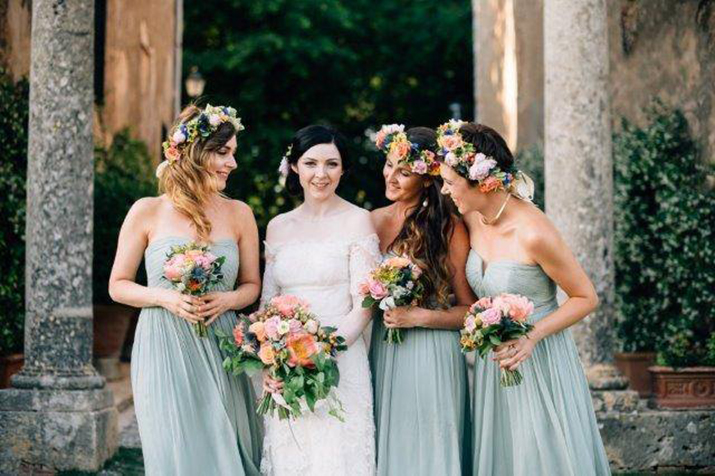 "Our beautiful stationery was designed by Kate Ruth Romey. Kate designed our invitations, on the day stationary including the menus and our thank you cards. Kate is extremely talented and patient and it was great working with her."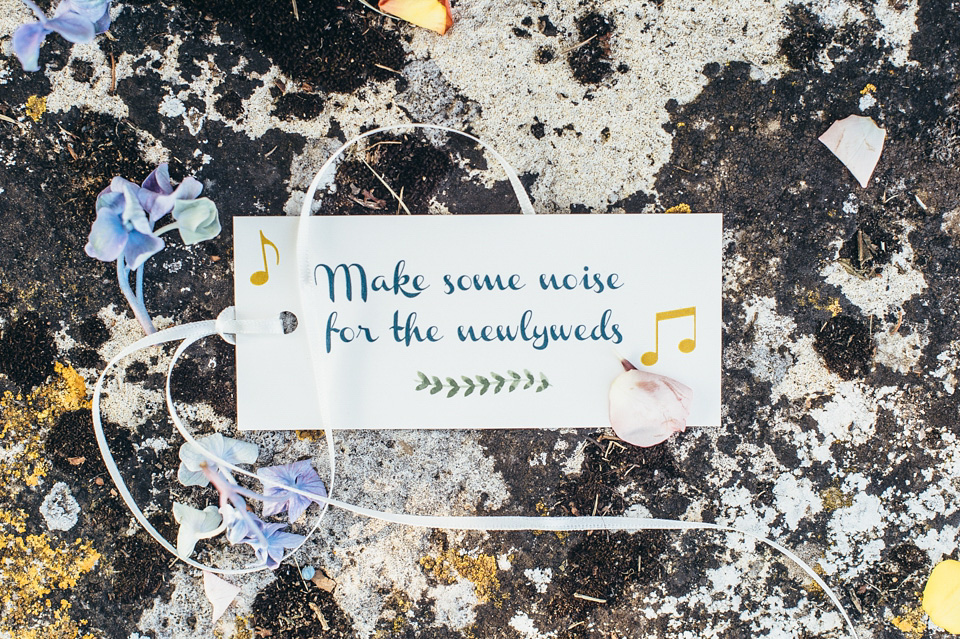 "Our florist was Jardin Divers from Florence who absolutely surpassed my expectations with our amazing flowers. I definitely gasped when my flowers were brought into the room as they were so incredible. I love fresh, seasonal flowers and June was peak Peony season so we ended up with massive feature hot pink peonies in both my bouquet and on the ceremony arch as well as both white and purple roses. Jardin divers also made the beautiful floral crowns that my bridesmaids wore.
My bridesmaid Marion selected and sent a few of the flowers from my bouquet off to the Flower Preservation Society who preserved in a vintage style glass paperweight so that I can always remember these from the day."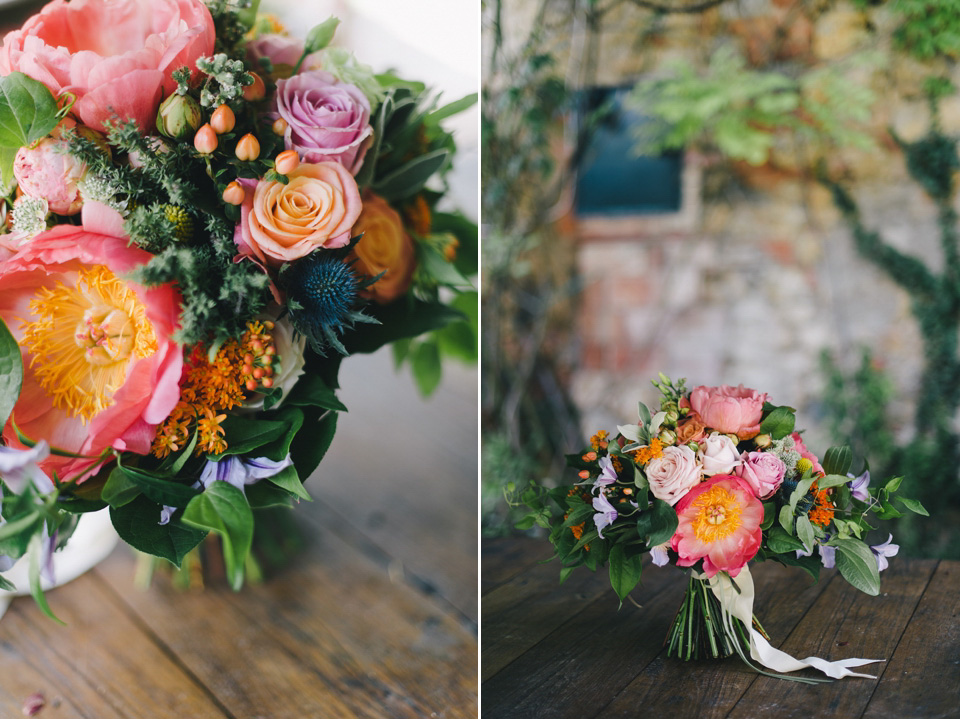 "The video by Les Amis Photo, resulted in a lot of tears from us and our friends and family on first viewing. I don't think I have ever seen pictures of myself smiling so much and they really captured the fun and happiness of the day.
Our photographer was Lisa Poggi. We were so happy having Lisa and her team as part of our day. Lisa is so easy to work with and was so relaxed, she never made us feel too posed or awkward and I love the natural approach that she takes to her photos. We wanted a photographer whose images didn't feel constructed and we loved the natural light and atmosphere Lisa captures. She definitely made us feel relaxed on the day and she was always so happy and smiley.
Lisa also met us in Siena a few days before when we had to sign the papers in a civil ceremony and we have an amazing little collection of images from this day as well."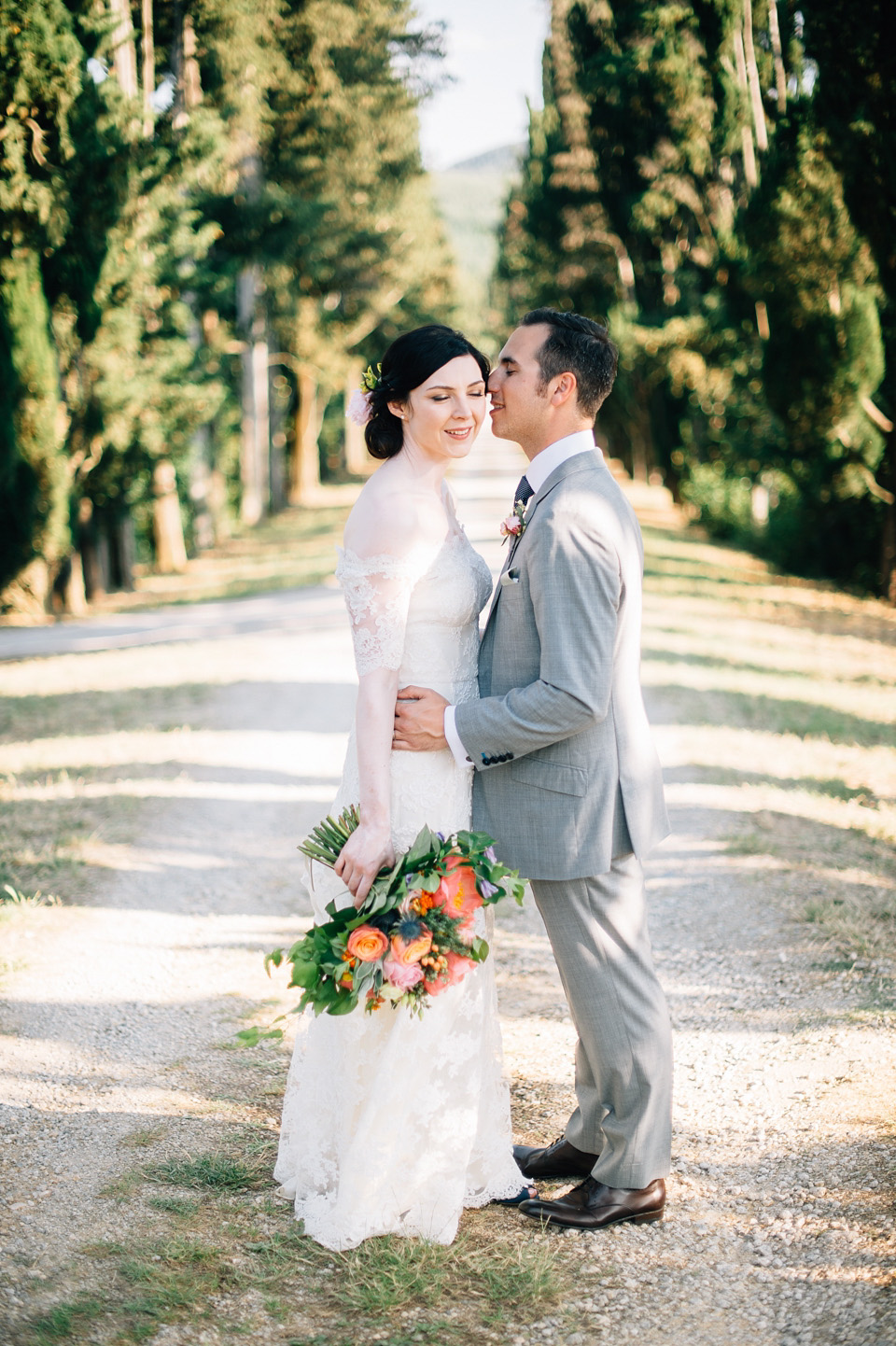 "Andrew is from Texas and I am Canadian. Work brought both of us to London at different times and we met by chance at the Soho Hotel bar in central London in January 2010. I was there with a friend and Andrew was there with a group of friends, neither of us had planned to go out that evening or had ever been to the bar before so it really was meant to be. Our first conversation was actually incredibly awkward.
The Soho Hotel bar is also where Andrew asked me to marry him on a Thursday evening in March 2013 with a beautiful vintage inspired diamond ring. I cried continuously for about 3 hours afterwards while we called our parents and friends back home to tell them the news. As if the engagement wasn't enough Andrew had also made elaborate plans that included us spending the night at the amazing Soho Hotel (my favourite of course), arranging for me to have the next day off of work, and on top of that he planned for us to leave for Paris the next afternoon to celebrate for the weekend! Andrew had even packed my suitcase – most of the essentials were there along with my entire make-up drawer! We did need to run out the morning after and purchase a new pair of leopard print Vans for me as my suitcase only included heels for walking around Paris for 3 days (I am not really a heels girl!). Most romantic engagement ever, I think."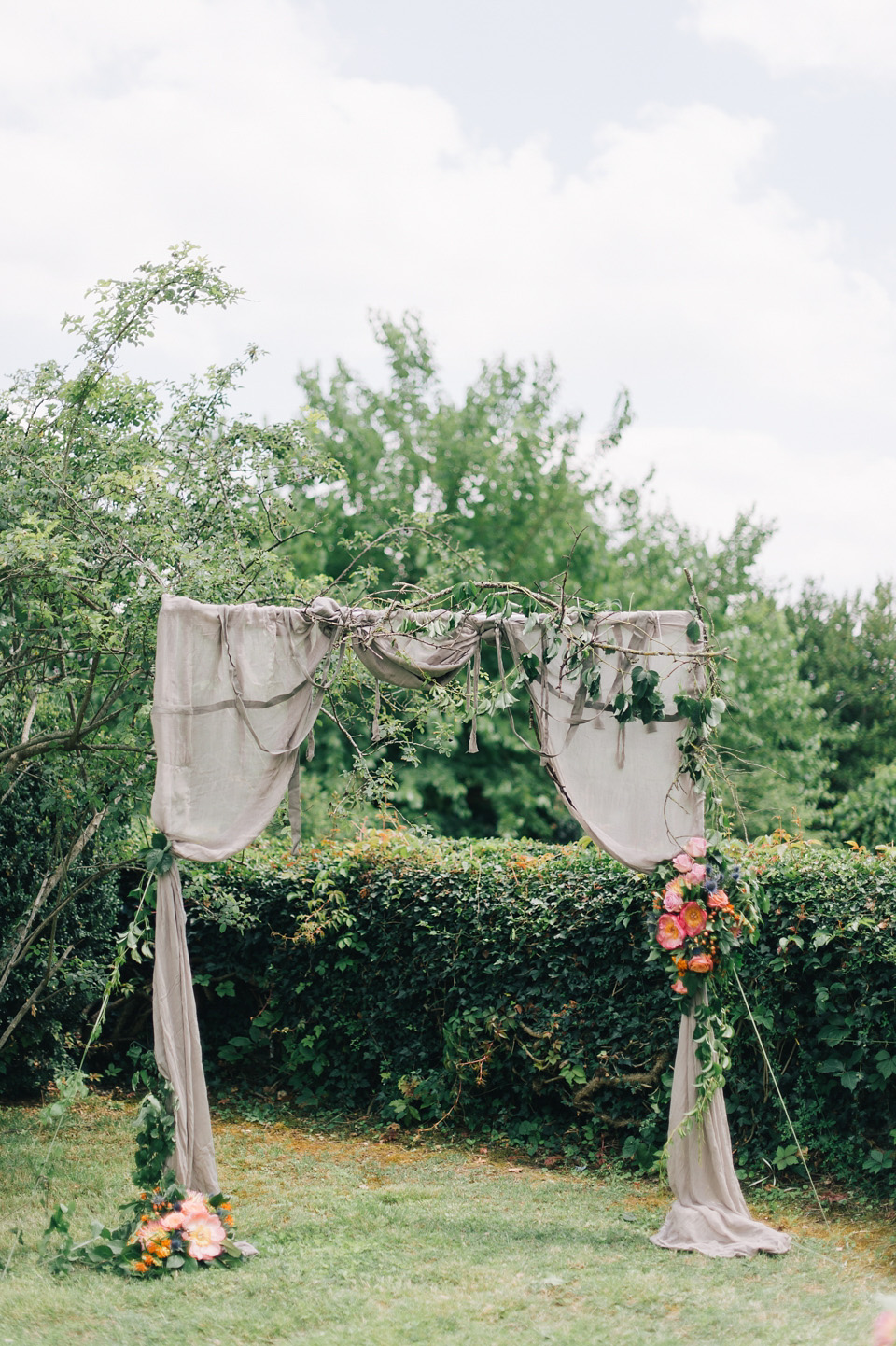 "Borgo Stomennano is a gorgeous gem in the Chianti hills and we truly felt honoured to be able to celebrate our wedding in such a unique and beautiful place. I knew the moment we turned up the driveway that I wanted to get married there, Andrew could see it in my face immediately. The villa itself dates back to the 17th century and the family who own the villa (and whose family has owned it for over 250 years) are the most welcoming and kind people.
I studied Art History in University and knew that it would be very special to celebrate with all of our friends in family in such a magical place. We had sole use of the villa for the 3 days over the wedding. Early on in our planning we had also decided that we wanted to have the ceremony outdoors either in a garden, an olive grove or a vineyard and Stomennano had all three.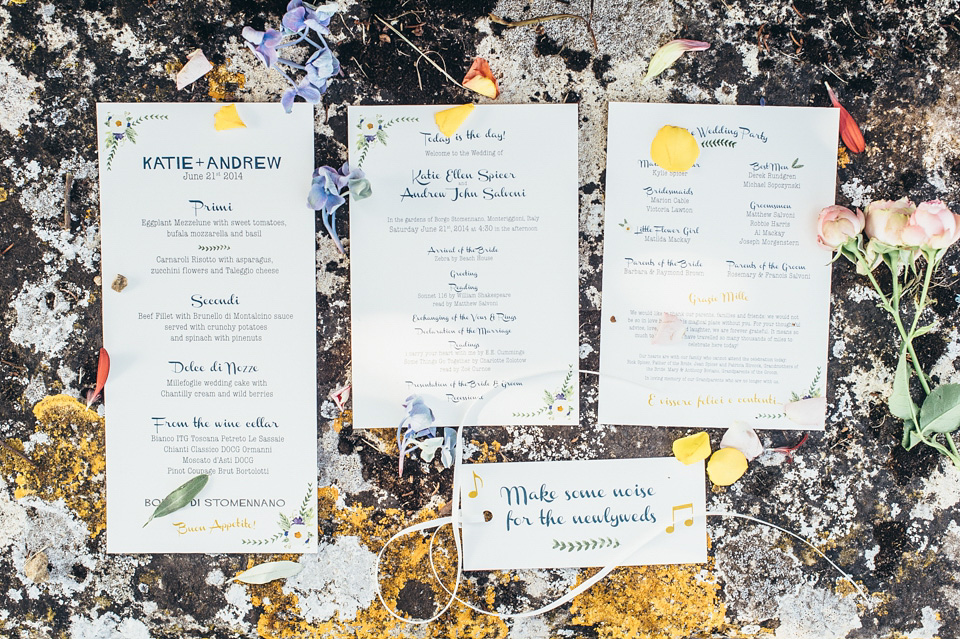 "We didn't want to have a defined colour scheme so we went for a loose colour palate of a vintage French blue, rose pink and dusty shale along with pops of bright pinks and yellow. We also wanted the day to be reasonably relaxed for everyone, especially as we expected it would be quite a warm time of year in Tuscany."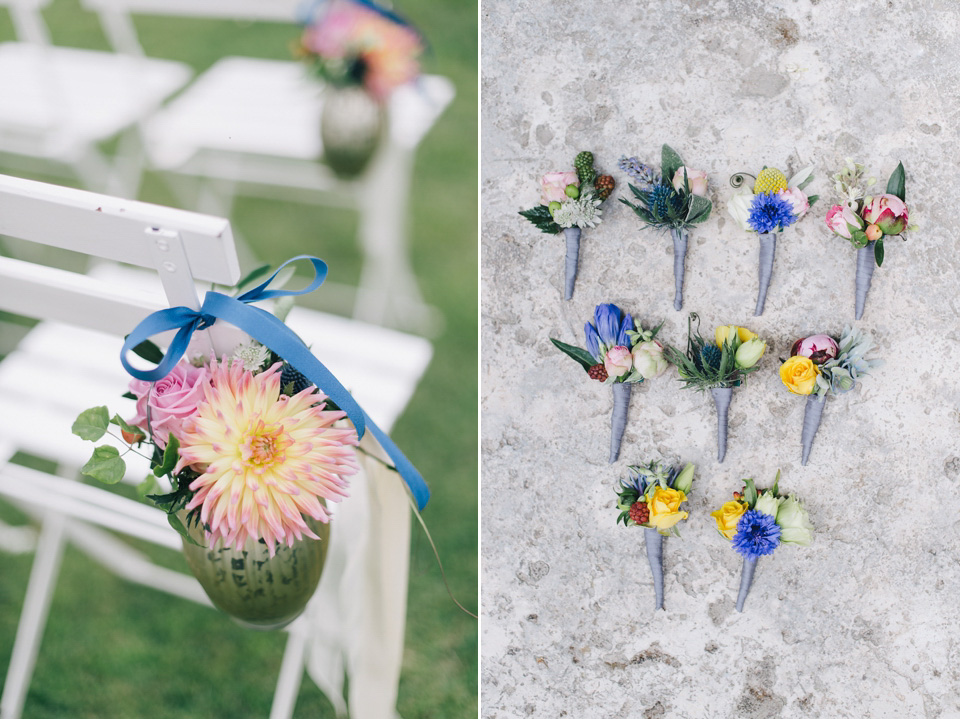 "The flowers were really a key focus of the day and for the ceremony we had a beautiful arch created in the garden and little vases of flowers on the ends of the aisles. There was also a large basket of musical instruments and flower petals to be thrown and to make noise when we went up the aisle."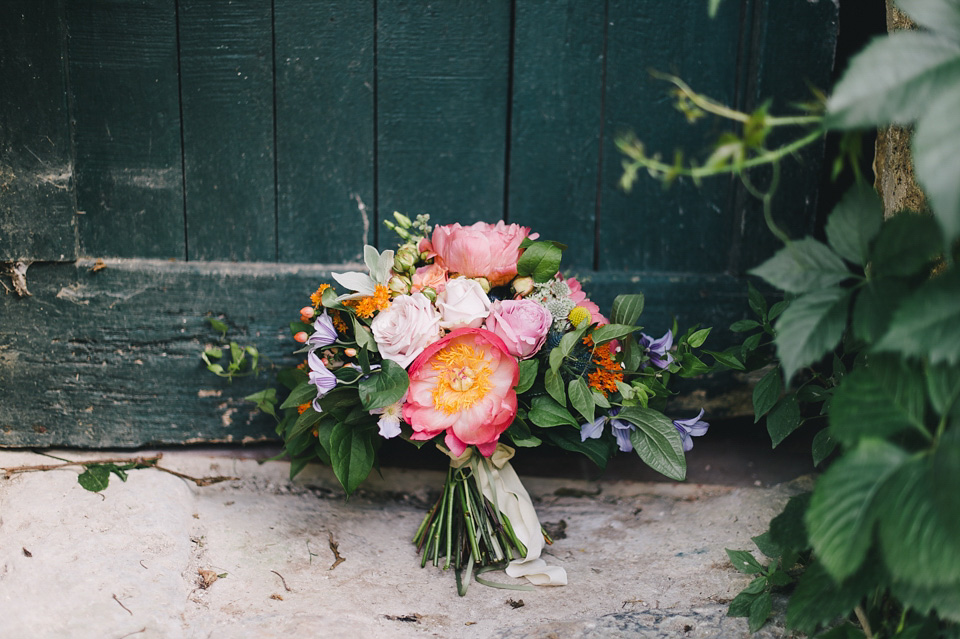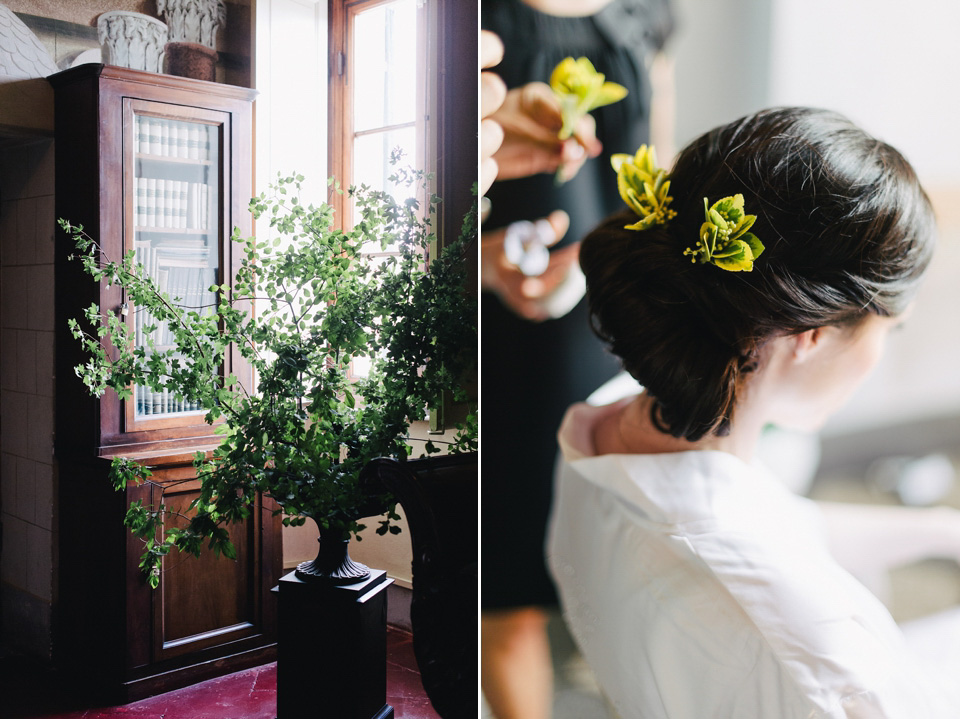 "Giulia Cresci and her team did my hair and make-up as well as the make-up for both of our mom's, my sister Kylie and my bridesmaid Marion. I wanted a vintage, classic and natural look. My bridesmaid Victoria is absolutely amazing at hair and make-up so decided to do her own."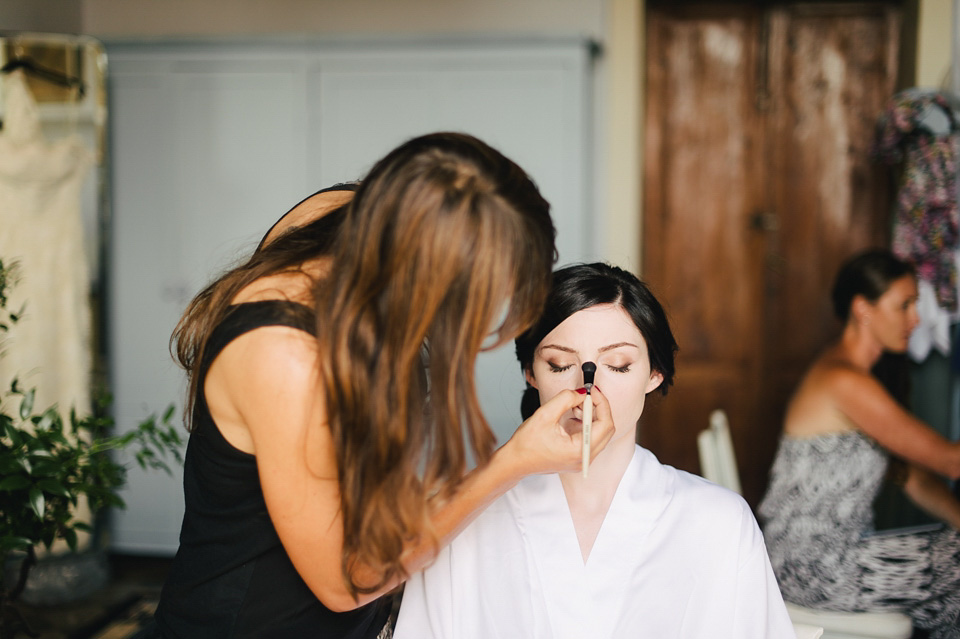 "I wouldn't say that my dress search was easy, in fact it was quite the opposite and was also a little ridiculous! It really did take me quite some time to figure out what I wanted, though from the start I did think I wanted something fitted and lace. I tried on so many different dresses and really did feel overwhelmed for several months."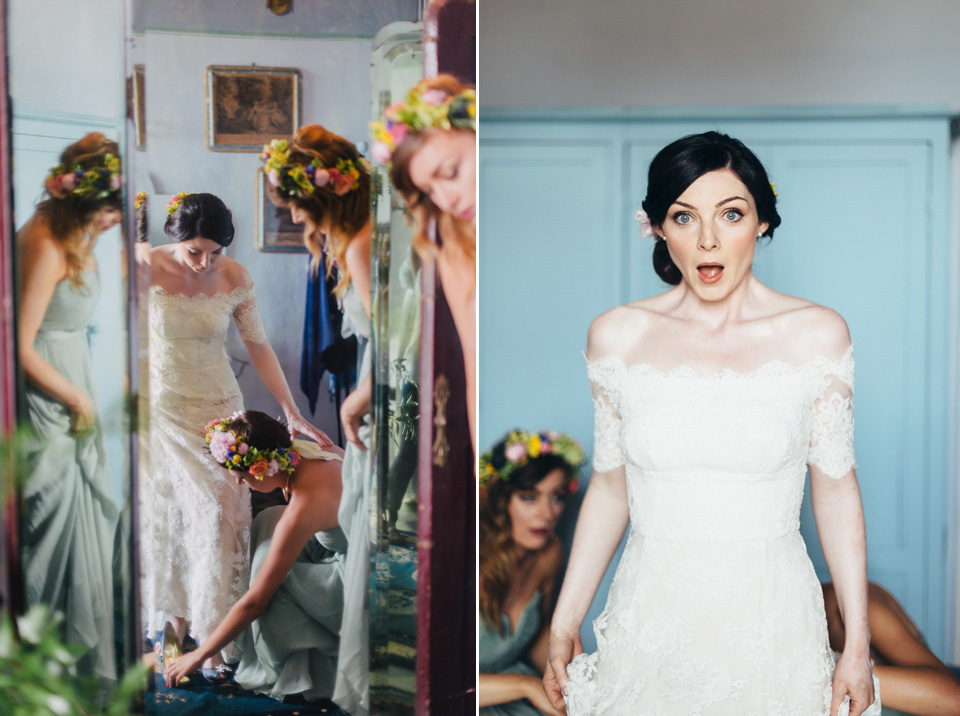 "Shortly after Andrew and I got engaged we went on holiday to California, I had never before even stepped into a bridal shop. My friend Zoe was living in LA at the time so we planned a very girly afternoon of dress shopping. I then continued the search in London with my bridesmaids one weekend when my friend and bridesmaid Victoria was over Amsterdam but again no luck. Finally, the September before the wedding I met my Mom and my sister who live on the opposite sides of Canada in New York to try on some more dresses (we even went to Kleinfields where they film 'Say Yes to the Dress'!).
In the end I ended up back at Temperley which was actually the first shop that we had gone to in London!"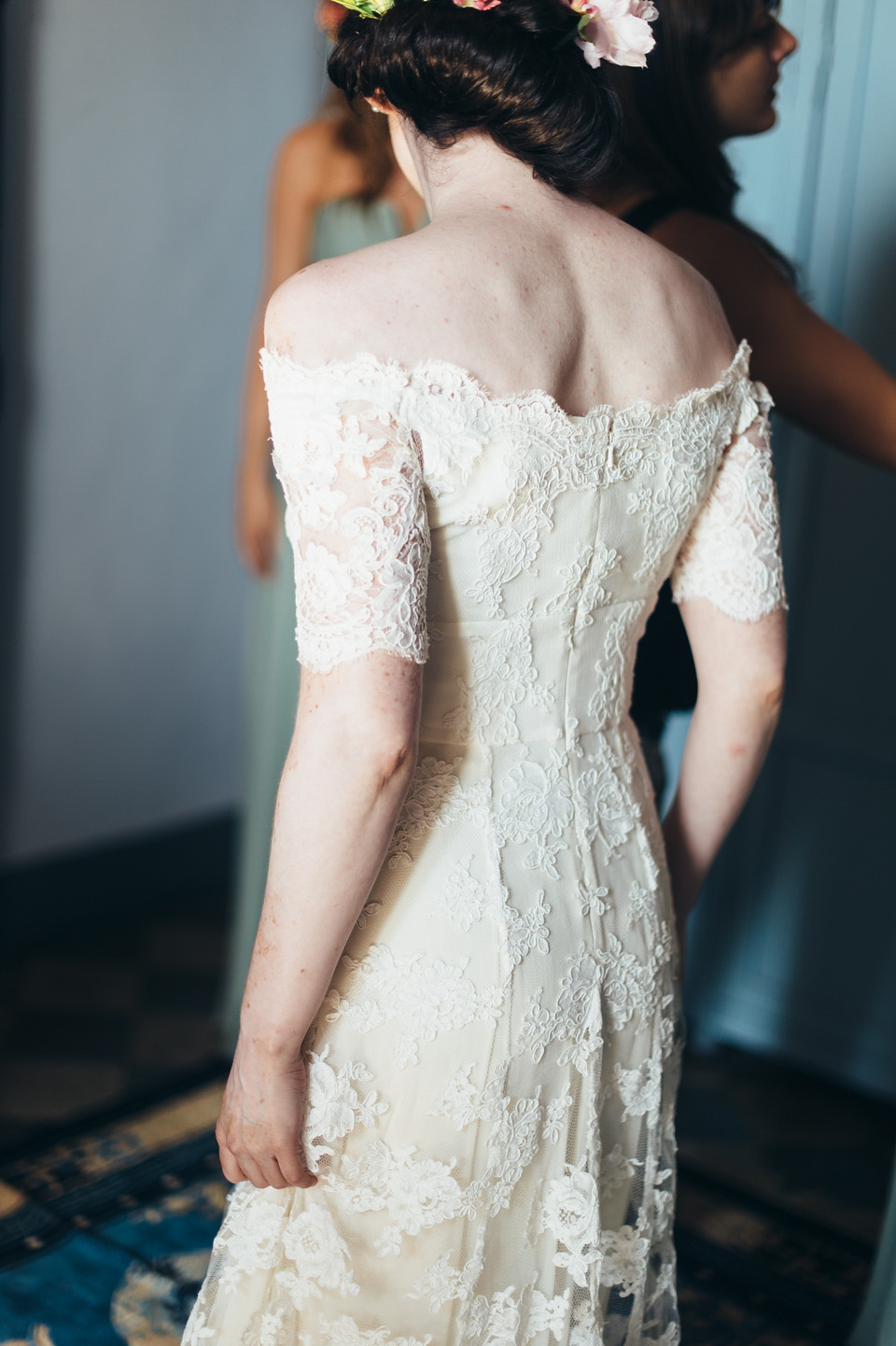 "Chanel No.5 is my daily perfume so I went with this on my wedding day too."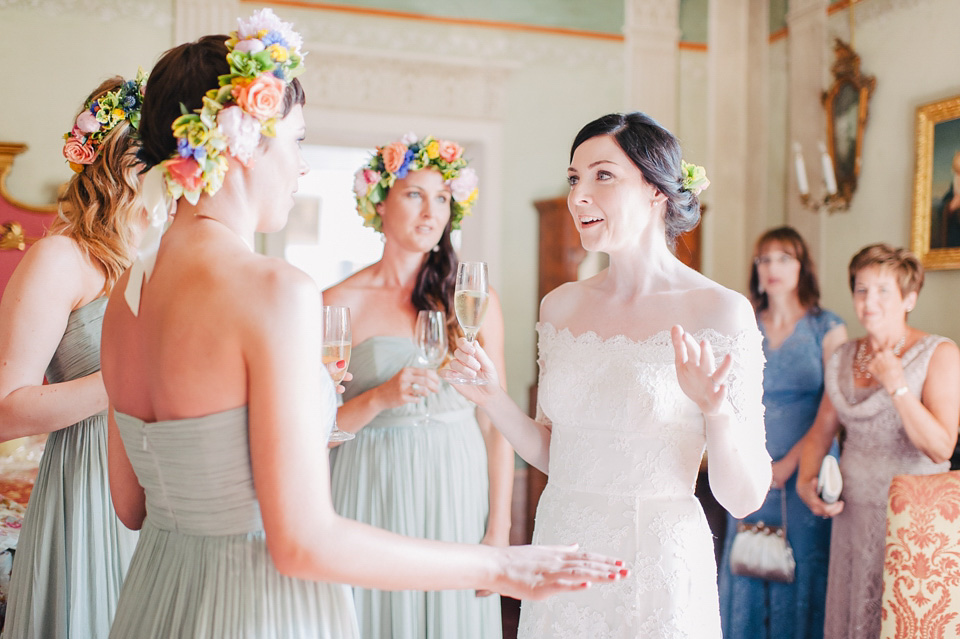 "After going back and forth and trying on numerous veils, short, long etc. I decided not to wear one, as it really didn't feel like me and felt very traditional.  In the end I went with fresh flowers in my hair. I had tried several headpieces and was debating on wearing a floral crown on the day but in the end Giulia who did my hair and make-up suggested that we weave the simple fresh flowers into a crown.
It was simple but echoed the crowns worn by the bridesmaids and I was really happy. I had also intended to switch into a Lady Mary inspired headband before the party but got caught up in all the excitement of the day and only remember the next morning."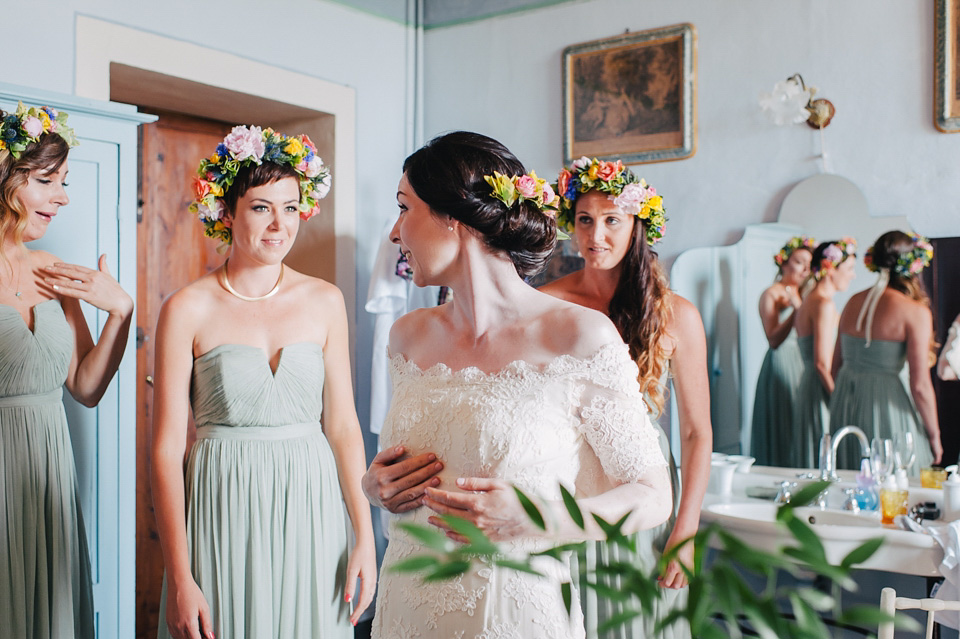 "My shoes and clips were both from Freya Rose London. I have my shoes dyed 'French Blue' to match Andrew's tie as I had always wanted to wear blue shoes. I had originally wanted to splurge on a designer pair of shoes but last Spring I couldn't find any that I liked enough."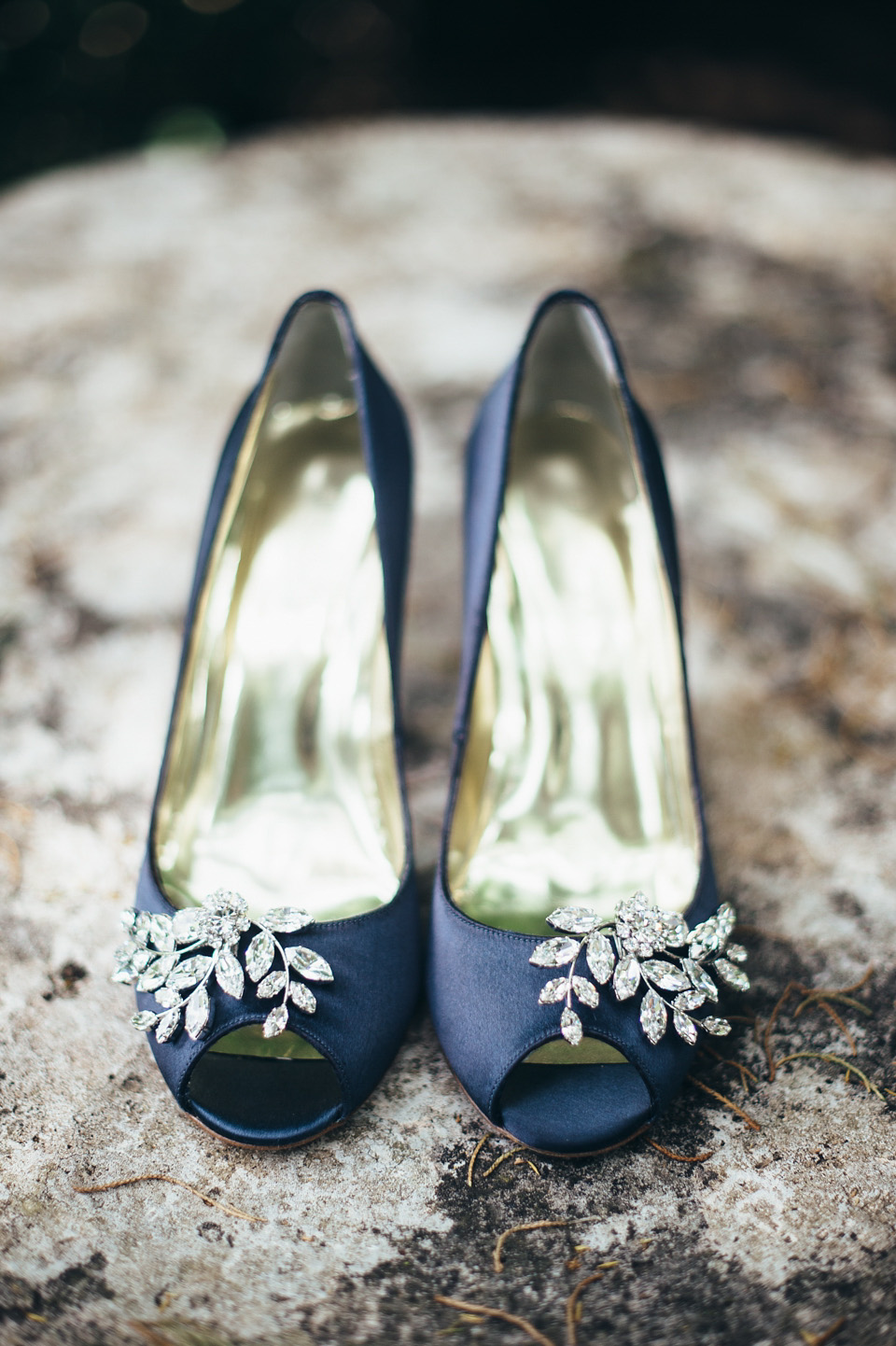 "Andrew's suit was custom made by Alton Lane in New York and Dallas, Texas. As Andrew wears a dark suit to work every day, we wanted to be sure had had something different that didn't feel like a work suit. He went with a light grey summer suit with some stitching details in a bright turquoise. Within the lining he had 'K&A, Toscana, June 21st 2014' embroidered."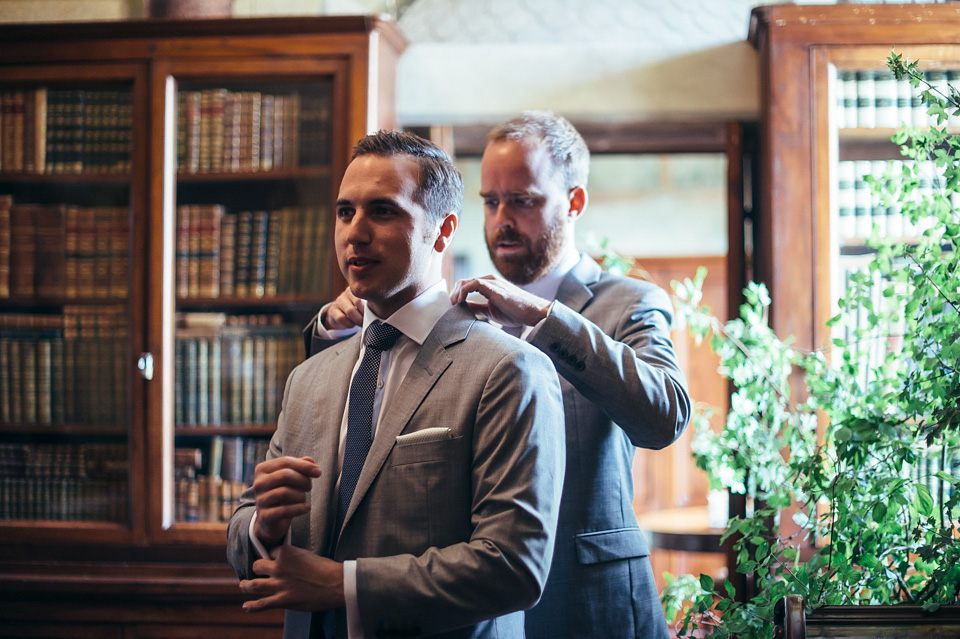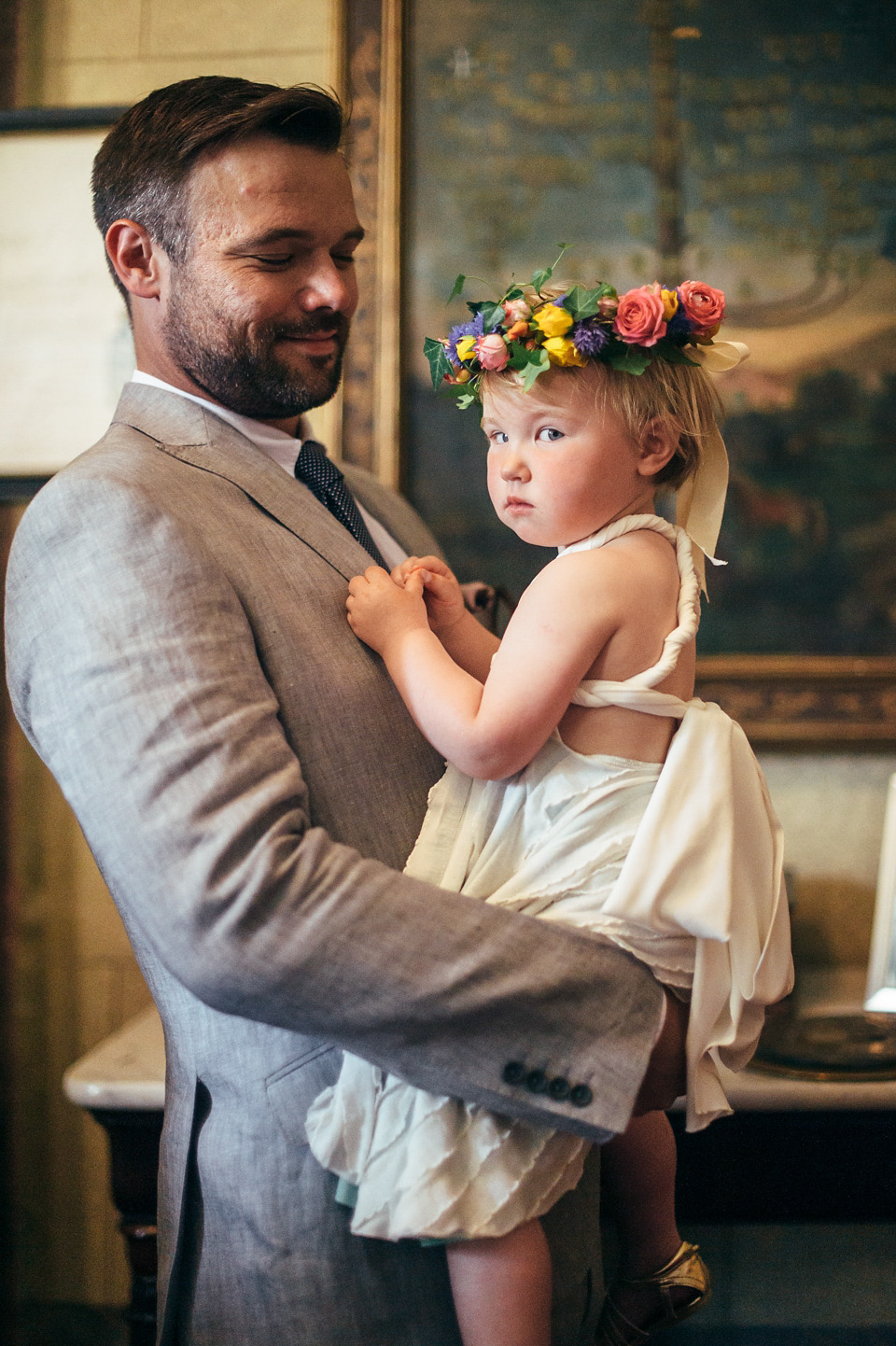 "We weren't too bothered about the groomsmen matching exactly so we asked them to all wear a greyish coloured suit and white shirts of their own. Andrew and all the men also wore French Blue dotted ties from Reiss and Hugo Boss dusty pink coloured socks. We also had silk pocket squares for each in either dusty pink or a patterned shale green."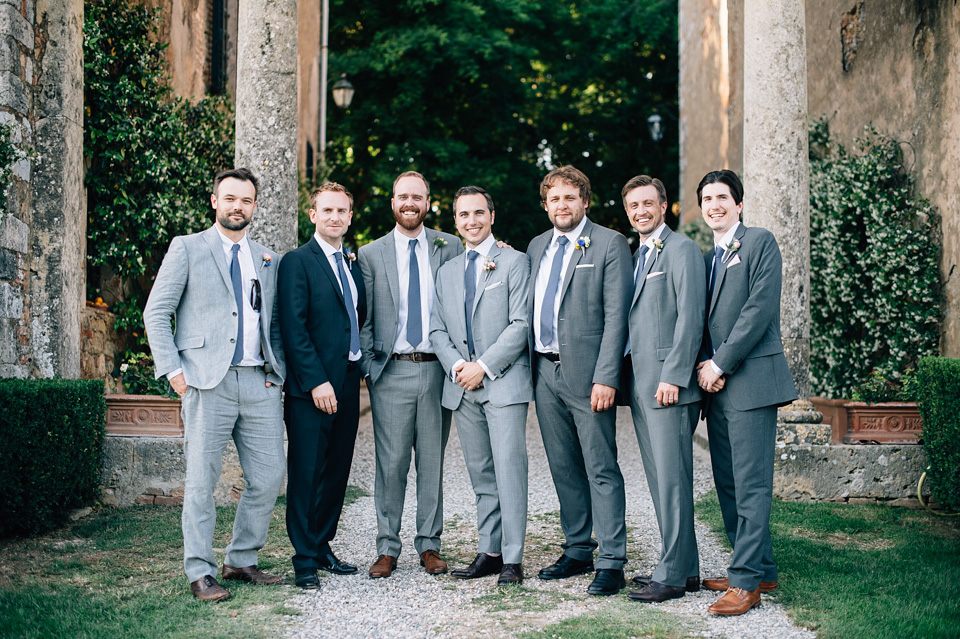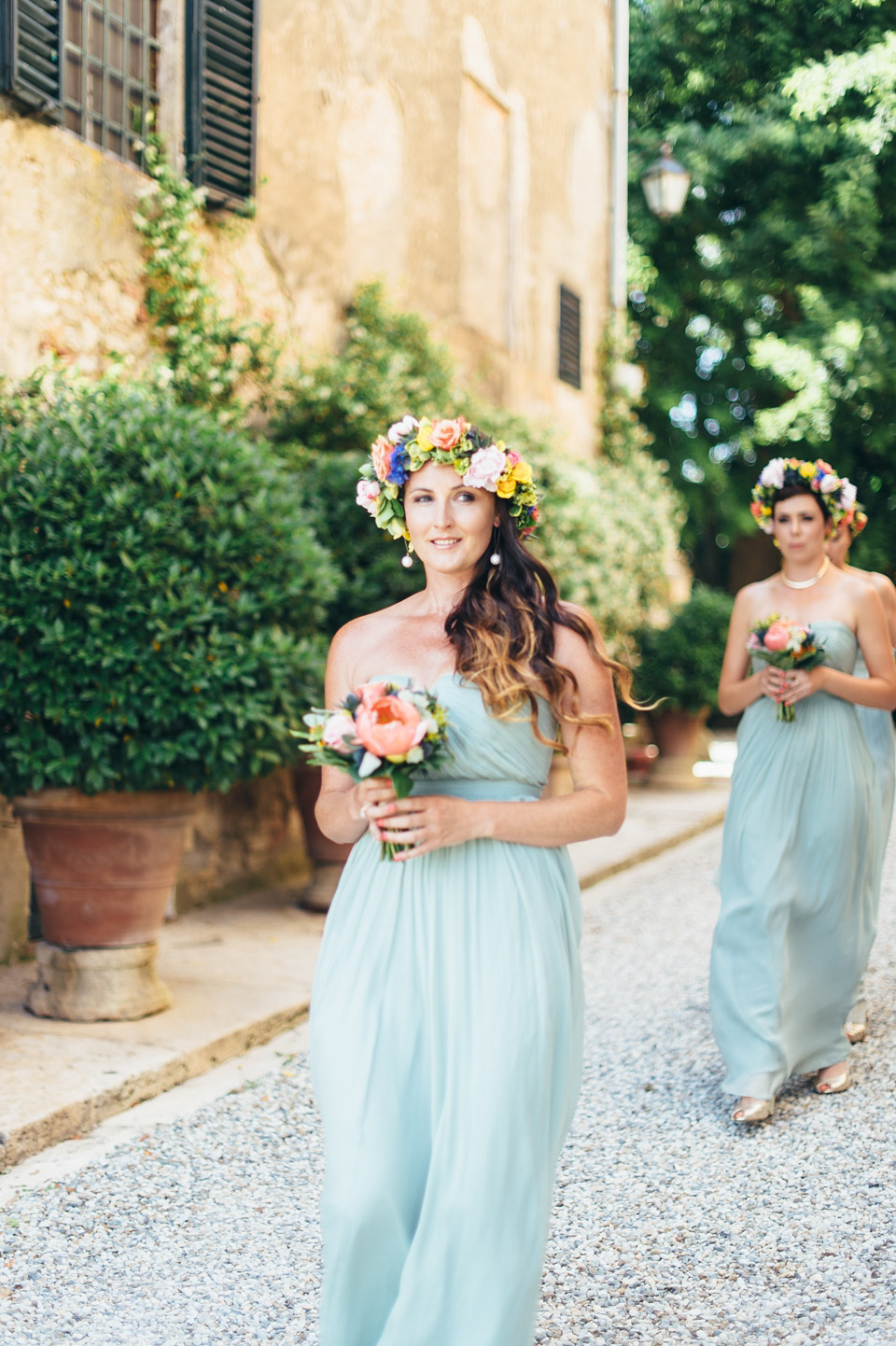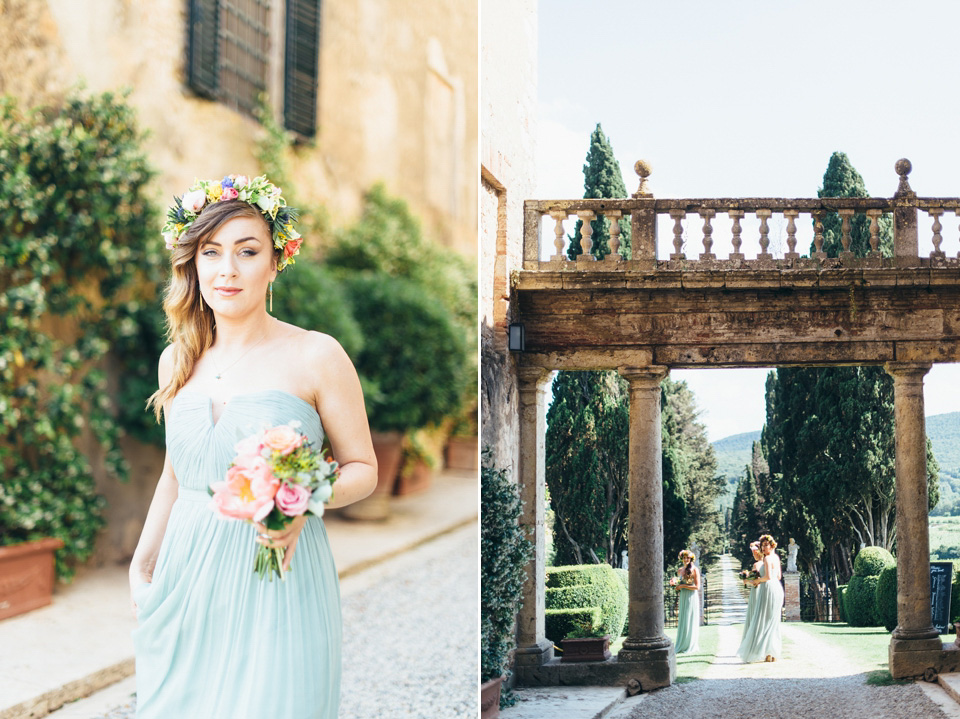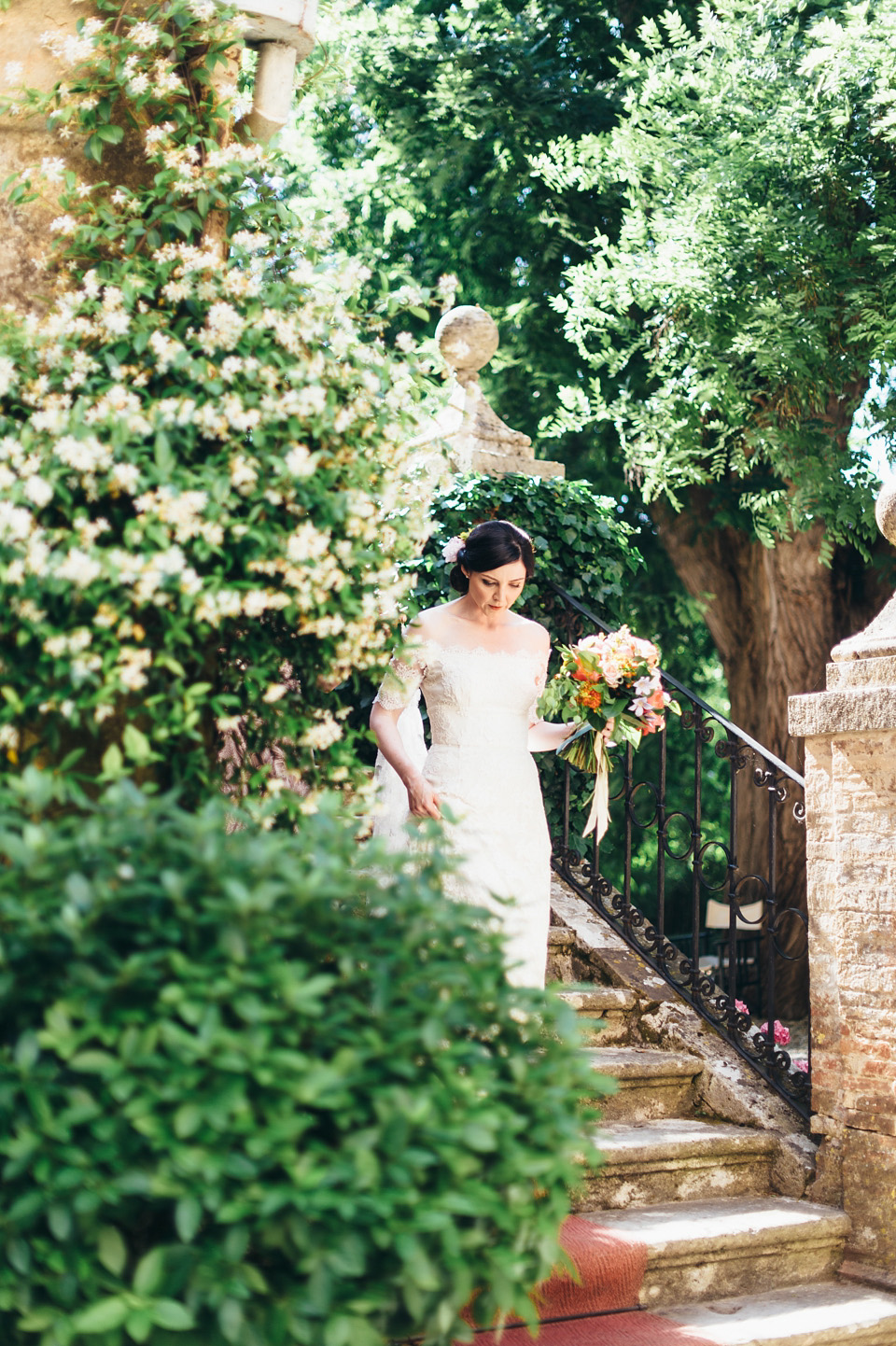 "My Mom walked me down the aisle, though this had always been my intention, I had been so flustered in the run up to the wedding that I didn't ask her until the night before on the way to our welcome drinks reception which was a bit of a faux-pas! Obviously she was incredibly happy to do this and I love the last few minutes we had together before walking down the aisle were really special.
I walked down the aisle to Beach House's 'Zebra.' We had two classical guitarists who learned the song just for us for our day. Andrew and I walked up the aisle to a classical guitar version of the Smashing Pumpkins' 'Today'.e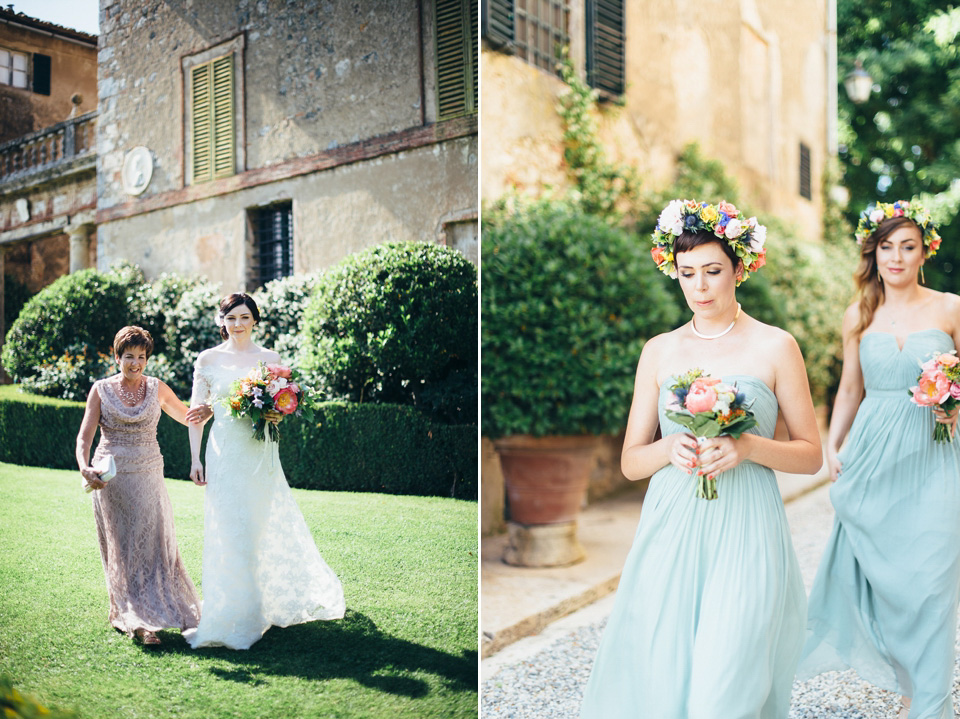 "Our friends' little girl Matilda acted as our little flower girl and I found her a really cute little 'octopus' wrap dress from Etsy. The little dress was lined in the same dusty shale colour as the bridesmaid dresses and we had a little floral crown made for her and gold sandals from H&M to match the bridesmaids shoes. She looked absolutely adorable on the day."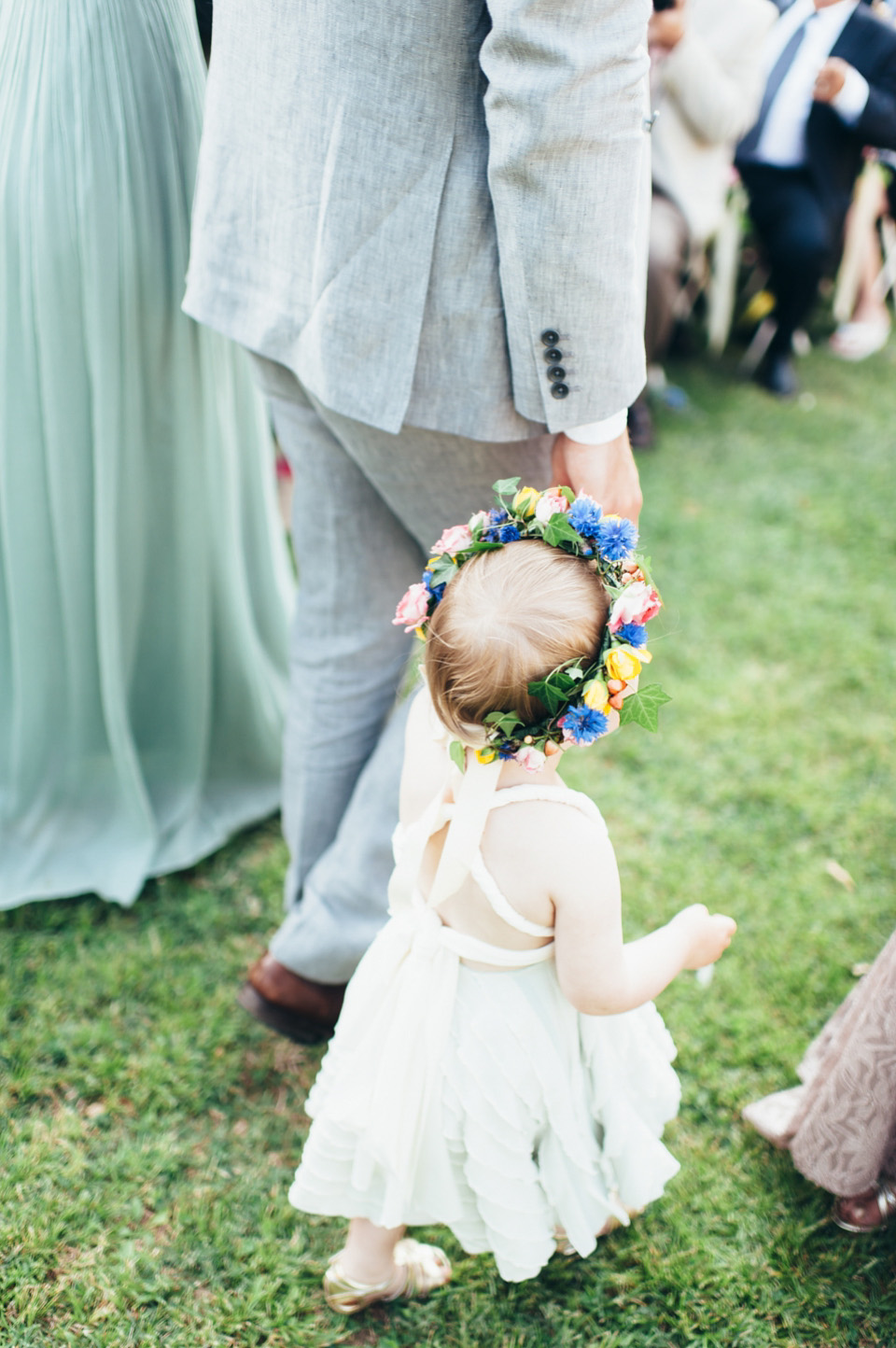 "We opted for the traditional wedding vows and in addition to this, our celebrant Elena has also asked that we each answer several questions for her that the other was not aware of.  This made our ceremony incredibly personal and also resulted in a lot of unexpected laughter and smiling from us both as well as the crowd. Looking back this was one of our most surprising and most cherished moments of the day."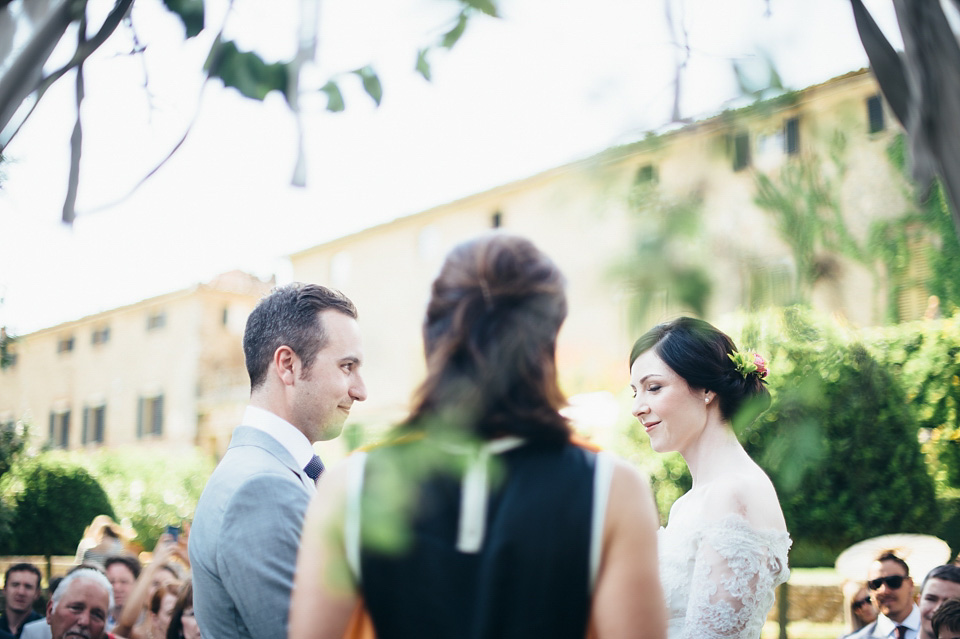 "We had three readings incorporated into our ceremony. The first was William Shakespeare's Sonnet 116 read by Andrew's brother Matthew – selected as a reading in honour of Andrew's high school theatre days.  We then had had two short poems read by my friend Zoe who had travelled all the way from Vancouver. The first was 'I Carry Your Heart With Me', by E.E. Cummings and the second was 'Some Things Go Together', by Charlotte Zolotow.
The E.E. Cummings piece was selected as it is a lovely poem that Zoe and I both love and our third reading was chosen simply because I happened to discover it one day, I felt it was simple, sweet and well-suited to us."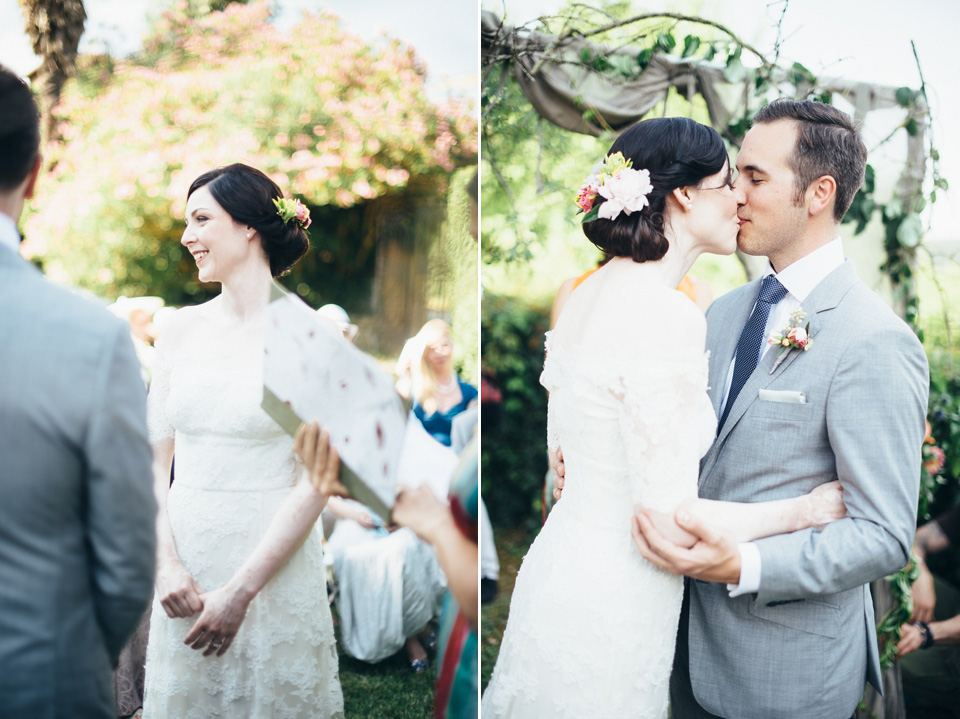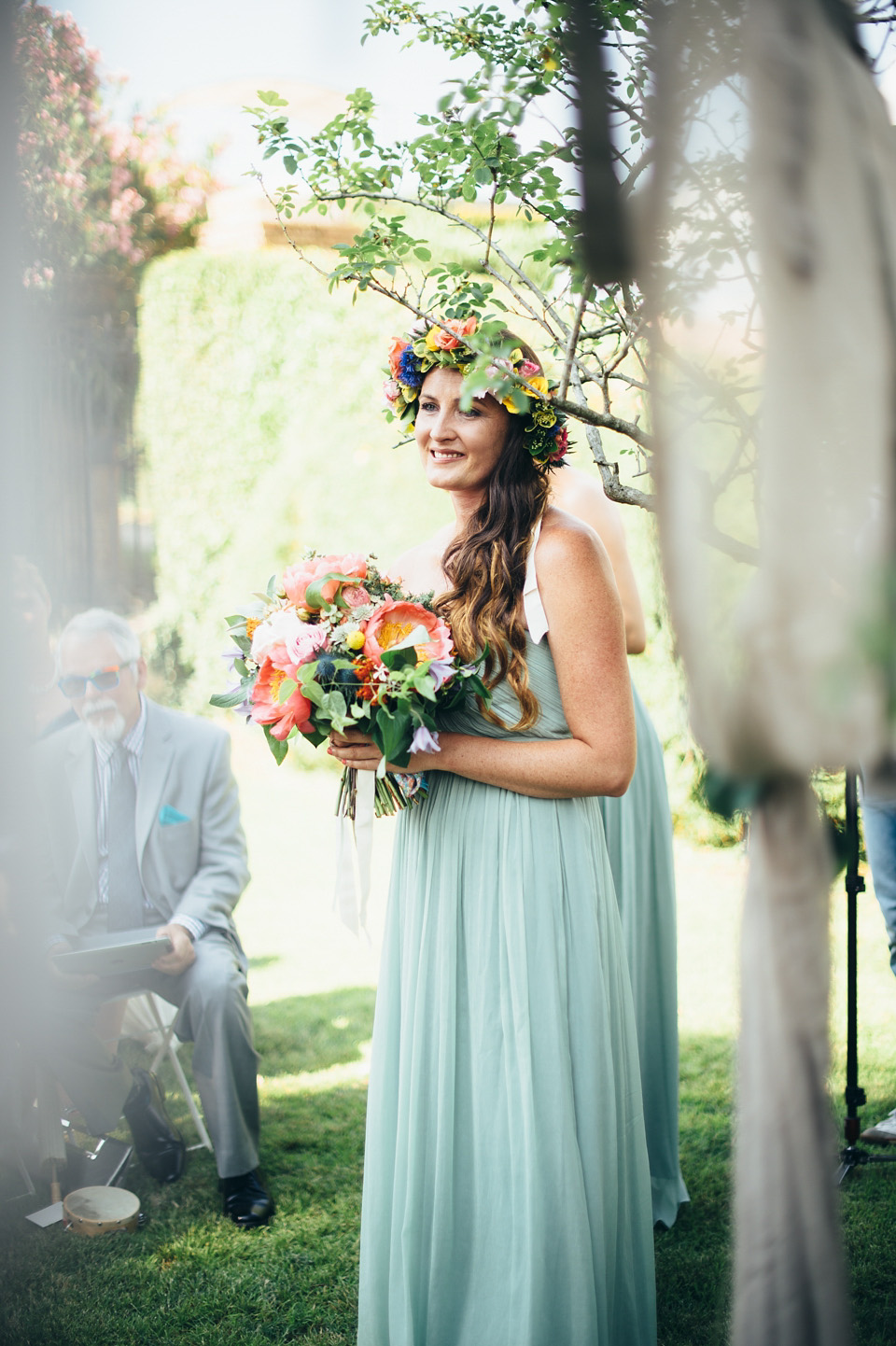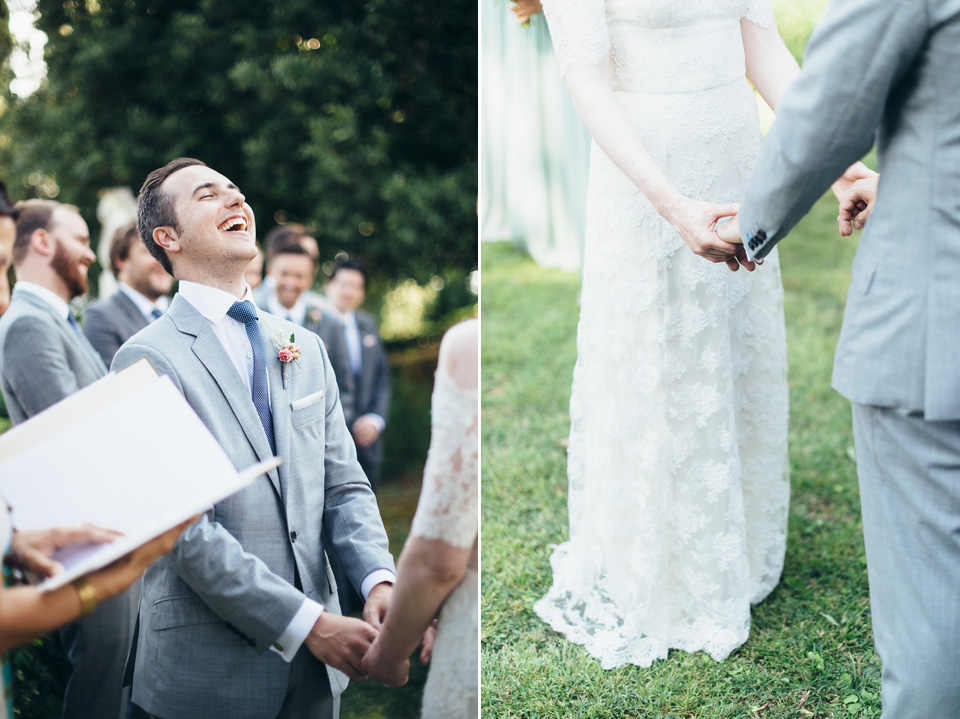 "We spent a few hours walking up and down Hatton Garden one afternoon last Spring. Andrew selected a plain platinum band and I have a platinum band with a line of diamonds, my ring fits perfectly with the setting on my engagement ring."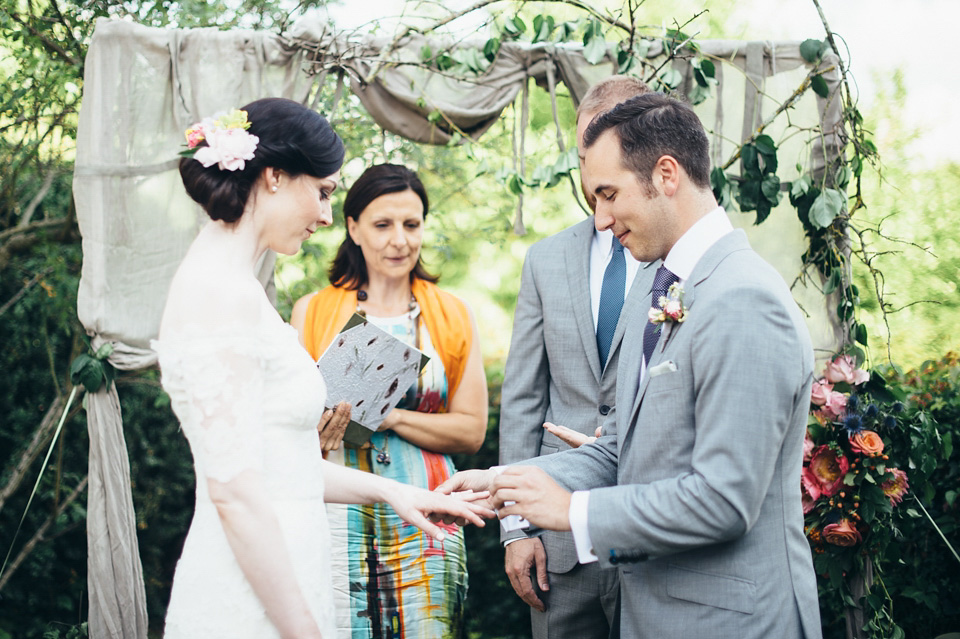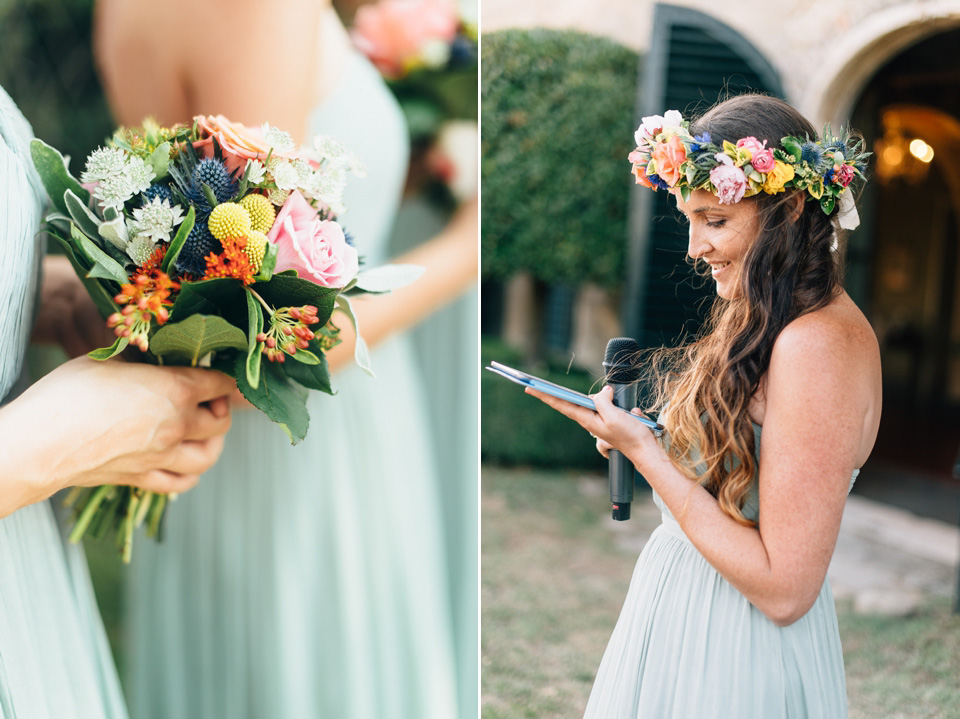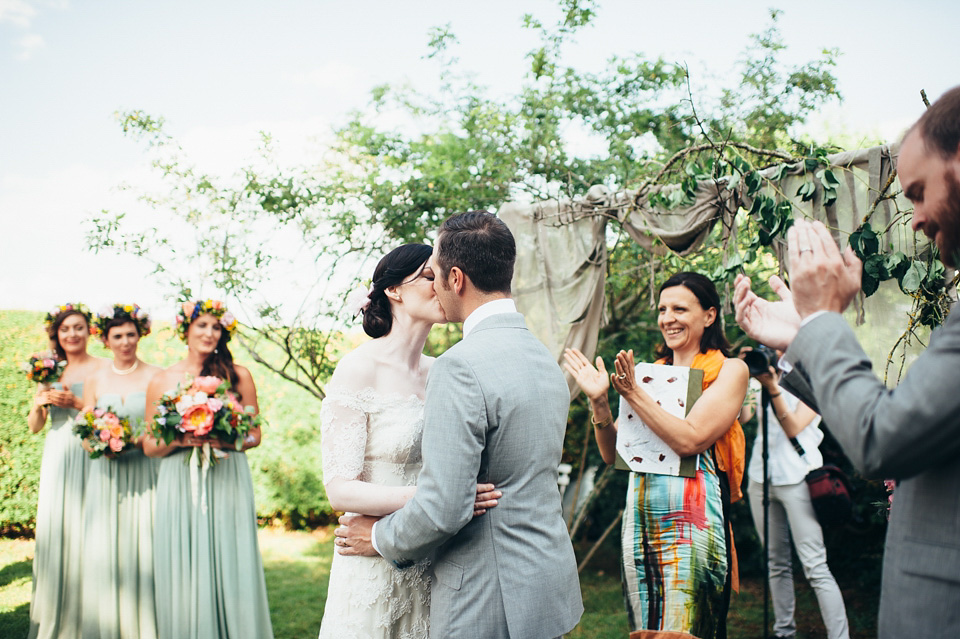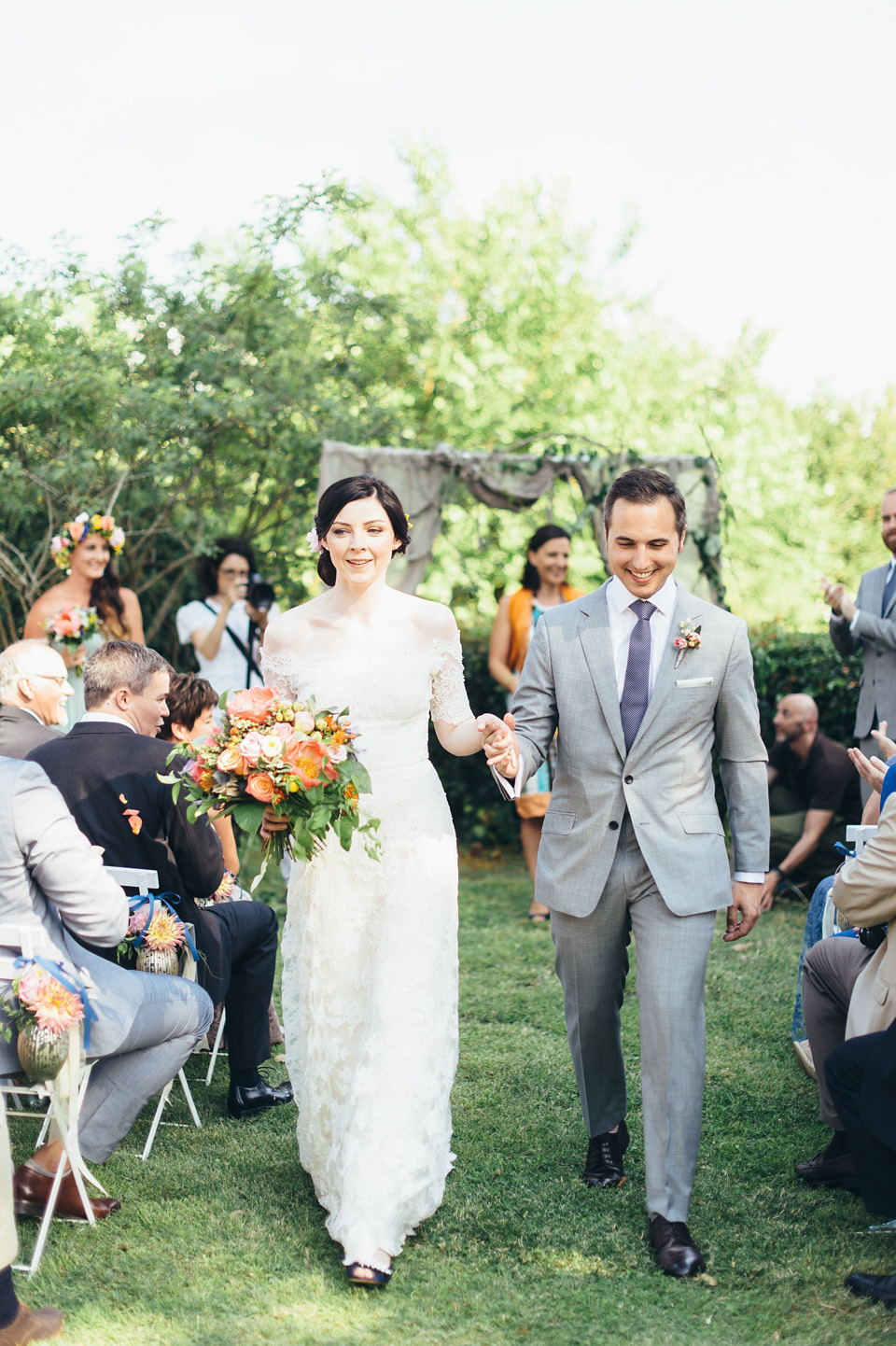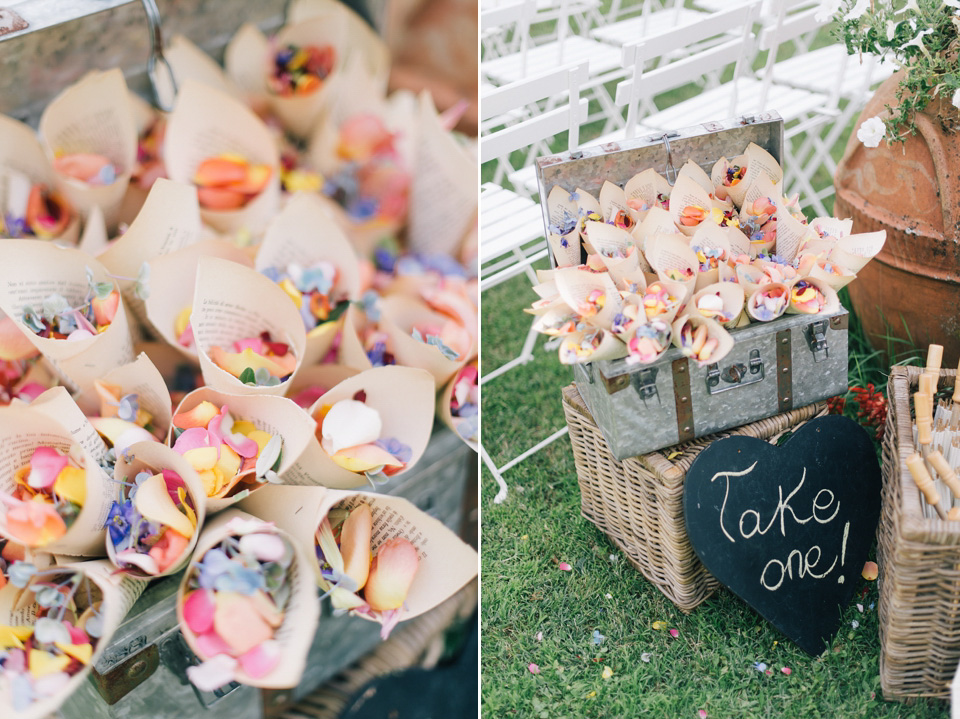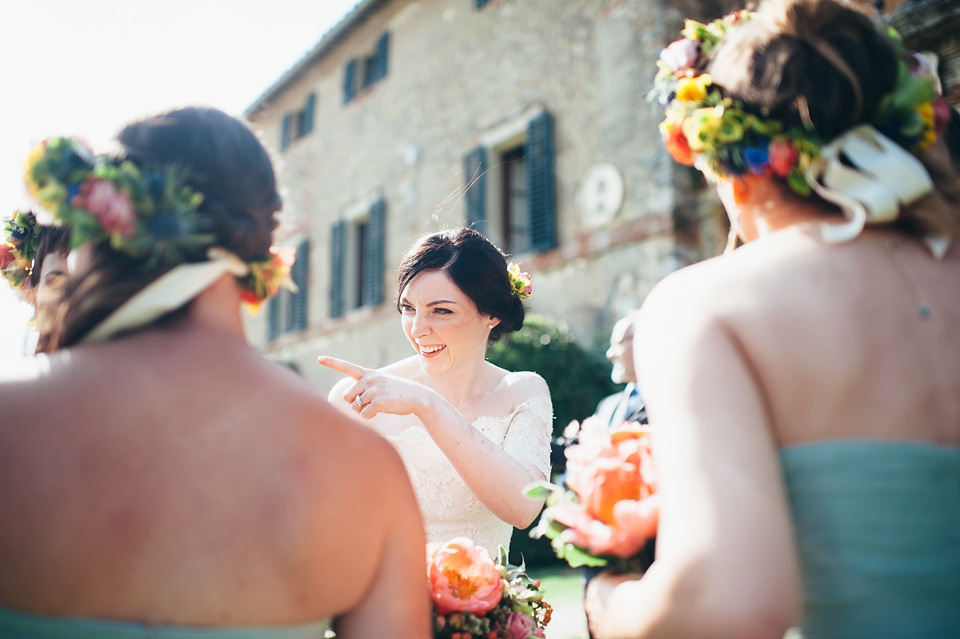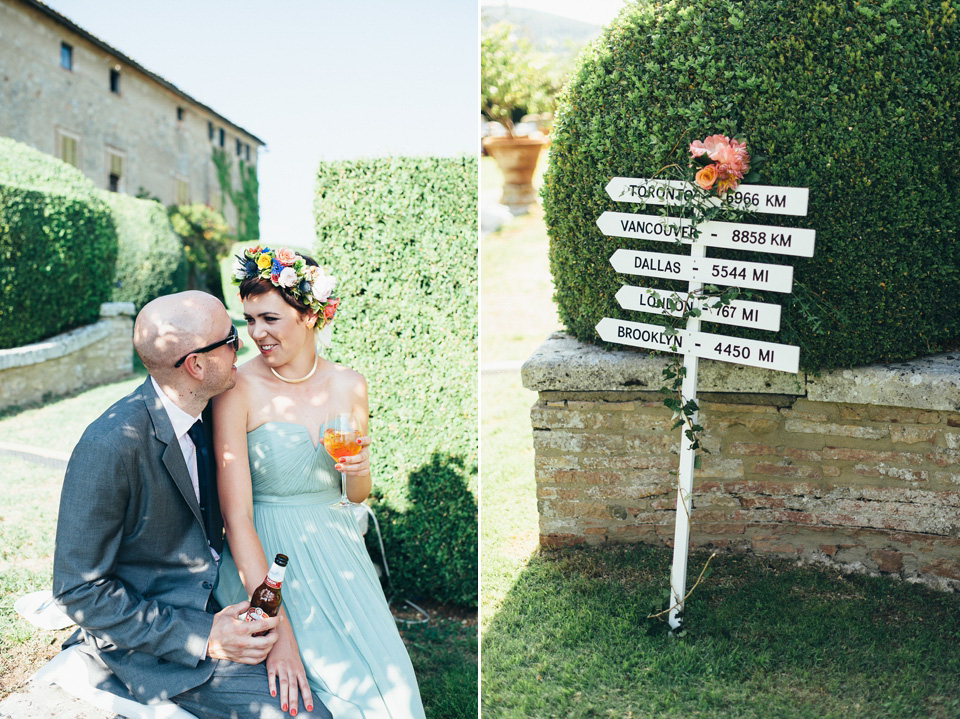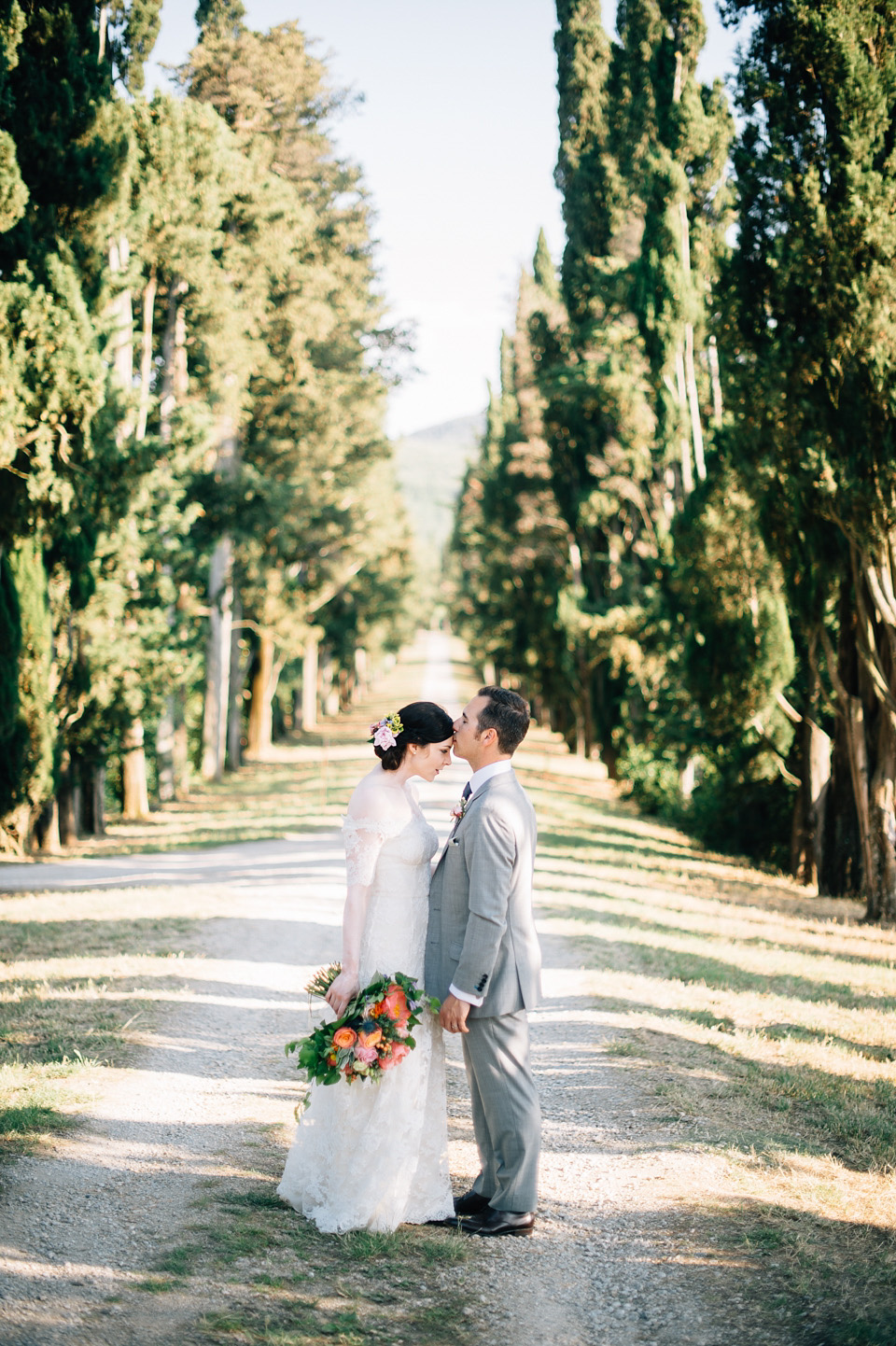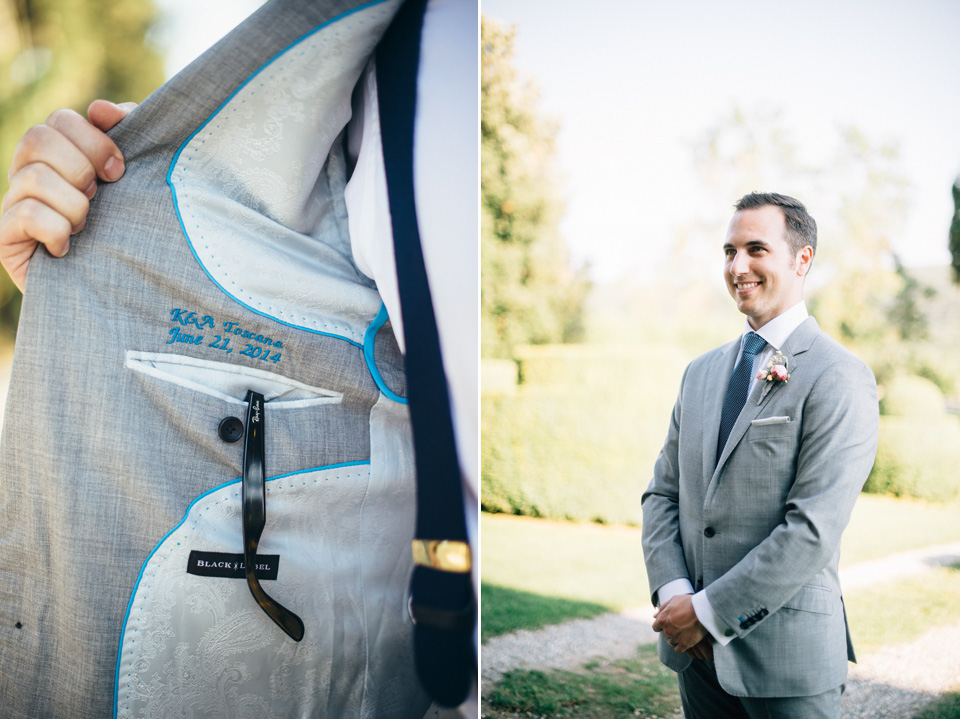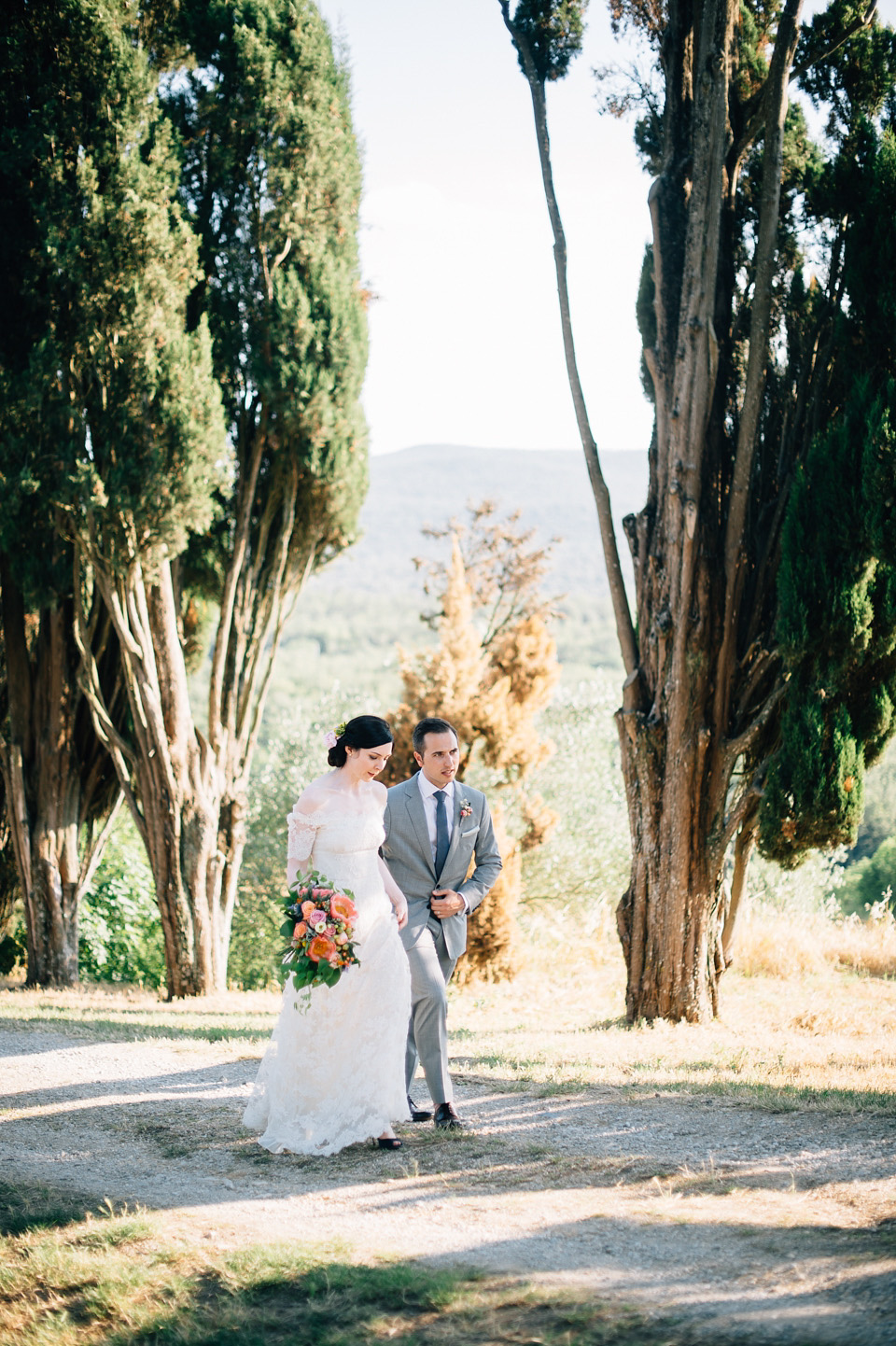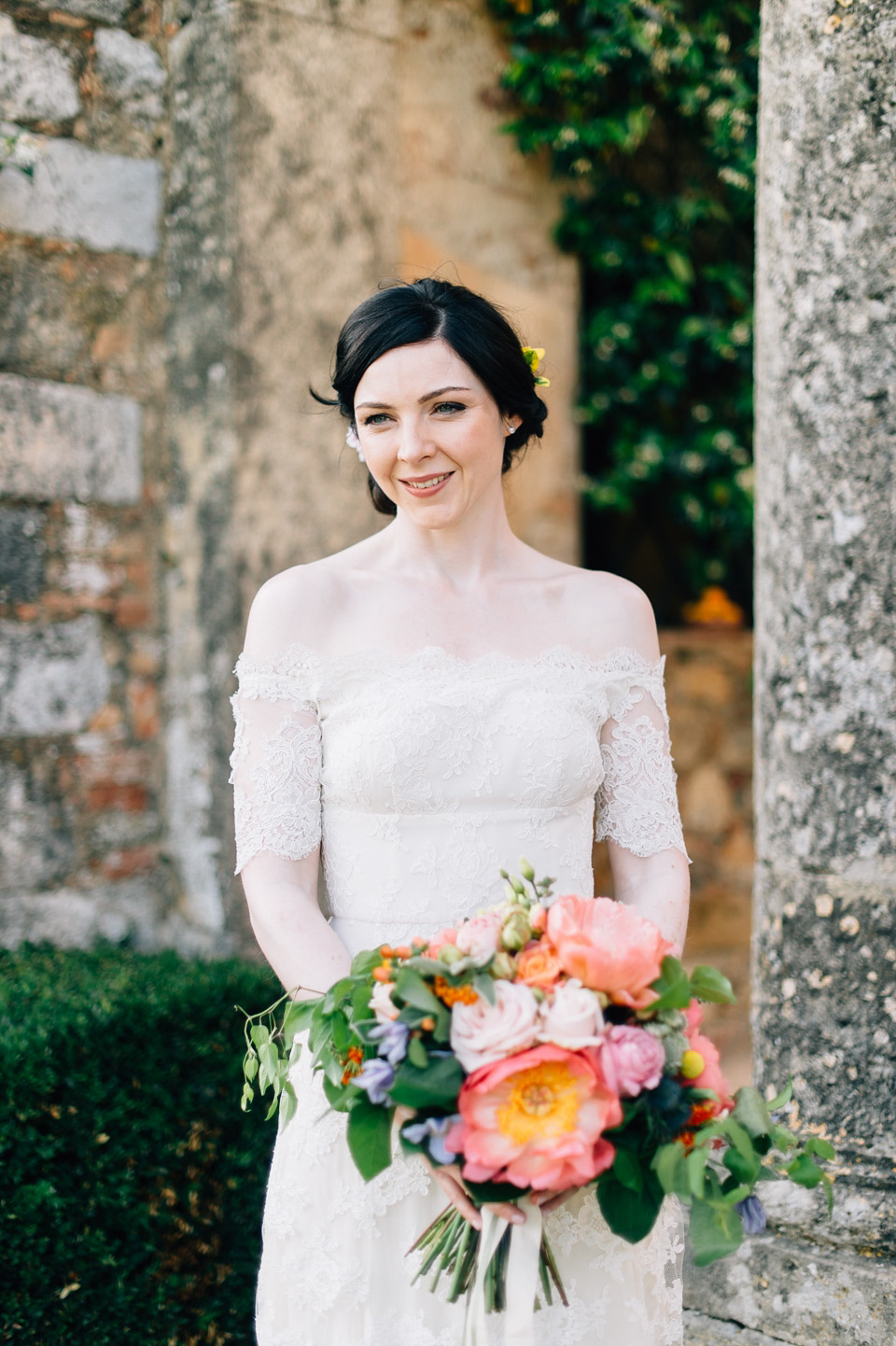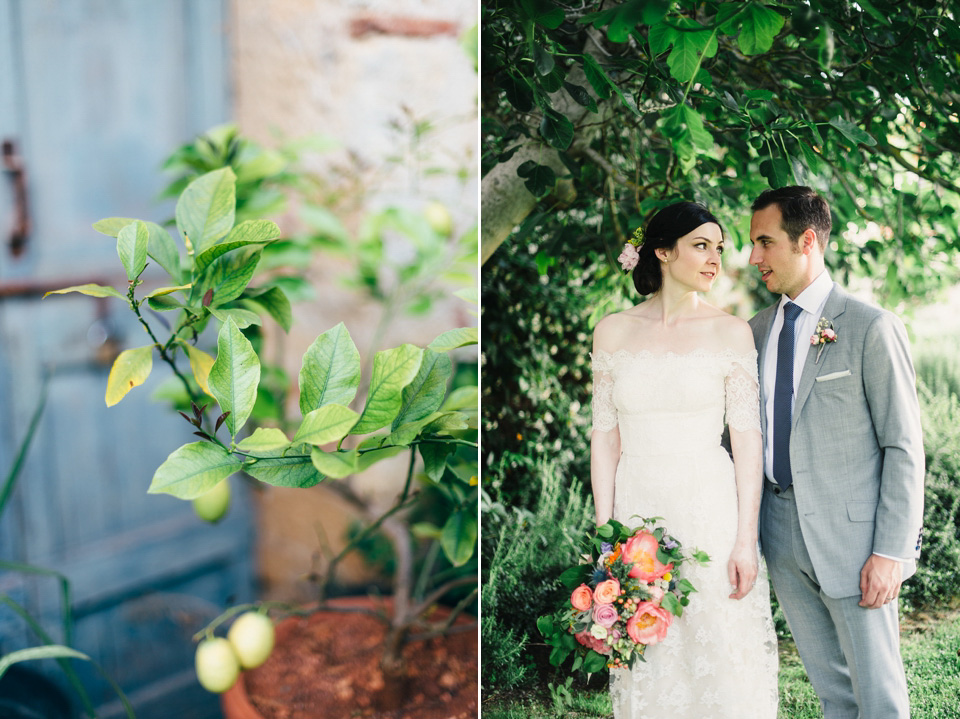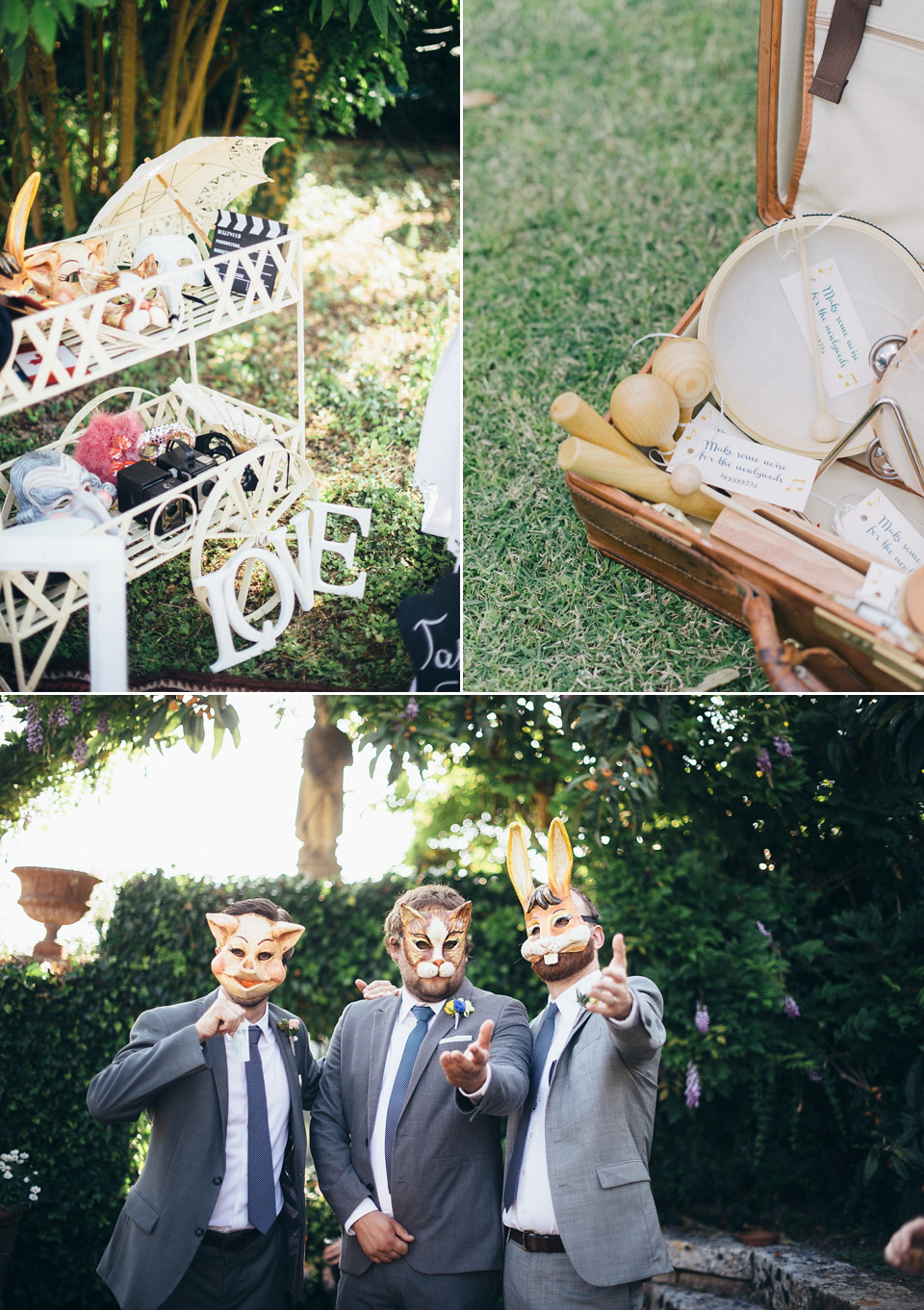 "Some pieces of vintage furniture were assembled to create a seating and photo area during the cocktail hour, this was later moved beside the pool for the reception. On a table nearby we have vintage pictures of our parents and grandparents on their wedding days. We also had a painted directional sign that my stepdad Ray made for us and brought all of the way from Canada in his suitcase."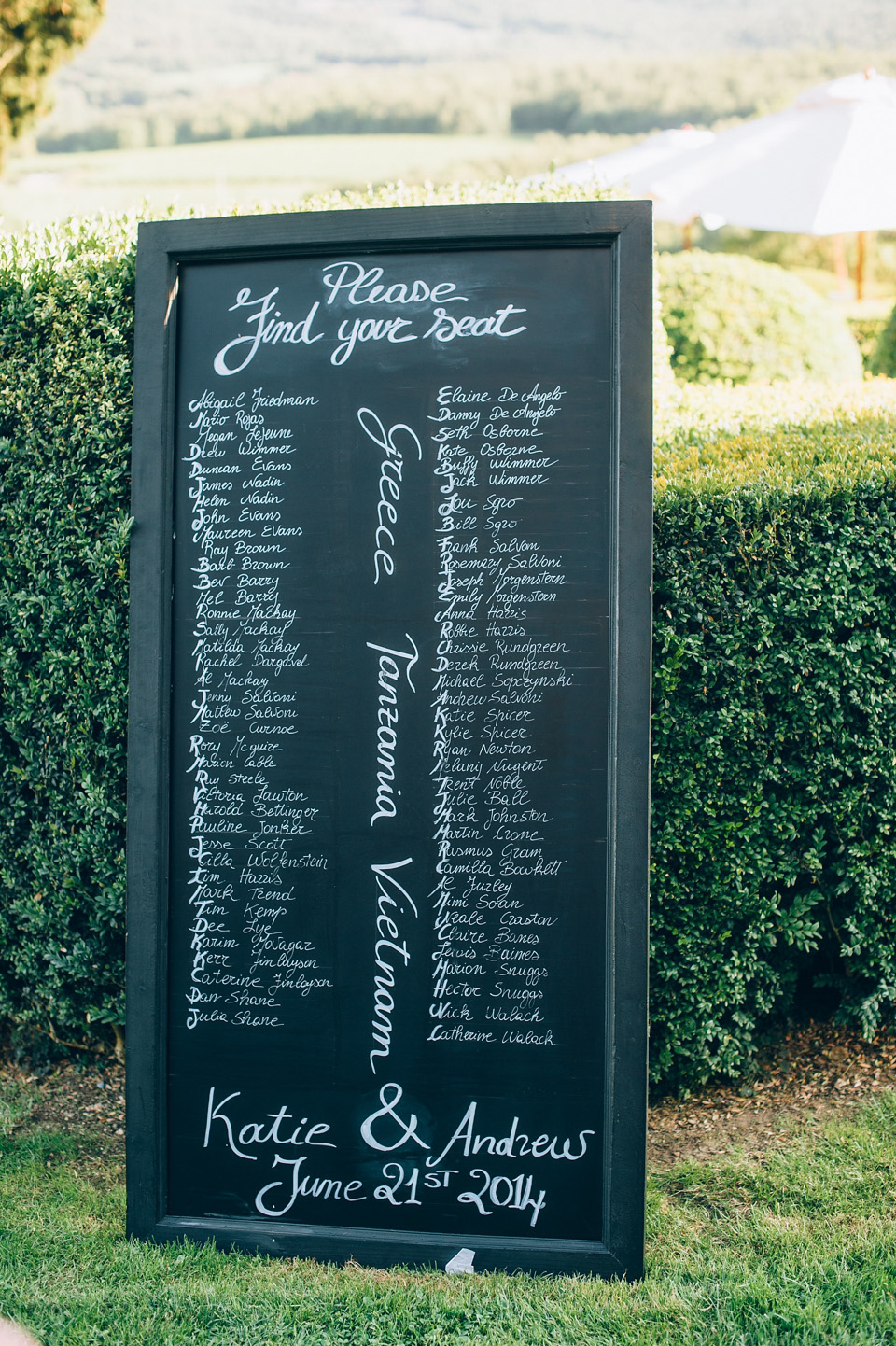 "The floral and greenery table runner on the rustic table was also primary to our décor and we had a little 'Love' sign that we brought with us to be set in front of us on the table. The greenery of the runner was filled with seasonal white roses, pink seasonal flowers and peonies. We also had small globes dividing the tables into sections representing a few of the trips we have been on together in Vietnam, Greece and Tanzania."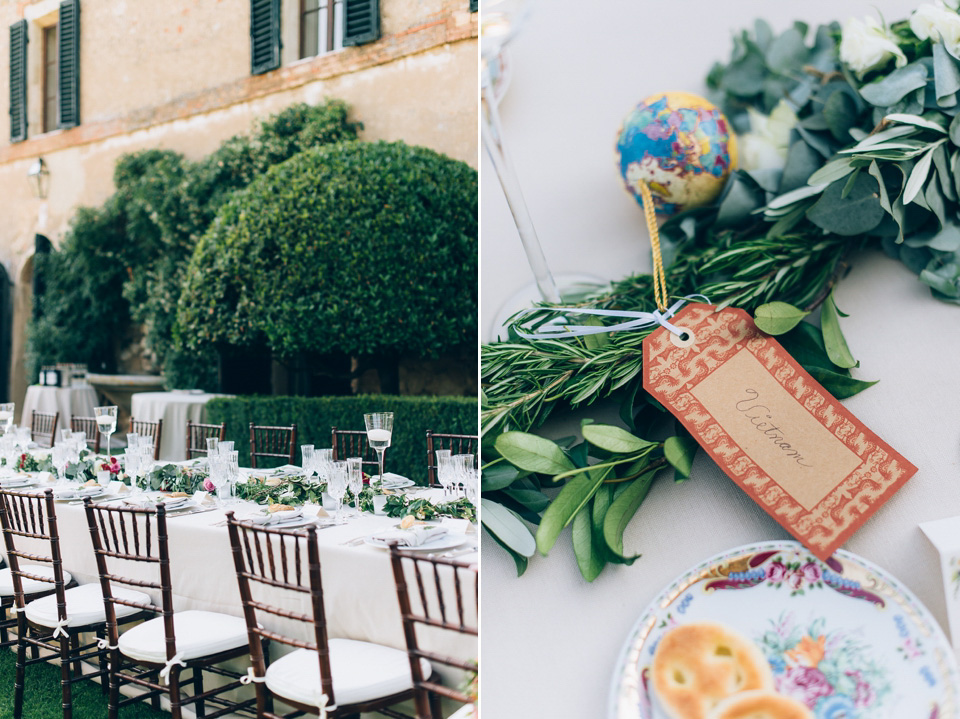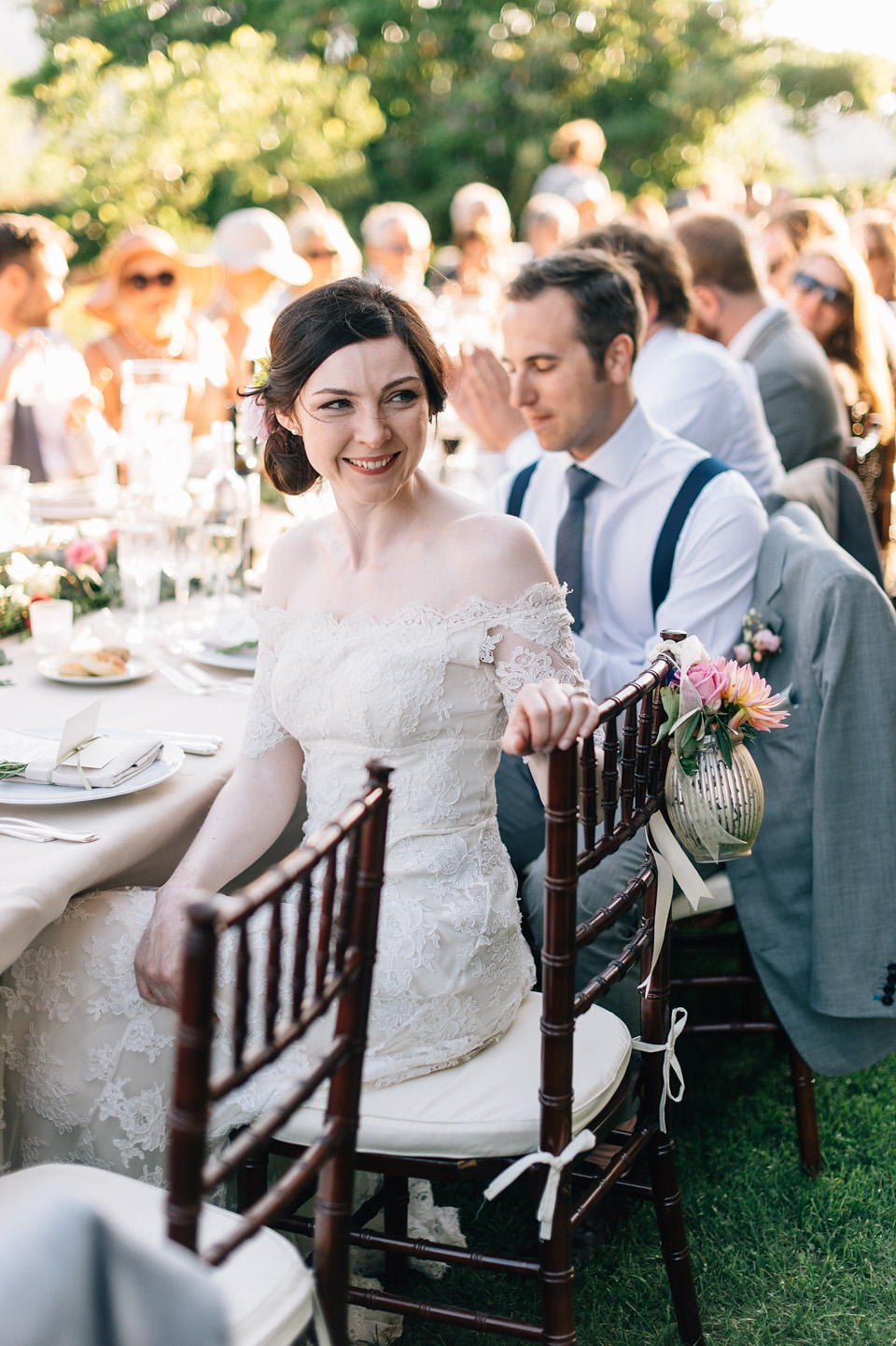 "Galateo from Florence were the caterers. We were a bit concerned that using a larger catering company would mean we would compromise on the quality and freshness of the food as we love eating local seasonal food when we are in Italy but Galateo did such an amazing job and everything was incredible including the service. For the cocktail hour we served Prosecco (of course!) and Aperol Spritz along with a tomato and mozzarella bar."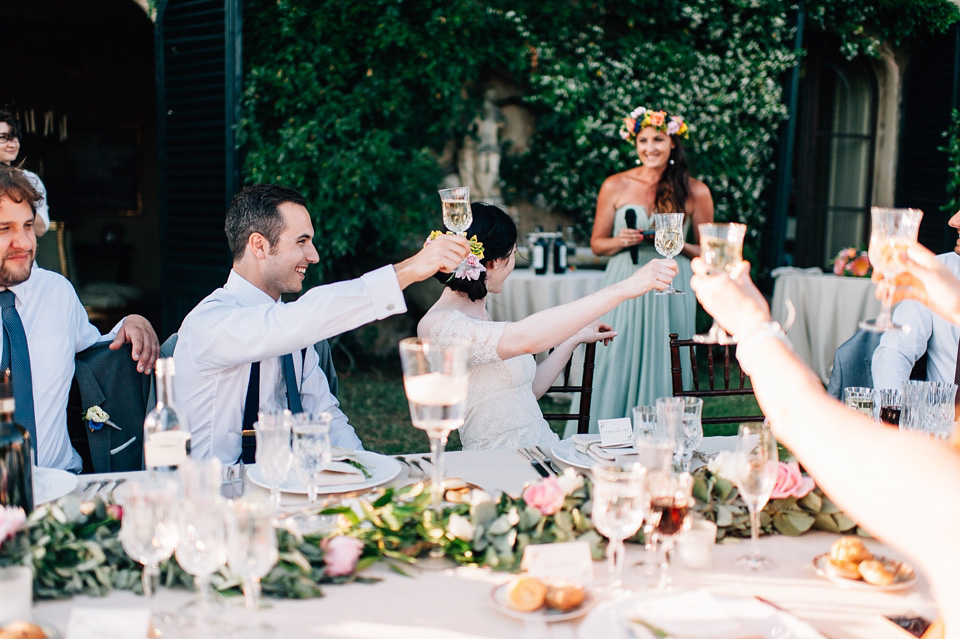 "We had personalised cookies packaged for guests to take home from Bee's Bakery in London. Some had our initials, some the date and others said 'Yay' and 'Whoa.'"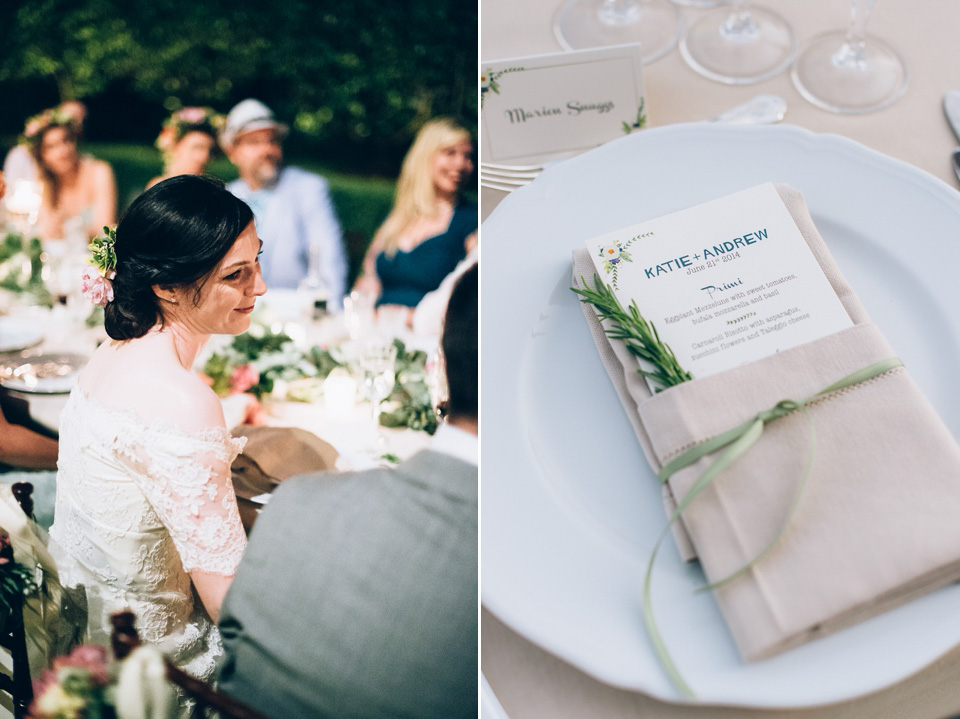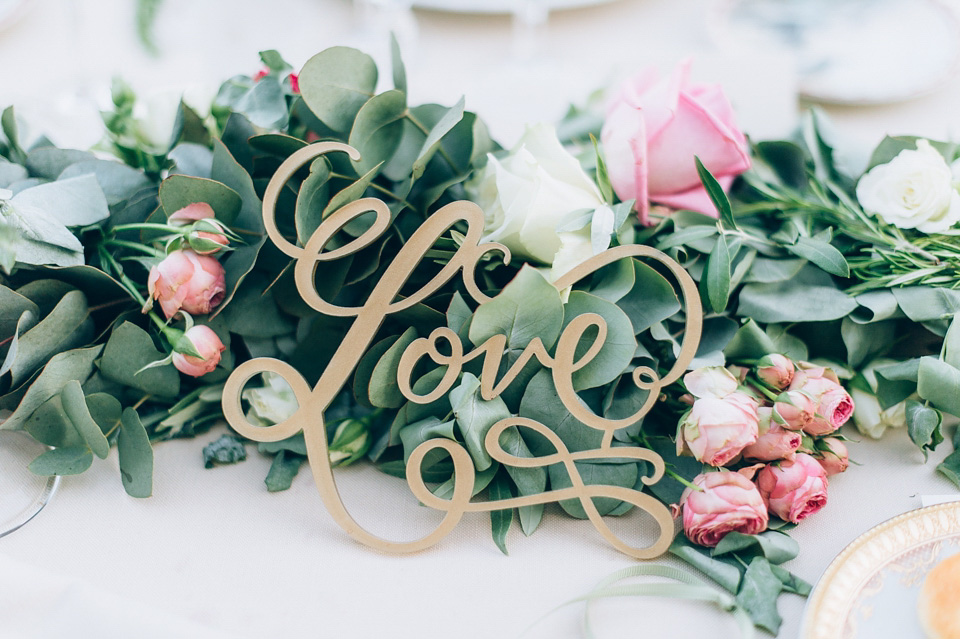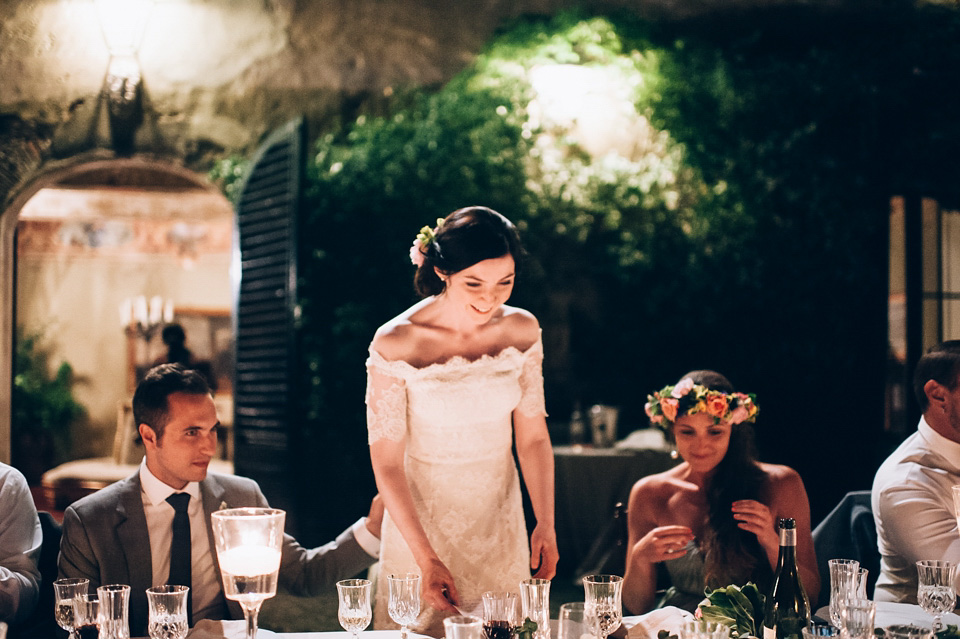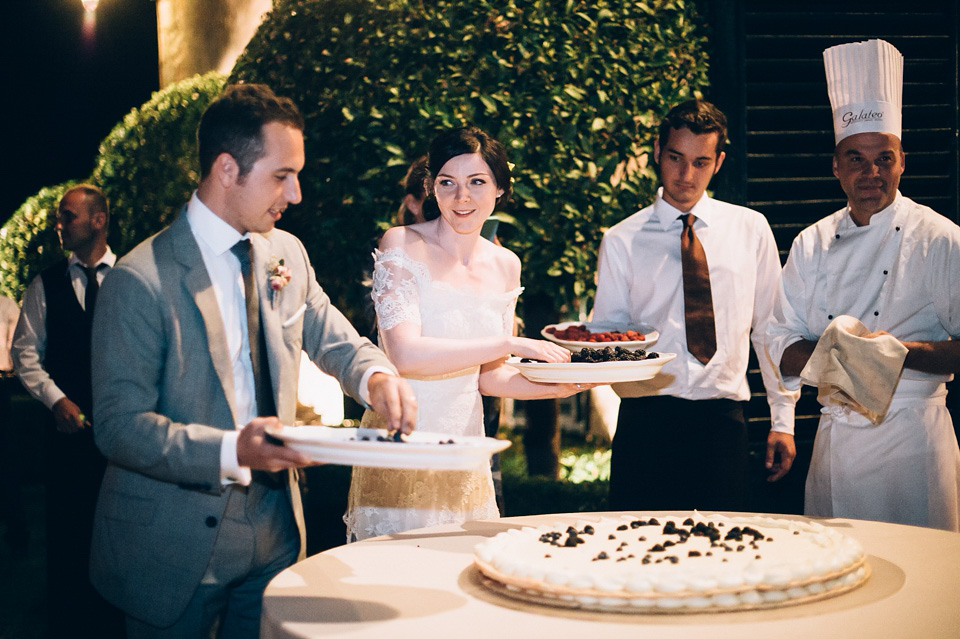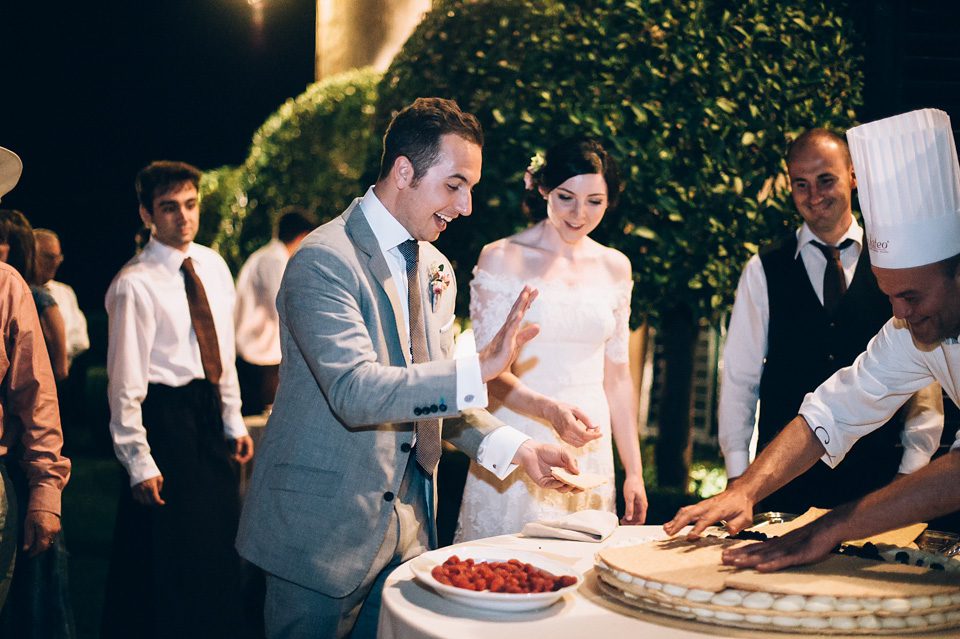 "Our cake was a traditional Millefoglie cake with fresh berries and Chantilly cream. The chef layered the cake in front of the guests and Andrew and I also participated by adding a layer of fruit. It was fresh and light and delicious and perfect after our 4 course rustic Italian meal that included both risotto and pasta."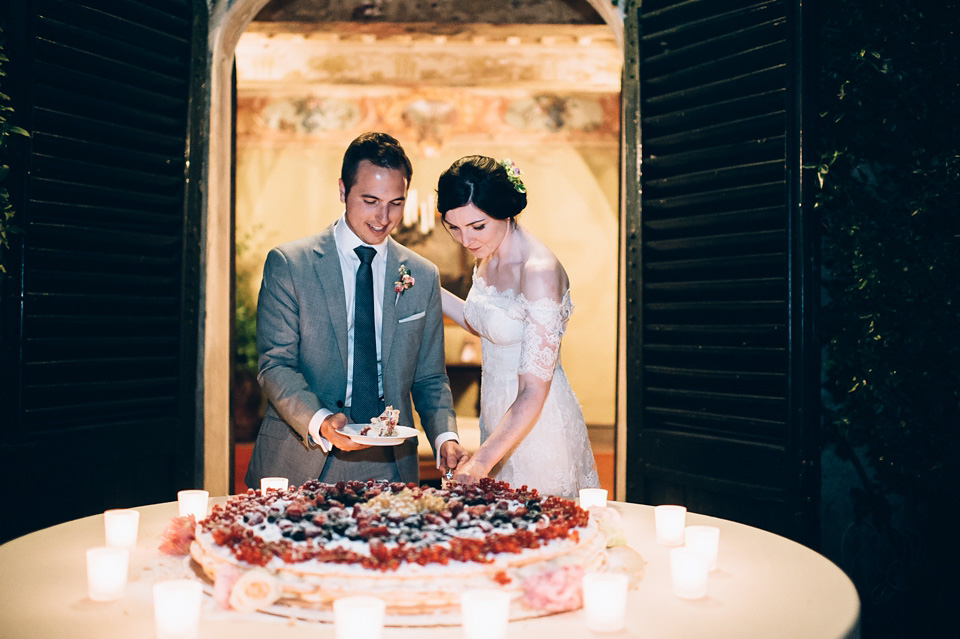 "We had the Last Minute Dirty Band, from Florence who were amazing! We love 50s and 60s music and we actually first saw them at the little locals bar in Monteriggioni called the 'Bear Bar' (Bar dell'Orso). They were playing there one Saturday night when we were in Italy for the legal paperwork and a site visit and happened to be having dinner at the pub. Lucky for us they were available the night of our wedding!
The entertaining team and chefs from the bar also catered our hangover barbecue for our guests the day after the wedding."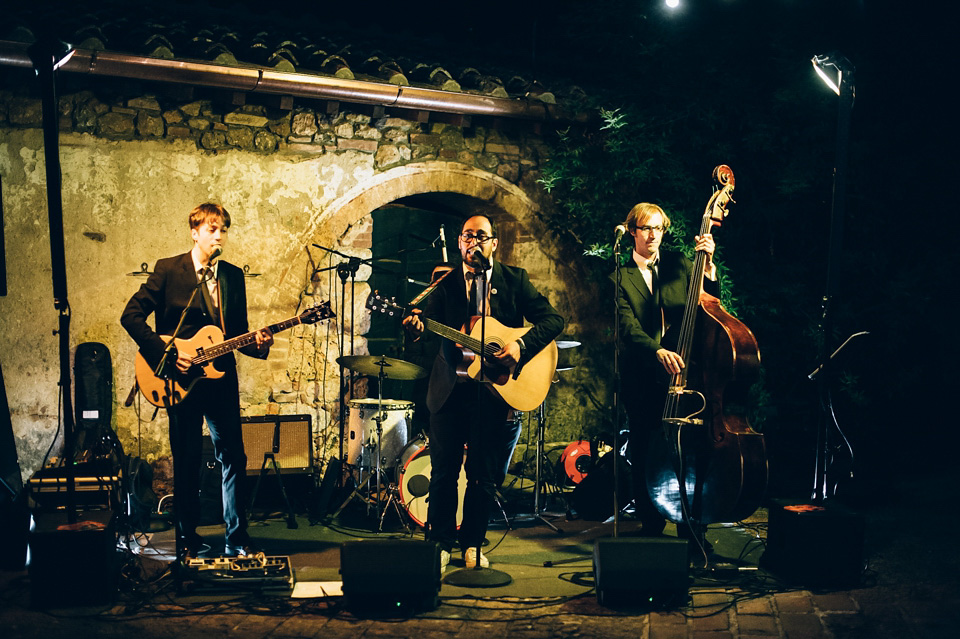 "It's too difficult for us to pick just one favourite moment of our wedding. We had the most magical 10 day adventure in Italy, a week with our two families in the countryside before the wedding and an incredible 3 days celebrating with friends from near and far."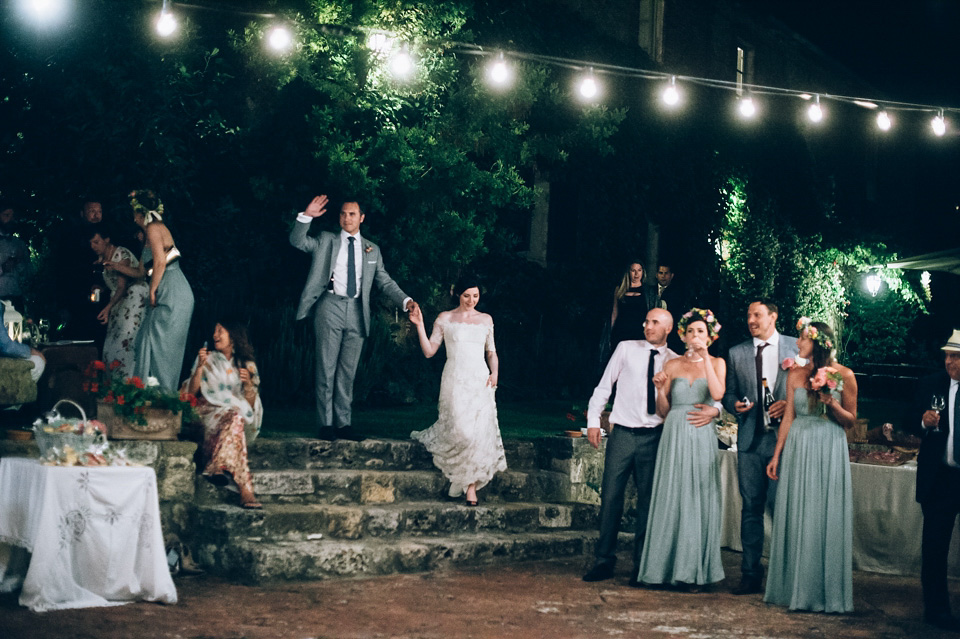 "Our first dance was to Cat Powers' 'Sea of Love'. We had wanted to use Santo & Johnny's 'Sleepwalk' but thought it could be a bit difficult for a live band. My 90s self also loved the Cat Power version of Sea of Love so, we went with it! Sara our wedding planner surprised us and set-up 'Sleepwalk' to play while we cut the cake which was so sweet of her."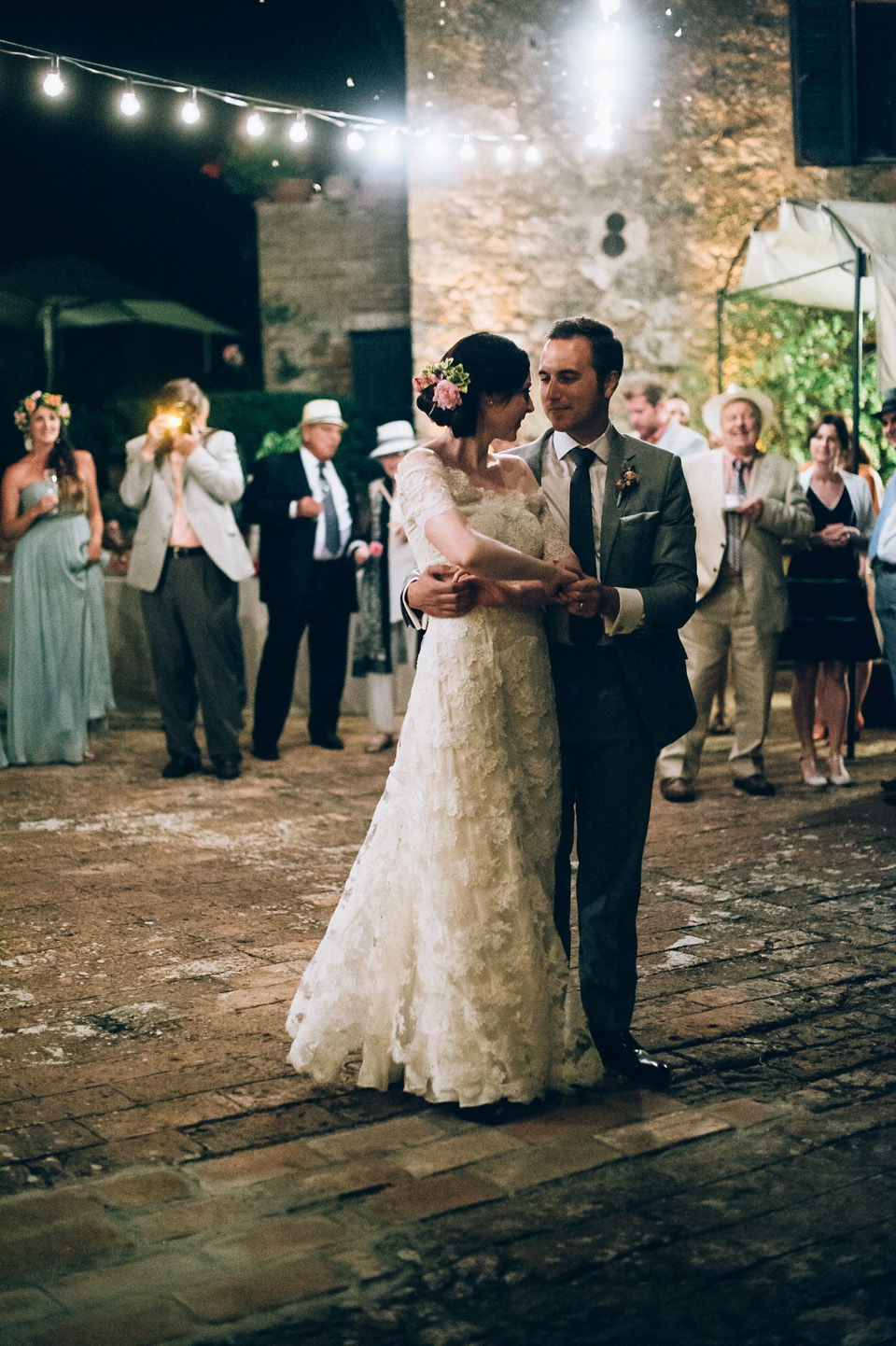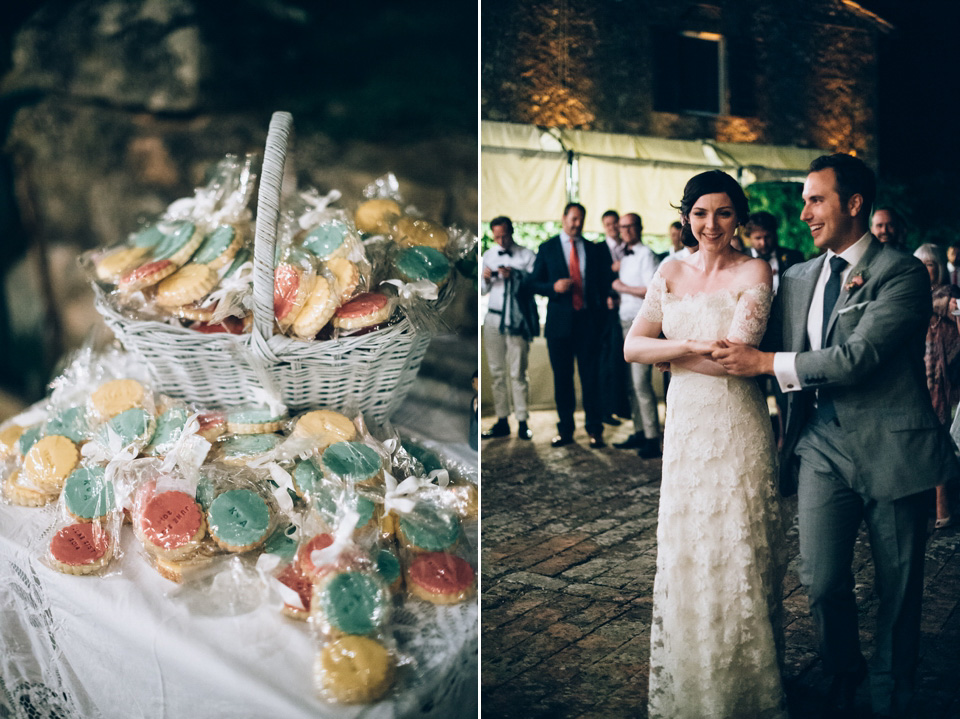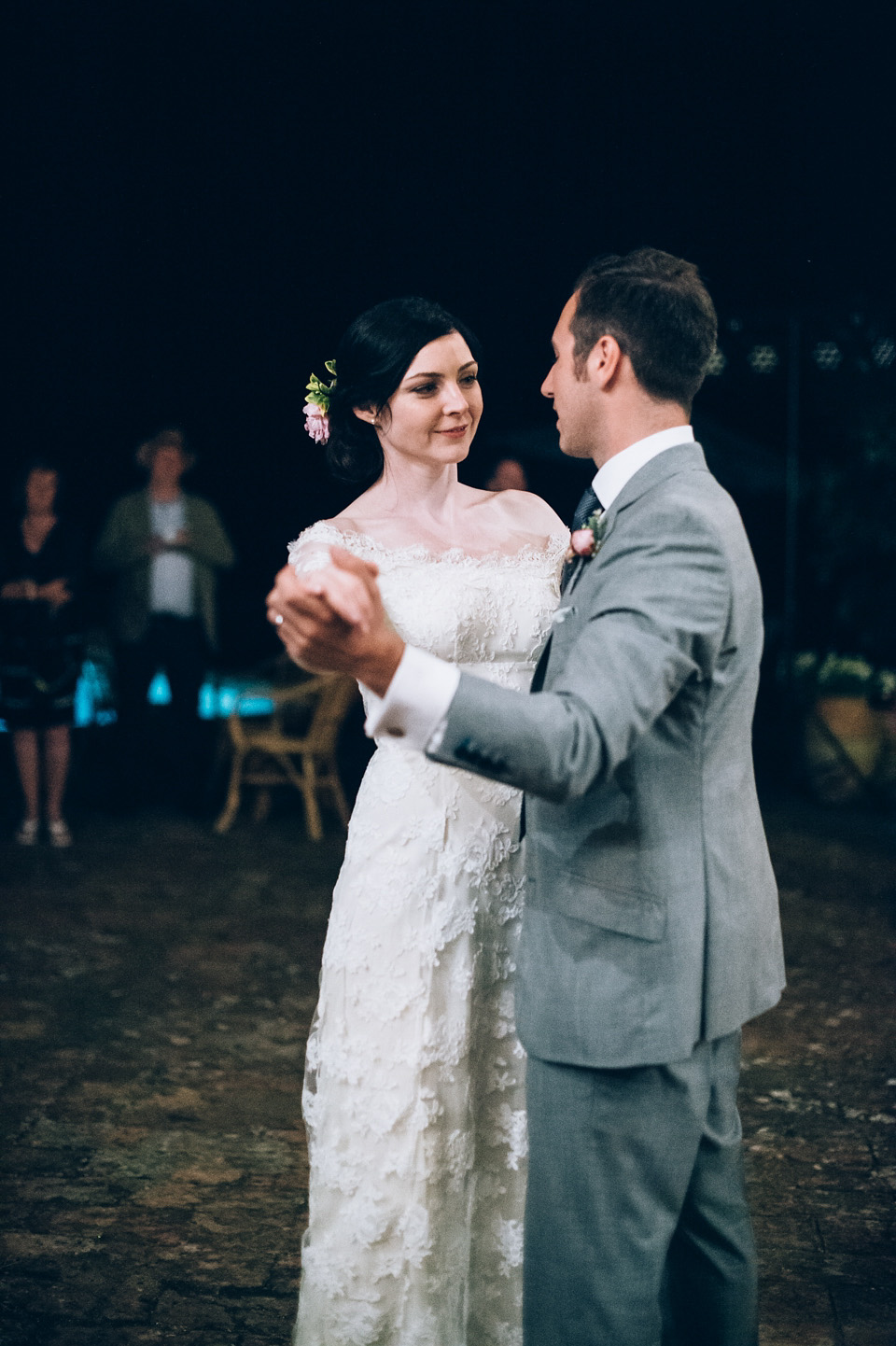 Words of Wedded Wisdom…
"Go with your heart. We had to make several hard choices at the beginning, as Andrew is from Texas, I am from Canada, we live in London our families and friends are spread out across the globe. We had to admit that we were never going to be able to make everyone happy with our decision on the location of our wedding and that there would be very close family members who we would have loved to be there who would not be able to join us in Italy. This was really sad and extremely hard.
Also remember to breathe. With my maid of honour and my mom both in Canada there were definitely more than a few stress moments where I wished we were all in the same country so I could have some help! All the 'wedmin' really is worth it in the end but I did find that I needed to book a few nice things for myself including a few massages, and remember to step away from the process when it was getting intense."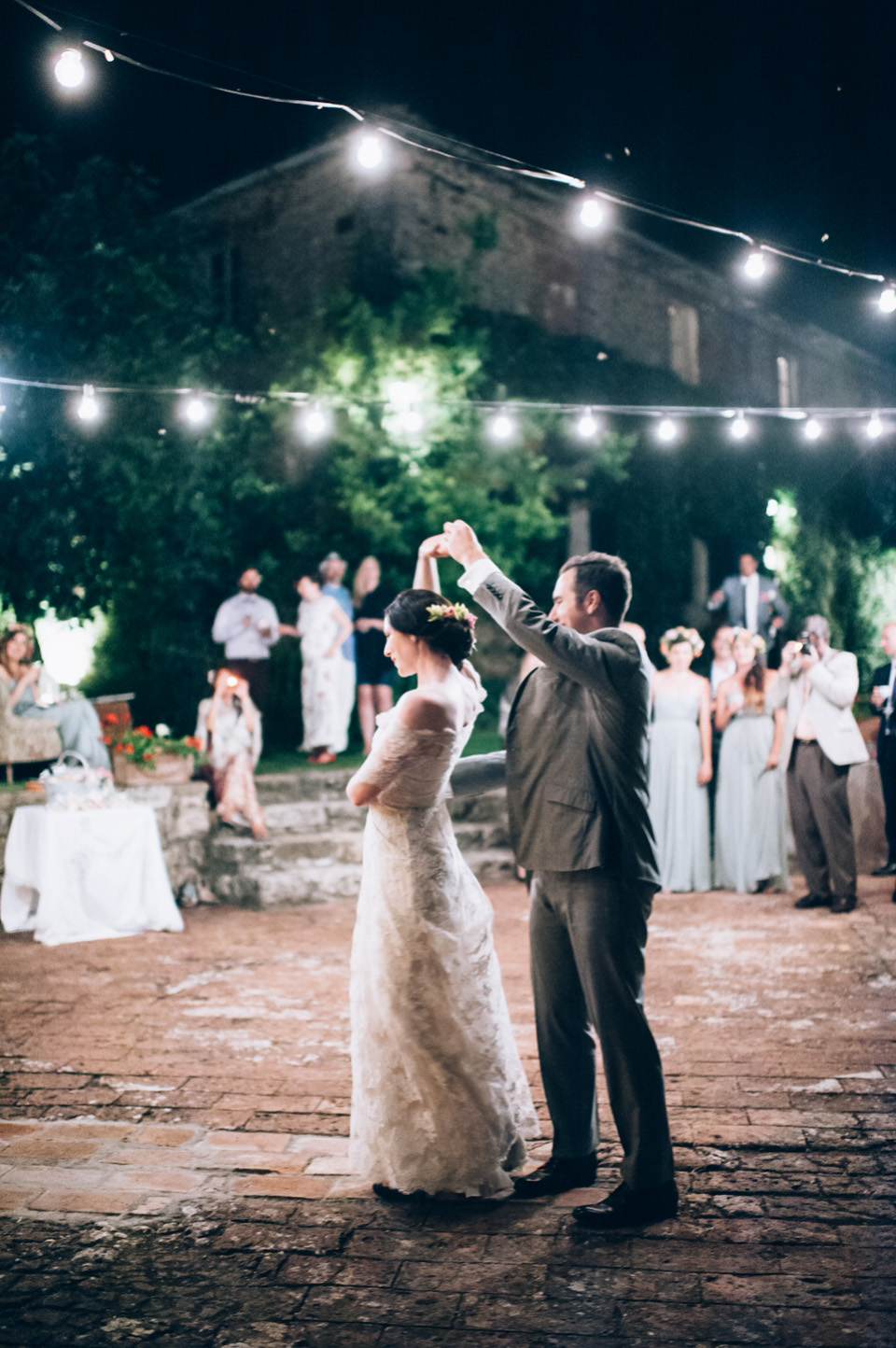 "It was a magical, beautiful perfect day and truly the best day of our lives filled with a ton of smiles and laughter. It was so unbelievable to have had so many friends and family members from so many different parts our lives all gathered together in one beautiful stunning location.
Finally, I really found Love My Dress useful for finding out about smaller vendors and suppliers who I wouldn't have known about otherwise."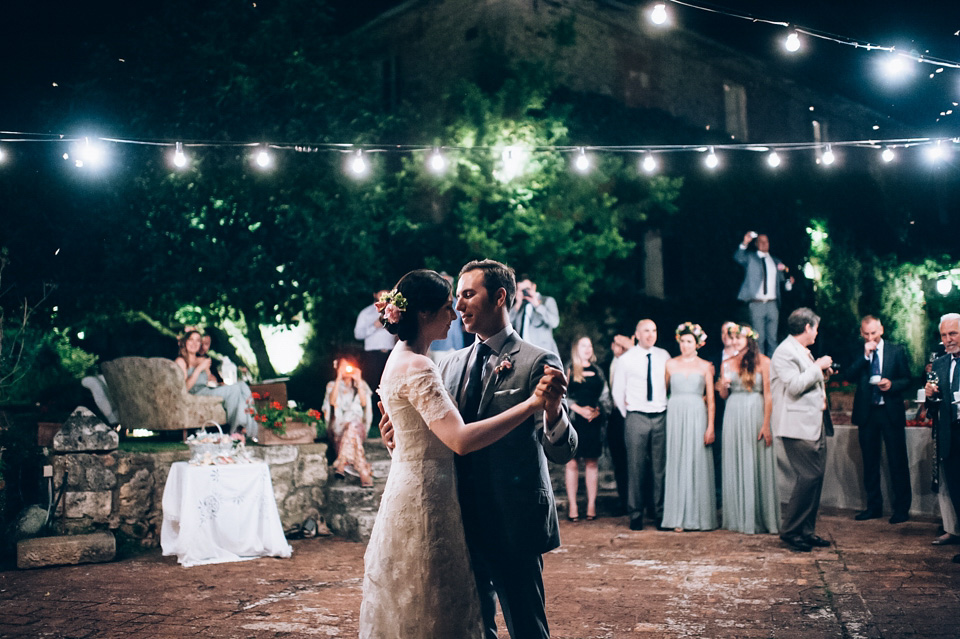 What an incredible wedding, exquisite photographs and heartfelt account of a very special day from Katie.  And a simply unbeatable way to start the week.  My love and thanks to you Katie for sending in your photographs a few weeks ago, I am incredibly grateful that you did and that I get to share these exquisite images by Lisa Poggi with our readers – have the loveliest first Christmas together as a married couple and.
Ladies and gentlemen, if you are thinking about tieing the knot in Italy, I would strongly recommend you contact Eva of Chic Weddings in Italy for some advice!
You can explore more Italian and destination weddings here.
Love Annabel x x
Photographer – Lisa Poggi
Film Production – Les Amis Photo
Planner/Stylist – Chic Weddings in Italy
Venue – Borgo Stomennano
Dress – Temperley
Shoes – Freya Rose London
Perfume – Chanel No.5
Groom – Bespoke suit via Alton Lane
Bridesmaids – strapless Nadia dress from J Crew
Flowergirl's Dress – Etsy
Florist – Jardin Divers
Entertainment – Last Minute Dirty Band
Rings – Hatton Garden
Catering  + Cake – Galateo
Stationery – Kate Ruth Romey
Hair + Makeup – Giulia Cresci