Hello lovely people.  Thank you for being a little patient for our first post to go live today – it's a busy enough time of year as it is, but yesterday was my beloved Grandpa Norman's funeral, which required a 6 hour round journey trip (and a 4am alarm call) and a whole lot of nerves of steel in order for me to stand and speak during the ceremony. It was the perfect goodbye and send off to my wonderful Grandpa who I adored with all my heart and shall miss so very  much this Christmas – I'm smiling and so full of love preparing this feature, as I recall seeing his friends and family joining together to celebrate his life yesterday. *heart explodes*
So, as Christmas Eve arrives all too quickly for me this year, it's time now to share our very last real wedding feature for 2014 with you this morning.  For me, this wedding perfectly sums up the essence and aesthetic of Love My Dress – for a start, it was held in one of my most favourite cities in the world. Secondly, it was shot by a photographer who has been with Love My Dress right from the very start, the wonderful Caro Weiss – I adore how she has captured the free-spirited nature of this special day.  I also love how the couple embraced the challenge of catering for children at their wedding.
Cara, who manages an animation studio but who also runs a children's style & lifestyle blog (which you can follow on Instagram here), tied the knot with her beau Ross on 13th September 2014 with a ceremony at Lothian Chambers, followed by a reception at St. Columbus by the Castle, both in Edinburgh, Scotland.
Photography Copyright (c) 2014, Caro Weiss
There were several elements that guided the styling of Cara and Ross's wedding, with a special focus on children, the outdoors, simplicity and budget…
"We wanted the children to have a designated area and for them to feel welcome. We also have a strong love of the outdoors, in particular Scottish highlands and islands, and wanted this to filter into our style for the day, bring the outdoors inside, especially since our wedding had gone from somewhere quite remote to a city centre.  We also like simple but earthy design in particular the Scandinavian aesthetic so we took inspiration from that.  Pinterest was both a blessing and a curse when planning our wedding – so many of our ideas came from this but it could also be a bit overwhelming and didn't help when trying to settle on final looks."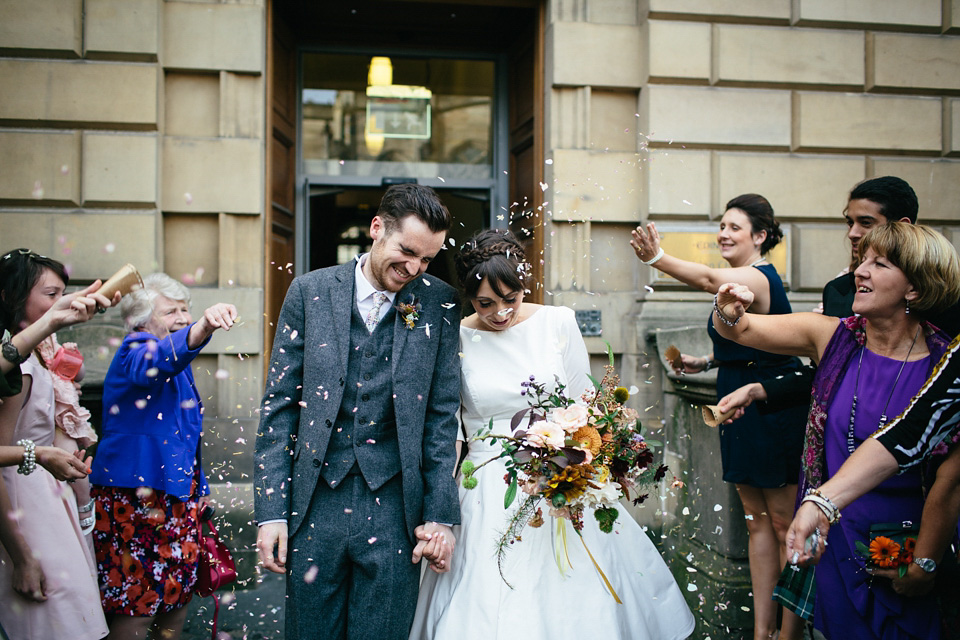 "Finally budget was an important factor – with a young daughter in mind we had a small budget for the number of guests we wanted so most of the details were DIY. We were inspired by what we could do with the money we had – we wanted it to look a particular way so the compromise had to be us taking it on ourselves."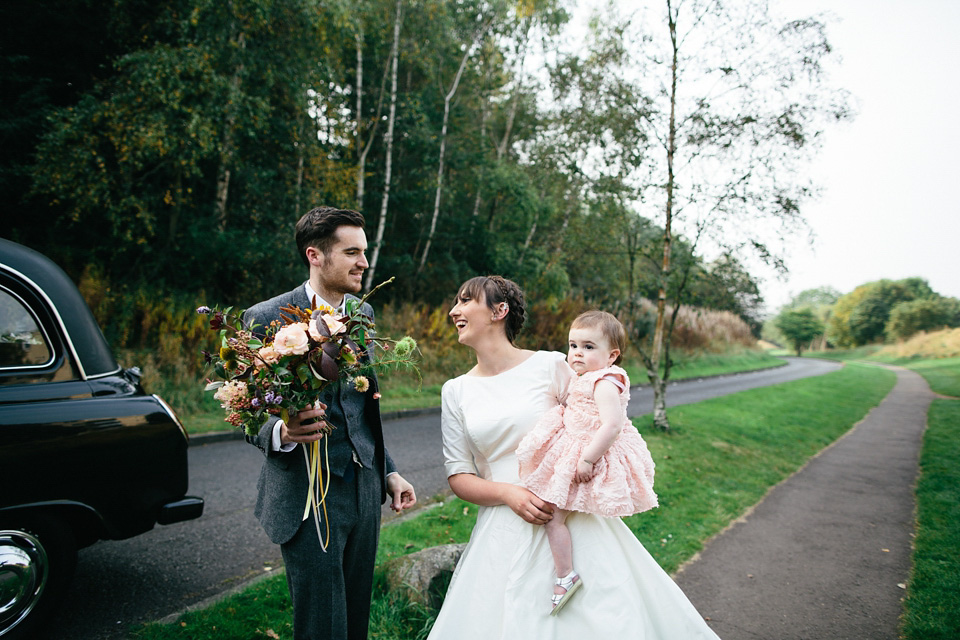 "Ross wore a three-piece suit from ASOS that he had tailored at Emily's Tailors in Edinburgh.  His tie was made using offcuts of Liberty fabric sent from a kids wear designer and friend Roxy which was then lovingly made into a tie by a designer and friend of mine, Fiona Heather."
Readers, you can see designer Fiona Heather's own wedding on Love My Dress right here – it's one of my all time favourites.
The menus were designed by Cara, and the table plan was designed and created by Ross.   The table names were created out of chalkboards which were purchased from Poundland with Edinburgh's hills and names drawn in chalk by the Groom.
"Place cards were hand stamped note cards that Ross and I made – they were placed in pine cones which we had collected from different places across Scotland.
"We spotted Pyrus, our florists, when they were selling wee bunches at a summer fayre in Edinburgh shortly after getting engaged and we agreed then that they were our choice. Natalya and Fee's creativity is incredible and they could make a hovel look amazing with their talents. We had a few chats and we said there didn't have to be specific so gave them free reign on the flowers and foliage the only direction we gave is where to put certain details."
Cara wore a dress made by independent bespoke designers Flossy and Dossy…
"I had the tea length style dress in mind from the offset however I didn't want it to look like vintage 50s style instead I wanted to inject a bit of simplicity and modernity into my dress. When I visited the Glasgow Wedding Collective fair last year I met Wendy from Flossy and Dossy and after talking with her I knew that she understood what I was after. I went to her with a sketch and Wendy managed to create exactly what I had imagined.
I loved how it fitted perfectly, the fabric which was a stiff silk taffeta which was perfect and the fact that I can dye it and wear it again for future use!"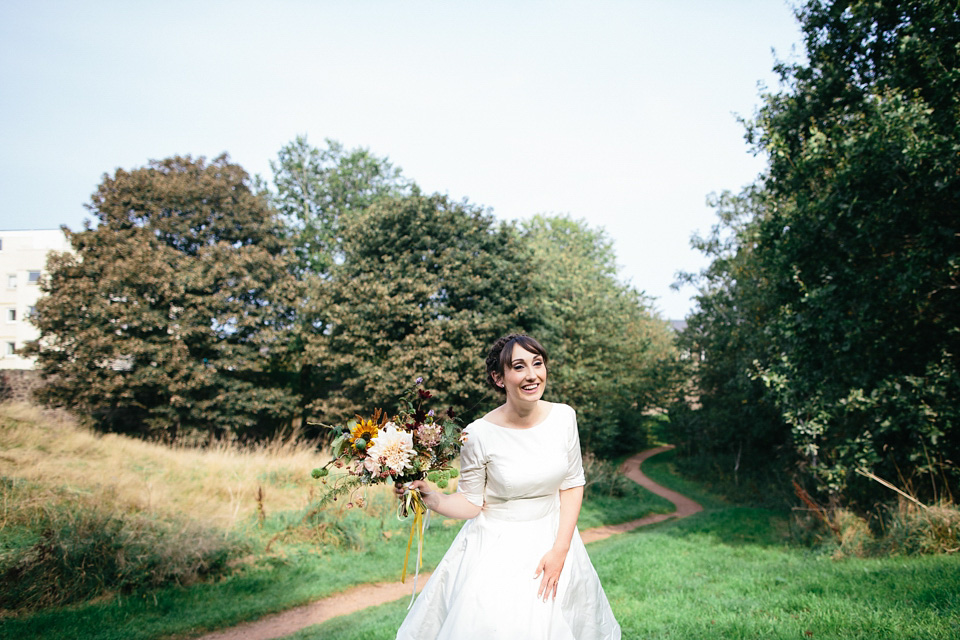 "I had been at a civil service ceremony at Lothian Chambers a few years ago and the room that it was held in, The Edinburgh suite, is beautiful. We liked that we were able to tailor our ceremony wording and also we wanted a brief ceremony as our young daughter and other children were there and we know how boring ceremonies are for children!"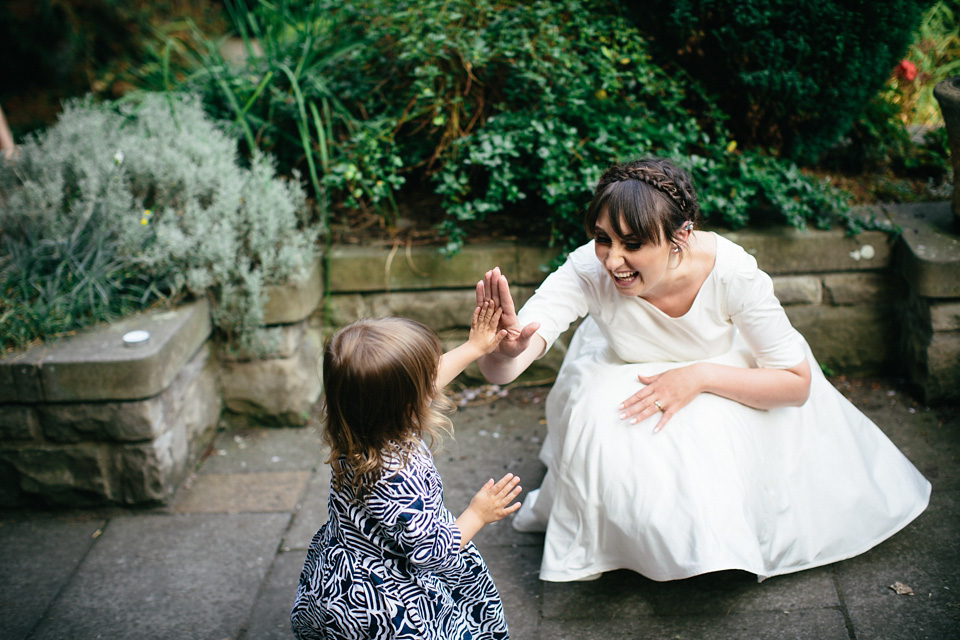 "Our photographer was Caro Weiss, who is amazing! We had seen her work on Love My Dress a few times and I knew she was the one and one of the first things we did for the wedding is get her booked. This was confirmed after meeting her at the GWC Fayre – she is such an amazing person as well as being a photo ninja. She catches the fleeting looks and moments you didn't realise she was audience to and she managed to capture the feel of the day beautifully.
We love that in Caro's portrait shots of us at Arthur's seat and Dunsapie Loch, you can see a high rise in the background of all the amazing scenery. It sums us up – city dwellers who love the outdoors and the Scottish scenery."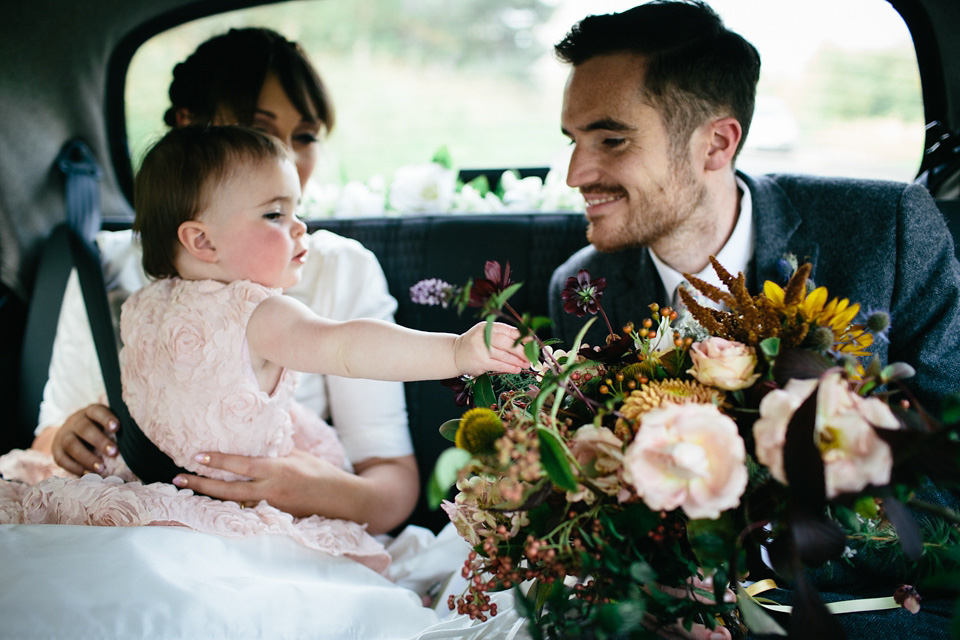 "We met eight years ago at a nightclub in Edinburgh. I insisted to be introduced to Ross by a mutual friend after I spotted him across the club. We realised within a few minutes of chatting that we shared music taste, bonding over talking about Orange Juice and Ivor Cutler, as well as lots of other shared interests. It also didn't hurt that he went to art school.
We got engaged in 2012 – Ross proposed in the Number One restaurant at the Balmoral hotel, Edinburgh- and as an engagement surprise we found out we were pregnant with our daughter Euna a few months later – this was a catalyst for complete change in our wedding plans; we had first wanted to go to Sweden to be married with a small group of friends in the City Hall in Stockholm and then have the reception in a cabin on the side of a lake but instead after becoming a family we decided to have the wedding 2 years to the day of our engagement in our hometown with family and friends."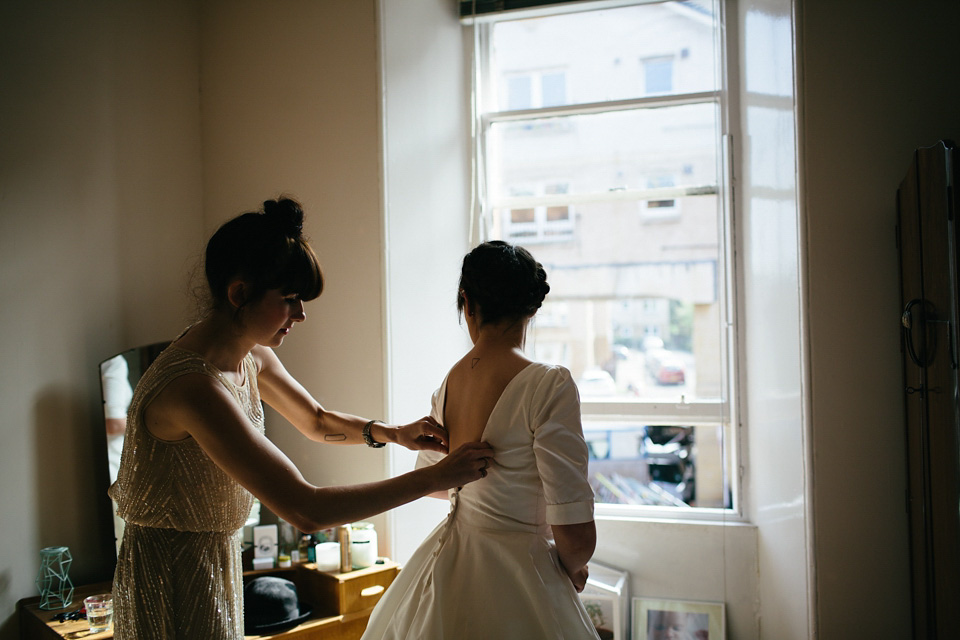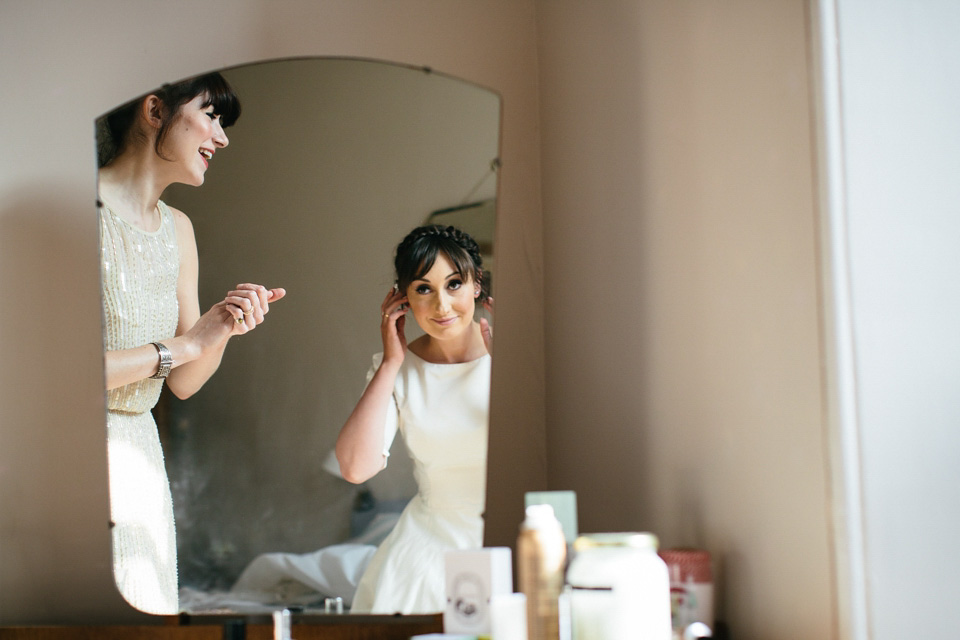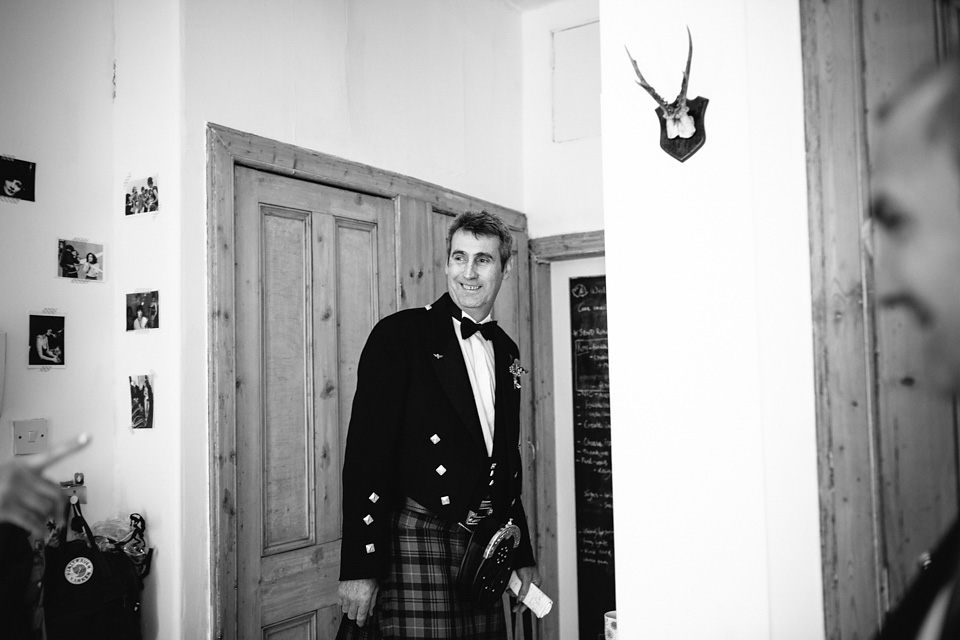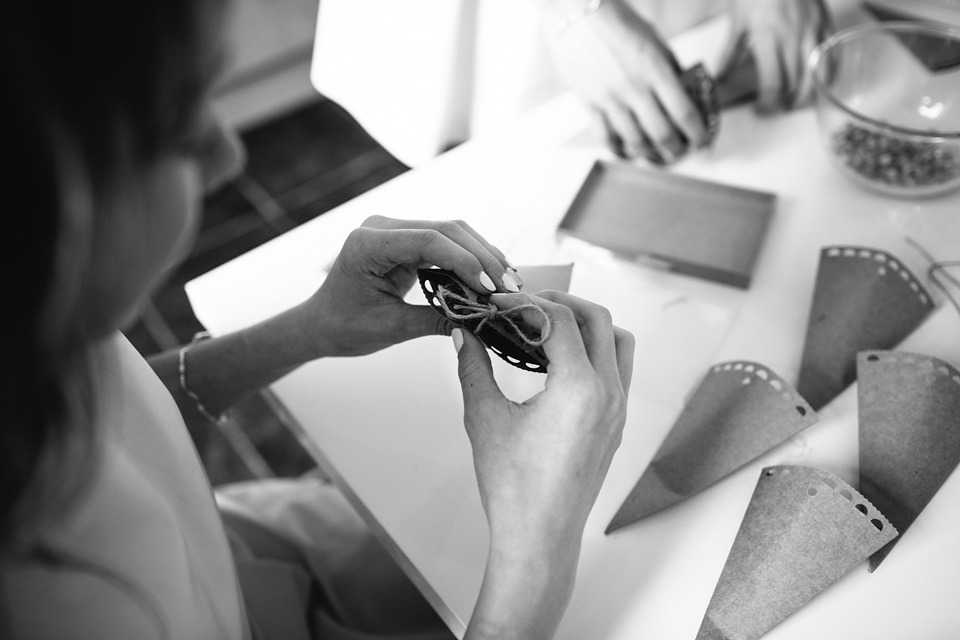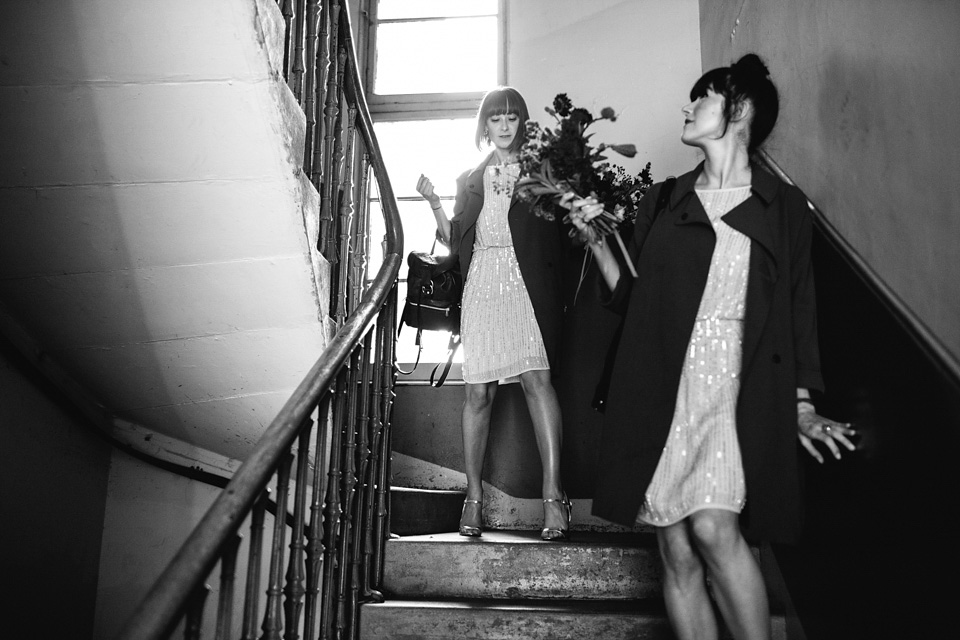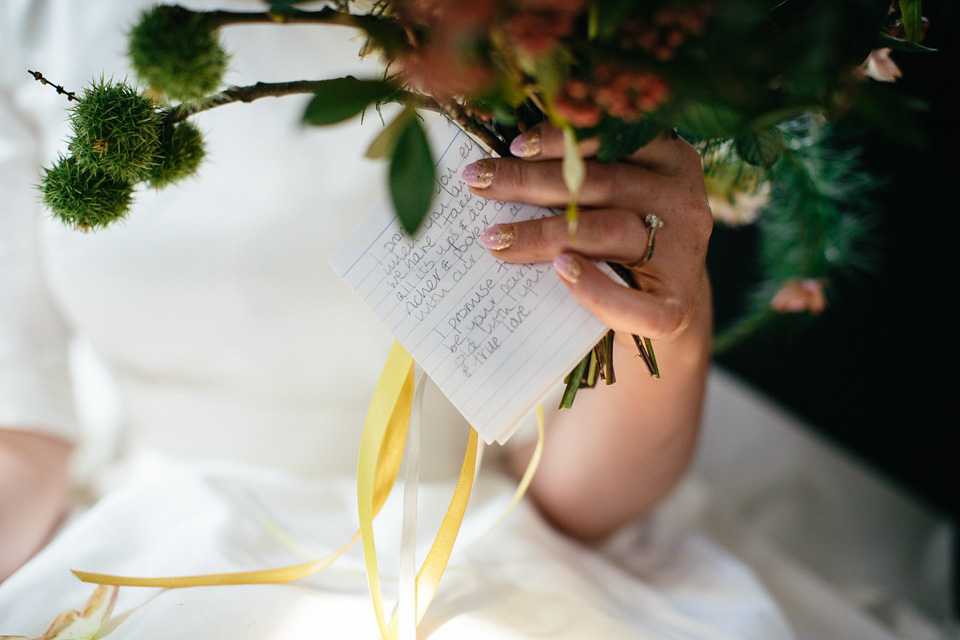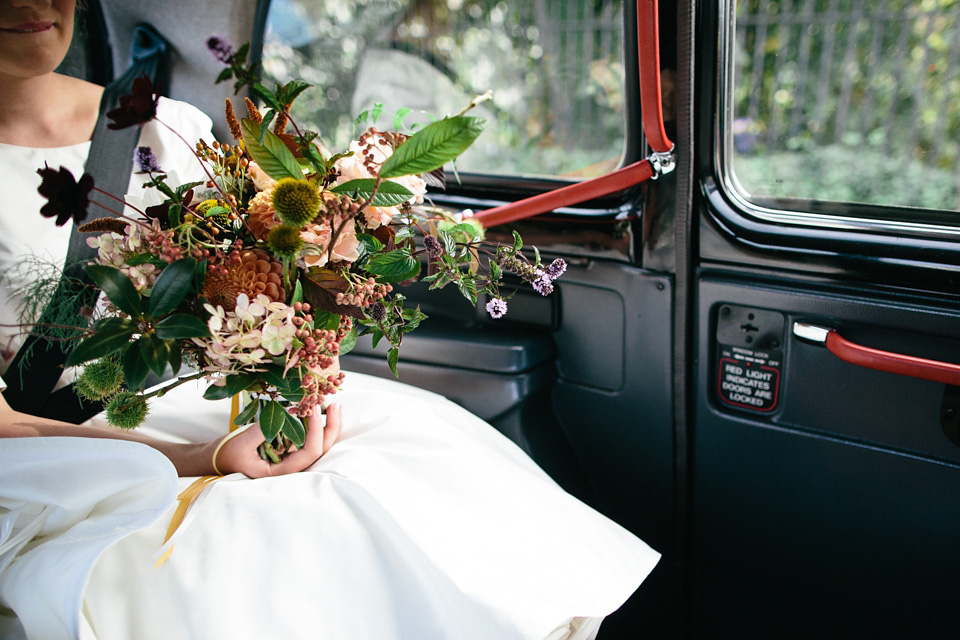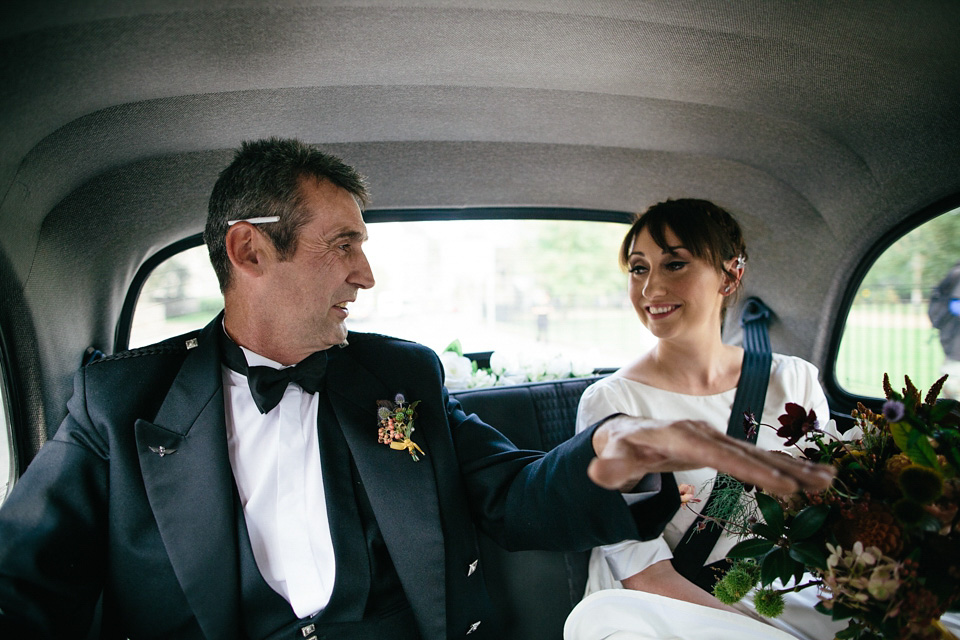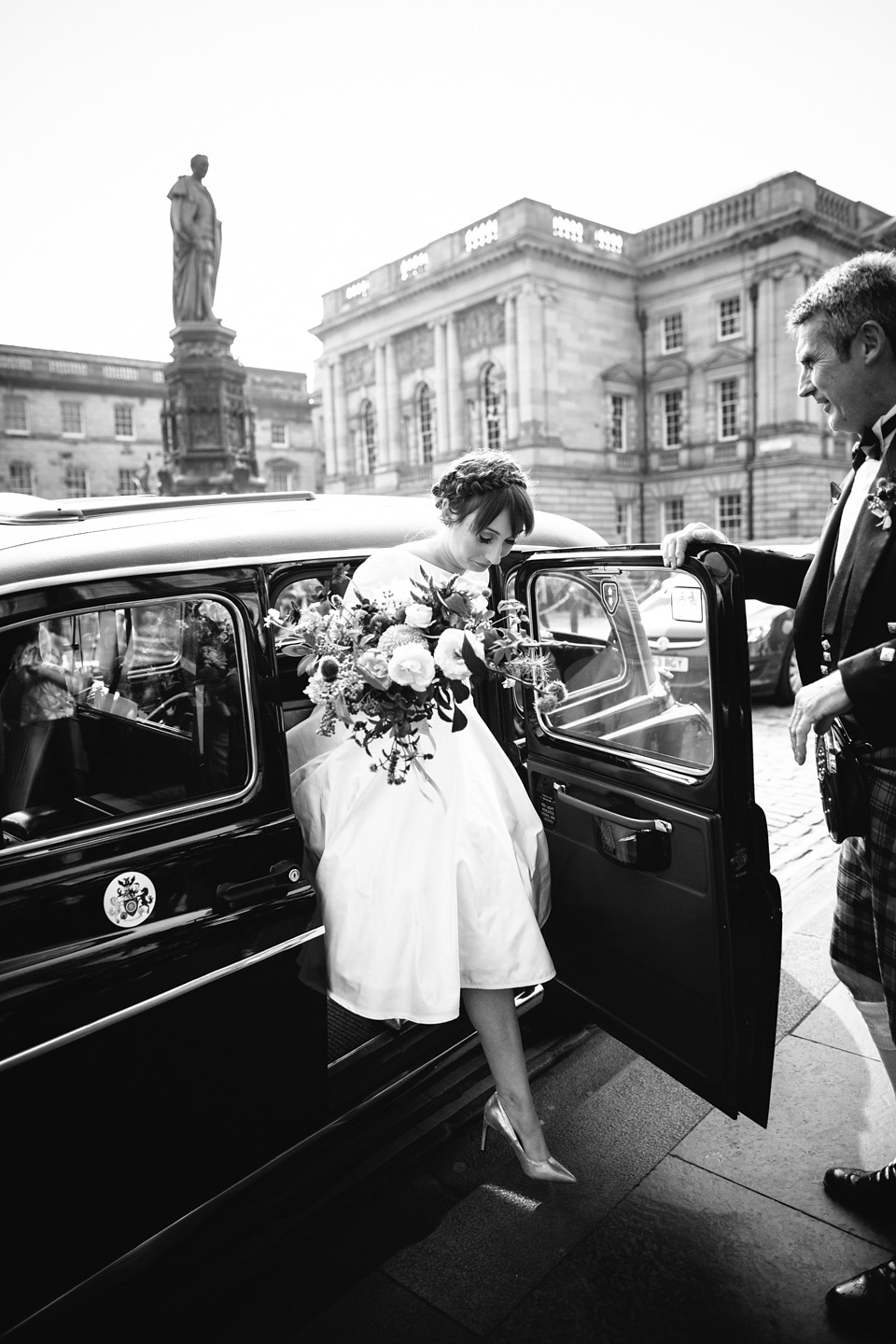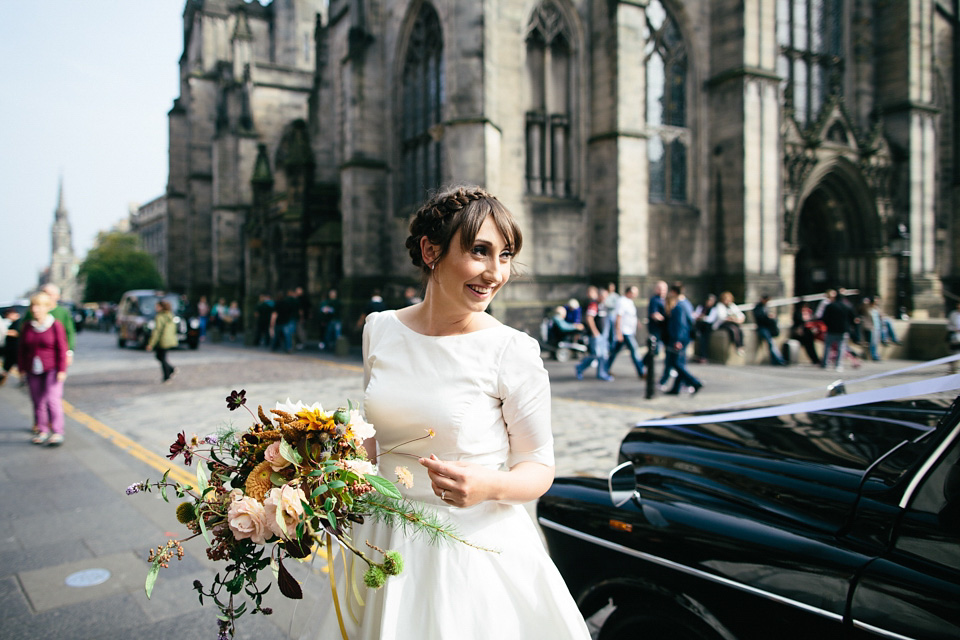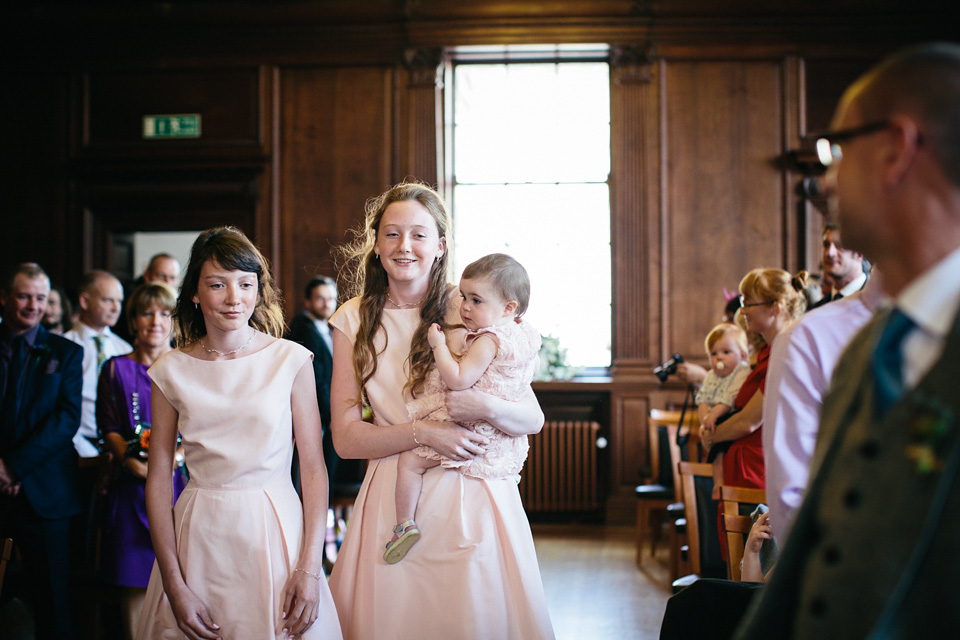 "My cousin Eloise played Falling and Laughing by Orange Juice on the harp as I walked down the aisle. This was one of the first songs Ross and I talked about when we met."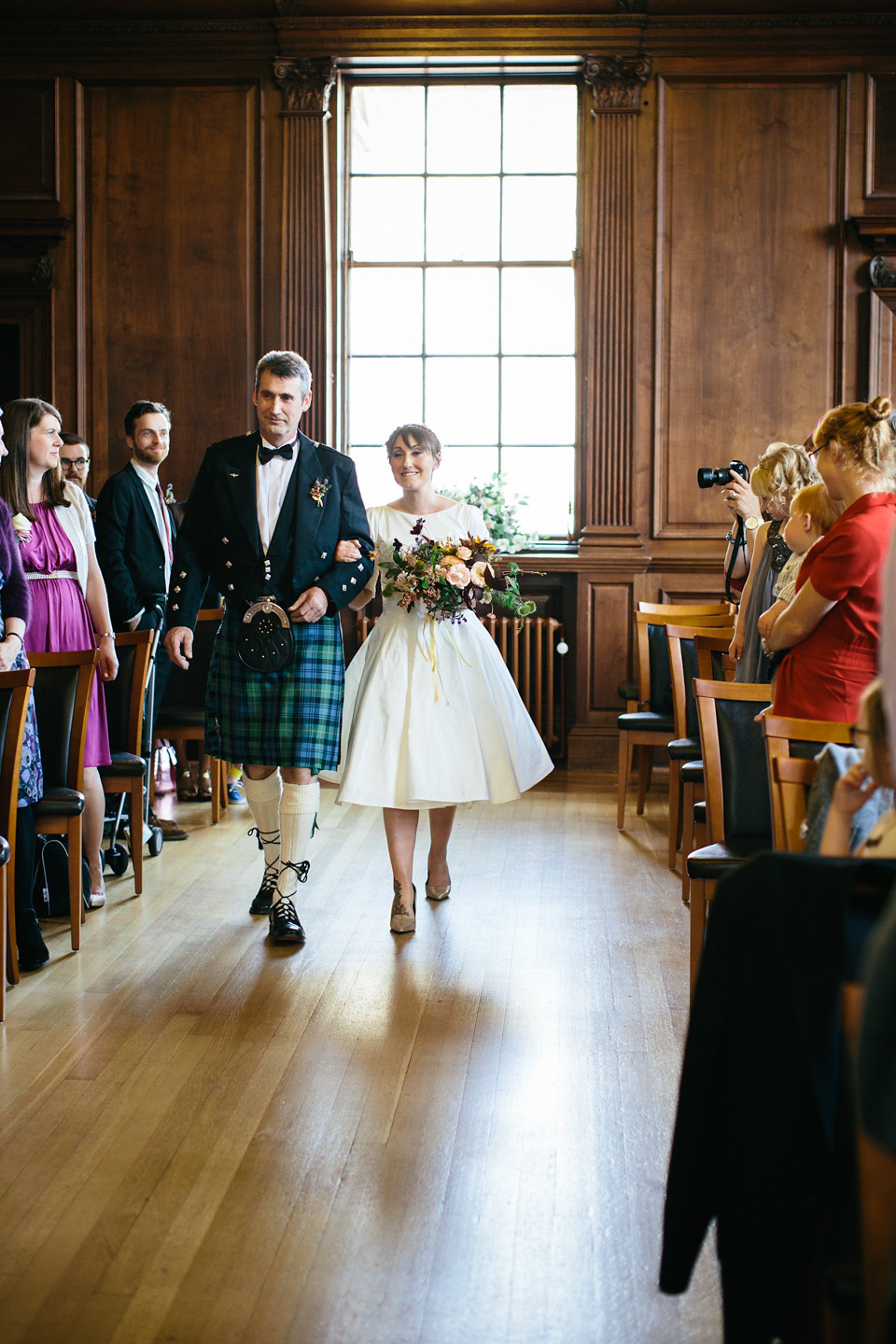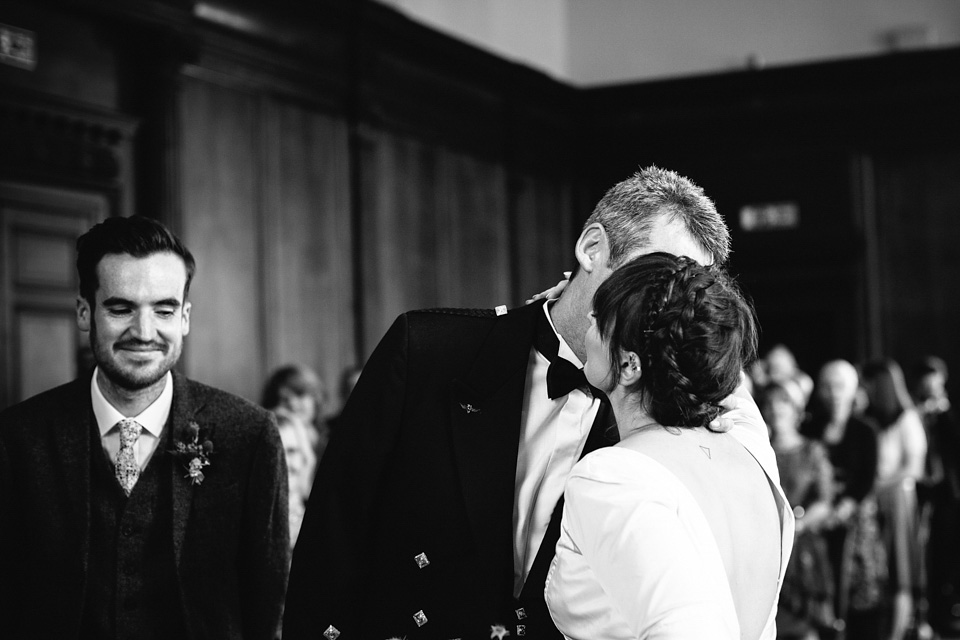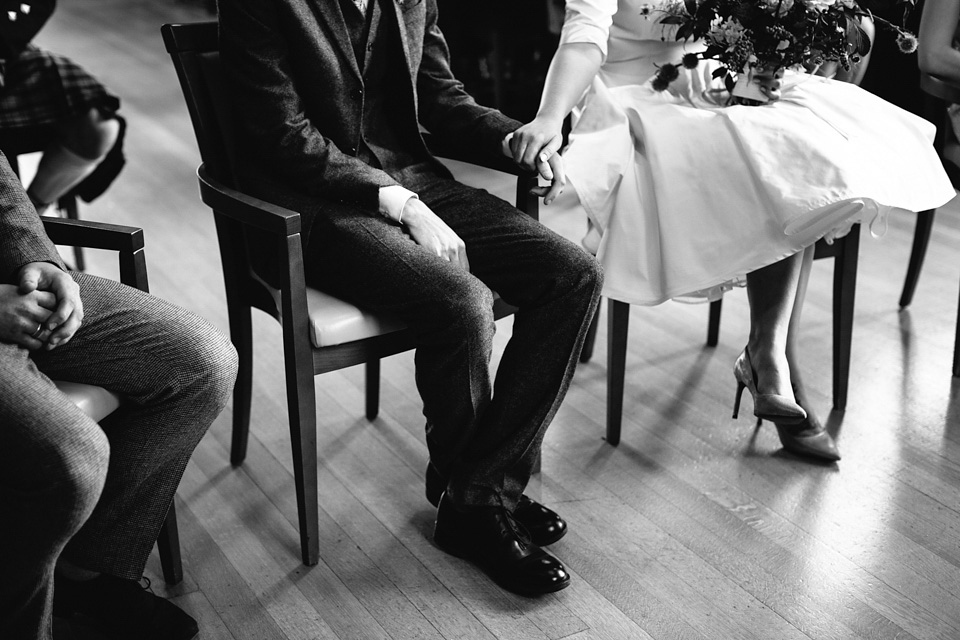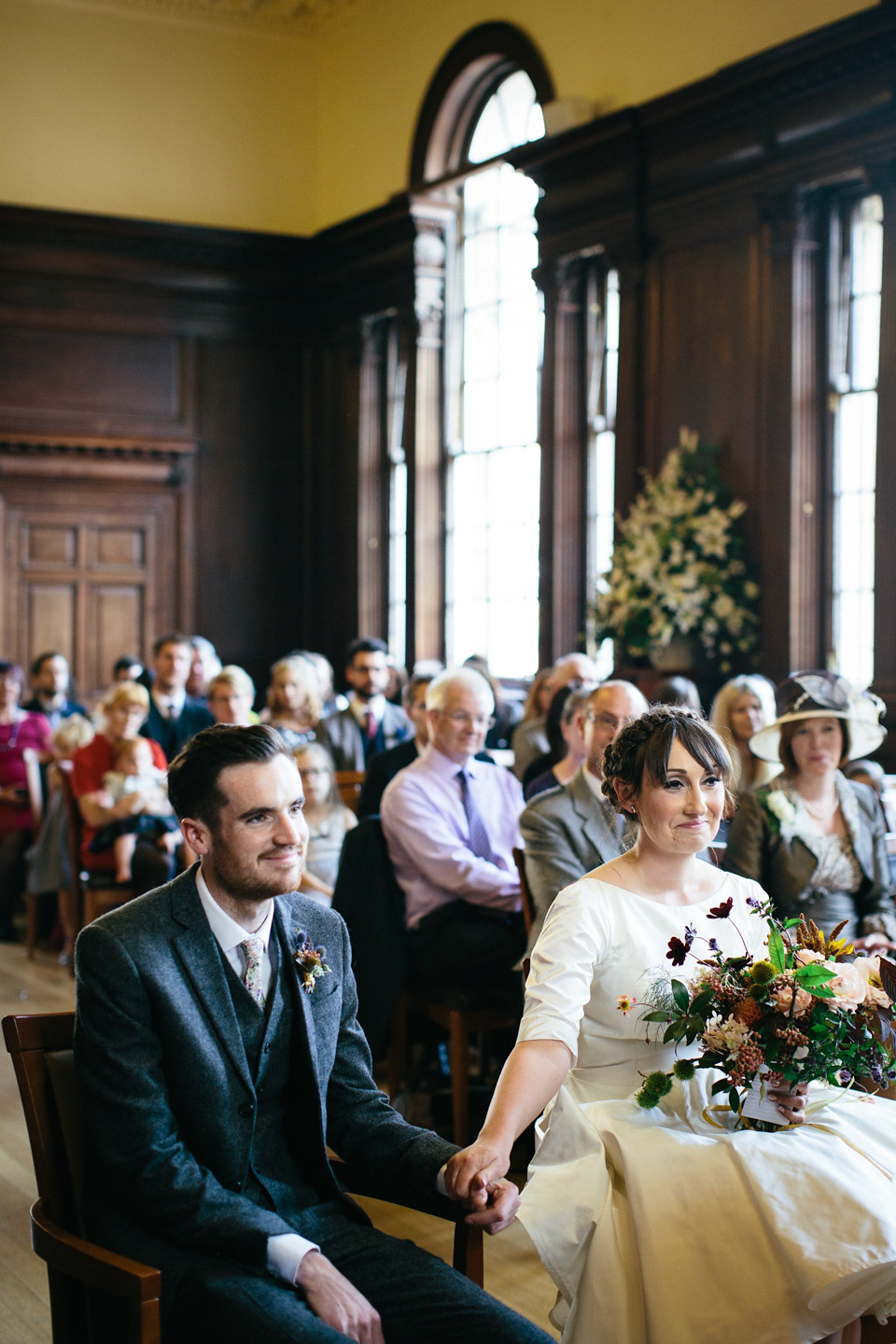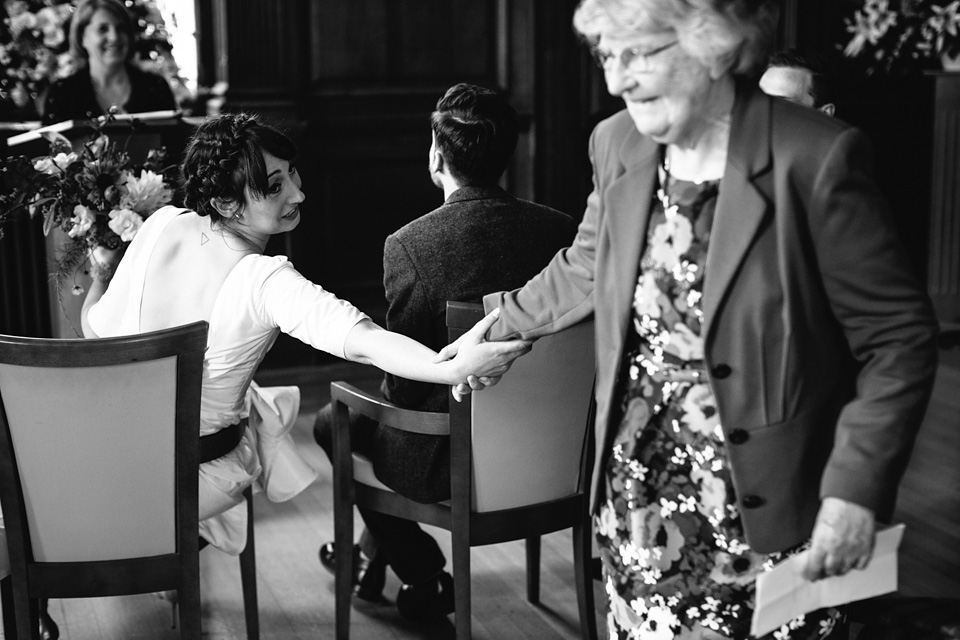 "We had two readings at the ceremony; one was read by Ross' Dad and the other by my Granny with whom I am very close. They each chose their readings and they were strangely quite similar' 'Love Is', by Susan Polis Schutz and 'Love Is Patient' (anon)."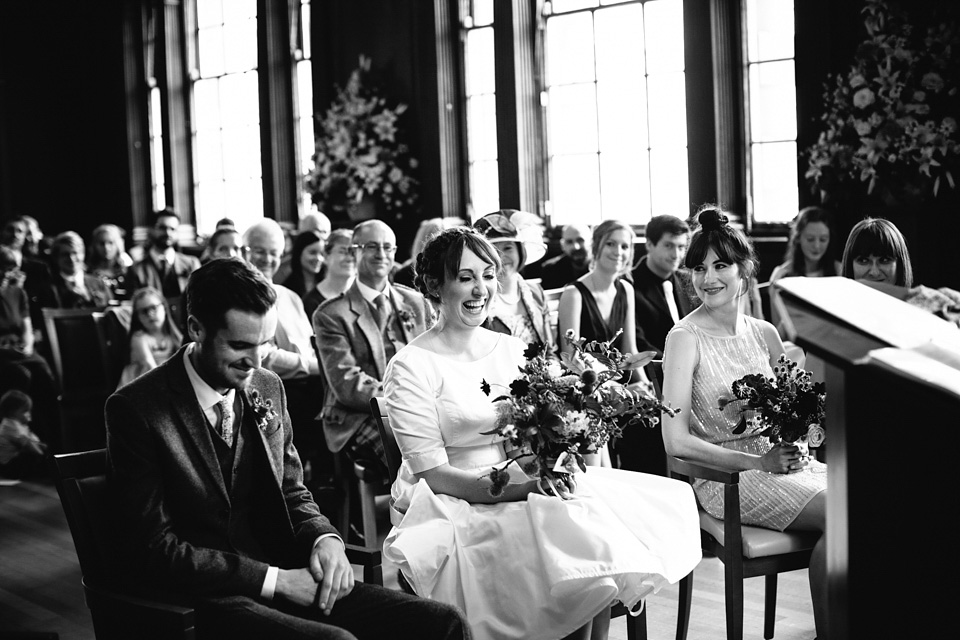 "Ross and I wrote most of our ceremony text as well as our own vows. It was great that the civil service allowed us to do this it allowed our ceremony to represent our relationship and our lives which we felt was the most important bit of the day.  We have been together so long and we have been through life together so we wanted that to reflect in our vows. My vows to Ross were as follows;
'I feel so lucky to take you as my husband. I still can't quite believe that I am the one that gets to marry the handsome guy I spotted in a night club and who I never thought in a million years would be interested in me! I can honestly say there is no one else I would want to be standing here with today.
For all the time we have been together there has been a mutual understanding and I have never felt that I have needed to be someone else around you. You are the only person I know apart from Euna who is as daft as me and I love that we make each other laugh. You know me better than anyone else in this world and you still love me. Euna is lucky to have you as her Dad because she is so loved. I want our love and friendship to be an example to her and for her to always find home in our presence.
You have been there for me during my darkest times. When I doubt my abilities as a mother you lift me up, I know you see me as beautiful even when all I want to do is hide. I feel that we have grown up together these past 8 years and you have helped me be the person I am today. I promise you endless strength that you can count on when you are weak. Together we have taken on the world, with all of its ups and downs; we have been richer and poorer and made it through with our love all the stronger. I promise to be faithful to you, to be your partner, your wife and to grow old with you. You are my best friend and true love.'"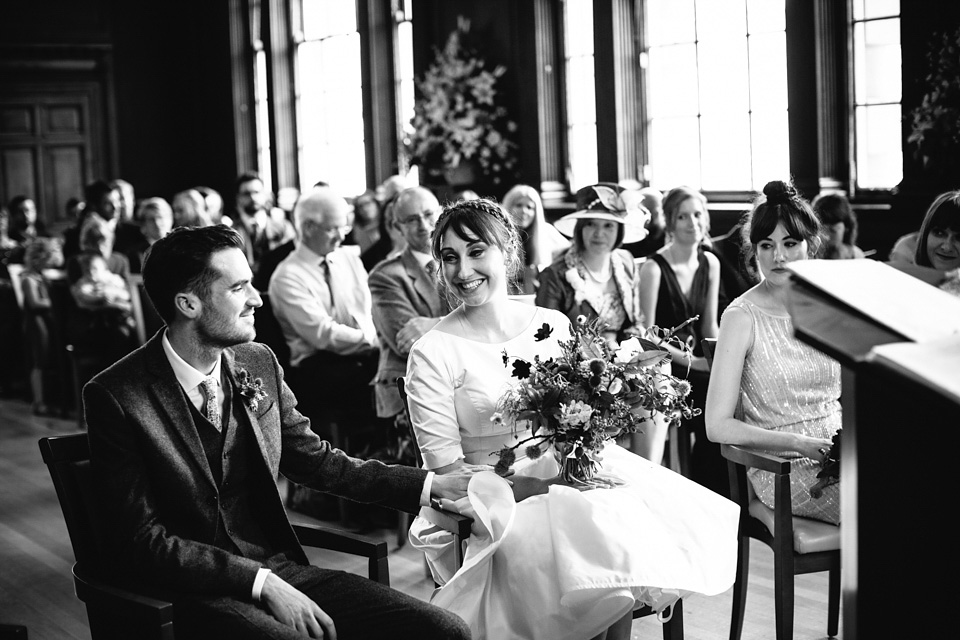 "We both wear my paternal grandparent's wedding bands which is something that makes them even more special to us. My late grandma Norma's ring was all damaged and misshapen while my Granddad's ring was tarnished after years spent in a box but thanks to an amazing Jeweller Cecilia Stamp (also a bridesmaid) they looked as good as new and mean more than any other rings could."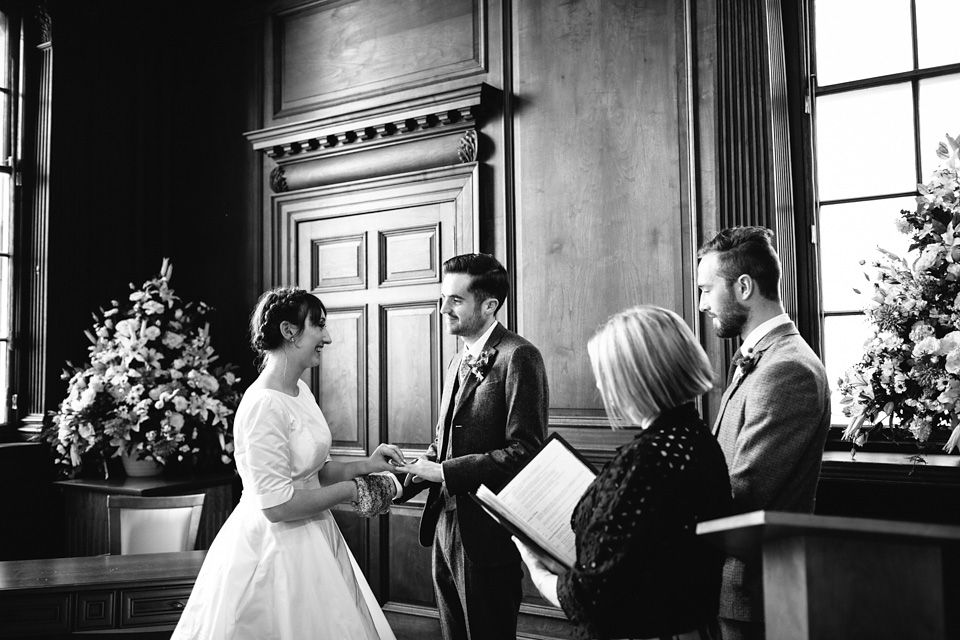 "Ross' vows to me were was follows – and the Bruce Springsteen reference relates to a ridiculous pregnancy-hormone induced infatuation with The Boss in the Dancing in the Dark video!
'Cara, since our first night together, dancing in the dark, you have been my best friend, partner, supporter, protector and constant inspiration. I am never happier than when we're making our plans together for the future. I can't imagine anything better than getting to share that future with you – whatever it brings. We have been through so much in the last 8 years together and we have so much more ahead of us. I look forward to all of it, the ups and downs, good times and hard times. I promise I will always be right there; we'll be there together, through it all as a family. The home we have built together; our family; our wee unit is the most amazing thing in the world. I promise to spend the rest of my life keeping you and Euna happy, safe, warm and loved in a relationship built on honesty, respect, happiness and love.'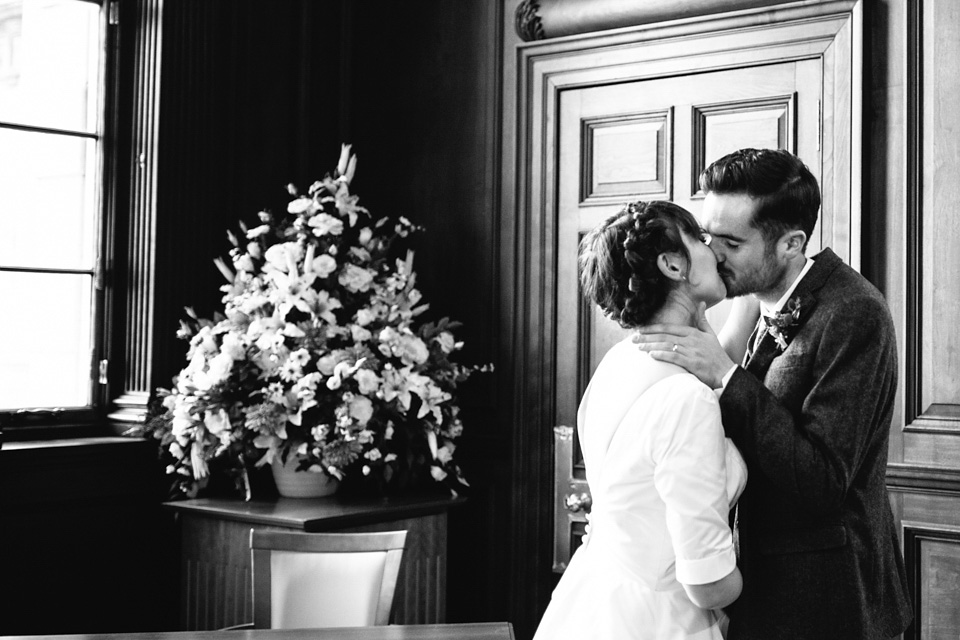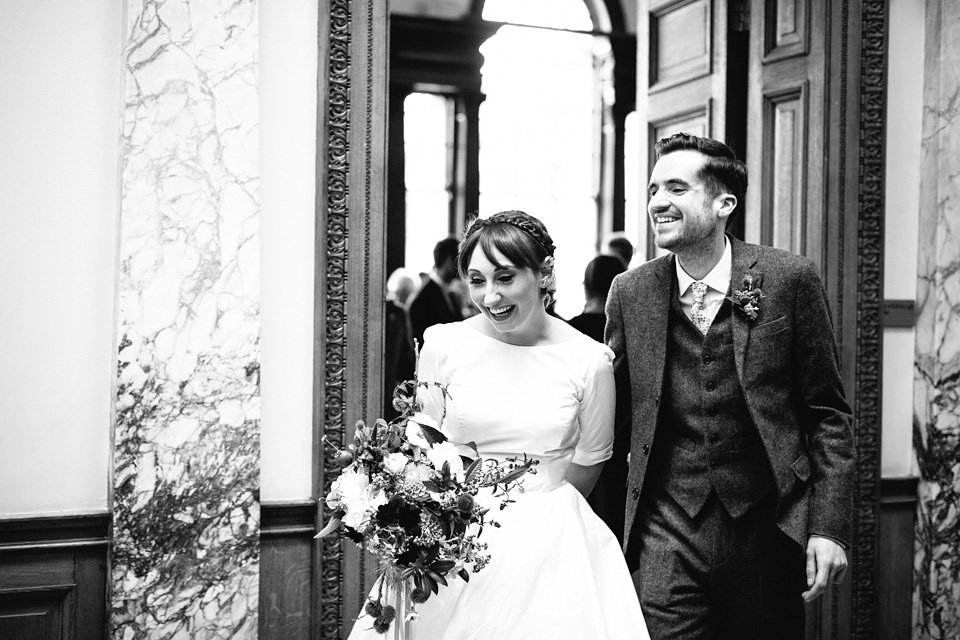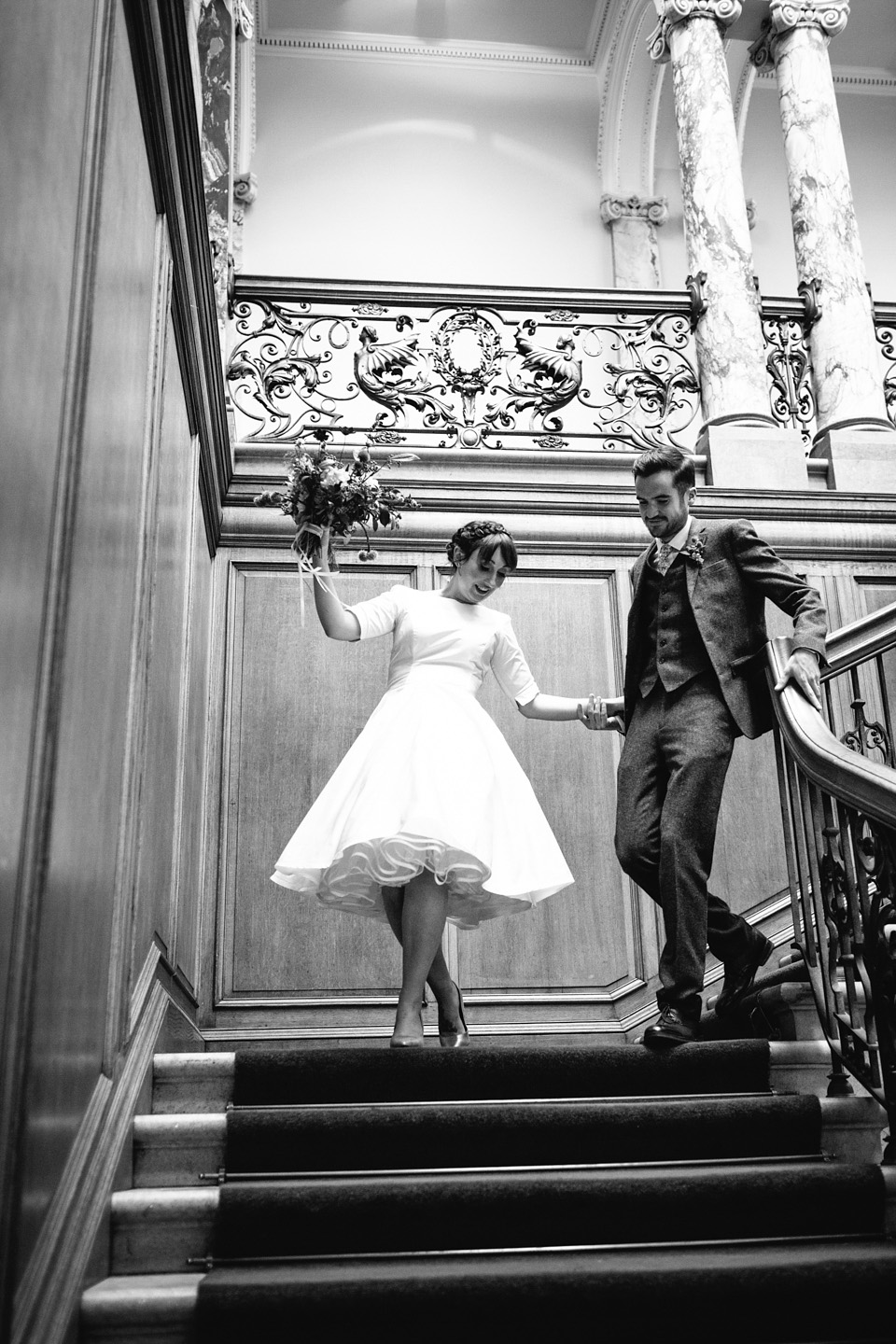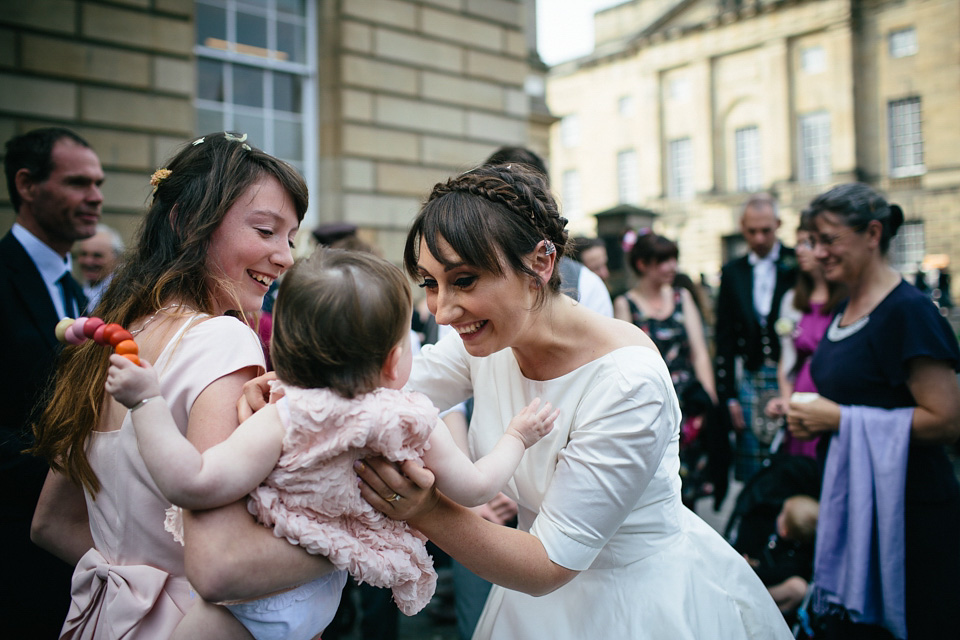 "Euna's shoes were Saltwater sandals in silver from fourmonkeys.com."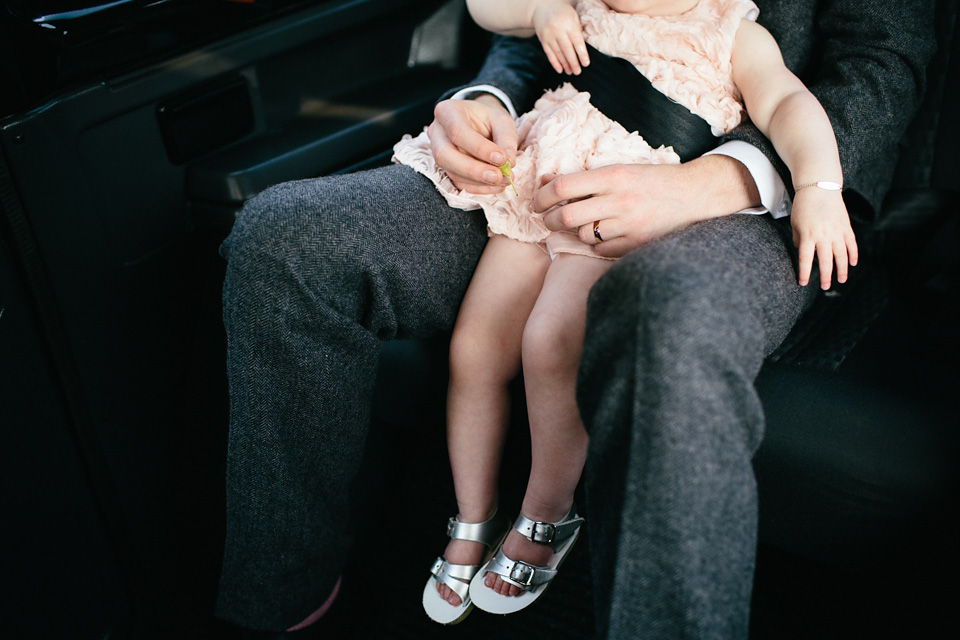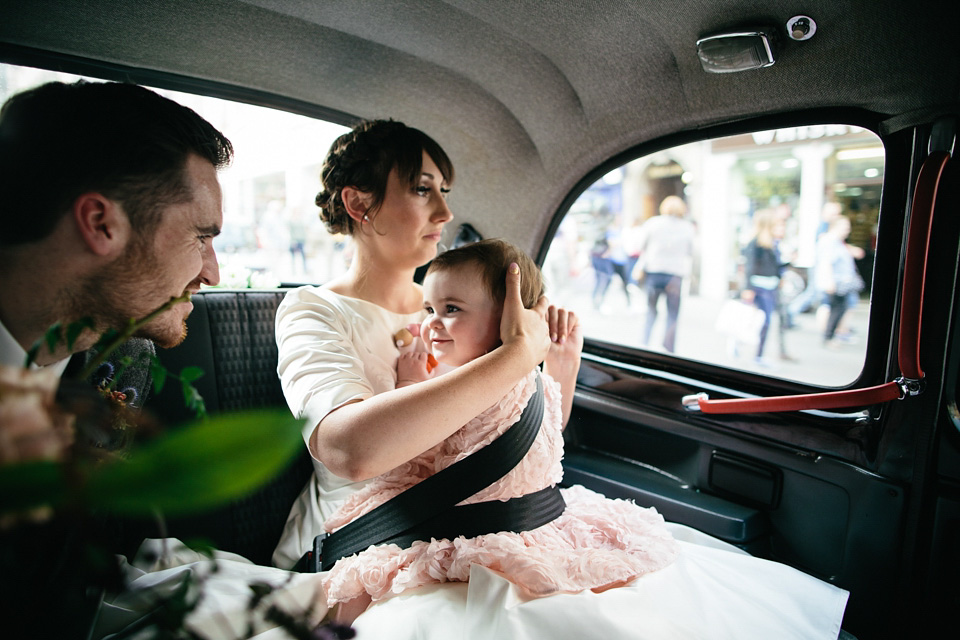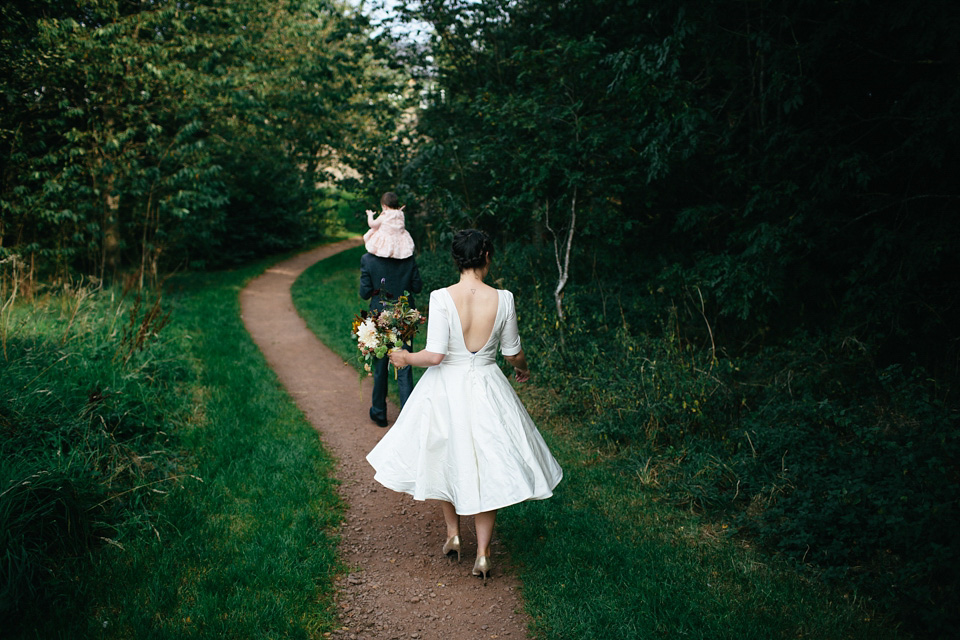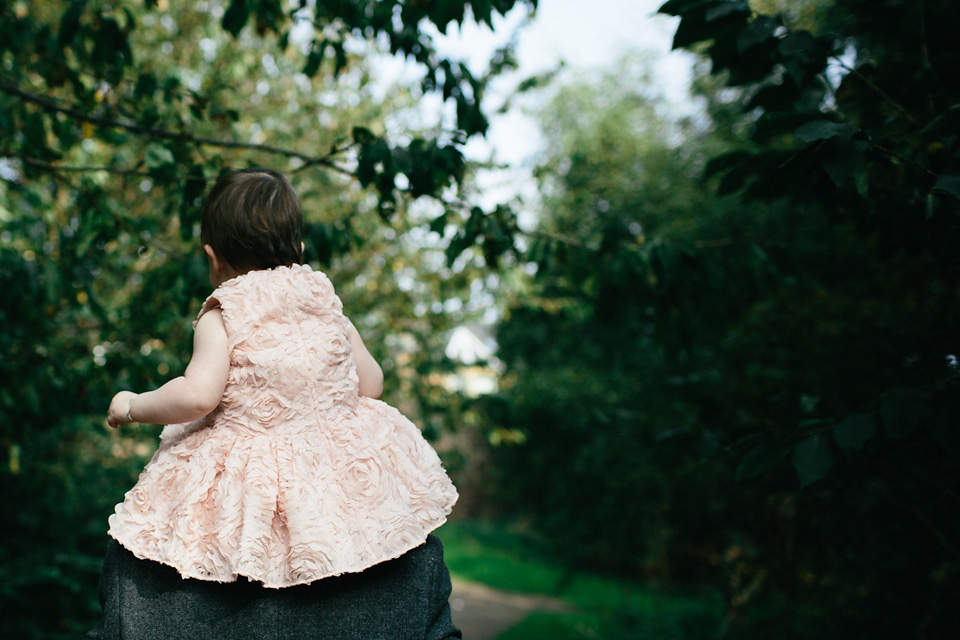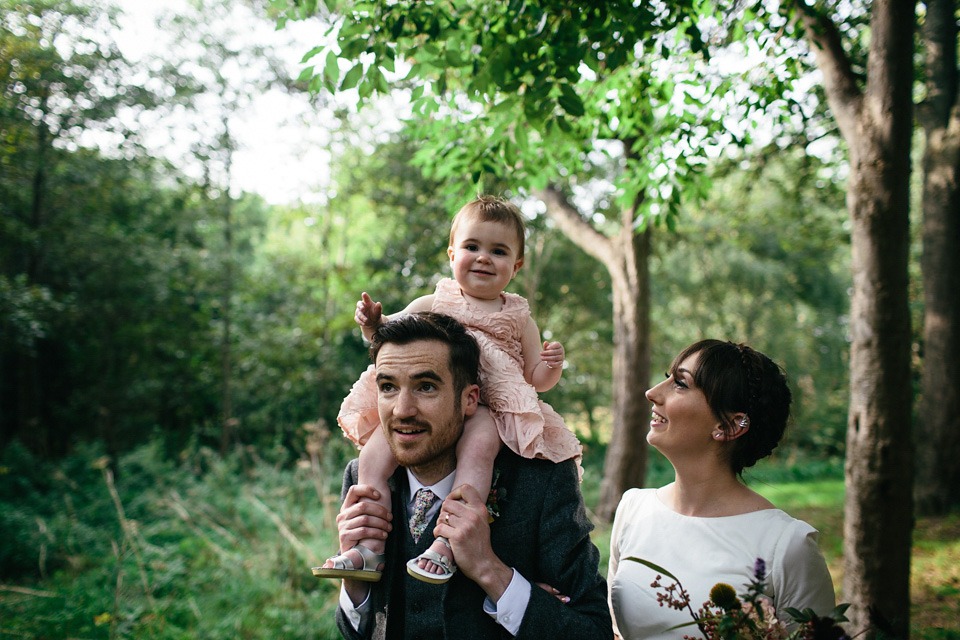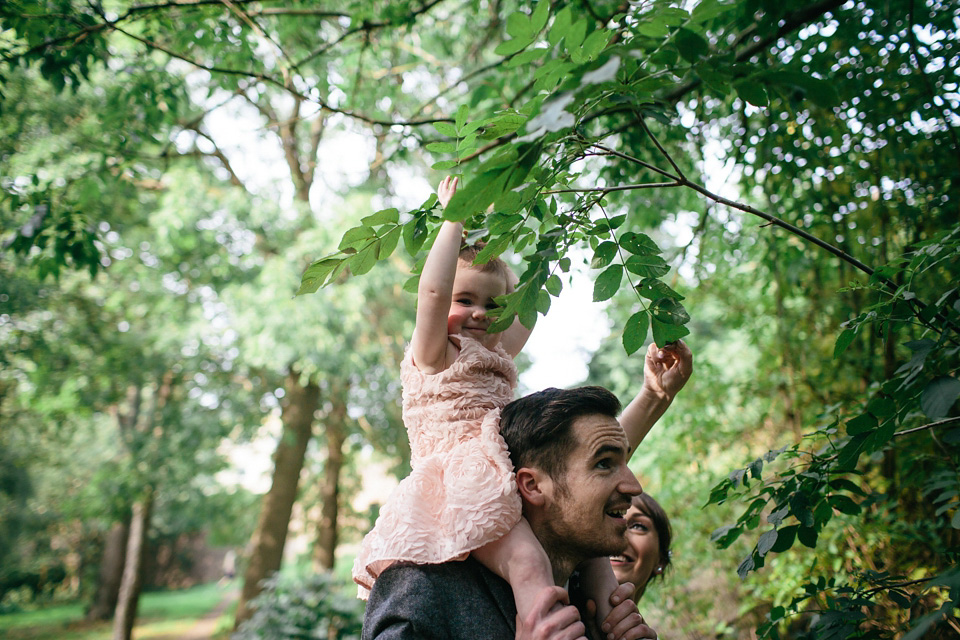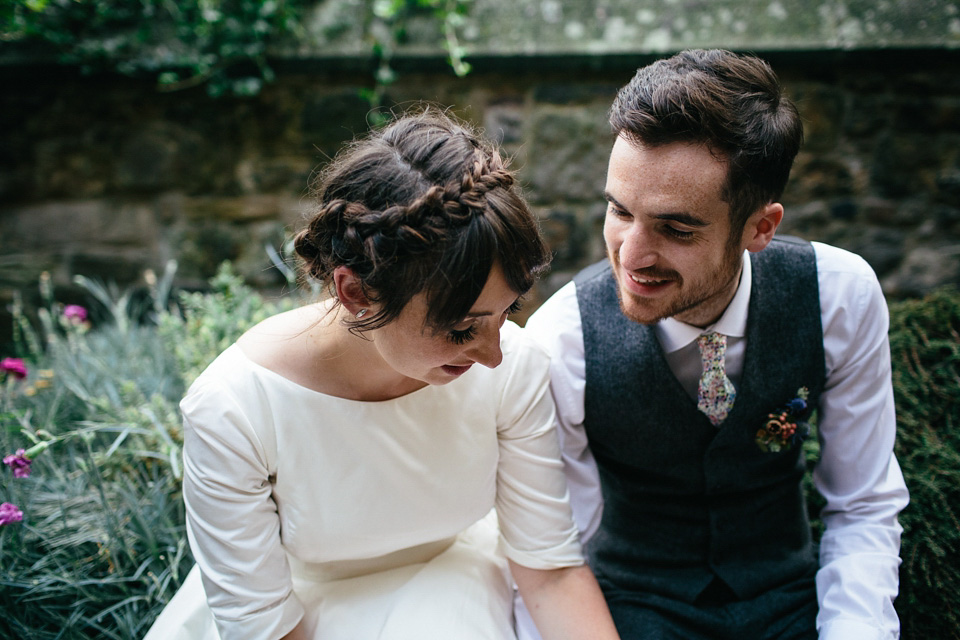 "As you walk towards our venue, St. Columbus by the Castle, through Edinburgh New Town, you are overlooked by Edinburgh Castle. The church hall is bright and big with lovely large church windows but it was the garden that sold it to us – it looks right over the Grass Market rooftops and out to the stunning building of Heriots School."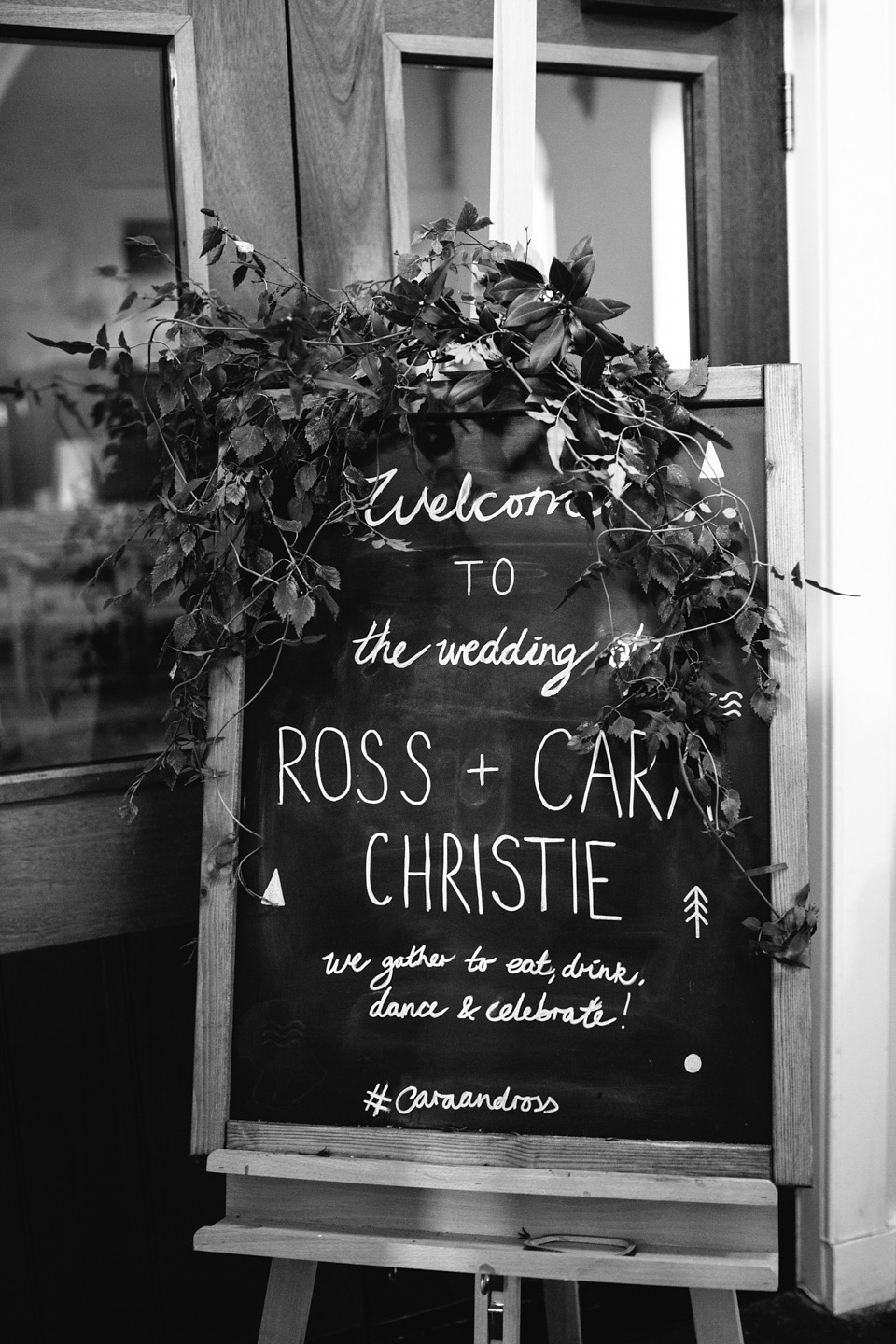 "We used large silver inflatable letters from eBay as a backdrop to the main table and we hired festoon lighting from I.A. Sound and Light."
"Loving Food were our caterers– Stoobs and Sandra did the catering for the main meal. Not only was the food fantastic and very reasonably priced they and their team are such lovely people. Highly recommend!
My Mum made the canapés.
Premiere Mobile Bar also did an amazing job with the bar. They let us choose which beer we wanted on tap and bottled (William's Bros) as well as having lots of different options.  Dinner wine was donated to us by my bridesmaid Vicky and her husband Tom."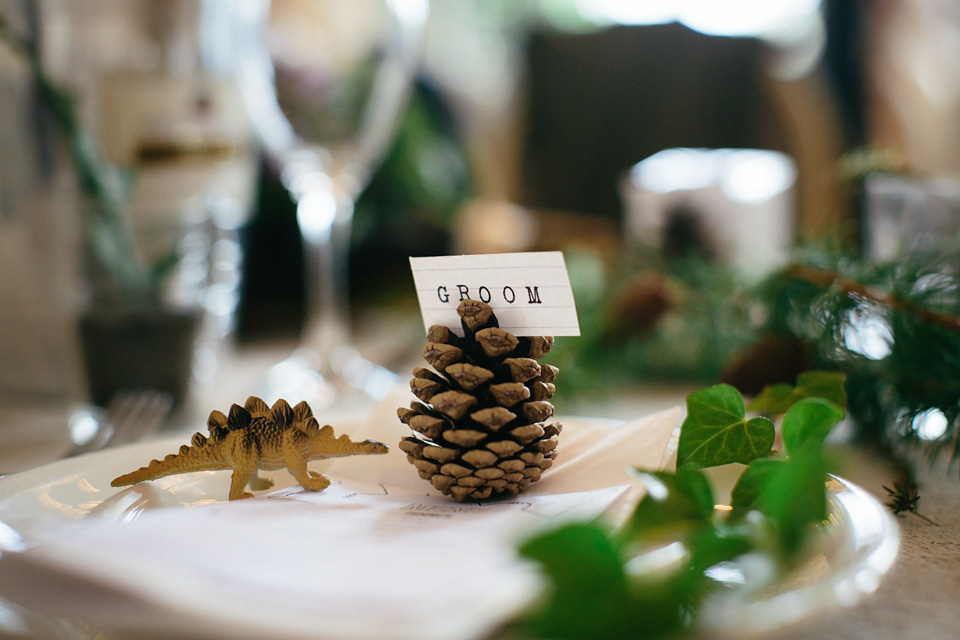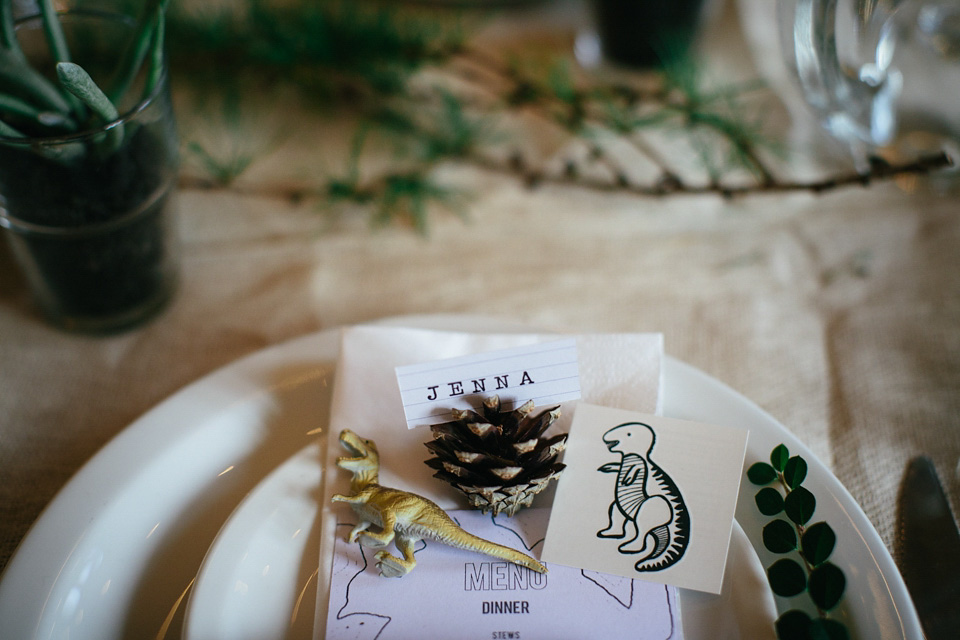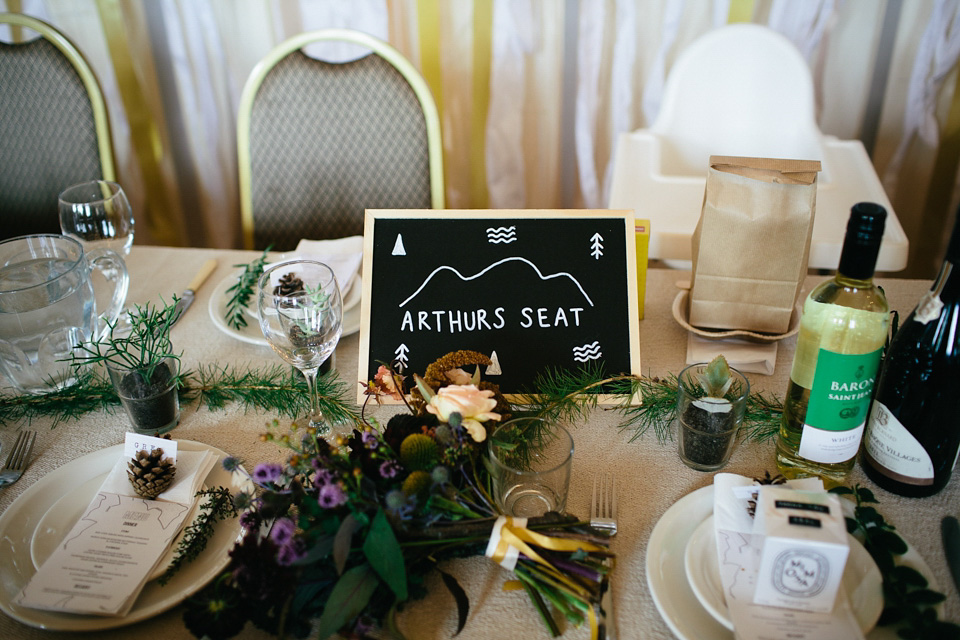 "We used cheap cotton twill dust sheets as table cloths – in keeping with our low budget."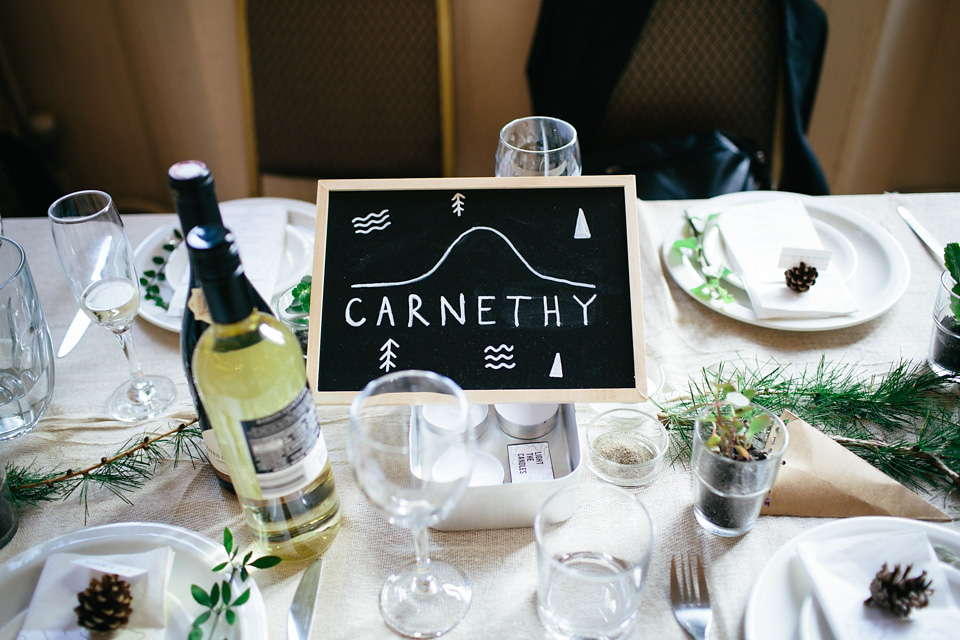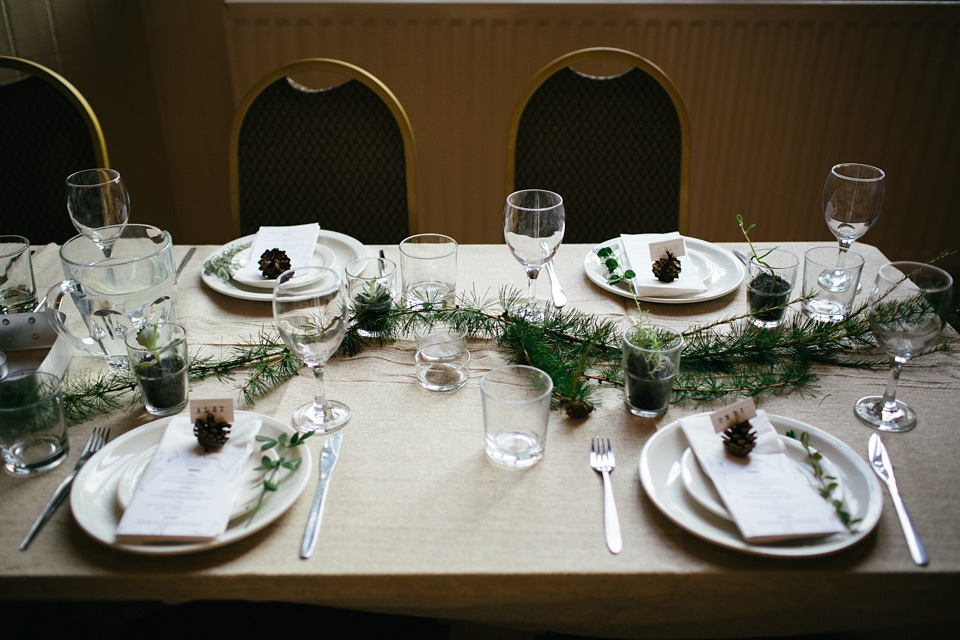 "The children each got a party bag made from brown paper which I transferred their names on using gold letraset. In each bag they had activity books, dinosaur figures (Ross' favourite film is Jurassic Park) and dinosaur temporary tattoos by wee gallery."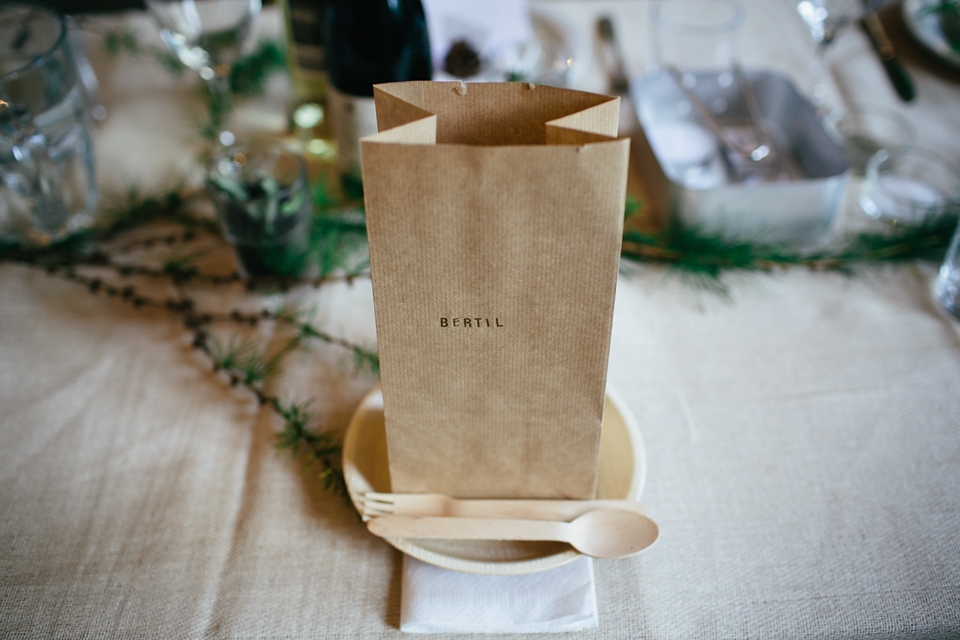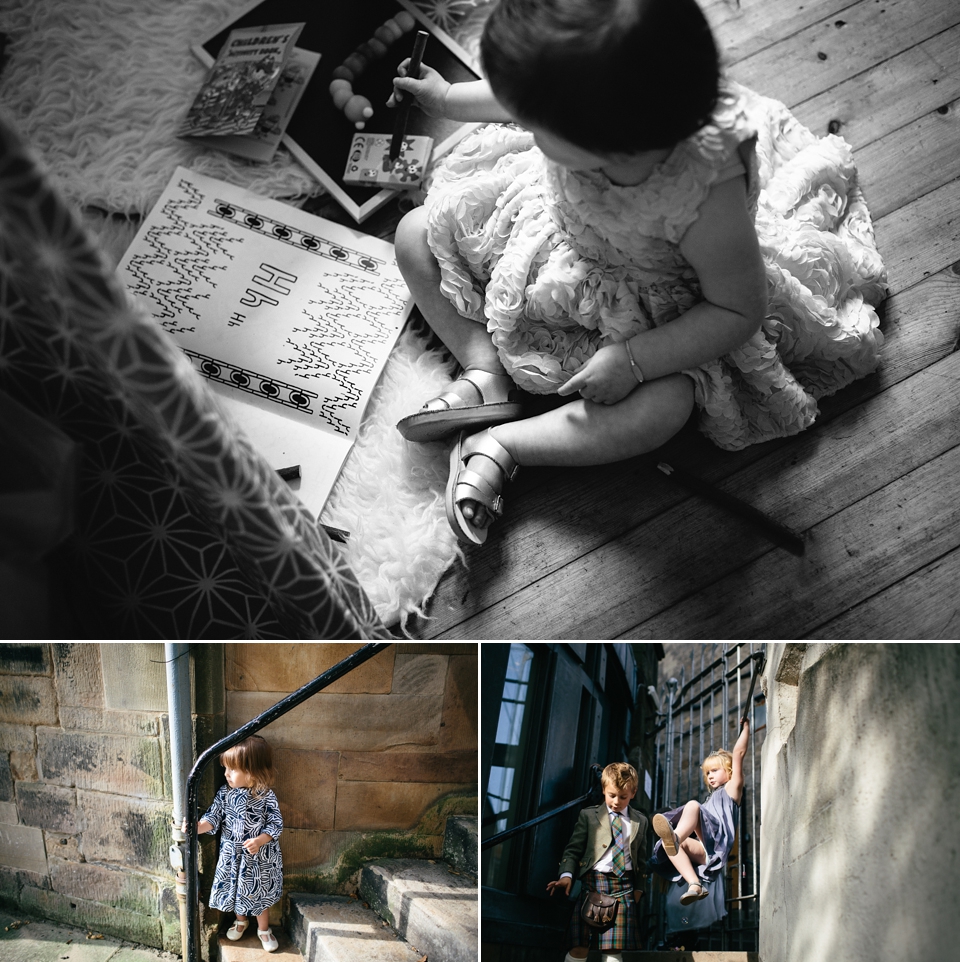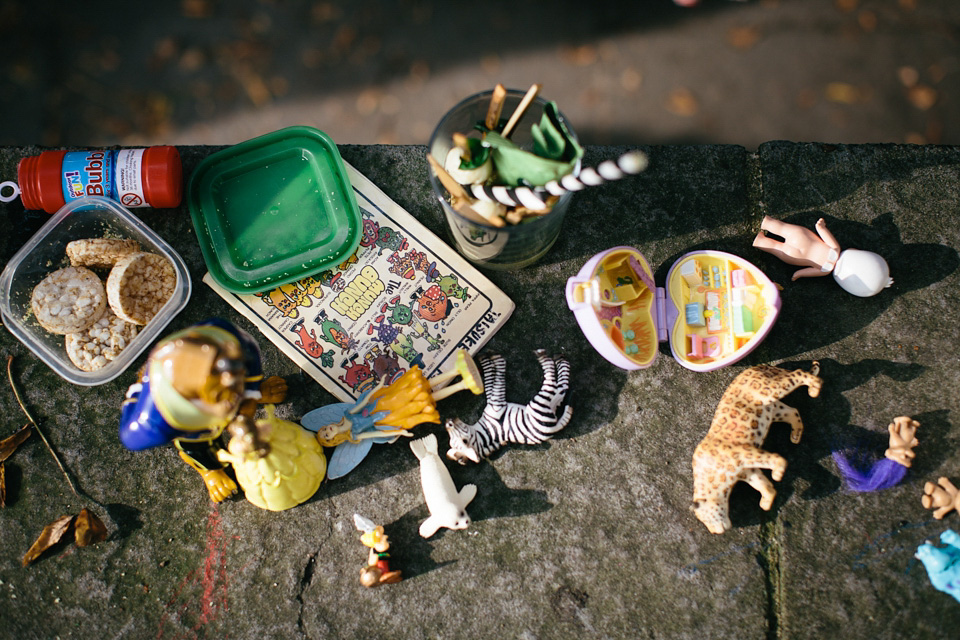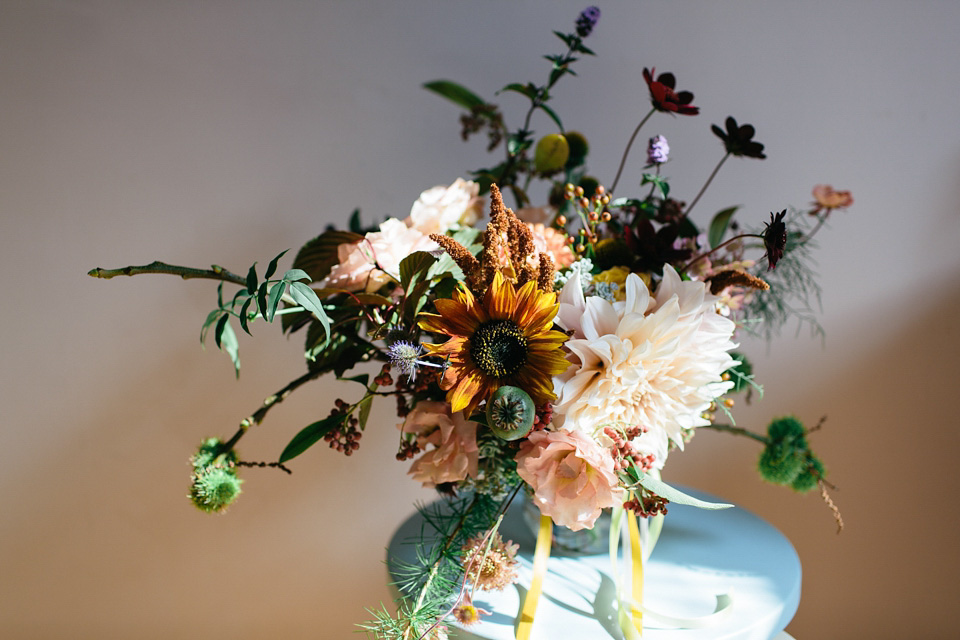 "The wedding favours were succulents which we bought online from Poland via eBay. We then planted them ourselves in Ikea glasses with the help of the Bride's wee sisters (also Flower girls). The favours helped dress the tables too so were a good cost effective option."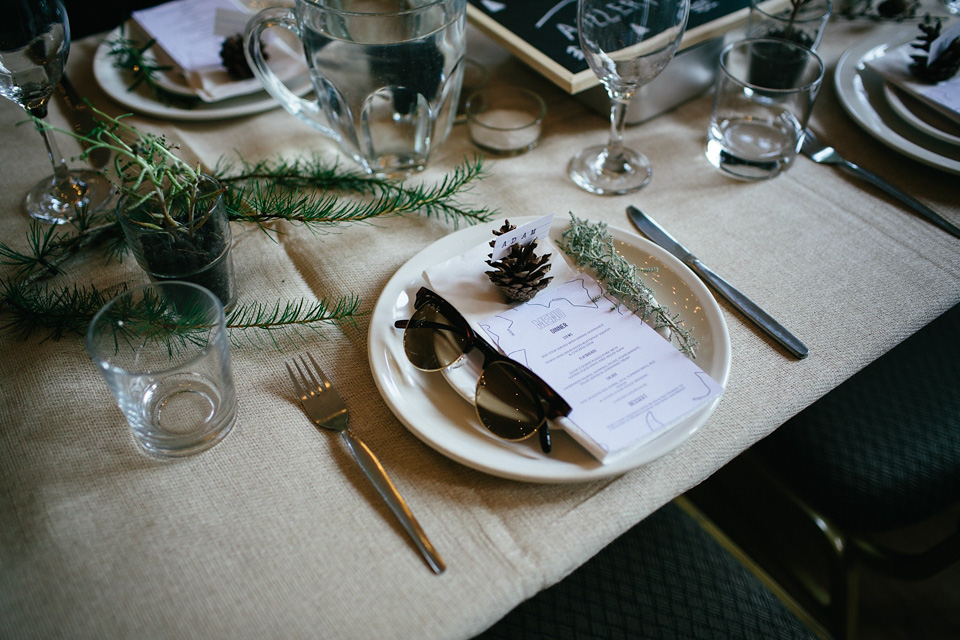 "Ross's sister and I drank wine and sewed 75m of geometric bunting that was hung around the venue!  We also used Ross' late Grumpfer's easel and a chalkboard donated by bridesmaid Vicky from her wedding as a welcome sign. Vintage wooden ladders from our flat with the table plans attached using bulldog clips and pins. Both of which Pyrus adorned with foliage."
"We used a vintage drinks trolley which I painted with blackboard paint as a place for cards, gifts and well wishes. We decorated it with a suitcase got from Merci, Paris, some old photos of us from the photo booths in Berlin, Euna's hospital ankle tag and the vinyl of Ivor Cutler's Jammy Smears which was the record we talked about when we met at that point neither of us knew of anyone else who liked it!"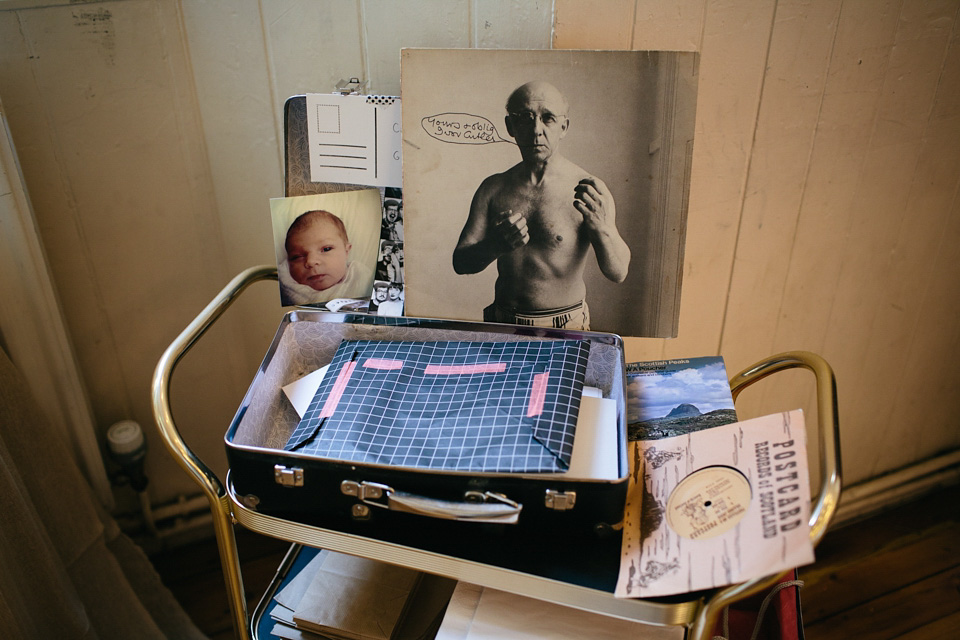 "In the venue there is an ugly noticeboard than runs for 14 metres along the hall so we had to hide this. We made handmade ribbon banners using fabric and ribbon sourced from eBay and tied them to branches that we collected during trips around Scotland.  Pyrus decorated the walls using collected flowers, foliage and feathers attached to the wall using washi tape."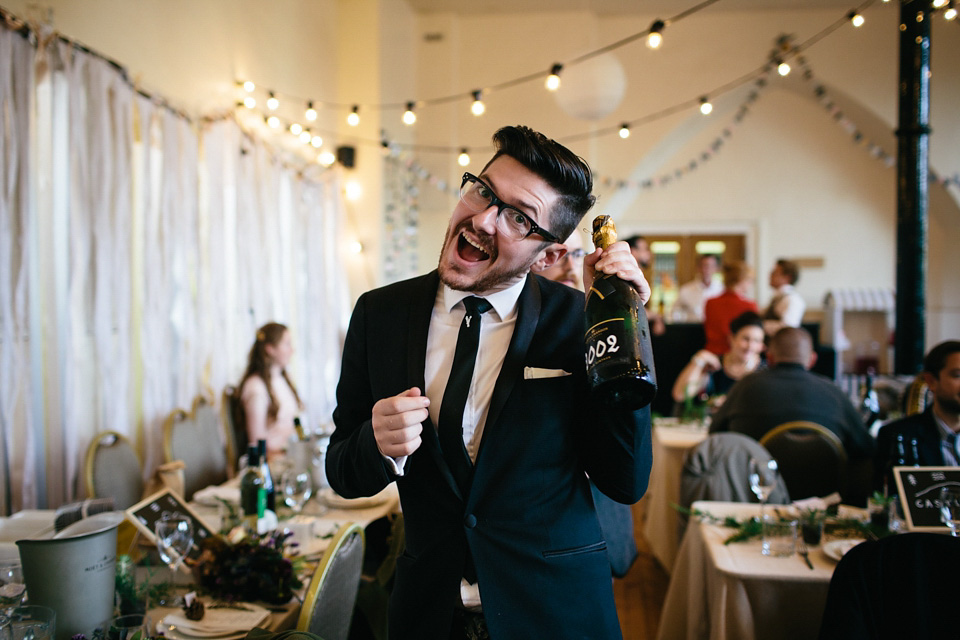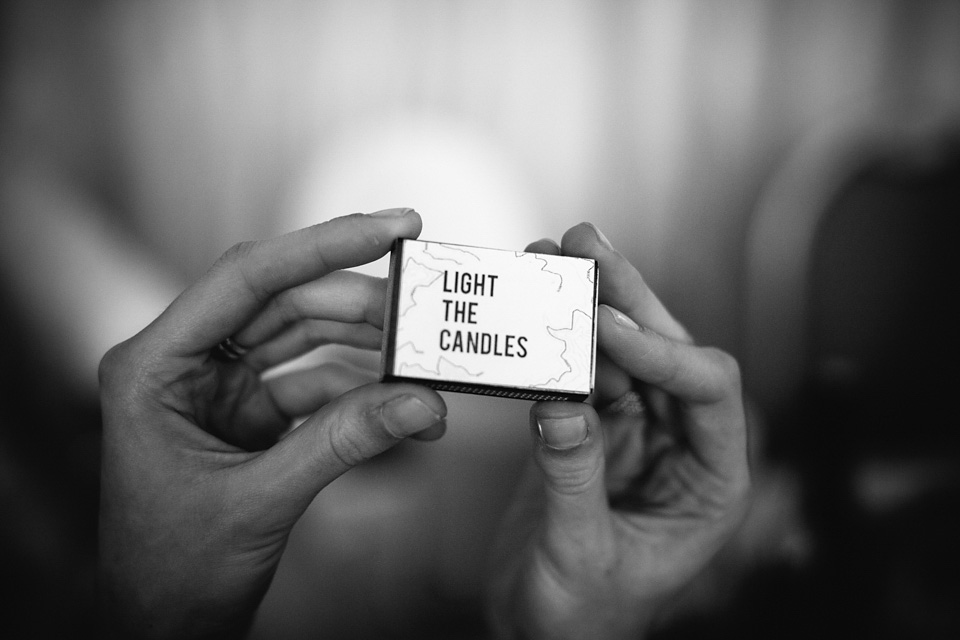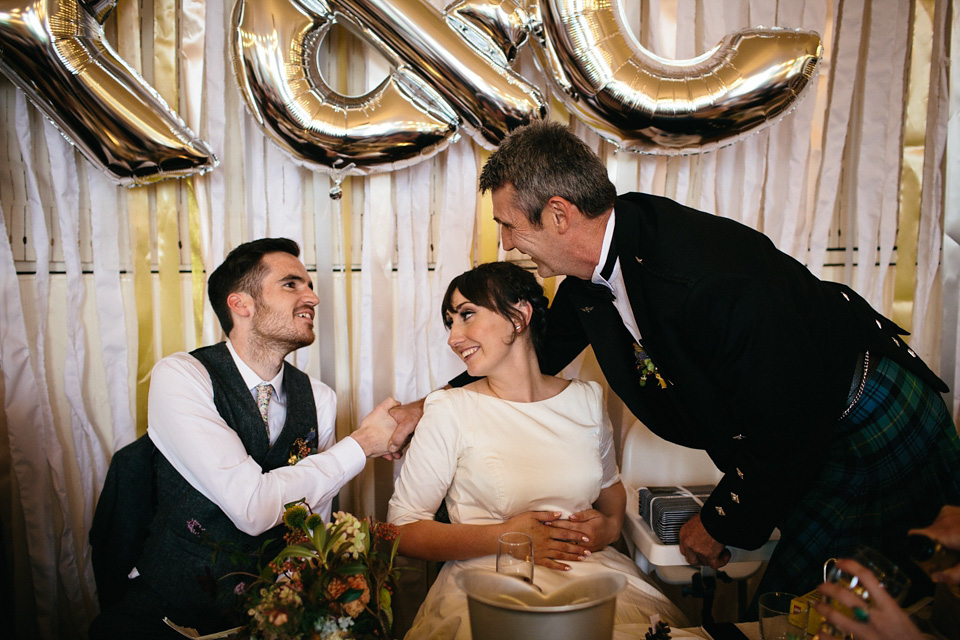 "My Mum made and iced the amazing dark chocolate cakes; they were decorated with petals, flowers and fruit by Pyrus."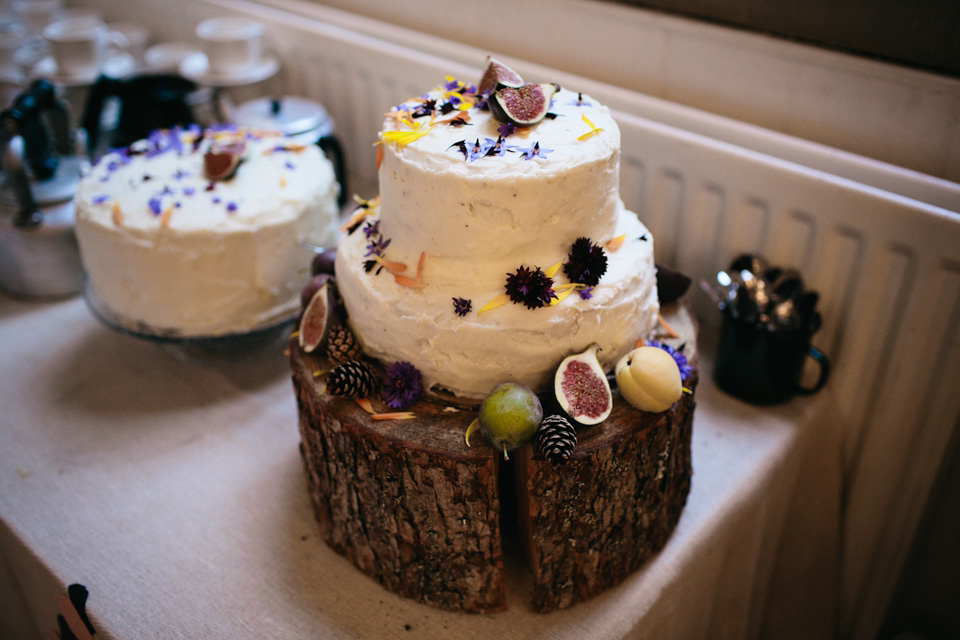 "We had so many favourite little parts to the day, like having a quick Lagavulin with my Dad before the ceremony to steady my nerves. I also loved it when Ross, Euna and I were walking around Arthur's seat and Dunsapie Loch, having a moment of quiet together with our wee unit. Finally, I loved the surprise speech made by our Swedish friend Magnus who gave us a certificate to join the Scottish-Swedish Society for Friendship and Fun Times aka 'SSSFFT'."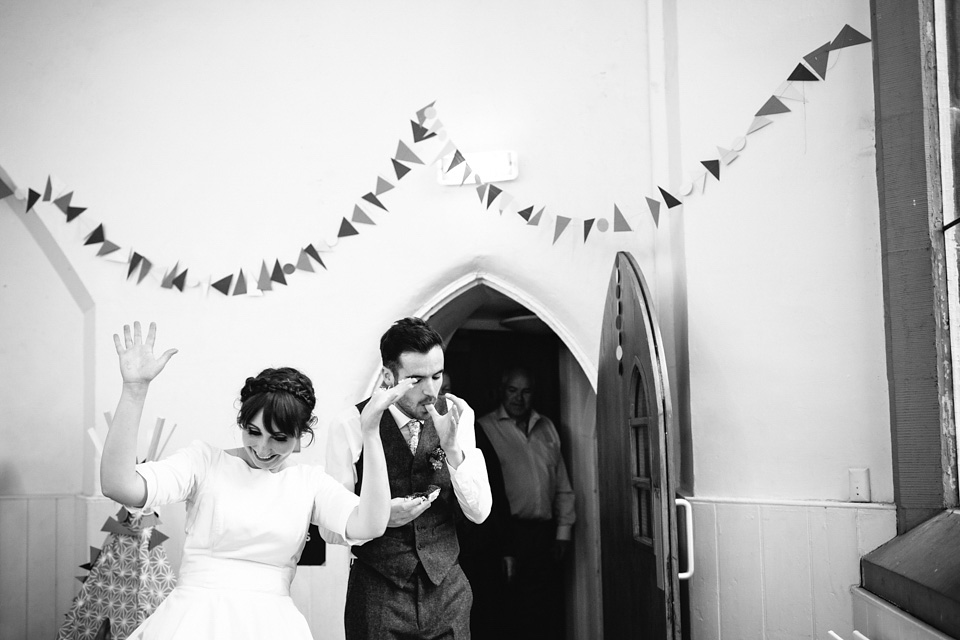 "Our ceilidh band were Canongate Cadjers who were brilliant and so reasonably priced. Excellent at engaging the guests and working in an awkward space.
Our friend Nick is a DJ he arranged the PA and DJ'd with his amazing vinyl collection all for 2 bottles of wine!
Our first dance was to Tears in the Typing Pool by Broadcast, not because the song's lyrics hold any particular relevance but because we listened to it a lot when we first got together so it holds a special memory for us of falling in love."
Words of Wedded Wisdom…
"Try to organise a little time together as a couple or as a family as we did.  And ask friends and family to see what they can do to help out – you'll be amazing at how willing people are to help.  We couldn't have done it all without all our wonderful friends and family who helped make things, design things, plant things, collect things, untangle things, hang things, and then take it all down at the end of the day."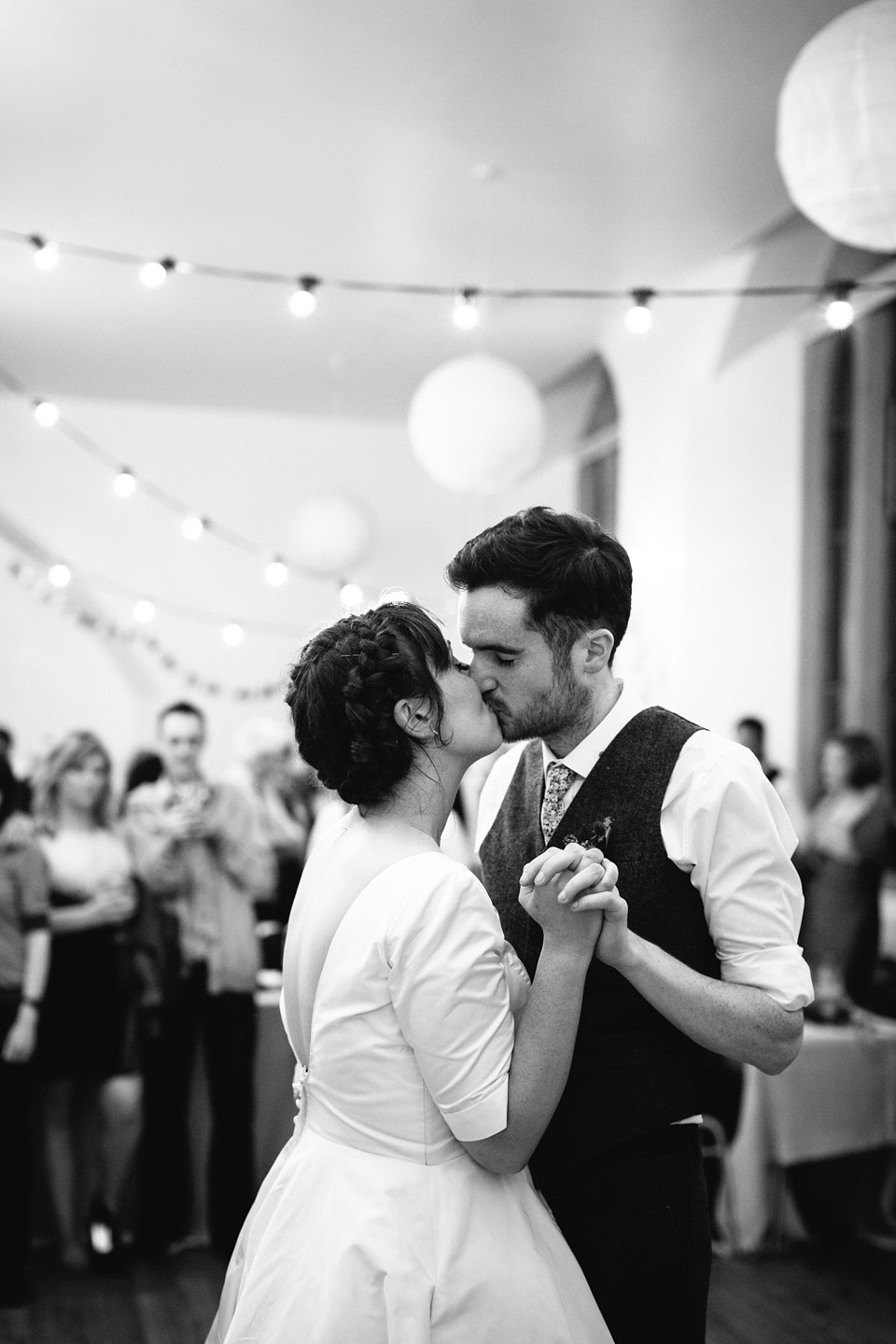 What an absolutely beautiful wedding, so full of happiness and joy and just exactly that kind of effortless, glamorous style I love to promote on Love My Dress.
Thank you so much Caro Weiss for sharing our last wedding of 2014, and huge congratulations to you both too Cara and Ross – I'm so happy to see your beautiful faces gracing Love My Dress – have a wonderful first Christmas together as Mr and Mrs!
Readers – we haven't quite finished for this year yet – check back this afternoon for our penultimate blog post of 2014, which will be FULL of offers from our sponsors for you – consider it a little treat from us to you.
Love Annabel xx
Photographer – Caro Weiss
Venue – Lothian Chambers + St. Columbus by the Castle (Edinburgh)
Wedding Dress – Flossy and Dossy
Florist + headpiece – Pyrus
Brides Shoes – Kurt Geiger
Accessories – Earrings + ear cuff from Jeweliq
Grooms Suit – ASOS suit + tie via Roxy + Fiona Heather
Bridesmaids Dresses – ASOS + Whistles shoes
Flowergirl Dresses – Ted Baker + M&S –
Cake – The bride's mum
Ceilidh Band – Canongate Cadjers
Rings – heirloom
Catering – Loving Food + Premiere Mobile Bar
Stationery – Cecilia Stamp printed by Risotto
Hair and make-up Artist Hair – Amy Jones at Vidal Sassoon, Edinburgh
Make Up – Lauren Gollan
Festoon Lighting Hire – I.A. Sound and Light