I think you're going to love this one folks.  Did you see the teaser film over lunch today?  Fashion designer Fi and her photographer husband David (who shoots fashion/commercial as well as weddings) tied the knot on 4th May this year at Inshriach House at Aviemore in Scotland. 
Now when the groom himself describes his wedding day as 'vintage'y, Edwardian mixed with a bit of Wes Anderson and a lot of whimsy' you kinda know you're onto something stylish, but what I love about this wedding the most is how beautiful Fi shares her and David's wedding day story….
"We met six years ago at The Skinny magazine's first birthday party. The dress code was strictly black – which I had gone all out for – but David was deliberately not dressed in black. I thought he looked like the most miserable person in the room so decided to make him my best friend for the night.
We had a heated debate over who has more right to be depressed Batman or Superman and discovered a common interest in authors, music and art. We have pretty much been inseparable ever since."
Love My Dress Wedding Blog – Photography Copyright (c) 2013, Helen Abraham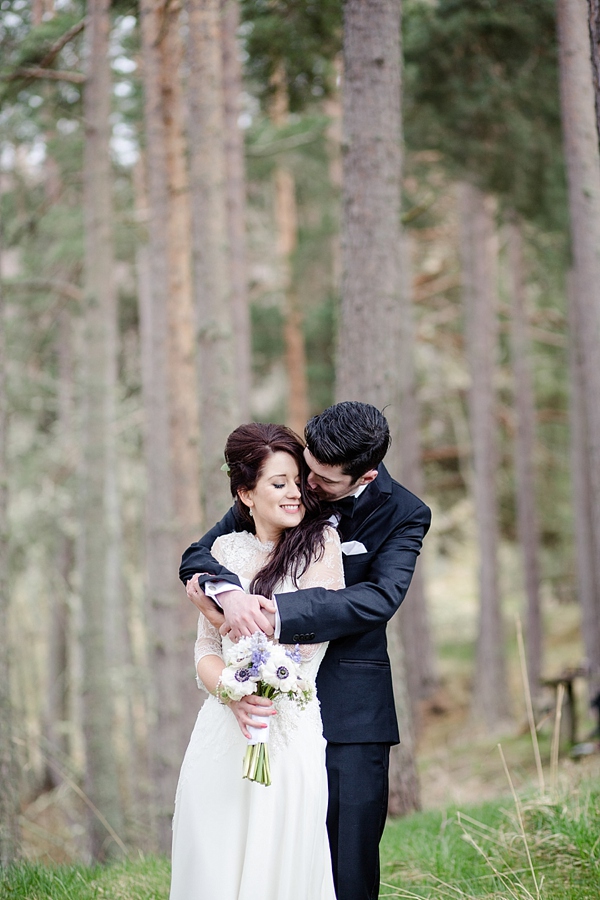 "David popped the question in Barcelona April 2010, which was incredibly romantic. He took me up to the spectacular Parc Guell and asked me to pose in front of the scenery. David is a photographer and always has some camera on him. This time it was a beaten up old Polaroid. He took my picture and slipped it into my pocket to develop.  He then gave me a huge hug and said some really lovely things, I started to get suspicious but didn't want to get my hopes up for nothing, so turned away. 
David then asked me to look to see how the picture had turned out and instead of a picture of me in sunny Barcelona it was a picture of him, in the park by our home, holding up a sign saying 'Will you marry me?' I turned around to see David on one knee with a gorgeous ring but was so shocked and surprised I simply said 'Are you serious?!', and then 'Yes!'."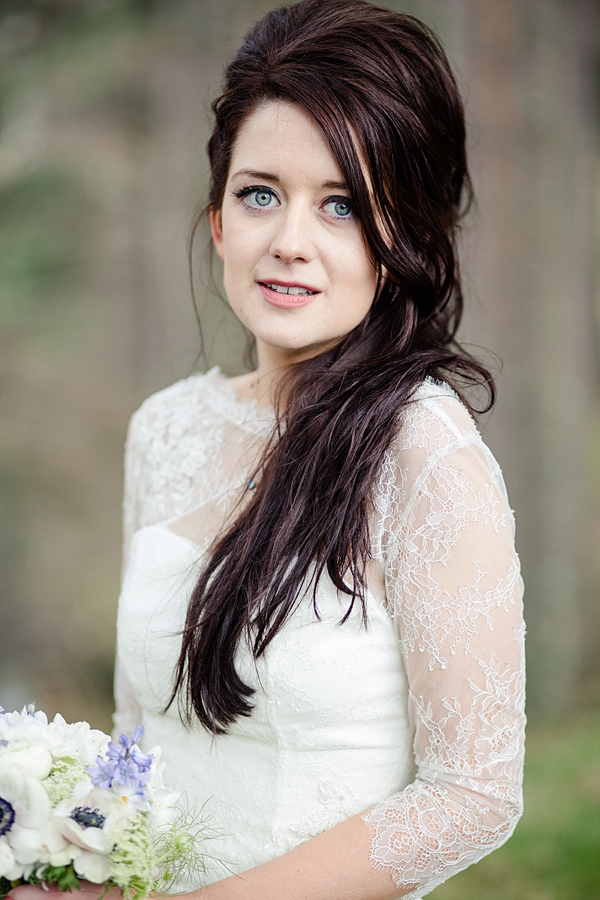 We found a quiet spot to pop some Prosecco and then rushed back to our apartment to phone around our friends and family. However, our adventure had only just started, as we were to learn that the Ash cloud had hit and we were stranded in Barcelona.  It took us 10 days to get back to Edinburgh, by night bus to Paris, then friends had to drive over on the ferry to rescue us and drop us off at my brother's door in London. We eventually arrived back in Edinburgh where everyone was bored of celebrating without us!" 
Hehehe!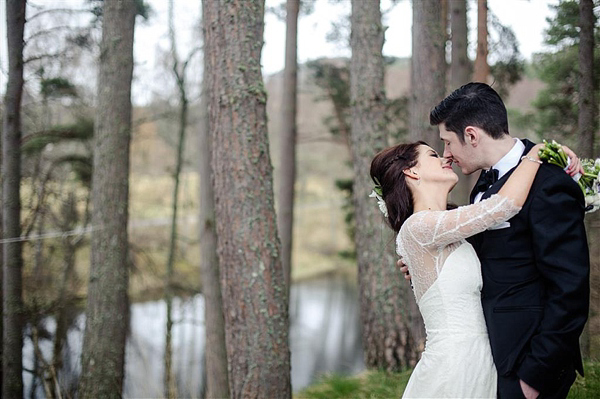 "David wore a handmade custom/bespoke tuxedo by Totty Rocks.  He also wore a pair of silver cufflinks, a gift from his Sister – they were by designer Hannah Louise Lamb.  They are made from Edinburgh silver, to represent David's origins, and have the River Thames etched to represent mine."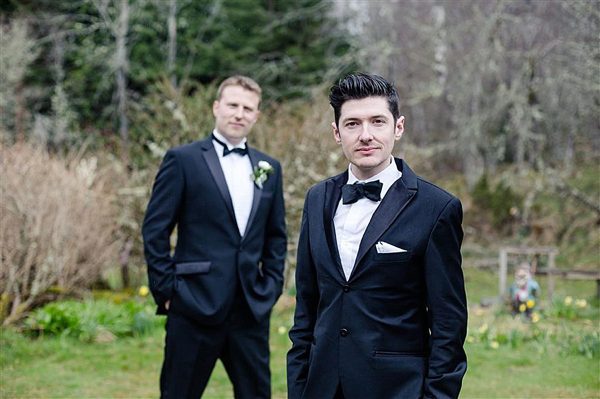 "We spent a long time choosing the perfect place to be wed. Getting married on a budget meant that we had to think a little harder to find the right balance of compromise. We wanted somewhere that was relatively easy for our family and friends to travel to and find accommodation but that would also be the perfect, relaxed setting for a simple garden party. 
As soon as we visited Inshriach House, and met owners Walter and Lucy, we felt instantly relaxed in their company and as if we had known them for years. That really sold the place to us. The fact that we were also able to make use of the Edwardian House for the entire week preceding the wedding and invite our close friends and family to join us for an extended stay there was more than we could have ever imagined. The place boasts charm, adventure and tranquility. It was perfect.We didn't hire an event planner."   
"Walter of Inshriach House helped to point us in the right direction of trusted local suppliers, but we arranged everything else ourselves. With much help from wedding blogs like Love My Dress and Pinterest we were able to get a strong idea of what we wanted. We both work in design so felt capable to take on the challenge."
"I chose Amanda of The Country Garden Company to provide us with flowers.  I really liked that Amanda's flowers are all organically grown, in Scotland. I wanted quite seasonal flowers, in gentle whites, blues and greys. I sent her some pictures and she made some great suggestions, to add Eucalyptus in which balanced the colours really well. As everything else was DIY we thought why stop at the flowers so we bought them by the bucket and dressed the tables in the morning.
I was quite nervous as didn't know exactly what we would get, how 'organic' they would be. A friend of mine scared me by saying that she had paid double what we did for her by the bucket flowers and they arrived needing to have thorns removed. But I needn't have worried as the flowers were in beautiful condition. I didn't need to do anything except scatter them among the jam jars and select a couple for the hair! We did get Amanda to make up my bouquet which was just absolutely beautiful, exactly what I wanted, and then corsages for the bridesmaids.
My sister organised the buttonholes, which Amanda had made up little sets of. She even, really sweetly, included a surprise sprig of Rosemary and explained that it was traditional for the bride to slip it in the bouquet as a sign of remembrance for those you have lost."
"Designer Rowan Joy made my dress, it was a bespoke piece so I was able to have a lot of input. Choosing elements from my imagination and elements of her original designs as well as choosing the fabric which I then ran through the bridesmaid frocks. Rowan is a close friend of mine so it was so special to have her make my dream dress. I trusted her completely."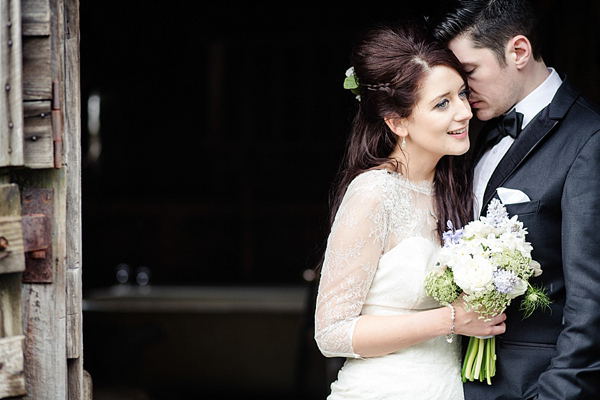 "I love that my friend made it for me, we had so much fun at the fittings and it makes it all the more special that it is a one of a kind. As a designer I had quite a strong idea of what I wanted, but even I wobbled at one point! The lace I chose was so delicate and I just adored that Rowan created something that looked so vintage but still quite bohemian and ethereal and just perfect for me. I had some vague thoughts about finding a vintage dress but nothing seemed quite right and I dismissed the idea of making it myself as I knew I wouldn't think of it as special enough.
I worked alongside Rowan when she was designing her first Bridal collection and we have quite a similar taste when it comes to dream dresses and designers. I've always loved her dresses and knew I could trust her completely to create THE dress. I was so happy with it in the end that I wanted to start the day earlier so that I could wear it for longer!"
"My shoes were from Dorothy Perkins (….sssshh!).  I knew I would wreck them and just wanted a heel I would wear again after then I slipped into my faithful Topshop ballet pumps.
 I wore a necklace that my brother and sister in law had given me for my sweet 16th, a Vivienne Westwood pearl bracelet from three of my best girl friends and butterfly earrings that David bought for me a few days before the wedding."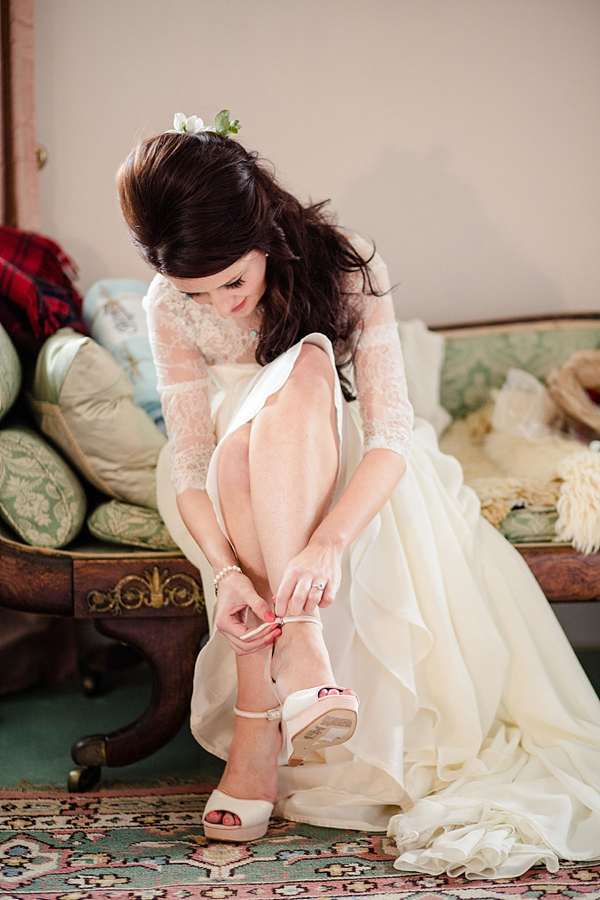 "We had a humanist service and it was so personal and really told our story. Everyone laughed and cried. I loved the speeches and the dancing and just chatting to everyone. I also loved running off over the hills with David to stay in the yurt that is part of Inshriach House. But it didn't stop there. The next day we had leftovers to finish, lit the fires and just talked none stop about the day with our immediate family, bridesmaid and usher.
It felt like Boxing Day. We were all so happy.  We stepped outside as the evening drew in the stars were absolutely spectacular, I spotted a shooting star. It was just magical and absolutely perfect."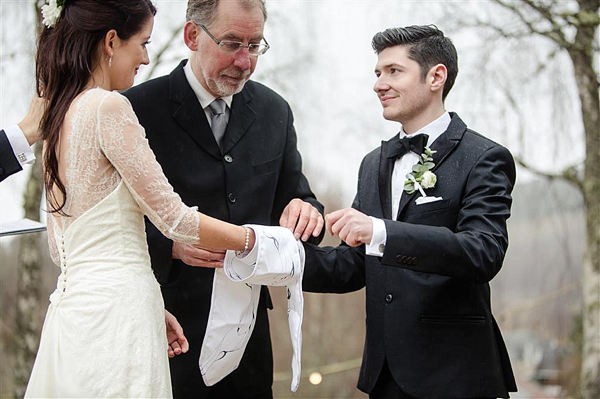 "We wrote our own vows together. Our celebrant gave us some examples and we read up other vows and mixed all of these elements along with what we wanted to promise to each other. It was the part of the ceremony where I cracked and I still can't make it through saying them out loud without shedding a tear.
   My sister in law and our good friend Bill both did readings at the ceremony. Deborah read Ben Okri's 'I Held You in the Square', which we both loved because of the symbolic of initial promises and that feeling of knowing you've found the one. We made a commitment to each other quite shortly after meeting, whether we were fully aware at the time or not, and we felt that this really echoed this feeling. Bill chose to read 'The One' Author Unknown. Which again, we thought was a really beautiful poem.
We gave both Bill and Deborah a choice of poems as wanted them to read something that they felt truly represented us and words they wanted to part with everyone. So they helped us choose too."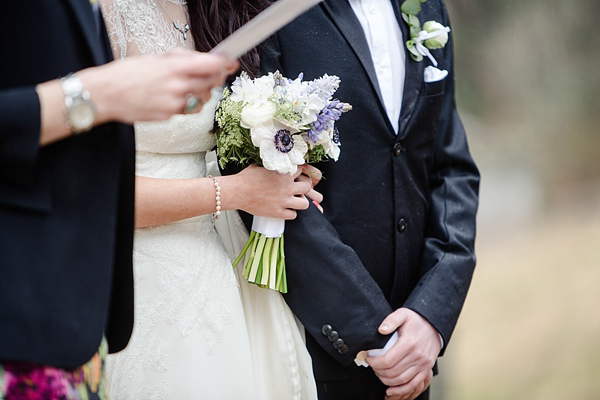 "I designed and made the bridesmaid dresses!  I used lace cut offs from my dress to work as detailing across their dresses. I consulted with them beforehand to make sure that I made them something that they were truly happy with. We went for mismatched colours and styles as they are all so individual, but we tied it all together by adding the bridal lace into each of them.
I hadn't expected to end up going for as much colour as we did, but it was Springtime and I felt that it helped to make for a fun, relaxed and seasonal atmosphere.  Plus, with the addition of mixed colours it allowed my bridesmaids to have the freedom to choose something that they would really feel comfortable in, as opposed to matching the cake or the flowers."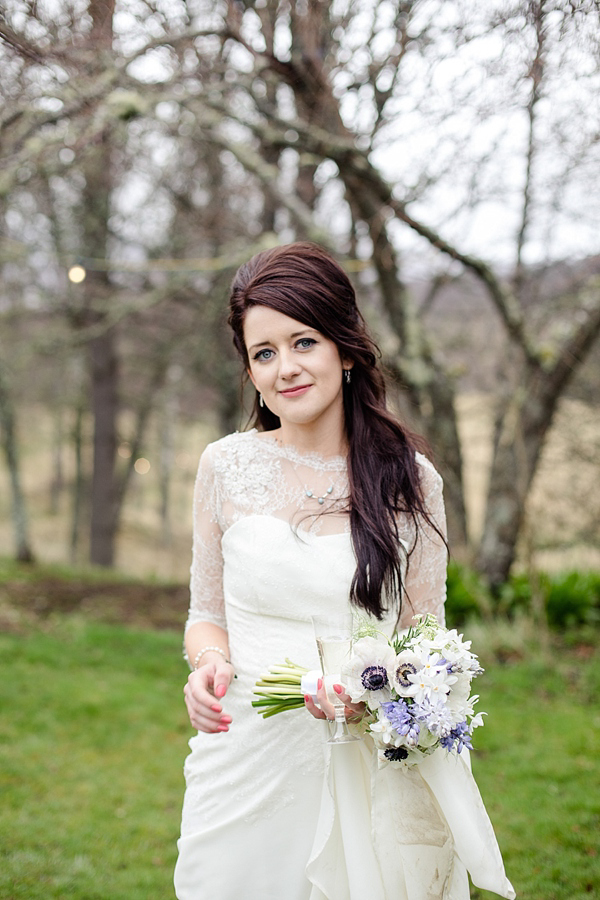 "We had to have something to do with cameras, as it played such an integral part of our engagement, and named each table after one of David's vintage cameras. This camera was then placed on the table and a guest at that table was nominated to be that tables photographer, with instructions as to how to use it. The setting itself is so grand with nature that it didn't require much in the way of dressing. We chose a simple marquee with gorgeous wooden floors and tried our best to avoid the "top table" by running them in rows.
I decorated the tables with help from sis in law, sister, cousin and Auntie. I suppose I ended up having a kind of paper theme if any. I scattered origami butterflies along the tables in amongst jam jars full of organic flowers. We also placed long stems of Eucalyptus along to middle of the tables. My Dad has beautiful calligraphy handwriting so he was in charge of writing all of the name cards. We also hung paper lanterns from the ceiling and Walter lent us miles of bunting to complete the look."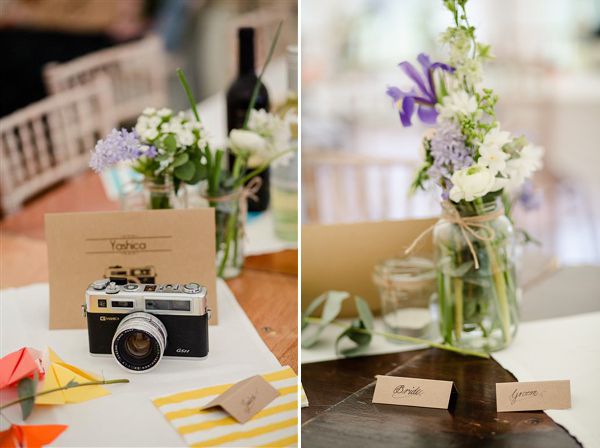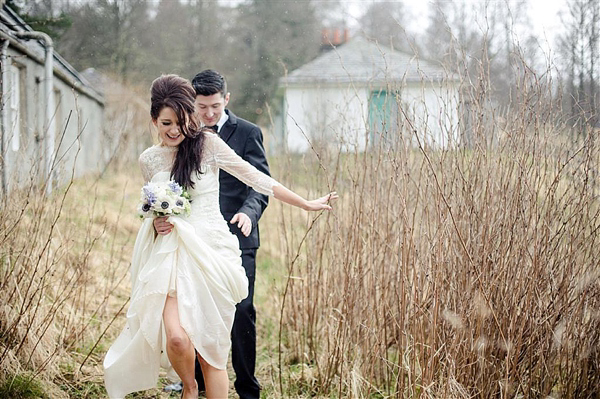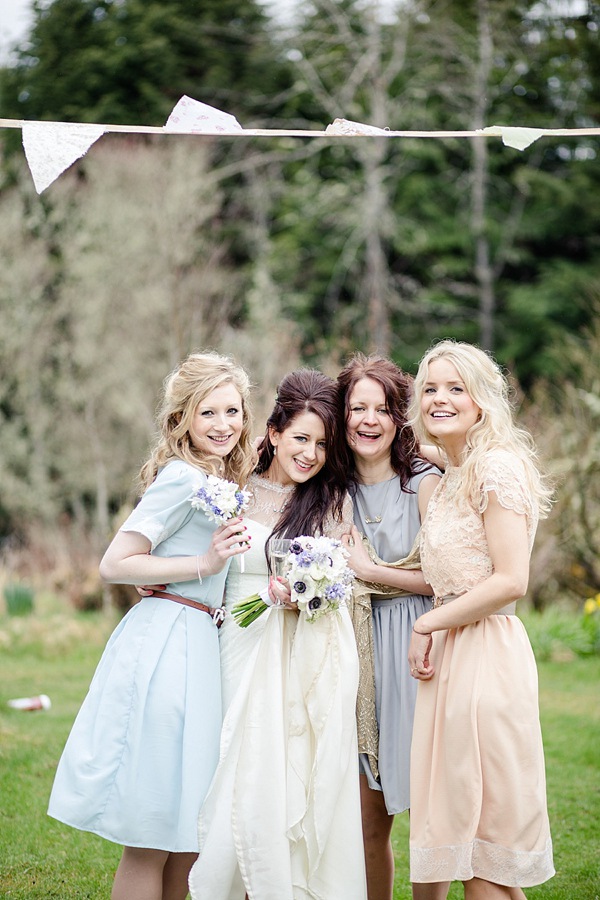 "In terms of favours, we bought fleecy blankets and I sewed on our screen printed 'Hitched in the Highlands' labels onto them. David visited the studio that I use to screen print my fabric for Fiona Heather and did that himself. It was lucky that we did as it rained a little our guests really needed them. We also bought seeds of Forget me Not's filled up little packets that our friends helped us make up and left them for guests to take. We also managed to find CD's that look like vinyl and made up mix CD's for our guests.
For our Groomsmen and Bridesmaids we gave them Harris Tweed covered hip flasks."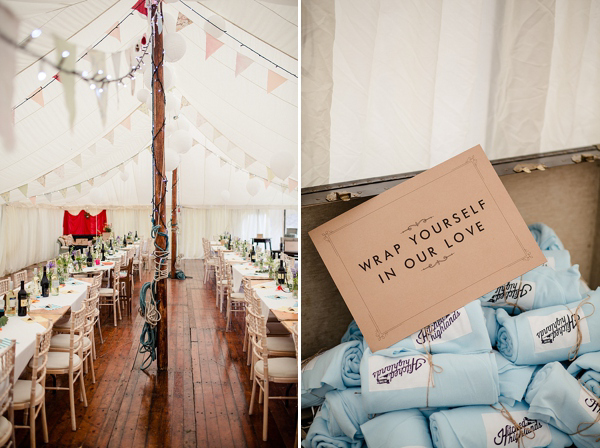 "We are both quite into vintage, 60s style and old curious keepsakes but the house itself really inspired us.  An old Edwardian House with so many curious tricks up it's sleeves. My sister and her fella stayed in the Beermoth, a converted Wartime Fire Truck, complete with chesterfield armchair and wood burning stove. We spent our wedding night in a Yurt that Walter had given the same treatment, wooden floors, wood burning stove and cast iron bed. It is a giant adventure playground, like something out of an Enid Blyton book. We wanted the wedding to be as much fun as the venue."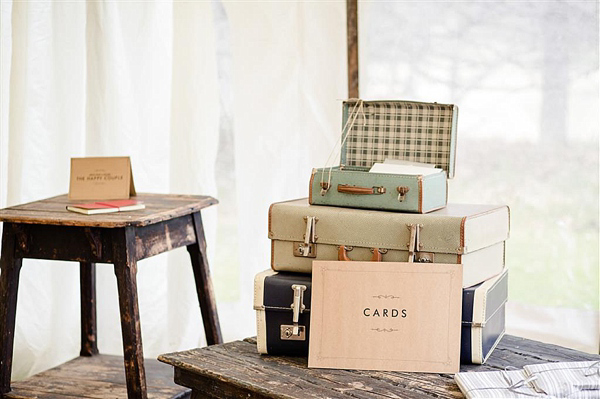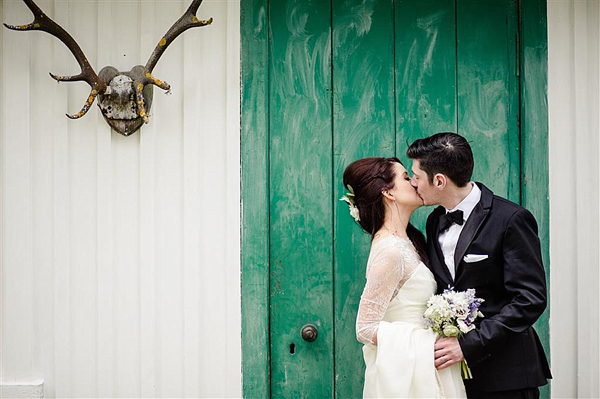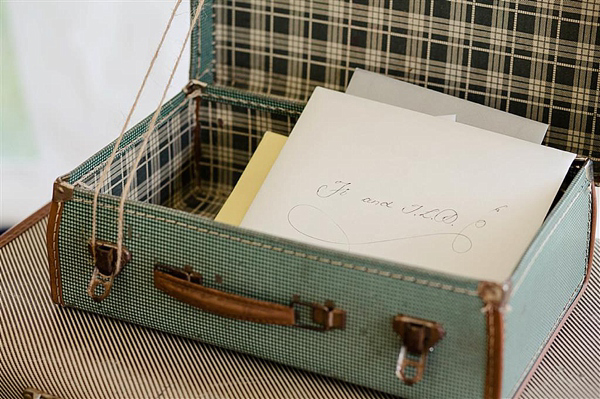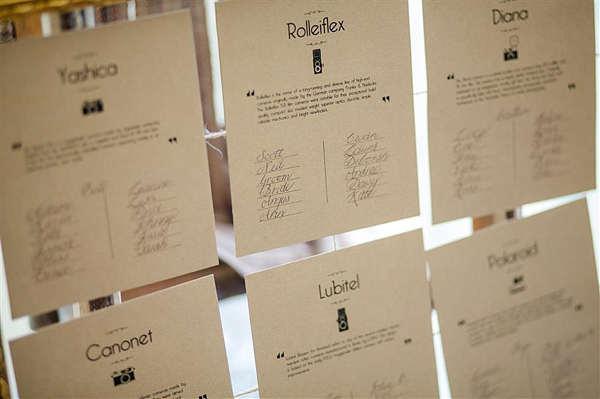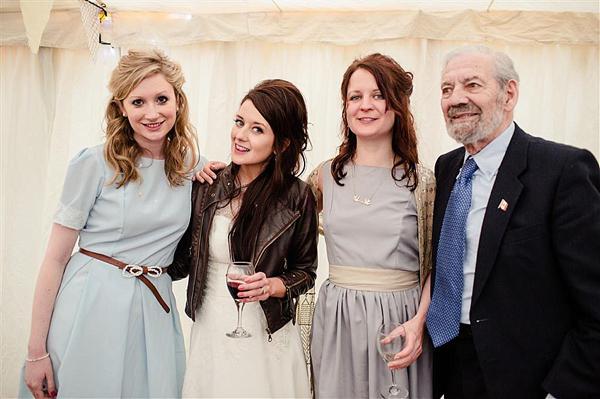 "Our first dance was 'My Favourite Girl' by King Creosote, which then led to 'You, Me Dancing' by Los Campesinos. Both are 'our' songs.  I think I put My Favourite Girl on a mix that I made for David when we first met and the Los Camposinos song was playing everywhere when we met. It was the only song we would dance to together in clubs. On the morning of the wedding, David surprised me by re gifting me my vinyl copy of My Favourite Girl. He'd met up secretly with Kenny Anderson and got it signed for me. I cried when I opened it."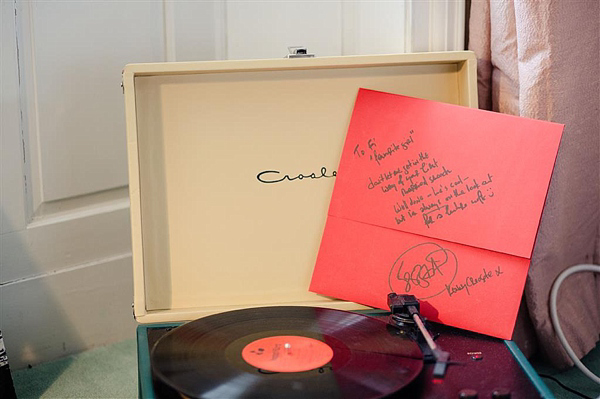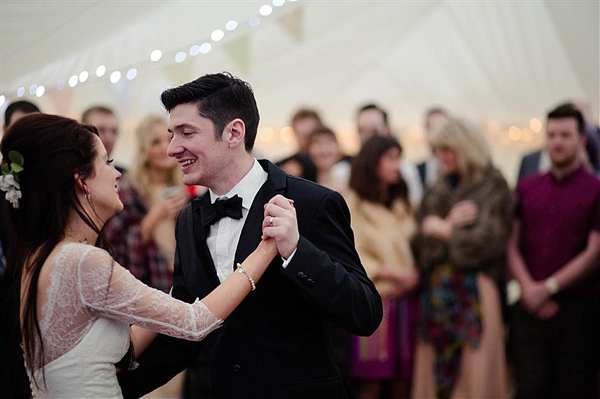 "Our photographer was Helen Abraham. As David is a photographer, his criteria was high for who was to do our photography. He had met Helen a few years ago while both shooting a fashion show, and she was top of the list. Second was that I married a doppelganger and David did it! 
Helen was absolutely amazing. We wanted more of a documentation of the day rather than lots of staged pictures, all of our favourite people were in one room, possibly for the only time ever, and we wanted to just enjoy being with them rather than spending too long getting formal pictures taken and Helen really responded to that. We barely noticed that she was taking photographs, she is a total natural.
Helen made everyone feel really relaxed and really captured the feeling of the day. Strangely enough she is good friends with Walter who owns the house, so really knew the lay of the land and was happy to be part of our day. She really took the time to make sure she got to know everyone there and was pitching in to help with the prep, at one point in the morning she had untangled my necklace without anyone noticing or having asked her. Helen is a lady with a gentle manner, truly composed and completely trust worthy. Above and beyond is an understatement.
We are so lucky that Helen agreed to take our wedding photographs."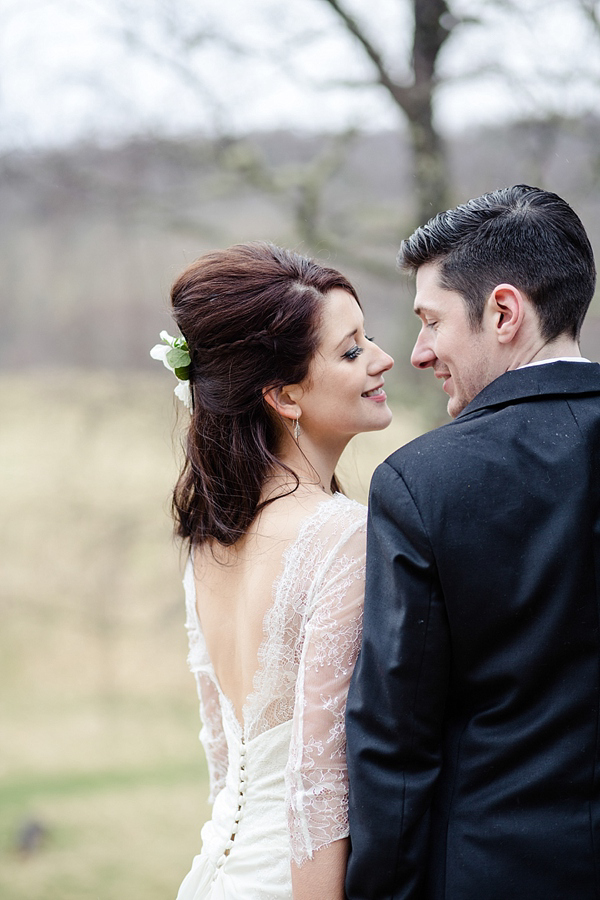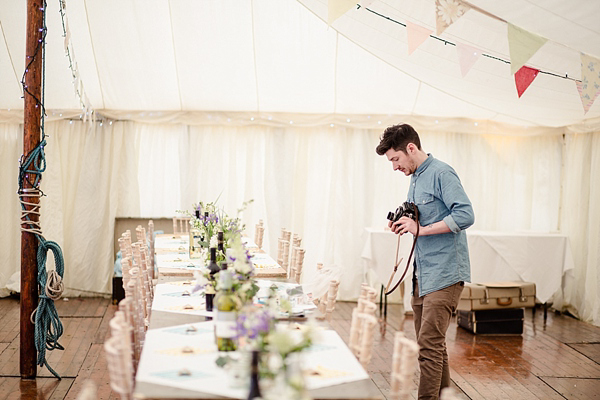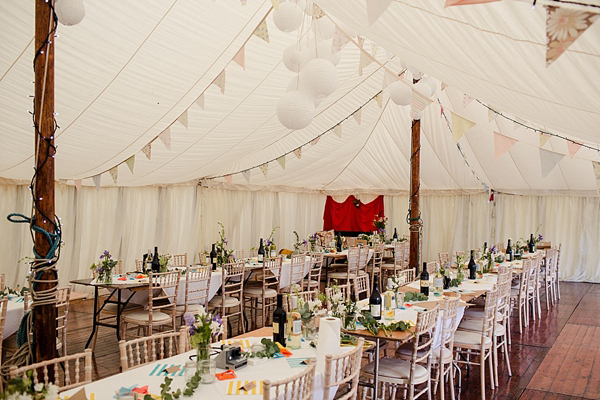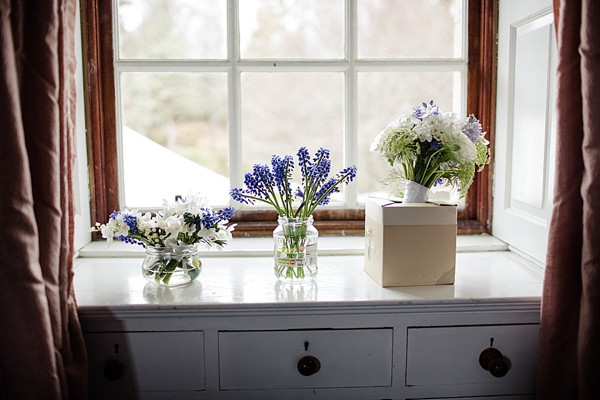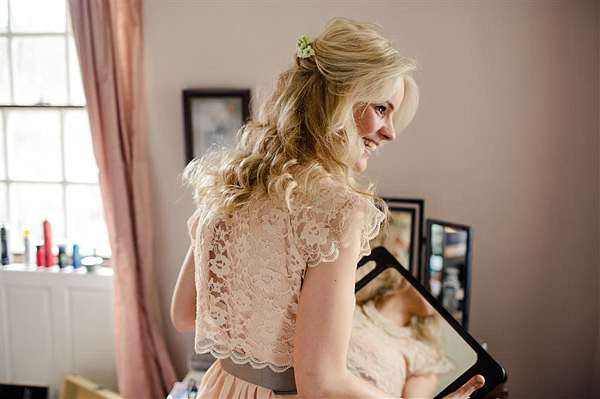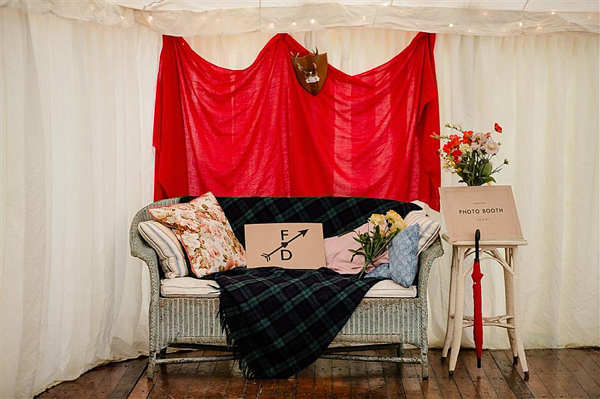 "We made up origami butterflies and mixed them in with the flowers and candles along the tables. We brought up all of our vintage suitcases and trunks to house the blankets and dress the room.
We had a bit of a mess up with the marquee – being that the wrong one was provided so Lucy, who owns Inshriach, cleverly found silver birch trees from the woods to help with the great cover up of the exterior. We hung paper lanterns from the ceiling and lots of bunting."
"Hair stylist Chris Dickson of Dickson Reid made the morning getting ready so much fun and so special. I've never been disappointed with the staff at his salon on Frederick Street. All so friendly and all bend over backwards to make sure their clients are happy. I sent Chris a selection of pictures and he interpreted the look perfectly to suit my style, the day and my dress. He even used the fresh flowers throughout all of the girls hair and they stayed in place for the entire event!
My makeup artist Kimberley Dewar really helped to make me feel relaxed in the morning even though I was pretty nervous. She is so sweet and friendly. I loved how she talked me through all of her products and get the look perfect to my style."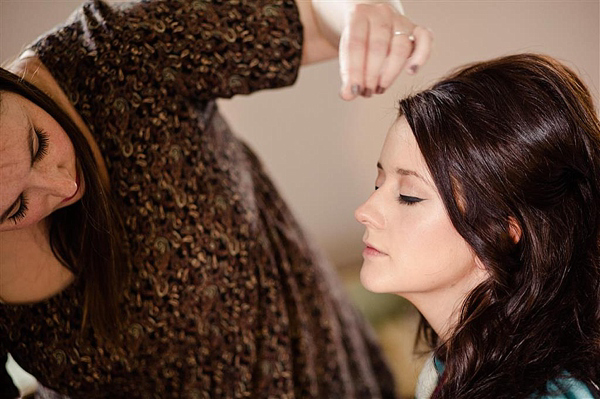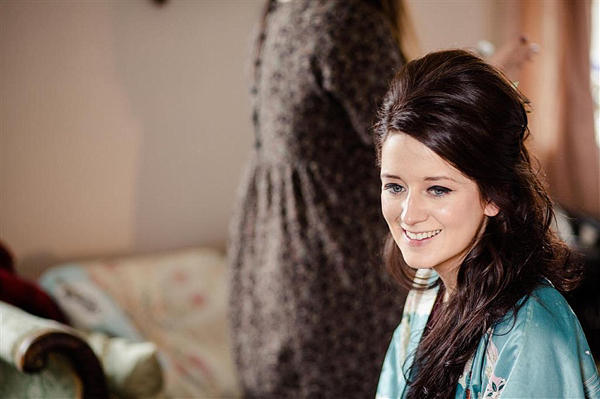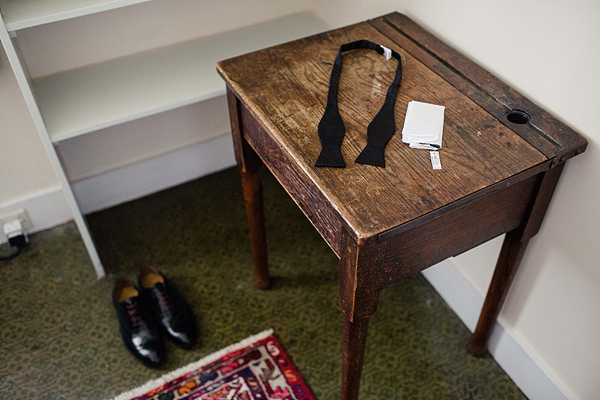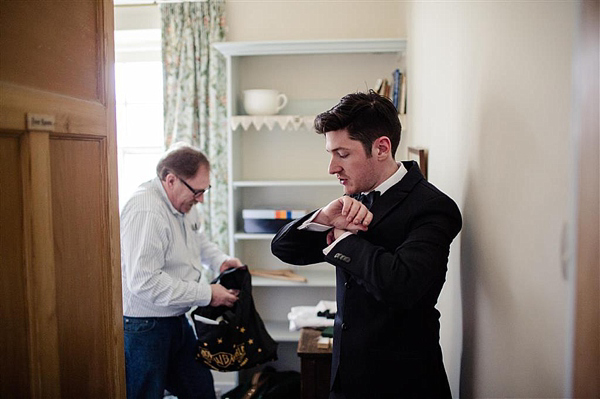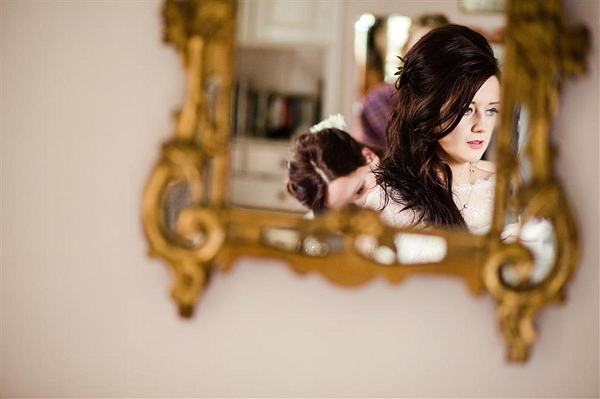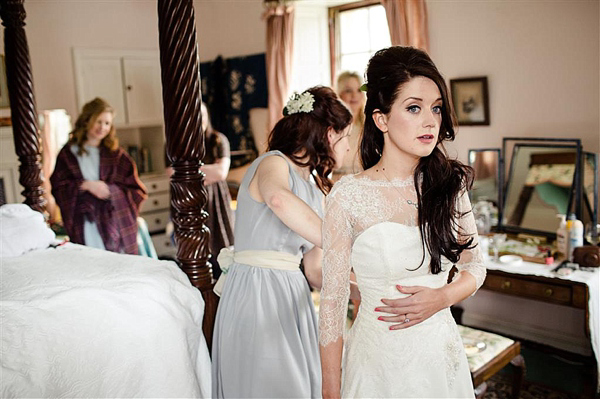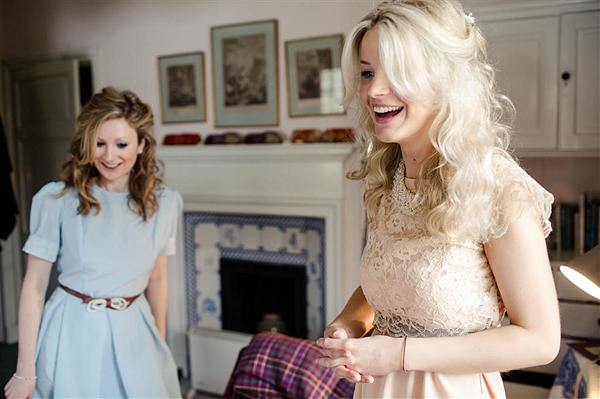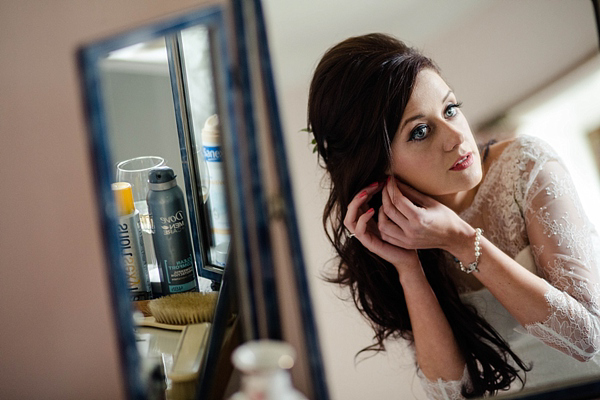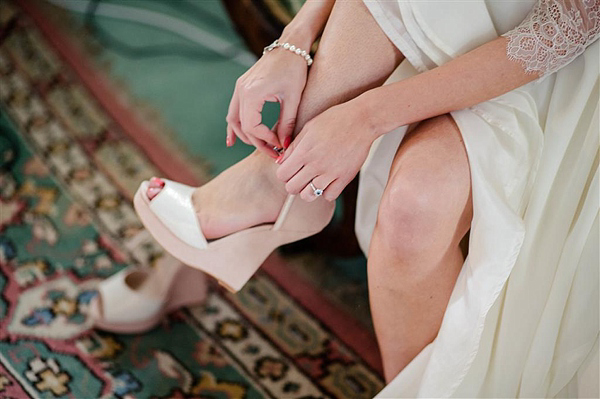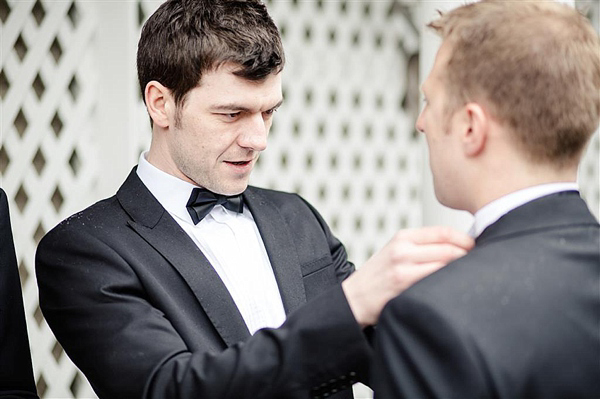 " We designed and hand made everything when it came to our wedding stationery. David executed the actual designs, he's a photographer but does design work as well. So he was also able to organise the printing out etc but we both sat down together and had a great time making it all as fun as possible. We weren't going to have an order of service until one of the ushers talked to us about it. Over several glasses of wine David started to worry we needed them.
I said what do we really need to say? Everyone's been to a wedding before you just Get Hitched, Get Happy, Get Dancing. And so that's what we wrote inside of them." 
"We kept it relaxed and hired Good Highland Food to put on a BBQ for us. We wanted to make sure that there were plenty of options for our guests, with a good mix of salads and it was absolutely delicious. Most of our guests got seconds and we had leftovers for the next day! For the canapés we ordered in platters of sushi from Waitrose and collected on the morning of the wedding."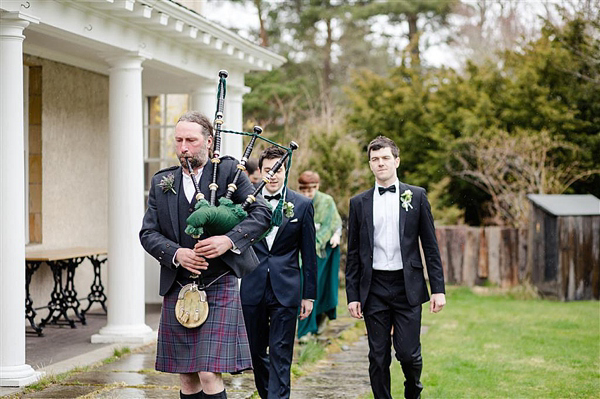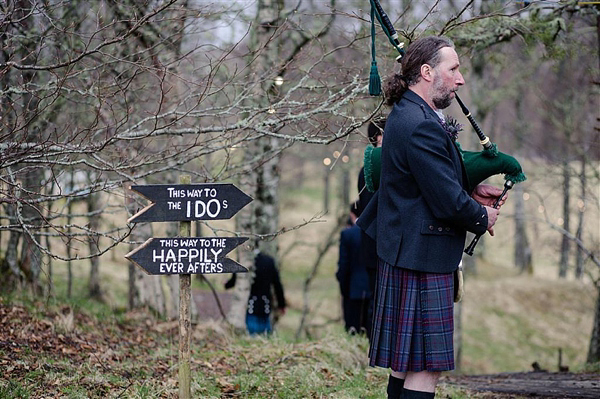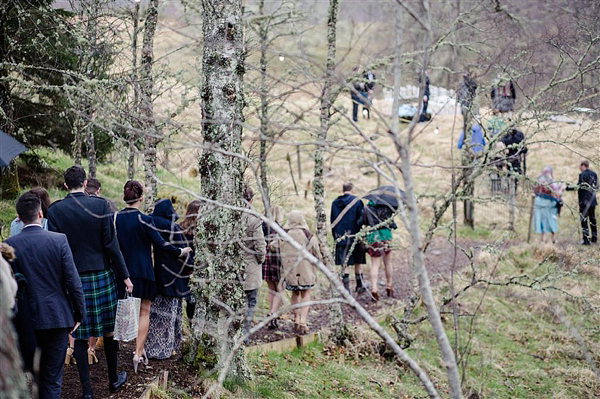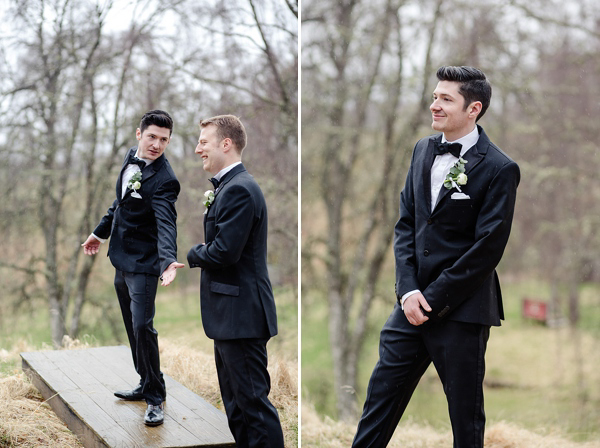 "My father gave me away, to the sound of a family friend playing the pipes, as we walked down the woodland path. He played as our guests arrived and kept stopping underneath my bedroom window. It was so romantic and really added to the magical atmosphere."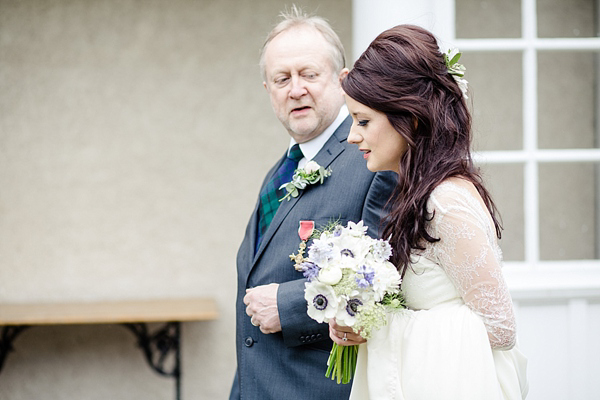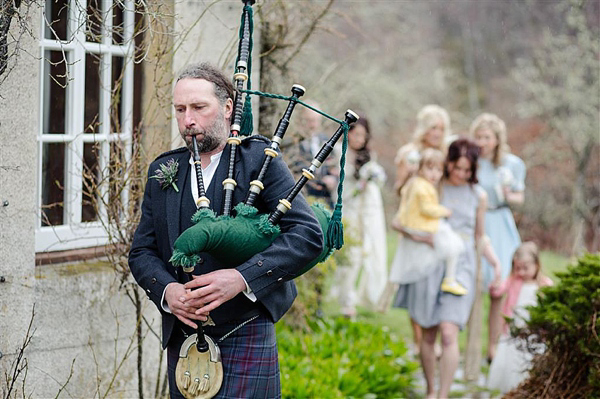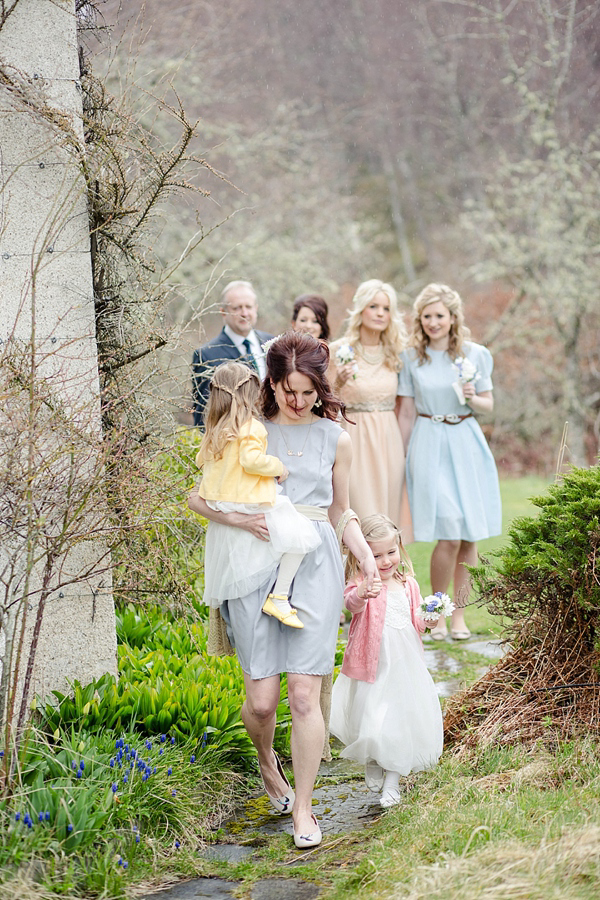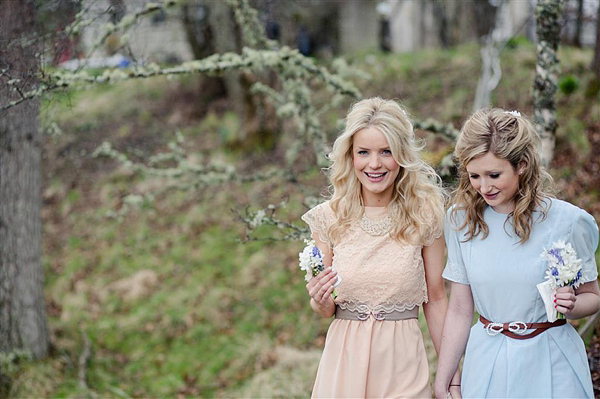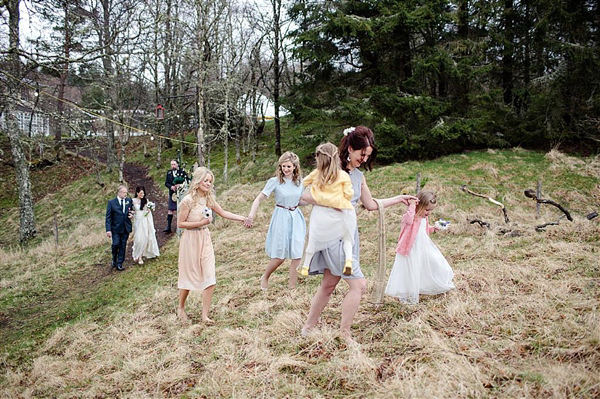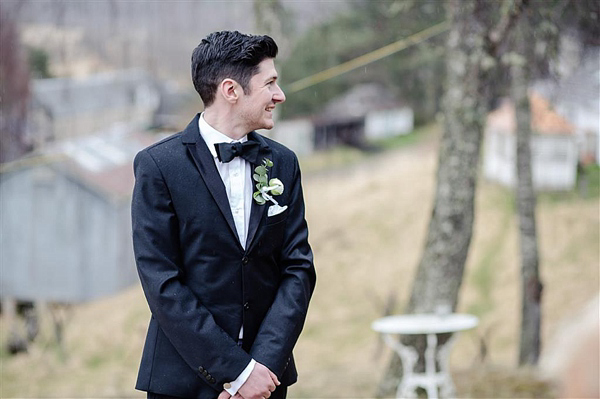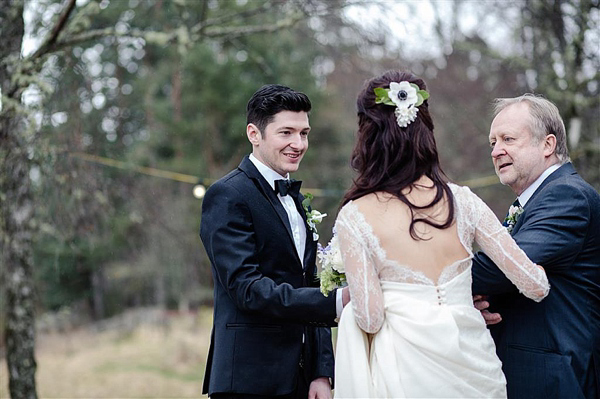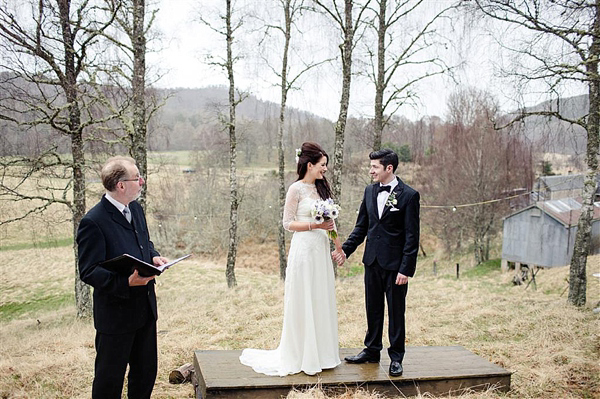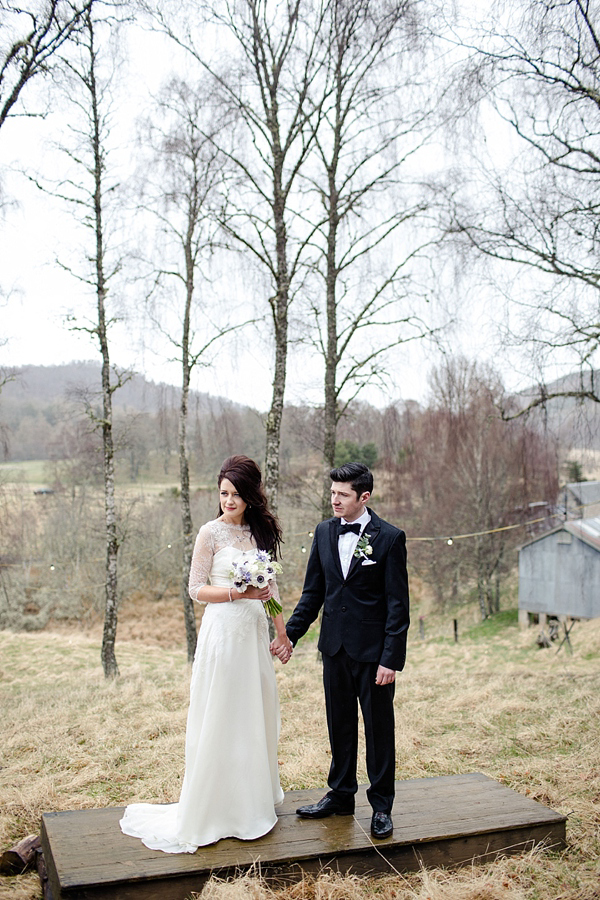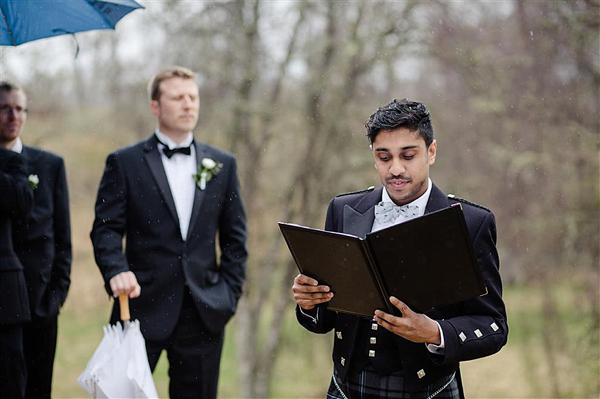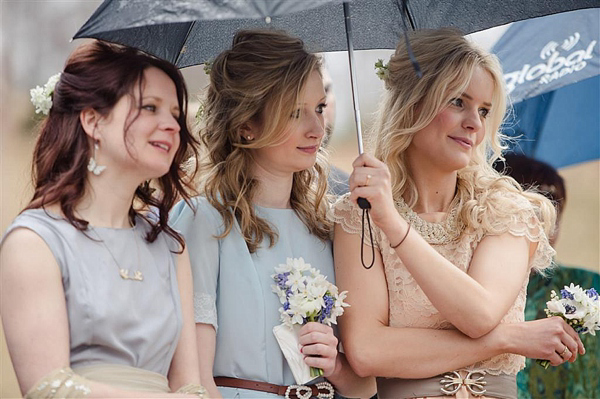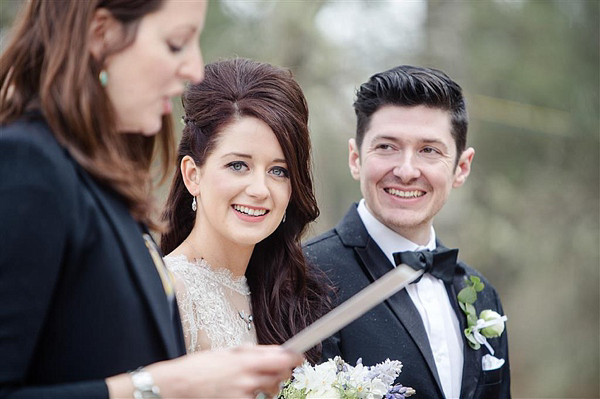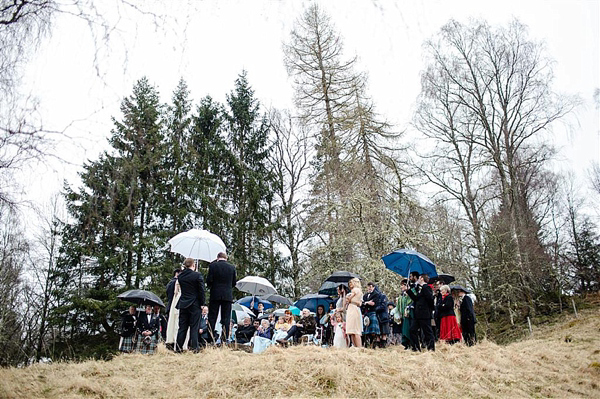 "Our rings were hand made by a family friend who works for Clarksons on Victoria Street. He had helped David to design and make my engagement ring, based on a ring that belonged to my Grandmother. We just both wanted simple bands and it is so special that our friend made them for us."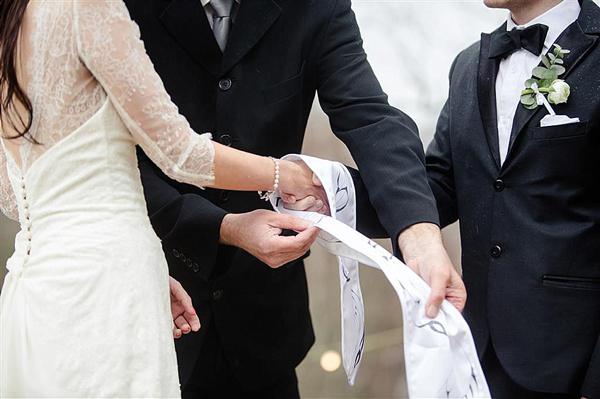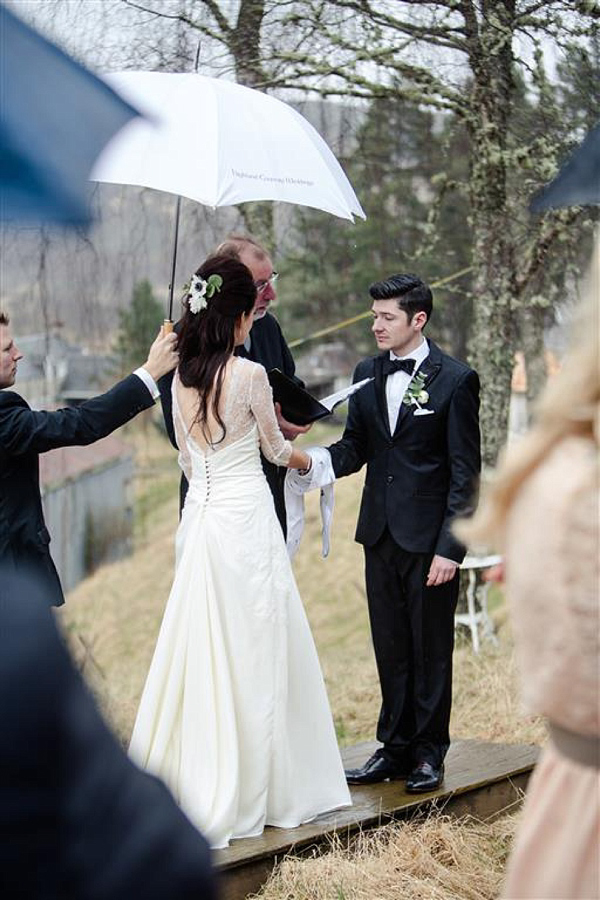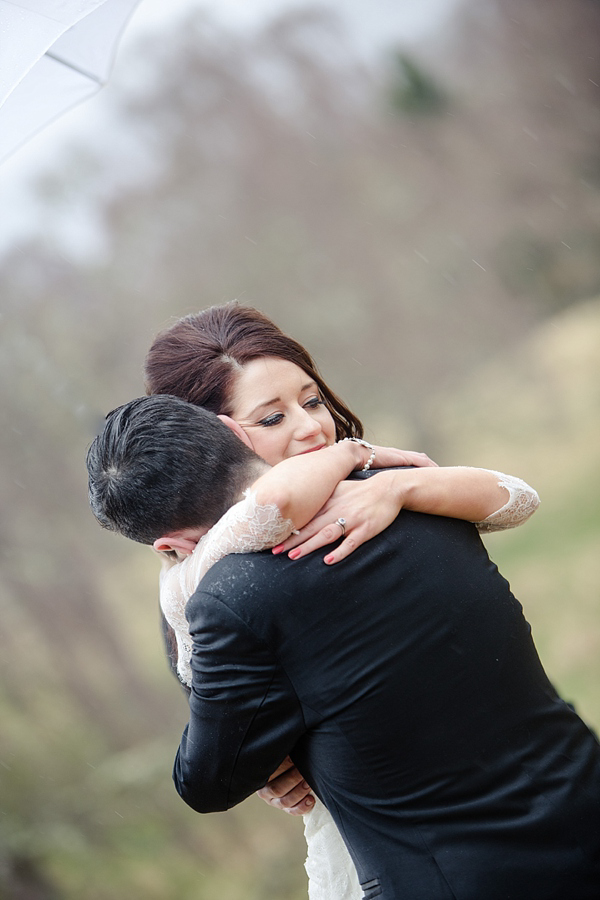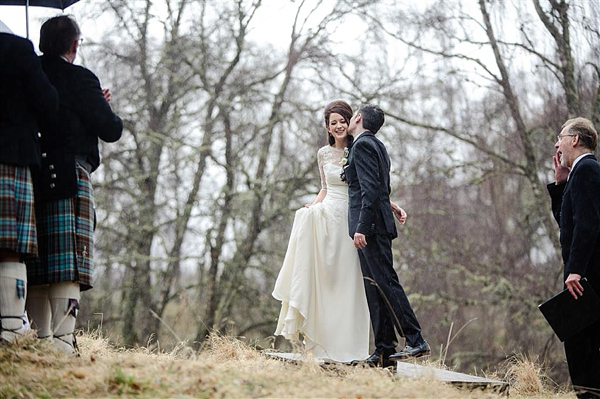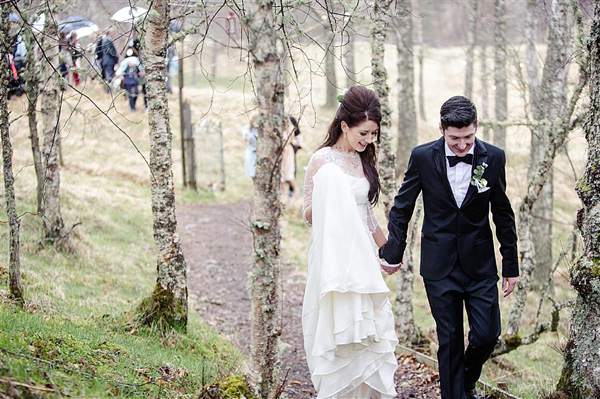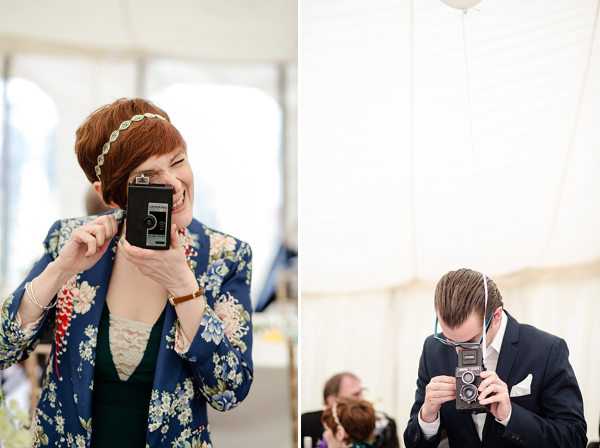 "For the children at the wedding my brother organised an amazing treasure hunt. He's always been the best at treasure hunts but I maybe gave him too much time to think about it as the prizes ended up being huge shoe boxes FULL of sweets and toys, bubbles and colouring in things! It was a great thing to do after the ceremony and before the meal to keep them entertained.  I kind of wish I had gotten him to do one for me too."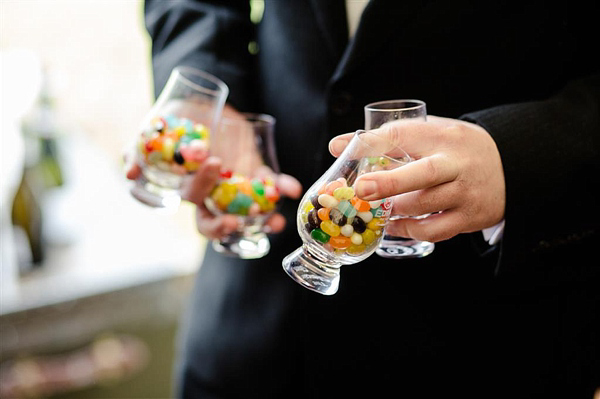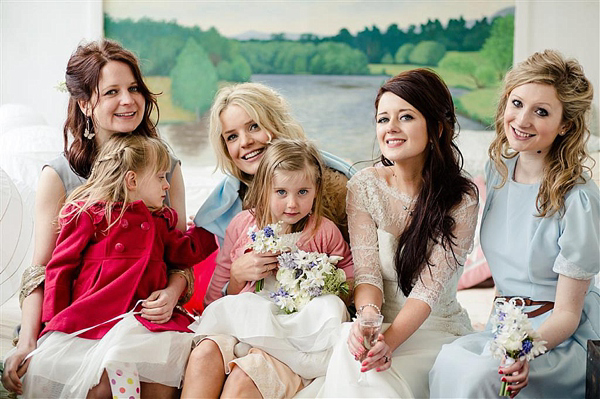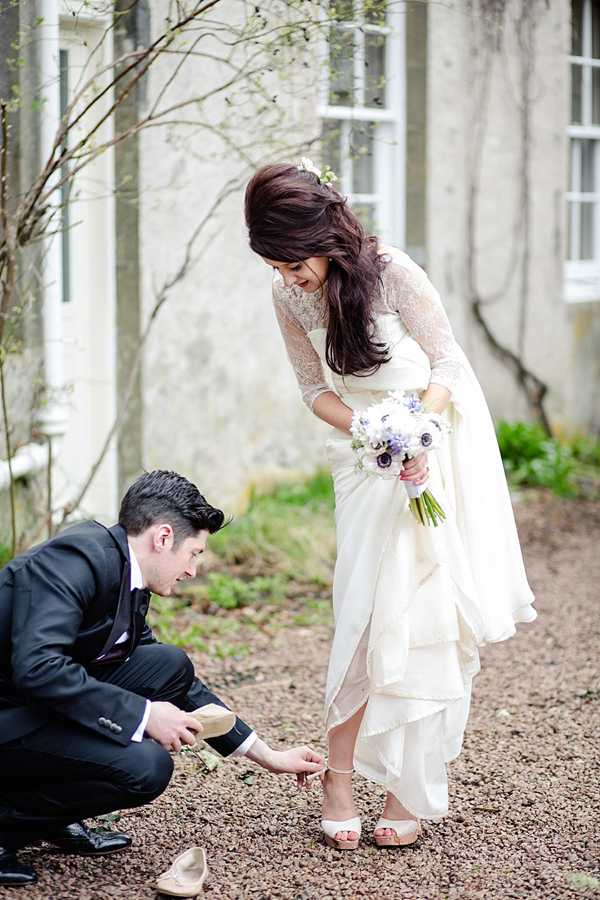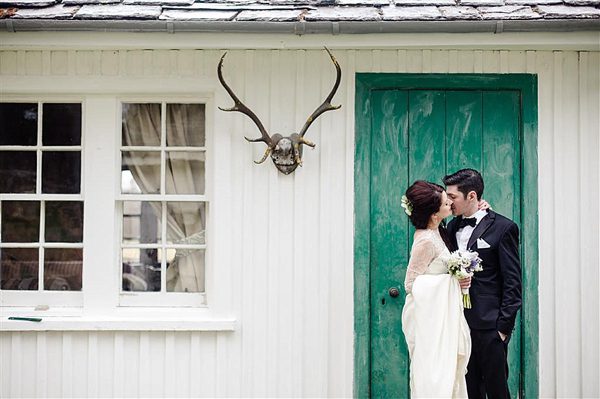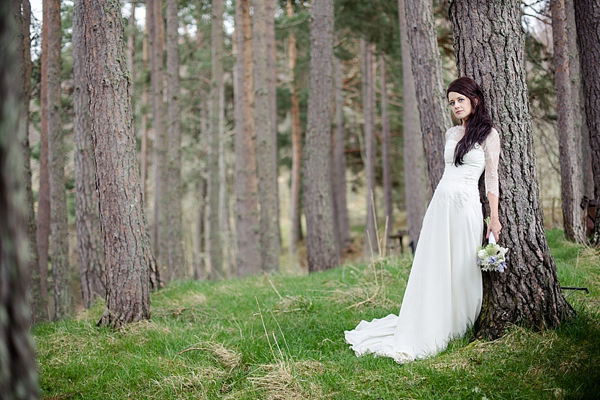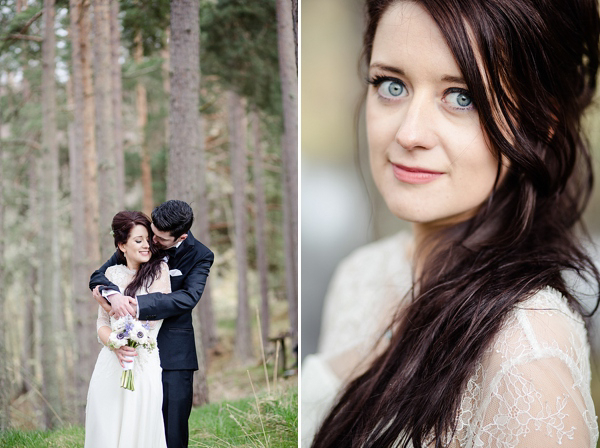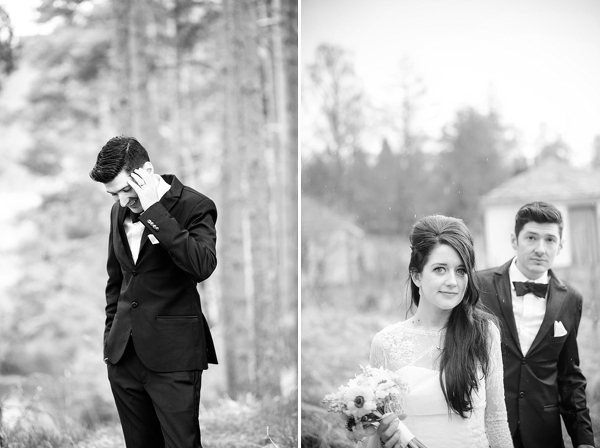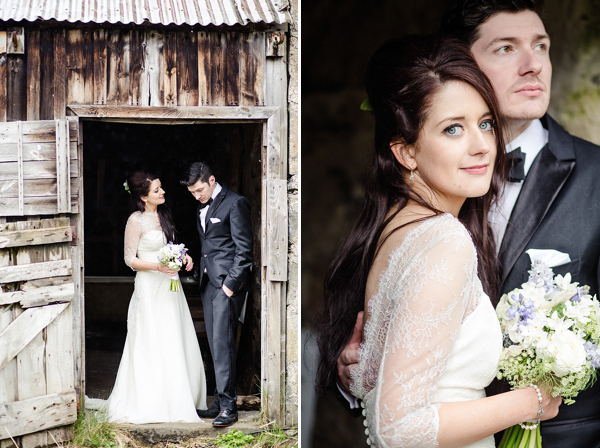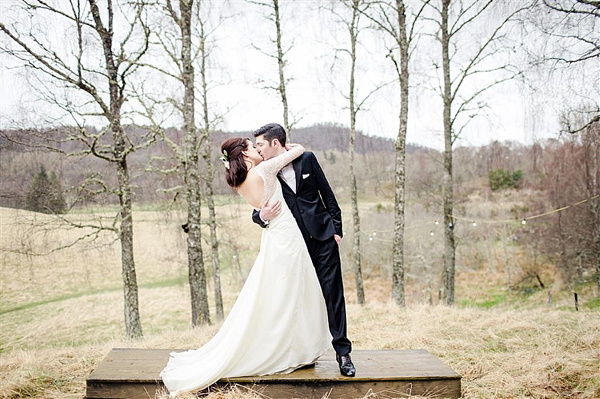 "We just tried to keep it easy and relaxed for the lads and asked them all to wear a black suit or Tuxedo."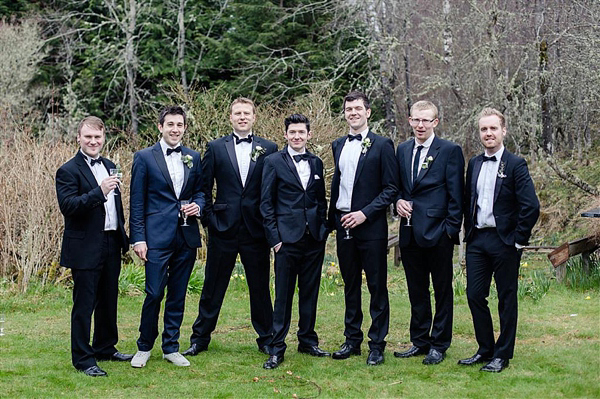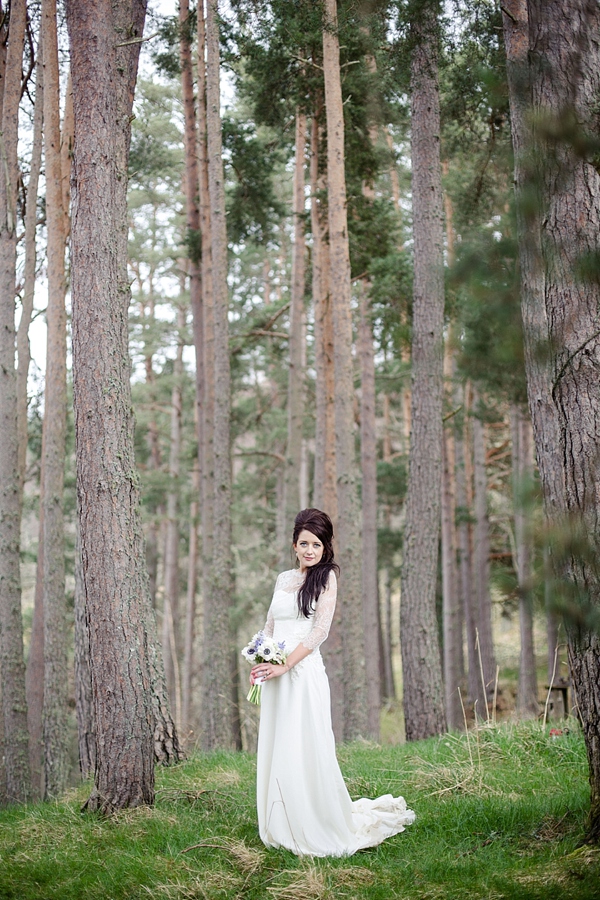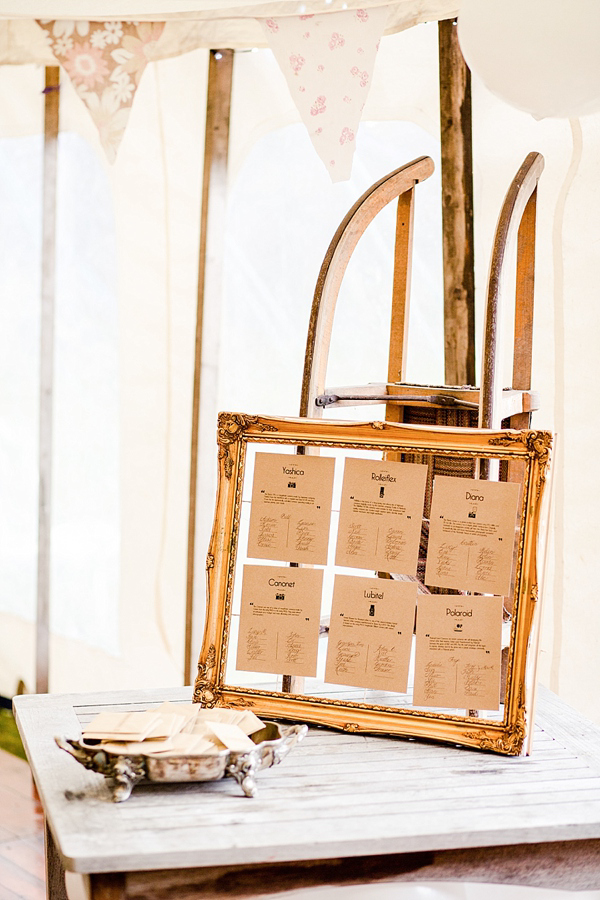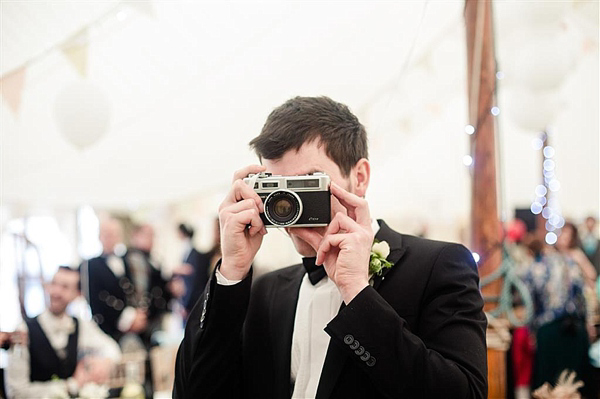 "We weren't too fussed for a traditional wedding cake. I don't have a massive sweet tooth, but do LOVE New York Cheesecake. So, we bought 6 New York Cheesecakes and placed one at each table on a vintage cake stand with mixed berries on the side as an option for none Cheesecake lovers."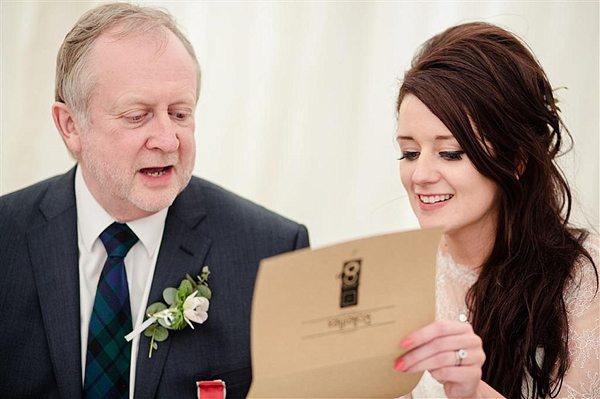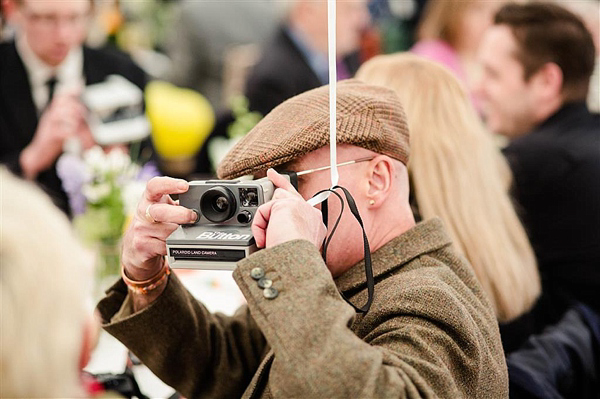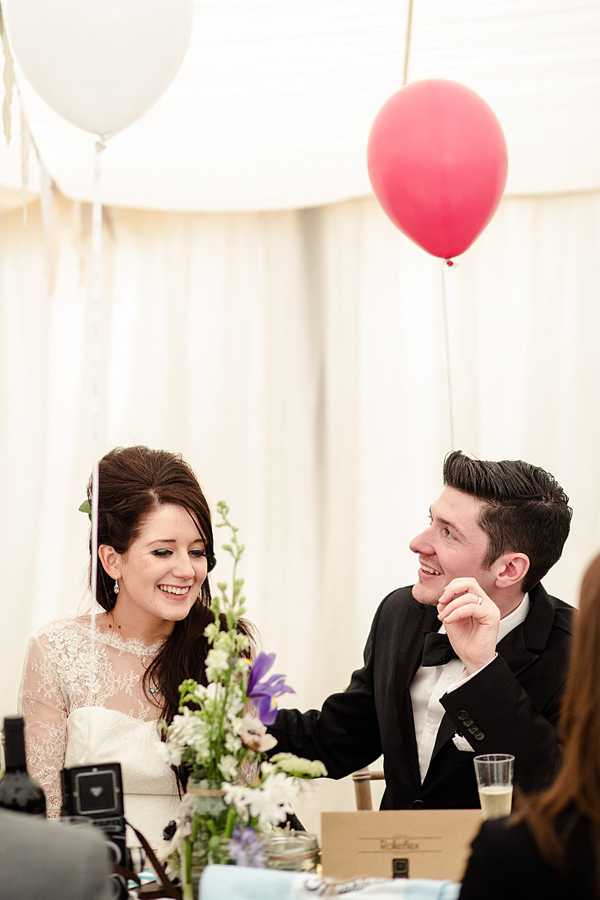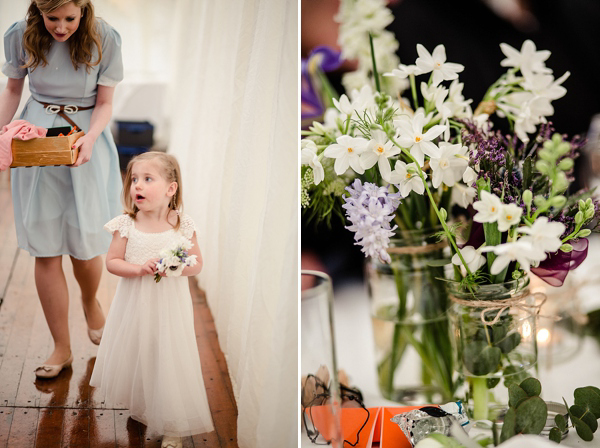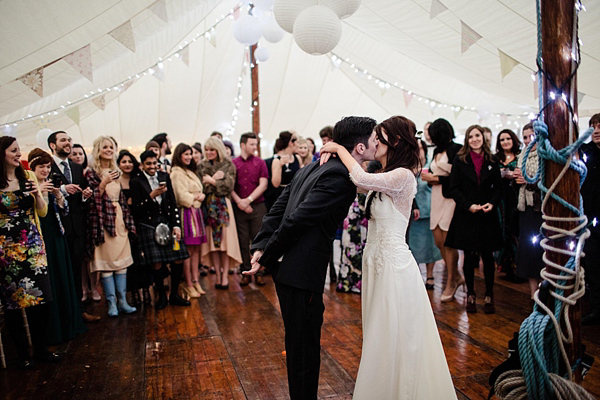 "For most of the wedding we played a mix that me and David had put together and uploaded onto the iPod. It was all mainly 60s Motown music. We then hired Dancing Feet to put on a cracking Ceilidh for us. I was amazed that the dance floor was full the entire time they played. EVERYONE got up to dance at one point. We were delighted, highly recommended."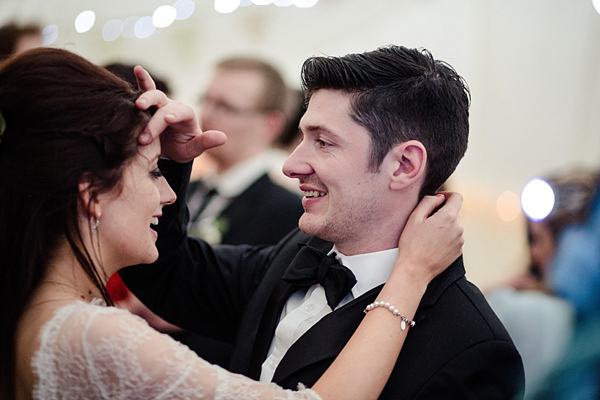 Words of Wedded Wisdom…
"It's hard to do so but really try to enjoy it all, even the adversities. Remember the most important thing isn't the type of flower or what designer made your shoes it's the fact that you are marrying the best person you've ever met and starting a life together. Your guests will take their cue from you, so if you aren't having fun, neither will they. Family/friend politics are hard to handle and can really stress you out but be strong and make decisions for you not to please anyone else. It's the only chance you'll get to do it so make sure you do it for you.  
As part of our Humanist service we had our hands fasted together, before we exchanged our rings. It is a tradition that appears in many cultures and we really liked the symbolism. The rings are to represent eternity and the hand fasting represents the binding of our lives together. I made the ribbon that bound us together and my sister illustrated it. It's a beautiful keepsake."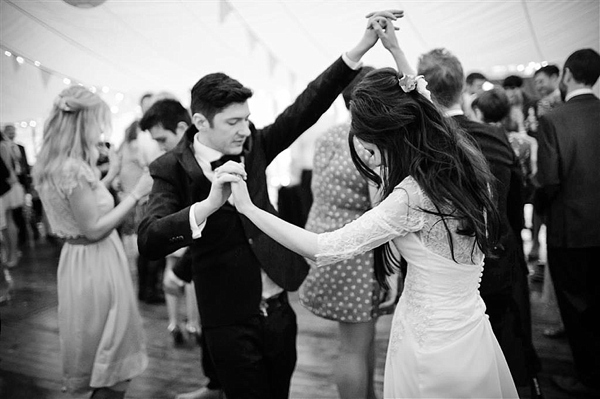 "I would have started the prep sooner so that we weren't so frantic on the couple of days beforehand and just able to enjoy being at Inshriach a bit more. The tent that arrived was the wrong one, we were pretty much duped by the supplier. So I guess maybe do a bit more research there and ensure that we had photographs given instead of trusting them. Maybe also we could have done with hiring some waiting staff so that we didn't have to do so much of the clearing tables etc. We didn't really anticipate how much we would still have to do on the day and I felt so guilty as our friends and family helped us none stop. But on the day it didn't matter we all had a great time."
"It really is so hard to pick which part of the day was our favourite. I loved watching everyone arrive from my bedroom window to the sound of John playing the pipes and all walking up to the hill where we held the ceremony. The morning getting ready was lovely as well, once we were all finished with the morning prep. I'd taken my record player up and listened to Billy Holiday to relax. I also absolutely loved the ceremony itself."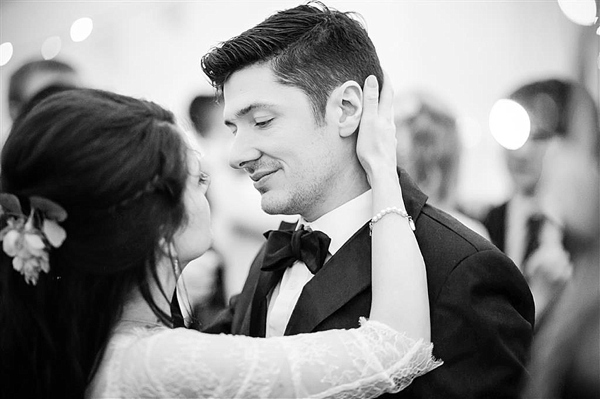 I bloomin' love this wedding so much! Thank you so much Fi and David for so kindly sharing your beautiful wedding day with our readers, I'm so grateful, what a beautiful, funny, touching and inspirational day.
You can explore more weddings inspired by the 1960s and Edwardian era, as well as view many more Scottish weddings here. See also our Rowan Joy wedding dress pages for more beautiful brides in bespoke creations by this talented designer.
And to see you out, another chance to view Fi and David's beautiful wedding film, created by FourColourBlack – enjoy my loves!

Film Production Copyright (c) 2013, FourColourBlack 
Tell us what you love the most about this beautiful day – we'd love to hear from you in the comments box below lovely readers.
With much love everyone – have a beautiful evening with your loved ones,
Annabel
Photographer – Helen Abraham
Venue – Inshriach House at Aviemore in Scotland
Brides Dress – Rowan Joy
Brides Shoes – Dorothy Perkins
Grooms Suit – Handmade Tuxedo by Totty Rocks + Hannah Louise Lamb cufflinks
Bridesmaids Dresses – Fiona Heather (the bride!)
Flowers – The Country Garden Company
Flowergirl Dresses – Monsoon Estella Dresses 
Entertainment – Dancing Feet
Rings – Clarksons
Catering – Good Highland Food
Hair Stylist – Chris Dickson of Dickson Reid
Make up by Kimberley Dewar