Good afternoon lovelies, I hope you had a wonderful weekend and while Monday is upon us, those blue's are surely not, because I have the most inspiring handmade and rustic style, woodland wedding to share with you all. Its a feast for your eyes so have your Pinterest boards at the ready. After planning a DIY wedding myself (here it is!), I really admire Jamie and Jodie's attitudes – 'handmade' gives that truly personal touch to your wedding day and as you can see in these stunning photographs, it really can be worth all the effort and completely transformational too.
Record Producer Jamie and Costume Maker Jodie married on the 13th of September 2014 at Paddock Wood in Kent, at an amazing 'blank canvas' wedding venue that they transformed with their wonderful handmade creations. The very talented photographer Ellie Gillard was there to capture it all.
"From the start we had agreed on keywords and themes that we would work towards, Jamie records a lot of folk bands so the feeling of English, earthy, natural and rustic were in our minds. Jodie's creativity as a costume maker meant we had to hand make as much as we could. We are both atheists and humanists so we were happy we didn't have to conform to a 'traditional' religious wedding structure. It had to be about us, family and friends uniting under love."
Photography Copyright (c) 2015, Ellie Gillard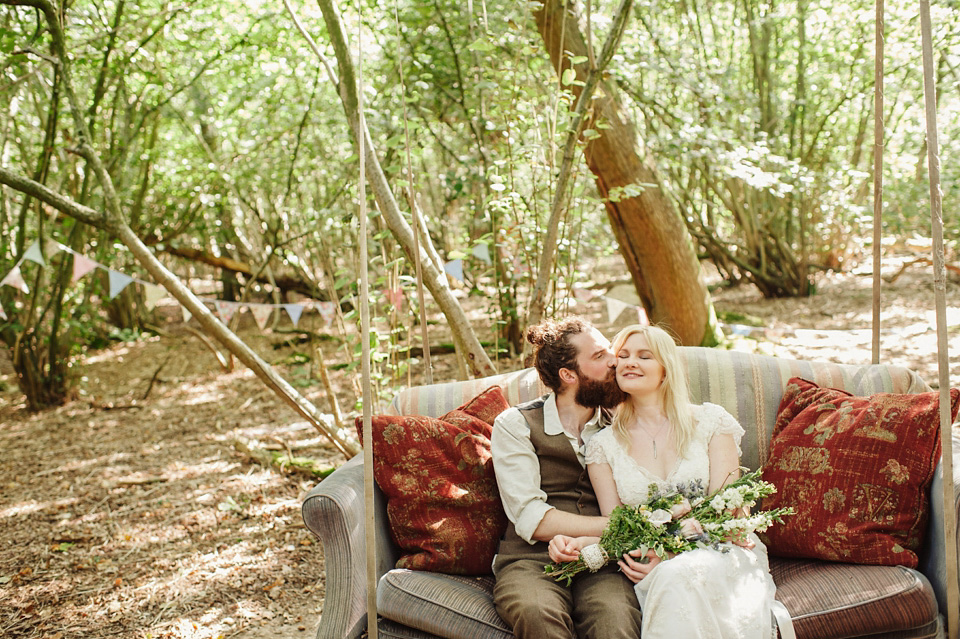 I'll pass you over to Jodie who tells us how these two childhood sweethearts met.
"We met at school and started dating when we were 13 and 14 years old and have been together for the last 13 years (Now both 27). Jamie proposed to me while we were celebrating our 10th year anniversary, we hired a thatched cottage and he proposed to me on a coastal walk. We were engaged for 3 years before our big day."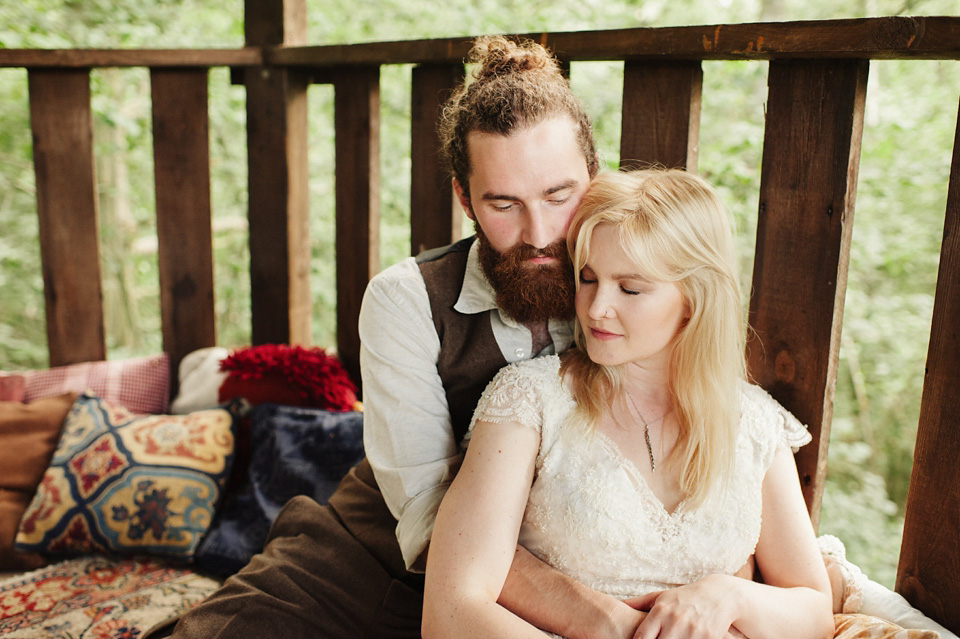 "All the stationery was designed and made by Jamie with additional creative help from our best man Michael who works as an artist. To strive for the most DIY/budget friendly we could get Jamie even made a letterpress out of a 6 tonne car jack to print the main invitations."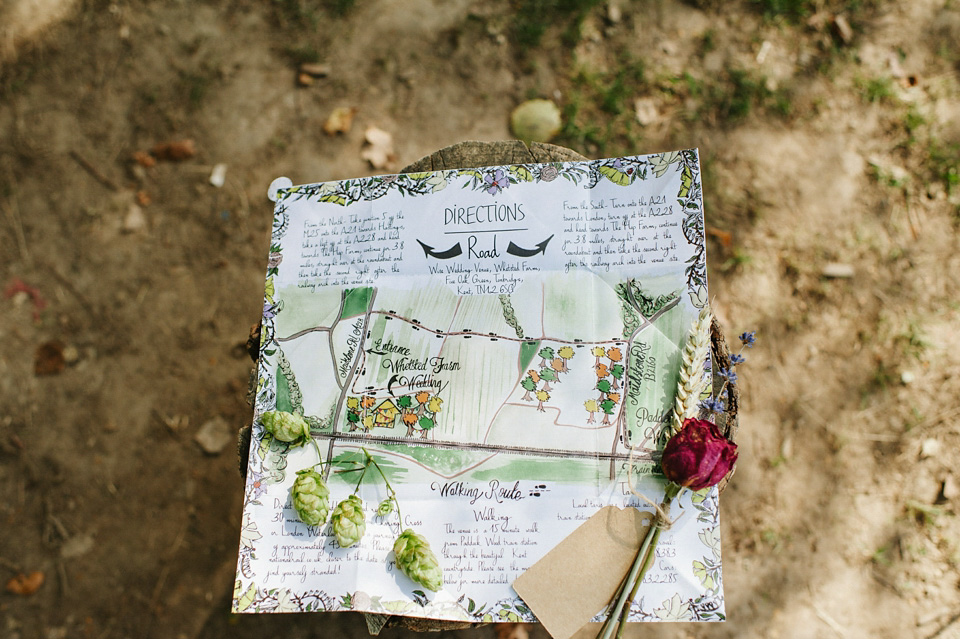 Jodie cleverly made all her bridesmaid dresses herself and left the choice of shoes up to the girls who purchased them from ASOS, New Look and Debenhams.
" I asked each bridesmaid to choose a style of dress they liked. I wanted them all to be different and I wanted the girls to feel really comfortable on the day and go away with a dress that they really loved and would wear again. I thought that the dresses should all be a similar colour but I didn't want them to all be the same colour. I decided they should all be different shades of pink as it's a nice warm colour and would go with our down to earth theme. I also thought that they should have something that would tie them all together as I didn't want them to look mismatched, so I decided that they should all have a cream lace overlay. I also thought the lace was a good idea as it would echo my own dress and we would all tie in with each other.
As an extra little touch, I hand embroidered each girls name into the inside of the neck. The girls all looked absolutely stunning and I couldn't have asked for better bridesmaids."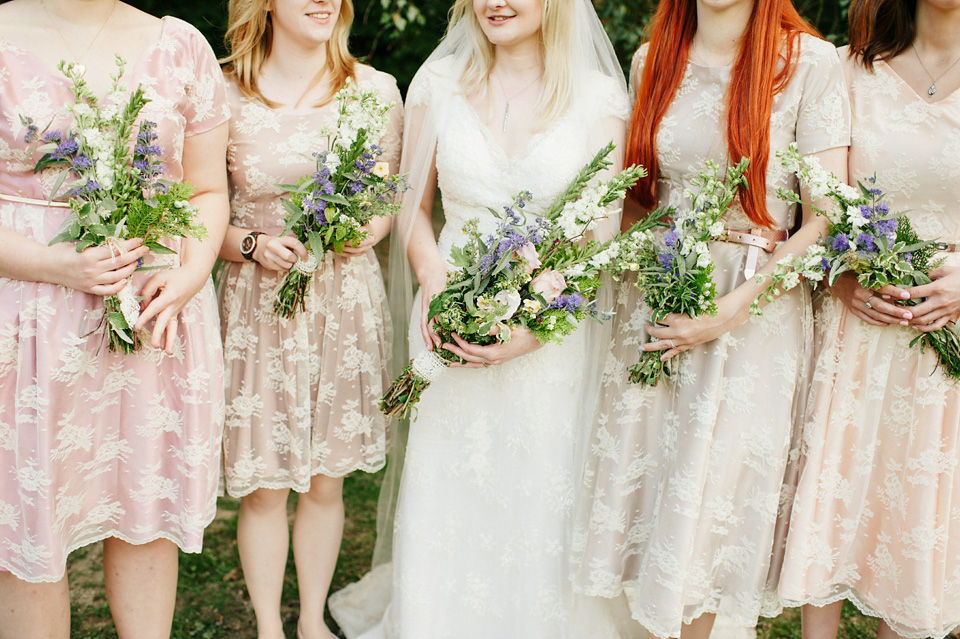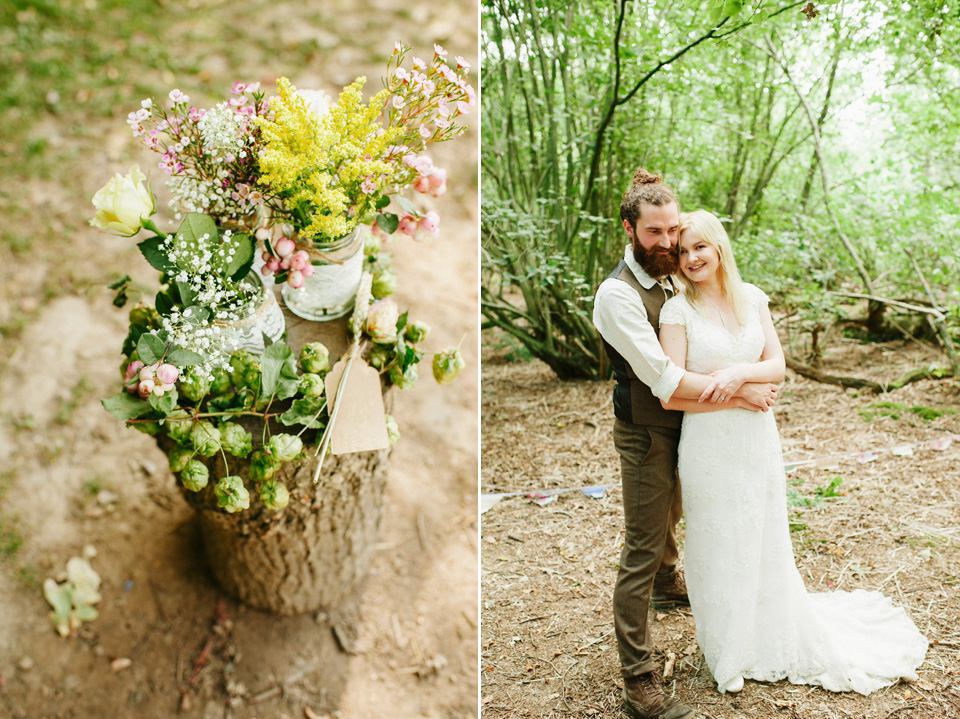 I think Jamie and Jodie's flowers are beautiful, wouldn't you agree they fit perfectly with their theme, and it didn't cost the earth…
"We purchased all the flowers ourselves from Covent Garden Flower Market (Vauxhall) and made all the decorations and table arrangements apart from the brides and bridesmaids bouquet, those were made by Jamie's Mum and picked from her garden. We went for an eclectic mix of flowers that all had a pastel theme.   We only ended up spending around £200 total."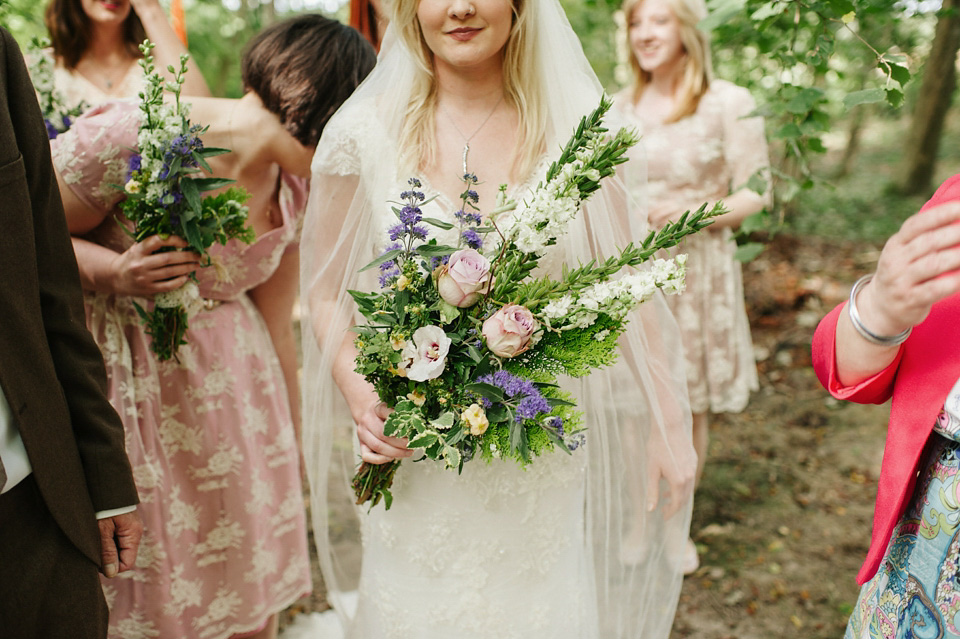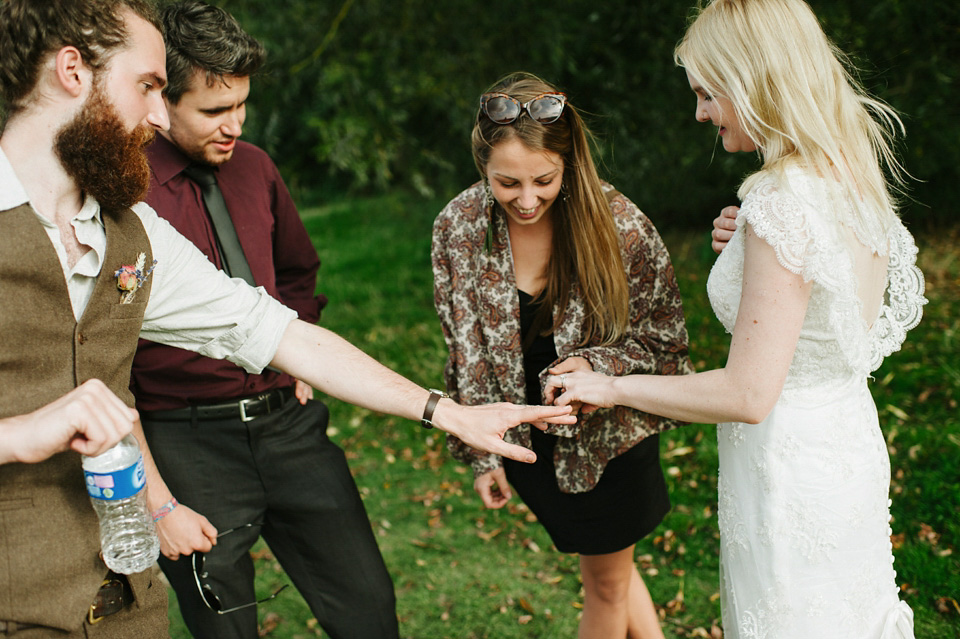 Jodie choose an Annasul Y dress from the Teokath bridal boutique in Wimbledon.
"I loved everything about this dress. The shape flattered my figure, the cap sleeves made me feel like I was wearing one of my everyday dresses but the intricate beading, subtle polka dot tulle, and feature beading at the back made it feel like a piece of art. I'm so pleased I chose this dress and knew it was the one as soon as I put it on."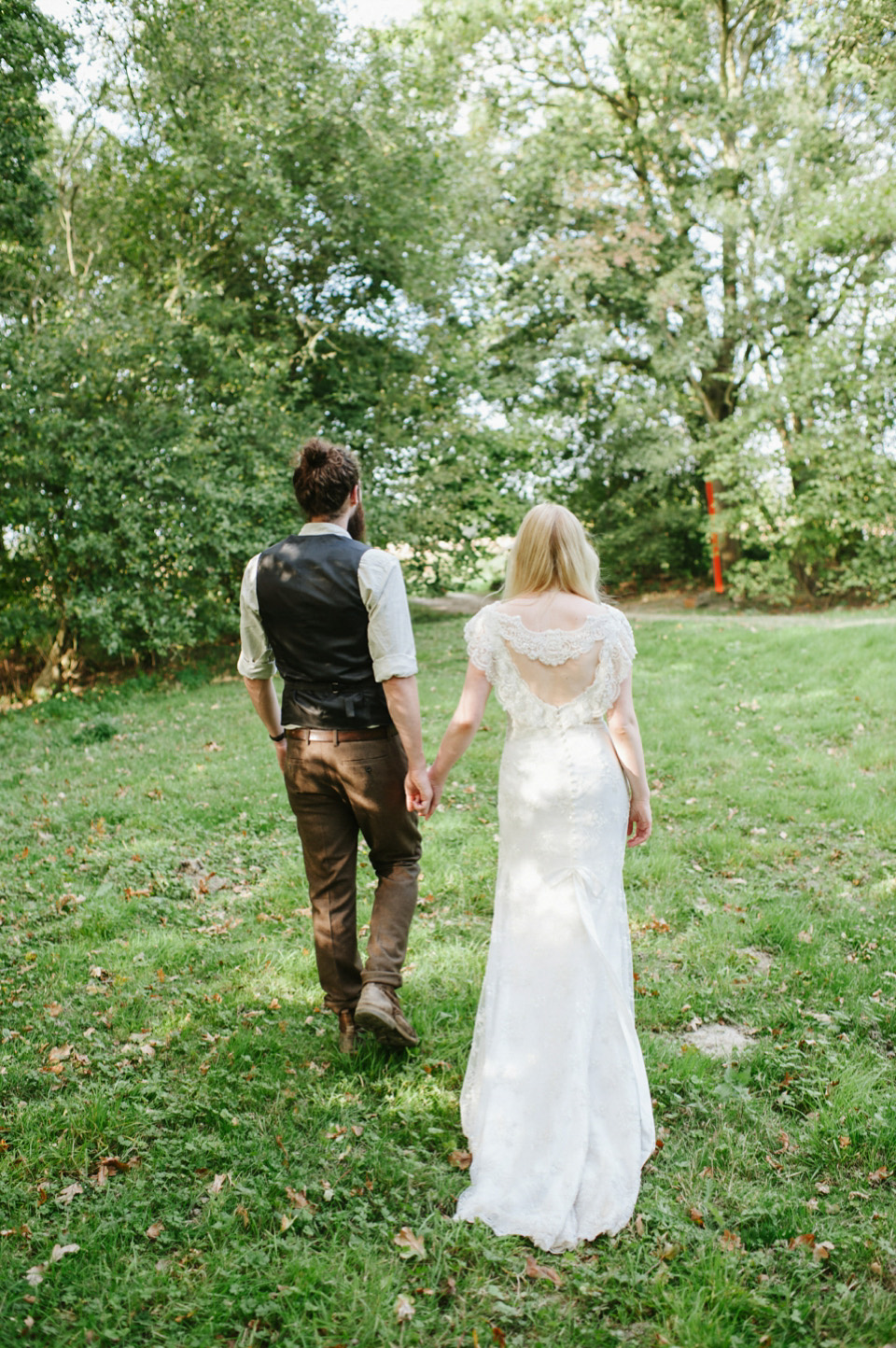 Photographers always want to blend into the background as much as possible on your special day and Jodie explains how Ellie Gillard did just that…
"Our photographer Ellie Gillard was fantastic; we initially saw her previous work on a blog we came across while we were in the early stages of planning. We chose her for her warm and almost cinematic style. On the day she orchestrated all our pre arranged shots effortlessly and managed to blend into the background seamlessly for the candid shots. We were absolutely thrilled with our finished photos.
Ellie managed to capture the relaxed, down to earth, feel that we had on our day."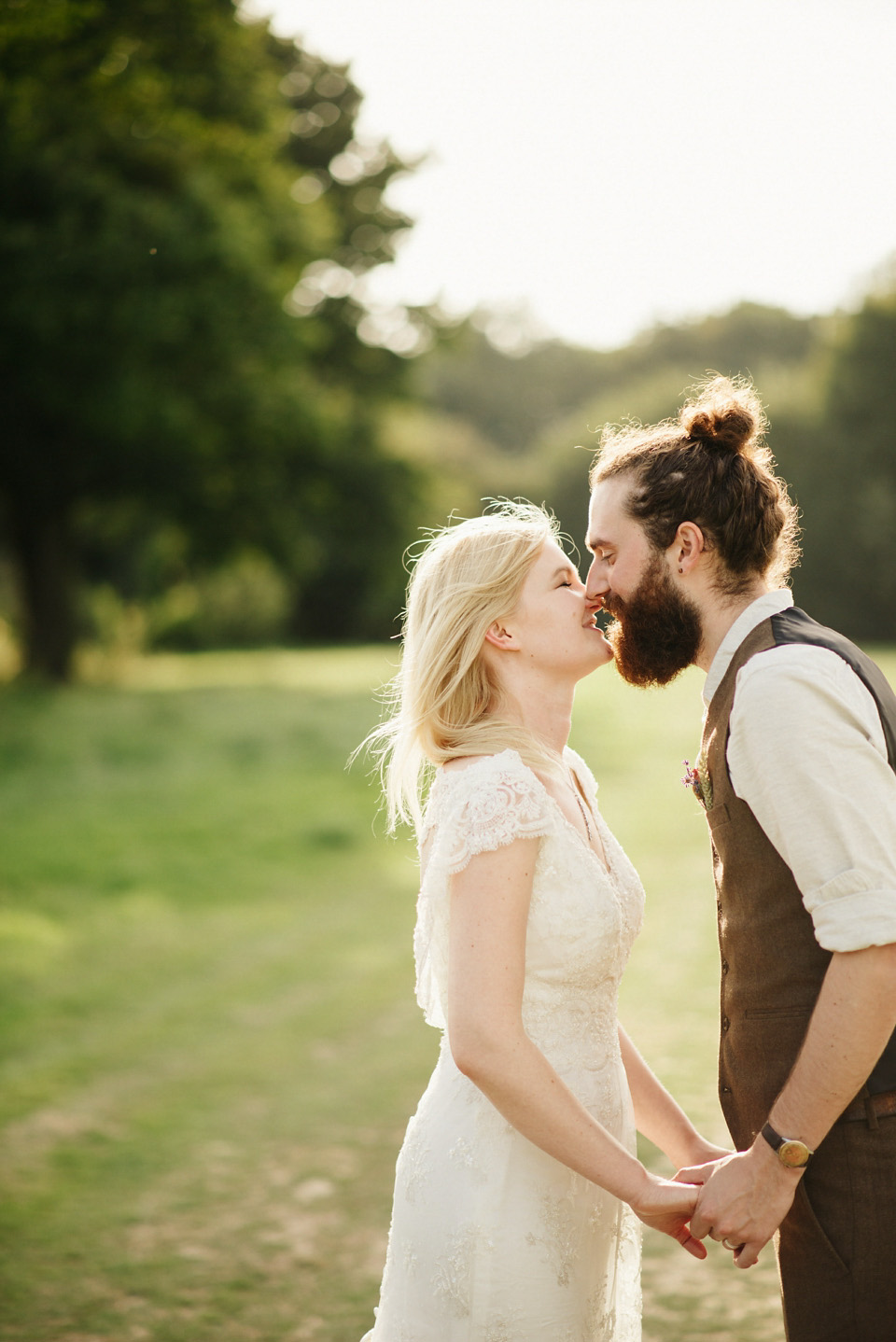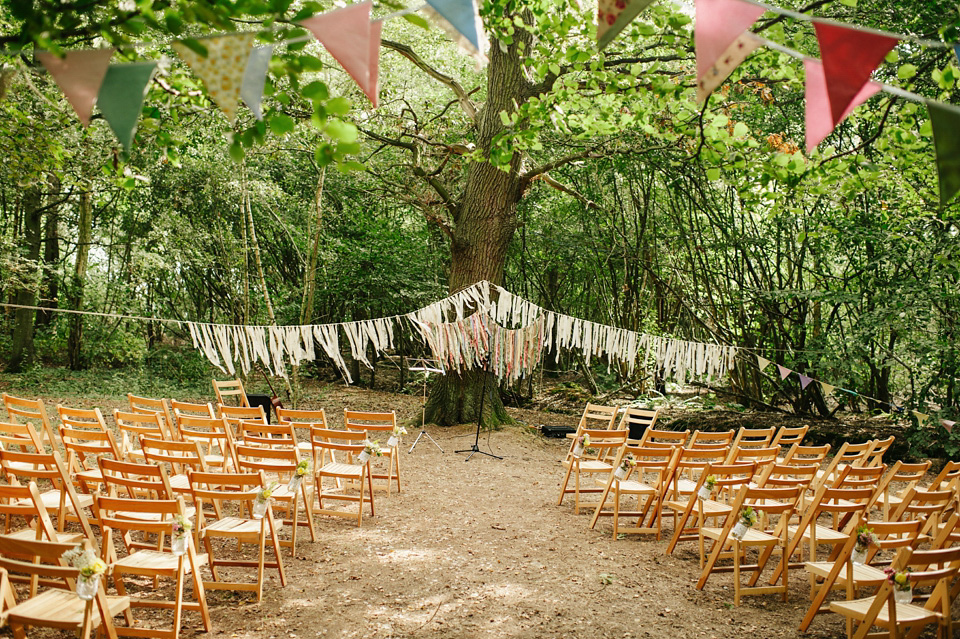 I'm in total agreement with Jamie and Jodie, you can never have too much bunting…
"Bunting, bunting and more bunting. The one thing we noticed from most weddings with a 'rustic' theme was bunting could make or break a wedding (Yes, we are bunting snobs). We ended up making just shy of half a kilometre of bunting for the day all bagged out (double sided). It was completely worth the effort. We also had hessian table runners Jodie made, glass jars with twine and lace, fairy lights as well as 20 wooden cheese and breadboards that Jamie made from some reclaimed timber."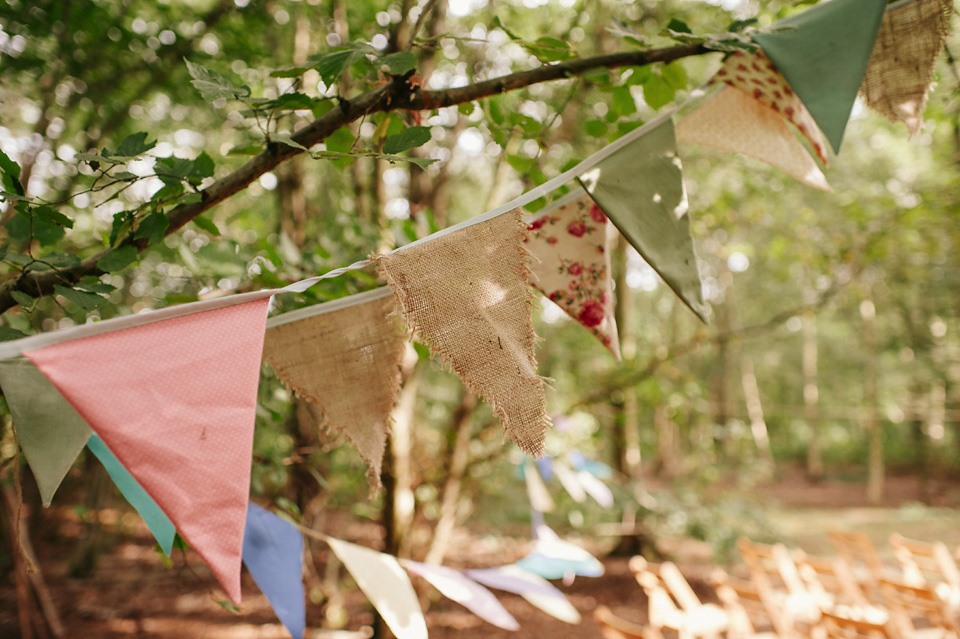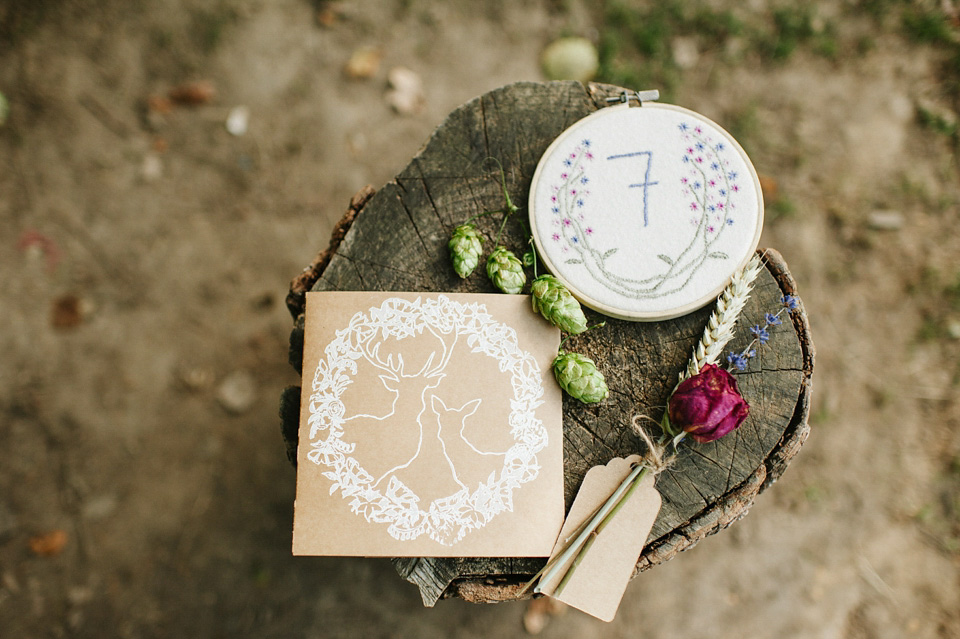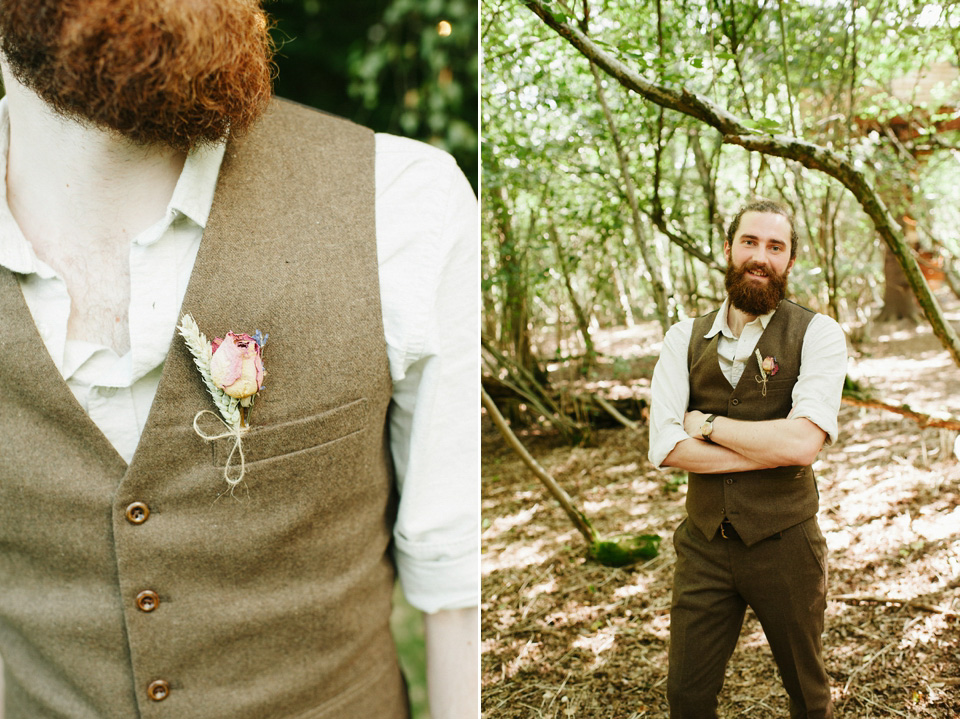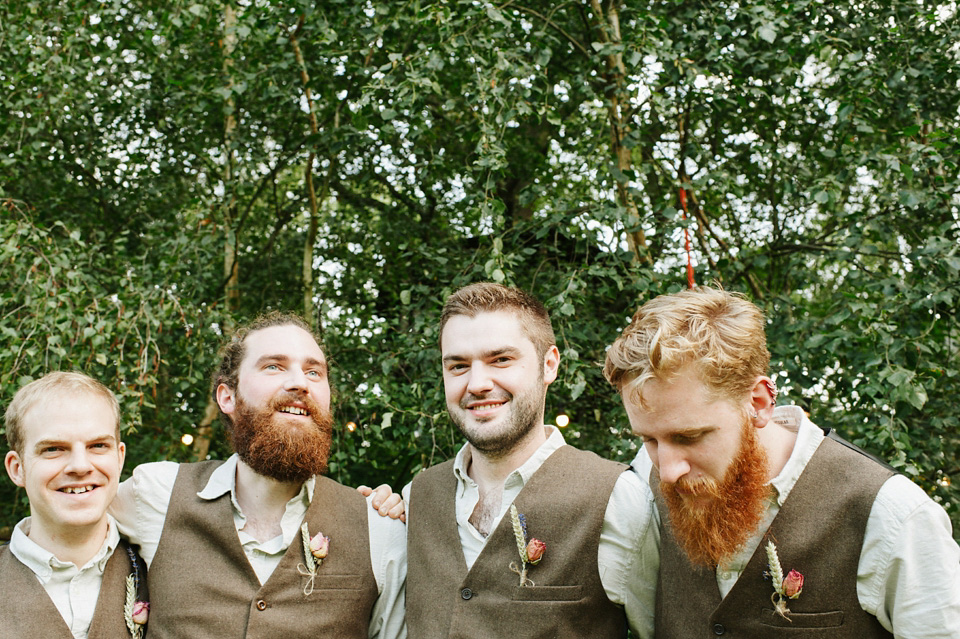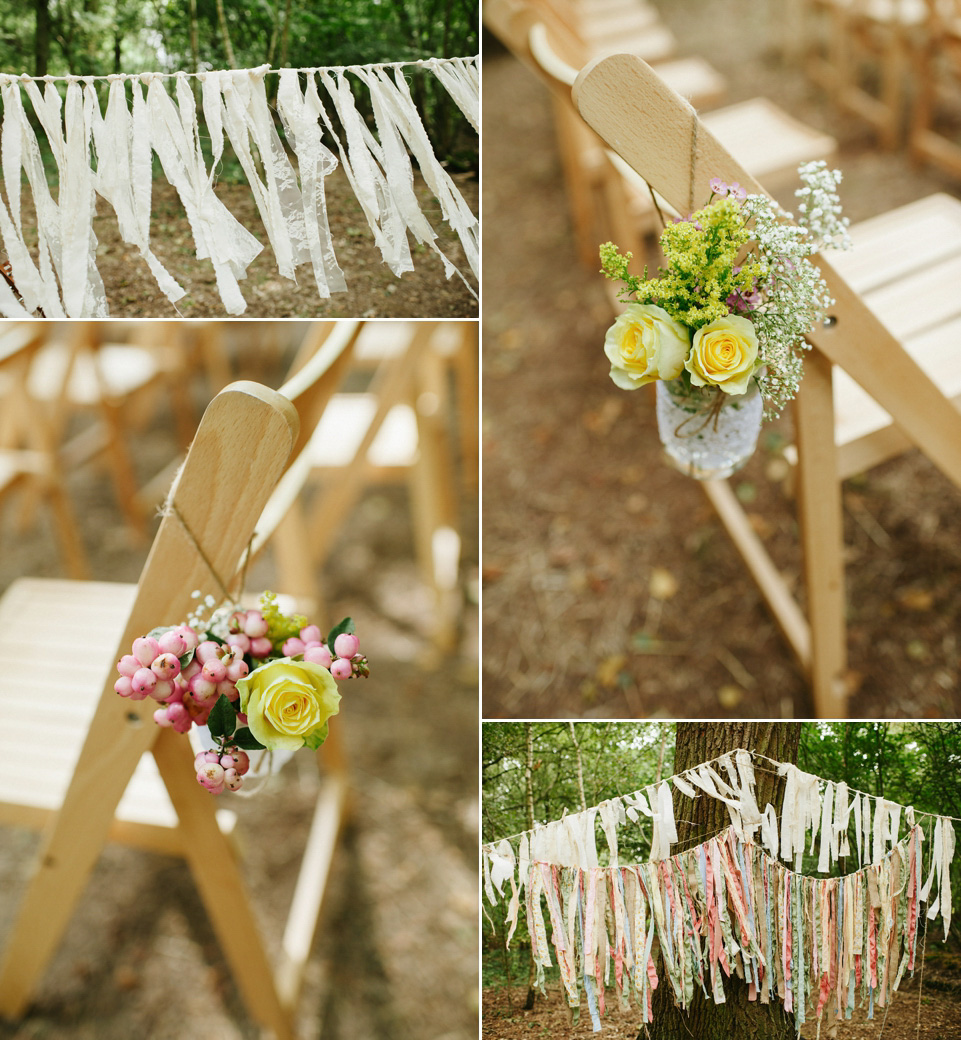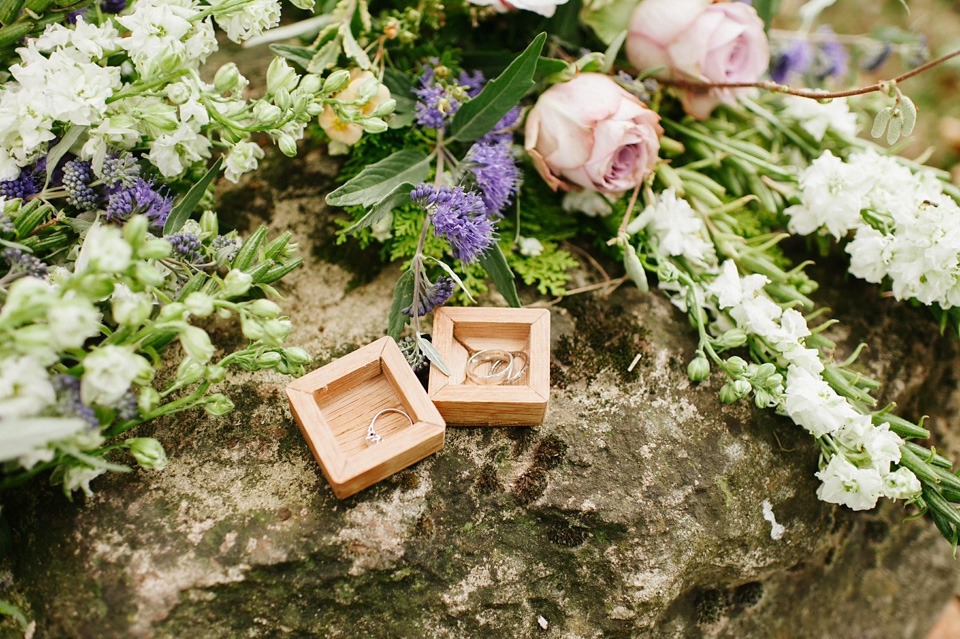 Jamie and his groomsmen all looked fantastic in their Topman tweed waistcoats and trousers.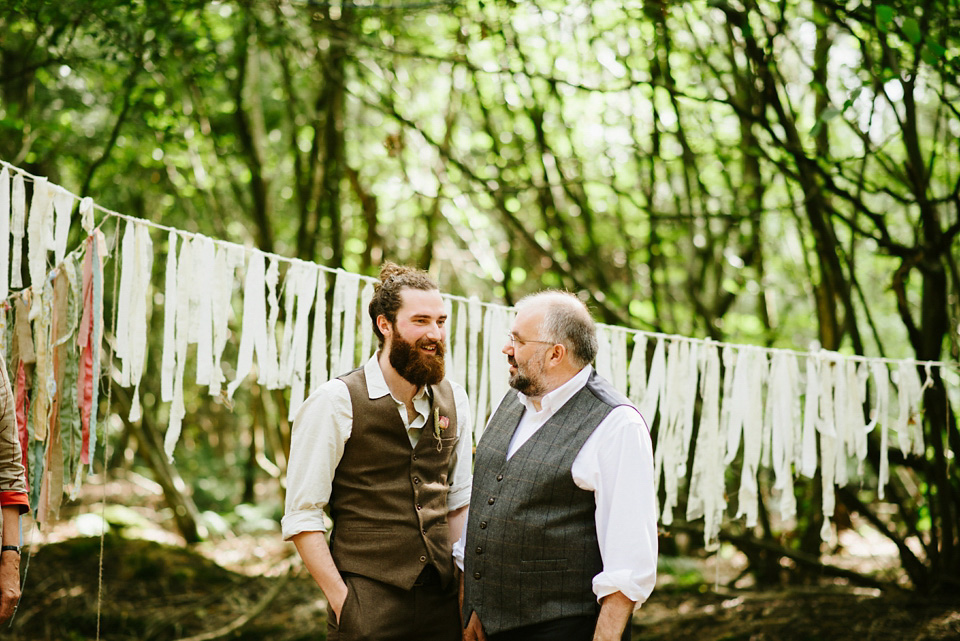 When choosing your perfume for your special day you may opt for a new scent or your signature scent. For me it was my signature scent, that I adore, Coco Mademoiselle. Jodie has a gorgeous reason for hers…
"I wore Chanel – Coco Mademoiselle, because it was the first perfume Jamie ever bought me back when we were about 15. It reminds me of that time and I absolutely love it and so does he.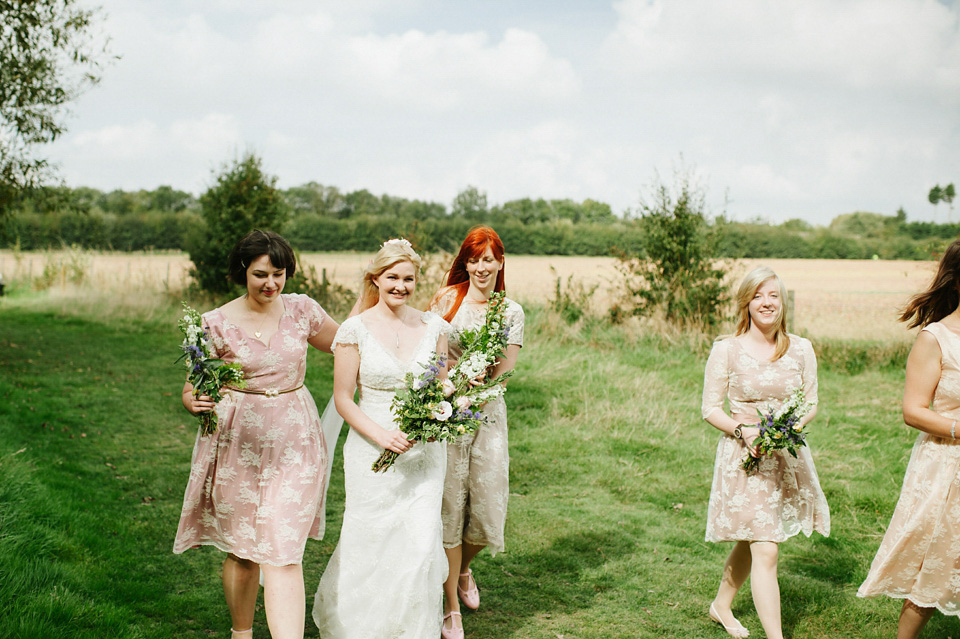 Jodie's mum and dad both walked her down the aisle while best man Henry played 'All You Need Is Love' by The Beatles on acoustic guitar. Jamie says it was just perfect!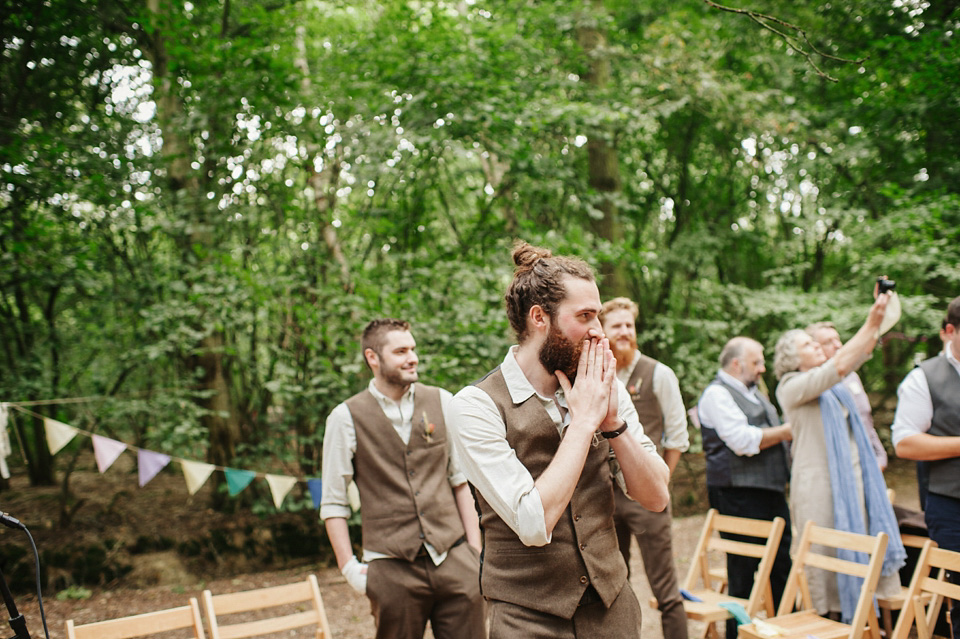 Not surprisingly Jodie made her own veil from Tulle she bought from The Berwick street cloth shop which she finished off with a millinery comb and some silk roses.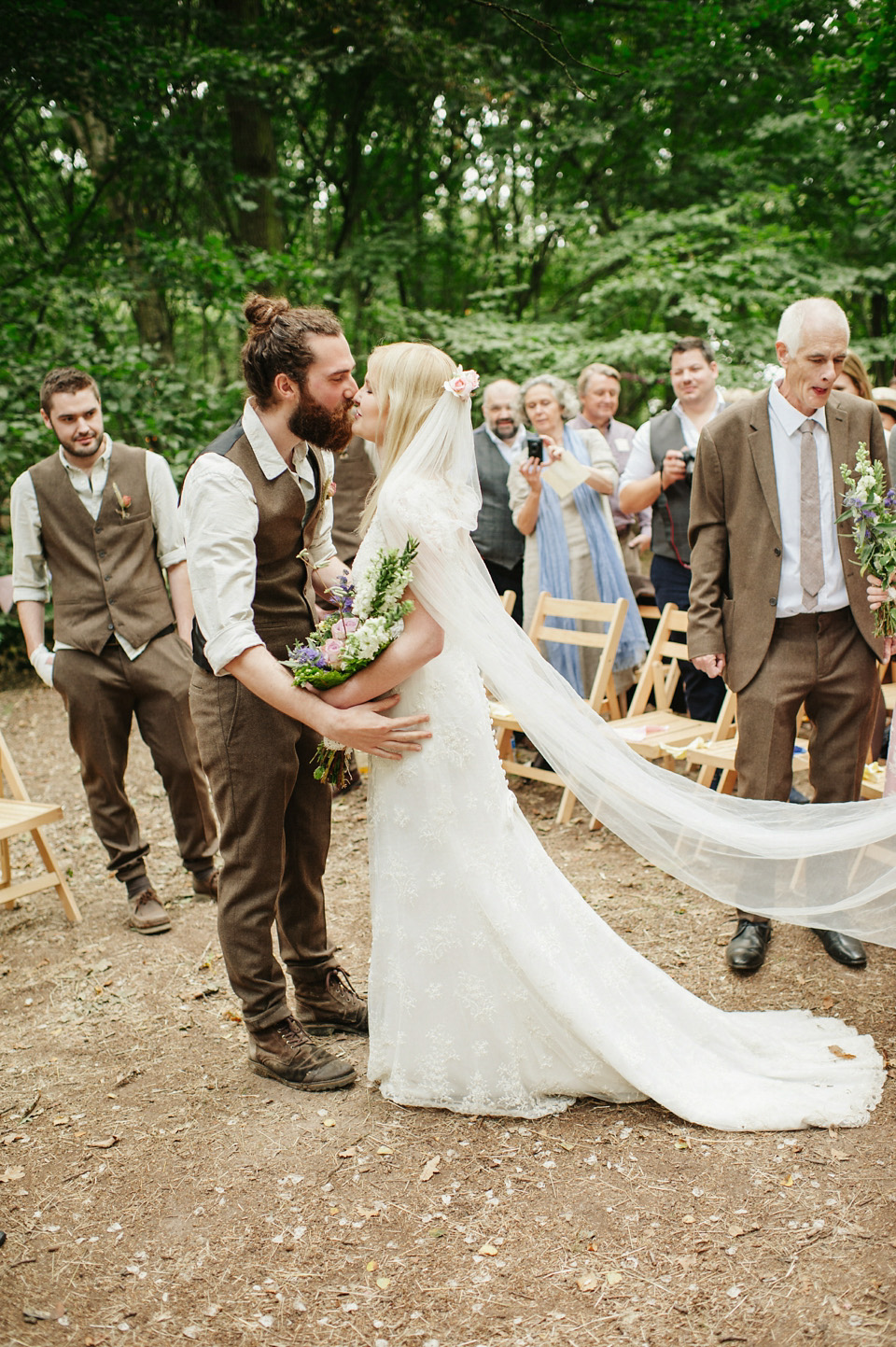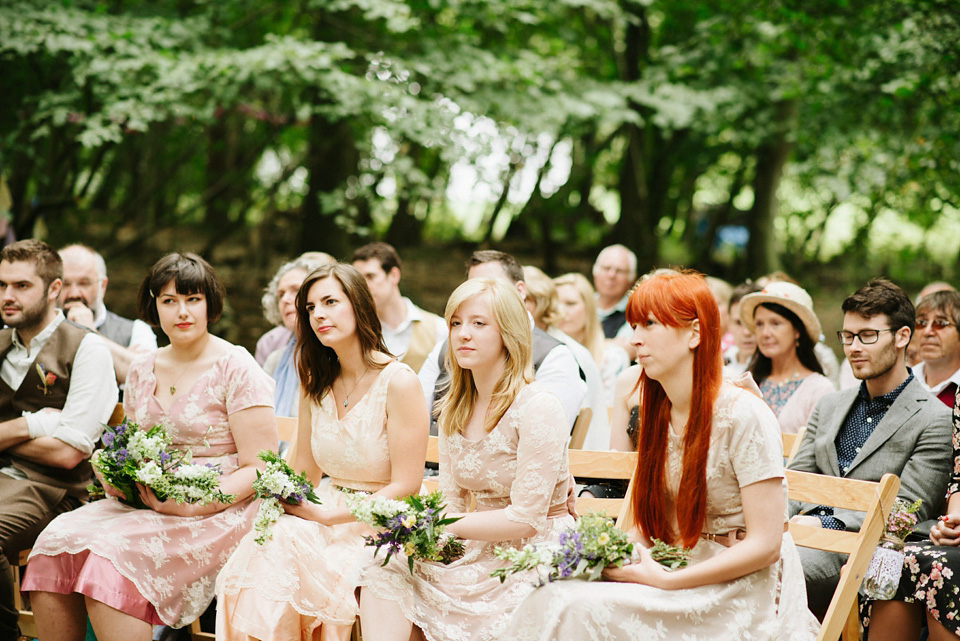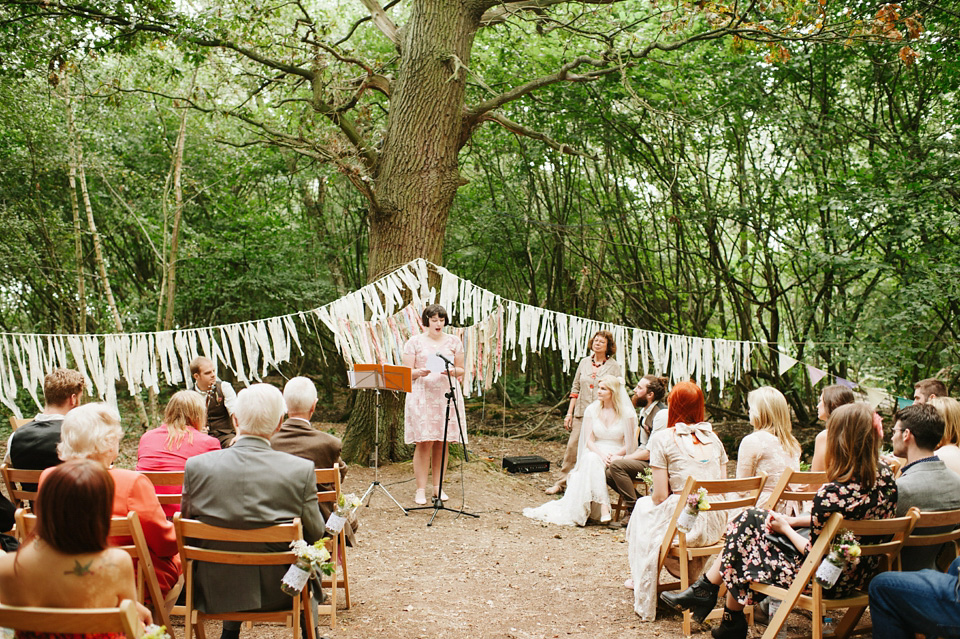 Jamie and Jodie choose 'On Your Wedding Day' as their reading, they felt that it ticked all their boxes, love, life together and humour.
"We opted to write our own promises to each other. It took ages as we kept putting them off. We ended up finishing them only a few days before the wedding. We both found it hard because in our relationship we are generally very open and honest about how we feel about each other so we were both looking for something that could surpass both what we had previously said to one another."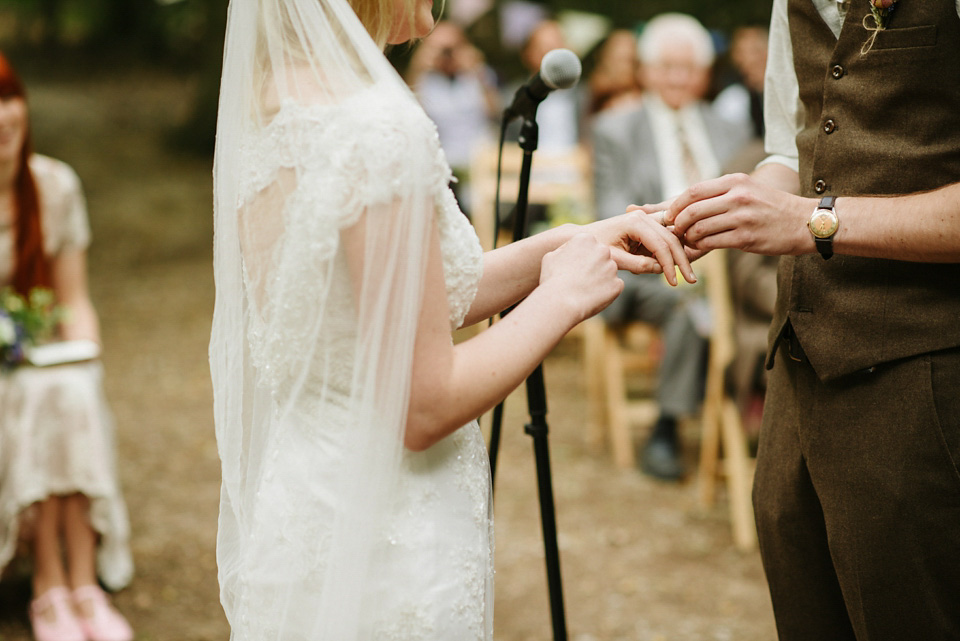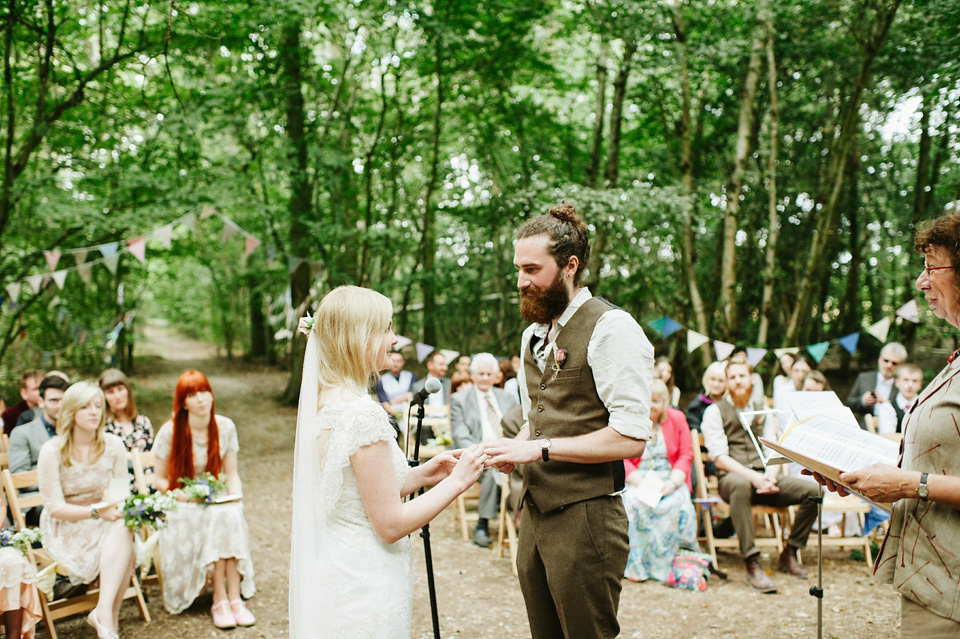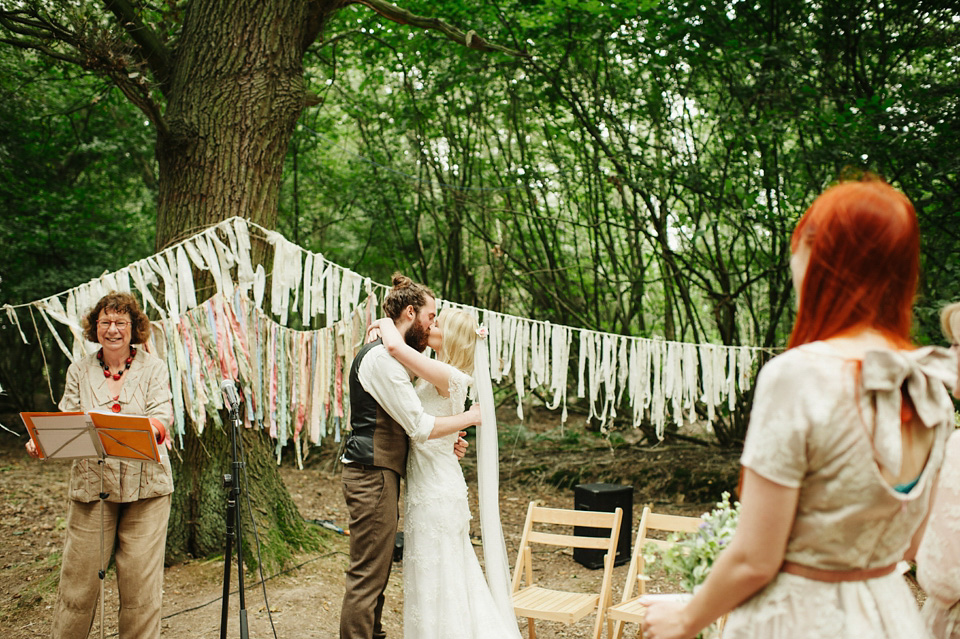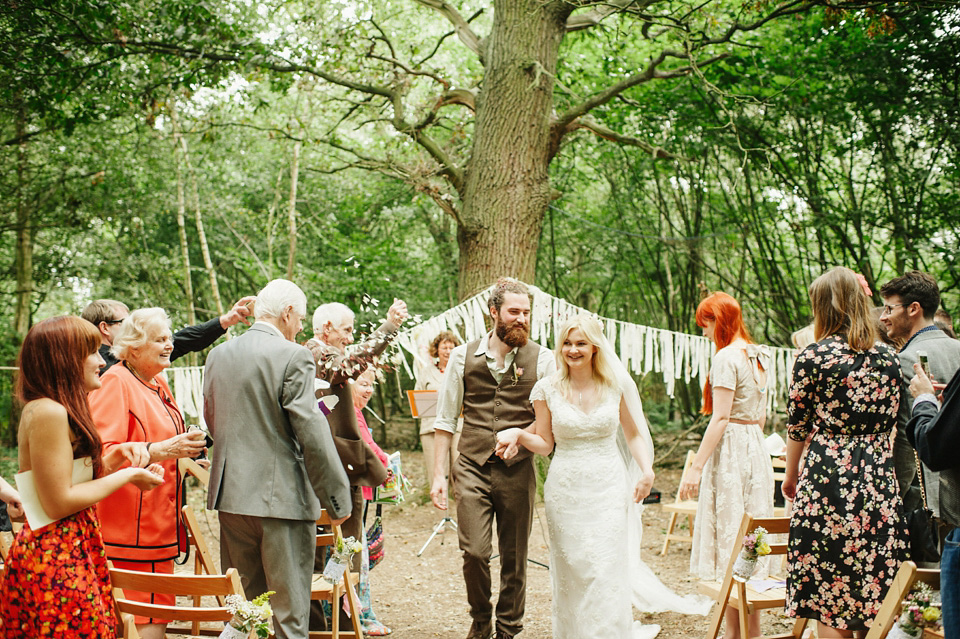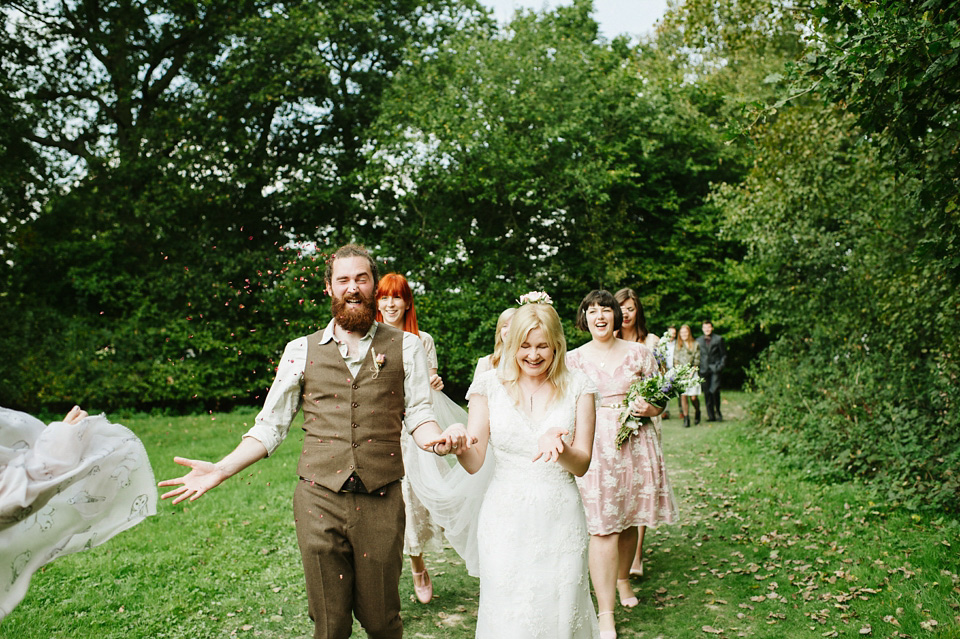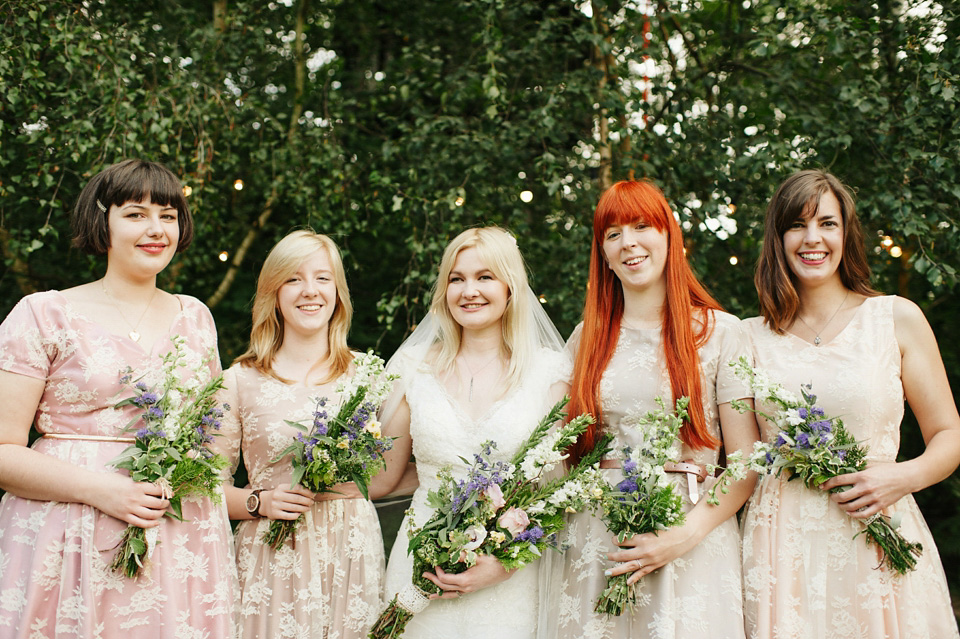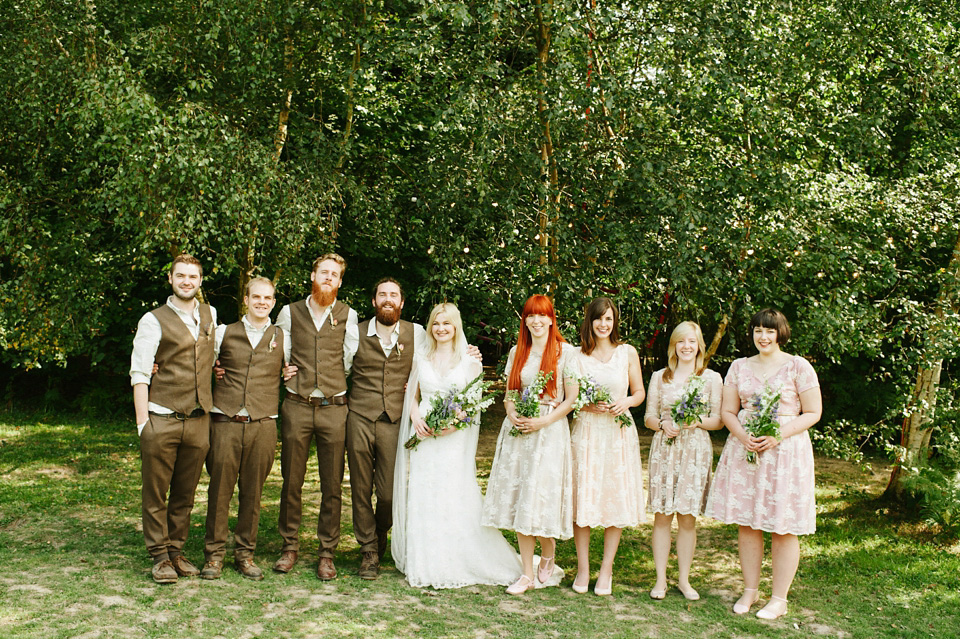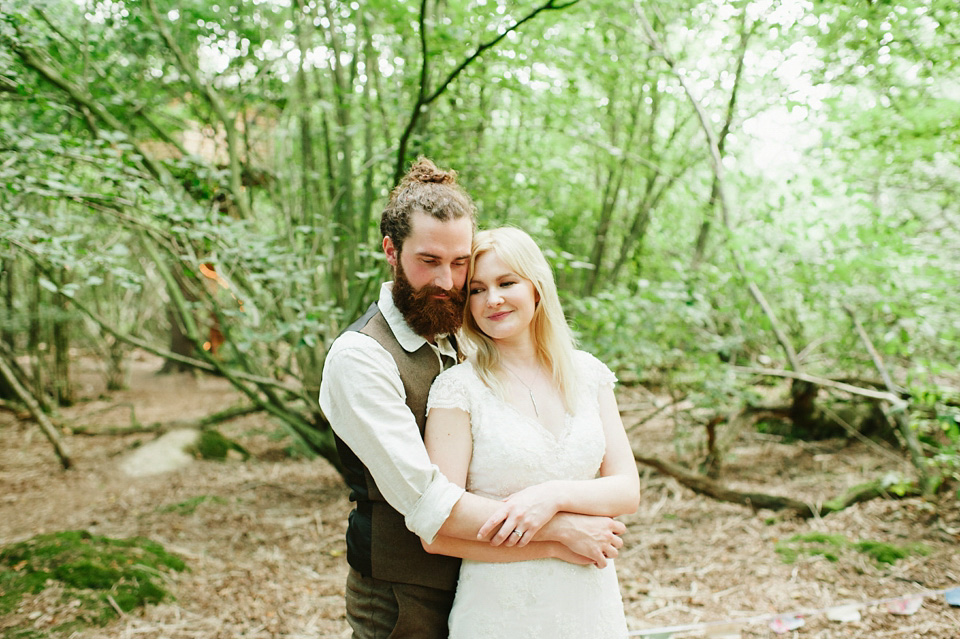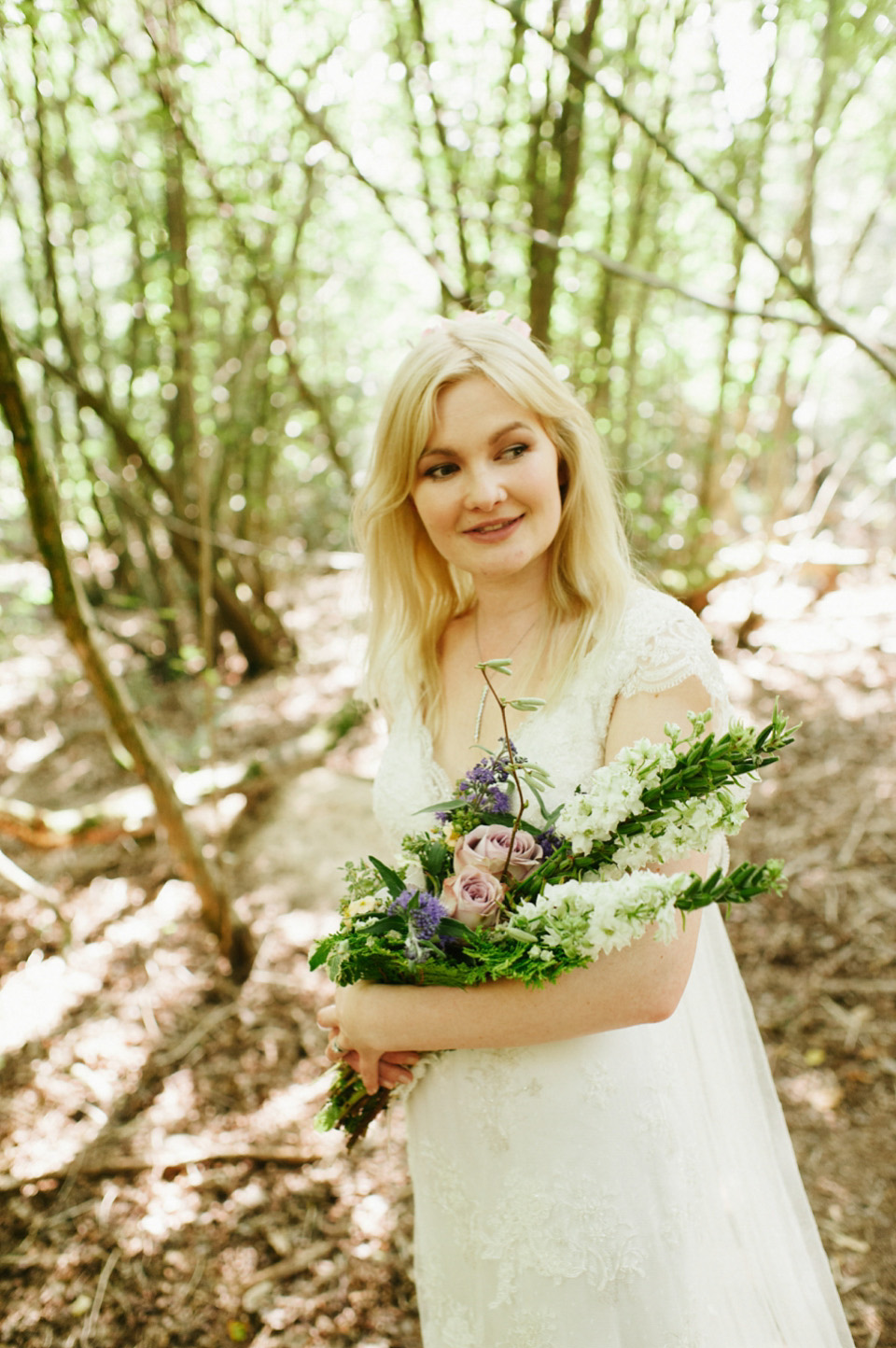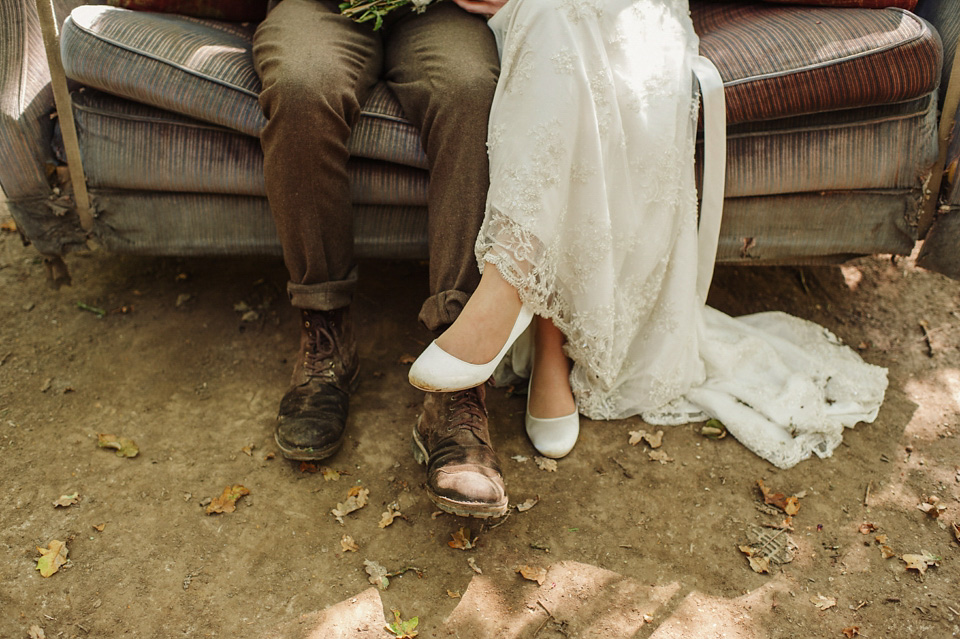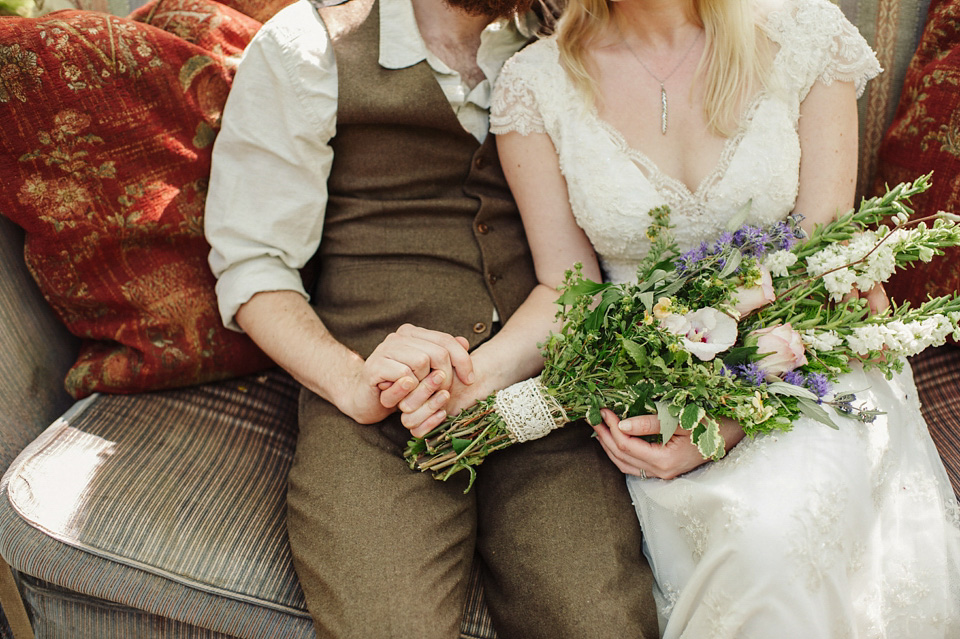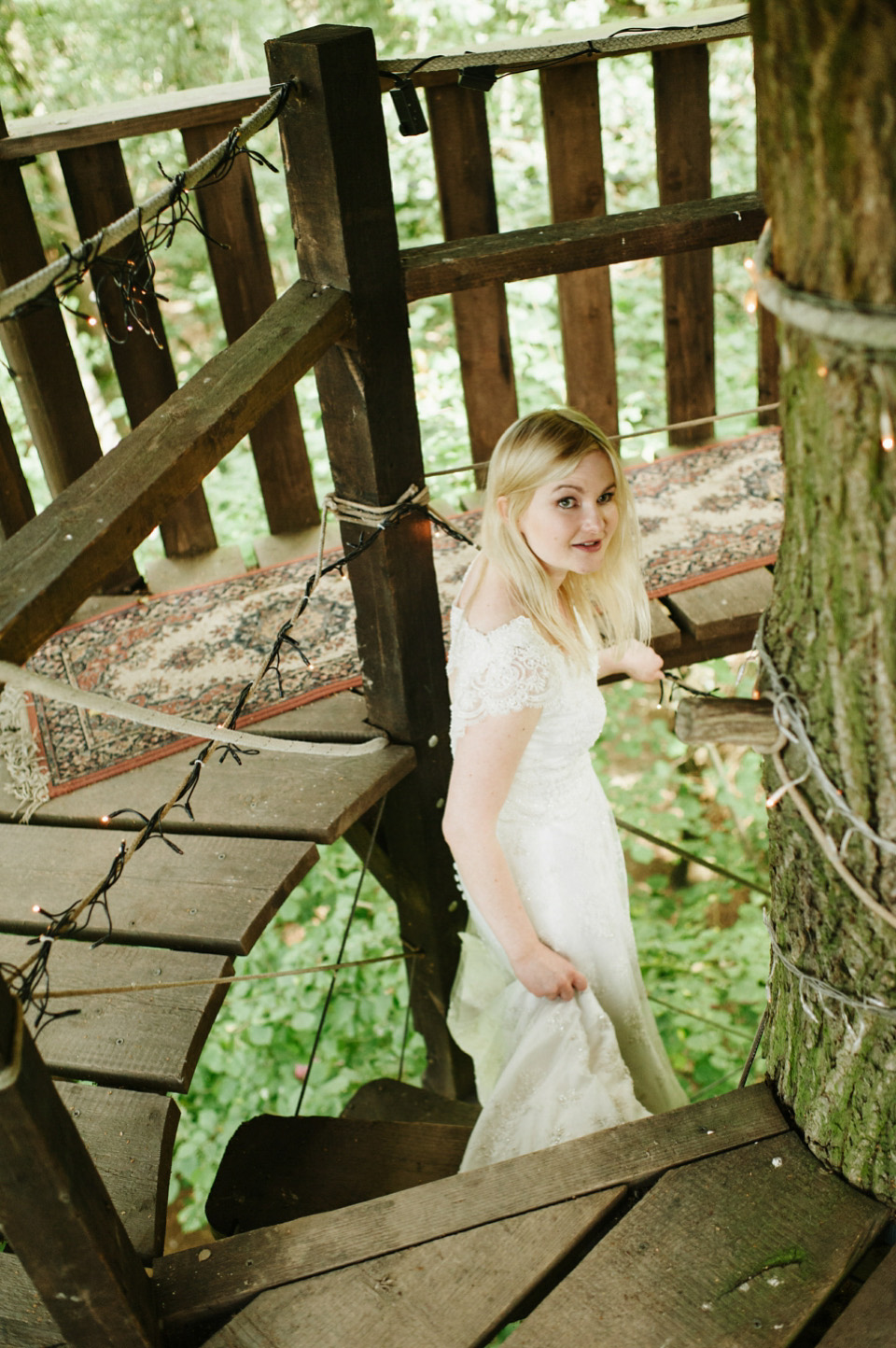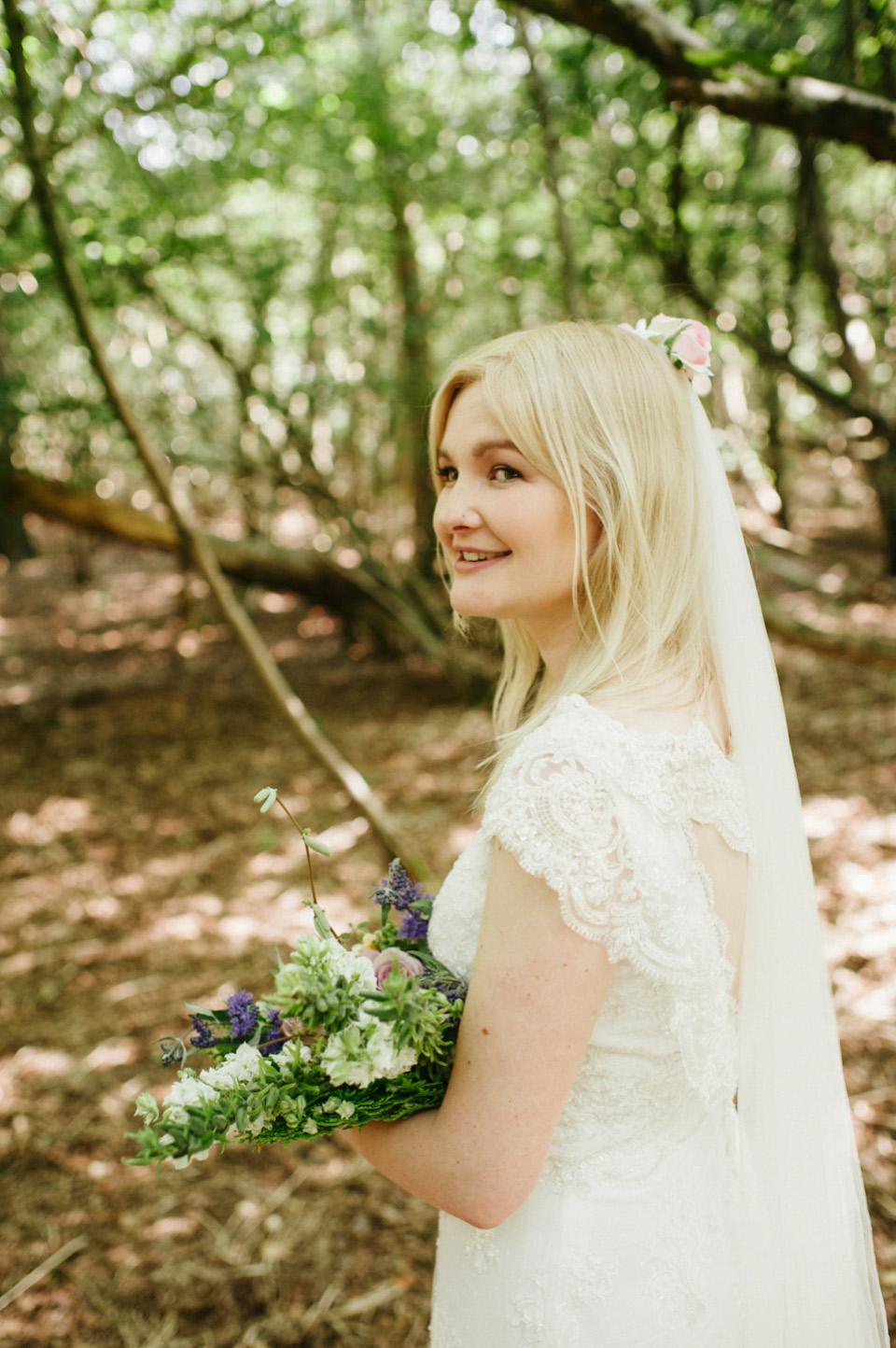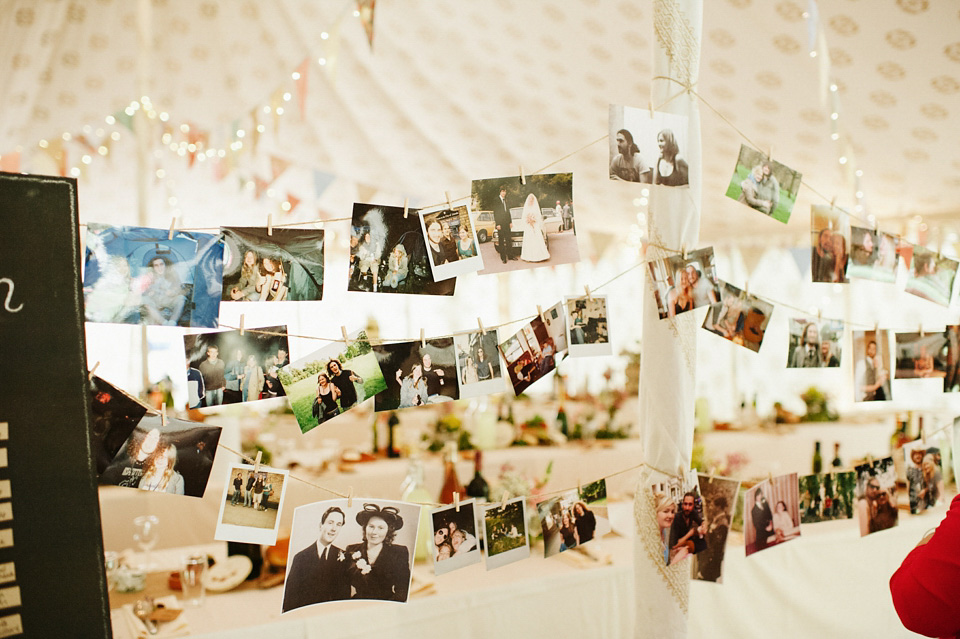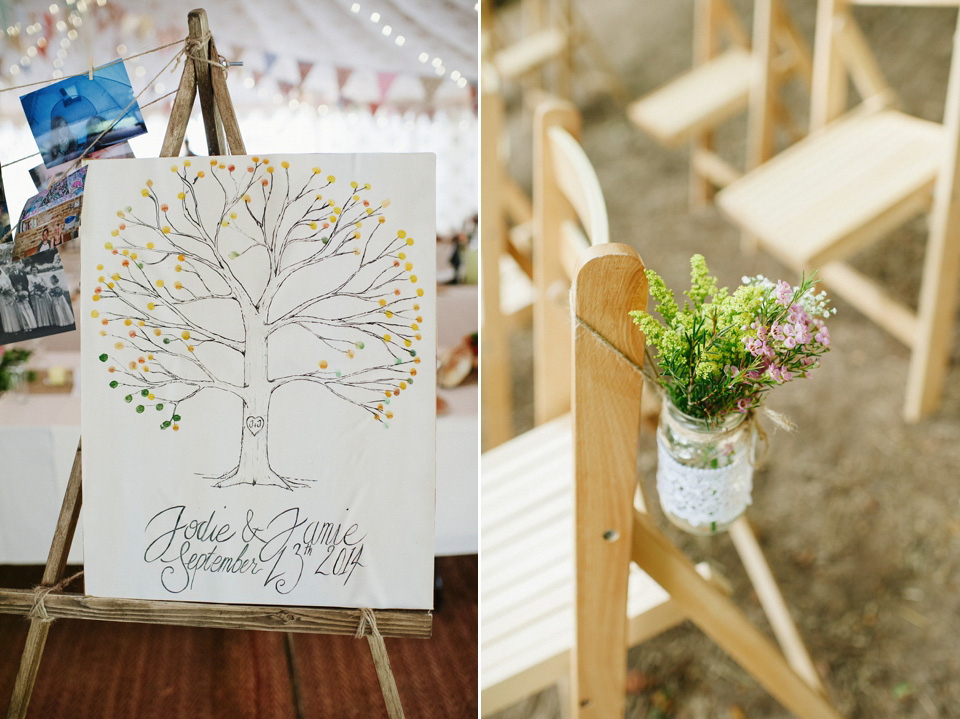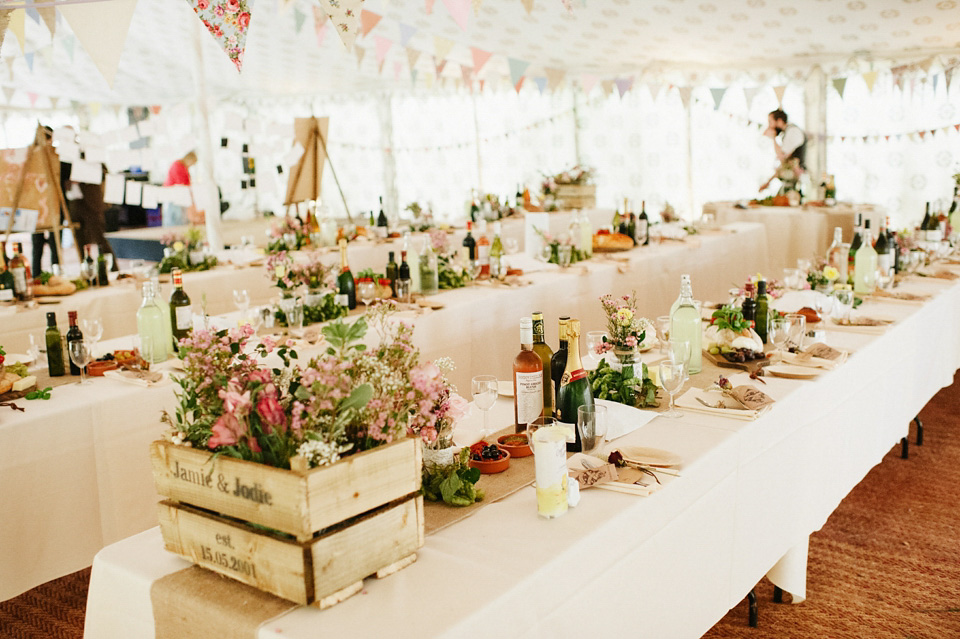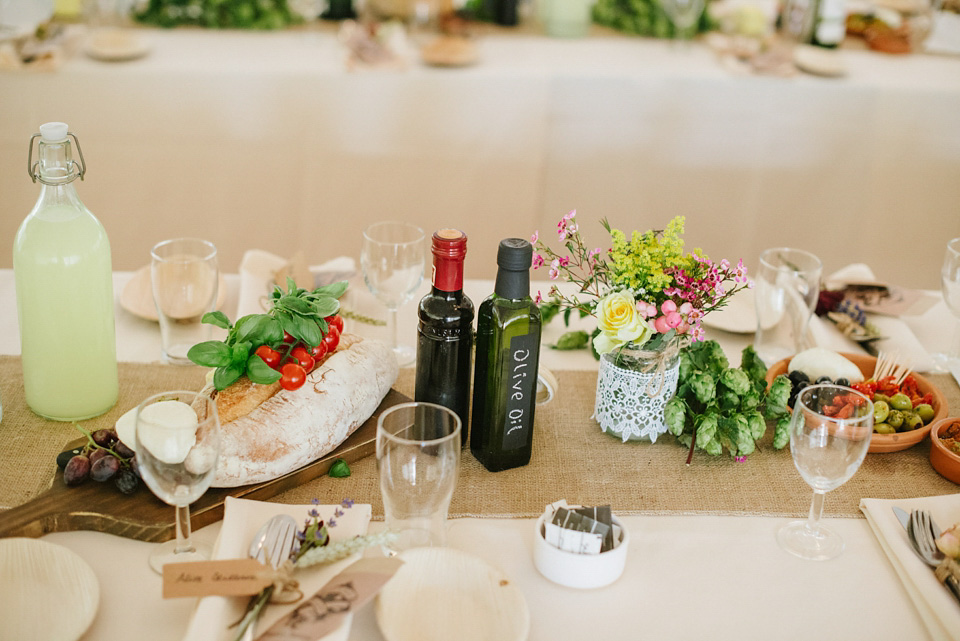 I love how everything is made with such creativity and it shows. They even managed to add a vintage touch to chocolate buttons for their favours!
"We made chocolate buttons out of a vintage button mould and placed these in brown paper envelopes with our wedding logo printed on them."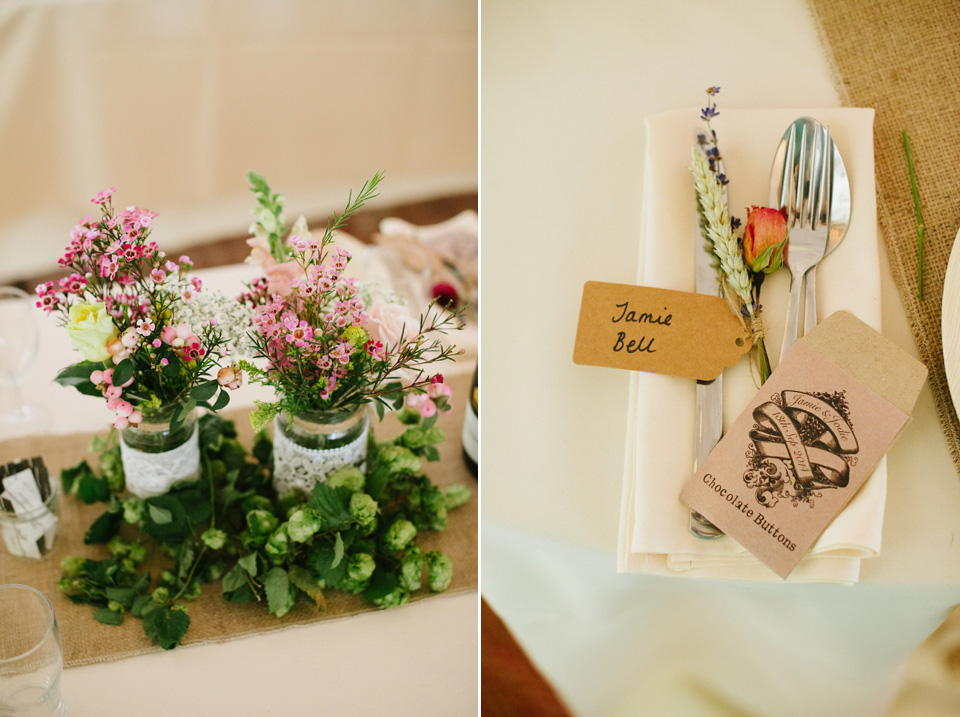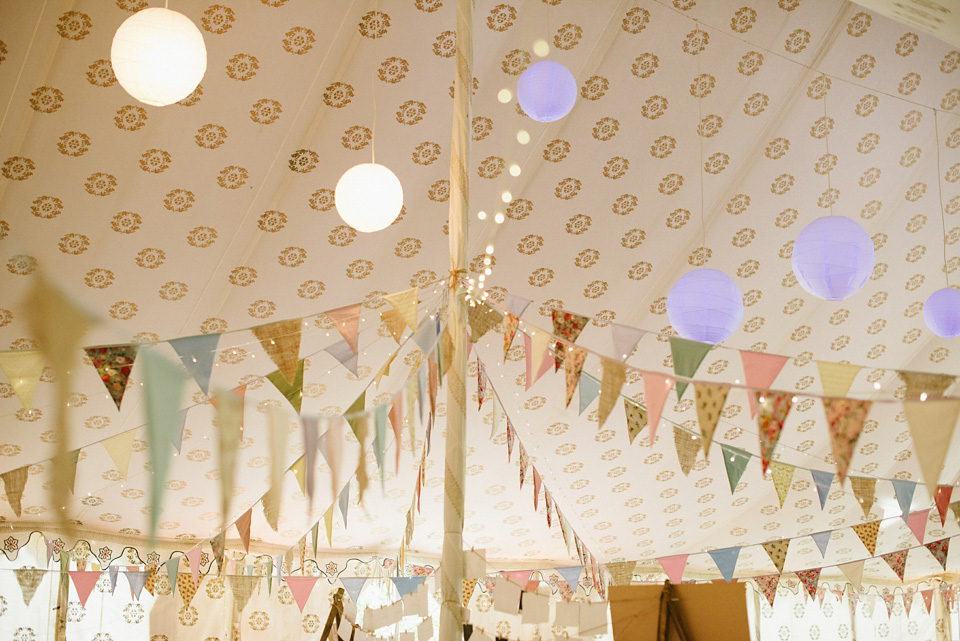 I admire any bride who makes her own wedding cake!! It may have been a month long process of baking and freezing but it was all worth it. Jamie told us that Jodie, Sophia and Lizzy put the cake together the night before the wedding, which was very messy but really good fun.
In fact, there was a real team effort on the food front, I love it when everyone happily gets involved.
"We catered the wedding meal ourselves. We offered a meat dish, vegetarian and vegan options. Jamie cooked all the food and froze it in portion containers the week before the wedding. Jamie's dad borrowed cooking equipment from the local scout group. On the day Aunties and Uncles heated the food and the bridesmaids and best men served the plates to the tables. For the evening reception we provided a limited buffet but on our invitations instructed guests to bring the best dish they could make so all the guests could feed each other. The tables were literally creaking under the amount of delicious food everyone made!"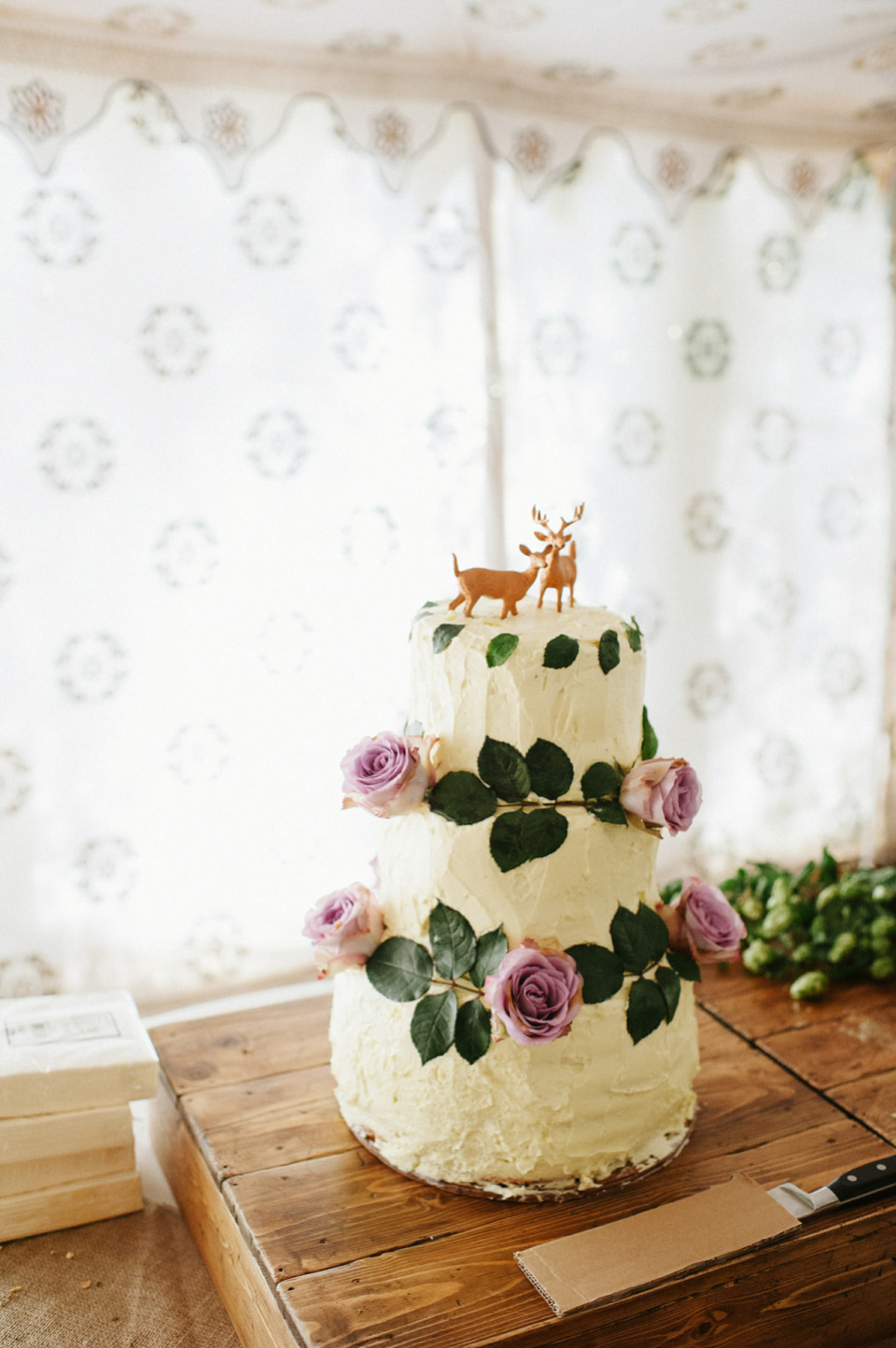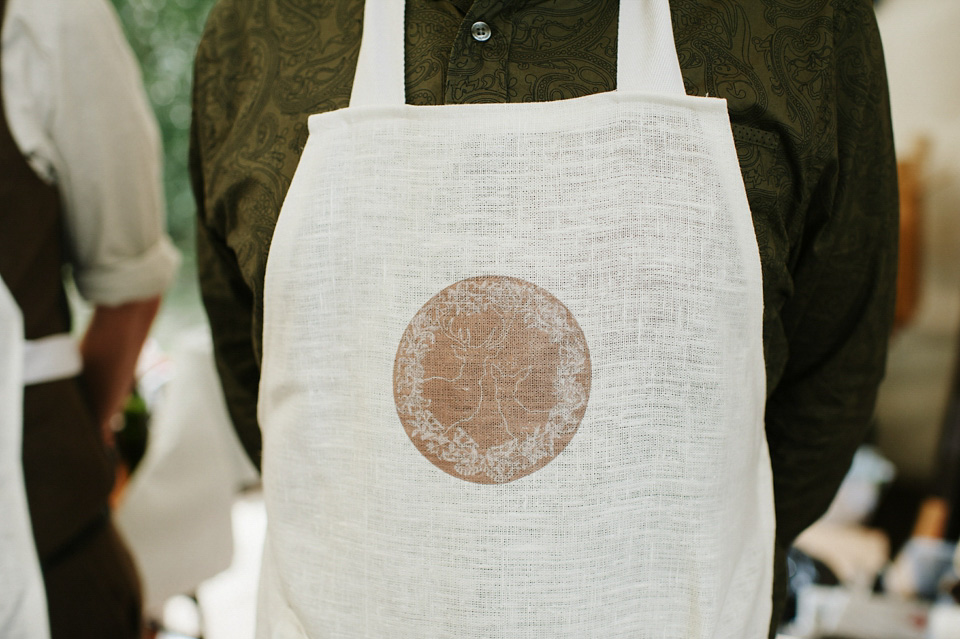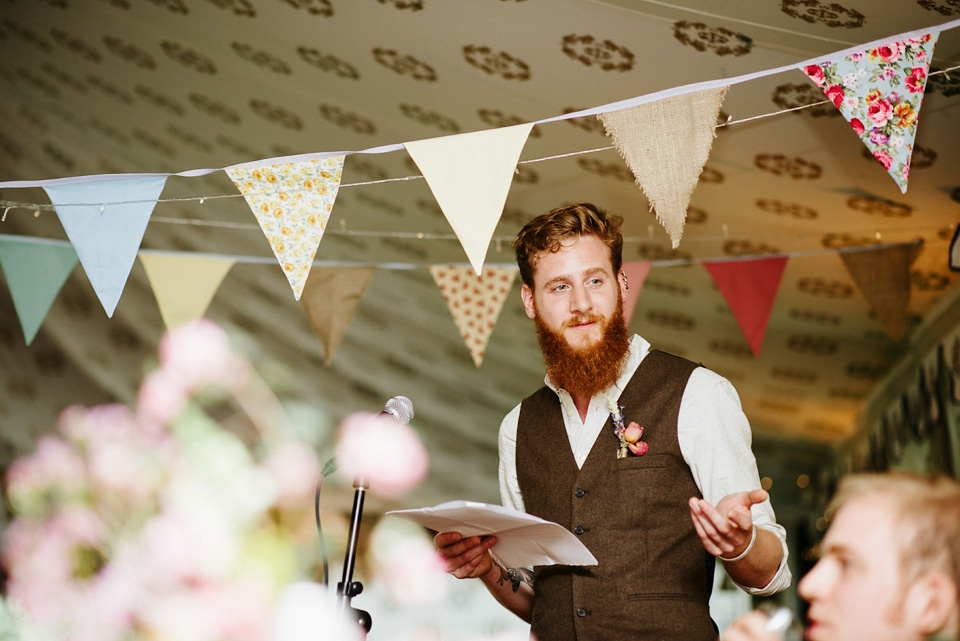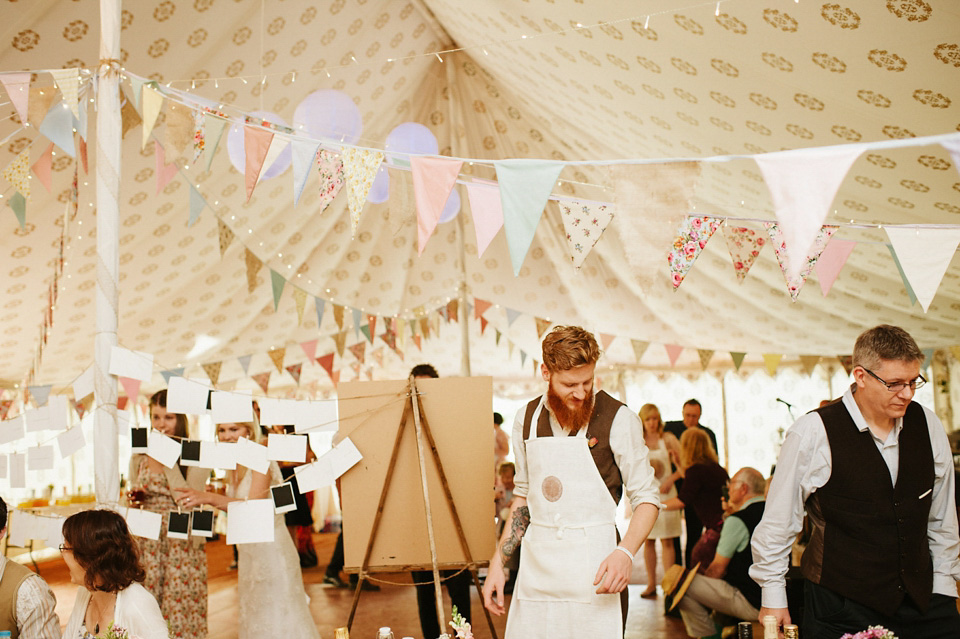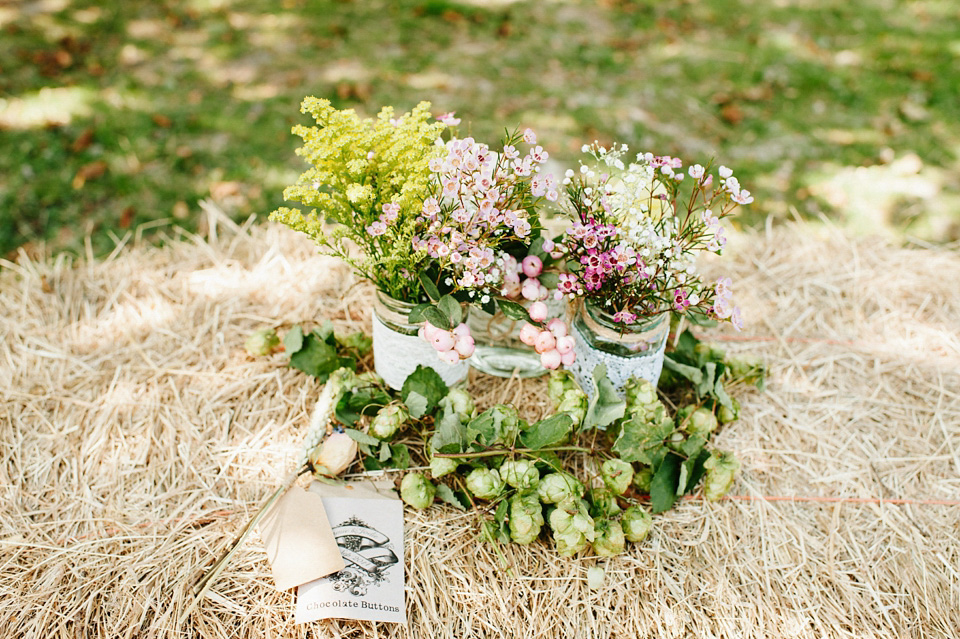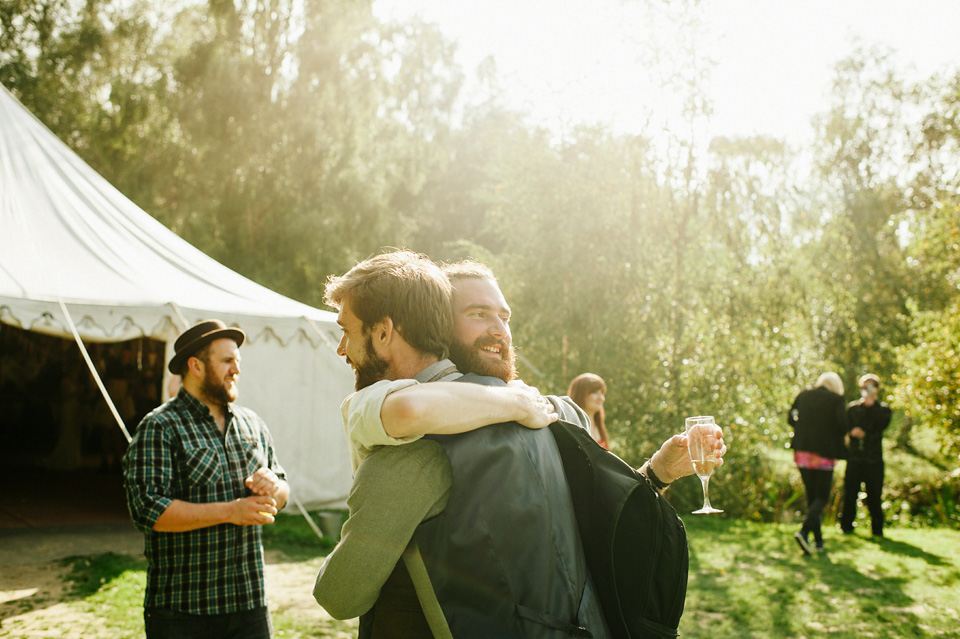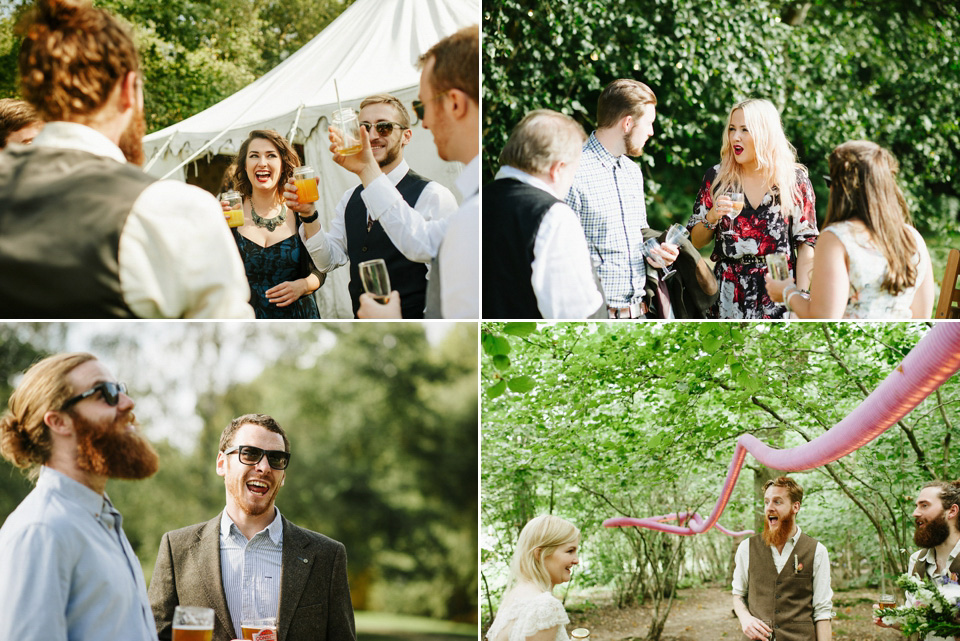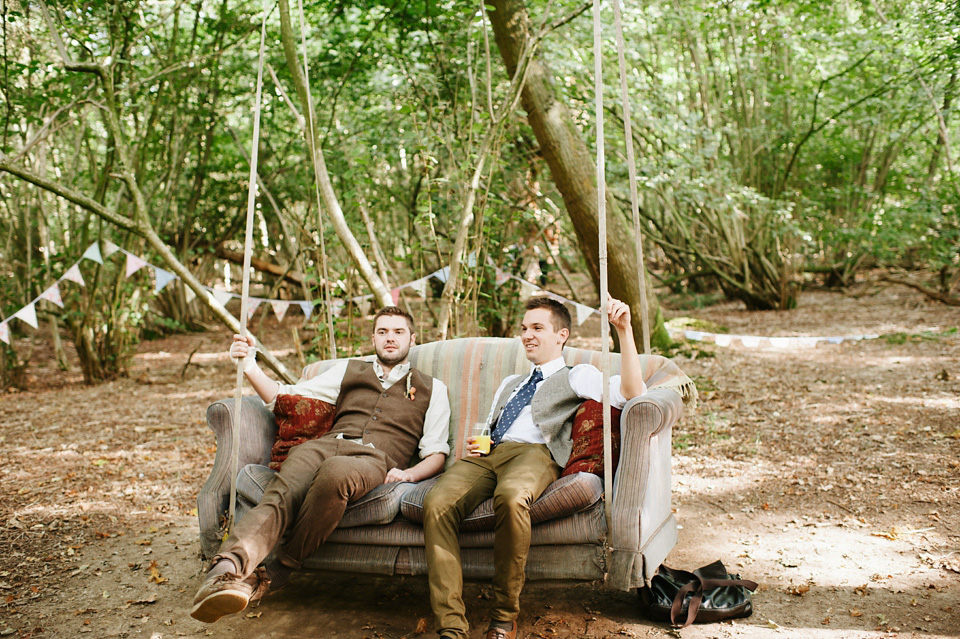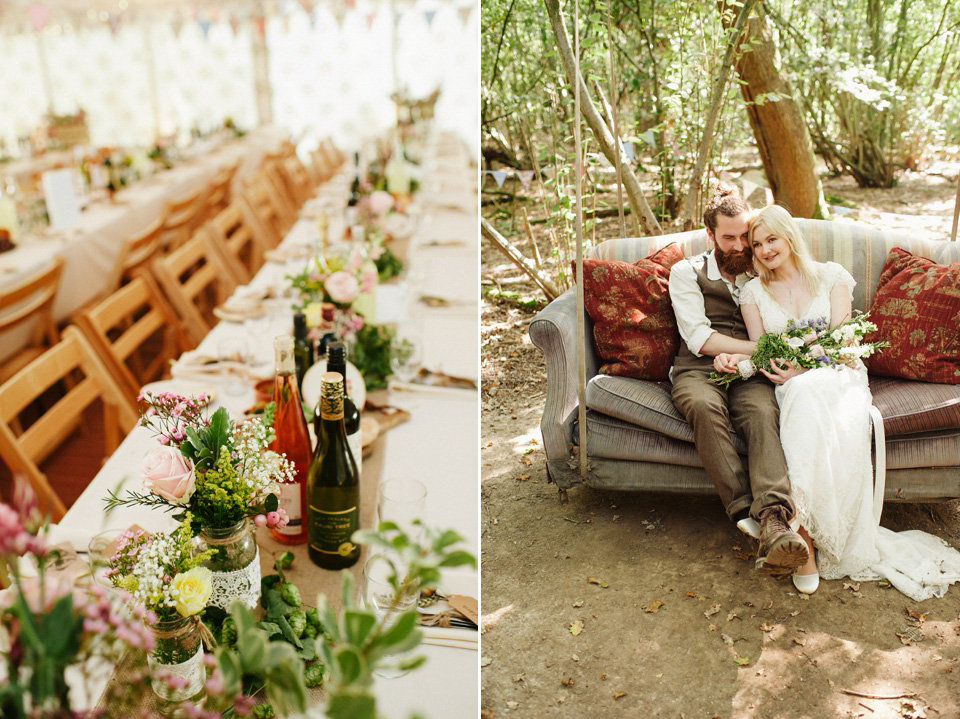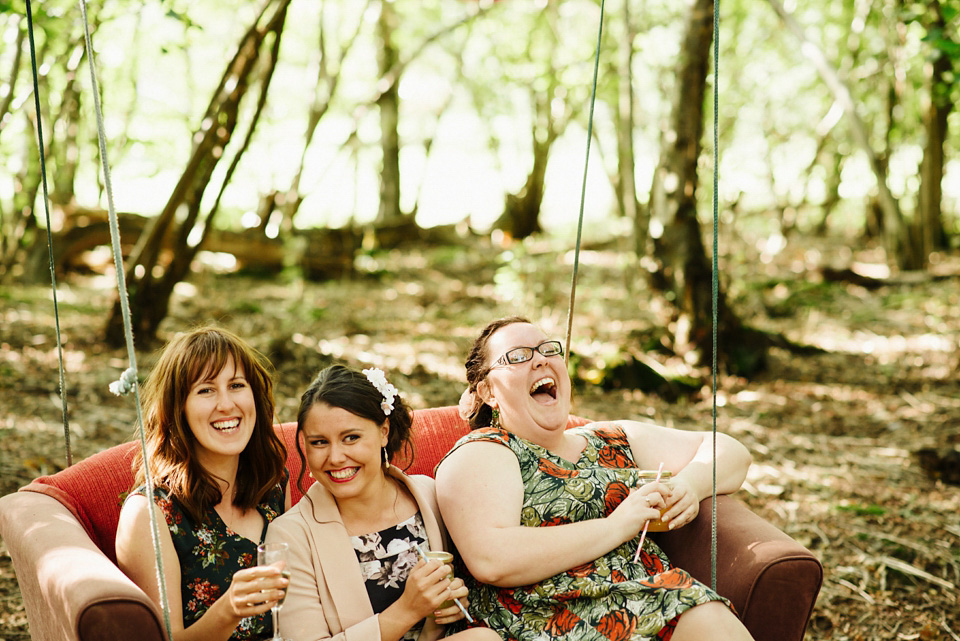 "As mentioned before Jamie works with lots of fantastic bands but from day 1 there were two that had to come and entertain our guests. Hunter & The Bear and Sam Green and the Midnight Heist.  Everybody on the day not only said it was the best wedding they've ever been to but also the best gig they've ever seen, which was a lovely compliment. Most guests were dancing well past midnight!
Guests were also entertained with tree houses and woodland pathways to get lost in at the venue. We also hired a separate yurt/marquee from The North Star Event Venue with wood burning stoves and oil lamps, it was a perfect place for people to chill if the dancing got too much."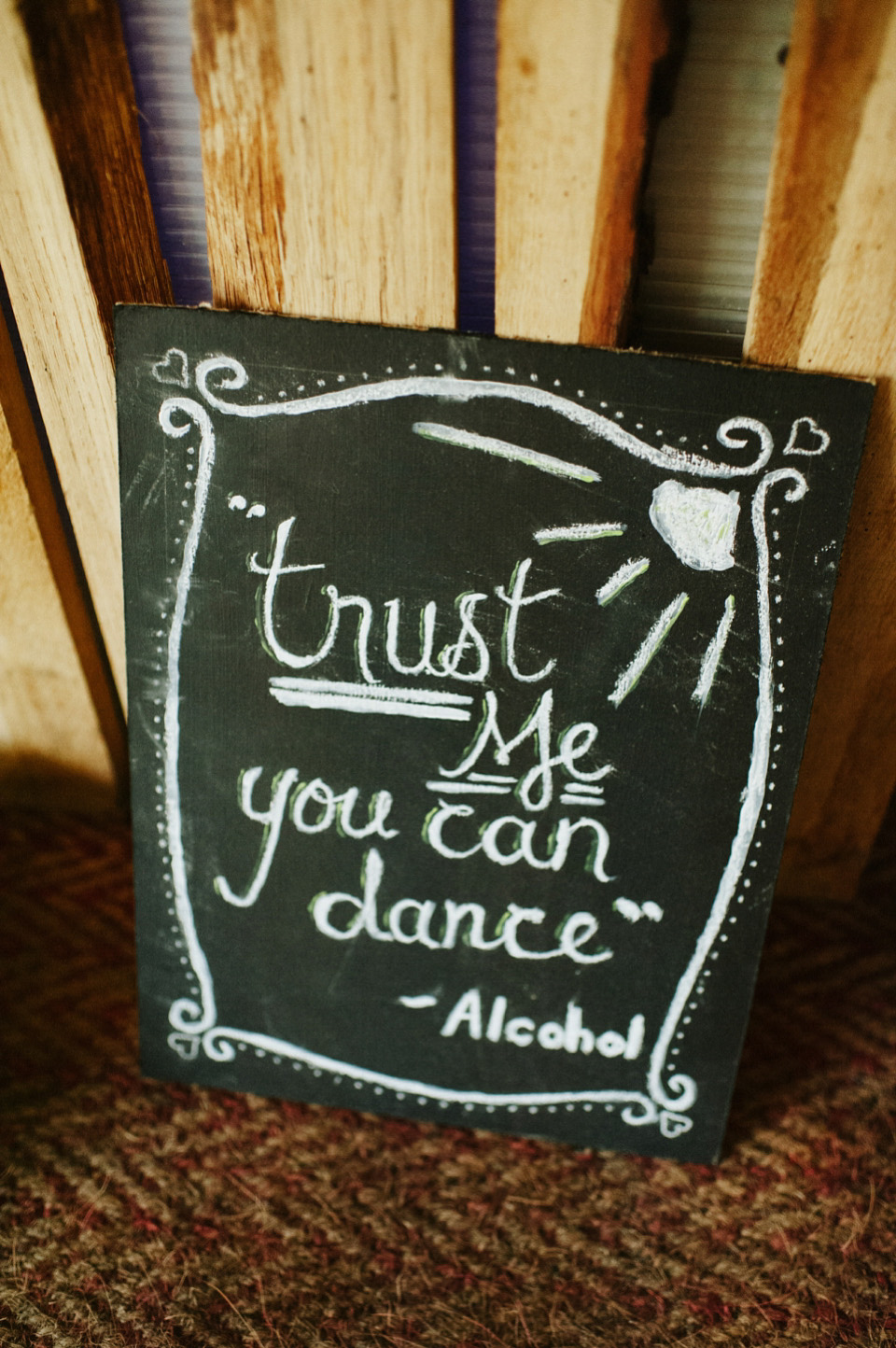 Words of Wedded Wisdom
"Plan for the wedding that YOU want, not other people.  Also, put as much effort as you can into the details – we sometimes felt as if we were wasting our time making small, seemingly insignificant details, but on the day itself, these details were the things that made it as special as it was.  So in the end, it was completely worth all the late nights staying up making bunting and place settings!"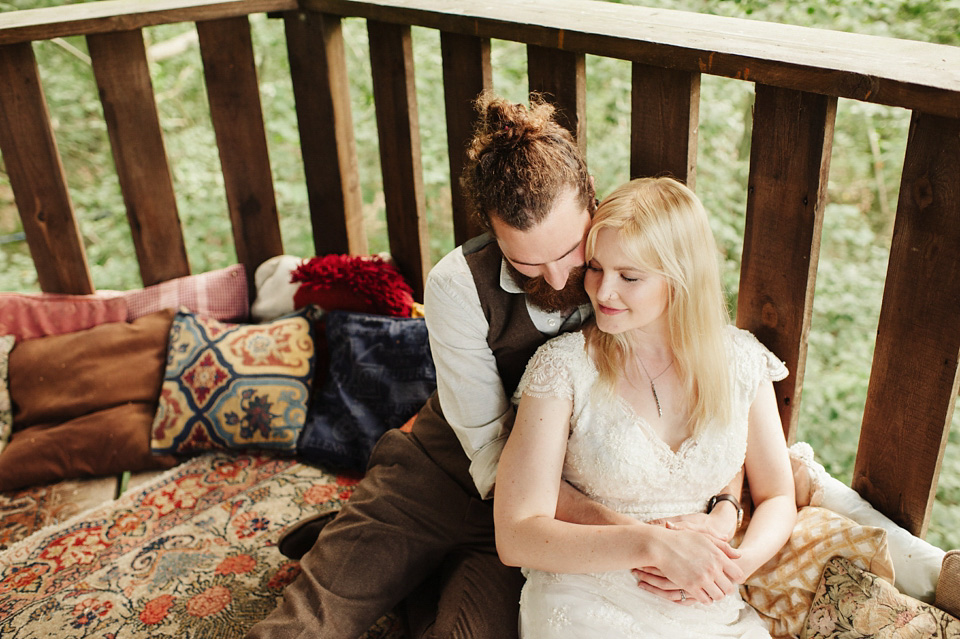 Congratulations Jamie and Jodie what a beautiful day to remember.  A big thank you to Ellie Gillard for sharing these wonderfully captured details and moments.  You can see more of Ellie's photography on Love My Dress here.
Have a fantastic week,
With Love, Christina x
Photographer – Ellie Gillard
Venue – Wise Weddings, Paddock Wood
Wedding Dress – Annasul Y dress from Teokath
Veil – Homemade by the Bride
Shoes – Pink Paradox
Bride's Scent/perfume – Chanel – Coco Mademoiselle
Groom's Suit – Topman
Bridesmaids Shoes – ASOS, New Look and Debenhams
Florist – Covent Garden Flower Market
Cake – Homemade by the Bride
Entertainment – Hunter & The Bear and Sam Green and the Midnight Heist
Stationery – Handmade by the Groom and Best Man
Hair Stylist/ Makeup Artist – Dominic Hogg
Yurt/Marquee – The North Star Event Venue