Hang on there! We've a late afternoon treat for you today – a delightful set of wedding photographs full of smiles and pretty things. And a very cute pooch.  Sarah, a Marketing Consultant (and moonlighting wedding Make-up Artist) married Recruitment worker Glenn on 6th September 2014 in their home-town of Leigh-on-sea in Essex. The ceremony took place at the church was where Sarah's parent's married and she was christened and their day was full of pretty pale blue touches.
Sarah says she didn't get too stressed about planning her wedding day – her experience in the industry gave her a pretty good idea of what she wanted.  Clearly a woman of good taste, I have to say I love her wedding dress – a Cymbeline design. It worked perfectly for this late Summer marquee wedding.
"A big part of my job is to be creative, and working in the wedding industry as a Make-up Artist for the past eight years meant that I already had quite a clear idea when it came to visualising how our wedding would be.  I knew I wanted it to be personal, so that meant that hand-made detailing was the order of the day.  It was time consuming but definitely worth it. We both love blue, so the colour palette was an obvious choice, but I didn't want to be too strict on things being too 'matchy-matchy'."
Photography Copyright (c) 2014,  Lola Rose Photography

"Glenn and I have a fairly small family, but lots of friends. We wanted to create a relaxed environment and ensure that people celebrated until dawn.  It was actually 4:00am when the generators were finally switched off by Glenn's mum! The kid in me also wanted to add a touch of fairy-like magic to the day and evening, thus the bunnies and copious amounts of fairy lights!"
"We've been through some fairly serious shiz over the past six years, which I know sounds cheesy, but it really has made us the best of friends. Glenn proposed in August 2013, and planned to ask me over the sky-line of London in a helicopter, but torrential rain stopped us and we ended up at the OXO Tower Restaurant where he proposed over dessert.  He got the chef to write 'Will you marry me?' in icing.
I cried and then we walked around Hatton Garden looking at rings in the pouring down rain, a bit shell-shocked by it all. We got married pretty much a year later on the 6th September at our local church where my parents got married and I was christened."
"My dress was a Cymbeline design. The silhouette worked with my shape, I loved the low back which wasn't too sexy, but gave the classic style of the dress a little edge. I loved the multiple layers of lace at the bottom of the dress as it gave it movement. The main thing though, was that I felt like 'me' when I tried it on.
The belt I wore was a Stewart Parvin design, which I purchased from The Bespoke Wardrobe."
I adore the beautiful shoes that Sarah wore – they're the one and only 'Cinderella' shoe, by Emmy of course.  The veil was a bespoke design from The Bespoke Wardrobe.
"Firstly, I need to state that I love shoes. In my opinion they make an outfit go from mediocre to stylishly fabulous in a slip of a foot. So discovering Emmy London brought out the squealing princess in me! Then again, I think that it would take an iron heart not to get that excited in the confines of the Emmy London Boutique – it is a treasure-trove of the most stunning range of footwear that you could imagine, a mecca of refined, vintage inspired designs.
I actually enjoyed finding my perfect pair of wedding shoes a lot more than finding my wedding dress! As I got to try on a plethora of shoe designs that had been created by Emmy herself, the vibe in the boutique was relaxed, fun and intimate. Chatting to Emmy about how I wanted comfort (I wanted to dance until dawn, and trust me, I did!) and something different. that owned a touch of magic, led Emmy to suggest the 'Cinderella' shoe. And once I slipped her on, I knew that I'd found 'them' as they really did feel and look like the glass slippers I'd imagined."
Flowers were supplied by a talented friend.  I really love these sweet bouquets.
"An old friend, Jo, was our florist.  Again, she got my sometimes weird creative ideas. I wanted laid back but beautiful, and she was able to deliver."
"In terms of decor, we had 60 metres of handmade rag-bunting (thank you bridesmaids!), glow-up bunnies, goodness-knows how many glitter jam jars, hand crafted wooden name-place holders, a home-made Instagram area, signs made out of old skateboards, crafted by our good friend Baz and decorated by myself and an abundance of fairy lights!"
"Our photographer was Kelly Green at Lola Rose Photography. We'd worked together on a wedding a couple of years ago and I really loved her calm, non-invasive method of capturing moments without it being contrived or cliche. I also knew that I could be quite straight talking with Kelly and she had similar creative tastes as me.
Kelly, was organised, flexible, able to improvise on the day and worked unbelievably hard to met and exceed our expectation. I can't recommend her enough."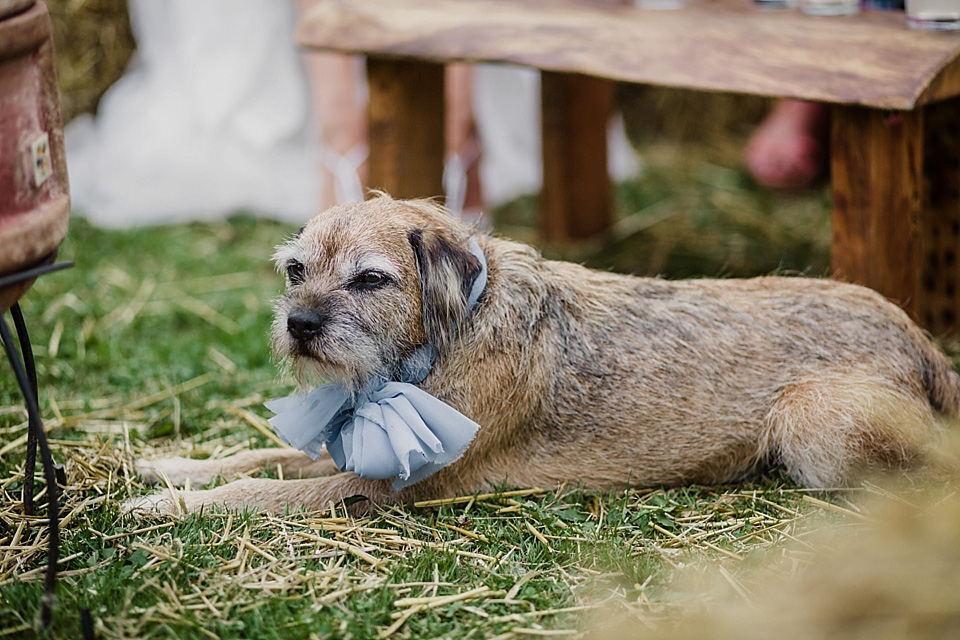 Oh just look at this cheeky chappy in his little pale blue bow tie!
The stunning halo headpiece that Sarah chose to wear in the evening was the Teardrop design by Emmy Shoes – who as well as shoes, also create the most divine headpieces, clutch bags and other accessories for brides.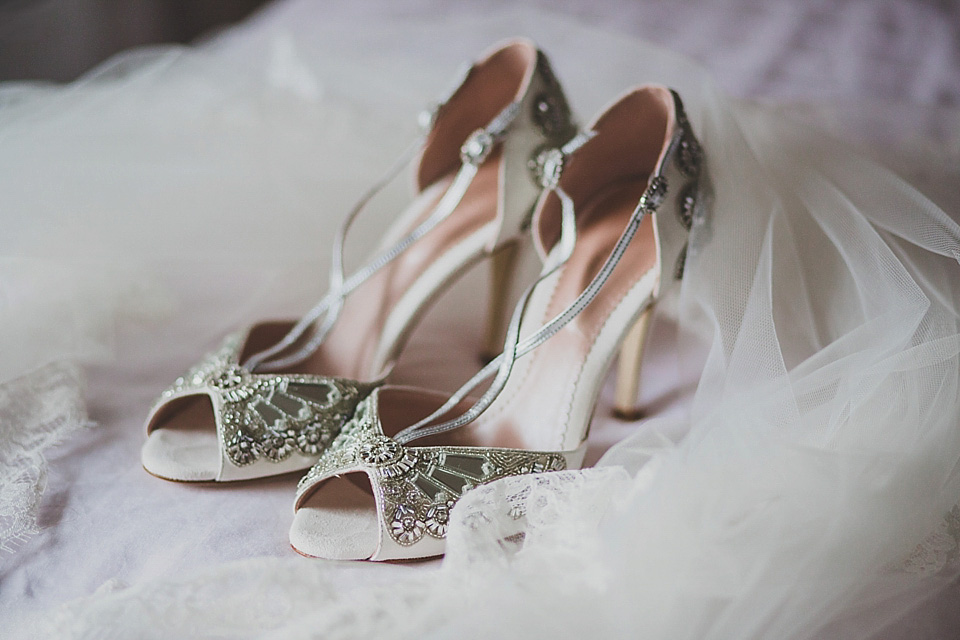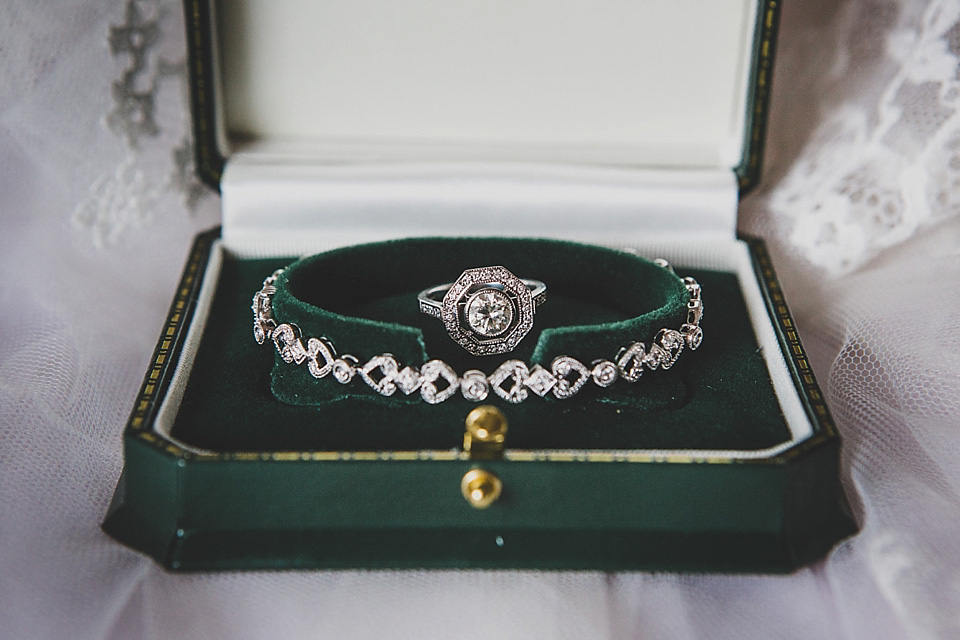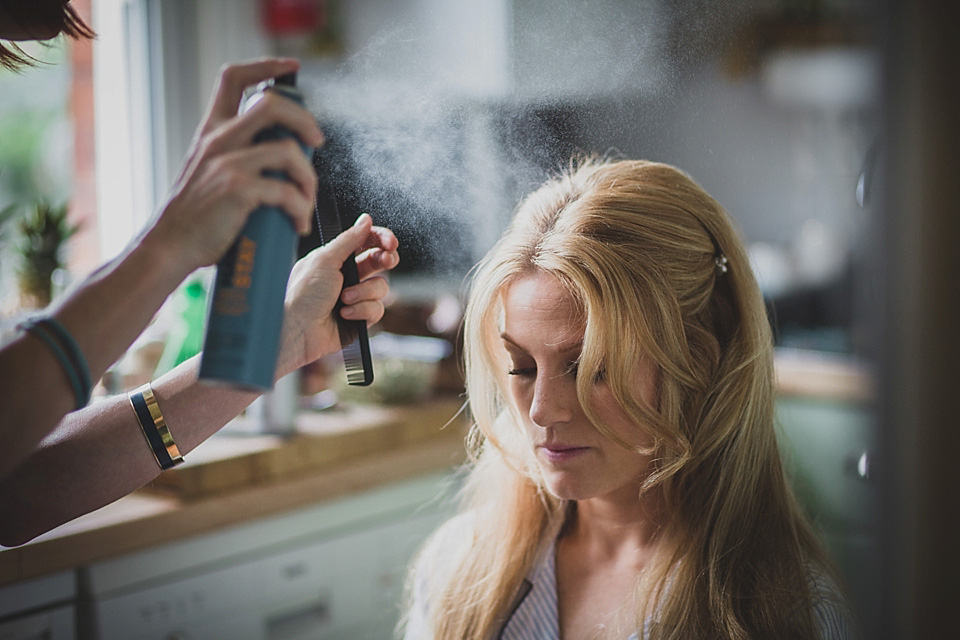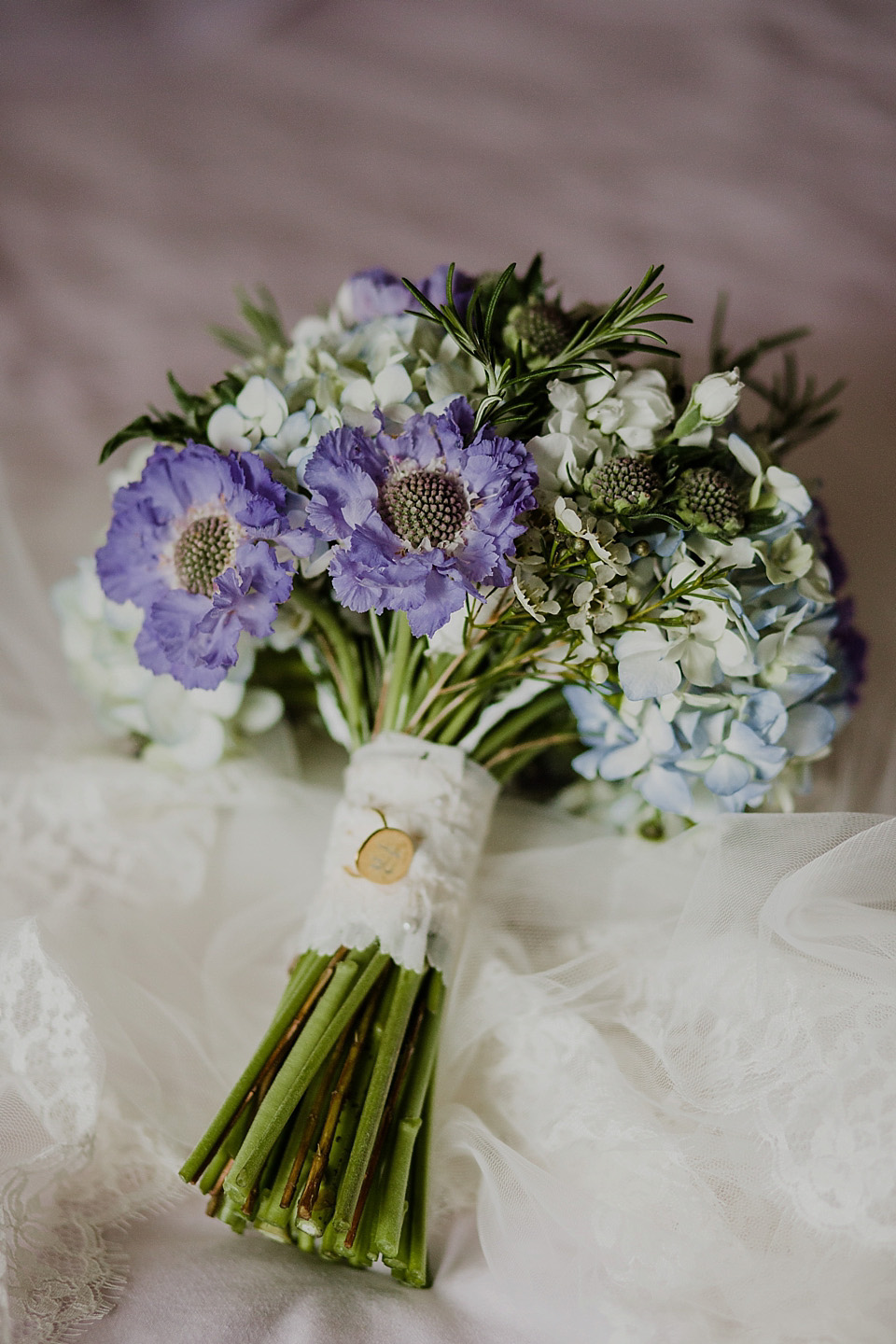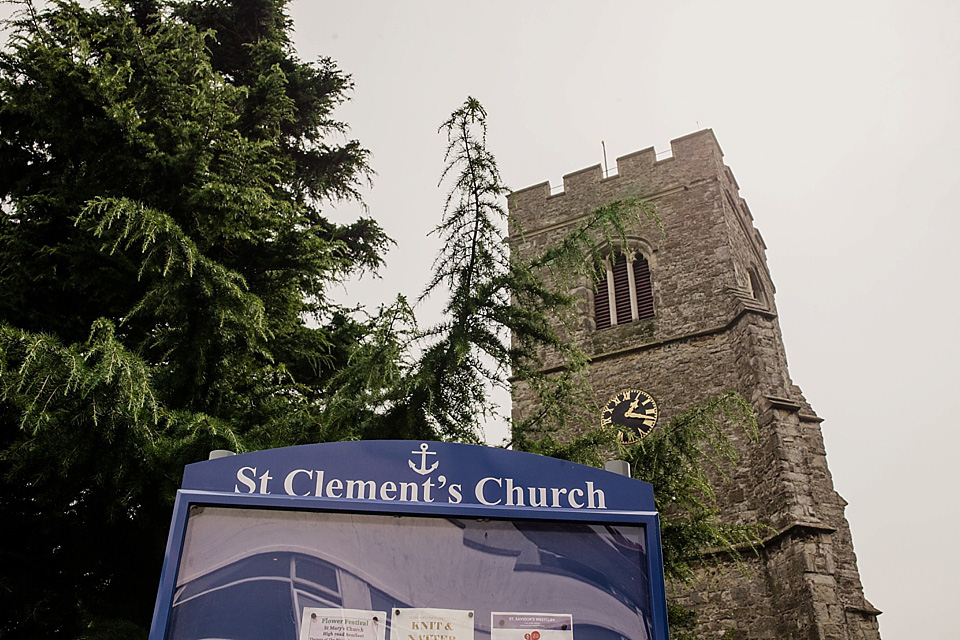 "Glenn and I knew each other from mutual friends way before we actually went on our first date 6 years ago. I thought he was a bit of a lad and he thought I was stuck up. Ideal start. When we first actually went on that date, I was wearing a wig, slightly *a-hem* merry so that soon put a stop to the stuck-up persona and he didn't run away, even though I was wearing a wig, so wasn't the 'lad' I thought."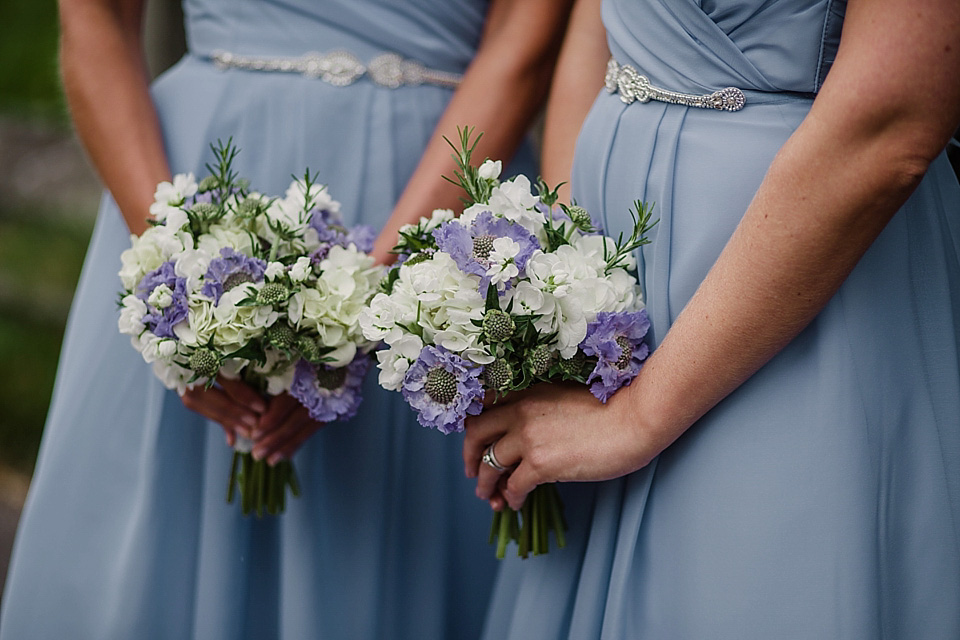 "If I'm honest, I'm not a hearts and flowers kind of girl, so planning my wedding in my mind, was going to be a fairly pragmatic and 'bridezilla' free experience for all concerned. I'll admit thought, I had my moments, but I kept a cool head right up u
til I left my parent's house, and the only slight freak out was a result of my veil not being in properly.  As I got to the door of the church as yet again, my veil dropped out was not my finest hour, but that aside that – I did keep my cool!"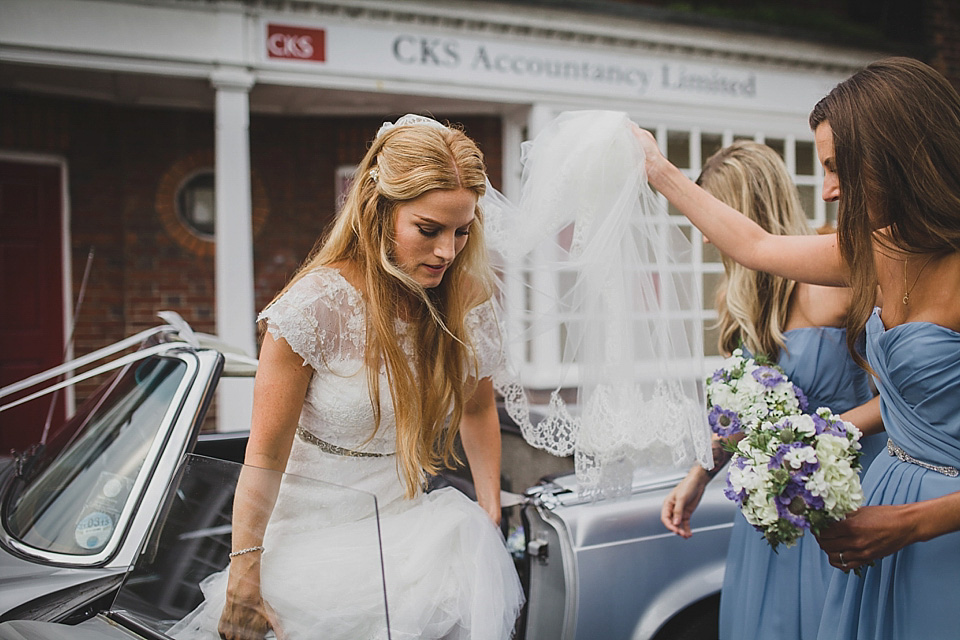 "My Dad gave me away to the sound of Eddie Vedder's 'Longing To Belong'.
Our vows were traditional, but the vicar Father Bob was lovely and really added warmth to the ceremony."
"My Auntie ran her own jewellery company in Hatton Garden for many years, so I was lucky enough to be able to design my ring and have it made by her very talented ring designer Stuart Rucker, based in Bleeding Hearts Yard, London."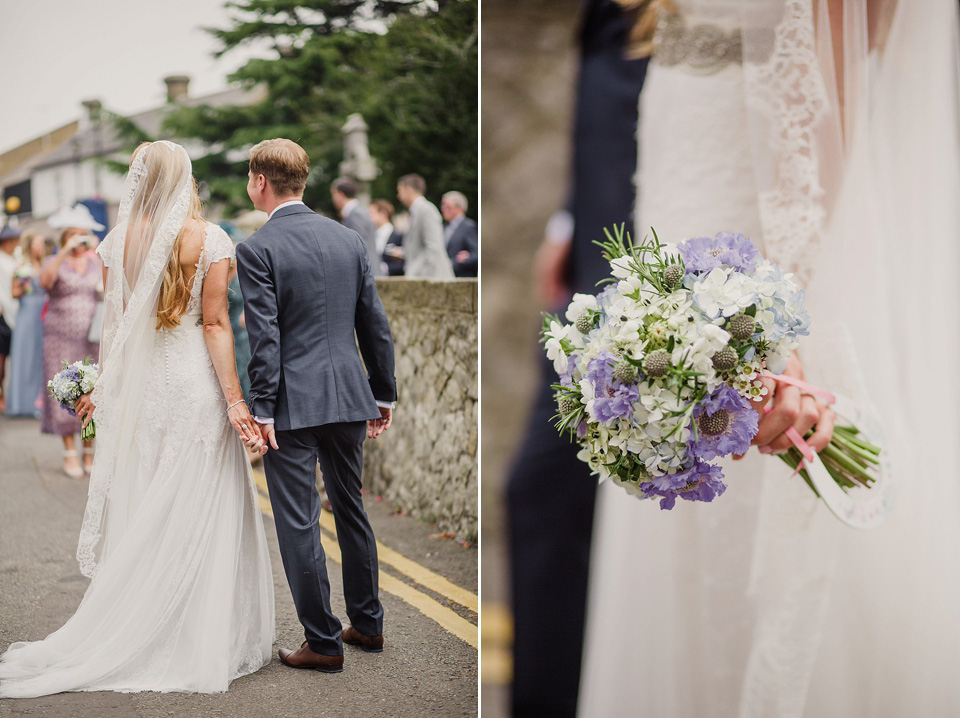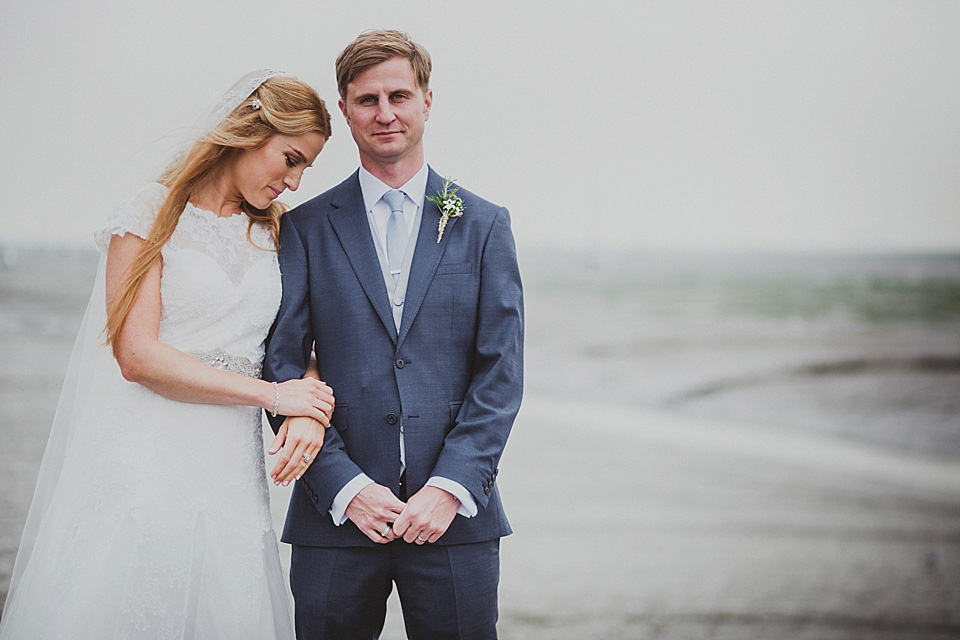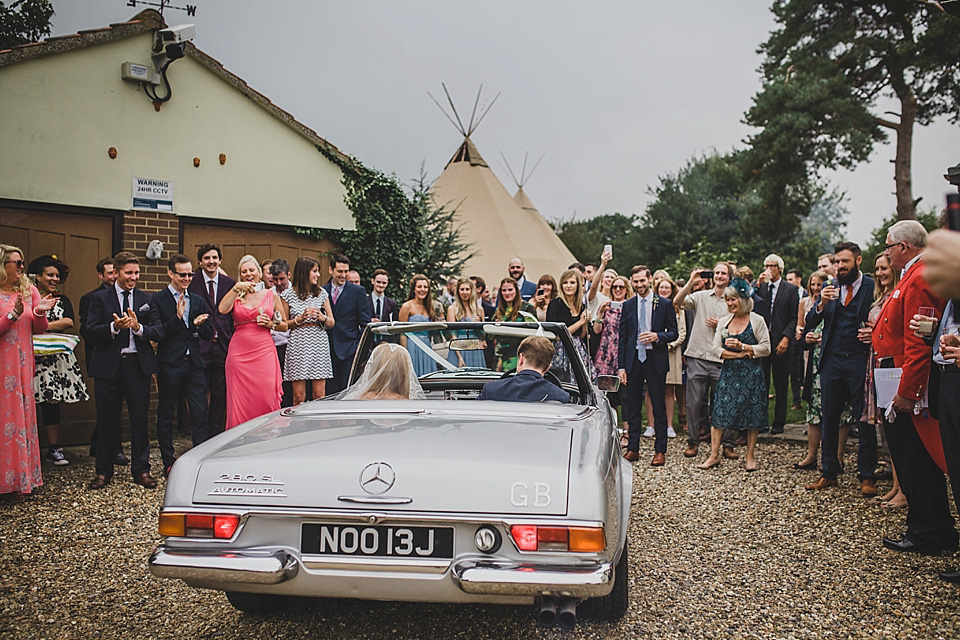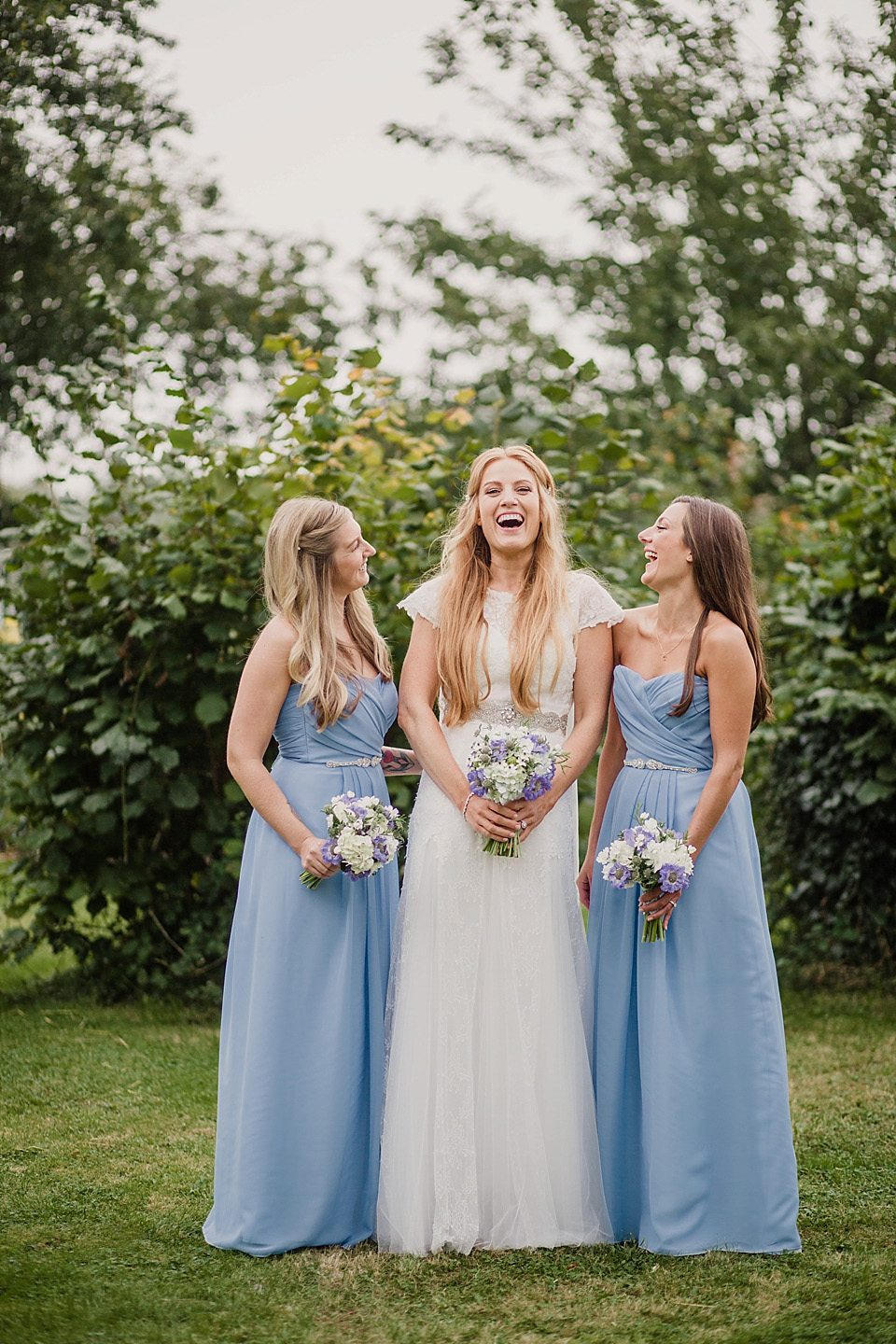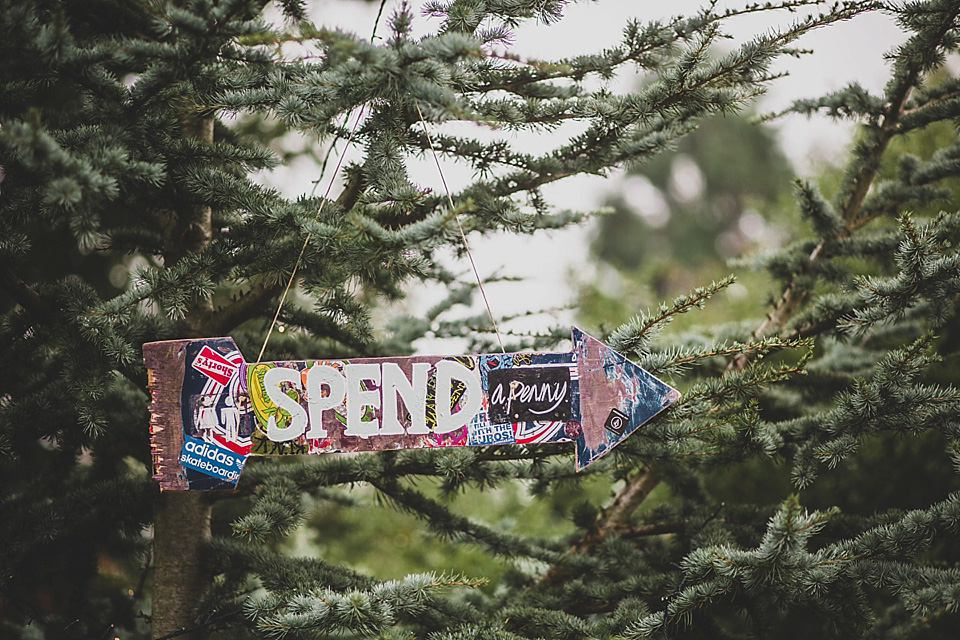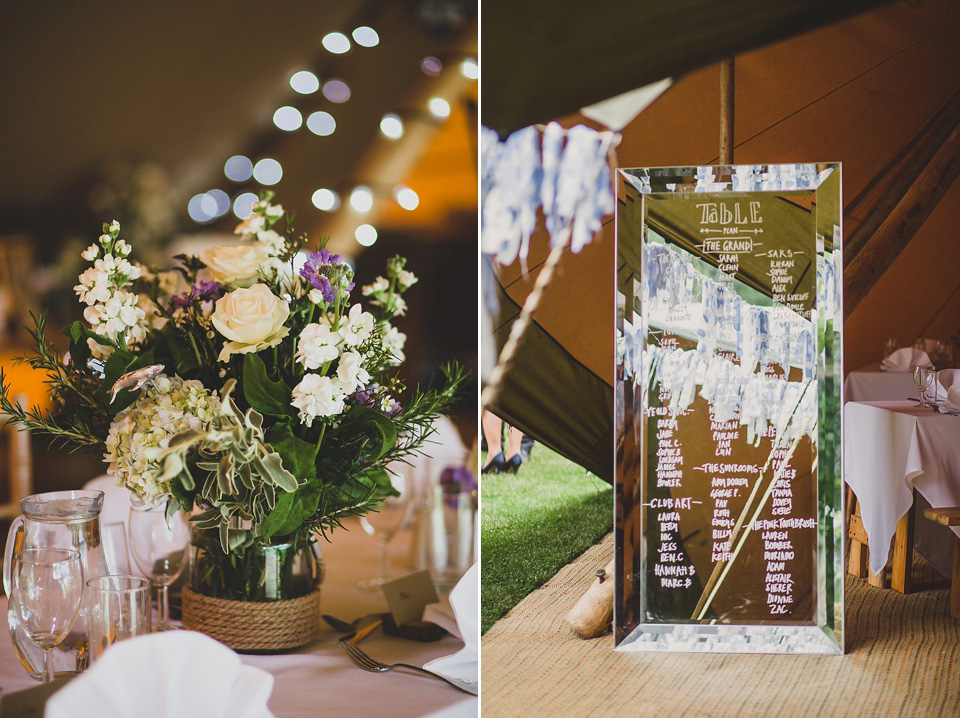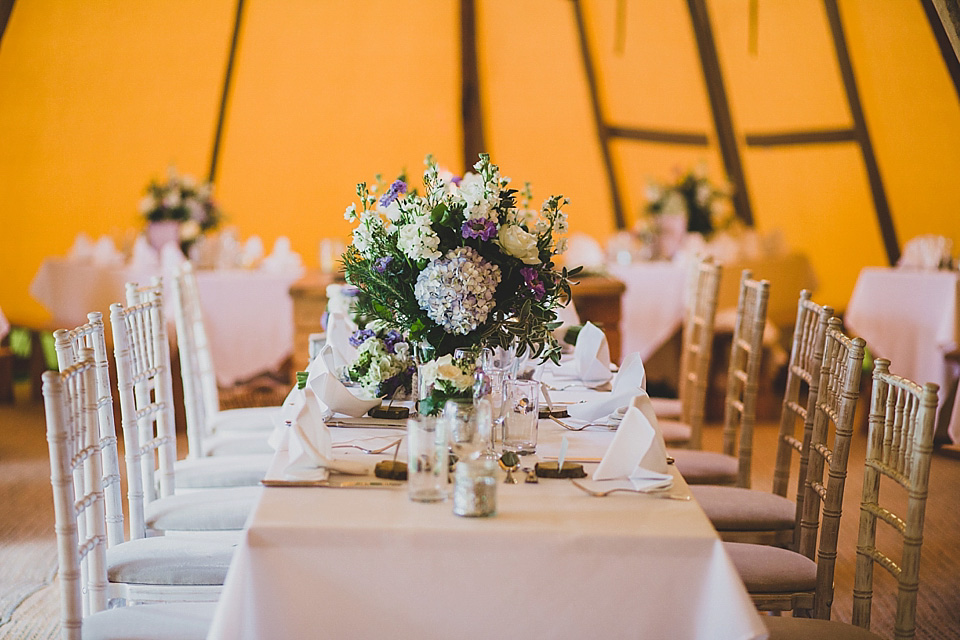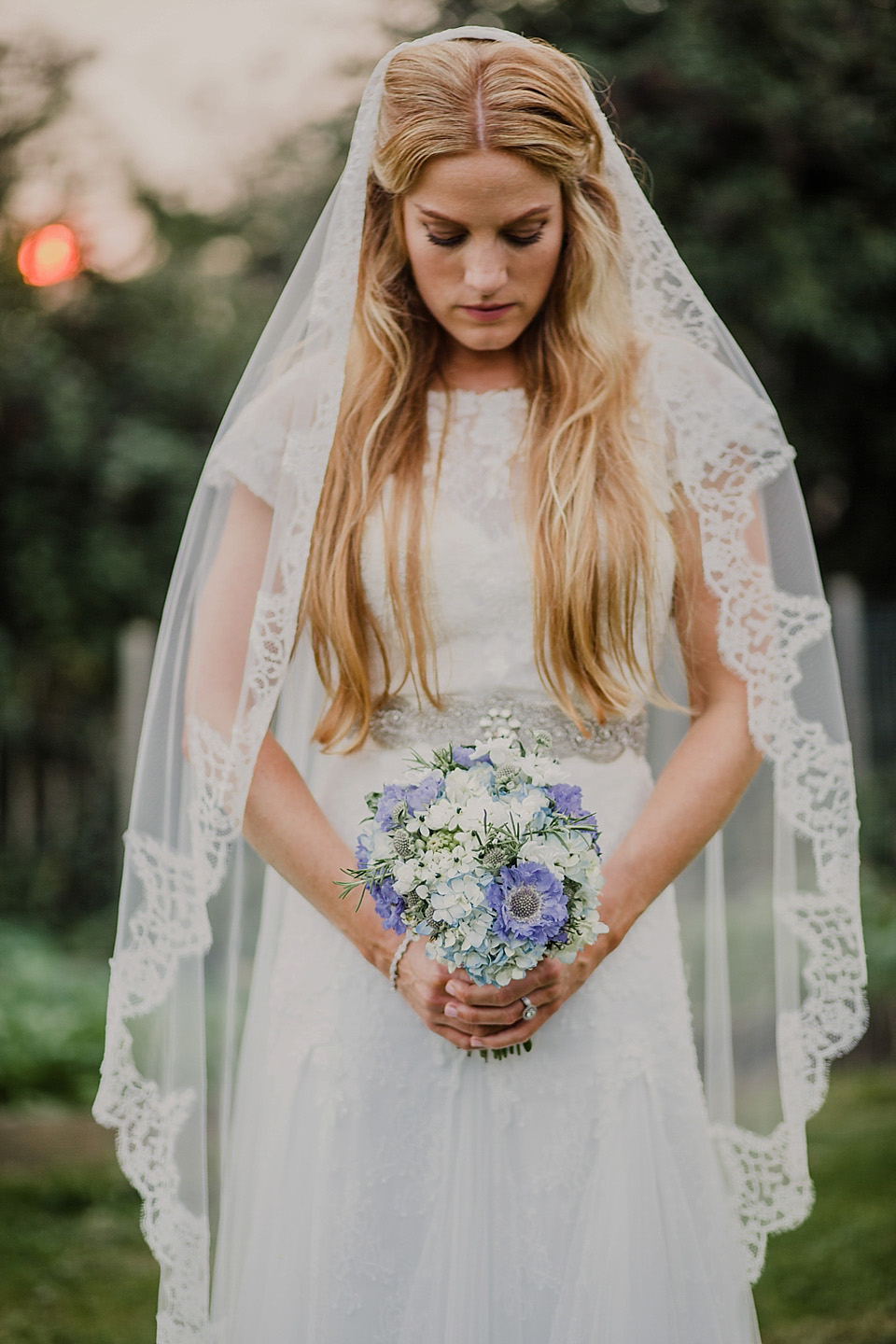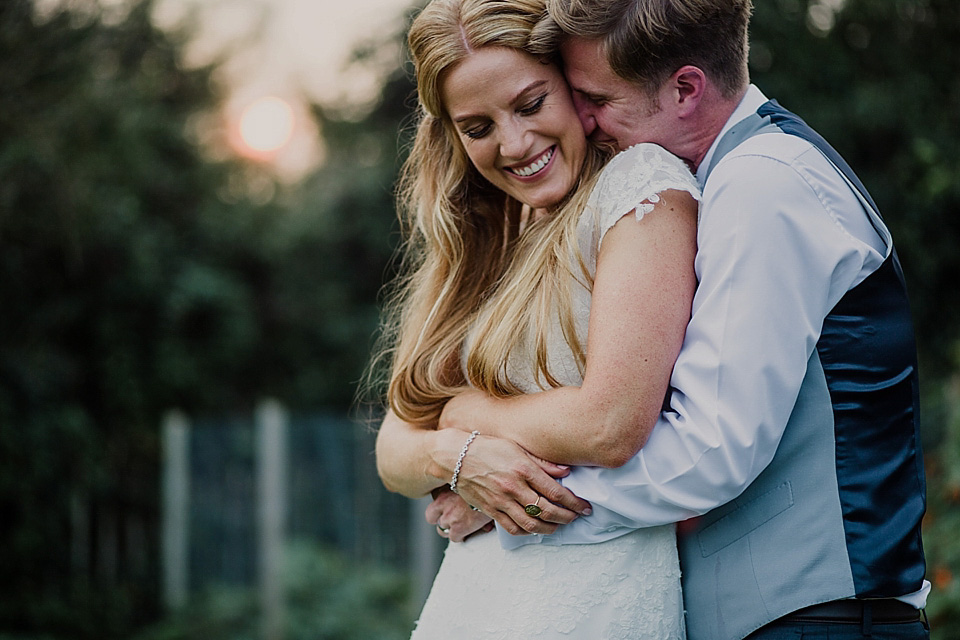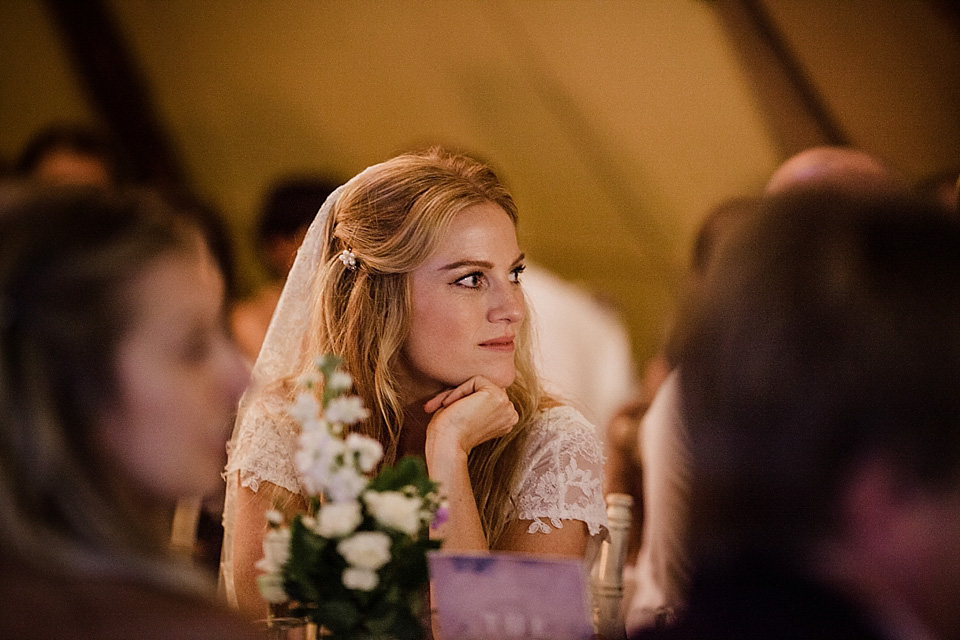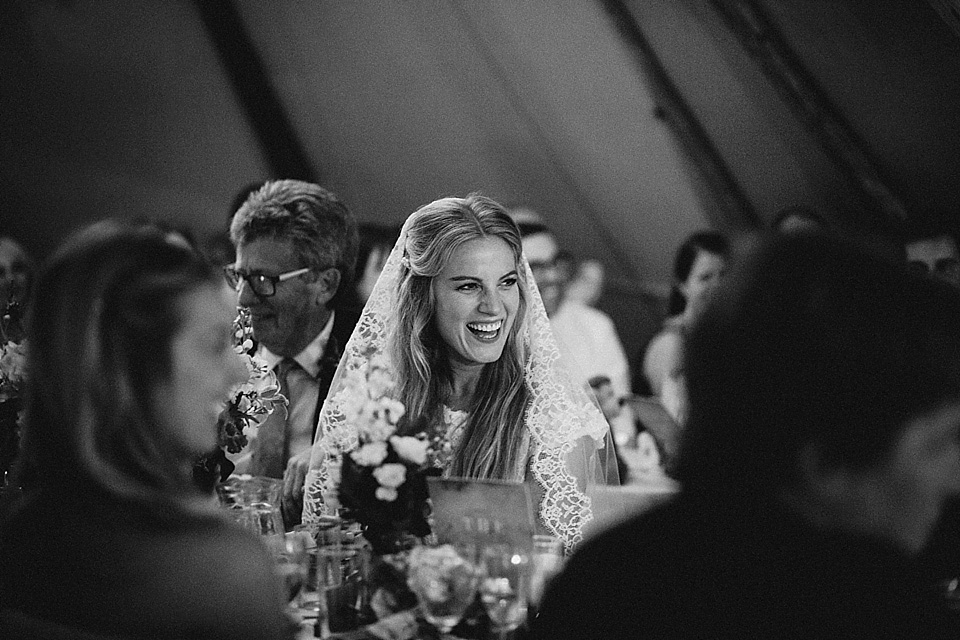 "Our first dance was to Steve Wonder's 'All I Do'.  For me, dancing with all of my friends and family around me was my best memory.  Also, saying our vows really felt special and we both really meant what we promised."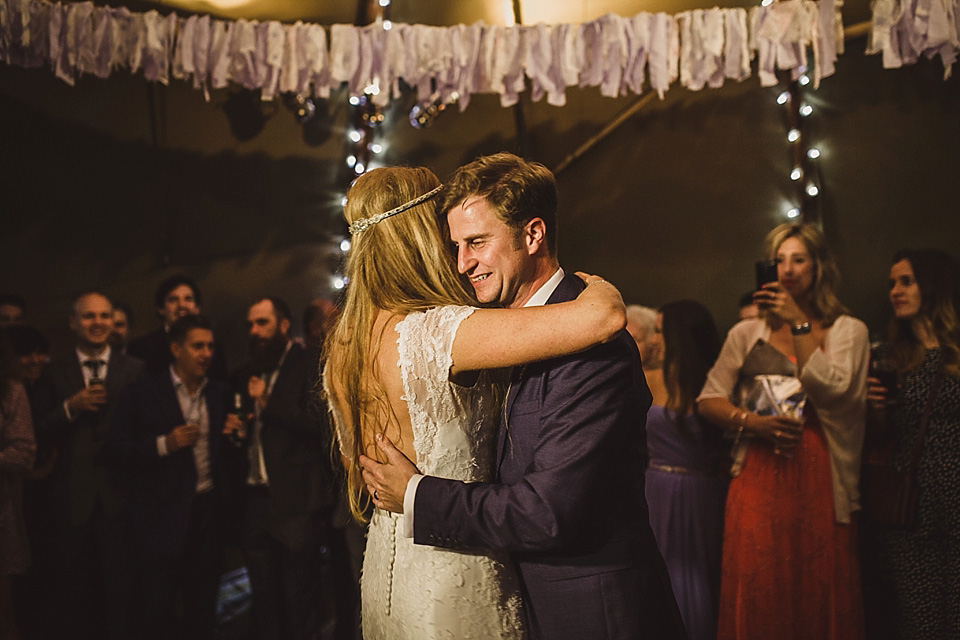 Words of Wedded Wisdom
"Be organised and allocate double the time you think you need to arrange the day in the lead up.
Brides, delegate!  But if you're like me and like things 'just so', don't get annoyed or frustrated if people don't do things your way or exactly how you want.  Remember, they are just trying to help after all.
Grooms – Don't leave anything delegated to you to the last minute. You'll only stress out the bride!  
Lastly, don't sweat the small stuff.  I became a little too particular about things towards the end and probably needn't have been at all."
What a fun and wonderful day – so beautifully captured on camera by the talented Kelly of Lola Rose Photography – I adore those final few shots on the dance floor.
You can see other brides wearing Cymbeline here on Love My Dress – might you be planning on wearing a Cymbeline gown?
My love and thanks to Sarah and Glenn – wishing you the most wonderful first year of marriage guys – not far until your 6 month anniversary now!
Love Annabel xx
Photographer – Lola Rose Photography
Brides Dress – Cymbeline
Bride's Veil – Bespoke from The Bespoke Wardrobe
Bride's Shoes – Cinderella shoes via Emmy London
Headpiece – Emmy London
Perfume – Chloe
Groom – pre-owned suit + TM Lewin tie
Bridesmaid's Dresses – Bespoke, vi Kim Cannon + Primark Shoes + Belts via Emmy London
Flower girl Dresses – Primark
Florist – via a friend
Cake – via a friend
Cars/Transport – Vintage Mercedes
Entertainment – Urban Central via Function Junction
Catering Company – Valentine Cuisine
Stationery Designer – Paul McDermid
Makeup Artist – The Bride, Sarah Nice
Hair — Rachel Martin