Hello readers and happy Wednesday! I have a lovely mid – week treat for you this icy morn; a  beautiful peony inspired wedding packed full of clever ideas for budget conscious couples who want to make a big impact with their flowers, decorations and cake without breaking the bank.
Suzi and Crispin married on the 24th of May 2014 at The Old Manor Hotel, in the picturesque town of Bradford on Avon, Wiltshire.  Suzi and Crispin run Cocktail Natives, a cocktail company which specialises in high quality cocktail ice lollies.
"We wanted the wedding to have the same party feel as the infamous cocktail parties we've been holding at home for years. We chose pale pink flowers, decorations and bridesmaids dresses (which was a bit of a surprise as I'm not a very girly girl) because light pink peonies are hard to resist!"
Photography Copyright (c) 2015, Captured by Katrina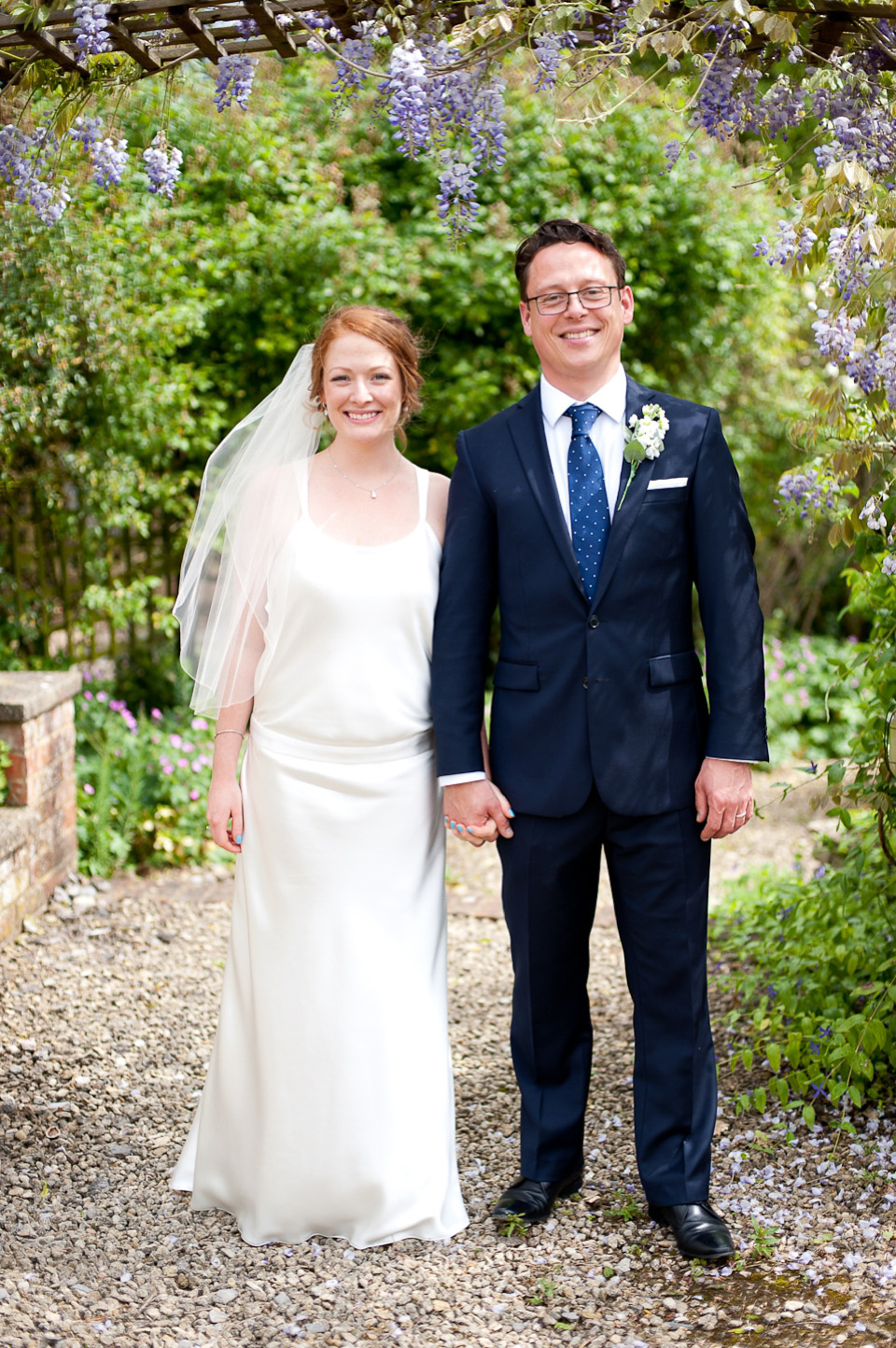 Suzi found her perfect dress at The Mews, a beautiful bridal boutique in Clifton, Bristol. In a happy coincidence, I purchased my own gown at The Mews and like Suzi, I have been thoroughly impressed by the service I received from the proprietor Lauren, and her lovely team. Suzi opted for a stunning 1920s inspired gown from one of my favourite wedding dress designers, Paris based Delphine Manivet. With its beautiful cross strapped low back and drop waist, 'Anatole' is the epitome of relaxed Parisian glamour:
"My gown really stood out; it was so different from anything I'd seen and the quality of the fabric felt amazing to wear. It was a bit of an impulse buy; I knew exactly what I didn't want, but not what I did! I thought I'd choose something a little more structured (to suck everything in!) but in the end, I chose a dress which just couldn't have been any less structured if it tried!"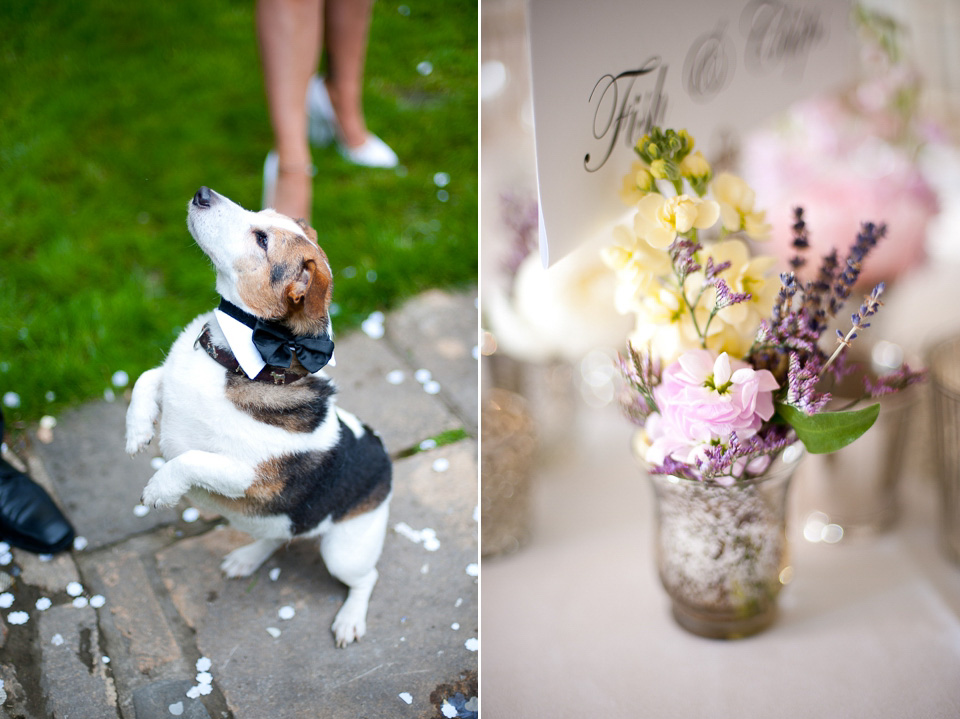 "Our photos were taken by Captured by Katrina. Katrina was the best photographer we could have hoped for. She captured the day perfectly and was absolutely lovely throughout. We can't recommend her highly enough."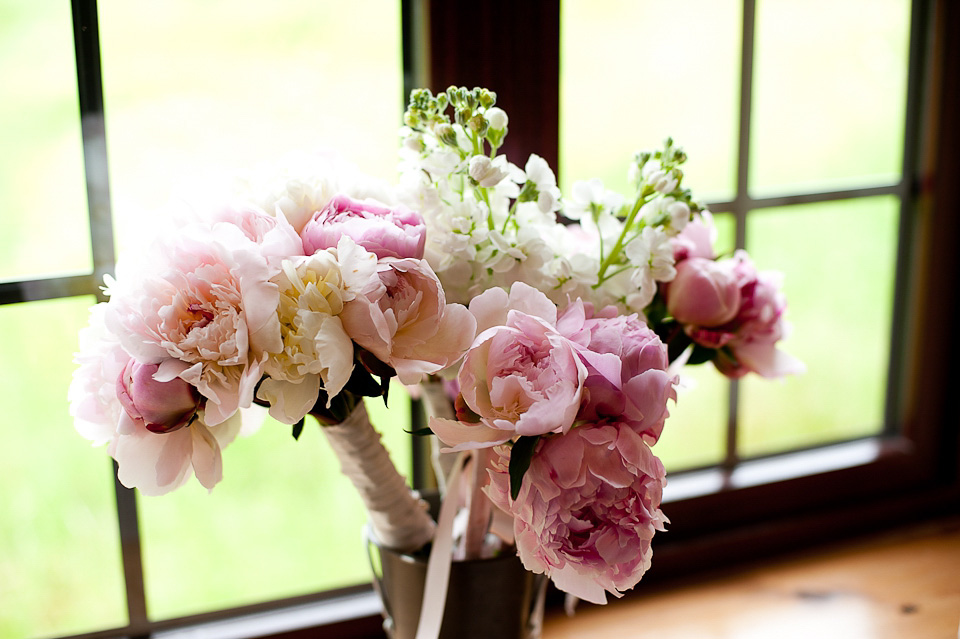 A beautiful grade II listed Georgian house, close to home, The Old Manor Hotel was the ideal venue for Suzi and Crispin's wedding:
"The Old Manor Hotel was just what we were after and had the added bonus of being only twenty minutes away from where we live. It has a laidback, art deco vibe and the food is really stylish."
Suzi and Crispin met in 2007, while working for the same events caterer and they have been virtually inseparable ever since. There is, however, some disagreement over where they first laid eyes on one another!
"We can't agree on where we first met! Crispin swears it was at a place I don't think I've ever been to! We've barely spent a day apart since our first date. Crispin proposed at my mum's house, next to the Christmas tree in 2012. The proposal was so lovely and really quite funny as my mum, sister (and dog!) were screaming before Crispin even had chance to ask the question! The story was expertly re-told during Crispin's wedding speech (I think there are some photos of me laughing hysterically during the speeches – that was Crispin's storytelling!)"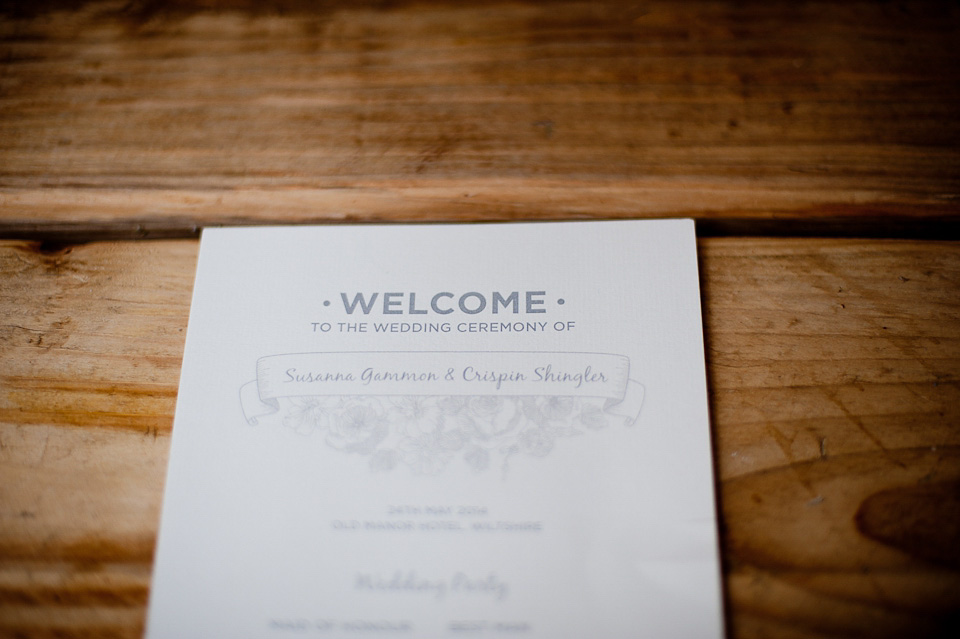 Suzi wore a simple elbow length veil (also purchased at The Mews) and a gorgeous pair of sparkly 1920s inspired Kurt Geiger heels. Our bride mixed two scents by Jo Malone; Orange Blossom and Nectarine Blossom & Honey; 'I smelt like a flowering fruit tree!"
"I really struggled to find nice jewellery. I was about to walk down the aisle in some dodgy costume jewellery when, at the last minute, my Dad leant me a massive diamond necklace and matching earrings, borrowed from his wife!"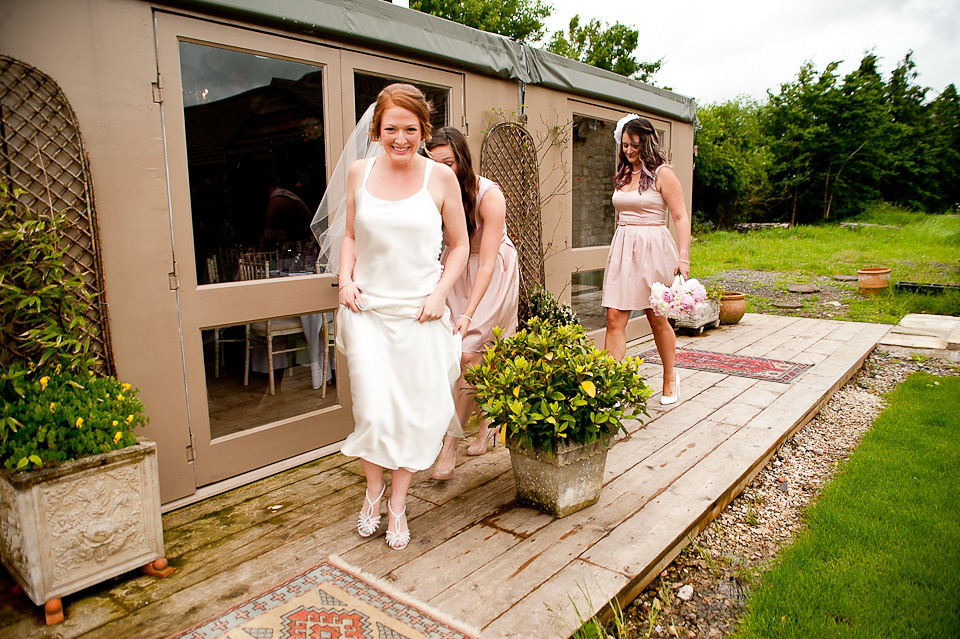 Suzi's mum walked her up the aisle to a cover of David Bowie's Life on Mars by Vitamin String Quartet.
"The ceremony itself was the best part of the day; finally becoming husband and wife after talking about it for years was wonderful. Initially, we thought about tailoring our vows, but we found that the example wording the council gave us was actually really lovely and worked well. I was so choked up that I could hardly speak anyway; thankfully I squeaked out the right bits!"
Suzi and Crispin chose three readings; a quote from the film Frida (a biopic of Frida Kahlo's life) and two poems: 'Love Listen' by Ann Gray and 'Let Me Put it This Way' by Simon Armitage (which is a personal favourite of mine).
"We did a lot of googling, searching for 'good readings for weddings' and came across the same stuff again and again. We never saw the ones we chose anywhere else. My Mum found the Ann Gray poem, and she was really pleased we used it!"
Crispin looked smart in a Charles Tyrwhitt suit and Kurt Geiger shoes. On the morning of the wedding, Suzi gave him a pair of cufflinks personalised with his initials.
In keeping with the colour scheme, Suzi's bridesmaids wore pale pink French Connection dresses bought for the bargain sale price of £36 each! Suzi gave each bridesmaid a silver bangle from Kathy Jobson personalised with their initial and a drop pearl.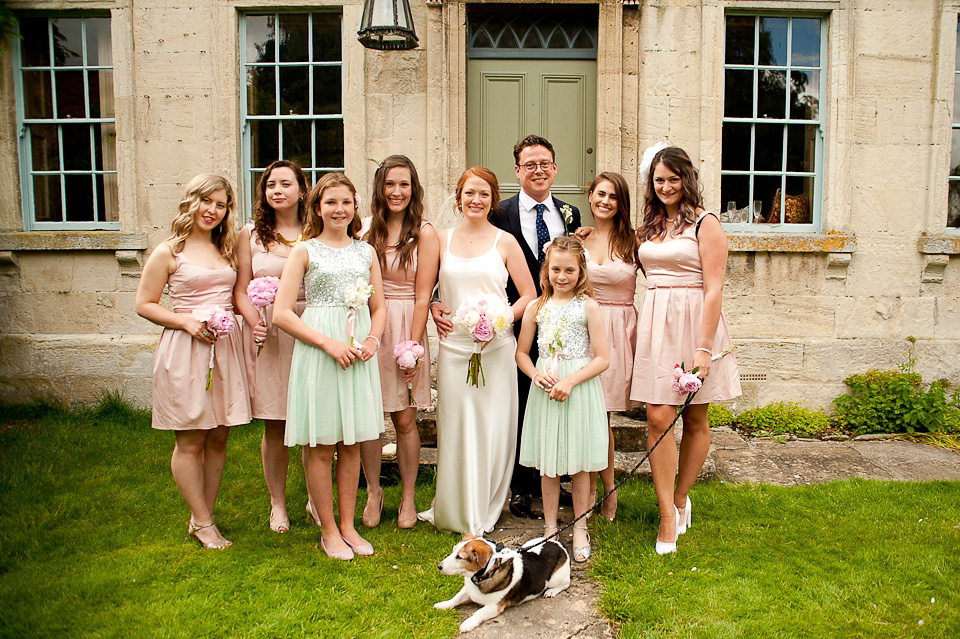 Rather than purchase one big wedding cake, Suzi and Crispin asked Acorn Cakes to make a series of regular sized cakes, which they then displayed together to great effect (they look incredible – oh how I wish I had a slice or two to go with my cup of tea!)
"Instead of a formal wedding cake, we found an amazing local baker who makes normal cakes and then we ordered loads! We found her website on Google and had never actually tried her cakes before, but they were honestly some of the best we have ever had. We had ten different flavours, and they looked amazing laid out on the table. We also had a huge tower of organic cheese from Godminster."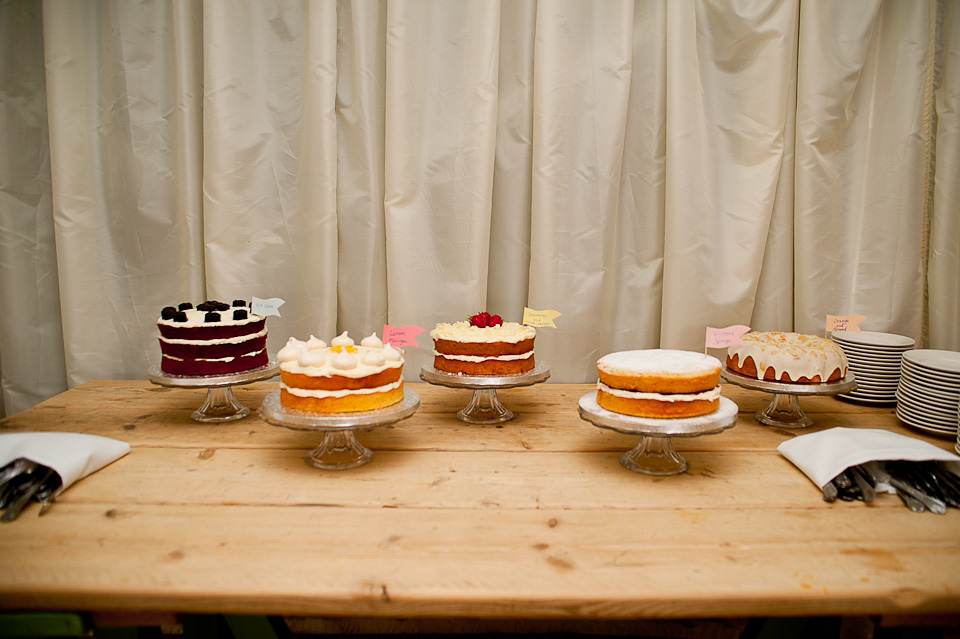 Suzi and Crispin's colour scheme, flowers and decorations centred around their love of pale pink peonies. The couple made savings, by opting for one key statement decoration; a string of pink and white, peony – like pom poms from Dear Florence…
"We didn't have a massive budget, so we chose one big, impactful decoration, rather than lots of small ones. I asked on Twitter if anyone knew where I could find pom pom bunting and the amazing Dear Florence replied straight away. In addition, we hired votives, table name holders and a couple of vases from Wedding Day Hire for the tables."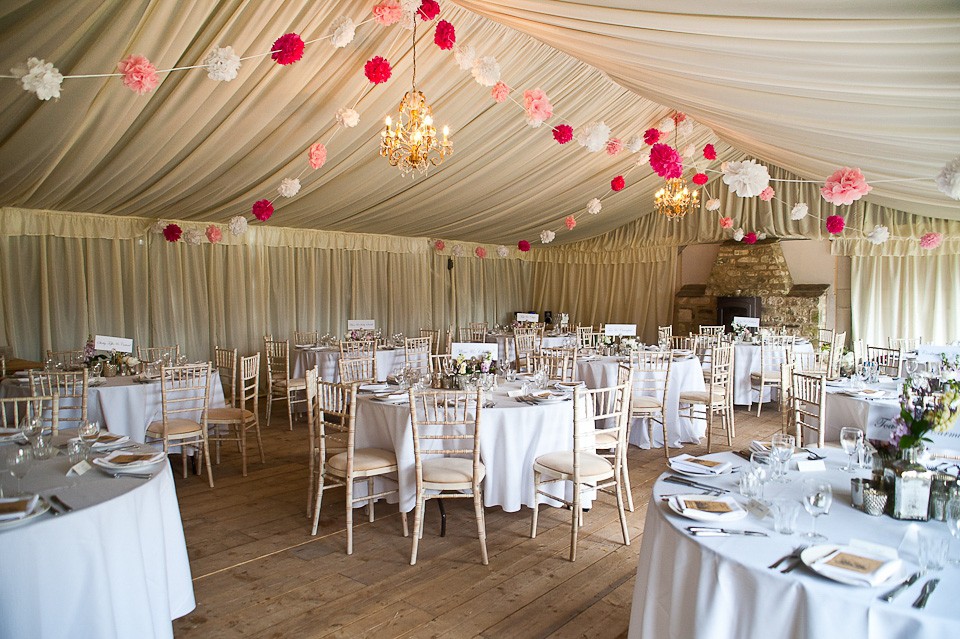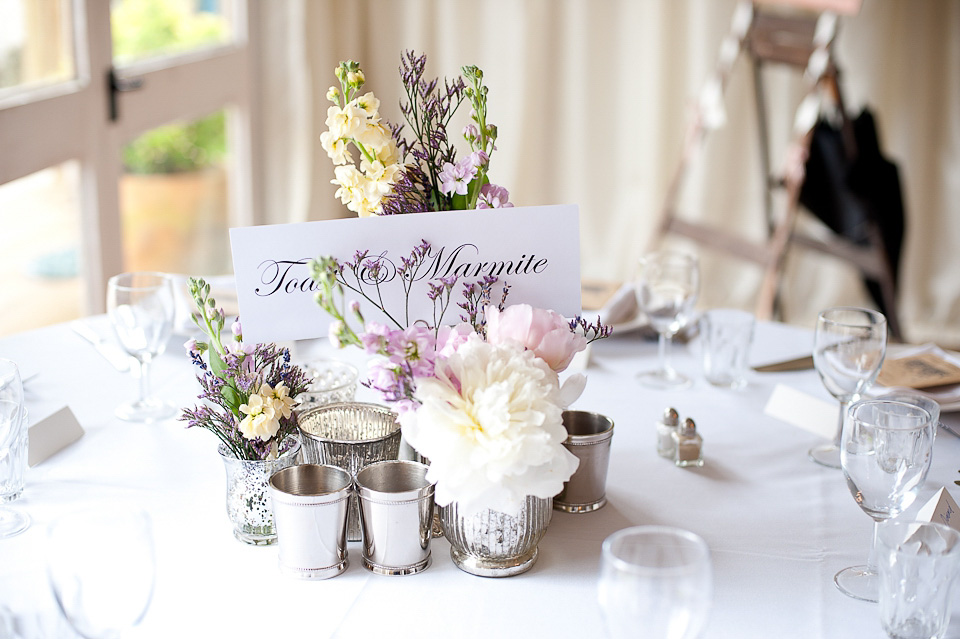 Suzi and Crispin's flowers were arranged by local florists Young Blooms. The couple opted for scented stocks, lavender, delphiniums and (of course!) pale pink peonies, all of which are in season in May (helping to keep costs down). May really is a wonderful month for British flowers!
"For the bouquets we chose light pink and white peonies; they look so lovely and you don't need many to make an impact. Our food was served on sharing platters so table space was at a premium. With this in mind, our florist made lots of really nice, small, mixed bunches of seasonal flowers which we displayed on the tables in vintage looking, silver, candle holders."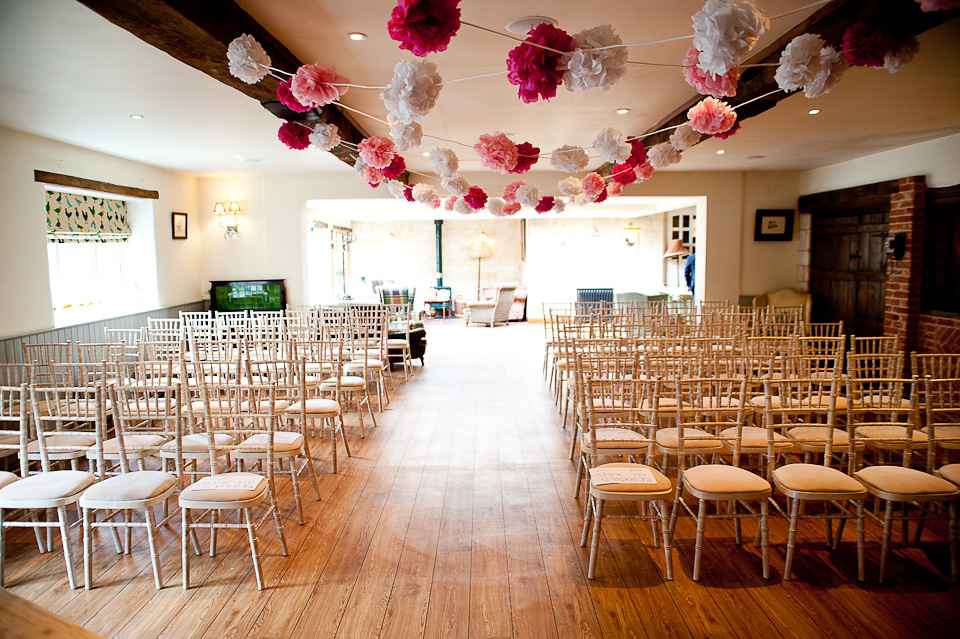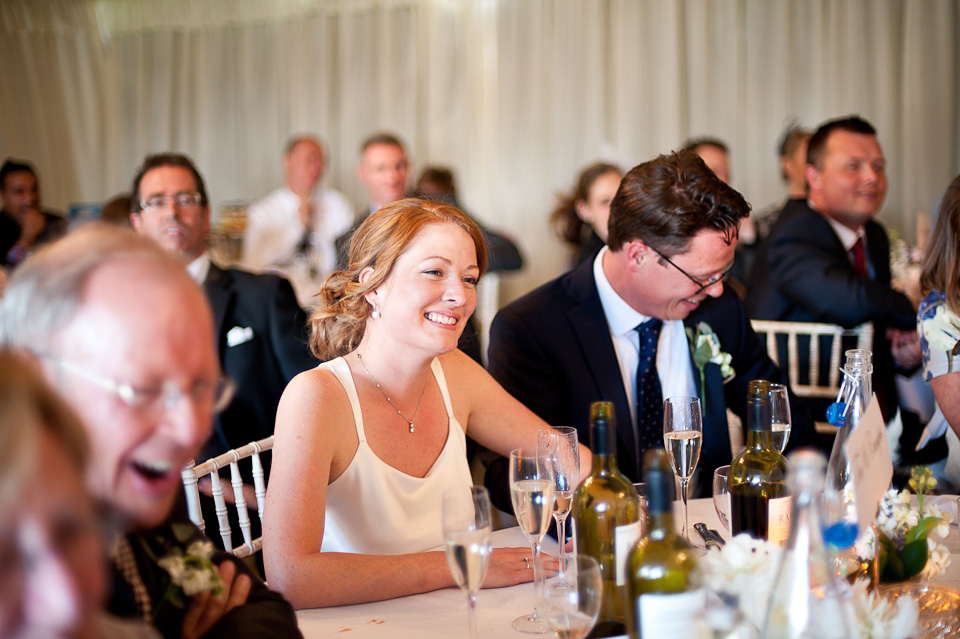 Words of Wedded Wisdom
"Go for big, bold decorations which make an impact, rather than trying to cram in lots of small knick – knacks which guests may not remember in the long run. And don't stress; It's a celebration, so make sure you enjoy as much of it as possible."
Thank you so much Suzi and Crispin for sharing your beautiful wedding and to Captured by Katrina
for your lovely images.
I hope you all have a lovely Wednesday; stay warm!
Annora x
Photographer – Captured by Katrina
Venue + Catering – The Old Manor Hotel
Wedding Dress – 'Anatole' by Delphine Manivet, purchased at The Mews, Bristol
Veil – The Mews
Shoes – Kurt Geiger
Bride's Scent/perfume – Orange Blosson + Nectarine Blossom & Honey by Jo Malone
Groom – Charles Tyrwhitt Suit + Kurt Geiger Shoes
Bridesmaids – French Connection dress + Kathy Jobson bracelet via Not On The High Street
Flowergirls – Monsoon
Florist – Young Blooms
Cake – Acorn Cakes
Cheese – Godminster
Decorations – Pom pom bunting; Dear Florence + table decorations; Wedding Day Hire
Rings – Bride's; Goldsmiths, Groom's; Pebbles
Stationery – Wedding Paper Divas
Favours – Personalised packets of wild flower seeds from Wild Flower Favours
Hair Stylist – Natalie Smith