Good morning  lovelies, well we are half way through the week already and here in Cheshire we are taking bets on if the snow will stick. I am hoping it will as I really want to build a snowman with my hubby, we get a little excited over snow and sledging. So while it threatens to snow outside I'm currently sat in a pair of lovely warm Ugg Boots and a nice winter jacket keeping me toasty as I sit at my computer. I do wish I was by a lovely wood burner though, a girl can dream!
I hope you'll allow yourself a mini break this morning to enjoy the black tie wedding of Bobby and Melanie.  Melanie wore a beautiful vintage inspired sequin gown by Eliza Jane Howell (who we introduced you too recently), which she complimented with a 1920's enthused headpiece by Jenny Packham. Richard of Richard Ware Photography tells the story of the day with these fun and glamorous images.
"Our style is very classic/old English. Bobby's parents live in an old 16th century property so that was a good place to start. We also knew we wanted to get married at Christmas time as we both love Christmas. So the theme was really a big Christmas party! Black tie with lots of Christmas trees and fairy lights."
Photography Copyright (c) 2015, Richard Ware Photography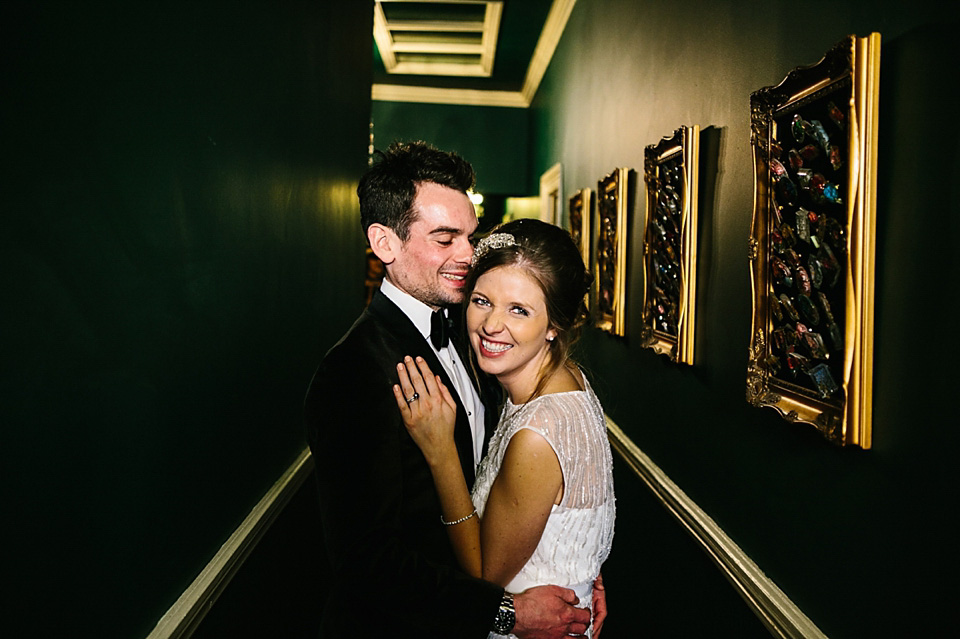 Melanie tells us of her love of Christmas and how it inspired Bobby's sweet proposal.
"Bobby and I met at university in our final year whilst celebrating the end of our final exams. We have been together since the day we met in May 2007. We were together for 5 and a half years (having lived together for 4 of those) when Bobby proposed on Christmas morning (as I love Christmas!). The ring was hidden beneath many boxes/layers of presents! We got married a year later."
Bobby looked very dapper in his suit from Suit Supply, he finished his outfit off with a lovely silk bow tie from M&S, cufflinks from TM Lewin and a stylish Louis Vuitton scarf.
Melanie also wore a stunning 1920's enthused headpiece by Jenny Packham which complimented her dress perfectly, and to finish her look Melanie choose a gorgeous pair of Jimmy Choo's.
Melanie wore an Eliza Jane Howell dress which she purchased from Blackburn Bridal in Blackheath. Renowned designer Gill Harvey explains on her website that 'The Eliza Jane Howell Bridal Collection has been designed for the modern day bride who would love to wear a dress that oozes the glamour, sophistication and decadence of the golden age of fashion. Taking inspiration from exquisite vintage gowns, the Eliza Jane Howell collection is the epitome of grown up glamour'.
"My wedding dress was a sequin evening gown which made it feel very Christmassy. Perfect for the time of year."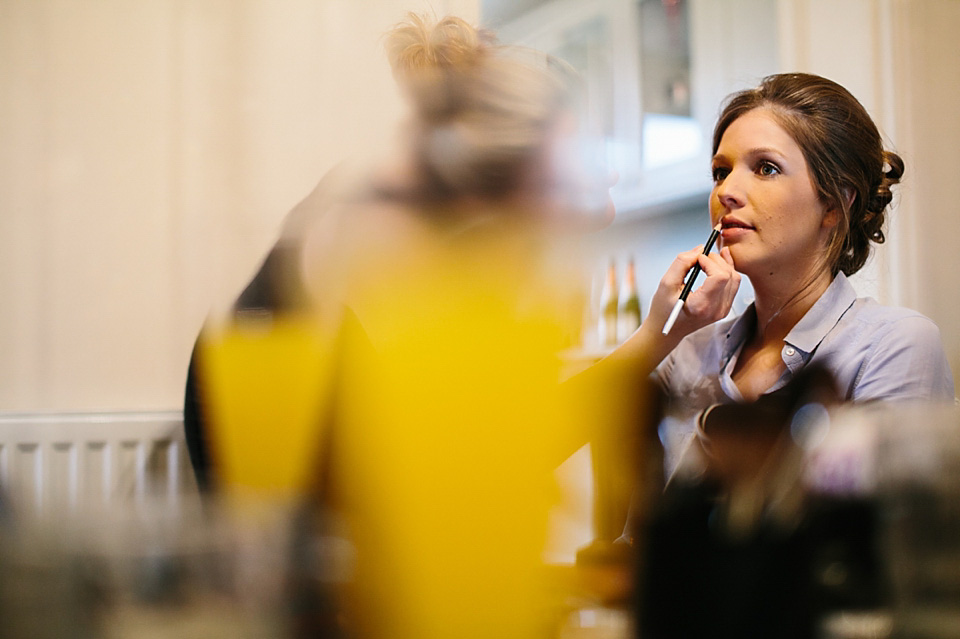 All Melanie's bridesmaids wore black evening gowns from French Connection finished off with their own choice of shoes and an elegant wrist corsage.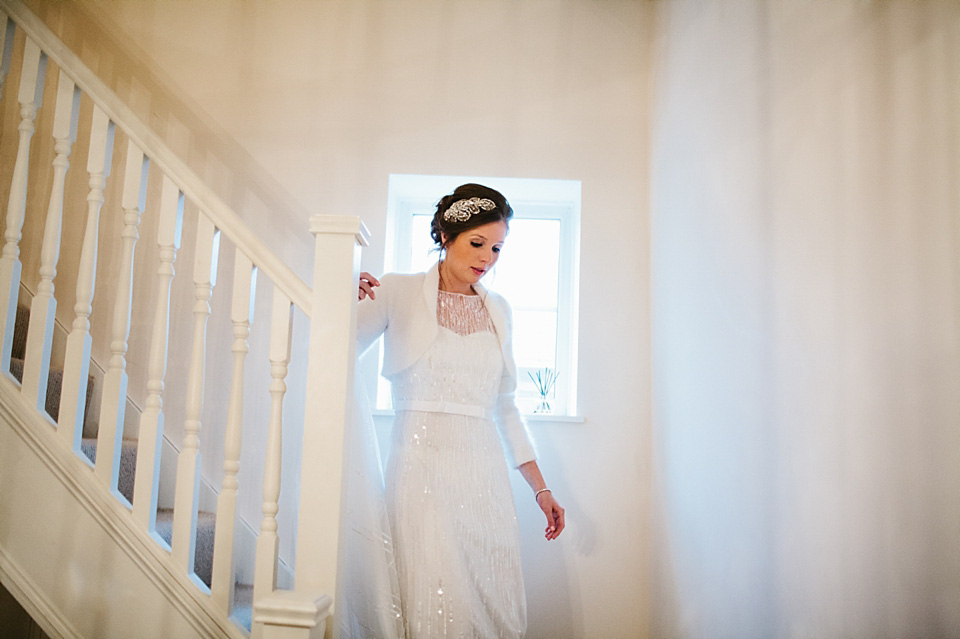 "I wore Swarovski crystal earrings that Bobby had bought me after we'd been together a year and a bracelet that was bought for me when I was a bridesmaid for my best friend."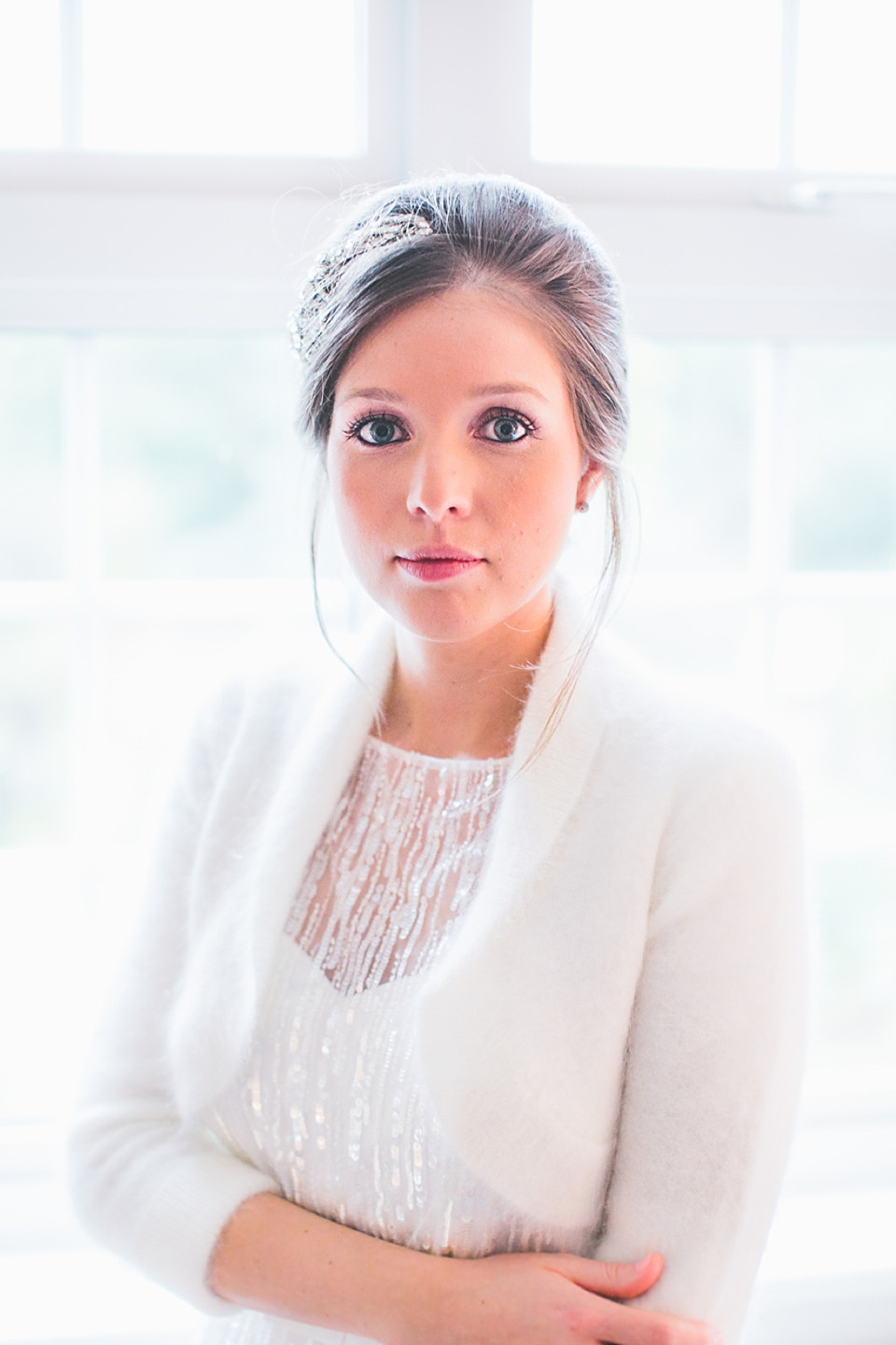 Bobby and Melanie chose talented Kent based photographer Richard Ware, who's love of photography started as a child in the loft of his childhood home where he would watch his Father developing the photos that had been taken on their family road trips. As you can see Richard tells the story of Bobby and Melanie's day beautifully.
Bobby and Melanie bought all the groomsmen personalised shoes from Broadland Slippers all their products are hand crafted to the highest standards, using traditional techniques and the finest materials.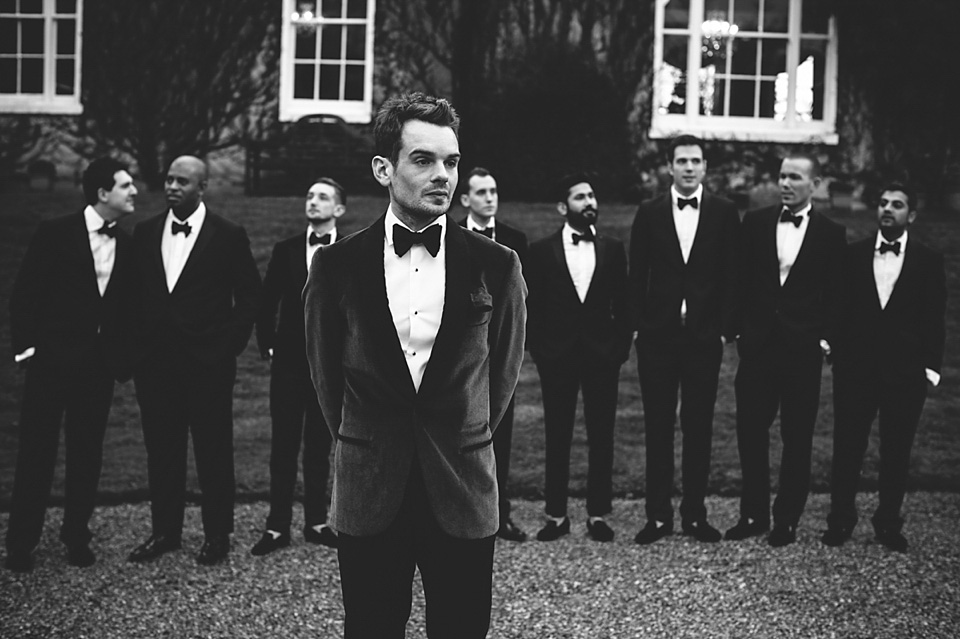 Melanie's Dad walked her down the aisle to 'John Legend – All of Me'. I love Melanie's choice of song, its such a beautiful track. Their friend Emma read a lovely poem at the ceremony called 'Once in a Lifetime'.
"Once in a lifetime you find someone; who touches not only your heart, but also your soul. Once in a lifetime you discover someone, who stands beside you, not over you; You find someone, who loves you for who you are, and not for who you could be. Once in a lifetime you find someone, As you have found each other."
Melanie's sister Victoria Hill, a product designer, made all the stationery for the day and as favours for their guests, everybody was gifted a Christmas tree decoration. How lovely, each year when their wedding guests pop their decoration on their tree they will be reminded of happy memories of Bobby and Melanie's day.
"Our florist was Katia Georgiou – Katia met me at our house and we had a consultation about the flowers. We chose them together with our classic, Christmassy theme in mind."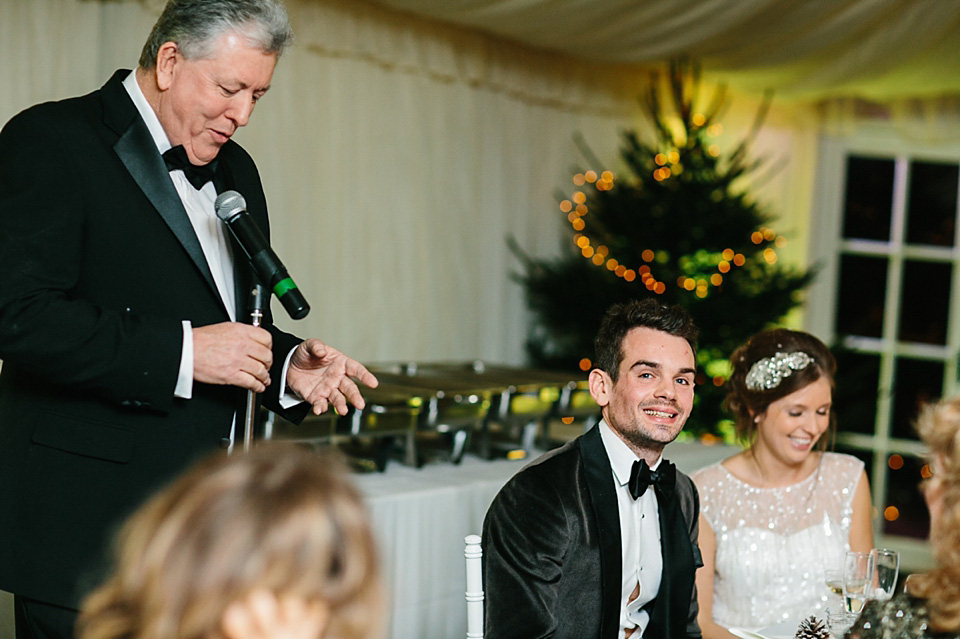 "A friend of ours from university just started her own bakery business. She made us a Christmas present cake. It was absolutely incredible!"
Melanie tells us a few of her favourite moments from her special day. Any wedding that has people dancing on chairs has to be great in my opinion!
"Getting ready with my bridesmaids, arriving at the venue to see how all of our hard work in the marquee had come together and finally dancing on chairs! (Bobby's mother is Jewish so we chose to add in some Jewish traditional Hungarian dancing – it was so much fun!).
Words of Wedding Wisdom
"If anything doesn't go to plan remember that you're probably the only person in the room that knows this and that nobody else will realise!
Also, our venue was completely finished the evening before the big day. I really enjoyed taking 15 minutes on my own to walk around and take it all in before seeing it filled with people the next day. I'd love to advise other couples to do the same if they can – you would have worked very hard to get to that moment – it's quite emotional!"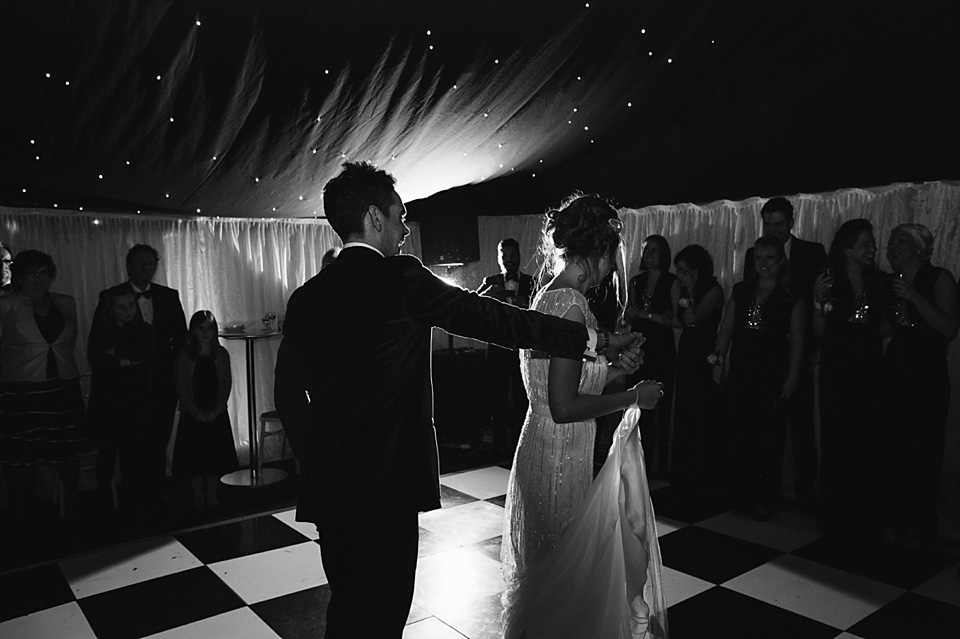 Congratulations Bobby and Melanie, I hope you had a wonderful first anniversary together.
A huge thank you to Richard Ware for sharing Bobby and Melanie's story.
Ladies, you can use the linked tags at the bottom of this feature to explore more similar content on Love My Dress®.
Have a good morning all!
With Love, Christina x
Photographer – Richard Ware Photography
Venue  – Bobby's parents home
Wedding Dress – Eliza Jane Howell from Blackburn Bridal
Headpiece – Jenny Packham
Shoes – Jimmy Choo
Groom – Suit Supply
Bridesmaids – French Connection
Florist – Katia Georgiou Designer Florist
Cake – Hollies Bakery
Transport – London black taxi (Hackney Carriage)
Entertainment – A family friend
Catering – Afternoon Tea & Equipment Supplier