Hello everyone, happy Sunday to you.  If you too are feeling a touch windswept after this week, then let this lovely, Swedish inspired, Yorkshire, countryside wedding soothe your spirits. This afternoon's newly wed couple packed their wedding day full of Swedish traditions and thoughtful handmade details.  Max, an Academic Programme Director, married Fina, a Doctor, on the 23rd of August 2014 at Scampston Hall, North Yorkshire. They held their reception at Max's mother's farm near the seaside town of Scarborough.
"Neither of us are religious and so getting married in a church was never an option, and for us the thought of promising a life time together in a registry office just wasn't romantic enough. So for our wedding to reflect us both equally, we decided that a quaint rustic English country wedding with Swedish influences would be ideal.
It was also important to both of us to have an ambient and atmospheric reception that felt relaxed, fun and warm with lots of personal touches."
Photography Copyright (c) 2015, Neil Jackson Photographic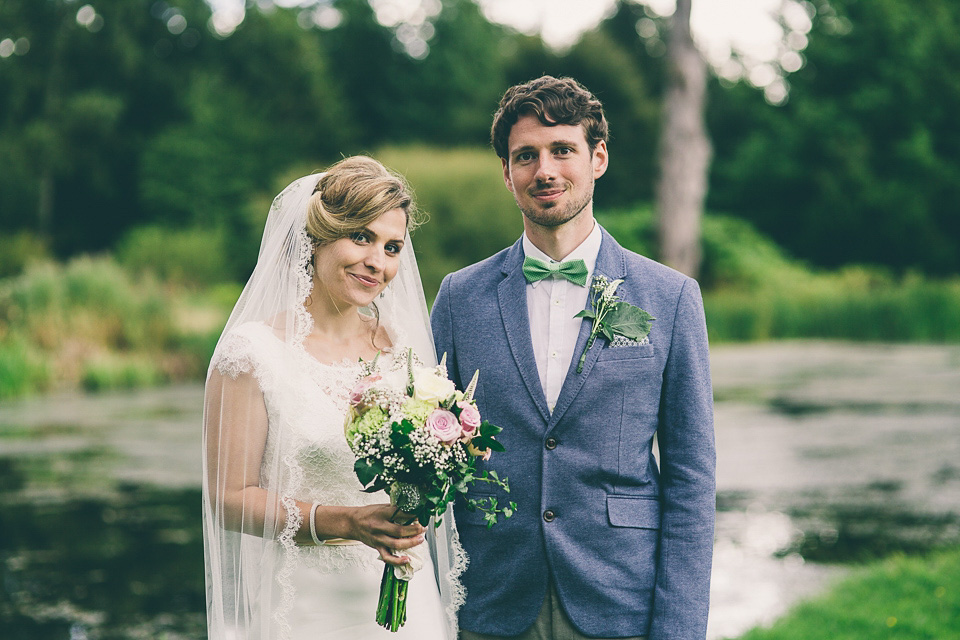 Fina's search for a wedding gown was put on hold when she discovered that she was pregnant. She found post-pregnancy dress shopping disheartening until she visited The White Closet in Manchester.
"I trawled through at least ten shops after my little boy, Elliot, was born in January 2014. I was hormonal and felt uncomfortable with my post-pregnancy lumps and bumps; it was an upsetting process. Finally, in March, with Elliot in my arms, I went to The White Closet; it felt like a magical place! With Abbie and Eve's help, I found the most perfect dress; a simple yet sophisticated Charlie Brear gown as well as a veil, sash and bolero. It wasn't just about the dress for me but instead the whole look; it wasn't until I had put on all those carefully chosen accessories that I felt like a bride."
Scampston Hall was the perfect venue for Max and Fina, not least because the bridge on which they wed held particular symbolism for the couple:
"It was important to us to get married in a location that meant something to us and had a special meaning. Since we come from different countries, me being Swedish and Max being brought up in North Yorkshire, it was a little difficult to decide on the location at first. I always had a wish to get married outside, in a beautiful garden, but as I'm sure you know this isn't very easy in England. And so we set about trying to find a venue that would be able to cater for our wishes, but sadly most places we found were not flexible or personal enough.
Then we stumbled across Scampston Hall near Malton, during a Google search, which had the option of getting married on a bridge outside. You see, we have a thing for bridges – we shared our first kiss on Hungerford bridge in London and later, Max proposed to me in that very same place. So the thought of getting married outside on a bridge seemed like the perfect place. We went to have a look a few weeks after and it was the first venue we actually visited. We didn't need to look anywhere else. It features an old country house with a stunning garden with a pump house covered in pink roses, and a beautiful Palladian Bridge across a river with water lilies and dragonflies."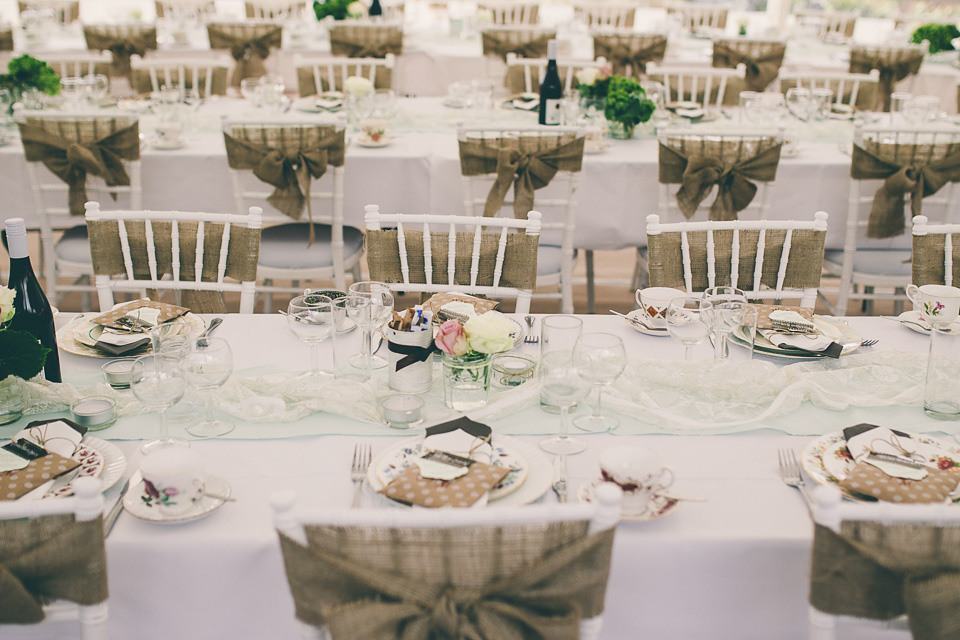 In keeping with the informal setting of the farm, Max chose a Ted Baker ensemble, spezzato style, instead of a suit.
"To capture the relaxed feel of the wedding, Max opted for a jacket and trousers spezzato style. In addition he wore braces and a custom made bow tie and pocket square from Beau Tie.
The groomsmen wore matching pocket squares and I made them each a pair of glass cabochon cufflinks using a sketch of their faces and initials drawn by a friend."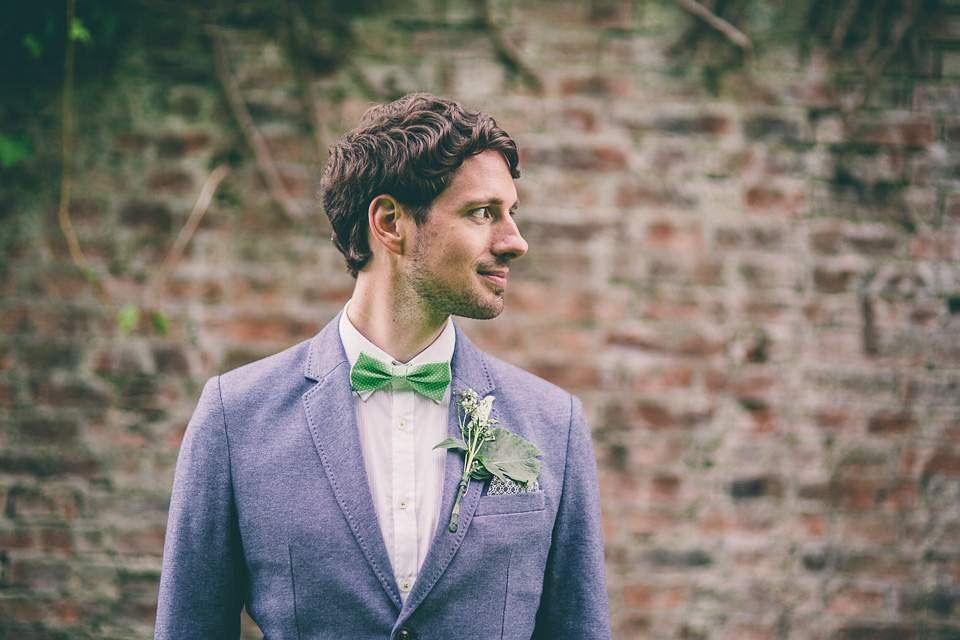 The bridesmaids wore custom made, fifties inspired dresses from Etsy and on the morning of the wedding, Fina presented each 'maid with a box of complementary accessories:
"I made a birdcage veil fascinator for each of my bridesmaids, in keeping with their dresses. I attached a glass cabochon, personalised with their names to each fascinator. In addition they wore spotty lace gloves from Accessorize, gold bows from Primark and mint green clutch bags with matching belts."
"Our photographer was Neil Jackson from Neil Jackson Photographic. To start with we were meant to have a friend help us with the photography but later he was unable to do it and so we found Neil after a few searches online with only a few months left to go. We were so lucky he was able to do it.
Neil was great and everything we could have wished for. The style and lighting of his photos were just what we were after and he captured every little detail of our day perfectly. He was everywhere without being seen and was extremely professional."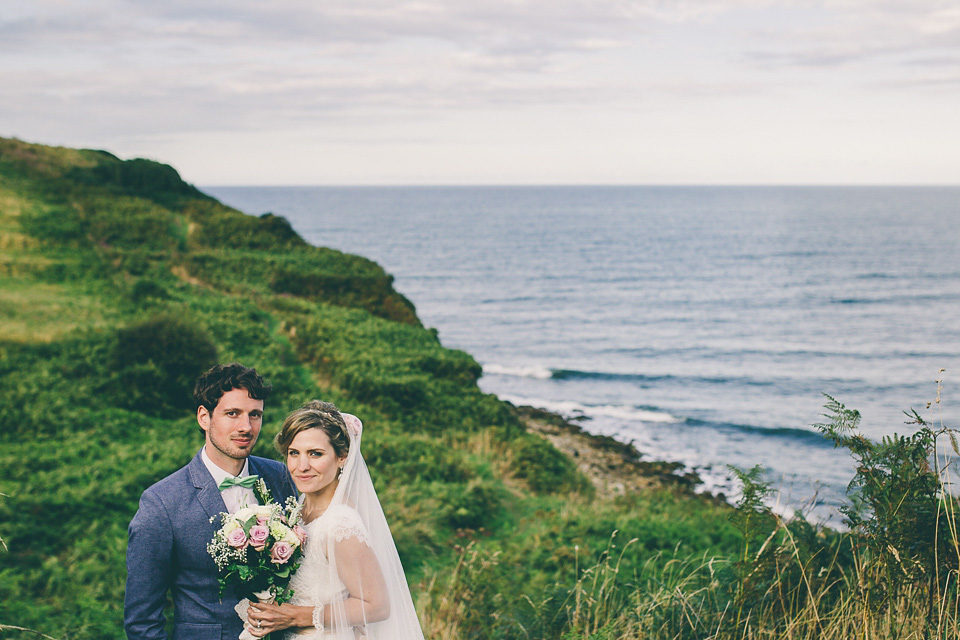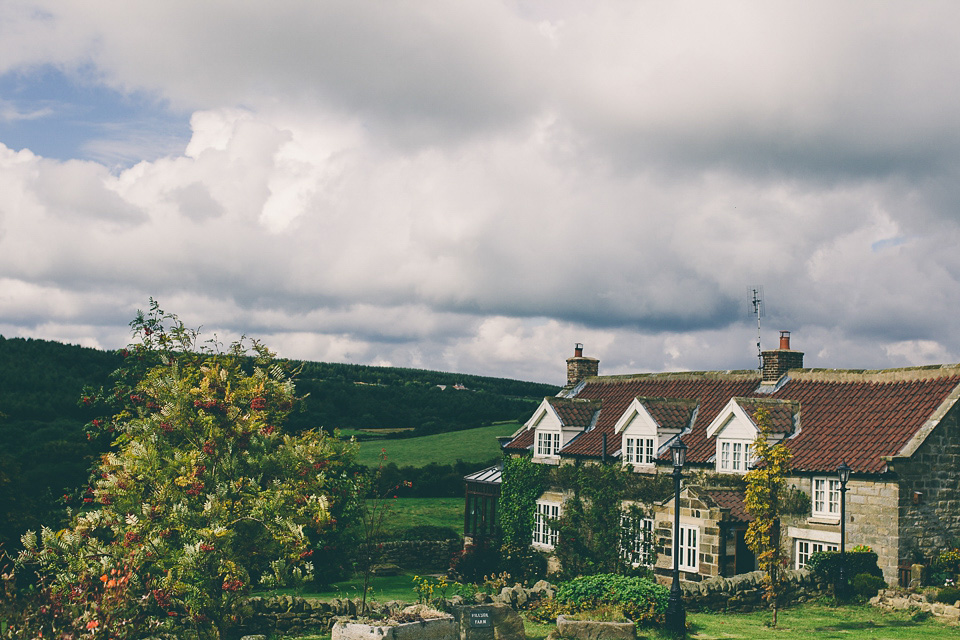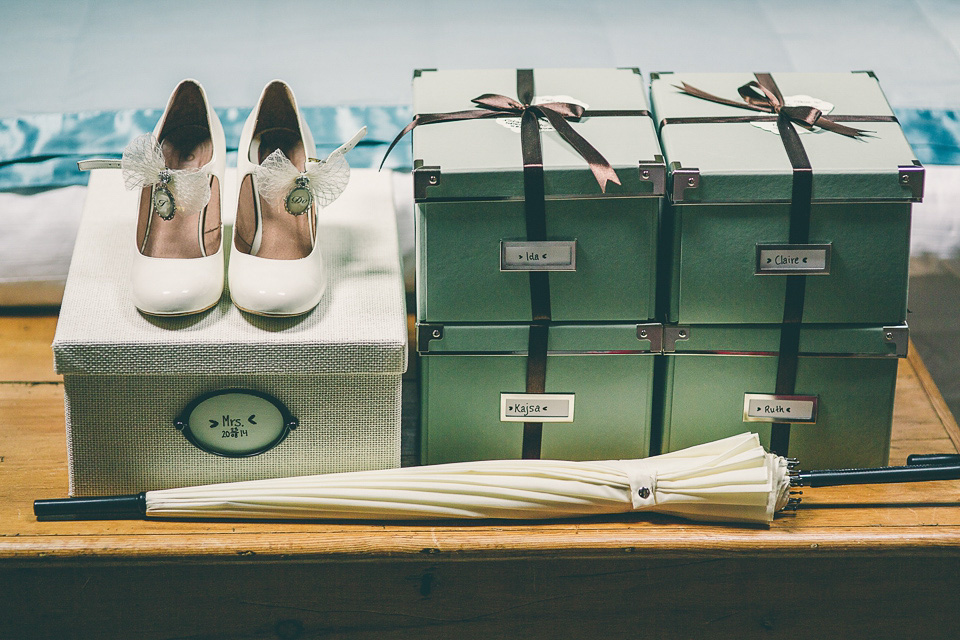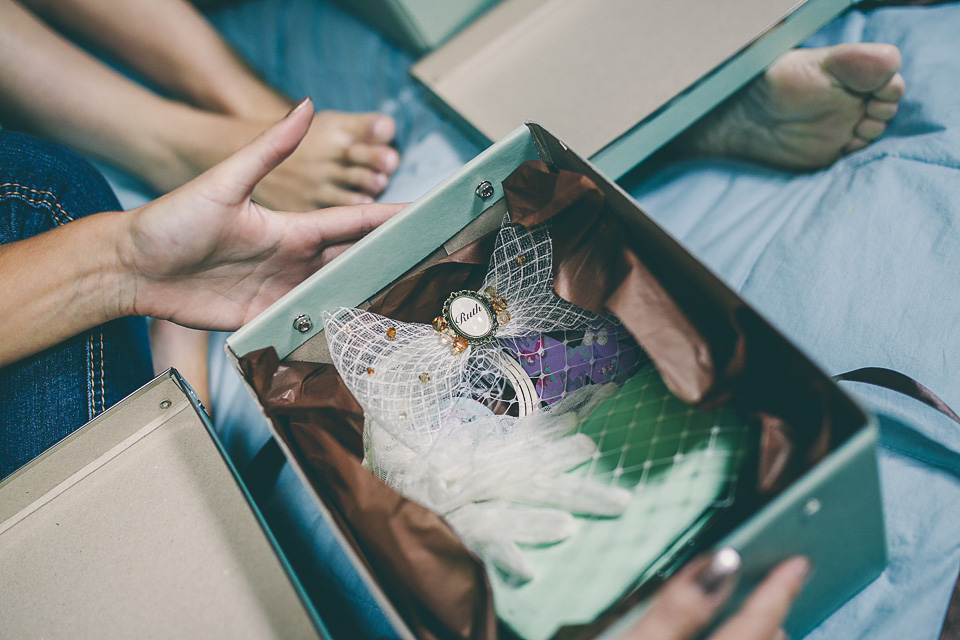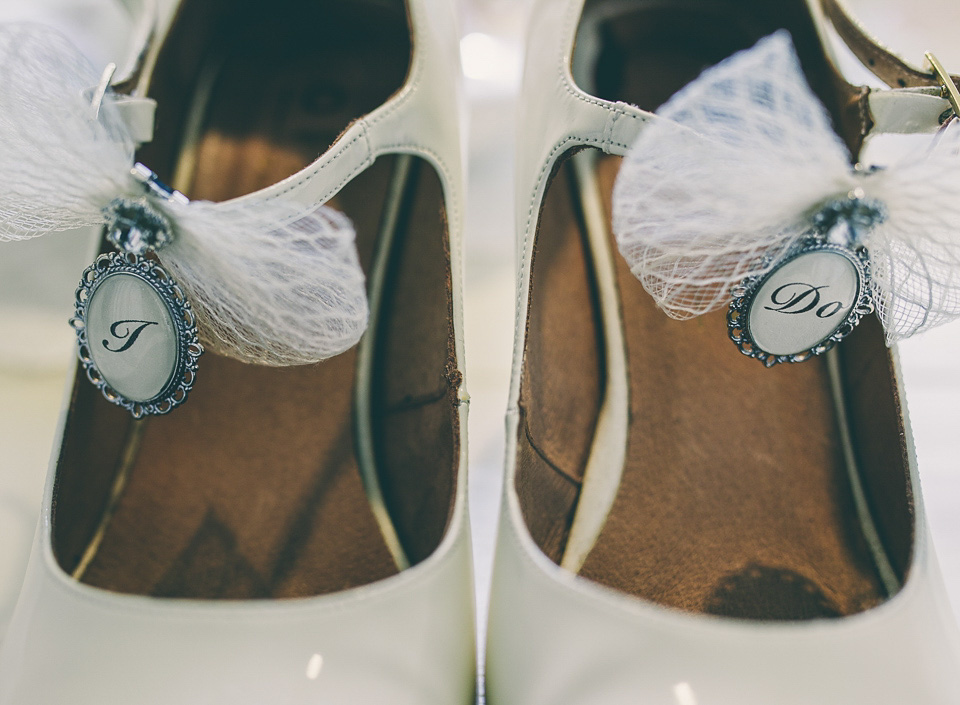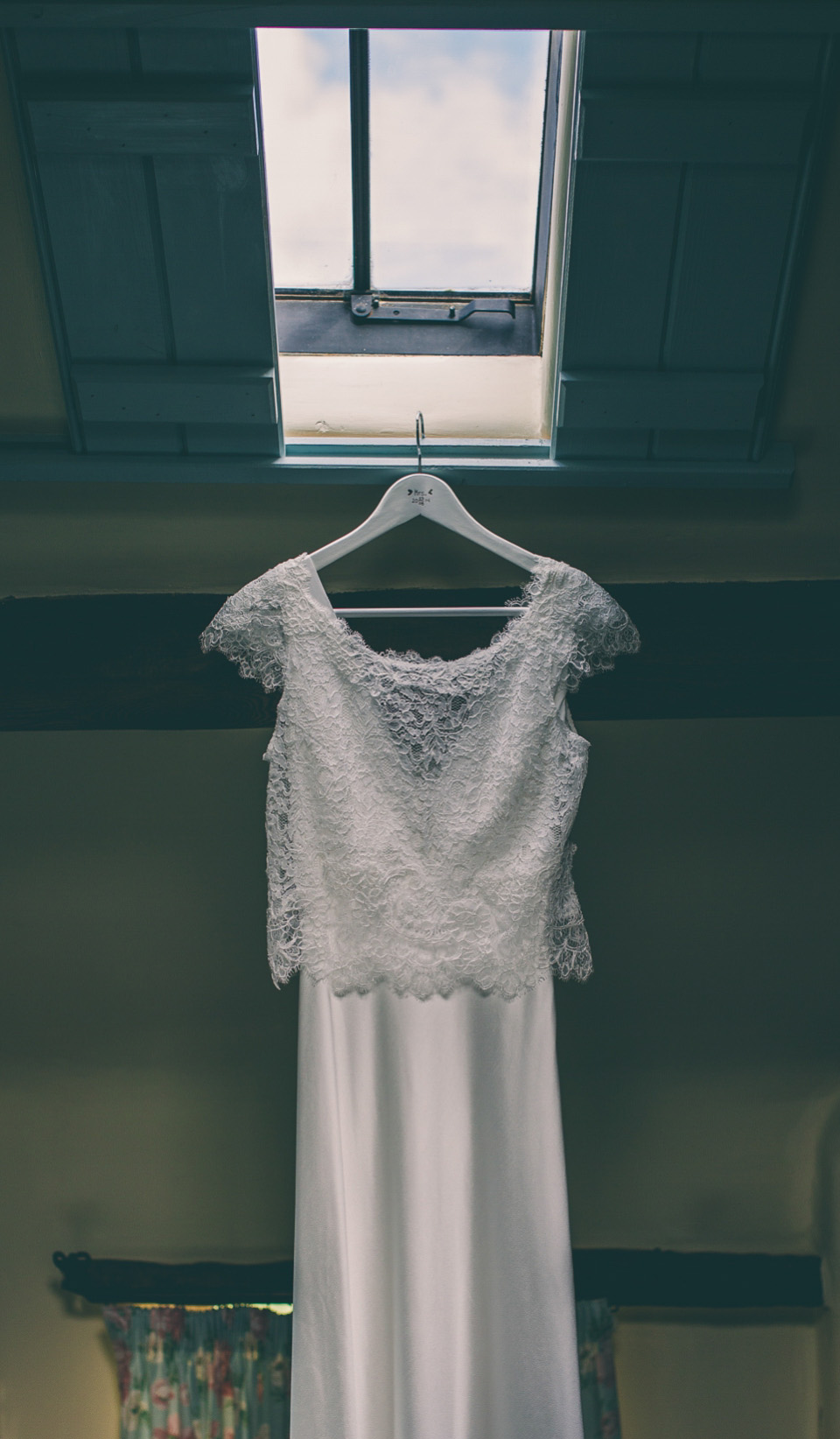 Fina's bridesmaid Claire arranged all of the flowers except for the bride's bouquet, which was put together by her Grandma as per family tradition.
"We ordered the flowers online from The Triangle Nursery, in addition, we collected lots of foliage. We wanted our flowers to be simple and quite wild looking. Like my mother and auntie before me, my bouquet was arranged by my grandma."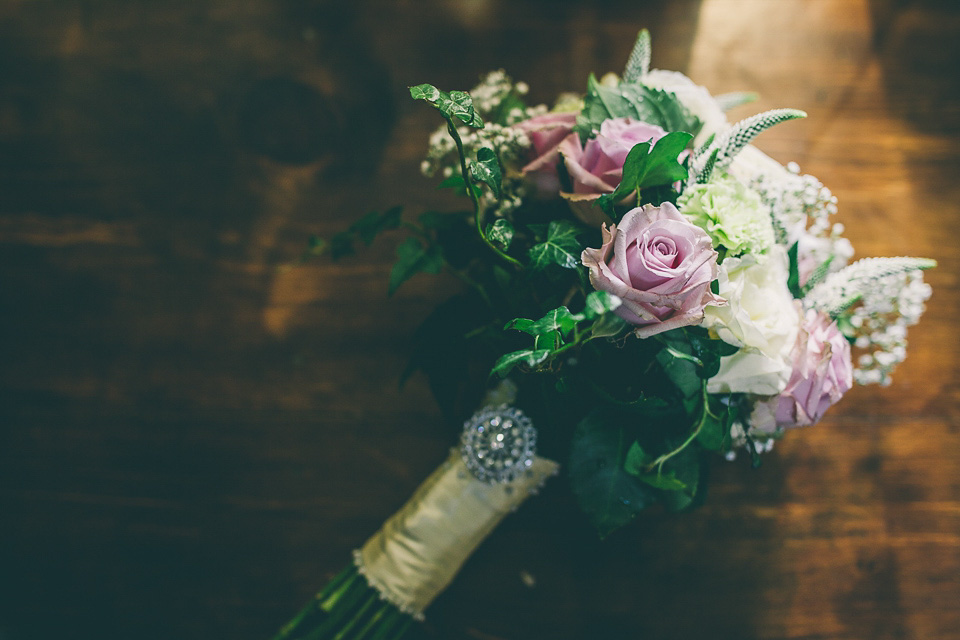 In a tribute to her late grandma, Fina attached her image to a Links of London bracelet.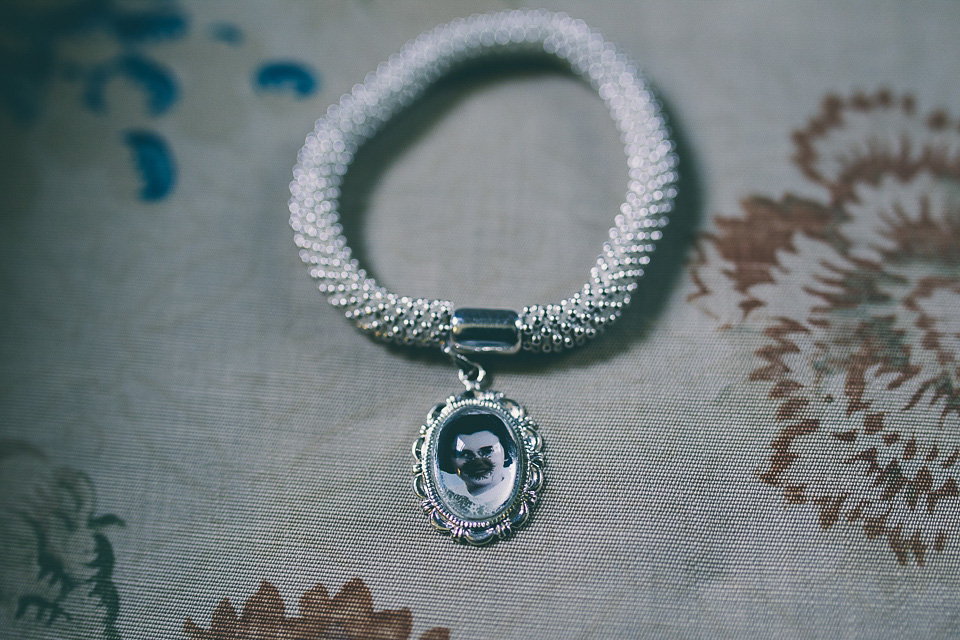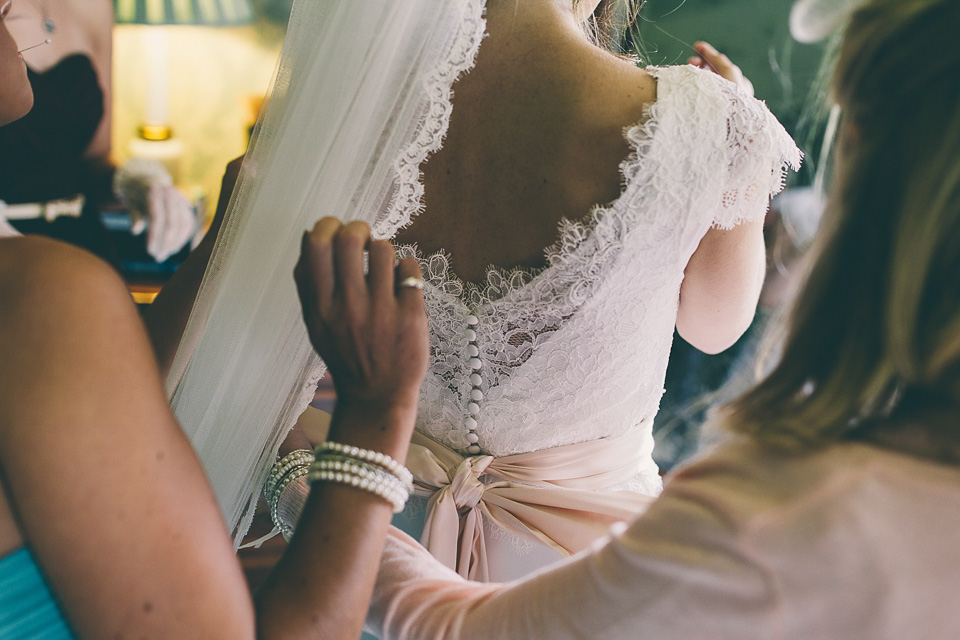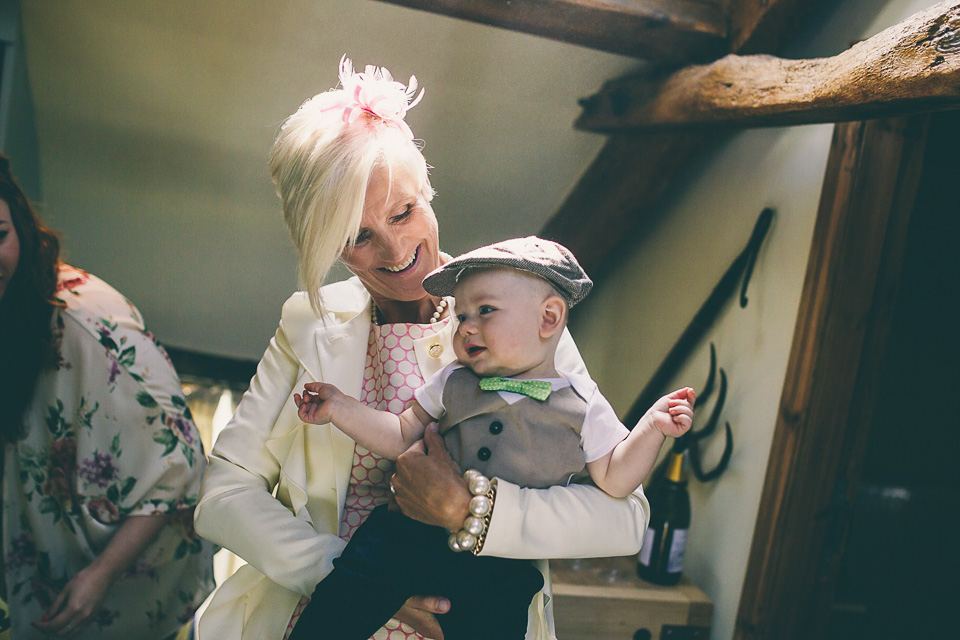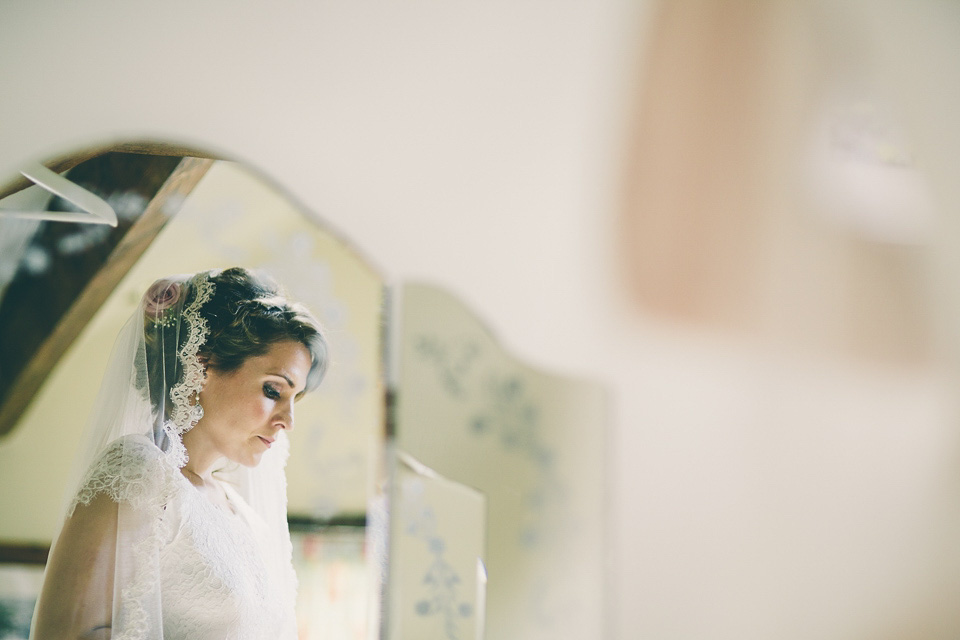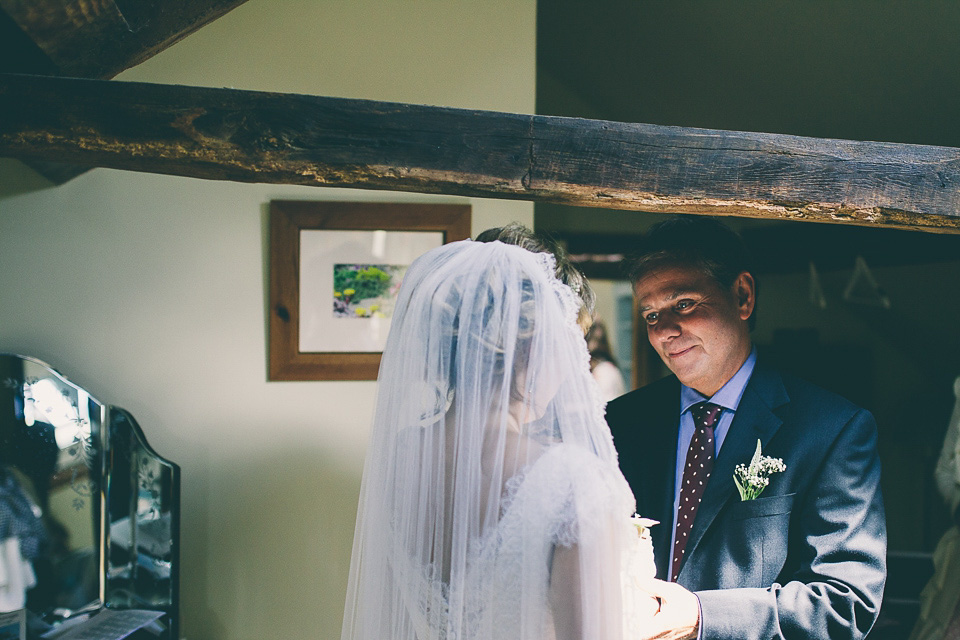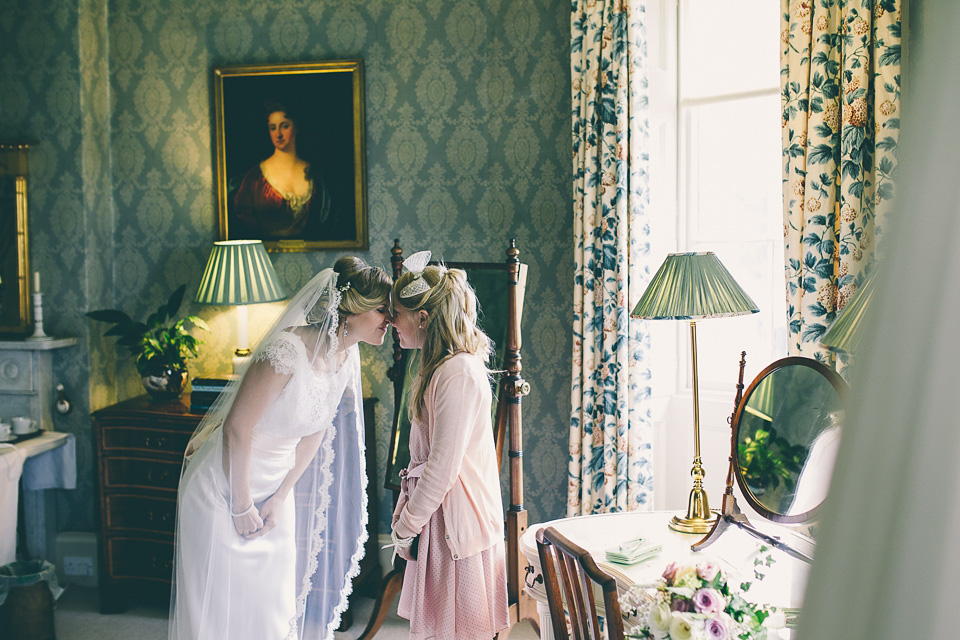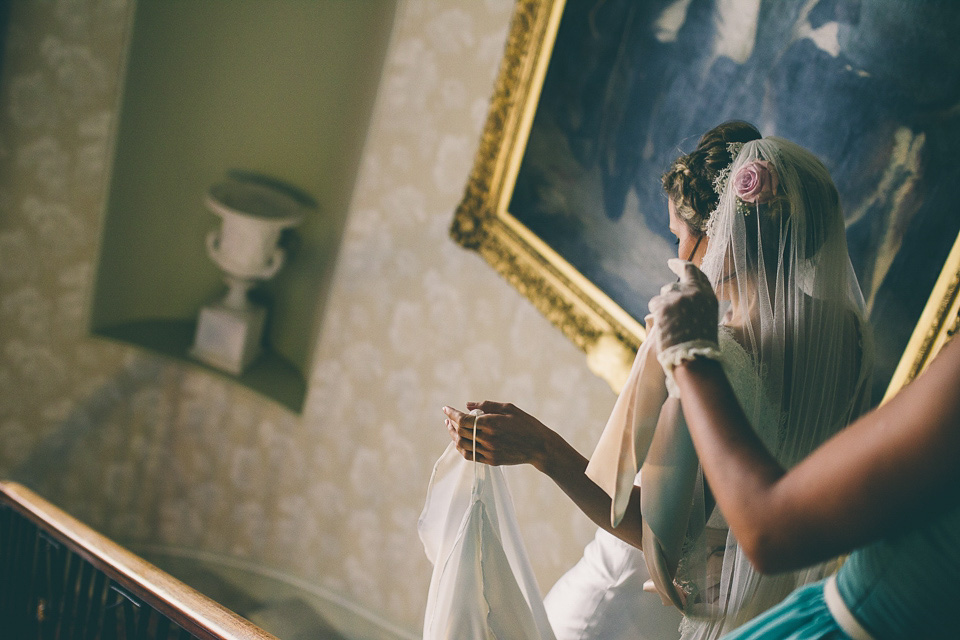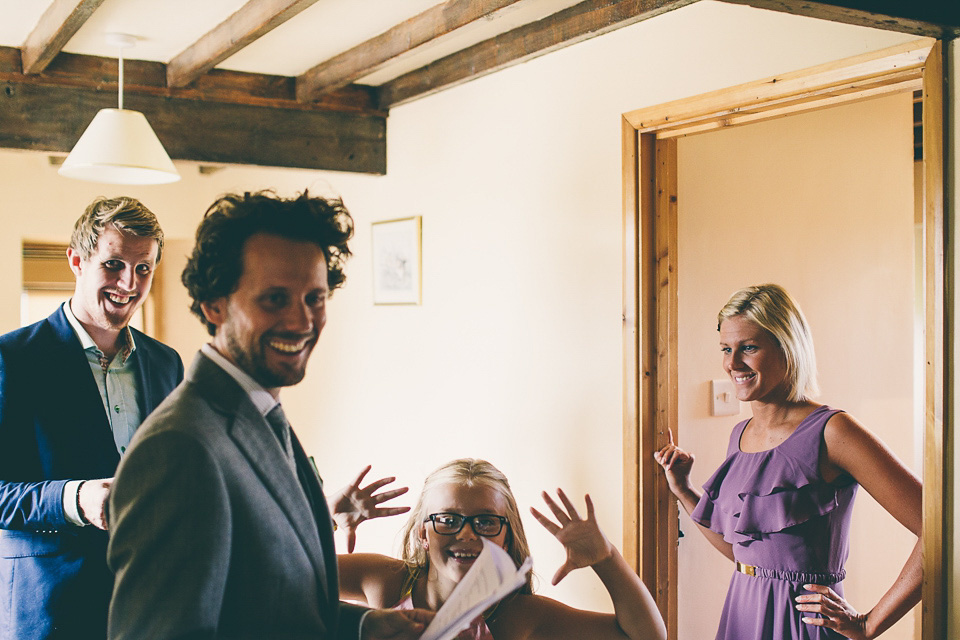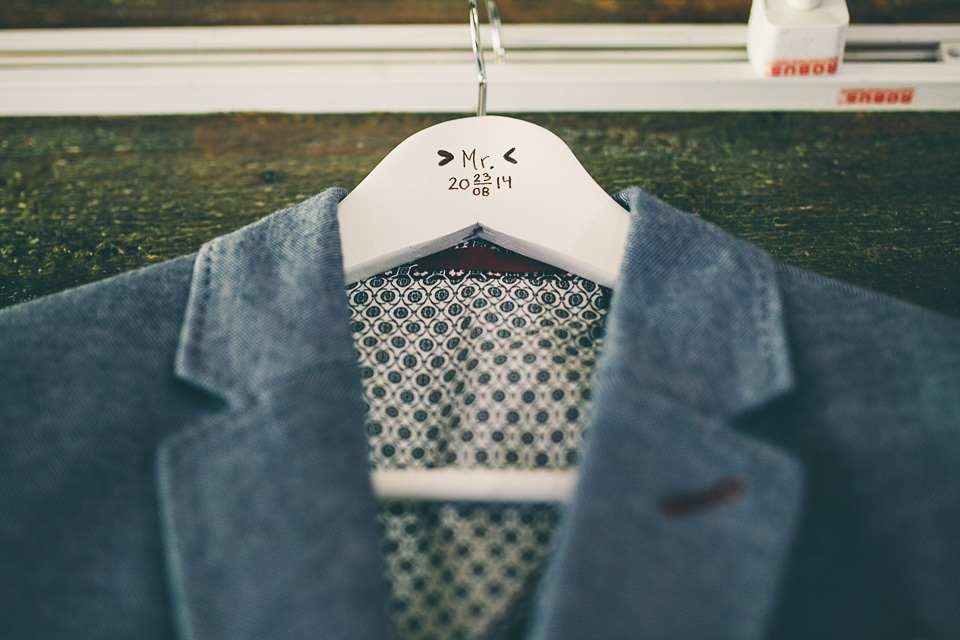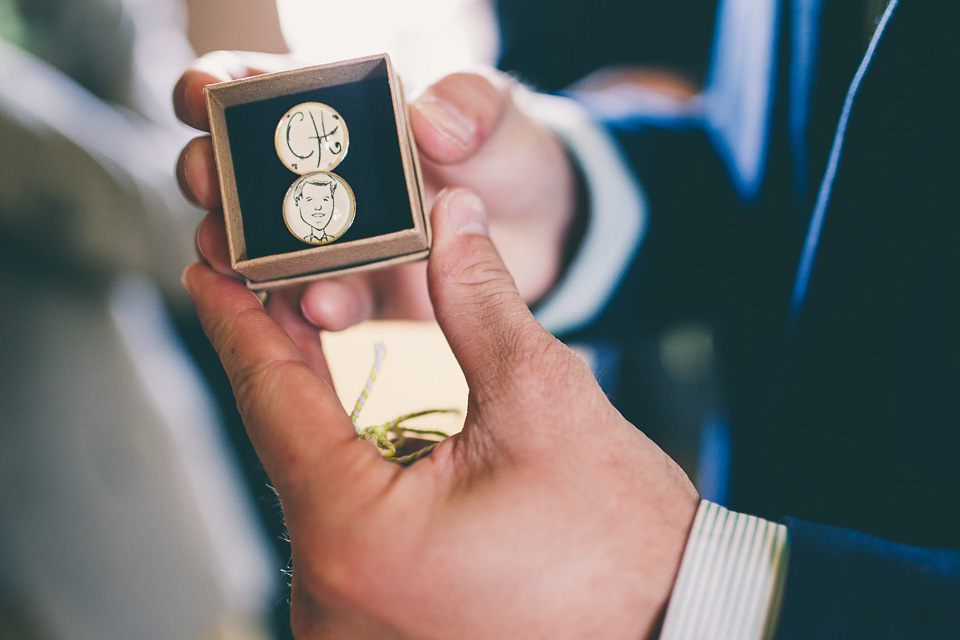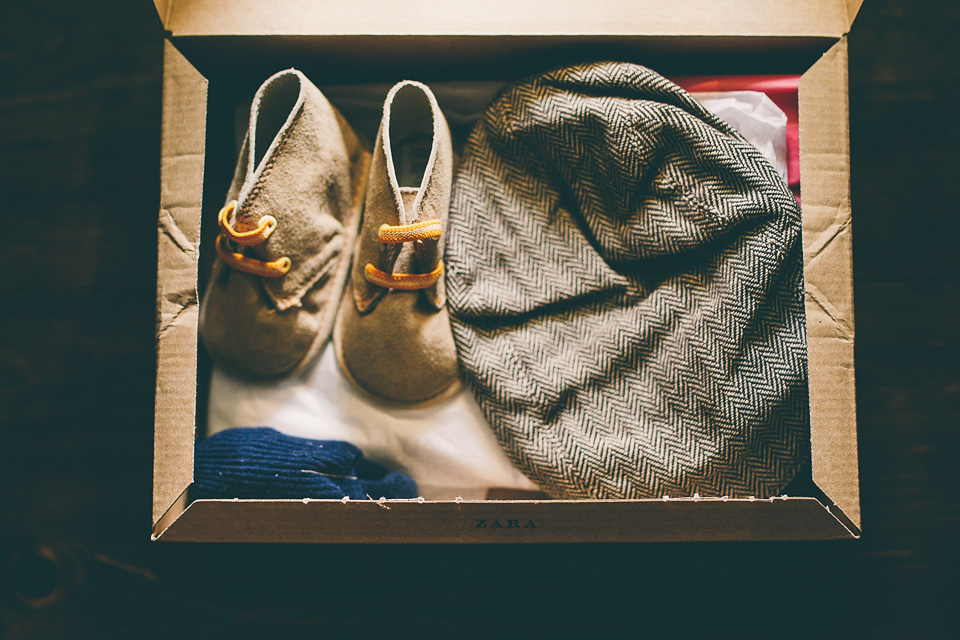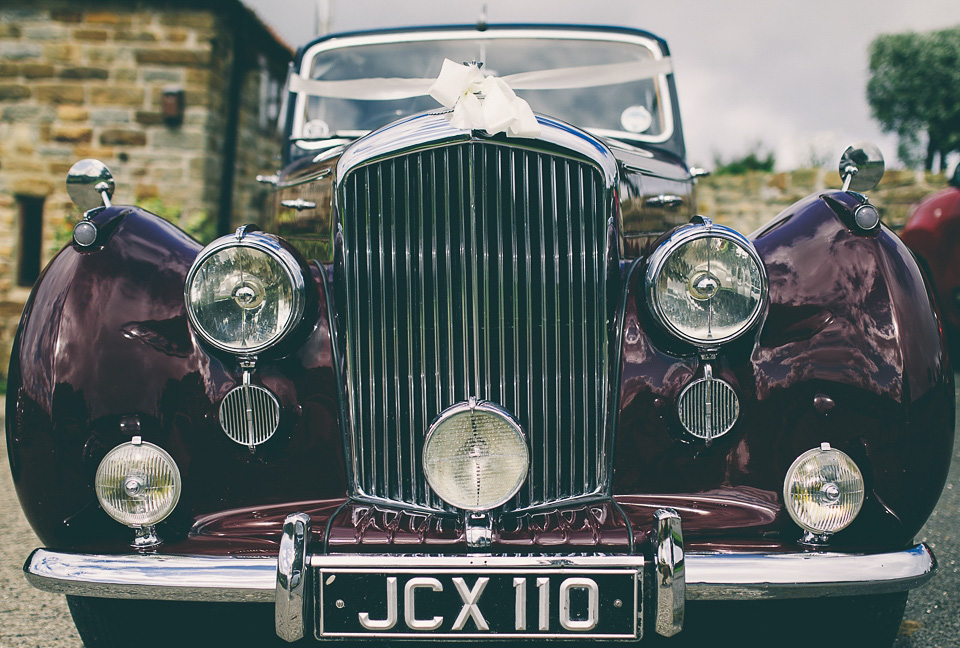 "Lousie at Scampston Hall was very easy to deal with, incredibly flexible and genuinely lovely. We were able to only have our ceremony and photos there and so we decided that having the reception on Max's mum's farm in Staintondale near Scarborough would give us the setting and farm-like feel we wanted. We had found our ideal wedding setting."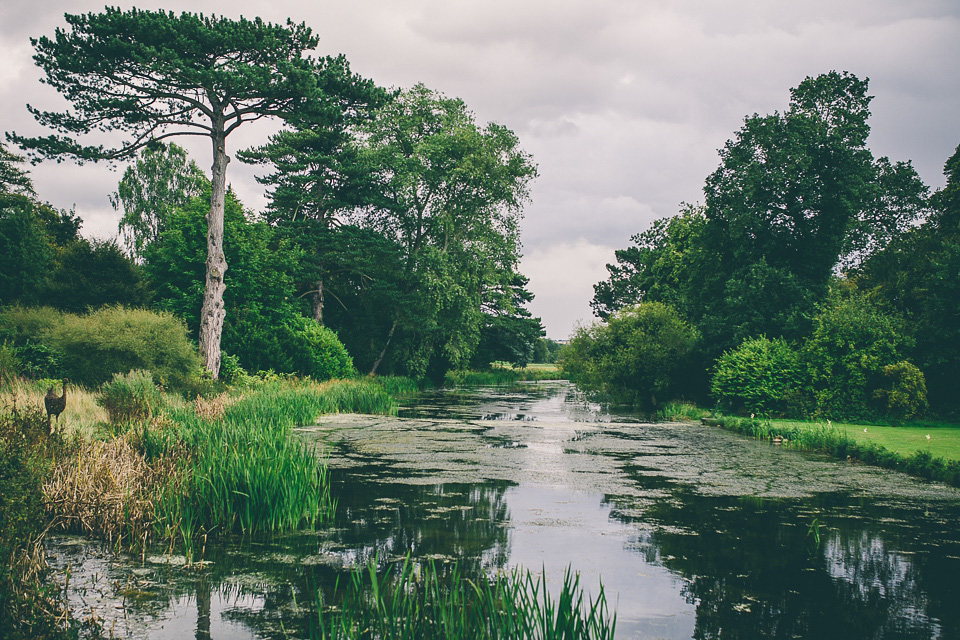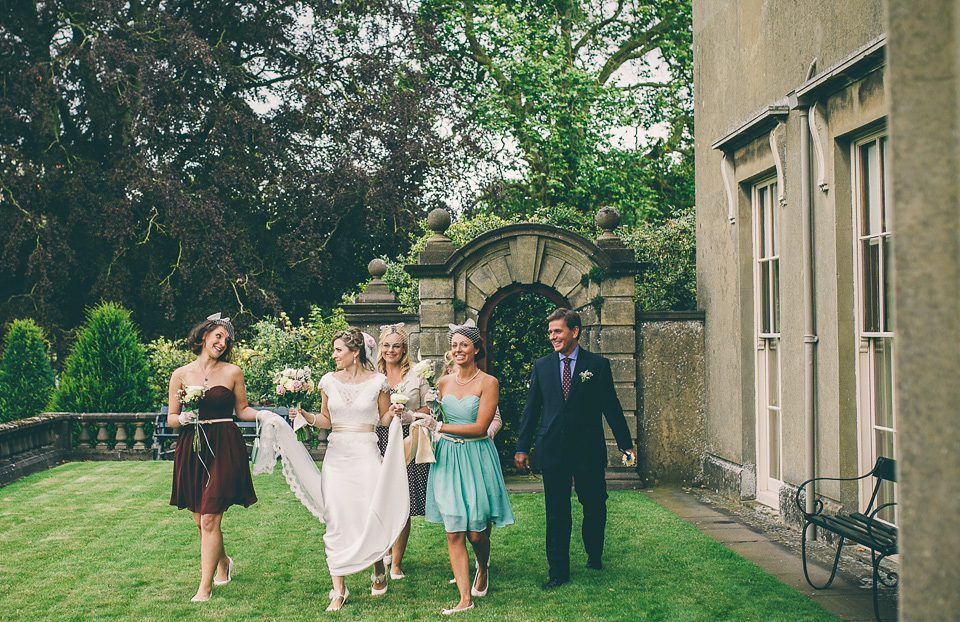 Fina came up with a creative way to include both her father and her stepfather in the ceremony:
"I asked my dad to walk me to where my stepdad was waiting and the guests were sitting. Both my dad and stepdad then 'gave me away' by shaking Max's hand and Max and I then walked down the aisle together.
My favourite part of the day was walking down the aisle with Max. His eyes said it all; they were full of love and a feeling of calm came over me."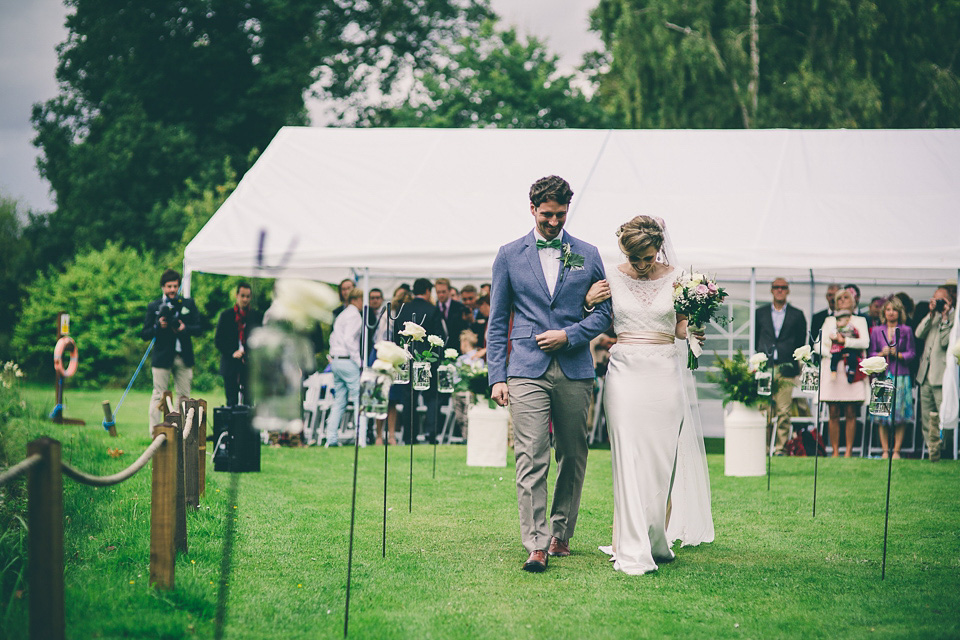 Fina and Max wrote their own vows; "it felt important that our words were our own when promising a life together". They chose two readings; an extract from Louis de Bernières' Captain Corelli's Mandolin and I Folkviseton by Nils Ferlin.
"We were incredibly lucky that Max's dad collects vintage cars. He drove me and my dad in his green Morris Minor and arranged for his friend to take our bridesmaids in a vintage Bentley. They loved it!"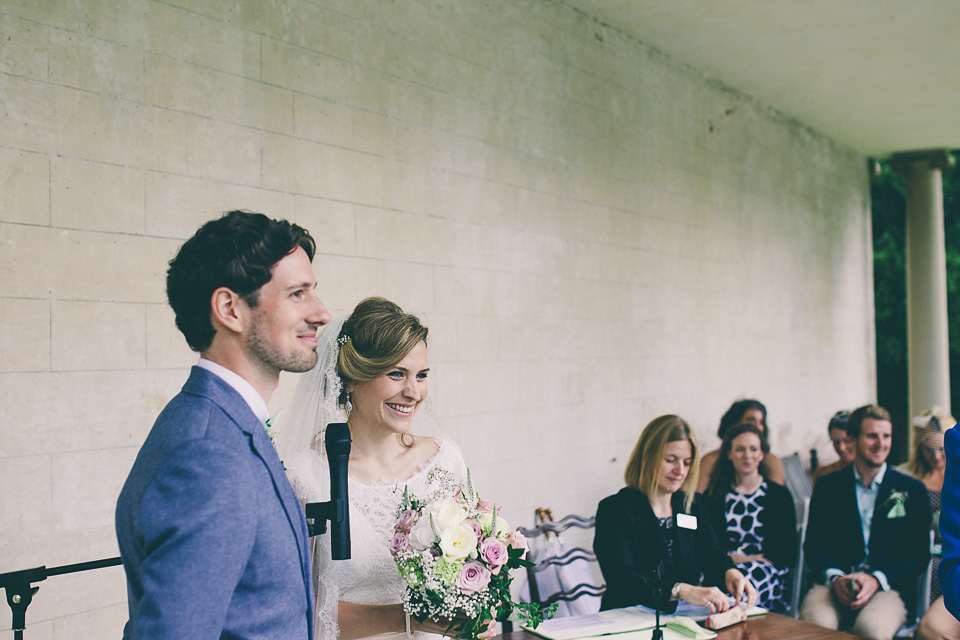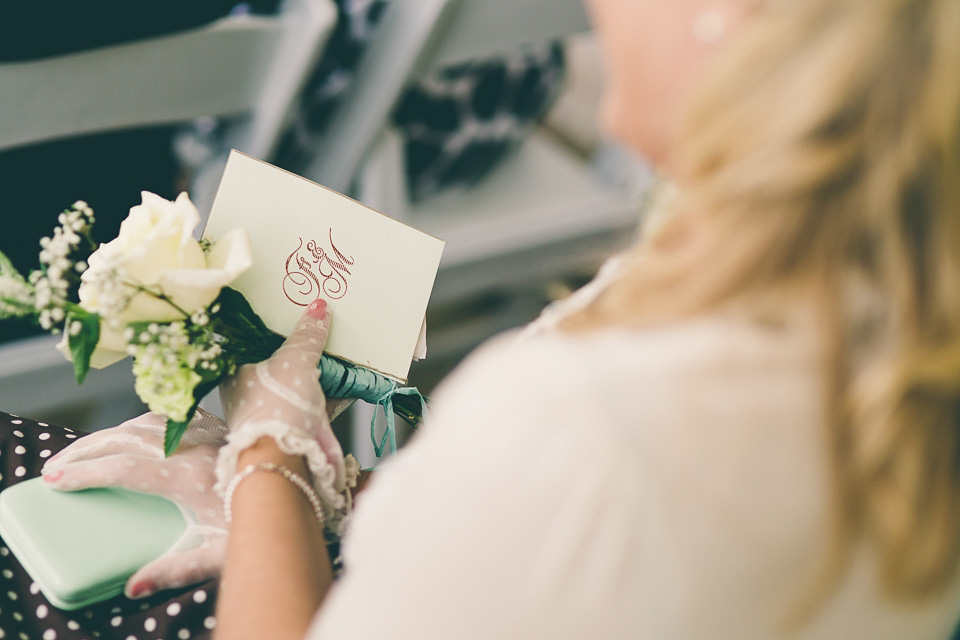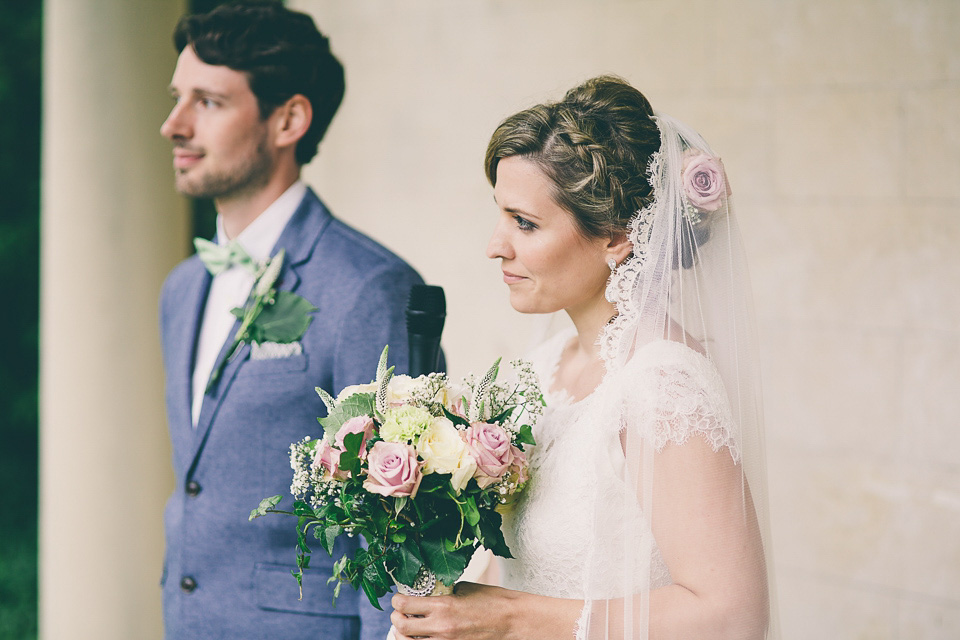 The couple's bespoke wedding bands were made by Manchester based jeweller Jo Lavelle:
"Out of everything, I think we gave the most thought and attention to our wedding rings. The rings symbolise the promise we made to one another and are the most cherished item we took away from the wedding. We wanted them to be really personal and thoughtful, so we had them custom made by the lovely Jo Lavelle. To symbolise the union of our two families, our rings included a diamond from the wedding bands of our respective mothers-in- law."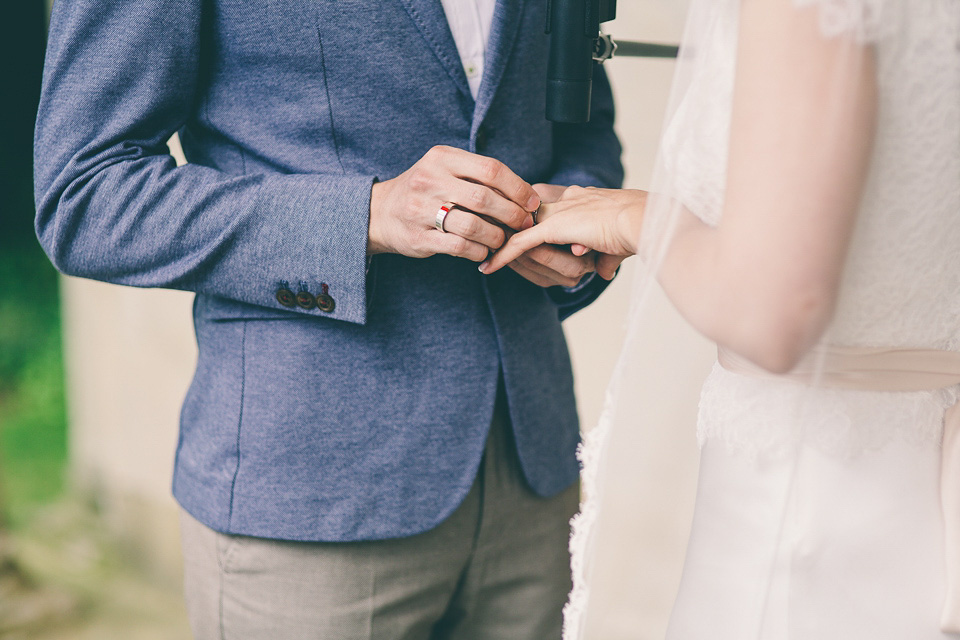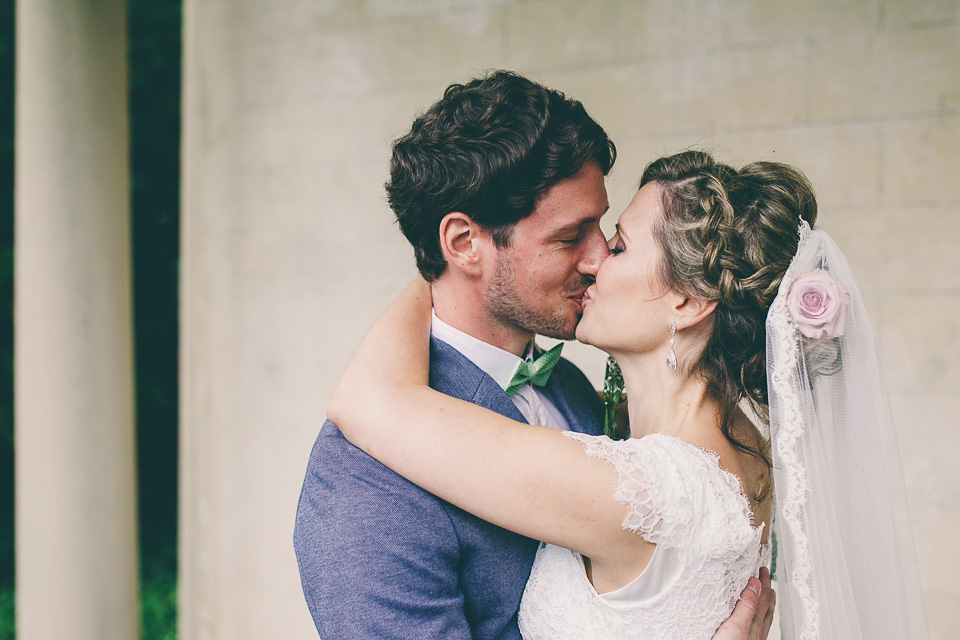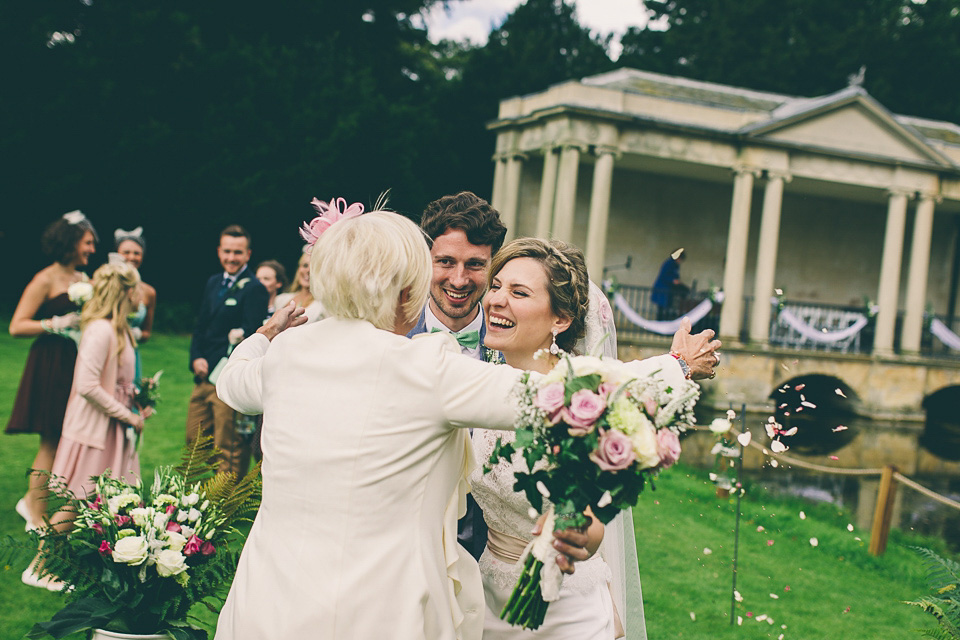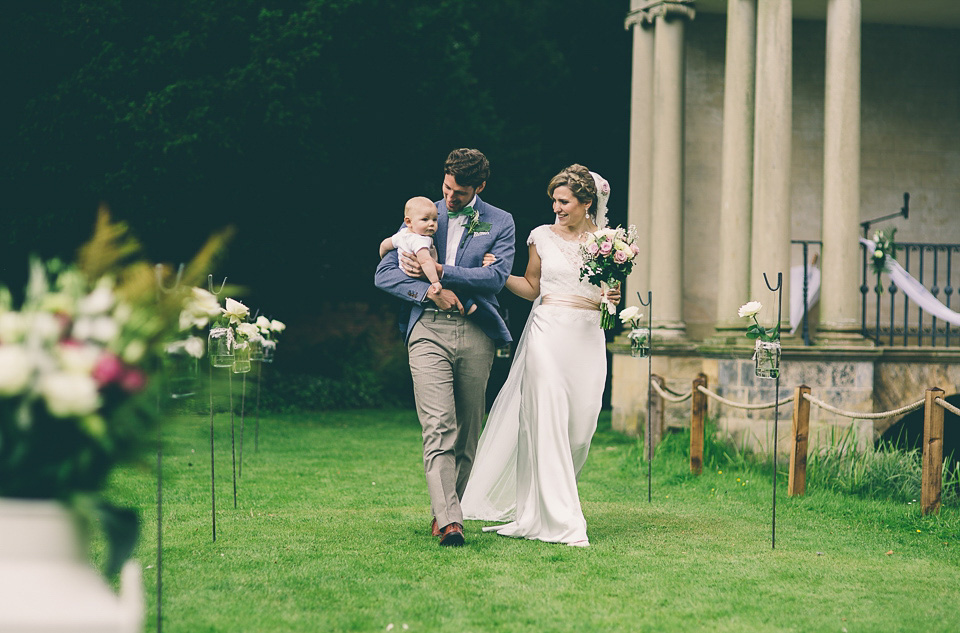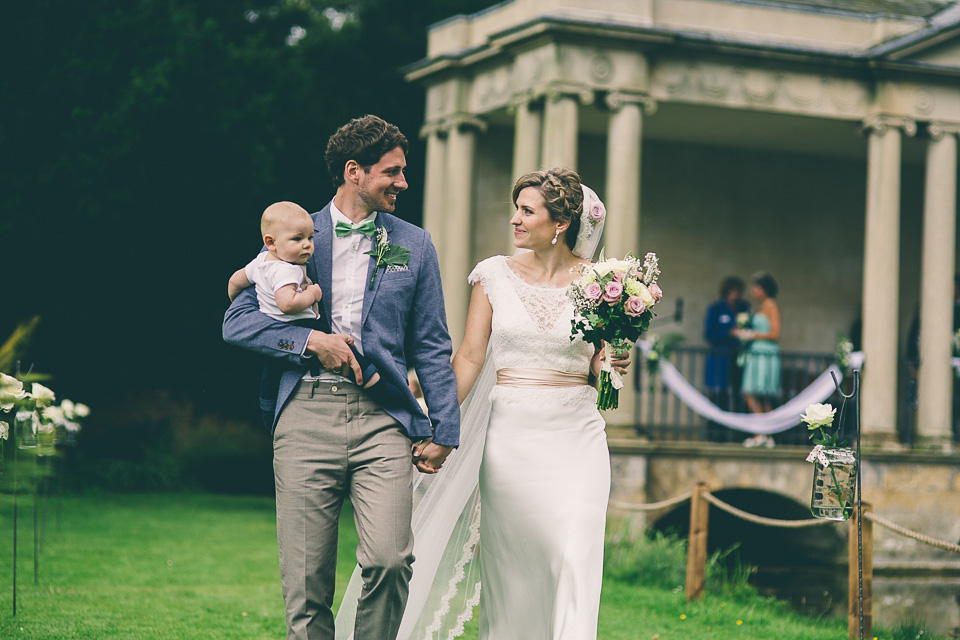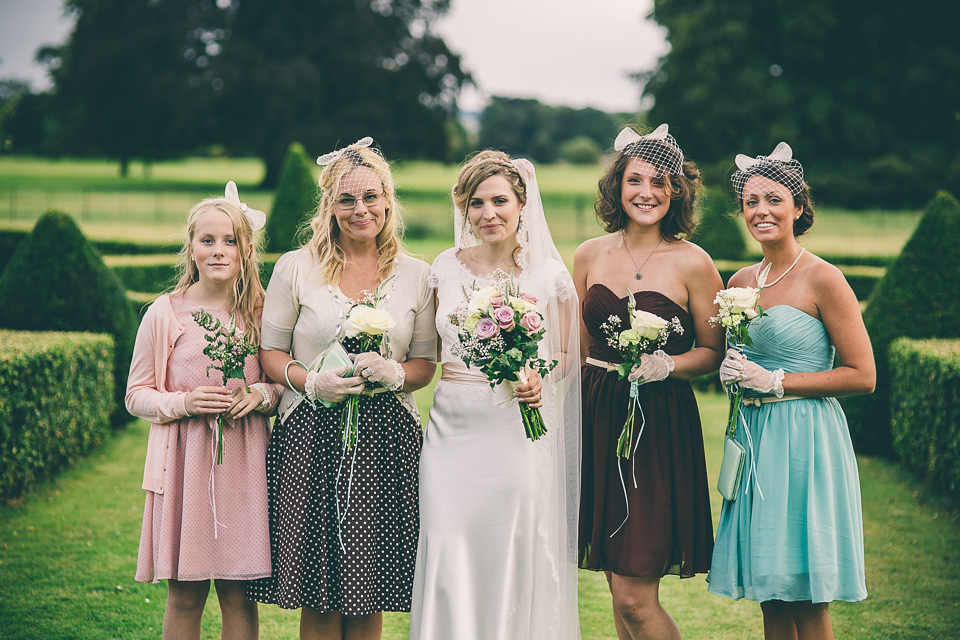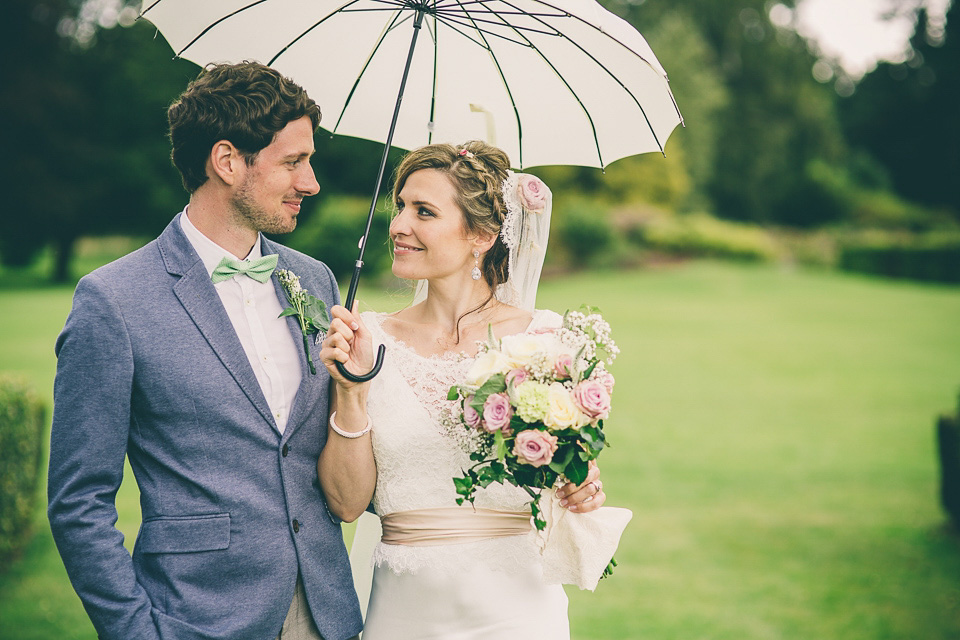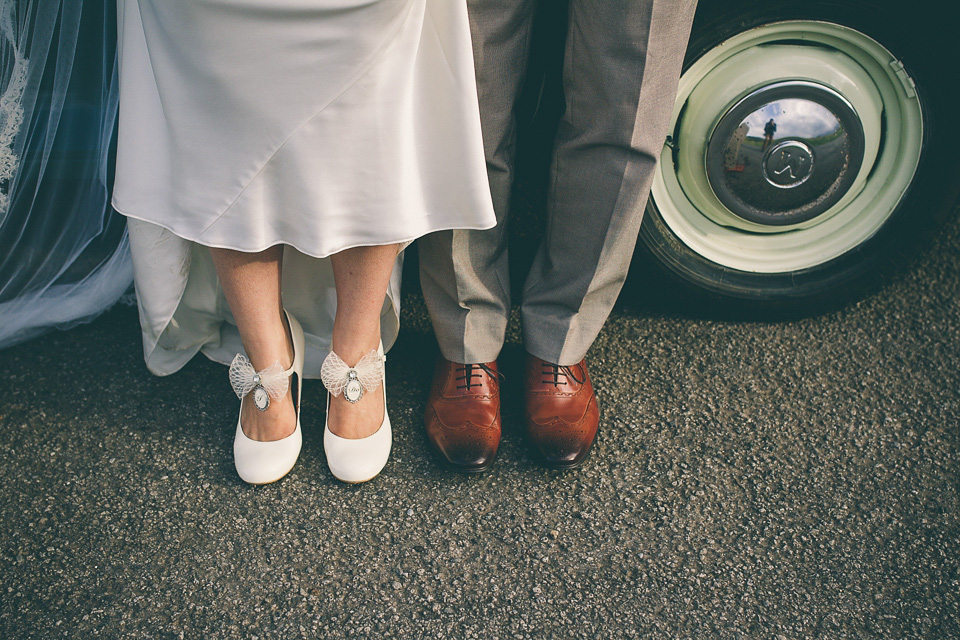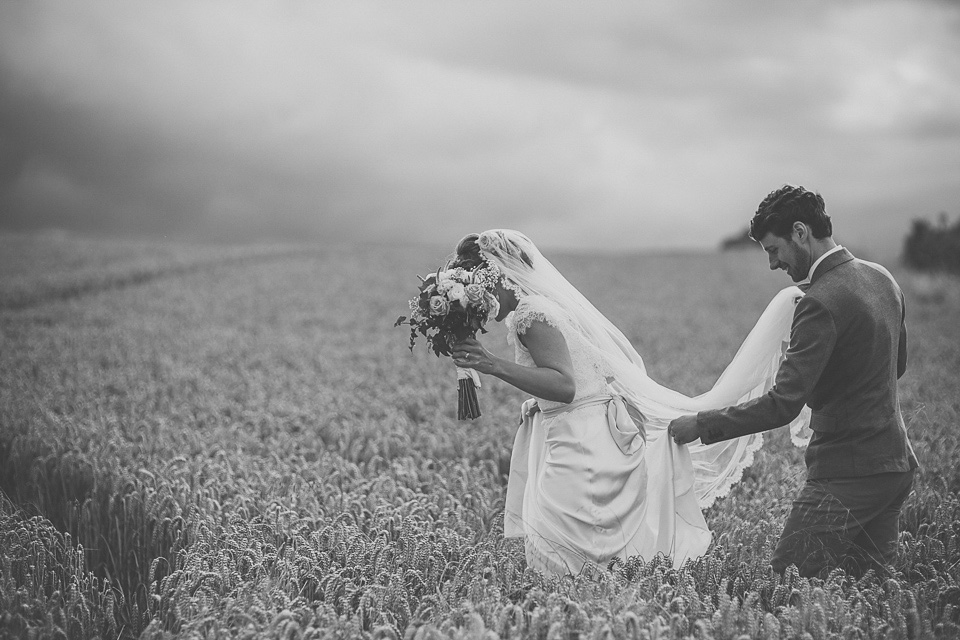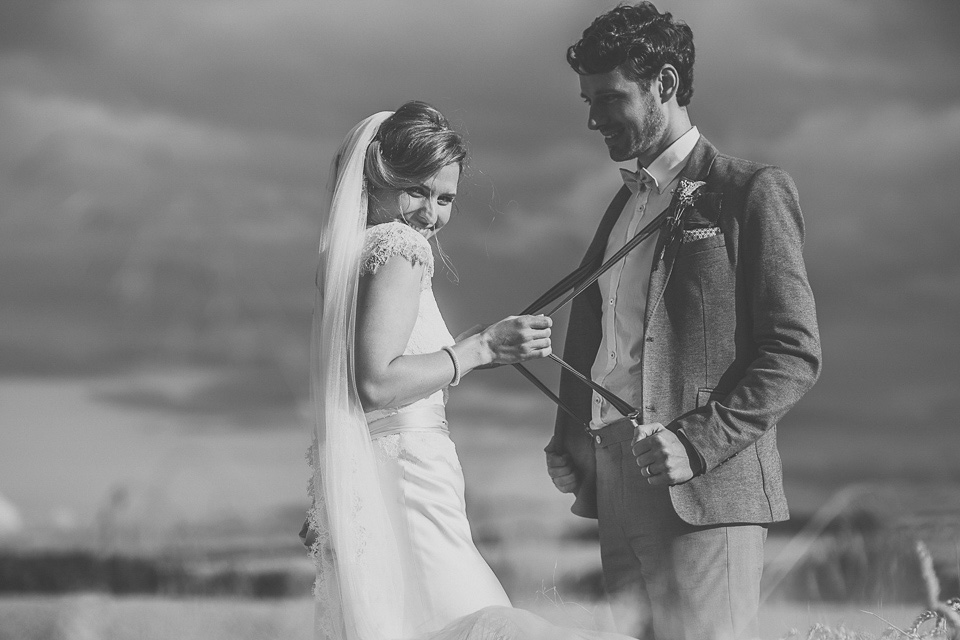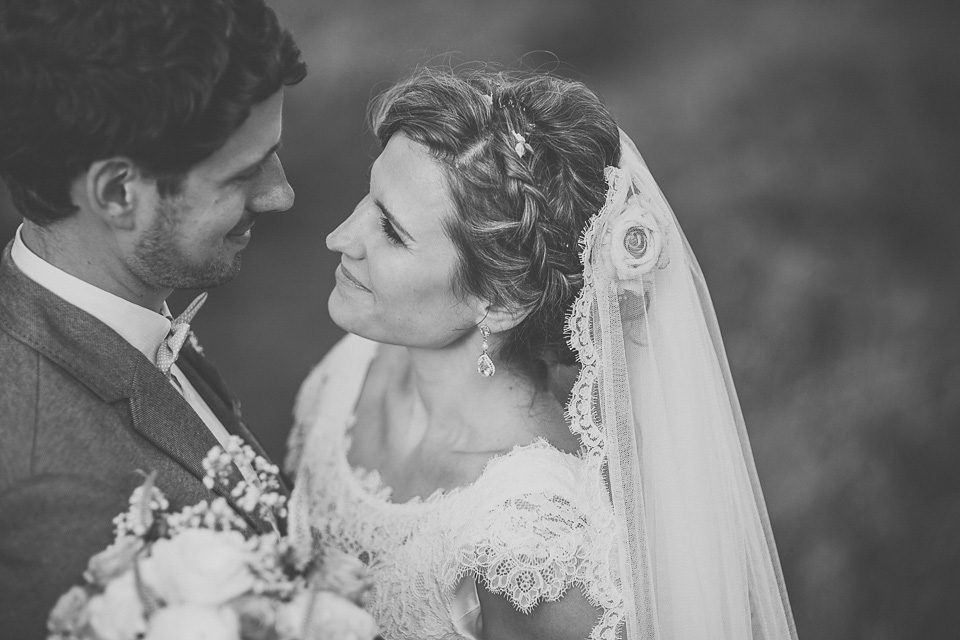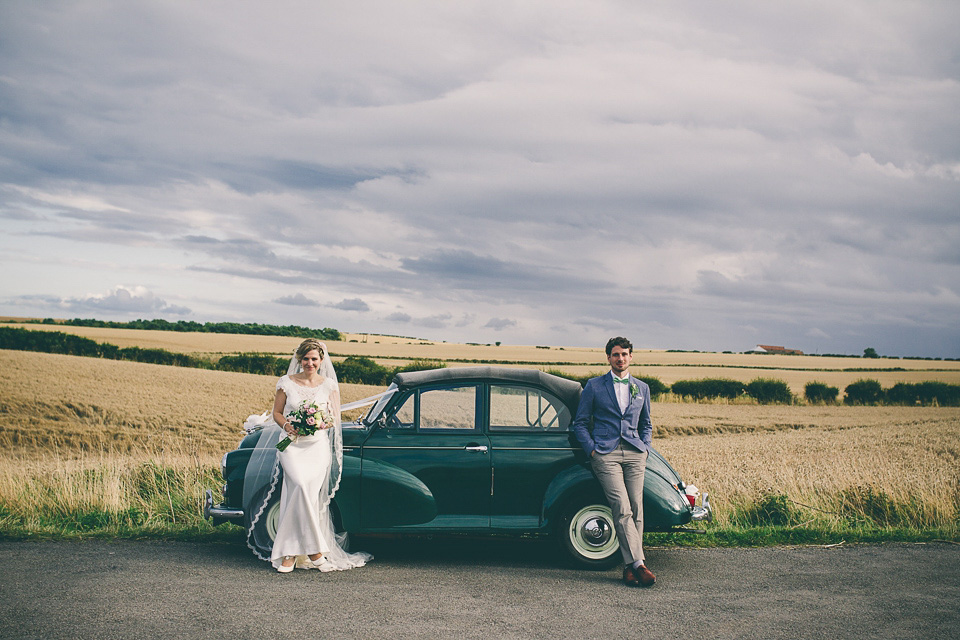 The couple held their wedding reception at Max's mother's farm near Scarborough.
"We decided to have our reception on Max's mum's farm in Staintondale, near Scarborough, as we felt it would give us the rustic feel we wanted."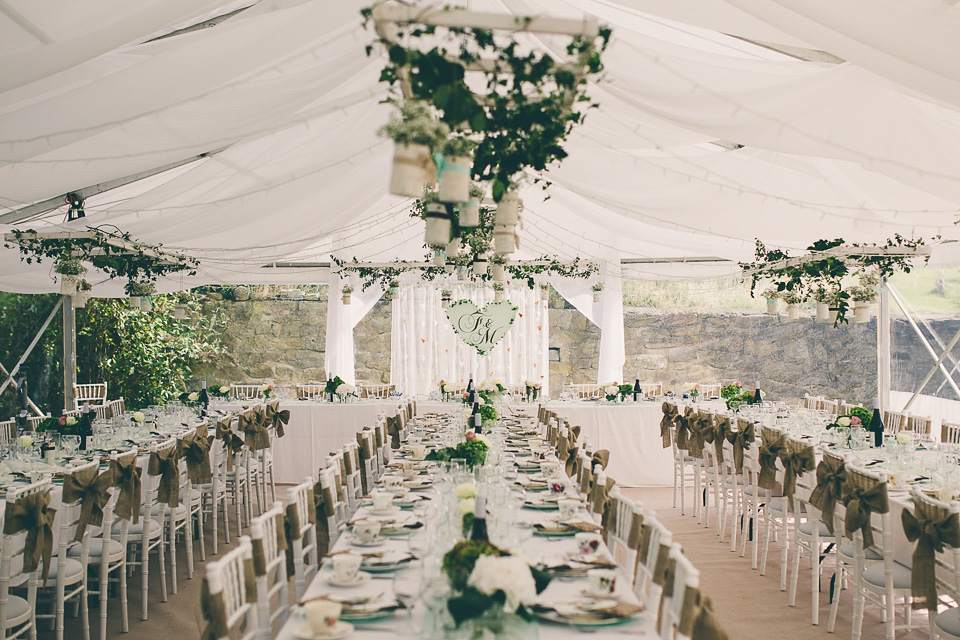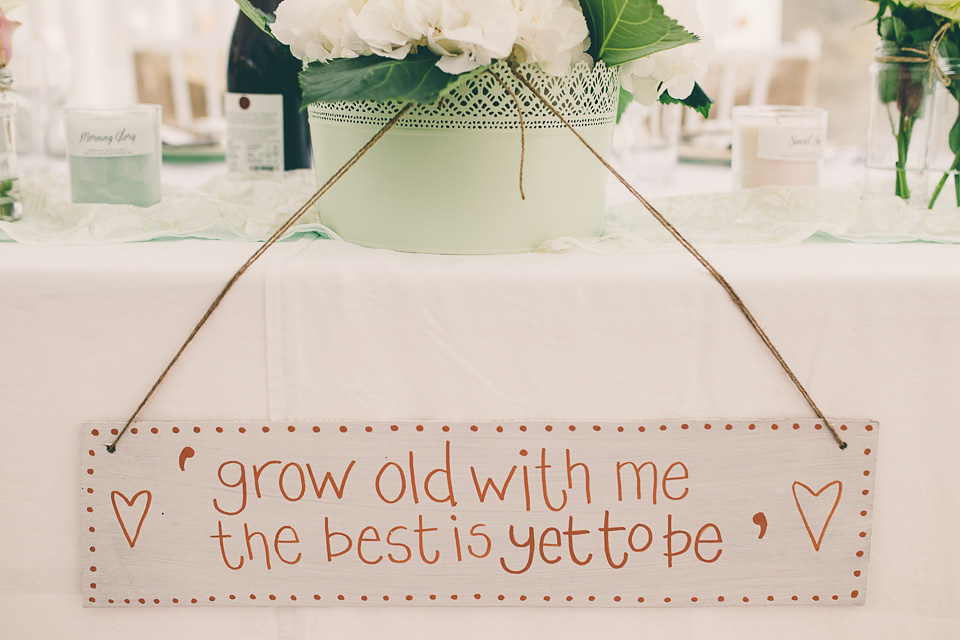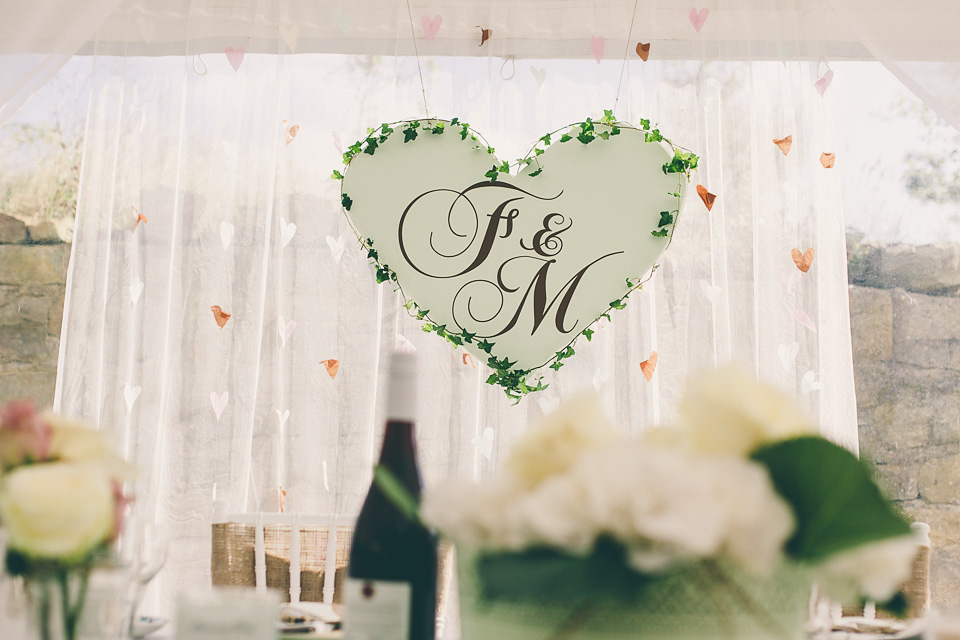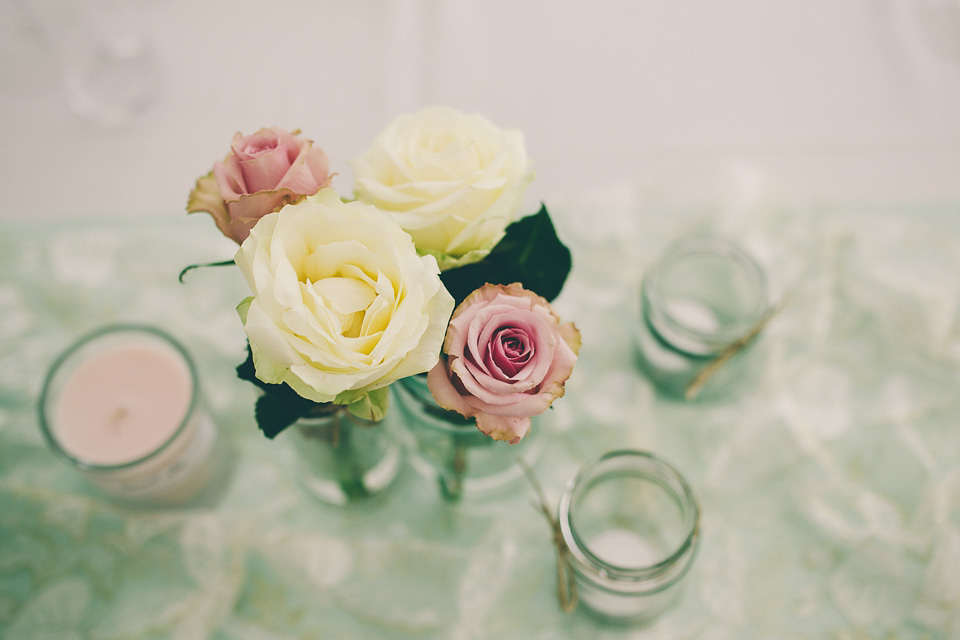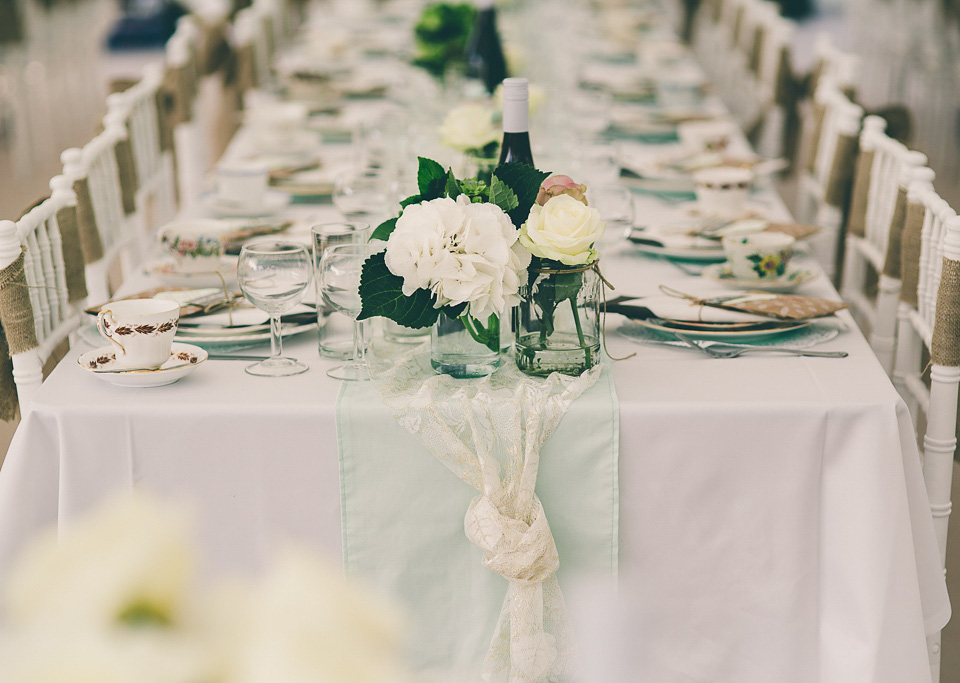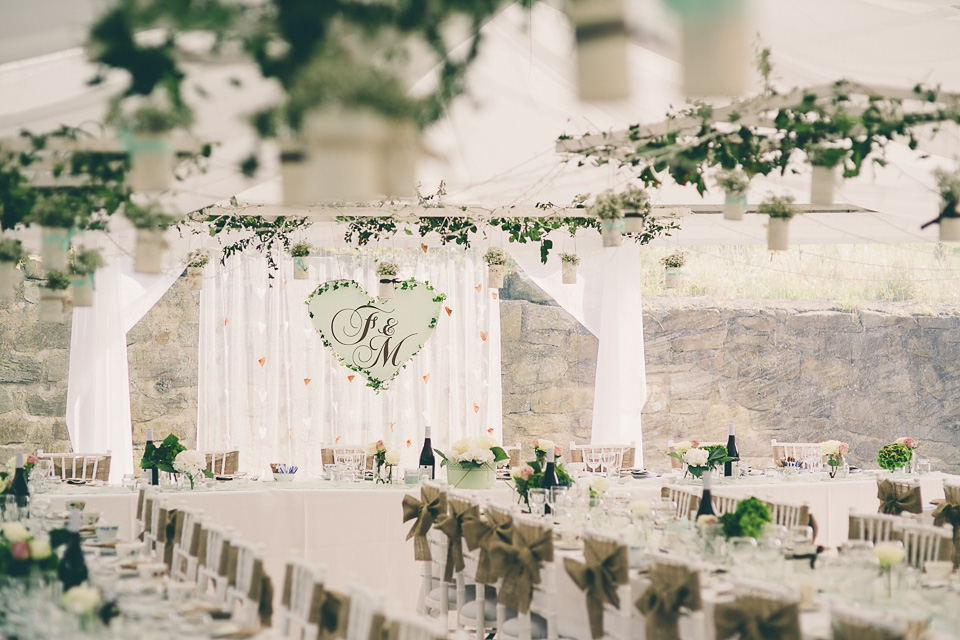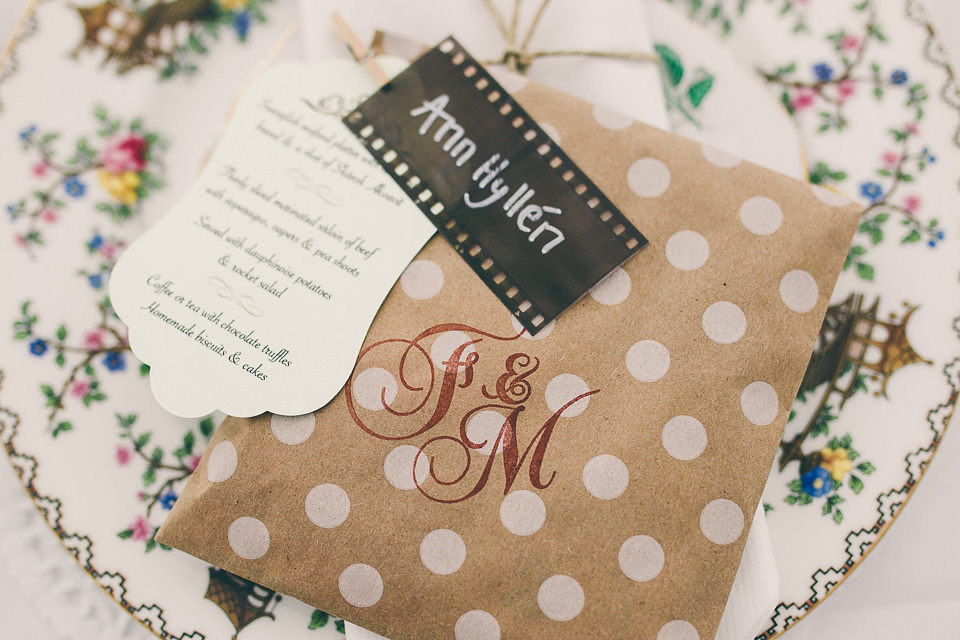 The couple hired a marquee without a lining, so that they could decorate it exactly as they wished:
"I bought 100 metres of white voile which we hung from the ceiling in panels. Underneath this we suspended white ladders entwined with ivy, flowers and fairy lights. Above the dance floor we hung mint green, tissue paper pompoms and garlands made by my auntie."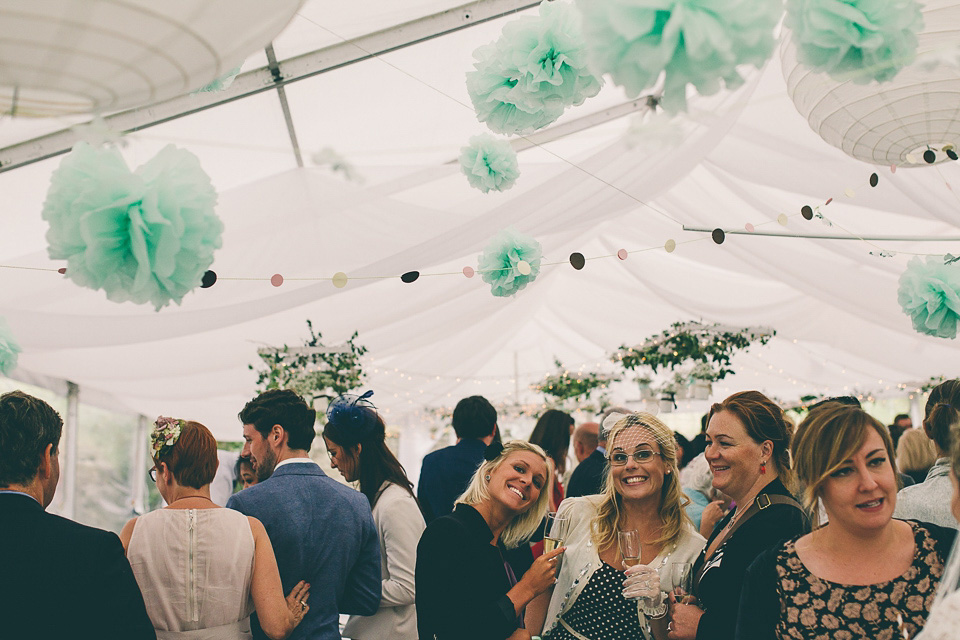 Instead of one cake, Max and Fina opted for a Swedish inspired cake table of epic proportions:
"It was also important for us to have a Swedish feel to our wedding too, so there were lots of little Swedish traditions like Aquavit shots and crayfish with the starter, a Swedish cake table and Swedish recipe books as favours. The colour theme of mint and brown came from Max's favourite ice cream, mint choc chip and my love for mint green shades.
I love baking, so it was important to me to have lots of different sweet treats. Traditionally, cake parties in Sweden had at least seven different types of biscuits, cakes and sweet dough breads. We had a big cake table in homage to this."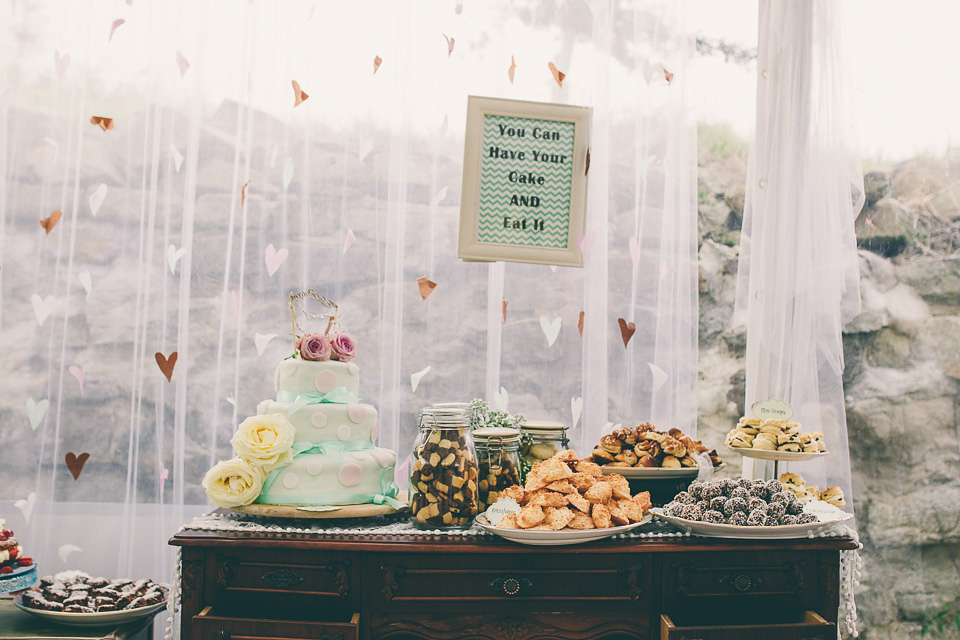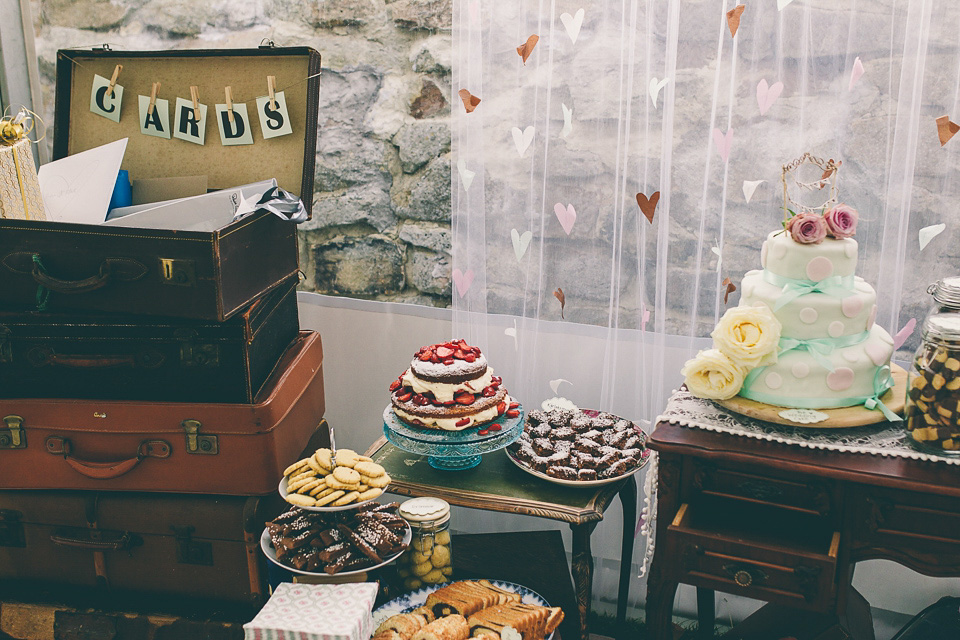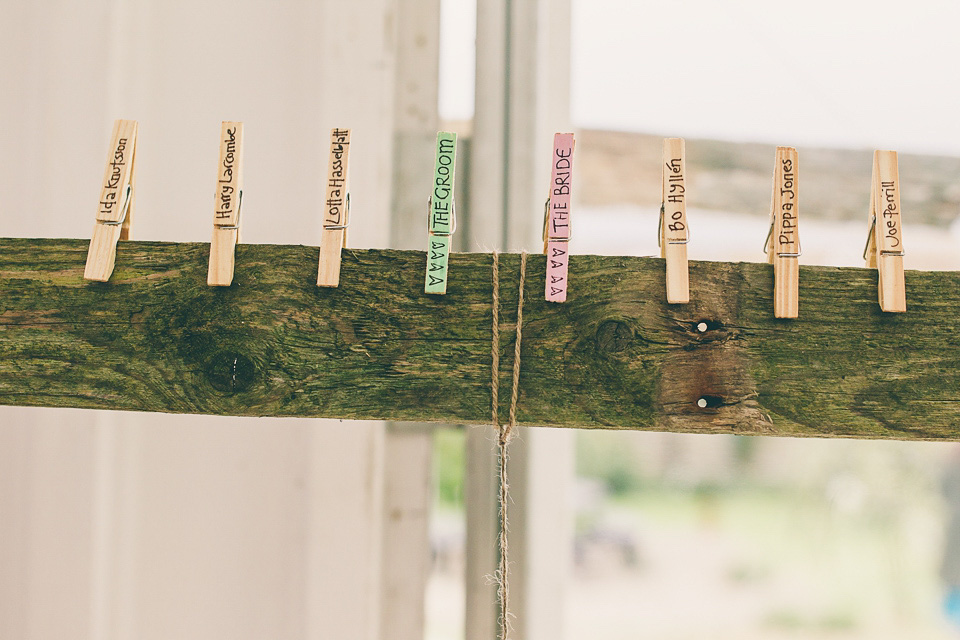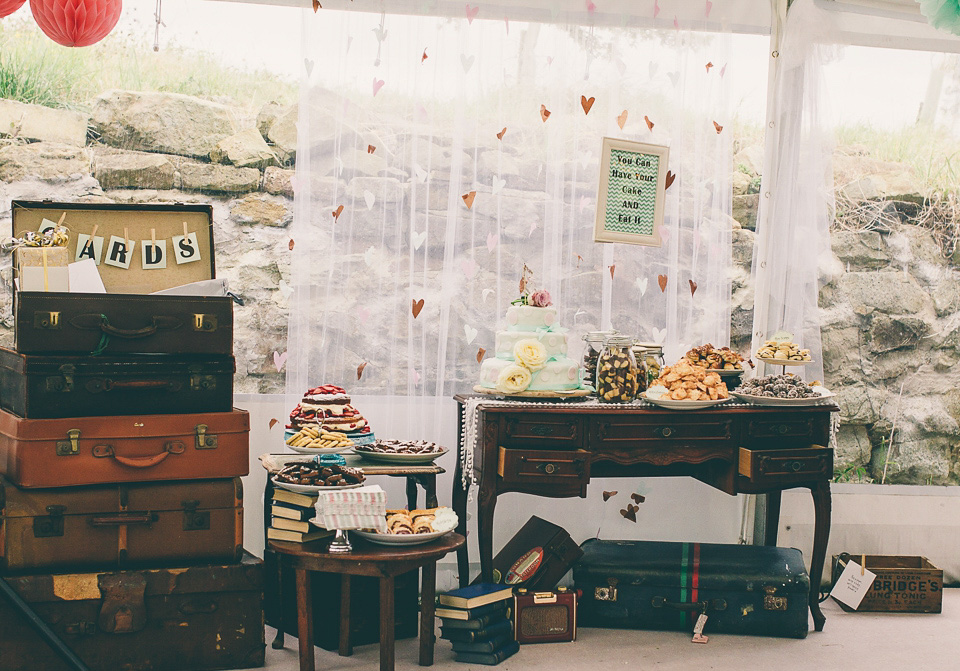 "We had immense support from our family and friends in the days and week leading up to the wedding, and words cannot describe the gratefulness we feel to them for all the time, energy, effort and love they put in to making our wedding such a beautiful day. I didn't want the day to end; I loved every minute of it!"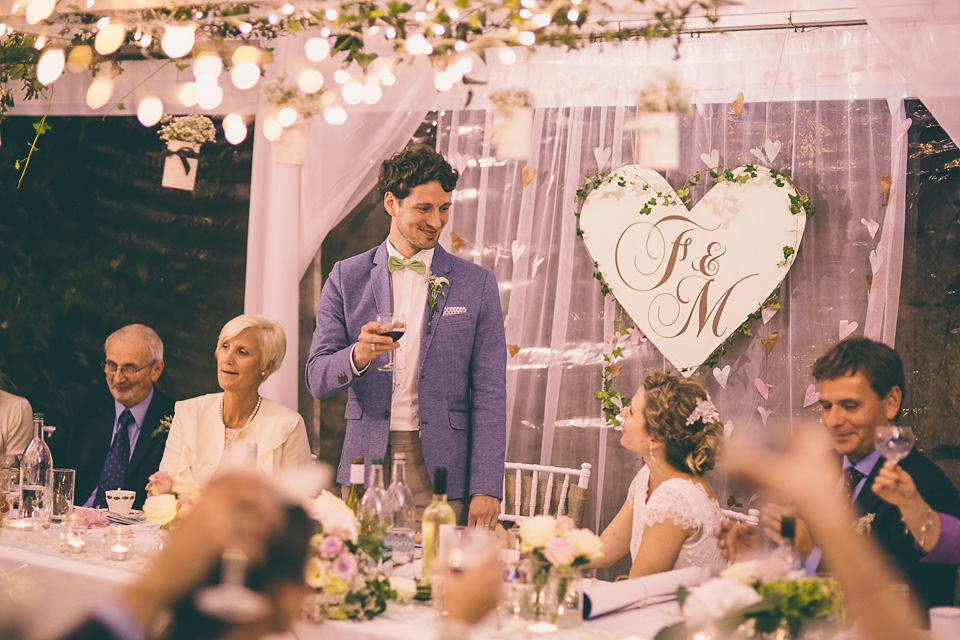 "It was very important to Max to have a band that would get everyone up and dancing; he loves music and plays vinyl records around the house all the time. We found a great swing band called Avenue 54 who played all our favourite songs including our first dance; Marvin Gaye's 'Let's Get It On' (we wanted something upbeat and a bit cheeky to encourage people to join in!)"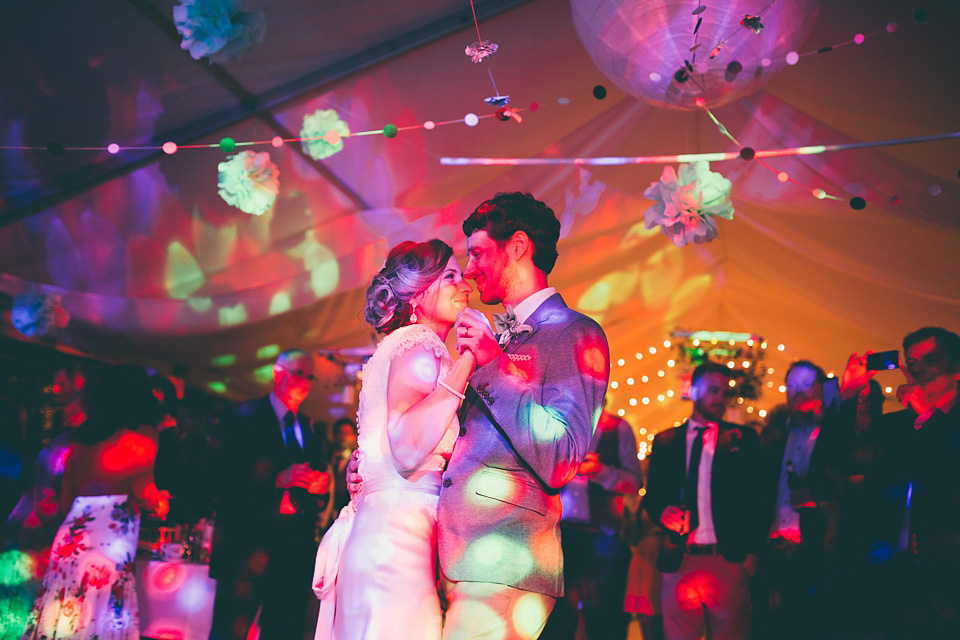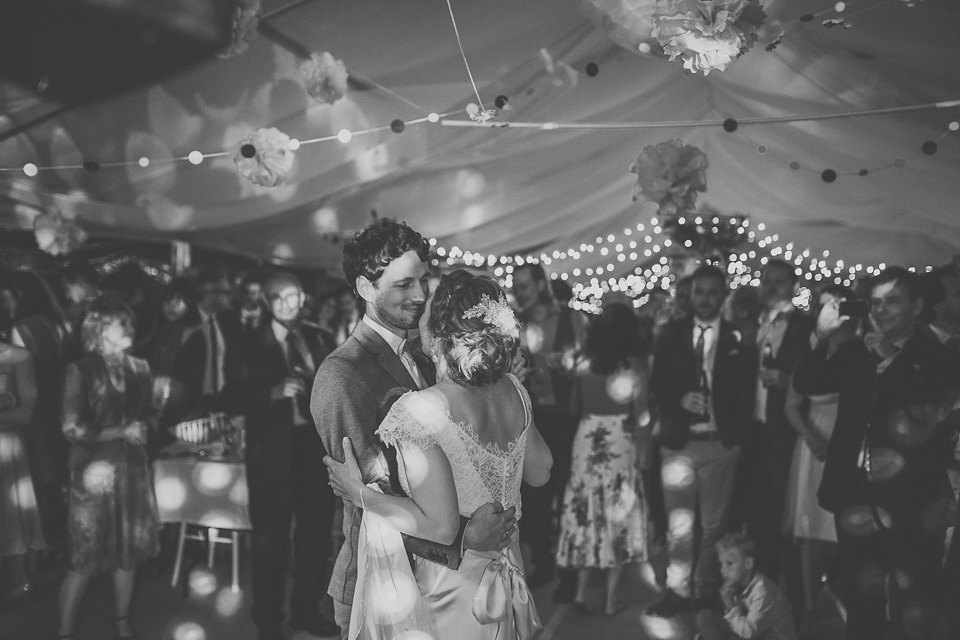 Words of Wedded Wisdom
"Take a five minute 'break' with your new wife/husband to take in the day and the vows you have just made to each other. After all, this is what it's all about.
I also loved visiting Love My Dress to read about the creativeness of brides and getting ideas for how to do something unusual with for example table settings and stationery. Reading about real weddings is what attracted me to the site to start with, and it's what Annabel and her team do so well."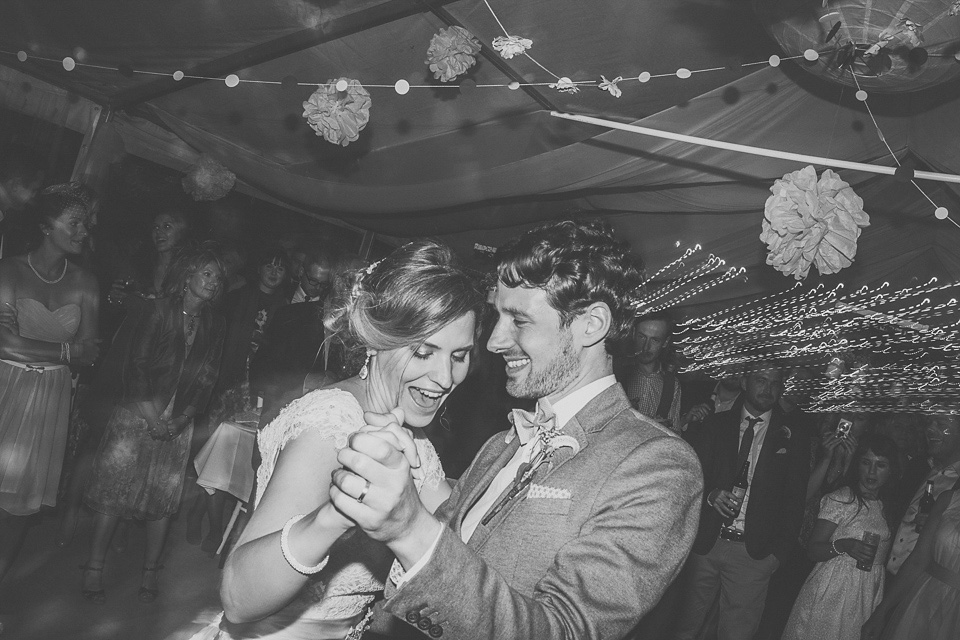 Thanks so much, Fina and Max, for sharing your wonderful day and Neil Jackson Photographic for capturing it in style. For more Swedish inspired weddings, please click here – you can also see more beautiful Charlie Brear brides here.
Annora x
Photographer – Neil Jackson Photographic
Venue – Scampston Hall
Wedding Dress – Charlie Brear from The White Closet
Accessories – Bolero + sash made by Suzanne Mellor at The White Closet
Headpiece – Pearl & Co
Veil – Helen Martin Veils
Shoes – Office, customised by the bride
Bride's Jewellery – Links of London bracelet + Lavender by Jurgita earrings + Pearl & Co brooch
Bride's Scent – Dolce by Dolce and Gabbana
Groom – Ted Baker suit + Dune shoes. Bow tie and pocket square from Beau Tie
Bridesmaids – Etsy
Bridesmaids Accessories – Accessorize gloves + Primark gold bow
Bridesmaids Headpiece – Made by the bride
Flowergirls – Monsoon dress + Primark cardigan
Florist – Triangle Nursery flowers arranged by bridesmaid Claire
Cake – Made by bride
Transport – Groom's father's Morris Minor
Entertainment – Avenue 54
Rings – Jo Lavelle
Catering – Kirby Catering
Hair Stylist – Sami Nash at Tinsel Tiara
Makeup Artist – Jess Pacey