I hope you are having a good week, I'm so pleased the snowdrops are out and it finally feels like Spring is on the way.  Every bride loves her wedding dress, but the passion today's bride has for her gown is wonderful to hear, and you can see why because it's a real showstopper. Housewife and mum Helen and company director Greg got married on 25th September last year at the Amante Beach Club on the sun drenched Isle of Ibiza.
I love Ibiza, the white sandy beaches and chilled out atmosphere make it the perfect place for a beach wedding. Helen and Greg chose the Amante Beach Club at Sol den Serra on Ibiza.
"We looked at a one or two other venues at first, but when we walked in to Amante, the view and overall feel of the place felt perfect.  The view really does take your breath away."
Photography Copyright (c) 2015, Gypsy Westwood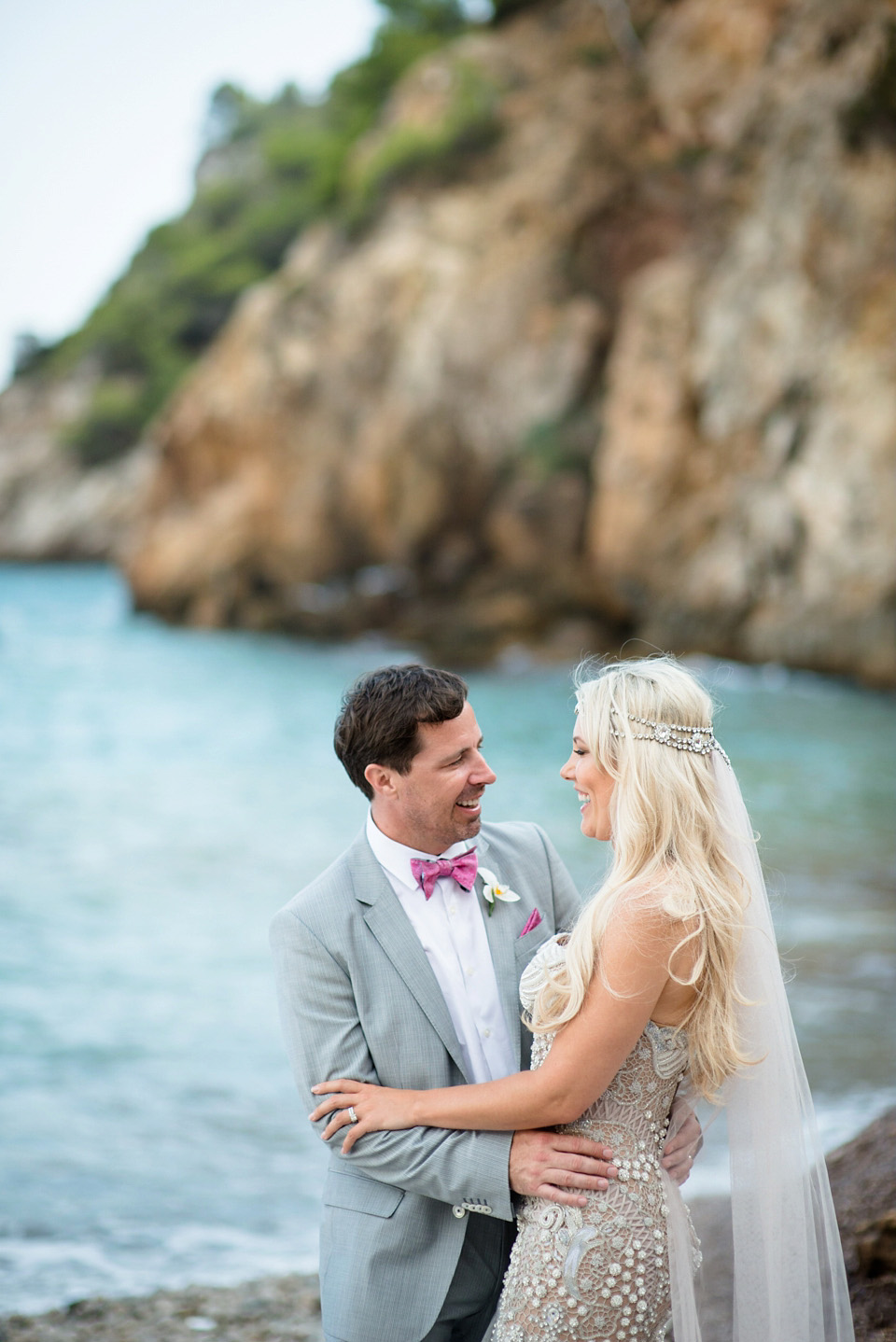 If you're organising a wedding abroad an event planner is invaluable. Helen and Greg hired Kerry-Anne Winton who helped them source local suppliers including the hairdresser, cake maker and florist…
"I asked her to create a copy of something I had seen elsewhere, which was a cross between a corsage and a bouquet.  It had long strings of crystals with orchids intertwined.  She matched it perfectly and I was overwhelmed with how beautiful it looked."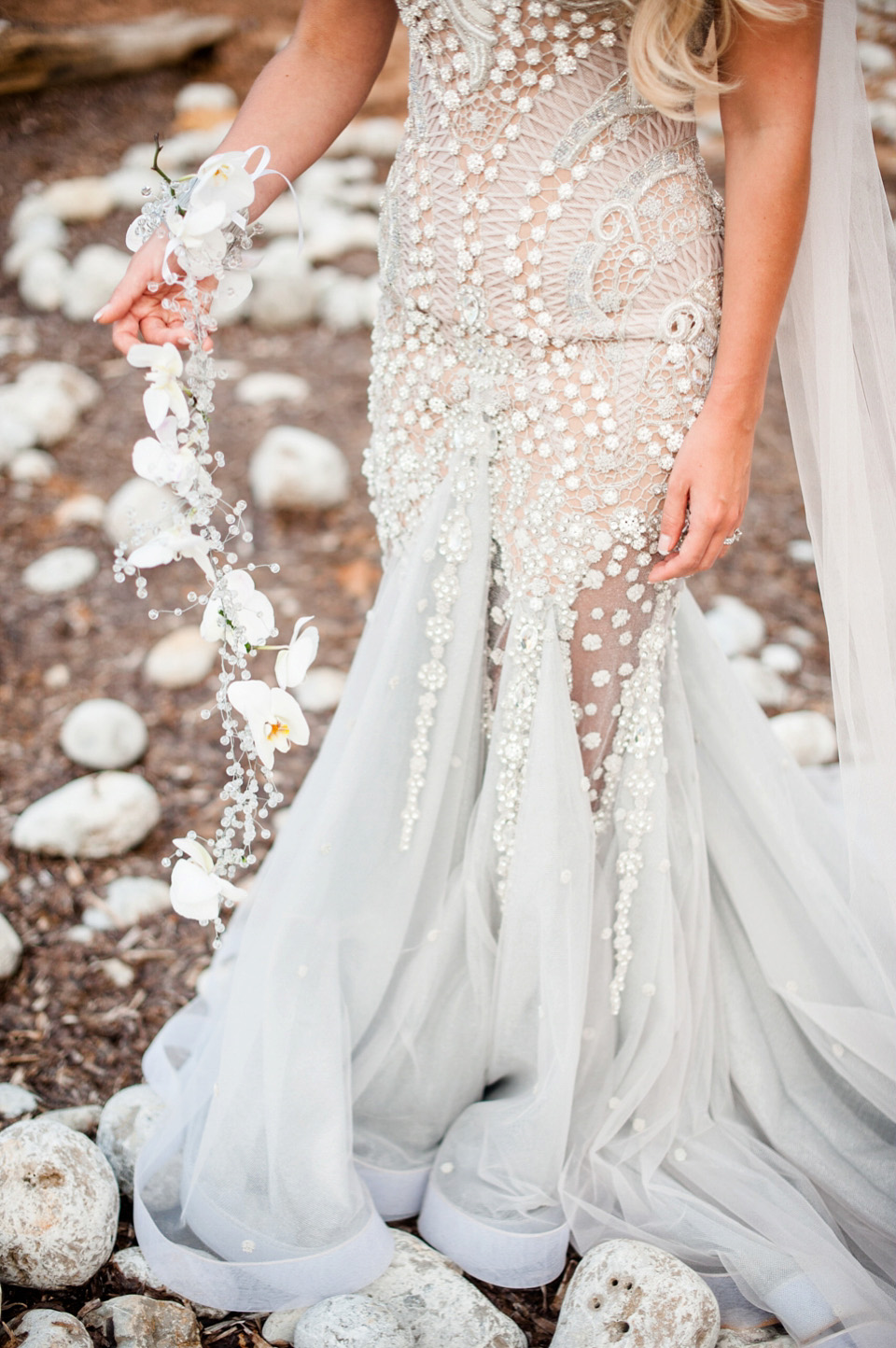 Helen's bridesmaids wore dresses platinum dresses from the wonderful Twobirds, who Annabel visited last week. Watch this space for details of their genius and completely versatile bridesmaids dress designs (the same dress can be worn in many different styles, completely solving the 'which dress for which bridesmaid' dilemma!)
"The colour framed my dress perfectly and each of the bridesmaids could tie and style the dress how they wanted and felt the most comfortable with.  Also they could easily use them again."
You'll learn more about Helen's dress by Australian designer J'Aton Couture further down in the feature.  It was Australia once again where Helen found the headpiece to compliment her stunning gown, a designer called Bo and Luca.
"I had spotted the headpiece on the Internet but it had sold out literally everywhere. The designer was in Australia so I contacted them directly and luckily for me, they were able to send the headpiece to me directly."
Helen fell in love with a silver, heavily embellished dress she saw online by Australian designer J'Aton Couture. She took a leap of faith and ordered it without trying it on, but her gamble well and truly paid off…
"The dress was truly stunning and everyone's reaction to it brought me to tears at times. Jacob and Anthony are masters of their trade and I am in awe of their talent, their dresses are literally works of art. I was so proud to wear one of their designs, even though my grown was very expensive it was worth every penny to me as I wasn't at all nervous on the day as the dress gave me so much confidence. I glided into the venue, ill never forget that euphoric feeling."
Those killer heels by the way, are Louboutins.
Helen's dress has got a real wow factor, with beautiful detailing and a touch of the mermaid, which goes perfectly with her beach wedding. J'Aton Couture is based in Australia and isn't a designer we've heard of much in the UK, so how did Helen find her magical gown?
"I'd been looking on the internet for months at dresses when I came across a picture of someone in the most amazing dress I had ever seen, I literally fell in love with it from that second.  I loved the colour of the dress which was silver and grey and thought that it suited my skin tone and hair colour.  The detailing was out of this world with embroidered Swarovski crystals and corset detail.  It was extremely different and perhaps a slight gamble but I knew it was just me.
I did some research and managed to find out who the designers were, the only problem was that they were in Sydney, Australia!  I contacted them by email and spoke to the designers PA Melissa on the phone.  Initially I was concerned about the logistics of having a dress made on the other side of the world but Melissa, who I cannot speak highly enough about, made me feel very secure and confident that they could make this dress for me, they have had other brides and clients across the UK and Europe."
Greg wore a lightweight grey pinstripe suit by Hugo Boss and a pink bow tie and pocket square that really pop against the muted colours from the rest of the wedding part , bought from The Tie Bar.
"In June 2008 Greg went to look at the show house on a housing development and I was the Sales Consultant.  He bought the house, we became friends while the house was being built and not long after we started to see each other.  We got engaged at Gleneagles in Scotland in December 2011."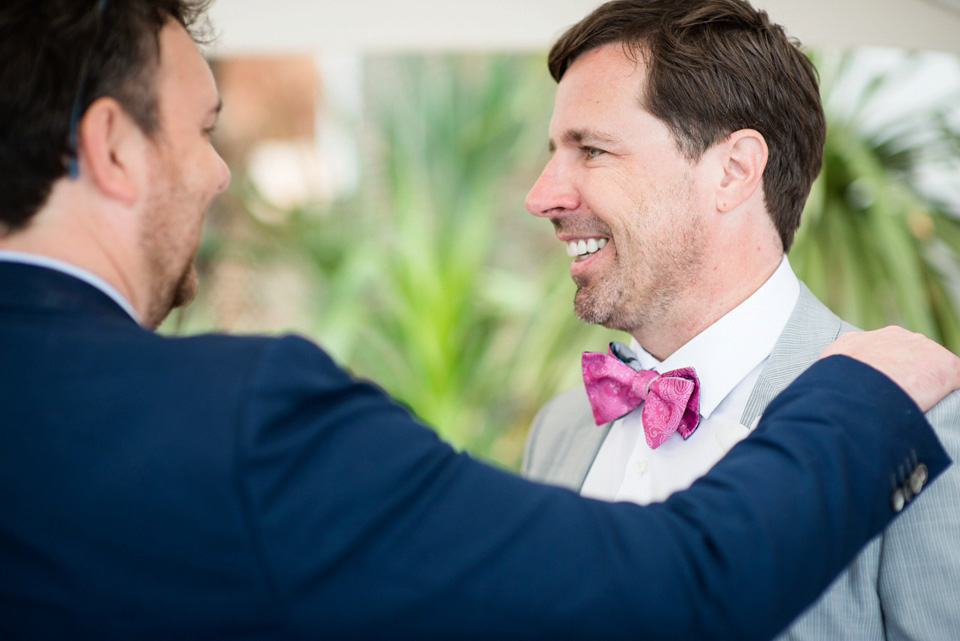 Helen's Dad walked her down the aisle to UB40's classic 'I can't help falling in love with you'. They had traditional vows, but added an extra line when they exchanged rings.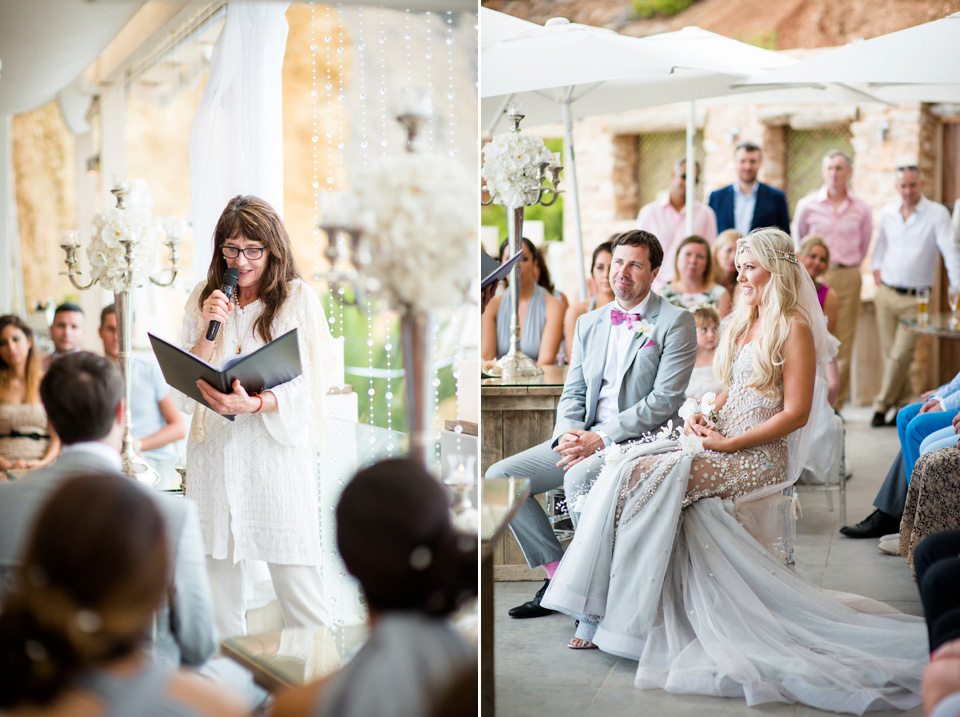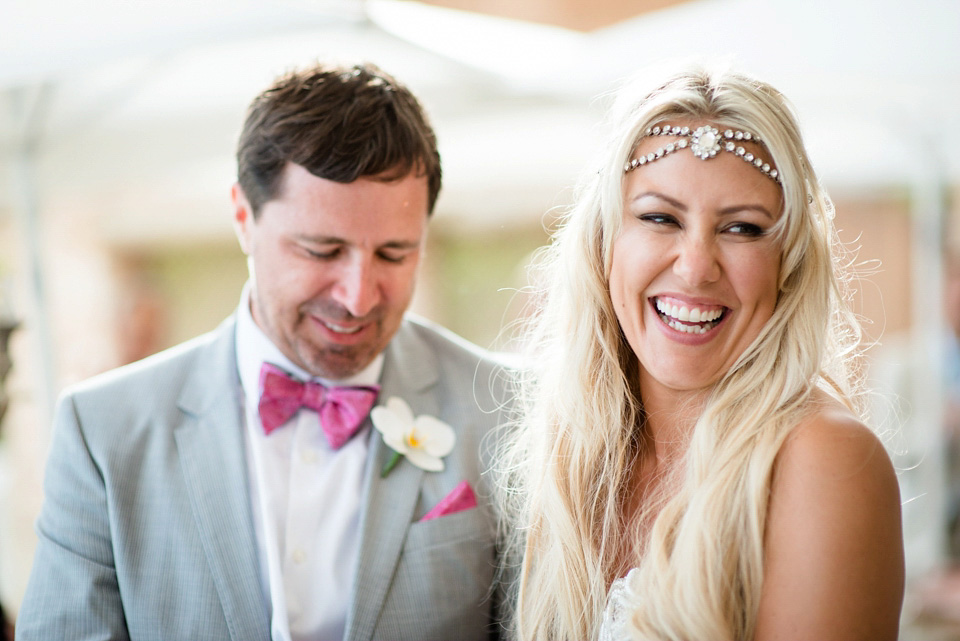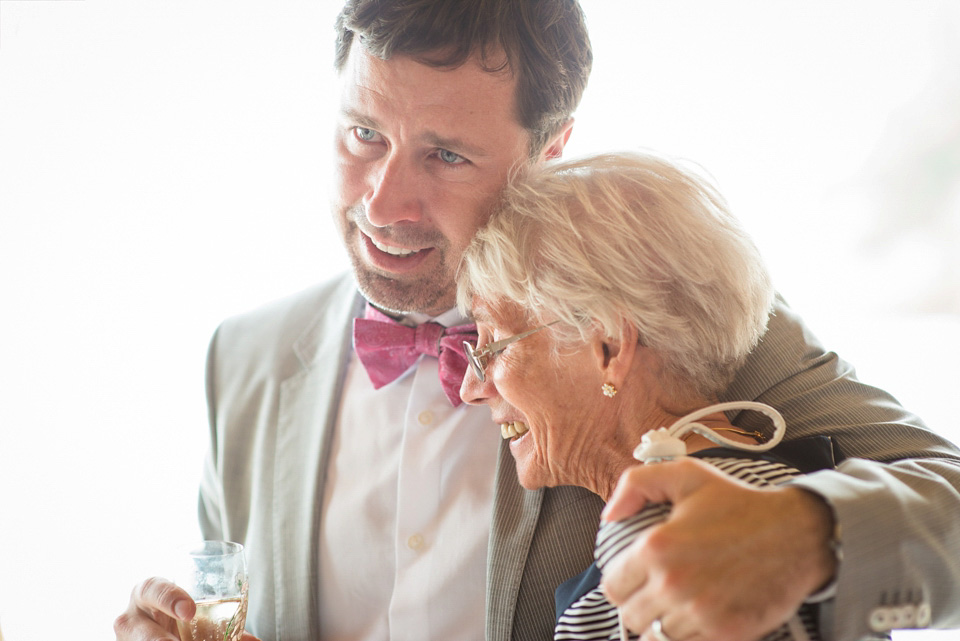 When couple's get married abroad finding a photographer who's style they love can be a struggle, but Helen and Greg struck lucky with Gypsy Westwood.
"As soon as we saw the natural feel of Gypsy's work we knew it was the photographic style we wanted.  From start to finish she made us feel at ease and also gave great direction and guidance to the bride throughout the day but without feeling intrusive in any way.  We would highly recommend Gypsy to anyone as were delighted with every aspect of the photography and her presence on the day."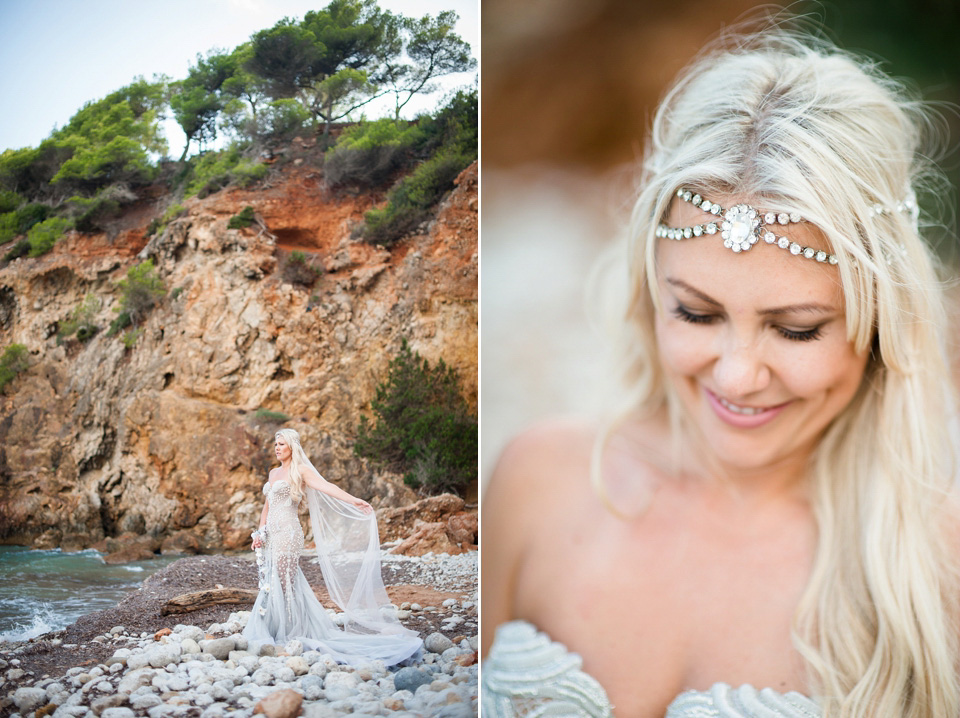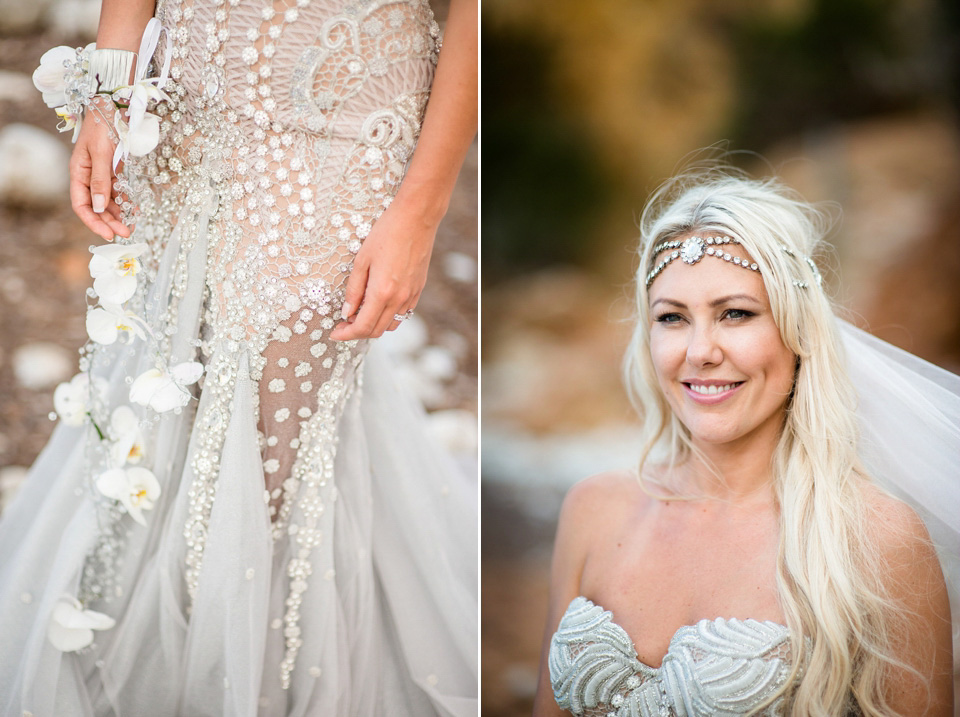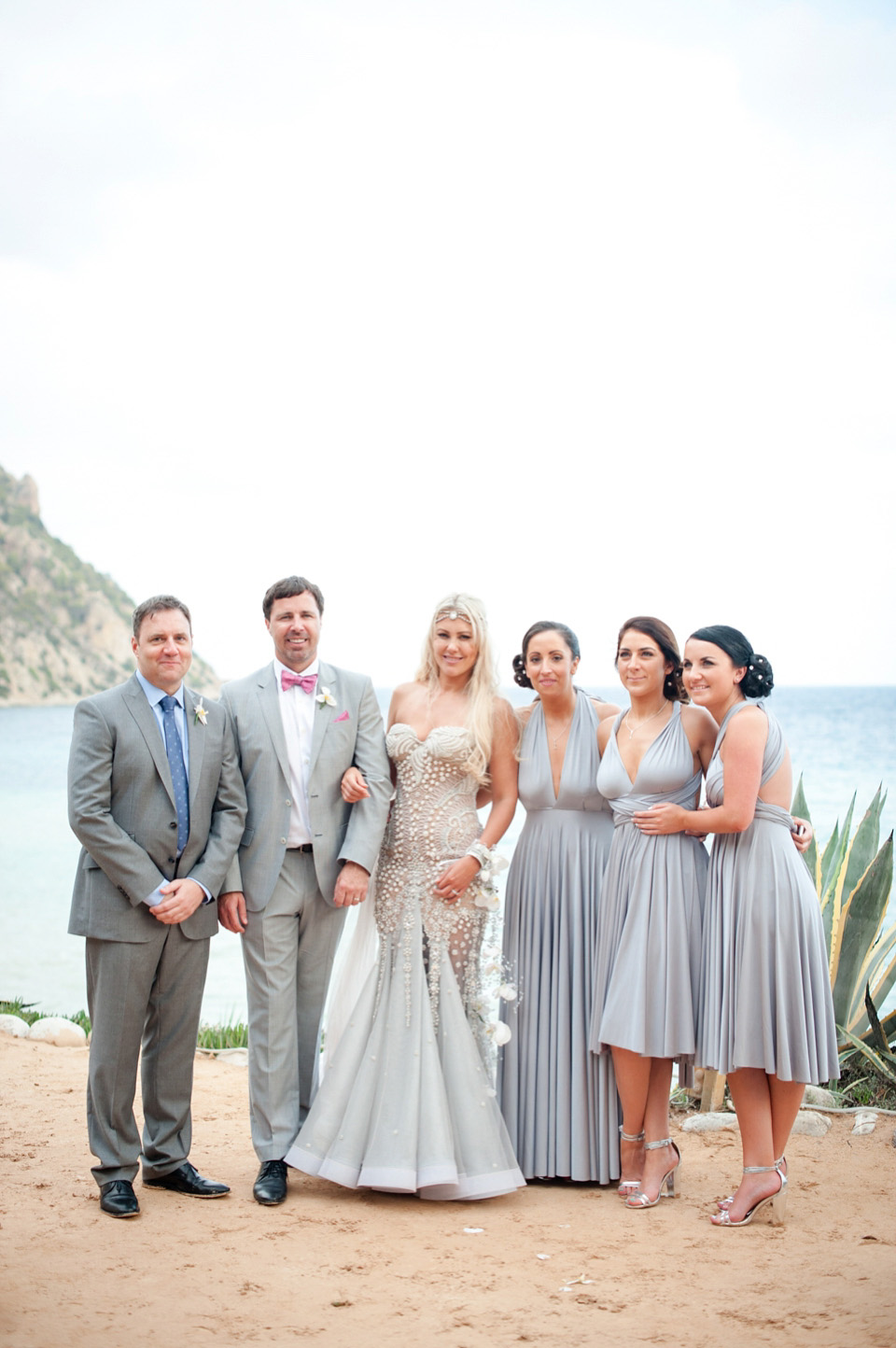 The pretty flower girl dresses are by children's clothing designer I Love Gorgeous.
"I wanted the flower girls to be comfortable due to the temperature and these dresses were perfect and had a cute bohemian look about them."
"We felt that the venue was quite natural and a very blank canvas, which we really liked as we could totally put our own stamp on it.  We wanted to create a bold and contrasting style to compliment the natural beauty of Amante.  The look we wanted was something like 'Alice in Wonderland meets Classic Shabby Chic' nothing matching or set themes but lots of detail everywhere you look at, we hired a giant sized white lamp which looked fab and was a good taking point for people we also bought beautiful vintage white umbrellas and hung them from the roof of the wedding tent near the beach."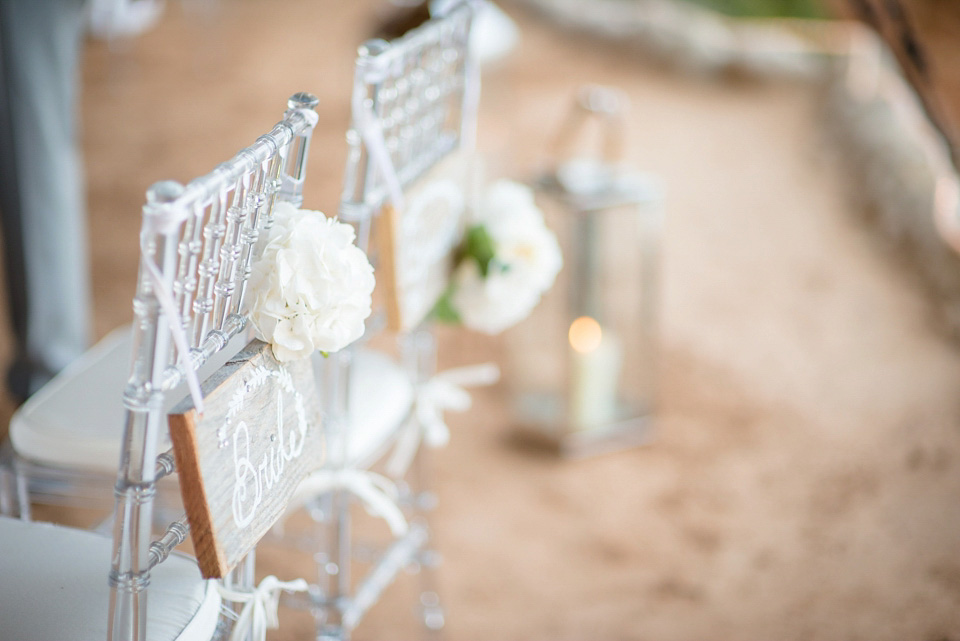 The favours were inspired by the Balearic Islands with a small bottle of Hierbas liquor for the gents and a candle scented with Ibiza almonds for the ladies.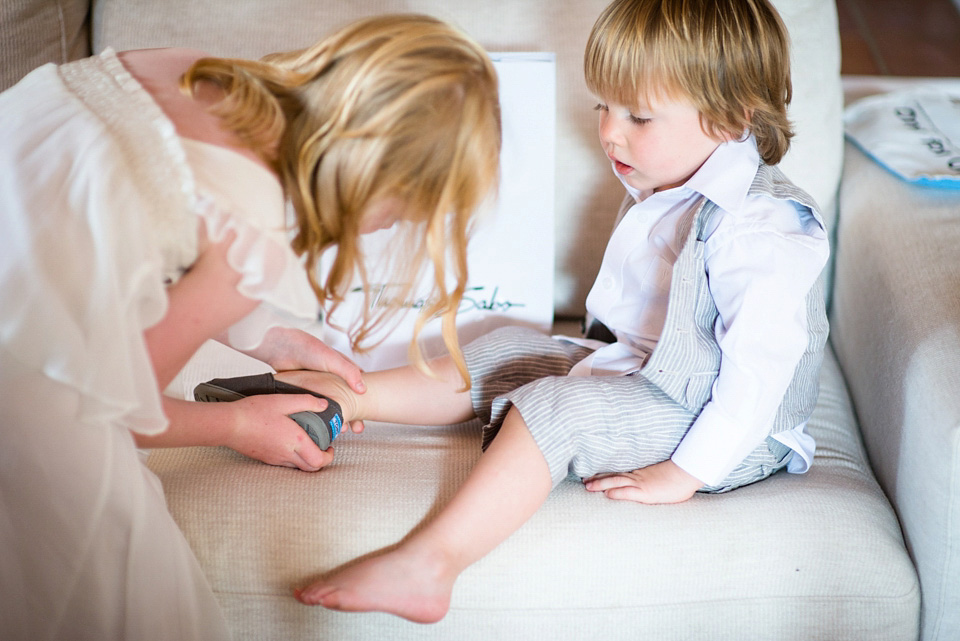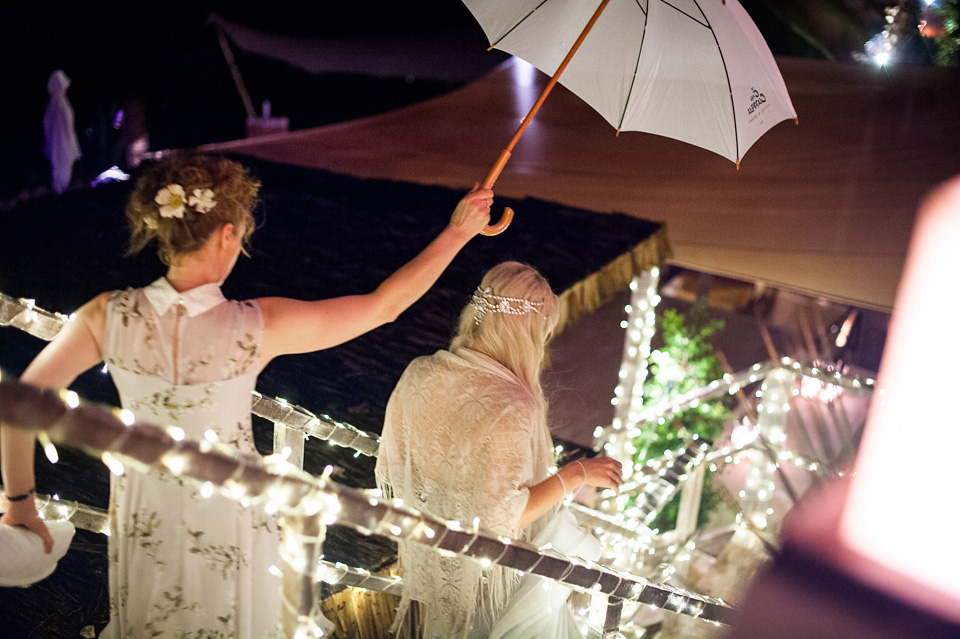 Words of Wedded Wisdom
"Don't let anything bother you whatsoever, not every single detail will go exactly to plan, it can't, just go with the flow and enjoy every second."
We're very grateful to Helen and Greg for transporting us to Ibiza during a grey February.
And thanks to Gypsy for sharing the wedding with us, it's certainly a dress we won't forget for a while!
Lots of love,
Hannah xx
Photographer – Gypsy Westwood
Venue  – Amante Beach Club, Ibiza
Event Planner – Kerry-Anne Winton
Wedding Dress –  J'Aton Couture
Shoes – Christian Louboutin
Headpiece –  Bo and Luca
Perfume – 212 by Caroline Herrera
Groom – Hugo Boss
Bridesmaids – Twobirds via The White Closet
Flowergirls –  I Love Gorgeous via Agape Bridal Boutique, Altrincham
Page Boys – Monsoon
Rings – Steven Stone