Hello everyone, and welcome to this Wednesday wedding. We've featured some fabulous London weddings on Love My Dress of late, which certainly warms the cockles of my heart as a born and bred Londoner! Wherever you hail from, I'm sure you'll love today's slice of East London cool.
Kate, a secondary school teacher and Richard, and account director, tied the knot on 9th August 2014. This gorgeous couple had a city wedding with a beachy feel, and lots of personal touches.
 "We knew we wanted a London wedding because London is our home and where we have shared our lives.  We both love London and so it felt like the obvious choice. We wanted a stripped back and simple wedding.  We didn't really have a theme or style.  But we wanted it to feel enchanting and relaxed. We wanted it to be personal and for it to fully reflect us."
Photography Copyright (c) 2015, Ellie Gillard Photography
Kate looks drop-dead gorgeous in this lace gown from Allure Bridals via Morgan Davies Hitchen. Her veil was also from Morgan Davies Hitchen.
"It was slim fitting, elegant and I hoped that the lace detail and low back would make it memorable.  It flattered my figure and was super comfortable.  It was the only dress I could remember the day after I'd been shopping- so I took that as a sign that I should buy it.
I spent a total of one day shopping for a dress; I tried on about 15 then choose my favourite.  I didn't want our wedding to be 'all about the dress' – that was just a small part of it for me."
"Our florists Okishima and Simmonds met my brief completely and I was really happy.  I wanted Baby's breath – white and green only for the Bridesmaids and then a splash of pastel colour in mine.  They were mixed with wild flowers- very rustic and natural."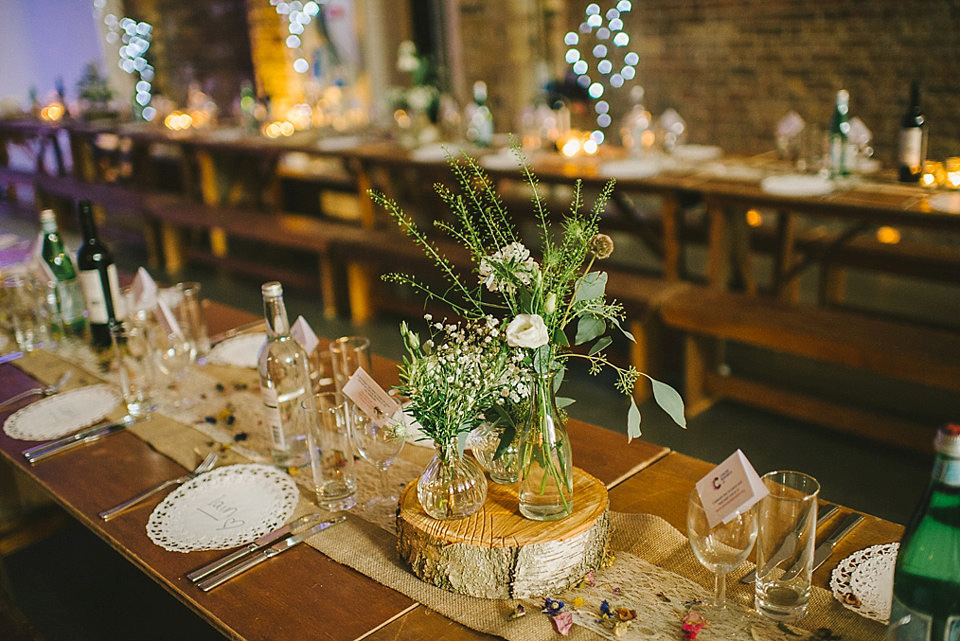 "Our photographer Ellie was fantastic- she got to know us and how we interacted during our pre-wedding shoot and then captured every moment beautifully.  She totally made the most of our environment and how lucky we were with the light that day- I couldn't be happier with our photos- they are natural and stunning."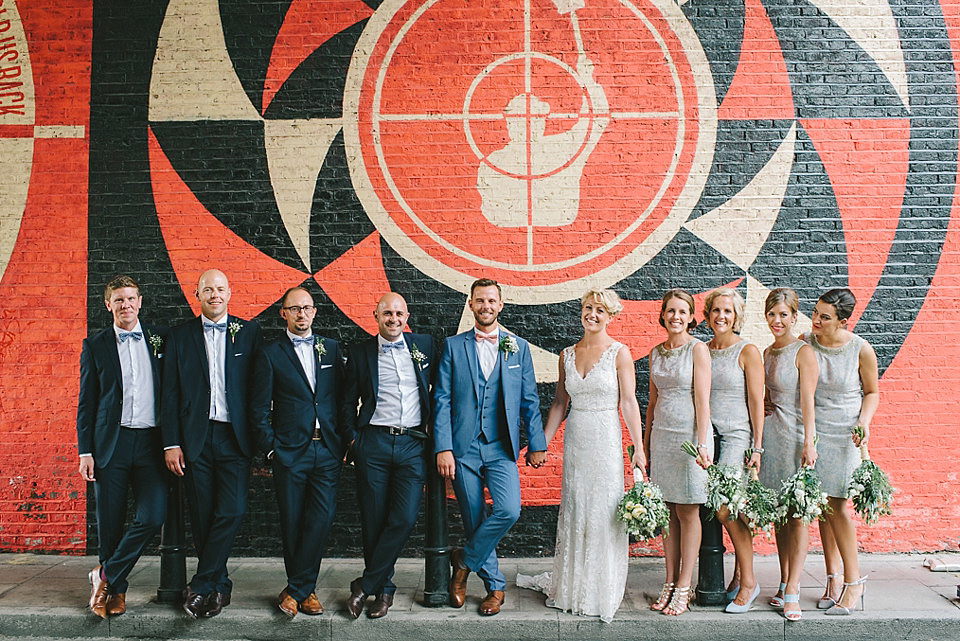 "I borrowed my shoes from my best friend Laura who was one of my bridesmaids.  She wore them on her wedding day 2 months before- they were my something borrowed. They were from Dune, slightly vintage in their style and very stylish."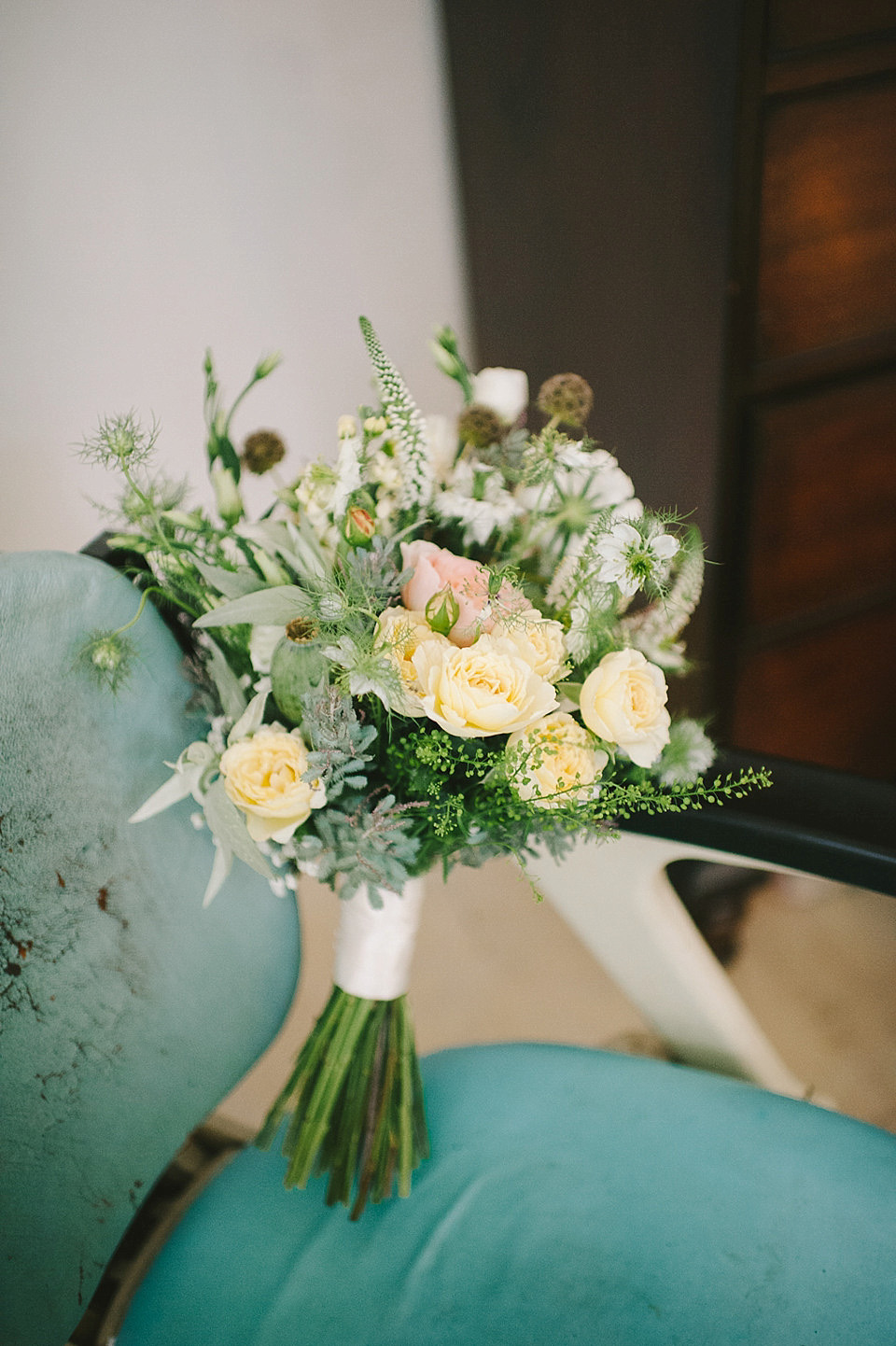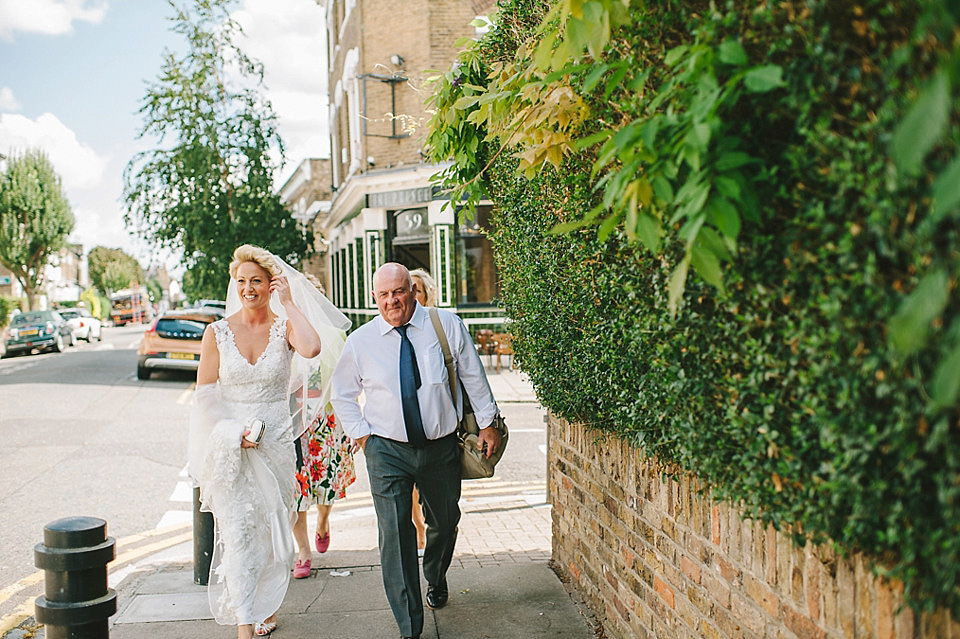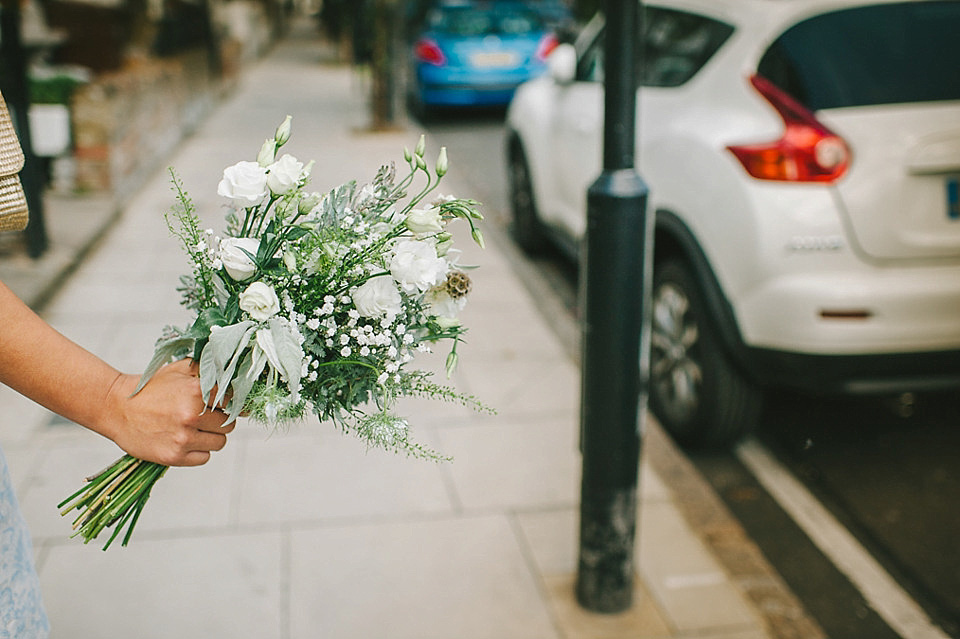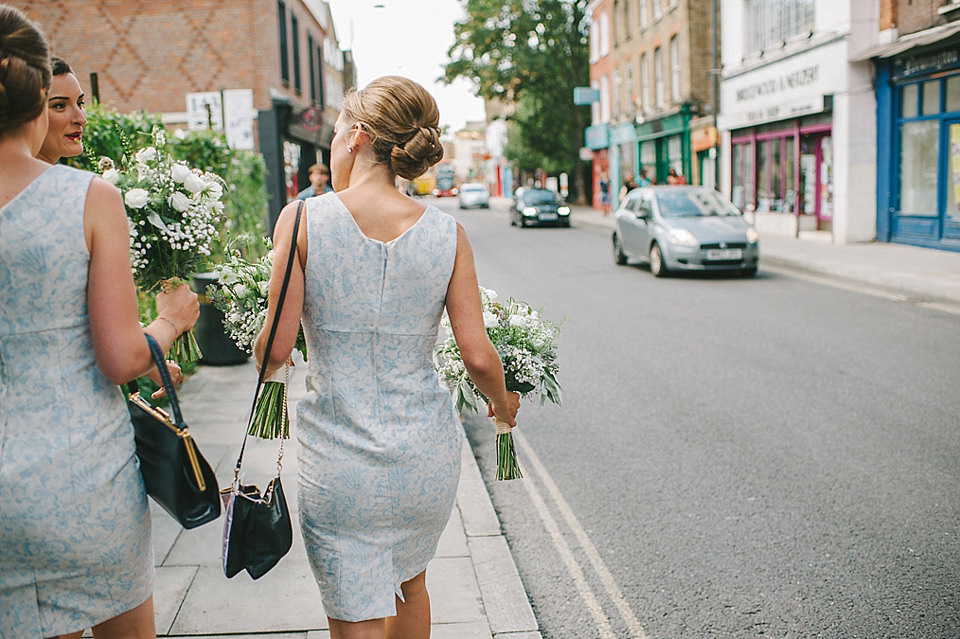 "We decided to have our ceremony at Stoke Newington Town Hall because that is where my Grandparents met at a dance in the 1940's, that and it's a beautiful space."
"Richard proposed in August 2013.  We were on holiday in Cornwall in Richards parents VW campervan.  We got up early to see the sunrise and walked down to Watergate bay beach- it was blustery, raining and dark so not all that romantic! We cuddled to keep warm and it was then that Richard asked me to marry him. I of course said yes and we proceeded to celebrate by stripping off naked and running into the sea!"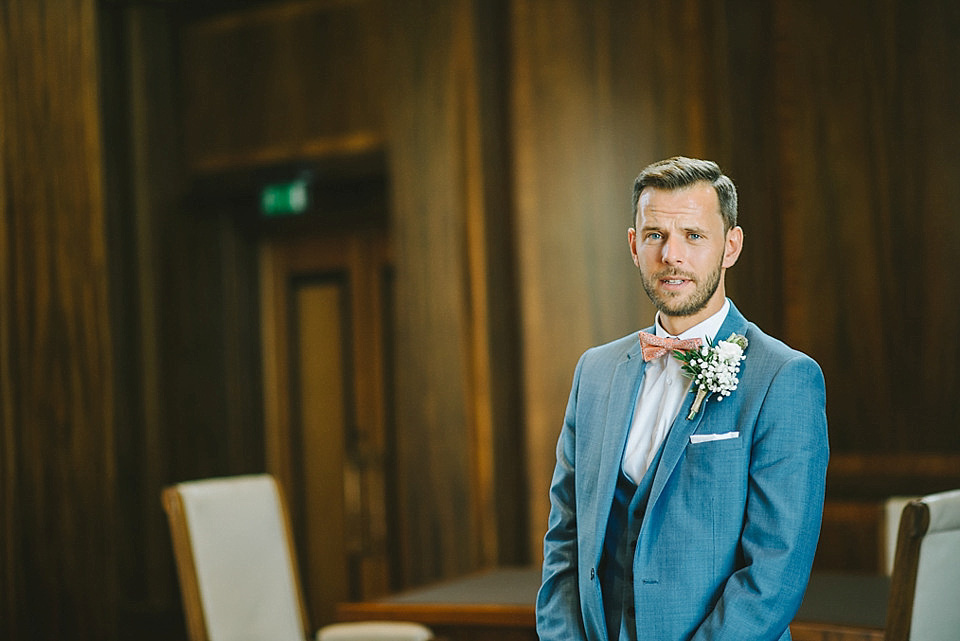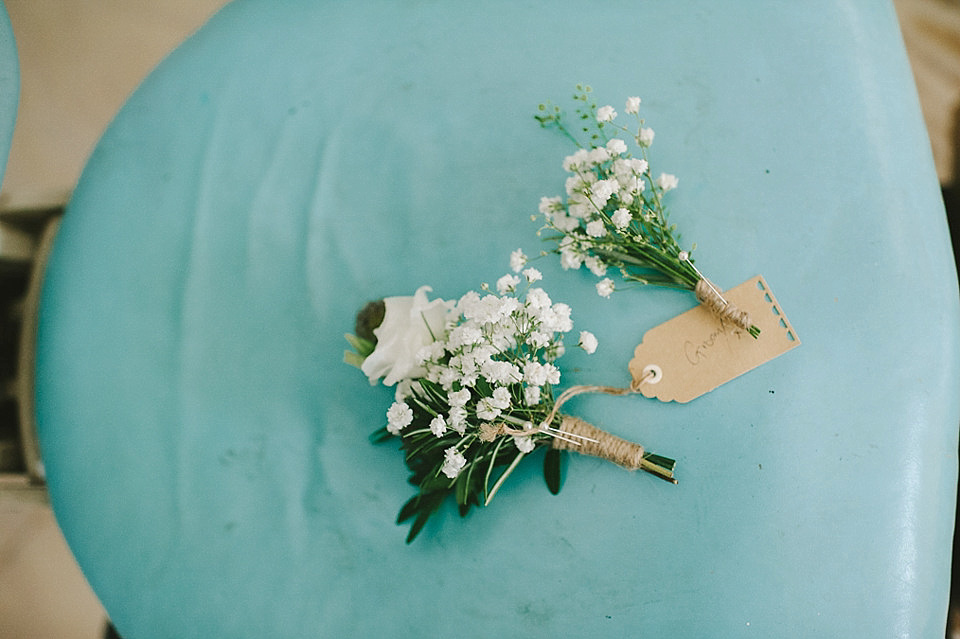 The couple had three readings: Bruce Springsteen's song 'If I should fall behind'; 'Wild Awake' by Hilary Smith and 'All I ever really needed to know about love I learned in Kindergarden' by Robert Fulgham.
"We asked the people doing the readings to choose for us- this made it really special and felt like they were giving us a gift.  It was very personal and they read beautifully because they had chosen them."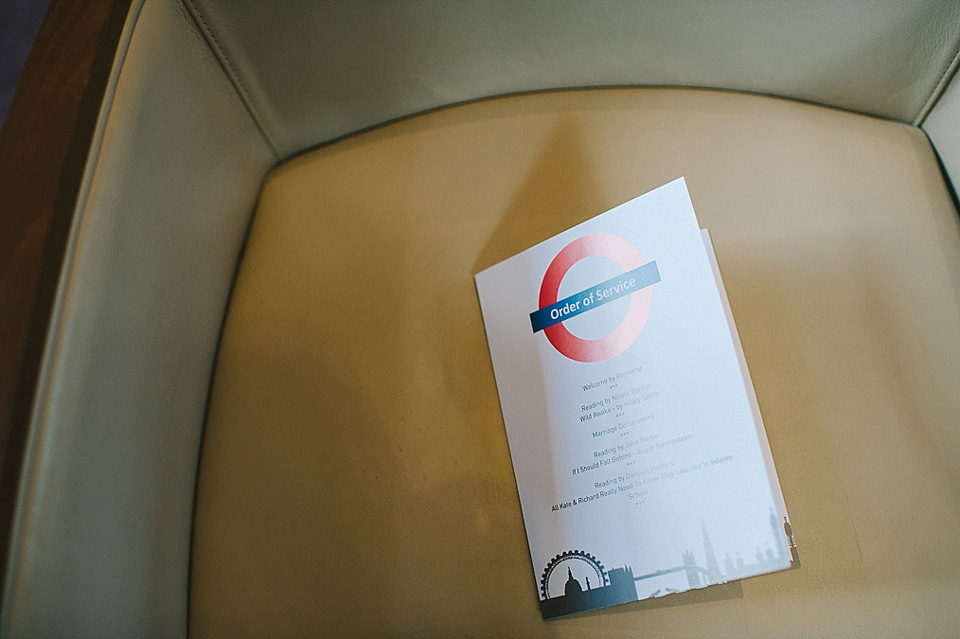 The couple designed their rings at the Wedding Ring Workshop.
"It's a fabulous place on Hatton Garden that doesn't have a shop front, it's actually a workshop with a few tables where you can sit and discuss your rings. It made choosing and buying the rings interesting, memorable and easy!"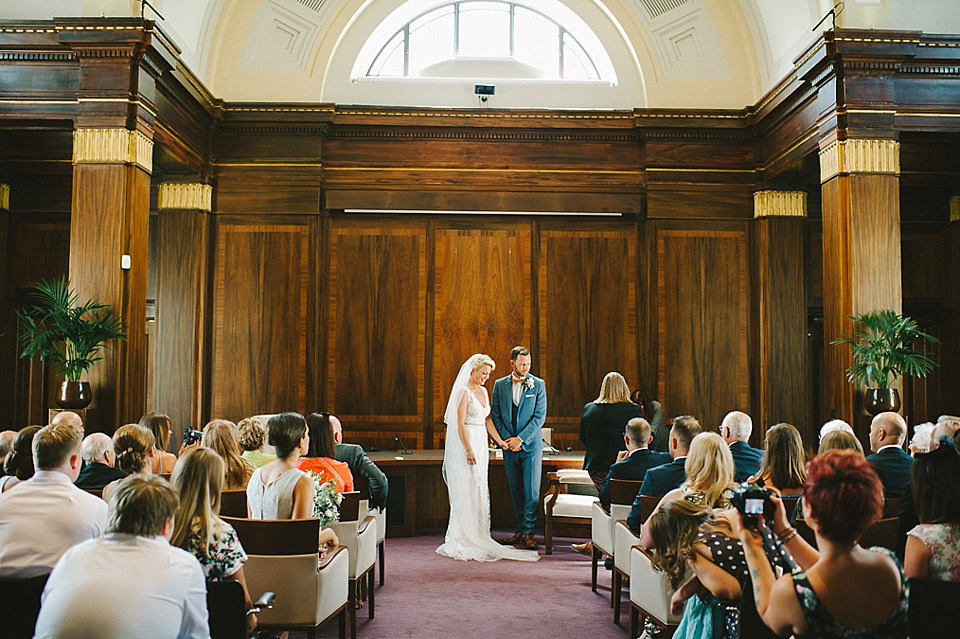 The wedding party travelled by Route Master to the reception venue.
"Shoreditch studios fitted exactly what we wanted as a reception venue; it had a lovely courtyard space as well as a cool interior, exposed brickwork, under the railway arches- it has an edgy feel and was a great space.  We didn't want somewhere that "did" weddings, we wanted a blank canvas we could make our own."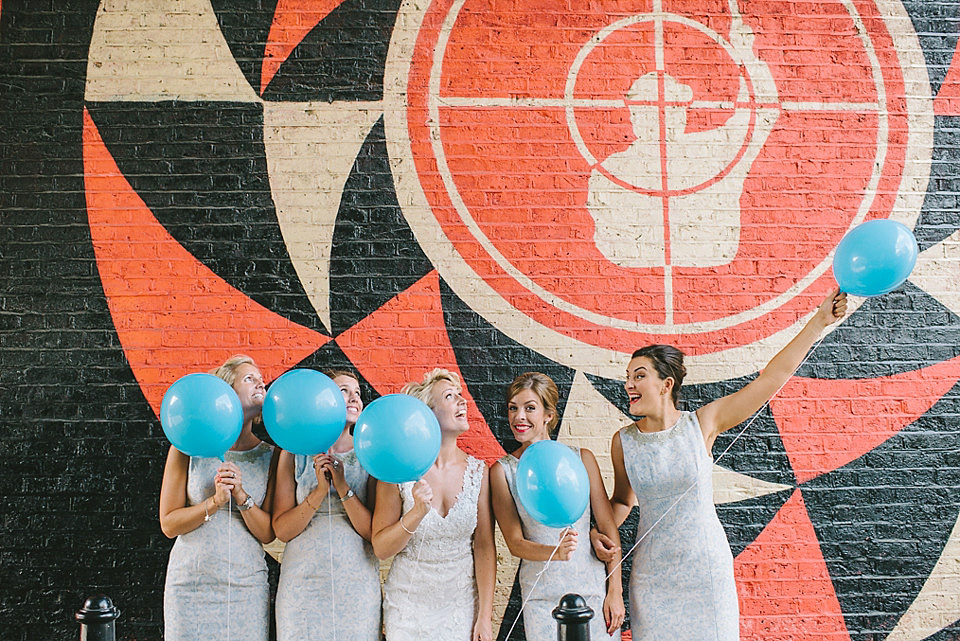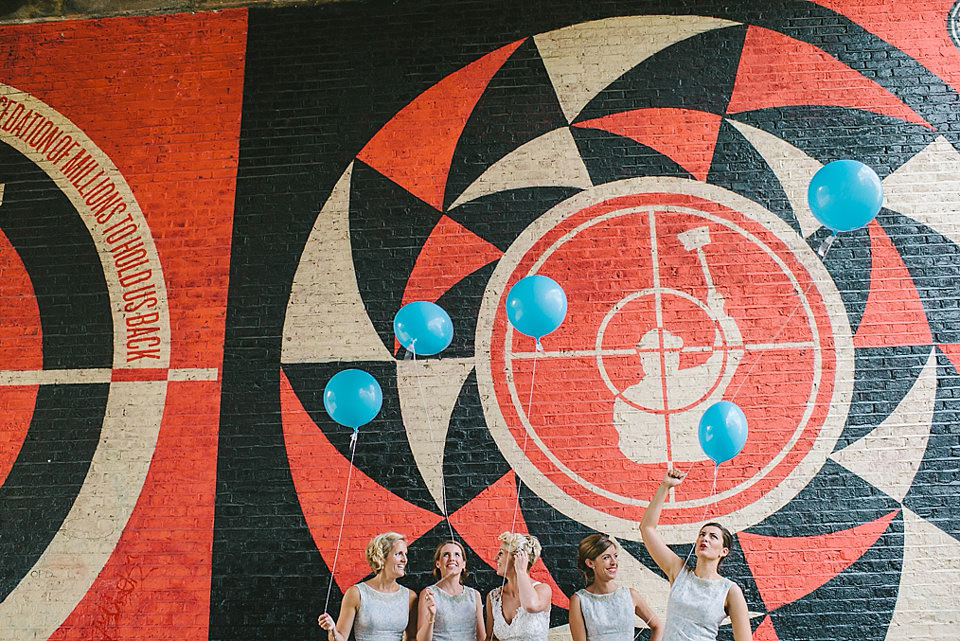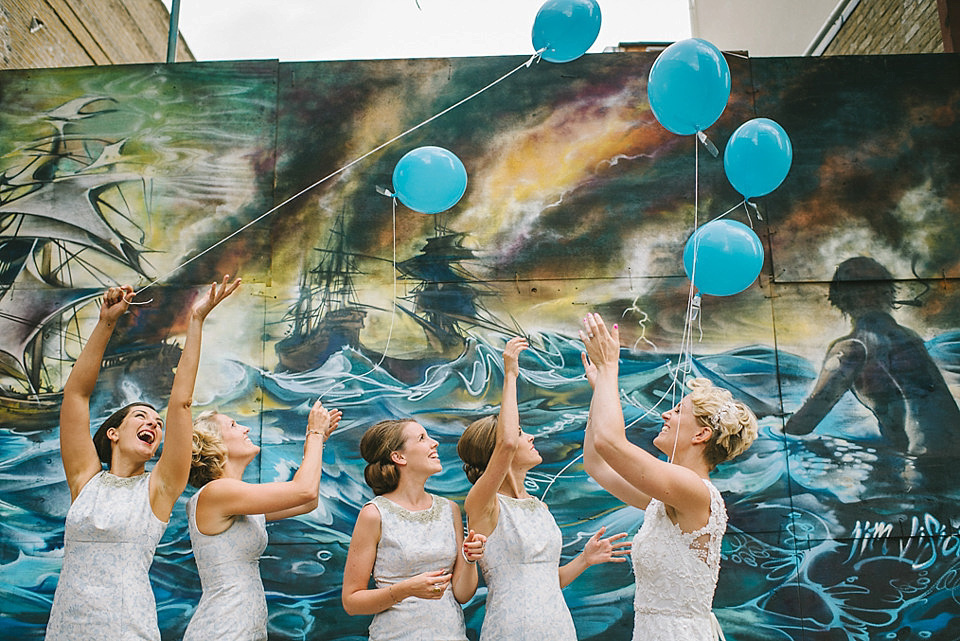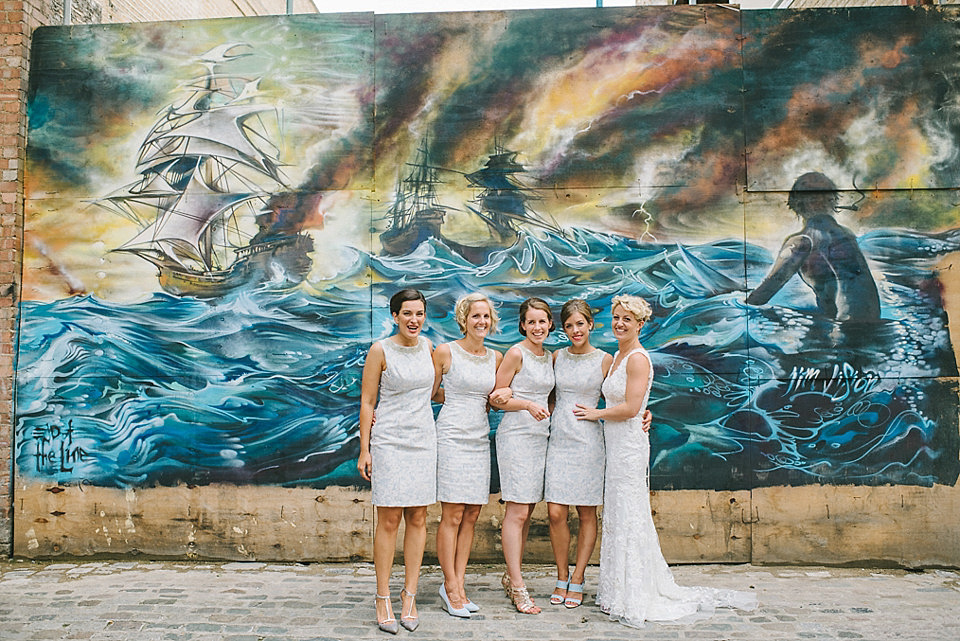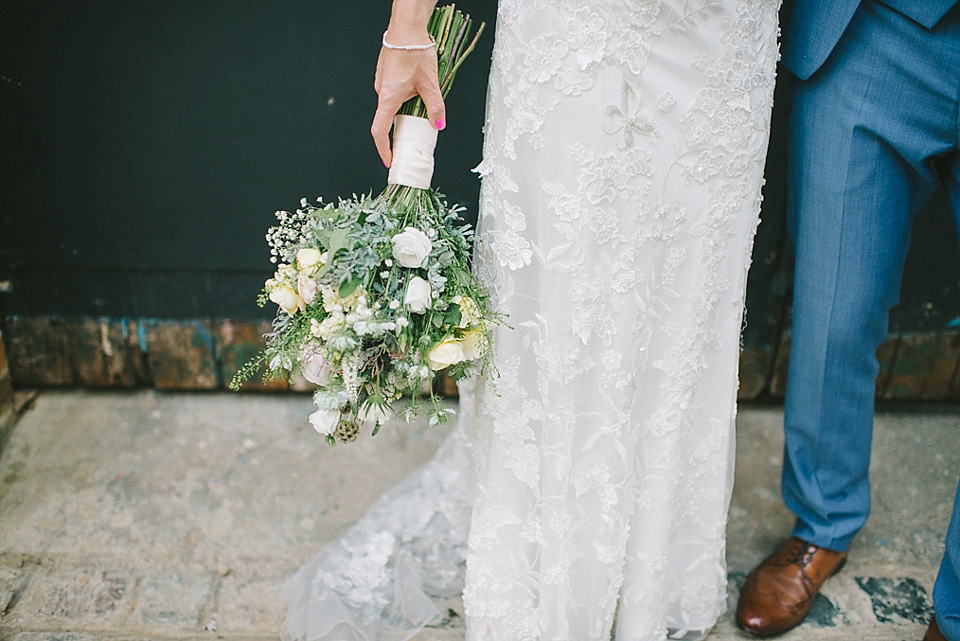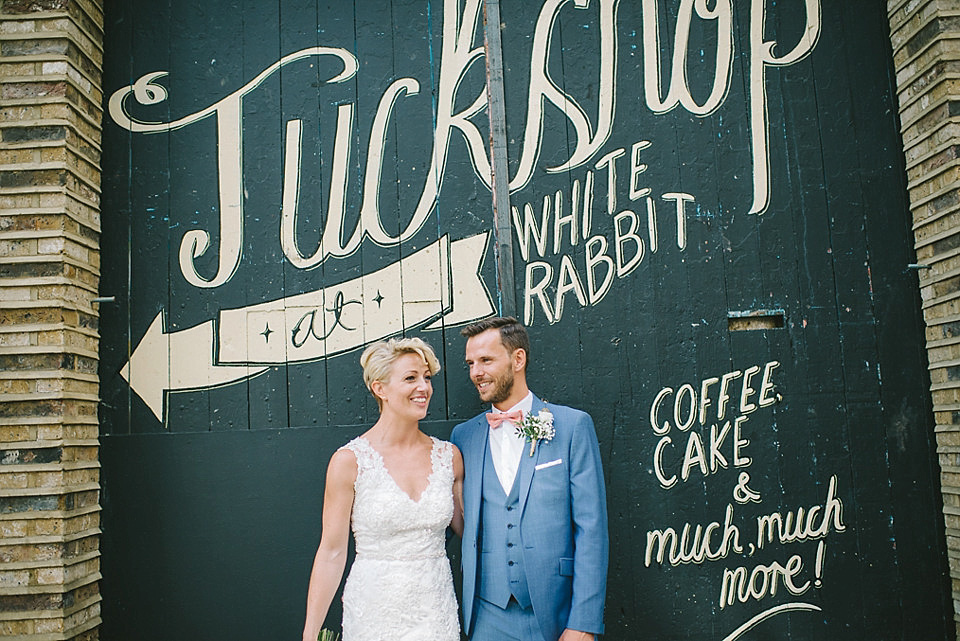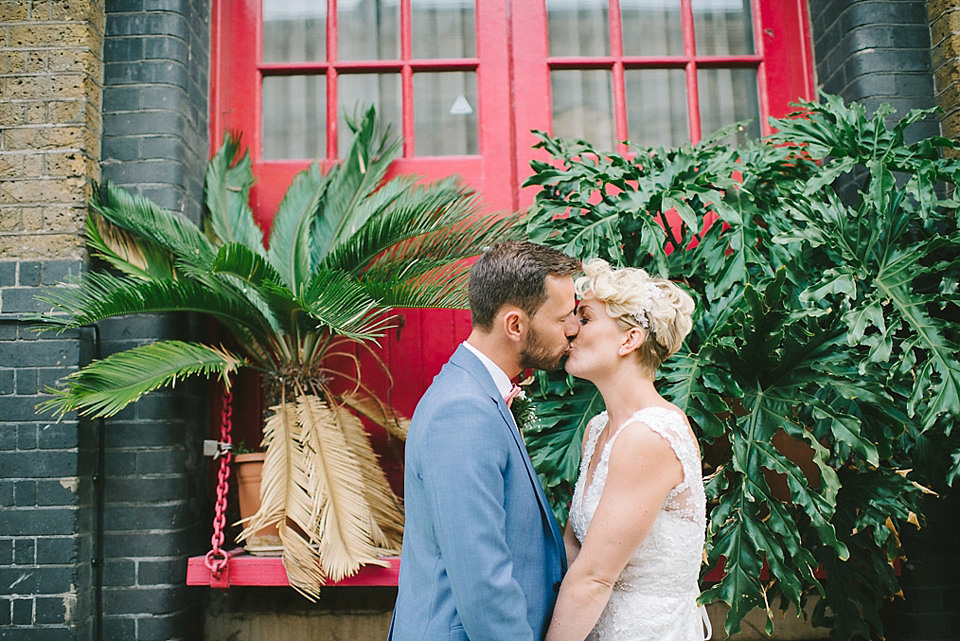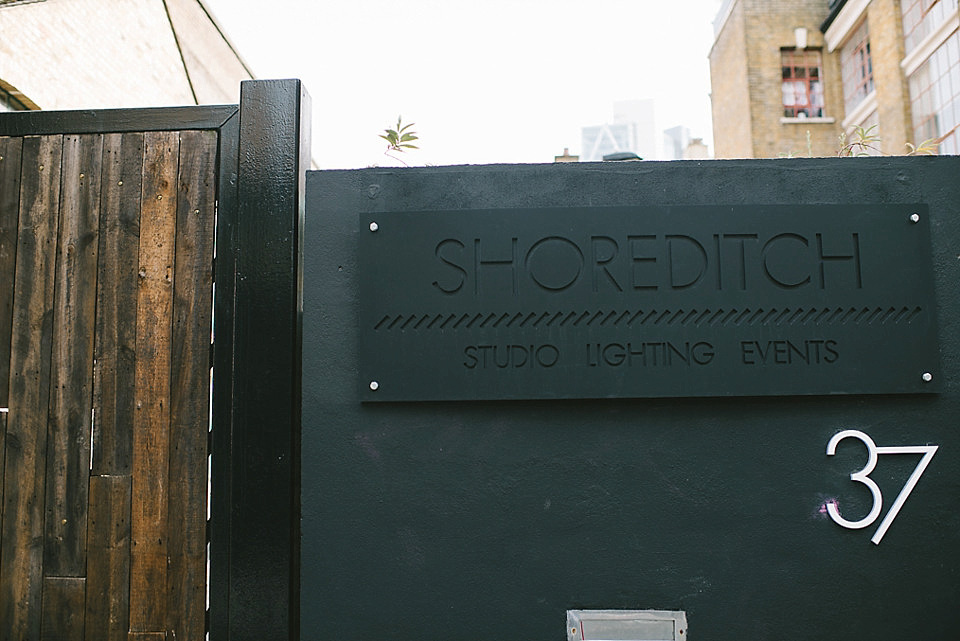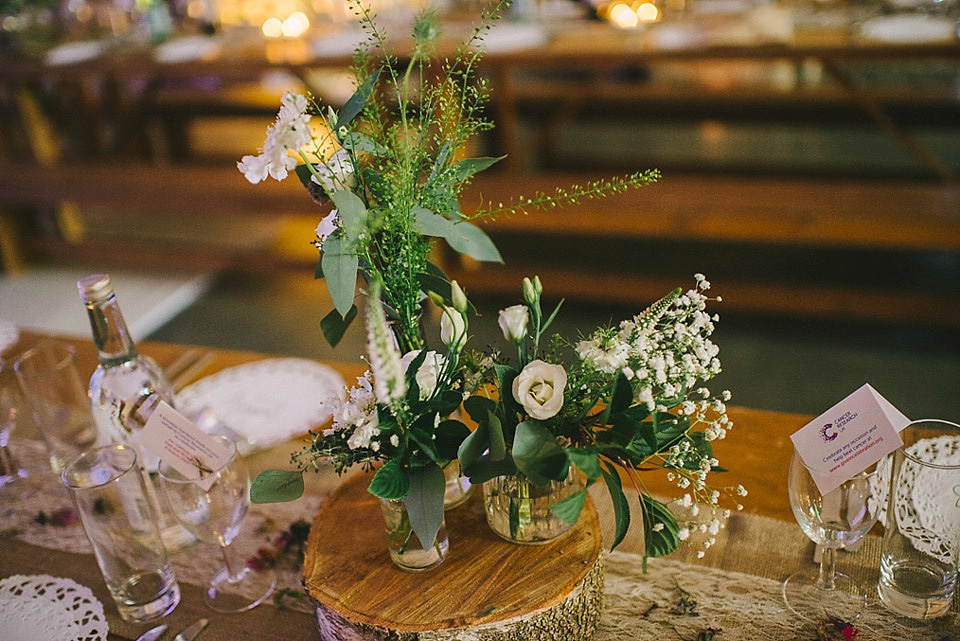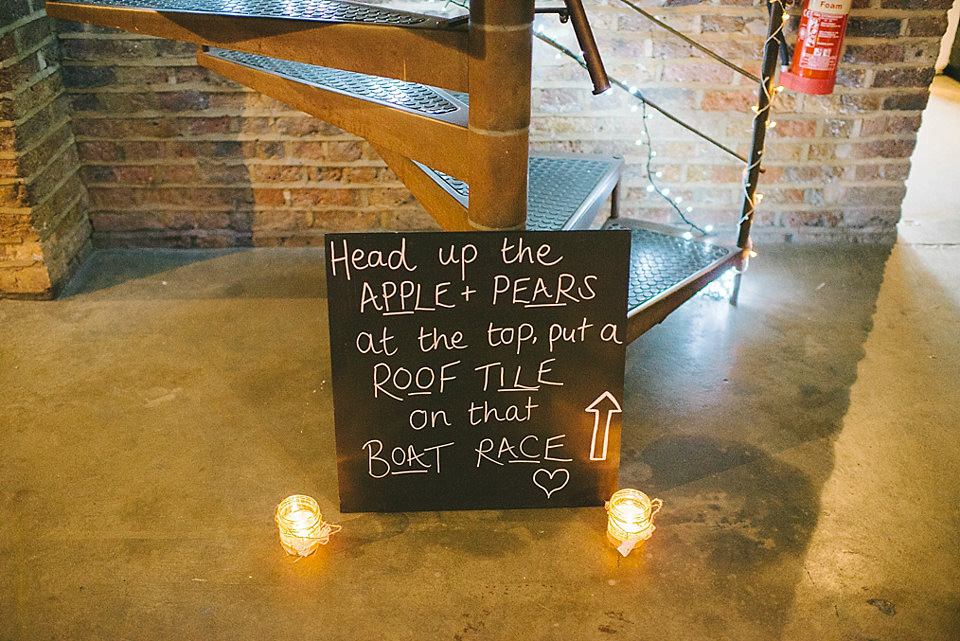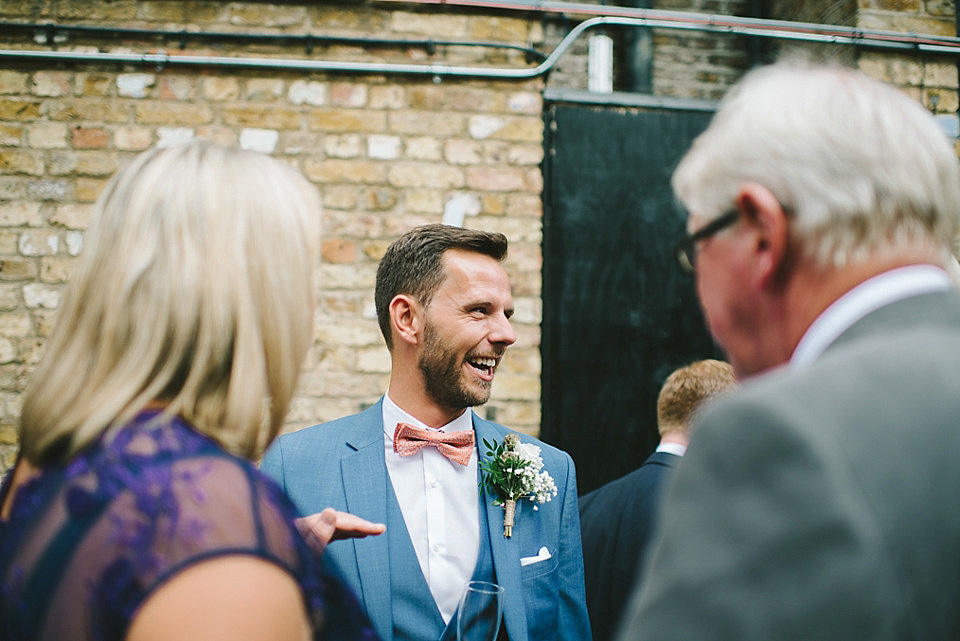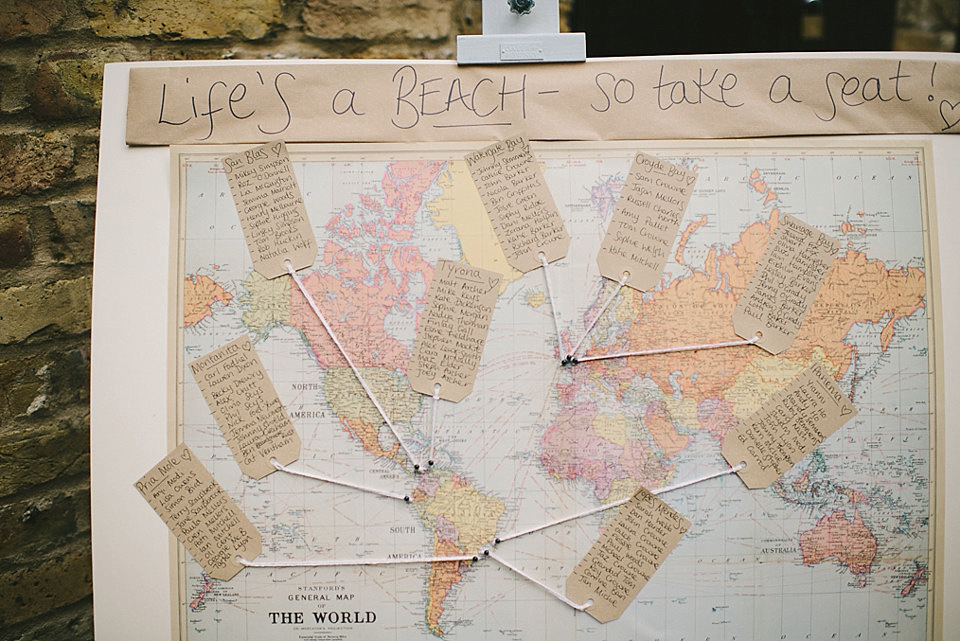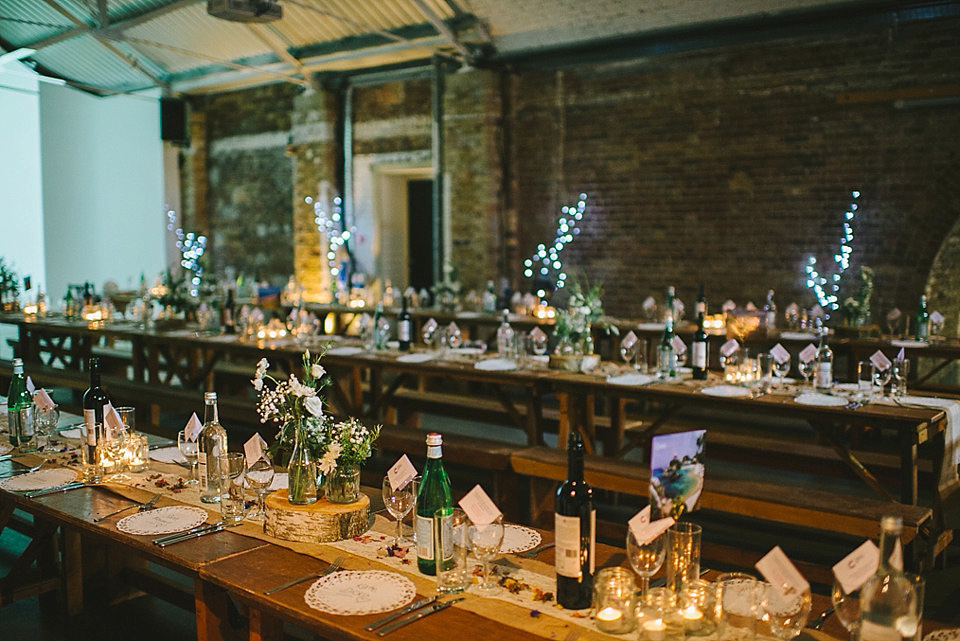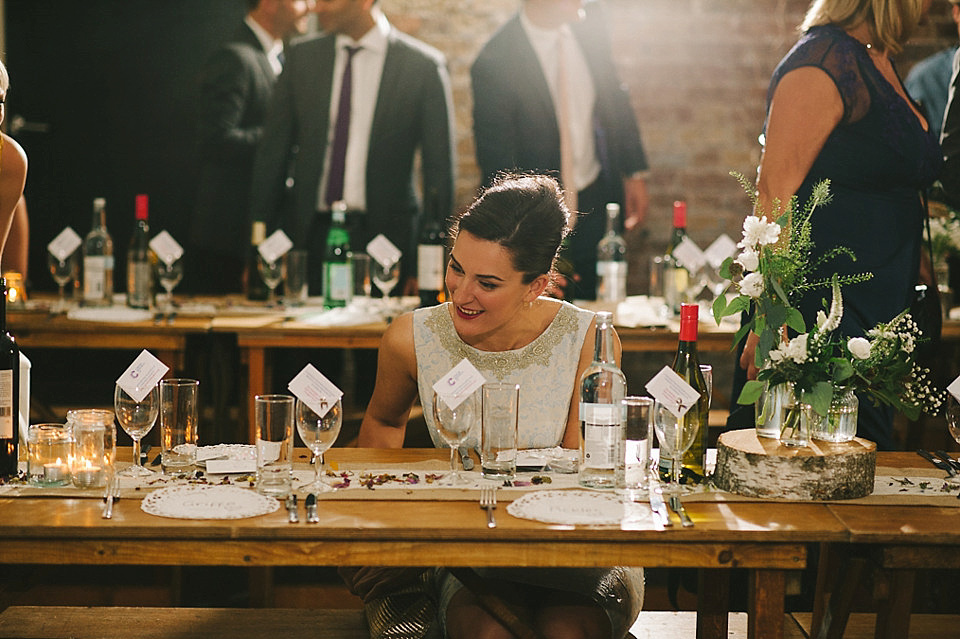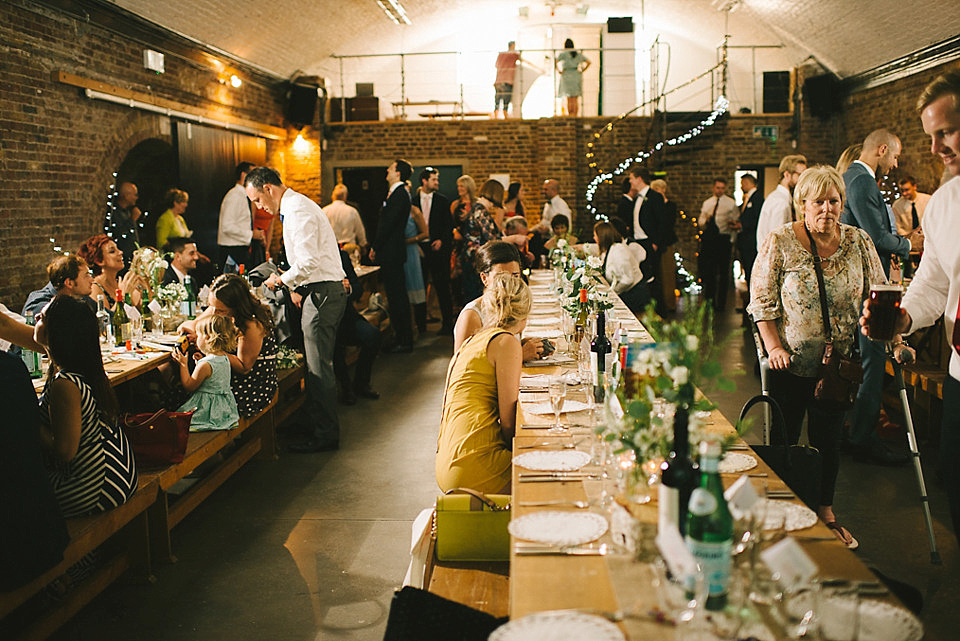 "We had two cakes.  One was made of a selection of cheese wheels decorated with grapes and figs from the Cheese Shed. Our actual wedding cake was in the shape of a London Route master bus."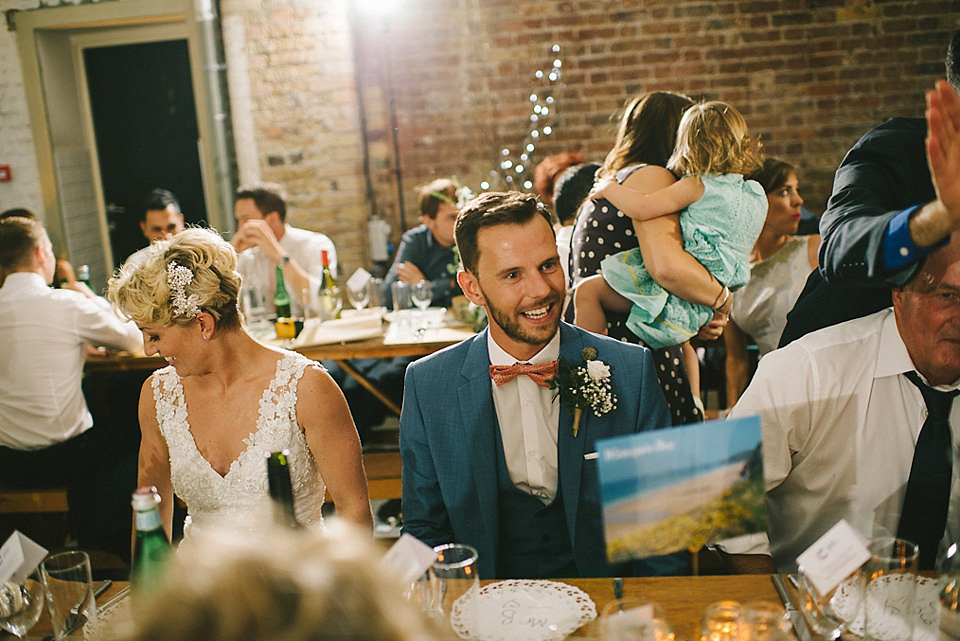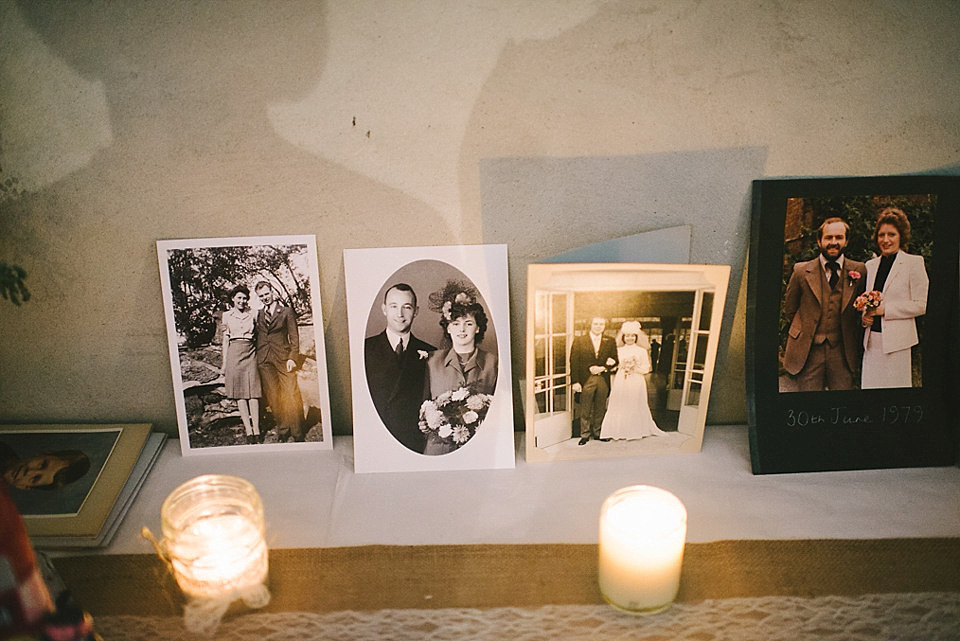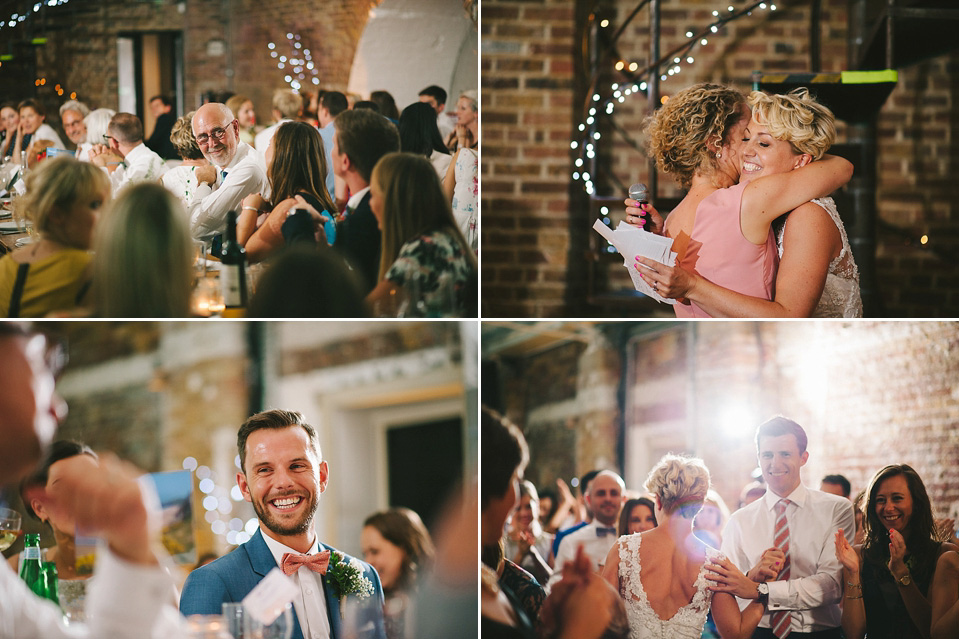 The couple did learnt the jive for their choreographed first dance to the Kinks, Girl you really got me going!
"We went for it and although I got a bit tangled in my dress and got a few steps wrong it was seriously fun and very memorable!  Everyone got behind us as we danced- lots of whooping and cheering- I loved every moment and am really pleased we made the effort.  It's also a lovely way of spending time together just the two of you in the lead up to the wedding."
Words of Wedded Wisdom
"Make sure you plan in two parts of the day when it's just the two of you.  Whether it's a car journey or sneaking off for a 5 minute walk alone- it's important to take stock- look each other in the eye and say "we did it!" and "I love you" without photographers, friends or family there impacting on the moment.
Every time you feel yourself getting stressed or finding that you're bickering or moaning in the lead up, remember what it's all about: you two making massive promises and commitments to each other, everything else is a bonus.
Don't tell everyone everything.  If you keep some things between you, no one can judge, have their say or change your mind.  It's your day and should reflect you as a couple.  Go into it as a team, work as a team and then the day will be so personal and so special.  This also means the guests will have some fun surprises.
Keep talking all the time (although this drives Richard mad that I insist we have to talk everything through!) it has kept us and still does keep us on the same page and in sync,  that way fewer problems crop up because you are being open and honest.
It may sound silly but keep all addresses from save the dates as you will need them for the invites and thank you cards. (We forgot that- it was a nightmare!)"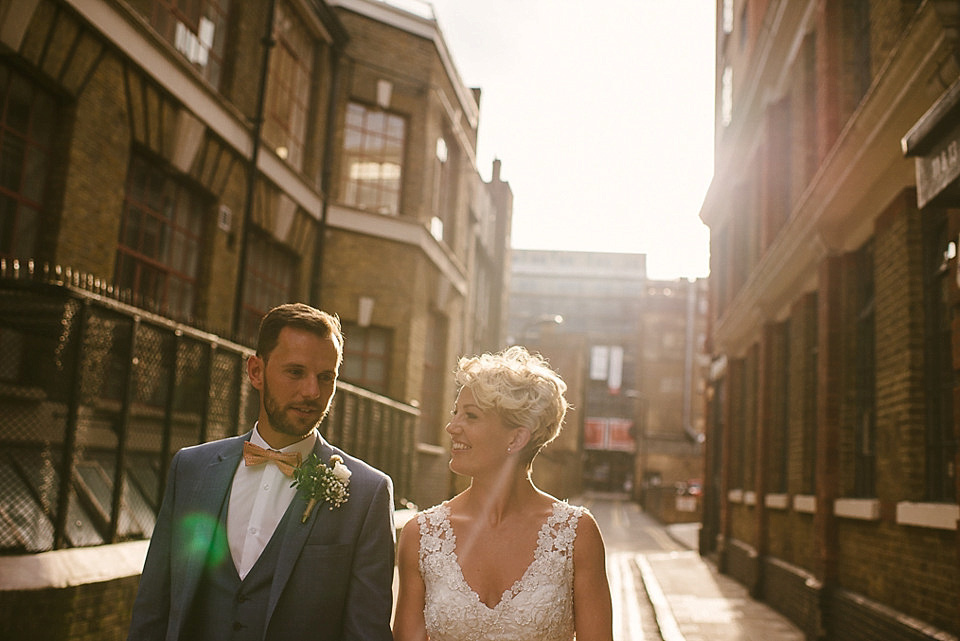 It's great when a bride takes the time to write such honest Words of Wedded Wisdom – thank you Kate! And huge congratulations to you and Richard, we loved reading about your beautiful day. My thanks also to Ellie Gillard for these joy-filled images. You can see more of Ellie's beautiful work here.
Love Louisa Marie x
Photographer – Ellie Gillard Photography
Venue  – Stoke Newington Town Hall and Shoreditch studios
Wedding Dress – Allure Bridals via Morgan Davies Hitchen
Veil – Morgan Davies Hitchen
Headpiece – Morgan Davies Hitchen
Shoes – Dune
Accessories – Earrings from John Lewis
Bride's Scent/perfume –  Paco Rabanne Million
Groom – Kenneth Cole from House of Fraser, bowtie by Hugo Boss, shoes from Aldo, shirt from Reiss
Bridesmaids – Fever London
Groomsmen – Marks and Spencer
Florist – Okishima and Simmonds
Cake – The Cheese Shed
Table and bench hire – Wooden Bench Company
Entertainment – Nostalgia Steel Band, Meet and Jam Band, and photobooth from Original Hire Company
Rings – Wedding Ring Workshop
Catering – Herts Hog Roasts
Stationery – designed by the groom
Favours – Cancer Research
Hair Stylist – Jessica Kassel (based in St Albans, no website)
Makeup Artist – Viktor Taylor