Wednesday – halfway through the working week, and a well-deserved midweek treat for you lovely readers! Today showcases a gorgeous wedding photographed by Love My Dress favourite Tom Ravenshear, who captured the beautiful wedding of Laura and Daniel on 24th May 2014.
Laura and Daniel married in the beautiful Old Coastguard's Lookout at Caerhays Castle near St Austell, followed by a reception at Ropehawn.
"Ropehawn is my father and step-mother's beautiful home set into the cliffs on the edge of St Austell Bay. It was love at first sight with The Lookout – set on top of a cliff edge in the middle of a half moon bay – we didn't look any further! We wanted the ceremony to be small with just close friends and family so the intimate feeling suited us perfectly. It was also such a treat to see so much of the sky and sea. The setting is what dreams are made of!"
Photography Copyright (c) 2015, Tom Ravenshear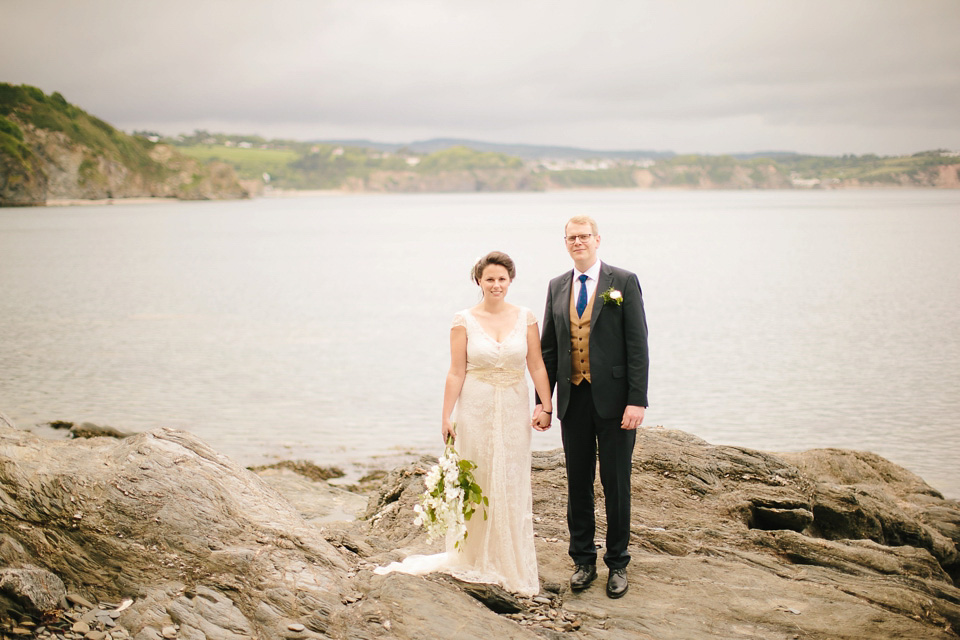 "My shoes were an amazingly comfortable pair of Clarks high heels that I went to town on and covered in an antique kimono silk! I have never been a dainty white shoe kinda gal and wanted a fun pop of colour under my dress as well as being able to wear a comfortable pair of shoes all day. Daniel and I have (had!) a lovely collection of pieces of antique kimono silks hanging on our wall – so it seemed to make perfect sense that I 'borrowed' one and covered my shoes in it!"
Readers, if you love the idea of shoes made from vintage kimono silk, then you absolutely must check out Hetty Rose.
Laura's stunning bespoke gown came from the marvellous Jane Bourvis – whose name you might well remember from the feature we shared only yesterday afternoon. She is an incredibly talented independent bridal designer whose gowns have graced our pages several times already.
"I had a Pinterest board fit to bursting with ideas that I had had regarding a wedding dress – and I had a day of appointments in London lined up. The first shop had some beautiful dresses but after trying a couple I began to question the style I had in mind. We walked into Jane's atelier and I never wanted to leave! There were floor to ceiling antique lace creations draped around the back of the shop, antique tutus and shimmering sequins peeping out from chests of drawers crowned with hair combs, antique gloves and breathtaking pearl necklaces. It. Was. Heaven. 
Jane's shop is perfect – relaxed, informal and most of all, creative. I popped a silk slip on in the dressing room and Jane pinned the lace to give me an idea of what we could create. Immediately I had tears rolling down my cheeks! As I stepped out into the shop to see my mother, sister and best friend we all laughed whilst tears were dabbed away – an extraordinary reaction to an extraordinary dress. After a quick call to cancel all other appointments that day we went out to lunch to celebrate!"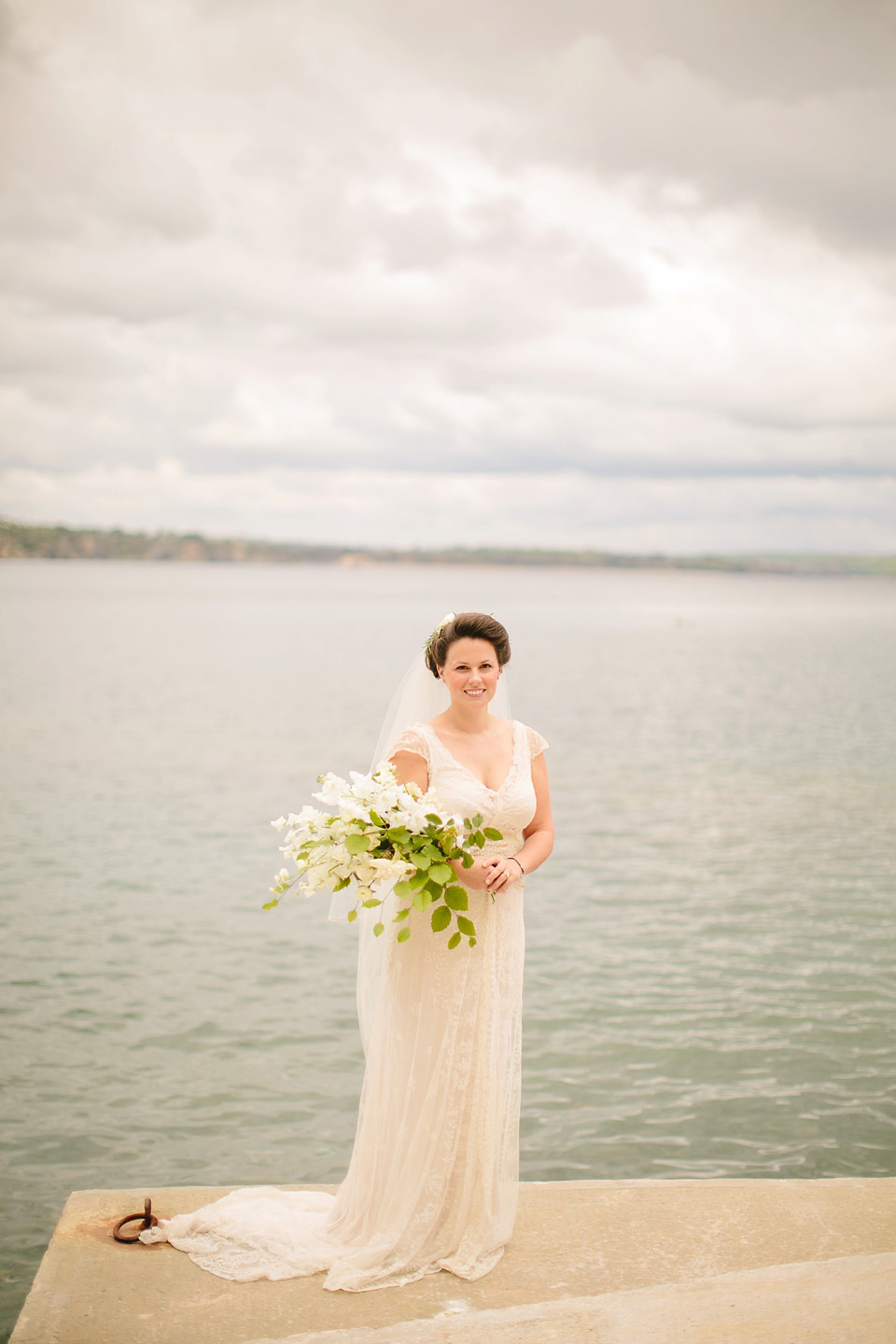 "Our photographer Tom Ravenshear was absolutely brilliant – straightaway he became part of the family and we could not have wished for more beautiful photos to remember our day – highly recommended!"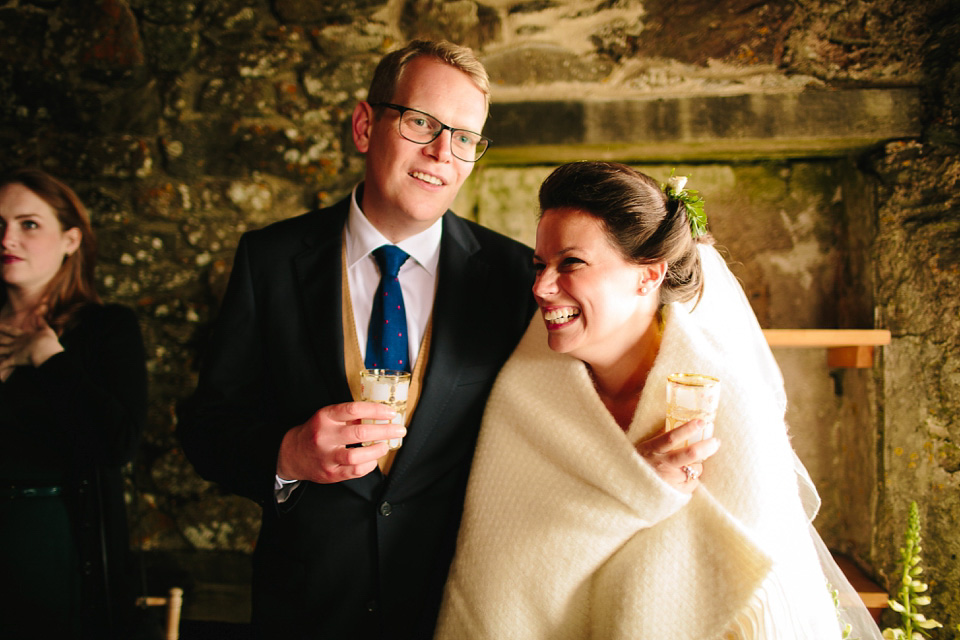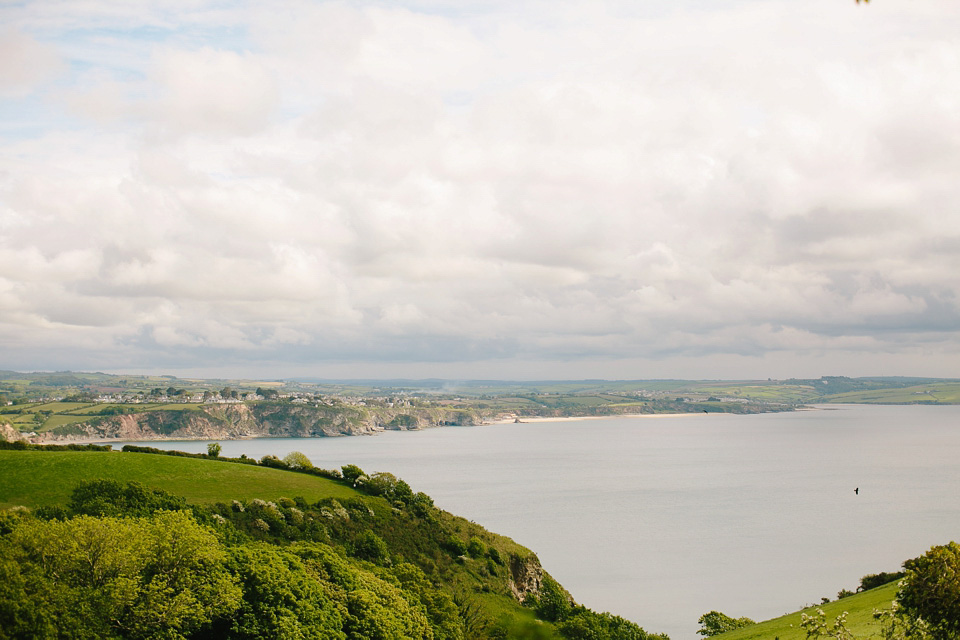 If you fancy a weekend break or seaside getaway, Love My Dress readers can rent the house and cottage through Boutique Retreats.
"I think most of inspiration came from the venues themselves. I wanted a natural, relaxed feel that celebrated our love and our wonderful families and friends."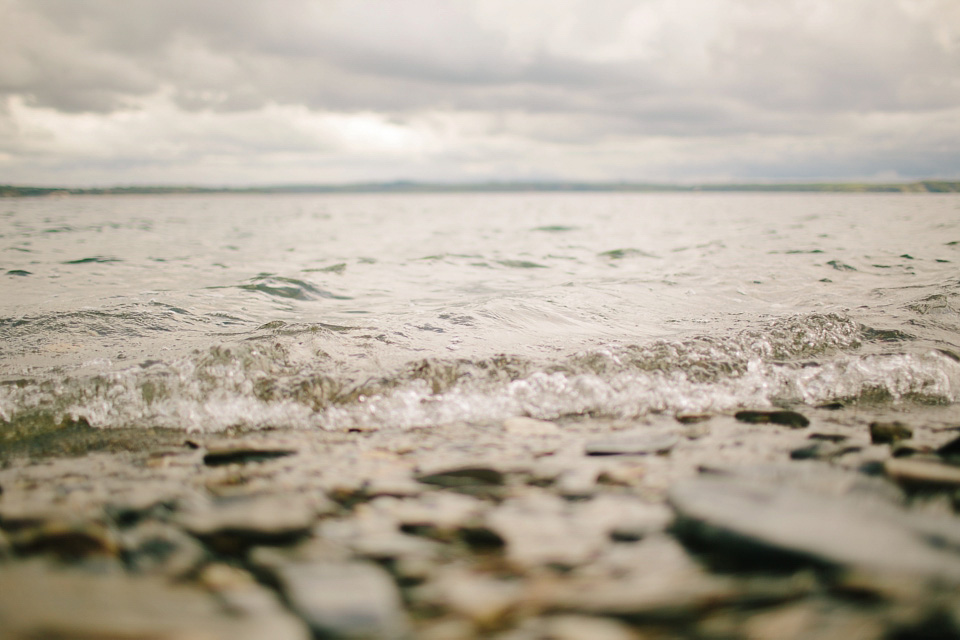 "My step-mother, Harriet Casey is a garden designer and creates the most beautiful flower arrangements, so with cuttings from her garden we created the button holes together the afternoon before and she arranged the flowers the morning before the ceremony.
My bouquet, however was sent down with my Mother from the wonderful Miranda Fairhurst. Both styles are loose and unstructured, celebrating texture and volume and locally grown blooms."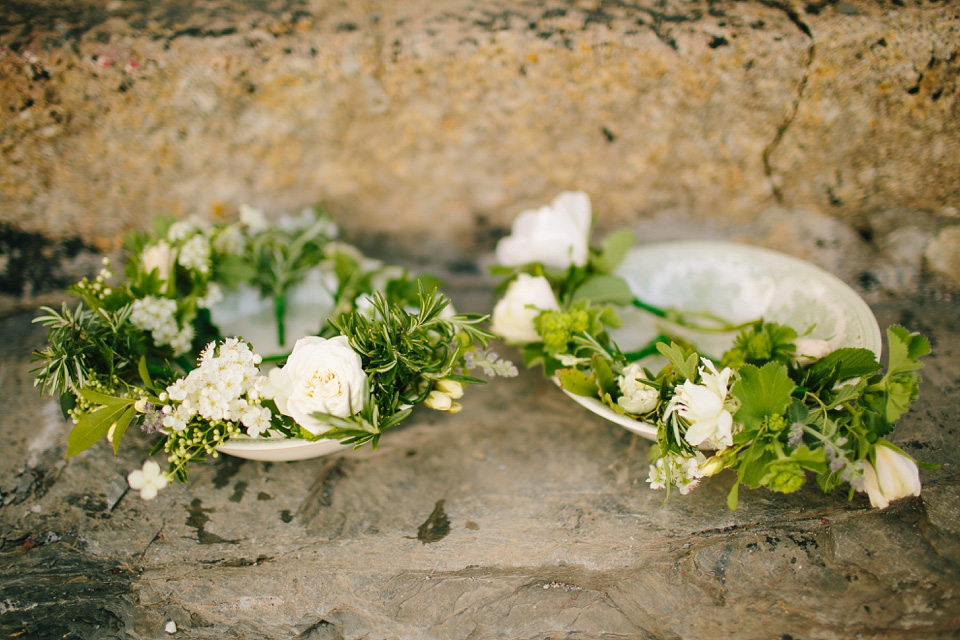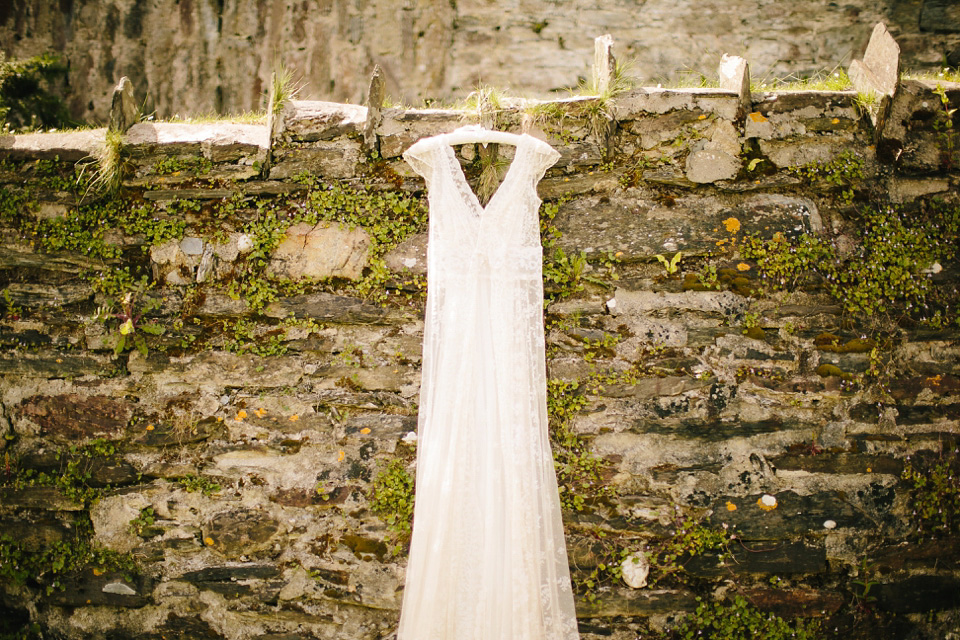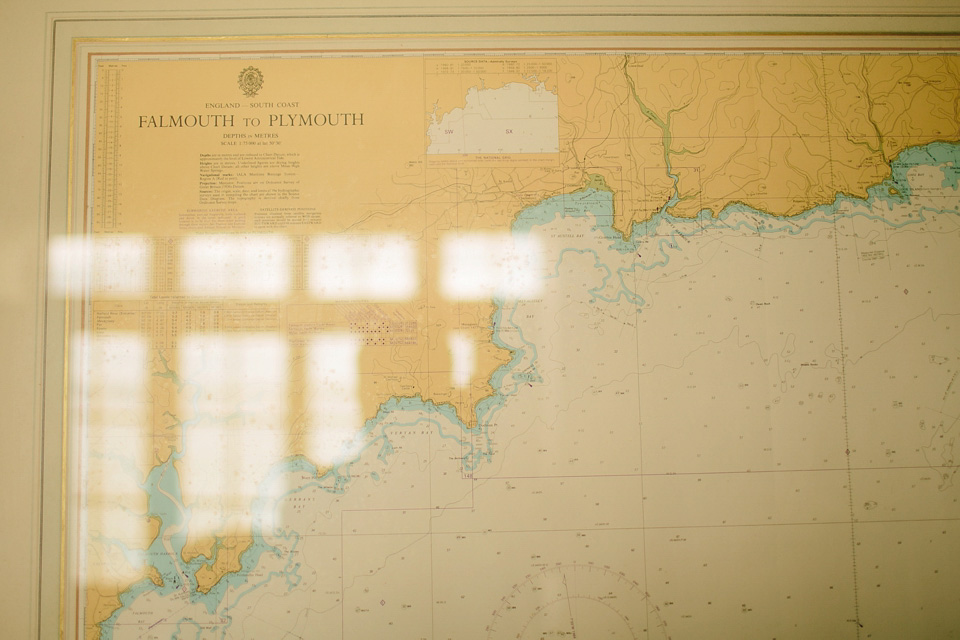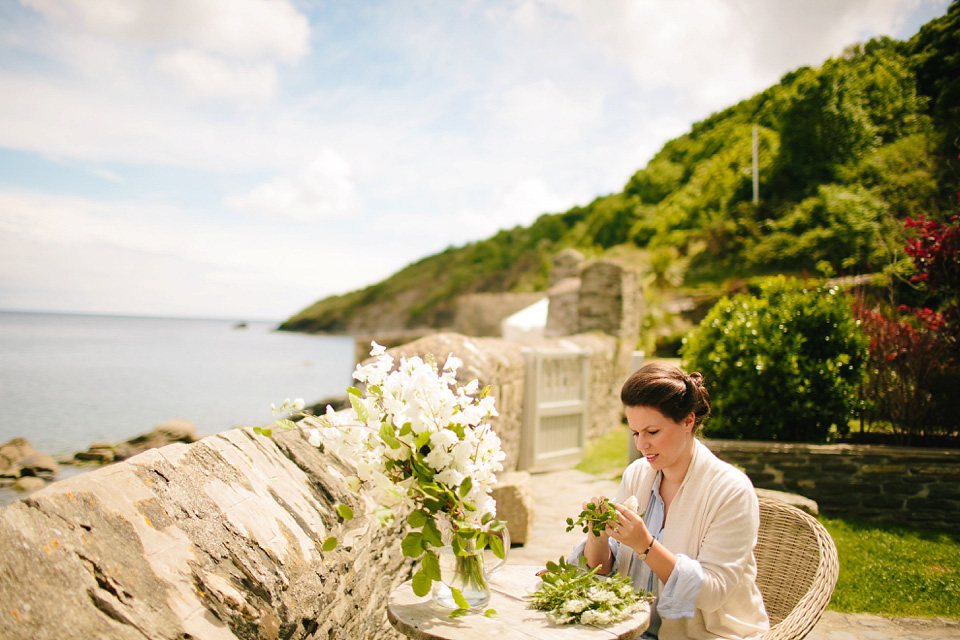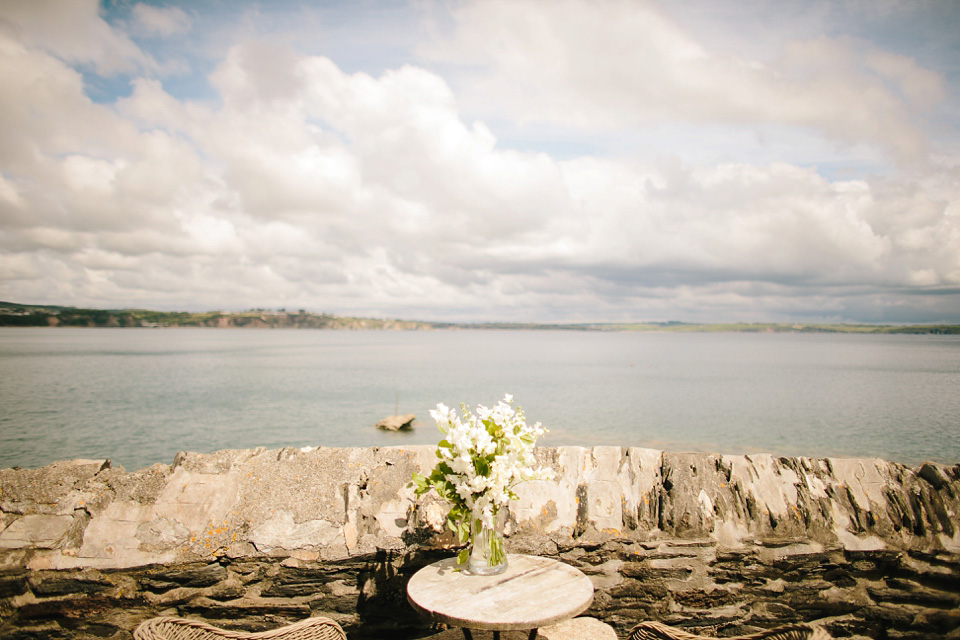 The bride wore fresh wildflowers, roses and rosemary in her hair, gathered from around the countryside on the morning of the wedding, made complete by the very same veil that her mother wore on her own wedding day. So lovely!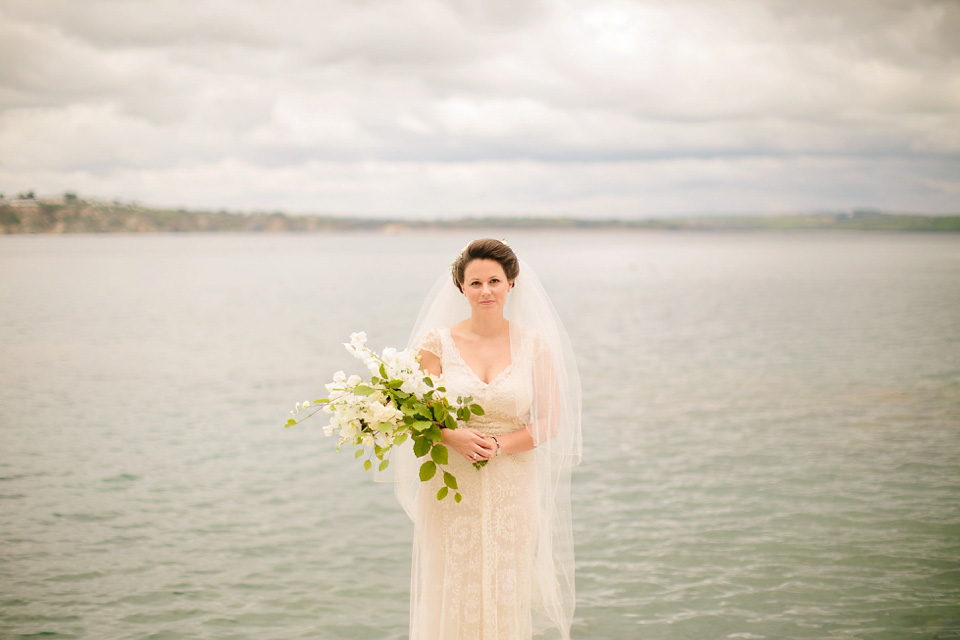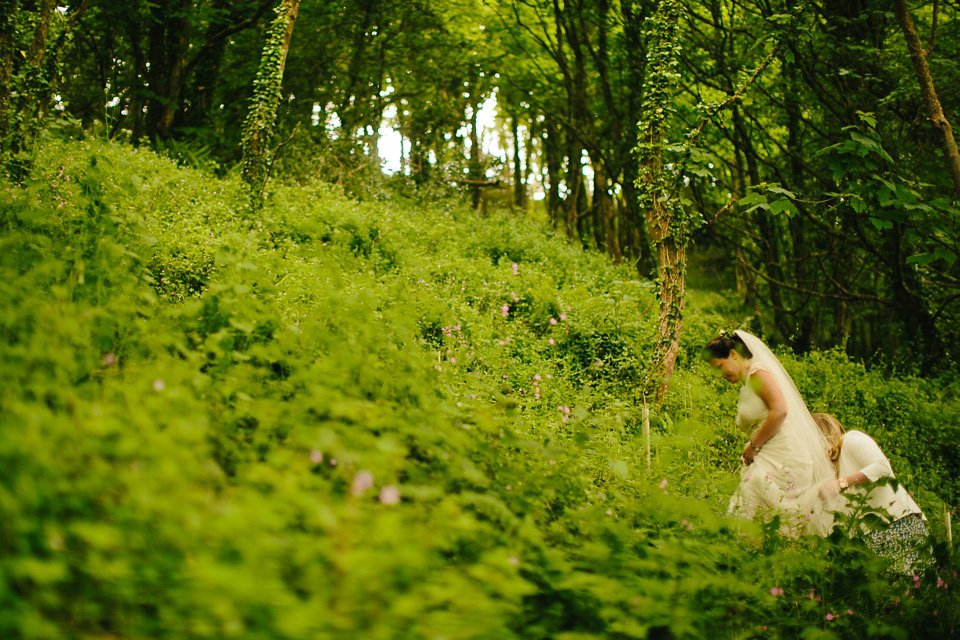 "My earrings were a beautiful pair of antique pearls that my father gave me and my watch was a present from my mother. It had been her mother's, my grandmother's. Tears were shed before breakfast!"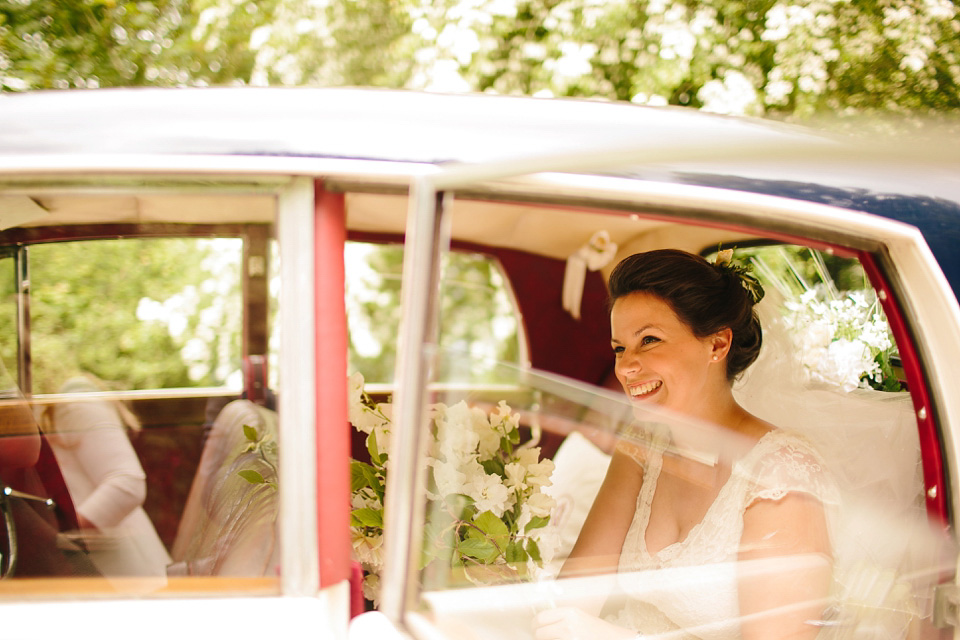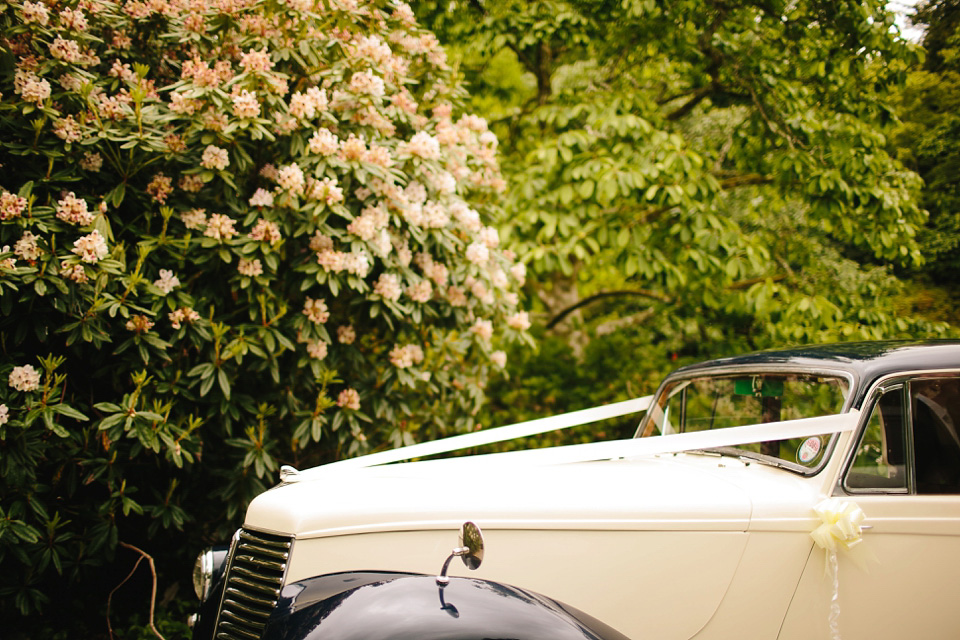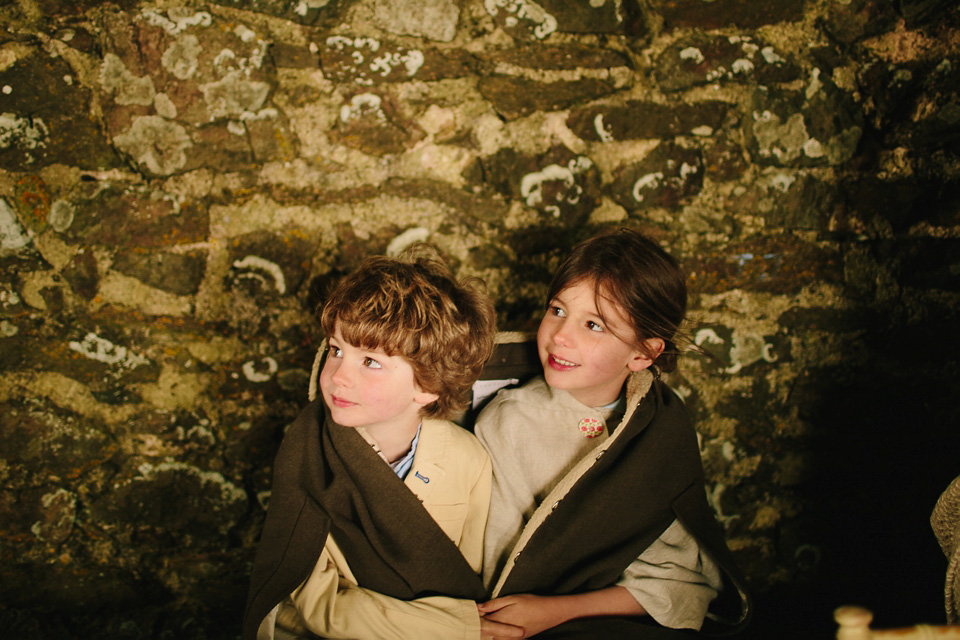 "A few days before the wedding we were taking to the lovely women at Caerhay's Estate about the Lookout and they asked if we wanted the glass to be put into the windows. The last time we visited the lookout it was beautiful weather with a bright blue sky and a calm breeze coming off the sea – so I said that we should leave them out so that we can all enjoy the more openness and closeness to the elements. Well it turned out that we all became a little too close to the elements with a pretty cold, blustery wind coming straight off the channel and hurtling full force into the tiny lookout.
As I walked in I saw our wonderful families and friends huddled together whilst my stepfather and sister held umbrellas up to the windows to try and keep the worst of the wind out! I walked in apologising for the decision whilst the registrar was desperately trying to keep her papers from flying off of the table!"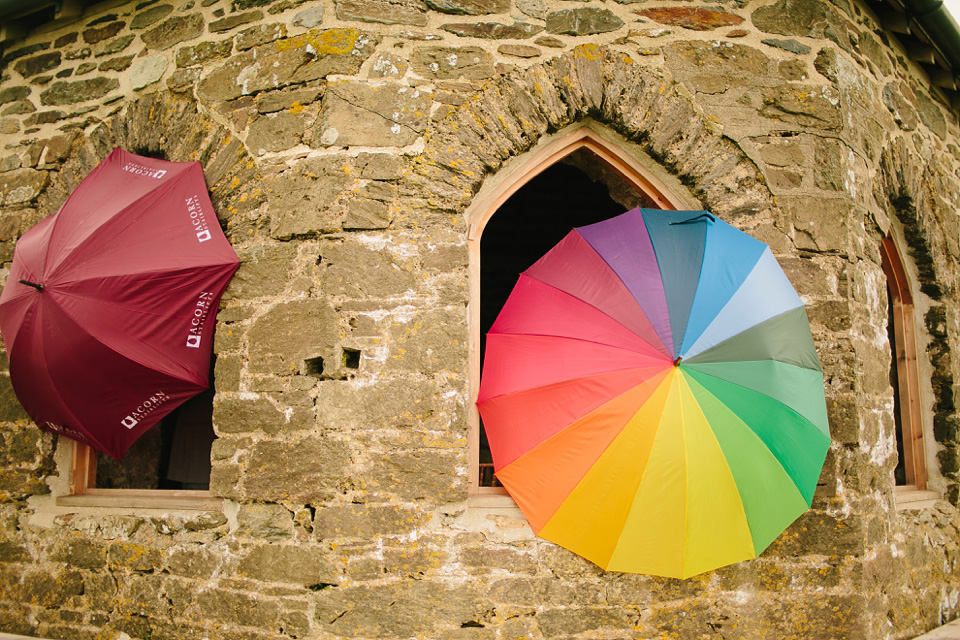 "My father and I walked down the field together and into the lookout, which was lovely – I have some precious memories of us waiting in the car together before everything got underway!"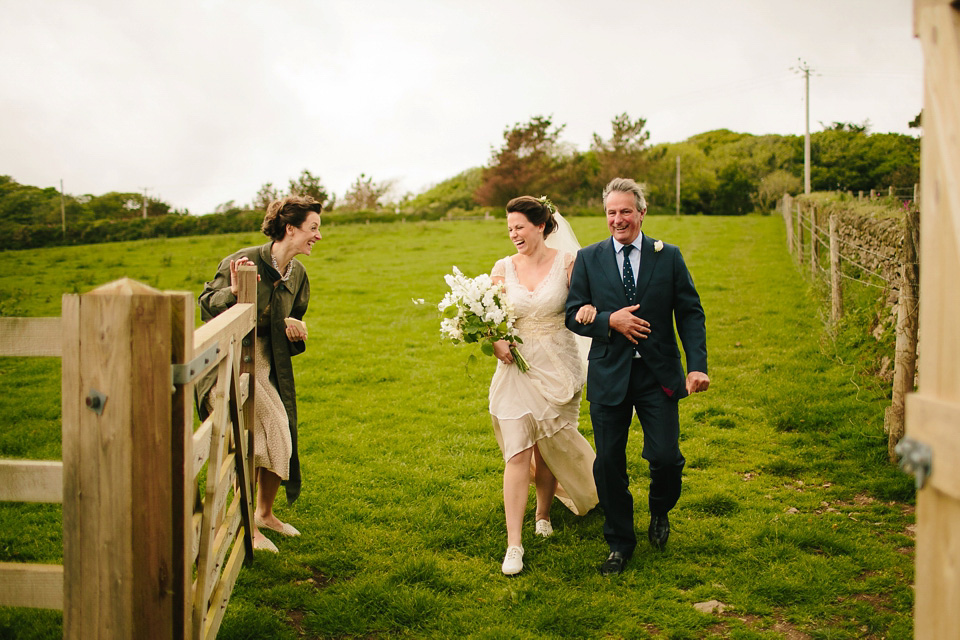 "Our favourite part of the day has to be the moment we stood facing each other, declaring our love and vows to one another surrounded by our closest family and friends – what an achievement."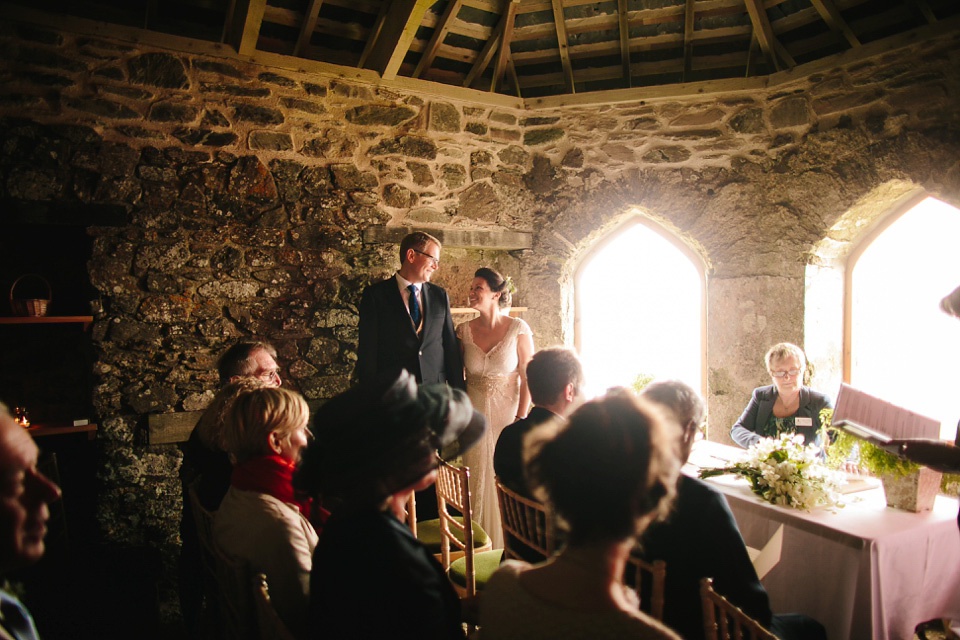 "We wrote our own vows together. We both had a look at other people's vows on the internet and enjoyed merging and adapting them to suit our own individual wishes. The words may have been pulled from a number of different sources but by the time we poked and prodded them, they belonged to us. We vowed to cherish each other's spirit and to delight in each other's happiness. We spoke of honesty and of listening to each other with care and support and we looked forward to the challenges and excitements ahead."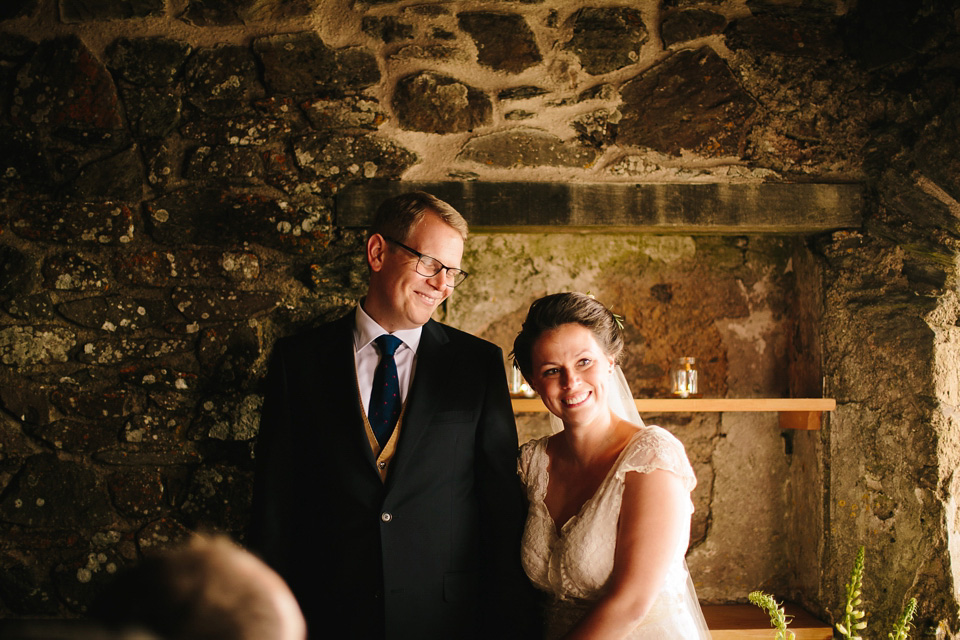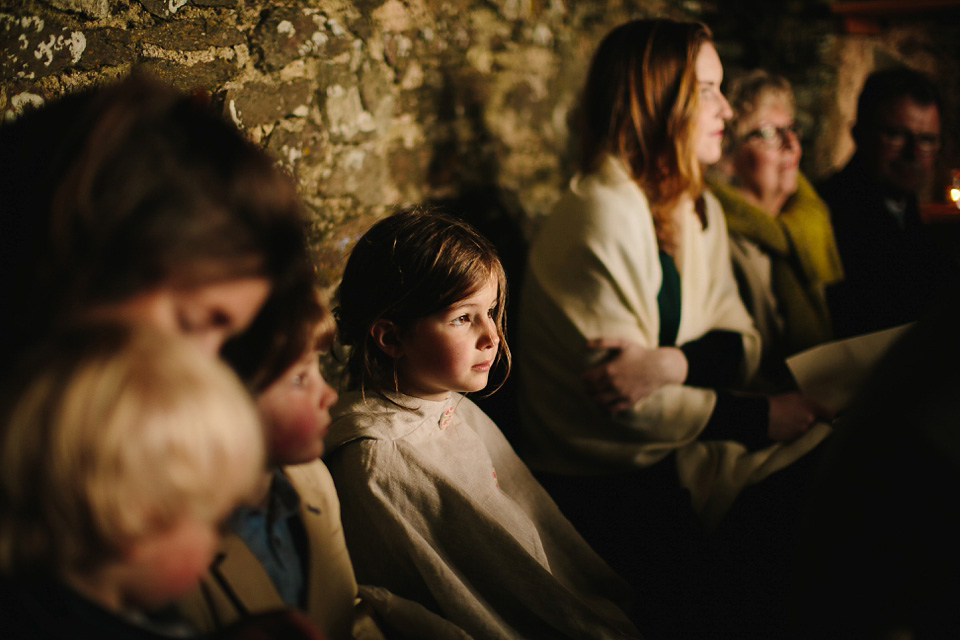 "Our rings were made by a wonderful jeweller near to where we live in Cologne, Germany called Marcus Götten. He also made my engagement ring, which is a gold ball (inset with a small cognac coloured diamond) and a pearl set onto a round gold band."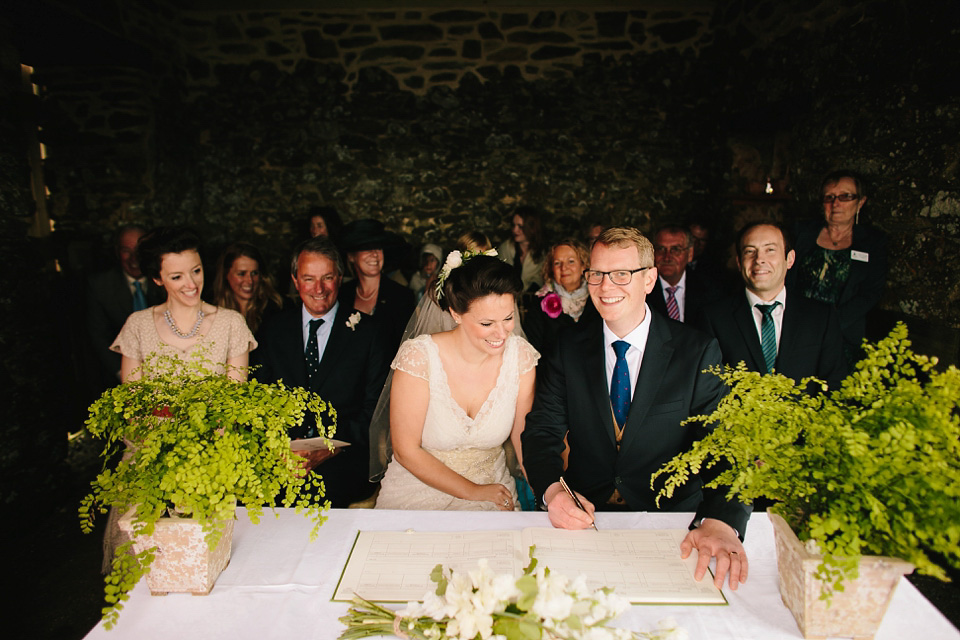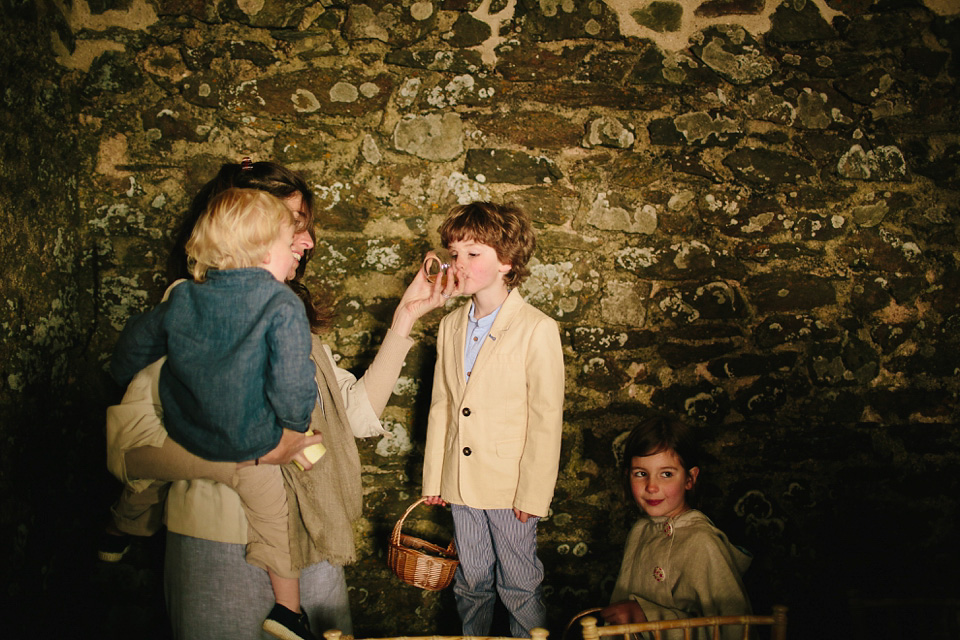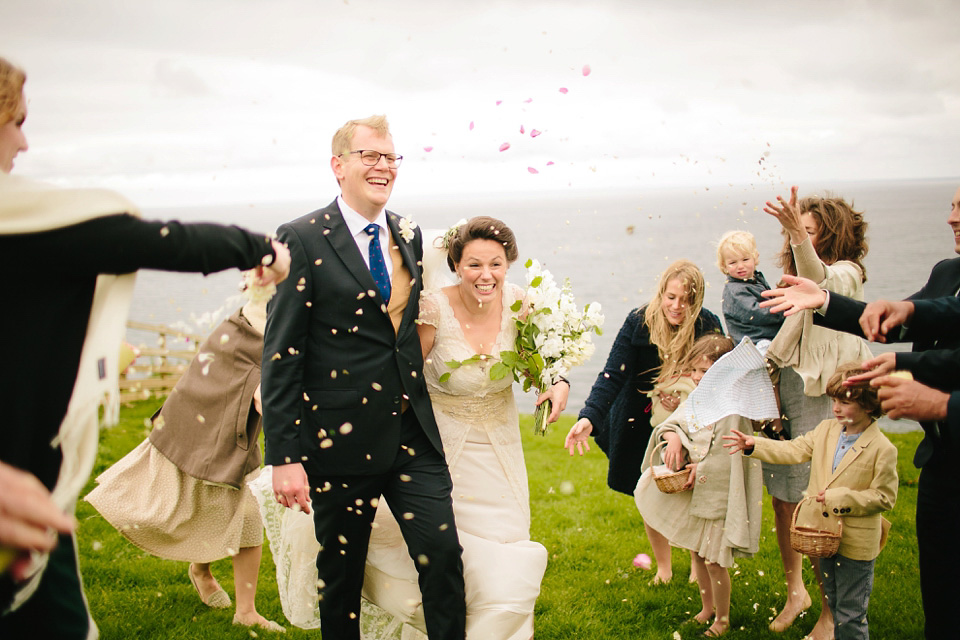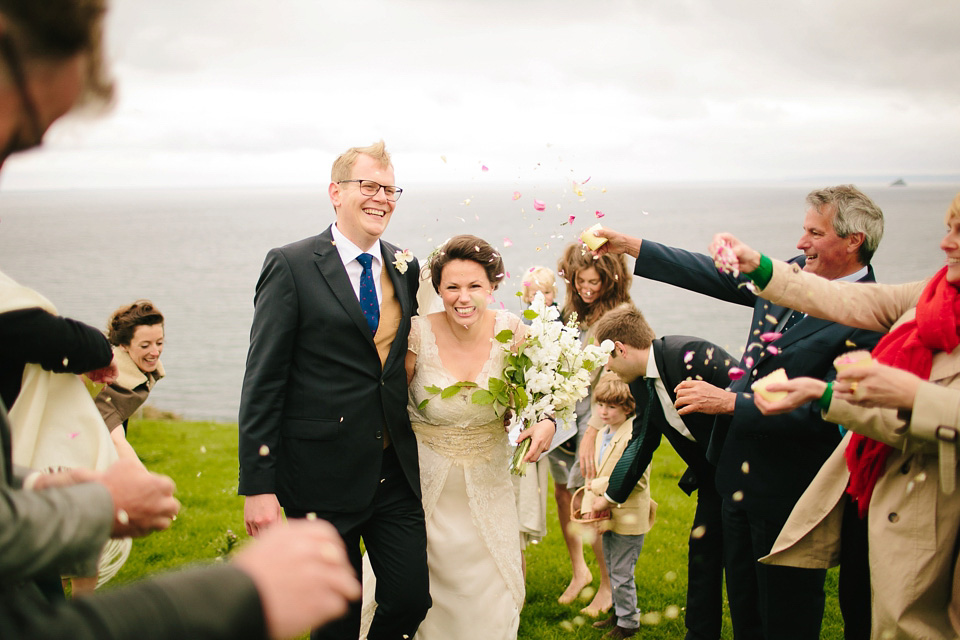 After the beautiful (and blustery!) service, the wedding party headed back to Ropehawn, where the caterers were waiting with an array of scrummy cakes and treats.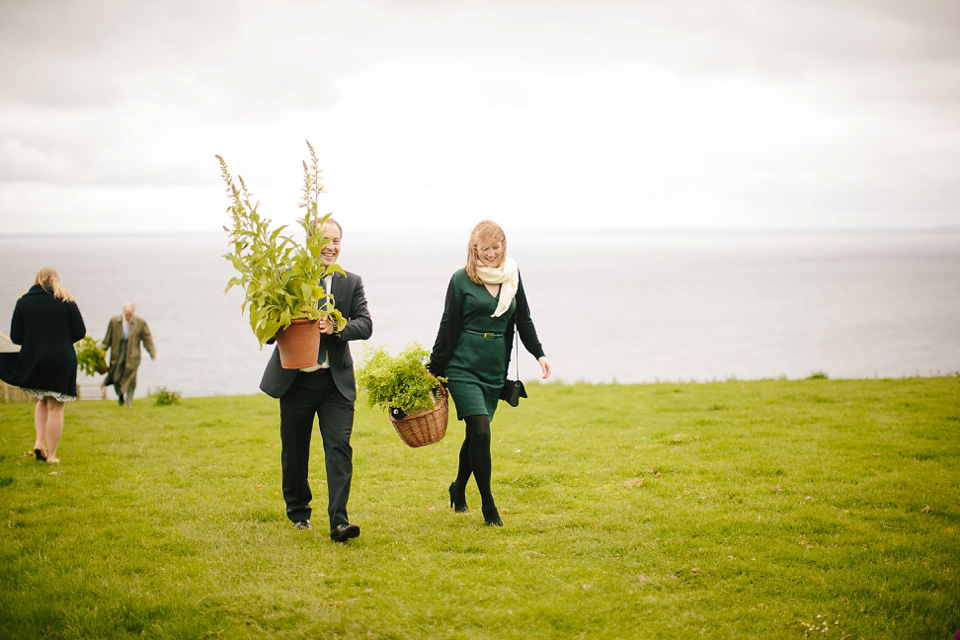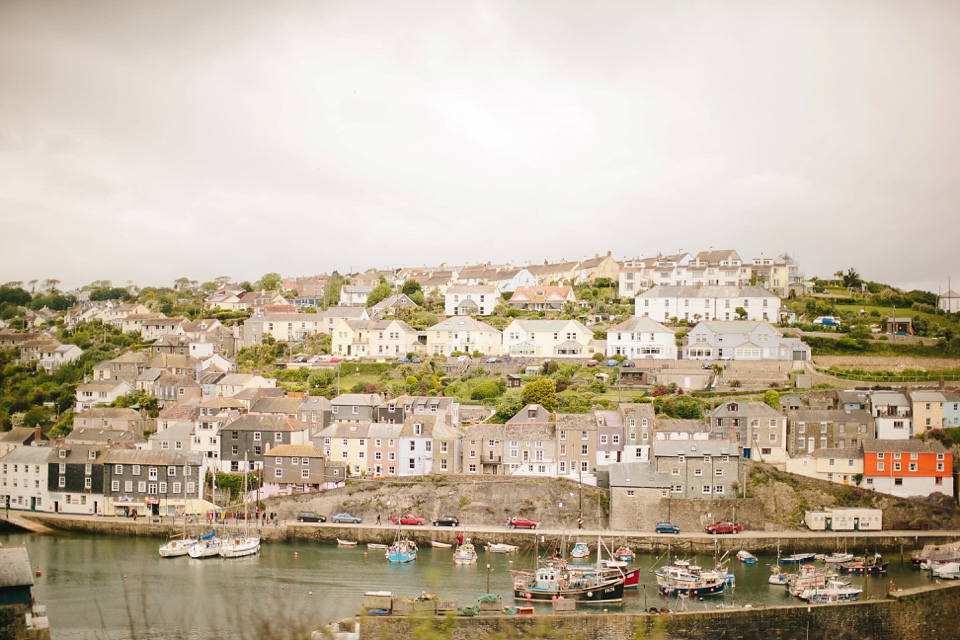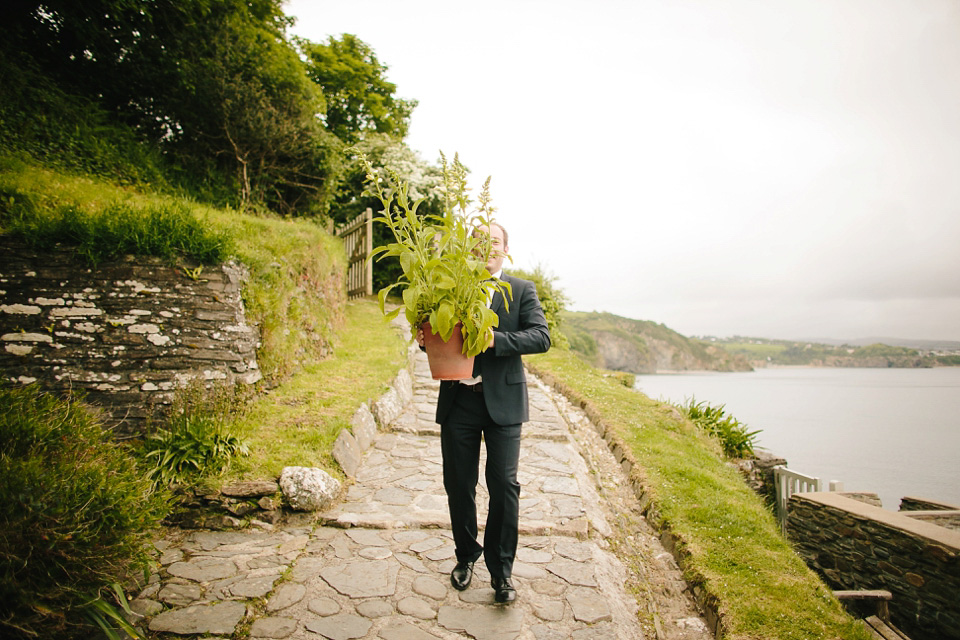 The groom dressed in a beautiful dark blue Calvin Klein suit, accessorised with a stone coloured waistcoat from McNeal and a silk knitted tie from Hawes and Curtis.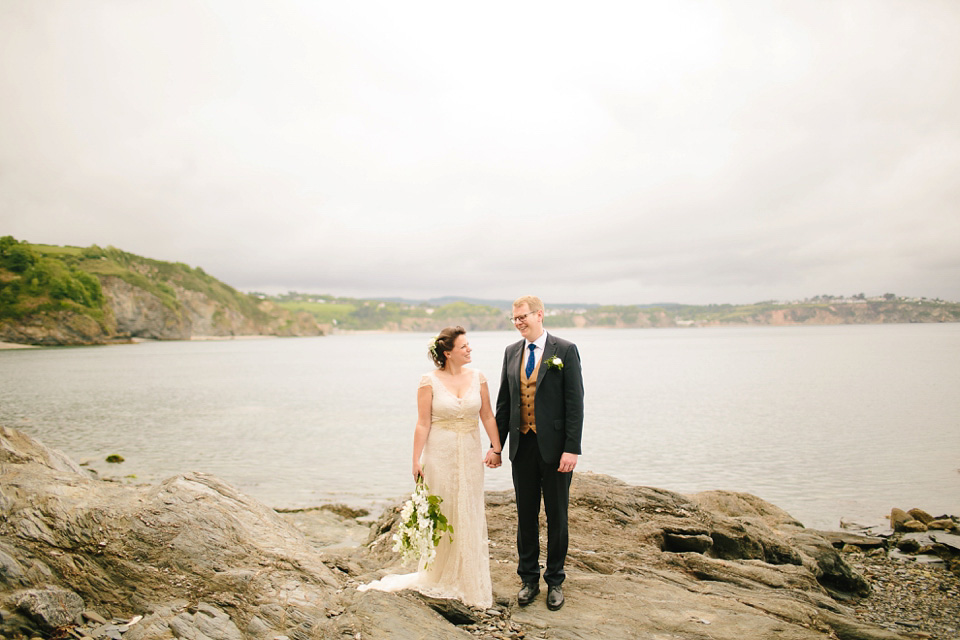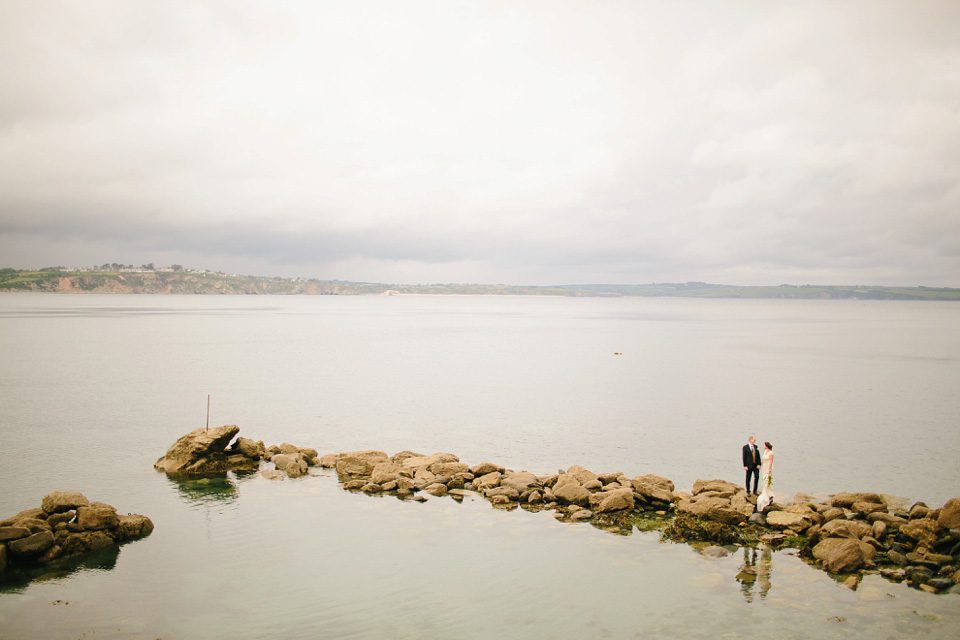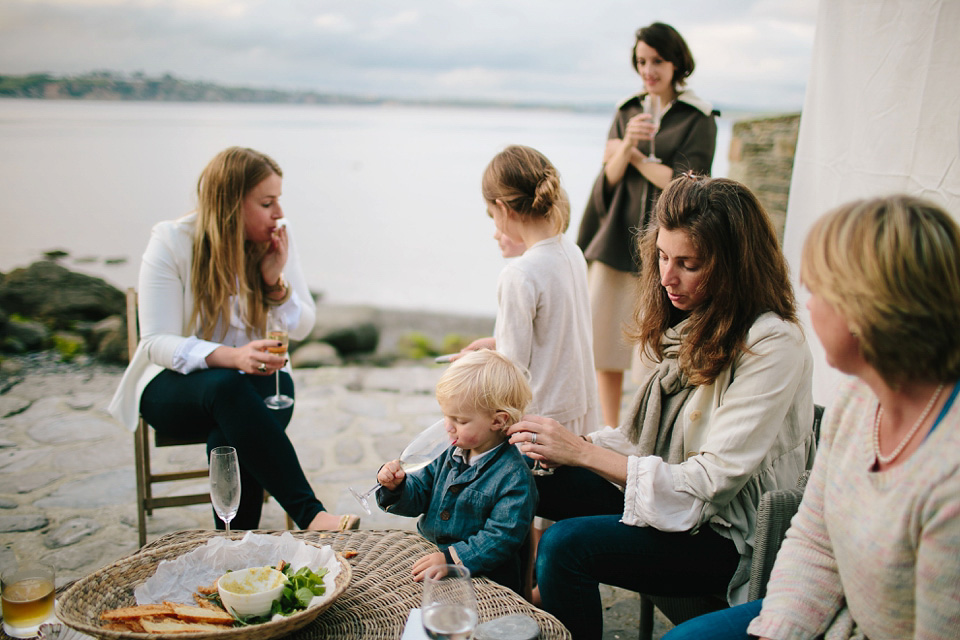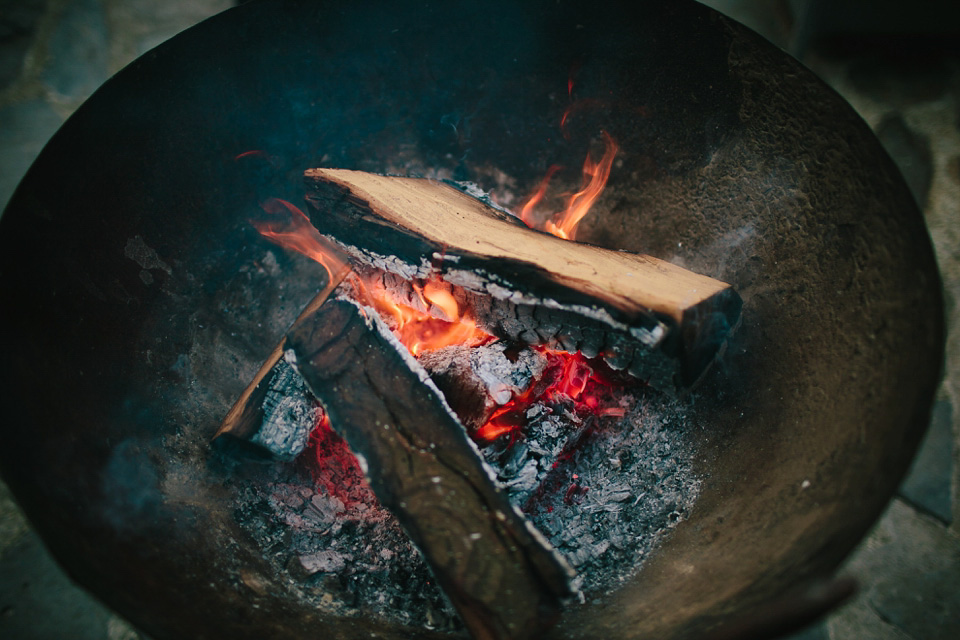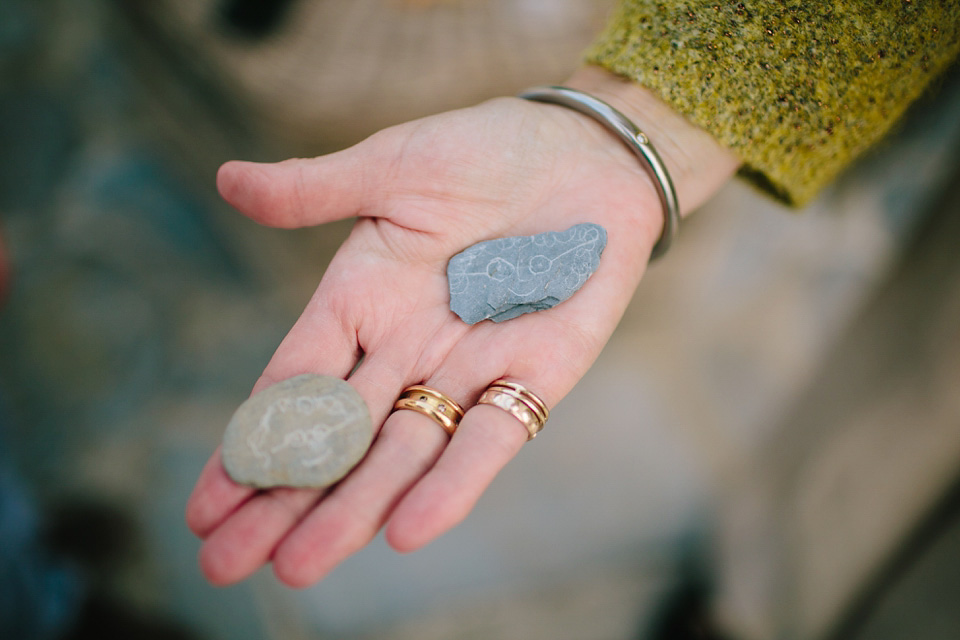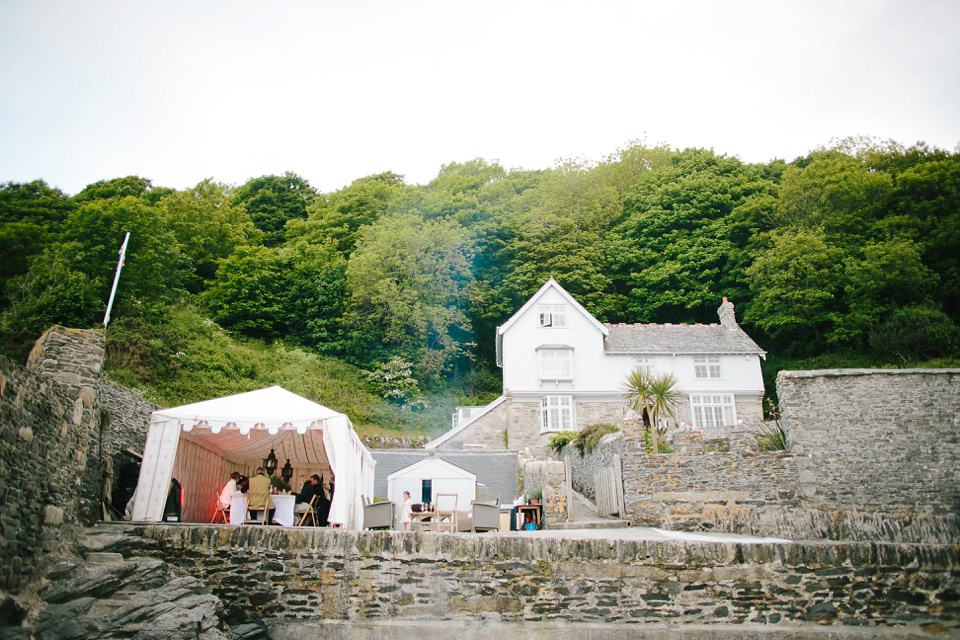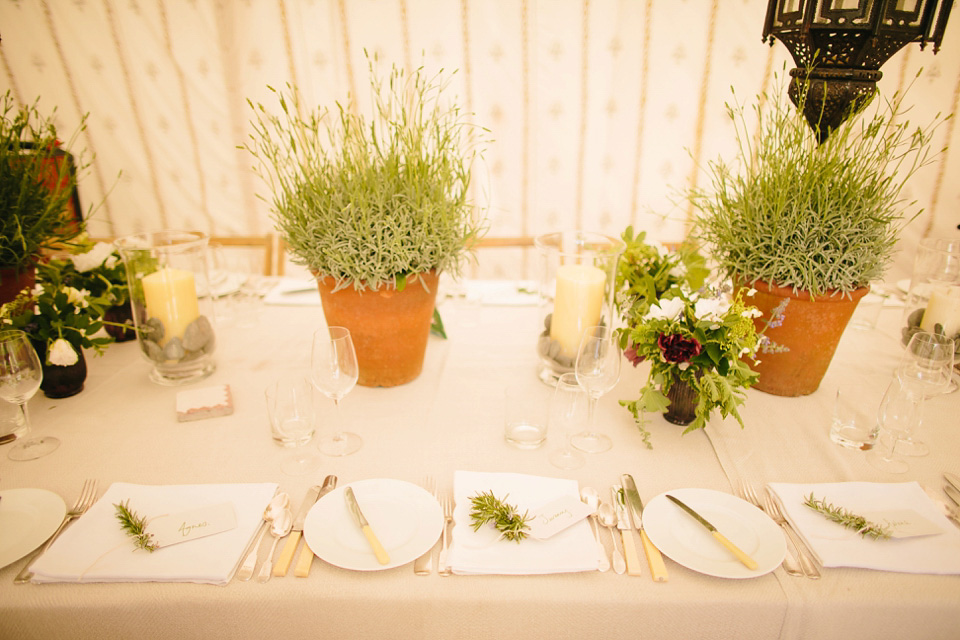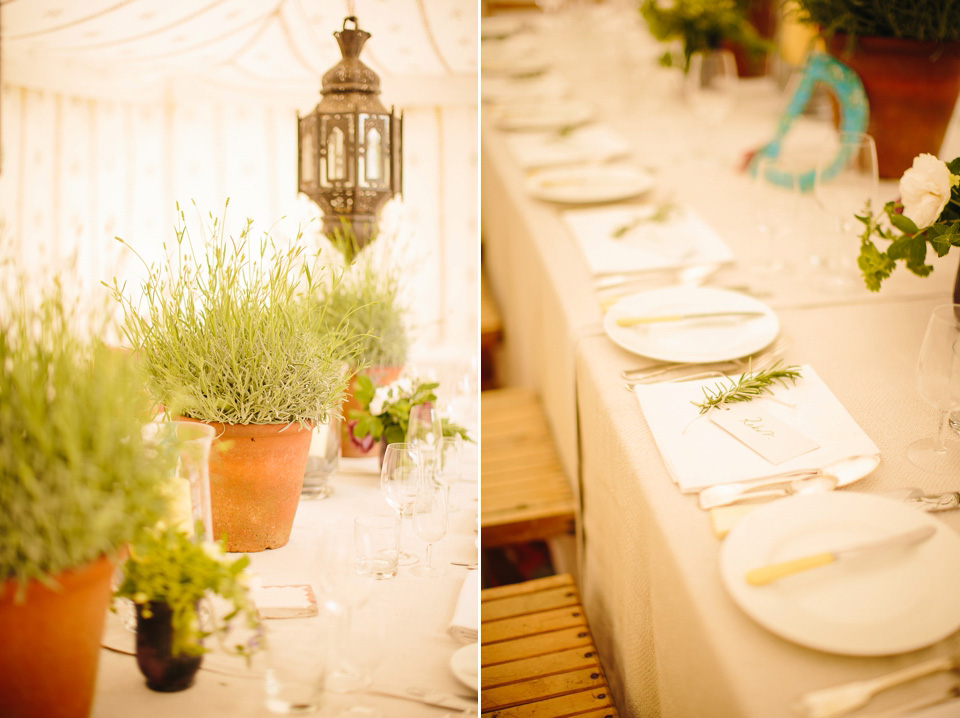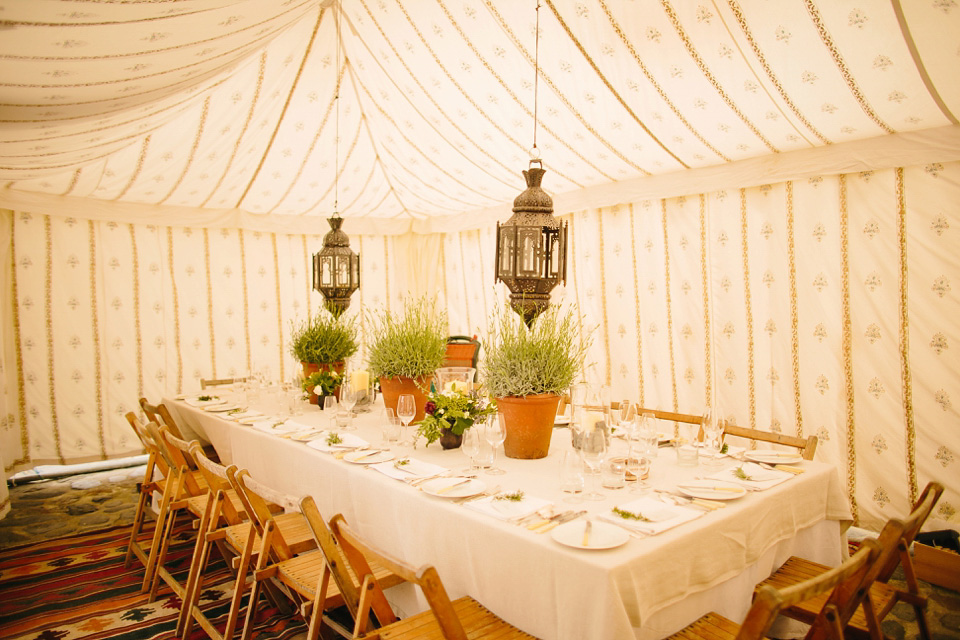 "Emily Scott did our catering, and it was out of this world! We are both vegetarians although most of the rest of our families are not but with being so close to the sea it seemed only right to enjoy some delicious fresh seafood as well as locally sourced delicious veggies. Emily and her team were outstanding and I would highly recommend them to anyone in the South West and beyond!"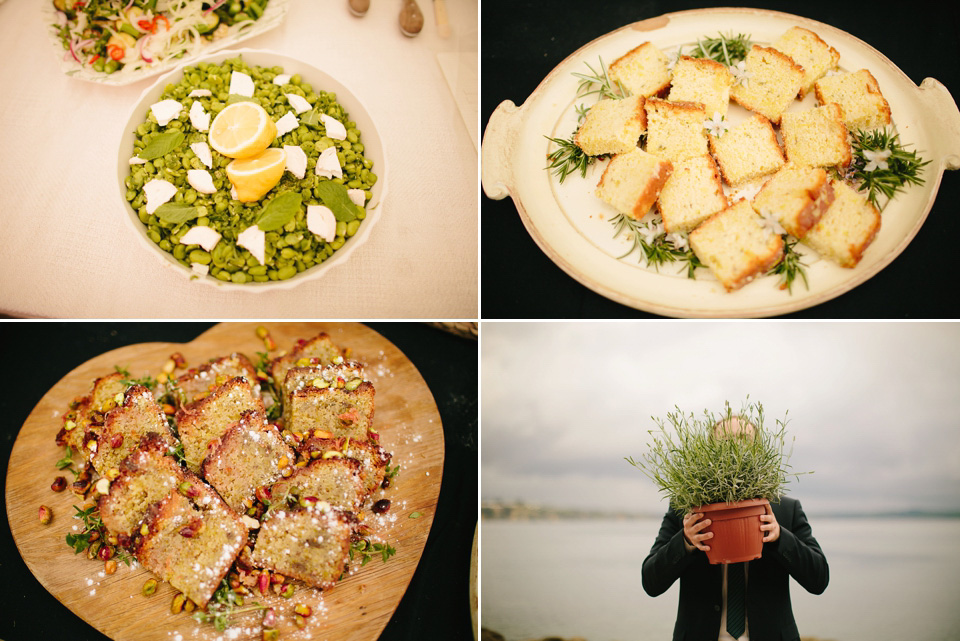 Words of Wedded Wisdom
"You read a lot that you should enjoy the process of planning your wedding, and you should, but it is also key to make sure all the people around you are also enjoying the process and asking yourself what you can do to make them have a more enjoyable experience. Life is too short to spend a year arguing for the 'perfect day' – whatever happens and however you do it, as long as you say 'I do' it will be a day to treasure forever.
Oh, and don't get caught up in 'this must be the best day of your life' Disney dream – it's exhausting, and yeah, it will be a brilliant day, but there will hopefully be a load more wonderful, happy, extraordinary moments in your life. This is just the beginning of the next chapter, not the end!"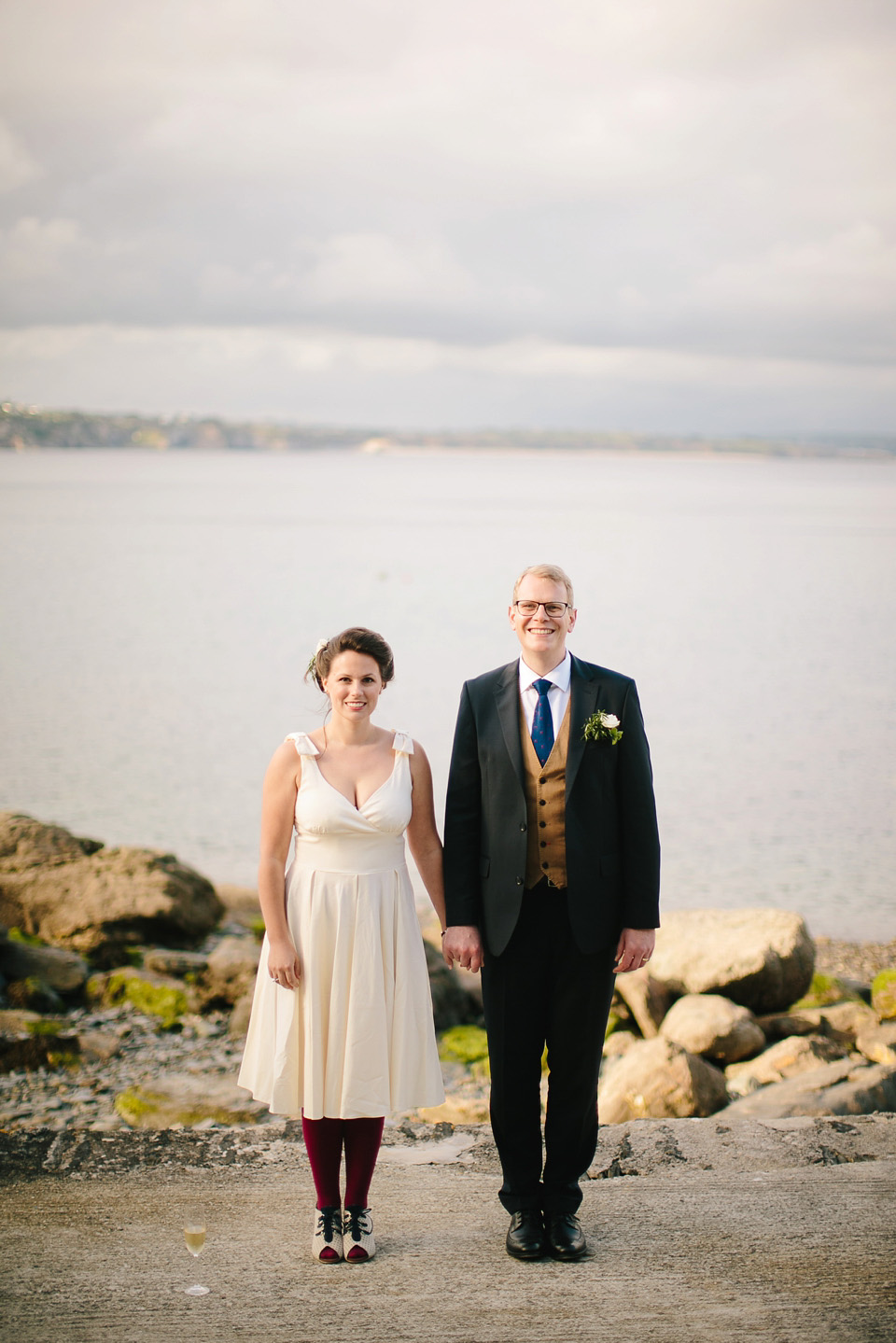 Hear, hear Laura! Thank you for those words of wisdom, I personally will be taking that advice on board for my own wedding in three weeks' time – less focus on planning, and more focus on excitement and fun. Thanks to you both for sharing your special day with us.
Love Rachel x
Photographer – Tom Ravenshear
Venue – The Old Coastguard's Lookout at Caerhays Castle, and Ropehawn
Bride's dress – Jane Bourvis
Bride's Shoes – Clarks
Bridesmaid's Shoes – LK Bennett
Bridesmaids' Dresses - vintage, Jigsaw and The White Company
Bridesmaids' Other Accessories – Balenciaga (belt), Sassy & Boo (bag)
Hair and make-up – Elaine Rowe at The Hair Workshop
Grooms Suit – Calvin Klein
Grooms Extras/Accessories – McNeal and Hawes and Curtis
Florist – Miranda Fairhurst
Caterer – Emily Scott
Rings – Marcus Götten