Oh this wedding, it is simply wonderful, and I had a real tough time whittling down the images for this post.  The bride, Sarah is an English Teacher and she married her beau, James, a Senior Press Officer, on 18th October last year.  The couple, who live in West Sussex chose the beautiful Blanchland Abbey for the formal and legal part of their wedding day, and celebrated afterwards at The Lord Crewe Arms in Blanchland, near Hexham, Northumberland.
Perhaps inspired by her career and love of language, Sarah chose to fashion her wedding day around her favourite novelist, Jane Austen.  I also love love love how much the couple placed a focus on family and tradition and the true value of weddings when it came to planning their day – it reminds me of this feature I wrote about pausing for thought to consider the wedding photographs that really matter. This whole wedding couldn't be more perfect for Love My Dress. I so hope you enjoy it as much as I have.
"Northumberland is my favourite place in the world – time seems to stand still there. We have often gone walking around the moors and along the river at Blanchland – and it is a place my family has known well for generations. It was one of the first places I took James when he visited the north east for the first time. There is something timeless and magical about it and, although three of my grandparents could not be with us, I have wonderfully happy memories of them there."
Photography Copyright (c) 2015, Mark Tattersall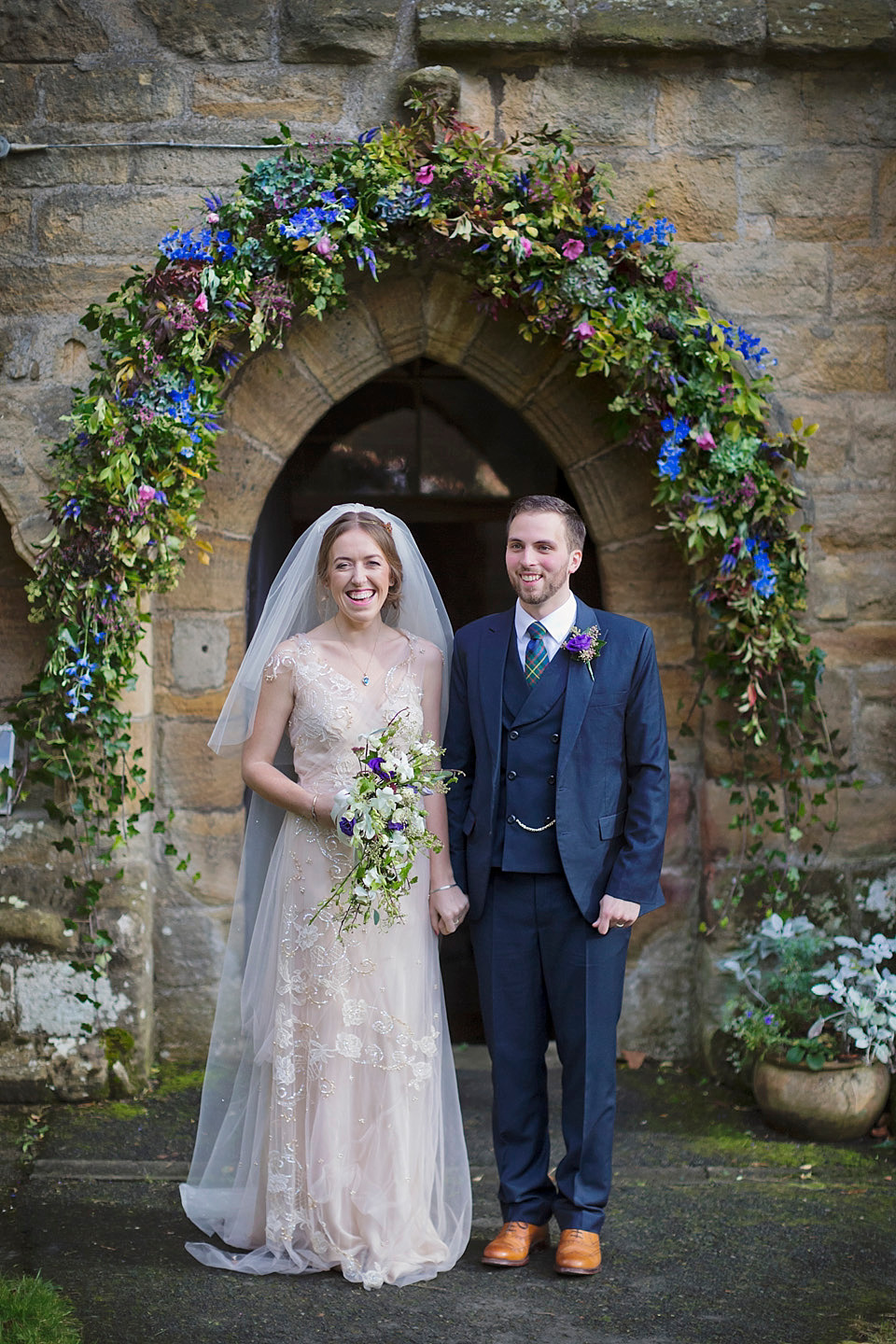 "Family and tradition are really important to us. We didn't want our wedding to be fussy – we hoped it would be a reflection of our relationship and our values. We wanted to get back to what weddings and marriages are all about, and that meant lots of merriment and dancing with the ones we love. As for the decor, we took our cue from Northumberland in the Autumn – the resplendent copper trees, the heather-strewn moors, and also my love of Jane Austen and James' Danish roots.
My Mum is a primary school teacher and we made most of the decorations ourselves – it involved lots of cutting and sticking – and bags of glitter! We wanted the whole weekend to feel relaxed – with a hint of magic."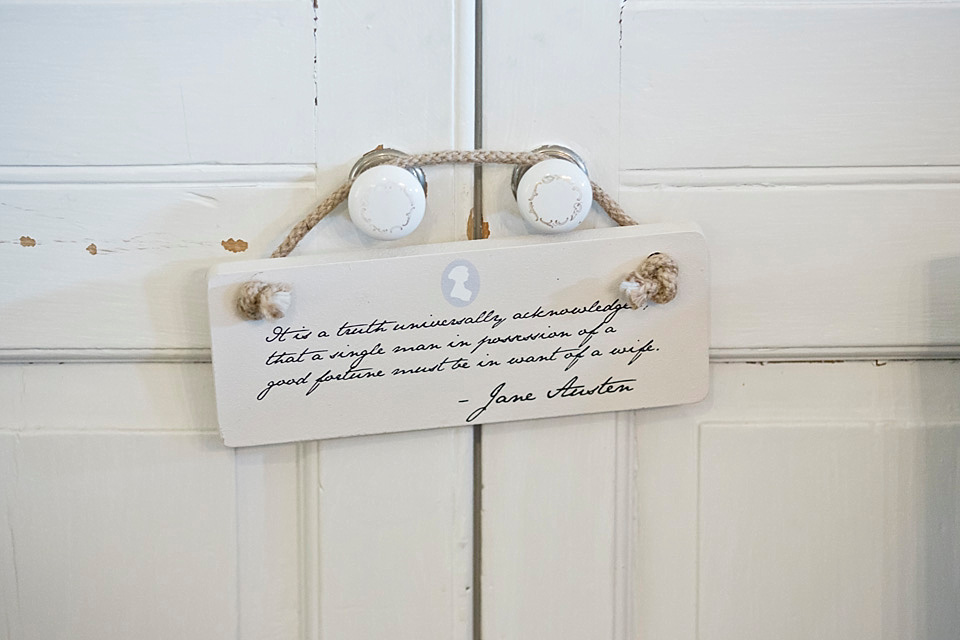 "My shoes were by Lucy Choi  – the 'Venice Gold Glitter' design. They are the modern Cinderella slippers. Beautiful and sparkly – and very, very comfortable. I met the designer the night I bought the shoes and she signed the box!"
"My dress was by bespoke designer Jane Bourvis.  It is the most magnificent and magical dress I've ever seen. I hadn't expected to buy a dress that day – I went on my own to do a recce – but after trying it on and seeing the way the honey pearls, iridescent sequins and soft lace seemed to hover and cascade over the silk, there was no way I was leaving it behind. It is actually made from an Edwardian veil, layered over a silk slip. Jane Bourvis is a marvel of a woman! When I got to the altar, James turned to me and said 'you look ethereal – like an elfin princess!'. I'll take that."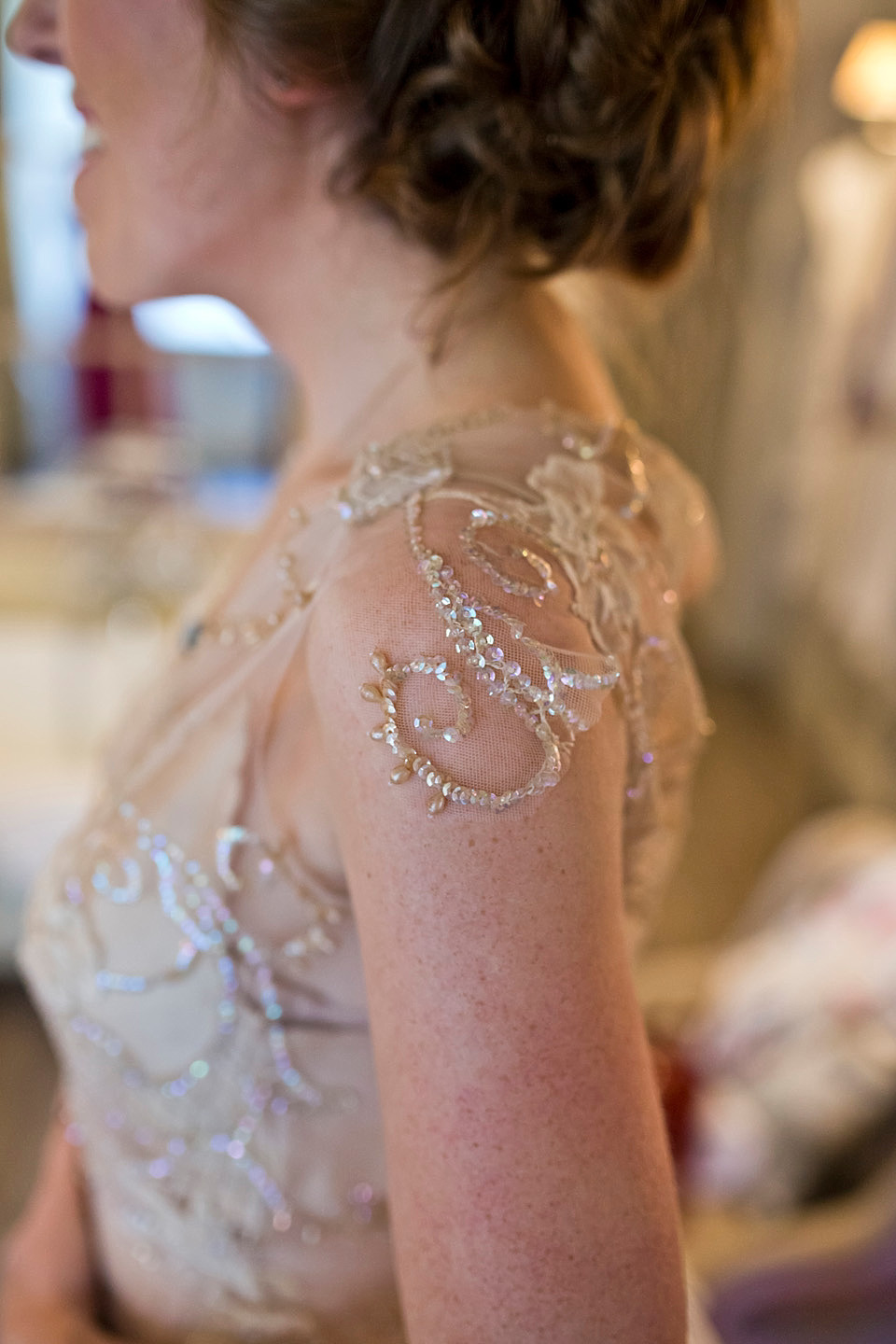 "My green velvet coat is from c1920-1950 and I actually purchased it before I bought the dress! It was from the vintage fair held at the Victoria Ballroom and cost £120. My friend, Owen, thought it was hilarious and asked if we were having a Tudor-themed wedding. But I didn't mind; what a woman wears on her wedding day is her prerogative. And if she looks like Henry VIII, then so be it!"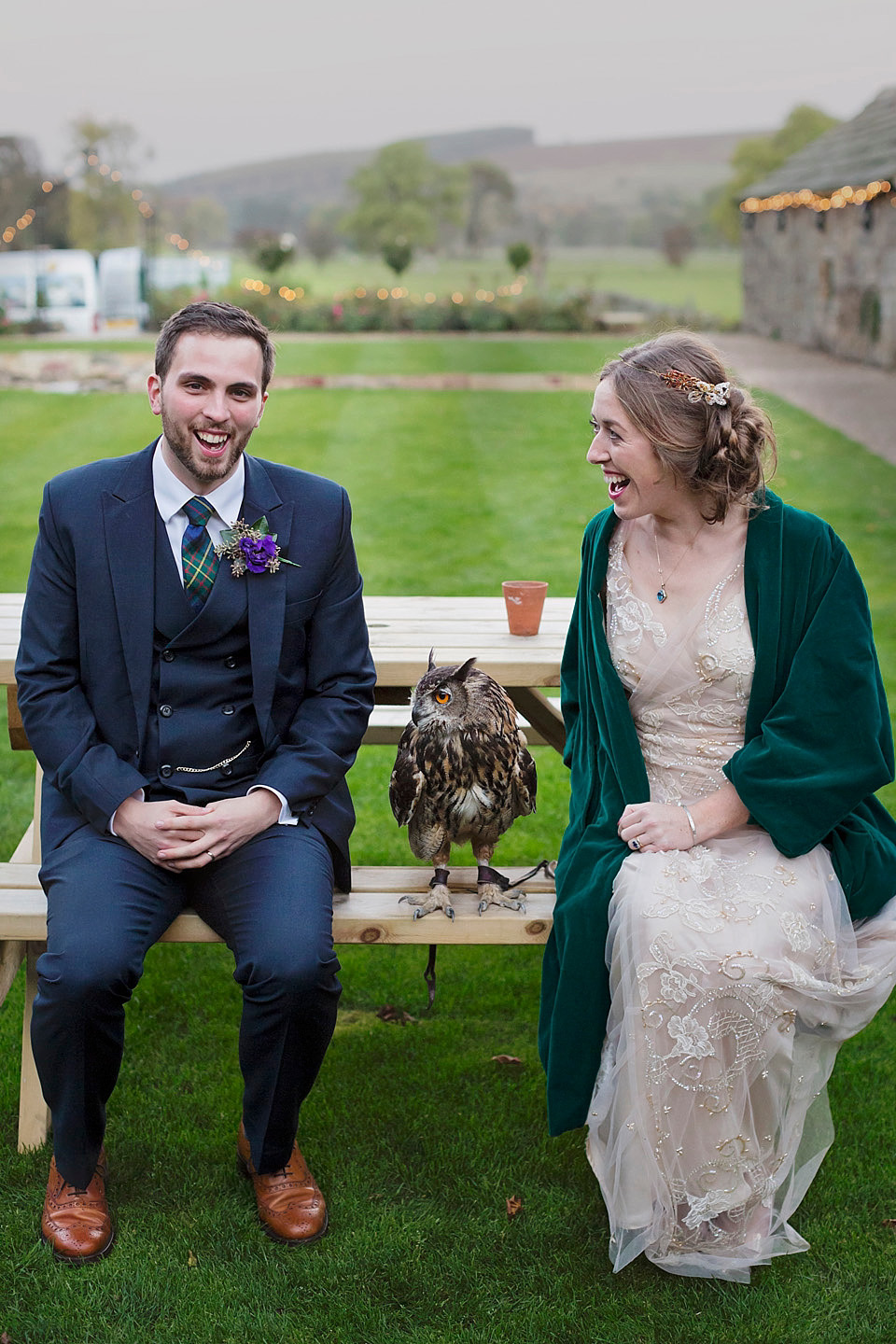 "Our photographer was Mark Tattersall – he captured the spirit of the day beautifully, but he wasn't at all invasive. He got along really well with our friends and several of them thought he was another guest! He met up with us in Blanchland a couple of weeks before the wedding to discuss what we wanted and to look at the light and setting. He was very thorough and a total professional.  We are so happy with our photographs and we would definitely recommend Mark to other couples."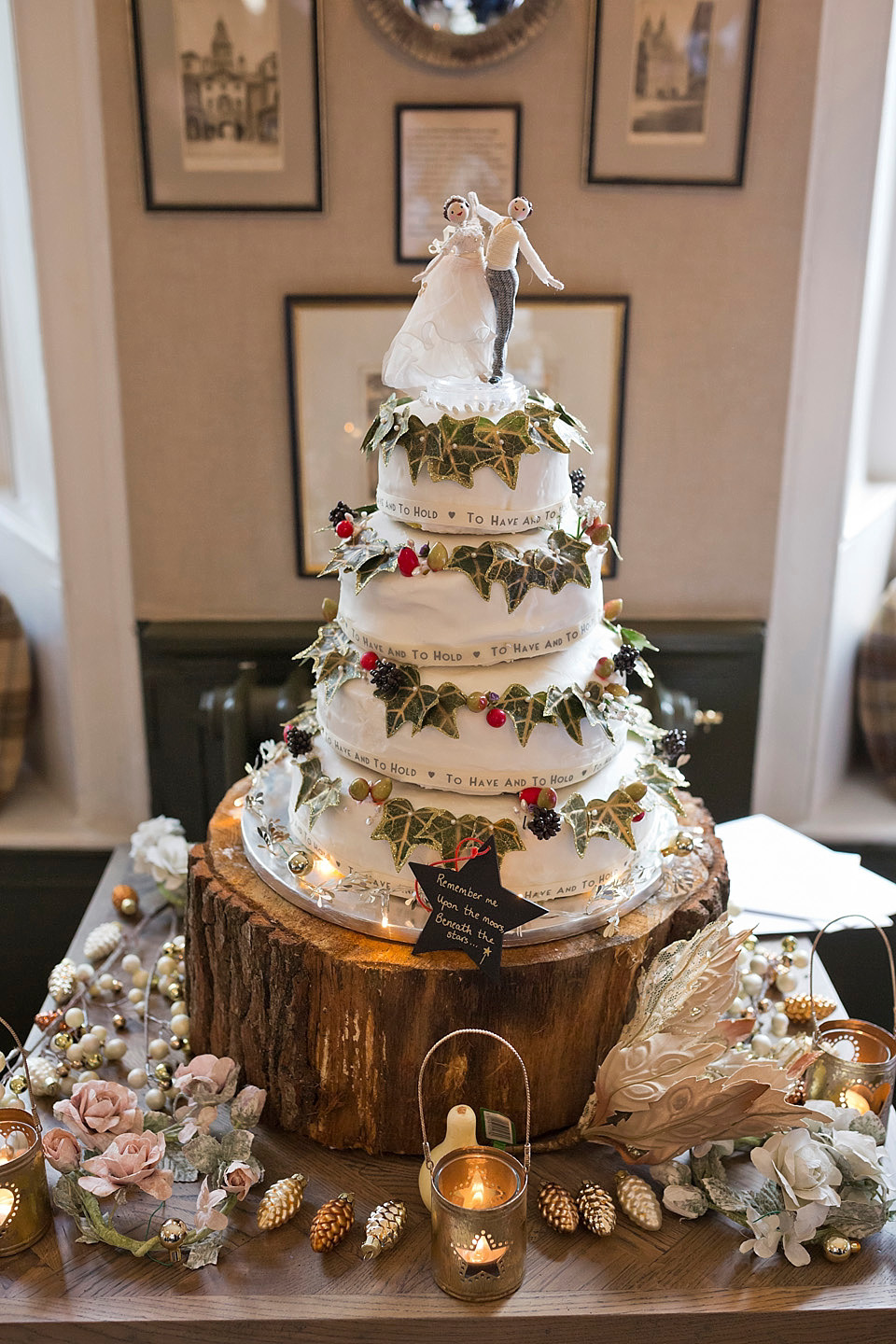 "My necklace is an antique aquamarine, which my parents bought for my birthday – it was my 'something blue'.  My earrings were sapphire and diamonds, to compliment my engagement ring, which James gave me as a wedding gift.  My bracelet was gold with diamonds and bought for me by my late grandfather, 'Poppa Joe'. He bought it when he found out he was dying (I was 11) to be given to me on my 18th birthday. I have treasured it since then and it was wonderful to feel as though part of him was there with us."
"We met after James knocked on my door. Really! And in a serendipitous chain of events, I happened to be home early and opened the door. I saw his rosy cheeks and was smitten. He tried to canvas me, (nothing rude – he worked in politics back then) and I, in a desperate attempt to keep him on my doorstep, challenged and argued with him.  And that was it!  We bought a small but cosy flat in London and rescued an opinionated cat called Penny.  Then on a disgusting and soggy Saturday morning in February 2013, James announced we were going on an adventure; we were going to Chawton to visit Jane Austen's home."

"Visiting Jane Austen's home has always been on my bucket list. As an English teacher it's a must, but I've been a devotee ever since my ten year old eyes first gazed at a damp Colin Firth from my grandparents' armchair.  We arrived at a sweet B&B in the sleepy village of Chawton and quickly put on our boots and ventured out into the rain. Instead of visiting the Austen museum James took me on the Austen trail, a walk that takes you over hills and along disused railway paths…and also through an industrial estate and a field with not one, but three bulls in it. If I had any inclination that he was planning to propose, it was snuffed out as I squealed my way through cow-pats and leapt over the fence."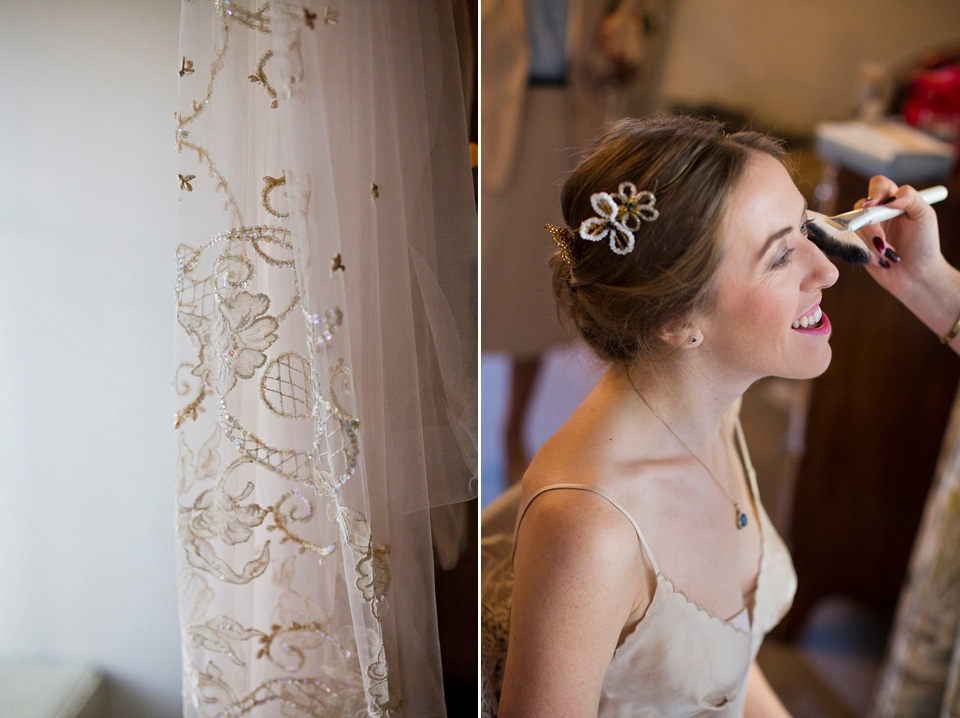 That night we had dinner in the local pub. I was eagerly anticipating pudding when James came back to the table, picked up his coat and told me to follow him. I thought he was mad (it was raining and I was wearing a Parisian flapper-inspired dress – it's not waterproof). I refused and said I wasn't going anywhere until I got my rhubarb crumble and custard. By this time, a few people were looking at us suspiciously and I was beginning to feel very conspicuous. I followed him sulkily.
Instead of heading back to the B&B though, he crossed over the road to outside Austen's house. Now, one thing that must be understood if this is to be seen as particularly remarkable, is that James is a 'good guy'. So imagine my surprise – and horror – when he began scaling the wall into Jane Austen's garden."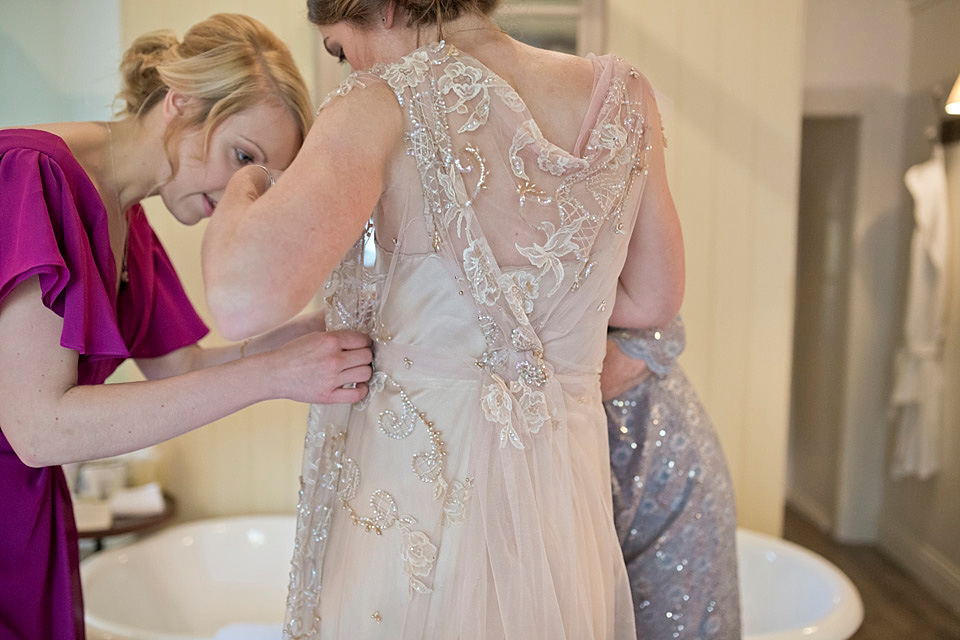 "'Why don't you just use the gate?' I asked.
'Don't be ridiculous', he retorted (pride wounded), 'it won't be open'.
I pressed on the latch, opened the gate and walked in. I looked up at him from the other side of the walled garden. Whether or not it is my perception of the place I don't know, but the garden felt alive. It was as though I could see Jane Austen and her characters laughing on the lawn and sitting reading on the chairs in the shade. I was mesmerised and so failed to notice that my fiancé was down on one knee.  I just remember laughing, then crying, then laughing some more. And of course saying 'yes' a lot.
But owing to the darkness I hadn't seen the ring. I took it and ran across to the house – James calling behind me to stop – and danced around to set off the security lights.  A blast of dazzling light was thrown across the garden and I saw on my finger the most beautiful sapphire and diamond engagement ring."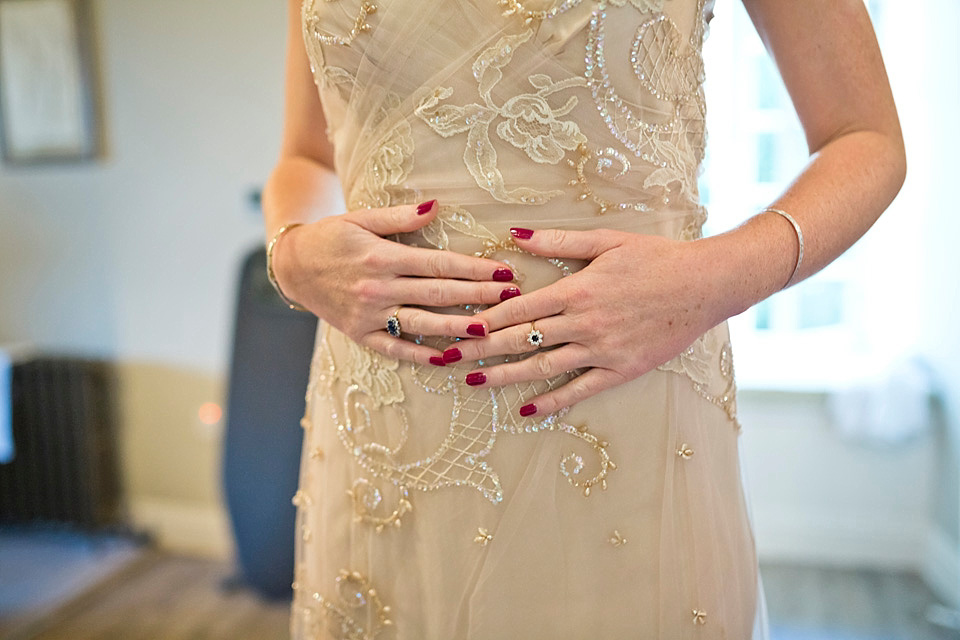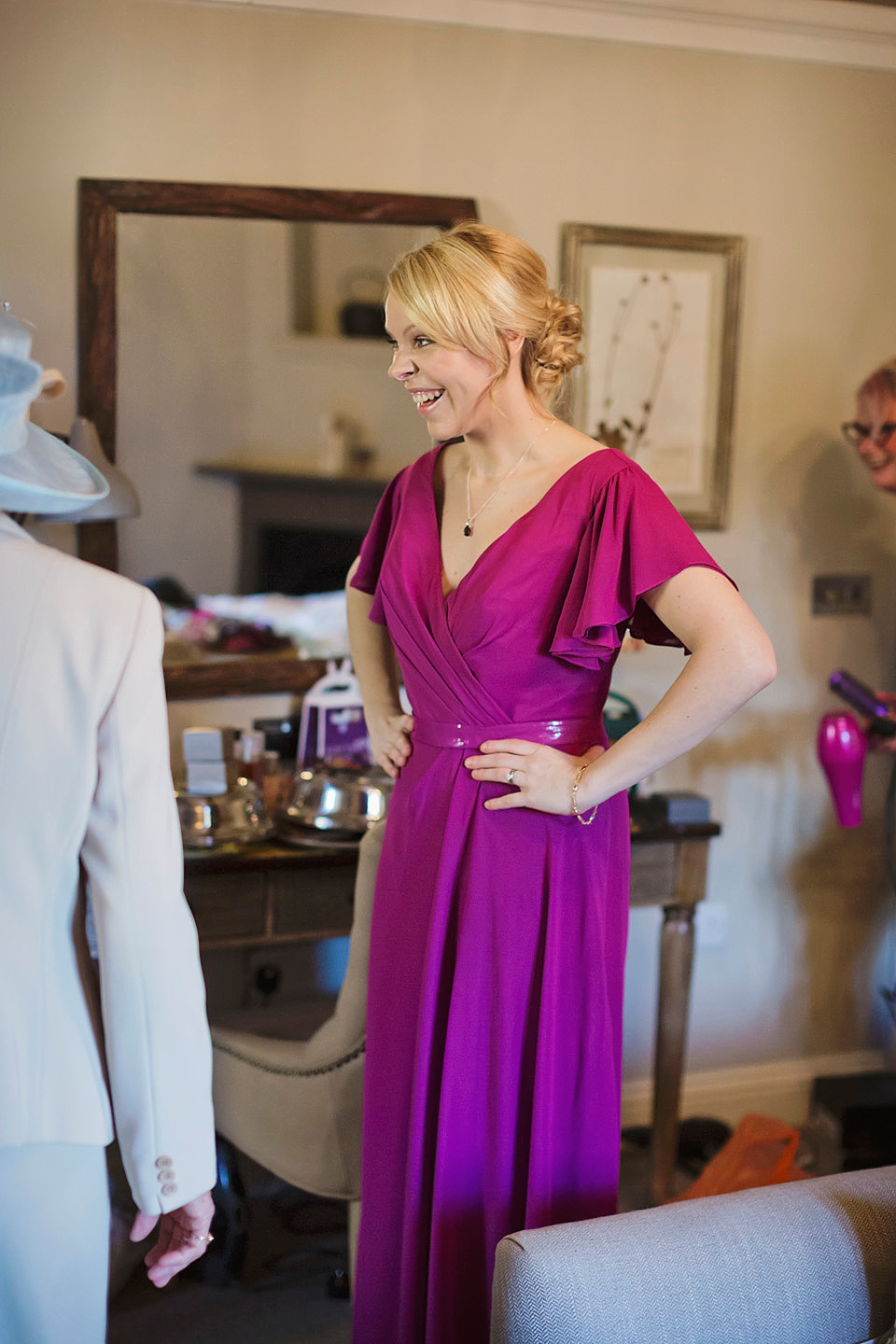 "I wore a handmade beaded flower headdress by Sash & Halo (independent designer based in South West London. I found her at the Balham Craft Fair."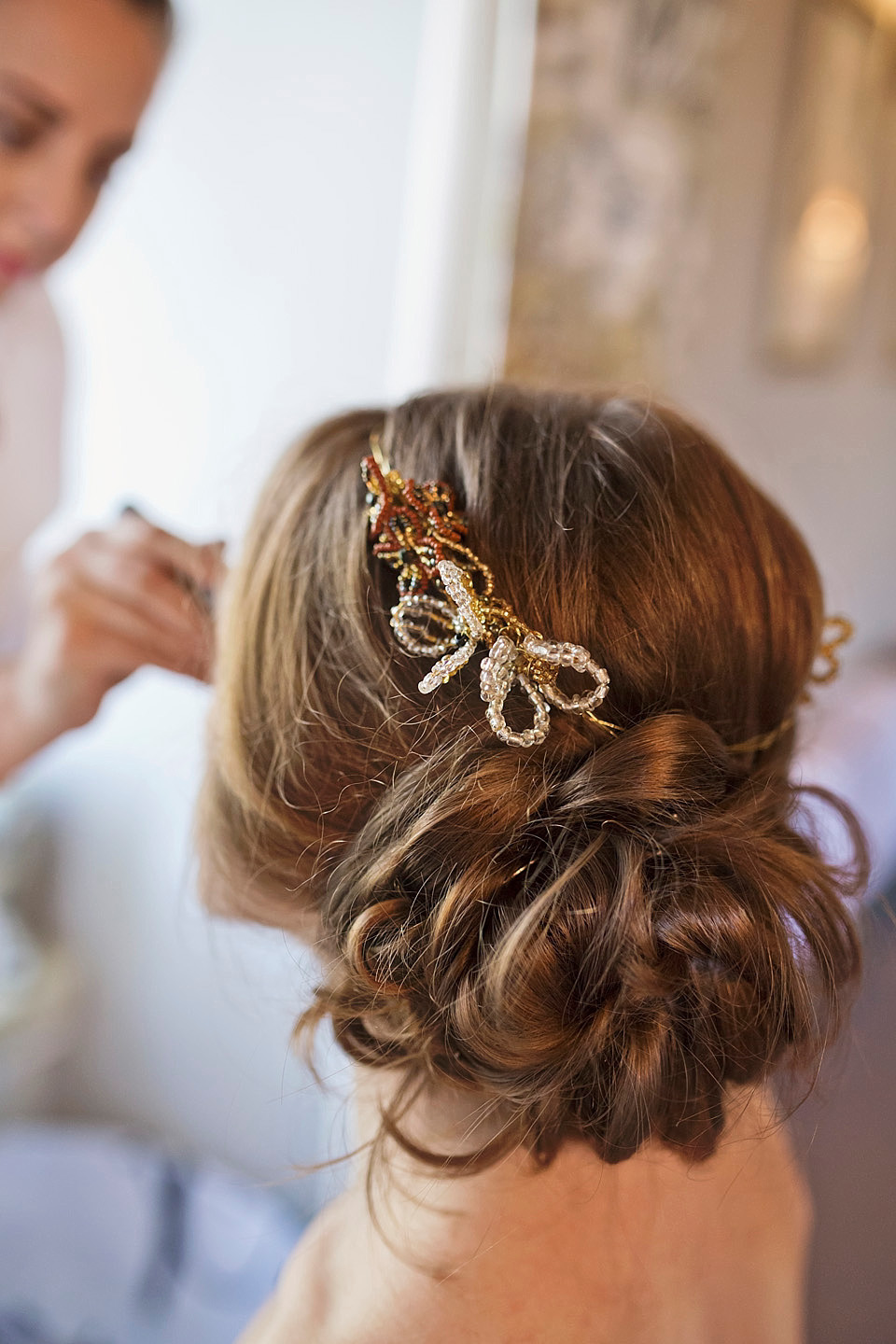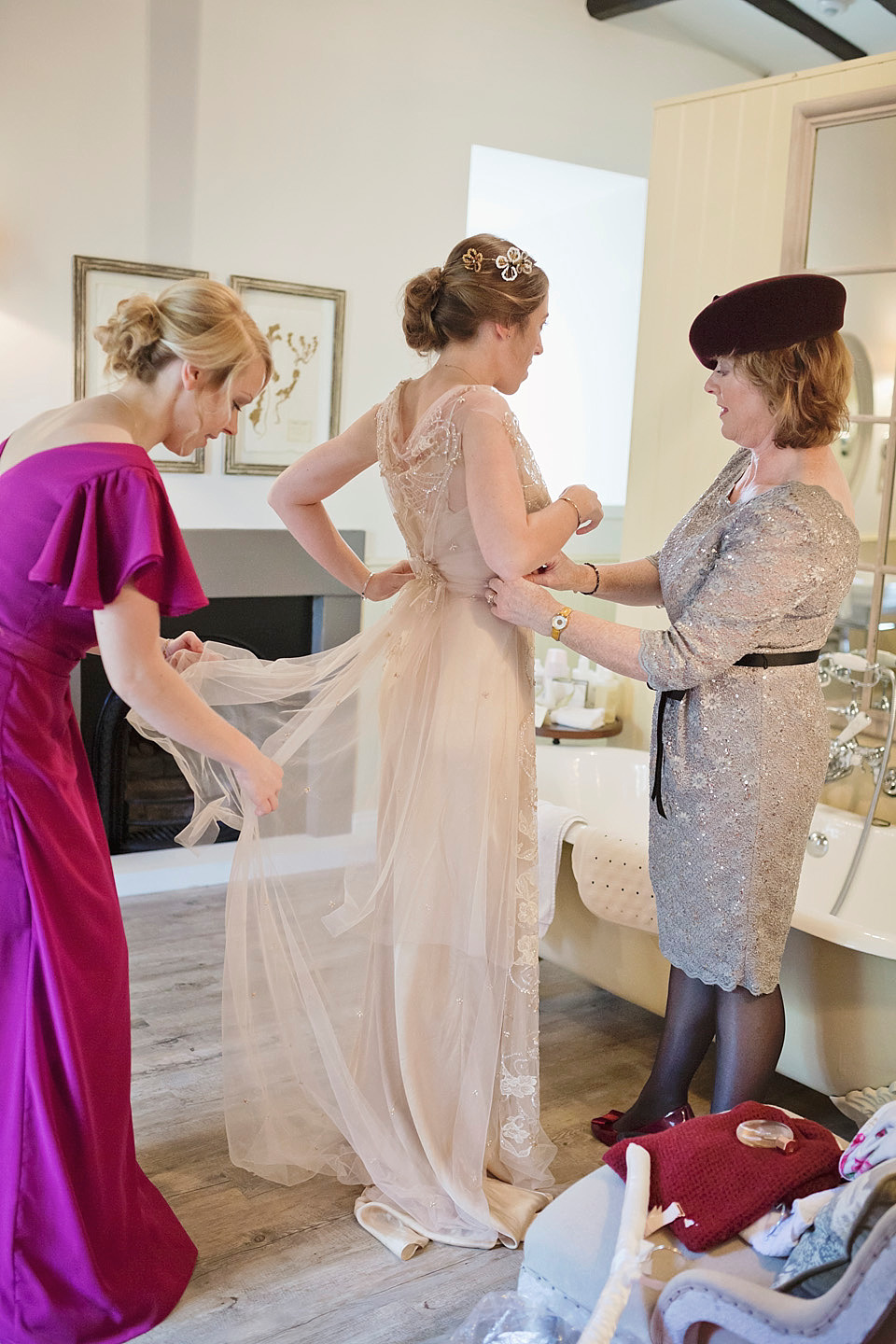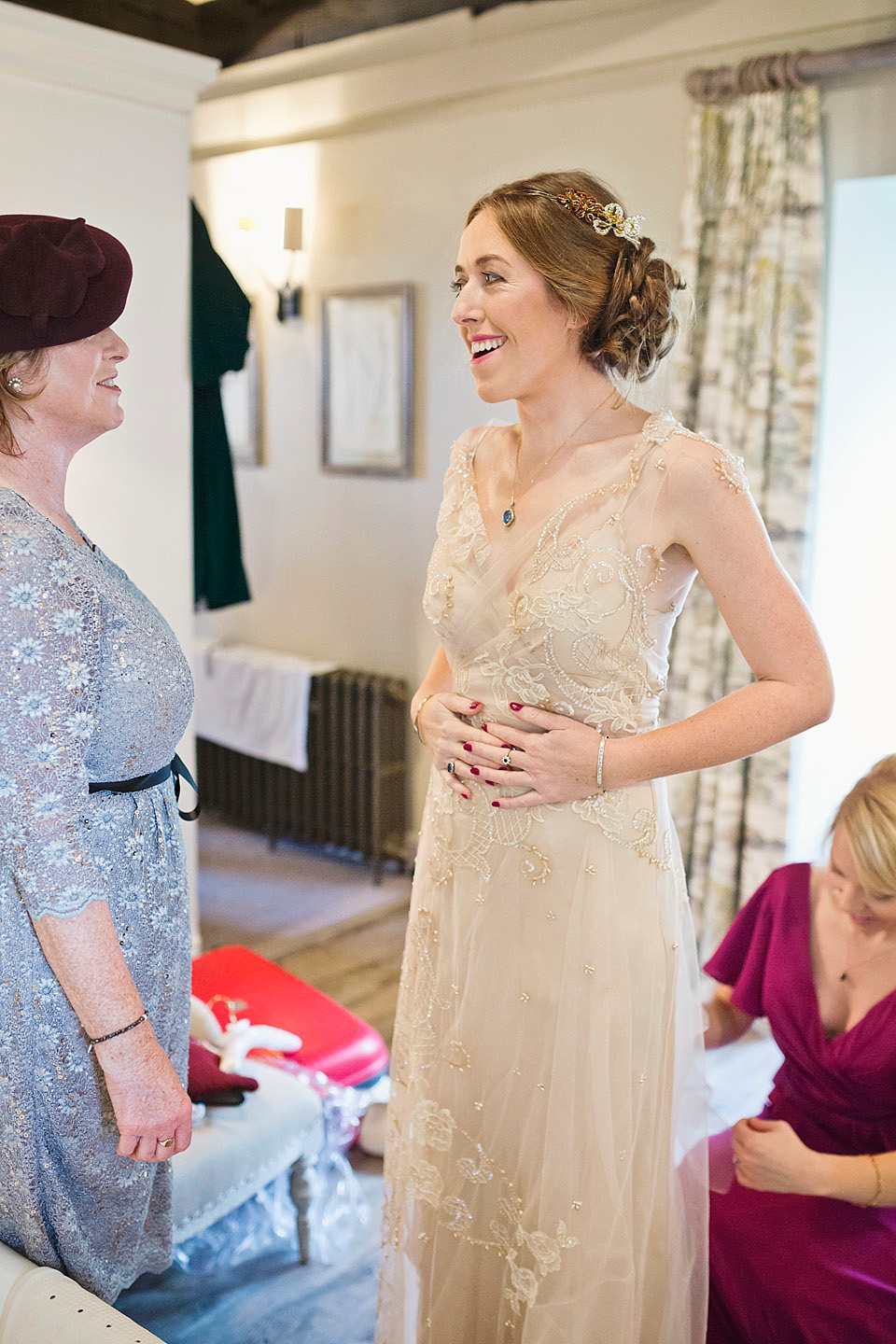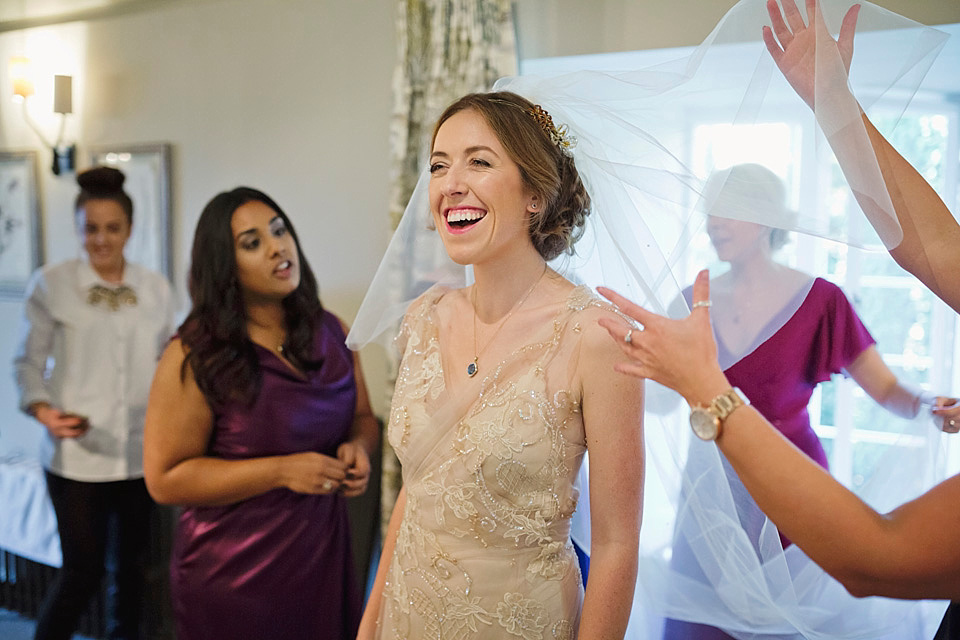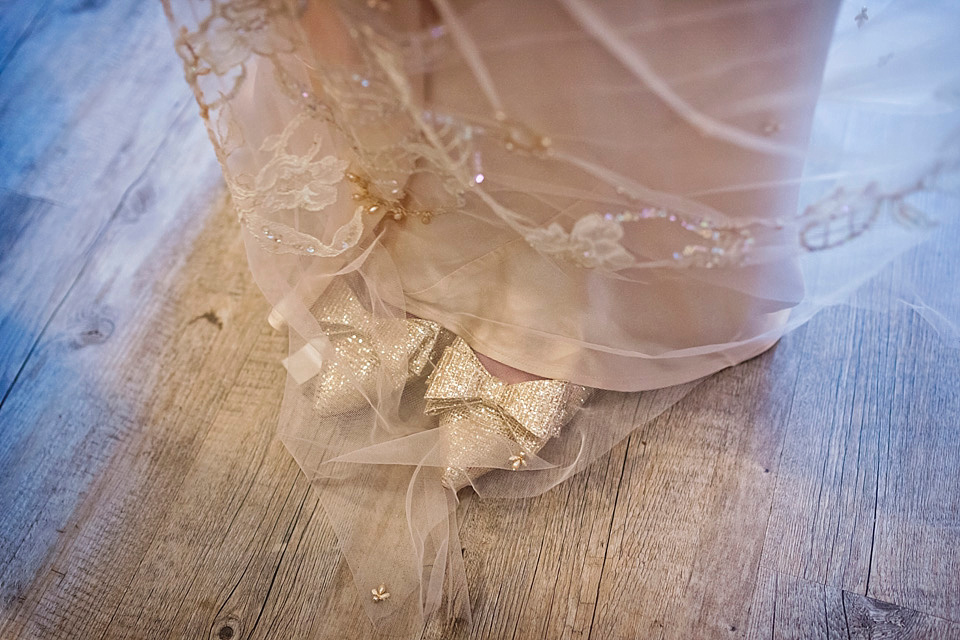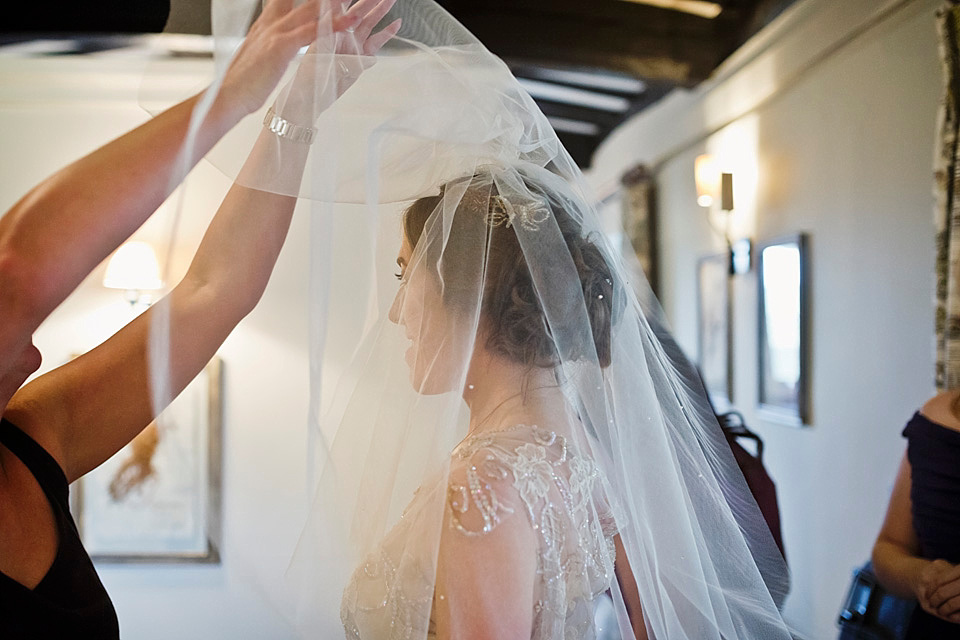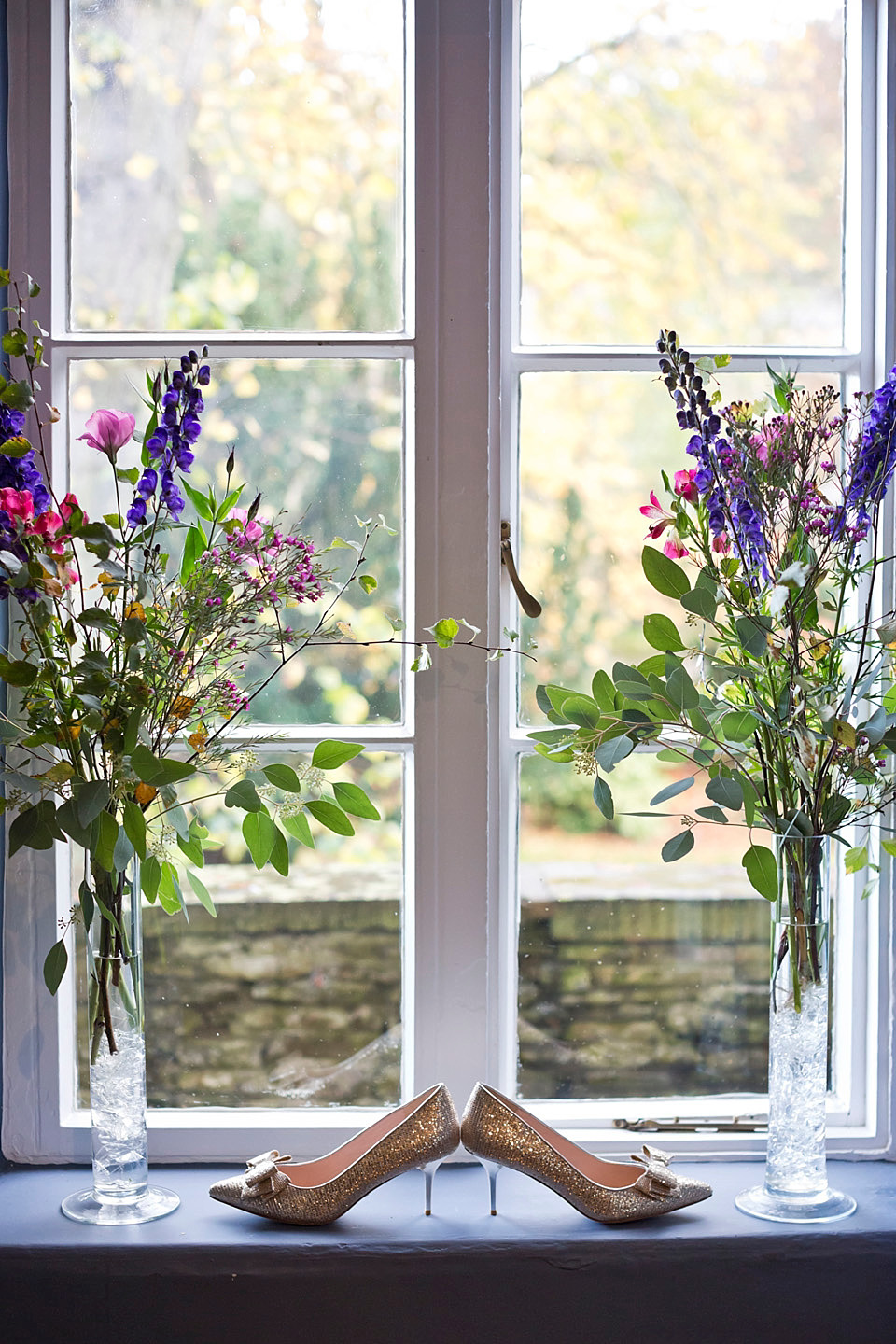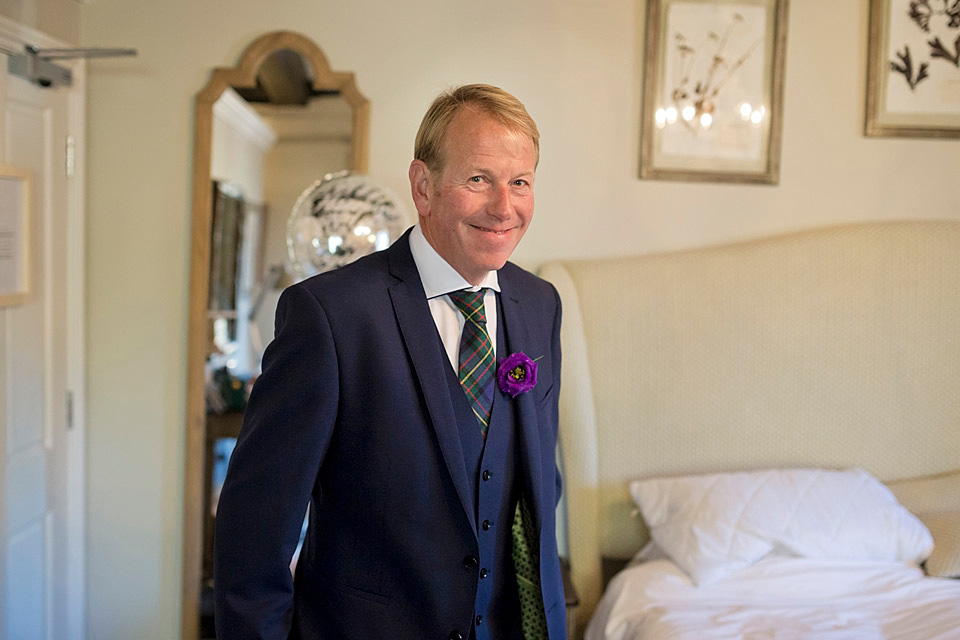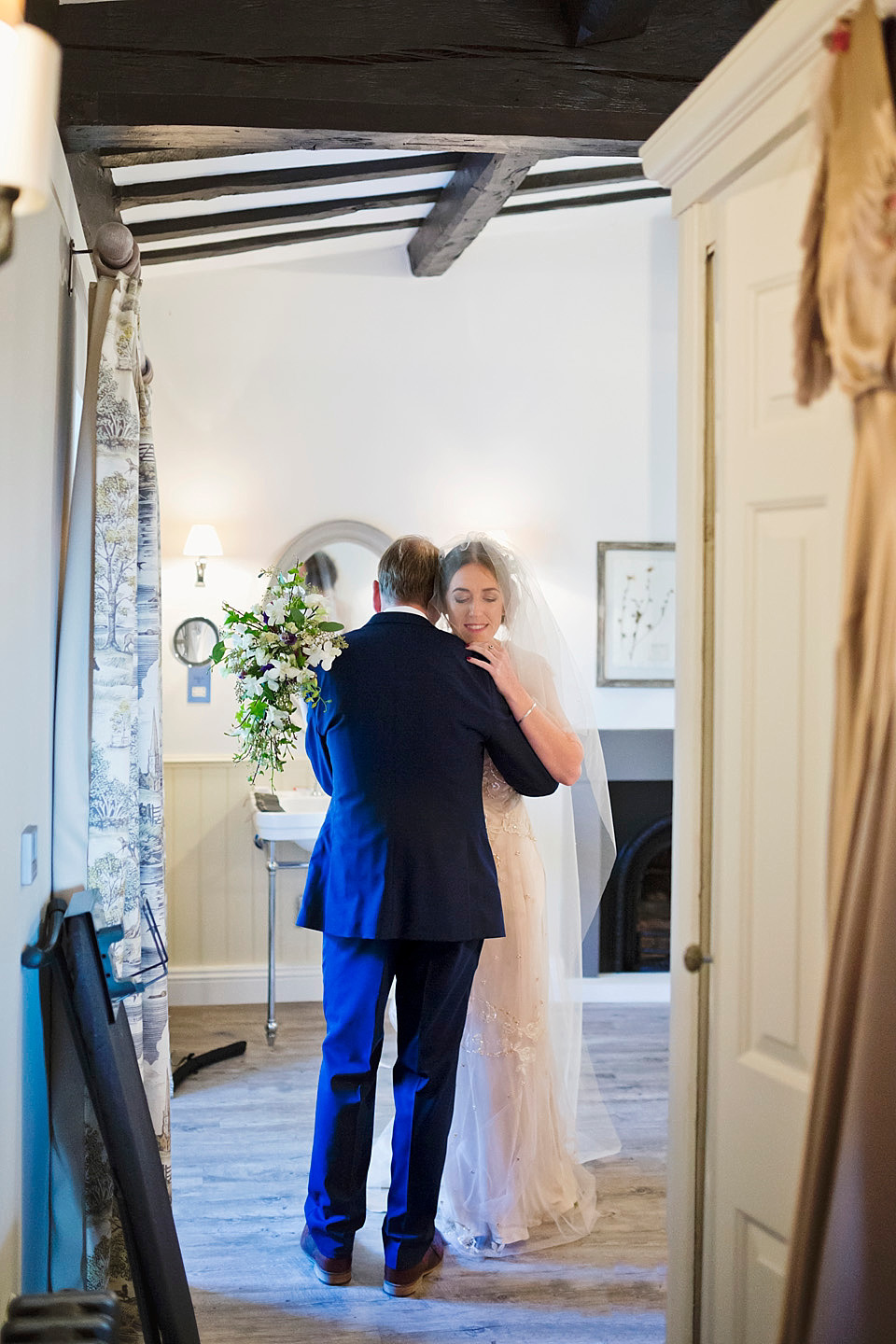 "My veil was from Wedding Veils Direct I looked everywhere for a veil to complement the unusual colour of my dress (it has oyster elements to it) but couldn't find one. This website allows you to customise the length, style, colour and embellishments of the veil. I chose to have pearls and swarovski crystals – it cost £75."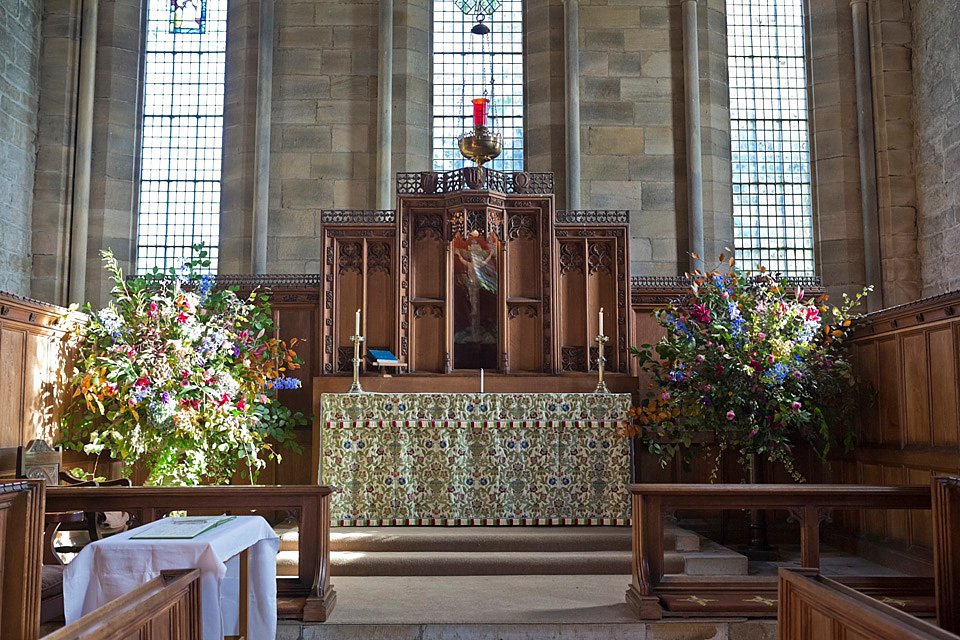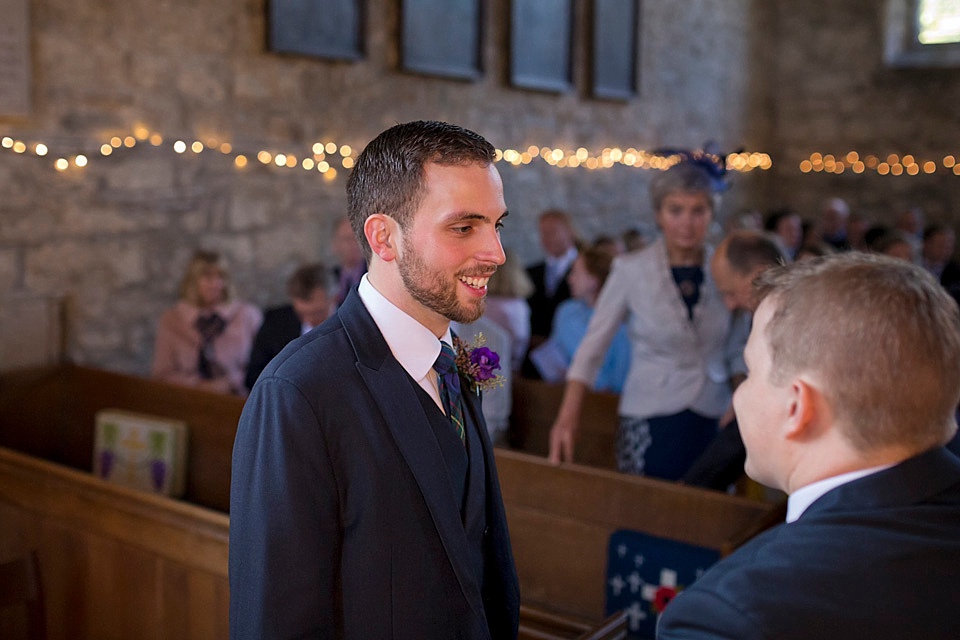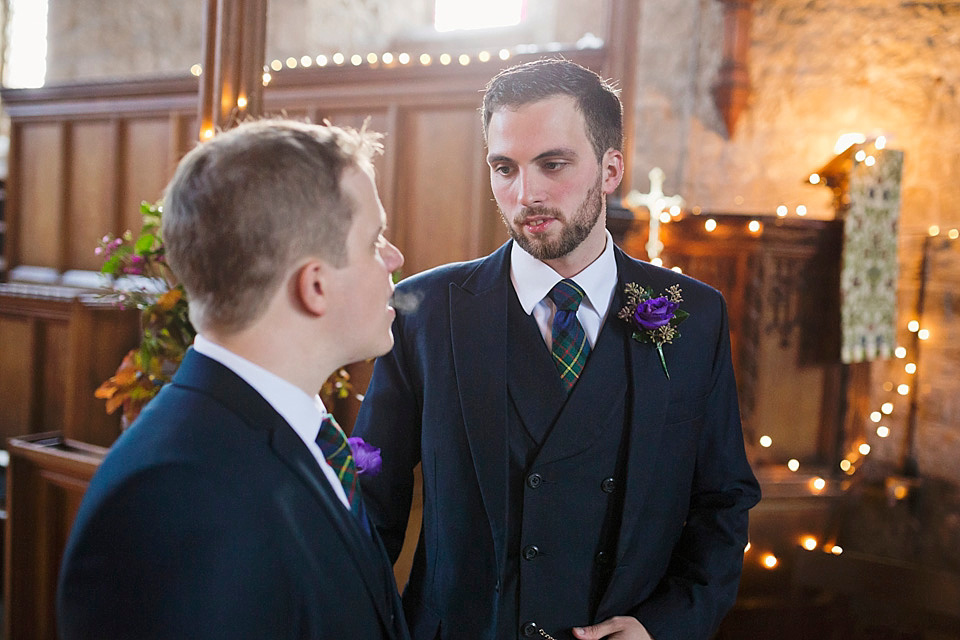 "Our stationer was LucySaysIDo. I was fortunate enough to win a competition on Facebook, so our stationery was free. We made the place cards (tags for the wedding favours) using luggage labels and lots of glitter. We also made the table plan, using silhouettes of us and personalising it to look like pages from a novel."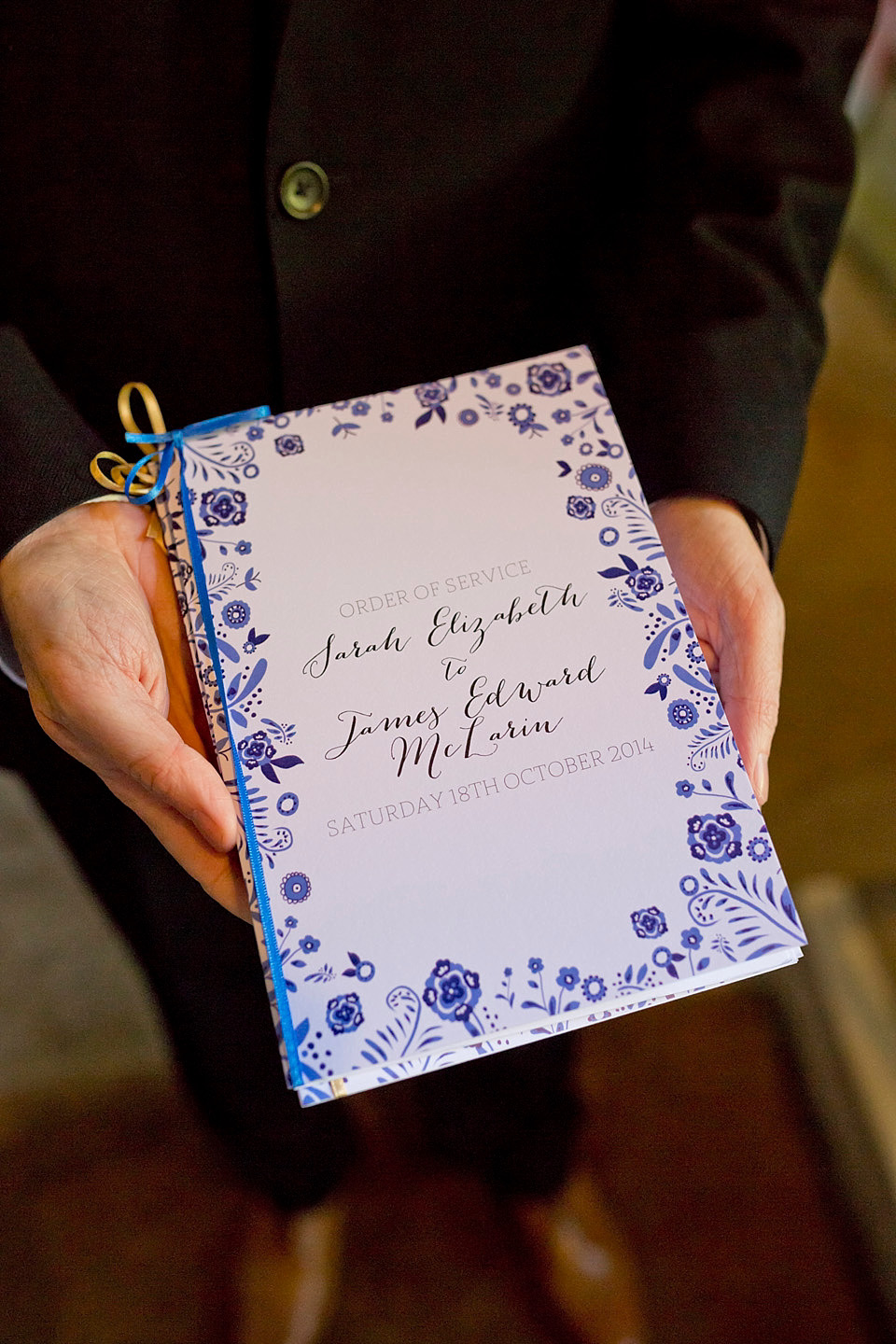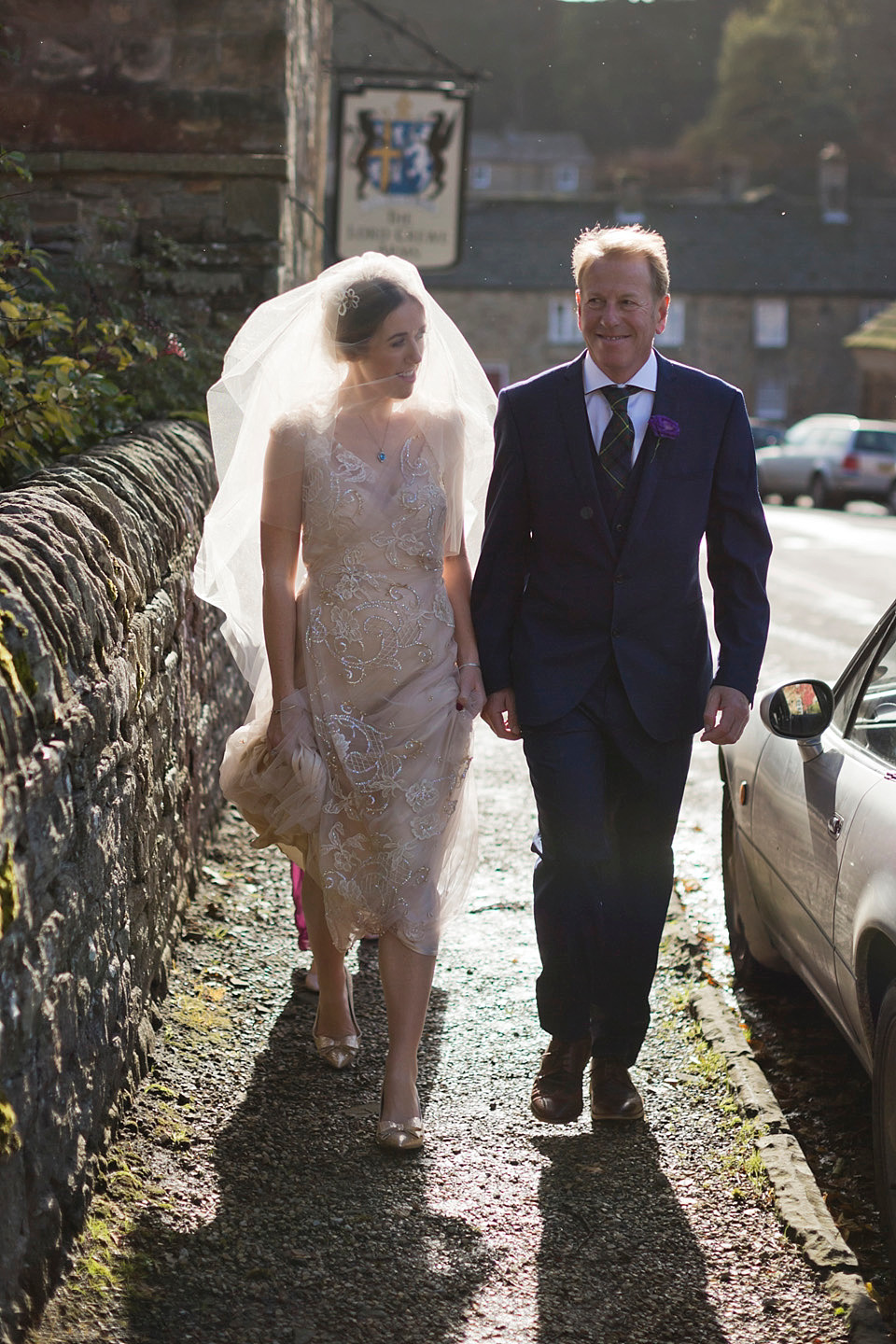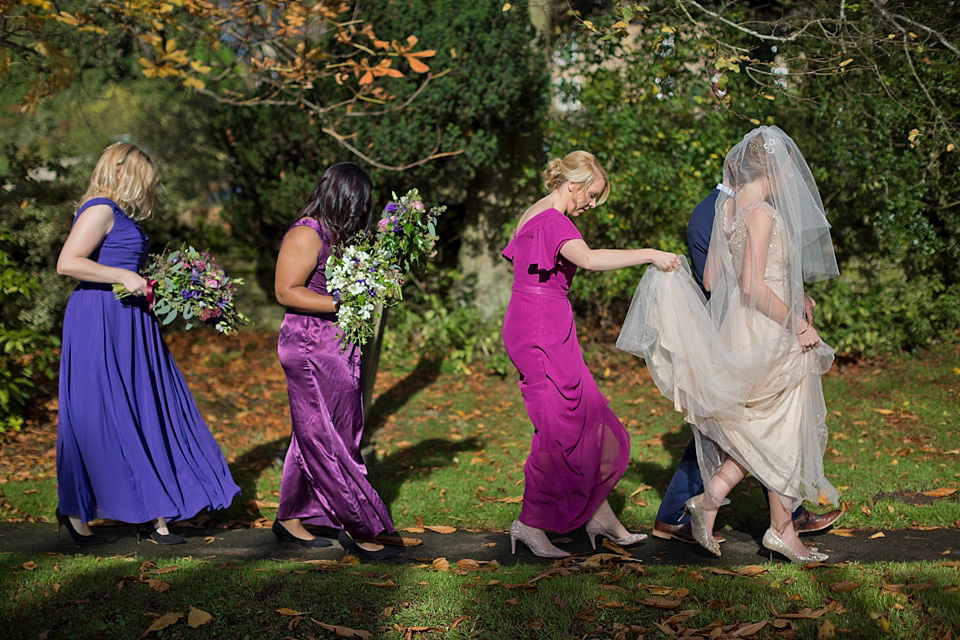 "The bridesmaid dresses were ordered from bridesmaiddressesbuy.co.uk. Again, I wanted the girls to feel good in their dresses and it took quite a while to find dresses in colours and styles which complimented each bridesmaid – and also the other dresses. I wanted them to be timeless. But, I always enjoy looking at dresses and I sometimes write about them, too!"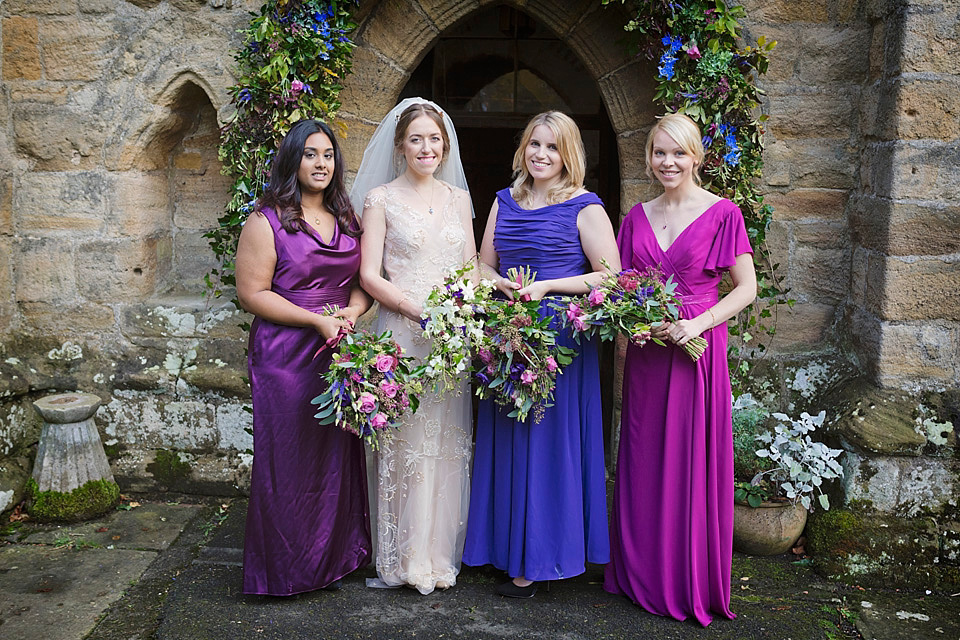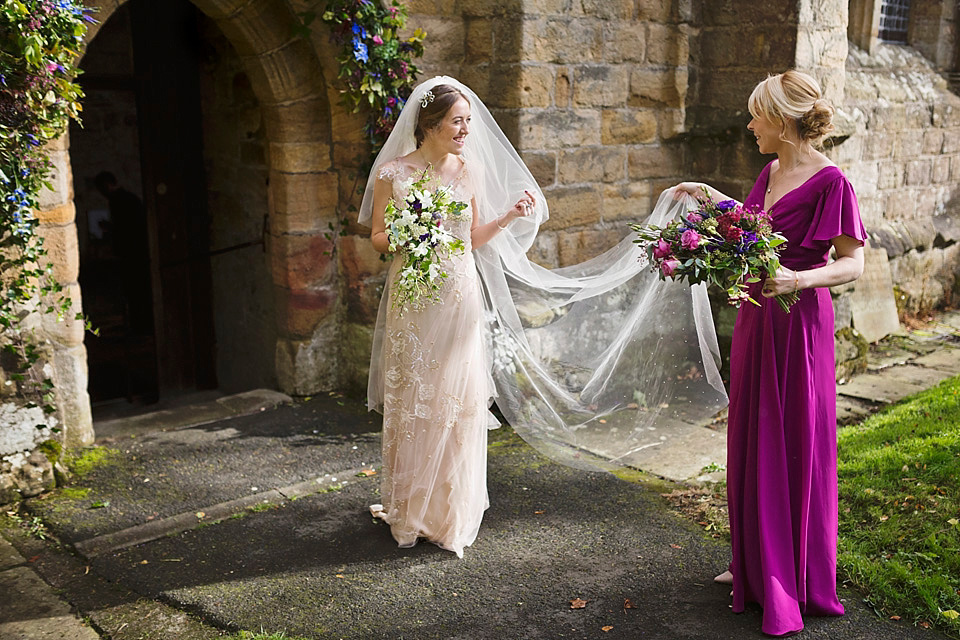 "Caro and Harriet from Flowers Unlimited provided our flowers. Caro even popped in to my school (in Sussex!) during her visit to see her daughter, to discuss our arrangements. I really wanted the flowers to enhance, rather than dominate, the rooms. And again, we wanted them to look natural and to enhance the already beautiful 11th century church and 13th century hotel.
Purple lisianthus, cool water roses and winter berries were used in all the arrangements, but my bouquet was mostly cream with deep green foliage. I had it made up in a teardrop, as that was what my mam's bouquet was when she married my dad. We had a beautiful archway made and the pedestals were nothing short of spectacular. Not even three ushers could lift one!"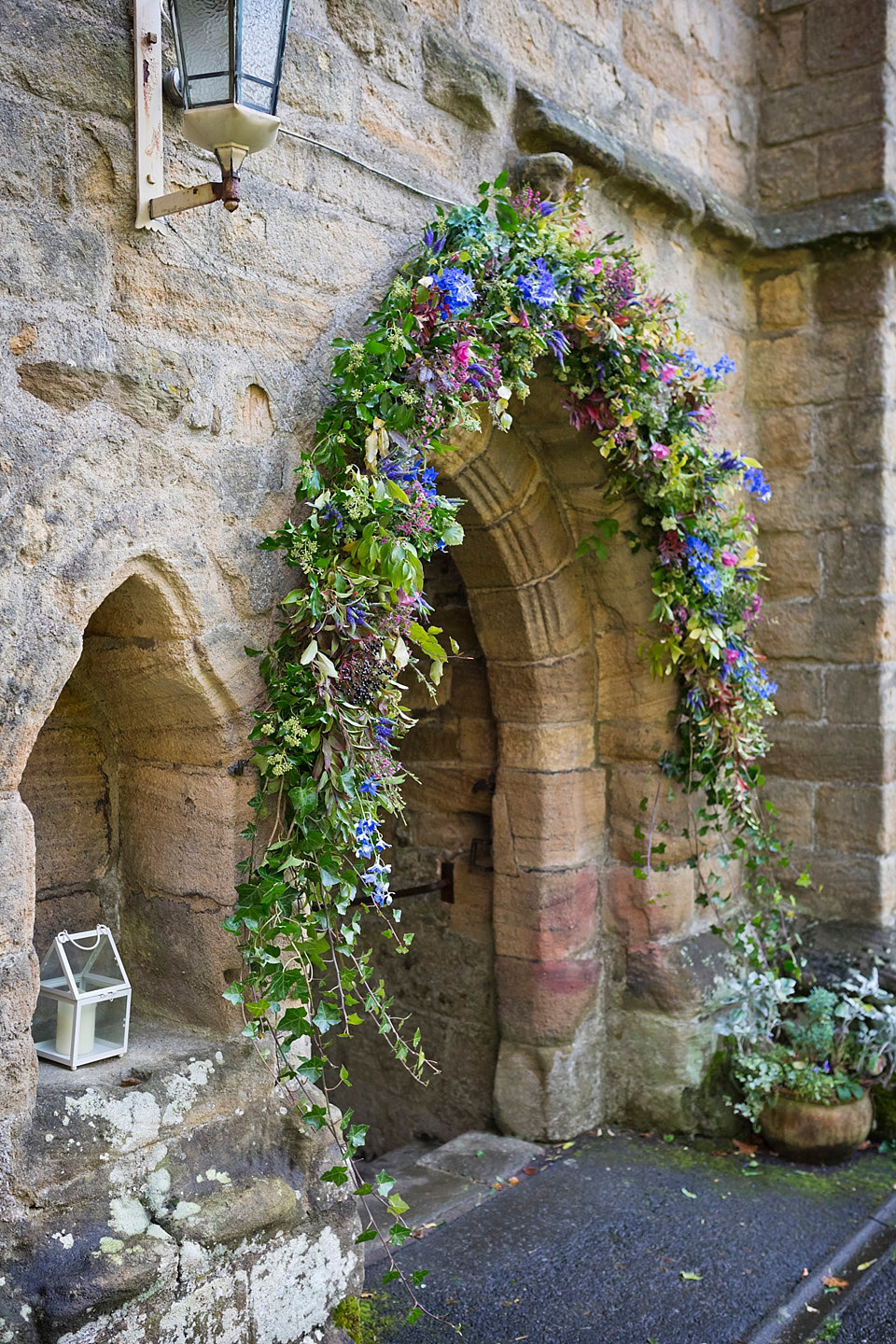 "James wore a navy three-piece suit with double breasted waistcoat, tailor-made in Hoi An, Vietnam, by Mr XE during our holiday there last Easter. It's a beautifully made suit – but it did mean that James had to carry it around in his rucksack for three weeks!  He also wore a pair of Barker brogues in brown leather, a McLarin (our surname) tartan  tie and a gold pocket watch, which I bought for James as a wedding gift."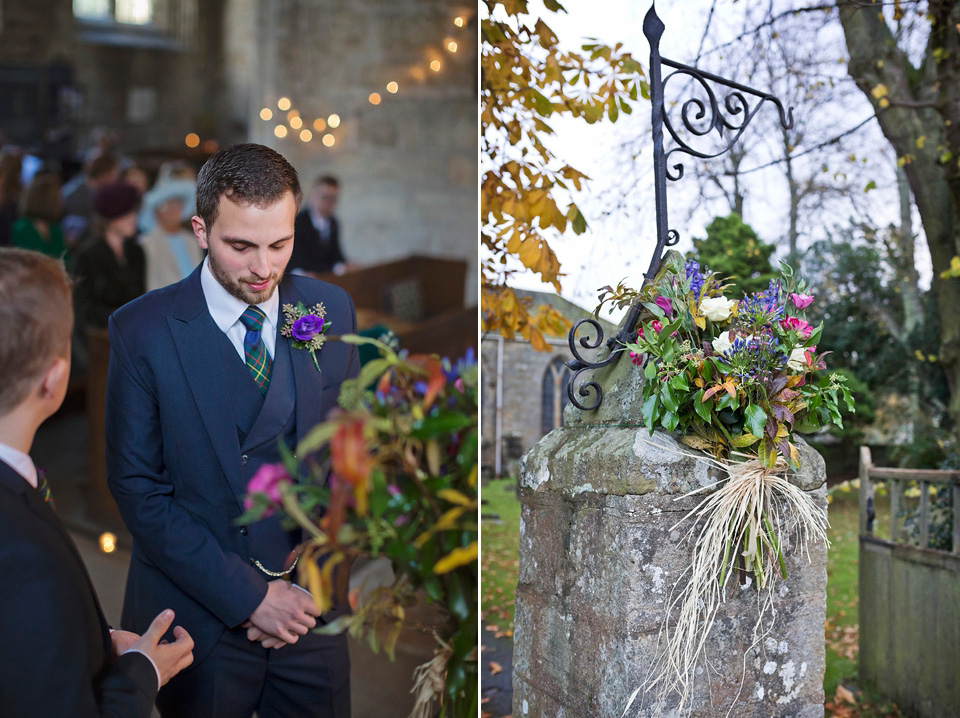 "My dad. It was really lovely – he kept me calm by doing a Monty Python Ministry of Silly Walks walk up the church path(!) and ensured I didn't trip up.  We were accompanied down the aisle by the sound of The quartet played 'Honeymoon' (Ilan Eshkeri) from The Young Victoria.
They played Lark Ascending (Vaughan Williams) which is my dad's favourite piece of music, during the signing of the registers.  Then the Bridal March was 'Under the Umbrella' by Thomas Newman."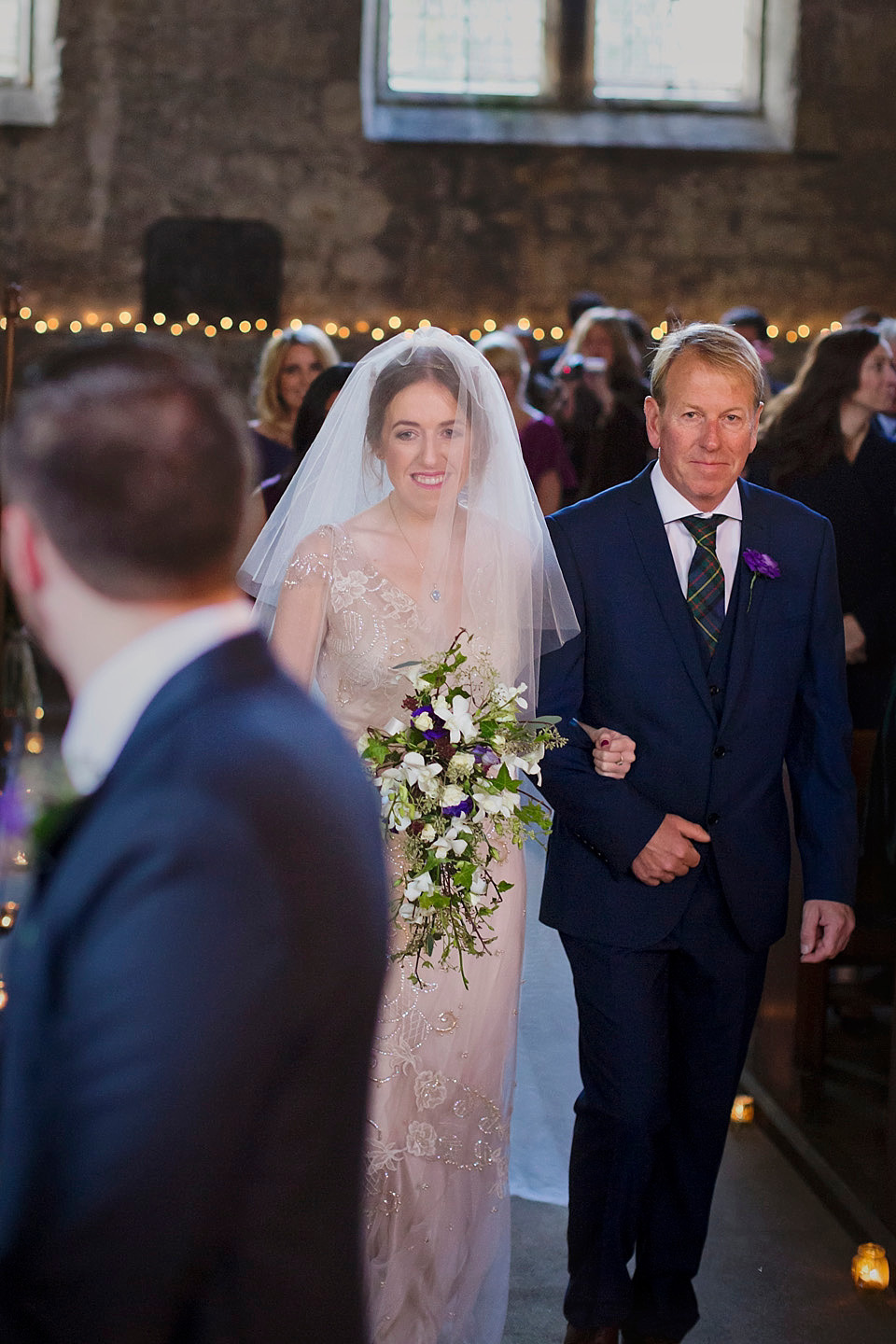 "My Mum read 'Yes I'll Marry You' by Pam Ayres – which is just so appropriate for me and James – and it was lovely to involve her in the ceremony like that. Starting off with a humorous poem also lightened the mood of the service, though I did well up just seeing how wonderful my Mum looked in the pulpit.
Our friend, George, read 'The Passionate Shepherd to his Love' by Christopher Marlowe. It is all about the simplicity of love and the fact we don't need a lot to be happy.
Lastly, two friends, Helen and Nicola, read an extract from 'Pride and Prejudice'.
'Elizabeth was too much embarrassed to say a word. After a short pause, her companion added, 'You are too generous to trifle with me. If your feelings are still what they were last April, tell me so at once. My affections and wishes are unchanged, but one word from you will silence me on this subject for ever.  Elizabeth, feeling all the more than common awkwardness and anxiety of his situation, now forced herself to speak; and immediately, though not very fluently, gave him to understand that her sentiments had undergone so material a change, since the period to which he alluded, as to make her receive with gratitude and pleasure his present assurances. The happiness which this reply produced, was such as he had probably never felt before; and he expressed himself on the occasion as sensibly and as warmly as a man violently in love can be supposed to do. Had Elizabeth been able to encounter his eye, she might have seen how well the expression of heartfelt delight, diffused over his face, became him; but, though she could not look, she could listen, and he told her of feelings, which, in proving of what importance she was to him, made his affection every moment more valuable.  They walked on, without knowing in what direction. There was too much to be thought, and felt, and said, for attention to any other objects.'
The sense of appreciation and hope in this extract is just lovely."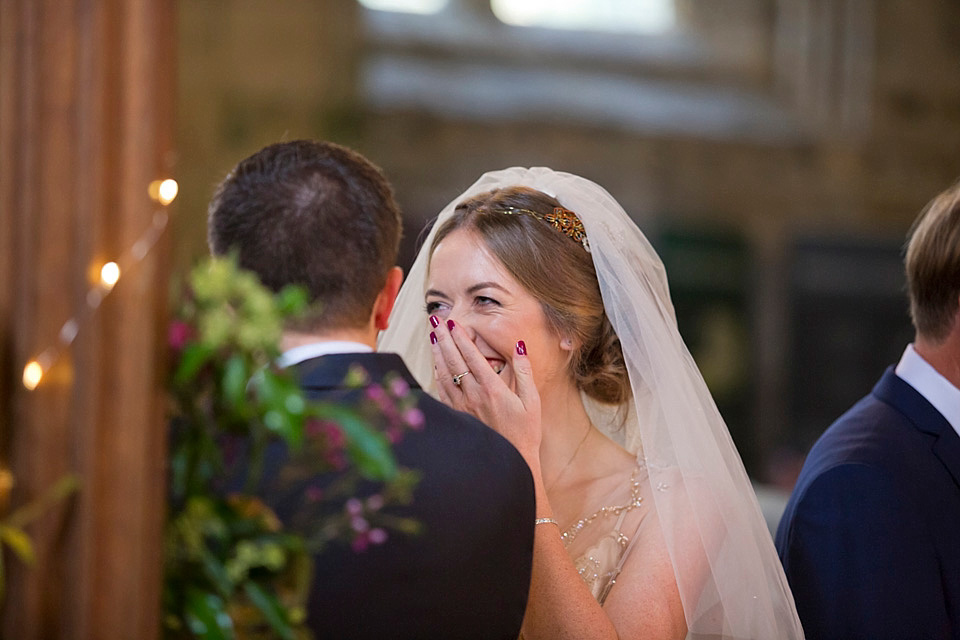 "We both wore 18ct yellow gold bands. We wanted the rings to be timeless and simple because they are more symbolic than anything else. It was lovely to buy them from the north. Somehow I just didn't feel right buying my wedding ring down south! They came from Saunders and Pughe in Corbridge."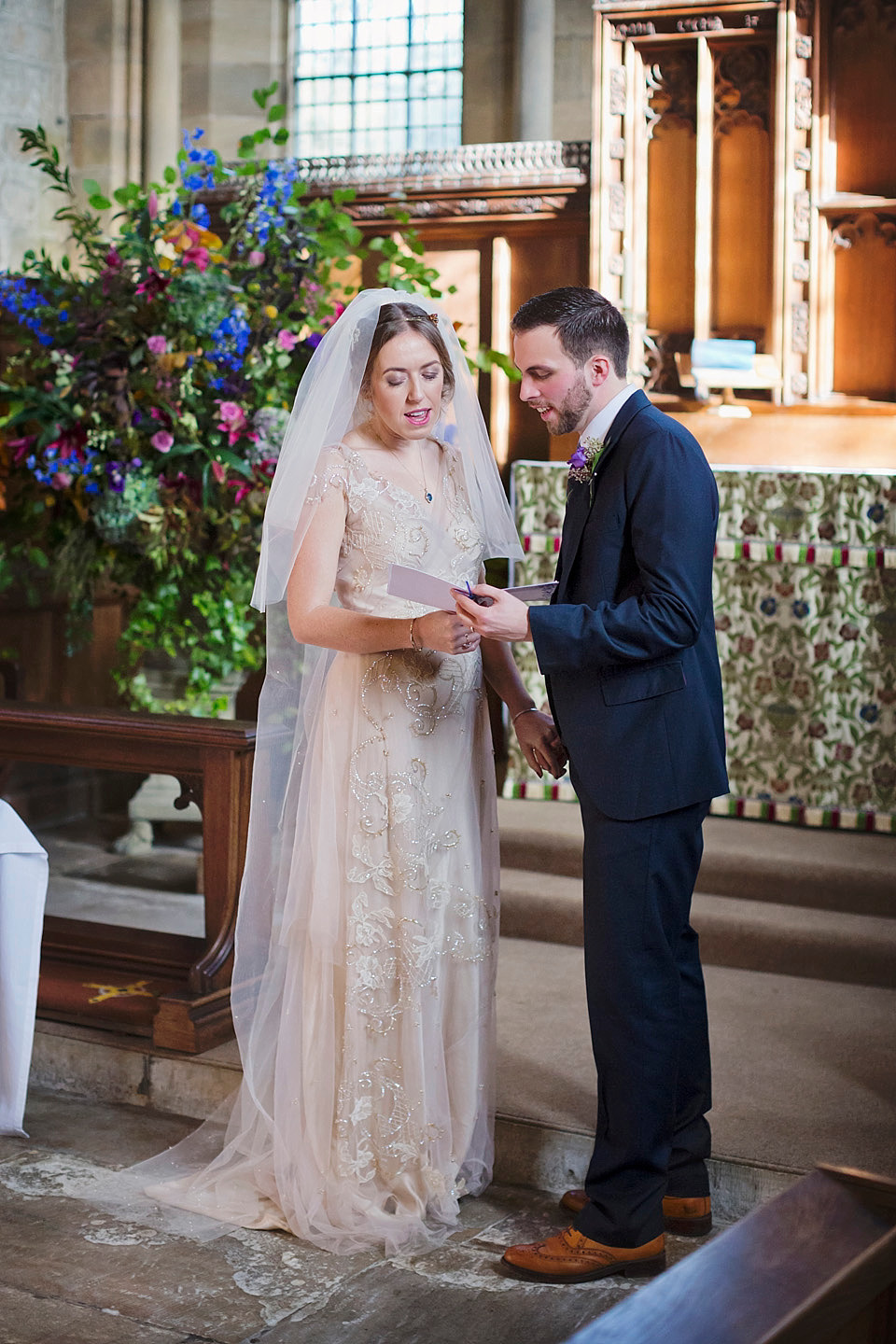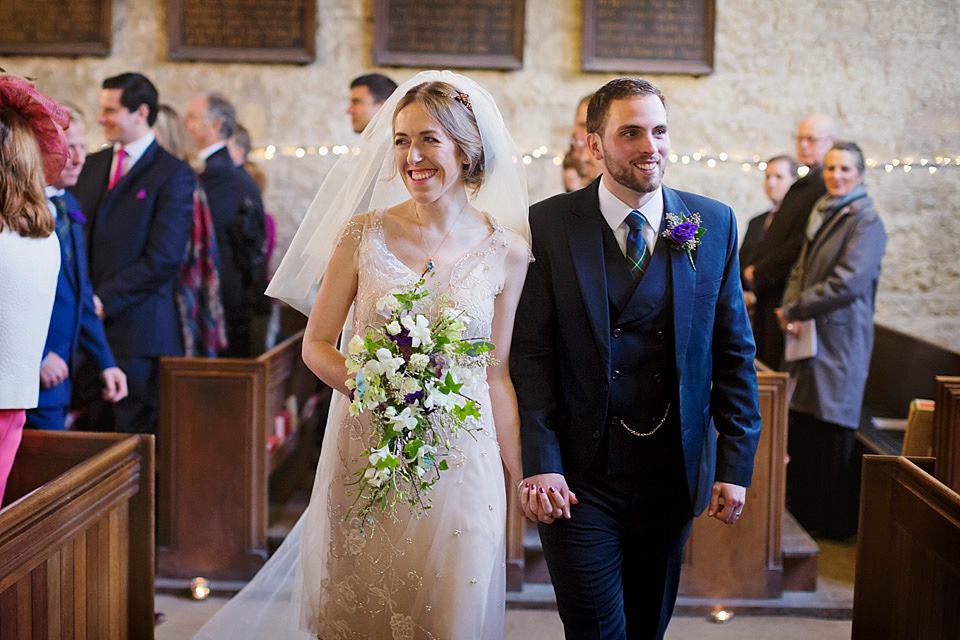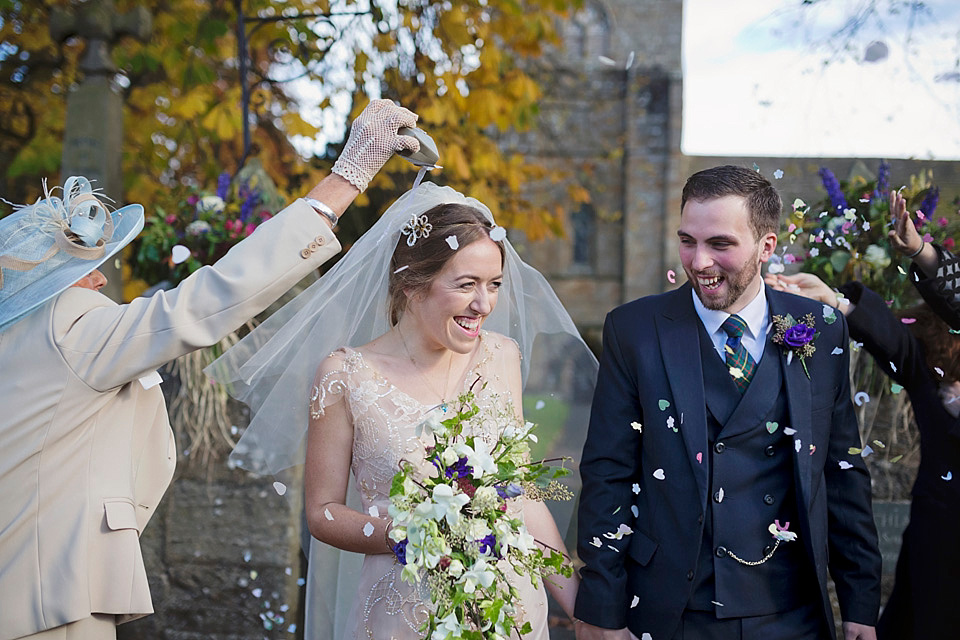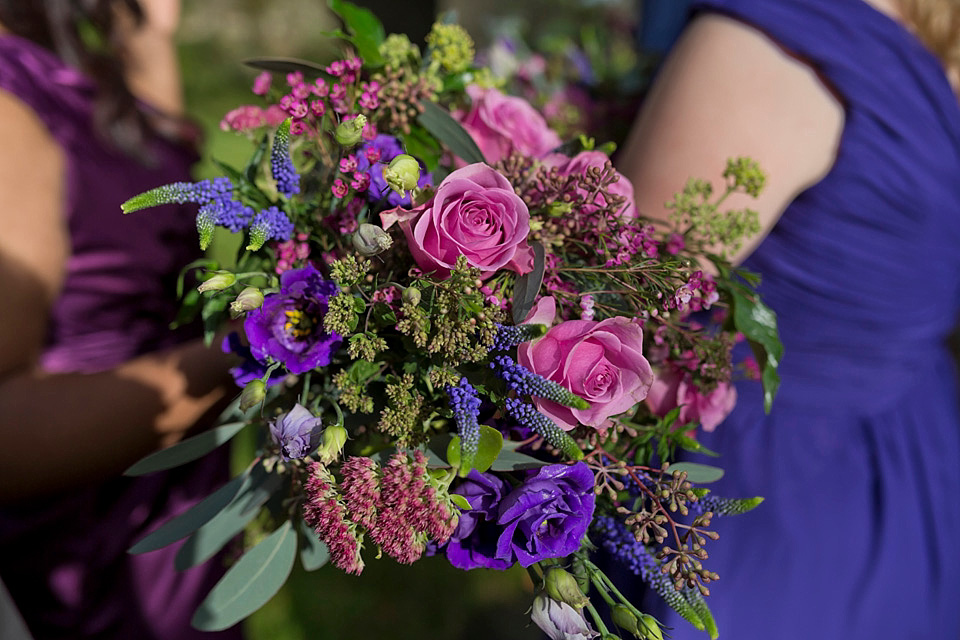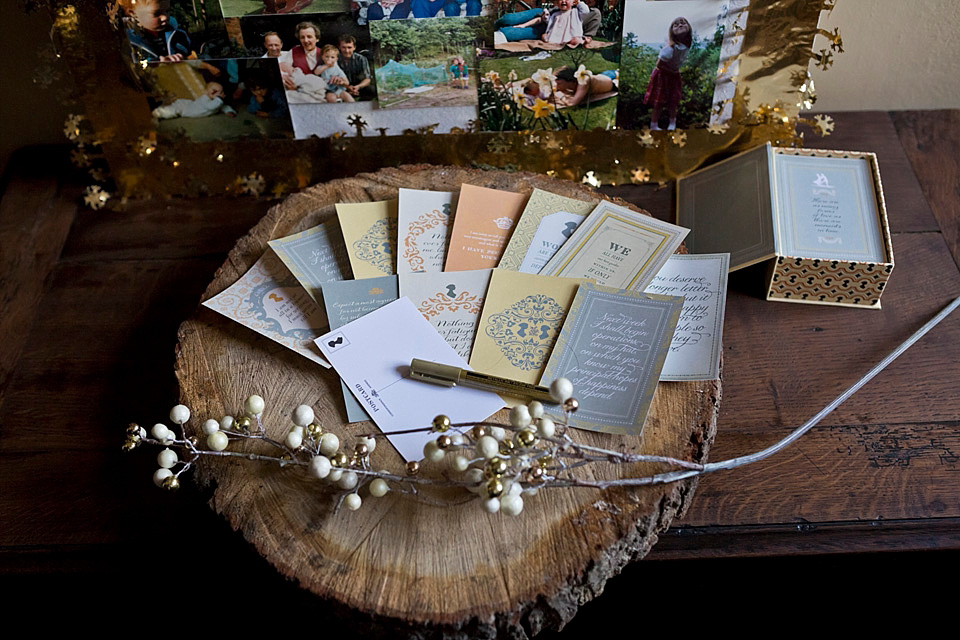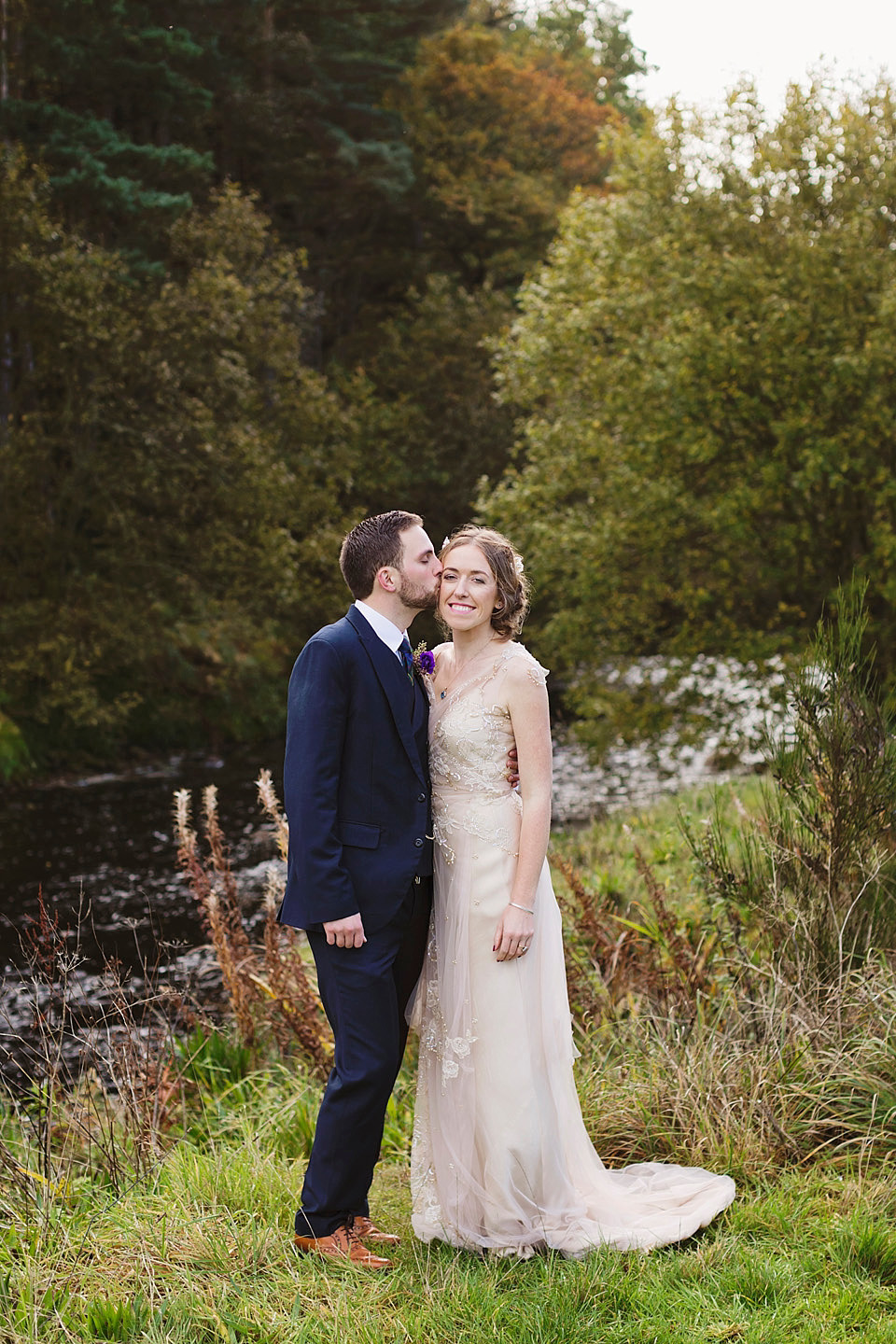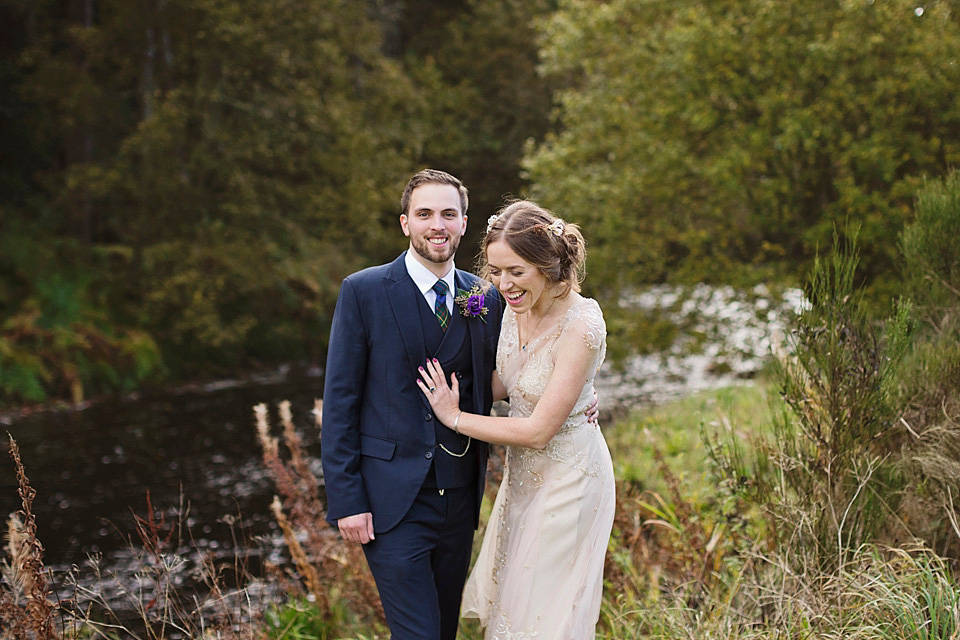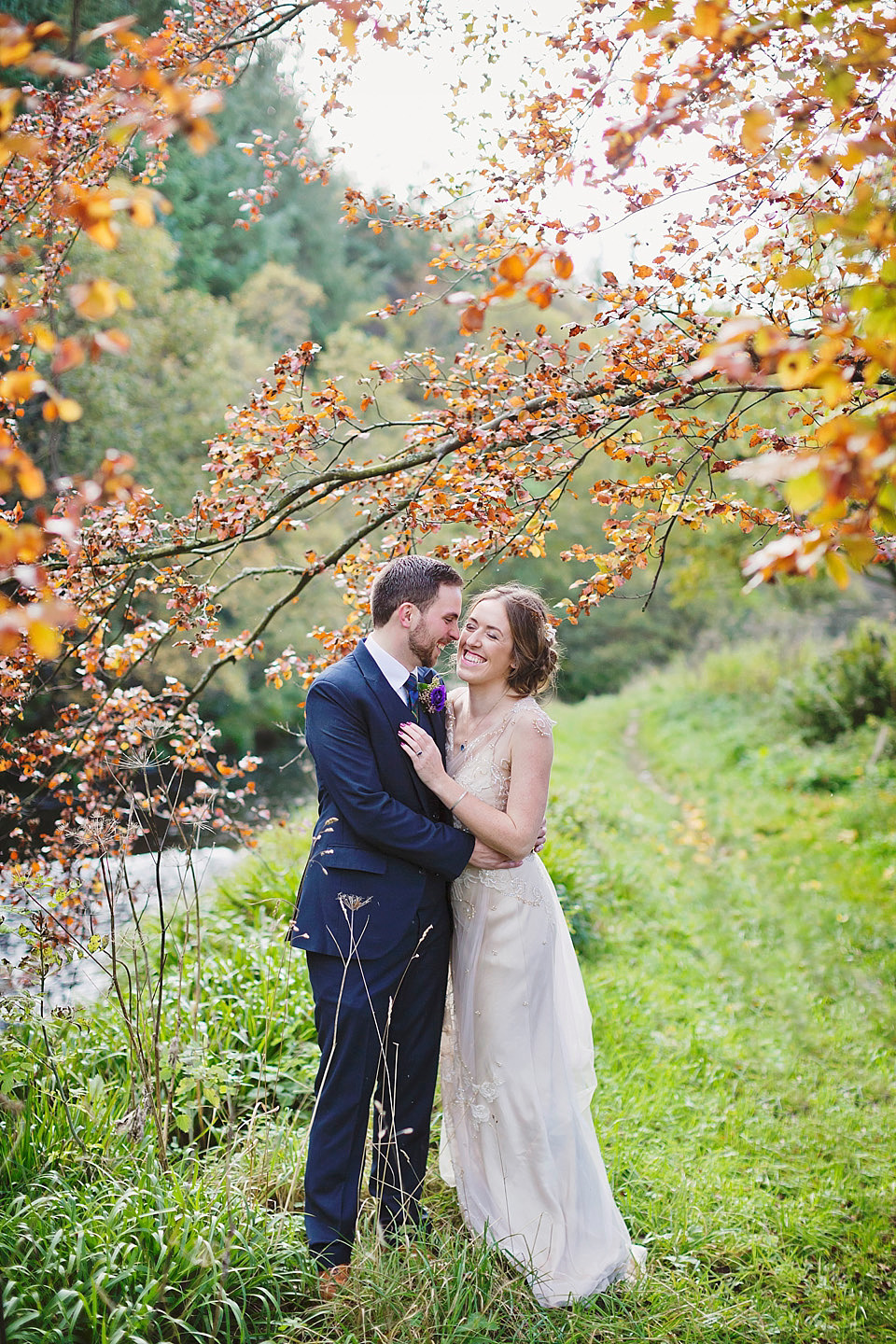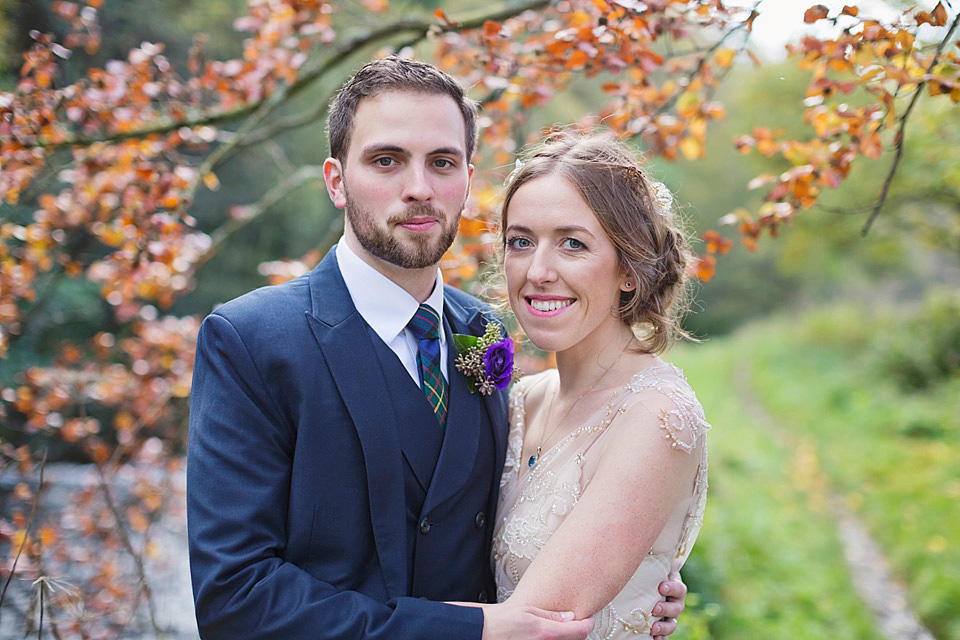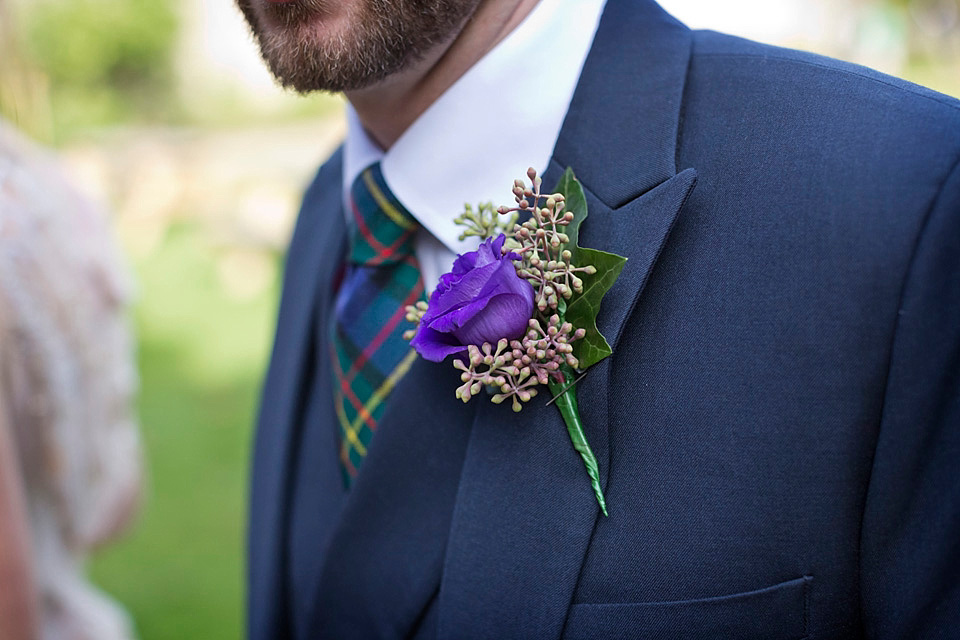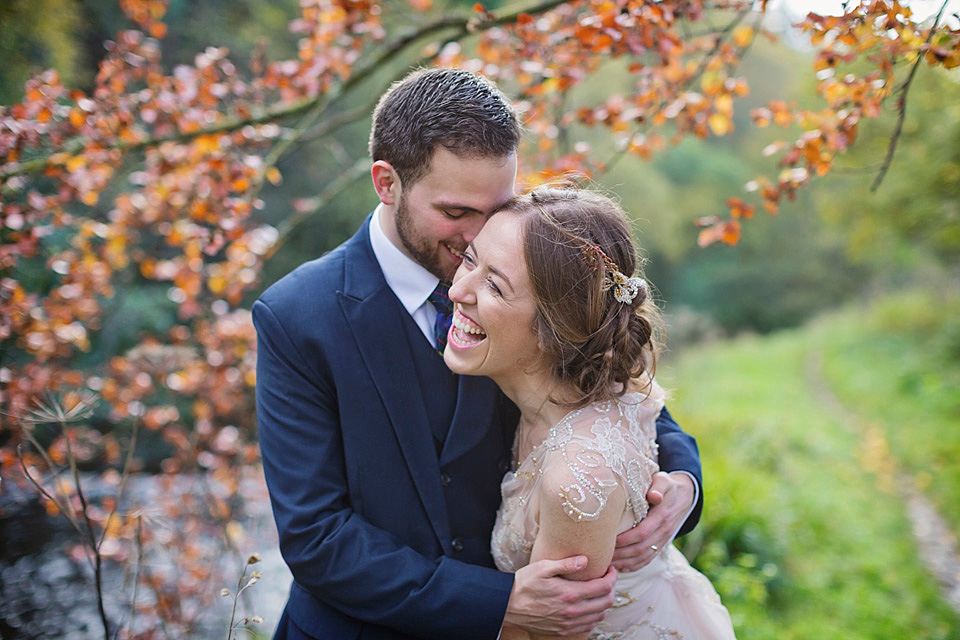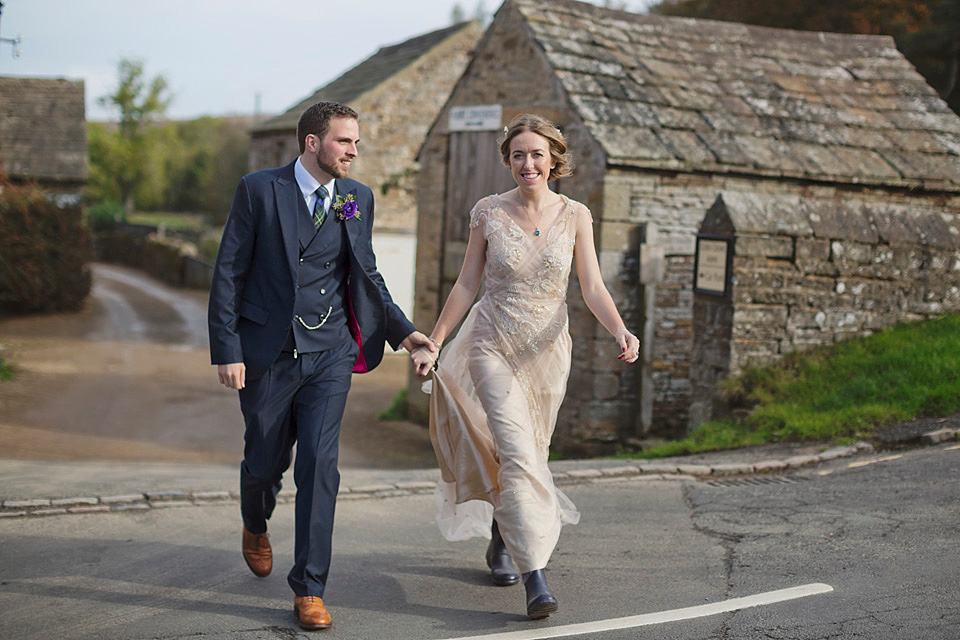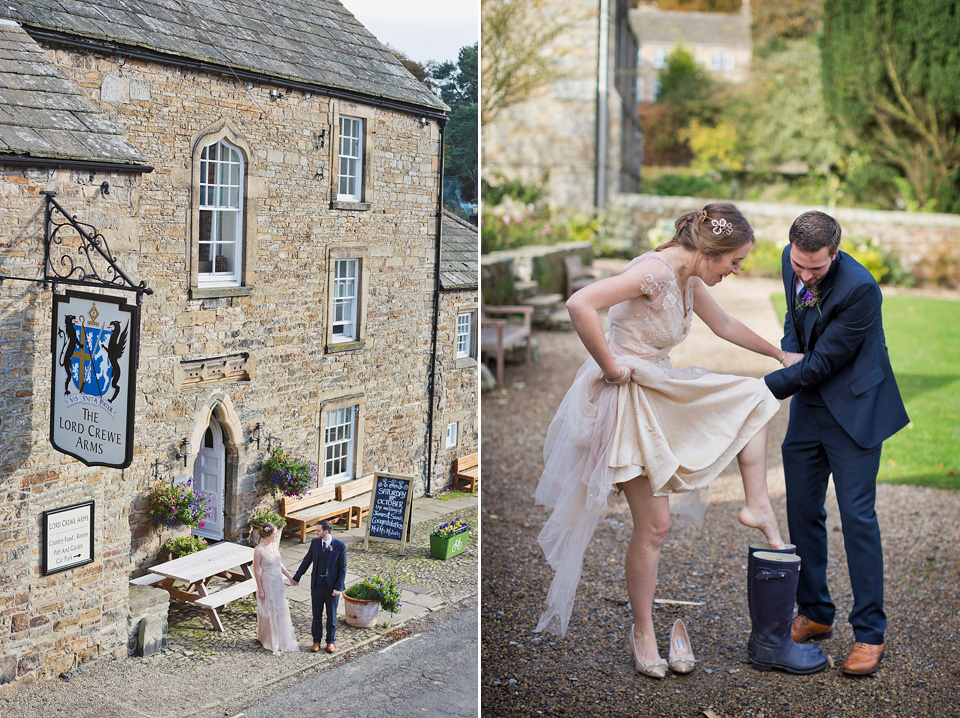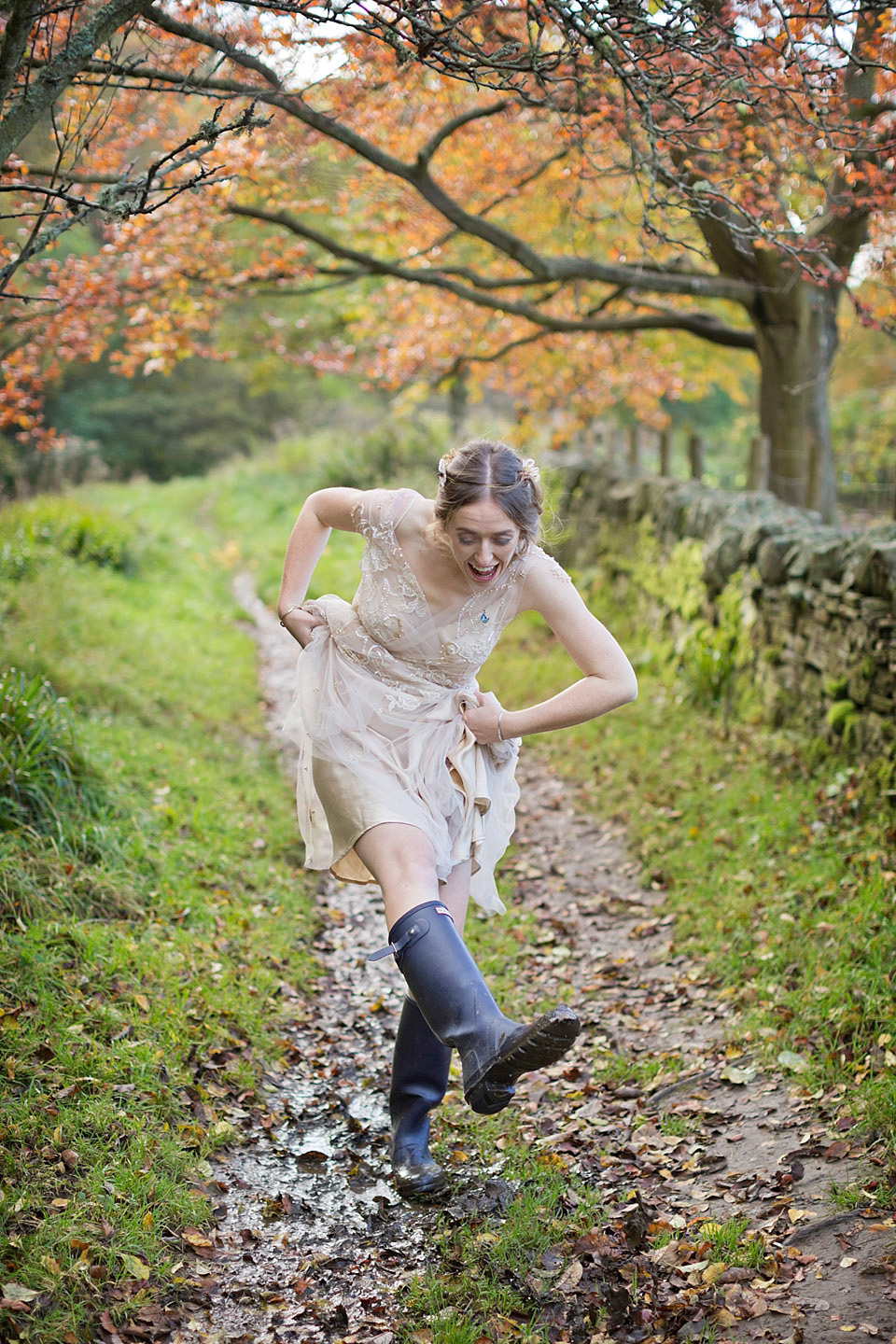 "For our 'guest book' we used a log, which we picked up at the local forestry park (we live in a village in West Sussex) and literary postcards. We now have the trunk varnished and it's hung on the wall. It's a lovely reminder of the happiest of days."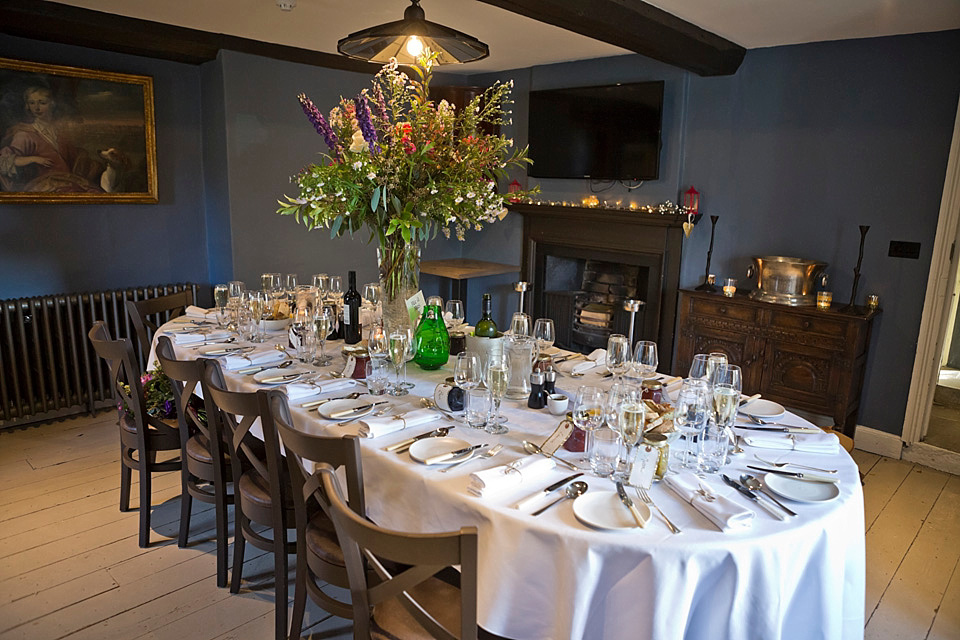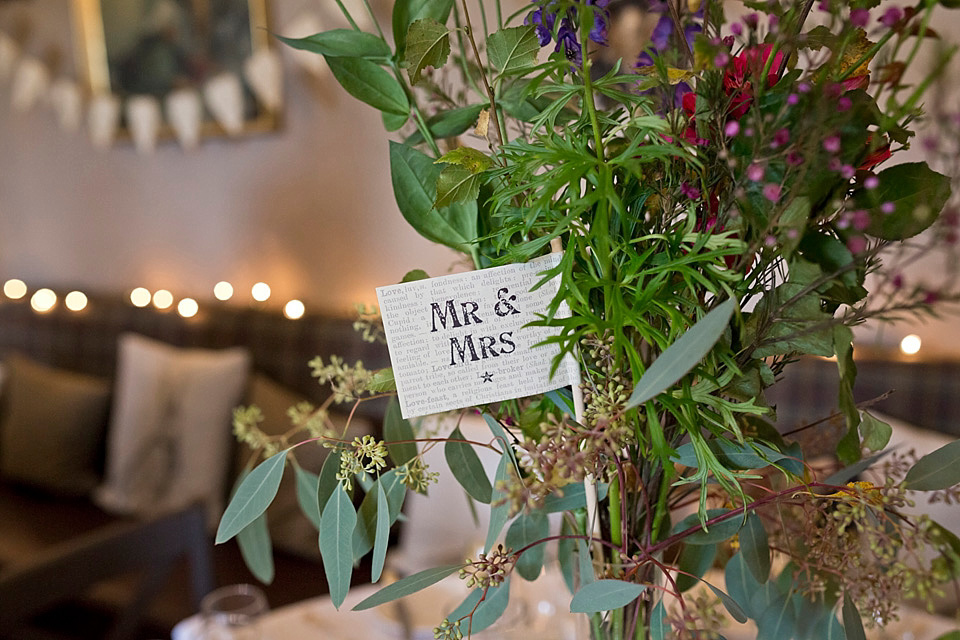 "The cake is a focal point and we wanted it to be something special. Being traditional, we decided to have a fruit cake – and it's also one of our favourites, too.
We decided to make it ourselves and it became a 'three generation cake'. My mam made two layers, my grandma made one and I also made one. Mam and I decorated it a couple of days before the wedding. We used artificial berries, ivy leaves and pearls. The topper is from Halinka's Fairies and I added a section of my dress to the bride's skirt to personalise it. The cake looked beautiful and it was really the centrepiece of the room. My mam is a talented cook, so it tasted delicious, too!"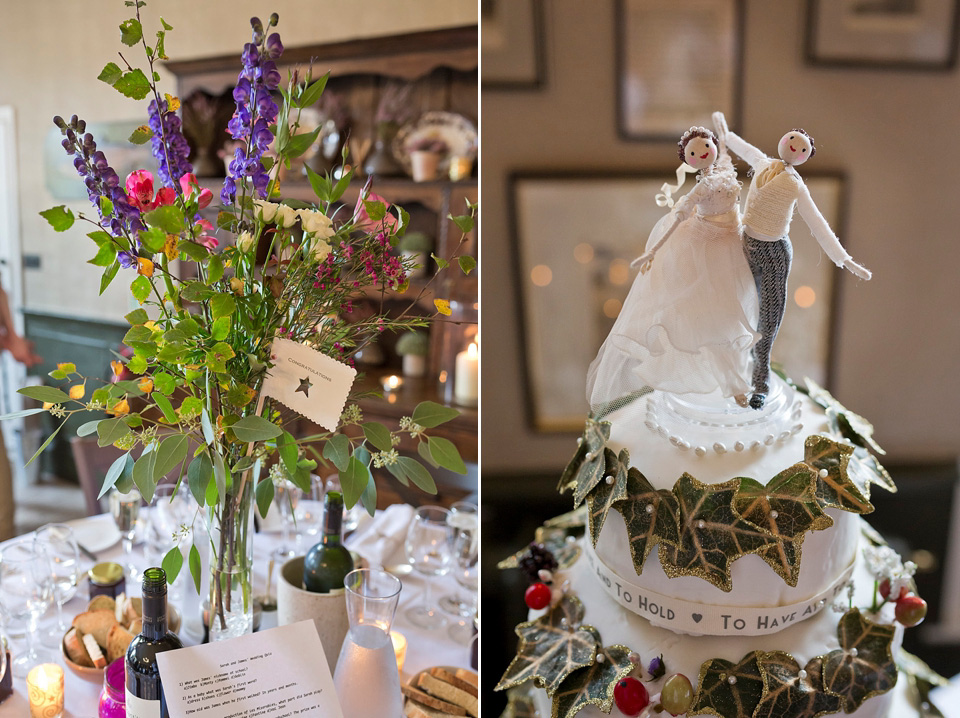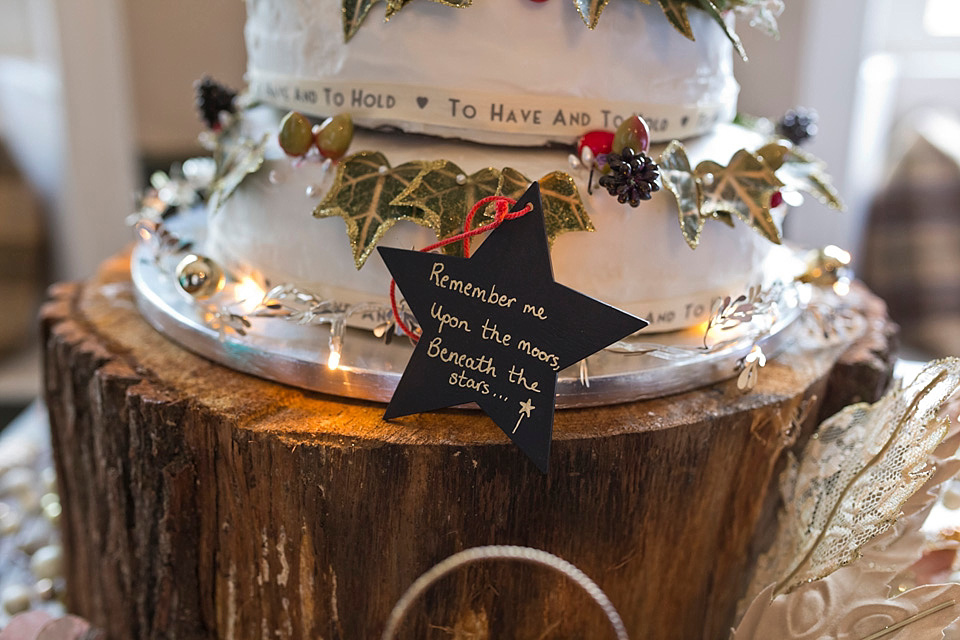 "My mother-in-law made a variety of chutneys, jams and jellies using produce from the family home in Devon. They were delicious – and some of the boys have asked for more!  I made the labels using luggage tags. I drew a silhouette of a 'Regency' couple and had it turned into a stamp by The English Stamp Company – then added lots of glitter and wrote the guests names in calligraphy, which I've been doing since I was 11!"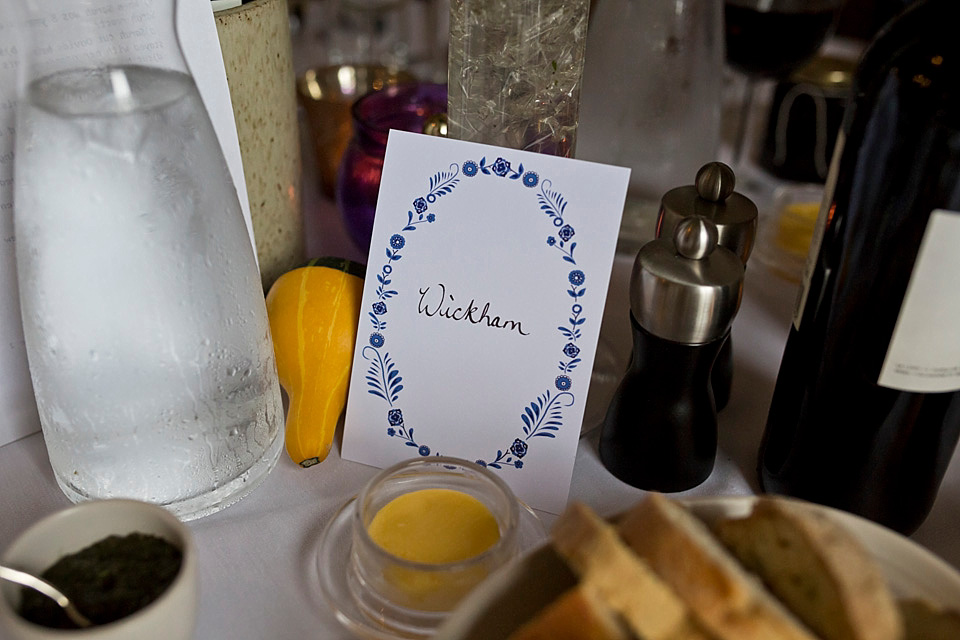 "We used lots of fairy and festoon lights both inside and out in the garden to create a twinkling glow. For months, my Mum and I trawled independent shops and charity shops for glasses, candles and lanterns, which we decorated with gold and cut out paper hearts. It's amazing what you can do to an ordinary tumbler when you set your mind to it.  My Mum then made lots of paper hearts, using pages of 'Pride and Prejudice' on one side and gold paper on the other. She then intertwined them to create a Danish heart."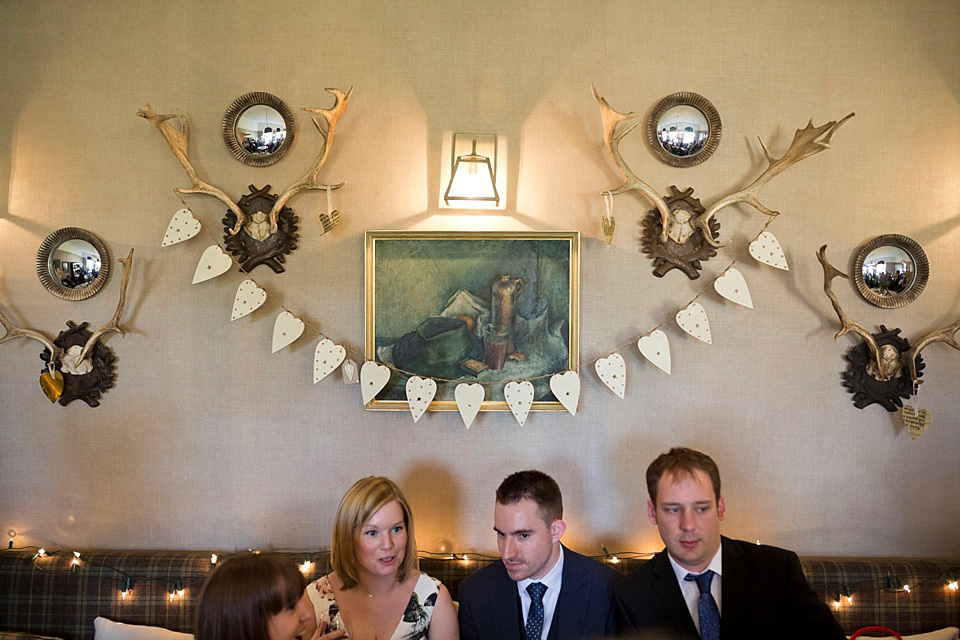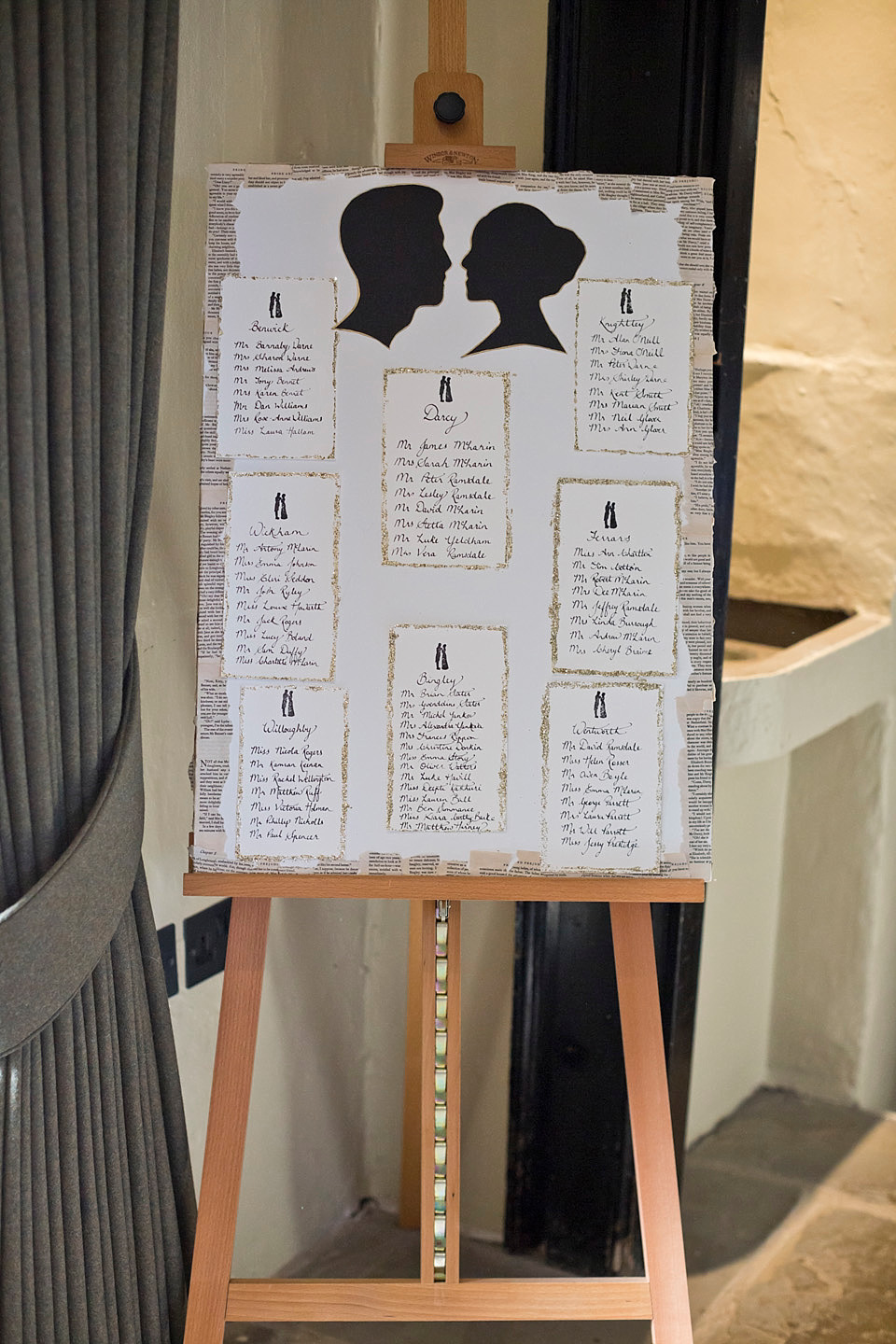 "The gents (including my dad and my father-in-law) wore navy three piece suits and brown brogues. We gave each person money towards their outfits, so they were able to buy what they wanted. As you might have gathered, we don't like uniformity and we hoped it would look as though everyone had just turned up in their 'Sunday best'."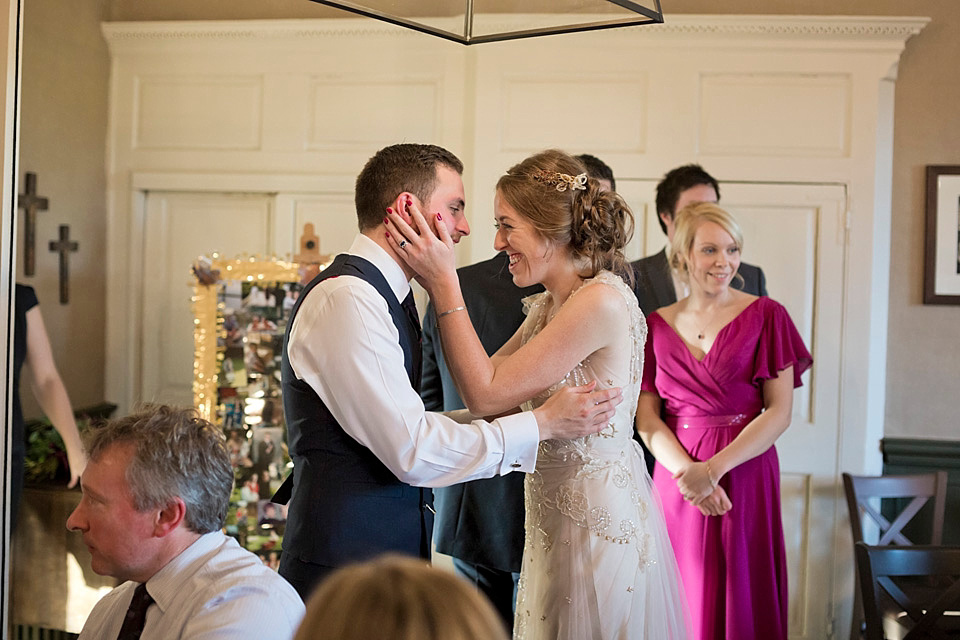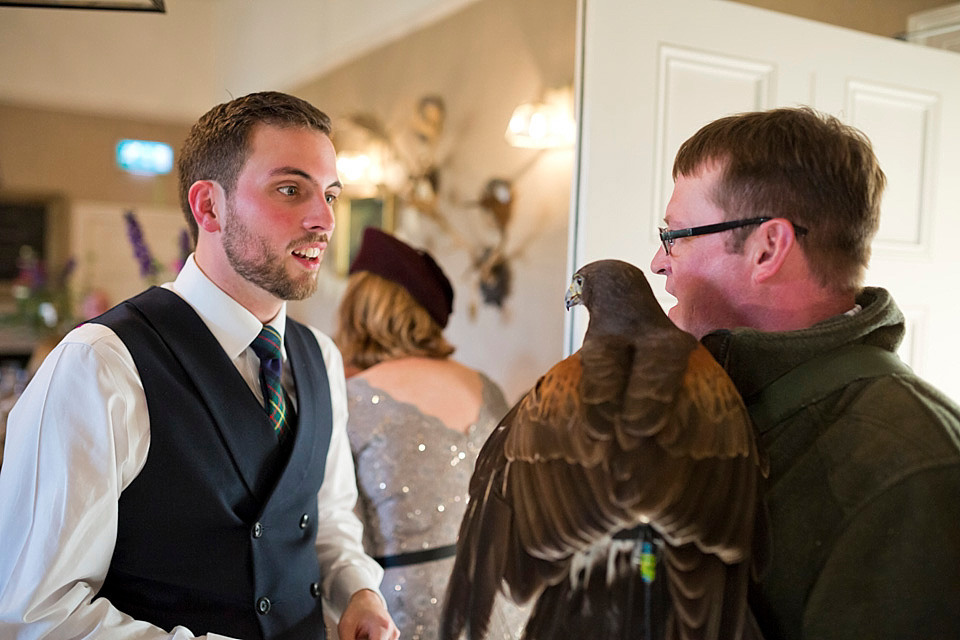 "My wedding gift to James was a falconry display and we were thrilled with how well it went. James had no idea, so it was lovely to see him enjoying it so much. The man in charge, Mark of Falconry Days, was a brilliant showman – he made sure everyone who wanted to fly one of the birds (including a harris hawk, an eagle owl and a blind owl called 'Mr Spock') did so."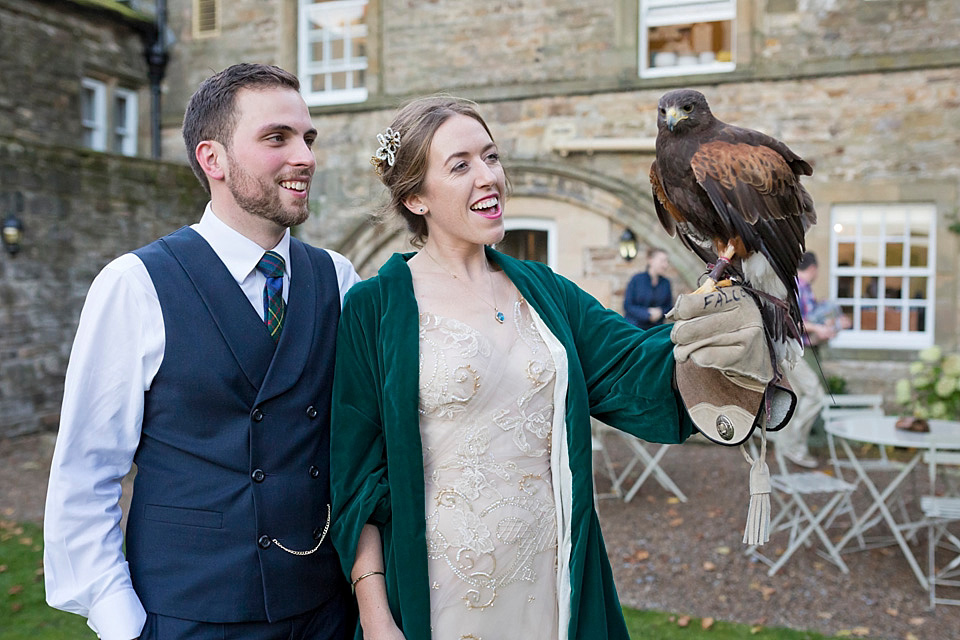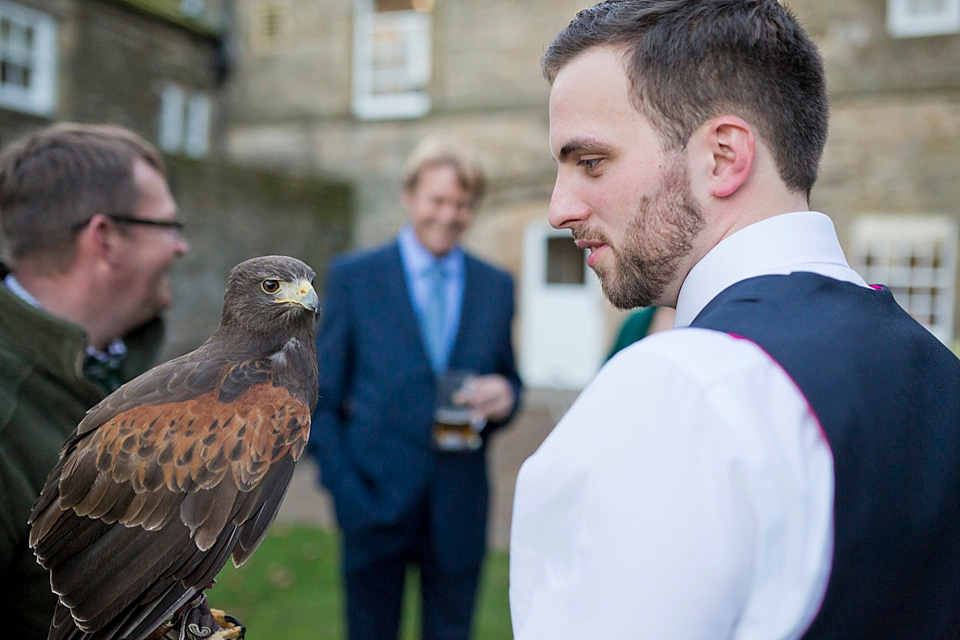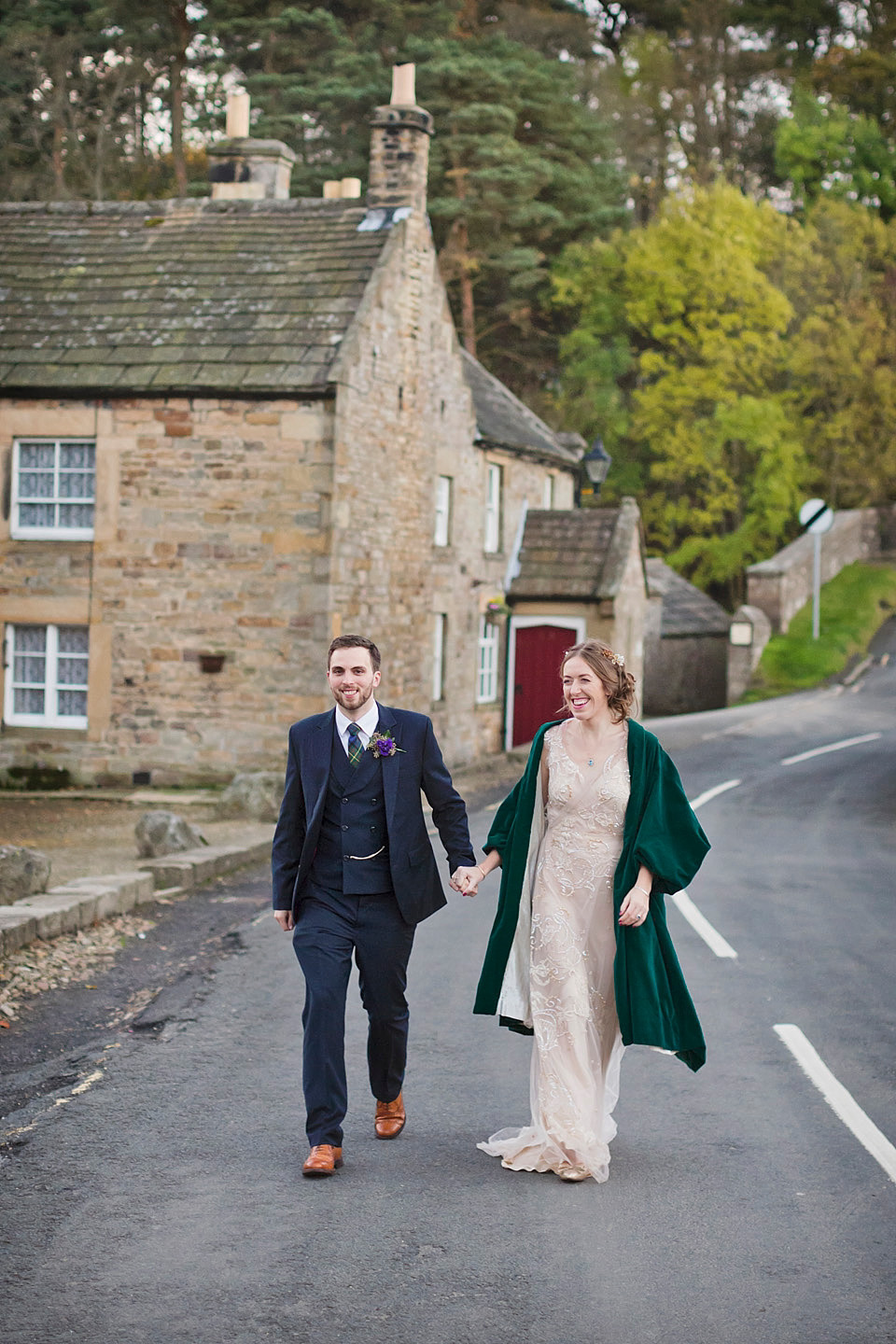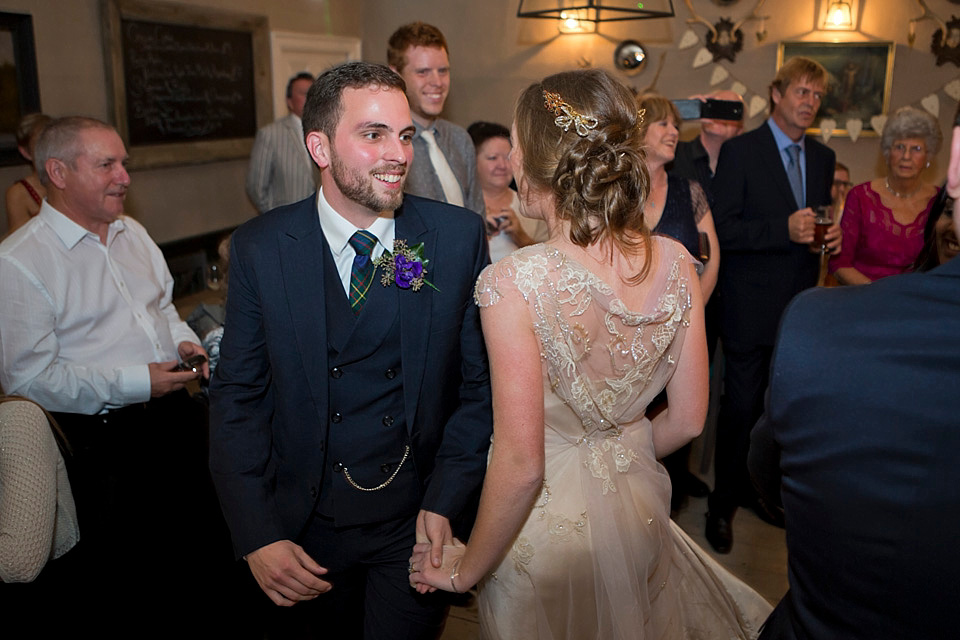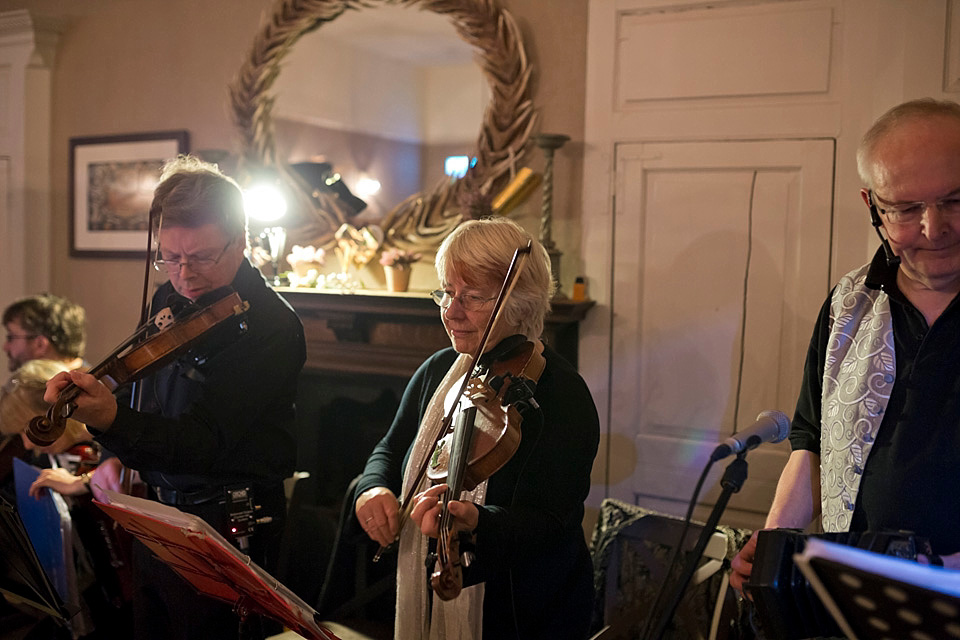 "In the evening our 'photo booth' was a lifesize cutout of Elizabeth and Mr Darcy, which was the source of many, many ridiculous photographs."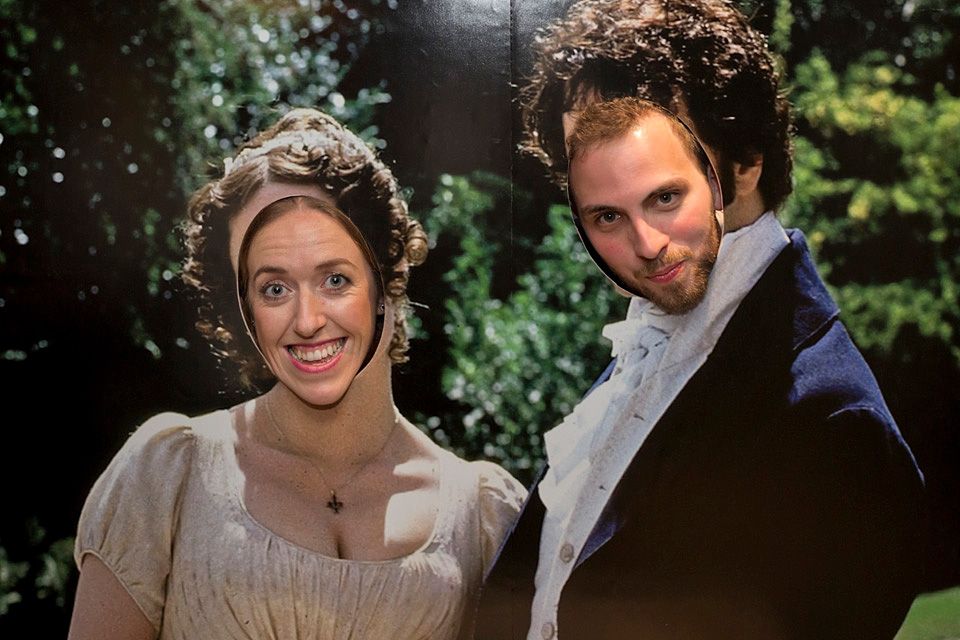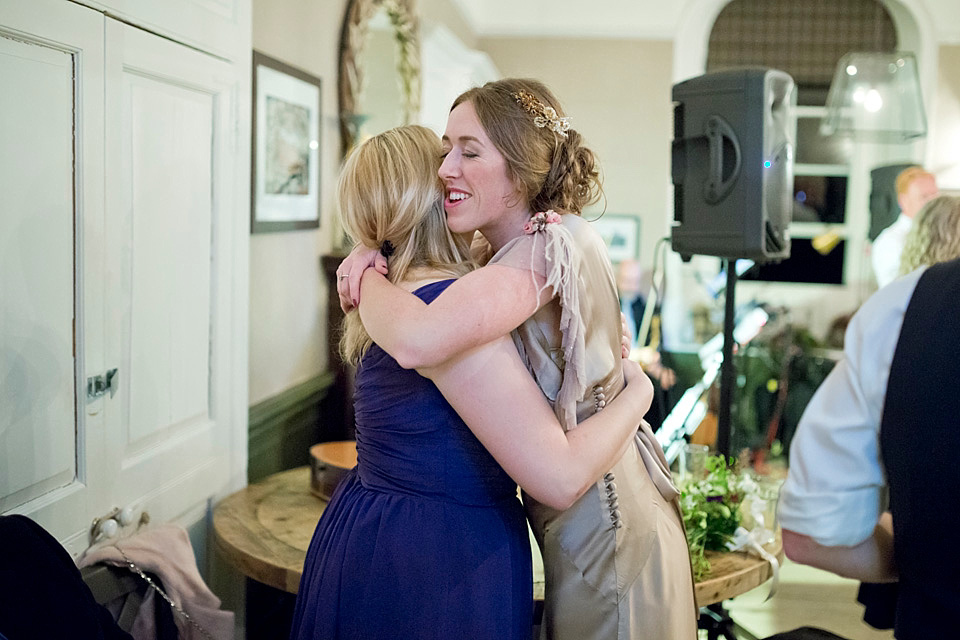 "Our favourite part of the whole day simply has to be just seeing everyone we love in our favourite place, smiling and laughing together, was the happiest part. But, perhaps there is one moment that stands out.  As we were signing the registers – a very surreal moment – I took a moment to look around at everyone in the church. The quartet had reached the crescendo of 'Lark Ascending' and there was a ray of golden light pouring in through the window opposite me. I looked at James, our parents, our friends, and everyone else in the church and I remember feeling so utterly happy.
At the end of the evening, James and I spent hours sitting in a window seat looking out onto the village square, going over it all, trying to re-live it. We just weren't ready for it to be 'yesterday'."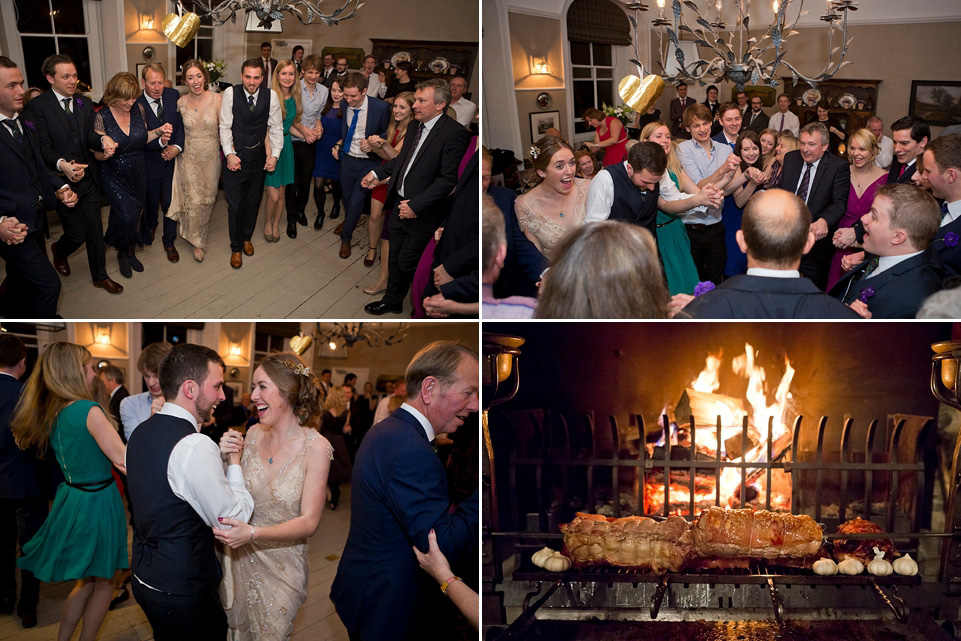 "The dress I wore in the evening is a silk cafe au lait bias cut 1930s inspired gown by Joanne Fleming. It has the most gorgeous, delicate pink roses on the bodice and ostrich feathers on the shoulders. I bought it in the sample sale on eBay and had it altered to fit. Bargain!
We danced to 'Mr Beveridge's Maggot' which is the same 'reel' that Elizabeth and Mr Darcy dance to at the Netherfield Ball in the BBC version. It's always been my childhood dream (sad, isn't it?) and neither of us wanted to be the only ones shuffling awkwardly around the floor, so we thought we'd rope in our friends to help. It's not as easy as it looks either – we had to get a teacher to help! There's a video of it here! The teacher would be horrified at how many errors there were! But we all really enjoyed doing it – and it meant the men could finally have a drink afterwards!"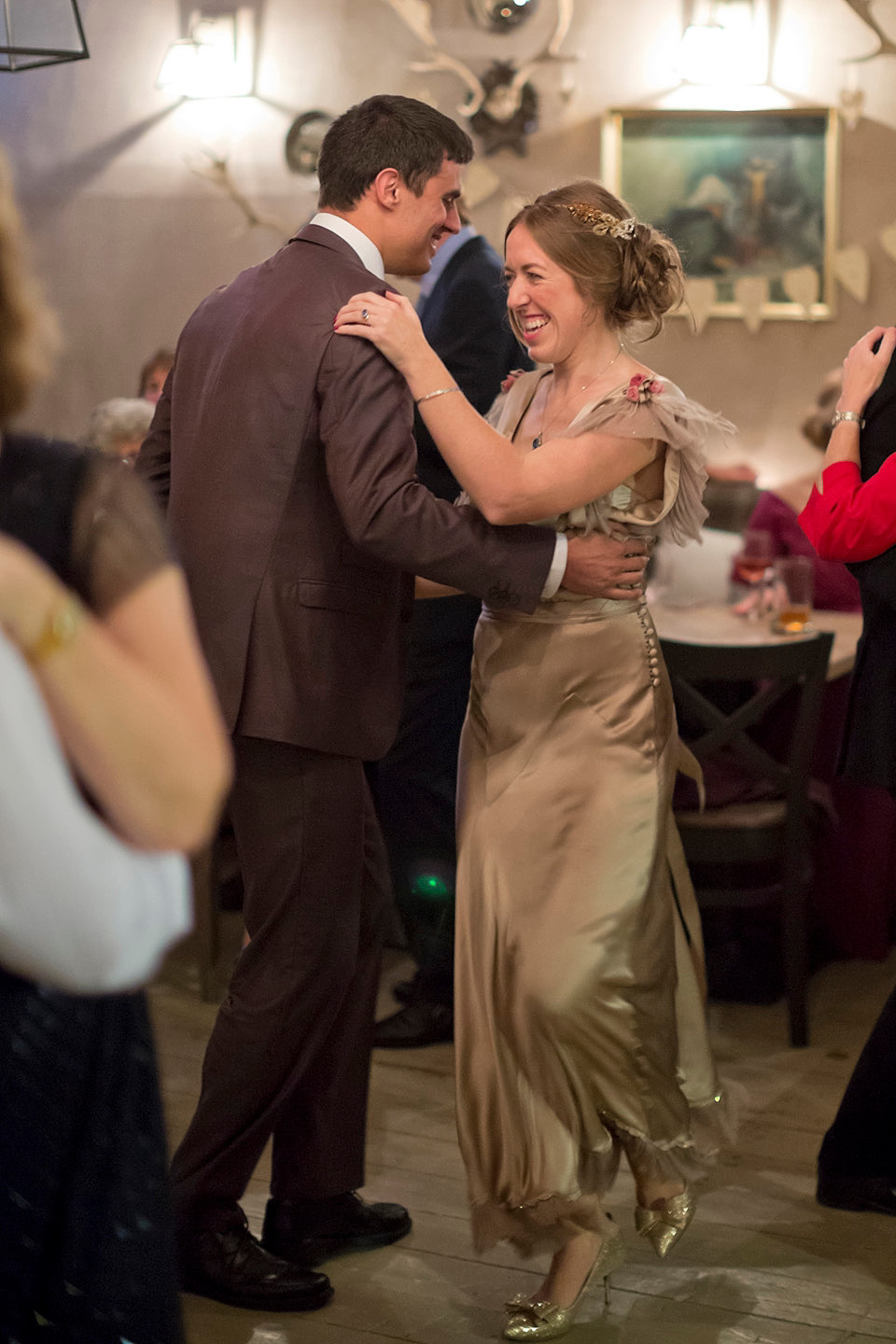 Words of Wedded Wisdom…
"We were really lucky in that we had a 'wedding weekend'. We had the rehearsal service on the Friday evening, followed by a meal with 45 guests, who were staying in the hotel. It enabled us to spend more time with our family and friends and extend the party for even longer. One day just goes by too quickly!
I would also encourage the couple to take a moment to stand back from the day and just watch for a while. It goes by in a whirlwind of emotion and it's hard to grasp specific details, but if you just take that time in the day, you really get a sense of how happy everybody is and you can take a mental snapshot to remember the day by.
Our parents created a quiz for people to do at the tables during the Breakfast. It provided a great opportunity for strangers to get to know each other – and the answers were very…inventive!
The only thing I would do differently, is not leave sticking the table plan together until the wedding morning. There was glitter everywhere! But I think Mark (the photographer) found it pretty entertaining."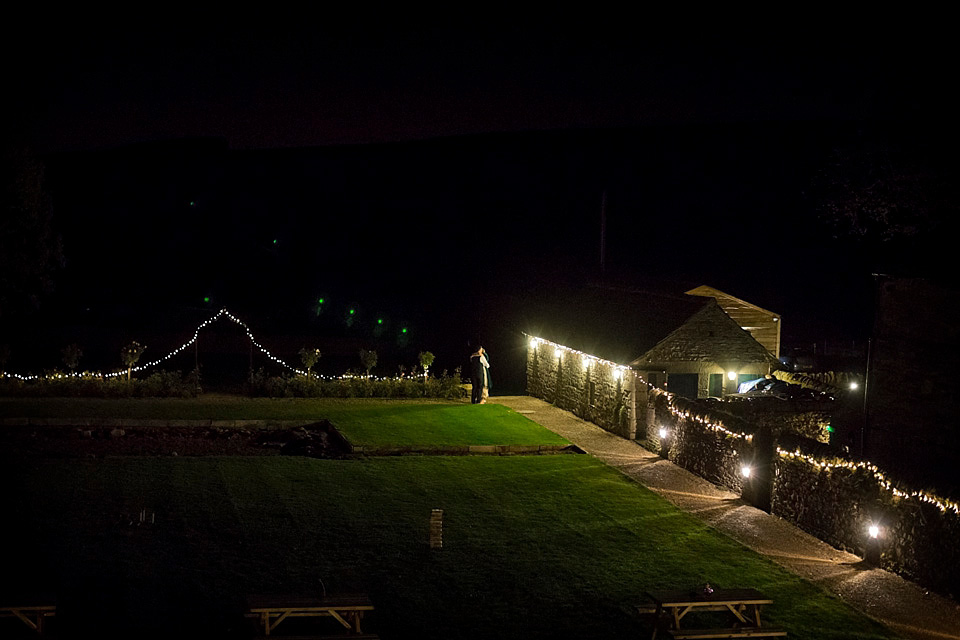 This is the kind of wedding my heart explodes a little bit over. The styling, the story, the photographs – I haven't stopped smiling about it all. Simply beautiful. Thank you so very much Sarah and James for sharing your beautiful day with us all, and once again, it has been an absolute pleasure to share the work of photographer Mark Tattersall – more from whom you can see on these pages on Love My Dress.
Are any of you reading this now having a bespoke wedding dress made from scratch, like Sarah did? I'd love to hear about your plans and experiences so far if so.
Love Annabel x
Photographer – Mark Tattersall
Venue – Blanchland Abbey + The Lord Crewe Arms in Blanchland, near Hexham, Northumberland
Wedding Dress – Jane Bourvis
Veil – Wedding Veils Direct
Headpiece – Sash & Halo
Shoes – Lucy Choi
Perfume – Estee Lauder's 'Sensuous'
Groom – Mr XE suit + Barker brogues + gold pocket watch
Bridesmaids – bridesmaiddressesbuy.co.uk
Florist – Flowers Unlimited
Cake – DIY made by the bride + groom with cake topper by Halinka's Fairies
Entertainment – Angels of the North Ceilidh band + Organist Michael Goldsmith + Arco Quartet
Rings – Saunders and Pughe in Corbridge
Catering – The Lord Crewe Arms
Stationery – LucySaysIDo
Hair Stylist – Sarah Parker (no known website)
Makeup Artist – Rachael Charlton (no known website)