Good morning you wonderful community of readers 🙂 It's a beautiful day here in Whitby, North Yorkshire, and I'm feeling energised and full of positivity, I hope I can sprinkle some of that in to your day if you didn't perhaps have the best start to your day. Onwards!  This morning's wedding is such a sweet Scottish affair.  I always love sharing weddings that have been photographed by Christopher Currie Photography but it's also great to feature brides who chose to purch
Museum Administrator Sarah married Photographer and Marista Mike on 1st November last year at Aswanley in Huntly, Aberdeenshire.  This wedding really appealed to me for it's sweet nature, but Sarah has taken such time and care to provide as much detail and information for readers as she possibly can – this is a 'grab a cup of tea and get comfy' post.
"The number of times I was asked 'So what is your colour scheme?' and was met with horrified looks when I said I didn't really have one made me laugh! Broadly I had in mind to use the colours of Scotland in Autumn that I love, and nature in general was an inspiration. Berry shades of deep maroons and blues, the pale muted pinks and purples of heather, greens and shades of white. We used autumn leaf 'bunting' instead of traditional bunting along with a lot of ivy for a sort of 'mid-autumn night's eve' look."
Photography Copyright (c) 2015, Christopher Currie Photography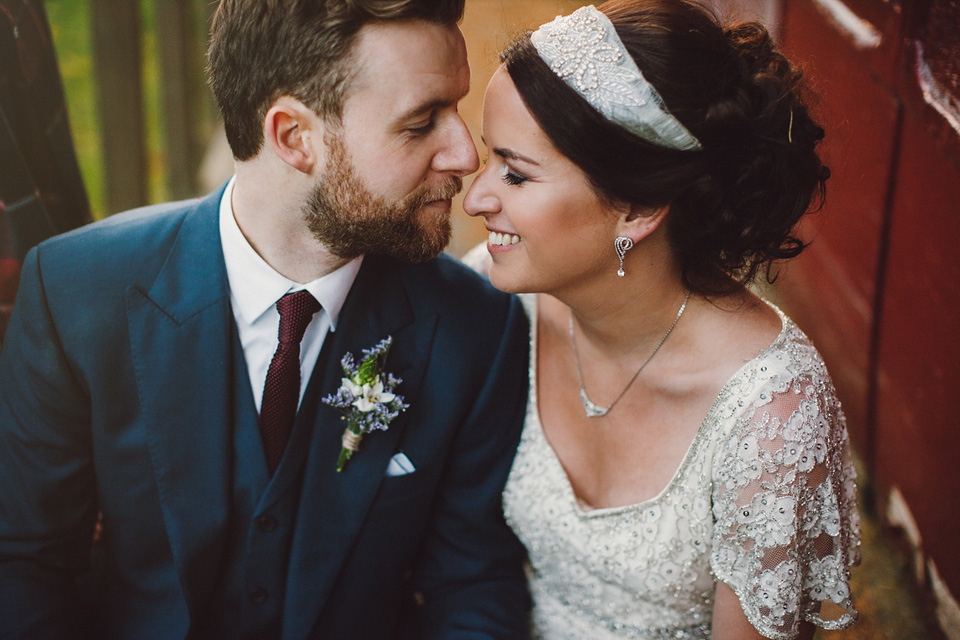 "I purchased my dress from the Edinburgh Phase Eight store as only the Edinburgh and London shops stock the bridal range.  I wanted to go with my Mum, so I flew up to Scotland for the weekend. I can honestly say it was the best service I received across all the dress shops I went to."
I adore this sweet dress and the delicate lace capped sleeve and mini cape.  This is the Hermione dress by Phase Eight (and it also happens to be in a sale right now.   Just saying!)
"The Phase Eight 'Hermione' dress ticked all the boxes of being more of an evening dress in style with a vintage flair and almost a 1930's look. I loved the cape at the back and although very heavy it was so comfortable on and the beading just made it hang perfectly. So we had lunch and went back to say yes we'd take it. I was so happy with the service I took the ladies a little card and box of chocolates to say thank you!"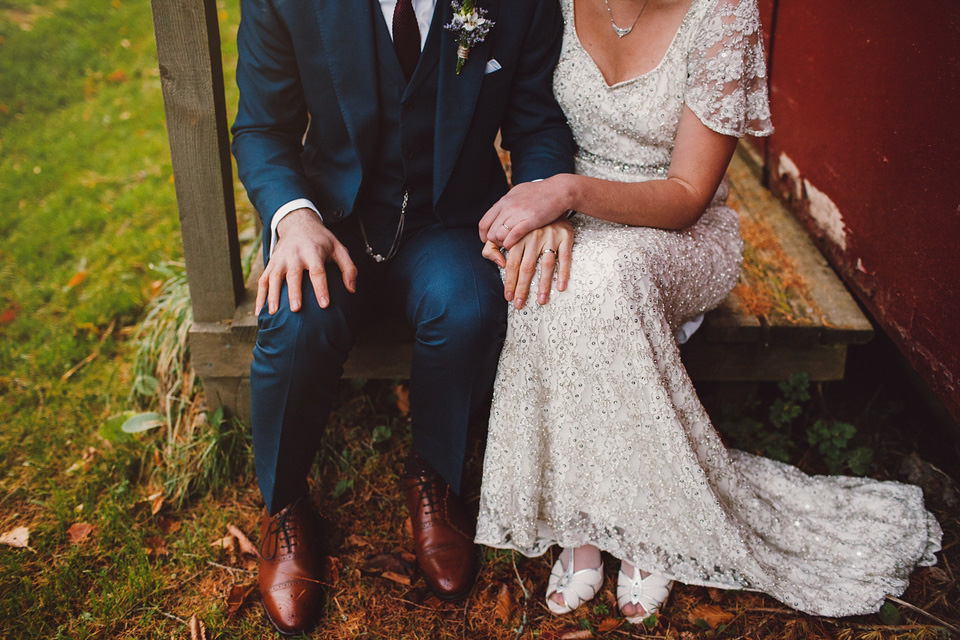 I love this sweet idea for a wedding taking place in the cooler months…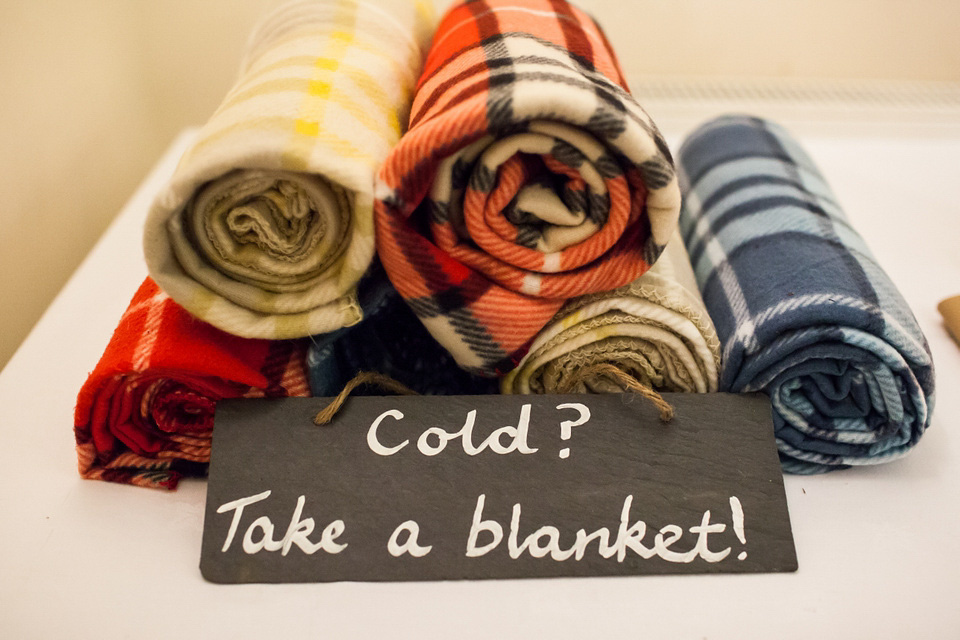 "Photography was the second thing we booked after the venue, it was one of the most important things to us.  Mike and I both know Christopher Currie from school and Mike has been good friends with Chris for years. We both love their photography and knew it would suit our style of wedding perfectly so we were so pleased when they agreed to photograph the day.  We can't say enough good words about these guys.
Their approach is personal but professional and when you factor in travel, hours working on the day, editing time, their prices are very competitive.  They are the perfect combination of enthusiastic energy and calm advice and blended in so effortlessly that it meant they caught masses of natural moments."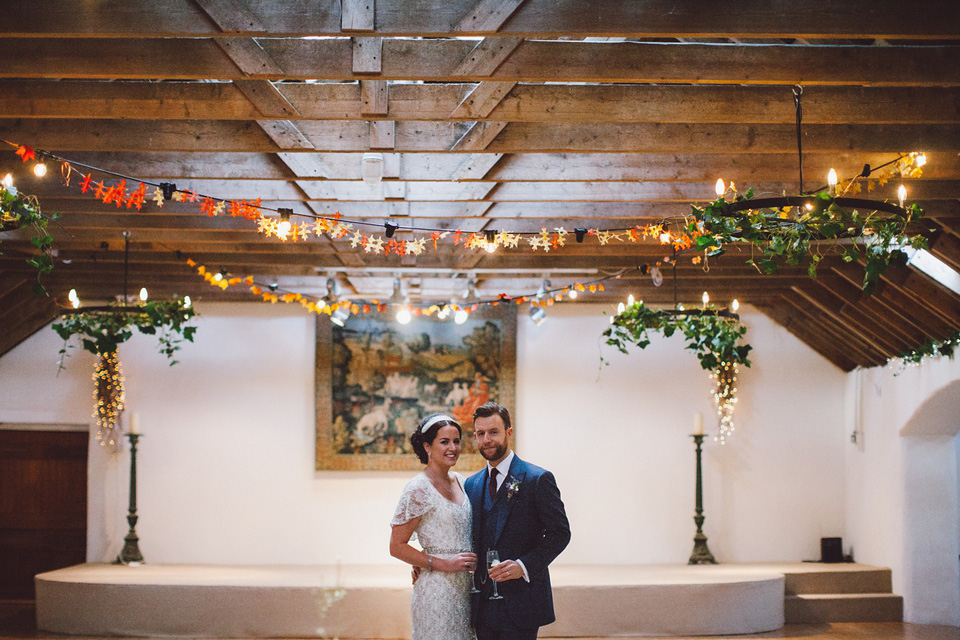 I love this tying the knot style wedding invitation…
"Our stationery became one of the biggest 'hidden' costs of the wedding but we really loved both our save the date cards and our invitations so I think all the running about buying paper and the cost of printing and posting them was worth it in the end. We asked local illustrator Shaun Lynch to design our artwork. we had come across him after meeting him in a local café where he worked and looking him up online afterwards. He was very patient with our vague ideas of using illustrations of our home, our beloved basset hound Bessie and the locations of our youth and the wedding as ideas for the stationary. His style really suited the laid back feel we wanted for the wedding and we plan to frame the artwork of the main invitation as a keepsake.
We also asked Shaun to do some individual illustrations for us to use on the other stationary that we planned to type up and print ourselves so we had little designs from him that we included on our menu, orders of the day and the welcome sign which we thought tied things together nicely."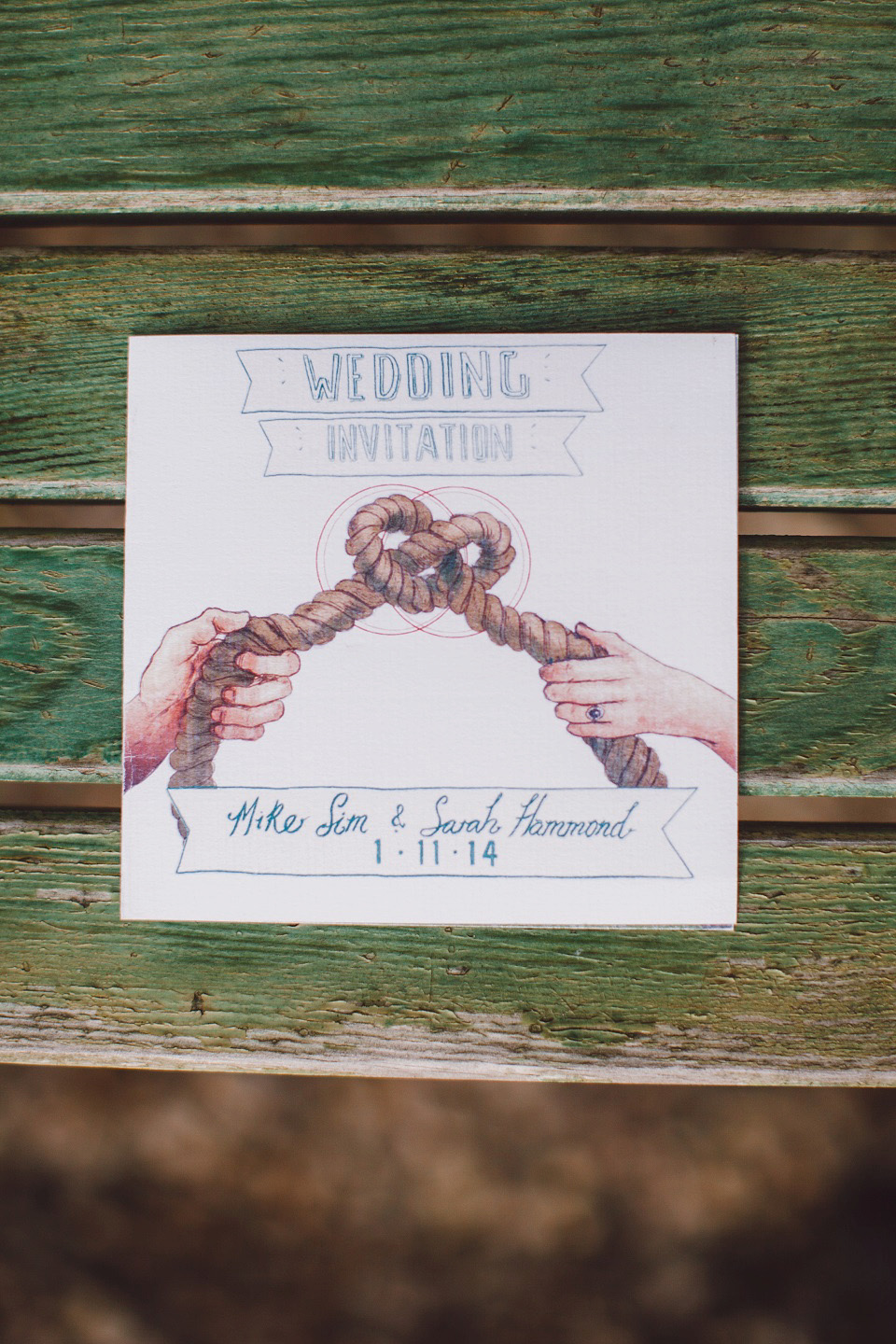 "I found hair stylist Irene Wilson through my make up artist Francine Ray, after my initial enquiries fell flat (book well in advance ladies!) and she was such a star. I didn't have a solid idea of what I wanted, only what I didn't want and she works in a very intuitive way rather than with set styles which I liked. She listened to everything I said and really worked with me on the day. It was one of the things that I ended up being the most nervous about when I couldn't find a particular style I wanted and she just put all of that to rest.
I found Francine through some online searches and then through a recommendation from another make up artist. I had told her roughly what I wanted (smoky eyes, natural lips)and then she just works away doing her thing and she's so good and uses lovely products. I didn't know quite what to expect but was really blown away by the finished result. She really is an artist and it feels like that in the way she works. Both my hair and makeup stayed up and on until the end of the night and I still felt like 'me'. I couldn't have asked for anything more."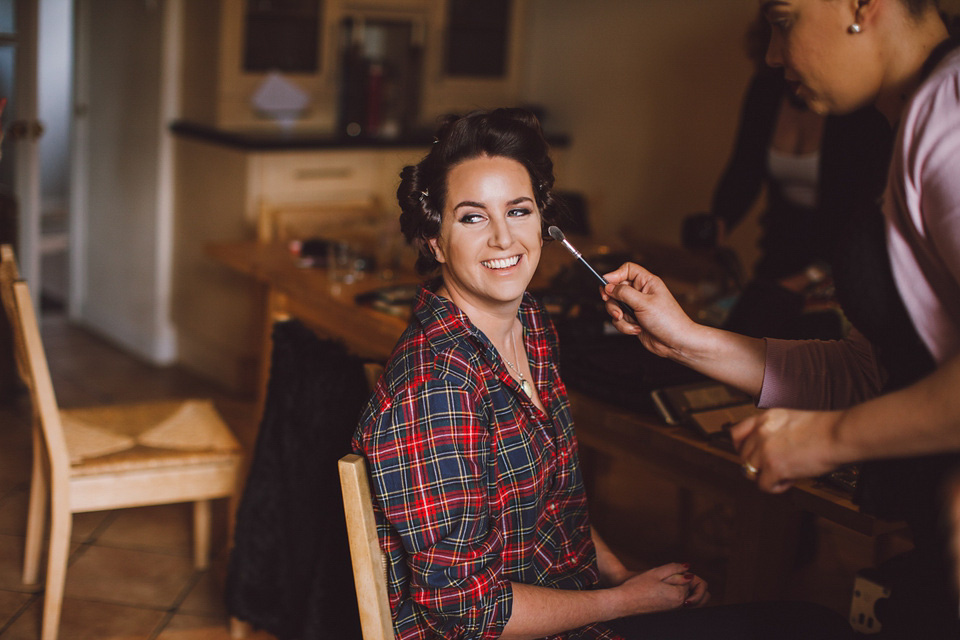 "With Phase Eight being a high street shop I rang ahead, really just as a courtesy and to say there were a couple of dresses I was interested in looking at specifically. They said they would expect me in the morning and couldn't guarantee one of the dresses but that they had the rest of the range. So we went ahead with the appointment and we were met by a dedicated assistant who was just lovely. She had prepared the dresses I was interested in and the one they didn't think they would have in time had arrived just the day before and she had laid it out for me – as fate would have it, this ended up being The Dress. I never felt rushed and I felt like I was getting an honest opinion.
I received all the service I would expect from a traditional bridal store but hadn't necessarily expected at a high street shop. I didn't feel that I received 'bad' service from the other boutiques I visited as such, but definitely didn't feel that other assistants were particularly interested or enthusiastic, or that they were really listening to what I was trying to explain I was after."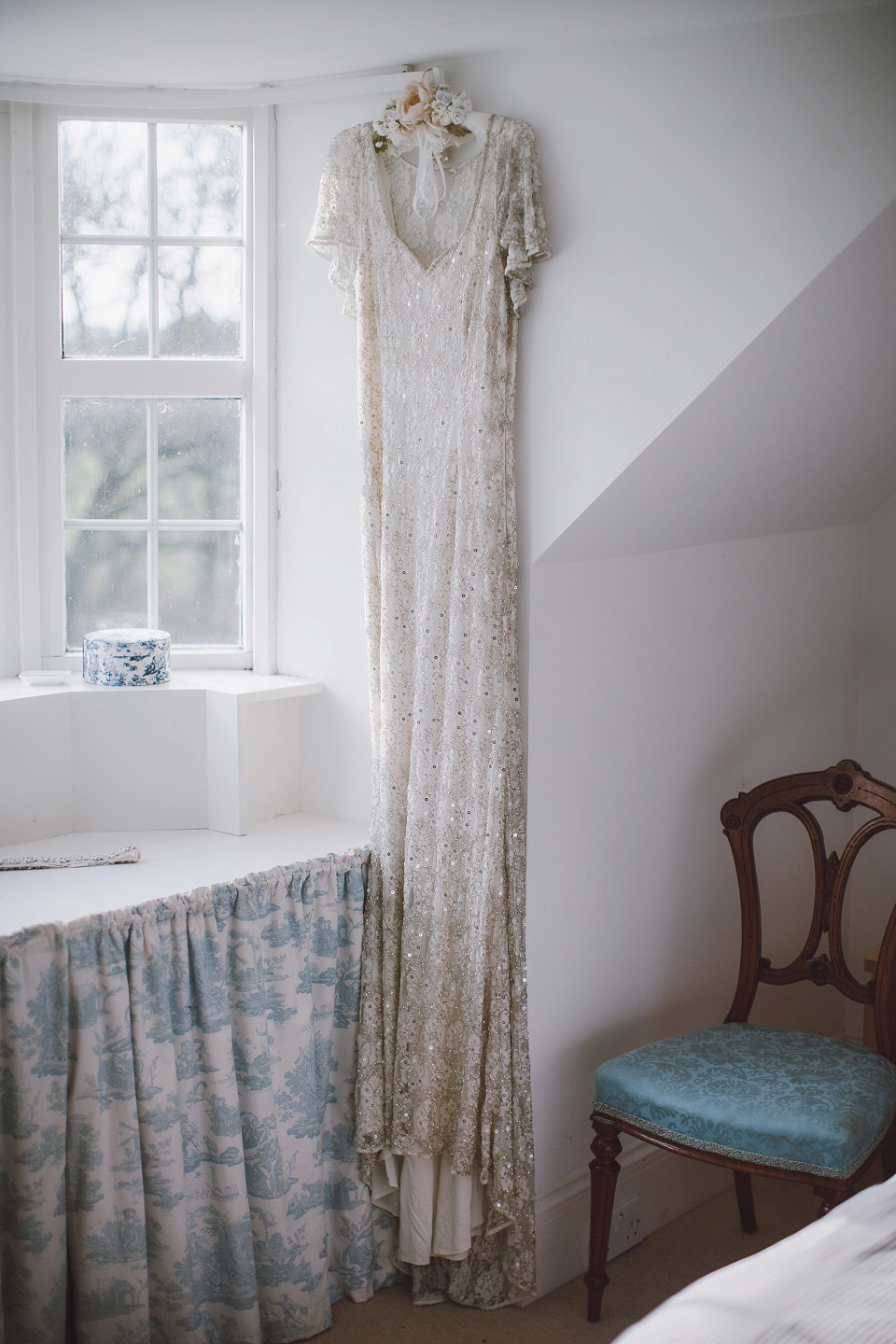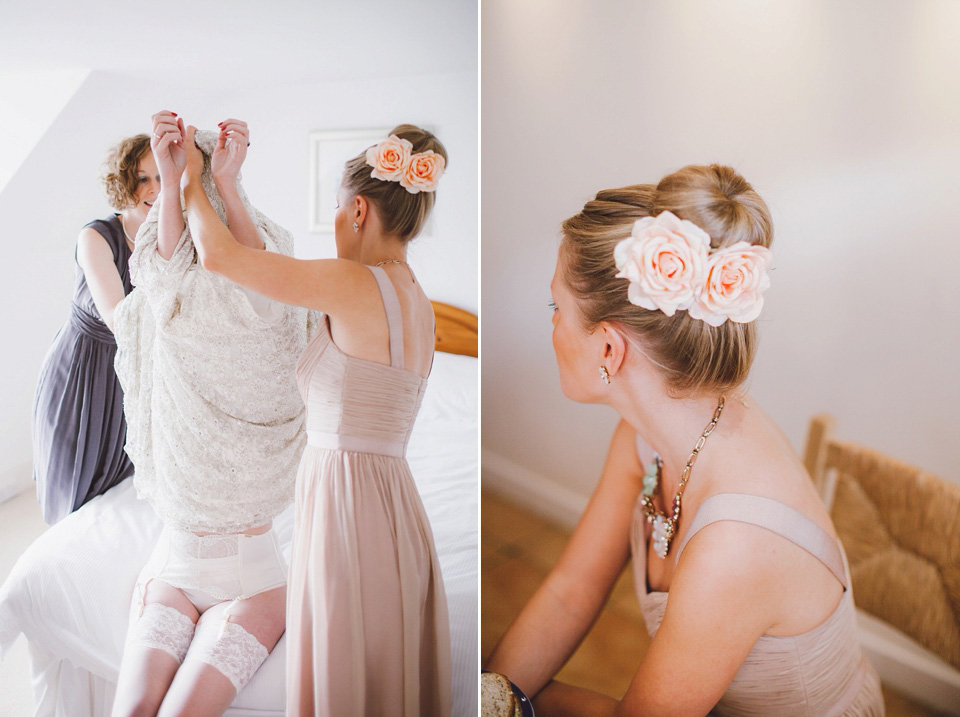 "I wore the 'Mimosa' shoes in ivory, by designer Rachel Simpson.  I had seen a feature on Love my Dress and commented on the styling actually as it really helped me with ideas for hair and makeup. The feature was in fact for Rachel Simpson shoes and I couldn't get them out of my head when it came to choosing some so I went with my Mum to Mirror Mirror in London and chose the 'Mimosa' design in Ivory. I can honestly say that I wore them for ten hours and my feet didn't hurt at all. I loved them."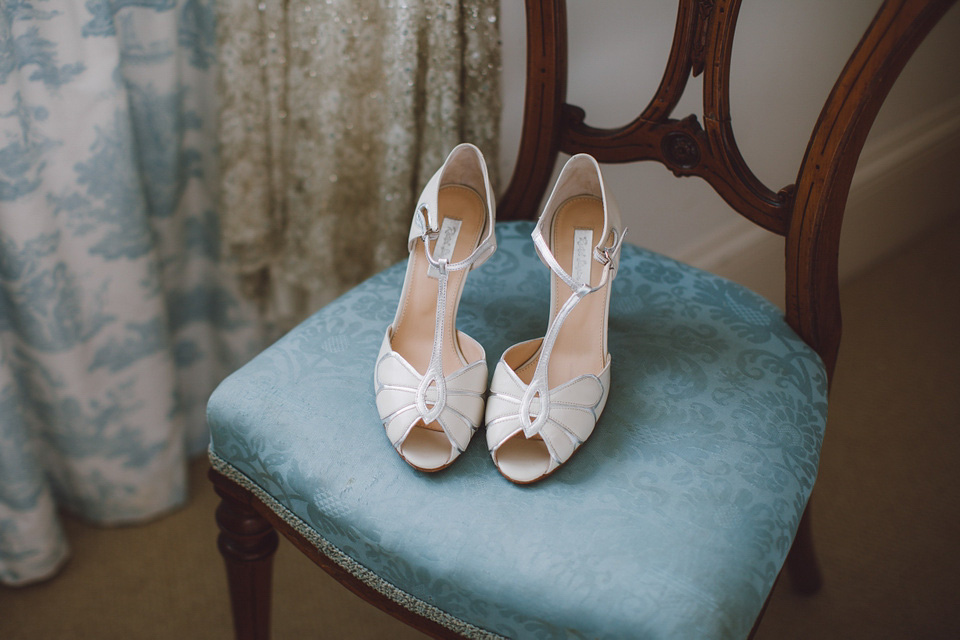 "My lovely Mum made my headpiece for me. After a shopping trip to London's awesome Berwick St we had lots of bits and pieces to play with and in the end we chose this amazingly delicate loose weave silk material (that was similar to tulle headpiece pics I had been pinning away on my Pinterest page) and added a piece of beaded applique. My poor mum made three headbands originally to choose from as I couldn't make up my mind which material to use and originally thought I wanted a plain silk band. But in the end it was a unanimous decision between my hairdresser and everyone else in the room which one to go for and I loved it. Light as a feather, I forgot I was wearing it, and it complimented my dress perfectly.
When it came to perfume, I wore Dolce and Gabbana 'The One'. This is my usual perfume but I loved the idea of wearing it for my wedding day for obvious reasons given the name. As a gift to Mike I bought him the men's version for on the day which is what he wore."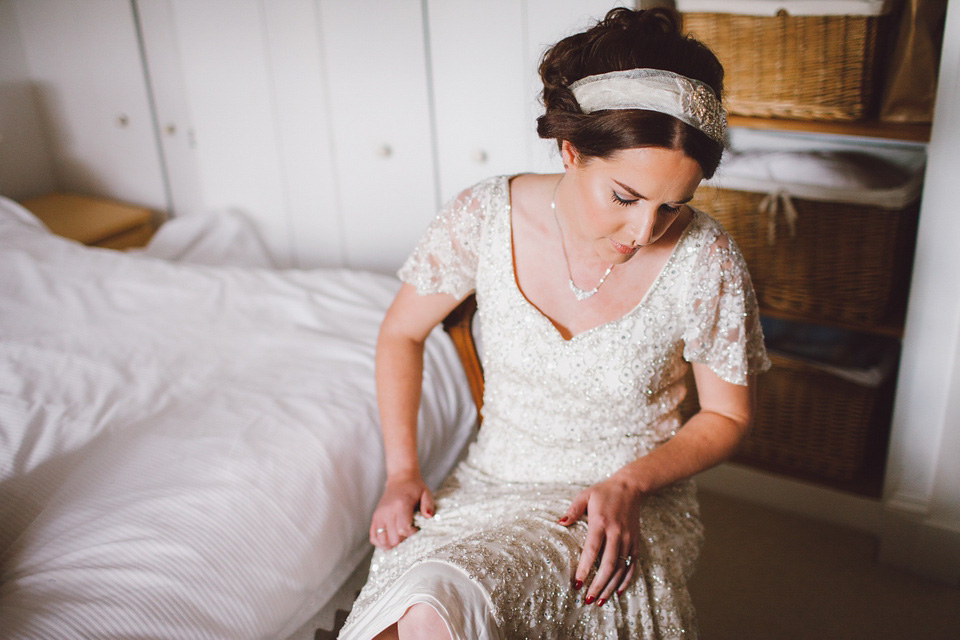 "The bridesmaids ended up getting their dresses from Boden, which is somewhere I hadn't thought to look at all. My three best friends each have a very different sense of style, and I was very aware that I didn't want them to be wearing something they felt wasn't 'them' on the day. Choosing one dress for all of them, and choosing for them myself didn't feel right. So I said they could choose to wear whatever they wanted as if they were any other guest and I was completely happy with the idea of them looking different and individual. I think this instruction actually made it harder for them though (sorry ladies!) and in the end they chose to order from the same place but in different colours and slightly different styles.
I loved what they wore and because they all styled them slightly differently (one wore pearls, another wore matching silk flowers in her hair) I was happy they still looked like 'them' on the day. We had a great WhatsApp group on the go which meant I received lots of pictures of them modelling their different outfits and accessories which made up for not being able to go shopping with them as I'm too far away."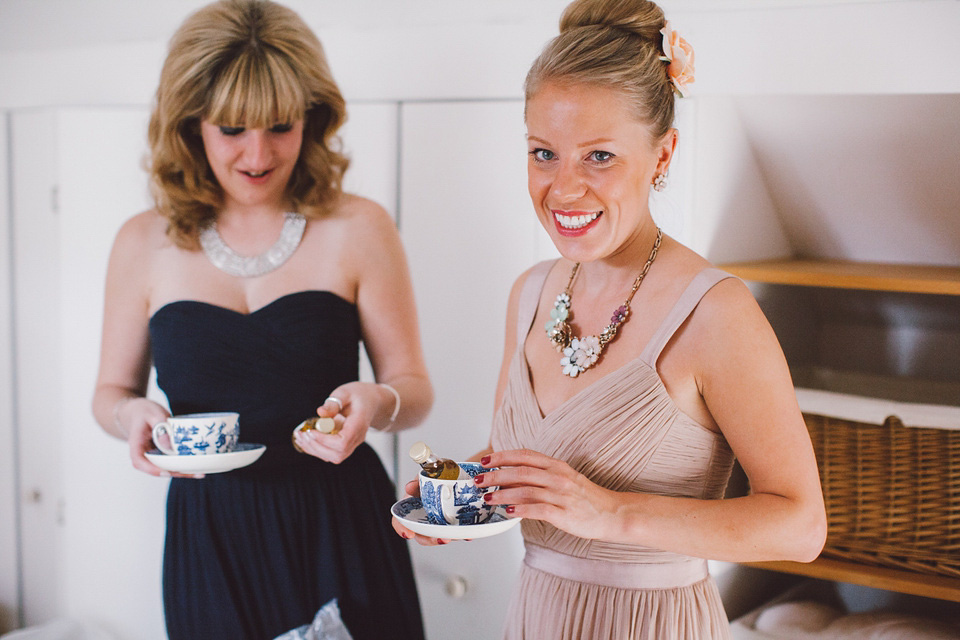 "I had one flower girl, Katie, the daughter of a family friend. She wore a dress which I thought was really unique and was so pleased to have found, from the Somerset by Alice Temperley range for girls in John Lewis. It was different to the other traditional flower girl dresses and fitted well with what I was wearing too. It was quite subtle but covered in beautiful beading and a little bit vintage."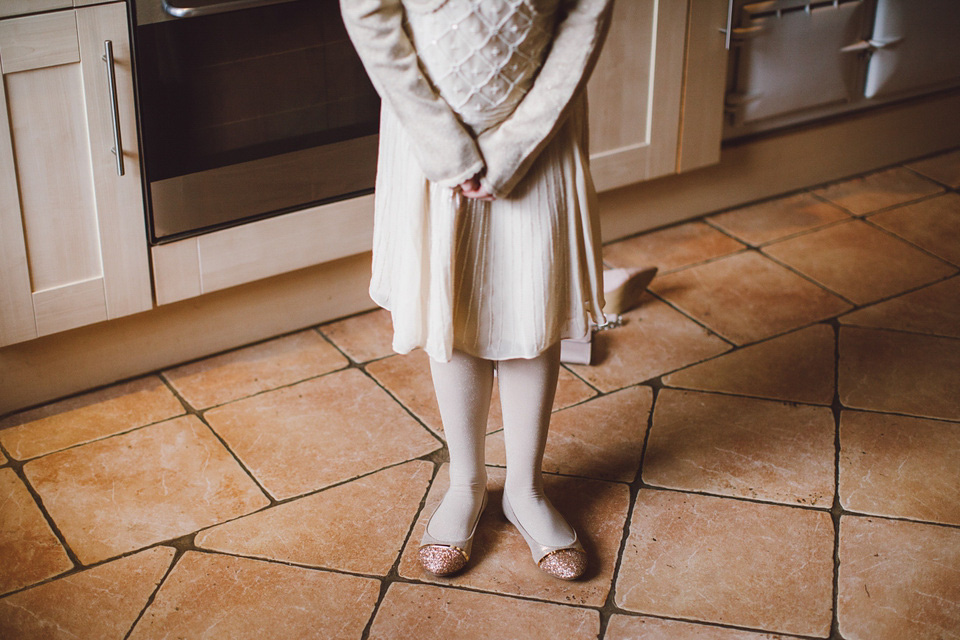 "Val, our Florist, is one of the recommended suppliers of our venue, she doesn't have a website but was wonderful to work with and I can highly recommend her. We gave Val a very loose brief of wanting a wild flower look using blues, purples, deep pinks and white colours. My only real specification was of not having a majority of yellows, reds or oranges and absolutely no thistles.
We chose to arrange the flowers for the venue ourselves and Val ordered them wholesale and delivered them for us during set up the day before along with all the ivy which she gathers herself. I know next to nothing about flowers, what may or may not have been in season, so she had a pretty free reign. The delivery was amazing. She then got us started with the ivy, took what she wanted to make the bouquet and bridesmaids posies and button holes and left us to it after a quick demo for my bridesmaid Jacqueline who did 90% of the floral arrangements. Jacqueline worked tirelessly for hours, helped by her other half Chris, my Mum and Mikes Auntie filing jam jars and the decanters and vases and the results were brilliant and just what I wanted. I can't thank her and the others enough!"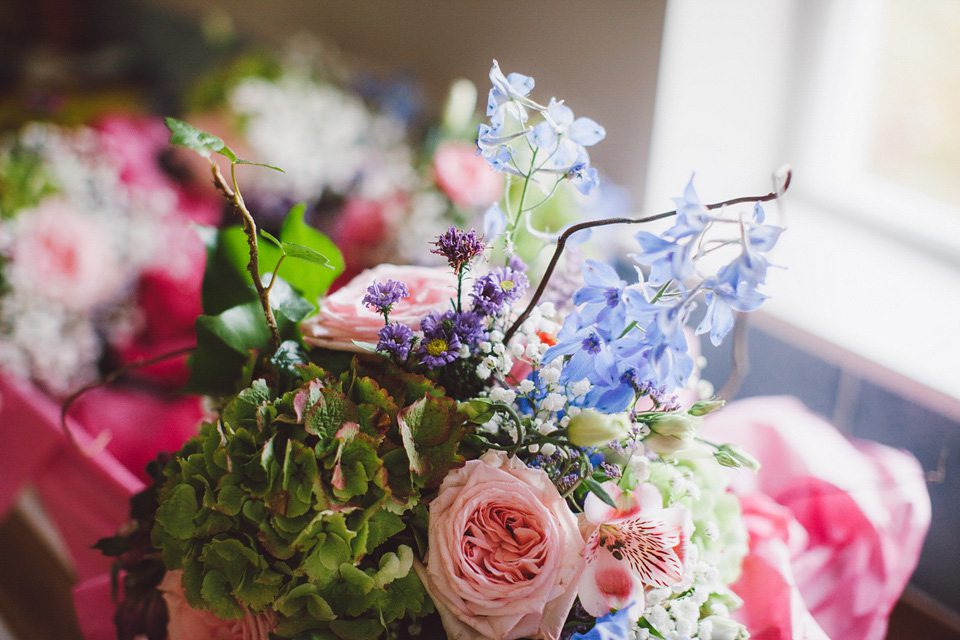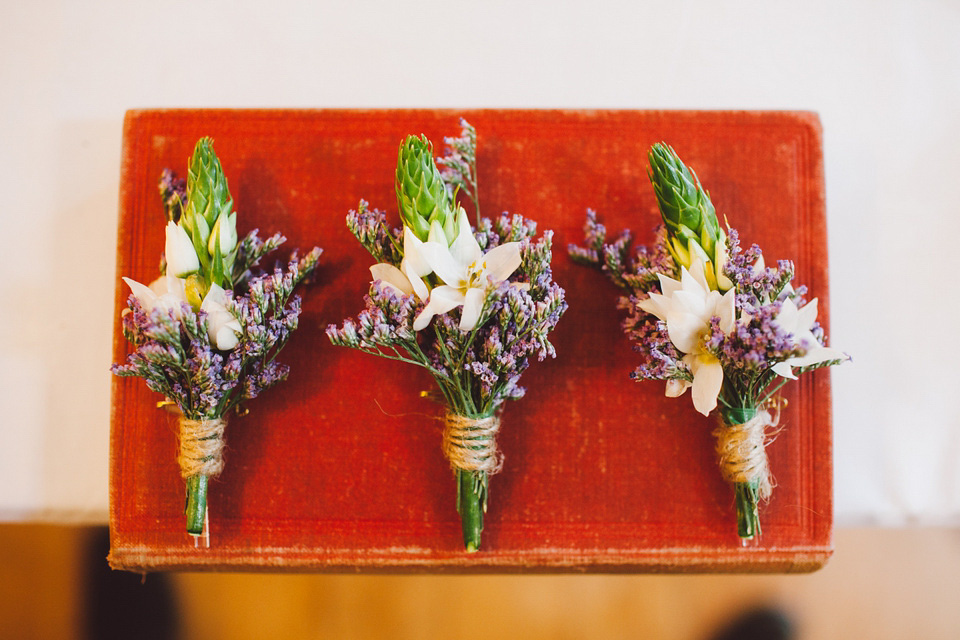 "Mike wore a three piece bespoke Cad and the Dandy suit in a dark navy with a burgundy lining, white shirt and a burgundy knitted tie. A few people were disappointed that he wasn't going to be wearing the traditional kilt but he loves good tailoring, knew exactly what he would like and it was an opportunity for him to have something he would really love that was special and would be able to wear again.  He also also wore a vintage 19th century pocket watch lent to him by his boss and wore antique sixpence coin cufflinks."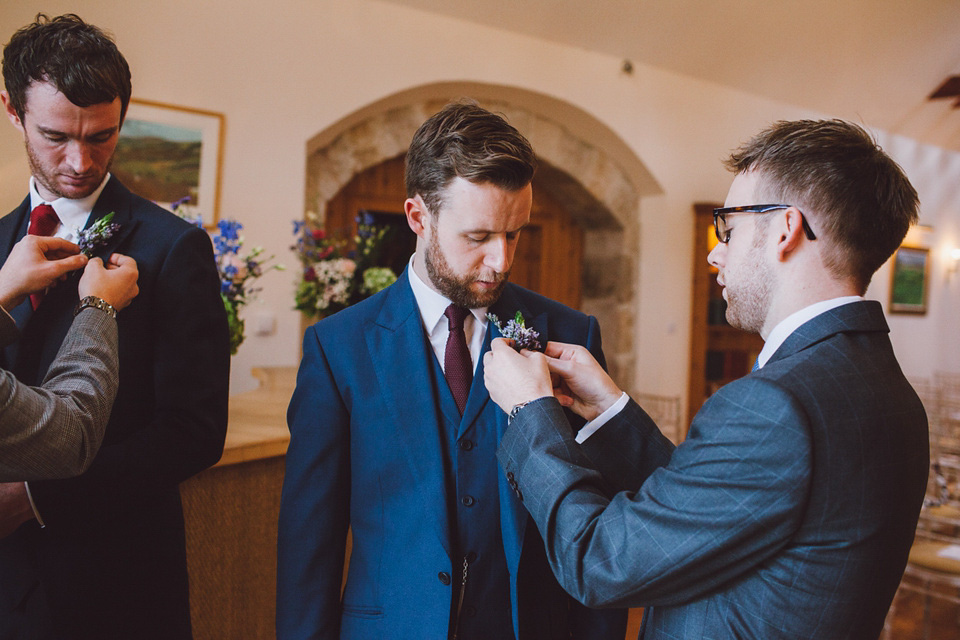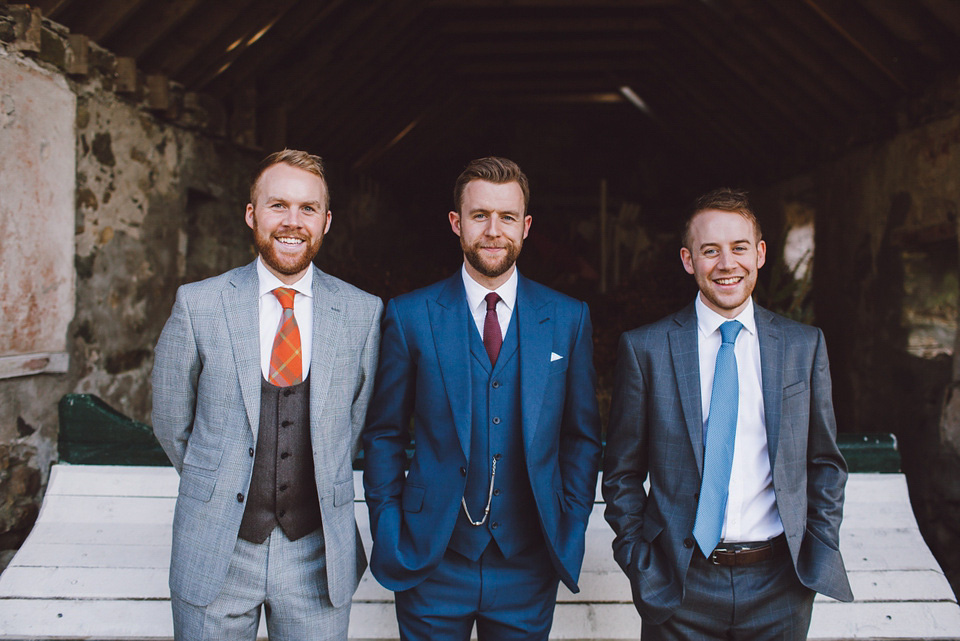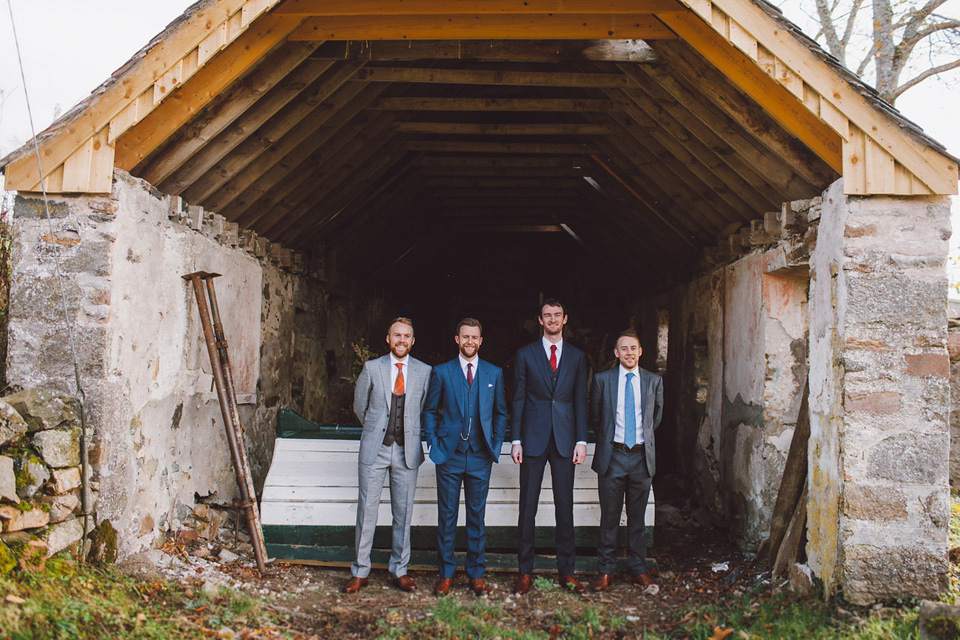 "I had actually wanted a veil before I chose my dress as I loved the special finishing touch it gave you. But once I'd chosen my dress it was obvious a veil wouldn't suit it so I went without and chose a headpiece instead – I was probably much more comfortable on the day because of that choice."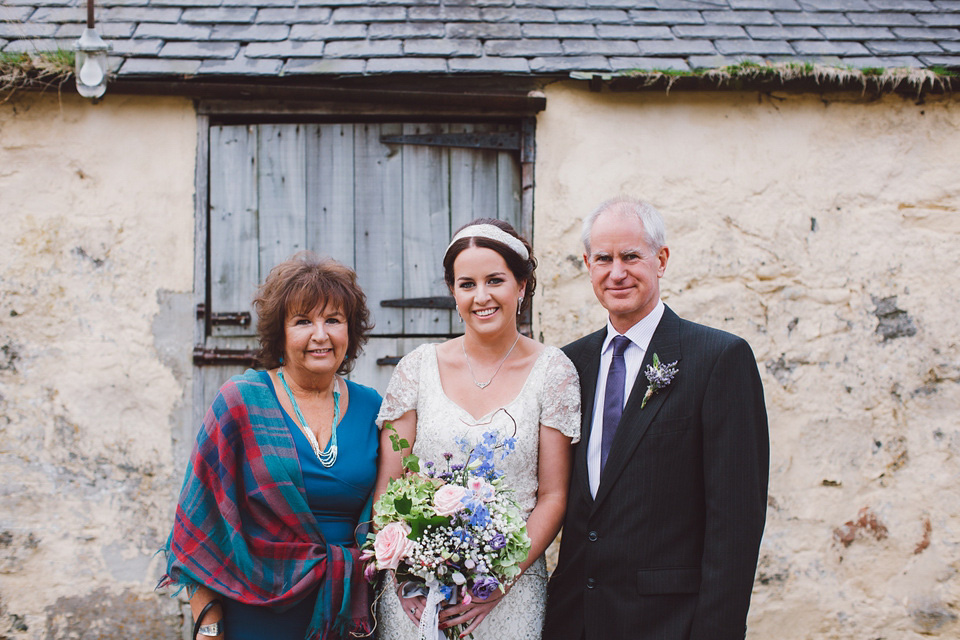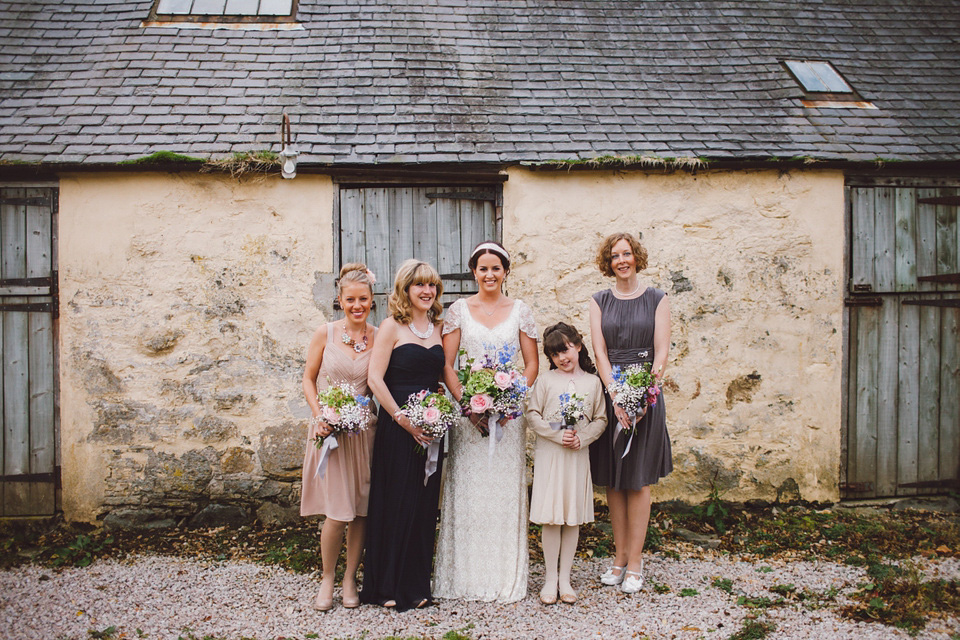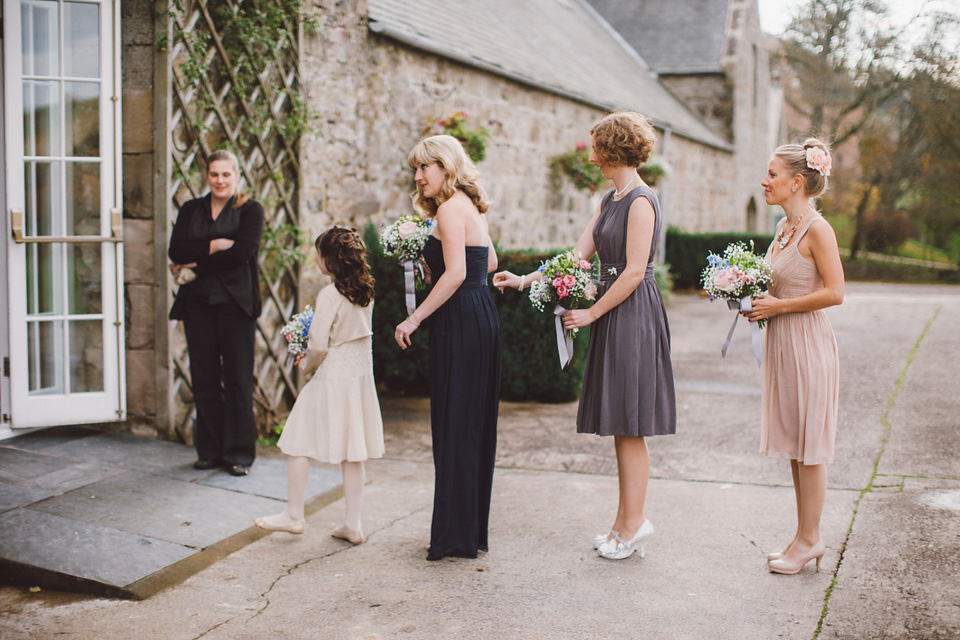 "The menu's, order of the days and welcome sign I printed out myself along with doing a DIY job on the other stationery too. The place cards were luggage labels hand printed with the individuals name by me using a stamp set and set next to a sprig of dried lavender at each place setting."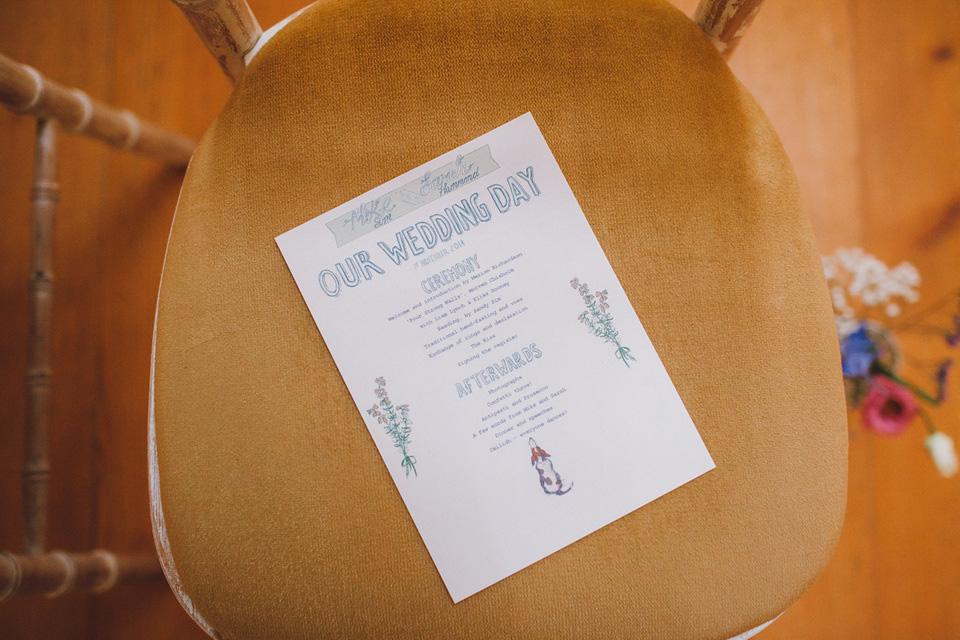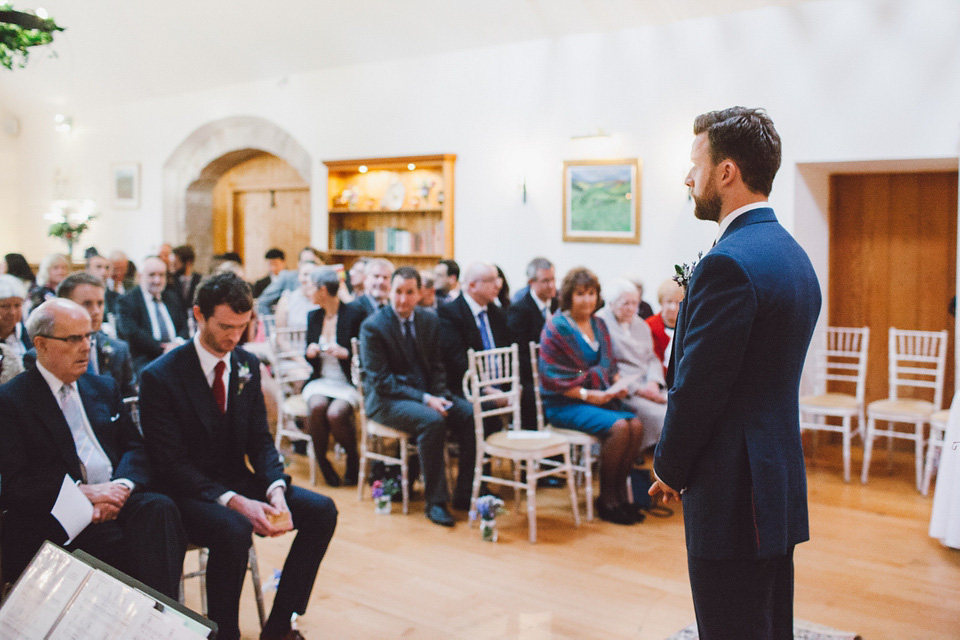 "My dad walked me down the aisle which was lovely and very calming.
Neither Mike nor I are religious at all and in fact it was really important to us that the day NOT be about religion but about our decision to become a family together and to celebrate our relationship with our family and friends in an official but non-formal and non-restricted way."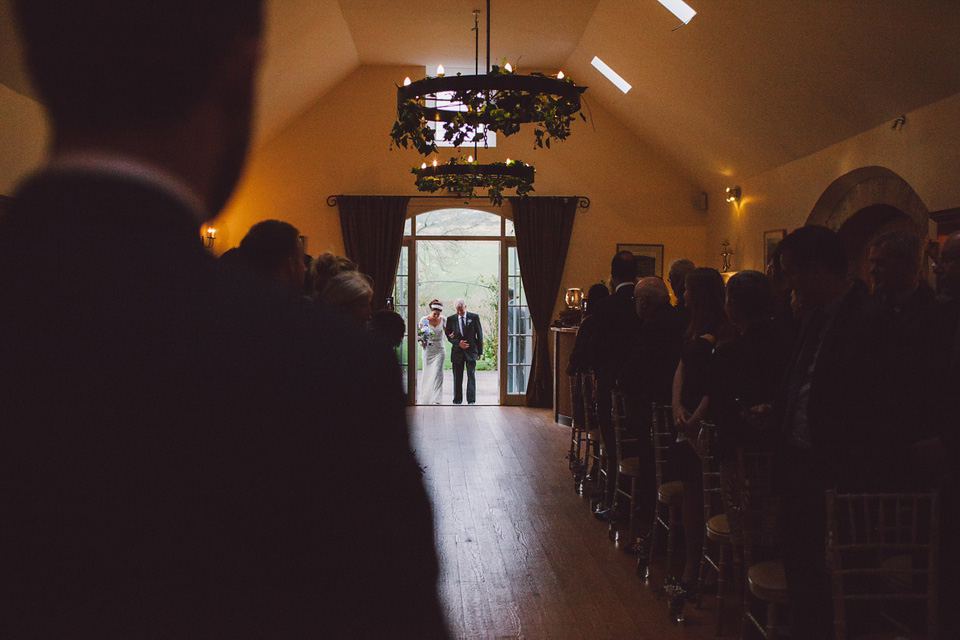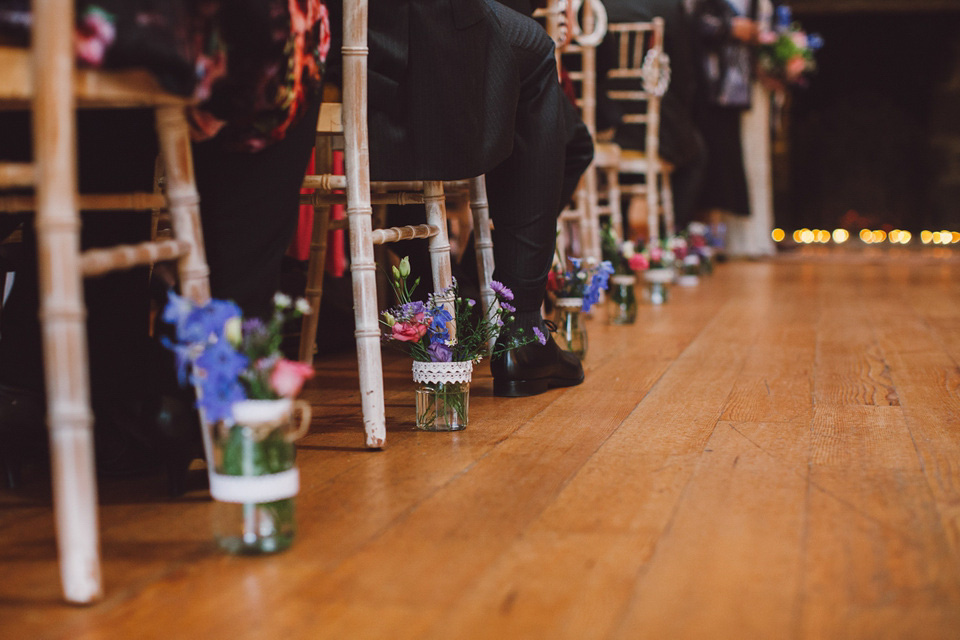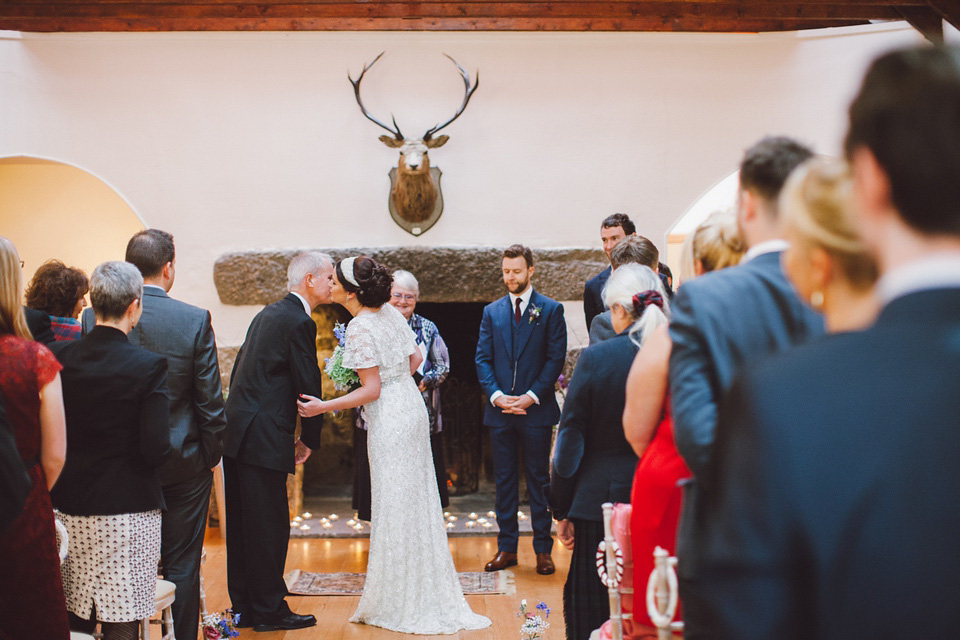 "I had asked one of my oldest friends, Liam, who is a professional violinist to play for us as I walked in and asked if he could play one of mine and Mike's favourite songs which was 'Falling Slowly' by Glen Hansard from the film Once. It means a lot to us a couple and it was very emotional hearing it as I walked in. Liam was joined by a cellist and I wish I could have taken more time walking in to hear more as it was beautiful.
During the signing of the register and while we walked out they also played for us, a mixture of traditional Scottish folk music which was planned and some extracts from the score of 'Love Actually' which was unexpected, and sounded great. My bridesmaid Morven joined in at the end on her bodhrain!"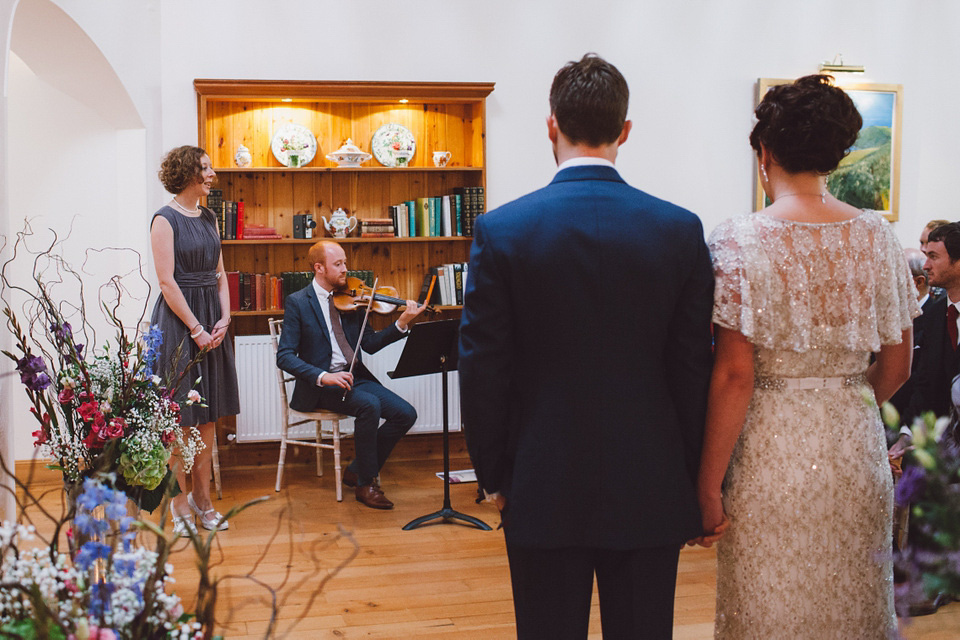 "Mike and I decided early on that we wanted to write our own vows which was one of the benefits of the Humanist ceremony, we could tailor it exactly as we wished. We decided to say the same thing to each other to make it an equal promise. So we sat down one evening and found it surprisingly easy to share and agree on what we wanted from our marriage and our future. We opted also to include a traditional handfasting using the Black Watch tartan which Mike's great granddad was a part of. We asked my Mum to do the tying of the knots and Mike's Auntie Helen to untie them and we said our vows to each other while our hands were fasted together.
The last line of our vows were my favourite; 'I've chosen to share my life with you, you are my best friend, my favourite person, and I love you unconditionally.'"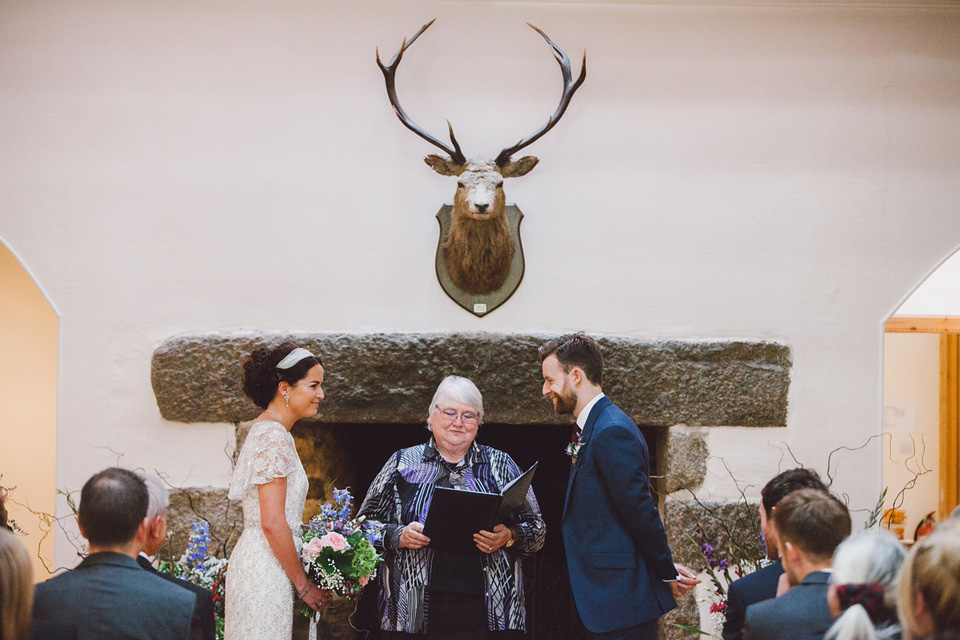 "We had one reading during the ceremony, from Mike's Granddad Sandy. We had asked him to read something of his own choice and he chose something simple and true."
'This is a new beginning for them,
With all their hopes and dreams of love.
May these hopes and dreams be realised.
May they believe in each other;
May they be devoted to each other;
May the warmth of their love for each other,
In the kindness of their home,
Allow them to be charitable
To others as well as to themselves.
Through their years together,
May their love grow and deepen
Through giving each to other.
May they learn the great joy
That comes from sharing.'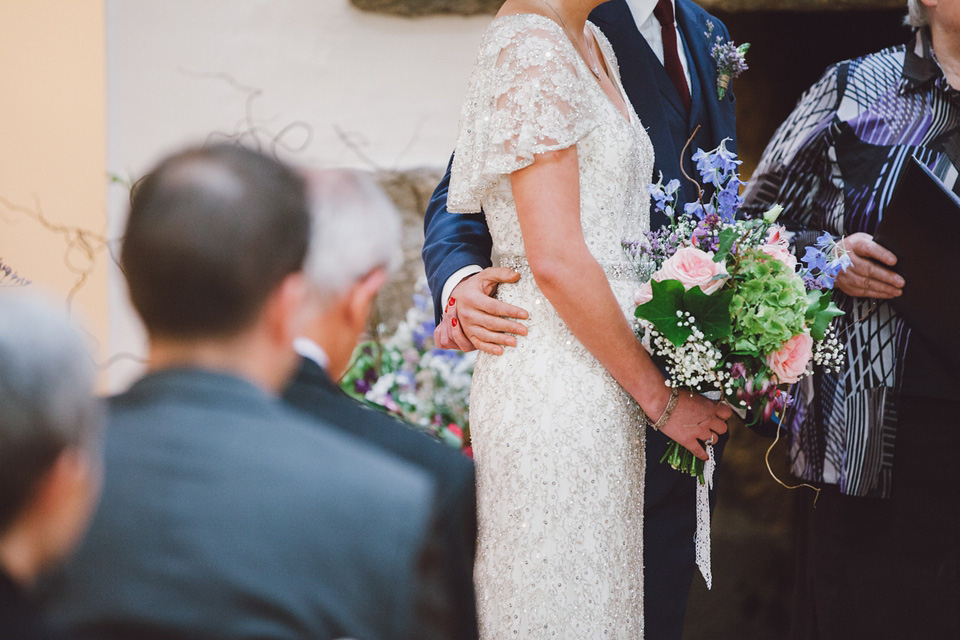 "One of my best friends and bridesmaids, Morven, is a semi-professional singer and I asked her early on in the planning if she would sing something for us during the ceremony in place of another reading. She chose the song herself and between her and Liam (my violinist friend) had a special arrangement made up so it was really bespoke on the day. I was really touched by how much effort they both went to. The song was 'Four Strong Walls' by Karine Polwart. I love the lyrics of the chorus:
'When everything else in this world
Flickers and falters and falls
And the thunder is under our feet
You feel like four strong walls'
"She told me afterwards that up until she sang the first word her mind had gone completely blank on the lyrics and she was attempting to smile through the mild panic! You couldn't tell though, I had no idea!"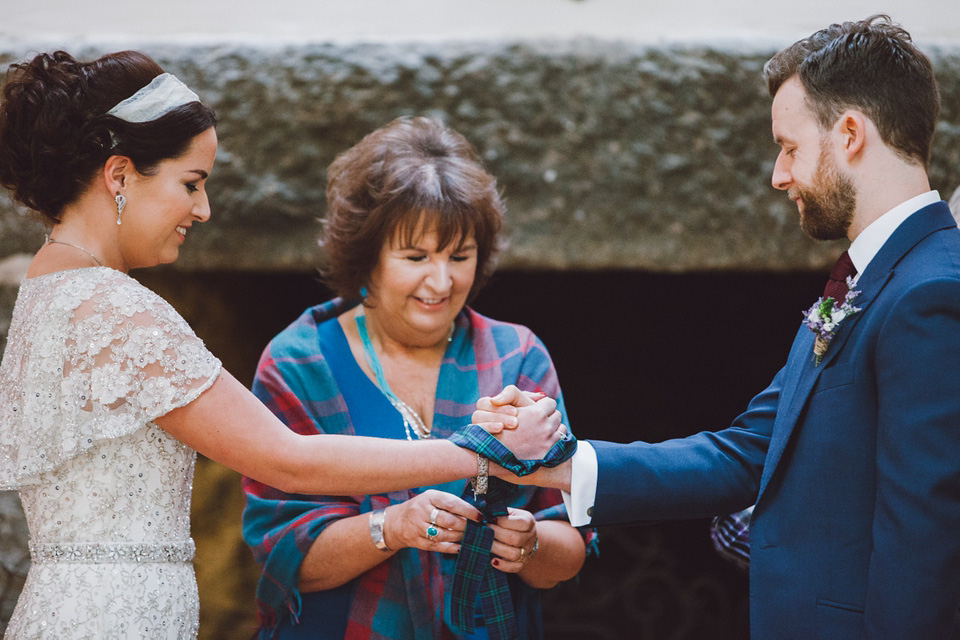 "My engagement ring belonged to Mike's Gran and is a sapphire surrounded by diamonds. For my wedding ring I wanted something really simple that wouldn't take away from that so I chose a plain white gold band from Harriet Kelsall in Cambridge. It was a bespoke ring make to match the width and depth of the band of my engagement ring which is very thin. Of all the suppliers I used, the service here was one of the best from beginning to end and my ring came presented in a beautiful wooden box which we then used on the day to hold both rings.
Mike chose his ring, a thicker white gold band from Trinity St Jewellers in Cambridge. A lovely old traditional jewellers who also gave us great service."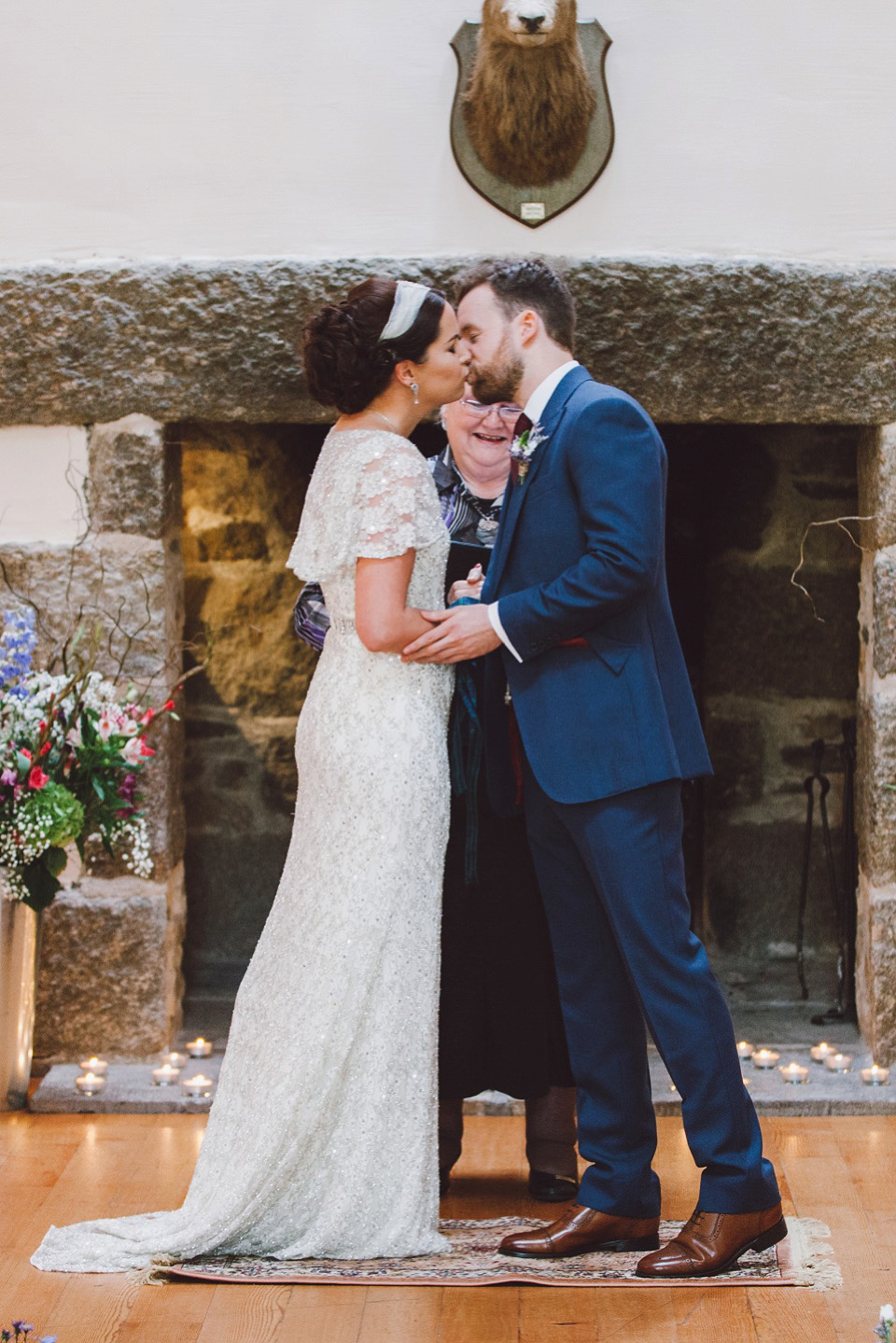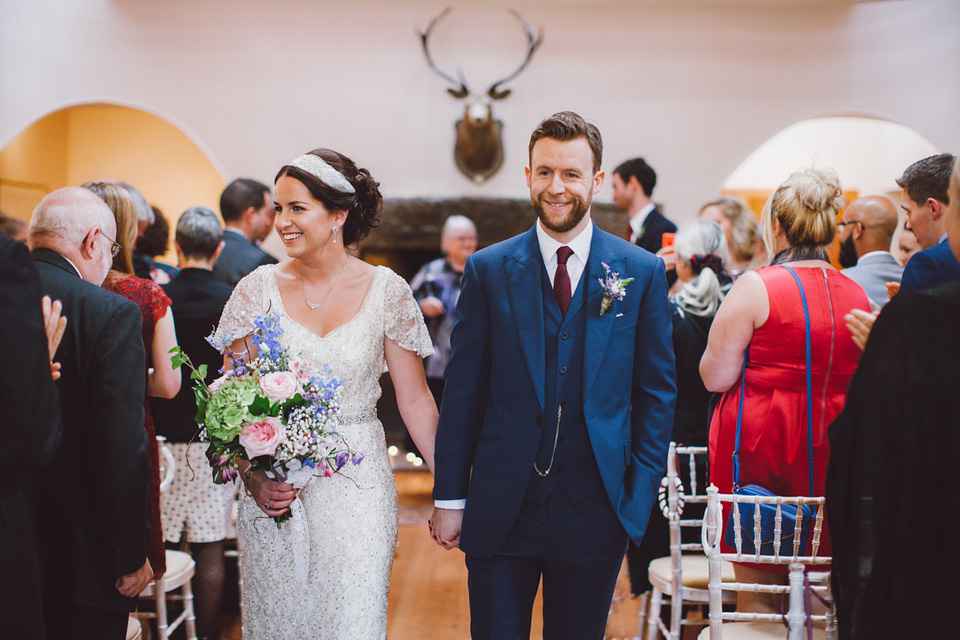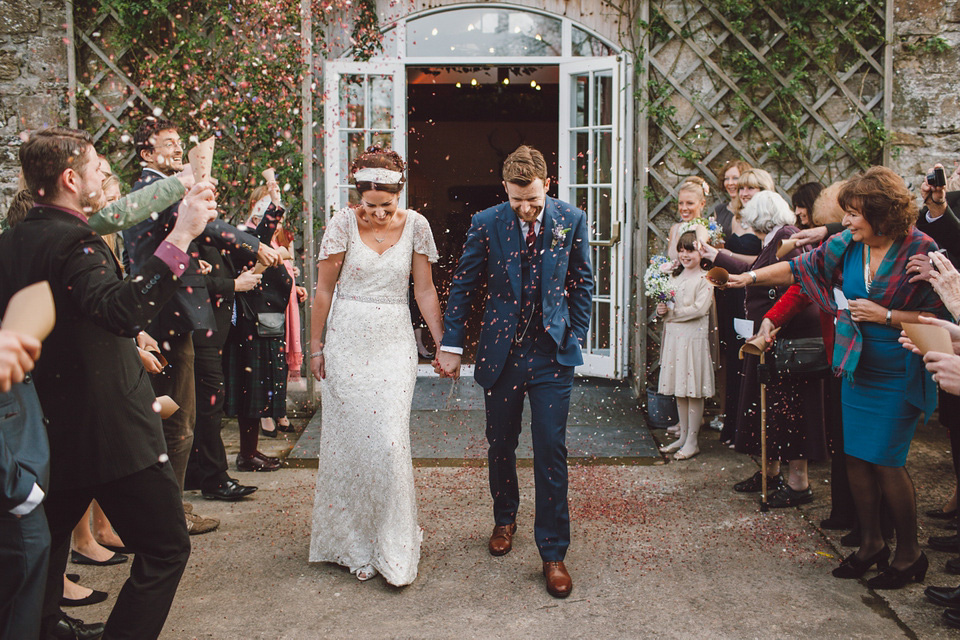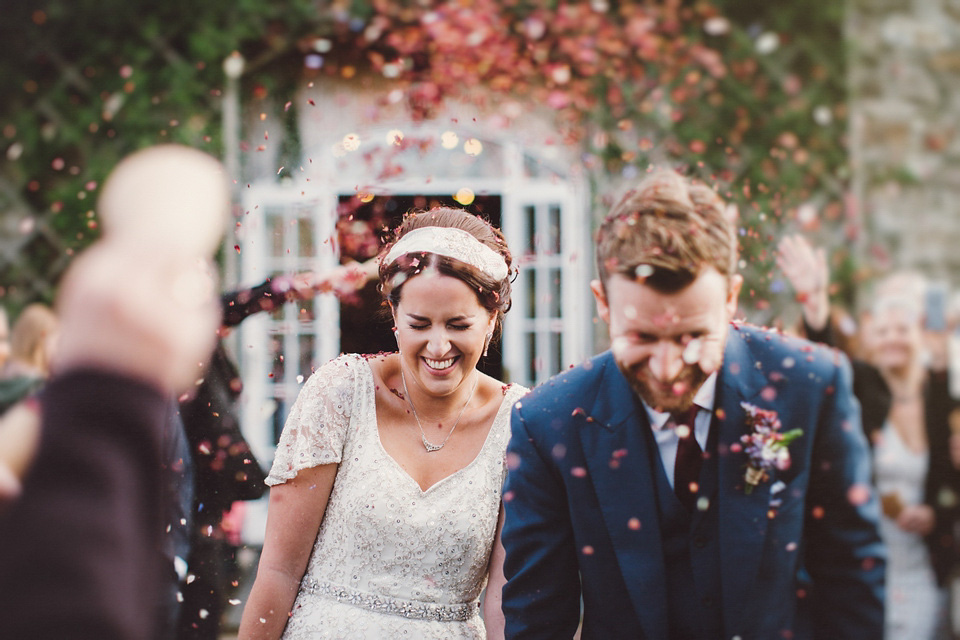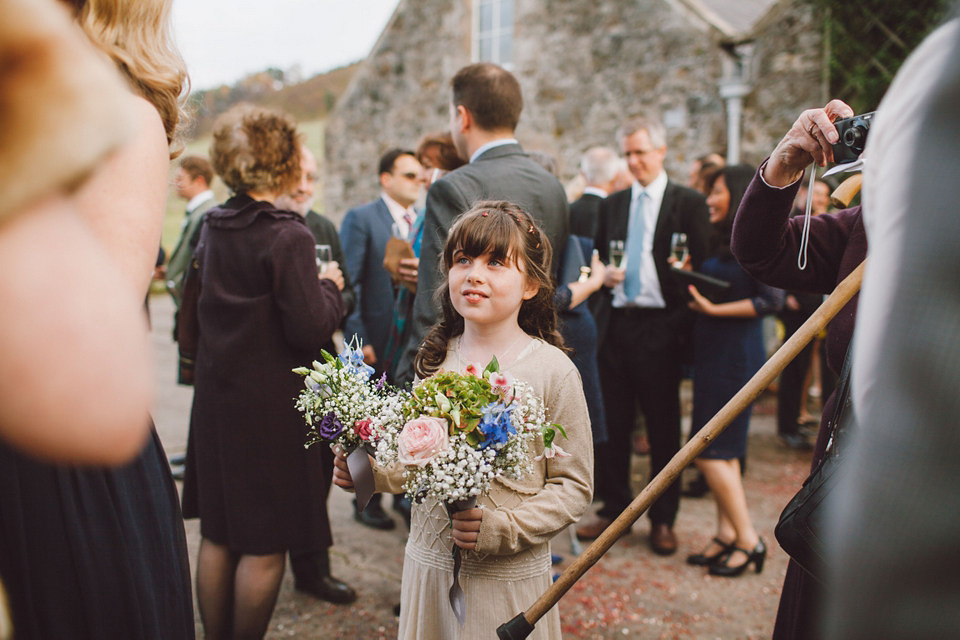 "Our florist Val Morrison was also our caterer and we could certainly see why she was a recommended supplier by the venue. She was just amazing! We were invited round for lunch while up in Scotland when she cooked us a lovely roast dinner while we chatted about the day and she couldn't have made us feel more at home. Her enormous Great Dane Harvey Nics was also a huge hit with us as we're dog lovers, we were sad he didn't come along on set up day!"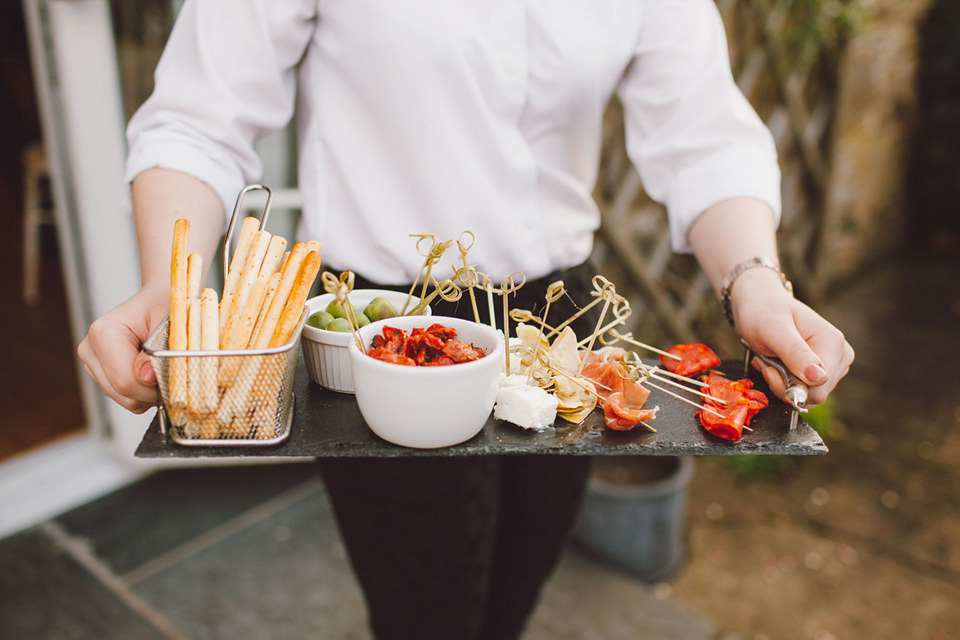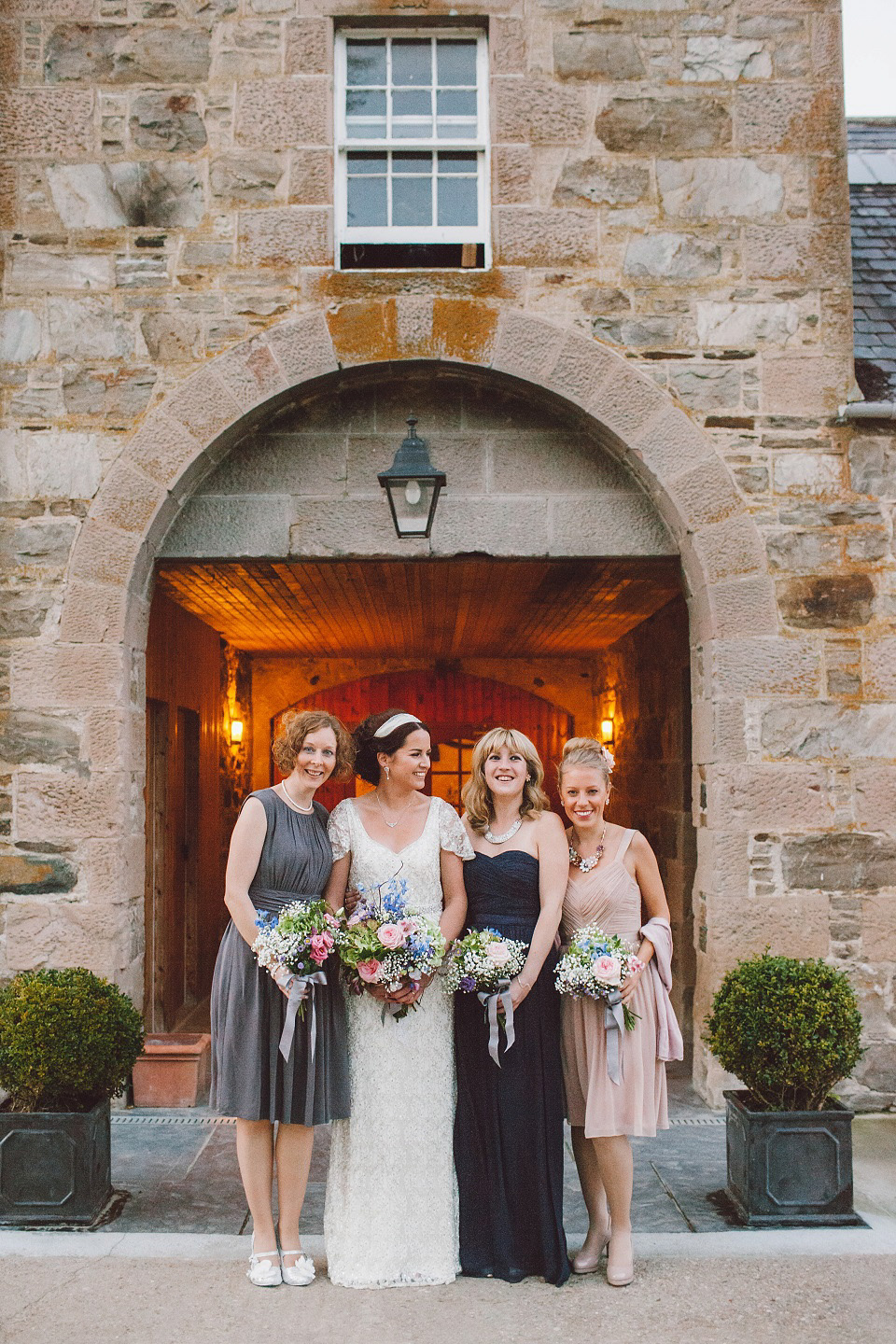 "Mike and I actually met at school. He says he has fond memories of me being the unattainable girl in the year above him who was once his prefect partner for a term but I'm sorry to say I don't have many memories of Mike except some interesting chats at local house parties! We went our separate ways after school, attending different Universities in Scotland but we both moved back to our home county of Fife in 2008.
Finding our feet again and looking for company when a lot of our friends were still scattered at Universities and jobs elsewhere meant Mike looked me up on Facebook, we met for a drink and the rest is history."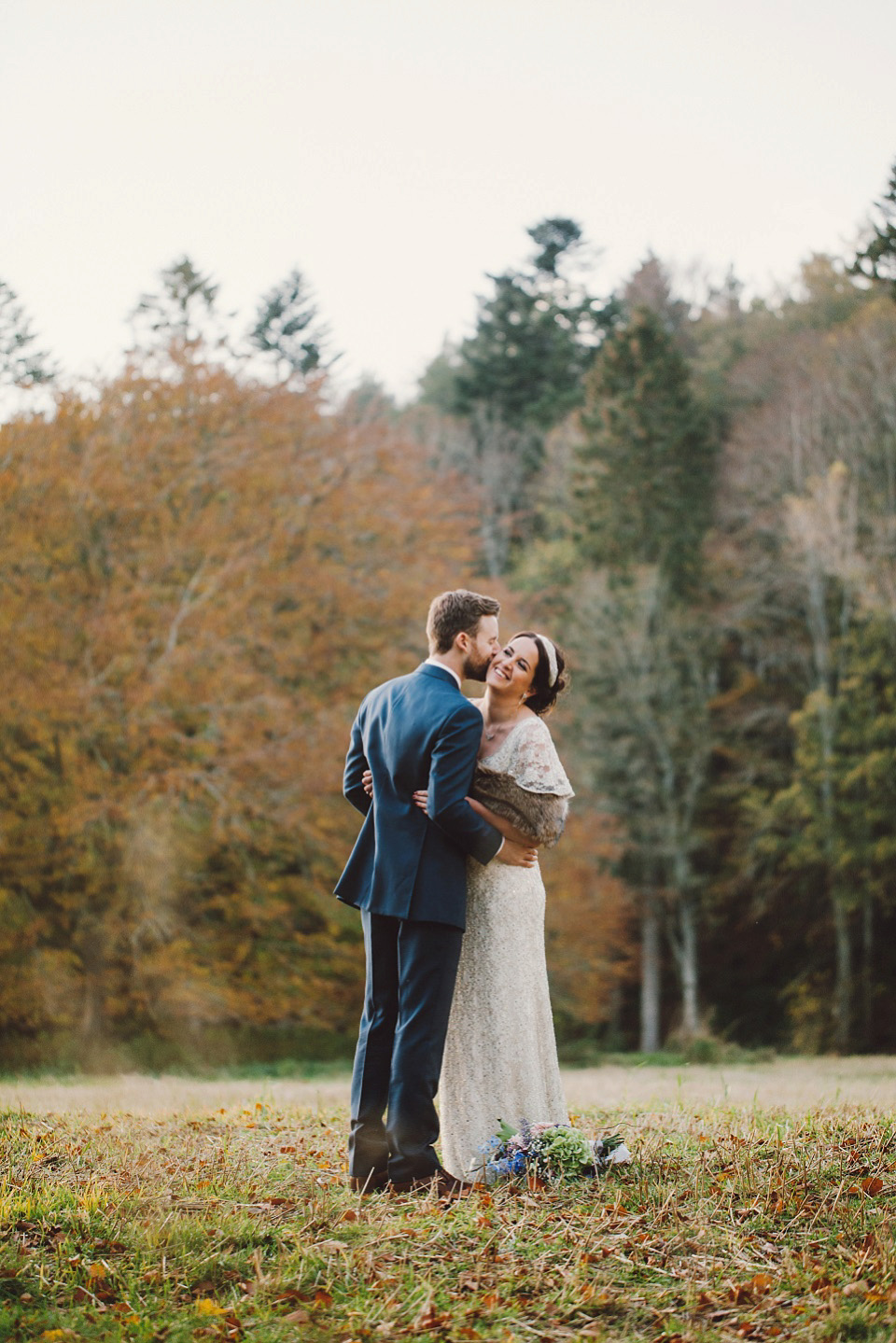 "We'd been together for five years when Mike proposed and there have been many ups and downs for us as individuals and as a couple during that time. We moved 400 miles away from our families, to Cambridge, in 2011 when I got a new job, it was a big test and could have gone either way but living together has always been very natural and easy for us and once we adopted our rescue Basset Hound Bessie from Battersea we became a real little family.
Particularly in our fourth year together when we lost several close family members on both sides including Mike's Dad and my Grandpa things haven't always been easy. But ultimately it brought us closer and really highlighted to us how important family and being together was."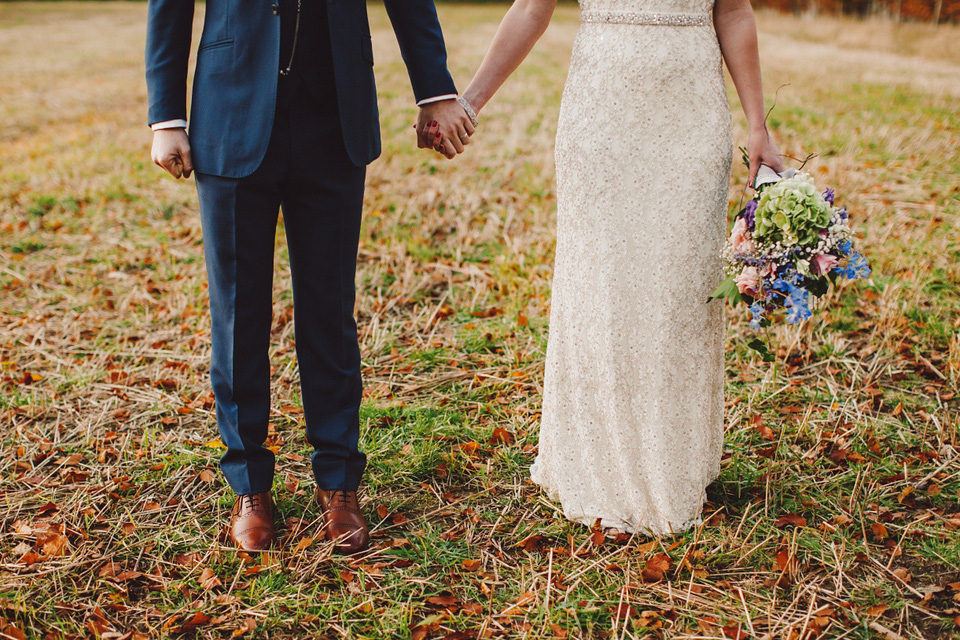 "In October 2013 we were walking home from a friend's birthday party, along the river in Cambridge. It was a really beautiful night, really clear, and we had one of those lovely chats about things we wanted to do together in the future. Once we were home and had gathered the dog next to us on the sofa Mike got down on one knee and popped the question. I remember thinking that I was probably supposed to jump up and down and squeal and cry but actually I felt just really calm and content when I said 'Yes' – which is exactly how I felt again on the big day.
It felt natural and right. Having said that I got about 4 hours sleep from excitement and was watching the clock all morning until a decent hour to ring both families to tell them the news! We were engaged for just over a year before we got married."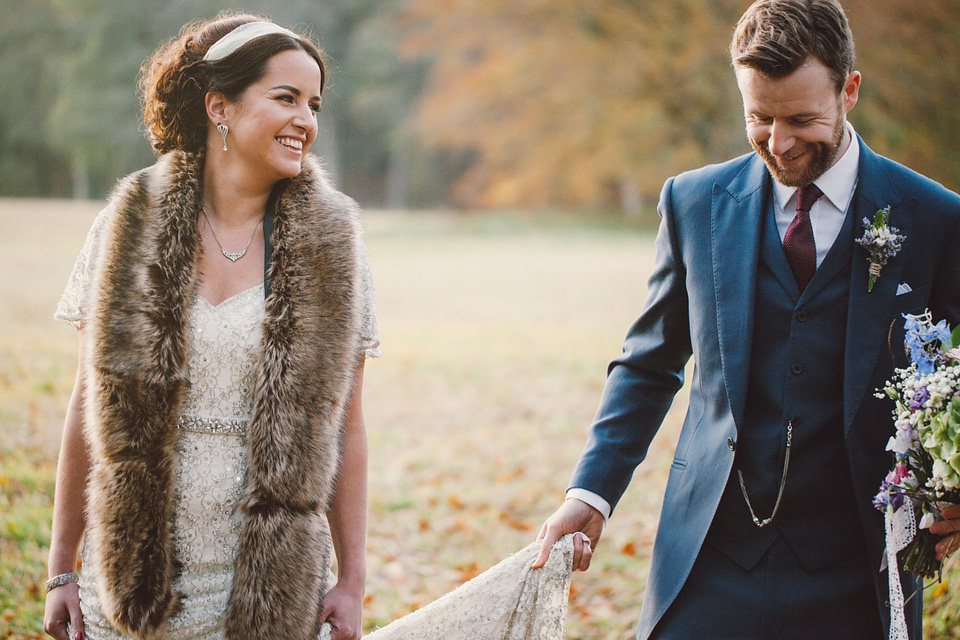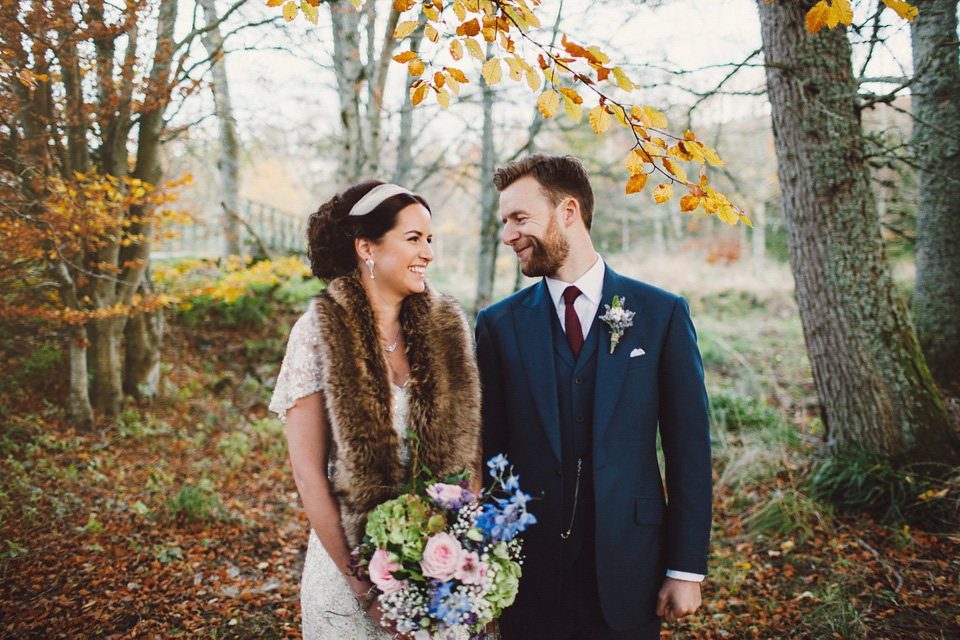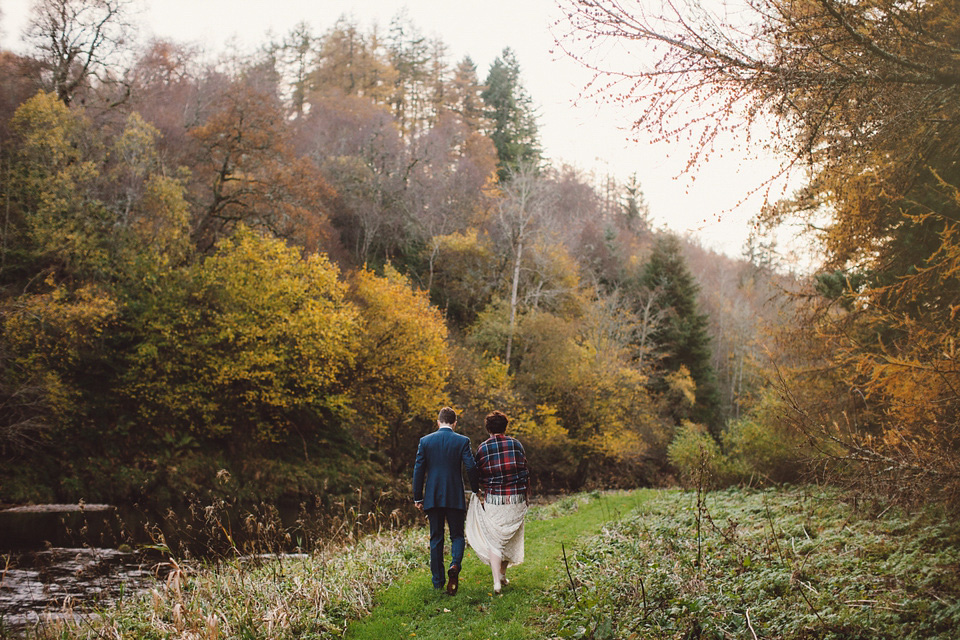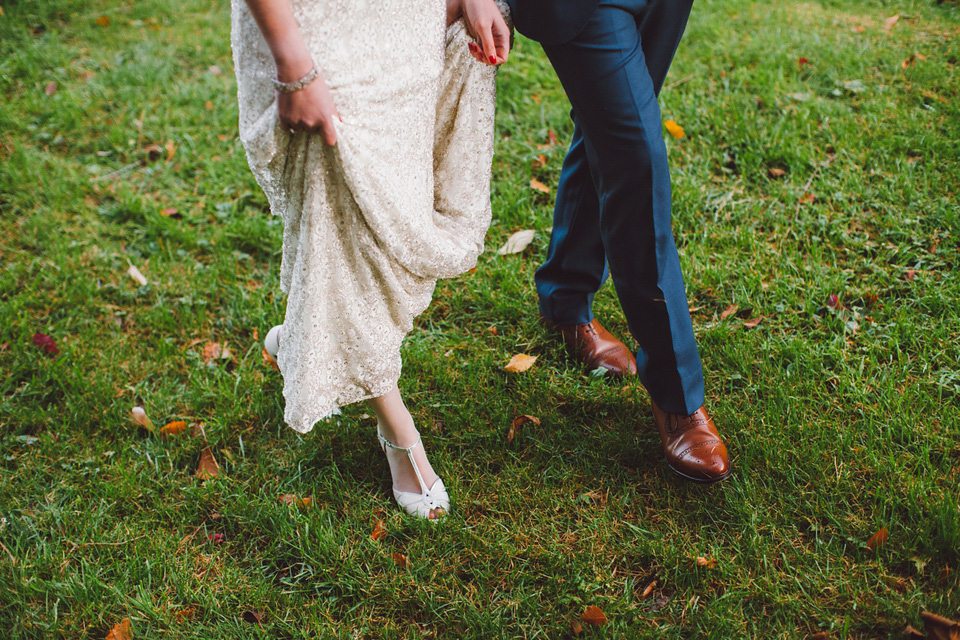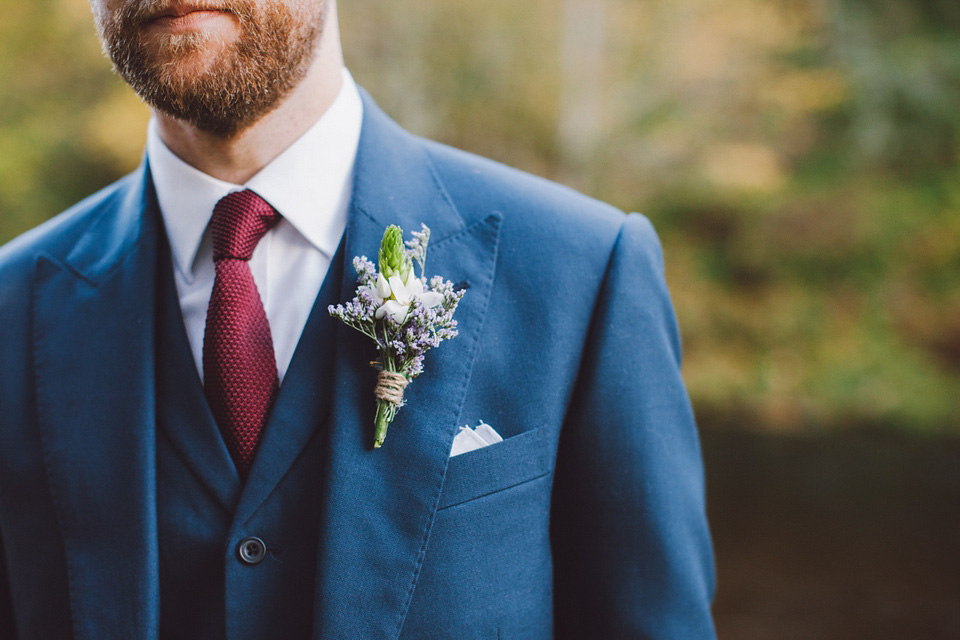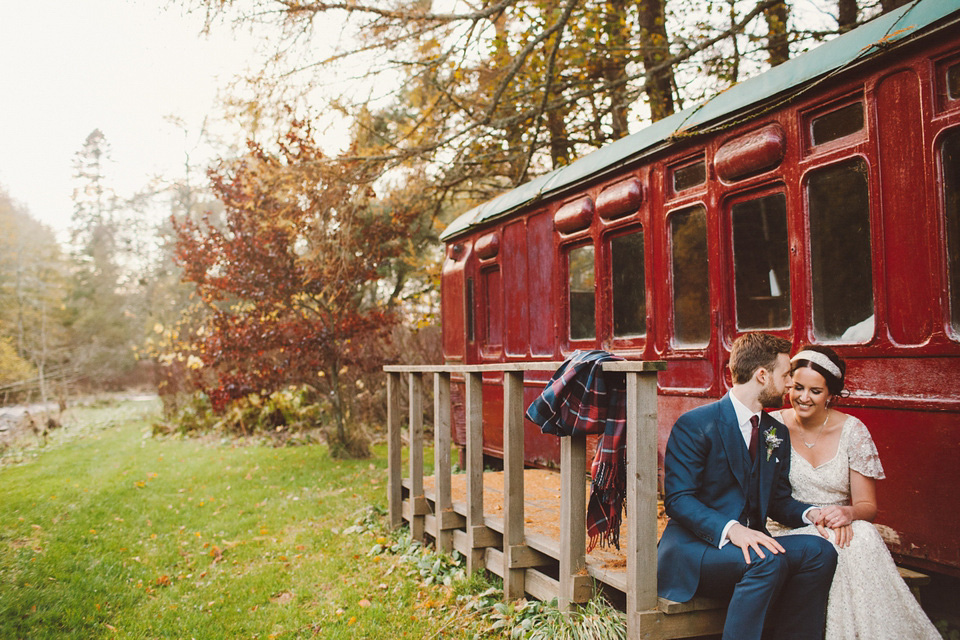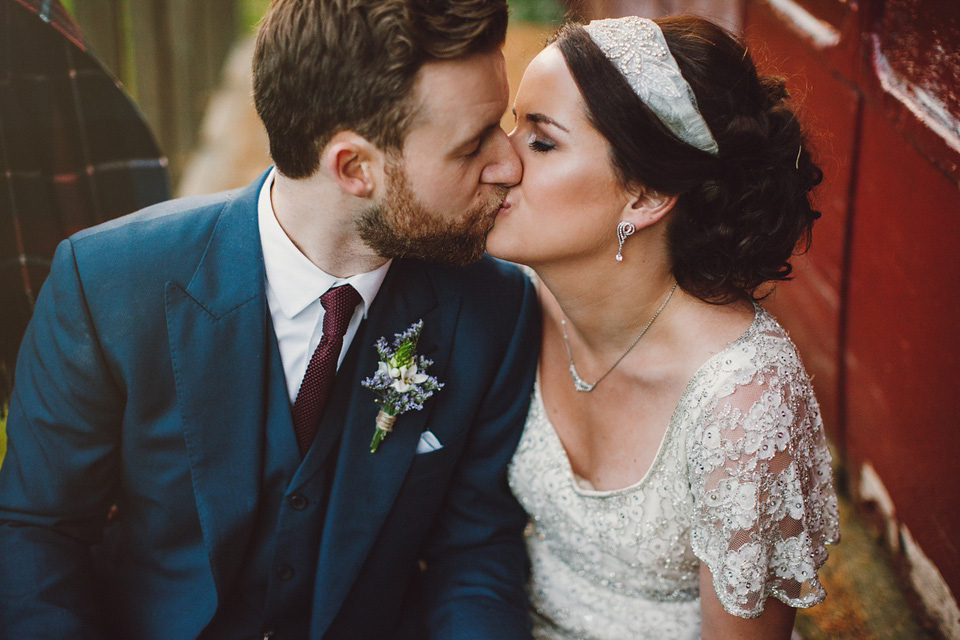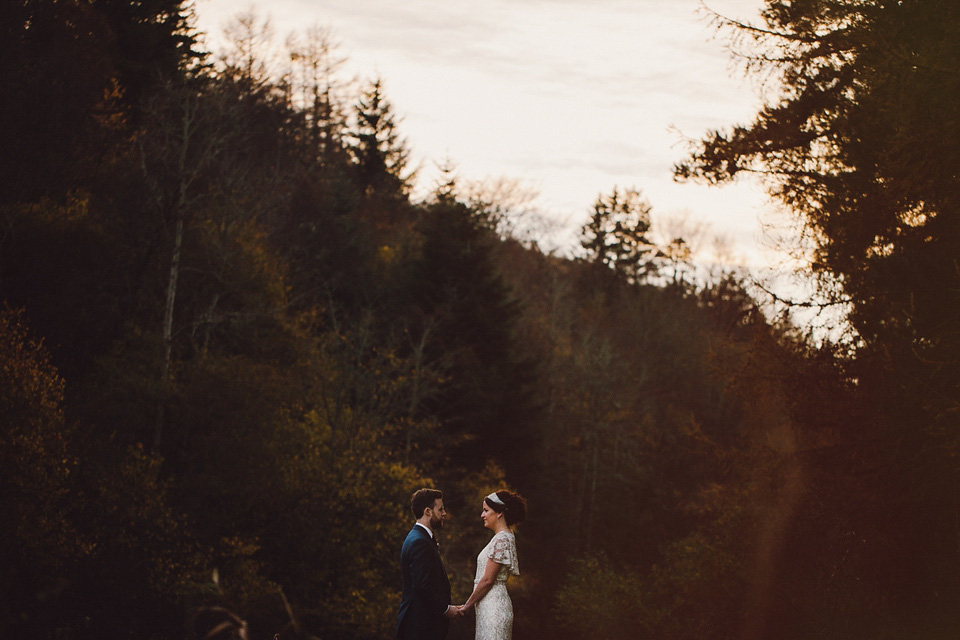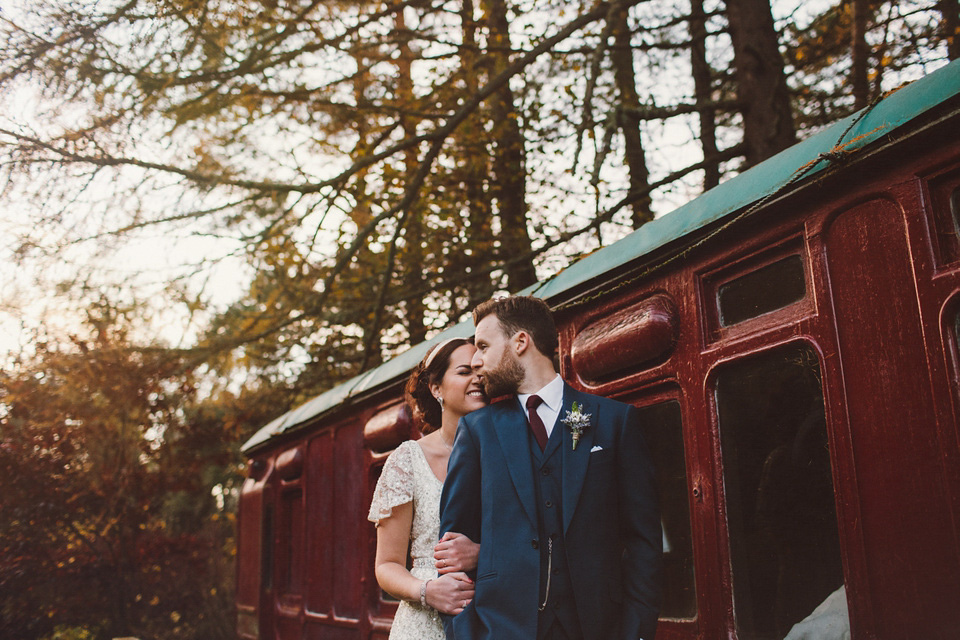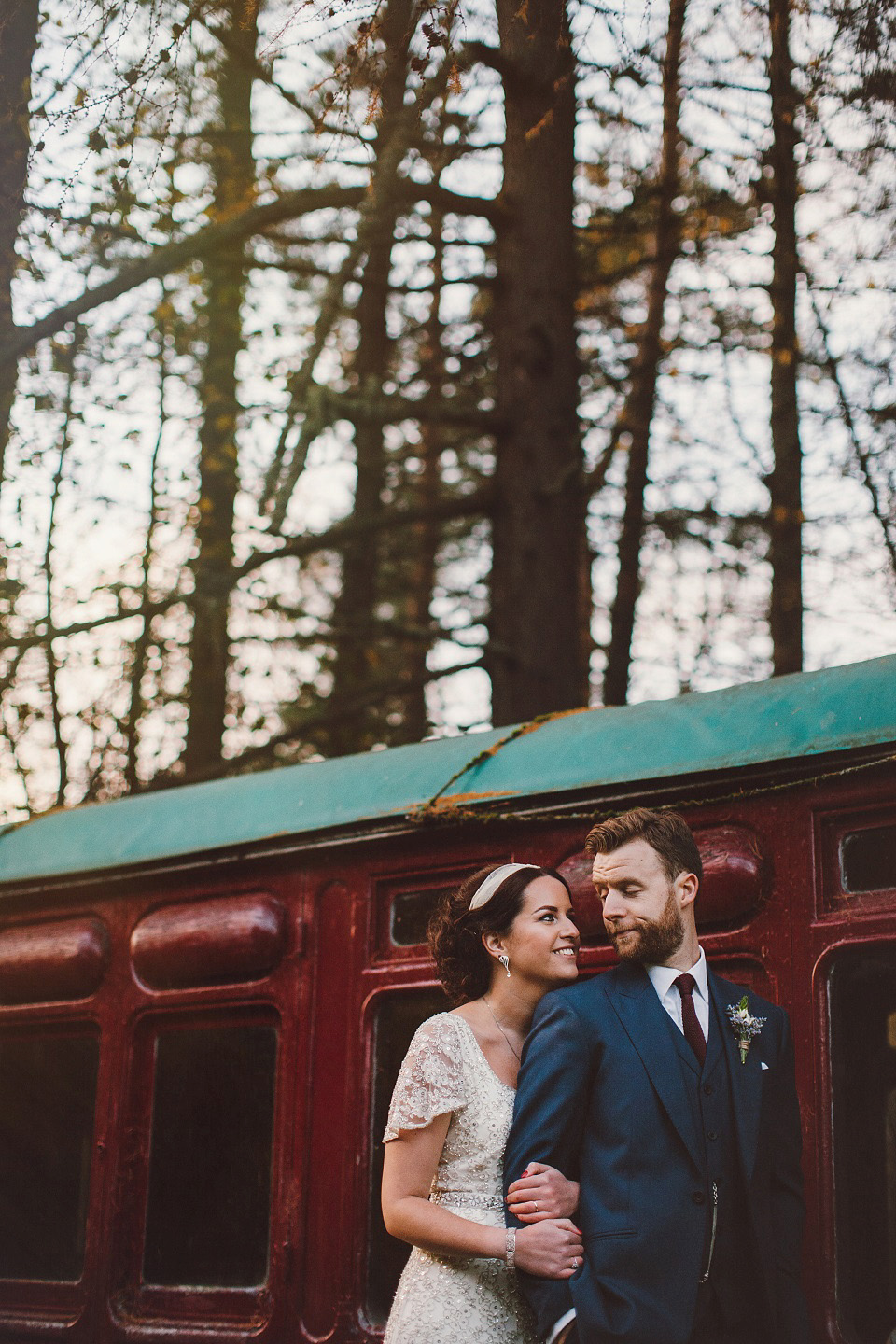 "Aswanley is set on a beautiful estate in Scotland and ticked so many of the boxes we were looking for. We were always going to get married in Scotland, it's home for both of us and the majority of our family and friends live in Scotland plus there was the advantage of having a Humanist ceremony. We had chosen Autumn as the season we wanted to get married in as we think it really shows off Scotland at its best.
It was all about beautiful colours, wild landscape and a remote elegance that we both love. In summer you always run the risk of the rain spoiling what is traditionally supposed to be a 'sunny' season but in Autumn, even if the weather turns bad, you get a brilliant effect with the misty landscapes, and rain in the low afternoon light can be a beautiful background. As it turned out we were lucky with the weather on the day and our photo shoot in the afternoon really took advantage of the rolling estate Aswanley offers. We had a beautiful walk along the river and even saw salmon jumping."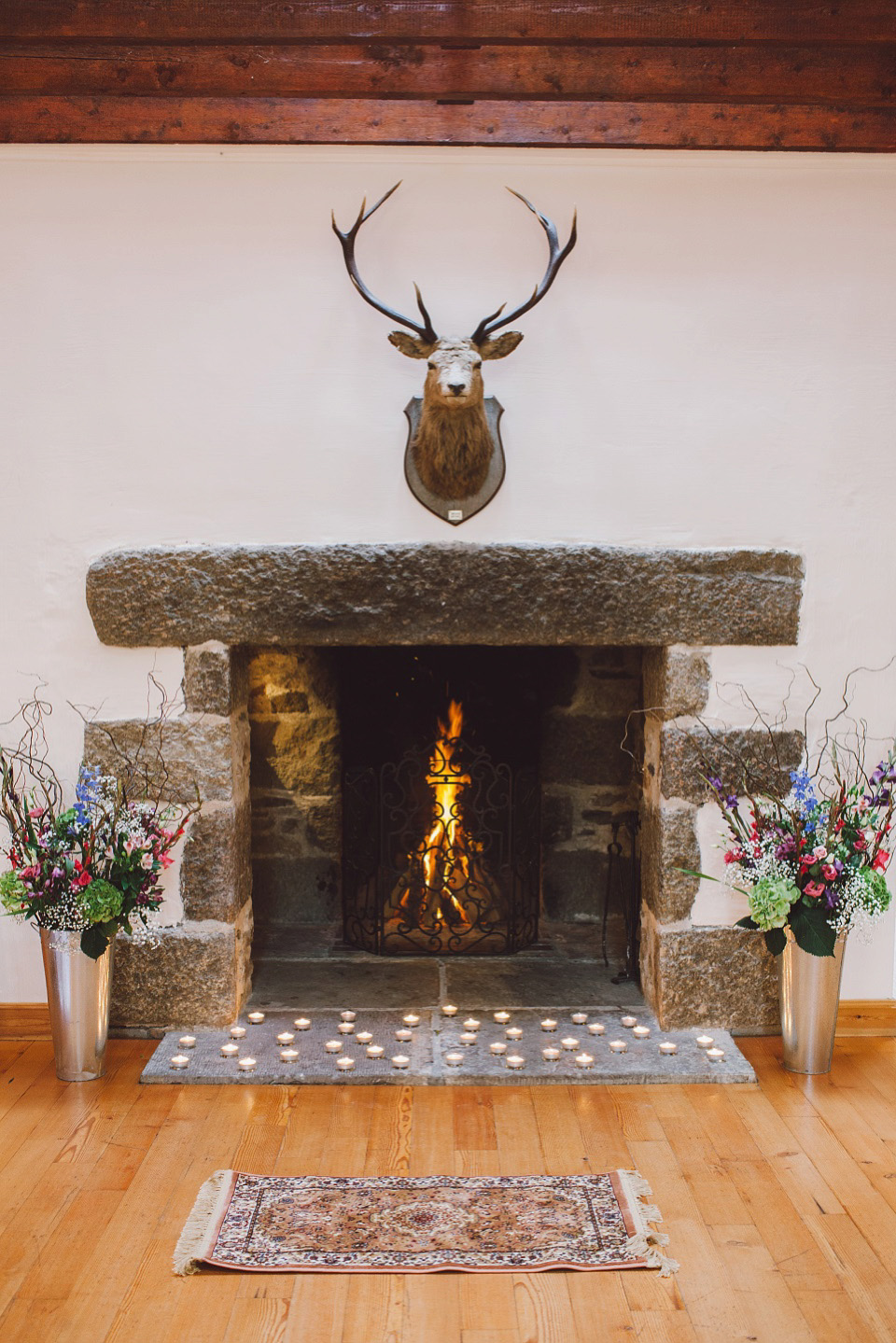 "We had real trouble finding a venue that had the right capacity without having to have a marquee which we definitely didn't want. Even though you can get really cool marquees these days in lots of different styles I just couldn't get my head around the idea of hiring a venue and then spending the majority of the time in a tent outside. Especially because of the time of year. Originally we were looking for a country house to have a real 'homely' feel to the day.
Ultimately we couldn't find one that fitted with both our numbers and budget but Aswanley, with its fireplace room and separate dining and dancing area was large enough but still felt cosy. Combined with the welcome and service we received it was a brilliant find."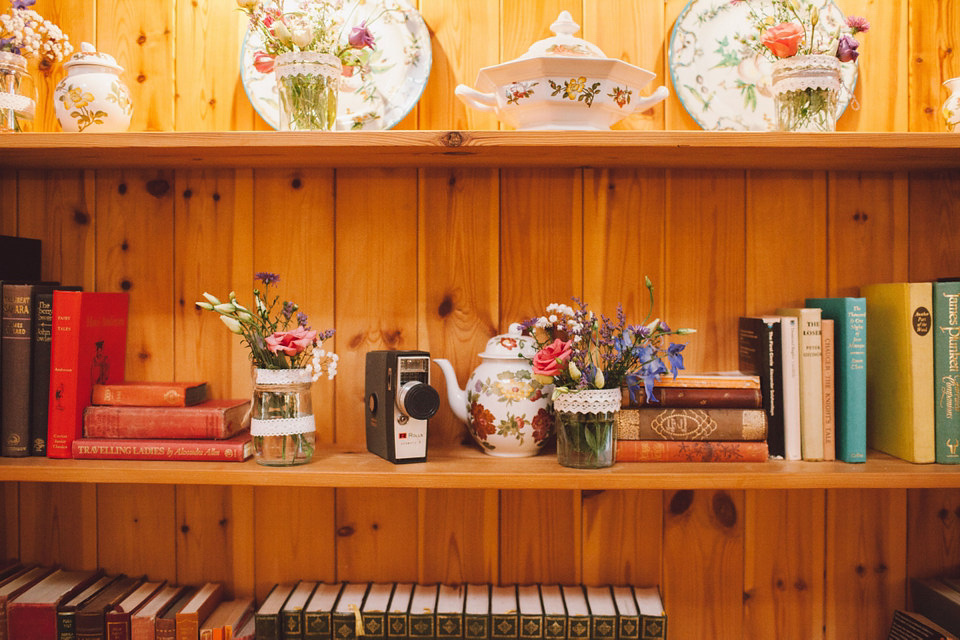 "Mike is a photographer and light was a really important theme for both of us. We kept that in mind planning lots of candles and festoon lighting along with the huge open fire in the ceremony room. We wanted the day to feel cosy and a little bit magical.  We do both love different vintage aspects from different eras but didn't want the wedding to look too 'themed' so we chose small touches like cut glass decanters as vases and old fashioned photo frames for the seating 'chart' to reflect that.  We also played on Mike's job as a photographer by using vintage cameras as props.
For our'guestbook' we bought a stack of postcards with vintage penguin book covers on for people to write and pin up in an empty picture frame we strung with ribbon. We left a stack of tartan blankets out for people as well if they got chilly and used an old fashioned postbox for people to leave cards in."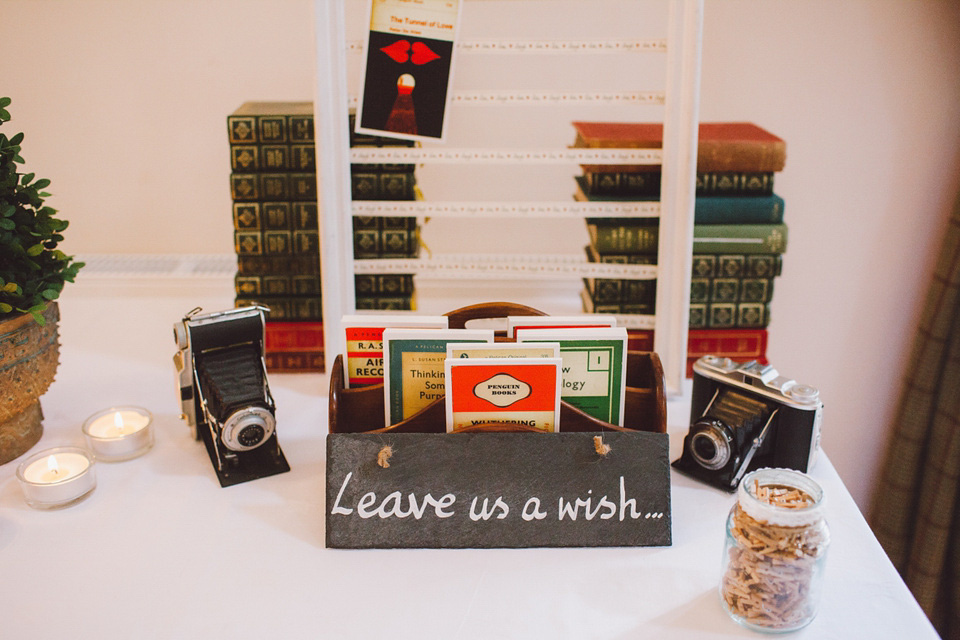 "We didn't really have a 'theme' as such and so just used ideas for decor that we liked and thought up ourselves. A lot of what inspired me is to do with texture and light and then the season and our surroundings at the venue itself. Aswanley is a really well finished and cosy feeling venue but at the same time is a blank space with a lot of height.
We used fresh ivy from our florist to decorate the lighting fixtures, beams and around the edge of the walls. To this we added warm white festoon lighting and I spent several painstaking days sitting on my sofa making 'Autumn bunting' which I was really pleased with in the end. I bought leaves made from material of different shapes and colours online and threaded them onto ribbon as an alternative to the traditional bunting you see at spring and summer weddings. It really fitted in well with the natural feel of the wedding.
We added jam jars of flowers to the bookshelves and our florists assistant did some amazing arrangements off the top of her head for either side of the fireplace which were stunning. For the ceremony we stood on a mini oriental rug we had brought along which now sits in our bedroom. I really liked the idea that we'll always have that from the day – the 'place' where we stood to say our vows."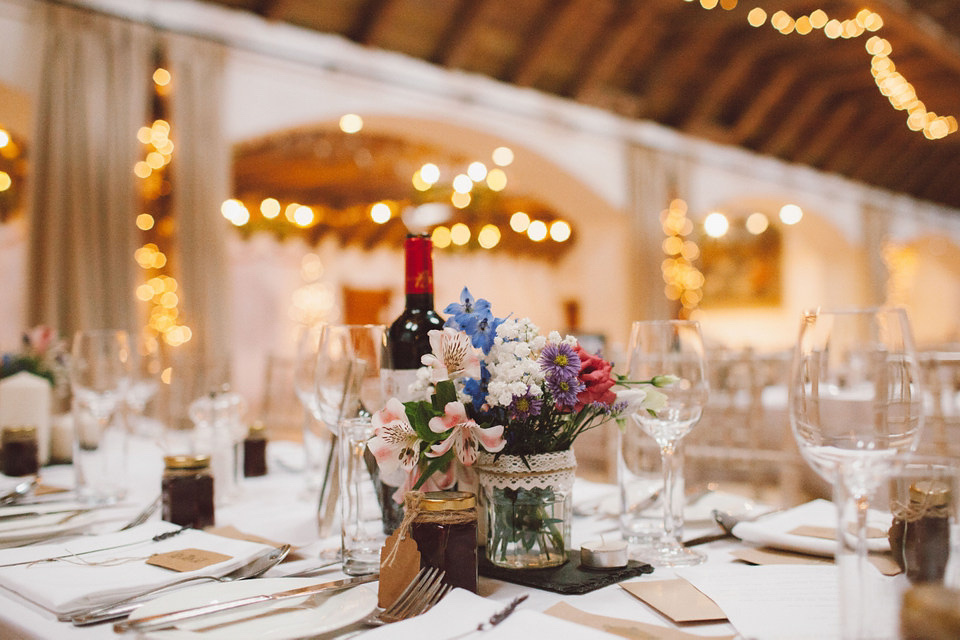 "I spent a lot of time on Ebay sourcing beautiful pieces of crochet and lace from all over the world along with cut glass decanters and vintage cameras to decorate various surfaces. To fit in with the simple and natural feel of the day we used pieces of slate as our centre pieces on the tables and collected jam jars for flowers which my Mum and I decorated with lace. We had candles everywhere as I adore tea-lights and I loved how they looked filling the front of the fireplace."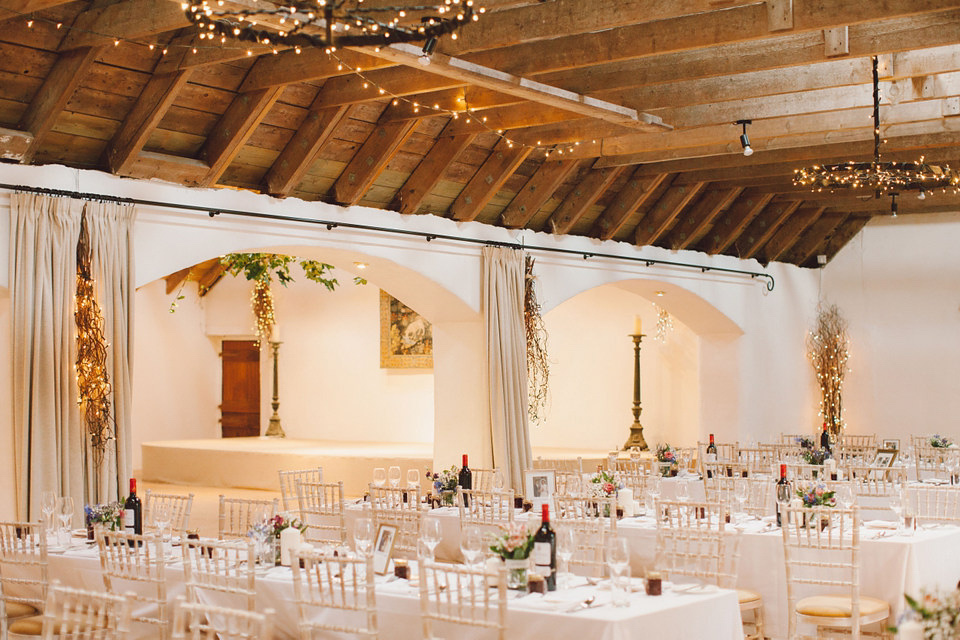 "For our main meal we went for slow cooked joints of pork and lamb with roast potatoes, veg and Yorkshire puddings, various sauces and gravy. Pudding was a 'create your own' with bowls of clotted cream, meringues, chocolate mousse and seasonal berries. In addition, one of the only requests Mike made for the day was to have a 'Banoffee cheesecake' combining two of his favourite things – we were asked if we had a favourite recipe to which the answer was 'no, we've sort of made it up as a thing!' and so Val produced one of her own making which went down a treat.
We love big family meals and 'feasting' style dinner parties so that was the vibe we went for on the day.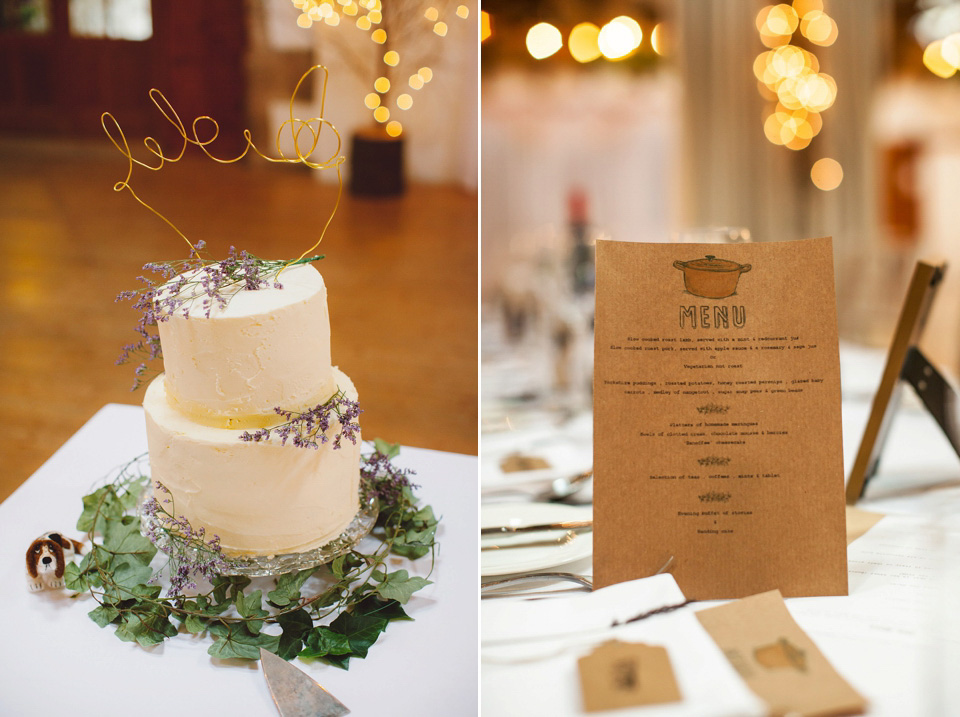 "My bridesmaids, bless them, collected horseshoes from a friend of a friend and spent a couple of days spray painting and threading them with ribbon to hang on the ends of the aisle chairs instead of having flowers. I loved them and encouraged people to take one away with them at the end of the night as a keepsake.
We had a basket of confetti cones sitting by the door for people to grab filled with dried rose petals and larkspur I had ordered online. I used plain brown kraft paper for these and one of my bridesmaids other halves, Chris, rolled them all up for me bless him!
We also had a Tunnocks tea cake and wafer display near the exit with a sign saying 'Take a Tunnocks for your taxi' as a nod to where we were."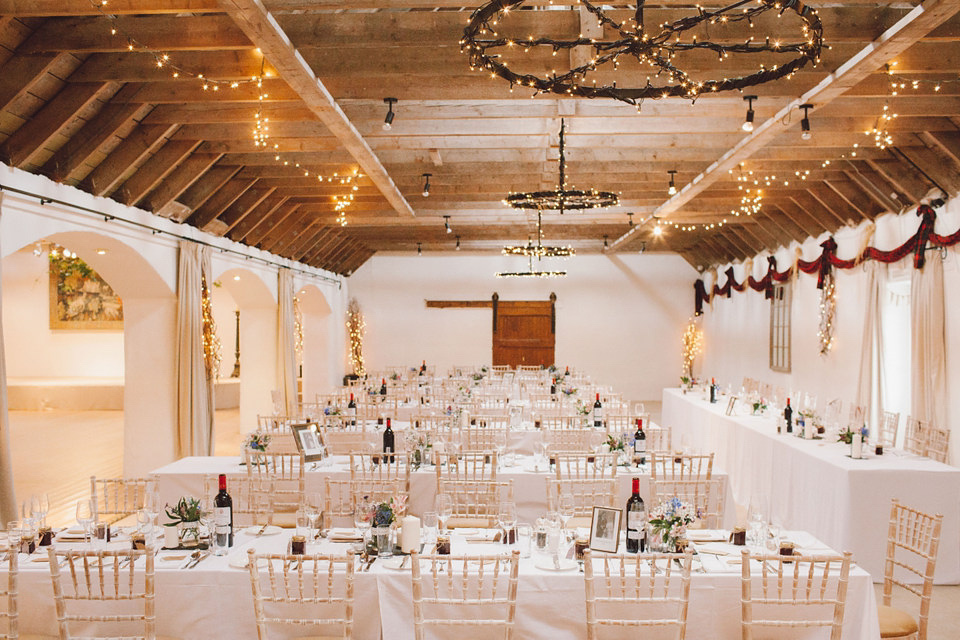 "Our wedding favours were jars of homemade spiced beetroot and orange chutney tied with mini luggage labels which I hand printed with a 'Thank you' stamp. After shopping for local veg at the market we took over a friends catering kitchen for a night to make the chutney using the biggest pot they had! We liked the idea of doing something homemade and seasonal as well as colourful on a table that was mainly neutral.
The stickers for the top of the jars we designed online and added ourselves."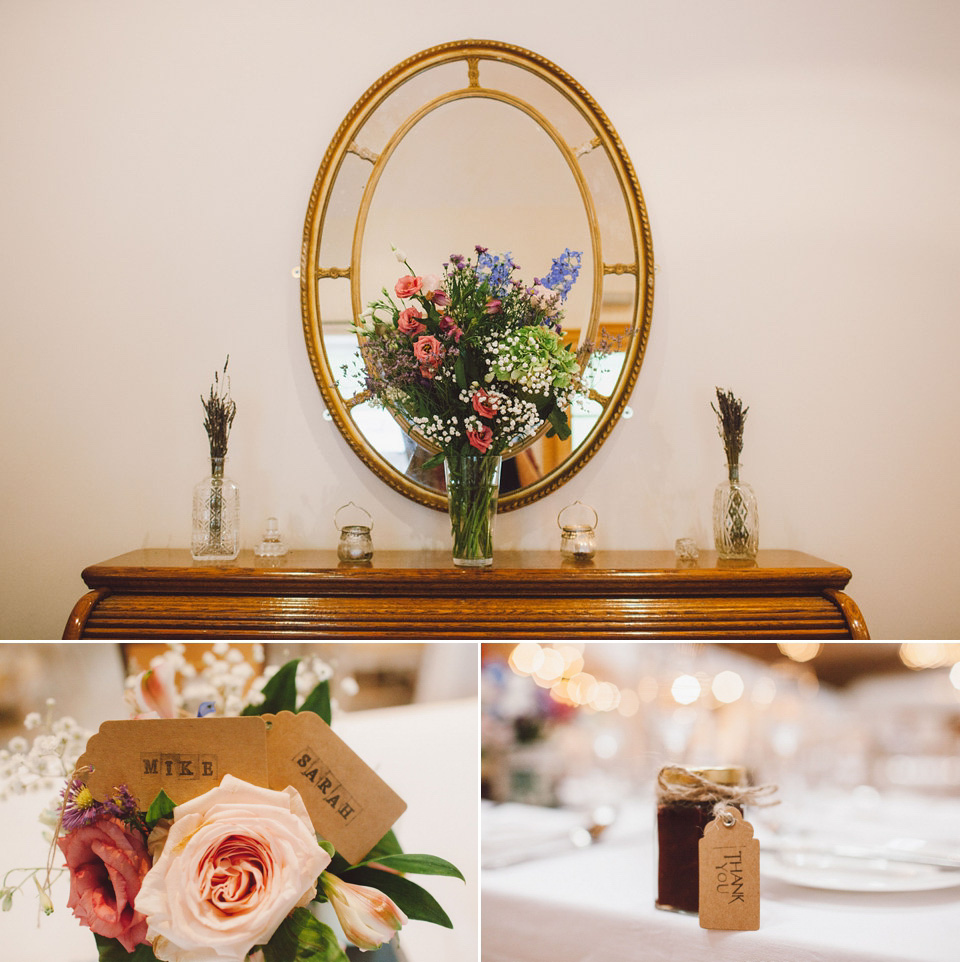 "Neither Mike or I like fruit cake and I'm a huge chocaholic so chocolate cake was an obvious choice for our wedding cake. My friend Kathryn used to be a professional baker so we asked her very nicely if she would bake it for us. As with the rest of the wedding we wanted it to be simple, a bit rustic and nothing OTT. We both love lemon drizzle cake so that became the second layer. Technically it was two 'tiers' but it was enormous and made up of so many layers we were amazed!
It was delicious and I spent the week after the wedding having about three slices a day! Kathryn decorated the cake with flowers and my slightly wonky attempt at a wire cake topper spelling out 'We Do'."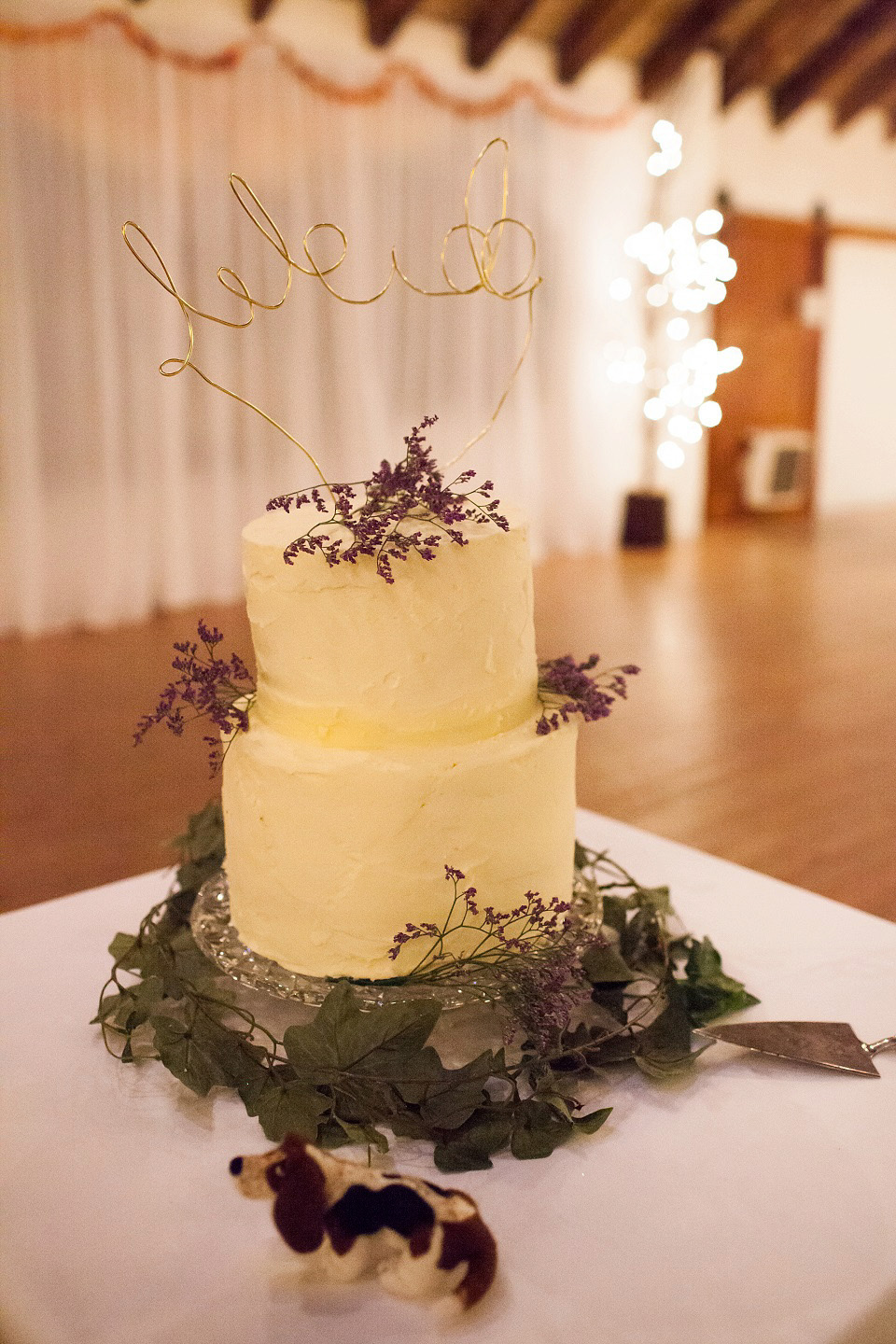 "The 'table plan' was actually made up of individual photographs of family members on their wedding day, with the year they got married serving as the table 'number'. We printed out the photos along with the list of people at that table and used vintage photo frames to frame them."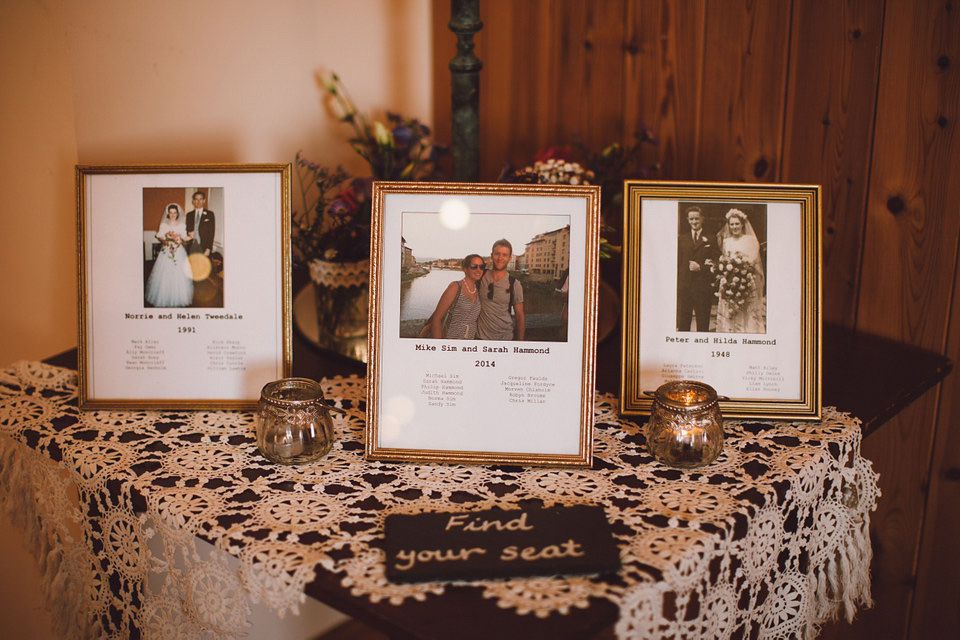 "Giving my speech was a favourite moment of the whole day – which might seem odd as no one really enjoys public speaking do they and certainly neither do I. But I had thought long and hard about my speech(we gave them together before going through for the main meal) and it was really important to me to highlight why the day was important to us as a couple, what Mike meant to me, and also to publically thank my family and parents in particular. My toast was to love and to family which is what the day was all about."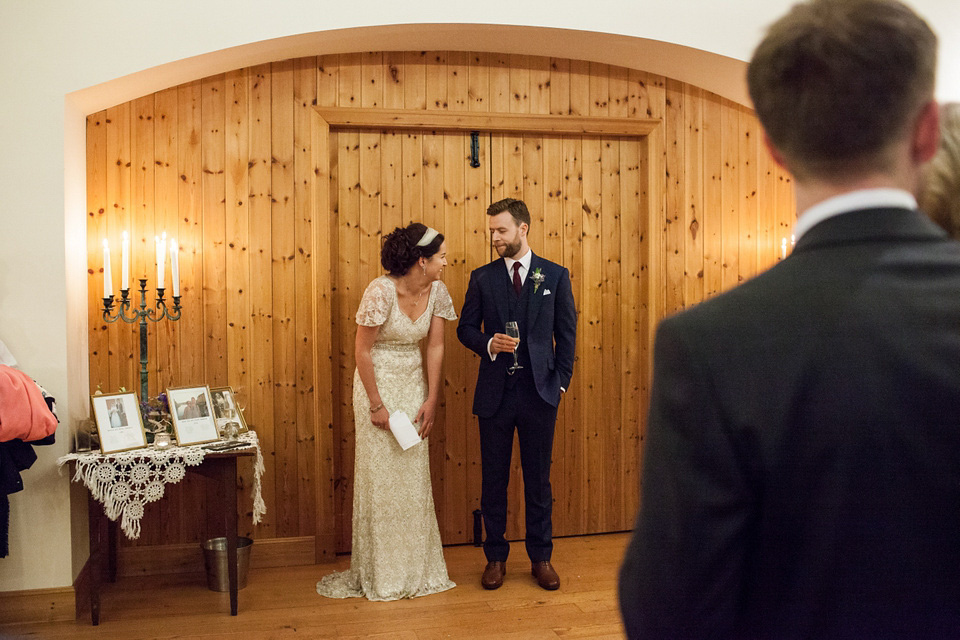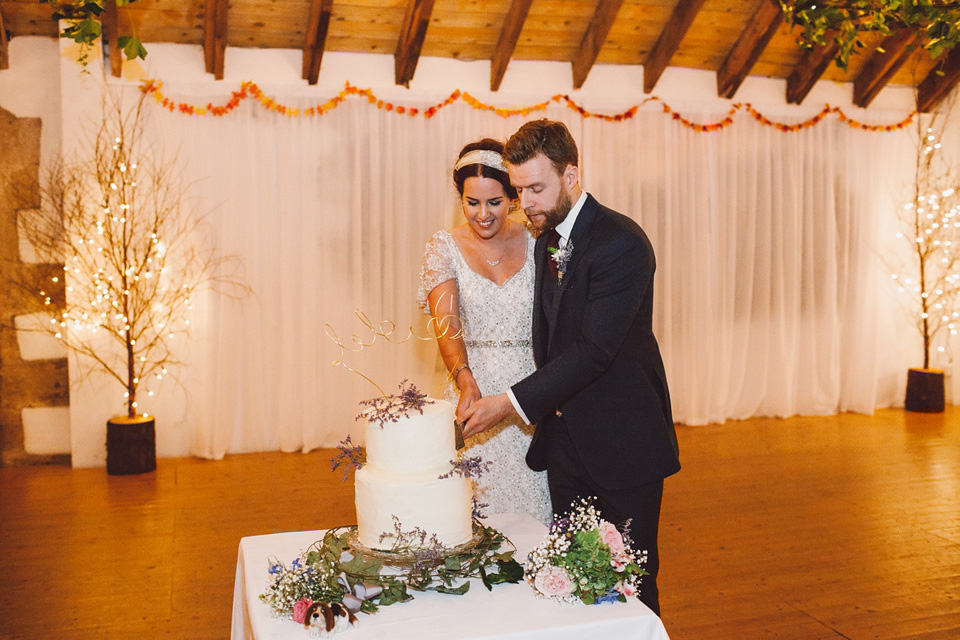 "Our first dance was to 'I can't help falling in love with you' by Elvis. We loved the simple lyrics and old classic vibe of the track. It's sweet, emotional and meaningful. All of 'our songs' didn't seem right for a first dance and we wanted something that others would enjoy as well as us so that people enjoyed being on the dance floor with us – we invited people up as soon as the music started and I loved seeing my parents dance alongside us.
We also love a ceilidh and it's a great way for people to mingle and have a laugh. Especially as we had quite a few people coming up from down south where we now live who had never been to a ceilidh we thought it would be brilliant and it didn't disappoint. The band we chose were called Ceilidh Stomp and I can highly recommend them. Brilliant music, lots of patience in herding all the newbies about the dance floor, and great in terms of all their communications especially considering some of the rude and blunt responses I had been getting when looking initially at different bands."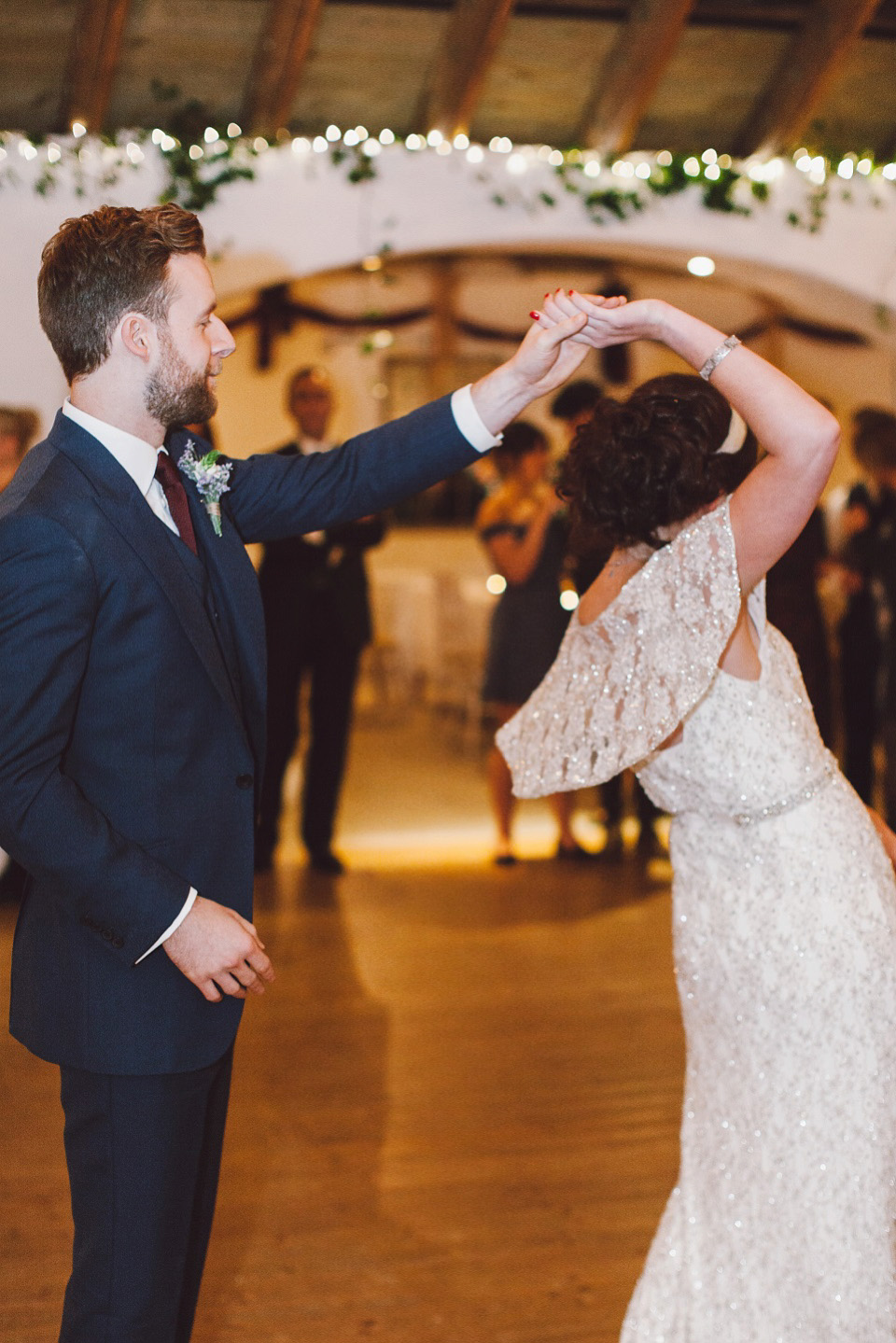 Words of Wedded Wisdom…
"Relax and take a deep breath! After enjoying getting ready and feeling great all through the morning I then found the first half of the day after that very surreal and it did take me a while to feel myself and relax. It's such a strange experience having all of your people there just for you and it was quite overwhelming.
Practice moving around, walking and dancing in your dress. Mine proved pretty tricky for the ceilidh and in the end I just gave up being ladylike and hitched it up offering elbows instead of hands for all the spinning about!
Leave enough time for multiple hair and makeup trials. I was really unsure of how I wanted my hair, I just knew how I didn't want it. After choosing a rough style and then having a trial it turned out that it just didn't work on me.
As I was so far away from my suppliers and couldn't get back for a second trial before the day I was left feeling a bit panicked about finding the right do. Luckily I was completely reassured by my lovely hair stylist Irene and I knew she would try and try again if I got fussy on the day. In the end it was perfect with a few tweaks but to save yourself the worry, leave enough time to go back a 2nd or 3rd time incase you need or want to."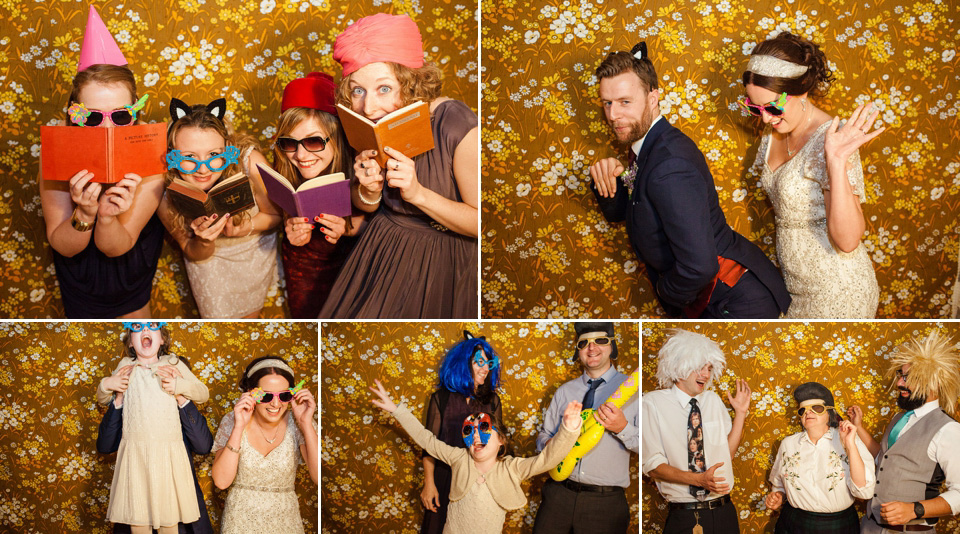 "I found looking for a wedding dress much harder than I ever thought I would and I would advise leaving lots of time to discover different designers and stockists because the shops you have in mind may not have 'the one'** for you and you don't want to end up feeling rushed into a decision, particularly because traditional bridal shops need your order a few months before the big day.
If you can find a make up artist and hairdresser that have worked together in the past and recommend each other it will make you feel so much more at ease on the day with them working together, it's less to organise and will make you feel more confident.  
I would say I received only about 50% of the paper RSVP's back from people with the other half letting us know by other means. At the time this was fine and we only had to chase up a couple of people but I later realised this meant I didn't have absolutely accurate numbers for things like the number of vegetarians coming which caused a slight issue later on. So double check with everyone that the info you request on your invite is relayed to you even if it's by email or on the phone instead of a proper RSVP.
Listen to your venue's suggestions for suppliers but don't feel pressured. Balance up the pro's and cons of bringing in a supplier who hasn't worked at your venue before. Be clear about stating what you want, people aren't mind readers. If you are vague on knowing what you want in one area then make sure it's about something that isn't too important to you so that you don't have any upsets later on. For example we were very specific about food but vague and more relaxed about flowers."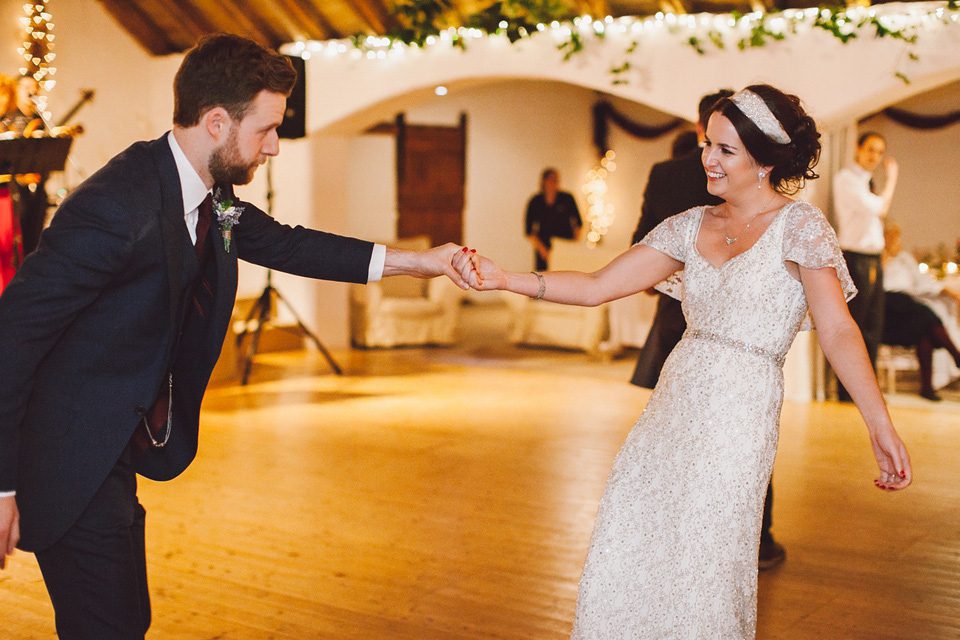 "Our budget couldn't stretch to a videographer unfortunately. It's one of the only other things we wished we could have had on the day.
If you're setting up a blank canvas venue like we were then get there early the day before, make sure you have plenty of people helping you out and make sure those people have lists or are the type of people who will know what you mean by your vague day-before-panic-mode descriptions. I am still overwhelmed by how amazing everyone was in helping us set up and take down the venue. They all worked so hard, were so calm and just cracked on with things. Best friends and family ever!"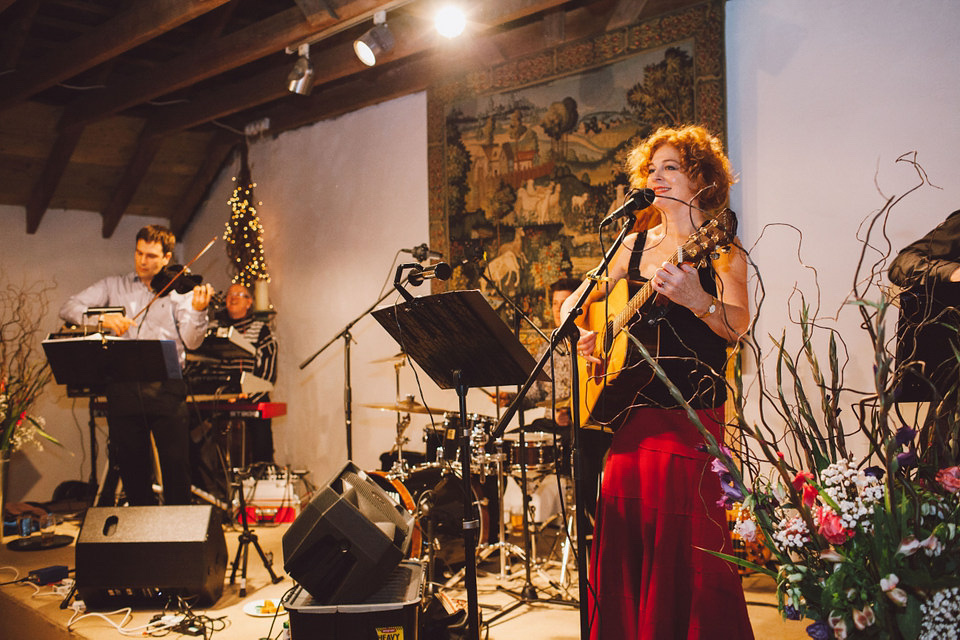 "Lastly, I read Love My Dress almost every day for about a year – it was a bit of a guilty pleasure when I was fed up with emails at work or enjoying a cosy night on the sofa. I loved that I was guaranteed a real wedding 'fix' every day and I looked forward to finding the ideas that really inspired me for my own big day. The features were always so appreciative of brilliant photography which really made a difference to me seeing them every day and imagining how my own would turn out.
I got loads of ideas and have recommended the blog to so many people I've lost count! I think especially with the expansion of the number of writers for the blog as well there is a slightly more eclectic mix of opinions happening rather than just one person's. On other blogs as you get to know what their preferences are and what type of features to expect. That mixed it up a bit on Love My Dress for me."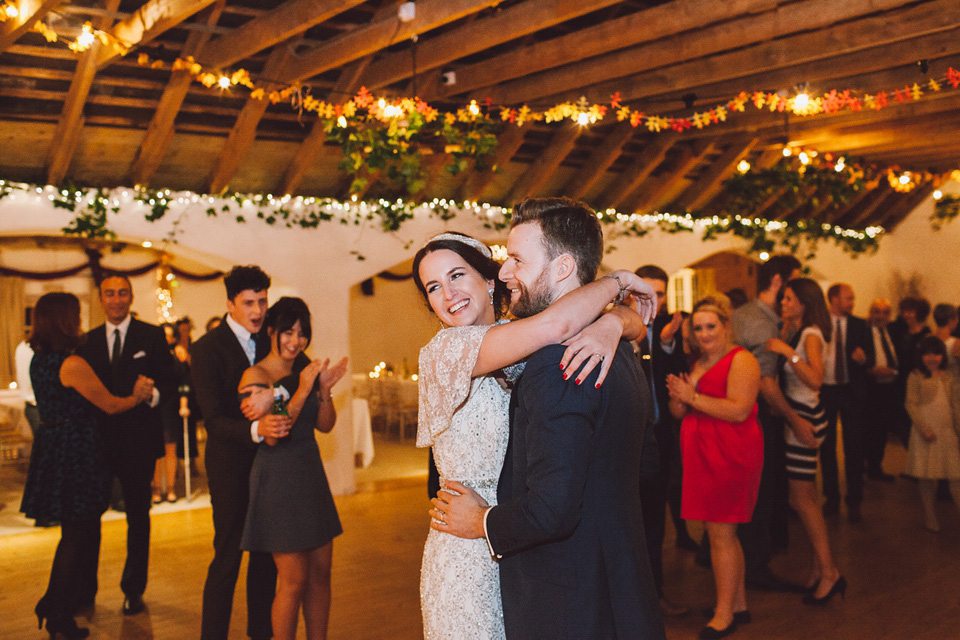 Little happy dance!! We love fabulous feedback like this Sarah, thank you so very much. And also, thank you for the incredible level of detail you've shared about your wedding – I know this will be a really enjoyable and useful read for many of our readers.  And yes, I also love your dress 🙂
Readers I would love to know if you're going down the high street option for your wedding dress like Sarah did.  You can also see more brides wearing Phase Eight wedding dresses here.
Love Annabel x
Photographer – Christopher Currie Photography
Venue – Aswanley in Huntly, Aberdeenshire
Wedding Dress – Hermione by Phase Eight
Headpiece – DIY (made by the bride's mum)
Shoes – Mimosa in ivory, by Rachel Simpson
Accessories – 'Devotion' by Ivory and Co. earrings. + Necklace – John Lewis necklace + borrowed bracelet
Bride's Scent/perfume –  Dolce and Gabbana 'The One'.
Groom – Cad and the Dandy suit + Charles Tyrwhitt shirt
Bridesmaids Dress – Boden + own shoes + hair accessory by Silk Blooms
Flower girl Dresses – Somerset by Alice Temperley for girls, via John Lewis
Florist + Catering – Val Morrison (no website but recommended by the venue, Aswanley)
Cake – DIY, a friend
Entertainment – Ceilidh Stomp
Rings – heirloom (engagement ring) + Harriet Kelsall (bride) + Trinity St Jewellers (groom)
Stationery – DIY  using illustration by Shaun Lynch
Hair – Irene Wilson (no website – works mainly from word of mouth)
Make up – Francine Ray