Hello everyone! I have the perfect wedding here to get you in that Friday feeling. There are many weddings that I have written about that look so much fun that I would have loved to have been there, but I'm not sure that I have yet written about a wedding that also appeals to my silly side like this one! Anyone for a celebrant dressed as a Hi-de-Hi yellow coat?! However, there is so much more to this special day – a creatively, original proposal, a stunning, 20s vintage, beaded flapper dress, a lakeside ceremony and bouquets of bright lilies arranged by the bride's mum.
Audio Producer Matt married his bride, Louise, a Project Manager on 5 October  at the Avon Tyrrell Youth Activity Centre in the heart of the New Forest, Hampshire.
"We wanted the day to reflect who we are so it ended up being fun, a bit silly, and very colourful.  We were legally married in a registry office with just close family and witnesses. This meant we could be totally flexible with our wedding. We had the ceremony outside by a lake, and two good friends were our 'holiday camp' celebrants. It made it wonderfully personal and exactly how we wanted it. The only thing we knew about the ceremony were the vows, the songs (Deeply Dippy by Right Said Fred and Happy Together by The Turtles), and who was doing the readings."
Photography Copyright (c) 2015, Joanna Brown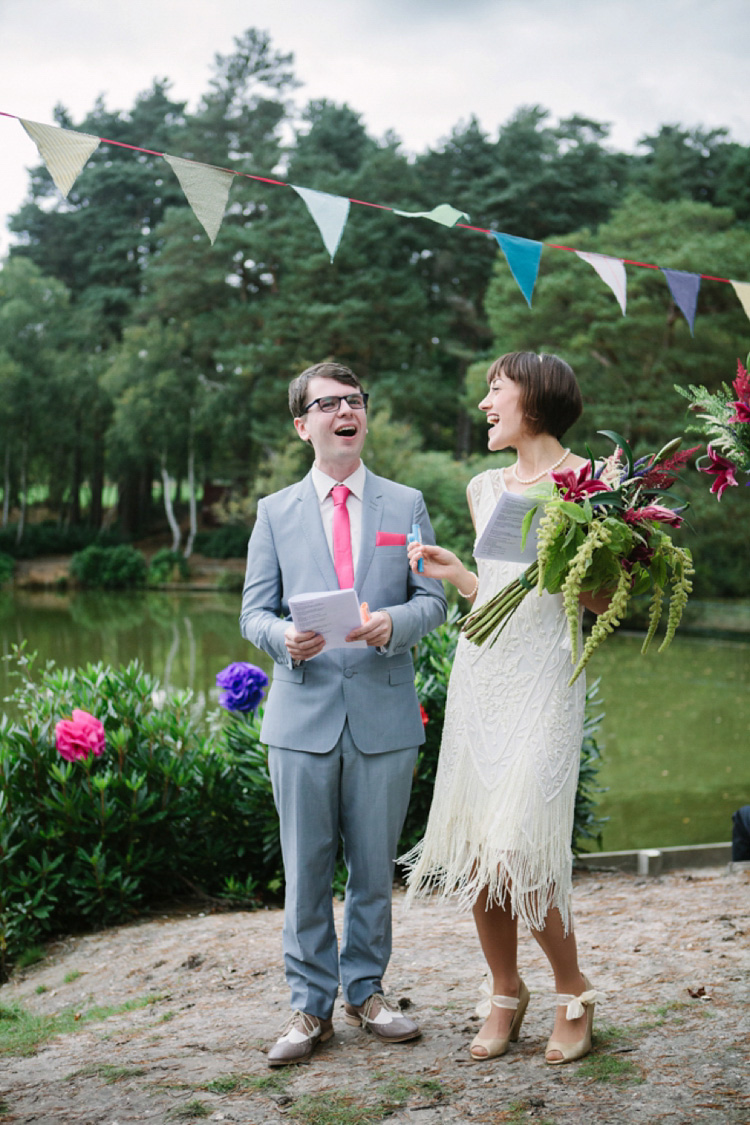 "We were totally swept away by everything that happened and not knowing what was to come meant there was no risk of thinking 'it's not how I expected it to be'. I know this isn't everyone's cup of tea but it made for the most fun and wonderful time for us. (Having the legal bit first also made it significantly cheaper as a mid-week registry office slot costs much less than a weekend registrar)."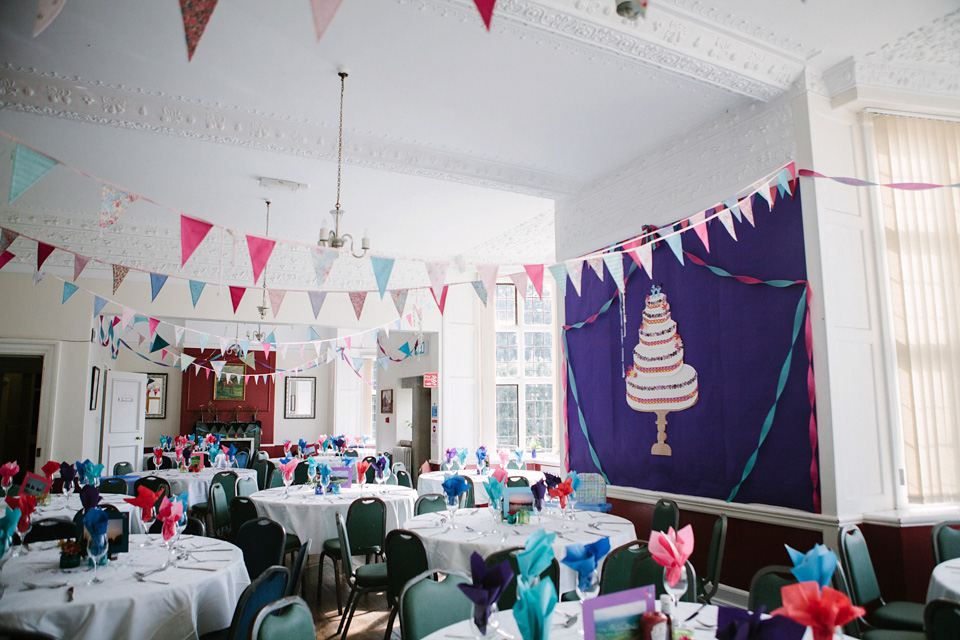 "It is so very hard to choose our favourite part of the day however we both agreed it was the best day of our lives so far. I loved walking towards the lake with my mum and 'best women'. We'd just stopped to change out of our trainers, then we walked round the corner and we could see everyone standing around, hear the buzz of chatter and laughter and then everyone realised we were coming and started waving."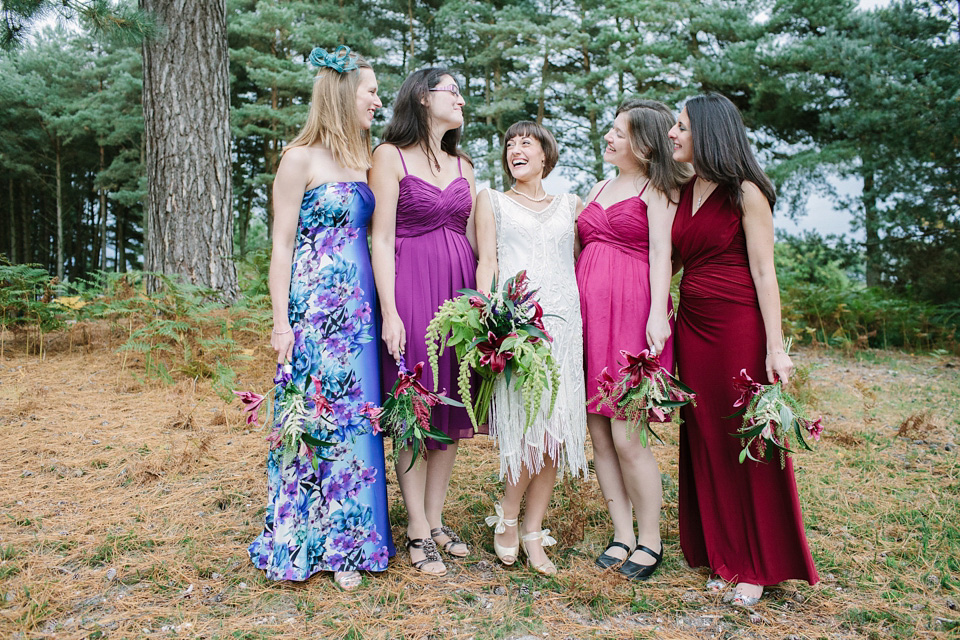 The unique atmosphere of this wedding has been captured so perfectly by one of our faves, photographer Joanna Brown.
"Joanna is the photographer's photographer; she came highly recommended by a friend who had seen her at work and whom we trusted and as soon as we saw her website we knew she was the one for us. A unique; light-hearted and beautiful style and not a cheesy shot to be seen.
Joanna is easy-going, very friendly and with a good supply of cake at her countryside cottage (she met with us beforehand to talk about what we wanted). Joanna totally understood our bizarre mix of performance, celebration and kazoos; she captured the crazy day in all its beauty. All our guests commented on the fun and energy she brought to the day. Looking at the photos for the first time we felt like we were in a Wes Anderson movie (one of the good ones)!"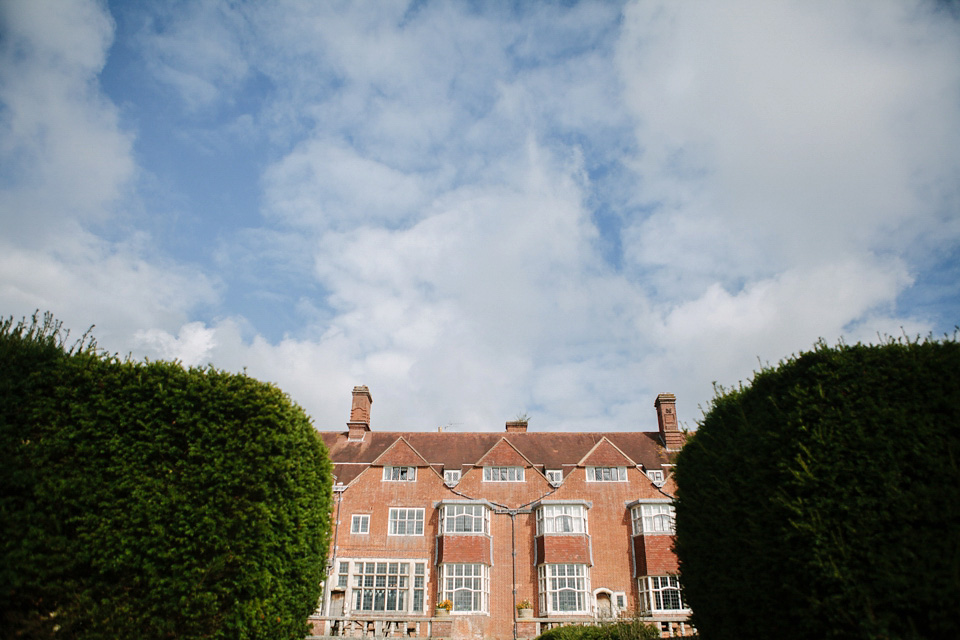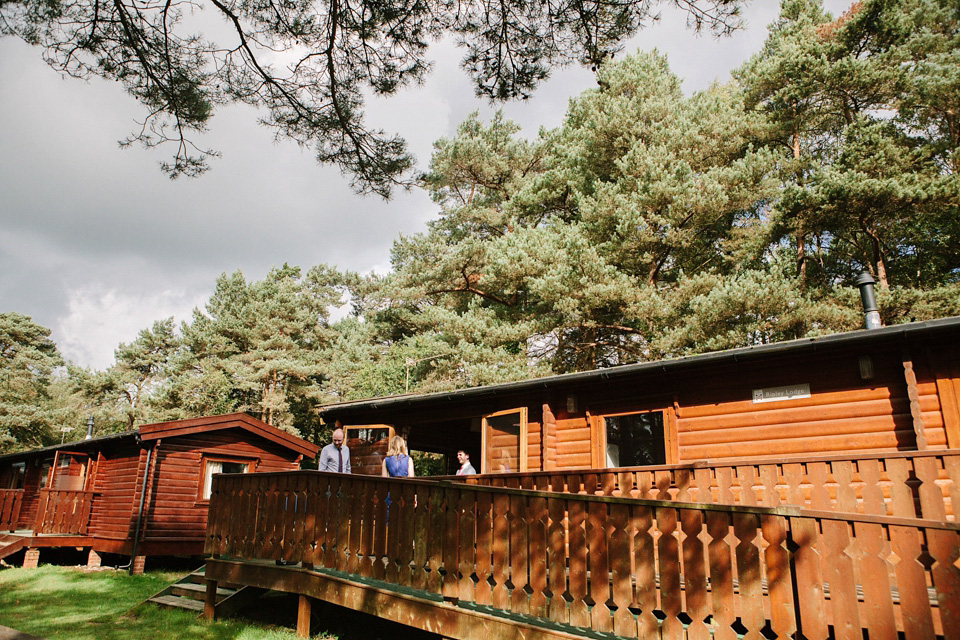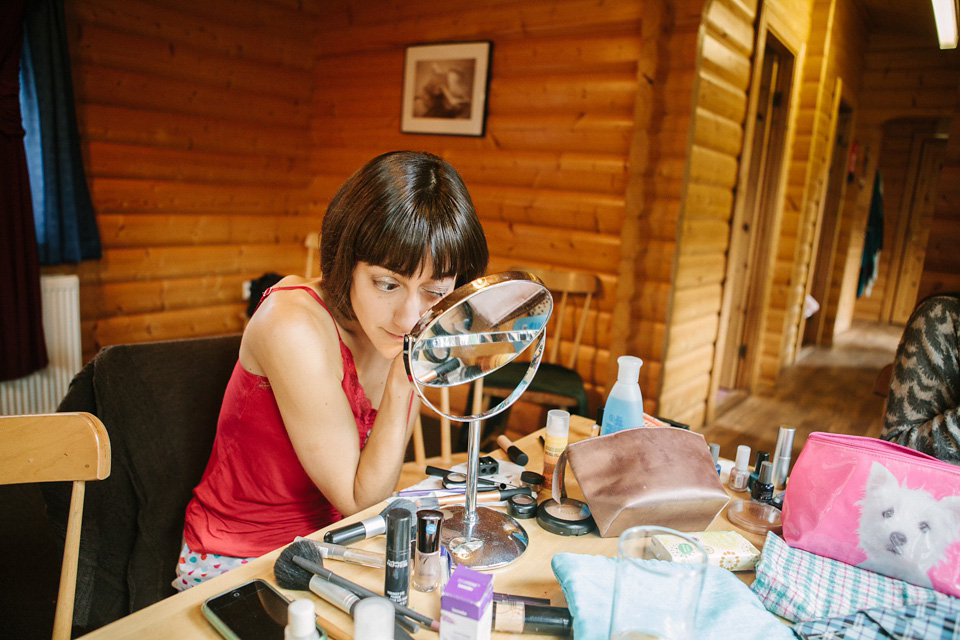 Louise's shoes were from Dune with a ribbon added by shoemaker Kevin Garlick on the Isle of Wight. Her hair accessories were from Accessorize and most of her other bits and pieces were borrowed from family and friends.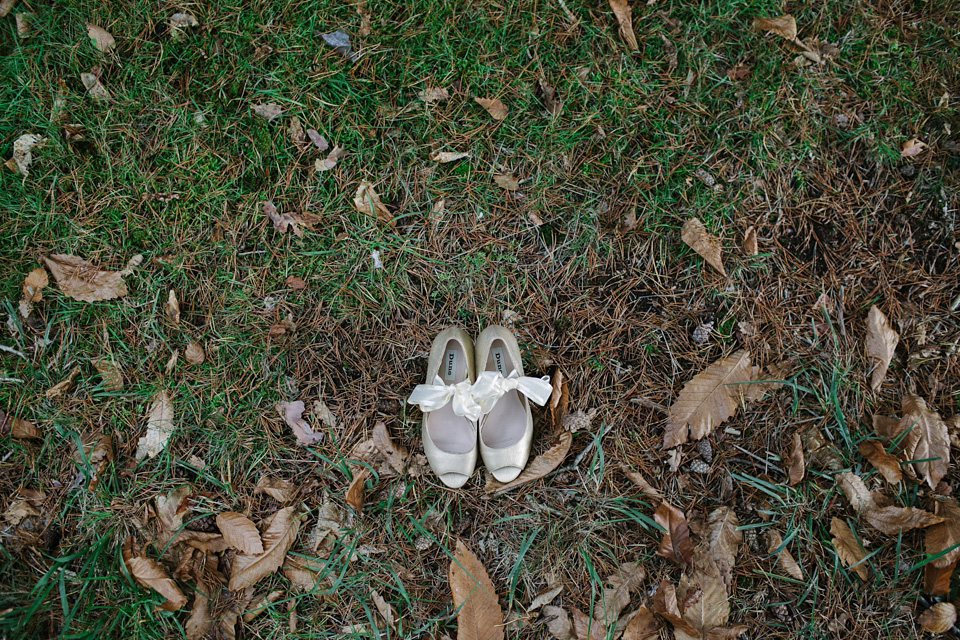 This is the first time that I have personally come across an Elizabeth Avey dress (oops, sorry Annabel! I know that there have been lots of beautiful Love My Derss brides in her gowns here) and I have to say that I am smitten. I've since had a good look at her website and there is a full selection of vintage dresses from across the eras; I wouldn't know which to choose!
"When I put on my dress, I just wanted to dance and jump around! I also looked good in it just as I was; I didn't look at my reflection and think 'it'll look better when I do my hair' or anything. I wanted to look like myself on my wedding day, with my usual hair style and not to much make-up, so this was a big plus."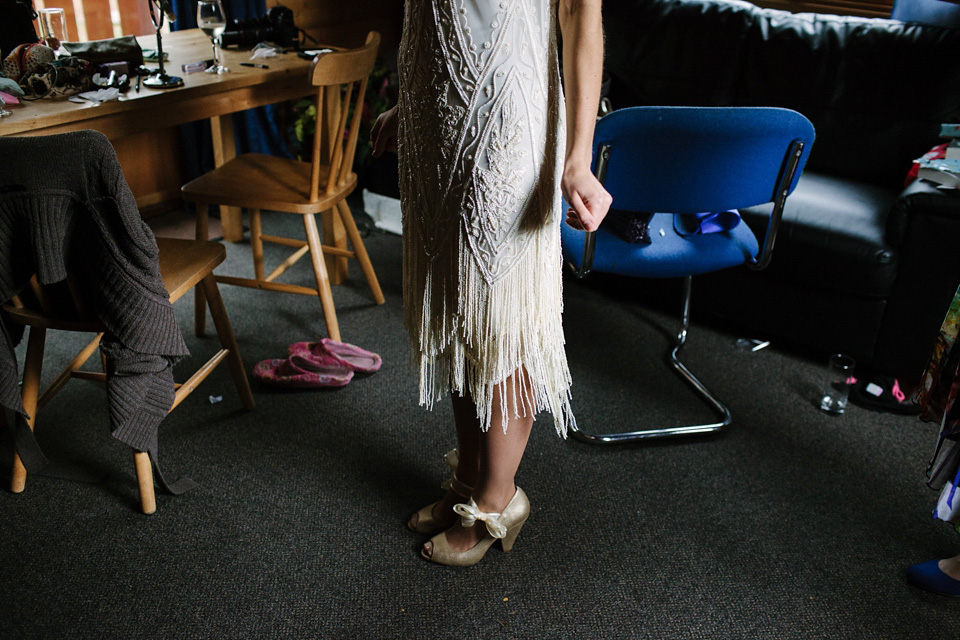 Matt told us, "We met at university, although it took us ten years to get together. I painted the proposal on our living room wall (with the help of a talented friend). When Louise walked in I went down on one knee, opened a small tin of paint and gave her a paintbrush to paint her reply. We were engaged for a year before the wedding."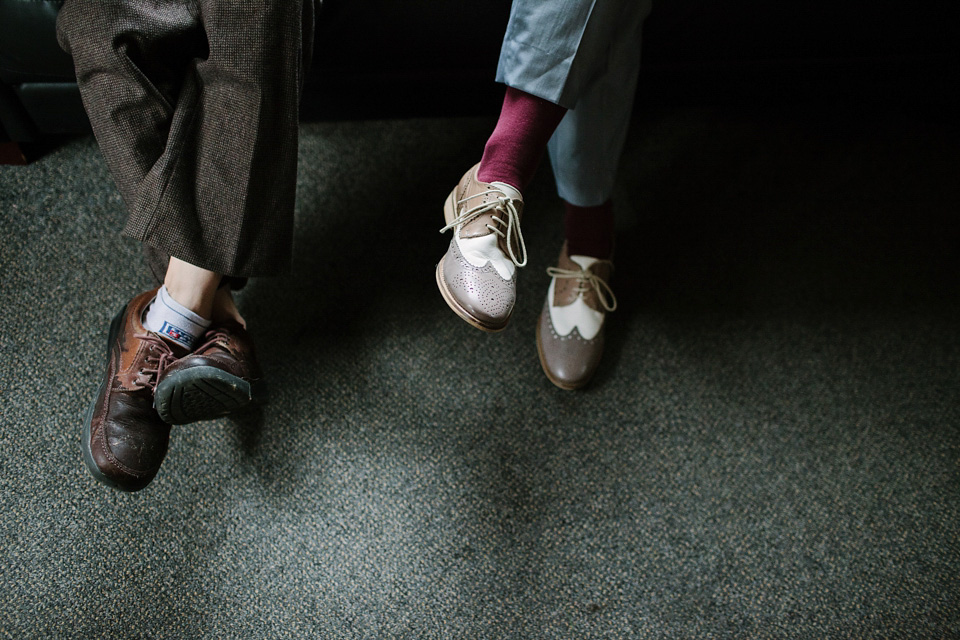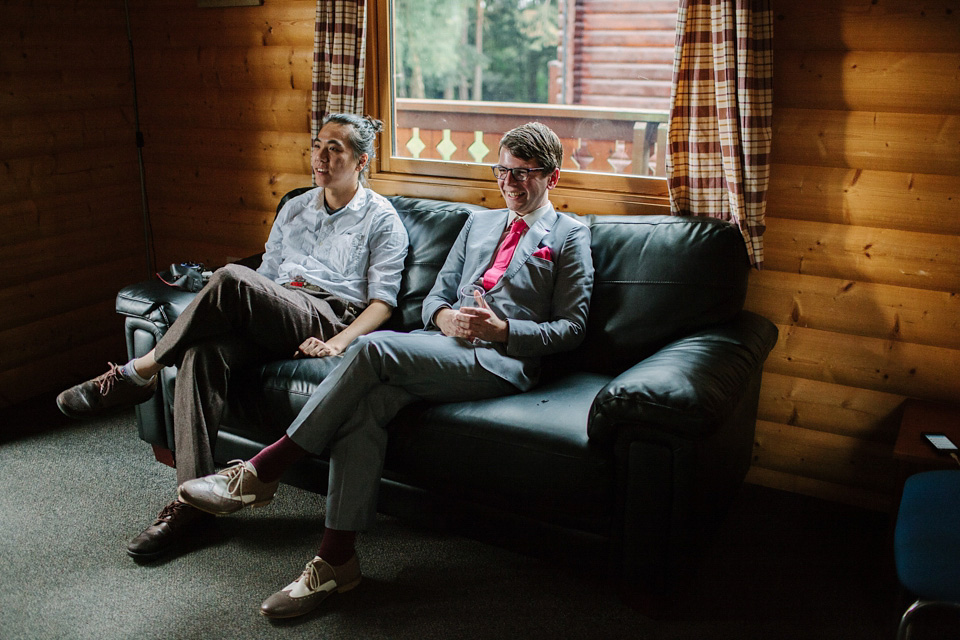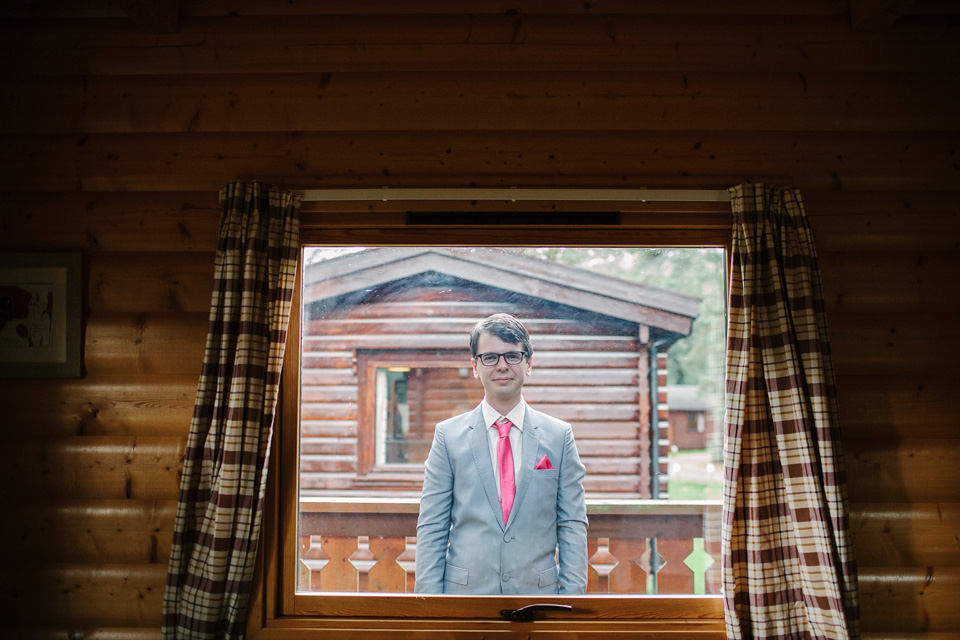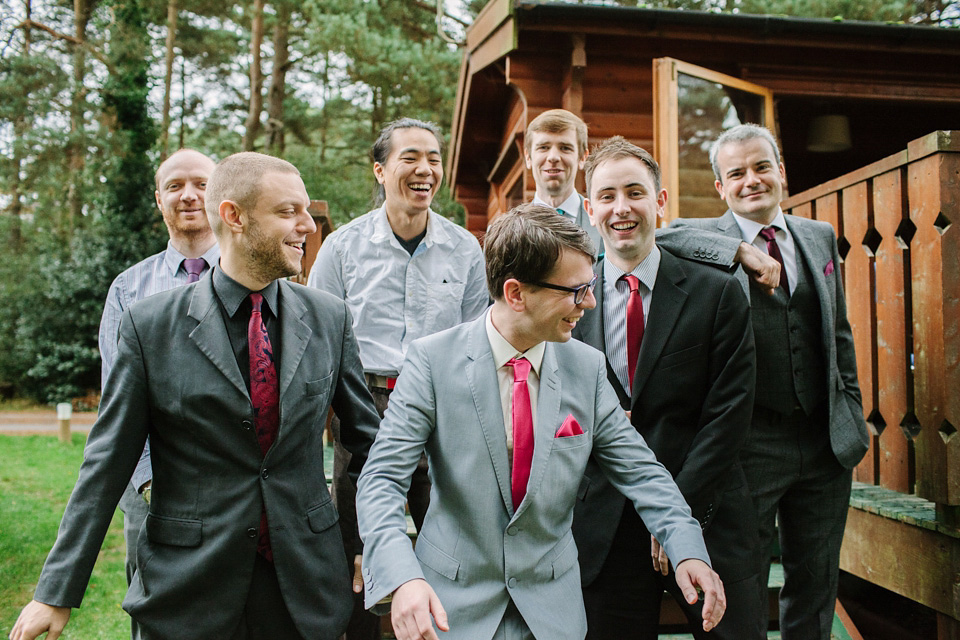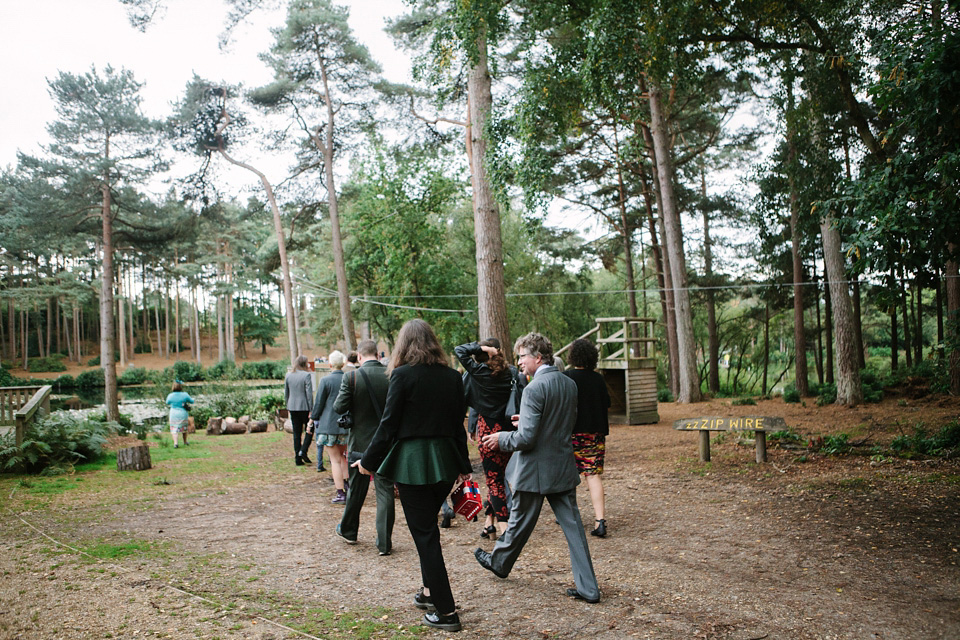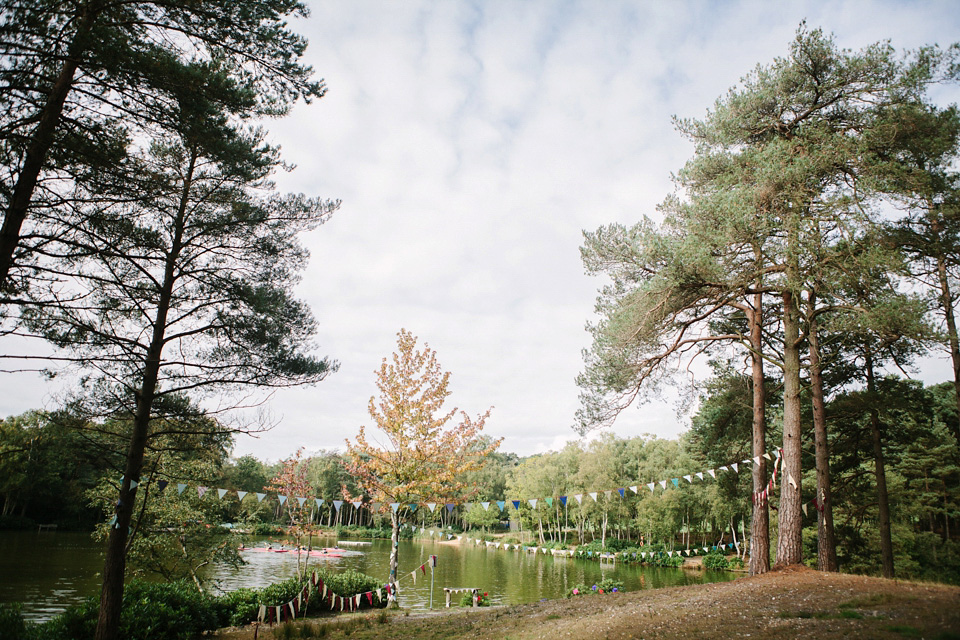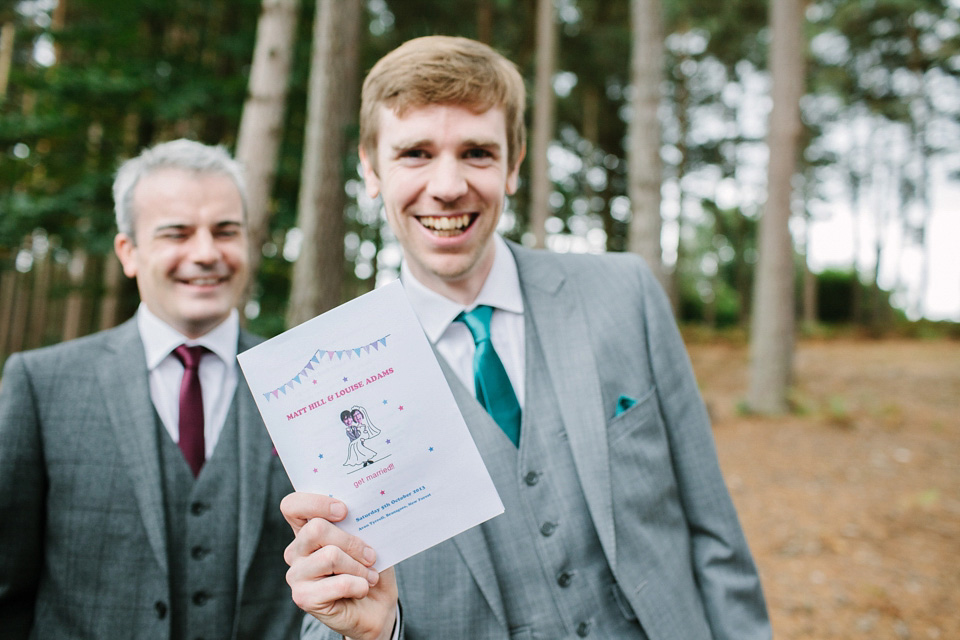 The bridesmaids were incredibly self sufficient, two wore their own dresses, they all wore their own shoes and even their hair accessories were homemade!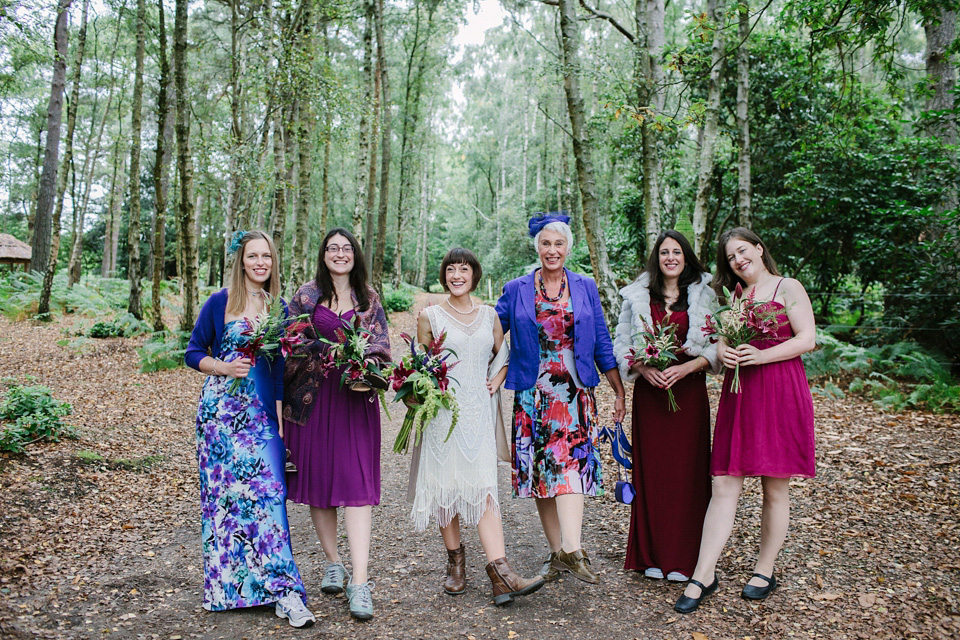 Louise went on to be walked 'down the aisle' by her mum, accompanied by the distinctive tune of The Dambusters which was played on a gramophone. The couple had previously prepared vows together, one afternoon in the park. They were based on the sentiment of traditional wedding vows and personalised to make them specifically relevant to them. They thought about what they treasured in each other and what they really wanted to promise to each other. There was a mix of loving, sentimental, and a bit of silly too.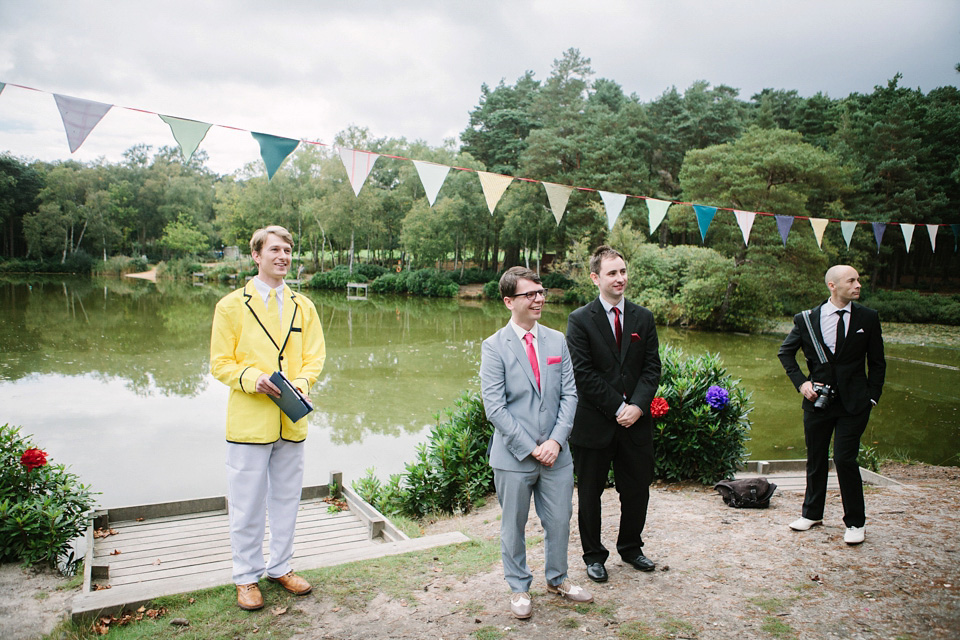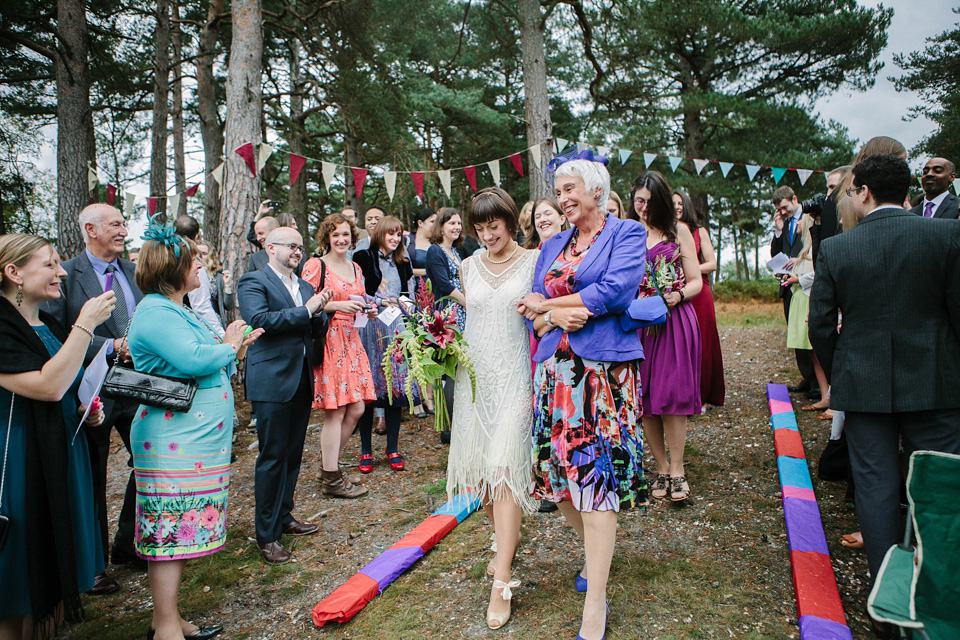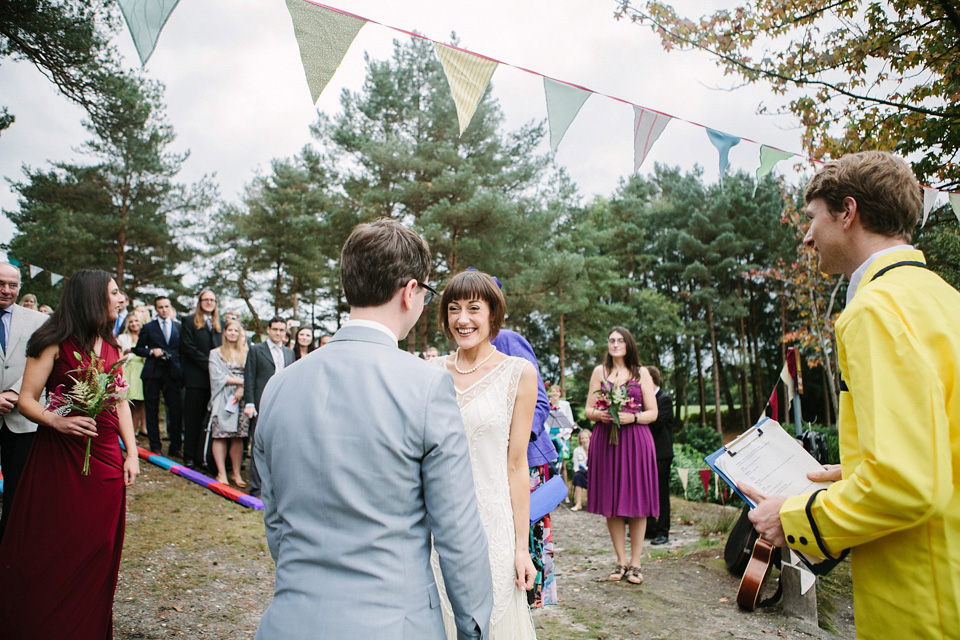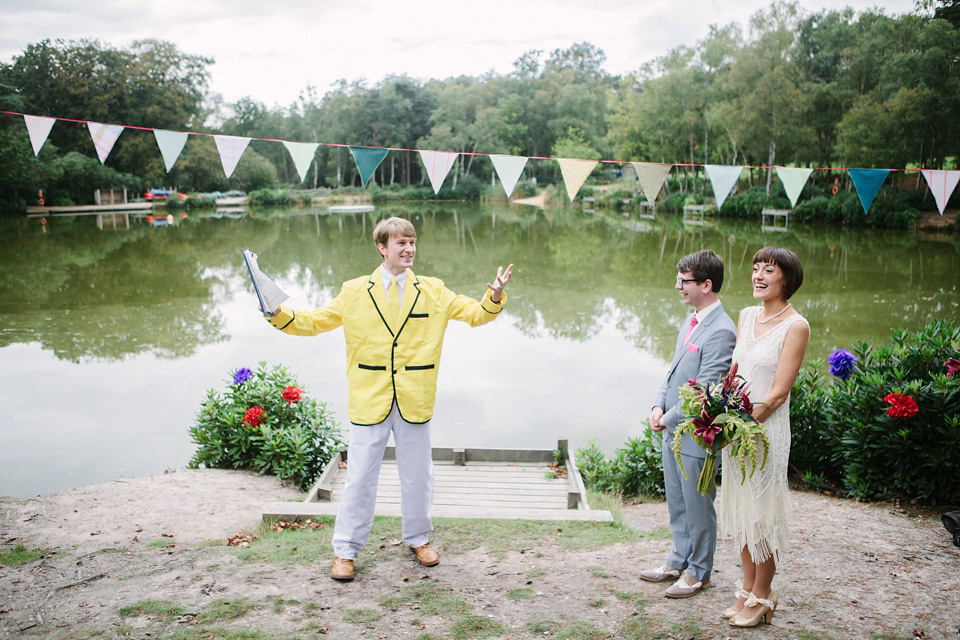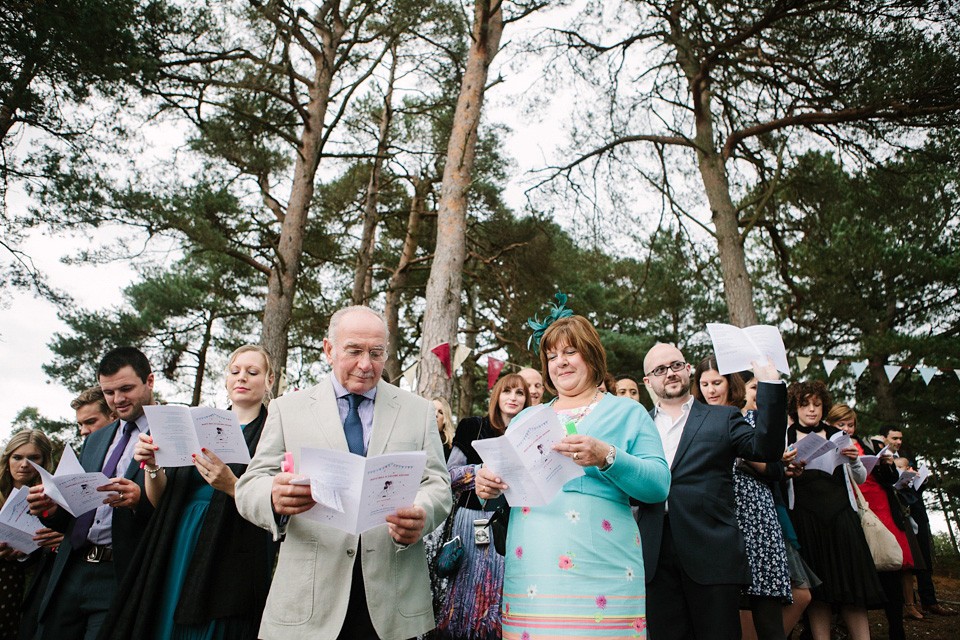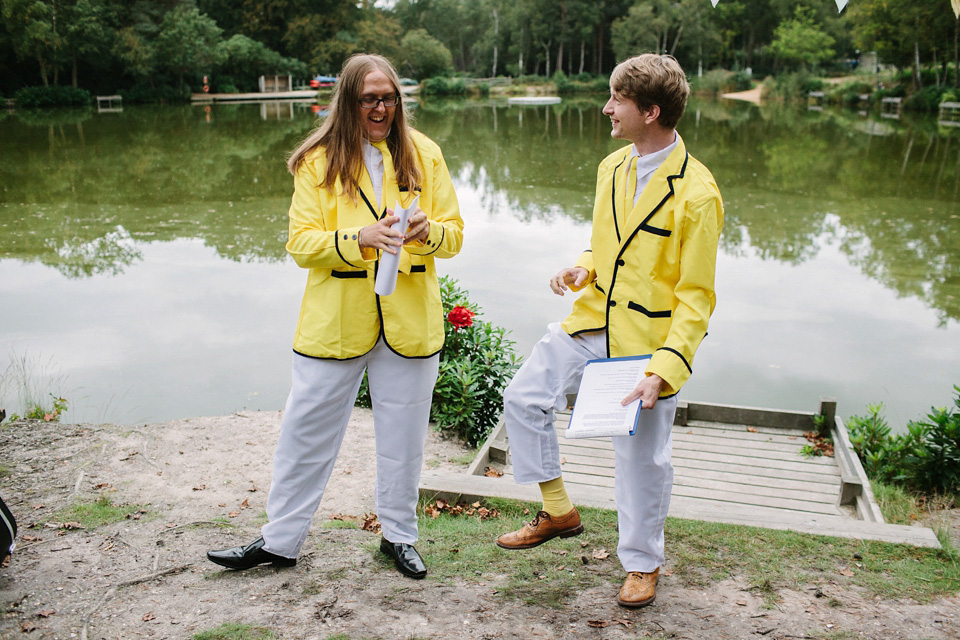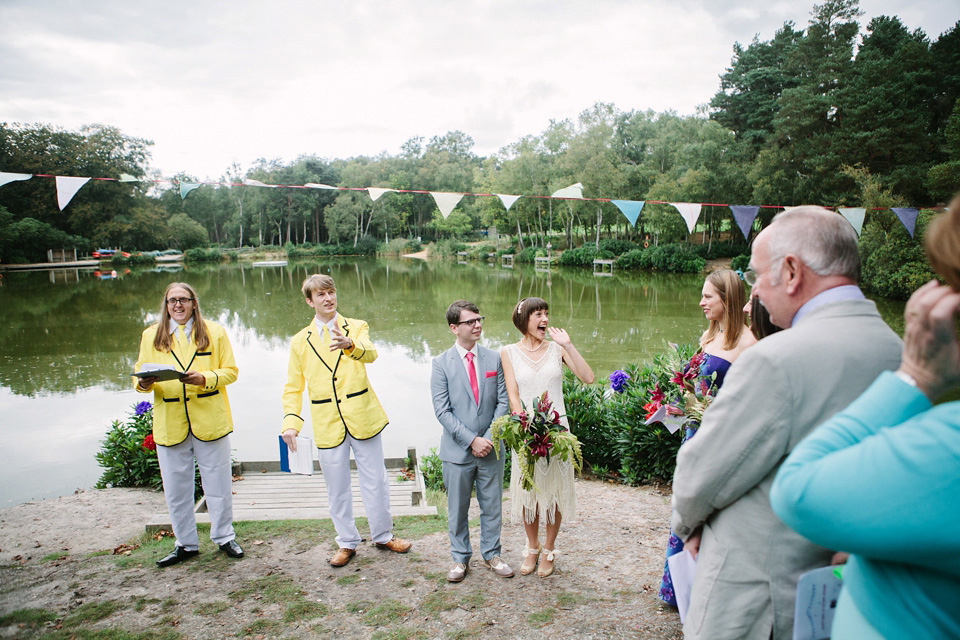 "We bought our flowers from The New Covent Garden Flower Market, and they were arranged by my mum. I was very unsure what I wanted in the way of a bouquet; I knew I definitely didn't want a traditional hand-tie. Also, because the wedding didn't have a colour scheme we weren't limited in the way of flowers, which made it even more difficult to know where to start! So we went to look around the flower market. I loved the trailing amaranthus; they were really unusual and fun and they mirrored the beading on my dress. It was then just a case of finding things that looked good with them.
I found the veronica and loved the texture and then some lilies. At the market you can only buy bunches and we ended up with a huge bunch of lilies (which only cost £20), so we used the others for the bridesmaids' bouquets and the table decorations."
London's markets were also the source of Louise's engagement ring which was bought from Portobello Road Market and the wedding bands were from Anthony Gray.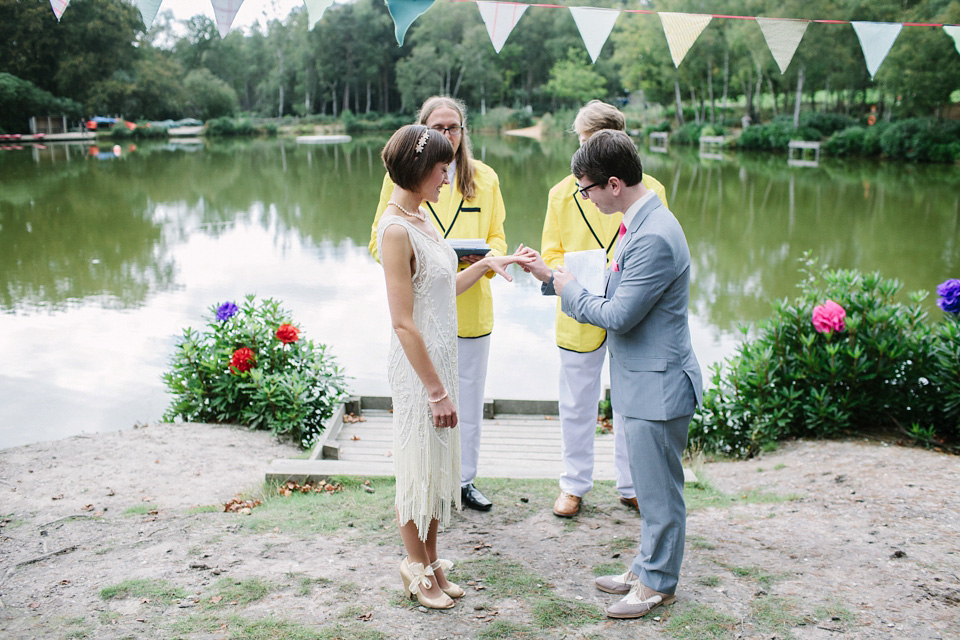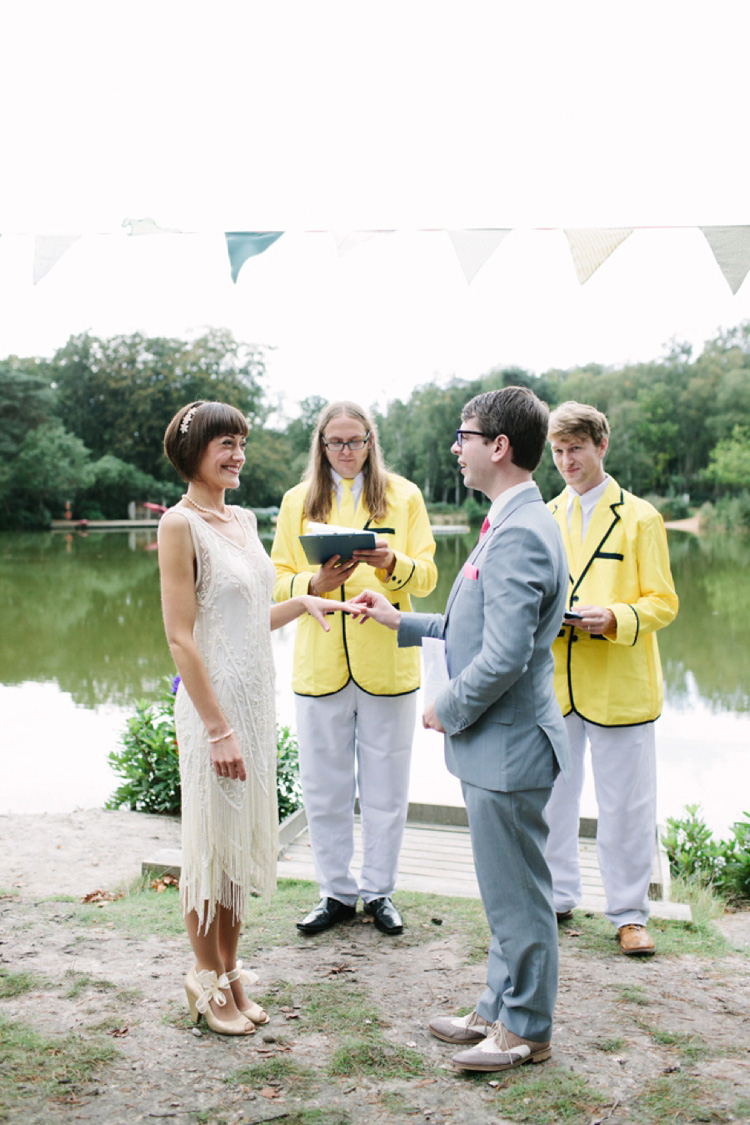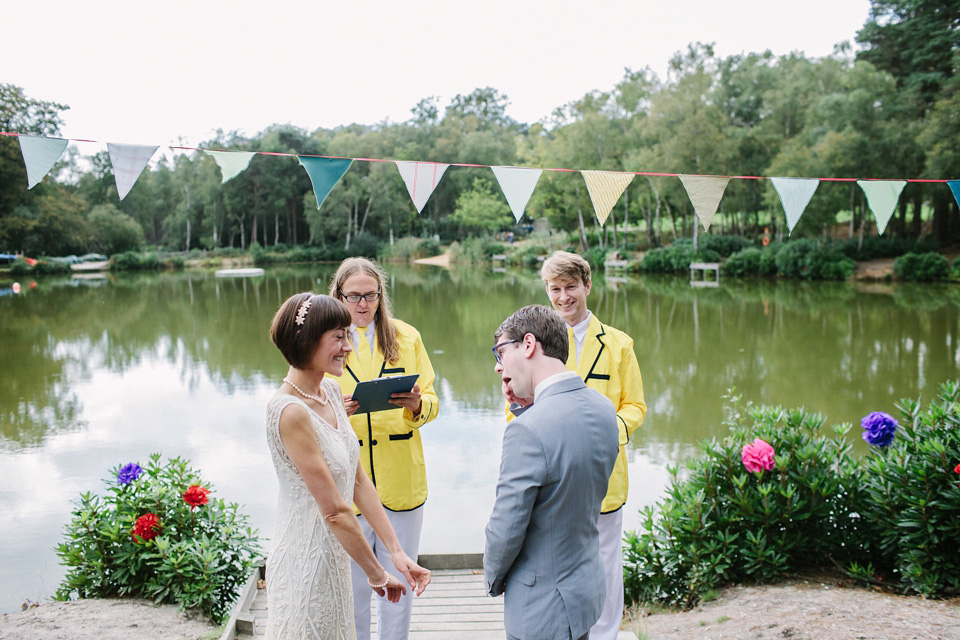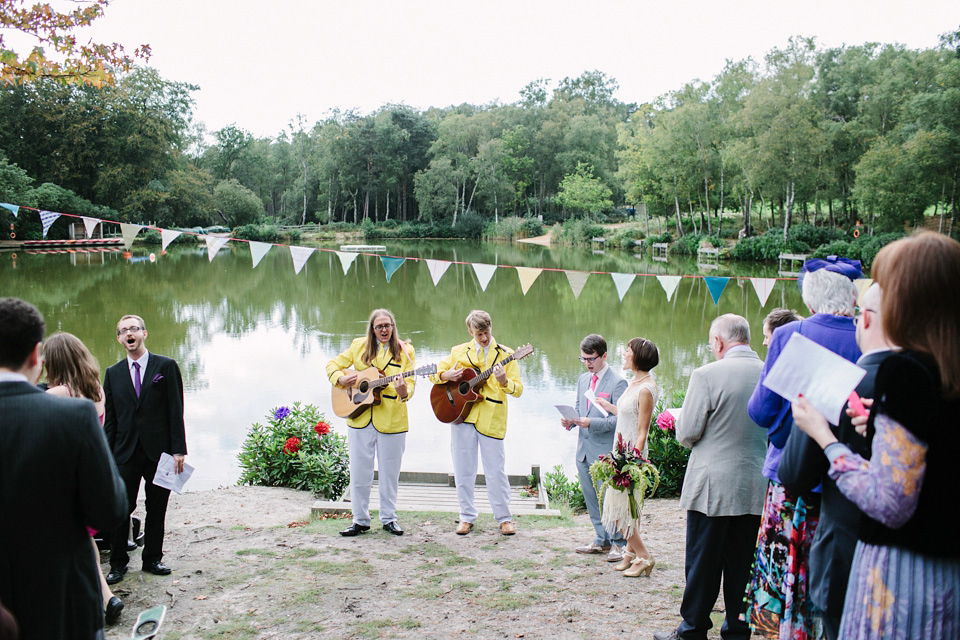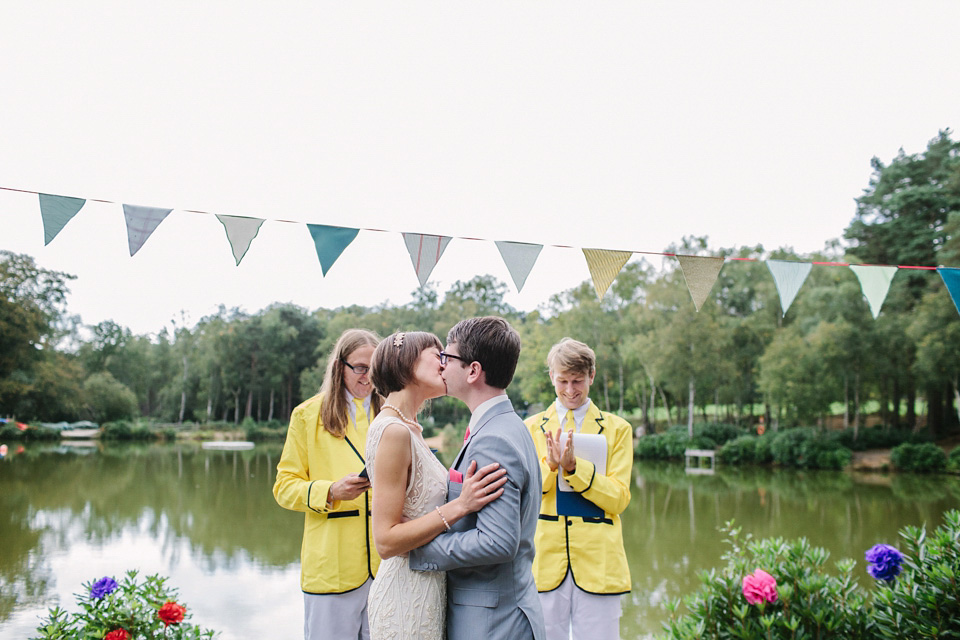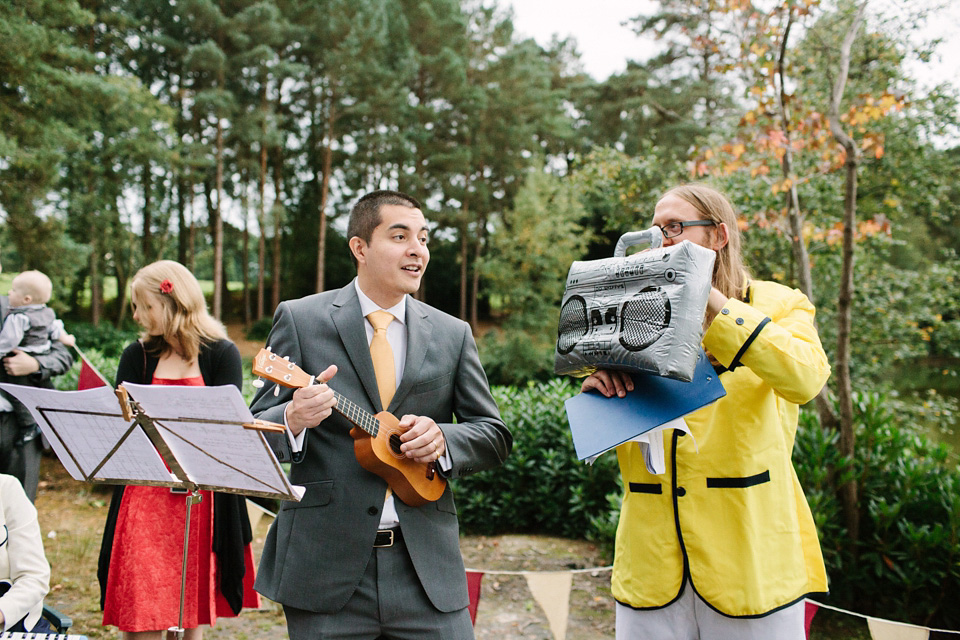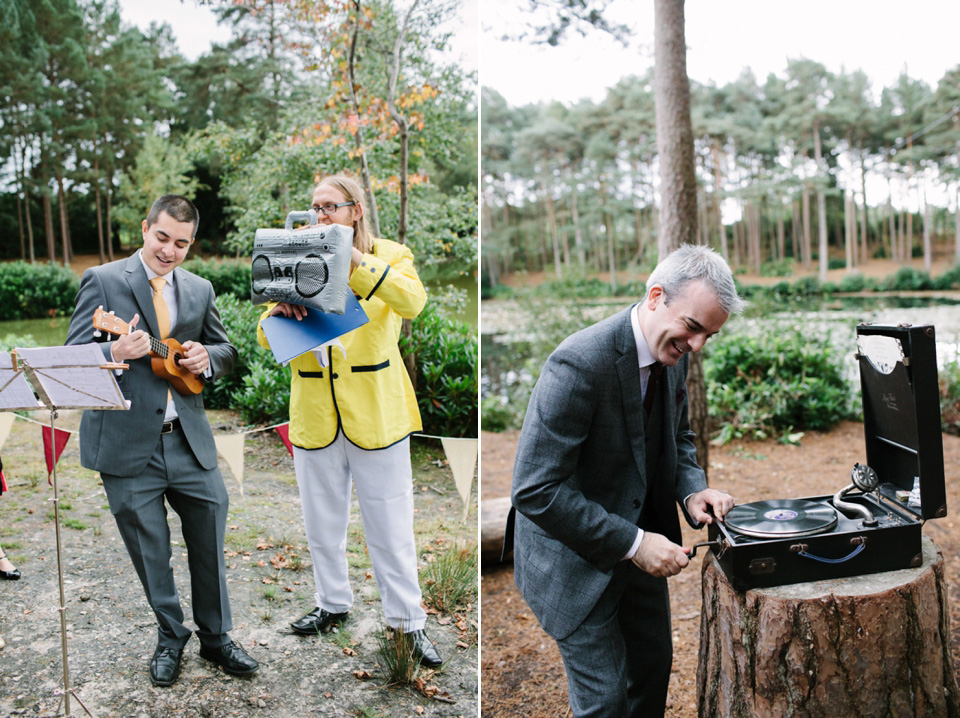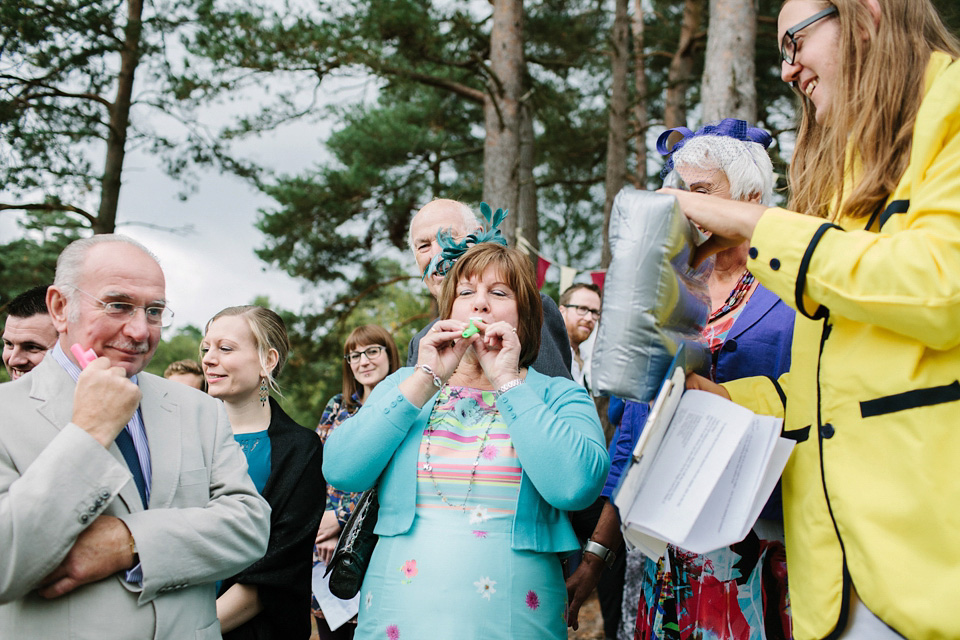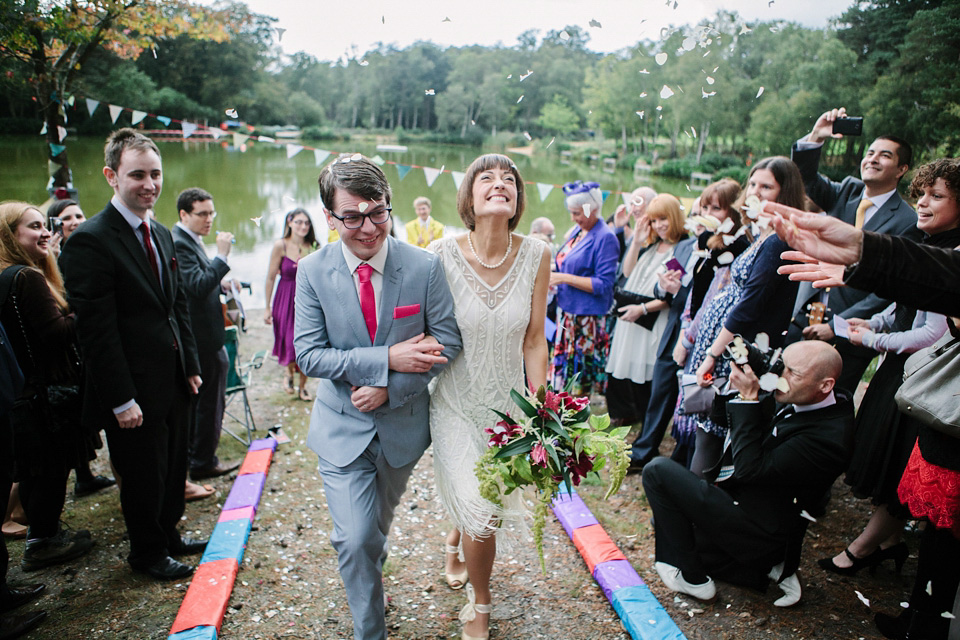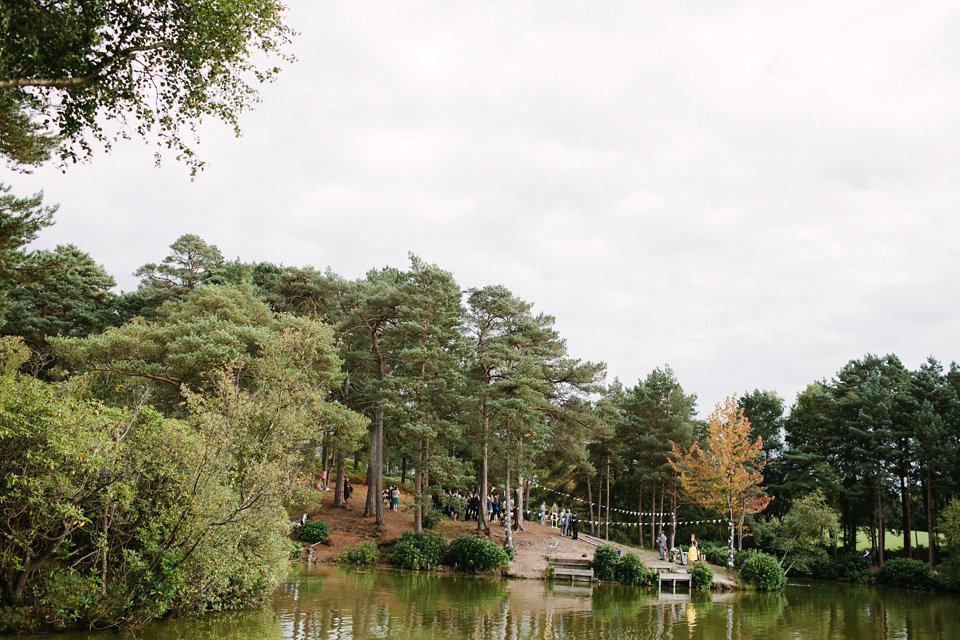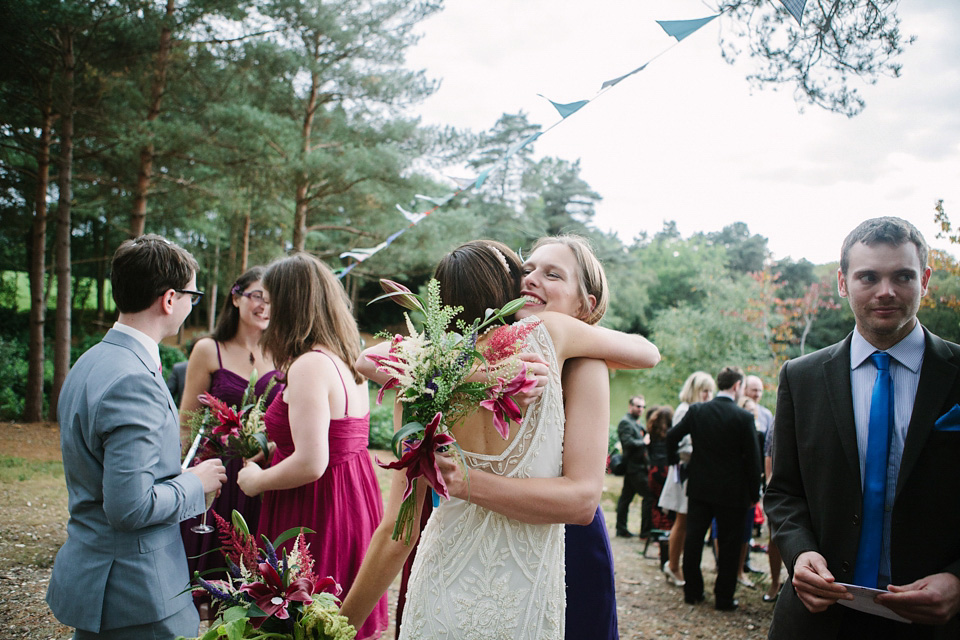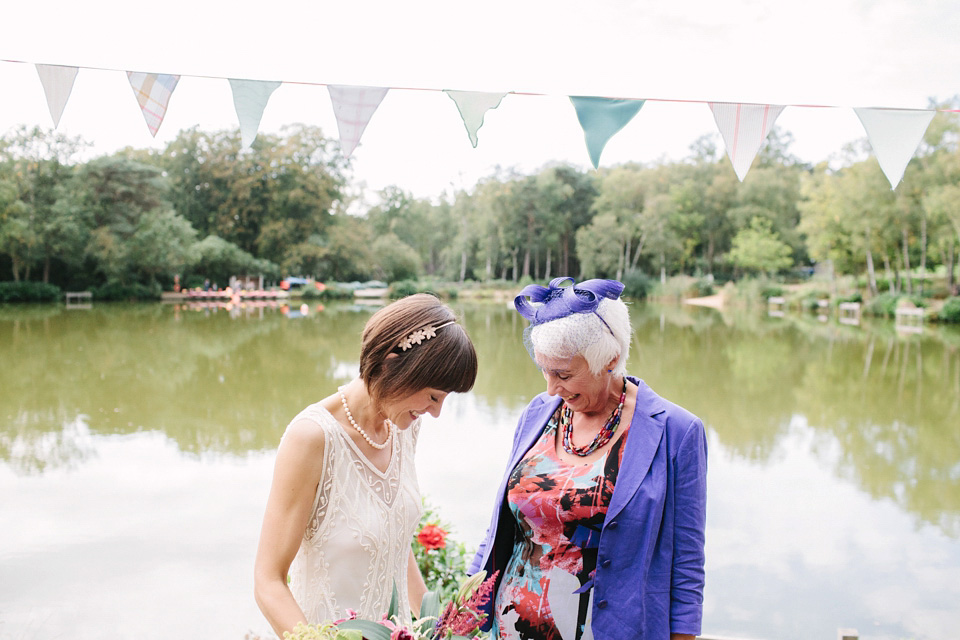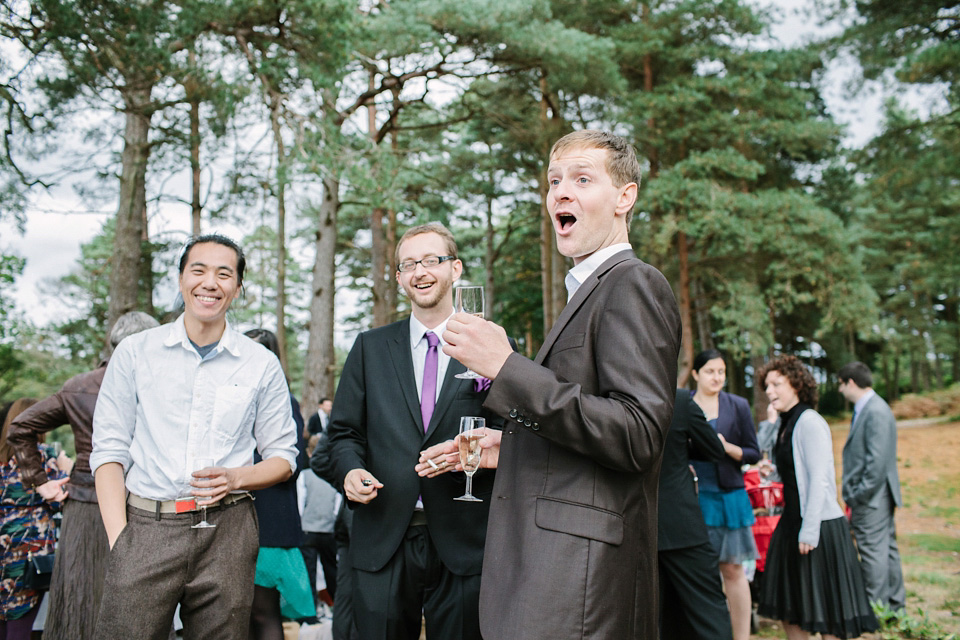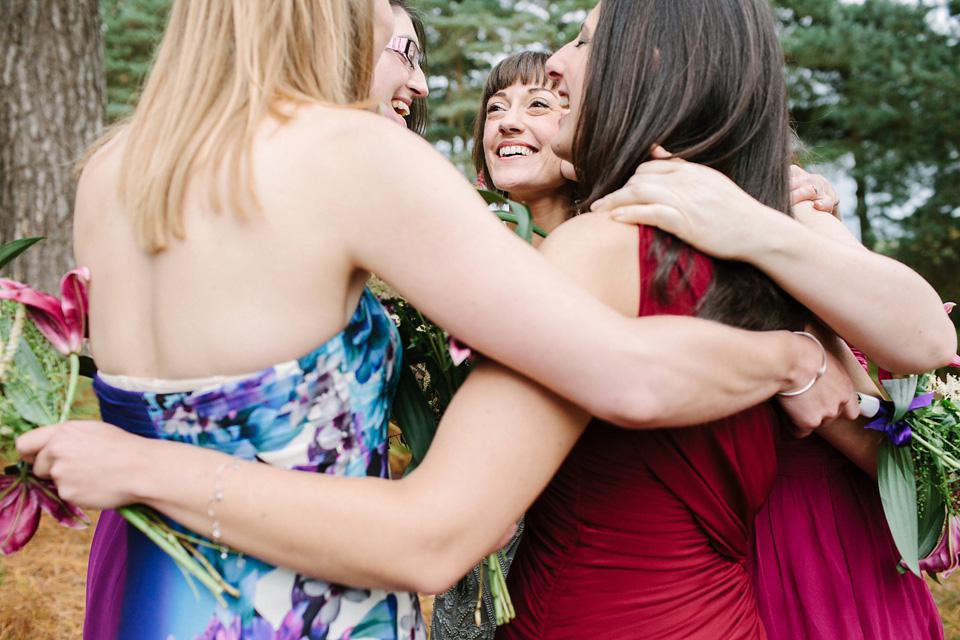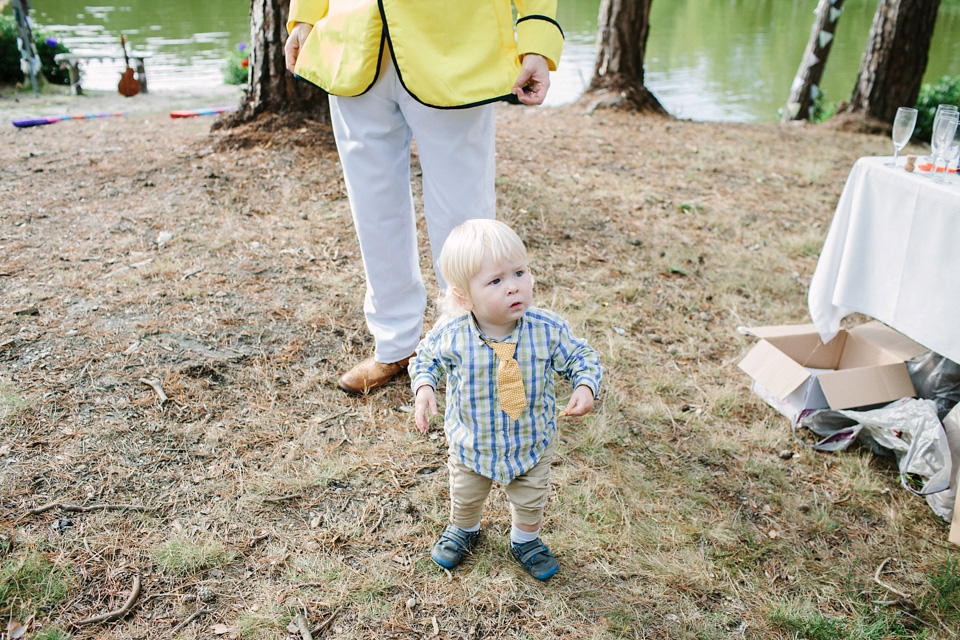 Decorating the not-so-wedding-ready centre was done with the help of family and friends and a few wonderfully creative ideas.
"We used home-made tissue paper pompoms and crêpe paper streamers (rolls of crêpe paper bought online; two colours twisted together); along with bunting made and lent by friends.  Matt's mum and nan spent many an afternoon painting old jam jars to put flowers in. The flowers were mainly from their garden with a few bunches thrown in from the flower market."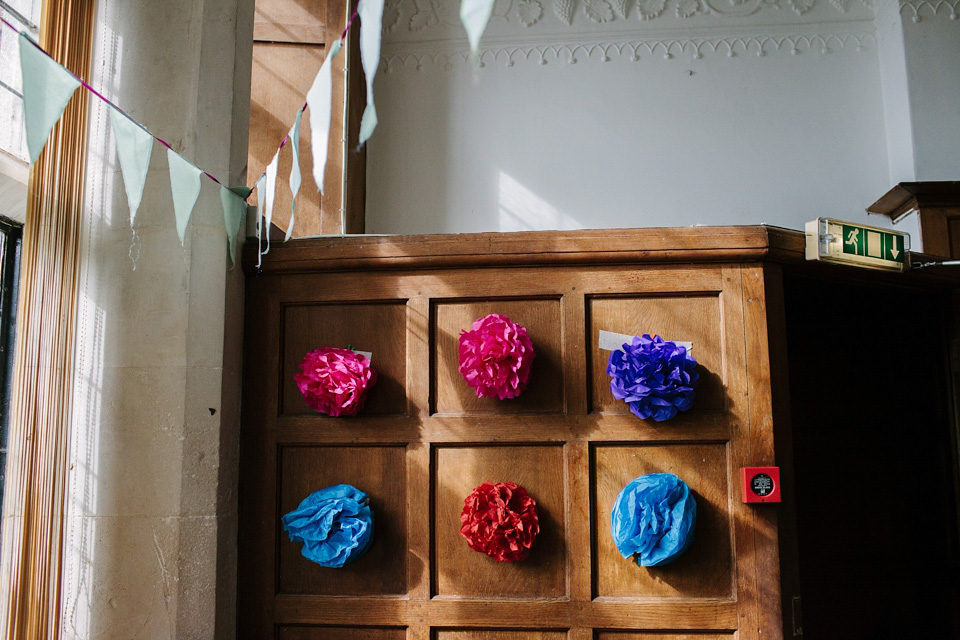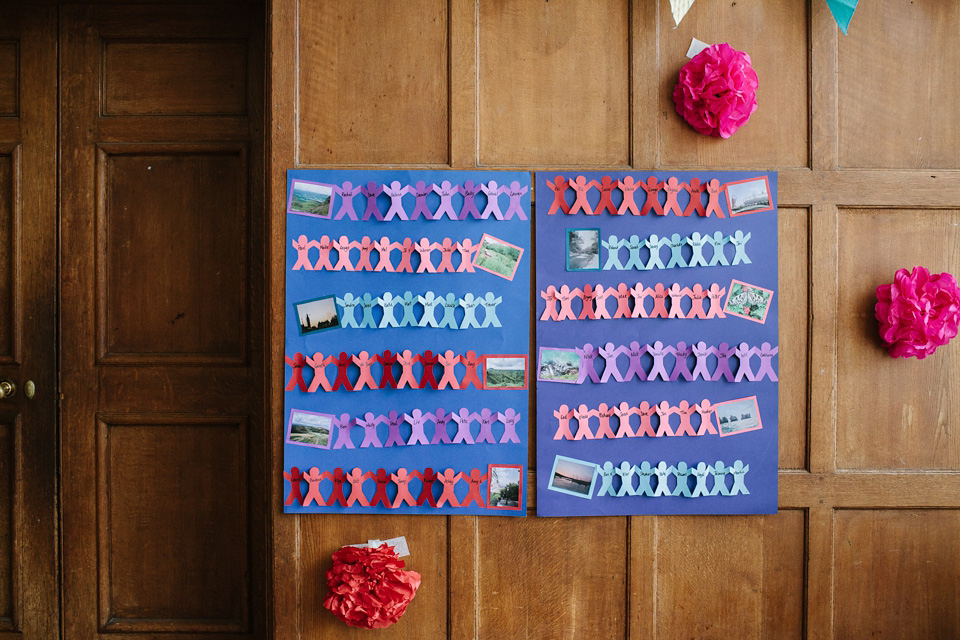 A youth activity centre is not the most obvious place to hold your wedding celebrations, however Louise explained the reasons behind their decision…
"I used to go on youth holidays there when I was young – it's a beautiful place and I have very happy memories. We were looking for a venue where all our friends could stay and spend the weekend with us. We were also very aware of our friends' budgets and wanted somewhere affordable."
"Because we were using a youth activity centre, one of the walls in the dining hall had a massive mural on it. We were racking our brains trying to think how to cover it up. In the end we got some rolls of paper to stick up and one of our friends made a big cake collage – we got pictures of all our guests from Facebook, cut out the faces and stuck them round each tier, with us on the top. We didn't like the idea of 'cutting the cake' so this was our nod to the tradition we were ignoring.
We couldn't think of a theme for our tables so we just used our photos of places we'd been together; holidays, day trips, that kind of thing. We mounted these onto coloured card and slotted them into corks so they would stand up.  One friend painted signs that we hung from branches on the way down to the lake."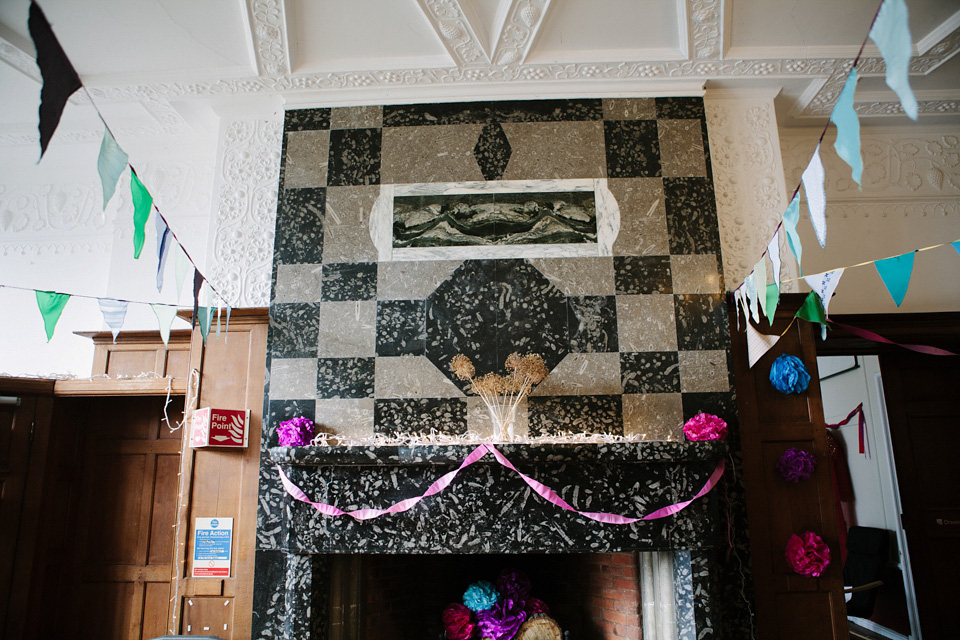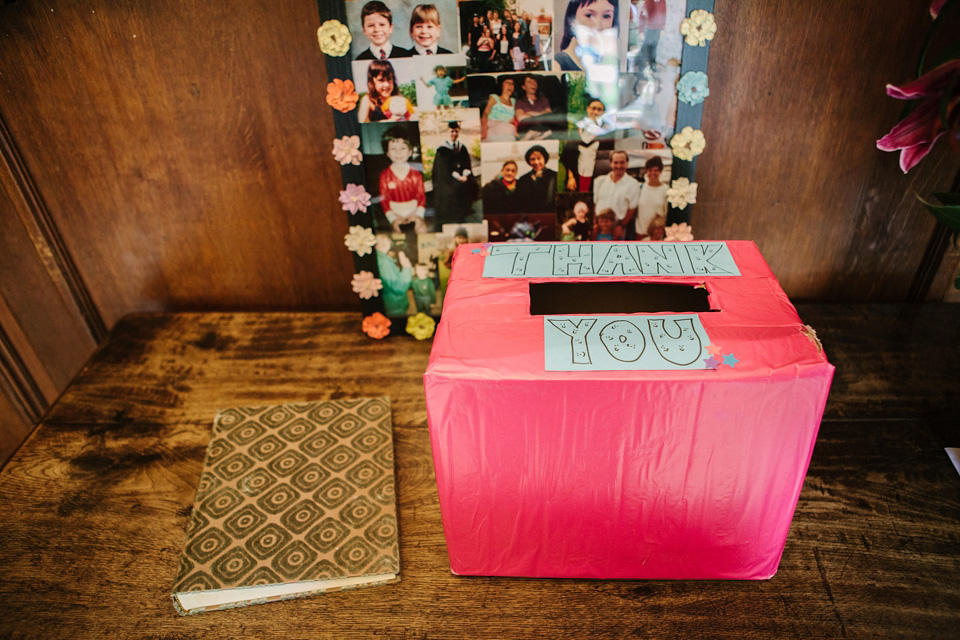 Many congratulations to Matt and Louise on truly doing it your own way, we wish you much love for your fabulous future together. Our thanks goes to Joanna Brown for sharing the photographs of this unique day with us.
I really do like the idea of being legally married beforehand so that you have complete creative freedom on your big day, what do you think?
Much love,
Katie xx
Photographer – Joanna Brown
Venue – Avon Tyrrell Youth Activity Centre, Hampshire
Dress – Elizabeth Avey
Shoes – Dune
Hair accessories – Accessorize
Bridesmaids – magenta dress – Hobbs, turquoise dress – monsoon
Groom – suit – The Kooples, shoes – Topman, shirt – Charles Tyrwhitt, ties & hankies – Discount Quality Ties
Holiday camp outfits – eBay
Stationery – DIY
Rings – Portobello Road Market & Anthony Gray
Flowers – The New Covent Garden Flower Market
Cake – Waitrose