Good afternoon lovelies! Have you had a chance to enjoy the wedding we shared this morning yet?  and did you get a chance to take a look at our weekend features, including this sublime woodland shoot and this post containing details of the five day sample sale over at Katya Katya Shehurina right now? There are savings of up to 70% to be made! I also want to remind you that we have two £500 competitions currently running; win £500 cash towards your wedding here and win a pair of Freya Rose shoes of your choice up to the value of £500 here (anyone can enter this competition, be you married or not).
The wedding I'm sharing this lunch time is a classic Love My Dress affair that oozes understated elegance – an elegant bride sporting a perfect marcel wave (perfectly coiffed by expert vintage stylist Bethany Jane Davies) and wearing an 1930s original vintage wedding gown.  Amy, who works in retail, married Pastry Chef Alex on 21st June last year with a ceremony at their local Parish Church St Mary of Magdalene in Sale, followed by a reception held at Oddfellows, both in Cheshire.
"I always wanted my own style of wedding. I've never liked modern dresses or styling, and neither of us ever wanted a specific theme. I can tell you what I don't like, but not specifically what I do.  I always knew I wanted a vintage dress, and the 1930s style just seemed to suit my figure the best."
Photography Copyright (c) 2015, Haydn Rydings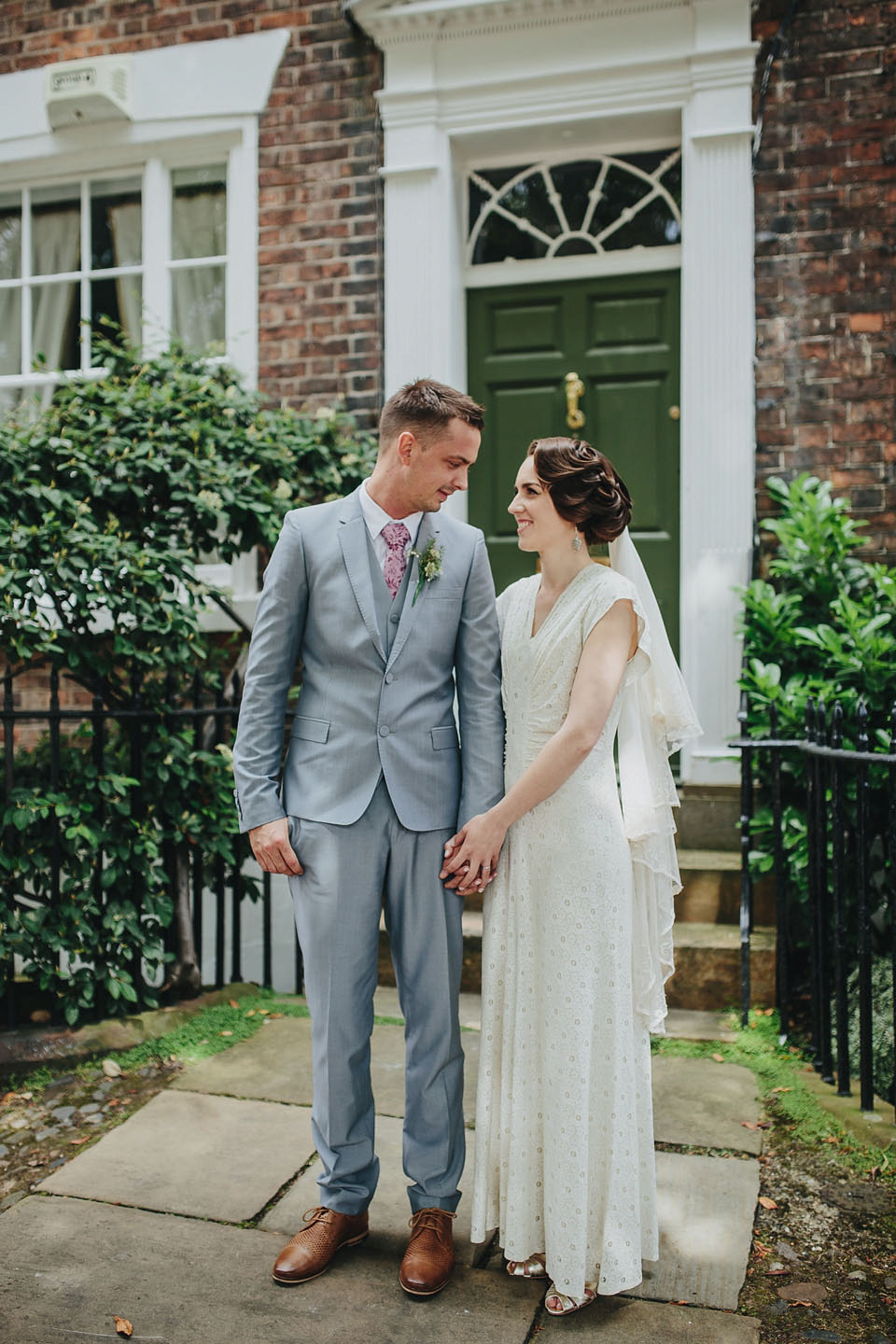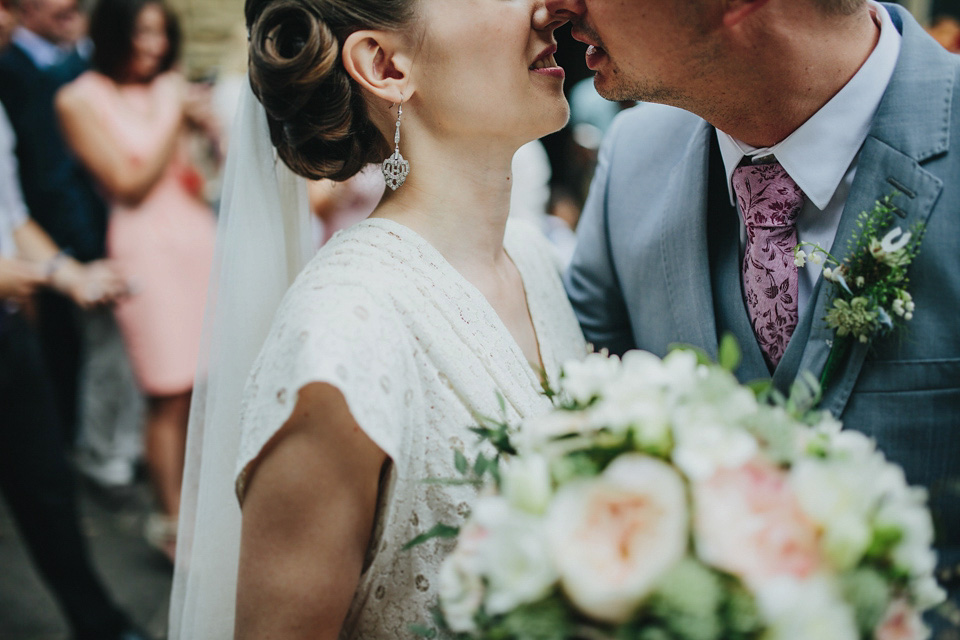 "My bridesmaids all wore dresses by Ghost, that were all purchased from different stores at different prices! Two where from TK Maxx, one was from Ghost's website and the final one from Ghost's outlet store in London. I got very lucky as I only found one in my local TK Maxx and decided to search other TKMaxx stores to find the exact match. I paid £260 for four dressed that were originally around £200 each.
Their beautiful floral crowns were created by our florist, using David Austin roses, and they each wore flower shaped mother of pearl earrings."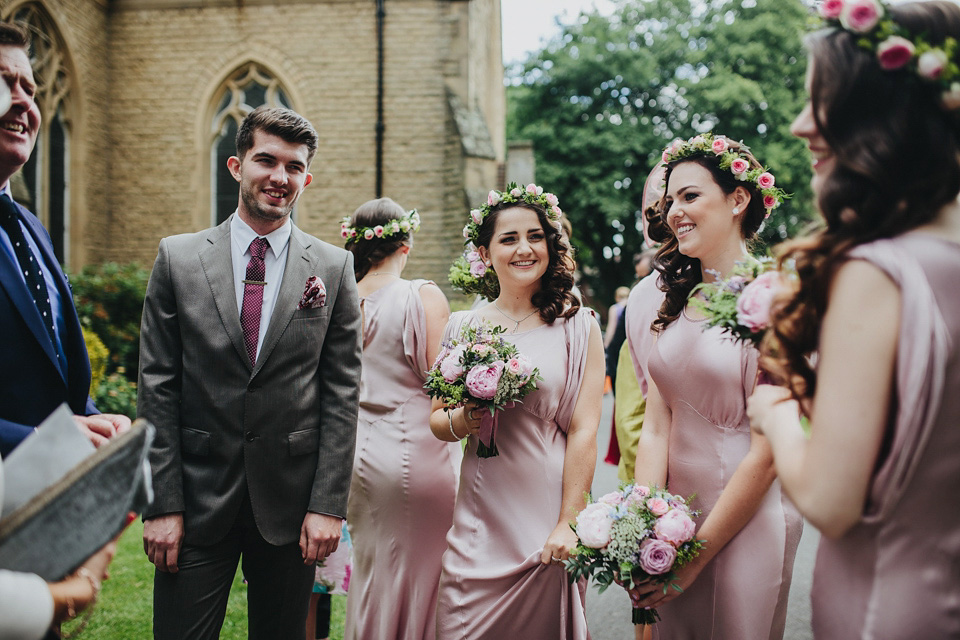 The couple commissioned Manchester based photographer Haydn Rydings to shoot their wedding.  You may recall this chic Italian wedding that Haydn also shot, that we featured last month.  I can also say from personal experience, because I met him and worked with him on a 2 day photographer workshop in Iceland last October, that Haydn is one of the nicest people ever.
"Our photographer, Haydn Rydings, was perfect for us.  His style of reportage was just so cool! He just understood what we wanted straight away and the pictures are just amazing. Thank You so much Haydn."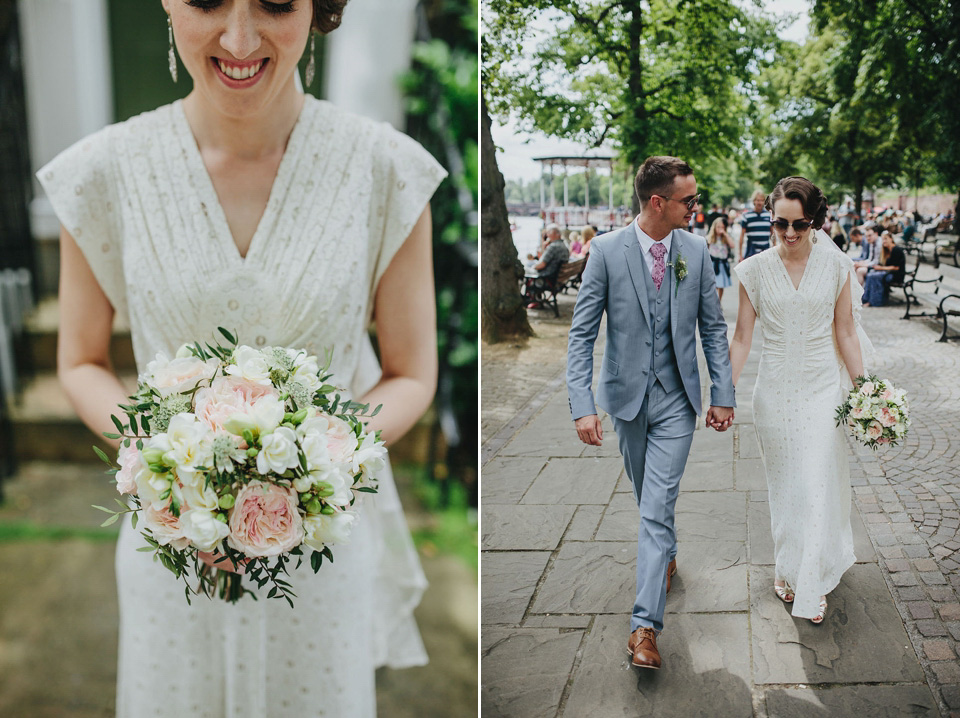 Amy wore the most Vintage 1930s cotton dress, purchased from an independent vintage and designer boutique called The Pocket Library, of Notting Hill, owned by Rebecca Denholm.  The slip worn beneath the dress was also 1930's vintage, and purchased from Etsy.
"The dress just felt right when I tried it on – it was unique being made from cotton and it had beautiful stitched floral holes throughout. It was delicate, understated but stunning."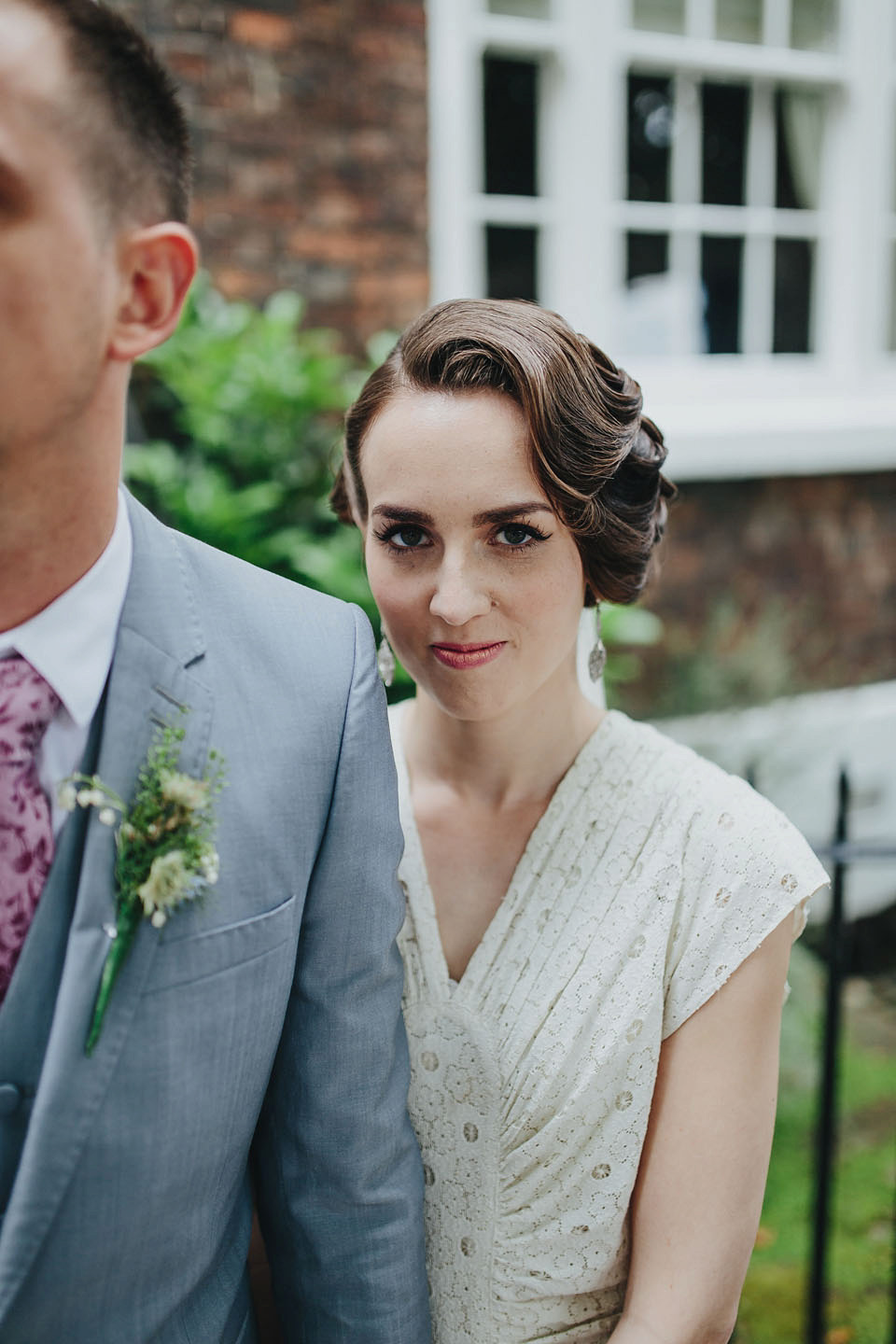 "Alex and I met at College and had been together nine years (the year we got married).  The engagement was on Alex's birthday two years before the wedding. Let's say that it didn't exactly go to plan and save that story for the grandchildren!"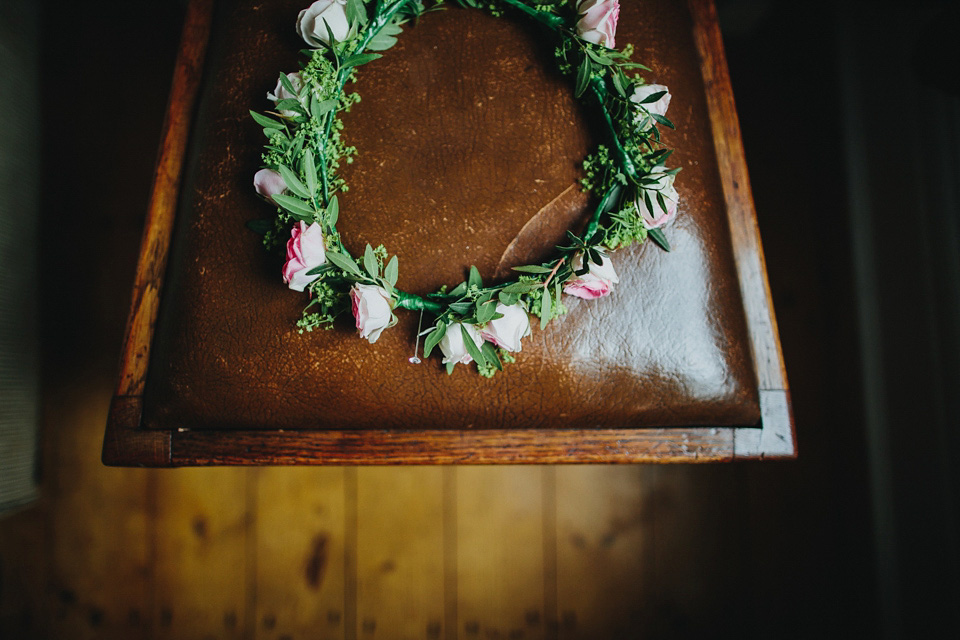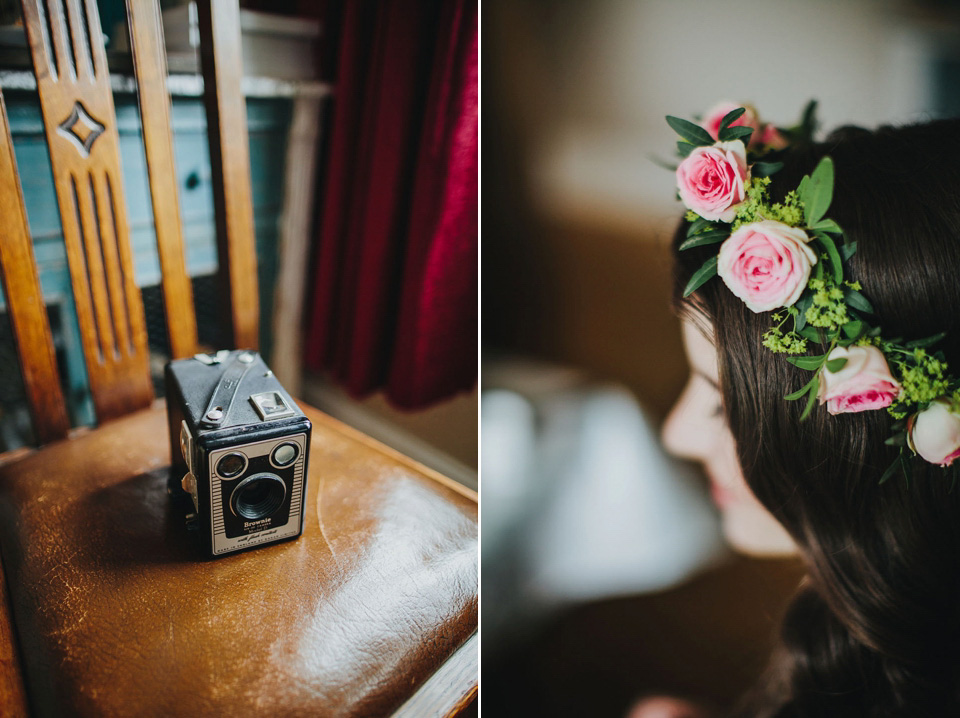 "My hair and makeup stylist was Bethany Jane Davies, owner of The Vintage Beauty Parlour."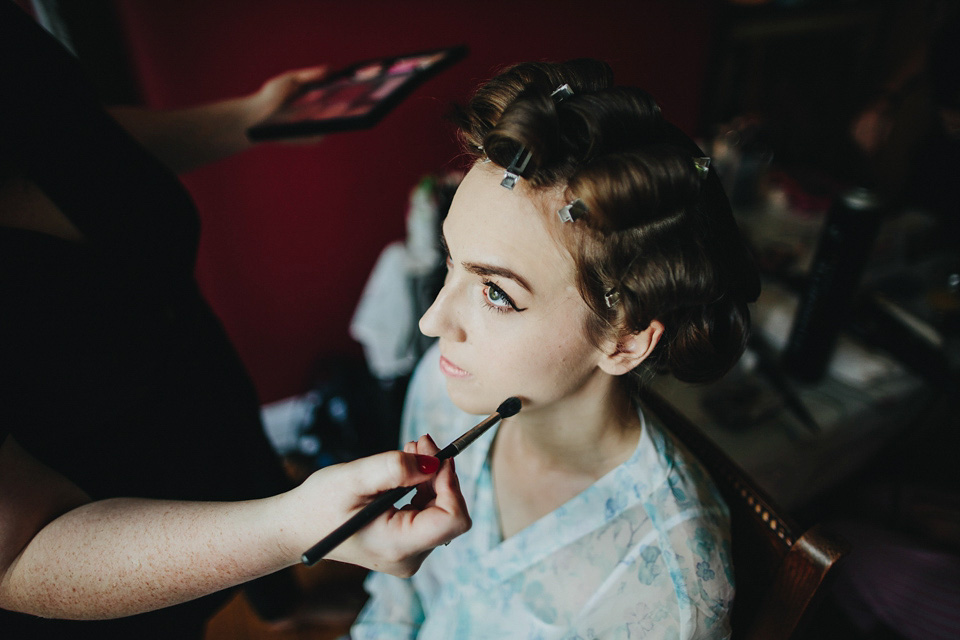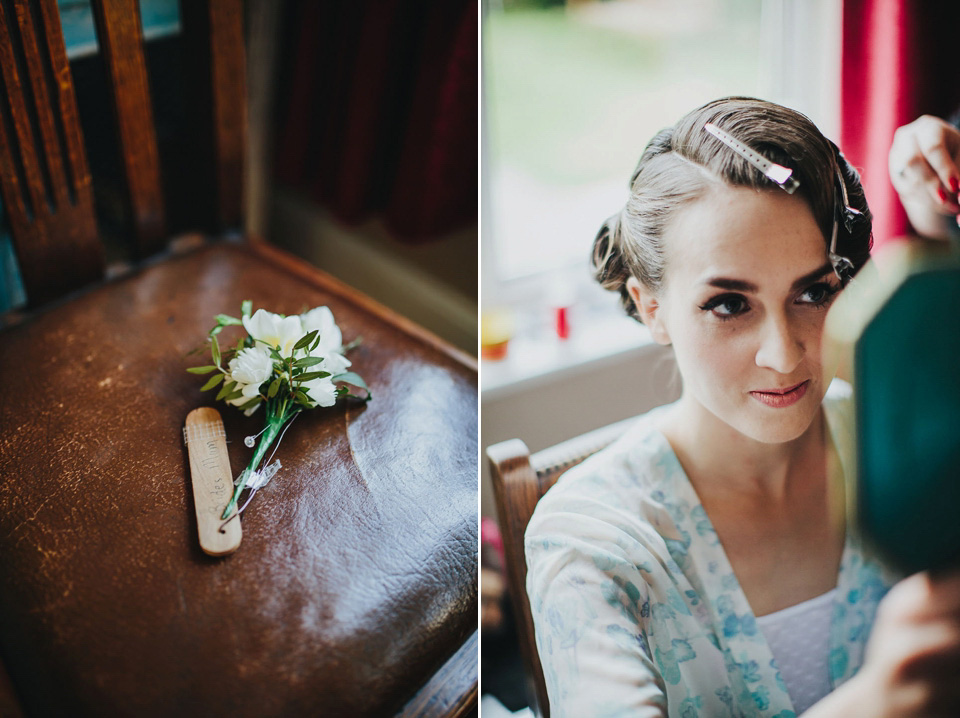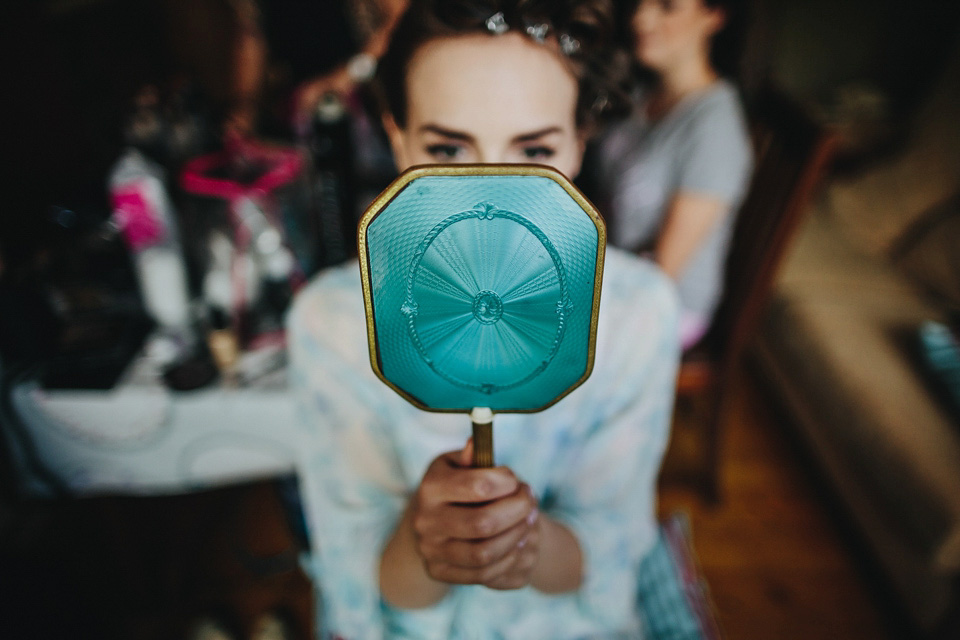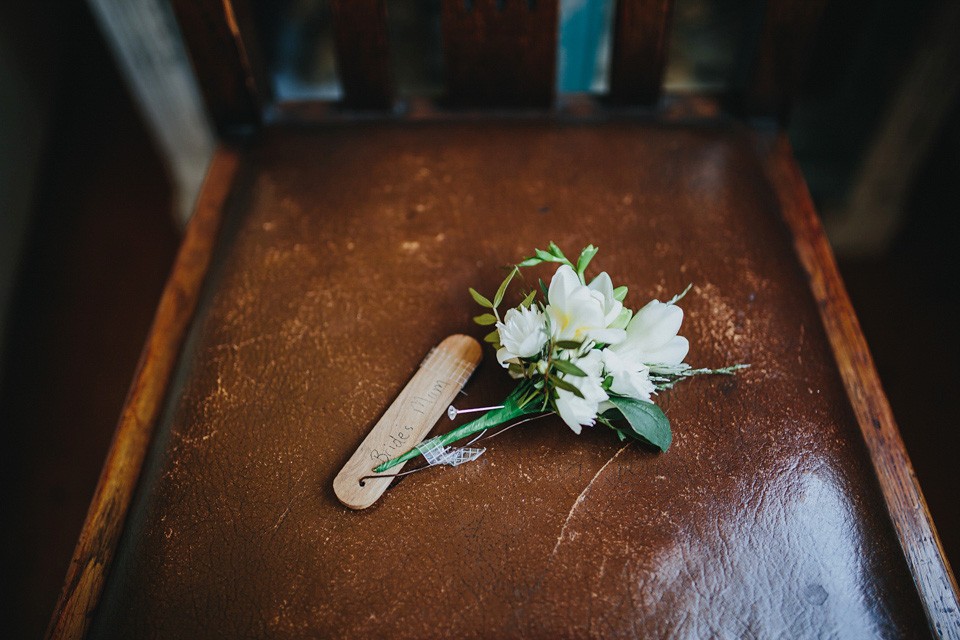 Amy styled her beautiful dress with an antique veil, dating back to the early 1900′, which she ppurchased on EBay and had professionally restored by Antique Lace Heirlooms. She further styled her look with a vintage fan haircomb (fashioned from a 1930s brooch) that she purchased from Amore Treasure on Etsy.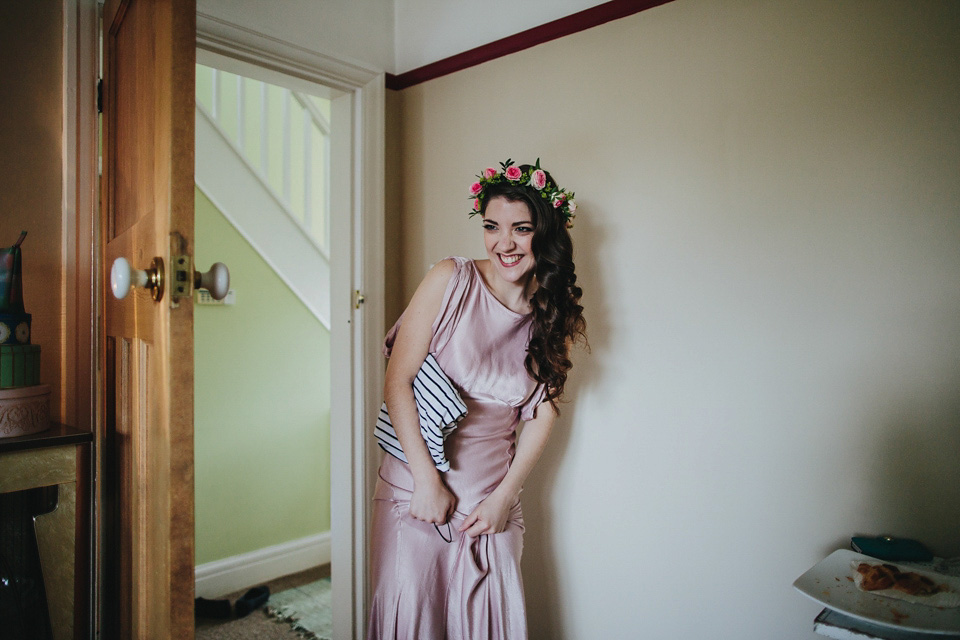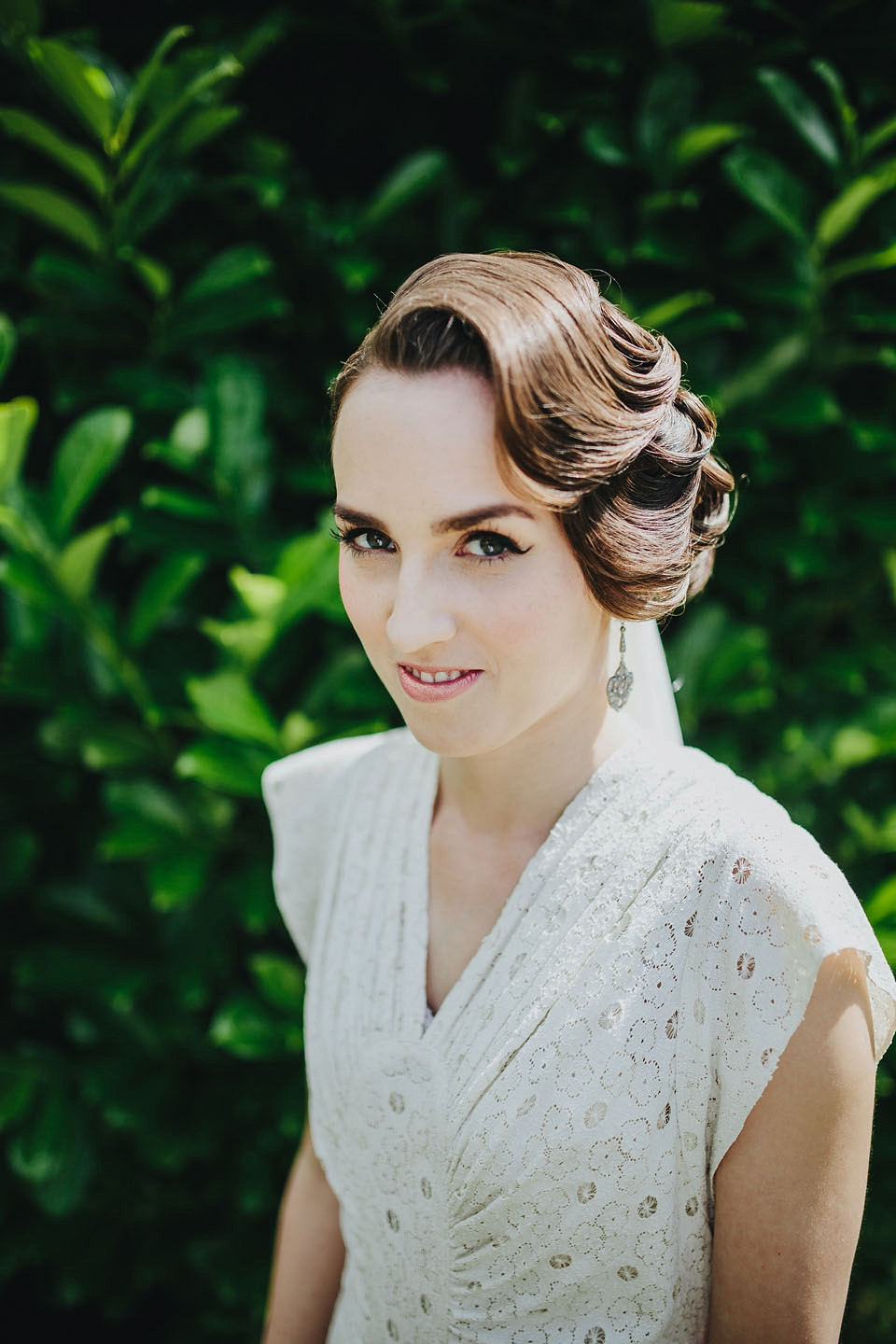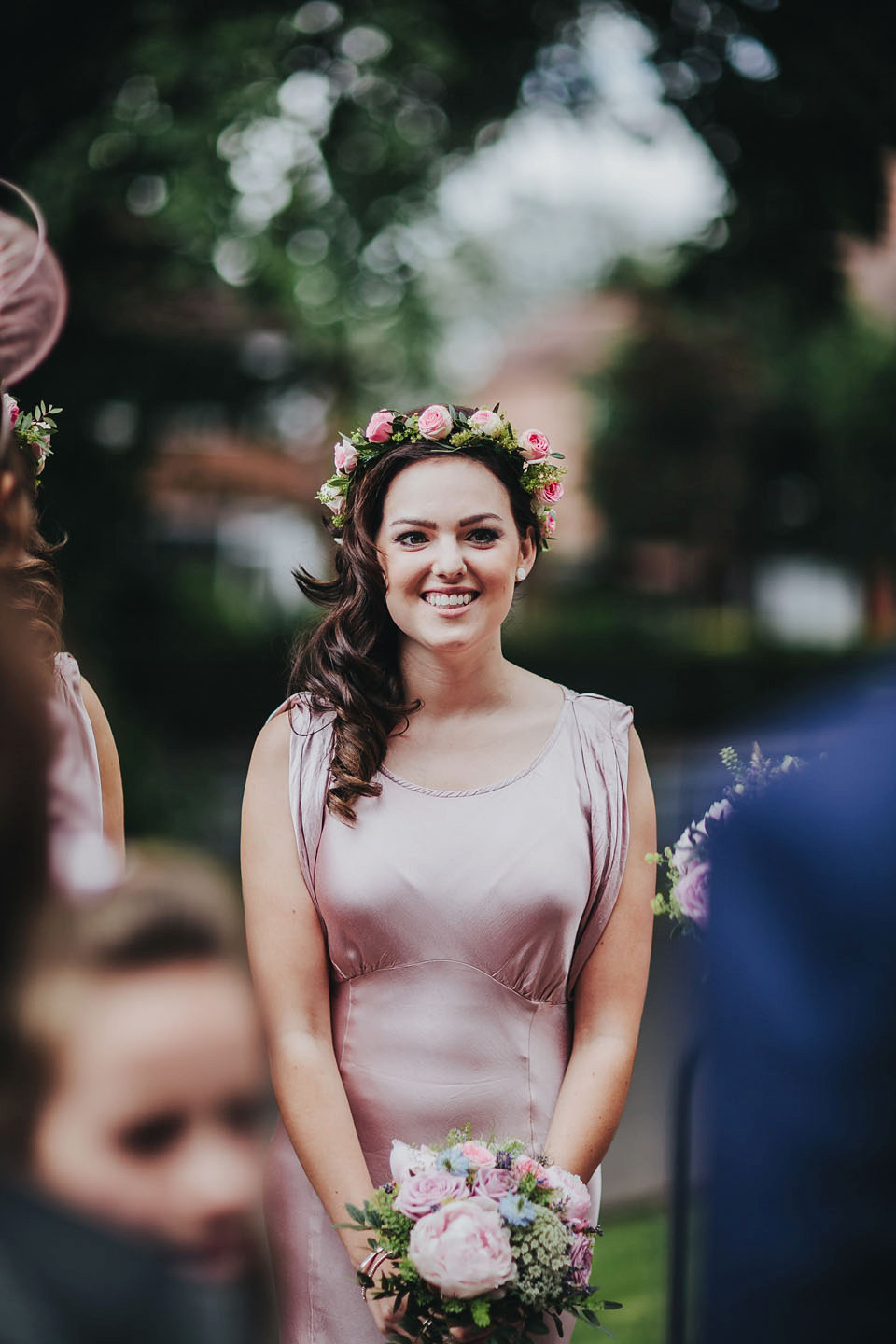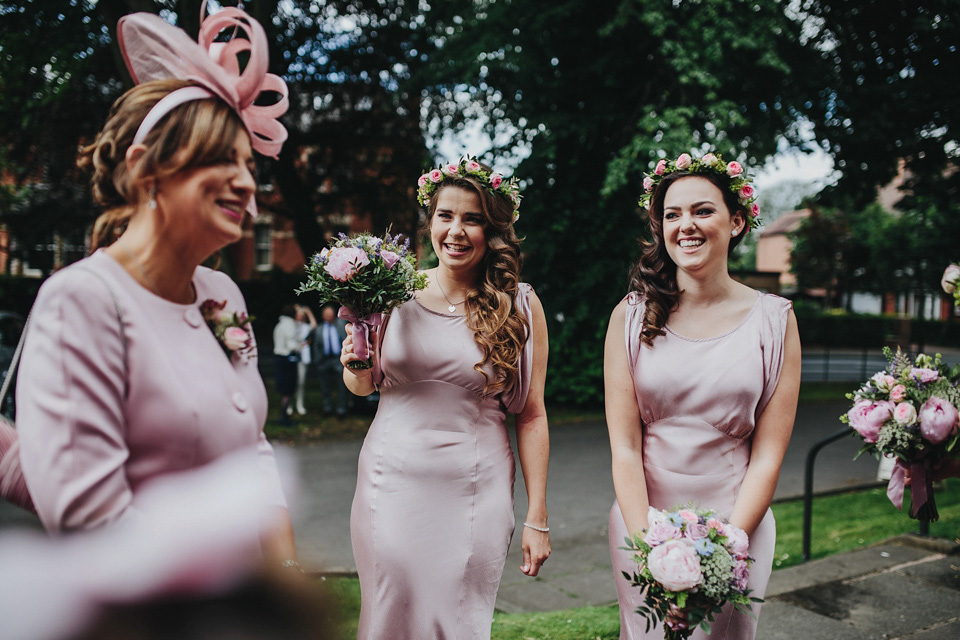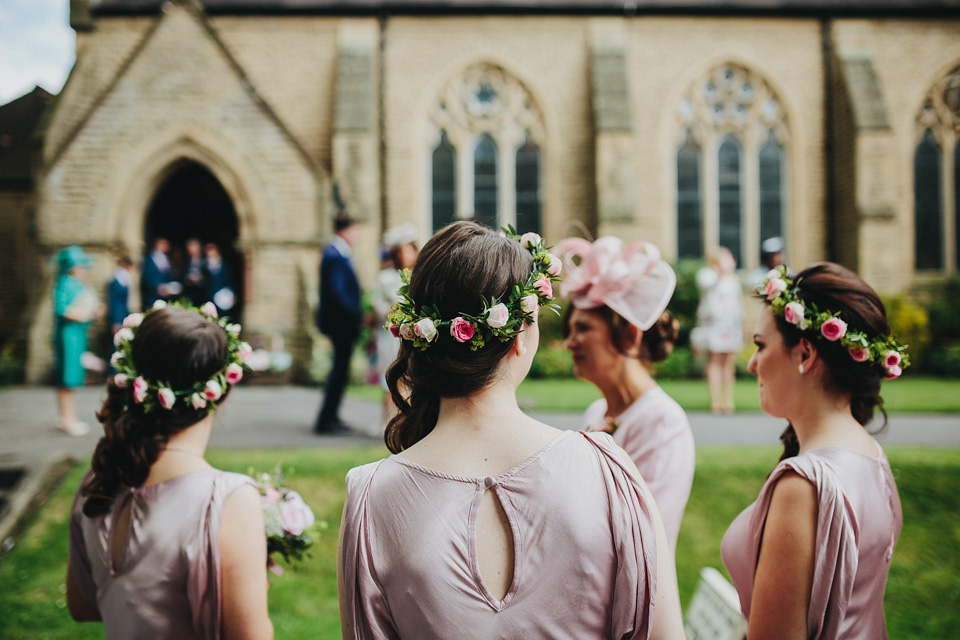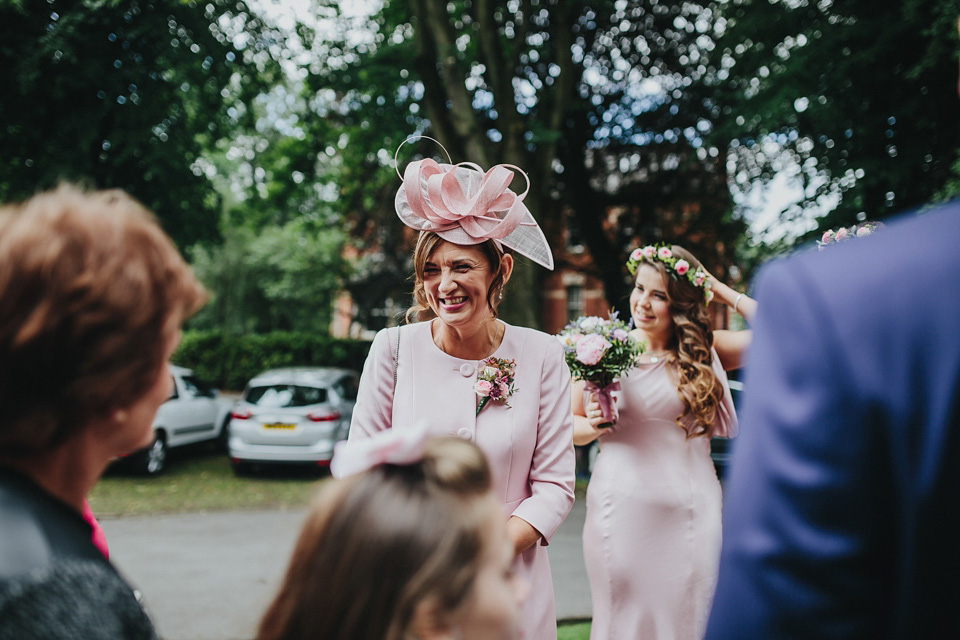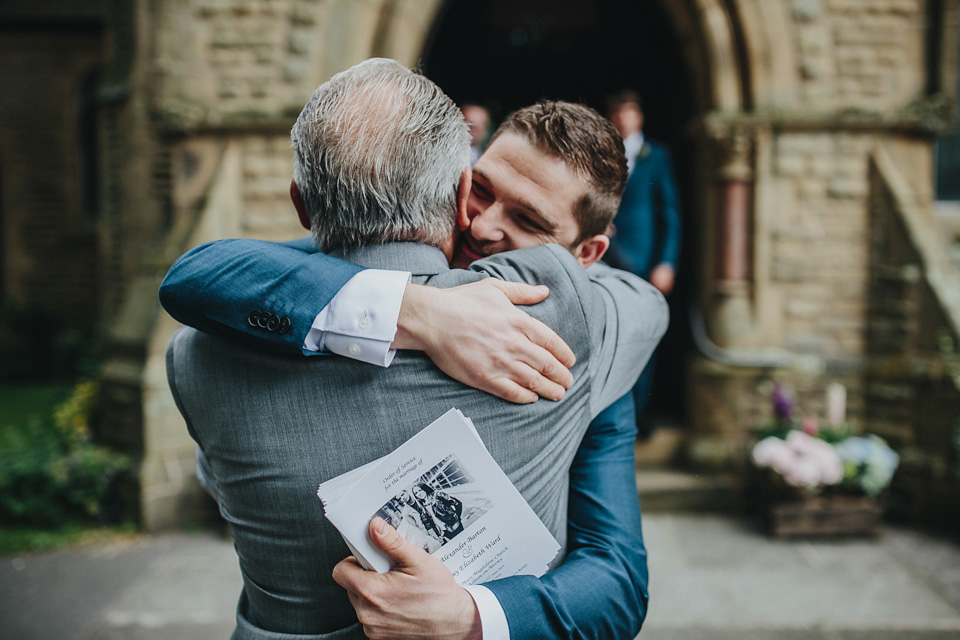 "Our florist was the Mother of the Groom's friend called Christine.  She seemed to just understand my style and we pretty much left her to create everything herself as she had an excellent eye for style.
She matched the flowers with my dress, the bridesmaids dresses and Alex's suit. Christine took a week off work to create all the table decorations, bouquets etc. She also dressed the church and the venue with both floral displays and antique mirrors and glasswear. Everyone adored the flowers and staff from the venue told us that they had never seen such a beautiful display for a wedding there."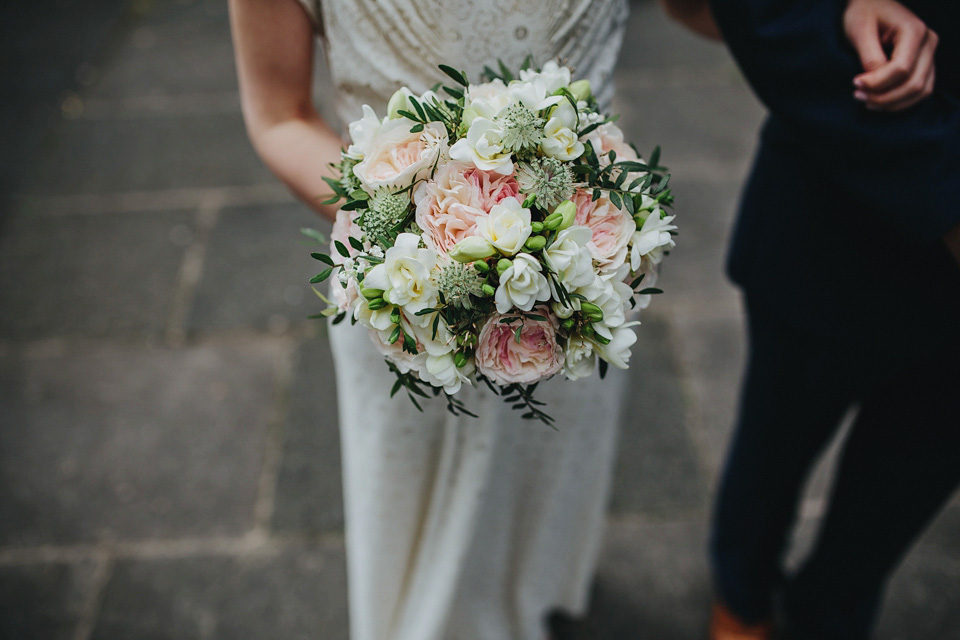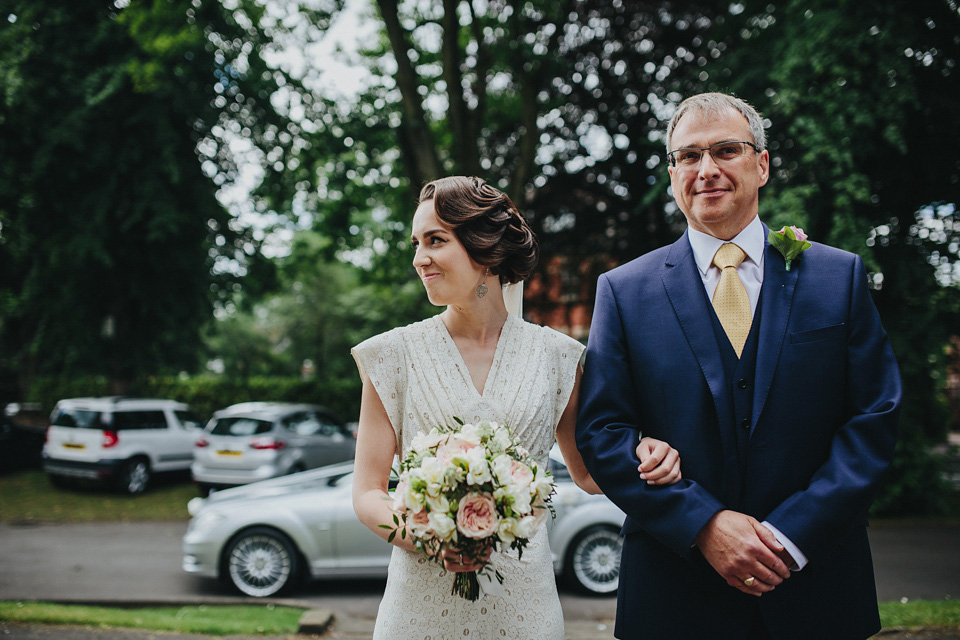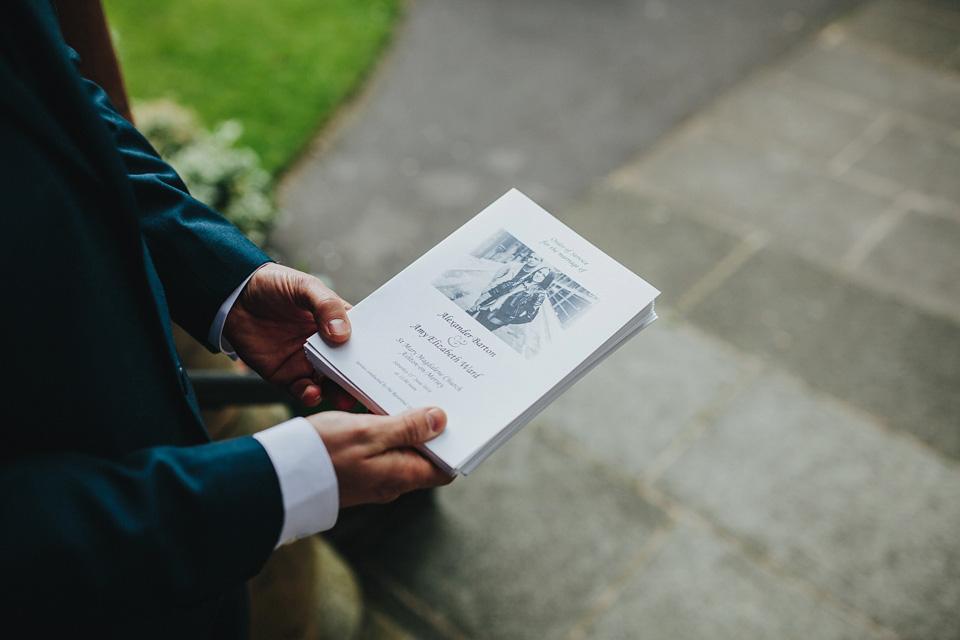 Amy was accompanied by her Father Ken as she walked down the aisle, to the sound of 'The Wedding March', by Wagner.
The wedding ceremony was comprised of traditional Church of England vows.
"Alex's ring is the Palladium band from Goldsmiths. My ring is an original 1930's Platinum and Diamond Ring purchased online via Addy on Etsy."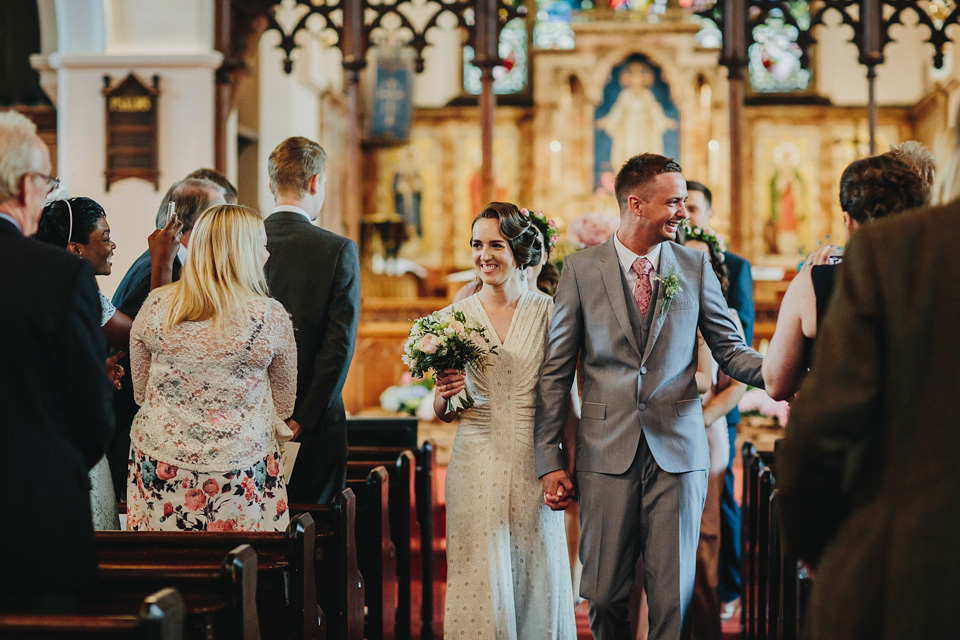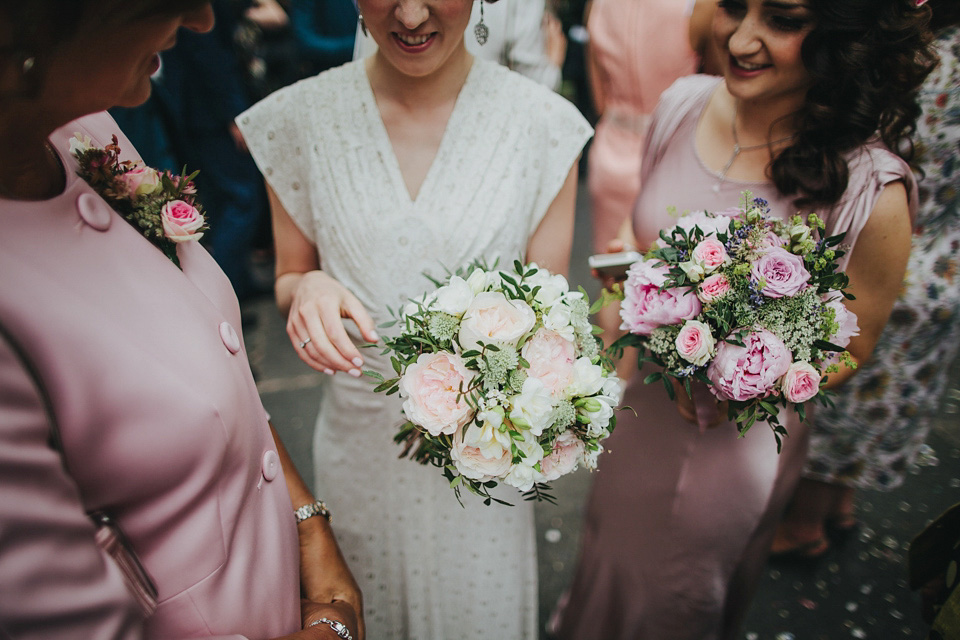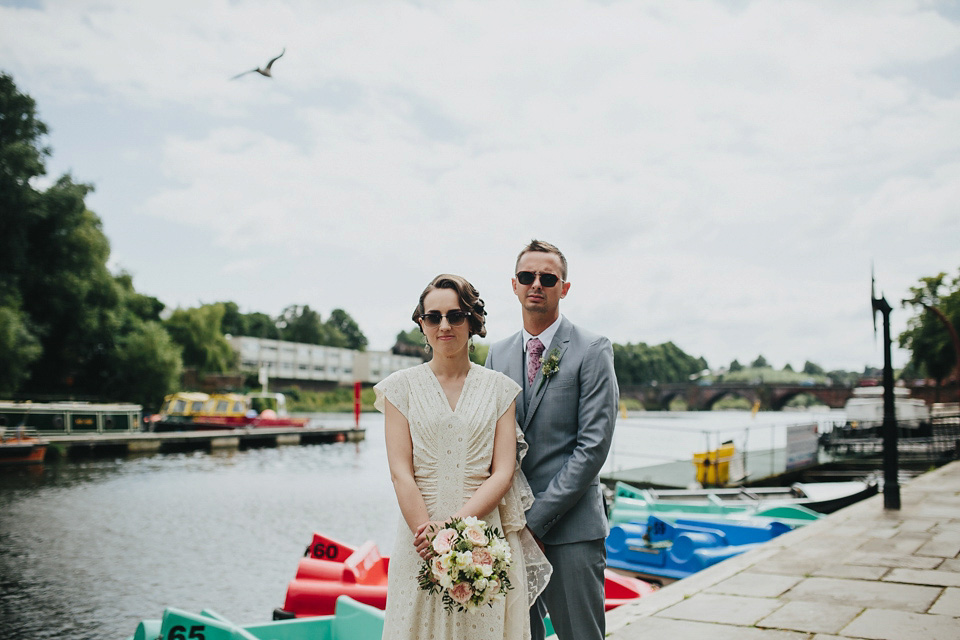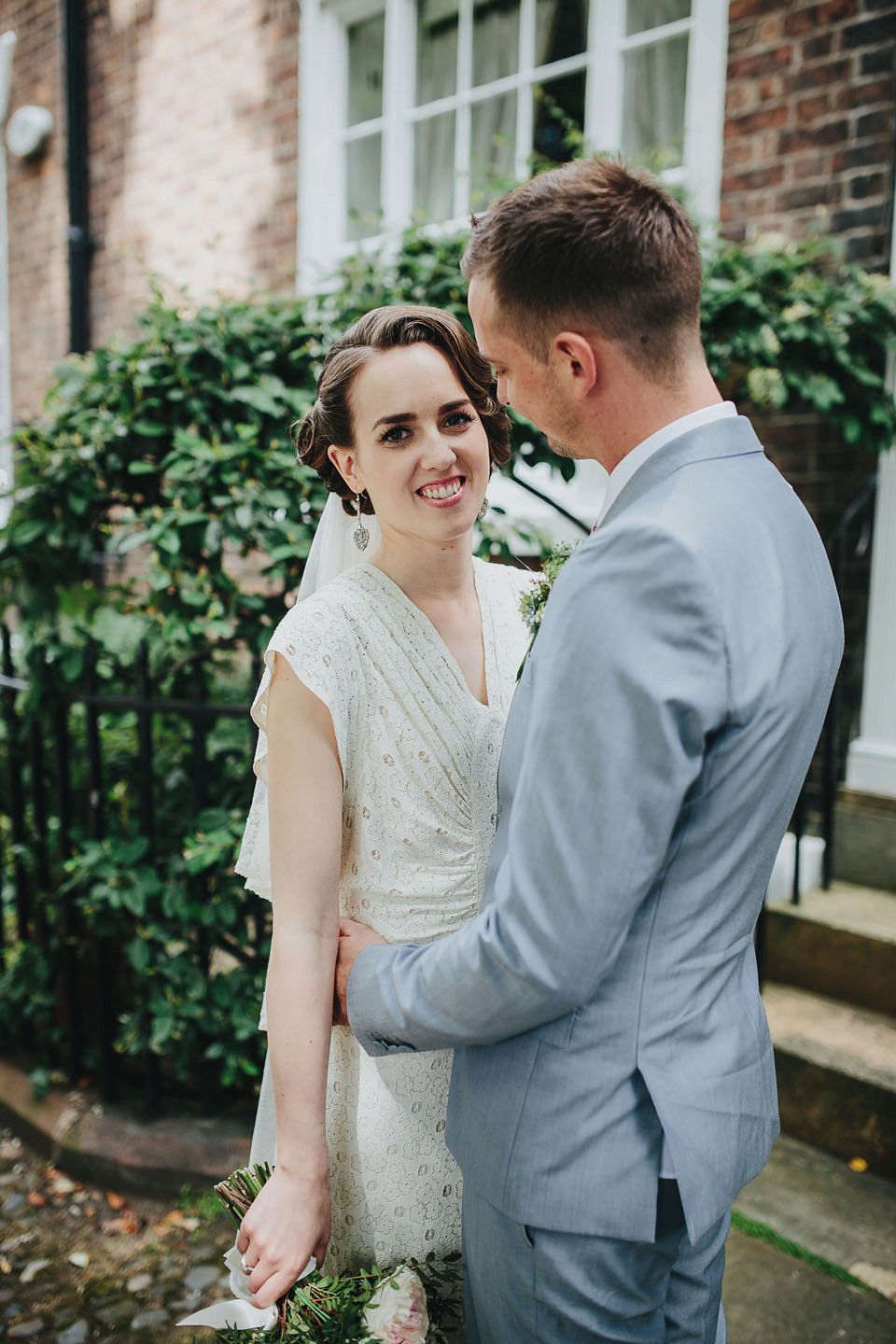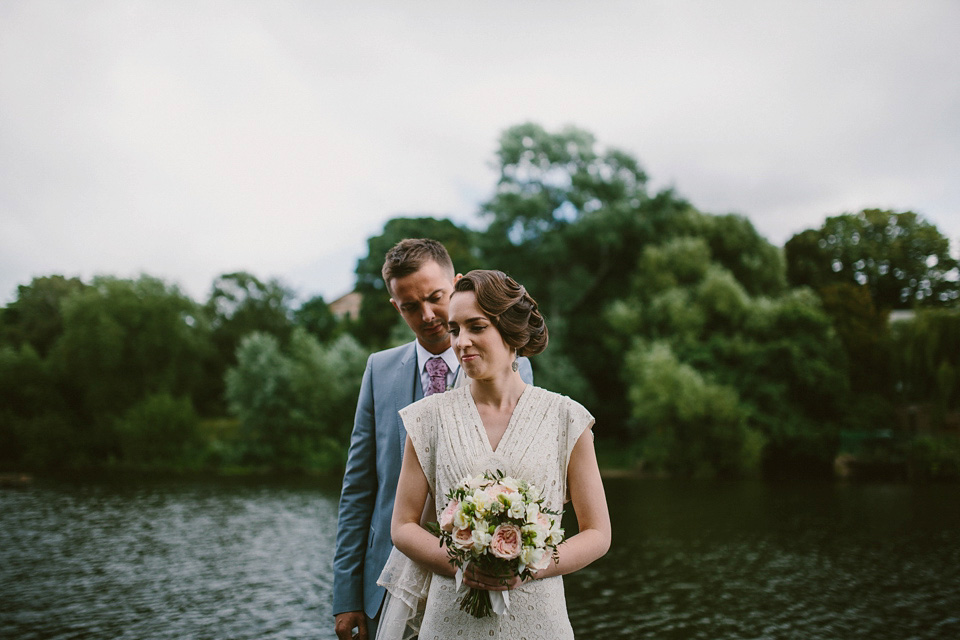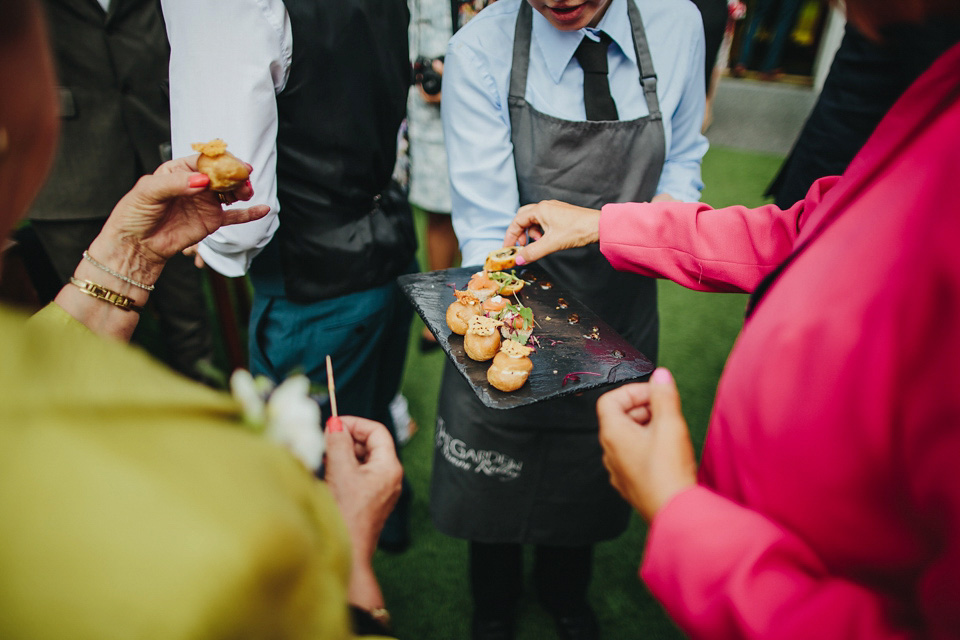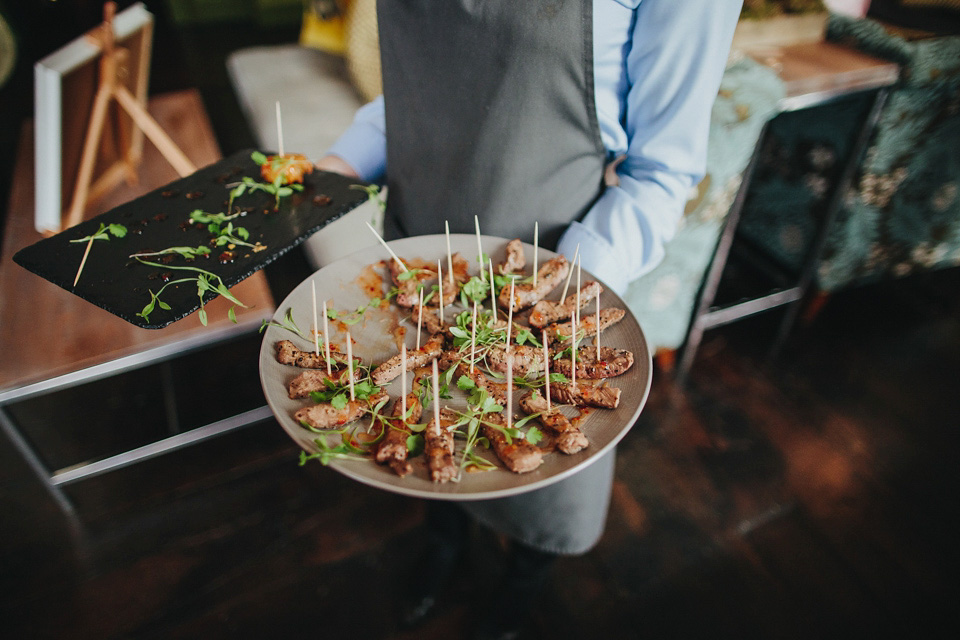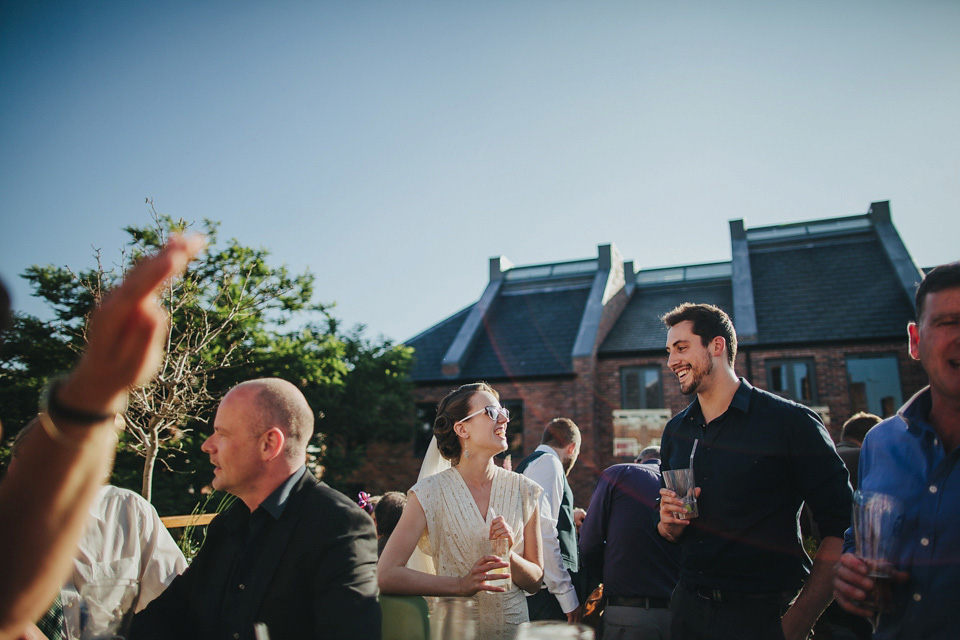 "Oddfellows is a quirky venue, but we didn't want to go to mad, so we kept it simple with elegant glasswear, mirror and English spring flowers. They were brilliant at making the venue look perfect for us and Emma was always available to help at any point".   
"Alex and I used to live in Chester and I fell in love with the venue as soon as I saw it. We had the whole top floor of two rooms, and a bar with a roof terrace. It was the longest day of the year and the weather was perfect. Guests where sat outside until 11pm. I was worried that we didn't have enough entertainment with just a DJ, but as the weather was so good guests were happy just being in the sun!"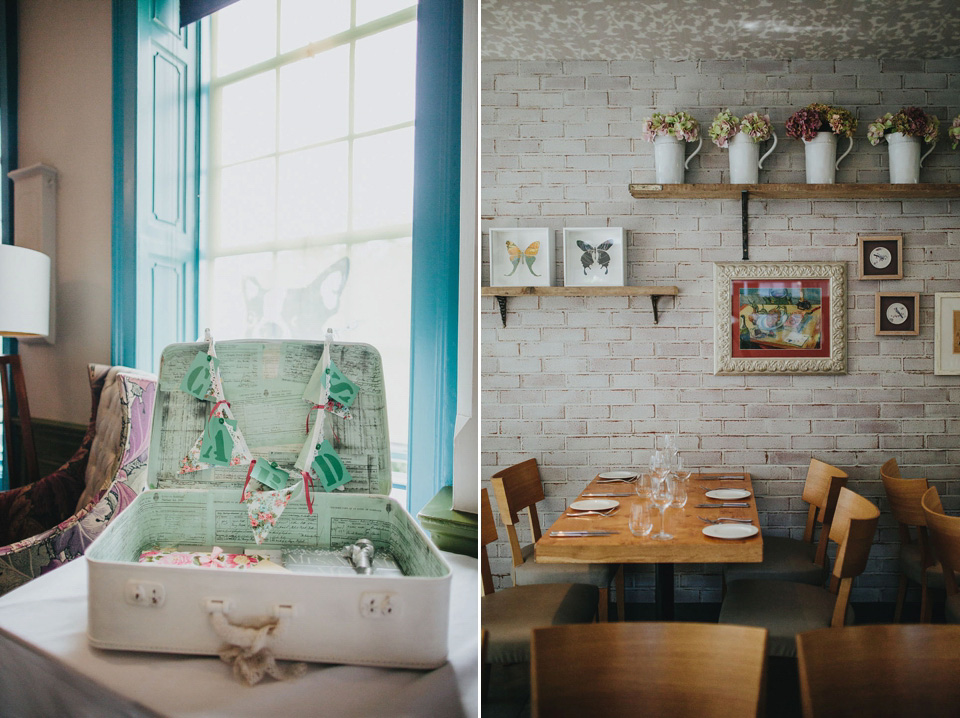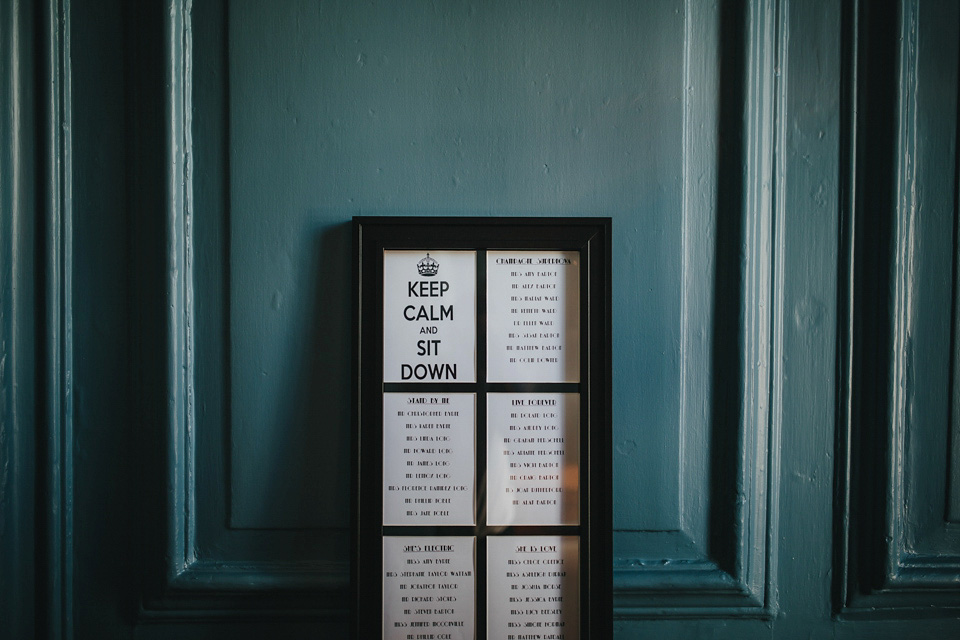 "Our guest favour envelopes (which contained a scratch card) were purchased online via LauraKelly on ETSY.  Our guest drinks tickts were purchased from Poshpaisley on Etsy."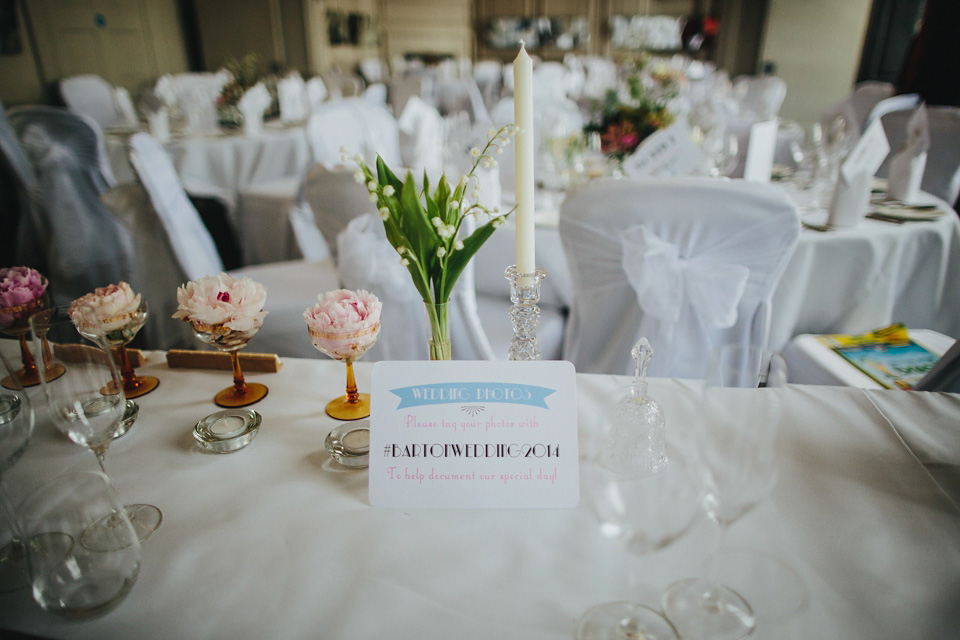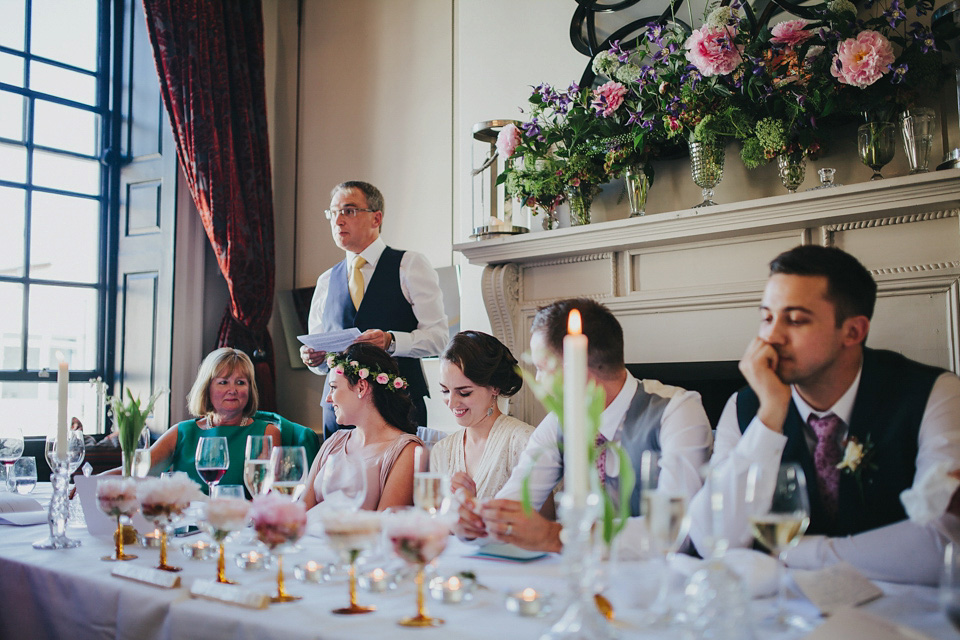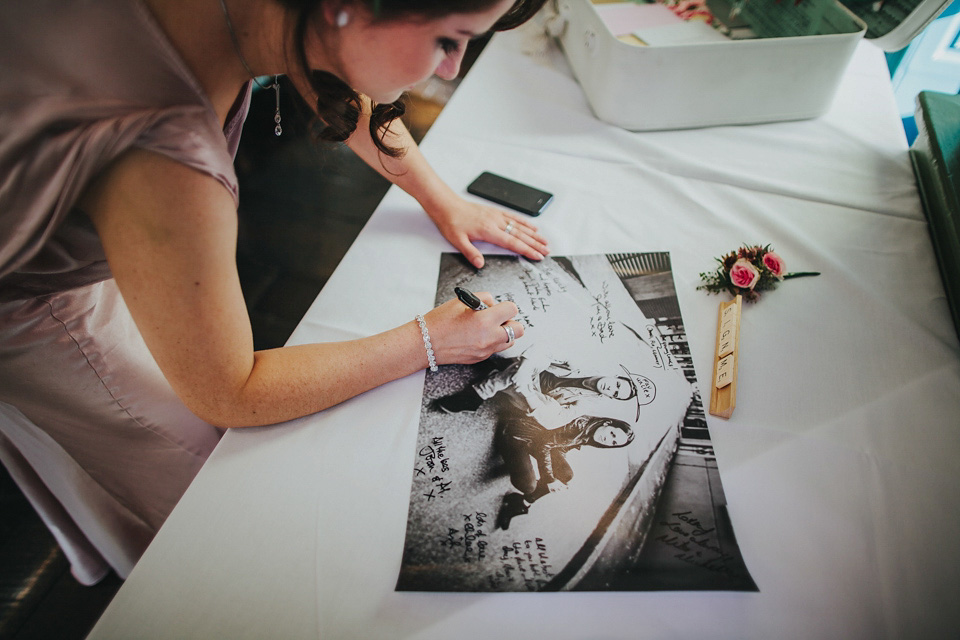 "We had a naked cake (un-iced) from Pretty Tasty Cake.  It comprised three tiers of alternating raspberry and lemon and red velvet, decorated with fresh fruit and flowers and large peony on top
I never really enjoyed icing and liked the look of a naked cake – it fitted in with the spring, floral theme beautifully."
"Our first dance was to UB40's cover of the Elvis track, 'Can't Help Falling in Love with You.'  It is one of our favourite songs. Alex surprised me with our first dance actually – he had a 'routine'. That was certainly memorable!"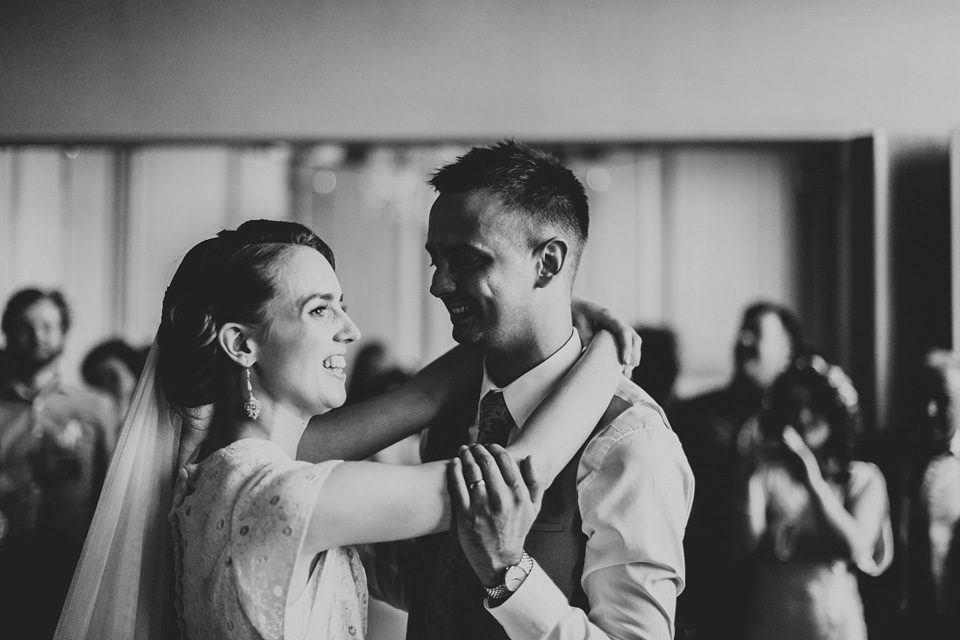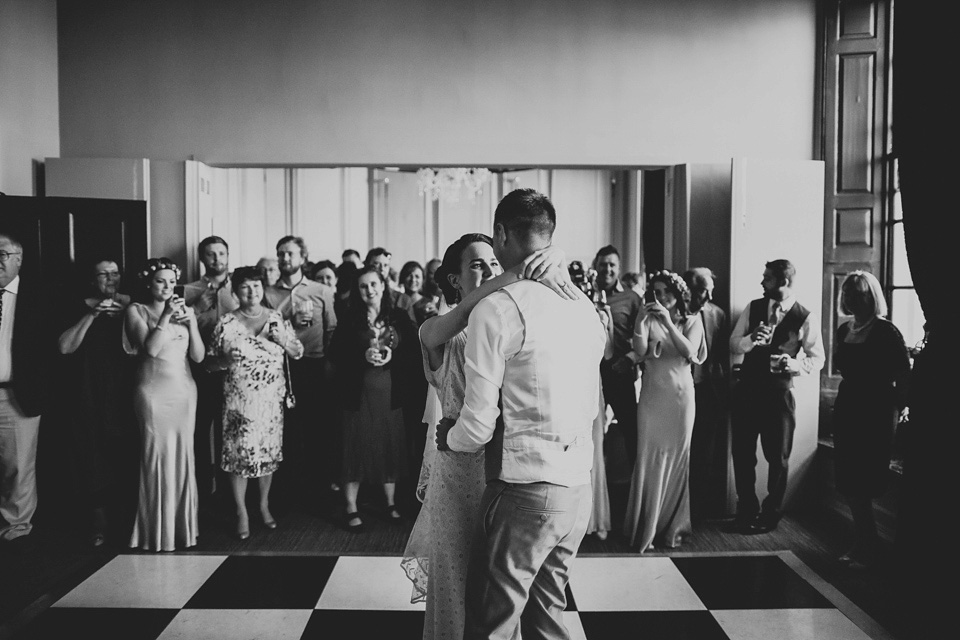 Words of Wedded Wisdom…
"Well looking back, walking though Chester by the river having pictures taken as people where staring and saying that we looked stunning. It was a beautiful sunny day, we couldn't have wished for better weather. At the start time I felt a little uncomfortable but the reactions we got from people was lovely and Haydn's pictures are some of the best from the day.
Alex's Grandma was unwell so she couldn't make the wedding. We asked our chauffeur if we could go to Chester via her house so she could see us in our bridal outfits. That was lovely and she was so happy to see us."
"There's nothing we would have done differently – there was some issues with the invite design and we provided a coach to get people to Chester, which got a little mixed up, but I still would have done everything the same. The day was perfect and to be honest I didn't care on the day."
Everyone told me to make the most of the day as it goes so quick. It really does, you don't realise until it's over, and we had the wedding on the longest day of the year!  I got myself ill with a bad cough a few days before the wedding with stress. On the day I wasn't concerned about the finer details as it didn't matter. All that matters is you and your partner, enjoying your day."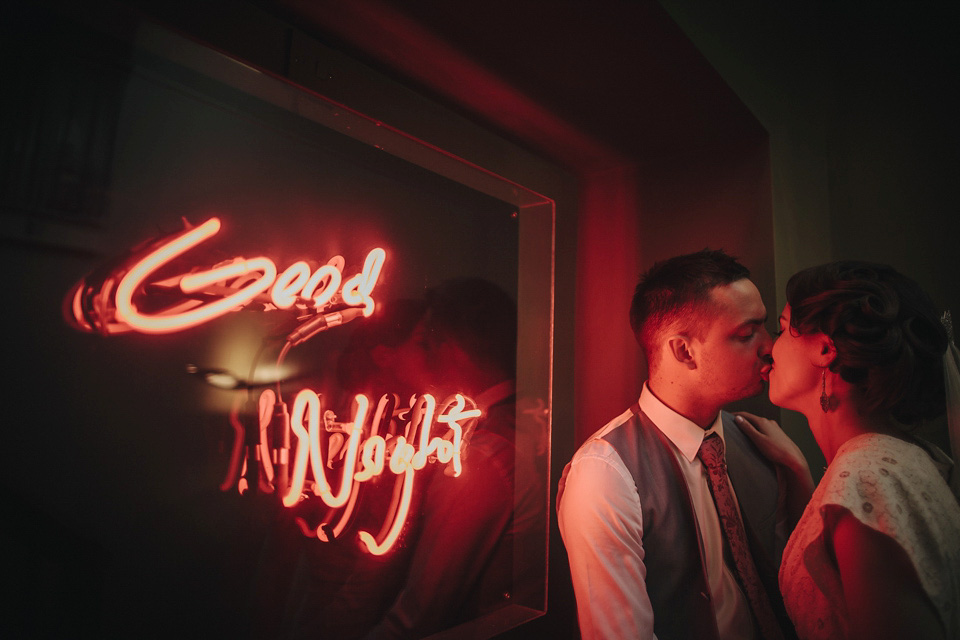 Effortlessly elegant and stylish and so inspiring for other brides planning a vintage inspired wedding. Huge love and thanks to you Amy and Alex, and our adoration and thanks to photographer Haydn Rydings for sharing these beautiful photographs. You can see more from this talented Manchester wedding photographer here.
Love Annabel xx
Photographer – Haydn Rydings
Venue + Catering – Oddfellows, Chester
Wedding Dress – 1930's original, via The Pocket Library
Veil – Antique via EBay, restored by Antique Lace Heirlooms
Hair accessory –  vintage fan haircomb via Amore Treasure on Etsy
Bride's Shoes – Ginger by Rachel Simpson Shoes
Accessories – 1930s earrings via EBay
Bride's Scent/perfume – Perfume – Jo Malone Peony Blush Suede (as Peonies used in bouquets)
Groom – The Kooples + Bertie shoes
Bridesmaids – Ghost dresses + Kurt Geiger shoes 
Florist – Family friend
Cake – Pretty Tasty Cake
Entertainment – DJ from Wedding Jam
Rings – Goldsmiths + Addy on Etsy
Stationery – ETSY + friends
Hair + Makeup – Bethany Jane Davies Vintag Beauty Parlour