Hello readers! I hope you had a great weekend? We have a very lovely wedding to brighten up your Monday on this very grey morn. Sian and Ed married on the 26th of July of last year at The George in Rye; a beautiful Georgian hotel in East Sussex. Sian and Ed spent two and half years planning their special day, and it shows; their wedding is brimming with beautiful and thoughtful handcrafted details. Sian and Ed's day was planned and styled by the bride's fledgling company, Blackbird Weddings and Events.
"Our wedding was a family affair in Rye, filled with love, flowers, laughter and fun! We opted for a muted colour palette and the dusty pinks of the flowers (and The George's Ballroom!) worked beautifully with the oyster grey and navy blue of the bridesmaid and usher outfits."
Photography Copyright (c) 2015, Ann-Kathrin Koch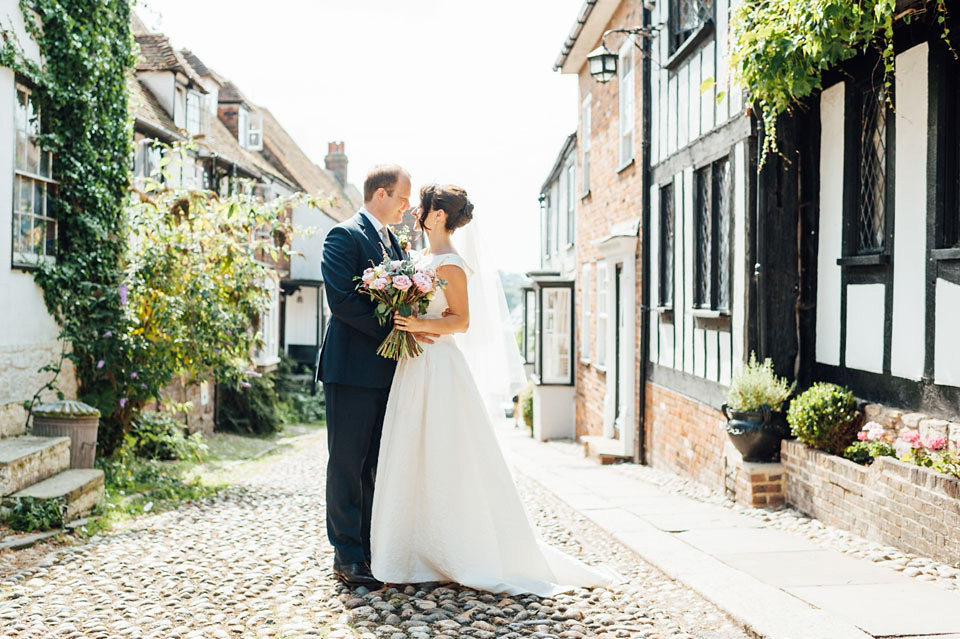 Sian opted for a stunning gown from Raimon Bundó, one of Spain's leading bridal houses. Our bride purchased 'Dalia' at Leonie Claire Bridal Boutique in Brighton and was very pleased with the service she received.
"I picked 'Dalia', a silk brocade dress with a drop waist and off-the-shoulder straps that made me feel like Audrey Hepburn! The silk's floral pattern fitted in perfectly with my vision of a flower-filled day. The girls at Leonie Claire were incredible and I wholeheartedly recommend them to everyone. On my beloved Nana's birthday (who sadly died nine months before the wedding) I brought her to see my dress and they made such a fuss of her. It was a very special moment and I am eternally grateful to Lowenna and Rochelle for everything they did that day and beyond."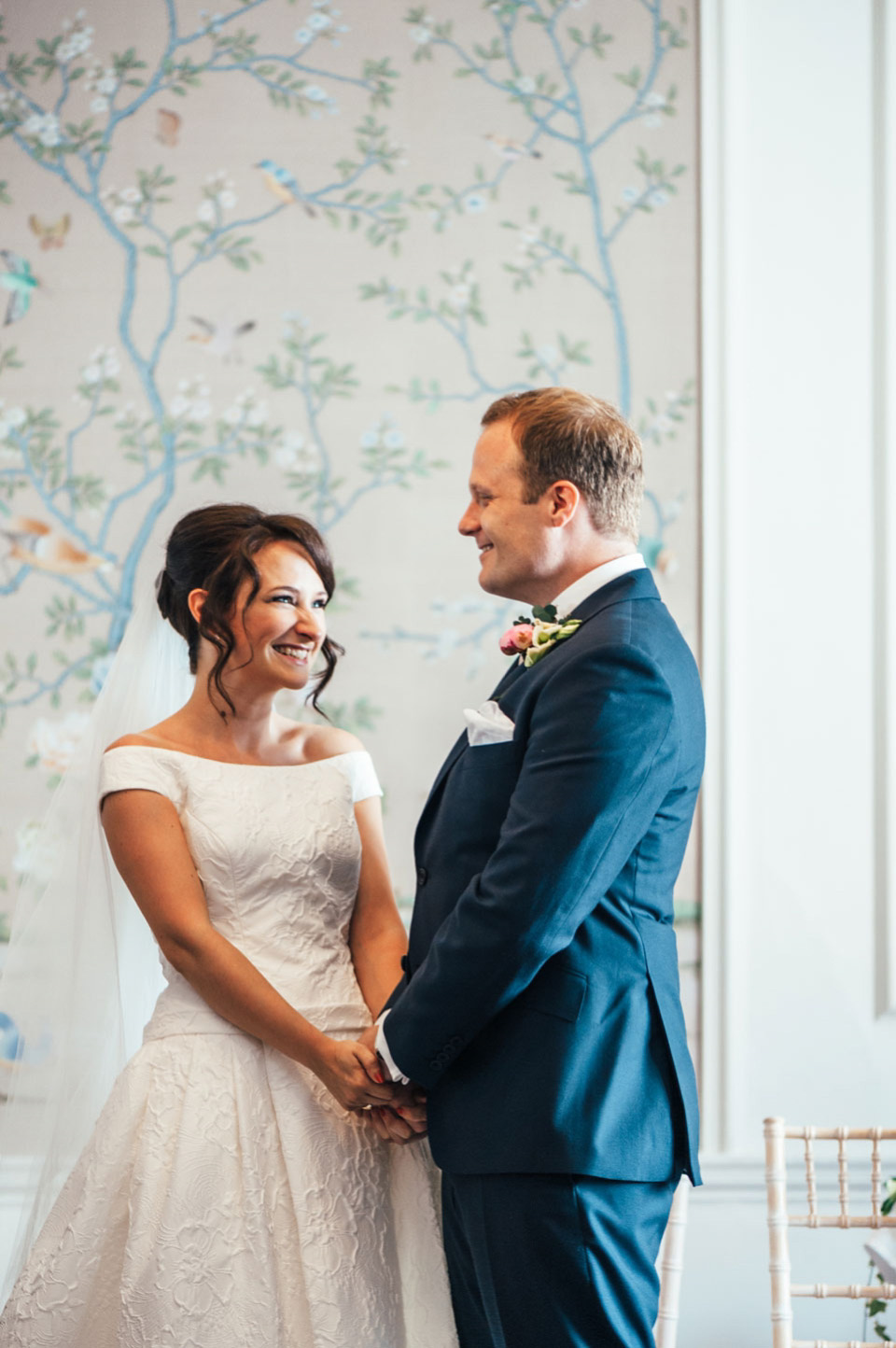 "We couldn't recommend The George in Rye highly enough, it was a real home away from home; our guests were comfortable, the food was delicious and the staff were friendly and approachable. The venue's events manager, Sarah, was hugely helpful and put up with my numerous emails!"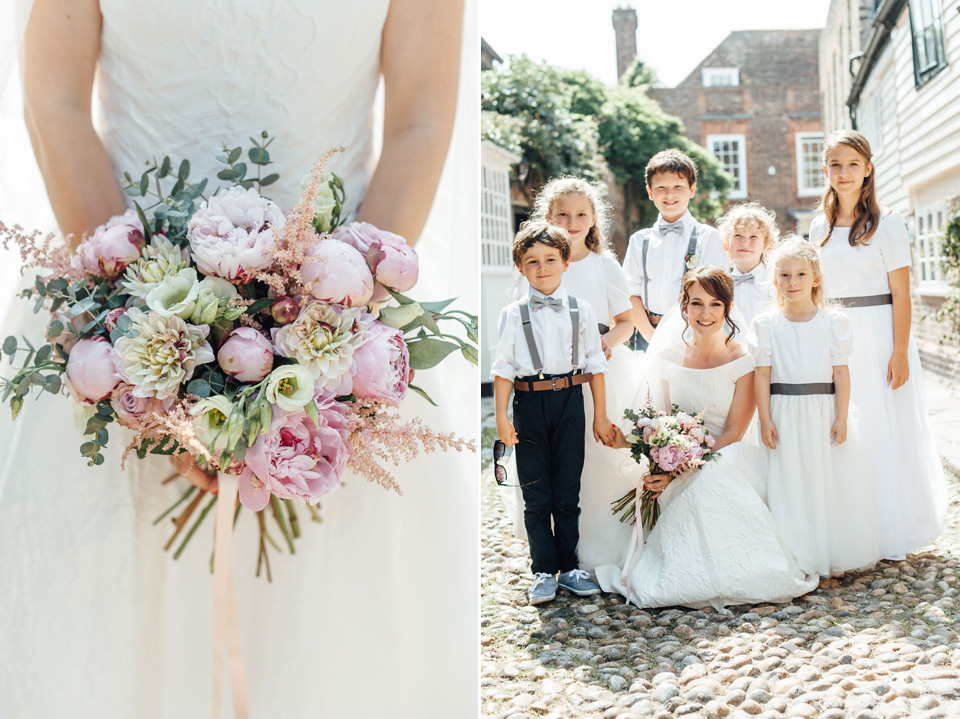 Sian's bridesmaids look stunning in their oyster grey 'Chelsea' dresses from Ghost. As a thank you, Sian gave each bridesmaid, rose gold, sailor knot bracelets from Kate Spade.
Sian's hair and makeup was expertly applied by Jodie Hazelwood and Nikki of Makeup by Jodie, who travelled to Sussex especially for the day.
"Jodie and Nikki are both consummate professionals and lovely people. They mucked in and helped us with everything; Jodie sewed straps onto one of my nieces' ballet shoes and even popped out to grab steri-strips after my nephew cut his head open. I felt like I was in the company of friends and they made my day special from the very beginning – as well as making me feel truly beautiful. They made us all look like total babes despite the sweltering temperatures!"
I love the outfits Sian chose for her flower girls and page boys, they look super sweet! Sian & Ed took good care of their smaller guests, creating memory books for each flower girl and page boy and commissioning Tuppenny Toys to make goody bags for every child.
"The flower girls (my three beautiful nieces) wore dresses made by my incredibly talented Mum, and I bought them pale pink satin ballet shoes and a pink ribbon for their hair. My page boys (or 'brides boys' as they called themselves!) wore white shirts and navy chinos from Debenhams, with grey bow ties and braces, sourced from eBay. The children definitely stole the show!"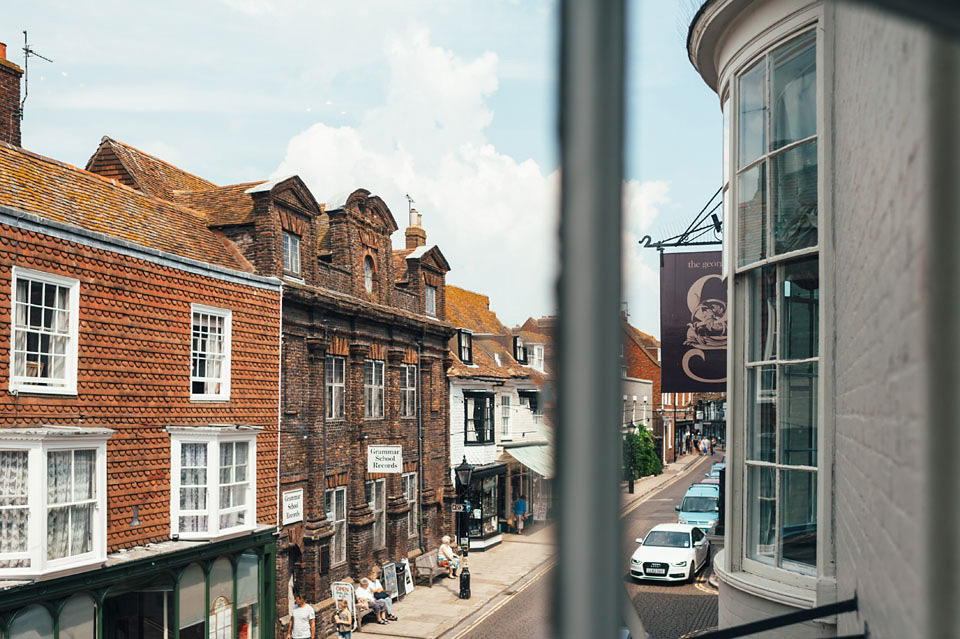 Sian crafted an amazing 'confetti bar' full of rose heads, lavender and paper hearts sourced from all over the world! As Sian explains, it was a real labour of love…
"For our confetti bar I punched hearts out of a Shakespeare book, sourced lavender online, bought dried rose heads from the souks in Marrakech and found beautifully coloured dried petal confetti to add a little pop of colour. The containers were borrowed from my wonderful colleagues at Anya Hindmarch."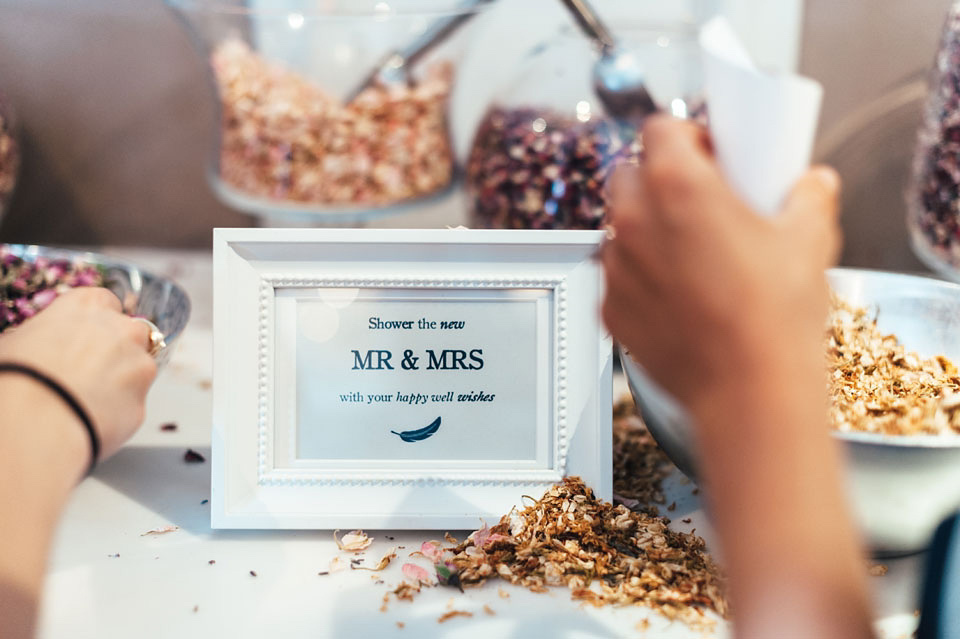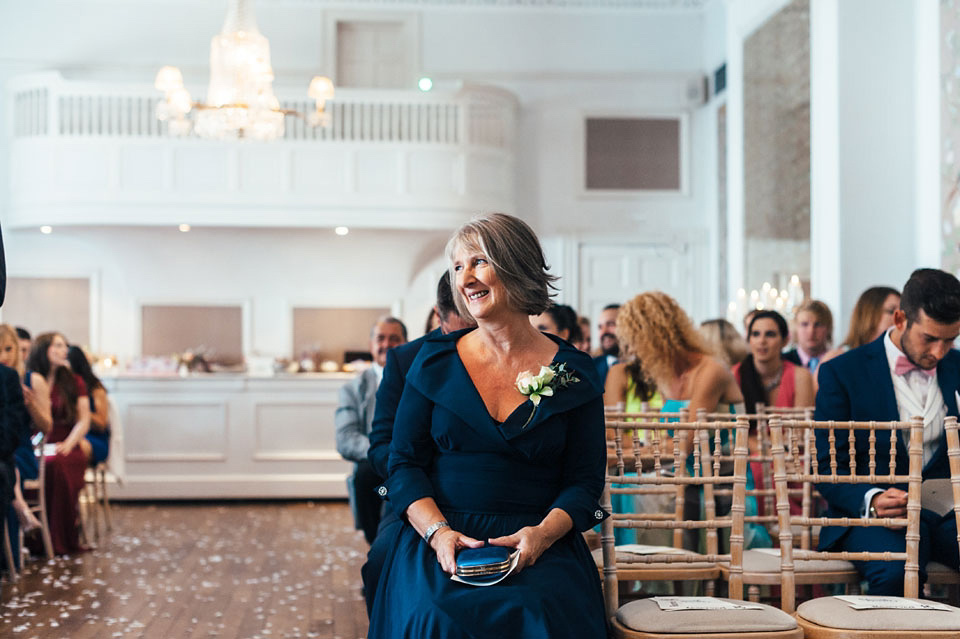 Ed opted for a made to measure, navy blue, three piece suit and silk tie from Saville Row tailor, Richard James, brogues from Church and Mulberry cufflinks, a gift from his bride.
"Ed knew he wanted a Richard James suit way before we even got engaged and had more fittings for his suit than I did for my dress!"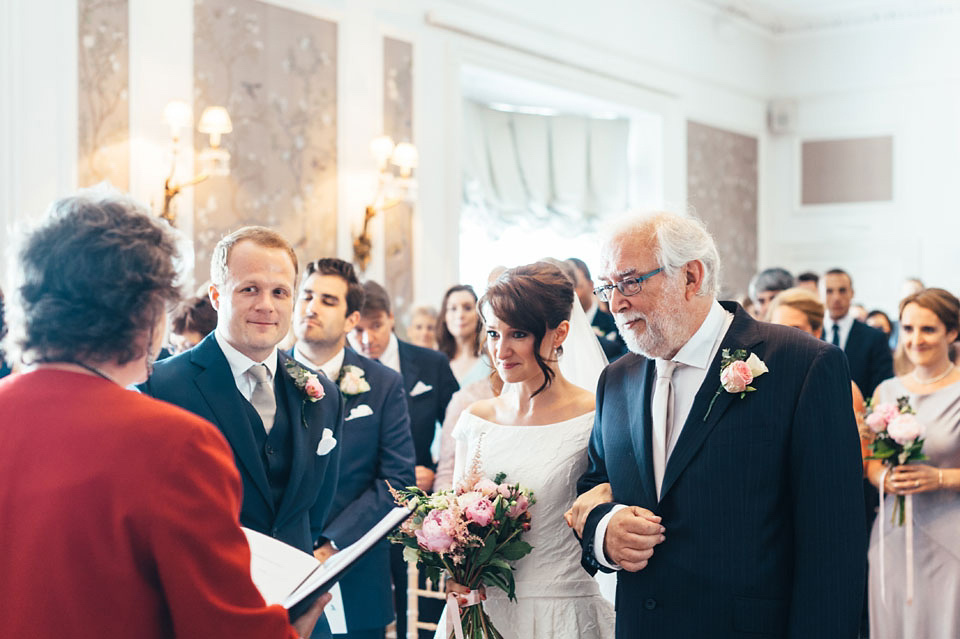 "The ceremony was our absolute favourite moment of the whole day. I had desperately wanted a string quartet but we didn't feel the budget could stretch to one so we decided to just use an iPod. However, ten seconds before I walked in, my sister turned to me and told me that Ed had booked me a string quartet on the sly! That's when I started crying and I didn't stop; I cried and giggled the whole way down the aisle!"
"During the ceremony we had three readings, 'Love' by Roy Croft, an extract from 'The Alchemist' by Paulo Coelho and 'Us Two' by AA Milne read by my nieces and nephews who had spent a lot of time practising their public speaking! I don't think I stopped smiling the whole time!"
Sian paired her gown with a chapel length Vera Wang veil and pale pink Jimmy Choo peep toes. In the evening, our bride – who works for Anya Hindmarch – added a glittery clutch by the designer and changed into gold Miu Miu heels.
"My Astley Clarke earrings and locket were a gift from my husband on the morning of the wedding.  I also wore my late Nana's gold ring; I wear it every day, so I wasn't about to take it off for the biggest day of my life!"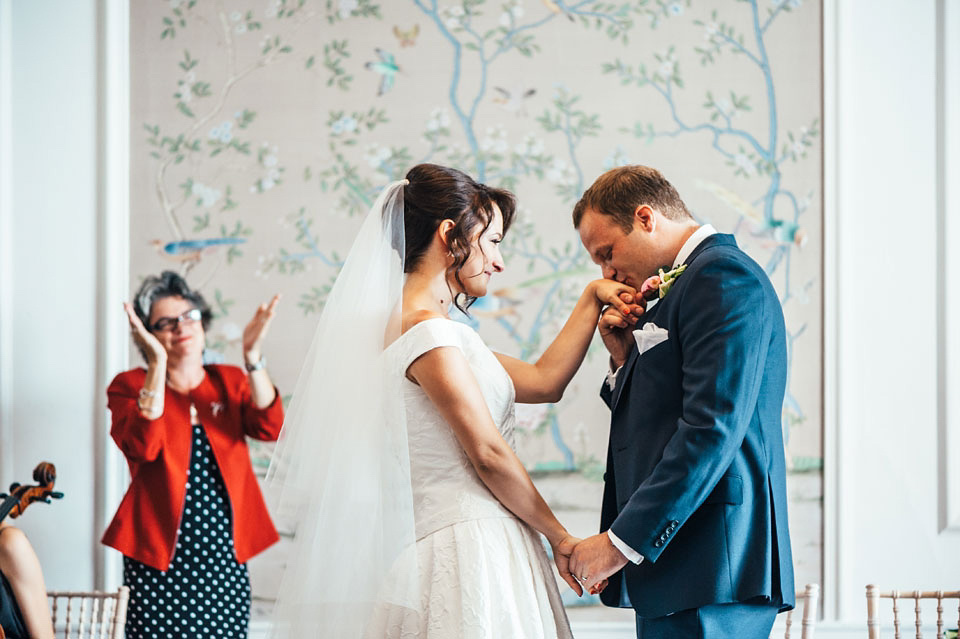 "I don't think anything I could say would do justice to Ann-Kathrin Koch and her unbeatable work; as soon as we saw her portfolio we knew she was the one for us. Not only are Ann's photos insanely beautiful, she was a delight to have with us throughout the planning journey as well as on the day itself. We adore her and hope she will be in our lives for all of the special moments that are yet to come."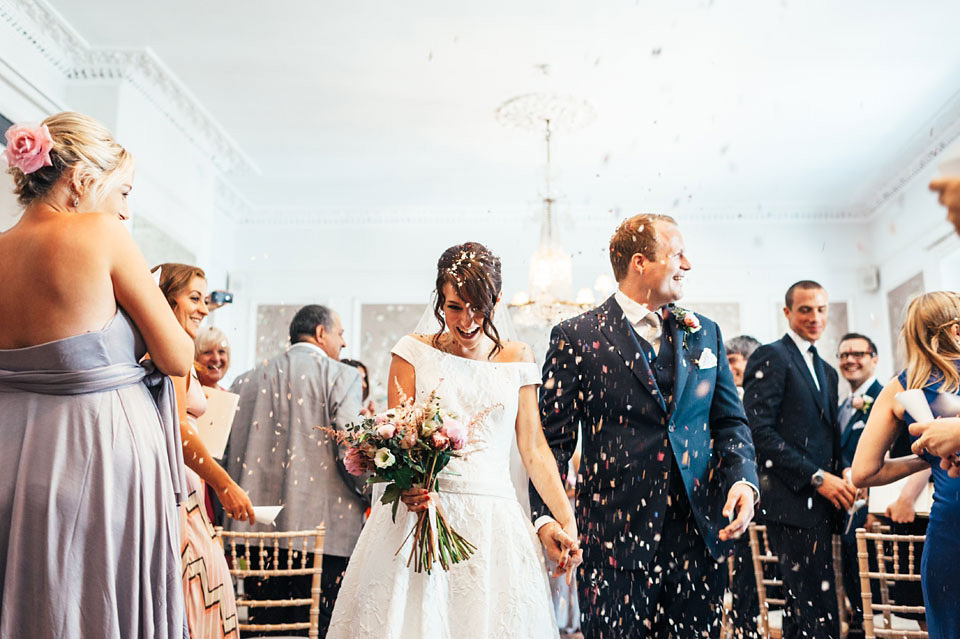 "The origami cranes took us nearly a year to complete; we got through many a Netflix series whilst folding and threading 1000 cranes! Ed planned his proposal whilst working in Tokyo, so it felt right for there to be a nod towards Japanese" 
Ed's mother did a wonderful job of arranging the couple's beautiful seasonal wedding flowers.
"I wanted a slightly magical, overgrown look to the flower. We chose pink peonies (my favourite flowers!) dahlias, lisianthus, astilbe and eucalyptus as our main base and added phlox to the bridesmaid's bouquets and hydrangeas and ivy to the table arrangements. Ed's Mum did an incredible job and I squealed with delight when I saw my bouquet!"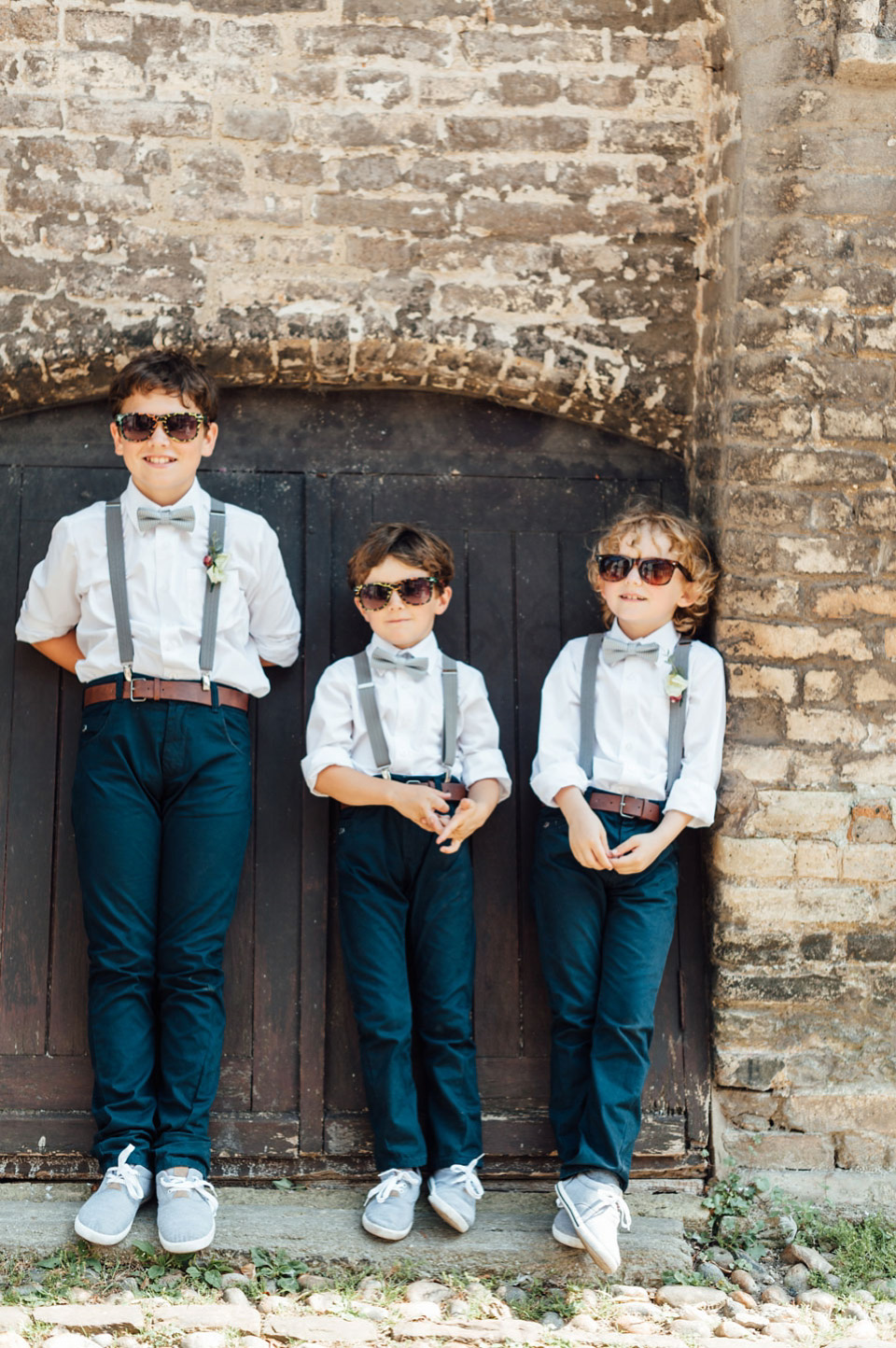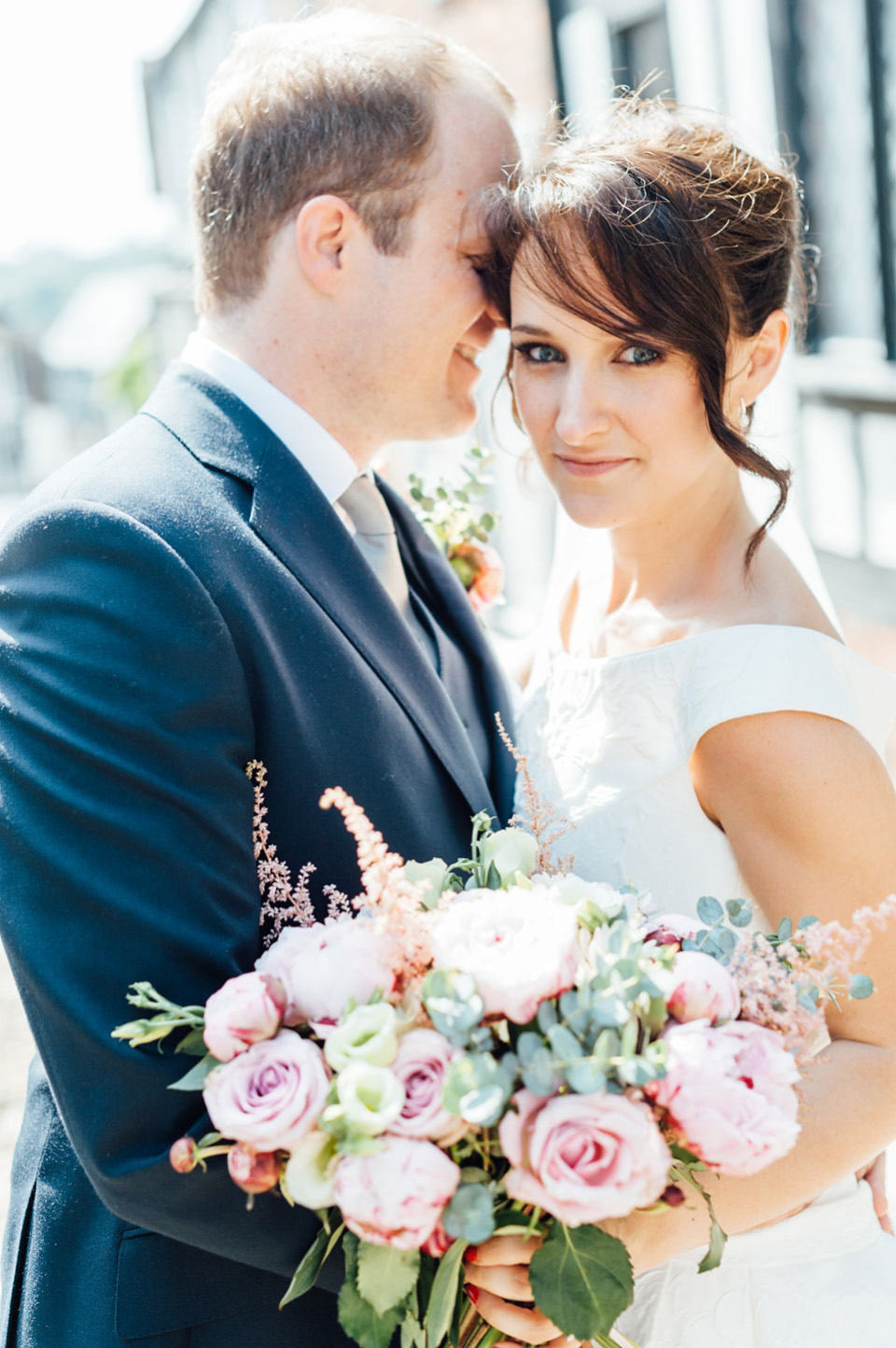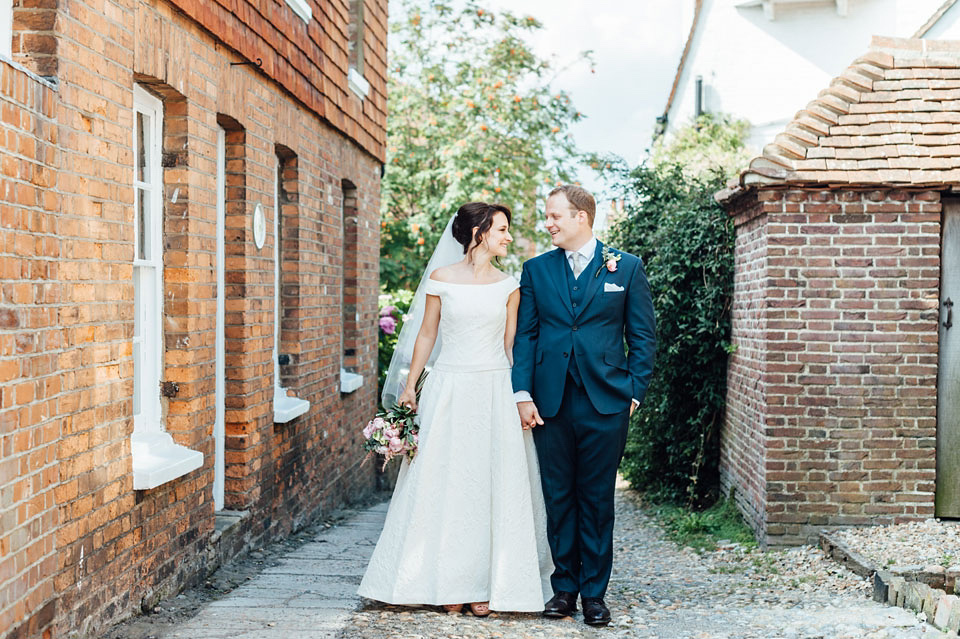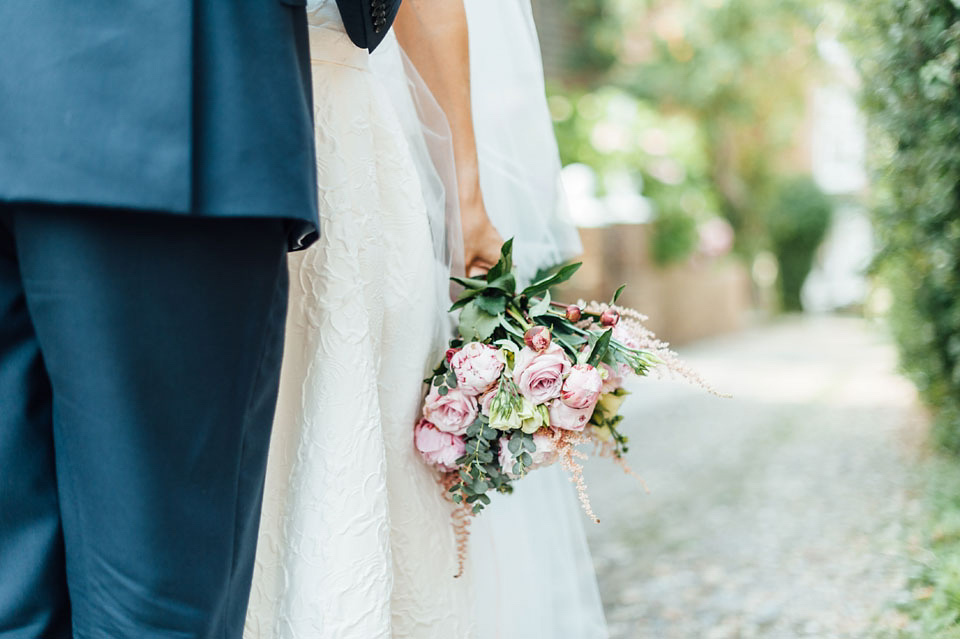 "Our 'cakey' was made by Ed's sister, Hannah (a surgeon and budding baker) and exceeded all of our expectations! She worked unbelievably hard to make the cake of my dreams and we cannot thank her enough. Each tier was a different flavour and Hannah painstakingly covered it in individual white rose petals. She added the gorgeous blackbird decorations as a surprise for me and it made me more than a little teary! If you're looking for a baker, she is definitely your girl."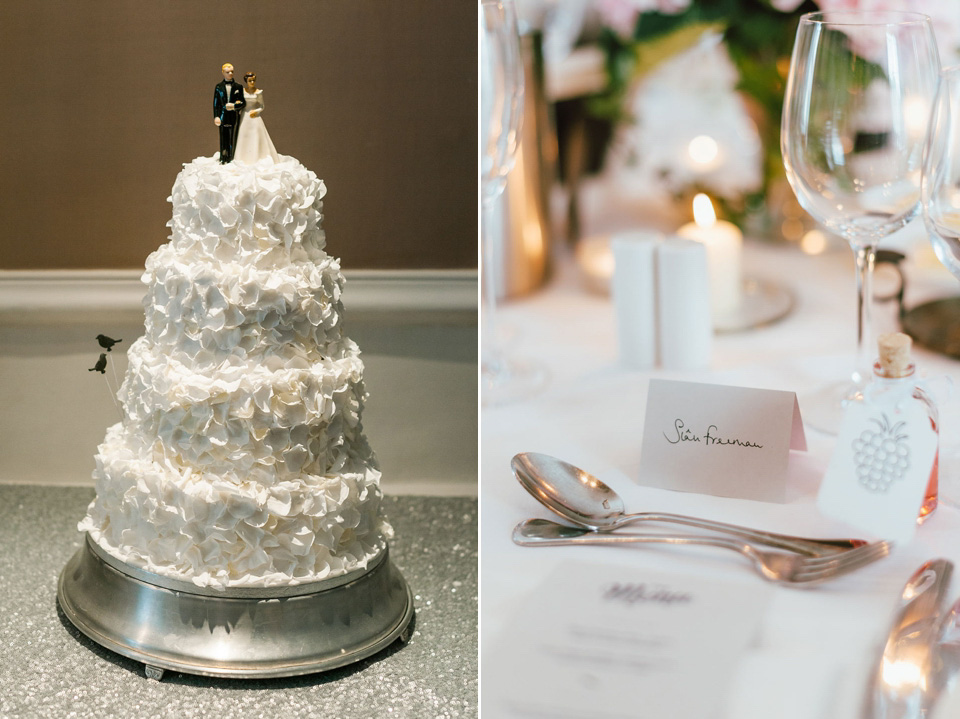 In memory of her late grandparents, Sian and Ed added a blackbird motif to their stationery (kindly created by an old friend of the bride's), favours, "and pretty much anywhere I could stick them!"
"In my family, blackbirds have come to represent my late grandparents and since these special people couldn't be there I wanted to have a little piece of them in as much of the day as possible. I also made use of some of their stock phrases; my Nana regularly offered around 'cakey' and my grandfather would say 'isn't it quiet when the Lions are feeding?" at every family dinner, so this was included on our menu."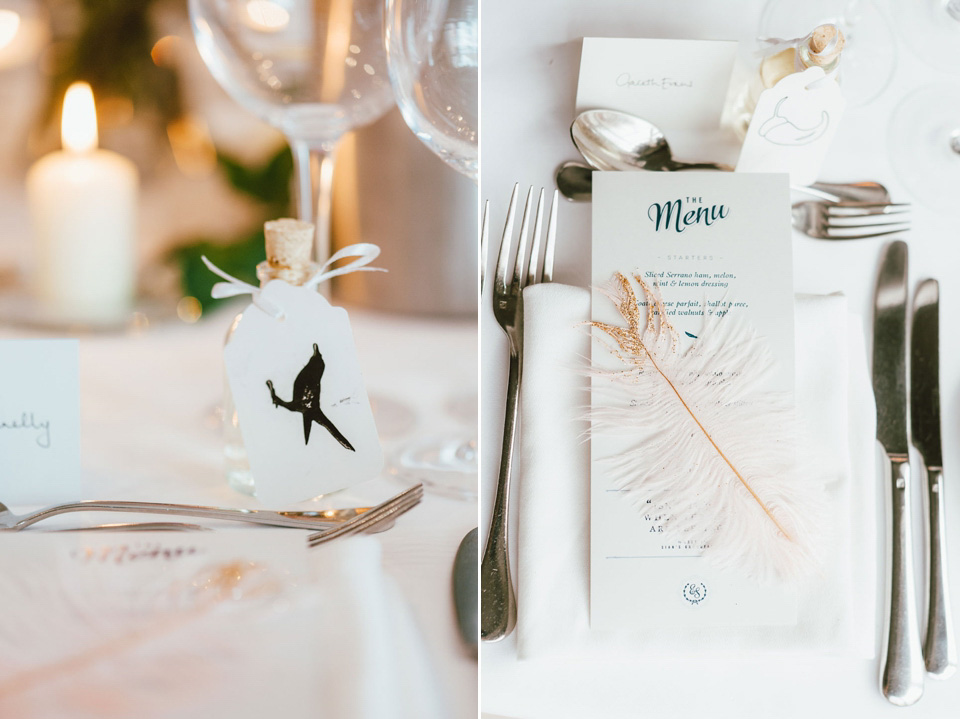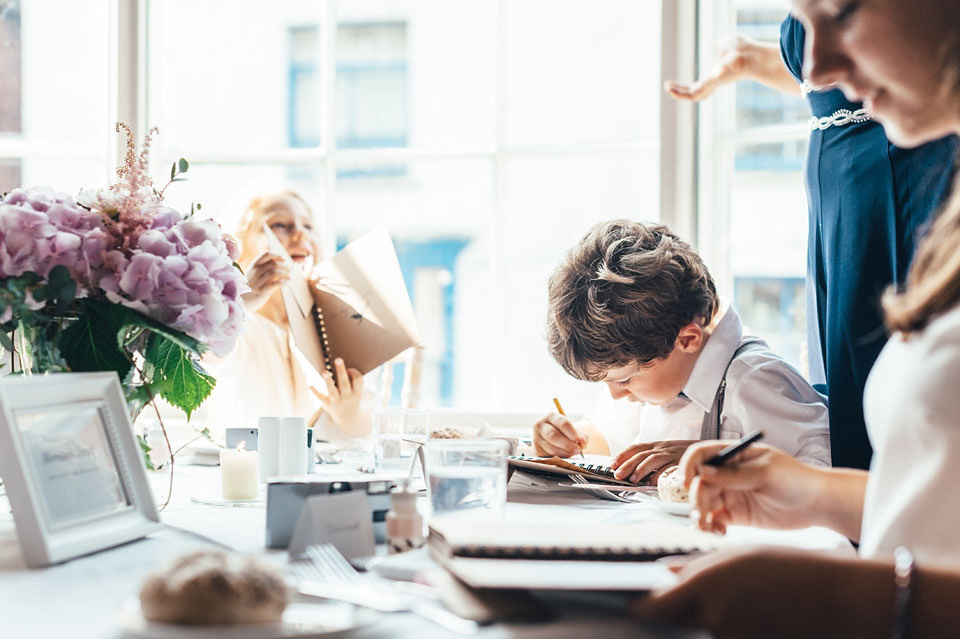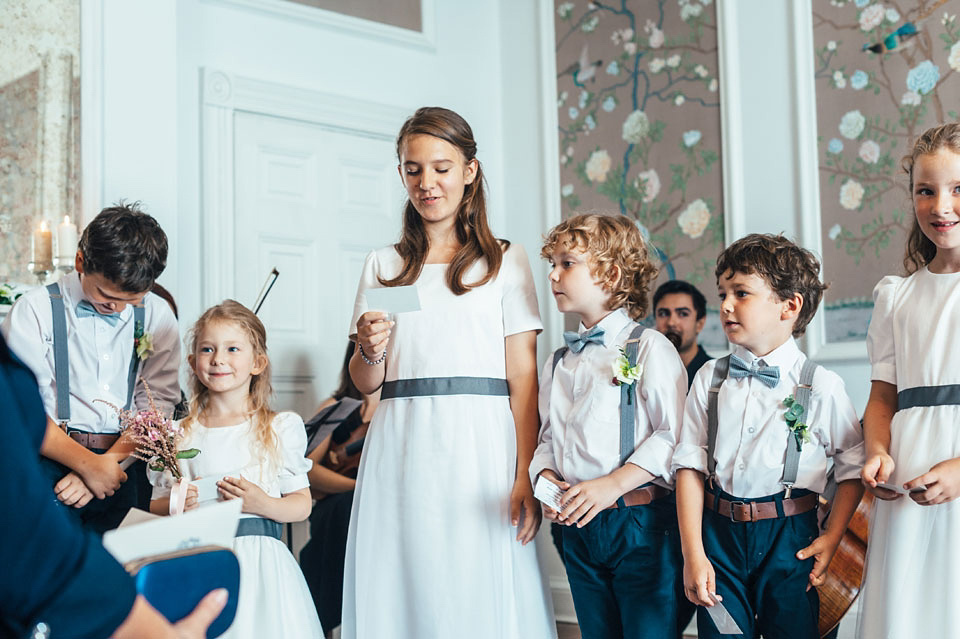 "Before the wedding, Ed said that the best day of his life was tasting the wedding menu! The George outdid themselves on the day; our wedding breakfast consisted of ham, melon and a mint dressing, lamb and potato gratin (my weakness) and the best Eton Mess I've ever eaten."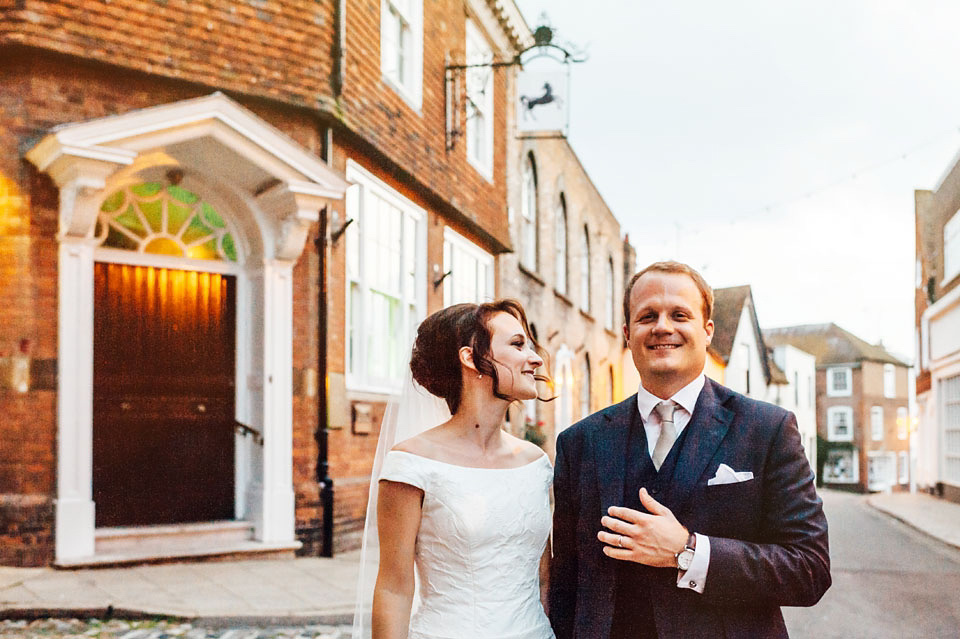 Words of Wedded Wisdom
"We are very fortunate to have a number of talented people in our families and friendship groups and the day just wouldn't have happened without them. If I had any advice it would be to get as many people involved in your day as possible. I hosted many a 'crafternoon' where my friends and family came and helped me with DIY tasks. Our day was about two families coming together, and that permeated every single detail."
A big thank you to Sian and Ed for sharing their beautiful wedding and to photographer Ann-Kathrin Koch for capturing it so very well! To see more from Raimon Bundó please click here.
Wishing you all a marvellous week. I'm hoping for a clear sky on Friday morn so that we can watch the solar eclipse in all its glory! I'm off to buy some special eclipse glasses (to protect my eyes) now!
Annora x
Photographer – Ann-Kathrin Koch
Planner/Stylist – The bride's company, Blackbird Wedding & Events
Venue + Catering – The George in Rye
Wedding Dress – 'Dalia' by Raimon Bundó purchased at Leonie Claire
Veil – Vera Wang
Shoes – Jimmy Choo peep toes + Miu Miu heels
Accessories – Earrings from Astley Clark
Groom – Bespoke suit by Richard James + Church brogues + Mulberry cufflinks
Bridesmaids – Ghost dress + Kate Spade bracelet
Flowergirls – Made by the mother of the bride
Page Boys – Debenhams chinos + bow ties & braces from eBay + River Island shoes
Florist – Arranged by the mother of the groom
Cake – Made by the groom's sister, Hannah; contact her by email here
Chocolate Fountain – Hot Chocolates
Entertainment – Big Daddy band who have since split
Rings – Arlington & Co, Hatton Garden
Stationery – Made by friend of the bride, James Benn; contact him by email here
Hair Stylist & Makeup Artist – Jodie Hazelwood & Nikki of Makeup by Jodie