Good afternoon you, I hope you've come here looking for some super elegant and beautiful wedding inspiration because this feature packs a punch on all accounts.  The beautiful bride you see in these photographs here is Lou, a Creative Solutions Manager for a Media company. Lou married Corporate Events CEO Ben on 13th December last year at Elmore Court in Gloucestershire.
Lou tells us herself what inspired her beautiful day.  I'm completely in love with her beautiful bohemian gold headpiece by Avigal Adam…
"It was a winter wedding and Elmore Court is a heady mix of the old and new, with the beautiful main house and then the more modern 'Gillyflower' eco-friendly new build where the reception was hosted. I wanted to reflect this in the wedding style with my dress being vintage-style lace and my bridesmaids wearing tones of 'old gold' but in a modern style, Ben also wore a modern Paul Smith suit. Old gold was a key colour scheme but nothing matched, I wanted a relaxed, old glamour style look to suit the venue. I also wanted to bring the outside in with natural soft floral arrangements using a lot of evergreen foliage and delicate white anemones, roses, mistletoe, candles and fairy lights."
Photography Copyright (c) 2015, Joanna Brown
The bridesmaids wore an array of different dresses in gold and metallic fabrics, including a coppery gold sequin short sleeved dress from Marks & Spencer, a gold playsuit from Ebay, a skater dress with an embellished top from House of Fraser, a gold tiered dress from Peter Jenson, a gold jumpsuit from Nordstrom and a short gold dress with an embellished belt, the supplier for which is unknown.   The bridesmaids also wore an assortment of fur coats and Alex (wearing the jumpsuit) wore a camel coloured coat from Zara.
Shoes were a mixture from the high street, including Asos, Office and New Look.  One of the maids wore a pair of Vivienne Westwood gold Mary Jane's.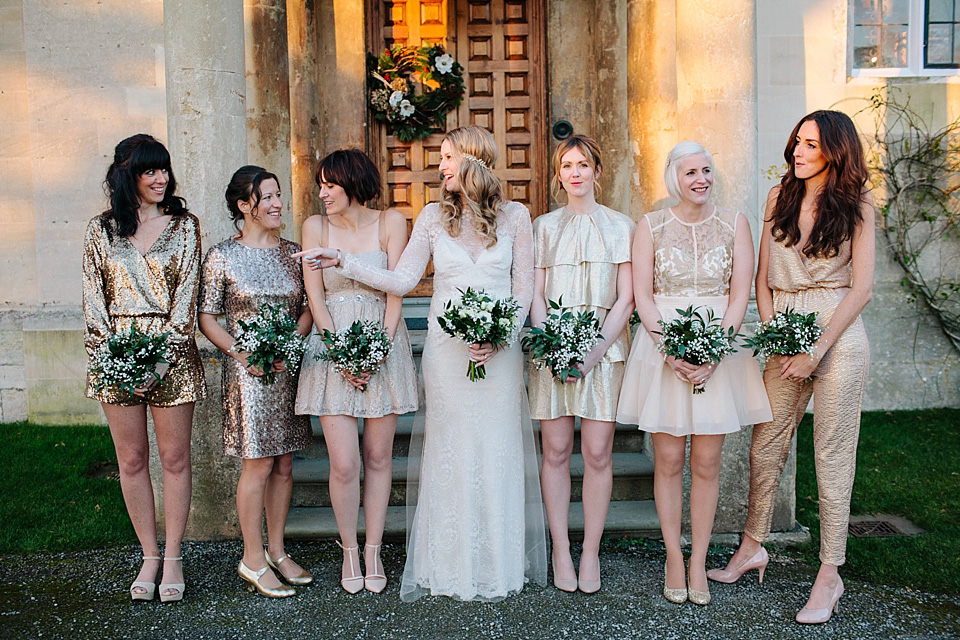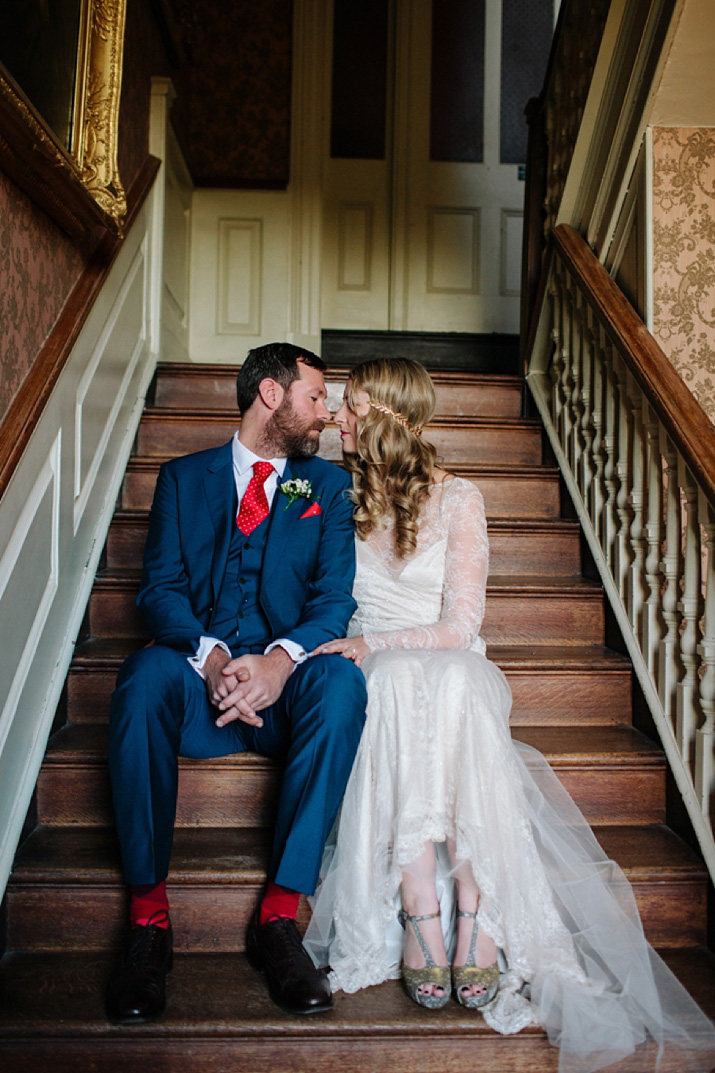 The couple commissioned one of my favourite UK wedding photographers, the one and only Joanna Brown (who also shot for my book, Style  Me Vintage Weddings).
"We hired Joanna Brown – she was a brilliant photographer who became a key part of the whole crazy process and the main day. Pre wedding Skype chat allowed us to explain exactly what we wanted from the day by way of photos. Joanna is very talented and creative photographer so we gave her free reign to use various formats and let her lead us in terms of the sort of shots she wanted.
In addition to some really beautiful more abstract shots (over exposed polaroid's etc.) which we love, she also balanced it with slightly more traditional group shots, but even these were head and shoulders above the standard family group shot. Follow up package is also amazing with a beautifully presented box of treats, beautifully packaged and a real treat to take you back to the big day."
"Ben and I met via a mutual friend and were together two years before Ben surprised me with an engagement ring in Kefalonia in July 2014, as we were planning a relocation from London to Manchester in early 2015 we decided to get married before we went so planned and had the wedding 5 months later!"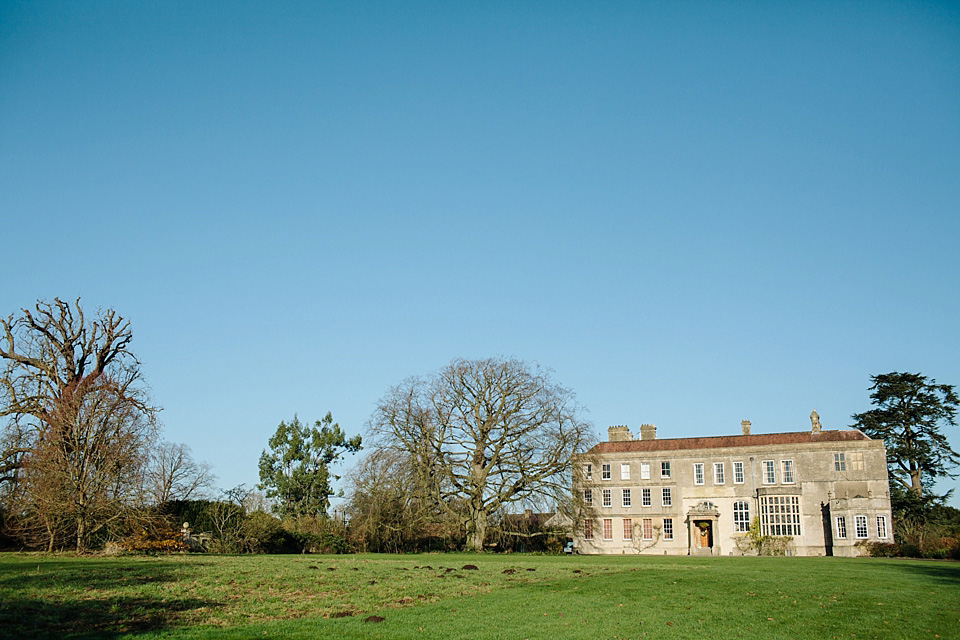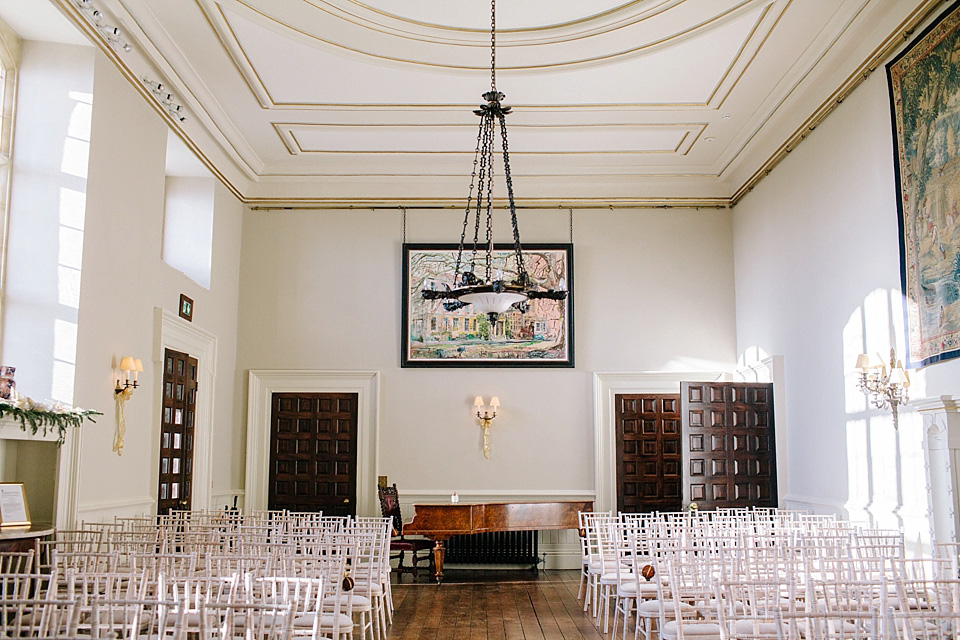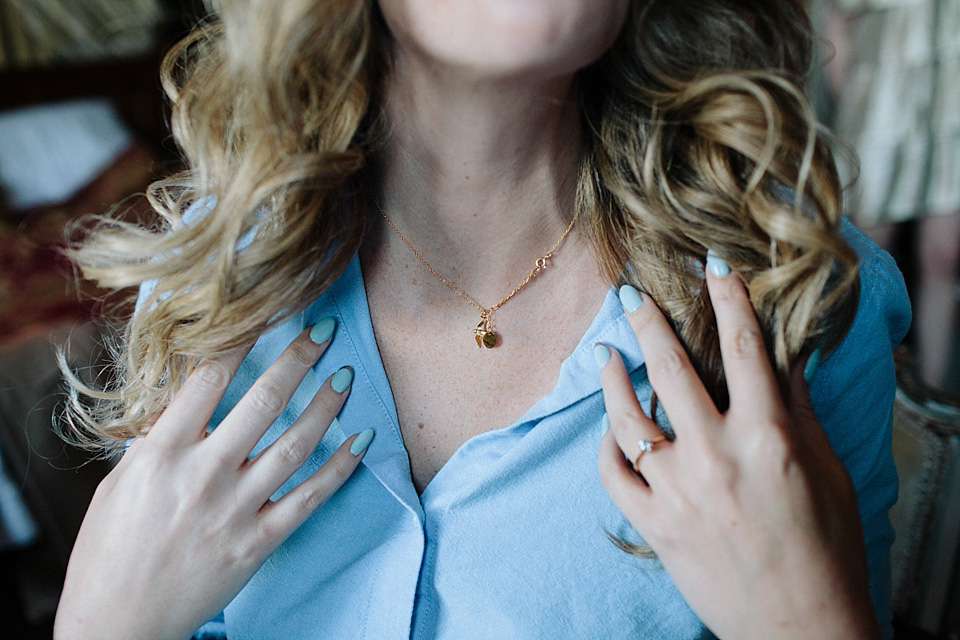 Lou's dress was a design by leader of the bridal fashion pack, David Fielden, which she purchase form The White Closet in West Didsbury Manchester.
"I loved the vintage style lace, the sleeves and the multi layering of the skirt."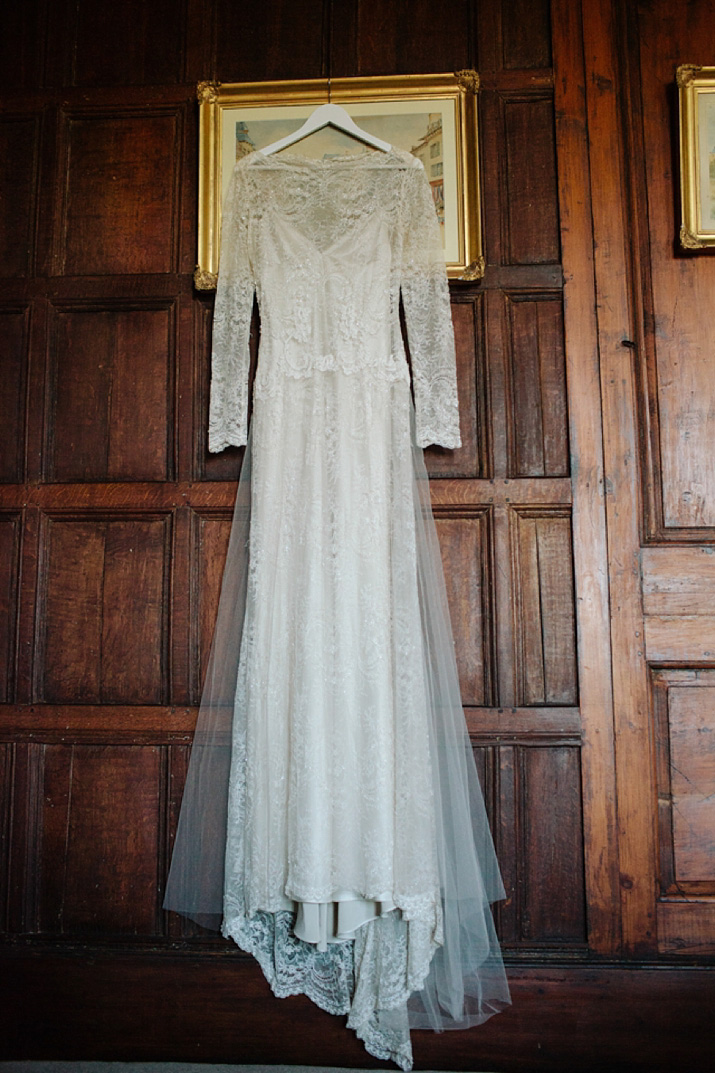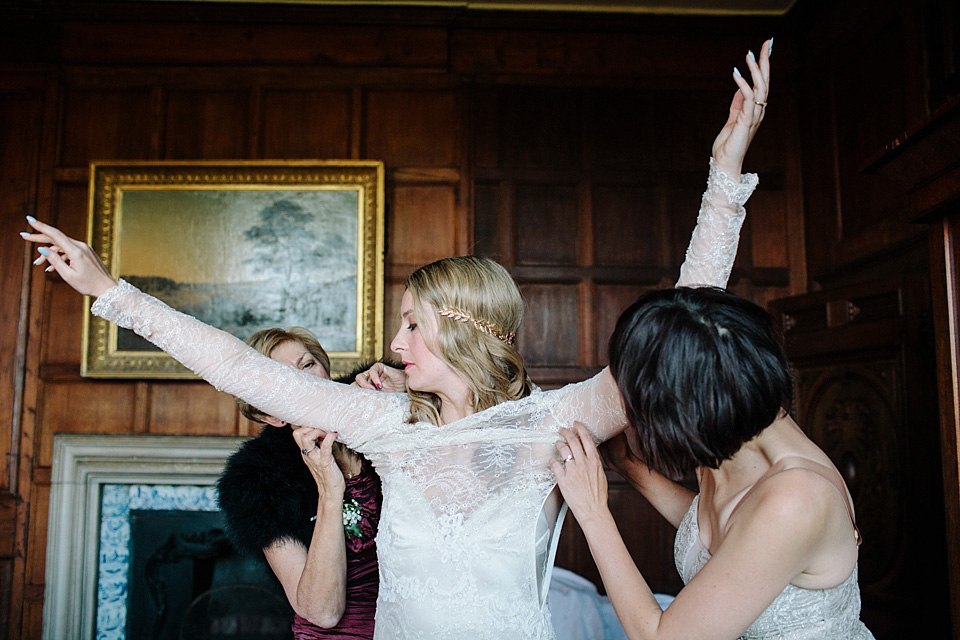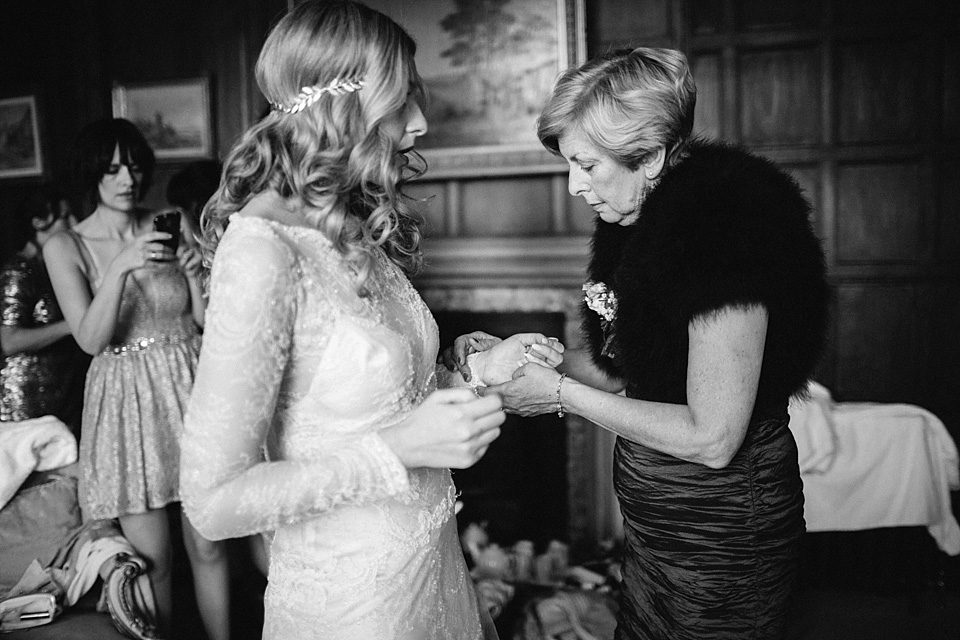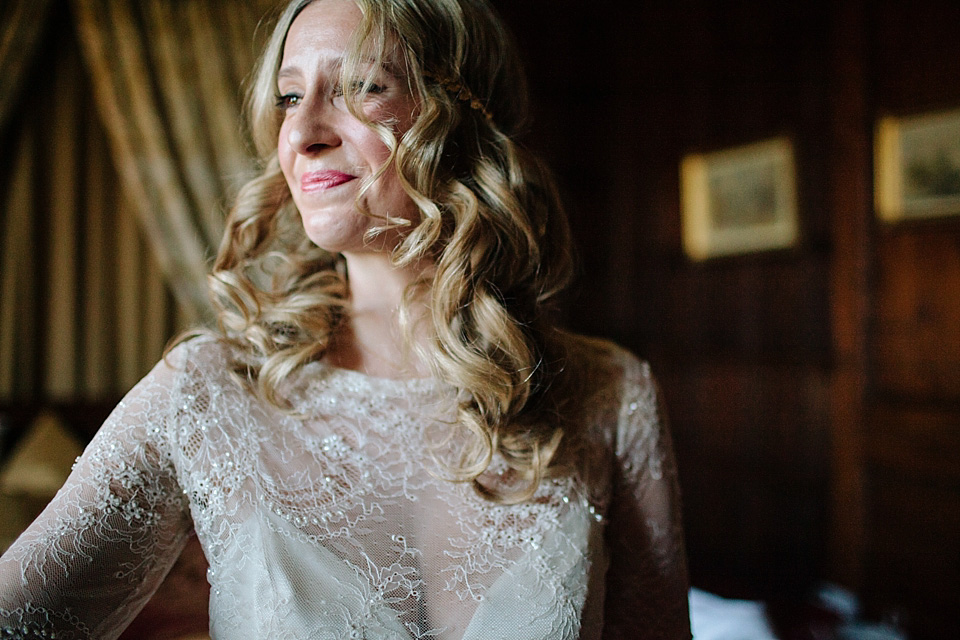 "Getting ready with the bridesmaids in the beautiful Master bedroom of Elmore Court as the sun came up on the most perfect, crisp winters day (weather was incredible considering it was December, bright sunshine!) was one of my favourite parts of the day."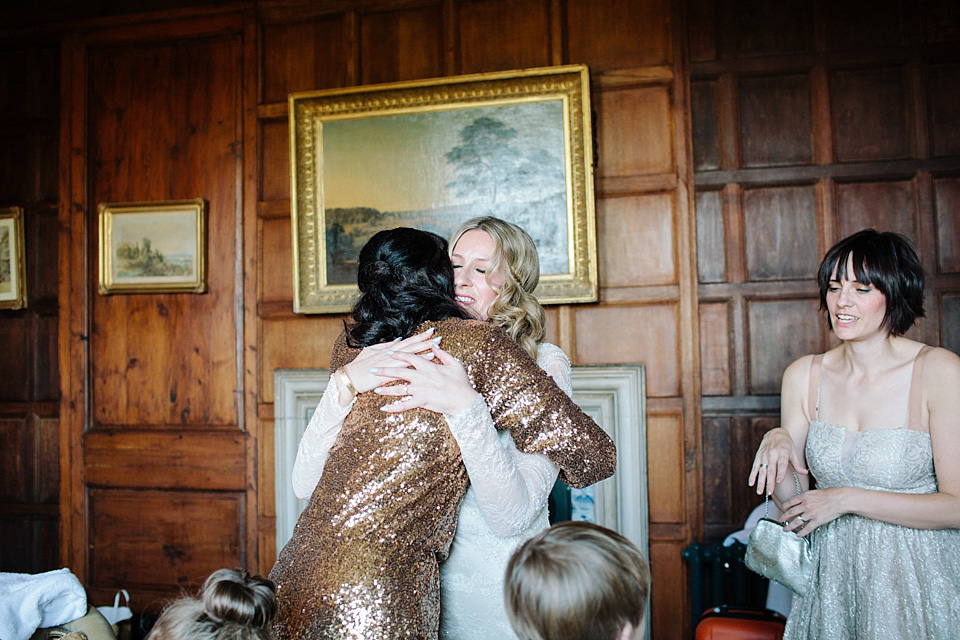 The pretty little flowergirl wore a gown from Debenhams and cape from Monsoon with a pair of sweet gold Mary Jane's from Mini Boden.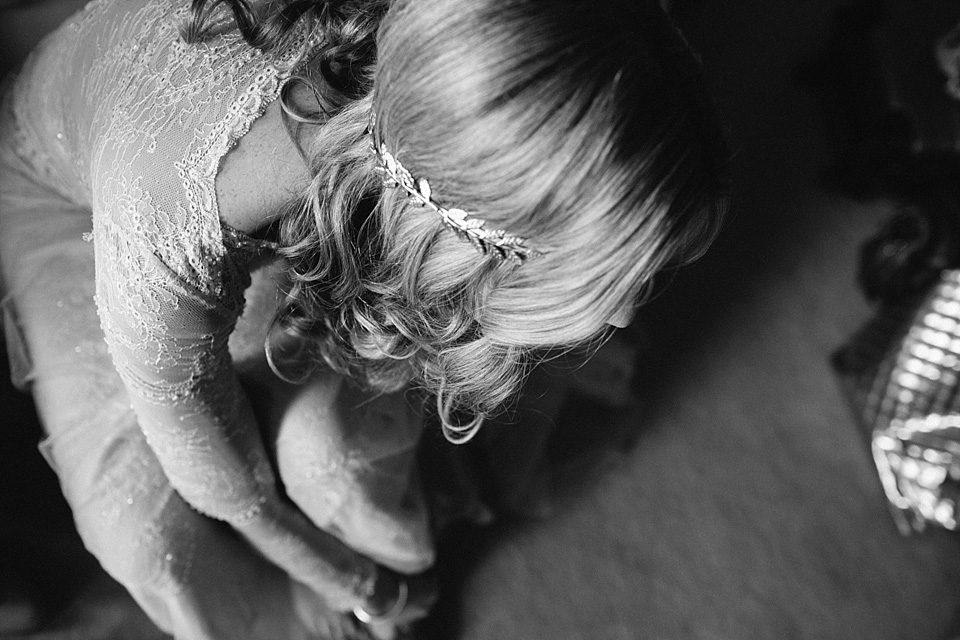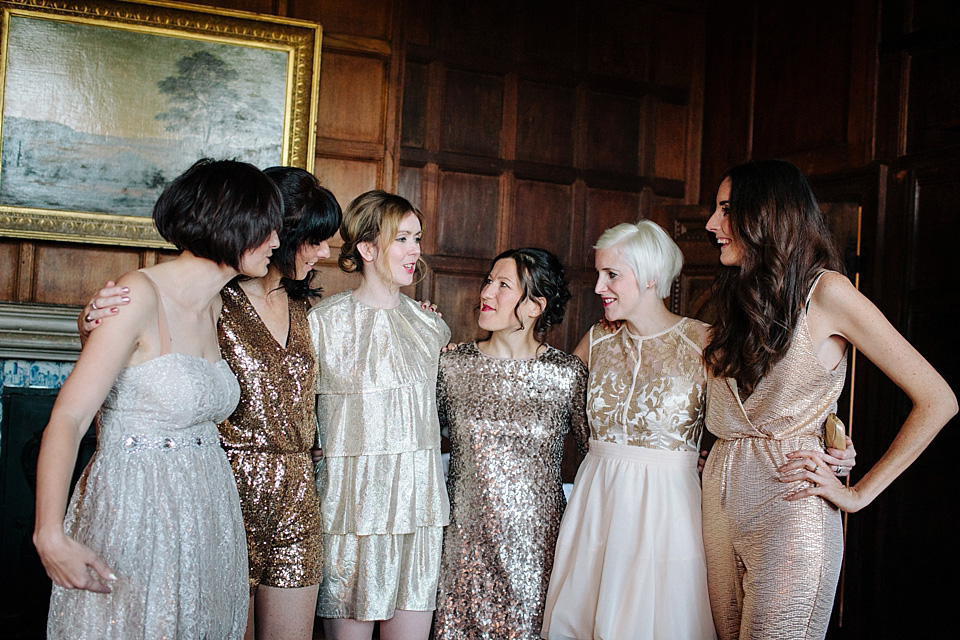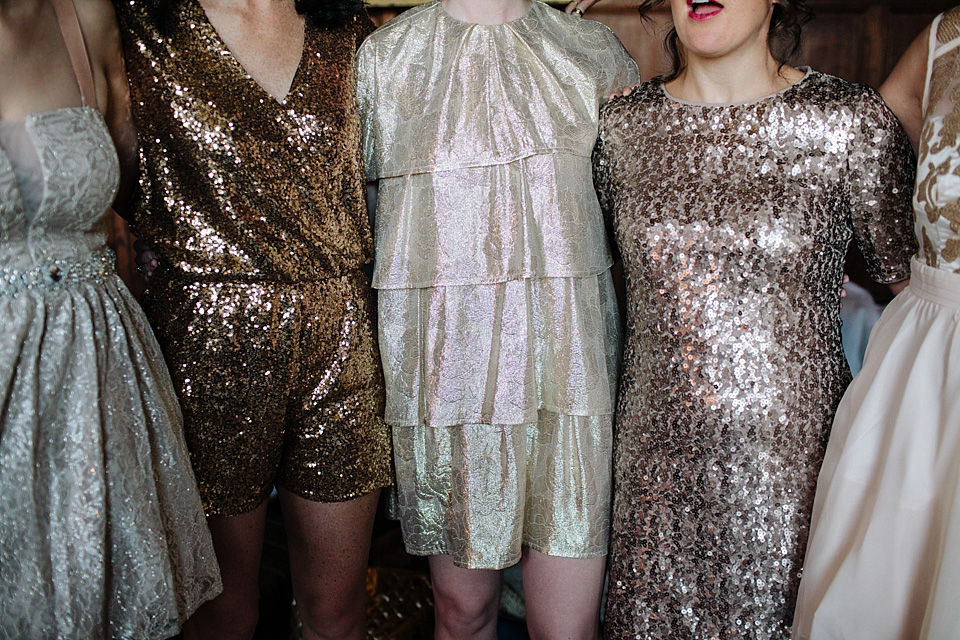 Lou chose to wear a gold Swallow necklace from Alex Monroe, a gift from Ben the morning of the wedding, and a vintage gold bracelet from Harrods, lent to her by her mum who was given it for her 21st birthday.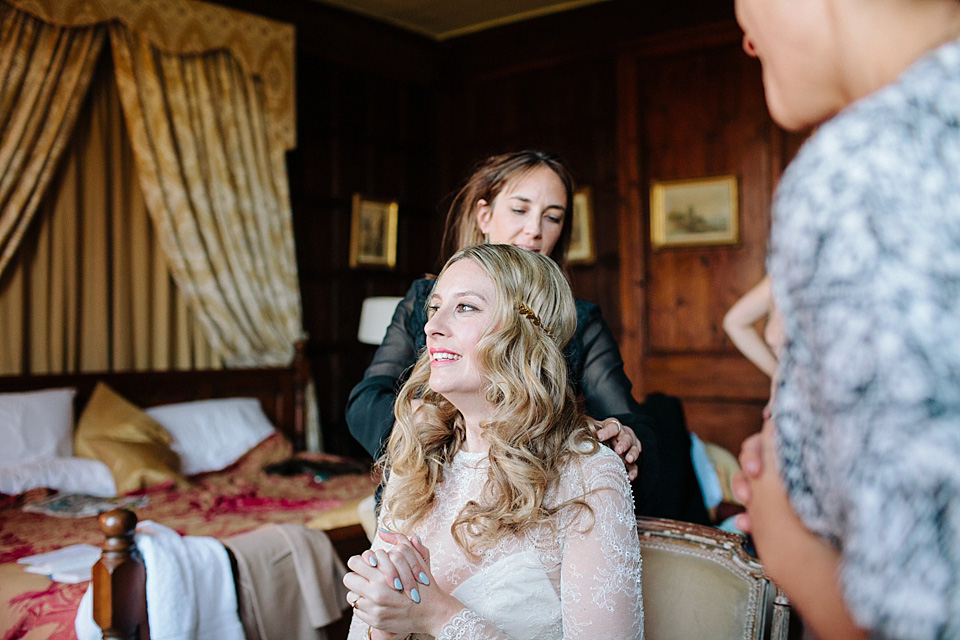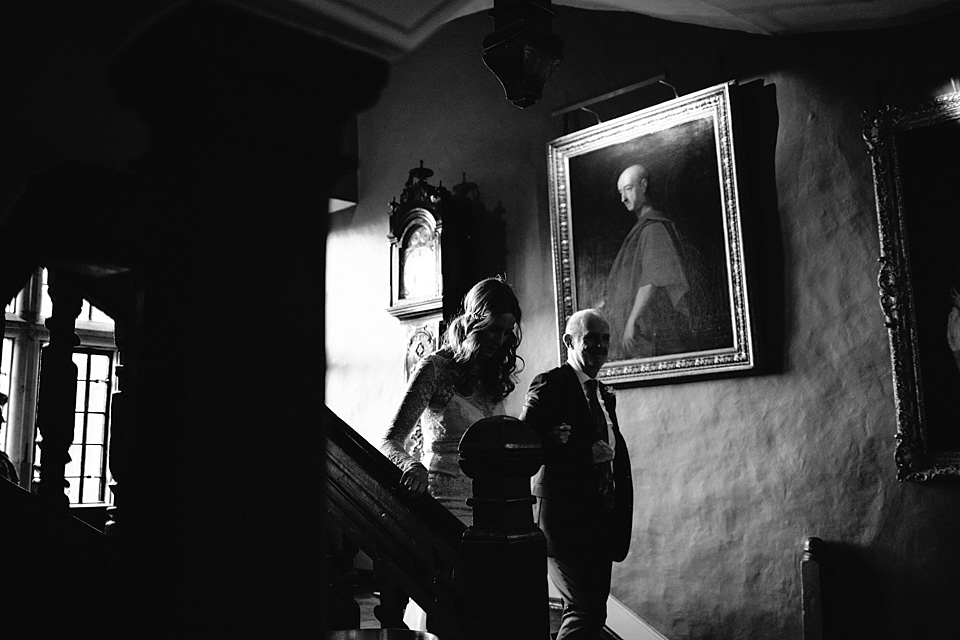 "My Dad Jon gave me away – we were accompanied down the aisle to the sound of 'Everlasting Love' by Love Affair (I wanted upbeat and came into the fanfare intro!) and went down the aisle to an instrumental of 'Les Fleurs' by Minnie Riperton
"We used standard vows but chose ones that focussed very much on two individuals staying true to themselves but nurturing and caring for each other too."
"Our first reading was by my (Lou's) brother Tom, called 'For Now' by Tracey Emin which summed up our feelings of being together but still respecting and maintaining ourselves within our relationship…."
For Now by Tracey Emin
Hurry
But do not hurry me,
Push
But do not push me,
Hold
But do not crush me'
Love
But do not change me
Let us stay the way we are
Devour
But do not consume me,
Thrill
But do not frighten me,
Excite
But do not scare me.
Teach
But do not change me
Let us learn from the way we are
Kiss
But do not smother me,
Embrace
But do not break me,
Adore
But do not suffocate me,
Love
Let me love you
Just the way you are……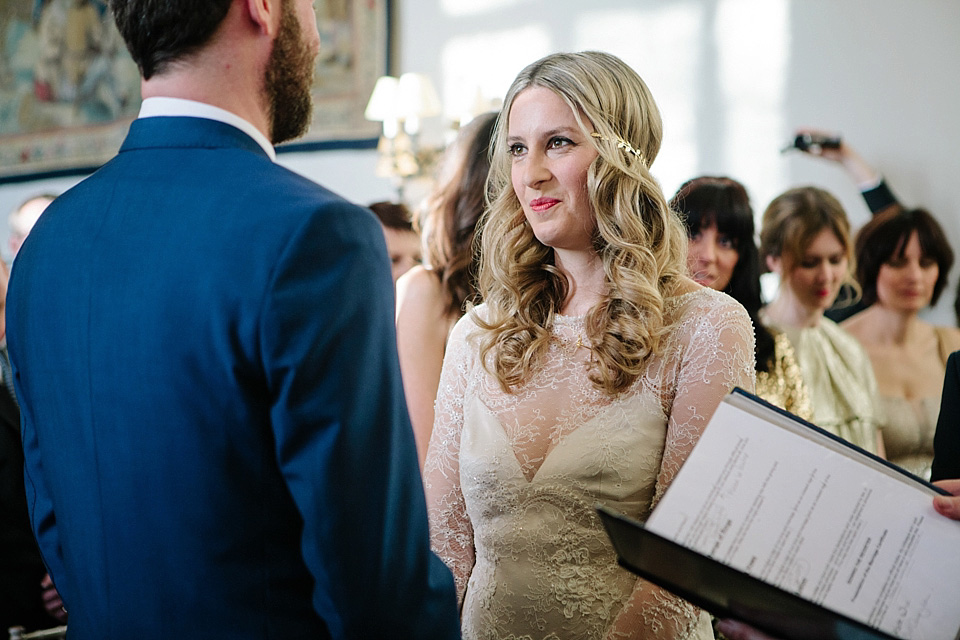 "The second reading was read by Bens Dad and was the closing passage from 'The Shipping News' by Annie Proulx. It is one of our favourite books and the final passage is beautiful and shows great hope and faith in love. It always makes me (and Ben) emotional!"
'If a bird with a broken neck could fly away, what else might be possible? Water may be older than light, diamonds crack in hot goat's blood, mountaintops give off cold fire, forests appear in mid-ocean, it may happen that a crab is caught with the shadow of a hand on its back, that the wind be imprisoned in a bit of knotted string. And it may be that love sometimes occurs without pain or misery. (Extract from The Shipping News' by Annie Proulx)
"I really wanted a vintage ring in 'old gold', also from London as I had lived there for over 10 years and was about to leave so wanted a momento and London is where I met Ben!  My engagement ring was from Berganza and my wedding ring from Andrew R. Ullmann – both in Hatton Garden and both specialising in vintage rings. Ben's gold band was also from Hatton Garden but not vintage."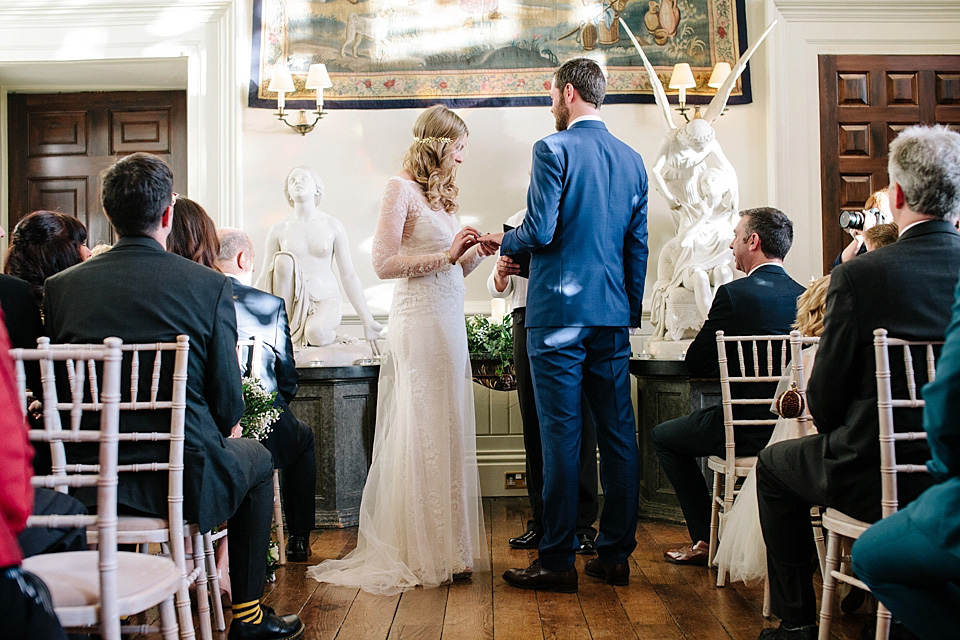 "Standing with Ben in front of everyone we loved and actually getting married in that beautiful room was such a beautiful moment."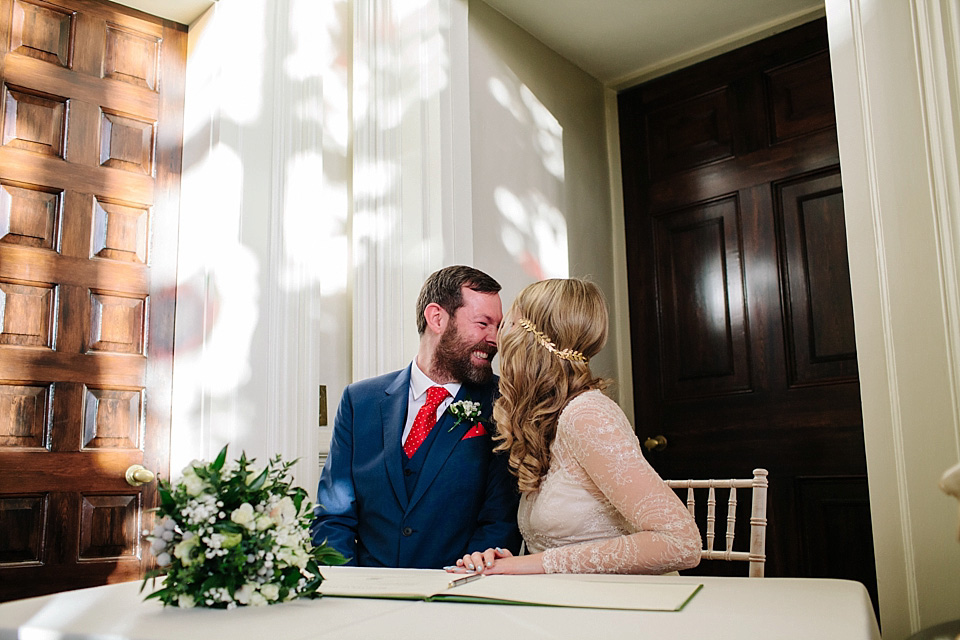 "Our florists were The Flower Cube.  I wanted a very natural look for the floral arrangements, lots of evergreens and foliage including eucalyptus leaves. The flowers I chose were white anemones with dark centres and miniature white roses, with a touch of gypsophilia. My bouquet and the bridesmaids' bouquets had a mixture of these and the two flower girls each had a little 'snow ball' style bunch of gypsophilia. I wanted a wintery feel but not too 'Christmassy'. We also had a huge mistletoe ball hanging over the dance floor and one on the porch of the house.
The main room had a 14ft Christmas tree that was decorated in old gold and white and we had pomander clove oranges in the main hall. The table arrangements were mostly evergreen foliage wreaths surrounding candles in storm lanterns to continue the wintery feel."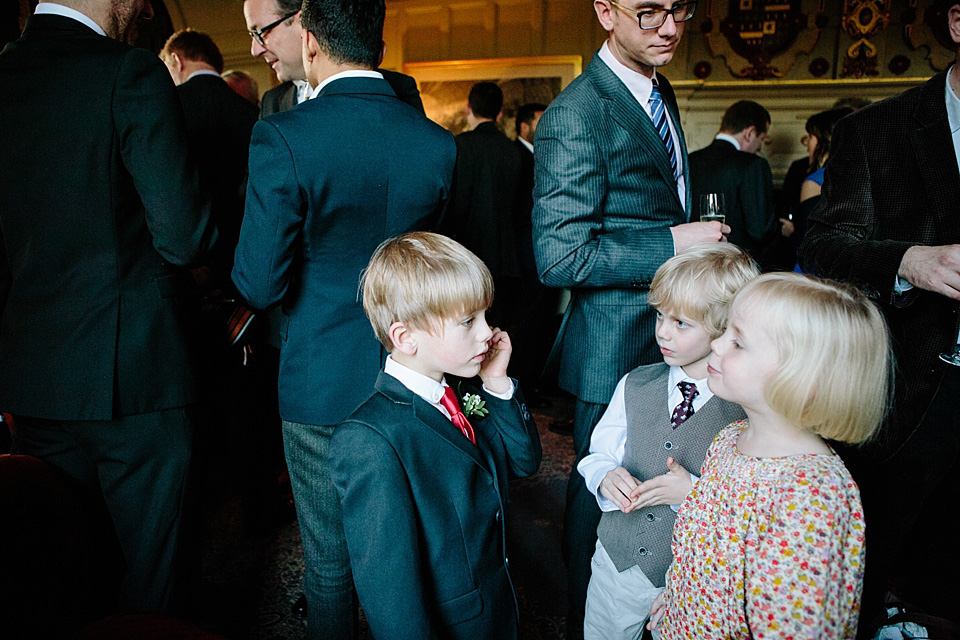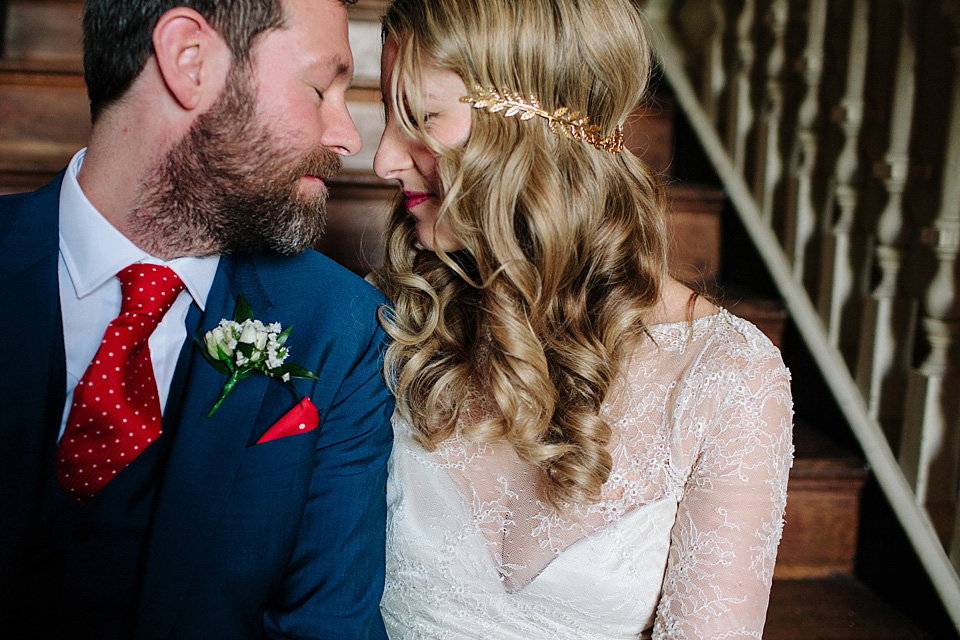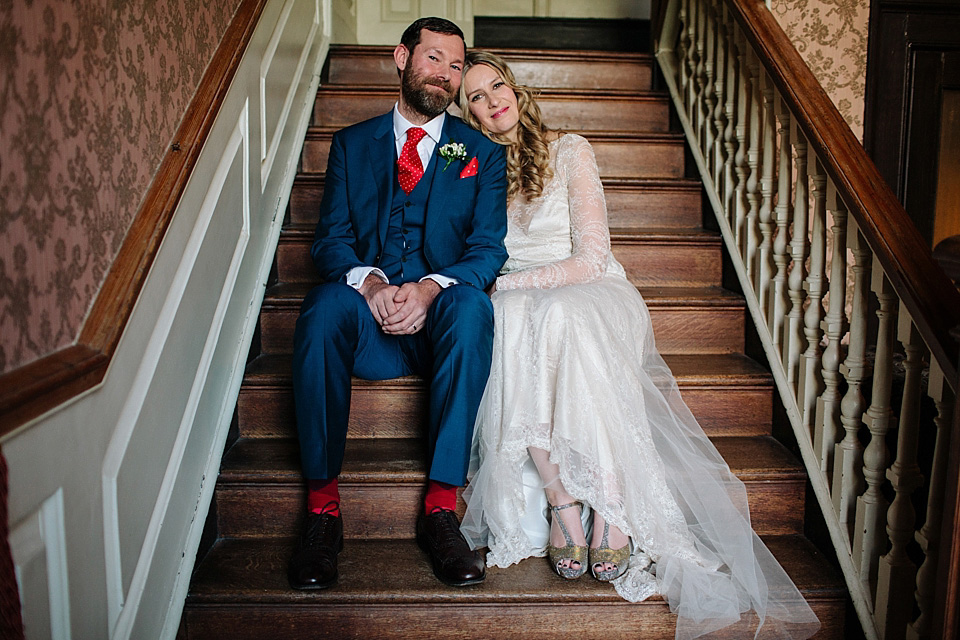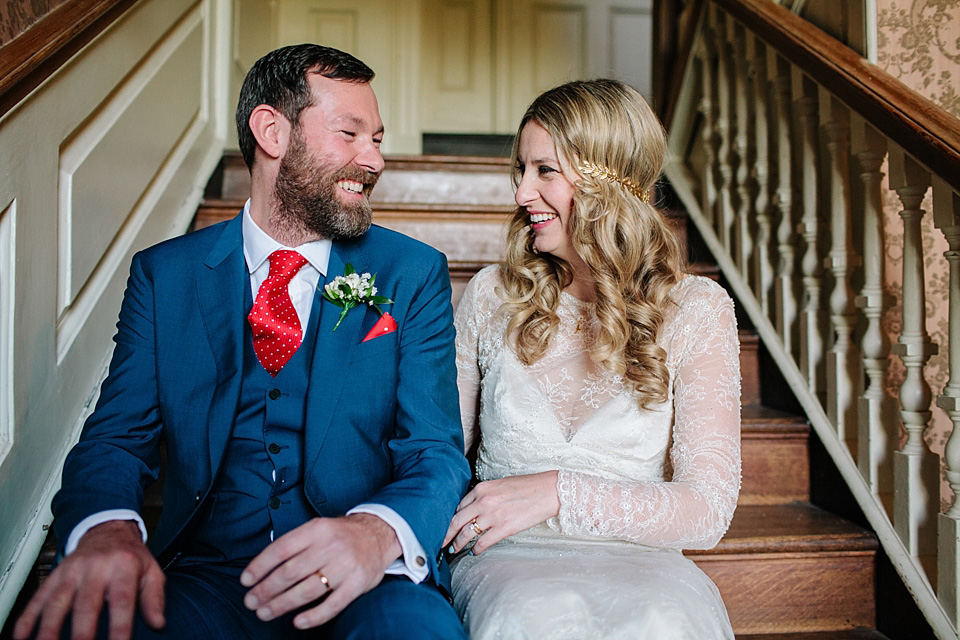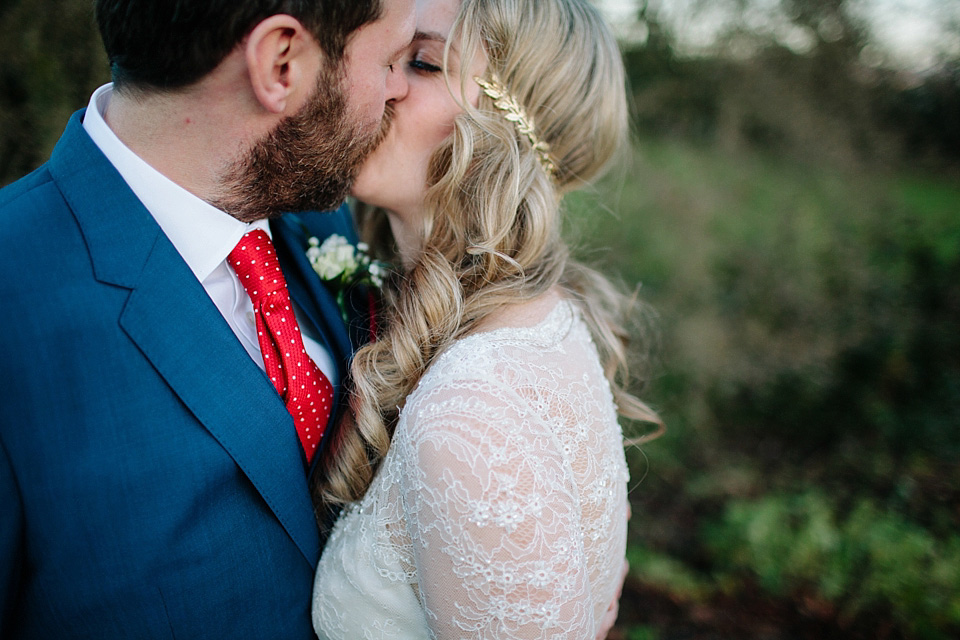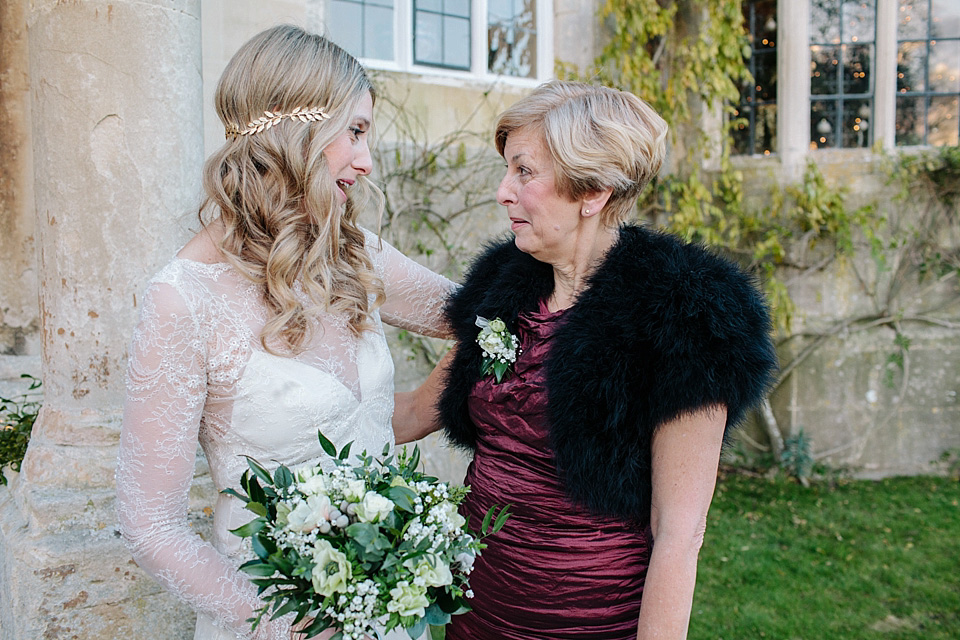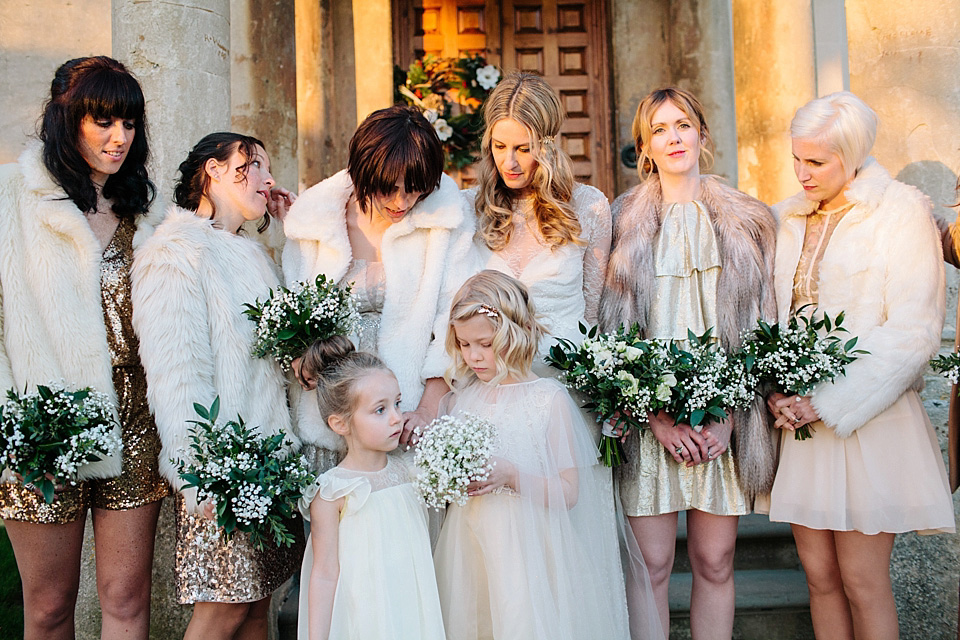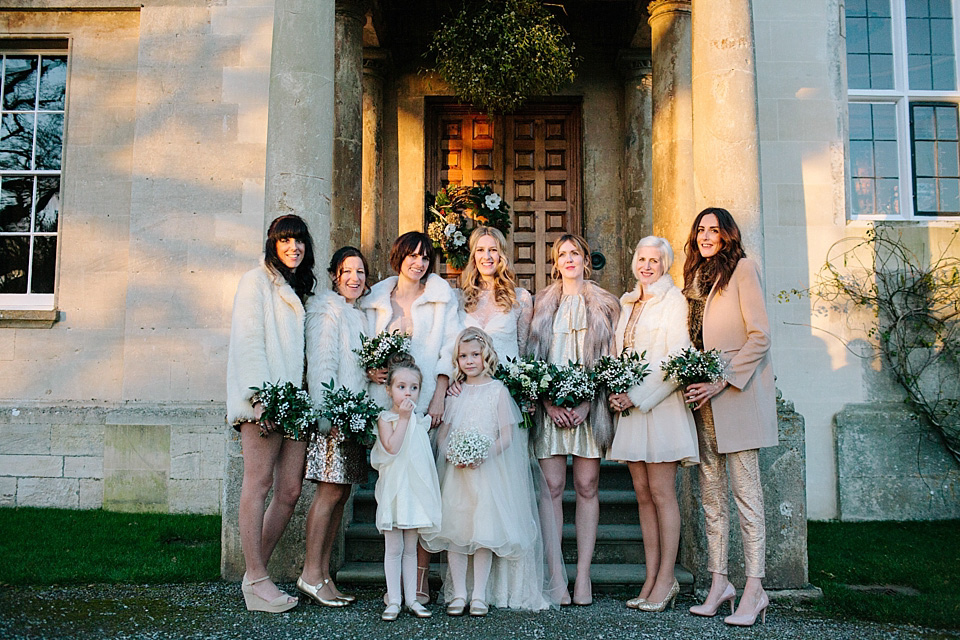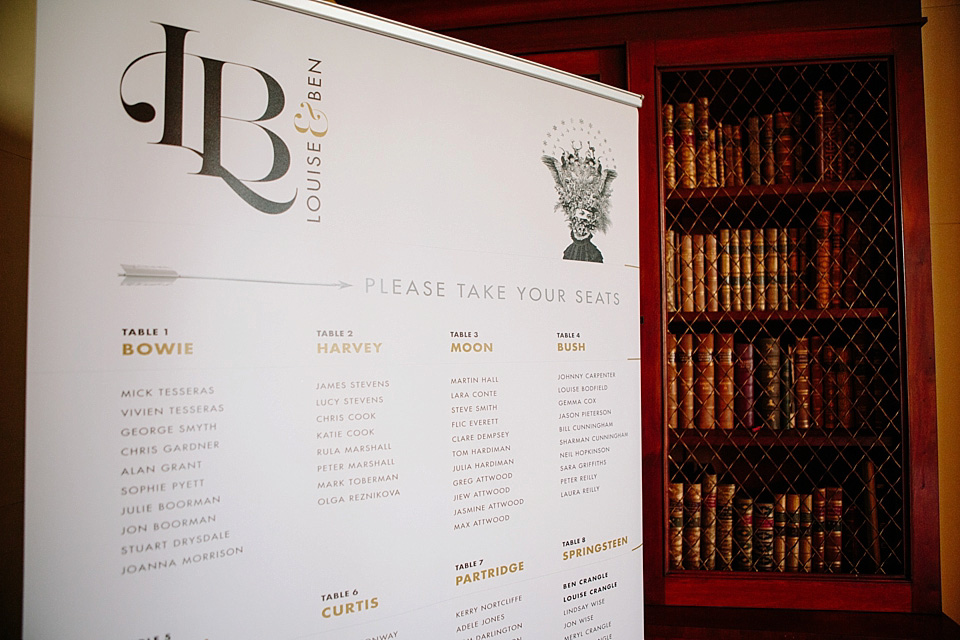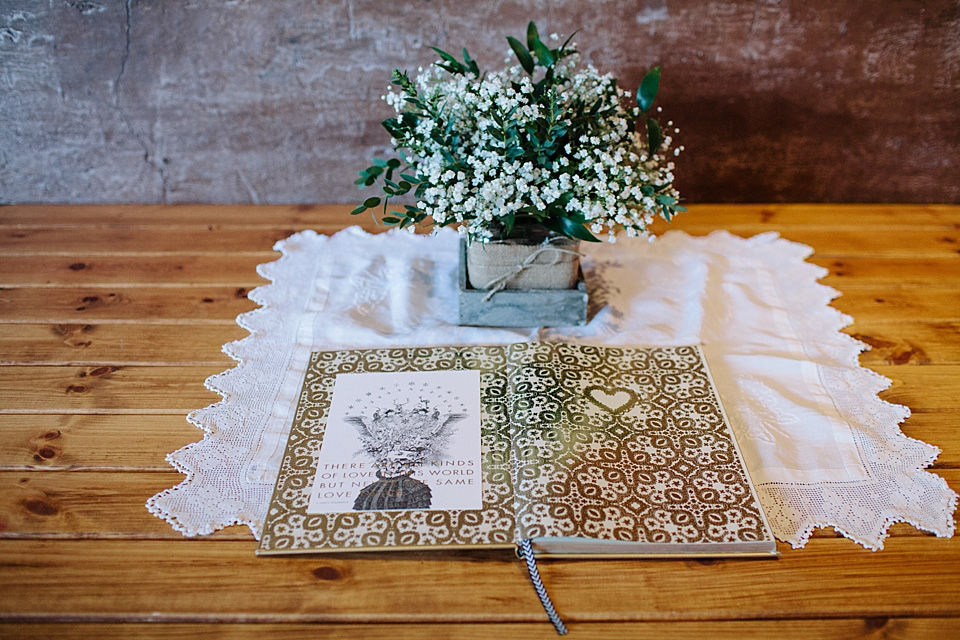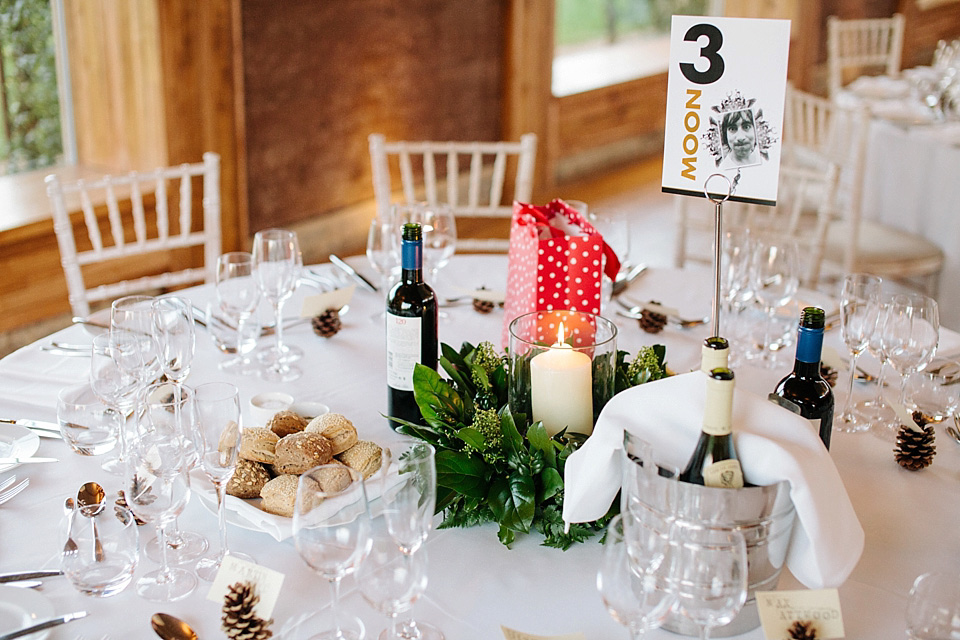 "We had a cheese cake from The Cheese Works in Cheltenham + a homemade gingerbread house for the children made by my sister Anna (one of the bridesmaids!)."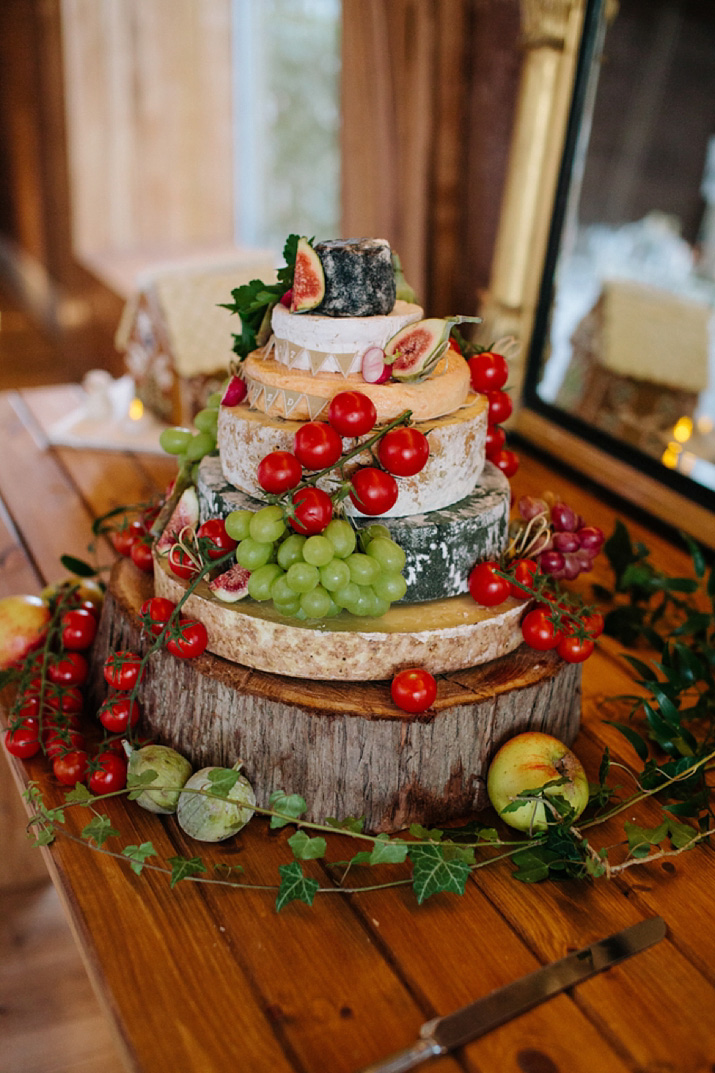 "We had a lot of children in attendance so made sure they were brought their food first. We also had bags on the tables containing colouring books, miniature pool tables, bubbles, glow sticks and whoopee cushions. In the evening we had a dressing up box full of wigs, decorated sunglasses etc. The kids loved it and the cardboard dressing up box became an integral part of their evening entertainment."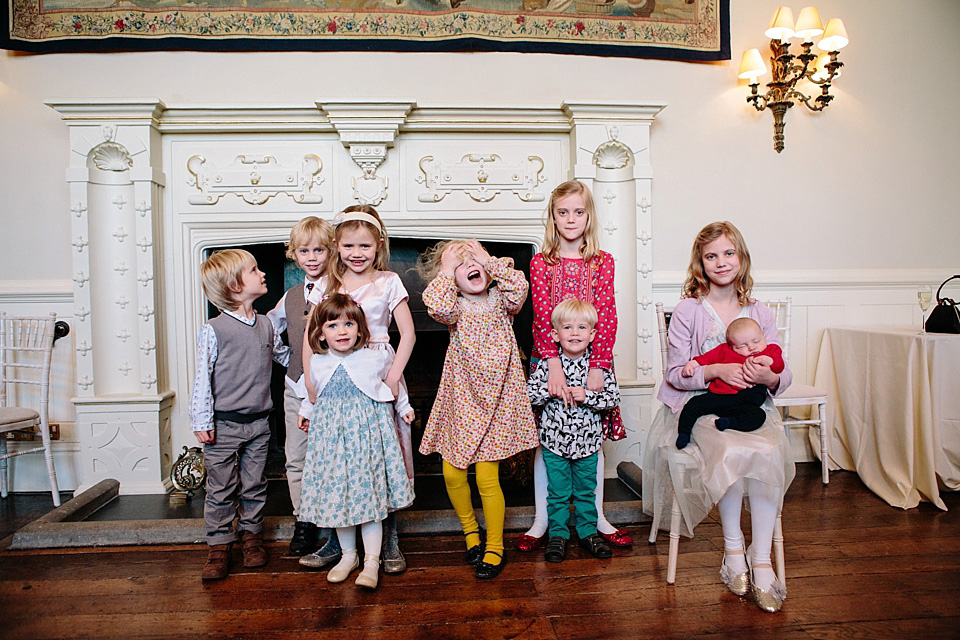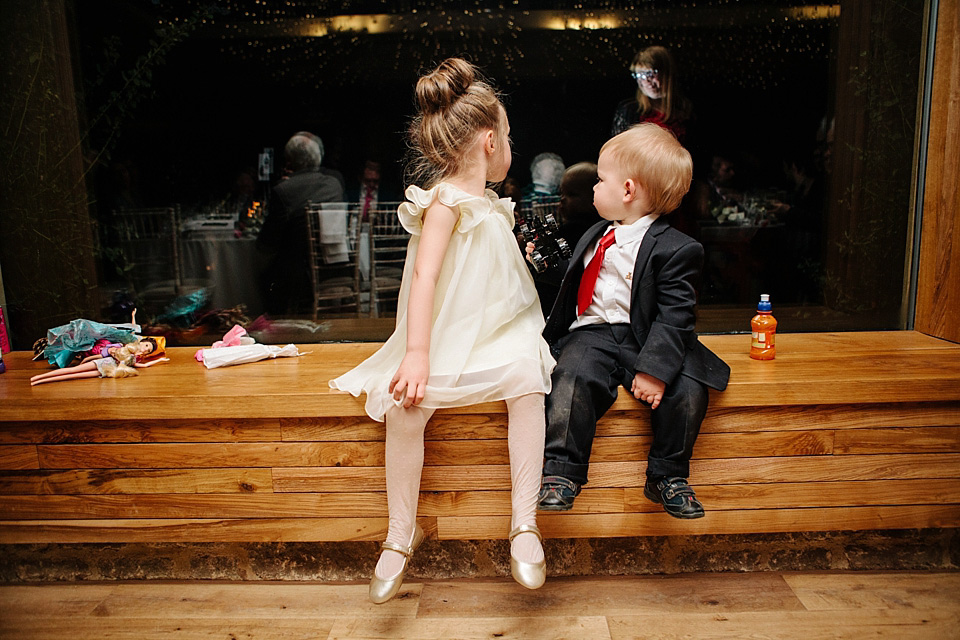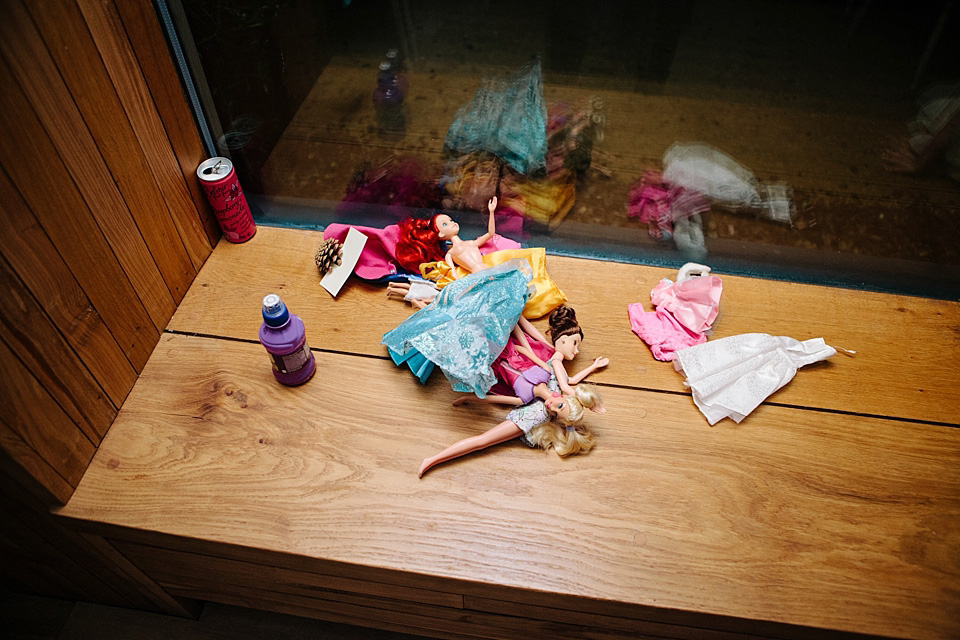 "Our first dance was to 'Into my arms' by Nick Cave. We discovered that we both loved it quite early in our relationship and it just stuck as being the perfect choice. Close second was a mash-up of Vincent James McMorrows version of 'Higher Love' which would then break into the Steve Winwood version!"
"The dancing in the evening was a real highlight!"
"We hired  Julian Maynard at Oxygen Discos in the evening – we gave him a list of what we wanted which he stuck to but threw a few of his own in too."
Words of Wedded Wisdom…
"As before, don't underestimate how important a few days before a wedding are to get yourself mentally in the right headspace for your wedding. All the preparations maybe done but spend time with your man, your mum, your bridesmaids and yourself just taking it all in as it really does whizz past in a wonderful blur.
Turning a wedding can be done in under 6 months if you stay calm, communicate with your fiancé and work as a team, delegate to people you trust (I gave my bridesmaids budget and a PowerPoint containing mood boards, colour schemes and ideas and told them to find something that suited them, the result is they all looked fab as they chose things to suit their style and shape). Trust the experts and look for value not cheap. Our M.O with suppliers was to look for value, even if they were slightly more expensive but offered a better service that took the strain off us we booked them. We didn't want to pay less but get a bad job. On the whole it paid off and didn't cost the earth either."
There is not a lot I would do differently as I really loved my day. I would have given myself a bit more time in the days before the wedding to get mentally prepared as I only finished work on the Thursday before. Other than that no."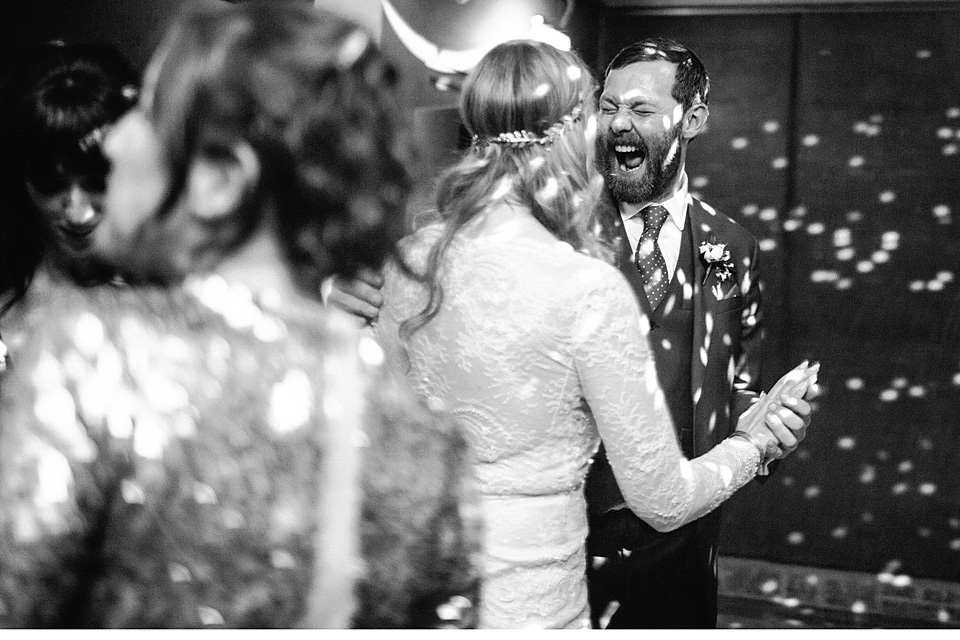 Truly beautifully photographed – and a whole load of effortless elegance personified.
Thank you so much darling Joanna Brown for sharing your beautiful photography once again, and my congratulations and love to you both Lou and Ben – thank you for allowing me the privilege of sharing your wedding on Love My Dress.
What do you love most about this day lovely reader?
Love Annabel xx
Photographer – Joanna Brown
Venue +  Catering – Elmore Court in Gloucestershire
Dress – David Fielden bought from The White Closet in West Didsbury Manchester
Bride's Hair Accessories – Gold Fairy Crown from Avigal Adam on Etsy
Brides' shoes – Dune
Perfume/Scent – Hermes 'Un Jardin Un Mediterranee'
Groom – 'The Byard' suit by Paul Smith + TM Lewin shirt + Turnbull & Asser tie/pocket square
Groom Extras – Lanvin via Mr Porter cufflinks + Church's Chetwynd' brogues
Groomsmen – navy suits via Zara
Bridesmaids – Marks & Spencer + Ebay + House of Fraser + Peter Jenson + Nordstrom + Zara
Flowergirls – Debenhams dress + Monsoon cape + Mini Boden shoes
Page boy – Roco Clothing
Flowers – The Flower Cube
Cheese Cake – The Cheese Works in Cheltenham
Entertainment – DJ – Julian Maynard at Oxygen Discos
Additional Styling –
Rings – Berganza + Andrew R. Ullmann
Stationery –
Hair and Make-up – Isabel While + nails by WAH nails