In continuing our new 'Words of Wedded Wisdom' series – a post-wedding reflective look back on the day itself and what went well and perhaps didn't go quite so well, I'm so pleased this morning to be sharing the insightful words of one of our very own 2014/15 blogging brides, aka, Lovettes member Madeleine.  Madeleine and Tim tied the knot in New York last year, but also celebrated back home in the UK with an intimate winter wedding handfasting ceremony.  It was a really enjoyable read following her wedding planning journey, and today, Madeleine is going to share her honest reflections and memory of what did, and maybe didn't quite go to plan.  I hope you enjoy this insightful read this morning as much as I have.
Over to you Madeleine…
Photography Copyright (c) 2014, Claudia Rose Carter
THE WEDDING
We always wanted our wedding day to be about being young and in love; the details weren't really that important. I'm just so in love with Tim and we both love New York so much that ultimately there wasn't any other option than for us to throw ourselves on an airplane and go get married in the big apple. Once we had decided to get married in New York and have our names be part of New York's history (which felt incredibly romantic), there was never much of a discussion between Tim and I about where we would actually say 'I Do' – it was always City Hall. We celebrated with eight of our favorite people in Brooklyn.
THE VENUE
When I was a little girl my dream wedding was always to elope to Vegas and have Elvis give me away. So when Tim and I first started planning The Big Day, getting hitched at the Graceland Wedding Chapel was definitely an option – however, over late night cups of coffee and Vegas wedding searches in bed I think we both started swaying towards returning to New York pretty much around the same time. Having gotten engaged there on the morning of my 30th birthday, it was a place we loved and shared the happiest of memories, and whenever we thought about it we felt such an abundance of excitement and ease.
Thrilling as those thoughts were, it was genuinely really difficult to actually make the decision to have our marriage ceremony in America. Going abroad and having a 'destination wedding' would put leave time and financial pressure on our family and friends to attend, and us getting married really wasn't about that. But it was still hard to choose what we wanted, over facilitating an occasion where it was a cert that our parents and nearest and dearest would be there to actually see us get married.
Neither Tim nor I ever had visions of a traditional wedding, and personally the idea of saying my vows in front of a room full of people always overwhelmed me, so after a lot of reflection, Tim and I made the decision to let everyone know we were going to New York and give them a no pressure open invitation to our day. The ceremony would take place at City Hall, a timeless venue synonymous with New York and people were welcome to join us for a day enjoying Brooklyn's finest hospitality.
The response we had was so supportive and we were beyond delighted that a handful of our friends made the 7000+ mile round trip to share the day we said I Do with us.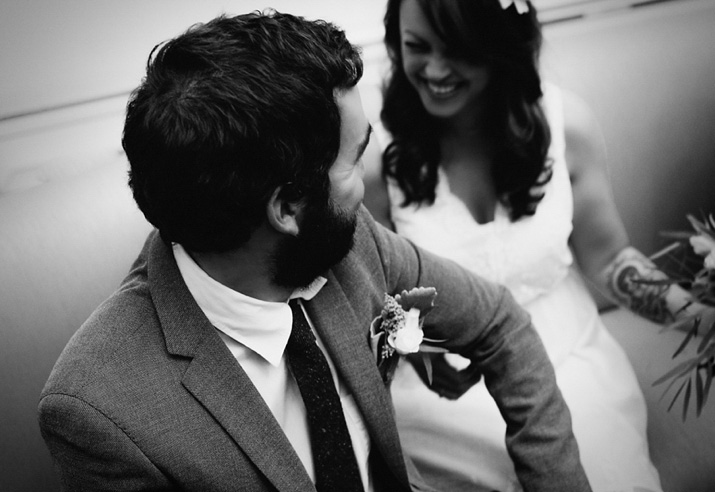 Was there anything you might have regretted doing/not doing in hindsight?
The only thing I regret about our day was not having someone video our ceremony at City Hall. I'd thought about it all morning, but in the whirl of doing the legal bit it completely went out of my head. The memories of the service are a beautiful, happy blur but I wish I was able to relive it more clearly – and also share it with our friends and family who couldn't be there with us.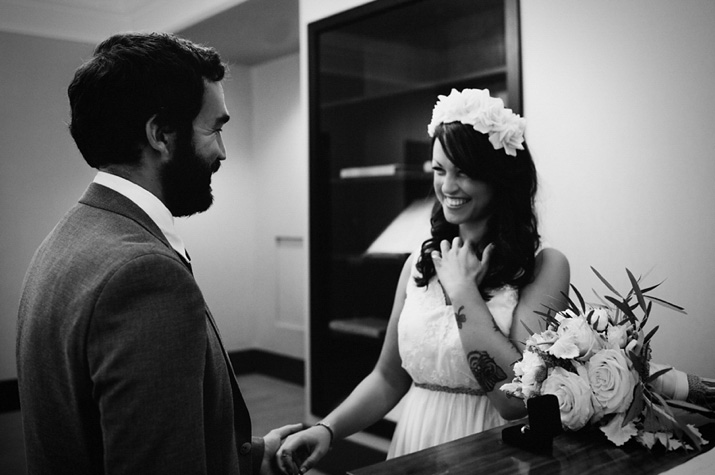 How much did your wedding cost? And was this below or over your original budget?
Our wedding cost £5,000.  Remarkably, we spent exactly what we budgeted – some costs were over and some were under, but rather marvellously it all balanced out in the end!
We were always conscious of our budget when we were planning our wedding, but we were very fortunate in that it didn't really dictate the choices we had to make too much. By going to New York we were always going to be in a situation where we would have a very small guest list which meant there weren't too many limitations when it came to celebrating in the way we wanted simply because of the minimal head-count.
We didn't have any decorations which definitely kept costs down – there just wasn't room for them in our luggage and our day was never about that. My wedding dress also only cost £50 so I think that saved us hundreds of pounds! I definitely did go over budget on my wedding jewellery and rings – but we decided that was allowed as I wear them every day – so it was a lovely and long-lasting use of our wedding budget.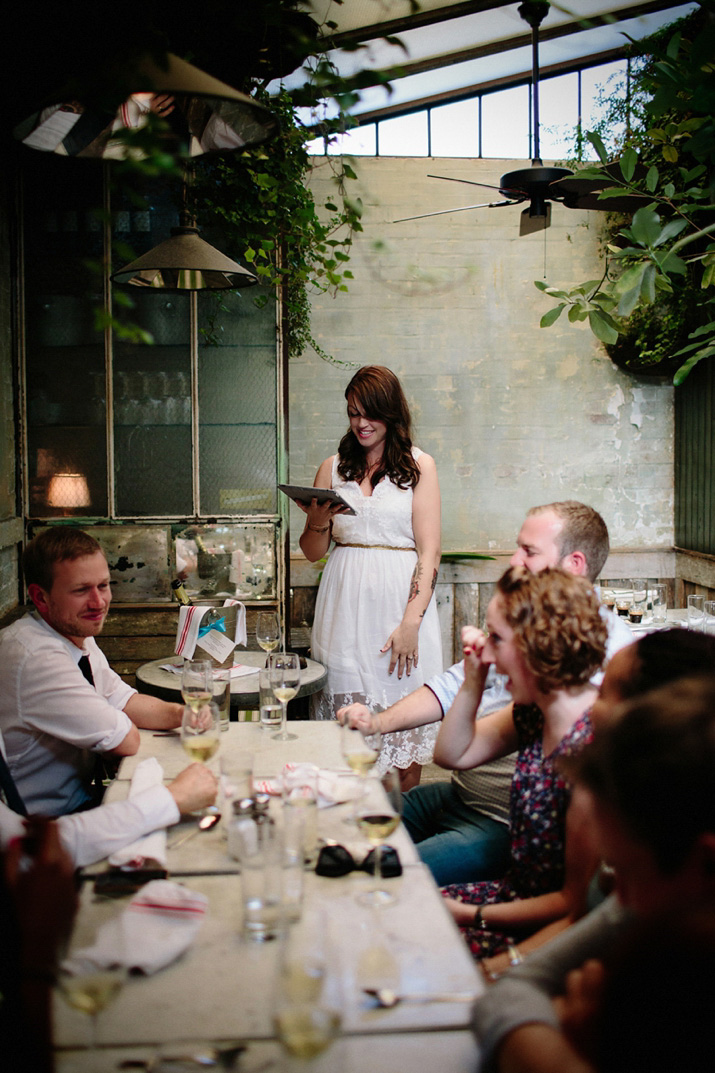 GETTING READY AND BEFORE THE WEDDING
What went well? 
I make a cup of tea and at about 4am Skype one of my best friends who is pregnant and unable to be in NY with us; I miss her being with us but it makes me super happy to see her face on my wedding morning. Margie and Claudia (our photographer) arrive and getting ready is totally chilled. We listen to Mercy, Mercy Mercy by The Cannonball Adderley Quintet and Tim writes his wedding speech.
Halfway through my hair I manage to speak to my Mum who I have been dying to speak to since I woke up. I am choked up in our tiny white bathroom when I hear her voice, but so grateful and happy to have spoken to her. I crack open a miniature bottle of champagne that my friends from home have given me and that has travelled from Kent to Williamsburg for this very moment. I sip it through a pink straw, and Tim, Claudia and I toast as the sun rises over Brooklyn. Our friends arrive and we scream together in the stairwell; they look so amazing it makes me catch my breath. We take a walk to the river and catch a boat to City Hall. Tim is so handsome; we are nervous, beaming, excited and gloriously happy.
What didn't go so well?
wake up at 3:30am in a panic that our apartment will be too small and dark to do my hair and make-up in and text Margie that I am freaking out..! Margie is wonderful and responds within minutes reassuring me everything will be okay – it really doesn't matter how small or dark our apartment is. This is New York; everyone lives in small, dark apartments!
By the time we leave for the ceremony we are running behind schedule by about an hour and I am a little bit nervous this will impact on our day. Thankfully the wait for the ferry isn't a long one and we will soon be on our way.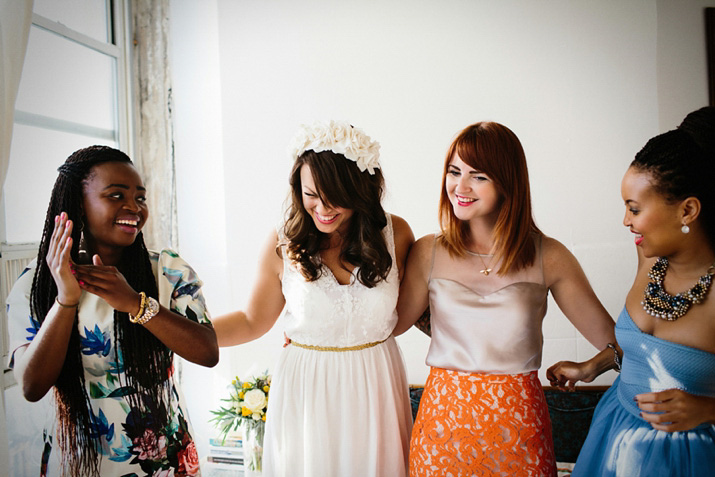 THE WEDDING CEREMONY
What went well?
We pull up at City Hall in yellow cabs and our other friends are waiting for us as we arrive. We are cocooned in love, the overwhelming gratefulness and happiness that our incredible friends are sharing our day with us. We are given our ticket 'C62' and told to wait. There are only two other weddings before us and Tim and my legs go to jelly. We take a moment and sit on a soft pistachio coloured sofa; it really feels like there is only us in the world and I am so happy we are doing this together; I can't imagine what it would be like not to be doing this with him right by my side. Our ticket number comes up on an electronic board and we make our way out of the lobby; we are kept in a holding room with one other wedding and we wait to be called through to the ceremony.
The registrar is ready and we see the ceremony room for the first time, there is soft light and a long sofa. My friends say it's like being at a fashion show and I can't stop smiling. Tim and I stand at the front holding hands and recite our vows; the only words we say are 'I Do'. We're pronounced husband and wife and we huddle with our friends, the whole thing is so incredibly intimate – I text our friends and family to say we're married and we spill out into the street under glorious blue skies.
What didn't go so well?
The ceremony is perfect. With hindsight I will realise I wish somebody had taped it, but as we make our way out of City Hall there is nothing I would want to have been different.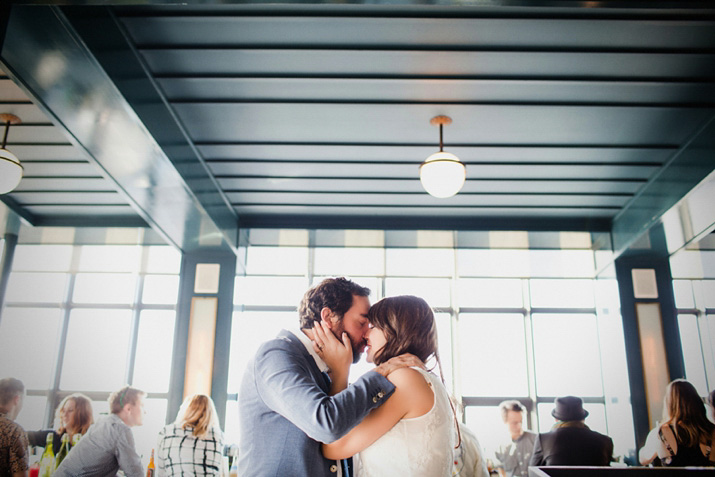 THE EVENING CELEBRATIONS
What went well?
We get to the venue late but the staff are absolutely wonderful – we are ushered into their private greenhouse and greet us as though were bang on time. Bottles of champagne (arranged by our wonderful friends from home) are waiting for us which fills my heart with happiness, and we take our seats and relax at last! Tim and I are blessed to receive the kindest of words by our wedding party; Tim's oldest friend reads the words my Dad would have said if he could have been there; Tim gives his speech and I am knocked sideways by how much I love this man. We call my Dad and Tim's Mum and take a breather under a veranda on a Billyburg sidewalk. We go to Wythe Hotel and drink cocktails on their roof terrace. We hold weighty steins of beer and eat mushroom macaroni cheese at Radegast Hall & Biergarten. Our wedding party stop off at the market and buy booze and crisps and donuts and we carry on the party on the roof our apartment by the river. Tim and I dance to Elvis's 'Can't Help Falling in Love' in the warm glow of friends and strangers with the Manhattan skyline twinkling behind us.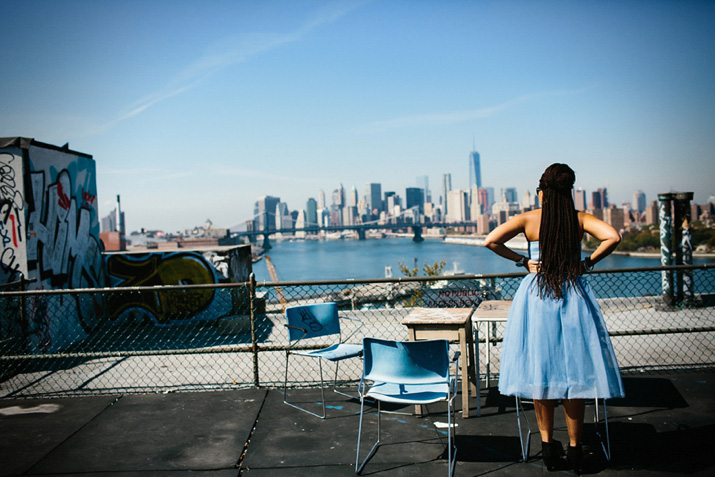 What didn't go so well?
There are no cabs in Brooklyn (or so it seems!) so we have no choice but to walk from our apartment to Café Colette – we are running 30 minutes late and I am edgy! Also my boots weren't made for speed walking and I wish I was wearing my ballet pumps!
Somehow Tim and I lose each other! It seems impossible but I leave Radegast Hall & Biergarten with the girls and he stays behind with the boys. It's only when I reach the apartment that I realise I no longer have a groom! Thankfully he shows up before too long.
Having only slept for about 2 hours the night before, and never having adjusted to the NY time difference I am defeated by about 11pm and have to go to bed. I hoped I would be celebrating on the roof-top until the early hours, but my wedding day has been perfect and it's time to call it a night.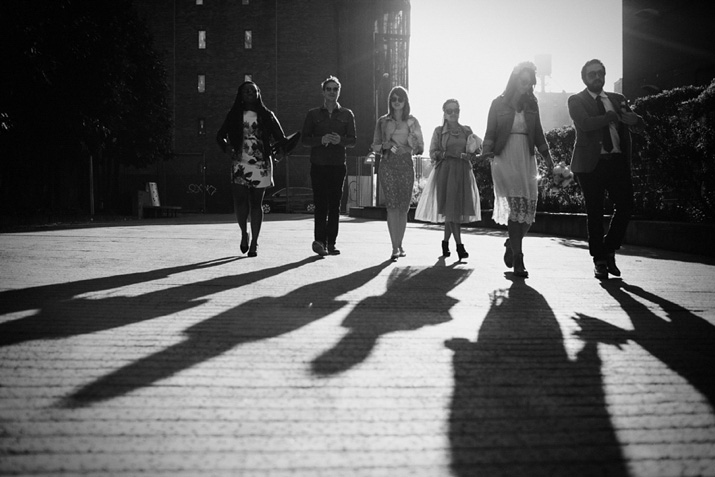 What ultimate words of wedded wisdom would you pass on to other Love My Dress® readers?
In terms of planning your wedding it might sound a little pragmatic but I would say think about the kind of memories you want to be left with once the high of your wedding is all over to really help work out what's important to you. Sometimes the hardest decisions are the right ones that will give you the most happiness. Also, don't let a schedule dictate your day – I know I write about being late for the ceremony and lunch and that making me panic a bit, but I don't regret a bean – spending the most amazing time with your loved ones will be the thing you always remember and bring you the most joy!
Looking back on your time spent married so far, what have you learned about marriage and what would your best piece of marriage advice be?
Since we got married the only thing I've learned is that for me and Tim – it just works. We woke up the morning after our wedding and went for brunch and have since then have just been carrying on as normal; and I wouldn't want it any other way. Married life is just about making the moments that make up your life together full and happy. My marriage advice would simply be to have as many adventures as you can with that special person.
Huge thanks to Madeleine for sharing her wonderfully honest account of her day.  You can follow Madeleine on Instagram here and you can read past 'Words of Wedded Wisdom' features here.  If you could like to share your own Words of Wedded Wisdom, please complete the form at the bottom of this page and we'll be in touch within a couple of days of hearing from you.
Next week, we'll be posting the first of our new Lovettes members for 2015/16 posts here on Love My Dress – a diverse team of women who will each be bringing their own different experiences and perspectives of planning a wedding (and indeed becoming married) on Love My Dress. You can read about our new Lovettes here and here.
Have a lovely Friday morning everyone.
Love Annabel x
*  Uncredited images were taken on Madeleine's iPhone