Friday afternoon.  Mmmmm, don't you just love it?  For most of us, we're close now to being able to kick back and have a little fun over the weekend.  There's a whole army of wedding folk however who are preparing to step it up and work another regular busy weekend – florists, photographers, venue staff, caterers, entertainers – these are the folks for whom  regular time off at the weekends isn't really a 'thing'. I'm thinking about those folk today as we prepare to share another special wedding with you. If it wasn't for them, we'd not have much to share at all!
Now, this wedding is a bit of a 'part 2' affair.  Those of you familiar with Love My Dress, who have been reading our posts over the past few months, will know all about 'The Lovettes' – our team of writers/brides to be who share all the nitty-gritty details about their wedding planning experience through blogging for Love My Dress.  We currently have four Lovettes,  Lindsey, Kay, Rosie and Madeleine.  Madeleine is the first of our Lovettes to  have got married – she tied the knot in New York in October last year with her beloved Tim.  Today, we're sharing the second-part of Maddy and Tim's wedding celebrations.  Because their main wedding took place in another country, they wanted to also be able to mark the occasion and celebrate with friends back here in the UK too, and they did just that on 19th December at the East Quay in Whitstable.
Photography Copyright (c) 2015, Claudia Rose Carter (assisted by Alex de Freitas)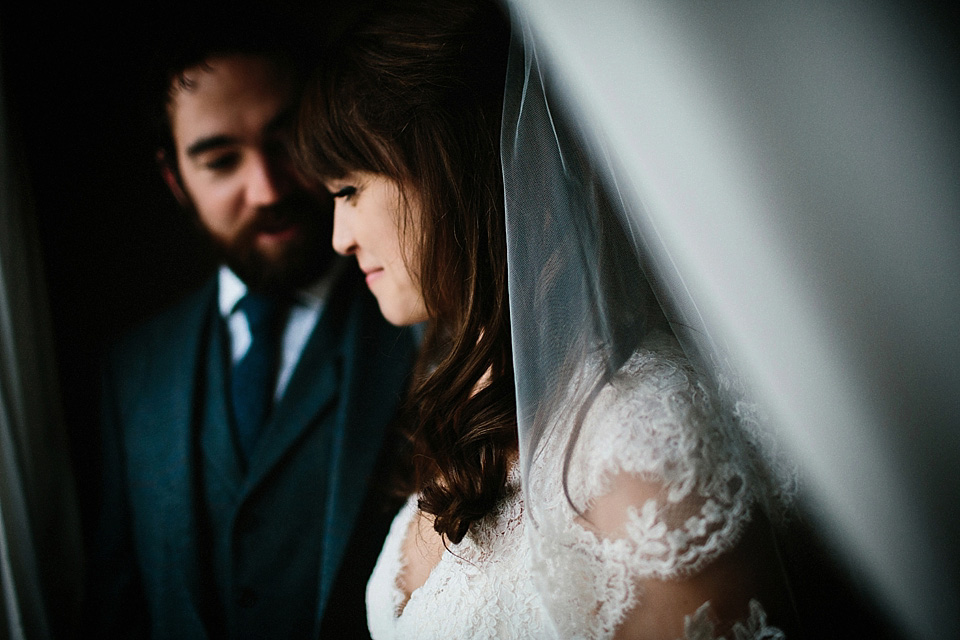 "Having gone on our first date three years ago, Tim and I got married at City Hall, New York in October 2014 just under a year after we became engaged. Our Whitstable wedding celebration was always an important part of getting married as it was a chance to share such a wonderful, massive promise with everyone who wasn't able to come to America. Although originally planned for May 2015, having the UK reception at the end of last year was a glorious way to round up 2014 and then bring in the new year; our first as 'Mr and Mrs Martin'!
All we wanted was a happy celebration with our family and friends. Whilst we did decorate the venue very simply with white flowers, large paper lanterns, polaroid pictures and candlelight we really just wanted everyone to come together and celebrate our being married with us."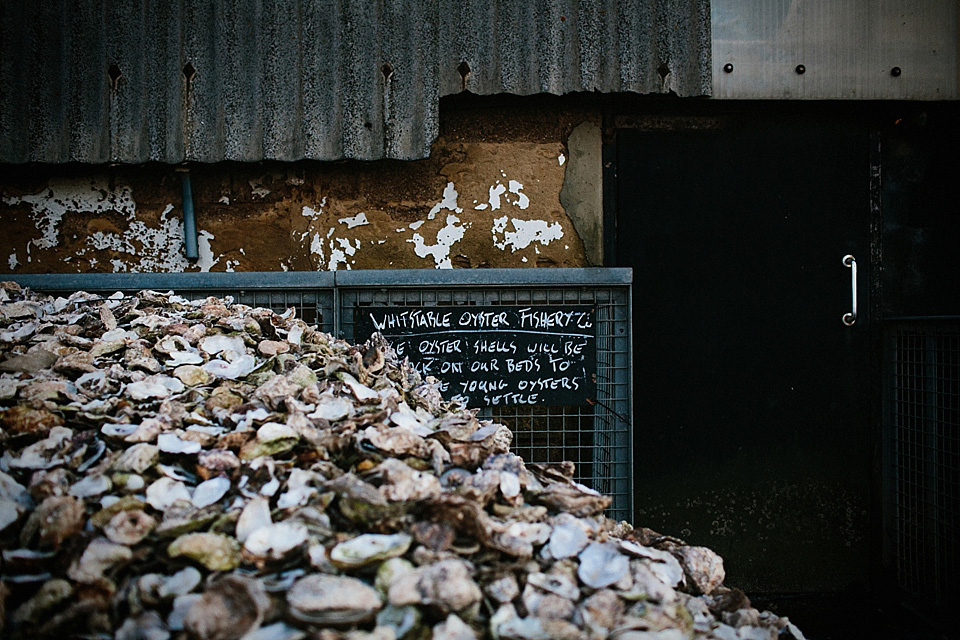 "My dress was Bronwyn by Maggie Sottero which I found in Wedding World, Kent.  After wearing such a relaxed wedding dress in New York, I was initially nervous about wearing a 'proper' wedding dress to Whitstable. I'm not the girliest of girls and so it was important to me that whatever I decided to wear I felt 100% comfortable in.
I didn't really know what to expect when I took a trip to my local wedding boutique with my Mum one cold December in 2013 – but when I tried Bronwyn by Maggie Sottero on I was amazed that I could be so transformed – and secretly very delighted. I went away and tried a variety of other dresses, but Bronwyn was the only one I found that made me still feel like me. The champagne slip was just gorgeous and the cream lace and sweetheart neckline were so romantic. I can honestly say I felt fabulous when I wore it – and that made all the difference."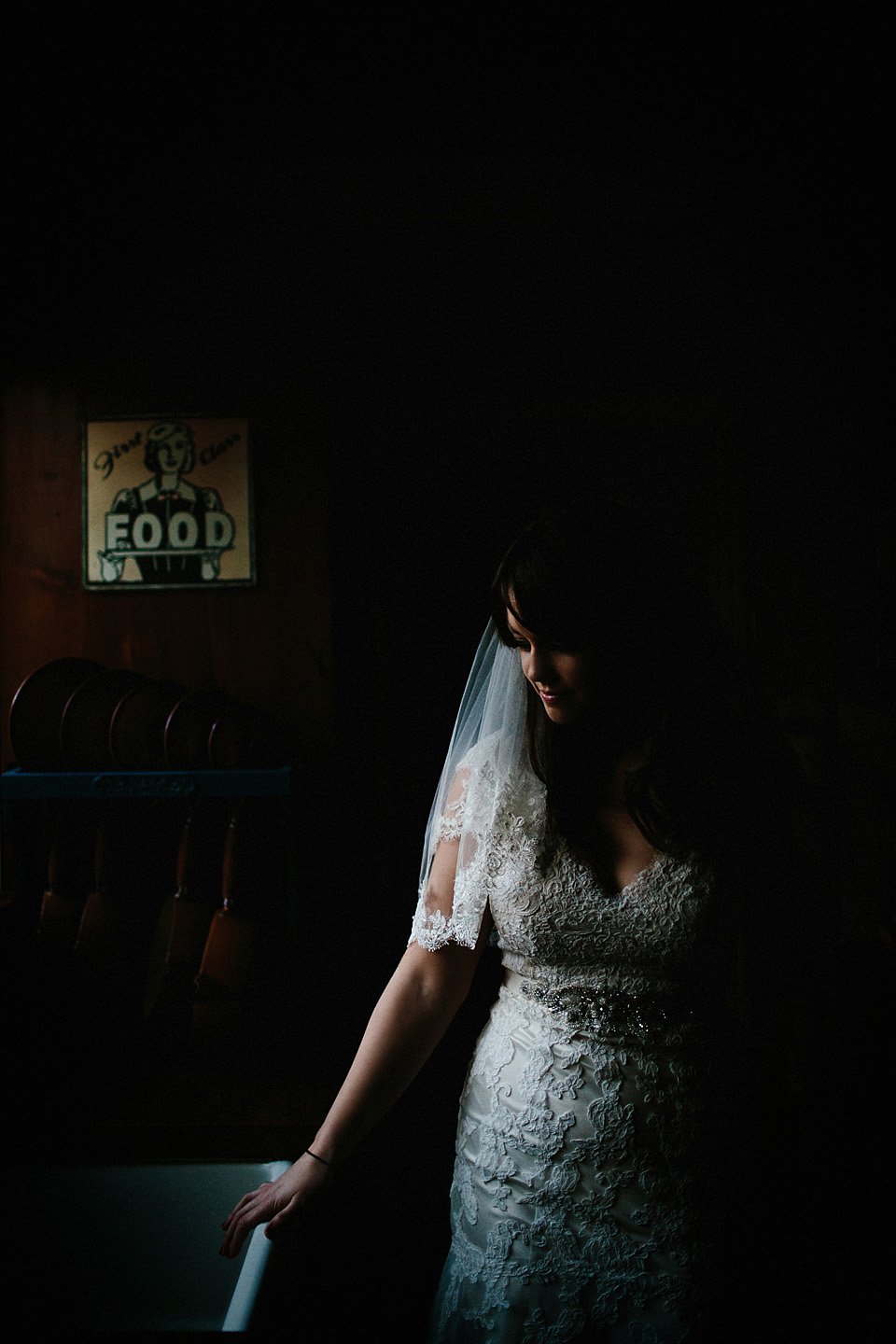 "Rather than just have one big cake to cut, Tim and I decided to ask our friends and family to bake sweet treats and bring them along to the celebration to have after the meal. We were absolutely blown away by the beautiful and delicious array of treats our wonderful guests made for us. From lemon drizzle, to chocolate brownies, to fairy cakes and red velvet cupcakes, filled with a secret Oreo cookie, that had our New York photo on it (thank you Holly!) we were so touched by everyone's kindness and the dessert table looked absolutely divine.
Our bakers really were amazing and we're grateful to the bottom of our hearts for the time and effort they took in making such truly scrumptious goodies for everyone to indulge in. My step-Dad Mike also painstakingly custom-painted the most wonderful bride and groom wooden peg toppers – complete with our cat George Barley and dog Baxter. They were the dearest little things and Mike was an absolute star for painting them for us!"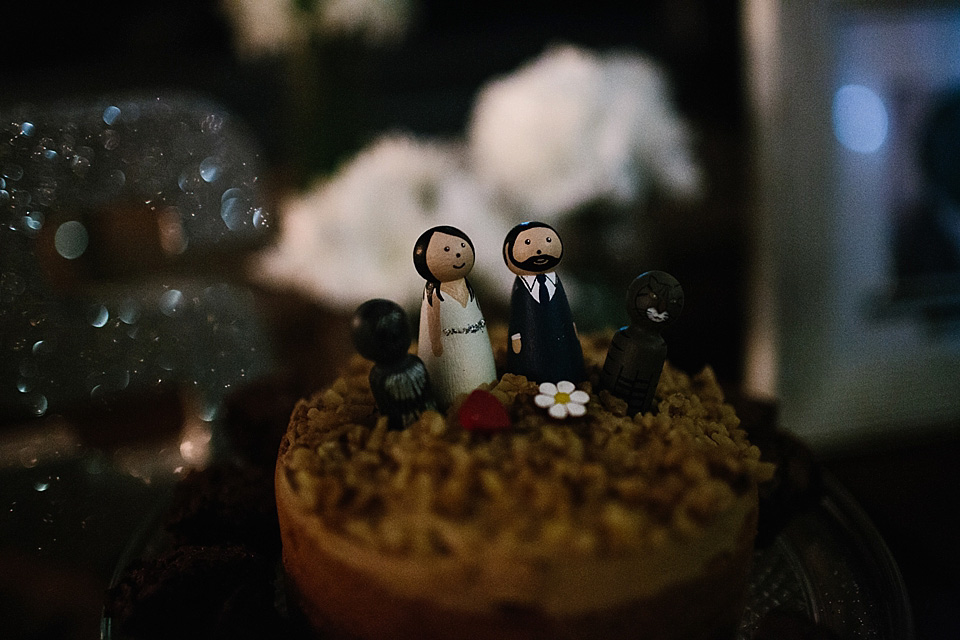 "I decorated match boxes with a template I downloaded off 'Bespoke Bride' and made the wedding signs myself the week before the celebration. I'm not particularly crafty or creative but I was surprised how easy these things were to do, especially when watching Bridget Jones Diary in front of the fire whilst nibbling on purple Quality Street!"
"Tim and I were always going to have some kind of ceremony as it gave the celebration a lovely sense of occasion for the guests who weren't able to be with us in New York. We wrote the whole service ourselves by sourcing different hand fasting ceremonies online and then piecing together the parts we liked most to make it as 'us' as we wanted. Whilst we didn't write our own vows, we were both more than happy with the ones we chose as they were so simple they expressed everything which needed to be said and even now bring me a lot of comfort and happiness in knowing what we have promised one another.
We also both debated, but ultimately decided against exchanging our rings again as we thought the tying the knot element of the service was symbolic enough (and we have since added the hand fasting ribbon to our lovely wedding memory box to treasure).  Tim continues to wear his Catbird classic wedding band and I have my Erica Weiner vintage horseshoe engagement ring with my Anna Sheffield crescent ring set. Even though our rings aren't quite as shiny as they were last October, we still adore them and I get a lovely rush of happiness whenever I take note of him wearing his ring and actually being my husband!"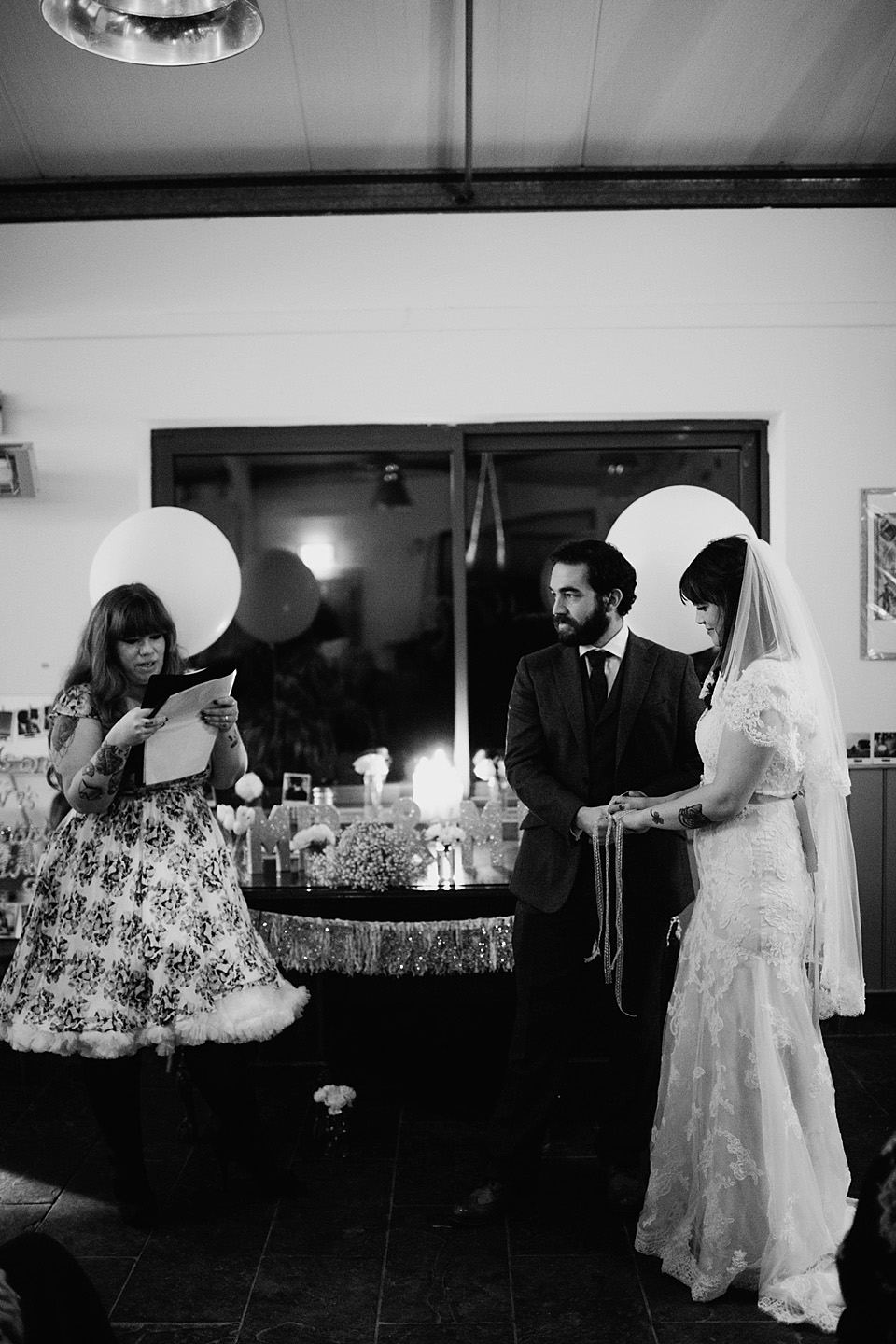 As with their New York wedding, photographer Claudia Rose Carter  was on hand to document the day in images…
"It was lovely to see the gorgeous and ridiculously talented Claudia Rose Carter– who I adore – at our wedding celebration – and she also bought the very charming Alex de Freitas along as her assistant who was an absolute pleasure to meet and spend time with. As Claudia had done such an insanely amazing job of photographing our New York wedding we were so very excited to have her photo our Whitstable celebration.
As with New York, her photos are absolutely stunning and we love how they tell the story of our day, from the fisherman's cottage to the ceremony to the canapés and speeches and beyond. I really love how they capture the hum and heartbeat of that crisp, cold December day. It really is so glorious to have such incredible images captured by Claudia – such quiet moments that make up the memories that we will treasure for a lifetime."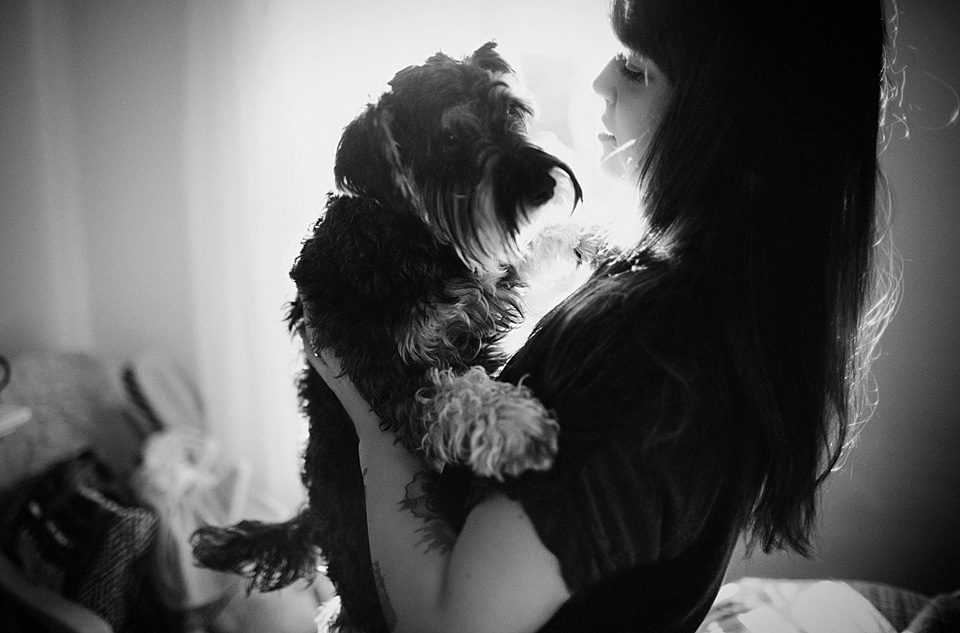 "My hair and make up were both done by Lisa at Blushed. Lisa kept my face very clean and just gave me big dark eyelashes and a dark red lip for a timeless look; and my hair was a big beautiful mess of curls."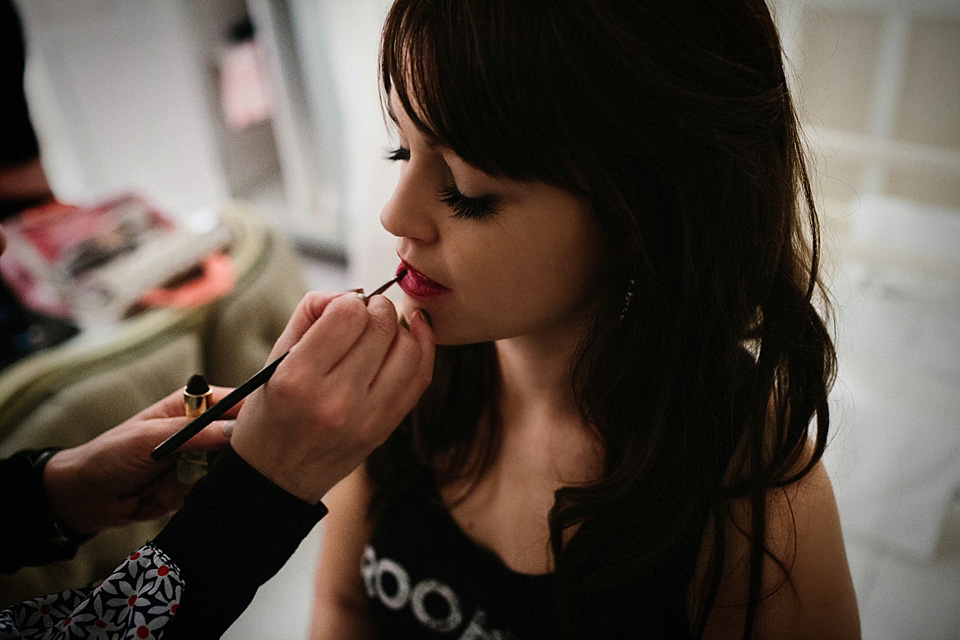 "Although I adore beautiful shoes, I am terrible at wearing heels for long periods of time and usually end up in a trusty pair of nude ballet pumps within hours of putting them on. I did buy a pair of super sparkly gold stilettos from New Look (there was never any point in me spending a fortune on heels I was unlikely to wear again) but when it came to slipping them on I actually felt much more comfortable wearing my favourite gingerbread coloured Clarks ankle boots. I'm so glad I chose them. They stayed on (almost) all night!"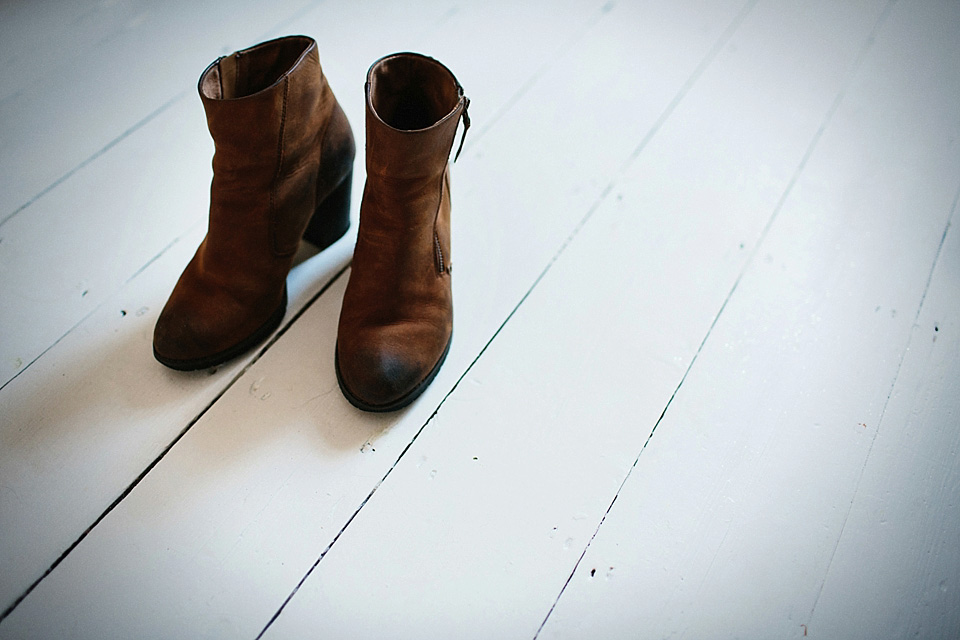 "My perfume I wore was Miss Dior – I had been a bridesmaid earlier in the summer and this perfume had been gifted to me by the wonderful bride. I love how much Miss Dior smells of jasmine; how fresh it is but also very blousy and romantic. It was the loveliest reminder of my gorgeous friend Gemma's wedding – and now it has an even more special place in my heart.
My veil was my 'something borrowed' from my oldest friend Andrea. When I told her my wedding dress was cream lace she immediately offered for me to try her veil; and I feel so lucky to have a friend who would do that, as not only was the gesture incredibly kind and meant we shared something very special together, but the veil complimented my wedding dress perfectly. It had gorgeous thick lace edging and tiny hand-sewn shimmering beads and was so pretty that it meant I didn't have to wear any hair accessories."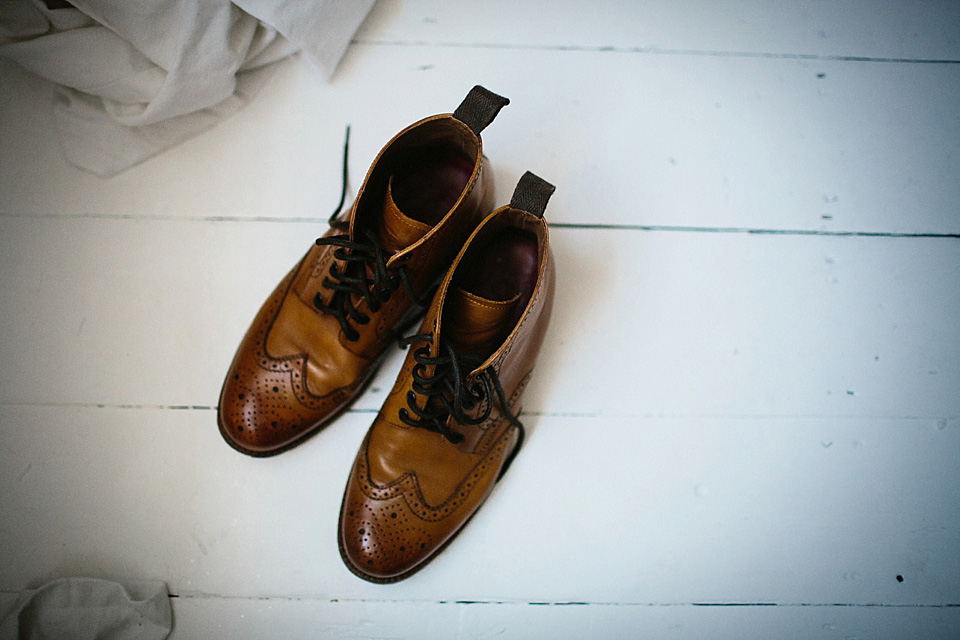 "Tim wore the three piece Edward suit by Walker Slater, in Navy Herringbone Harris Tweed and oh my did he look handsome! Inspired by King Edward VIII the suit was incredibly smart yet dapper and suited Tim to a tee."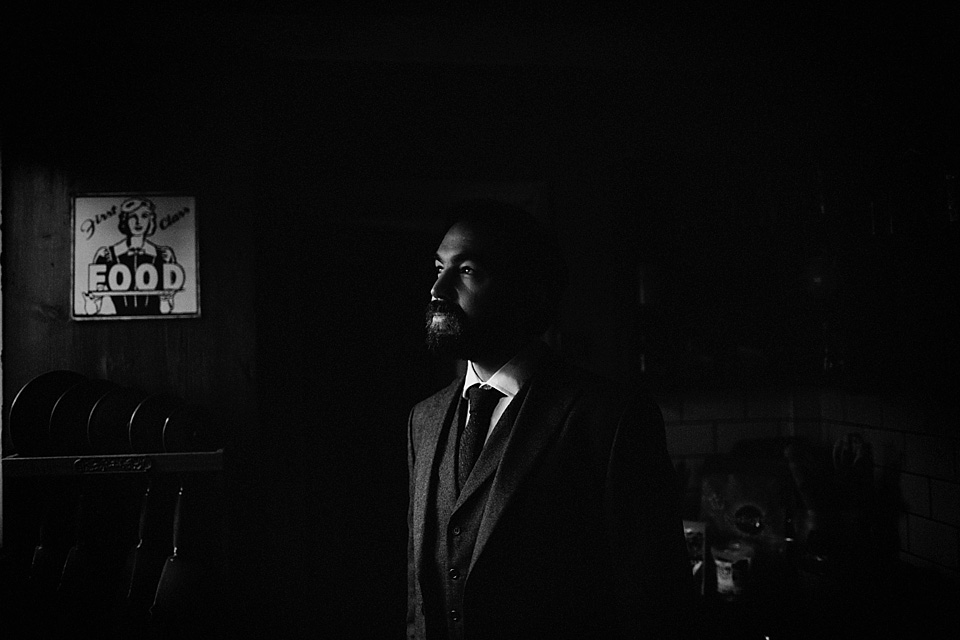 "I decided to keep my accessories very minimal as my dress and veil alone were glamorous enough for me. I simply wore my Erica Weiner and Anna Sheffield wedding rings; and found some elegant art deco inspired Jenny Packham drop earrings to wear. Although they were a little indulgent, I know I will wear them all my life and they will be a beautiful reminder of our happy winter celebration."
"I originally chose a pretty burnt orange lace dress from Oasis for my bridesmaids to wear; and planned for them to accessorise it themselves – but the more I thought about it, the more I wanted my bridesmaids to wear something that reflected them individually. I love each of my girls' personal sense of style so much that having them all in the same dress just wasn't right for me. We did fleetingly dabble in a colour scheme but in the end I told them just to wear whatever they wanted.
All my bridesmaids looked absolutely amazing – from the prettiest pewter and blush dresses, to burgundy velvet and an embellished navy maxi; to a gorgeous little black dress; a 50's floral number and a smoking hot jumpsuit. The girls all looked 100% themselves and were absolutely radiant. I loved seeing them all before we walked down the aisle together – two of my girls had their bouquets in one hand and their fabulous clutches under their arms…I wouldn't've had it any other way!"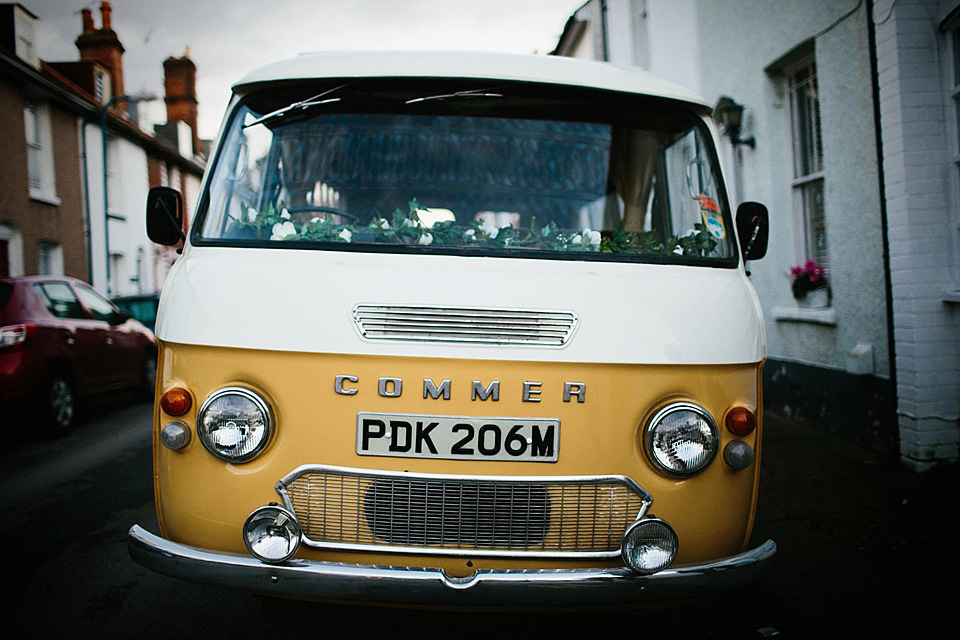 "I hadn't planned on anyone walking me down the aisle; particularly as Tim and I were already married – but at the last minute I asked my darling Mum to walk with me which was just lovely for us to share. She looked absolutely beautiful and it was so special to have my hand tucked warmly in hers as I made my way towards Tim to re-do our I Dos.
We had arranged for me to walk down the aisle to Olafur Arnalds' Ljosio as I think it is one of the most beautiful pieces of music there is – and because Tim first introduced me to Olafur Arnalds when we first started dating so it holds extra special significance to us. Unfortunately the piece is very soft and the sound was down so low I could barely hear the music so spent most of my time walking down the aisle smiling because all I could hear was my own footsteps (and I didn't think the music was even on!). Thankfully by the time I got to Tim the volume had been turned up so we managed to listen to a few beautiful notes before our service began. Even though it wasn't perfect, the memory of it will forever make me smile."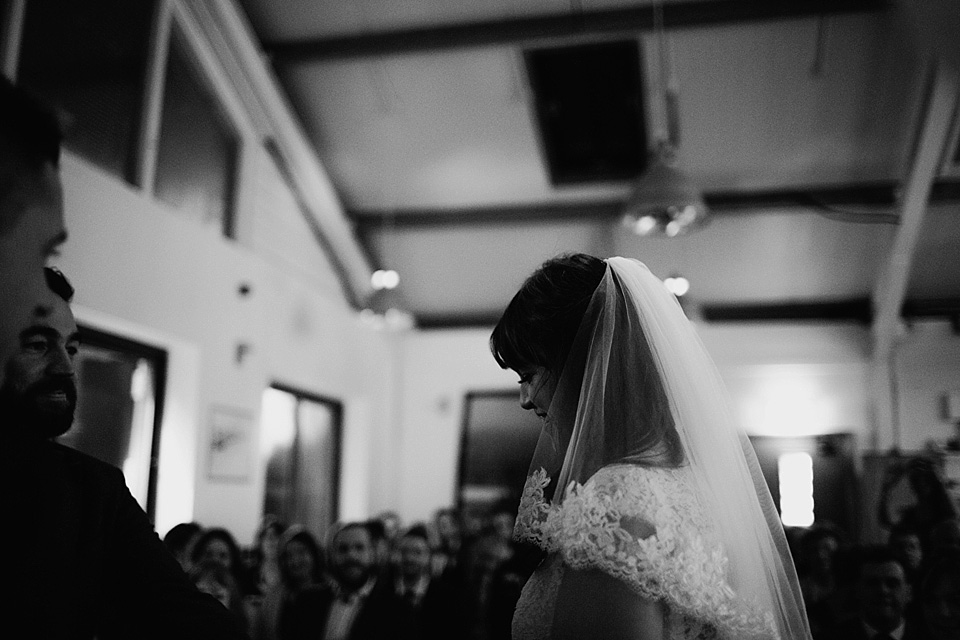 "It was really important to us to include our family and friends in our ceremony so Tim and I had both our Mum's do readings; three of my bridesmaids shared a reading and Tim's sister did one too.
My Mum read an adaptation of Love by Roy Croft; Tim's Mum read Letters to a Young Poet by Rainer Maria Rilke, my bridesmaid's Lerato, Andrea and Aly read Marriage Joins Two People in the Circle of its Love by Edmund O'Neill; and during the tying the knot part of the ceremony, Christa read a traditional Blessing of the Hands.
Even though we were always tight for time when it came to planning the celebration we took a long time in choosing each of the readings as we felt it was important to find the right words to express what marriage means to us, and have special words to look back upon throughout married life."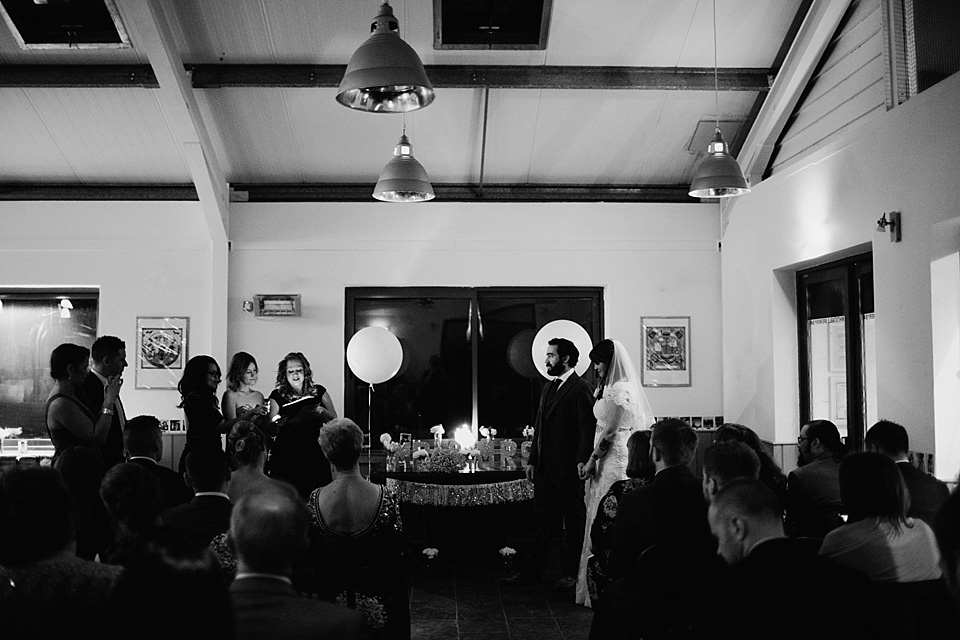 "One of Tim's oldest friends Albert acted as our officiant and just did such a marvellous job of it all – we couldn't thank him enough for doing that for us. It just made the service so incredibly personal and was one of my favourite parts of the whole celebration."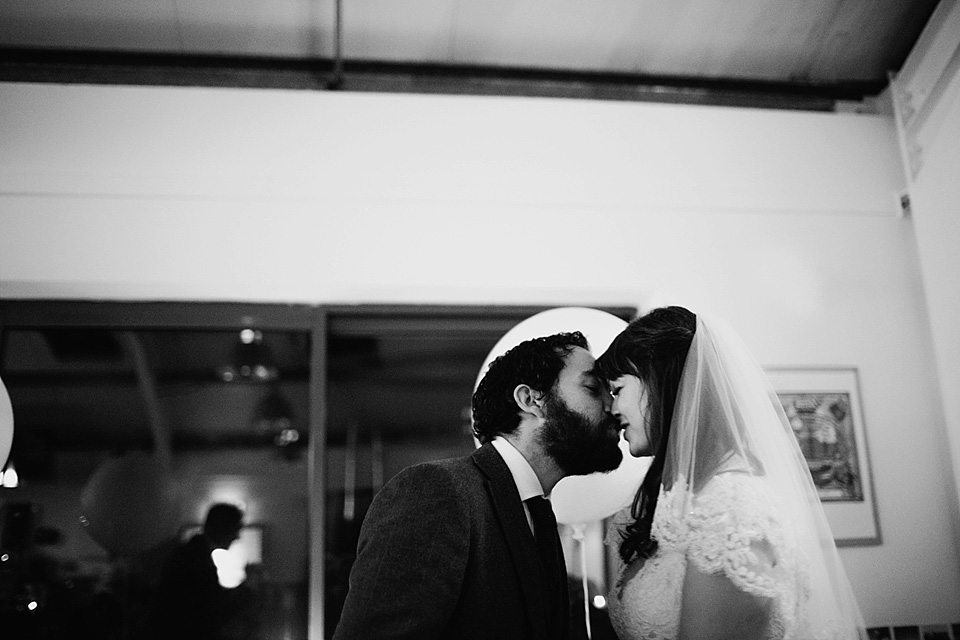 "The Whitstable Brewery Bar stands right on the beach and is just metres from where land meets sea. It's in a stark location despite being minutes from Whitstable town itself and the venue itself is simple and clean with whitewashed floors, metal table tops, dark wooden chairs and amber lights that we never wanted to detract from that with our decor. We simply used white flowers to line the tables and windowsills, and my step-Dad drilled holes into empty tin cans to make grey metal tea-light holders. There were candles at every window, and we had polaroid pictures of the past three years of our relationship on all the tables to share with our guests how we got to becoming Mr & Mrs."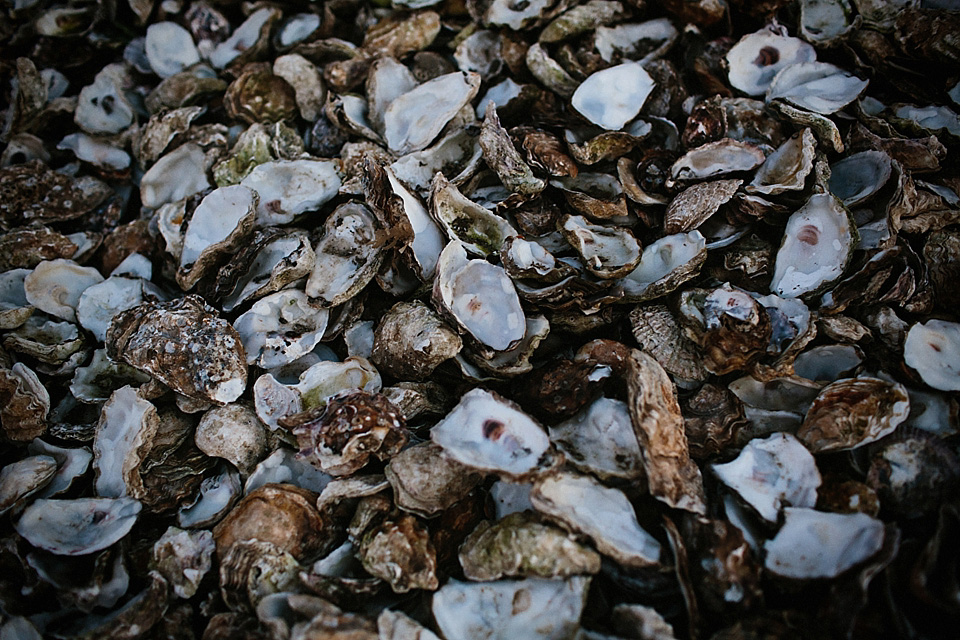 "Tim and I had originally planned on having a florist do our decorations and bridal flowers, but as the date crept closer I got it into my head that I wanted to do my own. There's something about The Whitstable Brewery Bar and The Lobster Shack being steeped with history and a sense of people coming together. I knew that doing my own flowers would sit better with me than having someone else come in and decorate the venue. In the lead up to the celebration, along with our family and friends we collected all the glass jars we could find, and two days before the wedding I filled up my battered red car with as many bunches of white flowers that the old girl could handle. Although I must confess I did get a bit overwhelmed when I bought them all home, once the arranging had begun I actually had a really peaceful afternoon putting them all together – and the result was exactly as I had imagined and hoped for – and all for less than £150 (which I still can't get over!).
The bouquets I made with my sister-in-law Christa the morning of the celebration over a cup of tea (and she was a great help when I had another moment of panic!). I chose gypsophila for all of the bouquets as it's such a happy and blousy little flower that I thought would be lovely and sweet for us all to carry. As it was so close to Christmas,  Marks & Spencer were selling gypsophila sprinkled with silver glitter which was such a simple but sparkly touch to add a bit of magic to them all. We bunched the bouquets together with oyster coloured ribbon and I couldn't've been happier with how they turned out!"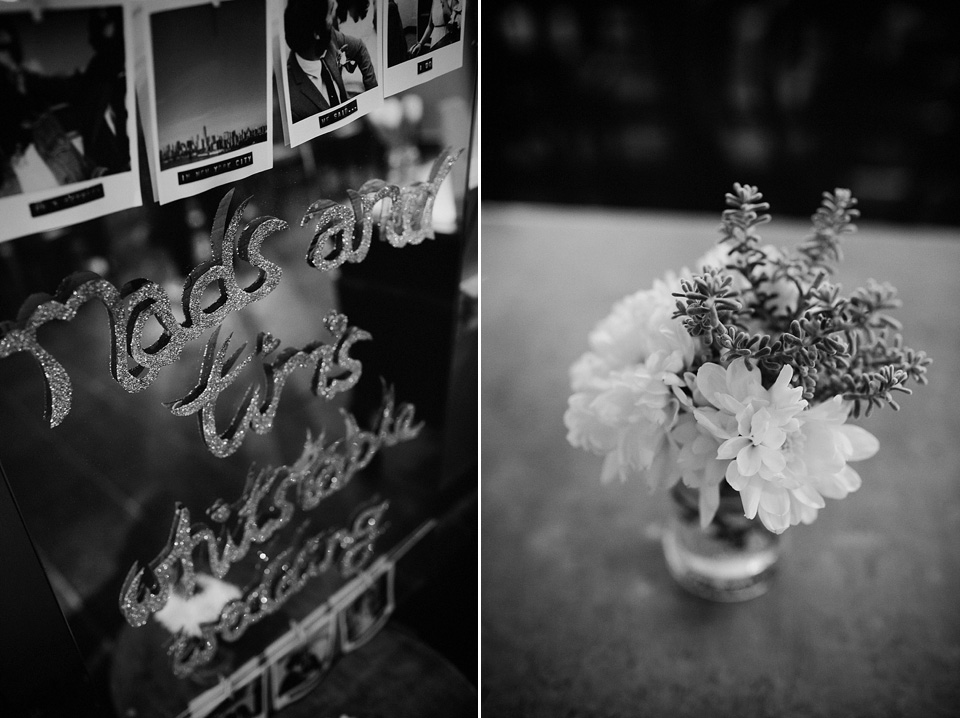 "As we sipped icy beers on white plastic sun loungers in Tunisia last June, Tim and I made the decision that our wedding breakfast would always be wine, cheese and meats. It's one of our favourite kinds of meals as it's such a relaxed way of dining – and the sharing element of it all makes for relaxed interaction, which was exactly what we wanted when we thought about our UK celebration. Although we did source local deli's to do the catering, the Whitstable Brewery Bar ended up giving us such a fantastic quote that we decided to go with them.
They also sorted us out with delicious canapés including local Whitstable oysters that seemed to go down a treat; and in the evening they stoked up their wood fire ovens and everyone munched on smoking hot pizzas straight from the oven (which was heaven!)."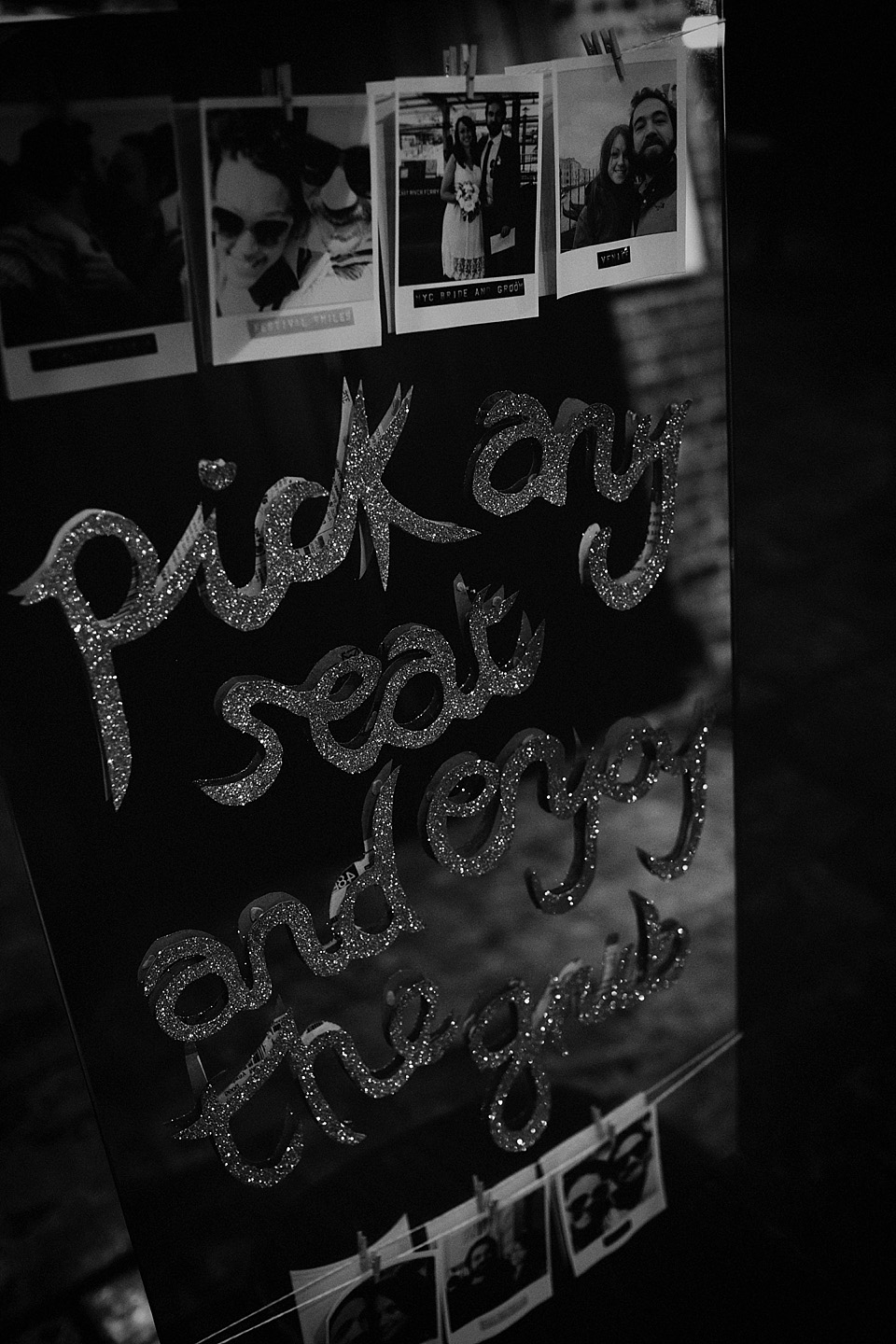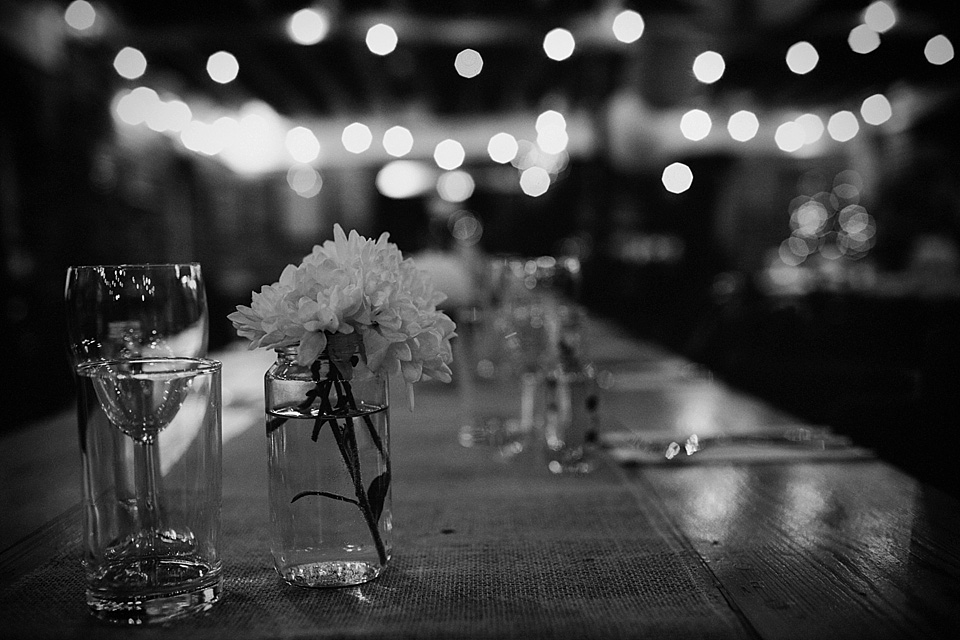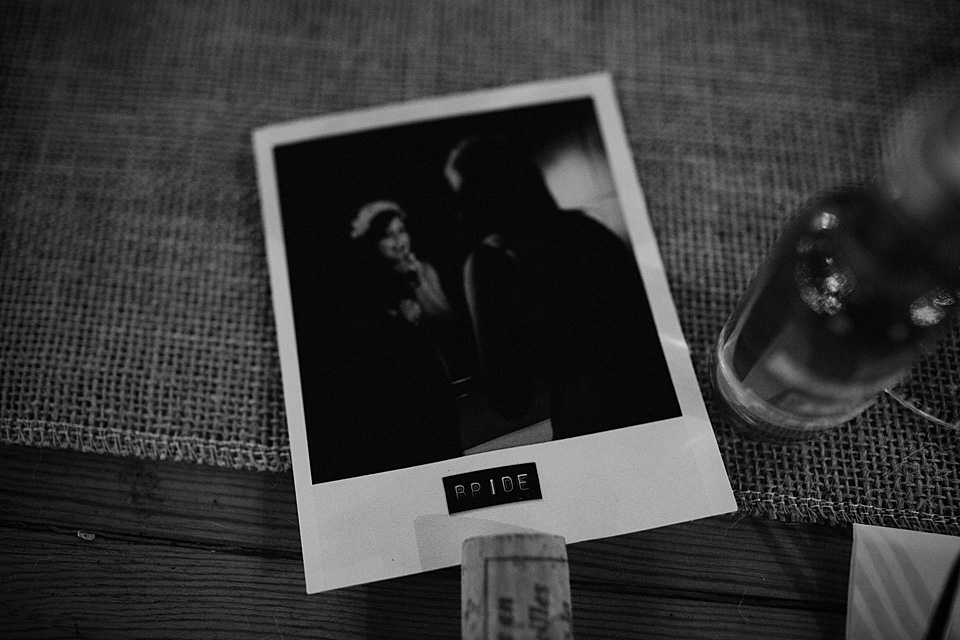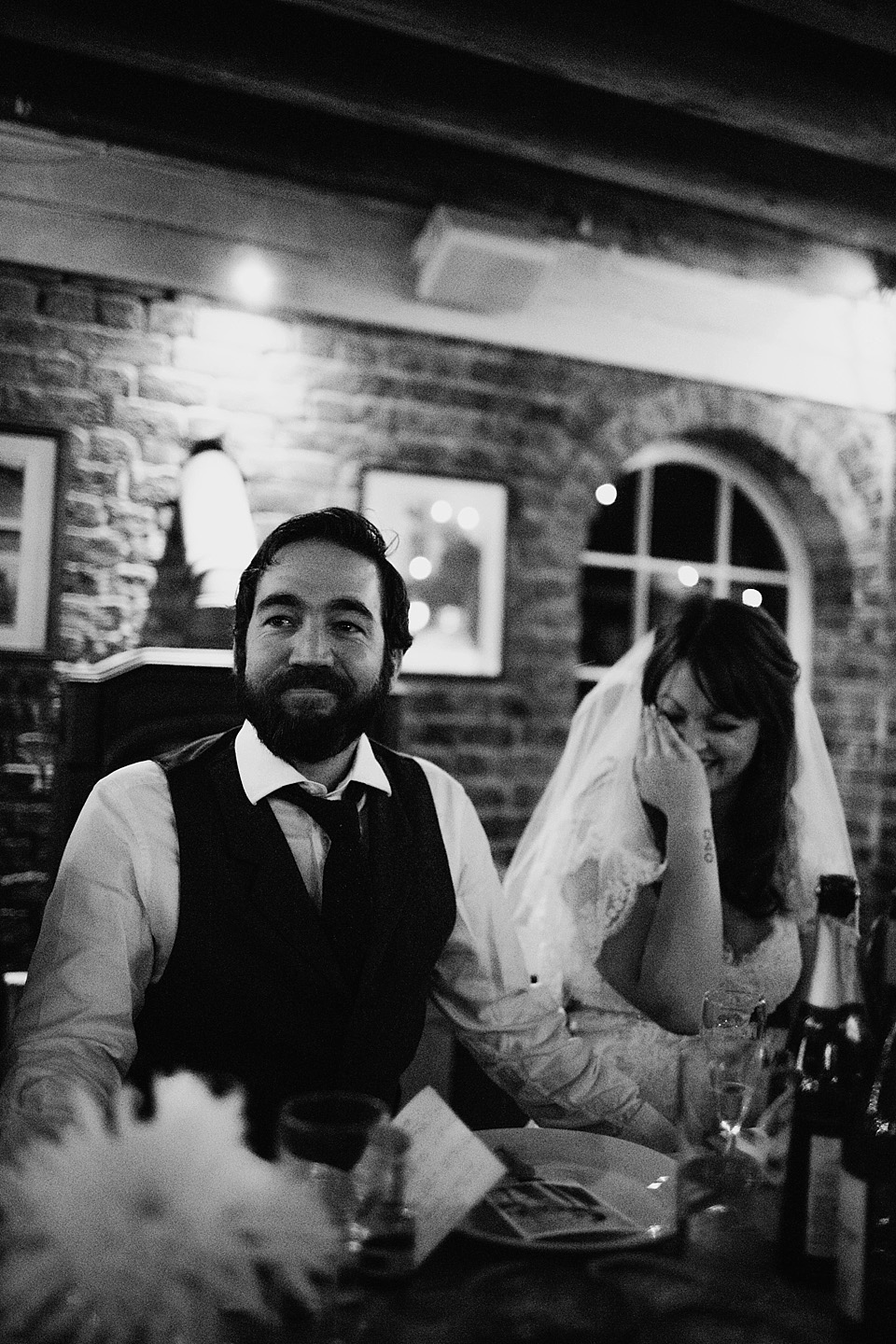 "I never thought Tim and I would provide favours, but about ten days before the wedding we thought it would be a nice gesture, and I'm so glad that we made the effort. Given the time of year we had planned on giving everyone homemade peppermint candy cane vodka – but when the shops were bare of candy canes (disaster!) we had to improvise and so decided on rhubarb and custard as it was a favourite childhood sweet for both of us. We found an incredibly simple recipe via Domestic Sluttery; bottled the rosy pink liquor in miniature whisky bottles, labelled them up with Oh My's neon label maker and served them with a miniature gingerbread man.
As potent as they were, I think they went down a treat!"
"I think to see the whole room full of our loved ones over dinner was my very favourite part of the day. The lights were warm and cosy; the fire was warm and inviting; the wine and home-made vodka was flowing, and, as we hadn't done a table plan everyone was getting to know each other and there was just so much love in the room.
We had also just had the most heartfelt speeches by Tim, my bridesmaids Holly and Natalie and Tim's best man John. I think having such a busy end to the year, and planning the wedding celebration in around eight weeks, we were both just so floored and grateful to have such kind and wonderful people in our lives. They really were all that mattered that night; they were what made it perfect."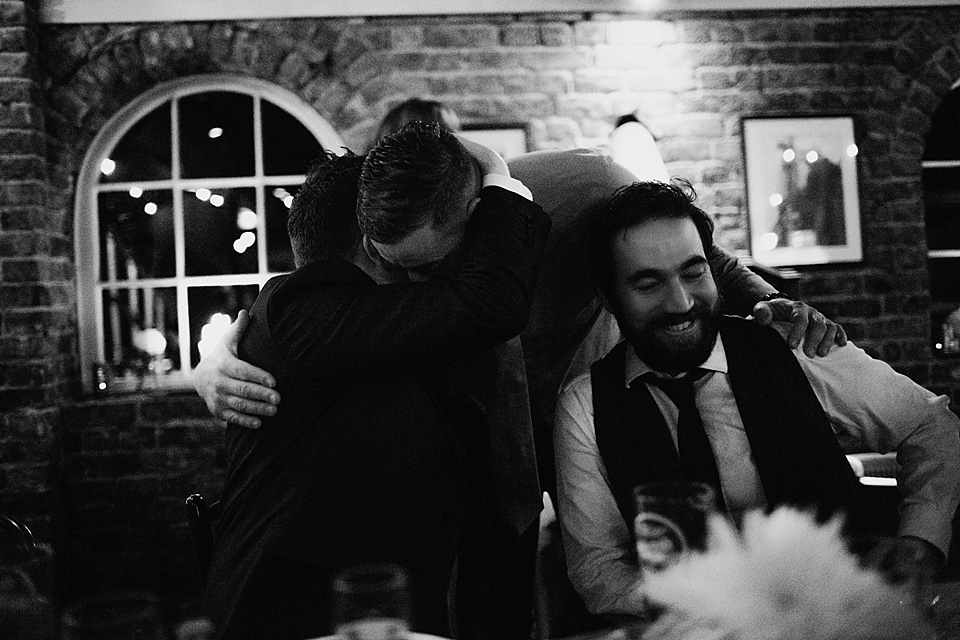 Words of Wedded Wisdom…
"Enjoy your celebration! It truly does go by so quickly so just try to take it all in and be happy. Remember the cuddles, the feel of loving kisses on your cheeks; remember the squeeze of your husband's fingertips, the clinks of wineglasses, the kind words someone takes the time to tell you.
Remember how young you are and how you're about to begin a great adventure with your best friend; remember all the people who came to be there for you and how beautiful they all looked. Remember the late night conversations and the songs you all sang, remember just how lucky you are to be so loved – and be happy!
Finally, I'm a Love My Dress reader and Instagram addict and becoming a Lovette and having the opportunity to blog about our wedding and wedding planning has been an absolutely glorious 14 months. Reading Annabel's wonderful blog never fails to put a smile on my face every day; with each post celebrating such an abundance of love and happiness it is always a pleasure to read – and I've adored fawning over all the gorgeous weddings.
Even though I am now very officially a married woman, I can't imagine my life without a little bit of Love My Dress every day! Every girl needs a bit of love and glamour to make it through the day."
Oh Madeleine, it has been a true pleasure of mine getting to know you, and allowing you to use Love My Dress as a platform to share your own unique, personal and inspiring experience – thank you from the bottom of my heart and all my love and congratulations to you and Tim.
Readers, you can connect with Madeleine on Twitter and Instagram, and you can see her past Lovettes posts here and her New York city wedding here.
That just leaves me time to say, if you fancy being one of our new Lovettes for 2015 – you might want to visit the blog on Sunday!
All my love, Annabel x
Photography – Claudia Rose Carter (assisted by Alex de Freitas)
Venue – East Quay in Whitstable
Wedding Dress – Maggie Sottero via Wedding World, Kent
Veil – 'something borrowed'
Shoes – New Look + Clarks
Bride's Scent/perfume – Miss Dior
Groom – Walker Slater + Grenson brogues
Bridesmaids – Various
Florist – DIY (the bride)
Cake – DIY (friends)
Hair and make-up Artist – Lisa at Blushed