Good afternoon lovelies, I hope you are enjoying a wonderfully relaxing Sunday.  I've got a beautifully wedding for you today to go with your peaceful cup of afternoon tea.  Ross who works in finance and Kate who has an online fashion company Renèe Marion, tied the knot on 28th August last year at Burgh house in Hampstead in front of their immediate family for a relaxed and intimate affair.
This is the sweetest of weddings and one of those 'fuss free' style occasions I know many of our readers dream about.  The bride completely steals the show (as is only appropriate of course) in the most divine Delphine Manivet gown and gold headpiece – both purchases from The Mews of Notting Hill and couple Michael and Andrea of Bohemian Weddings were there to capture all their special moments on camera.  Below, Kate tells us how this most lovely of wedding days came together.
"I planned the wedding myself, and with it only being a small and intimate affair, it was relatively stress free. We both knew we wanted it to be a fun and relaxed occasion without too many formalities, and we just chose what we love, keeping it really simple.  There was just one trip to the florist and one trip to a wedding dress shop. Ross already knew he wanted a made to measure blue suit, so really, it all fell together so simply – thank goodness!"
Photography Copyright (c) 2015, Bohemian Weddings
Kate fell in love with French bridal designer, Delphine Manivet – who also happens to be one of our very favourite designers here at Love My Dress.
"I got my dress from The Mews of Notting Hill, who specialise in French bridal couture. Delphine Manivet has become the reference in trendy, yet traditional, wedding dresses in France.  I chose the dress as it was so casual cool it didn't look too 'try hard' and was so comfortable to wear .  I could eat as much  wedding cake as I liked on the day, and it didn't show!
Delphine's vision of a modern bride is a woman who does not necessarily get married at 20, who loves fashion and considers her wedding as a continuity of something, and not as the beginning. She wants a dress connected to her everyday style: to be herself, only prettier. And Delphine loves that more than anything – making girls look pretty."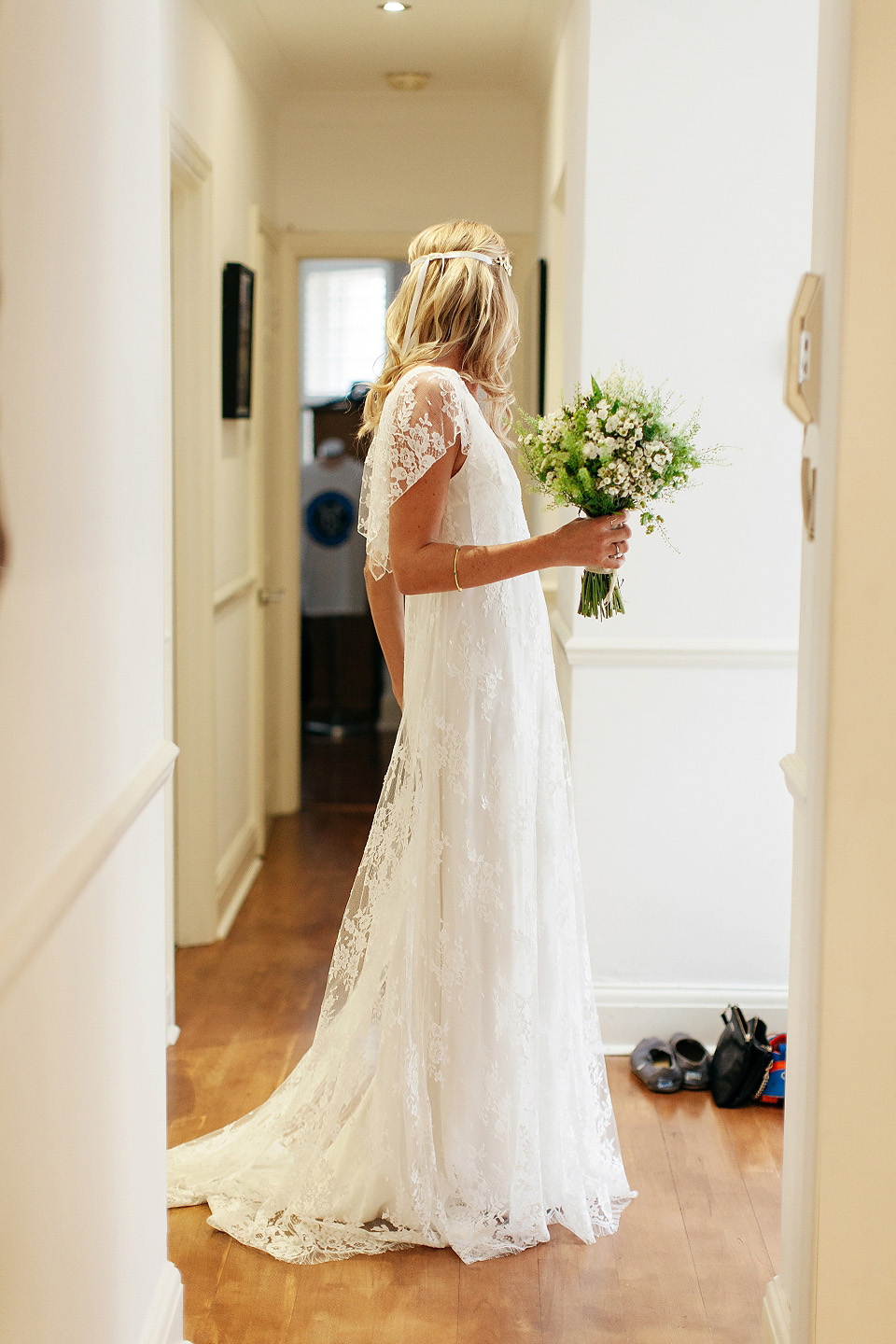 Kate finished off her look with a stunning headdress also from The Mews Of Notting Hill and a pair of gorgeous Michael Kors shoes from Harvey Nichols.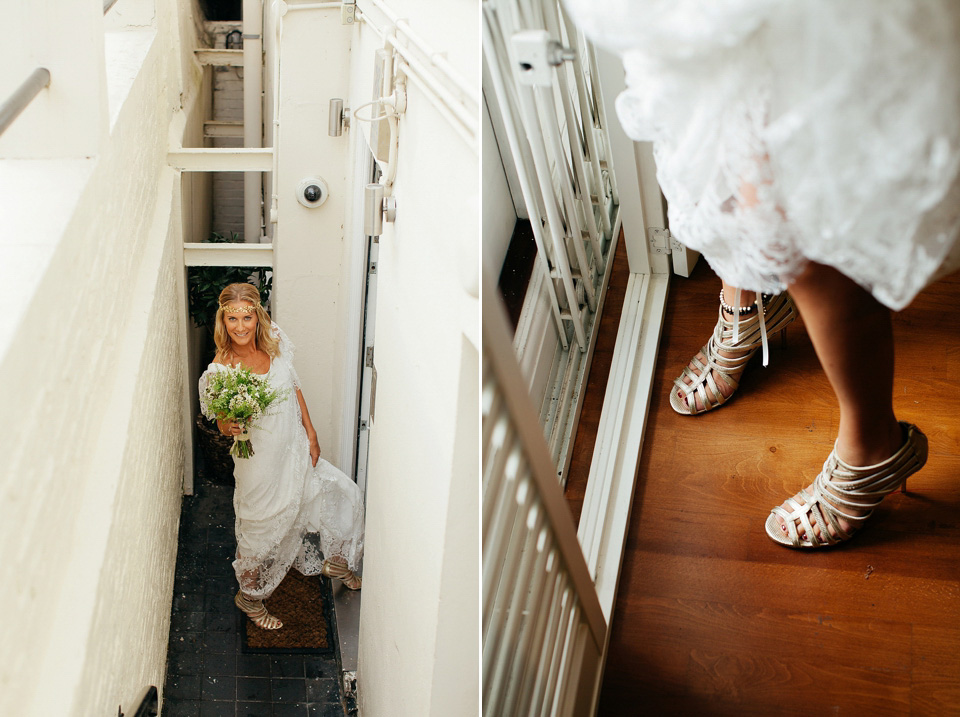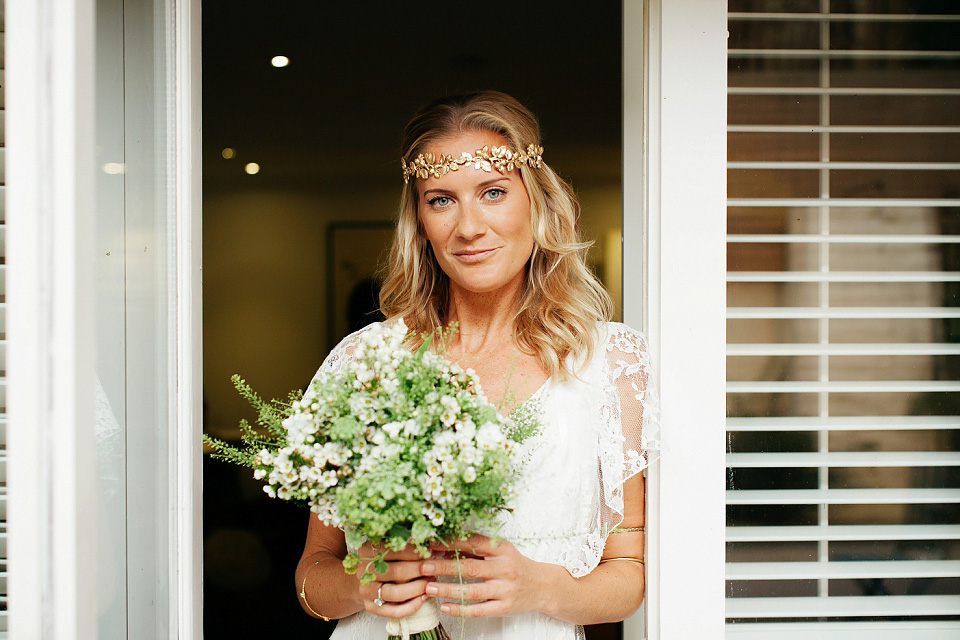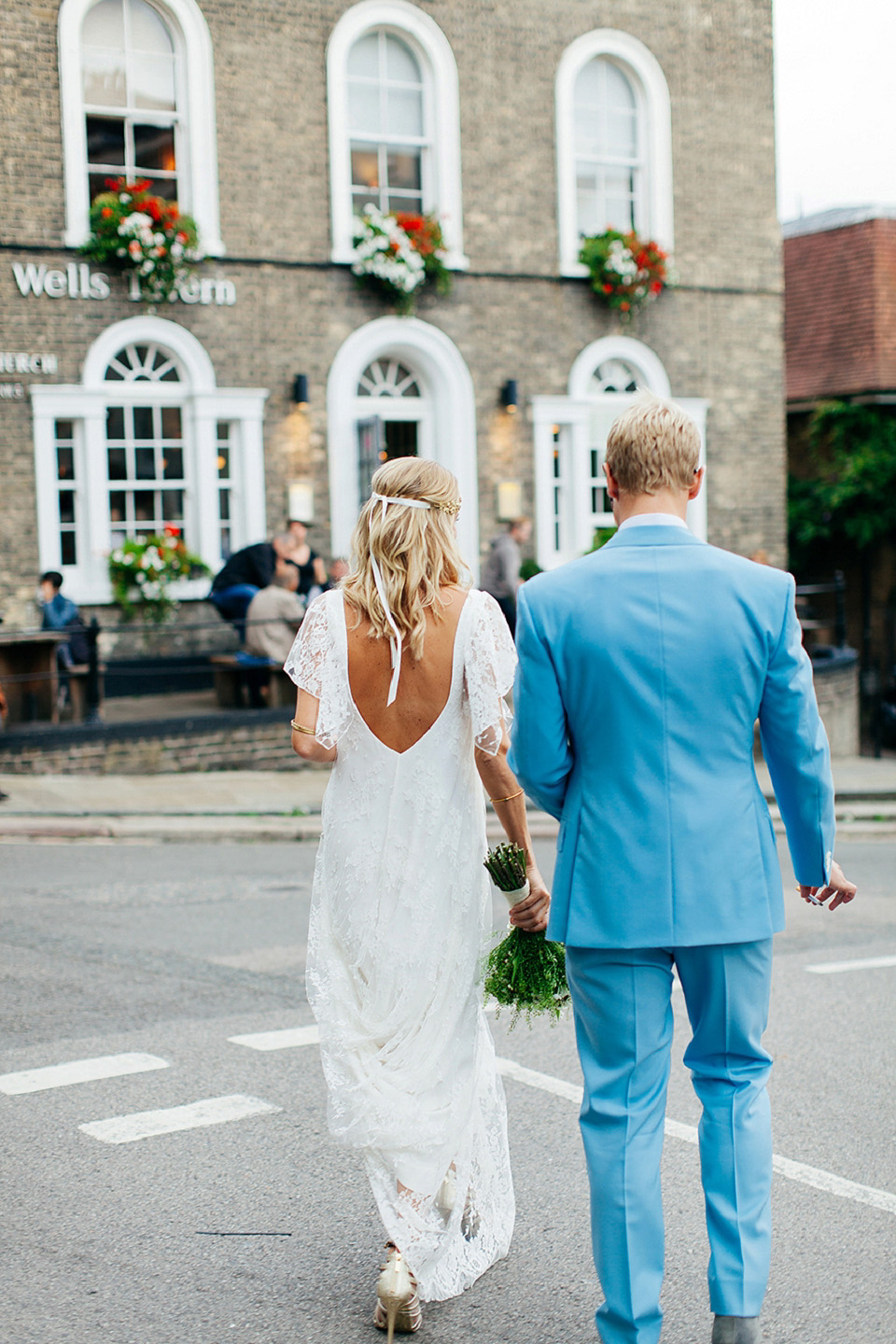 Finding the right suppliers for your wedding is key – it's so important to click with the right individuals when choosing your wedding suppliers – people who you know will do everything they can to help towards your special day.  Nothing makes me happier therefore, than when a bride talks about her wedding photographer with such praise…
"Our wedding photographers were wonderful – we met prior to our wedding to discuss details and wishes for the day. Michael and Andrea of Bohemian Weddings both put us at ease and delivered exactly what we had discussed.  The images captured our small and intimate wedding perfectly and we loved the details they picked up on the day.  We now have the most wonderful collection of photographs.  
Bohemian Weddings are friendly sociable and professional with a stunning eye for detail and creativity – I can't speak highly enough!!"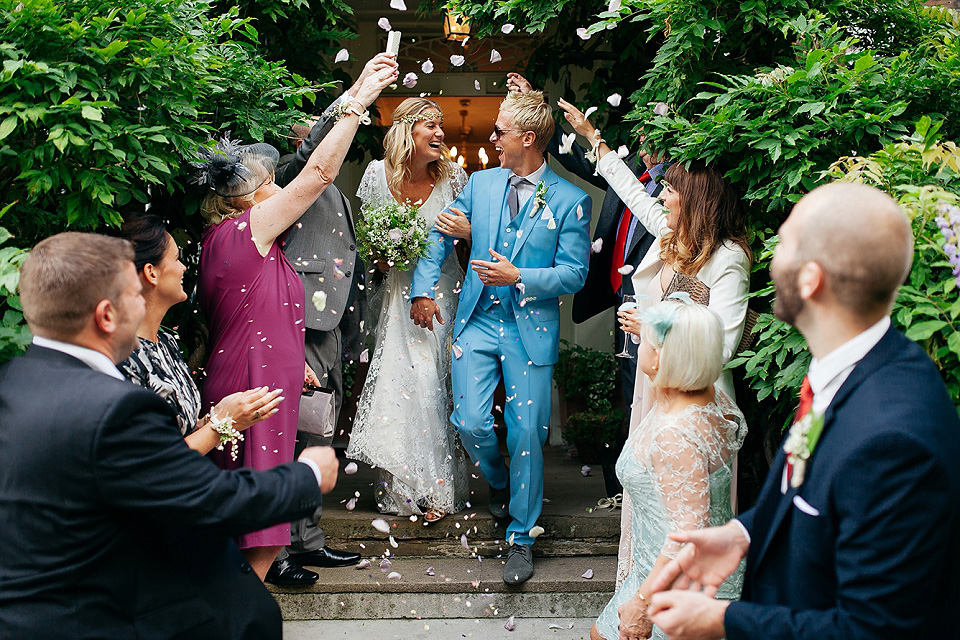 I love reading about how our gorgeous couples have met and how each proposal story is so unique. Kate tells us about how her lovely husband proposed to her on a beach in Tulum, Mexico.
"We have been together since January 2012 set up by a mutual friend who knew us both separately. We are forever grateful for her playing Cupid! We are both from the same small town and our parents live 10 minutes apart but had never met.
We got engaged on 11th November 2013 in Tulum in Mexico. We arrived to torrential rain and jetlagged, so had an early night. The next morning, we woke to the most beautiful sunrise and decided to run along the beach pre-breakfast. When we got to the end of the beach, Ross went to cool off in the sea (I didn't realise he was trying to get the ring out of his pocket on his running shorts). He emerged from the sea holding the most stunning ring (which I thought he had just found while swimming!).  After a few tears, and lots of hugging and laughter, we ran back to the hotel to call ecstatic parents."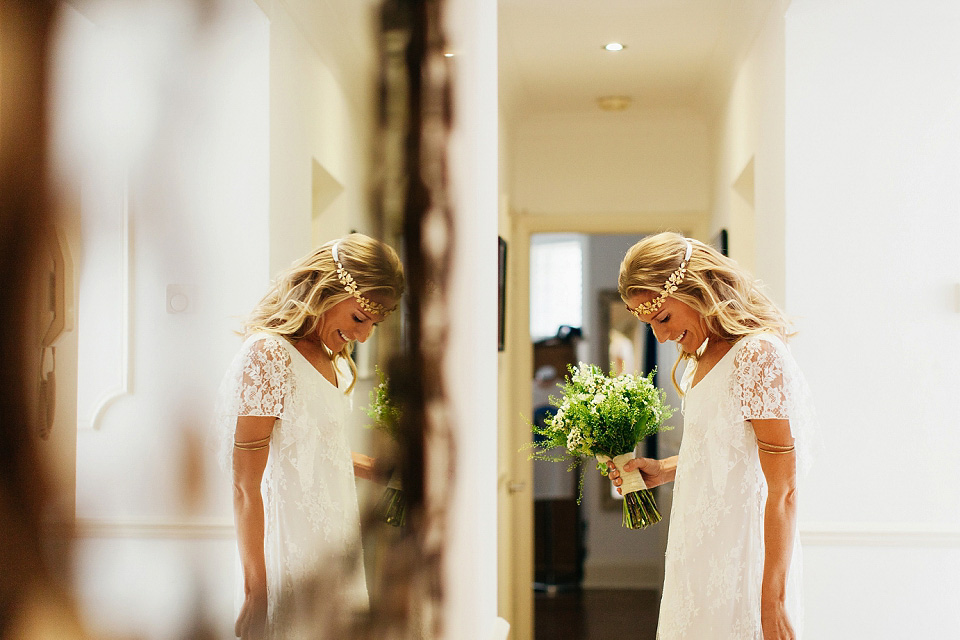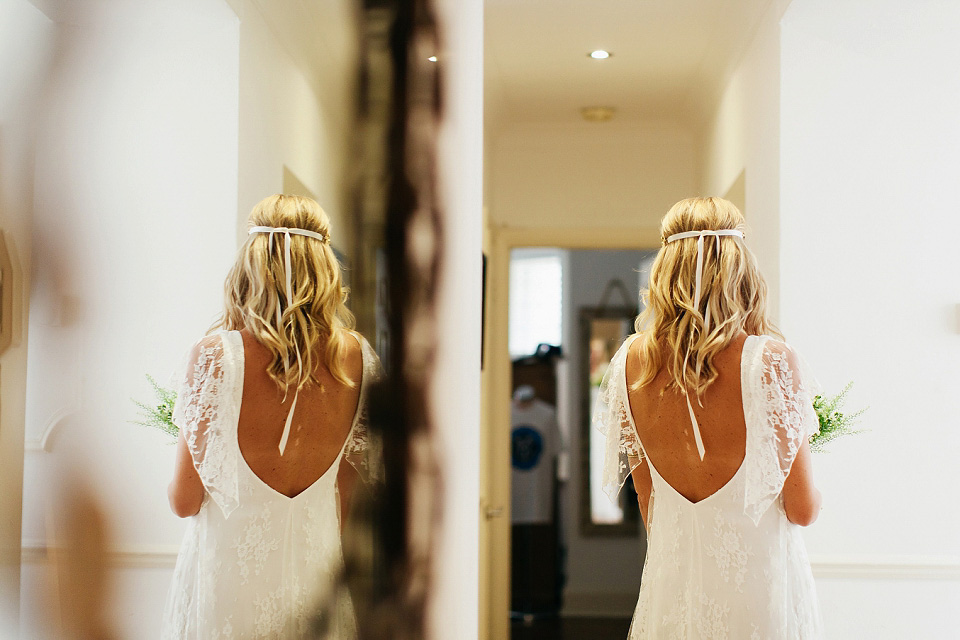 I'm love the sweet boutonnière's, Kate's simple bouquet and I'm a huge fan of wrist corsages anyway – these ones are beautiful.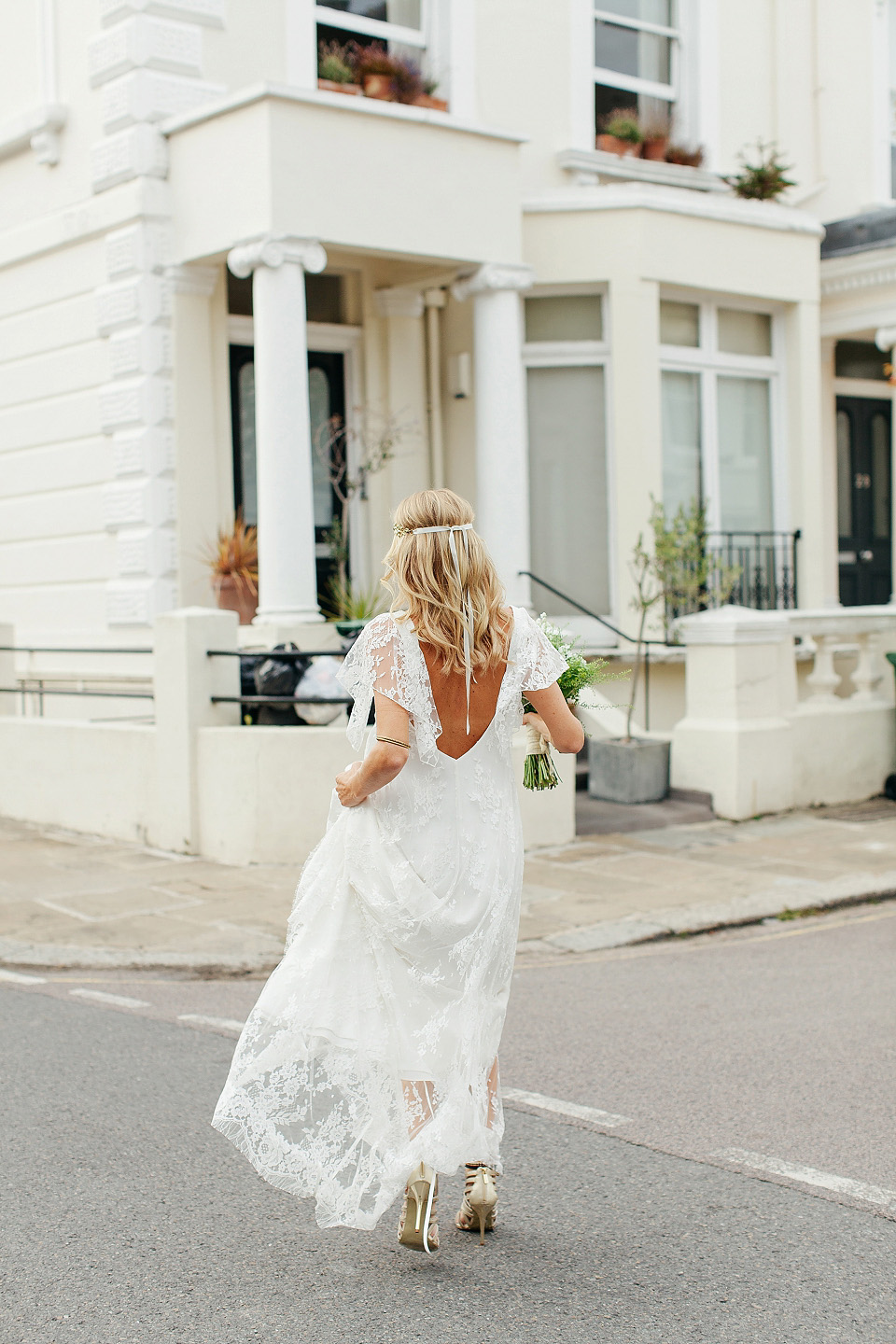 "Burgh house is such a relaxed, beautiful building and being on our doorstep in the area we love so much it was our first and only choice. It didn't disappoint. "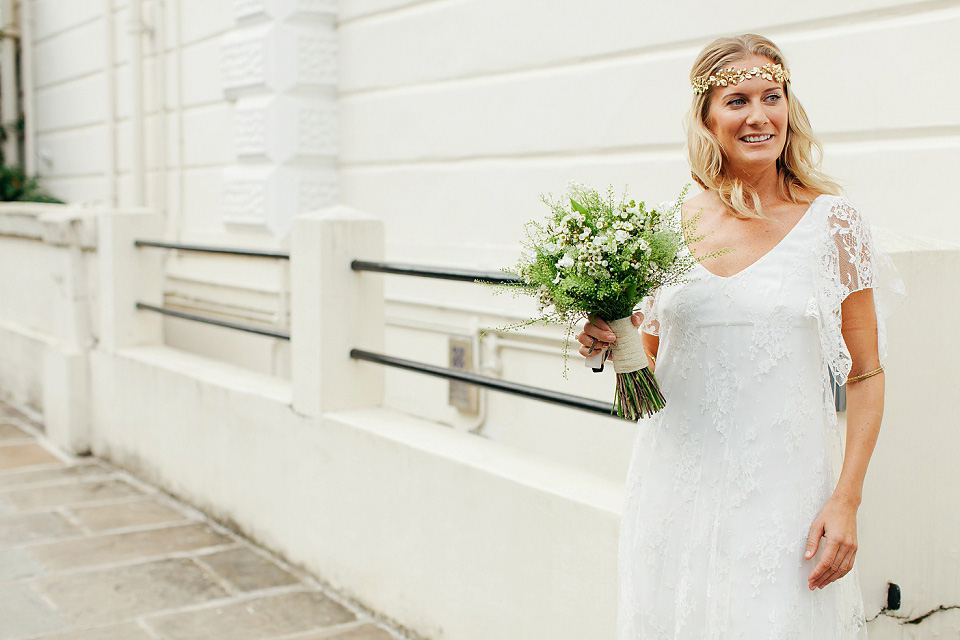 What utterly beautiful blooms by Galton Flowers…
Kate's dad walked her down the aisle to Ellie Goulding's 'How long will I love you'.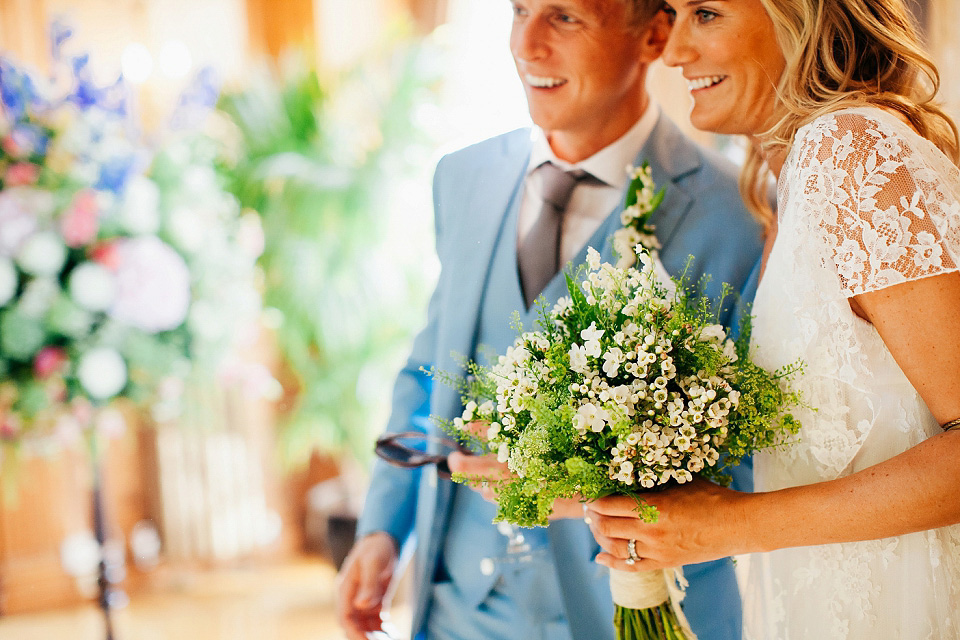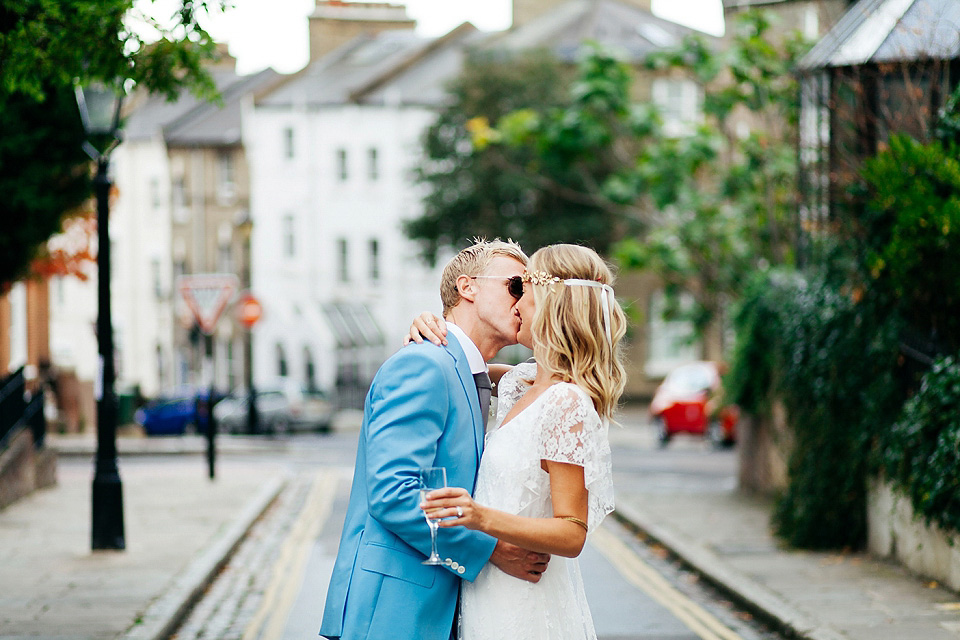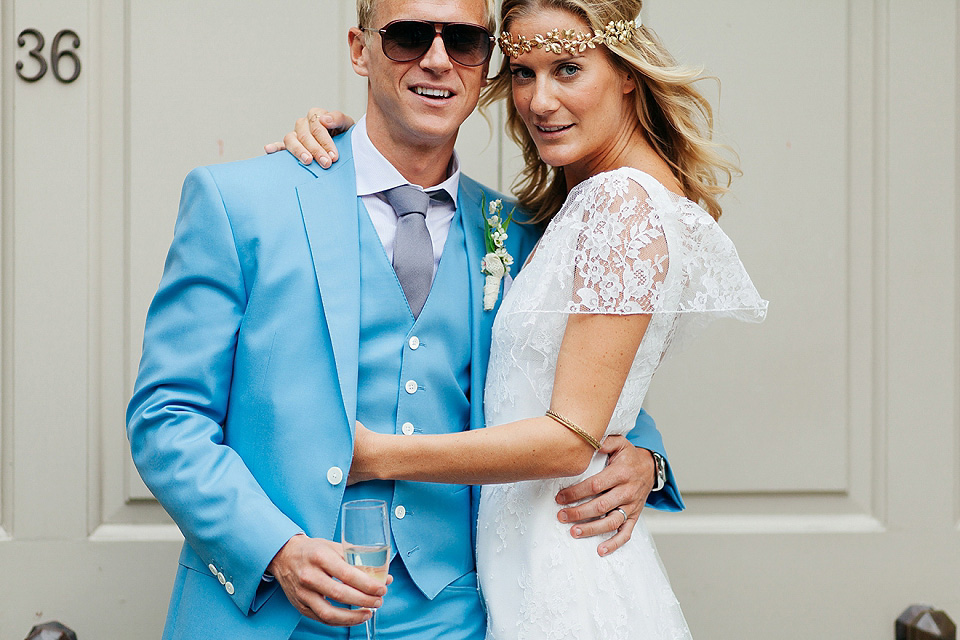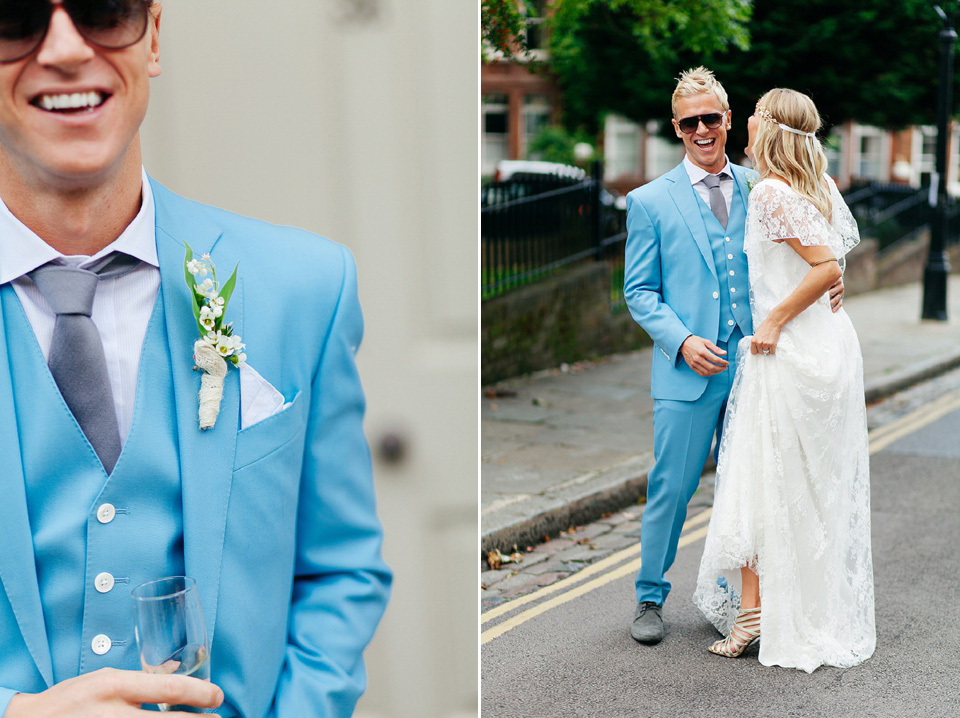 Kate's sister wore a Alice and Olivia dress with Zara sandles and Kate's sister-in-law wore a Christopher Kane dress with Alexander McQueen heels and you must agree they look stunning. I love how Kate wanted her bridesmaids to wear whatever they wanted.
"I let my sister and sister-in-law wear whatever they wanted as bridesmaids as I wanted them to feel comfortable and enjoy getting a new dress that they loved and could wear again."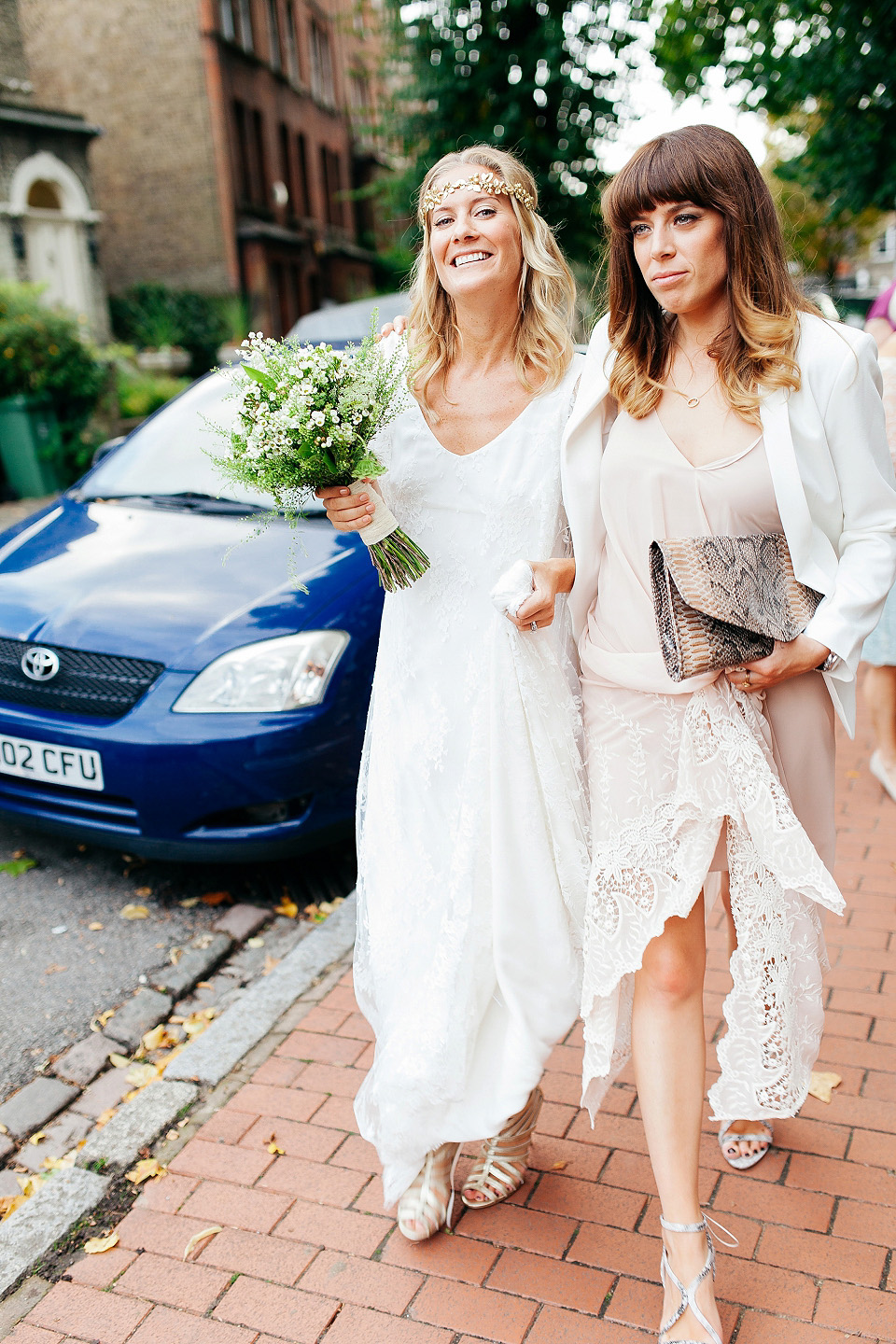 One of Kate's favourite moments was her morning Yoga session, let me hand you over to Kate to explain why…
"It's so hard to pin point one favourite part of the day, as we enjoyed so many aspects.  I loved that we went to do bikram yoga together the morning we got married, knowing that later that day we were getting married, I smiled all the way through – I loved seeing Ross' face as I walked up the aisle and the happy faces of our loved ones too. 
Ross would probably say his favourite part was after the vows – time to relax and enjoy a glass of fizz!"
I must admit I do love a homemade wedding cake, each story is different, be it the bride making it the night before with friends and having a messy blast or a family member spending loving hours on a wonderful masterpiece which gets talked about for many years after. My lovely late Grandma made my sisters tiered wedding cake and it just means so much more knowing how much love and thought has gone into it.
"The cake was made by a friend of my mother in laws and then decorated with the same lily of the valley flowers that were in my bouquet."
Words of Wedded Wisdom
"Do it for yourselves not others! If people truly love you they understand and accept you and your choices and will be happy for you however big or small the wedding.
And I wouldn't change a thing – some things didn't run smoothly, for example, my car never turned up to get me and my dad to the church (we laughed and booked a taxi). The small things really don't matter I knew Ross was waiting for me and we would get there even if we had to hitch a ride on the back of a bike!"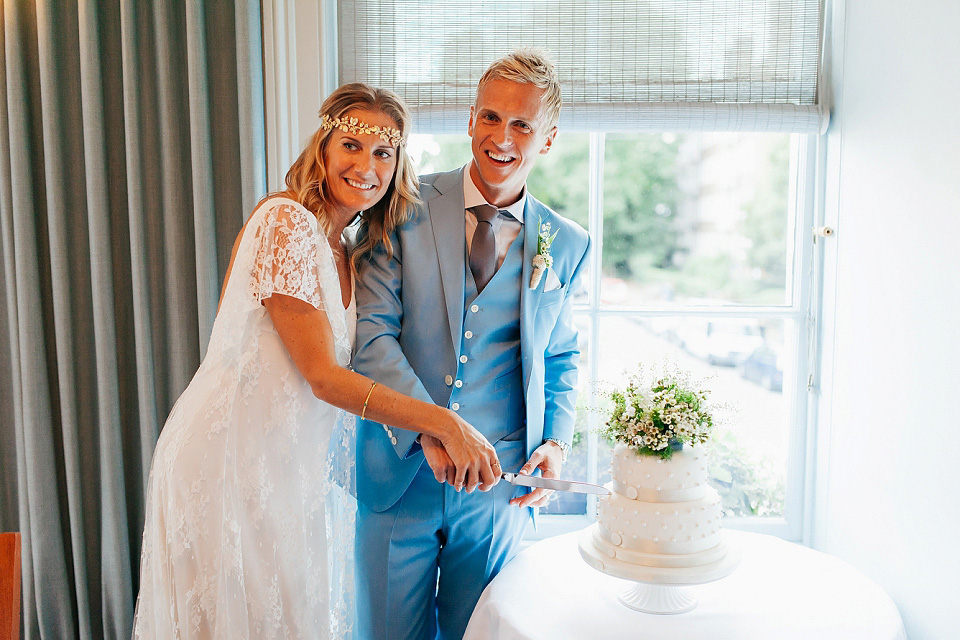 I love small and intimate weddings like this one – we only had 36 guests at my own wedding and for me, that was the perfect number. As Ross and Kate's pictures show, intimate weddings are just as wonderful and full of fun and love as any other – and really, what's more important than that?
Congratulations Ross and Kate from all of us at Love and a huge thank you to Michael and Andrea of Bohemian Weddings for sharing your wonderful photography.
Have a wonderful Sunday everyone.
With Love, Christina x
Photographer – Bohemian Weddings
Venue – Burgh house, Hampstead Heath, London
Wedding Dress – Delphine Manivet from The Mews of Notting Hill
Headdress – The Mews of Notting Hill
Shoes – Michael Kors from Harvey Nichols
Florist – Galton Flowers
Cake – Homemade
Bridesmaid Dresses – Alice and Olivia & Christopher Kane + Zara & Alexander Mcqueen shoes