Good Morning!  March is finally here, and with only a few weeks left until the first, official day of Spring, everyone is feeling a little giddy by the promise of sunshine filled days and gardens full of bloom.  Just to add to the excitement, I have a beautiful and quintessentially English wedding for you today that I'm certain will brighten your Wednesday.  I was actually thrilled to have been tasked with preparing this particular feature for Love My Dress – you need to get those Pinterest boards at the ready for the abundance of sweet and touching detail in these photographs, not least, all those beautiful blooms by the wonderful Tudor Rose Florist.
On July 12th 2014, Hannah and Ben,  both Doctors, tied the knot at the stunning Tudor Manor in Hengrave Hall.  To begin this feature, I want to share this most charming of wedding films, crafted by film makers Tom and Rob of Clarke and Palmer. It features the most heartfelt and loving ode from a groom to his newlywed bride, and gave both Annabel and I goosebumps when we watched it (for the first time!)…
Film created by Clark and Palmer Films
"Our venue, Hengrave Hall, was the first thing that we chose and it lent itself perfectly to a classic English summer wedding. The dreamy gardens, awash with pastel-coloured David Austin roses inspired a similar colour palette for the wedding. We were keen to style the day in a way that would look timeless and traditional.
Gold crept its way into the colour scheme, mainly because I love the combination of blush pink and gold and I got over-excited with the endless possibilities obtainable with a can of gold spray paint!"
Photography Copyright (c) 2015, Dominique Bader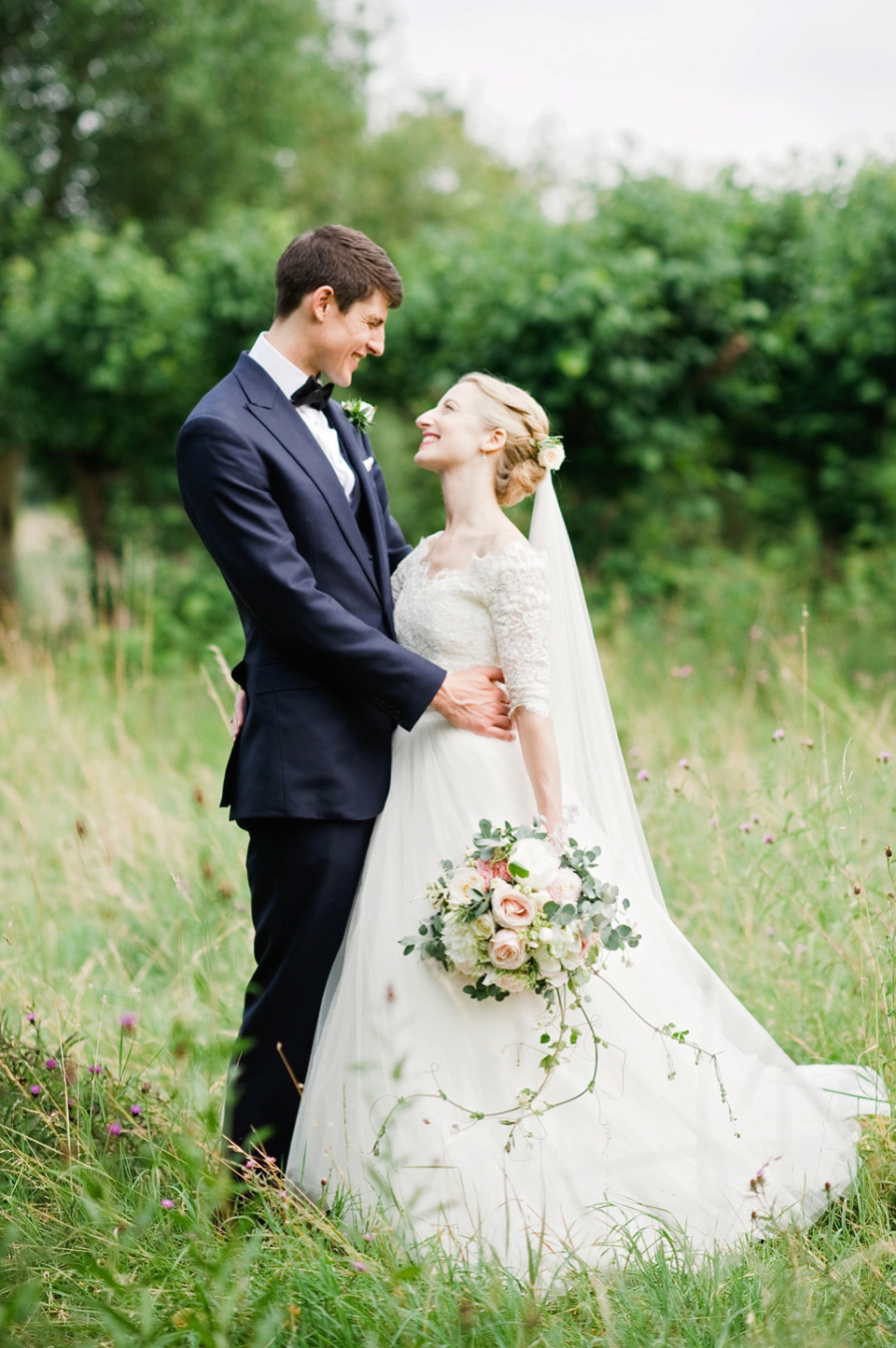 "We were looking for a traditional country house that could accommodate all our 80 guests inside as we didn't want a marquee reception. Hengrave Hall ticked all the boxes for us. As Hengrave made it possible to make our wedding stretch from Friday to Sunday it was the closest thing to having our very own stately home for the weekend!
To top it all off, Hengrave Hall houses a medieval catholic church on its grounds: the church of St John Lateran – small and intimate, it was the perfect place for our ceremony."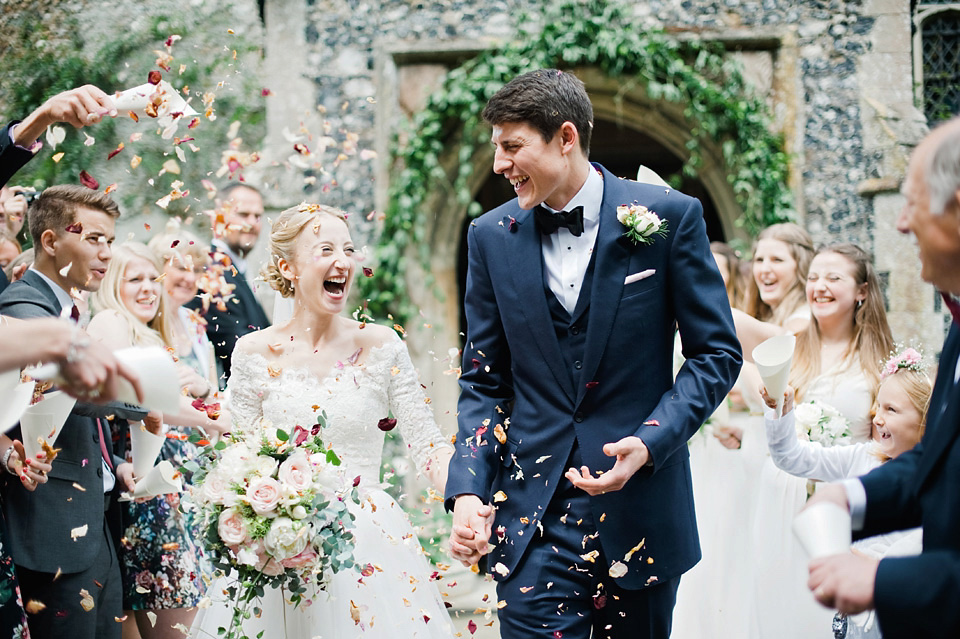 It is a topic we have discussed in depth on Love My Dress only recently here, and one that I've no doubt many of you will relate to – the search for 'the' dress…
"The search for my dress turned into quite a mission, I think over the course of a year I must have visited about 15 bridal boutiques! I would have loved to have picked out 'the one' at the very first shop but in retrospect I should have guessed this would never happen.  I made the mistake of becoming fixated on the idea of my perfect dress and whilst I tried on several beautiful gowns that I would have been delighted to wear, I had a niggling feeling that I hadn't found 'it' yet.  This was compounded by reading of other brides' experiences of finding 'the one' on wedding blogs, and the fact that I am notoriously indecisive."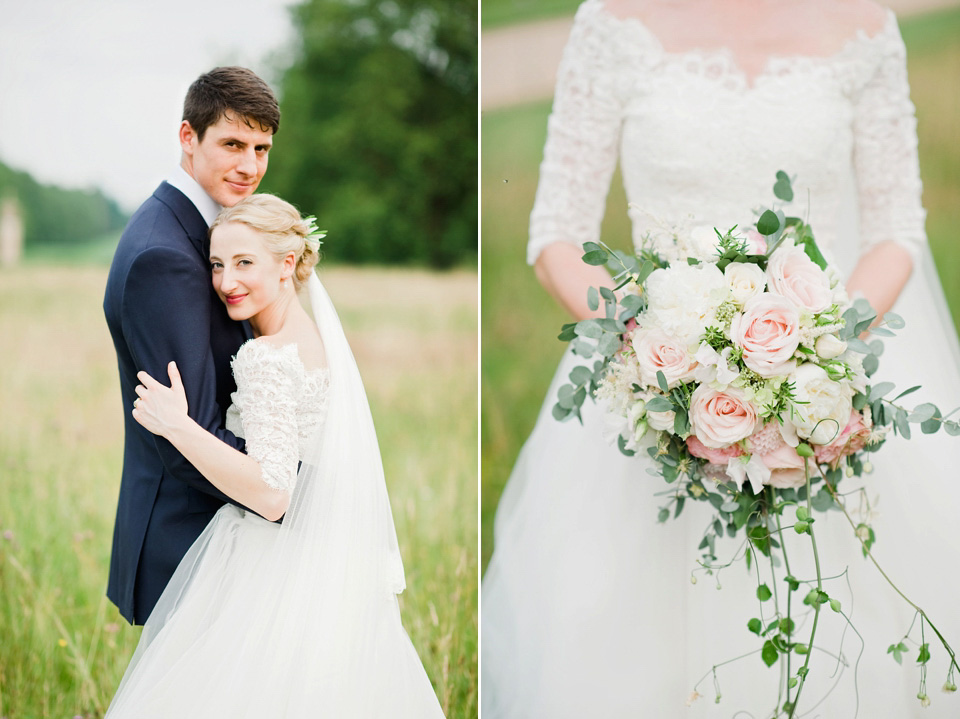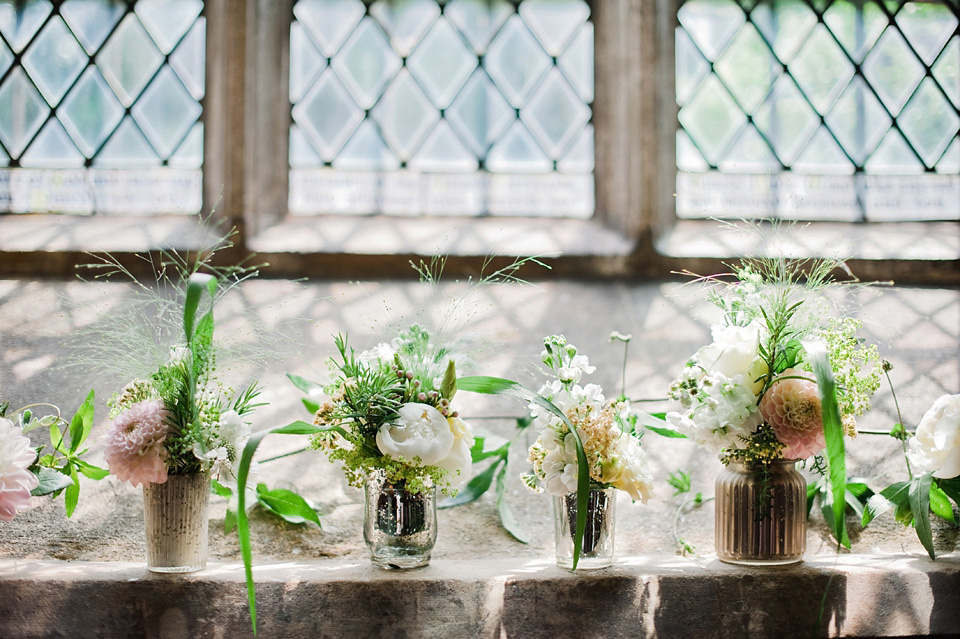 "I eventually found the dress that ticked all of my boxes at Ava Rose Hamilton in Silsden but my heart sank when I saw myself in the mirror – the all-over lace, whilst exquisite, swamped my petite frame and was ageing. My amazing stylist Becky then put me in a simple silk tulle princess gown that I had dismissed as it was strapless – the shape suited me perfectly. She added a beautiful lace top and finished it off with a long silk ribbon around the waist.
My babcia (grandmother) from Poland came to the fitting and gasped when she saw me in it – it's a moment that I won't ever forget."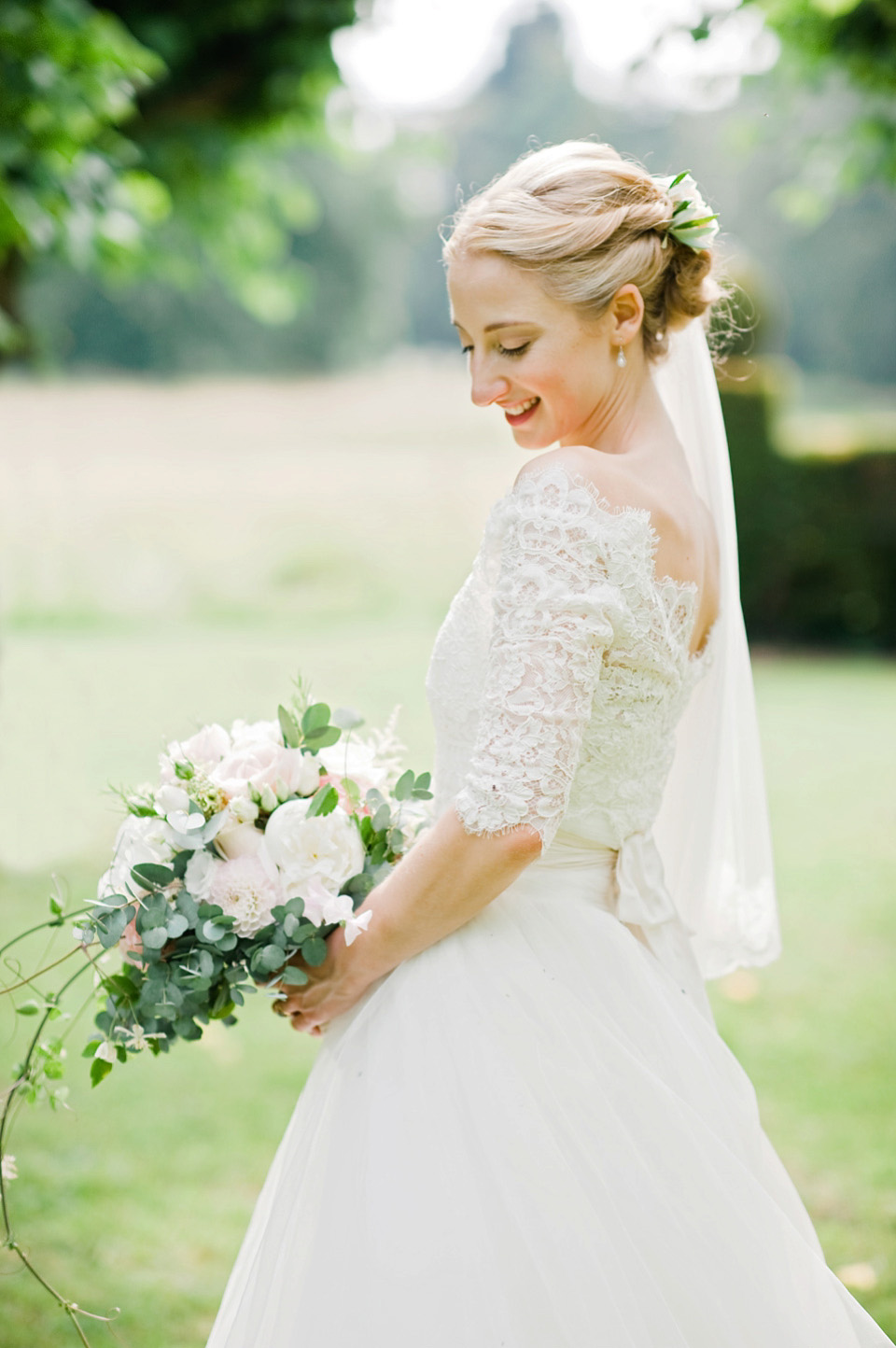 I'm sure you'll agree these images by the extremely talented Dominique Bader are utterly stunning. It's this kind of photography that really inspires me, they have such a fairytale feel to them and tell the story of Hannah and Ben's day perfectly.
"I love Dominique Bader – this woman is a wonder behind the lens and so calm, lovely and professional to work with. Looking at her blog I was so impressed with the consistency of both the high quality of her work and also her personal style – classic, timeless and with a beautiful dream-like quality.
We met Dominique for an engagement shoot on Hampstead Heath and she made us feel instantly at ease – we had so much fun! It meant that not only did we have a set of stunning portraits but we felt far more comfortable to have a familiar face document our big day. We couldn't be more thrilled with our photos, Dominique captured the essence of the day perfectly and we will treasure them."
To provide assistance with all the details, Hannah and Ben enlisted the help of Event Planner, Hannah Biddy.
"Hannah Bibby is the events planner for Hengrave Hall and she ensured the day ran smoothly. She was truly amazing; on the morning of the wedding I realised I had forgotten to bring the sparklers for our midnight send-off, we were prepared to go without but Hannah surprised us by nipping out to buy some more!"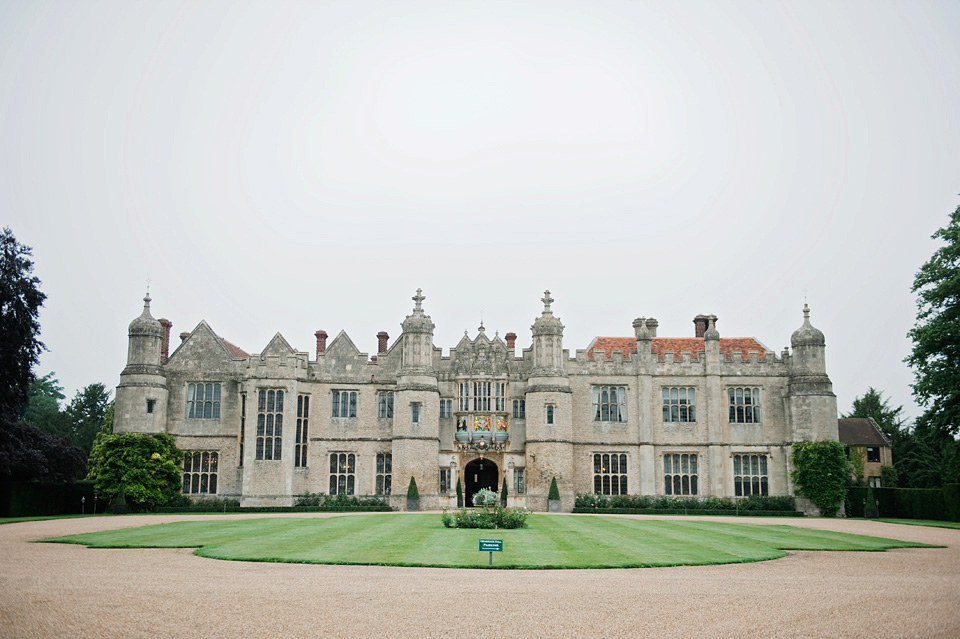 This beautiful love story all began at their University library whilst Hannah and Ben studied for their end of year exams.
"We clicked straight away; Ben offered to walk me home at the end of the day and it became a bit of a routine – every day, I'd spot him in the library and sit myself at the table next to his and then we'd 'happen' to leave at the same time! We didn't see each other during the summer break but in the first week of the new term he asked me on a date, and the rest is history.
Ben proposed with a beautiful Ceylonese sapphire and diamond ring that he had chosen himself on a peaceful weekend away in the Yorkshire dales; it was perfect. We moved to New Zealand shortly afterwards for a year which proved tricky for wedding planning! We were married two years later on the same weekend in July that we had got engaged."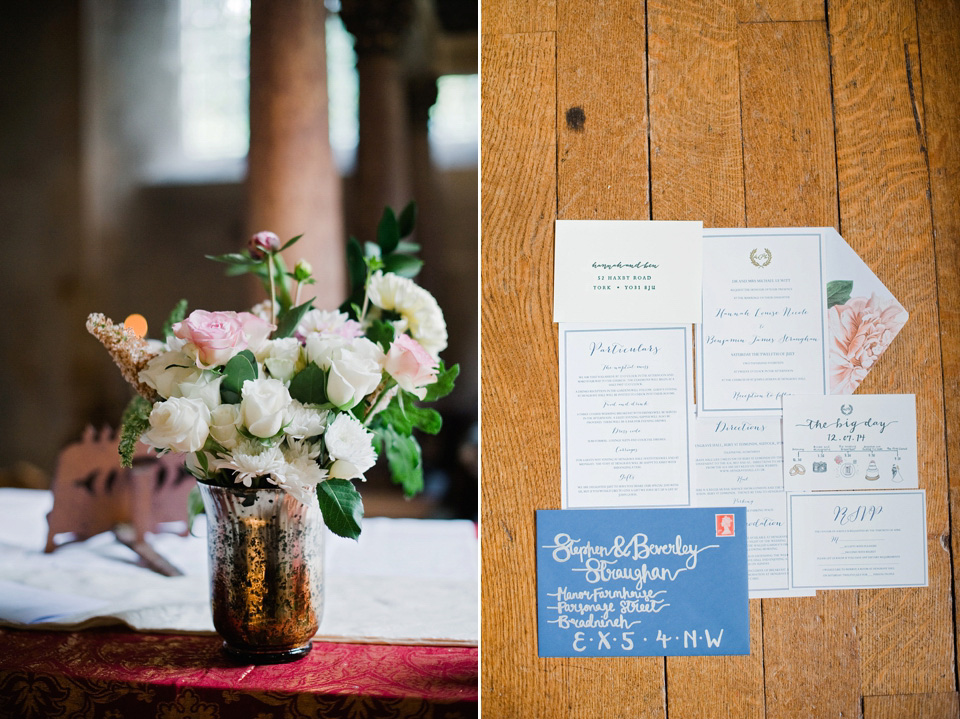 "I adored my shoes – Serena by Charlotte Olympia. The price tag was rather eye-watering, so I was delighted to find the exact pair I wanted on e-bay for a total bargain. The shoes have a sweet powder-blue trim on the inside for a bridal 'something blue'."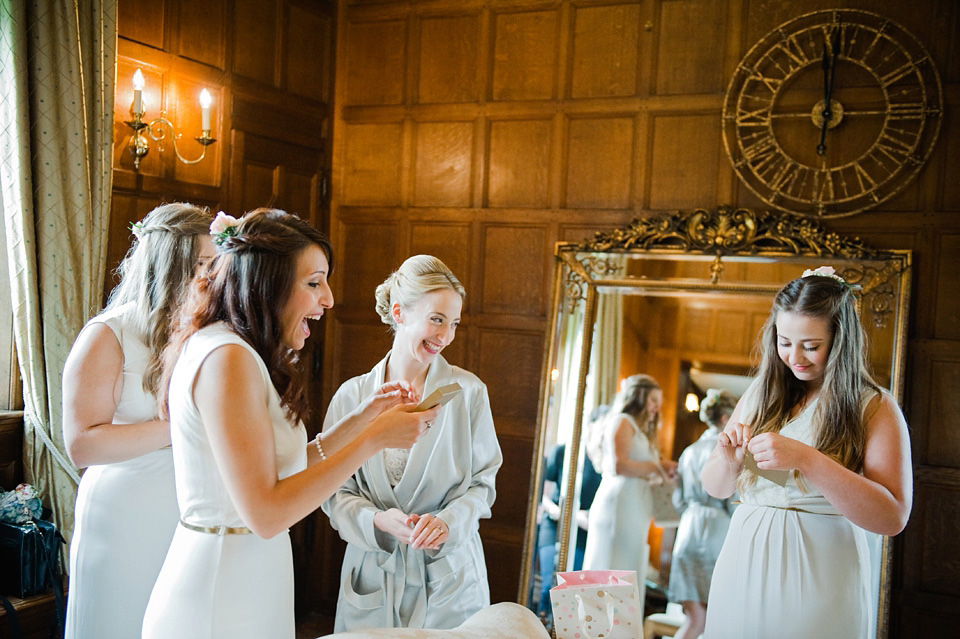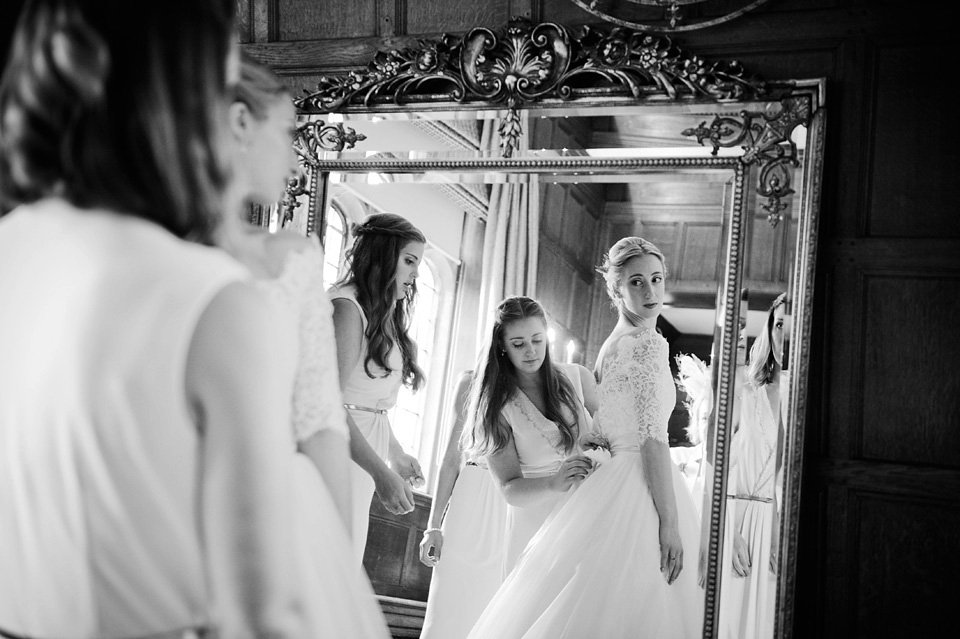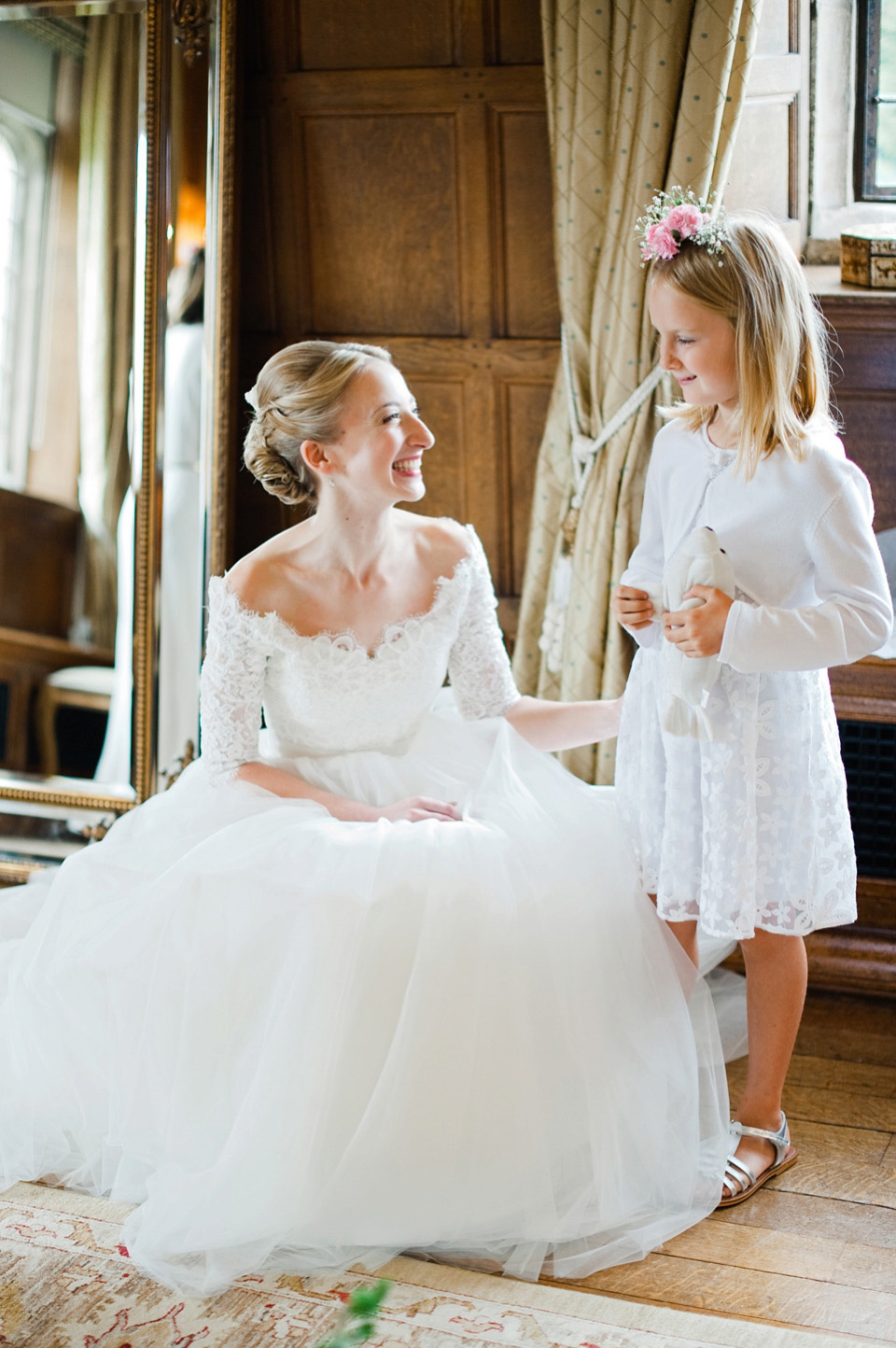 Hannah finished off her look with fresh roses and a sprig of olive from her parents' garden in her hair with a doubled layer silk tulle cathedral-length veil with lace edging.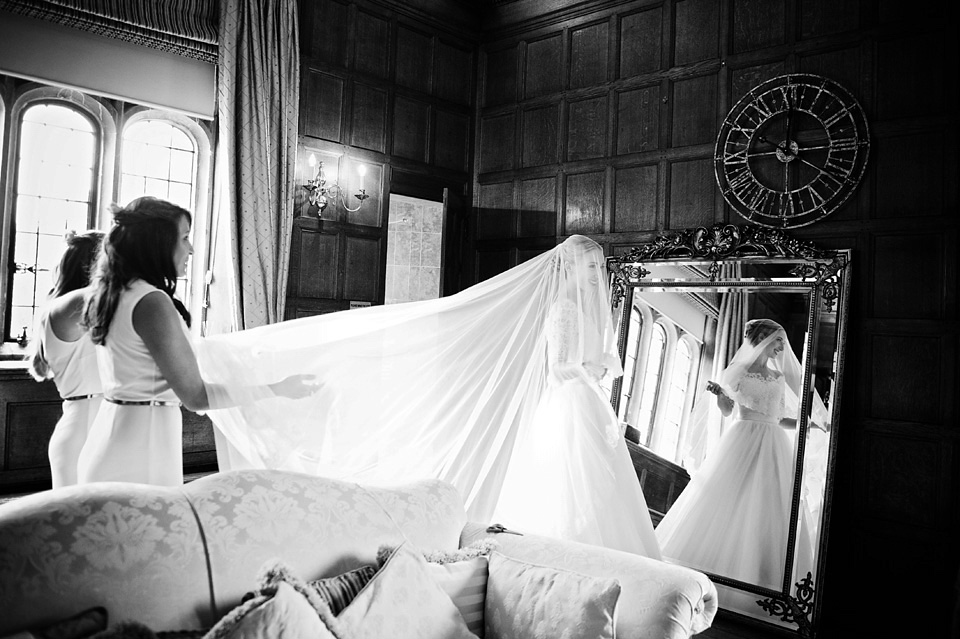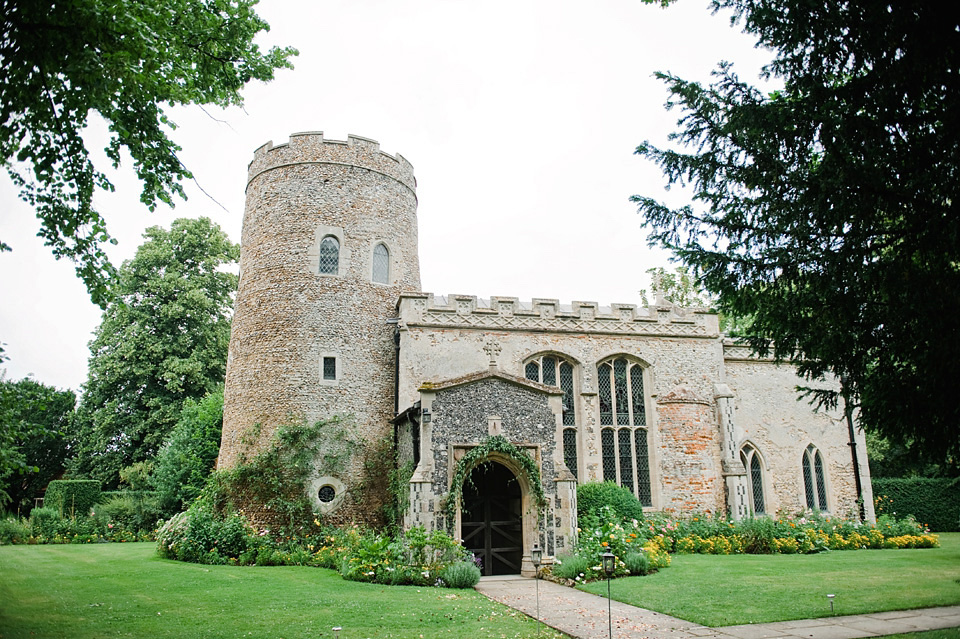 The blooms by Tudor Rose Florist really are the perfect finishing touch. I adore the pew end blooms in their little jars with ribbons to secure them, they really add a touch of elegance and are such a simple idea.
"Tudor Rose was the florist recommended by Hengrave Hall. Our first quote was a lot more than we had budgeted to spend on flowers, thankfully we managed to save a fair amount by using the same arrangements for both the table centres and the church, and I chose to make the bridesmaids' bouquets myself. Our arrangements were placed in mercuried glass vases of varying sizes and were surrounded by trailing clematis. I asked for blooms of varying sizes in a pastel palette of whites and blush pink; our florist managed to source some delicious blousy white peonies for my bouquet which was a beautiful oversized, handpicked-style creation. My favourite feature was the lush foliage and passion-flower arch over the church."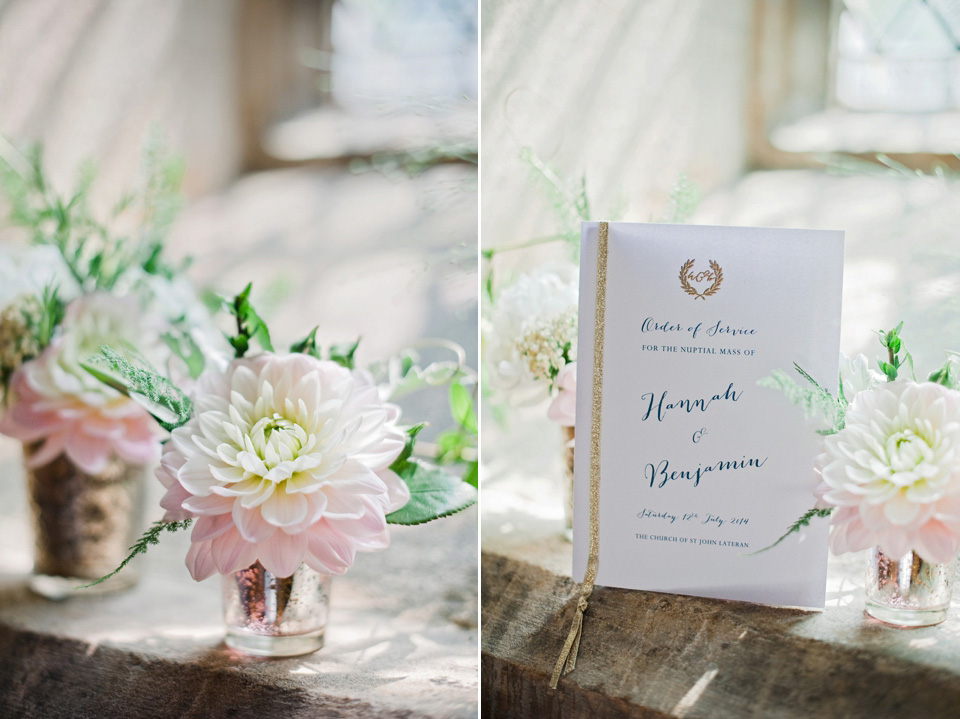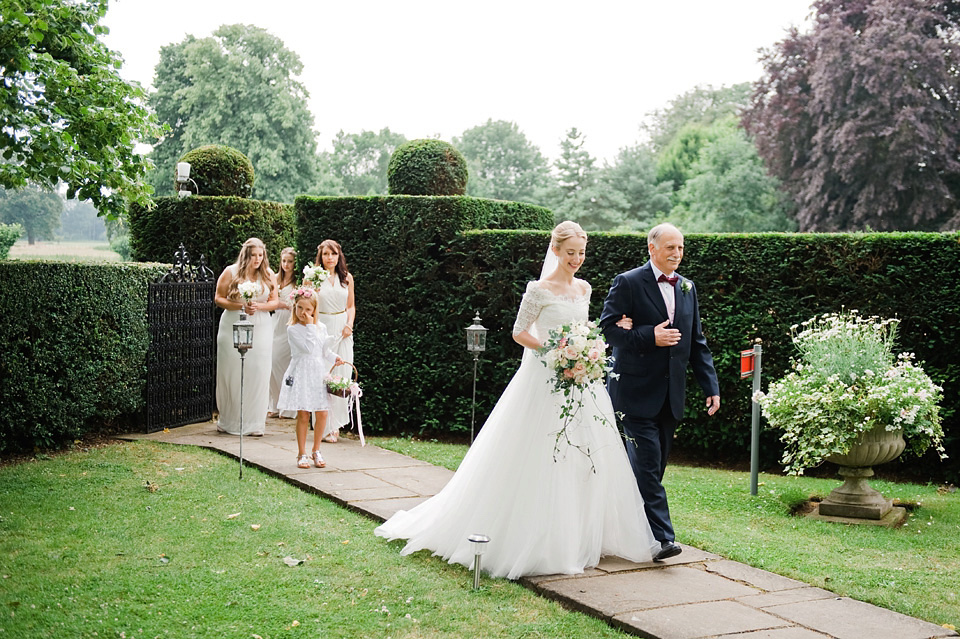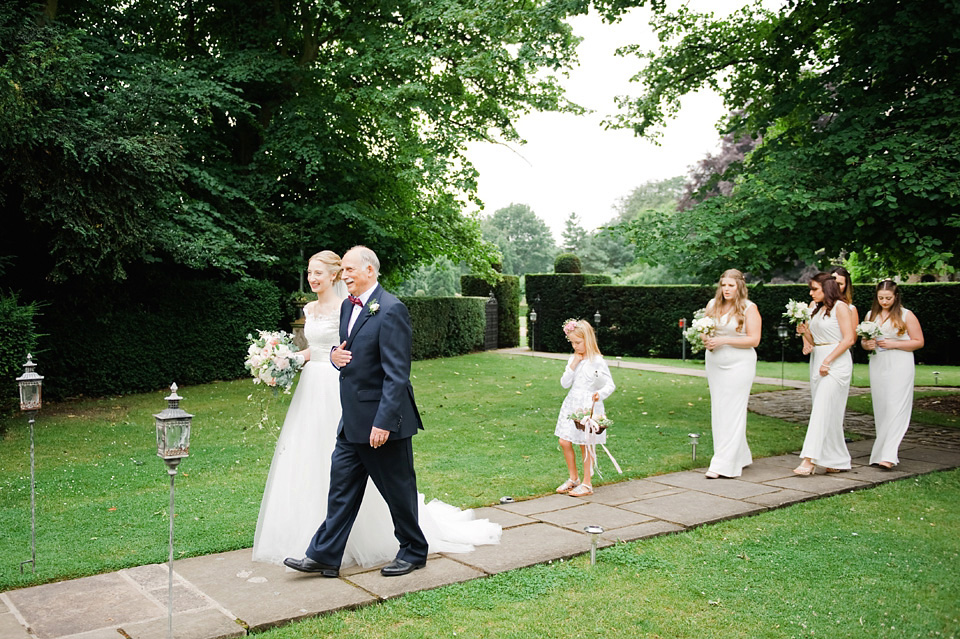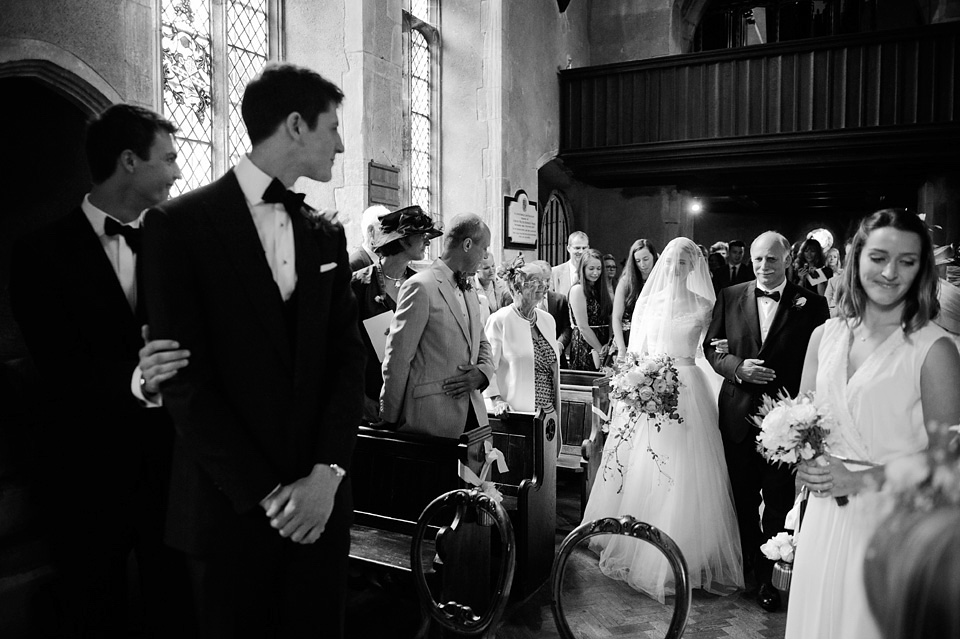 "My father gave me away. We didn't practice lifting the blush over my head at the end of the aisle; he got in a bit of a pickle and tried to remove the whole veil! I didn't really notice at the time but we had a good laugh when we watched it back on a home video. Our wonderful organist Patrick Friend adapted Debussy's Clair de Lune for the walk down the aisle. "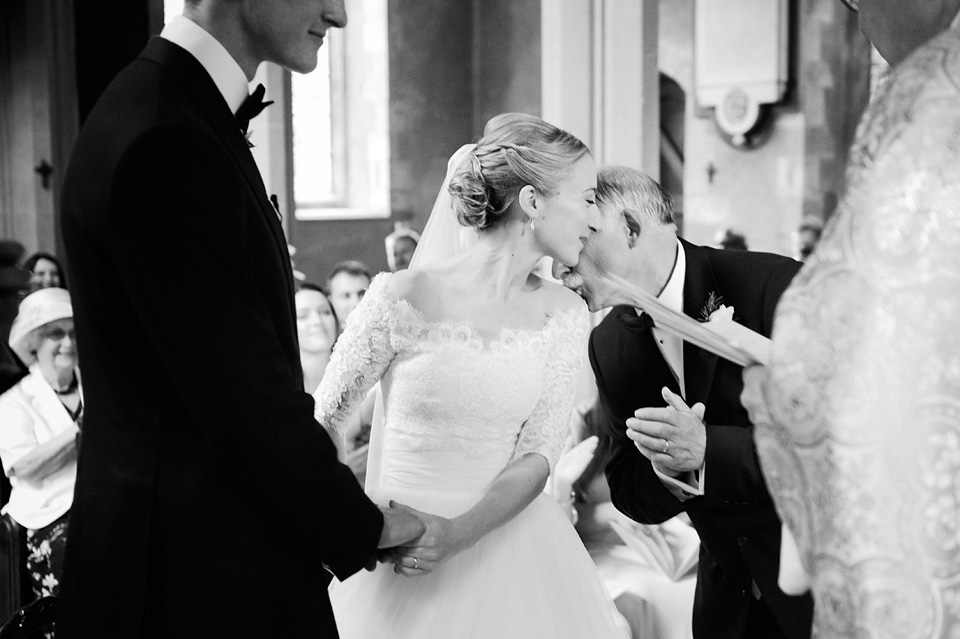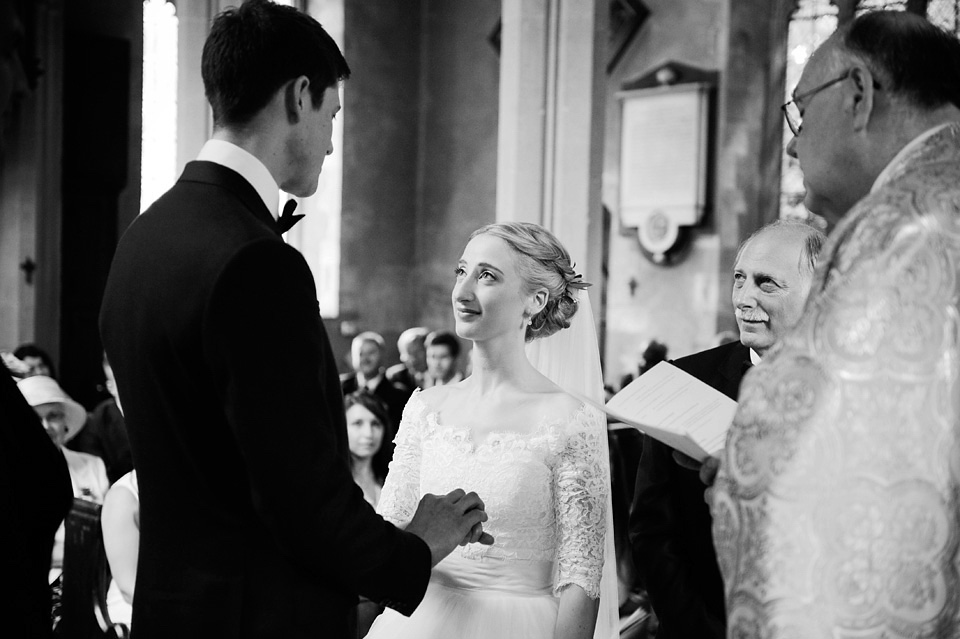 "We had a Catholic ceremony and used the traditional vows. We also had three biblical readings during the ceremony and one non-religious one, an excerpt from Captain Corelli's Mandolin by Louis de Bernieres which was read beautifully by Ben's father. We both identified with the sentiment behind this reading and found its honesty quite moving."
'Love is a temporary madness, it erupts like volcanoes and then subsides. And when it subsides you have to make a decision. You have to work out whether your root was so entwined together that it is inconceivable that you should ever part. Because this is what love is. Love is not breathlessness, it is not excitement, it is not the promulgation of promises of eternal passion. That is just being in love, which any fool can do. Love itself is what is left over when being in love has burned away, and this is both an art and a fortunate accident. Those that truly love have roots that grow towards each other underground, and when all the pretty blossoms have fallen from their branches, they find that they are one tree and not two.''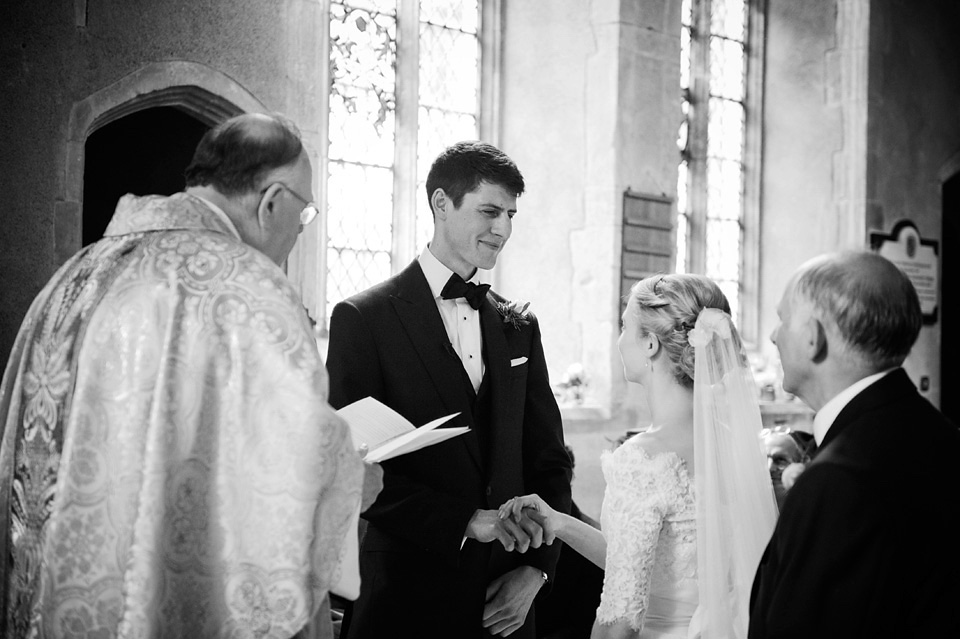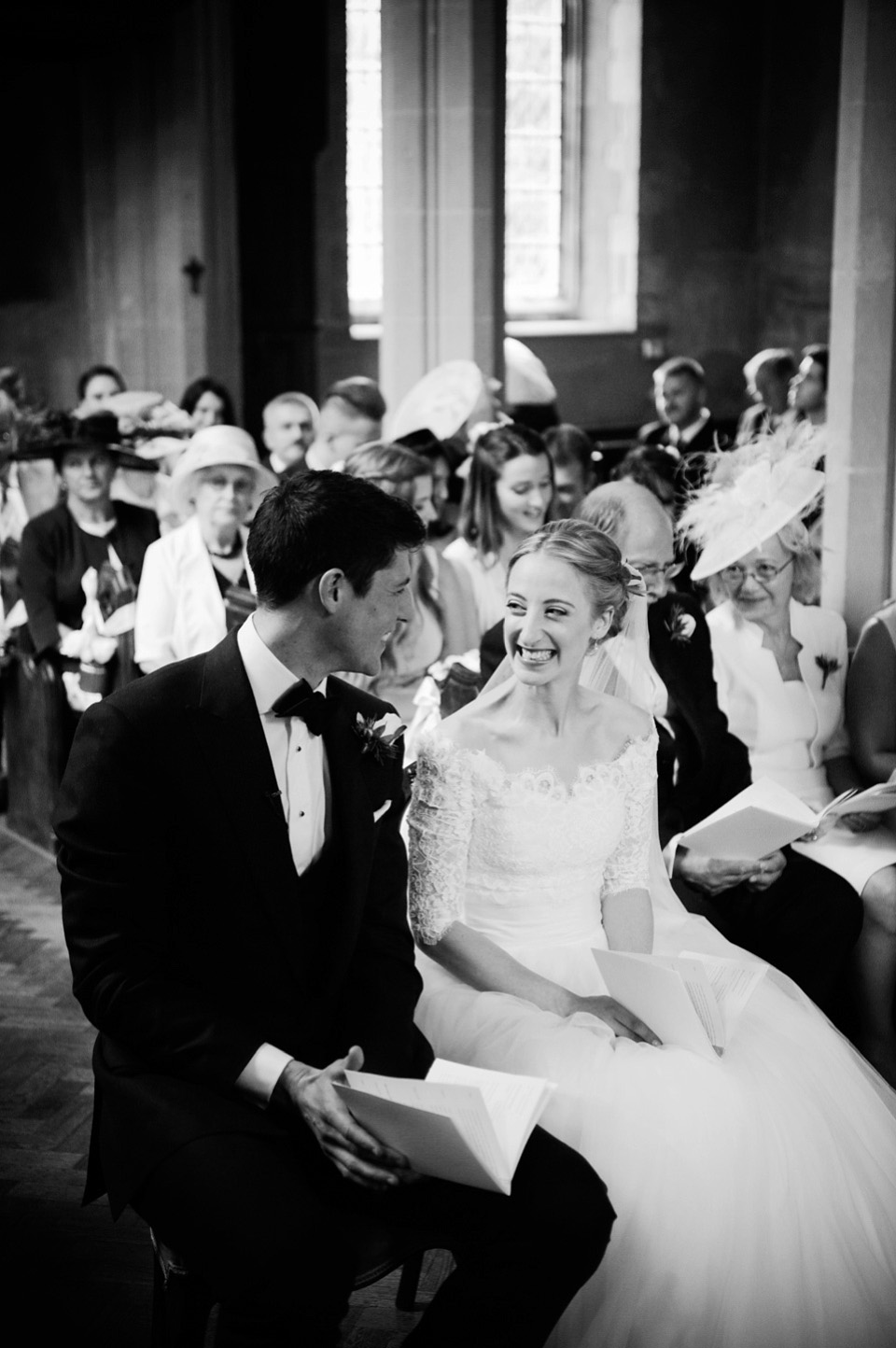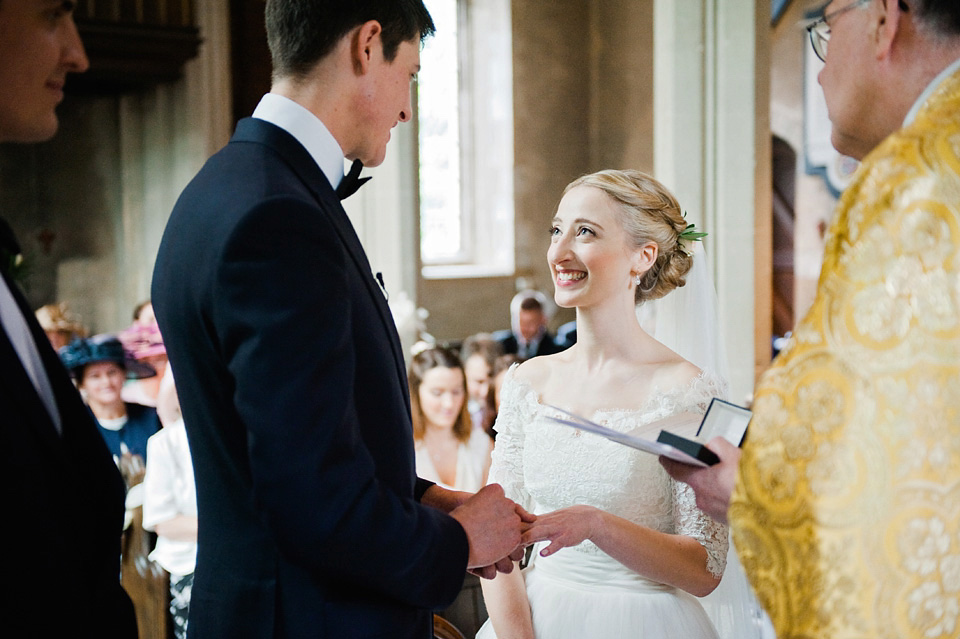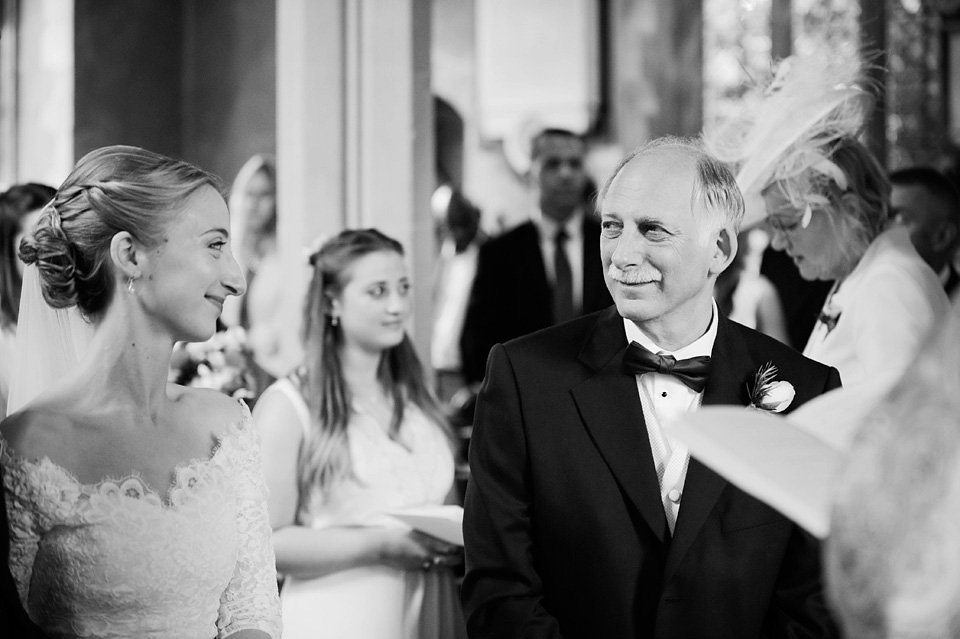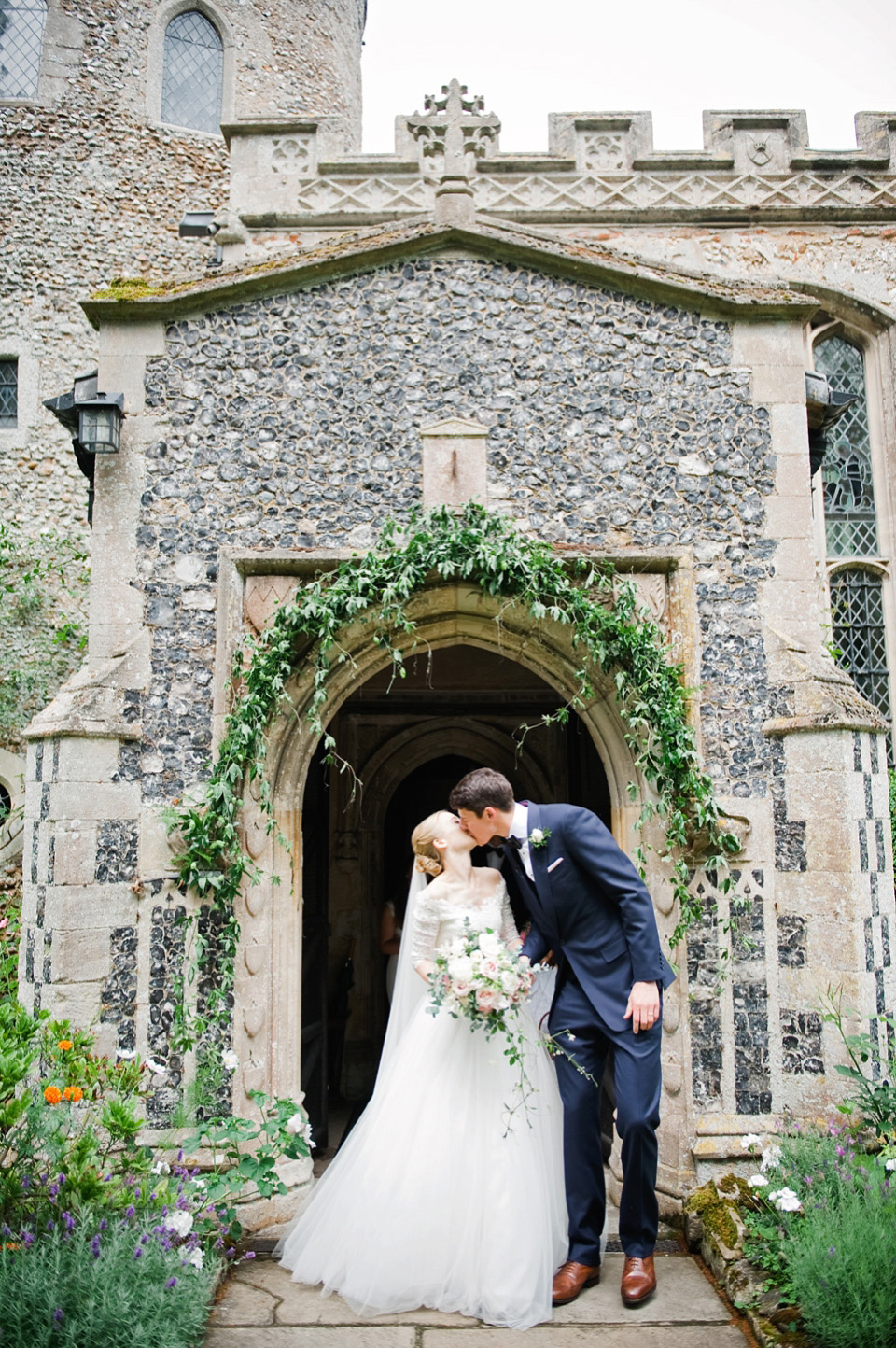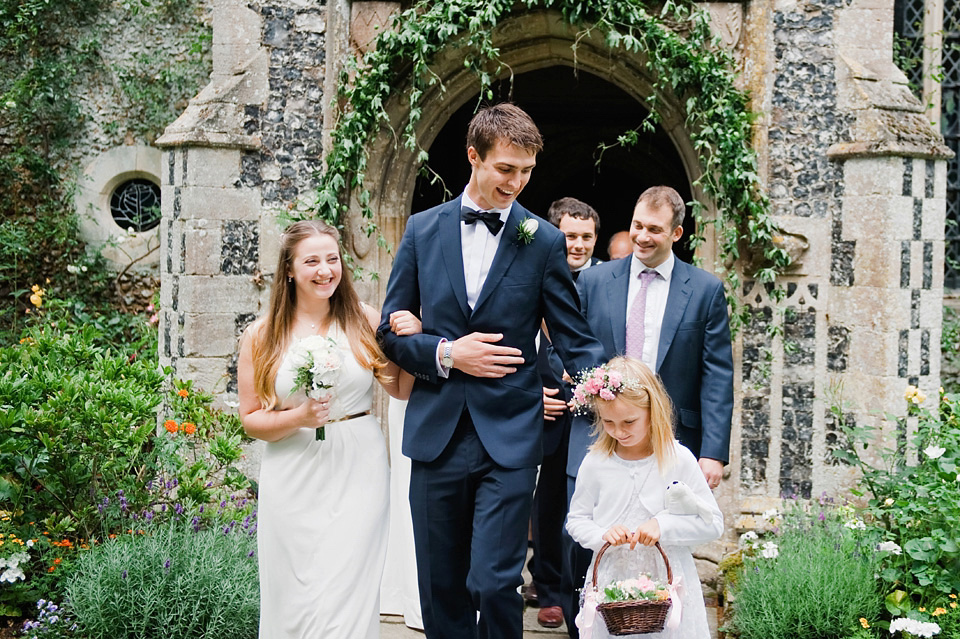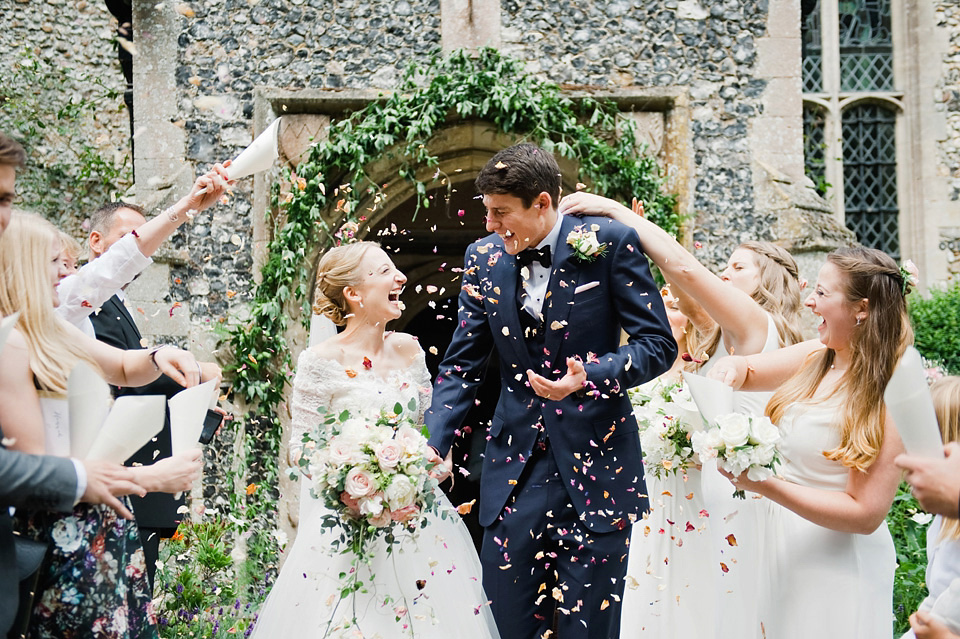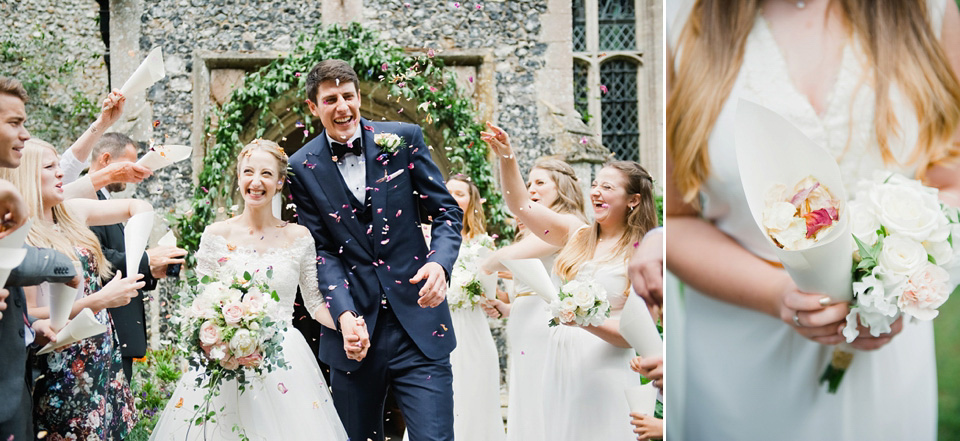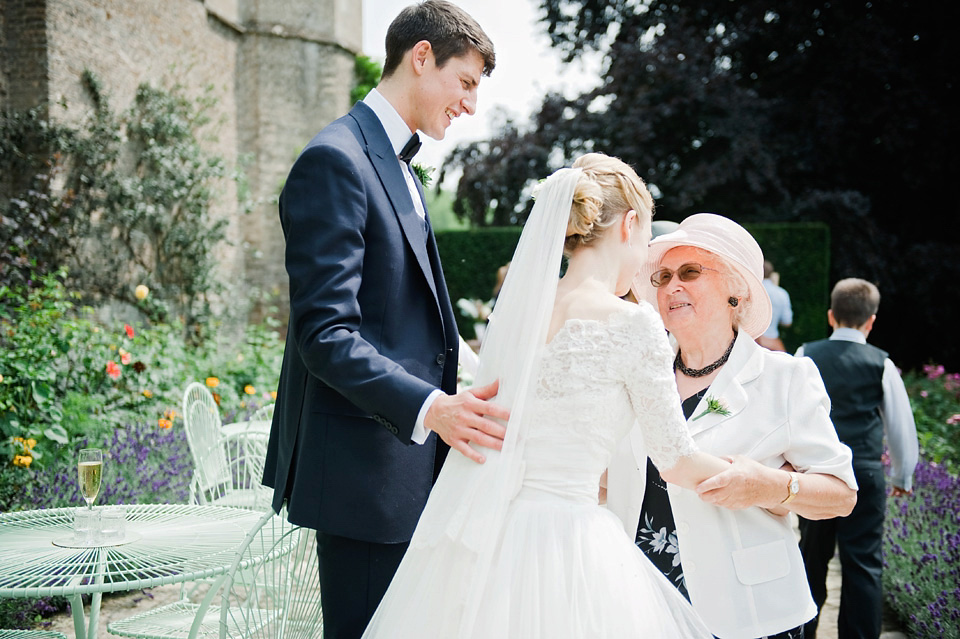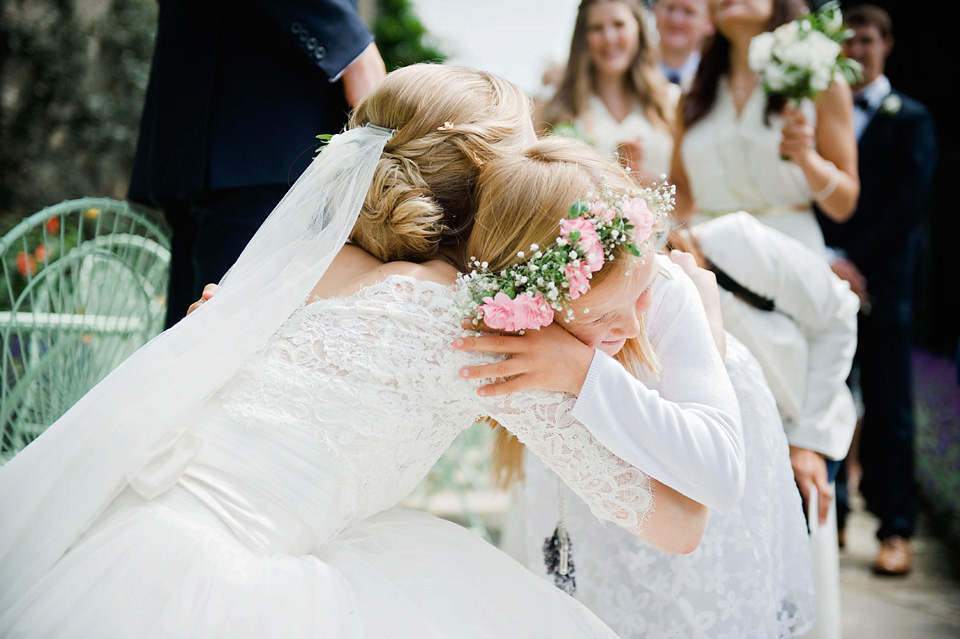 "I was particularly pleased with my escort card seating plan – I painted card with a watercolour wash before cutting them and calligraphing guests' names and table number and pinning them in a large gold frame with tiny pegs."
"I loved getting crafty and making personal touches for the wedding, every time I saw a pretty wedding idea on Pinterest I thought 'I can make that!'.  The most time consuming was the huge backdrop with our families' names – I painted two MDF boards with chalkboard paint and sketched the letters in pencil before filling in with a white paint marker. This also formed the backdrop for our DIY photobooth/guestbook – we provided a Polaroid camera and props so that guest could stick a snap of themselves next to their message.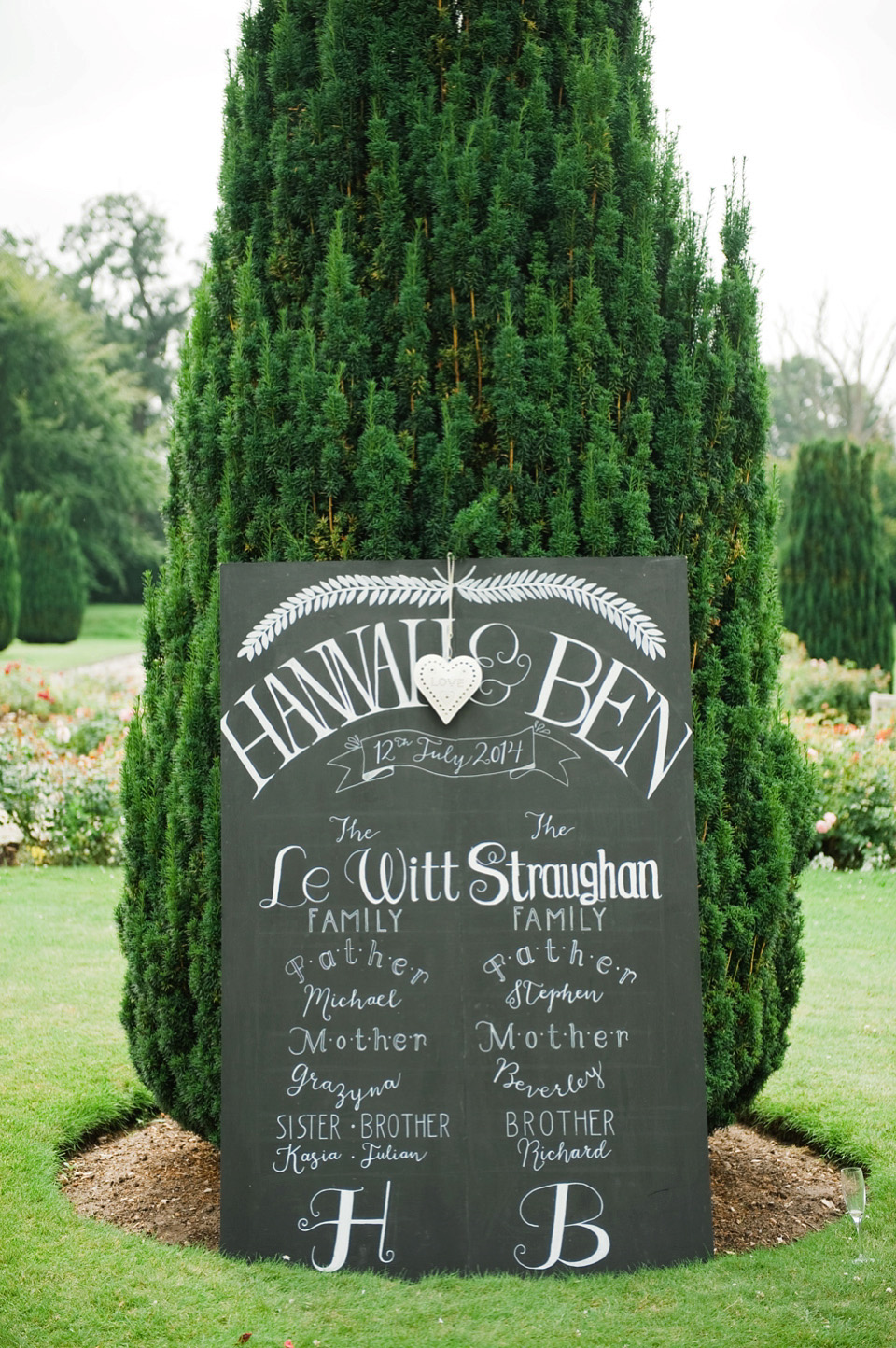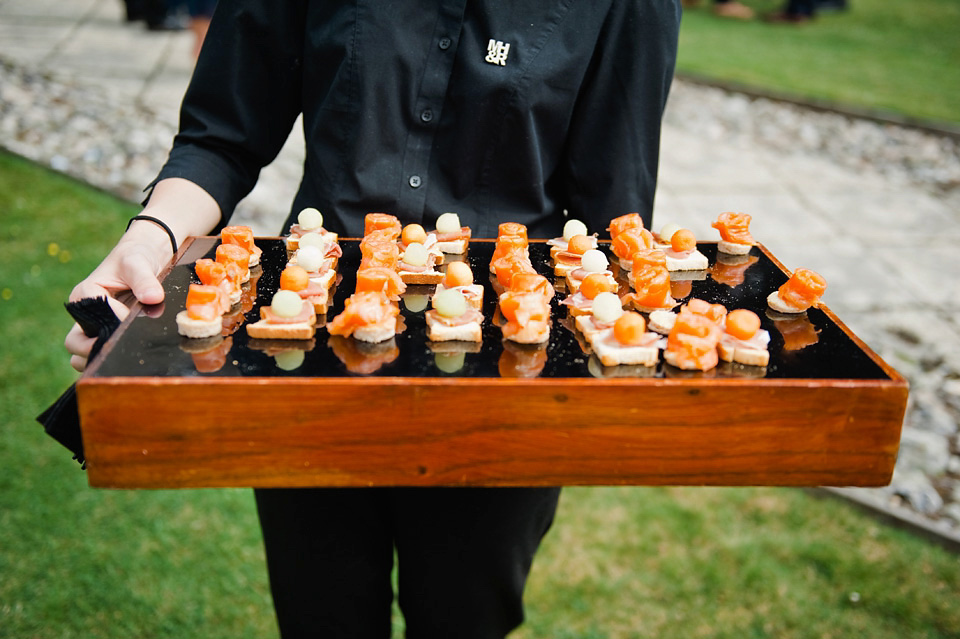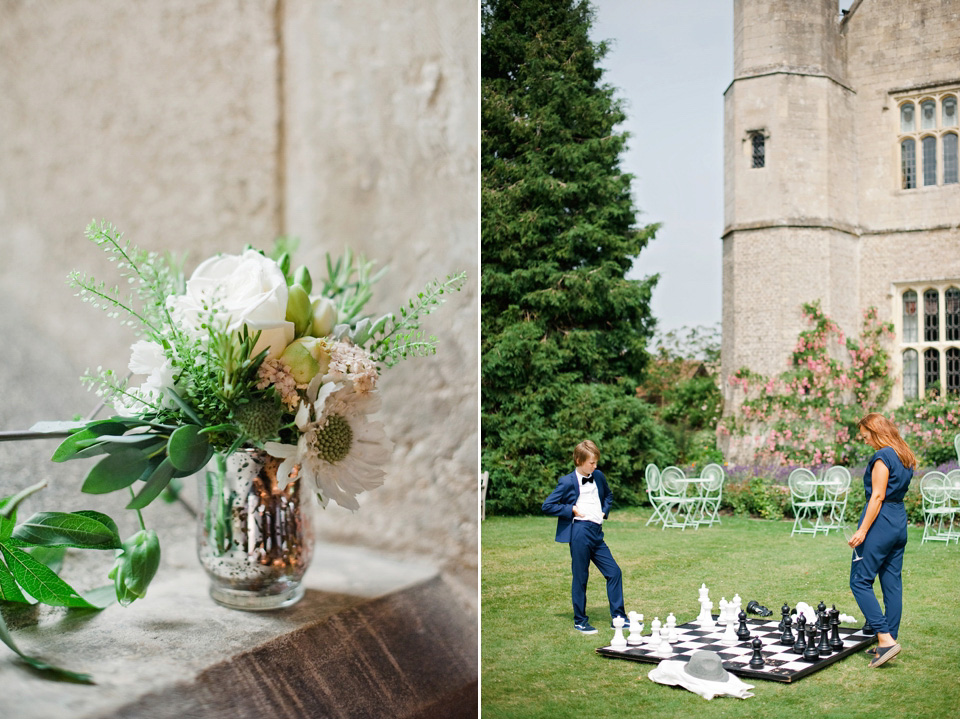 Hannah's bridesmaids all wore long white dresses from Mango with nude heels and their outfits were finished off with a pearl necklace gifted to them by Hannah for all their hard work, love and support.
"My bridesmaids and I were pampered by Beth and Laura from Jodie Hazelwood's team and they really delivered."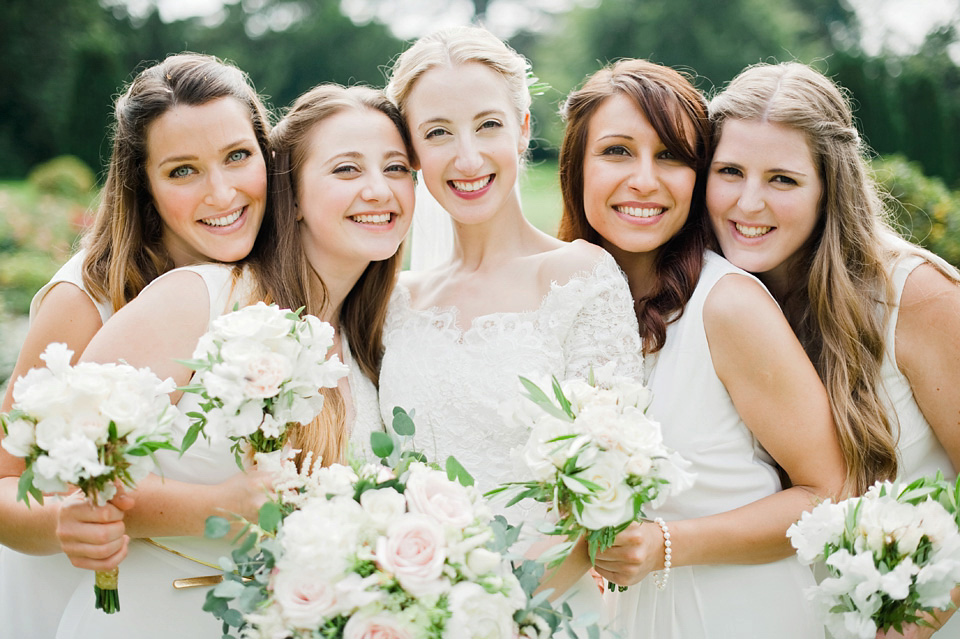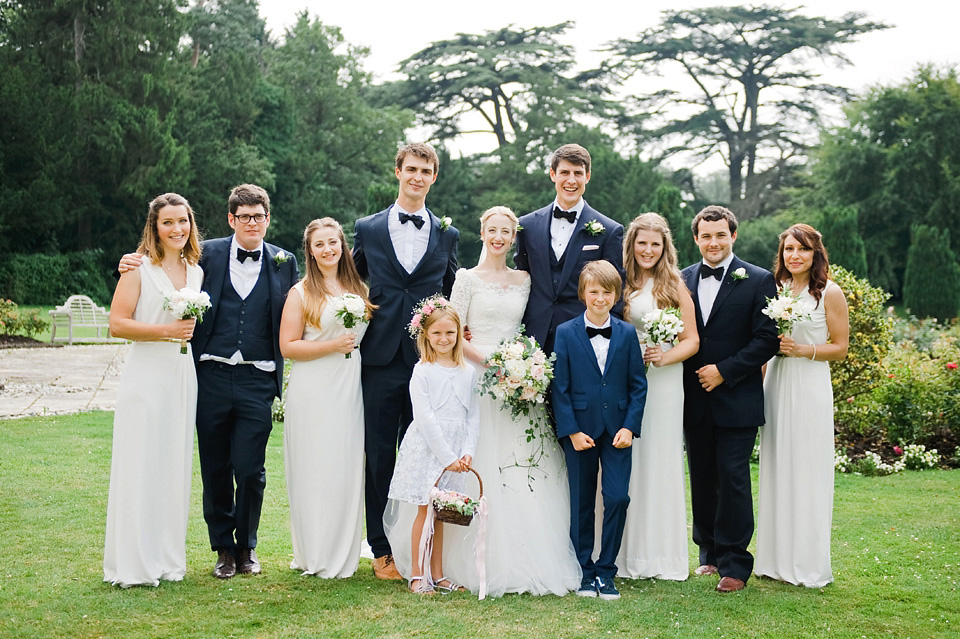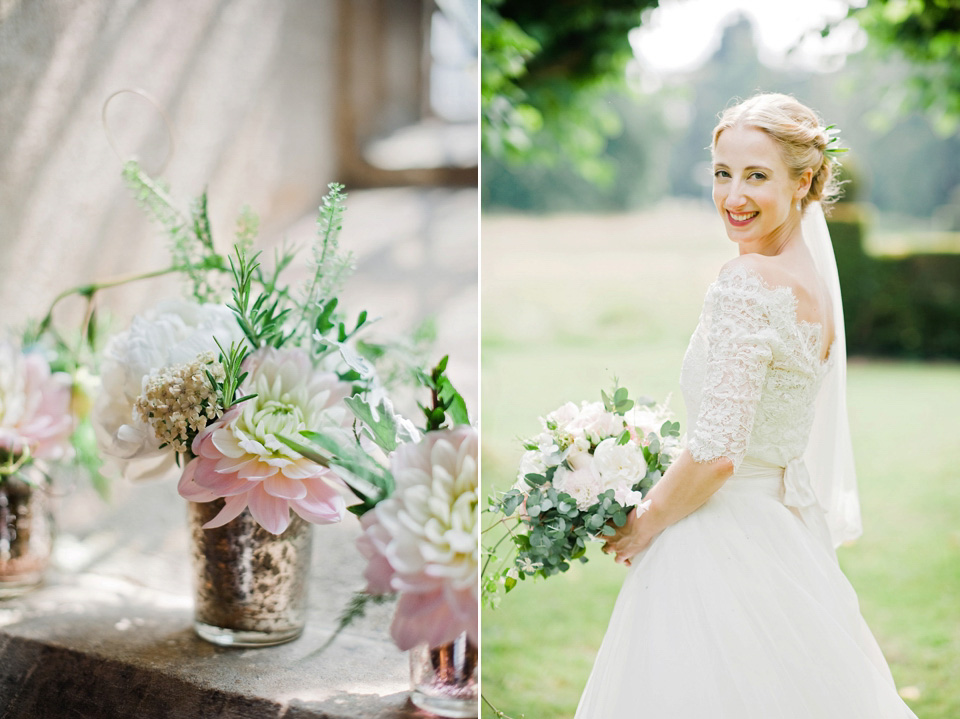 "There were just so many highlights to the day that it is difficult to pick one out! The day was filled with an abundance of laughter and happy tears, Ben and I were overwhelmed and it truly was the best day of our lives. The ceremony was so intimate and moving – I think this was our favourite part of the day, but the most special moment for me in hindsight was the blissful few minutes we spent alone together sharing a glass of Champagne as our guests gathered inside for the wedding breakfast, realising we were now husband and wife and grinning like Cheshire cats!"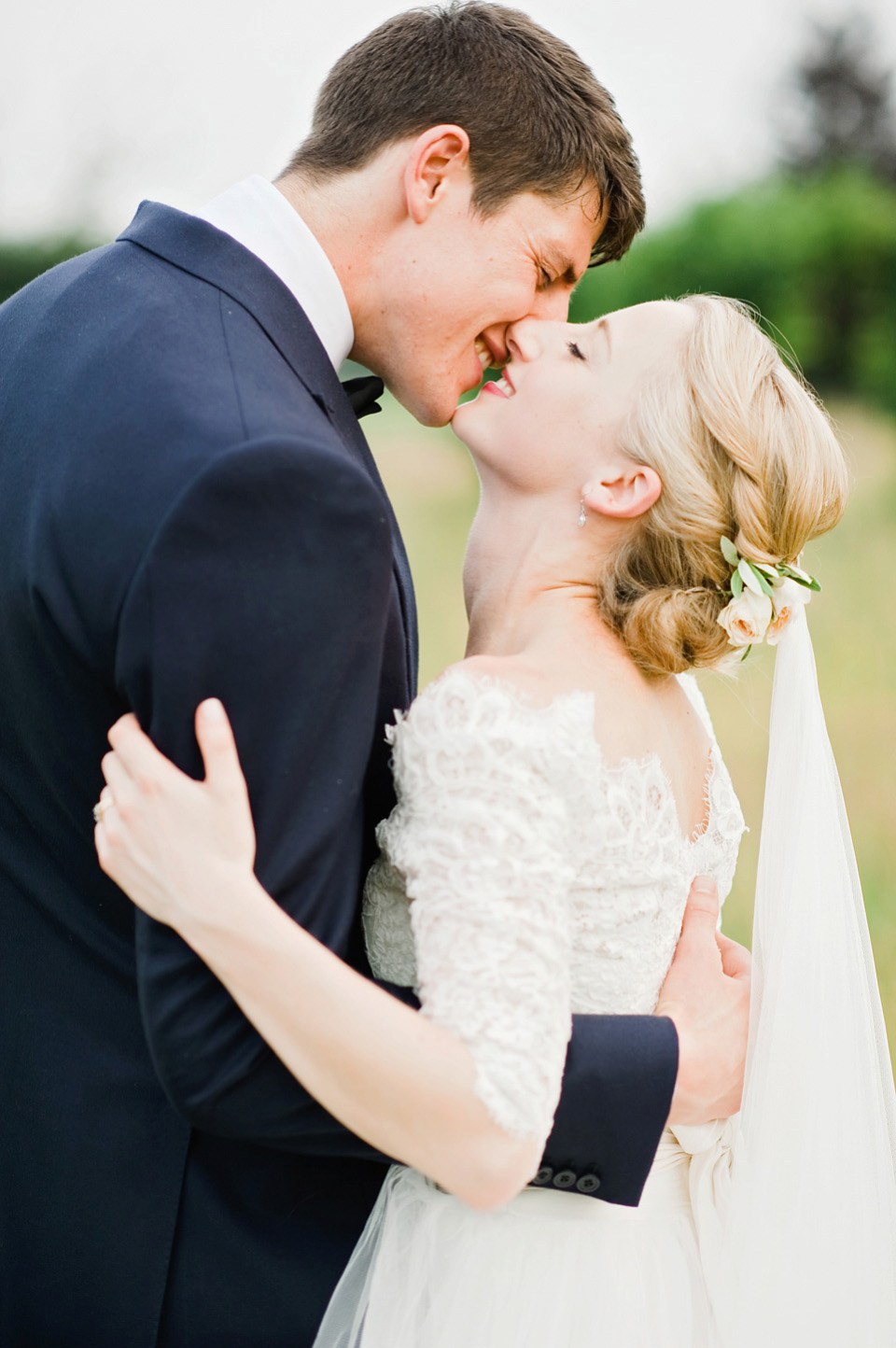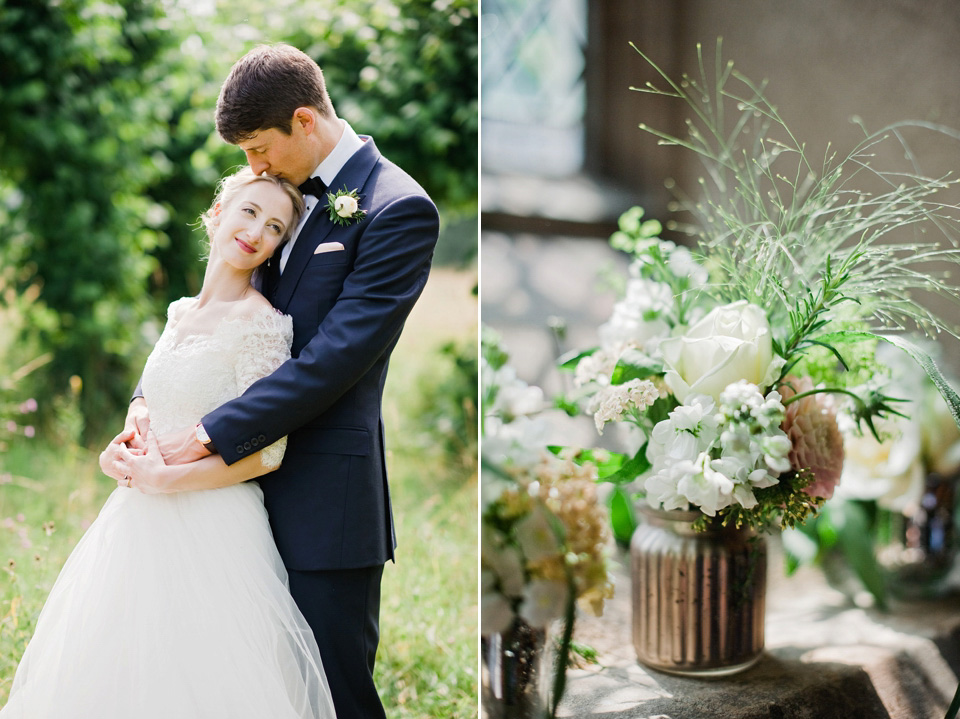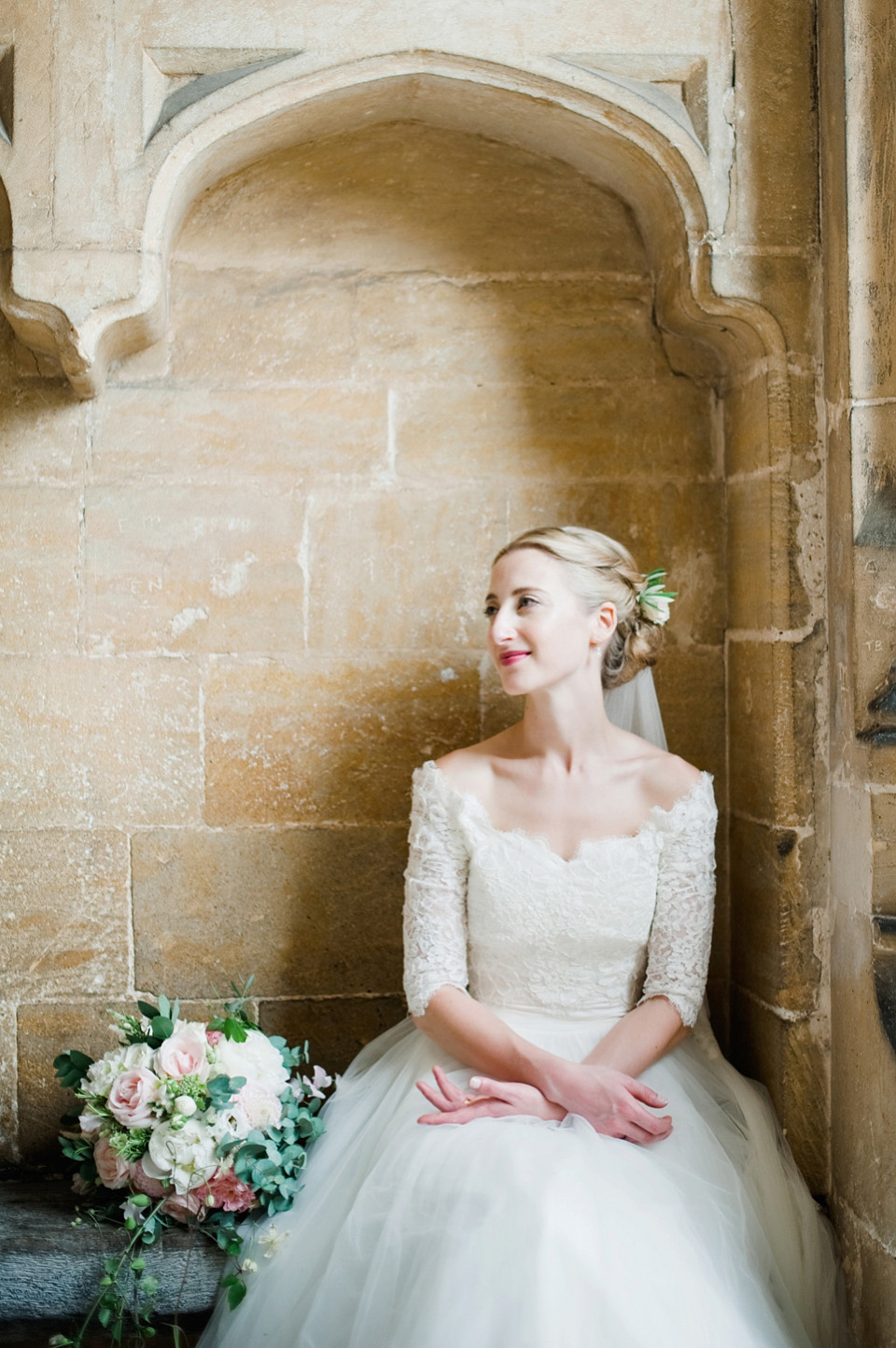 Ben wore a bespoke and hand-stitched, three-piece navy wool suit made by the lovely chaps at The Cad and The Dandy. Hannah also gifted Ben a pair of classic English handmade brown brogues from Church's for his birthday which he wore on the day. Ben's groomsmen all wore three piece navy suits from Austin Reed.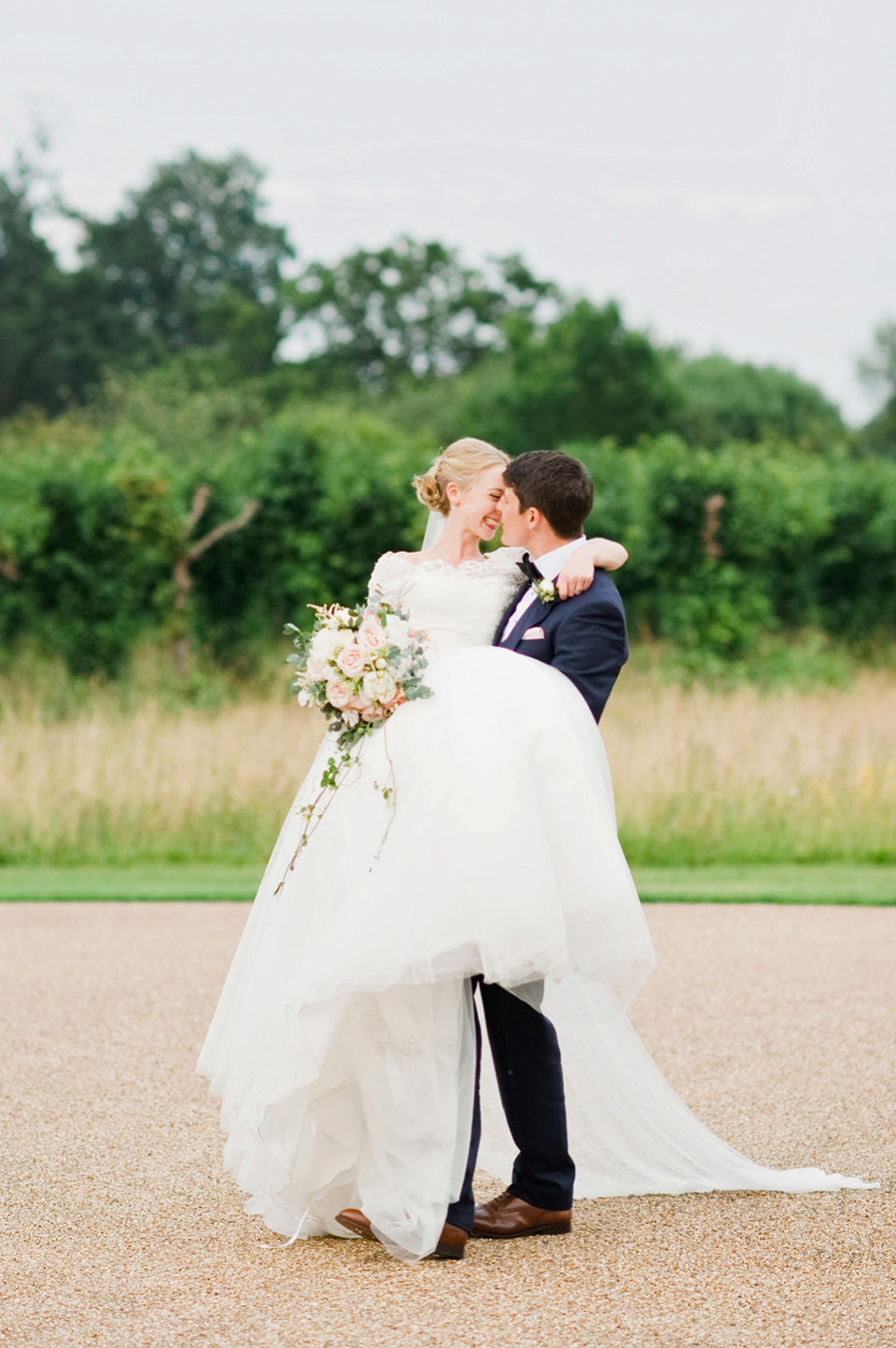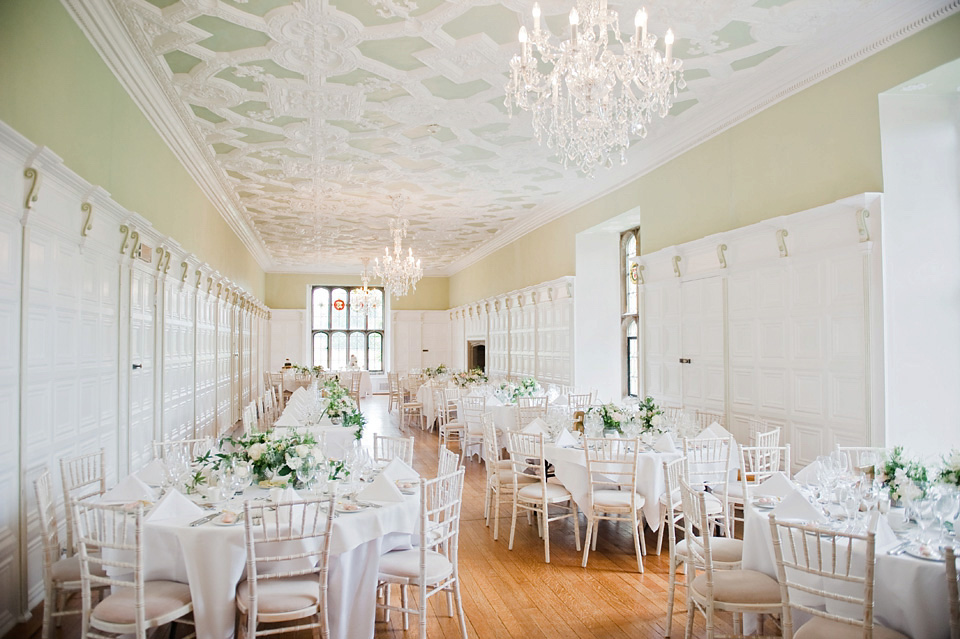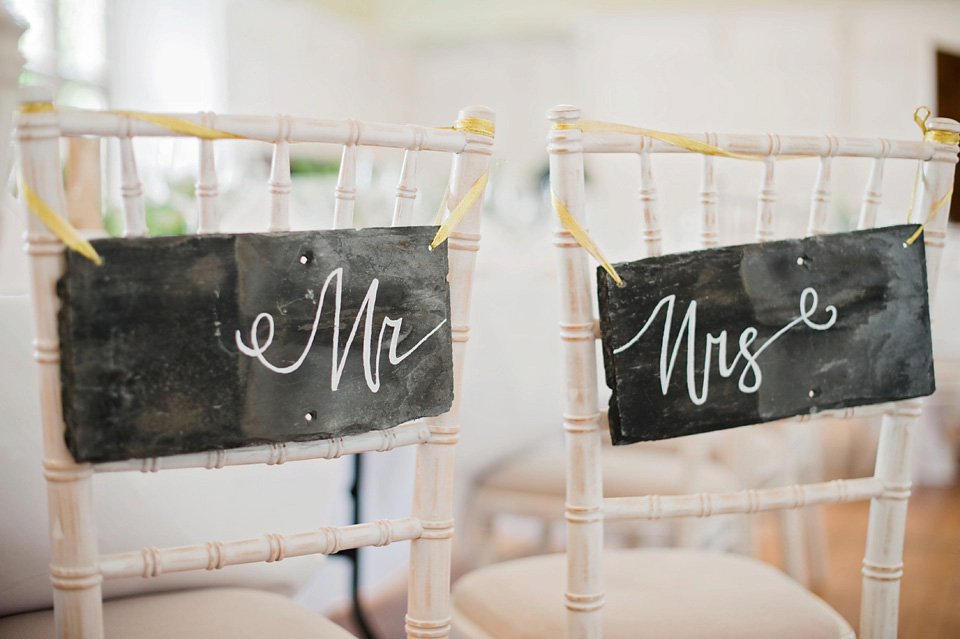 Hannah cleverly made all her own stationery with some inspiration from Etsy and Pinterest and some lovely bespoke stamps made by the English Stamp Company.
Hannah was also brave enough to make 250 pink French macarons filled with raspberry jam and gold leafed them and presented them in a clear bag to accompany the place settings for wedding favours. It's safe to say they went down a treat! As I'm sure many of you know French macarons are no easy task so Well Done Hannah!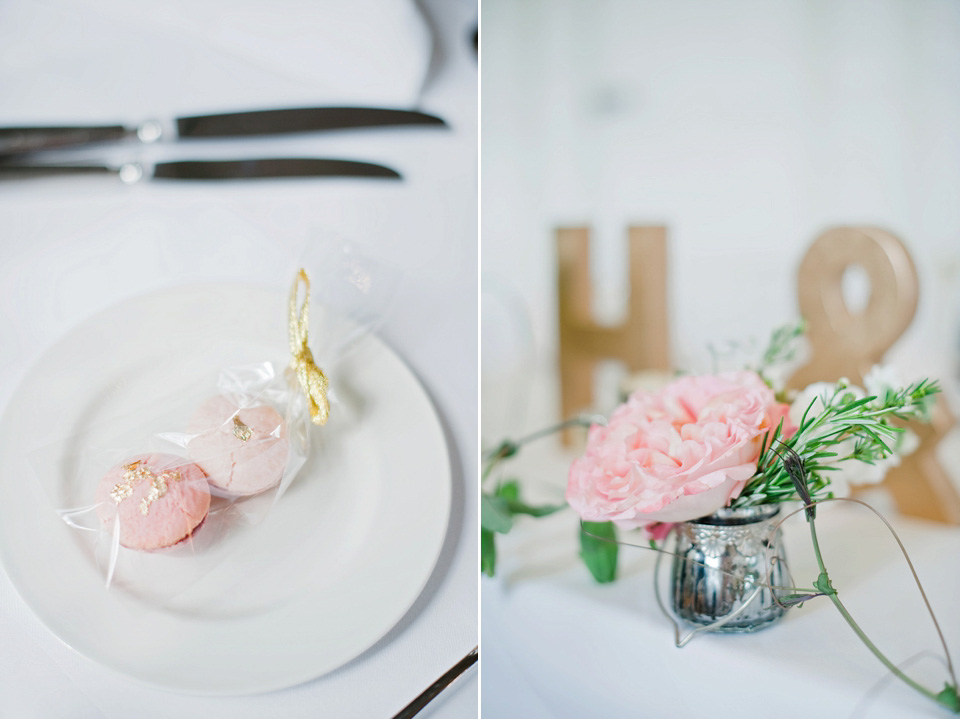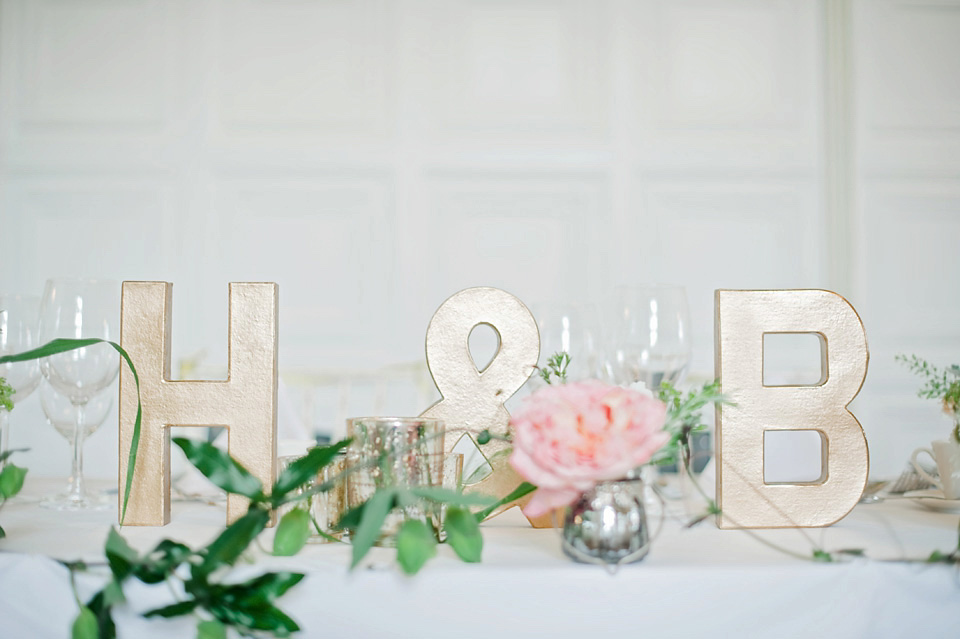 Hannah's very talented Mum made their beautiful four-tier cake and Hannah's bridesmaids decorated it with fresh flowers with the help of some Pinterest inspiration. For the evening Hannah and Ben had an amazing five-tier cheese cake from Love Cheese in York
"Our band was just sensational. We knew early on that we wanted a band that would appeal to all age groups and get everyone on the dance floor, and we love old school rat pack/swing style music. We had a five-piece mini big band, fronted with a voice-like-butter crooner who belted out the likes of Jackie Wilson and Sinatra all night. The dance floor was packed from start to finish; we couldn't rate these guys highly enough."
"For our first dance we chose Walking my Baby Back Home by Nat King Cole. We wanted a classic, timeless tune that we would still love in 30 years and the style fitted in with our choice of band perfectly. It was also a (slightly cheesy) reference to how we first met! We felt it was only fitting to attempt to choreograph a suitably old-school Strictly-style dance and had such a fun time learning how to foxtrot together in the evenings before the wedding.
I think we surprised a lot of people (we're not dancers by any means) and loved every second of it!"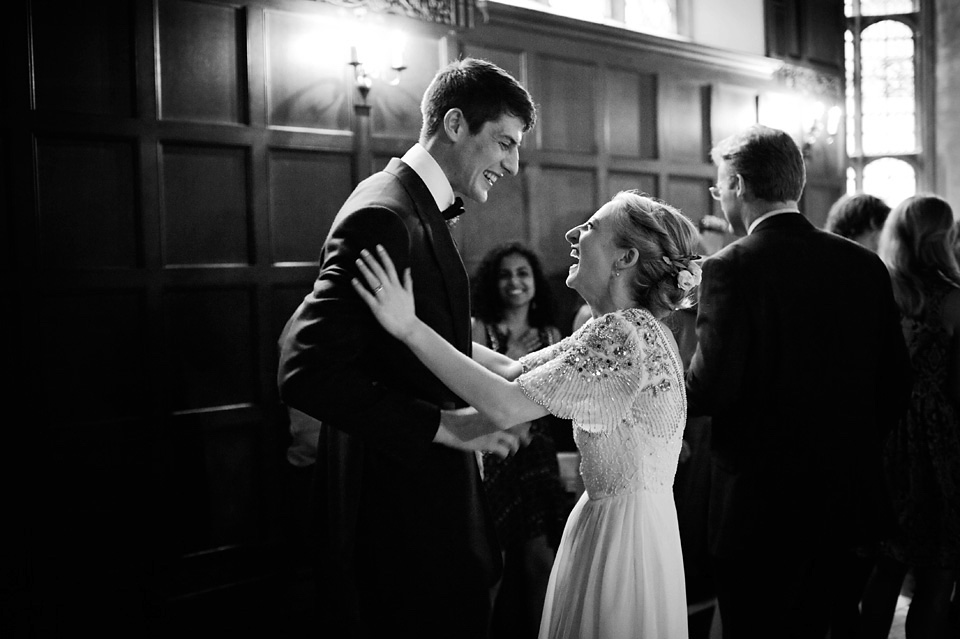 "I changed into a lovely beaded dress with a deep V-back from Virgos Lounge for the first dance – I learnt the hard way that it is impossible to reverse in a wedding gown! I then changed back into my dress for the evening party, minus the lace jacket and added a sparkly belt – I do love a bit of bling. It was lovely to have the option to wear the dress this way, it completely transformed my look and lots of guests thought that I had a third dress!"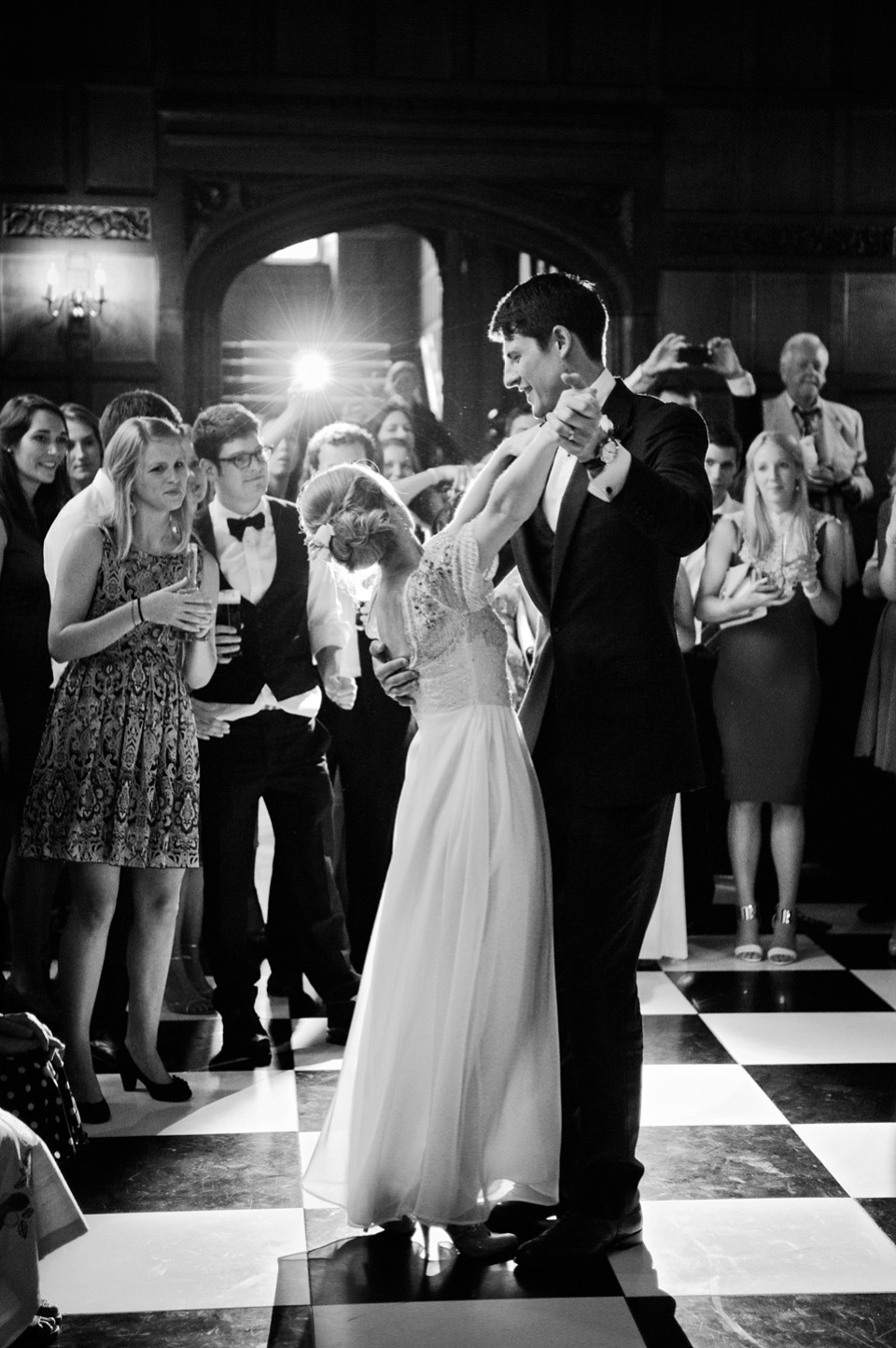 Words Of Wedded Wisdom
"Don't get hung up on the tiny details whilst wedding planning – that isn't to say don't bother about them, but on the wedding day even the perfectionist bride will be so swept away by all the excitement that she will forget all about them!
Try and find a moment to be alone with your new husband on your wedding day before you're both exhausted and/or tipsy – the day is all about the two of you and it is so special to have that chance to step back from the adrenalin and reflect on the day together before it rushes past you.
In hindsight I wish I had been better at delegating and not assumed that I would have time to do anything on the morning of the wedding. I spent so much time preparing decorations and hadn't shown anyone how to set them up on the day – there were some bits which were never used which was frustrating for me, although no one else noticed. I think I took far too much on myself, and was warned in advance by friends and family, however I secretly loved keeping myself manically busy and was incredibly proud of the personal touches and home-made decor that I managed to achieve."
I hope you enjoyed reading about Hannah and Ben's wedding as much as I enjoyed writing about it. Huge congratulations Hannah and Ben, your wedding really did have the WOW factor and truly blew me away – what wonderful memories to treasure. A big thank you to the very talented Dominique Bader for these gorgeous photographs.
With Love
Christina x
Photographer – Dominique Bader
Videographer – Clarke and Palmer
Venue  – Hengrave Hall
Wedding Dress + Veil – Ava Rose Hamilton
Hannah' Evening Dress – Virgos Lounge
Bride's Shoes – Serena By Charlotte Olympia
Bride's Perfume –  Pomegranate Noir by Jo Malone
Groom's Suit – Cad and The Dandy
Groom's Extras + accessories – Church Footwear
Groom's Scent – Tom Ford 'For Men'
Rings – 18 carat simple yellow gold bands
Hair and Make-up Artist – Make up by Jodie
Bridesmaids Dresses – Mango
Bridesmaids Accessories – Pearl necklace from Dogeared
Groomsmen's Suit – Austin Reed
Florist – Tudor Rose Florist
Planner – Hannah at Hengrave Hall
Entertainment – The Jump & Wail Big Band
Catering – Milsom Catering
Stationary – Bespoke Stamps