I have a confession, I *love* fashion and I never fail to be awed to the amazing wedding dresses featured on these pages but I really adore when a bride chooses a non-white dress. Jen's gold dress exudes old fashioned glamour; it suits her perfectly and sets her red hair off beautifully. I am in love with this gown – and this wedding too.  The couple's love of vintage is obvious but so natural, it all fits together from the 1920s inspired cake, made beautifully by the best man, and hillbilly style vintage tins filled with flowers to the handmade gold daffodil table numbers in vintage frames.
Jen is the producer Inside Out Dorset, a performing arts festival.  It was Jen's first time of producing the festival which took place just shy of two weeks after the wedding. Having created and produced an array of vintage events, such as a 1950s rock'n'roll, hula hooping and swing dance, Jen wanted to step back, not go too crazy with ideas and  focus on the real meaning of the day while still adding those personal touches. Joe is a Freelance Production Manager in the arts and also working on the festival with Jen. Their August 30th wedding came at a very busy time for the couple but with help from friends and families, everything came together wonderfully.
"We LOVE old stuff, particularly music and clothing from the 1920s-50s. Joe being a musician has an array of instruments (the latest is a Hawaiian lap steel guitar), and our favourite music is country, blues, and blue-grass. Joe wanted a 40s style de-mob suit to couple with his moustache, and I wanted to go for 30s movie star glamour with my red bob."
Photography Copyright (c) 2015, Milly Colley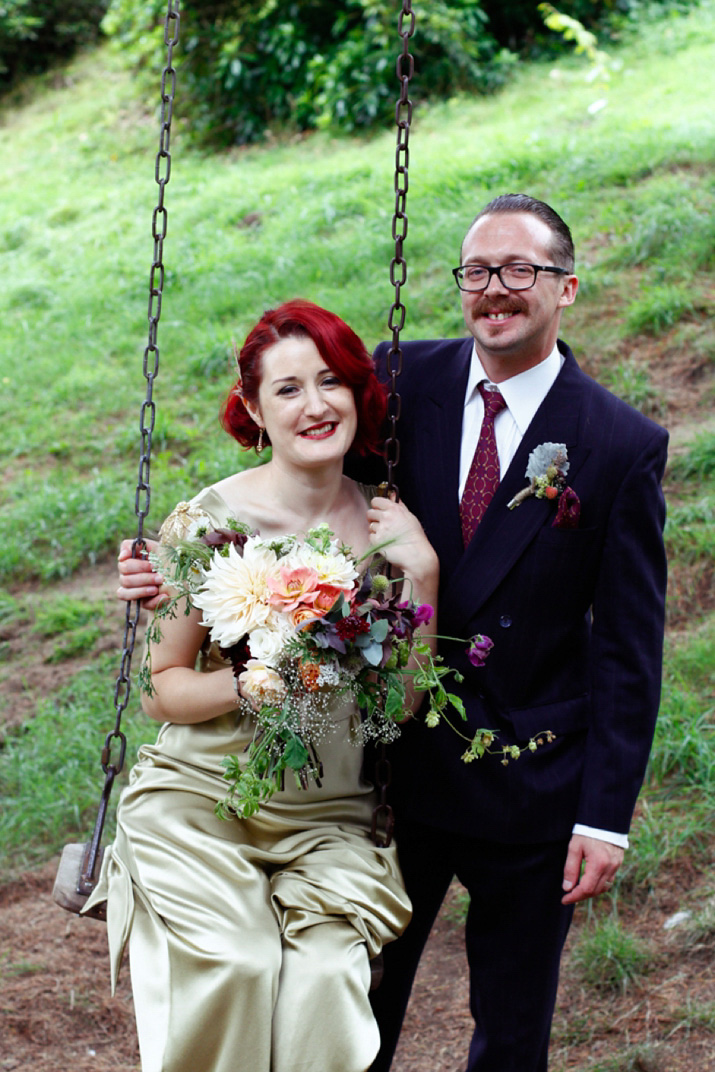 Jen knew that she wanted a 1930s style dress but it wasn't until she came across designer Kate Beaumont, that she found someone who could realise her vision.  This is the second dress by this talented designer that has made an appearance on Love My Dress this week – you can see other Kate Beaumont wedding dresses (and Kate's own wedding) via this link.
"Kate and I met to brainstorm ideas, before agreeing on a bespoke design in luxurious dark green/gold heavy satin, collaborating with Debbie Carlisle to make the gorgeously opulent capped sleeves. Kate is amazing, and she made me the most incredible dress. It was so glamorous, flattering and tuned to fit me perfectly. My Mum Catherine also wore a hairpiece matching the sleeve pieces on my dress."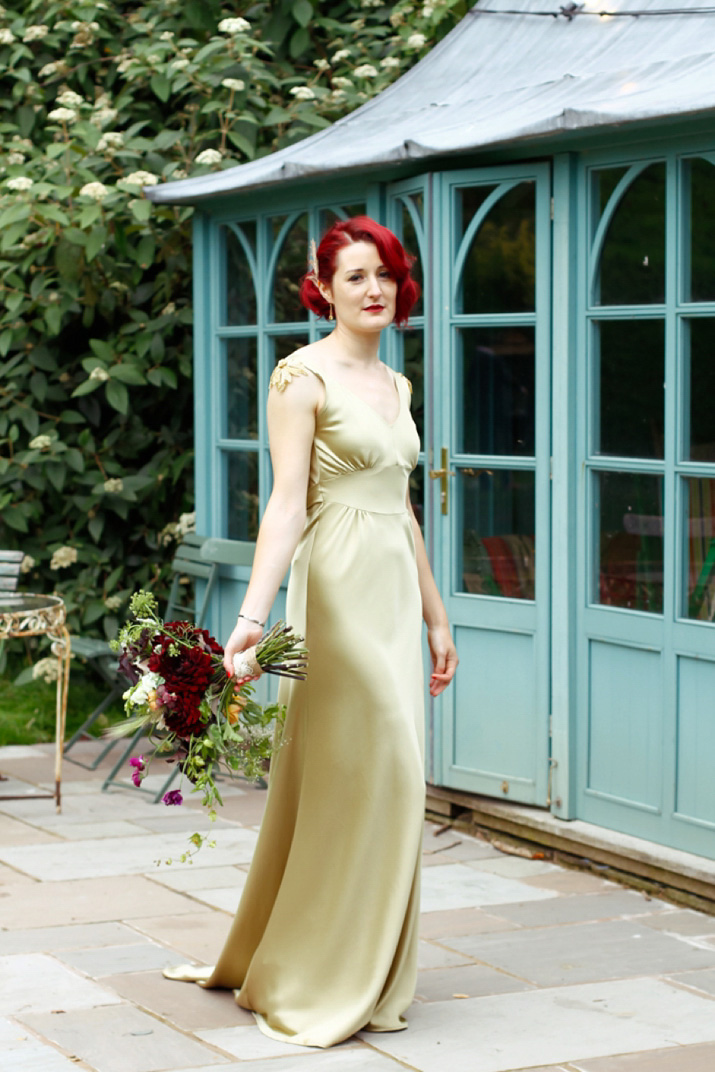 Jen's amazing aunt made the autumnal jewel toned bridesmaids dresses using a sumptuous James Hare satin based on a 1940s sweetheart dress. The ladies all wore their own gold shoes and Jen found some vintage hair pieces for them to wear in their hair.
Local florist Tammy of Wild Bunch realised their vision for dark, rich meadow/wild flowers mingled with softer contrasting shades and lots of herbs and foliage. The beautiful buttonholes featured berries and thistles with unusual leaves.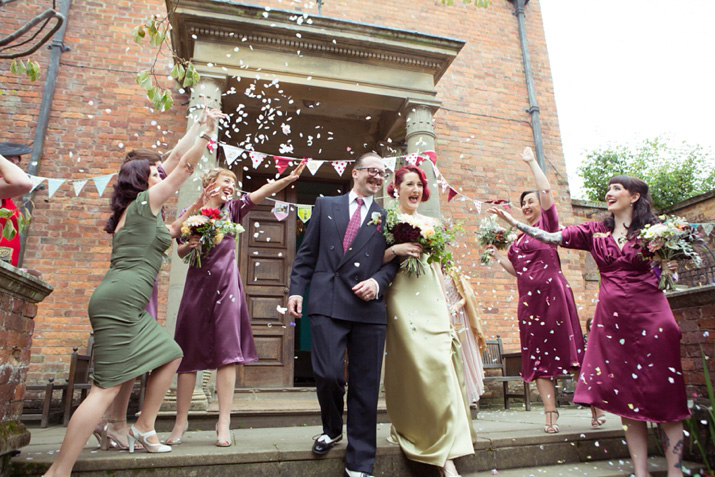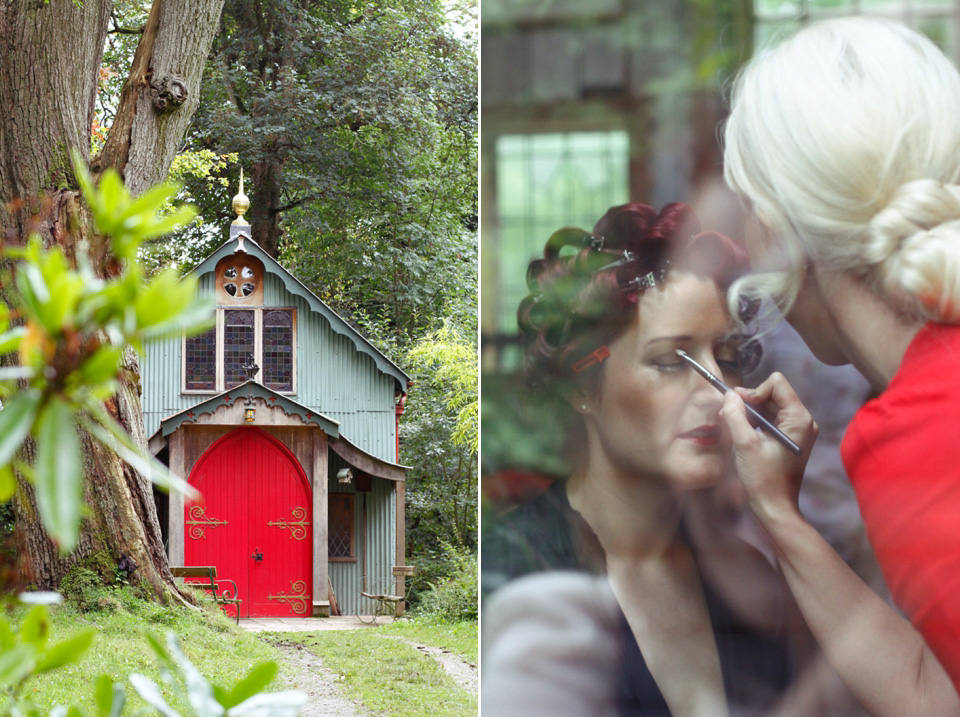 Jen's incredible friend Sophia Hilton  is more used to international hair shows than weddings but made an exception to style Jen's gorgeous red bob. A soft feathery Colette Malouf hair accessory was added on one side. Jo Malone Red Roses, Jen's favourite perfume was the scent she chose to wear on the day.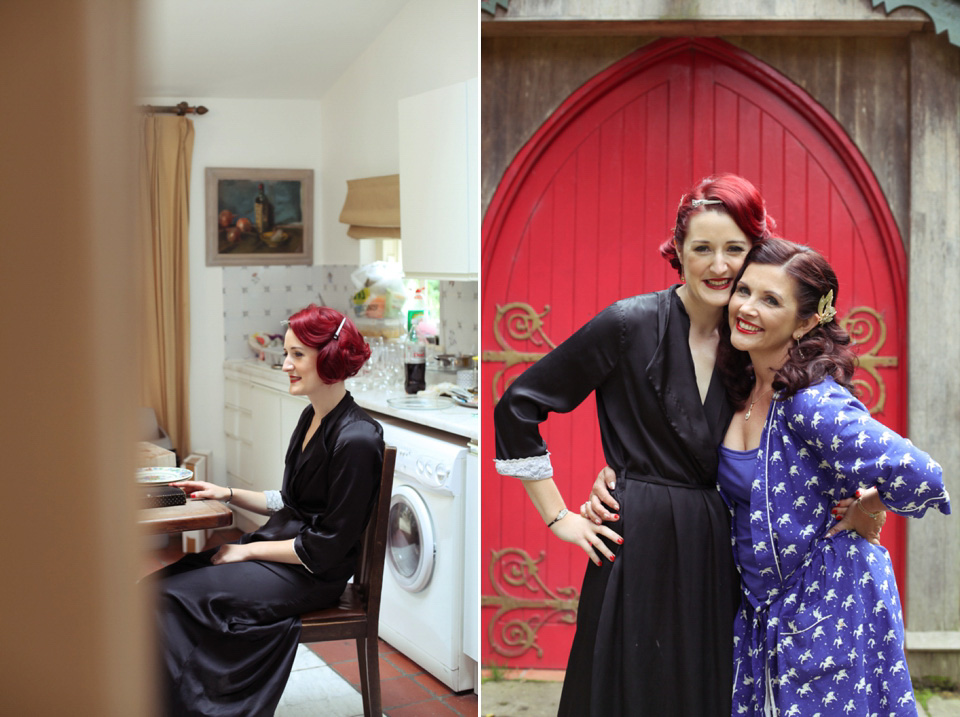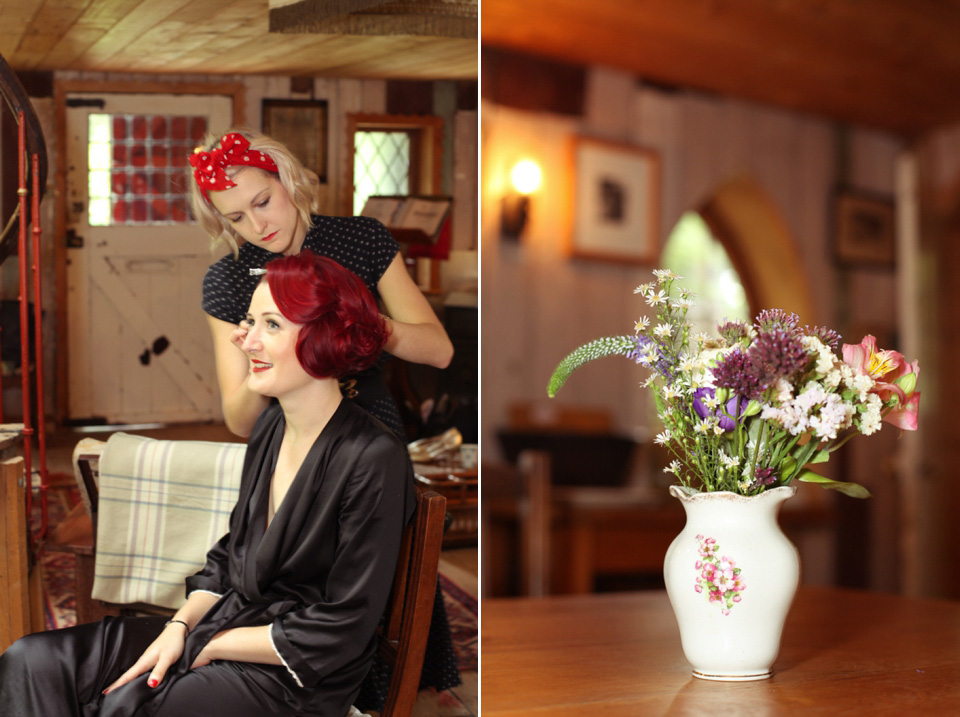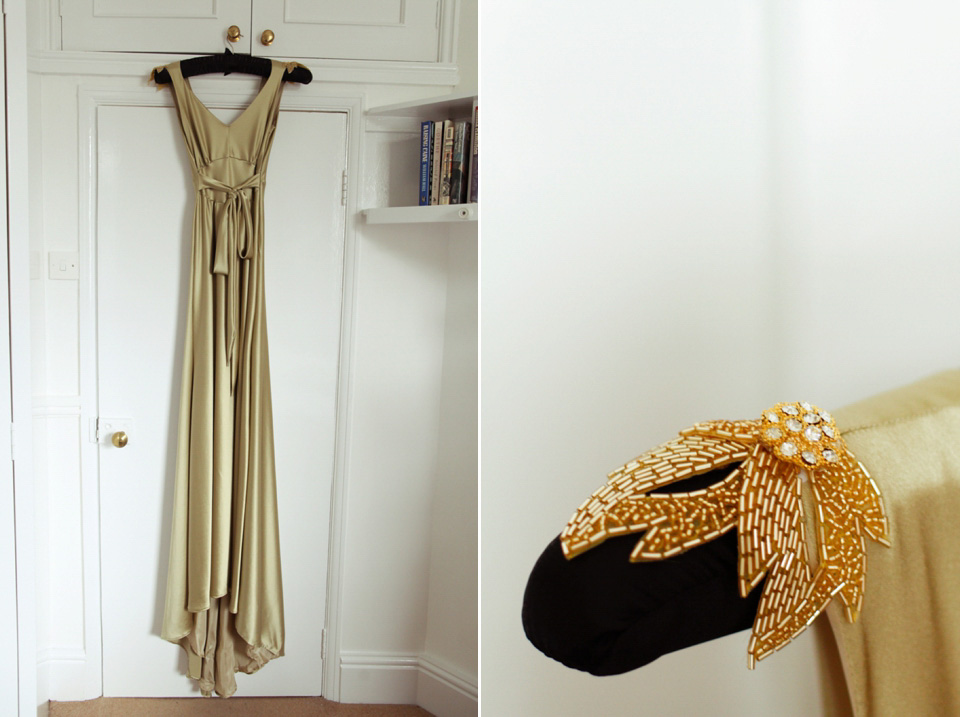 Not to be outdone by Jen's gorgeous gown, Joe's eBay suit and vintage monochrome wing tips are a nod to the 40s de-bob look that he wears with aplomb.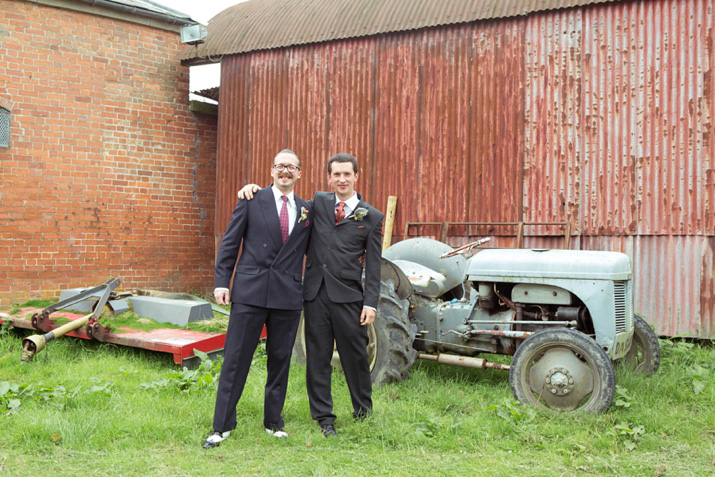 The couple met in Aberystwyth, in 2006, through a mutual friend. Joe had decided to stay in the beautiful coastal town after he'd finished University, and Jen was doing a 6 month internship to get her foot in the door of the arts world.
"I had a crush on Joe from the beginning but we were just friends for years. Over that time, Joe tagged along to some of my art events to volunteer, bless him! Years later, we met up when I was living in London, spent a long evening in a Hackney pub, and got together! After a whirlwind 6 months, Joe packed his bags and moved from Exeter to London to be with me and we've not looked back! Joe proposed to me on my 29th birthday, in the back garden of our first place together – the daffodils (my favourite flower) we had planted the autumn before had come up. It was lovely, private and simple. We got married 18 months after we got engaged so we had a year to prepare everything and could tie the knot in the summer."
Jen and Joe were wowed by Walcot Hall as soon as they set eyes on it and booked there and then. All of their guests were able to stay at the venue for 2 nights, in the vast array of accommodation including tipis and gypsy caravans, set in an area of outstanding natural beauty set in the Shropshire hills.
"Both being countryside types at heart, we wanted somewhere with beautiful outdoor space. We visited 3 different places but were wowed by Walcot Hall. The place is vast, incredible and the grounds are filled with lakes. We stayed in The Chapel, a converted war-time tin chapel, in the woods."
"My favourite part of the day was walking down the aisle to Joe, with my Mum. Seeing everyone I love in the same place, all smiling at me and Joe waiting for me at the end was something I'll never forget. When we walked out together everyone cheered so loud it was amazing I had to punch the air! We are very lucky to have so many people in our lives. Joe's favourite moment was sliding the ring onto my finger signifying that we were married."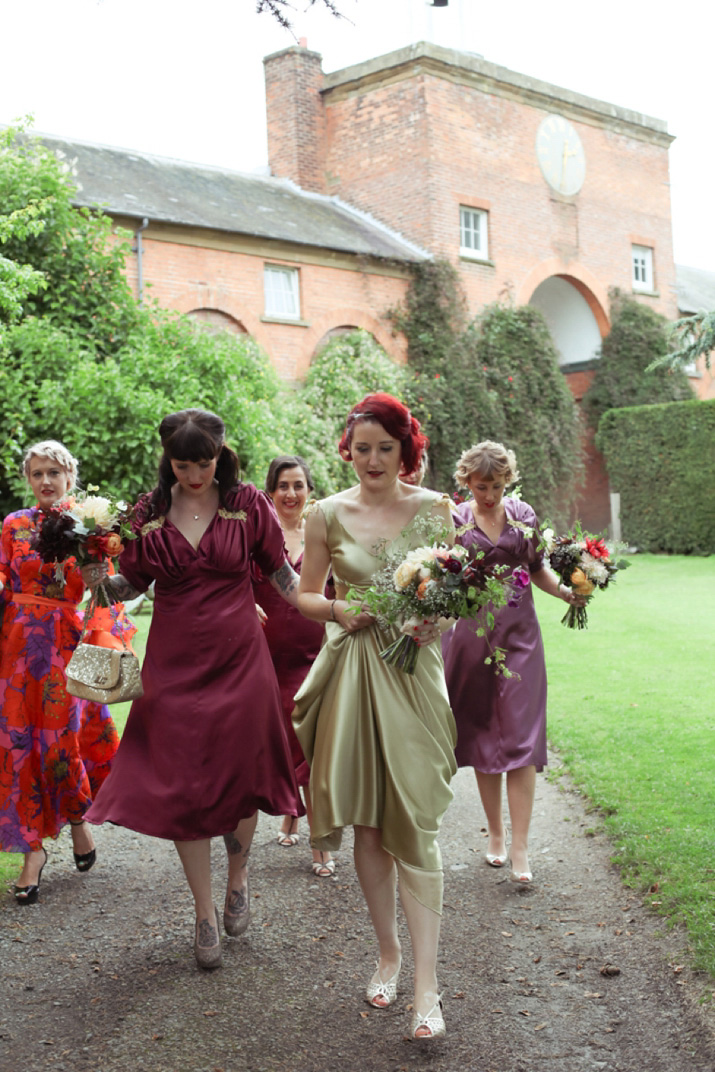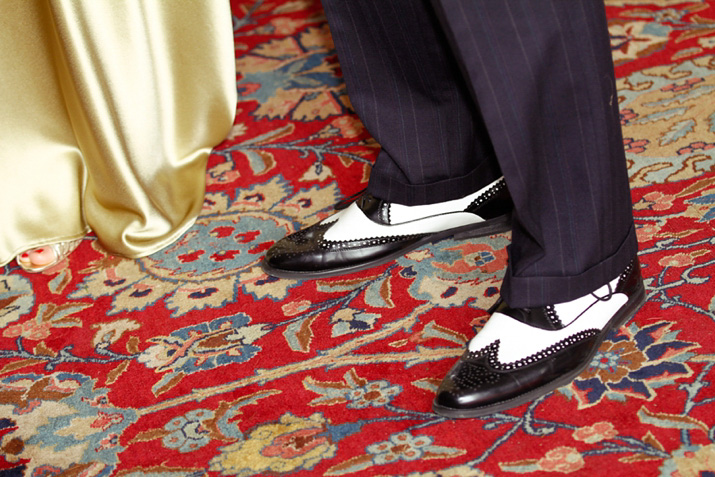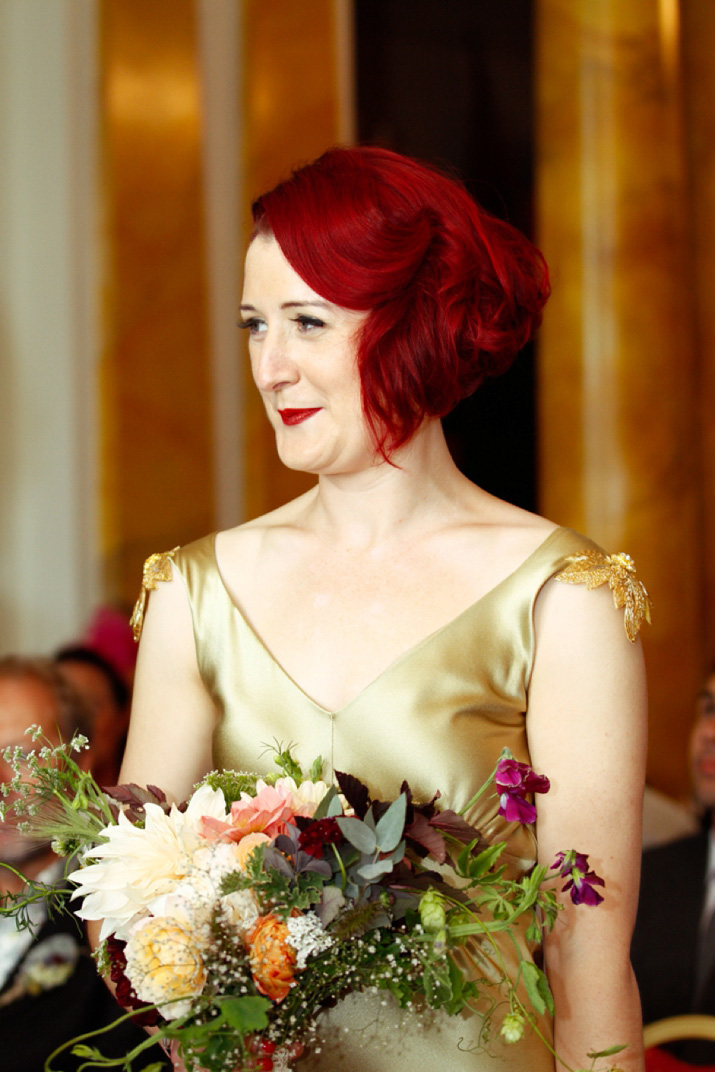 Joe's Mum Liz read an extract from 'Far From The Madding Crowd' by Thomas Hardy, and Jen's Grandpa John read from Dr Seuss' 'Oh The Places You'll Go!' He bought the book for Jen when she left home for University. Jen's step dad Mike played a classical guitar piece of his own during the ceremony.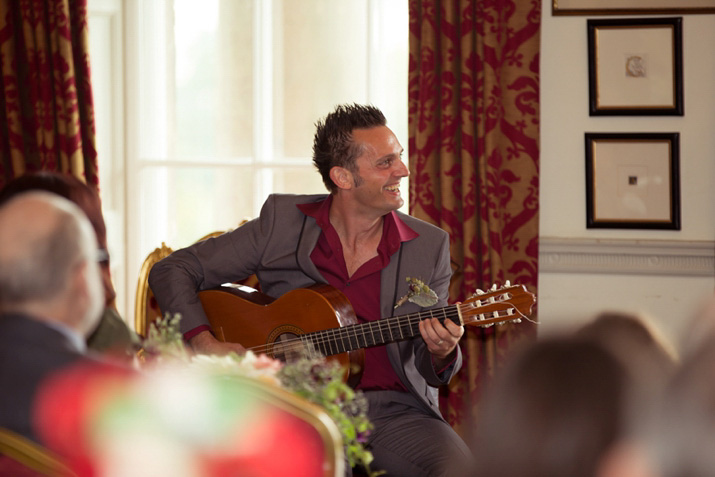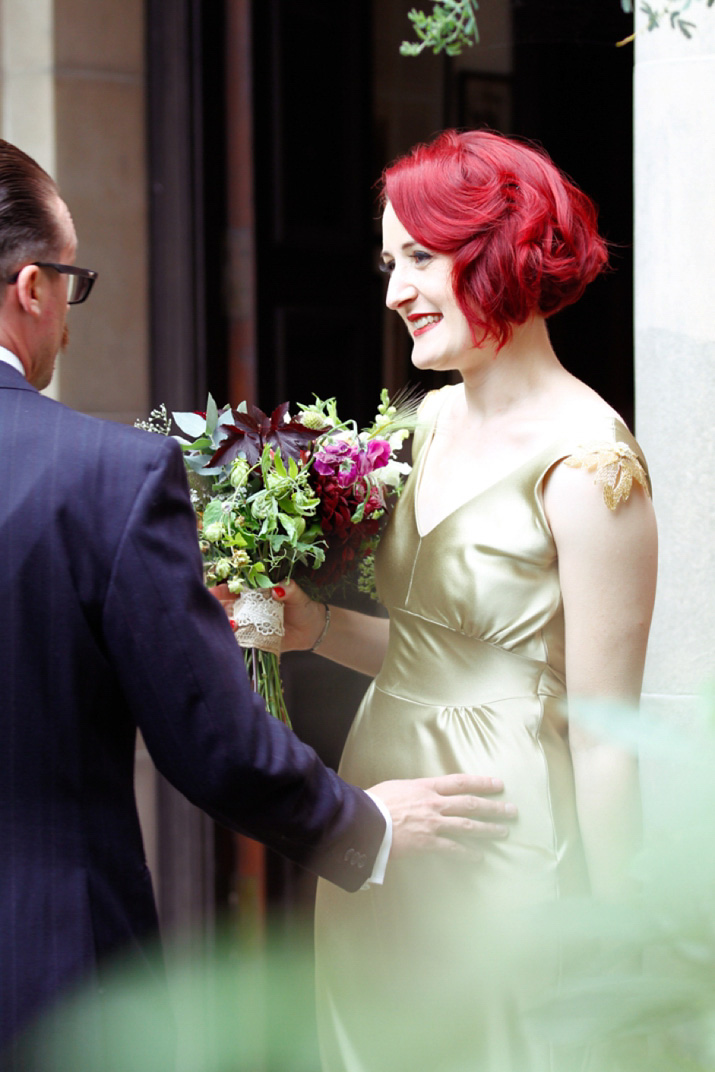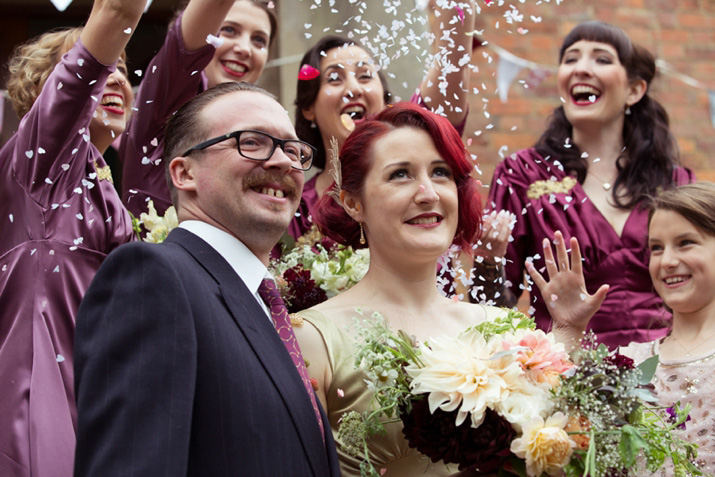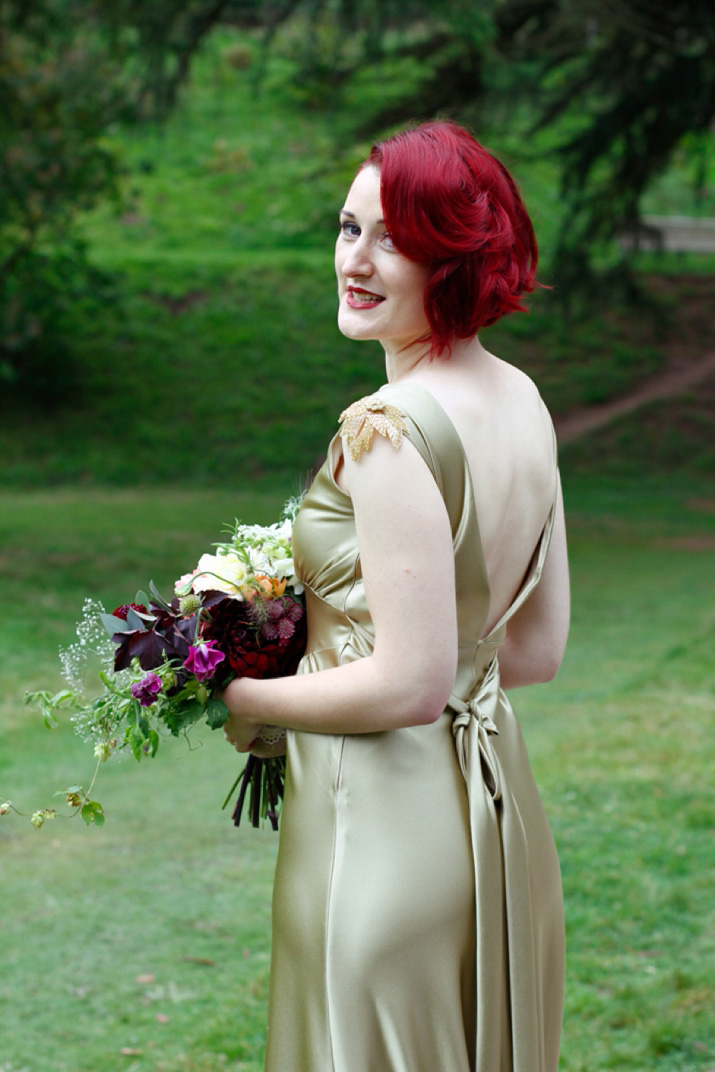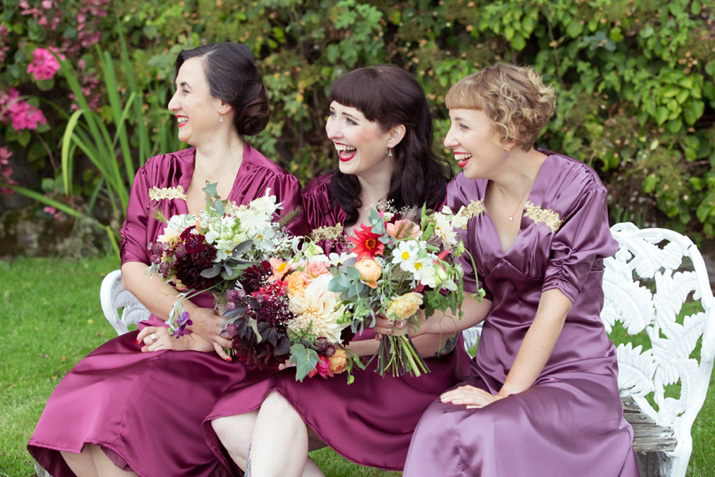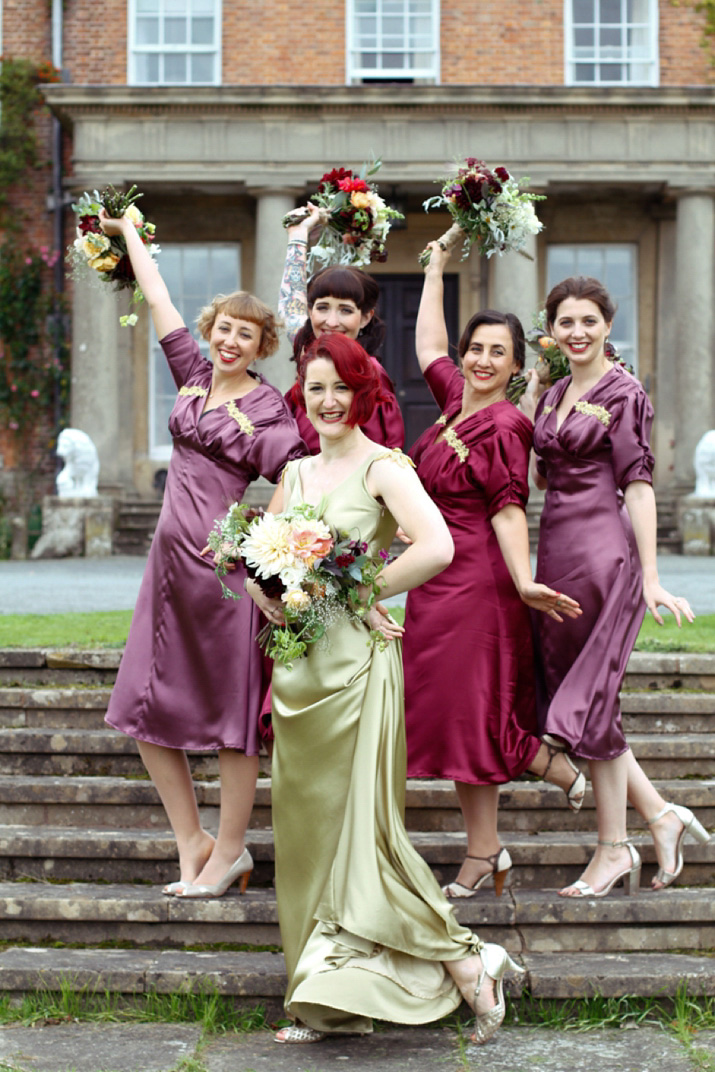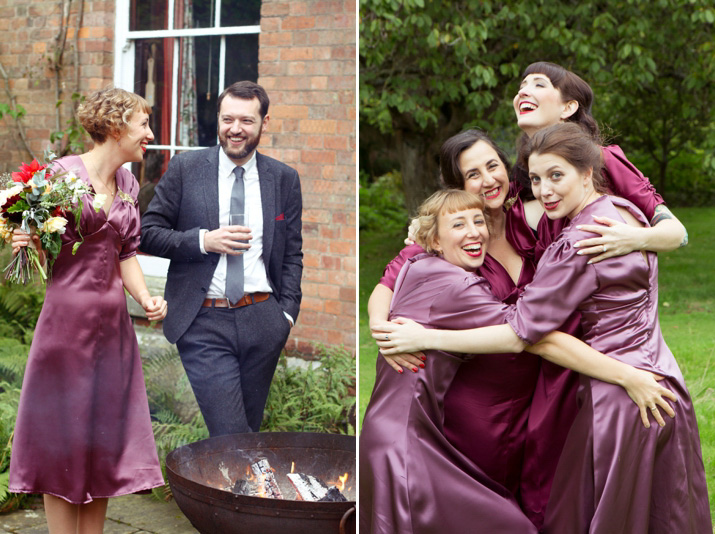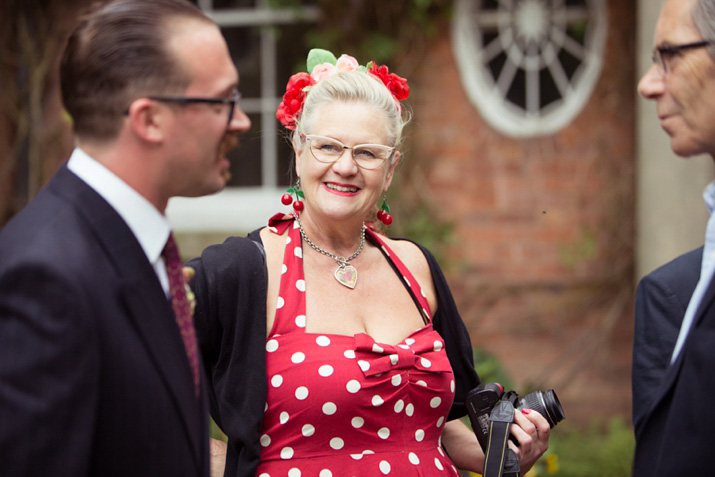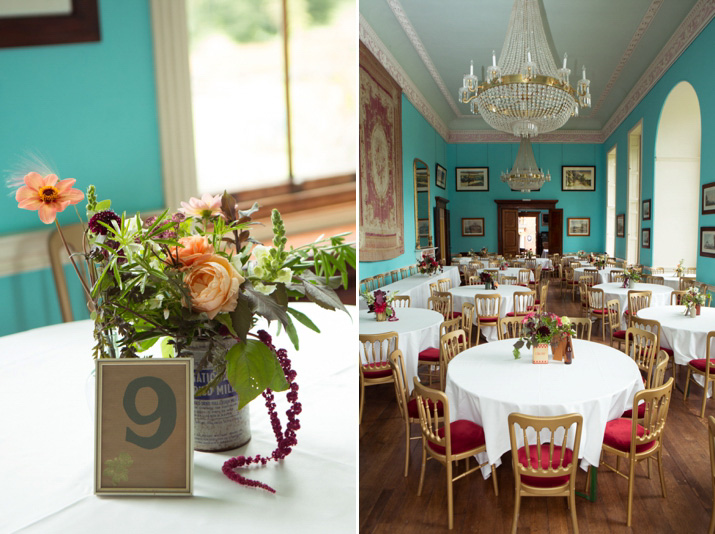 The best man created the stunning 1930s Art Deco style fruit cake and Jen's dad brought an abundance of cheese from Devon to create the beautiful cheese wedding cake.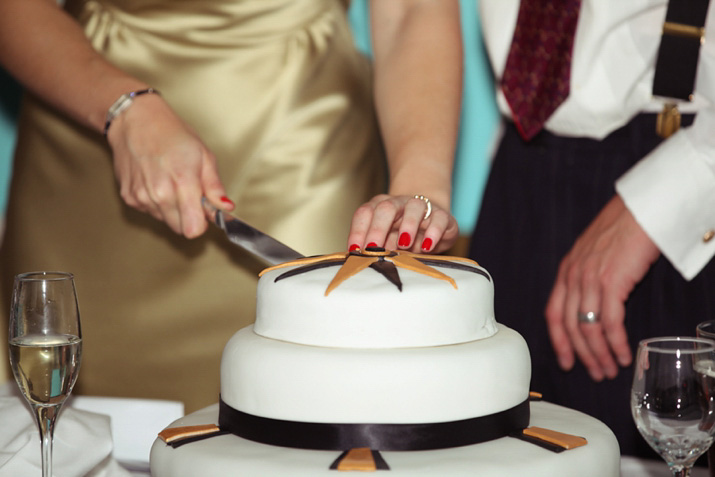 Music was of high importance to the couple. Jen walked down the aisle with her mum Catherine to 'I Don't Want to Set the World On Fire' by 30s/40s group The Ink Spots. Elvis' Hawaiian Wedding Song accompanied the signing of the register and the newlyweds walked out to Johnny Cash & June Carter's 'Darlin' Companion'.
"Our amazing friend Tony Diavolo's band Snakebone blew everyone away with their blues music: double bass, saxophone and guitar. They are so talented and always dressed as impeccable chaps right out of the 40s. Our friend Lady Kamikaze (incredibly talented London DJ of Lady Luck fame) was our DJ. My mum and step-dad Mike are also musicians, and got up to play Sweet Child of Mine!
Our first dance was to Santo and Johnny's 'Sleepwalk', the tune has always been 'our song'. We play it together sometimes on the guitar but mostly we put it on the record player and cuddle up by the fire."
Words of Wedded Wisdom
"Do not give yourself any jobs on the day – give them to everyone else.
Remember it's your day and the most important bit is getting married – not wedding favours and 'personalised everything', or what other people want! It's easy to get caught up in this stuff but forget it – do what makes you happy: not frantic!"
Do a budget for everything (including the service, the rings, the postage of invites, presents etc) before you go looking at venues."
Oh didn't you just love this wedding! Thank you ever so much to Jen and Joe for sharing your wedding day with us. Beady eyed readers will notice that it's not the first Kate Beaumont dress we have featured this week, you can see the other one here.
Love Caoimhe xx
Photographer – Milly Colley assisted by Loraine Claire
Venue – Walcot Hall, near Ludlow, Shropshire
Wedding Dress – Kate Beaumont + DC bouquets
Hairpiece – Colette Malouf
Shoes – Rachel Simpson
Bride's Scent/perfume – Jo Malone Red Roses
Groom – bigapple1931 on eBay + The Real McCoy shoes
Bridesmaids – 1940s dress pattern using James Hare satin fabric
Flowergirls – Next dress + Monsoon shoes
Florist – Wild Bunch
Entertainment – Tony Diavolo + Lady Kamikaze
Rings – Goldcrest Jewellers
Catering – Cookin'Good
Hair Stylist – Sophia Hilton