I am so happy we are finally in March! The evenings are lighter and spring is just around the corner; I can feel it in my bones!* This afternoon's couple, PhD students Timothy and Rebecca, tied the knot in glorious sunshine at the end of last summer. Our couple married at St Michaels and All Angels, the church they attend in Headingley, Leeds, on the 30th of August, and held their reception at White Cloth Gallery in Leeds city centre.
"We wanted a relaxed and informal wedding with close family and friends. It was important to us to have a religious ceremony and we chose to get married in our local church in Leeds rather than the church in our home town.  We didn't want our wedding to become too expensive (so we made lots of things ourselves) or for the planning to cause stress. After all, your wedding day is just the start of your married life together and planning it shouldn't take over your life."
Photography Copyright (c) 2015, Rebecca Tovey Photography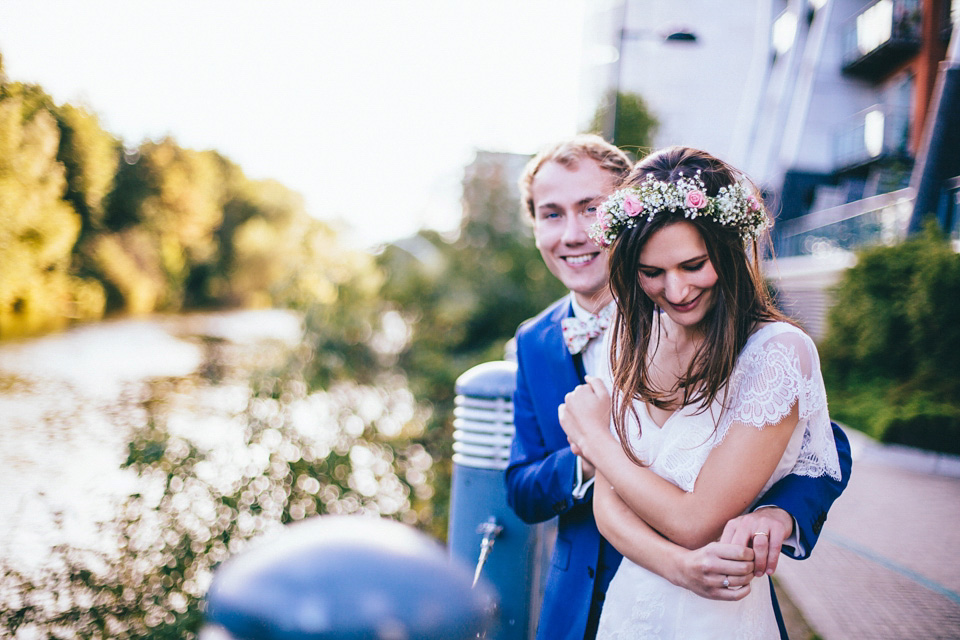 Rebecca and Timothy purchased some brilliant animal and bird temporary tattoos and badges from Kate Broughton. I've got to admit…I had to take a little break from writing this to explore Kate's online shop with its flora and fauna inspired treasures! Our couple mounted said badges on to card to create both place settings and favours.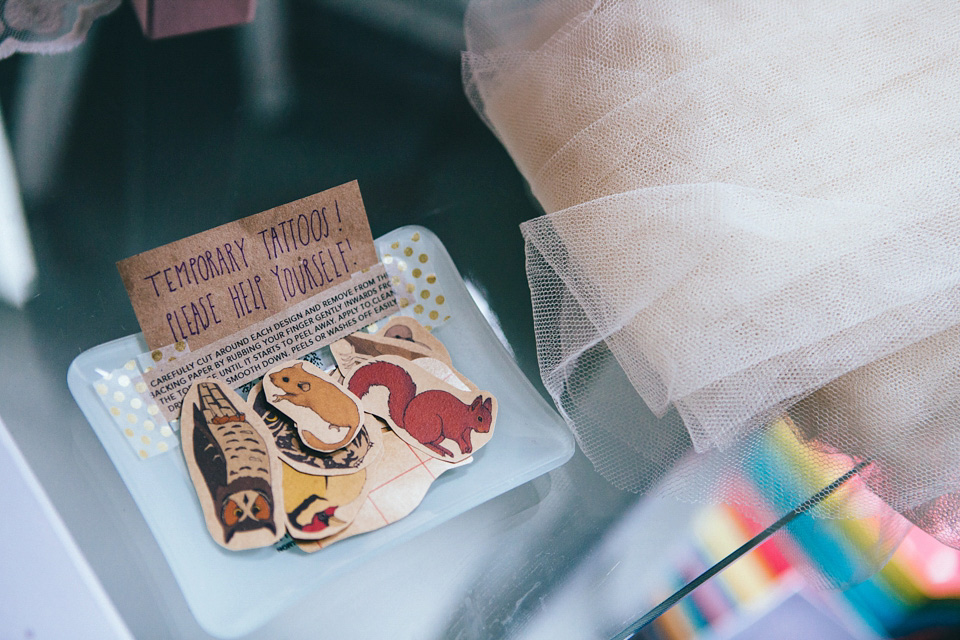 With the exception of the church flowers (which were kindly put together by church member, Glynis) all of Rebecca and Timothy's stunning floral arrangements were created by Campbell Flowers. As Rebecca explains, the couple wanted their flowers 'to look natural and freshly picked'.   Just look at that bouquet – WOWSERS!
Rebecca wore a vintage inspired gown by Sheffield designer Kate Beaumont (whose own lovely wedding we featured on the blog in 2012). Rebecca's stunning gown is reminiscent of the white lawn dresses of the Edwardian era, with its tiers of scalloped edged lace. If you are looking for a vintage or vintage inspired dress, I highly recommend taking a peek at Kate's website.
"I first came across Kate Beaumont on Love my Dress! I initially planned to see her collection of original vintage wedding dresses, but in the end it was Kate's own designs that I fell in love with. Kate adapted her Wild Lupin gown for me, adding more lace to the bodice, changing the colour of the silk underneath and adding a short puddle train. It is by far the most beautiful thing I own and is a perfect fit! Kate is absolutely fantastic to work with; she is really lovely and incredibly talented. I would recommend Kate to anyone looking for a stunning, vintage inspired wedding dress."
"We were looking for someone to take natural reportage style photographs with a few of the usual formal shots to serve as a reminder of the day and all those who spent it with us.  Rebecca Tovey Photography fit the bill – her photographs are beautiful and she is really lovely and friendly to work with. We would certainly recommend her."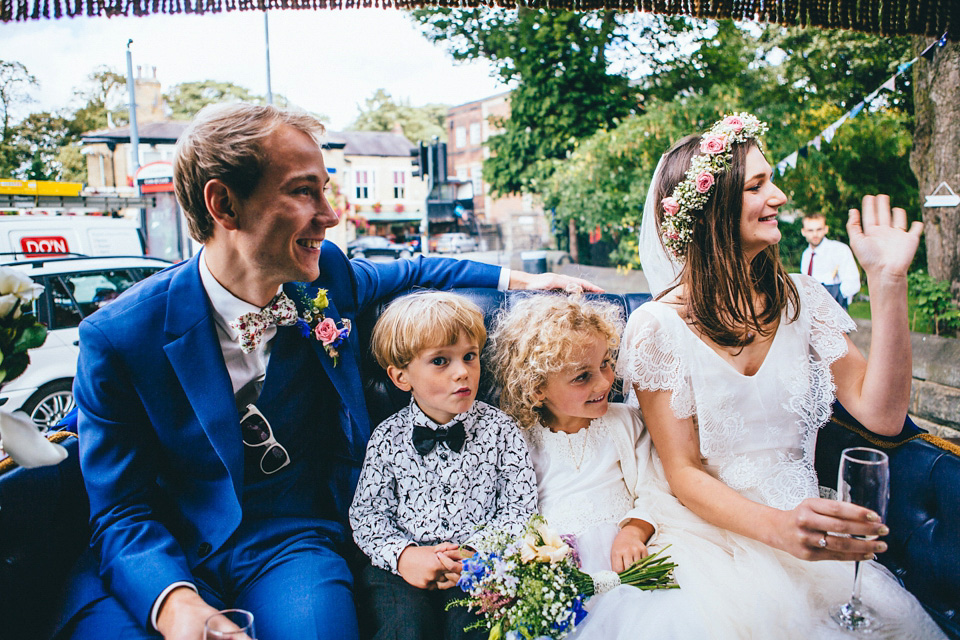 "We first met at school aged eleven, but we didn't get together until just before we left school at eighteen. We have been together ever since! After five and a half years together we decided to get engaged and we married nine months later. "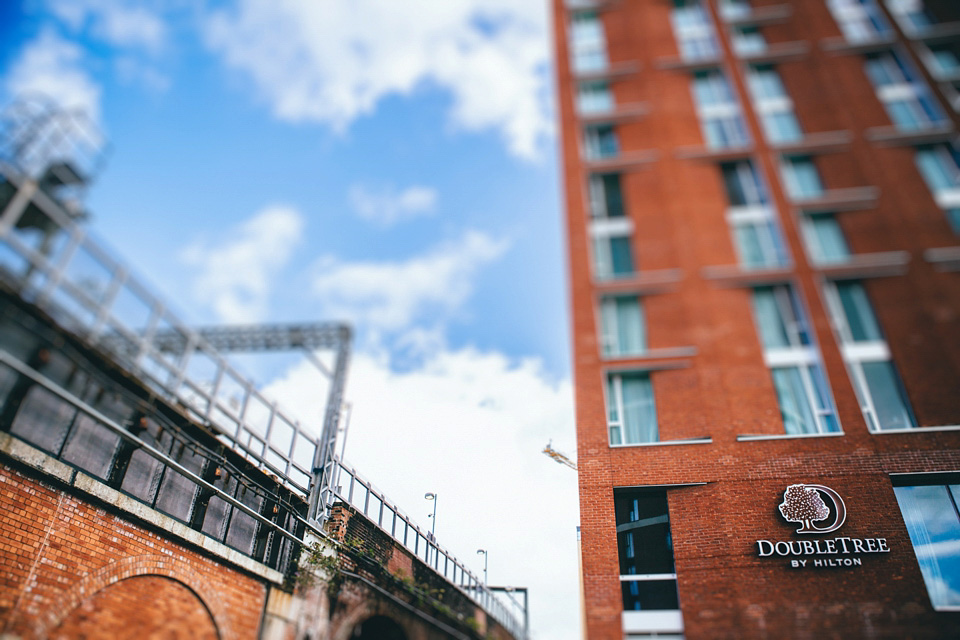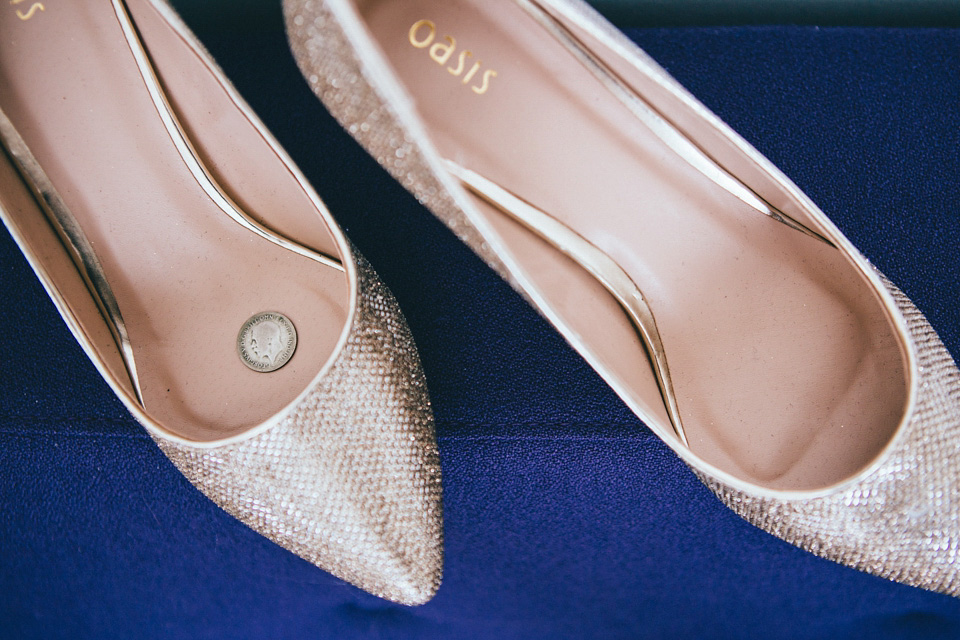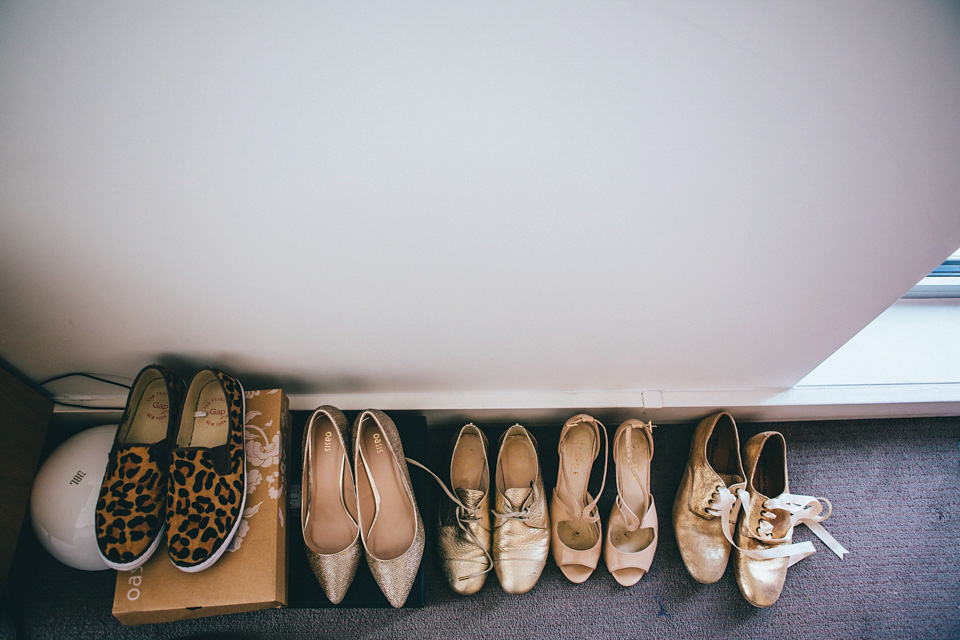 By day, our bride wore Oasis heels, and by night, flat, gold, lace ups which she customised with ribbon laces, to match the ribbon in her dress. Rebecca accessorised with an opal necklace, gifted to her by Timothy on the day, and a pair of earrings borrowed from her mother.
Rebecca's chapel length veil was custom made by Agnes Hart and purchased via Etsy. I am a big fan of Agnes Hart; owner Rae Birch, makes the most beautiful vintage style headpieces, hats and veils. Do take a look at Annabel's piece on Agnes Hart, here. Rebecca paired her veil with a very lovely rose and gypsophila fresh flower crown made by award winning Sheffield florist Campbell Flowers.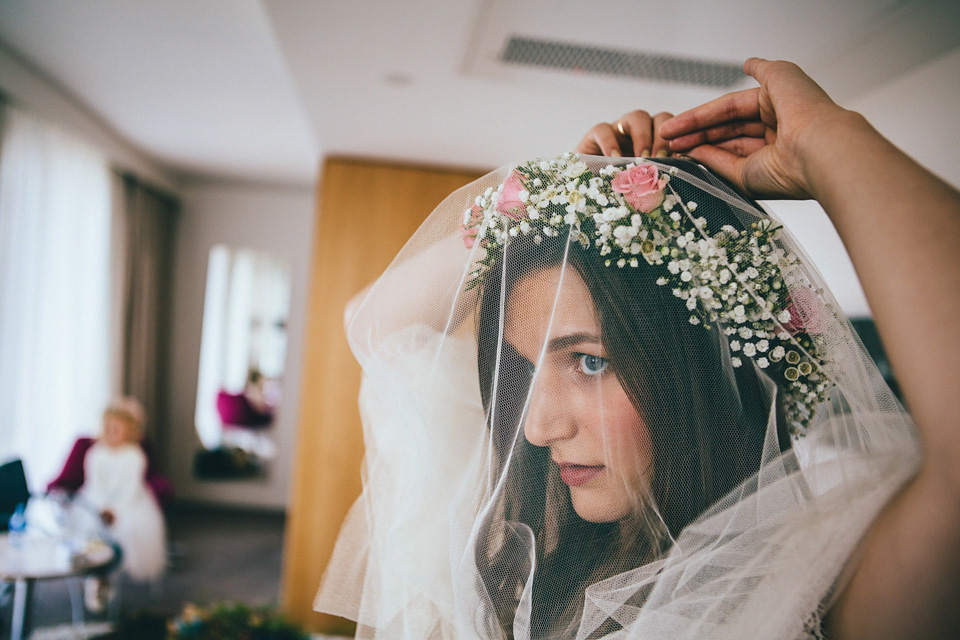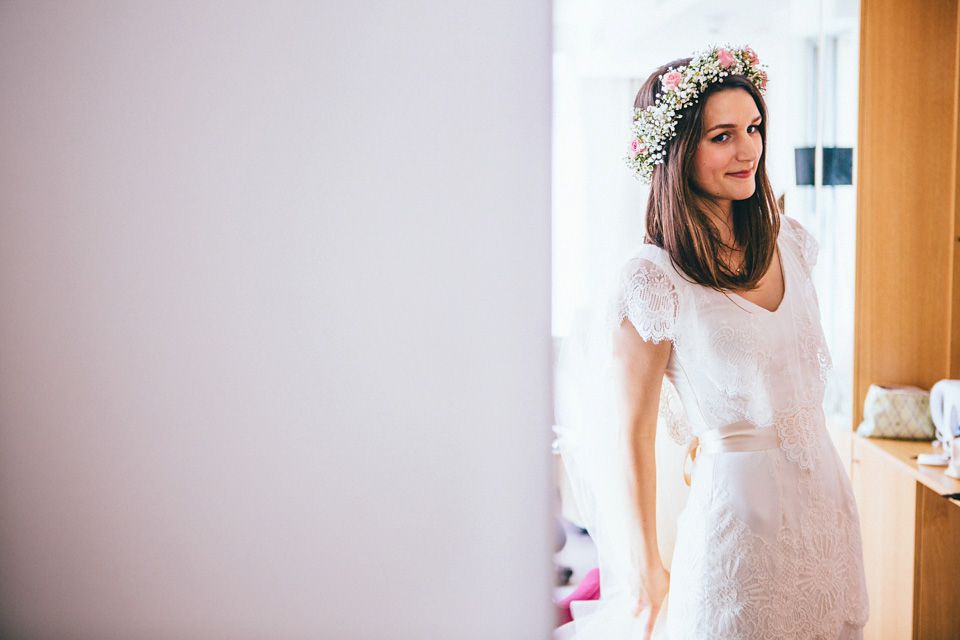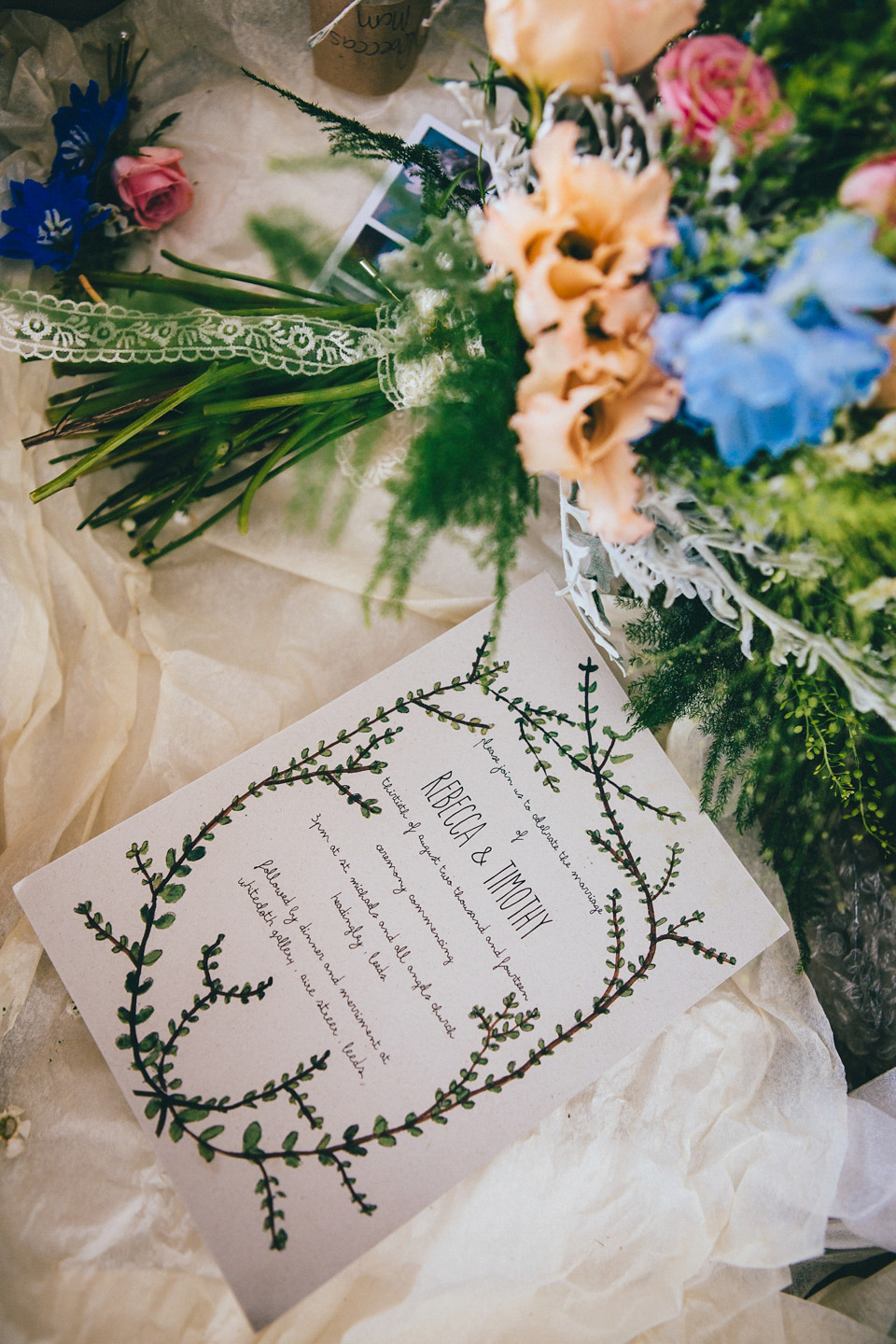 Rebecca's maid of honour, sister Sami, wore an ivory Coast dress and her flower girl, Eleanor, looked very sweet in a Monsoon dress and cardigan with a flower crown to match Rebecca's own.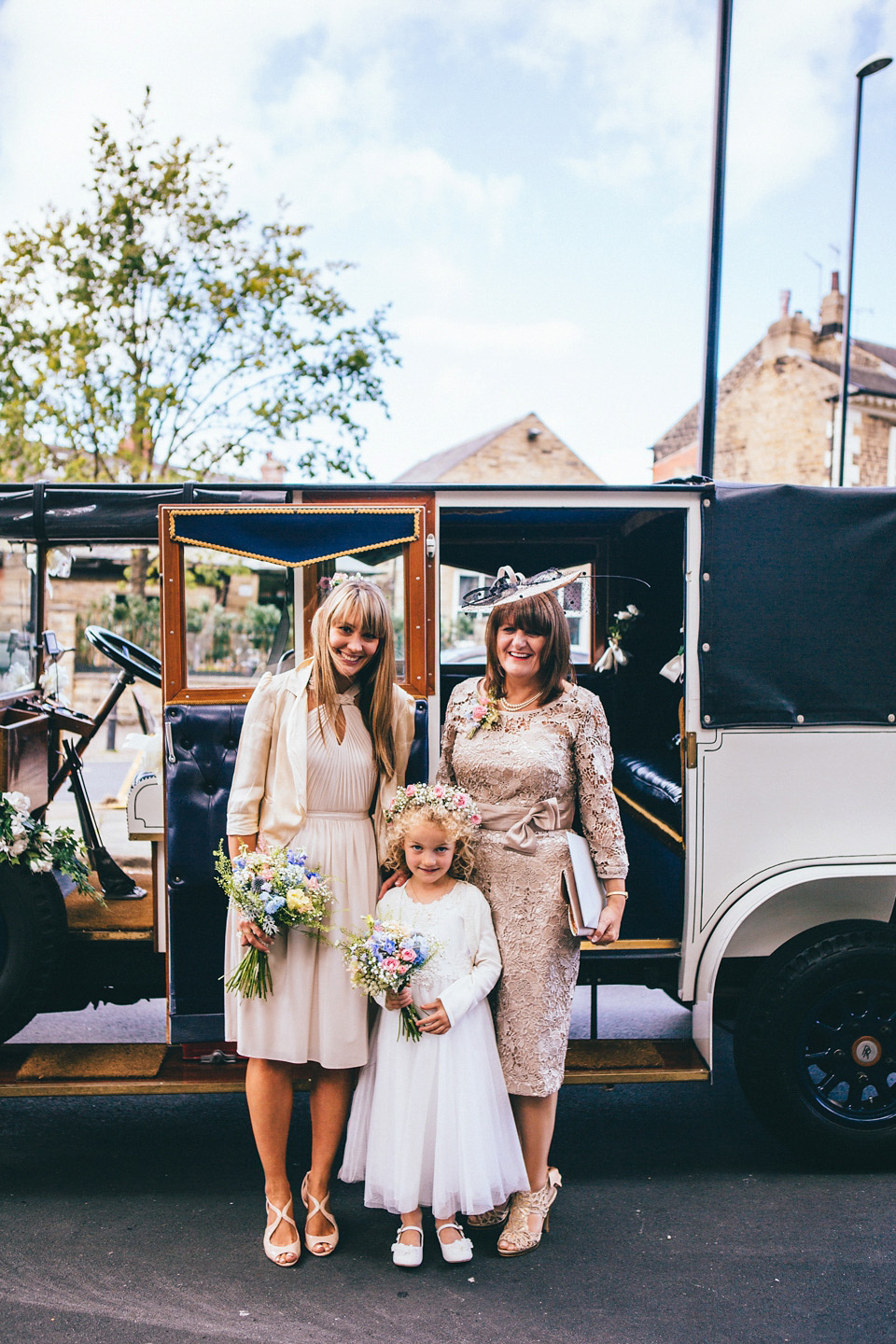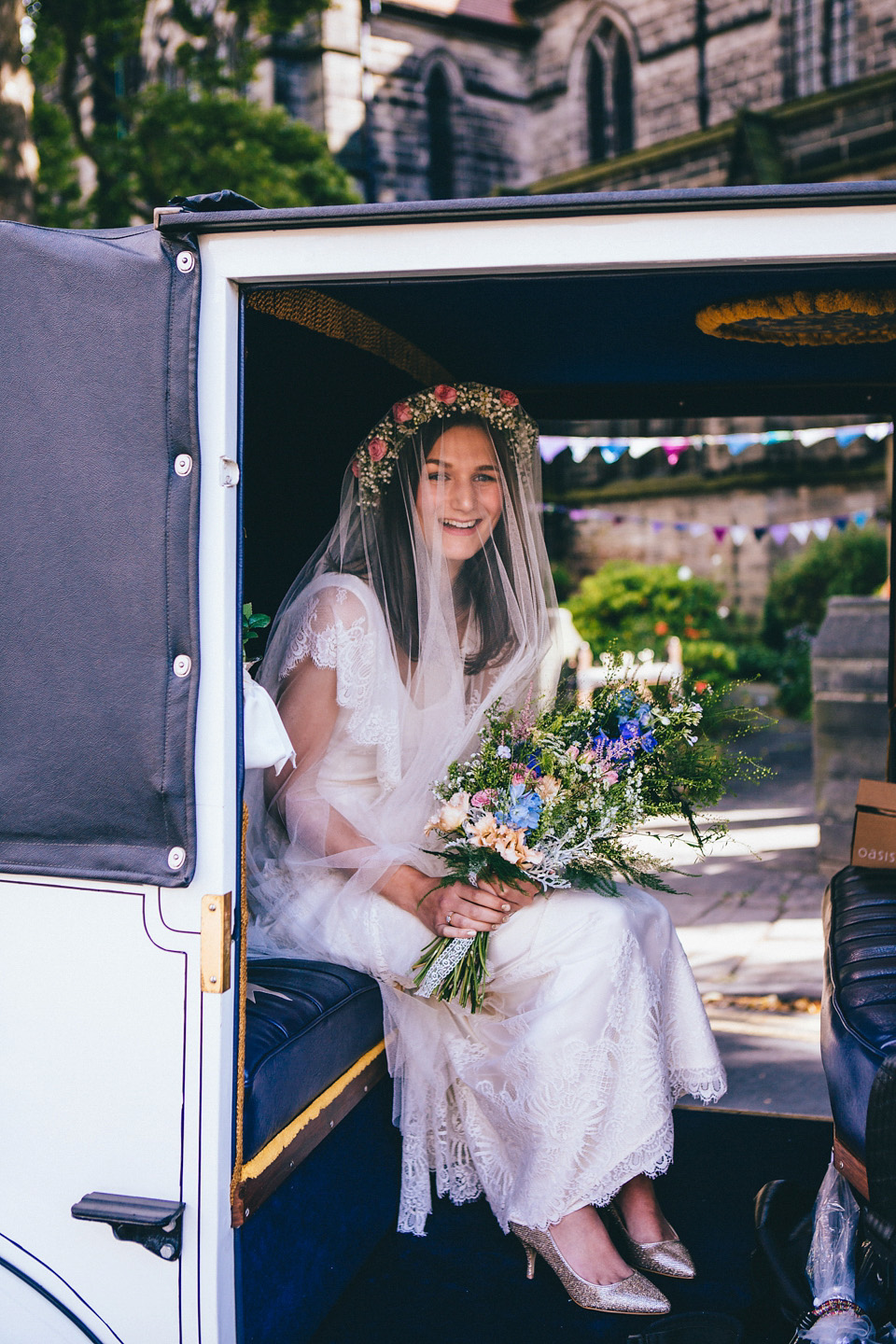 Accompanied by her father and bridesmaids, Rebecca walked down the aisle to J.S Bach's 'Prelude in E flat Major', performed by the church organist.
"Earlier in the year, Sami and I made 100 meters of bunting for her own wedding. Timothy, Duncan (Tim's brother and best man) and Ben, the verger at the church, spent the morning hanging the bunting outside the church!"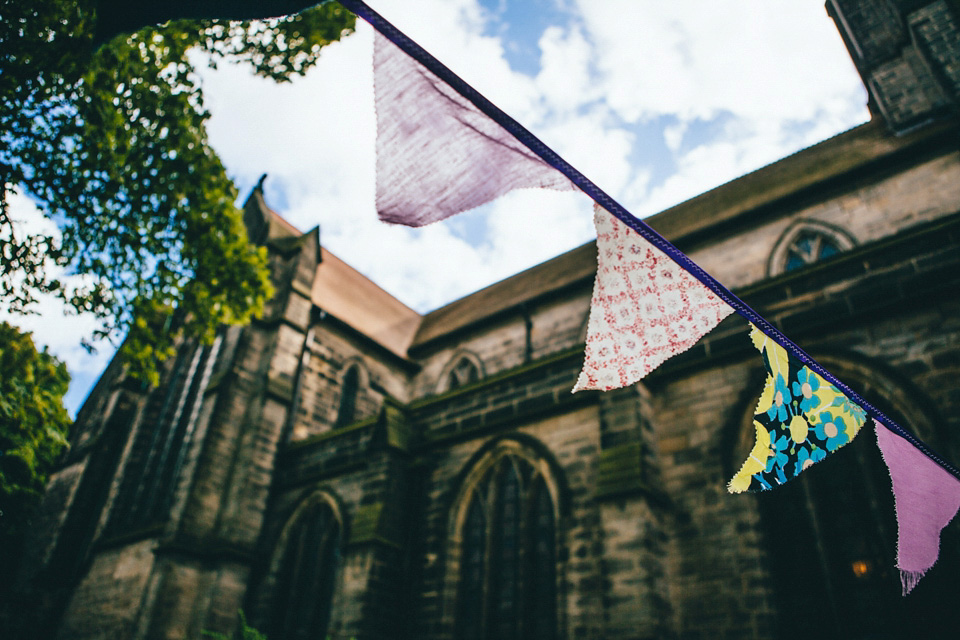 Timothy looked smart in a blue Reiss suit, tie and tan shoes. Our groom's bowtie and pocket square were lovingly made by his bride using fabric from Liberty. Timothy's antique tie pin was a wedding day gift from Rebecca and his cufflinks a present from her father.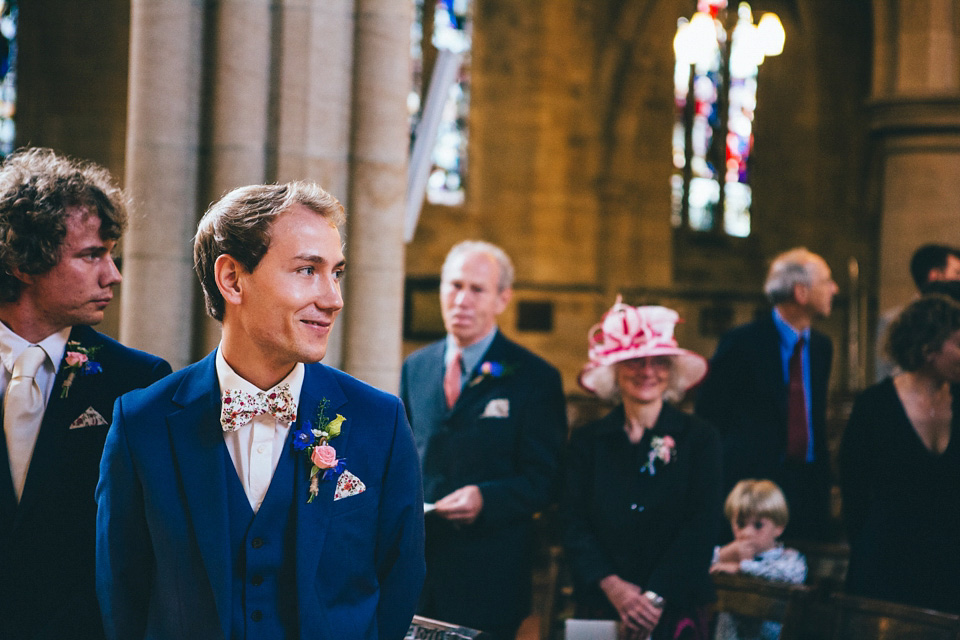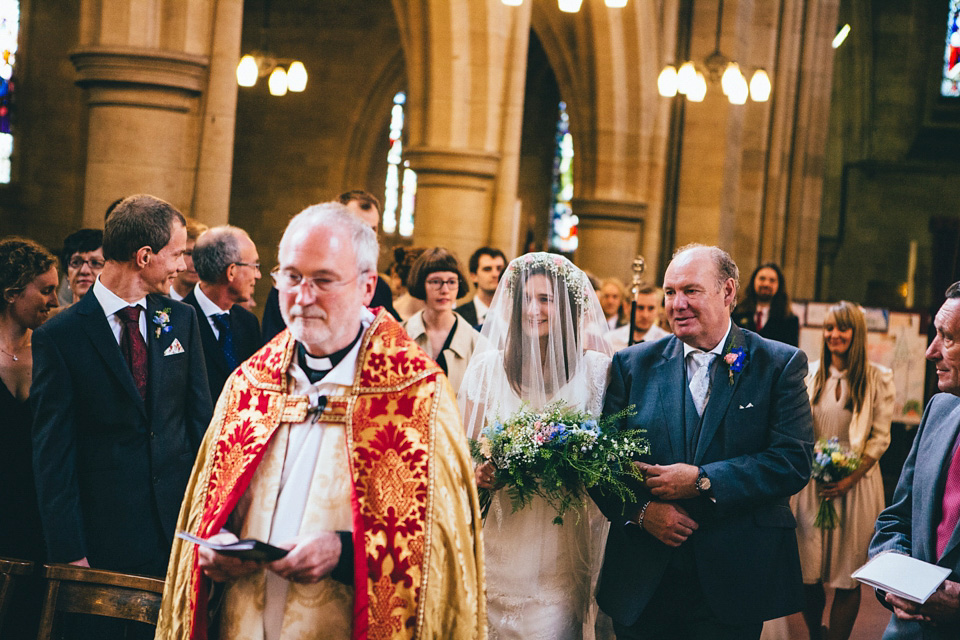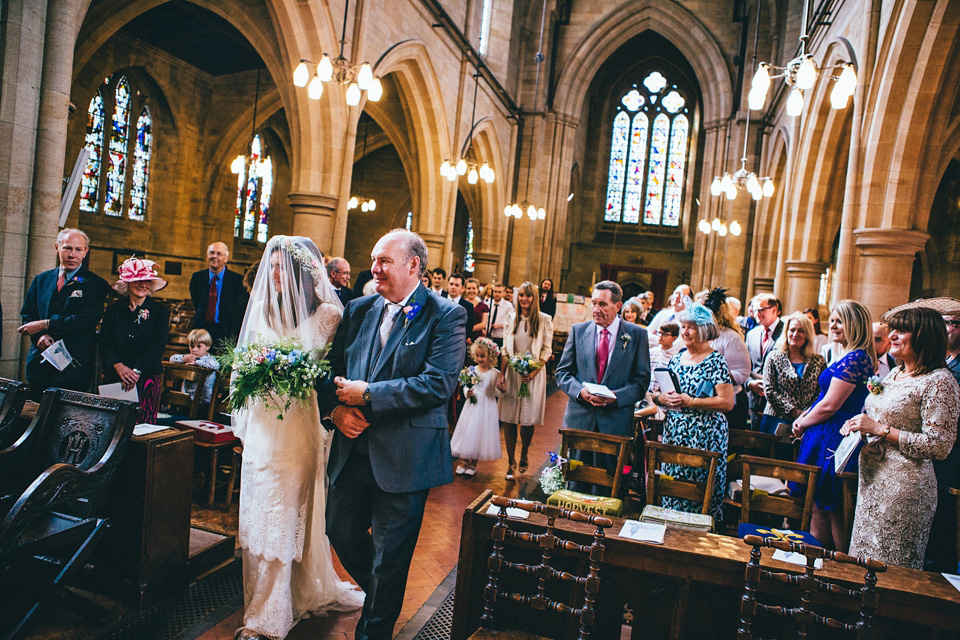 "The ceremony was our favourite part of the day (and the most important!). We chose the vows from The Church of England's 'Marriage Service from Common Worship' and two bible passages which we feel reflect our views on love and marriage. Duncan read 1 Corinthians 13:1-10 and my grandfather, Dennis, read 1 John 4:7-12. While we were signing the register, a member of the church choir sang one our favourite songs; 'Concerning the UFO Sighting Near Highland, Illinois' by Sufjan Steven and the whole choir performed 'Beati Quorum Via' by Stanford.
We chose three hymns; Be Thou My Vision, Make Me a Channel of your Peace and Crown with Many Crowns."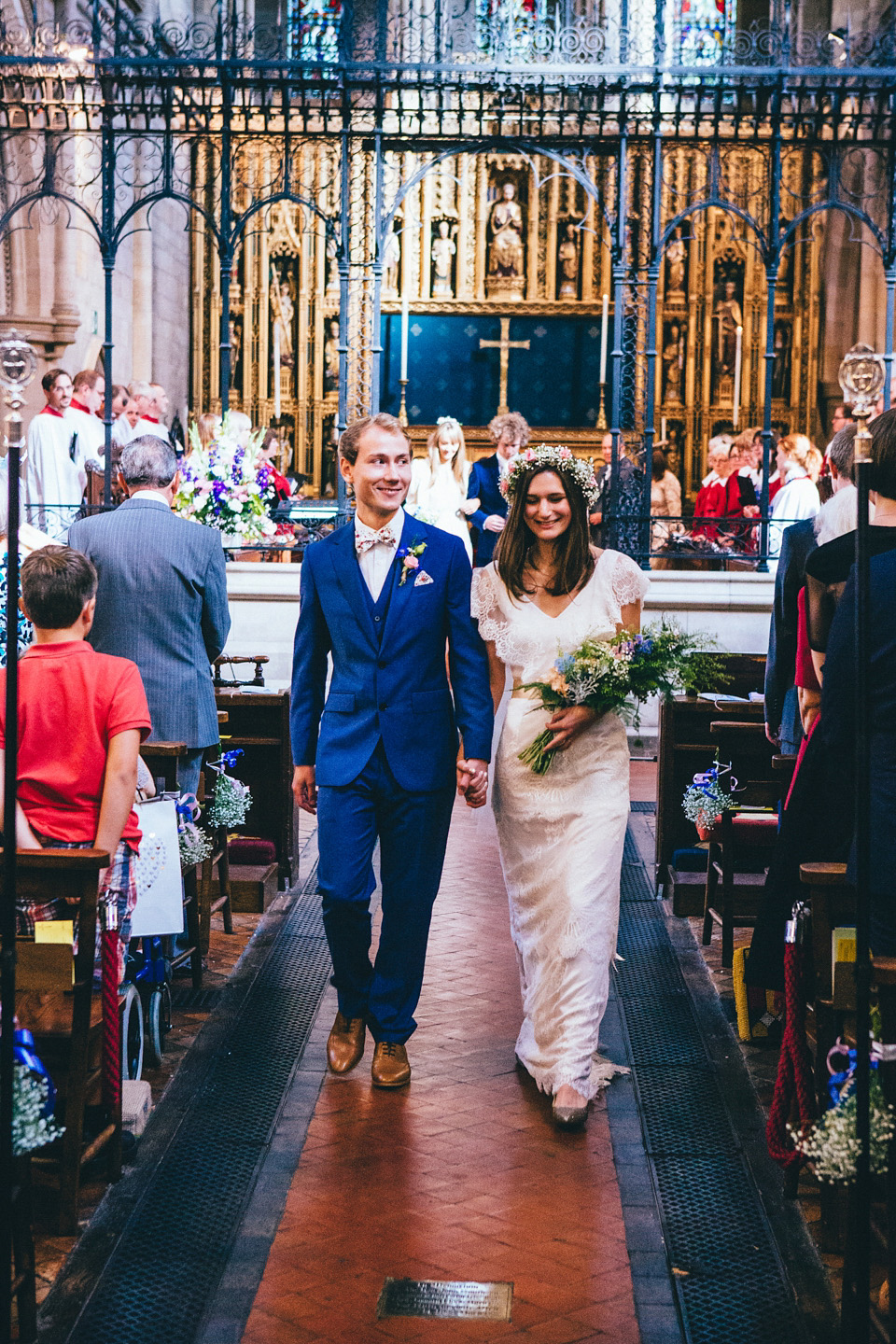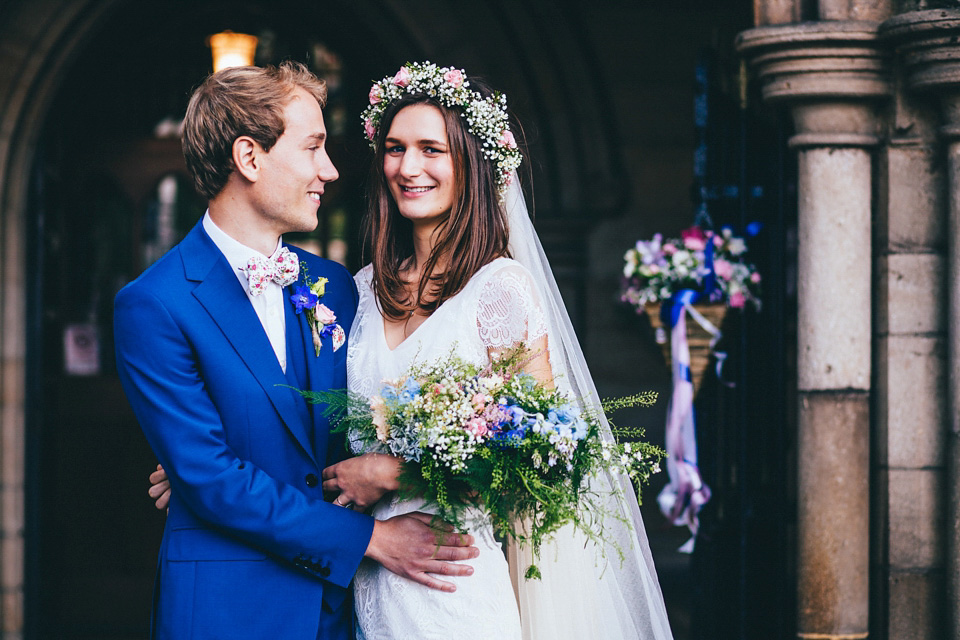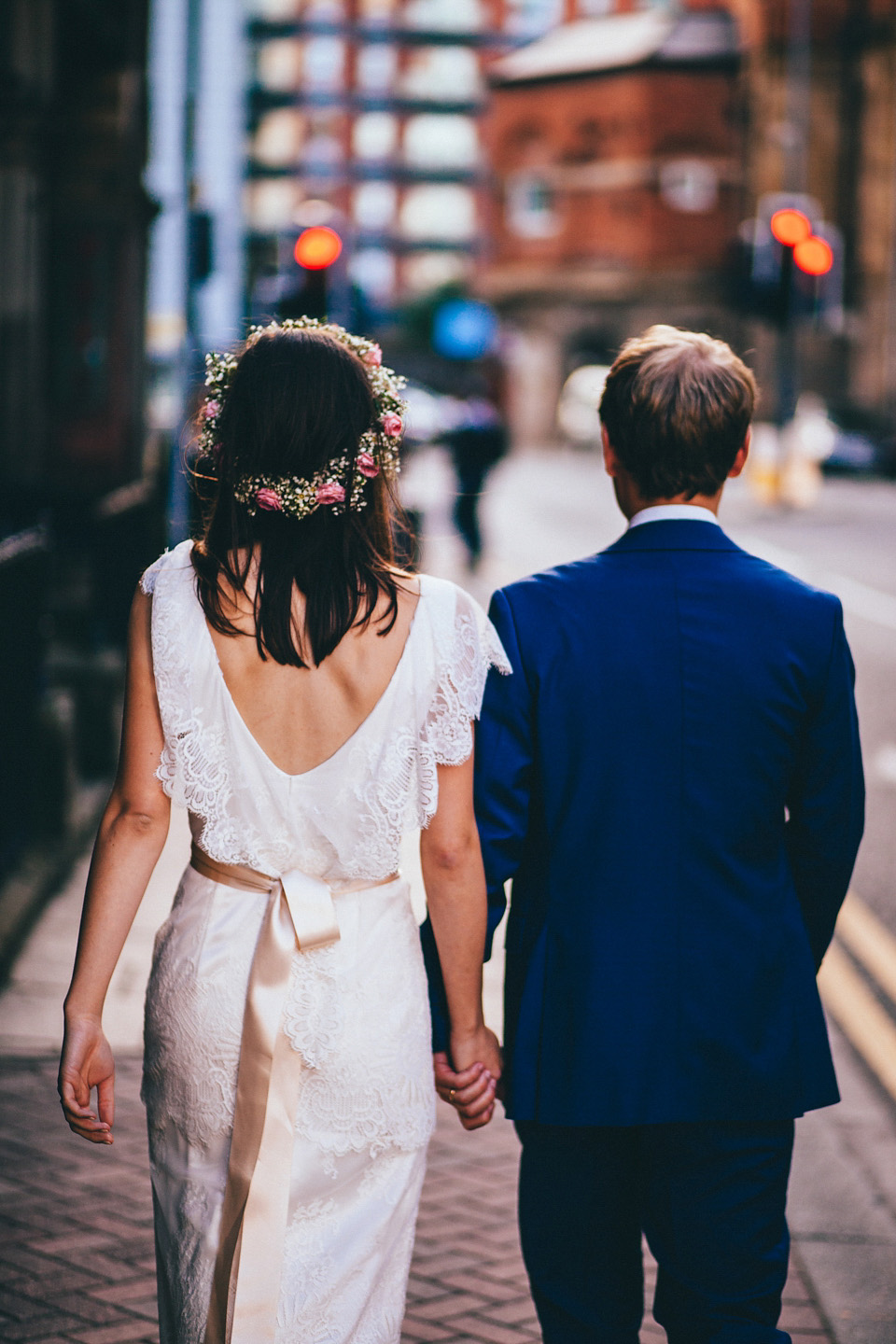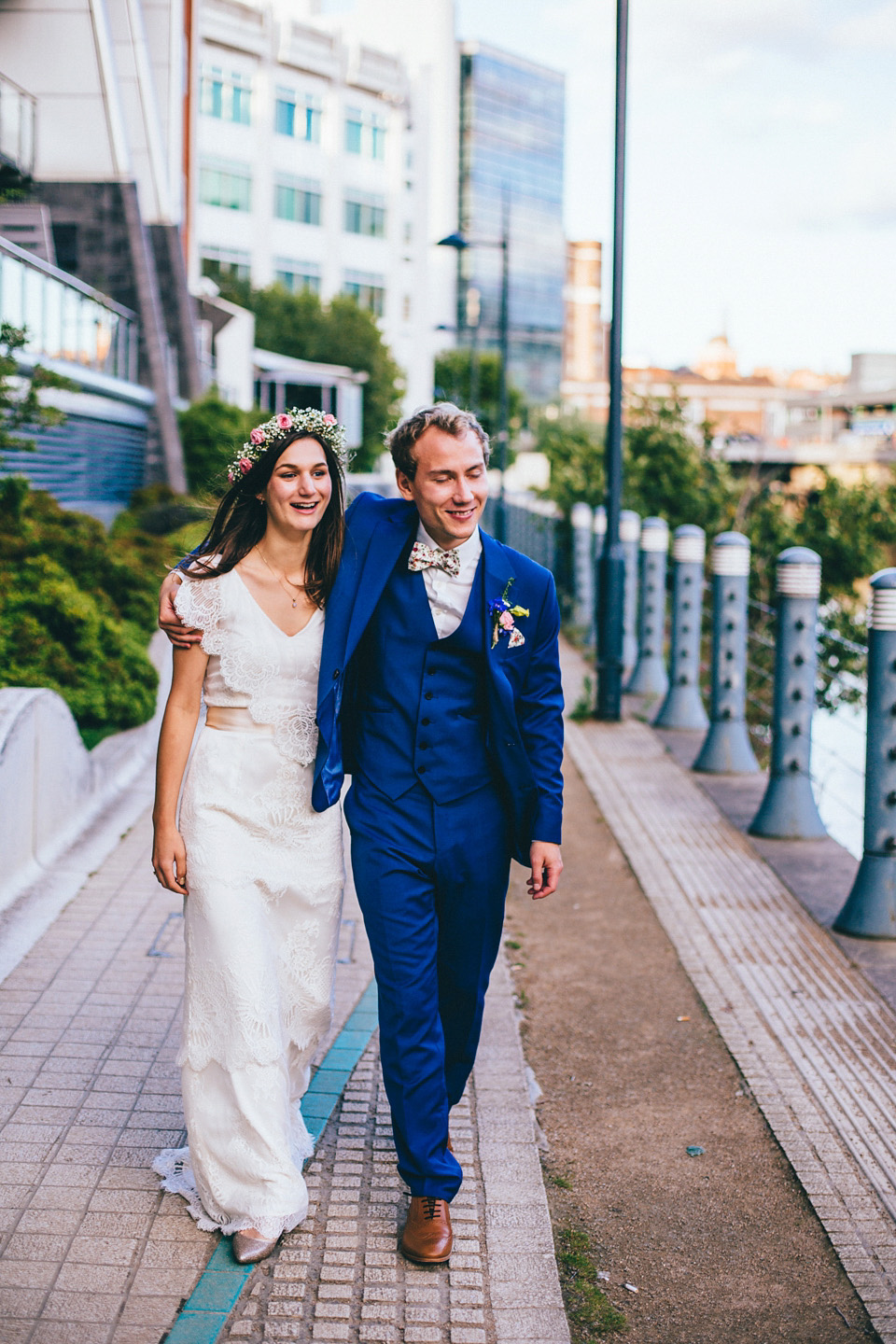 "We chose the White Cloth Gallery for our reception venue partly because of its convenient city centre location, making it easy for guests to get to. White Cloth Gallery has delicious food and a stylish modern interior. Emma, the events coordinator at White Cloth Gallery was very helpful."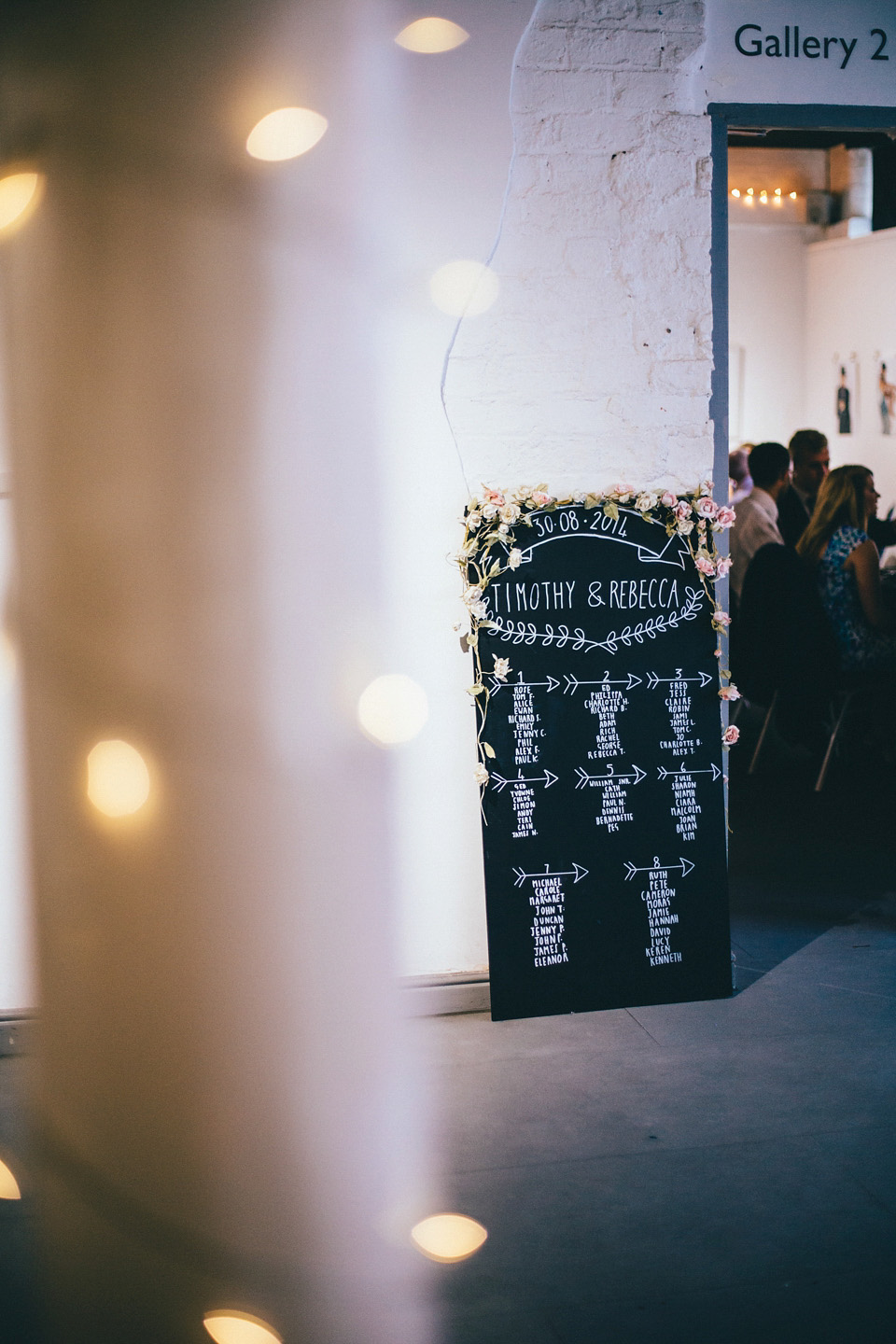 "My mum and dad made our wedding 'post box' and the table numbers and the White Cloth Gallery team decorated our reception venue with the candles in jars, tissue paper pom poms and fairy lights we had provided."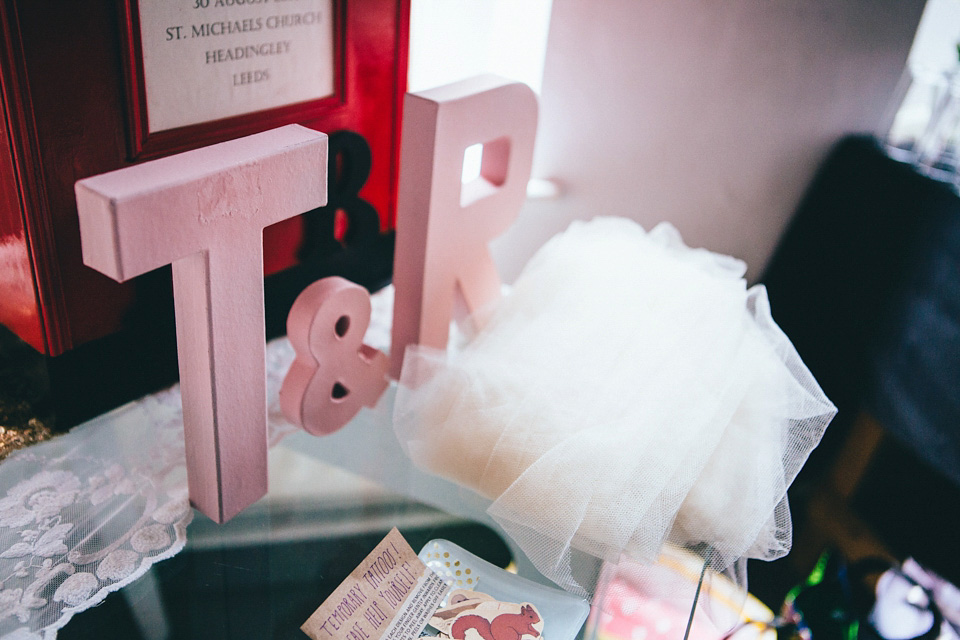 "Our fantastic food was prepared in house at White Cloth Gallery. White Cloth Gallery designed an amazing menu for us with two vegetarian options (we are both vegetarian) and a fish option. They were also very good at accommodating guests with food allergies.
Our cake was made by my grandmother, Bernadette, and decorated by a friend of hers. The ring decorations on the cake have adorned both my parent's and grandparent's own wedding cakes!"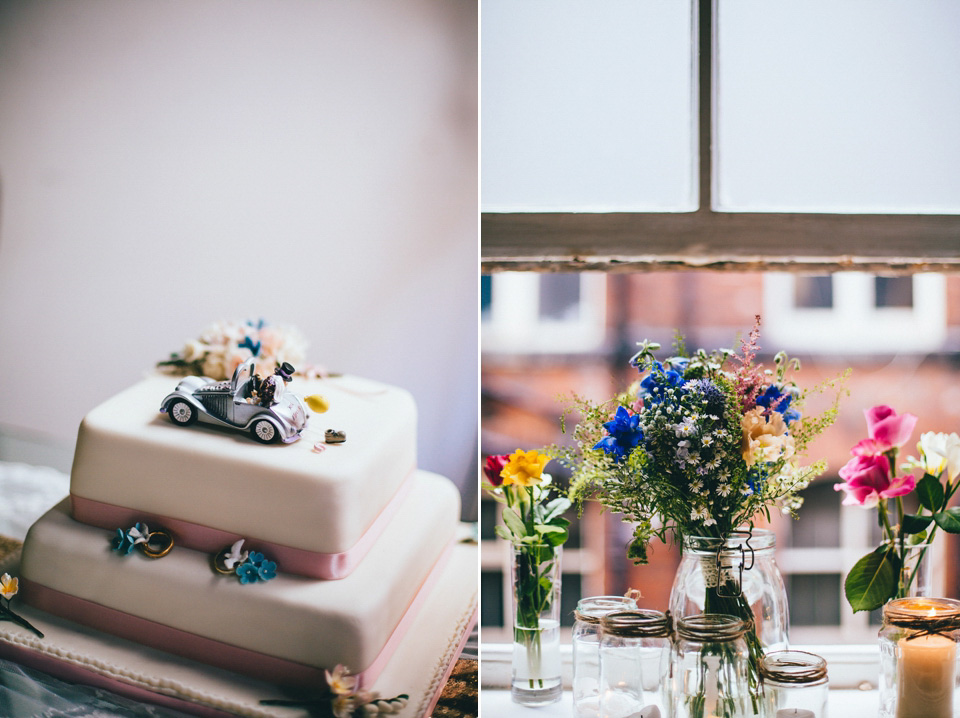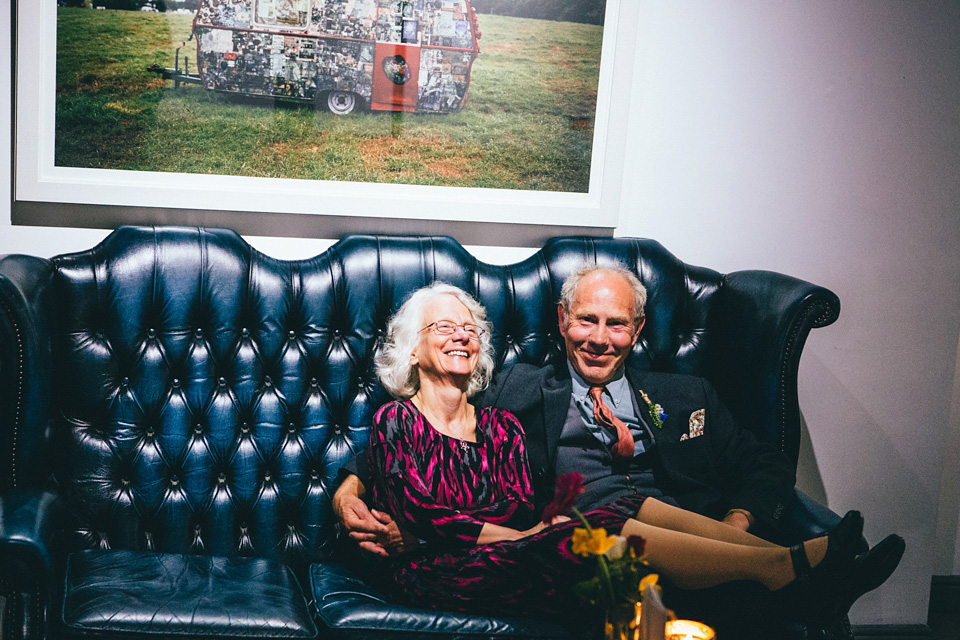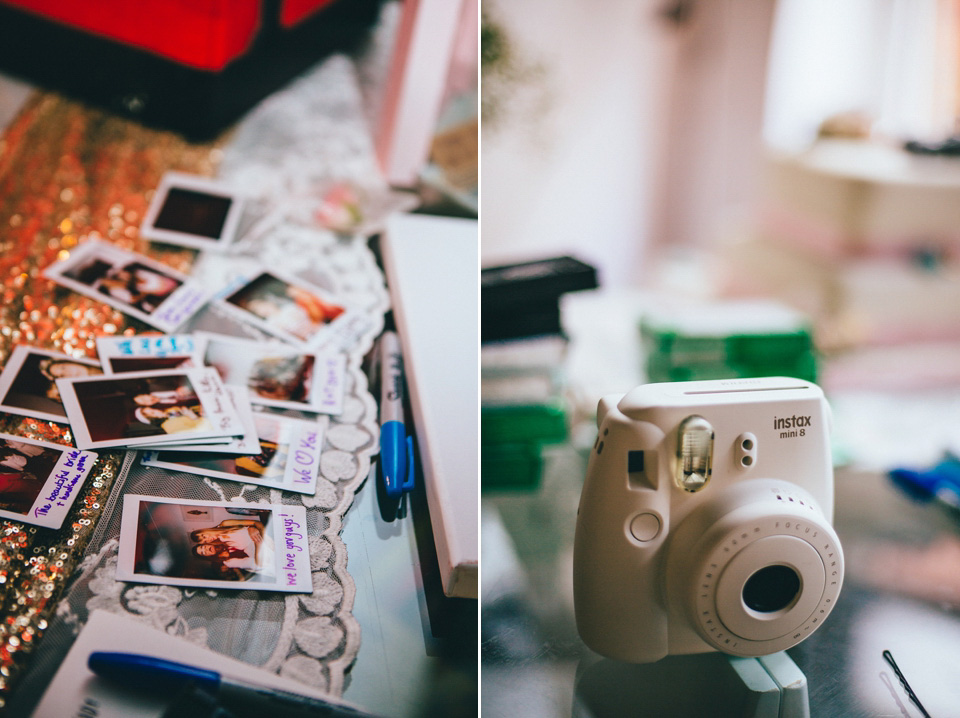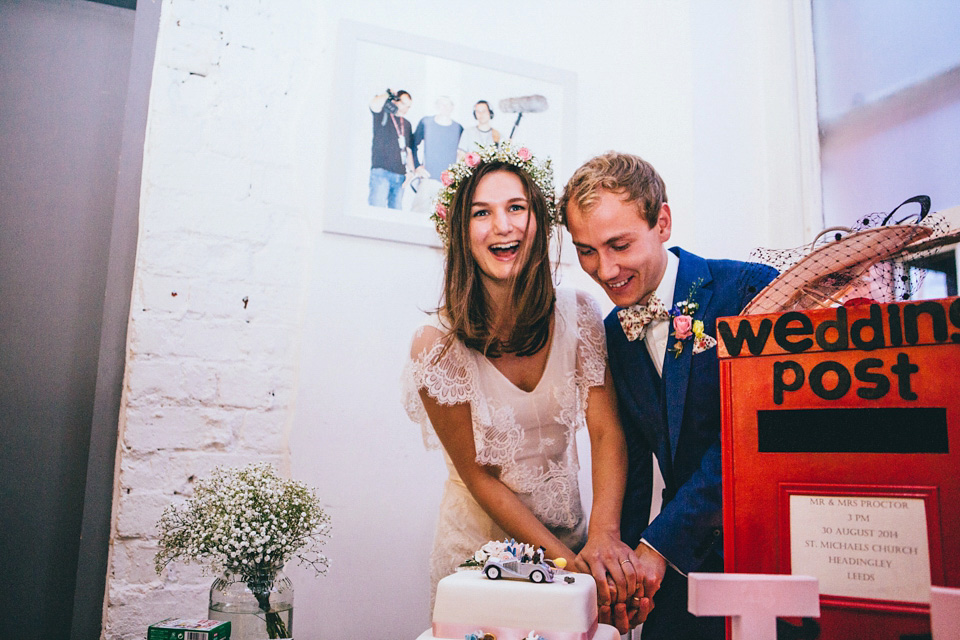 "In the evening Dogsbody Band put on a fantastic ceilidh!"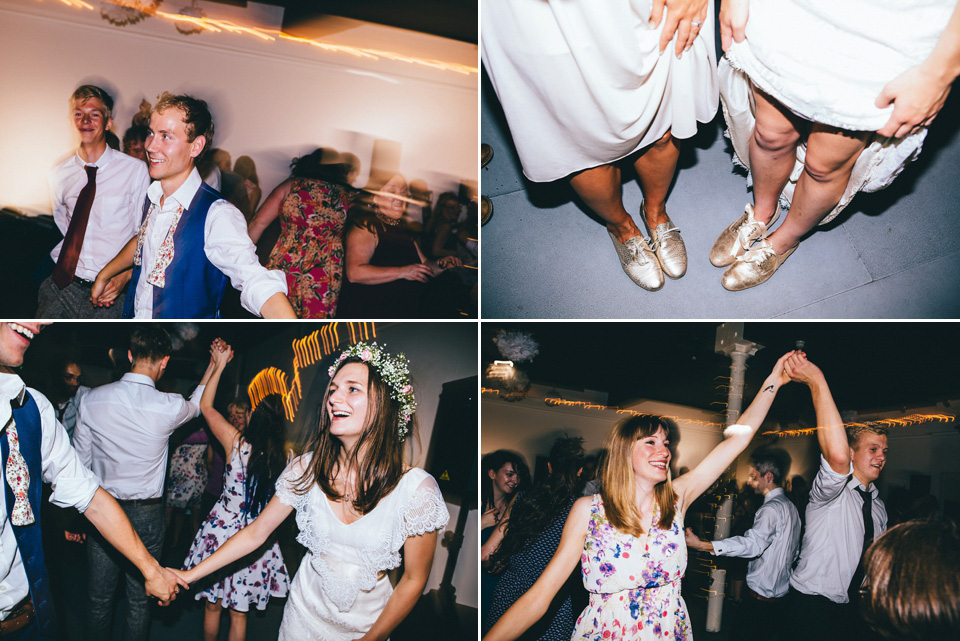 Words of Wedded Wisdom
"I'm sure almost everyone says this, but we would advise couples to not let wedding planning take over your lives. Your wedding day is the most important day of your life, but that has nothing to do with the flowers, food or the decorations. It can be easy to become overwhelmed by the planning or the things you are 'supposed' to do (we chose not to have any speeches or a first dance to keep things more relaxed), but if there is food, wine and music everyone will have a great time!
We didn't like the idea of a top table (and wanted to make sure we got to talk to each other on the day!) so we sat together on our own for the meal."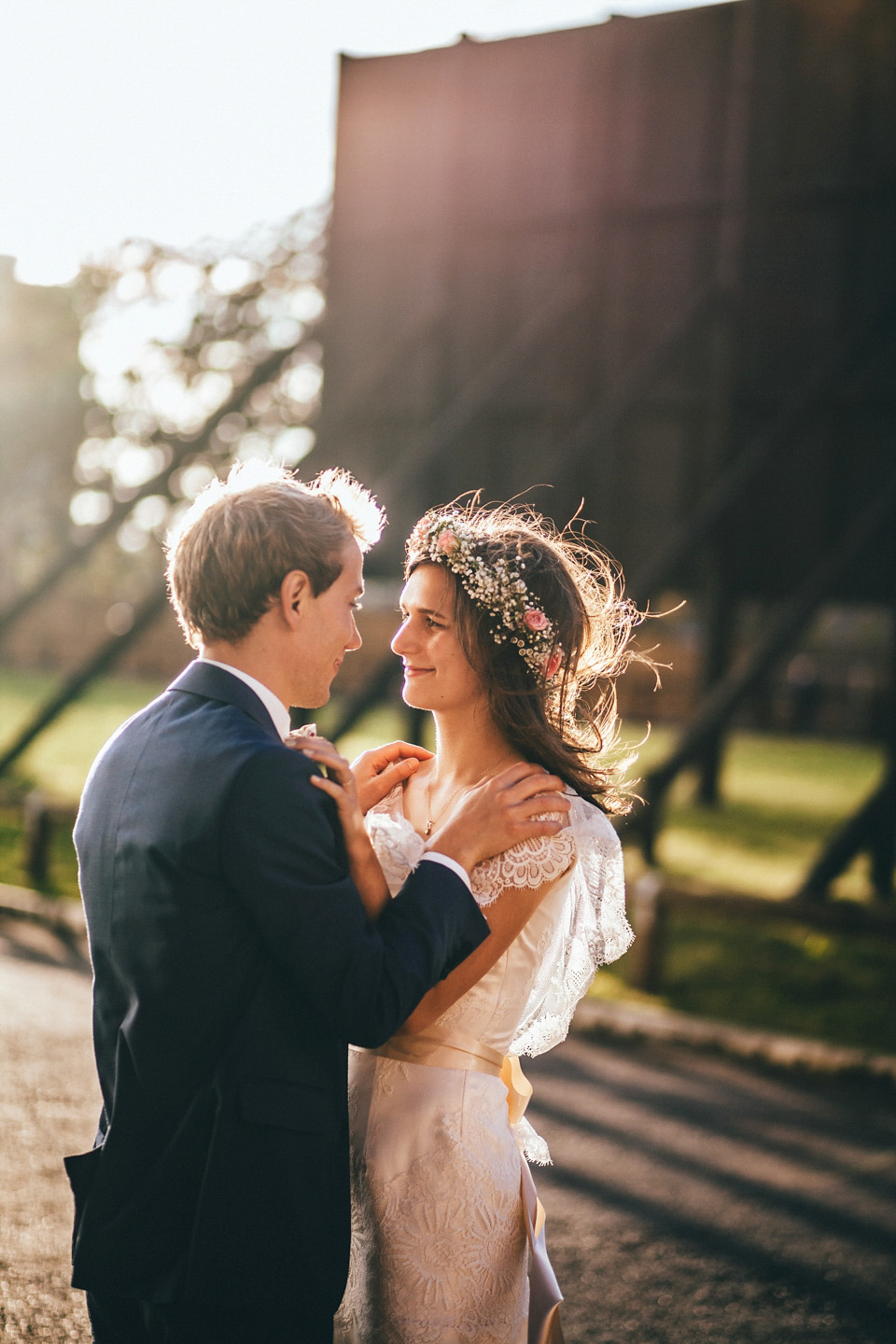 A big thank you to Rebecca and Timothy for sharing their beautiful wedding and to Rebecca Tovey of Wedding Photography to Love for capturing it so wonderfully. I have especially enjoyed perusing the websites of our couple's suppliers; Timothy and Rebecca have great taste! If you too have fallen in love with Rebecca's gown, be sure to take a look at this sensational styled shoot featuring Kate Beaumont's designs, as well as this piece on Kate by Annabel.
Annora x
Photographer – Rebecca Tovey Photography
Venue + Catering – White Cloth Gallery
Wedding Dress – Kate Beaumont
Veil – Agnes Hart via Etsy
Flower Crown – Campbell's Flowers
Shoes – Oasis heels
Bride's Scent – Jo Malone 
Groom – Reiss suit, tie and shoes + bowtie and pocket square made by bride using Liberty fabric
Maid of Honour – Coast dress
Flowergirl – Monsoon dress + cardigan
Florist – Campbell's Flowers
Cake – Made by the bride's grandmother
Transport – Truly Scrumptious Cars
Entertainment – Dogsbody Ceilidh Band
Rings – Frank Fagleman
Decorations – Bird and animal temporary tattoos and badges from Kate Broughton
Stationery – Made by the bride and groom
*Disclaimer: this may be wishful thinking on my part!