As it's Monday and we all need a boost at the very start of the week, we're treating you to three real wedding features today.  I couldn't help myself either – this one was far too pretty to be sat in the pending folder for much longer.  Ed and Bryony who both work in sales, tied the knot on 6th September last year at the spectacularly beautiful and enchanting Ballindalloch Castle, located in Speyside, Scotland.   The castle has been home to the Macpherson-Grants since 1546 and looks straight from the set of a fairytale movie.
The couple used the expert planning and styling support of Carol and Julianna from Prime Events from Aberdeen.  The couple sought to reflect their heritage in a relaxed and fun day of wedding celebrations.  Ed is from South Africa and Bryony is Scottish, so Scotland made the perfect base for the celebration but little touches throughout were made to reflect both family backgrounds.
The film below is just absolutely wonderful – and hilarious! Watch and enjoy 🙂
Film Production Copyright (c) 2015, Reellove Films
This wedding with it's most incredible backdrop and sublime Scottish countryside surround, is beautiful anyway, but I was especially keen to share it to show off one of the designs of Rime Arodaky – a designer I've had my eye on for sometime now. I really love the fresh and daring approach this designer brings to the bridal fashion scene – cutouts, backless detail and figure hugging silk are the norm in a collection designed for the free spirited bohemian meets rock-n-roll bride.
Photography Copyright (c) 2015, Rebecca Goddard Photography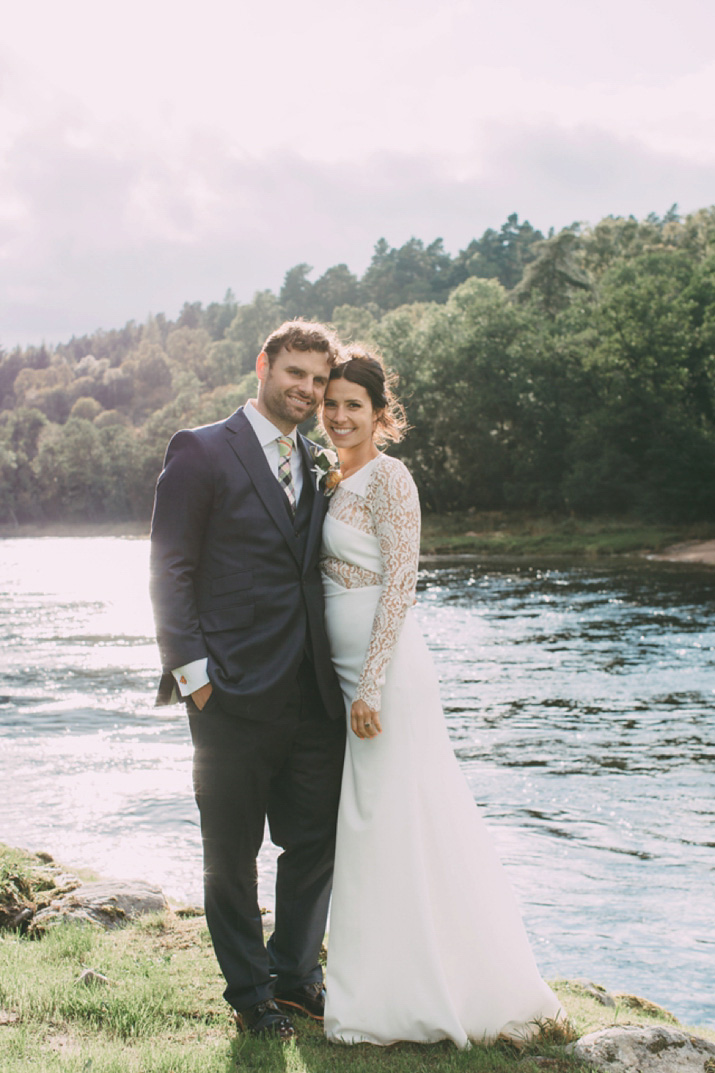 Bryony purchased her Rime Arodaky dress from The Mews Bridal of Notting Hill, London, having seen an image of the dress online.
"I wasn't really into wedding dress shopping and didn't want anything classically bridal and hadn't enjoyed the fittings in the bigger bridal boutiques I had been to, or seen anything that really appealed to me. It turned out the boutique was quite local to my house and I chose it because I liked the lace arms and the exposed back, and I thought the chevrons on the front were a bit different."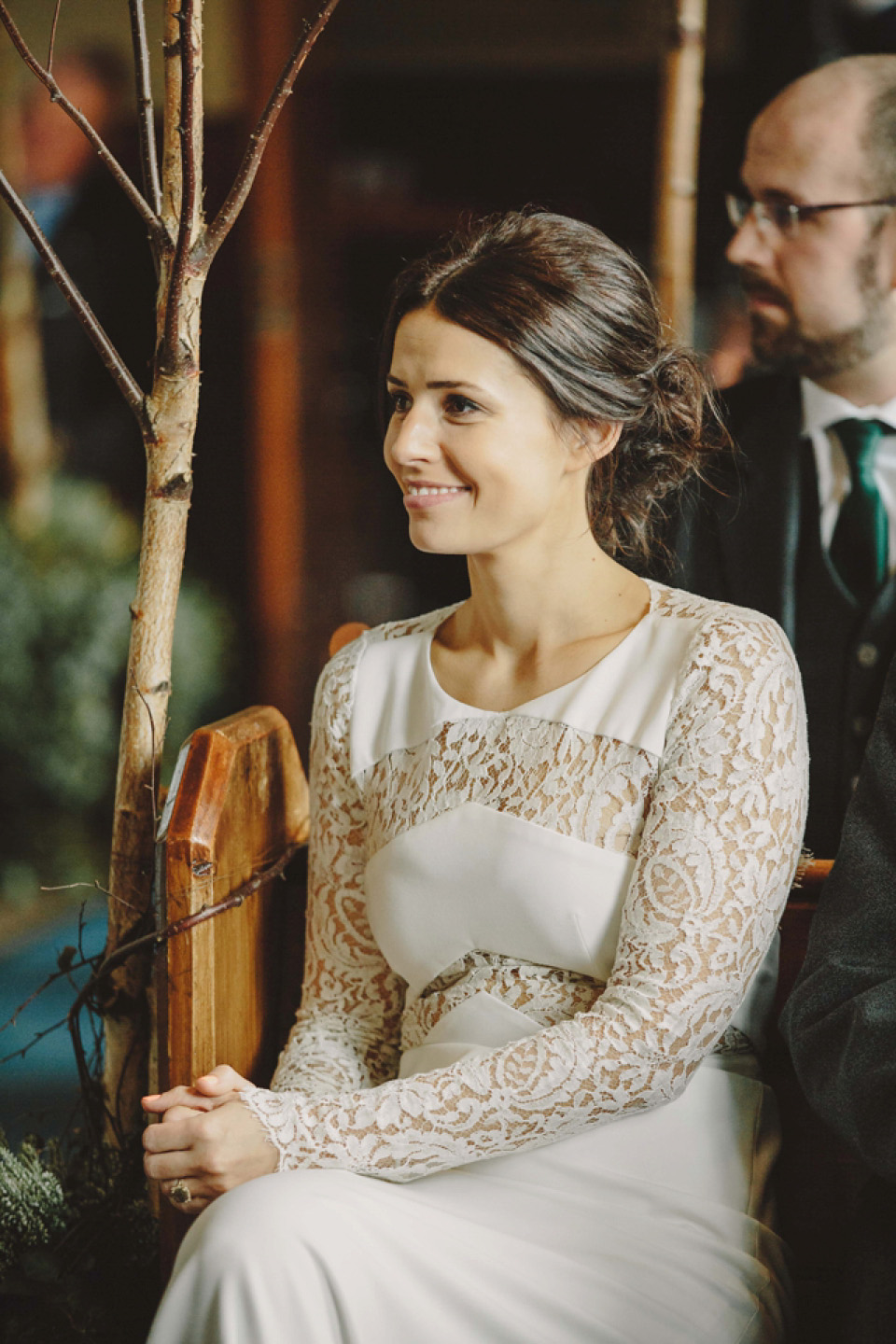 I love these cute little wooden bread board favour ideas, created by Rough Stuff Oak…
In terms of accessories, Bryony wore a rose gold finger bracelet from Maria Black at Net-a-Porter, rings borrowed from her sister and a bear charm that hung from a ribbon – a gift from her husband on the morning of their wedding.
These fabulously sexy heels were the perfect fit for Bryony's gown – they are by Nicholas Kirkwood.
The couple commissioned florist Stephen Seedhouse to create their beautiful wedding-day blooms…
"We just wanted simple flowers – whites and greens, and in the bouquets we also had proteas – the flower of South Africa. The button holes for the boys were thistles and proteas – Scottish and South African together."
"Both our photographer, Rebecca Goddard and film maker, Frances of Reellove Films, were brilliant.  We booked them after seeing a Reellove Films wedding video and Beccy's photographs on a wedding blog, and spotted that they came as a pair. We hadn't met Beccy and Frances before the wedding, but we'd been in touch on email and they were so helpful and kind. They were both super relaxed and just quietly got on with everything in the background, we didn't notice, but got heaps of pictures and videos from the most important bits of the wedding.
We got all our family shots done in a matter of moments, and got loads of lovely shots, everyone really relaxed. They captured the day perfectly and we have been recommending them left right and centre since."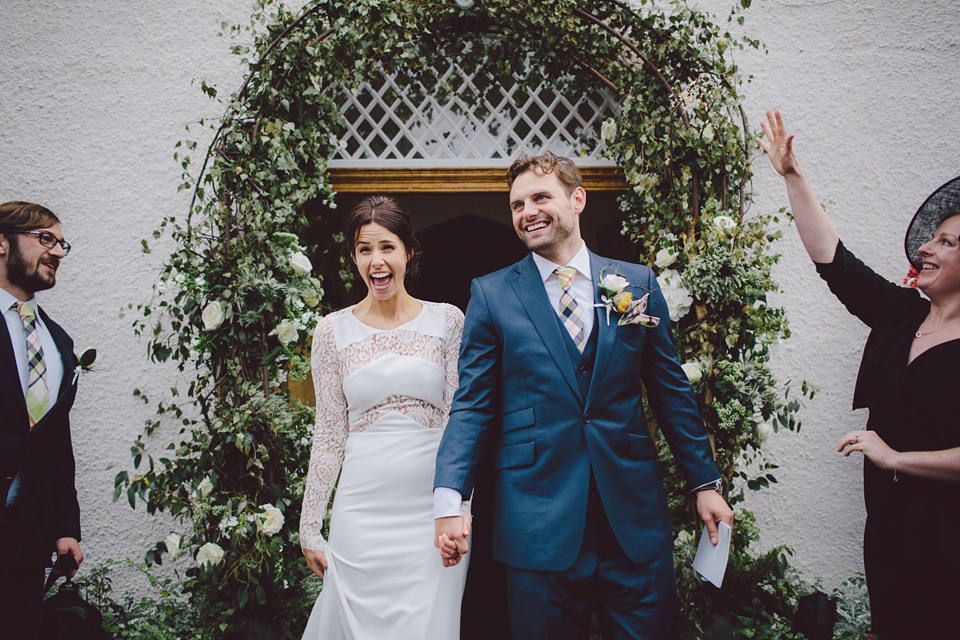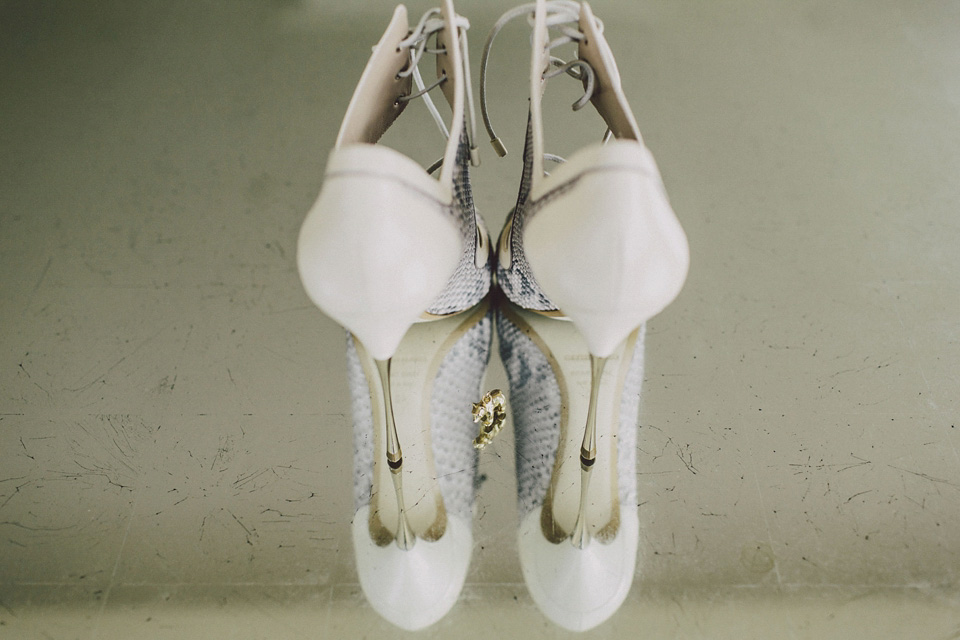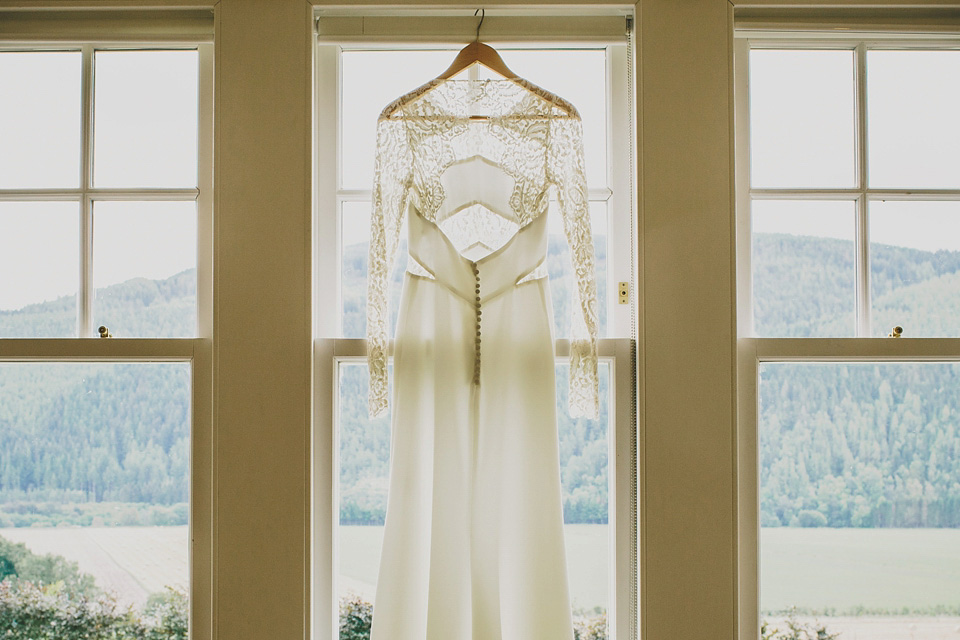 "I loved getting ready with my bridesmaids and having breakfast with my Mum, Dad, and Grandmother."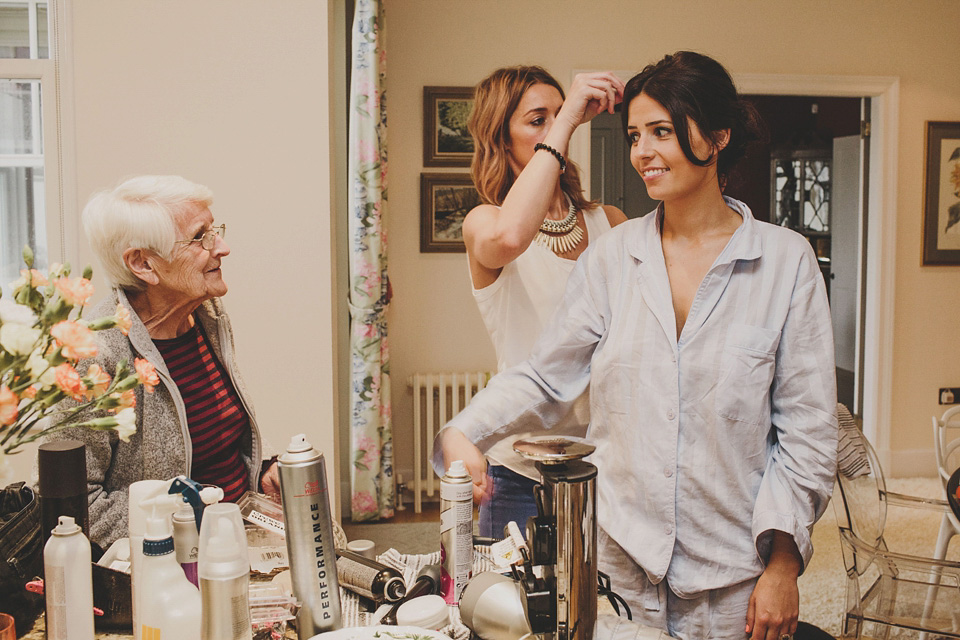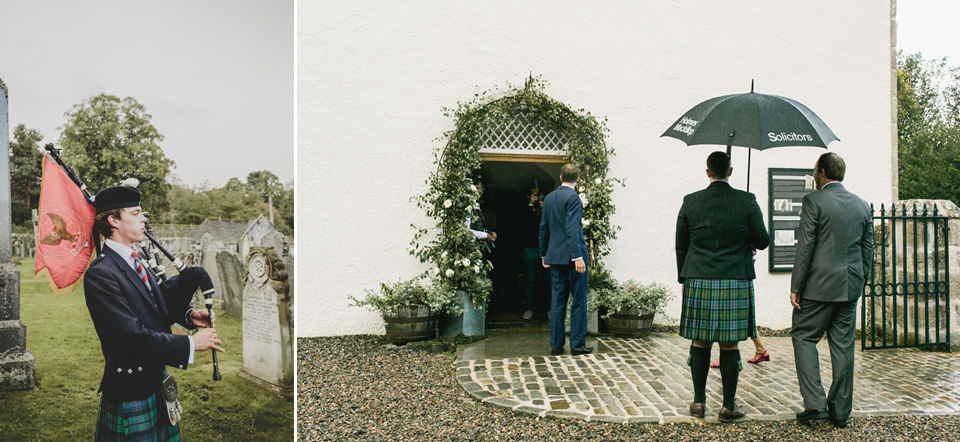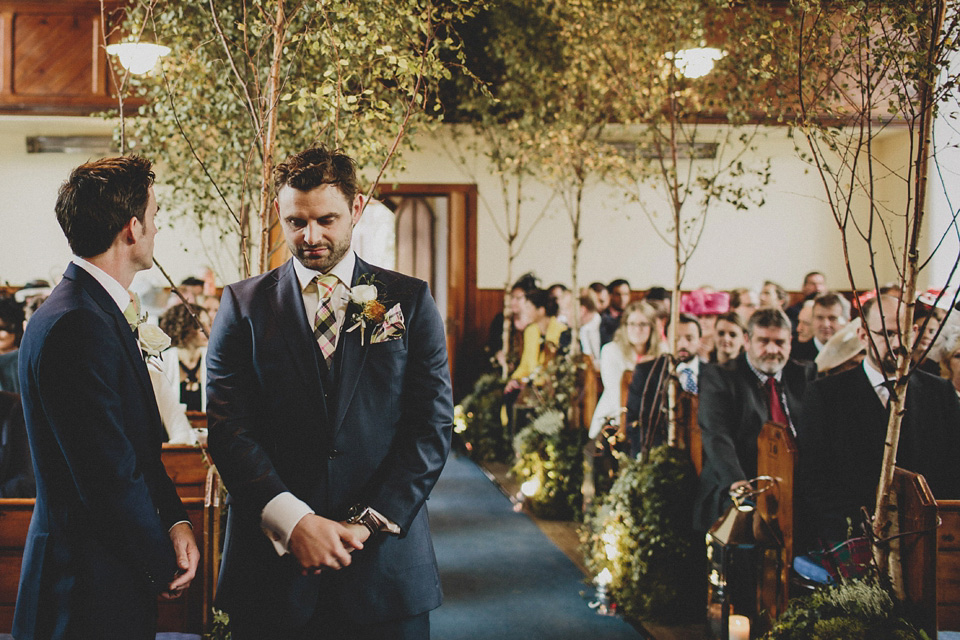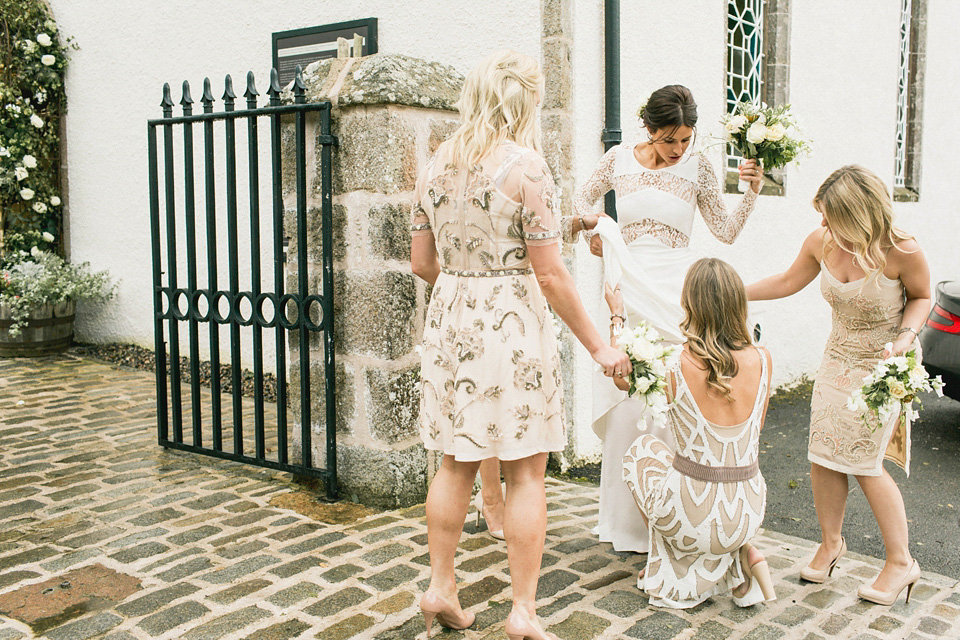 "We got married in a small church at Inveravon, and then had our reception in a marquee by the river at Ballindalloch, in Speyside, Scotland.
My Dad accompanied me down the aisle, to the sound of  a lovely song by 'Phosphorescent', that is special to us with loads of happy memories."
The couple met at work, and had actually known of each other for a while, but only got together after Ed left!
"We got engaged at home early in the morning after we both got home from trips abroad and hadn't seen each other for a month. Ed had just come in from the airport. We then cycled to the top of Primrose hill and had a little celebration just the two of us. We were engaged for about 11 months before we got married, but we planned for about nine months."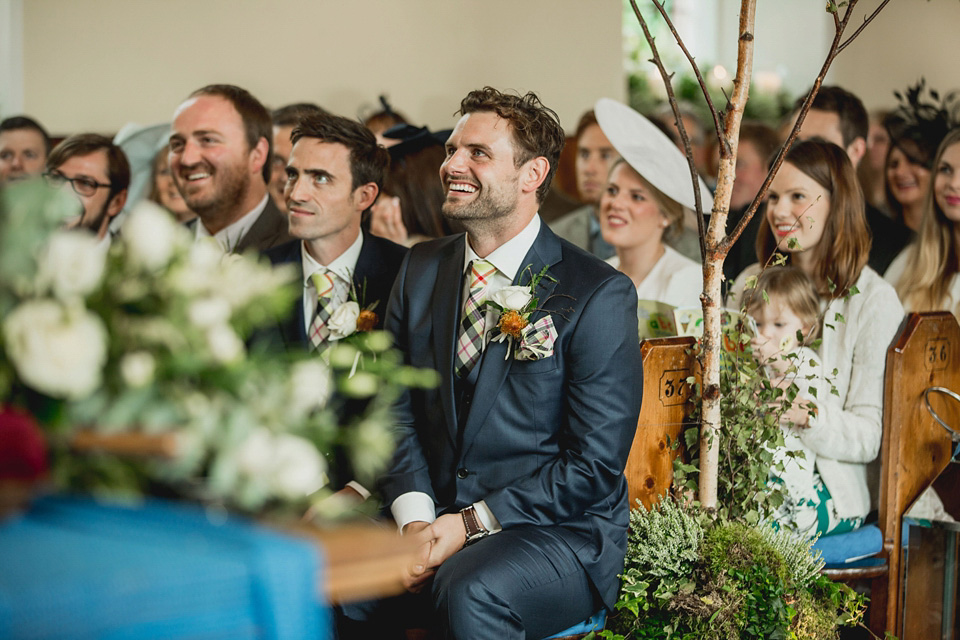 "We had a Catholic ceremony, which is quite fixed, so you don't get to tailor the vows at all.
Ed's sister Dani read an excerpt from Captain Corelli's Mandolin by Louis de Bernières, Bryony's brother Jamie read "To my valentine" by Ogden Nash.  We chose Captain Corelli because it's one of Ed's favourite books and also because we liked the reading itself – about roots entwining. We chose Ogden Nash because it's lighthearted and a poet that Bryony has loved since her childhood, inspired by a book of poems her grandmother gave her."
Bryony's engagement ring and both the couple's wedding rings were created by Bear Brooksbank.
"My engagement ring and our wedding rings were made by the amazing Bear Brooksbank, the engagement ring was bespoke and Bear helped Ed source the stone and design the ring around it."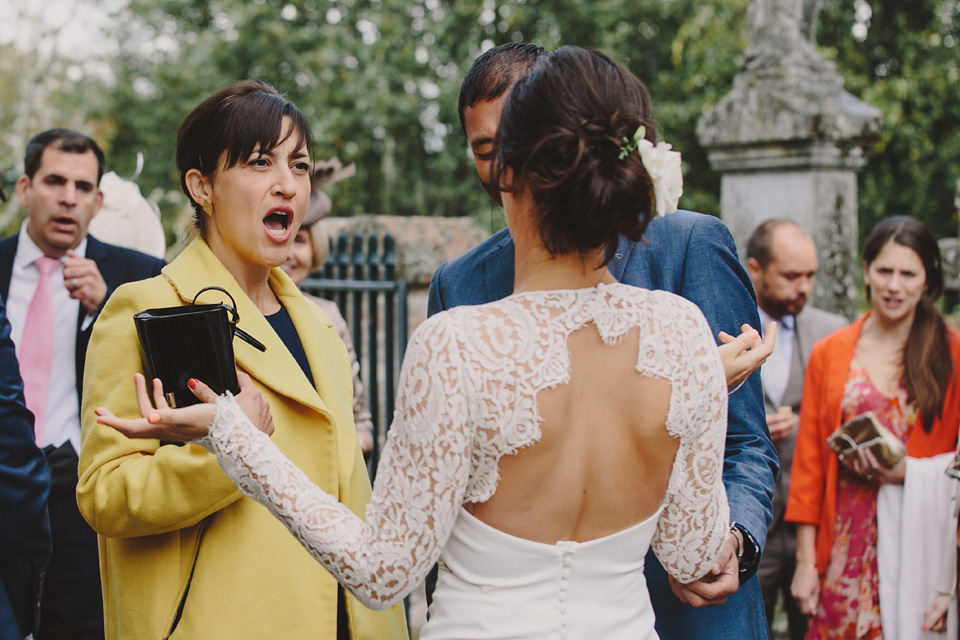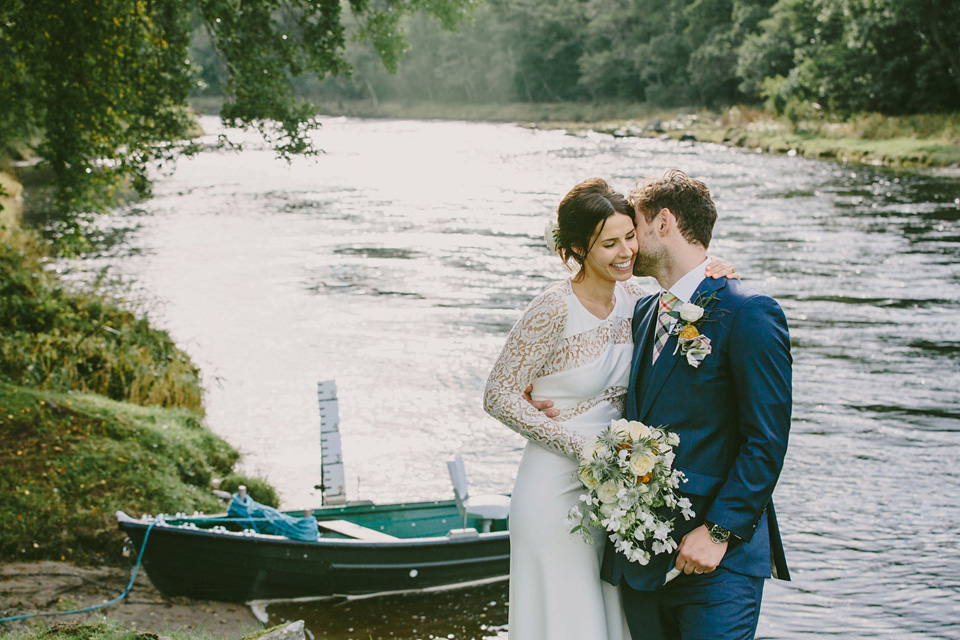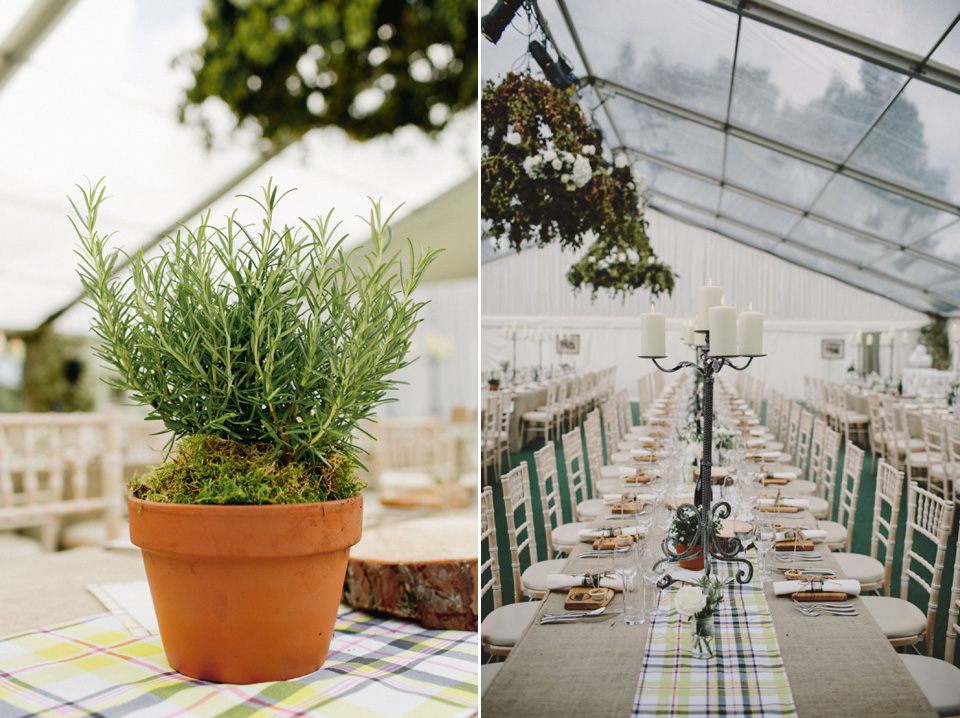 "When we were having our invitations made, we decided to use a tartan that Jacqui, my sister had designed. We decided to use this on the tables in the marquee, and in our wedding stationery so there was a bit of a colour scheme of neon green, yellow and pink in the end."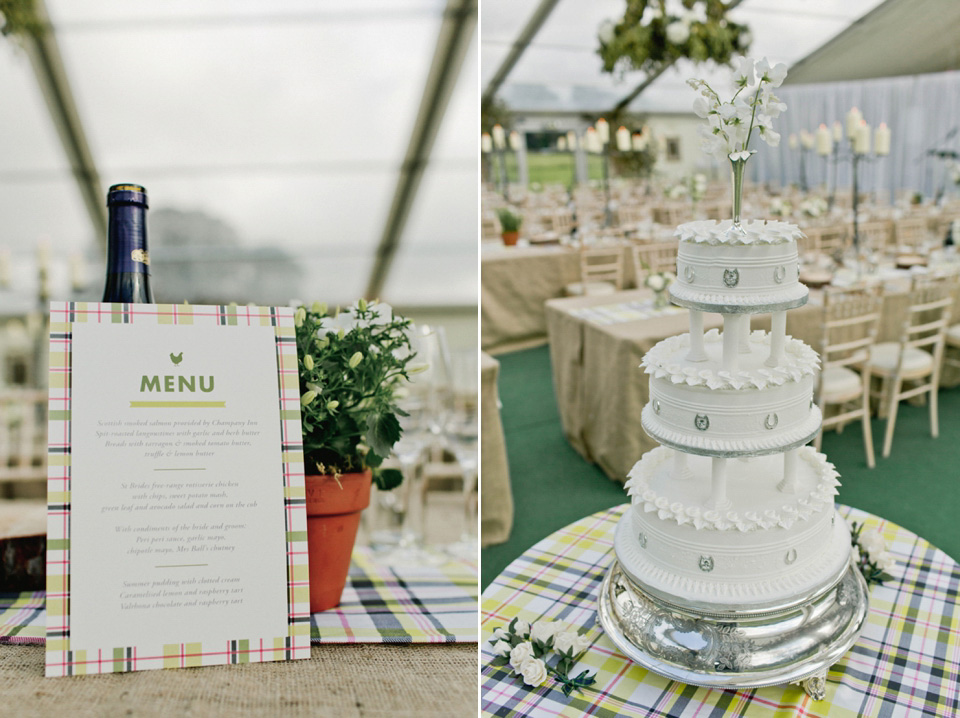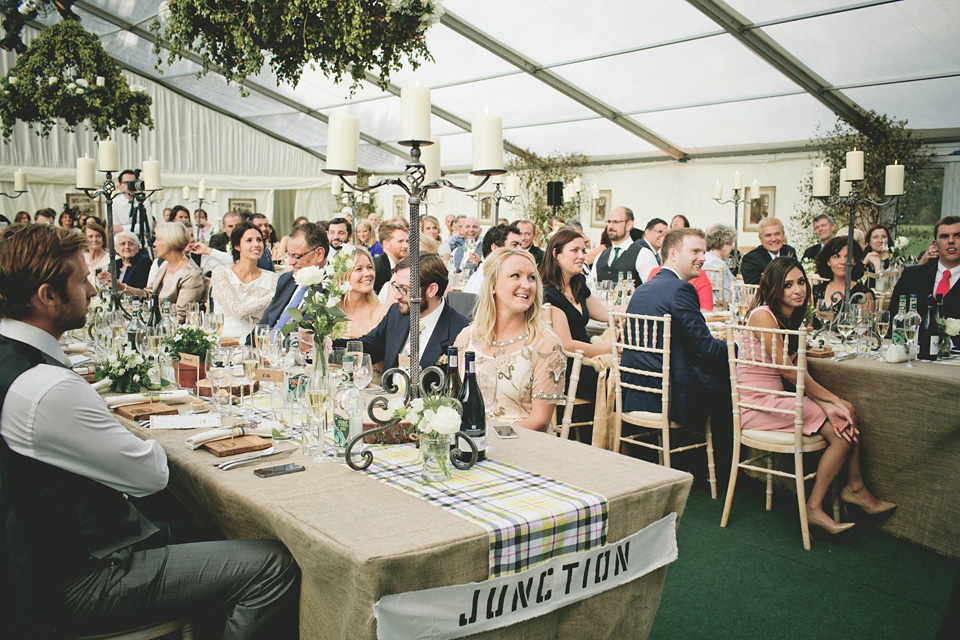 "We picked up heaps of bits and bobs from car boot sales and second hand shops, including loads of different lampshades, trunks and some bargain furniture from a local hotel that was selling off stuff during a refurbishment. We supplemented it with a few bits of furniture from my parents' house – our very accommodating family stored it all in the garage beforehand."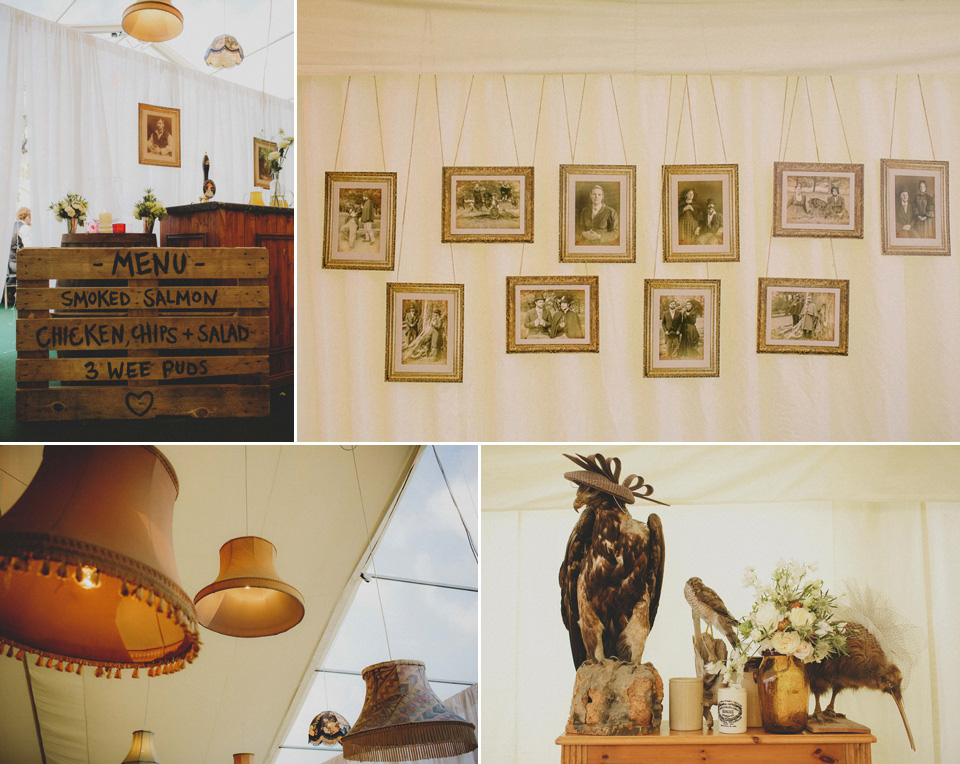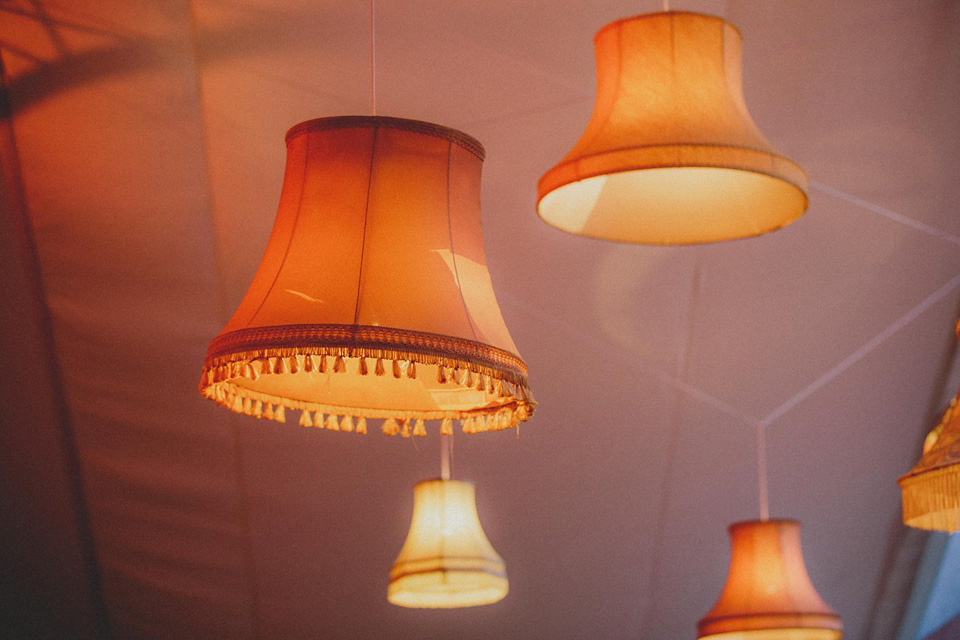 "Later on in the evening I wore a Roland Mouret dress that I bought at Liberty's of London for the dancing."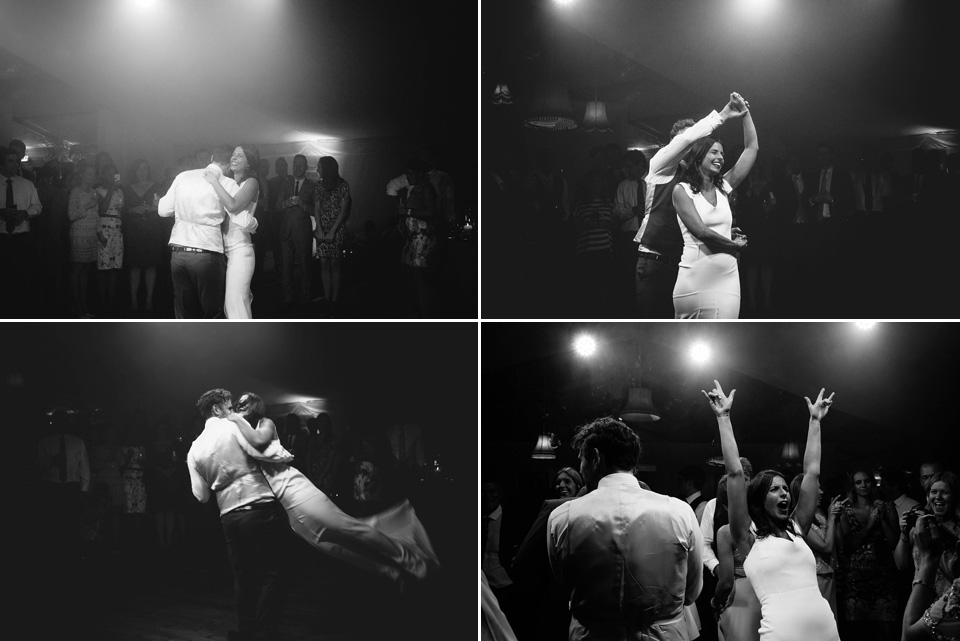 "As part of the evening dancing, I loved doing a really long Strip the Willow, dancing the whole way down the line and looking across the dancefloor and seeing all our amazing friends and family whirling around and enjoying themselves."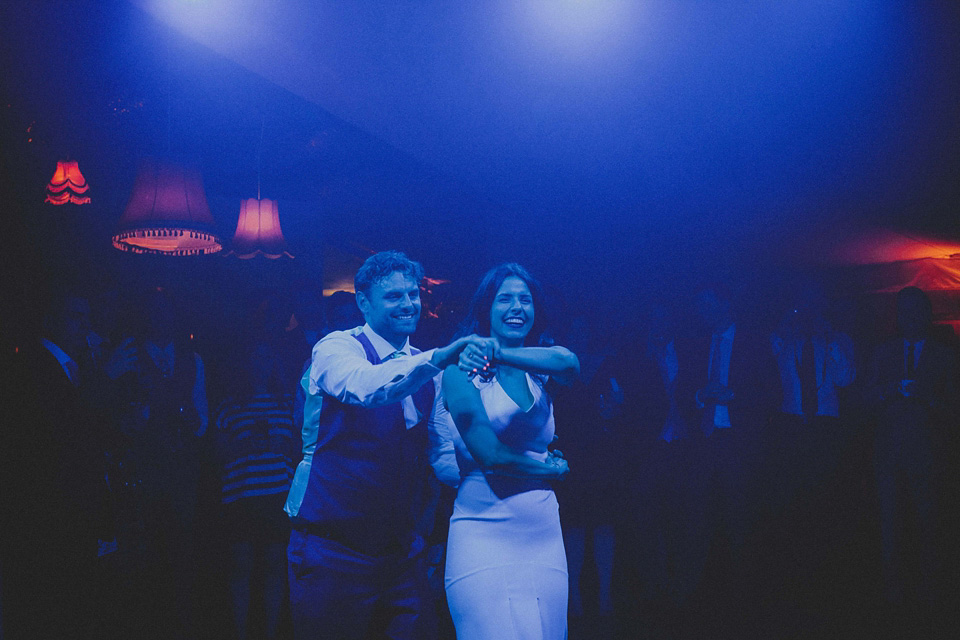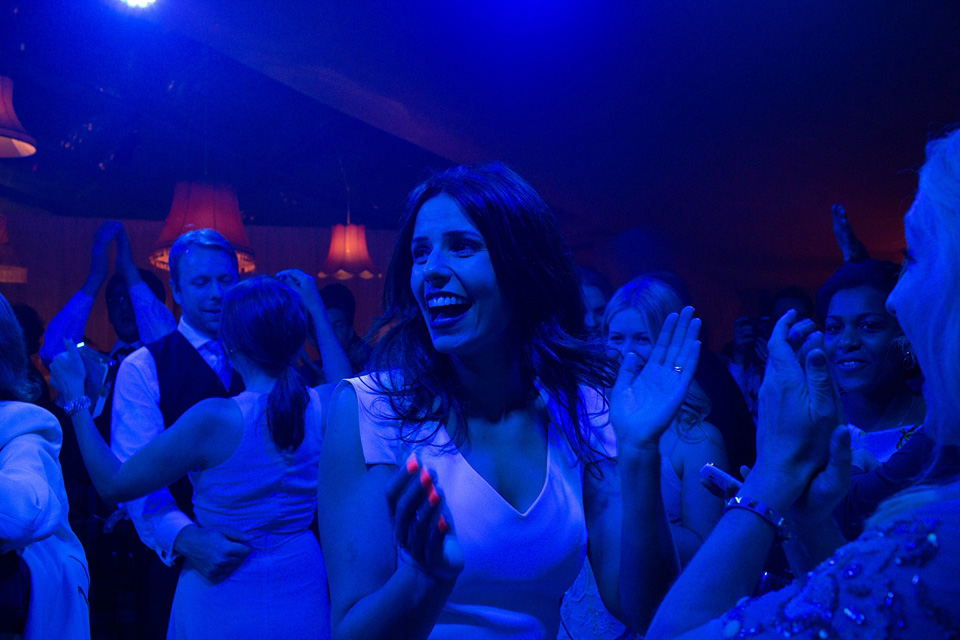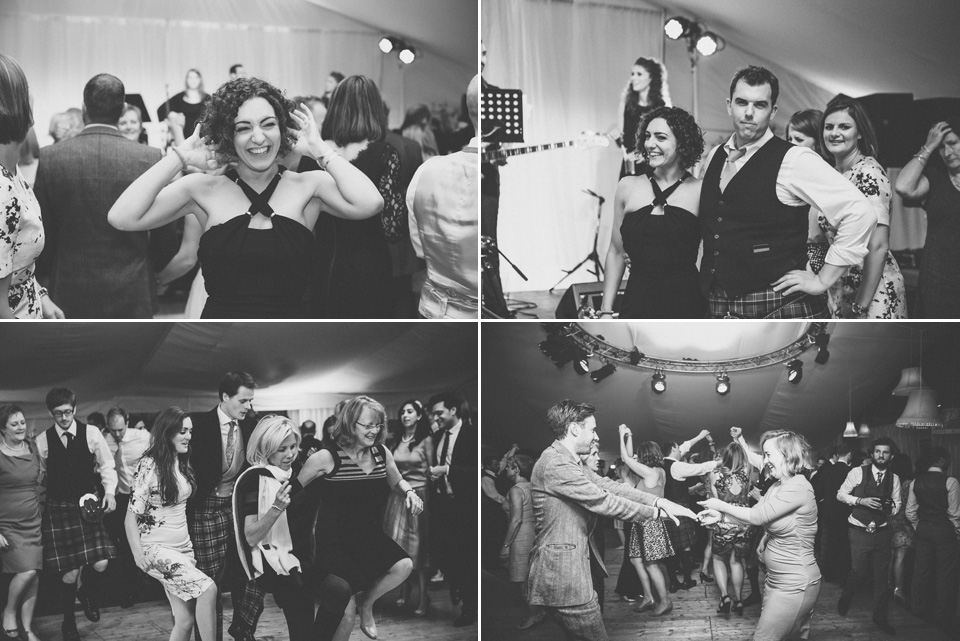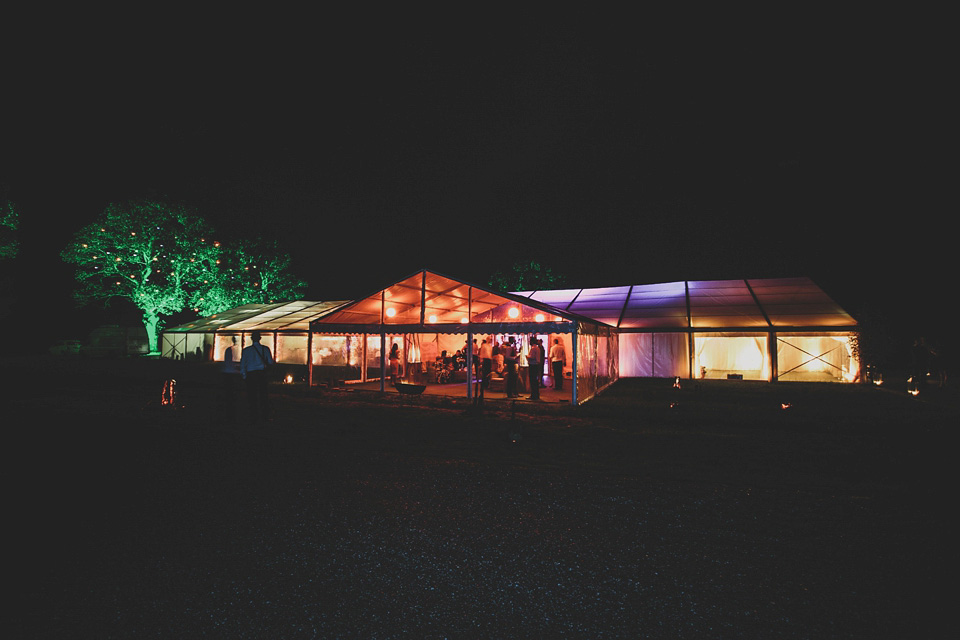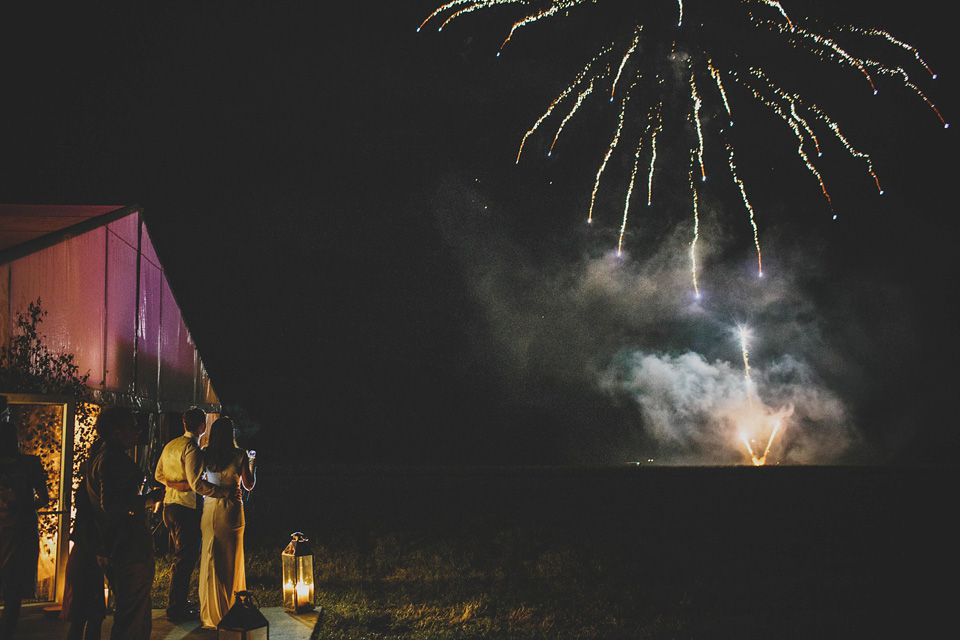 Words of Wedded Wisdom
"Pick a few things each to be in charge of and let that person really choose and decide. Get the big things booked in (venue, ceremony, food, music) and then see everything else as a bonus, rather than aim to do every tiny touch. But do spend time on a few little things that really make it your wedding.
It's quite handy to have Pinterest boards that you can share with the florist/caterer/people helping you so they are clear on what you are hoping to do. But don't get too stuck on it, as you couldn't possibly replicate half of that stuff (remember loads of that is shoots, not real weddings).
Finally, I probably would have worried less about what other people wanted, and just done the things that we really wanted."
Love, thanks and congratulations to Bryony and Ed – what an absolutely beautiful wedding, it's such a pleasure to be able to share this day on Love My Dress.
Huge thanks also to photographer  Rebecca Goddard and film maker Frances Madell of Reellove Films for sharing their beautiful and inspiring film and images today.
Love Annabel x
Photographer – Rebecca Goddard Photography
Film – Reellove Films
Planner/Stylist – Prime Events from Aberdeen
Venue – Ballindalloch Castle, in Speyside, Scotland
Wedding Dress – Rime Arodaky via The Mews Bridal + Roland Mouret via Liberty's of London (evening dress)
Shoes – Nicholas Kirkwood
Grooms Suit – Gabriel at October House + Grenson shoes
Bridesmaid's Dresses – Needle & Thread from Asos
Flower girl Dresses Bonpoint
Florist – Stephen Seedhouse Flowers
Cake – A colleague
Entertainment –  Callanish Band
Rings –Bear Brooksbank
Catering – Wilde Thyme
Stationery –  Seven Swans
Hair Stylist – Rona Granitza
Favours – Little bread boards made by Rough Stuff Oak