I believe that today's bride is the epitome of a Love My Dress leading lady. Beautifully glamorous in a gown that she designed herself, creative, a lover of pretty things and obviously big time into her florals, particularly gypsophila. This is such a personal day for the couple who celebrated their nuptials on their village green with food from their local pub. Oh and there are tin baths full of champagne and over 80 pom poms! I feel that you can never have too many bubbles or ruffled paper goods! Luckily for us, every detail of this gorgeous day has been captured by the super talented Photography 34.
Mark and Lauren married in a church ceremony on 16 August 2014 and then moved onto their home village of Coneythorpe in Knaresborough, North Yorkshire.
"We both had a very strong vision of the style we wanted to create on our wedding day. The wedding reception was on our local village green, surrounded by pretty old cottages, very much in the countryside. We knew we wanted elements of it being a laidback, country wedding – so a Victorian marquee, hay bales, tin baths and bunting were definitely key. But I also love a bit of glamour and dressing up so wanted a special, pretty wedding. We added lots of beautiful white flowers, white dressings, candles, giant helium balloons, lace bunting and fairy lights to make it more glam."
Photography Copyright (c) 2015, Photography 34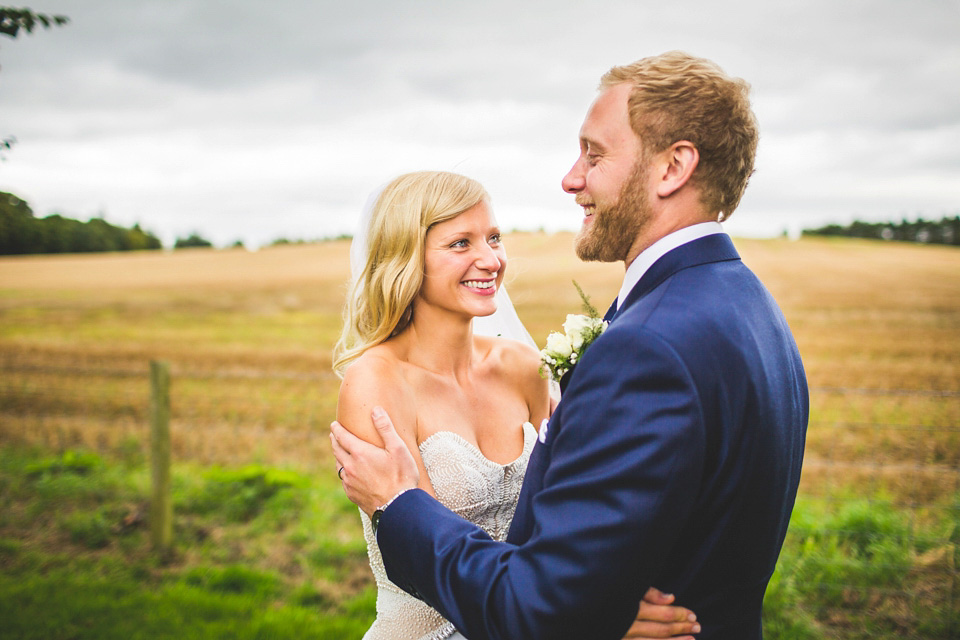 These elegant, champagne bridesmaid dresses are called Amorie, by Ariella.
Bridal separates, that is, separate components that make up the 'look' (usually a top and skirt) are becoming more and more popular and I love how Lauren worked her separates look. This clever lady actually designed her own wedding day outfit and had it made by a local seamstress.
"The dress was a concept I came up with based on all the loves I have for fashion – corsetry, hand beading and beautiful, quality fabrics. I designed the dress and found Vivienne Bradley-Smith (owner of Sophie Louise Bridal Boutique) who was very excited about making it. It was in two parts, a bodice and skirt, as I wanted to be able to wear the bodice again and also because I did not want it to be a dress that was worn once and then sat in a wardrobe for the rest of its life!"
A bride after my own heart, Lauren's most fabulous shoes were a bargain eBay purchase at £13.
"I didn't want traditional white satin shoes. I had worn some for my sister's wedding and had to throw them out afterwards, as they got so dirty. So I chose a rich navy satin to tie in with Mark's suit. I purposely wanted block heels so that I didn't sink into the grass on the village green and a platform to make them easy to walk around in and to ease the soreness come the night time dancing!"
"Tony of Photography 34 was the perfect photographer for our day. He is totally non-invasive with a very relaxed style. His images are mostly un-posed and his editing is very natural. Tony worked such a long day on our wedding day and was there super early till well past the first dance, ensuring he captured all the fantastic moments. There were over 1,000 stunning photos from the day. This was everything we wanted in a photographer and he did a great job."
"It is an amazing village to live in; very picturesque, great people and an awesome local pub that serves fantastic food. We wanted our wedding to be very personal and it was a perfect opportunity for us. We also love the outdoors and the countryside – so the venue was perfect."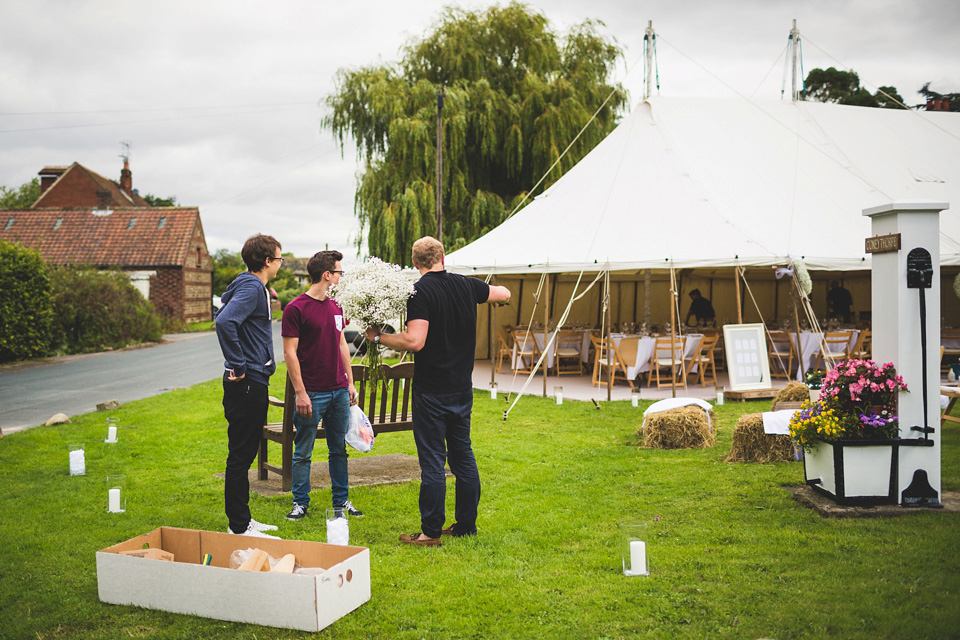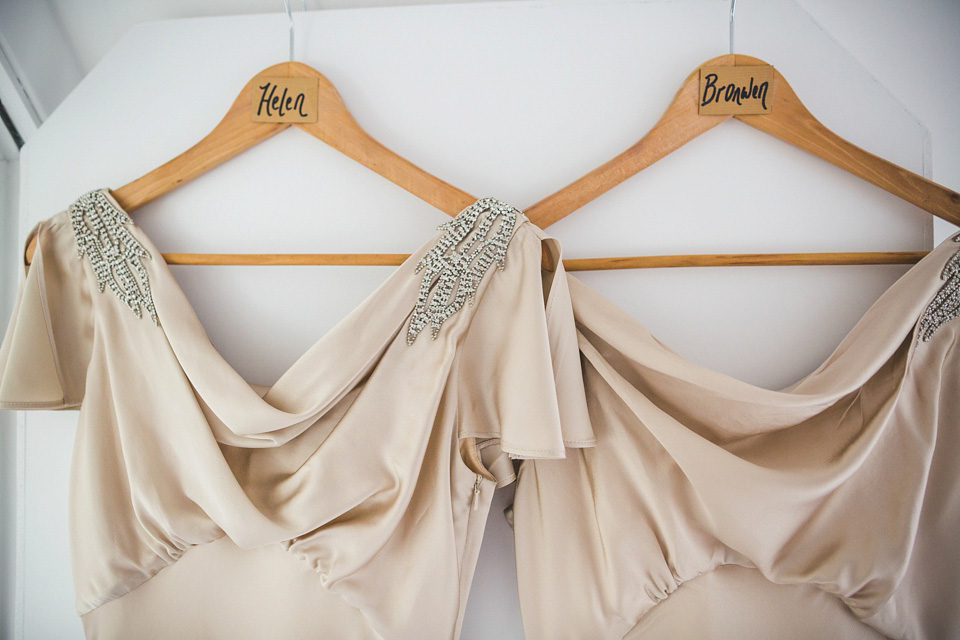 Lauren's gorgeous hair was styled in soft waves by Charlotte at Gloss Hairdressing and she did her own make-up. I love her choice of a bright pink lip.
"I wore Viktor & Rolf Flower Bomb perfume. My mum gave me this as a gift on the day as she knew how much I loved the scent. The idea was that it would be my something 'borrowed' but she wanted me to keep it!"
"The bodice was very intricate in style, with lots of boning, fully hand beaded with Swarovski pearls and crystals over a nude base in a scalloped design. The finished bodice was made up of five different layers of fabric and a total of over 10,000 beads and crystals were hand stitched by Vivienne!! My mum and dad named me after Lauren Bacall who was quite a muse of her time and definitely an era that gave me some inspiration for my look."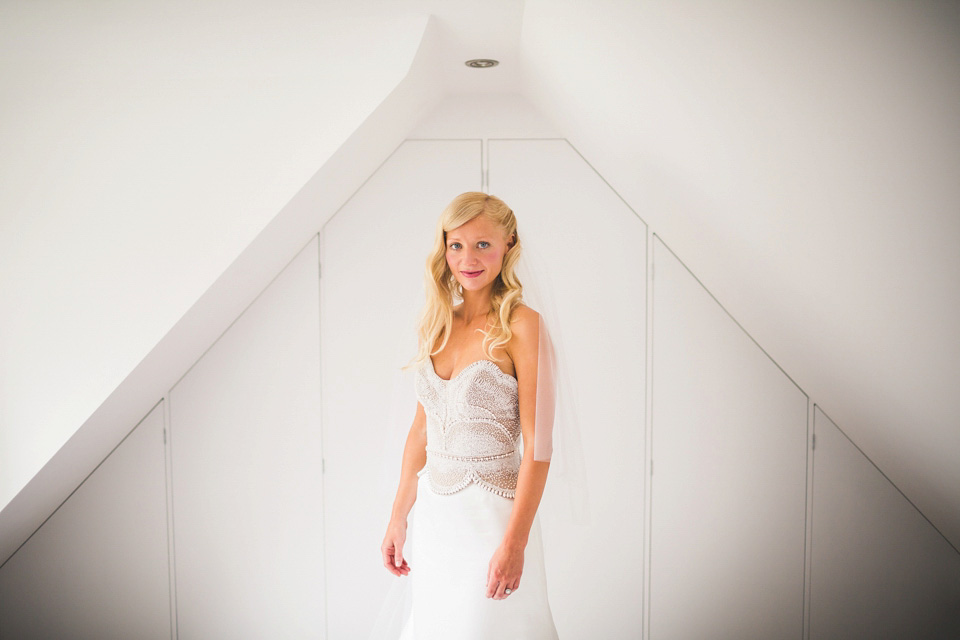 Lovers of crisp, white blooms and gypsophila are going to be in flower heaven ogling the arrangements created by Ruth at Blamey's Florist.
"We have always bought our flowers from Ruth. She is amazing and works like a trooper and, will and can do anything! We had seen amazing gypsophila hanging balls and wreaths on Pinterest that inspired us a lot. All the flowers were stunning, white with some green foliage. Little potted outdoor white roses for the outdoor styling, which I have now planted out in the garden! We knew exactly what we wanted and she met our requirements beautifully."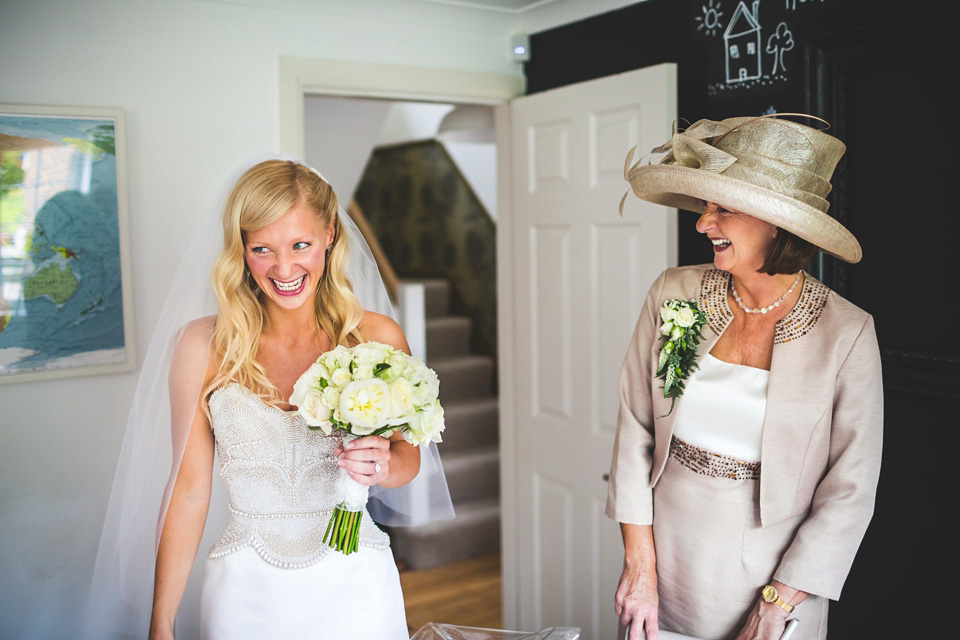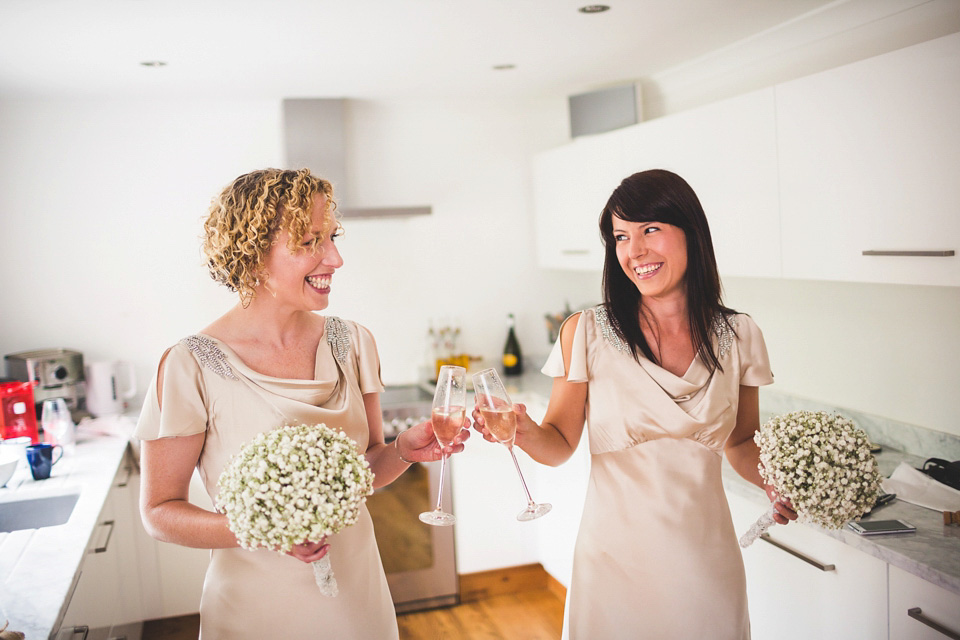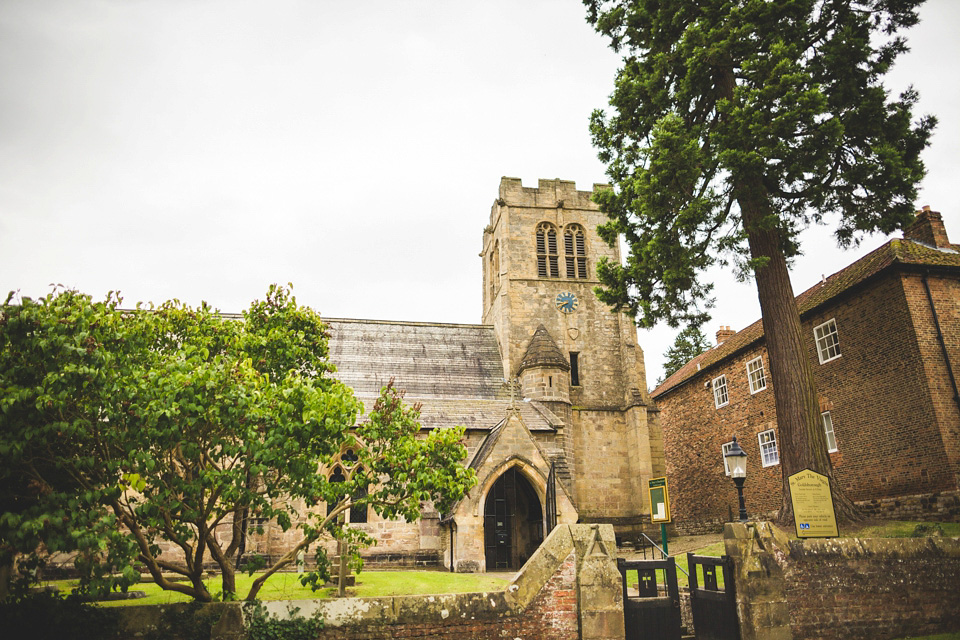 "Mark and I worked in neighbouring offices and he was invited to one of our work parties where he basically chatted me up! Six years later Mark took me away for my birthday (or so I thought), to an award winning beautiful foodie place in the Yorkshire Dales. He proposed after a delicious long dinner under a very starry sky and we married 17 months later."
I love a groom in a blue suit and Mark looks rather fine in his made by James Michelsberg in Leeds' Victoria Quarter. Mark chose James as he had previously had a suit made by him and loved and trusted his tailoring. His smart, black brogue boots were by Jeffery West. Fortunately they were able to find matching suits for the groomsmen from trusty Marks and Spencer.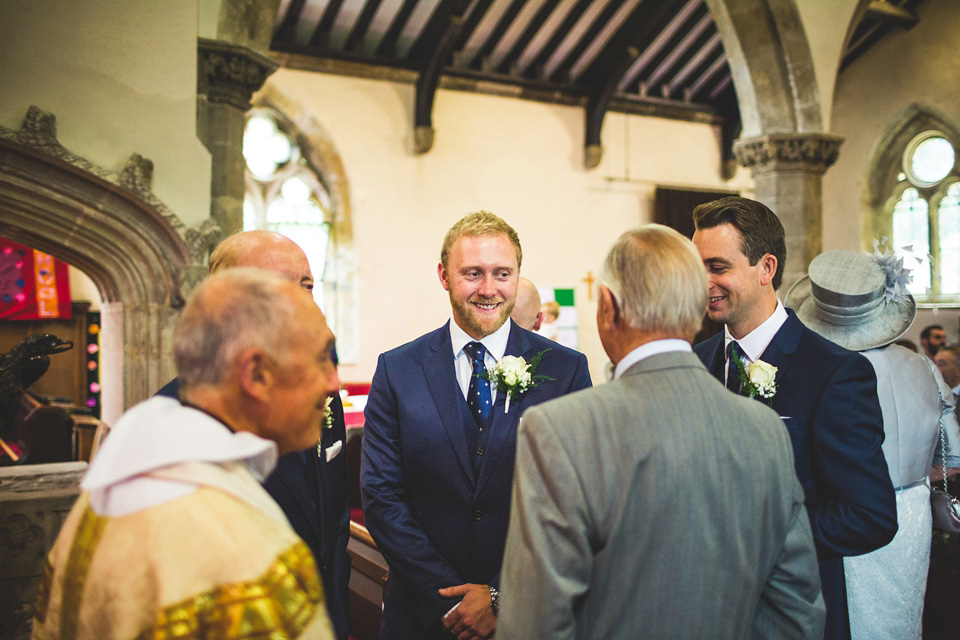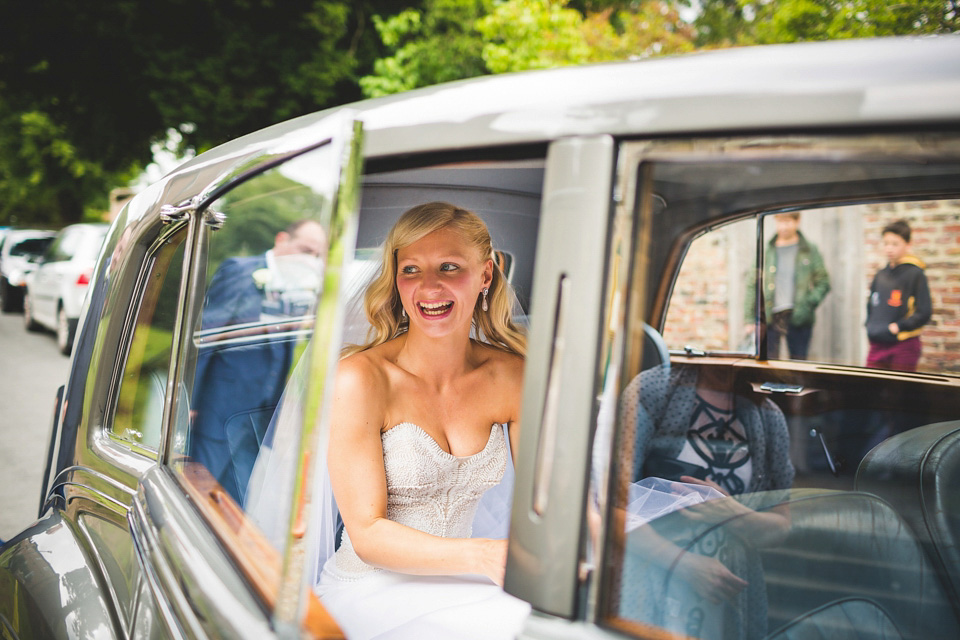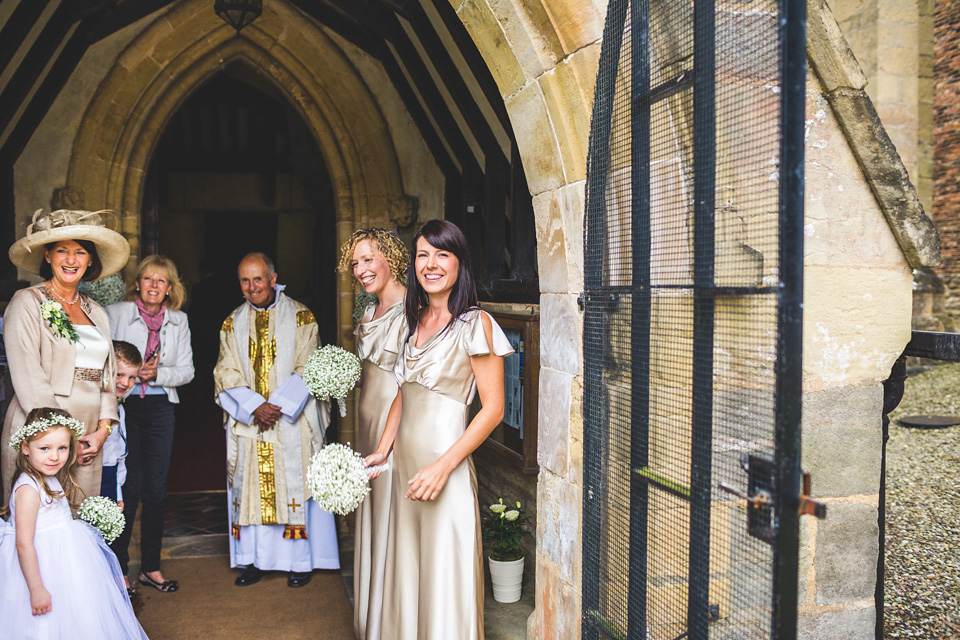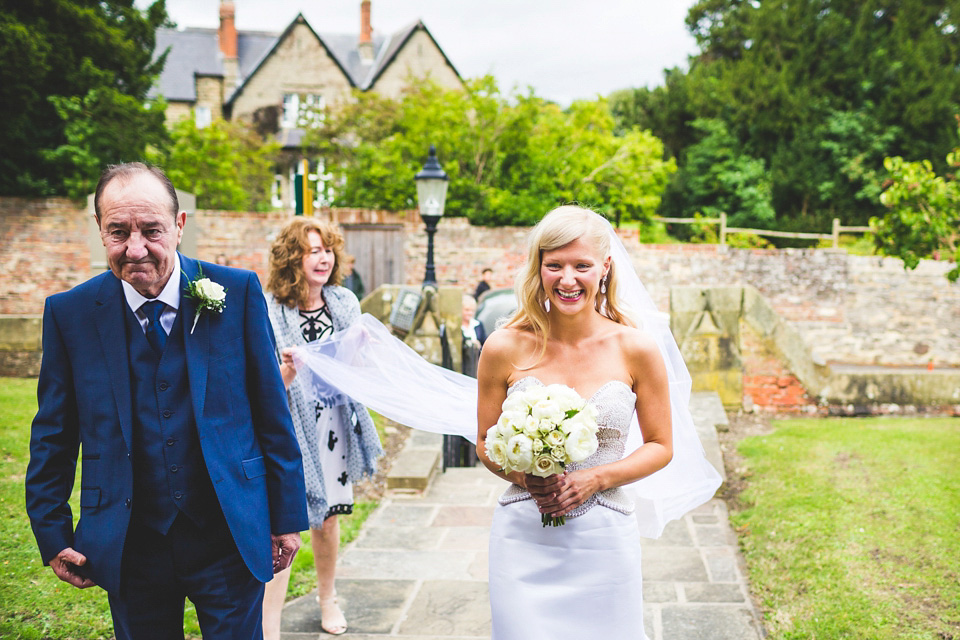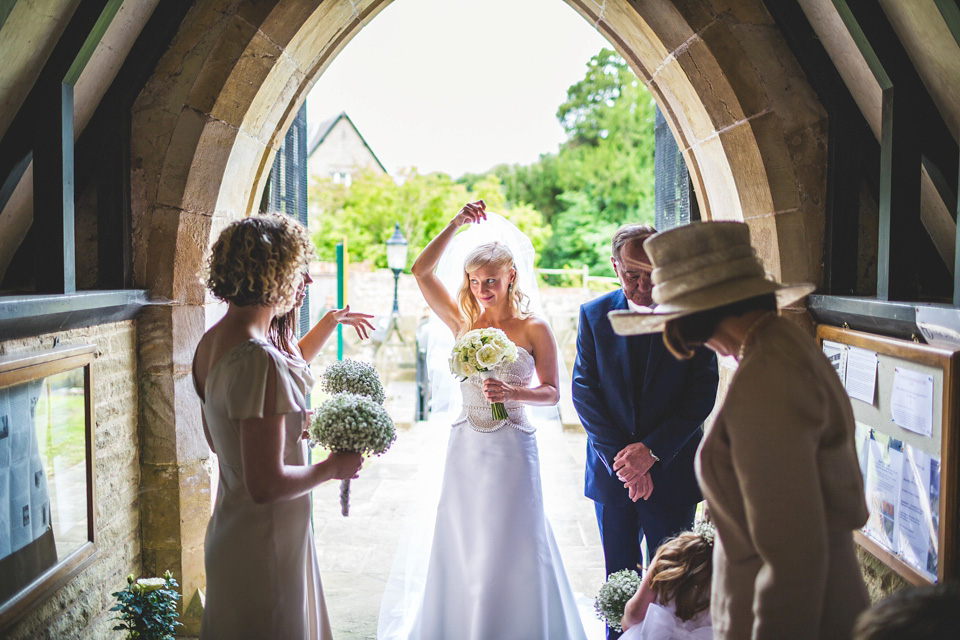 Lauren's dad walked her down the aisle to the beautiful 'You Only Live Twice' by Nancy Sinatra. "We adore the song – the strings element at the beginning is very impacting and the song has a gorgeous romantic feel. We loved that the song felt perfect when we listened to it."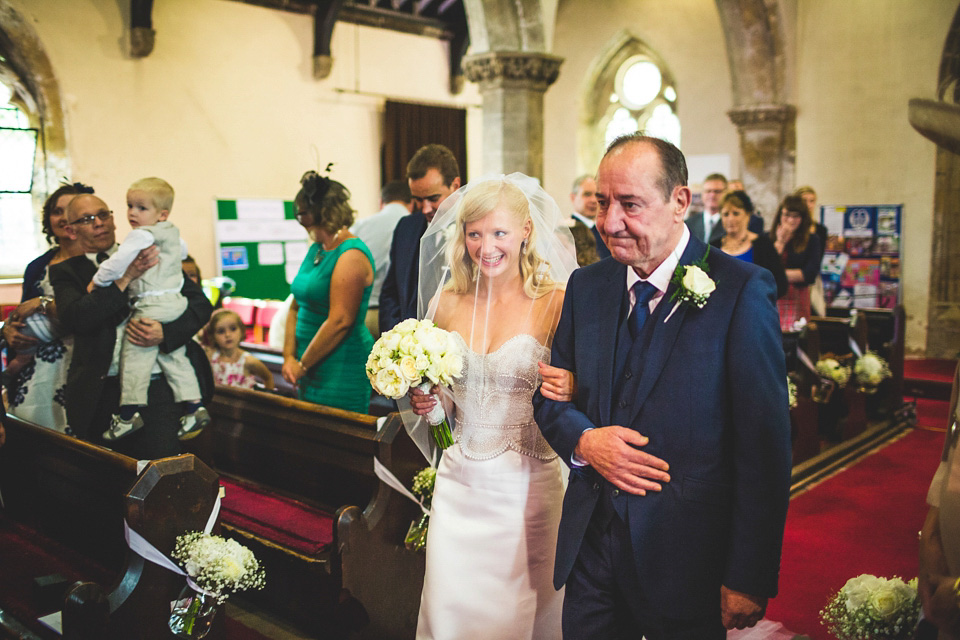 "Walking down the aisle and seeing each other for the first time has to be my favourite part of the day. Both our faces lit up and it really felt like we were the only ones in the room. The realisation that we were actually getting married at that moment in time was also very special. After the wedding there were certainly a few things I thought of that didn't go entirely to plan! But at the time you are so wrapped up in the moment that you just don't really think about them or care. The day is just so perfect and so happy that any little imperfections just make the day more unique, personal and more perfect!"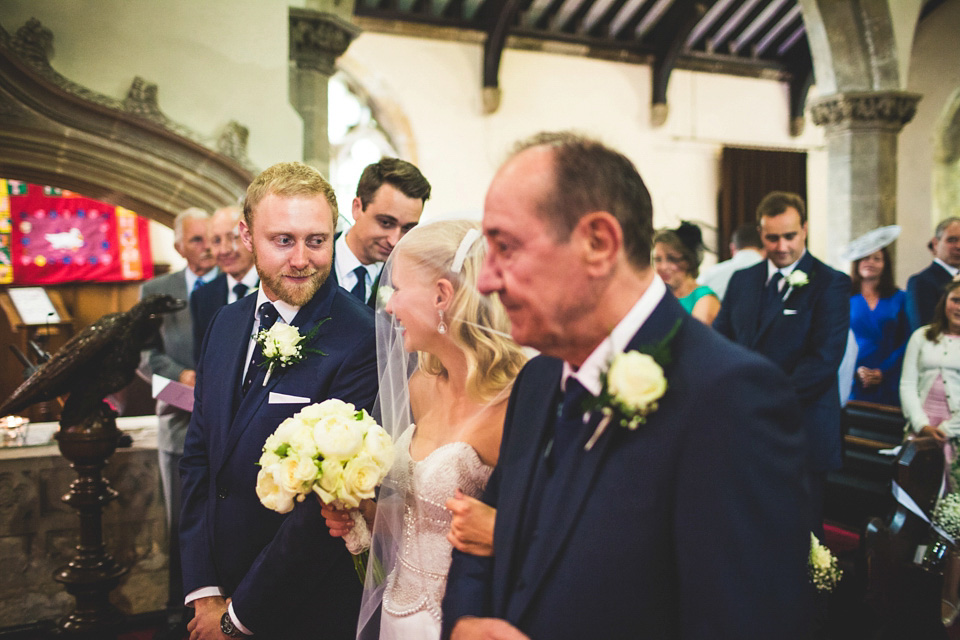 As it was a church wedding the vows were very traditional. They had two readings, one by Mark's brother Steve – 1 Corinthians 13, The Gift of Love. The second reading was read by Lauren's good friend and bridesmaid Bronwen. It was personal to the couple and sums up the life they love sharing now and what they are looking forward to sharing together in the future.
The Future by Emma Salmon
In my future I see you and me, 
And a house and garden filled with trees. 
I see dinner parties surrounded by friends, 
And a vegetable patch we love to tend. 
I see cosy nights in front of the fire, 
And a four-poster bed for when we tire. 
I see our kitchen which will be the heart of the home, 
And a Victorian bath brimming with foam. 
I see muddy wellies by the front door, 
And the kids eating biscuits and asking for more. 
I see nights in the garden camping under the stars,
And shelves full of mismatching local jam jars. 
I see family picnics outside with the dog, 
And a little blue shed containing the logs. 
I see us sat by the window watching the snow, 
And reading the papers and learning to grow. 
I see pictures of family in pretty frames, 
And letters on the kids' doors spelling out their names. 
I see laughter, pain, kisses and tears, 
And helping each other to confront our fears. 
I see you as my friend and also my lover, 
Your confidant and your children's mother. 
I see a wonderful future for you and I, 
And it's cloaked in love forever and ever.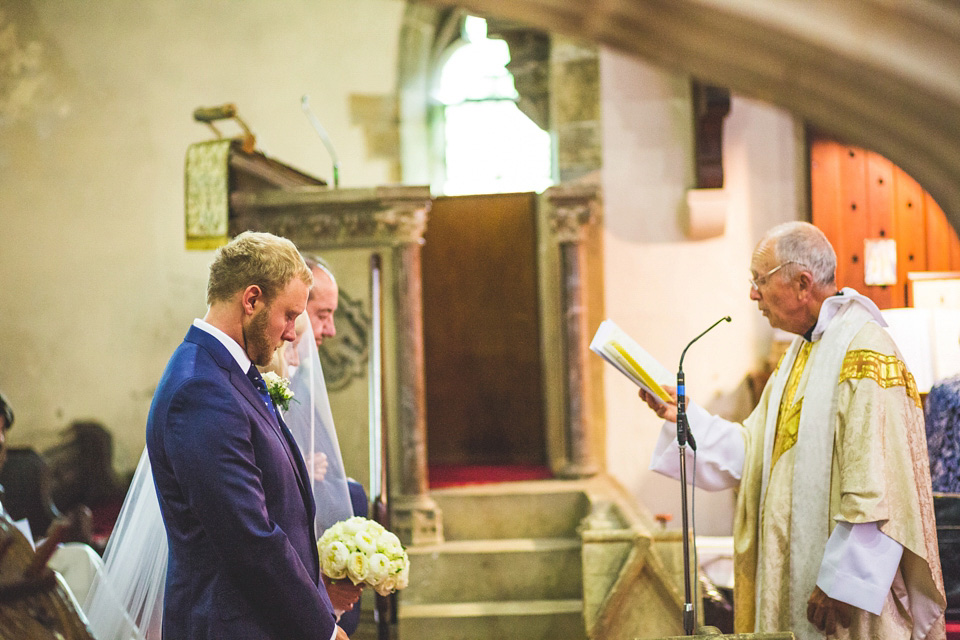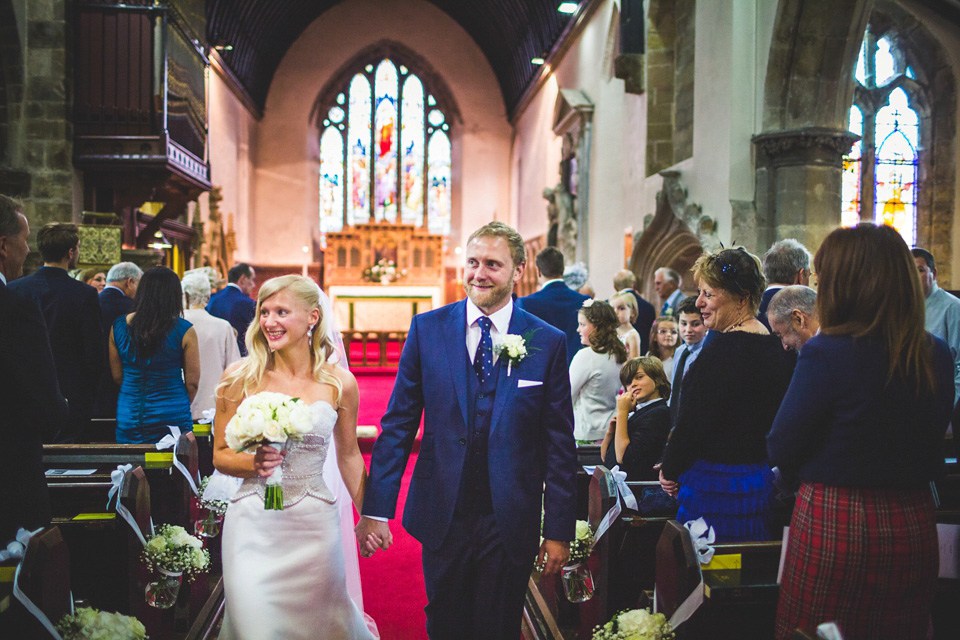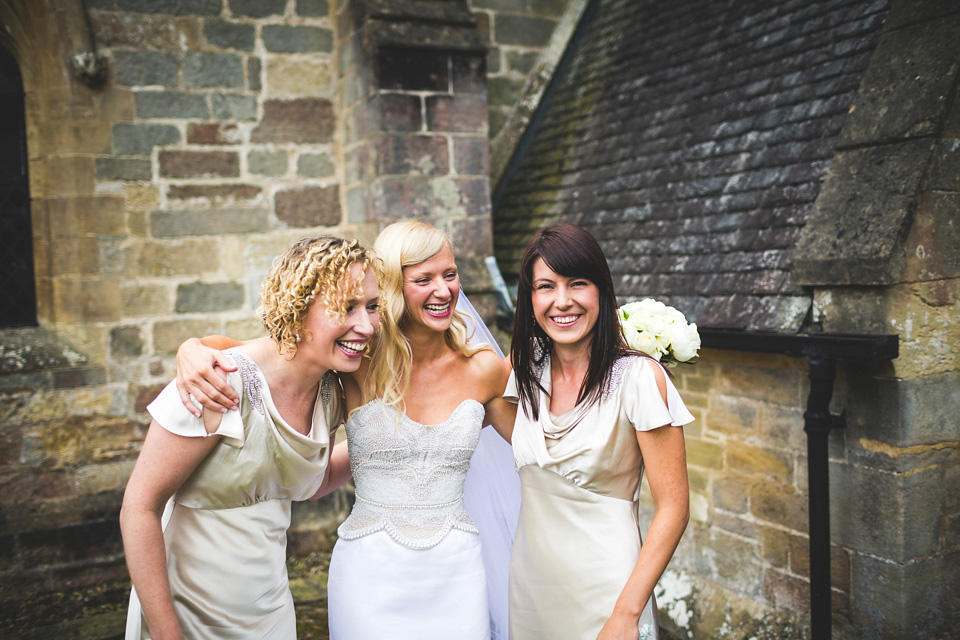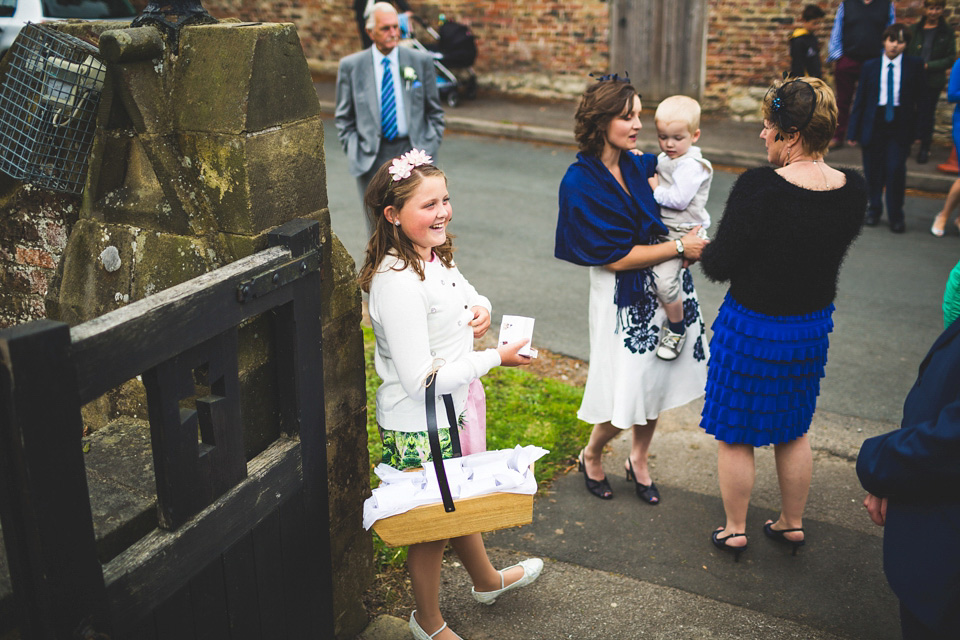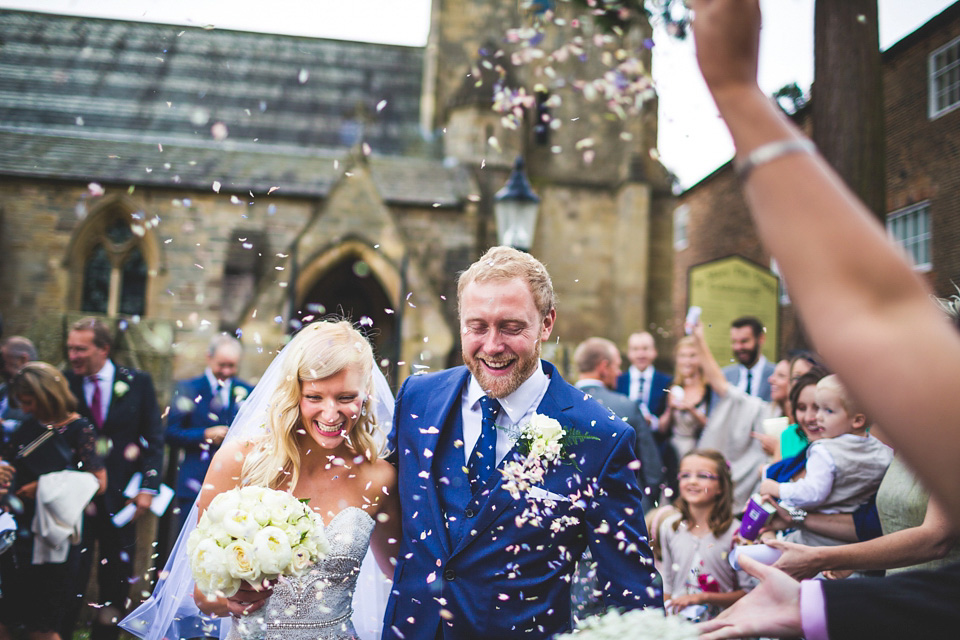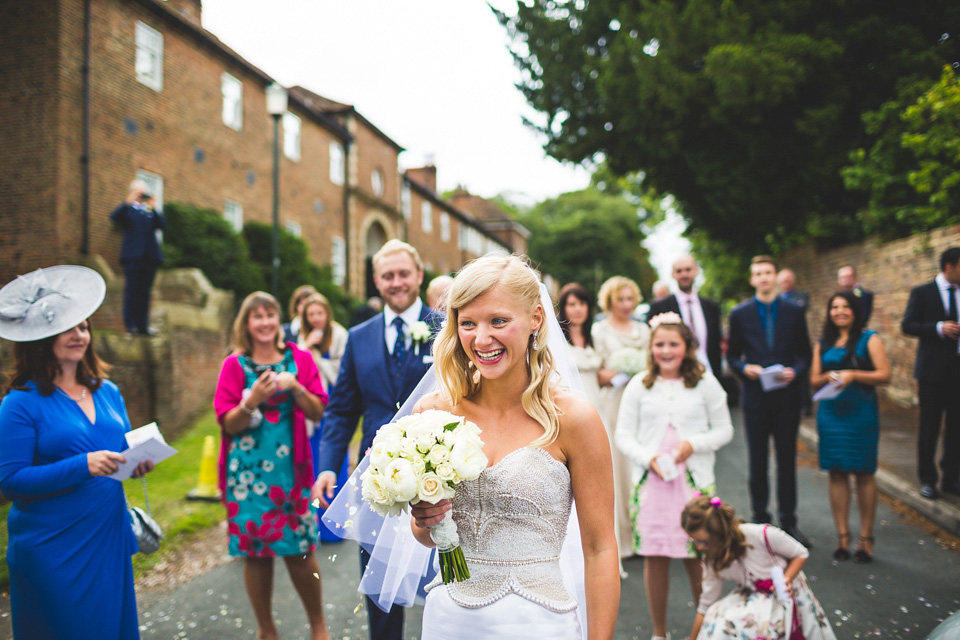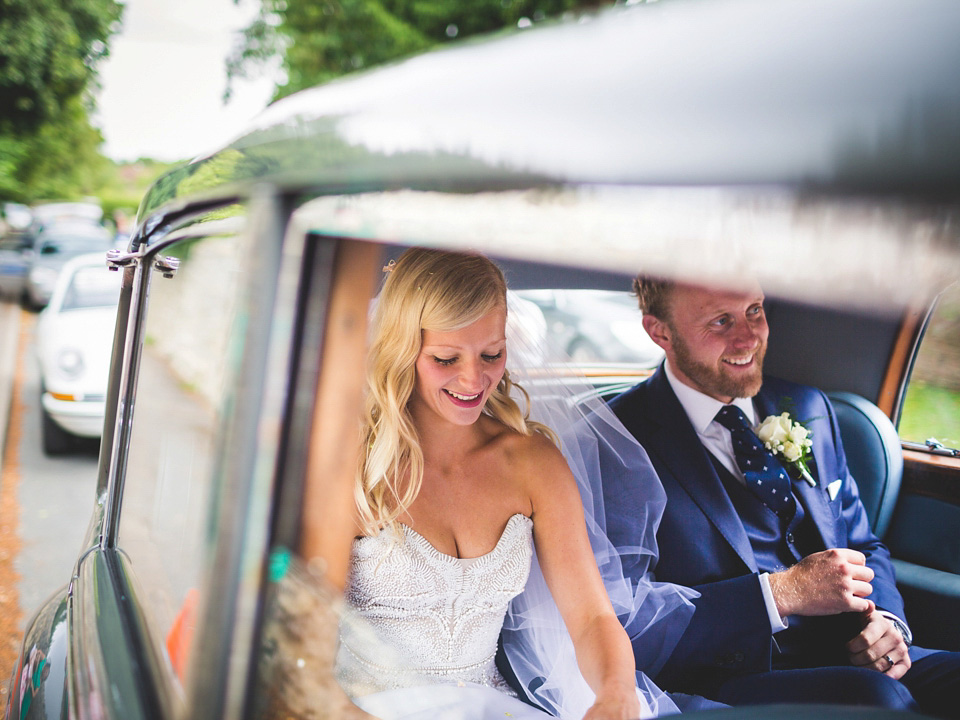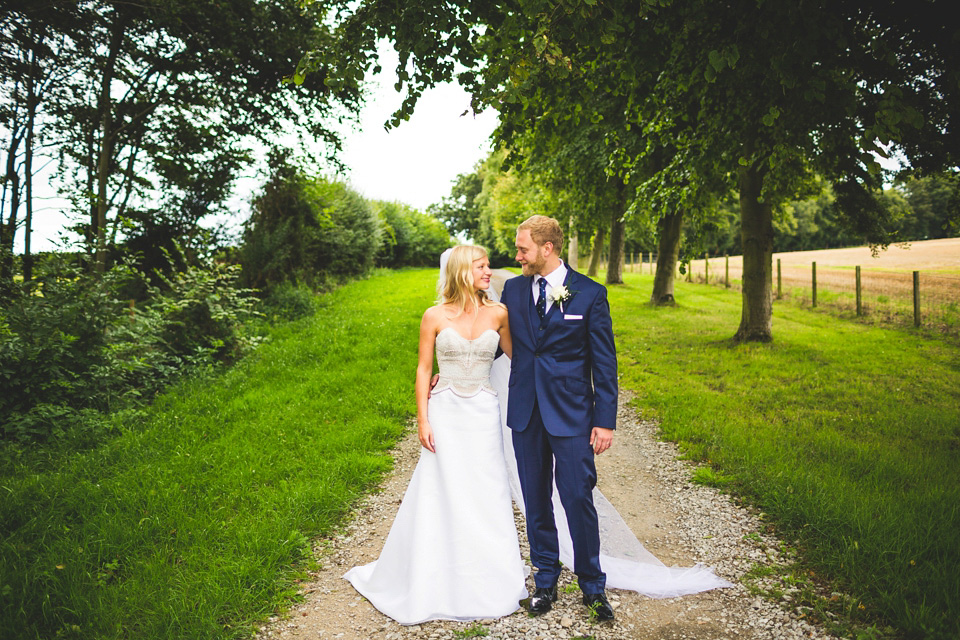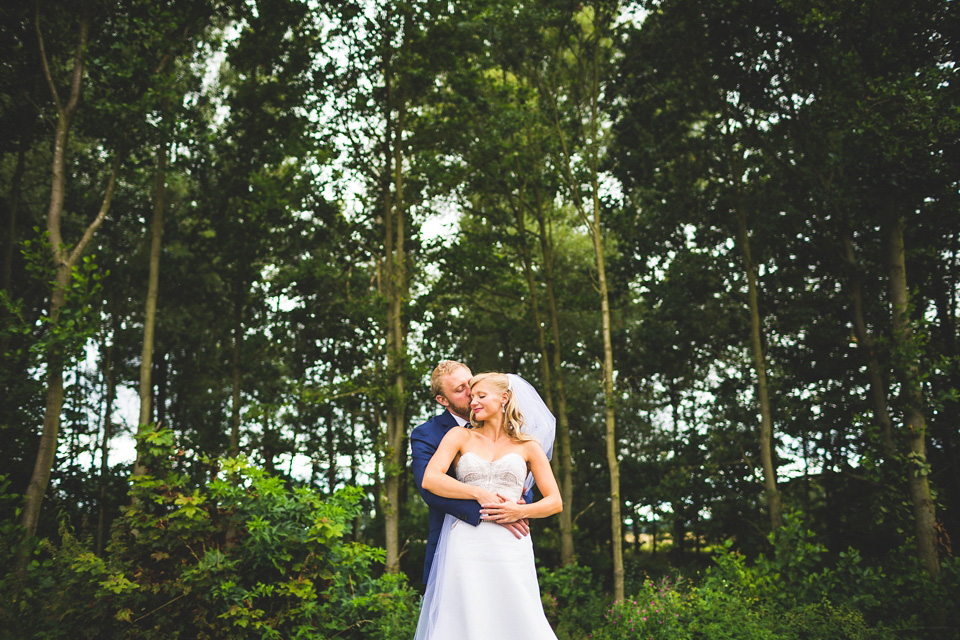 They decorated the marquee and green with fairy lights, 80 or so white pom poms all assembled by the couple, their friends and family the day before the wedding! Along with hay bales, white drapes, glass hurricane vases and pillar candles, tea lights, giant white helium balloons, wooden crates turned into tables, tin baths filled with champagne and milk churns filled with gypsophila. So many stunning, white flowers – pots of white roses and peonies as well as pretty, gypsophila hanging wreaths and flower balls suspended in the marquee.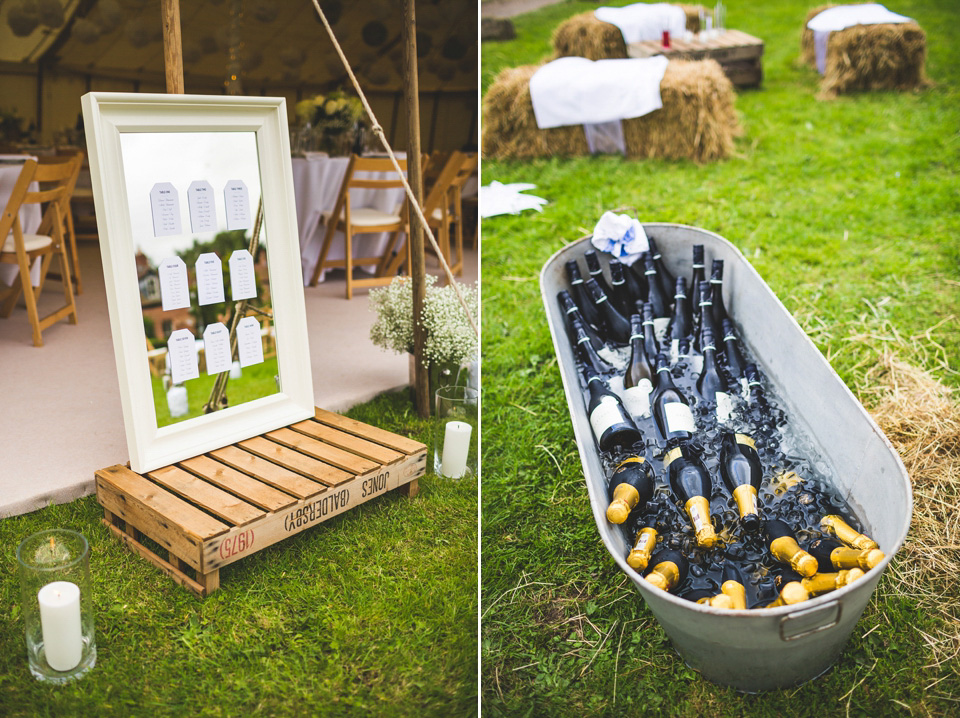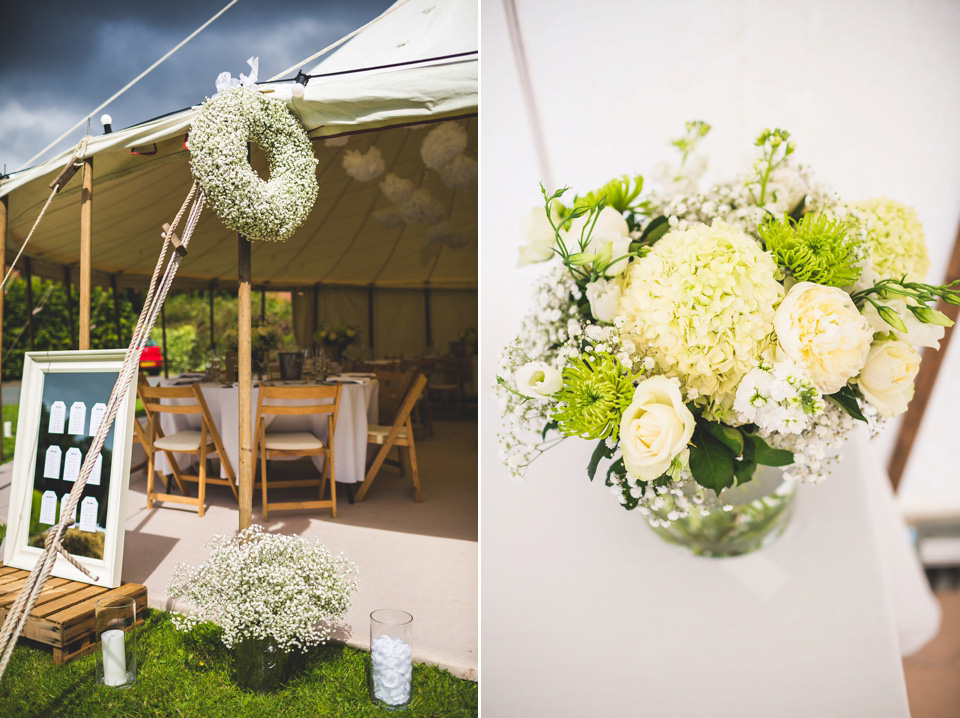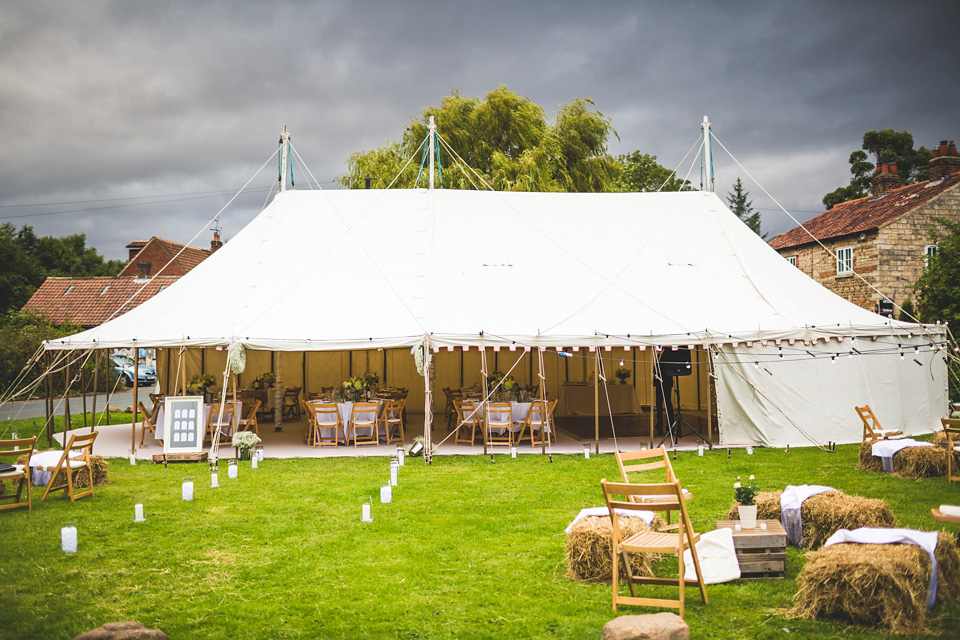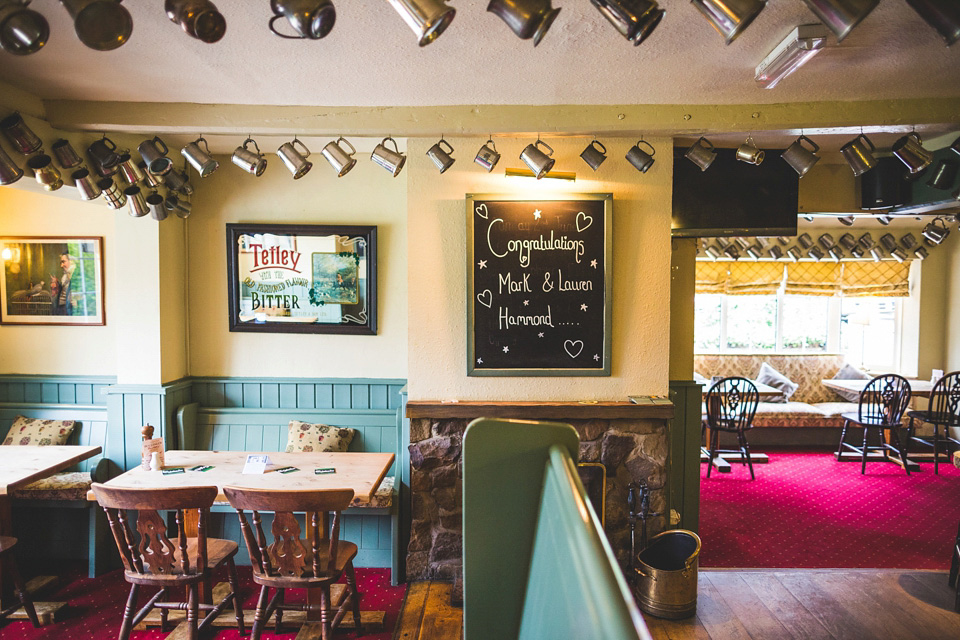 "The Tiger Inn at Coneythorpe provided all the food and beverages for our big day. A wedding is not something they had ever done before, let alone serving it all outside in the marquee. They did a stunning job, with amazing service as always and the food was fabulous!"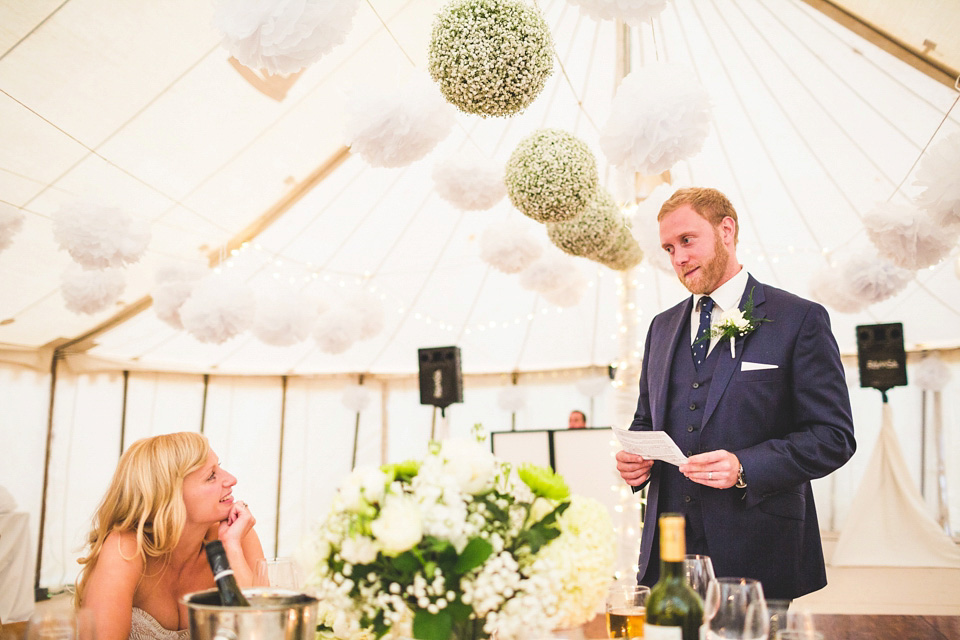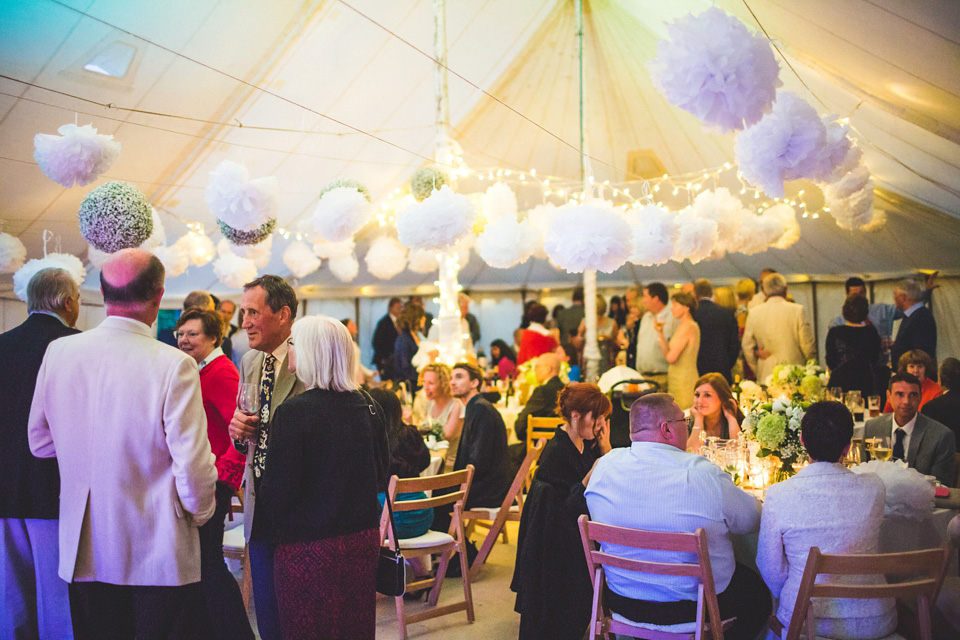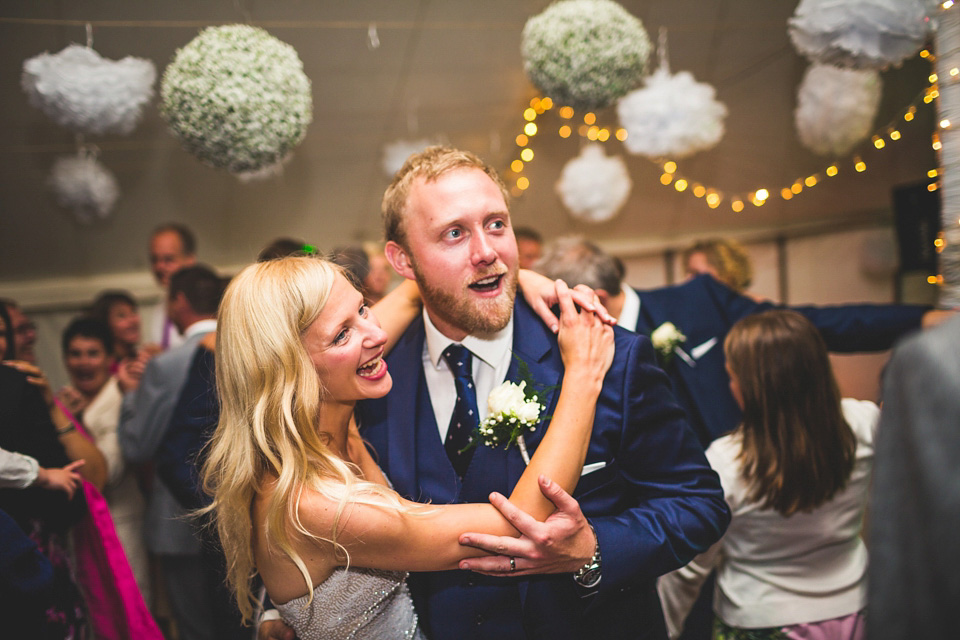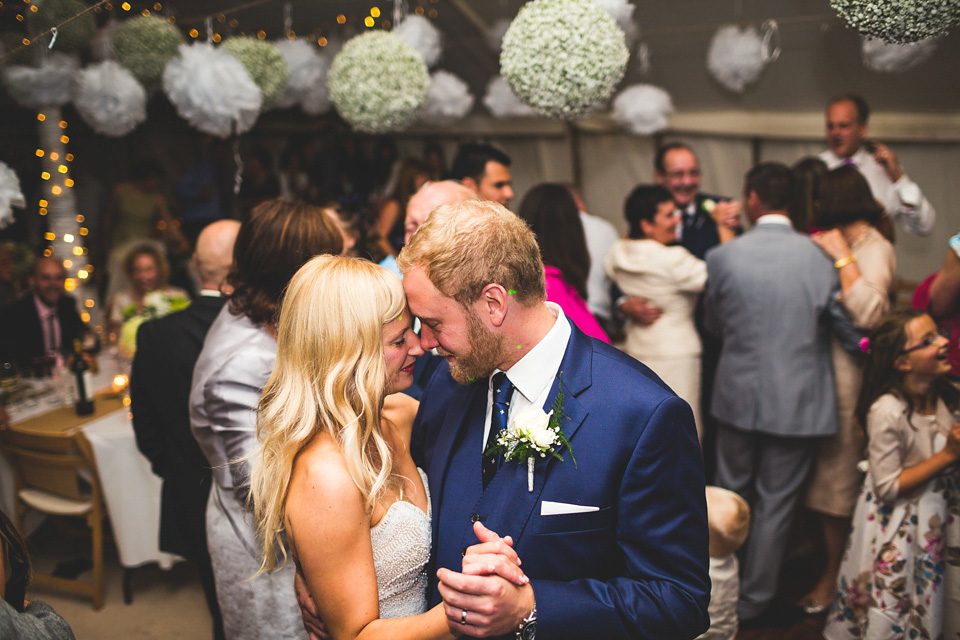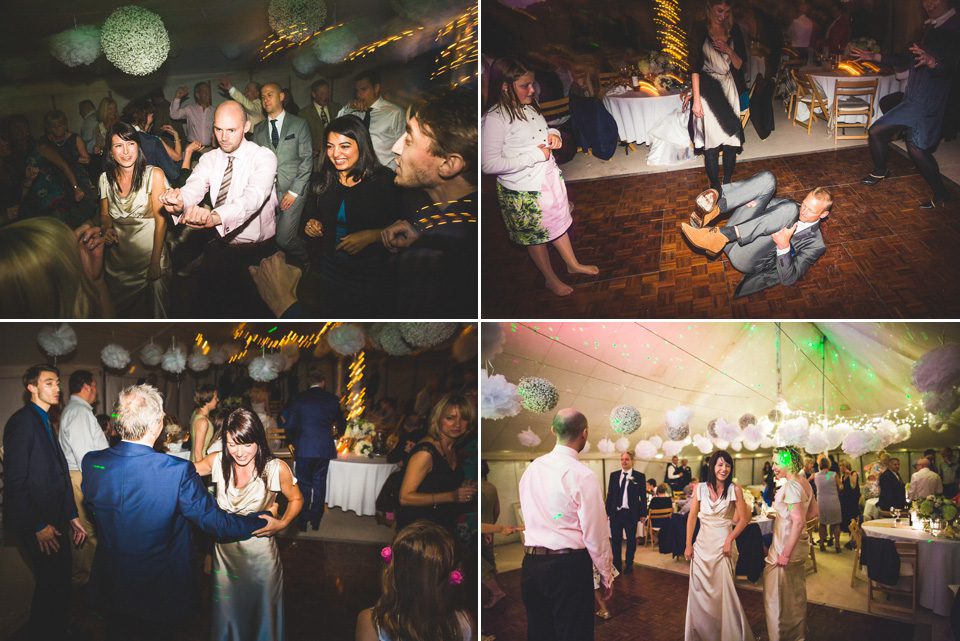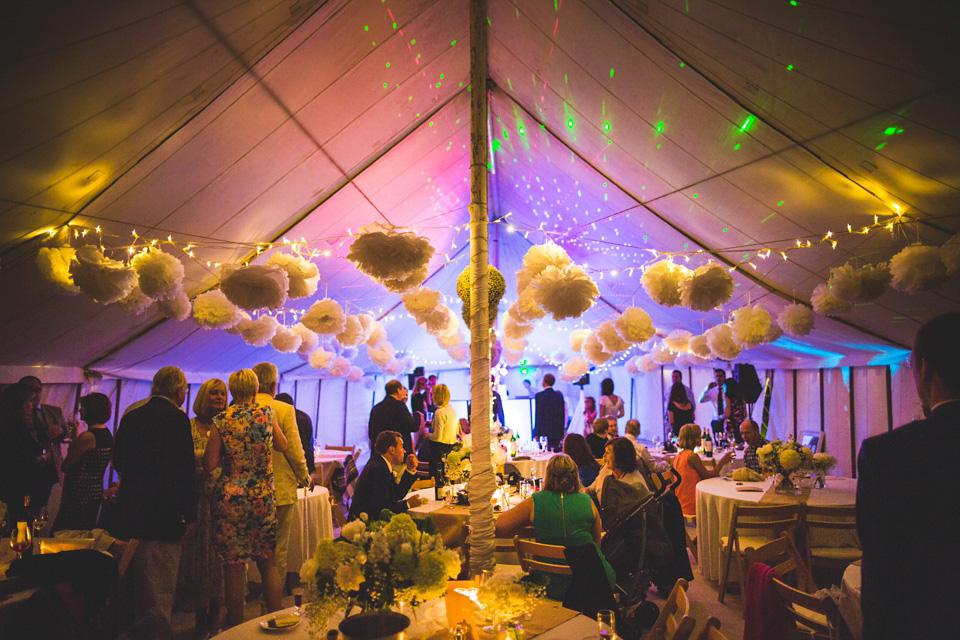 Words of Wedded Wisdom
"No matter how small you plan a wedding to be it always turns into a huge task! Give yourself enough time to plan everything otherwise you could end up making hasty decisions or having last minute stresses. Make a plan/timeline/diary recording everything to do.  It is your day, make the commitments you want to make and remember that you can never please everyone.
There are very helpful websites out there dedicated to wedding planning – make use of them and do plenty of research. You will be surprised how many useful things you learn.  Also talk to friends and family – they will always have some useful tips.
Finally, Mark and I worked tirelessly on our handmade Save the Dates, invitations, table numbers, table plans, place cards, menus etc, the list goes on! Our hands and heads have never worked harder but we were delighted with what we produced and it made our wedding day our own."
I think it's always really lovely to be able to feature the wedding of a regular LMD reader. I'm so pleased that we've been part of your wedding story and now your big day will inspire others to create their own, equally gorgeous, days. Best wishes to you both for your forever together.
Thanks to Photography 34 for choosing to share the beautiful photos and details with us all.
Much love,
Katie xx
Photographer – Photography 34
Venue – The Village Green, Coneythorpe, North Yorkshire
Dressmaker – Viviennne of Sophie Louise Bridal Boutique
Shoes – eBay
Hair comb + Veil – Sophie Louise Bridal Boutique
Earrings – Olivier Laudus, London
Bridesmaids – Ariella
Flowergirl – Tara Lee, shoes – Pure and Precious
Page boys – My Tuxedo
Groom – suit – James Michelsberg, shoes – Jeffery West
Groomsmen – Marks and Spencer
Catering – The Tiger Inn
Stationery – DIY
Rings – Christopher Stoner, Harrogate
Florist – Blamey's Florist
Cake – Fiona Cairns at Waitrose
Cars – Superior Motors Cars
Hair – Gloss Hairdressing