Here at Love My Dress we have been featuring a number of magical Italian weddings of late (did you see this very beautiful Tuscan wedding we shared the other day?) and today I have another treat for all you lovely readers that's full to the brim with love, laughter and Rime Arodaky lace. Meet Giorgia, a researcher in climate change and international development, and José, a restaurant manager, who were married on 5th October 2014 in an absolutely breathtaking location – expertly captured by Bohemian Weddings  – a magnificent eighth-century abbey in the pretty Roman countryside.
Photography Copyright (c) 2015, Bohemian Weddings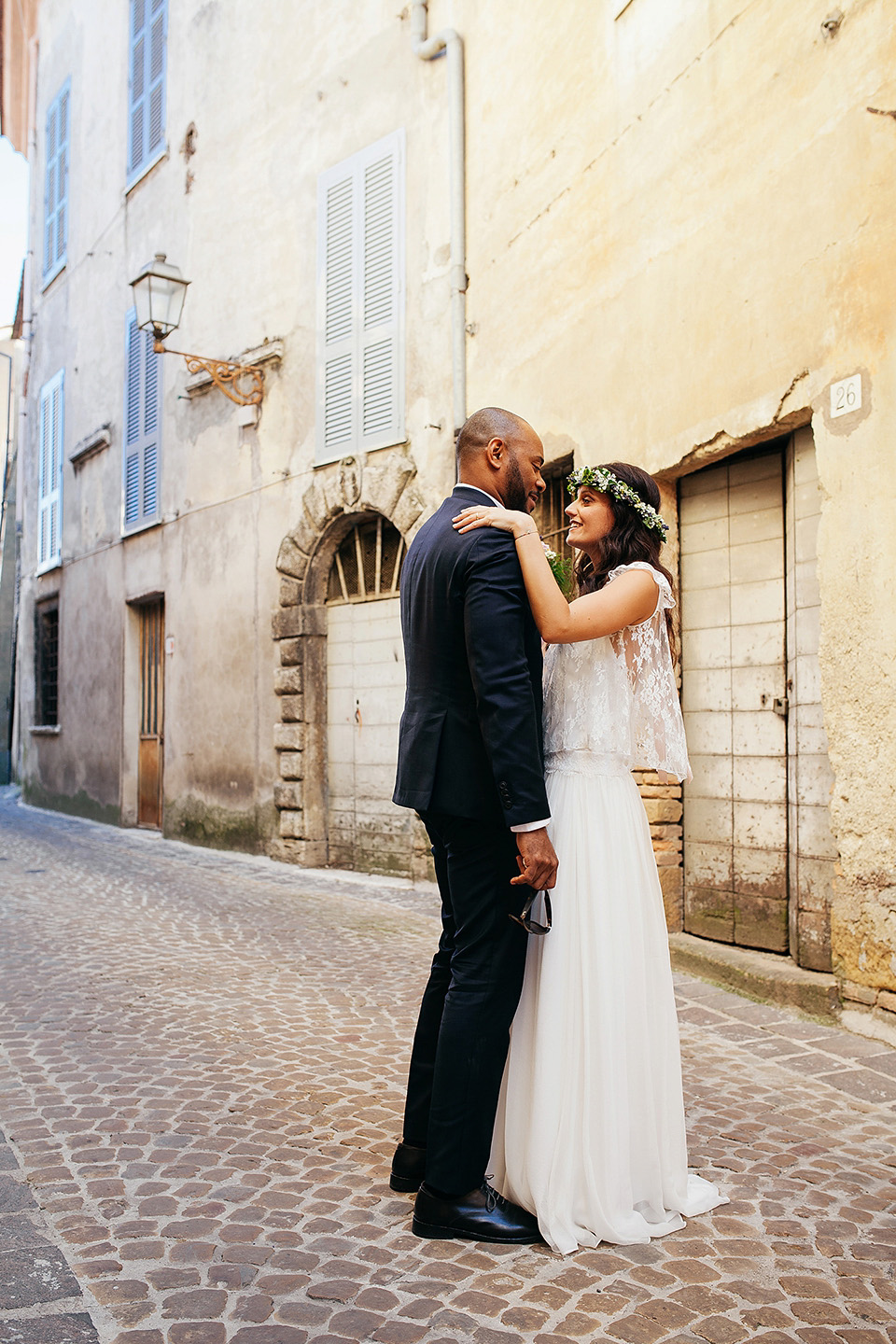 After some initial disillusionment whilst dress hunting, Giorgia found a simply stunning lace dress by Rime Arodaky via The Mews of Notting Hill in London; a studio which specialises in French Bridal couture.
"I love the effortless beauty and simplicity of the French Bridal style that I think matched very well the style of our wedding and also my personality. I didn't want to look like someone completely different from what I am in my everyday life. The day before I tried what finally became my wedding dress I went to a famous Italian boutique in London. They make bespoke dresses of excellent quality and my expectations where very high. However, their style is more traditional and when I tried on some of them I was feeling ridiculous, it wasn't me in those dresses (and my mum who was there agreed with me). I left the boutique disappointed and hopeless.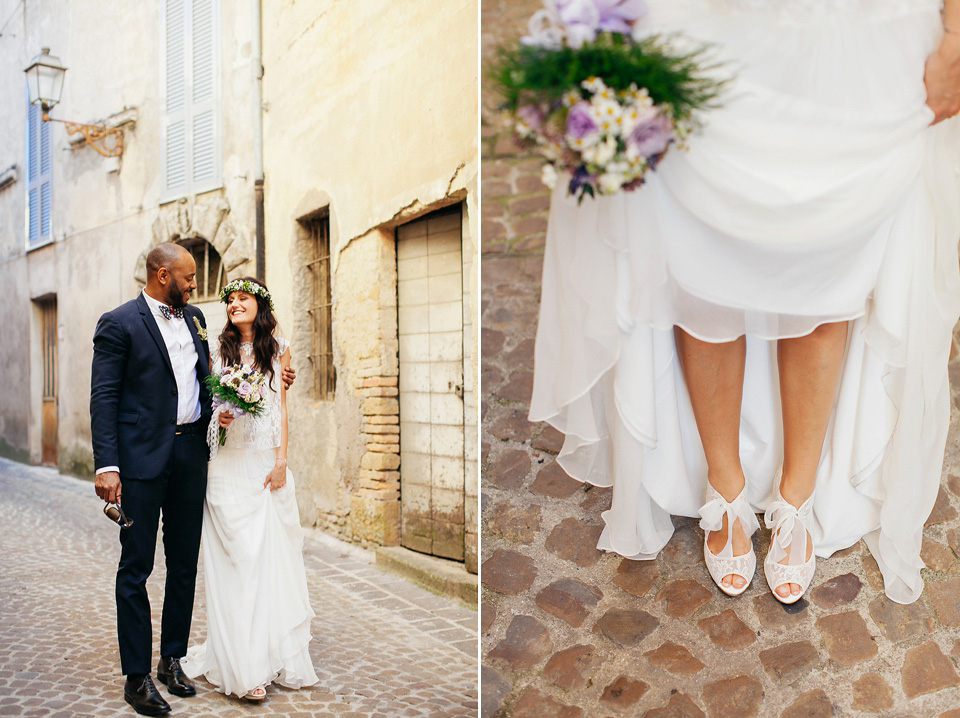 "As soon as I reached home I surfed the web and came across Rime Arodaky and Laure De Sagazane – their dresses looked exactly like the dress I had in my mind, simple but beautiful. I rang the Mews in the morning and they kindly found me a slot for the afternoon (my mum had to fly back to Rome the day after). When I got there with my mum we immediately understood it was the right place for me. I tried four lace dresses and it was difficult to choose among them because they were all stunning but I eventually went for the one I was feeling more comfortable in and which reflected my personality.
I totally loved the back of my dress as there is a beautiful lace stripe at the centre of my naked back but also the front part which is made of intersected stripes of lace and silk with small buttons in the middle…very sexy but also very simple and innocent."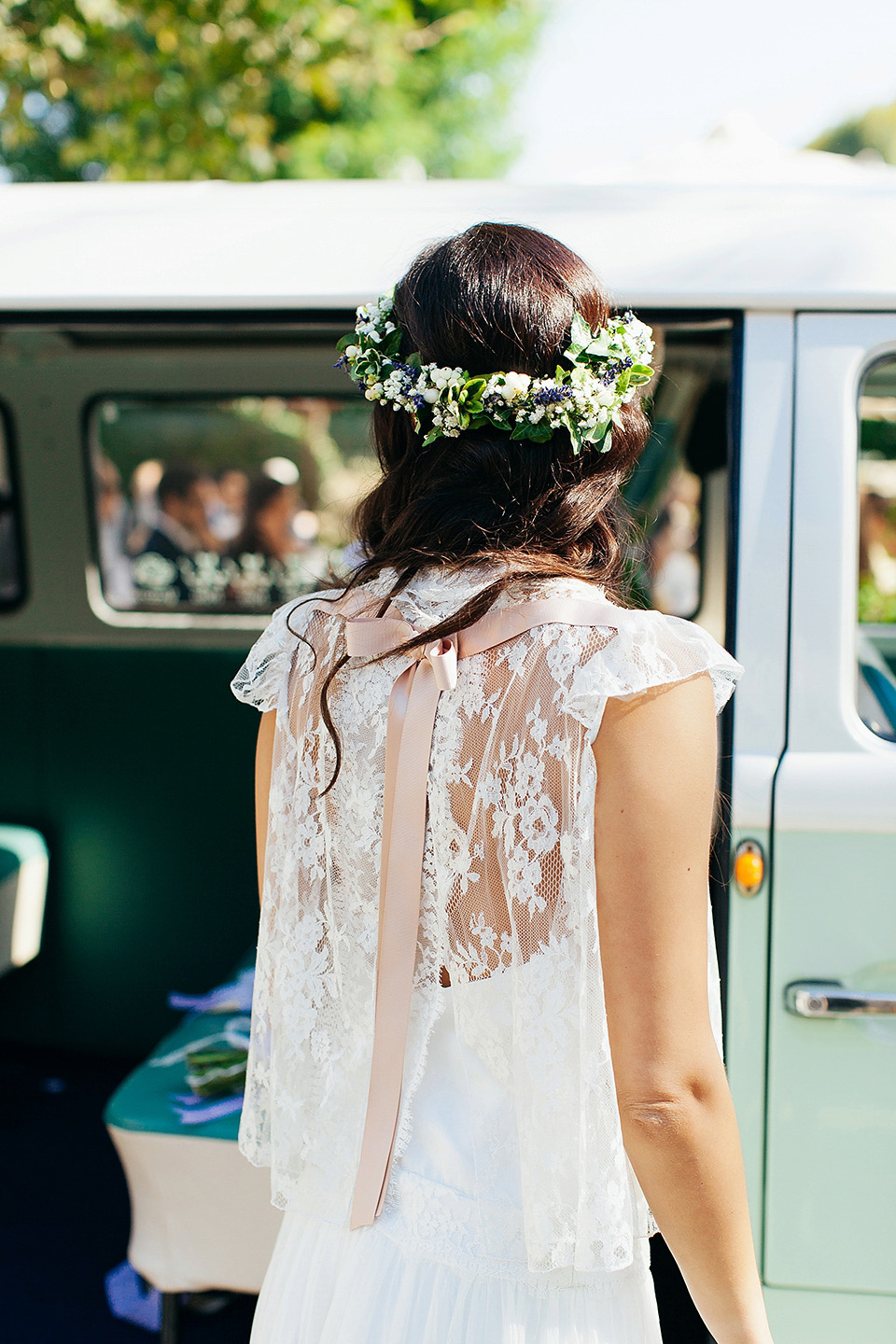 I am not that kind of woman who dreams about her wedding dress since a little girl so when I had to think about it I didn't know where to start. However, one thing I knew is that I wanted to feel myself that day and the free spirit bohemian-rock&roll touch of Rime Arodaky's dresses revealed to be just perfect."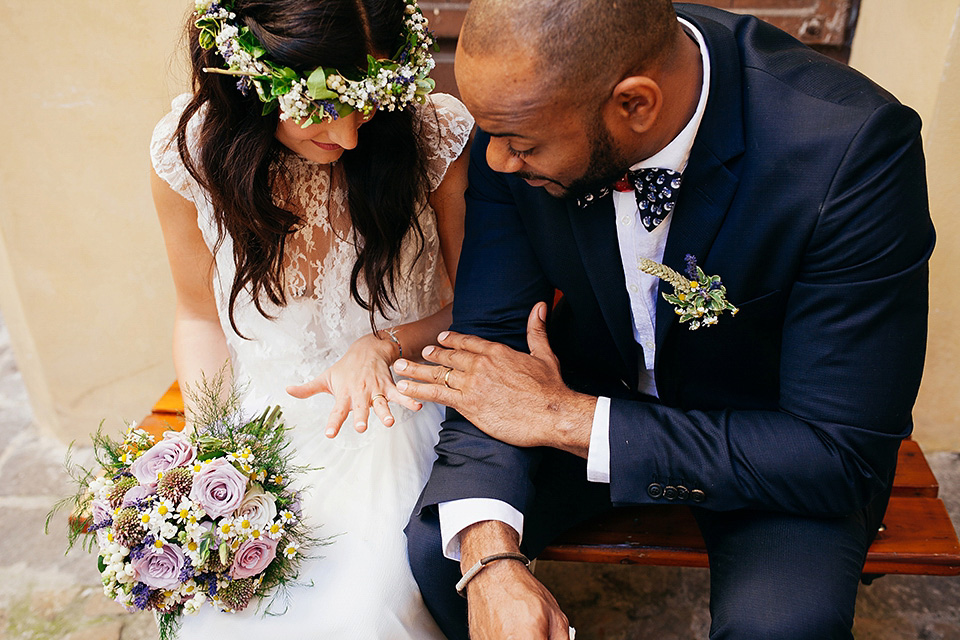 Giorgia and José's little love story began 5 years ago when they met working in a restaurant together…
"I am Italian and José is Angolan. We met 5 years ago in London in a restaurant where he was working as floor manager and I was hired as bartender. He was one of my bosses and we had to keep it secret for a while. At that time I had just moved in UK after my graduation in Italy and I wanted to just spend few months to think about my future and career. My last thought was to begin a 'serious' relationship and it was the same for José who was just coming out from a long one. We started to go out without any of us thinking it would have lasted more than a couple of months … but love is not something you can plan.
After only four months that we were seeing each other I went to work in Brussels and in that moment we realized that our relationship was more important than what we were thinking it was. Indeed, we thought that the distance would have killed our young relationship but it actually made us stronger. So, after six months in Brussels I was back in UK and we decided to live together."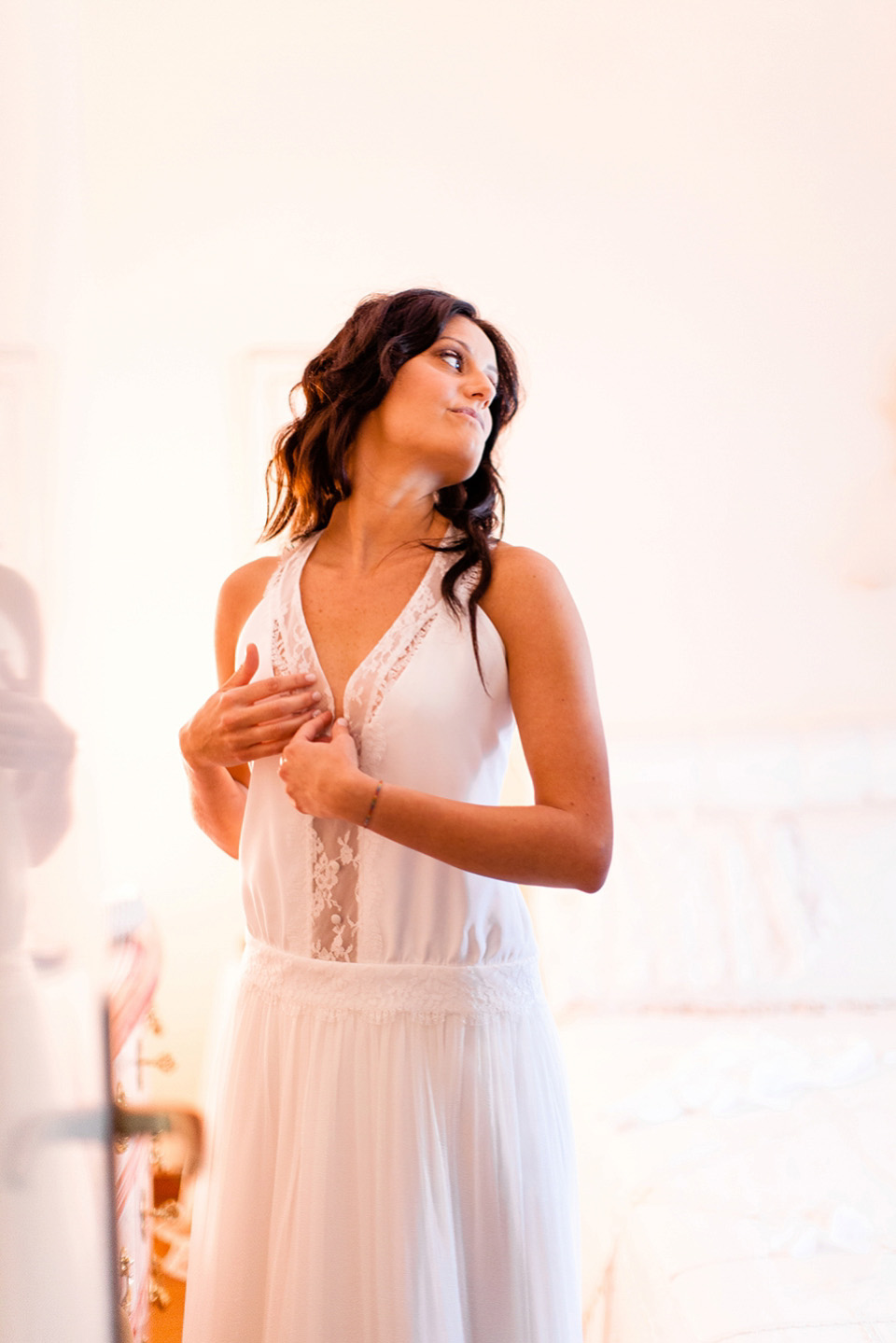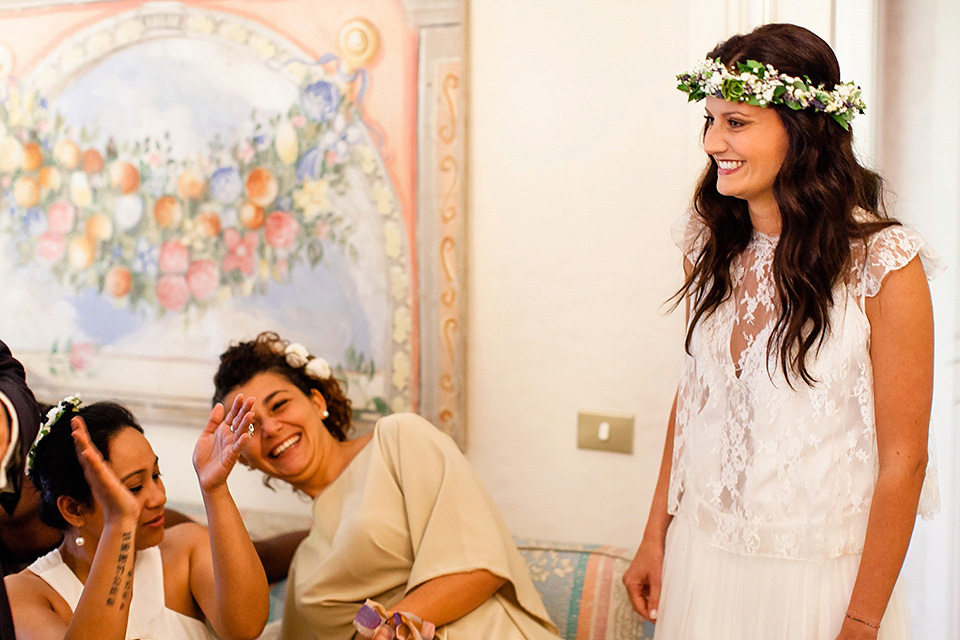 Two stunning floral crowns crafted by their florist completed the bride's boho look.
"One thing I wanted from the very beginning was a floral crown and my florist made it for me. He actually made two floral crowns, one for the church and a more colourful one that I wore later in the day after the dancing bit of the party started.
Orietta from Ori 'O' took care of both my hair and make-up. She is a professional and also works in the fashion industry. She was spot on and understood straight away what I wanted. I was initially worried because I wanted to look as natural as possible and usually make-up and hair artists find it more difficult to realize something simple than a complex hairstyle or a heavy make-up. My hair was perfect and the make-up lasted all day."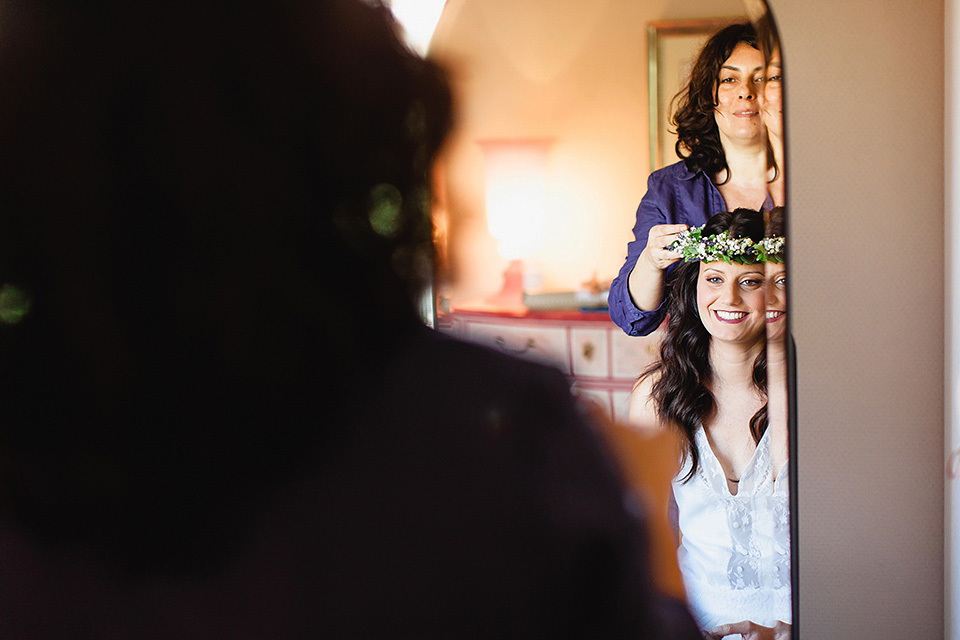 The couple hired a wedding planner to help out with their big day – such a good idea if you're planning international celebrations! Veronica Regis works with foreigners who want to celebrate their wedding in Italy, not only in Rome but also Tuscany and Umbria.
"Because we live in London and the wedding took place in Italy we hired a wedding planner to help us deal with those things we couldn't arrange from here. Also, I wanted to avoid my mum having to bear all the burden of calling and meet the suppliers or search for what I wanted as my ideas for the reception were already clear in my mind but not so conventional and easy to realise. Veronica was a tremendous help for us and she was also very good in understanding straightaway what I wanted and trying to accommodate my requests.
She has great experience and she is passionate for the shabby chic/bohemian style so we had a lot of fun organising all the details together. Every time I had an idea she put all her effort in finding the right supplier or ways to make it possible. I was quite demanding because I wanted to look after the details but she has always been very patient and willing to do her best to help us. This is something we really appreciated and were grateful for."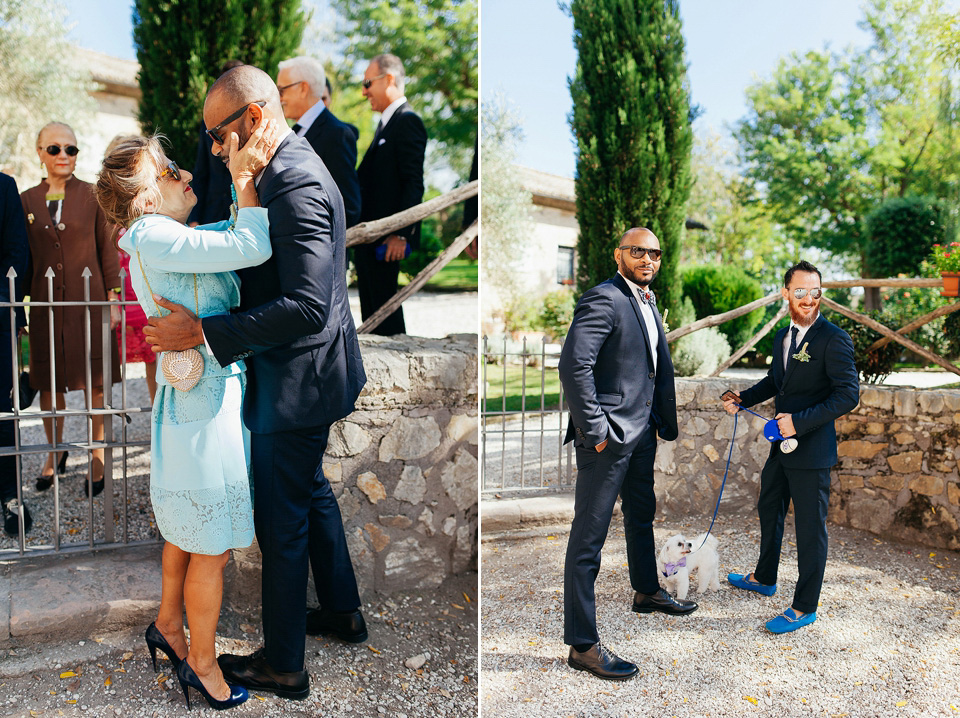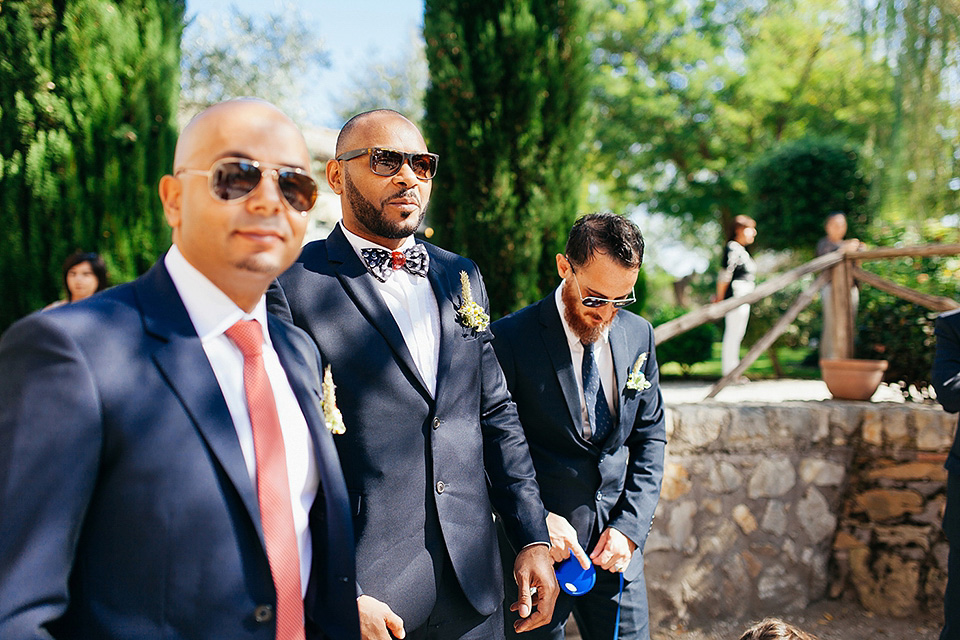 "We rented a VW light blue van to take me to the abbey. José and I love this car, we love vintage in general and especially this van that made the history of the 60s. The van suited just perfectly with the style of the wedding, the flowers and the atmosphere…and the guests couldn't stop saying how cool it was!"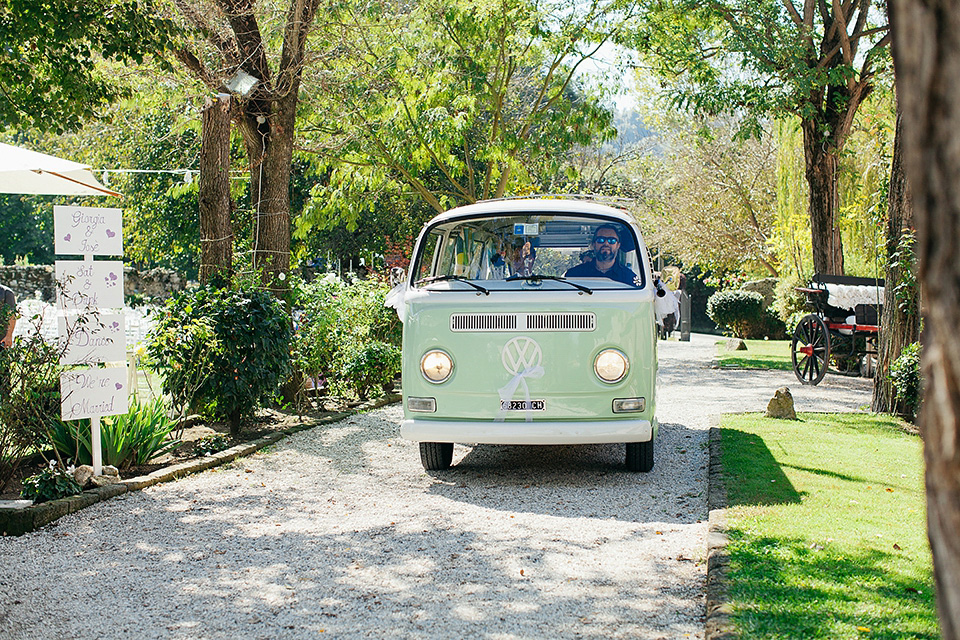 The beautiful bride donned a pair of lovely lacy heels … and later changed into comfy red Converse along with José – a genius idea!
"I purchased my 'Chantilly' lace shoes from Harriet Wilde. They are gorgeous and so many people complimented me on the day for the shoes I was wearing. They worked so well with the dress and the style of the wedding and looked stunning on my feet. I went to the studio in London to try them on and they shipped the shoes to The Mews of Notting Hill (who happened to be the official stockist in London) for my first fitting.
Because I am not used at all to wear high heels and I wanted to fully enjoy the day and the dancing, José and I changed our shoes after lunch. We went for a pair of red Converse all stars and it was one of the best decisions we ever made. Not only did we avoid painful feet but also we felt truly ourselves – we wear Converse in our everyday life – and the shoes turned out to be very cool in pictures."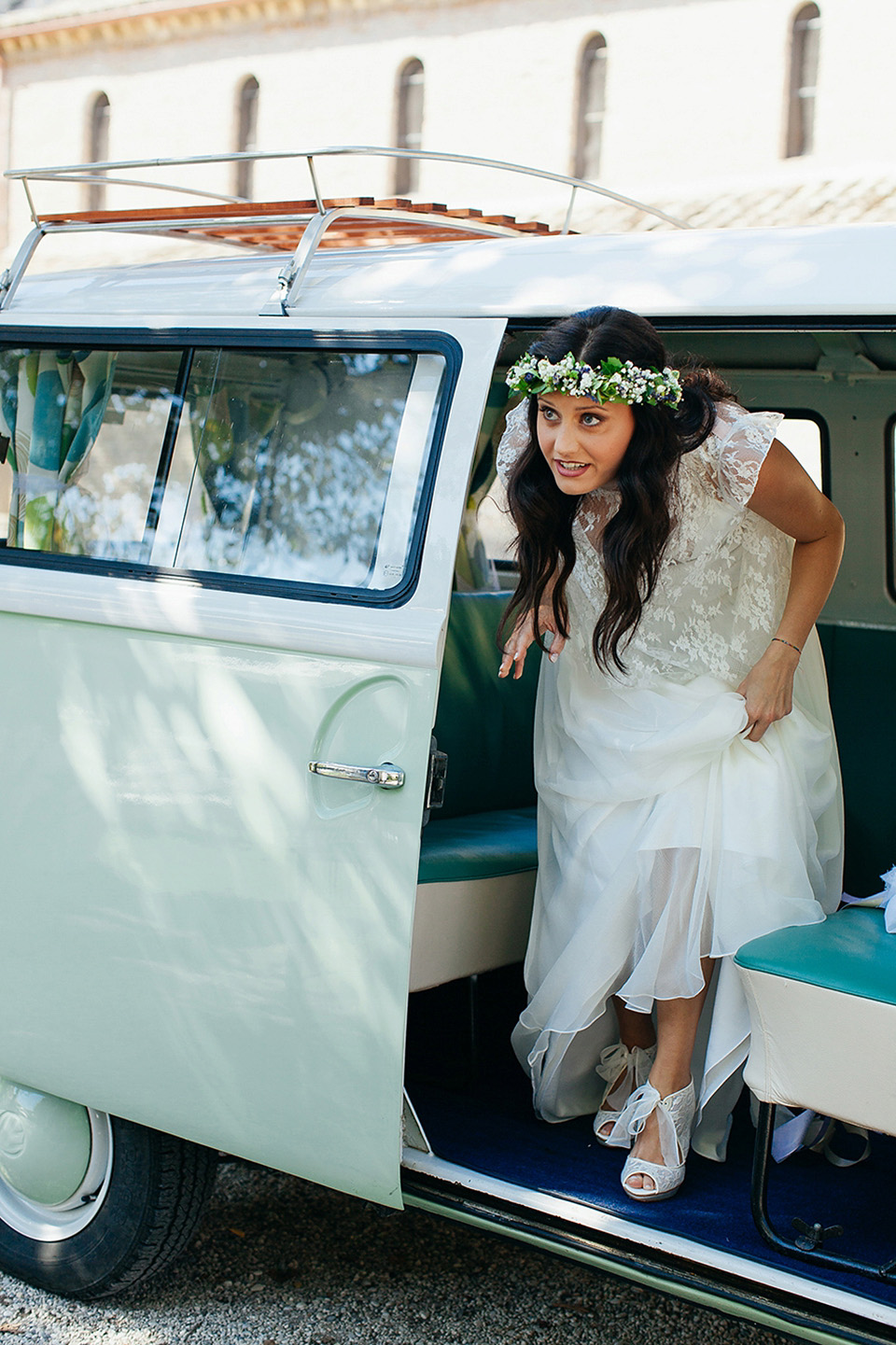 Giorgia's ten maids (yes, ten!) look absolutely fabulous in their pretty pastel pink and yellow bespoke gowns, which were a total surprise for the bride.
"It took a long time to convince my ten bridesmaids to wear the same dress since it is not the tradition in Italy. They finally agreed and also enjoyed the process of choosing a dress together. They wanted to surprise me so they did everything by themselves, I only asked them to choose a pastel colour so they did. Their dresses were designed and tailor-made in Rome. They chose the same model in pastel yellow and pastel pink and personalised the dress with different details. When I saw them the day of the wedding the first thing I thought was that they were incredibly stunning and they couldn't choose any better than that!"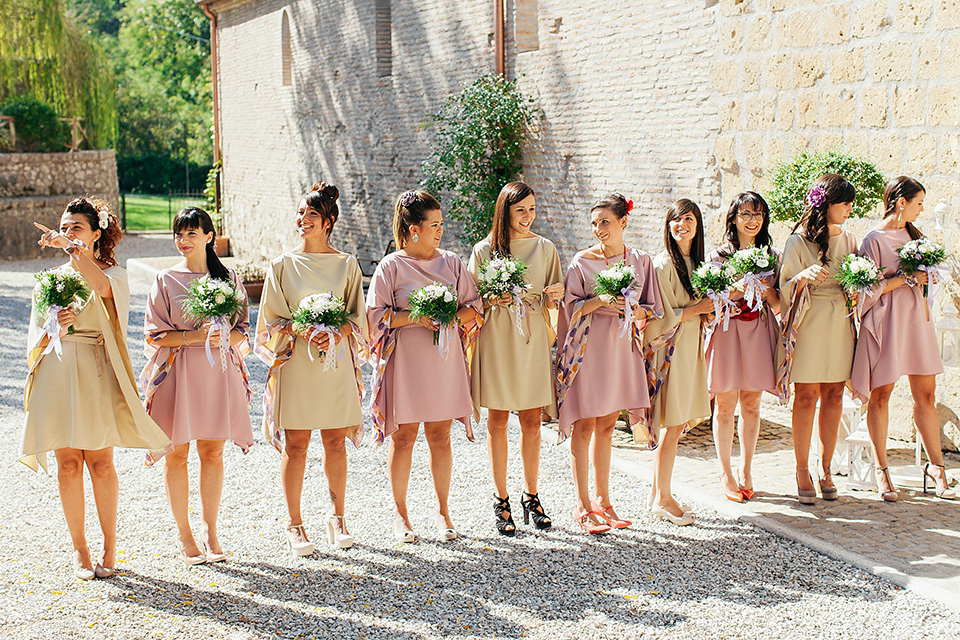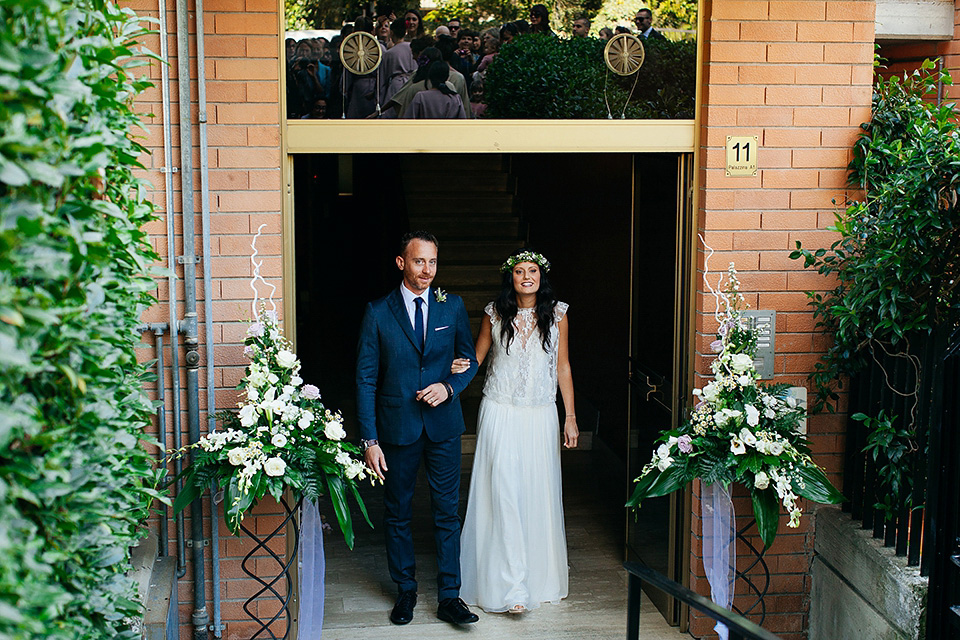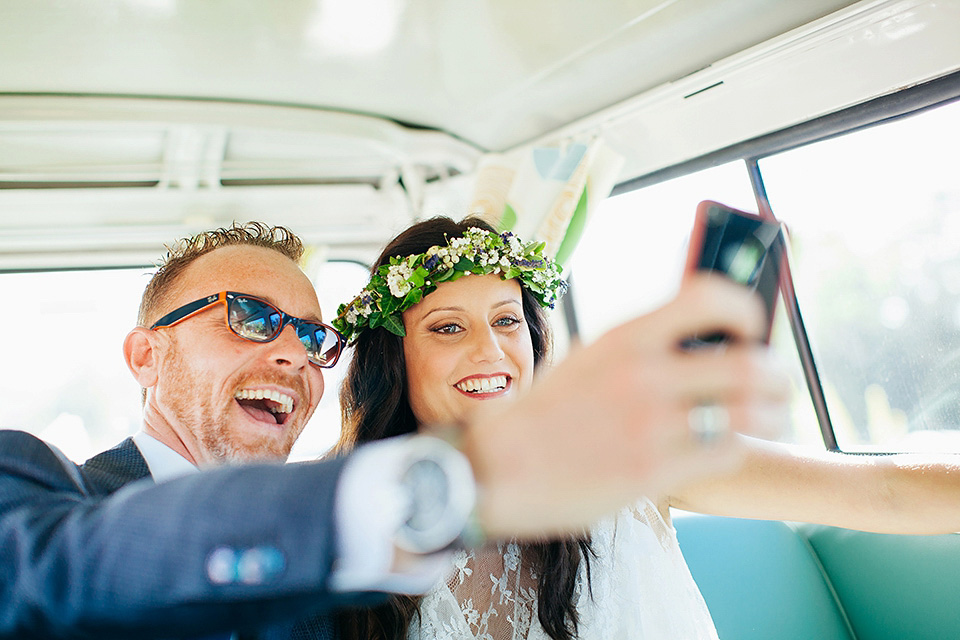 In the brilliant sunshine, Michael and Andrea from Bohemian Weddings captured the couple's mix of emotions in these superb pictures and thoroughly impressed the bride and groom.
"Our photographs are absolutely stunning, and Michael and Andrea are a lovely couple. We couldn't have made a better choice for our day! We want to thank Michael and Andrea for being so awesome! Not only because their pictures have something special but also because they are beautiful people."
"Our venue was an old abbey of the VIII century in the countryside of Rome. As we live in London our research started from the web – I know the area because it is where I grew up and it is full of sumptuous roman villas but I knew that I wanted something different. We were looking for a romantic place with a nice garden but also a rustic indoor décor in line with our bohemian, shabby style in case the weather was not good enough to stay outside (our plan B).
After spending days surfing the web with no success and asking to my friends in Rome if they knew a place that could match our desires, I finally came across the Abbazia di Sant'Andrea in Flumine and it was 'love at first sight'. I showed it to José and he loved it as well. The name recalls its position, in fact Flumine is the latin word for river as the abbey is very close to the famous Tiber river that crosses the city of Rome and is visible from the abbey. I have to say that it didn't fall short on our expectations and we were happy with our choice. As soon as you walk into the gate of the abbey you have the impression of being immersed in an ancient atmosphere that makes it a magic place and the church is breathtaking for how beautiful it is."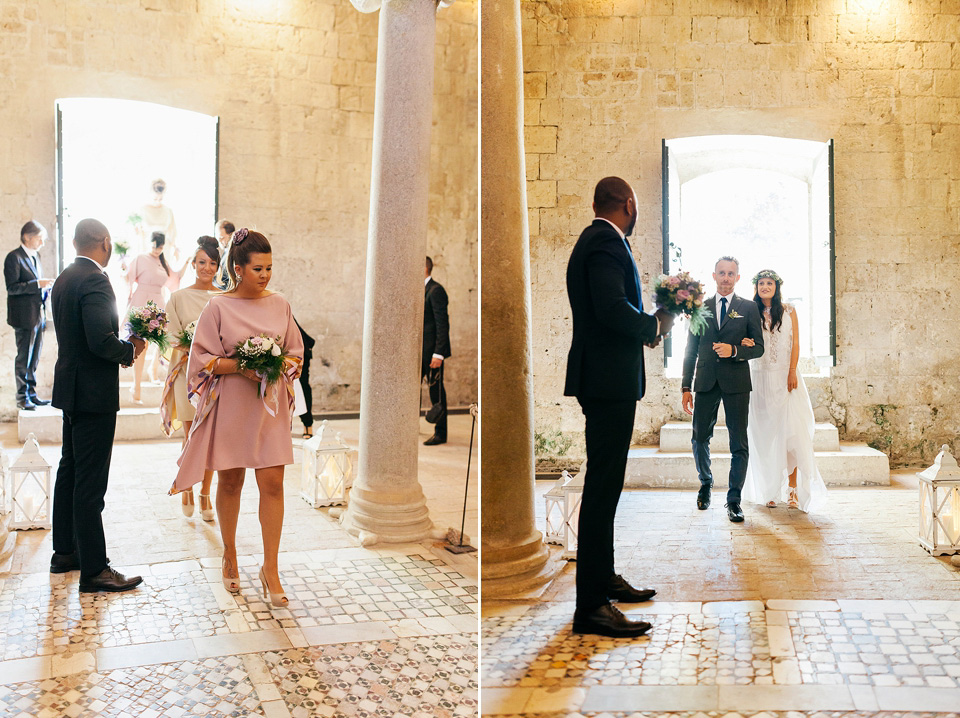 The couple's plan for walking down the aisle was so very sweet and brought tears to my eyes.
"My dad passed away four years ago and although the Italian tradition says that one of his brothers should walk the bride down the aisle I didn't want to 'replace' him with anyone. I decided that I would have walked down the aisle with José. I left my house with one of my cousin and he walked me until the entrance of the church where José was waiting for me with my bouquet. We then walked together hand in hand.
One of my favourite moments was when I saw José in the church waiting for me as I could read emotion and happiness in his eyes and I realised how beautiful it was what we were just about to do."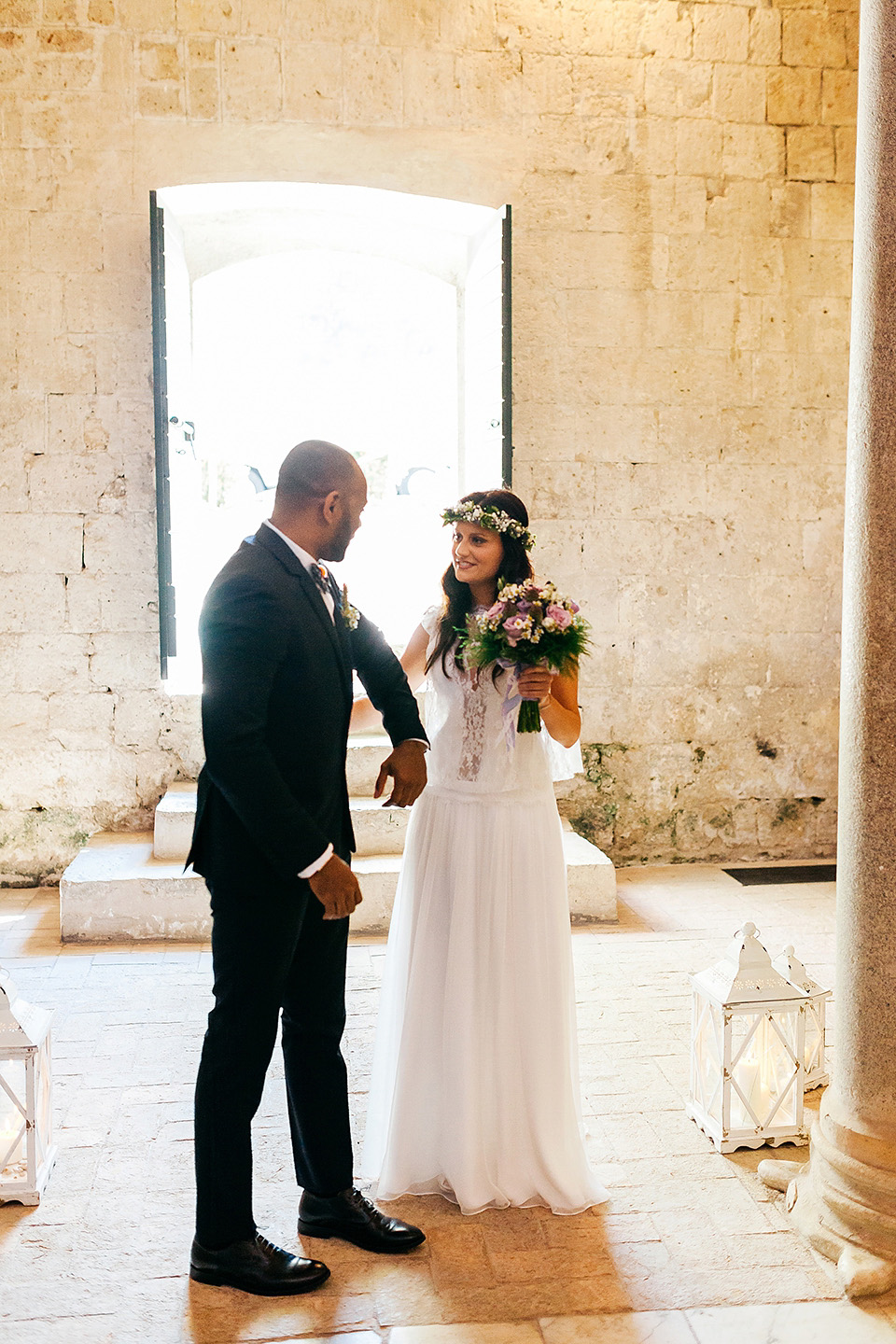 "We had two musicians playing harp and flute during the ceremony. We walked down the aisle to Canon in D of John Pachebel – we found this track very delicate and touching, especially for that moment and we didn't like the traditional nuptial march."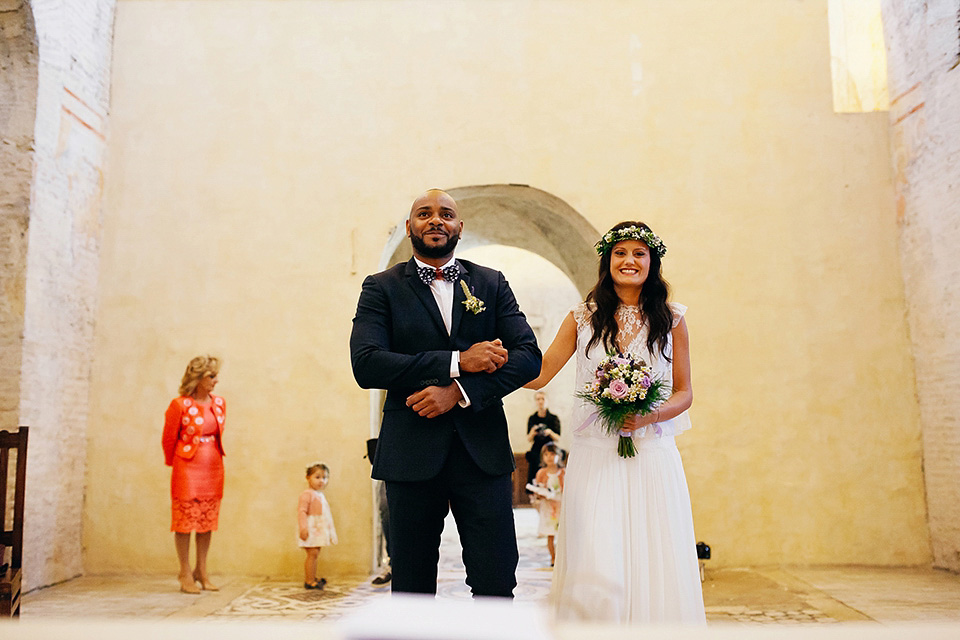 "It was a religious catholic ceremony so we couldn't change much but we added one reading that we find very beautiful. My best friend read it in the church during the ceremony and it was a beautiful moment."
'The being standing next to you is mine. I have created her. I have always loved her. I have not hesitated to give my life for hers. I am entrusting this being to you. You will take her from my hands and become responsible for her […] Let's make a deal: we shall love her together. I have always loved her, you started loving her a few years ago. I am the one who has put your love for her in your heart: it was the most beautiful way for you to notice her, it was the most beautiful way to tell you 'I am entrusting her to you'. I will make you capable of loving her as I love her. (God's Letter to the Groom)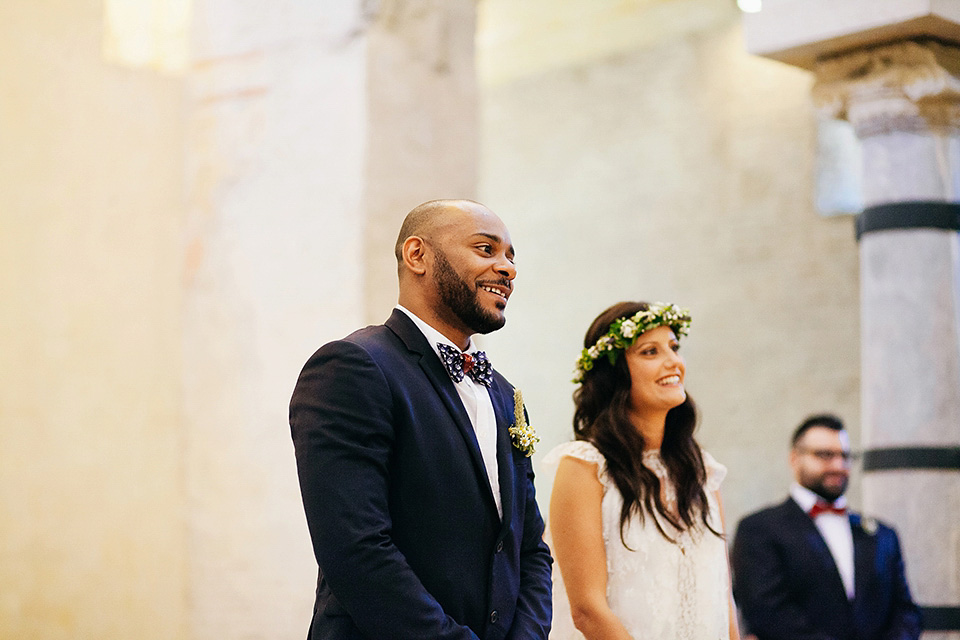 "We had a five components band that entertained us after the ceremony. We found them online through Musicarancio. We were looking for a band that could play both Jazz Bossanova during the lunch (we like Jazz and José is from Angola so the mix of Brazilian into Jazz music was perfect) and something more lively to dance with later. It was difficult to find someone who could sing in English, Italian and Portuguese and the research took quite a while, but eventually Musicarancio pulled it off and found the right band for us."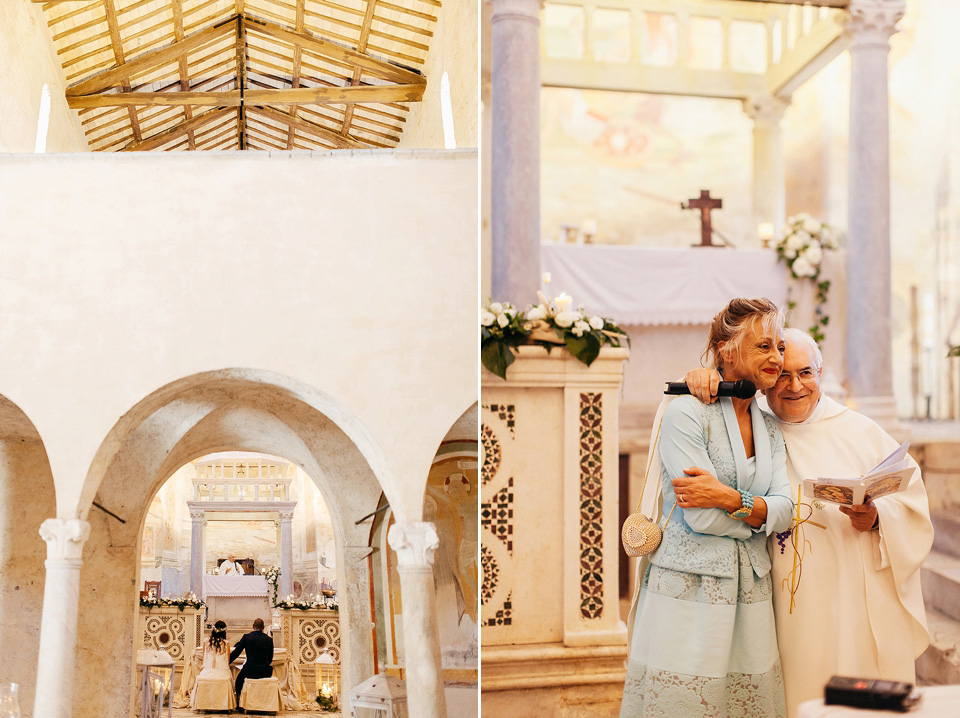 "The rings were traditional yellow gold wedding rings that my witnesses (and friends) purchased for us as a wedding present. We engraved our wedding date followed by the word 'to infinity' in the inner side of the rings."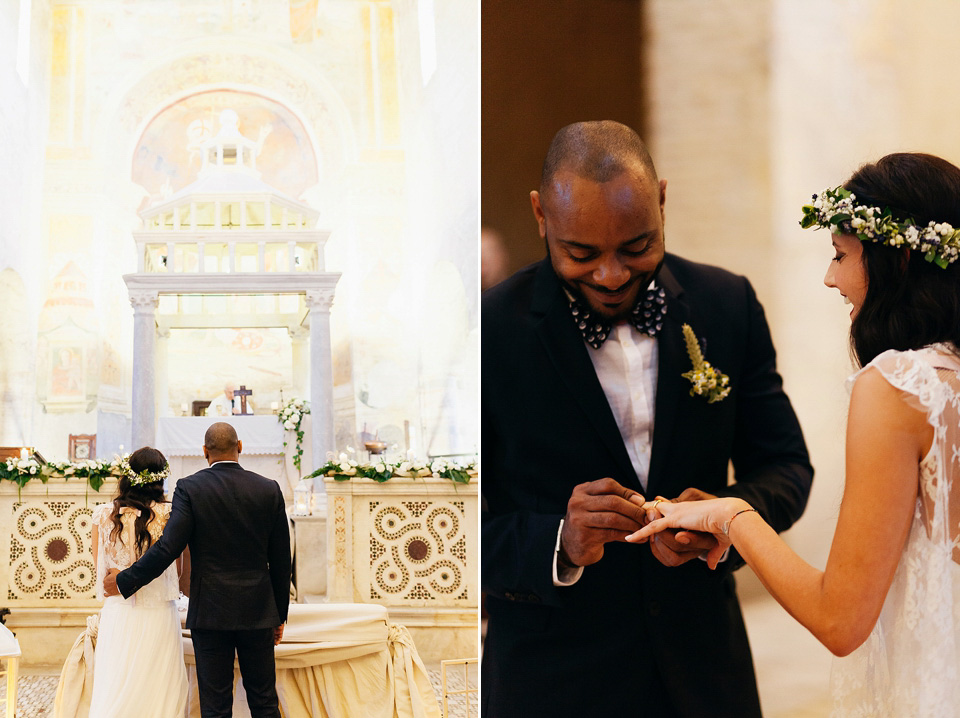 "José bought his whole outfit at Empresa. He didn't want the classic groom suit and I didn't like it either. So, he went for something young but cool that he could also use after the wedding. The bow tie was very funny and he had a top hat to complete the style."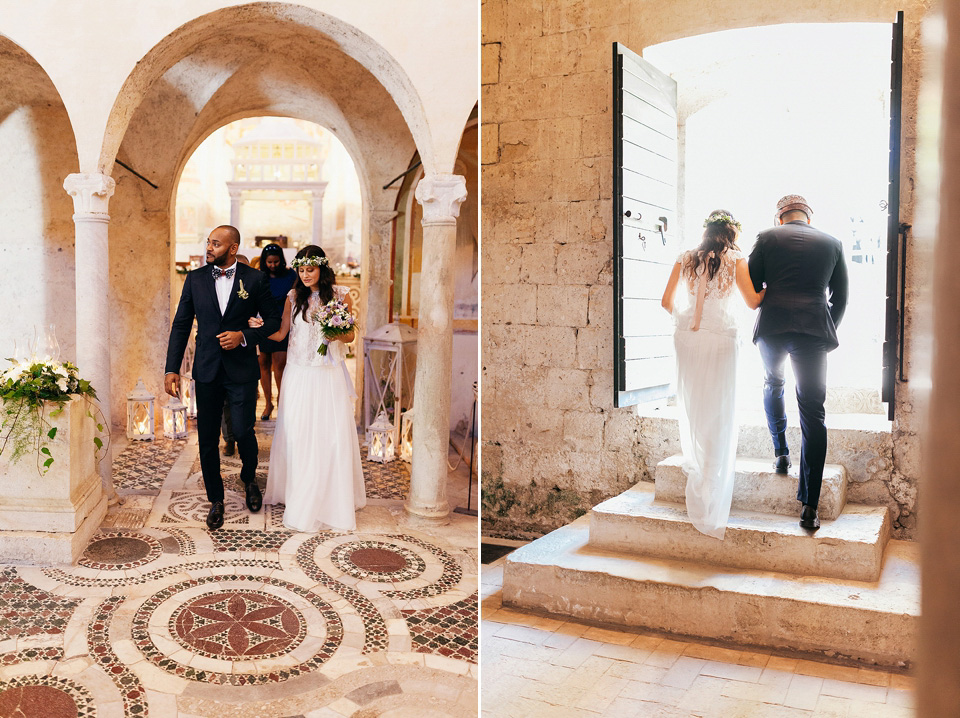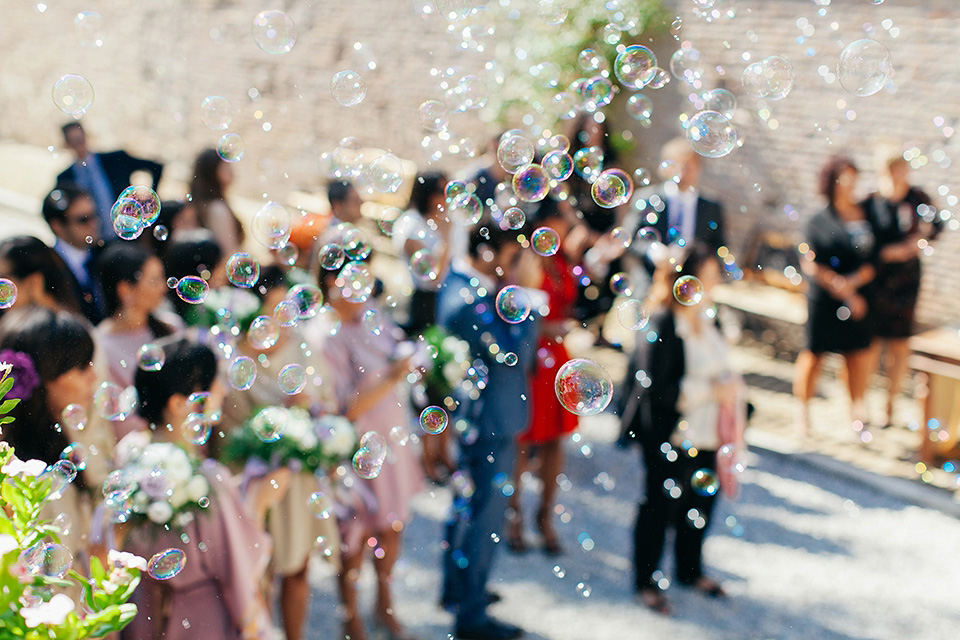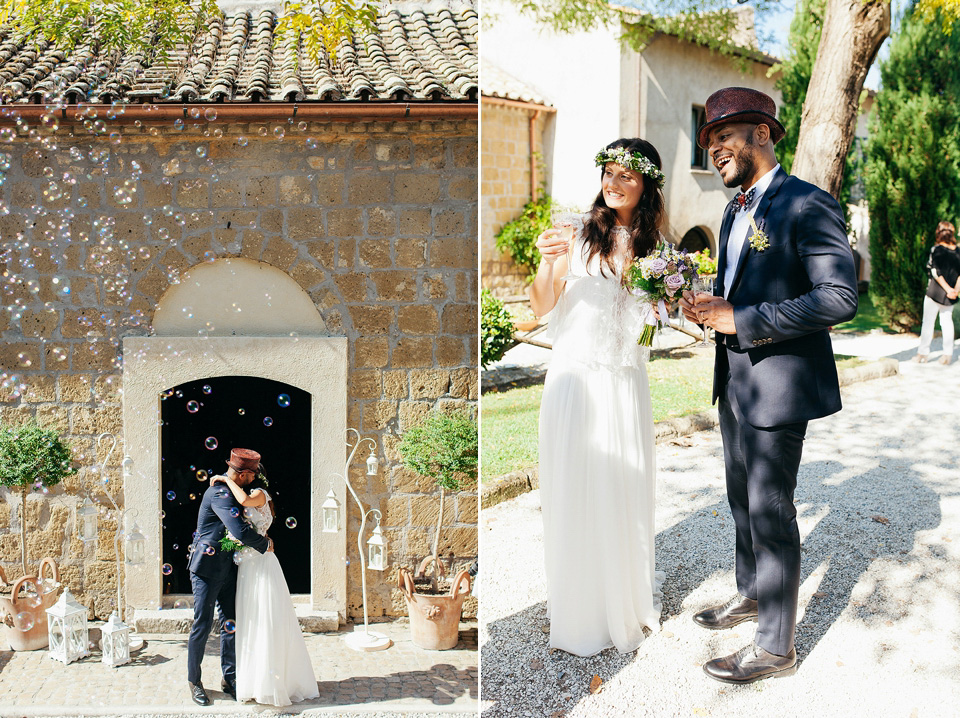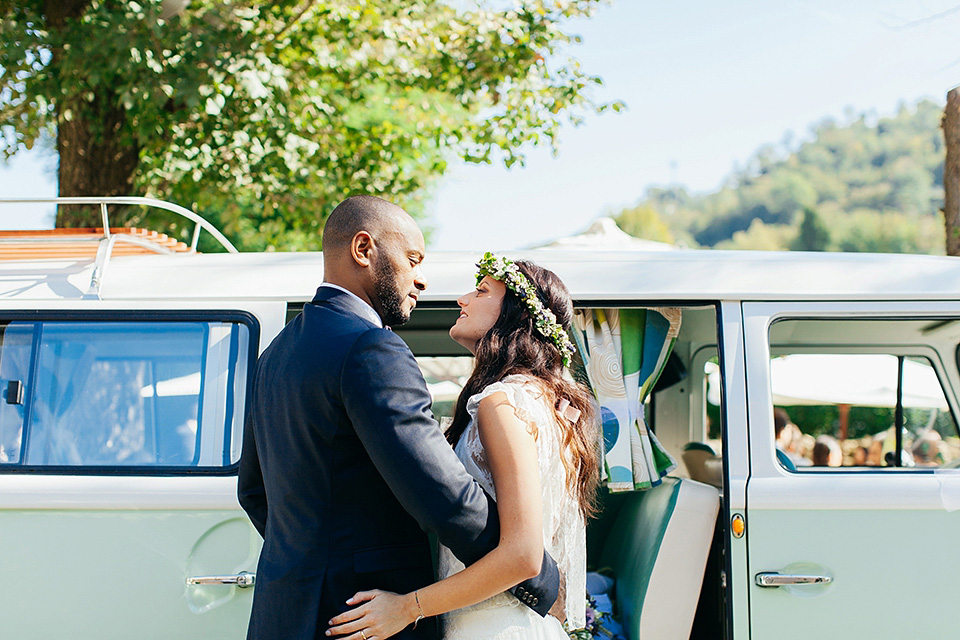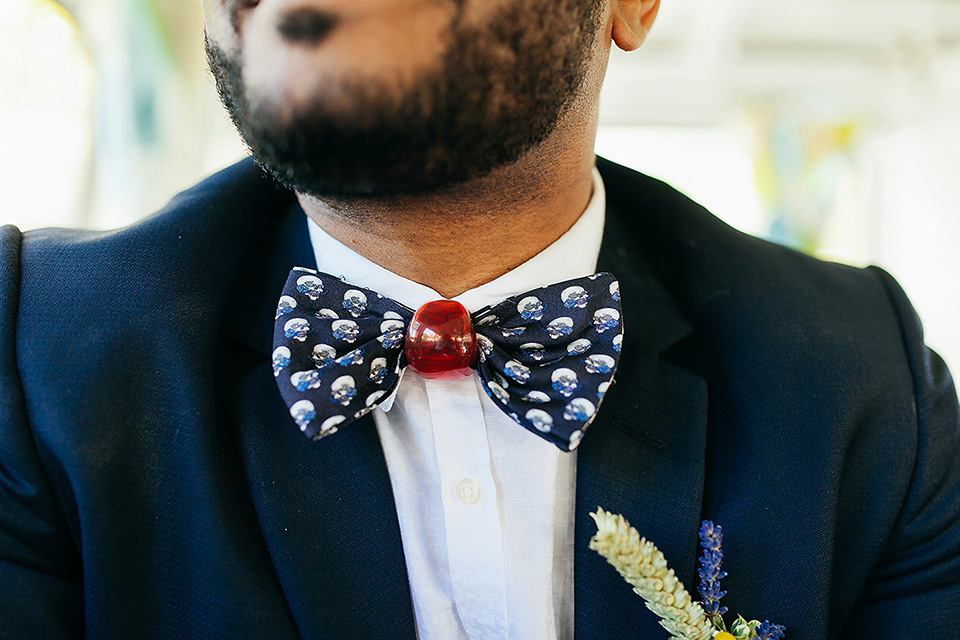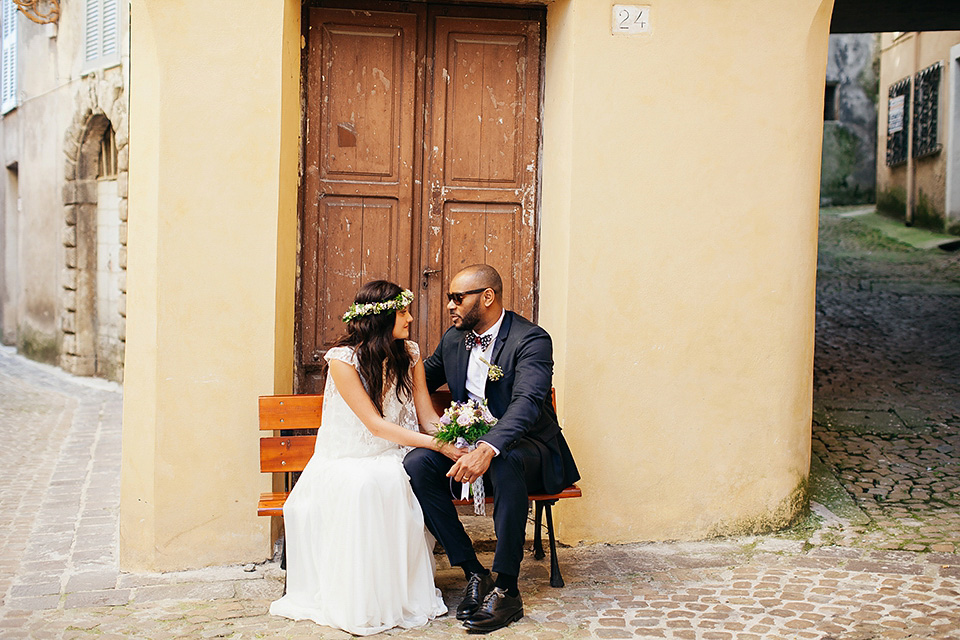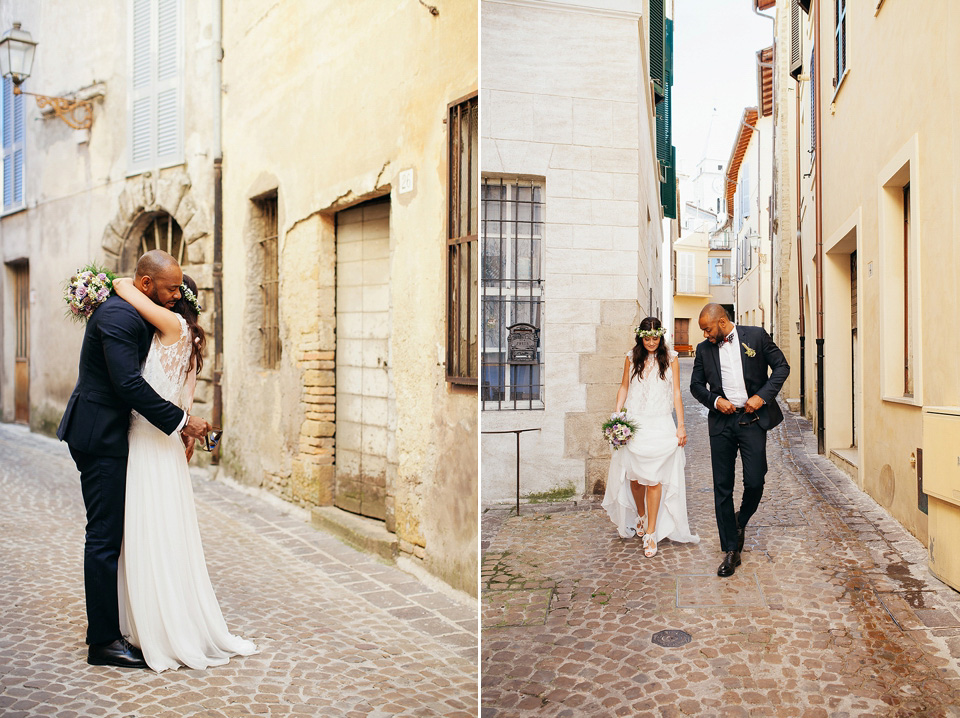 "Our florist had a lot of work to do because flowers and candles played a major role in our wedding. He used candles in the old church and wild flowers, berries, rosemary, sage and chamomile for the table, the bouquets and the flower crown. I loved the idea of having wild flowers for a bohemian and 'hippie' touch. José and I love nature and wild flowers remind us about that. Because of the work I do I tried to be as sustainable as possible, to use recycled paper and flowers that didn't need to be imported from too far away."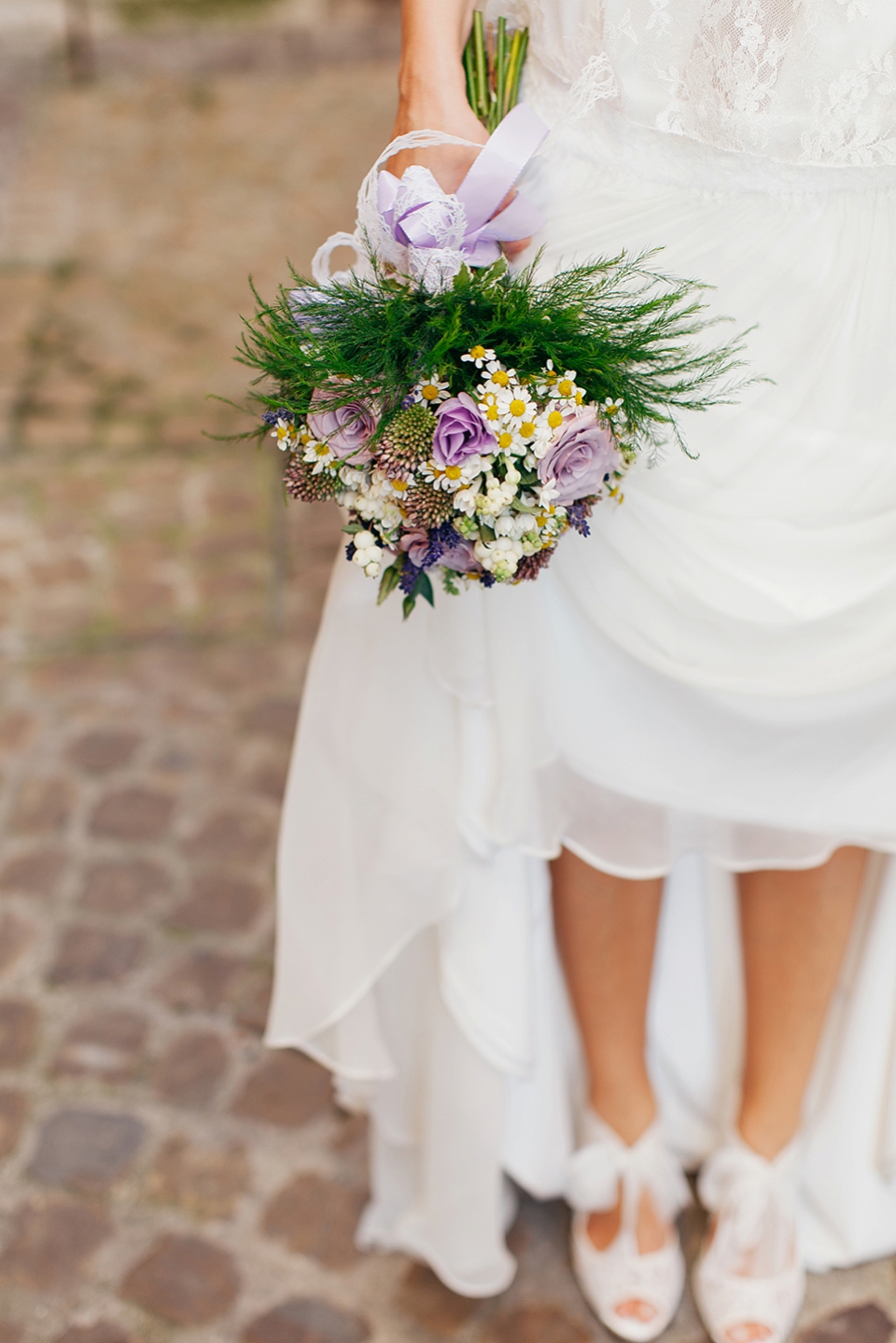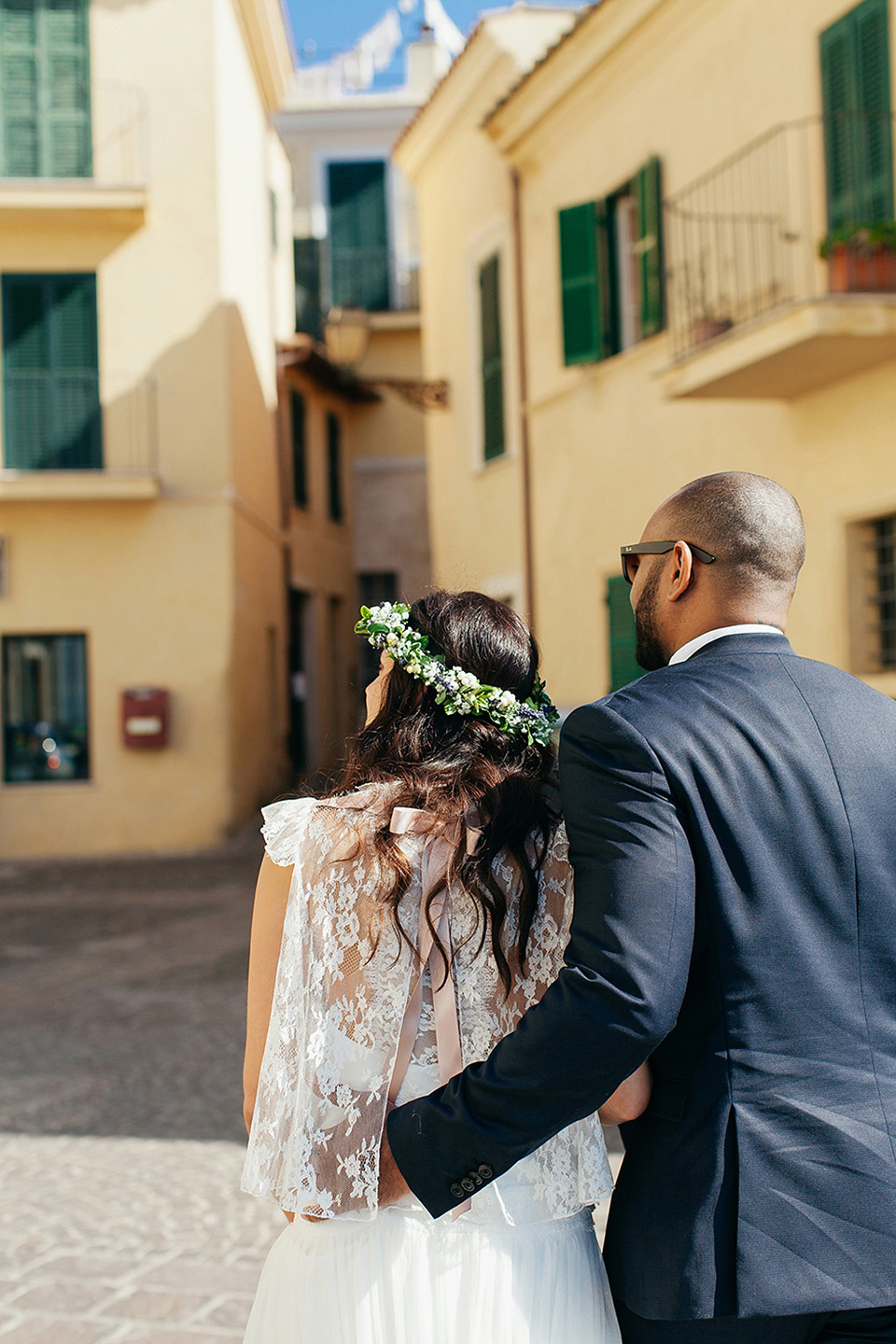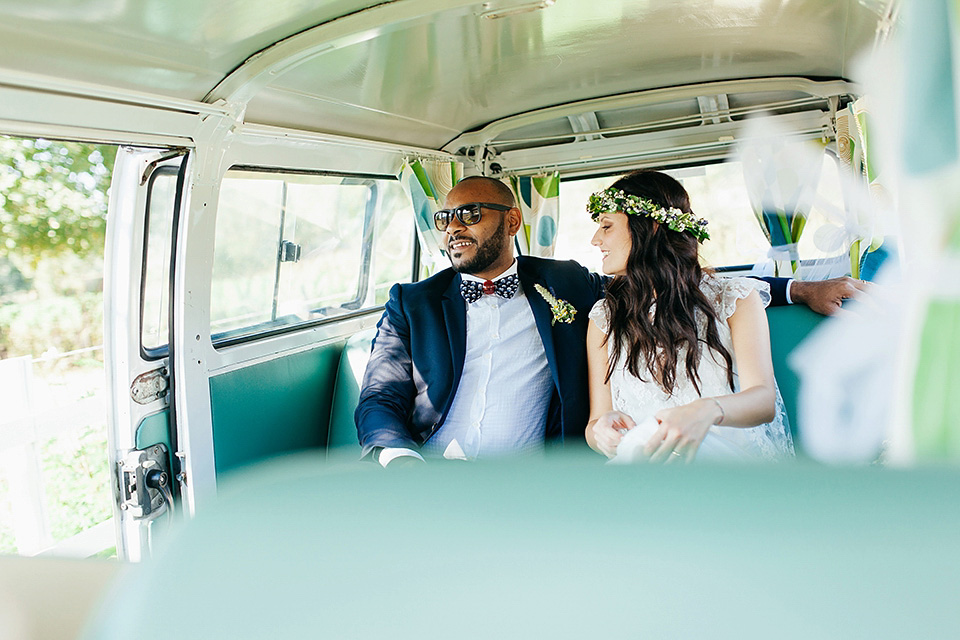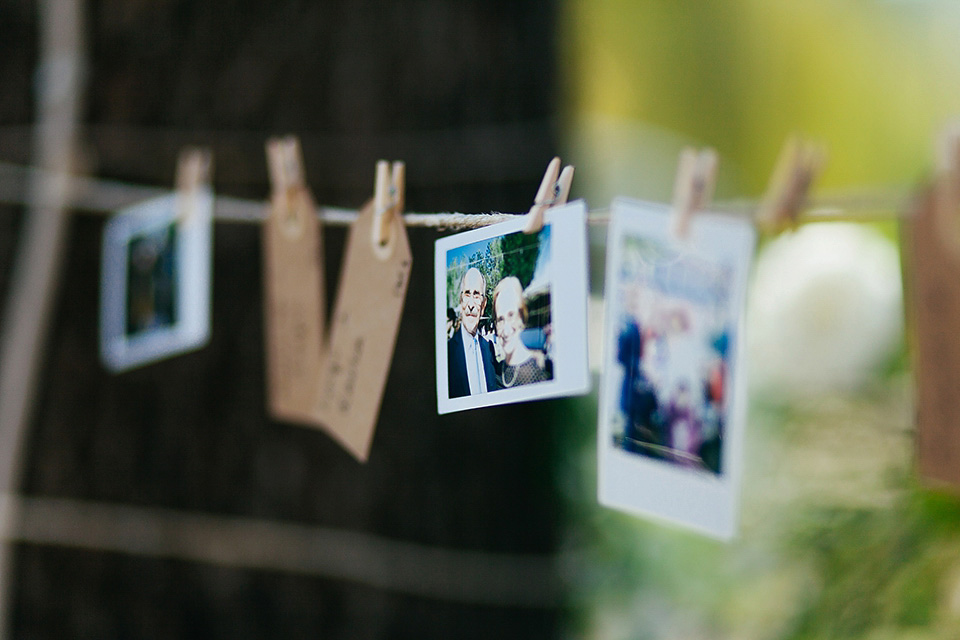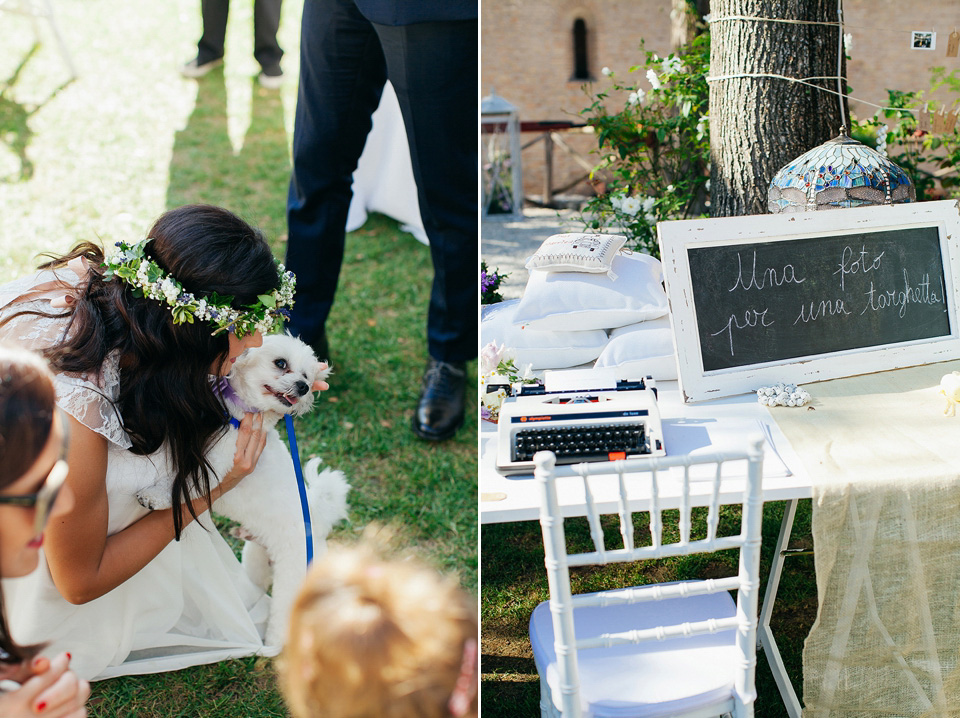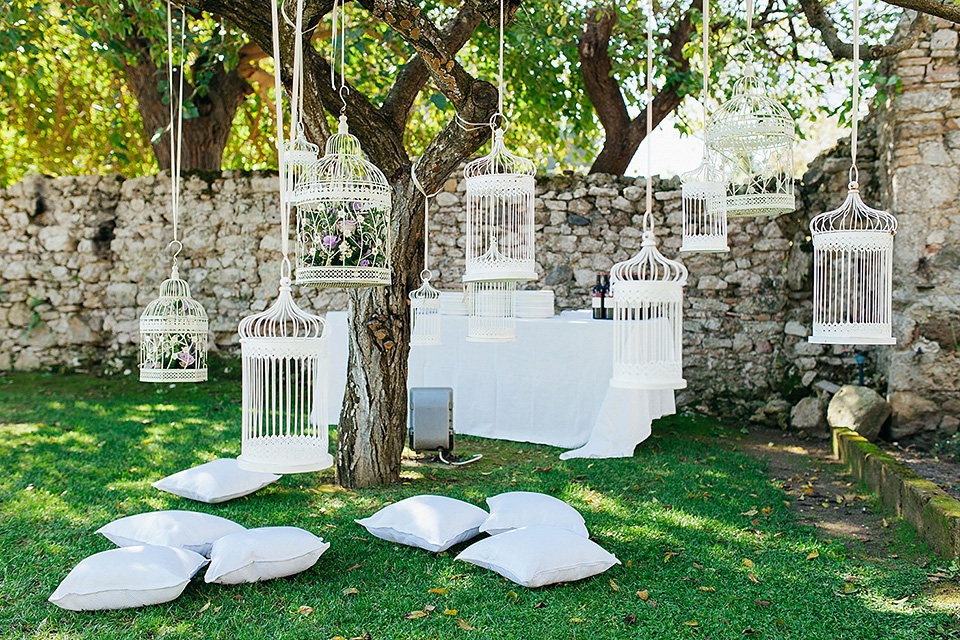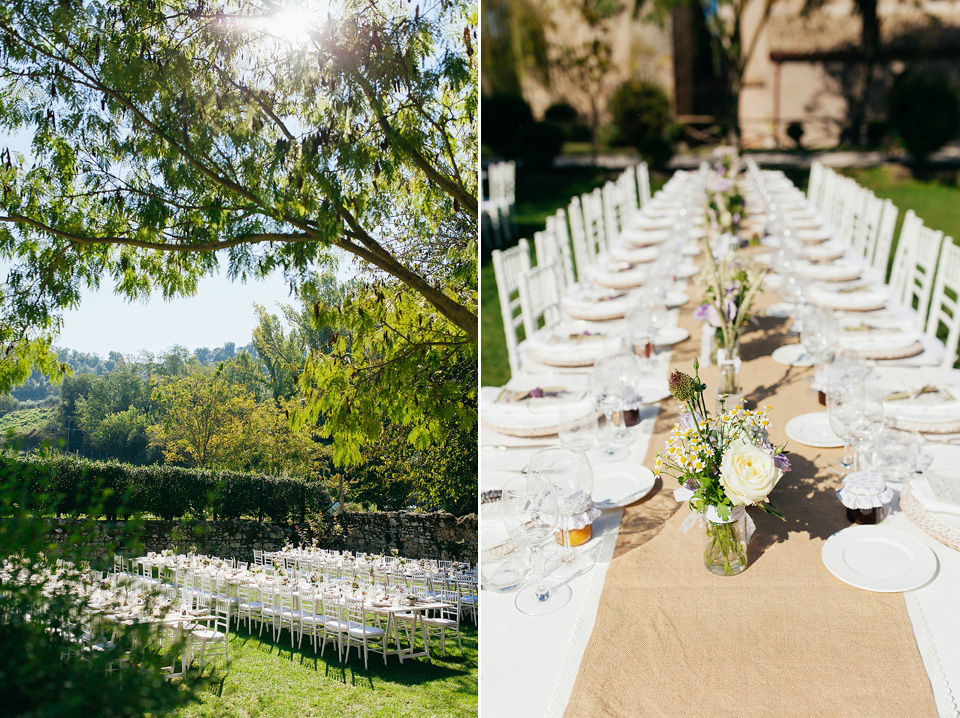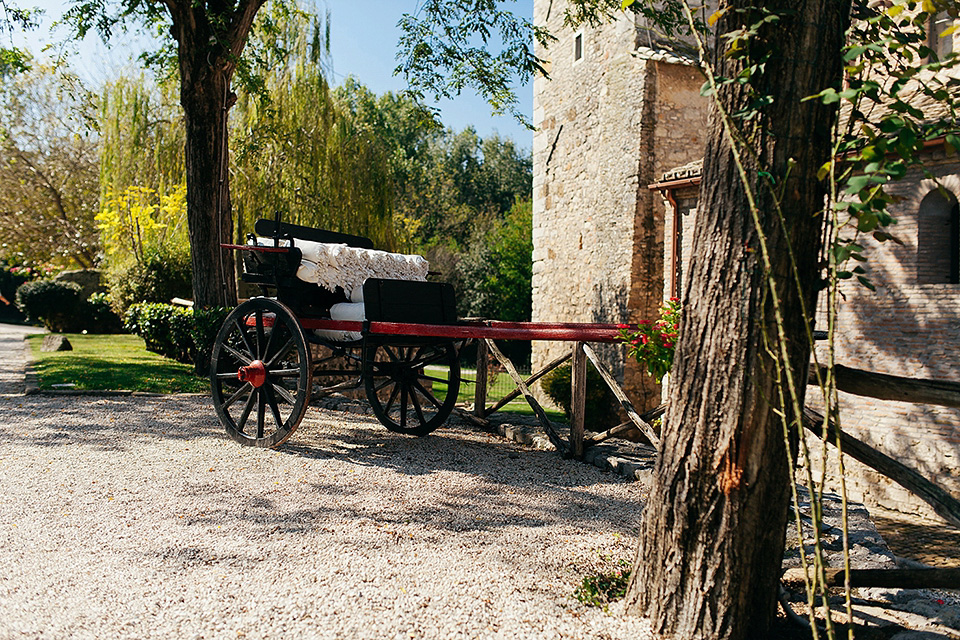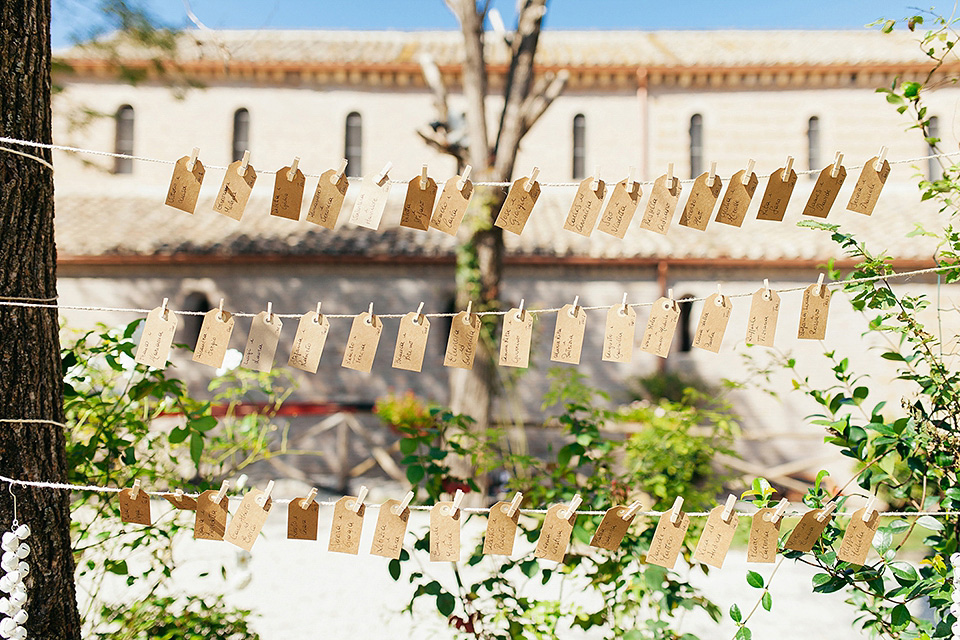 Alice Brazier crafted the happy couple's stationery – and be sure to take note of the creative thumb tree, isn't it fabulous? What a wonderful keepsake to have from the guests after the wedding day.
"Alice looked after our wedding stationery from the invitations to the menus and the thumb tree. She did an amazing job in designing and drawing both the invites and the menus in a very original and personal way. The guests were very pleased about the menus and the thumb tree looks fabulous."
"We liked the idea of giving to our guests a little favour and we thought about little jam jars as it is also something one can eat. The strawberry, plums, apricots and orange jam was homemade by my aunty, we purchased the little jars online and we put on them the lovely 'Love is Sweet' personalised stickers that we ordered from Wedding in a Teacup.
From the same online shop we bought colour in and cut (princess and pirate) books and crayons for our young guests that they loved. Because we finally decided to have the reception in the garden of the abbey and we were worried it could get cold at some point, we bought white blankets in IKEA as a favour for the ladies. That day was actually warm and beautiful so nobody really used the blankets until late in the evening but the ladies appreciated them a lot. It is also nice for us to still hear our friends saying that they keep our blanket on the sofa and that they are enjoying it."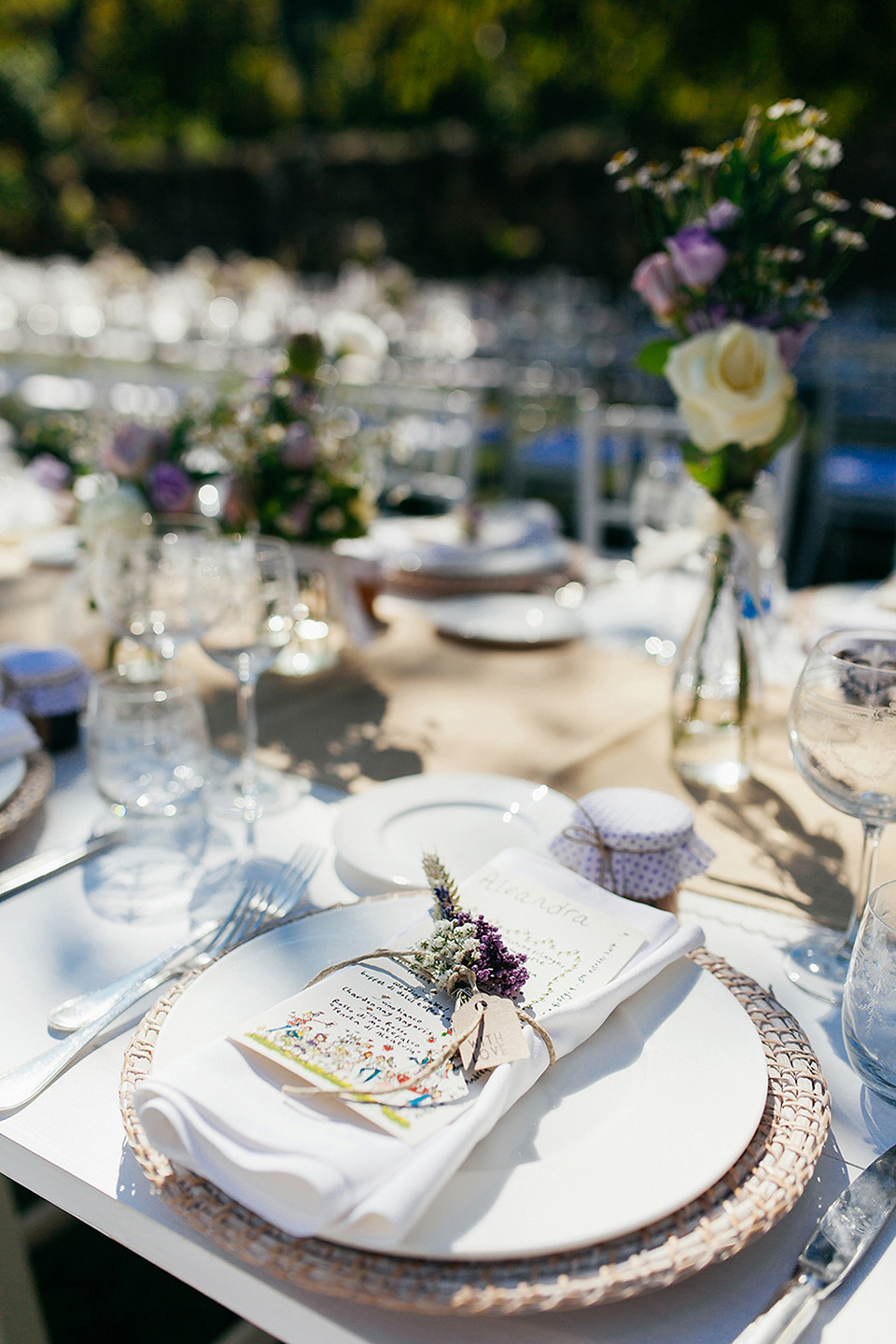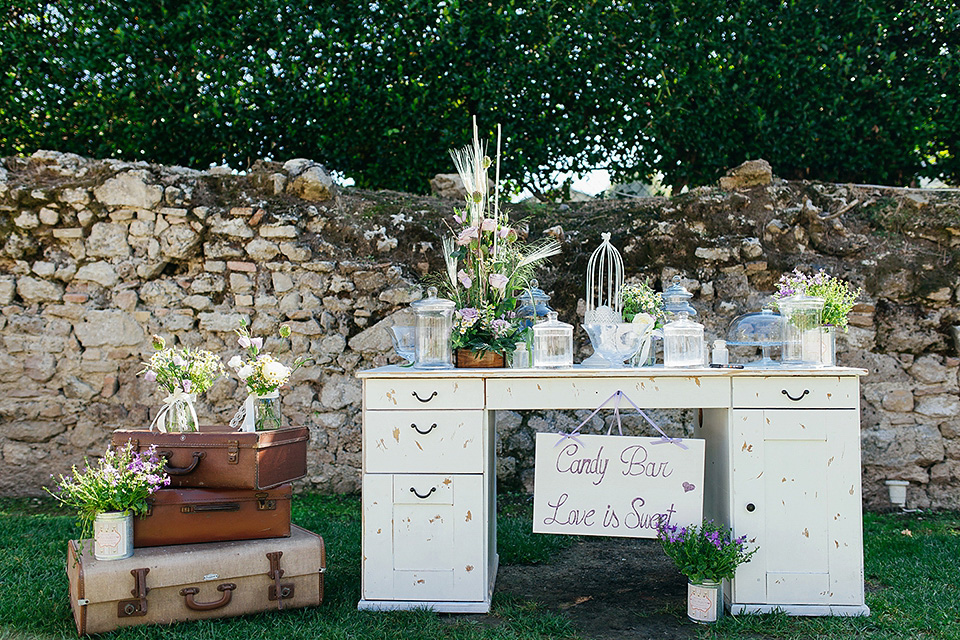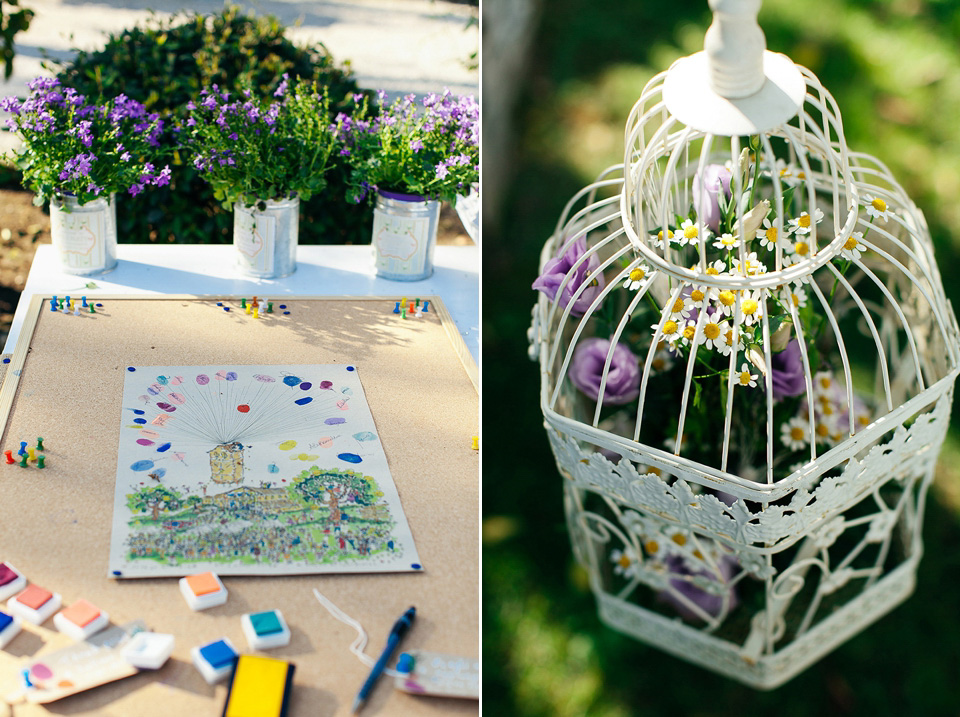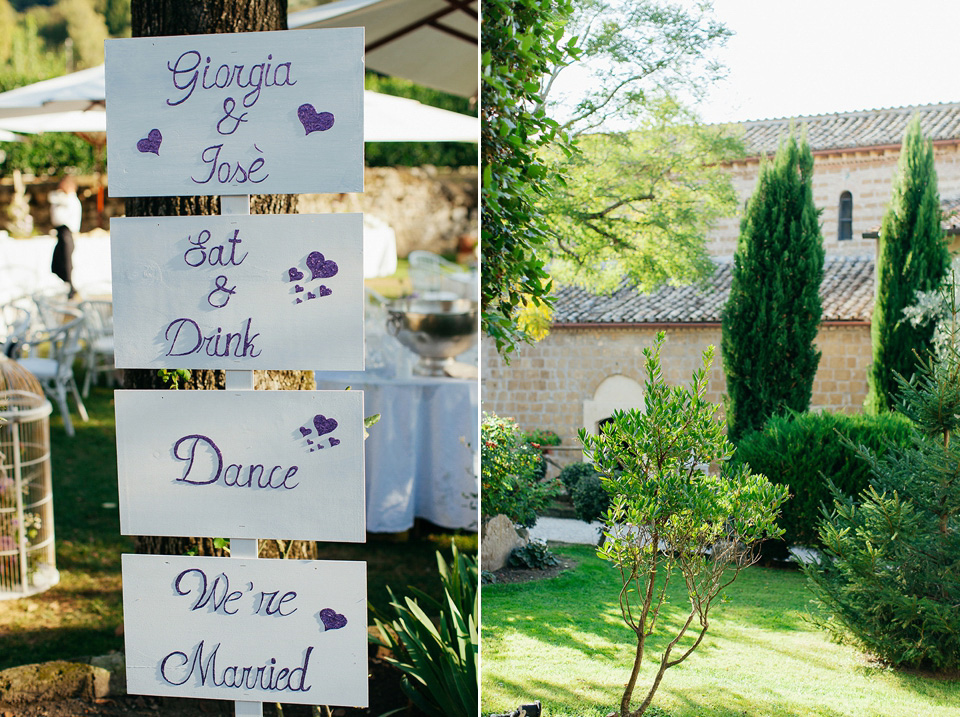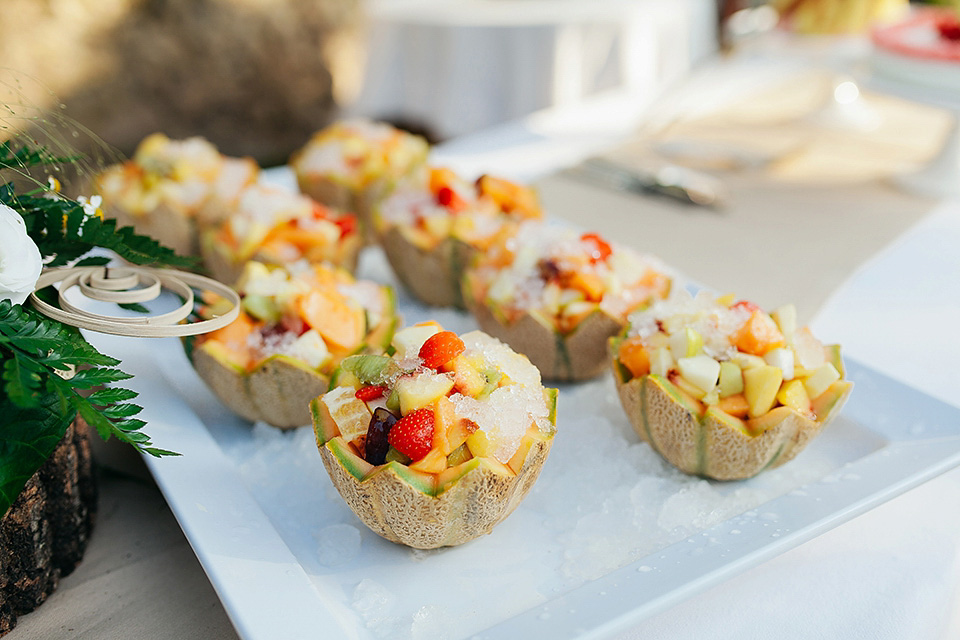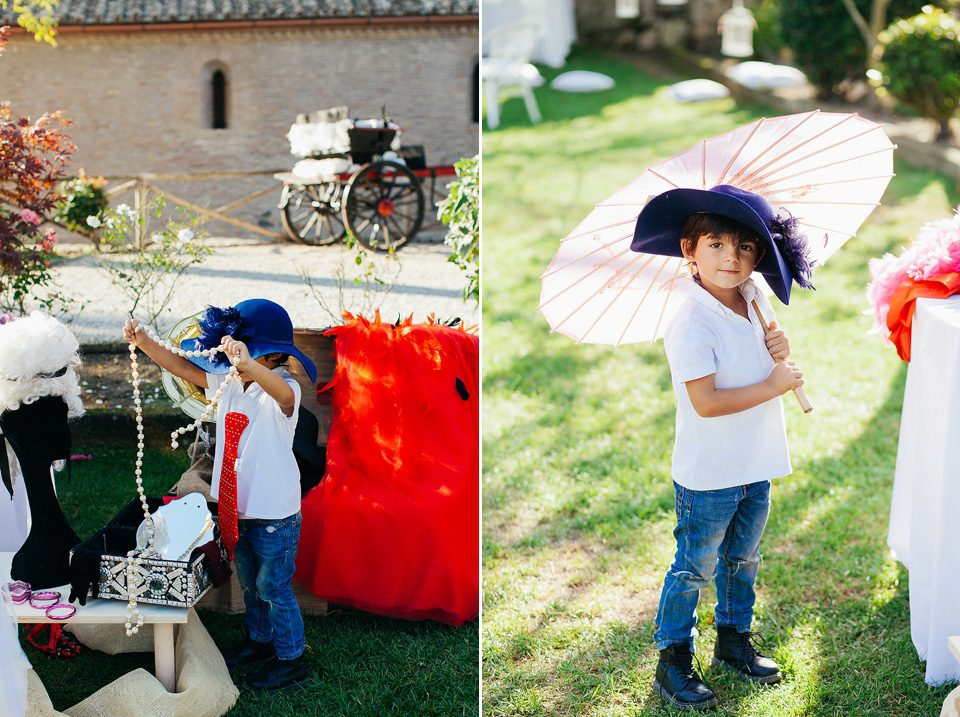 Sometimes, in all the stress in the lead up to the wedding day, little details can be forgotten, including choosing the first dance song! Giorgia and José explain the song they would have gone with…
"In the last few days before the wedding we were so overwhelmed by the things we still had to do and so stressed that we forgot to call the band to let them know which track we wanted as first dance so we ended up not having it.  We would have chosen 'All of me' of John Legend. There are two reasons: the most obvious one is the lyric that says it all. It speaks about a love story that is made of imperfections and darkness as well as happiness and beauty and we think that this is what love is about. It is about sticking together side by side when things are difficult and on the other hand also being able to fully enjoy the beautiful moments (which is something we, as human beings, are not always capable of doing …sometimes we are so lost in getting stressed for silly things that we miss the beauty of some moments).
The second and more intimate reason is that in one ordinary afternoon, while we were chilling at home, José played this song on youtube and sang it to me. It was a very nice and memorable moment for us."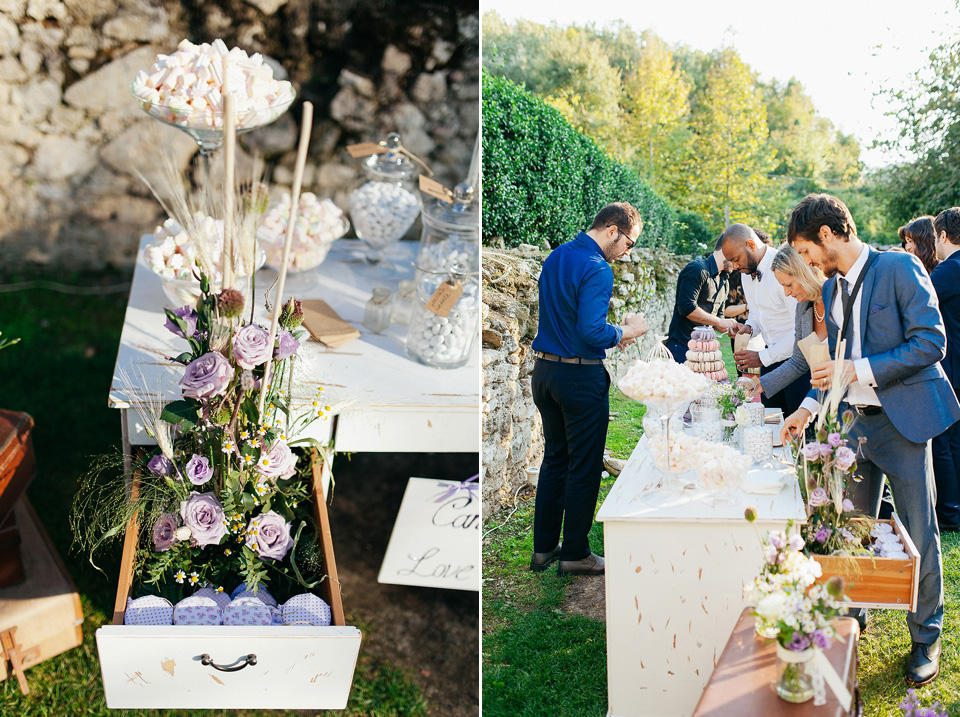 Words of Wedded Wisdom
"Enjoy the planning and when the level of stress starts to raise remember yourselves that you're planning one of the most beautiful days of your life, so it should be fun – if it isn't, then turn it into fun. Don't be afraid to ask for help and advices. One thing I liked the most of the planning was the time I spent with my friends and family chatting about the wedding. They were of so much help when I had terrible doubts and frightening moments and I've to say that this made our relationships even closer than before."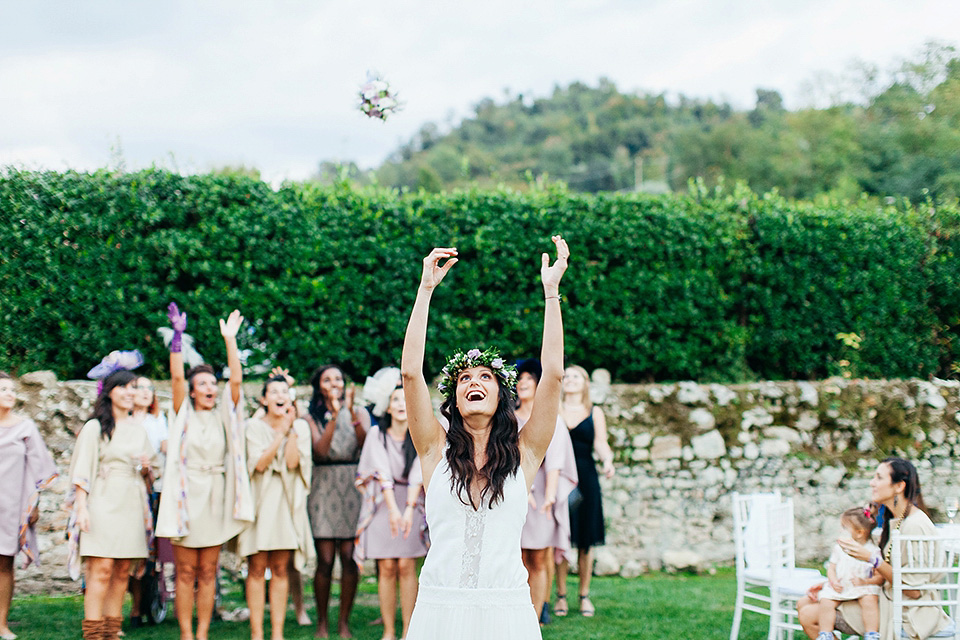 "Don't procrastinate the things you have to do (or don't do that too much). Leaving things to the last moment is my specialty so I knew from the beginning that it was my challenge. I coped quite well but I found myself assigning the table seats the night before the wedding and it was quite stressful."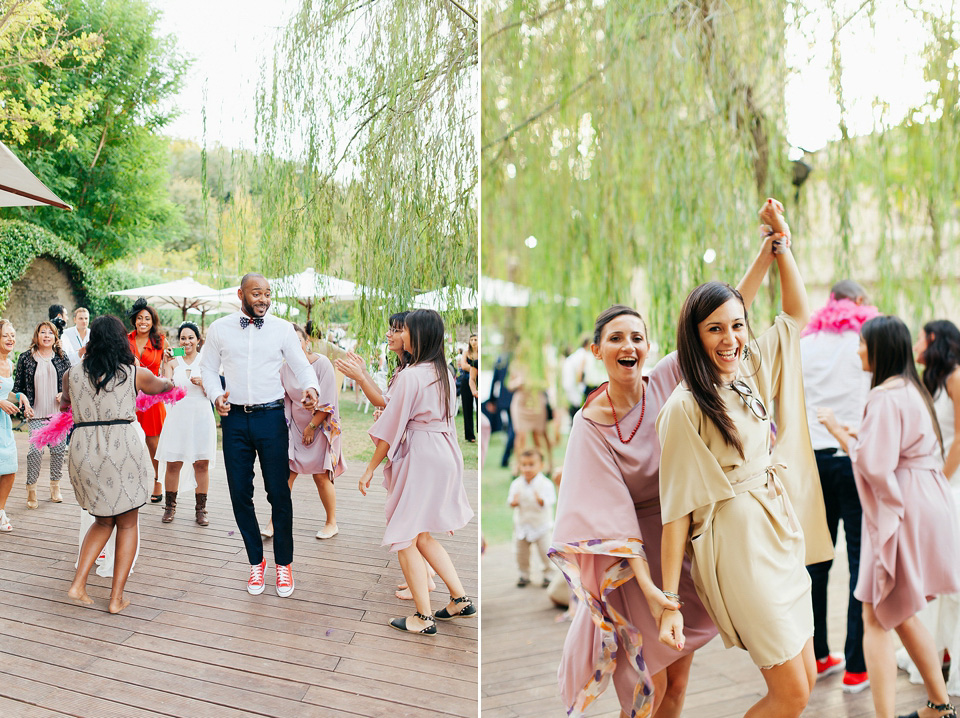 "Surround yourselves with those people who mean the most for you, those you shared good moments with and those you truly want there in such a special day. That is the secret for a happy, fun, lovely day. You will feel all the positive energy around you.
Most of all ENJOY your day! Do the things you want to do, forget about what didn't go as planned because nobody will really notice that (I promise!). It's YOUR day, it won't come back again and is there for you to live it in full."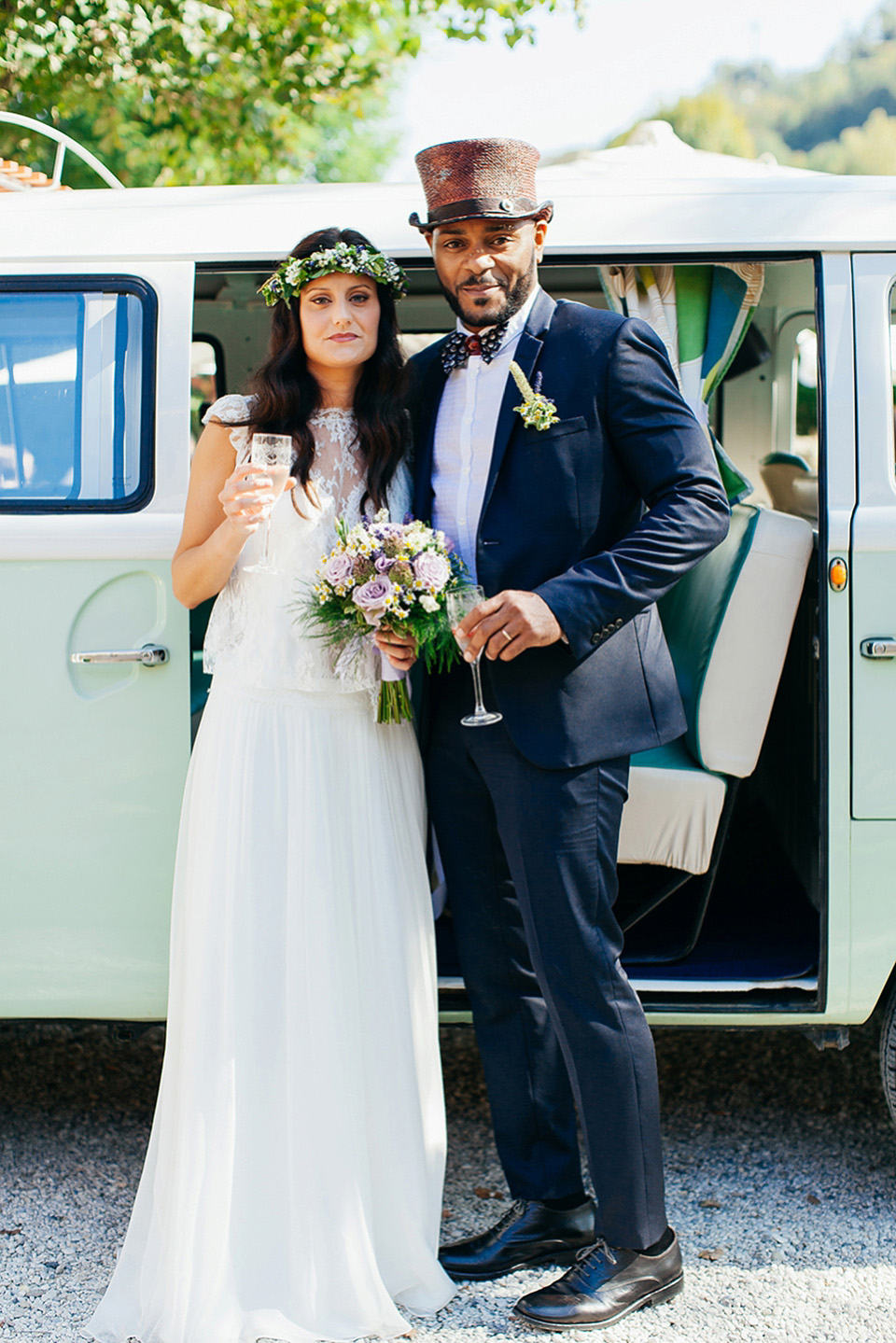 Thank you to Bohemian Weddings for these gorgeous photos – you can see the love in each and every shot. To the beautiful, happy couple – I wish you all the best for a wonderful life together … and now I'm off to get myself a pair of groovy red Converse!
And if Giorgia and José's tale has made you think about tying the knot in the most romantic of all countries, see here for more inspiration with planning your Italian wedding.
Love Jo -xxx-
Photographer – Bohemian Weddings
Wedding Planner – Veronica Regis
Venue – Abbazia di Sant'Andrea, Rome, Italy
Bride's Dress – Rime Arodaky via The Mews of Notting Hill
Bride's Shoes – Harriet Wilde
Floral Crowns + Florist – supplier unknown
Groom – Empresa
Catering – Ristorante Tonino
Cake – supplier unknown
Stationery – Alice Brazier
Favours – Personalised stickers via Wedding in a Teacup and white blankets from IKEA
Rings – Gifts from friends
Hair & Makeup – Ori 'O'
Transport – Volkswagen campervan, supplier unknown
Entertainment – via Musicarancio