Good Morning Lovelies, well I'm a bit giddy that the sun turned up on the weekend as I'm sure you were too, what a way to start spring! The sun got me all excited at the prospect of seeing my David Austin's that I eagerly pruned on my last visit to France. If you are planning your wedding you should really check out these gorgeous blooms on Pinterest, they are simply divine.
Today I have for you the lovely, relaxed, fuss-free wedding of Legal Secretary Grace and Senior Pastoral Support Worker Dave, who tied the knot on October 24th 2014 at The Guildhall, Leicester. Followed by a reception at the only boutique hotel in the city – Hotel Maiyango, who, would you believe, provided the food for the Queen when she visited Leicester back in 2012.
"We were determined to have a relaxed feel to the day and tried to get this across in everything we did."
Photography Copyright (c) 2015, Becky Ryan Photography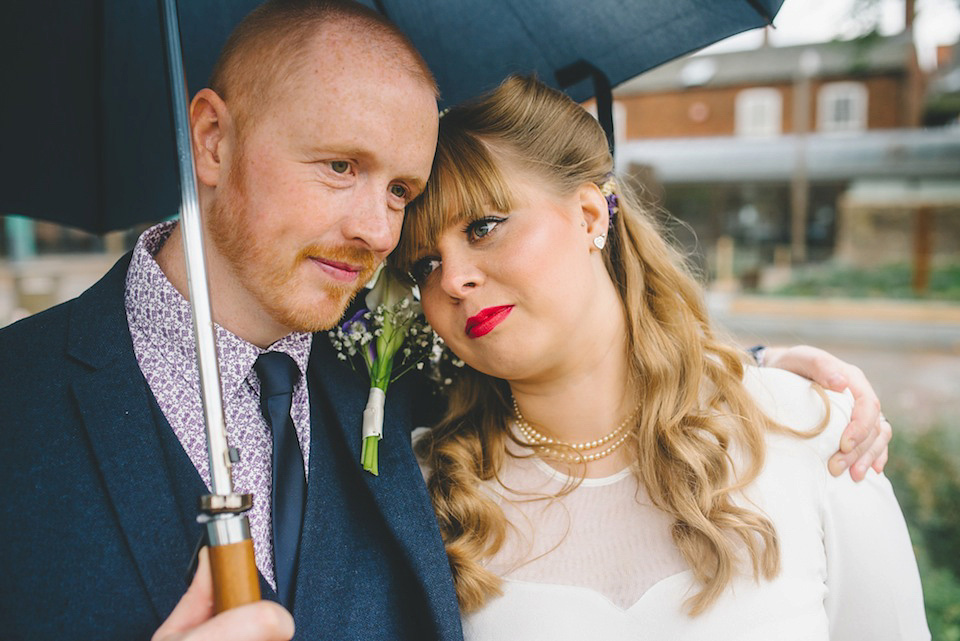 Grace always wanted an original vintage dress with a bit of history which she found at Abigail's Vintage Bridal in Oakham. Grace paired her 1940's style wedding dress with a lovely pair of Rachel Simpson heels (found on EBay for a bargain) finished off with a gorgeous Provence flower crown from The Artisan Dried Flower Co.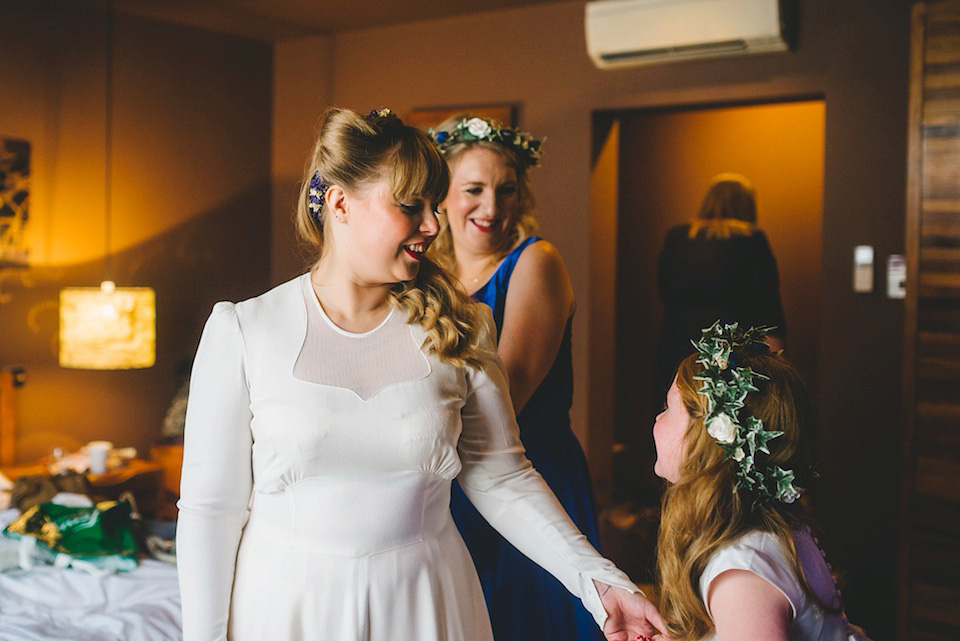 "I loved how understated it was and how it could be dressed up with hair, make up and jewellery. It was a crepe material so perfect for October weather. I loved that it had sleeves (not being a fan of my arms) and someone else had worn it for their wedding day so it had some history. I did try on the new/modern dresses but they just were not me, and I felt very uncomfortable in them (and in the shops they were in)."
Becky of Becky Ryan Photography specialises in shooting weddings for couples that want to do things that little bit differently. Becky is a fan of vintage imagery and likes to create photographs with an air of old fashioned romance to them. Becky as you can see was the perfect fit for what Grace and Dave where looking for in a wedding photographer.
"We found Becky by doing a simple Google search for unique and quirky photographers – it was the best search we ever did! Becky was brilliant throughout and has a true passion and talent for what she does. She took great care after the wedding in getting our pictures to us and was so thoughtful in the package we received with our photos. We feel very lucky to have found Becky."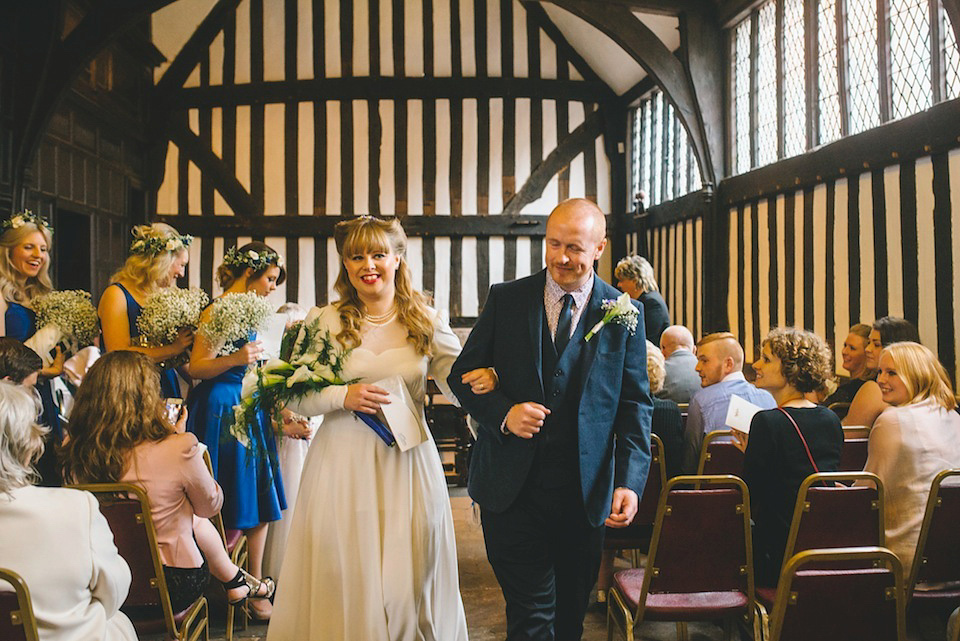 These two love birds were brought together by their love of football and then found out not only did they love the same team but they also lived across the road from one another…
"We both have a passion for Leicester City Football Club and met at an away game in Newcastle in August 2009 – it turned out we actually lived across the road from each other back home! We went on our first date a week later and moved in together after dating for 4 months. Dave proposed on 7 February 2014 at home by spelling out "will you marry me" with love hearts (the sweets) and it was just the two of us which was perfect. Although, after the initial excitement died down I pointed out to Dave that he had spelt the Y's back to front – he has never since lived this down amongst our friends! We were engaged for just over 8 months, we always knew we didn't want a long engagement."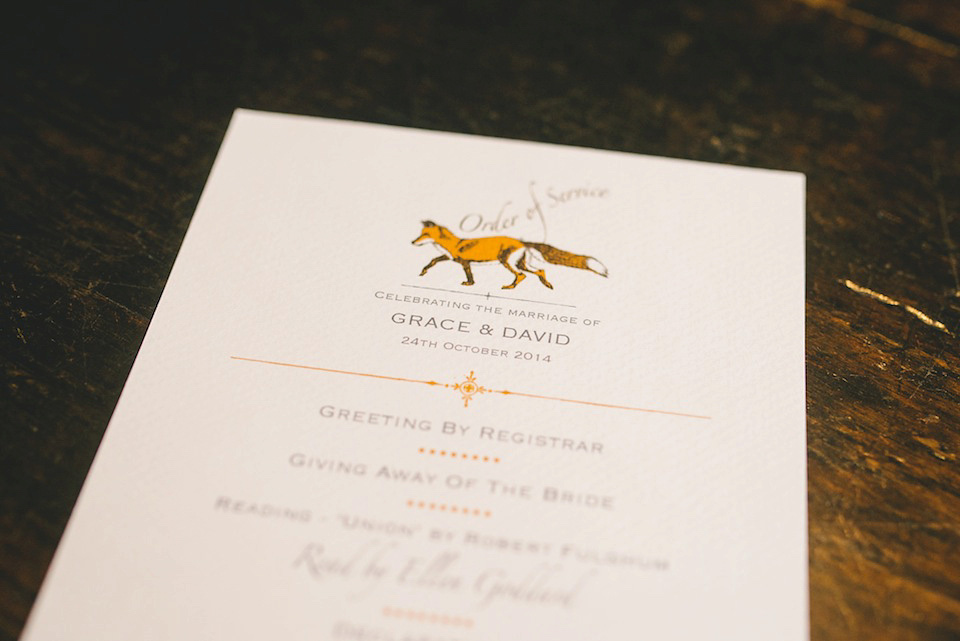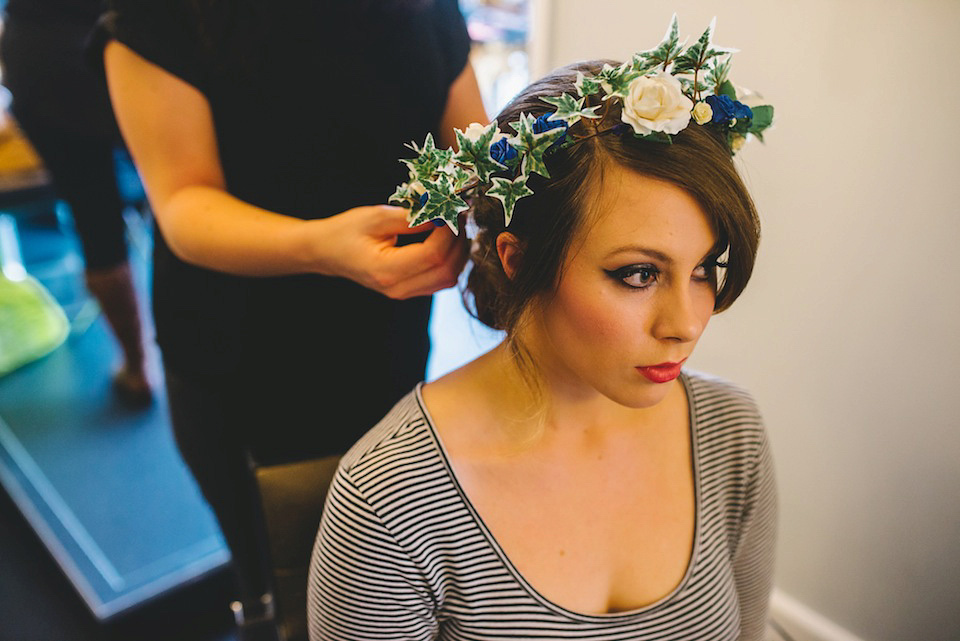 Malcolm of Malcolm Murphy Hair created wonderful victory rolls for that perfect vintage look Grace desired.
"I go to Malcolm's salon for my hair anyway so there was no question he would not be doing my wedding hair. He also did Mother of the Bride, all 3 bridesmaids and flower girl.
I found Makeup Artist – Kelly Jane through a friend and she was perfect! We had a makeup trial and she absolutely 'got me'. She was an absolute star on the wedding morning and wouldn't hesitate to recommend her to anyone!"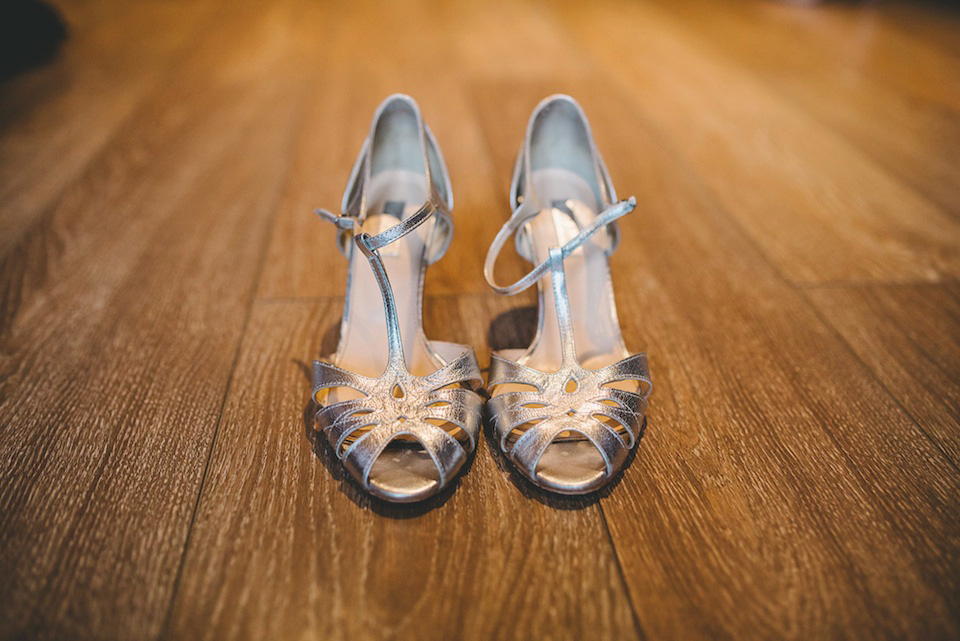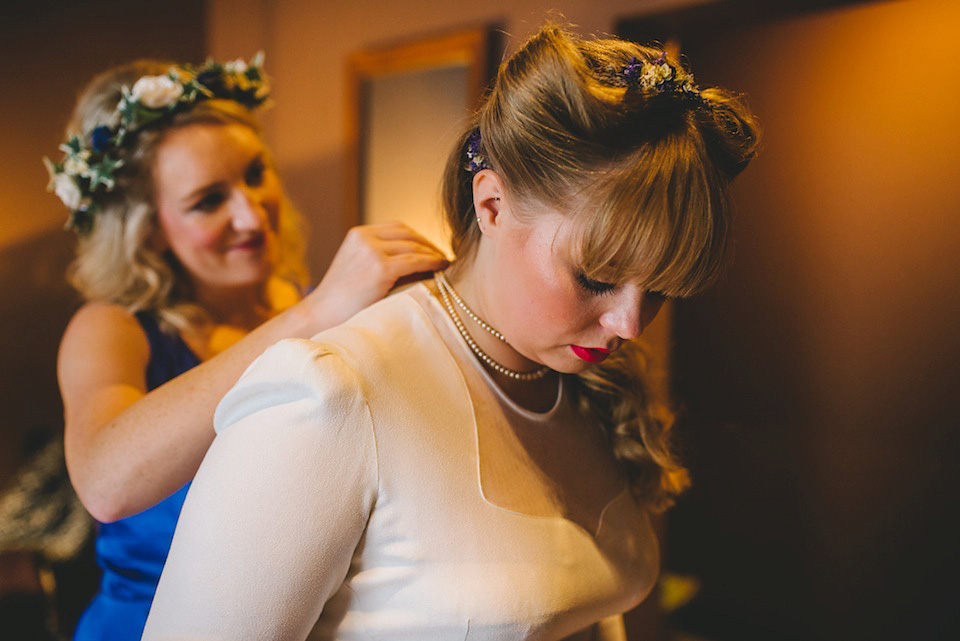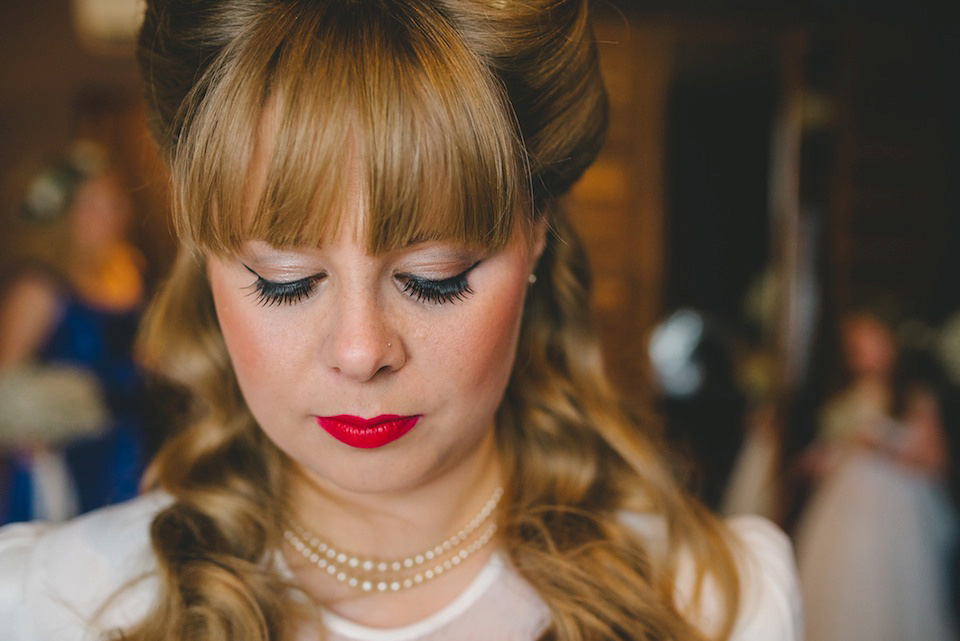 "Ann Herbert our florist (no website) absolutely went above and beyond! We decided to keep the flowers fuss free and to keep within the blue and white theme. For the bridal bouquet we had calla lilies and fern to keep in with the 1940's theme of the dress. Gypsophilia, blue iris and hydrangeas were the perfect combination to finish everything off."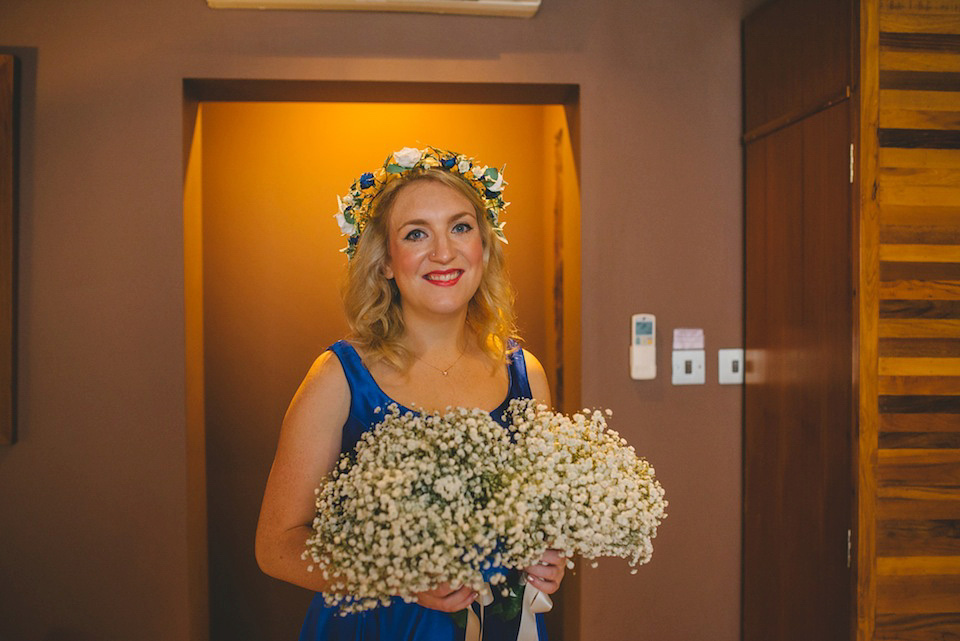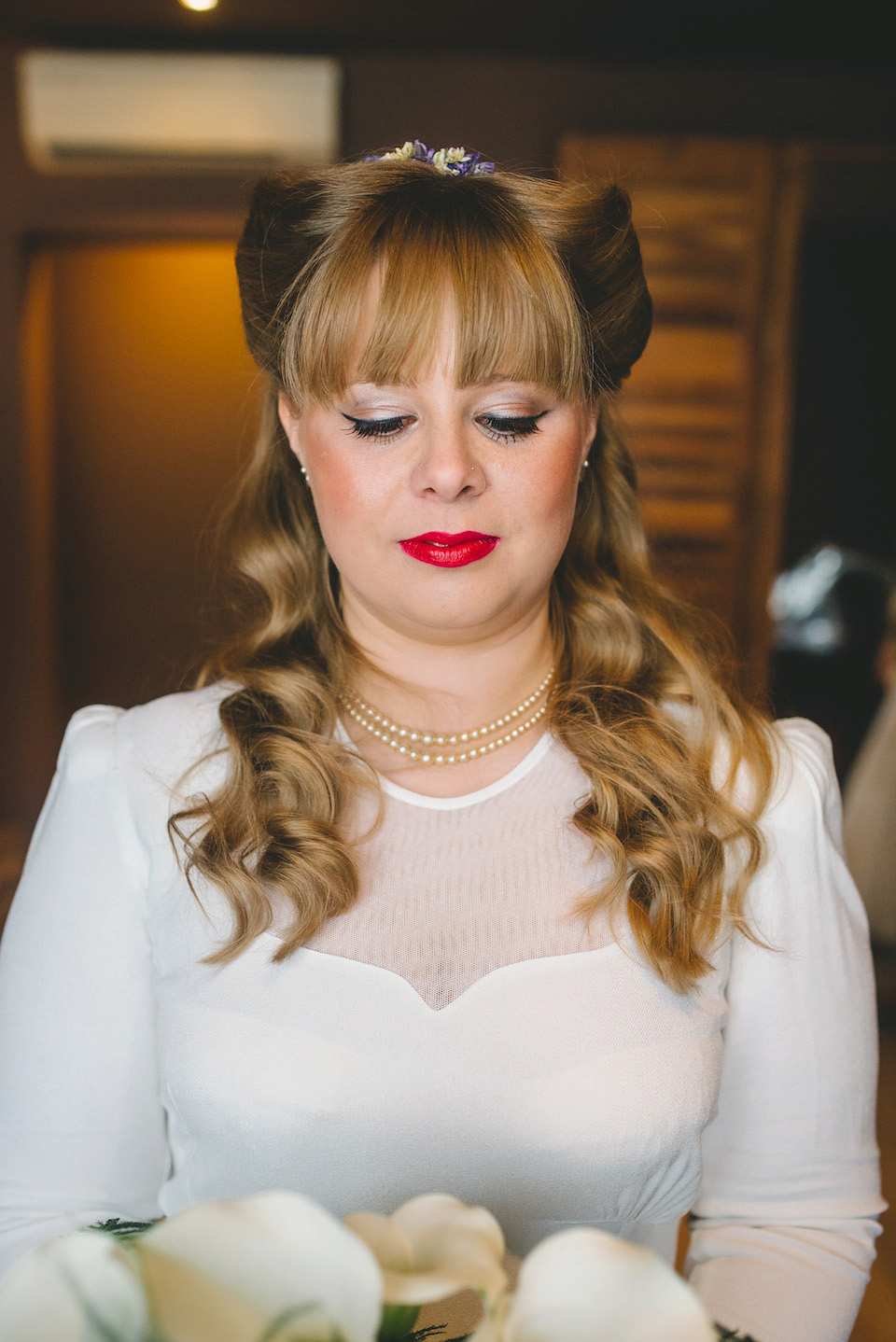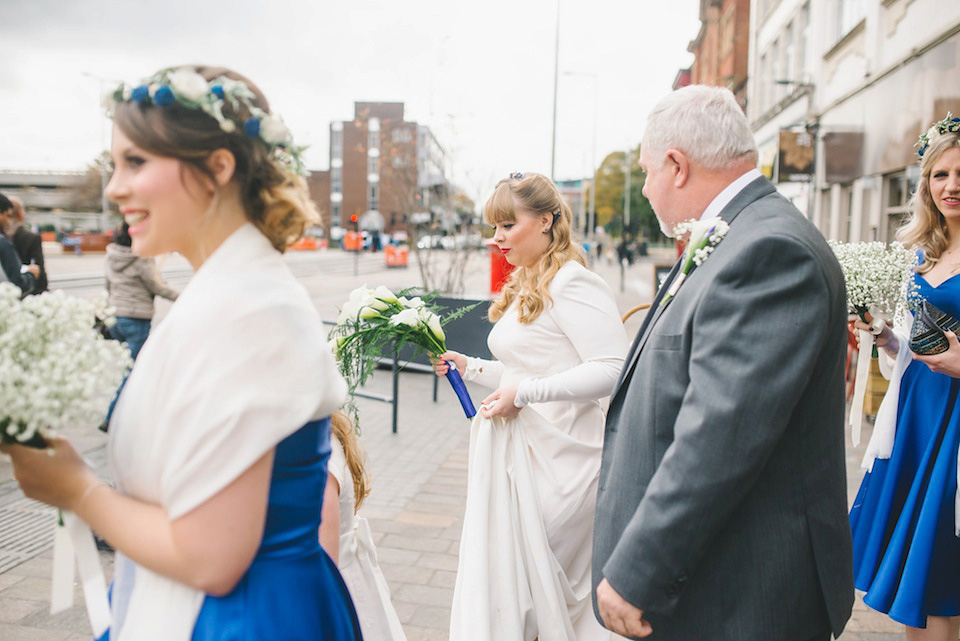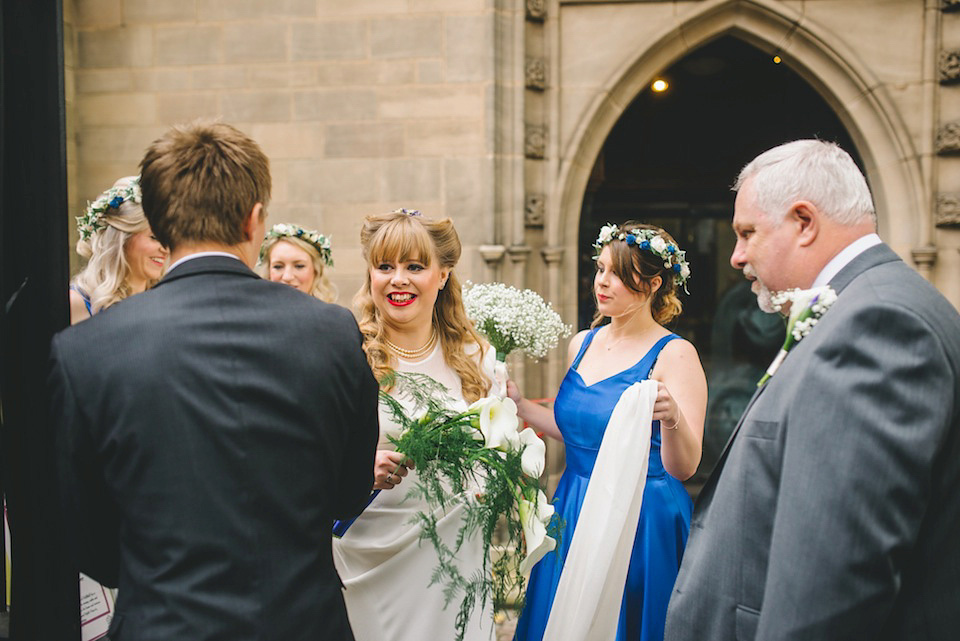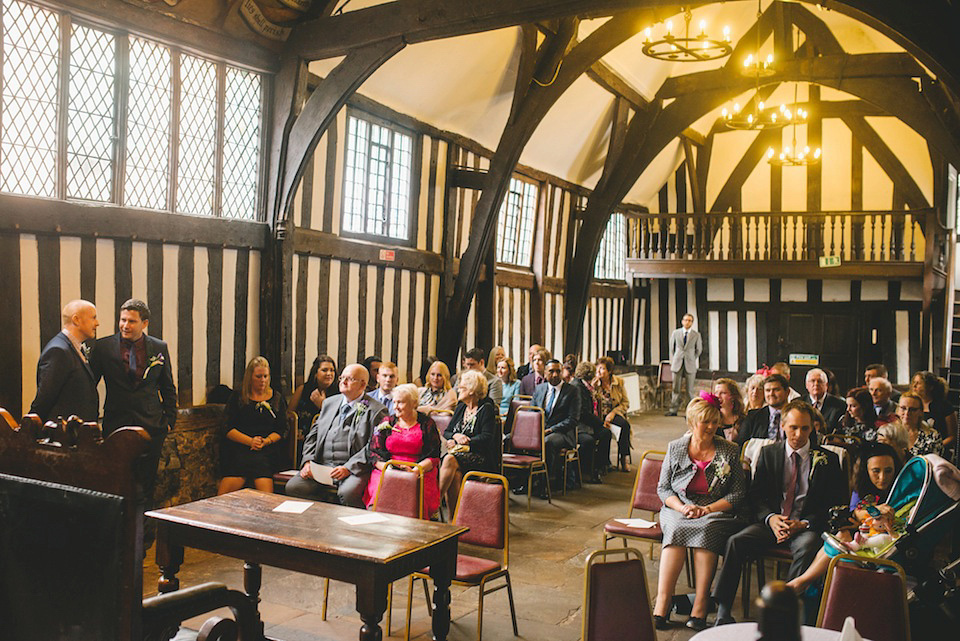 Grace's Dad walked her down the aisle to the song 'Married Life' from the Disney/Pixar film 'Up' as they are both big Disney fans (I do love that movie but then again I'm also a HUGE Disney fan like this gorgeous pair). After saying their traditional wedding vows to one another, Grace and Dave then walked up the aisle to "Top of the World" by Imagine Dragons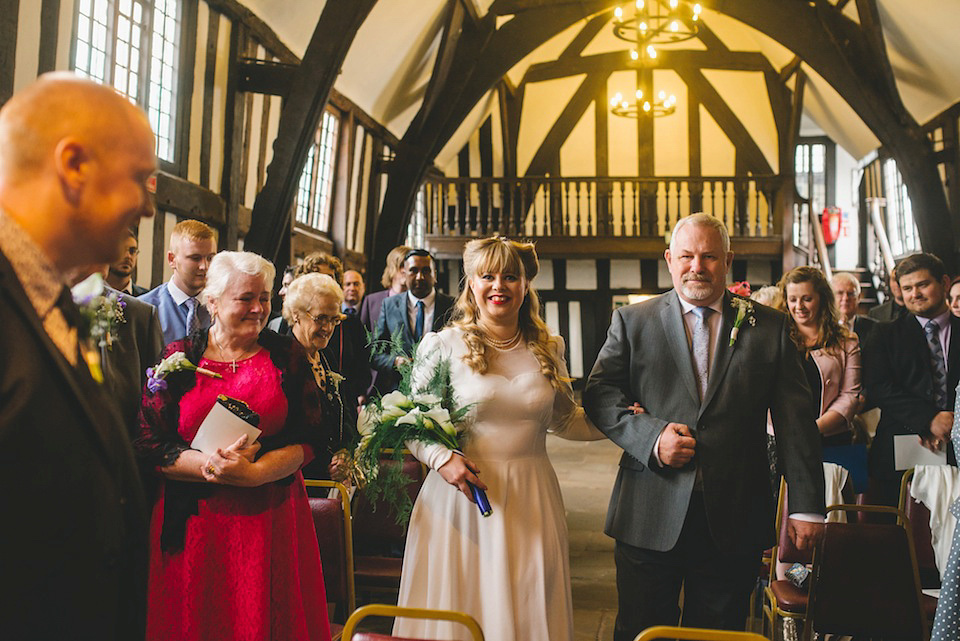 Grace's oldest school friend Ellen read 'Union' by Robert Fulghum at their wedding ceremony.
You have known each other from the first glance of acquaintance
to this point of commitment. At some point, you decided to marry.
From that moment of yes, to this moment of yes, indeed,
you have been making commitments in an informal way.
All of those conversations that were held in a car, or over a meal,
or during long walks – all those conversations that began with,
"When we're married", and continued with "I will" and "you will" and "we will" –
all those late night talks that included "someday" and "somehow" and "maybe" –
and all those promises that are unspoken matters of the heart.
All these common things, and more, are the real process of a wedding.
The symbolic vows that you are about to make
are a way of saying to one another,
"You know all those things that we've promised, and hoped, and dreamed –
well, I meant it all, every word."
Look at one another and remember this moment in time.
Before this moment you have been many things to one another –
acquaintance, friend, companion, lover, dancing partner, even teacher,
for you have learned much from one another these past few years.
Shortly you shall say a few words that will take you across a threshold of life,
and things between you will never quite be the same.
For after today you shall say to the world –
This is my husband. This is my wife.
('Union' by Robert Fulghum)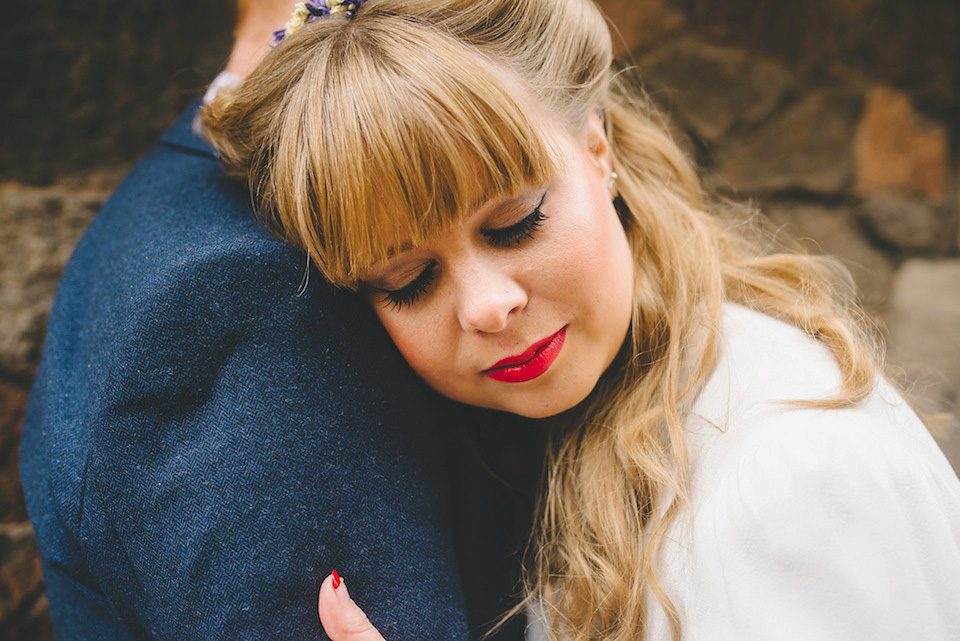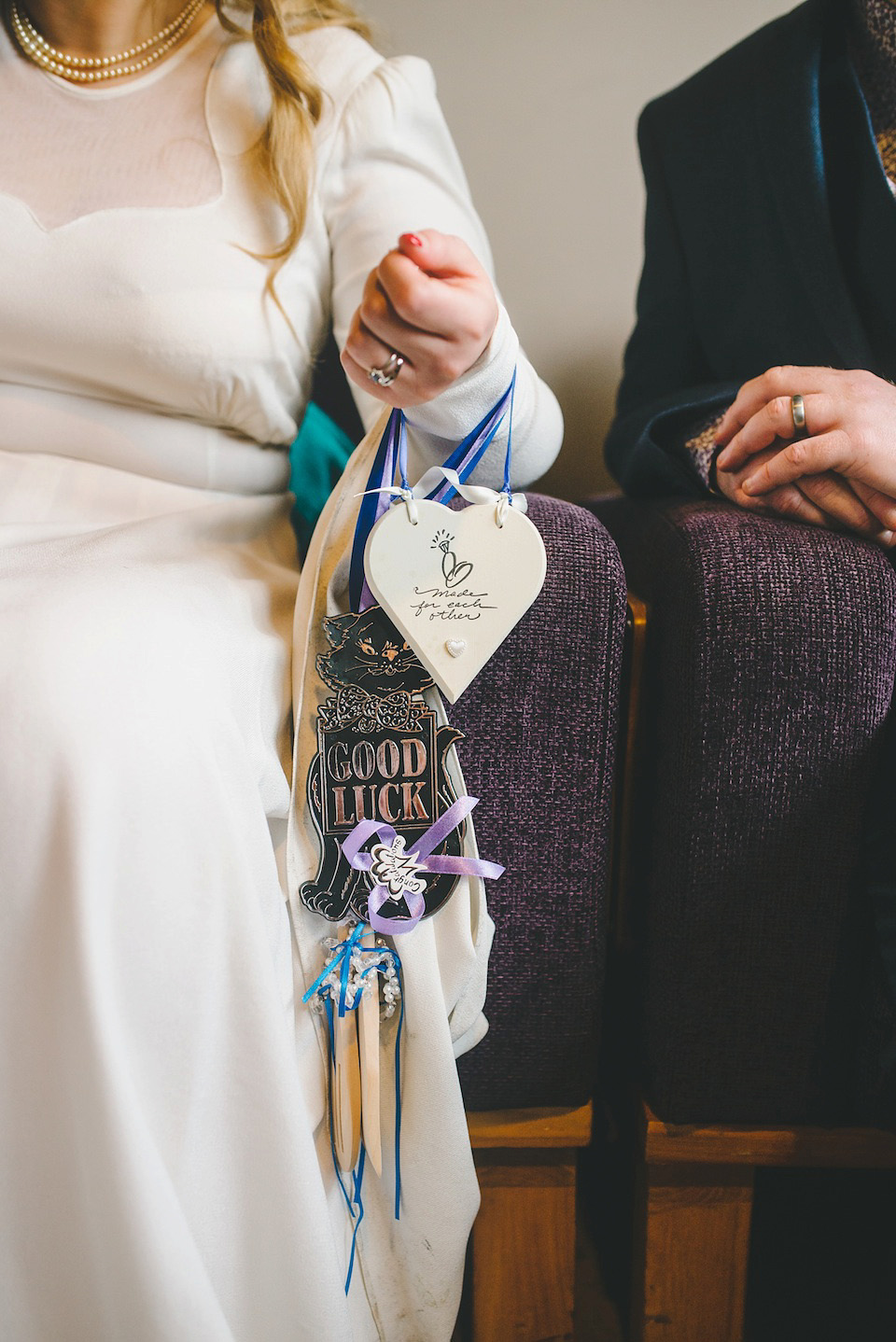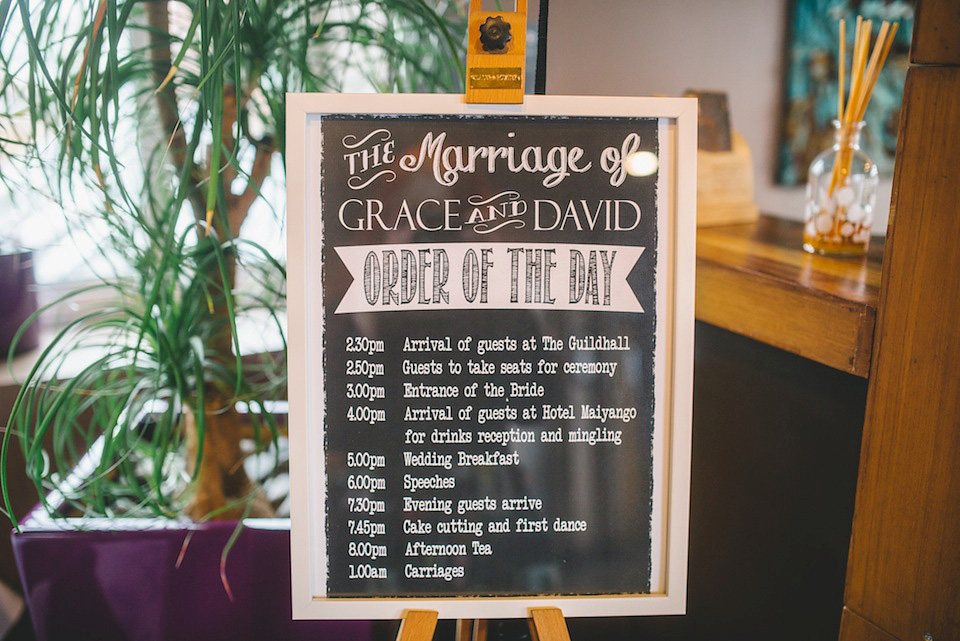 "Me and my bridesmaids made bunting from off cuts of Laura Ashley wallpaper – it took us a whole Saturday afternoon but was well worth it!  We also had Yankee candles everywhere – there was a large 'Wedding Day' jar on the table with the photos and guest book and then small candles in various fragrances in the middle of the tables for the wedding breakfast. Everyone said how nice it smelt throughout the day."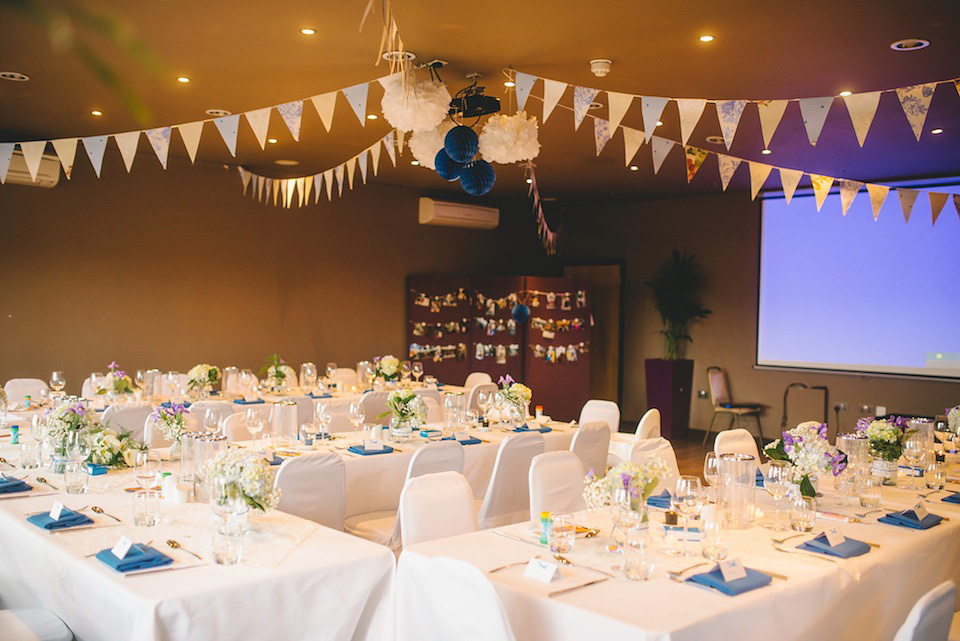 "Our cake was made by the Best Man's wife, Jodie who kindly provided this for us as our wedding present. We always knew from the start of the wedding planning that we wanted a naked cake – we sent Jodie lots of pictures that we found on the internet and she made the most beautiful cake we could have wished for!"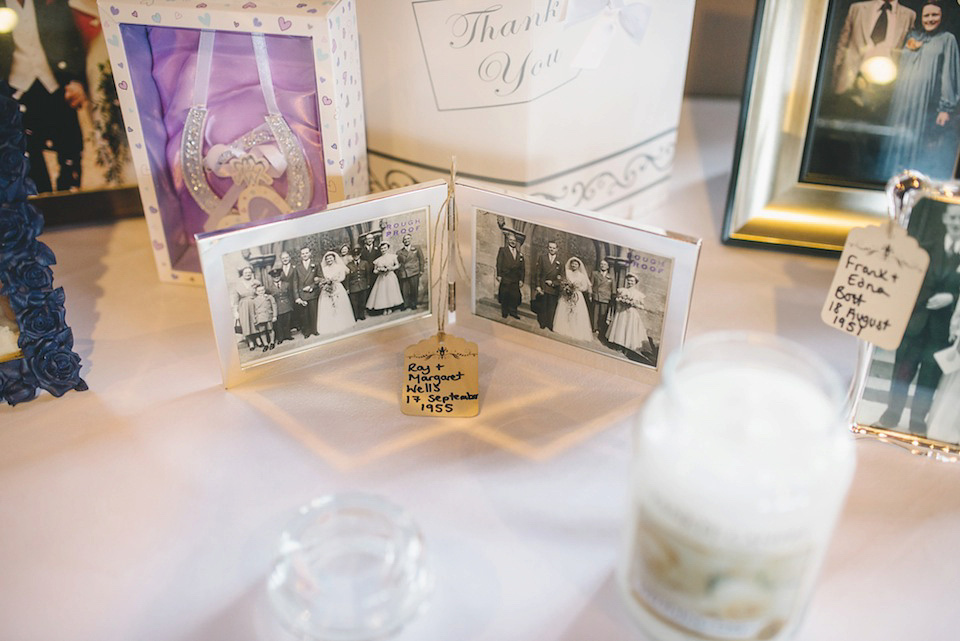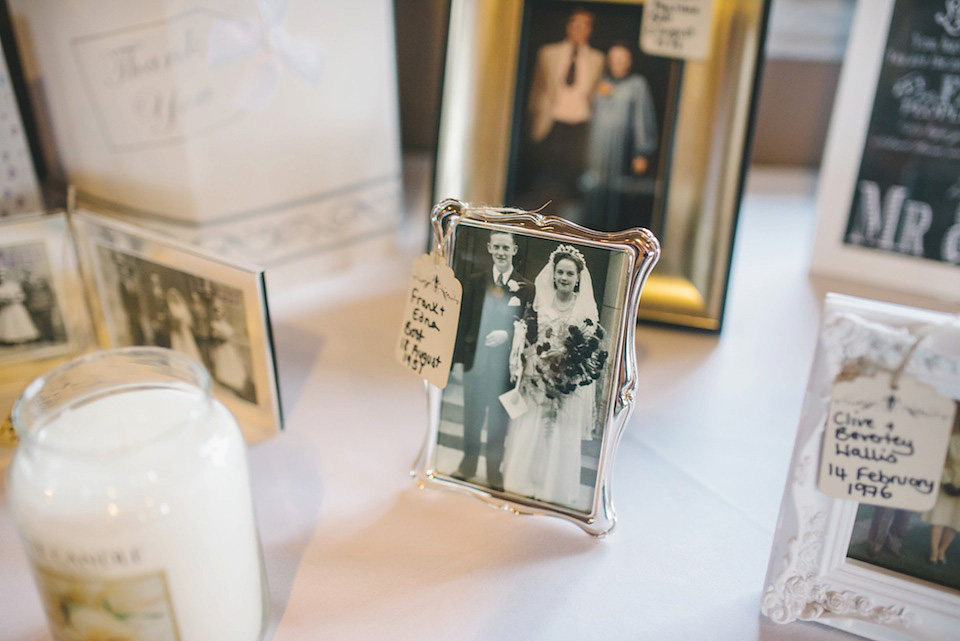 "All the black and white signs were from Etsy – we just printed them off at home and brought white frames to put them in. We now have the signs hanging on our wall at home."
"Our guest book was in a poster format – we are very lucky to have a friend who works in graphic design and she kindly made this for us as our wedding present. It went down a storm and is now on our wall at home where we can look at it every day."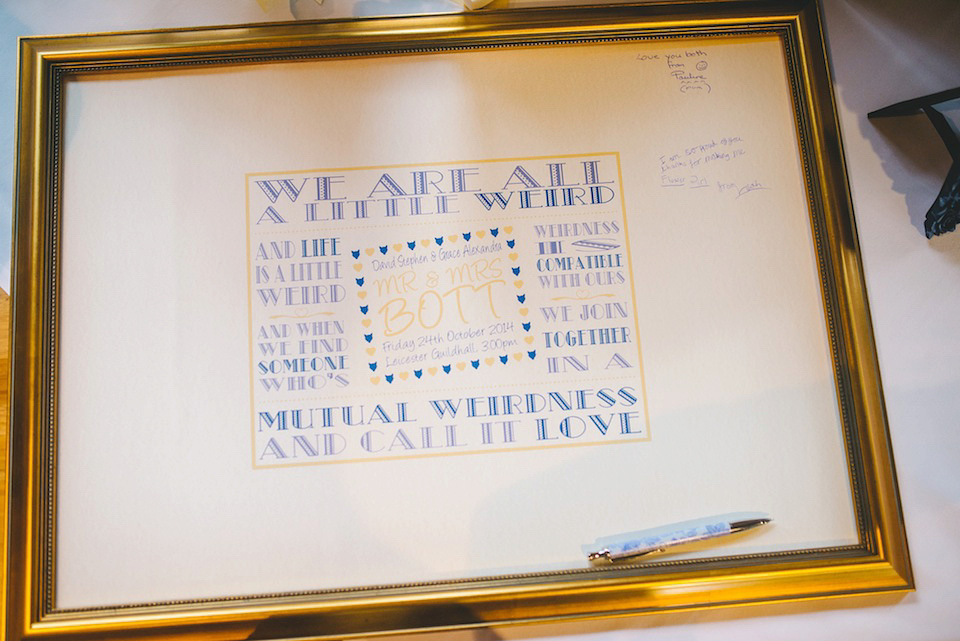 "We also brought ribbon and butterfly clips from John Lewis to hold various photos of me and Dave growing up along the screens at the back of the room. I dug out photos of our parents' wedding, My brother and our grandparents and put these into new frames to display on a table with the guest book "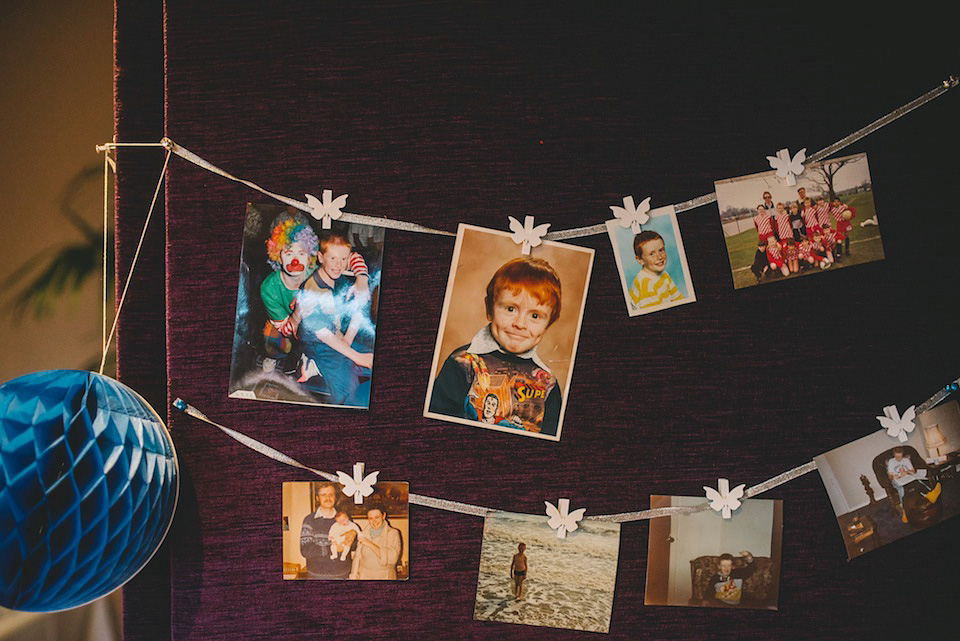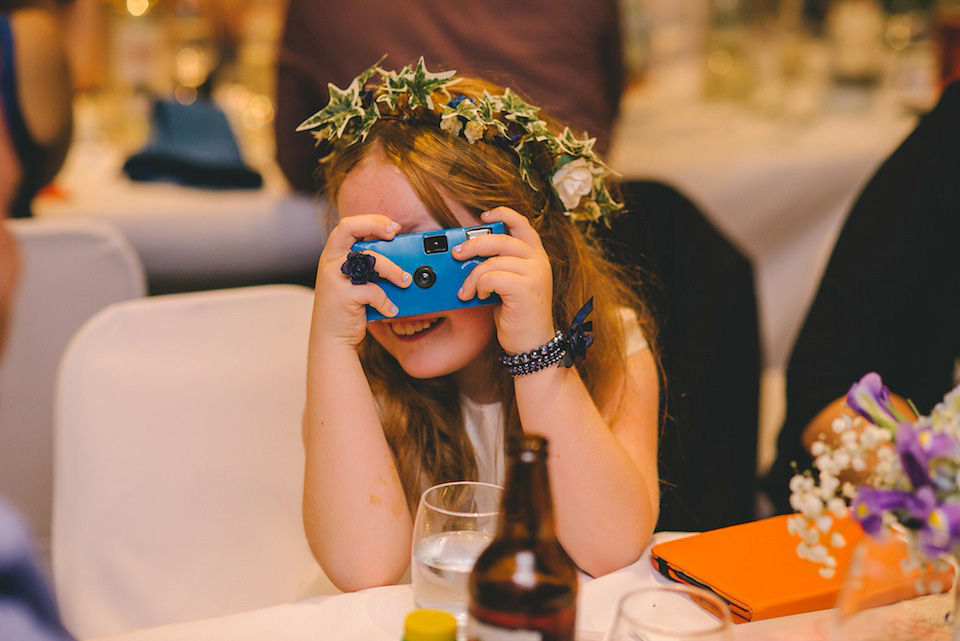 Words of Wedded Wisdom
"Do what YOU want to do, listen to other people's opinions (because they always have them when discussing weddings) but don't fall foul in doing something because you feel you have to. We were very decisive on our decision making. If we didn't like something or didn't feel it was "us" then we didn't have it. Most importantly remember the reason you are getting married!"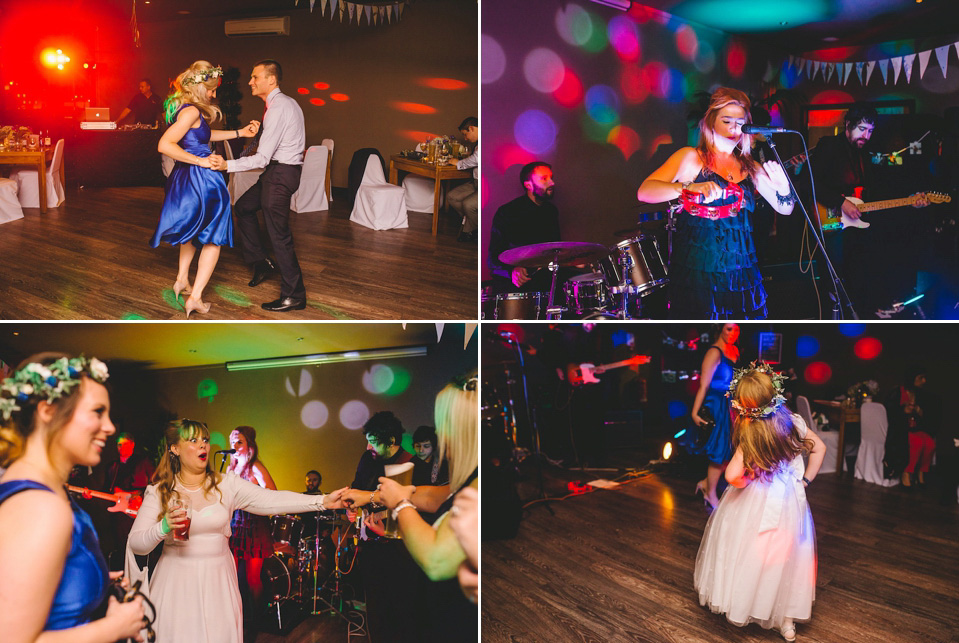 Congratulations Grace and Dave, thank you for sharing your special day with us and a huge thank you to Becky of Becky Ryan Photography for sharing your lovely photography with our readers.
Are you planning on an original vintage gown for your big day? For more gorgeous inspiration – click here.
With Love
Christina xR
Photographer – Becky Ryan Photography
Venue + Catering – Hotel Maiyango
Wedding Dress – Abigail's Vintage Bridal in Oakham
Shoes – Ginger by Rachel Simpson
Bride's Scent/perfume – Jean Paul Gaultier Classique
Groom Suit – Red Herring at Debenhams
Bridesmaids Dresses – Made by Sarah Wadey at Crafty Sew and So
Bridesmaids Shoes – Next
Flower Girl Dresses – Debenhams
Floral Crown – The Artisan Dried Flower Co
Florist – Ann Herbert
Entertainment – Beyond the Porch & The Super 45's
Stationery – Perched Bird Stationery
Hair Stylist – Malcolm of Malcolm Murphy Hair
Makeup Artist – Kelly Jane