Happy afternoon folks! What you up to today? I hope you're surviving the week – half way through already chaps and chapesses – and if you're one of the lucky ones in the UK today, you'll be blessed with some of the utterly glorious sunshine gracing our skies today!
This afternoon's wedding is full of 1930's glamour inspired touches and pretty pastel shades. Danyel, a business development manager married IT Consultant Micky on 24th April last year at the beautiful Grade II listed Georgian Mansion 'Pembroke Lodge' in Richmond, Surrey.
"We wanted to add a touch of London nostalgia to our wedding day.  Pembroke Lodge is close to where we met and lived near during the first half of our relationship. I also have always loved the vintage look and all things vintage. The day also included nods to my Turkish heritage and Micky's Australian heritage using music, food, flowers, favours, decorations and memorabilia.  There were also hints of a travel theme to the day which paid homage to the fact that we have spent a good part of our relationship travelling – we actually planned our wedding ourselves from Australia with help from family and friends in the UK."
Photography Copyright (c) 2015, Funky Photographers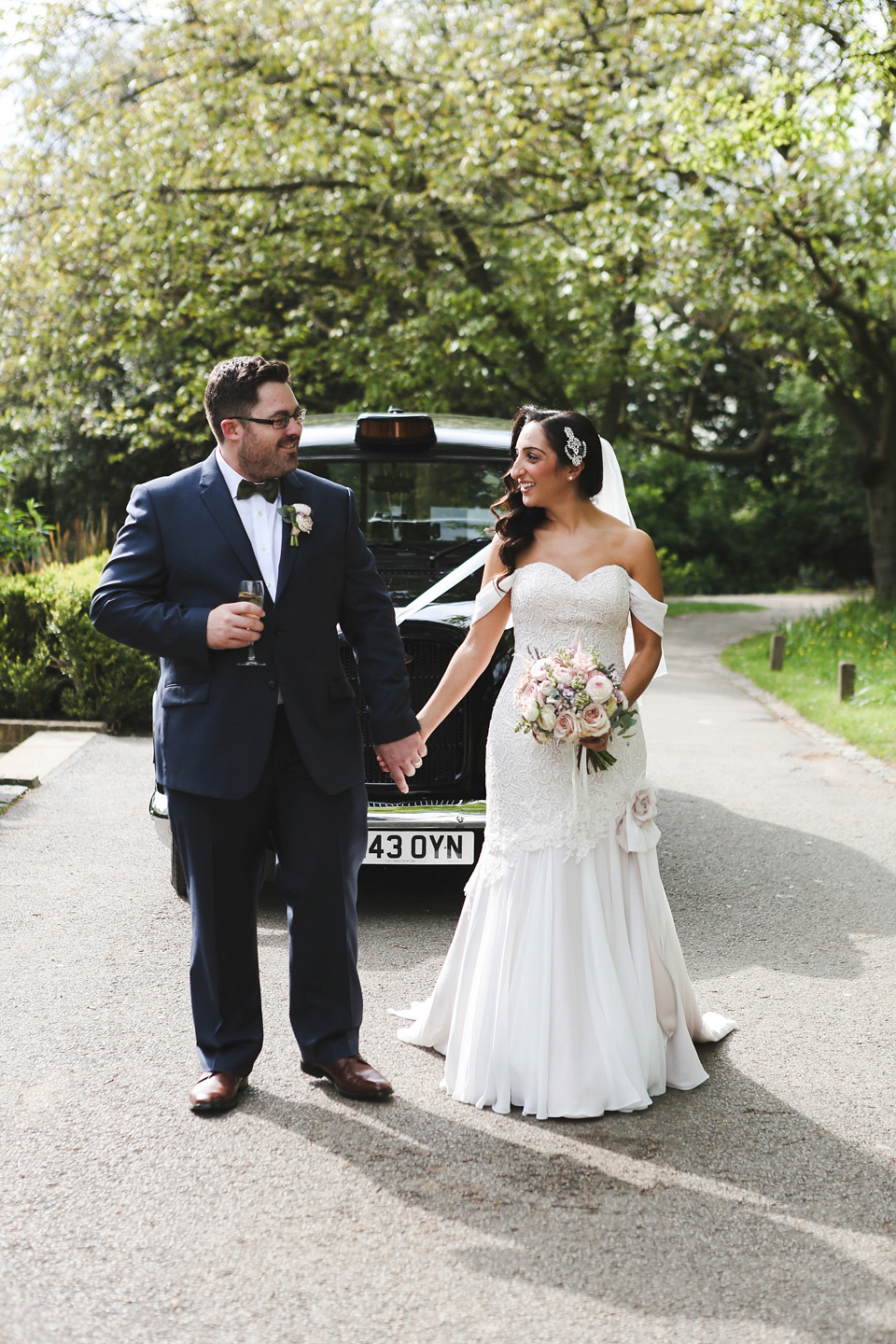 The bridesmaids wore sheer floral sleeveless blouses from New Look  with skirts that Danyel sourced from Topshop.  Their outfits were finished off with a pair of pale pink suede kitten heel court shoes from BHS.
"My bridesmaids wore their hair in a sophisticated 50s inspired French roll to go with the 50s vintage look. They didn't wear any hair accessories.
I had found their Topshop skirts months in advance and fell in love with them. Finding tops to match the skirts surprisingly proved to be one of the biggest challenges in the whole planning process – far harder than choosing my dress. We got there in the end and found these lovely floral sleeveless shirts to match the 50s vintage look."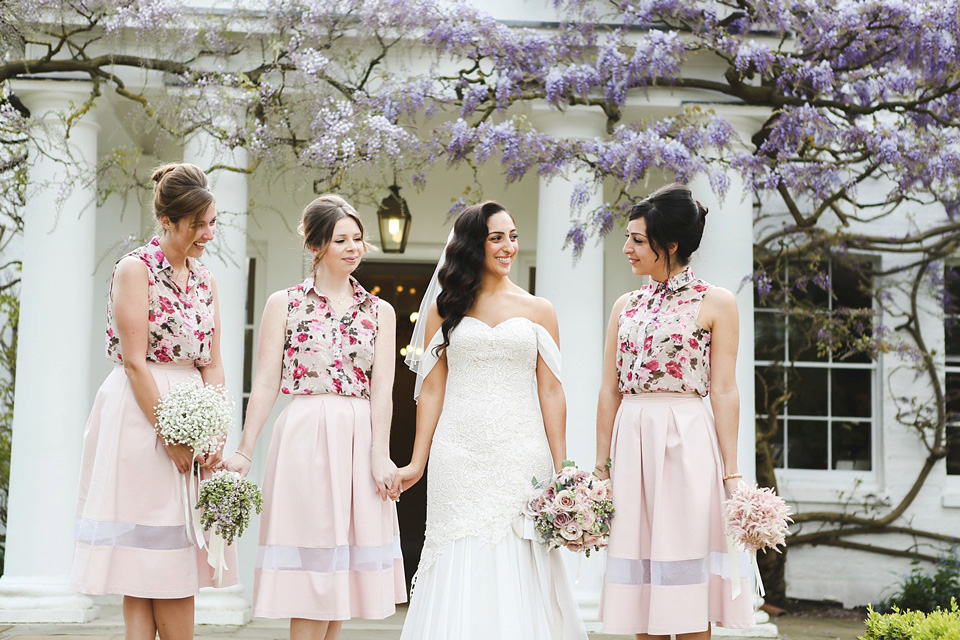 "Steph Turpin from Fairynuff Flowers provided the beautiful bouquets for me and my bridesmaids and the buttonholes for the groom and groomsmen.  The bridal bouquet was a small vintage bouquet of amnesia and quicksand roses, lilacs, pink astilbe, lavender, gypsophila, and white with purple rimmed ranunculus and eucalyptus (eucalyptus to represent Micky's Australian heritage), tied with trailing ivory ribbon in a bow.
The bridesmaids each carried different bouquets (each was a flower in my bouquet). One bouquet consisted of pale pink astilbe, one of gypsophila and one of lilacs. Each was tied with trailing ivory ribbons. The grooms' buttonhole included a white/purple ranunculus with lavender (Danyel's favourites – I love the smell of lavender) and a tiny sprig of eucalyptus tied with twine."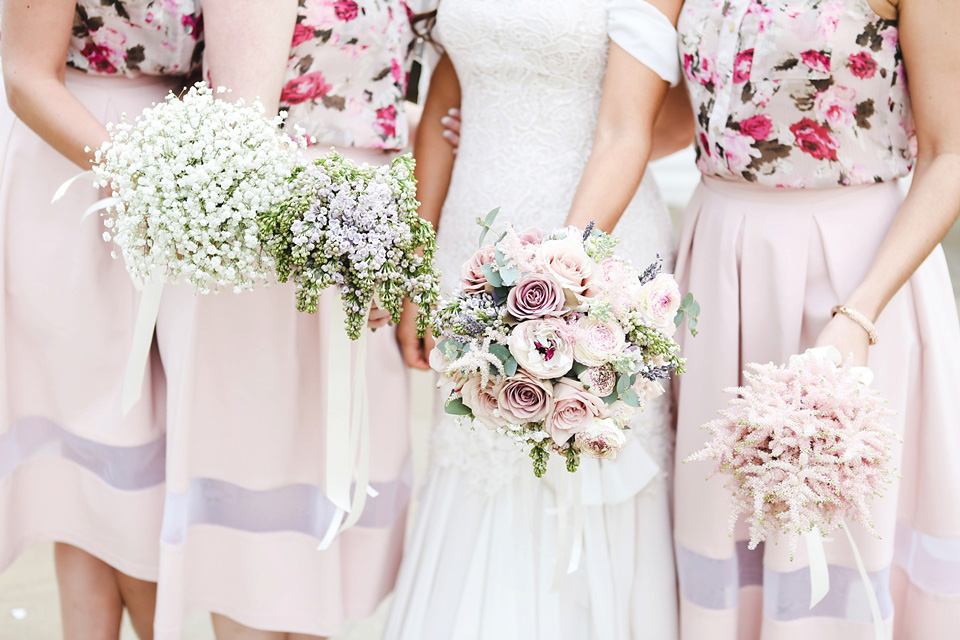 "My dress designer was Brides Desire by Wendy Sullivan, an Australian designer. I purchased the dress from a boutique called Bridal by Aubrey Rose in Perth, Australia.  The dress had a modified fishtail silhouette and draping off-the-shoulder chiffon straps which were detachable. I decided to detach them when we hit the dance floor!  
I loved the bodice detail and I had not seen anything like my dress both in style and colour in the 50 something dresses I tried on.  I felt beautiful, feminine, curvy and quite sparkly, (the dress subtly shimmered in the light and when I l moved). I felt my wedding dress highlighted my good parts, i.e.; shoulders with the draping off-the-shoulder straps and fitted waist with the lace detail. The unusual blush and champagne colours of my dress suited my Mediterranean skin tone. I also felt the dress accentuated my personality and love of romantic vintage since the dress had a vintage look to it."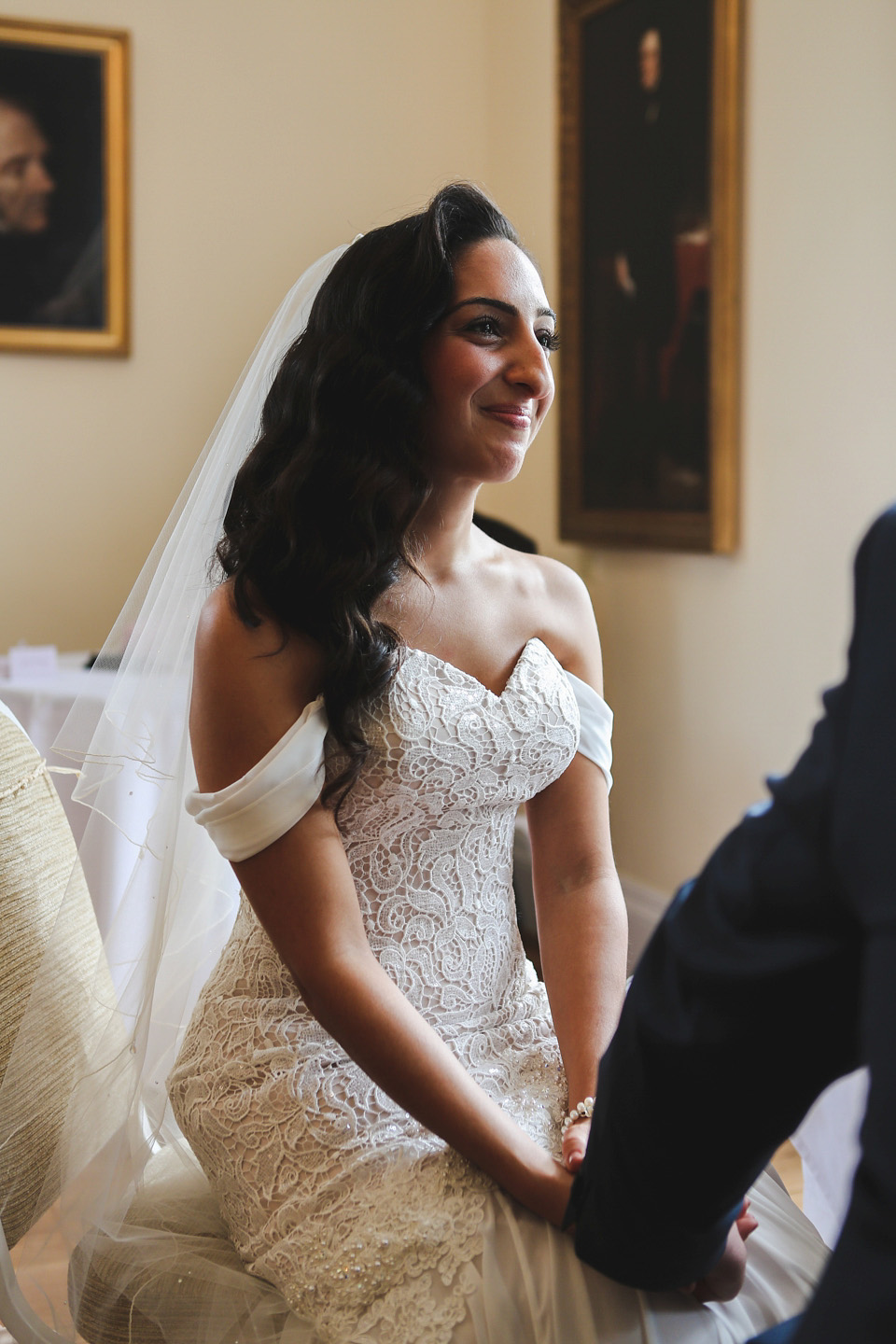 "I used celebrity hairdresser Vicki Lord to do my hair after an amazing trial.  I wore my hair in a 1930's inspired marcel wave styled to one side, inspired by old Hollywood glamour. The marcel wave is my favourite hair style of all time so it was a perfect choice to incorporate this into my wedding day look and match my dress and overall look."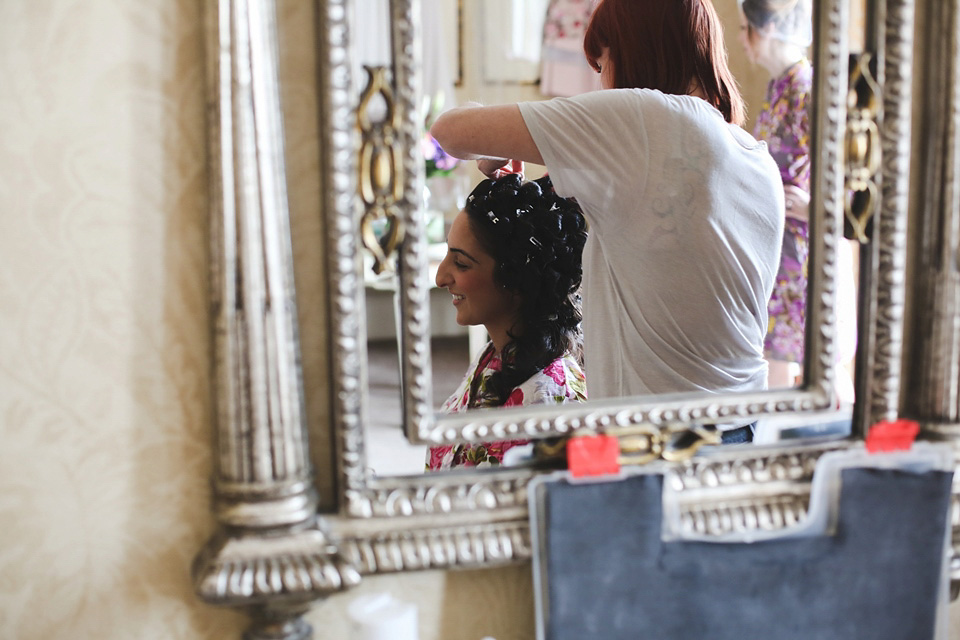 "I knew from early on I wanted to do my own make-up. I had some make-up lessons back in Australia in preparation to learn some useful make-up application tips. I wanted to create a romantic radiant look with warm dewy looking skin paying attention to sultry eyes."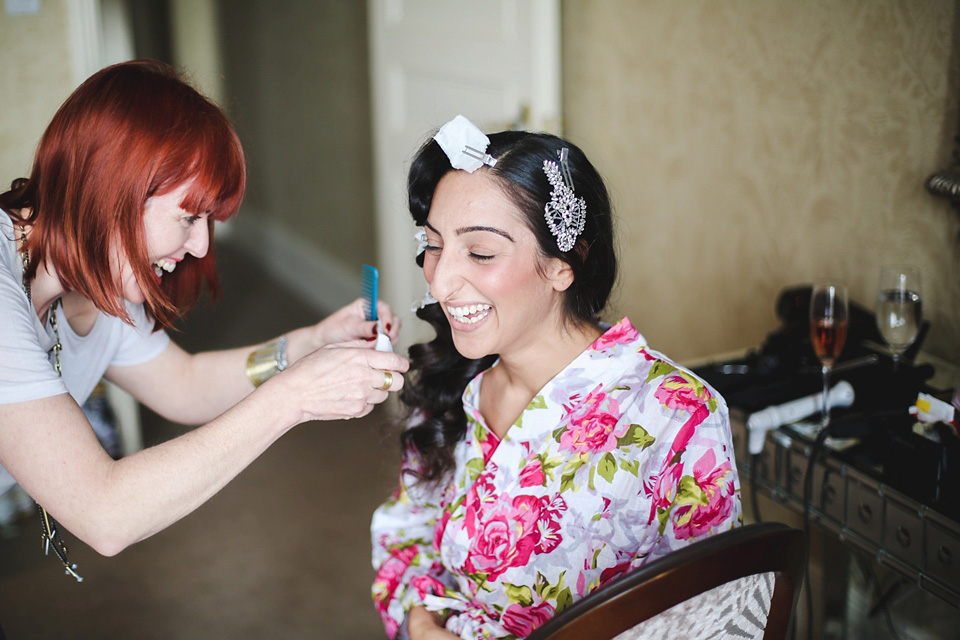 "My shoes were an early wedding gift from my best friend and bridesmaid Alex. We found them on a wedding shoe shopping trip in Birmingham at Nine West. They were champagne satin peep toes with gold glitter underneath the soles and heels."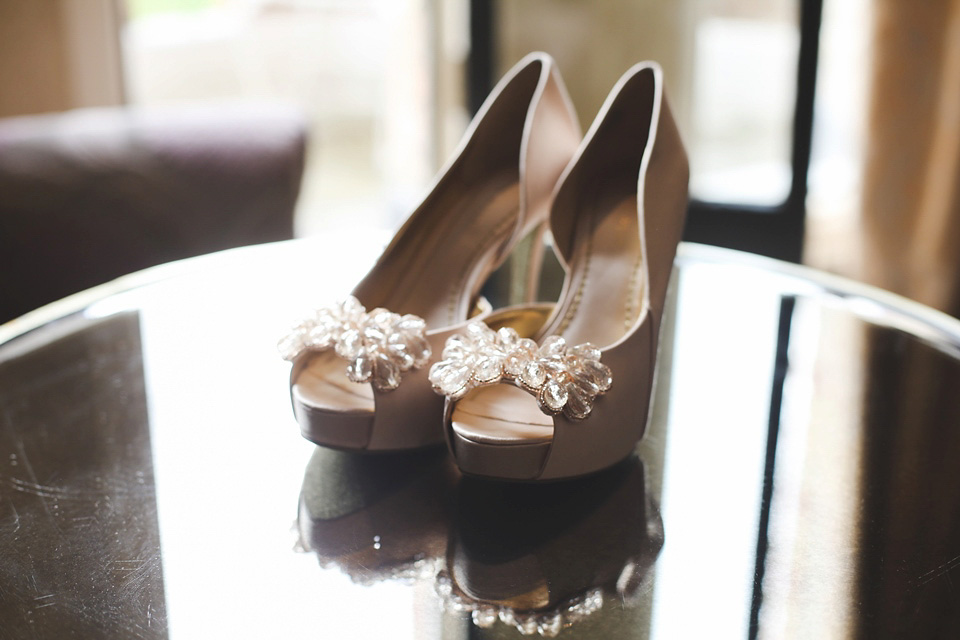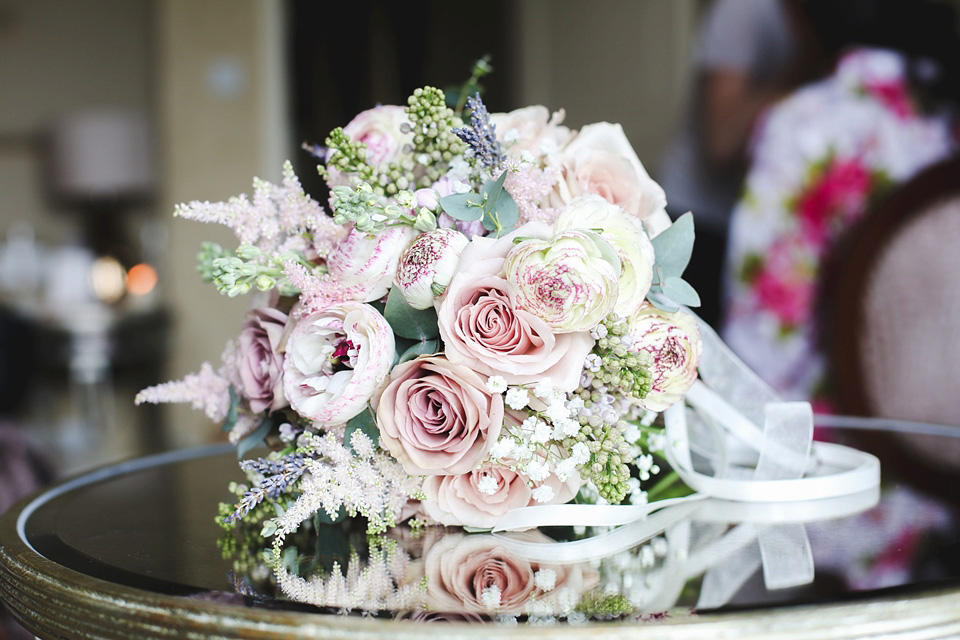 "I found my dress whilst shopping with my best friend. I think I had tried only around 50 something dresses. I was fortunate that in the wedding planning period, I was able to relish in the wedding dress shopping experience firstly with my mum who came to visit us in Australia just days after Micky and I got engaged. My sister Sema also paid a visit a few months before the wedding. She was present at my dress fitting which was lovely and she helped me choose my veil."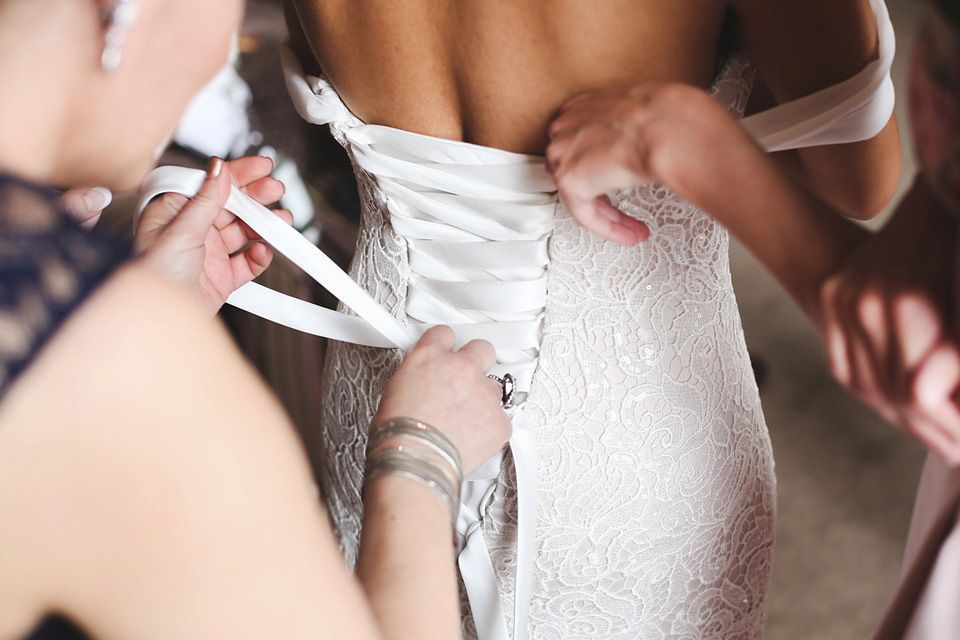 "My perfume was 'Blue Agava & Cacao', by Jo Malone.   I wore the perfume and body crème – deliciously divine!"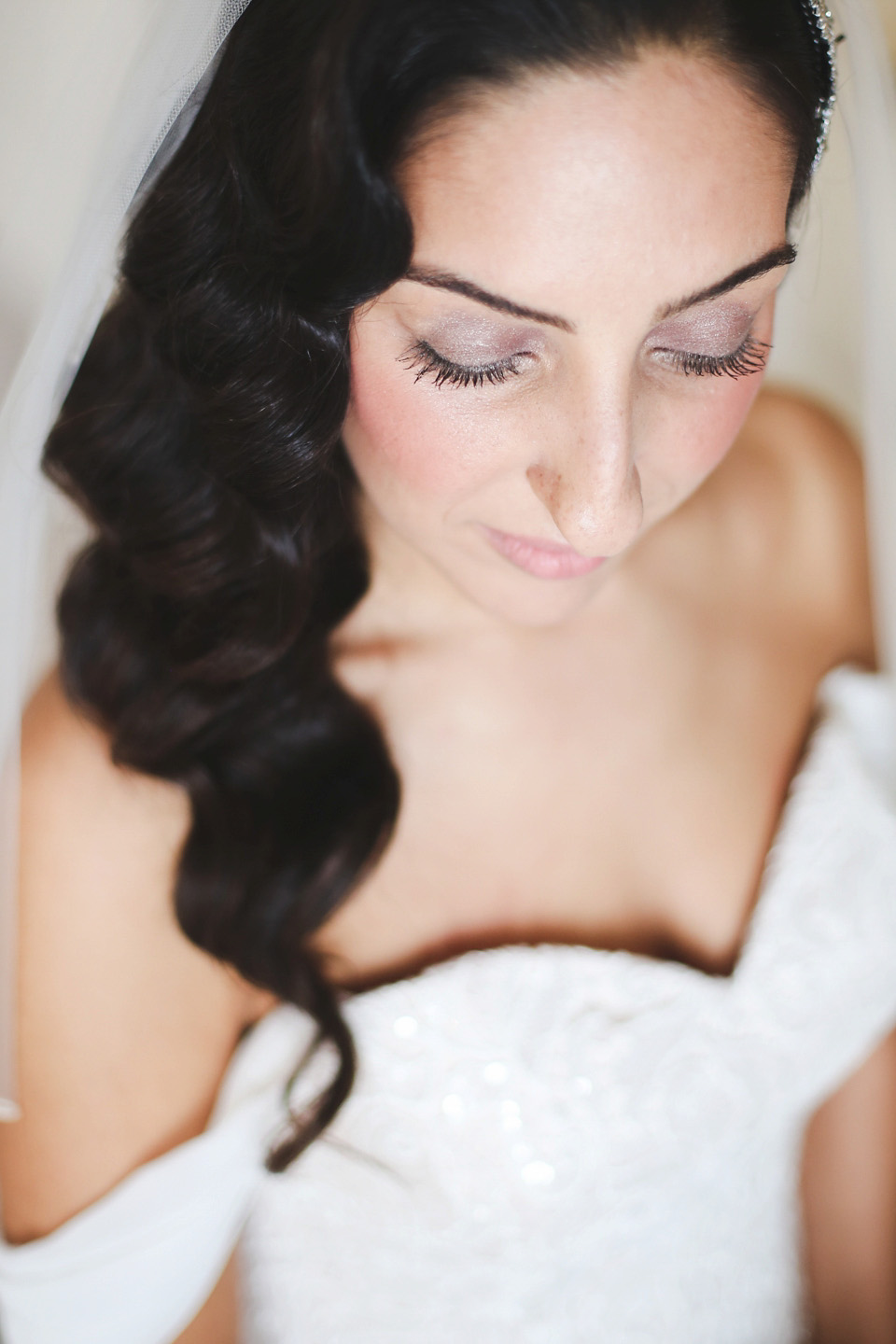 Danyel also wore a single tier veil in ivory tulle with tiny Swarovski crystals lining the edges.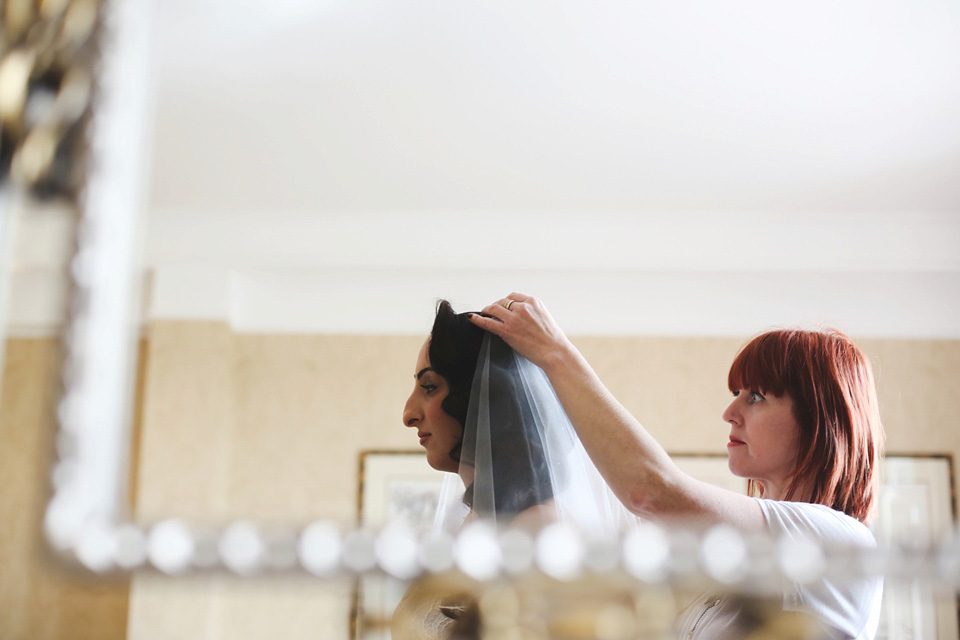 Two Turkish eye stones which my grandmother had sewn onto my petticoat were my 'something blue'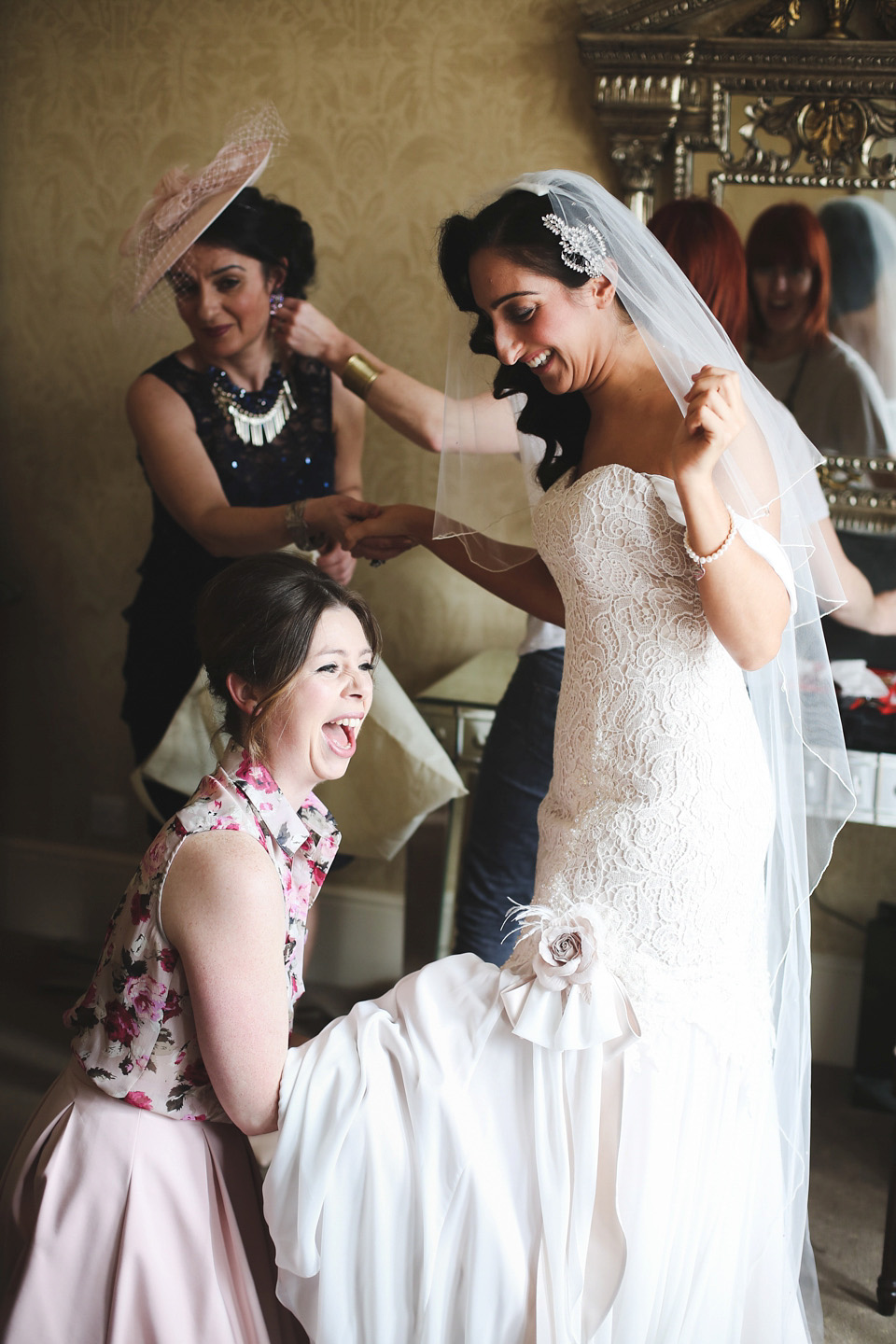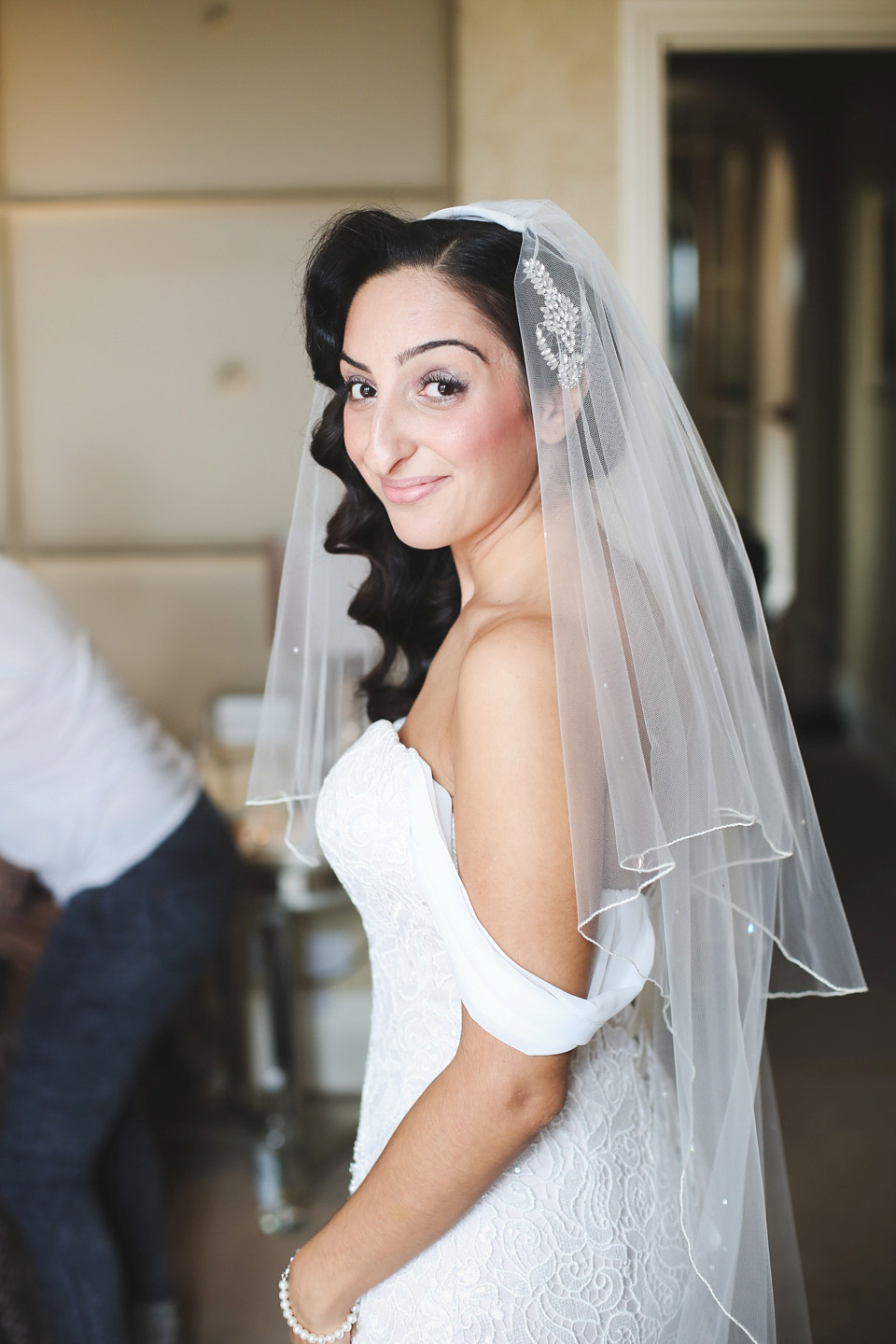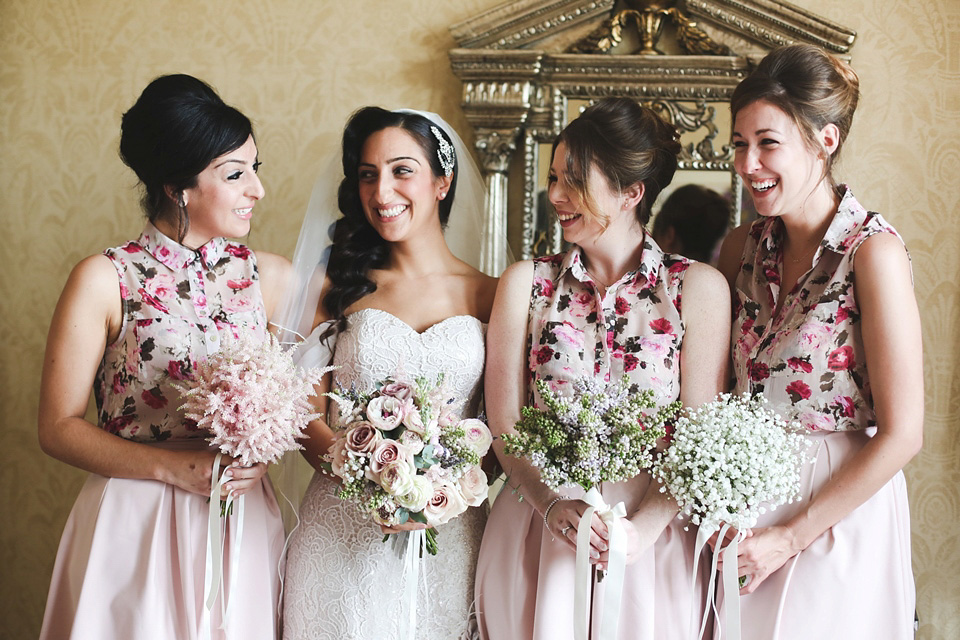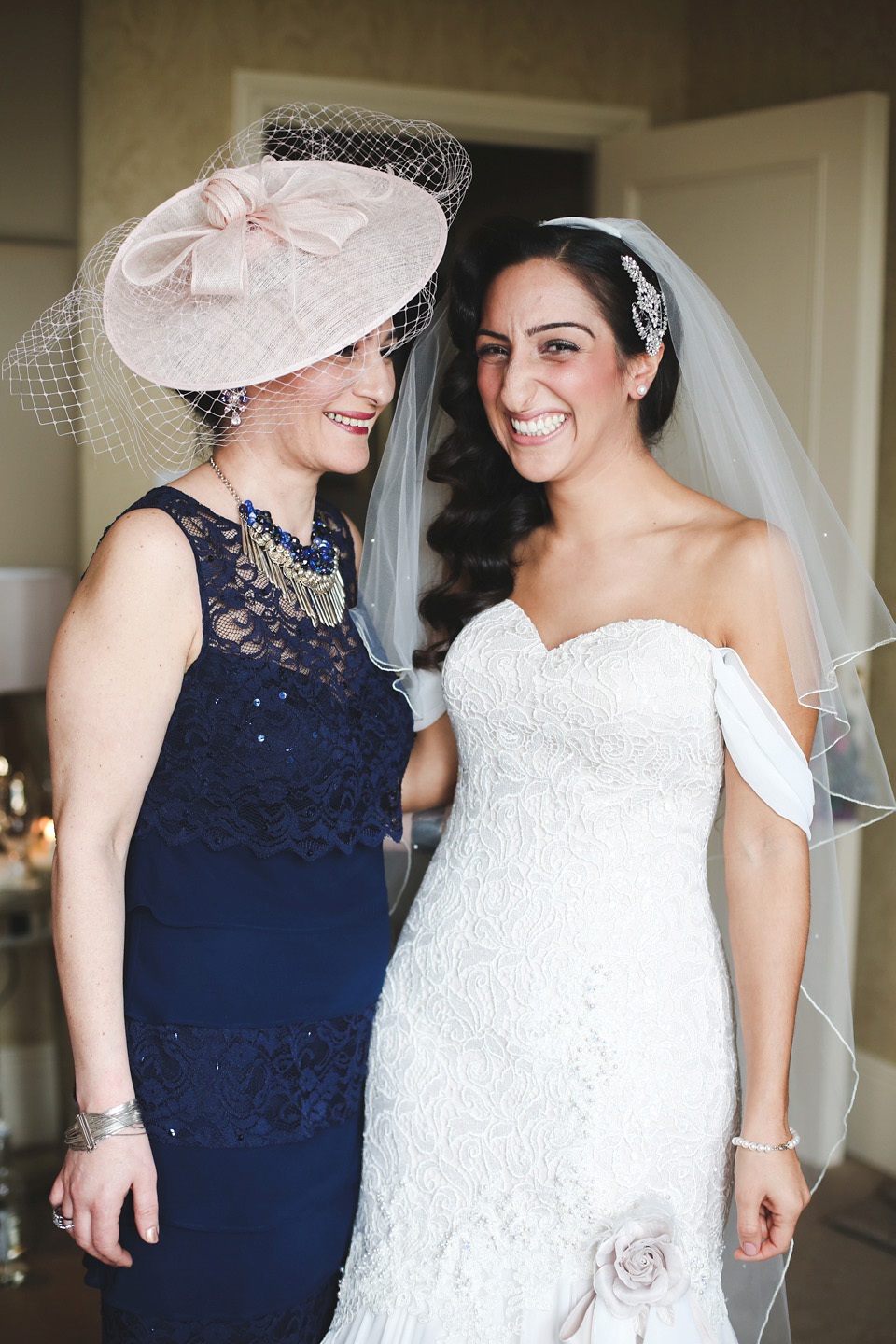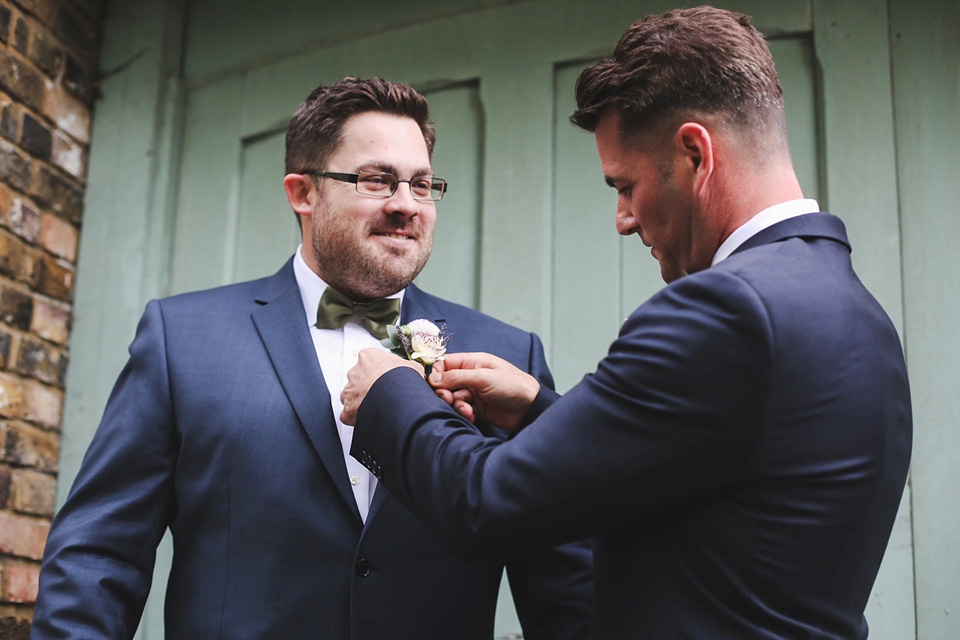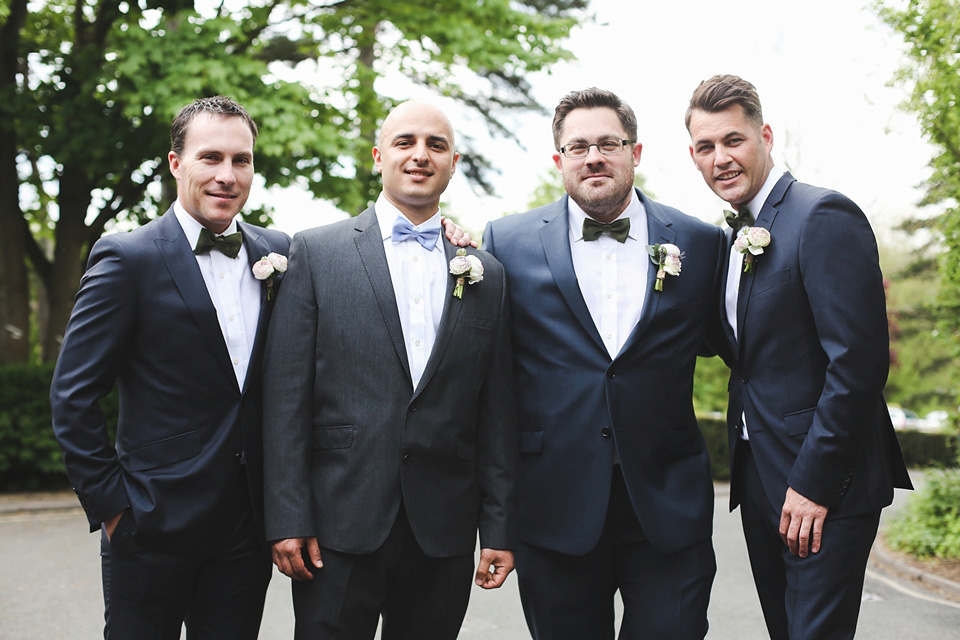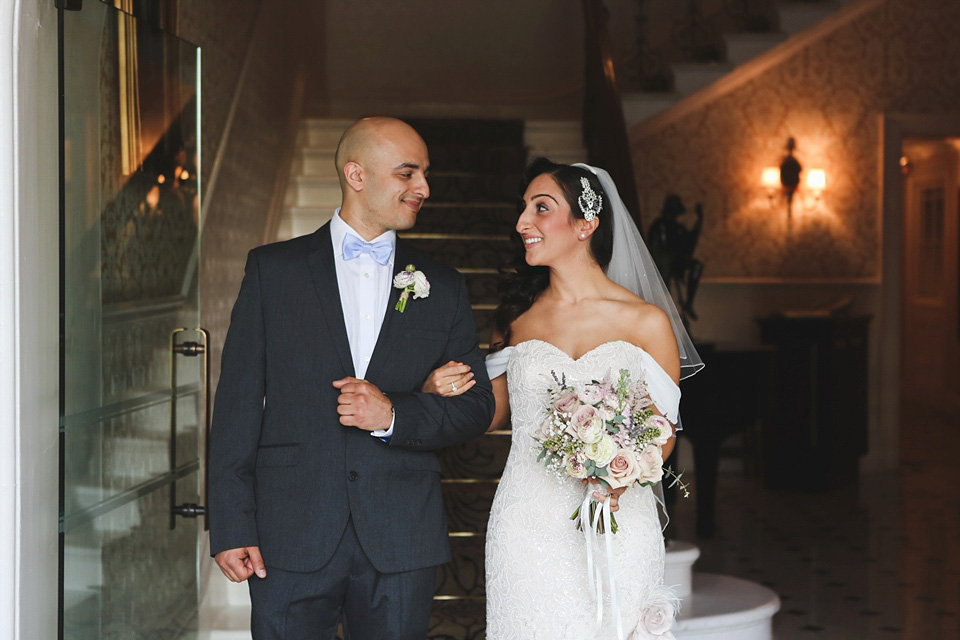 "Micky and I met in March 2006 in Hammersmith, London where we joined the same company on the same day. We instantly became friends. Our friendship turned into an 8 year relationship with the first 4 years enjoying London life and living together before emigrating to Australia in early 2012. In December 2012, Micky surprised me with a romantic weekend in Bali for my 30th birthday where he knelt on one knee and proposed.
That was 7th December 2012; so we were engaged for a year and 4 months – ample time to plan our wedding in England from Australia!"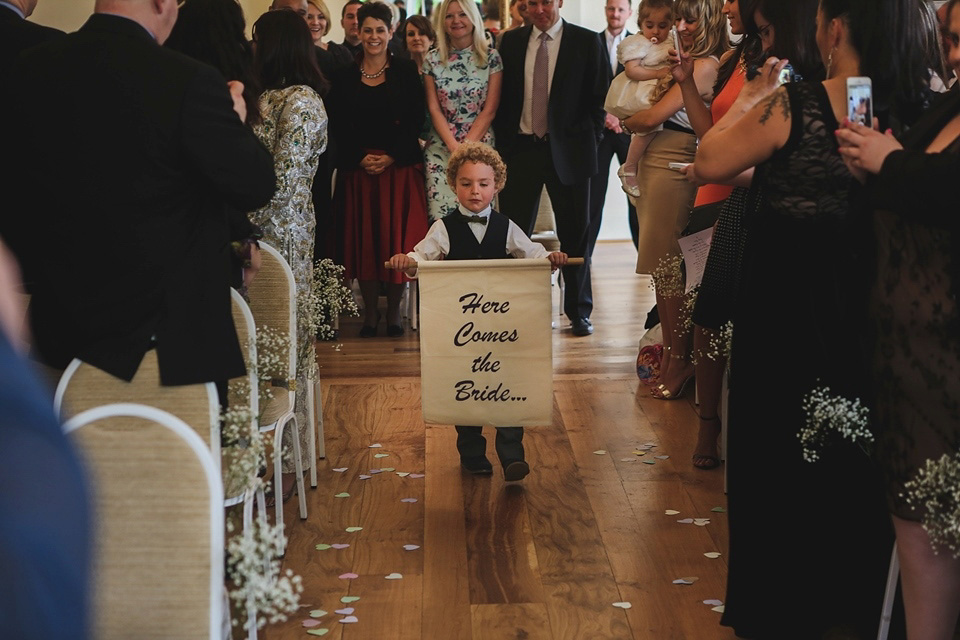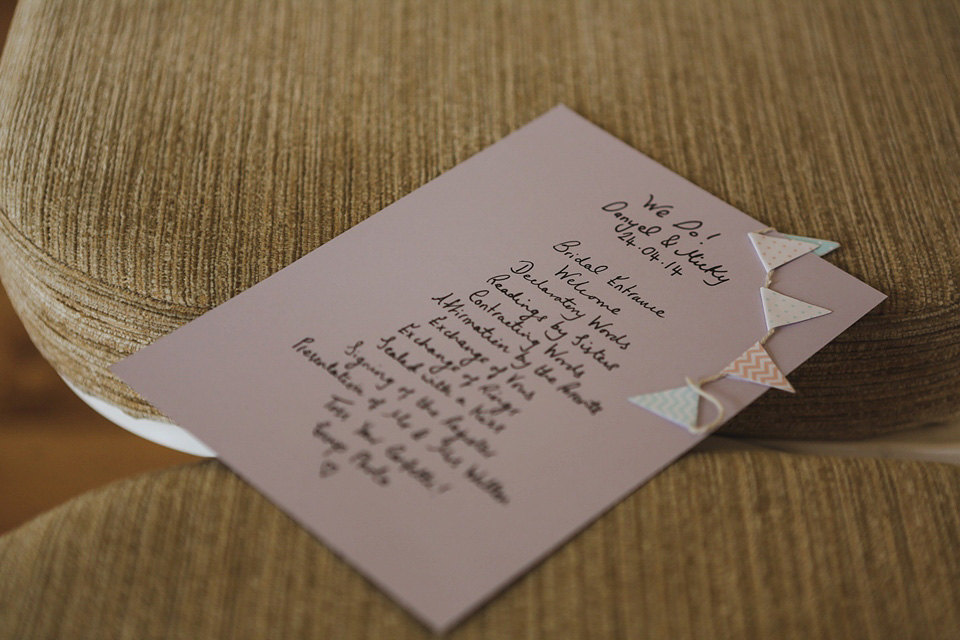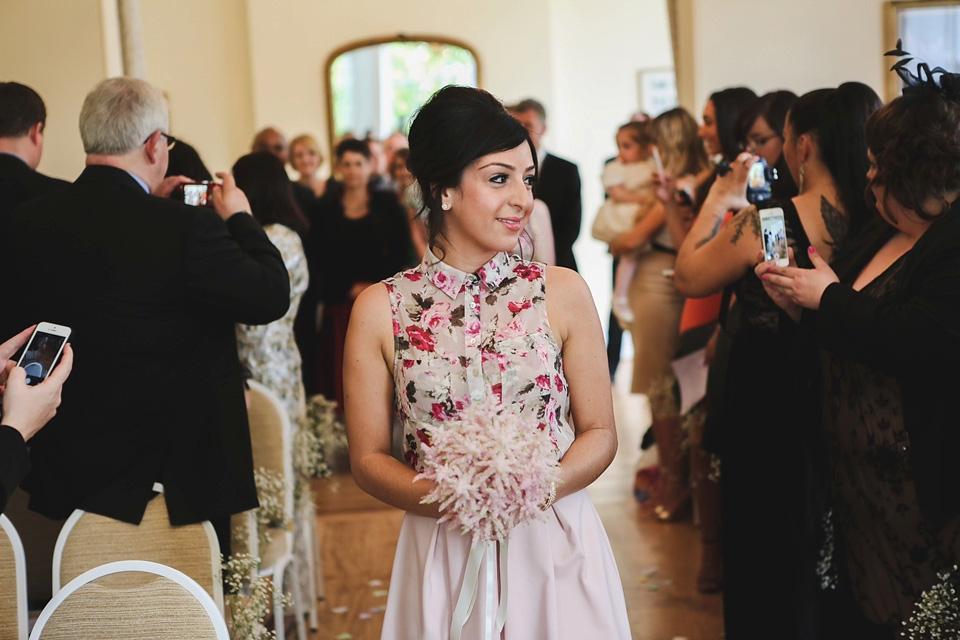 "My younger brother Kaya walked me down the aisle and gave me away. He was very proud. He collected me from my suite at The Petersham Hotel on time and escorted me down to the entrance where my Black Vintage Fairway Taxi was waiting. He also helped to calm my nerves by offering me a swig of whiskey from the flask he kept in the inside of his jacket pocket en route to the ceremony.
We were accompanied down the aisle to the sound of 'Sway', by Bic Runga, which is 'our' song. Micky introduced this to me when we first started dating."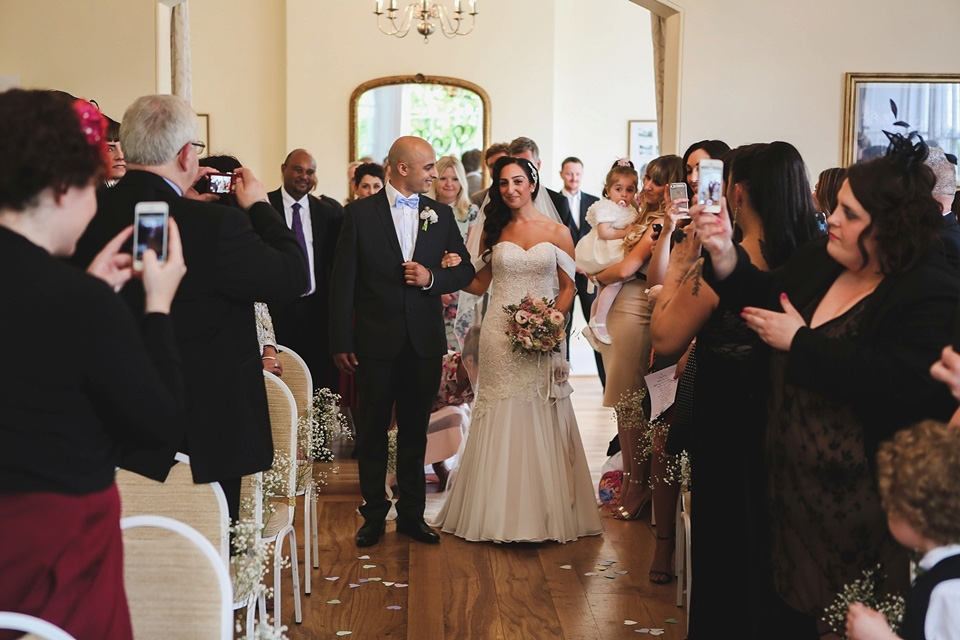 "We had both written our own vows and handwrote them onto sheets of petal paper which we read aloud to each other. We wanted our vows to reflect our personalities and the down-to-earth and humorous nature of our relationship. We made each other and our guests laugh on a few occasions."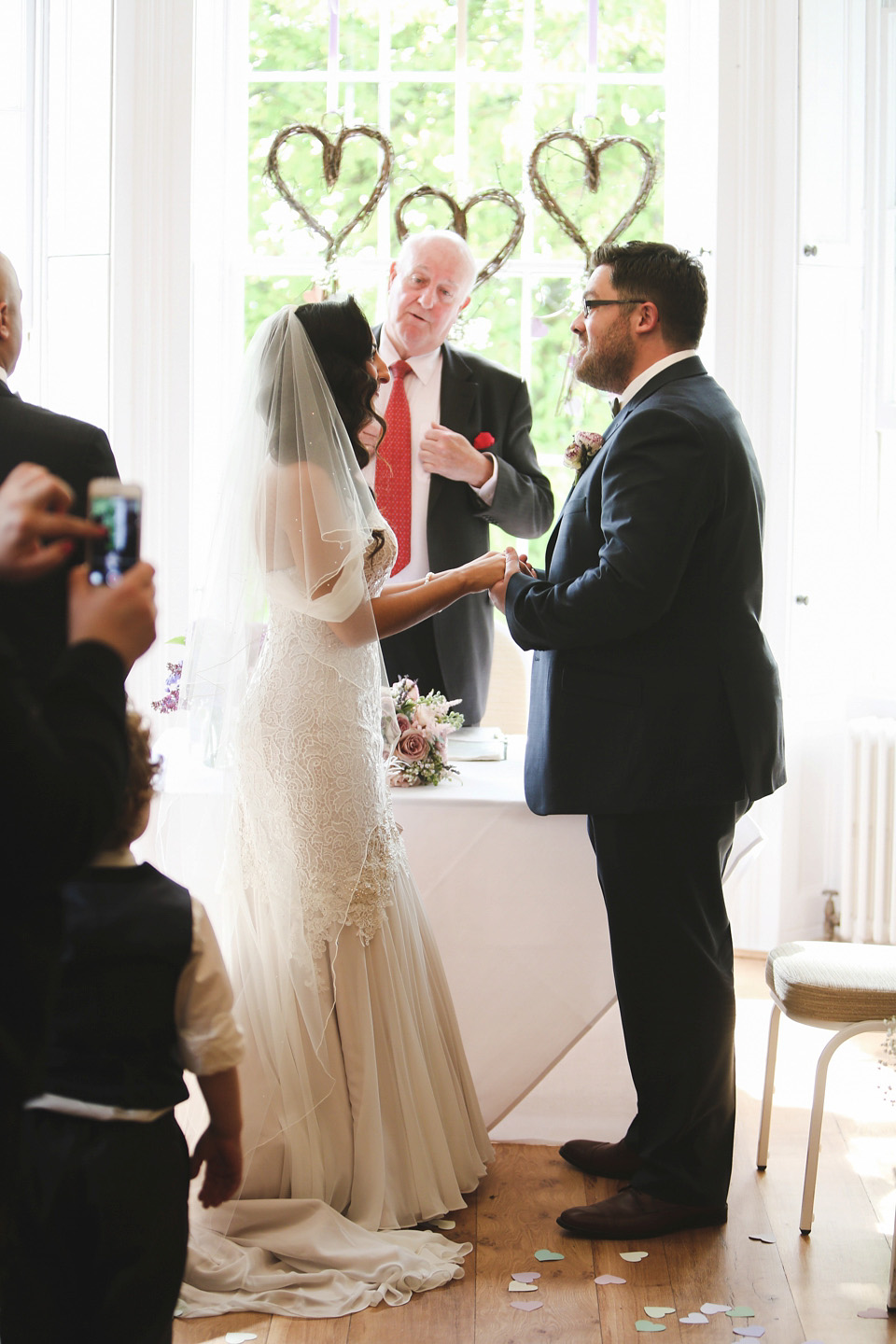 Oh I adore these extracts from the couple's vows, they're the sweetest – (loving someone until you 'lose your marbles' – hehe!)
Example of Micky's vows to Danyel:
'I promise to love your family as my own and to celebrate your Turkish heritage and your British culture no matter where in the world we are.  I promise to keep telling you funny jokes, giving you new nicknames and generally making you laugh every minute we are together until the day comes when I finally lose my marbles.'
Example of Danyel's vows to Micky:
'I will love your family as my own, and I will celebrate your Australian heritage and culture, no matter where in the world we are.  I promise to keep laughing at your jokes, keep you amused with my silly dancing and to cook for you, including Turkish food, until my back finally gives way.'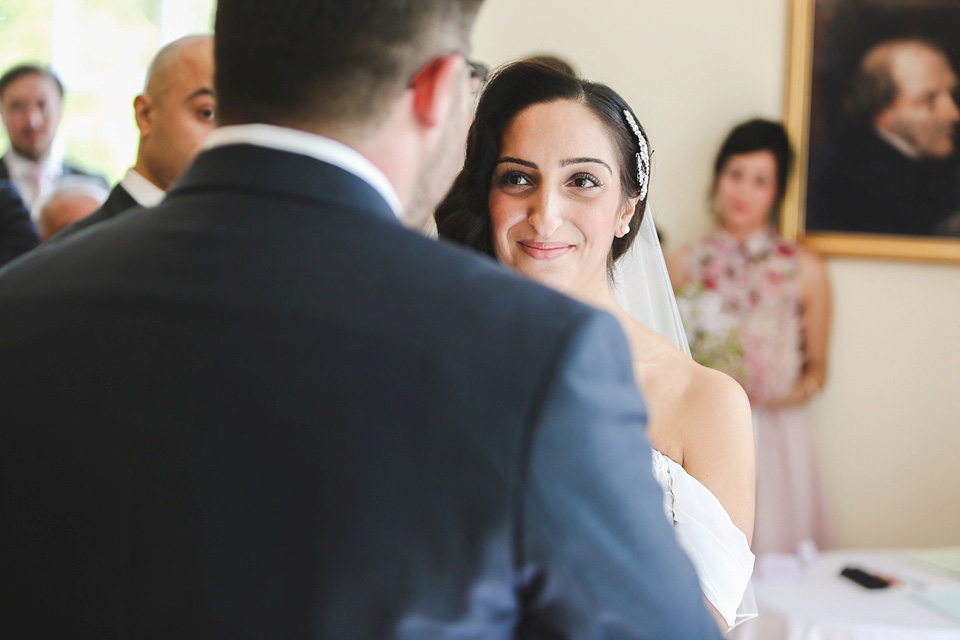 "My sister Sema and Micky's sister Erin both gave readings during our ceremony. Sema at the start of the ceremony and Erin towards the end.  Sema's reading was called 'Once in a Lifetime' which she adapted to suit us – excerpt below:
'Once in a lifetime, you find someone who not only touches your heart, but also your soul, Once in a lifetime, you discover someone who stands beside you, not over you,
Once in a lifetime, you find someone who loves you for who you are and not for who you could be, Once in a lifetime, you will meet someone who you will move to the other side of the world for, because they are your world Once in a lifetime, if you're lucky, you will find someone as you two have found each other.'
Erin's reading was called 'The Key to Love' – excerpt below:
'The key to love is understanding…
The ability to comprehend not only the spoken word, but those unspoken gestures,
the little things that say so much by themselves.
The key to love is sharing…
Facing your good fortunes as well as the bad, together;
both conquering problems, forever searching for ways to intensify your happiness.
The key to love is giving…
without thought of return,
but with the hope of just a simple smile,
and by giving in but never giving up.'
We also included an 'Affirmation by the Parents' in our ceremony where our parents promised to support and do everything they can to support us as a married couple."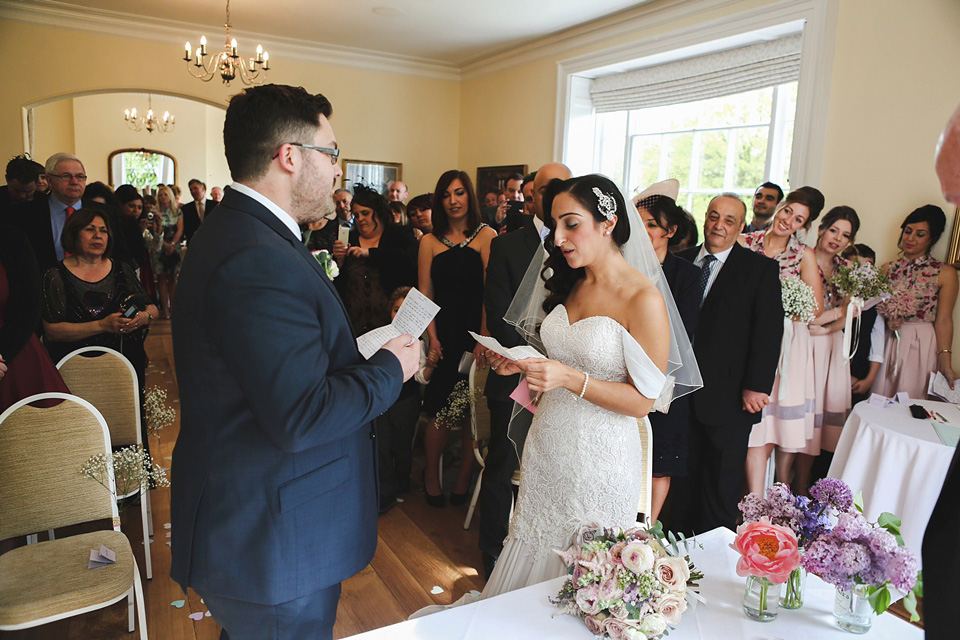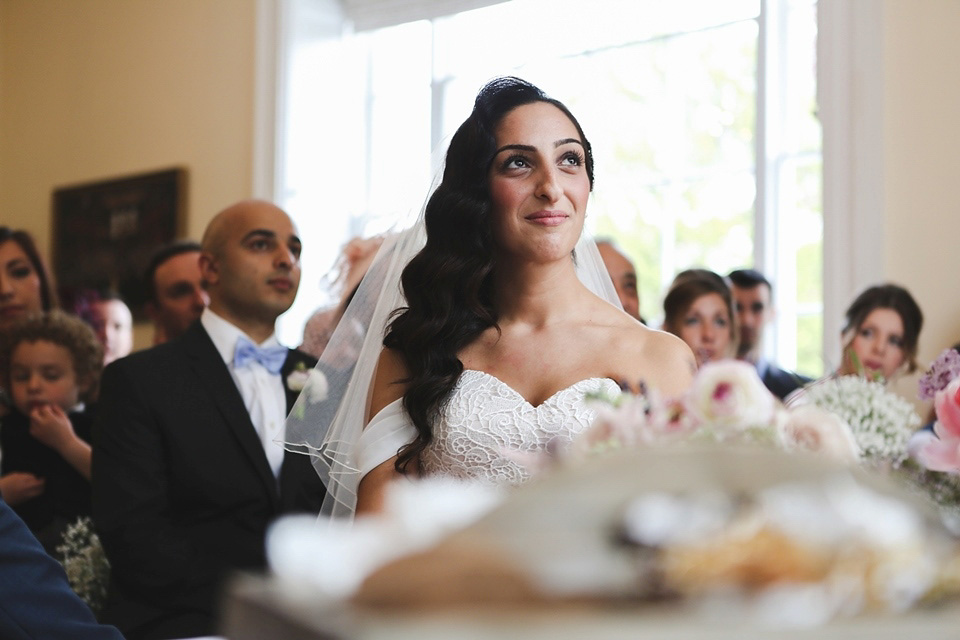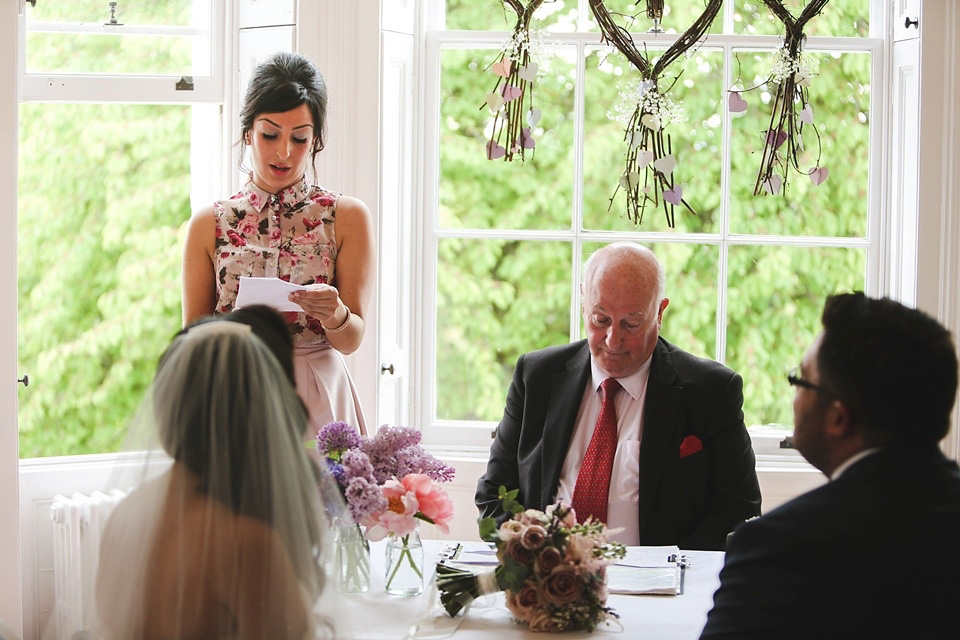 "We bought our wedding rings from Ecali Fine Jewellery in Perth. When Micky purchased my antique-inspired engagement ring, he did so with the matching wedding band already in mind. Having researched a number of different ring suppliers, Ecali's quality, service and bespoke ring design made them the ideal fit."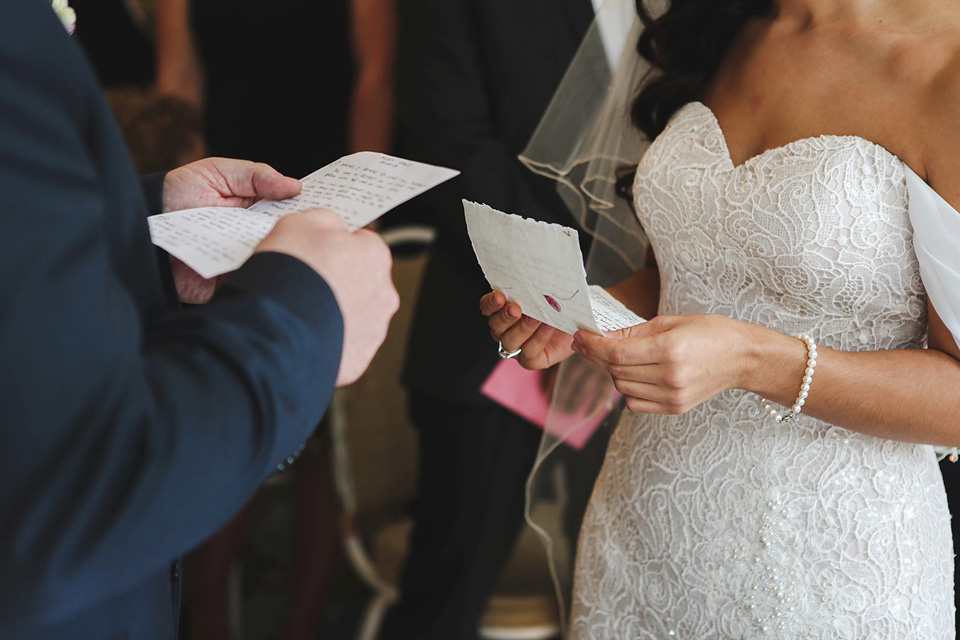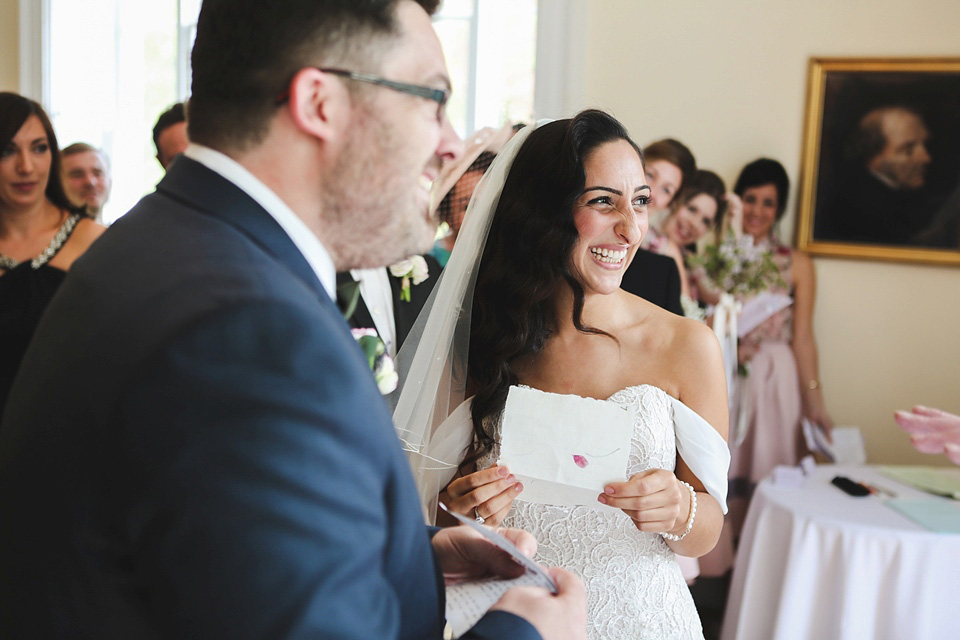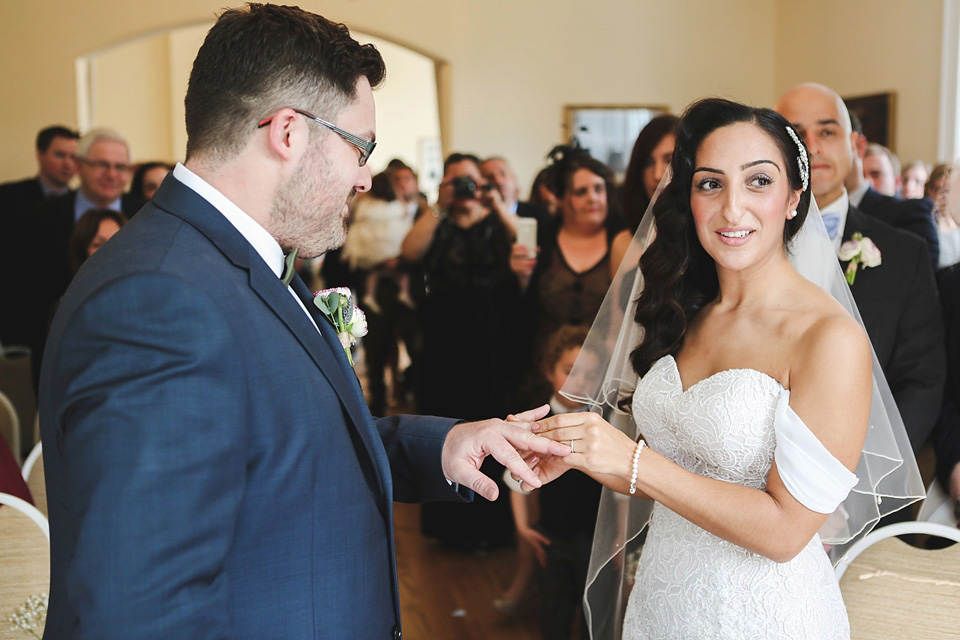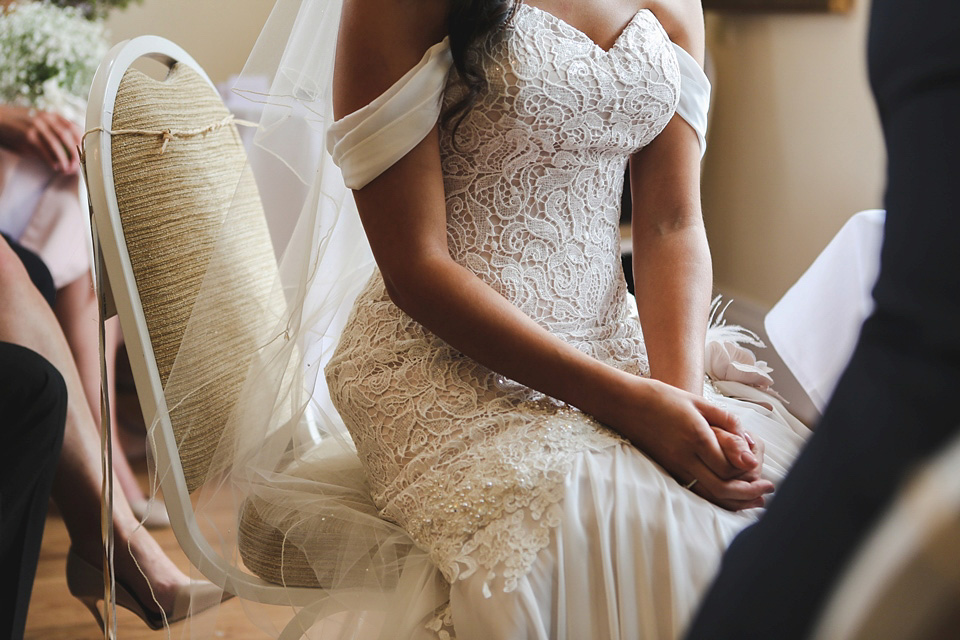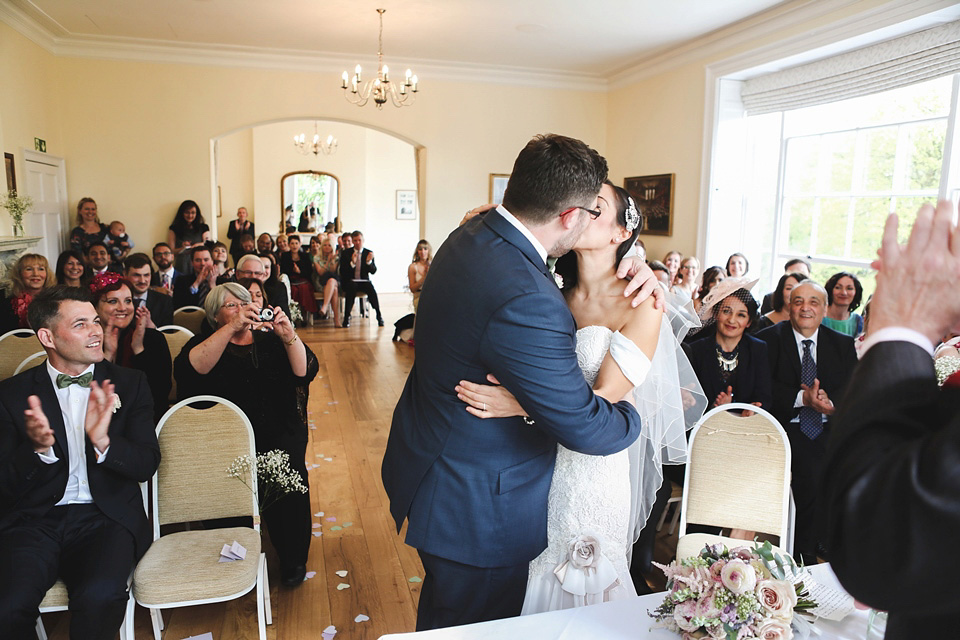 "My Groom looked smart, trendy, preppy and just gorgeous. He was also sporting a fresh haircut just the way I like it.  Micky wore a navy suit, white shirt and brown leather shoes from local Perth stores. He and his groomsmen also wore satin olive bow ties from Mrs Bow Tie. The brother-of-the bride stood out in a lavender coloured bow tie again from Mrs Bow tie."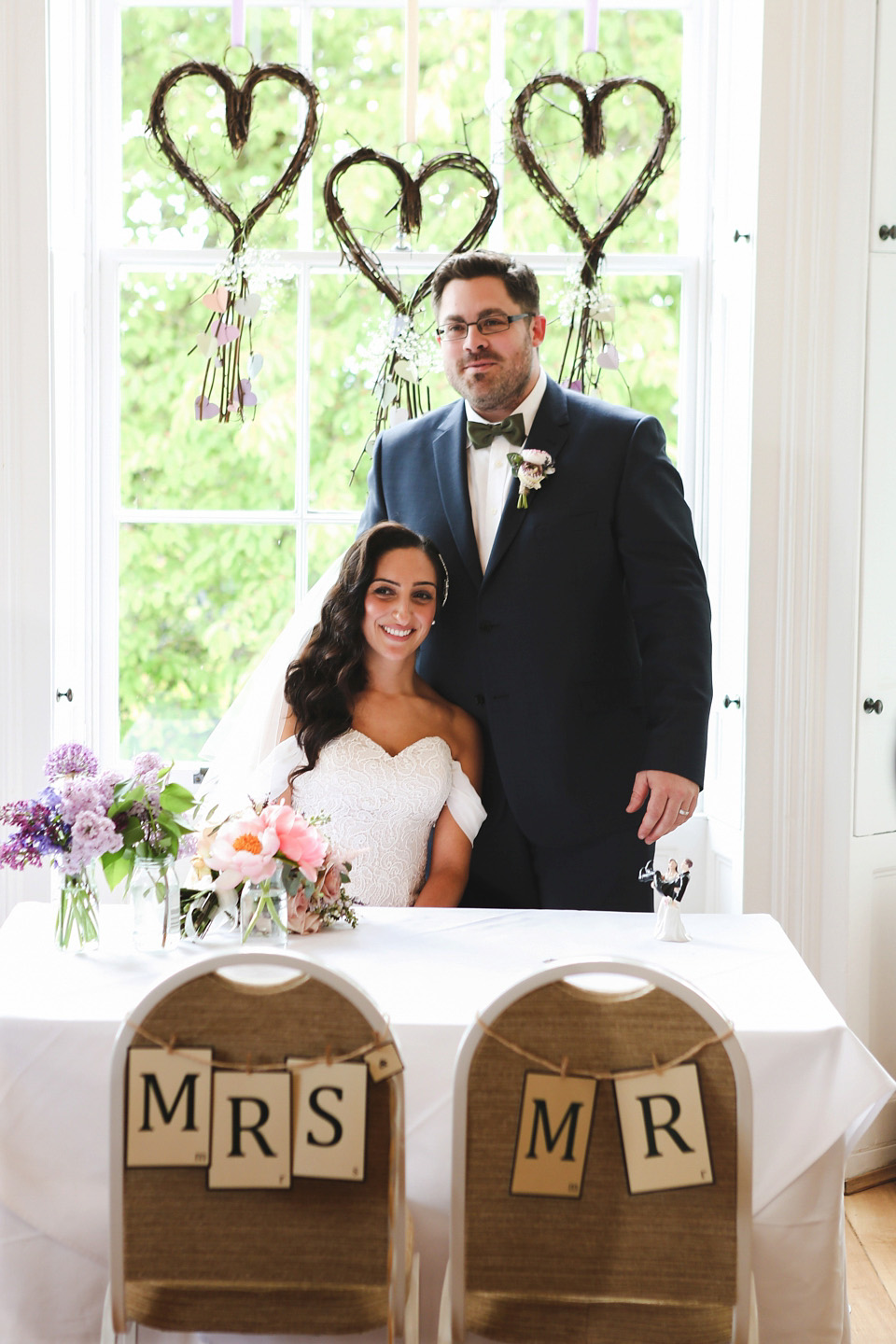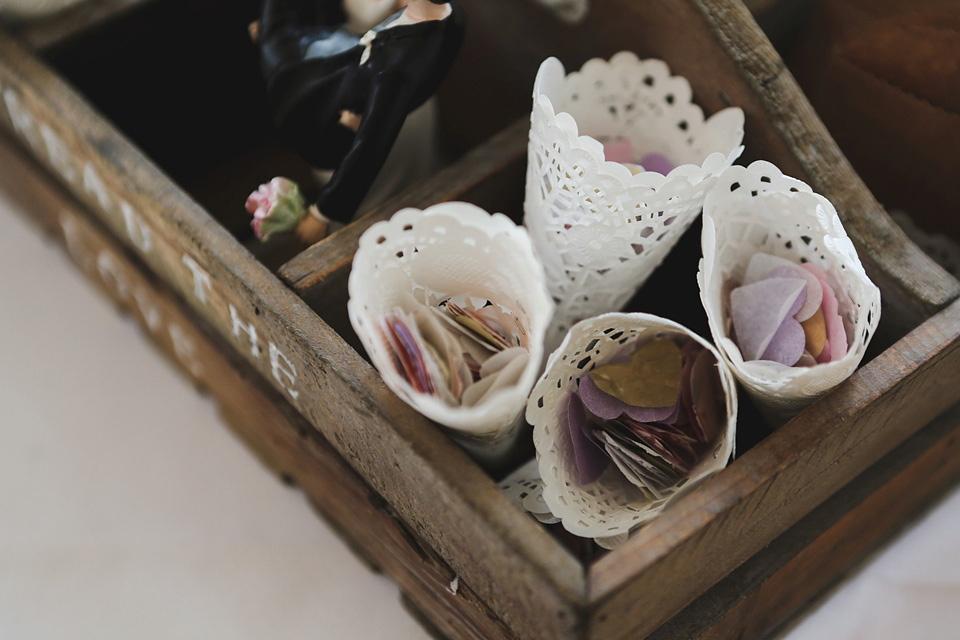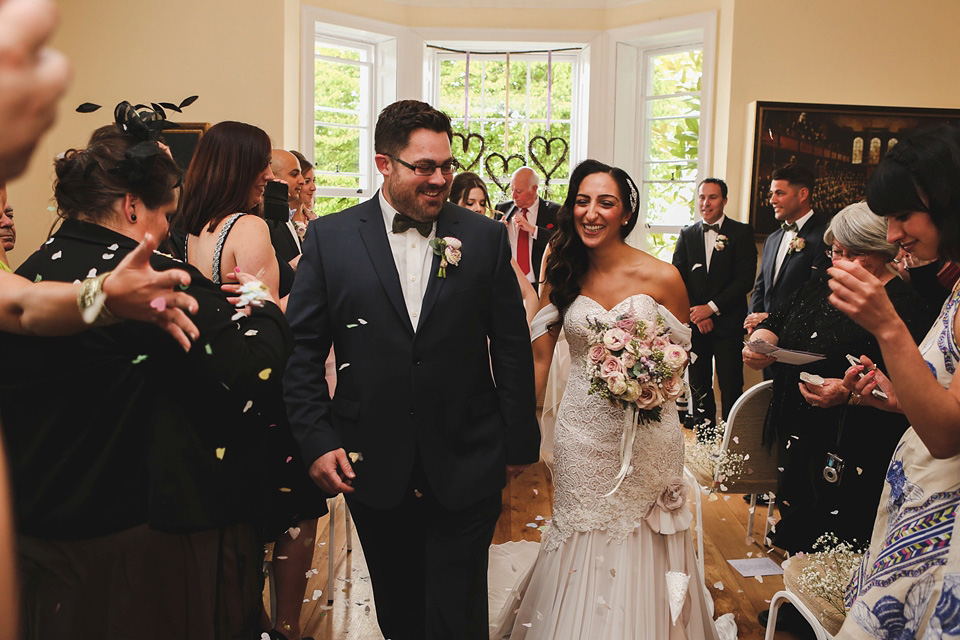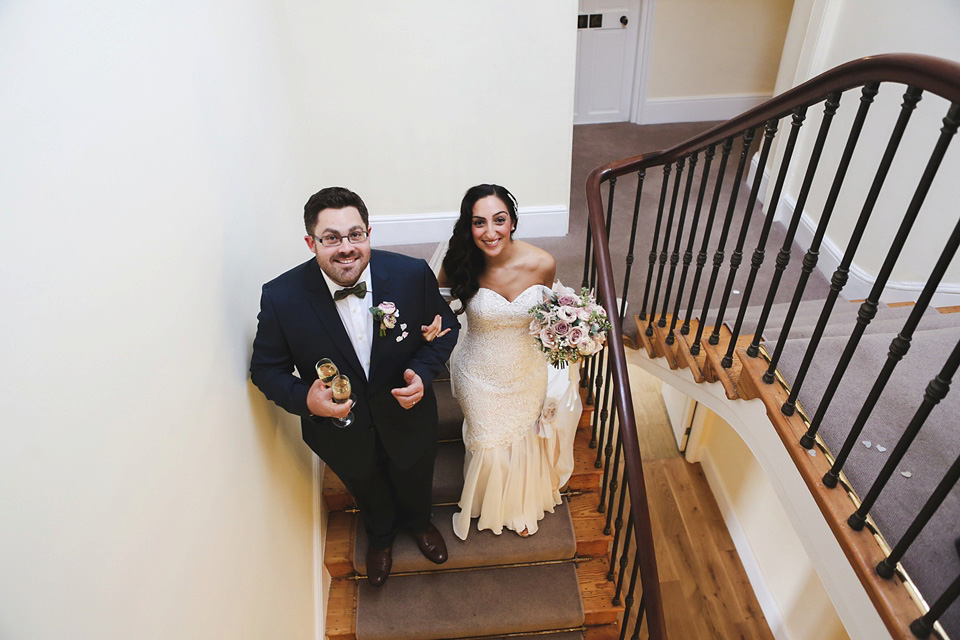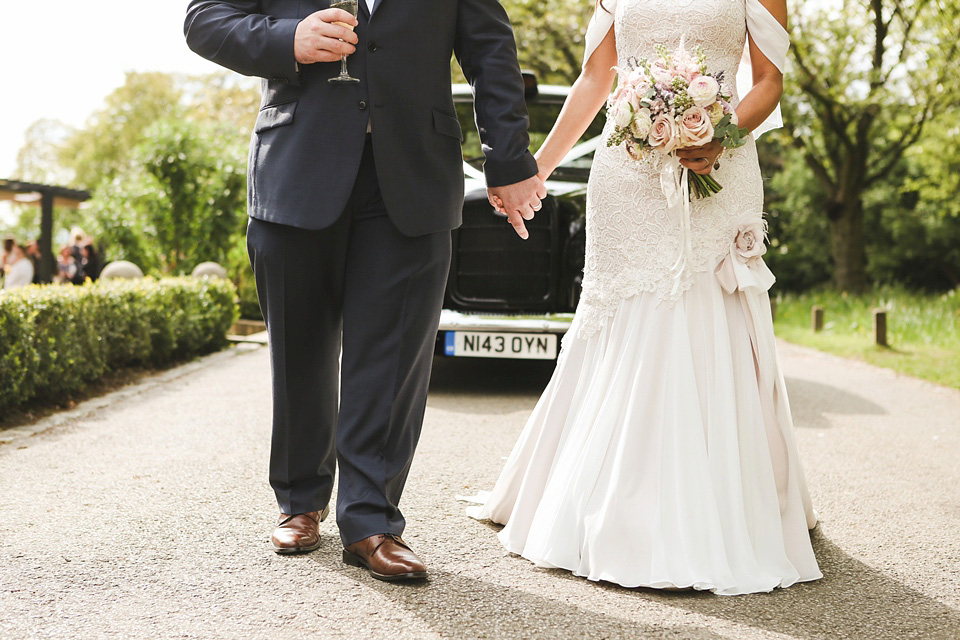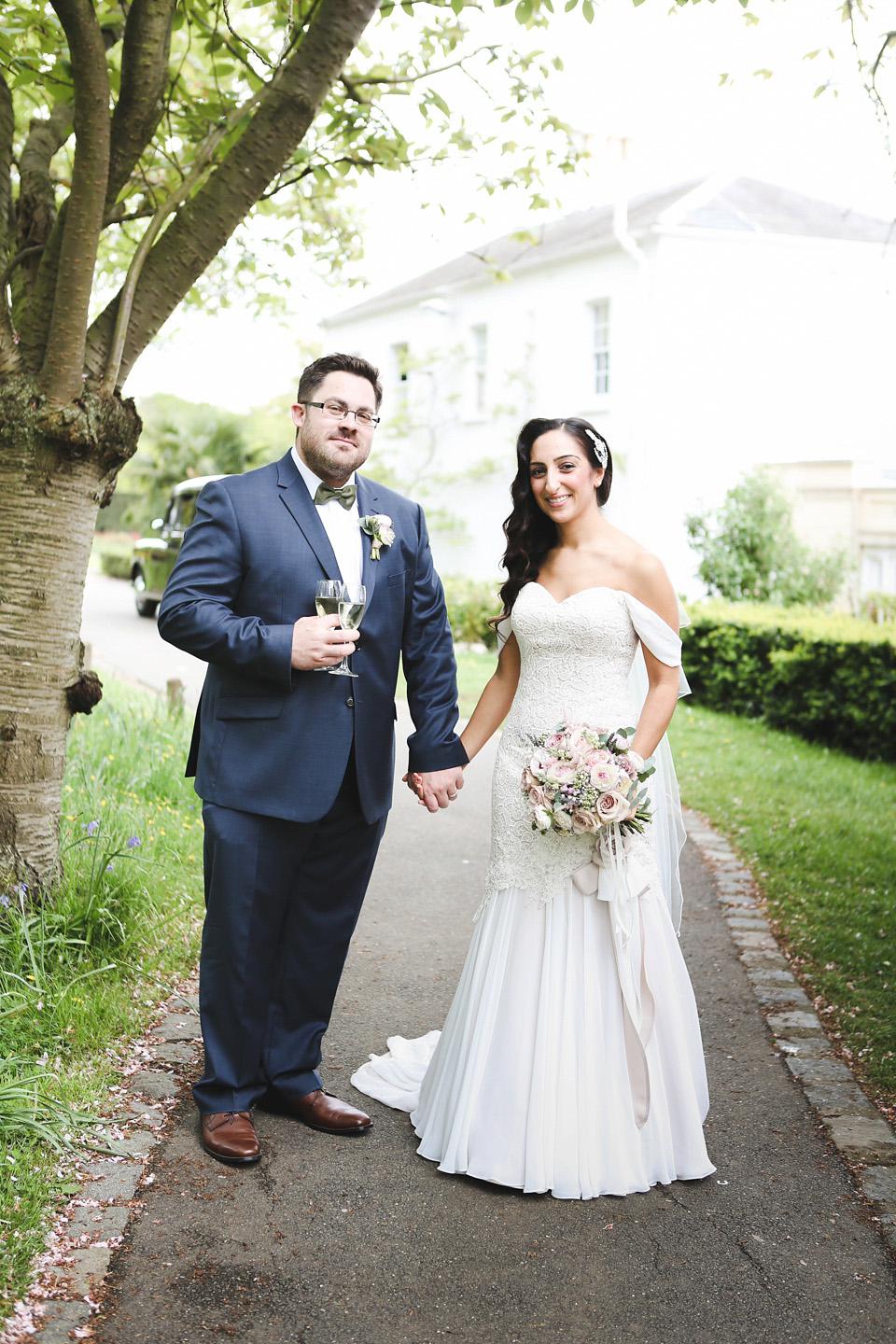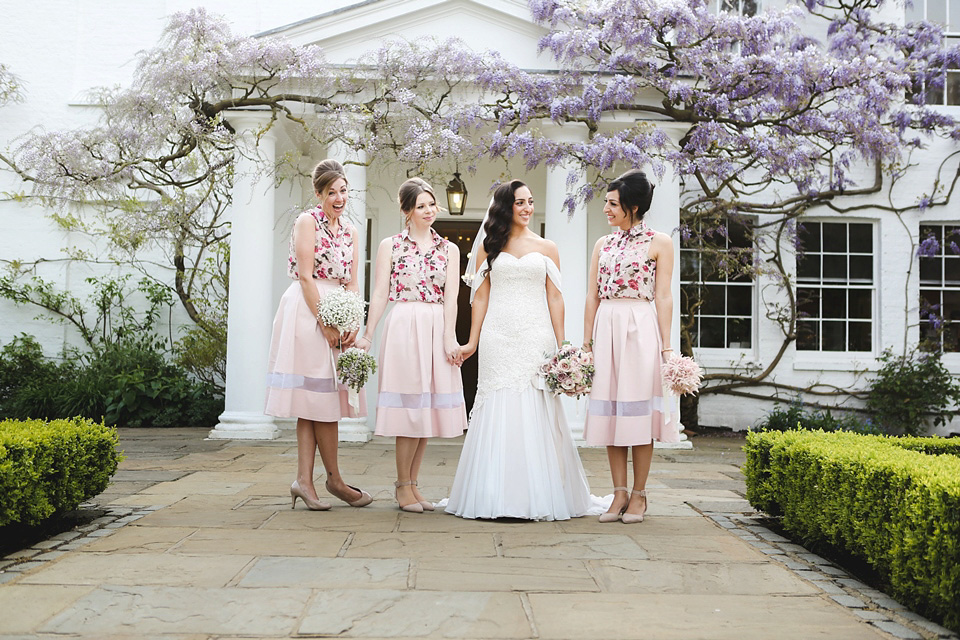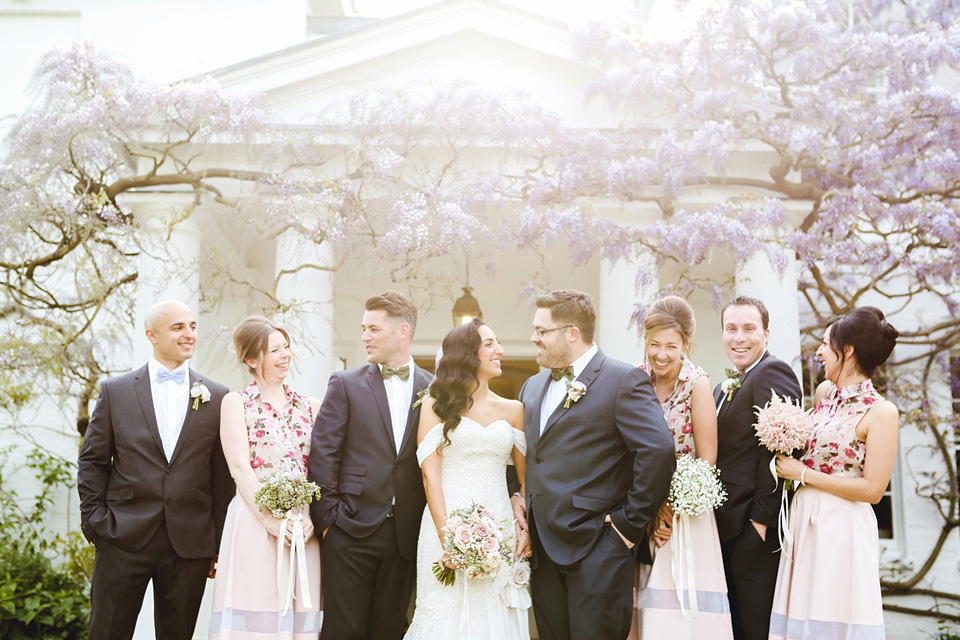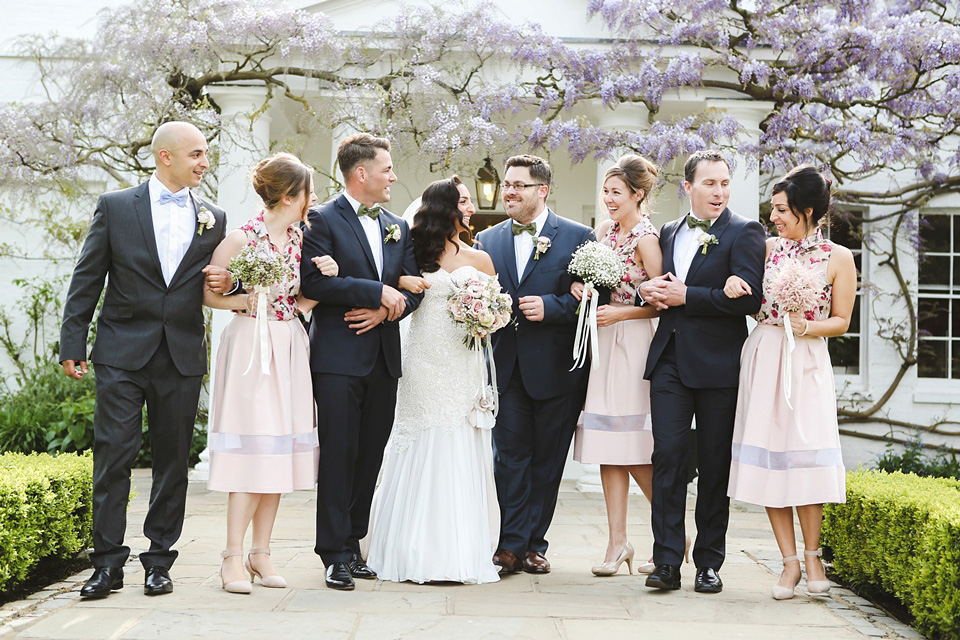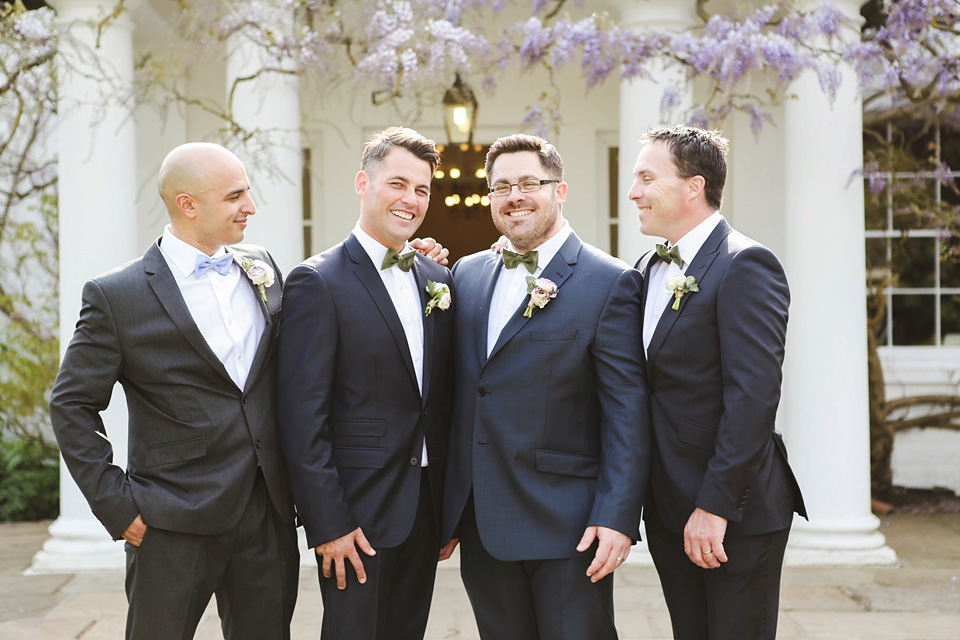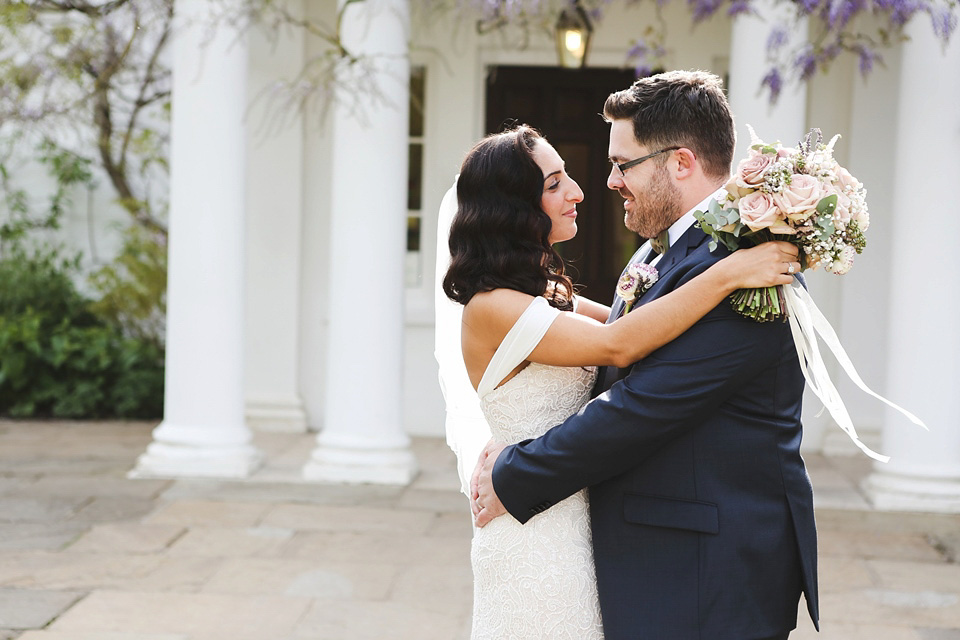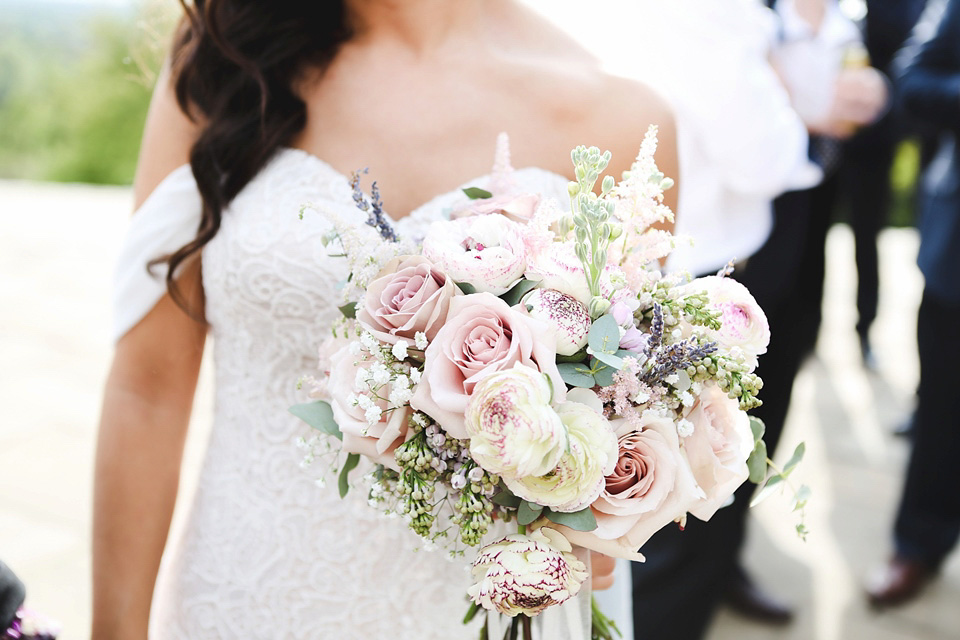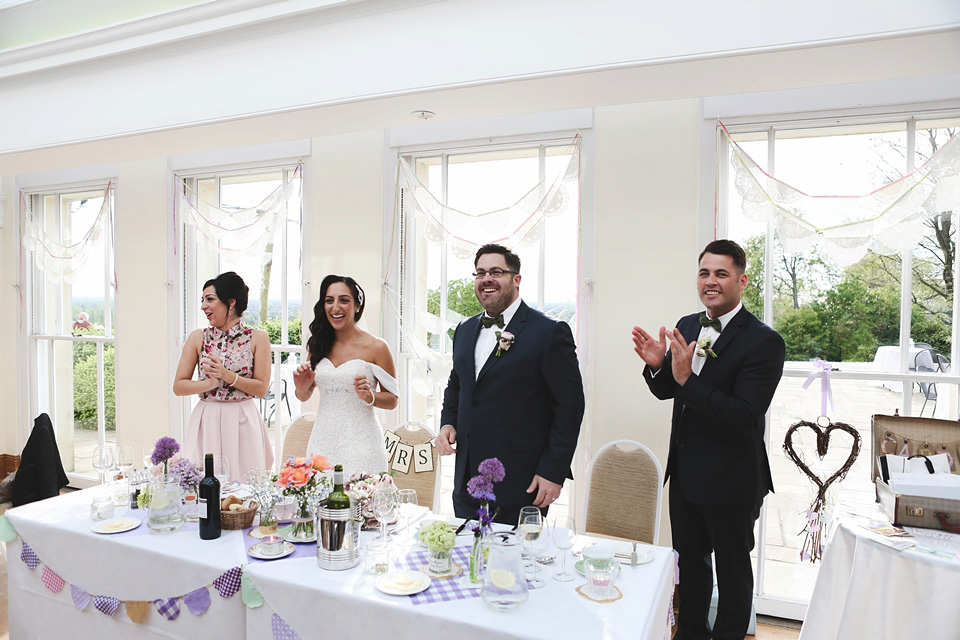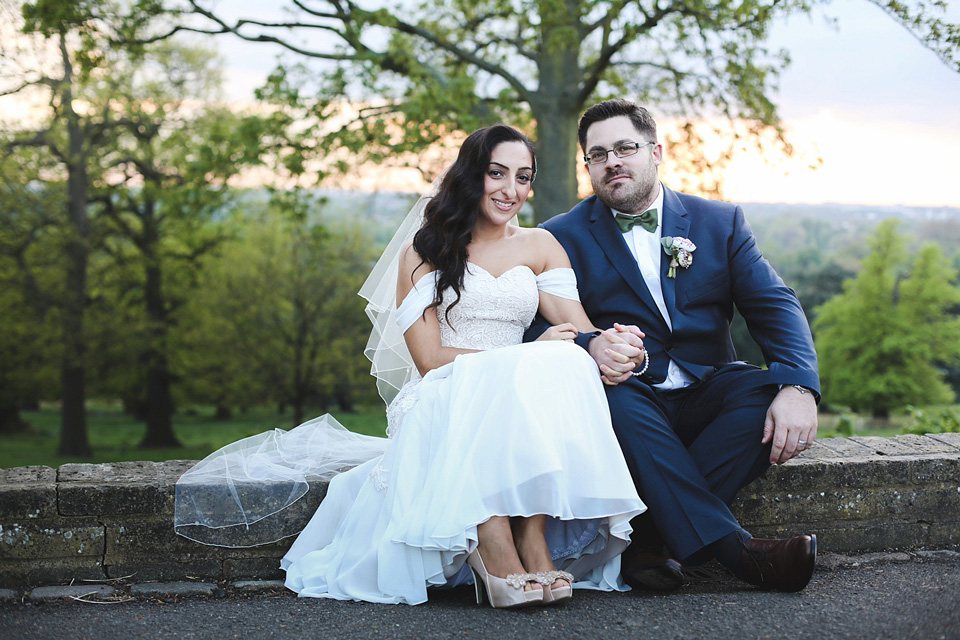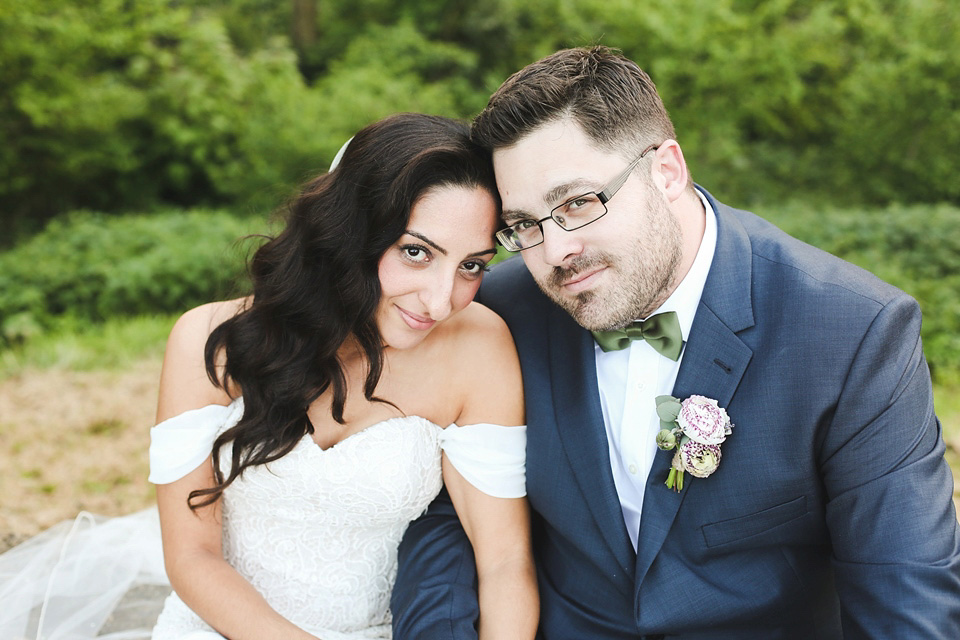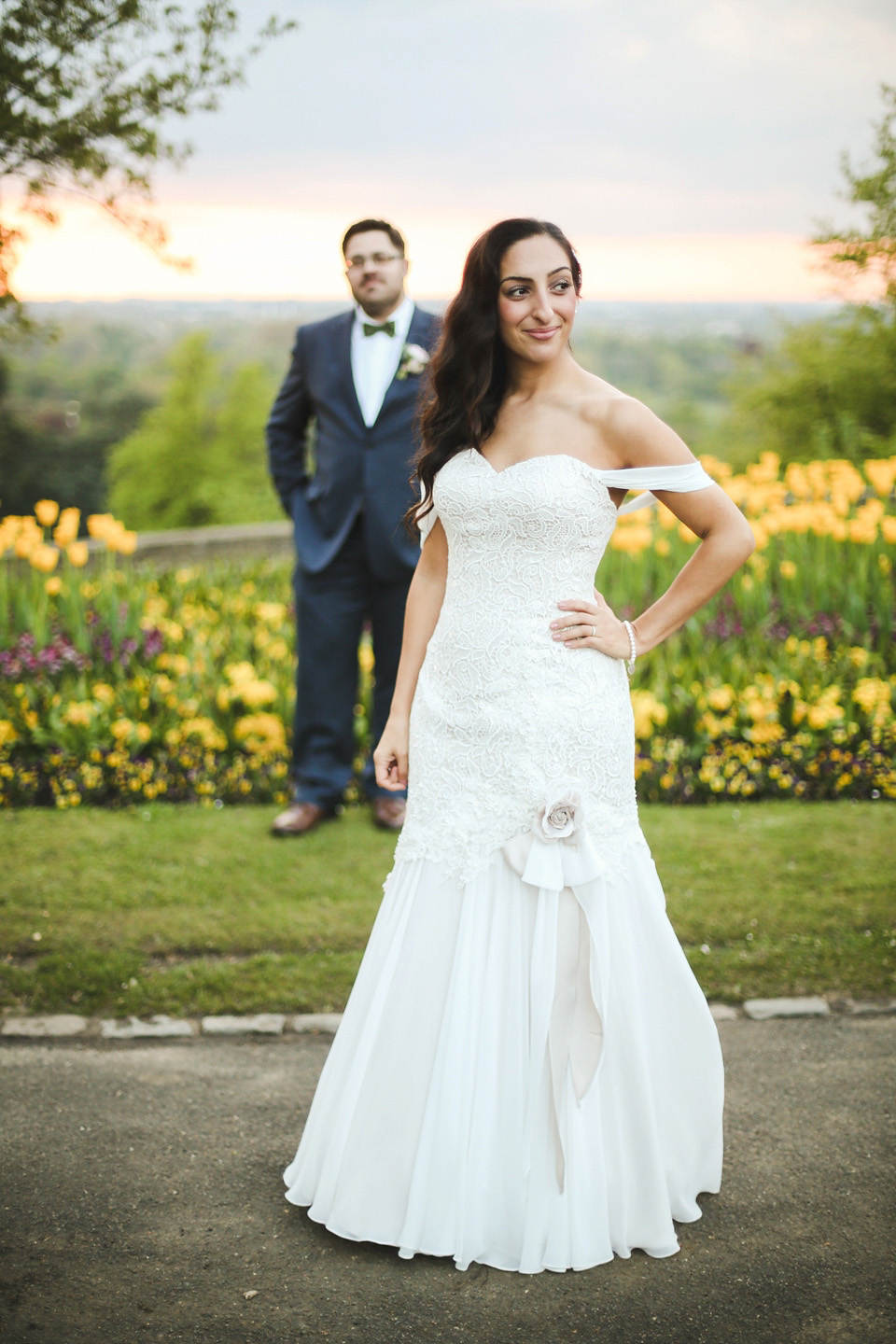 "We chose Hannah MacGregor of Funky Photographers to record all of the special m"oments of the day.  Hannah was fantastic. She was incredibly fun and mingled with all of the guests. She made us feel at ease and even helped me to the bathroom in my dress before leaving for the ceremony!"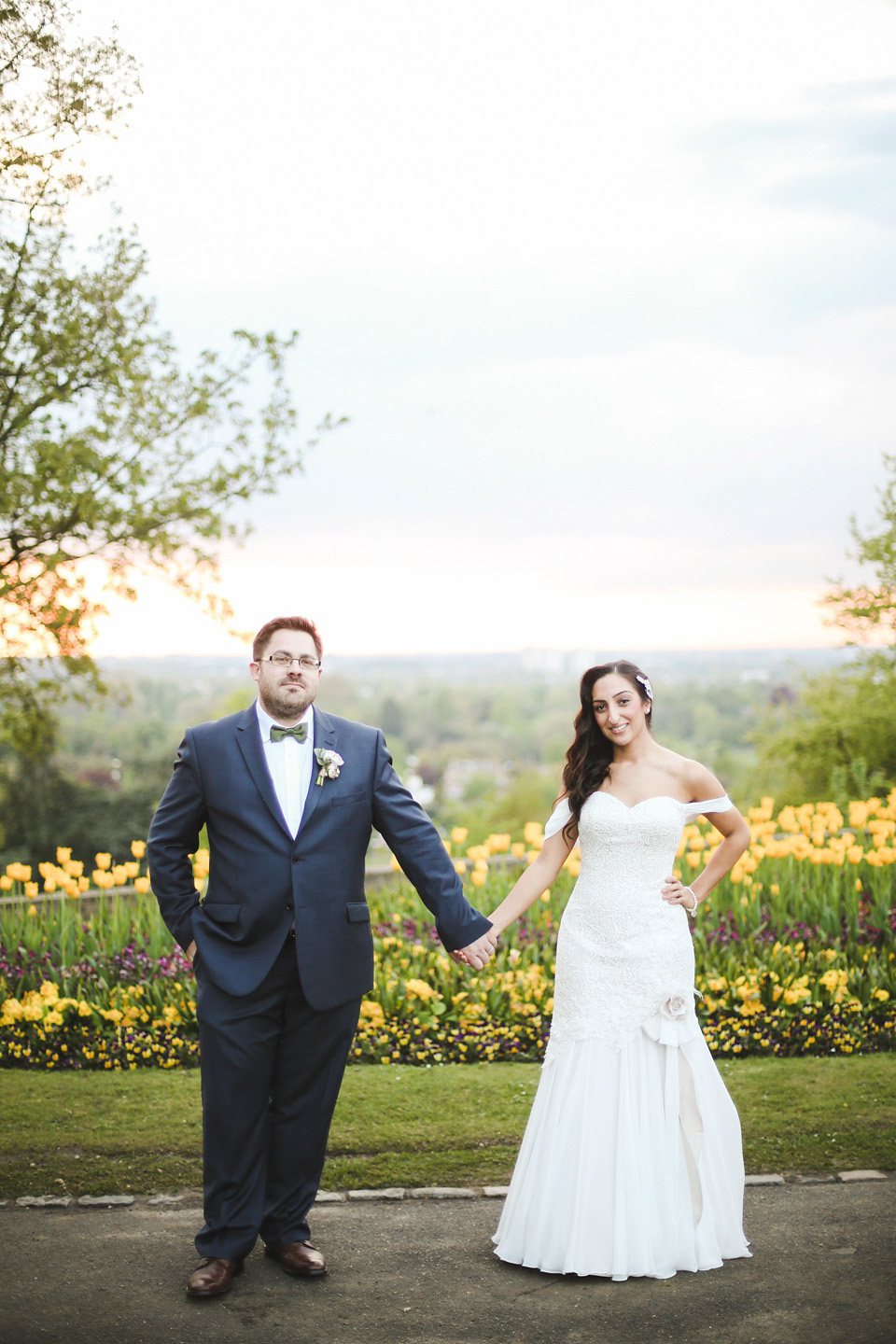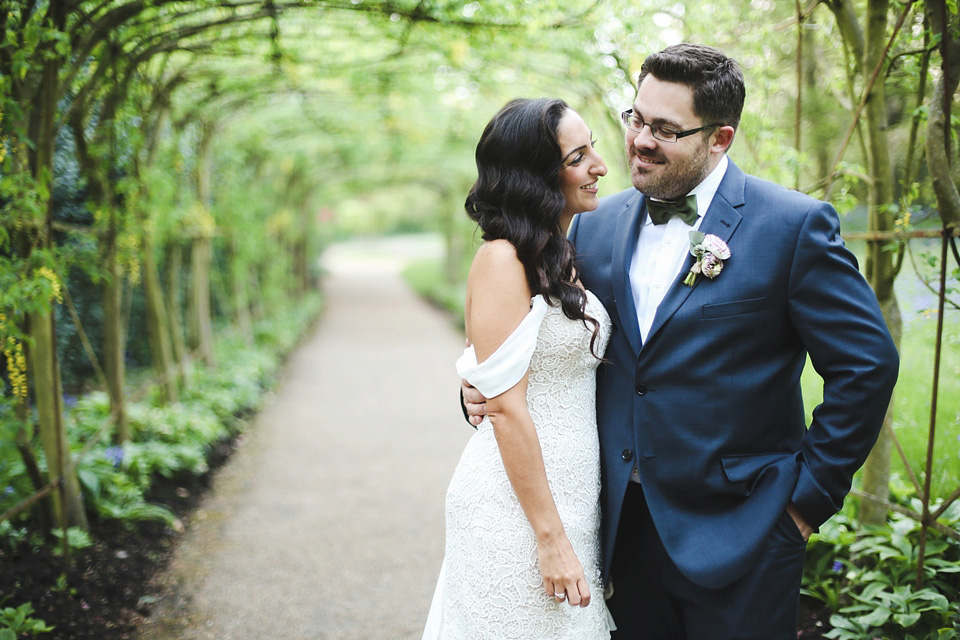 "My arty Aunty T made all of the decorations and styled and arranged both the ceremony and reception suites. Her work was endless from the wooden branch love hearts hanging from different colour patterned ribbons in the ceremony room window with the lush green trees in the background, confetti cones, homemade tissue paper confetti, pastel coloured love heart cards lined the aisle floor, hand-stitched gingham and polka-dotted doily bunting for the reception room and doily bunting attached to patterned ribbon as a backdrop behind the top table."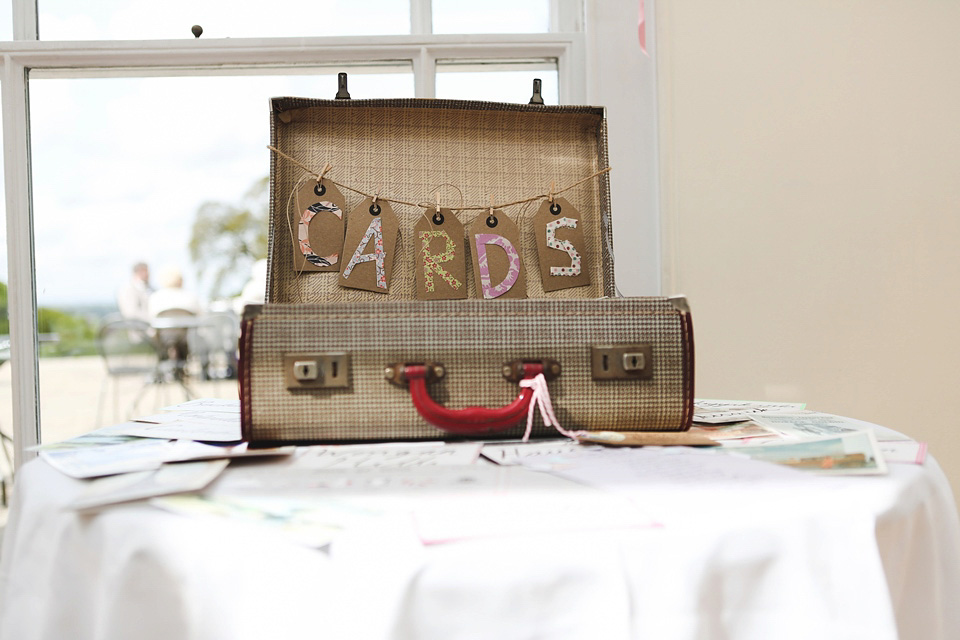 "She also made luggage label place cards, vintage and travel-inspired table plan, our 'Love Story' chalkboard (a timeline of our relationship to-date), sphere-shaped paper fans, recycled jam jars filled with an array of flowers my aunty sourced from Covent Garden Flower market, (notably vibrant pink and orange Miss Piggy roses, purple and lilac alliums and Gysophila as table centre pieces next to black and white passport sized photos of us. She placed vintage mismatch teacups and saucers, which were presents from friends on the top table."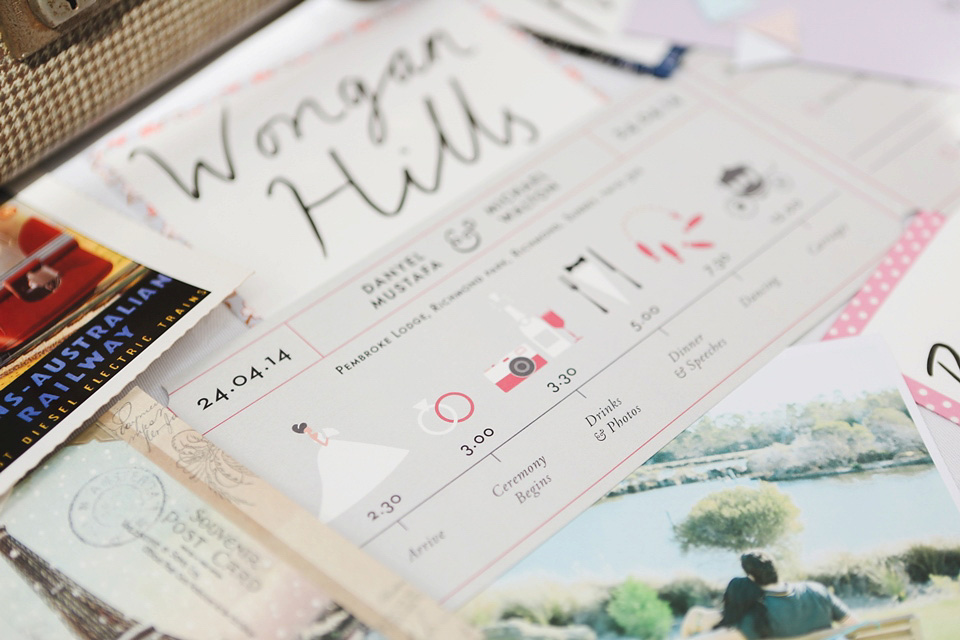 "The décor from the ceremony to the reception had a 'vintage tea party' and very much a 'homemade' feel to it with all of the contributions from family members and friends and notably my Aunty."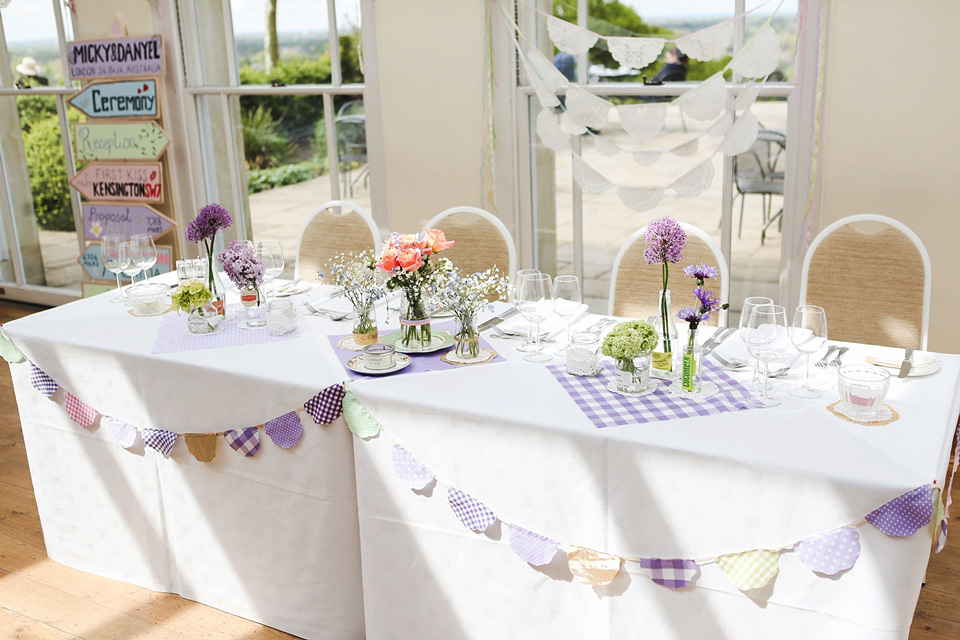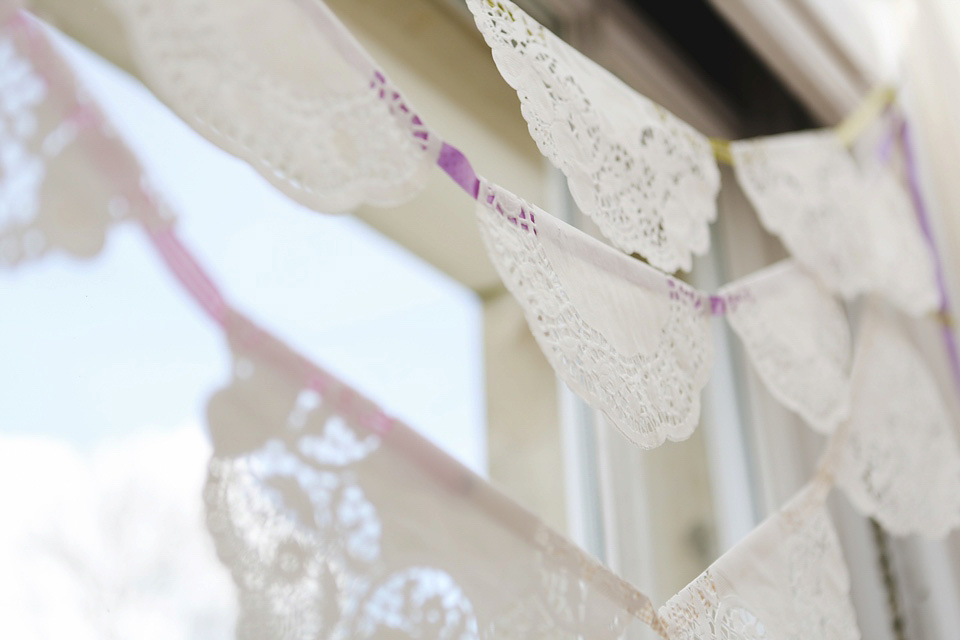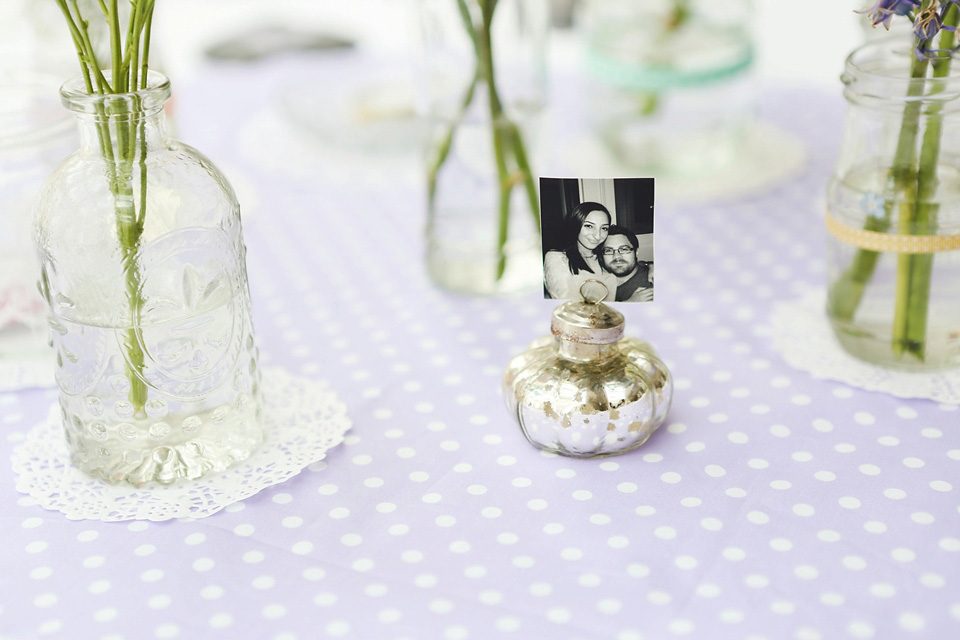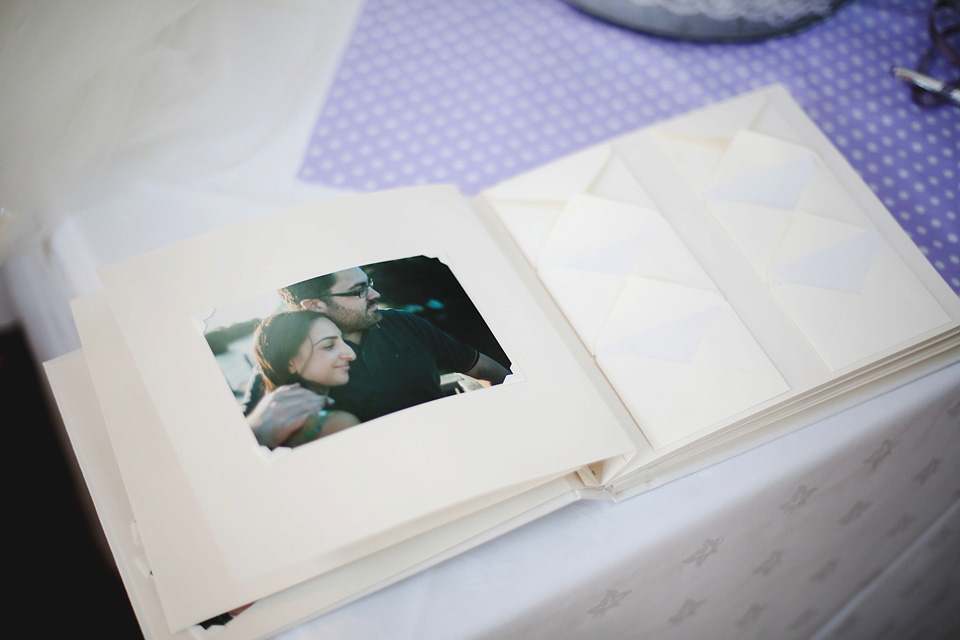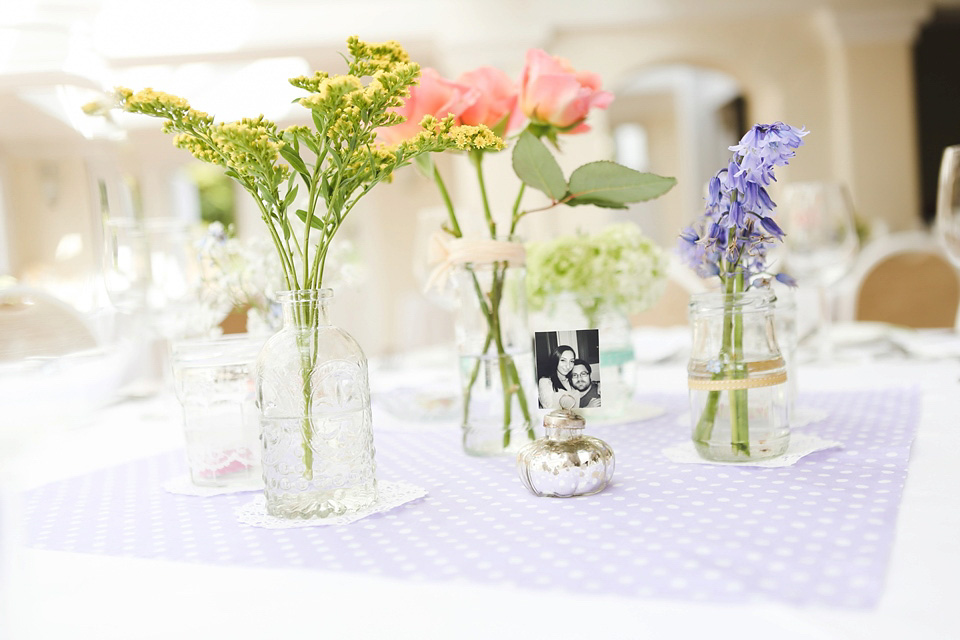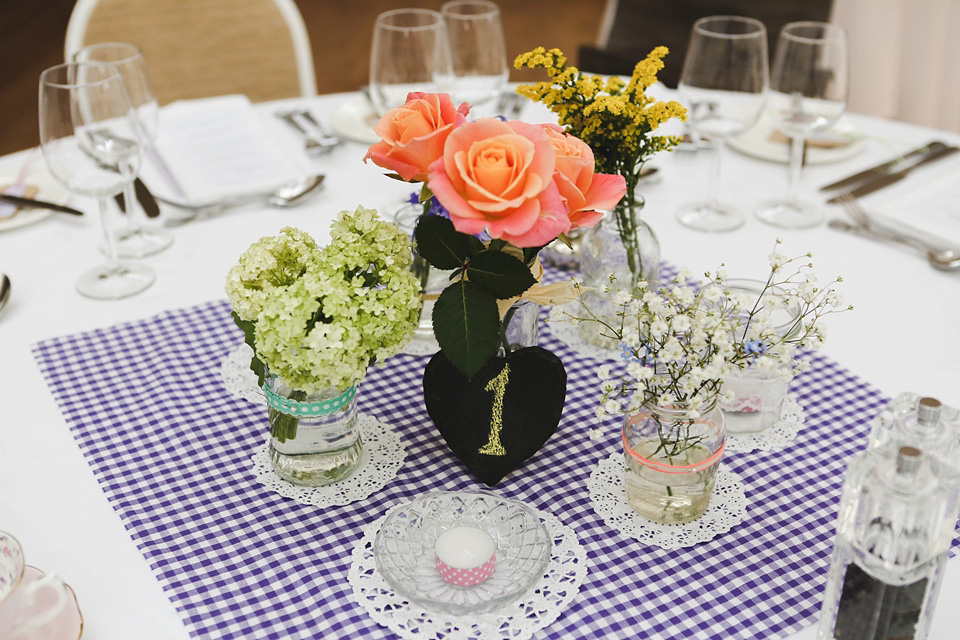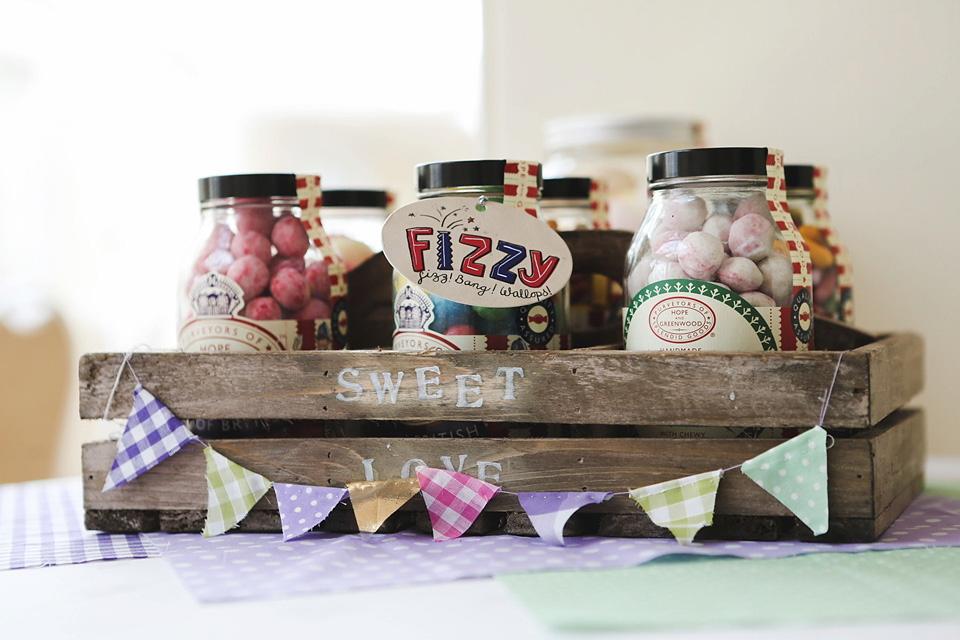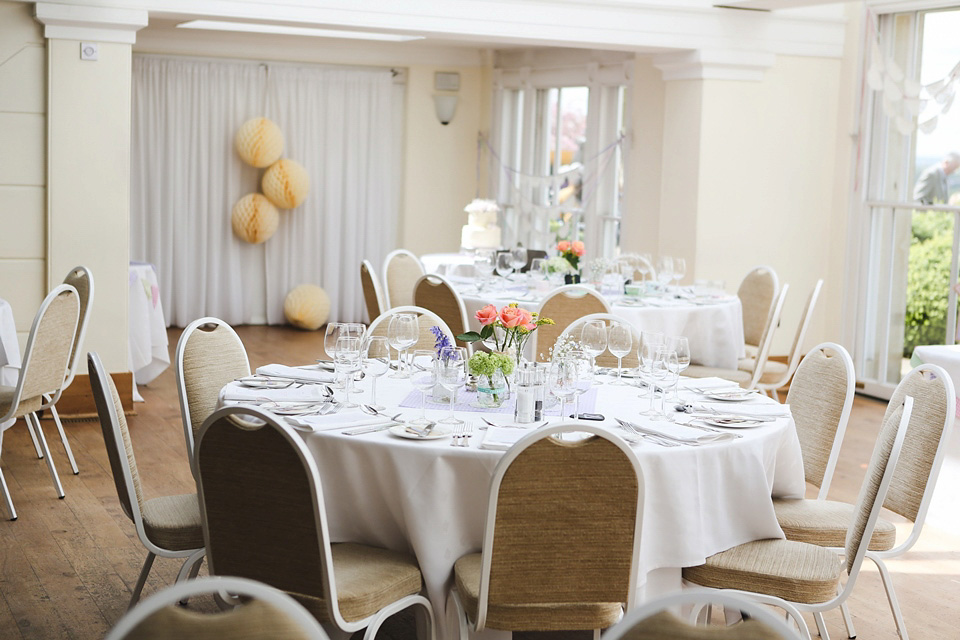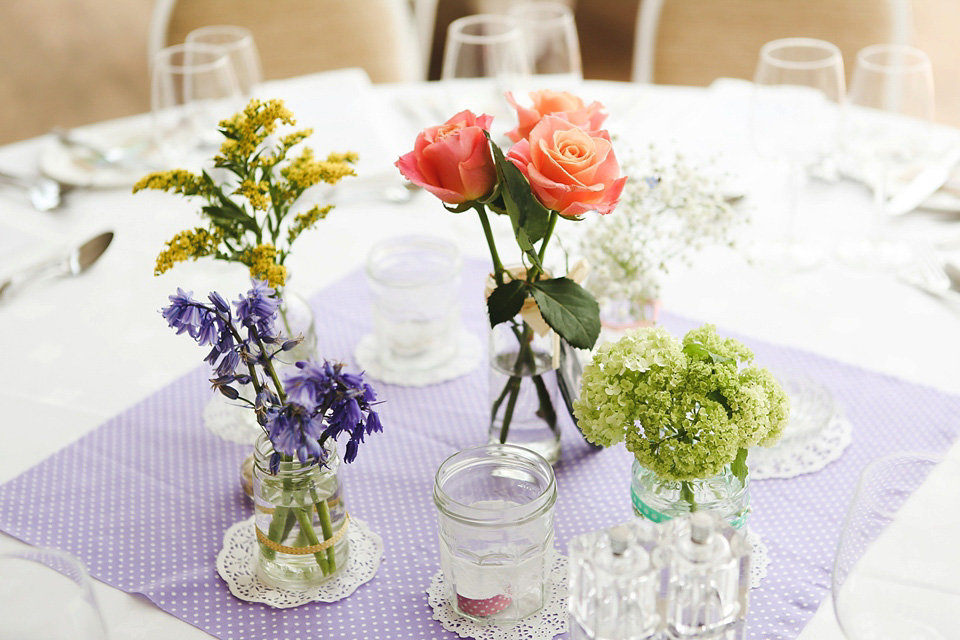 "Micky's sister Erin baked and decorated our gorgeous wedding cake. The two tier wedding cake consisted of one chocolate cake and one red velvet cake, topped with fondant roses in pastel colours."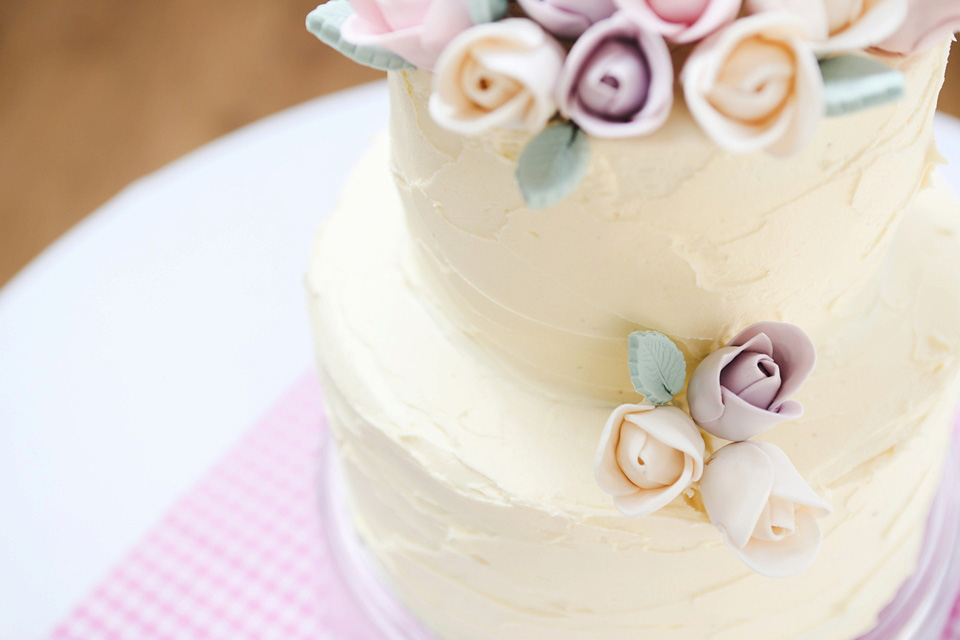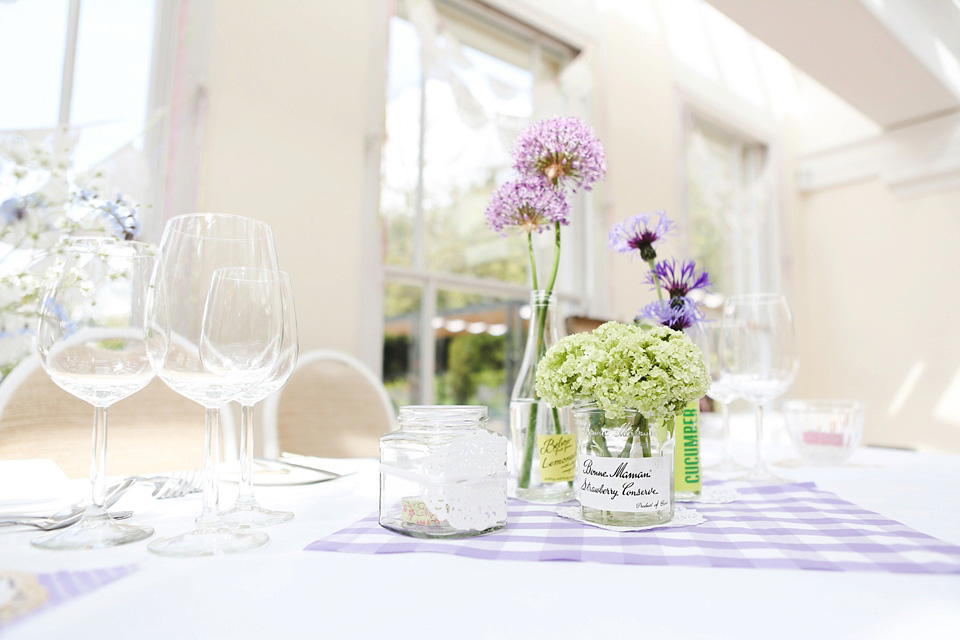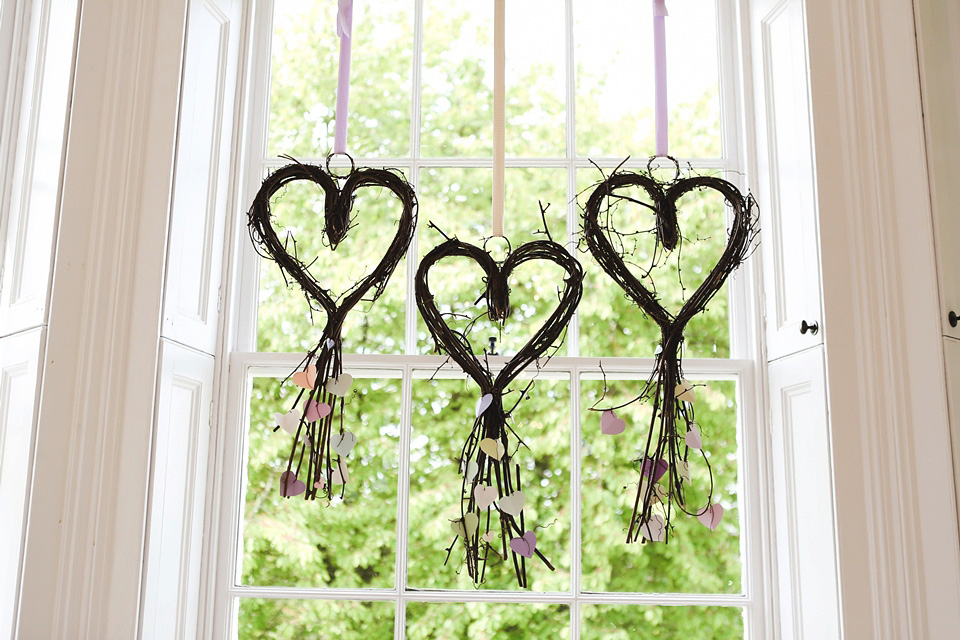 Words of Wedded Wisdom…
"List the things that are essential to your day and things that aren't so you can work out what is worth investing in and what isn't as much. For us it was investing in a reputable photographer and ensuring we had a quality sit-down dinner with great food and a free bar for our guests. We then listed things we were happy to cut back on such decorations, flowers, an elaborate wedding car, and a make-up artist so we could invest in the items important to us.
Get family/close ones involved in the wedding planning. Our day felt that extra bit special as so many parts of it were made, contributed, planned and performed by various members of our family and friends. Everyone special had a special role to play on our day.
Brides – invest in a primer to apply before your make-up so it lasts longer and gives a warm radiant glow. Also, avoid trying anything too different on your wedding day; you want to look like you. Go with styles and colours that suit you.
Remember that your day is going to be perfect and you are going to look beautiful. Don't overcomplicate your wedding planning and take time to think about the emotions you will feel on the day.
Our day was perfect and if we got the chance to do it all again we would simply take a few extra moments alone together to cherish every single moment of our amazing day."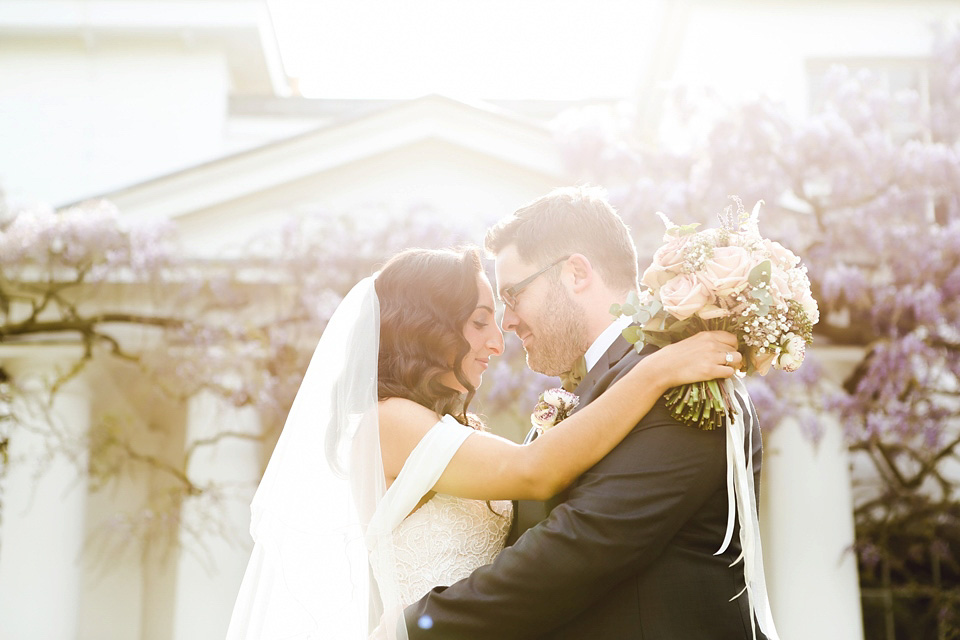 What an absolutely lovely day – such a sweet, stylish couple and so elegantly captured on camera.  Danyel and Micky, I hope you have the best first anniversary.
And readers, you can see more beautiful weddings at Pembroke Lodge Here on Love My Dress. You might also want to explore more brides with a marcel wave or beautiful floral arrangements by Fairynuff Flowers.
Have a most lovely afternoon,
Annabel x
Photographer – Funky Photographers
Venue + Catering  – Pembroke Lodge, Richmond Park, Surrey
Wedding Dress – Brides Desire by Wendy Sullivan (Australia)
Headpiece – Oasis
Accessories – Tiffany pearl earrings + bracelet
Perfume – 'Blue Agava & Cacao' by Jo Malone
Groom – suit sourced from Australia + Mrs Bow Tie
Bridesmaids – skirts via Topshop  + tops via New Look + BHS shoes
Page Boys – outfits made by a family member
Florist – Fairynuff Flowers
Cake – created by a friend
Transport – Black Fairway Vintage Taxi
Rings – Ecali Fine Jewellery in Perth
Stationery – Sinem Erkas
Hair Stylist –Vicki Lord
Mother of the Bride – TK Maxx