I had the very lovely pleasure of meeting the couple whose wedding I'm about to share, at the Most Curious Wedding Fair last month, where they were both exhibiting the services of their newfound wedding styling, sourcing and creative direction company, Bride to Bijoux.
Joanna, a Freelance Fashion Editor and Wedding Stylist, married Football Agent Andrew on 27th June 2014 at The Asylum Chapel in Peckham, a venue they instantly fell in love with, followed by a reception at The Londesborough pub in Stoke Newington.  The couple, who met at secondary school when we were teenagers and got engaged on the Amalfi Coast in the summer of 2013, had support organising and planning their day from Joanna's twin sister Ros Shiers, who provided the stationery and styled the flowers.
"I have always loved the charm of original vintage props and clothing – I love the 1930's as an era too, and we were also guided by the decayed decadence of the Chapel when decorating the space. The films of Baz Lurhmann – particularly Romeo and Juliet and The Great Gatsby were in my mind when researching and I love the fantastical sets of fashion photographer Tim Walker."
Photography by Zoe Noble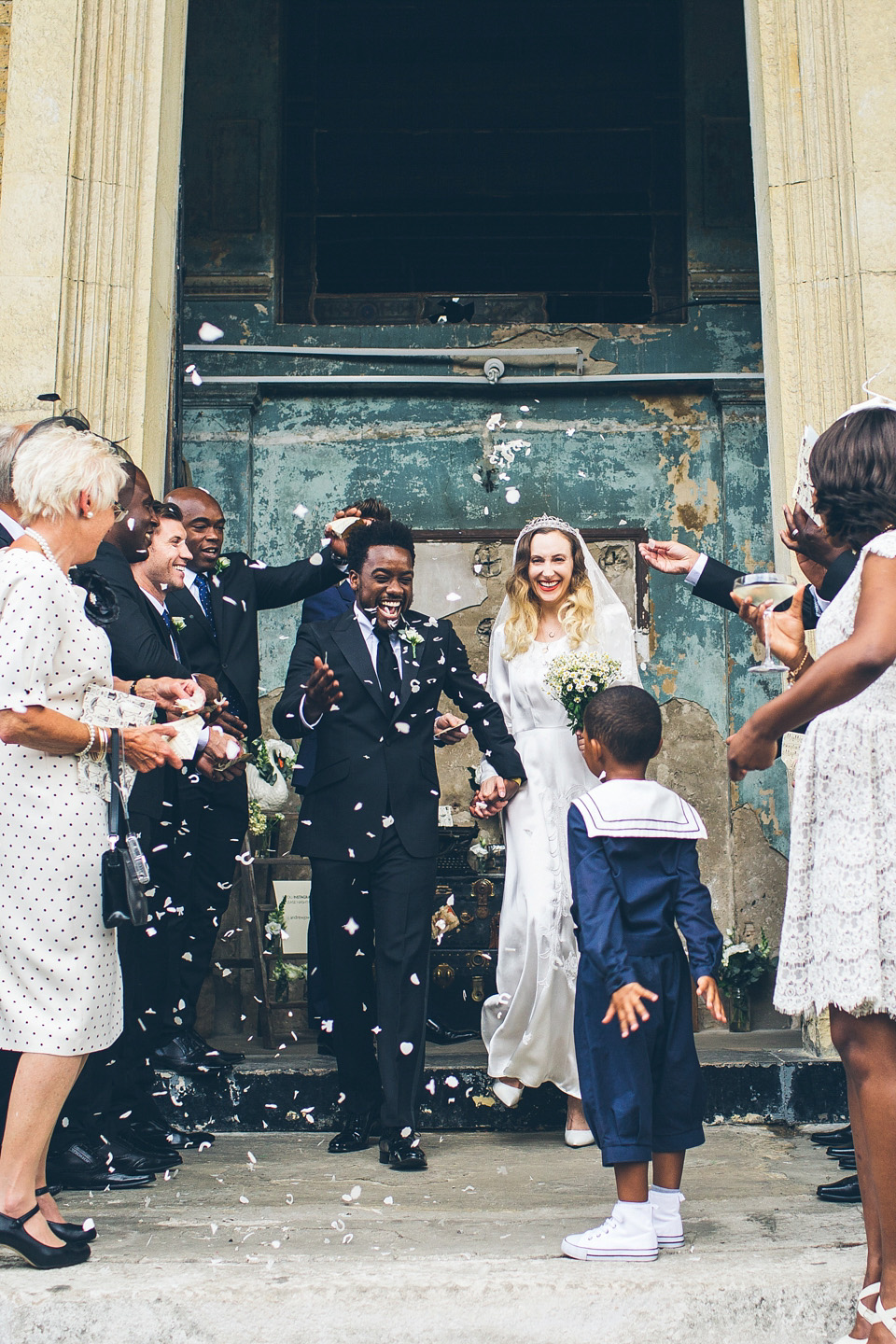 "We sourced a lot of the vintage props from various vintage and antique fairs around the south east and some we already had as we both really enjoy antiquing. My favourite pieces were the pair of antique French Art Deco Ormolu Chandeliers that we styled the alter with. Other props included Victorian Glass domes, Mary figurines, taxidermy deer antlers, a typewriter, gramophone, old travel trunks, crates and books.
Andrew sourced an old piano from gumtree the week of the wedding so my brother-in-law could play whilst the guests were arriving and getting seated in the Chapel which was the last item we bought. We gifted the piano to another couple that were getting married in the Chapel later on the year so someone else could get some joy from it."
"I made my cake myself two nights before the big day! Absolute madness when I look back at it now and most definitely not my finest hour aesthetically – let's just say I've since learnt the art of dowling! Anyway, I love baking and so knew I would do it, we had a flourless chocolate cake (a recipe I've made lots of times before) with dark chocolate frosting and some simple roses and peonies on top. There were six more tiers (that you don't see) to feed all of our guests."
Joanna wore an original vintage 1930s satin wedding dress with embroidered bow details bought from a vintage fair in Hammersmith that she attends regularly.
"I started looking for my dress at the beginning of 2014, visiting monthly vintage fairs in London, I knew I wanted something from the 1930's, and as soon as I saw it I thought, 'that might just be the one'. It was too big when I bought it but a good friend of mine (in fact one of my bridesmaids – Anna) has some amazing alteration/seamstress skills (we met at Uni studying fashion design) so we set to work together to transform the dress and tailor it to fit me.
We both really enjoyed working on my wedding dress together and once we got the fit right I just hand appliquéd lace over any of the slight imperfections in the cloth that dresses of this age are bound to have."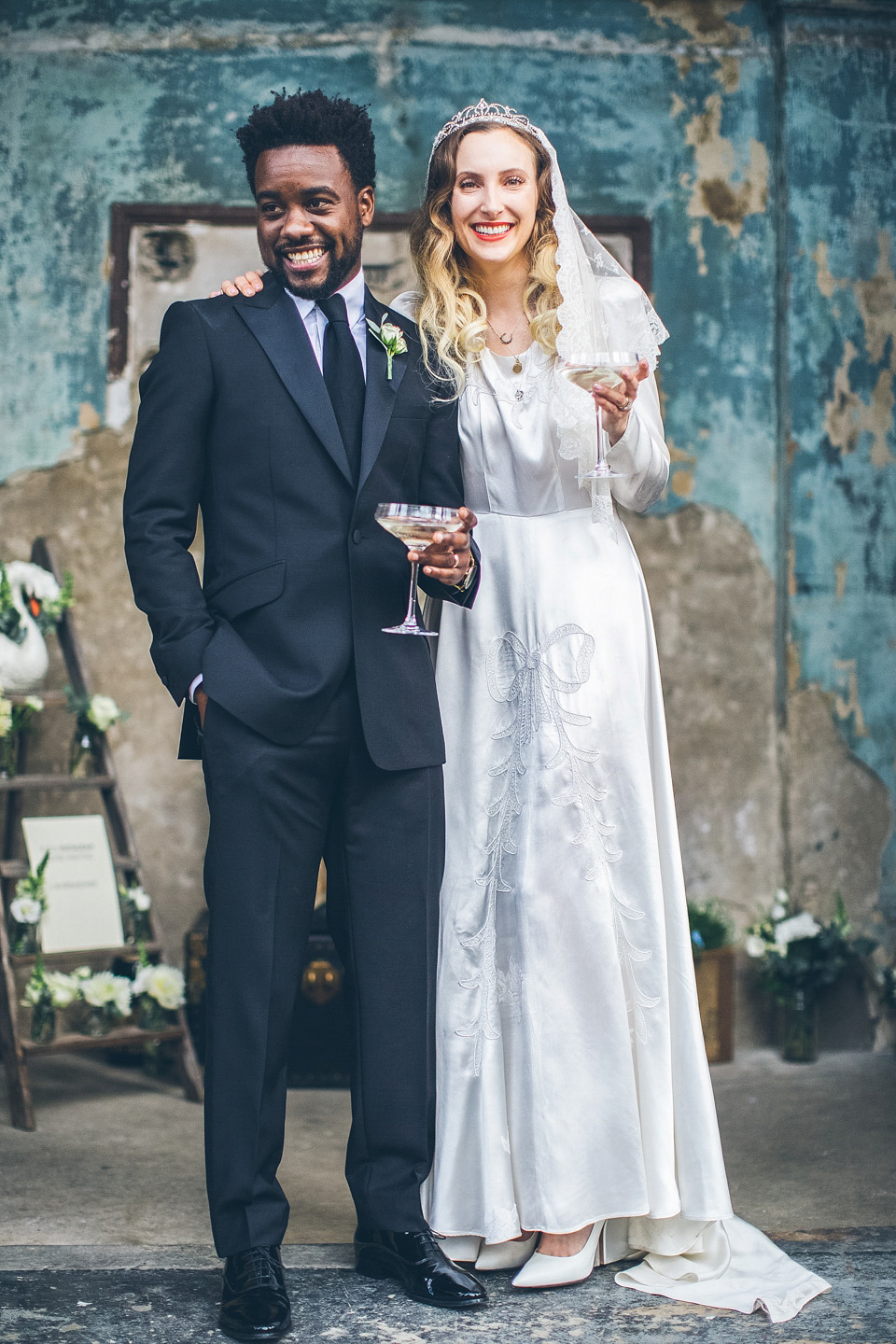 "My sister's bridesmaid dress was from Whistles. Siouxsie and Anna's dresses were from Warehouse and William wore a blazer from ASOS with Topshop trousers, a vintage ruffle shirt bib and ribbon tie.
I gave my bridesmaids and bridesman various Victorian and Edwardian crescent moon brooches as gifts on the day which they all wore." 
"Our photographer Zoe Noble and I met whilst working at a trend forecasting agency years ago and became friends. She lives in Berlin now with her husband but we flew her over to shoot our wedding. I knew I really wanted someone I knew taking the photos and was had always admired Zoë's fashion editorial and interiors so was so happy when she said she would love to photograph our day – it's the first wedding she's shot!"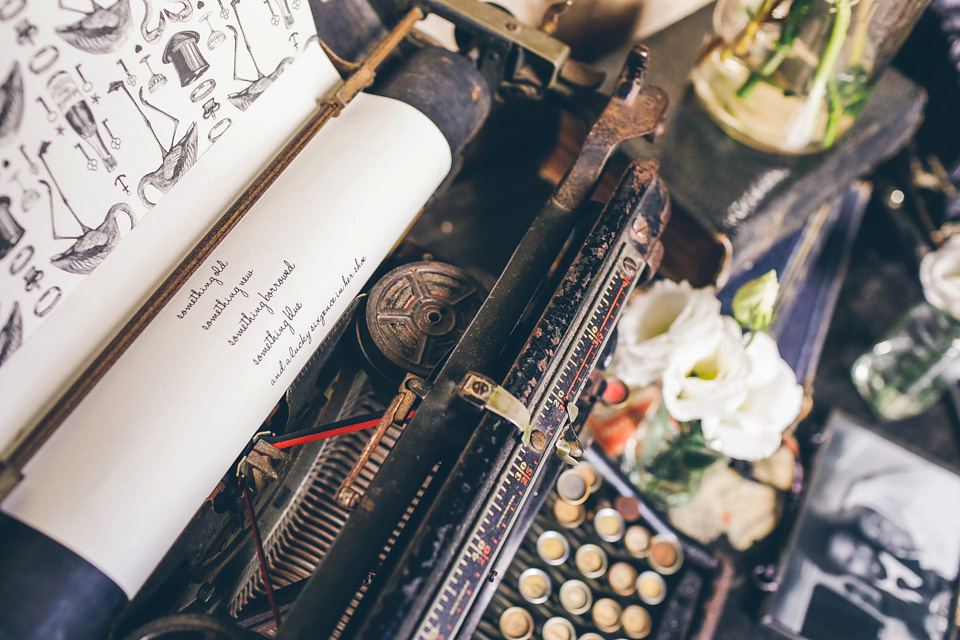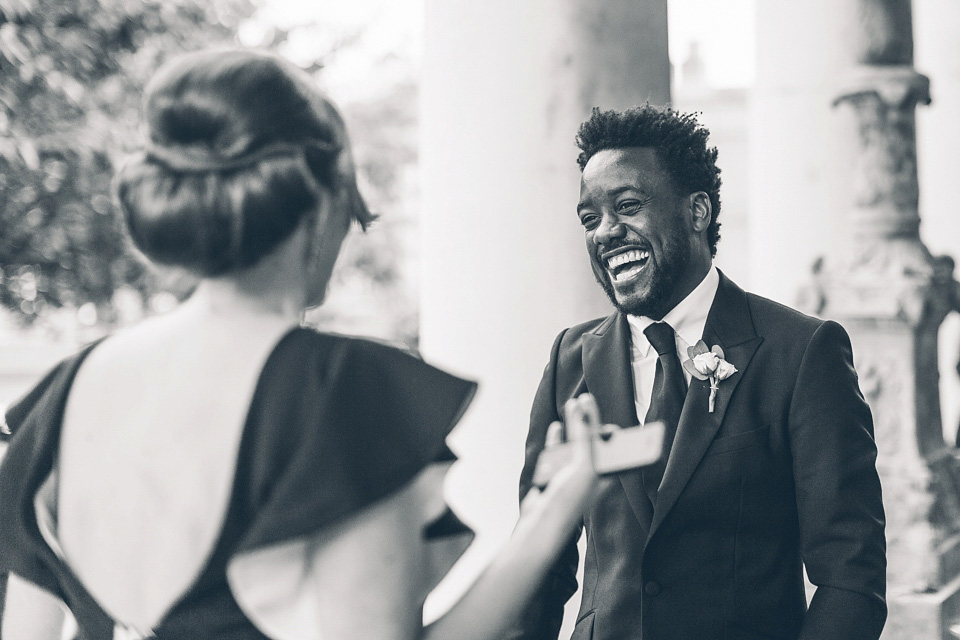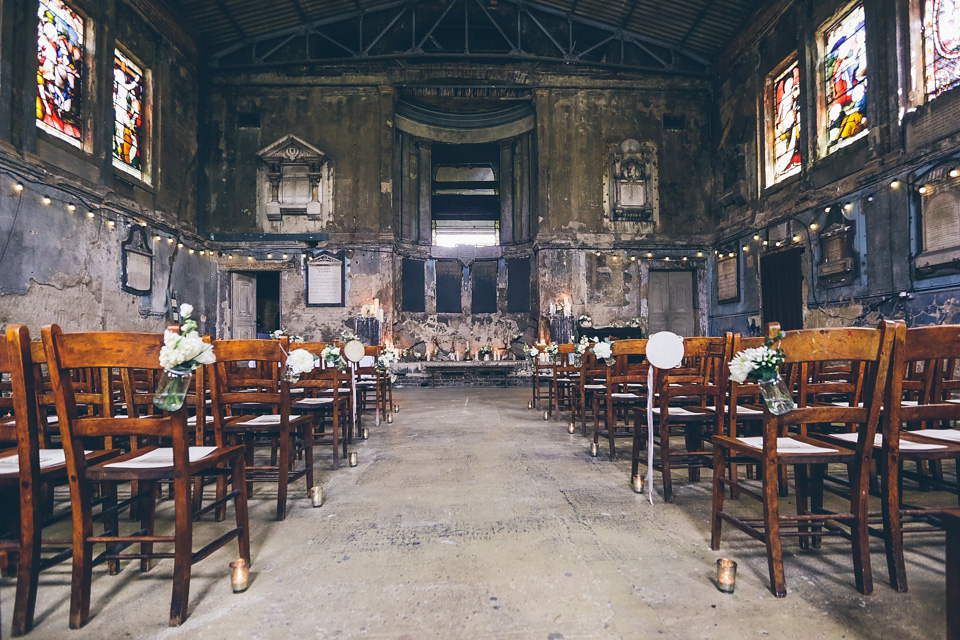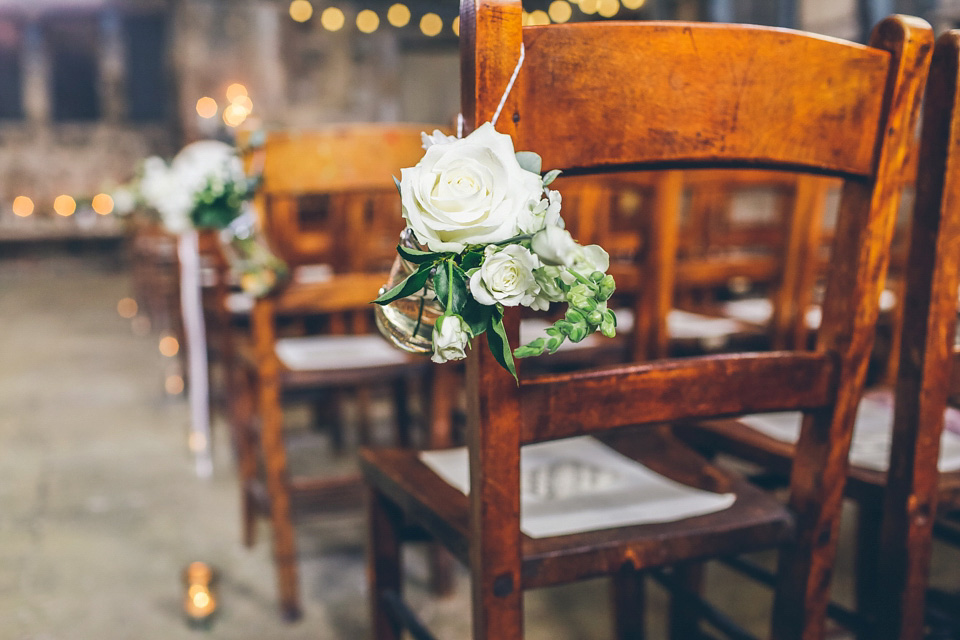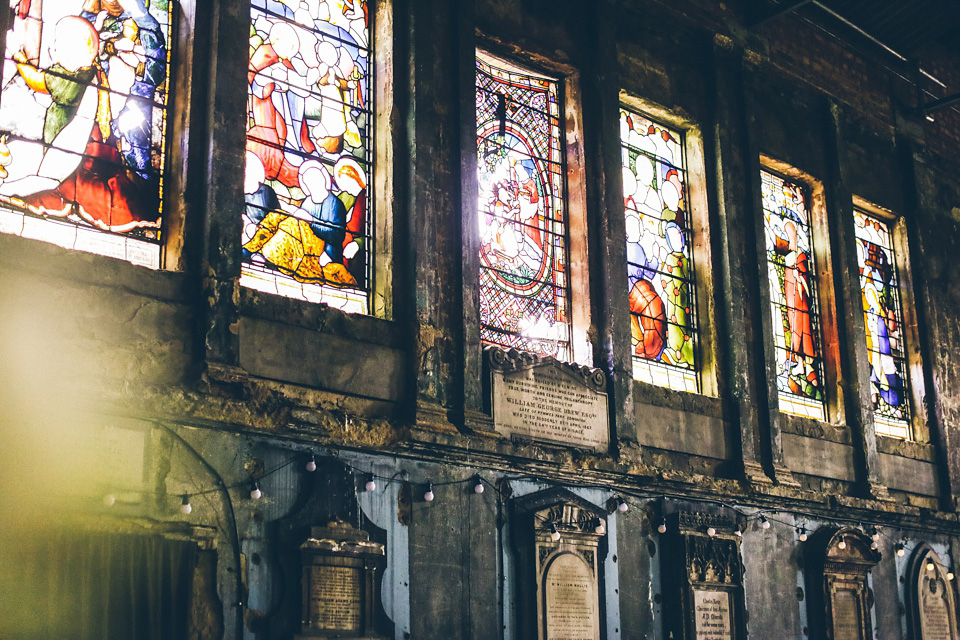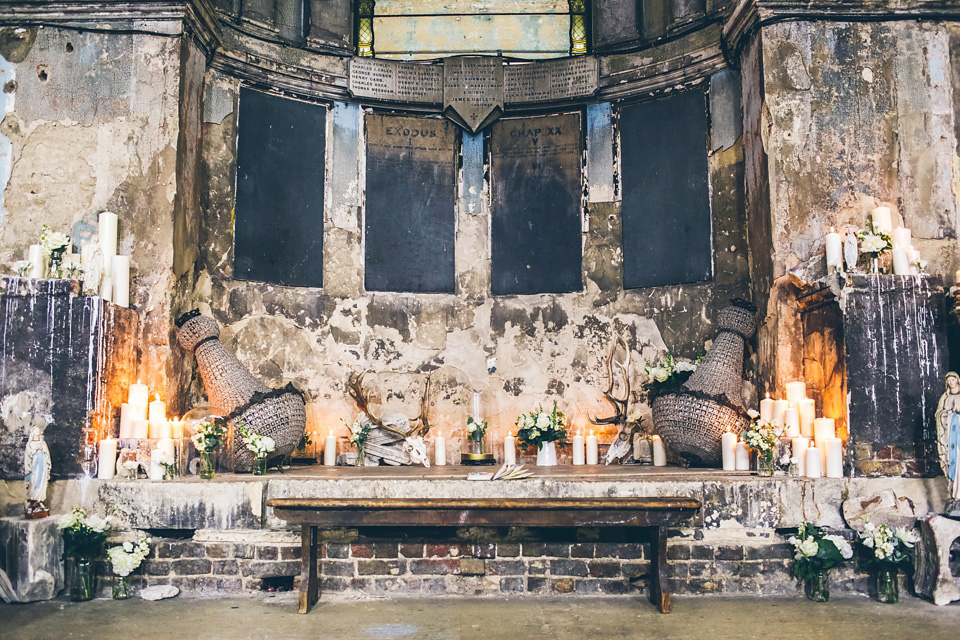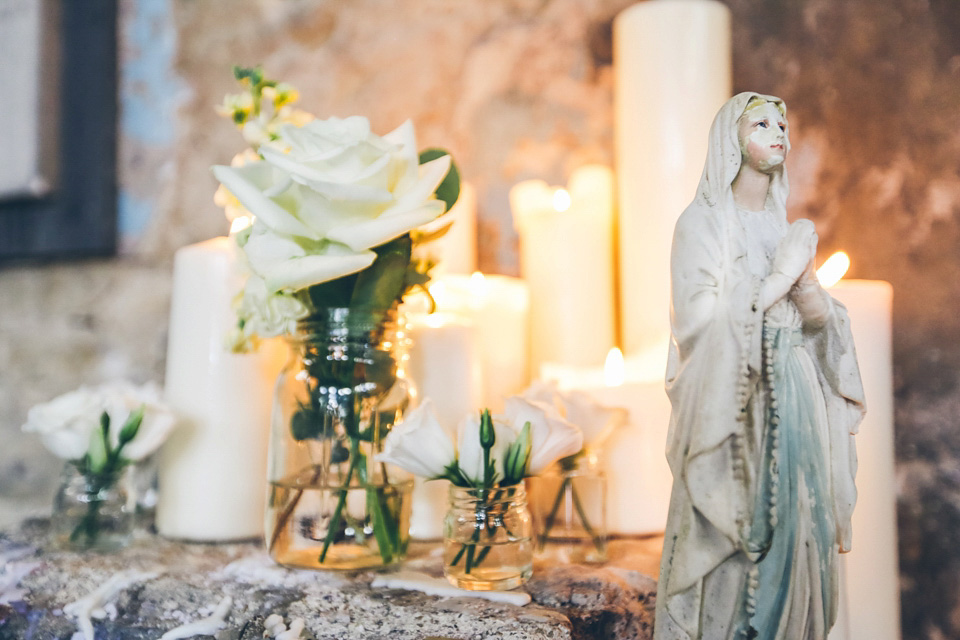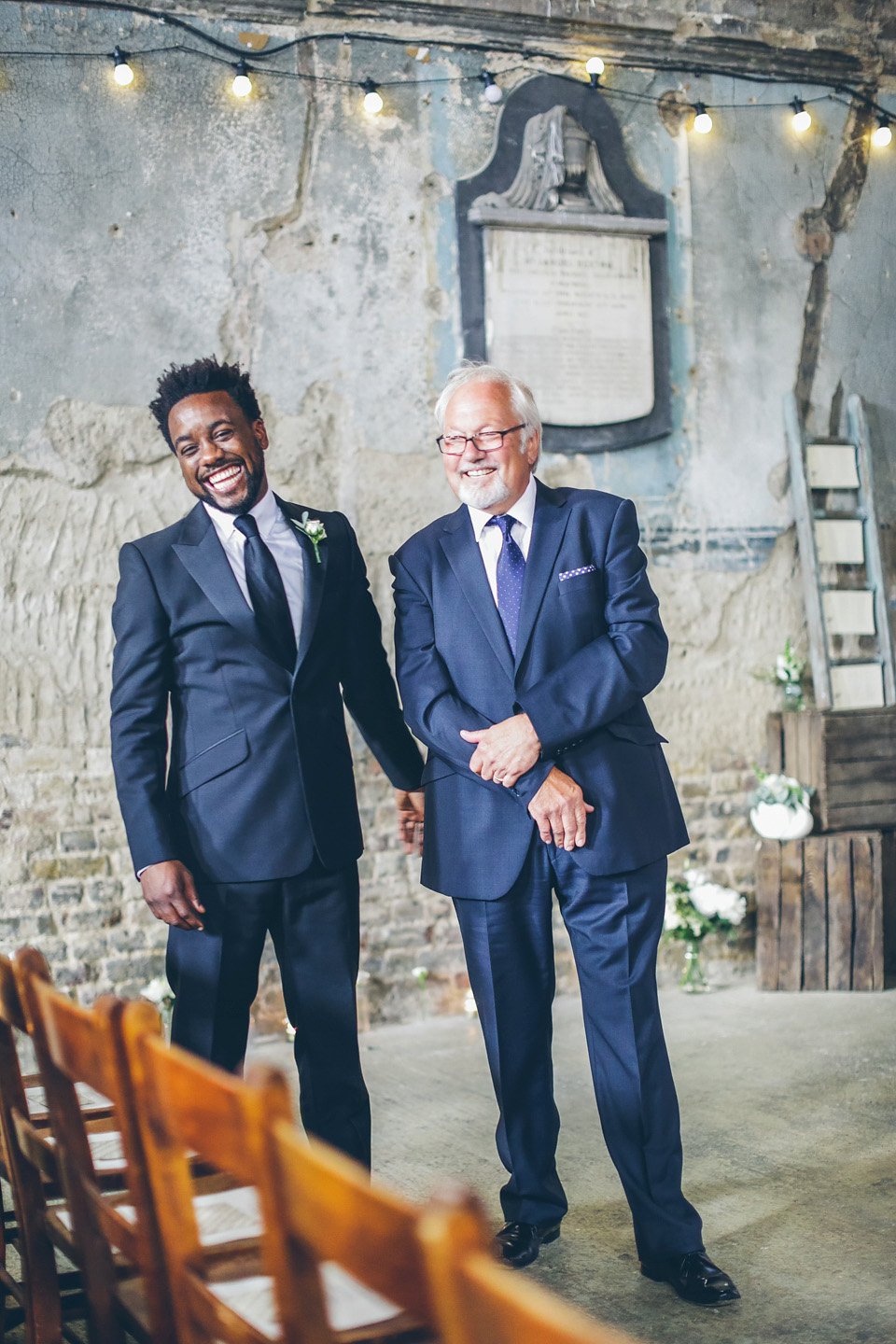 "We had a civil ceremony as I am not religious and even though Andrew was brought up going to Church it hasn't been a big part of his adult life. We wanted to incorporate something religious into the ceremony though, so we had a blessing from Father Tuckwell (Andrew's family's priest from when he was little) and a hymn, which ended the ceremony."
"My Dad walked me down the aisle.  I walked down the aisle to Opus 36 (Dustin O'Halloran) from Sophia Coppola's film Marie Antoinette and we walked out together as husband and wife to Somewhere Over the Rainbow (Eva Cassidy)."
"My sister is a really talented illustrator and so she designed all of our stationery. I had an idea of what we wanted and found all the vintage sayings like 'Marry When June Roses Grow, Over Land and Sea You'll Go' that we incorporated into the design and she then went away and worked her magic on our beautiful wedding stationery including our save the date, wedding suite, order of ceremony and menu's."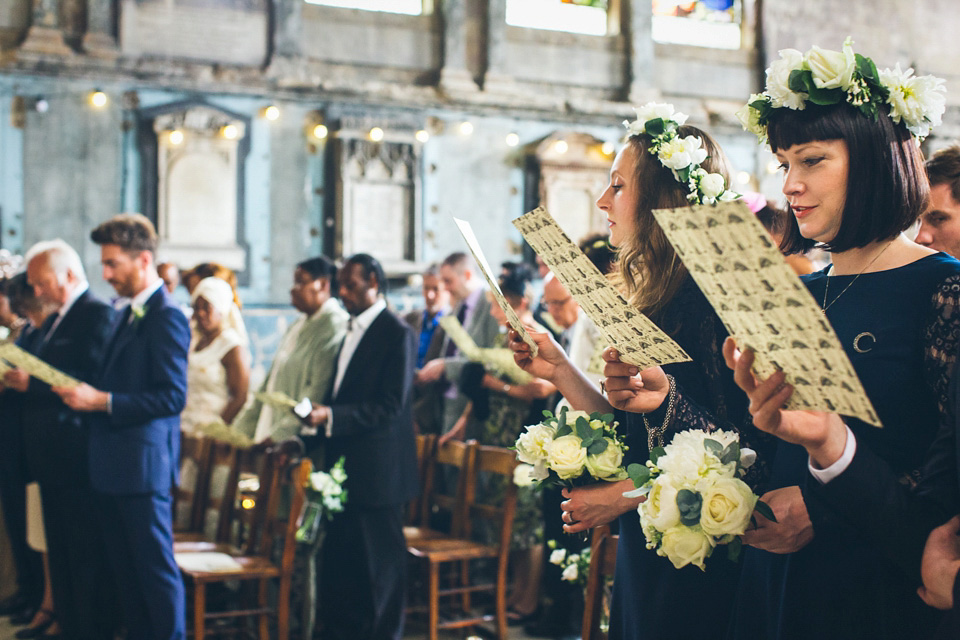 "I did my own make up and just bought a couple of products recommended to me by friends in the beauty industry to help make your look last. I had eyelash extensions applied a few days before and other than that wore what I usually do with my signature Lady Danger red lip by Mac.
I had my hair done by Andrew's best friend's sister Zara, who is an amazing hair stylist (and one half of bespoke hair and make up artists Portaits Bridal) who set my hair in soft waves."
"We didn't write our own vows but we did have a brilliant registrar from Southwark who spoke so beautifully and the words she used were so heartfelt. I was in floods of tears during the rehearsal with her."
"We had two readings during our ceremony, the first was John Cooper Clarke's 'I Wanna Be Yours' (it's one of our favourite Arctic Monkeys songs – we love the band and have had an amazing time at a gig in the Spring before the wedding).  we both just love the words and thought it would be a lighthearted but loving moment during the service, read by Andrew's groomsmen Greg."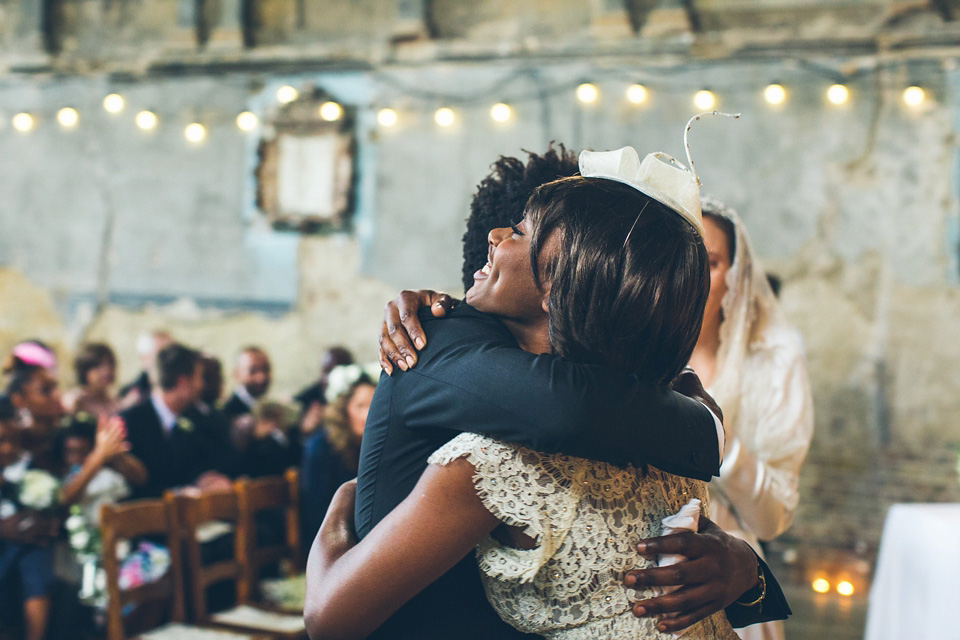 In her hair, Joanna wore a  1940's Heirloom Tiara, sourced from America (that had been worn by 7 other brides throughout its lifetime).
"I really wanted to feel like me on the day so chose to wear jewellery that I wear everyday, a gold signet ring with Andrews initial engraved onto it, various charms from fine chains including a vintage gold 'Kiss Me' spinner and lucky horseshoe that I sourced at vintage fairs. I also had a lovely silver victorian crescent moon brooch made into a necklace."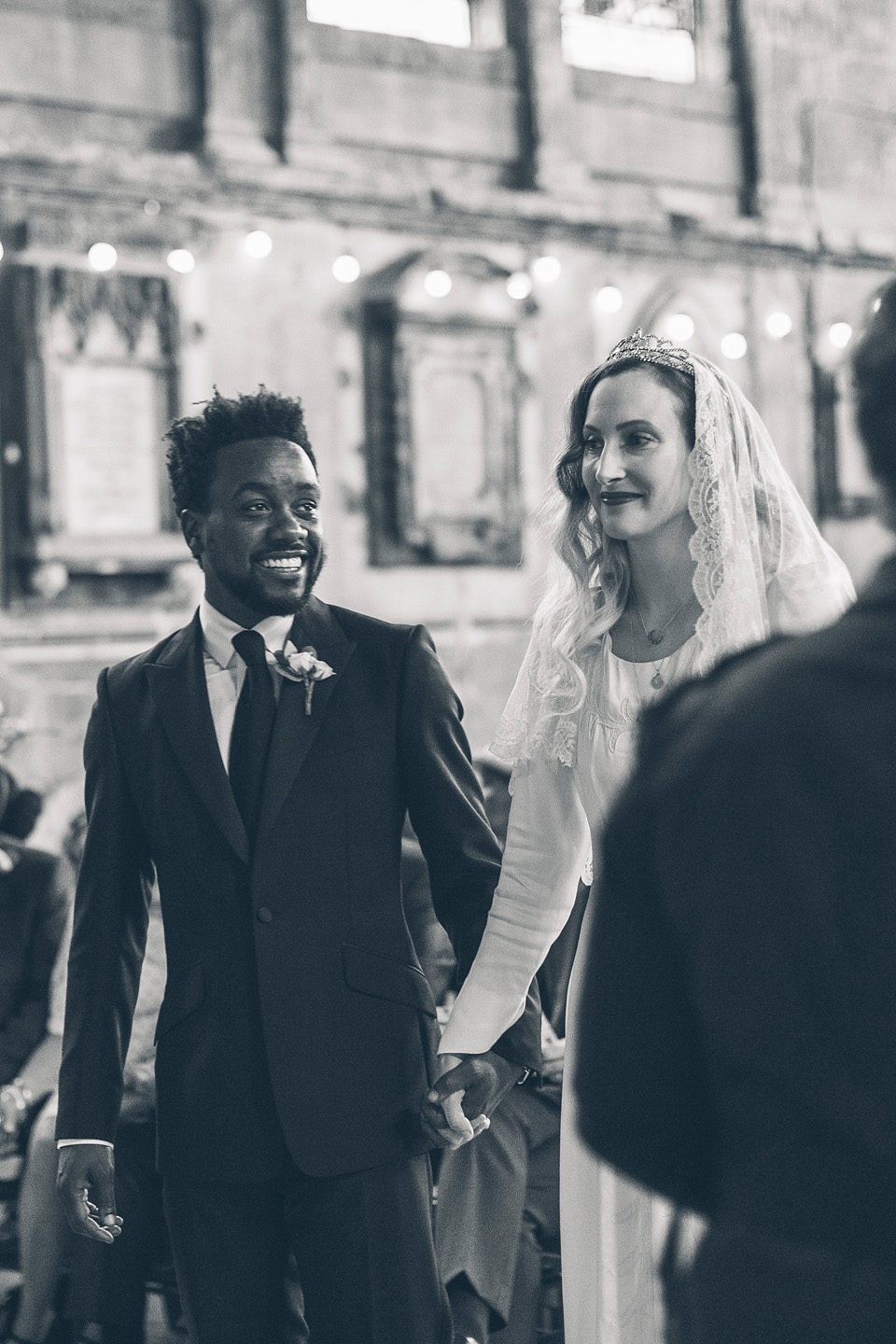 "Our second reading during Father Tuckwell's blessing was an excerpt from the Corinthians 13 and was read by my bridesmaid Siouxsie."
Love is patient; love is kind; love is not envious or boastful or arrogant or rude. It does not insist on its own way; it is not irritable or resentful; it does not rejoice in wrongdoing, but rejoices in the truth. It bears all things, believes all things, hopes all things, endures all things.
"Our florist was my sister! She was an absolute star and did all of the arrangements as well as the bridal bouquets and floral crowns. We bought all the flowers from a florist she uses in Portobello – Roses, Peonies, Hydrangeas, Wax Flowers, Stocks in white and creams and I had collected lots of vintage vessels to arrange them in including ceramic swans and urns, Kilner jars, french perfume / medicine bottles and enamel jugs."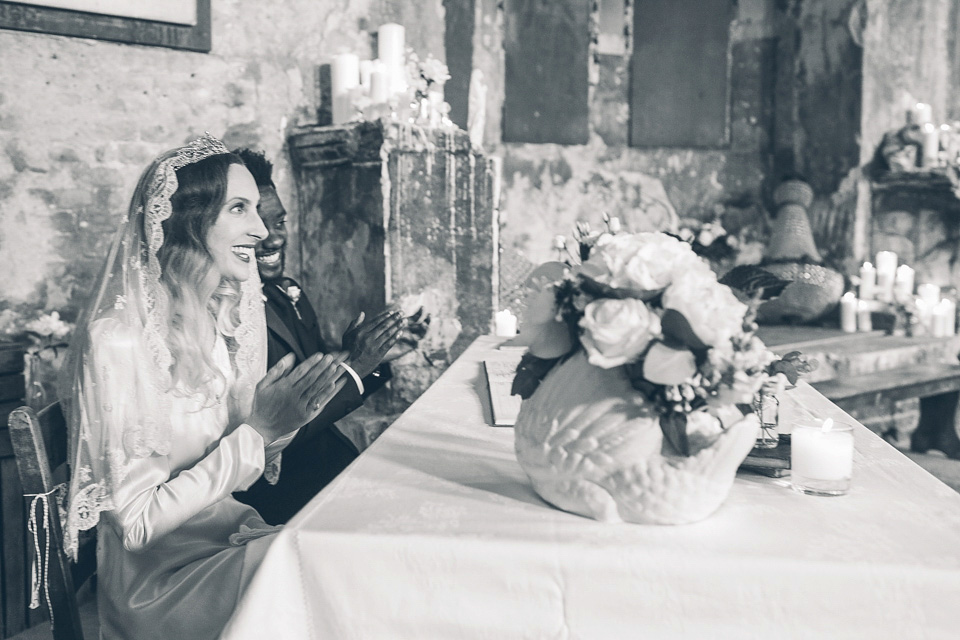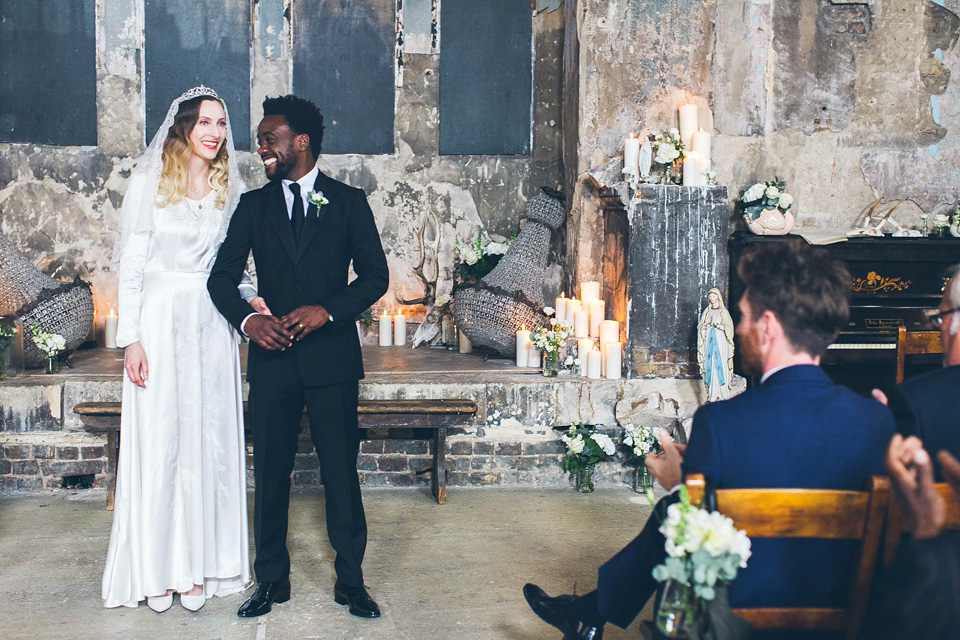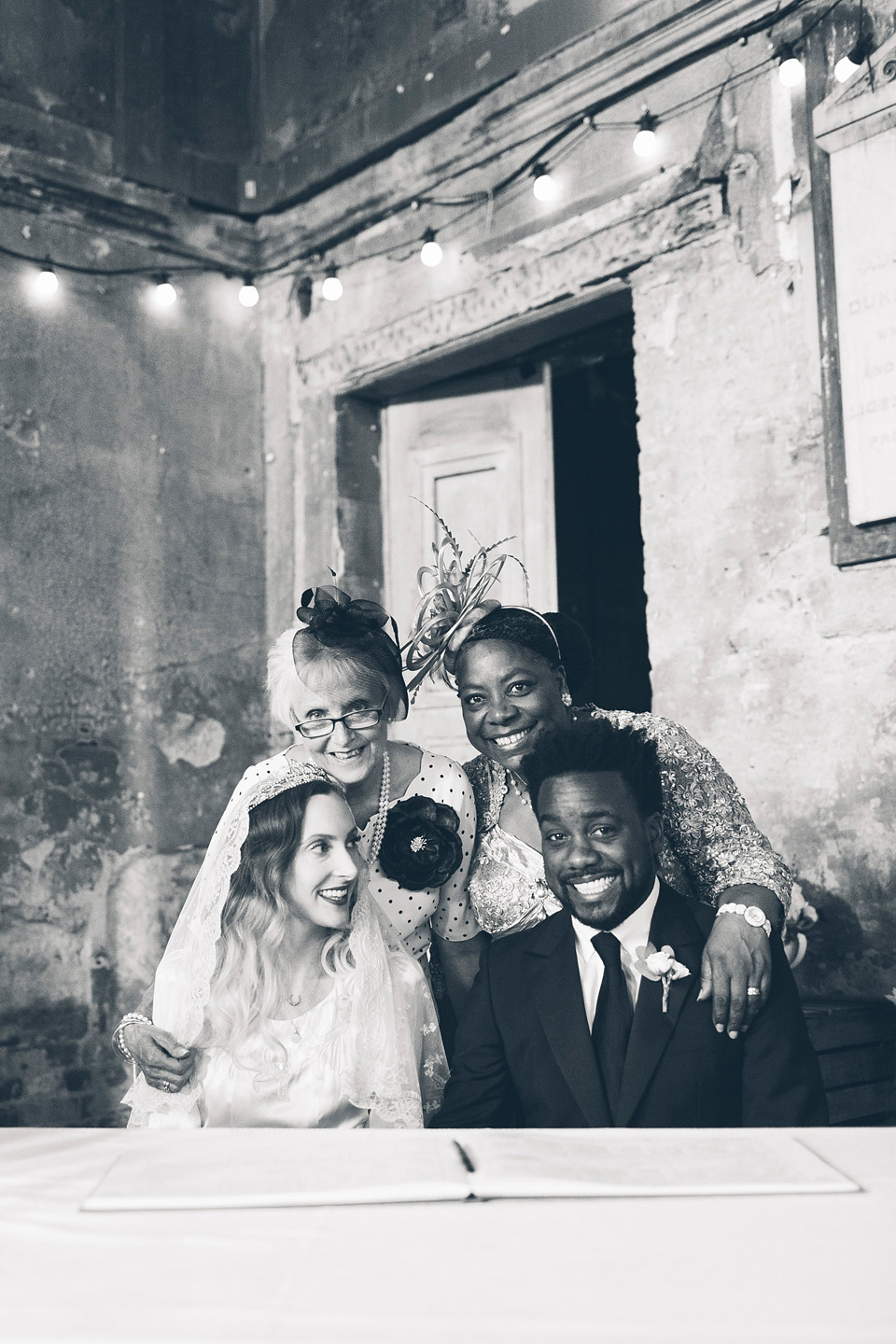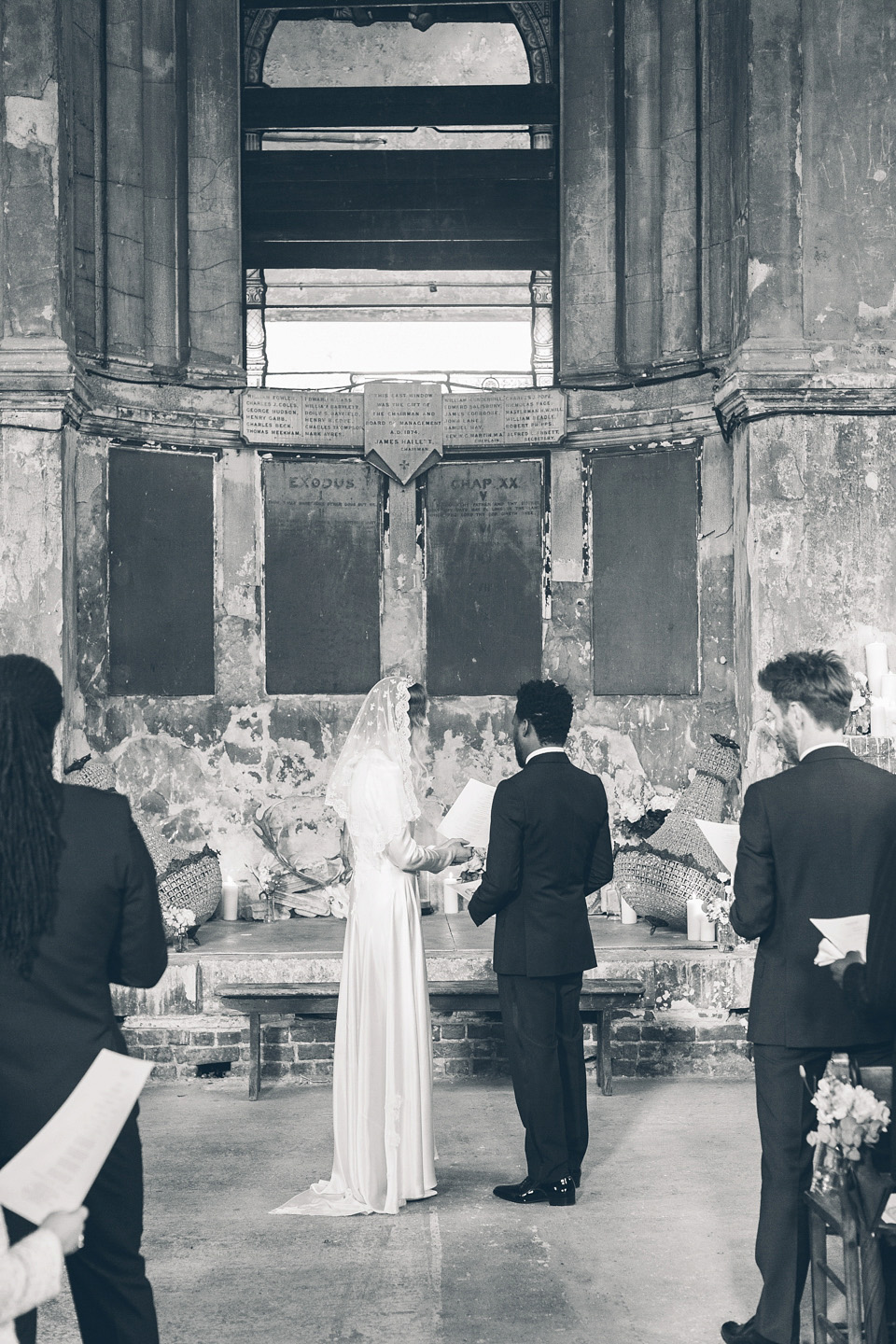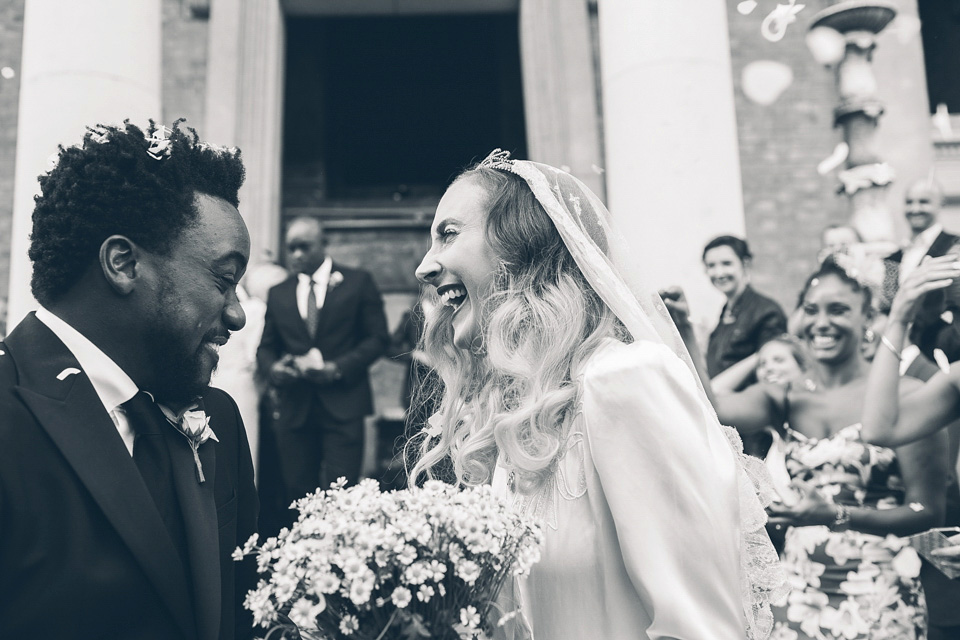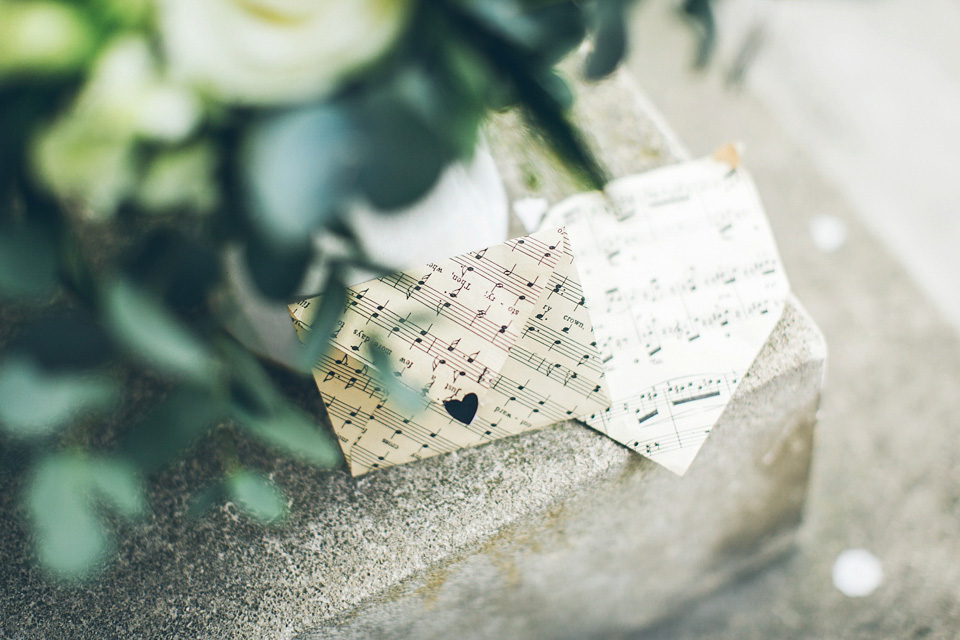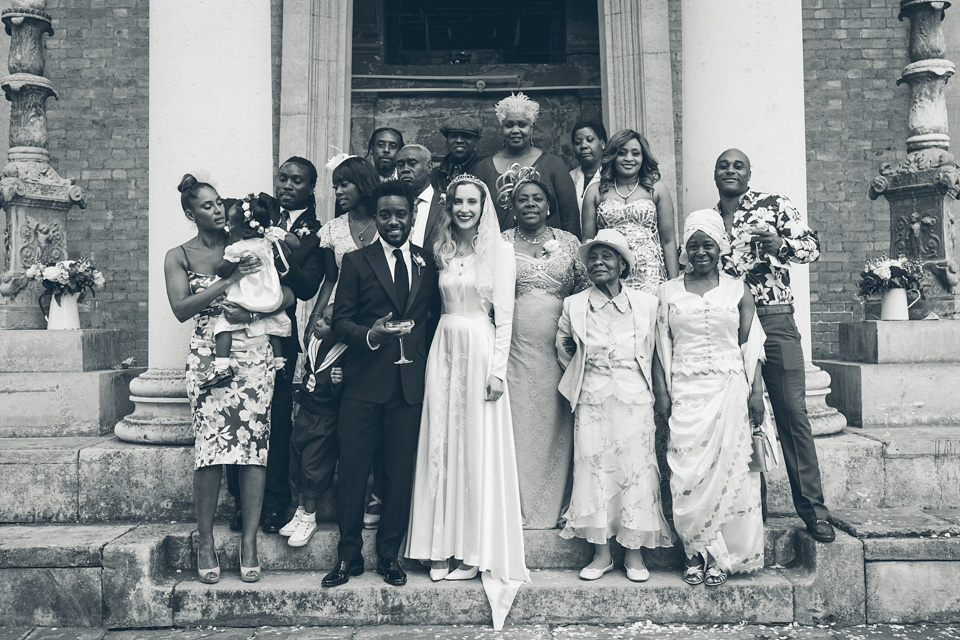 "I think walking out of the chapel as husband and wife and seeing all of friends and famiilies happy faces was such a wonderful feeling, I felt so so happy – I also loved our first dance although I went terribly wrong – it was so much fun!"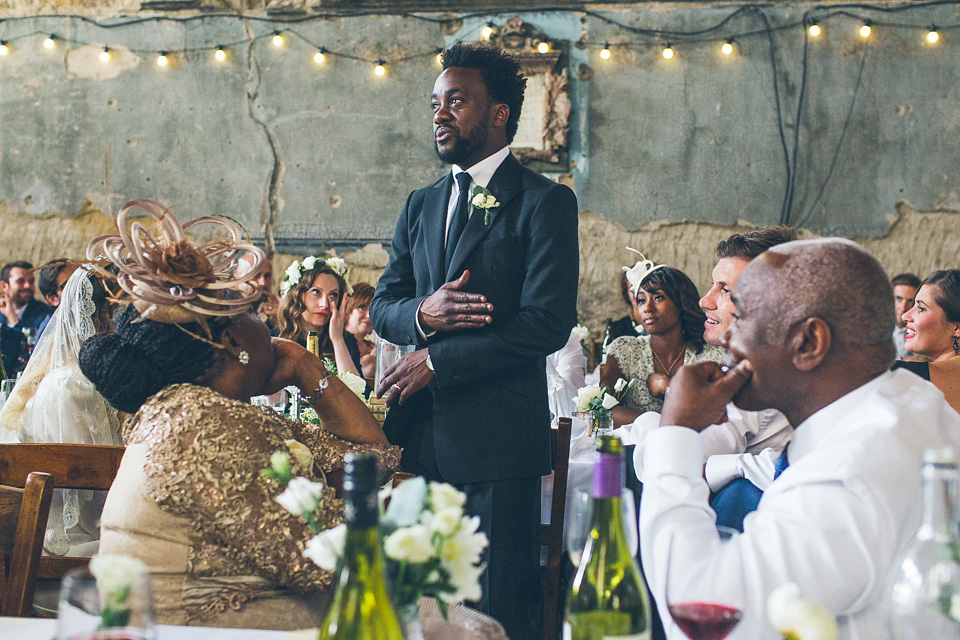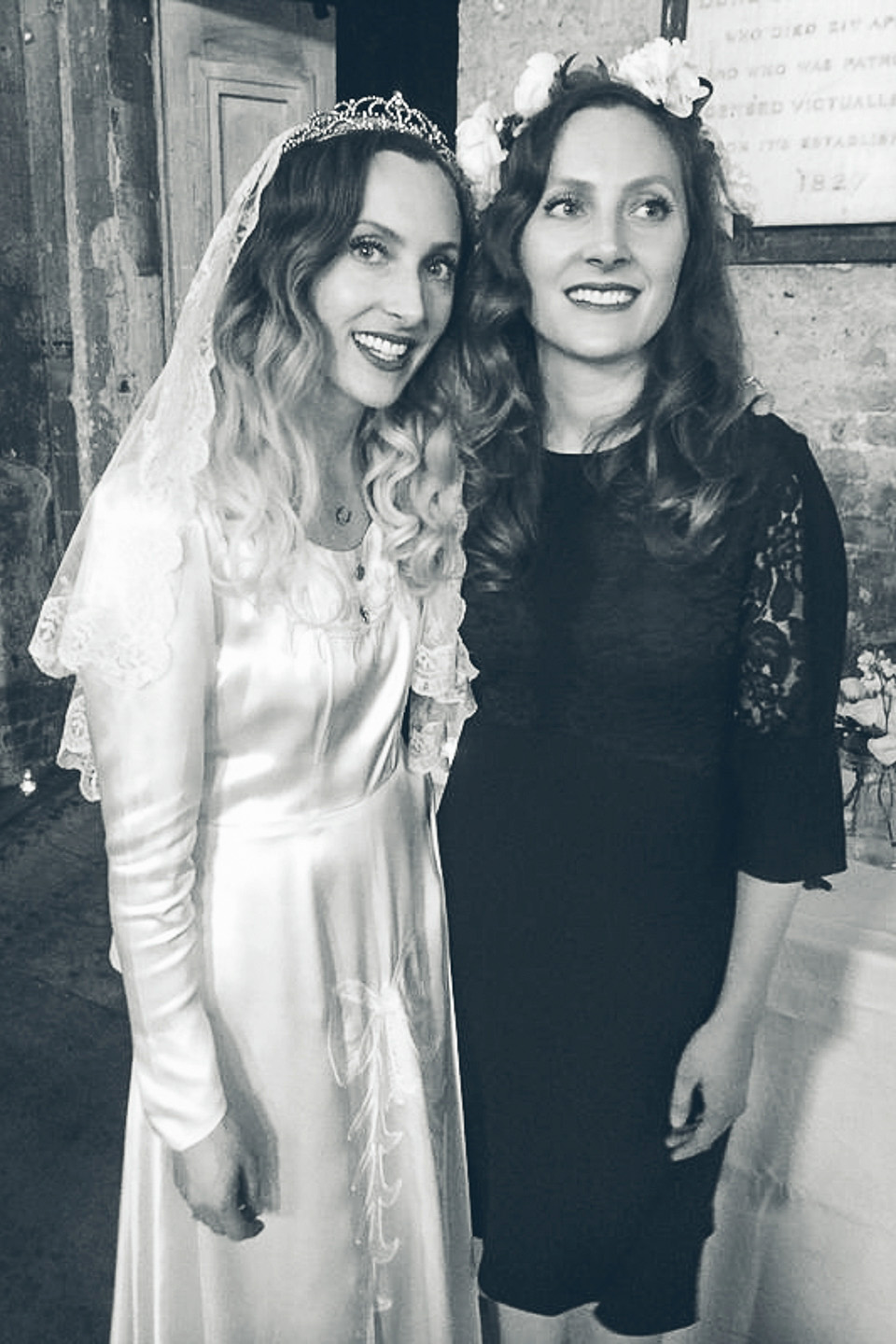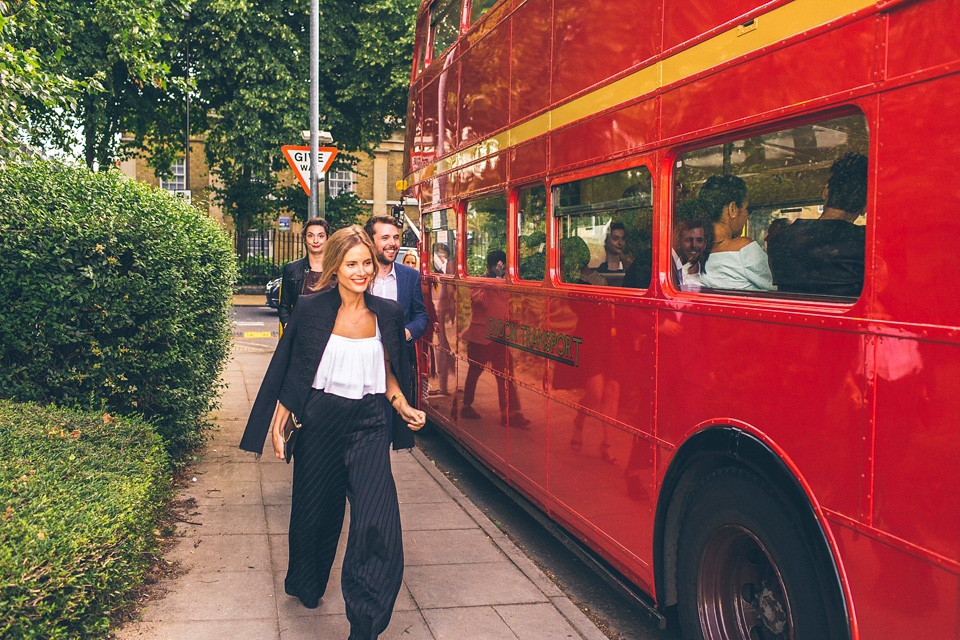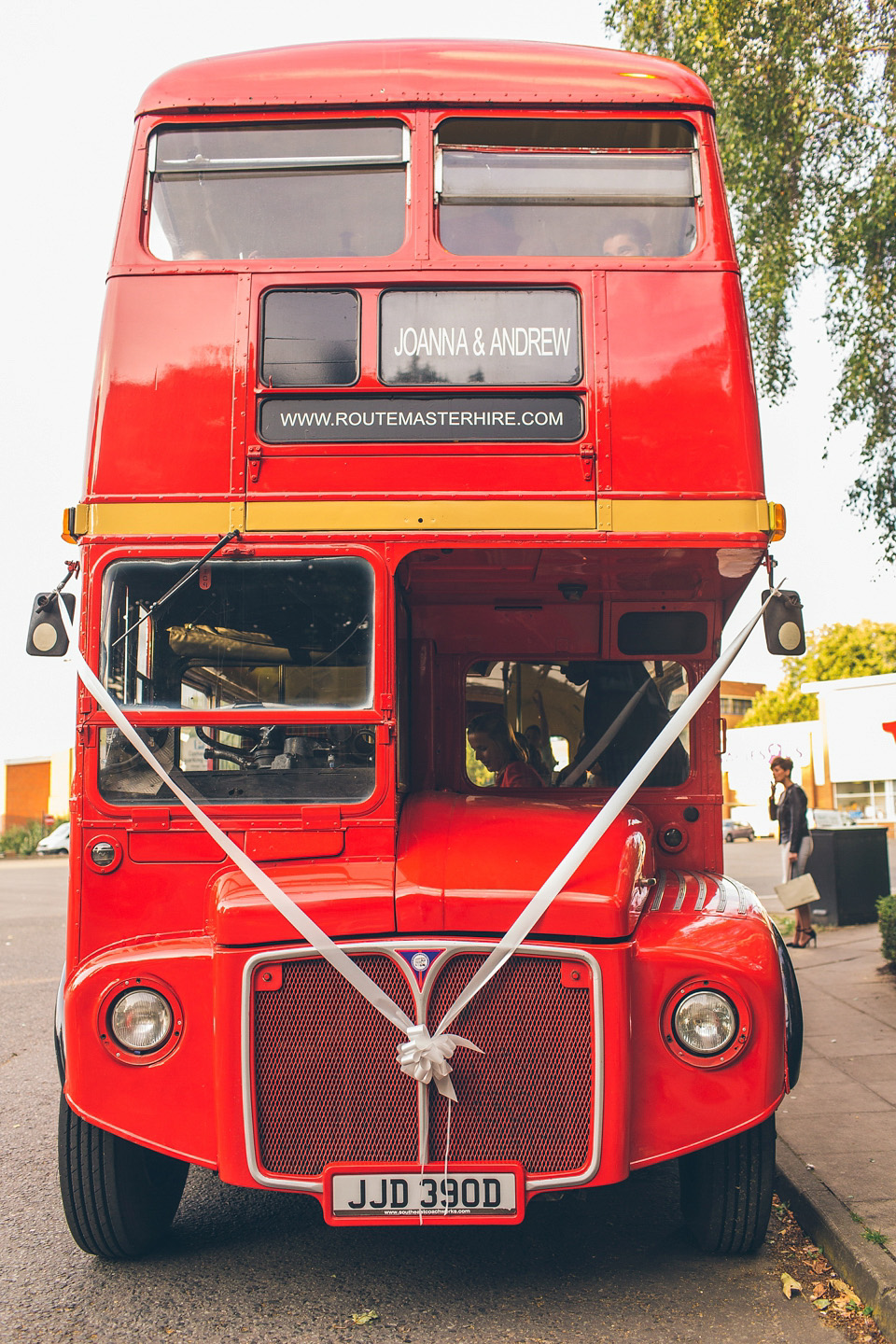 "Catering at the Asylum venue is pretty tricky as there are no kitchen facilities to speak of so we chose a supplier who had worked in the venue before and knew the constraints. Andrew loves meat and is really into food so I was happy to go along with what he wanted and so we had a hog roast as our wedding breakfast with delicious Sorbitium (Suzanna is a friend) salted caramel ice cream and seasonal strawberries, cherries and blackberries for dessert."
"We actually had a mix up of three songs for our first dance! We knew we wanted to do a surprise choreographed dance as we both really enjoy dancing, Andrew's sister Charlotte is a dancer/singer/actress and so she choreographed a dance and taught it to us. We started with a waltz to Etta James 'At Last' moving into a Charleston inspired section to 'I Got a Woman' by Ray Charles and ending with a jive to Arctic Monkeys 'Dancing Shoes' – which then played out in full as confetti canons exploded and everyone joined us on the dancefloor."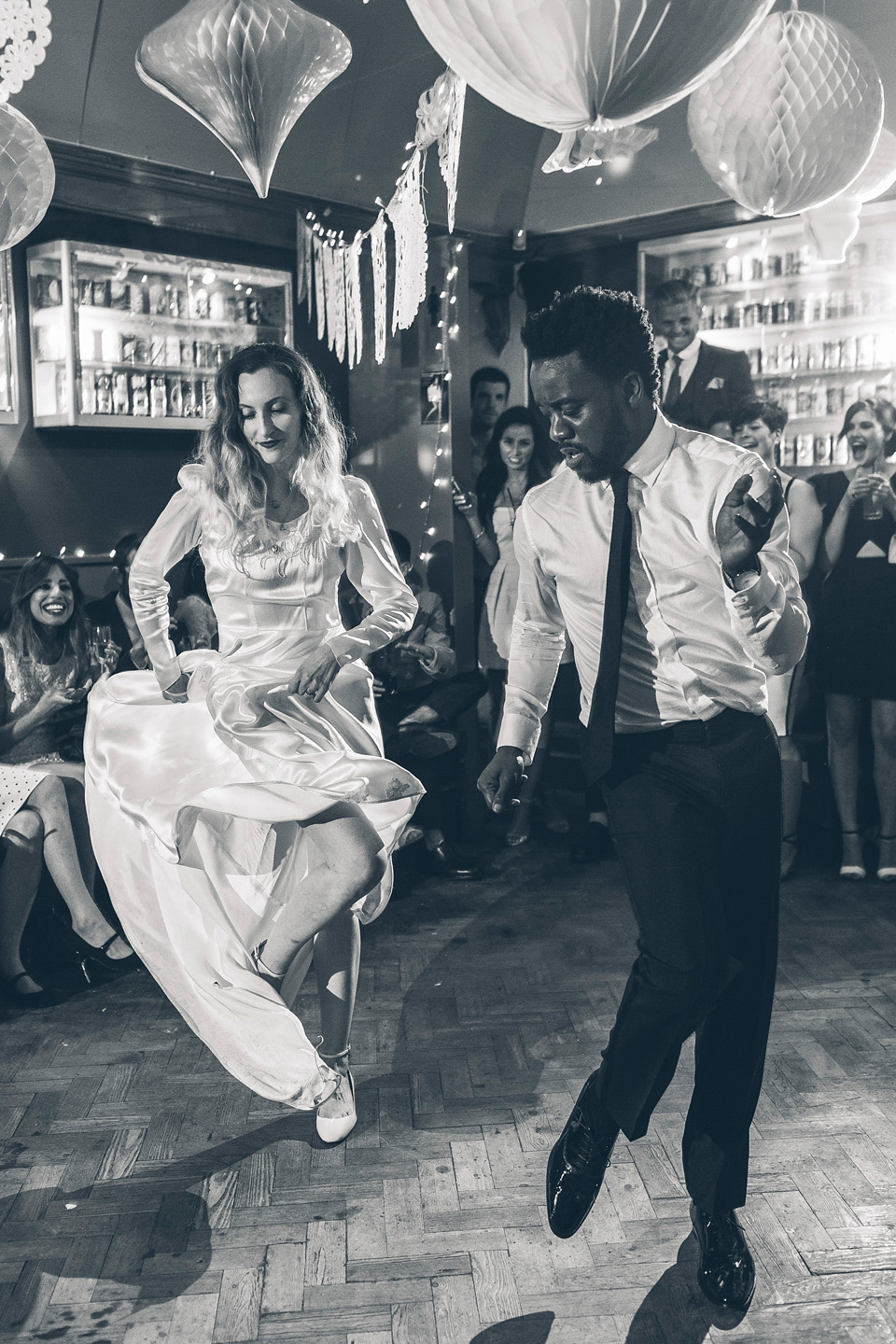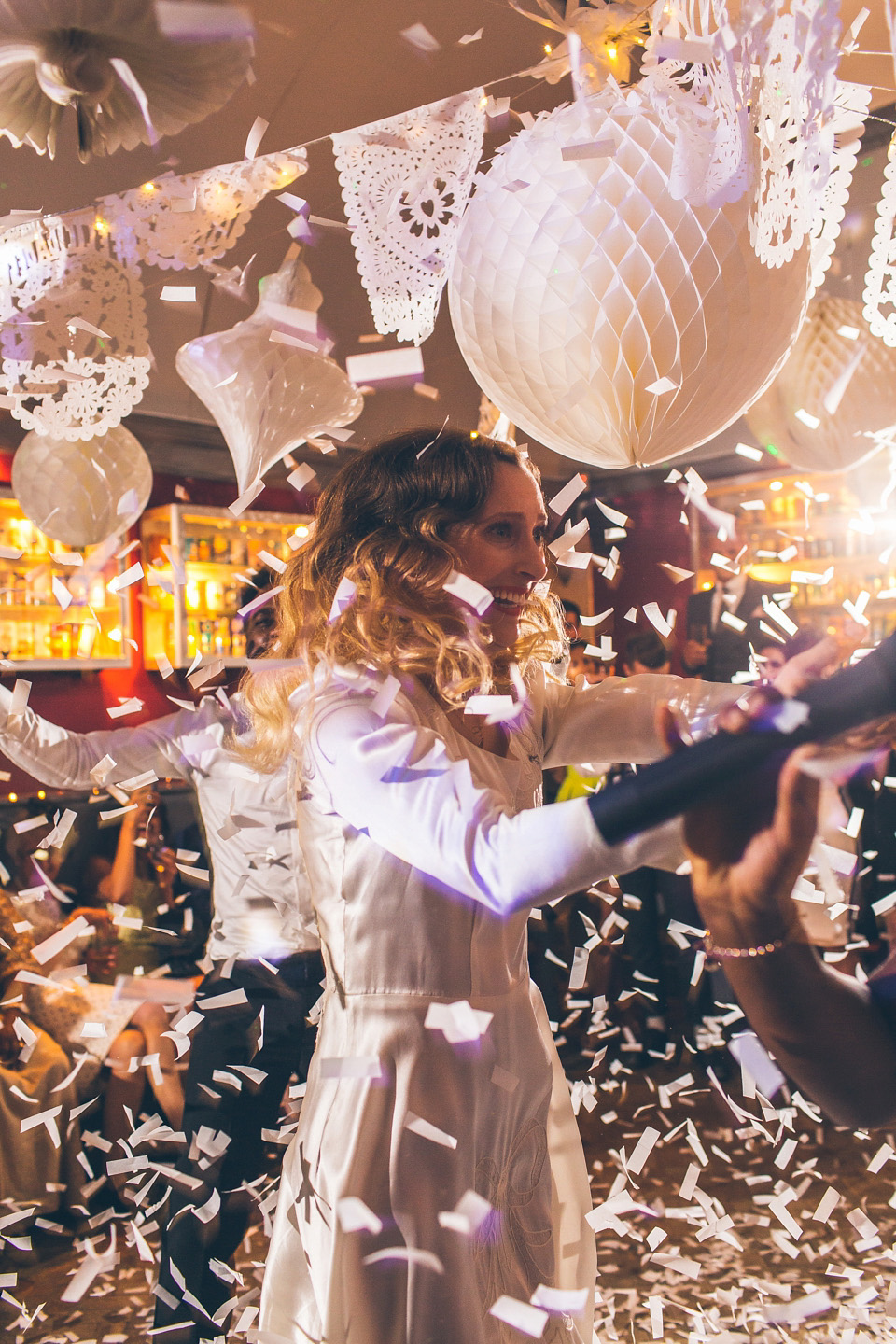 Words of Wedded Wisdom
"Don't have too much to do on the morning of your big day. I did and it meant I didn't enjoy the getting ready part as much as I hoped I would as was doing things pretty much up to the moment I walked down the aisle.
The day went by in a flash – I know everyone says it but it's just crazy how fast it goes. Cherish every moment. If we could have started earlier / finished later that would have been amazing as I just didn't want it to end!"
What a incredible wedding! I'm so inspired by this beautiful day and how it so perfectly represents the ecclectic style and personalities of this gorgeous couple.  So much love and thanks to you both Joanna and Andrew – wishing you the most fabulous of upcoming 1st wedding anniversaries ever, I hope you get to celebrate in style 🙂
Readers, please note that Joanna and Andrew hire many of the props they sourced out for their own wedding via their business 'Bride to Bijoux', as well as providing a full styling and sourcing service.
Love Annabel xx
Photographer – Zoe Noble
Planner/Stylist – Ros Shiers (the bride's twin sister)
Venue – The Asylum Chapel in Peckham, London
Wedding Dress – 1930s original vintage via London Vintage Fashion Fair
Bride's Veil – Vintage scalloped edge lace – sourced on eBay
Bride's Shoes – Celine Ivory Stilettos
Bride's Hair Accessories – 1940's Heirloom Tiara, sourced from America
Perfume – Chanel No. 5, all I ever wear
Grooms Suit – Reiss + Yves Saint Laurent shoes
Bridesmaids – Whistles + Warehouse
Flower girl Dresses – Victorian satin christening gown sourced from an antique fair
Pageboy – Vintage Laura Ashley Sailor suit + white Converse
Florist – DIY, the bride's sister, Ros Shiers
Cake – DIY, the bride
Transport – Routemasters
Rings – vintage rose gold bands via Alfie's Antiques in Marylebone
Catering – Swine Waiter + Sorbitium
Stationery – Ros Shiers
Hair Stylist – Portaits Bridal
Makeup Artist – DIY by the bride