Happy Thursday to you readers! I prepared this feature whilst at an altitude of 34,962 feet up in the air – as I'm on a flight to my beautiful hometown Wollongong, Australia. I will have to wait a little longer than originally thought for blue skies and sunshine The flight has been somewhat delayed, but I've got a great book, can tap happily away on my laptop, watch lots of movies, and day-dream about all of my European adventures I'm planning for over the years, including magical trips to Italy to experience the beautiful and  romantic Rome and fabulous Florence. Talking of which, have you been following Love My Dress on Instagram this past few days? Our founder, Annabel, has been in Florence with a group of other social media influencers, experiencing the services of the Italian food and wedding industry. It looks and sounds AMAZING! Follow #kaleidotour on Instagram.
And Italy, lovelies, is our destination today, as I have the most delightful Italian wedding to share with you  Interior designer Tatiana, who is in charge of fairs and exhibitions for an Italian factory and Daniele, an auditor, were married on 2nd August 2014 at the picturesque Jardin à Vivre in Castelletto Ticino, Novara in the north of Italy.  Do yourself a favour and relax with a cuppa right now as you watch this heartfelt and jolly video – it's superb.
Film Production Copyright (c) 2015, Videare
The clever and crafty bride organised and handmade almost all of the whole day … with a little help from Daniele.
"I organised everything by myself (with my husband's help). Daniele always tells me that I was the architect and he the aid worker as a builder."
Photography by Igloo Photo Wedding Photography
The blooms by Il Profumo Dei Fiori are simply breathtaking. A mixture of pink peonies, eucalyptus, and lots of greenery, which was well suited to the reception venue's greenhouse.
"Sofia was suggested to me by a friend. Once you see her work you fall in love."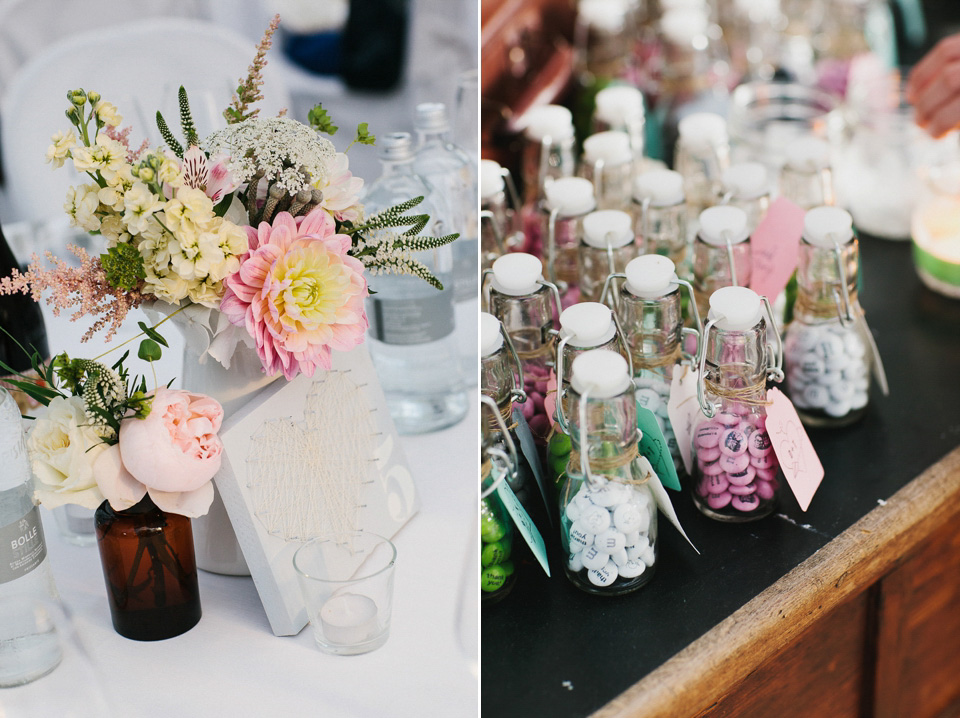 Tatiana found her dress from Elisabetta Polignano atelier in Oleggio and is actually, and quite brilliantly, two dresses sewn together. Genius idea! Tatiana liked two dresses and continued trying both on – and Elisabetta solved this dilemma by making the two into one dress. Look at the shaping on the bodice – it suits her shape perfectly – and the sensational skirting gives it a whimsical, wispy look.
"It was the third store I visited and I was alone (to choose freely and in peace). I saw the real dress just a few weeks before the wedding and I loved it at a glance because it was like a cloud!"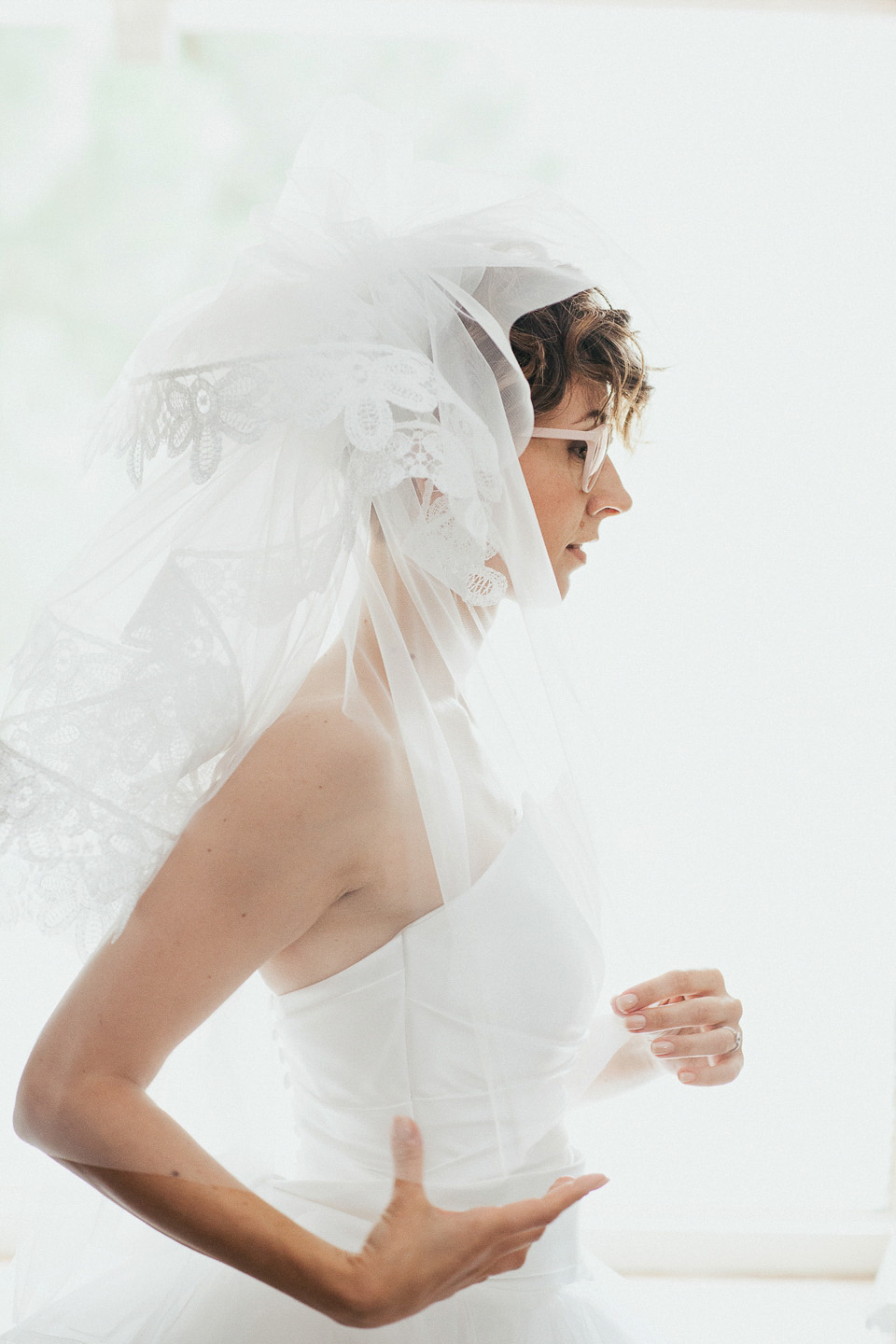 Tatiana designed the layout of the stationery and it was printed by an independent company. And just take a look at the quirky decor touches. There's cute signs held up by the guests like "I'm Still Single" and "Came For The Wine", fun dress-up gear of masks, wigs and moustaches for the guests to wear for silly photos, pom-poms, fans to help everyone cool down, a very cool and intricate table plan made with string, and even watch tattoos!
Weddings are all about what's makes the bride and groom tick … and these quirky details sure do show their personalities.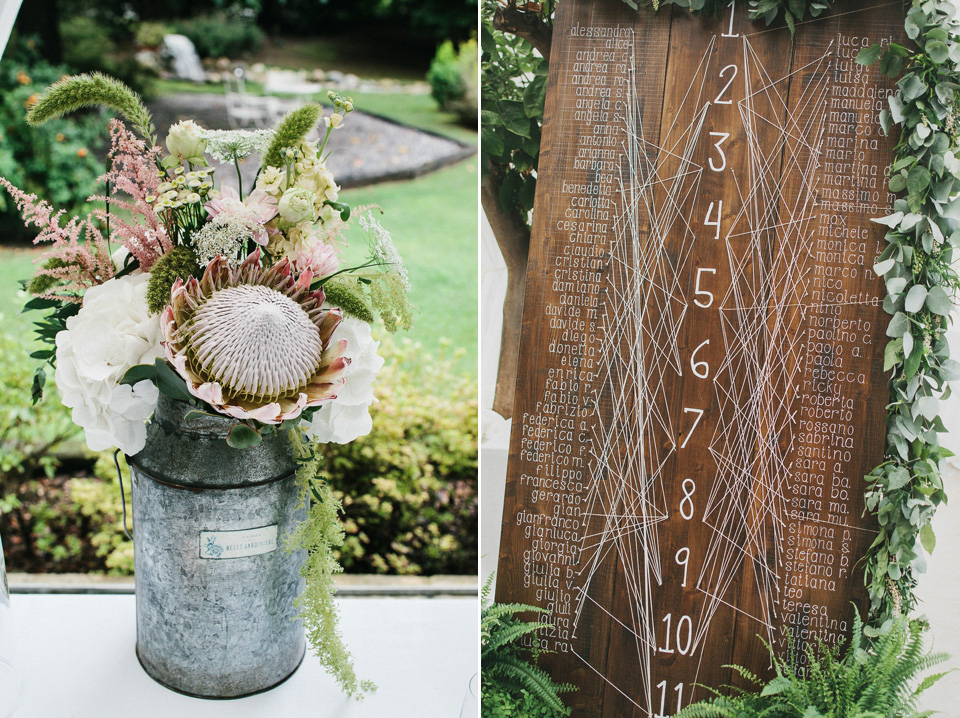 Igloo Photo Wedding Photography captured the couple's images and expertly caught all of the fun elements of their big day.
"Carla was the best possible photographer. She is a special person, is not intrusive and catches every nuance of your personality.
Valeria and Alberto of Videare who made our film, are Carla's job friends but we choose both unknowingly.  Valeria and Alberto were as magical as Carla, they perfectly understood our perfect moments, perfect song, perfect team."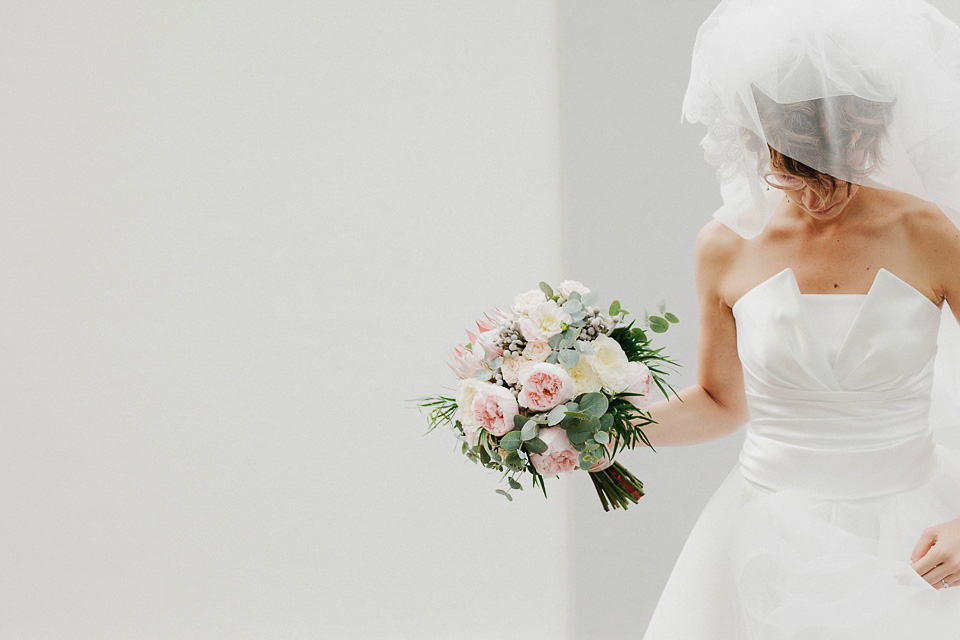 The couple has a very romantic little meeting story.
"We met in a small square in Vercelli by chance. We had gone there independently to watch the juggling rehearsal of our couple of close friends. The Christmas before my grandmother passed she told me that I'd meet my love faltering at a little stone (an Italian saying)."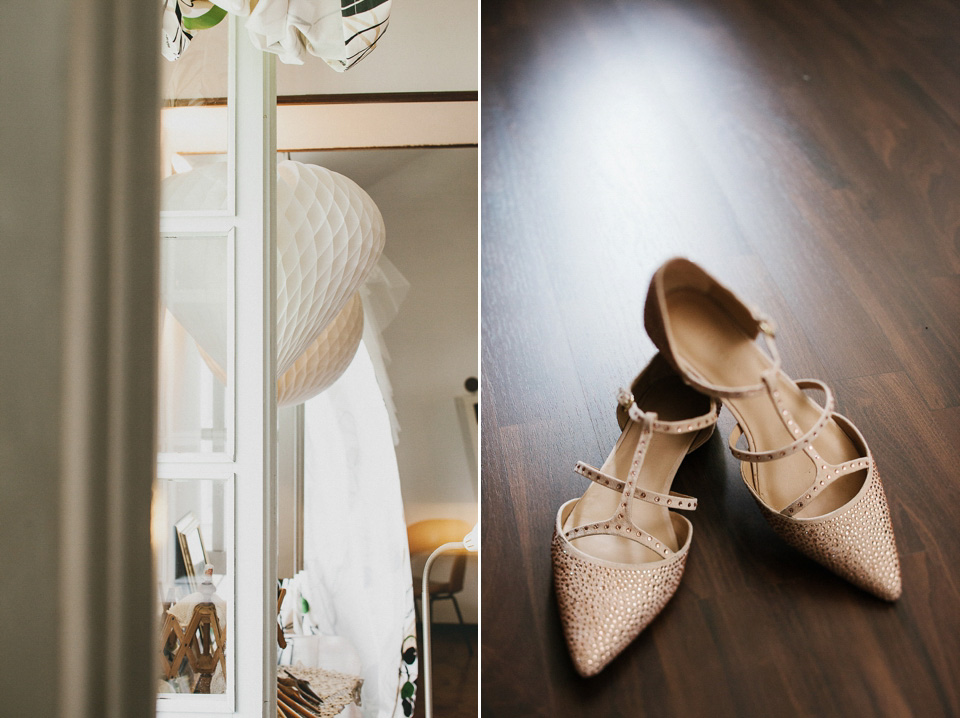 The bride wore comfortable, stylish light pink flats by Zara, with the pink colour forming part of the theme of the day. Upon reflection, I would have been much better in flats for my own day – but being vertically-challenged I needed all the help I could get in that department!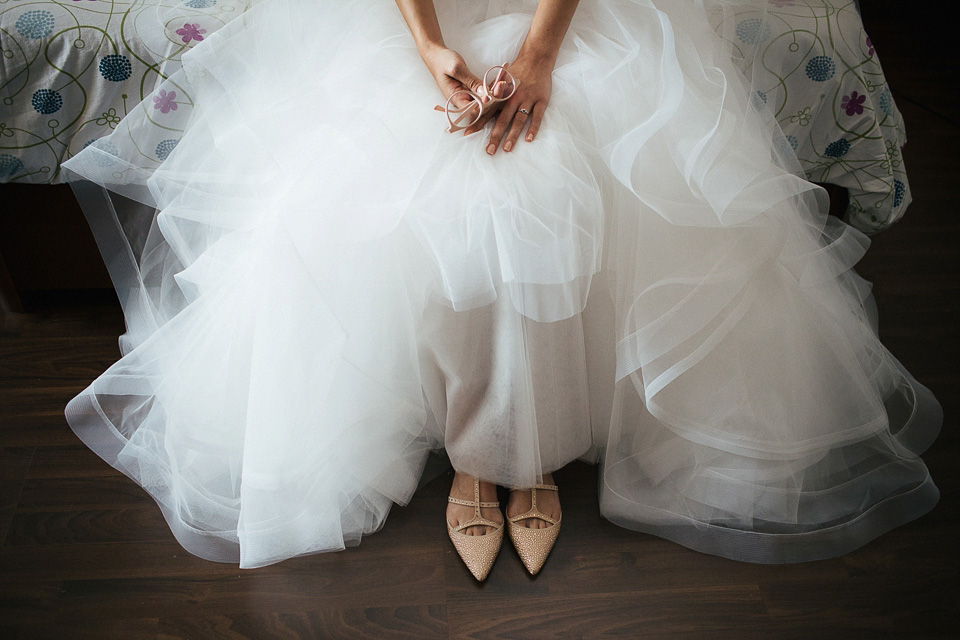 Tatiana's pretty lace-edged veil was also from Elisabetta Polignano and she paired this with a spritz of Bulgari scent and earrings by Ruby Seaward.
The bride's gorgeous hair-do was crafted by Mary from Creativity Hair, with makeup by Sara Muzio. And the final touch … groovy light pink glasses. They are such fun!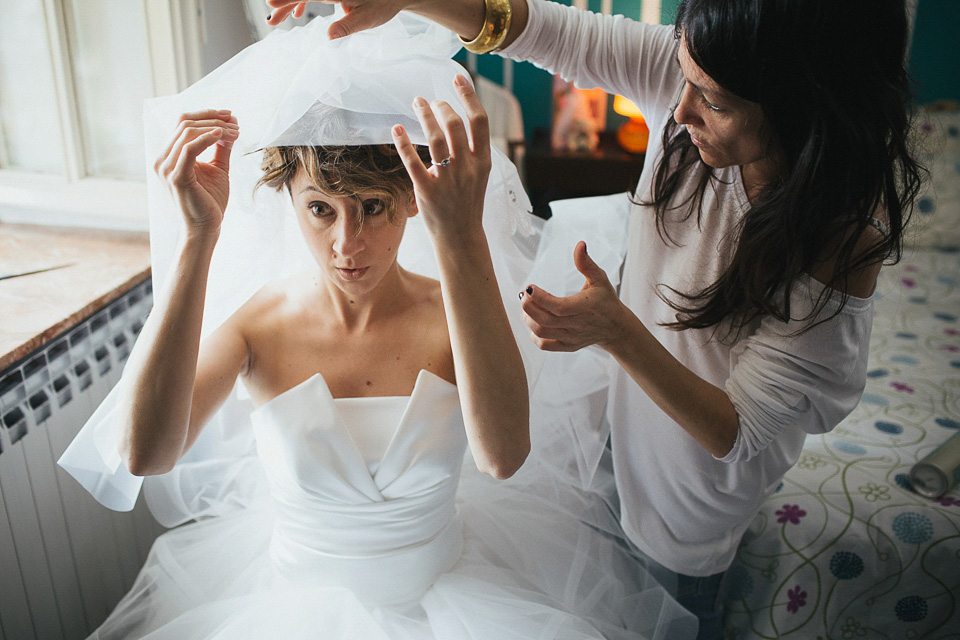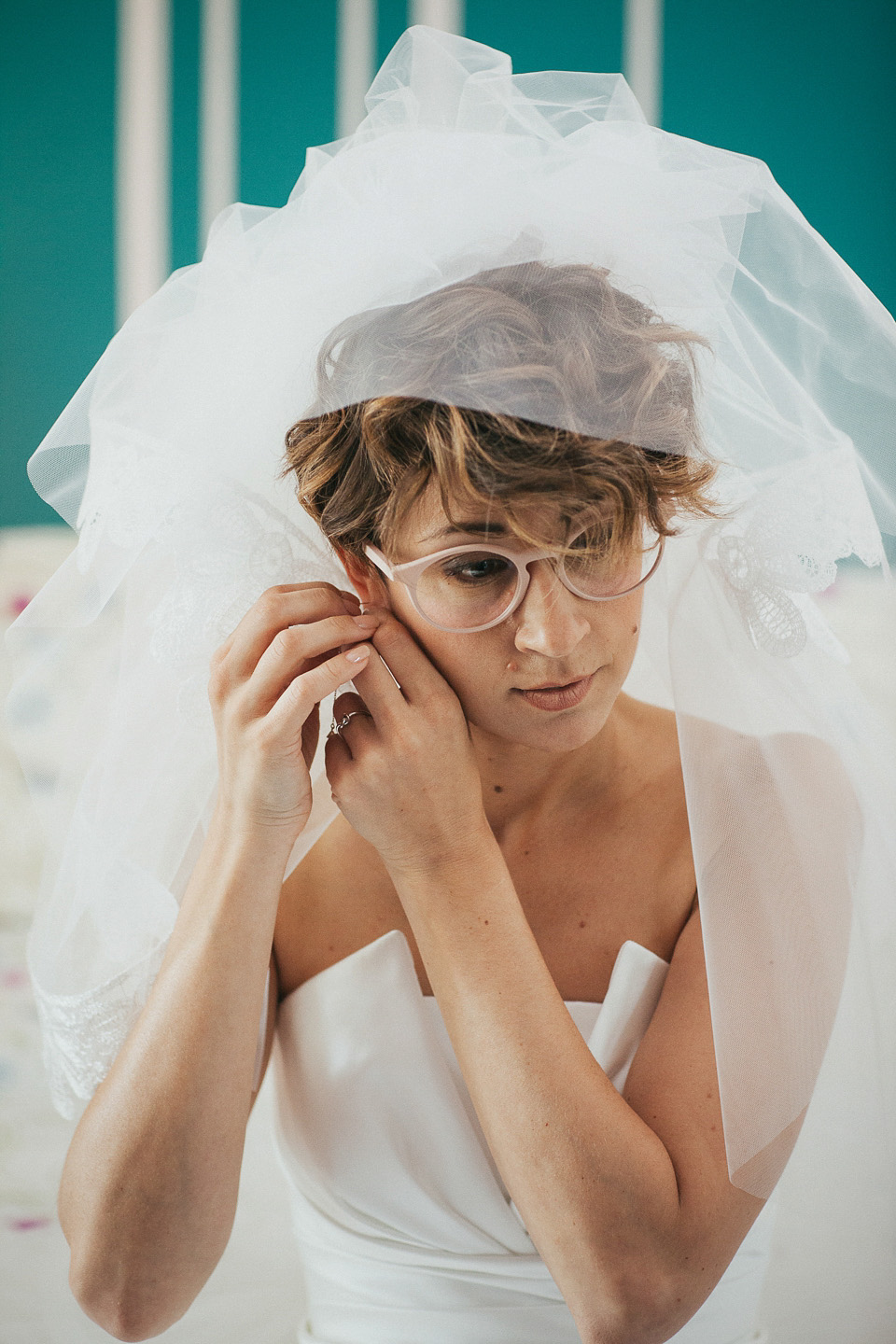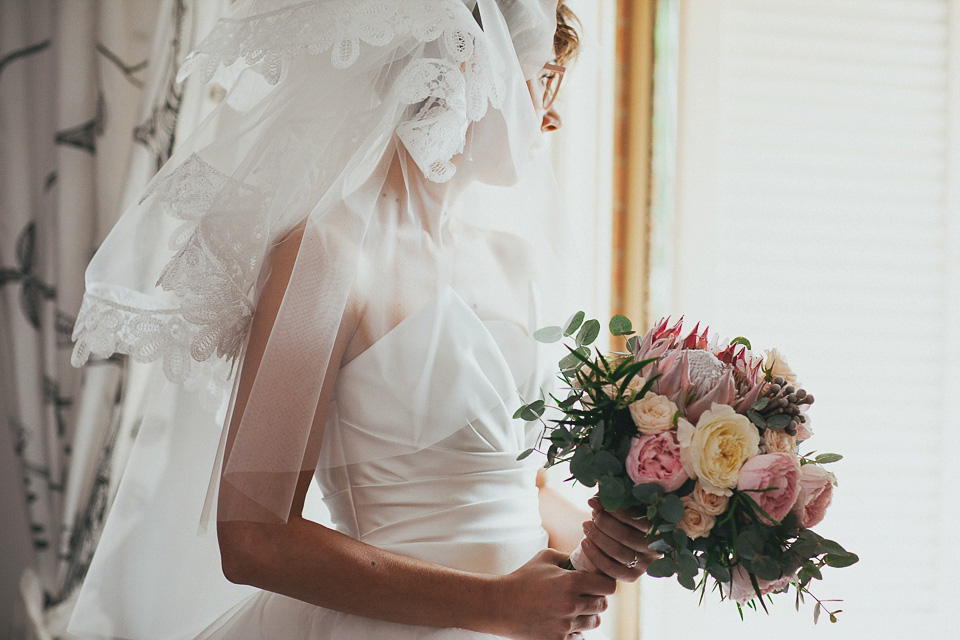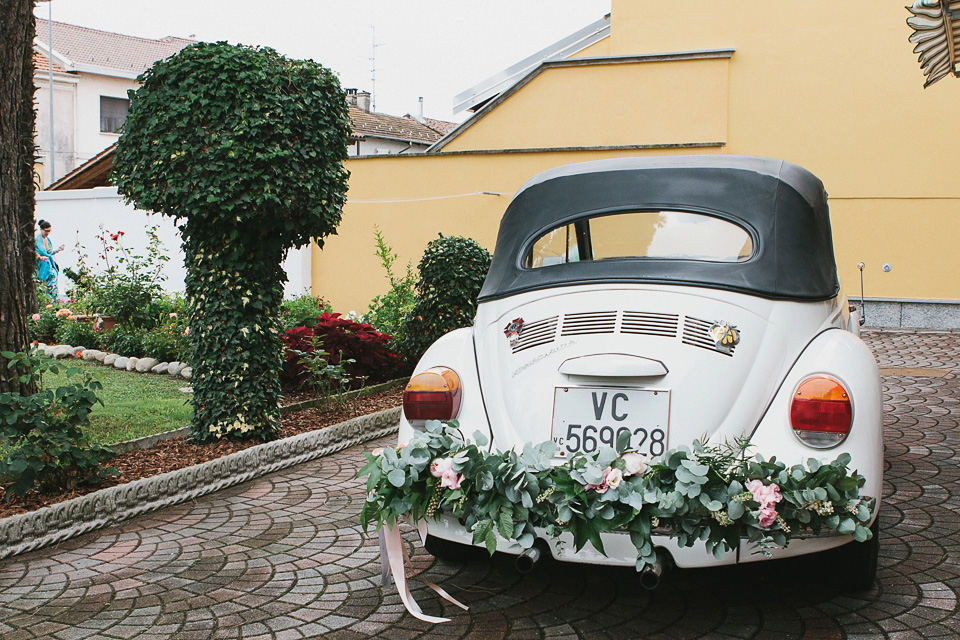 Daniele cut a handsome figure in a Modesto Bertotto suit, cufflinks by Mont Blanc and wristwatch by Hamilton and topped it off with funky black-rimmed glasses.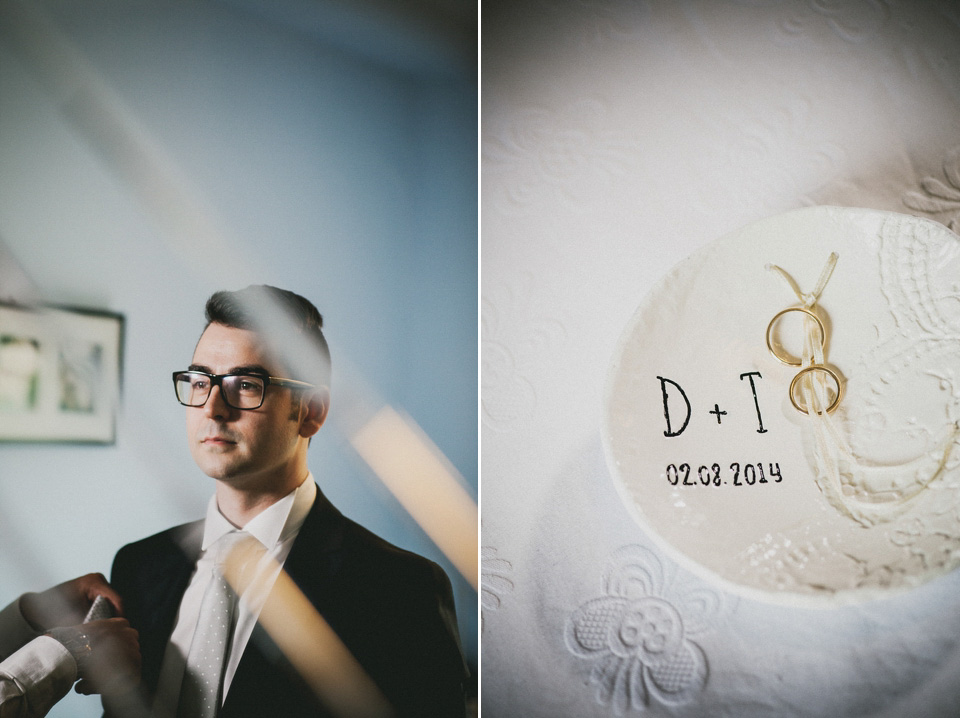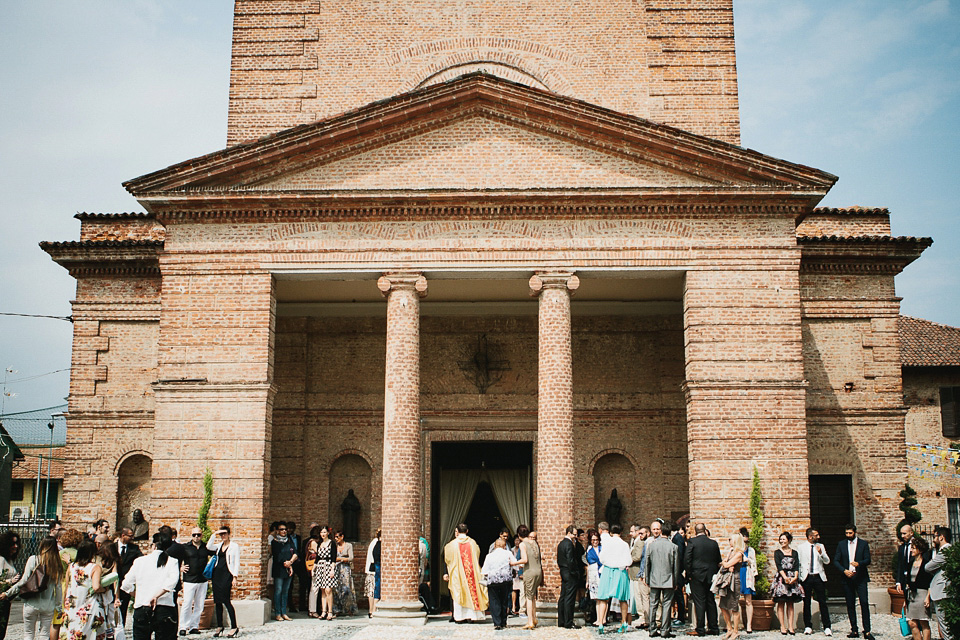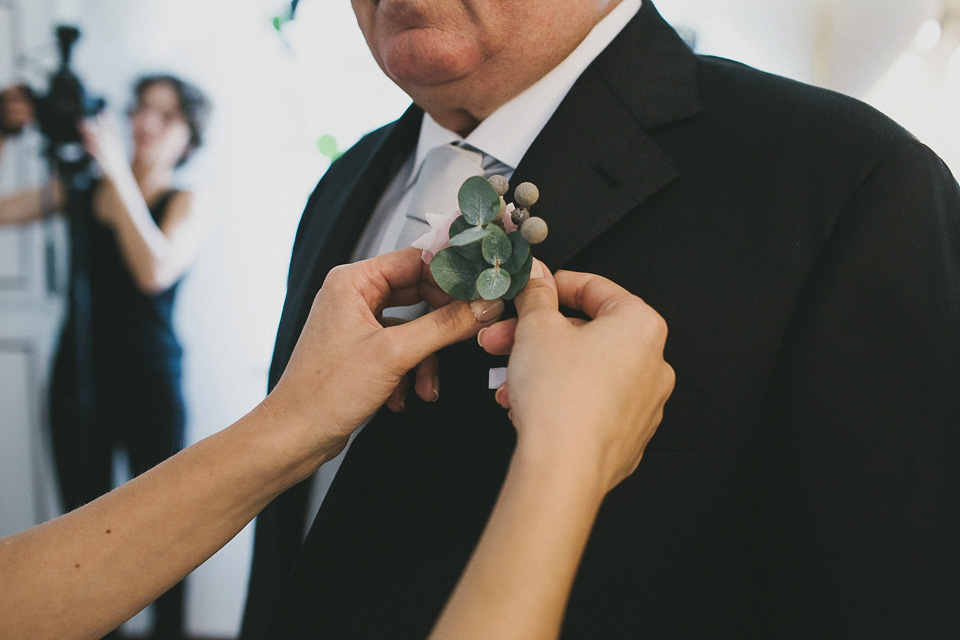 Tatiana was transported by an old Volkswagen beetle, provided for free by friends, to the ceremony in Vercelli at the architecturally brilliant Beata Vergine Assunta church. The grinning bride was escorted by her father down the aisle to classic march music and their rings were by Unoaerre.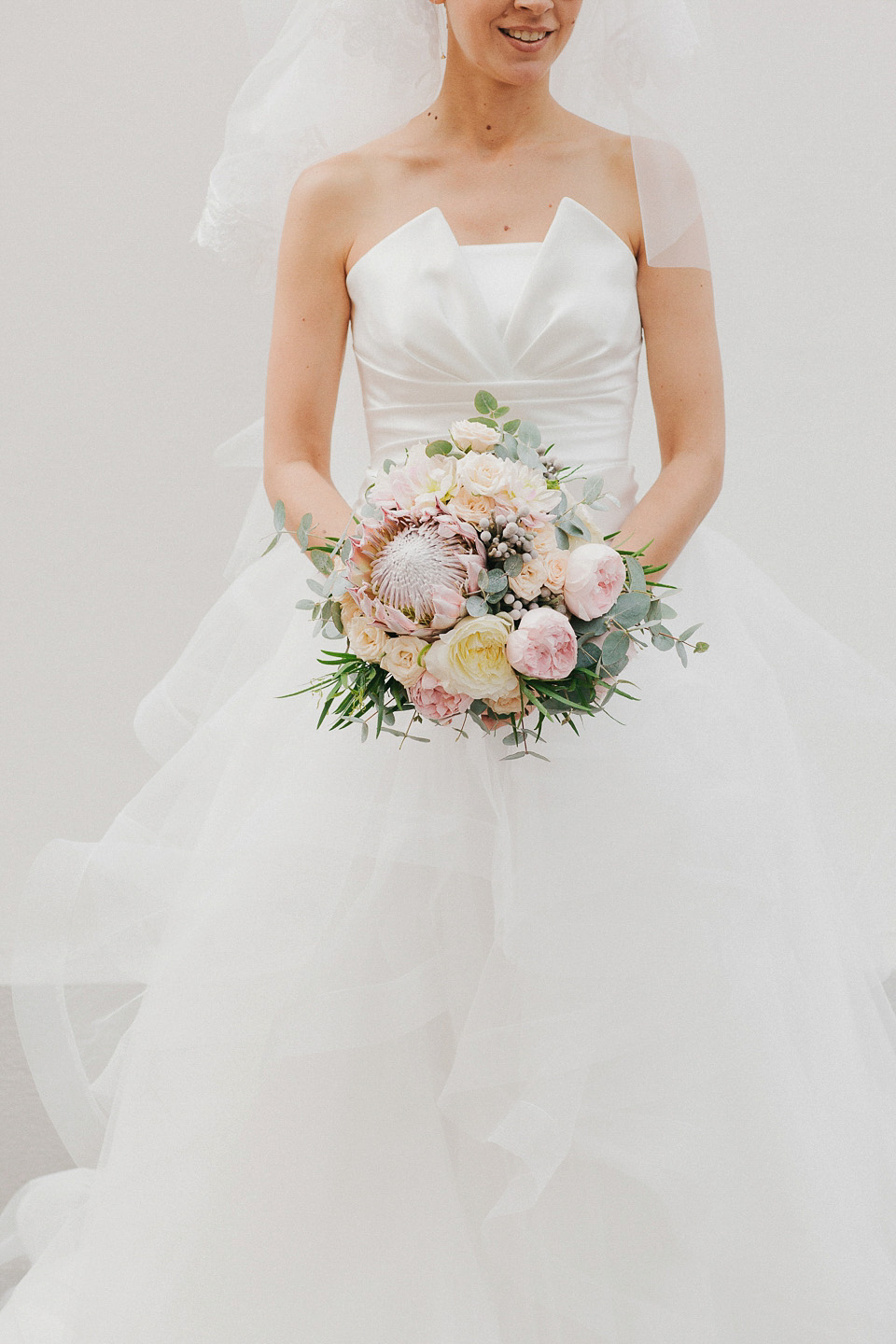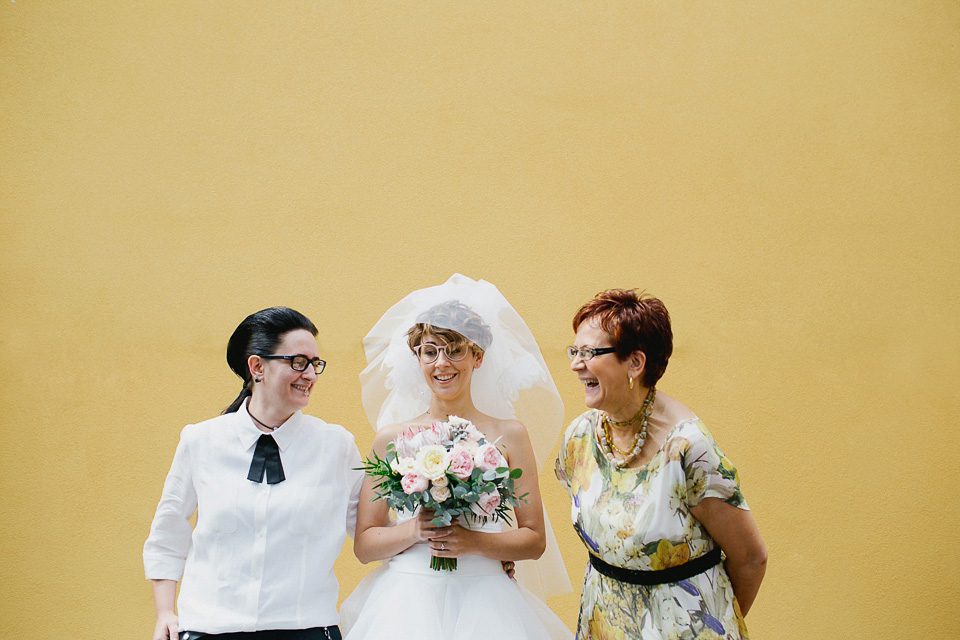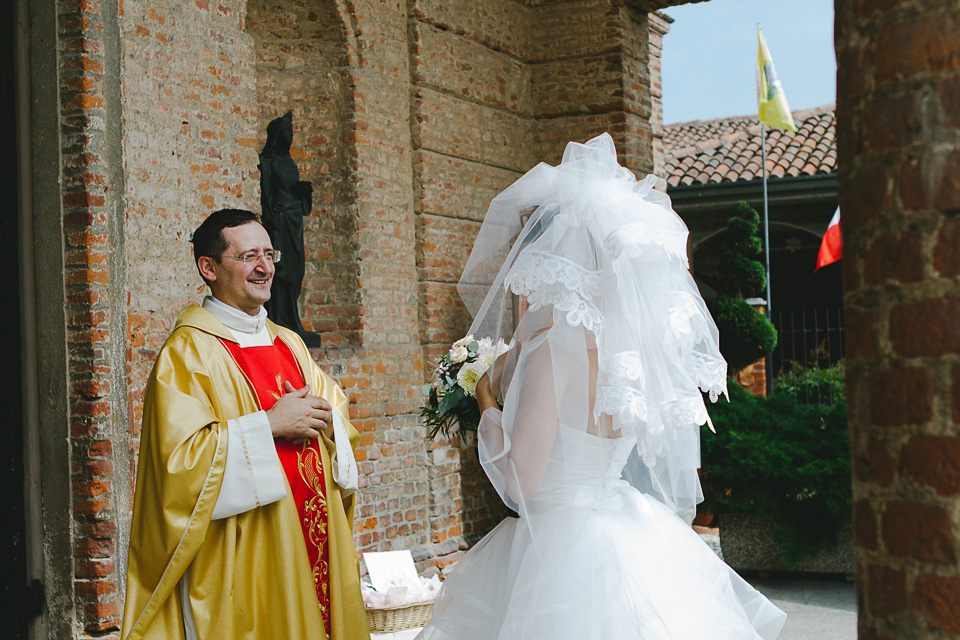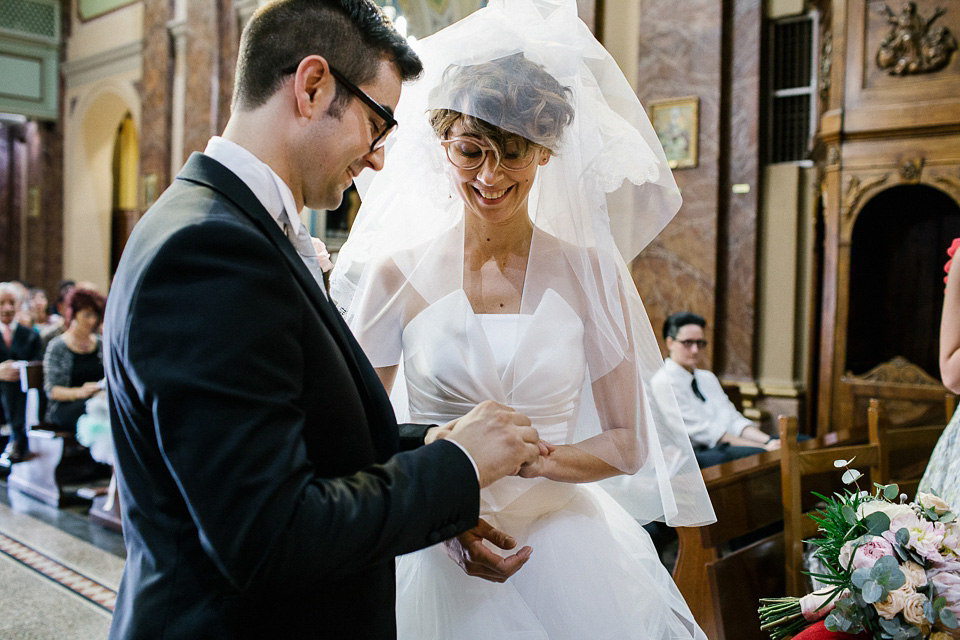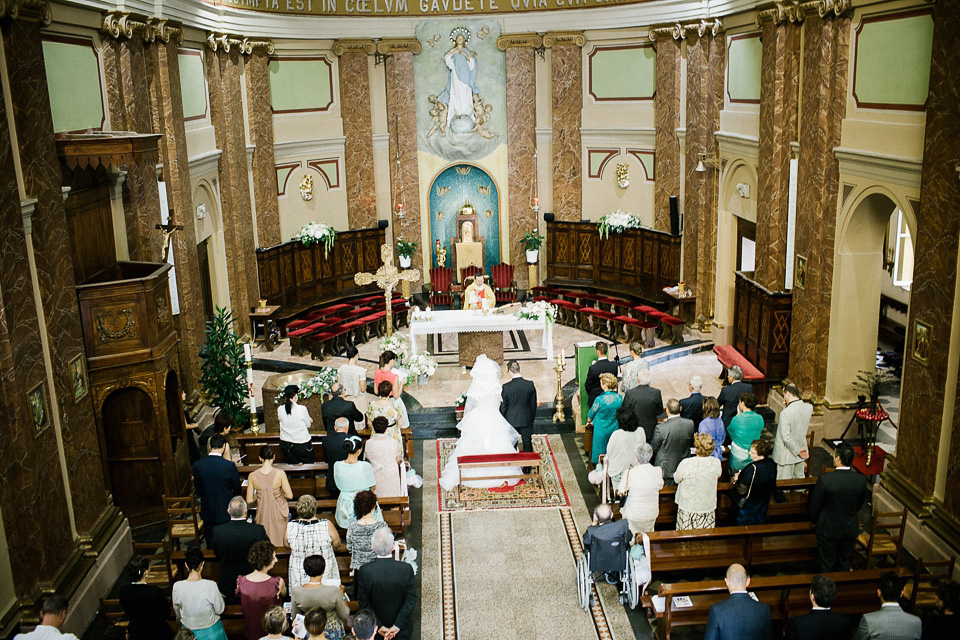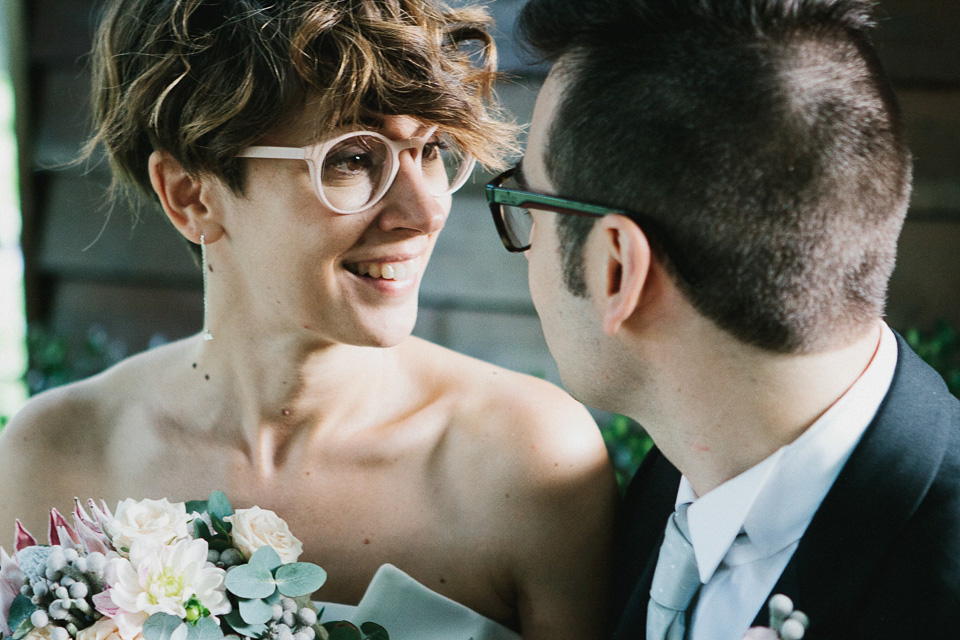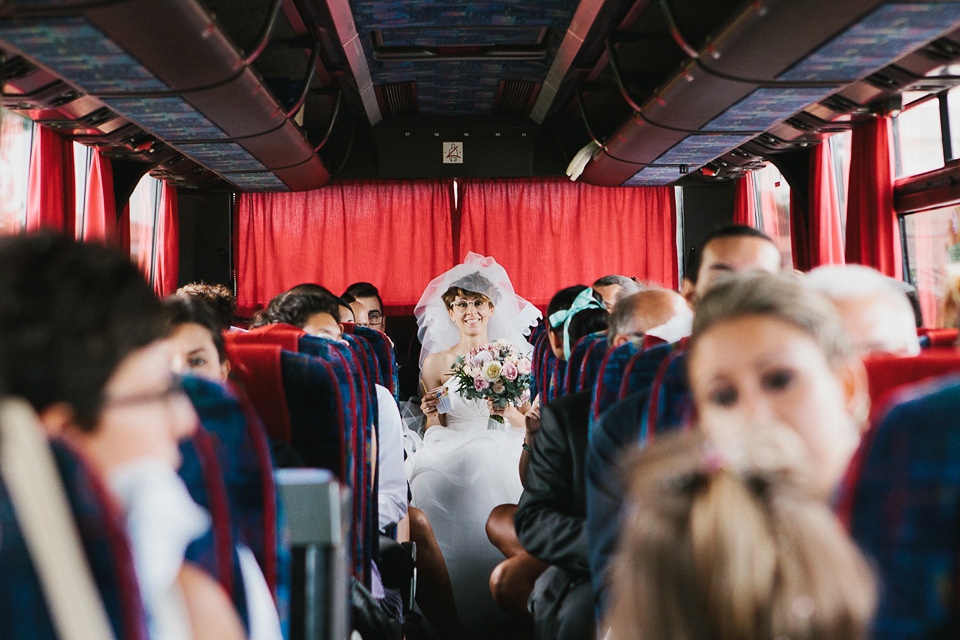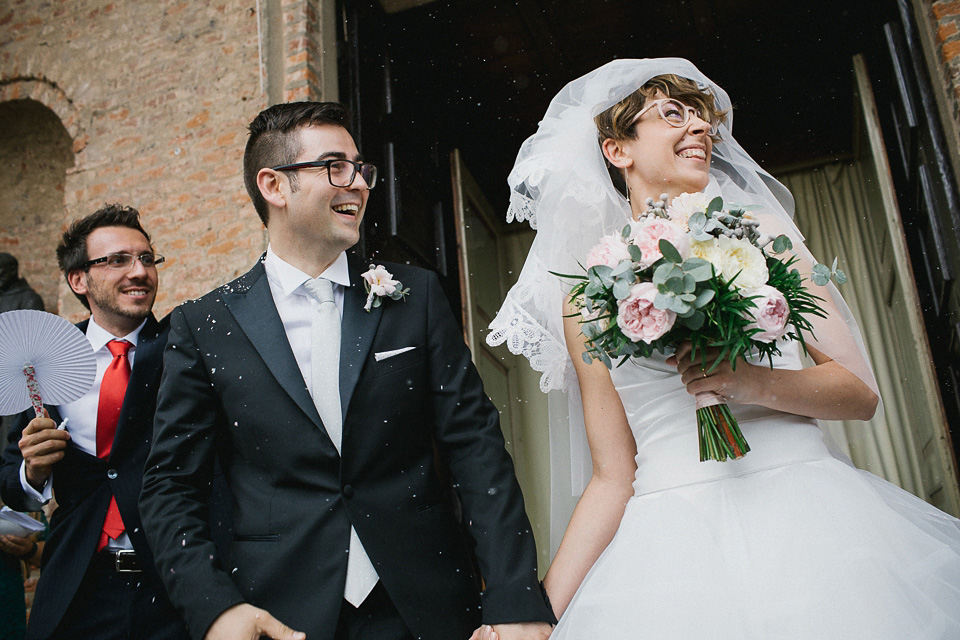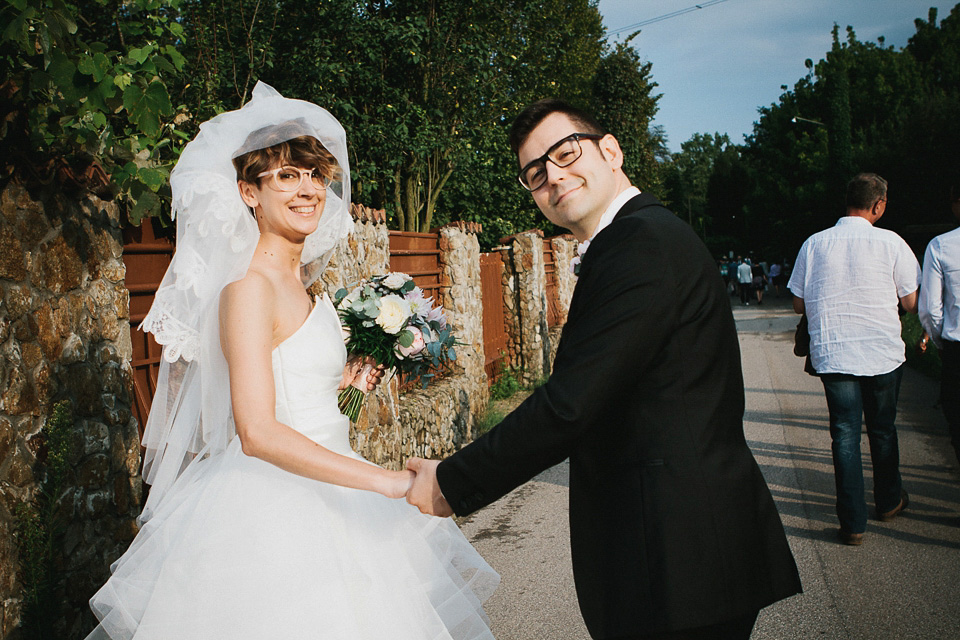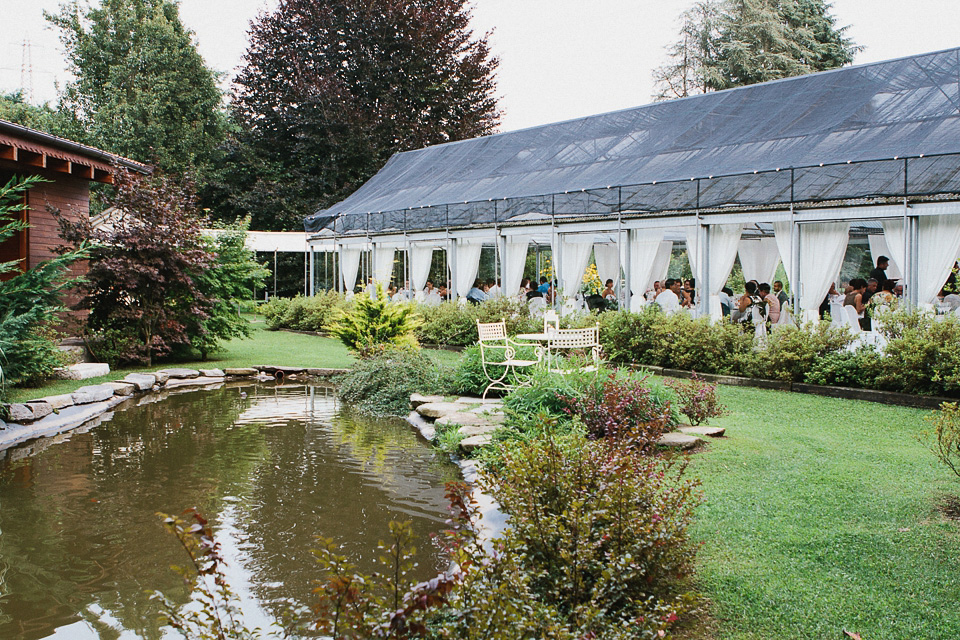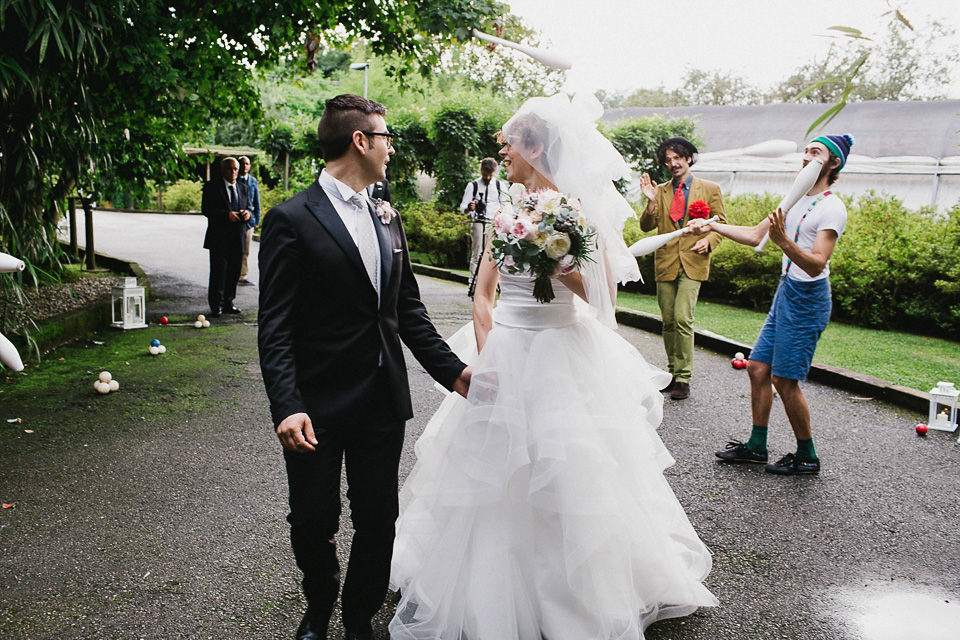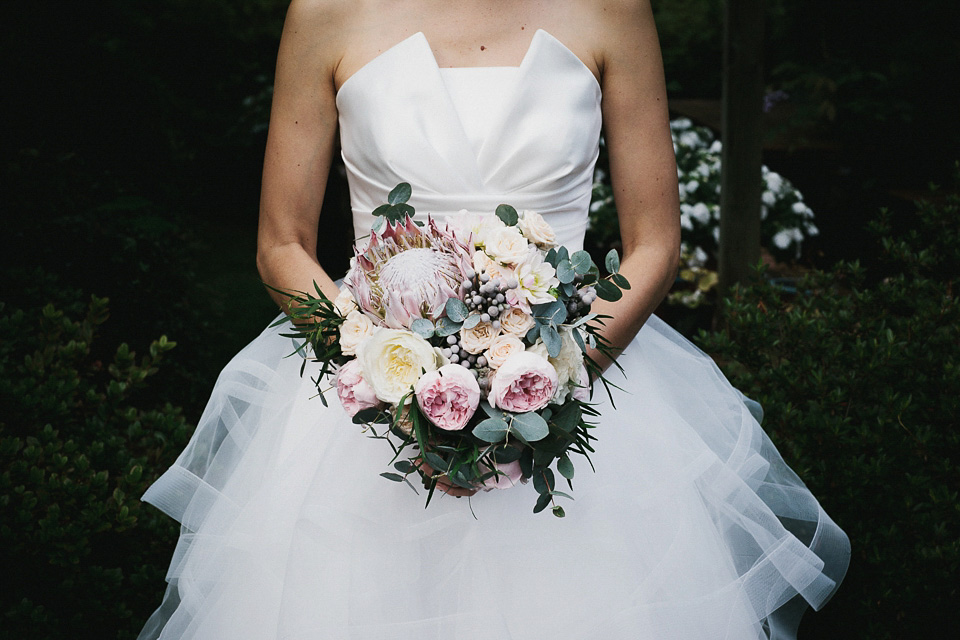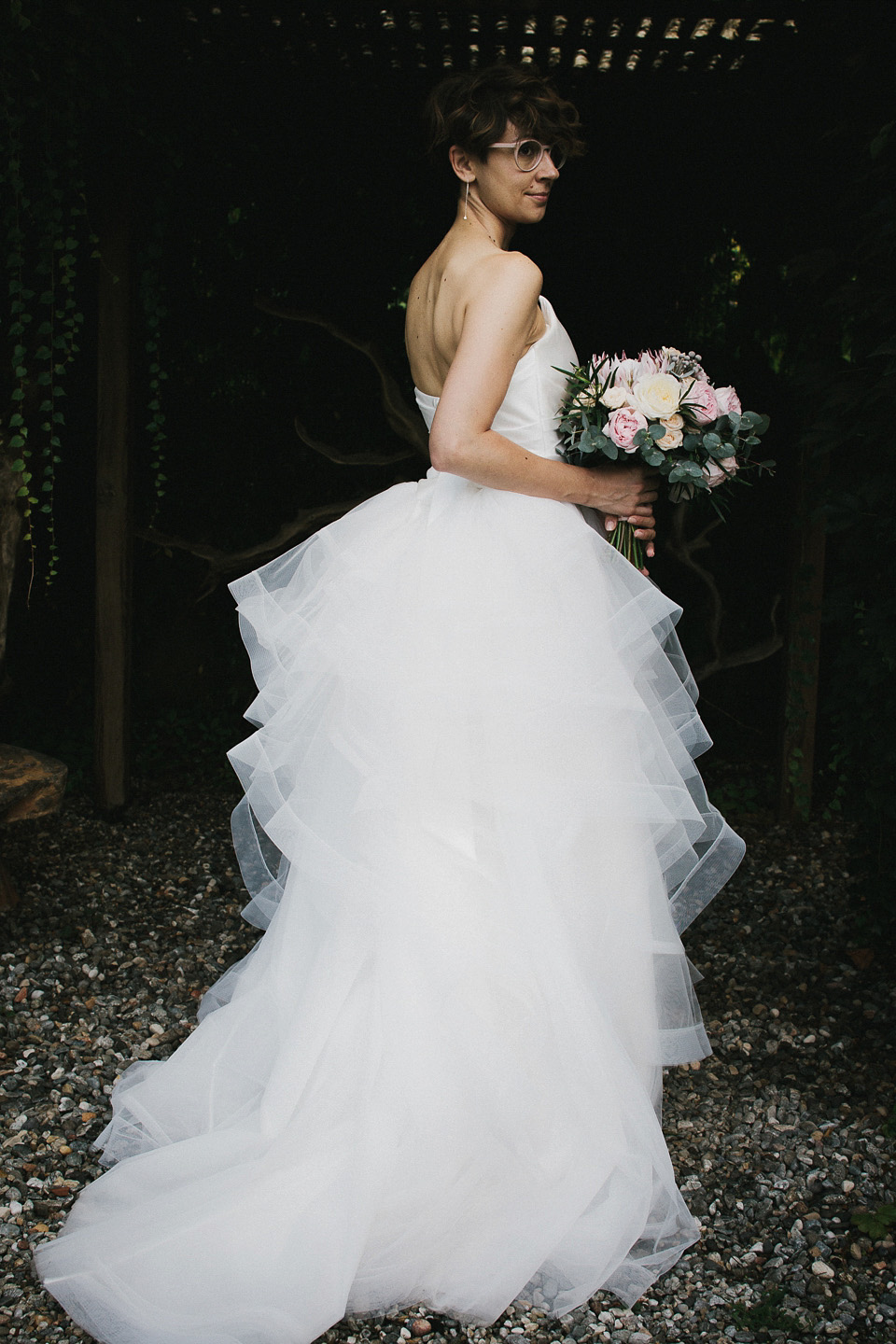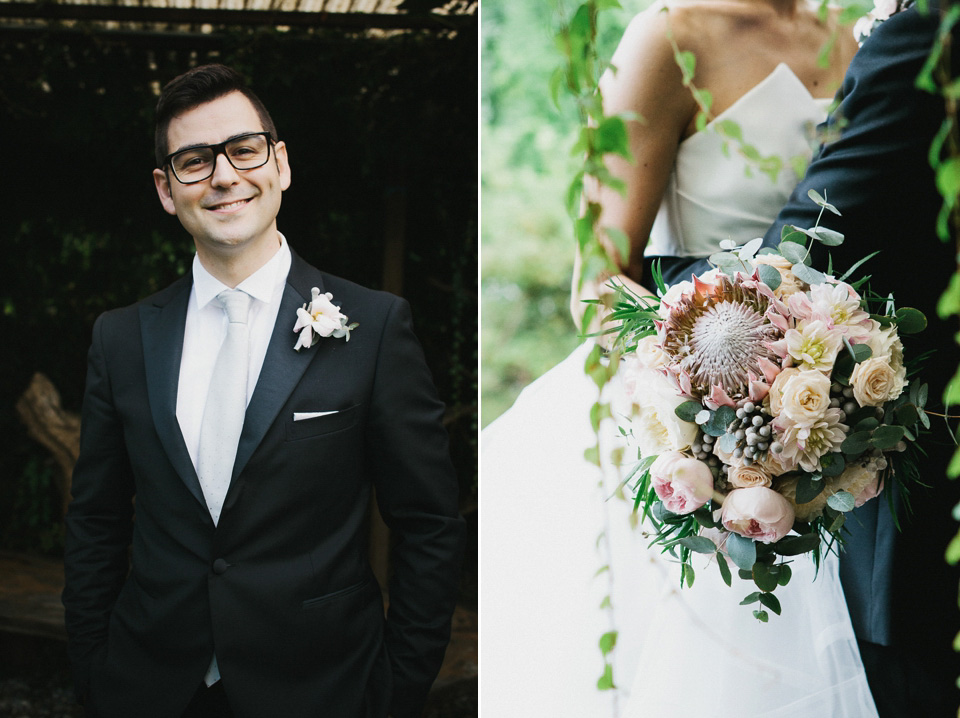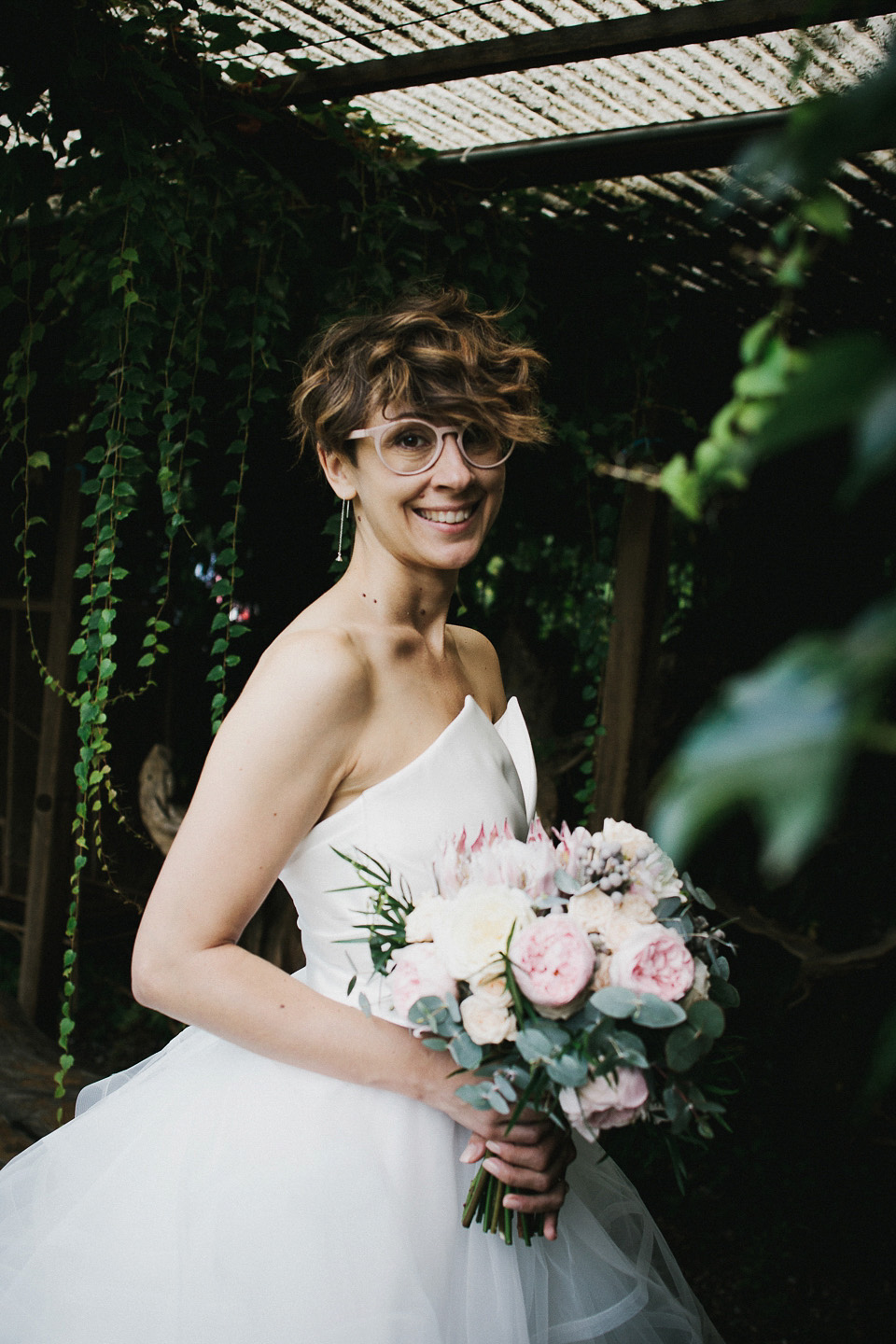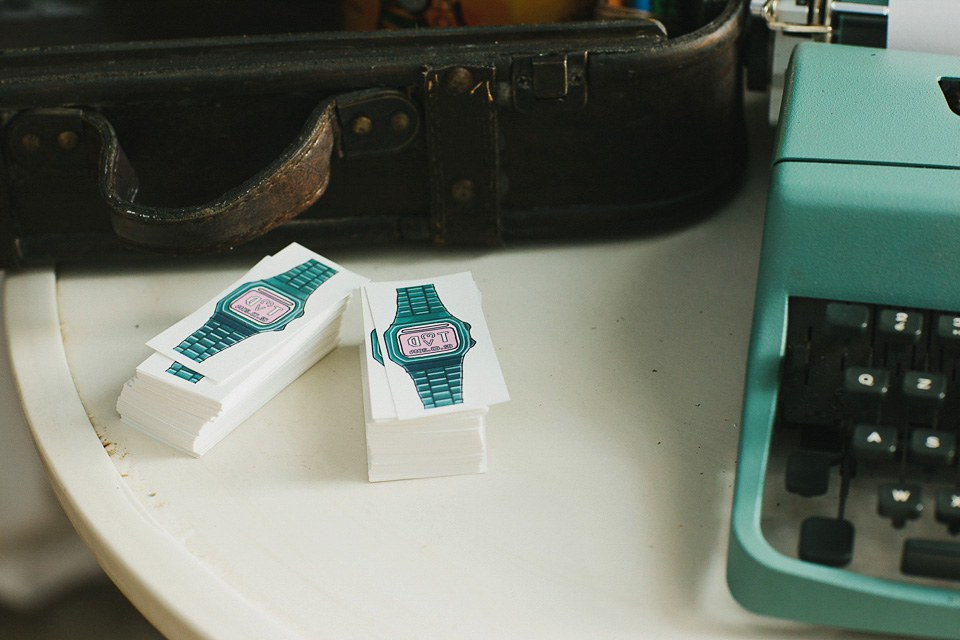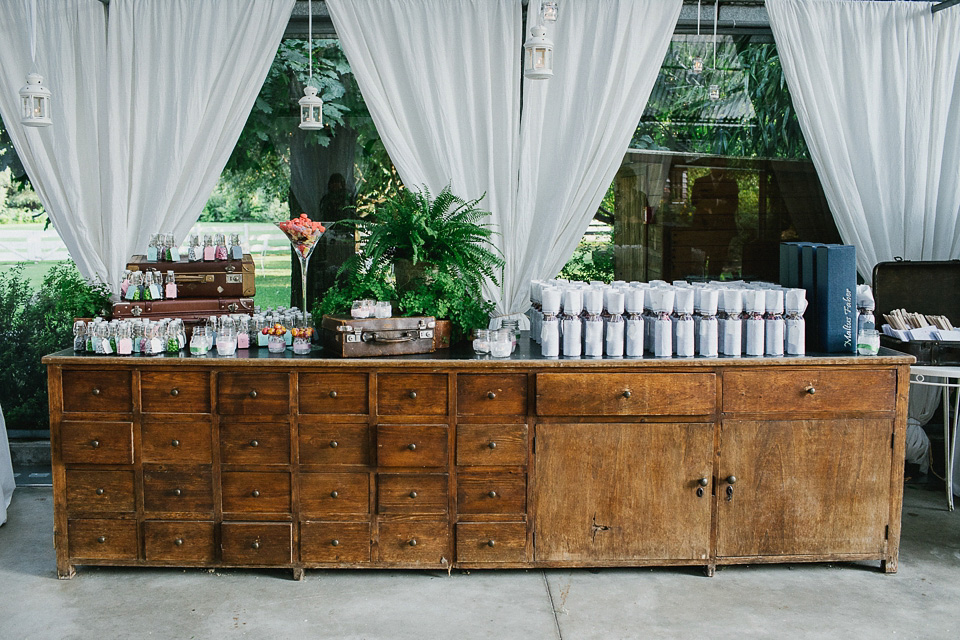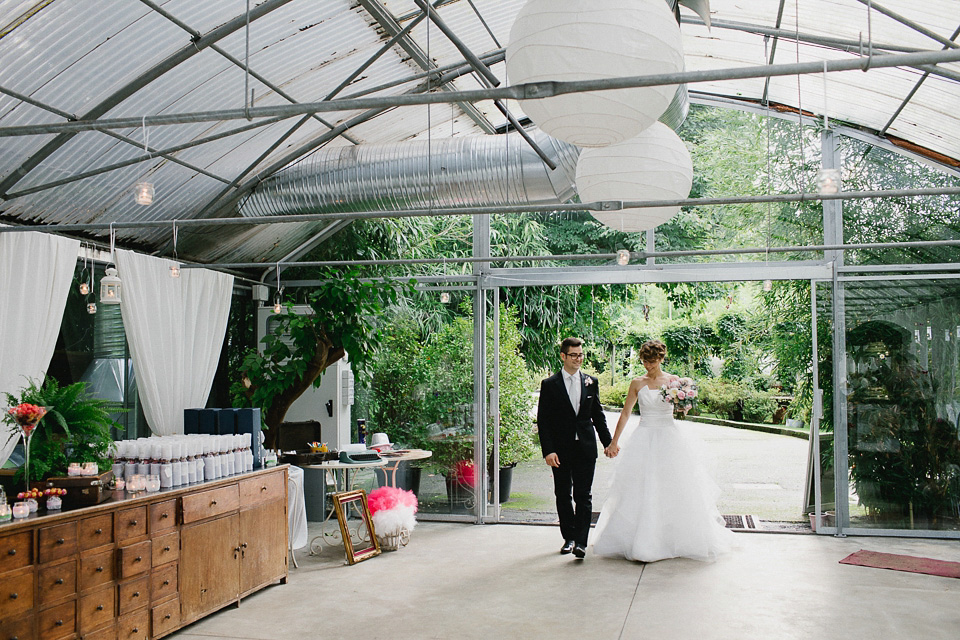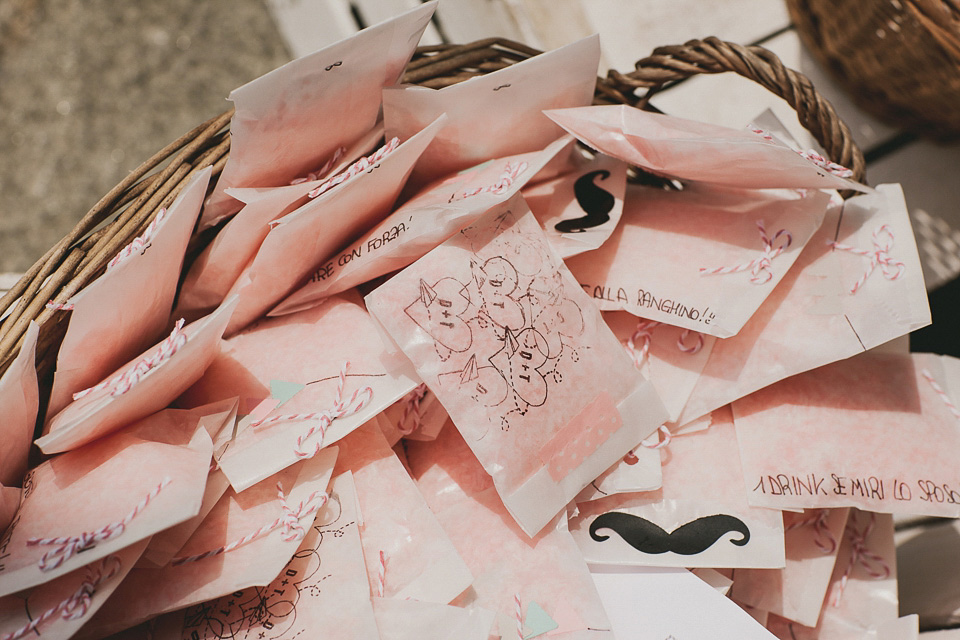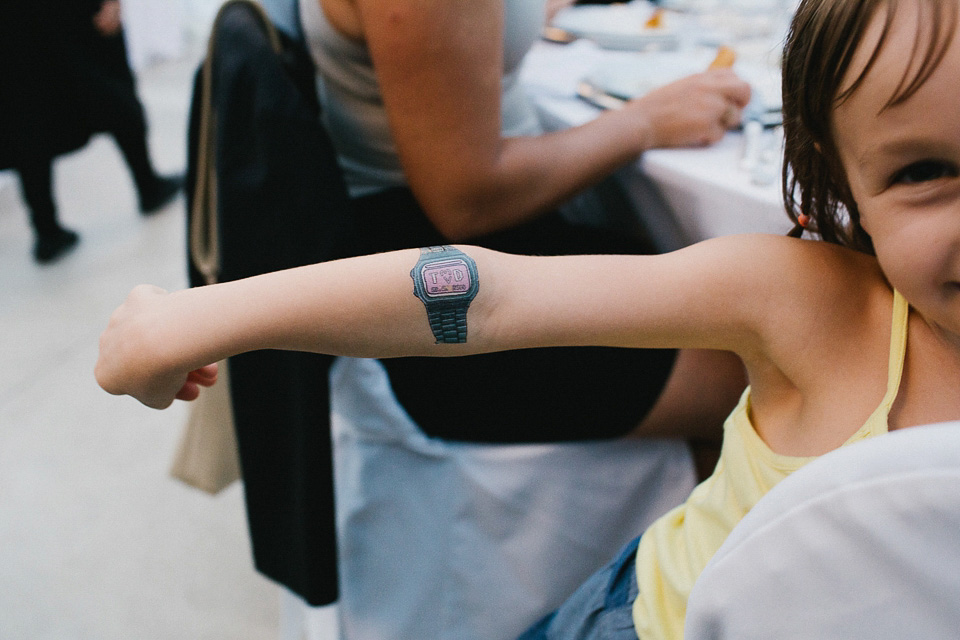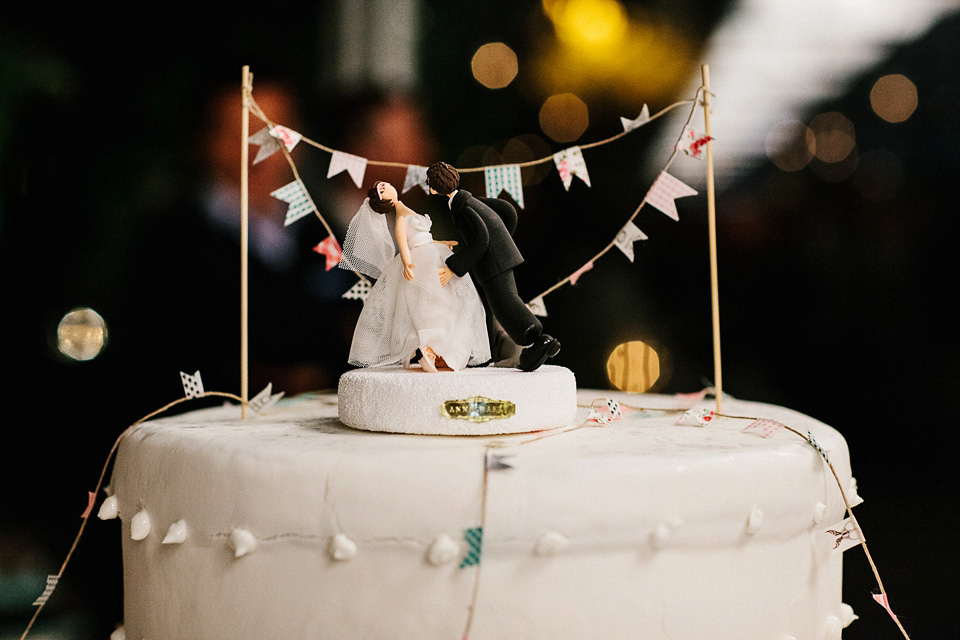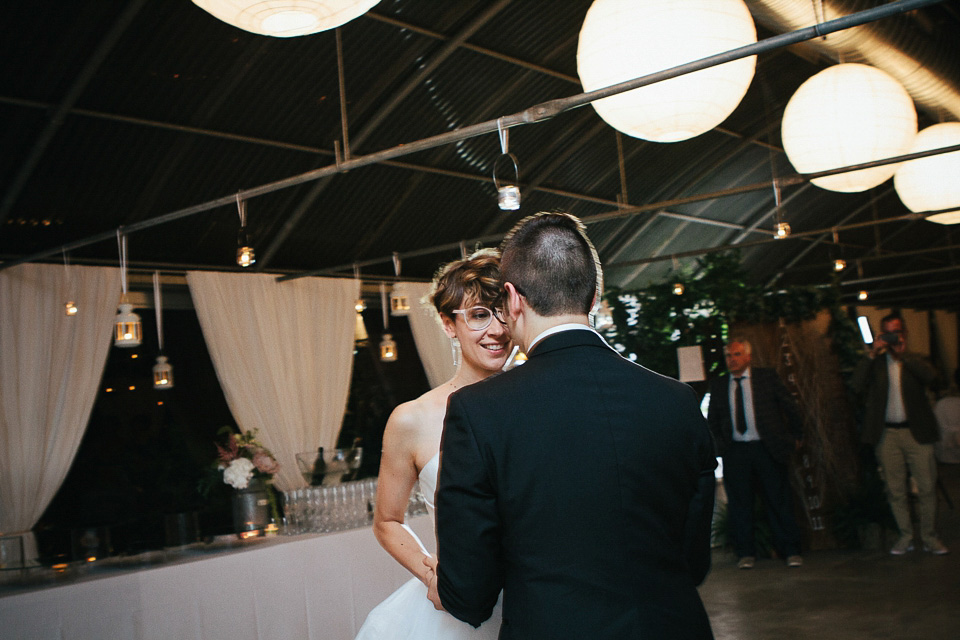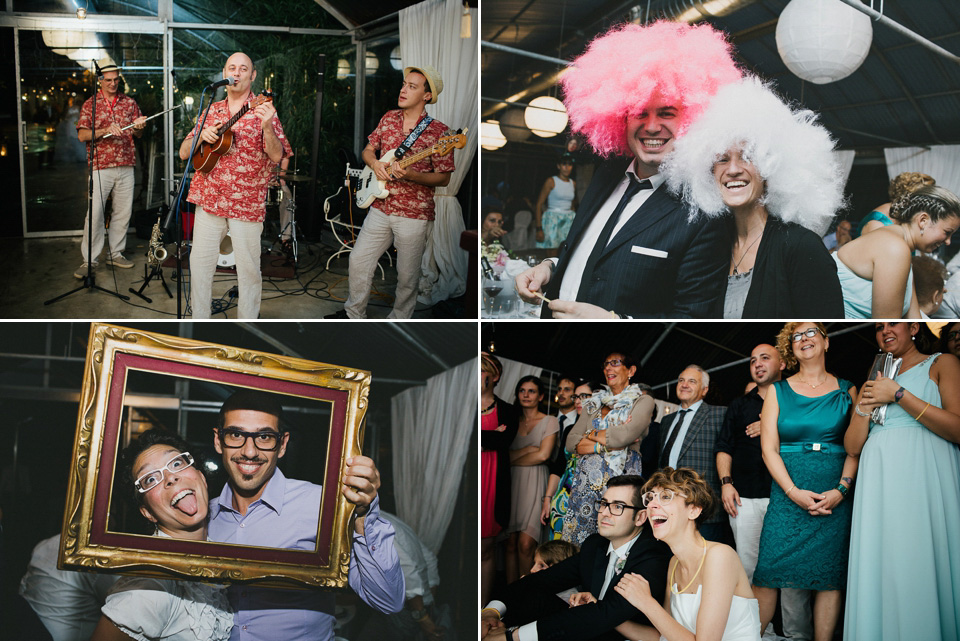 Words of Wedded Wisdom
"Keep into consideration only your happiness!"
What a fun-filled day of love and laughter – thank you so much to Igloo Photo for the gorgeous photos. And I wish the happy couple a lifetime of laughs together.
If you're thinking of a European destination as your wedding venue, see here for more stylish Italian weddings we've previously featured on Love My Dress.
Have a wonderful Thursday,
Love Jo -xxx-
Photographer – Igloo Photo Wedding Photography
Videographer – Videare
Venue – Jardin à Vivre in Castelletto Ticino, Novara, Italy
Bride's Dress + Veil – Elisabetta Polignano
Bride's Shoes – Zara
Bride's Jewellery – Earrings from Ruby Seaward
Bride's Scent/Perfume – Bulgari
Groom – Modesto Bertotto suit, cufflinks by Mont Blanc and wristwatch by Hamilton
Florist –Il Profumo Dei Fiori
Catering + Cake – Le Muse Banqueting
Favours – Maltus Faber
Rings – Unoaerre
Hair – Creativity Hair
Makeup – Sara Muzio
Transport – A friend's Volkswagen beetle
Entertainment – Uke Swing