So I'm back from the beautiful Italy and raring to go (and kinda dreading catching up on all those emails). But the sun is out and the sky  looks glorious this morning and I have this on as my soundtrack for the day, so it's all kinds of OK 🙂  We're joined again today by Michelle Kelly, creative wedding planner and designer at Pocketful of Dreams with her latest series of inspirational mood boards and styling guides.  Today she's exploring all things green and gorgeous…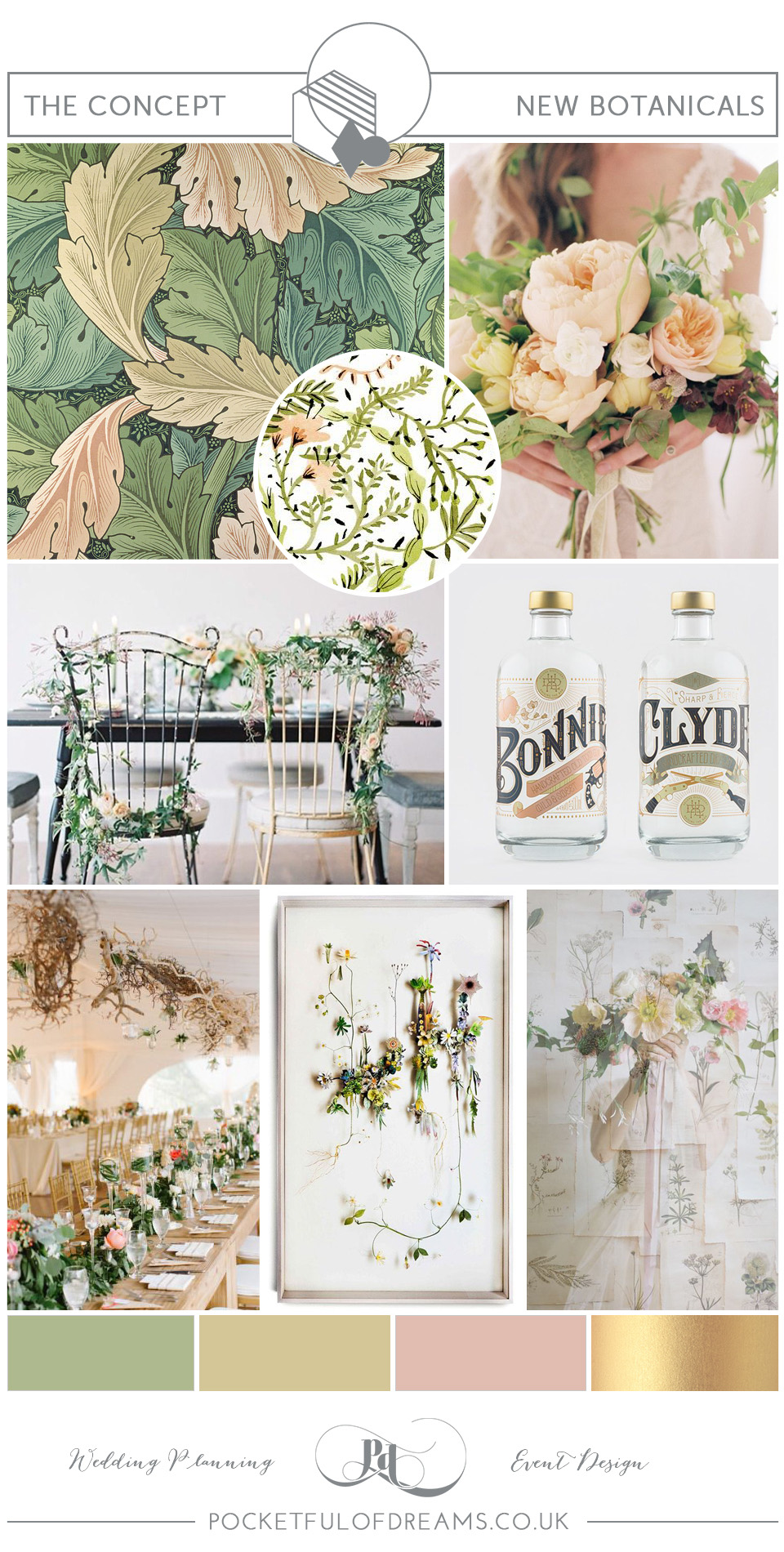 Image credits: 1. William Morris Pattern 2. Pattern 2 3. Bouquet 4. Chairs 5. Packaging 6. Tables 7. Pressed 8. Double Exposure
THE CONCEPT
The botanicals influence remains as strong as ever across weddings, evocative of the natural world taking over with foliage in abundance.
Perfect for creating a magical and romantic mood, think soft focus and painterly style patterns across fabrics and stationery as well as lots of natural greenery and wildflowers. In 2015 particularly we're seeing more of the Arts and Crafts influence, with William Morris fine-art prints clashing with more modern botanical illustrations. It's all about layering detail upon detail for a sense of richness.
We've chosen a natural and organic palette of faded leaf and herb tones mixed in with a delicate sprinkling of peach, with gold to act as a luxe accent.  White is very much the grounding neutral here bringing a purity and freshness to the design.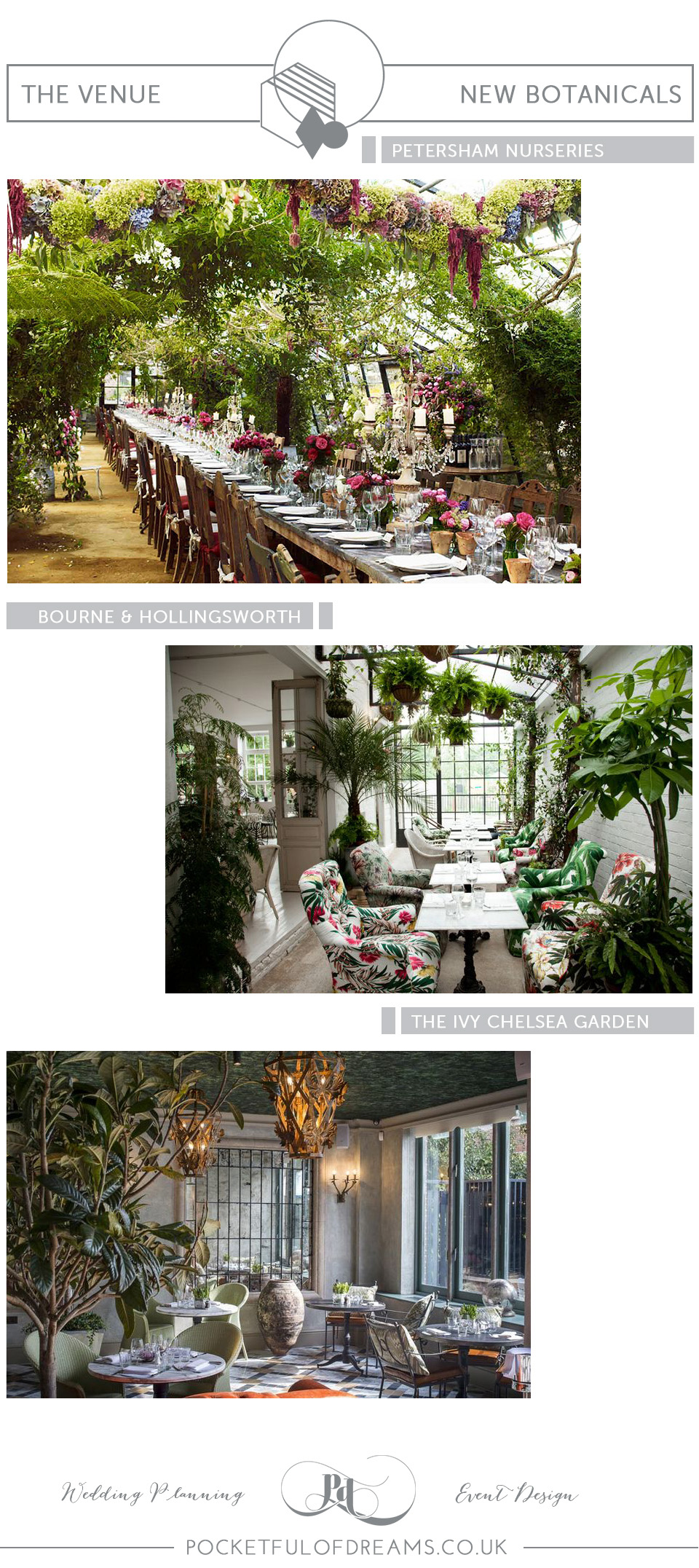 THE VENUE
This look works equally as well within a blank canvas venue as it does in spaces with more of a garden feel. We'd love to see this kind of styling in a venue that already has that overgrown feel to it, imagine an abandoned old space with peeling walls and crumbling brickwork where the land has grown up into the buildings to become one harmonious space.
For this piece we've taken inspiration from spaces such as Bourne and Hollingsworth and The Ivy Chelsea Garden in London as well as Petersham Nurseries in Surrey.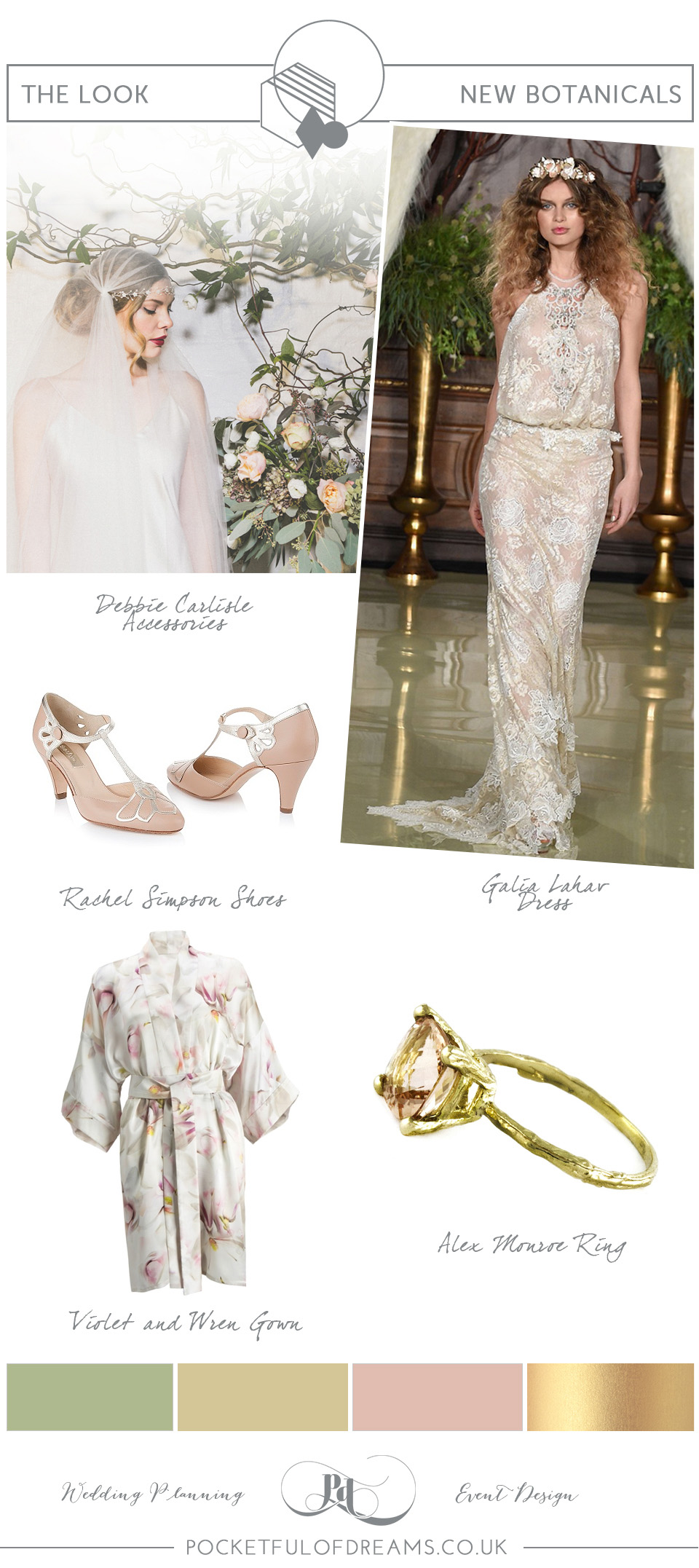 Image credits: 1. Debbie Carlisle 2. Galia Lahav  3. Rachel Simpson 4. violetandwren.co.uk 5. Alex Monroe  
THE LOOK
Our Botanical Bride wants a look that's soft and ethereal and we've found the perfect dress from Israeli designer Galiah Lahav.  Paired with accessories from the Enchanted Collection by Debbie Carlisle, handmade shoes Rachel Simpson and a delightful twig inspired ring from Alex Monroe. Not forgetting that all-important getting ready moment with a gown from Violet and Wren.
Wear hair down in loose mermaid waves for that at-one-with-nature, slightly boho feel.
Image credits: 1. Double Exposure 2.Pattern 2 3. Pressed Botanicals 4. Furniture 5. Flowers 6. Ceremony 7. Install  
THE DESIGN
For the paper suite we have a range of design details starting with an ethereal photoshoot of our couple, with a double exposure process to make them look like they blend in with nature. Mixing this with soft painterly watercolour backgrounds and a hand-illustrated pattern that we would use to create fabric table runner and co-ordinating napkins.
We'd also look to incorporate a little handmade craft in their somewhere, turning our hands to pressing flowers and plants between double sided glass frames – to use as unique table numbers and wall decoration for the venue.
To create a time-loved aesthetic we'd source mismatched vintage garden furniture for an eclectic yet laidback setting. Florals would be organic and rich with plants and fruit to add interest, colour and texture.
When it comes to decor then it's time to go big or go home; we'd create an impressive overflowing and wild series of botanical installations, from an atmospheric arbor beneath which to say your "I do's" through to more conceptual decor pieces to adorn the ceilings and wall of your venue.

Image credits: 1. Drink 2. Canape 3. Food 4. Cake 1  5. Cake 2 6. Soaps 7. Wrapping
THE DETAILS
For the food and drink choose organic and plant-inspired ingredients that look like a riot of freshness on the plate – a true celebration of nature. Think herbs, fruits and edible flowers all mixing together to create an intoxicating array of fresh flavours.
When it comes to the wedding cake you can either go big on a botanical display with a riot of foliage to adorn your cake display or you can look to have your cake-maker apply some fine-art painting techniques to your cake for a delightful botanical look.
For those final little details, organic handmade soaps make a wonderful gift, wrap them up in paper printed with your botanical pattern for a lovely take home treat for your guests.
Michelle xx
_____________________
We love to share features by Michelle Kelly, Creative Director and expert wedding planner at Pocketful of Dreams – and partner/collaborator with Love My Dress.   Pocketful of Dreams create captivating and unforgettable celebrations for creative clients across the UK and Europe and provide everything from on-the-day assistance only, to full wedding planning and styling.  If you think you'd like to chat with Michelle about your own wedding, you can drop her a line on [email protected] or visit pocketfulofdreams.co.uk for more information.