Well move aside Hugh Bonneville, Dame Maggie and Mr DiCaprio as today's wedding is the epitome of vintage glamour with not only the bride rocking an elegant 20s look, but also her mum, bridesmaid and many of the guests too. You can guarantee that there was some Charleston dancing fun at some point! If you are thinking of a similar theme, then have Pinterest at the ready for some of these Art Deco styling touches.
This lovely pair are yet another online dating success story, having met a few years earlier on Match.com, after Kellie had moved to London for a new job. Following a 14-month engagement, Kellie married Neil on 8 November 2014 at The Plough at Lupton in Cumbria. The couple had previously stayed there for a weekend break, and had thoroughly enjoyed the good food and friendly service, so they were delighted to discover that the hotel had just got their licence to hold ceremonies. It was almost as though it was meant to be.
"Neil proposed with his grandma's engagement ring; he said I didn't have to keep it, he just wanted something to propose with. I absolutely loved the ring, it's so unique and has sentimental value as well. This started the theme. His grandparents actually married in 1936 but we tweaked the dates a little to the 1920s and Great Gatsby era –  we both love this period and we love watching Boardwalk Empire."
Photography by Jessica Reeve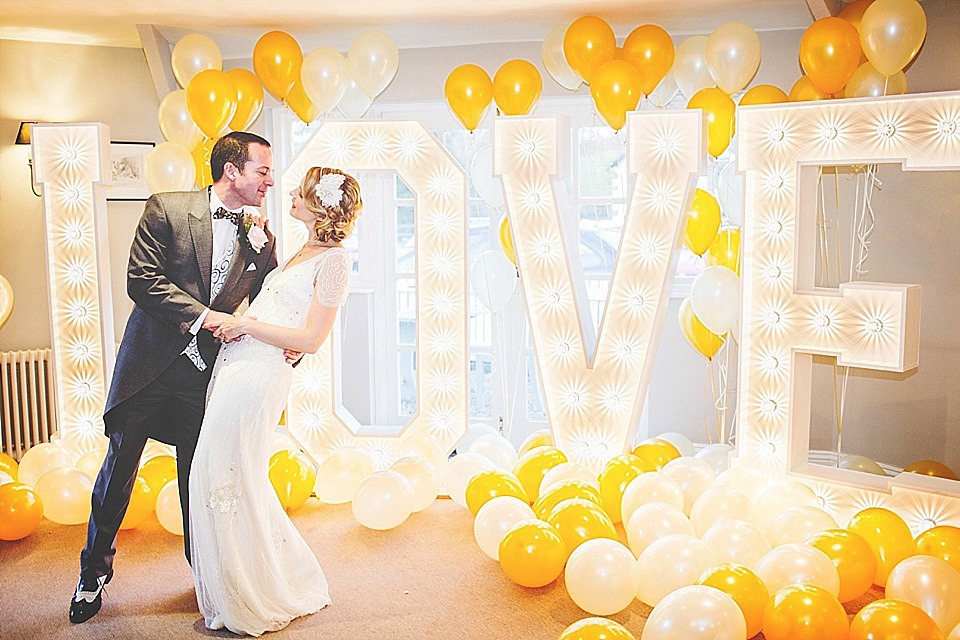 "I absolutely loved choosing my shoes, Emmy was a really pleasure to work with and is so creative."
For those of you new to Love My Dress, Emmy offer a bespoke service exclusively available by appointment in the Emmy studio. However, she also offers a signature and bridal collection as ready to wear, online or from the studio. You can read more about them here.
I have a real soft spot for Kellie's chosen Jenny Packham dress as it made it onto my own shortlist. Eden is timelessly elegant, with delicate beading and embellishment, guaranteed to make its wearer feel glamorous and beautiful. It was bought from Mears Ghyll in Lancaster, which is run by Elizabeth Thompson, who Kellie knows from school.
"I tried a lot of dresses on in every style, mainly for my mum and aunty! I'm only going to do this once so I wanted the whole experience. I always had in my mind either Charlie Brear or Jenny Packham. On the day I chose the dress I had my mum, my aunty and my two cousins as judges. Their faces when I tried on the Eden dress meant that it was the one. I also bought my hair accessory from the same shop."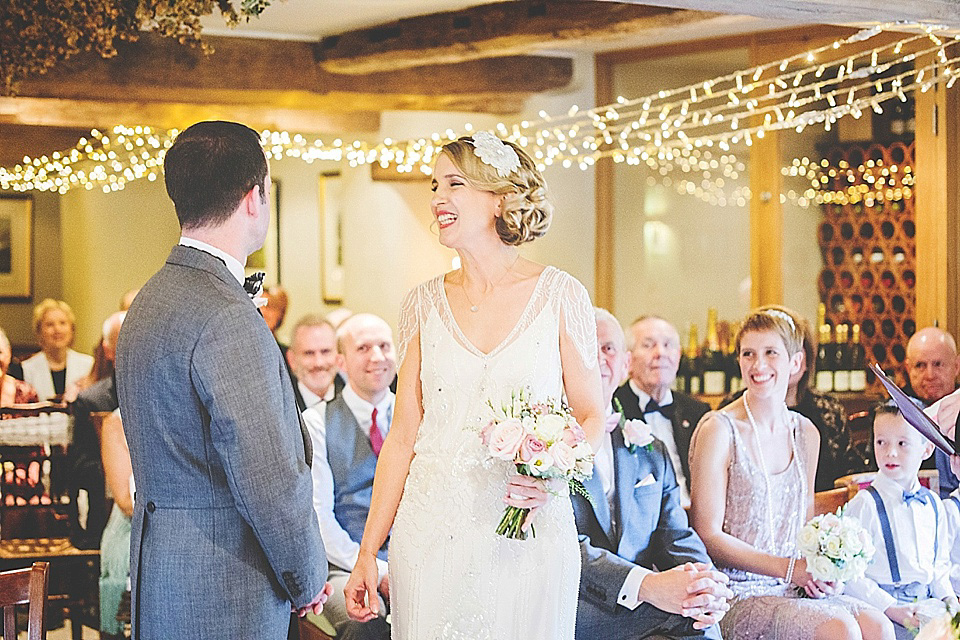 "Emily and Jo did my Save the Dates, Wedding Invites and RSVPs however I made my own table plan and the art deco place cards came from Etsy.
For decoration, we hired 'Love' lights from typicaltype and we used SVL Hire to put up fairy lights. I had Amy, from Sure To Surprise You, put the table decorations together although, my mum and aunty did a lot of the legwork sourcing things from charity shops."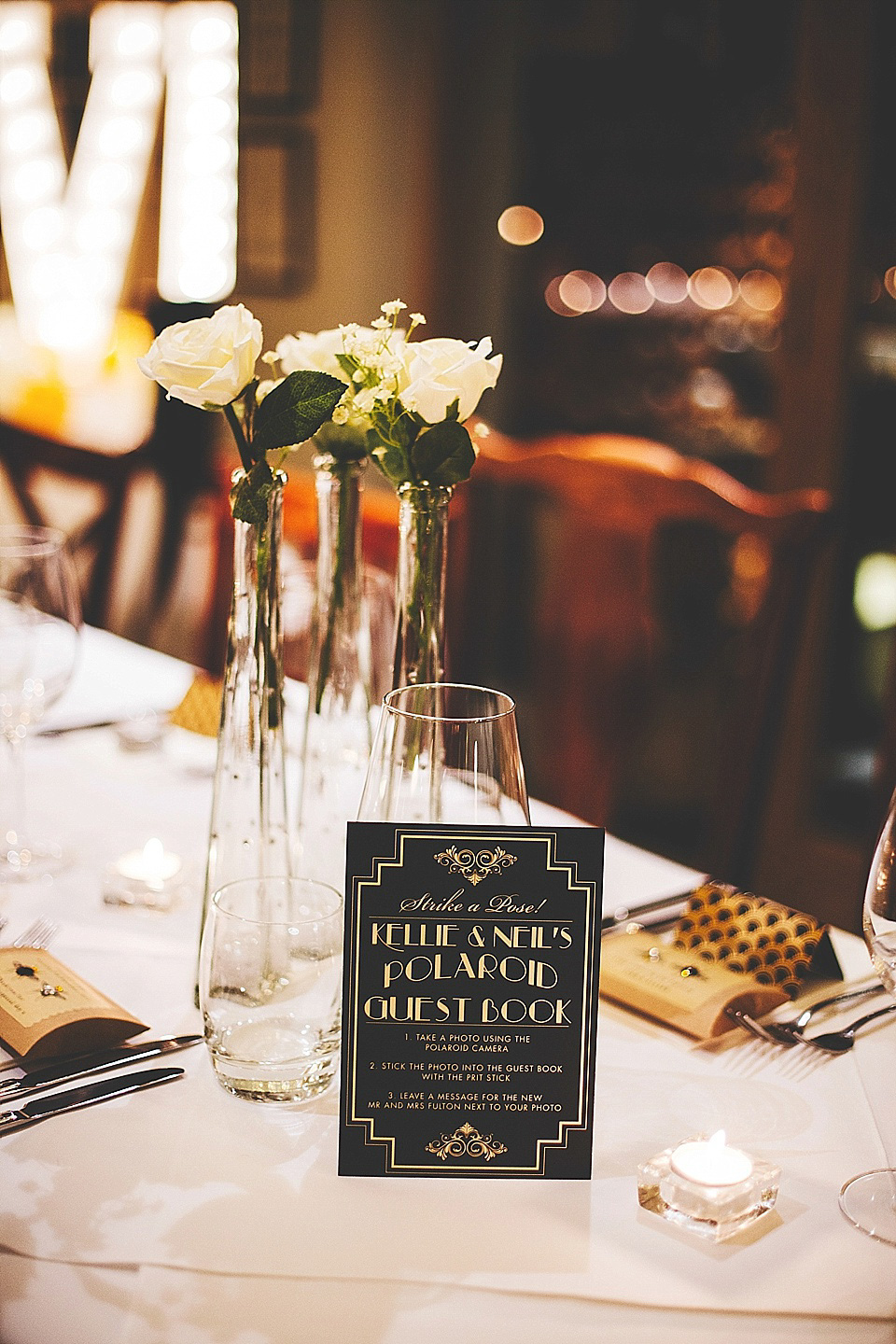 "From the moment we met our photographer Jessica Reeveshe made us feel completely at ease. We spent a few hours with her on an engagement shoot, getting to know her and what her style was and what we were looking for. She was a delight to work with, I barely noticed her on the day. She listened to all our requests and told us honestly what she could deliver. We are over the moon with the results."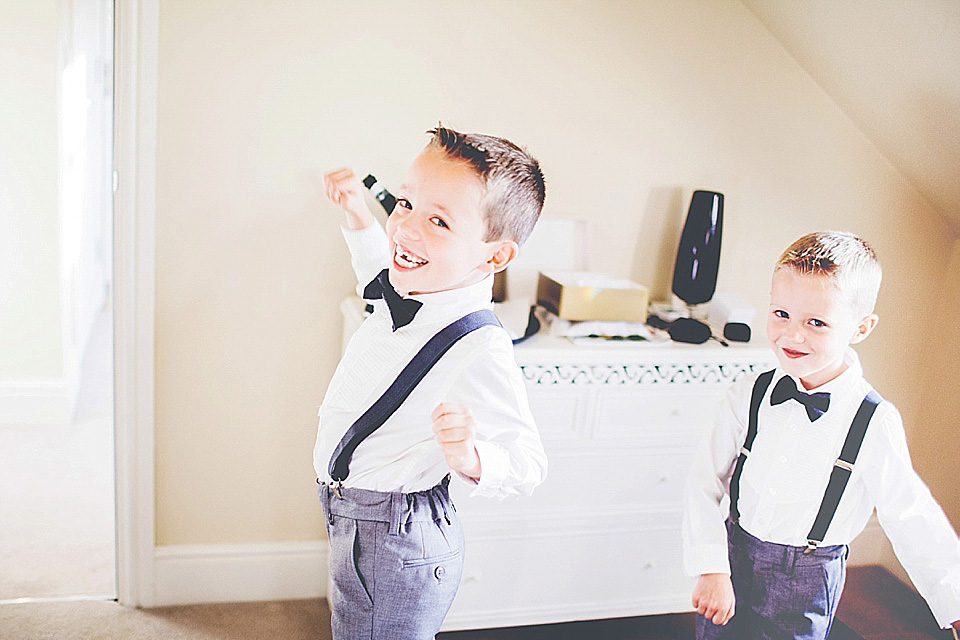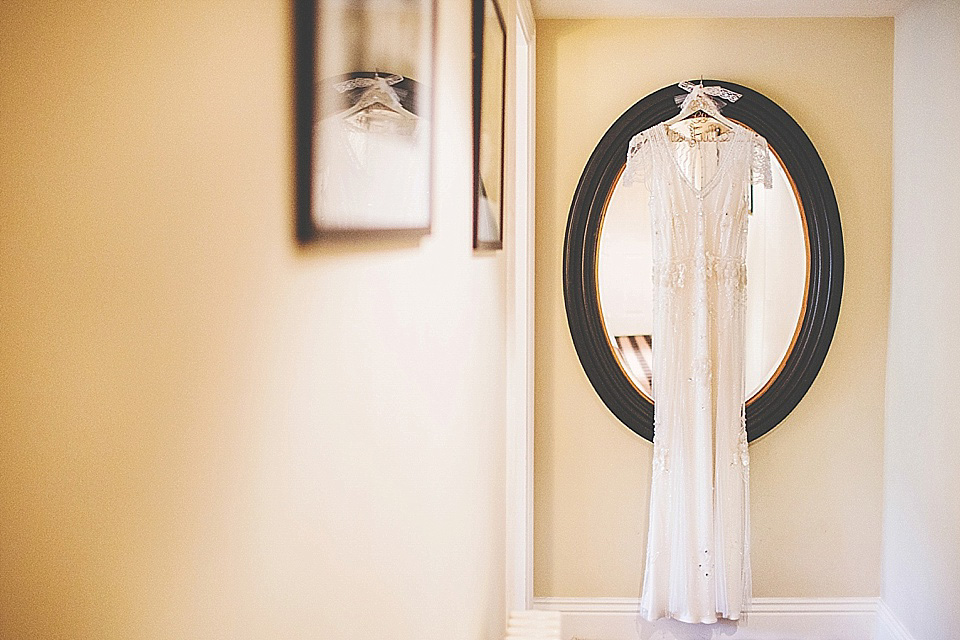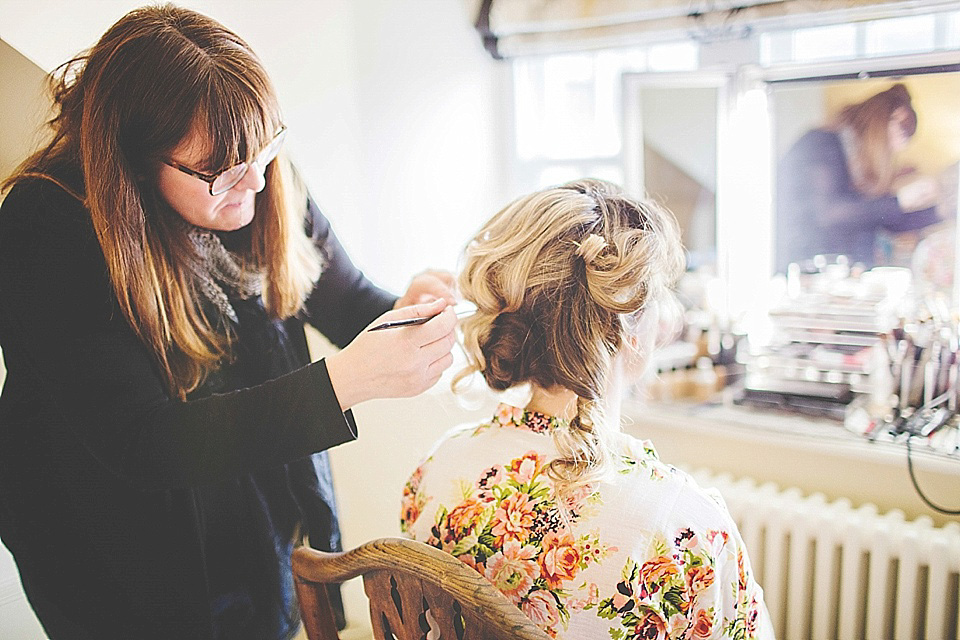 Kellie is the Merchandising Director at Links of London so had insider knowledge when it came to choosing the jewellery for the day. She went for a pretty necklace and bracelet from the Concave Diamond Collection, a Harrods Exclusive.
She also has a close friend who works for Kenneth Green who distributes perfume in the UK.
"She helped me select a perfume from her numerous samples and then got me Elie Saab – Le Parfum, along with matching body wash and body lotion – amazing!"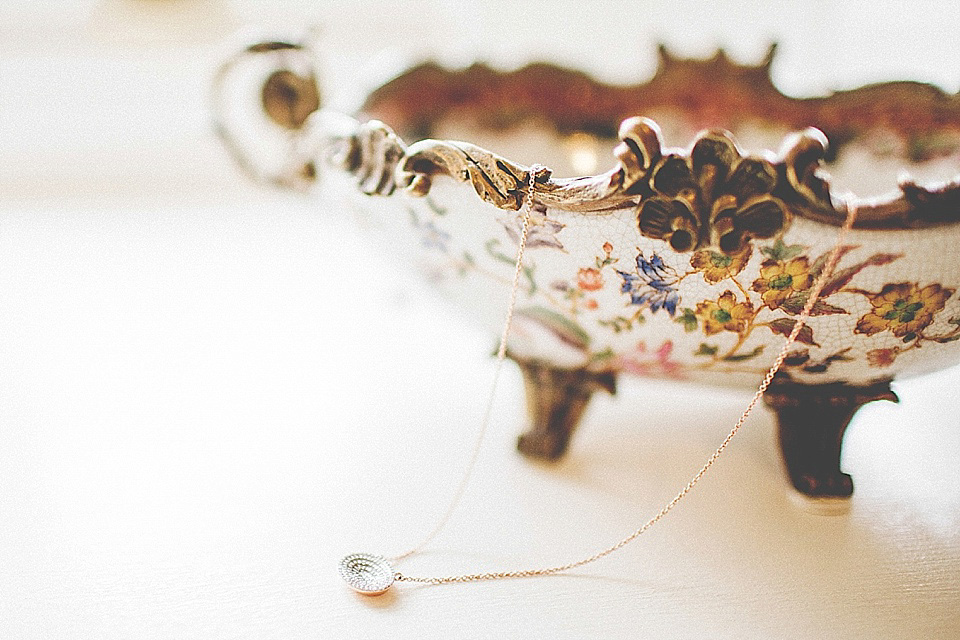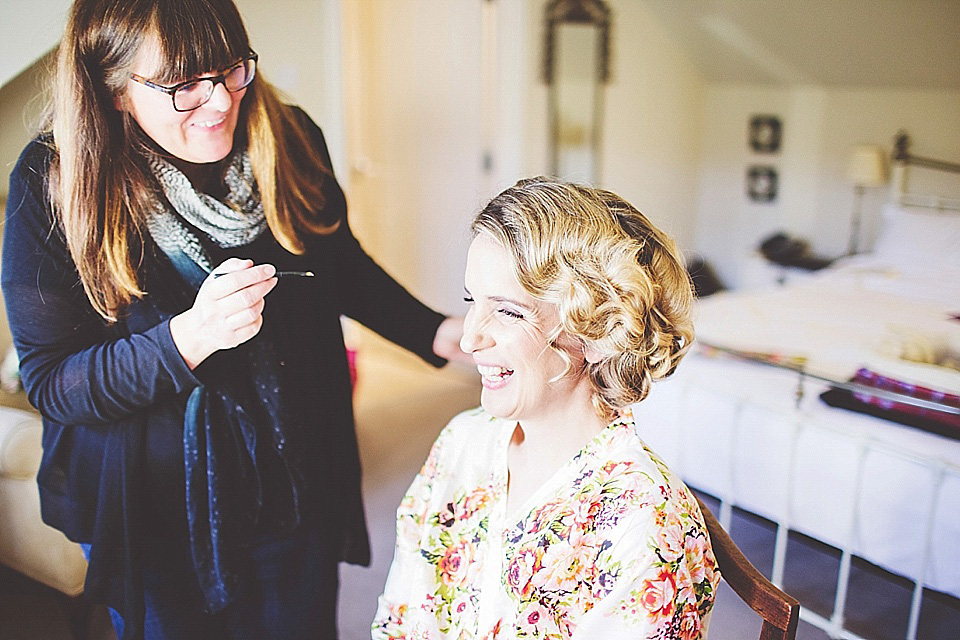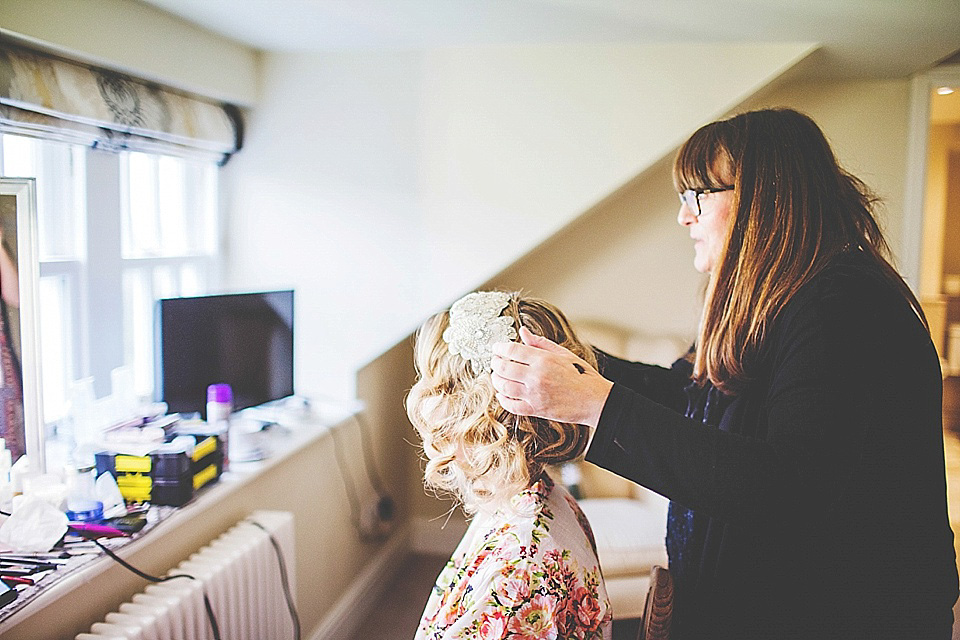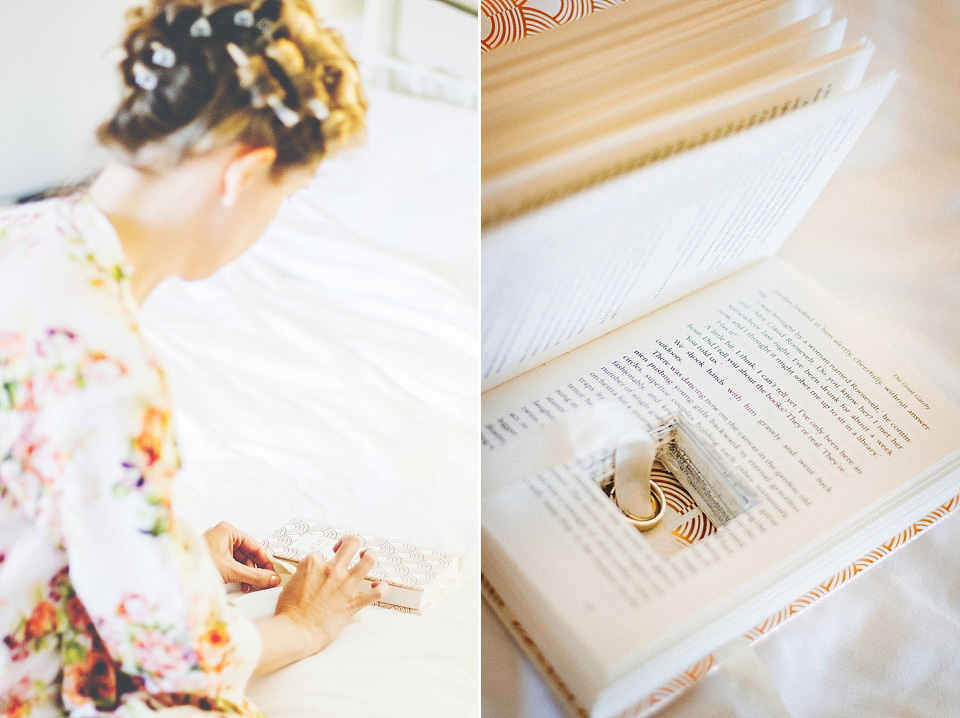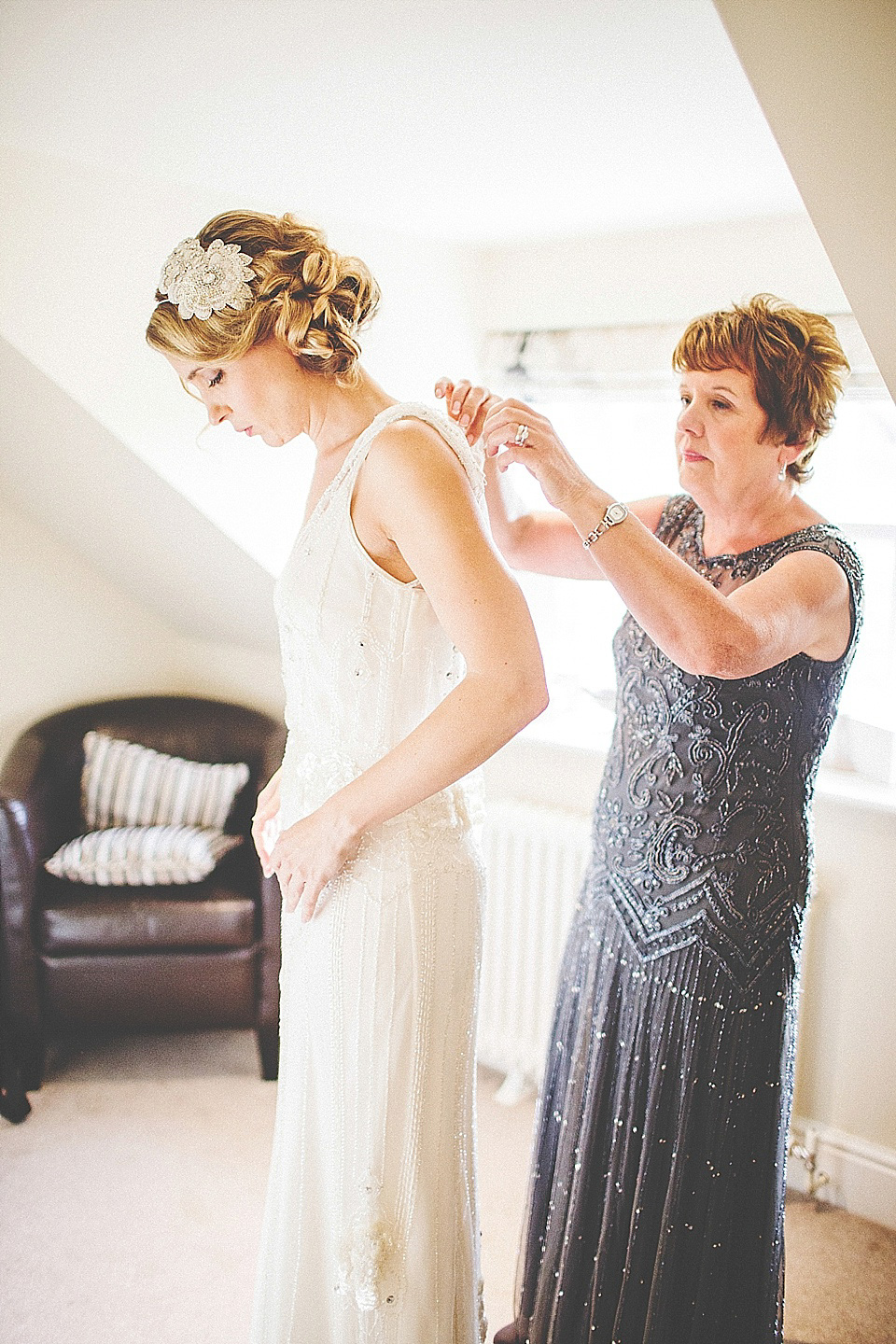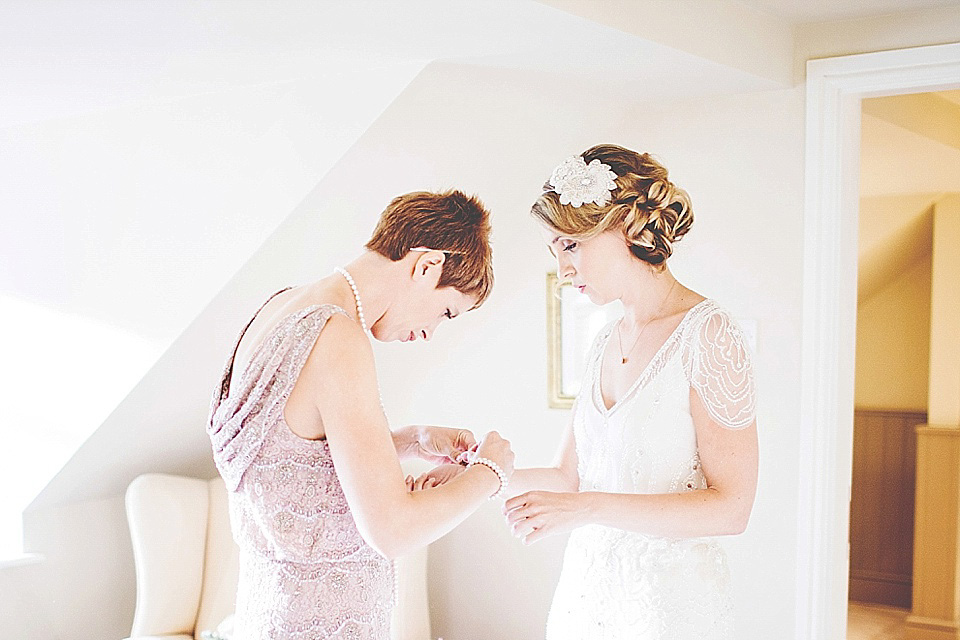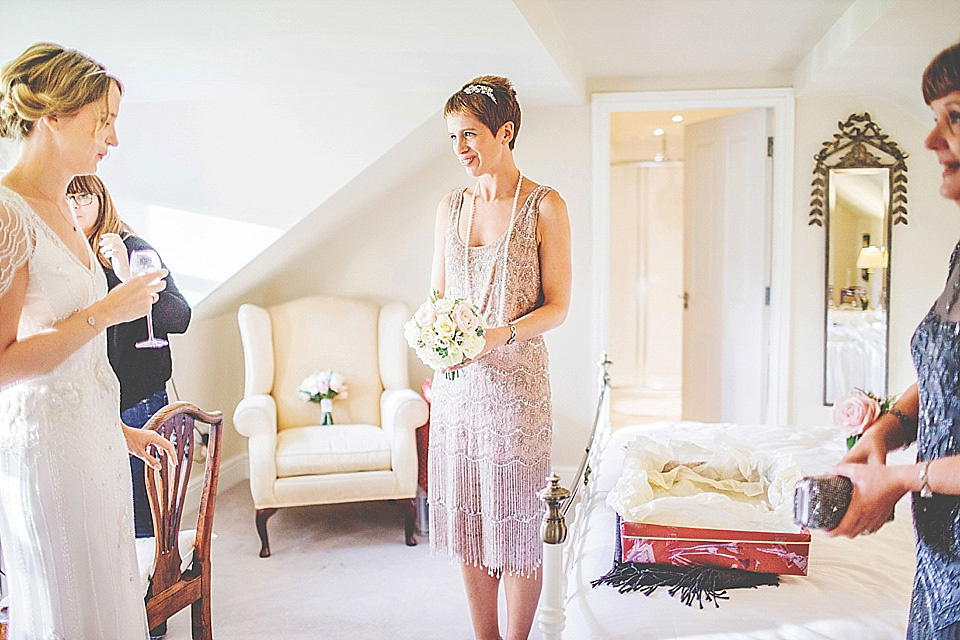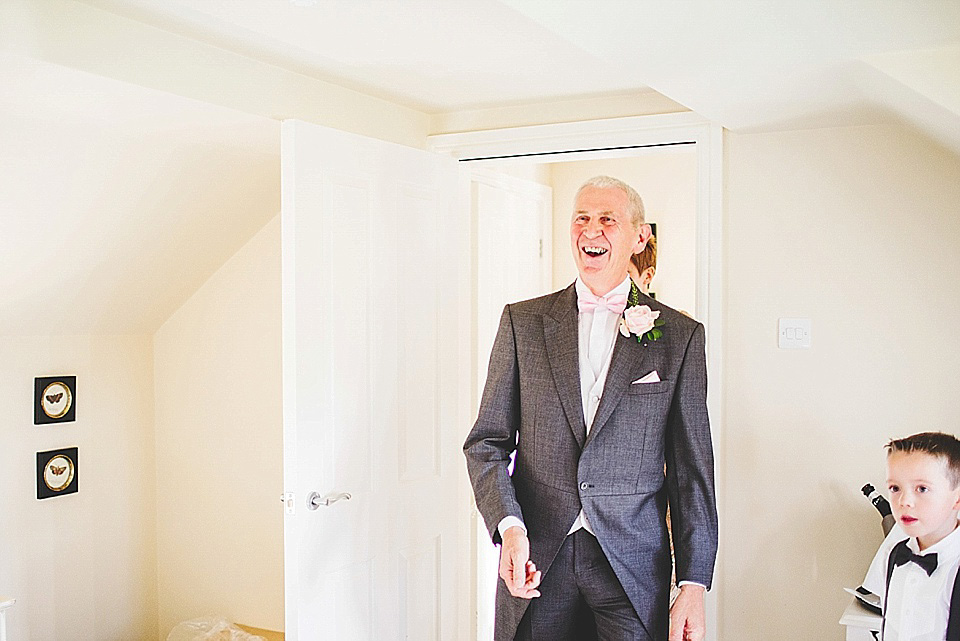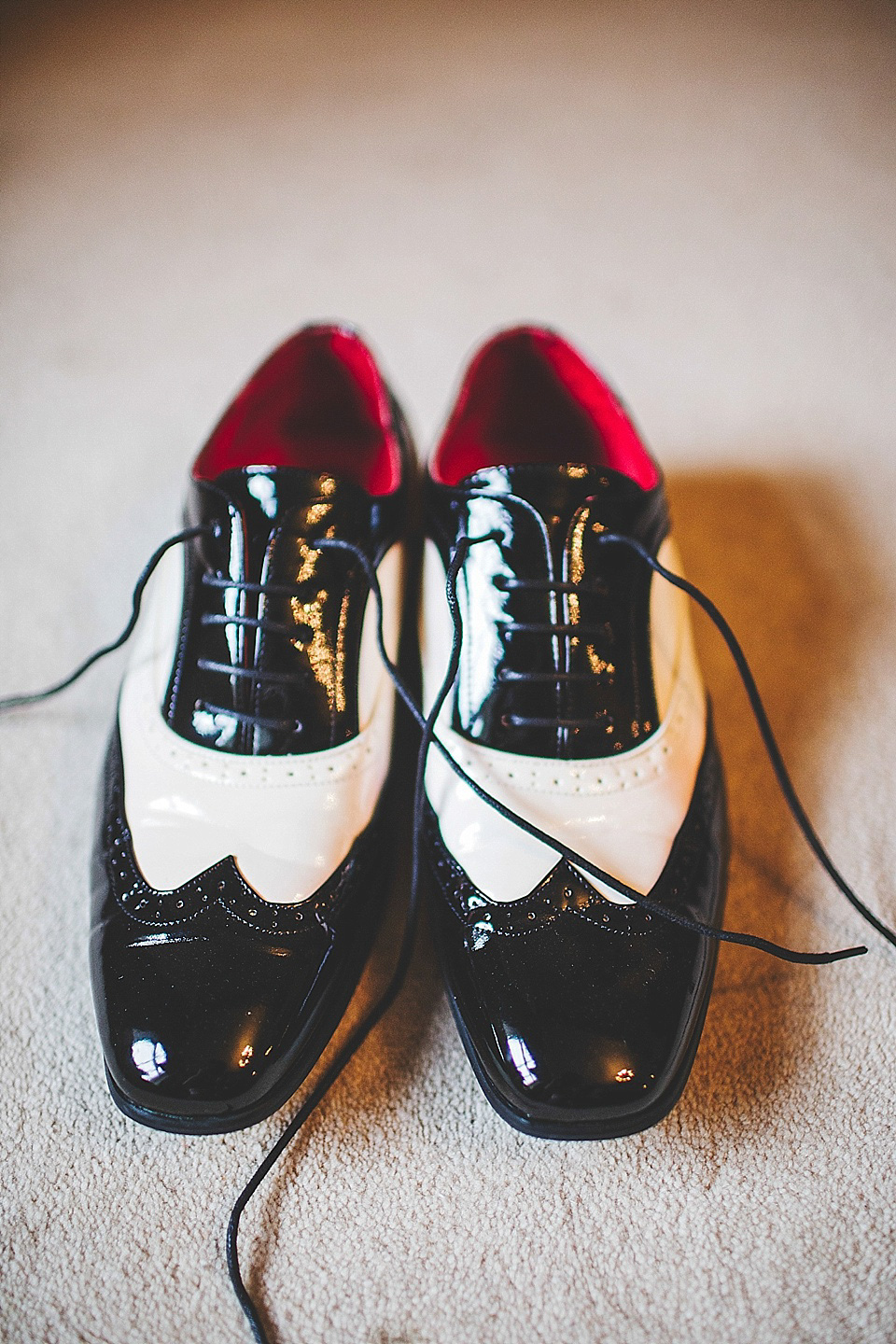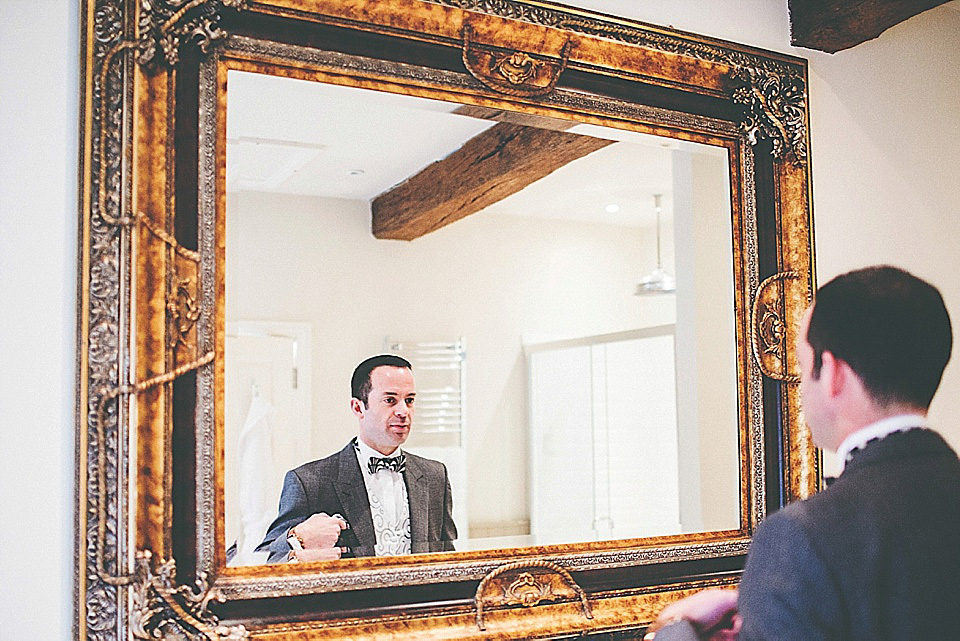 Kellie chose Impulse Flowers in Kendal as their florist thanks to a recommendation from her uncle. She sent Emma mood boards and was really pleased with the stunning florals and roses in soft, sorbet shades.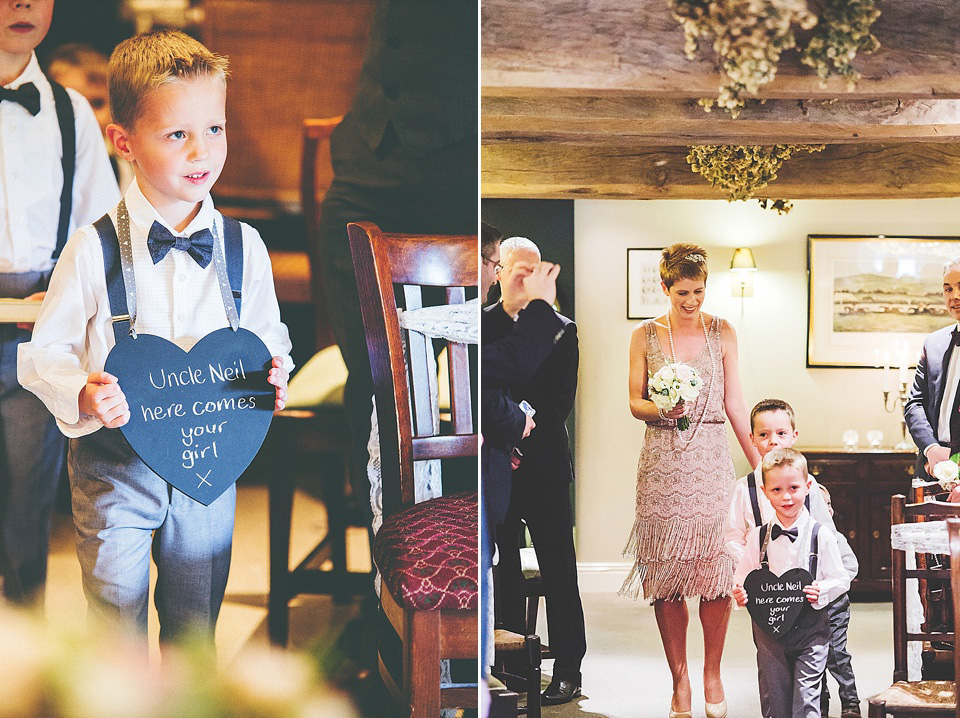 Kellie was accompanied down the aisle by her dad, while her friend Maggie Drayton (the bestman's wife), who is an opera singer sang Pokarekare Ana.
"Maggie has the most beautiful voice and every time I hear her sing, I cry. I had to block her out as I walked down with my dad so I can't wait to see the video and actually listen to her!
My favourite part of the day was seeing Neil as I walked down the aisle. But generally the whole day was truly amazing, the old cliché, 'the best day of my life' was so true. I wouldn't change a thing, other than if I could do it all again, without the planning, that would be amazing."
"We tailored our vows a little bit so that it felt more personal. We said, 'I promise that I will respect you as an individual, support you through difficult times, rejoice with you through happy times, be loyal to you always and, above all, love you as my wife/husband and friend'."'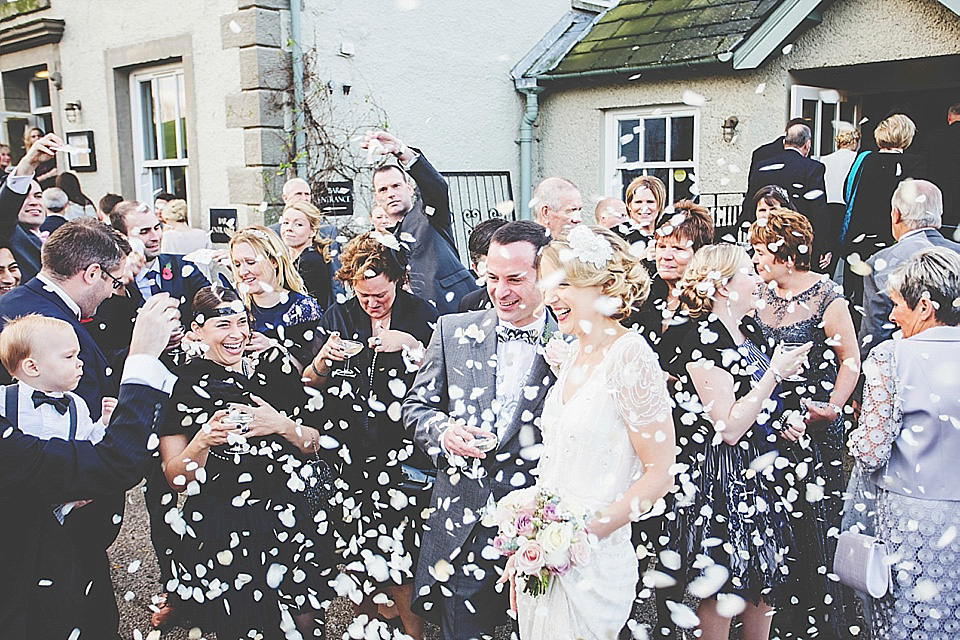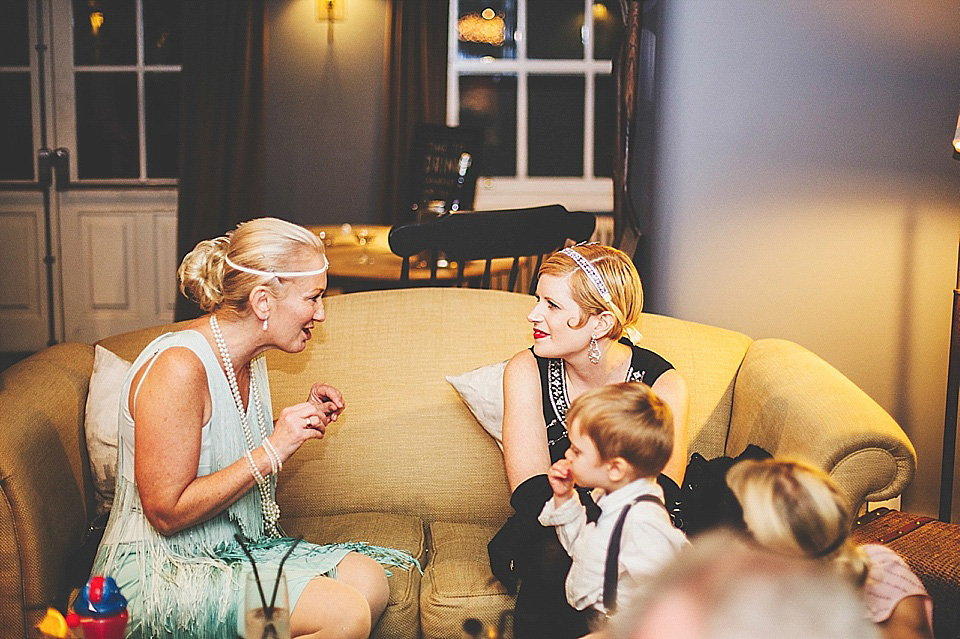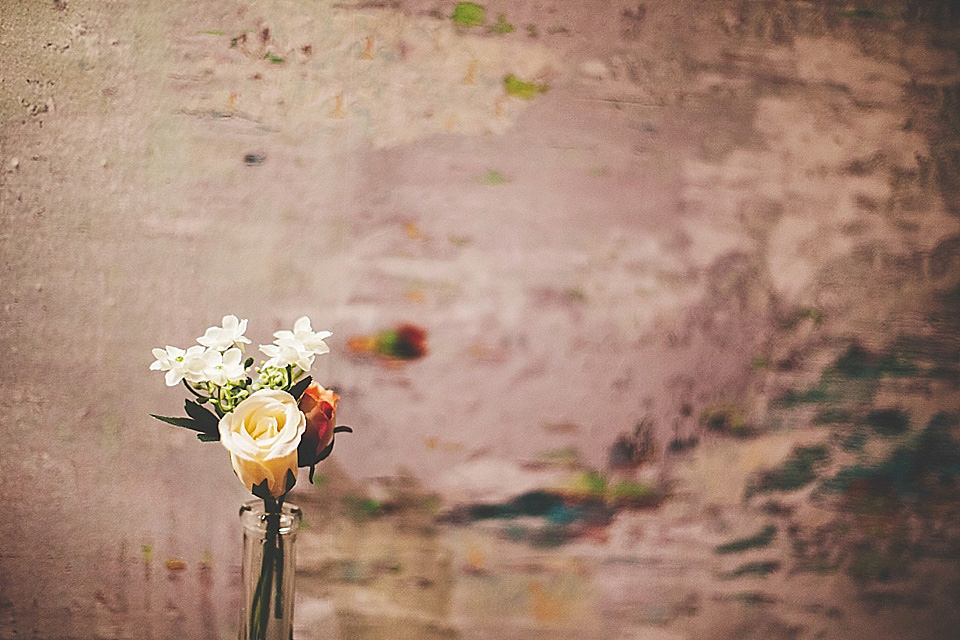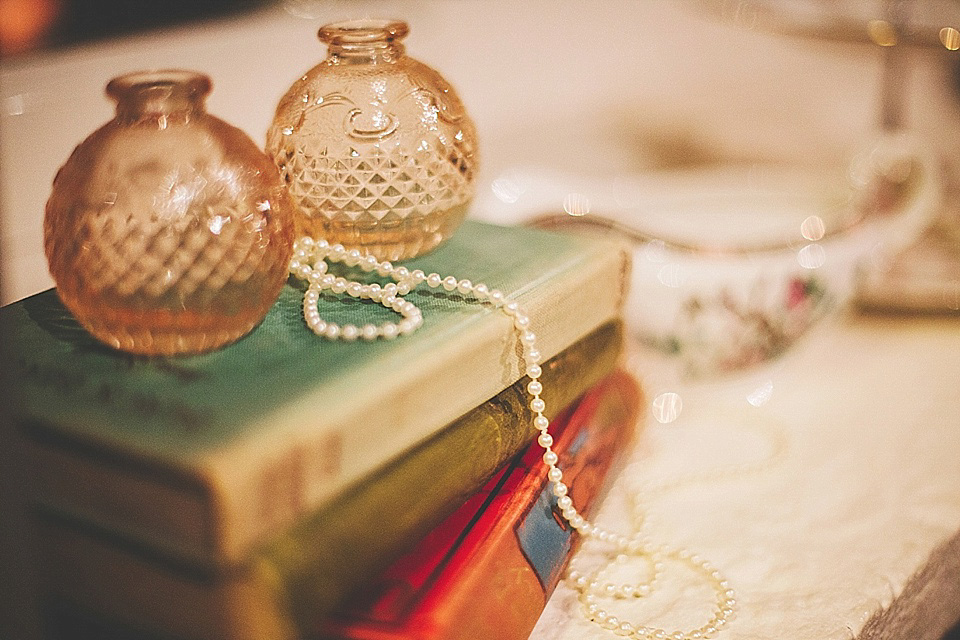 "Our cake came from Helen at Decadence Cakes. Helen is my sister's friend and came highly recommended. Having tasted her cake, I was sold. She makes the best sticky toffee cake ever, which is what out top tier was. Below the top tier we had 68 vintage inspired cupcakes in a mixture of lemon and white chocolate, chocolate orange and vanilla flavours. I also had Kate Swinscoe, from Love on Top, create my cake topper."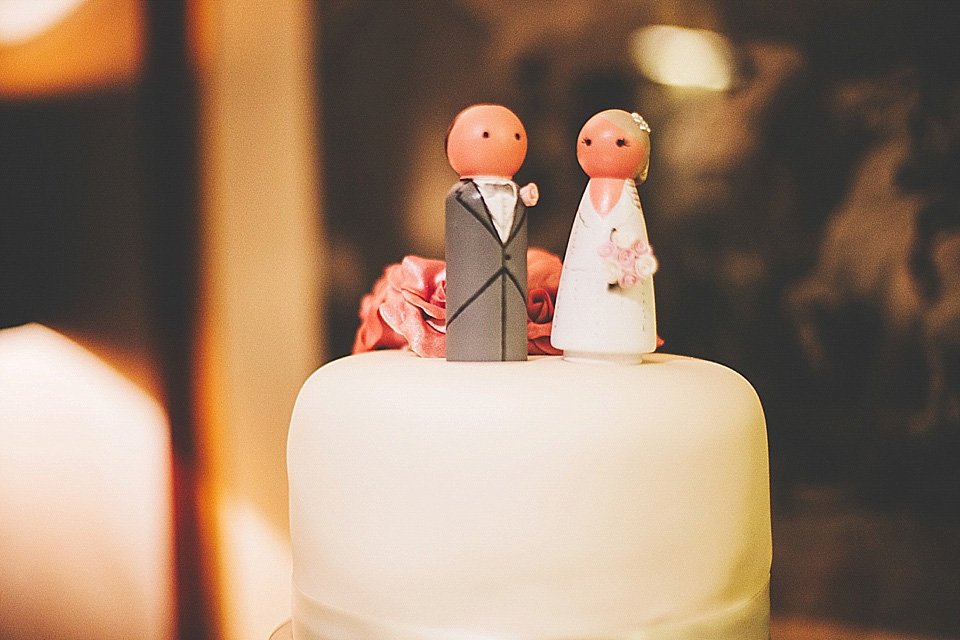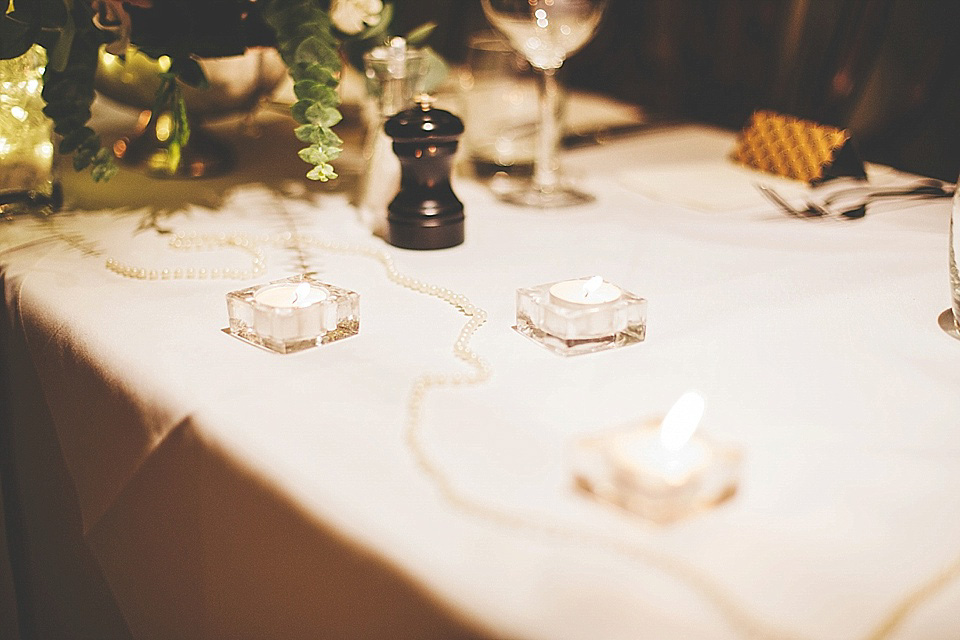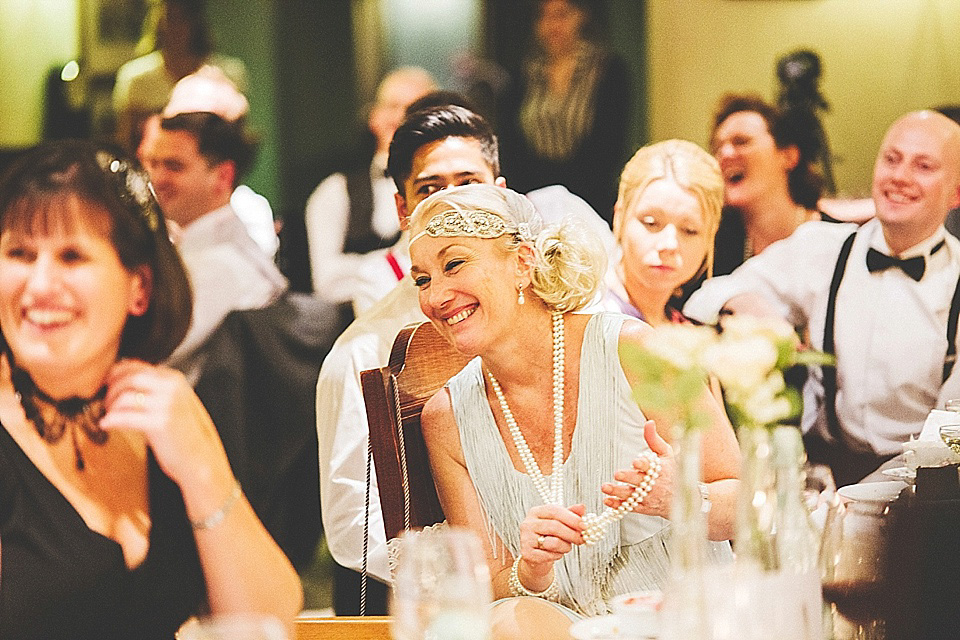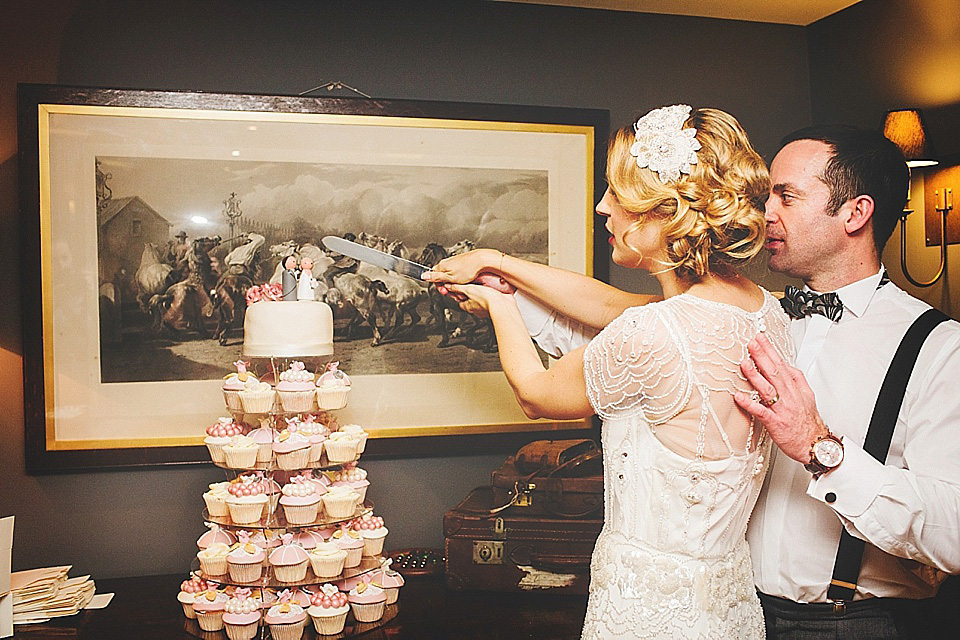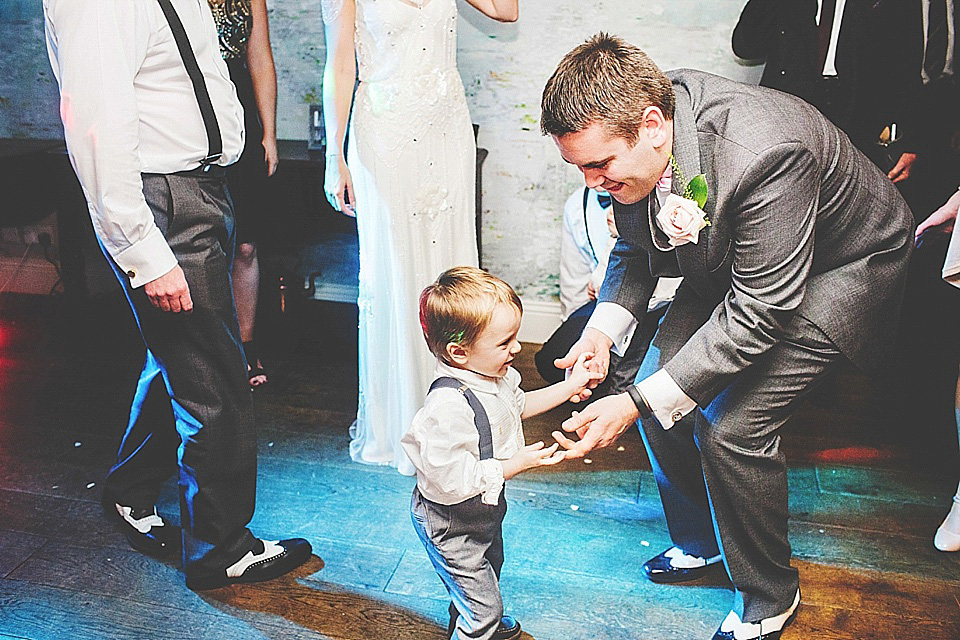 "In the evening we choreographed our own dance to Candi Staton 'You've got the Love' much to the surprise of our guests who thought we'd had lessons; we even tried to get a bit of 1920s Charleston in! We also hired Sold to the Sky, a local band who we'd heard about and then met, they are brilliant. They even dressed up for the occasion."
Words of wedded wisdom
"Enjoy every minute, especially the weeks leading up that may feel stressful; you're only going to do this once so you may as well enjoy it. On the day, try and stay together and experience the day as a couple. This was a piece of advice many people gave us and it really stuck with me."
Many congratulations to Kellie and Neil on celebrating your marriage with such a glamorous and smiley day and thanks goes to Jessica Reeve for sharing the story, details and beautiful photography with us.
Personally, I'm hosting a 20s inspired party in May so I'm wondering how much I can stretch the budget to get my hands on a heavily fringed flapper dress?!
Much love
Katie xx
Photographer – Jessica Reeve
Venue – The Plough at Lupton
Dress – Jenny Packham from Mears Ghyll
Shoes – Emmy
Hair accessory – Mears Ghyll
Jewellery – Links of London
Groom – suit – Greenwoods Menswear, bow tie & braces – Peter Charles, Lancaster
Bridesmaid – Monsoon, Clarks shoes & Accessorize hair accessory
Page boys – trousers via Next, bow ties + braces via Etsy + shirts via Gap
Stationery – Emily and Jo
Table plan – Bride
Place cards – Etsy
Florist – Impulse Flowers
Cake – Decadence Cakes
Cake topper – Love on Top
Hair & make-up – Lucy Pearson
Perfume – Elie Saab
Love lights – typicaltype
Fairy lights – SVL Hire
Table decoration arrangement – Sure To Surprise You
Favours – Gold and Black Candles
Entertainment – Sold to the Sky
'