This afternoon's glorious English countryside celebration is packed with rustic charm, cider and sunshine. Kate, a solicitor, and Danny, a planning consultant, were married on the Summer Solstice, 21 June 2014, in Curry Rivel, Somerset.
"We wanted to get married in Curry Rivel as it's where Kate was born and bred. Kate's parents were married in the same Church and her Gran was laid to rest there. It just felt right."
Images by Matt Willis Photography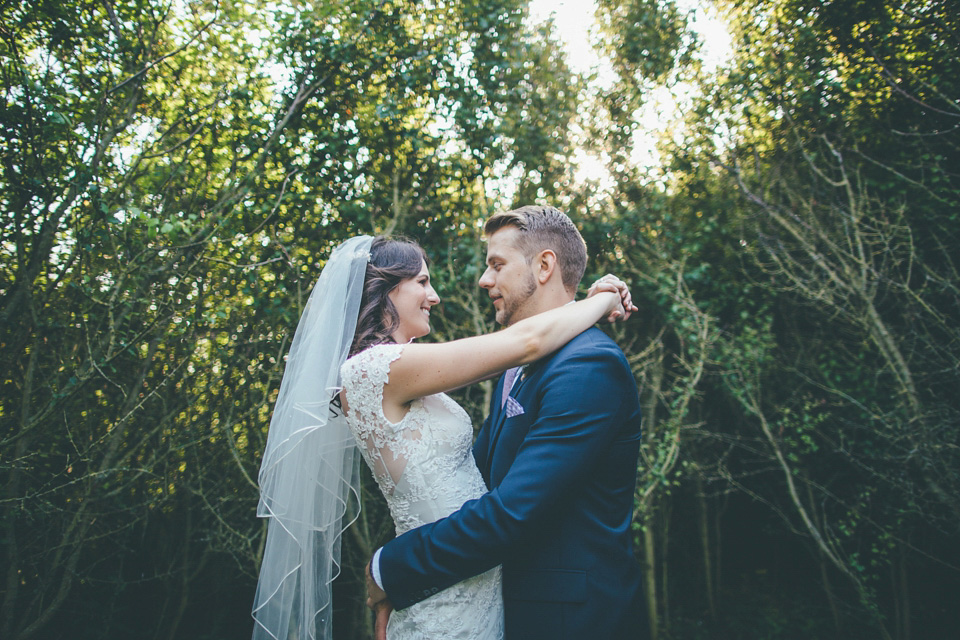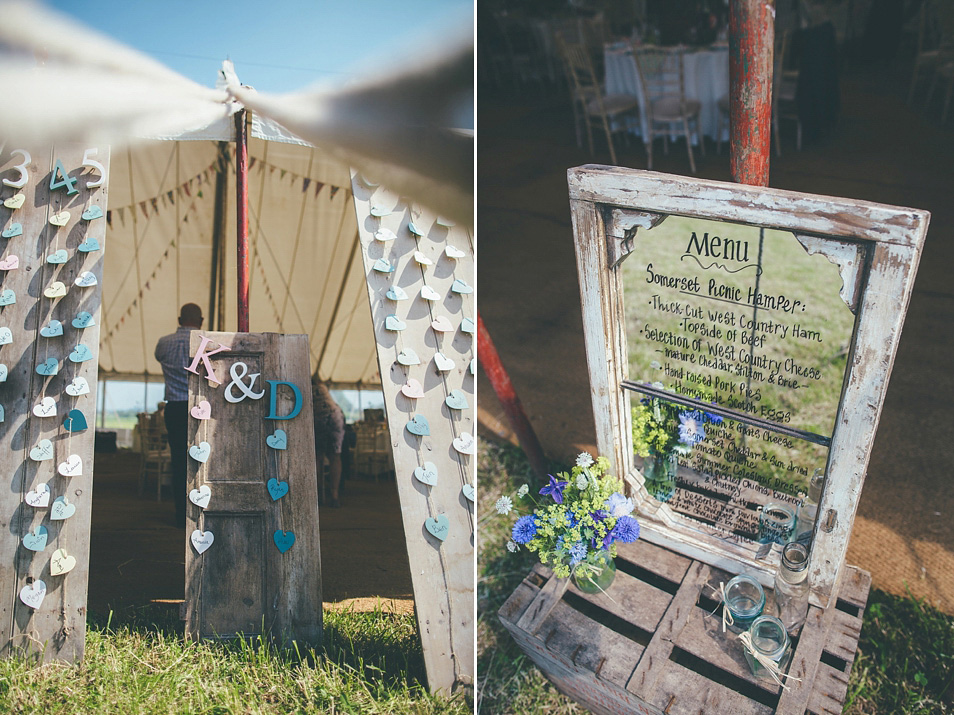 Kate Gibbins of Windmill Farm Flowers put together the blousy wildflower blooms.
"Kate lives locally and grows her own flowers. Her style was perfect for what Kate wanted for her bridesmaids and her bridal bouquet. What Kate delivered was absolutely perfect."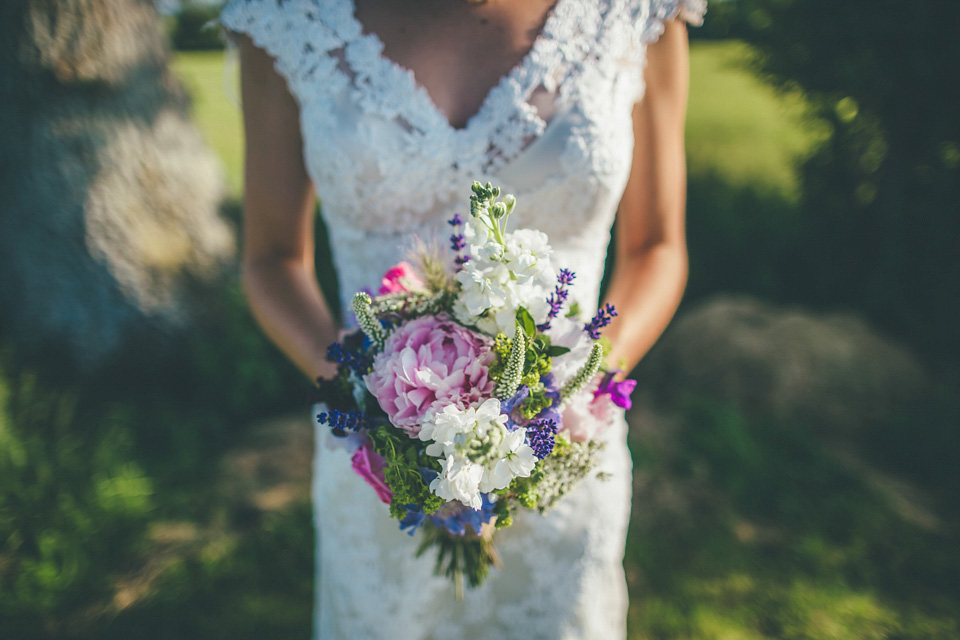 The bridesmaids wore the Beatrice dress by Monsoon.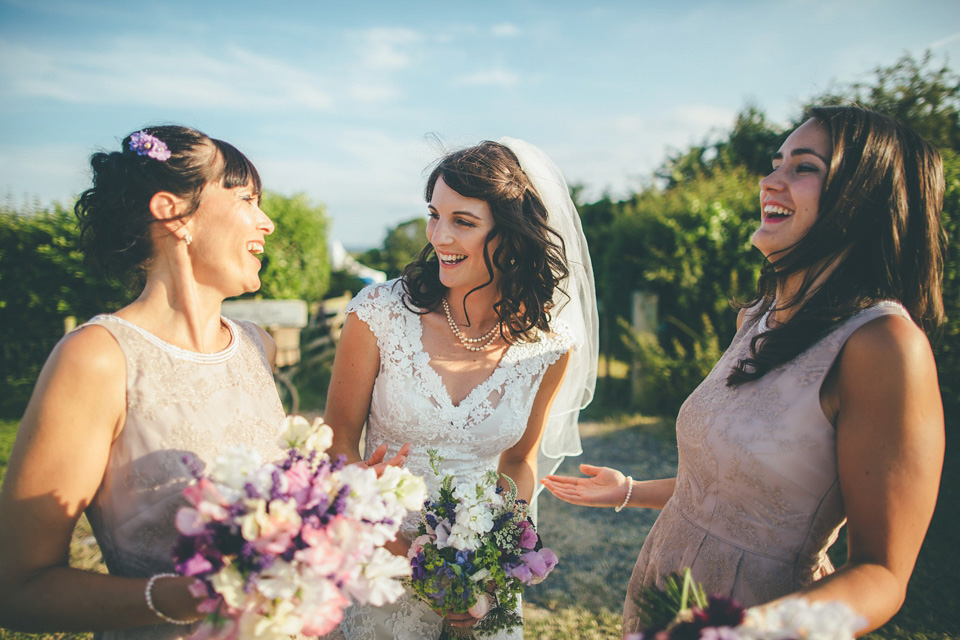 "Our photographer was Matt Willis – the photos Matt has taken tell the story of the day perfectly. Every single one of them is simply stunning and it's brought all sorts of happy memories flooding back of a day that flies by all too quickly. We cannot think of enough superlatives to describe them. We can honestly say that booking Matt is up there as one of the best decisions we made in planning our wedding."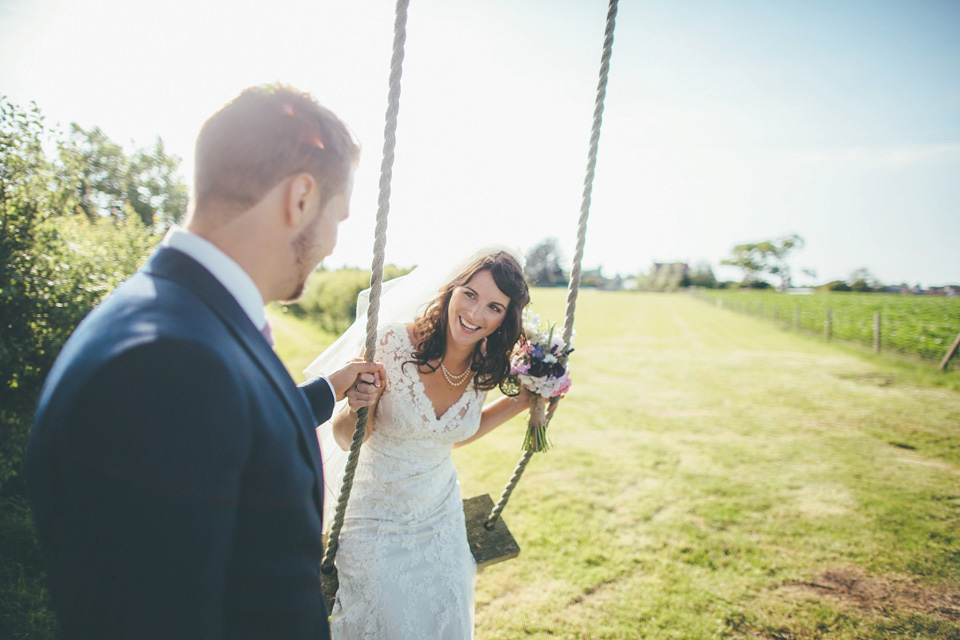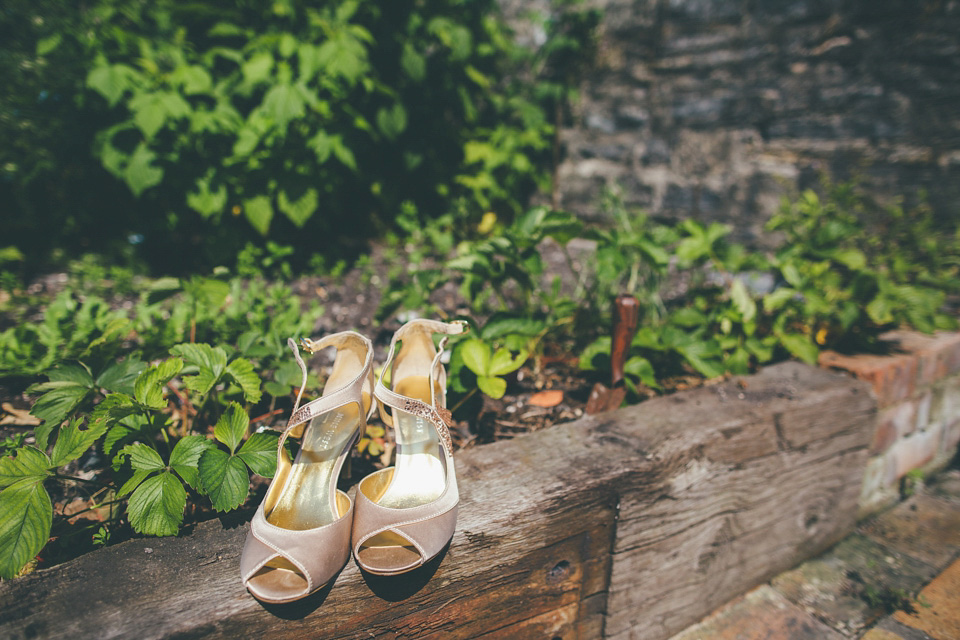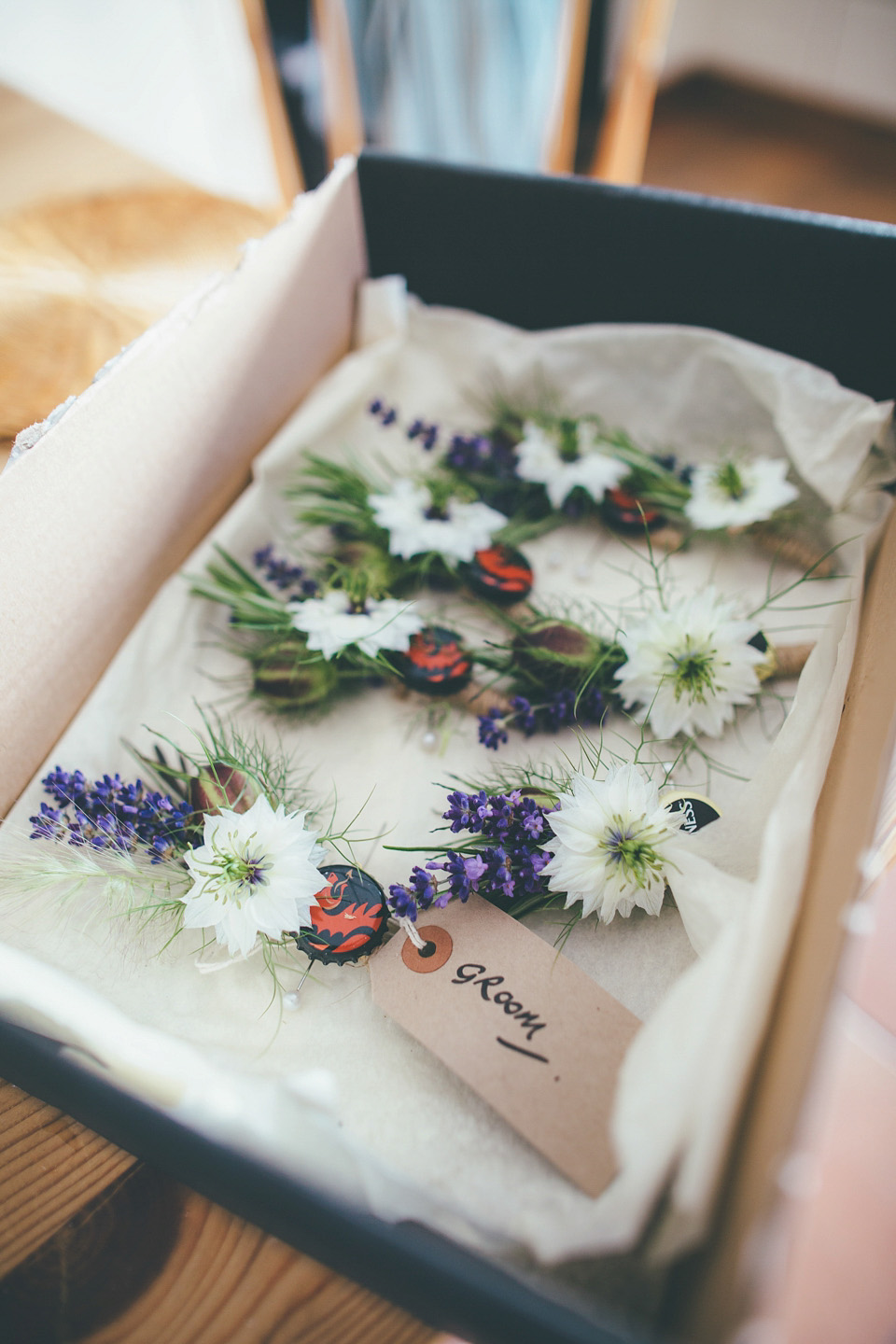 These pre-ceremony images of the couple holding hands as they stand on either side of the door are utterly gorgeous!
"One of my favourite moments was when Danny and I had our photos taken before the wedding, holding hand either side of a door, so that we couldn't see each other. It was really exciting and lovely to be able to speak to each other before we walked down the aisle."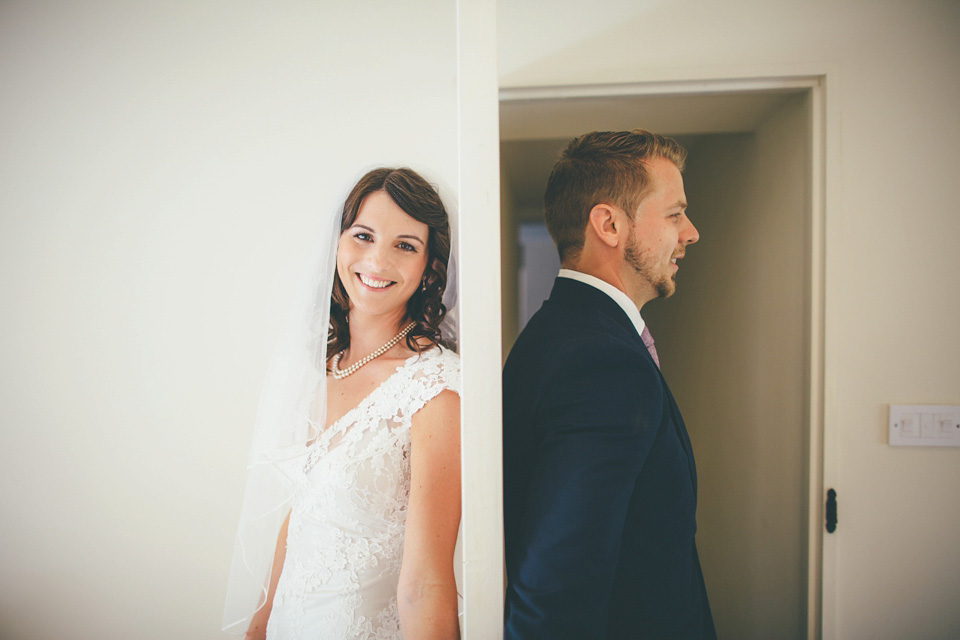 Kate is the picture of elegance in her classic lace gown from Timeless Elegance Bridal.
"I knew that I wanted a lace dress, and something which covered my shoulders (as we were getting married in a church). I just wanted something that was simple and elegant but beautiful. Something which I knew, on the day, I would feel special wearing.
It's so hard to pick a favourite bit because the whole day was so special but if I had to choose it would be when my mum and dad saw me in my wedding dress for the first time. Just thinking about it makes me well up! It was very hard not to ruin my lovely make-up, especially when my mum handed me a beautiful piece of china which she was given on her wedding day, which contained a lucky charm bracelet which had belonged to my gran."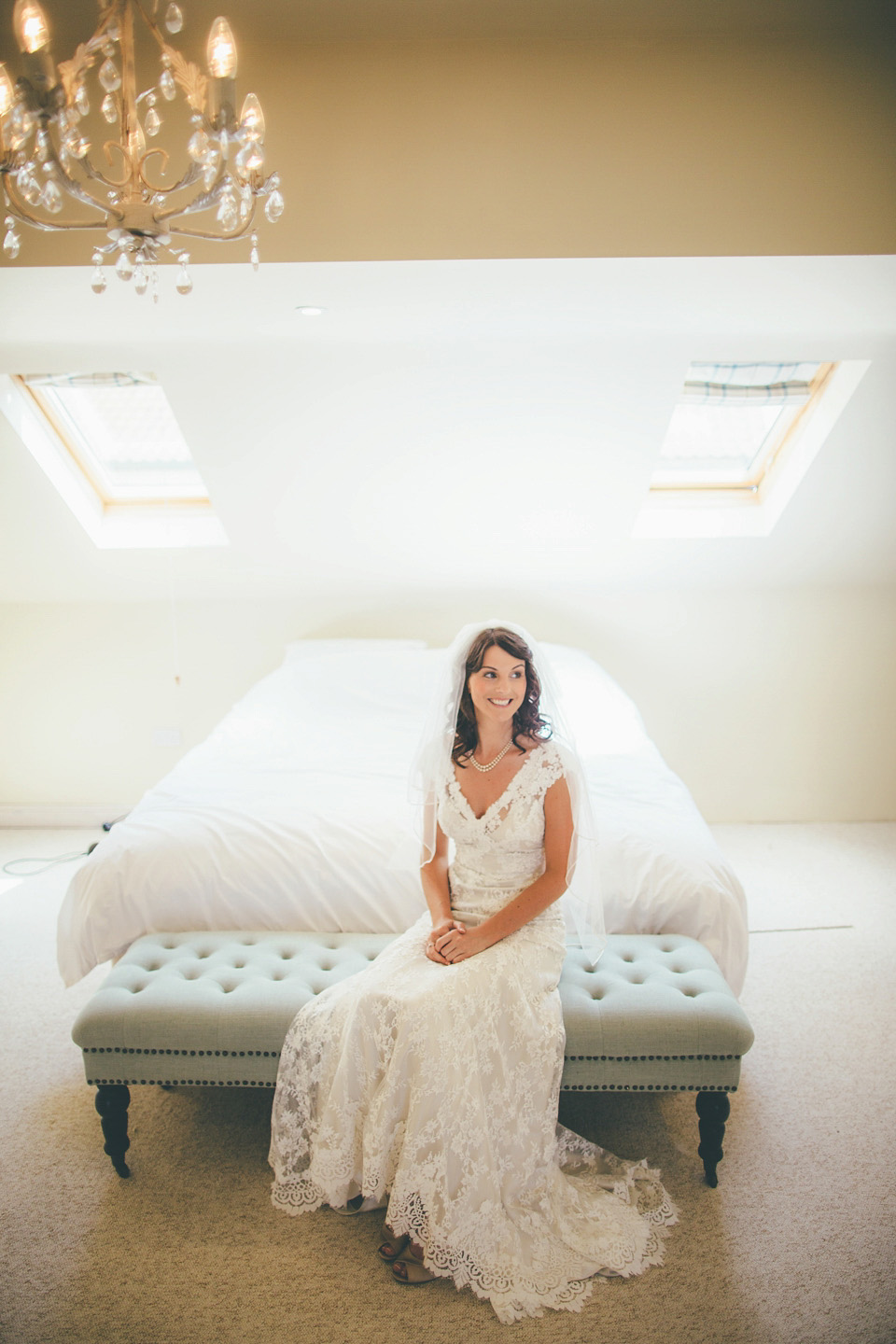 The couple met at Cardiff University, where Danny was studying for a Masters degree and Kate was the Education and Welfare Officer.
"Shortly after meeting through mutual friends, Kate put her skills as a Student Union Officer to good use to save Danny from spectacularly failing one of his Masters modules as a result of writing an entire essay on the morning of a submission deadline! Feeling such a debt of gratitude Danny asked Kate out on a date.
For Danny, it was love at first sight but Kate needed some convincing! Danny pestered/occasionally sent Kate flowers at work for the best part of a year. Eventually, Kate finally caved in."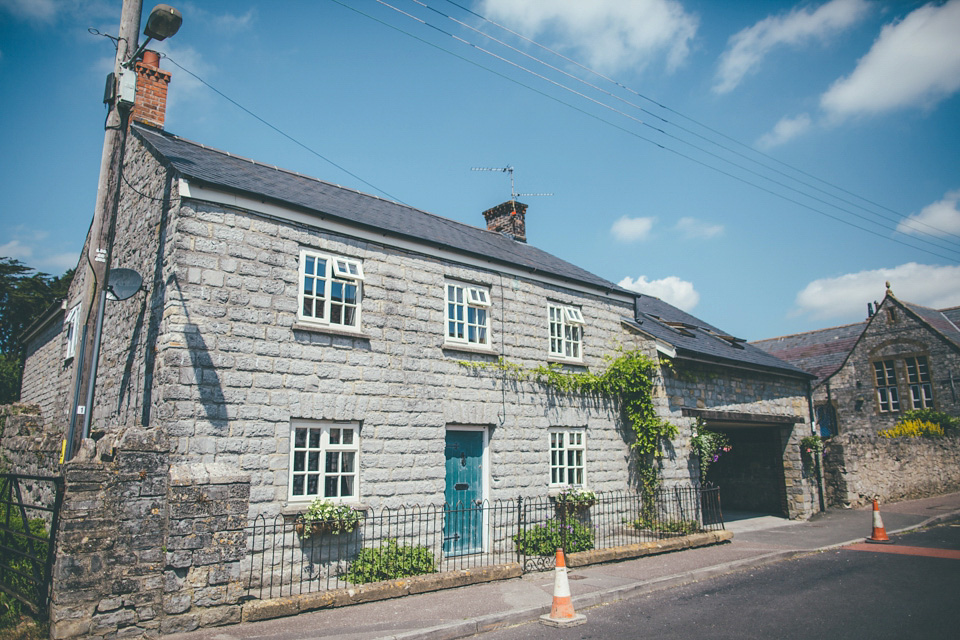 Five years later, Danny planned a romantic proposal in Italy.
"After carrying the ring around in his boxers for three nights, Danny chose the site of St Patrick's Well (Kate's father is Irish) at sunset to tell Kate that he had loved her from the first moment that they met, that he had never been so happy, and that he wanted to grow old and wrinkly with her. Kate, having uncharacteristically burst into tears and questioned whether or not Danny was joking, eventually said yes."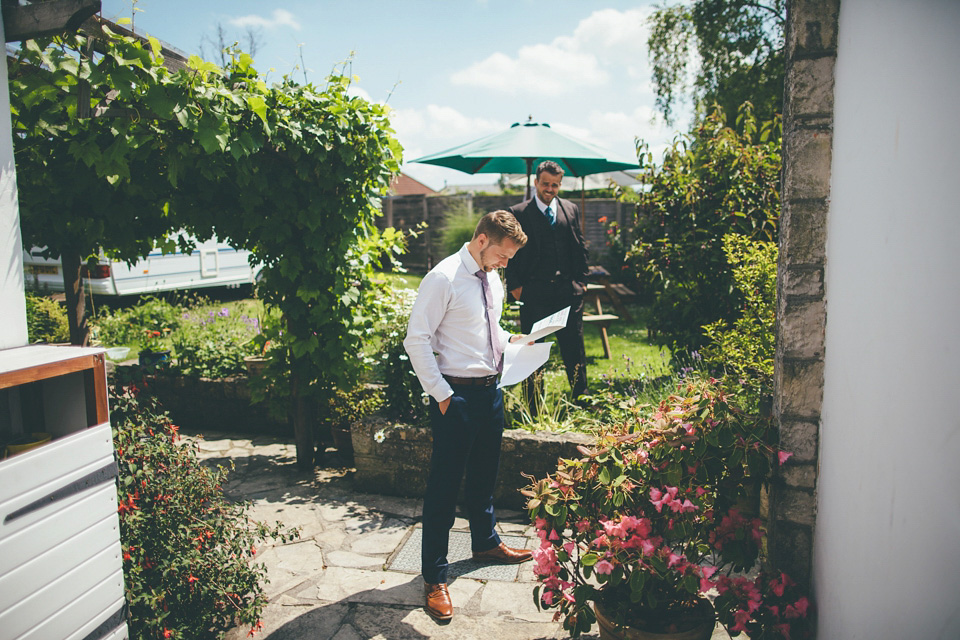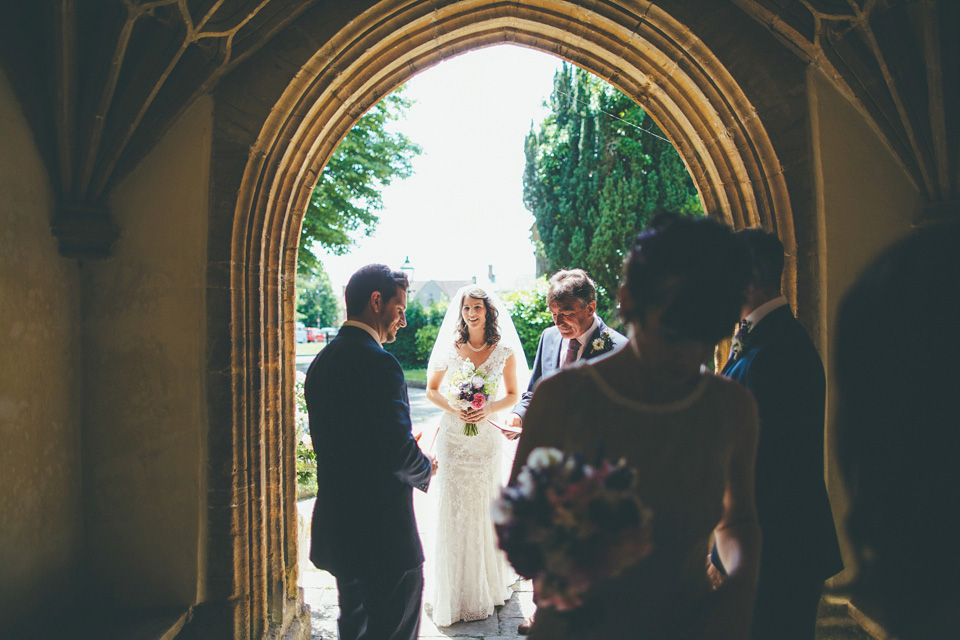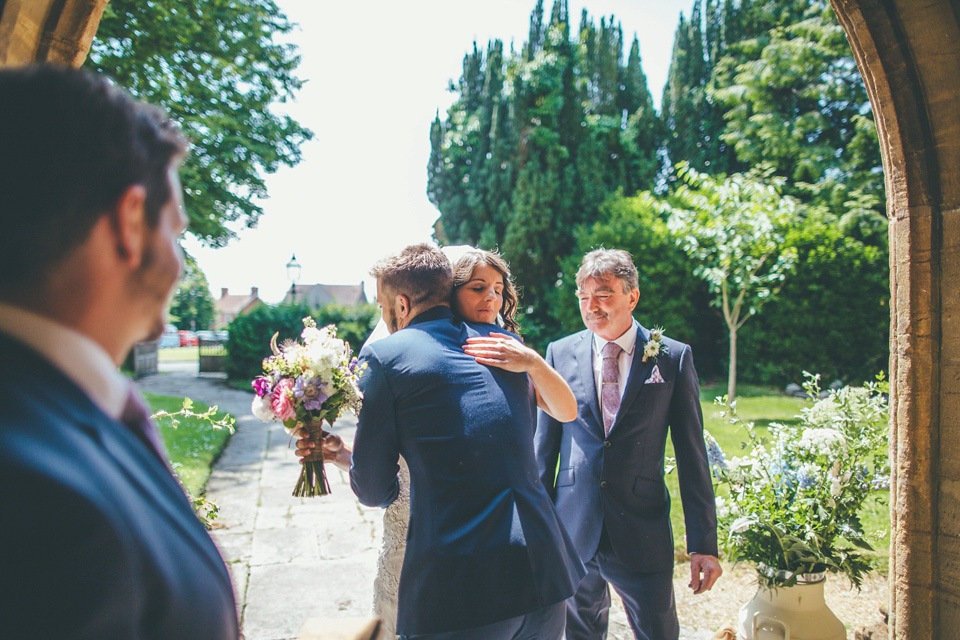 The groom wore a navy Reiss suit, a light purple knitted tie from St George by Duffer and a tie clip personalised with the date of the wedding and the venue name from Tomis Treasuse via Etsy.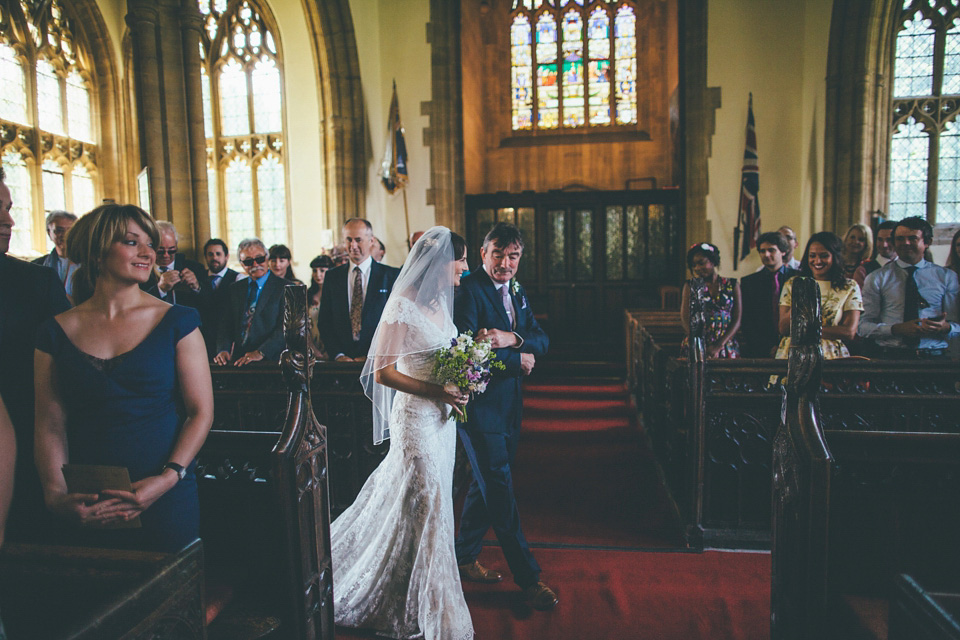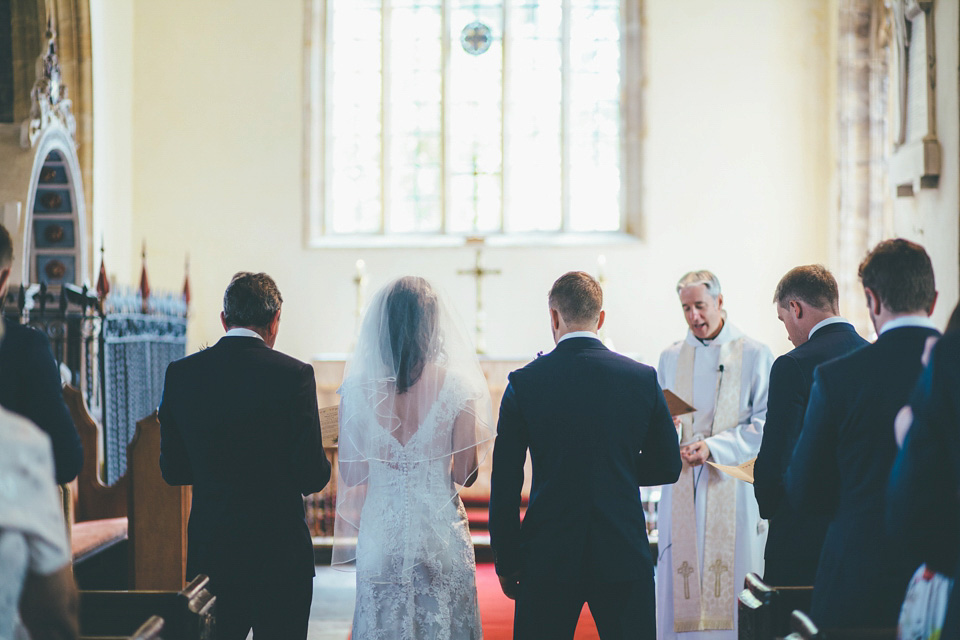 Kate wanted a church wedding, so the ceremony took place at St Andrew's Church, Curry Rivel. The couple chose traditional vows, but omitted the 'honour and obey' line. The readings were 1 Corinthians 13, and Einstein's The Relativity of Love.
"When we met with the Vicar at our 'Wedding Preparation Day', we were offered the chance to write a prayer to be read out during the ceremony. We thought it was a lovely idea and was another opportunity for us to personalise our day."
After the ceremony, the wedding party headed to Kate's family home for a 'Pimms Pitstop' – what a wonderful idea! The guests were then taken to the reception by a local horse and cart company, who look after rare breed steel suffolks.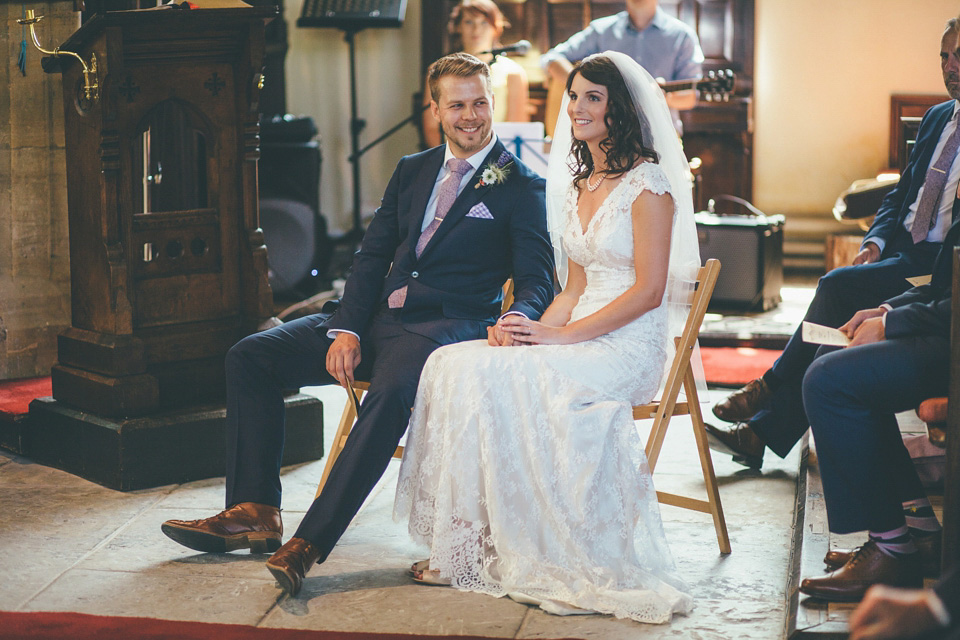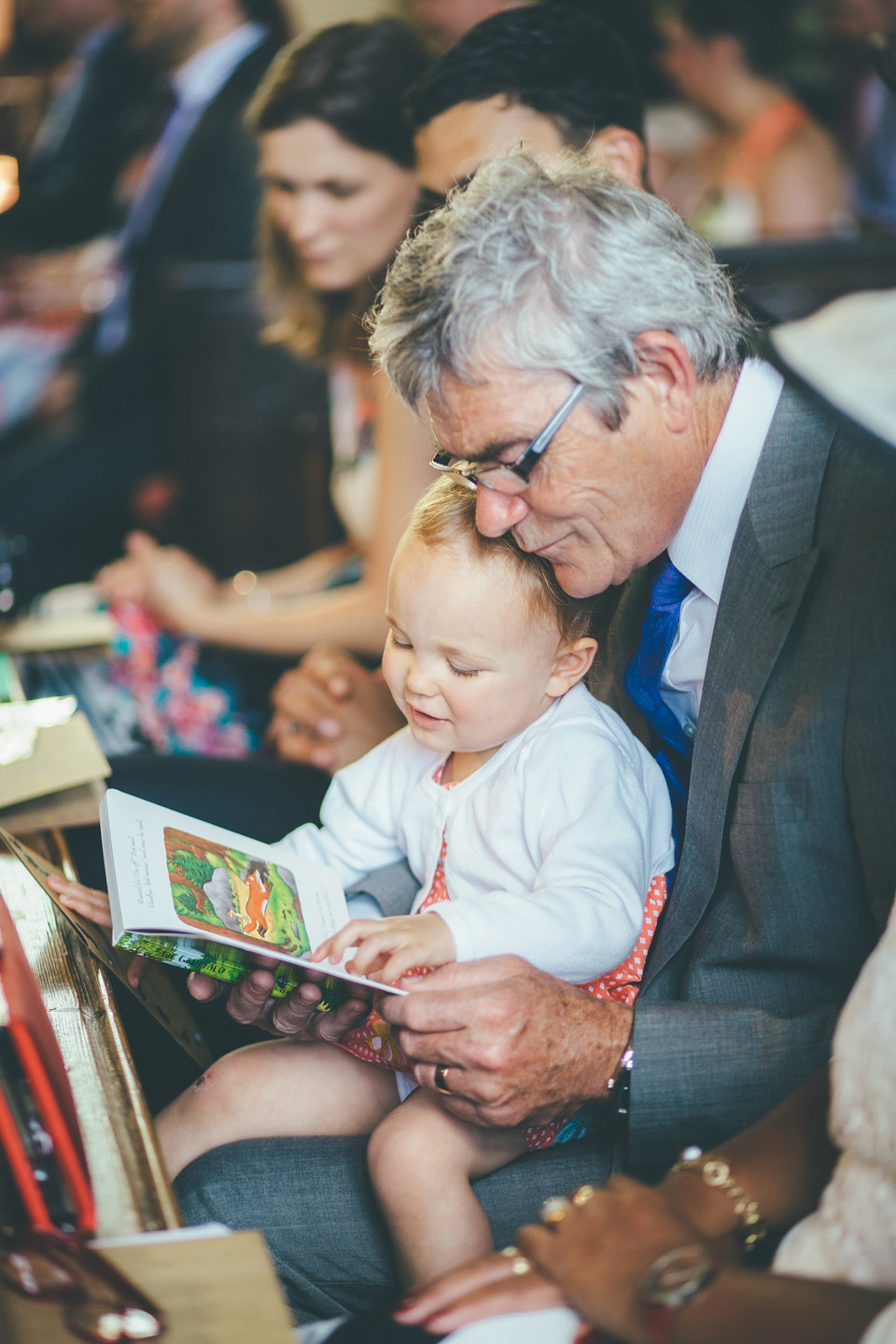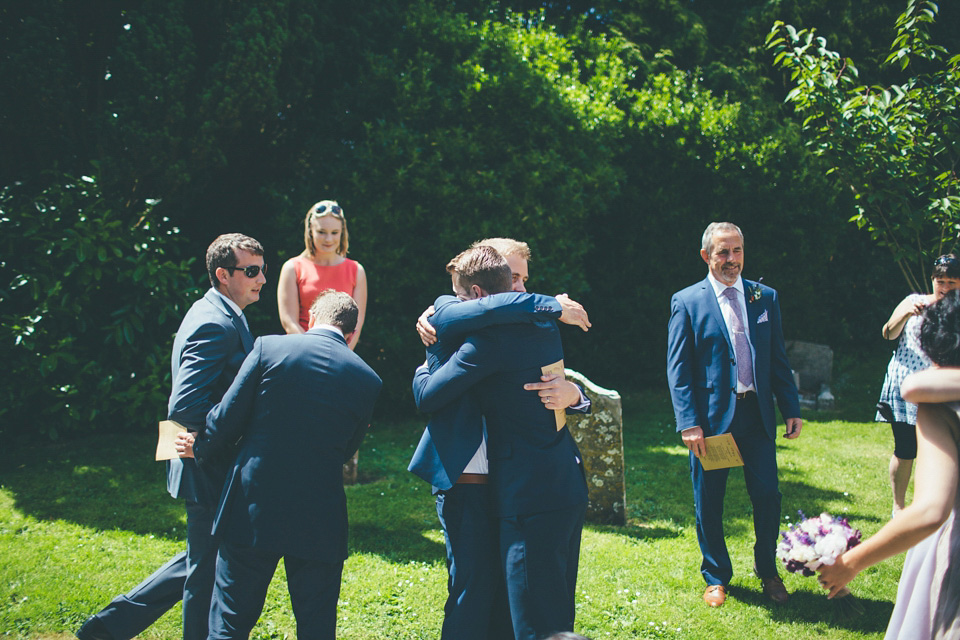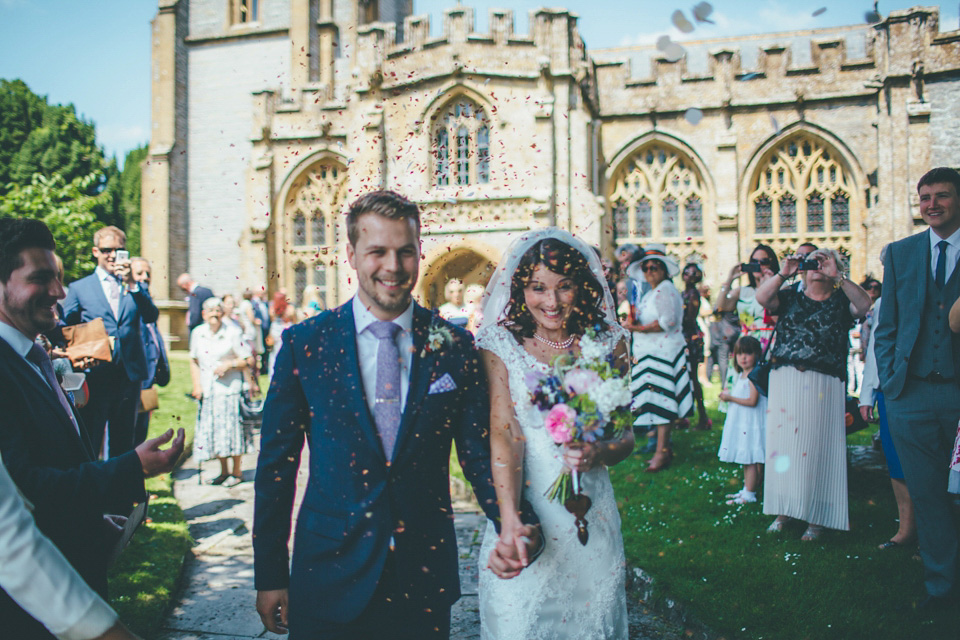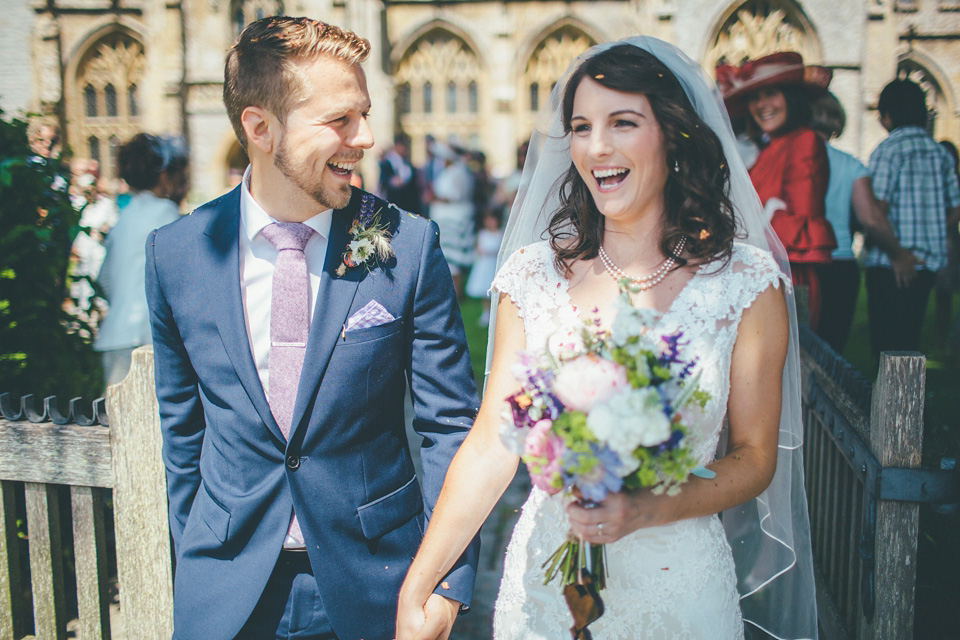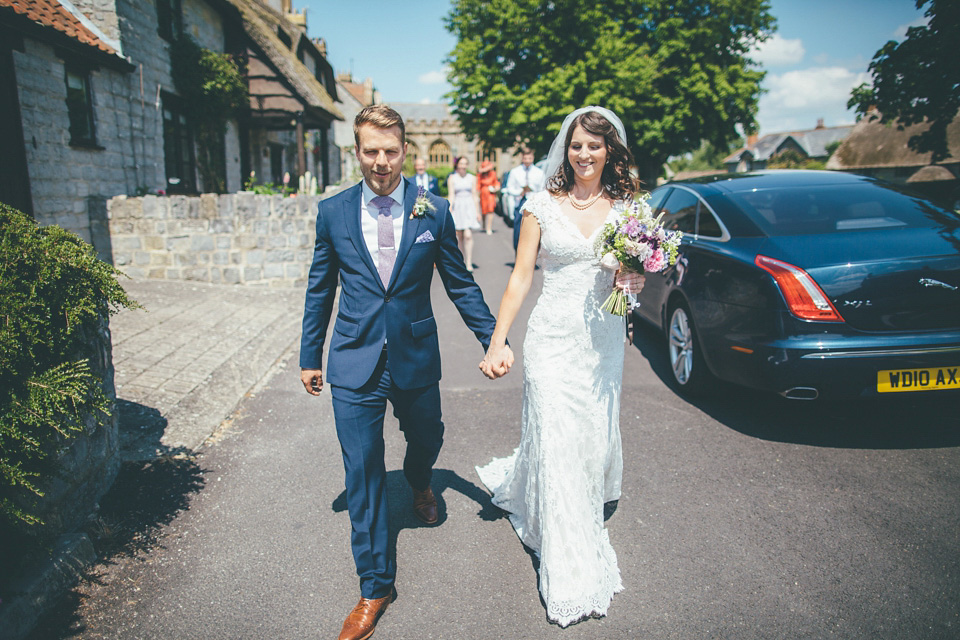 The reception was held at Old Oak Farm.
"We chose Old Oak Farm for a number of reasons. Becky (Rebecca Jane) is an old school friend of Kate and had just started a new events business. We wanted something relaxed and informal but memorable. With Becky's help, we created a marquee venue on her farm that was just out of this world. Far beyond anything we had imagined."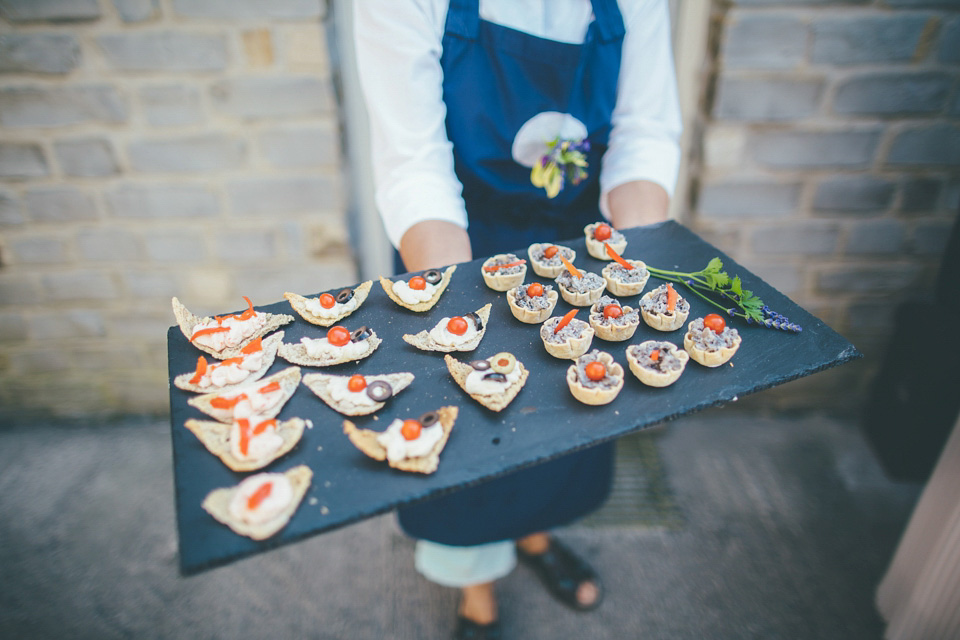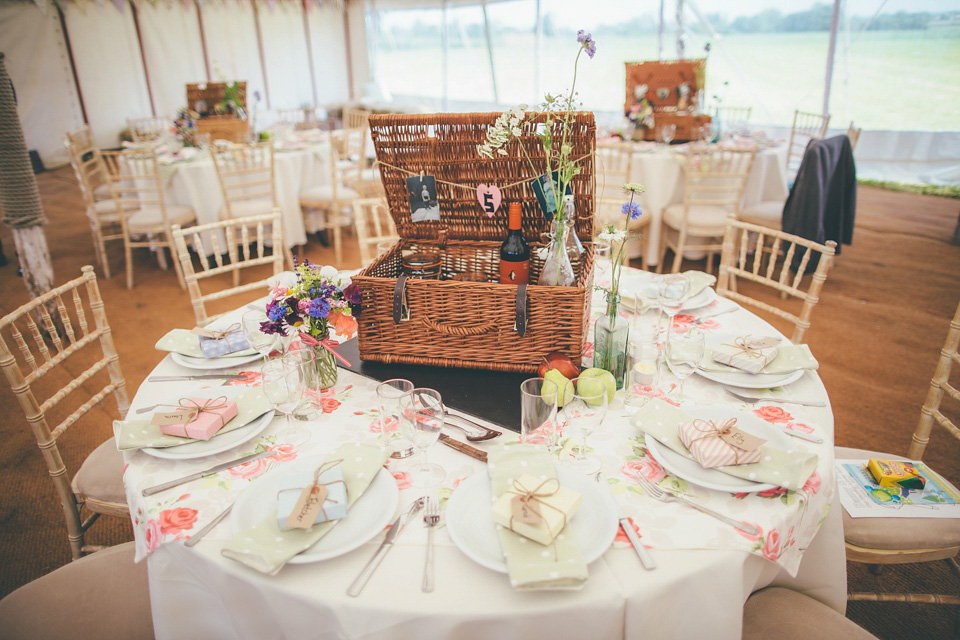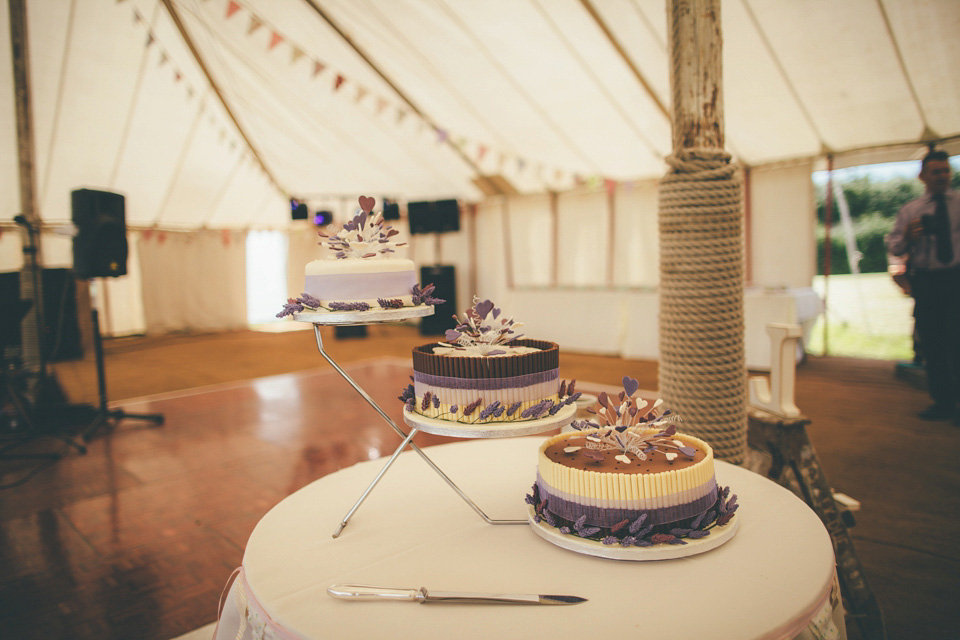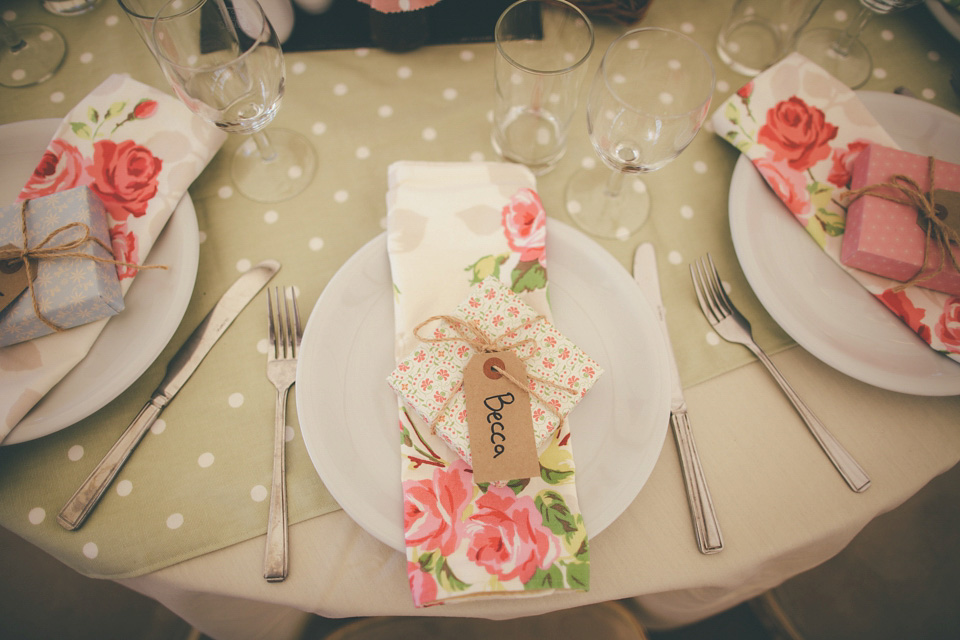 The couple's reception theme was inspired by Somerset.
"We love Somerset and we love country life so the 'theme' for the reception was cider and picnic. Becky, together with her husband, Andy turned an old animal shelter on the farm into a spectacular rustic cider bar.
We didn't want an overly formal hot sit down meal, so we had a ploughmans for the wedding breakfast and the food was set out in picnic baskets, which formed the centre pieces for the tables so people could just help themselves."
"We wanted lots of details and personal bits so we made our own table plan out of a couple of old doors, we had pictures of each of us at the age that corresponded with the table numbers and we had a 'Secret Garden' where we hung photos old photos of family members and those people close to us that couldn't be there on the day.
Kate's Dad wrote a song for Kate and sang it at the wedding. It was called 'Somerset Girl'. It was very special and very moving."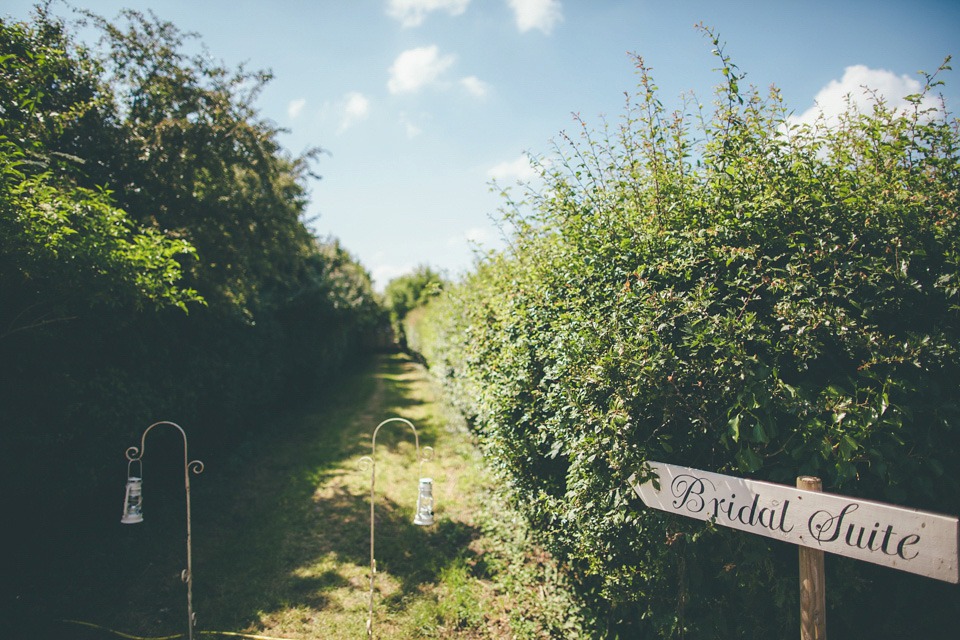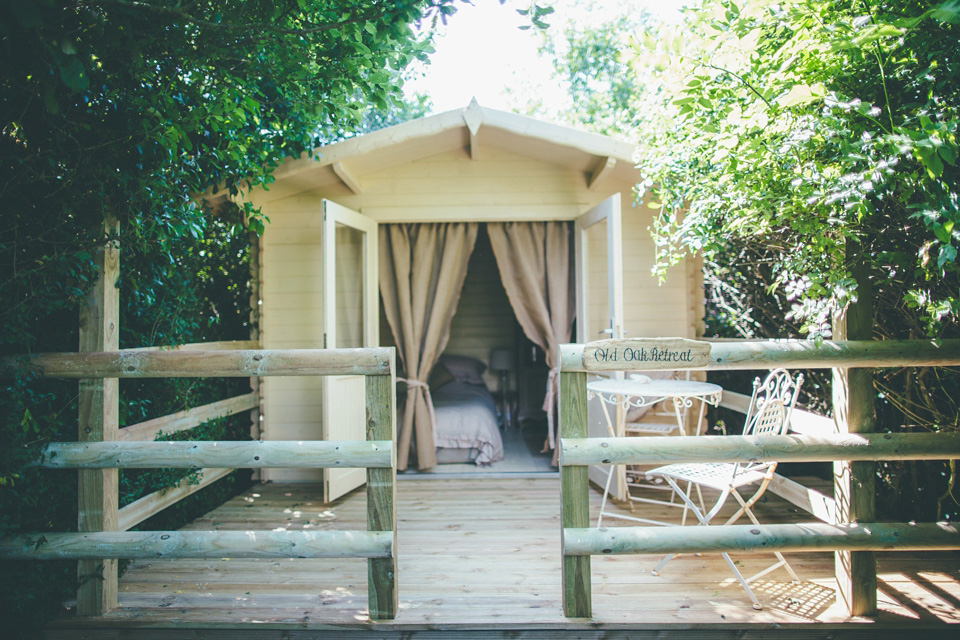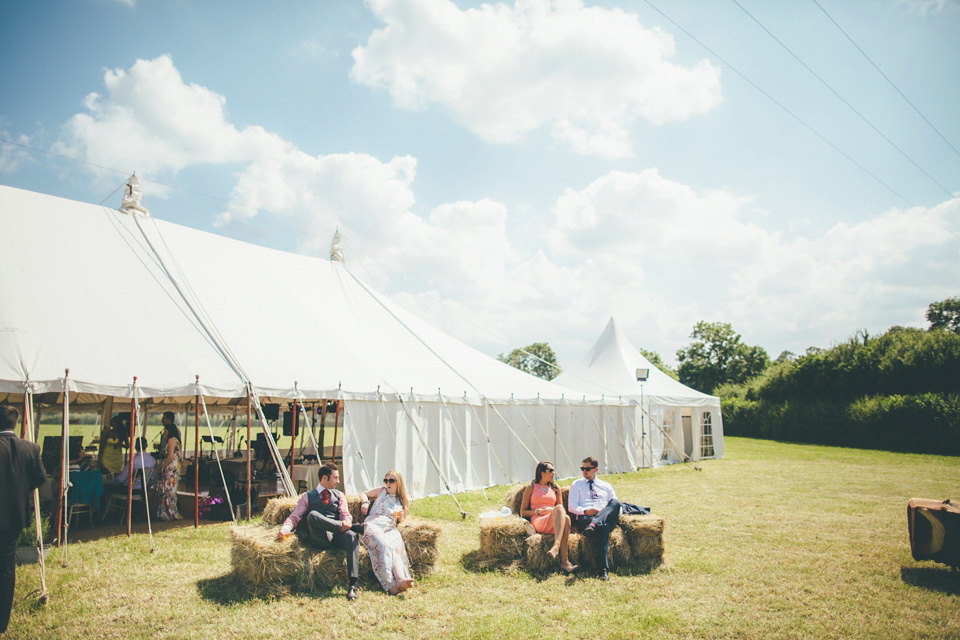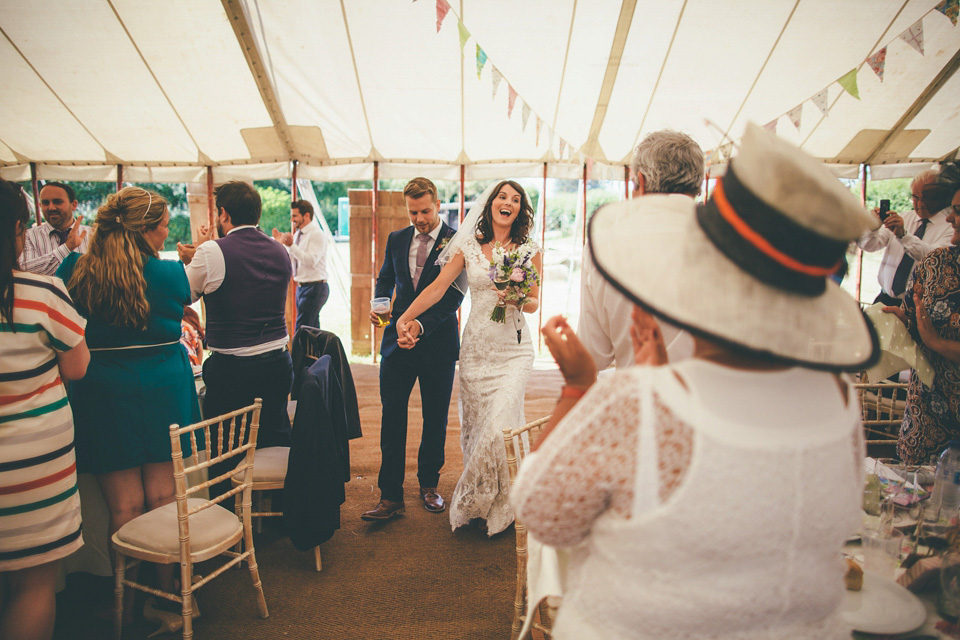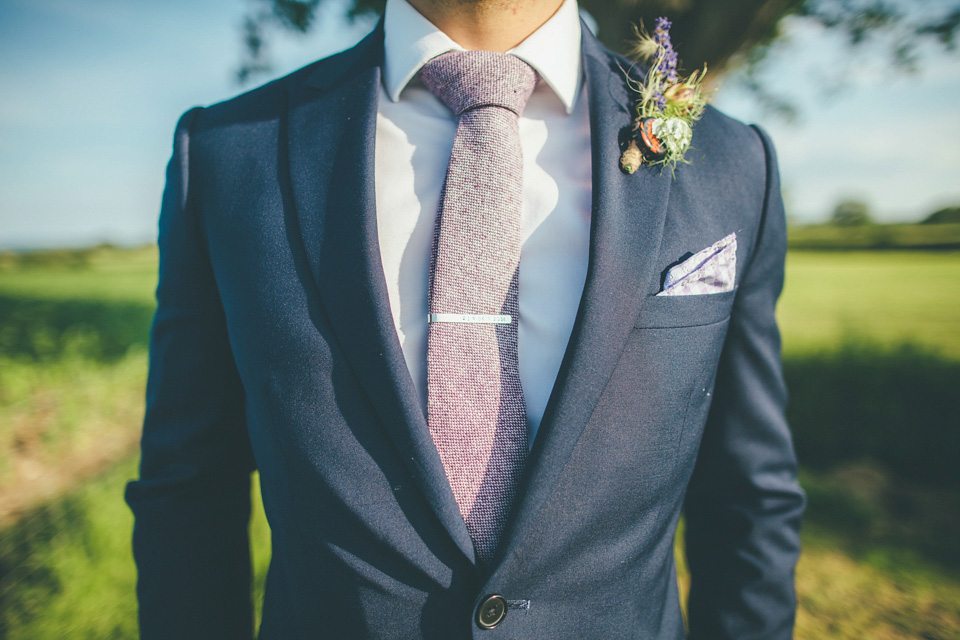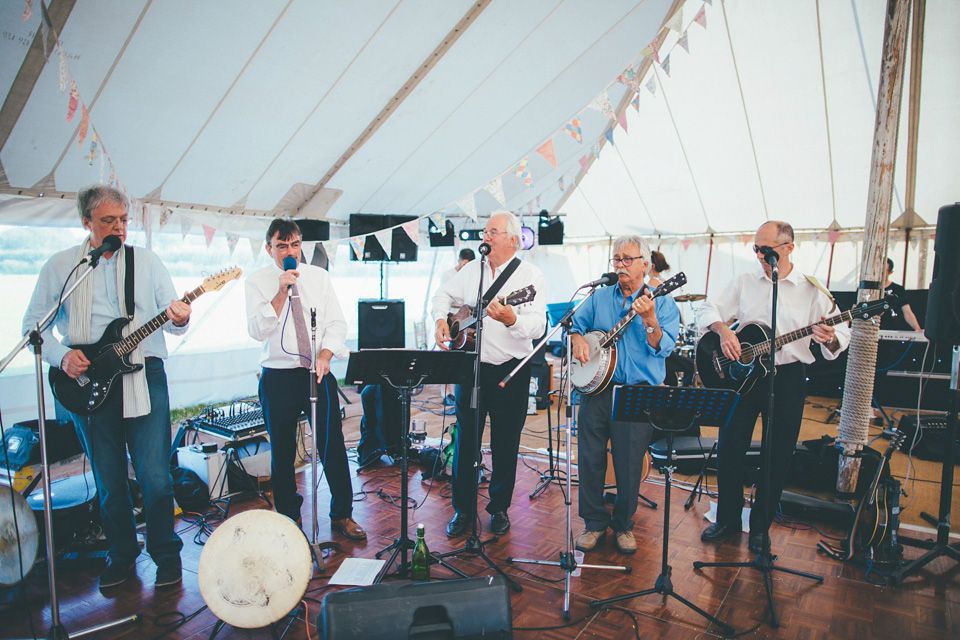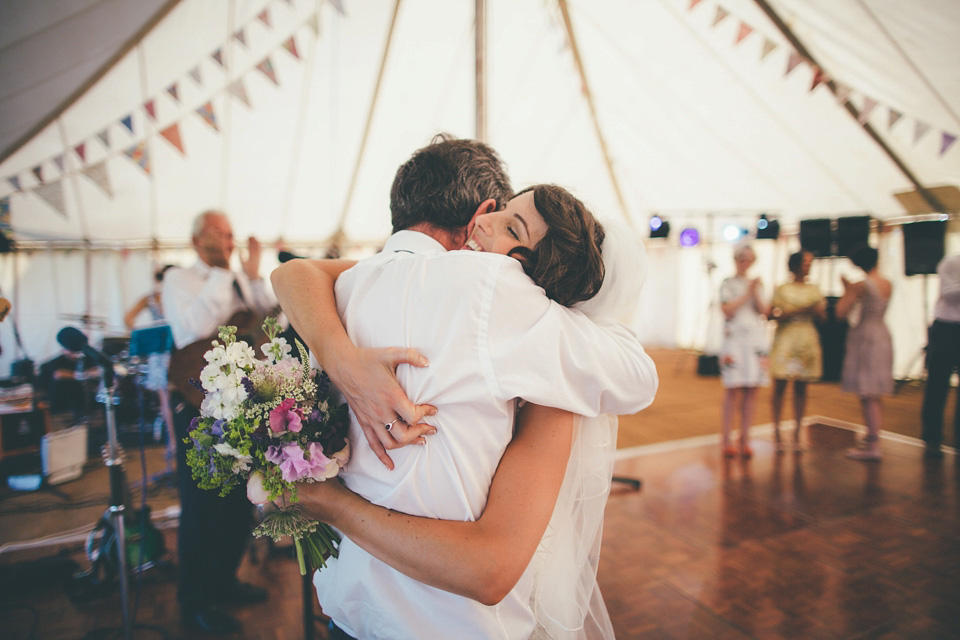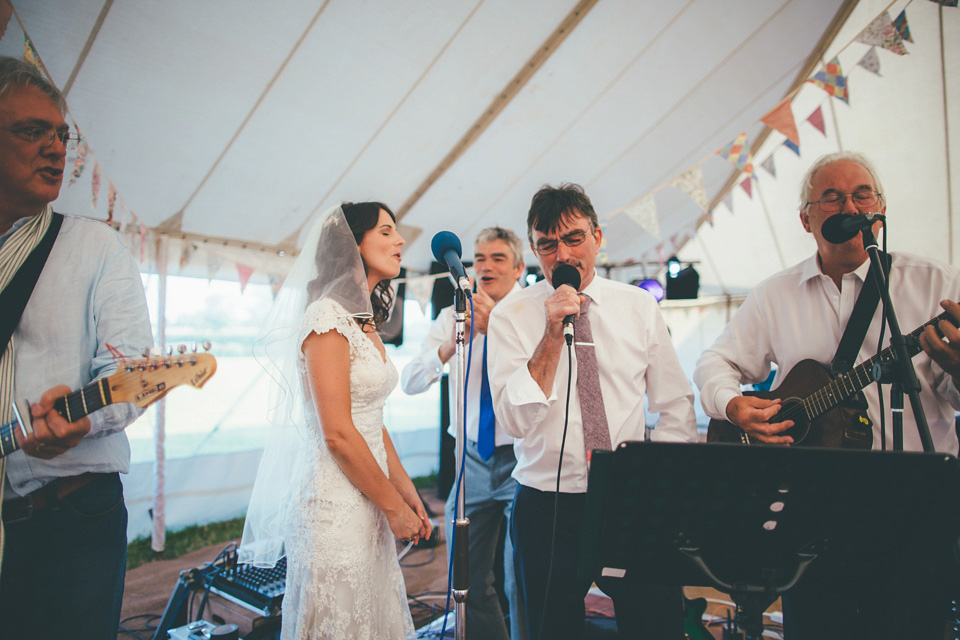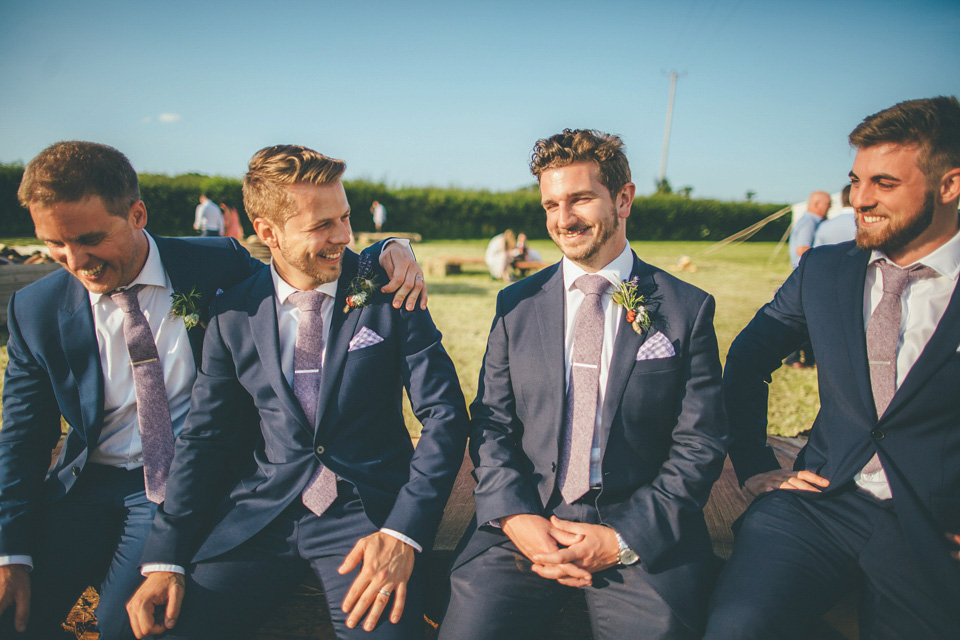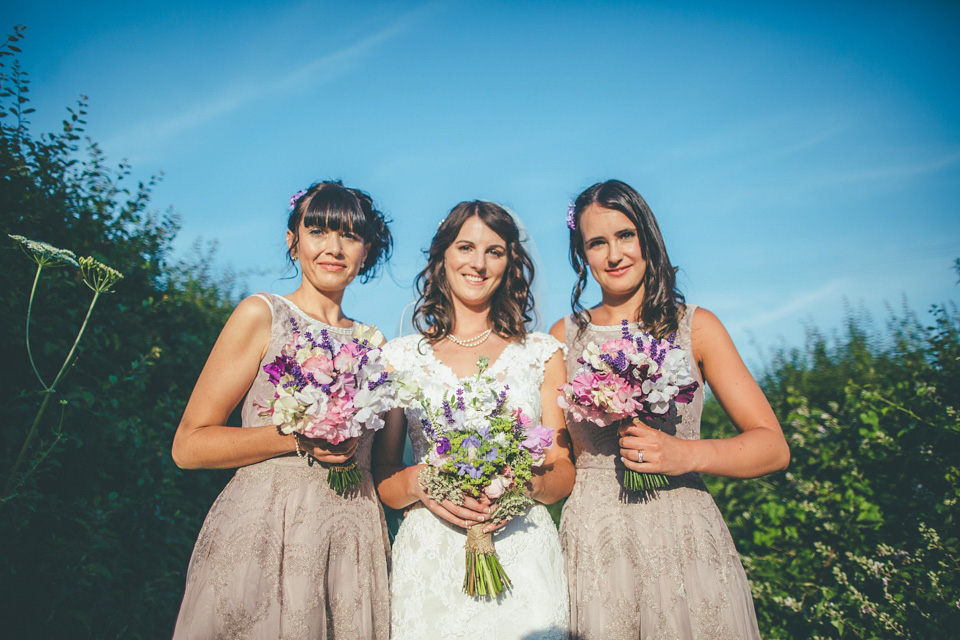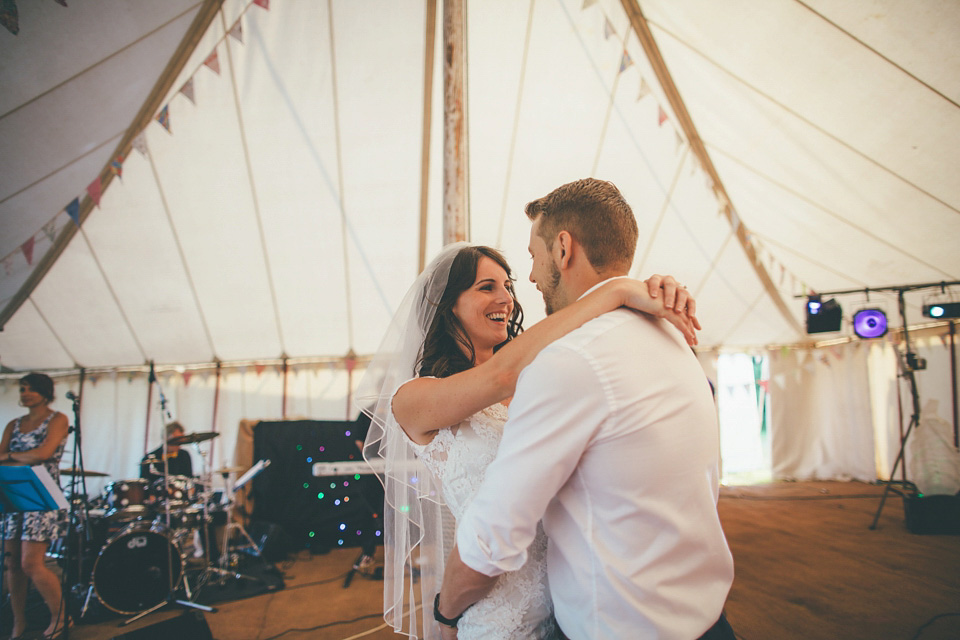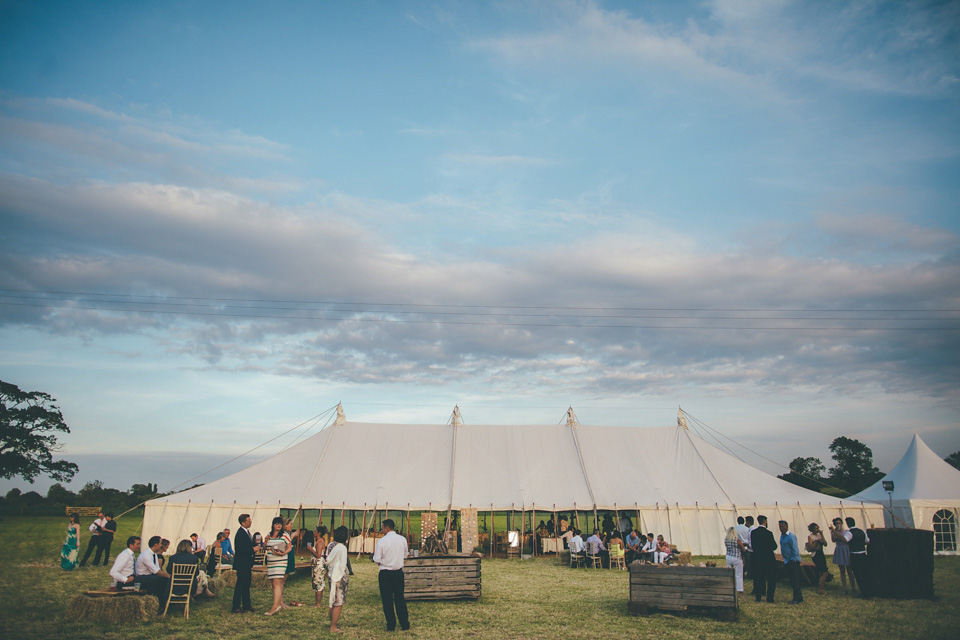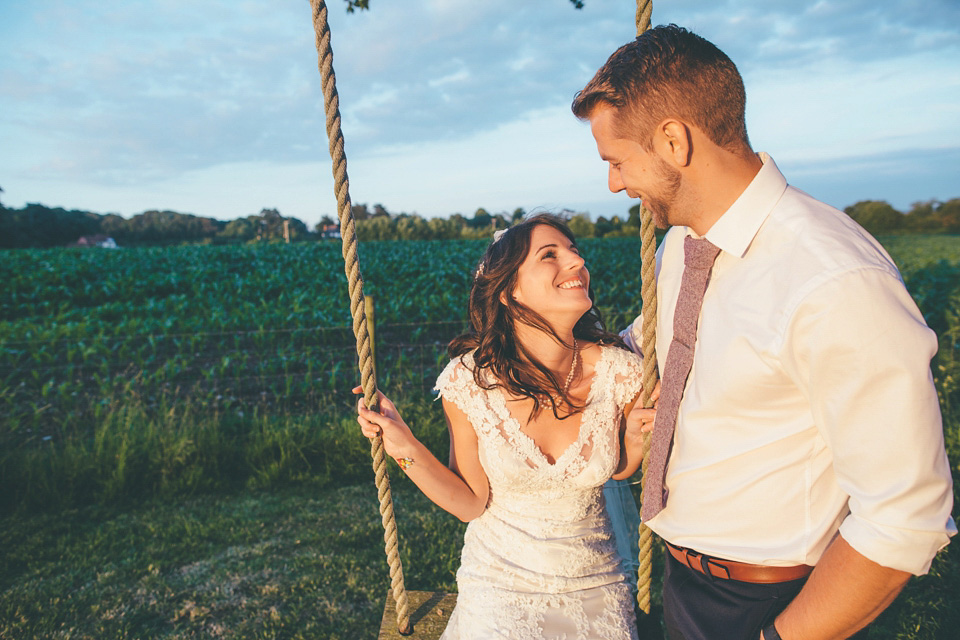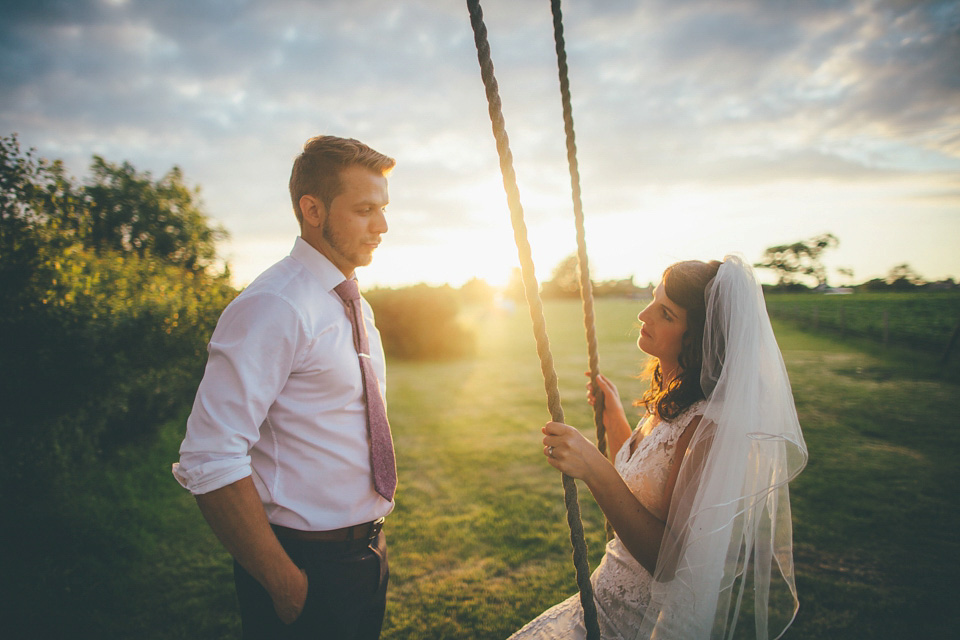 Words of Wedded Wisdom
"Be yourself and do what you want, not what you think you're supposed to do.
Some people think you need to have this and you need to have that. All you need is each other and your family and friends around you."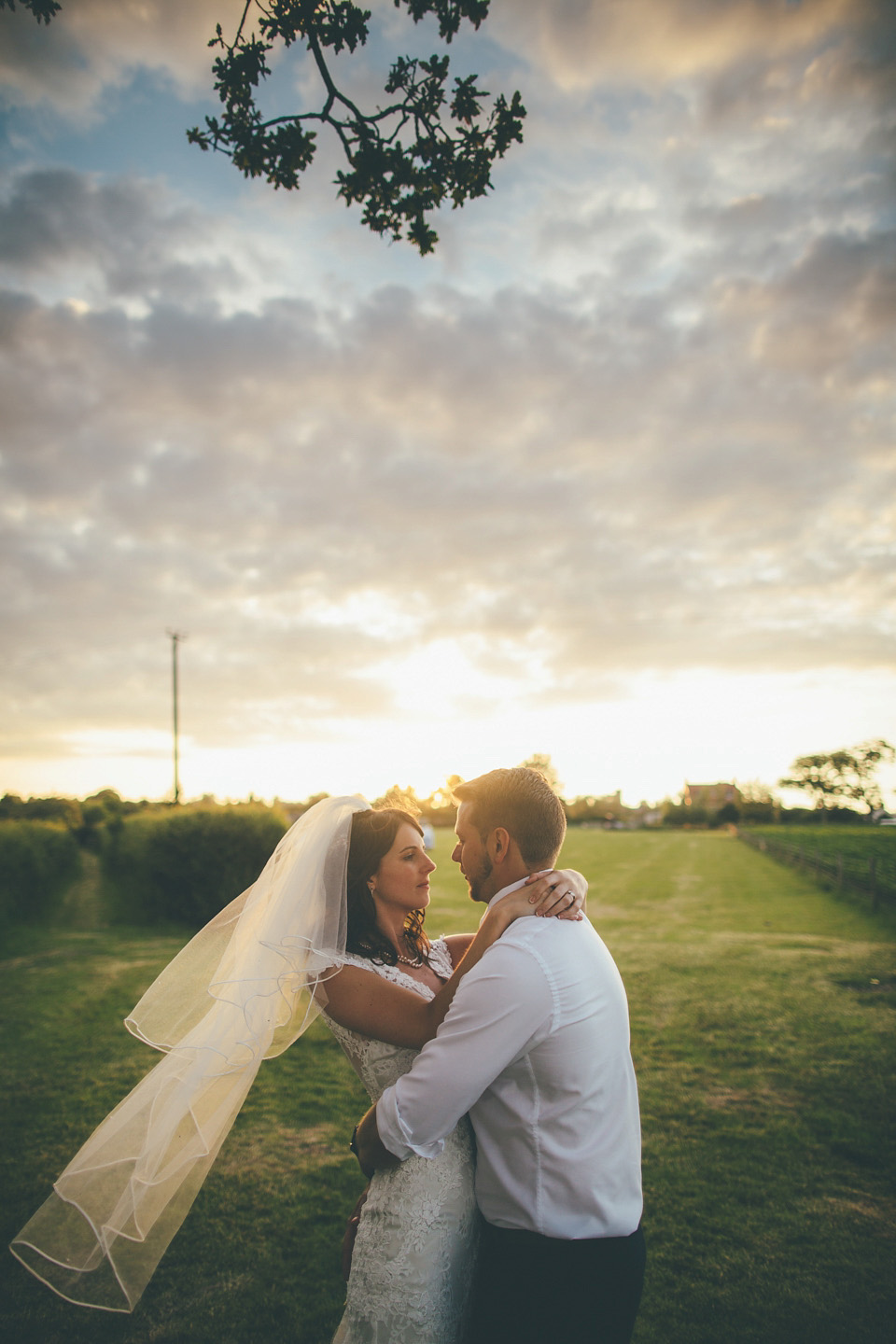 And never was there a truer word of wedded wisdom spoken! Congratulations to Kate and Danny on your splendid Somerset wedding, and thank you again to Matt Willis for the gorgeously romantic images.
Have a wonderful week!
Love Louisa xx
Photographer – Matt Willis Photography
Planner/Stylist + Catering – Rebecca Jane Weddings
Venue – St Andrew's Church, Curry Rivel + Old Oak Farm
Wedding Dress – Timeless Elegance Bridal
Veil – borrowed from a friend
Shoes – Nine West
Hair Accessories – Pili Pala Jewellery
Bride's Accessories – earrings by Amanda Cox at the Polka Dot Gallery
Groom – Reiss suit, TM Lewin shit, St George by Duffer tie + Jones the Bootmaker shoes
Groomsmen – suits by Paul Smith (best man), Reiss, Ebay, Moss Bros
Bridesmaids – Monsoon with bracelets by Harriet Whinney Pearls
Page Boys – Marks and Spencer
Florist – Windmill Farm Flowers
Cake – bride's mum and a friend
Transport – Steel Suffolks
Entertainment – The Beehives and bride's Dad's band, Diaspora
Rings – Heath Diamonds
Stationery – DIY using My Wedding
Favours – handmade shortbread and children's colouring books from SugarPieStudio