Good morning you – are you enjoying a nice lie in? Have you crammed so much chocolate in to your face that you needed to sleep a little extra longer this morning to get over it?  I just hope you're having a lovely long weekend, whatever you're up to.
Today's wedding was made for Love My Dress – it is just the most perfect, sweetest, love and fun-filled day.  Alex, co-owner of 'Agapé Bridal Boutique', the most beautiful, vintage-luxe style bridal boutique in Bowdon, Cheshire, tied the knot with Matt, an Account Manager for a telecommunications company on 12th September last year.  I adore the family element of this wedding, how everyone pulled together and flexed their creative muscle to make it all so pretty.  But most of all, I adore bride Alex's radiant smile and her happiness that for me, just bursts from these beautiful images. I really hope this lovely set of wedding photographs lifts you today – be sure to see the series of 'morning after' shots at the end, I adore them.
"We always wanted a happy, relaxed day.  Matt loves rustic style and I'm a sucker for vintage details so we just picked all the things we liked without giving much thought to how it would all come together.  Our wedding was in such a beautiful setting that it didn't need much titillating to make it look special. We originally chose teepees for our reception, but when we spied the new Sperry tents by Papakata, we knew they would be perfect."
Photography Copyright (c) 2015, On Love and Photography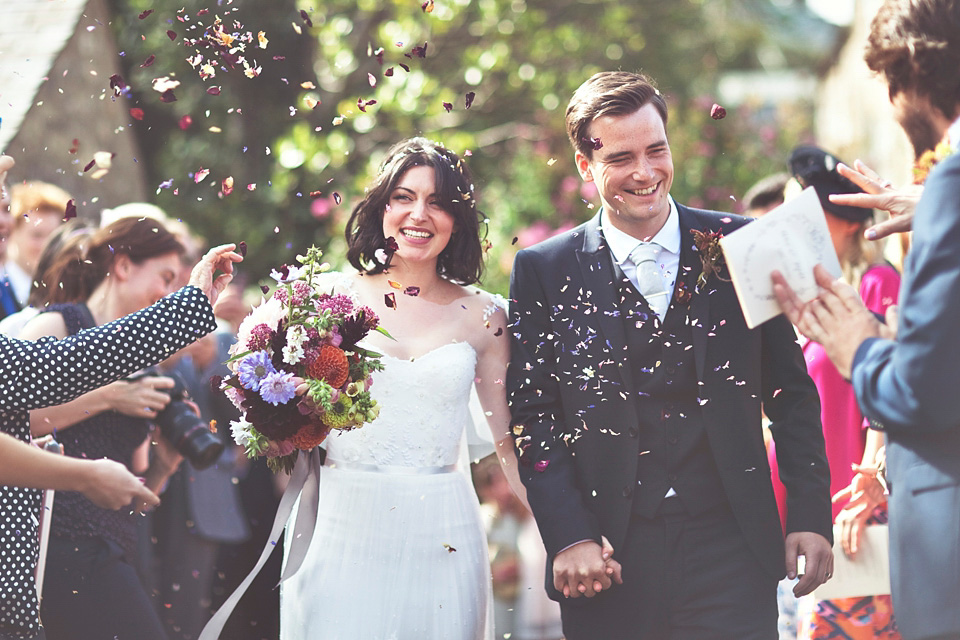 "We chose to get married in Abersoch, a small coastal village in North Wales. It is our home from home and I have spent my summers caravanning there since I was a little girl. I always imagined getting married in the beautiful (and teeny!) St Pedrog Church, and we held our reception in Sperry tents from Papakata on the field opposite our family chalet, overlooking the beach where we got engaged."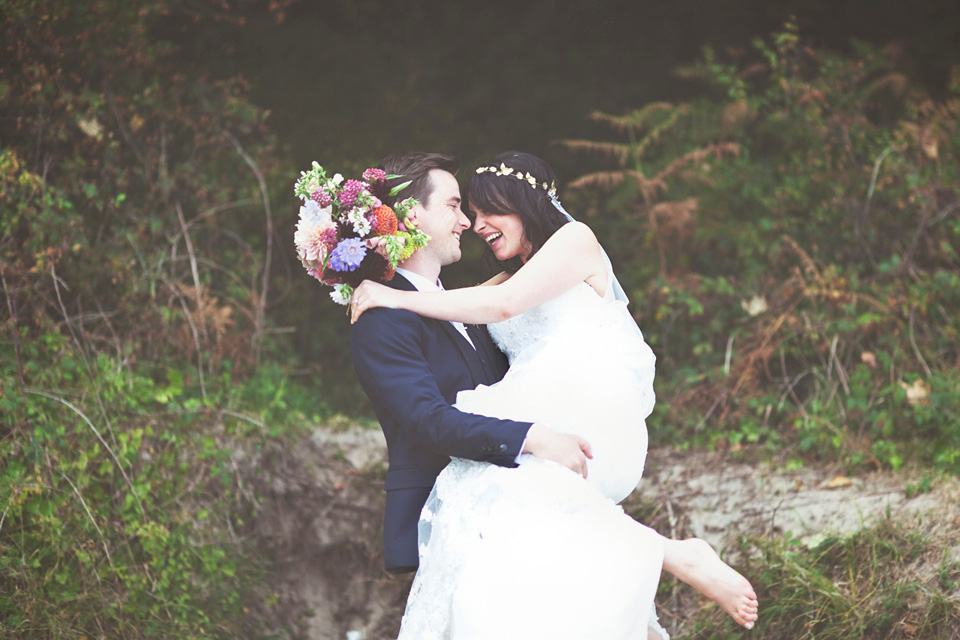 "Obviously with my profession in mind, fashion was always going to be an important part of our wedding style.  We offer a bespoke service at Agapé Bridal Boutique and being involved in unique creations for our brides is hands down my favourite part of the job. I relished the opportunity to design and make my wedding dress, bridesmaids dresses and my mum's dress, and although it was a lot to take on (especially on top of running a busy boutique) I absolutely loved every minute of it."
"I fell in love with my Freya Rose gold shoes when we were at White Gallery trade event, choosing all our styles for the next season. Despite the fact that we hadn't booked our wedding yet and I had no idea what I would be wearing, I just had to have these shoes! We stock Freya Rose at Agapé Bridal Boutique."
Readers, we've been running a competition to win any pair of Freya Rose shoes of your choice up to the value of £500 – the competition ends this week, so get your skates on if you've not entered already! Head this way.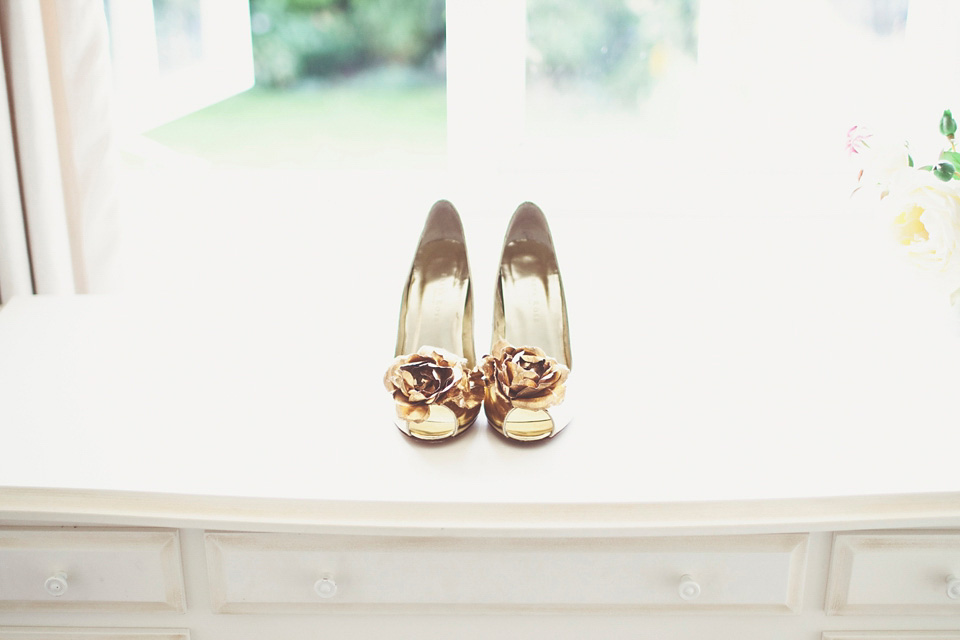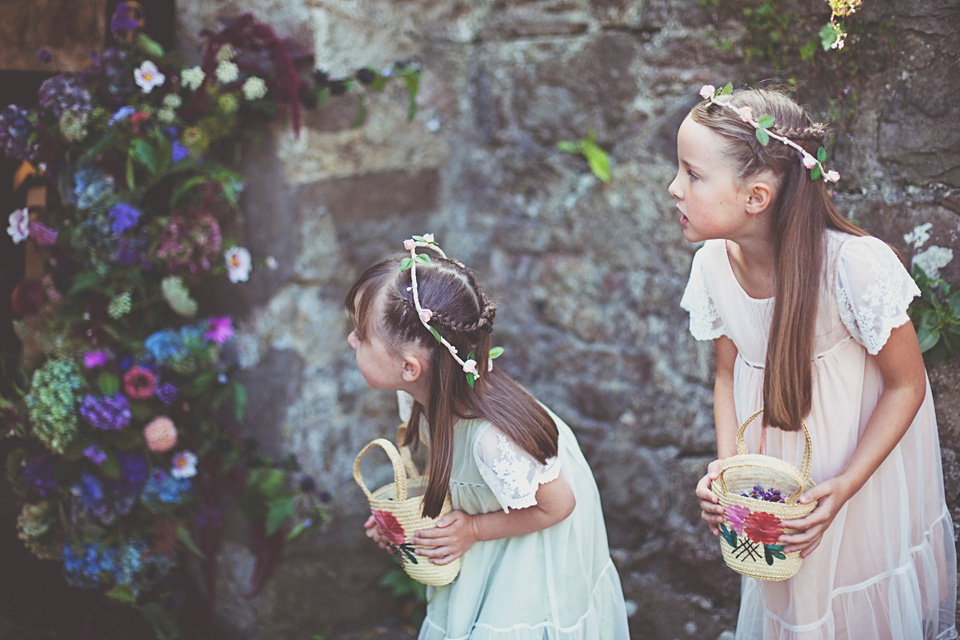 "We designed our own stationery. Our invitations were on a postcard stamped with our wedding date, and directing guests to a website I created with all the information they might need. I found a whimsical font that I loved and drew a wreath of leaves and flowers, which we used for the order of service and guest book.
I suddenly decided to hand-write the table plan and place names in my beloved gold pen the day before the wedding, which took much longer than anticipated!
The guest book was masterminded by my sister Laura however, who took polaroids of every guest and made sure they wrote a message. The book is filled with the energy of the day and it is a delightful memento."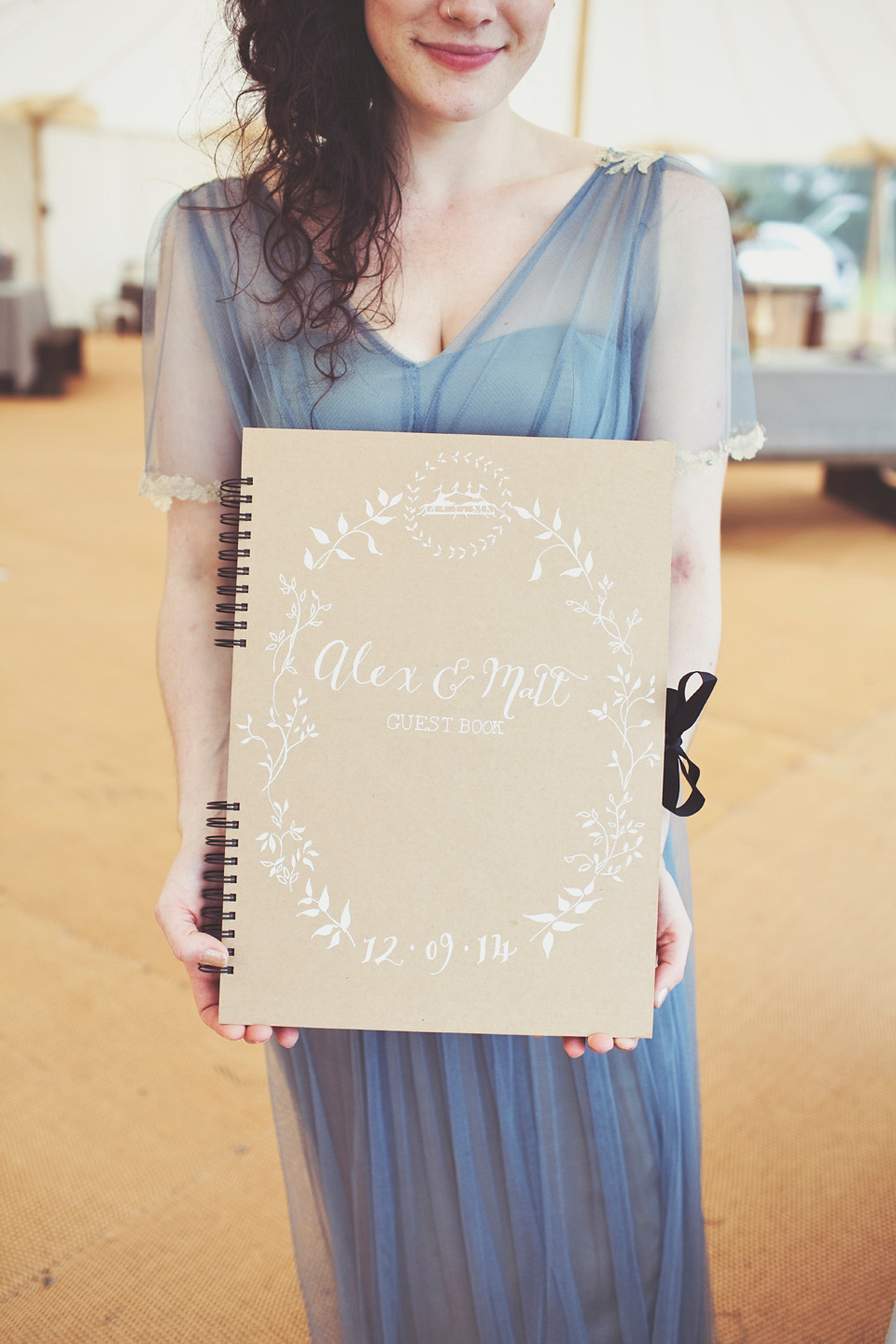 "Our cake was a delicious work of art, baked and decorated by my talented mother. With careful dexterity, she crafted each and every delicate sugar petal with love, patience and skill.  Unfortunately she is not taking commissions!"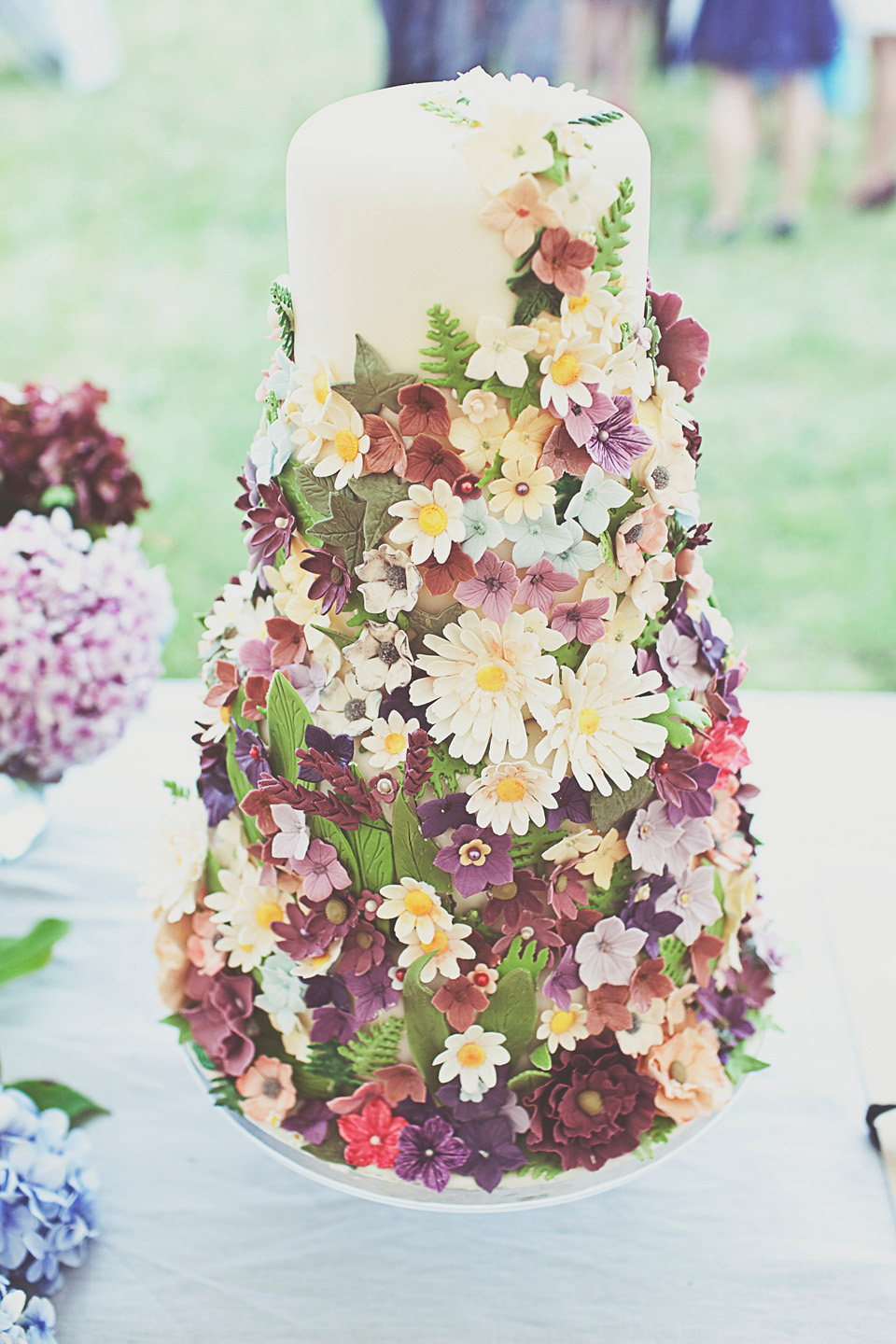 "The photography was really important to us, and one of the first things we booked. I came across On Love and Photography when one of my brides and good friend Sarah showed me her wedding photos. I was instantly in love with their soft, honest style and delicate touch. I always knew they would be my choice for our wedding.
Giulia and Sophia are truly lovely and talented ladies. They seemed to be omnipresent but totally inconspicuous, meaning they captured genuine moments in a natural way. They worked so hard, and at our request they were happy to stay and document the entire celebration rather than packing up after the first dance. We grew so fond of Guilia and Sophia over the weekend and we have now adopted them as our family photographers!"
"I work better under pressure and although I like to be organised at work, I was definitely a last minute lady whilst planning our nuptials. Take the day before the wedding for example, I had visualised fluffy robes and girly pampering in the day, followed by a relaxed and nostalgic family meal, a glass or two of champagne and then early to bed for some beauty sleep. In reality, we were dressing our venue, arranging flowers and hand-writing place names late into the eve of our wedding.
Although this was not the relaxing way I planned to spend the day before, in hindsight I wouldn't have had it any other way. This eleventh hour habit is something I share with all my family, so it was only fitting that we should celebrate my last day as an unmarried daughter and sister working as part of a team in this crazy chaos: the storm before the calm."
"We made up for our last-minute lunacy on the morning of the wedding, which was happy and relaxed. Everyone always tells you how the day rushes by in the blink of an eye. I really wanted to take in every instant, so before popping open the champagne, my sister Kate, a yoga teacher, took us through a gentle flow with a focus on mindfulness, which allowed us to release the hustle and haste of the preceding days and appreciate the enormity of the moment. I'm so grateful we did this, as hours later, stood in the tiny church packed to the rafters with our most special people, I felt truly present as I looked into Matt's eyes and consciously spoke my vows."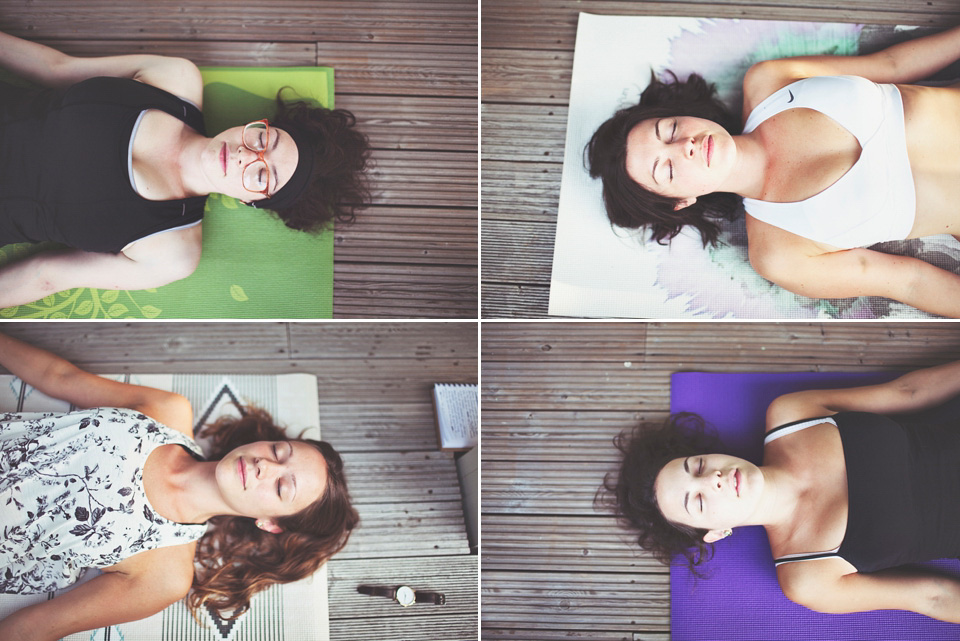 "I went to a girl's school and Matt was at the Boy's school. We met aged sixteen through mutual friends, and we've been together ever since! We've grown up together and we've grown into each other over the years.
We got engaged in late October 2012. It was the weekend that Karen (my business partner) and I had launched our new boutique after changing premises, and I had been completely preoccupied with our move and launch party.  I usually know when Matt is up to something, but he managed to catch me completely off guard!"
"I had organised a family weekend in Abersoch and on the Sunday it was pouring with rain. My sister called to say that everyone was at the beach (I LOVE sea swimming in the rain) so we agreed to join them. When we arrived there was no one around, but Matt steered me to a little makeshift den atop a sand dune.  I popped my head inside to see the walls lined with fairy lights, a bottle of champagne and 'marry me?' written in the sand.  I thought I had stumbled on someone else's proposal, and whipped around to see Matt on one knee! He said 'will you marry me, love?'  Just as if he would say 'make us a brew, love?' It felt just right.
We were engaged for nearly two years before we got married, although we did most of the planning in the 9 months before the wedding. We chose to get married on the 12th September, as that is my mum and dad's wedding anniversary."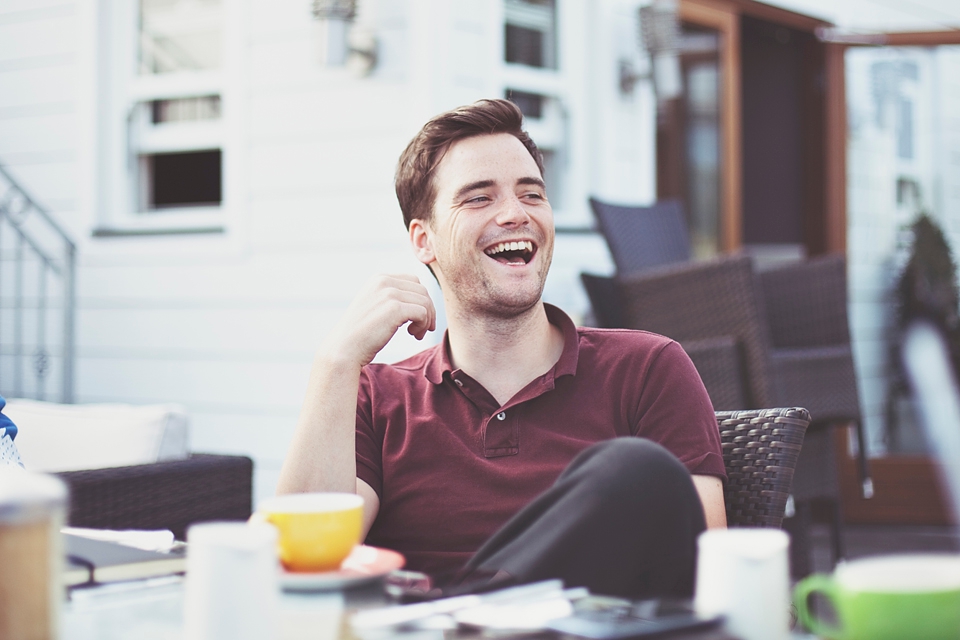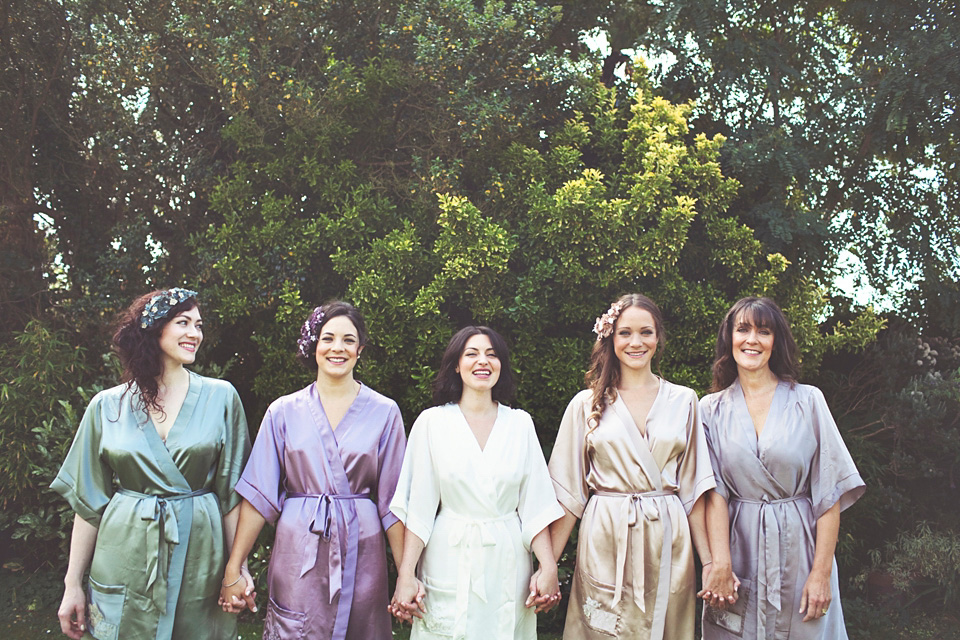 "My gift to my bridesmaids and mum were monogrammed dressing gowns made in matching silk to each of their dresses, made by Agape Bridal Boutique."
"My fabulous Aunty Cath is an excellent knitter and she spent weeks making me a delicate cropped cardi in shell pink silk yarn which kept me warm and toasty on the beach."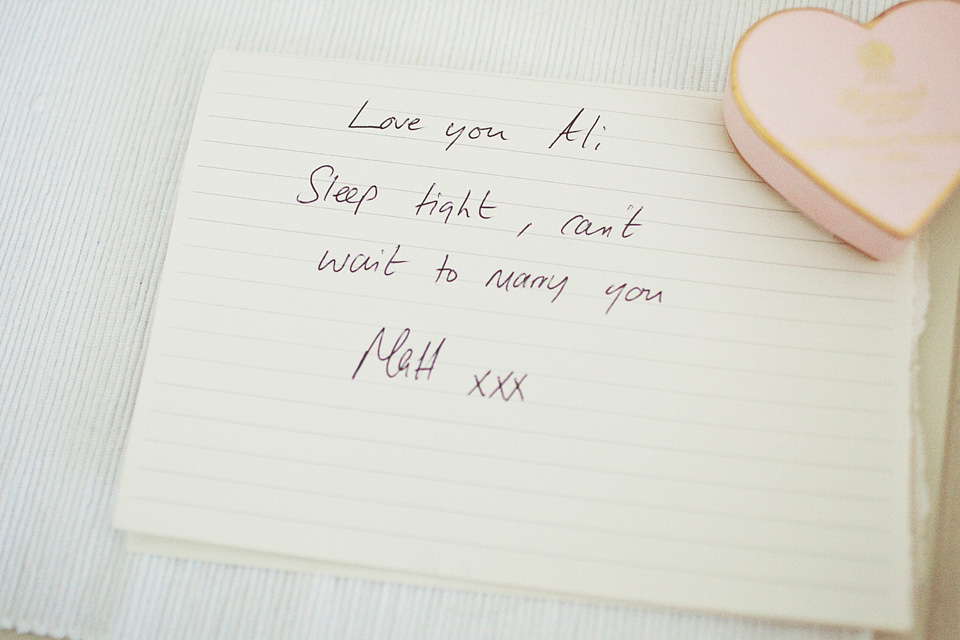 "Our florist was Thoughtful Flowers.  We originally planned to do a bit of a DIY job with the flowers, but then I met the incredibly talented Juliet Glaves and fell in love with her work! We had access to lots of lovely Hydrangea around our site which I love, and Juliet had the fabulous idea of making Hydrangea chains, which were strung along the tables and across the archway and balcony in the church, as well as mason jars of hydrangea heads on the pew ends.
Juliet added a selection of her beautiful blooms for some absolutely wonderful florals at the entrance to the church and at the reception. Juliet did an incredible job for us, and worked tirelessly to get everything done in time. We were so grateful for her hard work and magic touch."
"My sister Laura Donovan is an incredibly talented accessory designer and silversmith. I wanted a gold headpiece with a daisy chain feel, and she hand crafted a halo of delicate gold flowers and leaves- I absolutely loved it and wore it for days afterwards!
Laura also made me a chain bracelet and gifted me some leaf earrings which were my something blue. My something borrowed was from my nana: a special opal and ruby ring that had been given to her by my late grandad."
"Nicola of Wedding Bridal Hair & Makeup is a babe. I always had her in mind for my hair and make up, as she had done so many Agapé brides so beautifully, not to mention the fact that she always looks gorgeous herself! I wanted to keep my short-ish hair down and wavy for a relaxed look that showed off the beautiful headpiece Laura made me.
As for my make-up, I am a natural girl so I just let Nicola work her magic. It was just what I wanted, and lasted all day and all night.  I did intend to go and top it up at some point but I was having far too much fun on the dancefloor! Nic is such a lovely calming influence on the day- she's soothing and laid back but also gently ensures that everything is timed to perfection.
Nicola and Suzanne did my mum's, nana's and sisters hair and make up between them – Suzanne also did a fantastic job and everyone looked beautifully themselves."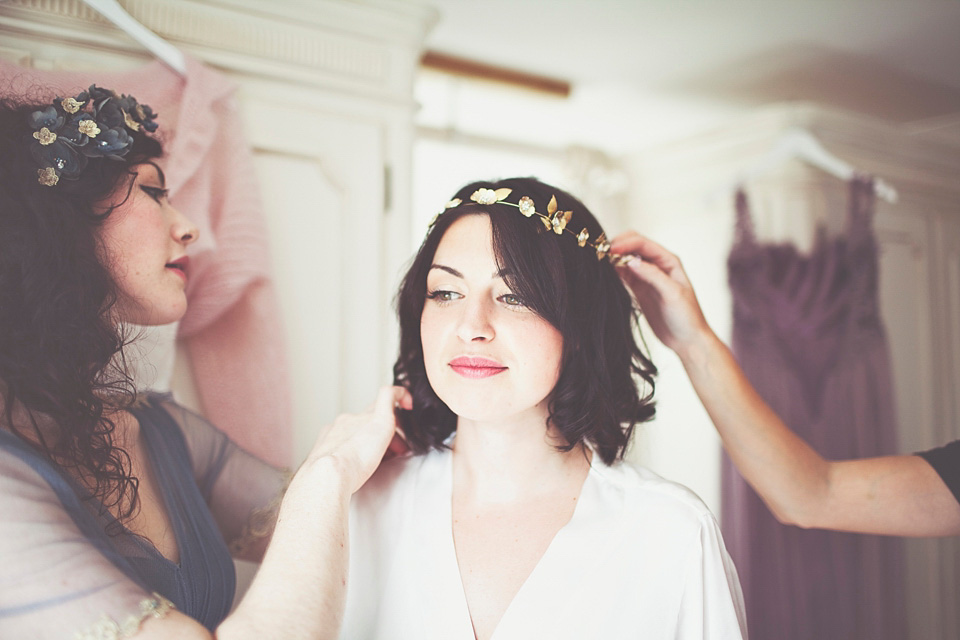 "My three sisters are so different in looks, personality and style, so I could never have had them in matching dresses! We chose dreamy silk tulle and silk satin, embellished with lace detail. We spent time deciding on a design and shade for each of my sisters that suited their colouring and individual style, and that also worked beautifully together as a trio. I love the fact that the colours we picked are simultaneously deep and muted, and the girls looked and felt amazing.
Once again, my sister Laura Donovan made gold flower earrings that matched my headpiece for each of the bridesmaids. She also made each of us four sisters a silver bangle imprinted with the words 'one quarter'."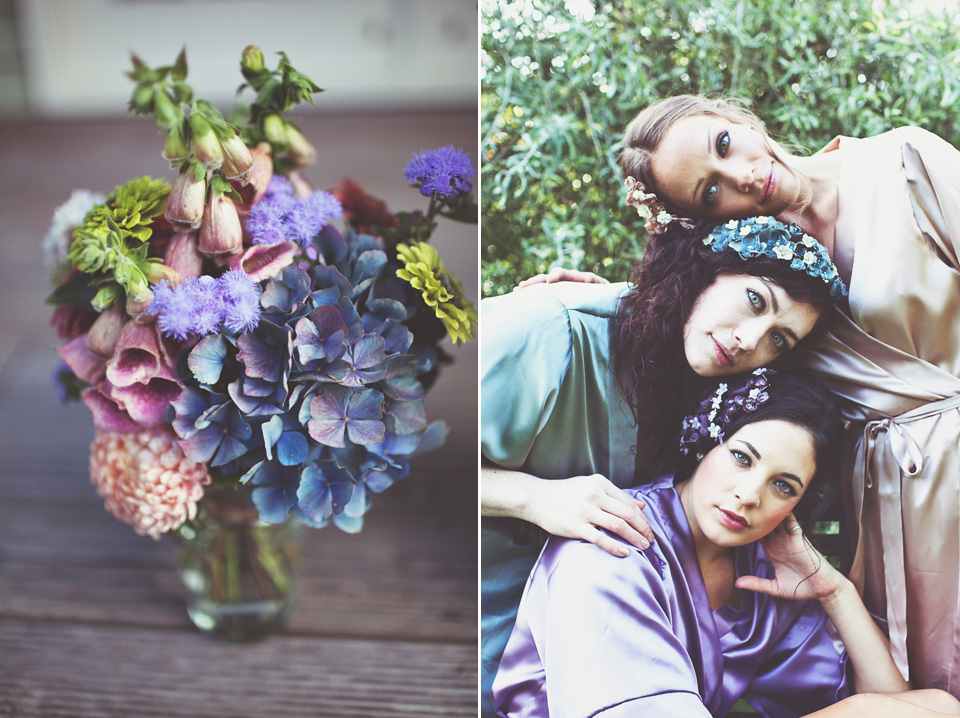 "Both our mums were absolute heroines in the lead up to the wedding. They became the facilitators of our hazy ideas, and made our Pinterest ponderings into a beautiful reality by amassing an impressive collection of vintage champagne saucers, gold bottles, water carafes, china and cocktail dispensers. (Warning: this is behaviour is addictive!  My mother is now incapable of walking past a charity shop without peering in to inspect their glassware!).
My mum is youthful, stylish and beautiful, and I wanted to make her a dress that reflects all of this. In my opinion, there are slim pickings out there for our wonderful mothers, and I wanted my mum to feel a million dollars. She looked stunning in her tea length dress with silk satin full circle skirt and pretty leafy lace bodice, which we paired with a cropped jacket in the softest matching leather."
Alex's mum pictured below.  This is how to do mother of the bride style!
"As for my dress, I was thinking ethereal, bohemian romance. Unfortunately, I am not blessed with the tall, willowy frame that wears boho floatiness so well. My 5ft 2" curves needed reigning in with a softly sculpted bodice, and the beautiful lace that I fell in love with at a textiles exhibition looked best softly gathered over a silk crepe column skirt. I made a simple cape in tulle with a little embellishment to provide some sheer coverage.
I am slightly obsessed with couture detail and have a whole Pinterest board dedicated to embroidery and beading. Between us, my sister Laura and I hand beaded my dress using silk petals, opal diamante and pearls. There are five metres of lace in the skirt so it took a while! I have since learnt on a trip to the V&A musuem in London, that pearls and opals hold symbolism of purity, longevity and faithfulness in marriage and have been used in wedding gowns for centuries. The time, care and love that was poured into the making of my dress was what made me feel so special wearing it, and it will always be treasured."
"I was keenly aware that planning my wedding had at times had an effect on how many hours I put in at the boutique, and with the summer season of wedding madness upon us, I didn't want to add to the studio workload, so I endeavoured to design and make all of the dresses in my own time. I spent many a sunny Sunday in our bright studio, and many more long evenings beading and embroidering away.
With the wedding day fast approaching, and me spending all my free time on my own dress, my business partner (and highly skilled seamstress) Karen saved the day by stepping in along with our fab seamstress Chloe to help finish off the dresses – I can't thank them both enough!"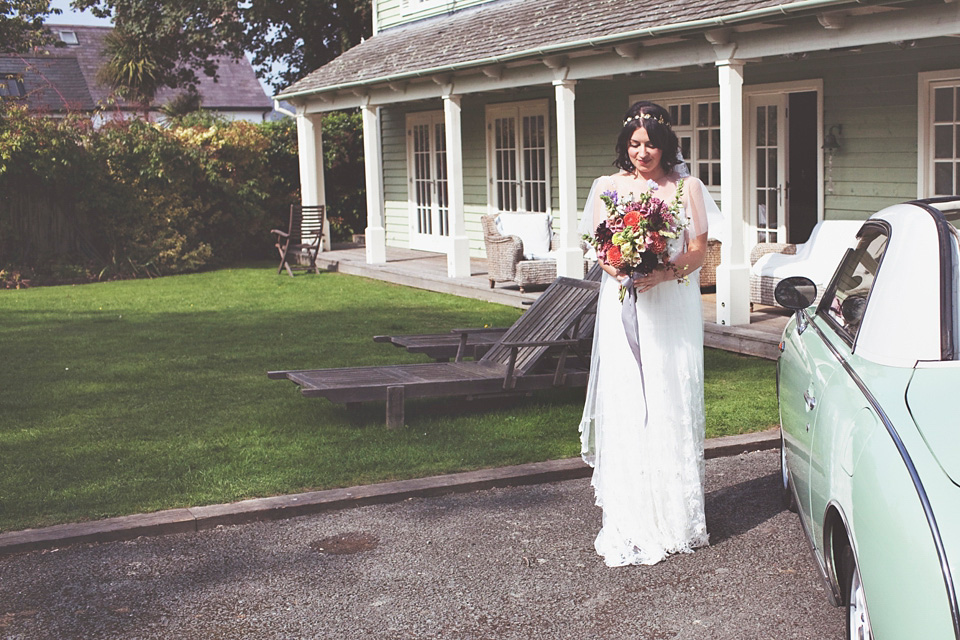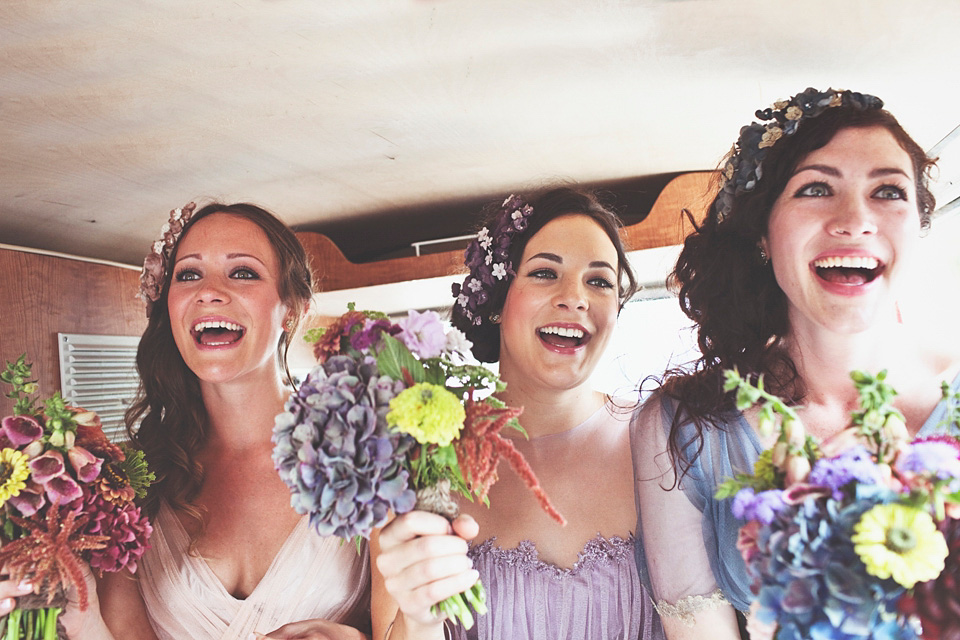 "My dream car is a Nissan Figaro and I had my heart set on having one of these as our wedding car. It was looking like an impossibility until Matt's fantastic mum managed to track down a lovely lady who was willing to rent us her Figaro for the wedding. It was perfect and I really didn't want to give it back! She has now decided to do this as a business so feel free to email me for her contact details."
"We bought Matt's suit from The Kooples. We loved the sharp, modern cut. We originally chose a mid-blue one, but by the time we went back to buy it the seasons had changed and it was no longer available – buy early ladies!
"For his wedding present, I had a silk lining fabric printed with photos of us from over the years and my colleague Karen expertly replaced his jacket lining with this. He absolutely loved it and it's made his wedding suit really special.
I made Matt's grey linen tie, his shoes were from Rachel Simpson, which are available at my own boutique, Agapé Bridal."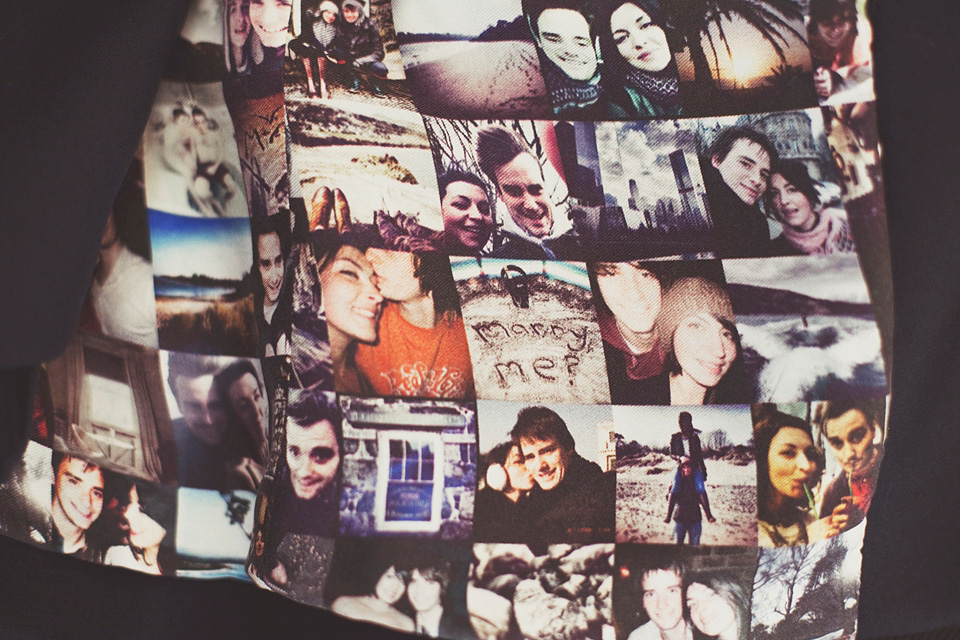 "Our best man, Alex, gave a great speech and also organised the amazing fireworks display. All our groomsmen were such a great help and Liam did a great job as the 'Master of Ceremonies', and Chris (Laura's boyfriend) not only provided the soundtrack to the weekend with his trusty guitar but also helped in so many ways, from setting up the photo booth to hand-painting wooden signs.
The boys all wore their own navy suits which we accessorised with polka dot ties and socks. We gave them a thank you gift of brushed silver tie pins stamped with their initials, made by Laura."
"My Dad accompanied me down the aisle.  He drove me to church in the Figaro and it was such a surreal moment.  My sister's boyfriend, Chris is a talented guitarist, and he strummed the traditional Wedding March as we walked down the aisle together – the acoustic guitar lent a mellow air to the formal melody.
 Matt and Dad are firm friends and at the altar, Dad placed my hand into Matt's with a casual 'there you go mate'."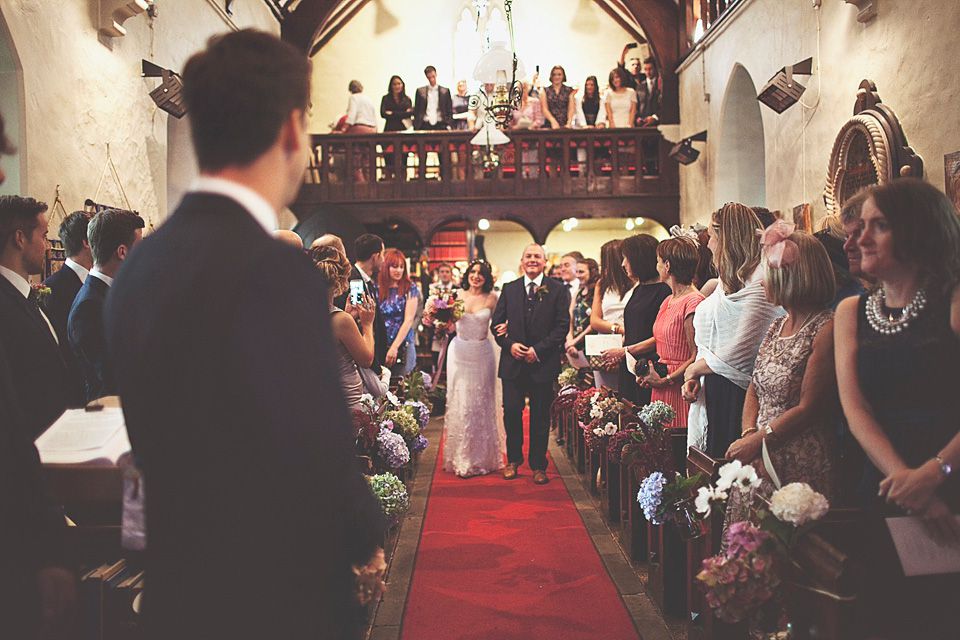 "Jenn Clempner is an Agapé bride who I have remained good friends with. She has a heavenly voice so it was lovely to invite her to sing at our reception. She also collaborated with the band to do a soft, easy version of Stevie Wonder's 'sunshine of my life' for our first dance.
Jenn played the piano in the church with a nice quick tempo for our hymms: Shine Jesus Shine and Sing Hosannah, accompanied by tamborines which we laid out on the pews for the guests."
"We had the following lovely quote by Rumi printed on the inside page of our 'Order of Service'…."
'The minute I heard my first love story
I started looking for you,
Not knowing how blind that was.
Lovers don't finally meet somewhere.
They're in eachother all along.'
"We had two readings: Matt's brother Chris read 'Sooner or Later' (Anon);
'Sooner or later we begin to understand that love is more than verses on valentines, and romance in the movies. We begin to know that love is here and now, real and true, the most important thing in our lives. For love is the creator of our favourite memories and the foundation of our fondest dreams.
Love is a promise that is always kept, a fortune that can never be spent, a seed that can flourish in even the most unlikely of places. And this radiance that never fades, this mysterious and magical joy, is the greatest treasure of all – one known only by those who love.'
My sister Kate read an adapted version of 'A Lovely Love Story' by Edward Monkton."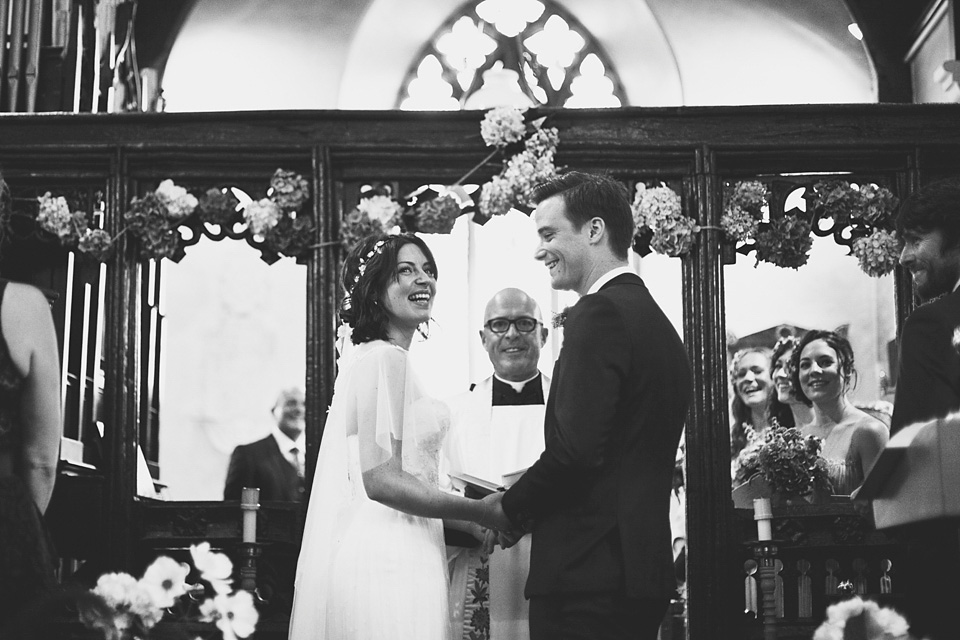 "My engagement and our wedding rings were from Geralds of Knutsford, a good old fashioned jewellers, who gave us excellent service. I love rose gold so opted for a rose gold band inset with diamonds to match my engagement ring. Some people weren't so sure about the idea of a rose gold wedding band next to a platinum engagement ring but I like to mix and match and I love the combination."
"Once we had married, we walked back down the aisle to 'All You Need is Love' by the Beatles, which is the perfect soundtrack to our wedding video."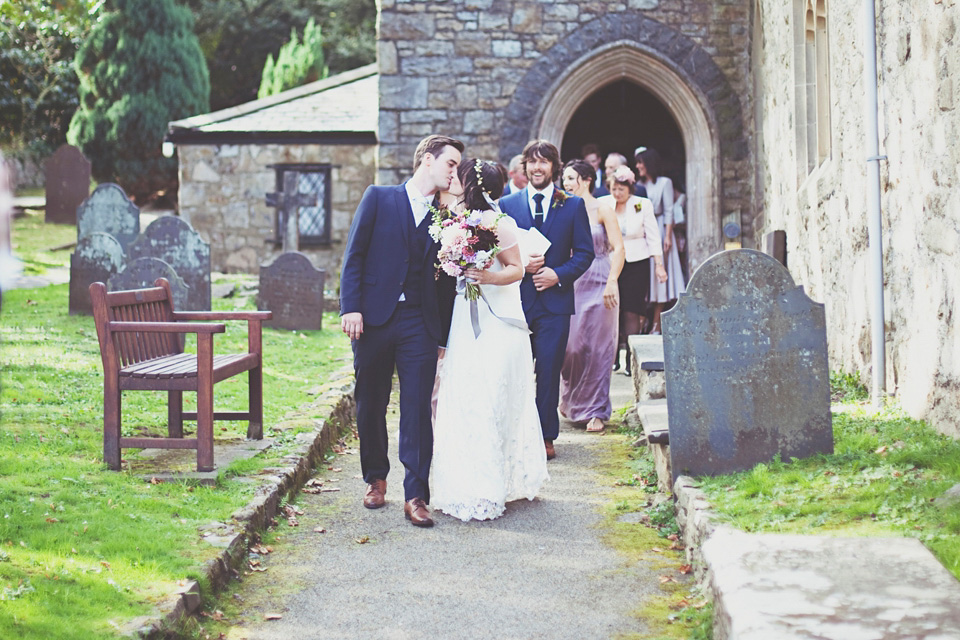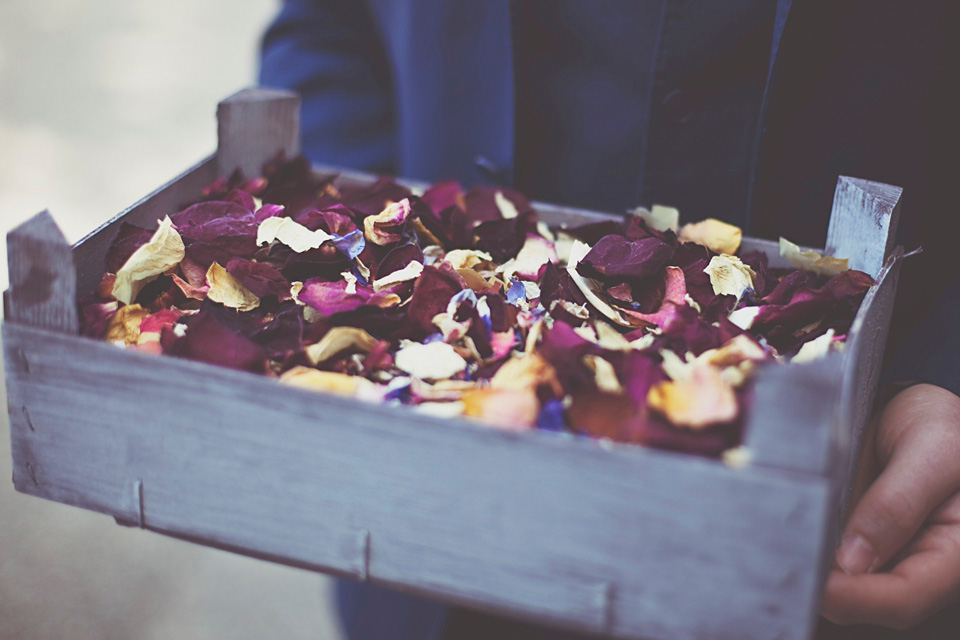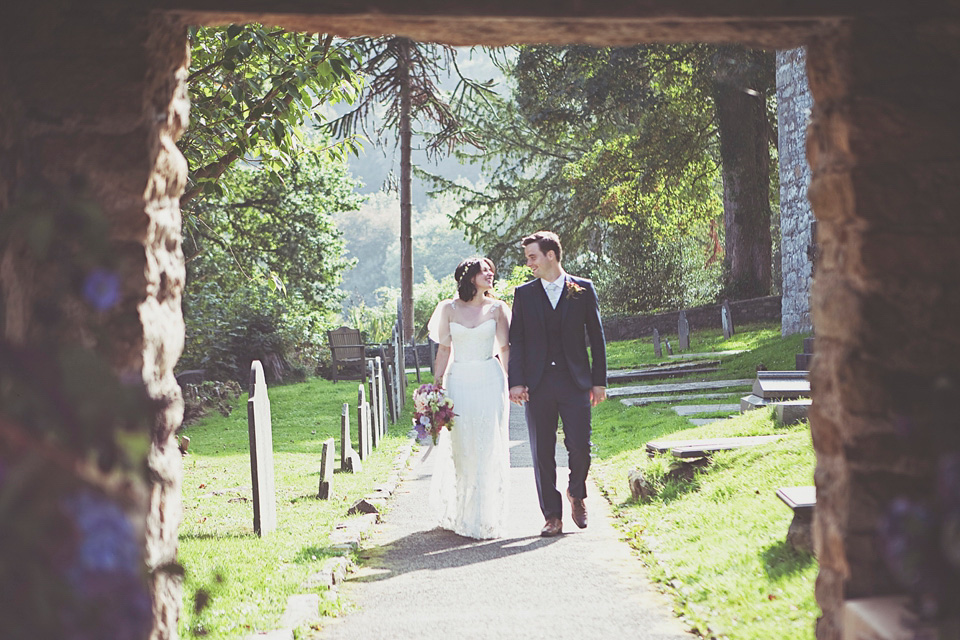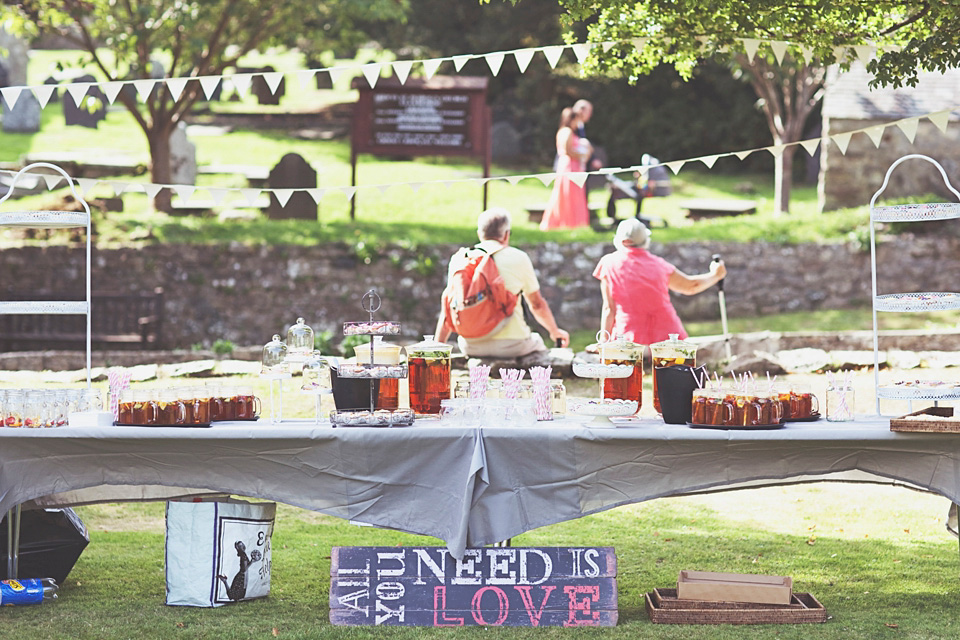 "After the ceremony we all spilled out onto the village green and tucked in to a glass of pimms and delicious cupcakes made by my sister Sarah, who has inherited our mum's baking finesse."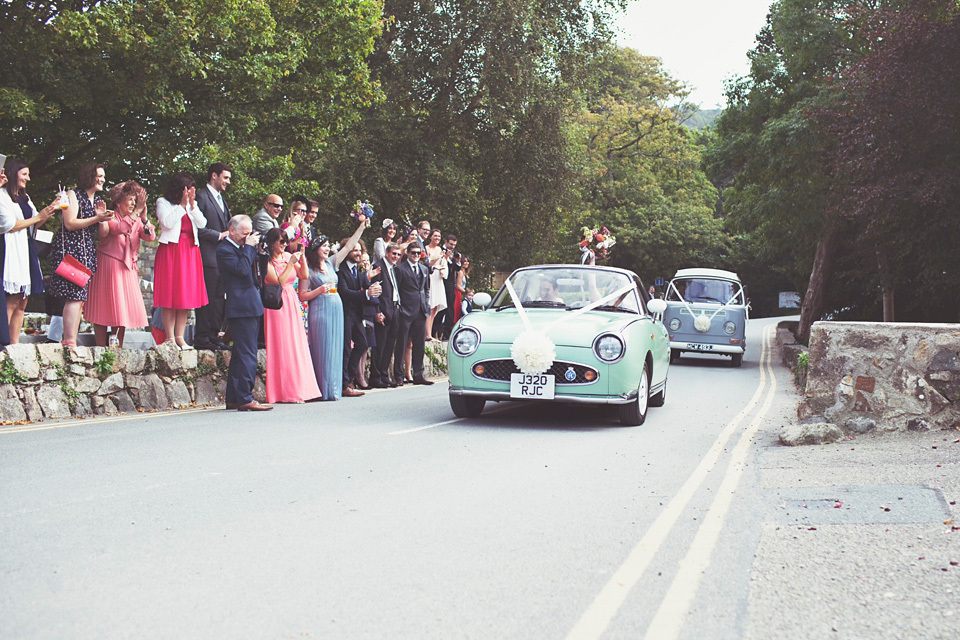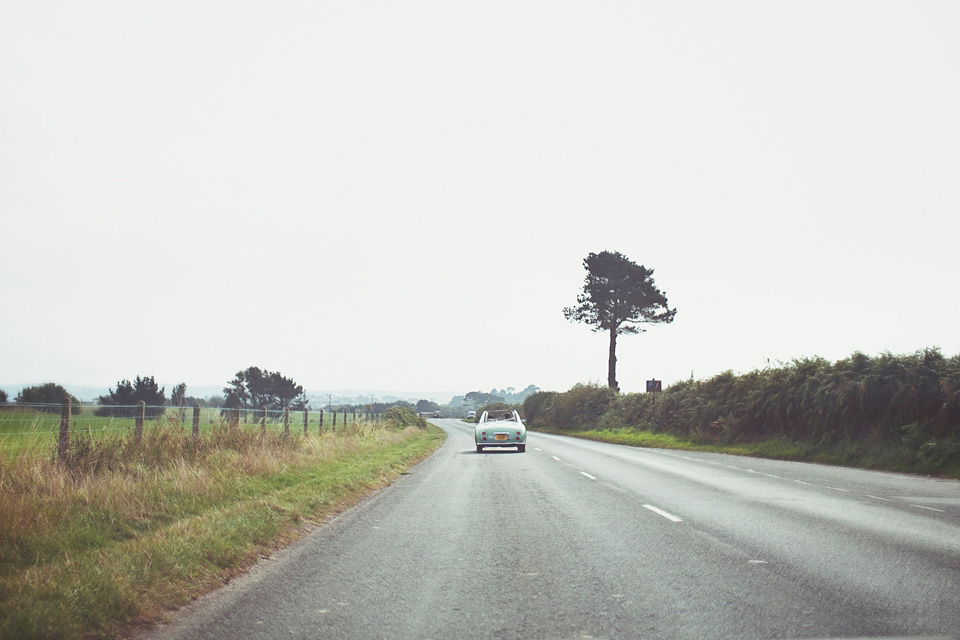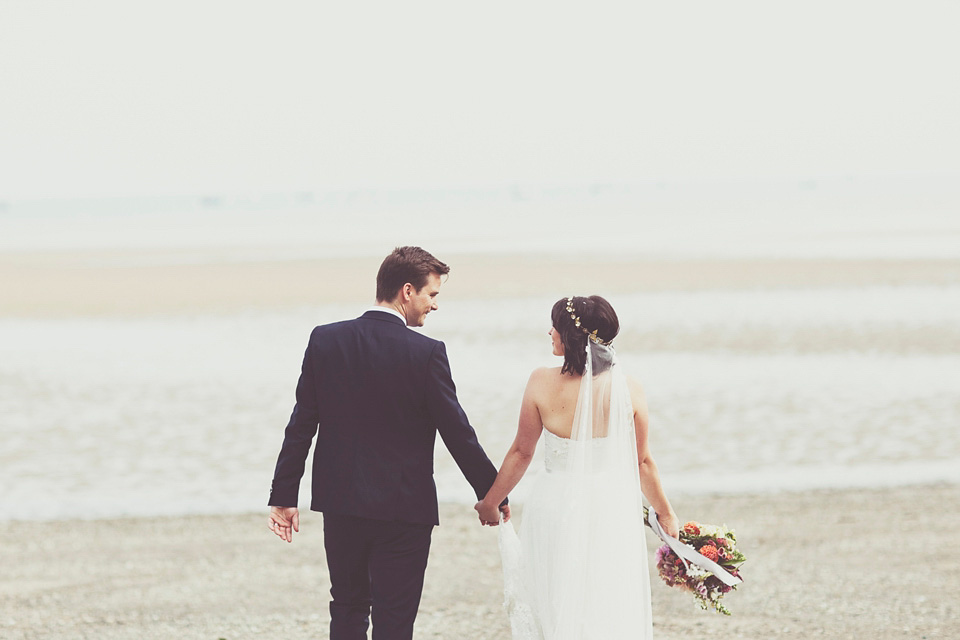 "I made my veil in silk tulle using a lace edging from my dress, and a sprinkling of swarovski crystal."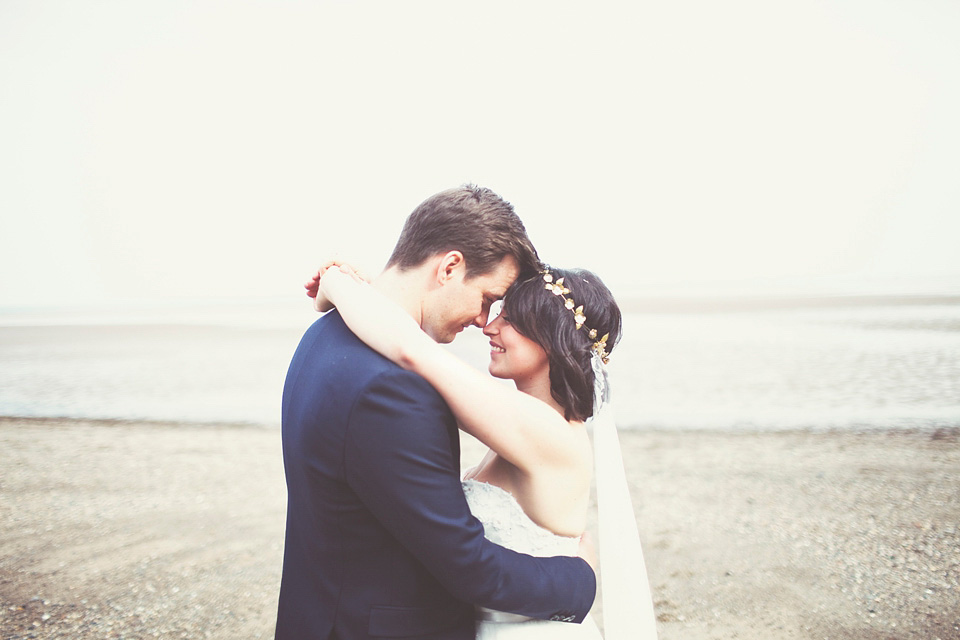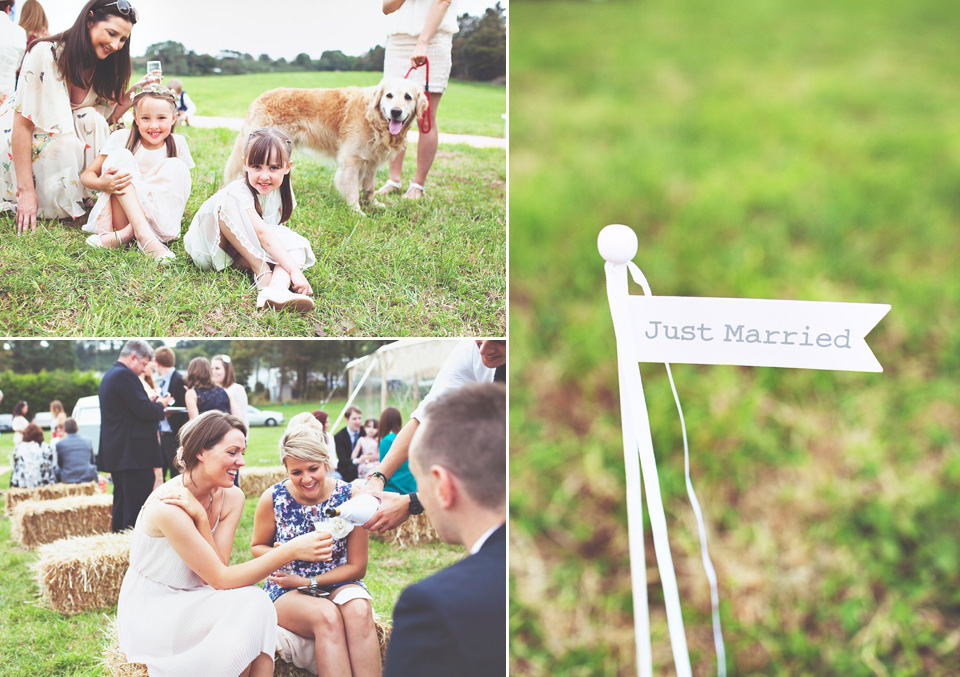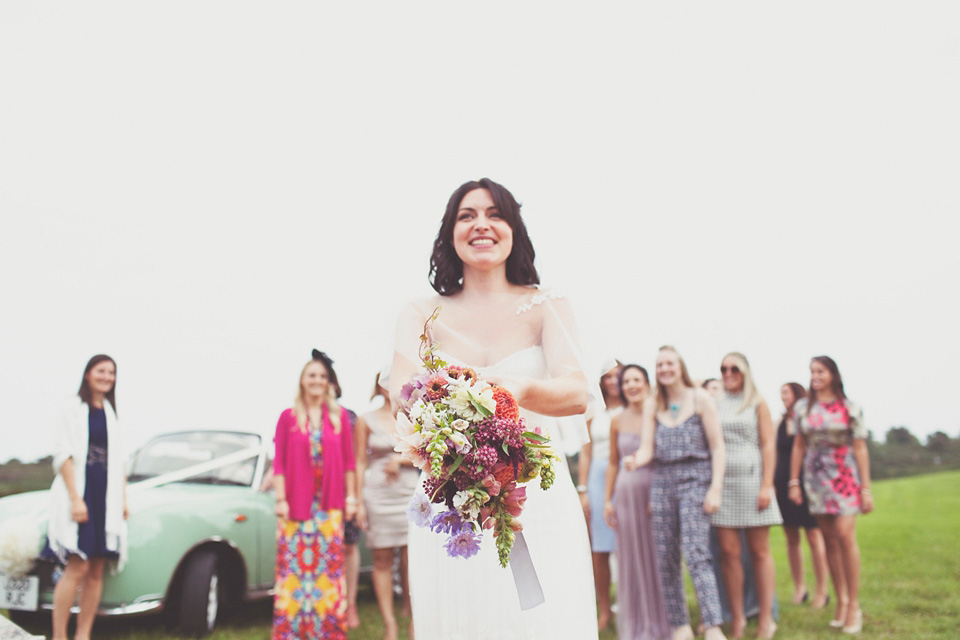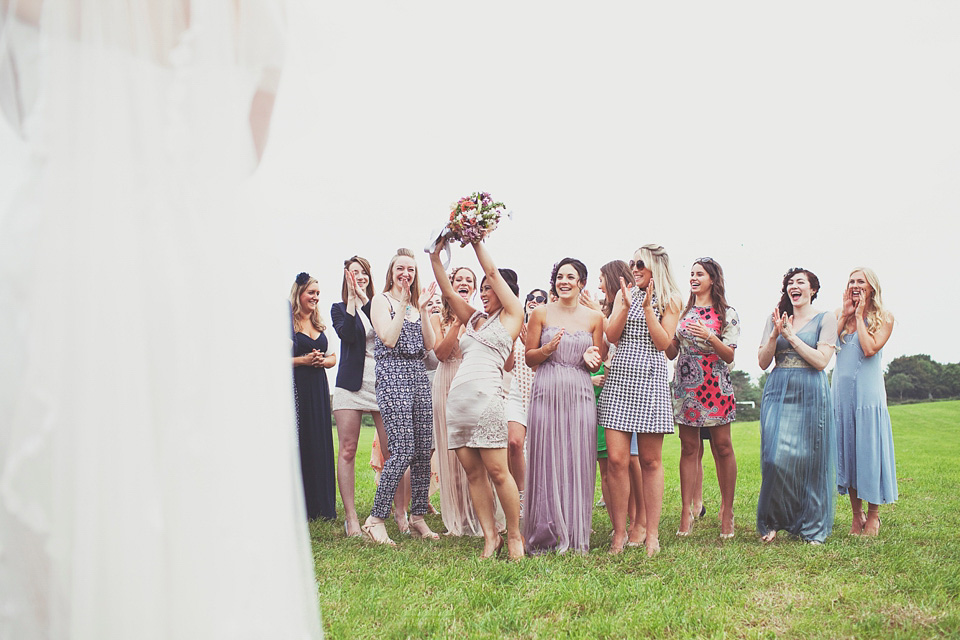 "We strung paper tassel garlands from Paper Poms across the wooden poles in the Sperry tents that were provided by Papakata. We also used large white balloons.  The village green was decorated with bunting made by our neighbour, Kath, and we lit up the path for our midnight stroll to the beach with solar fairy lights and candles in glass jars."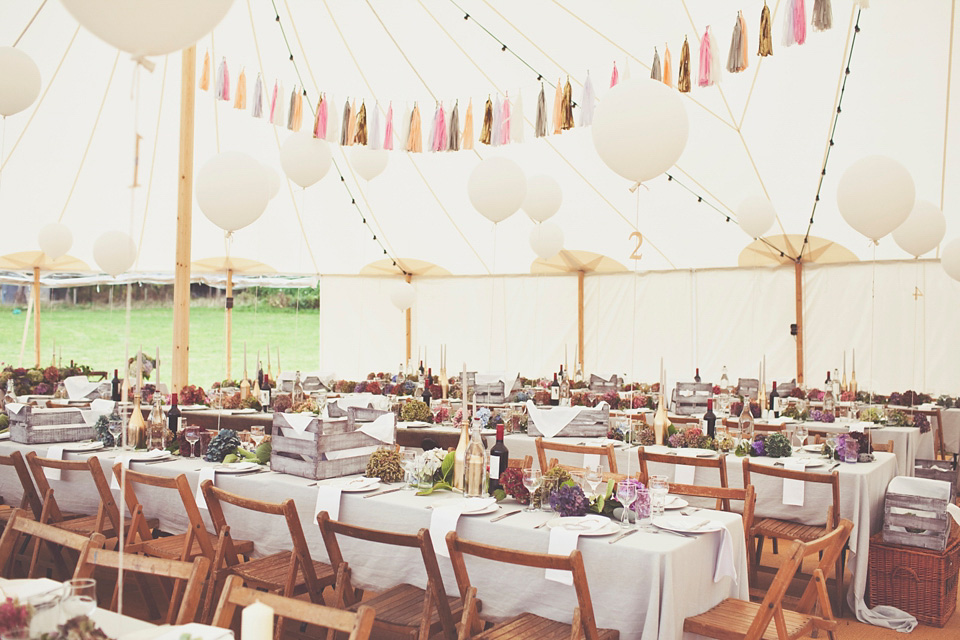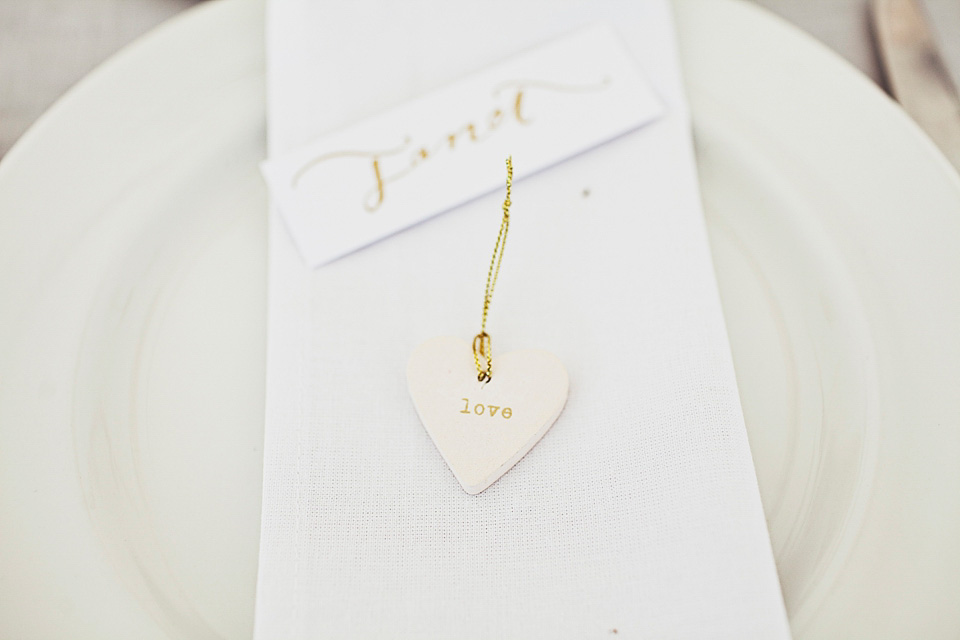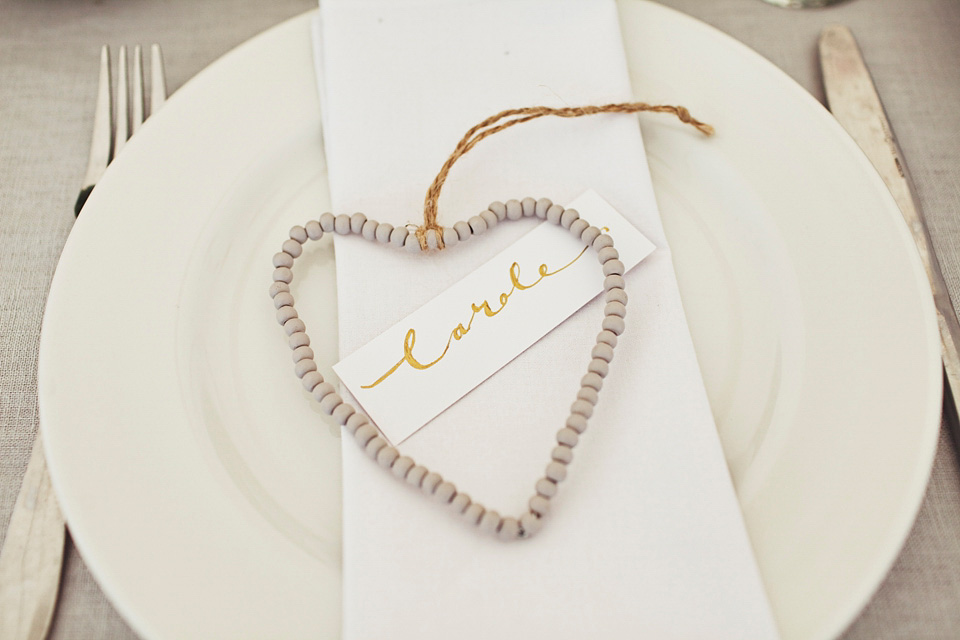 "We wanted to serve a delicious, hearty feast to our guests so hired Outside Food.  A sit down meal would have felt too formal and we weren't keen on the idea of queueing for a buffet. I love picnics and this seemed like the perfect solution. Picnic hampers containing kilner jars of chicken liver parfait, gourmet sandwiches, scotch eggs and summer salads were placed in the centre of the tables for people to help themselves. It was a lovely sociable way to eat and it worked perfectly.
Outside Food provided us with fantastic food and a very professional service on the day."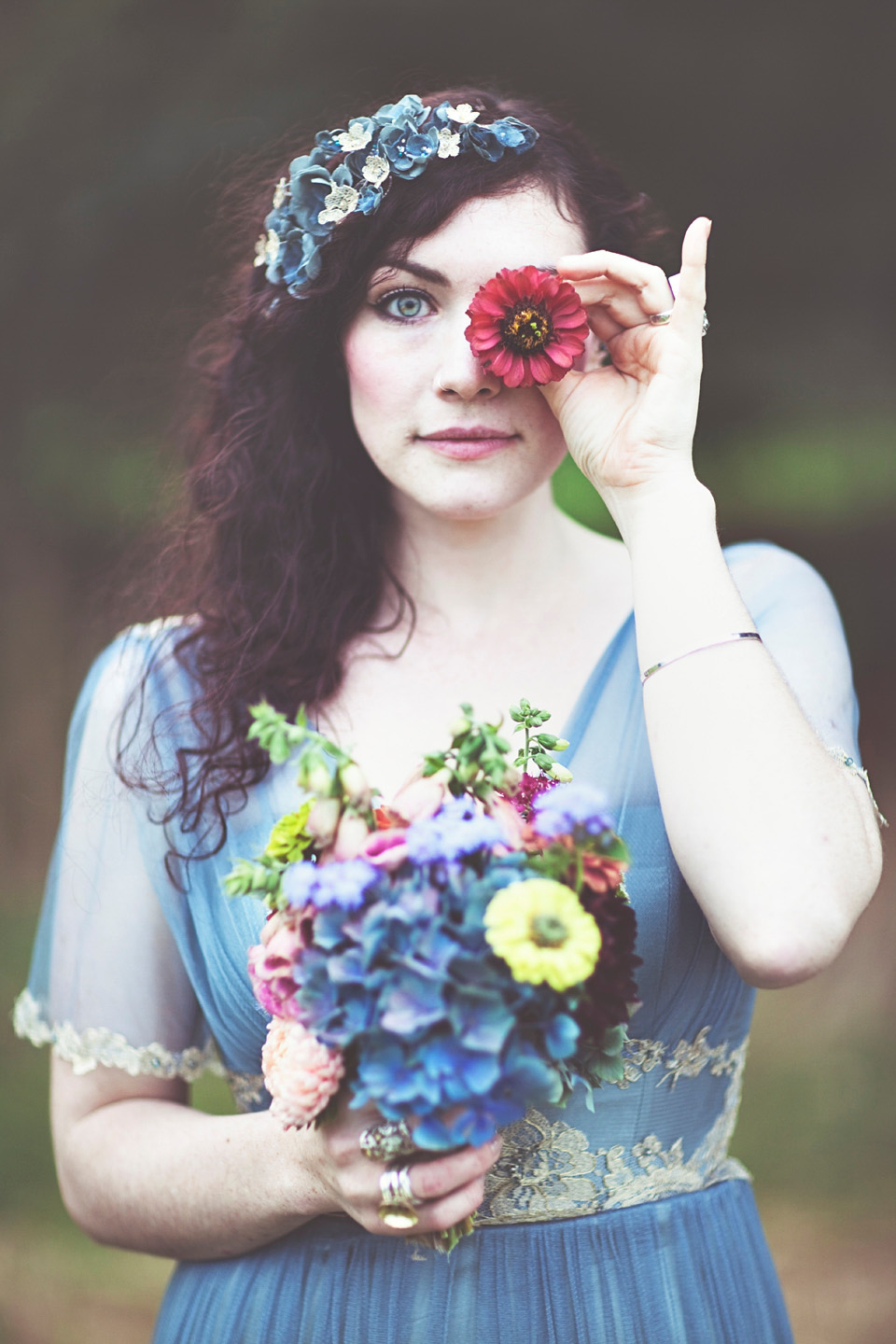 "My friend, former Agapé bride and talented musician Jenn sang a mellow version of 'You Are The Sunshine of My Life', by Stevie Wonder. We chose for our first dance because we always listen to the Stevie album on the way to Abersoch, and also because the lyrics are simple, light hearted and true, like our relationship!"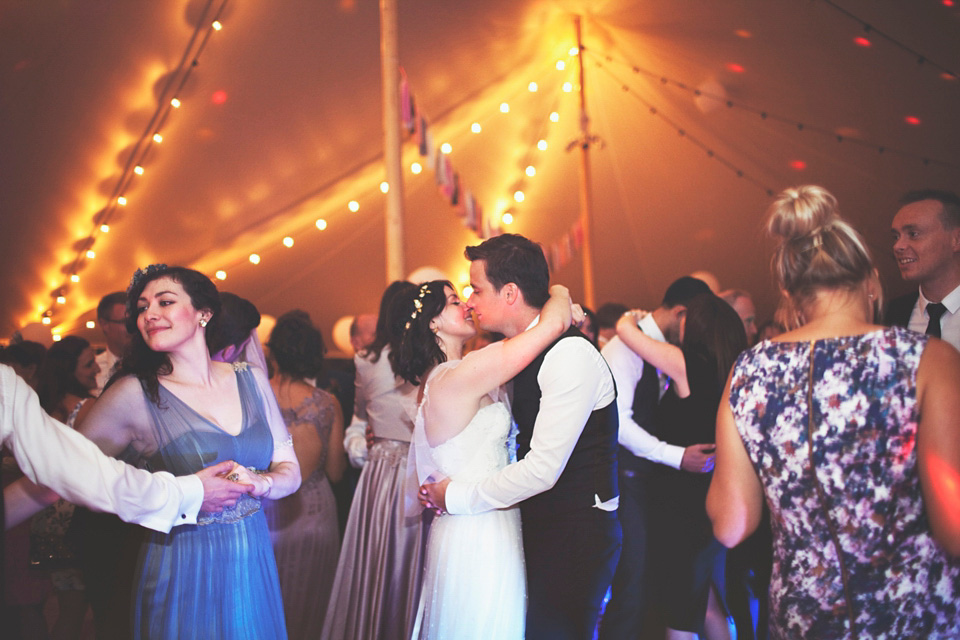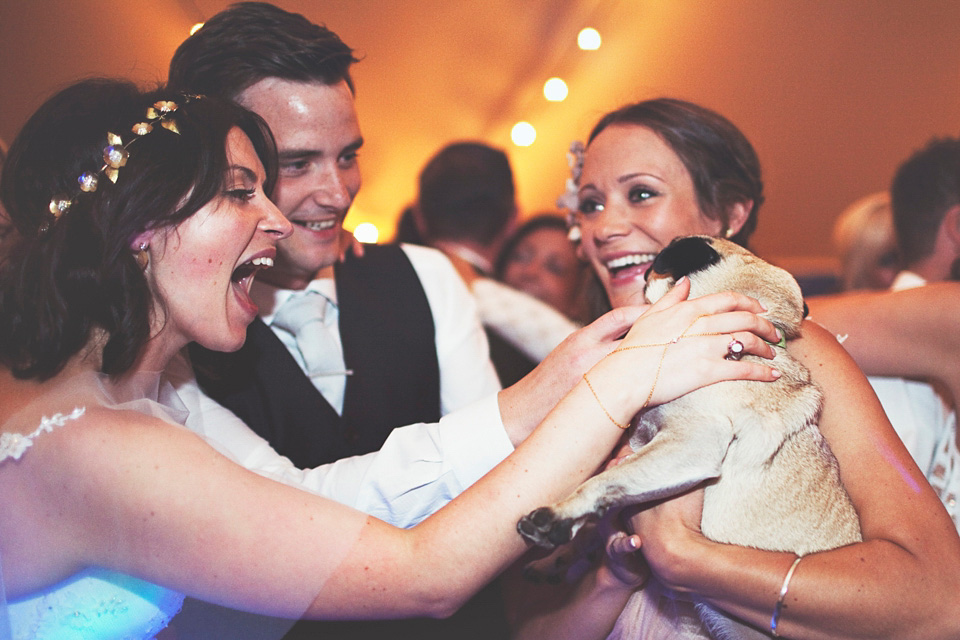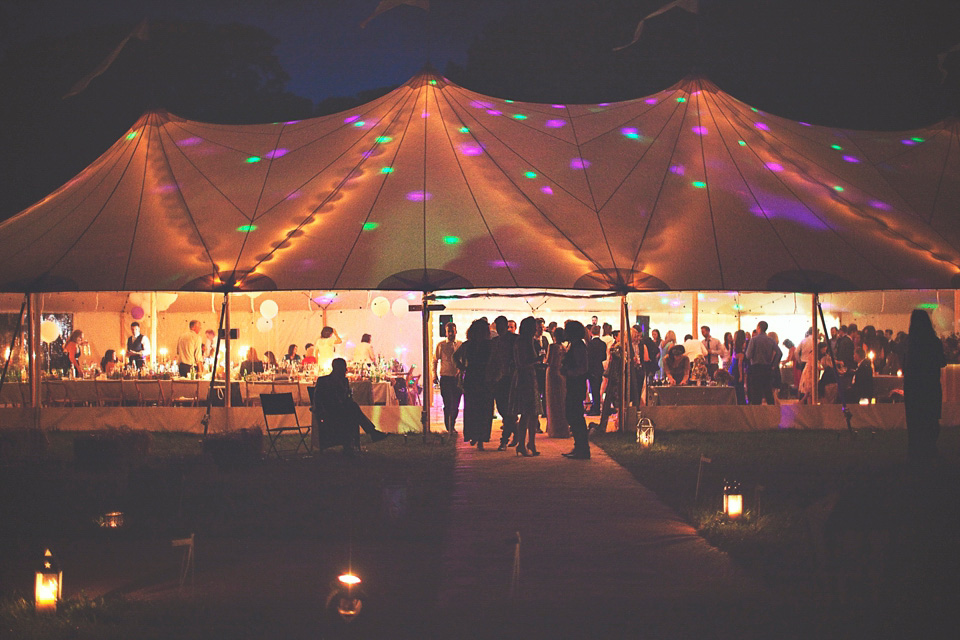 "Matt and I had partied with Agent Smith at a wedding a few years earlier, and we loved their energy and good banter. Our friends and family love to party so we knew we knew they would appreciate some lively entertainment! We loved the fact that they have an individual sound and were not just a cover band. They did an ace job for us and the dancefloor was absolutely packed all night- it was a lively shindig!"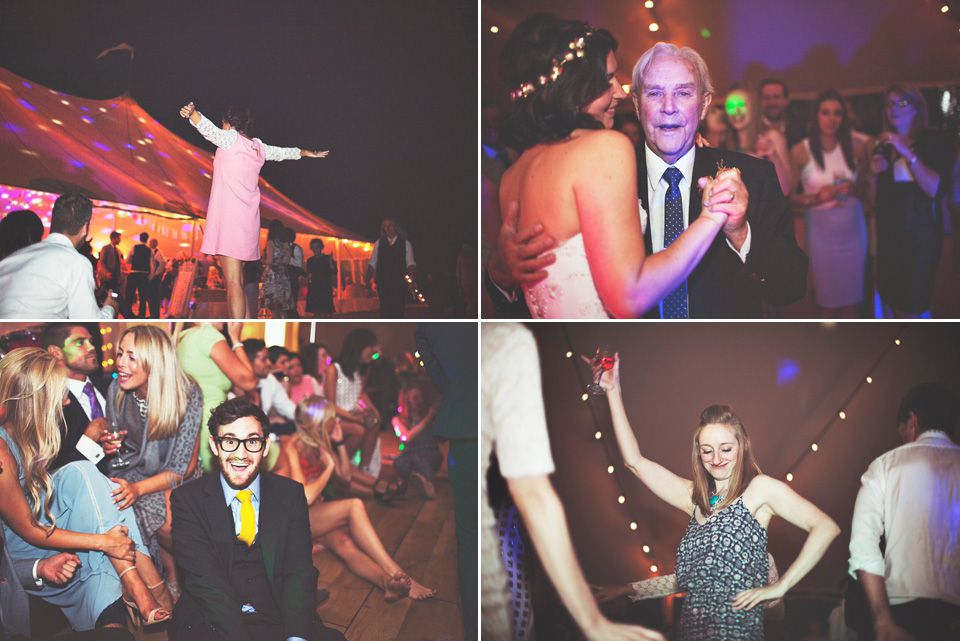 "As a surprise, Matt chose a grey VW campervan as the transport for the ushers and bridesmaids. We got plenty of use out of this as we converted it into a photo booth for the evening and then our mums decorated it with fairy lights, blankets and good luck charms for our wedding night accommodation!"
"In the evening, we booked Pizza Peddlers to serve stone baked pizzas from their vintage citroen van. The plan was that they would be serving from 8pm and people could just go and help themselves. The problem with vintage is that they often break down, and the pizza van broke down on the way to us! It finally turned up on a huge tow truck at around 10pm and everyone cheered- it was hilarious! It actually turned out to be perfect timing as everyone was getting peckish, and the pizzas tasted amazing."
"There are so many favourite moments from the whole day, that I can't decide which is my best! The atmosphere in the Church seemed to be radiating with good vibes from all our guests, and rather than feel teary or nervous as I expected, I just felt elated as I joined Matt at the altar.  We also loved sitting at the top table to behold all of our favourite people tucking into the picnic and enjoying themselves, it was a jovial scene!  At one stage on the dancefloor Matt and I were hoisted up on people's shoulders and flung around- that was fun!"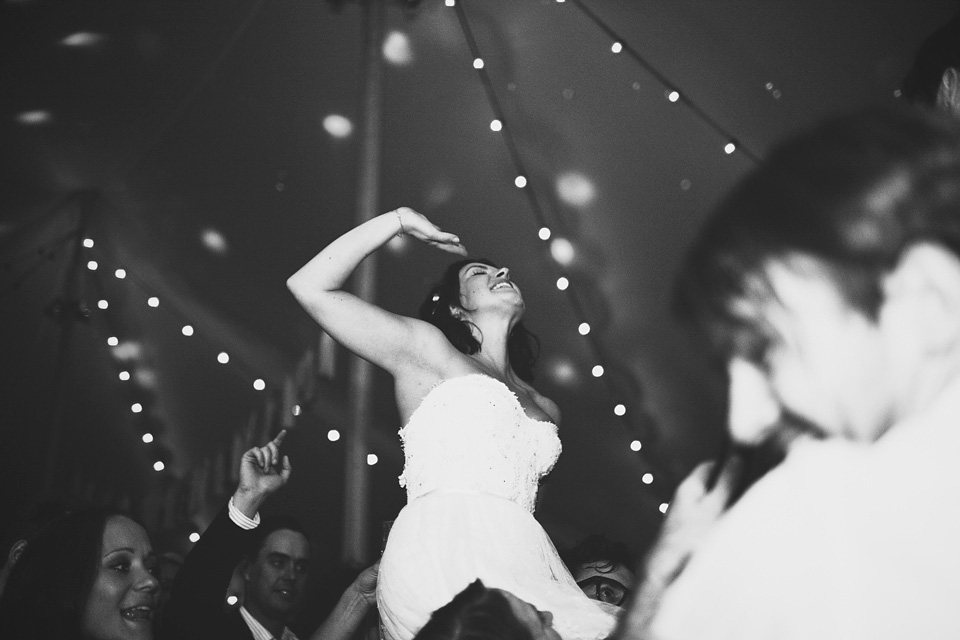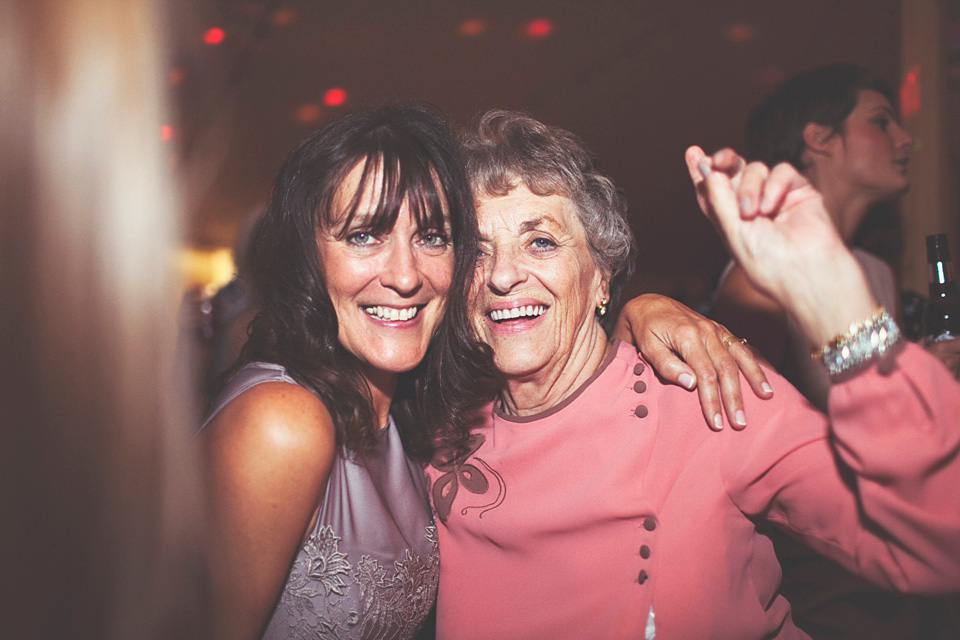 "We wanted to extend the festivities for as long as possible, so at midnight we headed down to the beach armed with blankets, wine and pizza to continue the party. We had sparklers, a fantastic firework display courtesy of our best man, and a sing song into the wee hours, accompanied by our talented resident guitarist Chris, who was strumming away intermittently throughout the wedding."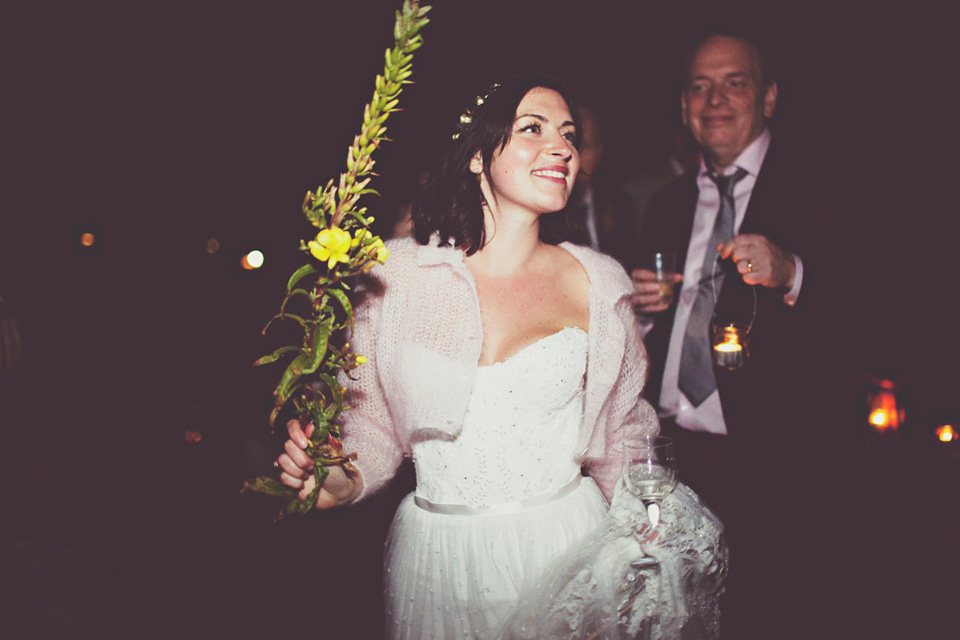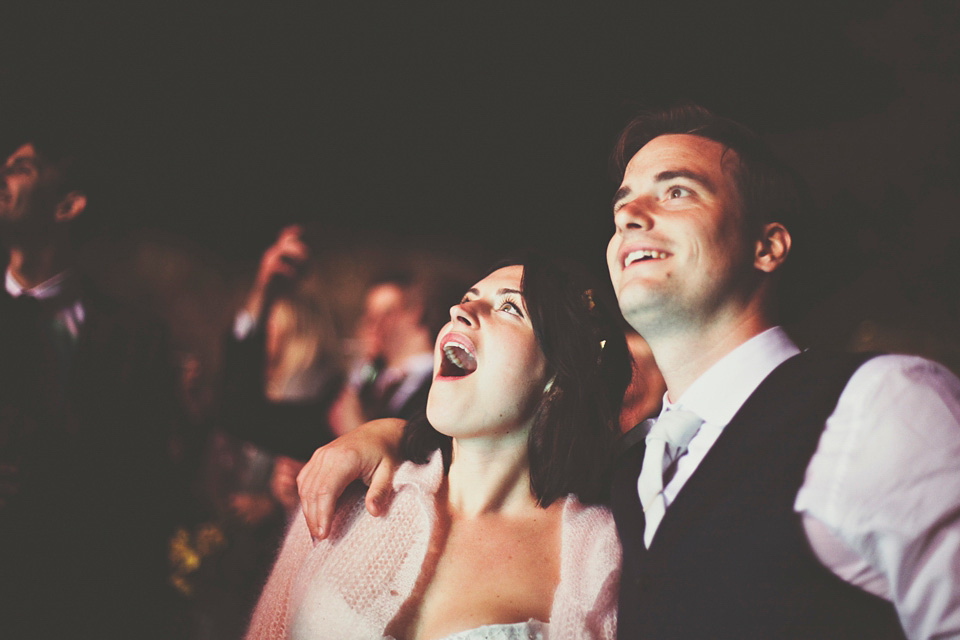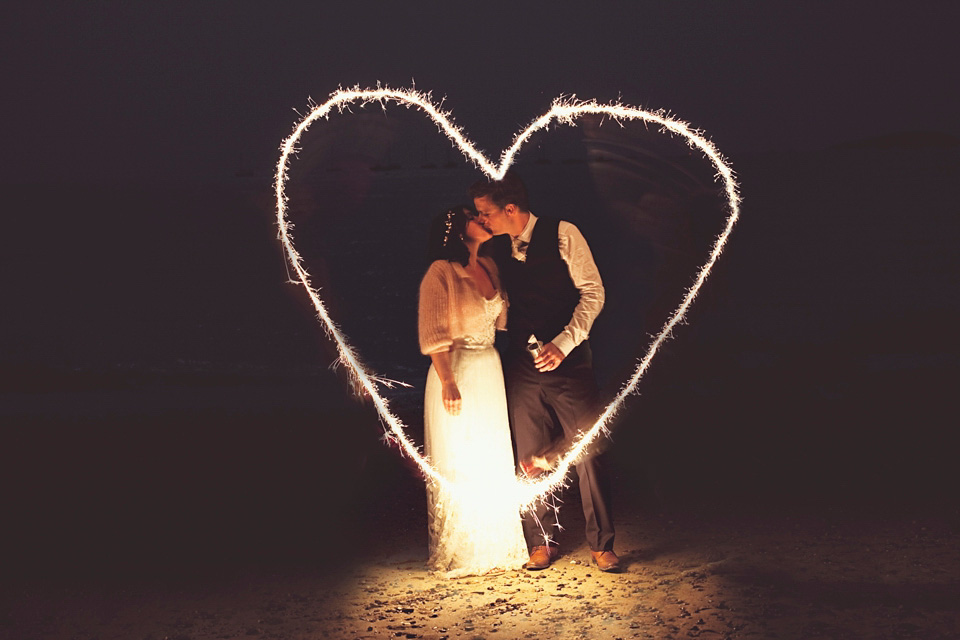 "The next day we gathered on the beach again for a mass sea dip in the brisk Irish sea (the perfect hangover cure!) We then had a leisurely all day BBQ and it was so lovely to spend time celebrating and catching up with all of our guests without the time limits of the wedding day."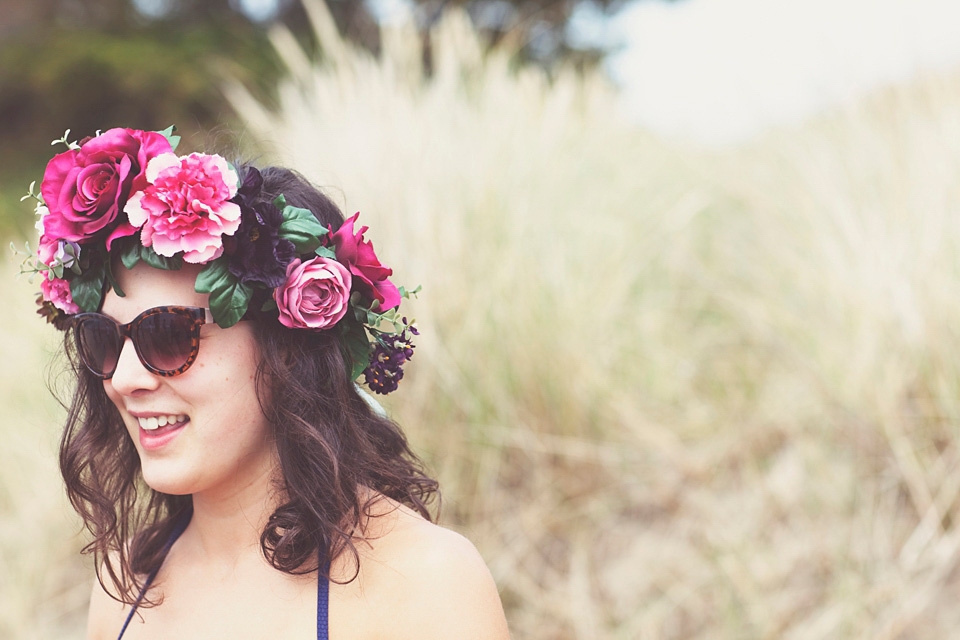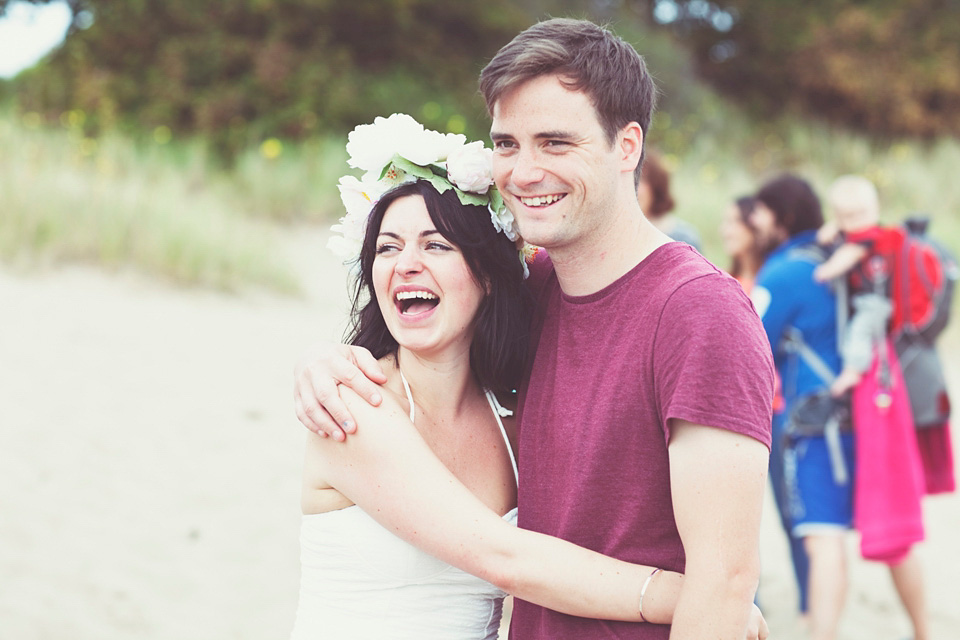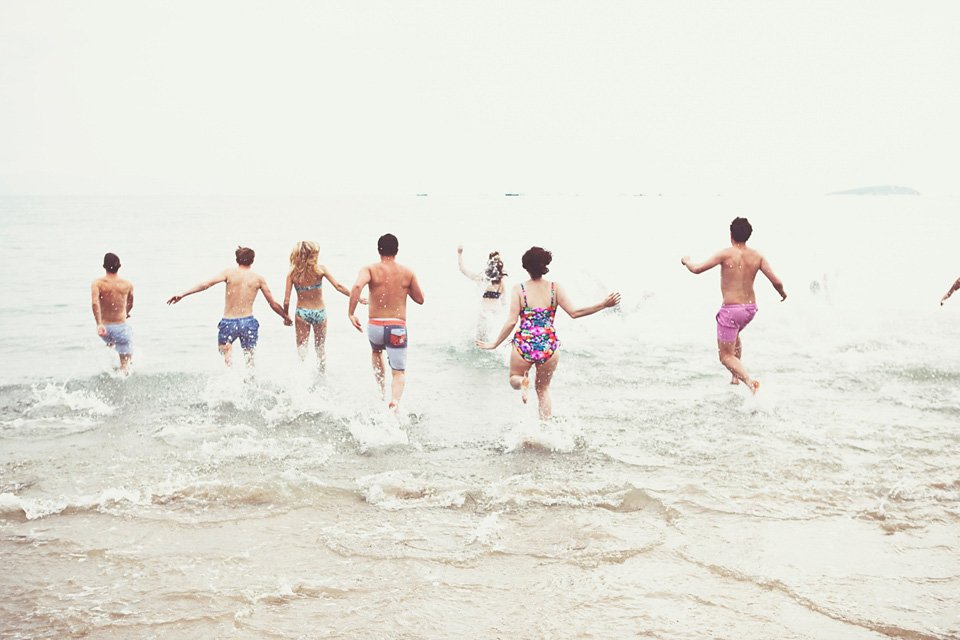 Words of Wedded Wisdom
"Enjoy your engagement, it's a special time! There's no need to get stressed over small details. What really makes a wedding is the people, and this is the reason why your wedding truly will be the best day of your life- not only are you getting married to your top person, but you get to have all your other best people there to celebrate with you and wish you well, the best feeling ever!
I'm a terrible perfectionist and there were a number of ideas and plans I had that never came to fruition for one reason or another, and a few other things that weren't implemented the way they were intended to be, but on the day it absolutely did not matter. Not a jot. Our day was perfectly imperfect, and I wouldn't change it a bit."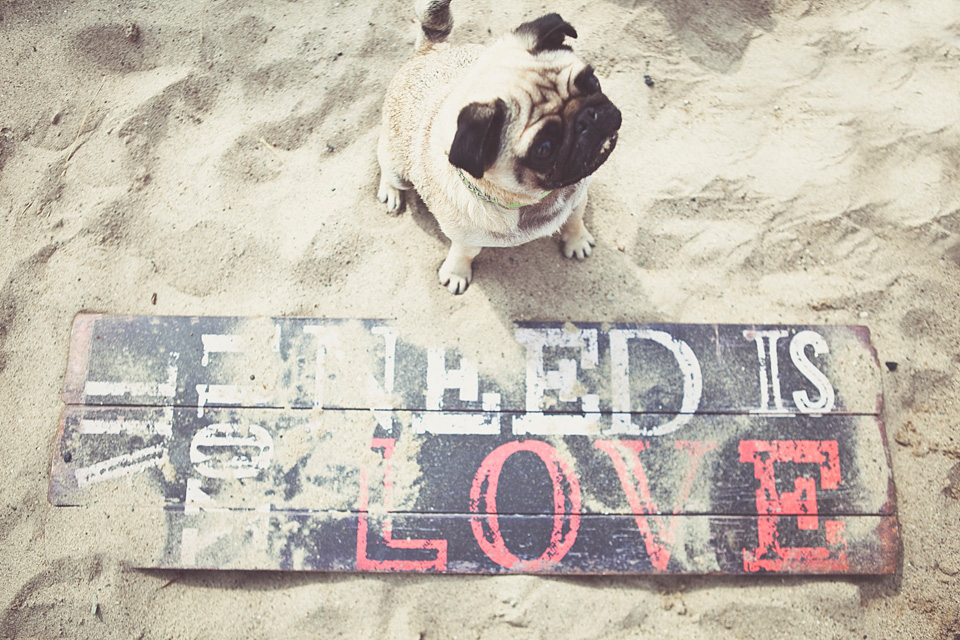 Alex – I'm so incredibly touched that I was asked to share this most beautiful of weddings.  I've poured over every single image so many times since I received them a few weeks ago and I feel privileged that I get to share the joy of your nuptials through my blog today – thank you ever, ever so much for allowing me this opportunity.   My love and thanks also to Guilia of 'On Love and Photography' for sharing these beautiful images.  It was really lovely to meet you recently Guilia – if only far too briefly!
Readers, if you'd like to connect with Alex, you'll find her at agapebridalboutique.com.  You will also find her on Instagram as @agapebridalboutique and @alexagape and on Twitter at @Agape_Bridal.
Have the loveliest of bank holiday's – I hope you reach the end of today with a smile on your face.
Love Annabel xx
Photographer – On Love and Photography
Venue – Sperry tents from Papakata  in Abersoch, North Wales
Wedding Dress + Veil – Agapé Bridal Boutique
Bride's Hair Accessories – Laura Donovan
Shoes – Freya Rose gold shoes
Perfume – Roses de Chloe
Groom – The Kooples
Bridesmaids – Agapé Bridal Boutique + hair accessories via Laura Donovan
Flowergirls – Agapé Bridal Boutique
Florist – Thoughtful Flowers
Cake – The brides mum
Transport – Nissan Figaro (borrowed)
Entertainment – Jenn Clempner + Agent Smith via Function Central
Rings – Geralds of Knutsford
Catering Company – Outside Food + Pizza Peddlers
Stationery – DIY
Hair and make-up Artist – Wedding Bridal Hair & Makeup + Suzanne
Decor – Paper Poms